New Age Islam News Bureau
1 Jan 2013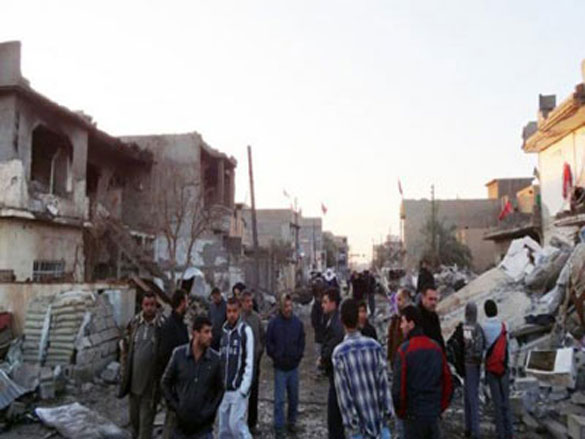 Pakistan
• One killed, over 30 injured in bomb blast in Pakistan's Karachi city
• Awami National Party urges centre to hold talks with Taliban
• Tahir ul Qadri, MQM want polls postponed, says Jamaat-i-Islami
• Candles lit in respect of 2012 martyred in terrorist attacks
• NATO copter violates Pakistani airspace
• Interior Minister wants Tahir ul Qadri rally held in F-9 Park
• Pakistan releases eight more Afghan Taliban prisoners
• Pakistan frees more Taliban prisoners
• Delay in polls to be disastrous: Punjab CM
• Pak-China Khalid tank manufacturing deal inked
• 'Foreign nationals': Petition filed to stop Tahir ul Qadri, Altaf Hussain
• First option for ANP is talks, not operation
• PML-Q backs Tahir ul Quadri's demands
• Balochistan Assembly elects Matiullah Agha as speaker
• Urs of Data Ganj Bakhsh begins today
• 400,000 Pakistanis contract TB every year
• Achievements and failures of PPP government
------------
India
• Khap Panchayats of Haryana against Capital Punishment for Rapists
• Urdu second official language: U P's New Year gift to Urdu speaking community
• Several Islamic exhibits slated to mark ASI's anniversary
• India, Pak exchange list of nuke installations
• Indian consulate in Jeddah's guidelines for Umra pilgrims
• Curfew in Pulwama, Kashmir observes shutdown
• Advocate seeks to appear in court on behalf of MLA Owaisi
• Maulana Azad National Urdu University to have Telugu department
------------
Arab World
• 30 tortured and disfigured bodies found in Damascus
• 22 killed in fresh wave of Iraq attacks
• Syria backs 'any initiative' for dialogue to end conflict
• Sidon Sheikh warns against tarnishing image of Lebanon Sunnis
• U A E President and Ruler of Dubai greet world leaders on New Year
• Mahmud Abbas sees Palestinian state in 2013
• In Egypt Islamists' bastion discontent creeps up
• Iraqi PM questions role of Turkey in unrest
• Pak F M's visit to Saudi Arabia to boost relations
• Saudis, expatriates remember the 1990 Gulf War hero
• Nour Party remains our only political arm: Salafist Calling
• Tahrir Square to stage New Year's Eve celebration
• April 6 activist shot in Tahrir Square
• 121 journalists killed in 2012
• 1991 Victory over Iraq Was Swift, but Hardly Flawless
• Future official condemns attack against bishop in Tripoli
• Egypt's budget deficit to reach LE200 bn by fiscal year end: Planning minister
• Huge spending to spur Kingdom's education, health sectors
------------
Africa
• Attackers kill 15 at Nigerian church: rescue official
• Bomb hits prosecutor's office in Libya
• Blast hits govt office in Benghazi
• Jordan arrests 4 Syrian soldiers near border
• Keeping US consulate in Benghazi open was 'grievous mistake'
• Five Confirmed Dead But Health Ministry Says Swine Flu Outbreak 'Isn't Worrying'
• The UNDP Executes Project to Reduce Unemployment in Yemen
------------
Mideast Asia
• Ahmadinejad slams pressure to impose Islamic values on People
• Erdogan dreams of full Sharia law in Turkey
• Turkish talks offer hope of peace with Kurdish militants
• Nebraska Senator's big problem: being a realist about American power and Iran
• Israeli warplanes violate Lebanon airspace
• Iran Tests New Version of Missiles in Exercise
• Israel military eases building materials blockade on Gaza
• Turkey official condemns French paper's prophet Mohammed bio
• Israeli Supreme Court shortens whistleblower's prison term
• Turkey accuses EU of bigotry, says its reforms are ignored
------------
South Asia
• Taliban leader killed in Afghanistan, Confirmed NATO-led coalition forces
• Top Afghan negotiator cautiously optimistic on peace prospects
• NATO head lauds Afghan security handover
• Local police, an uncertain player in Afghan future
• Khaleda asked to appear in court Jan 6
• Let Bangladesh Grow
------------
Southeast Asia
• West Jakarta Police Officer Named Suspect in Man's Interrogation Room Death
------------
North America
• Anti-Muslim violence spiralling out of control in America
• UK urged to spend Afghan withdrawal savings on defence
• US family seeks pregnant daughter missing in Afghanistan
• UN appeals for Afghan refugee aid as harsh winter proves deadly
• UN slaps sanctions on DR Congo rebels
Compiled by New Age Islam News Bureau
Photo: 22 killed in fresh wave of Iraq attacks
URL: https://www.newageislam.com/islamic-world-news/new-age-islam-news-bureau/four-killed,-over-30-injured-in-bomb-blast-in-pakistan-s-karachi-city/d/9845
------------
Pakistan
One killed, over 30 injured in bomb blast in Pakistan's Karachi city
PTI | Jan 1, 2013
KARACHI: One person was killed and over 30 were injured on Tuesday when a bomb planted on a motorcycle went off near the headquarters of the Mutthaida-e-Qaumi Movement and a park where the MQM had just finished holding a massive rally.
Senior police official, Imran Shaukat confirmed that the bomb was planted on a motorcycle and apparently the target were the buses parked in the vicinity waiting to take the participants of the rally back to their homes.
"We have initial reports off about 20 people being injured while the area is being combed by the bomb disposal squad to ensure they are no more explosions," Shaukat said.
But other reports said that as many as 30 people had been injured, some of them seriously, in the attack.
The blast that occurred at Aisha Manzil caused panic and fear in the city and led to massive traffic jams and bottlenecks with shops and petrol pumps closing down.
Though MQM leaders have been killed in target killings in the past, this is the first time that terrorists have directly targeted the MQM in a bomb attack.
MQM, which is the largest single party in Pakistan's biggest city, has its headquarters close to Aisha Manzil and the Jinnah Park is used regularly for its rallies.
The blast took place just after MQM chief, Altaf Hussain had finished addressing the massive rally.
The leader of the Minhaj ul Quran, Tahir ul Qadri, had also visited the MQM headquarters today to formally seek their support and participation in a big rally planned on January 14 to march on Islamabad against a corrupt government and electoral system.
Yesterday, the MQM coordination committee had announced its support and participation in the rally.
The outlawed Tehreek-e-Taliban have said they would target MQM leaders and supporters after Altaf Hussain urged the government and people to unite and wage a war against the militants following the attack on child activist Malala Yousufzai.
Television channels reported that the blast which was heard in nearby areas had damaged shops and buses which were waiting to transport people who attended the rally.
Last week, a bomb blast on a passenger bus in the busy Cantt area had left six people dead and around 50 injured.
http://timesofindia.indiatimes.com/world/pakistan/Bomb-blast-in-Pakistans-Karachi-city-one-dead-over-a-dozen-injured/articleshow/17845501.cms
------------
Awami National Party urges centre to hold talks with Taliban
By: Nader Buner
January 01, 2013
PESHAWAR - Awami National Party President, Asfandyar Wali Khan, has demanded of the
federal government to hold fruitful dialogues with militants and if talks fail to bear fruit, opt
for other alternative options to cope with the menace of militancy.
"Terrorism has its roots in the tribal region. As the region is administered by the federal
government, so the centre should negotiate with Taliban," Asfandyar Wali said while
addressing a condolence reference to pay tribute ANP slain leader and Khyber Pakhtunkhwa
senior minister Bashir Ahmad Bilour here at Nistar Hall Peshawar.
On the occasion, ANP provincial president, SeNATOr Afrasiab Khattak, Khyber Pakhtunkhwa
Minister for Information, Mian Iftikhar Hussain, son of slain ANP leader, and Special Adviser to
Chief Minister Khyber Pakhtunkhwa, Barrister Haroon Bilour, and ANP elected representatives
from Khyber Pakhtunkhwa and parliament were also present.
Full report at:
http://www.nation.com.pk/pakistan-news-newspaper-daily-english-online/national/01-Jan-
2013/asfand-urges-centre-to-hold-talks-with-taliban
------------
Tahir ul Qadri, MQM want polls postponed, says Jamaat-i-Islami
January01, 2013
TIMERGARA, Dec 31: Jamaat-i-Islami central deputy chief Sirajul Haq said here on Monday
that Dr Tahirul Qadri and Muttahida Qaumi Movement wanted to postpone the upcoming
general elections by holding their proposed long march.
"But the nation would not let them do so," he told a workers convention, organised by Talash
chapter of Shabab-i-Milli. He said that a second Bangladesh would come into being if general
elections were postponed.
The Jamaat-i-Islami (JI) leader said that rulers gifted lawlessness, unemployment, price hike,
power load shedding and corruption to the nation during the past five years. He said that
rulers were busy in transferring their money to foreign banks.
JI nominated Sahibzada Yaqub Khan as its candidate for NA-34 constituency, Muzafar Syed for
PK-94 and Sultanat Yar Bukhari for PK 97. Former MPA Dr Inayatul Haq, Advocate Rahimullah,
Shabab-i-Milli district president Nawab Badshah, Hizbul Mujahideen district organiser Sirajud
Din and Mohammad Raziq also addressed the convention.
Full report at:
http://dawn.com/2013/01/01/qadri-mqm-want-polls-postponed-says-siraj/
------------
Candles lit in respect of 2012 martyred in terrorist attacks
January 01, 2013
LAHORE: On the eve of New Year, various organizations lit candles at Lahore Press Club and
Chairing Cross in remembrance of martyred people in terrorist attacks.
On the occasion, the activists condemning the terrorists said that the whole nation is united
against terrorism.
Full report at:
http://www.thenews.com.pk/article-81909-Candles-lit-in-respect-of-2012-martyred
------------
NATO copter violates Pakistani airspace
January 01, 2013
North waziristan - A NATO gunship helicopter violated border limits of Pakistan and flew in
the Ghulam Khan area of North Waziristan for about five minutes on Monday, the government
sources said. Meanwhile, two mortar bombs were also fired from across the Afghan border,
which hit Miranshah. No loss of life was, however, reported.
http://www.nation.com.pk/pakistan-news-newspaper-daily-english-online/national/01-Jan-
2013/NATO-copter-violates-pakistani-airspace
------------
Interior Minister wants Tahir ul Qadri rally held in F-9 Park
Ikram Junaidi
January01, 2013
ISLAMABAD: Federal Minister for Interior Rehman Malik has said that in order to avoid any
mishap Dr Tahirul Qadri will be requested to hold his rally at sector F-9 Park in Islamabad.
Dr Qadri, chief of Tehrik Minhajul Quran, has announced that he will lead a long march on
Islamabad and hold a huge rally there on Jan 14 to press the government for election reforms.
Talking to journalists at the Islamabad Police's CIA office, Mr Malik said most suspects in the
Benazir Bhutto murder case had been arrested and soon the investigation report would be
released to the media. He said negotiations with the Tehrik-i-Taliban Pakistan could be held
if the TTP agreed to disarm.
Full report at:
http://dawn.com/2013/01/01/malik-wants-qadri-rally-held-in-f-9-park/
------------
Pakistan releases eight more Afghan Taliban prisoners
January01, 2013
ISLAMABAD: Pakistan released eight members of the Afghan Taliban from prison on Monday,
including the former justice minister under the Taliban, in a bid to boost the peace process in
neighboring Afghanistan, the government said.
Pakistan is seen as a lynchpin in efforts to bring about peace in Afghanistan as foreign troops
plan to depart the country in 2014. Kabul has been pressing its neighbour to release more
prisoners who they hope would bring the Taliban to the negotiating table before the US troops
go home.
The Pakistanis appear to have an interest in promoting peace across the border, as a
resumption of the civil war there could bring harsh consequences on its side as well.
"We have released some more Taliban prisoners today as our help in the peace process in
Afghanistan," Pakistan Foreign Office spokesman Moazzam Khan said.
In a statement, the Ministry of Foreign Affairs said eight detainees were released, including
Nooruddin Turabi, the justice minister under the Taliban. Mohammad Azeem, a former
guard of Taliban leader Mullah Omar, was also among those released, according to a Taliban
official. He spoke on the condition of anonymity because he was not authorized to speak to
reporters about the sensitive subject.
Full report at:
http://dawn.com/2012/12/31/pakistan-releases-eight-more-afghan-taliban-prisoners/
------------
Pakistan frees more Taliban prisoners
By: Maqbool Malik
January 01, 2013
ISLAMABAD - Pakistan on Monday released eight more Taliban detainees, including a close
aide of Mullah Omar and former justice minister, to facilitate the Afghan-owned and Afghan-
led reconciliation process for lasting peace and stability in the war-ravaged neighbour.The
number of Afghan Taliban detainees released by Pakistan so far has risen to 26. Among those
who were released by Pakistan included former governor Helmand Abdul Bari, former justice
minister Nuruddin Turabi, former minister Allah Daad Tabib, former governor Kabul Mullah
Daud Jan and ex governor Mir Ahmed Gul. Pakistan had released 18 Taliban prisoners last
month on Afghan High Peace Council's request.Among those released last month also included
three former governors including Mulla Abdul Salam, Mir Ahmad Gul and Daud Jalali.Pakistan,
which desires lasting peace and stability in the neighbouring country, has committed itself to
support the Afghan-owned and Afghan-led reconciliation process.Diplomats privy to the
development believe that Pakistan's decision to release Afghan Taliban detainees coincides
with what has been described as Afghan government's Peace Process Roadmap 2015 aimed at
engaging Afghan Taliban to shun violence and dissociate from Al-Qaeda in a bid to give them
political role in country's future politics.The move, they believe is also in line with trilateral
agreement between Pakistan, United States and Afghanistan to provide safe passage to
various Taliban leaders willing to join the reconciliation process.
Full report at:
http://www.nation.com.pk/pakistan-news-newspaper-daily-english-online/national/01-Jan-
2013/pakistan-frees-more-taliban-prisoners
------------
Delay in polls to be disastrous: Punjab CM
January 01, 2013
MANDI BAHAUDDIN - Punjab Chief Minister Shahbaz Sharif on Monday said that some elements
in the country were conspiring to delay elections and feared that if it happened it would be
disastrous for the integrity of the country. The Punjab chief minister was addressing a public
gathering here at Rose Cinema Ground which packed to its capacity only for the second time
in its history. It is to be noted that first it was filled at the visit of Zulfikar Ali Bhutto
Shaheed. Praising Army, Shahbaz said it was fighting against terrorism and defending the
frontiers of home land by sacrificing their lives. He, however, warned that the commanders
should avoid falling in the trap of those elements who wanted to derail the country from the
path of democracy. Referring to menace of corruption, the Punjab CM said that Zar Bab and
forty thieves group were looting national wealth with both hands. The poor and commoners
are facing hardships and the rulers are not caring for their welfare," he lamented. He
stressed that the nation would have to break the begging bowl and develop own resources if
it wanted to stand in the comity of dignified nations. "For this purpose the masses would
have to vote the PML-N into power the upcoming elections," he pointed out and appealed to
the audience to vote in favour of Nawaz Sharif as he was the only capable national leader
who could steer out the country from the prevailing crises. Shahbaz recalled that during first
term of Nawaz Sharif, value of national current was equal to two Indian rupees but now it had
fallen down to the level where Pakistan Rs1.75 was equal to one Indian rupee. This
depreciation occurred due to mismanagement of the successive governments," he claimed.
Referring to achievements of the Punjab government, the chief minister said, it had worked
hard to improve lot of the common people including farmers and educated youth.
Full report at:
http://www.nation.com.pk/pakistan-news-newspaper-daily-english-online/national/01-Jan-
2013/delay-in-polls-to-be-disastrous
------------
Pak-China Khalid tank manufacturing deal inked
January 01, 2013
ISLAMABAD: Heavy Industries Taxila (HIT) and (China North Industries Corporation) NORINCO
signed on Monday a contract for manufacturing of Al Khalid I tanks. According to a Press
release, Chinese delegation met the officials of Ministry of Defence Production and HIT here.
The signing of the contract took place between the representatives from partner companies.
Al Khalid is a product of Chinese and Pakistani cooperation. It was developed in the 1990s.
Full report at:
http://www.nation.com.pk/pakistan-news-newspaper-daily-english-online/national/01-Jan-
2013/pak-china-khalid-tank-manufacturing-deal-linked
------------
'Foreign nationals': Petition filed to stop Tahir ul Qadri, Altaf Hussain
January 1, 2013
LAHORE: A petition has been filed in the Lahore registry of the Supreme Court, asking the
court to stop Tahirul Qadri and Altaf Hussain from political activities in Pakistan because they
are both "foreign nationals and unable to become members of parliament".
Watan Party chairman Zafarullah Khan has filed the petition, which names the Muttahida
Qaumi Movement (MQM) and the Pakistan Awami Tehrik as parties headed by foreign
nationals. Hussain heads the former and is a UK national while the latter is headed by Qadri,
a Canadian national. Khan says in the petition that they no longer have allegiance with
Pakistan but are functioning on foreign dictates.
The petitioner has said that Qadri is not a "sagacious, righteous and honest man" – the
qualities that a man who wishes to be elected to public office should have as laid down by
Article 62 of the Constitution. In 1990, Justice Akhtar Hassan Commission had found that
Qadri had arranged an alleged murder attack on himself and had then accused the Punjab
government of doing so, Khan has said in the petition.
Full report at:
http://tribune.com.pk/story/487182/foreign-nationals-petition-filed-to-stop-qadri-hussain/
------------
First option for ANP is talks, not operation
January01, 2013
PESHAWAR: Awami National Party president Asfandyar Wali Khan has advised the federal
government to hold 'meaningful' talks with Taliban insurgents to restore peace in the country
and use force if the talks fail to produce desired results.
The menace of militancy has eaten into the fabric of the society and, therefore, the federal
government should take steps to eradicate terrorism.
The ANP chief was speaking at a condolence reference for Bashir Ahmad Bilour, Kyhber
Pakhtunkhwa's recently slain senior minister, at Nishtar Hall here on Monday.
The Federally Administered Tribal Areas (Fata), home to terrorists, came under the
jurisdiction of the federal government, which had the authority to negotiate with the Taliban,
he said.
Full report at:
http://dawn.com/2013/01/01/asfandyar-speaks-at-reference-for-bilour-first-option-for-anp-
is-talks-not-operation/
------------
PML-Q backs Qadri's demands
January01, 2013
LAHORE: After MQM, another ally of PPP — PML-Q — has announced its support for Dr Tahirul
Qadri's demands for an independent and honest caretaker set-up and electoral reforms.
"We will support Dr Tahirul Qadri's mission whether we remain in government or not,"
declared PML-Q chief Chaudhry Shujaat Hussain after meeting the patron-in-chief of Tehrik-i-
Minhajul Quran. He was accompanied by Chaudhry Pervaiz Elahi and Syed Mushahid Hussain.
Briefing reporters on the meeting, Mr Hussain said: "After a discussion with Dr Qadri we
believe that his mission is not against any individual, but against injustices and those who do
not pay taxes."
Full report at:
http://dawn.com/2013/01/01/pml-q-backs-qadris-demands/
------------
Balochistan Assembly elects Matiullah Agha as speaker
December 31, 2012
QUETTA: Deputy Speaker Matiullah Agha was elected unopposed as the speaker of the
Balochistan Assembly on Monday, Express News reported.
Balochistan National Party (Awami) MPA Dr Fouzia Marri, who had administered Agha's oath,
was elected unopposed as the deputy speaker.
After the oath, Agha pledged that he will fulfill all his duties with sincerity.
The slot of speaker had fallen vacant on December 26 with the ousting of Aslam Bhootani
Full report at:
http://tribune.com.pk/story/486942/balochistan-assembly-elects-matiullah-agha-as-speaker/
------------
Urs of Data Ganj Bakhsh begins today
January 01, 2013
LAHORE: The 969th annual three-day Urs celebrations of Hazrat Ali bin Usman Alhajveri
popularly known as Data Ganj Bakhsh would begin at his shrine today.
The celebrations will start with laying a traditional chadar on the grave of the great sufi saint
of the subcontinent, said Punjab Minister for Auqaf Haji Ehsanuddin Qureshi while addressing
a press conference at Data Darbar Complex here on Saturday. Secretary Auqaf Tariq Pasha
was also present.
He said the Auqaf Department had allocated Rs. 8 million to provide facilities to devotees.
The minister said 400 security guards besides 170 'Razacars' of the Auqaf Department would
perform security duties.
Full report at:
http://www.thenews.com.pk/article-81924-Urs-of-Data-Ganj-Bakhsh-begins-today
------------
400,000 Pakistanis contract TB every year
January 01, 2013
ISLAMABAD: National TB Control Programme Head Dr Ijaz Qadeer has disclosed that around
400,000 citizens suffer from the disease every year and a majority of them are poor people
who are provided free checkups, medicine and other treatment facilities.
Speaking at a seminar on Monday, attended by experts, representatives of NGOs and
volunteers, Dr Ijaz Qadeer said that 1.5 million TB patients were registered and treated
during the last three years. This was the result of awareness campaign and provision of
treatment facilities at the grassroots level at the basic health units, rural health centres,
tehsil and district headquarters hospitals, he said.
Full report at:
http://www.dailytimes.com.pk/default.asp?page=2013\01\01\story_1-1-2013_pg11_6
------------
Achievements and failures of PPP government
By: Abrar Saeed
January 01, 2013
ISLAMABAD - Except for a few achievements, the five-year rule of Pakistan People's Party was
a tale of horrifying failures which have virtually brought the country to the brink of financial
and administrative collapse.The so-called first 'full term' of a 'democratic government' in
country's history – the major achievement that PPP-led coalition government's leadership
boasts about – was fraught with mismanagement, and criminal negligence on issues of
national importance.Over these years, PPP leadership remained preoccupied with keeping its
rule intact for which it played in the hands of its junior coalition partners MQM, ANP and PML-
Q and other pressure groups from time to time.Constitutional reforms and other
achievementsThe most shining achievement of the ruling coalition was the removal of
anomalies from the constitution and its restoration to almost to its original shape of 1973.
Full report at:
http://www.nation.com.pk/pakistan-news-newspaper-daily-english-online/national/01-Jan-
2013/achievements-and-failures-of-ppp-government
-------------
India
Khap Panchayats of Haryana against Capital Punishment for Rapists
New Age Islam News Desk
January 1, 2013
New Delhi: Even as the whole country is demanding death punishment for the rapists of
Delhi, the khap Panchayats of Haryana have expressed their opposition to it saying that the provision of death punishment for rapists may be misused as has been seen in SC/ST or dowry cases. They have urged the officers and the government not to be influenced by the protesters. Khap leader of Hisar, Subay Singh said that the death punishment for rapistsmay be politically used for settling scores with political or social opponents. It should be noted that the Congress and other political parties have recommended death punishment for apists. The Congress has also recommended chemical castration of rapists with 30 years of imprisonment. The BJP is of the same view on castration.
------------
Urdu second official language: U P's New Year gift to Urdu speaking community
10 posts for Urdu translators in UP government
New Age Islam Edit Desk
January 1, 2013
Lucknow: The UP government has taken an important step to implement Urdu as second official language of the state by recongnising the posts of Urdu translators in the judiciary.
The principal secretary of the department of justice has issued orders to the registrar general of the High Court to appoint 10 Urdu translators in the High Court within three months i.e.
28th February this year. The governor of UP has granted his sanction to it. This is being termed as the New Year gift of the UP government to the Urdu speaking community of the state.
It should be mentioned that two Urdu translators had been appointed in the High Court two years back. 15 years ago, six Hindi translators had been appointed but unfortunately there is no service rule for Hindi and Urdu translations which is an obstacle in their promotion.
The district president of Urdu Development Organisation, Kalim Tyagi demanded that the service rules for Urdu translators should be formulated first for which an application to the authorities concerned will be submitted by the Organisation soon.
------------
Several Islamic exhibits slated to mark ASI's anniversary
Jan 1, 2013
HYDERABAD: Photographs of a 100 Mohur commemorative gold coin from the era of Mughal emperor Jahangir and unique Mehrabi (arch shaped) coins with distinctive calligraphy
from Akbar's dominions will be on display at Salar Jung Museum as part of Calligraphy Through Times exhibition which is one of the sections of the 150-year celebrations of the Archaeological Survey of India (ASI).
The exhibition which is on till January 11th will showcase the evolution of calligraphic forms
such as kufic, naskh, nastaliq and tughra over a period of around 800 years starting with the Khilji Dynasty in the 12th century to the Asaf Jahi rule which ended in the 20th century.
Apart from coins, pictures of specimens taken from famous monuments such as Taj Mahal in Agra and Akbar's Tomb in Sikandara along with bilingual epigraphs of Persian and Sanskrit found at an excavation site in Baroda in Gujarat will also be shown.
Another interesting exhibit is a page which is taken from Mughal emperor Aurangzeb's handwritten copy of the Quran bearing his signature at the bottom.
According to ASI Indore director of epigraphy Khwaja Ghulamus Syedain, Hyderabad is the last leg of the national level travelling exhibition.
The exhibition has been to Lucknow, Delhi, Srinagar and Bhopal before coming to Hyderabad.
Collection and compilation of photographs of specimens took around three-and-a-half years.
http://timesofindia.indiatimes.com/city/hyderabad/Several-exhibits-slated-to-mark-ASIs-
anniversary/articleshow/17837146.cms
------------
India, Pak exchange list of nuke installations
January 01, 2013
"India and Pakistan today
exchanged, through diplomatic channels simultaneously at New Delhi and Islamabad, the list of nuclear installations and facilities covered under the Agreement on the Prohibition of Attack against Nuclear installations between India and Pakistan," the ministry of external affairs said in a release on Tuesday.
The agreement, which was signed on December 31, 1988 and entered into force on January 27, 1991, provides, inter alia, that the two countries inform each other of nuclear installations and facilities to be covered under the agreement on the first of January of every calendar year, it said.
This is the 22 consecutive exchange of such lists between the two countries, the first one having taken place on January 1, 1992.
http://www.hindustantimes.com/India-news/NewDelhi/India-Pak-exchange-list-of-nuke-
installations/Article1-983508.aspx
------------
Indian consulate in Jeddah's guidelines for Umra pilgrims
New Age Islam News Desk
January 1, 2013
New Delhi; The Indian Consulate in Jeddah has issued certain guidelines for the prospective Umrah pilgrims of India to save them from problems. Many Indians are trapped in Saudi Arabia due to their unawareness of the local laws and regulations. Some even have to go to jail. In the view of this, the Indian consulate in Jeddah has issued do's and do'nts for Indian Umrah pilgrims which are as follows:
a) Go to Umrah through registered private tour operators only. All the registered tour perators of India have been linked to the Umrah company of Saudi Arabia. The company's name should be mentioned in the Umrah visa of the pilgrim.
b) In case of any problem of harassment, lodge your complaints on cgijiddah.com or
hajinformation.com
c) Pilgrims are urged to go to the haram and other crowded places with minimum luggage or valuables as far as possible.
d) Women are advised to travel with their mahram (acquaintance).
e) Avoid travel by taxi and remain cautious. If you have to travel in a taxi, note down its number.
f) While deboarding a taxi, first deboard the female companions and then your luggage or yourself.
g) Do not befriend any stranger or take any eatables from them.
h) Travel with luggage under the permitted weight and size limit.
i) Do not travel with prohibited drugs, alcohol or alcohol based drugs or poisonous drugs.
Carrying these may invite penal action under Saudi laws.
j) Be careful while making calls or sending text messages in Saudi Arabia.
------------
Curfew in Pulwama, Kashmir observes shutdown
By M Saleem Pandit
Jan 1, 2013
SRINAGAR: The south Kashmir district of Pulwama remained under curfew for the fourthconsecutive day on Monday and several parts of the Valley observed a complete shutdown
after a call given by both factions of the Hurriyat Conference against the firing that took place in the fallout of Friday's encounter in Bubgam village where two Lashkar men were killed.
Full report at:
http://timesofindia.indiatimes.com/india/Curfew-in-Pulwama-Kashmir-observes-shutdown/
articleshow/17837992.cms
------------
Advocate seeks to appear in court on behalf of MLA Owaisi
Jan 1, 2013
HYDERABAD: An advocate, Mohammed Azeemuddin, on Monday filed a memo in a Nampally court seeking permission to appear on behalf of MIM MLA Akbaruddin Owaisi in a criminal case.
A petition was earlier filed by Kashimshetty Karunasagar, another advocate, against the alleged inflammatory speech of Owaisi which came up for hearing at the court of VII Additional Chief Metropolitan Magistrate.
Azeemuddin approached the court saying that he would like to contest the case on behalf of
Owaisi.
Objected to this, Karunasagar said it was not maintainable. However, Azeemuddin argued that prior to the registration of a criminal case the petitioner has spoken to the media and made the complaint public.
Full report at:
http://timesofindia.indiatimes.com/city/hyderabad/Advocate-seeks-to-appear-in-court-on-
behalf-of-MLA-Owaisi/articleshow/17837187.cms
------------
Maulana Azad National Urdu University to have Telugu department
Jan 1, 2013,
HYDERABAD: The Maulana Azad National Urdu University (Manuu) has decided to set up a department of Telugu soon, vice-chancellor Mohammed Miyan announced here on Monday.
Speaking at the foundation stone laying ceremony of H K Sherwani Centre for Deccan Studies
(HKSCDS) on the university campus and responding to Union human resource development minister MM Pallam Raju's suggestion of introducing Telugu in the varsity, Prof Miyan revealed that such a department, based on the recommendation of Planning Commission member and
Manuu chancellor Syeda Saiyidain Hameed, was infact in the pipeline.
Earlier, Pallam Raju said in his speech that Telugu has the largest number of words of Sanskrit and is widely spoken in the Deccan and the world at large. With this background it would be appropriate for Manuu to offer courses in the language to its students.
Manuu, a central university which has been given the mandate to promote Urdu, has departments of Urdu, Hindi, Persian and Arabic languages.
Full report at:
http://timesofindia.indiatimes.com/city/hyderabad/Manuu-to-have-Telugu-department-
soon/articleshow/17837122.cms
------------
Arab World
30 tortured and disfigured bodies found in Damascus
31 Dec 2012
Thirty tortured and disfigured bodies have been found in the northern Damascus
neighbourhood of Barzeh, the scene of regular clashes between regime troops and rebels, a watchdog said on Monday.
"Thirty bodies were found in the Barzeh district. They bore signs of torture and have so far not been identified," said the Syrian Observatory for Human Rights, which relies on medics and activists on the ground in compiling its tolls.
The Syrian Revolution General Commission, a grassroots network of anti-regime activists, estimated that there were 50 bodies, adding that "their heads were cut and disfigured to the point that it was no longer possible to identify" them.
These reports could not be verified independently because of restrictions on the international media by the Syrian authorities.
Full report at:
http://english.ahram.org.eg/NewsContent/2/8/61560/World/Region/-tortured-bodies-found-
in-Damascus-Watchdog.aspx
------------
22 killed in fresh wave of Iraq attacks
January 01, 2013
BAGHDAD (AFP) - A wave of bombings and shootings across Iraq killed 22 people on Monday as the country grappled with anti-government rallies and simmering political crises ahead of major Shia commemoration rituals.
No group immediately claimed responsibility for the attacks in more than a dozen towns and cities that wounded 83 people, but militants such as Al-Qaeda's front group in Iraq regularly target officials and security forces in a bid to destabilise the government, and also often attack Shia pilgrims.
The violence comes after anti-government protesters blocked a key highway to Syria and Jordan, amid political tensions between Shia Prime Minister Nuri al-Maliki and a secular Sunni- backed party in his fragile national unity government.
Much of Monday's violence targeted Shia pilgrims, ahead of Arbaeen commemoration ceremonies due this week.
Full report at:
http://www.nation.com.pk/pakistan-news-newspaper-daily-english-online/international/01-
Jan-2013/22-killed-in-wave-of-iraq-attacks
------------
Syria backs 'any initiative' for dialogue to end conflict
1 January 2013
DAMASCUS: Syria's government yesterday welcomed any initiative for talks to end bloodshed
in the country, after UN-Arab League envoy Lakhdar Brahimi said he had a peace plan acceptable to world powers.
The Damascus regime's stand, expressed by Prime Minister Wael Al-Halaqi, came amid a flurry of diplomatic activity led by Brahimi to find ways to end the 21-month conflict.
But the violence still raged, with activists reporting the gruesome discovery of dozens of tortured, headless corpses in the northern Damascus district of Barzeh and adding that nearly
90 percent of the 45,000 people killed so far died in 2012. "The government is working to support the national reconciliation project and will respond to any regional or international initiative that would solve the current crisis through dialogue and peaceful means and prevent foreign intervention in Syria's internal affairs," Halaqi told Parliament.
He said the revolt against the regime of President Bashar Assad must be resolved only by the Syrian people, "without external pressures or decrees."
Full report at:
http://www.arabnews.com/syria-backs-%E2%80%98any-initiative%E2%80%99-dialogue-end-
conflict
------------
Sidon Sheikh warns against tarnishing image of Lebanon Sunnis
December 31, 2012
SIDON, Lebanon: Sidon Sheikh Ahmad Assir Friday warned against attempts to tarnish the image of Sunnis in Lebanon for providing shelter to Syrian refugees. "Accusing Akkar of
harbouring terrorism is false. There is an attempt by certain parties to tarnish the image of the Sunni Muslims," Assir said during a ceremony in the Akkar village of Abdeh. "We will struggle to establish balance in Lebanon," he added. "We don't have problems with the Shiite sect, but with those who are bargaining and call themselves resistance." Assir emphasized "the need to coexist and [we] extend our hands to everyone ... especially to the Christians with whom we have lived in peace for 1,400 years.
Full report at:
http://www.dailystar.com.lb/News/Local-News/2012/Dec-31/200460-assir-warns-against-
tarnishing-image-of-sunnis.ashx#ixzz2Ghxjo2MD
------------
U A E President and Ruler of Dubai greet world leaders on New Year
December 31, 2012
Abu Dhabi: President His Highness Shaikh Khalifa Bin Zayed Al Nahyan has sent cables of congratulations to world leaders on the occasion of the New Year and wished them health, prosperity and progress for their people.
His Highness Shaikh Mohammed Bin Rashid Al Maktoum, Vice-President and Prime Minister of the UAE and Ruler of Dubai, sent similar cables to heads of state and kings on the occasion.
Full report at:
http://gulfnews.com/news/gulf/uae/government/khalifa-and-mohammad-greet-world-
leaders-on-new-year-1.1126105
------------
Mahmud Abbas sees Palestinian state in 2013
January 01, 2013
RAMALLAH/JERUSALEM -Palestinian president Mahmud Abbas pledged on Monday that the coming year would see the implementation of Palestinian independence.
Lighting a torch in the grounds of his West Bank headquarters to start celebration of the the
48th anniversary of his Fatah movement he spoke of last month's historic United Nations vote upgrading the Palestinians's diplomatic standing, referring to it as the "birth certificate" of a Palestinian state.
"We have a birth certificate... and we want to complete the march toward full independence," he said. "Next year, 2013, will be the year of statehood and independence."
Despite the UN vote and widespread international support for Palestinian statehood, Israel still occupies the West Bank, maintains tight controls of movement of goods and people to and from the Gaza Strip and has annexed largely-Arab east Jerusalem.
Direct peace talks between Israel and the Palestinians began in September 2010 but ran around several weeks later over an intractable dispute about settlement building, and international efforts to bring the two sides closer together have so far led nowhere. Fatah is on Tuesday to mark its anniversary in the Gaza Strip for the first time since its rival, Hamas, seized power there in 2007.
Full report at:
http://www.nation.com.pk/pakistan-news-newspaper-daily-english-online/international/01-
Jan-2013/mahmud-abbas-sees-palestinian-state-in-2013
------------
In Egypt Islamists' bastion discontent creeps up
December 31, 2012
Fayoum: When election-time rolls around, this impoverished province of farmlands south of Cairo has proven one of the most die-hard bastions of support for Islamists in Egypt, producing lopsided victories for the Muslim Brotherhood and its ultraconservative allies. Last weekend's referendum that approved Egypt's Islamist-backed constitution was no exception. According
to final results released on Tuesday, nearly 90 per cent of voters in Fayoum backed the charter, the second highest margin among the country's 27 provinces, mirroring the levels
Islamists received in other votes since the fall of autocrat Hosni Mubarak nearly two years
ago.
But even here, dissident voices creep in. Poverty-stricken farmers, disgruntled youth and
even some of the most conservative Islamists show frustration with the Brotherhood less than
six months since Islamist President Mohammad Mursi came to power.
The opposition is hoping to build on such discontent as it aims for a stronger showing in
upcoming parliamentary elections.
Full report at:
http://gulfnews.com/news/region/egypt/in-egypt-islamists-bastion-discontent-creeps-up-
1.1126161
------------
Iraqi PM questions role of Turkey in unrest
31 Dec 2012
Iraq's prime minister has questioned the role of Turkey and Syrian rebels in stoking unrest,
as Sunni protesters in the country continued to demand the release of prisoners held by the
Shia-led government.
Nouri al-Maliki, in a televised interview, said on Sunday evening that the protests had "a
sectarian dimensions and extension".
"We may have differences with one another but what relation does [Turkish Prime Minister]
Erdogan have in this? Why is his poster lifted? This is an indication of support and we don't
need to accuse anyone," Maliki told al-Sumariya TV.
"Why is the flag of the Free Syrian Army raised and what relation does it have with the
demands of people? Why are the posters of Islamic state in Iraq lifted in the protests?"
Protests blocking a key highway linking Iraq to Syria and Jordan entered a tenth day on
Monday and authorities north of Baghdad declared general strikes a day earlier.
The protests were sparked by the arrest on December 20 of bodyguards of Iraq's finance
minister, a Sunni, and have spurred allegations that the government was using anti-terror
legislation to target the Sunni minority.
Full report at:
http://www.aljazeera.com/news/middleeast/2012/12/201212311575903731.html
------------
Pak F M's visit to Saudi Arabia to boost relations
GHAZANFAR ALI KHAN
1 January 2013
RIYADH: Foreign Minister Prince Saud Al-Faisal will meet with Pakistani Foreign Minister Hina
Rabbani Khar to discuss a wide range of bilateral and regional issues, said Mohammed Naeem
Khan, Pakistani ambassador to the Kingdom.
Khar's talks with the Saudi leadership will focus primarily on ways to promote bilateral
relations, key regional issues and mutual international concerns.
Ambassador Khan said: "Khar will be in Riyadh on the invitation of Prince Saud. Her two-day
visit beginning Tuesday will strengthen the strategic relationship between Saudi Arabia and
Pakistan, the world's leading Islamic states."
He said Foreign Minister Khar would be discussing ways to boost economic relationships
and Saudi investments in Pakistan. "Riyadh and Islamabad, in fact, have had extensive
commercial, cultural, religious and most importantly, excellent strategic relations through
the years," he said, adding the Kingdom and Pakistan are the leading member countries of
the Jeddah-based Organization of Islamic Cooperation.
Full report at:
http://www.arabnews.com/khar%E2%80%99s-visit-boost-relations
------------
Saudis, expatriates remember the 1990 Gulf War hero
RODOLFO ESTIMO JR.
1 January 2013
RIYADH: More than 22 years have passed since the Gulf War took place on Aug. 2, 1990. But
many residents of the Kingdom still remember US Army General H. Norman Schwarzskopf who
led the successful invasion of Kuwait in 1991 that pushed then-Iraqi leader Saddam Hussein
back across the border.
They are saddened by the news of Schwarzskopf's death at age 78 last Thursday. To many who
had worried about the security of the Kingdom before the Gulf War, the success of the late
US Army general in driving out Iraqi troops from Kuwait is still fresh in their mind.
He was honored with decorations from Saudi Arabia, United Arab Emirates, Qatar, Bahrain,
Kuwait, France and Belgium.
Prince Khalid bin Sultan, Saudi deputy defense minister, was the commander of the Joint
Forces, and shared an equal position and responsibility with Schwarzskopf. He was given the
honorary title "Father of Saudi Arabia's missile" for having negotiated the purchase of the
Kingdom's first guided missile with the People's Republic of China. Then King Fahd promoted
him to Field Marshal, who, however, resigned from the military in 1991. In January 2001, he
was brought back into the military as assistant defense minister of military affairs.
Full report at:
http://www.arabnews.com/saudis-expatriates-remember-1990-gulf-war-hero
------------
Nour Party remains our only political arm: Salafist Calling
31 Dec 2012
Despite mass resignations, the Salafist Calling confirmed in a statement released Monday that
the Salafist Nour Party remains its only political arm.
"A movement cannot support more than one political party at the same time…the Nour Party
is the Salafist Calling's only political arm," the statement read.
The movement has called on all of its members to join and support the party, which has been
mired in internal disputes.
The Salafist Calling is Egypt's largest and most influential Salafist movement and includes a
number of the country's most prominent preachers.
The statement comes after former head of the Nour Party Emadeddin Abdel-Gafour officially
resigned his post as party chairman last week and announced his plans to launch a new
political party, Al-Watan (Homeland).
Other members including former spokesperson Yosri Hamad also resigned and announced they
were set to join the new party.
Full report at:
http://english.ahram.org.eg/NewsContent/1/64/61568/Egypt/Politics-/Nour-Party-remains-
our-only-political-arm-Salafist.aspx
------------
Tahrir Square to stage New Year's Eve celebration
31 Dec 2012
Cairo's revolutionary Tahrir Square will hold a series of concerts and performances as part of
Monday's New Year's Eve celebration called "Misr le kol el-Masreeyen" (Egypt for all Egyptians),
organisers Egyptian Creativity Front confirmed.
Egyptian singers and music groups, including Ali El-Haggar and Azza Balbaa, will take part in Monday night's festivities, as well as music groups Eskenderella, Wust El-Balad and Hhala.
Egyptian comedian Mohamed Azab, known for imitating Egyptian leaders and public figures in
his comedy sketches, will also take part.
Full report at:
http://english.ahram.org.eg/NewsContent/5/35/61563/Arts--Culture/Stage--Street/Tahrir-
Square-to-stage-New-Years-Eve-celebration.aspx
------------
April 6 activist shot in Tahrir Square
31 Dec 2012
Political activist Mohannad Samir was shot in Tahrir Square Monday morning by a group of four
unknown civilians, eyewitness Eslam Noureddin, told Ahram Online.
Samir, who was bleeding heavily, was hospitalised at Ahmed Maher Hospital.
"The doctors say his case is very similar to Jika's," Noureddin told Ahram Online.
Gaber Salah, known as 'Jika,' was killed in November, while taking part in the first anniversary
of last year's Mohamed Mahmoud Street clashes. Jika died after being shot in the head and
chest by a rubber bullet.
Eyewitnesses say that a red Dodge car drove to Tahrir Square around 6am. Four civilians
alighted, chatted with some street vendors and then opened fire at random first, then
reportedly they shot at Samir.
"But when they saw Muhannad, they targeted him; I believe this is intentional," Noureddin
told Ahram Online.
Full report at:
http://english.ahram.org.eg/NewsContent/1/64/61582/Egypt/Politics-/April--activist-shot-
in-Tahrir-Square.aspx
------------
121 journalists killed in 2012
Mark Sweney
31 December 2012
More than 120 journalists and media workers have been killed so far in 2012, with the conflict
in Syria making it one of the bloodiest in recent years.
The International Federation of Journalists said there has been a total of 121 deaths among
media personnel from targeted killings, bomb attacks and cross-fire incidents in 2012.
This is up 13% on the 107 killed in 2011 and 22% on the 94 that died in 2010. In 2009 113
media personnel were killed.
The IFJ said that Syria was the most dangerous country in the world for media personnel
this year, with 35 fatalities recorded. Sunday Times reporter Marie Colvin was killed in the
conflict there in February.
Full report at:
http://www.guardian.co.uk/media/2012/dec/31/121-journalists-killed-2012-syria
------------
1991 Victory Over Iraq Was Swift, but Hardly Flawless
By MICHAEL R. GORDON
December 31, 2012
WASHINGTON — As the 1991 Persian Gulf war drew to a close, Gen. H. Norman Schwarzkopf told an anxious nation that an American-led juggernaut had swept across the desert, stunned its foe and evicted Saddam Hussein's forces from Kuwait.
"We've accomplished our mission," the commander declared in a presentation deemed such a tour de force that it was known as "the mother of all briefings."
"The gate is closed," he added confidently, on Iraq's "war machine."
Now, General Schwarzkopf's death, and the hospitalization of former President George Bush, 88, have returned the spotlight to the war they prosecuted together, which some of its architects have cast as a model for a successful intervention abroad.
The gulf war appeared to have it all: a foreign tyrant who committed an indisputable act of aggression, a president who rallied the international community to roll back the occupation
of a defenseless oil-rich nation, and an American military eager to prove itself in its most demanding test since Vietnam.
Full report at:
http://www.nytimes.com/2013/01/01/world/middleeast/victory-over-iraq-in-1991-was-
swift-but-flawed.html?ref=middleeast&_r=0
------------
Future official condemns attack against bishop in Tripoli
December 31, 2012
BEIRUT: Future official Mustafa Alloush condemned Monday an attack by teenagers on a
bishop in the northern city of Tripoli Sunday, the National News Agency reported.
"The incident is weird and it's strange to the city which has always endorsed coexistence
among all its residents," said Alloush after visiting the bishop.
Bishop Abdallah Skaf and his son Maximus were attacked by a group of young men outside the
church located in the neighborhood of al-Zahriya.
"The attack was a childish individual act, one of the acts that distort the image of the city
known for preserving civil peace [between Christians and Muslims]," said Alloush.
Full report at:
http://www.dailystar.com.lb/News/Local-News/2012/Dec-31/200474-future-official-
condemns-attack-against-bishop.ashx#ixzz2GhxdRf00
------------
Egypt's budget deficit to reach LE200 bn by fiscal year end: Planning minister
31 Dec 2012
Ashraf El-Arabi, Egypt's minister of planning and international cooperation, warned that the
budget deficit might reach almost LE200 billion by the end of the 2012/2013 fiscal year if the
government does not implement long-awaited financial and fiscal reforms, state news agency
MENA reported.
The government currently aims to diminish poverty levels and redirect subsidies on basic
goods in order to reach those most in need and regulate public spending, said El-Arabi to a
group of journalists, Monday.
El-Arabi added that a number of Arab and western countries are ready to support Egypt to
overcome its economic impasse, stressing that the "upgrading" of Egypt's credit-rating is
currently the government's top priority and assured that the IMF's expected stance towards
Egypt will definitely restore international confidence in the Egyptian economy.
Full report at:
http://english.ahram.org.eg/NewsContent/3/12/61580/Business/Economy/Egypts-budget-
deficit-to-reach-LE-bn-by-fiscal-yea.aspx
------------
Huge spending to spur Kingdom's education, health sectors
1 January 2013
JEDDAH: The education and health sectors' shares of approved budget expenditures for the
next fiscal year have been increased over 18 percent compared to the budget of fiscal year of 2012, with an allocation of SR 204 billion for education and SR 100 billion for health, for a total of SR 304 billion. In the past fiscal year it had SR 168.6 billion for education, and SR 86.5 billion riyals for health.
According to a study conducted by Aleqtisadia newspaper for the financial allocations for the two sectors in the budgets between 2004 and 2013 indicated that the size of government spending jumped from SR 88 billion in 2004 to SR 304 billion in 2013, an increase of 245 percent. This increase confirms the government's desire to enhance development process and spur economic growth by focusing on development projects for the education and health sectors.
Full report at:
http://www.arabnews.com/huge-spending-spur-kingdom%E2%80%99s-education-health-
sectors
------------
Africa
Attackers kill 15 at Nigerian church: rescue official
January01, 2013
KANO: Attackers have stormed a church service in an area of Nigeria's volatile northeast and
killed 15 people in the latest such violence targeting Christians in recent days, an official said Monday.
Nigeria's military however denied the attack, with a spokesman issuing a statement saying that while he was not present in the area where it was said to have occurred, "all my enquiries indicated that nothing like that happened."
However, Nigeria's military tends to downplay such incidents, and the official who spoke of the attack is the regional coordiNATOr for the country's National Emergency Management Agency.
News of the killings emerged after President Goodluck Jonathan questioned whether deadly Islamist attacks on churches in his country and other violence worldwide could be signs of coming "end times".
Full report at:
http://dawn.com/2013/01/01/attackers-kill-15-at-nigerian-church-rescue-official/
------------
Bomb hits prosecutor's office in Libya
January 01, 2013
BENGHAZI, Libya (AFP) - An improvised bomb exploded outside the headquarters of the public
prosecutor in the Libyan city of Benghazi causing material damage but no fatalities, a security source said Monday.
Full report at:
http://www.nation.com.pk/pakistan-news-newspaper-daily-english-online/international/01-
Jan-2013/bomb-hits-prosecutor-s-office-in-libya
------------
Blast hits govt office in Benghazi
1 January 2013
BENGHAZI: An improvised bomb exploded outside the headquarters of the public prosecutor in
the Libyan city of Benghazi causing material damage but no fatalities, a security source said
yesterday.
Full report at:
http://www.arabnews.com/blast-hits-govt-office-benghazi
------------
Jordan arrests 4 Syrian soldiers near border
December 31, 2012
By Dale Gavlak
AMMAN, Jordan: Jordan's security forces say the military has arrested four unarmed Syrian
soldiers found in the zone between the two countries' borders.
A security spokesman said the men were arrested on Monday and are being interrogated. He
spoke on condition of anonymity because he is not permitted to make press statements
It was unclear whether the soldiers were trying to enter Jordan or were attempting to return
to Syria.
Full report at:
http://www.dailystar.com.lb/News/Middle-East/2012/Dec-31/200481-jordan-arrests-4-
syrian-soldiers-near-border.ashx#ixzz2GhxP3zb4
------------
Keeping US consulate in Benghazi open was 'grievous mistake'
31 December 2012
The State Department made a "grievous mistake" in keeping the US mission in Benghazi open
despite inadequate security and increasingly alarming threat assessments in the weeks before
a deadly attack by militants, a Senate committee said on Monday.
A report from the Senate homeland security committee on the 11 September attacks on
the US consulate and a nearby CIA annex, in which Christopher Stevens, the US ambassador
to Libya, and three other Americans died, said intelligence agencies were at fault for not
focusing tightly enough on Libyan extremists.
It also slated the State Department for waiting for specific warnings instead of improving
security.
The committee's assessment, Flashing Red: A Special Report on the Terrorist Attack at
Benghazi, follows a scathing report by an independent State Department accountability
review board that resulted in a top security official resigning and three others at the
department being relieved of their duties.
Full report at:
http://www.guardian.co.uk/world/2012/dec/31/benghazi-libya-us-consulate
------------
Five Confirmed Dead But Health Ministry Says Swine Flu Outbreak 'Isn't Worrying'
Nadia Haddash
31 December 2012
SANA'A — One person died on Thursday at the Saudi German Hospital in Sana'a, due to
the H1N1 virus, according to Dr. Abdulhakeem Al-Kohlani, director of the Epidemiological
Surveillance and Disease Control Department in the Ministry of Public Health and Population
(MPHP).
The H1N1 virus is commonly known as the swine flu.
Al- Kohlani said four other people died at the Science and Technology Hospital. The were not
diagnosed, but doctors believe they also fell victim the flu.
H1N1 is a seasonal disease. It has not been classified as an epidemic in Yemen yet because
experts only classify an outbreak as an epidemic if affected populations belong to at least
four different governorates. "Therefore, people shouldn't panic," Al-Kohlani said. Instead,
they should take measures to remain H1N1-free by using hospital masks and maintaining
proper hygiene.
Full report at:
http://www.yementimes.com/en/1638/news/1791/Five-confirmed-dead-but-Health-Ministry-
says-swine-flu-outbreak-%E2%80%98isn%E2%80%99t-worrying%E2%80%99.htm
------------
The UNDP Executes Project to Reduce Unemployment in Yemen
Ahraf Al-Muraqab
31 December 2012
SANA'A – An new initiative from the United Nations Development Program (UNDP) may create
new sustainable jobs for Yemeni Youth. Falling under the Youth Economic Empowerment
Project of the UNDP and funded by the Japanese government, the initiative targets 70 young
people and provides them support and training to start their business.
One participant will take advantage of services offered to start a beekeeping endeavor.
Mujib Al-Fatish, a coordiNATOr for youth initiatives and civil society organizations in
Sana'a, said that the project provides several life and business skills to for participants that
encourages them to establish small enterprises. A loan is provided by the UNDP.
Fuad Al-Qadasi, the director of the Fighting Poverty and Sustainable Development Project
of the U.N., said, "The project aims to empower youth and women in Sana'a, Taiz and Aden
through technical, administrative and confidence-building skills."
Al-Qadasi pointed out that this approach was previously applied by the UNDP in Burundi as a
way rebuild after the war. It aimed to integrate the groups affected by the conflict. UNDP
adapted the program for Yemen.
Full report at:
http://www.yementimes.com/en/1638/news/1796/The-UNDP-executes-project-to-reduce-
unemployment-in-Yemen.htm
------------
Mideast Asia
Ahmadinejad slams pressure to impose Islamic values on People
December 31, 2012
TEHRAN: Iranian President Mahmoud Ahmadinejad has again spoken out against the use of
pressure to impose Islamic values on people, especially university candidates, media reported
on Monday.
"You cannot impose things by issuing decrees and directives -- a choice imposed by force has
no value whatsoever," Ahmadinejad said in a speech on Sunday.
"In some universities, female students are forced to wear the chador (covering the whole
body, leaving only the face exposed), but the way they are forced to wear it... it is better not
worn since it becomes worthless," he said.
He also criticised criteria on the selection of university candidates, citing the case of a
student denied university admittance in the 1980s because he had shaved. Being unshaven in
Iran is a sign that you are a good Muslim.
Ahmadinejad also mentioned another case of a girl refused a university place because she
had "talked to a boy in the street and had her headscarf back an inch," thereby showing her
hair.
Full report at:
http://www.dailystar.com.lb/News/Middle-East/2012/Dec-31/200480-ahmadinejad-slams-
pressure-to-impose-islamic-values.ashx#ixzz2GhxGHrOC
------------
Erdogan dreams of full sharia law in Turkey
BY: DANIEL PIPES
January01, 2013
THE menu for meals on my Turkish Airlines flight this month assured passengers that food selections "do not contain pork". The menu also offered a serious selection of alcoholic drinks, including champagne, whisky, gin, vodka, raki, wine, beer, liqueur and cognac.
http://www.theaustralian.com.au/national-affairs/opinion/erdogan-dreams-of-full-sharia-
law-in-turkey/story-e6frgd0x-1226545827254
------------
Turkish talks offer hope of peace with Kurdish militants
John Hooper
31 December 2012
If you were looking for some new year cheer, you could do worse than look toward Turkey,
with confirmation this weekend that talks between Recep Tayyip Erdogan's government and
Abdullah Ocalan, the jailed leader of the Kurdistan Workers' party (PKK), are continuing and
that the focus of the negotiations was getting the movement to lay down its arms.
Any glimmer of hope for an end to an insurgency that has cost at least 40,000 lives is to be
welcomed. Especially since the last 18 months have witnessed a surge in violence the like of
which has not been seen since Ocalan was seized by Turkish special forces in 1999.
But at least two questions hang over the discussions. The first is the extent of Ocalan's
authority. When the Guardian interviewed him in a secret hideout near Rome just weeks
before his capture in Nairobi, he was the PKK's undisputed leader. Ever since, he has been
locked away on an island in the Sea of Marmara. His lawyers say he has no access to a
telephone.
Full report at:
http://www.guardian.co.uk/world/2012/dec/31/turkish-peace-talks-kurdish-militants-pkk
------------
Nebraska Senator's big problem: being a realist about American power and Iran
Stephen Kinzer
31 December 2012
What do Nebraska and Iran have in common? Not much – but enough to cause big trouble for
former Nebraska Senator Chuck Hagel, whose possible nomination to be secretary of defense
is being challenged by the powerful bomb-Iran-yesterday lobby.
Iran, in its former incarnation as Persia, created the world's first empire, produced titanic
figures like Cyrus, Darius, and Xerxes, and is one of the great fonts of world culture. Nebraska
was home to indigenous peoples for centuries. It became a state in 1867, and has produced
an important literary figure, Willa Cather, as well as an investor said to be the world's second
richest man, Warren Buffett.
Nebraska also, however, produced fighters long before Chuck Hagel emerged. Crazy
Horse, "Wild Bill" Cody, and General John Pershing were born there.
A group called Nebraskans for Peace has spent years waging a campaign against the US
Strategic Command, which controls America's strategic arsenal from a base in Omaha. The
current headline on its website is, "Don't Bomb Iran."
Here is the heart of the case against SeNATOr Hagel's nomination.
Full report at:
http://www.guardian.co.uk/commentisfree/2012/dec/31/chuck-hagel-big-problem-realist-
iran
------------
Israeli warplanes violate Lebanon airspace
December 31, 2012
BEIRUT: Israeli warplanes violated Lebanon's airspace for the second day in a row Monday,
the National News Agency reported.
The warplanes executed flights on a low attitude in the northern Bekaa and Hermel areas, the
NNA said.
Similar violations took place Sunday in South Lebanon.
Full report at:
http://www.dailystar.com.lb/News/Local-News/2012/Dec-31/200473-israeli-warplanes-
violate-lebanon-airspace.ashx#ixzz2GhxWeAPd
------------
Iran Tests New Version Of Missiles In Exercise
By CHRISTINE HAUSER
December 31, 2012
Iranian forces fired what military officers said was a new generation of surface-to-air
missiles on Monday during a wide-ranging naval exercise that focused on striking hypothetical
unmanned aircraft and vessels in international waters to the south of the country, Iranian
news media reported.
The missiles were fired on the fourth day of a six-day naval exercise that started Friday, when
Iran announced that it had begun the exercises that would test a new version of its Thunder
surface-to-air midrange missile. They were meant to demonstrate the country's defense of its
territorial waters, the official Islamic Republic News Agency said.
In addition, Iran deployed warships and helicopters to escort commercial ships and oil tankers
as part of a drill meant to show the country's ability to combat piracy, the news agency
reported. The exercise also included drills using Iranian-made drones and submarines.
The semiofficial Fars news agency quoted an Iranian naval commander, Rear Adm.
Alireza Nayyeri, as saying that the navy had "boosted and upgraded" the capability of its
domestically manufactured drone aircraft.
Full report at:
http://www.nytimes.com/2013/01/01/world/middleeast/iran-fires-missiles-in-wide-ranging-
naval-exercises.html?ref=middleeast
------------
Israel military eases building materials blockade on Gaza
31 December 2012
The Israeli military says tonnes of building materials will start crossing daily into the Gaza
Strip from Israel if the quiet along their border holds.
It's the first significant easing of a near-ban Israel had imposed on such shipments after
Hamas militants seized the Palestinian territory five years ago.
The new policy is also the first key concession to Hamas since an Egyptian-brokered ceasefire
ended eight days of fighting last month.
Full report at:
http://www.khaleejtimes.com/kt-article-display-1.asp?xfile=/data/middleeast/2012/
December/middleeast_December506.xml&section=middleeast
------------
Turkey official condemns French paper's prophet Mohammed bio
31 Dec 2012
A senior Turkish government official lashed out Monday at plans by a French satirical
newspaper to release a comic book biography of the prophet Mohammed, calling it
a "provocation" and advising Muslims to ignore it.
The reaction from Ibrahim Kalin, a close aide to Turkey's Prime Minister Recep Tayyip
Erdogan, came a day after satirical weekly Charlie Hebdo announced plans to release a comic
biography of Islam's founder on Wednesday that the paper said would be researched and
educational.
Full report at:
http://english.ahram.org.eg/NewsContent/2/9/61589/World/International/Turkey-official-
condemns-French-papers-prophet-Moh.aspx
------------
Israeli Supreme Court shortens whistleblower's prison term
31 Dec 2012
Israel's Supreme Court on Monday shortened by a year the 4-1/2-year prison term of a soldier
who gave a journalist classified military documents, some relating to operations against
Palestinian militants.
Ruling on Anat Kamm's appeal against the length of her sentence, the court said it was
disproportionate to the penalty of four months of community service imposed on Uri Blau, a
reporter for Haaretz, an Israeli left-wing daily.
Some of the 700 classified documents copied by Kamm, a clerk in a general's headquarters
during her 2005-2007 army service, were the basis for reports by Blau that some
assassinations of Palestinian militants authorised by senior officers may have violated Israeli
law.
Full report at:
http://english.ahram.org.eg/NewsContent/2/8/61592/World/Region/Israeli-Supreme-Court-
shortens-whistleblowers-pris.aspx
------------
Turkey accuses EU of bigotry, says its reforms are ignored
January 01, 2013
ISTANBUL (Reuters) - Turkey accused the European Union of bias and bigoted attitudes
towards the EU candidate country on Monday and blamed it for undermining the Turkish
public's trust in the bloc.
Turkey criticised the European Commission's latest report on its progress towards EU
membership as it presented for the first time its own report highlighting its reforms over the
last year.
Turkey began accession talks in 2005 but the process has ground to a halt due to an
intractable dispute over Cyprus, the divided island state which Turkey does not recognise,
and opposition from core EU members France and Germany.
Despite waning domestic support for joining the EU, Ankara has continued to push for full
membership of the union and has said it wants to join before 2023, the centenary of the
founding of the Republic of Turkey.
Full report at:
http://www.nation.com.pk/pakistan-news-newspaper-daily-english-online/international/01-
Jan-2013/turkey-accuses-eu-of-bigotry-says-its-reforms-are-ignored
------------
South Asia
Taliban leader killed in Afghanistan, Confirmed NATO-led coalition forces
Jan 1, 2013
A Taliban leader has been killed in Afghanistan's Kunduz province, the NATO-led coalition
forces confirmed on Tuesday.
"During a security operation in Imam Sahib district, Kunduz province, Monday, an Afghan and
coalition force killed the Taliban leader Nurullah Khan, and one other insurgent," reported
Xinhua quoting a statement of the International Security Assistance Force.
Full report at:
http://www.dnaindia.com/world/report_taliban-leader-killed-in-afghanistan_1784246
---------
Top Afghan negotiator cautiously optimistic on peace prospects
January01, 2013
KABUL: One of Afghanistan's top peace negotiators said he was cautiously optimistic about
prospects for reconciliation with the Taliban and that all sides now realised a military solution
to the war was not possible.
Mohammad Masoom Stanekzai also told Reuters that the Kabul government hoped to
transform the Afghan Taliban into a political movement. He predicted the lethal Haqqani
militant network would join the peace process if the Afghan Taliban started formal talks.
Signs are emerging that the Afghan government is gaining momentum in its drive to persuade
the Taliban to lay down their arms before most NATO combat troops pull out by the end of
2014, a timeline that makes many Afghans nervous.
Full report at:
http://dawn.com/2013/01/01/top-afghan-negotiator-cautiously-optimistic-on-peace-
prospects/
------------
NATO head lauds Afghan security handover
January 01, 2013
BRUSSELS (AFP) - NATO Secretary General Anders Fogh Rasmussen on Monday hailed the
decision by Afghan President Hamid Karzai to transfer control over security in a fresh batch
of areas to local forces."With this decision, the Afghan security forces will be taking the
lead for security for 87 percent of the Afghan population and 23 of the 34 Afghan provinces,"
Rasmussen said in a statement."This is a significant step towards our shared goal of seeing
Afghans fully in charge of their own security by the end of 2014," he added, referring to the
agreed date for final handover of control. There are currently some 100,000 international
troops in the country.The latest group of territories will be handed over progressively in the
coming months.
Full report at:
http://www.nation.com.pk/pakistan-news-newspaper-daily-english-online/national/01-Jan-
2013/NATO-head-lauds-afghan-security-handover
------------
Local police, an uncertain player in Afghan future
January 01, 2013
GOSHTA, Afghanistan (AFP) - The Afghan Local Police, branded by some critics as an
incompetent Taliban-linked militia, is one of the many security challenges facing the country
as international troops withdraw.
Only founded in 2010, the ALP is tasked with community-level policing to suppress violence in
some of Afghanistan's most dangerous and remote areas, and despite its many opponents it
has had some success.
In Goshta district, two hours drive from the eastern city of Jalalabad and 40 kilometres from
the Pakistan border, one unit of 200 ALP men has been in position for two months and has
already been making its presence felt.
Full report at:
http://www.nation.com.pk/pakistan-news-newspaper-daily-english-online/international/01-
Jan-2013/local-police-an-uncertain-player-in-afghan-future
------------
Let Bangladesh Grow
January 1, 2013
We end 2012 with a lot to celebrate but also many things to fear about. While there are very
clear indications that the world is taking a serious look at Bangladesh as a future economic
power house, lurking behind that prospect are real possibilities of upsetting it all by our own
myopic politics. While we celebrate the prospect of our bright future, we cannot brush aside
the fear that we may seriously damage that possibility due to our own shortsighted policies,
mal-governance and corruption.
While the exact dates may spill over into the next year, for all practical purposes 2013 is
our election year. This election will be our fifth since the fall of the autocratic regime of
Gen HM Ershad. The previous four saw both the AL and the BNP being on either side of the
fence twice each. During this period both parties and their leaders have been in power and
in the opposition alternately. We have seen what they are capable of and what they are not.
We have seen them keep their promises and break them both as the ruling party and the
opposition. In other words, voters know them thoroughly and whatever they will have to say
will be received with the skepticism that they so well deserve. Therefore it will be interesting
to see how these to parties present themselves to the people to gain support in the coming
year.
Full report at:
http://www.thedailystar.net/newDesign/news-details.php?nid=263345
------------
Southeast Asia
West Jakarta Police Officer Named Suspect in Man's Interrogation Room Death
December 31, 2012
A West Jakarta Police officer was arrested on Monday after being implicated in the death of a
suspect during a Sunday morning interrogation, police said.
An officer identified only as "Head Brig. IT" was named as a suspect in the death of a 51-year-
old man by the Professionalism and Security Affairs (Propam) bureau on Monday, Kalideres
Police chief Comr. Danu Wiyata told the Indonesian news portal tribunnews.com.
"An investigation by Propam shows that the officer was guilty and he was immediately
arrested. A legal charge will be made against him," Danu said.
The officer allegedly beat suspect Hendra Kusumah, of Semanan, Kalideres, during an
interrogation early Sunday morning, according to reports on merdeka.com. Hendra was
called to the Kalideres precinct after he was reportedly involved in a drunken fight with his
neighbor, police said.
Full report at:
http://www.thejakartaglobe.com/news/west-jakarta-police-officer-named-suspect-in-mans-
interrogation-room-death/564111
------------
North America
Anti-Muslim violence spiralling out of control in America
January 01, 2013
On the evening of December 27, an Indian immigrant to America named Sunando Sen was
pushed by a stranger onto the subway tracks in New York City and struck and killed by an
oncoming train. Sen had called New York home for years, and after years of hard work and
struggle had recently managed to achieve his lifelong goal of opening a small business of his
own, a copy shop in Upper Manhattan.
His roommate, MD Khan expressed shock at the death of his friend, a soft spoken man who
liked to stay up late watching comedy shows and listening to music: "He was so nice, gentle
and quiet… It's broken my heart." The following day, the NYPD announced the arrest of Erika
Menendez, a 31-year-old woman who had been spotted on security footage fleeing the scene
after Sen had been pushed. Upon being detained and taken to a 112th Precinct police station
for questioning, Menendez confessed to Sen's murder and revealed as her motivation a desire
to commit violence against Muslims. As she told detectives:
"I pushed a Muslim off the train tracks because I hate Hindus and Muslims… Ever since 2001
when they put down the Twin Towers, I've been beating them up."
Sunando Sen was not a Muslim, but as a brown-skinned foreigner living in the United States,
he was targeted and killed in an act of hate which is the by-product of an ongoing campaign
of bigotry and demonisation against Muslims living in America. Muslim-Americans, as well
as Hindus, Sikhs and others who purportedly "look Muslim" have been humiliated, assaulted
and in many cases murdered by individuals often galvanised to violence by politicians and
media figures who have enthusiastically engaged in public hatemongering against the Muslim
community in the country.
Full report at:
http://www.nation.com.pk/pakistan-news-newspaper-daily-english-online/international/01-
Jan-2013/anti-muslim-violence-spiralling-out-of-control-in-america
------------
UK urged to spend Afghan withdrawal savings on defence
Nick Hopkins
31 December 2012
The UK and other European countries must use the money saved by withdrawing from
Afghanistan to re-equip their military and help reverse worrying cuts in defence spending, the
American ambassador to NATO will warn on Tuesday.
Ivo Daalder said if Europe did not invest in new capabilities, its over-reliance on America
would continue at a time when Washington had made the far east and China its new strategic
priority.
"If we don't start soon in investing in those capabilities then the gap between the US and the
rest is going to grow. And if it is bad now, then it will be worse. If we have problems, they
will be even worse."
The ambassador's remarks come as the UK and the US prepare to withdraw thousands of
troops from Afghanistan in 2013 in advance of the deadline to end all combat operations by
the end of 2014.
Two weeks ago, David Cameron announced that 3,800 British personnel would withdraw from
Helmand province in the next 12 months, and later hinted that the total could be higher.
The Ministry of Defence budget has been under huge strain over the past two years and
Treasury officials have been privately urging the prime minister to speed up the withdrawal
to cut costs.
But Daalder believes NATO allies should plough these savings back into military equipment
that is urgently needed to maintain the organisation's strength.
Full report at:
http://www.guardian.co.uk/uk/2012/dec/31/uk-afghan-withdrawal-savings-defence
------------
US family seeks pregnant daughter missing in Afghanistan
31 December 2012
The family of an ailing, pregnant American woman missing in Afghanistan with her Canadian
husband has broken months of silence over the case t0 make public appeals for the couple's
safe return.
James Coleman, the father of Caitlan Coleman, 27, said she was due to deliver in January and
needed urgent medical attention for a liver ailment that required regular checkups. He said
he and his wife, Lyn, last heard from their son-in-law Josh on 8 October from an internet cafe
in what Josh described as an "unsafe" part of Afghanistan.
The Colemans asked that Josh be identified by his first name only to protect his privacy.
The couple had embarked on a journey last July that took them to Russia, the central Asian
countries of Kazakhstan, Tajikistan and Kyrgyzstan, and then finally to Afghanistan.
Neither the Taliban nor any other militant group has said it is holding the couple, leading
some to believe they were kidnapped. But no ransom demand has been made.
Full report at:
http://www.guardian.co.uk/world/2012/dec/31/us-family-pregnant-missing-afghanistan
------------
UN appeals for Afghan refugee aid as harsh winter proves deadly
Emma Graham-Harrison
31 December 2012
The deadly struggle with Afghanistan's bitter winter is only likely to get worse in the
coming years, a top UN official warned, as he called for more aid money to be dedicated to emergency relief.
At least two children are already reported to have died from the cold this year in Kabul's makeshift refugee camps, crammed with tens of thousands of Afghans who have fled violence
or desperate poverty, despite a drive by aid groups to prepare for sub-zero temperatures.
"Each family already has two or three people who are sick," said 77-year-old Shah Ghasi, who has squatted in the Bagh Dawood camp on the outskirts of Kabul for nearly a decade. "We only have hot water to try and keep warm – no stoves, no fuel."
Last year the bitterest winter in decades caught the country by surprise, and more than 100 children died in the cramped and squalid camps around Kabul. This year there has been a ore organised effort to get food, blankets, fuel and medicine to people who sometimes have little more than a sheet of plastic to shelter them from snow and ice.
Full report at:
http://www.guardian.co.uk/world/2012/dec/31/un-appeals-afghan-refugee-aid
------------
UN slaps sanctions on DR Congo rebels
01 Jan 2013
The United Nations Security Council has slapped an arms embargo on M23 rebels and their
alleged Rwandan allies, the FDLR, amid a flare-up of violence in the Democratic Republic of Congo's eastern region.
The council committee tasked with monitoring sanctions on the Congo also imposed a travel ban and asset freeze on two key M23 figures: the group's civilian leader Jean-Marie Runiga
Lugerero and Lieutenant Colonel Eric Badege, a commander suspected of being responsible for the deaths of women and children.
The decision came just hours before Rwanda was set to join the council as a non-permanent member on Tuesday.
The UN statement said M23, which is widely believed to be receiving support from
neighbouring Rwanda, has been complicit in serious crimes such as "killing and maiming, sexual violence, abduction, and forced displacement."
No Rwandans have been sanctioned in connection with M23, which diplomats have said on condition of anonymity was because the United States, in particular, opposes any such moves as counterproductive.
Full report at:
http://www.aljazeera.com/news/africa/2013/01/2013114556739352.html
------------
URL: https://www.newageislam.com/islamic-world-news/new-age-islam-news-bureau/four-killed,-over-30-injured-in-bomb-blast-in-pakistan-s-karachi-city/d/9845