New Age Islam News Bureau
25 Jun 2020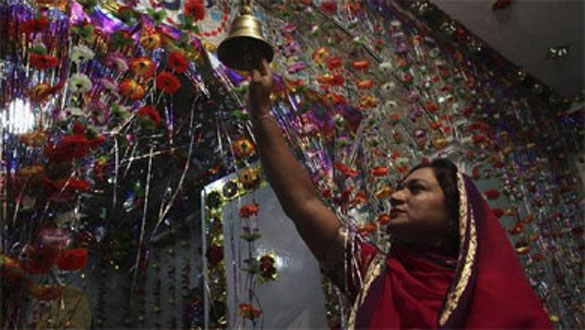 In this file picture, a Pakistani Hindu woman rings a bell to celebrate Diwali at a local temple in Lahore. | Photo Credit: AP
----
• Muslim Volunteers Help Perform the Last Rites of Hindu Manin A Containment Zone in Perambai, Near Puducherry
• Islamists Protest Against 'Pro-Communist' Pancasila Bill
• Reports Melbourne Coronavirus Cluster Originated At Eid Party Could Stoke Islamophobia, Muslim Leaders Say
• US Praises Saudi Arabia For Countering Violent Extremism and Terrorism In Report
• Pakistan Allowed Taliban And Haqqani Network to Use Its Territory to Target Afghanistan: US
• Gaddafi, Extremist Preacher, Hakem Al-Mutairi, Discuss 'Liberating' Arab World In New Leaked Recording
• Saudi Arabia Participates In UN Open Discussion On Children And Armed Conflict
• Iraq Collaborates With NATO to Fight ISIS
• Israeli Annexation Could Lead to War Beyond Region: Arab League Head
------
Pakistan
• Foundation Stone for Islamabad's First Hindu Temple Laid; Shri Krishna Mandir Will Come Up in A 20,000 Sq Ft Plot
• Pakistan Disappointed After US Blocks Move but Will Pursue Terror Listing of Indians
• Pakistan to continue in FATF's 'Grey List' for failing to check funding to LeT, JeM
• Qureshi accuses India of plotting attack on Pakistan to divert attention from dispute with China
• Isa's wife says her family is receiving threats
• Coronavirus spread being controlled as new cases stay below 400: capital admin
• US lauds Pakistan for opening Ghulam Khan border with Afghanistan
• Pakistan condemns Houthi militia's missile, drone attacks on Saudi Arabia
--------
India
• Muslim Volunteers Help Perform the Last Rites of Hindu Manin A Containment Zone in Perambai, Near Puducherry
• 'Pakistan High Commission Staff in Terror Links With J&K Ex-DSP'
• Covid-19 Lockdown Delays Marriage Of Pak Bride And Indian Groom; Duo Appeals To PM Modi For Visa
• Yet another Muslim denied burial space in Hyderabad
• Encounter breaks out between security forces, terrorists in J&K's Sopore
• India voices support for halt to hostilities in Libya
--------
Southeast Asia
• Islamists Protest Against 'Pro-Communist' Pancasila Bill
• Indonesia is finally waking up to Islamic finance
• Being Muslim Means You're Never Safe from China
• Rohingya say dozens perished in months-long voyage to Malaysia
• Malaysia welcomes Saudi Arabia's move to consider allowing Haj pilgrims from other countries
• Translation of will becomes focus of Penang wakaf land trial
--------
Australia
• Reports Melbourne Coronavirus Cluster Originated At Eid Party Could Stoke Islamophobia, Muslim Leaders Say
-----
North America
• US Praises Saudi Arabia For Countering Violent Extremism and Terrorism In Report
• US doubles reward for ISIS leader Amir al-Mawla to $10 million
• Muslim man shot dead by Canadian police during mental health crisis
• US terrorism report: Iran continues to create instability in throughout Middle East
• World will understand need to extend Iran arms embargo: Mike Pompeo
• Senior Turkish official slams Bolton's book
• U.S. soldier plotted with a satanic neo-Nazi cult to stage 'murderous ambush' on his unit, feds say
• US prepared to help Lebanon if it carries out real reforms, says Pompeo
• Secretary Pompeo eyes resolution in coming weeks on Sudan terror listing
--------
South Asia
• Pakistan Allowed Taliban And Haqqani Network to Use Its Territory to Target Afghanistan: US
• Boat carrying nearly 100 Rohingya refugees found floating off Indonesia
• Gunmen hit car in Kabul, killing 5, including 2 prosecutors
• Bangladesh: One man takes charge of last rites for 87 virus victims
• Afghan forces suffer heavy casualties in Taliban attack in Badghis province
• FVP Saleh calls Taliban 'Terrorist' amid growing violence across the country
• US Demands Investigation into Killing of Afghan Prosecutors
--------
Africa
• Gaddafi, Extremist Preacher, Hakem Al-Mutairi, Discuss 'Liberating' Arab World In New Leaked Recording
• UAE condemns Turkey in Libya, expresses solidarity with France
• Marginalized southern Tunisia sees protesters clash with police over jobs, services
• Libya conflict looms over EU as France seeks frank discussion on ties with Turkey
• Somali military liberates 4 villages from al-Shabaab
• Libya's GNA, US Africa Command to jointly 'fight terrorism'
--------
Arab world
• Saudi Arabia Participates In UN Open Discussion On Children And Armed Conflict
• Iraq Collaborates With NATO to Fight ISIS
• Turkey 'continuously' violates sovereignty of Libya, Syria, Iraq: Greek FM
• Lebanon Parliament Speaker urges declaration of 'financial state of emergency'
• Coronavirus: WHO supports Saudi Arabia's decision to host limited Hajj pilgrimage
• Bahraini activists launch online campaign against torture in prisons
• Lebanon parliament chief urges 'financial state of emergency' amid protests
• Yemeni delegation arrives in Saudi Arabia to discuss implementation of Riyadh Agreement
• Two Syrian soldiers killed in Israeli aerial attacks: State media
• British aid worker 'captured by Islamic militants' in Idlib
--------
Mideast
• Israeli Annexation Could Lead to War Beyond Region: Arab League Head
• UN chief calls on Israel to abandon West Bank annexation plan
• In letter to Muslim political leaders, Ismail Haniyeh seeks unison in face of Israel's annexation plan
• Deputy Judiciary Chief: US Martyred Gen. Soleimani to Avenge Terrorists' Defeat
• Iranian, Chinese FMs Confer on N. Deal
• Commander: Iranian Army to Receive New Military Equipment
• Iran Calls for Removal of Sanctions against Syria
• Iranian President: Negotiating Table Broken by US
• Iranians accused of trying to sell babies on Instagram arrested by authorities
• Journalists accused of revealing state secrets linked to Libya on trial in Turkey
• Ex-Israeli PM Ehud Barak named as sex offender in documents involving Jeffrey Epstein
• Iran says all countries need to commit to global anti-terror fight, slams PKK attacks
--------
Europe
• Greece: Government Orders Muslim Prayer Hall to Close NearAthens
• EU committee approves $545M for refugees in Turkey
• More than 1,000 terrorists arrested across Europe as 119 plots uncovered
• West Sussex man admits Islamist-related terror offences
• Trial requested for 9 suspects in France's 2016 truck attack
• German police raid banned far-right group in 4 states
Compiled by New Age Islam News Bureau
URL: https://www.newageislam.com/islamic-world-news/foundation-stone-islamabads-first-hindu/d/122215
--------
Foundation Stone for Islamabad's First Hindu Temple Laid; Shri Krishna Mandir Will Come Up in A 20,000 Sq Ft Plot
JUNE 24, 2020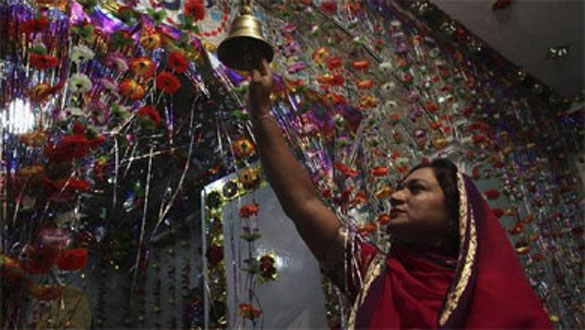 In this file picture, a Pakistani Hindu woman rings a bell to celebrate Diwali at a local temple in Lahore. | Photo Credit: AP
----
The Shri Krishna Mandir will come up in a 20,000 sq ft plot at the capital's H-9 area
Pakistan has started the construction process of a ₹10 crore Hindu temple -- the first in Islamabad.
The Krishna temple will come up in a 20,000 sq ft plot at the capital's H-9 area.
The groundbreaking ceremony for the temple was performed by Parliamentary Secretary on Human Rights Lal Chand Malhi on Tuesday.
Addressing the gathering, Mr. Malhi said there were several pre-1947 era temple structures in Islamabad and its adjoining areas, including one at Saidpur village and at the hill point overlooking the Korang river near Rawal lake. However, they have been abandoned and not used.
He also rued the lack of crematorium in Islamabad for the minority community.
Religious Affairs Minister Pir Noorul Haq Qadri said the government will bear the cost of the construction, currently estimated at ₹10 crore, the report said.
Citing a senior official of the Ministry, it said the Minister has already taken up the matter of special grant for the temple with Prime Minister Imran Khan.
The Islamabad Hindu Panchayat has named the temple as Shri Krishna Mandir.
The plot for the temple was allotted to the Hindu Panchayat by the Capital Development Authority (CDA) in 2017. However, the construction work was delayed due to some formalities, including the approval of the site map and documents from the CDA and other relevant authorities.
The temple complex will also have a cremation site, apart from the space for separate structures for other religious rites.
https://www.thehindu.com/news/international/foundation-stone-for-islamabads-first-hindu-temple-laid/article31904420.ece?utm_source=email&utm_medium=morning_brew&utm_campaign=Newsletter
--------
Muslim Volunteers Help Perform the Last Rites of Hindu Man in A Containment Zone in Perambai, Near Puducherry
JUNE 25, 2020
In a display of communal harmony, six Muslim volunteers of an outfit helped a Hindu family to perform the last rites of an 80-year-old man in a containment zone in Perambai, near Puducherry.
According to A. Ahmad Ali, president of the Puducherry chapter of Popular Front of India (PFI), the man breathed his last on Tuesday.
The family was residing in a containment zone after one of their relatives who had come to their house from Chennai, had tested positive for COVID-19 and was admitted to the Villupuram Government Medical College and Hospital at Mundiyambakkam.
None of the neighbours or relatives came forward to arrange for the last rites, Mr. Ali said.
The family members contacted the Health Inspector of Kottakuppam within whose jurisdiction the containment zone falls and sought his help. He, in turn, sought the services of the PFI to perform the last rites.
Mr. Ali said that volunteers arranged for the man's cremation after getting necessary permission from the authorities without charging anything from the family.
https://www.thehindu.com/news/national/tamil-nadu/muslims-help-perform-the-last-rites-of-hindu-man/article31910062.ece
--------
Islamists Protest Against 'Pro-Communist' Pancasila Bill
BY YUDHA BASKORO
JUNE 24, 2020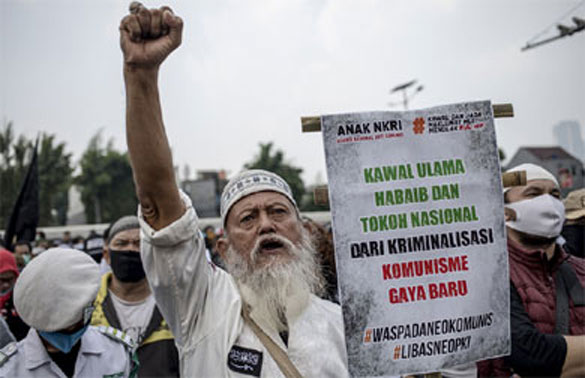 A man sings an anti-communist song during a protest in front of the House of Representatives in Jakarta on Wednesday. (JG Photo/Yudha Baskoro)
----
Islamist groups, including the National Anti-Communist Alliance (Anak NKRI), the Islamic Defenders Front (FPI) and the 212 Alumni Brotherhood (PA 212), brought hundreds of protesters to the streets in front of the House of Representatives (MPR) in Senayan, South Jakarta, on Wednesday, to try to get lawmakers to drop the so-called "Pancasila Ideology Guidelines" bill.
The groups are against the bill because it failed to include a ban on the Indonesian Communist Party (PKI) originally issued by a temporary MPR in 1966. They also claimed an article on the bill might offer a loophole to slash the five-point Pancasila into a three-point Trisila or a single-point Ekasila.
The protesters hung giant banners of Habib Rizieq, the FPI leader currently in self-exile in Saudi Arabia, off a pedestrian bridge. They also sang anti-communist songs while a man delivered an impassioned speech from a car roof.
A protester also regularly sprayed disinfectant among the crowd to try to prevent transmission of Covid-19.
https://jakartaglobe.id/vision/islamists-protest-against-procommunist-pancasila-bill
--------
Reports Melbourne Coronavirus Cluster Originated At Eid Party Could Stoke Islamophobia, Muslim Leaders Say
25 Jun 2020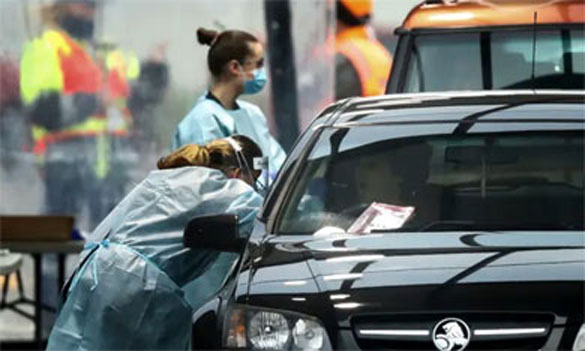 A drive-through Covid-19 testing facility in Dandenong, Melbourne on Thursday. There has been a rise in coronavirus cases in Victoria. Media reports stated that the Coburg extended family cluster originated from a large family Eid celebration. Photograph: Daniel Pockett/EPA
-----
Muslim community leaders say they are terrified that unconfirmed news reports claiming one on Melbourne's coronavirus clusters originated at a family Eid celebration could create a new wave of anti-Islamic sentiment.
"I'm really concerned, I'm thinking 'here we go again', scapegoating, marginalising, unfairly stigmatising the Muslim community," said Adel Salman, the vice-president of the Islamic Council of Victoria.
"It just plays into the same narrative that Muslims are untrustworthy, that they aren't like us, that they flout our rules, that they don't have Australia's interests at heart … Either they are a threat because they want to kill us and attack us or they are a threat because they are propagating the virus. It's the same narrative.
"The Muslim community, we have been through this so often for many many years."
The report in the Australian newspaper stated that the Coburg extended family cluster originated from a large family Eid celebration, an important Islamic holiday held at the end of Ramadan.
Eid al-Fitr is one of the most significant holidays in the Islamic year. In normal circumstances, large family groups would gather to celebrate, and around the world groups of hundreds or thousands would come together to pray.
The Coburg family cluster was first announced on 14 June, involving an extended family spread between Melbourne's north and south-east. It has since grown to at least 14 cases, including students at two primary schools in Broadmeadows and Pakenham.
The only source cited in the article was a receptionist at the Pakenham Medical Clinic, who confirmed a female patient who attended the clinic on 10 June, and later tested positive for Covid-19, was believed to have contracted it at the family gathering.
Guardian Australia spoke to three receptionists at the clinic. One said they were told about the Eid connection by the health department, one that it was "what [she] heard around the office" and the other that she believed the department had not confirmed the source and that the patient had told the doctor the information.
The department contacted the clinic to inform the doctor who treated the woman that they were considered a close contact, but a spokeswoman for the premier said contact tracers would never have revealed information during one of these calls about where a patient contracted the virus.
The patient attended the clinic 17 days after Eid. The doctor has since been released from quarantine and tested negative.
Salman said on Thursday he had already been contacted by concerned members of the Islamic community.
"Even this morning I've received a messaged from a very senior member of the community and he was very concerned, he said 'What's going on? Can you do anything?'
"The month of Ramadan which, as we all know is a month for people getting together, family gatherings, family celebrations ... I mean the sacrifices that Muslims have to make [in forgoing normal community celebrations]. They did that willingly because that's what had to be done, and I think that should be recognised," Salman said.
"Muslims acted very responsibly. I could not say that every single Muslim family complied, obviously, but … all the information that we've received is that Muslims acted very, very responsibly."
On Wednesday Victoria's chief health officer, Brett Sutton, said misinformation spread on social media apps in languages other than English was a challenge when trying to ensure multicultural communities are informed on the dangers of the virus.
Salman said the Islamic Council had been working to combat that.
"That is definitely a factor. People are getting their information from various sources, some of it is not correct, some of it is outright dangerous," he said.
"But it's not just within the ethnic circles … there are some people who just have views that are misinformed and are getting that from the internet, it isn't only in ethnic communities.'"
Salman said he thought the government could have done more to inform non-English-speaking communities.
"I do think more could have been done, for sure, but I'm not going to then say that is the cause of the outbreak of the cluster, there needs to be evidence to support that," he said.
https://www.theguardian.com/world/2020/jun/25/reports-melbourne-coronavirus-cluster-originated-at-eid-party-could-stoke-islamophobia-say-muslim-leaders
--------
US praises Saudi Arabia for countering violent extremism and terrorism in report
24 June 2020
The United States State Department Wednesday praised Saudi Arabia's Crown Prince Mohammed bin Salman for the Vision 2030 package that calls for confronting and weakening terrorist propaganda, according to statements made in its annual report on terrorism.
The "Country Reports on Terrorism 2019," which is the annual report of terrorism from the State Department to Congress saw a shift in US policy stance toward Saudi Arabia, recognizing and praising the Kingdom's countering violent extremism (CVE) efforts in the State Department's annual report this year.
For all the latest headlines follow our Google News channel online or via the app.
"Saudi Arabia has recently initiated lines of CVE effort to foster reform and regulate religious activities," according to the report.
"The Muslim World League Secretary General, Dr. Mohammed al-Issa, pressed a message of interfaith dialogue, religious tolerance, and peaceful coexistence with global religious authorities, including Muslim imams outside the Arab world. He also conducted outreach with a variety of Jewish and Christian leaders, including prominent US rabbis and Christian evangelicals," the report added.
The State Department report also highlighted the Kingdom's role in fighting ISIS.
"As in previous years, Saudi Arabia was a full partner and active participant in the Global Coalition to Defeat ISIS and provided significant operational and logistical support for Coalition activities in Syria and Iraq. Saudi operations in Yemen included CT missions against AQAP and ISIS.
"Saudi Arabia's regional diplomatic efforts to fight terrorism saw a strong uptick in 2019, as the country partnered with several nations on a bilateral and regional basis to improve information sharing related to CT activities," the report said.
Nevertheless, the report noted that Saudi Arabia suffered from several terrorist incidents in 2019, including those by Iranian and Houthi actors. One example in the report was the June 12 cross-border cruise missiles attack on Abha International Airport that led to 26 civilians being injured. Yemen's Houthi militia, backed by Iran, claimed responsibility for the attack.
Other attacks claimed by the Iranian-backed militia came on August 17 against a natural gas liquids plant at the Shaybah oilfield before another attack on September 14 by Iran hit the Abqaiq and Khurais oil processing facilities, the report said.
"Although Yemen's Iran-backed Houthi militants claimed responsibility for the attack, investigations led by Saudi Arabia and the United States concluded the Iranian government was behind the attack," the State Department report said.
https://english.alarabiya.net/en/News/gulf/2020/06/24/US-praises-Saudi-Arabia-s-efforts-to-countering-violent-extremism.html
--------
Pakistan allowed Taliban and Haqqani Network to use its territory to target Afghanistan: US
25 Jun 2020
Pakistan allowed the Taliban group and the notorious Haqqani terrorist network to use its terroritory in targeting Afghanistan during the year 2019.
"Pakistan remained a safe harbor for other regionally focused terrorist groups," the State Department said in its latested titled Country Reports on Terrorism 2019 which it published on Wednesday.
The report further added "It allowed groups targeting Afghanistan, including the Afghan Taliban and affiliated HQN, as well as groups targeting India, including LeT and its affiliated front organizations, and Jaish-e-Mohammed (JeM), to operate from its territory."
"It did not take action against other known terrorists such as JeM founder and UN-designated terrorist Masood Azhar and 2008 Mumbai attack "project manager" Sajid Mir, both of whom are believed to remain free in Pakistan," the report said.
However, the report added "Pakistan, however, did make some positive contributions to the Afghanistan peace process, such as encouraging Taliban reductions in violence."
The report also added "Pakistan made some progress toward meeting the Action Plan requirements for the FATF, allowing it to avoid being blacklisted, but did not complete all Action Plan items in 2019."
https://www.khaama.com/pakistan-allowed-taliban-and-haqqani-network-to-use-its-territory-to-target-afghanistan-us-08921/
--------
Gaddafi, Extremist Preacher, Hakem Al-Mutairi, Discuss 'Liberating' Arab World In New Leaked Recording
24 June 2020
Former Libyan dictator Col. Muammar Gaddafi and Kuwaiti hate preacher and author Hakem al-Mutairi are heard discussing revolutionary plans in an undated audio recording leaked by a Qatari opposition figure.
In this latest recording, which Al Arabiya English was unable to independently verify, Gaddafi reportedly told al-Mutairi: "We are your family and your support. You can count on us for anything to support you, all that you ask for, and you are capable of planning and working."
Gaddafi, who led Libya from 1969 until he was overthrown and killed in 2011, promoted a revolutionary ideology and frequently claimed to want to overthrow other Arab leaders.
For all the latest headlines follow our Google News channel online or via the app.
Al-Mutairi is the leader of the Kuwaiti Ummah Party, an unrecognized political party with conservative and allegedly extremist views. He was previously a founding member of Kuwait's Salafi Movement and critical of the US and Saudi Arabia.
He said to Gaddafi: "There is no atonement except through radical change to the region, and bringing things back to what they should be, and bringing down these governments or putting them in their place until the people can be liberated from this colonialism."
In 2017, the Arab Quartet of Saudi Arabia, the UAE, Egypt, and Bahrain named al-Mutairi as one of 59 individuals and institutions that have financed terrorism and received support from Qatar.
In the recording, Gaddafi is heard saying that they used to support the former Egyptian leader Gamel Abdel Nasser, saying he was considered "a role model" and the "hero of Arab nationalism."
"When we did the revolution in Libya we started planning for it and working for it through secret cells while we were young students in '59 and until '69," Gaddafi tells al-Mutairi. "Abdel Nasser didn't know us and he didn't meet us. And he did not plan for us, but we were able to follow through with the revolution."
He tells al-Mutairi that even without meeting him, the former Libyan leader believes the Ummah leader is capable of carrying out the revolution, to which al-Mutairi replies "For sure, the project has been on for years."
It is unclear what project they are discussing specifically.
Other leaks
The leak is the latest of audio clips to be shared by Qatari opposition figure Khalid al-Hail on Twitter; many of the recordings feature Gaddafi in discussions with prominent Qatari politicians.
On June 6, al-Hail released a recording that reportedly captured Qatar's former Emir Sheikh Hamad bin Khalifa al-Thani expressing Doha's support for the Libyan and the Syrian regimes in a conversation with Gaddafi and Qatar's former Prime Minister Sheikh Hamad bin Jassim.
The recording is one of several released by al-Hail in recent weeks, including one in which the former emir can be heard calling former US president Barack Obama a "slave" during a conversation with Gaddafi.
A similar recording between former emir of Qatar and Gaddafi was released in 2017, in which the two leaders attacked Saudi Arabia and the ruling family.
In another recording leaked from the same year, Gaddafi and the former prime minister can reportedly be heard discussing plans to carve up Saudi Arabia.
Sheikh Hamad bin Jassim did not deny the recording and said that the issue was discussed to appease Gaddafi.
In 2013, Sheikh Hamad handed over power to his son, current Emir Sheikh Tamim al-Thani. Hamad bin Jassim stepped down from his positions in government at the time and reportedly has strained relations with the current emir.
https://english.alarabiya.net/en/features/2020/06/24/Qatari-dissident-releases-recording-Gaddafi-supports-Kuwaiti-extremist-preacher.html
--------
Saudi Arabia participates in UN open discussion on children and armed conflict
June 25, 2020
NEW YORK: Saudi Arabia's permanent representative to the UN has pledged the Kingdom's backing for international efforts to stop the use of children in armed conflicts.
Speaking during a virtual UN Security Council discussion on the subject, Abdallah Al-Mouallimi called for collective action by the international community to address the issue.
In his briefing on behalf of the Kingdom, the ambassador said strict and effective measures were needed to target armed militias that used children as human shields and the countries that supported them with money and arms.
He pointed out that Saudi Arabia had joined many international frameworks that supported the protection of civilians and children in armed conflicts. These included the multilateral Optional Protocol to the Convention on the Rights of the Child on the Involvement of Children in Armed Conflict (known as the child soldier treaty), the steering committee of the Global Coalition for Reintegration of Child Soldiers, and the Friends of Reintegration group of child soldiers.
In a statement, UN special representative for children and armed conflict, Virginia Gamba, noted key achievements of the 2019 agenda and said 30 action plans and measures had been adopted through direct UN engagement on the ground with parties to better protect children in countries such as Congo, Yemen, and Syria.
She also highlighted the renewal of commitments to action plans in Somalia and Sudan.
Gamba added that perpetrators had been prosecuted for violations against children in Myanmar, Congo, and the Central African Republic.
Other developments that had taken place, she said, included the application of child protection language in peace processes and, within the context of peace agreements, the release of 13,200 children from parties to conflict following UN advocacy in 2019.
https://www.arabnews.com/node/1695086/saudi-arabia
--------
Iraq Collaborates With NATO to Fight ISIS
23 June, 2020
Iraqi Foreign Minister Fuad Hussein assured Monday that dialogue will continue with NATO on the mechanism of joint action in combating ISIS.
In a phone call with his French counterpart, Jean-Yves Le Drian, Hussein praised the important role of France in combating ISIS and the support provided to the Iraqi security forces through training and other logistical assistance, calling for the need to continue working together to defeat its threats.
On regional tensions and interventions, the Minister emphasized the responsibility of other countries in respecting the sovereignty of Iraq and following the principle of non-intervention, with the need for a new Iraqi policy that creates balanced relations with all neighboring countries.
For his part, Le Drian confirmed his country's support for the sovereignty of Iraq, praising the first round of strategic dialogue that took place between Baghdad and Washington and the agreement that included preserving the sovereignty of Iraq and the independence of the Iraqi decision, stressing the need to distance Iraq from tensions in the area.
Commenting on Iraqi-NATO coordination to fight ISIS, national security professor at Nahrain University Dr. Hussein Allawi described the relationship between the two sides as "strong."
He told Asharq Al-Awsat that current contacts aim to enhance cooperation for security and intelligence training to help build the capacities of the Iraqi forces to face terrorism and strategic threats.
"NATO wishes to support the government of Mustafa al-Kadhimi," Allawi said.
For his part, Matthew Morris, a spokesman for the US-led mission in Iraq and Syria told Asharq Al-Awsat that the Iraqi forces conducted more than 1000 group military operations against ISIS lately.
He said ISIS' activities have decreased in the past days because the terrorist group was hit by military operations that crippled its nets in several Iraqi areas.
"However, ISIS still constitute a threat in Iraq, the Arab region and several parts around the world," Morris said, adding that the Iraqi forces have become capable to plan and conduct operations against ISIS with the same level of the support that was offered by the Coalition in the past years.
Meanwhile, Joint Operations Command spokesman Major General Tahsin al-Khafaji announced early on Monday the launch of the third stage of Iraq's Heroes Operation to clear and search areas in Salah al-Din Governorate and the boundaries with Diyala, Samarra, and Kirkuk governorates to combat ISIS sleeper cells.
The operation is led by the Iraqi army, members of the Popular Mobilization Forces, the Iraqi federal police, and will be supported by Iraqi air forces and coalition warplanes.
https://english.aawsat.com/home/article/2349636/iraq-collaborates-nato-fight-isis?utm_source=iterable&utm_medium=email&utm_campaign=1310991_
--------
Israeli annexation could lead to war beyond region: Arab League head
24 June 2020
The head of the Arab League warned a high-level UN meeting Wednesday that Israel's annexation of parts of the West Bank would inflame tensions and endanger peace in the Middle East, and could ignite "a religious war in and beyond our region."
Ahmed Aboul Gheit, secretary-general of the 22-member organization, said annexation will also have "broader ramifications on the international security around the world."
"If implemented, Israeli annexation plans would not only be detrimental to the chances of peace today but will destroy any prospects for peace in the future," he told the Security Council. "Palestinians will lose faith in a negotiated solution, I'm afraid Arabs too will lose interest in regional peace. A new dark reality will set in vis a vis this conflict and in the region at large."
For all the latest headlines follow our Google News channel online or via the app.
The council meeting came days ahead of the July 1 date that Israeli Prime Minister Benjamin Netanyahu's coalition deal allows an annexation plan to be presented.
Israel captured the West Bank from Jordan in the 1967 Mideast war and has built dozens of settlements that are now home to nearly 500,000 Israelis, but it never formally claimed it as an Israeli territory due to stiff international opposition.
Israel's UN Ambassador Danny Danon told the council that "should Israel decide to extend its sovereignty, it would be doing so with respect to areas over which it has always maintained a legitimate historical and legal claim."
The Palestinians, with wide international backing, seek the West Bank as the heartland of their future independent state. Most of the international community considers Israel's West Bank settlements illegal under international law.
UN Secretary-General Antonio Guterres opened the meeting with a call on Israel to abandon its annexation plans, an appeal echoed by almost all other speakers including half a dozen ministers and deputy ministers.
The UN chief said annexation "would constitute a most serious violation of international law, grievously harm the prospect of a two-state solution and undercut the possibilities of a renewal of negotiations."
Guterres urged the United States, the European Union and Russia to swiftly take up their mediation role along with the United Nations as part of the so-called Quartet "and find a mutually agreeable framework for the parties to re-engage, without preconditions, with us and other key states."
EU foreign policy chief Josep Borrell backed Quartet action in a letter to the Security Council obtained by AP that also said "unilateral annexation would inevitably have legal consequences for the international community's relations with Israel."
A joint statement by six current and incoming European members of the Security Council said "annexation would have consequences for our close relationship with Israel and would not be recognized by us."
With Trump's re-election prospects uncertain this November, Israeli hard-liners have urged prime minister Netanyahu to move ahead with annexation quickly.
Senior Palestinian officials gathered Wednesday in the Jordan Valley. The prime minister appealed to the international community and US and Israeli officials with "the loudest voice" to stop the Israeli plan.
"Some say partial annexation. Some say full annexation. We will not accept any kind of annexation.," said Prime Minister Mohammad Shtayyeh. "We will not concede one centimeter of its land."
US Ambassador Kelly Craft said many council members "have concerns with this issue of the potential extension of Israeli sovereignty in the West Bank."
"At the same time, we ask that you also hold the Palestinian leadership accountable for acts they are responsible for," she said. Craft urged Palestinian leaders to look closely at Trump's plan "and engage us," stressing that "it is an opening offer."
https://english.alarabiya.net/en/News/middle-east/2020/06/25/Israeli-annexation-could-lead-to-war-beyond-region-says-Arab-League-official.html
--------
Pakistan
Pakistan disappointed after US blocks move but will pursue terror listing of Indians
Jun 24, 2020
NEW DELHI:After the US dismissed a proposal by Pakistan at UNSC, as first reported by TOI Tuesday, to designate an Indian national global terrorist, Islamabad expressed disappointment in a statement but added it will continue to pursue the listing of 3 other Indians against whom it has made similar allegations.
Islamabad had sought the listing of an Indian engineer, Venu Madhav Dongara, in Afghanistan by UNSC 1267 Sanctions Committee, holding him responsible for terror attacks in Pakistan. The proposal was seen as a retaliation against India for the listing of Pakistan based JeM chief Masood Azhar as a global terrorist by the Committee last year.
The US though on Friday officially conveyed its objection to the UN Secretariat and UNSC member states saying that it was going to formally block and dismiss the proposal as there was no real evidence against Dongara. It had last year put the proposal on a hold for the same reason.
Even as Indian officials here said that Pakistan should at least now realise that making preposterous allegations against India will only prove counterproductive, Islamabad remained defiant as it accused India of fomenting terrorism in Pakistan and hoped for "due consideration" by Sanctions Committee of its request in an "objective and transparent" manner.
While Pakistan now seems to have given up on Dongara (it will need a fresh proposal against him now), it is still hoping to get the 3 other Indian nationals listed with help from China.
Indian government sources described it as wishful thinking though. "The US finally blocked the proposal but it didn't find any traction with other members too because Pakistan couldn't back its claims with any evidence. Instead of drawing a false equivalence, Pakistan should focus on checking the activities of terror groups operating from its territory," said a government source here. India had on Tuesday further downgraded its ties with Pakistan by asking Islamabad, for the first time in almost 20 years, to halve its high commission strength here.
Pakistan had proposed the designation of four Indian nationals, including Dongara, in 2019 under the UN 1267 sanctions list.
It had alleged that these individuals were "financing, sponsoring and organizing terrorism" inside Pakistan by providing financial, technical and material support to terrorist groups including TTP, Jamaat-ul-Ahrar and others.
"We are disappointed that Pakistan's proposal to designate Venumadhav Dongara as a terrorist has been objected to," it said.
The Pakistan foreign ministry further claimed that the fact that these Indian nationals were now residing in India "with impunity vindicated Pakistan's position that India is a state-sponsor of terrorism".
https://timesofindia.indiatimes.com/india/pakistan-disappointed-after-us-blocks-move-but-will-pursue-terror-listing-of-indians/articleshow/76584780.cms
--------
Pakistan to continue in FATF's 'Grey List' for failing to check funding to LeT, JeM
Jun 24, 2020
NEW DELHI: The global terror financing watchdog, FATF, on Wednesday decided to keep Pakistan in the "Grey List" as it has failed to check flow of money to terror groups like the LeT and the JeM, officials said.
The decision was taken at the Financial Action Task Force's third and final plenary held virtually due to the Covid-19 pandemic.
The plenary was held under the Chinese Presidency of Xiangmin Liu.
"The FATF plenary decided continuation of Pakistan in 'Grey List' till its next meeting to be held in October," an official privy to the development told PTI.
The decision has been taken as Pakistan has failed to check flow of money to terror groups like Lashkar-e-Taiba (LeT) and Jaish-e-Mohammed (JeM), the official said.
The FATF decision comes on a day the US Country Reports on Terrorism slammed Pakistan as a safe harbour for "regionally focused terrorist groups" and allowing LeT and JeM to operate from its soil.
The US State Department report said Pakistan took modest steps in 2019 to counter terror financing and restrain India-focused militant groups from conducting large-scale attacks following the February attack on a security convoy in Pulwama in Jammu and Kashmir linked to Pakistan-based Jaish-e-Mohammed (JeM).
"Pakistan took action against some externally focused groups, including indicting Lashkar e-Tayyiba (LeT) founder Hafiz Saeed and associates in three separate terrorism financing cases.
"However, Pakistan remained a safe harbour for other regionally focused terrorist groups. It allowed groups targeting Afghanistan, including the Afghan Taliban and affiliated HQN, as well as groups targeting India, including LeT and its affiliated front organisations, and Jaish-e-Mohammed (JeM), to operate from its territory," the report said.
A strong Indian delegation with experts on money laundering and terror financing participated in the half-day FATF plenary.
With Pakistan's continuation in the 'Grey List', it will be difficult for the country to get financial aid from the IMF, World Bank, ADB and the European Union, thus further enhancing problems for the nation which is in a precarious financial situation.
If Pakistan fails to comply with the FATF directive by October, there is every possibility that the global body may put the country in the 'Black List' along with North Korea and Iran.
India has been maintaining that Pakistan extends regular support to terror groups like LeT, JeM and Hizbul Mujahideen, whose prime target is India, and has urged FATF to take action against Islamabad.
Pakistan was placed on the 'Grey List' by the FATF in June 2018 and continues to be in the list since then as it has failed to comply with the tasks given by the FATF to stop terror financing.
The FATF is an inter-governmental body established in 1989 to combat money laundering, terrorist financing and other related threats to the integrity of the international financial system.
Full report at:
https://timesofindia.indiatimes.com/world/pakistan/fatf-continues-pakistan-in-grey-list-in-virtual-meeting/articleshow/76585233.cms
--------
Qureshi accuses India of plotting attack on Pakistan to divert attention from dispute with China
Jun 24, 2020
ISLAMABAD: A day after Pakistan was asked to reduce its staff at its High Commission in New Delhi by half, foreign minister Shah Mahmood Qureshi on Wednesday accused India of plotting an attack on his country to divert its Opposition's attention from its border dispute with China.
Speaking to Geo Pakistan, Qureshi said, "India's mood is clear [for all to see] as it wants to divert attention from its border dispute with China to Pakistan."
He claimed that India was finding excuses to launch a 'false flag operation' against Pakistan. But he did not elaborate or give any evidence.
"The Opposition in India is raising questions that their government can't answer," he said, referring to the criticism being faced by the Modi government regarding its response to the border dispute with China in the Galwan Valley in which 20 Indian soldiers were killed.
Qureshi warned India to refrain from launching any attacks on his country, saying Pakistan would respond with full force if New Delhi embarks on "any misadventure."
Stating that India had levelled baseless allegations against Pakistani diplomats of spying in New Delhi, Qureshi alleged that the Pakistani staff was harassed in India and their cars were followed by authorities.
He said that Pakistan had not only condemned the allegations but also rejected them.
He said that the Indian Charge d' Affaires in Islamabad was summoned on Tuesday and told that the same treatment would be meted out to the Indian staff.
"We told him [Indian Chargé d' Affaires] that because of this unilateral policy, you also wrap up and slash your [diplomatic staff] presence by 50 per cent," Qureshi said.
"If Pakistani staff returns home, Indian staff will also go back," he said.
On Tuesday, India had told Pakistan to slash its embassy staff in New Delhi by half — saying it would do the same in Islamabad.
"The behaviour of Pakistan and its officials is not in conformity with the Vienna Convention and bilateral agreements on the treatment of diplomatic and consular officials," the External Affairs Ministry said in a statement.
"On the contrary, it is an intrinsic element of a larger policy of supporting cross-border violence and terrorism. Therefore, the Government of India has taken the decision to reduce the staff strength in the Pakistan High Commission in New Delhi by 50%," the MEA said.
The already fractious relationship between the two nations strained further after India expelled two Pakistan embassy officials for spying in late May.
India also accused Islamabad of torturing two Indian diplomats arrested in an alleged hit-and-run incident in Islamabad.
Islamabad police later said both Indian High Commission officials were released due to their diplomatic immunity and had been handed over in the presence of Pakistani ministry's officials.
India's expulsion of the two Pakistani officials and subsequent harassment of Indian High Commission staffers in Islamabad by Pakistani agencies came in the midst of frayed ties between the two countries over the reorganisation of Jammu and Kashmir by India.
Top Pakistani leaders, including Prime Minister Imran Khan, have been raising the issue of India planning to attack the country again after the Indian Air Force jets bombed a terror training camp in Balakot in February.
Full report at:
https://timesofindia.indiatimes.com/world/pakistan/qureshi-accuses-india-of-plotting-attack-on-pakistan-to-divert-attention-from-dispute-with-china/articleshow/76584969.cms
--------
Isa's wife says her family is receiving threats
June 25, 2020
ISLAMABAD: The wife of Justice Qazi Faez Isa on Wednesday informed the police that the life of her family was in danger as they were receiving threats of dire consequences, police said.
She requested the police to register a case against those who were threatening and harassing her family.
"I am the wife of Mr Justice Qazi Faez Isa, who is a judge of the Supreme Court, and to whom a death threat has been extended," she said in her complaint, adding that a person in a video had said that her husband should be shot publicly. She also submitted a USB containing the threatening video message.
A search on the internet revealed the name of the person painting a target mark on her husband's picture to be Agha Iftikharuddin Mirza, she said, adding that she had enclosed printouts of two documents which she had obtained from links appearing in the video, but she did not know if this was his real name.
"As you must know many powerful people are not happy with my husband and I suspect that this death threat to my husband is in continuation of what we have been facing," Justice Isa's wife said, adding that her father was seriously ill and today was the first day she had stepped out of the house after a long time.
"I do not want to lose my husband," the complainant said.
Full report at:
https://www.dawn.com/news/1565068/isas-wife-says-her-family-is-receiving-threats
--------
Coronavirus spread being controlled as new cases stay below 400: capital admin
June 25, 2020
ISLAMABAD/RAWALPINDI: Less than two weeks after the capital reported 771 cases of Covid-19 in a single day, the administration is claiming to have controlled the spread of the virus enough that Islamabad has reported fewer than 400 new cases every day in the days following lockdowns in hotspots.
Officials in the capital administration said the highest number of Covid-19 cases reported this month was on June 14, with 771 new patients. This fell to 635 on June 15, after which it has not crossed 400.
Islamabad reported 288 cases on June 16, 385 on June 17, 395 on June 18, 304 on June 19, 338 on June 20, 383 on June 31, 250 on June 22, 307 on June 23 and 264 on June 24, they said. There were also three deaths reported on June 14, five on June 15, seven on June 16, four on June 17, one on June 18, three each on June 20 and 21, five on June 22, two on June 23 and seven on June 24.
Punjab Dashboard now incorporates Covid-19 data from Rawalpindi's private hospitals, including backdated deaths, commissioner says
Deputy Commissioner Mohammad Hamza Shafqaat said the administration had worked hard to minimise the spread of the coronavirus, which was now being controlled. He said the number of new cases per day was down from 600-700 to less than 400 as a result of sealing hotspots and implementing standard operating procedures.
Two sub-sectors of G-9 were sealed on June 13 and two sub-sectors of I-8 and I-10 were sealed on June 18, he said. These six areas were identified as hotspots with a high level of transmission, which has since reduced.
Mr Shafqaat was hopeful that the spread of the coronavirus will be controlled further in coming days, as four areas in three more sub-sectors were sealed on Wednesday.
Also on Wednesday, 264 more people were diagnosed with Covid-19 and seven patients died from the disease.
The seven deaths were reported from six hospitals in the city, including two at the Pakistan Institute of Medical Sciences. The deceased included two women between the ages of 50 and 59, two men between the ages of 80 and 89, one man between the ages of 40 and 49, one woman between the ages of 60 and 69 and one man between the ages of 70 and 79.
There were 19 cases reported from Bhara Kahu, 18 from I-8, 15 each from G-9 and G-11, 14 each from I-10 and the Defence Housing Authority, 13 each from G-7 and G-10, 11 from G-8, 10 from G-6, nine from Tarlai, eight from Khanna, seven each from Alipur and Chak Shahzad, six each from Sohan, G-13, F-10 and Bahria Town, five from I-9, four each from Shah Allah Ditta, G-5, F-8 and F-11, three each from Lehtrar, Sihala, H-13, Ghouri Town, G-15 and E-11, two each from P.W.D., E-7, I-14, F-5, F-6, F-7, Jinnah Garden, Soan Garden and Rawal Town and one each from Model Town, Korang Town, Naval Anchorage, I-11, H-8, H-12 and D-17.
Rawalpindi
Another 61 people were diagnosed with Covid-19 in the garrison city on Wednesday, while 31 patients recovered.
According to data available on the Punjab Dashboard, 22deaths from Covid-19 were also reported in the district.
Commissioner retired Capt Mohammad Mehmood told Dawn that as of Wednesday, the dashboard includes data from private hospitals and added that "backdated deaths" are included as well.
He said private hospitals and clinics have been asked to send daily records of Covid-19 tests and deaths to the Punjab Primary Health Department. Their data was not incorporated into the dashboard last week.
The government has also made it mandatory for government and private hospitals to make daily lists of Covid-19 patients and deaths.
With 61 more patients, Rawalpindi district has now reported 5,325 Covid-19 cases as well as 241 deaths and 2,594 recoveries.
At present, there are 986 patients being treated in hospitals, 1,504 under home isolation and 273 patients who belong to other districts.
Another 1,784 suspected patients have been admitted to the four hospitals in the city and their samples sent to the National Institute of Health (NIH) and Benazir Bhutto Hospital and Holy Family Hospital laboratories for testing.
Local administrations have kept 5,600 people who were in contact with confirmed patients under observation in their homes.
In addition, 173 members of the Tableeghi Jamaat have been tested in the last three days; 150 were negative for Covid-19, while 13 people who tested positive are isolated in their homes and the results of 10 are still pending.
Also on Wednesday, eight shops were sealed in the district and Rs45,500 in fines imposed on shopkeepers for violating standard operating procedures (SOP) to limit the spread of the coronavirus. A total of 42 vehicles were impounded and Rs51,000 in fines were imposed on public transport for violating SOPs.
Taxila
There were 15 new cases of Covid-19 reported in Taxila on Wednesday, bringing the tally there to 343.
Deputy District Officer Health Dr Sara Qadeer said that an employee of the Christian Hospital in Taxila is among the new patients, three of whom caught the disease from previously confirmed patients while 12 were cases of local transmission.
She said two patients have been admitted to the Rawalpindi Institute of Urology, two are at the Pakistan Ordnance Factories Hospital in Wah and 11 are under home isolation.
Three patients are from Taxila and 12 are from various urban areas in Wah, including the Askari Cement Factory Colony, she added.
Attock
Five people were diagnosed with Covid-19 on Wednesday, raising the tally in Attock district to 388.
District focal person for Covid-19 Dr Asif Arbab Niazi said that one of the new patients is from Hassanabdal tehsil and the other four are from Attock city. Among the new patients is a doctor at the District Headquarters Hospital.
Full report at:
https://www.dawn.com/news/1565041/coronavirus-spread-being-controlled-as-new-cases-stay-below-400-capital-admin
--------
US lauds Pakistan for opening Ghulam Khan border with Afghanistan
June 25, 2020
The United States on Wednesday welcomed Pakistan's move to open its third border crossing with Afghanistan to facilitate trade between the two countries.
"Encouraged that Afghanistan and Pakistan have agreed to open a third border crossing at Ghulam Khan to facilitate trade between the two countries and help businesses/exporters get back on their feet," the US State Department said in a tweet.
It added that the increased, uninterrupted Pak-Afghan trade and connectivity will bring benefits to both economies.
On Monday, Pakistan announced it was opening the third border crossing with Afghanistan for 24/7 trade. The Torkham, Chaman and Ghulam Khan borders have been opened to increase the volume of trade and to promote business activities between the two countries.
A notification issued by the Ministry of Interior said the three border terminals would remain open for imports and exports from and to Afghanistan, with an unlimited number of trucks to be allowed per day for both Afghan transit and bilateral trade.
The Foreign Office in a press release said the government decided to open the third border terminal at Ghulam Khan for bilateral trade and also to allow transit trade and imports from Afghanistan through the already opened Torkham and Chaman border points for six days.
"This arrangement on trade will be in operation for six days a week. Saturday will be reserved for pedestrian movement on these border crossing terminals. These steps are being taken after implementing all the necessary protocols related to COVID-19 pandemic," the foreign office had said.
The decision was made keeping in view of both countries' desire to further increase mutual trade, strong fraternal ties and upon the renewed Afghan Government's request, it added.
"The opening of Ghulam Khan border crossing terminal and allowing imports from Afghanistan reflects Pakistan's resolve to help Afghanistan and facilitate its trade.
Full report at:
https://www.pakistantoday.com.pk/2020/06/24/us-lauds-pakistan-for-opening-ghulam-khan-border-with-afghanistan/
--------
Pakistan condemns Houthi militia's missile, drone attacks on Saudi Arabia
June 25, 2020
ISLAMABAD: The Foreign Office (FO) on Wednesday condemned the missile and drone attacks towards Riyadh and other cities of Saudi Arabia carried out by the Houthi militia.
"Pakistan strongly condemns multiple missile and drone attacks towards Riyadh, Najran and Jazan by the Houthi militia," the FO said in a statement.
Islamabad called for "immediate cessation of these attacks" and reiterated its support and solidarity with Saudi Arabia in the face of "any threats to its security and territorial integrity".
Yemen's Iran-aligned Houthi movement fired missiles that reached the Saudi capital on Tuesday, the first such attack since a ceasefire put in place during the coronavirus epidemic expired last month.
Two large explosions could be heard in Riyadh near dawn and smoke billowed into the sky. The Houthis said they had hit the Saudi defence ministry and a military base, while a Saudi-led military coalition said it had shot a missile down, making no reference to targets.
There was no sign of damage to the side of the defence ministry building that is visible from the main road or to any surrounding buildings. The area was quiet on Tuesday evening, with normal traffic flows and no additional security measures.
Earlier, on June 22, Yemen's Saudi-backed government and the southern separatist forces had agreed on a ceasefire and were to begin talks in Saudi Arabia on implementing a peace deal, the Saudi-led coalition said.
The government, based in the southern port of Aden, and the separatists are nominal allies in the Saudi-led coalition, which has been at war against the Iran-aligned Houthis that have controlled the capital since 2014.
However, the separatist Southern Transitional Council (STC) declared self rule in April, and the two sides have been fighting in the south, complicating UN efforts to forge a permanent ceasefire to the overall conflict.
Tensions escalated over the weekend after the STC seized control of Socotra, a Yemeni island in the Arabian Sea, deposing its governor and driving out forces of the government.
The two sides have now agreed to a ceasefire in Abyan province along the coast east of Aden, as well as de-escalation of tensions in Socotra and other regions, and the start of talks, a statement from the Saudi-led coalition said.
Full report at:
https://www.pakistantoday.com.pk/2020/06/24/pakistan-condemns-houthi-militias-missile-drone-attacks-on-saudi-arabia/
--------
India
'Pakistan high commission staff in terror links with J&K ex-DSP'
Jun 25, 2020
NEW DELHI: The National Investigation Agency (NIA) has stumbled upon an alleged terror link between suspended J&K deputy superintendent of police Davinder Singh, currently in judicial custody, and Pakistan high commission officials in Delhi.
Sources on Wednesday told TOI that the NIA, during its probe into a terror case relating to ferrying of terrorists by Singh in a car, had found that he was in touch with Pakistan high commission (HC) officials as regards his activities purportedly meant to aid terrorists and terror activities in J&K. The NIA has identified the 'go-between' through whom Singh was allegedly in touch with some junior staffers at the Pakistan HC, sources said. More details are expected to emerge in the chargesheet to be filed by the NIA against Singh in the first week of July.
A source said Singh was in contact with Pakistan HC sta- ffers as part of his terror-related activities that included arranging safe passage for terrorists for monetary considerations, sourcing and transporting weapons and acting as a conduit for terror funds.
Another source indicated that the Pakistan HC link found in terror cases being probed by the NIA was one of the factors that led India to ask Pakistan to reduce its stren- gth in the mission here by half.
This is not the first time that NIA has traced links of terror cases to Pakistan HC staffers. In a 2017 terror funding case involving Hurriyat Conference leaders, the NIA had allegedly found the role of Pakistan HC staffers in supporting separatist networks in Kashmir through transfer of funds and in providing directions to foster the unrest in the Valley.
The 'go-between' who put Singh in touch with Pakistan HC staffers is likely to be booked by NIA soon. Singh was granted bail in a separate case filed by the Special Cell of Delhi Police as NIA failed to file chargesheet within the mandatory 90 days after his arrest.
https://timesofindia.indiatimes.com/india/pakistan-high-commission-staff-in-terror-links-with-jk-ex-dsp/articleshow/76610861.cms
--------
Covid-19 lockdown delays marriage of Pak bride and Indian groom; duo appeals to PM Modi for visa
Jun 25, 2020
JALANDHAR: Pakistan-based Sumaila and a resident of Jalandhar Kamal Kalyan, who got engaged online in 2018, have sought Prime Minister Narendra Modi's intervention in securing visas for Sumaila and her family members for their wedding.
The duo, scheduled to get married in March, had to delay the wedding in the wake of Covid-19 and lockdown. Now, Sumaila has urged Prime Minister Modi, through the media, to allow visas for her and her family members.
Sumaila wants to get married to Kalyan as soon as visas are granted by the Indian government. Speaking over the phone, Sumaila said: "Kalyan has prepared the papers for visa sponsorship. But he was unable to send these papers to Pakistan due to Covid-19 lockdown. I urge the Government of India that both countries should issue visas in the matter of marriage soon and open borders."
Meanwhile, Kamal Kalyan from Jalandhar, said: "I appeal to Prime Minister Narendra Modi to grant a visa to Sumaila so she can come to India and we can get married. I had completed the requisite paperwork but the process was stalled due to corona lockdown."
Kamal and Sumaila have not met each other so far. They have been communicating with each other over the phone. Their families agreed on the relationship on January 26, 2018, and they got engaged through a video call. Om Prakash, Kamal's father, said that Sumaila is the daughter of his cousin Asiya.
Full report at:
https://timesofindia.indiatimes.com/india/covid-19-lockdown-delays-marriage-of-pak-bride-and-indian-groom-duo-appeals-to-pm-modi-for-visa/articleshow/76617083.cms
--------
Yet another Muslim denied burial space in Hyderabad
25th June 2020
HYDERABAD: A Muslim family was denied space to bury a deceased family member at the cemetery in Langar Houz on Wednesday. The incident comes nearly a month after a Muslim man was denied burial space at least five cemeteries in the city, which had caused a furore.
Mohammed Fasiuddin Ilyas' father passed away on Wednesday morning after he was redirected to various hospitals in the city. Some hospitals, Ilyas alleged, denied admitting his father. He said after his father's death, the family took the body to Langar Houz cemetery. After last month's incident, the Waqf Board had set up a toll free number. Ilyas said he called the helpline but got no response.
https://www.newindianexpress.com/cities/hyderabad/2020/jun/25/yet-another-muslim-denied-burial-space-in-hyderabad-2160983.html
--------
Encounter breaks out between security forces, terrorists in J&K's Sopore
Jun 25, 2020
SRINAGAR: An encounter broke out between security forces and militants in Sopore area of Baramulla district of Jammu and Kashmir on Thursday, police said.
Security forces launched a cordon and search operation at Hardshiva in Sopore area, of north Kashmir, this morning after receiving specific information about the presence of terrorists in the area, a police officer said.
He said the search operation turned into an encounter after terrorists fired upon a search party of the forces, who retaliated. The exchange of firing is going on and further details are awaited.
https://timesofindia.indiatimes.com/india/encounter-breaks-out-between-security-forces-terrorists-in-jks-sopore/articleshow/76616513.cms
--------
India voices support for halt to hostilities in Libya
June 25, 2020
India on Wednesday said the "continuing conflict and instability in Libya is a matter of international concern", and that it supports "efforts towards immediate cessation of all hostilities in Libya".
Ministry of External Affairs spokesperson Anurag Srivastava said: "The continuing conflict and instability in Libya is a matter of international concern. We support efforts towards immediate cessation of all hostilities in Libya."
"We acknowledge the recent international efforts in this direction, including the Berlin International Conference held on 19 January 2020 and the Cairo Declaration of 6 June 2020, and hope that these initiatives will promote the peaceful resolution of the conflict through an intra-Libyan dialogue taking into account the legitimate aspirations of the Libyan people, while preserving Libya's sovereignty, unity and territorial integrity," he said.
Full report at:
https://indianexpress.com/article/india/india-voices-support-for-halt-to-hostilities-in-libya/
--------
Southeast Asia
Indonesia is finally waking up to Islamic finance
June 22 2020
Indonesia, home to the world's largest Muslim population of more than 230mn people or about 88% of the country's total inhabitants, is eventually waking up to give Islamic finance a much-needed kick start to become a more disseminated form of banking and investing in the Southeast Asian nation. And the potential is there, prompting analysts to label the nation as a "waking giant" with much of the future global growth in Islamic finance believed to be contributed by Indonesia.
Despite its potential in sheer numbers of underbanked Muslims, Indonesia has been a slow starter in Islamic finance and is about a decade behind Malaysia in terms of development of the sector. Only in the last few years, there have been some visible steps to support Shariah-compliant finance and lift its market share in terms of asset volume beyond the current 6% — as compared to close to 40% in Malaysia.
Indonesia's first Islamic bank, Bank Muamalat, was established only in 1992, some legal regulations were set in the following years and a dual banking system for conventional and Islamic banking was recognised in 1998.
The country's central bank was allowed to make use of Islamic instruments as part of its monetary policy in the same year and issued its first sovereign sukuk, which was followed by the first retail sukuk in 1999.
But the sector remained widely unregulated until 2014, when Islamic banks alongside conventional financial institutions came under the supervision of the Financial Services Authority, the country's financial market watchdog. Later on, in 2016, the Indonesian government set up the National Islamic Finance Committee to support and promote the development of Shariah finance in the country.
When the regulations set in, the sector came finally into gear, with especially the sukuk market in local currency growing with new issuances coming out annually, the number of Islamic banking outlets – including Islamic windows – doubling over the past decade and Islamic finance generally enjoying higher growth than the conventional sector.
The expansion was helped in recent years by a sizeable sectoral expansion of the industry, including Islamic microfinance, rural Islamic banking and Islamic lending cooperatives, Shariah-compliant financing for small and medium enterprises, as well as the growing innovative potential with the advent of Islamic fintechs and the adaption of sustainable Islamic finance and impact investing, shown by the issuance of green sukuk.
The government of Indonesia on June 17 issued its latest Islamic bond, a $2.5bn global sukuk, amid strong interest from investors especially from other Asian countries and the Middle East. The sukuk, launched as part of the country's efforts to meet coronavirus-induced funding requirements, was issued in three tranches, one of which was a five-year green sukuk worth $750mn. The issuance was oversubscribed by 6.7 times, reflecting the strong international investor appetite for the Islamic bond.
This issuance has been carried out "to accommodate budget needs in handling the impact of the Covid-19 pandemic, as well as to strengthen Indonesia's position in the global Islamic financial market and support the development of Islamic finance in the Asian region," said Indonesia's director of Islamic finance at the finance ministry, Dwi Irianti Hadiningdyah.
Thomson Reuters in a recent analysis saw high future potential for foreign direct investment (FDI) in Indonesia's Islamic banking industry, for both the retail and the corporate sector. In retail, there is particular potential for products enhancing financial inclusion, such as direct banking, mobile banking, consumer loans, direct takaful, as well as for wealth management and Islamic social finance, including zakat- and waqf-related products, as well as microfinance. In the corporate sector, the analysis saw investment opportunities for Islamic funding of infrastructure and private-public partnership projects, as well as for agricultural, energy and mining ventures.
Other promising sectors were business takaful, corporate sukuk and Shariah-compliant corporate asset management. On a macroeconomic level, the analysis also underlined the potential of impact investing in Indonesia, namely in the halal industry, including halal tourism, halal food and halal fashion.
Going by the numbers, things are looking good for Indonesia. The United Nations Conference on Trade and Development in its annual world investment report for 2019 issued on June 12 found that Indonesia attracted a record $23.4bn in FDI last year, up nearly 14% from 2018 which made it the only Islamic country in the top-20 global economies in terms of FDI volume.
https://www.gulf-times.com/story/666321/Indonesia-is-finally-waking-up-to-Islamic-finance
--------
Being Muslim means you're never safe from China
06/24/20
For most people, traveling abroad can lead to exciting opportunities and exposure to new cultures. For Muslims from China, traveling abroad can put friends and family at home at risk. In December 2015, Abduhaliq Aziz, a young Muslim from the ancient city of Kashgar, moved to Cairo to study at the renowned Al-Azhar University. Shortly thereafter, Chinese authorities retaliated by detaining Aziz's parents. Several years after Ablikim Yusuf, a Uyghur Muslim, moved to Pakistan for work, he received a message over WeChat: his brother was in a reeducation camp. Last summer, Qatari authorities nearly deported Yusuf to China while he was transiting through Doha airport; only public outrage and U.S. diplomacy allowed him to settle in Virginia.
At least Aziz and Yusuf are free. Millions of Muslims back in China aren't so fortunate.
Since 2017, the Chinese government has detained an estimated 1.8 million Uyghur, Kazakh, and other Muslims in concentration camps across the northwestern region of Xinjiang. Leaked government documents show that many of these individuals were targeted because of their religious practices, such as growing a beard or wearing a veil, not because they posed a security risk. As part of this sinification campaign, nearly half a million Muslim children have been separated from their families and placed in boarding schools, where they are taught to obey the party and reject Islam.
The Chinese government's persecution of its Muslim population is unique not just because of its scale and ruthlessness, but also because of the lengths to which it goes to pursue Muslims outside its borders. The government has submitted extradition requests to Turkey, Kazakhstan, Uzbekistan, Malaysia, and other countries for Muslims who fled China. In 2017, Egyptian authorities rounded up dozens of Uyghur students and deported them to China. When it can't seize individuals who have fled abroad, the government often detains their families back in China. In a particularly cruel move, in 2018 Dr. Gulshan Abbas was disappeared in an attempt to silence her sister, Rushan Abbas, an outspoken Uyghur-American activist based in Virginia.
Chinese agents have also harassed Uyghur Muslims who have become citizens or permanent residents in other countries, especially those vocal in criticizing the Communist Party's human rights record. Uyghurs in the United States, Europe, Canada, and Australia have reported receiving threatening phone calls to obtain personal information or being tracked by Chinese diplomats.
Contrary to the Communist Party's propaganda, the Chinese government's war on faith is not simply a domestic issue. It affects Muslims around the world, from Istanbul to Indiana. It affects our fellow citizens, our colleagues, our neighbors, and our families.
In our 2020 Annual Report, the U.S. Commission on International Religious Freedom (USCIRF) recommended that the U.S. government continue and increase efforts to counter Chinese influence operations designed to suppress religious freedom advocacy. The Uyghur Human Rights Policy Act, which Congress recently passed and President Donald Trump signed, makes important progress by requiring the FBI and State Department to report on Chinese attempts to intimidate U.S. citizens, ethnic Uyghurs, and Chinese nationals in the United States. U.S. diplomats should inform other governments — particularly those in Muslim-majority countries — of the threat to their citizens and encourage them to take steps to protect them.
In addition, we urge the State Department to work with other countries to prevent the refoulment to China of Muslims and others fleeing religious persecution. A priority should be lobbying against any extradition treaty with China without clear allowances for political asylum. We are especially concerned about the ambiguity of a draft extradition treaty between Turkey and China. The ratification and interpretation of this treaty could spell the difference between freedom and oppression for the approximately 50,000 Uyghur Muslims who reside in Turkey.
Full report at:
https://thehill.com/blogs/congress-blog/civil-rights/504228-being-muslim-means-youre-never-safe-from-china
--------
Rohingya say dozens perished in months-long voyage to Malaysia
June 25, 2020
Survivors from a boat crammed with more than 300 Rohingya refugees have recounted to Malaysian authorities how dozens had perished during a tortuous four-month voyage and their bodies thrown in the sea.
The head of the Malaysian Maritime Enforcement Agency (MMEA) described the ordeal suffered by Rohingya whose damaged boat had made land on the Malaysian island of Langkawi on June 8, with 269 people on board.
He also recounted how the Rohingya had been transferred from a larger "motherboat" to a smaller vessel half-way through a voyage that began close to the Myanmar-Bangladesh border back in February.
"I was told that around 300-plus were transferred" to the boat that reached Malaysia, MMEA Director-General Mohd Zubil Bin Mat Som told a news conference on Wednesday.
"But some died at sea. They were thrown overboard," he said, later telling Reuters that those that perished had fallen sick, without elaborating further.
The Rohingya had risked the perilous sea journey south across the Bay of Bengal and the Andaman Sea, having lost hope of making a better life in the refugee camps in Bangladesh, where many of them had found sanctuary after fleeing their homes in Myanmar following a military crackdown in August 2017.
The United Nations has said the military crackdown was carried out with "genocidal intent", but Myanmar denies it, saying it was responding to attacks on security posts by Rohingya fighters.
Mainly Muslim Malaysia is home to the second-largest number of Rohingya refugees after Bangladesh, though there is growing opposition to them settling there as an ailing economy and the coronavirus scare have made people less tolerant of the newcomers.
The survivors of the boat that came ashore in Langkawi have been detained, and their future remains unclear.
Mohd Zubil declined to comment on whether a decision had been made to push the detainees back out to sea once their boat is repaired, a reported proposal that has been criticised by human rights groups.
He said the fate of close to 500 Rohingya who had remained on "Motherboat 1" after the transfer at sea was unknown.
Full report at:
https://www.aljazeera.com/news/2020/06/arab-league-call-israel-drop-annexation-plans-200624142029201.html
--------
Malaysia welcomes Saudi Arabia's move to consider allowing Haj pilgrims from other countries
24 Jun 2020
KUALA LUMPUR, June 24 — Malaysia has welcomed Saudi Arabia's stance to consider allowing Haj pilgrimage for this year to proceed for the Muslim population from other countries who were already there.
Foreign Minister Datuk Seri Hishammuddin Tun Hussein in a joint statement with Minister in the Prime Minister's Department (Religious Affairs) Datuk Zulkifli Mohamad Al-Bakri said the matter was informed through telephone conversations with Saudi Arabia's Minister of Foreign Affairs Prince Faisal Farhan Al-Saud, Minister of Islamic Affairs Shaikh Abdullatif Abdulaziz Aal Al Shaikh and Minister of Haj and Umrah Dr Muhammad Saleh Taher Benten yesterday and Monday.
"Saudi Arabia's stand on the matter not only reflects the concerns of Khadimul Haramain al-Sharifain (custodian of the two holy mosques) King Salman Abdulaziz and the Saudi Ministry of Haj and Umrah over Muslims around the world to ensure that this worship can be performed safely from a public health perspective, but in line with the concept of maqasid (objective) of Shariah is the hifz al-nafs (preservation of life).
"The Foreign Minister (Hishammuddin) and the Minister in the Prime Minister's Department (Zulkifli) have promised to keep in touch with the Saudi government, especially with their counterparts to ensure that Malaysians in the country (Saudi Arabia) are given priority in the event this year's Haj pilgrimage is allowed to proceed with limited capacity," the statement said.
The two ministers also called on all Muslims in Malaysia to pray for the Covid-19 pandemic in Saudi Arabia to end soon, so that the Haj pilgrimage next year could be carried out as usual.
Following the Covid-19 outbreak, Saudi Arabia in late February decided to suspend pilgrims' entry to perform umrah in Makkah and visit the Nabawi Mosque in Madinah.
Full report at:
https://www.malaymail.com/news/malaysia/2020/06/24/malaysia-welcomes-saudi-arabias-move-to-consider-allowing-haj-pilgrims-from/1878588
--------
Translation of will becomes focus of Penang wakaf land trial
Predeep Nambiar
June 24, 2020
GEORGE TOWN: The will of a former well-known real estate magnate from the 1800s was the subject of scrutiny by the lawyers of the Penang Islamic Religious Council (MAINPP) today in defending the wakaf land in Air Itam here.
The suit against MAINPP was mounted by the great-grandchildren of Shaik Eusoff Shaik Latiff. They claim the 6ha land, worth over RM300 million today, had been turned into wakaf (Muslim endowment) land illegally.
At the Shariah High Court today, MAINPP lawyer Shaikh Mohamed Tawfeek Badjenid questioned the translation of the will and deed poll used in a report prepared by a group of Islamic law academics supporting the family's claim.
Tawfeek spent a few hours deliberating the report, on the true meaning of the words such as "give, devise and bequeath" — among many others — telling an expert witness who co-authored the report that it was inaccurate.
He also pointed out certain paragraphs containing ellipsis or three dots in the report when quoting the will. He said this denoted that some parts of the will had been deliberately removed.
Islamic law academic Aznan Hasan, who was cross-examined by Tawfeek, denied the assertions that the report he co-authored was flawed in terms of translation and hence inaccurate.
Aznan also said he was in no position to comment on translations as he was not the authoritative source on the matter, after being pressed by Tawfeek on several English words translated into Malay in the report.
He also said ellipsis punctuation marks were common in academic and legal writing. He said the parts of the will were omitted as it conveyed the same meaning.
"The paragraphs with the dots do not affect the substance of what we have written in the report.
"I think you are missing the point here," Aznan told Tawfeek. "The point here is that the wakaf is illegal from the onset and should be immediately returned to the rightful heirs and divided equally through shariah principles.
"We stand by our report," the associate professor of Islamic finance at the International Islamic University of Malaysia (IIUM) and a shariah adviser to over 10 Islamic banks around the world said.
Aznan, Universiti Malaya's Islamic law professor Ahmad Hidayat Buang and IIUM law lecturer Ismail Mohd Abu Hassan had earlier submitted a 21-page document to the court.
The suit was initiated by Shaik Eusoff's grandchildren ex-senator Abdul Shukor PA Mohd Sultan, Syed Idross Syed Hassan Al Mashoor, and Sheik Mohd Jelani Sheik Emam.
They are seeking to reclaim two plots of land covering 6ha in Air Itam.
Shaik Eusoff had willed that the land be held in trust for his descendants, and to be used as wakaf land only for a period of 21 years from the death of his last offspring.
The last of his seven children – a daughter – had died in 1932, so the land was supposed to be returned to the family estate in 1953.
This was according to a 10-page will written in English, dated Dec 30, 1892.
In the previous trial, Shaik Eusoff's family had sought to nullify the wakaf as no wakaf can be given for a short-term such as 21 years but must be given to the Islamic endowment in perpetuity under the Shafi'i school of thought.
The case has been in and out of the civil courts since the late 1990s over an argument that the land was held in trust and not wakaf, as claimed by Muslim authorities. Now, it has come to the Shariah High Court for a resolution.
Shaik Eusoff, who was a Jawi Peranakan with roots in Gujarat, India, was a well-known real estate magnate said to have owned large tracts of land in George Town in the early 19th century.
His descendants are also credited with bringing the boria – Penang's traditional "parody theatre" – to the state.
The plaintiffs were represented by lawyers Akberdin Abdul Kader, Yuslinov Ahmad, Rafie Mohd Shafie, Redza Rafie, Ardy Suffian Akberdin and Hafizullah Abdullah.
Full report at:
https://www.freemalaysiatoday.com/category/nation/2020/06/24/translation-of-will-becomes-focus-of-penang-wakaf-land-trial/
--------
North America
US doubles reward for ISIS leader Amir al-Mawla to $10 million
25 June 2020
The United States on Wednesday doubled to $10 million its reward for the capture of ISIS leader Amir Mohammed Abdul Rahman al-Mawla, Secretary of State Mike Pompeo announced.
The US had already offered $5 million for al-Mawla before he was identified as the successor to Abu Bakr al-Baghdadi, who was killed by US commandos in an October raid in Syria.
"This reward is an important moment in our fight against ISIS and its branches and networks around the world. As ISIS is defeated on the battlefield, we are determined to identify and find the group's leaders so that the global coalition of nations fighting to defeat ISIS can continue to destroy ISIS remnants and thwart its global ambitions," said the US State Department in its statement.
Born in 1976, al-Mawla, also known as Hajji Abdallah, is a scholar in Islamic law who issued edicts to justify the persecution of the Yazidi minority, a campaign that the United Nations has described as genocide.
For all the latest headlines follow our Google News channel online or via the app.
The terrorists killed thousands of Yazidis, and abducted and enslaved thousands more women and girls as they rampaged across the Middle East.
Al-Mawla was born in the Iraqi city of Mosul to a Turkmen family, making him one of the few non-Arabs to ascend the ranks of ISIS group, which at its height ruled vast parts of Iraq and Syria and drew volunteers from the West.
The group's strongholds have been decimated but it has inspired grisly attacks around the world, including in Afghanistan and West Africa.
https://english.alarabiya.net/en/News/world/2020/06/25/US-doubles-reward-for-ISIS-leader-to-10-million-.html
--------
Muslim man shot dead by Canadian police during mental health crisis
JUN 24, 2020
AMuslim man was fatally shot by Canadian police while having a mental health crisis in the city of Ontario, Canada on Saturday.
The 62-year-old Pakistani-Canadian man was identified as Ejaz Choudry and suffered from schizophrenia, a report by CBC Canada said.
Choudry's family called a nonemergency line to seek assistance after he refused to take his medication during a state of crisis.
The provincial police watchdog, the Special Investigations Unit, which is currently probing the incident, said that the police were called because Choudry was not taking his medication, but his family claimed they called the assistance line and sought assistance from mental health professionals rather than police.
A video recorded at the time of the incident shows police officers entering the second-floor apartment of the deceased from his balcony and opening fire immediately after kicking the door open.
The father of four children was alone at his home at the time of the incident and had a knife in his hand.
The incident caused an uproar among the city's Muslim and Pakistani community, who took to the streets to protest police brutality.
"He wasn't a danger to anyone else. He was by himself in his home where he felt safe," Hassan Choudhary, one of Mr. Choudry's nephews, told the Canadian Press. "He can't think straight, he's schizophrenic, and (police) are going and killing him because he's going to kill himself? Where's the logic in that?"
Another nephew of Choudry, Khizar Shahzad, told reporters that his uncle did not speak English. He noted that his uncle's daughter had called a nonemergency crisis line to seek help from paramedics so he could be taken to the hospital to given his medication.
However, when paramedics arrived at the scene, they called police after realizing he had a knife, according to Shahzad, who said he pleaded with officers to allow a family member to try to speak to his uncle, but they refused and entered the unit through the balcony.
Full report at:
https://www.dailysabah.com/world/americas/muslim-man-shot-dead-by-canadian-police-during-mental-health-crisis
--------
US terrorism report: Iran continues to create instability in throughout Middle East
24 June 2020
The Iranian government continues to support terrorist plots to attack dissidents in several countries in Europe. It maintains a "robust, offensive" cyber program to target foreign government and private sector entities, the US State Department said Wednesday.
Iran also refuses to publicly identify Al-Qaeda members in its custody, according to the "Country Reports on Terrorism 2019," which is the annual report of terrorism from the State Department to Congress.
For all the latest headlines follow our Google News channel online or via the app.
"Designated as a State Sponsor of Terrorism in 1984, Iran continued its terrorist-related activity in 2019, including support for Hezbollah, Palestinian terrorist groups in Gaza, and various terrorist groups in Syria, Iraq, and throughout the Middle East.
"Iran used the Islamic Revolutionary Guard Corps-Qods Force (IRGC-QF) to provide support to terrorist organizations, cover associated covert operations, and create instability in the region," the report said.
The report highlighted that US Secretary of State Mike Pompeo, in April 2019, designated the IRGC, including the Qods Force, as a Foreign Terrorist Organization (FTO). "Iran also used regional proxy forces to provide deniability, in an attempt to shield it from accountability for its aggressive policies," the report said.
In Yemen, Iran continues to provide weapons, support, and training to the Houthi militia, "who have engaged in terrorist attacks against regional targets," the report said.
Touching on members of Al-Qaeda in Iranian custody, the report said that Iran refuses to help bring them to justice and publicly identify members in its custody. "Iran has allowed AQ facilitators to operate a core facilitation pipeline through Iran since at least 2009, enabling AQ to move funds and fighters to South Asia and Syria," the report said.
European countries, including the Netherlands, Belgium and Albania, have arrested or expelled Iranian government officials who were implicated in terrorist plots inside these countries. "Denmark similarly recalled its ambassador from Tehran after learning of an Iran-backed plot to assassinate an Iranian dissident in its country," according to the report.
Separately, the report commended Saudi Arabia for its work in counterterrorism (CT) and "measures to counter terrorist radicalization and recruitment."
The report said that the Kingdom "maintained a high cooperation tempo with US and international partners in a range of CT fields.
"The Saudi Arabian government worked to disrupt, and supported US and international sanctions against, terrorist finance networks, focusing heavily on entities supporting Iran's IRGC-QF, Lebanese Hezbollah, and other Iranian proxy groups active in the Gulf."
Full report at:
https://english.alarabiya.net/en/News/middle-east/2020/06/24/Iran-continues-to-create-instability-in-the-region-says-US-State-Department.html
--------
World will understand need to extend Iran arms embargo: Mike Pompeo
24 June 2020
The United States is hopeful the entire world will understand the need to extend a UN arms embargo on Iran and said Washington was willing to talk to Tehran when the time was right, US Secretary of State Mike Pompeo said on Wednesday.
"I am hopeful that the whole world will accept the proposition that this arms embargo needs to be extended," Pompeo told reporters.
"I think all but a couple of nations understand that this should not expire and there is going to be a discussion about how it is that we extend it."
For all the latest headlines follow our Google News channel online or via the app
The US has shared a draft resolution with members of the United Nations Security Council that would extend an arms embargo on Iran indefinitely, according to diplomats.
With the ban on arms transactions with Iran set to expire in October under terms of the 2015 nuclear deal, the US draft calls on all countries to "prevent the direct or indirect supply, sale, or transfer" of weapons to and from the Islamic Republic unless a Security Council committee approves it at least 30 days in advance on a case-by-case basis, according to a copy of the text obtained by Bloomberg News.
The US proposal Monday came after Russia and China, two veto-wielding members of the council, have already said they won't support extending the embargo because they blame President Donald Trump for exiting the nuclear accord unilaterally.
Diplomats expect a clash at the council over the next few months because the US is threatening that it will invoke a "snapback" provision in the 2015 deal if it doesn't get its way, which would reimpose all UN sanctions against Tehran.
Full report at:
https://english.alarabiya.net/en/News/world/2020/06/24/World-will-understand-need-to-extend-Iran-arms-embargo-Mike-Pompeo.html
--------
Senior Turkish official slams Bolton's book
Ali Murat Alhas
25.06.2020
Turkey's communications director sharply criticized a new book by former US National Security Advisor John Bolton in a series of posts Thursday on Twitter, saying it included misleading accounts of conversations between the leaders of their two countries.
"We find it reprehensible that former high-level officials attempt to use serious diplomatic conversations and efforts to resolve outstanding issues between allies like the US and Turkey for their domestic political agendas," said Fahrettin Altun, alluding to Bolton.
Altun said Bolton's book included "one-sided" and "manipulative" representations of Turkish President Recep Tayyip Erdogan's conversations with his American counterpart Donald Trump.
"It is clear that the goals of these mischaracterizations and falsehoods are driven by domestic political considerations as well as personal gain," he asserted.
Stressing that Erdogan and Trump put great effort into repairing their countries' relations despite "deep differences" in policies and "some hostile voices toward Turkey in Washington," he went on to say that Trump had done a lot more listening to NATO ally Turkey compared to some of the previous US administrations.
Full report at:
https://www.aa.com.tr/en/americas/senior-turkish-official-slams-bolton-s-book/1889110
--------
U.S. soldier plotted with a satanic neo-Nazi cult to stage 'murderous ambush' on his unit, feds say
By Allyson Chiu
June 23, 2020
As Ethan Melzer's Army unit prepared to deploy in April, the young private recognized that he could be killed while overseas and expressed an apparent willingness to die.
"I would've died successfully," he allegedly wrote in a message.
But federal authorities now say that Melzer's life was actually at risk because of a murderous plot he had hatched against his own unit.
Melzer, a 22-year-old from Louisville, is accused of leaking sensitive information about his unit to a satanic neo-Nazi cult as part of a plot to launch a "mass casualty" attack intended to cause "the deaths of as many of his fellow service members as possible," according to an indictment unsealed Monday.
In electronic messages, Melzer allegedly shared details about his unit's location, movements and security with members of the Order of Nine Angles, or O9A, an organization based in the United Kingdom and described by prosecutors as "an occult-based neo-Nazi and racially motivated violent extremist group."
"Melzer allegedly provided this potentially deadly information intending that it be conveyed to jihadist terrorists," Audrey Strauss, acting U.S. attorney for the Southern District of New York, said in a news release.
Describing the planned attack as a "murderous ambush," Strauss called Melzer "the enemy within," adding that he was "motivated by racism and hatred as he attempted to carry out this ultimate act of betrayal."
Melzer, whose alleged plans were thwarted by the FBI and the Army late last month, was arrested on June 10 and has been charged with conspiring and attempting to murder U.S. nationals, conspiring and attempting to murder military service members, providing and attempting to provide material support to terrorists, and conspiring to murder and maim in a foreign country, according to the release.
Authorities said Melzer admitted to plotting the assault against an unidentified military base. While in custody, he declared himself "a traitor against the United States" and said his conduct was "tantamount to treason," the indictment said. If convicted, Melzer could face up to life in prison.
Jennifer E. Willis, an attorney representing Melzer, told The Washington Post early Tuesday that she has "no comment at this time."
Acting USA Strauss: As alleged, Ethan Melzer, a private in the U.S. Army, was the enemy within. He allegedly attempted to orchestrate a murderous ambush on his own unit, unlawfully revealing its location, strength & armaments to a neo-Nazi, anarchist, white supremacist group.
— US Attorney SDNY (@SDNYnews) June 22, 2020
The charges against Melzer are likely to renew concerns about white nationalist and extremist influences within the U.S. military amid an increase in violence linked to right-wing fringe movements. In the United States, for example, followers of the "boogaloo boys" have recently been charged with murder and accused of attempting to incite violence at the largely peaceful demonstrations against police brutality.
An officer was gunned down. The killer was a 'boogaloo boy' using nearby peaceful protests as cover, feds say.
In April, the U.N. Counter-Terrorism Committee Executive Directorate published a report citing research that there has been a 320 percent rise in terrorist attacks with links to such movements and ideologies over the past five years. There is a "growing and increasingly transnational threat posed by extreme right-wing terrorism," the report said, noting that the attacks have been intensifying in both frequency and lethality.
Federal prosecutors said Monday that members and associates of O9A, the group Melzer was allegedly involved with, have been known to participate in acts of violence, including murder.
O9A promotes "violent, neo-Nazi, anti-Semitic and Satanic beliefs," and its adherents have expressed admiration of Adolf Hitler and Islamic terrorists such as Osama bin Laden, prosecutors said. Earlier this year, government officials in Britain faced pressure from activists to outlaw O9A as a terrorist organization, the BBC reported.
The group, which intertwines Satanism, paganism and Nazism to create a "bizarre pseudo-religious political cult," is believed to have originated in the early 1970s, according to Hope not Hate, an anti-hate advocacy organization in the United Kingdom. As Hope not Hate writes, O9A "encourages acolytes to engage in forbidden and illegal acts, including extreme violence, sexual assault, assassinations and human sacrifices." More recently, O9A has gained prominence online, allowing its propaganda to be easily accessed by "young radicals drawn to extreme fringe ideas," the advocacy group noted.
Federal authorities did not specify how Melzer, who joined the Army in 2018, became involved with O9A, saying only that he was affiliated with the group by 2019. That same year, Melzer and his unit were deployed abroad, the indictment said.
Before planning the attack, Melzer consumed propaganda from O9A and the Islamic State (ISIS), authorities said. FBI agents said that during their investigation, they discovered an ISIS document stored in Melzer's iCloud account that mentioned the "HARVEST OF THE SOLDIERS" and described the attacks and killings of U.S. service members.
The plot to kill his fellow soldiers allegedly began to take shape in April, after Melzer learned that his unit was being moved to a different foreign base, according to the indictment.
Prosecutors allege that once he was notified of the assignment, Melzer used an encrypted application to message members of O9A and a related group known as the RapeWaffen Division. The messages allegedly contained conversations about Melzer's commitment to O9A and the specifics of his unit's upcoming deployment, including the number of soldiers who would be traveling, where they would be going and details about their location's surveillance and defensive capabilities. Authorities allege that Melzer also promised to share more details of his new base after he arrived "to try to maximize the likelihood of a successful attack on his unit."
In one message in May, Melzer passed along information about the deployment to a purported member of al-Qaeda, the indictment said. About a week after, Melzer messaged an O9A chat group, allegedly writing that he was "risking [his] literal free life" by leaking the information and was "expecting results." He also suggested that the assault, which authorities say Melzer and O9A members called a "jihadi attack," would start a "new war."
Melzer acknowledged in later messages that he knew the planned attack could result in his death, but wrote, "who gives a f---," adding, "I would've died successfully … cause another 10 year war in the Middle East would definitely leave a mark."
On Monday, federal prosecutors accused Melzer of attempting to carry out the deadly attack "in service of a diabolical cocktail of ideologies laced with hate and violence."
Full report at:
https://www.washingtonpost.com/nation/2020/06/23/army-attack-ethan-melzer-satanic/?utm_source=iterable&utm_medium=email&utm_campaign=1310991_
--------
US prepared to help Lebanon if it carries out real reforms, says Pompeo
24 June 2020
Secretary of State Mike Pompeo said on Wednesday the United States was prepared to support the Lebanese government if it carries out real reforms and operates in a way that is not "beholden to" the militant Lebanese group Hezbollah.
Speaking to reporters, Pompeo said that if the Lebanese government demonstrates its willingness to take such actions the United States and the whole world would assist in getting its economy "back on its feet."
Lebanon is grappling with an acute financial crisis seen as the biggest threat to its stability since the 1975-90 civil war.
Earlier on Wednesday, Lebanese Parliament Speaker Nabih Berri urged Lebanon's government, central bank and commercial banks on Wednesday to declare a "financial state of emergency" and review all steps to protect the collapsing currency.
Full report at:
https://english.alarabiya.net/en/News/middle-east/2020/06/24/US-prepared-to-help-Lebanon-if-it-carries-out-real-reforms-says-Pompeo.html
--------
Secretary Pompeo eyes resolution in coming weeks on Sudan terror listing
24 June 2020
US Secretary of State Mike Pompeo voiced hope Wednesday for a resolution in the coming weeks with Sudan, which said it expects soon to be delisted as a state sponsor of terrorism.
Pompeo said he spoke Wednesday by telephone with Sudan's Prime Minister Abdullah Hamdok, a civilian whose near year-old government has been pushing to remove the designation by Washington that severely impedes foreign investment.
"We're working very closely with him to try and come to a solution so that we get the right outcome for their new leadership and for the Sudanese people," Pompeo told reporters.
"I'm hopeful that that will be forthcoming in the weeks ahead," said Pompeo, who was asked about the terrorism designation.
Sudan's Foreign Minister Asmaa Abdallah told AFP on Tuesday that the government was finishing a deal to compensate victims of the simultaneous 1998 bombings of the US embassies in Kenya and Tanzania.
Once the deal is complete, she said she expected the United States to move ahead with the delisting of Sudan "as soon as possible."
Washington first blacklisted Sudan in 1993 as strongman Omar al-Bashir hosted terrorists.
He welcomed Osama bin Laden and Sudan was accused of aiding the terrorists who carried out the bombings, which killed 224 people and injured around 5,000, almost all of them African.
Al-Bashir was ousted by the military in April last year following months of protests and the new transitional government has sought to repair Sudan's international standing.
Pompeo was speaking at the launch of an annual US report on terrorism, which credited the new government's work with the United States and distancing from extremist groups.
For all the latest headlines follow our Google News channel online or via the app.
The report, however, said that militants from the ISIS terrorist group appeared to have an active "facilitation networks" in Sudan.
Khartoum recently finalized a deal compensating families of victims of the 2000 USS Cole bombing in Yemen's Aden harbor, for which al-Qaeda also claimed responsibility.
Full report at:
https://english.alarabiya.net/en/News/middle-east/2020/06/24/Secretary-Pompeo-eyes-resolution-in-coming-weeks-on-Sudan-terror-listing.html
--------
South Asia
Boat carrying nearly 100 Rohingya refugees found floating off Indonesia
JUN 24, 2020
Aboat carrying almost 100 suspected Rohingya refugees was found floating several miles off the coast of Indonesia's Aceh province on Wednesday after being rescued by fishermen, authorities said.
Police said the boat, found by fishermen on Sunday, was carrying around 94 foreign nationals, including 79 women and children.
Dicky Ronie, an official at the immigration office in nearby Lhokseumawe, said officials believed the foreign nationals were ethnic Rohingya, but investigations were ongoing.
The disaster mitigation agency in Aceh, on the island of Sumatra, said authorities were planning to bring the boat ashore.
Teuku Faizasyah, the spokesperson for Indonesia's foreign ministry, was not immediately available for comment.
The arrival comes as survivors from another boat crammed with more than 300 Rohingya Muslims told Malaysian authorities that dozens on board had died and their bodies were thrown in the sea during a four-month voyage.
The boat had landed on the Malaysian island of Langkawi on June 8, with 269 people abroad.
Mainly Muslim Malaysia is home to the second-largest number of Rohingya refugees after Bangladesh. Nearly 750,000 crossed the border into Bangladesh following the 2017 military crackdown on the minority group in Myanmar's northern Rakhine state.
Rohingya Muslims have made perilous voyages to Malaysia, Thailand and Indonesia for years, fleeing persecution in predominantly Buddhist neighbor Myanmar or poverty in refugee camps in Bangladesh.
More than 1 million live in squalid conditions in sprawling camps in the south of Bangladesh, with as many as a dozen people sharing one shelter and scarce access to soap and water in some areas.
https://www.dailysabah.com/world/asia-pacific/boat-carrying-nearly-100-rohingya-refugees-found-floating-off-indonesia
--------
Gunmen hit car in Kabul, killing 5, including 2 prosecutors
Jun 22, 2020
KABUL: Gunmen opened fire at a car belonging to the Afghan attorney general's office on Monday morning in eastern Kabul, killing five people inside, including two prosecutors, an official said.
The driver of the car and two other employees were among those killed, said Kabul police spokesman Ferdaws Faramarz.
No one immediately claimed responsibility for the attack but recently violence has spiked in Afghanistan, with most of the attacks claimed by the Islamic State group's affiliate in the country. The IS in Afghanistan is headquartered in eastern Nangarhar province.
According to a statement from the attorney general's office, the car was on the way to office when it was targeted. The gunmen fled the scene, the police said. Faramarz said an investigation was underway.
In early June, IS claimed responsibility of a bomb explosion in a mosque in Kabul that killed two people, including the prayer leader. Eight worshippers were wounded.
Full report at:
https://timesofindia.indiatimes.com/world/south-asia/gunmen-hit-car-in-kabul-killing-5-including-2-prosecutors/articleshow/76511399.cms
--------
Bangladesh: One man takes charge of last rites for 87 virus victims
SM Najmus Sakib
23.06.2020
DHAKA, Bangladesh
A small-time public official has become the only hope for many victims of coronavirus in Bangladesh where authorities are hard-pressed amid rising cases.
Maqsoodul Alam Khondaker Khorshed has so far buried 87 bodies after bereaved families could not find any one to arrange a funeral.
The fear surrounding COVID-19, the deadly disease caused by the novel virus, has created an atmosphere where even family members are refusing to take bodies from hospitals, he said.
His Team Khorshed-13 comprising 60 members is helping arrange funerals on a voluntary basis.
In the process, Khorshed and his wife also contracted the virus, but have since recovered.
He said in its aftermath he was showered with love.
"I felt like this is why I was born in this world."
He said he first got a phone call from a girl on April 8.
"She said: 'My father died due to breathing complications, fever and cough. My mother and I have his body and none of our relatives are helping with the funeral'."
We have since been helping with burials, distributing food and collecting blood plasma donations, he said.
Since then his team has buried one deaths from the virus per day.
Nioti Rani Banik, a middle-aged woman, shared with Anadolu Agency how her 75-year-old father died with COVID-19 symptoms at home.
"On April 19, he returned from his duty and suddenly fell sick and died after a few hours with breathing problems, chest pain and stroke in the middle of night. Being a village doctor, my father has a good number of well-wishers. But I found no one who will step out to organize his last rites, cremation.
"God sent councilor Khorshed as an angel to us. He showed that humanity is above all religion. Despite being a Muslim, he conducted all our Hindu rituals for my father's last rites. I must not forget his role."
Dr. A S M Alamgir, chief virologist at the Institute of Epidemiology Disease Control and Research (IEDCR), the disease control authority in Bangladesh, described his volunteer activities as "noble".
"This man, Khorshed, stepped up when there were protests from villagers and local people against funerals."
Full report at:
https://www.aa.com.tr/en/asia-pacific/-bangladesh-one-man-takes-charge-of-last-rites-for-87-virus-victims/1886663
--------
Afghan forces suffer heavy casualties in Taliban attack in Badghis province
24 Jun 2020
The Afghan National Defense and Security Forces suffered heavy casualties in a Taliban attack in North-western Badghis province of Afghanistan.
The security sources said the Taliban militants attacked the security posts of the Afghan National Defense and Security Forces in Bala Murghab district late on Tuesday night.
The sources further added that 10 security personnel including 7 soldiers of the Afghan Special Forces and 3 policemen lost their lives in the attack.
At least 5 security personnel also sustained injuries during the attack, the security sources added.
The Taliban group has not commented regarding the incident so far.
This comes as efforts are underway to find a negotiated political settlement to end the ongoing conflict in Afghanistan.
https://www.khaama.com/afghan-forces-suffer-heavy-casualties-in-taliban-attack-in-badghis-province-08920/
--------
FVP Saleh calls Taliban 'Terrorist' amid growing violence across the country
24 Jun 2020
The First Vice President Amrullah Saleh called the Taliban group 'Terrorist' amid growing violence across the country which left hundreds of security personnel and civilians dead or wounded over a period of one week only.
"Summer 2020 is like every other summer & every other June as terrorist Taliban come out of their madrasas to kill, massacre & play with blood in quest for heaven. Stenchy ideology. The so called "exposure" hasn't changed them instead has given them "opiate" like euphoria," Saleh said in a Twitter post.
This comes as the authorities reported an unprecedented rise in Taliban-led insurgency which left hundreds of security personnel and civilians dead or wounded last week.
The Office of the National Security Council confirmed Monday that last week one of the deadliest weeks for the Afghan forces in the past 19 years during which at4 last 291 security personnel lost their lives.
Javid Faisal, a spokesperson for the Office of National Security Council, said the Taliban militants carried out 422 attacks in 32 provinces last week.
"The past week was the deadliest of the past 19 years. Taliban carried out 422 attacks in 32 provinces, martyring 291 ANDSF members and wounding 550 others."
Full report at:
https://www.khaama.com/fvp-saleh-calls-taliban-terrorist-amid-growing-violence-across-the-country-08919/
--------
US Demands Investigation Into Killing of Afghan Prosecutors
By Ayaz Gul
June 23, 2020
ISLAMABAD - The United States has strongly condemned Monday's assassination of a team of five Afghan government employees, including two prosecutors, and demanded that authorities investigate the attack.
The slain men were said to be part of a team working to facilitate the release of Taliban prisoners from government custody as part of a landmark U.S. agreement with the Islamist insurgent group aimed at ending nearly two decades of Afghan war.
"This attack, carried out by enemies of peace, took the lives of five civilians. We offer our condolences," Zalmay Khalilzad, the American special envoy for Afghan reconciliation, said in a series of tweets. "We call for a full investigation to find the perpetrators and bring them to justice."
Afghan officials said the victims were traveling to the Bagram prison, north of the capital, Kabul, when gunmen sprayed their car with bullets during an ambush. The prison facility hosts a large number of insurgent prisoners.
While the Taliban has denied its involvement in Monday's attack, the government has pointed the finger at the insurgents.
High-Profile Killings
The attack is the latest in a series of high-profile assassinations in and round Kabul in recent weeks that remain unclaimed. They include killings earlier this month of two highly respected Afghan clerics and the May 12 raid on a maternity ward in the city, run by Doctors Without Borders.
The hospital attack killed 25 people, including 16 women, five of them just minutes or hours away from giving birth.
Khalilzad negotiated and signed the pact with the Taliban in February, which requires Kabul to free 5,000 insurgent prisoners in exchange for 1,000 Afghan security personnel being held by the Taliban before peace talks between Afghan parties to the war could begin.
The Kabul government says it has so far released 3,600 insurgent prisoners while the Taliban says it has freed around 600 detainees.
Khalilzad suggested that Monday's attack could be the work of domestic and foreign "spoilers" trying to disrupt and delay Afghan peace efforts. He encouraged Afghan rivals to remain committed to the peace process.
"Both sides should not be deterred and push forward to take the steps necessary to reach intra-Afghan negotiations, where a comprehensive ceasefire & a political settlement can be negotiated as quickly as possible," Khalilzad tweeted.
Plot To Kill Khalilzad
The Afghan-American envoy has repeatedly warned in his previous statements that Islamic State terrorists in Afghanistan could attempt to subvert the U.S.-Taliban deal.
Khalilzad's own security has lately come under scrutiny, however.
Last week, U.S. officials confirmed they were investigating Taliban claims that Islamic State was plotting to assassinate Khalilzad with the help of former and current officers within the Afghan spy agency, the National Directorate of Security (NDS).
The Taliban shared with media outlets a video of two blindfolded men in their custody earlier this month, saying they were recruited by Islamic State for the would-be suicide mission aimed at killing Khalilzad.
The two alleged IS militants claimed in their purported video confession that the plot to eliminate the American envoy was facilitated by Rahmatullah Nabil, a former NDS chief, with a mission to sabotage the Afghan peace process. They also owned other high-profile killings in Kabul, a prominent analyst who frequently and publicly spoke for peace with the Taliban.
Full report at:
https://www.voanews.com/south-central-asia/us-demands-investigation-killing-afghan-prosecutors?utm_source=iterable&utm_medium=email&utm_campaign=1310991_
--------
Africa
UAE condemns Turkey in Libya, expresses solidarity with France
25 June 2020
The United Arab Emirates affirmed its solidarity with France in its war of words with Turkey over the ongoing crisis in Libya in a post by UAE Minister of State for Foreign Affairs Anwar Gargash on Wednesday.
"The UAE affirms its solidarity with France in the face of Turkey's continuing offensive declarations & actions. We strongly condemn its dangerous behaviour & hostile action against a French navy vessel on a NATO mission to enforce the UN arms embargo earlier this month," wrote Gargash on Twitter.
French President Emmanuel Macron accused Turkey of "playing a dangerous game" in Libya by supporting the Government of National Accord (GNA) in its conflict against the Libyan National Army (LNA) and refusing to engage in the Berlin peace process.
Turkey, which has been widely accused of sending thousands of Syrian mercenaries to Libya to fight against the LNA, hit back and suggested that France was itself playing a dangerous game by supporting the LNA.
France-Turkey tensions high amid Libya crisis
Tensions between the two NATO allies show no signs of dissipating, as France demanded a frank discussion within the EU on its relationship with Turkey.
"France considers it essential that the European Union very quickly opens a comprehensive discussion, without taboos and naivety, on the prospects for its future relationship with Ankara," Foreign Minister Jean-Yves Le Drian told the French Senate on Wednesday.
France had previously denounced Turkey for an "extremely aggressive" naval intervention against a French ship that was participating in a NATO mission, an accusation Ankara said was "groundless."
Turkey has also been criticized by Egypt and other Arab countries for its interference in Libya.
Egypt has said that it will not allow Turkey to take the strategic coastal town of Sirte amid rising tensions in the country.
https://english.alarabiya.net/en/News/north-africa/2020/06/25/UAE-condemns-Turkey-in-Libya-expresses-solidarity-with-France.html
--------
Marginalized southern Tunisia sees protesters clash with police over jobs, services
24 June 2020
Tunisian youths clashed with police overnight in a town in Tunisia's deprived south, where a protest movement is demanding jobs and services, the interior ministry said on Wednesday.
"Several hundred people" gathered Tuesday night in front of a local security forces facility in Douz, 475 kilometers (295 miles) south of the capital Tunis, to protest disrupted water supplies, ministry spokesman Khaled Hayouni told AFP.
Demonstrators also came out in support of a growing protest movement underway in Tataouine, 200 kilometers southeast of Douz, where protesters are demanding authorities make good on a 2017 promise to provide jobs.
Protesters in Douz burned tires and threw rocks at security forces, who responded with tear gas, Hayouni said.
Calm was restored by Wednesday morning, he added.
Local private radio station Mosaique FM reported that officers were injured and patrol cars damaged.
Marginalized regions
Southern Tunisia is one of the country's most marginalized regions, with unemployment above the national average, failing public infrastructure and a stunted private sector.
Ten years after the revolution that toppled Zine el Abidine Ben Ali, the government is yet to address this regional inequality.
On Sunday and Monday, police in Tatouine clashed with protesters denouncing the government's unkept promises.
For weeks they have blocked roads and sought to prevent trucks from delivering supplies to the remote El-Kamour pumping station, one of the main sites for Tunisia's small oil industry.
The protesters insist the government honor an agreement reached after a months-long 2017 sit-in, pledging to hire thousands of unemployed workers and invest millions in the region's development.
They are also demanding the release of a protest leader arrested overnight on Saturday and charged with "participating in a gathering likely to disturb the peace."
Full report at:
https://english.alarabiya.net/en/News/north-africa/2020/06/24/Marginalized-southern-Tunisia-sees-protesters-clash-with-police-over-jobs-services.html
--------
Libya conflict looms over EU as France seeks frank discussion on ties with Turkey
25 June 2020
France on Wednesday demanded a discussion "without taboos" within the EU on its relationship with Turkey, which officially remains a candidate to join the bloc despite a stalled membership process.
Already strained ties between NATO allies France and Turkey have worsened in recent days as the two sides exchanged accusations over the Libya conflict.
Turkey has been seeking to join the European Union for over half a century, although its bid has faltered in recent years particularly over the crackdown that followed a 2016 failed coup.
For all the latest headlines follow our Google News channel online or via the app
"France considers it essential that the European Union very quickly opens a comprehensive discussion, without taboos and naivety, on the prospects for its future relationship with Ankara," Foreign Minister Jean-Yves Le Drian told the French Senate on Wednesday.
"The European Union must firmly defend its own interests because it has the means," he said.
His comments came two days after French President Emmanuel Macron launched a furious attack on Turkey's conduct in Libya, accusing it of playing a "dangerous game" that can no longer be tolerated.
Libya has been mired in violence among competing forces, militias and extremists since the toppling and killing of dictator Moamer Gaddafi in 2011.
The conflict now pits the Government of National Accord (GNA) in Tripoli against eastern commander Khalifa Haftar with each side backed by rival foreign powers.
Turkey has accused Paris of itself "playing a dangerous game in Libya" by supporting military leader Haftar in his campaign to take Tripoli.
France had already denounced an "extremely aggressive" intervention by Turkish ships against a French navy vessel participating in a NATO mission in the Mediterranean, a claim Ankara dismissed as "groundless."
Le Drian described that incident as "absolutely scandalous" and a "grave action" by Ankara.
Ankara supports the GNA in the conflict against Haftar.
France is suspected by analysts of backing Haftar alongside Egypt, Russia and the United Arab Emirates, but insists it is neutral in the conflict.
Turkey has sent Syrian fighters, military advisors and drones in support of the GNA, in a deployment which has changed the course of the conflict, with Haftar's forces enduring a string of defeats.
"Clarifications are needed on the role that Turkey plans to play in Libya," Le Drian said.
He said Libya is undergoing a "Syrianization" since the military intervention of Turkey "is done with the support of Syrian auxiliaries."
Full report at:
https://english.alarabiya.net/en/News/north-africa/2020/06/25/Libya-conflict-looms-over-EU-as-France-seeks-discussion-without-taboos-on-ties-with.html
--------
Somali military liberates 4 villages from al-Shabaab
Mohammed Dhaysane
24.06.2020
MOGADISHU, Somalia
Somalia's special forces liberated at least four villages in Lower Juba, southern Somalia, from al-Shabaab terrorists, a military official said on Wednesday.
The liberated villages included Hawaljiri, Bernasey, yaq-Bishaar and Osbo.
Hassan Adan Iraqi, a military commander in the region, told Somali military radio that they killed at least six fighters belonging to al-Shabaab during the operation.
This came hours after Somali President Mohamed Abdullahi Mohamed appointed new military commanders.
"The president appointed Brig. Gen. Abdulhamid Mohamed Dirir as the new chief commander for the Somali navy force and Brig. Gen. Abas Ali Amin as the new commander for the infantry troops," Somali state house said in a statement posted on Twitter on Wednesday.
https://www.aa.com.tr/en/africa/somali-military-liberates-4-villages-from-al-shabaab/1888891
--------
Libya's GNA, US Africa Command to jointly 'fight terrorism'
23 Jun 2020
Libya's internationally recognised government says plans were discussed with the head of US Africa Command (AFRICOM) to jointly "fight terrorism" in the war-torn country during a meeting with Prime Minister Fayez al-Sarraj.
The Libyan-American discussions were held as foreign ministers from the Arab League on Tuesday were to hold an emergency meeting to try and find a diplomatic solution in Libya amid increasing foreign intervention and heightened fighting.
"Under the framework of consultations on the evolution of the situation in Libya, Fayez al-Sarraj on Monday met with [American] General Stephen Townsend and the US Ambassador to Libya Richard Norland," the Government of National Accord (GNA) said in a statement.
The two US officials arrived at Zuwara Airport, about 120km (100 miles) west of the capital Tripoli for the meeting.
They held talks on "joint coordination between the GNA and AFRICOM for the fight against terrorism in the framework of the strategic cooperation between Tripoli and Washington", the GNA said.
'Strategic pause'
Libya has been torn apart by violence drawing in tribal militias and foreign actors since the 2011 toppling and killing of longtime dictator Muammar Gaddafi in a Western-backed uprising.
The oil-rich country is split between rival administrations in the east and west, with the conflict recently attracting increasing foreign involvement.
"In the context of escalating foreign intervention in Libya, the meeting focused on current opportunities for a strategic pause in military operations by all parties to the conflict," the US Embassy in Tripoli said in a statement.
"Ambassador Norland outlined US support for the diplomacy under way through UN auspices to promote a ceasefire and political dialogue."
Tensions are rising in Libya with the GNA enjoying Turkish military support in its conflict against renegade commander Khalifa Haftar and his Libyan National Army (LNA).
Norland said "external actors should stop fuelling the conflict [and] respect the UN arms embargo" with a view to preserving Libyan sovereignty and fostering political stability.
The US-GNA talks came days after AFRICOM said it had proof of Russian military planes active in Libyan airspace using airbases at Jufra and the key city of Sirte east of the capital.
"The last thing that Libya needs right now is more fighting, more military mobilisation, more transfer of weapons, more presence of either foreign fighters or mercenaries," Stephane Dujarric, spokesman for the UN secretary general, told Al Jazeera.
France sides with Egypt
France is also suspected by analysts of backing Haftar alongside Egypt, Russia, and the United Arab Emirates, but Paris insists it is neutral in the conflict.
Turkey's intervention on behalf of the GNA has turned the tide against the LNA and its 14-month campaign to capture Tripoli, with Haftar's forces retreating eastwards.
In a sign of convergence between France and Egypt, French President Emmanuel Macron said on Monday he could understand the "legitimate concern" of Egyptian President Abdel Fattah el-Sisi, who has warned advances by Turkey-backed GNA forces could prompt a military intervention by Cairo.
Macron also accused Turkey of playing "a dangerous game" in Libya.
"I don't want in six months, or one year or two, to see that Libya is in the situation that Syria is in today," said Macron, who earlier accused fellow NATO member Turkey of playing a "dangerous game" in Libya.
Meanwhile, Turkey hit back at French criticism of its intervention in Libya, saying Macron must have suffered an "eclipse of the mind" to oppose Ankara's support for the internationally recognised Tripoli government.
"The current troubles in Libya are caused by the attacks of putschist Haftar, whom (Macron) supports and who is a warlord who refused ceasefire accords in Moscow and Berlin," he said, referring to international efforts to end the fighting in January.
Doomed dialogue?
It remains to be seen whether Tuesday's Arab League meeting can produce any meaningful results on the ground in Libya.
Al Jazeera's Mahmoud Abdelwahed, reporting from Tripoli, said the GNA's foreign ministry rejected the Egyptian call for dialogue and highlighted the military and diplomatic support Cairo has provided Haftar over the past five years.
"The government in Tripoli says it cannot trust any offer from the Egyptian regime, especially after the threat made by the Egyptian president, which the GNA considers a violation of its sovereignty and a severe intervention into Libya's domestic affairs," Abdelwahed said.
Full report at:
https://www.aljazeera.com/news/2020/06/libya-gna-africa-command-jointly-fight-terrorism-200623083309187.html?utm_source=iterable&utm_medium=email&utm_campaign=1310991_
--------
Arab world
Turkey 'continuously' violates sovereignty of Libya, Syria, Iraq: Greek FM
24 June 2020
Greece's foreign minister accused Turkey on Wednesday of undermining stability and security in the eastern Mediterranean and causing problems with all of its neighbors, while also violating Greek airspace and territorial waters daily.
Nikos Dendias slammed Turkey's actions in recent months in the Aegean Sea, which separates the two countries, saying Ankara must "abstain from its illegal gunboat diplomacy." Dendias spoke during a visit to Greece's northeastern border with Turkey, accompanied by European Union foreign policy chief Josep Borrell.
The Greek minister accused Turkey of "continuously violating the sovereignty of Libya, Syria, Iraq and our EU partner, the Republic of Cyprus. It is violating almost daily Greece's national airspace and territorial waters, including overflights of inhabited areas here in Evros and the Aegean Sea by armed warplanes."
NATO allies and neighbors Greece and Turkey have long had difficult relations, and the two countries have come to the brink of war three times since the 1970s. Divided over a series of issues, including territorial disputes in the Aegean, relations have become increasingly strained in recent months.
Earlier this year, Turkish President Recep Tayyip Erdogan declared the borders with Europe were open to migrants living in Turkey who wanted to head into the European Union. Although Turkey also shares a border with EU member Bulgaria, it was only on the Greek land border crossing that tens of thousands of migrants gathered, demanding to be allowed to cross.
Dendias described the action as "the exploitation, on the part of Turkey, of the hopes of tens of thousands of civilians for a better life ... misled through a disinformation campaign orchestrated by Turkish officials at the highest level."
Dendias and Borrell toured the Kastanies border crossing in the Evros region where the migrants had gathered in late February.
"It's very clear that we are determined to protect the external borders of the European Union and to strongly support Greece's sovereignty," Borrell said.
The EU foreign policy chief said his visit to Greece had been planned but had been pushed forward after recent incidents involving Turkey "in order to show our solidarity and to show how much we share your concerns."
Greece and Turkey are also in dispute over oil and gas exploratory drilling rights in the Mediterranean, with Greece, Cyprus and Egypt outraged at a Turkish agreement with the UN-recognized government in Libya laying claim to rights of a swathe of the Mediterranean that they say infringes on their sovereign rights.
Borrell said he and Dendias had discussed the deteriorating relations with Turkey and "about how we can stop the dynamics of escalation."
Dendias said that after a brief respite while countries dealt with the coronavirus pandemic,
"Turkey has once again declared that its land borders to Europe are open. At the same time, its coast guard escorts boats laden with migrants to the Greek islands. But it also persists in undermining security and stability, as well as peace, in the Eastern Mediterranean."
He said that while Greece was "open to dialogue" to resolve differences with its neighbor, "we are not prepared to discuss under duress or help legitimize Turkey's persistent violations of legality."
Borrell stressed the importance of good relations for all involved.
"I think this is in our interests and the interests of the European Union, Turkey and Greece to try to solve the current difficulties and improve the current relations," he said.
https://english.alarabiya.net/en/News/middle-east/2020/06/24/Turkey-continuously-violates-sovereignty-of-Libya-Syria-Iraq-Greek-FM.html
--------
Lebanon Parliament Speaker urges declaration of 'financial state of emergency'
24 June 2020
Lebanese Parliament Speaker Nabih Berri urged Lebanon's government, central bank and commercial banks on Wednesday to declare a "financial state of emergency" and review all steps to protect the collapsing currency.
He also said Lebanon would not get a penny from the International Monetary Fund (IMF) or any donor state unless it carries out reforms, at the forefront of them accelerating an overhaul of its loss-making electricity sector.
The Lebanese pound has lost about 75 percent of its value since October, when long-brewing economic troubles mushroomed into a financial crisis regarded as the biggest threat to Lebanon since its 1975-1990 civil war.
The pound, officially pegged at 1,507.5 to the dollar since 1997, traded at 6,300/6,500 on the parallel market Wednesday, a market participant said, weaker than levels of 6,000/6,200 cited by market participants on Tuesday.
With dollars scarce, the financial meltdown has frozen savers out of their deposits and forced up prices in the import-dependent economy.
"It is unacceptable that Lebanese be made hostages of black markets in currency, food, medicine and fuel," Berri said during an emergency meeting of the Amal Movement, the Shia Muslim party he leads.
Donor states that have provided Lebanon with aid in the past have said it will not receive any until it undertakes reforms to fix the state corruption and waste that are at the root of the crisis. Lebanon began talks with the IMF in May.
"Any Lebanese official will be mistaken if he believes the IMF or any state or donor party can give us one penny of aid if we do not implement reforms," Berri said.
Full report at:
https://english.alarabiya.net/en/business/economy/2020/06/24/Lebanon-Parliament-Speaker-urges-declaration-of-financial-state-of-emergency-.html
--------
Coronavirus: WHO supports Saudi Arabia's decision to host limited Hajj pilgrimage
24 June 2020
The World Health Organization (WHO) supports the recent decision taken by Saudi Arabia to host a limited Hajj season this year based on risk assessments under WHO guidance, the organization's chief said in a press conference on Wednesday.
"Earlier this week, the government of the kingdom of Saudi Arabia announced that this year's Hajj will proceed with a limited number of pilgrims of different nationalities who live within the kingdom. This decision was made based on a risk assessment and analysis of different scenarios in accordance with WHO guidance to protect the safety of pilgrims and minimize the risk of transmission," said WHO Director-General Tedros Adhanom.
Visit our dedicated coronavirus site here for all the latest updates.
"WHO supports this decision. We understand that it was not an easy decision to make, and we also understand it is a major disappointment for many Muslims who are looking forward to making their pilgrimage this year," Adhanom added.
"This is another example of the hard choices that all countries must make to put health first."
For all the latest headlines follow our Google News channel online or via the app.
Earlier on Monday, Saudi Arabia's authorities confirmed the Hajj pilgrimage would be held in a limited capacity this year amid the global pandemic.
Full report at:
https://english.alarabiya.net/en/coronavirus/2020/06/24/Coronavirus-WHO-supports-Saudi-Arabia-s-decision-to-host-limited-Hajj.html
--------
Bahraini activists launch online campaign against torture in prisons
24 June 2020
Bahraini activists and social media users have launched a campaign on the platform to demand an immediate end to the torture of political dissidents at prisons and detention centers across the kingdom.
The activists launched the Arabic hashtag 'Stop Torture in Bahrain' on Twitter, urging people to pour onto the internet at 8:00 p.m. local time (1700 GMT) on Friday and call for the cessation of the inhuman practice.
The initiative aims to commemorate the United Nations International Day in Support of Victims of Torture, which is held annually on June 26 to speak out against the crime of torture and to honor and support the victims and survivors throughout the world.
Full report at:
https://www.presstv.com/Detail/2020/06/24/628176/Bahraini-activists-campaign-torture
--------
Lebanon parliament chief urges 'financial state of emergency' amid protests
25 June 2020
Amid growing protests over Lebanon's economic woes, Parliament Speaker Nabih Berri has called on the government, central bank and commercial banks to declare a "financial state of emergency" and review measures to protect the country's collapsing currency.
"From now on, it is unacceptable to turn the Lebanese into hostages to the black markets of currency, food, medicine and fuel," Berri said during an emergency meeting of his party, Amal Movement, on Wednesday.
Berri highlighted the importance of reforms in various economic sectors in Lebanon, including the loss-making electricity sector, saying that no donor state or the International Monetary Fund (IMF) would assist Lebanon unless it undertakes reforms.
"Any Lebanese official will be mistaken if he believes the IMF or any state or donor party can give us one penny of aid if we do not implement reforms," Berri said.
Berri said Lebanon has become a "bottomless basket" that no one wants to help.
"Frankly, the world and international community believes Lebanon is a bottomless basket, and before this bottom is closed there will be no aid," he said.
Lebanon's currency reached a new low against the US dollar on Wednesday, losing 75 percent of its value since October.
Lebanon has been facing a tough economic situation because of the policies of successive governments, prompting people to hold numerous protest rallies since October 17 last year.
Protesters back on the street
Protesters took to the streets across the country on Wednesday evening to express their anger over the dire economic situation.
In the capital Beirut, protesters blocked the Ashrafieh-Hamra lane of the vital Ring highway, which has become iconic for the anti-government protest movement.
According to Lebanon's al-Jadeed TV, scuffles erupted between demonstrators and police, resulting in injuries.
Dozens of protesters also rallied in the southern city of Tyre, chanting against banks.
"They are selling their nation for the sake of the dollar," the protesters chanted, addressing private banks.
Other protesters meanwhile rallied outside the central bank in Hamra.
Anti-government demonstrators blocked several roads in the Bekaa, Tripoli, Akkar, Mount Lebanon and Sidon.
Dozens of protesters meanwhile rallied in the southern city of Tyre, chanting against banks. "They are selling their nation for the sake of the dollar," the protesters chanted, addressing private banks.
The protests came on the eve of a national meeting called for by President Michel Aoun.
The anti-government demonstrators blame the faltering economy on corruption in state institutions as the national debt hovers around $85 billion.
Full report at:
https://www.presstv.com/Detail/2020/06/25/628212/Lebanon-Berri-financial-state-of-emergency-currency-protest
--------
Yemeni delegation arrives in Saudi Arabia to discuss implementation of Riyadh Agreement
June 25, 2020
A Yemeni delegation including members of parliament and advisors to President Abdrabbuh Mansur Hadi's arrived in Riyadh from Cairo, Al Arabiya TV reported on Thursday.
The delegation will hold meetings to discuss the implementation of the Riyadh Agreement in accordance with the recent Saudi proposal, according to Yemen's Minister of Information, Muammar Al-Iryani.
The Saudi proposal for a ceasefire was approved by both the government and the Southern Transitional Council (STC) in the coastal province of Abyan earlier this week. The proposal called for a de-escalation of tensions between the two parties in preparation to implementing the provisions of the Riyadh Agreement.
Earlier this week the United Nations Special Envoy to Yemen, Martin Griffiths, condemned the ongoing Houthi military escalation throughout Yemen, especially the recent increase in hostilities, and called on the Yemeni government and the STC to implement the Riyadh agreement urgently.
His office said in a statement on Twitter that the escalation ran counter to the spirit of the ongoing negotiations being facilitated by the United Nations with the aim of reaching an agreement between the parties on a comprehensive ceasefire.
Full report at:
https://www.arabnews.com/node/1695106/middle-east
--------
Two Syrian soldiers killed in Israeli aerial attacks: State media
24 Jun 2020
At least two Syrian soldiers have been killed and four others wounded in Israeli missile attacks on southern and eastern Syria, according to state media.
State news agency SANA cited a military source as saying on Tuesday "several hostile missiles were fired at our military positions in Kababej", near Deir Az Zor, and in the al-Sukhna region.
"At the same time, one of our military positions was targeted near the town of Salkhad in the southern city of Sweida, resulting in the death of two martyrs and the wounding of four other soldiers," the source added.
The attacks, which hit at approximately 9:17pm local time, also caused material damages, SANA reported.
No further details were provided and there was no comment by the Israeli army.
Israel has in the past acknowledged carrying out dozens of air raids in war-torn Syria over the years, most of them aimed at alleged Iranian weapons shipments believed to be bound for Hezbollah, which fights alongside Syrian government forces.
In recent months, Israeli officials have expressed concerns that Hezbollah is trying to establish production facilities to make precision-guided missiles.
Last month, an Israeli air attack on a military position near Masyaf wounded six soldiers and destroyed several buildings, SANA reported.
Regional intelligence sources say Israel's attacks on Syria are part of a shadow war approved by Washington and part of the anti-Iran policy that has undermined in the last two years Iran's extensive military power without triggering a significant increase in hostilities.
Full report at:
https://www.aljazeera.com/news/2020/06/syrian-soldiers-killed-israeli-aerial-attacks-state-media-200623202250740.html?utm_source=iterable&utm_medium=email&utm_campaign=1310991_
--------
British aid worker 'captured by Islamic militants' in Idlib
23 June 2020
A British aid worker who was stripped of his UK citizenship was arrested in northwest Syria on Monday by a jihadist group.
Tauqir Sharif was captured in Atmeh, a town north of Idlib province on Monday night and taken to an "unknown location," activists in the area said.
Hayat Tahrir al-Sham (HTS) was formerly linked to al-Qaeda, and controls parts of the northwest, the last rebel-held area still at war with Damascus.
The reason for his seizure remains unclear.
The 32-year-old from Walthamstow travelled to Syria in 2012 with his British wife and founded the organisation Live Updates from Syria, which works with orphans and widows and raises awareness of the humanitarian catastrophe.
Full report at:
https://www.telegraph.co.uk/news/2020/06/23/british-aid-worker-captured-islamic-militants-idlib/?utm_source=iterable&utm_medium=email&utm_campaign=1310991_
--------
Mideast
UN chief calls on Israel to abandon West Bank annexation plan
24 June 2020
United Nations Secretary-General Antonio Guterres called on Israel on Wednesday to abandon its plans to annex settlements in the occupied West Bank.
"If implemented, annexation would constitute a most serious violation of international law, grievously harm the prospect of a two-State solution and undercut the possibilities of a renewal of negotiations," Guterres told the UN Security Council.
"I call on the Israeli Government to abandon its annexation plans," he said.
The remarks come after more than 1,000 lawmakers in Europe said in a letter that any Israeli move to annex parts of the West Bank would be "fatal" for Middle East peace hopes, and must be prevented if necessary with countermeasures.
The June 23 letter, signed by 1,080 lawmakers from 25 countries and made public on Wednesday, raises parliamentary concerns about US President Donald Trump's Israeli-Palestinian peace plan. The signatories said annexation would break international law.
Israeli Prime Minister Benjamin Netanyahu has set July 1 as the date for the start of cabinet discussions on moving forward on annexation, in line with Trump's plan that envisages Israeli sovereignty over 30 percent of the West Bank and Palestinian statehood under strict conditions.
"Such a move (annexation) will be fatal to the prospects of Israeli-Palestinian peace and will challenge the most basic norms guiding international relations," the letter said.
"Acquisition of territory by force has no place in 2020," said the lawmakers, who included members of parliament from Hungary and the Czech Republic, two countries sympathetic to Israel and to Trump's Jan. 28 peace plan.
The plan offers US recognition of Israel's settlements dotted across the West Bank, and Israeli sovereignty over the Jordan Valley -- land captured in the 1967 Middle East war and claimed by Palestinians for a future state.
Israeli-Palestinian peace talks collapsed in 2014 and the Palestinians see annexations as an illegal land grab.
The United Nations Security Council has said settlements violate international law. Israel disputes this, citing biblical, historical and political connections to the land.
The European lawmakers called for "commensurate consequences" if Israel, which has more than 400,000 settlers in the West Bank, went ahead with annexation -- a reference to possible economic, trade or other sanctions.
"Failure to adequately respond would encourage other states with territorial claims," the letter said.
Netanyahu has dismissed criticism of the annexation plans. He says that extending Israeli sovereignty to Jewish settlements in the West Bank will bring peace closer once critics of the move recognize that hundreds of thousands of settlers in the area will remain under any future deal.
https://english.alarabiya.net/en/News/middle-east/2020/06/24/UN-chief-calls-on-Israel-to-abandon-West-Bank-annexation-plan.html
--------
In letter to Muslim political leaders, Ismail Haniyeh seeks unison in face of Israel's annexation plan
24 June 2020
Ismail Haniyeh, the head of the political bureau of the Palestinian resistance movement Hamas, has called on political leaders in the Arab and Muslim world to join hands in defense of the Palestinian cause, and devise mechanisms to stop Israel's plan to annex large parts of the occupied West Bank.
"We believe in the role and historical responsibility of political parties and organizations across the Arab and Muslim world for Palestine and its just cause, protection of Palestinian lands as well as support for the legitimate rights of the Palestinian nation," Haniyeh wrote in a letter addressed to more than 120 heads of political parties and bodies in the Arab and Muslim countries on Wednesday.
He called for urgent action to confront the Tel Aviv regime's "criminal and racist" decision to expropriate swathes of Palestinian land in the West Bank, Jerusalem al-Quds and the Jordan Valley.
Haniyeh demanded the safeguarding of the Islamic and Christian sanctities, and the adoption of measures against Judaization of Jerusalem al-Quds and the partition of the al-Aqsa Mosque compound.
The senior Hamas official also called for emergency conferences across the Arab and Muslim world in order to take a unified position in the face of schemes crafted by the United States and aimed at liquidation of the Palestinian issue.
Haniyeh underscored the importance of strong communication among Arab and Muslim parliaments in countering the Israeli settlement expansion projects.
He urged Arab and Muslim political parties and organizations to stay at the forefront of rejecting attempts aimed at normalization with the Tel Aviv regime, and mobilize public opinion to act in all political, media and humanitarian fields to support the Palestinian people in the besieged Gaza Strip, the West Bank and Jerusalem al-Quds.
Haniyeh pointed out that Palestinians will confront the Zionist regime's terrorism through spirited resistance, and will remain committed to defending their land, rights and sanctities.
Israeli Prime Minister Benjamin Netanyahu, who was sworn into office for another term on May 17, has set July 1 for the start of cabinet discussions on extending "sovereignty" over settlements in the West Bank and the Jordan Valley.
Full report at:
https://www.presstv.com/Detail/2020/06/24/628166/Muslim-leaders-Haniyeh-Israel-annexation
--------
Deputy Judiciary Chief: US Martyred Gen. Soleimani to Avenge Terrorists' Defeat
Jun 24, 2020
"History will testify that the Islamic Resistance Front, commanded by Iranian General Soleimani, stood against Takfiri terrorism and its supporters bravely and mightily and defended the rights of the regional people, including the Muslims, Christians, Shiites, Sunnis, Arabs, Kurds and Turkmen, but the US regime took revenge of the defeated terrorists from the resistance front by assassinating the brave Iranian General to prove once again that it always stands by terrorists against nations," Baqeri said on Wednesday.
Elsewhere, he referred to the "illegal and illegitimate" sanctions imposed by the US against Iran, stressing that they are "a clear instance of the violation of the Iranian nation's fundamental rights".
Baqeri said despite the US claims about supporting human rights in Iran, it has prevented imports of foodstuff, drugs and medical equipment by means of embargoes.
Lieutenant General Soleimani and Deputy Commander of Iraq's Popular Mobilization Forces (PMF) Abu Mahdi al-Muhandis were assassinated in a US drone strike on Baghdad International Airport in Iraq on January 3.
On January 8, the IRGC Aerospace Force started heavy ballistic missile attacks on US Ein Al-Assad airbase in Southwestern Iraq near the border with Syria and a US operated airbase in Erbil in retaliation for the US assassination of General Soleimani.
Ein Al-Assad is an airbase with a 4km runway at 188m altitude from sea levels, which is the main and the largest US airbase in Iraq. Early reports said the radar systems and missile defense shields in Ein Al-Assad failed to operate and intercept the Iranian missiles. Unofficial reports said the US army's central radar systems at Ein Al-Assad had been jammed by electronic warfare.
The second IRGC reprisal attack targeted a US military base near Erbil airport in Iraqi Kurdistan Region in the second leg of "Martyr Soleimani" reprisal operation.
Iraq said the attacks had not taken any toll from its army men stationed at these two bases. The US army had blocked entrance into Ein Al-Assad to everyone, including the Iraqi army.
It was the first direct attack on the US army ever since world war two.
The IRGC officials said none of the missiles had been intercepted.
Full report at:
https://en.farsnews.ir/newstext.aspx?nn=13990404001027
--------
Iranian, Chinese FMs Confer on N. Deal
Jun 24, 2020
"On the threshold of the Chinese Dragon Boat Festival, I am very delighted that I had a video meeting with Chinese Foreign Minister Wang Yi. We agreed on deepening all-out strategic ties between the two countries, enhancement of the 25-year mutual cooperation plan and strengthening mutual support in the international affairs," Zarif wrote in Chinese on his twitter page.
"We underlined again our support for Iran nuclear deal, multilateralism and the international laws and voiced opposition to unilateralism and weakening of Iran nuclear deal," he added.
Zarif also wished a happy Dragon Boat Festival for the Chinese.
Iranian Ambassador to Beijing Mohammad Keshavarzzadeh had on Monday appreciated China for its recent position against the International Atomic Energy Agency (IAEA) resolution against Tehran, stressing that his country will never forget Beijing's support.
"China's recent position towards the Agency's resolution was firm and memorable. We will not forget it," Keshavarzzadeh wrote on his twitter page.
He also retweeted the Chinese foreign ministry spokesperson's recent remarks.
"E3 Foreign Ministers released a joint statement on Iran and upholding JCPOA commitments. Having quit JCPOA, the US has no right to ask the UNSC to trigger sanctions snapback. We urge the US to return to JCPOA and the UNSC resolution," the spokesperson had said.
Last Friday, the IAEA's Board of Governors passed a resolution, put forward by Britain, France and Germany, and opposed by Russia and China, to push for intrusive inspections of two Iranian nuclear sites that the trio claims may have been used for undeclared nuclear activities in the early 2000s.
Succumbing to Washington's pressure, the three European countries, parties to Iran's 2015 nuclear deal with world powers known as the Joint Comprehensive Plan of Action (JCPOA), have so far failed to honor their commitments under a landmark agreement and offset the impacts of the US sanctions, which were re-imposed on Iran following the US' unilateral withdrawal from the deal in May 2018.
Full report at:
https://en.farsnews.ir/newstext.aspx?nn=13990404000949
--------
Commander: Iranian Army to Receive New Military Equipment
Jun 24, 2020
"New equipment will be supplied to the Army forces by the yearend. The equipment will be utilized in the ground, air defense, air and marine fields," General Mousavi said, addressing a meeting in Tehran today.
Elsewhere, he warned enemies not to threaten Iran's national interests or wait for the country's counter measures.
General Mousavi underlined close cooperation between the Army and the Islamic Revolution Guards Corps, and said, "Operational plans for possible scenarios are ready and they are exercised overtly or covertly, in part or in combination, and the Army and the IRGC are prepared to stand beside each other against any possible threat."
In relevant remarks in April, Chief of Staff of the Iranian Armed Forces Major General Mohammad Baqeri warned adventurers against taking any wrong move, saying that the enemies' devilish plots are doomed to failure.
"We will not permit any wrong thing to be made by adventurers and greedy people against this country," General Baqeri said in a message marking Army Day.
"The brilliant role of the devoted Army in making up defense and deterrence capacities signifies a steady and scholarly struggle associated with divine faith and valor to step in sophisticated arenas of defense technologies," he said.
Full report at:
https://en.farsnews.ir/newstext.aspx?nn=13990404000719
--------
Iran Calls for Removal of Sanctions against Syria
Jun 24, 2020
During the talks on Wednesday, the two sides discussed the latest political and field developments, the next summit on Astana process, the next meeting of Syria's constitution committee, the latest situation in Idlib and Southern Syria as well as the economic situation and the problems created for the Syrian people by the US sanctions.
The two Iranian and UN officials underscored the need to increase humanitarian aid to the Syrian people to confront sanctions and the necessity for pursuing the political process to settle the Syrian issue peacefully.
Khaji, for his part, condemned the US sanctions, saying, "Such hostile measures cannot undermine the Syrian people's determination and their allies' will to support them and the country's legitimate government."
Iran has helped the Syrian government and people in confrontation against the terrorist groups which had occupied the country.
It has also underlined its readiness to assist the country in reconstruction efforts which has been welcomed by the Syria side.
In relevant remarks May, Khaji had underlined continued cooperation among Iran, Russia and Syria in fighting terrorist groups.
"The strategic cooperation among Russia, Syria and Iran in line with the fight against the ominous phenomenon of terrorism and the ongoing consultations of the three countries to settle the crisis in Syria politically will continue," Khaji said in a meeting with Syrian Ambassador to Tehran Adnan Hassan Mahmoud.
He also reiterated Tehran's firm support for Syria in combat against terrorism.
Khaji pointed to the continued US unilateral sanctions against the Syrian nation in the conditions of coronavirus outbreak and the crisis in the country, stressing the need for the international community to support the Syrian nation and the country's national sovereignty and territorial integrity within the framework of the international laws and fight against terrorism.
Full report at:
https://en.farsnews.ir/newstext.aspx?nn=13990404000871
--------
Iranian President: Negotiating Table Broken by US
Jun 24, 2020
"We are always ready [for talks] whenever the US declares return to the rule of law and resumes its undertakings under the nuclear deal and the G5+1," Rouhani said, addressing a cabinet meeting in Tehran on Wednesday.
He said that the US demands talks with Iran to hide Washington's problems and as an election gesture for Trump. "They have broken the negotiating table."
"We move within the framework of the international laws and rules," Rouhani said.
He also warned of the US and Israel's attempts to politicize the International Atomic Energy Agency, and blasted the IAEA for reopening the previous cases that had been resolved on the eve of the nuclear deal.
"It is easy for us to give a firm response any time we want, but we continue our friendship with the Agency. Iran is ready for the Agency's legal supervisions within the framework of the rules" Rouhani said.
He also blasted the European states for not implementing their undertakings based on the nuclear deal, and appreciated China and Russia for their firm position and not surrendering to the US pressures.
In relevant remarks last year, Supreme Leader of the Islamic Revolution Ayatollah Seyed Ali Khamenei had rejected the US proposal for negotiations as a "deception", warning that Washington aimed to disarm the Iranian nation.
"The US proposal for talks is a deception and when the enemy has not been able to attain its goal, it proposes talks imagining that the Iranian nation is naïve, and says that the Iranian nation should make progress. Of course, this nation will certainly make progress but without you (the US) and on the condition that you do not approach this nation," Ayatollah Khamenei said, addressing the judiciary officials in Tehran last June.
He said that the main goal pursued by the US proposal for talks is disarming the Iranian nation and destroying its power components, and added, "If you accept their words in negotiations, the (Iranian) nation will heavily suffer and if you do not accept them, the current political hues and cries, propaganda and pressures will continue."
Ayatollah Khamenei also referred to the US instrumental use of human rights to attain its goals, and said Washington cannot speak about human rights as it has killed nearly 300 innocent Iranian passengers on board Flight 655 in 1988 and is collaborating with the Saudis in their crimes against the Yemeni people.
He also blasted the Trump administration as the most hated and villainous government in the world for insulting and raising allegations against the Iranian nation, and said the people in Iran are not taken aback by such behavior by the US and do not withdraw from their goal and causes.
Full report at:
https://en.farsnews.ir/newstext.aspx?nn=13990404000440
--------
Iranians accused of trying to sell babies on Instagram arrested by authorities
24 June 2020
Police in Iran said they have arrested three people accused of trying to sell babies on Instagram, semi-official news agency ISNA reported Wednesday.
"Three people who were seeking to sell two babies have been arrested," Tehran's police chief Hossein Rahimi was quoted as saying.
One of the babies was 20 days old and the other was two months, Rahimi said.
Police had been alerted about "ads on Instagram for selling babies", he added.
They discovered 10 to 15 accounts involved in the scheme on the photo-sharing social media platform, and their administrators were arrested.
Each baby had been bought for between 50 and 100 million rials ($255 to $510) before being offered for resale for 400-500 million, Rahimi said.
The three people arrested had no prior records, he said, and the infants had since been handed over to social services.
One of the three arrested was only identified by the initials M.A.
Full report at:
https://english.alarabiya.net/en/News/middle-east/2020/06/24/Iranians-accused-of-trying-to-sell-babies-on-Instagram-arrested-by-authorities.html
--------
Journalists accused of revealing state secrets linked to Libya on trial in Turkey
24 June 2020
Seven journalists went on trial in Turkey's Istanbul on Wednesday, accused of revealing state secrets for their reports on the funeral of an intelligence officer who was killed in Libya.
The journalists from Odatv news website, the pro-Kurdish newspaper Yeni Yasam and the nationalist daily Yenicag have been charged with violating national intelligence laws and of revealing secret information. If convicted, they face between eight and 19 years in prison.
Odatv editor-in-chief Baris Pehlivan, editor Baris Terkoglu, reporter Hulya Kilinc and Yeni Yasam newspaper's editor-in-chief Ferhat Celik and news editor Aydin Keser were charged over their reports on the intelligence officer who died in February as well as Turkey's military activity in Libya.
Murat Agirel, a columist for Yenicag, and Erk Acarer, a columnist for the left-leaning BirGun newspaper, are accused of revealing the intelligence official's identity on social media. Acarer is abroad and will be tried in absentia.
Eren Ekinci, an employee of the municipality where the intelligence officer's funeral took place, is accused of providing information to the Odatv reporter.
The prosecutors have accused the defendants, who have been held in pre-trial detention since March, of acting "in a systematic and coordinated manner." Critics of the case say the intelligence officer was previously identified during discussions in Turkey's parliament and that his name and involvement in Libya were known.
In the opening hearing, the defendants rejected the charges against them and requested that they be acquitted.
"I have been kept alone in a prison cell for 120 days over accusations of crimes that don't exist," Cumhuriyet newspaper quoted Agirel as telling court. "The accusations against me are neither based on solid evidence nor would they fit anyone's conscience."
The paper also quoted Kilinc as saying: "As a local journalist, the existence of a martyr in the region and for the martyr to be buried without a ceremony, was an important issue that needed to be reported."
Dozens of people gathered outside the courthouse in Istanbul to show solidarity with the journalists.
The New York-based Committee to Protect Journalists, or CPJ, has called on Turkey to drop the charges.
"Turkey should stop attempting to control independent journalism with intimidation, immediately free the arrested journalists, and drop this case," the group's Europe and Central Asia program coordinator, Gulnoza Said, said in a statement on May 13.
The CPJ ranks Turkey among the top jailers of journalists worldwide.
About 80 journalists and other media workers are currently in jail under Turkey's broad anti-terrorism laws, according to the Turkish Journalists Syndicate, including many who were detained in a crackdown following a 2016 coup attempt.
Full report at:
https://english.alarabiya.net/en/News/middle-east/2020/06/24/Journalists-accused-of-revealing-state-secrets-linked-to-Libya-on-trial-in-Turkey.html
--------
Ex-Israeli PM Ehud Barak named as sex offender in documents involving Jeffrey Epstein
25 June 2020
Former Israeli prime minister Ehud Barak is named in sealed court documents involving pedophile financier Jeffrey Epstein as one of a number of high-profile figures involved in forcible sex with a victim.
Barak was named in sealed depositions filed by Virginia Roberts Giuffre, who claims she was forced by Epstein to have sex with Barak, in a suit that Giuffre filed against Epstein's girlfriend, Ghislaine Maxwell, in 2016.
US celebrity lawyer Alan Dershowitz — one of the accused parties in Epstein's case — released the claim about Barak in a Tuesday court filing.
Dershowitz's legal team obtained the sealed depositions and filed them in an attempt to cast doubt on Giuffre's allegations against the celebrity lawyer. The legal team said that given the "denials and disclaimers" issued by the high-profile figures whom Giuffre said she was trafficked to and forced to have sex with, her word had been "thoroughly discredited by her proven lies."
The confidential documents not only name Barak, but also Victoria's Secret CEO Les Wexner, along with several others she had already accused publicly.
Giuffre's lawyers were attempting to keep the documents sealed because they were worried that Dershowitz might twist the information to use in his favor. Nevertheless, Dershowitz's team procured some of the confidential affidavits, including the one in which Giuffre named Barak as one of her offenders.
The former Israeli prime minister was a major beneficiary of Epstein's largesse, receiving millions of dollars in investments and donations from both the Wexner Foundation — of which Epstein was the asset manager — and from Epstein directly, as recently as 2015. The deceased predator was also a big investor in Carbyne911, a surveillance-tech startup Barak founded that same year.
Barak has defended his business dealings with Epstein, saying he visited the convicted sex offender's private Caribbean island and Manhattan mansion, but never partied with him or met younger girls while he was there.
Giuffre says that after meeting Epstein in Florida in 2000, the millionaire flew her around the world and pressured her into having sex with numerous older men, including Britain's Prince Andrew, two senior US politicians, a noted academic, wealthy financiers, and Alan Dershowitz.
All of those men have denied the allegations.
Barak's name was being publicized as an offender for the first time.
Pedophile Epstein committed suicide in a New York Jail Cell on August 10, 2019 while he was awaiting trial on new sex trafficking charges.
Full report at:
https://www.presstv.com/Detail/2020/06/25/628210/Israel-Ehud-Barak-sex-offender-Jeffrey-Epstein
--------
Iran says all countries need to commit to global anti-terror fight, slams PKK attacks
24 June 2020
Iran says all countries must commit to the global fight against terrorism, condemning terrorist attacks by Kurdistan Workers' Party (PKK) militants on both Iranian and Turkish targets.
"The fight against terrorism must be a global action, and it is imperative that all countries commit to it," Iranian Foreign Ministry Spokesman Abbas Mousavi said on Wednesday, regarding recent clashes that took place near the joint Iranian-Turkish border between terrorist elements and Turkish military forces.
Mousavi said that Turkish media reported an armed between elements of terrorist groups and Turkish military forces near the joint Iranian-Turkish border on Tuesday evening, which injured two Turkish border guards, one of whom succumbed to his injuries, according to Turkish sources.
According to the border guards of the Iranian province of West Azarbaijan, a mortar shell hit the territory of the Islamic Republic of Iran as a result of this clash, which did not cause any casualties, Mousavi said, adding that various aspects of the incident are being investigated by border officials of the two countries.
Mousavi expressed his condolences to the victims of the incident, and condemned the crossing of terrorist elements between the two countries and terrorist attacks on the border and military forces of Iran and Turkey.
"As we have repeatedly announced the fight against terrorism must be a global action, and it is necessary for all countries to be committed to this, and as long as some countries continue to support these terrorists, we will unfortunately be witness to their crimes," he added.
The remarks came after Iranian border guards had to prevent the infiltration of PKK elements into the country after the terrorists got engaged in confrontation with Turkish military forces near the borders of West Azerbaijan province.
One Turkish soldier was killed and another wounded after Kurdish militants believed to be from the PKK launched a raid on a Turkish outpost on the border area with Iran on Tuesday evening. The attack resulted in an intense clash and firefight.
Meanwhile, Turkey's Defense Ministry said in a statement on Wednesday that one Turkish soldier was killed and another wounded in the southeastern part of the country, claiming they came under fire from the Iranian side of the border.
The statement said the Turkish soldiers were conducting a reconnaissance and surveillance mission in a mountainous border area near the town of Yuksekova in the southeastern province of Hakkari, which borders Iran's West Azarbaijan province, when they came under the attack.
Turkey regularly targets PKK militants, both in Turkey's mainly Kurdish southeast and in northern Iraq, where the group is based.
Full report at:
https://www.presstv.com/Detail/2020/06/24/628187/Iran-PKK-militants-Turkey-
--------
Europe
Greece: Government orders Muslim prayer hall to close near Athens
June 24, 2020
Greece has ordered one of the oldest Muslim prayer halls in the greater Athens area to shut down, the Muslim Association of Greece reported in a press release.
The Education and Religious Affairs Ministry reportedly said the facility lacks a license to operate and gave it 15-days notice to clear the premises in Piraeus, a port city just 12 kilometres from the Athens city centre.
"We are sad to announce that we received a closure order for one of the oldest prayer halls of the capital…without any chance of negotiating with the ministry," said the Muslim Association of Greece in a press release.
The Al Andalus prayer hall has been operating since 1989, according to the association, the International Quran News Agency reported.
The Turkish Muslim minority in Greece has complained that ability to practice their religion has been stifled; including the right to choose their own religiou clerics and the administrators of Muslim endowments (waqfs), rather than ones appointed by the state.
Turkish authorities believes the Turkish minority living in Greece's Western Thrace region continues to face systematic discrimination and obstacles due to their cultural, ethnic and religious identity, a Balkan expert from Turkish presidential office told MEMO.
"The government has a policy to turn the mosque into a museum. The Fethiye Mosque in Athens, built by Mehmet the Conqueror in 1458, is currently being used as an exhibition hall. The city's Tzisdaraki Mosque has also been repurposed as a ceramics museum." the expert stated.
According to a report published by Daily Sabah, Athens is the only capital in Europe without an official mosque.
https://www.middleeastmonitor.com/20200624-greece-government-orders-muslim-prayer-hall-to-close-near-athens/
--------
EU committee approves $545M for refugees in Turkey
Agnes Szucs
25.06.2020
BRUSSELS
The European Parliament's budgetary committee on Wednesday approved a proposal on supporting Syrian refugees in Turkey with an additional €485 million ($545 million).
On June 3, the European Commission proposed to top up humanitarian aid for refugees and host communities in response to the Syrian crisis by a total of €585 million ($658 million).
According to the plan approved by the budgetary committee, €100 million ($113 million) will be allocated to Jordan and Lebanon, while Turkey receives the rest.
If the European Parliament's plenary and EU member states approve the proposal, unallocated margins of the 2020 EU budget will finance the aid.
The €485 million transfer will extend the functioning of two established programs in Turkey until the end of the next year.
The Emergency Social Safety Net program provides monthly financial assistance to more than 1.7 million refugees, while the other one, Conditional Cash Transfers, helps over 600,000 refugee children to attend school.
These programs have been running as part of the 2016 EU-Turkey deal, meant to stop irregular refugee flows and improve the conditions of Syrian refugees in Turkey.
The EU had pledged €6 billion ($6.5 billion) aid for the refugees.
According to the EU's latest data, all operational funds have been committed, €4.7 billion ($5.3 billion) contracted and €3.4 billion ($3.8 billion) disbursed.
The EU promised to pay €4 billion ($4.5 billion) by 2020, while the full €6 billion amount is expected to be paid by 2025.
Full report at:
https://www.aa.com.tr/en/europe/eu-committee-approves-545m-for-refugees-in-turkey/1889026
--------
More than 1,000 terrorists arrested across Europe as 119 plots uncovered
Nicky Harley
June 24, 2020
Almost 120 terrorist plots were uncovered across Europe last year, resulting in more than 1,000 arrests.
ISIS was responsible for all but one of the 10 people killed.
The latest figures covering terrorist incidents in 2019 have been revealed in Europol's EU Terrorism Situation and Trend Report.
In total, 119 terrorist attacks were foiled, failed or completed last year in 13 EU countries, also resulting in 27 people being wounded, 26 of them by ISIS.
The 27th was hurt in a far-right terrorist attack.
The attacks led to 1,004 people being arrested on suspicion of terrorism-related offences in 19 EU member states, with Belgium, France, Italy, Spain and the UK reporting the highest numbers.
They include the London Bridge attack last November, in which convicted terrorist Usman Khan stabbed five people, killing two.
Khan had been released from prison early after serving a sentence for plotting to blow up the London Stock Exchange.
Margaritis Schinas, vice president for Promoting our European Way of Life and head of the European Commission's work on developing a European Security Union Strategy, said the EU needed to strengthen its counter-terrorism measures.
"Terrorism continues to be a threat for the world, Europe, our citizens, our security and our way of life," Mr Schinas said.
"More than ever, the EU needs to intensify its counter-terrorist measures, information sharing and law-enforcement co-operation on the ground and online.
"We will present shortly a new EU Security Union Strategy to set out the areas where the Union can bring added value to support member states in ensuring security, from combating terrorism and organised crime, to preventing and detecting hybrid threats, to cyber security."
Ylva Johansson, EU Commissioner for Migration, Home Affairs and Citizenship, said Europe faced a continued terrorism threat.
"We cannot afford to lower our guard in fighting terrorism threats," Ms Johansson said.
"Having law-enforcement capabilities, tools and cross-border co-operation that are fit for the digital age is key.
"That way, every person in the EU, irrespective of background, should feel safe against these threats."
The report revealed that the number of ISIS attacks have decreased but right-wing and left-wing attacks increased in 2019.
In 2019, three EU member states reported a total of six right-wing terrorist attacks – one completed, one failed and four foiled – compared to only one in 2018.
And several attacks not classified as terrorism under national law, committed by right-wing extremists, were reported in Germany. They killed three people.
In a far-right attack last year in Christchurch, New Zealand, 51 people were murdered in two mosques.
Catherine De Bolle, executive director of Europol, said right-wing extremists had increased people's fear of attacks.
"While many right-wing extremist groups across the EU have not resorted to violence, they contribute to a climate of fear and animosity against minority groups in our EU cities," Ms De Bolle said.
"Such a climate, built on xenophobia, hatred for Jews and Muslims, anti-feminism and anti-immigration sentiments, may lower the threshold for some radicalised individuals to use violence against people and property of minority groups as we have witnessed all too often in recent months.
"My thoughts are with those people and their families who in 2019 suffered the consequences of terrorist and extremist violence.
"The ultimate goal of law-enforcement officers is to save lives and minimise the number of victims of intolerance and political violence."
The report revealed that the 26 left-wing and anarchist terrorist attacks in 2019 reached the same level as in 2016 and 2017 after a decrease in 2018.
All took place in Greece, Italy or Spain.
Full report at:
https://www.thenational.ae/world/more-than-1-000-terrorists-arrested-across-europe-as-119-plots-uncovered-1.1038195?utm_source=iterable&utm_medium=email&utm_campaign=1310991_
--------
West Sussex man admits Islamist-related terror offences
23 June 2020
A 20-year-old man from West Sussex has admitted Islamist-related terror offences.
Zakaria Yanaouri of Congreve Road, Worthing, was arrested in dawn raids on 24 February.
He was charged with five counts of possessing documents containing information useful to terrorism.
He pleaded guilty at the Old Bailey earlier and will be sentenced on 10 August.
https://www.bbc.com/news/uk-england-sussex-53152603?intlink_from_url=&link_location=live-reporting-story&utm_source=iterable&utm_medium=email&utm_campaign=1310991_
--------
Trial requested for 9 suspects in France's 2016 truck attack
23 June 2020
PARIS -- France's counter-terrorism prosecutors made a formal request Tuesday for nine suspects to face trial in connection with the 2016 Bastille Day truck attack in Nice that left 86 people dead.
In a statement following the end of a judicial investigation, the Paris-based prosecutors' office did not disclose the identity of the suspects.
Four suspects have been charged with terrorist conspiracy for alleged links to the attacker, Mohamed Lahouaiej Bouhlel, who plowed a 19-ton truck down Nice's Promenade des Anglais and into a crowd assembled for the July 14 fireworks display.
Five other suspects have been charged with other criminal charges, including for allegedly providing arms to the assailant. The prosecutor's office said they likely did not have knowledge of what Bouhlel intended to do with them.
One of these five suspects remains at large and is being searched for under a criminal arrest warrant.
The trial, which is set to take place at a special court for terrorist cases in Paris, is not expected before the end of next year.
Full report at:
https://abcnews.go.com/International/wireStory/trial-requested-suspects-frances-2016-truck-attack-71399123?utm_source=iterable&utm_medium=email&utm_campaign=1310991_
--------
German police raid banned far-right group in 4 states
June 23, 2020
BERLIN (AP) — German police conducted raids Tuesday on sites linked to a far-right group after the country's top security official deemed it extremist
Interior Minister Horst Seehofer banned the group Nordadler, which means 'Northern Eagle,' early Tuesday. His office said the police raids were carried out in four German states.
It said the group acted mainly online, spreading far-right extremist ideology and anti-Semitism.
Authorities say Northern Eagle members see themselves as adherents of Nazi leader Adolf Hitler and had planned to establish a rural community with people who shared their views.
The group uses social media channels such as Telegram, Instagram and Discord to promote its ideology, win new members and condone attacks such as the anti-Semitic shooting at a synagogue in Halle last year.
"Far-right extremism and anti-Semitism have no place here, neither in the real nor in the virtual world," Seehofer said.
Earlier this year, he banned the neo-Nazi groups Combat 18 and United German Peoples and Tribes.
Full report at:
https://apnews.com/10a2111027787d02b54ffafa3ccf44c9?utm_source=iterable&utm_medium=email&utm_campaign=1310991_
--------
URL: https://www.newageislam.com/islamic-world-news/foundation-stone-islamabads-first-hindu/d/122215
New Age Islam, Islam Online, Islamic Website, African Muslim News, Arab World News, South Asia News, Indian Muslim News, World Muslim News, Women in Islam, Islamic Feminism, Arab Women, Women In Arab, Islamophobia in America, Muslim Women in West, Islam Women and Feminism