New Age Islam News Bureau
10 Oct 2015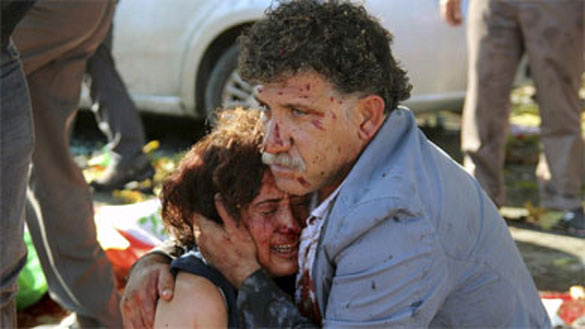 A man helps an injured woman after an explosion during a peace march in Ankara. (Reuters)
----------
North America
• Former CIA Officer: Pakistan Probably the Most Dangerous Country for the World
• White Supremacy Is a Bigger Threat to America than Radical Islam
• Failed programme: Pentagon scaling back Syria rebel training
• Anti-Islam rallies across USA making Muslims wary
-------
Mideast
• Twin Explosions Kill At Least 30 and Wounds 126 at Ankara Peace Rally
• Saudi air raids on Yemen leave 12 Somalis dead
• Israeli Troops Kill Six Palestinians, Unrest Spreads to Gaza
• PKK leader says ready for new Turkey ceasefire
• Palestinian shot by Israeli police dies in occupied East Jerusalem
• Israeli-Palestinian violence reaches Gaza
• Top Iranian commander killed in Syria
• Commander Rejects Russian Cruise Missiles Crash-Landing in Iran
-------
Arab World
• Syrian Army Kills, Wounds 77 More Militants in Hama Operations
• Syrian Army Fends off Militant Assaults Kills over 50 Terrorists in Aleppo Governorate
• Over 30 Militants Killed in Russian Choppers' Attack in Syria's Hama Province
• Syrian Army Shoots Down Spy Drone in Lattakia Governorate
• Russian Fighter Jets Hit Again Tabaqa Airbase in Syria's Raqqa
• ISIS on Outskirts of Aleppo despite Russia's Air Strikes on Syria
• One killed in Iraq's Kurdistan region as protest turns violent
• US to keep 'equipping' Syria rebels amid halt to training bid
• S. Arabia summons Czech envoy over 'Satanic Verses'
• Saudi religious leader denounces 'lies' after Haj tragedy
• U.S. pulls the plug on Syria rebel training program
-------
Africa
• UN Announces Fayez Saraj as PM Of Libya's National Unity Government
• Muslim Lawyers Fight Islamic Myths with Dialogue
• Kenya Arrests Scholars, Muslims Angry
• South Sudan opposes drones for U.N. peace mission
• Muslim suspects face rough justice in Kenya's terror war
-------
Pakistan
• Sunni Tehrik Clerics Warn against Qadri's Hanging
• Will Never Seek Help from India: Baloch Separatist Leader
• Terrorist with Rs2m Head Money Killed In Mardan
• 'Takht-i-Lahore' will fall, predicts PTI
• MQM withdraws resignations of lawmakers
• LHC summons Pemra chief on Altaf case coverage
• Don't tease the lion, Hamza tells Imran
• Hashim's killing might be work of MQM's internal elements: Rangers
• Pakistan heading to economic revival: PM
-------
India
• Varanasi Violence: Fearing 'Disturbance', Organisers 'Postpone' Indo-Pak Mushaira
• Two Indians Wanted In Terror Cases Detained In Saudi Arabia, Dubai
• Muslims in Varanasi Will Not Immerse Tazia in Ganga
• Over 5,000 Rohingya Muslims settled in Jammu: Mufti Sayeed
• India which claims to be secular should guarantee the basic rights of Muslims – Pakistani Government
• Congress offers to hold Ghulam Ali concert in Mumbai
-------
Southeast Asia
• Indonesia Church Flourishes amid Muslim Persecution
• Mat Sabu to PAS: Stop Calling Amanah Members 'Kafir'
• Malaysia Upholds Cross-Dressing Ban
• Criminal probe urged into Malaysian PM scandal
• MCA: Extremism will break BN up
-------
South Asia
• Three Civilians Killed In Fighting Between Security Forces and Taliban in Logar
• Would-be suicide bomber arrested in Kunar
• ISIS claims responsibility for the attack on religious hall in Kabul
• 5 BNP-Jamaat men held for 'planning subversive acts'
• Britain fears 'indiscriminate' attacks on Westerners in Bangladesh
• Hekmatyar proposes intra-Afghan talks without foreign mediation
------
Europe
• Muslims in the Hospital, Muslims on the Train, As Europe Hands over the Keys to the Kingdom
• What Tunisia can teach Europe's far-right movements about Islam?
• The 'Muslim penalty' in the workplace can be overcome
Compiled by New Age Islam News Bureau
URL: https://www.newageislam.com/islamic-world-news/new-age-islam-news-bureau/former-cia-officer--pakistan-probably-the-most-dangerous-country-for-the-world/d/104873
--------
North America
Former CIA Officer: Pakistan Probably the Most Dangerous Country for the World
By ZABIHULLAH MOOSAKHAIL
Oct 10 2015
A former Central Investigation Agency (CIA) officer has said that Pakistan is probably the most dangerous country for the world.
"While Pakistan is not the most dangerous country in the world, it is probably the most dangerous country for the world, and as such, a serious case for close and continued US engagement with Pakistan can be made," Kevin Hulbert, a former top intelligence officer who retired in June 2014, wrote in an op-ed in The Cipher Brief.
Hulbert who has served multiple overseas tours as CIA Chief of Station and Deputy Chief of Station has also said that Pakistan has the potential to create more nightmare scenarios for US policymakers than any other country.
"As a country ripe with the triple threat of terrorism, a failing economy, and the fastest growing nuclear arsenal, Pakistan has the potential to create more nightmare scenarios for US policymakers than any other country."
In another part of his op-ed he writes: "Like it or not, Pakistan is similar to a bank or company considered too big to let fail because of the ripple effect it might cause across the entire economy."
"The spectre of the sixth largest country in the world being a failed state is a hypothetical catastrophe that would unleash a world of unintended consequences, he said, recommending that: "Rather than risk it, and as much as we might like to move on, we really should increase the level of engagement with Pakistan, not decrease it."
Hulbert said many of the trend lines in Pakistan now seem to be moving in the wrong direction.
For years, Pakistan felt justified in its use of jihadist militias to attack India in a war of attrition. It pursued a perverse double-dealing game where they supported 'good' radical Muslim extremists that helped them in their proxy war against India, while at the same time trying to hold the line against the 'bad' radical Muslim extremist elements who were focused on bringing down the Pakistani state, he continued.
A large percentage of the Pakistani population does not view jihadi groups, including the Taliban and other militant religious groups, as dangerous elements, but rather as good soldiers of Islam comprised of men performing their religious duty, he said.
"The fight against al-Qaeda in Pakistan was largely seen as a US fight, not a Pakistan fight, and Pakistan's unwillingness to make the hard choices required to confront the growing menace of radical extremism, created a monster," Hulbert said.
"Today, Pakistan finds itself in a very complicated security situation where there is little differentiation among radical groups," he observed.
He went on to say that: "Terrorist groups, such as Lashkar-e-Taiba, are suddenly allied with al-Qaeda, while Lashkar-e-Jhangvi, the Pakistan Taliban, the Afghan Taliban, and other assorted criminals and non-state actors are intent on bringing down the elected government of Pakistan." he said.
http://www.khaama.com/former-cia-officer-pakistan-probably-the-most-dangerous-country-for-the-world-3979
------------
White Supremacy Is a Bigger Threat to America than Radical Islam
By RYOT
October 9, 2015
If you live in the U.S., statistics suggest you're more likely to be murdered by a white supremacist than by an Islamic extremist.
Non-Muslim domestic terrorists have killed roughly twice as many people since Sept. 11, 2011 than have jihadists, The New York Times reported in June.
According to Washington research center New America, homegrown radicals have taken the lives of 48 people, whereas self-proclaimed jihadists have claimed the lives of 26. These numbers don't take into account the mass shooting in Oregon on Thursday, carried out by a man believed to be a white supremacist, or the two police officers slain by an ultra right-wing couple from Las Vegas. The toll also doesn't include attacks with no ostensible ties to ideology, like the shootings at a Colorado movie theater and Connecticut elementary school.
In the wake of the Charleston massacre in June, when nine black churchgoers were gruesomely murdered by an avowed white supremacist, the public still seemed more nervous about radical Muslims than non-Muslim domestic terrorists. In July, 53 percent of Americans — mostly Republicans, women, seniors and people who described their religion as important to them — said they were "very concerned" about Islamic extremism in the US, according to a global survey by the Pew Research Center.
Statistics reveal a disparity in Americans' perceptions of threats versus reality. And this gap is further widened by fear-mongering politicians and the media.
"We have a problem in this country. It's called Muslims. Our current president is one. We know he's not even an American," an audience member said to Republican presidential candidate Donald Trump at a rally. "We have training camps growing where they want to kill us. That's my question, when can we get rid of them?"
The business tycoon's response?
"A lot of people are saying that and a lot of people are saying that bad things are happening out there. We're going to be looking at that and a lot of different things," he said, failing to correct his supporter about President Barack Obama's true birthplace and religion, or put the Islamic extremism threat in perspective.
News outlets also play a role in skewing Americans' perceptions of domestic threats.
"With non-Muslims, the media bends over backward to identify some psychological traits that may have pushed them over the edge," Abdul Cader Asmal, a retired physician and seasoned spokesman for Muslims in Boston, told The Times. "Whereas if it's a Muslim, the assumption is that they must have done it because of their religion."
Government agencies have been trying to research right-wing extremism since Obama took office, but their progress has been hindered by the GOP, which suspects the move is an attempt to paint conservatives in a bad light.
The Department of Homeland Security released a report in 2009 cautioning that a below-par economy combined with the election of the first black president may inspire white supremacists to react violently, but the warning was withdrawn due to Republicans disapproving of it.
Thursday's mass shooting in Oregon, in which nine people were killed, was only the latest in a string of fatal attacks carried out by individuals with leanings toward white supremacy and antigovernment sentiments.
When nearly 400 police departments from across the country were asked earlier this year to rank the three most concerning extremist threats in their respective jurisdictions, 74 percent named antigovernment violence first, with only 39 percent listing "al-Qaeda-inspired" violence, according to researchers David Schanzer of Duke University and researcher Charles Kurzman of the University of North Carolina.
Society needs to catch up with academics, among whom "there's an acceptance now of the idea that the threat from jihadi terrorism in the United States has been overblown," Dr. John G. Horgan, a terrorism expert at the University of Massachusetts, said. "And there's a belief that the threat of right-wing, antigovernment violence has been underestimated."
He later added, "If there's one lesson we seem to have forgotten 20 years after Oklahoma City, it's that extremist violence comes in all shapes and sizes. And very often, it comes from someplace you're least suspecting."
http://www.care2.com/causes/white-supremacy-is-a-bigger-threat-to-america-than-radical-islam.html
------------
Failed programme: Pentagon scaling back Syria rebel training
Oct 10, 2015
WASHINGTON: The Pentagon said on Friday it will halt its troubled programme to build Syrian rebel units to fight the Islamic State and focus instead on training and arming vetted leaders already on the ground.
"The model before was we were training infantry-type units. We are now changing to a model that will produce more military combat capability," a senior US defense official said.
The official declined to say how many leaders would be armed and trained, but noted the new effort would get under way "within days". The switch in tactics will be seen as a tacit admission that the Pentagon's $500 million programme to train thousands of "moderate" Syrian rebels has failed.
Two small groups of US-trained fighters have crossed into Syria from Turkey this year, but one broke up after coming under attack and the other surrendered much of its equipment to an Al-Qaeda front group.
Pentagon spokesman Peter Cook said the training programme was only part of the US effort, noting that it has also been arming groups already inside Syria, such as the Kurdish forces defending the border town of Kobane.
"I believe the changes we are instituting today will, over time, increase the combat power of counter-ISIL forces in Syria and ultimately help our campaign achieve a lasting defeat of ISIL," Defense Secretary Ashton Carter said.
Cook said Carter has directed the military "to provide equipment packages and weapons to a select group of vetted leaders and their units so that over time they can make a concerted push into territory still controlled by ISIL."
Speaking at a news conference in London, Carter admitted he had been dissatisfied with the previous training programme, and said: "We have devised a number of different approaches."
In January, President Barack Obama's administration unveiled the $500-million programme to train up to 15,000 vetted Syrian rebels in neighboring countries.
A joke
Recruitment was slow, in particular because the rebels had to pass stringent background checks to weed out extremists and many objected to being forced to pledge to fight only the IS jihadist group and not Bashar al-Assad's regime.
Then in July, the first graduating group crossed the border and was promptly attacked by the Al-Nusra Front, an Al-Qaeda affiliate.
Last month General Lloyd Austin — who heads the US military's Central Command, which is overseeing efforts against the Islamic State — conceded that only "four or five" Pentagon-trained rebels were engaged in Syria.
The comment attracted derision from US lawmakers, who said the programme should be scrapped altogether. Republican Senator Kelly Ayotte said the low number was a "joke".
Last month, soon after they were reinserted in Syria following training in Turkey or Jordan, a second group of graduates handed over a quarter of their ammunition and other gear to Al-Nusra.
The senior defense official said some training and embedding of rebels would continue to take place, and Carter cited the work US trainers have done with Kurds in northern Syria as an example of how the effort may be focused in the future.
"That's exactly the kind of example that we would like to pursue with other groups in other parts of Syria going forward," Carter said.
The training programme was supposed to work with the US-led coalition's aerial fight against IS. For more than a year coalition forces have been flying regular drone and warplane missions against IS in Iraq and Syria.
The effort was further complicated last week when Russia began its own bombardment in Syria, ostensibly to hit "terrorists," though the Pentagon says Moscow is almost exclusively striking opponents of its ally Assad.
US Senator John McCain said Russia had hit CIA-backed rebels, who were trained under a secret initiative separate from the Pentagon's effort.
http://www.dawn.com/news/1211984/failed-programme-pentagon-scaling-back-syria-rebel-training
------------
Anti-Islam rallies across USA making Muslims wary
October 9, 2015
Organizers are planning about 20 anti-Muslim rallies this weekend across the USA, putting officials at many mosques on high alert and prompting many community leaders to urge Muslims to take precautions in case demonstrations turn violent.
The goal of the Global Rally for Humanity, which is asking supporters to create a Facebook page for each protest planned, is to gather a group in front of every mosque in the country — in part to counter a Nation of Islam rally in the District of Columbia to commemorate the 20th anniversary of the Million Man March. The number of mosques in the United States has risen from about 1,200 in 2000 to 2,100 five years ago, according to a study from the Hartford Institute for Religion Research titled The American Mosque 2011.
Though the group's Facebook page lists no contacts, the Chicago-based Center for New Community identified Phoenix activist Jon Ritzheimer as the architect of the plan, and he has posted several videos on YouTube promoting the protest, according to the Montgomery-Ala.-based Southern Poverty Law Center. In May, when Ritzheimer staged a heavily armed protest outside the Islamic Community Center of Phoenix, he had said he wanted to see similar rallies nationwide.
"We've never had this many events targeting mosques in this kind of national way," Heidi Beirich, director of the Intelligence Project at the Southern Poverty Law Center, said in a conference call earlier this week. "This is widespread in a way that these things have not been before."
The demonstrations underscore a growing anti-Islam movement in the U.S., which has been exacerbated by rhetoric on the presidential campaign trail and the refugee crisis in Europe, she said.
"In one of their emails, they said they were going to bring 3,000 people to Washington, D.C., in front of our mosque, and they instructed them to bring their weapons," said Ibrahim Mumin, director of community relations for Masjid Muhammad mosque. "Well, we consider that kind of a threat."
Officials at the Washington-based Council on American-Islamic Relations, the country's largest Muslim advocacy group, are urging Muslims to request police presence Friday and Saturday at their houses of worship to deter any violence and are asking them to take video of any protesters without provoking them.
More than a dozen Muslim organizations announced Friday that they are launching a voter-registration campaign with an initial goal of signing up 20,000 new voters the Super Tuesday presidential primaries March 1. The voter-registration events will take place at mosques and Islamic community centers nationwide and will be open to the non-Muslim public, Council on American-Islamic Relations officials said.
Though almost three dozen anti-Islam events were planned in cities across the country, several have been canceled, said Kalia Abiade, advocacy director at Center for New Community. Others have restricted access to their Facebook pages.
Global Rally for Humanity's national Facebook page had about 2,000 "likes" as of late Friday afternoon. And individual rally pages had fewer than 100 people who said they would be attending local events.
In Dearborn, Mich., where more than 40% of the population is of Arab descent, rally organizers originally were planning to protest outside the Islamic Center of America but were not able to get permits. They now plan to rally near Dearborn's City Hall.
"As we have learned from experience in the past, the best way for the average person in our community to handle these incidents is to ignore them," Dearborn Mayor Jack O'Reilly wrote Friday on the city's website. "The demonstration is not really a forum for honest dialogue, and anything that intensifies emotions will only intensify conflict."
Dearborn has seen several anti-Islam protests in the past five years. Its annual Arab Festival was canceled in the past two years because tensions with anti-Islam groups resulted in higher insurance costs. In lawsuits, some Christian groups have accused the city of not respecting free-speech rights.
In Florence, Ky., police Capt. Tom Grau said his department will treat the rally "like any other protest."
On Saturday, police will meet with those gathering outside the Islamic Center of Northern Kentucky, and officers will tell the demonstrators what they can and can't do. Then Florence Police will provide extra patrols.
In Phoenix, Usama Shami, president of the Islamic Community Center of Phoenix, said typically his mosque has no activities planned on Saturday mornings.
During prayer services Friday, community leaders planned to make an announcement to say a demonstration is planned and they should remain vigilant, he said.
"When you have angry people with guns, you always worry that a loose cannon will do harm," Shami said.
In the Dallas area, Alia Salem of CAIR's Dallas-Fort Worth chapter said her group has alerted mosques and police in the area to the protests but credits those of all faiths for supporting area Muslims during times of trial.
"Despite all of these attempts to unnerve the Muslim community and make them fearful and afraid, it never ends up amounting to anything except we become closer," she said.
Contributing: Daniel González and EJ Montini, The Arizona Republic; Garrett W. Haake, WUSA-TV, Washington; Terry DeMio, The Cincinnati Enquirer; and Jobin Panicker, WFAA-TV, Dallas-Fort Worth.
Rallies where plans are public
Organizers in nine cities had posted invitations to their rallies on Facebook as of Friday afternoon. People in at least 10 other cities — Amarillo, Corpus Christi and Dallas, Texas; Danville, Va.; Fort Pierce, Fla.; Grand Junction, Colo.; Huntsville, Ala.; Phoenix; Racine, Wis.; Spring Hill, Fla. — have set up pages but either restricted access to invited individuals or canceled their events.
http://www.usatoday.com/story/news/nation-now/2015/10/09/anti-islam-rallies-across-usa-making-muslims-wary/73672674/
------------
Mideast
Twin Explosions Kill At Least 30 and Wounds 126 at Ankara Peace Rally
By Staff writer | Al Arabiya News
Saturday, 10 October 2015
At least 30 people were killed on Saturday following twin explosions in Turkey's capital Ankara, which apparently targeted activists gathering for a peace rally organised by leftist and pro-Kurdish groups.
Turkish government officials described the blast outside the main train station as a "terrorist attack", and said they were investigating claims that a suicide bomber was responsible.
At least 126 were wounded in the two explosions; the Turkish Interior Ministry was reported as saying by Reuters.
Turkish police reported fired shots into the air to disperse protesters from the scene of an attack, according to an AFP correspondent.
Full Report at:
http://english.alarabiya.net/en/News/middle-east/2015/10/10/Explosion-rocks-road-junction-in-Turkish-capital-Ankara-many-casualties.html
------------
Saudi Air Raids on Yemen Leave 12 Somalis Dead
Oct 10, 2015
Saudi Arabia's latest airstrikes on Yemen and ensuing explosions have claimed the lives of a dozen Somali nationals, local media say.
The 12 Somali citizens were killed after Saudi fighter jets pounded a bridge in the Bagim district of Yemen's northwestern province of Sa'ada on Saturday, Yemen's Saba Net news agency reported.
Saudi warplanes also bombarded two areas as well as a village in the Khawlan district, located in Sana'a Province, multiple times.
Tens of families also left the al-Mukha District in the southwestern province of Ta'izz following similar Saudi airborne assaults.
Full Report at:
http://www.presstv.ir/Detail/2015/10/10/432790/Saudi-Arabia-Yemen-Somalia-Saada-Sanas-Airstrikes
------------
Israeli troops kill six Palestinians, unrest spreads to Gaza
Oct 10, 2015
GAZA CITY: Israeli fire killed six Palestinians and wounded scores during clashes on Friday near Gaza's border, the first unrest-related deaths there after days of violence in east Jerusalem and the West Bank, medics said.
The clashes came as Hamas's chief in Gaza called violence that has hit the occupied West Bank and annexed east Jerusalem an intifada, or uprising, and urged further unrest.
The Gaza Strip had been mainly calm as unrest has shaken annexed east Jerusalem and the occupied West Bank in recent days.
But clashes broke out on Friday east of Gaza City and Khan Yunis along the border with the Jewish state, with Israeli forces opening fire and killing six Palestinians and wounding 21, according to medics.
Ahmed al-Hirbawi, Shadi Dawla, Abed al-Wahidi and Nabil Sharaf, all aged 20, were killed when soldiers responded after youths threw stones at them on the Israel side of their common border east of Khan Yunis, Gaza medics said.
Mohammed al-Raqab, 15, and Adnan Abu Alian, 20, were killed in similar clashes east of Gaza City.
Medics said another 80 Palestinians were wounded, 10 of them seriously.
An army spokeswoman said about 200 Palestinians had approached the fence while hurling rocks and rolling burning tyres toward security forces.
"Forces on the site responded with fire toward the main instigators to prevent their progress and disperse the riot," claimed the army spokeswoman.
The spokeswoman confirmed "five hits" without elaborating.
The clashes came as Hamas's chief in Gaza called the spreading violence an intifada, or uprising, and urged further unrest.
In a sermon at a mosque in Gaza City, Ismail Haniyeh said "we are calling for the strengthening and increasing of the intifada. It is the only path that will lead to liberation," he said.
"Gaza will fulfil its role in the Jerusalem intifada and it is more than ready for confrontation."
Stabbing attacks in the West Bank, Jerusalem and Israel itself along with rioting have raised fears of a third Palestinian intifada, following a first that began in 1987 and a second in 2000.
Hamas rules Gaza, squeezed between Egypt and Israel and separated from the West Bank. It remains deeply divided from Palestinian president Mahmud Abbas's Fatah party.
The enclave has been hit by three wars with Israel since 2008. A 50-day conflict between Palestinian militants in Gaza and Israel during the summer of 2014 left more than 2,200 people dead and 100,000 homeless.
New stabbing attacks
Friday's stabbings included one by a 17-year-old Jew in the southern Israeli city of Dimona that lightly or moderately wounded two Palestinians and two Arab Israelis.
The teen was arrested and told police he acted because "all Arabs are terrorists."
Israeli Prime Minister Benjamin Netanyahu quickly condemned the attack by the Jewish youth, a sign of concerns it could trigger further violence.
Full Report at:
http://www.dawn.com/news/1211979/israeli-troops-kill-six-palestinians-unrest-spreads-to-gaza
------------
PKK leader says ready for new Turkey ceasefire
October 10, 2015
QANDIL, Iraq - The Kurdistan Workers Party (PKK) is ready for a new ceasefire with the Turkish authorities despite almost three months of deadly violence, one of its leaders told AFP in an interview at its stronghold in northern Iraq.
The PKK, which since 1984 has waged an armed struggle for autonomy and greater rights for Kurds in Turkey, declared a ceasefire in March 2013.
But it ripped up the truce in July this year, accusing the Turkish authorities of collaborating with IS militants in Syria, allegations Ankara vehemently denies.
The Turkish authorities say over 140 members of the security forces have been killed in PKK attacks since and have hit back with a relentless bombing campaign against the group.
"We are ourselves ready for a ceasefire from right now," Cemil Bayik told AFP in an interview in the group's stronghold.
But Bayik - who along with Murat Karayilan is considered the PKK's top commander on the ground in the absence of its jailed chief Abdullah Ocalan - warned of a drastic PKK response if Turkey continued its military campaign.
"If the Turkish government continues with its logic of war, whether we want it or not, other cemeteries will fill up and the conflict will extend to all of Turkey, Syria and the Middle East," Bayik added.
Dressed in the grey battle fatigues favoured by Kurdish militants and with a picture of Ocalan pinned into his lapel, Bayik accused President Recep Tayyip Erdogan of being to blame for the violence.
"We don't want war.
We have tried to go down the political and democratic path to move the dialogue forwards," said Bayik.
"But Erdogan held up the process," Bayik complained.
"He made us believe that there was a dialogue.
But his aim was to delay it as he never believed in it.
"
Bayik, 64, said he still had hope of a peaceful solution, saying time had shown that violence was no way out.
"If it was possible to solve this problem through war, then it would have been solved long ago," he said.
The upsurge in violence has raised fears of whether there can ever be a final peace deal to end Turkey's conflict with the PKK, which has claimed 40,000 lives.
But Bayik denied that the PKK was to blame for the flare-up, saying it was only acting in "legitimate self defence".
"All the guerilla movement is doing is to protect itself, it has still not entered into a war," he said.
"What we see are young people stepping into the fray to protect themselves and the people and democracy.
"
The Turkish authorities, by contrast, accuse the PKK of being bloodthirsty "terrorists" who have killed scores of young police and soldiers simply because they are in uniform.
Official Turkish media say some 1,740 PKK members have been killed in the military's air strikes in southeast Turkey and northern Iraq.
But Bayik rubbished the suggestion that the death toll was anything on this scale.
"It's just lies.
Full Report at:
http://nation.com.pk/international/10-Oct-2015/pkk-leader-says-ready-for-new-turkey-ceasefire
------------
Palestinian shot by Israeli police dies in occupied East Jerusalem
10 October 2015
A Palestinian seriously wounded during clashes with Israeli border police in occupied East Jerusalem died of his wounds on Saturday, Israeli police and Palestinian medical sources said.
Police said he was shot after allegedly opening fire at border police late on Friday night, and the Red Crescent said he was killed by a live bullet at the clashes in Shuafat refugee camp.
He was identified by his family as 22-year-old Ahmed Qali.
His death is the latest in ongoing violence between Israelis and Palestinians after seven Palestinians were killed in Gaza and the occupied West Bank on Friday.
Full Report at:
http://english.alarabiya.net/en/News/middle-east/2015/10/10/Palestinian-shot-by-Israeli-police-in-occupied-East-Jerusalem-dies.html
------------
Israeli-Palestinian violence reaches Gaza
10 October 2015
Israeli troops shot dead six Palestinians in protests in Gaza and a knife-wielding Jewish man wounded four Arabs in southern Israel on Friday in a wave of violence that has fuelled talk of a new uprising, or intifada.
The soldiers shot across the border into Gaza after the Palestinians came too close to the Israeli frontier, throwing stones and rolling burning tires, an army spokeswoman said. Gaza medics said six people were killed and 50 others wounded.
The protests were in solidarity with Palestinians in Occupied Jerusalem and the Israeli-occupied West Bank, where tensions have surged in 10 days of violence in which four Israelis and at least eight Palestinians have been killed.
Palestinians have been angered by events at the al-Aqsa Mosque compound in Occupied Jerusalem's Old City and fear Israel wants to change the status quo at the holy site, revered by Muslims as the Noble Sanctuary and by Jews as the Temple Mount.
Israeli Prime Minister Benjamin Netanyahu has denied wanting to change the internationally-recognized status-quo under which Jews are allowed to visit the site but not allowed to perform any prayers.
In Gaza, Hamas leader Ismail Haniyeh called the violence in the north "will represent the start of a new intifada in all of the land of Palestine."
Earlier on Friday, a Jewish assailant stabbed four Arab men in the southern Israeli city of Dimona.
Full Report at:
http://english.alarabiya.net/en/News/middle-east/2015/10/09/U-S-to-kill-Syria-rebel-training-efforts.html
------------
Top Iranian commander killed in Syria
9 October 2015
An Iranian Revolutionary Guards general has been killed near Aleppo, where he was advising the Syrian army on their battle against Islamic State of Iraq and Syria (ISIS) fighters, the guards said in a statement on Friday.
The Guards said General Hossein Hamedani was killed on Thursday night and that he had "played an important role ... reinforcing the front of Islamic resistance against the terrorists."
Iran is the main regional ally of Syrian President Bashar al-Assad, and has provided military and economic support during Syria's four-year-old civil war.
Iran denies having any military forces in Syria, but says it has offered "military advice" to Assad's forces in their fight against "terrorist groups."
Hamedani was a veteran of the 1980-88 Iran-Iraq war and was made deputy chief commander of the elite forces in 2005.
0:30
In the biggest deployment of Iranian forces yet, sources told Reuters last week that hundreds of troops had arrived since late September to take part in a major ground offensive planned in west and northwest Syria.
Iranian lawmaker Esmail Kosari said Hamedani helped coordination between Syrian armed forces and the voluntary forces in their fight against the ISIS militia.
"For years, Hamedani played a very important role in Syria as an adviser ... he played an important role in preventing the fall of Damascus. Then he returned home at the end of his assignment," Kosari told the semi-official Tasnim news agency.
"He returned to Syria for a few days because of his deep knowledge about the area ... and he was martyred in Syria."
Full Report at:
http://english.alarabiya.net/en/News/middle-east/2015/10/09/Iranian-Revolutionary-Guards-say-general-killed-in-Syria.html
------------
Commander Rejects Russian Cruise Missiles Crash-Landing in Iran
Oct 09, 2015
"The West's allegations concerning Russian cruise missiles targeting the ISIL militants in Syria and falling into Iranian territory is a blatant lie and is part of psychological warfare," Brigadier General Moussa Kamali told Sputnik on Friday.
"If there was confirmation that Russian missiles landed in Iran, then there would be proof of this, and they would surely show this, but these reports are fictional," he added.
He underlined that there have been no confirmed reports on any Russian missiles crash-landing in Iran.
Yesterday, the Iranian defense ministry also rejected reports alleging that four of the 26 cruise missiles fired from Russia's Caspian fleet at ISIL targets in Syria have crash-landed in Iran, saying the reports are part of the West's "psychological warfare".
A source at the Iranian Defense Ministry said that it has not received any report indicating the crash of the Russian missiles on Iranian territories, describing the allegations as "psychological war".
Russia's Defense Ministry also denied the US media reports of the alleged incident, stating that all missiles hit their designated targets.
"No matter how unpleasant and unexpected for our colleagues in the Pentagon and Langley was yesterday's high-precision strike on Islamic State (of Iraq and the Levant) infrastructure in Syria, the fact remains that all missiles launched from our ships have found their targets," ministry's spokesman Maj. Gen. Igor Konashenkov said.
Russian Defense Minister Sergey Shoigu announced on Wednesday that four Russian Navy warships had fired a total of 26 missiles at the positions of the ISIL terrorist group in Syria.
On Thursday, FNA released an amateur video showing the missiles fired from the Russian Navy warships in the Caspian Sea travelled through the sky of Iraq's Kurdistan region before hitting their targets in Syria.
"Four missile ships in the Caspian Sea launched 26 cruise missiles at 11 targets. According to objective control data, all the targets were destroyed. No civilian objects sustained damage," Shoigu said.
Full Report at:
http://english.farsnews.com/newstext.aspx?nn=13940717000675
------------
Arab World
Syrian Army Kills, Wounds 77 More Militants in Hama Operations
Oct 09, 2015
The sources said that 5 terrorists were killed and 12 others were injured in the Syrian army troops' operations in Kafr Zeita town, one of al-Nusra Fronts' important strongholds in the province.
The sources said that over 30 terrorists, including on the militant commander.were also injured in the army's operations in the outskirts of Kafr Nabbouda.
An army unit also killed 30 terrorists and destroyed 3 vehicles to the North of Tallet al-Sayad.
On Wednesday, the Syrian army forces, supported by the Russian fighter jets and helicopters, advanced 70km inside the province of Hama.
Some 50km deep into the freed areas were under the occupation of Jeish al-Fateh terrorist group which is supported by Saudi Arabia.
Full Report at:
http://english.farsnews.com/newstext.aspx?nn=13940717000639
------------
Syrian Army Fends off Militant Assaults Kills over 50 Terrorists in Aleppo Governorate
Oct 09, 2015
The sources said that dozes of the militant were also wounded as a result of the army soldiers' heavy fire on the terrorist groups in al-Breij.
The sources said that there were also fierce clashes between the army and the militant groups in the vicinity of al-Nairab airport, 10 km East of Aleppo city.
On Thursday, the Russian and Syrian air forces conducted precision airstrikes against ISIL positions in the countryside of Aleppo, killing hundreds of the terrorists.
A military source said that the airstrikes hit the ISIL positions in Anadan, al-Atareb, Deir Hafer, West of Mansoura and al-Bab city in the countryside of Aleppo, killing hundreds of terrorists.
Full Report at:
http://english.farsnews.com/newstext.aspx?nn=13940717000654
------------
Over 30 Militants Killed in Russian Choppers' Attack in Syria's Hama Province
Oct 09, 2015
The sources said that the Russian Air Force's MI-24 Helicopter Gunships carried out numerous strikes on the militant positions in the nearby areas of the towns of Kafr Naboudah, Kafr Zita, Latmeen, Al-Lataminah, and 'Atshan, which resulted in the killing of at least 30 terrorists and wounding of more ones.
The Russian Air Force has continued to pound the militants' strongholds with airstrikes on Friday morning; this is likely to continue, as they attempt to weaken the terrorists' defense lines.
Full Report at:
http://english.farsnews.com/newstext.aspx?nn=13940717000348
------------
Syrian Army Shoots Down Spy Drone in Lattakia Governorate
Oct 09, 2015
A hostile surveillance aircraft operated by the terrorist groups was shot down by the Syrian troops as it was flying over the coastal province of Lattakia, the sources said.
The Syrian army is engaged in heavy fighting against the terrorist groups in Lattakia.
In the latest battles on Thursday, the Syrian troops inflicted heavy losses on the foreign-backed militants in the Northern parts of the province.
Also, some 12 terrorists were killed in Syrian airstrikes in the Northern countryside of Lattakia on Tuesday.
Full Report at:
http://english.farsnews.com/newstext.aspx?nn=13940717000750
------------
Russian Fighter Jets Hit Again Tabaqa Airbase in Syria's Raqqa
Oct 09, 2015
The sources said that the Russian Air Force carried out a dozen airstrikes against the strongholds of the ISIL in the Southern territories of Raqqa province.
The Russian fighter jets reportedly targeted the ISIL strongholds at the city of Tabaqa, where the terrorist group has turned the Tabaqa National Hospital into its central command's headquarters.
In addition to the airstrikes over the Tabaqa National Hospital and the Tabaqa airbase, the Russian Air Force continued to attack the Al-Rusafa Camp (the ISIL's primary storage facility) and numerous targets inside the provincial capital.
Local sources said on Monday that SIL terrorists have evacuated the Raqqa province and fled to Iraq.
Full Report at:
http://english.farsnews.com/newstext.aspx?nn=13940717000593
------------
ISIS on Outskirts of Aleppo despite Russia's Air Strikes on Syria
Oct 10, 2015
BEIRUT: Fighters of the self-styled Islamic State advanced on Friday to the outskirts of Syria's second city Aleppo, despite 10 days of Russian air strikes that Moscow says are aimed at routing the jihadists.Deputy head of the Russian General Staff Lieutenant General Igor Makushev told reporters that "Su-34M and SU-24SM warplanes hit 60 terrorist targets".
He said Russia had bombed a command post in IS stronghold Raqa, killing two senior field commanders and some 200 fighters, according to intercepted radio communications.
Strikes on Aleppo killed "some 100 militants", and other raids struck command posts and training camps in Latakia, Hama and Idlib.
Western governments say the vast majority of Russian strikes have targeted rebel groups other than IS in an attempt to defend President Bashar al-Assad's rule.
And despite the Russian raids, IS militants have reached their closest position yet to Aleppo in northern Syria, a monitoring group reported.
"Dozens of combatants were killed on both sides" as IS drove out rebels from nearby localities as well as a military base, said Rami Abdel Rahman of the Syrian Observatory for Human Rights.
The jihadists are now just over 10 kilometres (six miles) from the northern edges of Aleppo city and three kilometres (two miles) from pro-regime forces positioned at the Sheikh Najjar industrial zone.
"IS has never been so close to the city of Aleppo, and this is its biggest advance towards" the country's pre-war commercial capital, Abdel Rahman said.Control of Aleppo is divided between rebel groups in the east and government forces, bolstered by pro-regime militias, in the west.
French Defence Minister Jean-Yves Le Drian said that "80 to 90 per cent" of Russian strikes in Syria were aimed at propping up Assad.
IS has not had a presence in the city, but the jihadist group on Friday boasted it had "reached the gates of Aleppo".
"IS announced several times that it would launch an offensive on Aleppo without doing it. They were waiting for the right moment and took advance of Russian strikes on other rebels to advance," said jihadism analyst Romain Caillet.
Thomas Pierret, an expert on Islam in Syria, said the US-led coalition bombing IS in Syria was "not very active" in Aleppo, and that Russia's strikes there had hit mostly rebels, allowing IS to push forward.
Iran's Revolutionary Guards announced one of its senior commanders was killed by IS in the Aleppo area on Thursday, without giving the exact circumstances.
A Guards statement said General Hossein Hamedani had played an "important role... reinforcing the front of Islamic resistance against the terrorists" but was killed "during an advisory mission".
The Observatory said Hamedani was the highest-ranking Iranian casualty of the Syrian conflict.
Full Report at:
http://www.dawn.com/news/1212091/is-on-outskirts-of-aleppo-despite-russias-air-strikes-on-syria
------------
One killed in Iraq's Kurdistan region as protest turns violent
9 October 2015
One man was killed when a protest in Iraq's Kurdistan region turned violent on Friday, two officials told Reuters, in the most sustained display of street discontent there since 2011.
Five other people were wounded in the city of Qaladize following a week of strikes and demonstrations that threaten to shake Kurdistan's stability while it is at war with Islamic State militants.
The protests are being fuelled by an economic crisis that has left the Kurdistan regional government unable to pay employees' salaries.
Friday's demonstration turned violent when protesters headed towards the headquarters of the Kurdistan Democratic Party (KDP) in Qaladize, the two officials said.
"The firing came from the KDP," said Hawsar Wshyar Mohammed Amin, a member of the Sulaimaniyah provincial council from former oppostion party Gorran. "The protest is ongoing and it's going in a dangerous direction."
But Hamid Qaladizei, a member of the KDP branch in the city, denied they had opened fire on stone-throwing protesters and said they were not to blame for the man's death.
"We acted very responsibly," Qaladizei said. "There are people behind these protesters who are provoking. The number of police are not enough to protect us and control the situation."
The economic crisis began in early 2014 when Baghdad slashed funds to the region, and has been exacerbated by the conflict with Islamic State and a drop in oil prices that has pushed the region to the verge of bankruptcy.
Full Report at:
http://english.alarabiya.net/en/News/middle-east/2015/10/09/One-killed-in-Iraq-s-Kurdistan-region-as-protest-turns-violent.html
------------
US to keep 'equipping' Syria rebels amid halt to training bid
Oct 10, 2015
The US military is continuing to "equip" foreign-backed terrorists in Syria despite admitting failure and "a pause" in its $500-million program to train what it boasts as "moderate" militants in the Arab nation.
"There is a pause being put in place, while we focus more on the equipping side of those groups that are in Syria now and have proven competent against ISIL (Daesh)," US State Department spokesperson John Kirby said during his Friday press briefing, as quoted in an RT report.
He further added that part of the militant training scheme is being temporarily "shelved," without elaborating, referring to the US Defense Department questions on the controversial training bid for terrorists as well as reasons for the failure of the plan.
"Sometimes you run into obstacles and challenges you didn't know you were going to have or you couldn't have predicted," Kirby stated. "I would also remind you that this particular aspect of the program is not being shelved forever."
The development comes a day after reports that the US Congress had just passed a National Defense Authorization Act for 2016 that allocates nearly $600 million for the plan to train and support "appropriately vetted" militants in Syria to battle both the Syrian government troops as well as the rival Takfiri Daesh terrorists.
Commander of the US military's Central Command General Lloyd Austin
This is while Commander of the US military's Central Command, General Lloyd Austin, stated at a Congressional hearing on September 16 that only "four or five" American-trained militants were still fighting in Syria following reports that a group of the US-backed terrorists had joined the notorious Daesh militants along with their US-supplied weaponry.
Austin added that Washington will not reach its goal of training 5,000 Syrian militants anytime soon. The US had originally planned to have a force of 5,400 on the ground in Syria by December in a bid to challenge rival Daesh terrorists in Iraq and Syria. The general's remarks came merely two months after US Defense Secretary Ash Carter told the Senate Armed Services Committee that the American military had only trained the "awfully small number" of nearly 60 Syrians.
Full Report at:
http://www.presstv.ir/Detail/2015/10/10/432769/Syria-USbacked-militants-John-Kirby-moderate-rebels-Daesh-terrorists-training-program
------------
S. Arabia summons Czech envoy over 'Satanic Verses'
Oct 10, 2015
RIYADH: Saudi Arabia has summoned the Czech ambassador over a translation of British writer Salman Rushdie's controversial book "Satanic Verses", official media said on Friday.
The kingdom wanted to express its "condemnation and disapproval of translating the book", and hopes the Czech government will stop publication of the work which is offensive to Islam and Muslims, the Saudi Press Agency quoted an unnamed foreign ministry official as saying.
"The kingdom urged that religion and cultures not be insulted in any way or form," the report said.
In 1989, Ayatollah Ruhollah Khomeini of Iran issued a 'fatwa' that called for the killing of Rushdie.
Full Report at:
http://www.dawn.com/news/1212049/s-arabia-summons-czech-envoy-over-satanic-verses
------------
Saudi religious leader denounces 'lies' after Haj tragedy
Oct 10, 2015
RIYADH: A senior Saudi religious leader on Friday denounced "lies" being spread about the kingdom after more than 1,350 people died in tragedies that struck this year's pilgrimage.
In his first major remarks touching on the September 24 Haj stampede, Sheikh Abdulrahman al-Sudais urged people to remember the efforts Saudi Arabia has made to take care of Muslim pilgrims.
"The efforts of the kingdom will not be undermined by the talk of the slanderers that only know to spread lies," Sudais said during weekly prayers at the Grand Mosque.
Also read: 'Saudi carelessness' in Mina stampede criticised in Senate
The mosque was the scene of a construction crane collapse on September 11 which killed at least 108 people, many of them foreign pilgrims, just before Haj.
Less than two weeks later, the stampede occurred during a Haj stoning ritual at Mina, near Makkah.
Data from 29 countries, mostly from official sources, give a total of 1,358 dead in the stampede, far in excess of the Saudi figure of 769 killed.
"It is not the right of anyone or any entity to use these events to blame or spread rumours against the great efforts exerted by the kingdom", Sudais said, according to the official Saudi Press Agency.
Know more: Mina stampede deadliest disaster ever to strike Haj, says report
Iran, Saudi Arabia's regional rival and the country which reported the highest stampede death toll, has been the most critical.
Iran's supreme leader Ayatollah Ali Khamenei blamed "improper measures" and "mismanagement" for the disaster, the worst in 25 years at the Haj.
Iran said 464 of its citizens were killed.
The pilgrimage — which this year drew about two million faithful — had been largely incident-free for nine years after safety improvements and billions of dollars spent on infrastructure investment.
Full Report at:
http://www.dawn.com/news/1211985/saudi-religious-leader-denounces-lies-after-haj-tragedy
------------
U.S. pulls the plug on Syria rebel training program
9 October 2015
The United States will largely abandon its failed efforts to train moderate Syrian rebels fighting Islamic State of Iraq and Syria (ISIS), and instead provide arms and equipment directly to rebel leaders and their units on the battlefield, the Obama administration said on Friday.
The U.S. announcement marked the effective end to a short-lived $580 million program to train and equip units of fighters at sites outside of Syria, after its disastrous launch this year fanned criticism of President Barack Obama's war strategy.
The Pentagon said it would shift its focus away from training to providing weapons and other equipment to rebel groups whose leaders have passed a U.S. vetting process to ensure they are not linked to militant Islamist groups.
The strategy switch comes as the Obama administration grapples with a dramatic change in the landscape in Syria's four-year civil war, brought about by Russia's military intervention in support of President Bashar al-Assad. Moscow's intervention has cast doubt on Obama's strategy there and raised questions about U.S. influence in the region.
Moscow is mounting air strikes and missile attacks that it says are aimed both at supporting its longtime ally Assad and combating ISIS. Washington says Russian air strikes in Syria are targeted primarily not at ISIS but at other rebel groups, including those that have received U.S. support.
Obama has previously questioned the notion that arming rebels would change the course of Syria's war. In an interview with the New York Times in August 2014, he said the idea that arming the moderate Syrian opposition would make a big difference on the battlefield had "always been a fantasy."
By vetting only rebel commanders, the new U.S. policy could raise the risk that American-supplied arms could fall into the hands of individual fighters who are anti-Western.
Christine Wormuth, the Pentagon's No. 3 civilian official, said however that the United States had "pretty high confidence" in the Syrian rebels it would supply, and that the equipment would not include "higher end" arms such as anti-tank rockets and shoulder-fired anti-aircraft rockets.
The Pentagon will provide "basic kinds of equipment" to leaders of the groups, Wormuth, Under Secretary of Defense for Policy, told reporters on a White House conference call.
The Syrian rebel groups that have recently won favor with Washington include Sunni Arabs and Kurds as well as Syrian Christians, U.S. officials have said.
Wormuth defended the Pentagon program launched in May that trained only 60 fighters, falling far short of the original goal of 5,400 and so working out at a cost so far of nearly $10 million per trained fighter.
"I don't think at all this was a case of poor execution," Wormuth said. "It was inherently a very, very complex mission," Ben Rhodes, the White House deputy national security adviser, said the new approach showed there had been "deficiencies" in the train-and-equip program that had to be addressed.
Full Report at:
http://english.alarabiya.net/en/News/middle-east/2015/10/09/Tunisian-national-dialogue-mediators-win-Nobel-Peace-Prize.html
------------
Africa
UN announces Fayez Saraj as PM of Libya's national unity government
October 10, 2015
London: The United Nations has announced Fayez Saraj as the New Prime Minister of the national unity government in Libya.
The decision to form a national unity government in Libya has come after months of negotiations between the country's two rival governments.
After the ousting of the former dictator Muammar Gaddafi in 2011, Libya had been divided between an Islamist-backed government based in Tripoli and an internationally recognised government in the country's east.
Full Report at:
http://www.siasat.com/news/un-announces-fayez-saraj-pm-libyas-national-unity-government-849831/
------------
Muslim Lawyers Fight Islamic Myths With Dialogue
09 October 2015
KAMPALA – Debunking myths surrounding Islam and Muslim, Ugandan Muslim lawyers have started a new law center to advocate issues that affect the Muslim community and correct misconception wrongly associated with their faith.
"Christians fear to employ Muslims because they think they are a security threat, terrorists and extremists," Jaffer Senganda, the founder and President of Muslim Centre for Justice and Law in Uganda, told OnIslam.net.
"These stereotypes need to be watered down because we now emphasize the good side of Muslims and Islam through dialogue."
Senganda is one of the lawyers who started the Muslim Centre for Justice and Law along with other Muslim lawyers and human rights activities to advocate for issues that affect members of the Muslim community.
This includes legal aid representation for Muslims without money and Muslim women.
While Muslims grow up thinking that when one touches a bible they run mad, Senganda says, "Christians thinks that the reason Muslims prepare delicious meals is because they cook using water used to wash dead bodies, they are not educated, exploit and don't respect women."
He adds some of the ridiculous myths surrounding the Muslim community in Uganda are that, "Muslim men have high sexual libido and do not mind about family planning, they are not intelligent and do not have friends unless you are Muslim.
"But surprisingly nothing much is being done to correct this myth our religious societies have against each other."
Key Roles
Along with emphasizing the importance of interfaith dialogue, the organization also handles domestic violence prevention and mitigates cases of domestic violence.
"We train Sheikhs, Imams, students and community leaders on peace building, interfaith work and the dangers of domestic violence," Senganda said.
Through the interfaith and intercultural work, the organization has been mobilizing youth especially in schools to mitigate the different stereo types they have heard about Islam and Christian faiths.
Sheikhs are taken to different schools, "To talk about the basics of Islam, for example;why we pray five times a day, why we bury in pieces of clothes and not in caskets as Christians do and why we fast the holy month among other things," he added.
But to balance the equation through the interfaith dialogue, the Muslim Centre for Justice and Law also takes Chaplains and Priests to Muslim schools.
"The reason is to break the barriers and the different half-truths and trust we have against different faiths," Senganda said.
Full Report at:
http://www.onislam.net/english/news/africa/494925-muslim-lawyers-fight-islamic-myths-with-dialogue.html
------------
Kenya Arrests Scholars, Muslims Angry
07 October 2015
CAIRO – Denouncing repeated arrests of Kenyan Muslim scholars, a leading Islamic group has called for taking due judiciary procedures before arresting renowned scholars.
"If these people are innocent they should be released immediately without them suffering anymore," the Supreme Council of Kenyan Muslims' Director General Abdul Latif told Anadolu Agency.
"Before the government arrests clerics they should do a thorough investigation with their intelligence teams to avoid a backlash."
Abdul Latif comments followed the arrest of 12 Muslim scholars last Sunday.
The Anti-Terror Police Unit had requested 14 days to question the men, who were arrested Sunday on suspicion of radicalizing and recruiting youths to join the al-Shabab militant group.
Magistrate Dancun Mtai allowed five days "to strike a balance between the applicant's duty to secure the country against acts of terrorism… and the suspects' constitutional right of liberty," the Daily Nation website reported.
Muslims in Kenya have continuously decried the profiling of their scholars as terrorist.
Abdul Latif lamented that the police had a record of arresting Muslim scholars, only to release them without charge later.
The Muslim scholars got arrested in a mosque in Mandera, a border town with Somalia that has been the site of intense militant activity.
Last year, 28 teachers were killed by al-Shabab in Hareri on the town's outskirts.
There are nearly ten million Muslims in Kenya, which has a population of 36 million.
Kenya Muslims have been sensing eradication of their rights after their country was involved in the so-called war on terrorism in East Africa.
Supported by UK and US, Kenya's anti-terror police have been accused of targeting innocent Muslims with arbitrary arrests and disappearances.
Full Report at:
http://www.onislam.net/english/news/asia-pacific/494869-kenya-arrests-scholars-muslims-angry.html
------------
South Sudan opposes drones for U.N. peace mission
9 October 2015
South Sudan told the United Nations Friday that it opposed the use of surveillance drones to help track ongoing fighting in the world's youngest nation.
The comments came as the Security Council approved a resolution that asks Secretary-General Ban Ki-moon to deploy more helicopters and unmanned aerial vehicles (UAV) to strengthen the U.N. mission in South Sudan (UNMISS).
South Sudan's Ambassador Francis Mading Deng told the 15-member council that the use of UAVs was a "contested" issue and complained that the move was decided without consultation with Juba.
Such a decision will "invite controversy, and potential disagreement and hostility, when harmony and cooperation are what the situation calls for," Deng said.
The United Nations has made successful use of drones in its mission in the Democratic Republic of Congo, allowing peacekeepers to survey areas that are hard to access or too dangerous to deploy the blue helmets.
Russia and Venezuela abstained from the vote largely in protest at the new provision on the use of UAVs and another section on the threat of sanctions, but the resolution was adopted by a vote of 13 in favor.
Full Report at:
http://english.alarabiya.net/en/News/africa/2015/10/09/South-Sudan-opposes-drones-for-U-N-peace-mission.html
------------
Muslim suspects face rough justice in Kenya's terror war
Oct 10, 2015
This year at least 60 Muslims aged between 17 and 40 have gone 'missing' in Kenya as victims' families point fingers at security forces, accusing them of acting like 'terrorists'
By Yassin Juma
NAIROBI, Kenya – Abdel Nasser Nashu is grateful to be reunited with his wife and children.
The 38-year-old Kenyan-Arab businessman went missing for more than two weeks after four men in an unregistered vehicle abducted him near his home in the Kenyan capital Nairobi.
"They forced me into the car. I shouted for help but they drew their guns and threatened to shoot me, saying they are police," Nashu recalled the evening of June 30, 2015.
For days, the whereabouts of Nashu were unknown. His family moved from one police station to another in search of him, but in vain.
"I was interrogated for days on whether I had links with any terror groups. I was taken to different stations for three weeks, but was later released," he told Anadolu Agency.
"[I] am thankful to God that I am alive, although I was tortured and was shaken by the experience," he added.
Nashu has reason to be thankful and this he attributes partly to a social media campaign, dubbed #WhereIsNashu, that put into spotlight police's alleged involvement in kidnappings and extrajudicial killings of terrorism suspects, who are mainly Muslim youth.
This year alone at least 60 Muslims aged between 17 to 40 years have been documented as "missing" in Kenya, according to an investigation by Anadolu Agency.
The most-affected regions were the Muslim-majority areas of Mandera, Wajir, Garissa, Nairobi and Mombasa. With a population of 47 million, Kenya Muslims are estimated at about 11 million, according to the Supreme Council of Kenya Muslims. They are mostly found at the Coastal strip and northeastern region near the Somalia border.
Records gathered by the Muslim Human Rights MUHURI Human show that missing persons were abducted by either the Anti-Terror Police, Kenya Defense Forces or the Kenya Wildlife Service officers. Reports by Amnesty International 2015 and Human Rights Watch 2014-2015 also highlighted the extrajudicial killings of Kenya Muslim youth and terror suspects by police.
"The records we have show the victims of extrajudicial killings range from high school students to clerics and university students to businessmen," Abdirahman Issaq, an activist with the MUHURI human rights group, said after holding a demonstration against extrajudicial killings in the capital Nairobi last August.
At least six Muslim clerics perceived to be radicalized were also shot dead by such "unknown men" in similar situations in the past.
Another case in point is that of Tahliil Mahamed, who went missing in mid-August. Later, his body together with two of his friends were found floating on a river in the neighboring county of Muranga, causing an outcry among the Muslim population and human-rights activists.
His family and activists believe that they were the latest victims of extrajudicial killings by the Anti-Terror Police Unit (ATPU). "Tahliil was a respectful boy. He went missing for a week from our home in Nairobi. He was last seen in a police Land Cruiser with two other boys," Ahmed Aliyow, Mahamed's brother, told Anadolu Agency.
Some Kenyans believe that law enforcers themselves have now become terrorists.
"We are aware that the ATPU has a list of youth it claims are radicalized. Some [on this list] are high-school students. Some [of these students] have chosen to flee [and go] into exile out of fear. The police have now become terrorists," Halimow Abdi, a parent visiting the Maina Wanjigi Secondary School where two of the three slain boys studied, said.
A staff member at the school said that some students were now living in exile. "Last year, one of our brightest students missed his final national exams. He fled to his home county fearing for his life. Police have been investigating the school and allege that it is a center of radicalization," the staff member, who insisted on being anonymous, told Anadolu Agency.
"This is not the way to deal with radicalization in Kenya. Instead these killings are forcing more youth to become radicalized and the Muslim community feels more marginalized," Willis Omuse, a security analyst and former police boss of Mombasa county, said.
"Even if Tahliil and his friends were criminals, it is only fair that they should have had their day in court and the truth be known," Aliyow told Anadolu Agency after the burial of his slain brother.
Full Report at:
http://news.videonews.us/muslim-suspects-face-rough-justice-in-kenyas-terror-war-1036731.html
------------
Pakistan
Sunni Tehrik Clerics Warn against Qadri's Hanging
October 10, 2015
HAFIZABAD
Ulema from across the district Friday warned the government of 'dire consequences' if the court decision to hang Mumtaz Qadri is implemented. In this connection a protest rally was taken out under the auspices of Sunni Tehrik which was led by Divisional President Sunni Tehrik Syed Usman Naqvi, Central Chairman Jamaatul Suffa Barrister Syed Waseemul Hassan Naqvi and Maulana Ali Zulqarnain Shah of Aalmi Tanzeem Ahle Sunnat. The protestors rallied on Vanike Road, chanting slogans against in favour of Mumtaz Qadri. They called upon the government to play its role to get Mumtaz Qadri free from the jail as he is not a terrorist and is a staunch Aashiq-i-Rasool.
Full Report at:
http://nation.com.pk/national/10-Oct-2015/clerics-warn-against-qadri-s-hanging
------------
Will never seek help from India: Baloch separatist leader
Oct 10, 2015
Baloch separatist leader Hyrbyair Marri has said the Baloch people are not in favour of seeking help from India to gain freedom said a report published on the BBC Urdu website.
In an interview in London, Marri said he was fighting for an "independent Balochistan" however neither he nor his associates have any affiliation with the proscribed Balochistan Liberation Army (BLA) militant group.
In response to a question about separatist Baloch Republi­can Party (BRP) leader Brahamdagh Bugti's statement that he was ready to give up his demand for an independent Balochistan if the Baloch so desired, Marri said: "No, i don't think the majority of Baloch people want to live with Pakistan."
Marri said he was not seeking assistance from India for his movement: "I have never sought help from them, nor will I in the future."
Full Report at:
http://www.dawn.com/news/1212164/will-never-seek-help-from-india-hyrbyair-marri
------------
Terrorist with Rs2m head money killed in Mardan
October 10, 2015
MARDAN - A most-wanted terrorist with Rs two million bounty was killed in exchange of firing with police here on Friday. The police responding to a tip-off regarding presence of militants conducted search operation in Chauraha. An exchange of firing took place with the extremists. A most wanted terrorist identified as Farooq Alam and having bounty of Rs two million was killed in the fire exchange.–INP
http://nation.com.pk/national/10-Oct-2015/terrorist-with-rs2m-head-money-killed-in-mardan
------------
'Takht-i-Lahore' will fall, predicts PTI
MANSOOR MALIK
Oct 10, 2015
LAHORE: The Pakistan Tehreek-i-Insaf's (PTI) by-election campaign concluded on a high note on Friday with party leaders, members and supporters gathered in large numbers at Qartaba Chowk, Jail Road. The party's flags fluttered as anthems blared on speakers and party chief Imran Khan took to the stage accusing Prime Minister Nawaz Sharif of 'robbing' the nation.
Claiming the prime minister was the most corrupt person in the country, Imran Khan urged the people of Lahore to vote for cricket bat (PTI's election symbol) on Sunday's by-elections for NA-122 and PP-147 constituencies.
Also read: Imran blasts Nawaz for 'corruption', 'inefficiency'
The PTI's election campaign steadily picked momentum over the last month. On Friday it touched new heights as a charged crowd carrying party banners and flags, leaders' portraits and pictures of cricket bats arrived at the party's final public gathering before the by-election. In his concluding speech, Imran Khan said the PTI candidate, Abdul Aleem Khan, had carried out a brilliant campaign that caused alarm in the PML-N camp. Aleem Khan forced the ruling party to bring in its ministers to counter their campaign, Imran added.
Amidst party slogans, including the Insafians' favourite "Go Nawaz Go", Khan said he was happy with the response from Lahore and urged everyone to ensure that nobody rigged the election this time. Imran Khan added that PML-N's Ayaz Sadiq had won the election against him through rigging and had not returned to the constituency afterwards. "The people of this constituency continue to suffer while drinking unhygienic water, passing through streets inundated with sewage water and lack of education and health facilities," he lamented.
Addressing Nawaz Sharif directly for the third consecutive time in the by-election campaign, Mr Khan derided him for pitting his "darbaris" against him. He asked the prime minister to explain to the nation how he [Nawaz Sharif] could make Rs200 billion while paying a maximum of Rs5,000 in tax. He challenged the PML-N leaders to ask Nawaz Sharif about his assets, including those piled up abroad. "My life and death is with Pakistan and will never run to Jeddah like the Sharif family," said the PTI chief.
Responding to PML-N's questions about party funding, Khan attacked the ruling party's character and waved affidavits from former DG ISI Gen Durrani and Khalid Khwaja, where Mr Durrani admitted that he gave Mehran Bank's money to Nawaz Sharif, while Kahlid Khwaja said that he presented Osama Bin Laden's money to Nawaz Sharif to topple the government in 1989. "Nawaz Sharif had even 'stolen' money from that fund for himself," alleged Imran Khan.
Full Report at:
http://www.dawn.com/news/1212100/takht-i-lahore-will-fall-predicts-pti
------------
MQM withdraws resignations of lawmakers
KHAWAR GHUMMAN
Oct 10, 2015
ISLAMABAD: Following an agreement with the federal government over formation of a Grievance Redressal Committee (GRC), the Muttahida Qaumi Movement has withdrawn resignations its legislators had submitted to chairman of the Senate and speakers of the National and Sindh assemblies.
Leaders from the two sides met at the Punjab House here on Friday and signed a Memorandum of Understanding on the proposed GRC.
With the signing of the MoU, resignations of the party's senators and members of the National and Sindh assemblies stood withdrawn, the two sides said.
At the talks, Finance Minister Ishaq Dar represented the federal government and Dr Farooq Sattar the MQM. They later signed the MoU.
"It is mutually agreed that PML-N will arrange issuance of a notification on the GRC to address grievances of the MQM and any other political party/person/entity, regarding alleged abuse of power or excess of authority, if any, by a law enforcement agency or any other government institution," said the MoU.
A notification about the proposed committee must be issued within five working days, said the MoU. The GRC would comprise five members, two from each side, while the interior secretary would be its convener.
According to the MoU, once it is set up the committee will be allowed to "adopt its own procedure and rules of business". The federal government will provide the necessary secretarial support.
A deadline of three months has been set for the GRC to complete its work on complaints it receives from either side.
After issuance of the notification "the committee, preferably within two weeks (15 days), will take up and attend grievances relating to Karachi, under the law and Constitution, in particular matters relating to life and liberty", according to the MoU.
Under the agreement, the GRC will have the authority to submit its findings on case-to-case basis to the federal government.
Addressing a press conference, Senator Dar thanked the entire MQM leadership, whether in Karachi or abroad, for showing sagacity which had led to the signing of the MoU.
When a journalist asked him whether the "powers that be" had been taken on board before the signing of the MoU, the minister said "gone are the days when different institutions used to think and act on their own".
"At the moment, both civilian and military leaderships are on the same page."
The government, he added, remained in touch with the MQM even though at times the two sides faced difficulty in moving forward on the issues involved.
In reply to a question, he said the MQM had always supported the Karachi operation and would continue to do so because "it is only directed against corrupt elements".
In his remarks, Dr Sattar reiterated his party's viewpoint that in Karachi certain institutions had exceeded their powers and committed violations against the law of the land.
Left with no other option for the redressal of grievances, especially "about missing persons and extrajudicial killings of party workers", the MQM legislators had to resign from the parliament and Sindh Assembly, he said.
Full Report at:
http://www.dawn.com/news/1212103/mqm-withdraws-resignations-of-lawmakers
------------
LHC summons Pemra chief on Altaf case coverage
Oct 10, 2015
LAHORE: The Lahore High Court on Friday summoned the Pakistan Electronic Media Regulatory Authority (Pemra) chairman to explain why the media covered the money laundering case involving MQM chief Altaf Hussain.
A full bench headed by Justice Syed Mazahar Ali Akbar Naqvi was hearing petitions seeking a ban on the media coverage of Altaf Hussain's activities. One of the petitioner's counsel pointed out that proceedings of money laundering case against Mr Hussain in London were widely covered by the Pakistani media.
Advocate Azhar Siddique, the petitioner's counsel, told the bench that both print and electronic media covered the case of Altaf Hussain despite court ban on coverage of all activities of the MQM chief. He also filed some affidavits challenging the one Mr Hussain had filed on previous hearing.
At this the bench directed the Pemra chairman to appear in person along with complete record of the media coverage on next hearing. The bench, however, observed that fate of Mr Hussain's affidavit was yet to be decided by court.
An associate of Advocate Asma Jahangir filed an application for adjournment and told the bench that the senior counsel for the MQM was busy in the Supreme Court in Islamabad.
Advocate Ahmad Awais (from petitioners' side) informed the bench that the MQM had already challenged the restraining order of the LHC before the apex court. He said the MQM also asked the SC to transfer the instant case to Sindh High Court citing security issues.
The bench adjourned further hearing till Oct 16.
Justice Mazhar Iqbal Sidhu and Justice Erum Sajjad Gull were the other members of the bench.
Full Report at:
http://www.dawn.com/news/1212080/lhc-summons-pemra-chief-on-altaf-case-coverage
------------
Don't tease the lion, Hamza tells Imran
AMJAD MAHMOOD
Oct 10, 2015
LAHORE: The PML-N held on Friday its last public meeting of the election campaign for NA-122 by-election and effectively demonstrated its sway in the constituency.
Hamza Shahbaz, the son of Shahbaz Sharif, was the main speaker as both Prime Minister Nawaz Sharif and the Punjab chief minister opted not to join the electioneering to avert getting entangled in any legal complication, particularly after a survey of the constituency by a known audit firm that the ruling party would easily sail through the electoral contest.
The same firm had conducted a countrywide survey before the 2013 general elections and the PML-N was satisfied with its results.
The polling will be held on Sunday (Oct 11) and the result is likely to have a far-reaching political impact.
The PML-N chose Samanabad's Doongi ground in the constituency to show its power. At least 5,000 chairs had been arranged at the venue while all roads, except four, leading to it were barricaded as a security measure. The participants were made to pass through walk-in security gates.
Charged activists carried party flags and some wearing green headscarves, a lion's image etched on them, raised slogans throughout the meeting.
Since the local government elections are also due 20 days after the by-polls, the candidates in 28 union councils that fall within NA-122 also made their presence felt by joining the meeting in the form of small rallies.
Unlike its past practice, and following the trend set by the PTI, a large number of women activists of the PML-N, some of them carrying little children, were also present. Party songs were played during speeches of the leaders (again the PTI style) to raise spirits of the participants.
Hamza deliberately delayed his speech to see if Imran Khan, holding PTI's show a couple of miles away, would say anything that could require immediate response from him.
Adopting a populist posture, Hamza got the bulletproof glass removed from the podium saying he did not feel himself threatened among Lahorites.
Full Report at:
http://www.dawn.com/news/1212101/dont-tease-the-lion-hamza-tells-imran
------------
Hashim's killing might be work of MQM's internal elements: Rangers
IMTIAZ ALI
Oct 10, 2015
KARACHI: The Pakistan Rangers, Sindh, on Friday night said that the killing of Mohammad Hashim might be the work of the Muttahida Qaumi Movement's internal elements, as he was an 'important worker' of the party.
The MQM rejected the Rangers report in a late-night statement.
Sharing their inquiry report with the media, the paramilitary force said Hashim might have been eliminated as he possessed a "vast amount of information about the party's internal and external affairs being a photographer of the party's headquarters, popularly known as Nine Zero, for 10 years and being an alleged active member of targeted killing team of the Liaquatabad sector".
The MQM coordination committee, in their hurriedly called meeting on Aug 9, had stated that Mohammad Hashim was allegedly taken away, tortured and killed 'extra-judicially'. The party had also alleged that Hashim was detained by the Rangers while he was on his way home in Liaquatabad on May 6.
"Pakistan Rangers, Sindh, as per their commitment had started inquiry to ascertain facts and managed to record at least seven evidences and ascertained other records as well," said the force spokesperson in a detailed statement.
Witnesses included Rangers and police personnel, Hashim's family and other elements.
"The MQM coordination committee was approached by the Rangers inquiry team, but they could not get meaningful cooperation from them." The force spokesperson shared with the media at least 11 points of the report.
The official said the MQM coordination committee had claimed that Hashim, the Liaquatabad sector worker, was taken away by the Rangers on May 6, while his wife told the inquiry team that her husband had gone 'missing' on May 5. As far as the MQM coordination committee's allegation that the Rangers detained him was concerned, the paramilitary force said a call record of Hashim indicated that he made at least three phone calls at different times on May 23, May 24 and May 30, respectively, which proved that the MQM exaggerated their statement that he was in the Rangers 'custody'.
As per his family's statement, Hashim had gone to the newspaper office of Amn at around 2pm on May 5 and had contacted his family at 6pm. The MQM coordination committee had alleged that he had been taken away by 'police or Rangers' while going home from Nine Zero on May 6 at 10pm.
"It showed that Mohammad Hashim was available at Nine Zero from May 5 at 18:00 evening till 22:00 night on May 6," stated the Rangers report.
The paramilitary force claimed that after the coordination committee's press release about 'missing, torture and extra-judicial killing' of Hashim, the inquiry team invited MQM leaders but they initially refused to cooperate with the officials. It was after a gap of two days that Hashim's lawyer and other 'responsible persons' agreed to meet the inquiry team and shared information.
The Rangers quoted the MQM leaders as admitting that the coordination committee had no proof that Hashim was in the custody of the Rangers or police. "The coordination committee also stated that their statement was based on general impression."
The family stated that late Hashim was a security guard at Valika Hospital, but the hospital's security supervisor told the team that he was neither a security guard nor he performed security duty there.
Full Report at:
http://www.dawn.com/news/1212023/hashims-killing-might-be-work-of-mqms-internal-elements-rangers
------------
Pakistan heading to economic revival: PM
October 10, 2015
Ali Abid
SHEIKHUPURA - Prime Minister Nawaz Sharif Friday said Pakistan was heading towards an economic revival as its economy turns around and promises a bright future for the people of the country.
He said the country will also get rid of loadshedding in 2018, the year marked for next general elections when his government's ongoing term expires. The prime minister was addressing the ground-breaking ceremony of the Rs55 billion Bhikki power project near Shiekhupura which is to be completed in 2017 and is supposed to add 1,180MW electricity to the national grid.
Nawaz Sharif claimed the project that could have cost Rs95 billion as per the Nepra tariff, would now complete in only Rs55 billion, owing to the transparent policies of the government.
The prime minister last month ordered audit of 525MW Nandipur power project, which has brought a huge discredit to his government that was voted into power primarily on promises of economic revival and fixing the long-running energy problem.
The Nandipur plant remains idle despite massive cost overruns and accusation of corruption. This comes in the middle of a large spurt in power projects, many of them connected with the China Pakistan Economic Corridor, which the government is trying hard to own as an emblem of its success.
Nawaz termed it criminal offence of the previous governments who neglected the critical need of electricity generation. He said now the onus of rectifying the ills of the past was on his govt which was doing its best to end the loadshedding by 2018.
Nawaz said the PC-I of Bhikki power project called for higher cost of commissioning of the project and it could have been an easier choice for any crook government to exploit it for sheer popularity. But, the PML-N government does not believe in such tactics and treats the national funds as a sacred trust of the people, he added.
He said the project would save Rs360 billion in 30 years and the work on Bhikki and two other power projects would help the country save a whooping Rs1,080 billion. The PM said neither the country could progress nor electricity be produced just by chanting slogans and burning electricity bills.
while sitting on containers, a reference to Imran Khan whose PTI is challenging Nawaz league in its stronghold, Lahore.
The very day PM broke ground for Bhikki project near Shiekhupura, his PML-N and Khan's PTI held impressive shows of their political muscle in NA-122 constituency of the provincial capital in the evening.
Full Report at:
http://nation.com.pk/national/10-Oct-2015/pakistan-heading-to-economic-revival-pm
------------
India
Varanasi violence: Fearing 'disturbance', organisers 'postpone' Indo-Pak Mushaira
by Lalmani Verma
Lucknow
Oct 10, 2015
An Indo-Pak Mushaira being organizsed in Varanasi in memory of former Prime Minister Rajiv Gandhi for the last 23 years has been "postponed" this year apprehending "disturbance" following the "tension prevailing" in the city over lathicharge on saints and seers and the violence during a protest march on October 5.
The event was scheduled to be held at Beniabagh ground on October 10, its convener Ashfaq Ahmed Memon, a Congress worker, said.
Memon said that he has been organising the Indo-Pak Mushaira for past 23 years in memory of the former PM who was assassinated in 1991.
Congress's Rajya Sabha MP Pramod Tiwari used to inaugurate the day-long event every year while leaders from all the political parties, including BJP, BSP, Samajwadi Party, Qaumi Ekta Dal and Shiv Sena, attended the event, he said.
Full Report at:
http://indianexpress.com/article/india/india-news-india/varanasi-violence-fearing-disturbance-organisers-postpone-indo-pak-mushaira/
------------
Two Indians wanted in terror cases detained in Saudi Arabia, Dubai
by Johnson T A
Bengaluru
Oct 10, 2015
Two Indian nationals wanted in terror cases in India have been detained in Saudi Arabia and United Arab Emirates and are expected to be deported soon. While Abu Sufiyan alias Asadullah Khan has been detained in Saudi Arabia, Zainul Abideen alias Zahid Sheikh has been nabbed in Dubai in the UAE.
Hyderabad native Sufiyan (50) allegedly participated in terror conspiracy meetings in Riyadh in 2011-12 with a few youths from Karnataka and Maharashtra who were arrested for alleged links with Lashkar-e-Toiba.
Sufiyan is identified as Mohammed Asad Khan in an Interpol red corner notice and as Asadullah Khan alias Asad Khan alias Abu Sufiyan in a November 2012 NIA chargesheet in an alleged LeT conspiracy to recruit youths in India to carry out terror activities. The NIA has accused Sufiyan of taking part in meetings in Riyadh in 2011 involving LeT terrorists from Hyderabad Abdul Bari, Siddique bin Osman alias Abu Hanzala and Furkhan Bhai alias Abdullah and some men from Karnataka and Maharashtra to allegedly initiate jihadist activities in India. He is wanted in the Bangalore LeT case on charges of "attempt to murder, illegally acquiring or possessing firearms, collecting men, ammunition and preparing to wage war against India''. Of the five Indian youths who allegedly attended the meetings with Abu Sufiyan, two have been arrested by NIA. These are a dentist from Mysore Dr Imran Ahmed and MBA student from Aurangabad Mohammad Akram. Another youth who attended the meetings, Karnataka-based doctor Usman Ghani, was detained in Saudi Arabia three years ago but was later released. Bangalore doctor Dr Sabeel Ahmed, who was briefly accused in a 2007 plot to attack Glasgow airport but was later freed and sent to India, has been named by NIA in the LeT case as a Saudi Arabia-based man who helped link up two key accused. Sources said Sufiyan was detained eight months ago and agencies are trying to obtain deportation orders. Zainul Abideen's (27) name came up this year during Bangalore police's probe into the explosives supply chain feeding IM. Abideen, who lived in Bhatkal, allegedly procured explosives for the 2011 German Bakery blast and supplied it to Syed Ismail Afaque, a doctor arrested in January on charges of being IM's main explosives supplier. Sources said Abideen was detained 20 days ago in Dubai and is likely to be deported in a week.
http://indianexpress.com/article/india/india-news-india/two-indians-detained-in-saudi-arabia-for-terror-links/
------------
Muslims in Varanasi will not immerse tazia in Ganga
October 10, 2015
A section of Muslim community here has said they will not immerse their tazia in Ganga river in the upcoming Muharram festival and will adhere to the High Court's ban order for immersion of idols and religious items in the river.
Eleven Taziadars (organisers of tazia processions during Muharram) of Adampur police station area have decided that they will not immerse their tazia in the river this time, a statement from District Information office said.
Full Report at:
http://www.thehindu.com/news/national/other-states/muslims-in-varanasi-will-not-immerse-tazia-in-ganga/article7744811.ece
------------
Muslims in Varanasi will not immerse tazia in Ganga
October 10, 2015
A section of Muslim community here has said they will not immerse their tazia in Ganga river in the upcoming Muharram festival and will adhere to the High Court's ban order for immersion of idols and religious items in the river.
Eleven Taziadars (organisers of tazia processions during Muharram) of Adampur police station area have decided that they will not immerse their tazia in the river this time, a statement from District Information office said.
Full Report at:
http://www.thehindu.com/news/national/other-states/muslims-in-varanasi-will-not-immerse-tazia-in-ganga/article7744811.ece
------------
Over 5,000 Rohingya Muslims settled in Jammu: Mufti Sayeed
October 10, 2015
Srinagar: Over 5,000 Rohingya refugees are living in in many settlement colonies in Jammu and Kashmir's winter capital Jammu after fleeing persecution in Myanmar, Chief Minister Mufti Mohammad Sayeed said on Friday.
"There are about 1,219 Rohingya (Burmese) families comprising 5,107 members who are staying in Jammu," he said.
Often described as "world's most persecuted minority", Rohingyas are unable to re-obtain citizenship of Myanmar after being stripped of their citizenship in 1982 in the Southeast Asian country.
Nearly all of the refugees live in the Jammu district alone, most of them in Narwal area of the city.
Full Report at:
http://www.siasat.com/news/over-5000-rohingya-muslims-settled-jammu-mufti-sayeed-849809/
------------
India which claims to be secular should guarantee the basic rights of Muslims – Pakistani Government
October 9, 2015
Islamabad: India, which claims to be secular, should guarantee the basic rights of minorities particularly Muslims, the Pakistani government has said.
Geo TV quoted Foreign office spokesman Qazi Khalilullah as saying Thursday: "Attacks on Muslims on the issue of cow slaughter are beyond comprehension and a cause of concern."
The comment followed the September 28 killing of a Muslim man near Delhi by a mob following rumours that he ate beef.
Full Report at:
http://www.siasat.com/news/india-which-claims-be-secular-should-guarantee-basic-rights-muslims-pakistani-government-849653/
------------
Congress offers to hold Ghulam Ali concert in Mumbai
Oct 10, 2015
The Maharashtra Congress has offered to organise a concert by Ghulam Ali in Mumbai, following cancellation of a performance by the Pakistani ghazal singer under pressure from the Shiv Sena. In a statement issued by former chief minister Ashok Chavan, the party said, "Considering the demand of crores of Mumbaikars, Maharashtra Congress proposes to organise Ustad Ghulam Ali ji's concert in Mumbai." Party leader Sachin Sawant said he had already contacted Ghulam Ali about the proposal. "He asked us to send him the invite," Sawant said. The organisers of a Ghulam Ali concert, which was to be held in the city on Friday, had cancelled the event under pressure from the Shiv Sena, even though Chief Minister Devendra Fadnavis had offered protection to the organisers.
Full Report at:
http://indianexpress.com/article/india/india-news-india/congress-offers-to-hold-ghulam-ali-concert-in-mumbai/
------------
Southeast Asia
Indonesia Church Flourishes amid Muslim Persecution
October 09, 2015
WEST JAVA, Indonesia - Radical Muslims are pressuring officials to close churches and jail pastors in Indonesia. And that's not all.
The extremists stir up violent mobs to destroy the buildings and threaten believers. But that's not stopping the Church from growing in the world's largest Muslim-populated nation.
Recently, a group of Muslim protesters shouting "bongkar," which means tear down, demanded a Christian church be shut down. Such scenes are common in some Muslim-dominated areas in Indonesia.
In a city in the province of West Java, all of its 29 Christian churches have been forcibly closed even after meeting the requirements needed to operate legally as a church.
The pastors are saying that the main reason is because Muslim extremists are pressuring the local government not to grant licenses to these churches.
Indonesia's most radical Islamic group, the Islamic Defenders Front, is the driving force behind the church closures.
Many times, it turns violent as was the case when radical Muslims stormed Surabaya Pentecostal Church.
"Angry members of the Islamic Defender's Front barged into our church and destroyed our musical instruments, chairs, everything," the church's pastor, Bernard Maukar, told CBN News.
"It's been more than a year since I passed all requirements to obtain a legal permit for our church, but the local government did not pay attention to it," he continued. "And because I was holding Sunday Service without a permit, they put me in jail for three months."
"My arrest was illegal, but the police arrested me because the angry Muslims were waiting outside the church," he said.
But even behind bars, Pastor Maukar continued to share God's message.
"Christians inside the prison invited me to give the sermon," he said. "I preached that God never leaves us and He is present in each of our situation."
"This blessed the prisoners, including the Muslims," he shared. "They asked me to pray for them Christian style and when I laid hands on the sick they got well."
For several months, Pastor Bernard's church held services in an open field. Today, they are worshipping in private homes.
Full Report at:
http://www.cbn.com/cbnnews/world/2015/October/Indonesia-Church-Flourishes-amid-Muslim-Persecution/
------------
Mat Sabu to PAS: Stop calling Amanah members 'kafir'
BY MOHD FARHAAN SHAH
October 9, 2015
JOHOR BARU: Mohamad Sabu has called on PAS leaders to stop calling Amanah members kafir (infidel) because no good would come out of it.
The Parti Amanah Negara chairman cited the current happenings in various Islamic countries such as Afghanistan, Syria, Somalia, and Iraq as the best example of infighting that lead to destruction.
"They are fellow Muslims of the same faith but due to difference in political understanding, they ended fighting one another, and I am praying that this will not be happen in Malaysia," he said.
Mohamad Sabu said this during an afternoon tea dialogue session held at a mamak restaurant in Taman Mutiara Rini here Friday.
He also believes that PAS would be stronger after being axed from Pakatan Harapan but would not win the general election.
He said in the last general election, most PAS candidates at rural areas could not get majority votes especially from the Malays.
"This is when they are still in Pakatan Rakyat, but now, they are no longer with the new Opposition pact.
Full Report at:
http://www.thestar.com.my/News/Nation/2015/10/09/Mat-Sabu-PAS-Amanah/
------------
Malaysia Upholds Cross-Dressing Ban
09 October 2015
KUALA LUMPUR – Almost a year after overturning a ban on cross-dressing by the court of appeal, Malaysia's federal court has upheld the ban imposed on wearing opposite gender garments by Muslims.
"The issue here is not whether the appellants were in any way prejudiced," said Judge Raus Sharif, referring to the arrests of three men for cross dressing, Reuters reported on Thursday, October 8.
"It is about the jurisdiction of the courts," Raus said, adding that other courts had no right to hear the case as it involved a state's right to enact a law.
Last November, the Court of Appeal ruled in favor of three Muslim transgender women for the first time in Malaysia, granting them the right to dress as women.
The appellants, three Muslims who were born male but identify as women, were arrested in 2010.
Another 2012 lower court ruling said that the three transgender women should dress as men.
Overturning the 2012 ruling, the three-judge panel described the cross-dressing ban as "unconstitutional", saying it "deprives the appellants of the right to live with dignity".
In December 2013, a new Shari`ah Criminal Offenses Enactment of 2013, that bans cross-dressing for Muslims, was enforced by Jabatan Agama Islam Pahang (JAIP).
According to the amendment, any Muslim found wearing opposite gender garments may be punished with a one-year jail or to be fined 1,000 ringgit (300 dollars).
The reason behind enforcing the new law is to curb lubricious acts in the community, scholars said.
As for the actual cross-dressing, there is no denial that Islam condemns such a lifestyle no matter what the reasons for cross-dressing.
The Prophet Muhammad had clear warnings about men and women attempting to look like, dress like, or act like the opposite gender.
Applause
The decision to maintain the ban on cross-dressing by transgender Muslims has been praised by Negri Sembilan MB Datuk Seri Mohamed Hasan.
"Praise be to God … Now Section 66 will return to the status quo and is applicable on all Muslims in Negri Sembilan," Mohamad said on his official Facebook page, the Malay Mail online reported.
Full Report at:
http://www.onislam.net/english/news/asia-pacific/494931-malaysia-upholds-cross-dressing-ban.html
------------
Criminal probe urged into Malaysian PM scandal
October 10, 2015
KUALA LUMPUR - Malaysia's central bank said Friday it has recommended that criminal proceedings be launched against a state-owned company linked to Prime Minister Najib Razak and which is at the centre of a massive corruption scandal.
The statement by Bank Negara is the latest troubling development for Najib and the company that he launched - 1Malaysia Development Berhad (1MDB) - who have been under pressure to explain massive sums of money allegedly missing from overseas investments.
Najib also has been rocked by the sensational revelation in July that nearly $700 million in mysterious transfers had been made to his personal bank accounts, and which remain unexplained.
Najib, 62, and 1MDB have repeatedly denied any wrongdoing, and have insisted that the premier's funds were not syphoned off from 1MDB.
But Bank Negara, the central bank, said it recommended that the attorney-general "initiate criminal prosecution against 1MDB for breaches" of laws on overseas money transfers.
Bank Negara also directed 1MDB, an investment vehicle launched in 2009 by Najib, to repatriate $1.
83 billion that it said was invested abroad based on inaccurate or incomplete disclosures to the central bank.
The central bank is perhaps the most respected government institution in Malaysia, but it remained to be seen whether the recommendation would be heeded by Najib's government, which has moved to hobble scrutiny of the affair.
Najib fired Malaysia's longtime attorney general in July amid speculation that he was preparing criminal charges against the premier, and police have conducted raids on the offices of the country's anti-corruption agency, which also was pursuing investigations.
Various official investigations are now believed to be frozen, though the government denies it.
Bank Negara's statement appeared to indicate either confusion or divisions within the government.
Full Report at:
http://nation.com.pk/international/10-Oct-2015/criminal-probe-urged-into-malaysian-pm-scandal
------------
MCA: Extremism will break BN up
BY MAYURI MEI LIN
October 10, 2015
KUALA LUMPUR, Oct 10 — Barisan Nasional (BN) will fall apart should extremism set in, MCA warned today, but said the destruction of the long-ruling multi-racial coalition was the worst-case scenario that has not happened yet.
"If, I say if, there is one day we run out of means, where the BN spirit is gone, where moderation has lost to extremism, pluralism lost to theocracy; upon reaching that time, BN will fall apart," MCA deputy president Datuk Dr Wee Ka Siong said in his speech during the MCA Youth AGM here today.
"Sixty years of cooperation will be destroyed and this partnership will come to the point beyond resurrection. The above hypothetical proposition is based on the worse (sic) case scenario. Now is not the worst yet," he added.
He also said MCA will be firm in the Chinese component party's policing of Umno and will not allow certain factions within the Malay nationalist party to do as they please that may affect the coalition's stability.
"Therefore our president has rightly indicated MCA's stand, especially our dissatisfaction with certain quarters in Umno.
"We cannot allow certain quarters in Umno to do whatever they want and destroy our stability. We are committed to play our role in BN and the Cabinet to pull things back on track," said Wee, without naming names.
Wee also cautioned MCA Youth members against acting "recklessly" at a time when many of their peers around them may be "complaining" about various issues.
Full Report at:
http://www.themalaymailonline.com/malaysia/article/mca-extremism-will-break-bn-up
------------
South Asia
Three civilians killed in fighting between security forces and Taliban in Logar
Oct 10 2015
Three civilians have been killed in fighting between security forces and Taliban militants in southern part of Logar province.
Governor of Logar province told Associated Press (AP) that Afghan troops were conducting a military operation near a mosque in Baraki Barak District when they came under Taliban ambush on Friday.
Halim Fidai said that civilians who had gathered at the mosque to cook a charity meal were caught in the crossfire.
Three of them got killed and four others wounded during the clash, he added.
Fidai said those wounded were sent to Kabul for treatment. It is still unknown whether civilians were harmed by gun shots of security forces or Taliban.
Taliban have ramped up their activities against security forces but most of their attacks end up in civilian casualties.
Full Report at:
http://www.khaama.com/three-civilians-killed-in-fighting-between-security-forces-and-taliban-3971
------------
Would-be suicide bomber arrested in Kunar
Oct 10 2015
The Afghan National Army 201st 'Selab' Corps has detained a would-be suicide bomber in eastern Kunar province of Afghanistan, The Ministry of Defense announced on Saturday.
A statement released by the ministry states that the terrorist was arrested by the first brigade of 201st Corps in Matin Pul area of Wata Pur District on Friday.
According the statement, Hedayatullah S/O Hazrat Gul who was riding a motorbike had intended to target security forces but detained before he could reach to his target.
He was later handed over to the National Directorate of Security (NDS).
Full Report at:
http://www.khaama.com/would-be-suicide-bomber-arrested-in-kunar-3972
------------
ISIS claims responsibility for the attack on religious hall in Kabul
Oct 10 2015
The Islamic State of Iraq and Syria (ISIS) affiliates in Afghanistan claimed responsibility for an attack on a religious congregation hall (Takya khana/Hussainiya) in Kabul city.
A statement was released by the terror group which circulated online by the sympathizers of the group claiming responsibility behind the attack.
The statement in Arabic language states that the attack on the religious hall was carried out using four explosive devices.
This was the first attack claimed by the terror group which targets a religious congregation hall where Shi'ite Muslims are gathering.
The group claimed that numerous people were killed or injured in the attack but the security officials said one person was killed and three others including a woman were injured.
Deputy security chief for Kabul security commandment Syed Gul Aqa Rohani told reporters that three magnetic bombs were planted near Chendawol religious hall which went off earlier this afternoon.
Full Report at:
http://www.khaama.com/isis-claims-responsibility-for-the-attack-on-religious-hall-in-kabul-1615
------------
5 BNP-Jamaat men held for 'planning subversive acts'
October 10, 2015
Police on Thursday night arrested five people in the capital's Mirpur, claiming they were BNP and Jamaat-e-Islami activists who admitted to have been, as instructed by their high command, conspiring and plotting subversion to tarnish the image of the government's development activities.
Jamaat member Kazi Mojibur Rahman and BNP activists Md Abdur Rahim, Md Faruk Hossain, Md Mostafa Mollah and Md Shakhawat Hossain alias Shohor Ali have been taken on a two-day police remand, Additional Deputy Commissioner of Police (detective branch) West Division Saiful Islam told The Daily Star yesterday.
Full Report at:
http://www.thedailystar.net/city/5-bnp-jamaat-men-held-planning-subversive-acts-154828
------------
Hekmatyar proposes intra-Afghan talks without foreign mediation
October 09, 2015
LAHORE: Hizb-i-Islami Afghanistan chief Gulbuddin Hekmatyar has proposed intra-Afghan talks, "without mediation from any foreign power".
In a written interview to The Nation, he also gave a formula for peace in his war-ravaged country, an end to war across the country being an important component of it. If any group tries to continue war on being incited, all other parties should try to address its reservations and persuade it to bury the hatchet. But if it doesn't, the entire nation should fight against it, said the former prime minister of Afghanistan.
Mr Hekmatyar's peace plan, ostensibly, leaves no mediatory role for Pakistan although it has been doing its best to bring the Afghan government and the Taliban to the negotiating table. The two sides have already held a round of talks and the second was due to be held in Murree some weeks ago when the belated news of Mullah Omar's death a few years ago led to an indefinite postponement. After that the fighting in Afghanistan has intensified, with the Afghan president alleging that "message of war is coming from Pakistan", which leaves little hope for resumption of talks in the near future.
The HIA chief said talks should be comprehensive and their agenda be decided keeping in sight the ground realities. He did not identify the parties that should take part in the negotiations. He said all parties should agree that foreign troops leave Afghanistan by the end of the current year; all security agencies should continue to function as usual, and a powerful commission be set up to bring all institutions into the mainstream. Anybody who had supported the Soviet Union or NATO forces or wants the foreign forces to stay on in Afghanistan should be removed as head of any security institution.
Such changes should be brought about in the government as are acceptable to all and the governor, police chief or head of any security agency should not be from their native provinces, said Mr Hekmatyar. He said election for the president, national and provincial assemblies should be held in 2016. These elections should be free and fair, held on the basis of proportional representation. Only the national level parties should contest the elections, he said, highlighting the divisive role of the smaller parties. Every Afghan national should serve the army for at least a year to strengthen national defence with a smaller army. The country cannot afford to have a 350,000 strong army, he maintained.
Full Report at:
http://nation.com.pk/national/09-Oct-2015/hekmatyar-proposes-intra-afghan-talks-without-foreign-mediation
------------
Europe
Muslims in the hospital, Muslims on the train, as Europe hands over the keys to the kingdom
By Carol Brown
October 9, 2015
Here are two snapshots of what life can be like when Muslims behaving badly come to your town.
In medical settings: A female doctor in Germany describes a horrifying scene of Muslim invaders overwhelming the health care system – making demands, threats, and attacking staff. The masses that are descending upon Europe are also arriving with an array of communicable diseases, including diseases the West has never seen before. The sub-titled video of the doctor's report can be found here.
The Right Scoop has very kindly written a transcript, which is summarized below.
Clinics and hospitals are unable to handle the massive influx of migrants with their myriad diseases and demands.
Many of the migrants have HIV, tuberculosis, syphilis, and exotic diseases not seen in Europe, while many of the women are pregnant with several malnourished children in tow.
Many male Muslims refuse treatment by female staff. At the same time, female staff refuse to work among Muslim males patients due to fear for their own safety.
When migrants discover they must pay for prescriptions, they have a fit. In one instance, a Muslim stabbed a doctor and two nurses. The doctor required surgery and the nurses needed ICU care. The attacker was not apprehended or punished. It appeared from the doctor's report that a patient also threw syphilis-infected urine at a nurse's face.
The barbarians are causing such havoc they must now be accompanied by K-9 police units when they come to the hospital and police must guard clinics, hospitals, and pharmacies.
And if that isn't shocking enough, the local press is forbidden to report on any of this, forcing citizens to communicate by email as a somewhat clandestine system of information-sharing is necessitated in the face of layer upon layer of madness. European leaders have chosen death over life, as they have for so long. But now they are accelerating their demise like a drunk driver on the autobahn.
Full Report at:
http://www.americanthinker.com/blog/2015/10/muslims_in_the_hospital_muslims_on_the_train_as_europe_hands_over_the_keys_to_the_kingdom.html
------------
What Tunisia can teach Europe's far-right movements about Islam
By Rick Noack
October 9, 2015
Every Monday for almost a year now, protesters who belong to the anti-Islam Pegida movement in eastern Germany have been marching in the city of Dresden. Many of them, and members of similar groups elsewhere in Europe, say that Islam is incompatible with Western-style democracy.
Some of the movement's members have said their goal is to prevent a cultural clash — and to preserve peace. Maybe the group and other far-right movements in Europe should listen to the world's most recent acknowledged peacemakers: the laureates of this year's Nobel Peace Prize.
On Friday, the Norway-based committee awarded the prize to four Tunisian civil society groups that have worked in an alliance to foster democracy in the country. In an interview with WorldViews on Wednesday, Ron Krebs, a Nobel Peace Prize researcher and associate professor at the University of Minnesota, said: "The Nobel Peace Prize has always been the most politicized of awards — and openly so." So what's the political message this year, and to whom is it being sent?
The prize to the Tunisian groups comes after hundreds of thousands of refugees have arrived in Europe this year. Among other reasons, the Arab Spring uprisings and failed peaceful power transitions have repeatedly been singled out as the cause of the mass exodus.
Tunisia might be the only country in which the Arab Spring has succeeded in a way that has paved the way for democracy. The four groups who share this year's Nobel Peace Prize have played a decisive role in those efforts. Awarding the prize to them might not only be a signal to Middle Eastern or North African countries. It could also be addressed to those in Europe who have taken to the streets or online forums to express their discontent with the influx of refugees.
Full Report at:
https://www.washingtonpost.com/news/worldviews/wp/2015/10/09/what-tunisia-can-teach-europes-far-right-movements-about-islam/
------------
The 'Muslim penalty' in the workplace can be overcome
Miqdaad Versi
9 October 2015
Amid the tub-thumping rhetoric on security and madrasas earlier this week, the prime minister also rightly spoke about the need to end discrimination and "finish the fight for real equality". A report released today by the cross-party thinktank Demos highlights how British Muslims are strongly under-represented in the "top professions" compared to the population at large, and refers to the "Muslim penalty" that exists across ethnic groups in the labour market.
Part of the reason for this is due to demographics: a younger age profile (33% of Muslims are younger than 15 v 19% of the population as a whole) with a greater proportion of migrants (53% of Muslims are born abroad), both of which we would expect to be resolved through time. And part of the reason is higher rates of poverty and poorer education outcomes among British Muslim communities. Some claim proficiency in English among British Muslims is a key driver but this should not be overplayed, given only 6% struggle with the English language. Ethnic background is a significant explanatory factor, but research suggests faith does play a role as Indian Muslims are more likely to suffer from poverty than Indian Sikhs, for example. With 46% of the British Muslim population living in the bottom 10% of areas in the UK for deprivation, significant policy development is required to tackle this problem, suggestions for which are available in the Muslim Council of Britain's Fairness not Favours election document.
But two of the most interesting causes cited for the under-representation of British Muslims in the top professions are conservative attitudes towards women among Muslims; and Islamophobia in the workplace – a major concern among British Muslims.
The evidence in the Demos report supports the view that a cultural rather than religious perception of gender roles is the key driver of under-representation of British Muslims: first, because the gender pay gap is very similar between British Hindu and British Muslim women; and second, a preference for women staying at home was significantly less prevalent among younger British Muslims, most of whom are British-born, compared to older British Muslims, most of whom are migrants. The issue, however, remains a concern and mosques and community organisations can play an important role in tackling this cultural attitude.
So we are left with discrimination: more than half the British population see Muslims as a threat, a view perpetuated by sections of the media. It is not surprising that this manifests itself in discrimination in the workplace, with Muslim men 76% less likely to have a job of any kind compared to white, male British Christians of the same age and with equal qualifications. The recommendation for anonymised CVs or a "CV-blind" policy to reduce the opportunity for bias in recruiting is an important step forward. But this problem extends far beyond recruiting. With Islamophobia on the rise, a systematic and strategic cross-governmental policy is needed.
Full Report at:
http://www.theguardian.com/commentisfree/2015/oct/09/muslim-penalty-workplace-demos-report-british
------------
URL: https://www.newageislam.com/islamic-world-news/new-age-islam-news-bureau/former-cia-officer--pakistan-probably-the-most-dangerous-country-for-the-world/d/104873