New Age Islam News Bureau
21 May 2022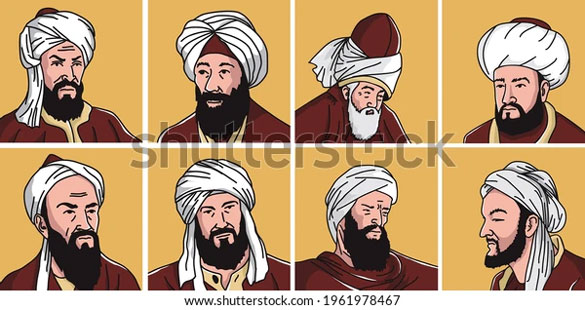 For Representative Purpose Only
----
• London's Westminster Council Elects for the First Time a Muslim Hamza Taouzzale as lord Mayor and an Imam to Be Council Chaplain
• Taliban Ditches Former Ally Tehreek-Taliban Pakistan over Quest for Global Recognition
• Chicago Judge Finds Sufficient Evidence Linking anti-Israel group American Muslims for Palestine to Hamas Supporters
• Terrorism Resurges in Pakistan: Terrorists Shoot Two Members of Sikh Community Dead
India
• Delhi University Professor, a Historian, Arrested Over Social Media Post on Gyanvapi Mosque
• K'taka: 3 Muslim Students Quit School Over Bajrang Dal's Arms Training Camp, Admin Blames 'Dubai Calls'
• UP: Man Booked For Objectionable Social Media Posts about Holy Sites Of Muslims
• SC Shifts Gyanvapi Mosque Worship Suit Trial to Varanasi District Judge
• BJP Raising Issues like Gyanvapi Mosque as Its Graph Is Dipping, Says Congress Rajya Sabha Member
• BJP Stoking Communal Issues with Eye On 2024 Polls, Says Shiv Sena On Gyanvapi Mosque Row
• Gyanvapi Mosque Row: Allahabad HC Stays Hearing On Temple-Mosque Conflict Issue till July 6
• Gyanvapi Mosque Sees Spurt in Footfall for Friday Prayer
• Qasim Rasool Ilyas: For the first time, AIMPLB has decided to reach out to leaders of all non-Muslim organisations
• Jammu Govt College Students Recite Hanuman Chalisa In Protest Against Mosque Loudspeaker
• Bajrang Dal workers burn effigies of political leaders over remarks on Gyanvapi mosque issue
• Gyanvapi mosque case: SC's observation on Places of Worship Act
• Gyanvapi: Intelligence lens on father of Umar Khalid
• Uttar Pradesh: Mathura row not under Places of Worship Act, says court
--------
Europe
• UK Allocates £24.5 Million for Security in Mosques, Muslim Schools
• International Muslim History Month returns to shed light on pioneers and sees quadrupled participation
• Turks in Sweden call on Nordic country to stop supporting YPG/PKK terror group
• Turkiye not to change stance as long as Sweden has ties with PKK terrorists: Envoy
--------
South Asia
• Taliban Leadership Has Zero Credibility for Women's Rights: Human Rights Watch
• UN rights chief decries Taliban's move to dissolve Human Rights Commission
• Pakistan brokers deal with TTP backed by Afghan Taliban
• The Taliban Ministry of Finance Suspends Wheat Exports, Cites Food Security
--------
North America
• US Drops 'Foreign Terrorist' Designation from Israeli, Basque, Egyptian Groups
• US welcomes Armenia-Azerbaijan forthcoming talks in Brussels
--------
Pakistan
• Pakistan PM Shehbaz, Punjab CM Hamza in Court for Hearing of Rs16bn Money Laundering Case
• Pavlovian response: India slams Bilawal for raking up Kashmir at UNSC
• Pakistani rupee dips past 200 a dollar, IMF's help uncertain
• Pak EC 'de-seats' dissident PTI legislators who voted for PML-N's candidate as Punjab's CM
• Only national govt can steer country out of crisis, say Zardari, Fazl
• Pak Information Minister Aurangzeb takes a dig at PTI, asks ECP to hasten up foreign funding case
• Cracks emerge between Pakistan's new government, military
--------
Southeast Asia
• Singapore's Muslim Community Has To Forge Its Own Religious Compass, Says Mufti Nazirudin Mohd Nasir
• Najib Accuses Kit Siang of Inciting Public after Sri Lanka Comparisons
• Supporters of Indonesian preacher denied entry to S'pore stage protests in Jakarta, Medan
--------
Arab World
• Hezbollah, Allies Hold Sway in Lebanon's New Parliament, Senior Official Says
• Peace, Taiz in focus as Saudi deputy defence minister meets US special envoy to Yemen
• Syria Intercepts Israeli Missile Attack: State Media
• State Department calls on Lebanese leaders to work with 'urgency' to rescue economy
• Syria Lambasts Turkey's Erdogan Plan to Return Million Refugees
• Lebanon recovery plan includes central bank debt write-off, haircuts to depositors
• Amnesty urges Yemen's Houthis to free journalists on death row
--------
Mideast
• Over 50 Democrat Lawmakers Ask for FBI Probe into Shireen Abu Akleh's Killing
• US setting up military bases in eastern Yemen cashing in on UN-brokered truce, says Houthi
• Turkey Overcame 'Family Disputes' With Saudi Arabia, UAE: Erdogan
• Hezbollah Chief: Palestinians No Longer Wait For Arab Regimes To Come To Their Rescue
• Iranian Priest: Islamic Republic's Approach towards Religious Minorities Admirable
• Palestinian teen shot in Israeli raid in occupied West Bank
• Israeli gov't determined to stay in power amid legislator's exit, says co-chair
--------
Africa
• Tunisia's President Saied Excludes Parties from Preparing New Constitution
• Sudan's ruling junta frees detained anti-coup figures: Party
• Three migrants' dead, 10 missing as boat capsizes off Tunisia
• US must not harm civilians, repeat past violations in new Somalia mission: Rights group
Compiled by New Age Islam News Bureau
URL: https://newageislam.com/islamic-world-news/clerics-islamic-scholars-deoband-gyanvapi-ucc/d/127058
--------
Five Thousand Clerics and Islamic Scholars to Meet In Deoband on May 28, Discuss Gyanvapi and UCC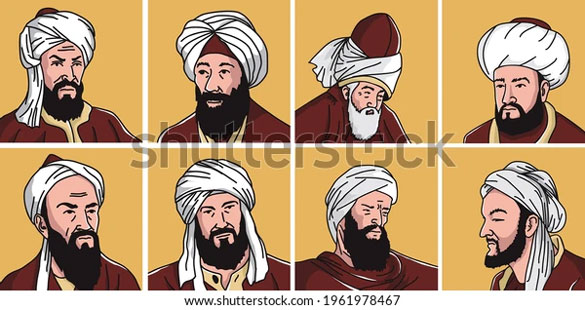 For Representative Purpose Only
----
May 21, 2022
Muzaffarnagar: More than 5,000 clerics and Islamic scholars from all over the country will assemble in Uttar Pradesh's Deoband to deliberate on issues related to Gyanvapi mosque and the Uniform Civil Code (UCC) during a two-day session organised by Jamiat Ulema-i-Hind on May 28, a Jamiat member said on Friday.
Mohammad Azeemullah, media in-charge of Jamiat Ulema-i-Hind, said, "Representatives of the country's important Muslim organisations, including the All India Muslim Personal Law Board, along with various other scholars and intellectuals will take part in the discussion. The main objective is to brainstorm on the prevailing socio-political developments, particularly those related to the Muslim community. Gyanvapi mosque and UCC will be on the agenda." Divulging more details, Azeemullah said, "The row over Shahi Idgah mosque in Mathura will not be part of the official agenda for discussion, as of now. Members of social organisations such as Jamiat Ulema e-Hind and Jamaat-e Islami will be present along with many clerics. Jamiat's national president Maulana Mahmood Madani will preside over the session."
Madani had also issued a statement on Thursday stating, "The issue of Gyanvapi mosque has been a topic of public debate these days and the country's judiciary has taken it up. Several anti-social elements and biased media are trying to create a rift between the two communities by wrapping it in an emotional coat. So, Jamiat Ulema-e-Hind appeals to the citizens of India, especially the Muslims, that issues like Gyanvapi mosque should not be brought on the road and public demonstration of all kinds should be avoided." Madani also appealed to clerics to "avoid taking part in TV debates and media trials".
Source: Times Of India
Please click the following URL to read the text of the original story:
https://timesofindia.indiatimes.com/city/meerut/5k-clerics-to-meet-in-deoband-discuss-gyanvapi-ucc/articleshow/91697946.cms
--------
London's Westminster Council Elects for the First Time a Muslim Hamza Taouzzale as lord Mayor and an Imam to Be Council Chaplain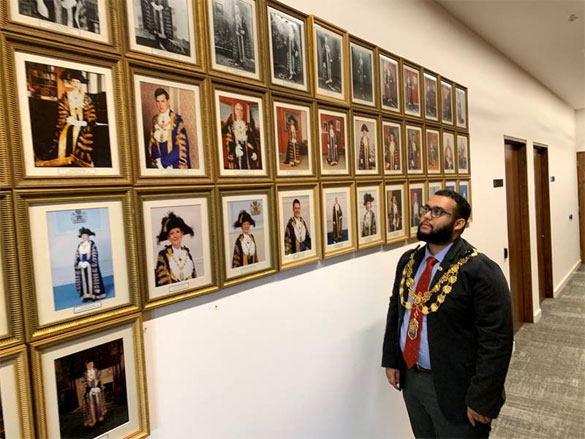 Lord Mayor of Westminster Hamza Taouzzale looks at photos of his predecessors. Photo: Westminster City Council
-----
Simon Rushton
May 20, 2022
A councillor elected to be lord mayor of Westminster, in central London, has become the first Muslim and youngest ever person in the role.
Losing Westminster Council to the opposition Labour Party in May's UK local elections was one of the highest-profile Conservative Party losses on a bad night across the country for the Tories.
Now Hamza Taouzzale, 22, of Moroccan heritage, who was born in Queen's Park — the Westminster area he represents as councillor — is making history.
"I'm the first Muslim Lord Mayor of Westminster, so the first person who's not from a stereotypically white background," he said.
Westminster has also for the first time appointed an imam to be council chaplain.
"This is a real honour and a privilege and a total surprise," Mr Taouzzale said.
His grandmother moved from Morocco to London and the Lisson Green housing estate where Mr Taouzzale grew up. He recently completed his master's degree in global affairs at King's College London.
"This is a job that's above politics, so you have to keep the office out of the day-to-day council business, otherwise it will lose its importance," he said.
"But I do want to get out far more in the community, to be more visible in areas where the lord mayor isn't normally seen.
"A lot of people don't know what the lord mayor is or does and I really want to change that during my year in office."
He still has to decide what his main charity will be but said he was keen on helping local youth charities.
"I want to open this up and get people from the community to join me at events," he said.
Another change at Westminster council is the Lord Mayor's chaplain will for the very first time be an imam.
Kabir Uddin, who runs an Islamic school and is chaplain at HMP Wormwood Scrubs prison will take on the role.
The incoming lord mayor, who was raised on the Lisson Green estate, said: "I think I'm a bit of rarity among lord mayors in that I was actually born and brought up in the city.
"A lot of people come here for work and settle in Westminster and then take an interest in politics and join the council.
"I think growing up here gives you a closer connection to the city and its people. And as an ordinary working-class local, I especially want to show young people that there are opportunities out there for them and to make a difference."
Mr Taouzzale said the appointment is the highlight of a career that started just six years ago — when he became an MP in the UK's Youth Parliament.
After a year, he joined the Labour Party and worked hard on being selected as a candidate in Queen's Park, replacing Alderman Barrie Taylor.
He was elected as a Westminster City councillor in 2018, becoming its youngest-ever member.
Source: The National News
Please click the following URL to read the text of the original story:
https://www.thenationalnews.com/world/uk-news/2022/05/20/londons-westminster-council-elects-muslim-hamza-taouzzale-as-lord-mayor/
--------
Taliban Ditches Former Ally Tehreek-Taliban Pakistan over Quest for Global Recognition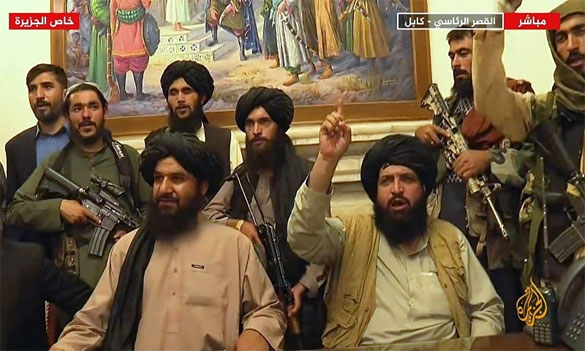 Representative Image
----
21 May, 2022
Kabul [Afghanistan], May 21 (ANI): In a quest to gain global recognition, the Taliban has brokered the deal between Islamabad and the Tehreek-Taliban Pakistan rebels who have been detained and handed over to Pakistan by the organization.
This move comes after the Taliban, in order to prove its usefulness to the world community has been going every length and breadth to keep the interests of Kabul intact as well as to end violent skirmishes that the TTP's presence on its soil has been causing.
However, there is no guarantee that all TTP rebels would surrender and/or not continue to use the vast, mountainous terrain along the Afghan-Pak border that has proved to be violent operations that have killed, according to Pakistan's official figures, 83,000 civilians. This unmanageable terrain has been Pakistan's Achilles' heel.
The seizure of this mosque caused a hundred deaths during the time of military ruler, Gen. Pervez Musharraf led to the birth of the TTP, Al Arabiya Post reported.
The TTP has been involved, among other major incidents in the last decade, attack on Malala Yusufzai survived and is the world's youngest Nobel Peace Laureate. The TTP fighters also massacred students at the Army Public School, Peshawar, in December 2014 and the challenge persists serious for Islamabad as the TTP has spread its activities to other provinces and successive regimes have proved unable to control them, the report stated further.
Kabul's interest lies in gradually winning global recognition, denied for the last nine months. Several governments are currently moving to establish diplomatic ties with Kabul, ending its global pariah status and also tacitly reconciling with a regime that has resisted pressures to make their government inclusive and treat their women better.
Far from doing any of the things the world community demands, the Taliban have, in fact, tightened the restrictions on women's work and their movement, on girls' education, and this week, closed down the human rights body, quoted Al Arabiya Post, citing media reports.
The Pakistani government has reportedly released 30 terrorists belonging to the Tehreek-e-Taliban Pakistan (TTP) as it tries to negotiate for peace with the terror outfit which has emerged stronger following the establishment of the Taliban regime in Afghanistan.
Most of the released terrorists belong to Pakistan's North-Western provinces of Khyber Pakhtunkhwa and tribal areas of North and South Waziristan. (ANI)
Source: The Print
Please click the following URL to read the text of the original story:
https://theprint.in/world/taliban-ditches-former-ally-ttp-over-quest-for-global-recognition/965180/
--------
Chicago Judge Finds Sufficient Evidence Linking anti-Israel group American Muslims for Palestine to Hamas Supporters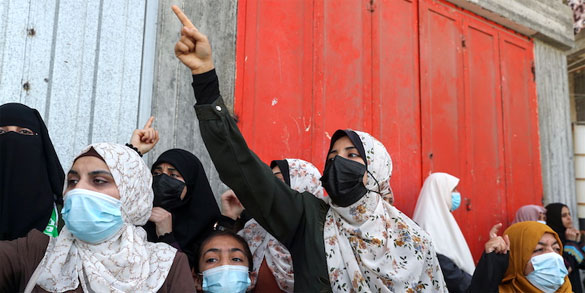 Hamas supporters take part in a protest against Palestinian President Mahmoud Abbas' decision to postpone planned parliamentary elections, in the northern Gaza Strip April 30, 2021. Photo: REUTERS/Mohammed Salem
------
By Abha Shankar
MAY 20, 2022
A Federal judge in Chicago on Tuesday allowed a lawsuit to proceed, which claims that the anti-Israel group American Muslims for Palestine (AMP) is really a continuation of a defunct cog in a Hamas-support network.
In 2004, Joyce and Stanley Boim were awarded $156 million in damages from the Islamic Association for Palestine (IAP) and the American Muslim Society (AMS) for providing material support to Hamas.
The Boims' 17-year-old-son David was killed in a 1996 Hamas terrorist attack.
But the defendant organizations shut themselves down before paying, citing "the burden of the Boim Judgment and associated litigation costs."
The Boims believe that was part of a shell game, with AMP and its financial arm — Americans for Justice in Palestine Educational Foundation (AJP) — emerging and picking up where IAP and AMS left off. If true, the $156 million judgment should apply to them.
The Boims have shown strong enough connections for the case to proceed, the US court ruled.
"In sum, the pertinent factors identified by the Seventh Circuit and discussed by the parties support the Boims' claim that Entity Defendants are liable for the Boim I judgment as alter egos of Holy Land and AMS/IAP," wrote US District Judge Gary Feinerman. "The claim accordingly survives dismissal."
A different Federal judge dismissed an earlier complaint against the AMP and its activists in August 2017, saying that the Boims "fail[ed] to demonstrate the requisite level of unity of interest and control" to support the alter ego claims.
The Boims filed an amended complaint in December 2019. Last August, the Seventh US Circuit Court of Appeals reversed a dismissal of the earlier complaint, saying that the "amended complaint is replete with factual allegations … show[ing]" that AMP "is a disguised continuance of [AMS/IAP] and [the] Holy Land Foundation."
IAP/AMS were propaganda arms of a now-defunct network called the "Palestine Committee." The committee was created by the Muslim Brotherhood to help Hamas politically and financially in the United States. The Holy Land Foundation was the committee's financial arm. The Treasury Department froze its assets in 2001, and its leaders were convicted in 2008 of illegally routing millions of dollars to Hamas.
IAP/AMS's closing in 2005, the year after the Boim judgment, was followed by "a short quiet period," the amended complaint states. Then "a purportedly new organization emerged under a new name, 'American Muslims for Palestine,' or 'AMP,' but with the same fundamental mission and purpose of IAP/AMS."
AMP had "largely the same core leadership as IAP/AMS; it serves the same function and purpose; it holds nearly identical conventions and events with many of the same roster of speakers; it operates a similar 'chapter' structure in similar geographic locations; it continues to espouse Hamas' ideology and political positions; and it continues to facilitate fundraising for groups that funnel money to Hamas," the complaint adds.
In 2015, the Investigative Project on Terrorism first identified the connections between the AMP and Palestine Committee groups. Foundation for the Defense of Democracies Vice President Jonathan Schanzer built on those connections in his 2016 Congressional testimony.
The "new name and quiet period were a necessity," the complaint explains, because the defendants came under increased law enforcement scrutiny after the Boim judgment. They "recognized that these organizations could not continue to pursue their missions with the same names, in the same form, and saddled with the same civil and criminal liability as IAP/AMS. They therefore deliberately concealed their connection to IAP/AMS, emphasizing internally that 'we really need to distance ourselves from any well known IAP figures.'"
A Yahoo bulletin board created in late 2005 by activists associated with a former Hamas-support network referred to the "initial phase" of "organizing the group that would eventually become the AMP" as the "transition." Among its organizers were Hatem Bazian and Magdi Odeh.
Odeh had helped coordinate IAP's first annual "Jerusalem Festival for English Speakers" held in Chicago in 1999. Bazian, chairman of AMP's national board, was a featured speaker at several IAP events, and shared "a close personal relationship with IAP/AMS leader Rafeeq Jaber," who is also listed as a defendant in the Boim suit.
Jaber is a former IAP/AMS president and AMP's financial adviser. He has spoken at numerous AMP conventions and events.
AMP routinely sponsors conferences that serve as a platform for Israel bashers, and it openly approves of "resistance" against the "Zionist state." It is also one of the principal advocates of the Boycott, Divestment, and Sanctions (BDS) movement against the Jewish state.
AMP also "provide[d] material support to Hamas through its open fundraising support for the pro-Hamas organization called Viva Palestina," according to the amended complaint. In 2009, Viva Palestina activists, headed by then-British Parliamentarian George Galloway, met with Hamas leaders to provide "funds and equipment." Galloway personally "handed substantial sums of money and equipment directly to Hamas leader Ismail Haniyeh, stating, 'But I, now here, on behalf of myself … are giving three cars and $25,000 in cash to Prime Minister Ismail Haniyeh. Here is the money. This is not charity. This is politics.'"
The complaint also highlighted the role that AMP Executive Director Osama Abuirshaid played in the "transition." Before AMP was created, Abuirshaid edited IAP's newspaper, Al-Zaytouna. When IAP/AMS closed, "Abuirshaid set up a replacement newspaper, which he published under the name Al-Meezan, from a location in Virginia," the amended complaint says. "In this newspaper and his other writings and pronouncements, Abuirshaid continued the publication and advocacy of pro-Hamas positions. The content, target audience, website and many of the advertisers of Al-Meezan were essentially identical to those of Al-Zaytounah."
Abuirshaid spoke at an April 2006 Muslim American Society (MAS) convention in Milwaukee. That is "where the 'transition' meeting took place [that] was effectively an IAP reunion," the amended complaint says. The convention was described as a "precursor of AMP leadership," and was organized and attended by former members of IAP/AMS and the Palestine Committee.
MAS was established in 1993 as the Muslim Brotherhood's arm in the United States.
The AMP filed its formal articles of incorporation in August 2006. That November, the organization hosted its first national convention in Rosemont, Illinois, at "the same place where IAP had held its annual conventions — and registered its current internet domain address, AMPalestine.org."
AMP was given until June 7 to respond fully to the amended complaint.
Abha Shankar is the Investigative Project on Terrorism research director, where a version of this article first appeared.
Source: Algemeiner
Please click the following URL to read the text of the original story:
https://www.algemeiner.com/2022/05/20/judge-finds-sufficient-evidence-linking-american-muslims-for-palestine-to-hamas-supporters/
--------
Terrorism Resurges in Pakistan: Terrorists Shoot Two Members of Sikh Community Dead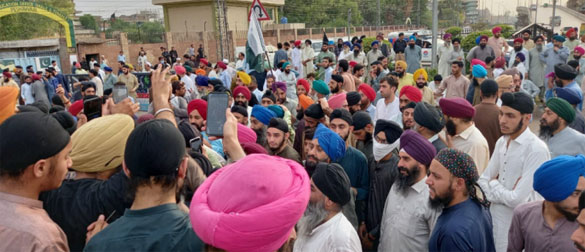 Photo: The Khama Press
---
By Saqalain Eqbal
20 May 2022
Currently, Pakistan is experiencing a surge of terrorism, with security forces conducting intelligence-based operations against terrorists in the erstwhile Federally Administered Tribal Areas (FATA) and Balochistan.
On Sunday, Islamic State terrorists shot and killed two Sikh businessmen in Pakistan's northwest, the latest targeted murder against the minority group in the restive area bordering Afghanistan.
According to police, Kanwaljeet Singh, 42, and Ranjeet Singh, 38, were killed on the spot in Bata Tal market in Sarband, Peshawar, the capital of northwestern Khyber Pakhtunkhwa province, after being hit by two bike-borne gunmen in the morning.
Police obtained evidence from the crime scene and began an investigation into the case in order to apprehend the perpetrators.
The Islamic State's Khorasan unit (ISKP) claimed responsibility for the attack in Peshawar through its propaganda news service 'Amaaq.' The ISKP is a South Asian and Central Asian affiliate of the Islamic State (IS).
Security forces demolished the terrorist infrastructure in Pakistan during Operation Zarb-e-Azb, but terror sleeper cells and sympathizers remain in all corners of the country.
In addition, there have been multiple incidences of targeted killings of Sikh and Shia populations in the Peshawar region in recent years, but the police have failed to develop a strategy to prevent such incidents from occurring again.
To protest the killing, a large group of enraged Sikh demonstrators barricaded the Peshawar-Islamabad road in front of Qila Bala Hissar. They were carrying signs with slogans including "We want justice," and "Stop target killings."
This comes at a time when the country has recently agreed on a temporary ceasefire agreement with the Tehreek-e-Taliban Pakistan (TTP) aka Pakistani Taliban.
Source: Khaama Press
Please click the following URL to read the text of the original story:
https://www.khaama.com/terrorism-resurges-in-pakistan-terrorists-shoot-two-members-of-sikh-community-dead47293/
--------
India
Delhi University Professor, a Historian, Arrested Over Social Media Post On Gyanvapi Mosque
Tanseem Haider Arvind Ojha
New Delhi
May 21, 2022
Professor of Delhi University's Hindu College Ratan Lal was arrested on Friday for his objectionable social media post related to the Gyanvapi Mosque case.
According to the police, the professor made derogatory comments about a 'Shivling' found inside Varanasi's Gyanvapi mosque complex.
As per sources, the police will present Ratan Lal before the court on Saturday.
Ratan Lal was arrested under Indian Penal Code sections 153A (promoting enmity between different groups on grounds of religion, race, place of birth, residence, language, etc., and doing acts prejudicial to maintenance of harmony) and 295A (deliberate act to outrage religious feelings of any class by insulting its religion) by the Cyber Police Station of North District.
As per the sources, there will be a protest asking for the release of Ratan Lal today.
A complaint was lodged with the Delhi Police against Ratan Lal by Supreme Court lawyer Vineet Jindal. In the complaint, Lal was accused of hurting religious sentiments.
In his complaint, the lawyer said that the issue of a 'Shivling' found in the Gyanvapi mosque complex which is very sensitive in nature and the matter is pending before the court.
Source: India Today
Please click the following URL to read the full text of the original story:
https://www.indiatoday.in/india/story/delhi-university-professor-arrested-social-media-post-gyanvapi-mosque-1952217-2022-05-21
--------
K'taka: 3 Muslim Students Quit School Over Bajrang Dal's Arms Training Camp, Admin Blames 'Dubai Calls'
MAY 20, 2022
Three Muslim students have quit the Sai Shankar Institution in Kodagu district over Bajrang Dal activists holding a weapons training camp inside the education premise as part of the 'Shaurya Prashikshana Varga'. Following the row over photographs and videos of Bajrang Dal activists allegedly undergoing training holding air guns and 'trishul deeksha', the parents decided to withdraw their children from the school.
Zaru Ganapathi, president of the Sai Shankar Institution alleged the parents received calls from Dubai advising them to shift the children to Muslim schools with promises of transportation facilities.
"The parents got calls from Dubai asking parents to get the kids admitted to a Muslim school and they would arrange for a bus from Virajpet. We have Muslim teachers, other Muslim students and a few new students who have joined are Muslims," he said.
Terming the allegations against the school are "baseless," the Institution claimed that the school was unnecessarily targeted and defamed due to political gains. According to the school administration, the premises has hosted numerous events of several organizations during the school holiday. Bajrang Dal too staged an event outside the school compound and no students or staffs of Sai Shankar Institution were part of the event, the President said.
Meanwhile, the Vishwa Hindu Parishad defended the event and said that no Hindu organizations are involved in any kind of terrorism activity and don't take law and order into their hands. "Hindu organization is not involved in any kind of terrorism activities. We don't take law and order into our hands. Hindu organizations work for the development of the nation. This news is unnecessarily being hyped," said VHP Kodagu district president, Krishnamurthy.
On Tuesday, Gonikoppa Circle Sub-Inspector SN Jayaram was allegedly transferred after serving notices on representatives of the Bajrang Dal, the Bharatiya Janata Party (BJP), and the Vishwa Hindu Parishad (VHP) in connection with an 'arms training camp' held in the school.
Source: News18
Please click the following URL to read the full text of the original story:
https://www.news18.com/news/india/ktaka-3-muslim-students-quit-school-over-bajrang-dals-arms-training-camp-admin-blames-dubai-calls-5215843.html
--------
UP: Man Booked For Objectionable Social Media Posts about Holy Sites Of Muslims
20 MAY 2022
A political activist has been booked in Muzaffarnagar district of Uttar Pradesh for his alleged objectionable social media posts about holy sites of Muslims, police said on Friday.
The case against Raghav Aggarwal was registered at Kotwali police station on Thursday under Section 153A (punishment for promotion of enmity between different groups on the grounds of religion, race, place of birth, residence, language, etc.) of the Indian Penal Code and the IT Act.
He is accused of posting objectionable comments on Facebook about holy places of Muslims, said SHO Anand Dev Mishra adding that Aggarwal is on the run.
Source: Outlook India
Please click the following URL to read the full text of the original story:
https://www.outlookindia.com/national/up-man-booked-for-objectionable-social-media-posts-about-holy-sites-of-muslims-news-197686
--------
SC shifts Gyanvapi mosque worship suit trial to Varanasi district judge
May 21, 2022
NEW DELHI: The Supreme Court on Friday shifted the trial of a suit by Hindu parties seeking enforcement of their right to worship inside Varanasi's Gyanvapi mosque from civil judge (senior division) to the district judge, even as it observed that the survey of a structure to ascertain its religious nature is not barred under the Protection of Places of Worship Act,
A bench of Justices D Y Chandrachud, Surya Kant and P S Narasimha said whether Hindus can be allowed to worship at Gyanvapi mosque involved complex and sensitive issues that needed to be dealt with a seasoned judicial hand and ordered the Varanasi district judge to decide on priority the plea of Committee of Management, Anjuman Intezamia Masjid, Varanasi, under Order 7 Rule 11 of the Civil Procedure Code (CPC), challenging maintainability of the suit by five Hindu women seeking enforcement of their right to worship Goddess Shringar Gauri and other deities inside the mosque complex.
Appearing for the mosque management, Senior Advocate Huzefa Ahmadi repeatedly argued that the SC should scrap the suit and interim orders by the trial court, including the direction for survey, as it was a "mischievous" attempt by plaintiffs to change the character of the mosque existing for the last 500 years.
"Look at the mischief being perpetrated through selective leak of the court commissioner's survey report. Now the mischief is being created for four to five other mosques. This disturbs communal harmony," Ahmadi said.
When senior advocates C S Vaidyanathan and Ranjit Kumar took strong objection to Ahmadi's pleadings, the bench orally observed, "Putting a cross on a Zoroastrian religious place would not change the latter's character. This is true for the reverse case scenario. Survey of a structure is to ascertain its religious nature. That is not prohibited under the Protection of Places of Worship Act, 1991.
The bench emphasized that the hybrid religious character of places of worship is not unknown to India. "Ascertaining the religious character of a place through a procedure known to law will not fall foul of the 1991 Act," the bench said and adjourned hearing to July second week.
However, the bench said the district judge's decision on the mosque management committee's application for scrapping of the suit would remain in limbo for eight weeks to allow aggrieved parties to appeal before an appropriate judicial forum.
During this period, that is from today till eight weeks after district judge's decision on the mosque management's application, the SC's May 17 interim order - directing protection of the area where the Shivling was purportedly discovered by court commissioner during survey and unhindered access of Muslims to offer namaz in the mosque - would remain in force, the bench said.
Ahmadi pleaded that the Shivling, found inside the wuzu khana area (ablution pond), could be protected. However, he demanded access of Muslims to the area surrounding the Shivling, which is a pond with water taps on side walls, for performance of wuzu (ablution) by Muslims, as has been done for the last 500 years.
For the UP government, Solicitor General Tushar Mehta said such a permission would give rise to a grave law and order situation. "An alternative area for wuzu should be provided in consultation with parties," he said. The bench directed the Varanasi district magistrate to provide for wuzu facility in the mosque in consultation with parties.
The SC also said that the May 16 interim order of the civil judge (senior division) Ravi Kumar Diwakar directing protection of Shivling area would be "subsumed" by the Supreme Court's interim May 17 order giving similar direction in addition to specifying that Muslims would have free access to the mosque for namaz purposes.
Ahmadi drew the court's attention to the selective leak of the court commissioner's report, including the purported discovery of Shivling, which the Muslim side referred to as a fountain. He said this mischief is to create a narrative and disturb communal harmony in the country.
"Look at the fallout of entertaining such a suit in gross violation of provisions of the 1991 Act. Already similar mischief is being attempted in relation to four-five other mosques. Because of the selective leaks, the trial court has ordered protection of an area which had been used for the last 500 years by Muslims for the purpose of wuzu. Now iron gates have been erected all around it," he complained.
Source: Times Of India
Please click the following URL to read the full text of the original story:
https://timesofindia.indiatimes.com/india/sc-shifts-gyanvapi-mosque-worship-suit-trial-to-varanasi-district-judge/articleshow/91696506.cms
--------
BJP Raising Issues like Gyanvapi Mosque As Its Graph Is Dipping, Says Congress Rajya Sabha Member
21st May 2022
INDORE: Congress Rajya Sabha member Digvijaya Singh on Friday said the ruling BJP was raking up religious issues like the Gyanvapi mosque in Varanasi as its performance graph was continuously falling due to rising inflation, unemployment and depreciation in rupee value against the US dollar.
He also criticised the Centre's move to ban the export of wheat.
"This is not a new thing. Inflation and unemployment are rising, rupee value is dropping and the Modi government's graph is tumbling. In this condition what are they going to do?" he told reporters here.
The former CM was replying to a query over the Gyanvapi mosque complex in Varanasi, where a court-mandated survey of the premises has been completed, and other religious rows.
Singh said the Modi government's decision to suddenly ban wheat export has inflicted massive losses to small and medium traders.
Asked about former Punjab Congress president Sunil Jakhar's comments, made after joining the BJP, that some leaders of the Sonia Gandhi-led party were busy "flattering the high command", Singh, taking a swipe at his ex-colleague, quipped, "He took a long time to understand this."
Source: New Indian Express
Please click the following URL to read the full text of the original story:
https://www.newindianexpress.com/nation/2022/may/21/bjp-raising-issues-like-gyanvapi-mosque-as-its-graph-is-dipping-says-digvijaya-2456007.html
--------
BJP stoking communal issues with eye on 2024 polls, says Shiv Sena on Gyanvapi mosque row
MANASI PHADKE
20 May, 2022
Mumbai: The BJP is fuelling communal issues such as the row over the Gyanvapi mosque with an eye on the 2024 Lok Sabha elections, the Shiv Sena said Friday in an editorial in its mouthpiece, Saamana.
Claims about the discovery of a 'Shivling' on the premises of Varanasi's Gyanvapi mosque have become the subject of discussion in recent weeks. While the issue is in court, BJP leaders have cited the developments to demand a relook at the Places of Worship Act, with some even calling for "reclamation" of temples in Kashi and Mathura.
The Uddhav Thackeray-led party, which has been looking to project its brand of Hindutva as more real than that of former ally BJP, also said the latter's "development model" comprises furthering communal issues such as the debates over mosques and temples.
"These days, it looks like the BJP has taken up the agenda of Varanasi's Gyanvapi mosque… People in the BJP have been talking about how Uttar Pradesh Chief Minister Yogi Adityanath is going to rename Lucknow as Lakshmanpur. BJP's development model is going on in this manner," the editorial reads.
Prime Minister Narendra Modi, reacting to the 2019 SC verdict in favour of building a Ram Temple at the disputed Ayodhya site, had called it a "day to forget any bitterness", the editorial recalled. The RSS, too, when asked about the Gyanvapi mosque and Mathura's Idgah, had said that it was associated with the Ayodhya movement because of a historical backdrop, calling its role in the movement an exception, it went on to say.
"But, as the 2024 Lok Sabha elections are drawing closer, one can see a change in the stance. Now, AIMIM's (Asaduddin) Owaisi has in his own way spoken about the Mathura and Gyanvapi mosques. This great person has said that they will not let one more mosque be sacrificed.
"Because of all this there is an indication of what exactly will happen before the 2024 election and on what issues the elections will be fought," reads the editorial.
Shiv Sena's Hindutva vs BJP's
Sena's stand on the Gyanvapi row, and the larger temple-mosque politics, is in line with Maharashtra CM Thackeray's proclamation that his party's Hindutva is distinct from the BJP's, and has "nationalism, not communalism" at its core.
Just last week, the Shiv Sena, while publicising its Hindutva as "Hrudyat Ram, haatala kaam (Ram in the heart, job in hand)", had slammed the BJP over its "fake Hindutva to divert attention from real issues".
Reiterating its stance that the BJP's Hindutva is not development-oriented unlike the Sena's, the party in its Saamana editorial Friday cited news reports about schools in Uttar Pradesh allegedly not having walls or toilets.
It went on to add that there is no end to temple-mosque politics and debates over issues such as AIMIM leader Akbaruddin Owaisi's visit to Aurangzeb's tomb in Aurangabad "because political fortunes are dependent on the fire".
"But, the fire in the stomach is more important than these flames. Our neighbouring country (Sri Lanka) is a live example of what can happen if that fire gets out of control," the editorial reads.
The Sena mouthpiece also said that while France — with a population of a little over 6.5 crore — is supplying Rafales, India, with a population of 130 crore is caught up in debates over temples and mosques.
Source: The Print
Please click the following URL to read the full text of the original story:
https://theprint.in/politics/bjp-stoking-communal-issues-with-eye-on-2024-polls-shiv-sena-on-gyanvapi-mosque-row/964223/
--------
Gyanvapi Mosque Row: Allahabad HC Stays Hearing On Temple-Mosque Conflict Issue Till July 6
21 MAY 2022
The Allahabad High Court on Friday adjourned the hearing on the Kashi Vishwanath temple-Gyanvapi Mosque issue till July 6 after hearing a length petition filed by the Anjuman Intazamiya Masjid of Varanasi. Justice Prakash Padia adjourned the hearing of the case till July 6.
The original suit was filed in the Varanasi district court in 1991, seeking restoration of an ancient temple at the site where the Gyanvapi mosque currently stands.
Counsel appearing on behalf of the temple, Vijay Shankar Rastogi, submitted that the Uttar Pradesh Sri Kashi Vishwanath Temple Act, 1983 passed by the Uttar Pradesh Legislative Assemble came into force on January 28, 1983.
He relied upon the definition of the temple mentioned in sub section 9 of section 4 of the Act. The definition states the temple of Adi Vishweshwar, popularly known as the Sri Kashi Vishwanath temple, situated in the city of Varanasi, which is used as a place of public religious worship and dedicated to or for the benefit of or used as of right by the Hindus as a place of public religious worship of the Jyotirlinga.
Rastogi argued that rights of ownership of this temple and its endowment are vested in the deity of Sri Kashi Vishwanath, i.e., Lord Vishweshwar, which is itself mentioned in section 5 of the Act. The 'Linga' situated in this temple is 'Swayambhu' and also 'Jyotirlinga', and the 'Jyotirlinga' has a long religious history which has also been mentioned in the Puranas, he said.
It was further argued that the validity of Act had been challenged up to the Supreme Court, which in the case of Sri Adi Visheshwara of Kashi Vishwanath temple, Varanasi, and others vs the State of Uttar Pradesh and others, affirmed the validity of the Act and held that the idol of Lord Shiva in Varanasi on the banks of the Ganges is one of the five Jyotirlingas in India believed to be self-incarnated (Swayam Bhuva).
However due to paucity of time, the arguments could not be concluded on Friday.
On April 8, 2021, the Varanasi court of civil judge (senior division) had ordered a five-member committee comprising two Hindu, two Muslim members and an archaeological expert, to oversee a "comprehensive physical survey" of the centuries-old Gyanvapi mosque complex.
Source: Outlook India
Please click the following URL to read the full text of the original story:
https://www.outlookindia.com/national/gyanvapi-mosque-row-hc-stays-hearing-on-temple-mosque-conflict-issue-till-july-6-news-197736
--------
Gyanvapi mosque sees spurt in footfall for Friday prayer
21st May 2022
LUCKNOW: The Friday prayer at Gyanvapi mosque in Varanasi, the first after the May 16 court order sealing the wuzu khana (pond), passed off peacefully amid tight security arrangements by the district administration and alternative arrangement of water for wuzu (ritual washing before prayers) by the mosque management committee.
Despite an advisory by the Anjuman Intizamia Masajid (AIM) to Muslims to offer namaz at local mosques, there was a sudden rise in the number of attendees for the Friday prayer. As many as 1,200 devotees reached the mosque which has capacity to accommodate 2,000. The masjid used to witness barely 350-400 people on earlier Fridays.
Amid heavy police presence, Muslim devotees entered the mosque through gate number 4 of the Kashi Vishwanath Dham area to offer the prayers. The entrance to the mosque and surrounding areas were under the careful watch of district police and CRPF.
The AIM had urged the namazis to come for prayers after performing wuzu at home. However, the mosque authorities had arranged two drums containing 1,000 litres water each for wuzu after receiving permission from the district administration.
Source: New Indian Express
Please click the following URL to read the full text of the original story:
https://www.newindianexpress.com/nation/2022/may/21/gyanvapi-mosque-sees-spurtin-footfall-for-friday-prayer-2456164.html
--------
Qasim Rasool Ilyas: For the first time, AIMPLB has decided to reach out to leaders of all non-Muslim organisations
By Esha Roy
May 21, 2022
The All India Muslim Personal Law Board (AIMPLB) Executive Member Qasim Rasool Ilyas spoke to ESHA ROY over the controversy surrounding the Gyanvapi mosque in Varanasi and the ongoing case in a court. Excerpts from an interview:
What is the AIMPLB's stand on the Gyanvapi mosque controversy?
We have a very clear stand on the matter. Once the Places of Worship Act came into being in 1991, there is simply no space for controversy regarding any place of worship. It had been unanimously decided and passed in Parliament, with even the support of the BJP, that after Babri Masjid, such matters would be put to rest… it is extremely disheartening that the lower court gave permission for the survey…
Starting with Gyanvapi, now other mosques in the country seem to be embroiled in a similar controversy. Do you think these controversies are politically motivated?
This has happened over the last couple of days. A Hindu group in Karnataka has now claimed that the Masjid-e-Ala in Srirangapatna in Mandya district was a Hanuman temple and they should be allowed to worship there. Similar controversies have been created around the Neem Masjid in Madhya Pradesh, the Idgah in Mathura, and now even the Jama Masjid in New Delhi, where surveys are being demanded. The BJP-RSS commune has alleged that there are 30,000 mosques in the country that have been built by razing temples… such issues can be carried on for perpetuity, creating anarchy… The BJP wants to distract people from rising prices, unemployment, and the health issues brought to light by the pandemic…
The AIMPLB has questioned the stance that secular parties have taken on the matter or the lack of it. What were your expectations from them?
It is very unfortunate that the so-called secular parties have not come out and said anything, in particular in defence of the Places of Worship Act… And yet, when the elections roll up, they expect Muslims to vote for them…
What is the recourse for the Muslim community under the circumstances?
Source: Indian Express
Please click the following URL to read the full text of the original story:
https://indianexpress.com/article/india/all-india-muslim-personal-law-board-member-interview-7928520/
--------
Jammu Govt College Students Recite Hanuman Chalisa In Protest Against Mosque Loudspeaker
21.05.22
Some students of Government Gandhi Memorial College here on Friday recited Hanuman Chalisa in protest against use of loud speaker by a local mosque, officials said.
However, police later stopped them from reciting Hanuman Chalisa and detained half-a-dozen students, though they were later let off.
According to the officials, as students were studying in class rooms, there was use of loud speaker by a local mosque, triggering protests by the students that there is disturbance to their studies at the GGM College.
Angry over violation of use of loud speaker and failure of authorities to stop it, students resorted to chanting of 'Hanuman Chalisa'.
Source: Telegraph India
Please click the following URL to read the full text of the original story:
https://www.telegraphindia.com/india/govt-college-students-recite-hanuman-chalisa-in-protest-against-mosque-loudspeaker/cid/1866181
--------
Bajrang Dal workers burn effigies of political leaders over remarks on Gyanvapi mosque issue
Simer Chawla
Kanpur
May 20, 2022
Hundreds of Bajrang Dal workers burnt the effigies of former UP chief minister Akhilesh Yadav, Rajasthan chief minister Ashok Gehlot and Asaduddin Owaisi on Friday for their remarks on the Gyanvapi mosque issue. Party workers took to the streets in Kanpur to protest against the statements made by the political leaders.
The party workers gathered and held a meeting near the Bharat Mata statue in Kanpur. They raised slogans against the political leaders and burnt their effigies. Prakash Sharma, the Bajrang Dal worker who led the protest said, "Some people have lost their mental balance ever since the Shivling has been found in the premises of the Gyanvapi masjid. We burnt their effigies today to send a message to stop commenting on Hindu beliefs and temples or else we will show them their place."
WHAT DID THE LEADERS SAY?
Samajwadi Party (SP) chief Akhilesh Yadav said that the BJP is trying to divide society on communal lines and is trying to create fear among Muslims.
Rajasthan Chief Minister Ashok Gehlot had said the "BJP was creating a new drama in the country on the issue of Varanasi's Gyanvapi mosque".
Source: India Today
Please click the following URL to read the full text of the original story:
https://www.indiatoday.in/india/story/bajrang-dal-burn-effigies-akhilesh-yadav-ashok-gehlot-owaisi-asaduddin-gyanvapi-mosque-1952038-2022-05-20
--------
Gyanvapi mosque case: SC's observation on Places of Worship Act
May 20, 2022
NEW DELHI: Ascertainment of religious character is not barred under Section 3 of the Places of Worship (Special Provisions) Act, 1991, the Supreme Court observed on Friday while hearing the Gyanvapi mosque case.
The principal contention of the Committee of Management of Anjuman Intezamia Masjid, the outfit that has filed an appeal against the survey, was that the videography "interdicted" the 1991 Act. It has further contended that many more mosques could come under review if the survey was allowed.
On May 19, a Mathura court held that the suit to remove the Shahi Idgah Masjid, allegedly built on the land of Shrikrishna Janam Bhoomi, is maintainable and that the Places of Worship Act is not applicable to the suit.
What the Act says
The Places of Worship Act prohibits the conversion of the religious character of a place of worship and to maintain the status quo as it was at the time of India's Independence. According to Section 4 (1) of the Act, the religious character of a place of worship existing on August 15, 1947, shall continue to be the same as it existed on that day.
Section 3 of the Act reads: Bar of conversion of places of worship. No person shall convert any place of worship of any religious denomination or any section thereof into a place of worship of a different section of the same religious denomination or of a different religious denomination.
Justice Chandrachud on Friday observed that ascertainment of religious character was not barred under Section 3 of the Act.
In the 2019 Ayodhya verdict, the Constitution Bench referred to the law and said it manifests the secular values of the Constitution and prohibits retrogression.
Certain exemptions
The Act exempts any place of worship which is "an ancient monument, historical monument or an archaeological site".
Also, the monuments covered under the Ancient Monuments and Archaeological Sites and Remains Act, 1958, or any other law have been exempted from the restrictions under this Act.
Source: Times Of India
Please click the following URL to read the full text of the original story:
https://timesofindia.indiatimes.com/india/gyanvapi-mosque-case-scs-observation-on-places-of-worship-act/articleshow/91687787.cms
--------
Gyanvapi: Intelligence lens on father of Umar Khalid
May 21, 2022
NEW DELHI: At least one member of the Gyanvapi Legal Commission — constituted by AIMPLB to review 'The Places of Worship Act, 1991' and all cases related to Gyanvapi and other mosques — is being watched with interest and concern by central intelligence agencies in view of his past association with outlawed outfit SIMI, alleged lead role in anti CAA protests and current charge as general secretary of Welfare Party of India, which agencies see as the political wing of Jamaat-e-Islami Hind (JEI-H). He is SQR Ilyas, who happens to be father of JNU activist and Delhi anti-CAA riots accused Umar Khalid.
A source said the prominence that Ilyas has been gaining in affairs of AIMPLB, a preserve of Sunni clerics, is a point of concern. Ilyas has earlier been associated with the Babri M asjid Action Committee and was issuing statements on its behalf. Intelligence sources pointed out that what has prompted their concern is Ilyas's background as an Ansar (active mem ber) of SIMI and also as its president from 1983 to 1985. SIMI was banned as an unlawful association under UAPA in 2001.
After SIMI was banned, Ilyas shifted to JEI-H where he has held severa l posts from time to time. Following the formation of the Welfare Party of India as a political offshoot of JEI-H, he was given charge of general secretary of the party.
An intelligence officer claimed that Ilyas was in the forefront of organising antiCAA protests between December 2019 and March 2020 in Delhi and other cities. Before that, he had also openly slammed the Centre over nullification of Article 370 in J&K.
Agencies also view with interest his family member's involvement in anti-government protests and riots. His son Umar was arrested in connection with the Delhi riots case (2020) and is presently in jail. He was a lso a leader of the Democratic Students' Union at JNU. Agencies claim that Democratic Student's Union is a front of CPI(Ma oist), declared a terrorist outfit under UAPA. Before his arrest for Delhi riots, Khalid had grabbed headlines because of his show of solidarity for Jaish terrorist and Parliament attack convict Afzal Guru, organised in JNU.
Agencies have been watching and warning of the nexus between Maoists whose front organisation Khalid is aligned with and hardline Islamists allegedly represented by Jamaat, WPI and erstwhile SIMI.
Source: Times Of India
Please click the following URL to read the full text of the original story:
https://timesofindia.indiatimes.com/india/gyanvapi-intelligence-lens-on-father-of-umar-khalid/articleshow/91698652.cms
--------
Uttar Pradesh: Mathura row not under Places of Worship Act, says court
May 21, 2022
AGRA: While allowing a petition for "removal" of the Shahi Idgah mosque, the Mathura court on Thursday observed that the Places of Worship (Special Provisions) Act 1991 is not applicable in the Krishna Janmabhoomi-Shahi Idgah case as the compromise decree dividing the disputed land was signed in 1968, much before the law was enacted.
The court overturned an earlier decision by a civil court to disallow the petition and accepted the revision plea filed by "Bhagwan Shri Krishna Virajman" through "next friend" Ranjana Agnihotri and six other devotees.
The court in its order stated: "With regard to the entire property of Katra Keshav Dev, whether Shri Krishna Janmabhoomi Seva Sangh had the power to enter into a compromise with Trust Masjid Eidgah is a matter of evidence that can be determined only on the basis of evidence adduced by both parties during the trial."
The court also stated that a worshipper, as the next friend of the deity, can file a suit for restoration and re-establishment of religious rights of the deity.
Advocate G P Nigam, representing the Waqf board, refused to comment but claimed that this Act will be applicable partially as the petitioners had demanded the land on which the mosque is situated.
Source: Times Of India
Please click the following URL to read the full text of the original story:
https://timesofindia.indiatimes.com/city/agra/mathura-row-not-under-places-of-worship-act/articleshow/91698017.cms
--------
Europe
UK allocates £24.5 million for security in mosques, Muslim schools
By Prasun Sonwalkar
20 May 2022
The Boris Johnson government has allocated £24.5 million to help upgrade security measures to protect mosques and Muslim faith schools in the context of an increase in hate crime in recent years in Britain.
In 2020-21, officials said 45 per cent of religious hate crimes recorded by the police in England and Wales were targeted against Muslims.
The places of worship can bid for funding to put in place security measures to help tackle this threat. This could include the installation of CCTV cameras and perimeter fencing to ensure that adequate measures are in place to protect worshippers.
Muslims will also be able to register their interest in security guarding services at mosques, to ensure that their communities can worship safely and without fear.
In addition, £3.5 million is available for other faith communities through the government's Places of Worship Fund, the officials added. The fund is open to all places of worship that feel they are vulnerable to hate crime.
Security Minister Damian Hinds said: "It is a fundamental right to be able to practise your faith in your community. This new round of funding will cover the costs of security measures for places of worship to deter and prevent hate crime attacks on vulnerable communities, making our streets safer. I encourage any place of worship which feels vulnerable to hate crime to apply for funding through the Places of Worship fund".
Iman Atta, director of campaign group Tell MAMA that supports victims of anti-Muslim hate, said: "The additional support from this government to ensure security support through guarding services is warmly welcomed and much needed. Tell MAMA has regularly called for additional support to Islamic institutions and mosques and in line with the national anti-Muslim hate crime monitoring and support services that Tell MAMA provides on an ongoing basis. Collectively, this support from the government should be welcomed and applauded".
The Places of Worship Fund is part of the government's commitment to ensure that faith communities in England and Wales are protected from the threat of hate crime attacks by providing funding to places of worship such as churches, mosques, gurdwaras, temples and associated faith community centres in order to improve physical security, officials said.
Source: Khaleej Times
Please click the following URL to read the full text of the original story:
https://www.khaleejtimes.com/europe/uk-allocates-24-5-million-for-security-in-mosques-muslim-schools
--------
International Muslim History Month returns to shed light on pioneers and sees quadrupled participation
May 21, 2022
LONDON: An annual initiative that celebrates Muslim accomplishments throughout history and confronts Islamophobia globally through education has grown significantly in popularity, with social media engagement quadrupling in just a year, organizers said.
International Muslim History Month, which was established by the New York-based World Hijab Day organization in 2021 and runs throughout May, aims to acknowledge and raise awareness of the Muslim trailblazers who helped to shape humanity.
The organization told Arab News that the event, which is geared toward schools, universities, workplaces, businesses, organizations, and social settings, is a celebration for everyone, irrespective of ethnicity or religious backgrounds.
More than 26 countries participated in the inaugural IMHM 12 months ago but this year the number has increased significantly, WHD said, with more individuals, organizations, businesses, and educational institutions taking part.
"In addition, we have seen a rise in awareness of IMHM on social media by individuals and academics, (and) our reach on social media has quadrupled from last year," it added.
The organization — which founded World Hijab Day, held on Feb. 1 each year to spread awareness of the hijab and why it is worn — said its goal was for IMHM to be federally recognized nationwide within the US, and internationally, to help tackle Islamophobia worldwide.
New York adopted a resolution to recognize the month on May 4, 2021, "to pay tribute to those who foster ethnic pride and enhance the profile of cultural diversity which strengthens the fabrics of the communities of the New York State," Andrew Cuomo, the governor at the time, said.
WHD has been calling on legislators worldwide to do the same. It is also urging individuals, organizations, and educational institutions to get involved and help raise awareness of the campaign.
The ways in which Muslims and non-Muslims can participate include social media engagement, petitioning government officials to recognize May as International Muslim History Month, supporting a Muslim business or donating to a Muslim organization, reading a biography of an influential Muslim figure and sharing their story, or calling out discrimination and prejudice against Muslims within their community.
The theme of this year's event focuses on Muslim pioneers from the Golden Age to modern times in four categories: medicine; STEM (science, technology, engineering and mathematics); liberal arts; and discovery, including inventors, explorers, and innovators. Conferences have been organized each week to raise awareness of significant figures in these fields.
"In the first conference, the presenters discussed the examples of Ibn Sina, the father of early modern medicine, from the Golden Age, to Dr. Ugur Sahin and Dr. Ozlem Tureci, the creators of BioNTech, a company focused on making personalized cancer vaccines," WHD said. In partnership with Pfizer, BioNTech also developed a vaccine for COVID-19.
Other notable Muslims that were highlighted this year include 13th-century Persian poet Rumi, sixth-century Arab poet Imru' Al-Qais, Pakistani-American neurosurgeon Dr. Ayub Ommaya, Palestinian-Jordanian molecular biologist Dr. Rana Dajani, Arab philosopher Ibn Khaldun, Moroccan explorer Ibn Battuta, Caliph Harun Al-Rashid, Turkish astronomer Burcin Mutlu-Pakdil, among dozens of others.
WHD has also partnered with different organizations including Majlis Ash-Shoura: Islamic Leadership Council of New York, an umbrella organization that represents more than 90 mosques and organizations.
"In the last two decades, Muslims in general have been painted negatively especially in the media," the organization's founder and chief executive officer, Nazma Khan, said.
Source: Arab News
Please click the following URL to read the full text of the original story:
https://www.arabnews.com/node/2086331/world
--------
Turks in Sweden call on Nordic country to stop supporting YPG/PKK terror group
20.05.2022
STOCKHOLM
Turkiye's embassy staff and Turkish nationals in Sweden are continued to be threatened and targeted by members of the YPG/PKK terrorist group.
The embassy accused Sweden of not giving them the necessary diplomatic protection against the YPG/PKK members, who are operating freely in the country.
Despite ongoing threats and violence against Turkish people in Sweden and its officials in the country, the Swedish government and police have not taken any measures.
Turkish Ambassador to Sweden Hakki Emre Yunt said: "We are very upset about it and we do not like it. We always inform the police about their (YPG/PKK members') demonstrations, they caused danger to the embassy in the past.
"They attacked the embassy many times and just after I arrived here, they attacked one of my cars and broke a window. Police denied that it was done by PKK and they said that since they do not have cameras on the street, they cannot find them … I mean it is unbelievable that they cannot do this.
"Because if it was done in Turkiye, the police would catch them in two hours. So, we cannot understand these laws and rules in Sweden. Even they cannot find a simple criminal, I mean, criminals."
The embassy walls were also painted with PKK slogans and posters on many occasions and the police "refused to take any action", the ambassador added.
"We have a police booth in front of the Swedish consulate in Istanbul, but they (the Swedish government) only send some police cars to stand in front of (the Turkish) embassy for one day or two days and then they leave", he said.
The Turkish Embassy continues to experience difficulties in its daily life in Sweden and says that the Swedish officials "are not always friendly and positive towards us."
Yunt said: "When I ask for an appointment for some consular work to help any citizen of Turkiye, national, sometimes they become very arrogant, they are not very polite towards us.
"For instance, the banks stop Turkish people from sending money to Turkiye. They are treating them as criminals and so people are facing all these difficulties to live here and it's hurting our economic ties and it is hurting our daily consular business."
The ambassador said that Turkiye has found evidence that Sweden is supplying weapons to the PKK terror group and is urging the country to stop supporting and arming the terrorist groups that are threatening the security of Turkiye.
"When we fought YPG in Syria, we found some weapons which were made in Sweden. Also, they are not hiding that they want to help them financially … They already allocated some money to help them because they consider them as an ally in Syria. We have been showing them (the Swedish side) pictures of YPG leaders together with PKK leaders, but they don't want to accept that."
'Horrible stuff'
Tufan Erdogan, a Turkish national in Sweden, said that he is "extremely sad" to know that his home country Sweden is supporting terrorist organizations.
"Well, as a Turk and a Swedish it makes me sad to see the Swedish government has supported YPG, it has supported PKK. Of course, we are sad because these are terrorist groups that have done some horrible stuff toward civilians.
"So, I have seen some numbers like $376 million that the Swedish government is using to fund the YPG, and if you look at how much they have spent on Ukraine during its war against Russia, it is just like 5 million dollars. YPG is a Syrian offshoot of the PKK terror group, so it is sad to see this support from the Swedish side."
Can Kayhan, another Turkish national, thinks that Sweden should stop supporting terrorist groups.
"I would expect them (Sweden) to stop sending military equipment to these organizations because it is not good. Sweden is a neutral country; they have been for a very long time. I just feel it is wrong, it will just affect their reputation.
"For how many years they have never been in a war and now they are supporting groups, especially terror organizations. They are sending military equipment worth $300 million and I think it is wrong."
With more than 40 Swedish-made AT-4 weapons and French and German anti-tank ammunition, the terror group targeted Turkish security forces in Syria between 2017 and 2021.
Despite the factual evidence put across by the Turkish government, Sweden continues its support of the PKK and YPG and refuses to admit that these two groups are "the same terrorist organization."
The Swedish government has failed to offer any explanation to Ankara about how such high-intensity weapons ended up in the hands of the PKK. Many have suffered as a consequence of the Swedish military and economic support.
"Magdalena Andersson was elected prime minister with one vote in the parliament. It was the vote of a Kurdish MP of Iranian origin. In return for this vote, $300 million in aid was given to the YPG. This happened openly, not secretly", said Dikran Ego, an Assyrian journalist based in Sweden.
In Syria's northeastern provinces such as al-Hasakah and Qamishli, Assyrians have faced massacres throughout history by similar terrorist movements.
"What we Assyrians want from the Swedish parliament is that the terrorist groups YPG and PKK should not be helped. Because these groups attack Assyrians and Ezidis. These groups should not be armed or provided financial aid.
"We Assyrians see PKK and YPG as terrorist organizations as Turkiye does. Because of these groups and terrorists, Assyrians suffer harm in Syria, Turkiye and Iraq. Today, Assyrians in Syria live under the terror of YPG. Assyrians are against supporting PKK and YPG", Ego added.
In its more than 35-year terror campaign against Turkiye, the PKK – listed as a terrorist organization by Turkiye, the US, and EU – has been responsible for the deaths of over 40,000 people, including women, children, and infants. The YPG is PKK's Syrian offshoot.
NATO bids
Sweden's and Finland's support for the terror groups may jeopardize their entry into NATO as Turkish President Recep Tayyip Erdogan has voiced objections to the membership bids, criticizing the countries for tolerating and even supporting terrorist groups.
"As long as they keep this attitude, we will not change our position," Yunt said.
Finland also hosts the YPG/PKK terrorists and members of Fetullah Terrorist Organization (FETO), which was behind the defeated coup in 2016 in Turkiye.
FETO and its US-based leader Fetullah Gulen orchestrated the defeated coup of July 15, 2016 in Turkiye, in which 251 people were killed and 2,734 injured.
The Turkish government accuses FETO of being behind a long-running campaign to overthrow the state through the infiltration of Turkish institutions, particularly the military, police, and judiciary.

Source: Anadolu Agency
Please click the following URL to read the full text of the original story:
https://www.aa.com.tr/en/europe/turks-in-sweden-call-on-nordic-country-to-stop-supporting-ypg-pkk-terror-group/2593513
--------
Turkiye not to change stance as long as Sweden has ties with PKK terrorists: Envoy
Ahmet Gurhan Kartal
20.05.2022
LONDON
Turkiye will "not change" its position on Sweden's NATO membership application as long as the Nordic country has "ties with the terrorist organization PKK," Turkiye's envoy to Stockholm said.
Speaking to Anadolu Agency, Hakki Emre Yunt said Swedish authorities do not accept that YPG and PKK are the same group.
Yunt said that Sweden claims that YPG is not a terrorist organization because "they have been very useful in the fight with this Daesh group in Syria and in Iraq."
"So, they want to continue to help them by financial means and also by some military equipment. And we have been telling them to stop this relationship with YPG, but they have rejected so far and also with PKK which is also on the terror list of Sweden and EU," he added.
In its more than 35-year terror campaign against Turkiye, the PKK – listed as a terrorist organization by Turkiye, the US, and EU – has been responsible for the deaths of over 40,000 people, including women, children, and infants. The YPG is PKK's Syrian offshoot.
The Turkish ambassador said that Sweden has been "helping them and accommodating them."
"Some Swedish parliament members have been supporting them," he added.
He said: "They have been pressuring the government to remove them (terrorist groups) from the terror list and to take a negative stance toward Turkiye because of our fight with PKK.
"So we are not happy about these things."
Yunt said that Turkiye has "some other concerns like the arms embargo against Turkiye, (and they are also) not extraditing certain members of terrorist organizations like FETO (the Fetullah Terrorist Organization) and PKK."
"So, these three issues are the main problems for Turkiye and that's why we took the decision to pull up their application to NATO."
"When we fought with YPG in Syria, we found some weapons, which were made in Sweden," Yunt said.
He said: "Also they (Sweden) are not hiding that they want to help them (the terror groups) financially.
"(For) next year, they have already allocated some money to help them because they consider them as an ally in Syria, but we have been showing them pictures of YPG leaders together with some PKK leaders.
"However, Swedish authorities don't want to accept that. We see a very awkward situation. Despite all the proofs, they do not want to admit that these two groups are the same terrorist organization."
Yunt said Turkiye will not change its position "as long as they keep this attitude."
Source: Anadolu Agency
Please click the following URL to read the full text of the original story:
https://www.aa.com.tr/en/europe/turkiye-not-to-change-stance-as-long-as-sweden-has-ties-with-pkk-terrorists-envoy/2593499
--------
South Asia
Taliban leadership has zero credibility for Women's rights: Human Rights Watch
21 May, 2022
Kabul [Afghanistan], May 21 (ANI): Associate women's rights director and former senior Afghanistan researcher at Human Rights Watch, Heather Barr, highlighted Taliban's vicious remarks against Afghan women, calling out the organization's growing atrocities, in a tweet on Friday.
Taking to Twitter, she said, "Everyone from Taliban leadership has zero credibility on women's rights," recalling the human rights violation taking place in Afghanistan.
"They made representations about their supposed respect for women and girls when taking power. Every day after there was a new crackdown on women & that continued to intensify over time," she added, continuing the thread.
The Islamic Emirate has been facing criticism inside and outside Afghanistan for imposing restrictions on women.
2021 has been the worst year for the Afghan women as the Taliban after assuming control of Afghanistan have rolled back access to their right to education and work, however, also snatched it later for an indefinite period of time.
Barr, in a statement earlier also referred to the international community and said that it "didn't do much" to protect Afghan women.
Afghan women are staring at a bleak future due to a number of restrictions imposed by the Taliban governing aspects of their lives within ten months of Afghanistan's takeover. Women are no longer allowed to travel unless accompanied by men related to them and are being curtailed from wearing make-up as well as their reproductive rights.
Source: The Print
Please click the following URL to read the full text of the original story:
https://theprint.in/world/taliban-leadership-has-zero-credibility-for-womens-rights-human-rights-watch/965075/
--------
UN rights chief decries Taliban's move to dissolve Human Rights Commission
May 20, 2022
UN High Commissioner for Human Rights Michelle Bachelet condemned Taliban's decision to dissolve the Human Rights Commission and expressed concerns over the grave human rights situation in Afghanistan.
"I am dismayed at the reported decision of the Taliban to dissolve the country's Independent Human Rights Commission. The Afghanistan Independent Human Rights Commission (AIHRC) performed extraordinary work in extremely difficult conditions over many years, shining a spotlight on the human rights of all Afghans, including victims on all sides of the conflict," Bachelet said in a statement on Thursday.
The AIHRC has been a powerful voice for human rights and a trusted partner of UN Human Rights, and its loss will be a deeply retrograde step for all Afghans and Afghan civil society, she said.
"During my visit to Kabul in March this year, I discussed with the de facto authorities the importance of re-establishing an independent human rights mechanism that can receive complaints from the public and bring concerns to the attention of the de facto authorities," UN rights chief contijued.
Rights activists said the AIHRC that was abolished by the Taliban was not perfect but it mattered enormously to have a place to demand justice.
"Let's take a moment to remember an Afghanistan which had a human rights commission. It was not perfect--these institutions never are--but it mattered enormously to have somewhere to go, to ask for help and to demand justice. Shocking to see a country go backwards in this way," said Heather Barr, Associate women's rights director and former senior Afghanistan researcher at Human Rights Watch (HRW).
"The Global Alliance of National Human Rights Institutions had 120 member countries in April, but they will need to remove Afghanistan now," she added.
This meeting comes against the backdrop of a range of issues affecting Afghanistan. In the past few weeks, dozens of countries have expressed deep disappointment about escalating restrictions on the human rights of women and girls in Afghanistan.
Last week, the G7 Foreign Ministers had deplored the Taliban's recent decree enforcing hijab on Afghan women and new punishments for family members to enforce compliance with these restrictions.
Source: Business Standard
Please click the following URL to read the full text of the original story:
https://www.business-standard.com/article/international/un-rights-chief-decries-taliban-s-move-to-dissolve-human-rights-commission-122052000151_1.html
--------
Pakistan brokers deal with TTP backed by Afghan Taliban
20 May, 2022
Islamabad [Pakistan], May 20 (ANI): Pakistan on Wednesday released 30 of the top leaders of the proscribed terrorist group Tehreek-e-Taliban Pakistan (TTP) as part of a peace deal brokered by the Afghan Taliban that it had facilitated to seize power in Kabul last August.
Talks are continuing with the TTP demanding amnesty for all its fighters and fugitives as well as an end to the Pakistan Army's military operations in South Waziristan apart from the releases, Al Arabia Post reported.
Sheltered for two decades after being toppled from power in 2001, the Taliban had been reluctant to push out the TTP fighters and their families because of their ideological affinity and the fact that thousands had fought against the erstwhile Ashraf Ghani Government, the report said.
However, the Taliban regime was forced to take a quick decision with the US showing an inclination towards returning to the Asian theatre after ending its Ukraine distraction, the report said.
The Taliban regime's interest lies in gradually winning global recognition, denied for the last nine months.
Several governments are currently considering establishing diplomatic ties with the Taliban regime, ending the regime's global pariah status while also tacitly reconciling with a regime that has resisted pressures to make their government inclusive and treat their women better, the report said.
Taliban appears to have brokered the deal between Islamabad and the rebels, even detaining TTP leaders and handing them over to Pakistan, to prove its usefulness to the world community, the report further said.
The Afghan Taliban is also seeking an end to violent skirmishes that the TTP's presence on its soil has been causing. Also, a landlocked Afghanistan is heavily dependent upon Pakistan, the report added.
However, there is no guarantee that all TTP rebels would surrender or not continue to use the vast, mountainous terrain along the Afghanistan-Pakistan border to unleash violence that has, during the course of time, according to Pakistan's official figures, killed 83,000 civilians. This unmanageable terrain has been Pakistan's Achilles' heel, the report said.
Source: The Print
Please click the following URL to read the full text of the original story:
https://theprint.in/world/pakistan-brokers-deal-with-ttp-backed-by-afghan-taliban/964742/
--------
The Taliban Ministry of Finance Suspends Wheat Exports, Cites Food Security
By Saqalain Eqbal
20 May 2022
Mullah Hidayatullah Badri, the Finance Minister, authorized all customs offices on Thursday,May 19, to prevent wheat export or trade.
According to a report released by the state-run Bakhtar News Agency, the country's wheat production was anticipated to be four million tonnes last year; however, the Ministry of Agriculture has yet to assess the current year's wheat yield.
The measure has been taken to avoid wheat shortfall and food scarcity, Zabihullah Mujahid, the spokesperson for the Islamic Emirate of Afghanistan stated on his twitter handle.
Farmers across the country are complaining about the lack of rain and the their agricultural grounds running dry this year.
Furthermore, as a result of recent political developments, the Afghan people are experiencing a severe humanitarian crisis. In addition to that, food prices, particularly wheat, have risen substantially since Russia's invasion of Ukraine.
While the price for wheat has increased by 50% in different parts of Kandahar province, it is claimed that some people have begun smuggling wheat to Pakistan.
Previously, World Food Programme (WFP) reported that since the fall of the former government to the Taliban, over 22 million people face severe hunger.
According to UN, hunger and food shortages affect up to 97% of the Afghan population.
Wheat is the country's principal source of nutrition. Afghanistan is estimated to require more than six million tonnes of wheat each year to feed its 33 million population.
Source: Khaama Press
Please click the following URL to read the full text of the original story:
https://www.khaama.com/the-taliban-ministry-of-finance-suspends-wheat-exports-cites-food-security47382/
--------
North America
US drops 'foreign terrorist' designation from Israeli, Basque, Egyptian groups
20 May ,2022
The US State Department on Friday removed its longstanding official "foreign terrorist organization" label from Israeli, Basque, Egyptian, Palestinian and Japanese extremist groups, but all will remain under a separate, broader terror designation.
Removed from the FTO blacklist were Kahane Chai, a Jewish extremist group linked to late rabbi Meir Kahane; the Palestinian group Mujahidin Shura Council in the Environs of Jerusalem; and Euskadi Ta Askatasuna, or ETA, a Basque separatist group that operated in Spain and France.
Japan's Aum Shinrikyo cult, which launched a deadly sarin attack in Tokyo's subway in 1995, and al-Jama'a al-Islamiyya, the militant group led by the blind cleric Omar Abdel Rahman, who died in a US prison in 2017, were also dropped from the department's official list of foreign terrorist organizations.
The FTO designation had allowed the United States to take strong unilateral moves against a group's members and associates, seizing assets, blocking travel to the United States, deportation, and - significantly - jailing for up to 20 years anyone found providing "material support" for them.
None of the five are seen as currently active organizations and the State Department must review FTO designations every five years to see if they remain warranted.
"Our review of these five FTO designations determined that, as defined by the INA, the five organizations are no longer engaged in terrorism or terrorist activity and do not retain the capability and intent to do so," the department said in a statement.
The revocations "recognize the success Egypt, Israel, Japan, and Spain have had in defusing the threat of terrorism by these groups," it said.
Kahane Chai, which grew out of Kahane's Kach movement, was designated an FTO in 1997, three years after its supporter Baruch Goldstein massacred 29 Palestinians in the occupied West Bank city of Hebron.
The group's founder, an advocate of expulsion of Arabs from Israel, was assassinated in New York in 1990.
ETA was blamed for killing hundreds in attacks as the group sought an independent Basque homeland over four decades. Eight years after declaring a ceasefire in 2010, it dissolved itself.
The Mujahidin Shura Council was blacklisted for its role in rocket attacks in Israel over 2010-2013.
Al-Jama'a al-Islamiyya group was built around Abdel Rahman, an extremist and US resident who allegedly inspired the deadly 1993 bombing of New York's World Trade Center.
He was convicted in 1995 over several bomb plots and sentenced to life in prison.
Removal of the FTO label does not drop the five groups from the US Treasury's blacklist.
Source: Al Arabiya
Please click the following URL to read the full text of the original story:
https://english.alarabiya.net/News/world/2022/05/20/US-drops-foreign-terrorist-designation-from-Israeli-Basque-Egyptian-groups
--------
US welcomes Armenia-Azerbaijan forthcoming talks in Brussels
Michael Hernandez
20.05.2022
WASHINGTON
The US State Department welcomed on Friday ongoing bilateral talks between Armenia and Azerbaijan before a key meeting geared toward the establishment of peace in the south Caucasus.
"We remain committed to promoting a peaceful, democratic and prosperous future for the South Caucasus region," State Department spokesman Ned Price told reporters on a conference call.
"As part of that, we do urge this dialogue to continue, and for the parties to intensify their diplomatic engagements, to make use of existing mechanisms for direct engagement in an effort to find comprehensive solutions to all outstanding issues related to or resulting from the Nagorno Karabakh conflict and, to normalize their relations," he added.
The US remains ready to assist Yerevan and Baku in the efforts, added Price.
Armenian Prime Minister Nikol Pashiyan and Azerbaijani President Ilham Aliyev are slated to hold a trilateral meeting this weekend in Brussels with European Council President Charles Michel. The meeting will mark the second such sit-down in as many months as the parties seek to broker a peace agreement.

Following April's meeting, Michel said Aliyev and Pashinyan stated their desire to "move rapidly towards a peace agreement between their countries."
"To this end, it was agreed to instruct the ministers of foreign affairs to work on the preparation of a future peace treaty which would address all necessary issues," he said in a statement.
The parties also agreed to convene a Joint Border Commission by the end of April.
Relations between the two former Soviet countries have been tense since 1991, when the Armenian military occupied Nagorno-Karabakh, a territory internationally-recognized as part of Azerbaijan, and seven adjacent regions.
New clashes erupted in September 2020, and the 44-day conflict saw Azerbaijan liberate several cities and over 300 settlements and villages that were occupied by Armenia for almost 30 years.
Source: Anadolu Agency
Please click the following URL to read the full text of the original story:
https://www.aa.com.tr/en/americas/us-welcomes-armenia-azerbaijan-forthcoming-talks-in-brussels/2593673
--------
Pakistan
Pakistan PM Shehbaz, Punjab CM Hamza in Court for Hearing of Rs16bn Money Laundering Case
Rana Bilal
May 21, 2022
Prime Minister Shehbaz Sharif and his son, Punjab Chief Minister Hamza Shehbaz, appeared in a special court in Lahore on Saturday for the hearing of a Rs16 billion money laundering case.
They were set to be indicted in the case during the previous hearing on May 14 but it was delayed because Shehbaz was in the UK and postponed his return to the country in order to visit the UAE to offer condolences over the death of its ailing president.
At the outset of the hearing, Presiding Judge of the Special Court (Central-I) Ijaz Hassan Awan observed that conditions outside the court were "not good", referring to security personnel obstructing the entry of people onto the court premises. PM Shehbaz responded that he would look into the matter.
The judge also expressed anger at the SP Civil Lines for stopping judges' vehicles from entering the court.
Meanwhile, Federal Investigation Agency (FIA) prosecutor Farooq Bajwa contended that three of the accused in the case were absconders and an application had been submitted for action against them.
He requested the court to indict all of the accused at the same time.
The judge observed that action had been taken against the absconders by a magistrate court.
However, the FIA prosecutor argued that proceedings to declare the three accused as absconders should be completed, adding that if the case continued in this way, it would benefit them.
Meanwhile, Shehbaz and Hamza's counsel, Mohammad Amjad Pervaiz, said that charges were filed against his clients between 2008 and 2018 and the prosecution team had removed many of them in the challan.
"It was said that matters were handled through fake companies and transactions of Rs2 billion were done through one account. Many of the charges filed by the previous investigation team were not included in the new challan," he told the court.
"There is a world of difference between the FIR and the challan." He added that the entire investigation against Shehbaz was conducted by the former adviser on accountability.
Shehbaz addresses court
Shehbaz, while speaking in the court, said that the United Kingdom's National Crime Agency (NCA) had conducted an investigation for nearly two years but could not find "even one rupee of corruption".
The prime minister said he had lived in the UK and done business in that country, claiming that the cases against him were "political".
At this point, Judge Awan said he had issued an order for declaring Shehbaz an absconder.
For his part, Shehbaz's counsel argued that the court had issued orders for declaring those people absconders whose names had been highlighted in red in the FIA's challan.
The FIA prosecutor said the accused could take advantage of any legal loophole at which the judge asked why the prosecution had remained silent for four months.
Prosecutor Bajwa responded by requesting the court to begin action against the absconders mentioned in the challan.
Subsequently, the court reserved a decision on declaring Shehbaz's son, Suleman Shehbaz, an absconder.
When Shehbaz again took the stand, he told the court he had served as the chief minister for 10 years but had never taken a salary. "My salary would be Rs10 million but I did not take it. I also went on official tours using my own money. I used to get the government car refuelled from my own pocket.
"I saved the nation billions of rupees."
The premier's counsel argued that the 14 accounts mentioned by the FIA were through banking channels. "Baseless propaganda was done in this case for 1.5 years. The accused tolerated insults despite lack of evidence.
"It seems the FIA is inspired by [streaming platform] Netflix. This is a film-inspired FIR," he argued.
Shehbaz was given a questionnaire and investigated by the FIA while he was in jail in December 18, 2020, he continued. The FIA had remained "completely silent" about the case from January 8, 2021 to June 2021, he said.
The Lahore High Court (LHC) had granted the PML-N president bail on merit in the money laundering and assets beyond means cases, Pervaiz said.
The FIA then sent a notice to Shehbaz on June 15 when the budget was about to be presented, he added.
"Shehbaz Sharif and Hamza Shehbaz believe in the rule of law. They are prime minister and chief minister, respectively, but they still appeared in the court."
There were several issues in the case, including which court could hear the trial and under which law was the crime committed, he argued.
The decision to extend bail would be in accordance with Supreme Court judgements, Pervaiz.
When the court asked for bail arguments to be completed, the FIA prosecutor said it could not be done today and pointed out that the investigation officer was also not present.
Pervaiz requested the court to allow the accused to leave, saying he would present the arguments. "Even if we hold daily hearings, the arguments cannot be completed within a week."
He noted that other accused were also nominated in the case and their lawyers would argue separately.
Subsequently, the court allowed Shehbaz and Hamza to leave and adjourned the hearing till 12:15pm.
Charges against Shehbaz, Hamza
The FIA had in December 2021 submitted the challan against Shehbaz and Hamza to a special court for their alleged involvement in laundering an amount of Rs16bn in the sugar scam case.
"The investigation team has detected 28 benami accounts of the Shehbaz family through which money laundering of Rs16.3bn was committed during 2008-18. The FIA examined the money trail of 17,000 credit transactions," according to an FIA report submitted to the court.
The amount was kept in "hidden accounts" and given to Shehbaz in a personal capacity, the report added.
This amount (Rs16bn) has nothing to do with the sugar business (of Shehbaz family), it claimed. The money received from the accounts of low-wage employees by Shehbaz was transferred outside Pakistan via hundi/hawala networks, ultimately destined for beneficial use of his family members, the FIA had alleged.
Source: Dawn
Please click the following URL to read the full text of the original story:
https://www.dawn.com/news/1690783/pm-shehbaz-hamza-in-court-for-hearing-of-rs16bn-money-laundering-case
--------
Pavlovian response: India slams Bilawal for raking up Kashmir at UNSC
May 21, 2022
NEW YORK: The governmentof India hit out at Pakistan foreign minister Bilawal Bhutto Zardari for raising the Kashmir issue in UNSC saying Pakistan's "Pavlovian response" on the revocation of the special status of J&K and the recent delimitation exercise was meant to propagate false propaganda against India. The only contribution Pakistan can make is to stop its support to terrorism, said the government.
"Pakistan's representative made unwarranted remarks, which symbolises nothing but a Pavlovian response aimed to misuse any forum, and every topic, to propagate false and malicious propaganda against my country," counsellor in India's Permanent Mission to UN Rajesh Parihar said, responding to remarks by Bilawal. Bilawal had raised the abrogation of Article 370 and the recent order by the Delimitation Commission during his remarks in a UNSCdebate.
India exercised the Right of Reply at the security council open debate on 'Maintenance of International Peace & Security — Conflict and Food Security' organised by the US, the current council president.
Source: Times Of India
Please click the following URL to read the full text of the original story:
https://timesofindia.indiatimes.com/world/pakistan/pavlovian-response-india-slams-bilawal-for-raking-up-kashmir-at-unsc/articleshow/91700361.cms
--------
Pakistani rupee dips past 200 a dollar, IMF's help uncertain
May 21, 2022
ISLAMABAD: Pakistan's currency plunged past 200 a dollar for the first time ever as a shortage of dollars threatens to spiral into a fullblown crisis. The rupee weakened 0. 08% and closed at 200. 14 a dollar in Karachi Friday, the central bank said on its website. The nation's foreign-exchange reserves now cover less than two months of imports.
Policy makers are in talks with the International Monetary Fund to revive a stalled loan programme. Key conditions would require PM Shehbaz Sharif to raise fuel prices, which risks stoking public anger with inflation already at 13%. Meanwhile ousted PM Imran Khan has threatened to lead protests calling for early elections. The rupee may drop as low as 210 a dollar if the uncertainty isn't resolved, as per Samiullah Tariq, head of research at Pakistan Kuwait InvestmentCo. The nation's benchmark KSE-100 index has declined for past five straight weeks.
Source: Times Of India
Please click the following URL to read the full text of the original story:
https://timesofindia.indiatimes.com/world/pakistan/pakistani-rupee-dips-past-200-a-dollar-imfs-help-uncertain/articleshow/91699959.cms
--------
Pak EC 'de-seats' dissident PTI legislators who voted for PML-N's candidate as Punjab's CM
May 21, 2022
ISLAMABAD: The Election Commission of Pakistan (EC) "de-seated" on Friday 25 lawmakers of former PM Imran Khan's Pakistan Tehreek-e-Insaf (PTI) for defying a party directive and voting for Hamza Shehbaz of Pakistan Muslim League-Nawaz (PML-N) for the Punjab CM's post in April.
The legislators had voted for Hamza in the Punjab CM elections on April 16 and their support gave him a majority with 197 votes, more than the required 186 in a house of 371 members. But Hamza lost his majority after EC "de-seated" the lawmakers—which means they are no longer members of the house and their votes won't count.
The EC's decision has dealt a serious blow to PM Shehbaz Sharif's fragile coalition government that has been struggling against grave financial and political challenges facing the country.
The decision follows a Supreme Court judgment three days ago on a presidential reference seeking interpretation of a defection law. The SC said votes of dissident lawmakers could not be counted in the case of a vote of no confidence.
The EC had reserved its verdict after the completion of arguments on May 17. The reference against the defectors was sent by speaker Pervaiz Elahi of the Punjab assembly after the election in which he was a candidate. But he had boycotted the polls.
Source: Times Of India
Please click the following URL to read the full text of the original story:
https://timesofindia.indiatimes.com/world/pakistan/pak-ec-de-seats-dissident-pti-legislators-who-voted-for-pml-ns-candidate-as-punjabs-cm/articleshow/91696124.cms
--------
Only national govt can steer country out of crisis, say Zardari, Fazl
May 21 2022
ISLAMABAD: PPP Co-chairman Asif Ali Zardari and Jamiat Ulema-e-Islam (JUI-F) chief Maulana Fazlur Rehman said that only a national government could steer the country out of the ongoing crisis "created" by the past government.
During a meeting at the Zardari House on Friday, both the leaders agreed that Pakistan is their first priority, and they would take all steps needed for its betterment in consultation with all member parties of the ruling alliance.
The meeting between the two key leaders of the ruling coalition is important in the backdrop of the ongoing political crisis in the country due to PTI's pressure on the incumbent government to announce snap polls.
According to a statement issued after the meeting, both sides also resolved that all decisions would be made in consultation with the coalition partners and the practice would continue in future also.
The meeting was part of the ongoing consultations between the ruling coalition partners.
On Thursday, Asif Zardari had a meeting with the former prime minister and PML-Q President Chaudhry Shujaat Hussain.
The PPP co-chairman thanked Shujaat for his complete support for the coalition government and also took him into confidence on the current political situation.
Federal ministers Chaudhry Salik Hussain and Tariq Bashir Cheema, belonging to the PML-Q, and party MNA Farrukh Khan were also present.
The meeting was termed important at a time when the coalition government had to take tough decisions in the coming days and consultation was going on to bring all the coalition partners on one page.
Source: Geo TV
Please click the following URL to read the full text of the original story:
https://www.geo.tv/latest/418097-only-national-govt-can-steer-country-out-of-crisis-say-zardari-fazl
--------
Pak Information Minister Aurangzeb takes a dig at PTI, asks ECP to hasten up foreign funding case
21 May, 2022
Islamabad [Pakistan], May 21 (ANI): Pakistan's Information Minister Marriyum Aurangzeb on Friday called out the Election Commission of Pakistan (ECP) to pay heed to the foreign funding case against Pakistan Tehreek-e-Insaf as quickly as it finished the 25 PTI dissidents' case.
The Minister pointed out that the ECP decision on disqualification declarations had been given in a month's time but the foreign-funding case against the PTI had been pending for eight years, she said in a press conference.
In a further statement, she also claimed the ECP decision of de-seating 25 MPAs would not affect the Punjab government and Hamza Shehbaz would continue as the Chief Minister, adding that the Pakistan Muslim League-Nawaz led the Punjab government along with its allies, enjoying the support of 177 members, whereas the PTI's strength in the legislature was 172 now.
Aurangzeb said it was not time for the PTI to celebrate but to mourn as 25 of its members had left the party in protest against the anti-people policies of the Imran Khan regime, The News International reported.
She noted that when the courts were opened at night in the wake of constitutional transgressions by Imran, he and the PTI hurled threats at the judges and the courts and also tried to defame their families.
She said the PTI dissident lawmakers overtly cast their conscience vote. "They knew about the consequences and voted against their party and in favour of the nation," she said.
The Minister claimed that these 25 members have not been de-seated but their action is akin to a slap in Imran's face, adding they have the right to prefer an appeal against the ECP decision.
Since her days as information secretary of PML-N, Marriyum Aurangzeb has accused Imran Khan of introducing dirt and filth into Pakistan's politics.
The foreign funding case is pending since November 14, 2014, and it was filed by PTI founding member Akbar S Babar who had alleged that there are some financial irregularities in the PTI's funding from Pakistan and abroad.
Source: The Print
Please click the following URL to read the full text of the original story:
https://theprint.in/world/pak-information-minister-aurangzeb-takes-a-dig-at-pti-asks-ecp-to-hasten-up-foreign-funding-case/965162/
--------
Cracks emerge between Pakistan's new government, military
20 May, 2022
Islamabad [Pakistan], May 20 (ANI): Having come to power after an intense political drama which saw the first no-confidence motion being successfully carried out in the country, the Shehbaz Sharif led coalition government seems to have developed serious differences with Pakistan's all-powerful military establishment.
If the statements of several leaders of the coalition government, as well as the political experts, are to go by it is evident that the main point of contention is the duration of the incumbent government's tenure, Express Tribune reported.
The stalemate between the government and military establishment is not only becoming visible with every passing day but causing delays in the decision-making process of the government and, thus, affecting the economy and the country itself, the report said.
The uncertainty coupled with former premier Imran Khan's planned rally and sit-in in the capital has also pushed Prime Minister Shehbaz Sharif to repeatedly postpone his address to the nation where he is expected to present his economic plan.
Pakistan Muslim League-Nawaz (PML-N) Vice President Maryam Nawaz, while speaking in Sargodha asked the rally participants should PML-N take the blame for PTI's bad performance and should PML-N stay in government or leave it. "It would be better to say goodbye than take the blame for the poor performance of the previous government," she said.
Another hint about the stalemate between Islamabad and Rawalpindi emerged when Pakistan People's Party (PPP) Khursheed Shah clearly said that the coalition government was ready for the elections and they would be happy if the government was ended. "We would thank you for freeing us in just one month," he reportedly said.
The fear of the establishment 'forcefully' ending the government pushed the coalition partners in the Shehbaz Sharif government to the extent that they even floated the suggestion to summon a meeting of the National Security Committee (NSC) to discuss the issue in detail and reach a decision.
The coalition partners maintained that the current situation was not suitable for stabilising the economy and things would further deteriorate if the caretaker government was tasked with making tough decisions, the report said.
Since its inception, the report said citing political experts, the new Pakistani government has been mulling about deciding the tenure of the government and the timeframe for the next elections but could not reach any decision as they do not have assurance from the military establishment that they would be able to complete a full term.
Source: The Print
Please click the following URL to read the full text of the original story:
https://theprint.in/world/cracks-emerge-between-pakistans-new-government-military/964899/
--------
Southeast Asia
Singapore's Muslim Community Has To Forge Its Own Religious Compass, Says Mufti Nazirudin Mohd Nasir
Tham Yuen-C
MAY 20, 2022
SINGAPORE - The Covid-19 pandemic has shown Singapore's Muslim community that it can and must forge its own religious compass as it charts its way forward, said Mufti Nazirudin Mohd Nasir on Thursday (May 19).
To achieve this, the community will need to be confident in its own religious identity as well as in the leadership of the local Asatizah, or religious teachers, he added.
Dr Nazirudin, who is Singapore's top Islamic leader, was speaking to around 250 Asatizah at the first annual Hari Raya Aidilfitri gathering for them to be held physically since the pandemic hit.
He reminded his audience that they were responsible for the well-being of Singapore's Muslim community.
"Beyond our little red dot, no one else is as vested or interested in our future, not the religious preachers or scholars who live elsewhere and occasionally throw comments or remarks about us," he said.
"Let us strive to strengthen our religious credibility and leadership as we continue to find solutions for our own contexts and challenges. We have done this before, and we will continue to do this."
In his speech at The Chevrons in Jurong East, the mufti thanked the asatizah for keeping the community's religious spirit alive amid Covid-19 restrictions, saying this was possible because of the way they understand and practice their faith in the country's unique context.
He noted that in the pandemic's early days, Singapore had no precedents to follow, whether from religious texts and traditions or the experiences of other Muslim communities.
Religious leaders had to work with experts and find new solutions, and at times take different decisions from other Muslim communities.
While they felt fearful at times, this did not weaken their spirituality, he said, noting that similar decisions were later replicated across the Muslim world.
"It is in these difficult times that we build resilience and find courage to change and adapt, and to stand by our decisions," he said.
Covid-19 could be a dry run for similar situations in the future, he added.
Citing another instance where Singapore had differed from other countries, Dr Nazirudin noted that when Muslims here celebrated Hari Raya Puasa on May 3, a day later than in Malaysia, Indonesia and Brunei, some people had voiced their criticisms online.
They suggested this could lead to disunity among Muslims, when such differences took place in Islamic history, and were recognised as religiously valid.
Dr Nazirudin reiterated that the religious authorities here had relied on astronomical calculations and guidance from the time of Prophet Muhammad in determining the date, as the crescent moon which traditionally marks the start of the new month could not be seen in Singapore on the evening of May 1, unlike in other countries in the region.
Dr Nazirudin said while Singapore uses the criteria agreed upon by MABIMS, an informal gathering of religious ministers of Brunei, Indonesia, Malaysia and Singapore, in determining the sighting of the crescent moon, this "does not, and will never mean that there will be no differences in our conclusions".
"The outcomes may differ based on our unique circumstances," he said.
"But what was alarming was how some were quick to view this difference as a weakness, even an error and misguidance," he added.
"Instead of any sound arguments, the voices which criticised our decision were at best conjectural, and at worst, carried untruths and were ignorant of the basics of falak (astronomy). Most were purely emotive in nature, as has often been the case with many other issues," he said.
Dr Nazirudin acknowledged more had to be done to educate the community and improve its capabilities, skills and expertise as it navigates a more complex world.
His office and the Islamic Religious Council of Singapore will do more, but they need the support and partnership of asatizah, he added.
Ultimately, it is the responsibility of asatizah here to guide the Muslim community, he said, urging them to draw from their experiences during the pandemic to remain open-minded while being confident of their own decisions.
This is especially important, since the Muslim community here, as a minority, is often viewed as being a disadvantage by others, due to the misconceived notion that Islam and Muslims can only thrive in majority contexts, he added.
"On the contrary, I have always believed that our context offers us opportunities to truly live and embody the dynamic values of our faith, when it speaks of peace and cohesion in the context of diversity, when the syariah calls for flexibility and progress, in the context of scientific and technological progress," he said.
Source: Straits Times
Please click the following URL to read the full text of the original story:
https://www.straitstimes.com/singapore/politics/singapores-muslim-community-has-to-forge-its-own-religious-compass-says-mufti
--------
Najib accuses Kit Siang of inciting public after Sri Lanka comparisons
May 19, 2022
PETALING JAYA: Najib Razak has accused DAP stalwart Lim Kit Siang of inciting the public by questioning whether Malaysia will suffer the same fate as Sri Lanka, which was recently plagued by unrest.
The former prime minister also called on police to arrest Lim.
Najib said Lim, who recently quit active politics, should not issue such statements, adding that the latter should enjoy life as a retiree instead.
"Why the need to continue lying and inciting the public? You have been doing it for the past 60 years, are you not satisfied?" he asked in a Facebook post.
Earlier today, Lim expressed concern that Malaysia would become a failed state like Sri Lanka in three to four decades.
The Iskandar Puteri MP also did not rule out the possibility of similar protests like the ones in the republic occurring here.
"Will the houses of the prime minister and ministers of Malaysia be set on fire by angry protestors as happened in Sri Lanka last week?," he wrote in a blog.
Earlier this month, the houses of several lawmakers from Sri Lanka's ruling party were set on fire by anti-government protesters.
Source: Free Malaysia Today
Please click the following URL to read the full text of the original story:
https://www.freemalaysiatoday.com/category/nation/2022/05/19/najib-accuses-kit-siang-of-inciting-public-after-sri-lanka-comparisons/
--------
Supporters of Indonesian preacher denied entry to S'pore stage protests in Jakarta, Medan
Linda Yulisman
JAKARTA - Supporters of Indonesian preacher Abdul Somad Batubara staged protests in Jakarta and Medan, North Sumatra, on Friday (May 20) against Singapore's recent move to deny him entry over his history of extremist teachings.
In Medan, about 250 of the preacher's supporters first gathered at Medan Grand Mosque before marching to the Forum Nine office building, where Singapore's Consulate-General is located.
Several of them held placards that read: "Expel Singapore Ambassador", "Boycott Singapore products", "Singapore Villain's Lair", "Singapore is Malay land, not Chinese property", and "Singapore nasty and disgusting".
The protest was organised by the Alliance of North Sumatra Islamic Mass Organisations, which represents various Islamic groups across the province.
Somad was born in North Sumatra and lives in Pekanbaru, the capital of neighbouring Riau province, where he spends much of his time when not travelling.
In a 45-second video posted on Twitter, a protester could be seen speaking through a loudspeaker and pointed out Somad's popularity beyond Indonesia.
"He is welcome in Malaysia. He is welcome in Brunei. He is welcome in South-east Asia. But, a country named Singapore expels and refuses him without any specific reason. God is great," he shouted to the crowd.
Medan police chief Valentino Alfa Tatareda told The Straits Times on Saturday (May 21) that 900 police officers were deployed to maintain security during the event. "The situation was safe," he said.
He added that representatives of the protesters, along with cleric Hasan Matsum, chief of the Medan chapter of the Indonesia Ulema Council (MUI), managed to meet the Singapore Consul-General in Medan.
In Jakarta, a crowd of around 50 men and women, with some holding banners, held a protest in front of the Singapore Embassy amid heavy rain.
One of their banners read: "Stop Islamophobia. Singapore apologise within 2x24 hours to the Indonesian people. Don't harass our ulama."
Police commander Agung Permana, head of the Setiabudi sub-precinct police station, said on Friday that the organiser, Islamic Union for Ideology Defence (Perisai) got police approval to hold the protest prior to the event.
Between 50 and 100 police officers were deployed to guard the protest, he added.
"There is no traffic diversion because there are not many protesters," he was quoted as saying by Kompas.com.
Singapore denied entry to Somad and six of his travel companions soon after they arrived from Batam on Monday.
On his Instagram account, the preacher posted a photo and a short clip of himself at his holding area in Tanah Merah Ferry Terminal.
In its response to the Indonesian Embassy in Singapore's query on the matter, Singapore's Immigration and Checkpoints Authority said the reason for the refusal was due to Somad "being ineligible for the issue of a pass under current immigration policies."
A spokesman at Singapore's Ministry of Home Affairs said on Tuesday that "Somad has been known to preach extremist and segregationist teachings, which are unacceptable in Singapore's multiracial and multi-religious society".
Although he is one of Indonesia's most widely followed preachers, Somad has also been criticised by Indonesians, including mainstream Muslim leaders, for comments he has made denigrating other faiths. Several of them have also welcomed Singapore's decision to bar him from entering the Republic.
Indonesia's Foreign Ministry spokesman said on Thursday that Indonesia acknowledges the sovereignty of every country to implement its immigration rules and exercise its rights to accept or deny entry to foreigners.
In an interview with Karni Ilyas Club YouTube channel on Wednesday, Somad said he would not be deterred from trying to visit Singapore, as it was Malay land which was connected to his homeland, Riau.
Source: Straits Times
Please click the following URL to read the full text of the original story:
https://www.straitstimes.com/asia/se-asia/supporters-of-indonesian-preacher-denied-entry-to-singapore-stage-protests-in-jakarta-medan
--------
Arab World
Hezbollah, allies hold sway in Lebanon's new parliament, senior official says
20 May 2022
Enemies sought to undermine the political power and popularity of Lebanon's resistance movement Hezbollah in the recent parliamentary elections but they failed as Hezbollah and its allies held sway in the new parliament, a senior official says.
Vice President of the Executive Council of Hezbollah Sheikh Ali Damoush said on Friday that adversaries in this political war were trying to target the political and popular power of Hezbollah and mobilize supporters of resistance against it. He said the enemies favored a minimum voting rate for the resistance.
Damoush said Lebanon's current economic woes are in sync with enemy plots. "Nevertheless, they failed. The result [of the parliamentary elections] was that Hezbollah and its allies retained a presence in the new parliament." The results revealed the turnout in areas populated by resistance supporters was the highest, he said.
He said hundreds of millions of dollars were spent on media and election campaigns to promote figures backed by the United States and Saudi Arabia. Work has also been done, the official added, to tarnish the image of Hezbollah and marginalize it on the political scene.
Damoush said Hezbollah enjoyed the highest popularity in the recent elections and that its representatives won more than 347,000 votes, thousands above the number of votes it had obtained in 2018. He said what mattered most was that the election results displayed the power, stability, and popularity of the resistance against the ill wishes of the enemies.
Damoush said Hezbollah is satisfied with the election results. The priority of the new parliament and all the political parties, he added, must be to address the people's issues. The new legislature needs to stay away from hollow slogans.
Hezbollah's Secretary-General Sayyed Hassan Nasrallah said on Wednesday that the resistance achieved a "great victory" in the elections.
Source: Press TV
Please click the following URL to read the full text of the original story:
https://www.presstv.ir/Detail/2022/05/20/682443/Hezbollah-Lebanon-Sheikh-Ali-Damoush-parliamentary-elections-resistance-economic-pressure
--------
Peace, Taiz in focus as Saudi deputy defence minister meets US special envoy to Yemen
21 May ,2022
Saudi Arabia's Deputy Minister of Defense Prince Khalid Bin Salman met with US Special Envoy to Yemen Tim Lenderking to discuss the latest developments in the Taiz conflict, the Yemen war and the need for UN-backed peace proposals, among other bilateral issues, a tweet from the Saudi minister on Saturday said.
"I affirmed to him the Saudi led Coalition's backing of the Yemeni Presidential Leadership Council and its supporting entities, and our aspirations for reaching a comprehensive political resolution to the crisis that will lead Yemen into peace and prosperity," he said.
For all the latest headlines follow our Google News channel online or via the app.
He also "reaffirmed the need for the United Nations and the international community to pressure the Houthis into reopening the roads of Taiz, deposit revenues of the Hodeidah port, and engage with peace proposals," according to the same tweet.
US Special Envoy for Yemen Hans Grundberg had earlier said separate talks would be held to open roads in disputed Taiz region, but no progress has yet been reported.
A Yemeni minister recently said the Iran-backed Houthi militia is undermining efforts to reach complete peace by violating the agreed-upon ceasefire terms, according to an official Saudi Press Agency report citing the Yemeni state-run news agency.
The claim was made by the Yemeni Minister of Information, Culture and Tourism, Moammar al-Eryani, who said that the militia continues to "avoid its commitment to lift the seize on Taiz governate."
A two-month truce between the Arab Coalition and the Iran-backed Houthi militia that runs the north went into effect on April 2, coinciding with the holy month of Ramadan, and has largely held up.
Prince Khalid Bin Salman arrived in Washington on Tuesday and has met with senior defense and state department officials.
The Saudi minister met with the US National Security Advisor Jake Sullivan who reaffirmed President Joe Biden's commitment to "help Saudi Arabia defend its territory". Sullivan also underscored the longstanding partnership between the two nations.
The senior Saudi official also met with US Secretary of Defense Lloyd Austin where they discussed the strategic relations between the two countries, in addition to reviewing the Saudi-US partnership and aspects of strategic cooperation in the existing and future defense and military fields.
Prince Khalid also headed the Saudi side in the meeting of the Joint Strategic Planning Committee between the Ministries of Defense in the Kingdom of Saudi Arabia and the United States of America as the Under Secretary of Defense for Policy Dr. Colin H. Kahl headed the US side.
During the meeting, the latest developments and the rapid regional and international changes were discussed, in addition to discussing many issues and files as part of the two countries' vision to defend common interests and maintain international peace and security.
The two officials also spoke about the US approach to China "as its pacing challenge." They also touched on the war in Yemen, maritime threats, and violent extremist organizations.
Iran's destabilizing actions in the region were also a topic of discussion. The pair agreed to increase cooperation and work to counter the smuggling of illicit weapons to violent non-state groups in the Middle East.
Source: Al Arabiya
Please click the following URL to read the full text of the original story:
https://english.alarabiya.net/News/middle-east/2022/05/21/Peace-Taiz-in-focus-as-Saudi-deputy-defense-minister-meets-US-special-envoy-to-Yemen
--------
Syria intercepts Israeli missile attack: State media
20 May ,2022
Syrian air defenses intercepted Israeli missile strikes near Damascus, state media reported on Friday.
"Our air defenses stopped a number of hostile missiles in the airspace of the southern countryside of Damascus," Syria's official news agency SANA said.
AFP correspondents in the Syrian capital said they heard very loud noises in the evening.
The Syrian Observatory for Human Rights war monitor said that the target of the Israeli strikes were Iranian bases near Damascus.
The latest strike follows one on May 14 that killed five soldiers and another one on April 27 which, according to the Observatory, killed 10 combatants, among them six Syrian soldiers, in the deadliest such raid since the start of 2022.
Since civil war broke out in Syria in 2011, Israel has carried out hundreds of air strikes there, targeting government positions as well as bases and weapon depots for allied Iran-backed forces and fighters of Lebanon's Shia militant group Hezbollah.
While Israel rarely comments on individual strikes, it has acknowledged mounting hundreds of them.
The Israeli military has defended them as necessary to prevent its arch-foe Iran from gaining a foothold on its doorstep.
Source: Al Arabiya
Please click the following URL to read the full text of the original story:
https://english.alarabiya.net/News/middle-east/2022/05/21/Syria-intercepts-Israeli-missile-attack-State-media
--------
State Department calls on Lebanese leaders to work with 'urgency' to rescue economy
20 May ,2022
The US called on Lebanese officials to quickly form a government after last weekend's elections led to Hezbollah and its allies losing a parliamentary majority.
"As Lebanon looks ahead, we urge those elected and the country's political leaders to heed the Lebanese people's call for change and to work seriously, and with urgency, to take the necessary actions to rescue the economy," State Department Spokesman Ned Price said.
Price said the US was urging the swift formation of a new government able to carry out the "hard work required to restore the confidence of the Lebanese people and the international community."
Washington also commended the Lebanese Armed Forces and Internal Security Forces for their role in ensuring the elections were held without any major security incidents.
Videos purported to show Hezbollah supporters swapping vote ballots or ripping up others while its supporters ransacked voting booths in Baalbek.
Supporters of other candidates also were seen allegedly bribing voters with cash.
"We share the concerns raised by our partners in the international community of allegations of vote-buying, clientelism, and reports of intimidation," Price said.
Several new faces, including members of the civil society, broke into the ranks for the first time.
The first primary task in front of the new parliament will be to elect a speaker ahead of October's presidential election.
The World Bank has said that Lebanon's financial crisis is one of the worst the world has seen in over 150 years.
Source: Al Arabiya
Please click the following URL to read the full text of the original story:
https://english.alarabiya.net/News/middle-east/2022/05/20/State-Department-calls-on-Lebanese-leaders-to-work-with-urgency-to-rescue-economy
--------
Syria lambasts Turkey's Erdogan plan to return million refugees
20 May ,2022
Syrian authorities on Friday rejected plans by Turkey to return one million Syrian refugees to a "safe zone" on the border, state media reported.
Turkish President Recep Tayyip Erdogan in early May said Ankara was aiming to encourage one million Syrian refugees to return to their country by building them housing and local infrastructure there.
Turkey is today home to more than 3.6 million Syrian refugees, who fled after a civil war broke out in 2011 in Turkey's southern neighbor.
Erdogan's "cheap statements" reveal his regime's "aggressive games against Syria and the unity of its land and people," the Syrian Ministry of Foreign Affairs said in a statement on the official news agency SANA.
Erdogan is facing rising public anger over the refugees' presence and is wary of the issue dominating elections next year.
He said around 500,000 Syrians have returned to "safe zones" on the Turkey-Syria border since 2016.
These are controlled by Ankara-backed groups. The areas are designed to keep Syrians displaced by war from crossing into Turkish territory, and to allow it to send back others who already did.
"The government of the Syrian Arab Republic absolutely rejects such games," the ministry said, calling on countries not to finance the Turkish projects and to stop supporting Ankara.
"The main objective is colonialism... The so-called safe zone is in fact ethnic cleansing," the ministry said.
Ankara has periodically carried out military strikes on a Kurdish-administered zone in northeastern Syria, where groups it considers terrorists are based.
Source: Al Arabiya
Please click the following URL to read the full text of the original story:
https://english.alarabiya.net/News/middle-east/2022/05/20/Syria-lambasts-Turkey-s-Erdogan-plan-to-return-million-refugees-
--------
Lebanon recovery plan includes central bank debt write-off, haircuts to depositors
20 May ,2022
Lebanon's government foresees canceling "a large part" of the Central Bank's foreign currency obligations to commercial banks and dissolving non-viable banks by November, according to a financial recovery plan passed by the cabinet on Friday.
The document, seen by Reuters and verified as accurate by a minister, was passed by cabinet in its final session hours before losing decision-making powers, following the election of a new parliament on May 15.
It includes several measures that are prerequisites to unlock funds from a preliminary deal with the International Monetary Fund agreed in April that could help pull the country out of a three-year financial meltdown.
The plan foresees a full audit of the Central Bank's forex financial standing by July. Then, the government "will cancel, at the outset, a large part of the Central Bank's foreign currency obligations to banks in order to reduce the deficit in BDL's capital," the document said.
The largest 14 commercial banks, representing 83 percent of total assets, would also be audited. Viable banks would be recapitalized with "significant contributions" from bank shareholders and large depositors.
The plan said it would protect small depositors "to the maximum extent possible" in each viable bank, but did not lay out a minimum amount to be protected - unlike draft plans.
Non-viable banks, however, would be dissolved by the end of November, it added.
It also said the government would unify the official exchange rate, ending a system in which the government offered various exchange rates for different operations.
Lebanon's local currency has lost more than 90 percent of its value since its economic decline began in 2019.
In April 2020, Lebanon's cabinet endorsed a recovery plan that was then torpedoed by powerful political parties, the Central Bank, and commercial banks, who disputed the distribution of losses.
This April, the Association of the Banks in Lebanon (ABL) rejected a draft government recovery plan that it said would leave banks and depositors shouldering the "major portion" of a government-estimated $72 billion hole in the financial sector.
A spokesman for the association said it "did not meet yet to discuss the decision of the government, therefore ABL still endorses its last statement in this regard."
Source: Al Arabiya
Please click the following URL to read the full text of the original story:
https://english.alarabiya.net/News/middle-east/2022/05/20/Lebanon-cabinet-passes-financial-recovery-plan-Reuters
--------
Amnesty urges Yemen's Houthis to free journalists on death row
20 May ,2022
Amnesty International has urged Yemen's Iran-backed Houthi militia to free four journalists facing the death penalty for "espionage" in the war-torn country, ahead of an appeal court hearing on Sunday.
The four, Abdul Khaleq Amran, Tawfiq al-Mansouri, Harith Hamid and Akram al-Walidi were arrested in June 2015 in Yemen's capital Sanaa which is under the control of the Houthis.
"Yemen's Houthi de facto authorities must quash the death sentences and order the immediate release of four Yemeni journalists who are facing execution following a grossly unfair trial," the rights group said in a statement on Friday.
The Iran-backed Houthis seized Sanaa from the internationally recognized government in 2014.
In April 2020, a Houthi court sentenced the four journalists to death on charges of "treason and spying for foreign states."
"This has been a sham of a trial since the beginning and has borne a terrible toll on the men and their families," said Amnesty's Middle East and North Africa deputy director Lynn Maalouf, according to the statement.
One of the detained men, Mansouri, is in a "critical health condition" with heart and other ailments, Amnesty said.
"Pending their overdue release, the journalists must be provided with urgent medical care - the denial of medical treatment for the seriously ill is an act of cruelty which amounts to torture and other ill-treatment," the statement said.
At the time of their trial, Amnesty criticized their sentencing on "trumped-up charges," while Reporters Without Borders called the verdict "totally unacceptable."
Their arrest was motivated by their reporting on "human rights violations committed by Houthi forces," the International Federation of Journalists and the Yemeni Journalists' Syndicate have said.
Source: Al Arabiya
Please click the following URL to read the full text of the original story:
https://english.alarabiya.net/News/gulf/2022/05/20/Amnesty-urges-Yemen-s-Houthis-to-free-journalists-on-death-row
--------
Mideast
Over 50 Democrat lawmakers ask for FBI probe into Shireen Abu Akleh's killing
21 May ,2022
A group of 57 Democrat lawmakers penned a letter to FBI Director Christopher Wray and Secretary of State Antony Blinken on Friday requesting an American-led investigation into the killing of Palestinian-American journalist Shireen Abu Akleh.
"We request the State Department and the Federal Bureau of Investigation (FBI) launch an investigation into the death of Ms. Abu Akleh," the group of lawmakers wrote.
Abu Akleh was shot and killed last week while she was covering an Israeli military raid in the occupied West Bank. Israeli initially blamed Palestinian gunmen for her death but later backtracked and said they would investigate where the bullet came from.
But Palestine has refused to hand over the bullet, calling for an international investigation.
"The Israeli military claimed that the victims were caught between gunfire between Palestinian militants and Israeli Defense Forces. However, media and eyewitnesses had conflicting reports," the US lawmakers wrote on Friday.
They welcomed the statements and actions taken by the Biden administration, which have condemned Abu Akleh's death and called for an investigation. But the Biden administration has said that Israel was capable of carrying out a thorough investigation on its own.
"However, given the tenuous situation in the region and the conflicting reports surrounding the death of Ms. Abu Akleh, we request the State Department and the Federal Bureau of Investigation (FBI) launch an investigation into Ms. Abu Akleh's death," the lawmakers wrote.
They also called on the State Department to determine whether any US laws protecting Abu Akleh, an American citizen, were violated. "As an American, Ms. Abu Akleh was entitled to the full protections afforded to US citizens living abroad," they said.
"We have a duty to protect Americans reporting abroad," read the letter co-led by Congressmen Andre Carson, Bill Pascrell and Lou Correa.
Israeli forces were also criticized for their violence during Abu Akleh's funeral procession.
While her casket was being carried, hundreds of Palestinians were seen hoisting the Palestinian flag and chanting. Shortly after, Israeli forces rushed at the mourners, attacking them with batons, including the pallbearers and leading to the coffin dropping.
Source: Al Arabiya
Please click the following URL to read the full text of the original story:
https://english.alarabiya.net/News/middle-east/2022/05/21/Over-50-Democrat-lawmakers-ask-for-FBI-probe-into-Shireen-Abu-Akleh-s-killing
--------
US setting up military bases in eastern Yemen cashing in on UN-brokered truce, says Houthi
20 May 2022
The leader of Yemen's popular Ansarullah resistance movement says the United States, with the help of its allied Takfiri militant groups, is building several military bases in the country's eastern provinces of Hadhramaut and al-Mahrah as well as on the Red Sea coast.
Addressing a delegation of tribal leaders from the western Yemeni province of Ibb on Thursday evening, Abdul-Malik al-Houthi said Washington is setting up military installations in eastern Yemen and the country's southern coastal city of Aden.
He asserted that the Yemeni nation cannot accept Washington's diktats, warning that the enemies are hell-bent on sowing the seeds of discord and division among people by hook or by crook.
"We must work for security and social stability in Ibb province through compromise and cooperation among local authorities," the top Yemeni resistance leader told the delegation.
He said the "enemies" have begun to mobilize military reinforcements by taking advantage of the UN-brokered ceasefire, which clearly shows their orientation towards the next stage of the war, and bears testimony to their failure in the previous phase.
"Enemies, having become fairly frustrated with attempts to impose their diktats through ousted Yemeni president Abdrabbuh Mansur Hadi, have decided to remove him in a humiliating matter," Houthi said.
"They brought a bunch of criminals, traitors, and thieves to power, and declared them as the leaders of the Yemeni nation. They are actually the picks of outsiders, not Yemenis."
The leader of the Ansarullah movement further asserted that the Yemeni nation will never accept being under the ominous specter of the United States.
"It is the traitors and mercenaries who would like to prove their servitude to Saudi or Emirati officers," he said, calling for an immediate end to foreign domination of the Arab country.
Normalization deals with Israel
In other remarks, Houthi pointed to the controversial normalization agreements between the Israeli regime and some Arab countries, describing the process as an opening for the Tel Aviv regime to flex its clout in the Middle East region.
"The parties displaying animosity and military aggression against our nation are the ones that are pushing for the normalization of ties with the Israeli enemy. The enemies' main goal is to shatter the Yemeni nation's unity and solidarity, and easily dominate it," the Ansarullah leader said.
"Yemeni people will continue to tread the path of independence and freedom, and will prevent foreigners from interfering in their domestic affairs."
Saudi Arabia launched the devastating war on Yemen in March 2015 in collaboration with its Arab allies and with arms and logistics support from the US and other Western states.
The objective was to reinstall the Riyadh-friendly regime of Abd Rabbuh Mansur Hadi and crush the Ansarullah resistance movement, which has been running state affairs in the absence of a functional government in Yemen.
Source: Press TV
Please click the following URL to read the full text of the original story:
https://www.presstv.ir/Detail/2022/05/20/682409/US-setting-up-military-bases-in-eastern-Yemen-through-its-mercenaries%E2%80%99-assistance--Houthi
--------
Turkey overcame 'family disputes' with Saudi Arabia, UAE: Erdogan
20 May 202
Turkish President Recep Tayyip Erdogan says his country's differences with Saudi Arabia and the United Arab Emirates (UAE) have been overcome, describing the disputes as ones "within the same family."
Erdogan made the remarks during an event on the occasion of Youth and Sports Day and the commemoration of the founder of the Turkish Republic, Mustafa Kemal Ataturk, at the presidential complex in the capital, Ankara, on Thursday.
"We have overcome the differences with Riyadh and Abu Dhabi, and we have drawn up plans for the rapid development of bilateral relations in the fields of trade, industry, defense industries, culture and tourism, and we are taking steps to do so," he said.
Erdogan went on to say that Turkey has a lot in common with Saudi Arabia and the UAE, expressing certainty that the path started by Ankara towards the two countries will make very important contributions, both at the commercial and political levels.
The Turkish president further referred to his recent visit to Abu Dhabi to offer his condolences on the death of the late President of the UAE, Sheikh Khalifa bin Zayed, following nearly a decade of strained relations due to regional disputes.
He said relations with Saudi Arabia are also "moving in a more positive direction," while announcing that Ankara will cooperate with the two countries in the field of defense industry.
Erdogan visited Saudi Arabia last month to mend fences between Ankara and Riyadh.
Ties between Ankara and Riyadh took a nosedive in 2018 after dissident journalist Jamal Khashoggi was killed and dismembered inside Saudi Arabia's consulate in the Turkish city of Istanbul in October 2018.
Saudi Arabia initially issued conflicting stories about Khashoggi's disappearance, but eventually claimed that the Washington Post columnist had been killed in a "rogue" operation.
However, Turkish officials released an audio recording of Khashoggi's killing that they said contained evidence that Khashoggi had been assassinated on the orders of Saudi Crown Prince Mohammed bin Salman (MBS).
The high-profile targeted killing has affected Riyadh's relations with a number of countries, but those relations are being restored with the subsiding of the global outrage sparked by the gruesome murder.
Biden may meet MBS as early as June
A new report has revealed that US President Joe Biden may meet in person with the Saudi crown prince, also known as the kingdom's de facto ruler, as early as next month.
CNN, citing multiple officials, reported on Thursday that Biden administration officials are currently in talks with their Saudi counterparts about a potential meeting between the two leaders while the US president is overseas next month.
"You should count on something like this happening, it just comes down to when, not if," said a former US official familiar with the issue, adding, "Because of our multiple shared national security interests, [a meeting] is a good thing."
A meeting between Biden and bin Salman would likely coincide with a Persian Gulf Cooperation Council (GCC) summit in Riyadh, the sources added.
The potential meeting would come after months of turbulent relations and multiple attempts at rapprochement by the White House.
It would also mark a turning point for Biden, whose administration declared last year that it sought to "re-calibrate" its relations with Saudi Arabia, and refused to arrange a call between Biden and MBS.
Under that decision, the White House explained, Biden's counterpart is King Salman, not his son, and Mohammed bin Salman was told to communicate with Defense Secretary Lloyd J. Austin III.
Similar to its relations with Ankara, Riaydh's once intimate relationship with Washinton turned sour after the Biden administration published an assessment by US intelligence agencies that concluded MBS personally ordered the killing.
Source: Press TV
Please click the following URL to read the full text of the original story:
https://www.presstv.ir/Detail/2022/05/20/682436/Turkey-overcame-differences-Saudi-Arabia-UAE-Erdogan
--------
Hezbollah Chief: Palestinians No Longer Wait For Arab Regimes To Come To Their Rescue
20 May 2022
The secretary-general of the Hezbollah resistance movement says the Palestinian people will no longer wait for Arab regimes to come to their help as they have chosen the path of resistance against the occupying Israeli regime.
Arab regimes are unable to protect their own nations, let alone defend the Palestinian cause, Sayyed Hassan Nasrallah said in remarks on Friday.
The Hezbollah chief was commemorating the 6th anniversary of the martyrdom of Sayyed Mustafa Badr al-Deen, a military leader of Hezbollah and an advisor to Nasrallah himself.
He said Badr al-Deen used to fight against the "global arrogance" led by the United States and the Israeli regime.
Badr al-Deen's generation did not wait for any Arab, Islamic, or international decisions to start their resistance, he stated.
According to Nasrallah, the Palestinian people too will no longer wait for Arab regimes, the Arab League, or the United Nations to come to their help in the fight against the Israeli occupation.
He said the Nakba Day, when the Israeli regime was created, was not only a catastrophe for Palestine but for all the Arab nations in the region, adding that the Arab world failed to defend Palestine even when it was strong and united.
Nakba Day, held each year on May 15, marks the dispossession and expulsion of Palestinians from their ancestral land prior to the creation of the Israeli regime in 1948.
During that year, eighty-five percent of the Palestinian people were forcibly displaced from their homeland and over 500 villages were destroyed in order to establish the Israeli regime.
Despite the pain and suffering inflicted by Israel upon the Palestinian people since the regime's formation, some Arab countries began in 2020 to normalize their relations with Tel Aviv, in moves deemed by Palestinians as a betrayal of their cause.
Nasrallah: Elections over; time to heal
Elsewhere in his Friday remarks, Nasrallah said what protects Lebanon is its people and their resistance.
"Let no one have the illusion that the Arab world can protect Lebanon."
He said the Lebanese resistance movement will continue the struggle relentlessly and it will never give up its arms.
"The resistance has contributed to protecting Lebanon's domestic security, especially in the dismantling of Israeli spy networks," he said.
The Hezbollah chief stated that the impending challenge in Lebanon is the economic and social crisis, as well as the bread, medicine, and electricity crises, "not the weapons of the resistance."
On the recent Lebanese parliamentary elections, Nasrallah said the elections are over and now is the time for cooperation to resolve the country's problems.
"Let the parliamentary blocs head to parliament to continue the building of the state and the approval of laws and we might agree with you," he added.
In remarks late on Wednesday, Nasrallah said the large turnout and the outcome of the election conveyed a message of people's adherence and commitment to the resistance, noting that the resistance achieved "great victory" in the election.
He also said there was no single bloc in the parliament that could claim the majority in elections.
Source: Press TV
Please click the following URL to read the full text of the original story:
https://www.presstv.ir/Detail/2022/05/20/682433/Nasrallah-Palestinians-dont-wait-Arab-regimes-help
--------
Iranian priest: Islamic Republic's approach towards religious minorities admirable
May 20, 2022
Priest Dayavush Azizian who was speaking in a meeting by people of different walks of life of West Azarbaijan province with President Ebrahim Raisi said that the Iranian Christians thank God for this blessing, which is one of the beauties of Iran.
He added that the various Iranian tribes and followers of different monotheist religions in West Azarbaijan province have dedicated many martyrs to their country during the years of the sacred defense against the former Iraqi dictator Saddam Hussein, but the Christians have dedicated more martyrs compared with other minorities.
"I, as a representative of the small society of Assyrian Christians, all the same ask for the government's more particular approach for preservation of the cultures and traditions of the country's minorities and their wellbeing," he added.
He stressed that the Iranian Christians, too, like to preserve their culture, their traditions and their language.
Source: Irna
Please click the following URL to read the full text of the original story:
https://en.irna.ir/news/84761082/Iranian-priest-Islamic-Republic-s-approach-towards-religious
--------
Palestinian teen shot in Israeli raid in occupied West Bank
21 May, 2022
Israeli troops shot and killed a teenage Palestinian boy as clashes erupted when they entered a volatile town in the occupied West Bank early Saturday, the Palestinian health ministry and local media said.
There was no immediate comment from the Israeli military, which has intensified overnight raids in the northern West Bank town of Jenin in recent months.
The ministry identified the dead teen as Amjad al-Fayyed, 17. It said an 18-year-old Palestinian was in critical condition after being wounded by Israeli gunfire.
Local media reported that clashes erupted outside Jenin's refugee camp when Israeli forces stormed the area. It was not immediately clear how al-Fayyed was shot.
Israel says it carries out "counterterrorism activities" to detain wanted militants and planners of recent deadly attacks in the West Bank and Israel.
On May 11, a veteran Palestinian journalist for the al-Jazeera satellite channel was killed while covering an Israeli military operation in Jenin.
Shireen Abu Akleh's family, the broadcaster, the Palestinian Authority and witnesses accused Israel of shooting the correspondent for the Qatari channel.
Israel accused Palestinian militants of firing at the journalist but backtracked later.
Source: Al Arabiya
Please click the following URL to read the full text of the original story:
https://english.alarabiya.net/News/middle-east/2022/05/21/Palestinian-teen-shot-in-Israeli-raid-in-occupied-West-Bank
--------
Israeli gov't determined to stay in power amid legislator's exit, says co-chair
Abdelraouf Arna'out
20.05.2022
JERUSALEM
Israel's ruling coalition does not intend to surrender despite recently becoming a minority government, its foreign minister and alternate premier declared on Friday.
Striking an assertive tone, Yair Lapid tweeted that it was still too early to "mourn" the government's dissolution, admitting, however, that it was in a shaky situation after left-wing lawmaker Ghaida Rinawie Zoabi exited the coalition on Thursday over its harassment of Palestinians.
Lapid underlined that the there was no intention for the government to surrender and give former Prime Minister Benjamin Netanyahu, currently heading the opposition, the chance to "destroy the country."
Along with sitting Prime Minister Naftali Bennett, Lapid is co-chairing the government, which was established under a rotation agreement in June 2021 that would see the foreign minister assume the premiership from August 2023 until November 2025.
He said efforts were ongoing to persuade Zoabi, an Arab lawmaker from the leftist Meretz Party, to reverse her decision. According to the official Public Broadcasting Corporation network (KAN), however, she is insistent on her position.
Netanyahu's right-wing Likud Party already announced plans to bring a no-confidence motion to parliament next Wednesday.
For the motion to pass, it will need four rounds of voting, a procedure that might take weeks, after which the parliament will be dissolved and Israelis will go to elections for the fifth time in three years.
Source: Anadolu Agency
Please click the following URL to read the full text of the original story:
https://www.aa.com.tr/en/middle-east/israeli-govt-determined-to-stay-in-power-amid-legislators-exit-says-co-chair/2593303
--------
Africa
Tunisia's President Saied excludes parties from preparing new constitution
20 May, 2022
Tunisian President Kais Saied named a law professor to head an advisory committee to draft a new constitution for a "new republic," the presidency said on Friday, excluding political parties from restructuring the political system.
Saied has consolidated his one-man rule since seizing executive power last summer and dissolving the parliament to rule by decree in moves his foes call a coup.
He has since said he will replace the democratic 2014 constitution with a new constitution via a referendum on July 25 and have new parliamentary elections in December.
The committee headed by law professor Sadok Belaid consists of deans of Law and Political Sciences. It must submit its report on June 20 to the president, the official gazette said.
In parallel, another committee was established, comprising six national organizations, including the powerful UGTT Labour Union, to submit proposals for reforms. This committee also does not include any political party.
In the first reaction to the president's appointment of an advisory body to prepare a new constitution and propose economic and political reforms, the UGTT said it rejects the proposals.
Saied's opponents accuse him of trying to consolidate one man rule and his actions have been criticized abroad too. He rejects the accusations and says he is not a dictator and wants to change Tunisia after "a decade of ruin."
Western countries have urged a dialogue in which unions, political parties and civil society participate to return Tunisia to a democratic path to help it financially as the country suffers its worst financial crisis.
Saied's consolidation of power has accelerated this year - he replaced the top judicial body and threatened to restrict civil society groups, giving the 64-year-old almost total control.
Source: Al Arabiya
Please click the following URL to read the full text of the original story:
https://english.alarabiya.net/News/north-africa/2022/05/20/Tunisia-s-president-names-law-professor-to-head-committee-to-draft-a-new-constitution
--------
Sudan's ruling junta frees detained anti-coup figures: Party
20 May, 2022
Sudanese authorities released on Friday two anti-coup figures from the Communist Party a day after their arrest, the party said.
The military's October takeover in Sudan has sparked nationwide demonstrations which sparked a crackdown that has killed at least 95 protesters and wounded hundreds, medics say.
Hundreds have also been arrested after rallies calling for civilian rule in the northeast African nation.
On Thursday during protests mainly in the capital Khartoum, authorities arrested the Communist Party's political secretary Mohammed Mukhtar al-Khatib and another member.
They were detained after meeting rebel leader Abdel Wahid Nour who has refused to sign a landmark 2020 peace deal with the Sudanese government, the party said.
The pair were released on Friday, it said.
Army chief Abdel Fattah al-Burhan, who led the coup, pledged in April to release political detainees to set the state for talks among Sudanese factions.
Last year's military power grab has sparked international condemnation.
Source: Al Arabiya
Please click the following URL to read the full text of the original story:
https://english.alarabiya.net/News/middle-east/2022/05/20/Sudan-s-ruling-junta-frees-detained-anti-coup-figures-Party-
--------
Three migrants' dead, 10 missing as boat capsizes off Tunisia
20 May, 2022
Three people were found dead and another 10 went missing after their boat capsized off Tunisia during an attempt to reach Europe, the country's coast guard said Friday.
"Forty-four people were rescued and 10 are still missing, and we found three bodies," said Houssem Eddine Jebabli, spokesman for the National Guard of which the coast guard forms part.
The migrants, all Tunisians, had set off on Thursday from the coastal region of Sfax with the aim of reaching Italy, he said.
Improving weather in recent weeks has prompted a spike in such attempts.
Tunisian authorities said last Saturday they had rescued 80 men and a woman after they had set out from the Libyan coast.
Both Tunisia and Libya have seen a surge in attempts to reach European shores on the world's deadliest migration route.
The countries are launchpads for such attempts by people fleeing violence and poverty in African nations further south, as well as by growing numbers of their own citizens who attempt the journey due to a long economic crisis in Tunisia and a protracted civil war in Libya.
Many end up in Italy, but many others die or are rescued at sea when their often unseaworthy boats capsize or break down.
In 2021, over 15,000 people reached Italy from Tunisian shores, compared with just under 13,000 the previous year, according to the Tunisian Forum for Economic and Social Rights NGO.
Source: Al Arabiya
Please click the following URL to read the full text of the original story:
https://english.alarabiya.net/News/north-africa/2022/05/20/Three-migrants-dead-10-missing-as-boat-capsizes-off-Tunisia
--------
US must not harm civilians, repeat past violations in new Somalia mission: Rights group
Andrew Wasike
20.05.2022
NAIROBI, Kenya
As the US moves to redeploy hundreds of troops to Somalia, it makes efforts to minimize civilian harm, ensure justice for abuses and focus on civilian protection as a priority, Human Rights Watch (HRW) said on Friday.
"Previous US military operations in Somalia resulted in the loss of life and property to Somali civilians that the US neither recognized nor provided with redress," the rights group said in a report.
Washington has been involved in military operations against al-Shabaab, an al-Qaeda-affiliated terrorist group, in Somalia since at least 2007, with US airstrikes increasing significantly in 2017.
However, in the last month of his presidency, former President Donald Trump ordered approximately 700 American troops out of the East African country.
In a major policy reversal conducted at the Pentagon's request, his successor Joe Biden approved the redeployment "to enable a more effective fight against al-Shabaab, which has increased in strength and poses a heightened threat," according to the White House.
The troops that will be sent to Somalia will come from current deployments in the region, and will have conducted what the White House called "episodic" missions in the country following Trump's January 2021 withdrawal.
Laetitia Bader, Horn of Africa director at HRW, said US officials must be "very clear on how their forces will avoid harming Somali civilians during military operations."
"They will need to work closely with Somali and African Union authorities to avoid repeating past laws of war violations and promptly and appropriately respond to civilian loss," she stressed.
Culture of impunity for civilian loss
HRW pointed out that "considerable loss of civilian life in US airstrikes and during joint operations, including attacks that were apparent violations of the laws of war" has been documented.
During the previous deployment, the US military "denied many incidents of civilian harm," the report said.
The rights group said it recorded two US airstrikes in February and March 2020 "that killed seven civilians in apparent violation of the laws of war."
"While the US Africa Command (AFRICOM) acknowledged responsibility for the Feb. 2 incident, which killed a woman and injured her two sisters, both children, and her grandmother, none of them received compensation," the report said.
HRW urged the US military to "correct course and ensure that it takes all civilian harm allegations seriously, and credibly investigates them."
"A culture of impunity for civilian loss breeds resentment and mistrust among the population and undermines efforts to build a more rights-respecting state," Bader said.
Source: Anadolu Agency
Please click the following URL to read the full text of the original story:
https://www.aa.com.tr/en/africa/us-must-not-harm-civilians-repeat-past-violations-in-new-somalia-mission-rights-group/2593346
--------
URL: https://newageislam.com/islamic-world-news/clerics-islamic-scholars-deoband-gyanvapi-ucc/d/127058
New Age Islam Islam Online, Islamic Website, African Muslim News, Arab World News, South Asia News, Indian Muslim News, World Muslim News, Women in Islam, Islamic Feminism, Arab Women, Women In Arab, Islamophobia in America, Muslim Women in West, Islam Women and Feminism