New Age Islam News Bureau
01 November 2021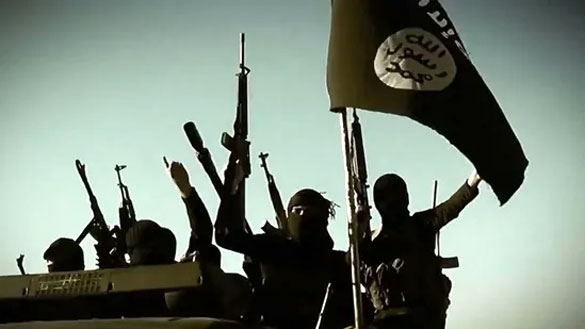 ISIS-K said that it has the ability to wreak havoc on the state of Afghanistan despite being outnumbered by the Taliban. (Representational Image / AFP)
------
• Bangladeshi Islamic Party Wants To Peacefully Co-Exist With His Indian Neighbours; Concerned About Attacks on Muslims in India
• Breaking the Language Barrier Ten Hindu Candidates Selected As Urdu Teacher, Two Muslims to Teach Sanskrit In UP Govt Schools
• Left Behind After US Withdrawal, Some Former Afghan Spies and Soldiers Turn To Islamic State
• Explain Difference between Halal and Pork-Free Eateries, Says PAS Man
Pakistan
• Saudi Arabia's uplift plan offers opportunities to Pakistan: PM
• Pak economy hit by Rs 35 billion loss due to TLP protests
• Trust factor evaporates between Imran Khan, Pakistan Army
• Mufti Muneeb terms govt-TLP agreement victory of Islam, Pakistan
• 'Media continues to face attacks, curbs on free expression'
• Two killed in blast targeting FC troops in Panjgur
--------
South Asia
• Starving Families in Afghanistan Hindu Kush Province Sell Their Children to Survive
• Former Afghan security members joining ISIS-K to fight Taliban
• Taliban's top leader Akhundzada makes rare public appearance in Kandahar
• India warns of airstrike if Taliban move towards them
--------
India
• NIA arrests two more accused in militant conspiracy case
• Territorial ambitions of China and Pakistan require India's armed forces to remain alert round the year: CDS
-----
North America
• Ghani pledged to fight till death but fled, says Blinken
• US in talks with allies on getting Iran to agree to nuclear deal: Blinken
• Erdogan, Biden to meet in Rome on Sunday: US official
--------
Southeast Asia
• Too Much Money For Religious Authorities, Say Critics
--------
Arab World
• World Muslim Communities Council Announces International Conference 'Islamic Unity: Concept, Opportunities, and Challenges'
• Why Virginia's Upcoming Election Is Important For Arabs and Muslims
• Saudi Arabia deposits $3 billion in Egypt's central bank
• Saudi FM: No crisis with Lebanon, but rather crisis in Lebanon due to Iran's proxies
• UAE instructs citizens in Lebanon to return home amid ongoing crisis
• Lebanon's Maronite Christian Patriarch urges Aoun, Mikati to defuse crisis with Gulf
• First-ever Jewish 'dating app' launches in Gulf
• US urges diplomatic channels to remain open after Lebanon-Gulf crisis
• Allies in the air: Saudi jets escort US bomber
--------
Mideast
• Iran Urges Full Elimination of N. Weapons in World
• Israel's army launches week-long simulation of full-scale war with Hezbollah
• Israel closes Ibrahimi Mosque to Muslims but allows settlers
• Iran: Removal of Sanctions Prerequisite to Negotiations
• Iranian Civil Defence Chief Blames US, Israel for Recent Cyber attack on Fuel Delivery System
• Iran Commutes Death Sentences of 100 Convicts to Long-Term Imprisonment
• US flies B-1B bomber over Middle East amid Iran tensions
• Coalition says 218 Houthis killed in airstrikes around Marib city
--------
Africa
• Molassan Still Parading Self As Mufti Of Yorubaland Despite Court Injunction – League Of Imams
• UN representative to Sudan discusses options for mediation with ousted PM Hamdok
--------
Europe
• 2nd round of interfaith dialogue between Iran-Serbian Orthodox Church in 2022
• Turkish president meets European leaders on sidelines of G20 summit
Compiled by New Age Islam News Bureau
URL: https://www.newageislam.com/islamic-world-news/pakistan-khorasan-isis-afghanistan-/d/125690
--------
'First Target Is Pakistan' Because Pakistan Is Behind Everything in Afghanistan: ISIS Khorasan
Oct 31, 2021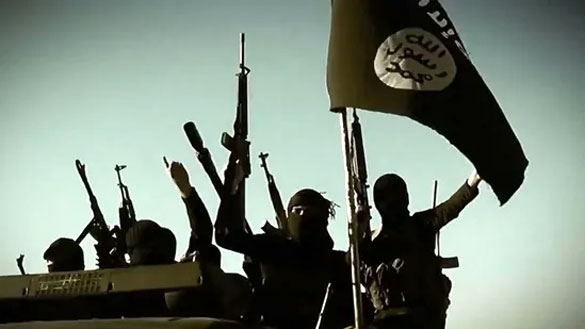 ISIS-K said that it has the ability to wreak havoc on the state of Afghanistan despite being outnumbered by the Taliban. (Representational Image / AFP)
------
Afghanistan's ISIS Khorasan (ISIS-K) also known as Daesh, has said that its hard-line goal remains the implementation of Sharia law and warned that whoever in the world went against Islam and the Quran will have to face the terror group's wrath.
"Our first target is to destroy Pakistan because the main reason for everything in Afghanistan is Pakistan. When the Taliban were here (even as the previous government still reigned), they were saying that we control 80 per cent of the country, but they were not implementing Islamic rulings. That's why we stood up in we started (ISIS-K) over here in this area," knewz quoted Nazifullah, a member of ISIS-K as saying.
According to him, Afghanistan has gone from bad to worse since the Taliban - who he accuses of "destroying the country" took the helm some two-and-a-half months ago.
"We want to implement Shariah Law. We want to implement the way our Prophet was living, the way he was clothed, the dressing hijab was there. Currently, we don't have much to fight. But if you give me anything, I am going to fight Pakistan now," knewz quoted Nazifullah as saying.
Knewz notes that Nazifullah is wanted by everyone from US troops and the now-defunct Afghan Security Forces and the Taliban.
Since August 15, ISIS-K has waged a deadly spate of suicide attacks and targeted bombings across multiple provinces and claimed dozens of lives. While some assaults have targeted the Taliban, the vast majority have been inflicted upon innocent civilians, particularly the minority Shia population.
Most of the recruits of the ISIS-K "are believed to have defected from the Taliban branches in Afghanistan and neighboring Pakistan, seeking an even more extreme interpretation of Islam with more international rather than domestic-centered goals of 'caliphate' control."
Like others who have joined ISIS-K, Nazifullah said he too joined as he was tired of the lack of truthfulness of the Taliban.
"We kept asking the Taliban to show us a video of Mullah Omar, but we couldn't get any. That is why Daesh here was created. They seemed truthful and said they were going to implement Shariah Law, so that is why I joined them," knewz quoted Nazifullah as saying.
Notably, the founder of the Taliban had died in 2013 which was kept a secret for nearly two years. The supreme leader of the Taliban, Haibatullah Akhundzada is being kept under the veil as well.
Nazifullah, 24, further said that ISIS-K has the ability to wreak havoc on the state of Afghanistan despite being outnumbered by the Taliban, according to knewz. The number of Taliban operatives on Afghan soil is estimated to be nearly around seventy thousand whereas the ISIS terrorists are believed by the US intelligence to be around two thousand mark.
To establish this point, ISIS has started the targeted attacks not only on the Taliban but also on the civilians after the Taliban takeover on August 15. The biggest such instance was the suicide attack on the Hamid Karzai International Airport in Kabul.
However, the ISIS member said that he was unclear about the number of ISIS terrorists in Afghanistan as he was locked in the Bagram prison, arrested by the Afghan government until he was freed by the Taliban after sweeping into power.
The terrorist further revealed that he had pledged his allegiance to Abu Bakr Baghdadi who is now reportedly dead.
Upon becoming a Daesh, members are sent for training to eastern Nangahar province and Nazifullah revealed that the group has been joined by an international cadre of jihadists coming from China, Tajikistan, Uzbekistan, Pakistan, Iran, and Russia.
The Taliban, however, has been denying the presence of ISIS on Afghan soil and claims that they have been defeated.
Source: Hindustan Times
Please click the following URL to read the text of the original story:
https://www.hindustantimes.com/world-news/first-target-is-pakistan-isis-k-aims-to-go-global-impose-sharia-law-says-report-101635641775126.html
--------
Bangladeshi Islamic Party Wants To Peacefully Co-Exist With His Indian Neighbours; Concerned About Attacks On Muslims In India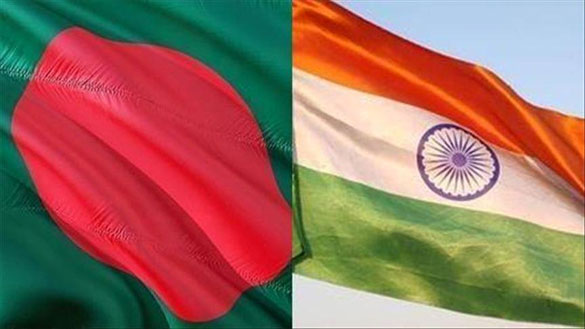 (Photo courtesy: aa.com.tr/)
-----
Md. Kamruzzaman
31.10.2021
DHAKA, Bangladesh
A top-ranked Islamic political party leader in Bangladesh expressed concerns about attacks on Muslims and said he wants to peacefully co-exist with his Indian neighbours.
Citizens from both countries also expressed similar views to Anadolu Agency,
"Muslims in different states in India are now scared and helpless. In this circumstance, the Indian government must arrest the extreme Hindu terrorists who attacked the Muslims and bring the miscreants to justice," the head of the Islami Andolan Bangladesh, Mufti Syed Rezaul Karim, said in a statement late Saturday.
Citing media reports, he alleged that extremists have launched at least 27 attacks on 16 mosques and members of Vishwa Hindu Parishad (VHP) or World Hindu Council, an infamous Hindu extremist organization, set fire to three mosques and put the organization's flag over several mosques after storming Muslims' places of worship.
"While extremist Hindus of India are threatening to occupy Bangladesh after attacks on some Hindu temples, the Indian government has failed to take any initiative after damaging houses, shops and mosques of Muslims in Tripura and Assam states," he alleged.
He also urged Indian authorities to immediately intensify vigilance to protect Muslims' property, including mosques, to ensure peace and tranquility. "Otherwise, it may flare up protests across the world."
Karim urged the international media to play a due role in case of any human rights violations of Muslims or any community in India as reporters were very active during recent sectarian violence in Bangladesh following a social media post demeaning the Holy Quran at a Hindu temple in the east-central district of Comilla on Oct. 13.
Peaceful co-existence
Citizens of the two neighboring states, however, told Anadolu Agency that Hindus and Muslims, as well as people from other communities in the region, have been living peacefully for centuries.
"Sometimes we face some unexpected incidents of communal violence in India and Bangladesh that make us shocked. But most of us believe in peace and love and always wish to live together for each other's faiths and religions," said Arman Mahin, a secondary level student in Bangladesh's southern district of Barguna.
Waliur Rahman, a resident in the capital of Dhaka's Paltan area, however, added that after the communal violence in Bangladesh, the government and individuals have come forward to help Hindus and constructed houses that were damaged and temples of the victims, provided handsome cash payments and arrested hundreds of suspects who perpetrated the offenses.
"We expect that in case of attacks on Muslims in India, the response from the concerned government and people will be the same and we see a tranquil and peaceful co-existence," added Rahman.
Echoing those remarks, Rohit Ghosh, a writer living in the northern Indian city of Kanpur, said \ the majority of people in India want to live peacefully with people from other religions.
"There are few people who are creating an atmosphere of hate against minority communities. They have got their vested interest," he said before adding that they will not succeed in their intention as people now have realized that our country has made progress by efforts of every citizen.
Avinash Sharma, who resides in the southern city of Chennai said some close friends are Muslims and he would not think of harming them in any manner.
Stray incidents do not affect peace
"We have lived with Muslims and never felt that they are different from us. We will continue to share the same bond and closeness with them. These stray incidents would not affect our relationship with other communities, including Muslims," Avinash told Anadolu Agency.
Md. Abdullah Al Mahmud, assistant professor at the world religions and culture department at Dhaka University, said Islam never supports violence.
He said as the closest neighbor of India, the Bangladeshi government should communicate through diplomatic channels with Indian authorities and request they beef up safety and security measures for the protection of minority Muslims.
"India is a secular and democratic country and so all people have rights to freely practice their religions and enjoy the freedom of expression," he told Anadolu Agency.
"At the same time, the government of Bangladesh and the majority Muslims of the South Asian country must remember that Islam is very serious about the rights of minorities and never allows harassment of one for any crime of another," he added.
Source: Anadolu Agency
Please click the following URL to read the text of the original story:
https://www.aa.com.tr/en/asia-pacific/bangladeshi-islamic-party-leader-expresses-concerns-about-attacks-on-muslims-in-india/2407563
--------
Breaking The Language Barrier Ten Hindu Candidates Selected As Urdu Teacher, Two Muslims To Teach Sanskrit In UP Govt Schools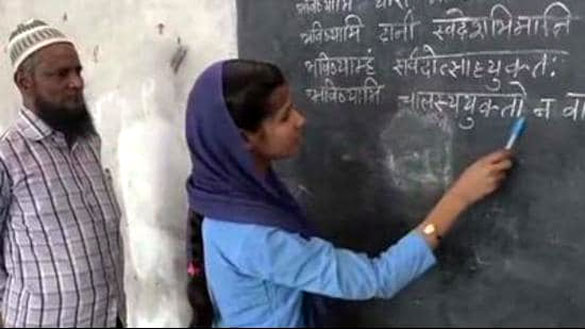 Details of these candidates are available on the official website of UP Secondary Education Services Selection Board. (Photo for representation)
----
By K Sandeep Kumar
Oct 30, 2021
PRAYAGRAJ: Breaking the language barrier and in an indication of changing times, 10 Hindu candidates have been selected as Urdu teacher while two Muslim candidates have been declared successful to teach Sanskrit, in government-aided secondary schools of the state, according to the final results of TGT and PGT Recruitment-2021 (including the waiting list) declared recently by UP Secondary Education Services Selection Board (UPSESSB).
Deputy secretary of UPSESSB Naval Kishore informed that the final results of TGT Recruitment-2021 (all 16 subjects) and PGT Recruitment-2021 (20 out of total 23 subjects) have been declared and made available on the official website of UPSESSB— https://upsessb.pariksha.nic.in/.
"The process of institution allotment of these selected candidates is now underway," he said.
In the merit list, Neeraj Kumar at the 54th position, Bharat Lal at 56th place, Hari Lal at 57th position, besides Ajay Kumar, Vicky Kumar, Rajveer Sagar, Vinod Kumar and Santosh Kumar, have all been selected as Urdu teacher for boys' wing of the schools, the official stated. Likewise, Ranjana Devi at 11th position and Rekha Pushkar at 12th position, in TGT Recrtiment-2021, have been selected to teach Urdu subject in girls' schools, he added.
According to Kishore, all these Hindu candidates are from Scheduled Caste (SC) category. Names of Neeraj Kumar, Santosh Kumar and Vimal Kumar Sharma are included in the waiting list of TGT Urdu for boy wing of the schools. Interestingly, Zahara Gul, a woman candidate belonging to the Muslim community, has been selected as a post graduate teacher for Sanskrit subject.
Out of the 34 posts of PGT Sanskrit for Girls wing of the schools, Zahara of OBC category, has bagged 16th position. There is no Muslim candidate in the main list of 232 posts of PGT for Sanskrit. However, another Muslim candidate Ekhlaq Uddin Khan has figured at the 268th position in the waiting list of PGT for Sanskrit subject.
Source: Hindustan Times
Please click the following URL to read the text of the original story:
https://www.hindustantimes.com/cities/others/10-hindu-candidates-selected-as-urdu-teacher-2-muslims-to-teach-sanskrit-in-up-govt-schools-101635608700340.html
--------
Left Behind After US Withdrawal, Some Former Afghan Spies And Soldiers Turn To Islamic State
Nov 1, 2021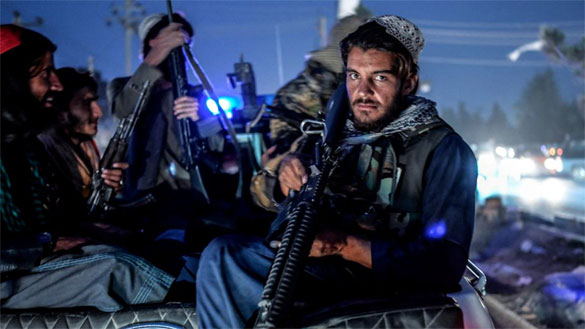 The Taliban have been trying to project an image of safety and normalcy since retaking power. But as WSJ's Sune Rasmussen reports from Kabul, harsh punishments, violence, and a crackdown on basic freedoms are becoming the reality. Photo: Bulent Kilic/AFP/Getty Images
-----
Some former members of Afghanistan's U.S.-trained intelligence service and elite military units—now abandoned by their American patrons and hunted by the Taliban—have enlisted in the only force currently challenging the country's new rulers: Islamic State.
The number of defectors joining the terrorist group is relatively small, but growing, according to Taliban leaders, former Afghan republic security officials and people who know the defectors. Importantly, these new recruits bring to Islamic State critical expertise in intelligence-gathering and warfare techniques, potentially strengthening the extremist organization's ability to contest Taliban supremacy.
An Afghan national army officer who commanded the military's weapons and ammunition depot in Gardez, the capital of southeastern Paktia province, joined the extremist group's regional affiliate, Islamic State-Khorasan Province, and was killed a week ago in a clash with Taliban fighters, according to a former Afghan official who knew him.
The former official said several other men he knew, all members of the former Afghan republic's intelligence and military, also joined Islamic State after the Taliban searched their homes and demanded that they present themselves to the country's new authorities.
A resident of Qarabagh district just north of Kabul said his cousin, a former senior member of Afghanistan's special forces, disappeared in September and was now part of an Islamic State cell. Four other members of the Afghan national army that the man knew have enlisted in the group, also known as ISIS-K, in recent weeks, he said.
"In some areas, ISIS has become very attractive" to former members of Afghan security and defense forces "who have been left behind," said Rahmatullah Nabil, a former head of Afghanistan's spy agency, the National Directorate of Security, who left the country shortly before the Taliban takeover. "If there were a resistance, they would have joined the resistance." But, he said: "For the time being, ISIS is the only other armed group."
Taliban forces in early September stamped out a nascent resistance movement in the Panjshir valley led by Ahmad Massoud, a son of anti-Taliban commander Ahmad Shah Massoud who was assassinated by al Qaeda in 2001. Resistance leaders then fled abroad.
The Taliban have long alleged that Islamic State-Khorasan Province was a creation of Afghanistan's intelligence service and the U.S. that aimed to sow division within the Islamist insurgency, a claim denied by Washington and by Kabul's former government.
Hundreds of thousands of former Afghan republic intelligence officers, soldiers and police personnel are unemployed and afraid for their lives despite pledges of amnesty from the Taliban. Only a fraction of them, mostly in the National Directorate of Security, have returned to work under Taliban supervision. Like nearly all other Afghan government employees, they haven't been paid for months.
"It's exactly how it started in Iraq—with disenchanted Saddam Hussein generals," a senior Western official warned. "You have to be careful." The U.S. disbanded Iraq's security forces after the 2003 invasion of the country. Often with weapons stashed at home and with years of combat expertise, they provided a ready pool of recruits for militant groups, including al Qaeda and the precursor of Islamic State.
In addition to protection from the Taliban, Islamic State is offering significant amounts of cash to its new members in Afghanistan, security officials say. In recent Senate testimony, Colin Kahl, U.S. undersecretary of defense for policy, warned that Islamic State in Afghanistan could generate the capacity to attack the West and allies within six to 12 months.
While the Taliban are highly motivated to go after Islamic State, he added, "Their ability to do so, I think, is to be determined."
Though the Taliban and Islamic State both say they want to impose a strict Islamic order in Afghanistan, the two groups have deep religious, ideological and political differences. The Taliban mostly follow the Hanafi school of Sunni Islam, believe in an Afghan nation-state and say they seek good relations with all countries, including the U.S. They view the country's Shiite Hazara minority as fellow Muslims.
Islamic State follows the more rigid Salafi Islamic tradition, considers Shiites to be apostates who should be physically exterminated, and seeks to establish a world-wide Islamic caliphate through military conquest.
While influenced by Islamic State's original leaders in Syria and Iraq, Islamic State-Khorasan Province was established in 2014 by Afghan and Pakistani Taliban militants who felt the Taliban leadership, by then seeking peace talks with the U.S., wasn't radical enough. The group controlled several districts of eastern Afghanistan until a Taliban offensive in 2015 dramatically weakened the group.
Islamic State-Khorasan Province, however, has rebounded this year, taking advantage of the collapse of the Afghan republic and the withdrawal of the U.S. counterterrorism presence.
The group killed 200 Afghans and 13 members of the U.S. armed forces at Kabul airport in August, and has since then carried out a spate of attacks on the Taliban, mostly in the eastern province of Nangarhar, but now increasingly often in Kabul. The group also claimed responsibility for bombing Shiite mosques in the cities of Kunduz and Kandahar in October. Those attacks killed well over 100 worshipers.
While the U.S. has begun providing some intelligence on Islamic State to the Taliban, Taliban officials are loath to admit that cooperation and generally dismiss the severity of Islamic State's challenge.
"We are not faced with a threat nor are we worried about them," said Mawlawi Zubair, a senior Taliban commander whose 750 men oversee southwestern Kabul and who operates out of the capital's third police district headquarters. "There is no need, not even a tiny need, for us to seek assistance from anyone against ISIS."
The area under his supervision includes the Kabul zoo, where a man believed to be an Islamic State militant recently threw a hand grenade into a crowd of Taliban foot soldiers. Former members of the Afghan security forces are "100%" involved in such Islamic State attacks, Mr. Zubair said.
He said Islamic State is also feeding on growing resentment over the country's economic meltdown that followed the Taliban's Aug. 15 takeover.
"In the current situation, we are not dealing with a few difficulties, we are facing many," Mr. Zubair said. "If we get rid of all our economic and administrative problems, ISIS will disappear in 15 days in all of Afghanistan."
Source: Fox Business
Please click the following URL to read the text of the original story:
https://www.foxbusiness.com/politics/left-behind-us-withdrawal-afghan-spies-soldiers-islamic-state
--------
Explain the difference between halal and pork-free eateries, says PAS man
Sean Augustin
October 28, 2021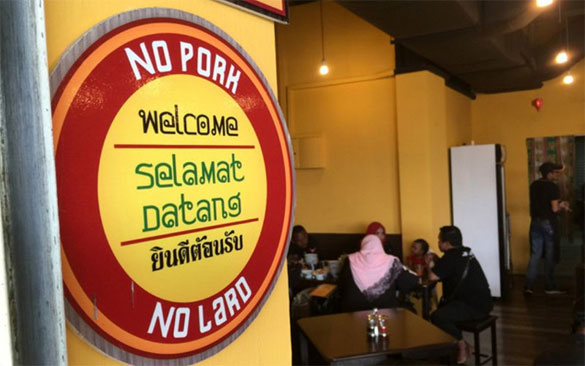 An eatery displaying a sign saying it's food is "pork-free". Hassan Mohd Ramli said that being "halal" meant more than just being "pork free" or serving no pork. (Bernama pic)
------
KUALA LUMPUR: A PAS MP is asking the government if it had plans to conduct an awareness campaign to educate Muslims on the difference between halal-certified eateries and those that advertise to be "pork-free".
Hassan Mohd Ramli said this was to avoid confusion over the matter.
"I also call on the government to step up enforcement against business owners who are confusing Muslims (with such tactics)," the Dungun MP said when debating amendments to the Trade Descriptions Act 2011 in Dewan Rakyat today.
Hassan said that being "halal" meant more than just being "pork free" or serving no pork, adding that such outlets have become a trend.
"They are two different issues," he said, adding there was a need for this matter to be explained properly.
In 2016, the then director-general of the Department of Islamic Development Malaysia (Jakim), Othman Mustapha said that the use of such signage by outlets that have yet to obtain the halal certificate risked confusing Muslims.
The then domestic trade, co-operatives and consumerism minister Hamzah Zainudin said the ministry would select a specific definition to avoid any confusion.
He had said this after the ministry's enforcement chief had said that action could be taken against restaurants under the Trade Descriptions Act 2011 for attempting to confuse Muslim by displaying such signs.
Source: Free Malaysia
Please click the following URL to read the text of the original story:
https://www.freemalaysiatoday.com/category/nation/2021/10/28/explain-difference-between-halal-and-pork-free-eateries-says-pas-man/
--------
Pakistan
Saudi Arabia's uplift plan offers opportunities to Pakistan: PM
November 1, 2021
ISLAMABAD: Prime Minister Imran Khan has said that Saudi Arabia's Vision 2030 provides opportunities to Pakistan to engage with the Gulf country in realising Naya Pakistan's ambitious plan owing to their complementarities in the socioeconomic fundamentals.
"I must say that there are significant complementarities in the socio-economic fundamentals of the Naya Pakistan and the Saudi Vision 2030. Both lay emphasis on economic opportunity and diversity, domestic growth, modernisation and development, and trade linkages and connectivity," PM Khan said in an interview with Saudi Arabia's Al Riyadh newspaper published on Sunday.
The prime minister said Pakistan could contribute manpower — both skilled and semi-skilled — besides sharing its expertise in other sectors such as information technology, infrastructure development and agriculture. He said Pakistan and Saudi Arabia had historically enjoyed long-standing fraternal ties, rooted deep in common faith, shared history and mutual support. Both countries had stood by each other, through thick and thin, regardless of the change in leadership, he added.
Says the kingdom's latest generosity reaffirms its time-tested friendship with Pakistan
"We never had the reason to reposition our relations with Saudi Arabia in the wake of regional or international developments in the past as well as in contemporary times. Relations between the two countries have withstood the test of time," he remarked.
The prime minister said both the countries had a special bond for seven decades. "It is now our earnest desire to transform this relationship into a deep, diverse and mutually beneficial strategic partnership. We are now working to consolidate historical gains by exploring new and non-conventional areas of cooperation. We want our trade relations and investment cooperation to commensurate with excellent political relations," he said.
He said in his address to the Saudi-Pakistan Investment Forum during his recent visit to Saudi Arabia he highlighted the importance of engaging the private and corporate sectors of both countries to realize the untapped potential in the fields of trade, business and investment. "I am confident that the investment forum would usher in a new dynamism in our investment cooperation," he said.
In reply to a question, the prime minister commended the Saudi leadership for introducing reforms in various sectors under Vision 2030.
He said during his recent visit the two countries had discussed ways to strengthen and enhance economic and trade relations by exploring areas of investment and opportunities available under Vision 2030 and Pakistan's development priorities emanating from a shift from geopolitics to geo-economics.
About the Middle East Green Initiative (MGI) Summit on Climate Change, Mr Khan said it clearly demonstrated Saudi leadership's commitment to tackle climate change.
He said the threat that climate change posed to this planet was real and it was high time for concerted actions in the right direction. Pakistan had also been working on similar projects including Clean and Green Pakistan and 10 Billion Tree Tsunami, he added.
"We believe that our priorities and goals converge in this regard and we can therefore learn from each other and extend our mutual support to mitigate the impacts of climate change," he commented.
PM Khan also expressed gratitude to the Kingdom of Saudi Arabia for announcement of depositing $3 billion and financing $1.2 billion refined petroleum products during the year. He said Pakistan and Saudi Arabia had longstanding and historic fraternal relations, and the latter had always extended generous support to the former in its difficult times.
The latest generous gesture by the kingdom reaffirmed the all-weather friendship between the two states, he said.
Source: Dawn
Please click the following URL to read the full text of the original story:
https://www.dawn.com/news/1655197/saudi-arabias-uplift-plan-offers-opportunities-to-pakistan-pm
--------
Pak economy hit by Rs 35 billion loss due to TLP protests
Oct 31, 2021
LAHORE: Special assistant to chief minister on information, Hasaan Khawar admitted that Pakistan has been hit drastically due to the agitation by Tehreek-i-Labbaik Pakistan (TLP) since 2017 and has borne the loss of Rs 35 billion to the economy, reported a local media.
Khawar has further admitted that the ongoing protest and blockade of roads by TLP has already caused the country a loss of Rs 4 billion, according to Dawn.
The agitation of the group since 2017 has cost Pakistan Rs 35 billion owing to the damage pertaining to the properties and the suspension of business activities, according to Dawn.
The supply of fruits and vegetables to the markets were suspended and the food items were rotting in the trucks.
Meanwhile, four policemen have been killed and nearly 250 have been sustained injuries in firing by the TLP protestors, the newspaper reported.
Earlier, amid rising protests by TLP, national security adviser (NSA) Moeed Yusuf said that proscribed TLP has crossed the red line, reported Geo News.
Source: Times of India
Please click the following URL to read the full text of the original story:
https://timesofindia.indiatimes.com/world/pakistan/pak-economy-hit-by-rs-35-billion-loss-due-to-tlp-protests/articleshow/87427181.cms
--------
Trust factor evaporates between Imran Khan, Pakistan Army
Oct 31, 2021
ISLAMABAD: Pakistani politics is at a very crucial juncture at the moment as the trust factor between Prime Minister Imran Khan and Pakistani Army has evaporated.
Sergio Restelli, an Italian political advisor, author and geopolitical expert, writing in The Times of Israel said that the stand-off over the appointment of the intelligence agency's - ISI chief has finally sounded the death knell for the bonhomie between Khan and Army.
After days of political slugfest in Pakistan, Lieutenant General Nadeem Ahmad Anjum was appointed as the Director-General of the country's Inter-Services Intelligence (ISI). Pakistan witnessed uncertainty over the past few days regarding the appointment of the new ISI chief.
In Pakistan, the relationship of every civilian government has been tenuous with the military establishment. History has demonstrated that civilian interference in army affairs, attempts to politicise the army, the picking of favourites from among army ranks has met with a severe reprisal in the past.
There has been growing discomfort and restiveness within the military ranks over the disarray in affairs of state. The military which propped up the current regime of Imran Khan has had to shoulder the blame for the multiple economic, political-administrative and diplomatic blunders, wrote Restelli.
Imran Khan has forced his hand by interfering in the internal process and workings of the Army for his political interests and survival. For the Pakistani army, this is an unforgivable transgression.
Nawaz Sharif is a testament to the fact that this scenario ends in the individual paying a very heavy personal and political price and it is unlikely that it will be any different with Imran Khan, reported The Times of Israel.
Khan resisting the selection of the new ISI chief who hasn't been expressly chosen by him has forced the Army into a corner, obliged to ignore the lack of political alternatives.
With Imran Khan's refusal to be a mere rubber stamp authority, the fear remains that he will exercise his considerable powers as prime minister, said Restelli.
Source: Times of India
Please click the following URL to read the full text of the original story:
https://timesofindia.indiatimes.com/world/pakistan/trust-factor-evaporates-between-imran-khan-pakistan-army/articleshow/87426867.cms
--------
Mufti Muneeb terms govt-TLP agreement victory of Islam, Pakistan
By Ayaz Akbar Yousafzai & Azaz Syed
October 31, 2021
ISLAMABAD: Religious scholar and former chairman of Ruet-e-Hilal Committee Mufti Muneeb Sunday announced that talks with the banned TLP have been "successful" and that an "agreement" had been reached.
Officials from the PTI government's negotiating team held a press conference today to update the public about their talks with the proscribed Tehreek-e-Labbaik Pakistan (TLP).
Addressing a joint press conference, flanked by Foreign Minister Shah Mahmood Qureshi, National Assembly Speaker Asad Qaiser and others, Mufti Muneeb termed the agreement between the government and the proscribed organisation a victory of Islam and Pakistan.
Details of the agreement, however, he said will be revealed at a "suitable time". He added that the positive outcomes of the agreement will be seen in the coming days.
He said that the agreement reached with the government was not a victory or defeat of any individual, but a victory of Islam and Pakistan.
Rehman shared that a steering committee has been constituted under the agreement which will be headed by Minister of State for Parliamentary Affairs Ali Muhammad Khan, while Mufti Ghulam Ghous Baghdadi from TLP will join the committee. He said the committee will become active from today and start its work.
"The government of Pakistan and the TLP had a detailed discussion under the environment of mutual trust, and an agreement has been reached between the two sides," Rehman announced, clarifying that the talks did not take place under any duress or in an atmosphere of tension.
He said that rationality had prevailed over sentimentalism and a consensus had been reached between the government and the banned TLP movement.
'NSC meeting decided that talks with TLP should be given priority'
Foreign Minister Shah Mahmood Qureshi briefly spoke after Rehman, saying that it was decided in a meeting of the National Security Committee that the talks with TLP should be given priority and that the problem should be dealt with wisely.
Speaking about the agreement, Qureshi said that a path of peace and improvement had been found. He said damage to property and loss of life was seen in just a few days, referring to the banned outfit's protests.
He said Pakistan did not benefit from the chaos.
Qureshi ended his brief address with a statement that there would be no question and answer session with media personnel.
The government was scheduled to address the press conference earlier in the day at 11:15am initially, according to a handout by the Press Information Department (PID). The news conference was, however, delayed and after being rescheduled twice, was finally held at 2:45pm.
Earlier, sources privy to the development had said that the activists of the banned organization will first end their sit-in from the Grand Trunk Road (GT Road), under the agreement. Meanwhile, the government will complete the legal formalities to release the arrested workers of TLP.
The well-placed sources had said that the successful round of talks was held last night between the high-powered government team and the top leadership of the TLP.
Too early to call talks with govt 'successful': TLP
Before the press conference, earlier in the day, a TLP spokesperson had rejected media reports on the talks between the federal government and TLP being successful. He had said that it will be "too early to say anything about the negotiation".
He had urged people to "refrain from spreading rumors" and clarified that negotiations with the government were still underway.
"There is no truth in the reports being aired on TV channels about the successful dialogue," he had added.
The TLP spokesperson said that the success or failure of the talks with the government will be announced by his party leadership.
A day earlier, Prime Minister Imran Khan had said that it would be appreciated if religious scholars played the role of a bridge between the government and TLP, as he did not want bloodshed but insisted there could be no compromise on the country's security and the government writ.
Meanwhile, roads had remained blocked and traffic suspended in Wazirabad on Saturday as TLP protesters remained encamped near the city for the second straight day.
The prime minister observed this during an interaction with a delegation of religious scholars and leaders on Saturday. The premier emphasised that peace and security is in everyone's interest. The religious scholars called for negotiations to wriggle out of the present situation.
In the meeting, Prime Minister Imran Khan said that expulsion of the French ambassador is not the solution to any problem and he cannot be expelled. He contended that fighting with France will isolate Pakistan internationally.
The prime minister also said that the cases of banned TLP supremo Saad Rizvi are pending in the courts. If the court releases Saad Rizvi, they will have no objection. "No one can blackmail me, nor will I be blackmailed," he remarked and pointed out that while the police were strictly forbidden to shoot, but shots were fired from the other side.
Imran told the Ulema that they must convince the (TLP) people to refrain from bloodshed and not to resort to violence. He said neither should they (TLP) resort to violence nor should they force the state to use force, and assured the Ulema government will have no hesitation in accepting TLP's legitimate demands.
Source: The News Pakistan
Please click the following URL to read the full text of the original story:
https://www.thenews.com.pk/latest/904741-negotiations-between-tlp-government-successful-sources
--------
'Media continues to face attacks, curbs on free expression'
Ikram Junaidi
November 1, 2021
ISLAMABAD: Media in Pakistan works within an increasingly repressive environment with attacks on press freedom coming from all fronts and space for free expression continuously shrinking.
This abysmal situation was highlighted in three reports released in connection with the 'International Day to End Impunity for Crimes against Journalists' which is observed on Nov 2.
In the first report prepared by the Pakistan Press Foundation (PPF), titled 'Online harassment of the media in Pakistan', it was stated that journalists were often on the receiving end of hate, threats and abuse from a range of individuals.
"Certain journalists have suffered the repercussions of their active presence online with abductions and registration of cases," it said, adding that while online harassment continued, the push for legislation to control social media and the criminalisation of content online had become a tool to harass media.
In August 2020, women journalists had issued a joint statement against the "vicious attacks through social media" they endured.
In September, senior journalist and NewsOne anchorperson Gharidah Farooqi as well as Benazir Shah were victims of an online campaign, while in October, senior journalist Asma Shirazi, who had written a column for BBC Urdu, was met with scorn from both PTI supporters and ministers.
"The past year has seen the continuation of trends to threaten and intimidate journalists online. While both private individuals online and members of the government continue to participate and initiate trends against certain media professionals and organisations, there is also an increased focus on setting up rules for social media platforms," the report said.
The other report prepared by the PPF, titled 'Attacks on Media in Pakistan January-October 2021', deplored the shrinking space for free expression in Pakistan.
The PPF observed an alarming trend during 2021 when not only physical attacks against media continued with impunity but the state level push to restrict free expression also grew.
The PPF recorded at least 27 incidents where media personnel were physically assaulted in connection with their work, including both armed attacks and beating of journalists.
However, in a positive development, on June 28, the Sindh Assembly passed the landmark 'Sindh Protection of Journalists and Other Media Practitioners Bill 2021'. Another bill was presented in the National Assembly but it has yet to be passed.
The third report, a research study titled 'Criminalising Online Dissent through Legal Victimisation: Impunity against Journalists Prosecuted under the Prevention of Electronic Crimes Act (PECA)' by media rights watchdog Freedom Network, stated that a chilling pattern had emerged in the use of the criminal defamation section of Pakistan's anti-cybercrimes law, PECA.
Source: Dawn
Please click the following URL to read the full text of the original story:
https://www.dawn.com/news/1655270/media-continues-to-face-attacks-curbs-on-free-expression
--------
Two killed in blast targeting FC troops in Panjgur
Bahram Baloch
November 1, 2021
GWADAR: Two passers-by were killed and three security personnel injured in a bomb blast in Panjgur town of Makran division on Sunday.
Police said unidentified people parked an explosive-laden motorbike in the Cheetkan Bazaar area which was detonated by remote control when a Frontier Corps vehicle reached there. Two people were killed and three FC soldiers travelling in the vehicle suffered injuries.
Security personnel rushed to the area and cordoned it off. They shifted bodies and the injured to the district hospital.
"We have received two bodies and three injured FC personnel," hospital officials told Dawn, adding they had received splinters and parts of the exploded motorbike.
Police identified the dec­eased as Abdul Quyyam and Noorullah.
A police officer said around 3kg of explosives were used in the blast.
Balochistan Chief Minister Mir Abdul Qudoos Bizenjo condemned the blast and termed it a cowardly act. He said the purpose of the terrorist act was to fulfil the agenda of anti-national elements by creating unrest and instability.
Source: Dawn
Please click the following URL to read the full text of the original story:
https://www.dawn.com/news/1655199/two-killed-in-blast-targeting-fc-troops-in-panjgur
--------
South Asia
Starving Families In Afghanistan Hindu Kush Province Sell Their Children To Survive
November 1, 2021
A woman in the mountainous Hindu Kush province in central Afghanistan is forced to sell her two granddaughters for the sake of her family's survival and her son's treatment.
Ruhsana Samimi, 56, has contacted her village elders in Dara-i-Kazim, Tolak district of Ghor province, and expressed her intention to sell her two granddaughters – six-year-old Zenet and four-year-old Ziba.
She has put Zenet up for sale for 200,000 Afghanis (approximately $2,200) and Ziba for 100,000 Afghanis (approximately $1,100) to meet the family's daily food requirements and pay for her son Sibghatullah's treatment, who was the family's sole breadwinner.
She put them up for sale two weeks ago, Samimi said on Sunday, adding that no buyer has come forward, Anadolu reported.
"We are starving and have received no help, not even from our relatives. If someone had helped us, I would not have put my granddaughter up for sale," she argued.
The Taliban's takeover of the country in August and the subsequent halt of international aid exacerbated the country's already-existing poverty and starvation and is one of the major causes of this state of affairs.
The cash-strapped country, which has been ravaged by 20 years of war, is now in a catastrophic economic crisis, with people selling assets and begging for bread to stay alive.
On Aug. 17, two days after the Taliban seized control of Kabul, the US government froze about $9.5 billion of Afghanistan's central bank assets. Many donors and international organizations, including the World Bank and the International Monetary Fund, have stopped making payments to the interim Taliban regime.
The UN forecasts that around 22.8 million people or over half of Afghanistan's population, will face severe food problems.
According to information from various places, some families want to sell their children to relatives, while others intend to sell to anyone who might be interested in buying ahead of the harsh winter, which is set to begin in the coming weeks.
Source: ABNA24
Please click the following URL to read the full text of the original story:
https://en.abna24.com/news//starving-families-in-afghanistan-sell-their-children-to-survive_1194185.html
--------
Former Afghan security members joining ISIS-K to fight Taliban
01 Nov 2021
Wall Street Journal in its latest report indicated that members of the intelligence body of the previous government in Afghanistan are now affiliating with the Islamic State of Iraq and Syria-Khorasan branch (ISIS-K) in order to survive and resist the Taliban.
The former personnel is mostly US-trained Afghan spies who have been joining the terror group in northern Afghanistan.
After the Taliban takeover, northern resistance was the only resisting group that was co-led by Ahmad Masoud and former first VP Amrullah Saleh in the north of Afghanistan namely in Panjshri province.
The group is though defeated, some members claim that they are regrouping and are waging attacks on the Taliban fighters.
The report further reads that the former Afghan spies are joining ISIS-K to resume their income as they have been left broke after the government collapse and also to fight the Taliban fighters.
Source: Khaama Press
Please click the following URL to read the full text of the original story:
https://www.khaama.com/former-afghan-security-members-joining-isis-k-to-fight-taliban-568568/
--------
Taliban's top leader Akhundzada makes rare public appearance in Kandahar
November 1, 2021
Haibatullah Akhundzada, the Taliban's reclusive leader, made a rare public appearance in the southern city of Kandahar, the group's officials announced on Sunday, contradicting widespread rumors of his death.
Akhundzada had not been seen in public even after the Taliban's August takeover of the country, giving rise to the speculation.
A senior Taliban leader who was present with Akhundzada said the leader visited Jamia Darul Aloom Hakimia, a religious school in Kandahar on Saturday.
There was tight security at the event and no photographs or video have emerged, but a 10-minute audio recording was shared by Taliban social media accounts.
As the Taliban announced its interim government in September after US-led forces withdrew, Akhundzada retained the role he has held since 2016 of top leader, the ultimate authority over the group's political, religious and military affairs.
Though some officials say Akhundzada has made unpublicized appearances before, this was the first official appearance of a man who has long kept a low profile. This shadowy existence has led to constant speculation about his whereabouts and health.
Previously, the Taliban did not confirm the death of their founder and original top leader, Mullah Omar, for years.
Akhundzada rose from a low-profile religious figure to leader of the Taliban in a swift transition of power after a 2016 drone strike killed his predecessor, Mullah Akhtar Mansour.
After being appointed leader, Akhundzada secured the backing of the al-Qaeda chief, Ayman al-Zawahiri, who showered the cleric with praise, calling him "the emir of the faithful".
This endorsement by Osama bin Laden's heir helped seal his credentials with the Taliban's longtime allies.
Akhundzada was tasked with unifying a Taliban that briefly fractured during the bitter power struggle after Akhtar's assassination, and the revelation that the leadership had hidden the death of Omar for years.
His public profile has largely been limited to the release of messages during Islamic holidays, and Akhundzada is believed to spend most of his time in Kandahar, the main city in the Taliban's southern Afghan heartland.
His last message was on September 7, when he told the newly appointed Taliban government in Kabul to uphold sharia law as they govern Afghanistan.
Last week, Mullah Yussef Wafa, the Taliban governor of Kandahar and a close ally of Akhundzada, told Agence France-Presse he was in regular contact with his leader.
Source: ABNA24
Please click the following URL to read the full text of the original story:
https://en.abna24.com/news//taliban%e2%80%99s-top-leader-akhundzada-makes-rare-public-appearance-in-kandahar_1194243.html
--------
India warns of airstrike if Taliban move towards them
01 Nov 2021
Chief Minister of Uttar Pradesh Yogi Adityanath, warned that the Taliban-de facto leaders in Afghanistan- know that if they move towards India, airstrikes are ready to suppress them.
Yogi Adityanath said that both Pakistan and Afghanistan are feeling disturbed by the Taliban.
He also said that India is much powerful today and no country dares to raise its eyes towards India.
It is unknown why this Indian senior official and member of the ruling BJP is worried and warned the Taliban.
It is worth mentioning that India's special representative to Afghanistan, Pakistan, and Iran met with the Deputy Prime Minister of the Taliban in Moscow on October 20 and the latter assured India not to be threatened from their soil.
Source: Khaama Press
Please click the following URL to read the full text of the original story:
https://www.khaama.com/india-warns-of-airstrike-if-taliban-move-towards-them-6585685/
--------
India
NIA arrests two more accused in militant conspiracy case
M Saleem Pandit
Nov 1, 2021
SRINAGAR: The National Investigation Agency (NIA) on Saturday arrested two more accused persons involved in militant acts in the erstwhile state.
According to an official spokesperson, Ishfaq Ahmed Wani, a resident of Srinagar and Umar Bhat, a resident of Sopore were arrested in connection with a conspiracy case related to militant acts.
"The case relates to conspiracy for undertaking violent militant acts in J&K and other major cities by cadres of Laskhar-e-Taiba (LeT), Jaish-e-Mohammed (JeM), Hizb-ul-Mujahideen (HM), Al Badr and their affiliates such as the Resistance Front (TRF), and People Against Fascist Forces (PAFF)," an official statement of NIA read.
NIA had registered the case on October 10 and initiated the investigation. "Till now 25 accused persons have been arrested in this case by NIA," it said.
Source: Times of India
Please click the following URL to read the full text of the original story:
https://timesofindia.indiatimes.com/india/nia-arrests-two-more-accused-in-militant-conspiracy-case/articleshow/87442131.cms
--------
Territorial ambitions of China and Pakistan require India's armed forces to remain alert round the year: CDS
Oct 31, 2021
NEW DELHI: The territorial ambitions of China and Pakistan require the Indian armed forces to remain alert and deployed along disputed borders and coastal areas round the year, Chief of Defence Staff (CDS) Bipin Rawat said on Sunday.
The CDS stated this while delivering the Sardar Patel Memorial Lecture at All India Radio.
"The quintessential visionary that Sardar Patel was, he had assertively voiced the need of an independent Tibet as a buffer state between India and China, as can be found in his correspondence with the then Prime Minister Pandit Jawaharlal Nehru," he said.
Rawat said history is witness to the fact that whenever a country neglects its armed forces, the external powers are quick to exploit it.
In the 1950s, India overlooked this important lesson of history and allowed the security apparatus to drift and the Chinese shook the country up in 1962, Rawat said.
"We had to relearn this lesson through an ignominious experience. Post-1962, we have had several skirmishes against the Chinese - at Nathu La in Sikkim in 1967, at Wangdung in 1986, at Doklam in 2017 and the recent skirmishes in the eastern Ladakh," he noted.
The outcomes have made it clear that the Indian armed forces are alert and determined to defend national territory, he said.
This, he said, has helped the Chinese and our leaders to pursue agreements for maintaining peace and tranquility along the Line of Actual Control (LAC) and several other confidence-building measures to improve relations.
"Territorial ambitions of China and Pakistan require India's armed forces to remain alert and deployed along disputed borders and also along the coastal regions round the year," he asserted.
The current border standoff between the Indian and Chinese militaries erupted in May last year following a violent clash in the Pangong lake areas of eastern Ladakh and both sides gradually enhanced their deployment by rushing in tens of thousands of soldiers as well as heavy weaponry.
As a result of a series of military and diplomatic talks, India and China completed the disengagement process in the Gogra area in August and in the north and south banks of the Pangong lake in February.
Each side currently has around 50,000 to 60,000 troops along the LAC in the sensitive sector.
Source: Times of India
Please click the following URL to read the full text of the original story:
https://timesofindia.indiatimes.com/india/territorial-ambitions-of-china-and-pakistan-require-indias-armed-forces-to-remain-alert-round-the-year-cds/articleshow/87440205.cms
--------
North America
Ghani pledged to fight till death but fled, says Blinken
Anwar Iqbal
November 1, 2021
WASHINGTON: US Secretary of State Antony Blinken said on Sunday that former Afghan President Ashraf Ghani promised to fight till death but fled Kabul when the Taliban came.
Also, this weekend a conservative US think-tank, Hudson Institute, rated the reported US-Pakistan talks on a formal agreement for using Pakistani airspace for operations in Afghanistan as a major development.
In a recent interview to "CBS Face The Nation" talk-show, former US special envoy for Afghanistan Zalmay Khalilzad said that the Biden administration could have done more to prevent the collapse of the government in Kabul.
At Sunday's show, the interviewer asked Secretary Blinken if he had personally tried to persuade Mr. Ghani to stay in Kabul.
Mr Blinken said he was on the phone with Mr Ghani on Saturday (Aug 14) night, pressing him to accept a plan for transferring power to a new government in Kabul, This government would have been "led by the Taliban but (would have) included all aspects of the Afghan society," he said.
Mr Ghani told him that "he was prepared to do that, but if the Taliban wouldn't go along, he was ready to fight to the death," Mr Blinken said. "And the very next day, he fled Afghanistan." The Taliban captured Kabul on Aug 15 as Mr Ghani flew out of Afghanistan.
"So, I was engaged with President Ghani over many weeks, many months," Mr Blinken added.
Asked if he did everything he could, the top US diplomat said the State Department was reviewing everything that the US did, starting from 2020 when the Trump administration made an agreement with the Taliban for withdrawing American troops from Afghanistan.
The review would include "the actions we took during our administration, because we have to learn every possible lesson from the last couple of years" and also from the last 20 years, he said.
Pointing out that this was America's longest war, Secretary Blinken said President Biden ended the longest war to ensure that another generation of Americans would not have to fight and die in Afghanistan.
"And I think when all of this settles, that's profoundly what the American people want and is in our interest," he said. "Meanwhile, we are doing everything we can to make good on our ongoing commitments."
The Hudson review on a possible US-Pakistan agreement on air access claimed that Pakistan would "portray the counter-terrorism agreement as a sign of close US-Pakistan cooperation."
Source: Dawn
Please click the following URL to read the full text of the original story:
https://www.dawn.com/news/1655209/ghani-pledged-to-fight-till-death-but-fled-says-blinken
--------
US in talks with allies on getting Iran to agree to nuclear deal: Blinken
31 October ,2021
US Secretary of State Antony Blinken said on Sunday that the US was "absolutely in lock step" with Britain, Germany and France on getting Iran back into a nuclear deal, but added it was unclear if Tehran was willing to rejoin the talks in a "meaningful way."
Blinken's remarks in an interview with CNN on Sunday come a day after the US, Germany, France and Britain urged Iran to resume compliance with a 2015 nuclear deal in order to "avoid a dangerous escalation."
The accord, under which Iran curtailed nuclear work seen as a risk of developing nuclear weapons in exchange for a lifting of global sanctions, unraveled in 2018 after then-President Donald Trump withdrew the US, prompting Tehran to breach limits on uranium enrichment set by the pact.
"It really depends on whether Iran is serious about doing that," Blinken said on Iran rejoining the nuclear talks. "All of our countries, working by the way with Russia and China, believe strongly that that would be the best path forward", he added.
Leaders of the four countries hoping to persuade Tehran to stop enriching uranium to near-weapons-grade levels, said on Saturday they wanted a negotiated solution.
"But we do not yet know whether Iran is willing to come back to engage in a meaningful way," Blinken said on Sunday. "But if it isn't, if it won't, then we are looking together at all of the options necessary to deal with this problem."
Iran's foreign minister said separately on Sunday that if the US was serious about rejoining Tehran's 2015 nuclear deal with world powers, President Joe Biden could just issue an "executive order," the state-owned Iran newspaper reported.
Source: Al Arabiya
Please click the following URL to read the full text of the original story:
https://english.alarabiya.net/News/world/2021/10/31/US-in-talks-with-allies-on-getting-Iran-to-agree-to-nuclear-deal-Blinken
--------
Erdogan, Biden to meet in Rome on Sunday: US official
Servet Gunerigok
30.10.2021
WASHINGTON
Turkish President Recep Tayyip Erdogan and US President Joe Biden will meet in Rome on Sunday, said a senior US official on Saturday.
Both leaders are currently in Italy's capital for the two-day G20 leaders' summit that started on Saturday.
On Thursday, US National Security Advisor Jake Sullivan said he expected a meeting between the two leaders in Glasgow, Scotland, but it has not been confirmed.
Source: Anadolu Agency
Please click the following URL to read the full text of the original story:
https://www.aa.com.tr/en/americas/erdogan-biden-to-meet-in-rome-on-sunday-us-official/2407467
--------
Southeast Asia
Too much money for religious authorities, say critics
Imran Ariff
October 29, 2021
PETALING JAYA: The provision of an extra RM100 million in a RM1.5 billion budget allocation for the management and development of Islam in next year's budget has raised eyebrows, with critics commenting that it is far too much given religious authorities' lack of a track record.
"That's too much money for them" said former Umno MP Tawfik Ismail in response to the budget speech, adding that just like previous years it remained unclear where all the money would end up being spent and what impact the government intended to have.
"Will the money benefit just those in Jakim (the federal department of Islamic development), or will it filter out to the benefit of the whole country?" he asked.
Finance minister Tengku Zafrul Aziz, in presenting the 2022 budget today, said there would be a focus on promoting Islamic teachings, with the religious affairs department of the Prime Minister's Department getting RM100 million more than it did in 2021.
Tawfik said that in the last year in particular, religious authorities had not effectively promoted Islam's more positive values, like compassion, mercy and tolerance.
"In fact, we've seen the opposite, in that things have been more oppressive and have negatively impacted national unity."
"Look at the lack of action against (controversial preacher) Syakir Nasoha, or the unnecessary attention given to Nur Sajat and Timah whisky. It doesn't instil much confidence that Islamic authorities have promoted Islam's more positive aspects," he said.
With religious matters largely under state purview, Tawfik also questioned why the federal authorities need such a large, and growing budget.
Johan Ariffin Samad, an analyst and member of the G25 group of former senior civil servants, said that it remained unclear exactly what religious authorities such as Jakim actually do to promote harmony.
"We are seeing as large a religious divide in this country as ever before, because the authorities are not doing enough to foster tolerance in this country, or improve the relationship among faiths."
Source: Free Malaysia Today
Please click the following URL to read the full text of the original story:
https://www.freemalaysiatoday.com/category/nation/2021/10/29/too-much-money-for-religious-authorities-say-critics/
--------
Arab World
World Muslim Communities Council Announces International Conference 'Islamic Unity: Concept, Opportunities, and Challenges'
31-10-2021
ABU DHABI, 31st October, 2021 (WAM) -- The World Muslim Communities Council held a press conference at the Council's headquarters in Abu Dhabi, with the participation of Dr. Ali Rashid Al Nuaimi, Chairman of The Council, and Dr. Mohamed Bechari, the Secretary-General, to announce the schedule of the International Conference, entitled, "Islamic Unity: Concept, Opportunities, Challenges", to be held from 12 to 14 December in Abu Dhabi.
Dr. Al Nuaimi announced the holding of the conference, under the patronage of Sheikh Nahyan bin Mubarak Al Nahyan, Minister of Tolerance and Coexistence.
The importance of the conference stems from the need to present an intellectual and legal discourse that fills the void that exists among Muslim communities around the world, to address the challenge of belonging to contemporary Muslim society, which confirms the pioneering role of scholars and thinkers in leading the nation, and to present an intellectual and legitimate proposal commensurate with the requirements of the age.
Al Nuaimi said that one of the objectives of the conference is to direct a discourse that stems from the values of coexistence pursued by the UAE, in terms of being partners with others. "We truly believe in this positive partnership of the joint work in building nations and facing challenges that impose on humanity everywhere, such as climate change, pandemics, poverty or unemployment, and creating opportunities for youth", he added.
The Chairman of the Council stressed the importance of the pioneering role of the nation's scholars and thinkers in presenting a discourse based on legitimate foundations, taking into account the peculiarities of this age, respecting its regulations and laws, and establishing a better future for Muslims and non-Muslims, especially with the existence of some discourses that divide humanity and serves agendas that harm Muslims wherever they are. He noted that the Council will be keen to host the largest number of Muslim scholars, thinkers and academic leaders, so that a vision from Abu Dhabi is presented to the world that serves Muslims and non-Muslims, with regard to the concept of Islamic unity and opens up horizons for opportunities that must be invested in the present and the future, to develop strategies to deal with the challenges that Muslims face wherever they are.
Source: Emirates News Agency
Please click the following URL to read the full text of the original story:
http://wam.ae/en/details/1395302987239
--------
Why Virginia's upcoming election is important for Arabs and Muslims
31 October, 2021
Anyone who thought America could relax for a while after the latest presidential election should take a look at Virginia. The streets and airwaves filled with adverts leave no doubt that a close and important vote is around the corner.
On 2 November, Virginians will decide who becomes their next governor – Terry McAuliffe, an establishment Democrat or Glenn Youngkin, a pro-business Republican. On the surface, the choice might not look stark, with both candidates appearing to campaign as centrists. But scratch the surface and the differences between the two become obvious.
McAuliffe, who was elected as governor in 2013, is a long-time Virginia Democratic insider whose re-election would likely mean the continuation of the state's Democratic policies. Youngkin, a businessman who is new to politics, has the potential – if elected – to shake up the state's decade-long steady shift from a Republican stronghold to one that's solidly Democratic.
"The reason I believe there are so many eyes on Virginia at the moment is that it was the first state to get the ball rolling after 2016. What happens here, win or lose, will determine the momentum of the next four years," says Mohamed Gula, Virginia executive director and national organising director for Emgage Action, which has endorsed McAuliffe as well as Hala Ayala (whose parents both have Arab backgrounds), who is running for lieutenant governor. They have also made endorsements for state delegates.
"The game has really changed because of the momentum we were able to gain in 2017," Gula tells The New Arab. "Virginia can determine the direction for the rest of the country. That's why we're seeing Obama, Trump, Biden and Abrams. Everyone is making an appearance here."
So far, Gula and his team have knocked on more than 20,000 doors, made 200,000 calls and sent out 250,000 text messages. Thanks, in part, to their work, Muslim voter turnout in Virginia has increased by 28 percent over the past four years.
Meanwhile, James Zogby, founder and president of the Arab American Institute, has done robocalls with former Republican state legislator David Ramadan in support of McAuliffe, whom he has known for many years and describes as a friend to the Arab community.
"He doesn't come from the party that has used nativism and xenophobia against recent immigrants," Zogby tells TNA, referring to anti-immigrant rhetoric from the Republican party, particularly the last administration.
America's eyes on Virginia
Virginia's position of holding the first gubernatorial race after the presidential election makes it something of a bellwether for the rest of the country. Since the 1960s, the party that loses the presidency wins the governor's race (with the exception of McAuliffe's win in 2013), a pattern that can feel fatalistic with its long consistency, but is by no means the only predictor.
This recurrence was seen with the 2017 Democratic win of Ralph Northam, as well as the party's state delegate races, prior to the 2018 "blue wave" that brought back the Democratic congressional majority and ushered in the now notorious squad.
Among those who took part in flipping Virginia's statehouses blue was a transgender woman, Latina women, and the first African American since the post-civil war reconstruction era. Ghazala Hashmi added to the contingency when she became the first Muslim woman elected to the state senate in 2020, representing a relatively rural part of Virginia.
With these new policymakers have come new legislation - the elimination of the death penalty, an increase in the minimum wage, and an expansion of access to voting.
Virginia's steady political shift comes alongside its demographic shift. Over the past 15 years, the state has seen an increase in immigrants, particularly in Washington, DC's southern suburbs. Rural areas have also seen an increase in diversity, as can be seen in the varieties of restaurants, the different languages spoken on the streets, and even the diversity in political candidates (the state now has nine Muslim elected officials, whereas five years ago there was just one) – all of which point to a new era.
This new era has meant a revisiting of the state's history dating back to the end of reconstruction after the civil war, with so-called Jim Crow laws that were used to prevent minority representation in the state. This legacy was confronted with last summer's wave of Black Lives Matter demonstrations, when it was decided to remove statues of pro-slavery leaders, change the names of schools, eliminate an annual state holiday commemorating the confederate side of the civil war, and offer a more inclusive school curriculum.
Virginia's growing pains
But these changes haven't come without backlash. The past year has seen a series of school board meetings focused on critical race theory, graduate-level material that examines the intersection of race and US law. Though it is not taught in grade school, movements have sprung up across the country to argue against its instruction.
A school board meeting in Loudoun County in northern Virginia made international news in June, when a father in attendance was arrested while confronting school officials, highlighting the intensity of this nationwide debate.
For Abrar Omeish, these school board meetings, however absurd they may appear, are no laughing matter. As a member of the Fairfax County School Board in northern Virginia, she says she regularly receives death threats. But she refuses to be silent in the face of these attacks.
"I usually like to steer clear of being partisan, but this election is different," she tells TNA. She sees the debate over critical race theory as a tactic to funnel money out of public education by portraying it as chaotic by using slogans like "parents' choice" to mischaracterise the debate.
Source: The New Arab
Please click the following URL to read the full text of the original story:
https://english.alaraby.co.uk/analysis/why-virginias-election-important-arabs-and-muslims
--------
Saudi Arabia deposits $3 billion in Egypt's central bank
31 October ,2021
Saudi Arabia's finance ministry said on Sunday the Kingdom deposited $3 billion at Egypt's central bank and extended the term of another $2.3 billion in previous deposits.
The Kingdom also deposited $3 billion at the Central Bank of Pakistan and extended $1.2 billion of trade finance to support Pakistan's balance of payment, the ministry said in its statement.
"Saudi Arabia is one of the main countries that support foreign reserves for countries in need during the [COVID-19] crisis," the ministry added.
Source: Al Arabiya
Please click the following URL to read the full text of the original story:
https://english.alarabiya.net/News/gulf/2021/10/31/Saudi-Arabia-deposits-3-billion-in-Egypt-s-central-bank
--------
Saudi FM: No crisis with Lebanon, but rather crisis in Lebanon due to Iran's proxies
31 October ,2021
Prince Faisal bin Farhan said there is no crisis with Lebanon but rather a crisis in the country due to the hegemony of Iran's proxies, the Kingdom's foreign minister told Al Arabiya on the sidelines of the G20 summit.
"The problem is even bigger. The problem in Lebanon is the continued Hezbollah dominance of the political system, and the continued inability of governments, political officials and political leaders in Lebanon to take a way out of this crisis and from this tunneled crisis," he told Al Arabiya.
"The crisis there is not a crisis between us and Lebanon to some extent. There is a crisis in Lebanon with the dominance of Iran's proxies over the scene, and this is what concerns us, and this is what makes it useless to deal with Lebanon, and I do not think for the Gulf states and the task now is that the leaders in Lebanon wake up and seek a way out to bring Lebanon back to its place in the Arab world and this is available and they are able if God wills it," Prince Faisal added.
Saudi Arabia and other Gulf countries expelled Lebanese envoys in a diplomatic spat that risks adding to Lebanon's economic crisis, following critical comments about the Arab Coalition military intervention in Yemen by Lebanon's Information Minister George Kordahi.
Source: Al Arabiya
Please click the following URL to read the full text of the original story:
https://english.alarabiya.net/News/gulf/2021/10/30/Saudi-FM-No-crisis-with-Lebanon-but-rather-crisis-in-Lebanon-due-to-Iran-s-proxies
--------
UAE instructs citizens in Lebanon to return home amid ongoing crisis
31 October ,2021
The UAE's Ministry of Foreign Affairs instructed its citizens in Lebanon to return home amid the ongoing Gulf-Lebanese crisis.
"In light of current events and based on the decision to ban UAE citizens from traveling to Lebanon and the decision to recall UAE diplomats from Lebanon, the Ministry of Foreign Affairs calls on all citizens present in Lebanon to return to the UAE as soon as possible," the ministry said in a statement.
Lebanon's Information Minister George Kordahi sparked a diplomatic crisis with Gulf countries because of his comments on Saudi Arabia and the UAE's involvement in the Yemen war.
Source: Al Arabiya
Please click the following URL to read the full text of the original story:
https://english.alarabiya.net/News/gulf/2021/10/31/UAE-instructs-citizens-in-Lebanon-to-return-home-amid-ongoing-crisis
--------
Lebanon's Maronite Christian Patriarch urges Aoun, Mikati to defuse crisis with Gulf
31 October ,2021
Lebanese Maronite Patriarch Bechara Boutros al-Rai called on the authorities on Sunday to take a "decisive step" to defuse a crisis with Gulf Arab states over critical comments made by Information Minister George Kordahi about the Arab Coalition in Yemen.
Rai, who made the plea to President Michel Aoun and Prime Minister Najib Mikati in his Sunday sermon, did not suggest any specific measure.
Kordahi says he made his comments about the war in Yemen before becoming a minister and so far resisted calls to resign.
Source: Al Arabiya
Please click the following URL to read the full text of the original story:
https://english.alarabiya.net/News/middle-east/2021/10/31/Lebanon-s-Maronite-Christian-Patriarch-urges-Aoun-Mikati-to-defuse-crisis-with-Gulf
--------
First-ever Jewish 'dating app' launches in Gulf
31 October ,2021
The first-ever Jewish dating website has been launched in the Gulf with the aim of pairing up local Jewish singles.
The platform JSG, which stands for "Jewish Singles in the Gulf," debuted with a website where participants are encouraged to fill out a questionnaire and then a group of matchmakers recommend matches, the Association of Gulf Jewish Communities (AGJC), told Al Arabiya English.
It comes a year after the US-brokered Abraham Accords.
"As our communities throughout the GCC experienced unprecedented growth over the past few years, we have seen more and more singles move here with an interest in establishing more permanent roots in the region," said AGJC President Ebrahim Dawood Nonoo. "By helping these singles find their spouses in the GCC, they are more likely to get married here and establish their families here, which in turn grows Jewish communal life and the need for more Jewish institutions like schools, kosher food, etc."
Bahrain and Gulf neighbor United Arab Emirates normalized relations with Israel last year in the Abraham Accords that built on shared business interests and worries about Iran. Sudan and Morocco followed suit.
AGJC Rabbi Dr. Elie Abadie said many single Jewish people in the Gulf have already registered interest in the site.
"The buzz around JSG has reverberated around the world and in the weeks leading up to the launch of the platform, we received interest from dozens of singles in the region," said he said.
"We are starting with a website and hope to grow this into singles events and programs very soon. It is so important for us to work with singles living in our region to help them find relationships with other Jews."
Source: Al Arabiya
Please click the following URL to read the full text of the original story:
https://english.alarabiya.net/life-style/2021/10/31/First-ever-Jewish-dating-app-launches-in-Gulf
--------
US urges diplomatic channels to remain open after Lebanon-Gulf crisis
30 October ,2021
The US on Saturday urged all diplomatic channels remain open between Beirut and the Gulf after several countries expelled Lebanese diplomats due to critical comments about Saudi Arabia and the United Arab Emirates by Lebanon's Information Minister George Kordahi.
"We urge that all diplomatic channels remain open between the parties to ensure meaningful dialogue on the pressing issues facing Lebanon," a State Department spokesperson told Al Arabiya English in the first public US response on the matter.
The State Department official noted that Washington's charge d'affaires in Beirut met with Lebanon's foreign minister on Saturday to discuss the recent developments. The number two US diplomat in Beirut also took part in a crisis group meeting, which was made up of Lebanese officials.
On Friday, Riyadh ordered the immediate halt to all Lebanese imports.
The decision followed "the insulting statements" made during an interview given by Lebanon's Information Minister George Kordahi before he became a minister.
The row over critical comments made by Lebanese Information Minister Kordahi about the Arab Coalition military intervention in Yemen threw the government into a new crisis amid calls for Kordahi's resignation.
Bahrain, Kuwait and the UAE followed suit by asking the top Lebanese diplomats in their countries to leave.
Source: Al Arabiya
Please click the following URL to read the full text of the original story:
https://english.alarabiya.net/News/middle-east/2021/10/30/US-urges-diplomatic-channels-to-remain-open-to-ensure-dialogue-in-Lebanon
--------
Allies in the air: Saudi jets escort US bomber
October 31, 2021
JEDDAH: Saudi fighter jets escorted a US Air Force strategic bomber in a "show of strength" over key waterways in the Middle East, US military chiefs said on Sunday.
The B-1B Lancer passed over the Arabian Gulf, the Bab Al-Mandeb strait, the Suez Canal, the Gulf of Omanand the Strait of Hormuz. It was also accompanied by military aircraft from Egypt, Bahrain and Israel.
"The bomber task force mission ... was intended to deliver a clear message of reassurance," said Centcom commander Gen. Frank McKenzie, the head of US forces in the Middle East. "Military readiness for any contingency or mission, from crisis response to multilateral exercises to one-day presence patrols like this, depends on reliable partnerships."
The B-1B is a supersonic bomber that can carry the heaviest conventional payload of all the US military's planes. A US B-52 bomber, also capable of carrying nuclear weapons, flew over the Middle East in January.
Since February, Iran and Israel have engaged in what analysts have called a "shadow war," in which vessels linked to each nation have come under attack in waters around the Gulf in tit-for-tat exchanges.
Source: Arab News
Please click the following URL to read the full text of the original story:
https://www.arabnews.com/node/1958786/saudi-arabia
--------
Mideast
Iran Urges Full Elimination of N. Weapons in World
2021-October-31
Global nuclear disarmament would be done if there was political will to do so, Takht Ravanchi said on Sunday.
Iran's biennial draft resolution entitled 'Follow-up to nuclear disarmament obligations agreed to at the 1995, 2000 and 2010 Review Conferences of the Parties to the NPT' was approved in the First Committee of the UN General Assembly on Thursday October 28.
The draft resolution would be introduced to the General Assembly next month to be put on a final vote.
In part of the resolution proposed by Iran the implementation of the decision of the NPT Review Conference in 1995 to establish a nuclear-weapon-free Middle East is emphasized.
The decision calls on Israeli regime to join the NPT and accept the International Atomic Energy Agency's monitoring of its nuclear facilities.
Elaborating on the potential timing and mechanisms provisioned in the draft resolution, Takht Ravanchi said that it was a subject that should be decided on in Review Conferences of the NPT and among nuclear states themselves.
When the NPT was implemented in 1970, he said, the nuclear weapons states party to the treaty committed to eliminate their nuclear weapons, but they have refused to accept any timing on political grounds.
Takht Ravanchi noted that the quality and conditions for possible use of nuclear weapons have changed in contrast to the commitments of nuclear weapons states, although the number of such weapons has decreased.
Asked about security assurances provisioned in Iran's draft resolution, the diplomat said that there were generally two types of assurances.
Positive security assurance refers to a condition that a nuclear weapons state would help a non-nuclear country when attacked by another nuclear weapons state, Takht Ravanchi explained.
He went on to add that negative security assurance, on the other hand, refers to the condition that a nuclear weapons state wouldn't attack a non-nuclear country by nuclear weapons.
Source: Fars News Agency
Please click the following URL to read the full text of the original story:
https://www.farsnews.ir/en/news/14000809000320/Iran-Urges-Fll-Eliminain-f-N-Weapns-in-Wrld
--------
Israel's army launches week-long simulation of full-scale war with Hezbollah
31 October ,2021
Israel's Defense Forces (IDF) and the defense ministry's National Emergency Management Authority launched on Sunday a week-long exercise simulating a full-scale war with Lebanon's Iran-backed Hezbollah militia, Israeli media reported.
The military drill will simulate a conflict in which Hezbollah may utilize "100,000 rockets and missiles of different ranges, as well as a smaller but still significant quantity of precision-guided missiles, which have emerged as a potentially major issue for Israel," the Times of Israel reported.
For the latest headlines, follow our Google News channel online or via the app.
Israeli military officials assessed that Hezbollah's military capabilities are the "second most serious threat" facing Israel, after an Iranian nuclear weapon.
Israel has long viewed the Iran-backed Hezbollah in Lebanon as an enemy. Lebanon and Israel are still in a formal state of war and have long contested their land and maritime borders. Israel has also carried out hundreds of air strikes in neighboring Syria in recent years against suspected Iranian military deployments or arms transfers to Hezbollah.
"What concerns me as the chief of staff of the Home Front Command: One is the issue of precision-guided munitions and the effect that they will have on our ability to function and on things in the world of incoming fire alerts," said Brig. Gen. Itzik Bar, chief of staff of the IDF Home Front Command.
Source: Al Arabiya
Please click the following URL to read the full text of the original story:
https://english.alarabiya.net/News/middle-east/2021/10/31/Israel-s-army-launches-week-long-simulation-of-full-scale-war-with-Hezbollah
--------
Israel closes Ibrahimi Mosque to Muslims but allows settlers
31 October, 2021
The Israeli army closed the Ibrahimi Mosque in Hebron, a city south of the West Bank, on Saturday to all Muslims, Andalou Agency reported.
The mosque director, Sheikh Hafthi Abu Sneineh told the Turkish state-run news agency that the Israeli army only allowed Jewish settlers to visit the site for the Chayei Sarah occasion.
"The mosque has been closed since 3 pm. on Friday and will remain closed until 10 pm. Saturday," said Abu Sneineh.
The Israeli army closes off the Mosque for Muslims during Jewish holidays, which also prevents them from accessing the courtyards.
In September, the Ibrahimi Mosque was closed by Israeli authorities during the Jewish New Year, where the decision was condemned by Palestinian officials, who judged the move to be an attack on basic human rights.
"A flagrant affront to the feelings of Arabs and Muslims, a grave breach of the freedom of worship and a blatant violation of international human rights charters and conventions," Ahmad Tamimi, head of the Executive Committee of the Palestine Liberation Organisation's human rights department said.
Source: The New Arab
Please click the following URL to read the full text of the original story:
https://english.alaraby.co.uk/news/israel-closes-ibrahimi-mosque-muslims-allows-settlers
--------
Iran: Removal of Sanctions Prerequisite to Negotiations
2021-October-31
"Returning to the nuclear deal, officially known as the Joint Comprehensive Plan of Action (JCPOA), needs serious determination among US officials and President Joe Biden can issue an executive order to return to the point that his predecessor Donald Trump withdrew from the international agreement," Amir Abdollahian said.
He, meantime, reiterated that the diplomatic apparatus of the Islamic Republic will not tie the fate of the country and the Iranian people to the 2015 nuclear deal or any foreign state, because common interests are considered as criteria of interactions.
In 2018, the US left the Joint Comprehensive Plan of Action (JCPOA), a historic nuclear accord that had been clinched between the Islamic Republic and world powers three years earlier.
Upon leaving the deal, the US also reimposed the inhumane sanctions that the agreement had lifted.
Washington's allies in the accord—the UK, France, and Germany—have bowed under the US pressure, toeing the sanction line closely.
Source: Fars News Agency
Please click the following URL to read the full text of the original story:
https://www.farsnews.ir/en/news/14000809000597/Iran-Remval-f-Sancins-Prereisie-Negiains
--------
Iranian Civil Defence Chief Blames US, Israel for Recent Cyber attack on Fuel Delivery System
2021-October-31
"From our point of view, this attack has definitely been carried out by the Americans and the Zionists," General Jalali said on Saturday.
The attack targeted "the middleware" in the fuel delivery systems, he said, describing the type of attack as very complicated and difficult to fend off.
"If the attack had taken place in the hardware layer, there would have been a need for infiltration", meaning either the company that has manufactured the software would have been responsible or a disrupting piece of equipment would have to be installed to make the attack possible, the official noted.
The brief outage was caused last Tuesday by a cyberattack.
Three hours following the attack, 30 percent of the gas stationed resumed their offline services, while 12 hours after the attack, 60 percent returned to the normal status, General Jalali said.
"Continued operation of the [country's] infrastructures is the Passive Defense Organization's redline because it affects the people's lives," he noted, adding, "Serious infrastructural cyber warfare has started. We should take it seriously and rectify our areas of weakness."
Last year, as many as 1,400 drills were held to reinforce the country's cyber defense prowess, he noted, adding that so far this year 66 such maneuvers have gone underway.
Iranian Oil Ministry authorities said on Saturday that a system used to supply rationed fuel to motorists in the country has been restored at more than half of gas stations days after the system came under a cyberattack.
Source: Fars News Agency
Please click the following URL to read the full text of the original story:
https://www.farsnews.ir/en/news/14000809000244/Iranian-Civil-Defense-Chief-Blames-US-Israel-fr-Recen-Cyberaack-n-Fel
--------
Iran Commutes Death Sentences of 100 Convicts to Long-Term Imprisonment
2021-October-31
These individuals were mainly sentenced to death for drug offenses, Attorney General of the Supreme Court and Director-General of Clemency and Pardon Department of the Judiciary Hossein Najafi said.
He added that after being considered as eligible for clemency, these 100 convicts were subject to a degree of commutation under Article 19 of the Islamic Penal Code and they were sentenced to 30 years in prison and a fine of 2bln rials.
Najafi said that convicts were among those who were pardoned or their prison terms were commuted by Supreme Leader of the Islamic Revolution Ayatollah Seyed Ali Khamenei earlier this month.
Ayatollah Khamenei agreed with granting clemency to 3,458 convicts of different Iranian courts.
He issued the approval on the occasion of the birth anniversary of Prophet Mohammad (PBUH) and Imam Jafar Sadeq (AS) the sixth Imam of Shiites.
The pardon was made at the request of the country's Judiciary Chief Gholamhossein Mohseni Ejeyee.
Source: Fars News Agency
Please click the following URL to read the full text of the original story:
https://www.farsnews.ir/en/news/14000809000387/Iran-Cmmes-Deah-Senences-f-00-Cnvics-Lng-Term-Imprisnmen
--------
US flies B-1B bomber over Middle East amid Iran tensions
31 October ,2021
The US Air Force said it flew the B-1B Lancer bomber over key waterways in the Middle East, escorted by fighter jets from American allies in the region amid heightened tensions with Iran.
The B-1B, a supersonic bomber capable of carrying the heaviest conventional payload of any US military plane, flew over the Gulf of Aden, one of the world's busiest shipping routes, Bab al-Mandeb strait, one of the world's most important tanker routes, Red Sea, Suez Canal, one of the world's busiest waterways, the Gulf, Strait of Hormuz, the world's busiest oil-shipping channel, and the Gulf of Oman.
Those key maritime chokepoints in the Middle East have witnessed a slew of attacks on shipping blamed on Iran in recent years, as well as assaults which are part of a shadow war between Iran and Israel. Tehran has denied involvement in those attacks but vowed to take revenge on Tel Aviv for a series of attacks that targeted its nuclear program.
US Central Command said the bomber's mission was intended to deliver a clear message of reassurance.
"We are stronger together," said General Frank McKenzie, commander of US Central Command. "Military readiness for any contingency or mission – from crisis response to multilateral exercises to one-day presence patrols like this – depend on reliable partnerships."
Fighter jets from Saudi Arabia, Bahrain, Egypt and Israel escorted the B-1B Lancer over their respective airspaces.
Source: Al Arabiya
Please click the following URL to read the full text of the original story:
https://english.alarabiya.net/News/middle-east/2021/10/31/US-flies-B-1B-bomber-over-Middle-East-amid-Iran-tensions
--------
Coalition says 218 Houthis killed in airstrikes around Marib city
November 01, 2021
ADEN: The Arab military coalition in Yemen said on Sunday that more than 218 Houthis were killed in airstrikes around Marib city, the internationally recognized government's last northern bastion.
"Twenty-four military vehicles were destroyed" and more than 218 Houthis were killed in strikes in the past 72 hours in two districts, according to the coalition.
In recent weeks, fighting has intensified around the city of Marib in the province of the same name.
The coalition has said it has killed some 2,000 Houthis around the city in almost daily strikes since Oct. 11.
The latest bombing was carried out in Al-Jawba, about 50 km south of Marib, and Al-Kassara, 30 km to the northwest.
The Houthis began a major push to seize Marib in February and, after a lull, renewed their offensive since September.
The airstrikes took place as at least 12 civilians, including children, were killed in a car bomb blast near the airport of Aden on Saturday.
"Twelve civilians were killed in an explosion" in the vicinity of Aden airport and "there are also serious injuries," said an official.
Another security official confirmed the toll.
A spokesman from the Southern Transitional Council — part of Yemen's government — said the blast was caused by a car bomb explosion.
"A car bomb was detonated, killing a number of our peaceful citizens, including children, and wounding a number of other civilians," STC spokesman Ali Al-Kathiri said in a statement.
The explosion comes almost three weeks after six people were killed in a car-bomb attack that targeted Aden's governor, who survived.
AFP footage on Saturday showed people pulling out a body from a vehicle that had been completely destroyed, as firefighters put out flames nearby.
No one has yet claimed responsibility for Saturday's blast, which is the deadliest in the area since December last year, when an attack targeting Cabinet members ripped through Aden's airport.
At least 26 people, including three members of the International Committee of the Red Cross, were killed and scores were wounded when explosions rocked the airport at the time, as ministers disembarked from an aircraft.
All Cabinet members were reported to be unharmed, in what some ministers charged was a Houthi attack.
Source: Arab News
Please click the following URL to read the full text of the original story:
https://www.arabnews.com/node/1958871/middle-east
--------
Africa
Molassan Still Parading Self As Mufti Of Yorubaland Despite Court Injunction – League Of Imams
October 31, 2021
By Sikiru Obarayese
The League of Imams and Alfas in Yorubaland has scolded one Daood Molassan for parading himself as the Mufty of Yorubaland after a court order that stalled his installation on Saturday.
Recall that Oluwo of Iwo, Oba Aburasheed Akanbi announced intention to install Molassan as the Musfy of Yorubaland, a move which has been causing rumble among Muslims leaders in Southwest Nigeria.
The President of the umbrella body for all Imams and Alfas in Yorubaland, Sheik Jamiu Kewulere had visited Governor Gboyega Oyetola last week on the issue and also warned Oluwo to stop the installation of the title.
On Friday, the clerics also sought court injunction from Osun State High Court of Justice, restraining Oluwo from appointing or installing the aforementioned person or any other person as Grand Mufty of Yorubaland.
In a statement on Saturday, the president of the umbrella body for all Imams and Alfas in Yorubaland, Sheik Kewulere alleged that the Molassan went ahead and paraded himself in a manner that "effectively rendered nugatory the said court order on 30th October, 2021 around 10 am or thereabout in Iwo, Osun State.
"This is very unfortunate and a solid confirmation of the palpable fear of the League of Imams and Alfas in Yoruba Land that such a sacred office is best reserved for people of high integrity and scholarship.
Meanwhile, the League has urged all its teeming members, stakeholders and peace-loving people of the region to remain calm and promised that the law would take its course in due time.
Source: Daily Post
Please click the following URL to read the full text of the original story:
https://dailypost.ng/2021/10/31/molassan-still-parading-self-as-mufty-of-yorubaland-despite-court-injunction-league-of-imams/
--------
UN representative to Sudan discusses options for mediation with ousted PM Hamdok
31 October ,2021
The UN Special Representative to Sudan, Volker Perthes, discussed the options for mediation and the way forward for Sudan with ousted Prime Minister Abdalla Hamdok on Sunday.
Perthes said in a tweet that Hamdok was "at his residence where he remains well but under house arrest."
The UN secretary general urged Sudan's generals on Sunday to reverse their takeover of the country, a day after tens of thousands of people took to the streets in the largest pro-democracy protest since last week's coup.
Antonio Guterres said the generals should "take heed" of Saturday's protests. "Time to go back to the legitimate constitutional arrangements," he said in a tweet.
He was referring to a power-sharing deal that established joint military-civilian rule following the ouster of longtime autocrat Omar al-Bashir and his Islamist government in April 2019.
The UN envoy for Sudan, Volker Perthes, said meanwhile that he met Sunday with Abdalla
Hamdok, the deposed prime minister who remained under house arrest in the capital Khartoum.
"We discussed options for mediation and the way forward for Sudan. I will continue these efforts with other Sudanese stakeholders," he said.
Guterres expressed concern about violence against protesters on Saturday, calling for perpetrators to be held accountable.
At least three people were shot dead when security forces opened fire on protesters in Omdurman, a city adjacent to the capital of Khartoum. A doctors' union also said more than 110 people were injured by live rounds, tear gas and beatings in Omdurman and elsewhere in the country.
With Saturday's deaths, the overall number of people killed since Monday's coup rose to 12, according to the Sudan Doctors' Committee and activists. More than 280 others were injured over the past week.
The coup came after weeks of growing tensions between the military and civilians, and the generals had repeatedly called for dissolving the transitional government.
Gen. Abdel-Fattah Buhran, who led the coup, has claimed that the takeover was necessary to prevent a civil war, citing what he said were growing divisions among political groups.
However, the takeover came less than a month before he was to have handed some power to a civilian.
Source: Al Arabiya
Please click the following URL to read the full text of the original story:
https://english.alarabiya.net/News/north-africa/2021/10/31/UN-representative-to-Sudan-discusses-options-for-mediation-with-ousted-PM-Hamdok
--------
Europe
2nd round of interfaith dialogue between Iran-Serbian Orthodox Church in 2022
November 1, 2021
During the meeting between the Iranian Ambassador and Cultural Attaché in Serbia and Archbishop of Serbia Archbishop Porphyry said that relations with Iran is of fundamental importance to the Serbian Orthodox Church because Iran has a unique position in building and creating human civilization due to its ancient history.
According to the Public Relations Department of the Islamic Culture and Relation Organization, the meeting was attended by Mohammad Taghi Bakhtiari, head of the Iranian Cultural Mission in Belgrade and Saeed Khalilovich, director of the Qom Research Institute, as well as three deputies and assistants to the archbishop.
Rashid Hassanpour, Iranian ambassador to Belgrade in his opening comments said the government of the Islamic Republic of Iran is determined to promote all out cooperation with the Republic of Serbia, and in this regard, the role of cultural cooperation between the two countries is very effective, decisive and prominent.
Religions play a key role in establishing peace and understanding in the world, and the escalation of violence and numerous military conflicts in the world today reflects the fact that the only way to save human society is to return to spirituality," he said. The second round of Islam and Christianity dialog with the Serbian Orthodox Church will be held in Tehran next year.
Following the meeting, Iran"s Cultural Attaché , Mohammad Taghi Bakhtiari, while introducing the "International Center for Inter-religion and inter-cultural Organization of ICRO as the only entity of our country responsible for holding interfaith dialogue meetings, explained more details of the proposal to the participants in the meeting and said following the first round of talks with the Orthodox Church at the Faculty of Theology in Belgrade in 2016, we welcome the second round of talks in Tehran.
" The proposed topic for the second round of talks is "Religions and Community Health in the Post-Corona World".
Source: ABNA24
Please click the following URL to read the full text of the original story:
https://en.abna24.com/news/2nd-round-of-interfaith-dialogue-between-iran-serbian-orthodox-church-in-2022_1194175.html?__cf_chl_jschl_tk__=pmd__7zZsVp_31v9MrwaQAlhwfjiaQGP4PFNKE25C2V3r0s-1635750116-0-gqNtZGzNApCjcnBszQkR
--------
Turkish president meets European leaders on sidelines of G20 summit
Zafer Fatih Beyaz and Baris Seckin
31.10.2021
ROME
Turkish President Recep Tayyip Erdogan on Sunday met with leaders of France, Germany, and the European Council on the sidelines of the G20 Rome summit.
Erdogan and his French counterpart Emmanuel Macron held a 50-minute closed-door meeting at the La Nuvola Convention Center, which hosts the 2021 summit in Italy, the first in-person summit since the COVID-19 pandemic.
Separately, the Turkish president hold talks with German Chancellor Angela Merkel for 30 minutes behind closed doors.
The meeting was also attended by Turkish Foreign Minister Mevlut Cavusoglu, Treasury and Finance Minister Lutfi Elvan, Communications Director Fahrettin Altun, presidential spokesman Ibrahim Kalin, and Justice and Development (AK) Party spokesman Omer Celik.
Meanwhile, Olaf Scholz, the likely successor of Merkel, also joined her in the meeting with Erdogan.
Source: Anadolu Agency
Please click the following URL to read the full text of the original story:
https://www.aa.com.tr/en/europe/turkish-president-meets-european-leaders-on-sidelines-of-g20-summit/2408169
--------
URL: https://www.newageislam.com/islamic-world-news/pakistan-khorasan-isis-afghanistan-/d/125690
New Age Islam, Islam Online, Islamic Website, African Muslim News, Arab World News, South Asia News, Indian Muslim News, World Muslim News, Women in Islam, Islamic Feminism, Arab Women, Women In Arab, Islamophobia in America, Muslim Women in West, Islam Women and Feminism