New Age Islam News Bureau
19 Apr 2018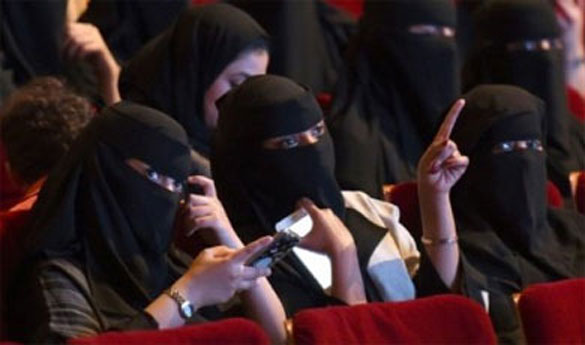 © AFP | Saudi women enjoy a rare trip to the movies on October 20, 2017 at a cultural centre in Riyadh
-----
• First Saudi Cinema Opens With Popcorn and 'Black Panther'
• 'Our First Mistake Will Be Our Last': Pakistani Rights Movement Defies Army
• Al-Qaeda Recruitment Lectures Offered in Google Play Store App
• Jordan's Muslims and Christians Unite to Celebrate Virgin Mary
• Western Countries after Dividing Muslims: Russian Mufti
• 68 Militants Killed, Wounded In Coordinated Air, Ground Operations: Afghanistan MoD
Arab World
• First Saudi Cinema Opens With Popcorn and 'Black Panther'
• Saudi King Meets with Top Vatican Cardinal for Inter-Religious Dialogue
• Over 300 sentenced to death in Iraq for IS links
• UN in security talks with Syria after chemical probe put on hold
• Egypt army kills extremist leader Nasser Abu Zaqul in Sinai
• UAE Forms New Platform to Tackle Muslim Minorities' Issues World Over
• Mass Grave of ISIL's Victims Uncovered in Northeastern Syria
• Over One Hundred Terrorists Killed in Recent Infighting in Northern Syria
• Did Alawite pressure lead to Assad's chemical attack on Syria's Douma?
--------
Pakistan
• 'Our First Mistake Will Be Our Last': Pakistani Rights Movement Defies Army
• Pakistan Watchdog Slams 'Grim' State Of Human Rights
• Pakistan Blasphemy Law Viewed As Blunt Instrument to Silence Dissent
• Indian Sikh Pilgrim Converts to Islam, Requests Visa Extension
• Media always stood by democratic system despite all odds: Marriyum
• Pakistani police fire gunshots at angry protesters; 1 killed
• Army soldier martyred defusing bomb in North Waziristan Agency
• Pakistan believes in peaceful co-existence with all neighbours: Khurram Dastgir
• Hazara man gunned down in Quetta
• SC rejects 3 TTP terrorists' plea against jail
--------
Mideast
• Al-Qaeda Recruitment Lectures Offered in Google Play Store App
• Erdogan Sends Turkey to Snap Polls On June 24
• Five Palestinians injured by Israeli fire near Gaza border
• Yemen security raid results in death of two Qaeda leaders
• UAE forces capture Iranian drone loaded with explosives in Yemen
• Iran vows to keep up anti-terror cooperation with Iraq
• Turkey to dismiss 3,000 army personnel over links to coup attempt
• Yemeni forces target airport on Saudi soil with ballistic missile
--------
Africa
• Jordan's Muslims and Christians Unite to Celebrate Virgin Mary
• Muslim Body Speaks On Call for Nigeria to Allow Same-Sex Marriage
• Terrorism in Africa: 21 active militant groups on the continent in 2018
• Tripoli Minister Says Al Azhar Needs to Play Greater Role in Fighting Extremist Ideology, Protect Libyan Youths
• Nigeria Celebrates 100th Anniversary of Africa's Renowned Muslim Thinker
• Islamic State-loyal Militants Claim Attacks In Burkina Faso
• Three Kenyans sneak into Somalia to join Al Shabaab – Police
• Several Al-Shabaab militants killed in southern Somalia
--------
Europe
• Western Countries after Dividing Muslims: Russian Mufti
• Iraq nabs Lebanese ISIS leader who planned to blow up UAE plane from Sydney
• Russia says Syria gas attack inquiry senseless as US, allies have already acted
• Military grade firearms increasingly available to terrorists in Europe - report
• France's fear of blacks and Muslims
--------
South Asia
• 68 Militants Killed, Wounded In Coordinated Air, Ground Operations: Afghanistan MoD
• 31 Militants Dead, 37 Wounded In Afghanistan
• Rohingya crisis: Canada and Britain want credible probe
• Afghan forces retake outposts built by Pakistan in the outskirts of Paktia
• Talks underway with Pakistan to prevent escalation repeat: Abdullah
• More Pressure Needed on Myanmar to Take Back Rohingya: Bangladeshi PM
--------
Southeast Asia
• Penang Launches RM3m Harmony Centre for Non-Islam Religious Bodies
• Draconian Blasphemy Laws Seen As Holding Indonesia Back
• Christian, Muslim Youth Hold Dialogue in War-Torn Marawi
• In Egypt, Malaysian students make time for charity work
• Malaysian opposition can use PKR logo to contest polls, Election Commission says
--------
India
• At 'Bharat Ki Baat' Event, PM Modi Rips into 'Terror Export Factory' Pakistan
• Hadiya's Accusations More Painful than Top Court's Order, Says Her Father
• A Sunni Islamic Seminary Declared the BJP MLC Bukkhal Nawab as `Murtad'
• AMU team in Guinness Book for performing laparoscopic cholecystectomy on infant
• IM man linked to Delhi blasts arrested by NIA
• Mecca Masjid blast case: Cloud over NIA judge linked to his 'hasty' bail order in land dispute case
--------
North America
• US Lawmakers Urge Global Effort to Counter Online Terror Funding
• Senators question US support for Saudi war on Yemen
• Kansas Trio Convicted in Plot to Bomb Somali Immigrants
Compiled by New Age Islam News Bureau
URL: https://www.newageislam.com/islamic-world-news/first-saudi-cinema-opens-with/d/114981
--------
First Saudi cinema opens with popcorn and 'Black Panther'
April 18, 2018
RIYADH, Saudi Arabia (AP) - The lights dimmed and the crowd of men and women erupted into applause and hoots Wednesday evening as Hollywood's blockbuster "Black Panther" premiered in Saudi Arabia's first movie theater.
Though it was a private, invitation-only screening, for many Saudis it marked one of the clearest moments of change to sweep the country in decades. It's seen as part of a new era in which women will soon be allowed to drive and people in the kingdom will be able to go to concerts and fashion shows, and tuck into a bucket of popcorn in a cinema.
"It's a new era, a new age. It's that simple. Things are changing, progress is happening. We're opening up and we're catching up with everything that's happening in the world," said Rahaf Alhendi, who attended the showing.
Authorities said the public would be able to purchase tickets online Thursday for showings starting Friday. But there may be delays.
Movies screened in Saudi cinemas will be subject to approval by government censors, and Wednesday night's premiere was no exception. Scenes of violence were not cut, but a final scene involving a kiss was axed.
Still, it's a stark reversal for a country where public movie screenings were banned in the 1980s during a wave of ultraconservatism that swept Saudi Arabia. Many Saudi clerics view Western movies and even Arabic films made in Egypt and Lebanon as sinful. Despite decades of ultraconservative dogma, Crown Prince Mohammed bin Salman has pushed through a number of major social reforms with support from his father, King Salman, to satiate the desires of the country's majority young population.
"This is a historic day for your country," Adam Aron, CEO of AMC Entertainment, told the crowd at the screening. "It's been about 37 years since you've been able to watch movies the way movies are meant to be watched in a theater, together on a big screen."
U.S.-based AMC, one of the world's biggest movie theater operators, only two weeks earlier signed a deal with Prince Mohammed to operate the first cinema in the kingdom. AMC and its local partner hurriedly transformed a concert hall in the Saudi capital, Riyadh, into a cinema complex for Wednesday's screening.
Aron said the company plans to rip out the current concert-style seats and replace them with plush leather recliners and build three more screens in the complex to accommodate up to 5,000 movie-goers a day.
Samer Alsourani traveled from Saudi Arabia's Eastern Province for the event. He commended the crown prince for following through on his promises to modernize the country.
"This is the first time that we really see something that's really being materialized," he said.
The social reforms undertaken by the 32-year-old heir to the throne are part of his so-called Vision 2030, a blueprint for Saudi Arabia that aims to boost local spending and create jobs amid sustained lower oil prices.
The Saudi government projects that the opening of movie theaters will contribute more than 90 billion riyals ($24 billion) to the economy and create more than 30,000 jobs by 2030. The kingdom says there will be 300 cinemas with around 2,000 screens built by 2030.
AMC has partnered with a subsidiary of Saudi Arabia's sovereign wealth fund, known as the Public Investment Fund, to build up to 40 AMC cinemas across the country over the next five years.
Saudi Arabia had already started gradually loosening restrictions on movie screenings in the past few years, with local film festivals and screenings in makeshift theaters. For the most part, though, until now Saudis who wanted to watch a film in a movie theater had to drive to nearby Bahrain or the United Arab Emirates for weekend trips to the cinema.
In the 1970s, there were informal movie screenings but the experience could be interrupted by the country's religious police, whose powers have since been curbed.
Jamal Khashoggi, a dissident Saudi writer, describes the theaters of the 1970s as being "like American drive-ins, except much more informal." In an opinion piece for The Washington Post, he wrote that a friend once broke his leg at a screening in Medina when he jumped off a wall to escape the religious police and avoid arrest.
By the 1980s, movie screenings were largely banned unless they took place in private residential compounds for foreigners or at cultural centers run by foreign embassies.
Access to streaming services, such as Netflix, and satellite TV steadily eroded attempts by the government to censor what the Saudi public could view. By 2013, the film "Wadjda" made history by becoming the first Academy Award entry for Saudi Arabia, though it wasn't nominated for the Oscars.
To adhere to the kingdom's norms on gender segregation, certain screenings may be held for families and others for male-only crowds. But, generally movie theaters will not be gender segregated with "family sections" for women and related men and separate "single sections" for male-only crowds as is customary at restaurants and cafes.
Saudi Minister of Culture and Information Awwad Alawwad told The Associated Press the government aims to strike a balance between the country's Islamic mores and people's movie experiences.
"We want to ensure the movies are in line with our culture and respect for values. Meanwhile, we want to provide people with a beautiful show and really enjoy watching their own movies," he said.
The new movie theater also came equipped with prayer rooms to accommodate the daily Muslim prayer times.
https://www.washingtontimes.com/news/2018/apr/18/saudi-arabia-to-show-black-panther-to-mark-cinema-/
--------
'Our first mistake will be our last': Pakistani rights movement defies Army
Apr 18, 2018
ISLAMABAD: A new civil rights movement in Pakistan is galvanizing a rapidly growing following among the country's ethnic Pashtun minority by doing the nearly unthinkable: openly accusing the powerful and popular Pakistani military establishment of being "oppressors" who kill or whisk away Pashtuns by the thousands.
Counting hundreds of thousands of supporters in just its third month, the Pashtun movement has wielded the pictures and names of dead family members — along with the chant "What kind of freedom is this?" — as an indictment of unchecked military authority. From its start, the movement has been haunted by the question of how long the security forces would tolerate it before cracking down.
That time may be coming, many fear.
Despite its largest rally yet, a demonstration of tens of thousands in the northern city of Peshawar on April 8, the movement has labored under an only rarely interrupted media blackout. Interviews with editors and reporters at several outlets detailed pressure to avoid covering the Pashtun movement as an unmistakable sign that both the demonstrators and the press are facing a new level of threat from the military.
The country's army chief, General Qamar Javed Bajwa, ominously suggested at a public event last week that "engineered protests" threatened to reverse counterterrorism efforts by the military in recent years.
That military campaign, centered on operations against the Pakistani Taliban and some other militants in the country's northwestern region — where most of the country's Pashtuns live — has been credited with a drastic drop in terrorist attacks. It has greatly bolstered the military's popularity, and tipped the balance of authority over the country's institutions toward the army.
It has also led to the feeling that many of the country's Pashtun population centers have been under functional occupation by the security forces. Using an alternative system of military counterterrorism courts along with an extensive network of covert jails, security and intelligence officers wield life-or-death power — often instantly — over the Pakistani region known as the Federally Administered Tribal Areas, a leftover from the British colonial system.
The new Pashtun rights movement — which is known by the initials PTM, from words that translate as Pashtun Protection Movement — is the product of years of outrage over the security forces' power. It caught spark after the killing of a small group of Pashtun men, including an aspiring model named Naqeebullah Mehsud who was originally from the tribal areas, by police officers in Karachi in January. The officers have been accused of staging a fake shootout to cover up an extrajudicial killing spree.
Under the leadership of a young activist, Manzoor Pashteen, 26, the PTM has evoked deep emotion from Pashtuns in Pakistan and Afghanistan, as well as overseas.
Pashteen and his allies say that Pashtuns, who make up about 15 percent of Pakistan's population of some 204 million, have endured countless human rights violations, from disappearances to forced evictions. At rallies, women clutch pictures of sons they say were hauled off by security officials, never to be seen again.
Pashteen says that from the start, the movement has faced hostility from the military and its agencies, and is increasingly the subject of propaganda and social media campaigns engineered by supporters of the security forces.
"We've spent these two months enduring accusation after accusation, that we're foreign agents and working on behalf of some other group," he said Monday in an interview. "All we can do is try to take the moral high ground. We know our first mistake will be our last."
Another leader of the movement, Mohsin Dawar, was equally stark about the risks of open protest against the military: "Speaking about the army like this in Pakistan is suicide."
At the protest in Peshawar on April 8, Pashteen condemned the military and its agents as "oppressors" and called for the end of curfews and army checkpoints in the tribal areas.
Though the demonstration drew tens of thousands of Pashtun marchers from all over the country, its coverage on local television news media was next to absent, and only a smattering of Pakistani newspapers covered the event.
Then, three columns about the movement that were published by The News International, one of Pakistan's biggest English-language news outlets, disappeared Sunday from its website not long after being posted.
Interviews with newspaper editors and writers — many of whom spoke on condition of anonymity out of fear of the military's reaction — portrayed an atmosphere in which reporting on the Pashtun movement was widely being seen as a red line for the country's security establishment.
The journalists described the main factors in keeping the movement out of the news as a combination of direct warnings from military officials or their go-betweens and self-censorship in order to avoid being shut down.
In recent weeks, the country's biggest news channel, Geo TV, has been run off the air by cable operators who are broadly seen here as under threat from a military establishment that has increasingly been flexing its authority over civilian institutions.
"A lot of this is self-censorship, but you can't ask individual journalists to be crusaders for free expression," said Saroop Ijaz, a representative for the advocacy group Human Rights Watch in Pakistan. "Now that the state has demonstrated its power against Geo, you have a chilling effect. They've set a precedent for blatant censorship."
Khan Zaman Kakar, an anthropologist and PTM activist, was among those whose columns were abruptly removed from The News International. "My column went to print in the Sunday paper, then disappeared from the site around midday," he said. "Then I received a call from my editor saying it wasn't a technical issue."
Kakar said he could read between the lines and wasn't surprised that his column was censored: "I knew when I submitted it that it touches an issue the state does not want."
Many journalists described coming under immense pressure to keep the Pashtun movement out of the headlines.
"What's happening now is far more detailed and micromanaged as compared with the past," said Talat Hussein, a senior broadcast journalist and talk-show host. "It makes the current crackdown deadly and disturbing," he added, because there are no avenues for recourse.
Dawar, one of the movement's lead activists, said the censorship was sad, but not surprising. "We were actually surprised that the columns ran in the first place," he said. "Most publications are reluctant to cover any issues against the military."
He said social media had allowed the movement to gain supporters, as well as sympathetic international audiences. "Electronic media, print media — we don't need them. The entire world is seeing it, and seeing it live," Dawar said.
The movement's founders are counting on the idea that the world is watching as they continue to defy the military.
"We have no option but to continue," Pashteen said. "We are on the last possible option."
https://timesofindia.indiatimes.com/world/pakistan/our-first-mistake-will-be-our-last-pakistani-rights-movement-defies-army/articleshow/63814142.cms
--------
Al-Qaeda Recruitment Lectures Offered in Google Play Store App
BY BRIDGET JOHNSON
APRIL 16, 2018
An app that has been downloaded more than a thousand times on Google Play hooks up users with a selection of audio lectures and video addresses from American al-Qaeda recruiter Anwar al-Awlaki.
Al-Awlaki, the New Mexico native who remains a powerful recruitment force spanning terrorist group loyalties, was killed in an airstrike in Yemen in 2011. ISIS fighters frequently quote the leading al-Qaeda member online. Lone jihadists are often found to have consumed al-Awlaki lectures, including 2016 Chelsea bomber Ahmad Khan Rahimi and Abdul Razak Ali Artan, the Ohio State student who rammed pedestrians on campus in 2016.
In a November anti-extremism crackdown, YouTube pulled tens of thousands of videos of al-Awlaki's myriad sermons and Q&As that had been uploaded to the site. A search on the site now finds al-Awlaki videos that were posted 3 to 4 months ago, after the company's purge.
The Google Play app titled "Anwar Al Awlaki Lectures" is filed under "entertainment" and rated E for everyone.
The app's audio selections include "Stop Police Terror," which was a Friday sermon delivered by al-Awlaki at the East London Masjid on Dec. 26, 2003, "The Experiences and Ultimate End of Those Who Followed and Opposed the Prophet," "The Quran - The Book Of Tolerance," "Brutality Towards Muslims," "Giving and Investing in the Hereafter," and "It's a War against Islam."
It also includes segments from al-Awlaki's six-hour "Constants on the Path of Jihad" lecture, which has been cited as the jihadist recruitment and incitement material in numerous terrorism cases including the 2007 plot to attack Fort Dix: "Jihad will continue until the Day of Judgment," "Jihad does not depend on an individual or individuals," "Jihad is not dependent on a particular land," "Jihad is not dependent on a battle," "Victory is not limited to military victory." The app table of contents leaves out the sixth part of the "Constants" lecture: "Defeat in jihad does not necessarily mean military defeat."
The al-Awlaki videos include the 2010 interview he gave to al-Qaeda in the Arabian Peninsula's Al-Malahem Media, in which al-Awlaki praised the Fort Hood operation and called for more attacks on America. "The Americans do not want an Islam that defends the causes of the Islamic nation, or an Islam that calls for jihad, for the implementation of the shari'a... they want an Islam that is American, liberal, democratic, peaceful, and civilized," he said. An ISIS video is also included in the play list.
The Google Play app was last updated on Dec. 28 though the reviews indicate the app was available dating back to at least January 2017. It has a user rating of 4.8 out of 5 stars.
One reviewer states that he or she has "been waiting ever since Google too [sic] down the anwar al awlaki app, I loved it so much. Alhamdulilah you have this app!!!!"
"Greatest scholar of this generation," added another.
In January, PJM discovered key propaganda texts from al-Qaeda in the Arabian Peninsula posted for free download on the Barnes & Noble website, including the inaugural issue of a magazine linked to the 2013 Boston Marathon bombing.
Reviews posted on the e-books indicated that they've remained on the bookseller's website for years, despite clearly indicating in the titles that al-Qaeda materials were being offered. Barnes & Noble removed the e-books soon after the PJM report was published.
https://pjmedia.com/homeland-security/al-qaeda-recruitment-lectures-gathered-google-play-store-app/
--------
Jordan's Muslims and Christians unite to celebrate Virgin Mary
April 08, 2018
AMMAN - In a call for peace, love and harmony among religions, known as the Amman Message, Muslims and Christians came together to celebrate the Feast of the Annunciation in Jordan.
Organised by the Catholic Centre for Studies and Media (CCSM), under the patronage of Deputy Prime Minister and Minister of State for Prime Ministry Affairs Jamal Sarayreh, the March 25 event was hailed as a symbol of tolerance and peaceful coexistence.
"This is the first event that joins Muslims and Christians together in celebration of the Feast of the Annunciation. It aims at reasserting the deep values of the brotherly relations between Muslims and Christians in Jordan, a country of peace and understanding," said CCSM Director Father Rif'at Bader.
"The event represents a continuation of the Amman Message, the Common Word Initiative and the World Interfaith Harmony Week. It sends a clear message to the world that religion, with its values of love, can really contribute to peacemaking and stability, as well as to the restoration of cohesion and harmony."
The Amman Message was released by Jordanian King Abdullah II in 2004 focusing on what "Islam is and what it is not" and "what actions represent Islam and what actions do not." King Abdullah said its goal was to "clarify to the modern world the true nature of Islam and the nature of true Islam."
The Solemnity of the Annunciation is generally celebrated by Christians on March 25. The feast marks the Archangel Gabriel telling the Virgin Mary that she would be the mother of Jesus. The feast has been celebrated since the fifth century.
The Amman celebration this year was attended by government officials, ambassadors, members of parliament, representatives from the Ministry of Awqaf and Islamic Affairs, the Chief Islamic Justice Department, the Iftaa Department and churches in Jordan.
Sarayreh stressed unity among Jordanians of all faiths saying: "Since its establishment, Jordan has built a country based on the values of humanity that we all share."
Osama Imseeh, 49, a Christian living in Amman, said the event sent a very important message to extremists.
"It is very important to celebrate together the Annunciation, which is also mentioned in the Holy Quran Surat Maryam Verses 1-98. These verses are agreeable to both Muslims and Christians. Our society should build on such an event and strengthen interrelations among communities even more," Imseeh said.
"In Lebanon, the event became a national day and not a day for celebration by Christians only. These initiatives send a clear message to extremists everywhere and tell all those who object having such events that in the Holy Quran there is Surat Maryam and there are so many things that join us together more than separating us."
Lebanon has been celebrating the Feast of the Annunciation at the national level for more than 12 years.
Imseeh hailed the "wise leadership of King Abdullah II" in spreading harmony in Jordan and in a region plagued with sectarian turmoil. He quoted the king as telling the UN General Assembly in 2016 that "Jesus is named 25 times in the Quran. His mother Mary, called the 'best of all women in creation,' is named 35 times."
"The king said the extremists deliberately hide these truths about Islam in order to drive Muslims and non-Muslims apart… We as Christians thank him for his wise words," Imseeh said.
"Today, Jordan is a kingdom where Christians and Muslims live and work side by side and share the ups and downs in the region. We can see many initiatives based on humanity more than religion and this is what makes this society great," Bader said.
Sheikh Hamdi Murad, a professor at the World Islamic Science and Education University and co-founder of the Jordanian Interfaith Coexistence Research Centre said Christians and Muslims are "brothers and sisters."
"The Feast of Annunciation is mentioned in both the Holy Quran and the Holy Bible and such an event brings closer both communities and prove that we are one people joined by humanity," said Murad, who is a former under-secretary for Ministry of Islamic Affairs.
"What we saw on the day of the event is a step further in bringing harmony and cooperation among societies, which makes this kingdom a great place to live in."
Christians account for about 4% of Jordan's population of 10.2 million.
https://thearabweekly.com/jordans-muslims-and-christians-unite-celebrate-virgin-mary
--------
Western countries after dividing Muslims: Russian mufti
April 18, 2018
Western countries are after dividing the Muslim world to reach its goals, said the head of the Council of Russian Muftis.
Muslims of Russia condemn any military action out of international laws, said Ravin Einoddin in a meeting with the Ambassador of Iran to Russia Mehdi Sanayee.
Saying that the Russian Muslims are ready to expand cultural-Islamic ties with Iran, he thanked Iran's attempts in religious fields.
In the meeting, Iran's envoy to Russia expressed his happiness with the Council of Russian Muftis' positive approach and sense of responsibility towards uniting followers of different sectors of Islam.
'Now, more than ever, the youths of the region need to understand the original, rational and moderate idea's of Islam; the elite of the two countries can help with that,' said Sanayee.
He also stated that Iran-Russia ties are better than ever, which naturally affects Muslims of the two countries as well.
http://en.abna24.com/news/europe/western-countries-after-dividing-muslims-russian-mufti_889859.html
--------
68 Militants Killed, Wounded In Coordinated Air, Ground Operations: Afghanistan MoD
Apr 18 2018
The Ministry of Defense (MoD) officials are saying that 68 militants were killed or wounded during the coordinated air and ground operations in various provinces of the country in the past 24 hours.
MoD deputy spokesman Gen. Mohammad Radmanish told reporters in Kabul that a total of 31 militants were killed ad 37 others were wounded during the operations.
Gen. Radmanish further added that the operations were conducted in Nangarhar, Kunar, Kapisa, Paktia, Paktika, Logar, Khost, Uruzgan, Faryab, Balkh, and Helmand provinces.
He said at least 11 of the militants were killed in Nejrab district of Kapisa, 15 were killed in Moqor, Waghez, and Andar districts of Ghazni, and 5 others were killed in Sherin Tagab district of Faryab.
According to Gen. Radmanish, the Afghan army engineering teams also defused 24 improvised explosive devices.
Gen. Radmanish also added that 15 operations are underway in 11 provinces of the country at the moment as commando forces have conducted 66 operations while Afghan Air Force has carried out one airstrike during the same period.
The MoD deputy spokesman expressed hopes that the operations will have a positive impact to improve the security situation of the provinces.
He said the Afghan forces are in an offensive position and the militants have lost capabilities to stand against the armed forces.
https://www.khaama.com/68-militants-killed-wounded-in-coordinated-air-ground-operations-radmanish-04916/
--------
Arab World
Saudi King meets with top Vatican cardinal for inter-religious dialogue
18 April 2018
Saudi Arabia's King Salman bin Abdulaziz received at al-Yamamah palace the President of the Pontifical Council for Interreligious Dialogue in the Vatican State, Cardinal Jean-Louis Pierre Tauran and his accompanying delegation.
During the meeting on Wednesday, the importance of the role of followers of religions and cultures in renouncing violence, extremism, terrorism and achieving security and stability in the world was emphasized.
It was attended by Prince Abdulaziz bin Saud bin Naif bin Abdulaziz, Minister of Interior, Secretary General of the Muslim World League Dr. Mohammed bin Abdul Kareem Al-Isa and the Minister of Foreign Affairs Adel al-Jubeir and a number of officials.
https://english.alarabiya.net/en/News/gulf/2018/04/18/Saudi-King-meets-with-top-Vatican-cardinal-for-interreligious-dialogue.html
--------
Over 300 sentenced to death in Iraq for IS links
April 19, 2018
BAGHDAD - Iraqi courts have sentenced to death a total of more than 300 people, including dozens of foreigners, for belonging to the Islamic State group, judicial sources said Wednesday.
The suspects are being tried by two courts, one near the former jihadist stronghold of Mosul in northern Iraq and another in Baghdad which is dealing notably with foreigners and women. Since January in the capital, 103 foreign nationals have been condemned to death - including six Turks sentenced on Wednesday - and 185 to life in prison, according to a judicial source. Most of the women sentenced were from Turkey and republics of the former Soviet Union. In January, an Iraqi court condemned a German woman to death after finding her guilty of belonging to IS while on Tuesday a French woman was sentenced to life in prison. At the court In Tel Keif near Mosul, 212 people have been sentenced to death, 150 to life in prison and 341 to other jails terms, Supreme Judicial Council spokesman Abdel Sattar Bayraqdar said in a statement.
"It has been proven that they carried out criminal actions at public hearings conducted in accordance with the law during which the convicts' rights were guaranteed," he said.
Iraq declared victory in December against IS - also known as ISIS - which at one point controlled a third of the country.
On Monday the justice ministry said 11 people convicted of terrorism-related charges had been executed in Iraq, which according to New York-based Human Rights Watch is the world's number four executioner.
"These executions follow rushed trials of ISIS suspects which are riddled with due process violations, including convictions based solely on confessions which are sometimes extracted by torture," said HRW senior Iraq researcher Belkis Wille.
Full report at:
https://nation.com.pk/19-Apr-2018/over-300-sentenced-to-death-in-iraq-for-is-links
--------
UN in security talks with Syria after chemical probe put on hold
April 19, 2018
UN security experts have said they were negotiating with Syrian and Russian authorities for international chemical inspectors to deploy to the site of an alleged toxic gas attack near Damascus, after a reconnaissance mission came under fire.
The team from the world's chemical arms watchdog has not yet been able to begin its field work in Douma, where dozens were killed in a suspected April 7 gas attack, as Western powers warn that President Bashar al-Assad's regime may attempt to remove crucial evidence.
The United Nations Department of Safety and Security (UNDSS) said it was trying to make arrangements for the fact-finding experts to travel to Douma "at the earliest possible time", according to a report to the Security Council obtained by AFP Wednesday.
"UNDSS in Damascus is now engaged in further discussions and coordination with representatives of the Syrian Arab Republic and the Russian military police on how to enhance and reinforce security arrangements in specific locations in Douma," it said.
A team from the Organisation for the Prohibition of Chemical Weapons arrived in Syria just hours after unprecedented US-led strikes on regime targets Saturday, launched in response to the alleged gas attack.
But the watchdog on Wednesday said safety fears had hampered plans for the experts to travel to Douma, a town that was controlled by rebels until Russian-backed regime forces fully retook it last week.
Full report at:
https://nation.com.pk/19-Apr-2018/un-in-security-talks-with-syria-after-chemical-probe-put-on-hold
--------
Egypt army kills extremist leader Nasser Abu Zaqul in Sinai
18 April 2018
Egypt's military said Wednesday it had killed a militant leader in the Sinai Peninsula, where ISIS group is carrying out an insurgency.
During an operation in mountainous areas, Egyptian forces "killed Nasser Abu Zaqul, the central Sinai commander of the terrorist group, after significant exchanges of fire," the army said in a statement.
The military said it found a rifle, two grenades and a large quantity of ammunition with the slain insurgent leader.
Egypt's army launched a major offensive against the militants on February 9 in the northern Sinai Peninsula, in an attempt to neutralize a local branch of ISIS.
More than 100 of the rebels and at least 30 government troops have been killed since the operation, dubbed "Sinai 2018," was launched, according to official figures.
Egypt has been hit by significant militant attacks in recent years, especially after the army toppled the Muslim Brotherhood former president Mohamed Morsi in the summer of 2013, amid mass protests against his government.
Hundreds of soldiers, police and civilians have been killed in the attacks.
In late November, President Abdel Fattah al-Sisi gave three months for his security forces to re-establish control in Sinai, a deadline since extended.
Sisi secured a second term with an overwhelming victory in a presidential poll last month with 97.1% of the vote.
On Saturday the president extended a nationwide state of emergency originally declared in April 2017 by a further three months.
It is the fourth extension of the measure, imposed in the wake of attacks against Coptic Christian churches in the cities of Tanta and Alexandria, which killed 45 people.
Full report at:
https://english.alarabiya.net/en/News/middle-east/2018/04/18/Egypt-army-kills-extremist-leader-Nasser-Abu-Zaqul-in-Sinai.html
--------
UAE forms new platform to tackle Muslim minorities' issues world over
Sibte Arif
April 19, 2018
ABU DHABI: The United Arab Emirates has come up with a unique idea to launch a platform to address challenges faced by Muslim minorities across the world.
The platform, The International Muslim Minorities Congress (IMMC), is being convened by the Muslim Council of Elders and will include representatives from 140 countries. The congress will be held on May 8-9 in Abu Dhabi.
The Chairman of the International Muslim Minorities Congress, Dr Ali Al Nuaimi informed the media in a local hotel of Abu Dhabi during a press conference along with the member of the IMMC Dr Mohammed Bechari.
Dr Nuaimi said that this organisation will help bridge the gap between Muslim minorities and the governments. He expressed a hope that the conference would provide a platform to tackle issues of marginalisation and disenfranchisement in non-Muslim countries.
"Muslims in non-Muslim countries are facing many challenges, whether in terms of services or education … but the biggest challenge is for them to fit in with their societies." Speaking with The News, Dr Nuaimi said that the UAE has created an opportunity to form a platform for Muslim minorities across the globe to serve them and help them to integrate into the societies.
He acknowledged that Islam was hijacked and presented to the world with a distorted image. He said that some countries unfortunately have abused that to serve their political agendas and there have been many victims as a result.
"If a person wants to live in Germany, they have to live by German laws and as a German citizen given their rights and fulfilling their obligations", Dr Ali Rashid Al Nuaimi said. He believed that the success of the conference will help bring more security and stability across the world and to showcase Islam as a religion for peace and love.
It would be one of the biggest conference that is to be held in the emirates next month, the organizing committee informed The News at the sidelines of the press conference. Muslim leaders and government officials will meet in Abu Dhabi next month to discuss ways to prevent radicalization among an estimated 500 million people.
Vice Chairman of the conference's high committee Dr Mohammed Bechari said that "This is a unique event because for the first time in history, Muslim minorities will gather under one roof to discuss their issues and interact with each other".
While talking with The News, Dr Mohammad Bechari said that the platform will discuss setting up a strategy to prevent ideologising the "Islamic world" outside the Islamic countries and to teach the Muslim citizen to be a good citizen in their host community.
Full report at:
https://www.thenews.com.pk/print/306283-uae-forms-new-platform-to-tackle-muslim-minorities-issues-world-over
--------
Mass Grave of ISIL's Victims Uncovered in Northeastern Syria
Apr 18, 2018
The army discovered the mass grave in the town of al-Wawai in Western Raqqa.
The mass grave contained over 150 bodies of army soldiers and civilians that were executed by the ISIL when the region was under the terrorist group's control.
Earlier today another mass grave was found in Damascus province, where the army discovered a mass grave of 30 victims of Jeish al-Islam, South of al-Jala Garden in Douma.
In the meantime, the army men found a large workshop of Jeish al-Islam in Douma that was used for making mortar shells.
http://en.farsnews.com/newstext.aspx?nn=13970129001308
--------
Over One Hundred Terrorists Killed in Recent Infighting in Northern Syria
Apr 18, 2018
The sources said that Tahrir al-Sham and Syria's Tahrir Front continued their clashes in the villages of Ajel and al-Sa'adiyeh in Western Aleppo.
In the meantime, the two rival terrorist groups exchanged heavy fire near Tal Aas and its nearby regions in Southern Idlib, the sources added.
Heavy infighting among terrorists in Southern Idlib has cut off a road connecting Khan Sheikhoun and al-Habit regions, the sources went on to say.
They further said that over 100 gunmen have been killed and tens of others wounded in clashes among militants in the province of Aleppo and Idlib since Sunday.
In a relevant development on Monday control over several regions in Northern Syria was exchanged between Syria's Tahrir Front and Tahrir al-Sham Hay'at following fierce clashes among rival groups in Hama, Idlib and Aleppo provinces.
Syria's Tahrir front managed to drive Tahrir al-Sham out of the village of Tal Aas, Seida siloes, Seida Power Company building and the village of Um Zeitouneh in Southern Idlib.
Also, Tahrir al-Sham took control of the town of Morek and the key trade passageway of Morek.
Full report at:
http://en.farsnews.com/newstext.aspx?nn=13970129000664
--------
Did Alawite pressure lead to Assad's chemical attack on Syria's Douma?
18 April 2018
Many theories have been brought forth by international observers in the aftermath of a suspected chemical attack on Syria's Douma, including one that suggested Assad bowed down to pressure from the minority Alawite group of which the Syrian president belongs to.
A couple of days before the United States, France and the United Kingdom struck strategic bases in Syria, Middle East writer and analyst Sam Dagher suggested in an article published by The Atlantic that Assad's regime may have approved the Douma attack after pressures from the minority Alawite community who urged actions against the Jaysh al-Islam fighters.
"One crucial and largely overlooked explanation is the pressure he has faced from the Alawites, members of the minority Shiite-linked sect to which the Assads belong," Dagher wrote on the Atlantic.
"Many Alawites believe Douma's main insurgent group Jaysh al-Islam, or the Army of Islam, has been holding up to 7,500 Alawite prisoners in and around the city—including army generals, soldiers, and civilians—kidnapped or taken captive by rebels over the years to try to extract concessions from the regime. Though the Alawites represent a small proportion of the country overall, they hold key regime positions, dominate the police, and supply the main fighting forces who have been defending the regime since 2011. Many of their families are missing loved ones whom Assad can't seem to get free, even as he tells them he wants still more of their sons to fight," he added.
The Alawite sect
Assad is from Syria's minority Alawite sect and critics have said that the president has filled senior political and military posts with Alawites to impose his rule through sectarian loyalty.
Sunnis Muslims make up 74 percent of Syria's 22 million population, Alawites 12 percent, Christians 10 percent and Druze 3 percent. Ismailis, Yezidis and a few Jews make up the rest.
In a rare and incredible scene, Dagher reported, hundreds of Alawites staged a spontaneous protest in central Damascus on Apr. 9 and marched from an auditorium next to the Russian Embassy that had been turned into a waiting area for the families to one of the capital's busiest traffic intersections.
Full report at:
https://english.alarabiya.net/en/features/2018/04/18/Did-Alawite-pressure-lead-to-Assad-s-chemical-attack-on-Syria-s-Douma-.html
--------
Pakistan
Pakistan watchdog slams 'grim' state of human rights
by Saba Aziz
Apr 19, 2018
An independent watchdog has expressed concern over Pakistan's commitment to protecting human rights amid an increase in enforced disappearances, blasphemy-related violence and extrajudicial killings in the past year.
The Human Rights Commission of Pakistan (HRCP), a non-profit rights group, launched its annual report on Monday, highlighting the "grim markers" of the state of human rights in the country in 2017.
"An overarching concern is that even where the protection of legislation exists, the prosecution and conviction of perpetrators has remained at a very low level," the report said.
The rights group revealed that out of the 868 cases of "enforced disappearances" - higher than previous years - received by the commission in charge, 555 were disposed of.
While the report noted a decrease for the third successive year in deaths caused by "terrorist" attacks, violence against religious minorities was on the rise last year.
Mehdi Hasan, HRCP chairperson, blamed Pakistan's "weak government" for not having an "effective hold on the society".
He said that "most" human rights violations that occur in Pakistan "are committed by the government institutions."
"So, you can't solve the problem, because the government itself is responsible for those violations," he told Al Jazeera in a phone interview from Lahore.
"In fact, you don't see any plan for the well-being of the ordinary man in the agendas of any of the political parties," he added.
Last year, after a 24-month gap, Pakistan was re-elected to the United Nations Human Rights Council (UNHRC), an inter-governmental body responsible for "strengthening the promotion and protection of human rights around the globe".
Zainab Malik, head of advocacy at rights group Justice Project Pakistan (JPP), hailed the development as a "political victory", but warned: "Pakistan has consistently failed to uphold those commitments and voluntary pledges it made."
"There hasn't really been any significant progress made by the government of Pakistan," she told Al Jazeera.
Religious persecution
According to HRCP, the killings of people from the Ahmadi sect continued unchecked and their persecution was harsher last year than in the past.
Ahmadis are a sect that consider themselves Muslim, but whose faith is rejected by the Pakistani state.
There was also increasing violence associated with the country's blasphemy laws.
At least 74 people have been killed in attacks motivated by blasphemy accusations since 1990, according to an Al Jazeera tally.
Rights groups, including HRCP, have repeatedly criticised and called for the reform or repeal of the controversial blasphemy laws, which date back to the British empire.
The crime is punishable by death if the Prophet Muhammad is insulted. Other punishments include a fine or prison term, depending on the specific offence.
In a high-profile case in April last year, university student Mashal Khan was killed and two others wounded during a violent mob attack after being accused of committing blasphemy in the northern city of Mardan.
In June, an anti-terrorism court sentenced Taimoor Raza, 30, to death for allegedly committing blasphemy on Facebook - the first such case involving social media.
"This law is being misused by people to take revenge against their opponents, and it is very easy to charge anyone for blasphemy," Hasan told Al Jazeera in a phone interview last year.
Social media crackdown
In January last year, five bloggers, known for their liberal views on social media, went missing within days of each other.
Meanwhile, dozens of social media users were arrested or summoned by the Federal Investigation Agency (FIA) for posting "anti-military" content or material that was against the national interest.
Those targeted included political and social activists, as well as at least three journalists.
Pakistan ranks 139th out of 180 countries on rights group Reporters Without Borders' World Press Freedom Index.
Out of the 60 journalists killed in the country since 1992, 33 of those were targeted for murder, according to the Committee to Protect Journalists (CPJ).
In its annual report for 2017, US-based group Human Rights Watch (HRW) said: "Media outlets in Pakistan remained under pressure to avoid reporting on or criticising human rights violations during counterterrorism operations."
HRCP also raised concern over the threat to freedom of expression, saying that a "climate of fear and culture of silence" prevailed in the country.
"Journalists and bloggers continue to sustain threats, attacks and abductions, and the blasphemy law serves to coerce people into silence," the report said.
HRCP's Hasan believes in a country where "statement journalism" is popular and investigative reporting is suppressed, freedom of press is in jeopardy.
"The Pakistani media is allowed to reproduce the statements, but it is not allowed to do investigative reporting because in an investigation, powerful people get caught and they don't want that their activities to get exposed to the public," he told Al Jazeera.
Sexual violence
During the first 10 months of 2017, more than 5,660 crimes were reported against women across the country, HRCP cited a newspaper report as documenting.
In Pakistan's most populous province Punjab, alone, at least 2,980 rape cases were registered with the provincial police last year - an increase from 2,942 in 2016.
That trend spilled over to the start of 2018 as well.
In a case that sparked outrage and protests across the country, seven-year-old girl, Zainab Ansari, was raped and murdered in Kasur district near Lahore in January.
The rape and murder of Zainab Ansari was the 12th such case in Kasur district in the last year, according to local media reports.
Reported cases of violence against women in 2017 were considered to be "the tip of a huge iceberg", HRCP said in its yearly review.
Malik, of JPP, believes Pakistan has "failed" to protect its women and children.
"The problem with regards to addressing these crimes is that the state narrative seems to be focused on increasing punishment, whereas what is actually needed is to increase child protection measures for the case of sexual abuse of children and for women, we need to increase more safeguards for the protection of women from sexual violence," said Malik, who is also a human rights lawyer.
"Sometimes, it just takes something as small as passing a law to have a huge impact on human rights violations."
https://www.aljazeera.com/news/2018/04/pakistan-watchdog-slams-grim-state-human-rights-180418152611578.html
--------
Pakistan blasphemy law viewed as blunt instrument to silence dissent
18.04.2018
Life can never go back to the way it was for Ahmed Waqas Goraya. Ever since he was accused of blasphemy – a Pakistani law that can mean the death penalty for those seen as insulting Islam or the Muslim prophet Muhammad – he's lived like a wanted man.
Goraya was among five bloggers kidnapped last year, allegedly by the country's spy agency for their views, which were published online and deemed as being too critical by the powerful army.
Interrogators questioned Goraya and his fellow bloggers about their links with Pakistan's governing party, then headed by Prime Minister Nawaz Sharif, who had to leave office himself last year after a court ruled he was morally unfit for office. The whole time, pro-military media kept reporting they had been arrested for running a social media page considered blasphemous.
"I think all this was designed by the military and the spy agency," Goraya says. "They wanted to punish us for our liberal political thoughts and used their best tool."
Goraya and the other activists had to flee the country to avoid expected attacks by mobs. They have not been back since then.
"It has changed my life. I have lost relatives and friends," Goraya told journalists on Tuesday while travelling from Germany to the Netherlands, where he now lives with his wife and son. "I blame the state and the army as an institution for my ordeal."
It is not only Goraya and bloggers. Implicating people with dissenting views in blasphemy charges has become part of a pattern in Pakistan. State and its institutions are often blamed for this.
In 2017, the country witnessed an increase in blasphemy-related violence and mob attacks, said Human Rights Commission of Pakistan (HRCP). The worse part was that the government continued to condone discriminatory prosecutions, the HRCP added in its annual report, which was released on Monday.
"State institutions like the military, parliament or the judiciary are either behind discrimination or do not react to correct the course," said I A Rehman, one of the founding members of HRCP.
Pakistan's parliament last year passed a law to place the members of the country's marginalised Ahmadiya community on separate voters lists, a move considered discriminatory by rights groups. A court in the capital, Islamabad, recently ordered all candidates for public sector jobs to declare their faith, something that could also be used to target the Ahmadiya community.
"We see space shrinking for us," said Amir Mehmood, a spokesman for Pakistan's Ahmadiya. Members of the community call themselves Muslim, but they were declared non-Muslims by Pakistan's constitution in 1974 for their views on the prophet Muhammad.
Most Muslims consider him the last in a long line of prophets. The Ahmadiya think there was one more after him, Mirza Ghulam Ahmed. Not only the Ahmadiya community, but people seen sympathising with them, also face threats, violence and mob attacks.
Pakistan's justice minister had to resign last year after followers of a radical cleric accused him of blasphemy after he changed an electoral law in a way that they perceived as softening the official stance towards the Ahmadiya.
Pakistan's former military ruler, Ziaul Haq, introduced the blasphemy law in 1980s under a Western-backed plan to Islamise the country, a move that helped in defeating Soviet Russia in Afghanistan by employing Islamic jihad.
Full report at:
https://en.qantara.de/content/pakistan-blasphemy-law-viewed-as-blunt-instrument-to-silence-dissent
--------
Indian Sikh Pilgrim Converts to Islam, Requests Visa Extension
APRIL 18, 2018
LAHORE: An Indian Sikh pilgrim, who came to Pakistan for Baisakhi celebrations, has converted to Islam and requested visa extension since she does not want to return to her country.
Kiran Bala wrote an application to the foreign ministry on Wednesday requesting visa extension that ends on April 21.
In her application, Kiran mentioned that she has wilfully converted to Islam and married Muhammad Azam, a resident of Lahore. She also changed her name to Amina Bibi.
She further mentioned that she does not want to return to India as she has received "assassination threats" and for that reason, Kiran (Amina Bibi) requested the ministry to extend her stay in the country.
https://dailytimes.com.pk/229685/indian-sikh-pilgrim-converts-to-islam-requests-visa-extension/
--------
Media always stood by democratic system despite all odds: Marriyum
April 19, 2018
ISLAMABAD: Minister of State for Information Marriyum Aurangzeb has said that the country will collectively commemorate the first ten years of continuation of democratic setup in the month of July.
She said this while addressing a ceremony marking the announcement of 8th Wage Board Award for journalists here at the National Press Club (NPC) on Wednesday.
Marriyum Aurangzeb had on April 9 announced the formation of the 8th Wage Board Award under the Newspapers Employees (Conditions of Services) Act 1973, accepting the long-awaited demands of the journalist community.
In this regard, a ceremony was held at NPC in Islamabad on Wednesday wherein the information minister handed over wage board award documents to Pakistan Federal Union of Journalists (PFUJ) Secretary General Ayub Jan Sarhandi.
She said that the country will witness a marked change if all the institutions discharge their responsibilities as per their constitutional mandate.
Marriyum Aurangzeb said that the Pakistan Muslim League-Nawaz (PML-N) has always raised voice for the supremacy of the constitution and law. She added that the media industry always stood by the democratic system despite all odds.
She went on to say that the new wage board award has been constituted as per the constitution with the cooperation of the owners of media houses. She added that the wage board award is aimed at addressing the economic woes of the working journalists.
The minister said that her ministry is also considering tabling a bill for the security and safety of journalists in the parliament.
Earlier, the elected representatives of both National Press Club and PFUJ hailed the federal government for issuing a notification for the constitution of the wage board award.
The information minister also thanked journalists for standing with the democracy and said that democracy and journalists were protectors of each other. She added that journalists gave countless sacrifices for the cause of democracy in the country.
Full report at:
https://www.pakistantoday.com.pk/2018/04/18/media-always-stood-by-democratic-system-despite-all-odds-marriyum/
--------
Pakistani police fire gunshots at angry protesters; 1 killed
Apr 17, 2018
KARACHI: Pakistani police say they lobbed tear gas and fired gunshots in the air to try to disperse an angry crowd hurling stones at the officers. The violence left one protester dead after a gunshot to the head.
The clashes erupted on Tuesday in the port city of Karachi during a demonstration over the disappearance and killing of a 7-year-old girl this week. The protesters accused police of negligence in the case.
The police also say 17 people, mostly policemen, were injured in the clashes.
Senior police officer Amir Farooq says the girl went missing two days ago and her body was found on Monday in bushes in a western Karachi neighborhood.
Full report at:
https://timesofindia.indiatimes.com/world/pakistan/pakistani-police-fire-gunshots-at-angry-protesters-1-killed/articleshow/63800248.cms
--------
Army soldier martyred defusing bomb in North Waziristan Agency
April 19, 2018
WAZIRISTAN: A Pakistan Army soldier, Lance Havaldar Irfan Ali on Wednesday embraced martyrdom while defusing an improvised explosive device (IED) in the North Waziristan Agency, according to the Inter-Services Public Relations (ISPR).
The Pakistan Army engineer's team had located the device that was planted near Datta Khel during a routine scanning. His body has been sent to his hometown where his funeral will take place.
Only three days go on April 15, two Frontier Corps (FC) personnel were martyred and 12 were injured during cross-border firing along the Pak-Afghan border, said the statement by ISPR.
Originating from Afghanistan's Khost province, the attack targeted FC troops that conduct routine surveillance near the Laka Teega check-post in Lower Kurram Agency.
The ISPR also reported that security officials have countered the attack while ensuring zero civilian casualties.
Full report at:
https://www.pakistantoday.com.pk/2018/04/18/army-soldier-martyred-defusing-bomb-in-north-waziristan-agency/
--------
Pakistan believes in peaceful co-existence with all neighbours: Khurram Dastgir
April 19, 2018
RAWALPINDI: Federal Minister for Defence Khurram Dastgir Khan has said that Pakistan believes in the policy of peaceful co-existence with all its neighbours and strongly condemns terrorism in all its forms and manifestations.
The defence minister, who is on a three-day visit to Poland, stated this during his interaction with Polish defence minister and other dignitaries.
On the occasion, a Memorandum of Understanding (MoU) on defence cooperation was signed between the two sides. The MoU will help augment defence ties between the two sides.
Khurram Dastgir further pointed out that intelligence and information sharing by Pakistan has resulted in the aversion of a number of terrorist incidents across the world and Pakistan has provided multifaceted support to the international community in the war on terror.
The defence minister further highlighted that Pakistan is committed to creating peace and stability in the region with particular focus on its relations with Afghanistan and the entire region. He also shared his concerns regarding the role of India in Afghanistan and frequent ceasefire violations of Indian forces at Line of Control (LoC), targeting the civilians.
Full report at:
https://www.pakistantoday.com.pk/2018/04/18/believe-in-peaceful-co-existence-with-all-neighbours-khurram-dastgir/
--------
Hazara man gunned down in Quetta
April 19, 2018
QUETTA: Another individual from Hazara community was shot dead by unidentified attackers in Quetta on Wednesday morning.
The deceased was identified as Muhammad Asif, son of Muhammad Nasir, who was at his shop located on Abdul Sattar Road when the incident took place.
The rescue officials reached the site and took the body to Civil Hospital Quetta for medico-legal formalities.
Meanwhile, the SHO of City Police Station, Malik Murad, stated that attackers fled the scene after killing Asif.
The targeted attacks on minorities in Quetta have increased once again, especially against Hazaras and Christian Community. Hazaras an ethnic community has been constantly targeted by the militants in both Pakistan and Afghanistan.
On April 10, Chief Justice of Pakistan Mian Saqib Nisar had said that "his head hangs in shame due to targeted killings of the Hazara Shia community". "We don't have the privilege to legislate and those who do have it are not legislating," the CJP had said while addressing lawyers in Quetta registry's bar room.
On April 1, an unidentified person opened fire on a Taxi in a marketplace of Quetta, killing a Hazara man. After the incident, Hazaras staged a sit-in in Quetta, followed by the protests in Lahore.
In 2013, at least 180 Hazaras were killed in bomb blasts-96 died in a bomb explosion at a snooker club frequently visited by Hazaras while 84 others were killed when a bomb went off in a vegetable market mostly used by Hazaras.
According to a recent report of the National Commission for Human Rights (NCHR), at least 509 Hazaras have been killed and 627 have been injured in terror-related incidents in Quetta over the last five years. The report titled 'Understanding the Agonies of Ethnic Hazaraz' is based on the data shared by the Balochistan home department and lists the incidents of attacks on the Hazara community from January 2012 to Dec 2017.
Full report at:
https://www.pakistantoday.com.pk/2018/04/18/unidentified-attackers-kill-another-hazara-in-quetta/
--------
SC rejects 3 TTP terrorists' plea against jail
April 19, 2018
ISLAMABAD - The top court on Wednesday upheld the decision of the Peshawar High Court and rejected the appeals of three terrorists linked with the Tehreek-e-Taliban Pakistan involved in hiding 840kg of explosive material.
On February 3 of 2015, the PHC had dismissed the petitions of the terrorists, wherein they had challenged the 14-year imprisonment awarded by the Anti-Terrorism Court, Peshawar.
A three-judge bench headed by Justice Asif Saeed Khan Khosa took up the appeals of the TTP-linked terrorists, Asif, Shiraz and Niazbeen.
Haji Habib, the fourth terrorist has already died in prison.
Advocate Aslam Ghumman on behalf of prosecution informed the bench that in October 2013, Mattani Police Station, Peshawar received information that some terrorists had dumped a huge quantity of explosive material in a place Srah Dargai.
He said the police raided the area, where the terrorists were present who opened fire on the police party.
After the exchange of fire between the accused and the police party, the four armed accused were apprehended.
All the four men belonged to the Kurram Agency, Advocate Ghumman said.
On the information provided by the accused persons, 42 bags containing explosives weighing 840 kg were recovered.
Subsequently the case was registered under the Anti-Terrorism Act and on conclusion of trial the Anti-Terrorism Court convicted and sentenced the four accused to 14 years in prison.
During the course of the SC hearing, the counsel for the terrorists informed the bench that the material recovered by the police from the spot was not explosive material rather it was gun powder.
However, the bench observed that the material on record shows that the accused persons had links with the TTP and they were caught red handed.
All these accused persons were convicted and sentenced under Section 324/34 of Pakistan Penal Code (PPC) read with 7 ATA and to ten years with fine of Rs20,000 or in default to suffer further one month.
They were also convicted and sentenced under Section 5 of the Explosive Act read with 7 ATA and to 14 years in prison with a fine of Rs20,000 or in default to suffer further one month.
The TTP-linked terrorists are also convicted and sentenced under Section 13 of Arms Ordinance read with 7 ATA and to seven years in prison with a fine of Rs20,000.
Full report at:
https://nation.com.pk/19-Apr-2018/sc-rejects-3-ttp-terrorists-plea-against-jail
--------
Mideast
Erdogan sends Turkey to snap polls on June 24
April 19, 2018
ANKARA - President Recep Tayyip Erdogan on Wednesday called snap elections in Turkey for June 24, bringing the polls forward by over a year-and-a-half to sharply accelerate the transition to a new presidential system.
Erdogan's announcement upended the political timetable in Turkey, which had been set to vote in simultaneous presidential and parliamentary elections on November 3, 2019.
The elections are especially significant as afterwards a new executive presidency - agreed in a 2017 referendum and denounced by critics as giving the president authoritarian powers - will come into force.
The new timetable means that Turkey will also vote in the polls under the state of emergency imposed since the July 15, 2016 failed coup aimed at ousting Erdogan. The authorities agreed this week the emergency should stay in place for another three months.
Erdogan made the announcement in an address at his presidential palace after meeting Nationalist Movement Party (MHP) chief Devlet Bahceli who the day earlier had urged early elections. "As a result of consultations with Mr Bahceli, we decided to hold elections on June 24, 2018, a Sunday," said Erdogan.
Bahceli stunned Turkish political observers on Tuesday when he urged the government not to wait for November 2019 to hold the presidential and parliamentary elections, suggesting the polls be held on August 26, 2018.
But the date announced by Erdogan is even earlier and will precipitate an intense election campaign as opposition parties seek to challenge his grip.
The MHP chief's intervention surprised commentators since the government led by Erdogan has repeatedly insisted there will be no early elections.
Erdogan said the authorities would have preferred to "grit our teeth" and wait until November 2019 but the situation in neighbouring Iraq and Syria "made it essential for Turkey to overcome the uncertainties ahead as soon as possible."
Turkey is pursuing a cross-border operation inside neighbouring Syria, which has been wracked by a seven-year civil war, and earlier this year took the Kurdish militia-held Syrian town of Afrin.
Erdogan said he wanted to hasten the move to a new presidential system agreed in the April 16, 2017 referendum which will see the office of prime minister eradicated and a new vertical power structure established under the presidency.
"After April 16, Turkey is still ruled by a system that we can consider old," he said. "The malaise of the old system can be seen in every step we take."
The Turkish lira, which has lost seven percent against the dollar over the past year, responded positively to the news, climbing 1.1 percent with investors gladdened over the end of uncertainty over the poll date.
But Fadi Hakura, Turkey expert at London-based think tank Chatham House, told AFP that the authorities were keen to hold the elections before any further deterioration in the economy.
"This early election drive reflects the worsening economy that Turkey is going through. It therefore demonstrates a sign of weakness on the part of the (ruling party) leadership," he said.
While growth in Turkey was 7.4 percent in 2017, double-digit inflation, a wide current account deficit and the need for debt restructuring at top companies could be harbingers of trouble ahead.
The polls will give Erdogan, 64, a chance to extend his stay in power with a new-five year mandate, after already serving 15 years in power as premier and then president.
His closest challenger will be the main opposition secular Republican People's Party (CHP) led by Kemal Kilicdaroglu. The pro-Kurdish Peoples' Democratic Party (HDP) has been weakened by the arrests of its most prominent figures.
"We are ready as if the elections were scheduled for tomorrow," said CHP spokesman Bulent Tezcan.
But Tezcan said Erdogan had "no right" to hold elections under the state of emergency, urging parliament to lift the measure immediately.
Meral Aksener, the head of a new nationalist formation, the Iyi (Good) Party, which split away from Bahceli's MHP to protest his alliance with Erdogan, said it was the "most prepared party" and announced she would stand for the presidency.
Erdogan's Islamic-rooted Justice and Development Party (AKP) has established a formal alliance with the MHP to fight the elections, in the hope of sweeping up conservative votes.
MHP leader since 1997, Bahceli is seen as a kingmaker in Turkish politics. He prompted the 2002 snap polls that brought the AKP to power and the AKP has ruled Turkey ever since.
https://nation.com.pk/19-Apr-2018/erdogan-sends-turkey-to-snap-polls-on-june-24
--------
Five Palestinians injured by Israeli fire near Gaza border
18 April 2018
Five Palestinians were injured by Israeli fire along the Gaza border Wednesday, the health ministry in the Palestinian enclave said, with tensions high over recent protests and clashes there.
The five were injured by Israeli artillery fire east of Khan Yunis, the ministry said.
It said the men were on a base belonging to the military wing of Gaza's militant rulers Hamas when they were struck.
The Israeli army confirmed it had fired on five Palestinians it said had approached the border.
In a statement, the army said at least one of the men was armed. It did not provide details on what type of fire its soldiers used.
The Gaza border has seen protests and clashes since March 30.
At least 34 Palestinians have been killed and hundreds wounded by Israeli fire since the protests began.
There have been no Israeli casualties.
Israel says it only opens fire when necessary to stop damage to the fence, intrusions and attempts at attacks.
Palestinians say protesters are being shot while posing no threat to soldiers, while the European Union and UN chief Antonio Guterres have called for an independent investigation.
Israel has rejected calls for an independent probe, saying its open-fire rules are necessary to defend the border.
Full report at:
https://english.alarabiya.net/en/News/middle-east/2018/04/18/Five-Palestinians-injured-by-Israeli-fire-near-Gaza-border.html
--------
Yemen security raid results in death of two Qaeda leaders
19 April 2018
Two al-Qaeda leaders died following a raid by Yemeni security forces in the Abyan governorate.
Security sources said that the two men were Morad al-Dobly and Hassan Bou Saree who are wanted terrorists. The two died during the operation which took place on Wednesday morning following an armed clash with security forces in the al-Wadea district.
https://english.alarabiya.net/en/News/gulf/2018/04/19/Yemen-security-raid-results-in-death-of-two-Qaeda-leaders.html
--------
UAE forces capture Iranian drone loaded with explosives in Yemen
18 April 2018
The anti-aircraft defense unit of UAE's armed forces was able to discover and control an Iranian-made Qusaf-1 aircraft loaded with explosives trying to sneak into positions close to Yemeni forces loyal to legitimacy and supported by the Arab coalition forces on the western coast of Yemen.
During the examination of the aircraft, the competent teams on the ground discovered a large quantity of explosive material intended to be used against targets in Yemen.
"The Arab coalition has continued to address these Iranian capabilities which pose a direct threat not only to the Yemeni forces and people, but also threaten the freedom of shipping routes in the Red Sea in the same way that it threatens civilian installations," a statement on UAE state agency WAM read.
https://english.alarabiya.net/en/News/gulf/2018/04/18/UAE-forces-takes-hold-of-Iranian-plane-loaded-with-explosives-in-Yemen.html
--------
Iran vows to keep up anti-terror cooperation with Iraq
Apr 18, 2018
Iranian Defense Minister Brigadier General Amir Hatami says the Islamic Republic will keep up its counter-terrorism cooperation with Iraq until the annihilation of terrorism.
The Iranian defense chief said that the Daesh terrorist group had inflicted a lot of damage on the nations of the region, especially Iraq, and stressed that all countries needed to put an all-out anti-terror fight high on their agenda or they would suffer.
"The Islamic Republic of Iran stood by the Iraqi nation and army in this crisis and hardships and we are determined in the fight against terrorism until the very end," Hatami said in the first joint high commission for defense cooperation of Iran and Iraq in Baghdad on Wednesday.
The Iranian defense minister congratulated the Iraqi people and government on the defeat of Daesh as well as victories made by Iraqi popular fighters and the armed forces.
Hatami also welcomed further defense cooperation with Baghdad.
"We are very interested in maintaining defense and military cooperation between the two countries so that we can achieve the highest level of interactions," he said.
The Iranian defense minister criticized double standards toward fighting terror in the region, and said terrorism was totally denounced in any part of the world.
Stressing that Iran is honestly and benevolently fighting against Daesh and other Takfiri groups alongside the Iraqi government and nation, Hatami said defense cooperation of Iran, Iraq, Syria and later the participation of Russia had become a symbol of the fight against terrorism in the region.
For his part, the Iraqi defense minister praised Iran's support for his country and said in the Daesh violent campaign of terror in Iraq the Islamic Republic of Iran sincerely stood by the people, the government and the Iraqi army and responded positively to the request of the Iraqi people and government to fight Daesh, and this would never be forgotten.
He also expressed hope that Iran would actively participate in reconstruction of his country.
Later on Wednesday, the Iranian defense chief also met and held talks with Chief of Staff of the Iraqi Army General Othman al-Ghanmi, during which the two sides discussed regional developments and matters of mutual interest.
The Iranian minister congratulated Iraq on its great victories against terrorism and expressed his country's full support of the Iraqi people as in the past.
He said that Iraq had achieved these achievements in the light of national unity, the leadership of the country's clerics, the efforts of the authorities and the bravery of the Iraqi fighters and youths. He also backed a united and coherent Iraq and said that Iraq's stability and security were important for the entire region.
General Ghanmi, for his part, said Baghdad and Tehran were keeping their anti-terror cooperation with the aim of totally clearing the Iraqi soil of terrorists. He also lauded Iran's support for his country's fight against Daesh.
"Iraq has declared victory over Daesh and the army and Hashd al-Sha'abi forces are clearing some of the Daesh-infested areas, and have gained significant security gains," he said as he reported on the security situation in Iraq.
Full report at:
http://www.presstv.com/Detail/2018/04/18/558925/Iran-Daesh-terrorism-fight-Iraq-US-strike
--------
Turkey to dismiss 3,000 army personnel over links to coup attempt
Apr 19, 2018
Turkish authorities plan to dismiss nearly 3,000 military staff over their alleged links to an attempted coup in July 2016, which Ankara says was orchestrated by US-based opposition cleric Fethullah Gulen.
The officials "discovered a nearly three-thousand strong structure" in the armed forces, state news agency Anadolu quoted Turkish Defense Minister Nurettin Canikli as saying to the parliament on Wednesday.
"In the coming days, they will be dismissed by emergency decree. We have sent (the paperwork) to the prime ministry," Canikli added.
Turkey has so far dismissed 8,568 armed forces personnel in a major purge of the military, including 150 generals who constituted more than half of the army's pre-coup high-ranking officers.
During the botched putsch, a faction of the Turkish military declared that it had seized control of the country and the government of President Recep Tayyip Erdogan was no more in charge. The attempt was, however, suppressed a few hours later.
Turkey, which remains in a state of emergency since then, has been engaged in suppressing the media and opposition groups suspected to have played a role in the failed coup.
Tens of thousands of people have been arrested in Turkey on suspicion of having links to Gulen and the failed coup. More than 140,000 others, including military staff, civil servants and journalists have been sacked or suspended from work over the same accusations.
The international community and rights groups have been highly critical of the Turkish president over the massive dismissals and the crackdown.
On Tuesday, the European Commission called on Ankara to "lift the state of emergency without delay" in its latest report on Turkey's efforts to join the EU.
The Turkish defense minister, however, defended the state of emergency, arguing that it has "only affected terror organizations, terrorists and their supporters."
Ankara has accused Gulen of having orchestrated the coup. The opposition figure is also accused of being behind a long-running campaign to topple the government via infiltrating the country's institutions, particularly the army, police and the judiciary.
Additionally, the Ankara government has outlawed his movement, and has branded it as the Fethullah Terrorist Organization (FETO).
Gulen has denounced the "despicable putsch" and reiterated that he had no role in it.
The 76-year-old cleric has also called on Ankara to end its "witch hunt" of his followers, a move he said is aimed at "weeding out anyone it deems disloyal to President Erdogan and his regime."
Full report at:
http://www.presstv.com/Detail/2018/04/19/558975/Turkey-coup-military
--------
Yemeni forces target airport on Saudi soil with ballistic missile
Apr 18, 2018
Yemeni forces have targeted an airport in Saudi Arabia with a domestically-manufactured ballistic missile.
According to Yemen's Arabic-language al-Masirah television network on Wednesday, the missile was launched at Jizan region's airport.
The attack came several hours after Yemeni forces targeted a power plant in the kingdom's Najran region.
According to a Yemeni military source, the missile successfully hit its target.
Earlier in the day, Yemeni forces targeted a Saudi mercenary camp in Najran with rocket and artillery fire, killing and wounding a large number of its occupants.
Yemen's air defenses also downed a US made drone over the port of Hudaydah.
Yemeni forces carry out such attacks in retaliation for Saudi Arabia's aggression against the war torn country which was launched in March 2015 in support of Yemen's former Riyadh-friendly government and against the country's Houthi Ansarullah movement, which has been running state affairs in the absence of an effective administration.
On Monday, At least six civilians were killed and several others wounded when Saudi warplanes conducted multiple airstrikes against residential areas across war-ravaged Yemen.
The offensive has, however, achieved neither of its goals despite the spending of billions of petrodollars and the enlisting of Saudi Arabia's regional and Western allies.
The Yemeni Ministry of Human Rights announced in a statement on March 25 that the Saudi-led war had left 600,000 civilians dead and injured during the past three years.
Full report at:
http://www.presstv.com/Detail/2018/04/18/558964/yemen-saudi-arabia-missile-airsrtike-yemen-saudi-arabia-missile-airsrtike
--------
Africa
Muslim body speaks on call for Nigeria to allow same-sex marriage
April 18, 2018
By Chijioke Jannah
The Administrative Secretary of National Mosque, Umoru Ja'afaru has said the Abuja Muslim Umma (body) would not pre-empt President Muhammadu Buhari's response to the British Prime Minister, Theresa May's call on Nigeria and other Commonwealth nations to allow same-sex marriage.
DAILY POST recalls that Mrs May told Commonwealth Heads of Government that there should be no laws criminalising same-sex relationships across the Commonwealth.
However, Ja'afaru while speaking with journalists in Abuja yesterday, expressed confidence that the President, being a devout Muslim, would not cause to be set in motion actions for the repeal of the law banning same-sex marriage in Nigeria.
He said: "We should not put the cart before the horse. The Abuja Muslim Umma is already aware of the appeal made by the British Prime Minister but we would not react to her statement until we observe the tone and colour of President Buhari's response.
"Be that as it may, we are confident that the President Buhari we know as a devout Muslim would never accede to such a demand.
"However, if he speaks or acts otherwise, then we would fully express our reaction through appropriate channels."
http://dailypost.ng/2018/04/18/muslim-body-speaks-call-nigeria-allow-sex-marriage/
--------
Terrorism in Africa: 21 active militant groups on the continent in 2018
April 18, 2018
The Africa Center for Strategic Studies, an organization dedicated to studying security issues on the African continent, just published its 2018 report on active militant Islamist groups on the continent.
According to the report, there are 21 active militant Islamist groups in 9 of the continent's 54 countries. They are:
Al-Qaeda in the Islamic Maghreb (AQIM)
Ansaroul Islam
Jamaat Nusrat Al-islam Wal Muslimeen
The Movement for Monotheism and Jihad in West Africa (MUJAO)
Islamic State in the Greater Sahara
Boko Haram
Islamic State West Africa
Okba Ibn Nafaa Brigade
Shabab Al-tawhid
Soldiers of the Caliphate
Ansar Al-Sharia (Derna)
Ansar Al-Sharia (Benghazi)
Wilayat Barqa
Wilayat Fezzan
Wilayat Tarabulus
Ansar Bait Al-Maqdis
Al Shabaab
Islamic State in Somalia
Al Hijara
Al Muhajiroun
Jahba East Africa
Below is a map of the groups and countries:
The organization also shared 2017 trends in its report, citing, a "continuing drop in reported fatalities linked to militant Islamist groups in Africa (10,376 compared to a peak of 18,728 in 2015)… primarily
[due to] the decline in fatality numbers linked to Boko Haram (3,329 from 3,484 in 2016) and ISIS (1,687 from 2,537 in 2016)".
The organization says that the number of violent events linked to militant Islamist groups in Africa, however,
rose in 2017 (2,769 events from 2,317 in 2016). Al Shabaab is linked to the highest escalation of violence on the continent, while Boko Haram has proven especially resilient, despite repeated announcements of the group's defeat.
Full report at:
https://face2faceafrica.com/article/terrorism-in-africa-21-active-militant-groups-on-the-continent-in-2018
--------
Tripoli Minister Says Al Azhar Needs to Play Greater Role in Fighting Extremist Ideology, Protect Libyan Youths
April 18th, 2018
Libyan Minister of State for Displaced and Migrants Affairs Youssef Jalala said that Libya needs the role of Egypt's Al-Azhar, the top Sunni institution of the Islamic world, to spread moderate Islam in the face of extremist ideology and to protect Libyan youth from delusion with deviant ideas.
The statement came during a meeting between Al-Azhar grand Shaikh Ahmed al-Tayyeb and the Libyan minister on Wednesday, an Azhar statement said.
The Libyan minister thanked the Grand Shaikh for receiving Libyan students in Egypt at all stages of education at the religious institution.
He added that Al-Azhar's absorption of the Libyan students and its provision to them of facilities have enabled them to complete their education, which has been one of the most important problems faced by Libyan emigrants.
Full report at:
https://www.albawaba.com/news/tripoli-minister-says-al-azhar-needs-play-greater-role-fighting-extremist-ideology-protect-liby
--------
Nigeria Celebrates 100th Anniversary of Africa's Renowned Muslim Thinker
April 17th, 2018
Weeklong activities commemorating the 100th anniversary of one of Africa's most celebrated Muslim thinkers Sheikh Adam Abdullahi al-Ilory began Monday in Nigeria's commercial capital city of Lagos.
El-Ilory, a widely published Arab Muslim author and founder of the country's foremost Arabic school Markaz, was born in 1917 and died in 1992. The event was organized in 2018 for logistical reasons.
A fearless social critic, he was especially renowned for his mastery of Quran exegesis, history and philosophy. He was also an alumnus of Al-Azhar University in Cairo, Egypt.
"It was no coincidence that Sheikh el-Ilory came almost exactly 100 years after the departure of Sheikh Uthman Bin Fodio. The two of them shared a lot of similarities and they left behind a legacy of advancing Islamic thoughts and education," according to Sa'ad Abubakar III, the Sultan of Sokoto in northern Nigeria and head of Nigeria's estimated 100 million Muslim population.
Bin Fodio, about whom el-Ilory wrote and dedicated several treatises, was a Muslim reformer.
Abubakar chaired the centenary event which was also attended by the country's senate president Abubakar Saraki, governors and several state and federal parliamentarians.
"Development and sciences started from the Muslim ummah. This was the legacy inherited and advanced by the late sheikh. But where are [the Muslims] today? We need to reevaluate ourselves and retrace our steps [...] The world is not waiting for us. We must do everything to promote the legacies of knowledge," Abubakar added.
Yusuf Jumah, head of the Markaz alumni, announced a proposal to establish a university in honor of the late Muslim thinker and called on the Nigerian authorities and the business community to contribute to the cause.
Full report at:
https://www.albawaba.com/editorchoice/nigeria-celebrates-100th-anniversary-africa's-renowned-muslim-thinker-1118138
--------
Islamic State-loyal Militants Claim Attacks In Burkina Faso
April 19, 2018
Militants belonging to the so-called Islamic State in the Greater Sahara (ISGS) under Abu Walid al Sahrawi have claimed responsibility for two attacks in northern Burkina Faso.
In a phone call to the AFP, a spokesman for the jihadists claimed responsibility for the kidnapping of a schoolteacher and the murder of a local mayor in northern Burkina Faso. According to the spokesman, identified as "Hammar," the jihadists kidnapped the teacher for speaking French. Meanwhile, the mayor was killed for reportedly "working with the Burkina Faso army for the Crusaders."
The schoolteacher was abducted late last week in a small village in the Nassoumbou area of Burkina's Soum Province. The mayor of Koutougou, also in Soum, was murdered in front of his house earlier last week.
The two assaults are not the first time militants of ISGS have claimed operations inside Burkina. In September 2016, a spokesman for the group claimed an attack on a Burkinabe gendarmerie post via the Mauritanian news outlet Al Akhbar. A month later, Al Akhbaragain published a claim sent to it by ISGS in which the group took responsibility for an assault on a Burkinabe military post near the borders with Mali.
Al Qaeda's Group for Support of Islam and Muslims (JNIM) and its Burkinabe affiliate group, Ansaroul Islam, have claimed or conducted the majority of jihadist attacks in northern Burkina Faso. However, as today's claims further confirm, ISGS retains its ability to operate and conduct operations in the area.
ISGS has also claimed assaults in Mali and Niger. For instance, earlier this year, the group sent claims to another Mauritanian agency, ANI, in which it claimed several attacks in both countries. It was in this statement it claimed last October's deadly ambush on US Special Forces in Niger. It also claimed an IED against French troops in Mali, three assaults in Niger, an attack on Malian troops near Menaka, and several assassinations of pro-government militias in Mali.
ISGS formed out of the former Movement for Oneness and Jihad (MUJAO), which merged with forces loyal to Mokhtar Belmokhtar to form Al Murabitoon in 2013. Two years later, Abu Walid al Sahrawi, a former MUJAO spokesman, left with several fighters from the former MUJAO, and allegiance to Abu Bakr al Baghdadi of the Islamic State.
Full report at:
https://independent.ng/islamic-state-loyal-militants-claim-attacks-in-burkina-faso/
--------
Three Kenyans sneak into Somalia to join Al Shabaab – Police
Apr. 18, 2018
Three Kenyans have sneaked into Somalia to join the al Shabaab, police have said.
They are; Mohamed Abdalla Asman alias Papa or Raymond, Hamis Hemed alias Baloteli and Ali Ahmed Ali.
Director of communications Charles Wahong'o said Abdalla hails from Majengo, Nairobi while his two accomplices come from Malindi.
He said the three sneaked out early Wednesday with the help of local Al Shabaab contacts and are already undergoing training.
"The suspects plan to sneak back into the country to stage terror attacks. They are in contact with other suspected terrorists within the country with whom they are planning local attacks, Wahong'o said in a statement on Wednesday.
According to police records, Abdalla is a repeat al Shabaab recruit who was first arrested on October 4, 2013 while attempting to sneak to Somalia.
He was charged and jailed at the Garissa GK prison before being released on July 12, 2017 after he finished his term.
Wahong'o said his attempted entry into Somalia was facilitated by the late Islamic teacher Sheikh Ibrahim Umar alias Amru who taught him at Answar Sunna Mosque, Mtwapa, Mombasa.
Umar was shot dead by unknown people in Mombasa alongside three of his companions on October 3, 2013.
Before their escape, Hemed and Ali worked at a local hotel in Malindi.
Wahong'o regretted that there were still some Kenyans who support and facilitate the radicalization of youth to join terror groups which he said was contributing to the destruction of families and communities.
"We wish to warn parents, guardians or religious leaders withholding information on radicalization that they are liable for prosecution for abetting a crime.
Kenya has in the recent past experienced reduced terror attacks owing to enhanced security surveillance especially in key entry points.
The latest and last terror attack recorded happened on February 16 when four people, including three teachers and a wife to one of them, were butchered by suspected al Shabaab militants as they slept at a school in Wajir.
On the same day, police recovered over 36 grenades, 18 IEDs, and 5 AK-47 rifles from three suspected terrorists in Merti, Isiolo county.
One of the suspected militants was killed while two others were arrested during an ambush.
Full report at:
https://www.the-star.co.ke/news/2018/04/18/three-kenyans-sneak-into-somalia-to-join-al-shabaab-police_c1746211
--------
Several Al-Shabaab militants killed in southern Somalia
April 19, 2018
Army officials in Somalia on Wednesday have said that they have killed several suspected Al-Shabaab militants and injured others after Somali National Army (SNA) troops attacked Al-Shabaab positions in southern Somalia.
Hassan Adem Mohamed told local reporters that SNA troops with assistance from AMISOM successfully attacked the militants in Lower Jubba are currently have full operational control of the area.
"Al-Shabab fighters attacked our bases in Qoqani location in this region on Tuesday, then we resisted and fought with the terrorists, killing several of their fighters and injured others during the battle that lasted more than an hour. There are no casualties on either SNA or AMISOM," Mohamed said.
Al-Shabaab militants have previously claimed victory in their latest gunbattle with SNA troops near Afmadow, saying they successfully captured the base.
Full report at:
http://sunatimes.com/articles/5455/Several-Al-Shabaab-militants-killed-in-southern-Somalia
--------
Europe
Iraq nabs Lebanese ISIS leader who planned to blow up UAE plane from Sydney
18 April 2018
Australia's government confirmed that an Australian had been detained in Iraq after a media report on Wednesday that an ISIS commander suspected of masterminding a plot to blow up an airline flight from Sydney and an Australian relative were captured.
Commander Tarek Khayat, a Lebanese citizen, and his relative Ahmed Merhi were detained in Iraq earlier this year, but their arrests have been shrouded in secrecy because of diplomatic sensitivities surrounding the cases, Australian Broadcasting Corp. reported, citing anonymous Australian officials.
Defense Minister Marise Payne confirmed that an Australian had been detained, but would not comment on his identity. "I can confirm advice today that an Australian is currently detained in Iraq as a result of the ongoing conflict there," Payne told reporters.
Australian police allege Merhi communicated with a homegrown ISIS cell behind several Sydney plots, including the 2015 fatal shooting of a police accountant outside the state police headquarters.
Australian police also allege Khayat directed his Sydney-based brothers, Khaled and Mahmoud Khayat, to blow up an Etihad Airways flight from Sydney to the UAE on July 15 last year with around 400 passengers and crew on board.
The plot went undetected by Australian authorities and was only foiled by chance by an Etihad check-in officer at Sydney Airport, according to a court dossier prepared by the Lebanese military prosecutor on the case and obtained by the ABC.
The plot was not immediately discovered, but bag carrying the explosives never boarded the plane and four men were later charged. Merhi is allegedly the first Australian Daesh fighter to be caught in Iraq.
https://english.alarabiya.net/en/News/world/2018/04/18/Iraq-nabs-Lebanese-ISIS-leader-who-planned-to-blow-up-UAE-plane-from-Sydney.html
--------
Russia says Syria gas attack inquiry senseless as US, allies have already acted
Apr 18, 2018
Russia has said that there is no need for establishing a new inquiry into chemical weapons use in Syria as Washington and its allies have already taken up the role of judge and executioner.
Russian UN Ambassador Vassily Nebenzia made the remarks on Tuesday while addressing the Security Council which has been deadlocked over establishing a joint United Nations and Organization for the Prohibition of Chemical Weapons (OPCW) inquiry which ended in November.
"The idea of creating a mechanism on attributing responsibility for the use of chemical weapons no longer makes any sense when Washington and its allies have already determined who's guilty and in essence are already acting like self-appointed executioners," said Nebenzia.
In the early hours of Saturday, the US, Britain and France launched a barrage of missile attacks against Syria in response to what they claim to have been a chemical attack by the Syrian government in Douma.
Syria rejected the accusations as "chemical fabrications" made by the foreign-backed terrorists in the country in a bid to halt advances by pro-government forces.
Initial talks were held on Monday over the adoption of a draft resolution forwarded by France, the United States and Britain.
Last week, rivaling US and Russia drafted UNSC resolutions aimed at creating a new inquiry into chemical weapons attacks in Syria have both failed to garner votes at the council.
Meanwhile, Syrian's UN envoy Bashar al-Ja'afari has announced that United Nations security team traveled to the Syrian town of Douma on Tuesday ahead of a planned visit by international chemical weapons experts on Wednesday.
"Today the UN security team entered Douma ... in order to assess the security situation on the ground and if this United Nations security team decided that the situation is sound in Douma then the fact-finding mission will begin its work in Douma tomorrow," said Ja'afari.
"The Syrian government did all that it can do to facilitate the work of this mission," he added.
Full report at:
http://www.presstv.com/Detail/2018/04/18/558861/unsc-russia-syria-inquiry
--------
Military grade firearms increasingly available to terrorists in Europe - report
18 Apr 2018
An "arms race" between criminal groups in Europe risks making it easier for terrorists to obtain high-powered, military grade firearms, a report has warned.
The survey says long-standing barriers to obtaining firearms have broken down in recent years owing to the emergence of the internet, cross-border smuggling of military-grade assault rifles into the EU, the conversion of large numbers of blank-firing guns and the widespread reactivation of weapons previously rendered unusable to be sold to collectors.
"The increased availability of firearms has contributed to arms races between criminal groups across the EU," the report, funded by the European commission, said.
In recent years, extremist attacks in France, Belgium, Denmark, Sweden and elsewhere have involved firearms. In the UK, plots involving firearms have been broken up by police and security services.
Militants from the Islamic State used automatic weapons and bombs to kill more than 130 people in bars, outside a stadium and at a concert hall in Paris in November 2015 in the bloodiest such incident.
Other uses of firearms in recent years have included lethal shootings at a museum in Brussels in 2014, the attack on the offices of a satirical magazine and a Jewish supermarket in Paris in January 2015, a series of attacks on off-duty soldiers and Jewish targets in south-west France in 2012 and at a synagogue in Denmark in 2016.
Attackers frequently have used "reactivated" and converted weapons, or firearms stolen from legitimate owners.
The attacks in Paris involved automatic weapons originally from former military stockpiles in the Balkans that had ended up in the hands of criminals in Belgium.
The report noted that in Paris it was firearms – "primarily automatic AK-pattern assault rifles and handguns acquired from intra-European criminal sources" – that had caused the vast majority of casualties.
"In western Europe the traditional closed character of criminal gun markets has partially eroded in recent years and we have observed an increased availability of military-grade firearms. These weapons have then also ended up in hands of terrorists," said Nils Duquet, the editor of the report and a senior researcher at the Flemish Peace Institute, an independent research institute that coordinated the study.
Two trends particularly worry researchers: the "trickling-down" of the possession and use of firearms to lower-level criminals in several EU member states, especially in western Europe, and the growing overlap between Islamic extremists and the criminal underworld.
The phenomenon of "gangster jihad" has become a major concern for experts and security services.
Many high-profile attacks in Europe and the UK in recent years have involved extremists previously convicted for petty or serious crime.
Several key members of the network that carried out the November 2015 Paris attack had been involved in drug and arms sales.
Extremist recruitment efforts have specifically targeted former criminals, with one British group's propaganda image of a fighter accompanied by the slogan: "Sometimes the people with the worst pasts create the best futures".
The report concluded that terrorists generally rely on previously established criminal connections to obtain firearms on illicit markets. It identified prisons as places that offered new opportunities for extremists who did "not yet have the necessary criminal connections to acquire firearms".
Laws and policies have been tightened in recent years to reinforce the fight against illicit arms trafficking.
However, the report said a lack of sound research meant these initiatives had often been based on a "case-bound, partial or even completely lacking, meaningful intelligence picture".
The situation in the UK is different, researchers found, but Duquet said there were growing fears of smuggling of powerful automatic weapons to the UK.
"A number of recent cases, for example, have demonstrated that criminals have been trying to bring military-grade firearms to the UK by exploiting legal loopholes in other EU member states with regard to easy-to-reactivate deactivated firearms," he said.
According to a separate report, also released on Tuesday, by analysts at the Geneva-based Small Arms Survey, criminal and terrorist networks on the continent obtain firearms from two major sources: weapons smuggled from south-east Europe after the Yugoslav wars of the 1990s, and the more recent trade in converted firearms, some of which originate in EU member states.
Converted and reactivated weapons in Europe are seen as having posed an acute problem in recent years. Amedy Coulibaly, who carried out shootings in Paris in January 2015, used two reactivated automatic rifles and and six handguns. The firearms had been sold in Slovakia before being reactivated and eventually smuggled into Coulibaly's hands.
Weapons seized from Mohamed Merah, who carried out attacks in January 2012 in Toulouse and Montauban, included a reactivated Spanish-made pistol. The perpetrator of the July 2016 shooting in Munich reportedly used a reactivated Glock pistol purchased on the dark web.
Full report at:
https://www.theguardian.com/world/2018/apr/18/arms-race-criminal-gangs-helping-terrorists-get-weapons-report-warns
--------
France's fear of blacks and Muslims
April 19, 2018
Two hundred Algerian demonstrators had been clubbed, beaten, strangled and killed, piled like cordwood and then pushed into the Seine in Paris on Oct. 17, 1961. The French government covered up the massacre for years as a means of shoring up white domination in numerical terms while legitimating it in political terms. From the decolonial perspective, race marks and orders the modern nation-state and, in this process, being Muslim is both a religious category and a racial concept. This is most evident in France, where France's racist ideologies have been built upon the repository of its past modes of racialization. A tactic of this racialization is the systematic use of rhetoric and propaganda to paint both black people and Muslims as violent savages inclined to rape. The literature on rape pertaining to blacks and Muslims includes many frameworks, but its historical roots and the sedimentation of this theory within racist discourse cannot be ignored.
Looking at Derrida's ethics, specifically on the force of law and justice, it becomes clear that almost every aspect of a struggle that demands an ethical response in relation to black or Muslim lives is tampered with. Although this may not be news to some, it is disconcerting that the extent of the problem has become so widespread, infiltrating academia, the media – which should be the voice of the voiceless – the work of public intellectuals and statements by opinion leaders obsessed with securing funding rather than continuing the work of justice and ethics. France has never been ethical or just with regard to black lives.
In his writing from French Algeria, Frantz Fanon said: "If psychiatry is the medical technique that aims to enable man no longer to be a stranger to his environment, I owe it to myself to affirm that the Arab, permanently an alien in his own country, lives in a state of absolute depersonalization. … The events in Algeria are the logical consequence of an abortive attempt to decerebralize a people." If anything, the unjust incarceration of professor Tariq Ramadan through the wickedness of certain French elite, members of the judiciary, the collaboration between the French media and Prosecutor François Molins, the "Prosecutor of French Jihadists," as he has been referred to, is indicative of France's fear of blacks and Muslims, not because they are violent, as is falsely claimed, but because they are intelligent, articulate and courageous. France has never liked that these people do not fear white people. This is a challenge to the racist conception of black people as uneducated savages and Muslims as barbarians. These people are what France is desperately trying to negate. In 2007, French President Nicolas Sarkozy said in a speech in Darkar, Senegal: "The tragedy of Africa is that the African has not fully entered history ... [t]hey have never really launched themselves into the future." But this is not all of it. Ten years later, in 2017, French President Emmanuel Macron claimed that Africa was held back by civilizational problems, implying that Africa's failures were due to the characteristics of its people and that poverty was exacerbated by women having many children. In response, journalist Eliza Anyangwe said: "Africans haven't entered history because Europeans keep writing them out of it."
According to Siddharta Mitter, it is obvious that Macron's remarks are racist and "fall into a tradition of grandiloquent and condescending statements about Africa" that deflect from the continent's difficulties as a product of "colonialism and its enduring trace. … There is a long history of population panic and its use in racist ideology." In his writings, Fanon had shown that although France claimed liberty, equality and fraternity, French society was steeped in racial contradictions in which whiteness was the norm and blackness and "Muslimness" is equated with evil. Just as these contradictions existed then, they exist today. Ramadan has been an ethical, eloquent and articulate critic of France's double standards against migrants, refugees, Muslim women, black and Arab French citizens. Ramadan is no apologist and is committed to the pursuit of a just, fair and equal society for all. For this, he has not hesitated to challenge the forked tongues of racist white supremacist politicians and the oppressive Arab puppet rulers who abuse Islam to justify their illegitimate rule. The denial of due process by French courts for Ramadan, a high-profile, Muslim intellectual and respected academic, while high-profile white French men also accused of rape such as the Budget Minister Gerald Darmanin and Environment Minister Nicolas Hulot received supportive coverage from French media and support from Macron and his government, despite Darmanin admitting that he had sex with his accuser, animate these double standards.
Darmanin received a standing ovation in parliament while Ramadan, despite giving concrete proof indicating he was not even in France at the time his accuser accused him of raping her, has been incarcerated in solitary confinement in Fleury-Mérogis Prison in France for more than 28 days. His family and wife have been denied the right to visit him, he was denied bail in spite of his lawyers putting forth all guarantees to consolidate and allay any of the fabricated fears that Ramadan could be a flight risk. Furthermore, despite that more than a dozen cases of rape have surfaced in France since the #MeToo movement, only Ramadan has been jailed while there are formal charges in these other cases. It seems that for France, blacks and Muslims have to adopt white masks to survive in a white society. Ramadan flatly refused this form of assimilation and called on Europeans to "normalize our presence without trivializing it." He was a voice that echoed Malcolm X when he said: "You don't have a revolution in which you are begging the system of exploitation to integrate you into it." Ramadan's unjust incarceration is indicative in my opinion of France's own inferiority complexes and inadequacies, bringing to bear what Jean-Paul Satre wrote in the preface to Frantz Fanon's masterpiece, "The Wretched of the Earth":
"Europeans, you must open this book and enter into it. After a few steps into the darkness you will see strangers gathered around a fire … they will see you, perhaps, but they will go on talking among themselves, without even lowering their voices. This indifference strikes home. … Their sons ignore you; a fire warms them and sheds light around them, and you have not lit it. Now, at a respectful distance, it is you who will feel furtive, nightbound and perished with cold. Turn and turn about; in these shadows from whence a new dawn will break, it is you who are the zombies."
Full report at:
https://www.dailysabah.com/op-ed/2018/04/18/frances-fear-of-blacks-and-muslims
--------
South Asia
31 militants dead, 37 wounded in Afghanistan
April 19, 2018
At least 31 militants have been killed and 37 wounded during the coordinated air and ground operations in various provinces of Afghanistan in the past 24 hours, confirms the country's Ministry of Defense (MoD).
The operations were conducted in Nangarhar, Kunar, Kapisa, Paktia, Paktika, Logar, Khost, Uruzgan, Faryab, Balkh, and Helmand provinces, reported Khaama Press, citing, MoD deputy spokesman Gen. Mohammad Radmanish, as saying.
At least 11 of the militants were killed in Nejrab district of Kapisa, 15 were killed in Moqor, Waghez, and Andar districts of Ghazni, and 5 others were killed in Sherin Tagab district of Faryab.
24 improvised explosive devices were also diffused.
"Gen. Radmanish also added that 15 operations are underway in 11 provinces of the country at the moment as commando forces have conducted 66 operations while Afghan Air Force has carried out one airstrike during the same period," the report said.
http://www.business-standard.com/article/news-ani/31-militants-dead-37-wounded-in-afghanistan-118041900254_1.html
--------
Rohingya crisis: Canada and Britain want credible probe
April 18, 2018
The call came at a roundtable, co-hosted by Canadian Foreign Minister Chrystia Freeland and British Foreign Secretary Boris Johnson, on the Rohingya humanitarian crisis
Canada and Britain have called for an urgent investigation of crimes committed against Myanmar's Rohingya community.
The call came at a roundtable, co-hosted by Canadian Foreign Minister Chrystia Freeland and British Foreign Secretary Boris Johnson, on the humanitarian crisis on Tuesday, reported CBA news.
The meeting was held as part of a Commonwealth Heads of Government meeting in London, England.
Quoting Johnson, a statement from the UK Foreign Office read that the Burmese authorities need to demonstrate that they are serious about the safety and security of the Rohingya, and a credible independent investigation into reported atrocities is an important step in the process.
Freeland is quoted in the British statement stating that the international community must reaffirm its support for those affected by the crisis.
Freeland said in the statement that everyone needs to work together to hold perpetrators of violence to account.
Tuesday's meeting of Commonwealth foreign ministers was organized after a coalition of thirty humanitarian and human rights groups came together in Ottawa to urge the federal government to act on a recent report by Bob Rae, the coalition's own special envoy to Myanmar.
Rae's report, which was issued earlier this month, urged the federal government to develop a multi-year plan to assist the majority-Muslim Rohingya refugees, who fled violence in their homeland and now live in camps in Bangladesh.
Rae suggested that Canada should step up humanitarian and development efforts, show a willingness to accept Rohingya refugees, and help gather and preserve evidence of crimes against humanity and genocide.
In the coming weeks, the federal government is expected to issue an official response to the report.
Tuesday's statement from the UK Foreign Office also quoted Freeland pledging a number of immediate actions in light of Rae's report.
Human rights groups currently in Ottawa for a meeting pointed out that Canada must focus on the immediate needs of the Rohingya people while pursuing the longer-term goal of holding to account those responsible for crimes and atrocities.
Farida Deif, Canada director for Human Rights Watch, believes that the gathering and preservation of evidence is critical and that Canada can play a really important role, right now, to lay the groundwork for that.
Myanmar's military regime faces numerous accusations by human rights groups of carrying out a systematic campaign of ethnic cleansing against the Rohingya minority.
Villages throughout Myanmar's Rakhine state have been bulldozed or burned. Civilians fleeing their homes have told harrowing stories of indiscriminate killings and rampant sexual violence.
Full report at:
https://www.dhakatribune.com/bangladesh/foreign-affairs/2018/04/18/rohingya-crisis-canada-britain-want-credible-probe/
--------
Afghan forces retake outposts built by Pakistan in the outskirts of Paktia
Apr 18 2018
The Afghan border police forces retook the outposts built by the Pakistani military in the outskirts of Paktia along the Durand Line.
The provincial government media office in a statement said the outposts were built Anzarkai Kandu and Sarkai areas of Dand-e-Pathan district.
The statement further added that the outposts were built in the absence of the Afghan forces as the area was under the control of the Taliban militants.
According to the provincial government, the Afghan forces cleared the area during the operations launched three days ago and the Pakistani military agreed to hand over the outposts today after a series of negotiations.
The outposts were handed over days after a clash broke out between the Afghan and Pakistani forces in Zazai Maidan area of Khost province.
This comes as the provincial government said Tuesday that the Afghan forces blocked one of the major supply routes of the Taliban group during an operation along the Durand Line.
The provincial government in Paktia said the route between Kurram Agency and Dand-e-Pathan district in Paktia province was blocked during an operation of the Afghan National Defense and Security Forces.
According to a official statement, the Afghan forces managed to fully take control of Tongi Sar, Top Sar, and Koch Haram areas and block the supply route of the Taliban group.
Full report at:
https://www.khaama.com/afghan-forces-retake-outposts-built-by-pakistan-in-outskirts-of-paktia-04917/
--------
Talks underway with Pakistan to prevent escalation repeat: Abdullah
Apr 18 2018
The Chief Executive of the Unity Government Abdullah Abdullah says negotiations are underway with the Pakistani officials to prevent further escalation along the Durand Line.
Talking to reporters in Kabul on Tuesday, Abdullah said the recent clash in Zazai Maidan district of Khost took place due to the violations of the line by the Pakistani forces.
However, Abdullah said negotiations are underway on military and diplomatic level to prevent the repeat of such incidents in the future.
Abdullah further added that the dead bodies of the Pakistani troops were handed over to the authorities in Pakistan.
The Pakistani military had earlier claimed that the Frontier corps soldiers were killed after coming under fire from the other side of the Durand Line.
"FC KP troops fired upon from Afghanistan side in Kurram agency. Troops were carrying out routine surveillance along Pak Afghan border for plugging of gaps and making necessary preparations for starting fencing in that area," the Pakistani military said in a statement.
However, the Afghan officials are claiming that the clash broke out after Pakistani troops attempted to intrude into the Afghan soil.
The provincial government media office of Khost in a statement said the Pakistani militia forces launched attacks on security posts in Jando Sar and Bad Khawaran areas of Zazai Maidan district at around 8 am on Sunday.
Full report at:
https://www.khaama.com/talks-underway-with-pakistan-to-prevent-escalation-repeat-abdullah-04914/
--------
More Pressure Needed on Myanmar to Take Back Rohingya: Bangladeshi PM
April 19, 2018
London. Bangladeshi Prime Minister Sheikh Hasina said on Tuesday (17/04) that more international pressure was needed on Myanmar to take back Rohingya refugees, rejecting an assertion claim by the Myanmar government that it had repatriated a family of five.
"The international community needs to put more pressure on Myanmar so that they take back their own people and ensure their security," Hasina told an audience in London.
"Myanmar says they are ready to take back the Rohingya, but they are not taking the initiative."
UN officials say nearly 700,000 mostly Muslim Rohingya have fled into Bangladesh from Myanmar's Rakhine State to escape a military crackdown since August, amid reports of murder, rape and arson by Myanmar troops and Buddhist vigilantes in actions which the United Nations has likened to "ethnic cleansing."
Myanmar has denied nearly all allegations, saying it has been waging a legitimate counterinsurgency operation.
Speaking at a separate event in London, British Foreign Minister Boris Johnson and his Canadian counterpart Chrystia Freeland called for a meaningful investigation into reported atrocities.
"The [Myanmar] authorities need to demonstrate that they are serious about the safety and security of the Rohingya," Johnson said.
Hasina said Bangladesh had submitted the names of 8,000 Rohingya families for repatriation to Myanmar, but that Myanmar had so far refused to take them back.
Myanmar and Bangladesh agreed in January to complete a voluntary repatriation of the refugees in two years.
She disputed an assertion by Myanmar that it had repatriated five members of a Rohingya family from Bangladesh, describing them as having been living in the no man's land between the two countries.
"They were living in the borderlands, with some of their family members in their camps. Maybe [Myanmar] wants to show the world they are taking them back. It's a good sign. If they want, then why only one family? We have have already submitted the names of 8,000 [Rohingya] families, but they've not taken them back," she said.
Hasina also confirmed a plan to move 100,000 Rohingya refugees to a uninhabited low-lying island in the Bay of Bengal, dismissing fears that it would be put them at the mercy of floods.
"We are expecting to move those who are in a vulnerable place to the island. Bangladesh can always be flooding and it does. The camps are very unhealthy. We have prepared a better place for them to live, with houses and shelters where they can earn a living," she said.
"Where they are living now, the monsoon season is coming up, there can be land erosions, accidents are taking place."
Full report at:
http://jakartaglobe.id/international/pressure-needed-myanmar-take-back-rohingya-bangladeshi-pm/
--------
Southeast Asia
Penang launches RM3m Harmony Centre for non-Islam religious bodies
BY OPALYN MOK
April 19, 2018
GEORGE TOWN, April 19 — Caretaker Penang Chief Minister Lim Guan Eng launched today a Harmony Centre for non-Islam religious bodies in the state.
The state government has allocated RM3 million to refurbish and expand centre, located on the grounds of an existing 4,300 sq ft bungalow along Scotland Road.
"It will be a second home for all religious bodies other than Islam in Penang," he said at the launch this morning.
The centre is meant to provide the space for all religious bodies other than Islam to carry out activities ranging from yoga lessons, meditation sessions, arts and music, religious talks to seminars, conventions and meetings.
The centre will be managed by the state executive councillor in charge of the Penang non-Islamic religions portfolio.
"The centre will have offices, function rooms, dining areas and conference rooms," Lim said.
He said a new building of 2,800 sqft will be built beside the existing building to be used as a community hall for events.
The centre is expected to have a capacity of 300 persons at once, he added.
The Harmony Centre is expected to be opened by February next year.
Lim who is also DAP secretary-general said the centre is one of the state's measures to uphold the Federal Constitution's guarantee of freedom of worship.
The other measures introduced by the Pakatan Harapan state government included establishing a portfolio for religions other than Islam, allocating lands for places of worship for religions other than Islam and allocating RM30 million to these places of worship since 2008.
http://www.themalaymailonline.com/malaysia/article/penang-launches-rm3m-harmony-centre-for-non-islam-religious-bodies
--------
Draconian blasphemy laws seen as holding Indonesia back
April 19, 2018
Alexander Aan, a former civil servant from Dharmasraya district in West Sumatra, never suspected the anti-religious statements he posted on a Facebook account would land him in prison.
"I just shared my thoughts," Aan told ucanews.com, adding that some people who read the comments felt insulted and reported him to the local authorities.
A court found him guilty of disseminating information to incite religious hatred and sentenced him to 30 months in jail in 2012 under Article 28(2) of the Electronic Information and Transactions (ITE) Law. He was also fined 100 million rupiah (US$10,600). He was initially charged with violating the law on blasphemy and urging others to embrace atheism under Article 156(a) of the Criminal Code.
The code's provision on blasphemy, which carries a maximum punishment of five years in prison, was based on a presidential decree on the prevention of religious abuse and defamation, known as the Blasphemy Law. That was passed in 1965 by the nation's first president, Soekarno.
The president is believed to have issued the law to accommodate requests from Islamic organizations to prohibit mystical indigenous beliefs, which they believed could tarnish other more established religions in the country.
"The blasphemy laws seem ridiculous to me. They shackle my freedom of expression and must be repealed," said Aan, who was released from prison in January 2014.
On the flip side, Facebook has also blocked at least 70 pages because they include religious comments by hard-line groups such as the Islamic Defenders Front, leading to protests and petitions lodged with Facebook Indonesia in January.
For Alia Shahnaz, the blasphemy laws have no clear norms.
Her husband, Otto Rajasa, was sentenced to two years behind bars in July 2017 by a local court in Balikpapan, East Kalimantan, for allegedly spreading hostility and hatred against Muslims online.
"Any regulation that focuses on subjective feeling is surely far from justice," Shahnaz said.
Her husband questioned on Facebook the rationale of fellow Muslims who travelled to Jakarta to join an Islamist rally on Dec. 2, 2016 to demand then-Jakarta governor Basuki Tjahaja Purnama, a Chinese Christian, be arrested for blasphemy.
Purnama, known as Ahok, was sentenced to two years in prison after he was found guilty of insulting the Quran. In February of this year, he petitioned the Supreme Court to overturn his conviction and prison term, but the appeal was rejected.
"Imagine being jailed for two to five years just for something the majority regard as being 'inappropriate''" said Shahnaz, who has a 16-year-old son.
"The blasphemy laws give nothing but suffering to the nation and must be repealed," she said.
Political interests
In its 2014 report, "Prosecuting Beliefs: Indonesia's Blasphemy Laws," Amnesty International Indonesia said the laws are in violation of Indonesia's international obligations to respect and protect the right to freedom of expression as stated in the International Covenant on Civil and Political Rights (ICCPR).
The group reported that 12 people were prosecuted and convicted under the regulations last year and 106 others between 2005 and 2016.
"The blasphemy laws have been used to shackle freedom of expression for many people belonging to minority groups in recent years. Aan's case is just one example," said Haeril Halim, Amnesty International Indonesia's communication officer.
"Now there's a tendency to use these laws to get rid of people for the sake of political interests," he said, citing Purnama's case and two others involving Sukmawati Soekarnoputri and Central Java Governor Ganjar Pranowo.
Sukmawati, daughter of former president Soekarno, is facing legal charges after six social groups and individuals filed police reports against her for allegedly insulting Islam.
Her crime? While being featured on a fashion TV program, she read aloud a poem stating that the Islamic niqab head dress was not as beautiful as the konde (traditional hair bun), and that the adzan (Islamic call to prayer) was not as melodious as a traditional Indonesian ballad.
Pranowo, who is running for re-election in June, came under attack from Muslim hardliners after he read out a poem during another television program that said God was close by but was always being called to attention by groups wielding loudspeakers.
Indonesia will hold elections in 171 regions on June 27.
Andreas Harsono, an Indonesian researcher at the New York-based Human Rights Watch, said the extensive use and power of such blasphemy laws was a dangerous trend.
"They are not only used against religious minorities but also against political figures. It has to be stopped or Indonesia is likely to become a failed state," he said.
Meanwhile, Abdul Mu'ti, general secretary of Muhammadiyah — the second largest Islamic organization in the country — said it is not easy to separate religious issues from political ones.
"The former are often exploited for the sake of political interests," he said, as quoted by tirto.id.
Overlapping laws
Azas Tigor Nainggolan, a lawyer and coordinator of the human rights desk at the Indonesian Bishops' Commission for Justice and Peace, agreed the laws must be repealed in order for Indonesia to move forward.
"The use of such regulations shows the government is still an authoritarian one," he said, adding the Criminal Code is now a century old and no longer suitable for present day use.
He said many conflicts emerge because of overlapping regulations.
"We don't need the blasphemy and ITE laws. We only need one law which regulates all criminal acts," he said, referring to a 2008 law which could be amended after revisions were proposed in late 2016.
Taufiqulhadi, a legislator, said the provisions regarding blasphemy in the amendment bill have been expanded to ensure no one can insult any religion.
Full report at:
https://www.ucanews.com/news/draconian-blasphemy-laws-seen-as-holding-indonesia-back/82064
--------
Christian, Muslim youth hold dialogue in war-torn Marawi
April 18, 2018
For the first time since the conflict in the southern Philippine city of Marawi in 2017, a group of Christians and Muslims gathered for a three-day inter-religious dialogue in the city in the middle of April to help foster peace.
About 30 students joined the activity spearheaded by the Catholic social action secretariat of the prelature to "share life and faith experiences" and "find solid grounds of unity toward peace."
Reynaldo Barnido, executive secretary of Duyog Marawi, said the activity aimed to "plant seeds of peace and harmony among Filipinos of different faiths."
Duyog Marawi, or One with Marawi, is a rehabilitation program of the Catholic prelature and the Redemptorist religious congregation in the war-torn city.
"We focus on our young Muslims and Christians because they are future leaders," said Barnido, "They also represent today's Mindanao," he said. Marawi is part of that same island group.
Thousands of Marawi residents continue to stay in temporary shelters after the conflict last year destroyed most of the structures in the city.
It started in May when Islamic State-inspired gunmen attacked Marawi, left more than a thousand people dead and displaced about 400,000 others.
Barnido told ucanews.com that while Catholic Church programs provide aid services to the victims of conflict, "it is our main objective to perform a long-term church-based response, which is peace-building."
"We are not here to talk about doctrines or differences of practice and beliefs. Our goal is to share commonalities," said Rayhanah Bantuas, one of the coordinators of the event from April 13-15.
Christian and Muslim religious leaders have expressed optimism that organizing such events among young people will help build peace in the city.
Marawi Sultan Abdul Hamidullah Atar said the city can still move forward despite harboring scars from the conflict "because we still have our young people."
"The young will bridge the gap between religions and societies. They will achieve what old leaders of this country failed to accomplish," said Sultan Atar.
Archbishop Rolando Tria Tirona of Caceres, head of Caritas Philippines, said raising young people to be peace educators would curb the rise of violent extremism on the island.
"We should show young Filipinos that they are the key stakeholders of the future," said the prelate, who attended the activity.
The event, dubbed "Young Muslim-Christian Life Encounter," is part of a broader peace-building program run by Duyog Marawi, which has 140 volunteers and 40 staff, most of whom are young Muslims.
The church program initially received US$410,000 from other Philippine dioceses and church-based relief agencies.
Full report at:
https://www.ucanews.com/news/christian-muslim-youth-hold-dialogue-in-war-torn-marawi/82083
--------
In Egypt, Malaysian students make time for charity work
April 19, 2018
KUALA LUMPUR, April 19 ― Despite their busy schedule, some Malaysian students pursuing their studies in Egypt, are making it a point to take their time off to do some charity work in the country, as part of their learning process.
These students recently provided assistance to some 1,780 orphans through the mega programme, "Ehna Ma'ak 2018" or "We Are With You 2018", launched at the Ruwad Club in 10th of Ramadhan, a city in Egypt's Sharqia Governorate.
The event was organised by the Malaysian Muslim Fund Wefare Foundation Egypt Branch (YDKMM Mesir), with the assistance of Education Malaysia Egypt (EME) and several non governmental organisations (NGOs) in Egypt, in conjunction with the Orphans Day celebrated in the country on the first Friday of April every year.
Chairman of YDKMM Mesir, Muhammad Haziq Iqbal Azero, said the Ehna Ma'ak 2018 was aimed at reducing the burdens of the orphans while bringing them cheer and love and at the same time strengthening the bond among students in the region.
He said the assistance given to the children included cash totalling RM12,000 or 50,000 Egyptian pounds, as well as stationery sets to encourage them to continuously pursue knowledge.
"This assistance was made possible through the contributions of Malaysian students in Egypt and the Malaysian embassy in Egypt and they were directly channelled into the YDKMM bank accounts.
"The children were very enthusiastic and thoroughly enjoyed the time with us and various activities were planned out to further enliven the programme," he told Bernama in a telephone interview.
Haziq said i was the second time that such a programme was held. The first one held in Tanta in 2016, also saw the participation of students from five countries, namely Egypt, Indonesia, Singapore, Kyrgyzstan and Turkey.
The programme's activities, which included face drawings, games, and musical performances among others, also saw response from the locals, he said.
Full report at:
http://www.themalaymailonline.com/malaysia/article/in-egypt-malaysian-students-make-time-for-charity-work
--------
Malaysian opposition can use PKR logo to contest polls, Election Commission says
APR 18, 2018
PETALING JAYA (THE STAR/ASIA NEWS NETWORK) - Malaysia's Election Commission (EC) said on Wednesday (April 18) that it has no objections for the opposition to use the logo of Parti Keadilan Rakyat (PKR) for the general election.
The EC, which oversees elections in Malaysia, said in a statement that the permission for any candidate to contest under the PKR ticket and to use its logo is to be decided by PKR, and not the EC.
This means that candidates from all four opposition parties grouped under the Pakatan Harapan (PH) pact are free to contest under the PKR banner.
The PH parties are Malay-led multiracial party PKR, Chinese-based Democratic Action Party, Islam-leaning Parti Amanah Negara and Malay-centric Parti Pribumi Bersatu Malaysia (PPBM).
The PH parties announced recently that they plan to contest the 14th general election using the PKR banner.
This came about after PPBM, which was founded by former premier Mahathir Mohamad, was early this month issued a temporary disbandment order by the Registrar of Societies due to the party's alleged failure to submit required documents and information.
The EC said on Wednesday that to contest in the May 9 General Election, "political parties must be parties that are registered and allowed to carry out its activities under the Societies Act 1966".
"For parties that allow its potential candidates to contest representing the said political party (PKR), they are required to bring along the written authority," EC chairman Mohd Hashim Abdullah said in a statement.
He said the written authority from PKR has to be signed by "a responsible official".
Full report at:
http://www.straitstimes.com/asia/se-asia/malaysian-opposition-can-use-pkr-logo-to-contest-polls-election-commission-says
--------
India
At 'Bharat ki Baat' event, PM Modi rips into 'terror export factory' Pakistan
Apr 19, 2018
NEW DELHI: Prime Minister Narendra Modi today tore into Pakistan, referring to it as a "terror export factory" and said the 2016 surgical strikes were aimed at sending an unequivocal message to the neighbouring country.
"We believe in peace. But we will not tolerate those who like to export terror. We will give back strong answers and in the language they understand. Terrorism will never be accepted," he said at the 'Bharat ki Baat, Sabke Saath' diaspora event in London. "When someone has put a terror export factory in place, attacks my people, has no power to fight a war so attempts to attack behind the back... in such a case Modi knows how give a reply in the same language," said the PM, to which the audience raised slogans of 'Bharat Mata ki jai'.
Modi revealed that before making the news of the surgical strikes public, India had repeatedly attempted to contact Pakistan government to inform them about the top-secret operation conducted by the Indian forces.
"I said before India gets to know, we should call Pakistan and tell them what we did so they can come and collect the dead bodies if they have time. We were calling them since 11am but they were scared to answer the phone. At 12 we spoke to them and then told the Indian media," he elaborated.
The Prime Minister expressed his pride in the Army as they executed the surgical strikes with perfection and returned after finishing the task before dawn.
'Need to make development a mass movement'
Indians have stopped settling for "incremental change" and are becoming more and more aspirational under the BJP-led government, said the Prime Minister, and this transformation happened because people know the Modi government can deliver.
"People know that when they say something, the government will listen and do it. Days of incremental change are over," PM Modi said during the town hall-style gathering at the iconic Central Hall Westminster.
Along with expectations come impatience, but that isn't necessarily a bad thing as it is in human nature to aspire for more, he said.
"In their hearts, the 125 people of India feel excitement, hope and expectation. Earlier, people had adopted a 'chalta hai' attitude but now I'm happy they have high expectations from us... Jo karega use hi to kahenge (they ask the one who will do the work)," Modi remarked.
A democracy in which people actively participate in the development process is what makes good governance possible, the PM said, adding that "the need of the hour is to make development a mass movement."
Talking about his own journey from a humble chaiwalla (tea vendor) at a railway station in Gujarat to the Prime Minister's Office, Modi said he always remembered his station in life no matter how exalted his position.
"The person in the railway station was Narendra Modi. The person in the Royal Palace in London is the 'sevak' (servant) of 125 crore Indians," he said.
"People are equivalent to Gods in a democracy and if they wish even a tea-seller can become their representative and shake hands at the Royal Palace," the PM added.
'Rape a matter of shame, don't politicise it'
Touching upon the recent cases of child rape which has caused a furore in the country, PM Modi said the sexual assaults were a matter of shame for the entire society.
"This is a matter of great concern for the country and these sinners are somebody's sons... The rape of a (daughter) is a matter of worry, a shame for the country," he said.
He also urged people and political leaders to refrain from politicising the rape cases.
"Rape is rape. It cannot be tolerated. But should we compare the number of rapes in different governments? We cannot say there were this many rapes in our government and that many in yours. There cannot be a worse way to deal with this issue," he said.
An estimated 1,700 people, mostly from the Indian diaspora in the UK were present at the event organised by the Europe India Forum. The "no-holds-barred interaction" saw Modi fielding questions from across the world which have already been received via social media.
PM Modi is in the UK for a four-day visit of bilateral engagements as well as multilateral discussions as part of the Commonwealth Heads of Government Meeting (CHOGM). After wrapping up the 'Bharat ki Baat' event, he will join Heads of Government from 52 other Commonwealth countries at a dinner hosted by the British prime minister as a formal welcome to CHOGM.
https://timesofindia.indiatimes.com/india/at-bharat-ki-baat-event-pm-modi-rips-into-terror-export-factory-pakistan/articleshow/63820943.cms
--------
Hadiya's accusations more painful than top court's order, says her father
Apr 19, 2018
For two years, he bitterly battled his daughter in court, with the whole country watching. On March 8, the Supreme Court upheld his daughter's right, and that of every Indian, to choose her partner and struck down a high court order that annulled Hadiya's marriage to Shafin Jahan.
The soldier in KM Ashokan has taken the decision in his stride but the father is struggling.
"We have no complaints but we feel we have lost someone dear. Our loss is personal and we are resigned to our fate," says Ashokan.
Sitting in their modest single-storey house, Devi Kripa (Goddess' blessing), in Kerala's TV Puram village in the famous backwaters of Kottayam, Ashokan browses the day's newspaper. His wife, Ponamma, sits in a corner, lost in her thoughts.
Two Kerala Police men keep a vigil outside – the couple face threat from some fundamentalist outfits. After the verdict, they asked for the security to be withdrawn but police insisted on it.
It has been more than a month that the Supreme Court allowed their only child, Hadiya, to go with her husband Shafin Jahan.
Akhila, not Hadiya
The parents are struggling to piece together their life. They say they harbour no ill-will and they fought for a right cause.
For them, their daughter is still Akhila Ashokan, not Hadiya --- they don't like being referred to as Hadiya's parents.
"On Vishu, Akhila called to greet us and said she wanted to meet. I told her it would be better if she won't. When she insisted, I told my daughter she was welcome, but not Shafin Jahan. He is not welcome here," says Ashokan.
Vishu is the Malayalam New Year, which was celebrated on April 15.
Ashokan believes his daughter was tutored to speak against him in the court and she will realise her "mistake".
"Look, our daughter is the apple of our eyes. I don't want her to be a human bomb. How can a father sacrifice his daughter knowing everything?"
His daughter was studying homeopathy in a Tamil Nadu college when she converted to Islam in January 2016 and took the name Hadiya.
In the December of the same year, she married Jahan, who hails from south Kerala's Kollam district.
It's lonely
Ashokan saw a conspiracy in his daughter's choice of religion as well as partner. He approached the high court, saying the wedding was stage-managed and his daughter was bound for Syria to join the dreaded Islamic State.
The high court annulled the marriage and gave Hadiya's custody to her parents but the SC struck down that order in March.
"We don't have a social life anymore. We rarely go out. I go out only to get my pension. Still I don't have any regrets," he says.
But there is some hurt.
"More than the verdict my daughter's charges against me really pained me," says Ashokan.
Hadiya told the court and media she suffered intense mental and physical torture in her parents' custody.
"She told media she was often sedated and physically assaulted. I feel she was tutored. I'm sure one day she will realise her mistake," he says.
But there is no such leeway for her husband. Ashokan always uses his son-in-law's complete name -- Shafin Jahan-- and is not convinced that he is not radicalised.
There is disappointment as well, of a parent whose child has chosen a different path. "I wanted my daughter to be a good doctor but she had turned out to be a preacher," he says in a reference to their daughter asking them to embrace Islam.
Recently parents of some of the youth who went missing from north Kerala in 2016 and are believed to have joined IS called him, requesting him to form a group of people whose children "were converted and dispatched to conflict-prone areas".
Full report at:
https://www.hindustantimes.com/india-news/her-accusations-more-painful-than-supreme-court-order-says-hadiya-s-father/story-XgSNDbaEnCM219Qi0hwJuI.html
--------
A Sunni Islamic Seminary Declared the BJP MLC Bukkhal Nawab as `Murtad'
19 April 2018
A Sunni Islamic seminary in Deoband has declared the BJP MLC Bukkhal Nawab as `Murtad' (apostate) for paying obeisance to Lord Hanuman at a temple in Lucknow.
Bukkhal Nawab, a Shia Muslim, had visited the temple on Tuesday after filing his nomination papers for the election to Legislative council. Apostasy in Islam includes within its scope the wilful renunciation of Islam by a Muslim.
Maulana Saalim Ashraf Qasmi, the head of the madrasa Darul Uloom Asharfia at Deoband said that the BJP leader Bukkal Nawab has been ostracized from Islam and the Muslim community for offering prayers to 'a Hindu God'.
"Islam forbids idol worship. Any Muslim paying obeisance to any other God other than Allah ceases to remain a Muslim. It is not Islamic act and such a person should be thrown out of the Islam and Muslim community," said Maulana Qasmi.
Maulana Qasmi said that Bukkal Nawab should repent his anti-Islamic acts by seeking an apology from Allah. "He will be welcomed back to Islam after he purifies himself by offering an apology to Allah and reading the Kalma thrice," the Maulana added.
Bukkal Nawab, former Samajwadi Party MLC who had joined the BJP last year, had offered prayers and gifted a heavy brass-made bell at famous Hanuman temple in Hazratganj on Tuesday after he was nominated by the BJP to the Upper House.
Earlier, he had advocated construction of Ram temple at the disputed site in Ayodhya and had offered a golden crown worth Rs 10 Lakh to Lord Ram. Reacting to the fatwa issued by Deoband, Bukkal Nawab said that he was not bothered.
"Besides being Muslim, I am also a devout Hanuman Bhakt. Like Lord Ram, Lord Hanuman is also our ancestor. Under the Constitution of India, we are free to practice any religion. I am not worried about any such fatwa which is aimed at dividing members of the two communities," he said.
Full report at:
http://www.dailypioneer.com/state-editions/lucknow/a-sunni-islamic-seminary-declared-the-bjp-mlc-bukkhal-nawab-as-murtid.html
--------
AMU team in Guinness Book for performing laparoscopic cholecystectomy on infant
Anuja Jaiswal
Apr 18, 2018
AGRA: A two-member team lead by a pediatric surgeon from Aligarh Muslim University's medical college has entered into the Guinness Book of World Records for successfully performing a laparoscopic cholecystectomy (procedure in which the gall bladder is removed by laparoscopic technique) on a 244-days-old girl, surpassing the previous record of such a surgery on a 271-days-old infant.
Dr Rizwan Ahmad Khan, chairperson of the department, led the surgery while Dr Danish assisted him. Dr Khan said that the little girl Riya Kumari, hails from Aligarh. She visited Khan's OPD when she was just 215-days-old with complaint of nausea and vomiting.
"After initial investigations, we diagnosed the patient with a gall bladder stone and she was soon admitted for a surgery," said Dr Khan adding that the surgery was successful despite the patient's young age.
The girl has been discharged after successful recovery.
"Certainly, in my experience, I was not aware of anyone as young as this baby going through the procedure," said Dr Khan while referring to the world record, which he now holds. He added that he is glad that the record for performing a successful laparoscopic cholecystectomy is now with the JNMC (Jawaharlal Nehru Medical College, Aligarh).
Full report at:
https://timesofindia.indiatimes.com/city/agra/amu-team-in-guinness-book-for-performing-laparoscopic-cholecystectomy-on-infant/articleshow/63819194.cms
--------
IM man linked to Delhi blasts arrested by NIA
TNN | Apr 19, 2018
NEW DELHI: The National Investigation Agency (NIA) has arrested Indian Mujahideen operative Ariz Khan alias Junaid, wanted for the 2008 serial bombings in Delhi and several other blasts, in the case relating to IM's conspiracy to commit terror acts in India with the active support of Pakistan-based associates.
Junaid, who hails from Azamgarh in UP, was initially arrested by the Delhi Police in February.
He was in judicial custody when NIA arrested him on Tuesday to probe his association with a series of blasts executed by IM in a three year period, which included serial blasts in Delhi in 2005 and 2008, serial bombings in Varanasi in 2006, UP court blasts in 2007 as well as serial blasts at Jaipur and Ahmedabad in 2008.
https://timesofindia.indiatimes.com/india/im-man-linked-to-delhi-blasts-arrested-by-nia/articleshow/63823565.cms
--------
Mecca Masjid blast case: Cloud over NIA judge linked to his 'hasty' bail order in land dispute case
by Sreenivas Janyala
April 19, 2018
The surprise resignation of NIA court judge K Ravinder Reddy two days ago, hours after he acquitted the five main accused in the Mecca Masjid blast citing lack of evidence, comes amid an ongoing inquiry by the High Court on a complaint that he showed "undue haste" in granting anticipatory bail to an accused in a land dispute case.
The inquiry was being conducted by the Registrar (Vigilance) of the High Court of Judicature at Hyderabad, based on a complaint filed by a litigant who wanted "a thorough inquiry to be conducted to know the corrupt practices" of the judge.
The complaint, filed on December 11, 2017, stated that Reddy, the Fourth Additional Metropolitan Sessions court judge, issued the bail order when he was in charge for just two days — December 4 and 5 — of the Seventh Additional Metropolitan Sessions Court.
In the complaint filed before the Registrar through Advocate T Sriranga Rao, litigant Krishna Reddy claimed that the judge went against "settled practice" by granting relief to the accused whose five previous attempts at obtaining anticipatory bail from various courts had failed.
"On December 4, the Public Prosecutor was not present as she was on leave and (the) Judge was seriously interested in hearing (the) matter and asked for incharge Public Prosecutor to come and present (the) argument… the case (was) heard on December 5 and bail was granted on the same day even though (the) petitioner did not disclose any of the petitions filed by him earlier and orders passed in those petitions," the complaint stated.
The complaint stated that "generally the procedure adopted… is to hear the case and post for orders next day". But the judge chose to pass the orders on the same day, the complaint stated.
"It is submitted that the curiosity shown by the Learned Judge in taking up the bail petition on war footing itself is sufficient to arrive at a conclusion that he was eager and highly interested to dispose it of, for the reasons best known to him,'' it stated.
"I state that it is the settled practice that the incharge officer only takes up urgent matters like remands or extension of remands, etc., but never seen a judge made incharge for two days hearing an anticipatory bail in such a hurried manner…," it stated.
When contacted by The Indian Express, High Court Registrar C Manavendranath Roy said he could not disclose any information without the permission of the Chief Justice. Judge Reddy's official residence was found locked and calls to him went unanswered.
Records show that Krishna Reddy, a resident of Banjara Hills, had lodged a complaint at the local police station in June 2016 against 10 persons (FIR 1020/2016) for allegedly fabricating and forging documents to claim his property.
On July 6, 2017, police added the name of one G P Reddy as the main accused in the FIR.
According to the documents, G P Reddy filed a series of bail pleas at various courts:
* On July 7, 2017, he filed a plea with the third additional chief metropolitan magistrate's court. While the hearing was pending, he filed another petition in the High Court seeking quashing of proceedings against him. But the High Court dismissed the petition with Justice T Sunil Chowdary directing police to follow established procedure.
* G P Reddy filed another petition in the High Court, which was dismissed on August 2, 2017, by Justice Dr B Siva Sankara Rao who directed police to continue investigations.
* On August 9, G P Reddy filed a fresh petition for anticipatory bail before the seventh additional metropolitian sessions court. "My advocate pointed it out to the court during hearing that G P Reddy did not disclose that he also filed a petition in the HC. He withdrew the petition on August 23 and also withdrew his petition in HC,'' Krishna Reddy stated in his complaint.
* Dismissing yet another petition filed by G P Reddy for anticipatory bail, the Seventh Additional Magistrate Sessions Judge observed that as the investigation was still pending, it was a not a fit case to grant bail.
* On November 24, 2017, G P Reddy filed another anticipatory bail application in the same court. On November 30, the judge was transferred and the ninth additional metropolitan magistrate sessions judge was in charge temporarily of the court. But the judge went on leave on December 4 and 5, and Reddy was made in charge of the court.
Speaking to The Indian Express, the complainant's advocate T Sriranga Rao said, "The Chief Justice had directed the Registrar to conduct a probe against Ravinder Reddy through the Vigilance Department three months ago after we filed the petition. The probe is still going on. The judge was in charge of the additional magistrate sessions court No.9 for two days and he granted bail in undue haste. He ignored specific orders issued by the High Court while dismissing the anticipatory bail applications filed by the petitioner. The High Court dismissed the anticipatory bail applications three times and the seventh additional magistrate sessions judge dismissed it twice but he granted bail.''
The latest complaint comes in the wake of three presiding officers in the lower judiciary facing action based on complaints filed against them, including one by Rao.
On April 13, the Anti-Corruption Bureau arrested the first additional metropolitan sessions court judge S Radhakrishna Murthy and two advocates for allegedly accepting a bribe of Rs 7.5 lakh to grant bail to an accused on November 1, 2017 in a narcotics case.
The arrest followed a complaint filed by Advocate Rao against the judge following which the High Court directed the ACB to register a case of bribery under the Prevention of Corruption Act 1998.
On April 8, the ACB arrested a first additional junior civil judge under the Prevention of Corruption Act based on complaints received by the High Court from an advocate.
On March 13, based on another complaint filed by another advocate, the ACB arrested a judicial officer at Labour Court-I in Hyderabad for allegedly possessing assets disproportionate to known sources of income.
On Monday, 11 years after a blast at the Mecca Masjid in Hyderabad killed eight persons and injured 58, the NIA special court under judge Reddy acquitted the five main accused, including Swami Aseemanand, stating that "the prosecution could not prove its case" because "no evidence was presented to prove the conspiracy".
Full report at:
http://indianexpress.com/article/india/mecca-masjid-blast-case-cloud-over-nia-judge-linked-to-his-hasty-bail-order-in-land-dispute-case-5143202/
--------
North America
US Lawmakers Urge Global Effort to Counter Online Terror Funding
April 18, 2018
As rogue states and terrorist organizations continue to exploit cyberspace, governments around the globe must do more to curb illicit online funding, U.S lawmakers say.
"We really need to prioritize creating the cyber equivalent of the Geneva Conventions," Jim Himes, a Democratic representative from Connecticut and a member of the House Financial Services Committee's subcommittee on terrorism and illicit finance, said during a panel discussion Tuesday at the U.S. Institute of Peace in Washington.
"All of these problems get a lot easier if nation-states act responsibly," he added.
The United States and its allies are concerned that countries like Iran and North Korea and international terror organizations are developing sophisticated cyber capabilities to evade international sanctions and make money online.
Himes said the lack of global cooperation to counter illicit online funding could lead to intensified cyberwarfare between countries and continue the stream of revenues for terror groups like Islamic State.
IS was once the world's richest terror group, making millions of dollars from oil sales, ransom, extortion, taxes and other activities. As its physical caliphate crumbled and it lost the ability to generate revenue, the group has increasingly turned to the internet as an alternative financial source.
Cryptocurrency
Counterterrorism officials have reported dozens of pro-IS social media accounts on Twitter and Telegram that have asked supporters to fund the jihadists by sending funds in cryptocurrencies.
Last December, U.S. government officials said they charged a 27-year-old Long Island resident, Zoobia Shahnaz, with money laundering and bank fraud after she was found transferring $85,000 to support IS, with $62,700 of it in Bitcoin and other cryptocurrencies.
In February, Vasily Nebenzya, Russia's ambassador to the United Nations, accused IS members of seeking to fund their operations with online casinos.
There are national and international organizations who have been cracking down on terror financing, including the U.N.'s Working Group on Countering the Financing of Terrorism and the U.S.-led coalition's Counter IS Finance Group.
But officials said these efforts are often hindered by disagreement over mechanisms and lack of harmony between international law and domestic legislation.
Steve Pearce, a U.S. Republican representative from New Mexico who also chairs the House Financial Services Committee's subcommittee on terrorism and illicit finance, charged that terror organizations and rogue states are getting better at misusing the innovative technologies, making it difficult for the international community to keep pace.
"The systems have to be very, very fast-moving, and I am not seeing that in the U.S. system and the world systems," Pearce told the audience at the peace institute. "The other side is making billions without risk. So, the stimulation for them to create problems is greater than ours to solve the problems."
Pearce said IS has been able to outsmart governments by selling ancient relics online and collecting revenues by exploiting legal platforms such as the crowdfunding website GoFundMe. At times, they have resorted to using the Hawala system.
"It [Hawala] is a legitimate forum of commerce, except it can easily be misused. Finding that misuse is extraordinarily difficult," Pearce said.
Hawala is an unregulated equivalent of Western Union and a common tool for transferring money in the Middle East; money is paid to an agent who then instructs a remote associate to pay the final recipient in a different country.
Citizen mobilization
Himes said an effective solution would ultimately require officials to mobilize citizens, especially in countries where debate about online privacy and encryption converge with cybersecurity and counterterrorism.
"I don't ever want somebody to crack strong encryption that is not us, because that means everything we do — our military, nuclear command and control — becomes observable to somebody who cracks strong encryption," Himes said.
"Citizens of the country need to think hard about what that means, and what they want us to do about it," he said. "If the government can crack strong encryption, there is no, theoretically, privacy anywhere, ever. So, what constraints do you want to put on that, or how much do you want us to keep up with our ability to use tools like that?"
https://www.voanews.com/a/lawmakers-urge-global-effort-counter-online-terror-funding/4355489.html
--------
Senators question US support for Saudi war on Yemen
Apr 18, 2018
The US Senate has grilled officials of the Donald Trump administration over Washington's support for Saudi Arabia's war on Yemen, saying there's an "alarming absence of strategy" when it comes to the war.
During a Foreign Relations Committee hearing on Tuesday, senators from both sides of the aisle demanded answers from officials from the Pentagon and the Department of State.
Republican Senator Rand Paul questioned vast US arms exports to Riyadh. He said Saudi Arabia is attacking Yemenis indiscriminately, while the US is increasing its bomb sales to the kingdom.
"If your son was shooting off his pistol in the backyard and doing it indiscriminately and endangering the neighbors, would you give him more bullets or less?" Paul asked at the hearing.
"Our strategy is to give [the Saudis] more bombs, not less," he added.
Democratic senator Bob Menendez said there is an "alarming absence of strategy" in Washington's approach to Yemen.
Trump dministration officials defended the US support for the Saudi war on Yemen.
Ambassador David M Satterfield, the State Department's Middle East Envoy, said "military support to the Saudi-led coalition supports important US national security and diplomatic objectives."
Saudi Arabia launched aggression against Yemen in March 2015 in support of the country's former Riyadh-friendly government and against the country's Houthi Ansarullah movement, which has been running state affairs in the absence of an effective administration.
The offensive has, however, achieved neither of its goals despite the spending of billions of dollars and the enlisting of Saudi Arabia's regional and Western allies.
The Yemeni Ministry of Human Rights announced in a statement on March 25 that the Saudi-led war had left 600,000 civilians dead and injured during the past three years.
The United Nations says a record 22.2 million people are in need of food aid, including 8.4 million threatened by severe hunger. A high-ranking UN aid official recently warned against the "catastrophic" living conditions in Yemen, stating that there was a growing risk of famine and cholera there.
On Monday, at least six civilians were killed and several others wounded when Saudi warplanes conducted multiple airstrikes against residential areas across war-ravaged Yemen.
During the Senate hearing on Tuesday, Satterfield claimed that if the United States ends its support, "the Saudis could well pursue defense relationships with countries that do not have an interest in ending the humanitarian crisis, minimizing civilian casualties, or making progress towards a political solution."
But Democratic Senator Ben Cardin questioned the claims that US support has reduced civilian casualties in Yemen.
"The proof is in the results, and we don't know whether the results are there or not," Cardin said.
Full report at:
http://www.presstv.com/Detail/2018/04/18/558972/Senators-question-US-support-for-Saudi-war-in-Yemen
--------
Kansas Trio Convicted in Plot to Bomb Somali Immigrants
By MITCH SMITH
APRIL 18, 2018
WICHITA, Kan. — Federal jurors convicted three men on Wednesday of plotting to blow up an apartment complex where Somali refugees live and pray in Garden City, Kan. The domestic terrorism verdict came at a time when threats against religious and racial minorities are rising nationally, and the case drew interest from the highest levels of the Justice Department.
"The defendants in this case acted with clear premeditation in an attempt to kill people on the basis of their religion and national origin," Attorney General Jeff Sessions said in a statement. "That's not just illegal — it's immoral and unacceptable, and we're not going to stand for it."
The men, Curtis Allen, Gavin Wright and Patrick Stein, all of whom are white, appeared stoic as the verdicts were read at the federal courthouse in Wichita. Defense lawyers had tried to convince jurors that their clients were manipulated by the F.B.I., and had been unfairly targeted for exercising their rights to own guns and speak freely.
"He was a member of a militia. He loved his guns. This was a lifestyle," Melody Brannon, a lawyer for Mr. Allen, told the mostly white jury. "The government tried to criminalize that lifestyle."
The trial, which played out over about a month, focused on a period before the 2016 presidential election when a paid F.B.I. informant infiltrated a militia group that included the three men and secretly recorded hours of their conversations.
Politics were front and center throughout the trial, with defense lawyers portraying the F.B.I. as a bullying-government force that used its informant to steer their clients from hateful speech to violent plotting. The courtroom critiques of the F.B.I. came after a series of condemnations of the bureau by President Trump, who overwhelmingly carried Kansas in 2016.
Prosecutors, who built much of their case around the informant's secret recordings, said that the men planned to carry out the bombing on Nov. 9, 2016, a day after voters selected a president.
"They wanted to send a message to the people living there that they're not welcome in Garden City, they're not welcome in southwest Kansas, they're not welcome in the United States," Tony Mattivi, a federal prosecutor, said during closing arguments.
The men, who called themselves "the Crusaders," were arrested about four weeks before Election Day and charged with conspiring to use a weapon of mass destruction and conspiracy against rights, which the Justice Department considers a hate crime. Mr. Wright was also charged with lying to the F.B.I. The three men were found guilty on all counts and face up to life in prison when they are sentenced in June.
The trial came amid a national escalation in threats against religious and racial minorities, especially Muslims, according to the F.B.I. and organizations that monitor hate crimes.
"It is now approaching the level of hate violence against the same communities that we saw in the immediate wake of the 9/11 attacks," said Suman Raghunathan, executive director of SAALT: South Asian Americans Leading Together, a national advocacy organization.
Ifrah Ahmed, a Somali resident of Garden City, said she found out about the verdicts when the police chief sent her a text message. Ms. Ahmed said she relayed the news to elders in the Somali community.
"I had faith that they were going to do what was right," Ms. Ahmed said of the jurors. "Now we can all actually move on from it and bury it and know that justice is served."
Prosecutors portrayed the Kansas defendants as aspiring domestic terrorists who planned to bomb the Somali apartments only after considering other attacks — on elected officials, churches that helped refugees and landlords who rented to immigrants.
Defense lawyers suggested that their clients had merely engaged in idle talk inspired partly by the 2016 election.
Stephen R. McAllister, the top federal prosecutor in Kansas, said the verdict showed the jury approved of the bureau's tactics despite defense lawyers mounting what he described as "an attack on the F.B.I. itself."
"The jury's verdicts in this case are a vindication of outstanding investigative work and prosecution," said Mr. McAllister, who was named to his post by Mr. Trump. "Terrorists, whether foreign or domestic, must be stopped and punished."
The jury of six men and six women deliberated for about seven hours over two days.
The case forced jurors to decide when hateful rhetoric escalated from legal speech to evidence of a violent plot. Expletive-filled recordings of the men played before the jury contained repugnant, bigoted language, the defense lawyers said, but not a federal crime.
"It is not morally right to hold such hate, but it is not legally wrong," said James Pratt, a lawyer for Mr. Stein, who acknowledged that his client referred to Muslims as "cockroaches." Mr. Stein referred to himself, the recordings showed, as an "Orkin man," referencing the pest extermination company.
"We all have the right to hate," Mr. Pratt added.
Mr. McAllister rejected the suggestions of a First Amendment infringement.
"I don't view this as a prosecution of speech at all," Mr. McAllister said. "This was a prosecution of speech coupled with actions."
Still, defense lawyers emphasized that no bombing took place, and no one was physically injured. They said the men lacked the ability or commitment to carry out such an attack. Mr. Pratt said his client was "all hat, no cattle," meaning he was a big talker and little more.
"Unfortunately for Patrick," Mr. Pratt said, "the government was willing to provide the cattle."
Garden City is a racially diverse place about 200 miles west of Wichita with around 27,000 residents. Many Somalis and other immigrants have moved to the area to work at a nearby meatpacking plant.
The apartment complex that prosecutors say was targeted is a center of Somali life in Garden City. Many refugee families live in units of the complex; others come to pray in a makeshift mosque inside one unit.
Full report at:
https://www.nytimes.com/2018/04/18/us/kansas-militia-somali-trial-verdict.html?mtrref=www.google.co.in&gwh=DCE8CDFD5DFA6B31FC00388E20BABE4D&gwt=pay
--------
URL: https://www.newageislam.com/islamic-world-news/first-saudi-cinema-opens-with/d/114981
New Age Islam, Islam Online, Islamic Website, African Muslim News, Arab World News, South Asia News, Indian Muslim News, World Muslim News, Women in Islam, Islamic Feminism, Arab Women, Women In Arab, Islamophobia in America, Muslim Women in West, Islam Women and Feminism