New Age Islam News Bureau
17 Feb 2020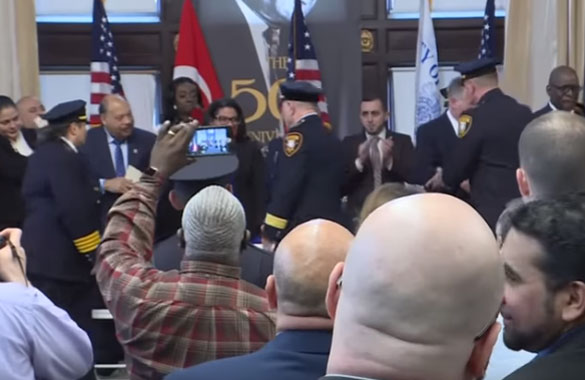 The city of Paterson in New Jersey, US has now a Muslim Turkish-American police chief.
--------
• Important For India and Pak to 'De-Escalate, both Militarily And Verbally': UN Chief Guterres
• Govt Slams UN Secy Gen's Comments on J&K, Says Region Integral Part of India
• UN Chief Hails Pakistan for Being World's Second Largest Host of Refugees
• Seize the Moment and End Misery of Over 40 Years Of War, Khalilzad Urges Afghans
• With Biryani and Rice Balls, Malaysia Aims for Halal Olympic Gold
• Dar Al-Ifta Joins In Egypt-Turkey Culture War
• Somalia: Alarm as Al-Shabaab Infiltrates State Institutions
• Israel's Gantz Vows to Form Government without Netanyahu, Arab Parties
• US Closing 'Very Promising' Deal With Taliban, But It's Not Without Risk
Europe
• First Muslim Police Chief in US City Sworn in with Hand on Quran
• Important For India and Pak to 'De-Escalate, both Militarily And Verbally': UN Chief Guterres
• Growing Islamophobia 'intolerable': UN chief
• Ottoman mosques cast historic light in Greek capital
• Germany arrests far-right group members planning Christchurch-style attacks
• Police in Azerbaijan's capital arrest 3 opposition leaders
• Turkey to attend int'l donors' conference for Albania
• International actors reaffirm commitment to cease-fire in Libya
• Donald Trump urges Russia to end Syria 'atrocities'
• German extremists 'plotted attacks on Muslims to stoke war'
--------
India
• Govt Slams UN Secy Gen's Comments on J&K, Says Region Integral Part of India
• Videos of Police Action Inside Jamia Library Trigger Fresh Row
• Shaheen Bagh Protestors Postpone March to Shah's Residence, Chennai Anti-CAA Stir Continues
• The Kashmir journalist forced into manual labour
• India's curbs on Malaysian palm imports stir up edible oil trade
• Kashmiri and Palestinian activists stand against Indian envoy at Harvard
• Akal Takht Supports Protesting Muslims On CAA
• At FATF plenary, India to call out Pakistan for claiming Masood Azhar is missing
--------
Pakistan
• UN Chief Hails Pakistan for Being World's Second Largest Host of Refugees
• 'Pakistan prosecuted Hafiz Saeed to prevent economic, military sanctions'
• When will NAB raid offices of Tareen, Khusro, asks Marriyum Aurangzeb
• Pakistan ordering OIC for meeting on Kashmir
• International support for Pakistan has been minimal, says UN chief Guterres
• Trump's offer prompted India to annex Kashmir: report
• FATF starts reviewing Pakistan's efforts against terror financing
• India, Pakistan water deal must be an 'instrument of peace'
--------
South Asia
• Seize the Moment and End Misery of Over 40 Years Of War, Khalilzad Urges Afghans
• 'We Need Peace, Land to Go Home': Afghan Refugees Tell UN
• Bangladesh Mulls Backtrack On Rohingya Relocation Plan
• Qatar keen to recruit skilled manpower from Bangladesh
• 9 drug addicts shot dead in Kabul city
• Airstrike kills 5 Taliban militants in Takhar province
• 5 Taliban militants killed, 25 IEDs defused in Kandahar
--------
Southeast Asia
• With Biryani and Rice Balls, Malaysia Aims for Halal Olympic Gold
• Islam Sets Guidelines on Talking, Spreading News
• Dr M: Malaysia Will Not Lose Its Religious Values towards Becoming A Developed Nation
• Dr M reminds Muslims to strike a balance with others
• Dr M a true leader of the Muslim world, says Imran Khan
• No compromise with provocative acts, says Mujahid
--------
Arab World
• Dar Al-Ifta Joins In Egypt-Turkey Culture War
• Iraqi PM-Designate Pledges to Name 'Independent' Cabinet This Week
• Syrian President al-Assad vows to defeat opposition, as forces gain new ground
• Car bomb explodes in Syria, near Turkish border
• US military rejects Iraqi demand, offers partial withdrawal: Report
• Doha-Riyadh talks to end ongoing Persian Gulf dispute stalled in January: Qatari FM
--------
Africa
• Somalia: Alarm as Al-Shabaab Infiltrates State Institutions
• NAF denies killing 250 Boko Haram fighters in Maiduguri
• South Sudan rebels reject president's peace compromise
• Ongoing Libya conflict 'deeply troubling': UN official
• Libya arms embargo a 'joke': UN official
• Tunisia's PM designate forms new government but future uncertain
• At least 30 killed by armed gangs attack in northwest Nigeria: Police
• South Sudan president cuts number of states to 10, unlocking peace process
• At least 10 killed in church attack in Burkina Faso
• Sudan's Bashir faces new corruption charges
• Roadside bomb kills 3 soldiers in Somalia
--------
Mideast
• Israel's Gantz Vows to Form Government without Netanyahu, Arab Parties
• Iran's Beleaguered President Rules out Resignation
• Israel hopes ICC 'friends' will help stave off Palestinian investigation
• Hezbollah slammed for unveiling Soleimani monument in Lebanon
• Hezbollah's Nasrallah calls for boycott of US products as 'part of the battle'
• Israeli army thwarts attempt by Hamas hackers to 'seduce' soldiers
• Griffiths announces Yemen agreement on first phase of prisoner swap deal
• Religious minorities take part in Iran legislative elections
• President Assad says Syrians will liberate whole country from grips of terrorists
• US names members of panel for West Bank annexation
• Yemen's Ansarullah releases video of shooting down Saudi Tornado fighter
--------
North America
• US Closing 'Very Promising' Deal With Taliban, But It's Not Without Risk
• Trump demands Russia stop supporting Syria regime's 'atrocities'
• 'Multiple rockets hit US military base in Baghdad'
• US accuses Iran, Russia, and China of wrongdoings it does on the world stage: Writer
• Trump thanks Erdogan for averting catastrophe in Idlib
• Yemen's warring parties agree to key prisoner exchange
Compiled By New Age Islam News Bureau
URL: https://www.newageislam.com/islamic-world-news/first-muslim-police-chief-city/d/121085
--------
First Muslim Police Chief in US City Sworn in with Hand on Quran
By Safaa Kasraoui
Feb 16, 2020
Rabat – US has appointed a Muslim police chief for the city of Paterson, New Jersey, earlier this month.
Ibrahim "Mike" Baycora is the city of Paterson's first Turkish-American and Muslim police chief, Anadolu Agency reported.
A video shows the security personnel putting his left hand on Quran to swear in during a ceremony at city hall has gone viral.
The 60-year old chief has been serving at Paterson's police department for over three decades.
Proud of the promotion, Baycora said he considers Paterson as his home "for the better part of a half a century."
"Paterson has been in my blood my whole life, and now to be its police chief after a 32-year career — what an honor!"
He said he does not think that his religio will make a difference.
"But my background does, being a first generation immigrant. People often tend to relax and they feel like they'll be treated fairly. Especially if they feel like they're from a marginalized group," he stressed.
He said he is so happy and blessed.
"In this country there is opportunity. It does not matter where you come from."
A 2017 study from Pew Research shows that the US is "home to an estimated 3.45 million Muslims of all ages."
The number represents 1.1 % of the total US population.
https://www.moroccoworldnews.com/2020/02/293806/first-muslim-police-chief-in-us-city-sworn-in-with-hand-on-quran/
--------
Important for India and Pak to 'de-escalate, both militarily and verbally': UN chief Guterres
Feb 16, 2020
ISLAMABAD: UN chief Antonio Guterres said on Sunday it was important for India and Pakistan to de-escalate "militarily and verbally" and exercise "maximum restraint" as he began his four-day visit to the country, amidst tense relationship between the two nuclear armed neighbours.
Addressing a press conference after his meeting with Pakistan Foreign Minister Shah Mahmood Qureshi, the UN Secretary-General said he was "deeply concerned" over the situation in Jammu and Kashmir and tensions along the Line of Control.
The UN chief on Sunday arrived on a four-day visit to Pakistan during which he will attend an international conference on Afghan refugees and visit Gurdwara Kartarpur Sahib.
"Diplomacy and dialogue remain the only tools that guarantee peace and stability with solutions in accordance with the Charter of United Nations and resolutions of the Security Council," Guterres told reporters.
He emphasised the importance to "de-escalate, both militarily and verbally" while talking about relations between Pakistan and India.
Guterres said he had "repeatedly stressed the importance of exercising maximum restraint".
"I offered my good offices from the beginning. I am ready to help if both countries agree for mediation," he said.
Tensions between India and Pakistan spiked after New Delhi abrogated ended the special status of Jammu and Kashmir on August 5 last year. India's decision evoked strong reactions from Pakistan, which downgraded its diplomatic ties and expelled the Indian envoy.
India has defended its move, saying the special status provisions only gave rise to terrorism in Jammu and Kashmir.
"The country took the decision of abrogation of Article 370, which had only given separatism and terrorism to that state," Prime Minister Narendra Modi said in October last year.
The UN chief said that the issue of Kashmir should be resolved according to UN resolution.
"UNMOGIP (UN Military Observers Group in India and Pakistan) should be given free access. It is already there on the Pakistan side, and it should also be given on the other side," he said.
"We have taken a position that UN resolutions (on Kashmir) should be implemented, there should be ceasefire (on LoC) and human rights should be respected," he said.
India maintains that UNMOGIP has outlived its utility and is irrelevant after the Simla Agreement and the consequent establishment of the LoC.
India has rejected any third party intervention to the Kashmir issue and has maintained that all outstanding matters in Indo-Pak ties should be resolved bilaterally.
In August last year, Prime Minister Modi categorically rejected any scope for third party mediation on Kashmir, saying it was a bilateral issue between India and Pakistan, and "we don't want to bother any third country".
Calling the Kartarpur initiative a "symbol of interfaith harmony, a unique experiment in cross-border ties", the UN chief said that the opening of the corridor showed "Pakistan's commitment to peace".
Guterres said one of the main purposes of his visit was to "spotlight the real Pakistan, with all its possibilities and potential."
Qureshi in his remarks said that he briefed Guterres on the "challenging situation" after India revoked the special status of Kashmir.
He also demanded that UN human rights commissioner should come up with a report on post-August 5 situation in Kashmir.
Earlier on Sunday, the UN Secretary-General was received by Pakistan's Permanent Representative to the United Nations Munir Akram and senior officials of the Foreign Office and the United Nations in Pakistan on his arrival at the Nur Khan Airbase, Radio Pakistan reported.
According to Pakistan Foreign Office, Guterres will also hold talks with President Arif Alvi, Prime Minister Imran Khan.
During these meetings, Pakistan will share its perspective on the Kashmir issue, it said.
His other engagements include interactions with parliamentarians and the youth.
He will deliver special talks on themes of sustainable development, climate change and peacekeeping.
Guterres will also visit Gurdwara Darbar Sahib, the final resting place of the founder of Sikhism Guru Nanak Dev, in Kartarpur.
Guru Nanak Dev spent the last 18 years of his life at Gurduwara Kartarpur Sahib, which has now become the world's largest Sikh Gurdwara.
The UN chief will speak at the international conference on '40 Years of Hosting Afghan Refugees in Pakistan', which is being organised by Pakistan and the United Nations Refugee Agency (UNHCR).
The two-day conference starting from Monday will be inaugurated by prime minister Khan.
https://timesofindia.indiatimes.com/india/important-for-india-and-pak-to-de-escalate-both-militarily-and-verbally-un-chief-guterres/articleshow/74163962.cms
--------
Govt slams UN secy gen's comments on J&K, says region integral part of India
Feb 17, 2020
NEW DELHI: India used strong words to protest against UN secretary general Antonio Guterres who offered to facilitate dialogue between India and Pakistan on Sunday.
Responding to the "offer" by the top UN diplomat, the MEA spokesperson said, "Jammu and Kashmir has been, is and will continue to be an integral part of India. The issue that needs to be addressed is that of vacation of the territories illegally and forcibly occupied by Pakistan. Further issues, if any, would be discussed bilaterally. There is no role or scope for third-party mediation."
Insisting that India's position "has not changed", the spokesperson said, "UN secretary general would emphasise on the imperative for Pakistan to take credible, sustained and irreversible action to put an end to cross-border terrorism against India, which threatens the most fundamental human right — the right to life, of the people of India, including in J&K."
The UN secretary general's remarks have gone down very badly within the Indian system because they were made as part of a question and answer session after Guterres's talk in Islamabad on Sustainable Development and Climate Change. Guterres emphasised the need for protection of human rights in J&K. Although he tempered it by saying it was applicable everywhere in the world, India has taken umbrage because of where he delivered his comments and the context.
This is also not the first time Guterres has offered mediation, even though it has been perfectly clear that India would not welcome it. Guterres reportedly said both India and Pakistan should de-escalate "militarily and verbally" and exercise "maximum restraint".
Guterres, who arrived in Islamabad on Sunday, met Pakistani foreign minister Shah Mehmood Qureshi. The UN chief is on a four-day visit to Pakistan during which he will attend an international conference on Afghan refugees and visit Gurdwara Kartarpur Sahib.
https://timesofindia.indiatimes.com/india/govt-slams-un-secy-gens-comments-on-jk-says-region-integral-part-of-india/articleshow/74166496.cms
--------
UN Chief Hails Pakistan for Being World's Second Largest Host of Refugees
By Ayaz Gul
February 16, 2020
ISLAMABAD - U.N. Secretary-General António Guterres on Sunday began a three-day visit to Pakistan by urging the international community to support countries that continue to host millions of refugees from war-shattered Afghanistan.
The U.N. chief also called for India and Pakistan to defuse tensions over Kashmir and emphasized "the absolute need" for Indian authorities to "fully" respect human rights in the disputed majority Muslim region.
Guterres is in Islamabad for meetings with Pakistani leaders and to deliver a keynote address to an international conference Monday marking Pakistan's four decades of support for Afghan refugees.
Addressing a news conference in the Pakistani capital, Guterres said despite its own challenges and limited support from the international community, Pakistan has sheltered Afghan refugees for 40 years, making it the world's second largest host of the refugees."
One can only imagine how much worse the plight of Afghans would be, and how unstable the region might be without Pakistan's stellar example of hospitality and compassion," Guterres noted.
He reaffirmed the world body's continued support for Pakistan and called on other developed nations to support the country "and indeed show similar leadership in sharing this responsibility in this region and around the world."
The U.N. estimates that some 4.6 million Afghans, including 2.7 million registered refugees, still live outside of Afghanistan. Around 90 per cent of them are being hosted by Pakistan (1.4 million) and Iran (1 million).
Pakistani officials say another around 1.3 million Afghan economic immigrants live in the country, without officially being recognized as refugees.
Afghan peace talks
Guterres hailed a United States-led Afghan peace process aimed at finding a political settlement with Taliban insurgents to the 18-year-old war in neighboring Afghanistan.
"I am following closely the important efforts to bring peace to the country… It is my hope that the discussions will be productive and lead to a reduction in violence, especially violence that harms civilians," he said.
The reduced violence, Guterres said, is critical to build confidence and support for a peace process that leads to a lasting political settlement and the permanent Afghan ceasefire.
"Such conditions would contribute to enabling the peaceful return of displaced persons and refugees to their homes. I want to reaffirm that " he added.
The U.N. chief praised Pakistan for playing a "crucial role" in facilitating the Afghan peace process and in realizing what he called a "potentially historic opportunity" for peace in the war-shattered country.
U.S. and Taliban negotiators last week agreed to reduce fighting for a period of seven days in order to pave the way for a comprehensive Afghan peace agreement to end hostilities.
U.S. officials say no date has been set for when the the temporary truce will take effect. Taliban officials claim the so-called reduction in violence agreement will come into force from February 22 and the broader peace deal will be singed on February 29.
Pakistan is credited with arranging the nearly 18-months long U.S.-Taliban negotiations, using influence and connections with insurgent leaders whose families live in the country in areas hosting Afghan refugees.
Kashmir tensions
Guterres also spoke about Pakistan's ongoing renewed military stand off with rival India over the decades-old disputed Kashmir region, saying he was "deeply concerned" about the increase in tensions.
"I have repeatedly stressed the importance of maximum restraint and taking steps to de-escalate both militarily and verbally while reiterating my offer to exercise my good offices should both sides ask," the secretary-general said.
Bilateral tensions have escalated since last August, when New Delhi unilaterally revoked a decades-old constitutional special autonomous status for the Indian-controlled portion of Kashmir. India defends the move, saying it will help stamp out terrorism and spur development in the country's most restive region.
Pakistan, which also controls a portion of the divided Himalayan territory, rejects the move, saying Kashmir is an internationally recognized disputed territory under U.N. Security Council resolutions and neither side can unilaterally alter the status.
Indian authorities have since placed millions of residents of the country's only Muslim-majority region under tight security clampdown and imposed a communications blackout to counter violent reactions to the moves, although the restrictions have been partially eased in recent weeks."
Diplomacy and dialogue remain the only tools that guarantee peace and stability, with solutions in accordance with the charge of United Nations and the resolutions of the security council," Guterres said.
"When we see situations of discontent and unrest, it is of utmost importance to ensure full respect for human rights and fundamental freedoms," the U.N. chief said, mirroring Pakistani demands for India to remove the restrictions and restore Kashmir's status.
The Kashmir dispute has triggered two of the three wars between India and Pakistan and it continues to threaten regional security.
Refugee conference
Officials said Monday's ministerial conference, convened jointly with the U.N. High Commissioner for Refugees (UNHCR) will highlight the "generosity, hospitality and compassion" of Pakistan, Iran and other countries in hosting the refugee population impacted by more than four decades of unrest in Afghanistan.
The UNHCR says funding levels have dropped for its already under-resourced operations in Afghanistan, Pakistan and Iran over the years — making it hard to invest in Afghan lives and continue support to affected local host communities.
https://www.voanews.com/south-central-asia/un-chief-hails-pakistan-being-worlds-second-largest-host-refugees
--------
Seize the moment and end misery of over 40 years of war, Khalilzad urges Afghans
16 Feb 2020
The U.S. Special Representative for Afghanistan Reconciliation Zalmay Khalilzad urged the Afghans to seize the moment and end the misery of over 40 years of war.
Khalilzad made the remarks in an online statement following his meeting with President Mohammad Ashraf on the sidelines of Munich Security Conference.
He was apparently pointing towards the recent agreement with the Taliban group regarding a seven-day long reduction in violence in Afghanistan.
"Good to meet with Pres @AshrafGhani again today in #Munich. We spoke about the opportunity of this reduction in violence & the imperative of preparing for an inclusive #AfghanPeaceProcess. We urge all Afghans to seize the moment & end the misery of more than four decades of war," Khalilzad said in a Twitter post.
The Afghan and American officials had earlier said the U.S. President Donald Trump has conditionally approved the peace deal with the Taliban group.
The officials further added that Taliban group will have to prove its commitment over a test period of about seven days later this month in a bid to pave the way for the signing of the deal.
Meanwhile, reports suggest that Washington is expected to sign a peace deal with the Taliban group on 29th of February, provided that the group uphold their commitments regarding a seven-day reduction in violence.
https://www.khaama.com/seize-the-moment-and-end-misery-of-over-40-years-of-war-khalilzad-urges-afghans-04456/
--------
With Biryani and Rice Balls, Malaysia Aims for Halal Olympic Gold
Feb. 17, 2020
KUALA LUMPUR — A small factory in Malaysia's capital is preparing thousands of ready-to-eat halal meals, from fried rice to chicken biryani, to be shipped off to Japan for 2020's biggest sporting event.
Food firms from Muslim-majority Malaysia, are expected to be big winners from a rush of Muslim travelers to Japan for the Olympics and Paralympic Games, from late July to September.
"It's a huge platform and opportunity for us," said Ahmad Husaini Hassan, boss of the MyChef company making the meals in Kuala Lumpur.
"Our intention is not to go in and out. We've to go in and stay for the long term."
Malaysia wants to use the Games as a springboard to boost halal exports, which include food and cosmetics, by about a fifth to $12 billion this year. It exported halal goods worth $604 million to Japan in 2018, 90% of it food and food ingredients.
Malaysia is the only country to have reached a halal cooperation deal with Tokyo for the Games.
MyChef aims to triple its revenue to 4.5 million ringgit ($1 million) this year. It is in talks with Japanese retailer Aeon to jointly develop a line of ready-to-eat halal meals and snacks, Ahmad Husaini said.
Malaysia's halal trade has lagged behind non-Muslim nations such as the United States, China and Brazil. The value of the global halal market is projected to reach $2.6 trillion by 2023, nearly double 2017 levels, according to Dublin-based data firm Research and Markets.
MALAYSIA STREET
Malaysia's government has set an ambitious target of selling as much as $300 million worth of halal food and products to Muslims and non-Muslims around the Games.
It has secured space on the sidelines to host a "Malaysia Street 2020" promotion, which will offer opportunities to sell food and for firms to meet Japanese buyers and distributors.
"We have a lot to learn from Malaysian authorities and in return, Malaysian companies have more chances to expand their business," said Hideto Nakajima, economic counselor at the Japanese embassy in Malaysia.
The number of tourists to Japan from Southeast Asia, the region with the world's biggest Muslim population, has jumped in recent years thanks to relaxed visa rules.
As Japan looks to draw a record 40 million tourists this year, Malaysia estimates 8 million of them will be Muslim.
For HQC Commerce, among four firms chosen to lead Malaysia's halal push in Japan, the Olympics is a "stepping stone" for bigger things.
"We know that during the Olympics the demand will be highest, so this is the time for us to promote Malaysian products," said CEO Khairul Shahril Hamzah.
https://www.nytimes.com/reuters/2020/02/17/sports/olympics/17reuters-olympics-2020-malaysia-halal.html
--------
Dar al-Ifta joins in Egypt-Turkey culture war
Shahira Amin
February 16, 2020
Dar al-Ifta, the Egyptian authority responsible for issuing religious edicts, is warning Egyptians against watching Turkish TV drama series, which have been banned from Egypt's pro-government television channels since 2013. The warning, which comes at a time of strained relations between Egypt and Turkey, has raised eyebrows on social media; activists are baffled as to why the cautionary advice had come from a religious rather than a political institution.
"Dar al-Ifta is a state institution and protection of national security is one of its primary tasks," Kamal Amer, head of parliament's Security Committee, told Al-Monitor.
"The Turkish television series are distorting historical facts and spreading misinformation. Turkey is clearly biased in favor of the outlawed Muslim Brotherhood and is protecting its own interests. Our institutions, religious or otherwise, must look out for our best interests," he said. In a statement published on its Global Fatwa Index on Feb. 3, Dar al-Ifta cited the popular Turkish television series "Dirilis Ertugrul" ("Resurrection Ertugrul") and "Valley of the Wolves" as examples of Turkey's attempts to use its soft power "to create an area of influence in the Middle East."
It also accused Turkish President Recep Tayyip Erdogan of trying to revive the Ottoman Empire and impose hegemony over the Arab countries that were previously ruled by Turkey.
The award-winning "Resurrection Ertugrul," an adventure series that debuted in Turkey in December 2014, is based on stories of heroism featuring the13th century warrior Ertugrul Ghazi, the father of Osman or Othman, who founded the Ottoman Empire. He is depicted fighting against a host of adversaries, including Crusaders and Byzantines for the cause of Islam.
"Valley of the Wolves," meanwhile, tells the story of a Turkish intelligence agent who hides his identity to infiltrate the Turkish mafia and carry out operations in Turkey and in neighboring countries.
"They [the Turks] export to the people and nations the notion that they are the leaders of the [Islamic] caliphate, responsible for supporting Muslims worldwide and are their salvation from oppression and injustice while also seeking to implement Islamic law," the statement said in reference to Erdogan and his supporters.
"The Turkish president and his followers are not immune from using religious discourse in general, and fatwas in particular, as a cover for their military operations," it added, drawing similarities between Erdogan and terrorist groups and organizations.
Amr Koura, a media expert, dismissed the warning as "an attempt by Dar al-Ifta to appease the Egyptian authorities" at a time of rising tensions between Egypt and Turkey.
Relations between Egypt and Turkey soured after Ankara offered refuge to Muslim Brotherhood leaders and supporters in the wake of the ouster of President Mohamed Morsi in mid-2013. The Islamic group, which rose to power after the 2011 uprising, was outlawed by Egypt and branded as a terrorist organization in September 2013.
But Turkish support for the Muslim Brotherhood is just the tip of the iceberg. Erdogan has on several occasions lashed out at Egyptian President Abdel Fattah al-Sisi, slamming him as an "illegitimate tyrant" and more recently, as "the totalitarian Sisi" over mass executions in Egypt.
"I refuse to talk to someone like him," Erdogan said in reference to Sisi after nine men sentenced to death for their alleged involvement in the murder of Egypt's prosecutor general in 2015 were executed early last year. Erdogan has also pointed the finger at the Egyptian government for what he termed Morsi's "suspicious" death, vowing to have the alleged perpetrators of the crime tried in international courts. Egyptian Foreign Ministry spokesman Ahmed Hafez, responding to the allegations, criticized Turkey as a "sponsor of terrorism in the region."
He argued that Erdogan's "ironic remarks" about Morsi's death were "a desperate attempt to divert attention from his dwindling popularity and recent domestic and international defeats."
Tensions with Turkey have escalated in recent weeks after the Turkish parliament passed a bill in January to send troops to Libya to support the UN-backed government of Prime Minister Fayez al-Sarraj. Egypt backs Sarraj's rival, Gen. Khalifa Haftar, and insists the rebel commander "is the only bulwark against extremism in Libya." Egypt is vehemently opposed to a potential "Turkish military intervention in Libya" and has warned that any such troop deployment to Libya could "negatively affect the stability of the Mediterranean region."
The Dar al-Ifta warning against Turkish soap operas is the latest in a series of tit-for-tat measures that have included downgrading diplomatic relations between the two countries, calls from Egyptian legislators to boycott Turkish products and a defamation campaign against the Egyptian government by Ankara-based Muslim Brotherhood channels. On Jan. 14, Egyptian security forces stormed the office of the Turkish Anadolu Agency and arrested four employees, including a Turkish national, then referred them to state security on allegations of having supported terrorism.
"Turkish television series spread blatant propaganda and are used by the Turkish regime to rewrite history, often with the Turks in the role of heroes," Koura told Al-Monitor.
"They [the soap operas] may succeed in winning the hearts and minds of the illiterate masses who are often unable to distinguish between reality and fiction but they cannot fool educated viewers," he said.
He also hinted that jealousy could be a factor at play. "The Turkish series with their oft-breathtaking scenery of stunning landscapes and majestic palaces, attract visitors from Arab countries to Turkey, rendering the latter a fierce competitor of Egypt as a tourist destination."
Turkish television series, including the two above-mentioned action dramas airing on Netflix, are immensely popular with Egyptian viewers. Analysts attribute their popularity in Egypt and the rest of the Arab World to a number of factors, including cultural similarities, especially shared family values. In Muslim-majority Turkey as well as in the Arab countries (which are also predominantly Muslim), families are close-knit and the father, who is usually the breadwinner, is traditionally the respected figure of authority in the family. The extended families depicted in Turkish dramas are also representative of the multigenerational households in Arab countries. Besides, millions of female viewers in the Arab world can easily identify with — and are likely empowered by — the women they see in the Turkish soap operas. Often tackling such sensitive subjects as forced marriages, rape, divorce and extramarital affairs, Turkish soap operas such as "Noor" and "Forbidden Love" have inspired women across the Arab world to make their own choices in life on whom they marry, whether or not to work and whether to have children.
For some years after the Egyptian channels' ban on Turkish shows, Egyptian viewers watched the Turkish soap operas on some of the other Arab satellite channels such as the Saudi-funded broadcaster MBC. But in what some analysts described as "a blow to Turkey's soft power," Saudi Arabia — previously a voracious consumer of the Turkish productions — decided to replace Turkish TV series with Arab and Latin American dramas. The March 2018 decision was prompted by a marked deterioration in relations between Saudi Arabia and Turkey over the latter's support for the banned Muslim Brotherhood. Turkey has also sided with Qatar in its rift with Saudi Arabia, the United Arab Emirates and Egypt; Turkey sent several food shipments to beleaguered Qatar after it was accused by neighboring Gulf states of "sponsoring terror."
Egyptian broadcaster Amr Adib, who hosts the current affairs TV show "Al Hekaya," which tackles political, social and economic matters of public concern on the MBC Misr satellite channel, commended the Saudi decision to ban Turkish soap operas. He said Turkey was "using the Arab world" to reap huge profits from the export of its television series.
Last year, Turkey continued to be one of the world's top exporters of TV series, yielding a handsome revenue of $350 million from its television series. The majority of the viewers are Middle Easterners who watch Arabic-dubbed versions of the shows specifically targeting Arab audiences.
As an alternative to the Dar al-Ifta ban, Koura suggests countering the "Turkish on-screen interpretation of the Ottoman era with high-quality Egyptian productions that tell our version of historical events."
"So far, the $40 million 'Kingdoms of Fire' is the only Arab production challenging the Turkish narrative about the Ottoman era. And even that is a Gulf-funded initiative, not an Egyptian one," lamented Koura.
The new historical TV drama series launched on MBC in November is intended to "expose Ottoman tyranny," according to the Saudi Gazette. The series about life in the Arab lands under Ottoman rule 500 years ago has been dismissed by Turkish analysts as Saudi propaganda that seeks "to counter the good impression of Turkey" made by "Resurrection Ertugrul." According to Turkish national broadcaster TRT, the series is "part of a broader effort by Gulf autocrats to recast the Ottomans in a negative light."
With each party offering its alternative version of history, the one thing that is clear is that culture is the new battlefront in the ongoing spat between Turkey and Egypt.
Shahira Amin is an award-winning journalist based in Cairo. Former deputy head of state-run Nile TV, she quit her job at the height of the 2011 uprising to protest censorship of her work. She has since worked as a freelance writer for Index on Censorship, Freemuse, CNN and various news websites and as a filmmaker producing documentaries for UN agencies.
https://www.al-monitor.com/pulse/originals/2020/02/dar-al-ifta-joins-in-turkish-egyptian-culture-war.html
--------
Somalia: Alarm as Al-Shabaab Infiltrates State Institutions
6 FEBRUARY 2020
Abshir Gaarane Ahmed was a lead singer in a government band in Benadir, the region that covers the capital Mogadishu in Somalia.
The public knew him as the man who belted out patriotic songs about his country. His trimmed beard and smooth voice suited a youthful artiste.
Then on January 21, the National Intelligence and Security Agency of Somalia (Nisa) paraded him as a terrorist.
Side by side, Nisa published videos of him singing about his beloved Somalia as well as a confession: he had worked as an Al-Shabaab "accountant".
Nisa did not indicate for how long he had been Shabaab's financial manager. But it only confirmed stories that emerged from last year that the Somalia-based militant group was planting its agents inside government departments.
Those agents, one report by the Voice of America's Somali Service indicated, had used their government postings as a cloak to hide their militant life, gathering information to help the group collect taxes and target its enemies with precision inside Somalia.
INTELLIGENCE GATHERING
In Benadir, Governor Abdirahman Omar Osman 'Yarisow' was killed last year in August by a blind female suicide bomber, who had worked in his office as a coordinator for people with disabilities.
The group has also continued to attack targets in Kenya, often buses, police stations and telecom installations.
This week, a group of businesspeople who routinely travel between Mogadishu and Nairobi told reporters the infiltration could easily expand into neighbouring countries like Kenya, dealing a blow to intelligence gathering.
In a joint statement, the traders appealed to governments in the region to work harder and ensure the Shabaab do not create a parallel network between the governments.
"Authorities must pay attention to what is happening in Mogadishu. History will judge them harshly if they give up their role (of helping Somalia). Because they may invite attacks on their soil," the traders said in Nairobi.
"Al-Shabaab is taxing every business by force," they said referring to port importers, exporters, transporters and shopkeepers.
The traders asked to remain anonymous, fearing they could be targeted by militants or appearing to speak against the Shabaab "because they know where our businesses are".
TAXATION
The traders said they were forced to speak about their experiences because they feel neighbouring countries were unbothered by reports of government infiltration in Somalia.
Yet the claims of the Shabaab taking over government roles were first reported by the VOA last year.
But a UN Panel of Experts on Somalia revealed the militant group is now relying less on charcoal exports and focusing on "mafia-style taxation" at the port in Mogadishu as well as markets.
"The group also continues to take advantage of virtually unregulated mobile money and domestic banking services to collect and transfer revenues throughout the country," the panel noted in a November report.
Those networks often operate through trade associations or government departments. Between 2017 and 2019, authorities dissolved a local trade union twice over "poor governance".
Yet, recently, Somalia had to dissolve a board for the local Chamber of Commerce after it emerged the Shabaab had "representatives" there.
The businesspeople told journalists in Nairobi that the attempt may have been thwarted, but it now makes it difficult to know who isn't a Shabaab.
"You can feel it as you go around your business in Mogadishu. Even ministers now don't trust their assistants. They can no longer fully express themselves. Nobody knows who is who, and all in a span of a few months," another added.
IDENTIFICATION SYSTEM
Somalia's interior ministry did not respond to our emailed inquiry on the situation. But the government in Somalia had initially rejected claims of carrying along sympathisers.
Experts told the Sunday Nation that it was possible the infiltration has been expanding, raking in sharing of intelligence as general counterterrorism cooperation between Somalia and neighbours like Kenya.
"Kenyan security agencies must be very careful now because Somalia's intelligence community includes former Al-Shabaab members," warned Dr Abdiwahab Sheikh Abdisamad, who runs Horn of Africa think tank Southlinks Consultants.
"If the intelligence community failed to coordinate, it would take years to root out Al-Shabaab and that would expose Kenya to more attacks. I would recommend frequent disbandment of their sources inside Somalia."
With a careful structure of informants, Dr Abdisamad said, Al-Shabaab, which has had foreign fighters in the past, could start infiltration because they now have money.
This week, Somalia's problem, the UN Panel had indicated, was compounded by the lack of an identification system for personnel.
The blind bomber, for example, got her government job using a false name.
REVAMP NISA
But the other problem, analysts say, has been the reporting channels of intelligence in Somalia.
"It is not new and Somalia's partners know this infiltration within security ranks has made partners, sometimes, reluctant to share information with the National Intelligence Service because of its structure," said Abdalla Ahmed Ibrahim, director of the East African Centre for Research and Strategic Studies.
"I think, normally, the intelligence service should report directly to the President. In Somalia, Nisa is under the Interior ministry, which means information can easily leak to the enemy. Somalia needs to change that structure of reporting," he argued.
But the Shabaab have also infiltrated political organisations as well as clan elders. A recent election in Galmudug state showed the militia had sponsored some politicians into a local legislative assembly. Officials denied this.
SURVIVAL TACTICS
But Somalia's practice of not vetting defectors before admitting them into normal society life has been criticised as aiding penetration of their agents.
This week, a report by the Lead Inspector General report to the United States Congress indicated Al-Shabaab may not be decimated in the next one year as earlier planned.
Because the group has adopted survival tactics across borders. "The Defence Intelligence Agency assessed in December 2019 that Al-Shabaab remained capable of conducting high-profile mass casualty attacks as demonstrated by VBIED attacks against civilian and military targets throughout southern Somalia," the report said.
https://allafrica.com/stories/202002170016.html
--------
Israel's Gantz vows to form government without Netanyahu, Arab parties
16 February 2020
Israeli opposition leader Benny Gantz is vowing to form a government that will include neither the indicted Prime Minister Benjamin Netanyahu nor the Arab parties in parliament.
In a series of TV interviews two weeks before national elections, Gantz looked to project confidence that the March 2 vote will provide the decisive outcome that eluded the two previous elections last year.
Gantz's Blue and White party is currently polling ahead of Netanyahu's Likud, although neither appears to have a clear path to a parliamentary majority required to form a coalition government.
Gantz laid out two potential paths while speaking to Channel 12 News on Saturday night. He said he's either going to partner with a broad range of "Jewish and democratic" parties - including the ultra-nationalist party led by apparent kingmaker Avigdor Lieberman.
Or he could team up with the ruling Likud Party, but only if it gets rid of longtime leader Netanyahu, who's fending off a slew of criminal corruption charges.
"Netanyahu has ended his historic role from a political standpoint. The Likud with Bibi cannot form a government, and without Bibi there's unity," he said, referring to Netanyahu by his nickname.
Gantz, a former military chief, has been campaigning furiously in pursuit of a knockout punch as the election grows nearer. He appears to have grown closer to Lieberman, whose nationalist Yisrael Beitenu party has bolted from Netanyahu's right-wing camp and sparked the unprecedented stalemate in Israeli politics that led to the multiple repeat elections.
Both deny they have reached any pre-election alliance, but Lieberman has all but ruled out sitting in government with his former mentor.
"The Netanyahu era is over," Lieberman said Saturday, expressing a newfound openness to sitting in government with left-wing parties he once shunned.
Still, the numbers don't seem to add up without at least the tacit support of the Arab parties who are anathema to Lieberman's hard-line brand of politics. Netanyahu has based his campaign on linking Gantz to the Arab parties, who represent the country's 20% minority, saying he has no option of forming a government without them. Gantz denied he will invite them into his government, saying there is too wide an ideological gap between them.
Even with the corruption indictment against Netanyahu and the unveiling of President Donald Trump's Mideast plan, polls are predicting a similar outcome to the previous election in September, when neither Gantz nor Netanyahu could form a coalition in the time allotted to them. Netanyahu has since fended off an internal challenge to his Likud leadership. But Gantz is banking on a surge in support this time around, after judges have already been selected to preside over Netanyahu's upcoming trial. The public also seems weary of the prospect of yet another deadlocked result and the potential for a fourth election.
Israel's attorney general charged Netanyahu in November on three counts of bribery, fraud and breach of trust. Netanyahu is desperate to remain in office to fight the charges. Under Israeli law, public officials are required to resign if charged with a crime. But that law does not apply to the prime minister, who can use his office as a bully pulpit against prosecutors and try to push parliament to grant him immunity from prosecution.
Netanyahu has failed in that effort, and with the looming trial Gantz has been pushing for a fresh start.
"He's about to go to trial. Just imagine that while he is sitting down to prepare for trial with a battery of lawyers about fateful issues from his personal standpoint, the military chief of staff needs to hold a very urgent meeting at night from a security standpoint," Gantz said.
https://english.alarabiya.net/en/News/middle-east/2020/02/16/Israel-s-Gantz-vows-to-form-government-without-Netanyahu-Arab-parties.html
--------
US closing 'very promising' deal with Taliban, but it's not without risk
15 February 2020
US Defense Secretary Mark Esper has described the recent talks between American officials and representatives of the Afghan Taliban as "very promising".
Esper had said on Thursday that the US and the Taliban had agreed on a seven-day reduction in violence that could result in the exit of US troops from Afghanistan.
The proposal aims to see whether the Taliban militants would stop attacks for seven days, followed by the signing of a US-Taliban peace deal.
Afghan peace talks would get underway shortly after, in which the US envisions a phased withdrawal of US troops over 18 months.
Esper told reporters that if the plan is successful, the US would cut the number of troops stationed in Afghanistan from 12,000 to 8,600.
"It's my view as well that we have to give peace a chance, that the best if not the only way forward in Afghanistan is through a political agreement and that means taking some risk," Esper said speaking at the Munich Security Conference in Munich, Germany on Saturday.
Esper told the audience at the security conference that the new "proposal that was negotiated between our ambassador and the Taliban ... looks very promising."
The US defense chief said the date for the seven-day "reduction in violence" had yet to be announced.
The Taliban and the US had been negotiating the deal for a year and were on the brink of an announcement in September 2019, when President Donald Trump abruptly declared the process "dead."
Talks restarted in Qatar later in December last year, but were suspended again following an attack near the Bagram military base in Afghanistan, which is run by the US.
https://www.presstv.com/Detail/2020/02/15/618745/US-Taliban-Deal-Esper
--------
Europe
Growing Islamophobia 'intolerable': UN chief
Islamuddin Sajid
16.02.2020
The UN chief on Sunday voiced his concern over rising Islamophobia in the world, calling it "intolerable."
Antonio Guterres' remarks came during a joint news conference with Pakistan's Foreign Minister Shah Mahmood Qureshi in the capital Islamabad, where he arrived early Sunday on a four-day visit.
"We see today that migrants or refugees sometimes are attacked by populist politicians or other religious haters. It is, for me, absolutely evident that we need to fight Islamophobia very strongly," Guterres said.
He said that hate speech is one of the most important instruments of Islamophobia and that the UN has recently launched an initiative to counter hate speech.
Referring to a joint initiative by Turkey, Pakistan and Malaysia to counter Islamophobia, the UN chief said his initiative, headed by his special advisor on the Prevention of Genocide, will also go on the same lines.
"We are totally committed in our action around the world to fight against all forms of populism that try to use Islamophobia and other forms of hatred, as a tool to win votes, which is totally unacceptable," Guterres added.
There is a need to preserve harmony among religions, he said, adding: "And I believe that my visit tomorrow to the Kartarpur corridor will be the symbol of that dialogue, debate and tolerance."
Qureshi, for his part, also expressed his concern over growing Islamophobia. "It's very dangerous. It has already started impacting European politics, as you've seen how the far right has taken advantage of that."
https://www.aa.com.tr/en/europe/growing-islamophobia-intolerable-un-chief/1735904
--------
Ottoman mosques cast historic light in Greek capital
Magda Panoutsopoulou
15.02.2020
Tracing the history of the Greek capital Athens, we can see not only the sacred rock of the classical Acropolis but a mixture of the Hellenistic, Roman, Byzantine and Ottoman eras.
Even though Greece was under Ottoman rule for almost four centuries, few remains of that period are visible now.
But a walk down the historic alleys of central Athens will give amblers a taste of the Ottoman legacy.
Among the most important remnants of the 17th century are two vintage Muslim places of worship located in Athens' historical center, the Fethiye Mosque and the Tzisdaraki Mosque, both now repurposed as exhibition venues.
Fethiye Mosque
Located in the middle of the Roman Agora near the Tower of the Winds, the Fethiye Mosque was built in the second half of the 17th century, reportedly around 1668-1670.
To Greek residents it was known as the Staropazaros (Wheat Market) Mosque, due to its proximity to the grain bazaar (pazari) at the Roman Market.
In a scholarly article on the mosque, Machiel Kiel, a Dutch expert on Ottoman architecture, wrote that the mosque was reportedly built on the ruins of a Christian church.
"The church of the Panaghiatou Staropazarou, or Church of the All Holy (Virgin Mary) of the Wheat Market-stari, here being the local Greek pronunciation of sitari (wheat), and not staro ('old' in Slavic), was said to be a Byzantine building," he wrote, adding that it was converted into a mosque due to a Muslim-Christian clash of faiths.
The mosque was built according to the architectural pattern of "quatrefoil" or "cloverleaf-cross-in-square," as its wide central dome is supported by four smaller domes in a cruciform layout.
According to information from Greek Culture Ministry, inside the mosque in the center of its eastern side there is a small niche, the Mihrab, which is oriented towards the holy city of Mecca, as is customary in Islam.
Kiel said inspection of the mosque shows "the marble frame of the entrance portal and the marble frames of the windows in the porch are covered with half-faded Ottoman inscriptions, pious wishes, and lines of poetry. A number of them are dated."
He added, citing both the Muslim Hijri dating system and the Western calendar: "The oldest is from 1080 (1669-70). Others follow closely in time."
These dates "strongly suggest that the name of the building is associated with the final conquest of Crete by the Ottomans," he added, referring to 1669, the year Venetian forces lost the island to the Ottomans after a prolonged siege.
After Greece gained independence in 1830, the mosque was used successively as a military prison, a barracks, a school (starting in 1824) and a military bakery (starting in the late 1800s).
Now the former mosque holds a very important place as a monument to the legacy of the Ottoman Empire.
In 2014 to 2017, extensive restoration work was done by the Department of Restoration of Byzantine and Post-Byzantine Monuments, Culture Ministry archeologist Argiro Karamperidi told Anadolu Agency.
The historic mosque occasionally hosts archaeological and historical exhibits, she said.
Tzisdarakis Mosque
The Tzisdaraki Mosque (Cizderiye Camii) gets its name from a corruption of the words Dizdar ­-- "Diz" is Persian for castle, and "dar" means keeper/bearer -- the title of the man behind the mosque.
Mustafa Agha Tzisdarakis was the Ottoman governor or commander of the Fortress of Athens, a well-paid position which would enable him to engage in building projects, Kiel told Anadolu Agency.
The Mosque of the Lower Fountain, as it is also called, was built in 1759 in the heart of the town market of that time in Monastiraki Square.
According to information from the Greek Culture Ministry, tradition says the building used limestone from one of the pillars of the Temple of Olympian Zeus, but this claim was debunked, as the limestone actually turned out to be from the columns of Hadrian's Library on the north side of the Acropolis.
Local superstition, though, held that harming temples would bring deadly epidemics to the city, and so for his supposed offense of using the Zeus stones, Tzisdarakis had to pay a fine and was forced into exile.
According to Athens' Museum of Greek Folk Art, after Greece's independence in 1830, the building was used for various purposes until 1918, when the state decided to restore it in order to house a new museum.
The mosque was partially restored in 1966, so that Saud bin Abdulaziz Al Saud, the former Saudi monarch living in exile in Athens, could worship there.
Nowadays the mosque is under renovation under the supervision of the Culture Ministry and is being maintained by the Museum of Greek Folk Art.
Working mosque
Nearly 200 years after gaining independence, Greece still has a sizeable Muslim population, including a quarter-million Muslims in metropolitan Athens.
And those Muslims need a working mosque for worshipping, not a museum, yet Athens still lacks one -- the only major European capital to do so.
Last June, after years of delays, a new mosque opened in Athens, but so far it lacks an imam, so it is not open for worship yet.
In December, state officials said three more months were needed to appoint new personnel and make necessary arrangements for the mosque, set to accommodate 350 worshippers.
Full report at:
https://www.aa.com.tr/en/culture/ottoman-mosques-cast-historic-light-in-greek-capital/1734718
--------
Germany arrests far-right group members planning Christchurch-style attacks
17 February 2020
Members of a far-right group arrested in Germany as part of a massive counter-terrorism investigation were planning large-scale attacks on mosques similar to the ones carried out in New Zealand last year, media reported on Sunday.
The group, 12 of whom were detained on Friday, wanted to attack Muslim places of worship during prayers, Der Spiegel magazine and the daily Bild said.
They planned to imitate the attacks in Christchurch in New Zealand in which 51 people were killed at two mosques and intended to use semi-automatic weapons.
The alleged leader of the group, which was known to the authorities and had been under observation, had detailed his plans at a meeting organized with his accomplices last week.
Investigators learned about it from someone who had infiltrated the group, the two publications said.
Investigators launched the raids to determine whether the suspects already had weapons or other supplies that could be used in an attack.
Full report at:
https://english.alarabiya.net/en/News/world/2020/02/17/Germany-arrests-far-right-group-members-planning-Christchurch-style-attacks.html
--------
Police in Azerbaijan's capital arrest 3 opposition leaders
16 February 2020
Police in Azerbaijan have arrested at least three opposition party leaders and rounded up over 100 activists before they could take part in a protest against the results of recent parliamentary elections.
The leader of the REAL party, Ilgar Mamedly, the leader of the Musavat Party, Arif Gajily, and the head of the D18 opposition movement, Ruslan Izzetly, were detained before the protest was scheduled to start in the capital Baku on Sunday.
Police surrounded the building of the Central Election Commission (CEC), where the protest had been due to start from, and put on a bus anyone arriving to take part.
Some protesters chanted slogans and held posters reading, "Abolish election results!" and "We demand free elections!"
Results from the February 9 vote showed the ruling Yeni Azerbaijan (New Azerbaijan) Party won 72 out of 125 seats in the single-chamber parliament. Nearly all other seats went to small parties and independents loyal to President Ilham Aliyev.
The next day, observers from the Organization for Security and Cooperation in Europe (OSCE) and the Council of Europe issued a joint statement censuring the outcome. The claimed the election had been marred by numerous irregularities, raising serious doubts on its integrity.
Opposition parties have also claimed the election was "totally falsified," with the Musavat opposition party demanding that the result of the vote be annulled and fresh polls be held.
Aliyev had previously said his government had taken all necessary measures to ensure fair and transparent elections that comply with Azerbaijan's laws and international standards.
He called the election nine months before the vote was formally due, with officials from Yeni Azerbaijan Party arguing that the move was "to support the president's policy on reforms and personnel changes."
The opposition blames the president for public discontent over the economic slowdown and accuses him of attempting to improve his government's image by replacing old discredited elites with younger candidates.
Aliyev has been at the helm of the ex-Soviet state since he was first elected in 2003 after the death of his father, Heydar, who had held power for a decade.
He was re-elected in 2008 and 2013 in polls that were denounced by opposition parties as rigged.
Azerbaijan under Aliyev is well-known for its lack of tolerance for dissent and its tough way of dealing with political opposition.
Full report at:
https://www.presstv.com/Detail/2020/02/16/618825/Aliyev-Azerbaijan-Baku-Ilgar-Mamedly-OSCE
--------
Turkey to attend int'l donors' conference for Albania
Burak Dağ
16.02.2020
Turkey will participate at the International Donors' Conference for Albania, scheduled to be held in Brussels on Monday.
Faruk Kaymakci, Turkey's deputy foreign minister and director for EU affairs, will attend the conference, organized by the European Commission, which "aims to heal the earthquake wounds of brotherly Albania, the Turkish Foreign Ministry said in a statement.
"Turkey is one of the first countries that took action in the aftermath of earthquake that struck Albania on 26 November 2019. Our search and rescue teams along with medical rescue experts arrived in Albania on the day of the earthquake," the ministry said.
It said the Turkish Cooperation and Coordination Agency, Turkey's Disaster Management Agency and the Turkish Red Crescent promptly delivered aid to the earthquake zone.
Full report at:
https://www.aa.com.tr/en/europe/turkey-to-attend-int-l-donors-conference-for-albania/1735915
--------
International actors reaffirm commitment to cease-fire in Libya
Ayhan Simsek
16.02.2020
MUNICH
World powers and regional actors have launched on Sunday an international committee to oversee pledges made for an arms embargo and cease-fire in Libya.
Speaking to reporters after a meeting of more than a dozen foreign ministers and top diplomats in Munich, German Foreign Minister Heiko Maas said participants reaffirmed their commitment to the conclusions of the Berlin Conference last month.
"Today we launched the International Follow-up Committee on Libya [IFCL], and thereby we put into practice one of the most important conclusions of the Berlin Conference," he said.
"This committee would now work to ensure that all the conclusions of the Berlin Conference would really be implemented. At the same time, it would accompany the UN-led, intra-Libyan dialogue process, and support it in the best possible way," he added.
Maas said that the recently formed IFCL will be co-chaired by the UN and one of the participant states or organizations of the Berlin process.
As the next rotating co-chair, Italy will host a meeting of IFCL next month in Rome, he added.
Turkish Foreign Minister Mevlut Cavusoglu attended Sunday's Libya meeting in Munich, along with the foreign ministers of France, Italy and several countries from the region, at the invitation of Germany's top diplomat.
UN Security Council members Russia, China and the U.S. sent deputy foreign ministers and senior diplomats to Munich for the meeting.
Foreign ministers from Egypt and the United Arab Emirates, the main supporters of Libyan warlord Khalifa Haftar, also took part in the meeting.
Last month, Germany hosted a summit in Berlin seeking international unity to support efforts for a political solution and cease-fire in Libya.
The Berlin Conference ended with pledges on cease-fire and arms embargo, and heads of states and governments agreed to set up a follow-up committee to discuss the implementation of the conference conclusions.
Since the ouster of late ruler Muammar Gaddafi in 2011, two seats of power have emerged in Libya: warlord Khalifa Haftar in eastern Libya, supported mainly by Egypt and the United Arab Emirates, and the Government of National Accord (GNA) in Tripoli, which enjoys the UN and international recognition.
Full report at:
https://www.aa.com.tr/en/europe/international-actors-reaffirm-commitment-to-cease-fire-in-libya-/1735694
--------
Donald Trump urges Russia to end Syria 'atrocities'
Feb 17, 2020
President Donald Trump has called for Russia to end its support for the Syrian regime's "atrocities" as he expressed US concern over violence in the Idlib region, the White House said on Sunday.
Turkey's foreign minister also pressed his Russian counterpart over the attacks by Damascus on the last rebel-held bastion in the country.
Backed by Russian air power, Syrian President Bashar Al Assad made fresh gains on Sunday as he intensified his assault on the holdout northwestern province of Idlib.
In a call with Turkish President Recep Tayyip Erdogan, Mr Trump "expressed concern over the violence in Idlib, Syria and ... conveyed the United States' desire to see an end to Russia's support for the Assad regime's atrocities."
Turkey has 12 observation posts in Idlib as part of a 2018 deal reached between Ankara and Moscow to prevent a regime offensive, but Syrian regime forces have pressed ahead regardless.
Four of the Turkish posts are believed to be encircled by Syrian forces, and Ankara has threatened to attack Damascus if they do not retreat by the end of February.
"I stressed that the attacks in Idlib must stop and it was necessary to establish a lasting ceasefire that would not be violated," Turkish Foreign Minister Mevlut Cavusoglu told journalists at the Munich Security Conference, after he met with Russian Foreign Minister Sergey Lavrov.
Rebel supporter Turkey and Damascus ally Russia have worked closely on Syria in recent years despite being on opposing sides of the nine-year conflict.
A Turkish delegation will head to Moscow on Monday, after Russian officials visited Ankara last weekend but failed to reach a concrete deal.
War monitor the Syrian Observatory for Human Rights on Sunday said regime forces "were in control of all the villages and small towns around Aleppo for the first time since 2012."
Regime forces have for weeks been making gains in northwestern Syria and chipping away at territory held by extremists and allied rebels, focusing their latest operations on the West of Aleppo province.
The Russian-backed offensive has triggered the largest wave of displacement in Syria's civil war, with 800,000 people fleeing since it began in December, the United Nations has said.
Backed by Russia, Iran and the Lebanese Shiite movement Hezbollah, Mr Al Assad's forces now control more than 70 per cent of Syria and the president has repeatedly vowed to retake the entire country.
In the Saturday phone call with Mr Erdogan, Mr Trump also "reiterated that continued foreign interference in Libya would only serve to worsen the situation."
Libya has been mired in chaos since a 2011 Nato-backed uprising killed longtime dictator Muammar Qaddafi, with two rival administrations vying for power.
Full report at:
https://www.thenational.ae/world/the-americas/donald-trump-urges-russia-to-end-syria-atrocities-1.980004
--------
German extremists 'plotted attacks on Muslims to stoke war'
Feb 16, 2020
A group of right-wing extremists have been arrested in Germany after planning attacks on Muslims and asylum seekers to try to provoke civil strife.
Germany authorities arrested 12 men on Friday in nationwide raids on suspicion of forming and supporting a "right-wing terrorist organisation". A judge on Saturday ordered the men to be held in detention.
Four of the men were part of an active cell with the eight others viewed as supporters, according to a statement by German prosecutors. They were all German and one of the men was reportedly a police administrative officer.
The Welt am Sonntag weekly reported on Sunday that the group referred to itself as "The Hard Core" and was founded in September 2019. The group had links to a white supremacist group called Soldiers of Odin, founded in Finland in 2015, it said.
The co-ordinator of the group was identified as Werner S, 53, who arranged a series of meetings for the plotters.
Werner S, from the Augsburg region, had been on the authorities' radar for several month and was seen as a potential violent threat, German media said.
The group's goal was to "shake and ultimately overcome the state" prompting social upheaval in Germany, according to prosecutors. "For this purpose, attacks on politicians, asylum seekers and persons of Muslim faith, which have not yet been specified in detail, should bring about conditions similar to civil war," the federal prosecutor said in a statement.
Authorities in Germany have warned of the growing threat of far-right extremism. Last June, a regional official from Chancellor Angela Merkel's conservative party was killed by a suspected neo-Nazi. In October, a gunman with anti-Semitic views attacked a synagogue in the eastern city of Halle, killing two passers-by.
The arrests come amid political turmoil in Germany with the heir apparent as chancellor to Mrs Merkel dropping out of the race to succeed her.
Annegret Kramp-Karrenbauer's decision came after her authority had been undermined by local party officials. They had ignored her orders not to side with a far-right party in elections to try to oust a left-wing governor.
Full report at:
https://www.thenational.ae/world/europe/german-extremists-plotted-attacks-on-muslims-to-stoke-war-1.979920
--------
India
Videos of police action inside Jamia library trigger fresh row
Feb 17, 2020
NEW DELHI: Two months after violence at Delhi's Jamia university during an anti-CAA protest, a video clip showing police barging into a varsity library and beating up people there with sticks went viral early Sunday morning, leading to an outrage and sharp political reactio ns.
The leak of the CCTV footage early Sunday morning was followed hours later by two other clips coming into public domain, one of which showed youths entering the same reading room — some with what appear to be stones in their hands — and trying the block the entrance of the hall. This clip appears to be of events preceding police's entry into the reading room.
Students from Jamia's anti-CAA protest group, Joint Coordination Committee (JCC), said the footage confirmed their allegations of police brutality on campus. The university administration said the clips were not leaked from their end.
One of the videos that came into circulation later showed youths hurrying into the reading room while another showed youths gathered at the balcony of the first-floor library and then quickly dispersing. These clips were seen by some in social media as "proof" that "rioters" were trying to hide in Jamia buildings.
Cops have taken copies of all three videos and have launched an enquiry into the incident.
One of the videos, a 44-second clip, shows youths who were seen on the corridor, entering the library and blocking the entrance door with a bench.
Special Commissioner (Crime) Praveer Ranjan said, "We have taken cognisance of the latest video of December 15 of Jamia Millia Islamia library which has surfaced now. We will investigate it."
Cops have particularly taken cognisance of two of the three videos which show a group of men barging into the Zakir Hussain library. One of the youths, with long hair is seen carrying what appears to be a stone. He is seen assuring the others present in the library. Later, one of the youths who came from outside is seen sitting down with a book when police arrive. He has a scarf on his face and is seen in another video getting hit by the police.
That 48-second clip shows police going on a rampage in the library, hitting those sitting there with sticks. Several of the cops have their faces covered.
Mohammad Raabe, a BA Persian student said he was studying in the reading hall when "the police entered the building and began using tear gas to disperse students. They also broke down the library glass and furniture. Despite our pleas, they continued to beat us and abused us using communal slur. Several of us had never left the library and were studying. Even if police came looking for certain people, why were they beating so many of us."
Raghib Naushad, a member of the Jamia's JCC, said, "We never denied that many students tried to block the doors of the library with the tables and chairs when they heard about what was happening outside. There were a few students who were protesting and ran into the campus. Seeing that it was a Sunday and the department buildings were closed, they entered the library which was open. The blatant disregard shown by the police and the violence they meted out on even those students who were not involved in any protest is unjustified."
On allegations of possible rioters entering the library building, Naushad asked, "Why did the police beat up all the students, and even the ones who were studying? Why did they destroy library property? And why would a stone-pelter carry a stone inside the library? The truth is that the police were going around beating random students in the campus with their faces covered."
Police officers say that the sequence of events after which police had entered the university has already been established and verified from the Jamia authorities, and a few of the miscreants have been identified. Efforts are being made to identify the rest.
https://timesofindia.indiatimes.com/india/videos-of-police-action-inside-jamia-library-trigger-fresh-row/articleshow/74166447.cms
--------
Shaheen Bagh protestors postpone march to Shah's residence, Chennai anti-CAA stir continues
Feb 17, 2020
NEW DELHI: After holding several rounds of negotiations with the police, anti-CAA protestors who had gathered here in large numbers on Sunday agreed to not proceed with their march from Shaheen Bagh to the office or residence of Union Home Minister Amit Shah.
Protestors had stated that approximately 5000 people will start marching from Shaheen bagh to Shah's residence at 2 pm for a dialogue over the Citizenship Amendment Act (CAA).
Following this, rounds of negotiations were held with protestors by senior police officers and they were persuaded to not take out the march. They were informed to take prior appointment from the Home Minister before trying to meet him.
Police personnel were deployed at Shaheen Bagh to maintain law and order in the area.
Senior police officials of southeast district also interacted extensively with a group of protestors, especially Dadis (grandmothers) of Shaheen Bagh, urging them to postpone their march as it was unlawful and did not have necessary permission from concerned law enforcement agencies.
Police have requested the protestors to form a delegation and the same will be facilitated for further appointment and meeting.
Meanwhile, in Tamil Nadu, in what is being called Chennai's Shaheen Bagh, protestors continued to agitate against the Central and State governments and against the CAA, National Population Register (NPR) and the National Register of Citizenship (NRC) for the third consecutive day.
Full report at:
https://timesofindia.indiatimes.com/india/shaheen-bagh-protestors-postpone-march-to-shahs-residence-chennai-anti-caa-stir-continues/articleshow/74168913.cms
--------
The Kashmir journalist forced into manual labour
February 17, 2020
Journalists in Indian-administered Kashmir are struggling to make ends meet amid a months-long communications blockade that has only partially been lifted. The BBC's Priyanka Dubey visited the region to find out more.
Muneeb Ul Islam, 29, had worked as a photojournalist in Kashmir for five years, his pictures appearing in several publications in India and abroad.
But the young photographer's dream job vanished almost overnight in August last year, when India's federal government suspended landline, mobile and internet services in Kashmir.
The government's move came a day before its announcement that it was revoking the region's special status - a constitutionally-guaranteed provision, which gave Kashmir partial autonomy in matters related to property ownership, permanent residency and fundamental rights.
The controversial decision catapulted the Muslim-majority valley into global news - but local journalists like Mr Islam had no way to report on what was going on. And worse, they had to find other things to do because journalism could no longer pay the bills.
By January, the region had not had access to the internet for more than 150 days, India's longest such shutdown.
"I chose journalism because I wanted to do something for my people," Mr Islam explains. "I covered this conflict-ridden region with dedication until the loss of Kashmir's special status put a full stop on my journey."
In January, the government eased restrictions and allowed limited broadband service in the Muslim-majority valley, while 2G mobile coverage resumed in parts of the neighbouring Jammu region. But mobile internet and social media are still largely blocked.
India says this is necessary to maintain law and order since the region saw protests in August, and there has also been a long-running insurgency against Indian rule. But opposition leaders and critics of the move say the government cannot leave these restrictions in place indefinitely.
Meanwhile, journalists like Mr Islam are struggling.
For months, Mr Islam says, he kept trying to report and file stories and photos.
In September, he even spent 6,000 rupees ($84; £65) of his own money to make two trips to the capital, Srinagar, for a story. But he soon ran out of funds and had to stop.
He then tried to file his stories on a landline phone: he would call and read them aloud to someone on the other side who could type it out. But, as he found out, his stories didn't earn him enough money to cover the cost of travelling for hours in search of a working landline.
And Mr Islam was desperate for money because his wife was ill. So he eventually asked his brother for help, finding work carrying bricks on a construction site in his neighbourhood in Anantnag city. It pays him 500 rupees a day.
Mr Islam is not the only journalist in Kashmir who has been forced to abandon their career for another job.
Another journalist, who did not want to reveal his name, says he had been working as a reporter for several years, but quit the profession in August. He now plans to work in a dairy farm.
Yet another reporter, who also also wished to remain anonymous, says he used to earn enough to comfortably provide for his family. Now, he barely has money to buy petrol for his motorcycle.
"I have no money because I have not been able to file any story in the last six months," a third reporter, who spoke to the BBC on the condition of anonymity, says. "My family keeps telling me to find another job. But what else can I do?"
In December, people were given limited access to the internet at a government office in Anantnag, but this hasn't helped local journalists. The office, Mr Islam says, is always crowded and there are only four desktops for a scrum of officials, students and youngsters who want to log on to respond to emails, fill exam forms, submit job applications or even check their social media.
"We have access for only for a few minutes and the internet speed is slow," he explains. "We are barely able to access email, forget reading the news."
What's more, Mr Islam says those who work at the office often ask customers to show them the contents of emails. "This makes us uncomfortable, but we don't have a choice."
Many journalists say that they have been completely cut off from their contacts for months now, making it hard to to maintain their networks or sources.
They also speak of how humiliating it is to beg for wi-fi passwords and hotspots at the cramped media centre in Srinagar, which has less than two dozen computers for hundreds of journalists.
This has left publishers in the lurch too. "My reporters and writers are not able to file," says Basheer Manzar, the editor of Kashmir Images.
He still publishes a print edition, he says, because if he doesn't do so for a certain number of days in the month, he will lose the license.
But the website continues to struggle, he adds, because most of the readers in Indian-administered Kashmir have no access to the internet.
Full report at:
https://www.bbc.com/news/world-asia-india-51441830
--------
India's curbs on Malaysian palm imports stir up edible oil trade
February 17, 2020
India's halt on Malaysian palm oil imports has disrupted global edible oil trade flows, with Indonesia diverting supplies to feed India, Malaysia rushing to tap markets left behind by Jakarta, and India substituting palm with other oils.
India, the top global palm oil buyer, imposed restrictions on imports of refined palm oil last month, a move sources said was retaliation against Malaysia's criticism of New Delhi's actions in Kashmir and a new citizenship law. Traders had also held off buying crude palm oil from Malaysia.
Malaysia's latest palm export data revealed the impact of India's restrictions, with shipments to India in January falling 85% from a year earlier to 46,876 tonnes, the lowest since 2011.
India accounted for nearly a quarter of Malaysia's total palm oil exports last year, and has been the biggest buyer of Malaysian palm oil for five years.
To compensate, Malaysia dialed up shipments to other destinations, with exports to Pakistan, Saudi Arabia and Ghana – markets that have traditionally bought heavily from Indonesia – all increasing in January by more than 100% from the same month in 2019.
"A rebalancing is happening in the palm oil market," said a Mumbai-based dealer with a global trading firm.
"European and price-sensitive Asian buyers are switching to Malaysia from Indonesia due to lower prices."
Indonesian prices have climbed to a rare premium to Malaysian levels this year, on expectations of higher Indian purchases.
Lee Yeow Chor, chairman of state agency and industry body the Malaysian Palm Oil Council (MPOC), said lower stockpiles in Malaysia have so far cushioned producers from the full impact of India's drop off.
"Right now, the situation for Malaysia is not critical. We are still tight on stocks… (India) may buy more from Indonesia. But that will open up a vacuum somewhere in the market elsewhere," Lee said. Malaysian stockpiles are at a two-year low.
Lee said Malaysia was looking to expand market share in the Middle East, Africa and Southeast Asia.
Data from the Malaysia Palm Oil Board shows Malaysia sold 170,802 tonnes of palm oil to Pakistan last month compared to 80,660 tonnes a year earlier. It also sold 12,527 tonnes to Bangladesh, up from 575 tonnes the year before. Indonesia was the biggest supplier to these markets last year.
INDIA SHIFTING FROM PALM
Benchmark palm oil prices rose by 60% from July to December last year, though they have fallen recently on concerns over Indian demand and the coronavirus outbreak in China.
India, a price sensitive market, had slowed palm purchases in the last three months because of the rising prices.
A narrowing spread between the price of palm oil and that of other oils has also encouraged substitution. India's imports of palm oil in January fell 27% from a year ago to 594,804 tonnes, while soyoil and sunflower oil imports jumped 40% and 51%, respectively, data from the Solvent Extractors' Association of India (SEA) showed.
That pushed palm oil's share in India's edible oil import basket to 51% in January, the lowest since June 2018.
B.V. Mehta, executive director of the SEA, said Indonesian suppliers could lower prices to retain buyers or India would continue to buy more rival oils.
Full report at:
https://indianexpress.com/article/india/indias-curbs-on-malaysian-palm-imports-stir-up-edible-oil-trade-6271787/
--------
Kashmiri and Palestinian activists stand against Indian envoy at Harvard
By Umar A Farooq
7 February 2020
On a chilly Cambridge afternoon, a group of Kashmiris and Palestinian activists came together in solidarity for Kashmir and to protest against a talk by an Indian official at Harvard University.
The protesters gathered at Harvard Square in front of Aldridge Hall, where Indian envoy Sandeep Chakravorty was speaking, and set up banners reading "Stand With Kashmir" and "Settler-colonialism is barbarity".
In unison, they chanted for freedom:
Hum kya chaatai? Azaadi! Azaadi! Hai haq humaara. Azaadi! Azaadi! Pyaari, pyaari Azaadi! Mehki, mehki Azaadi!
(What do we want? Freedom! Freedom! It is our right. Freedom! Freedom! Lovely, lovely freedom! Sweet, sweet, freedom!)
Chakravorty is the Indian consul general in New York. He came under heavy criticism after he made comments urging Kashmiri Pandits, an ethnic group of Kashmiri Hindus, to create settlements on Muslim lands in much the way Israelis have treated Palestinians in the occupied West Bank.
"It has happened in the Middle East. If the Israeli people can do it, we can also do it," Chakravorty told Kashmiri Pandits and Indian nationals at a private event in New York City in November.
Israeli settlements in the West Bank have long been deemed illegal under international law.
"We look up to places like Harvard for everything, like academic excellence, and we look up to these institutions for their ethics, for what they stand for," one protester, who requested to remain anonymous, told Middle East Eye.
The protester went on to say that the institution's reputation is harmed when "they support panels like these, where a person calls for building Israeli-type settlements in Kashmir".
"They bring a person like him to speak and have no critical session on Kashmir, where for the last seven months people have had no communication," the protester added.
The demonstration was joined by Kashmiris under the organisation Stand With Kashmir, a Kashmiri diaspora-driven independent global citizen grassroots group.
Other groups on campus also joined in, including some working on ending the Israeli occupation of Palestine, a cause often paralleled these days with the plight of Kashmiri Muslims.
On 5 August, the Indian government placed more than seven million people in Kashmir under a communication blackout and went on to illegally abrogate Article 370, effectively ending the state's semi-autonomous status.
India's actions have drawn condemnation from US lawmakers and human rights groups and prompted two congressional hearings.
In December, the Indian government also passed the Citizen Amendment Act (CAA), which makes faith a basis for holding Indian citizenship.
Rights groups argue that the exclusion of Muslims violates India's secular constitution by making religion a basis for citizenship.
"Thank you for making it clear what the Hindutva fascist government in India wants in Kashmir," Miriam Alphonsus, a student with the group Harvard out of Occupied Palestine, said to the demonstrators.
"No longer can they claim that what they want is an era of development. What they want is an era of Hindu colonisation."
So far, two US cities have passed resolutions against India's CAA: Seattle, Washington, and Cambridge, Massachusetts, just last week.
The protesters seemed to display different emotions as the event went on: Faces of anger and frustration could be seen alongside expressions of melancholy and despondency, and some smiling faces were also present.
Sultan Chaudhry, one of the participants, said he had grown disdainful over the past 30 years, seeing Palestinians and Kashmiris both deprived of their rights and their lands. "It makes me very disheartened," Chaudhry told Middle East Eye.
Harvard's India conference
Chakravorty was appearing at a conference at Harvard University focused on India and its relationship with the United States.
The two-day conference was organised by Harvard students, according to its website, and is bringing top figures from India's business and political world to Cambridge.
Still, once they found out Chakravorty would be speaking, the Kashmiri organisers decided to write letters to try and stop it.
"This event does not support me," said Zarka Shaber, a Kashmiri student at Harvard Law.
"It's been six months since I left my home and haven't seen a single photo of my parents."
The demonstrators sent letters outlining their complaints to multiple deans on campus, including the deans of Harvard's business school, the Kennedy School of Governance, and the dean of diversity.
The response was disappointing but expected. Some replies said they were allowing the event on the merits of free speech, but would pass on the message to the students putting the conference together.
"Hate speech is not free speech," Arshad Iqbal, one of the principal organisers of the demonstration, told Middle East Eye.
The conference has yet to respond to Middle East Eye's request for comment.
One Kashmiri protester, who requested anonymity, said that many people were aware of the Israeli lobbying presence in the American capital, but not so much of its Indian counterpart.
"What people aren't really aware of is the immense Hindu lobbyist group in America that often comes from a business sector that almost directly funds, not surprisingly, Trump and Modi," the protester said.
Ordinary people
As the demonstration began to wrap up, organiser Iqbal began pouring participants hot cups of Kashmiri tea, a pink milk-based tea that is traditionally taken with salt rather than sugar.
He was wearing a grey and black checkered Pheran - a traditional Kashmiri dress.
The hot beverage brought much-needed warmth to the demonstrators, many of whom had been standing in the cold for hours.
Iqbal is an average Bostonian. He works as an electrical engineer specialising in quantum mechanics. By no means does he consider himself an activist.
And yet, since 5 August, he has been leading all of the rallies and demonstrations on Kashmir in the area.
Iqbal is among many Kashmiris in the greater Boston area who are not politically inclined, but have been forced to take a stand as the Indian government has increasingly encroached on the rights of their people.
"All ordinary people who are ordinary professionals, who just do their day jobs, they have to wake up to this and speak out because today it's me or him or some other person, and the next day it will be them," Iqbal told Middle East Eye.
While the rally began with a handful of people, it soon grew to about 60. And while the first response to the participants' chants of "Free Kashmir" was a conference-goer yelling "End Islamic atrocities!", after a half-hour or so the demonstration began to gain new followers.
"While there are a lot of things that I may not connect or agree with, I appreciate and acknowledge the fact that they are the right to express their dissent," said Ashwanath, one of the Indian conference participants. He did not give his last name.
"Whatever is happening in Kashmir, six months of lock-down, is not democracy," he said.
As groups of conference participants exited the building and walked by the demonstration, some stopped to take photos. Some began to mouth the word azaadi (freedom) in unison with the chanters.
Two conference participants went so far as to join in and stand with the demonstrators.
"I was so heartened to see some of the people who were at this conference joining us; that tells you there must be something going on in India," Iqbal said.
Full report at:
https://www.middleeasteye.net/news/kashmiris-and-palestinian-activists-stand-together-against-india-consul-general-us
--------
Akal Takht supports protesting Muslims on CAA
Feb 16, 2020
CHANDIGARH: The highest temporal seat of the Sikh religion, the Akal Takht, has extended support to protesting Muslim groups against the Citizenship Amendment Act (CAA) and the National Register of Citizens (NRC).
Akal Takht head Giani Harpreet Singh met a delegation led by Delhi Minority Commission chief Zafarul Islam Khan in Amritsar and assured his support to them, a senior functionary told IANS on Saturday.
There is a sentiment of fear and insecurity among the minorities and the Sikhs are bound to stand by the oppressed, Giani Harpreet Singh was quoted as saying to the visiting Muslim delegation.
They thanked the Sikhs for standing with the Muslims and others on the CAA and the NRC.
The Takht chief reportedly said he received a similar request for support from other Muslim groups also.
Adopting a tough posture, Shriomani Akali Dal (SAD) supremo and five-time Punjab Chief Minister Parkash Singh Badal two days ago said those in power at the Centre and states should ensure that the country was run strictly in accordance with secular democratic ethos as enshrined in the Constitution.
Addressing a protest rally near Amritsar, Badal expressed grave concern over the social and political climate in the country.
"Any deviation from the sacred principles of secularism can only weaken our country. Those in power must work unitedly and tirelessly to safeguard, preserve and protect India as a secular democracy," he said.
"It was the legacy we inherited from the great Gurus, saints and seers, and we must preserve it for the coming generations," he said.
Striking an emotional chord, Badal said the governments and the political parties must work to bring Hindus and Muslims as well as others in an embrace of love and understanding.
In January, Punjab after Kerala became the second state to pass a resolution against the CAA.
The Congress-ruled government moved the resolution in the Assembly that got the support of the main opposition AAP.
However, the SAD, an alliance partner of the BJP in the state, opposed the resolution in the Assembly but protested against the non-inclusion of Muslims under the CAA.
Chief Minister Amarinder Singh had said the issue of CAA had shaken the entire country.
Describing the controversial legislation as "inherently discriminatory" and a negation of the very secular fabric on which the Constitution of India is based, the Assembly adopted by voice vote a hard-hitting resolution seeking immediate repeal of the unconstitutional CAA, which the Chief Minister compared to the ethnic and religious cleansing in Hitler's Germany.
Full report at:
https://timesofindia.indiatimes.com/india/akal-takht-supports-protesting-muslims-on-caa/articleshow/74164435.cms
--------
At FATF plenary, India to call out Pakistan for claiming Masood Azhar is missing
Feb 17, 2020
NEW DELHI: India plans to point out the incongruity of Pakistan's claim that Jaish-e-Mohammad supremo Masood Azhar has been "missing". Pakistan has claimed his disappearance in numerous Financial Action Task Force (FATF) meetings in the past year.
The FATF plenary, which started in Paris on Sunday, will take up the Pakistan dossier for discussion on Friday. Pakistan expects to get about 12 countries to speak in favour of getting it off the 'grey list'. However, out of the 27 action points that Pakistan needs to take to get there, it still needs to move on 13. In the last review meeting in Beijing in January, Pakistan was judged to have taken satisfactory action on 14 action points.
On Azhar, Pakistan has told FATF that it could not file an FIR against him since he could not be "found". It has not yet applied for his subsistence allowance from the UN Security Council, after he was proscribed by the 1267 Committee in 2019. The committee allowed Lashkar-e-Taiba chief Hafiz Saeed to get over Rs 1 lakh a month for expenses.
Following the Pulwama attack in February 2019, Pakistan had announced a crackdown on militant groups, including JeM. Seminaries and buildings linked to JeM and other groups had been taken over by the government. Azhar's brother Abdur Rauf had been taken into preventive detention alongside another relative Hamad Azhar and dozens of others.
Azhar was believed to be in protective custody of the government since 2016 but such reports were not confirmed by authorities. However, he used to release audio messages for his supporters. After Pulwama, he never released any video or audio message and the government also avoided speaking about him and his whereabouts. Since March 2019, government sources claimed several times that he had gone missing.
However, Pakistani foreign minister Shah Mehmood Qureshi told an interviewer in the weeks after the Pulwama attack which was claimed by the JeM that Azhar was definitely in Pakistan and "unwell", to the extent that he could not move out of his house. Pakistan had at that time promised to act against Azhar only if India presented "evidence" against him.
Full report at:
https://timesofindia.indiatimes.com/india/at-fatf-plenary-india-to-call-out-pakistan-for-claiming-masood-azhar-is-missing/articleshow/74166338.cms
--------
Pakistan
'Pakistan prosecuted Hafiz Saeed to prevent economic, military sanctions'
Feb 16, 2020
AMSTERDAM: European Foundation for South Asian Studies (EFSAS), an Amsterdam based think tank, strongly believes that Mumbai terror attacks mastermind Hafiz Saeed was sentenced for eleven years by Pakistan to prevent itself from unsustainable consequences.
It said the prosecution which came just before a significant meeting of Financial Action Task Force (FATF) to be held in Paris from 16th to 21st of this month, was to avoid economic and military sanctions.
Describing the latest developments in Pakistan as strange and counterintuitive, EFSAS said: "Pakistan has taken such action after it realized that it could not afford the blacklisting from FATF which was looming in the wake of the escape of dreadful terrorist, Ehsanullah Ehsan from its prison".
EFSAS report says the International community is persistent in creating pressure on Pakistan but it ignored them all the time owing to the nature of threats that were limited to mere words.
It commended FATF for changing the narrative in which punitive leverages were unavailable with the international community.
EFSAS also believes that FATF must ensure that foot doesn't come off the pedal and those guilty of terrorism must be brought to justice.
Earlier, the Lahore Anti-Terrorism Court had found the Saeed guilty in two separate terrorism-related cases and had awarded him a sentence of five and half years in each of it.
EFSAS defines this whole exercise as a sell-out by Pakistan to save its own face.
Hafiz Saeed has, over the years, been a highly valued asset of the ISI, which despite coming under concerted international pressure after the 2008 Mumbai terrorist attacks to act against Saeed and his LeT cohorts, has withstood or circumvented this demand of the international community.
He was living under ISI patronage until now but the agency had to disown him keeping in view a looming disaster for the country.
Earlier, Ehsanullah Ehsan, a terrorist of Tehreek-e-Taliban Pakistan and an accused in several gruesome terror attacks in Pakistan including the attack of Peshawar Army Public school absconded Pakistani jails which had further pushed back the case of Islamabad.
https://timesofindia.indiatimes.com/world/pakistan/pakistan-prosecuted-hafiz-saeed-to-prevent-economic-military-sanctions/articleshow/74157500.cms
--------
When will NAB raid offices of Tareen, Khusro, asks Marriyum Aurangzeb
February 17, 2020
LAHORE: Pakistan Muslim League-Nawaz (PML-N) Spokesperson Marriyum Aurangzeb on Sunday said Prime Minister Imran Khan allowed raids on the houses of political opponents to hide his incompetence.
In a statement, she said the Pakistan Tehreek-e-Insaf (PTI) government had destroyed economy, business and employment in the country. She demanded the premier tell about the looted money, flour and sugar crises to the nation.
The PML-N spokeswoman also asked when the mafia of the government Jehangir Tareen and Khusro Bakhtiar offices and houses will be raided. She also demanded NAB raid the prime minister's houses in Lahore and Islamabad, Zaman Park and Bani Gala where they will find Rs150 billion of the Peshawar Metro.
https://www.thenews.com.pk/print/615104-when-will-nab-raid-offices-of-tareen-khusro-asks-marriyum
--------
Pakistan ordering OIC for meeting on Kashmir
February 17, 2020
On February 9, the Senior Officials Meeting of the Organisation of Islamic Cooperation was held in Jeddah to prepare for the OIC's Council of Foreign Ministers (CFM). Saudi Arabia resisted Pakistan's request for an immediate meeting of the CFM on Kashmir. The OIC-the 57-member bloc of Muslim countries-is the second largest intergovernmental body after the UN.
While Chinese support had helped Pakistan convene a meeting of the contact group on Kashmir on the sidelines of the UN General Assembly Permanent Human Rights Commission Report on Kashmir. Pakistan is trying the same old dirty trick once again, and its deceits has subverted its push for a meeting on Kashmir at the CFM that makes its claims selective and morally defunct.
Saudi Arabia and the other Gulf Arab countries dominate the OIC. Saudis made several proposals to Pakistan to avoid the CFM, including a parliamentary forum or speakers' conference from Muslim countries and a joint meeting on Palestine and Kashmir but Pakistan persisted, fearing dilution of the Kashmir issue or putting it on the backburner. Pakistan expects the CFM in Niger in April to routinely include resolutions on Kashmir, but Saudis won't allow it to focus on Kashmir to support Pakistan's Islamist causes or regional enmity with India. Saudis never trust Pakistan. Pakistan has an exaggerated sense of self-importance. What it considers important may not be so for the world which has no respect for Pakistan's priorities. Lines are being drawn between togetherness (India, the US, Israel, Saudi, the UAE, and the West); and the other togetherness (Turkey, Malaysia, Iran, Pakistan, China and Russia). Religion is purely personal and implies no similarity of views.
Saudis know what is right and what the reality is. Hence there was a reluctance on their part to organize the OIC Summit. Not a single Gulf country backs Pakistan on Kashmir. Even Malaysia has refrained from strong statement on Kashmir. India is comfortable with the KSA, the UAE and most of the Arab states. Antagonizing India to placate Pakistan will be a foolishness. The OIC has no direct relationship with India nor any control over it.
Arab countries are donors, Pakistan the receiver and India stand as an equal partner. Indiscriminate begging and support for terror outfits have severely dented Pakistan's reputation. Saudi Arabia may give loan but won't support on Kashmir. Even if convened at Pakistan insistence, meetings cannot alter Jammu & Kashmir's future with India. Saudis are investing 70 billion in the petrochemical project in India.
India is now the real friend of Saudi Arabia. As a secular country India has broad visions on religious issues but Pakistan plays the worst card in international diplomatic affairs-the religious card. Pragmatic Saudis savour strategic partnership with India. The OIC meetings won't deliver much except antagonizing India.
Nations today focus on development and spare no time for others' internal matters; the eternally beggar country targets India alone. The OIC believes in Modi's vision. Friendship is among equals, and cannot be between the lender and the beneficiary. Saudis deported six lakhs low-end Pakistani labourers, Ummah friendship notwithstanding.
Most of the Arab nations stand with India. Motivated Pakistan campaign can't influence Saudi Arabia to risk $100 billion dollars investment in India. Most Muslim countries from Azerbaijan, Kazakhstan, the UAE, Qatar, Kuwait, Saudi Arabia, Oman, want better economy, and continue investing in India. The OIC is aware that India has the second highest Muslim population. Saudi Arabia is an influential, wise country that understands the legitimacy of India on Kashmir. So does Malaysia. India harbours very good relations with Iran and Russia. China also supports India. What would happen even if there was a meeting on Kashmir? Will anything change? Except Pakistan, no other member of the OIC is willing to raise the Kashmir issue.
Full report at:
https://www.newdelhitimes.com/pakistan-ordering-oic-for-meeting-on-kashmir/
--------
International support for Pakistan has been minimal, says UN chief Guterres
February 17, 2020
United Nations Secretary General Antonio Guterres said on Monday that whenever he has visited Pakistan he has seen "remarkable resilience and commitment to the Afghan brothers. [...] even when international support was minimal."
He was addressing a conference — jointly organised by the Pakistan government and UN High Commissioner for Refugees — titled 40 years of Afghan Refugees Presence in Pakistan: A New Partnership for Solidarity in Islamabad.
"We have come together to recognise a remarkable story of solidarity and compassion. It is important to do so because it is a story that spans over decades," he said.
UN High Commissioner for Refugees Filippo Grandi, as well as ministers and senior officials from around twenty countries are participating in the conference.
Addressing the conference, Prime Minister Imran Khan said that Pakistan is "celebrating" 40 years hosting Afghan refugees. "I say celebrating because there are not many instances in the world where refugees have conducted themselves with such honour and the hosts — in spite of economic challenges especially in the last 20 years — have wonderfully kept their relation with Afghan refugees. "
Earlier, Minister for Foreign Affairs Shah Mahmood Qureshi said that Afghan refugees are seeking greater global commitment to the Afghan peace process.
"Even today we continue to host three million registered and unregistered Afghan refugees," Qureshi said while adding that these efforts are based on the Islamic principles of hospitality for compassionate crowds.
"Today, afghan refugees worldwide are looking for sustainable reintegration in Afghanistan," he added.
"A joint support platform by Pakistan, Iran and the UNHCR was formed with the aim to promote and support refugee return and enhance the capacity of sustainable reintegration of Afghan refugees within in their society," Qureshi said.
Addressing the conference earlier, Commissioner Grandi said that while Afghan refugees wait for the opportunity to go back home they deserve the chance to build homes, educate their children and to move freely.
"The Islamic Republic of Pakistan was, for 22 long year, the largest host of Afghan refugees. The recent measure of allowing Afghan refugees to hold bank accounts is a welcome step which will help in better economic integration for them," Grandi said.
"For the last 40 years, as we have heard, the people of Pakistan have stood with their Afghan neighbours. Through the early days of upheaval and displacement, when a third of the population fled the country in just a few years. [Pakistan also stood with the people of Afghanistan] Through moments of hope when they returned back home seeking stability.
Full report at:
https://www.dawn.com/news/1535026/international-support-for-pakistan-has-been-minimal-says-un-chief-guterres
--------
Trump's offer prompted India to annex Kashmir: report
Anwar Iqbal
February 17, 2020
WASHINGTON: US President Don­ald Trump's offer to mediate betw­een India and Pakistan over the Kas­hmir dispute might have prompted New Delhi to annex the occupied valley, says a report prepared for the US Congress.
The Congressional Research Service (CRS) noted that on July 22, 2019, while taking questions from the press alongside Prime Minister Imran Khan in the White House, President Trump claimed that Indian Prime Minister Modi had earlier in the month asked him to play a mediator's role in the Kashmir dispute.
Mr Trump's statement provoked an uproar in India's parliament, with opposition members staging a walkout and demanding explanation, forcing the Indian government to assure the opposition that Mr Modi never made such an offer.
Yet, "President Trump's seemingly warm reception of Pakistan's leader, his desire that Pakistan help the United States 'extricate itself' from Afghanistan, and recent US support for an International Monetary Fund (IMF) bailout of Pakistan combined to elicit disquiet among Indian analysts," the report added.
Indian leaders "saw Washington again conceptually linking India and Pakistan, 'wooing' the latter in ways that harm the former's interests," CRS noted, adding that President Trump's Kashmir mediation claims were especially jarring for Indian observers, "some of whom began questioning the wisdom of Mr Modi's confidence" in the United States as a partner.
"The episode may have contributed to India's August moves" to annex Kashmir, CRS added.
Although President Trump never withdrew his mediation offer, the strong Indian reaction forced the US State Department to post a clarification on the social media, stating that Washington still saw Kashmir as that "a bilateral issue for both parties to discuss" and the Trump Administration "stands ready to assist."
A release from Chairman of the House Foreign Affairs Committee Repr­e­­s­e­ntative Eliot Engel reiterated his support for "the longstanding US position" on Kashmir, affirmed that the pace and scope of India-Pakistan dialogue is a bilateral determination, and called on Pakistan to facilitate such dialogue. In its second report on Kashmir in less than six months, CRS also noted that many in India disagree with the Modi's government's "blanket characterisations of the Kashmir conflict as an externally fomented terrorist."
They argue that such characterisations "obscure the legitimate grievances of the indigenous Muslim-majority populace," the report added.
CRS noted that critics of the Modi government believed it was working on a "Hindu nationalist agenda" to change the status of the occupied valley.
The critics argued that "its policy agenda entails bringing the patriotism of Indian Muslims into question and portraying Pakistan as a relentless threat that manipulates willing Kash­miri separatists, and so is responsible for violence in Kashmir," the report added.
CRS, an independent research wing of Congress, prepares periodic reports for US lawmakers so that they can take informed decisions on major international issues. Currently, two resolutions are pending in the House of Representatives that question India's Aug 5 decision to annex Kashmir. One of the resolutions was sponsored by Indian-American Congresswoman Pramila Jayapal who also criticizes the Modi government's anti-Muslim policies.
The CRS report pointed out that supporters of New Delhi's Hindu nationalist agenda oppose a negotiated settlement of the Kashmir dispute.
In their view, "talking to Pakistan cannot resolve the situation, nor can negotiations with Kashmiri separatist groups and parties, which are seen to represent Pakistan's interests rather than those of the Kashmiri people," the report added.
Quoting independent observers, CRS reported that blanket characterisations of the Kashmir conflict as an externally fomented terrorist effort endorses a "harsh counterinsurgency strategy that … has only further alienated successive generations in the Valley."
Those who reject the Modi's government's narrative, argue that "Kash­mir's turmoil is, at its roots, a clash between the Indian government and the Kashmiri people, leading some to decry New Delhi's claims that Pakistan perpetuates the conflict," the report added.
CRS reported that pro-independence political parties on both sides of the Line of Control were given little room to operate, and because of this many Kashmiris had become deeply alienated.
The 25-page report said that Pak­istan called for a UNSC session and, with China's support, the Council met on Aug 16 to discuss Kashmir for the first time in more than five decades.
Full report at:
https://www.dawn.com/news/1534979/trumps-offer-prompted-india-to-annex-kashmir-report
--------
FATF starts reviewing Pakistan's efforts against terror financing
February 17, 2020
ISLAMABAD: The Financial Action Task Force (FATF) on Sunday began review meetings to discuss Pakistan's efforts against money laundering and terror financing.
The meetings of the international watchdog's plenary and working group meetings will be held till February 21 in Paris and will focus on the global efforts to trace and prevent the illegal transfer of money which is used to finance terror and other crimes.
The meetings will also discuss the progress made countries such as Iran and Pakistan that "present a risk to the financial system".
Federal Minister for Economic Affairs Hammad Azhar is leading Pakistan's delegation, which also includes members of both foreign ministry and interior ministry along with officials State Bank of Pakistan (SBP) and the Financial Monitoring Unit (FMU).
Analysts expect Pakistan to either exit the grey list soon after winning a "largely-compliant" rating from the FATF or might get more time from the watchdog to ensure full compliance.
Pakistan will be judged by a FATF plenary meeting on the basis of the joint group's report, for a possible exit from the grey list or at least avoiding the blacklist.
Reportedly, Pakistan needs only 12 out of 39 votes to exit the grey list. Pakistan has already gained full support from China, Turkey and Malaysia, and aims to obtain 12 votes with an escalated diplomatic campaign. Pakistan has ensured the significant implementation of most of the recommendations and took necessary actions.
On January 28, the SBP had stated that Pakistan had made significant progress to get off the grey list while the central bank had been making all-out efforts to curb money laundering and terror financing.
While announcing the monetary policy with an unchanged interest rate of 13.25pc, SBP Governor Dr Reza Baqir had said that the last two [FATF] reviews in May and September showed that Pakistan had made significant progress in most of the 27 points raised by the FATF.
However, he had maintained, the FATF was the final authority to decide if the progress was enough to pull Pakistan out of the grey list, adding that the country would have to continue making progress in this direction.
Last month, despite strict opposition from India, several FATF members, including the European Union (EU) and the United States (US), had expressed satisfaction on Pakistan's performance report from October 2019 till January 2020.
Full report at:
https://www.pakistantoday.com.pk/2020/02/16/fatf-starts-reviewing-pakistans-efforts-against-money-laundering/
--------
India, Pakistan water deal must be an 'instrument of peace'
February 17, 2020
ISLAMABAD: UN Secretary-General Antonio Guterres, who arrived in Islamabad on Sunday morning on a four-day visit, said that the waters shared by Pakistan and India "must be a tool for peace and not war."
His comments were part of an address on climate change in the capital.
Last year, when tensions between the two countries reached a tipping point, the UN chief was told by Pakistan Foreign Minister Shah Mahmood Qureshi that India had hinted at abandoning the 1960 Indus Waters Treaty — an agreement brokered by the World Bank — which could potentially start a water war.
"Water must be an instrument of peace and not an instrument of conflict," Guterres said, referring to heightened security issues between the two nuclear-armed neighbors.
"I would ask the two countries to have clear cooperation in relation to water. And I have some moral authority," the UN chief said, adding that as prime minister of Portugal he had spearheaded a water-sharing agreement with neighboring Spain.
"If one country thinks (it can) solve the problem by letting others in a bad situation ... in the end things turn against everybody."
On Sunday, Guterres said that 80 percent of the water used for agriculture by Pakistan — an agriculture-based economy — was at risk because of climate change.
He said that it was unfair that Pakistan was at the front line of climate change's negative impacts while contributing little to global environmental damage.
"SDGs must be fulfilled by 2030. The world needs to reduce carbon emission levels. Our planet is burning and too many politicians continue to fiddle. We have to move from a grey to a green economy," Guterres said, referring to a "climate emergency."
Following a keynote speech by the minister for climate change, the adviser to the PM on the topic, Amin Aslam, highlighted the dangers that Pakistan faces — and the government's five-point agenda to address the core issues of climate change.
Pakistan has a 2030 goal to achieve 30 percent clean energy through renewable projects and 30 percent through hydro projects.
During his visit, Guterres will also attend an international conference on Afghan refugees that is being hosted by Pakistan.
The two-day event, from Feb. 17-18, will mark four decades since refugees first moved to Pakistan to escape a decades-long conflict plaguing neighboring Afghanistan after the Soviet invasion of 1979.
He is expected to hold talks with Pakistan President Arif Alvi and Prime Minister Imran Khan, in addition to other senior officials.
Full report at:
https://www.arabnews.com/node/1628821/world
--------
South Asia
'We need peace, land to go home': Afghan refugees tell UN
February 17, 2020
KEBABYAN CAMP, Pakistan: Hukam Khan isn't sure how old he is, but his beard is long and white, and when he came to Pakistan 40 years ago fleeing an earlier war in Afghanistan, his children were small, stuffed onto the backs of donkeys and dragged across rugged mountains to the safety of northwestern Pakistan.
Back then the war was against the former Soviet Union and Khan was among more than 5 million Afghans forced to become refugees in Pakistan, driven from their homes by a bombing campaign so brutal it was referred to as a "scorched earth" policy.
After four decades of war and conflict, more than 1.5 million Afghans still live as refugees in Pakistan, feeling abandoned by their own government, increasingly unwelcome in their reluctant host country and ignored by the United Nations.
Now, for the first time in years, there's a faint possibility they might eventually return home. The United States and the Taliban appear to have inched closer to a peace deal, agreeing as a first step to a temporary "reduction in violence."
If that truce should hold, the next step could be a long-sought-after agreement between Washington and the Taliban to end Afghanistan's current war, now in its 19th year.
The agreement would return American troops home and start negotiations between the warring Afghans to bring peace to their shattered country.
Against the backdrop of a possible peace deal, Pakistan is hosting a conference Monday attended by UN Secretary-General Antonio Guterres to recognize 40 years of Afghans living as refugees.
Also attending the conference in the capital, Islamabad, is the UN High Commissioner for Refugees Filippo Grandi, whose job would be to help the Afghans return home. It won't be easy.
Many refugees have already tried going back — lured by promises of help and hope from the international community and from Afghan President Ashraf Ghani — only to find there was neither food nor shelter for them.
Many also discovered they were no longer welcome in the villages they had left decades earlier. Disillusioned, they returned to Pakistan and to Iran, while tens of thousands of other Afghans paid smugglers and risked their lives to escape to Europe. From there, many were later loaded on planes and returned to war-ravaged Afghanistan.
Grandi called the forced return of refugees from Europe "shameful" in an interview with The Associated Press on Sunday. "I do ... fervently hope that the countries like Iran and Pakistan, who have hosted so generously ... don't take their example from much richer countries that are shutting borders, not only to Afghans, but to many other refugees," he said.
While the specter of a US-Taliban peace deal raises hope that the refugees will eventually return home, Grandi said, "I think this time around, the people who are still left outside will be very cautious in their judgment. They would want to have guarantees that it can be sustainable."
Another challenge will be raising the vast sums of money needed to help return home not only refugees abroad, but also the millions of Afghans who are internally displaced inside their own country. The world has grown tired of sending money to a country with such endemic corruption, which has driven poverty levels up despite billions of dollars in aid since 2001.
Just last month, a US government watchdog said the Afghan government was more interested in ticking off boxes to demonstrate compliance than making real inroads to curb corruption.
Poverty levels in Afghanistan are climbing. In 2012, 34 percent of Afghans were listed as below the poverty level, living on $1 a day. Today, that figure has risen to 55%.
Khan, the Afghan refugee in Pakistan, now has grown children who have children of their own. He said he blames the overwhelming poverty in his homeland on a corrupt leadership.
"To tell you the truth, lots of money came to Afghanistan and every influential person, even the mullahs, stole that money," said Khan. "The leaders are all traitors, they betrayed Afghans. The children of poor people got killed, while no leader lost his son." Khan said he had a message for Guterres and for Grandi.
"We don't ask for much," he said, looking out over the sunbaked mud and straw homes in the camp where he's lived for 40 years. Located on the edge of Peshawar, the capital of Pakistan's Khyber Pukhtunkhwa province, the refugee camp is only about 30 kilometers (20 miles) from the border with Afghanistan.
Among locals, the camp is known as Kabobyan Camp, named for the many kabob shops that sprung up around it, most of which have long since disappeared.
"First we ask for peace," said Khan, surrounded by dozens of children dressed in tattered clothes. None were wearing socks despite the chilly February morning, their feet and hands caked in mud.
"When there is peace, we should be provided with land on which we can build our homes first. Then we need to have food, and then we need to be able to build our schools, our shops and our mosques," he said.
Indrika Ratwatte, the UN human rights organization's regional director for Asia, told the AP in an interview last week that Afghan refugees have little faith in their government or international organizations.
Khan's request for land is reasonable, Ratwatte said, explaining how the UN wants to set up 20 zones throughout Afghanistan that would offer returning refugees land to start anew, as a kind of prototype.
"We know how resilient Afghans are," Ratwatte said. "If you give them that small opportunity, they will make it work. They will make it work. So we have to really 'walk the talk' on the land allocation."
Shah Wali, another elderly refugee, left his home in Surkhrud in Afghanistan's eastern Nangarhar province almost 40 years ago. He tried returning, but found nothing left. What wasn't destroyed by war had been taken by neighbors and thieves.
But even the faint chance of peace has him hopeful. "Give us peace and then we will go back," he said. "Who doesn't want to back to their homeland?"
https://www.arabnews.com/node/1628961/world
--------
Bangladesh mulls backtrack on Rohingya relocation plan
Md. Kamruzzaman
16.02.2020
DHAKA, Bangladesh
Bangladesh announced on Sunday that it may drop previous plans to move 100,000 Rohingya refugees to a remote island located in the Bay of Bengal in the country's south.
"Our main target is to repatriate Rohingya to their original homeland, Myanmar's Rakhine state," Foreign Minister Abul Kalam Abdul Momen on Sunday told reporters in the capital Dhaka following a meeting with the Chinese Ambassador to Bangladesh, Li Jiming.
Lauding recent development projects on the islet of Bhasan Char and plans to turn it into a business hub and "new Bangladesh," Momen said Bangladeshi citizens left homeless due to river erosion or other reasons should instead be settled there.
Bhasan Char, a remote islet where the Bangladesh announced in 2018 it would resettle 100,000 Rohingya refugees who fled persecution in Myanmar, is measured 15,000 acres at low tide and 10,000 acres at high tide, according to the government sources.
The scheme had elicited concerns that the site was less than ideal. Dhaka since said it undertook projects to improve living conditions on the islet.
"We all are agree not to send Rohingya there. Now we place our recommendations to the government for final decision on alternative use of Bhasan Char project," said Momen.
- Persecuted people
The Rohingya, described by the UN as the world's most persecuted people, have faced heightened fears of attack since dozens were killed in communal violence in 2012.
According to Amnesty International, more than 750,000 Rohingya refugees, mostly women and children, have fled Myanmar and crossed into Bangladesh after Myanmar forces launched a crackdown on the minority Muslim community in August 2017, pushing the number of persecuted people in Bangladesh above 1.2 million.
Since Aug. 25, 2017, nearly 24,000 Rohingya Muslims have been killed by Myanmar's state forces, according to a report by the Ontario International Development Agency (OIDA).
More than 34,000 Rohingya were also thrown into fires, while over 114,000 others were beaten, said the OIDA report, titled "Forced Migration of Rohingya: The Untold Experience".
Full report at:
https://www.aa.com.tr/en/asia-pacific/bangladesh-mulls-backtrack-on-rohingya-relocation-plan/1735917
--------
Qatar keen to recruit skilled manpower from Bangladesh
Feb 17,2020
Qatar on Sunday showed its interest to recruit skilled manpower from Bangladesh as visiting Qatari state minister for foreign affairs Soltan bin Saad Al-Muraikhi paid a courtesy call on prime minister Sheikh Hasina.
'We want to recruit skilled manpower like doctors, engineers and others from Bangladesh,' PM's press secretary Ihsanul Karim quoted the Qatari state minister as saying while briefing reporters after the meeting at the prime minister's Jatiya Sangsad office in the capital Sunday evening.
On the Rohingya issue, the Qatari state minister said that his country would continue support to Bangladesh on this issue.
In this connection, the prime minister described again the Rohingyas as a 'burden' for Bangladesh's economy.
'They are a burden of our economy and how long we'll keep this huge number of Myanmar citizens in our country?' she questioned.
Sheikh Hasina said that Myanmar agreed to take back its nationals from Bangladesh, but it didn't act accordingly.
The press secretary said that Saad Al-Muraikhi had put emphasis on strengthening cooperation in different fields including education between the two countries.
'There are many unexplored areas which will have to be explored for economic cooperation,' he said.
Welcoming the Qatari state minister in Bangladesh, the prime minister said, 'We give importance to our relations with the Muslim countries and together we can explore the areas for development.'
The prime minister sought more Qatari investment in Bangladesh for mutual benefits of the two countries.
'We're setting up 100 special economic zones across the country and Qatari entrepreneurs can invest in these zones,' she said.
Mentioning that education is the key to development, Sheikh Hasina said her government had taken many steps for development of the education sector.
'We're giving emphasis to technical and vocational training for creating a skilled workforce in the country,' she said.
Highlighting her government's measures for establishing a poverty-free country, the prime minister said that her government had brought down the poverty rate to 20.5 per cent.
While talking about the country's socioeconomic development, the prime minister said that GDP growth rate has increased to 8.15 per cent due to various pragmatic steps of the government.
Sheikh Hasina invited the Qatari Emir to visit Bangladesh in the 'Mujib Barsha', saying that 'We'll be happy to receive him during the birth centenary celebration of the Father of Nation.'
The Qatari state minister highly appreciated Bangladesh's tremendous socioeconomic development in the last one decade.
'We're following the implementation of your development programmes,' he told the prime minister.
Saad Al-Muraikhi also praised Bangladesh's graduation to a developing country from a least developed one under the leadership of prime minister Sheikh Hasina.
The Qatari state minister said that they want Bangladesh to play a major role in the region and the Muslim world.
In this context, he said, 'We don't want others to interfere in our internal affairs and you're the symbol of the Muslim world in this regard.'
State minister for foreign affairs Md Shahriar Alam, PM's principal secretary Ahmad Kaikaus and Qatari ambassador in Dhaka Ahmed Mohammed Nasser Al-Dehaimi were present at the meeting.
Full report at:
https://www.newagebd.net/article/99842/qatar-keen-to-recruit-skilled-manpower-from-bangladesh
--------
9 drug addicts shot dead in Kabul city
17 Feb 2020
Officials in Kabul Police Headquarters confirm unknown gunmen shot dead a group of nine drug addicts in West of Kabul city.
Ferdaws Faramurz, a spokesperson of Kabul Police Headquarters confirmed the incident and said the gunmen shot dead the nine drug addicts in the vicinity of 6th district of the city.
Faramurz further added that the main motive behind the killing of the nine men is not clear so but the security forces have launched an investigation in this regard.
Meanwhile, unconfirmed reports indicate that a verbal clash broke out between a group of drug addicts on Saturday night and one of the addicts opened fire on his fellow addicts, killing nine of them.
Full report at:
https://www.khaama.com/9-drug-addicts-shot-dead-in-kabul-city-04458/
--------
Airstrike kills 5 Taliban militants in Takhar province
15 Feb 2020
An airstrike killed 5 Taliban militants in North-eastern Takhar province of Afghanistan, the military officials said Saturday.
The officials further added that the security forces conducted the airstrike in Baharak district of Takhar.
Meanwhile, the Afghan Special Forces arrested 6 Taliban militants during the operations in Giro district of Ghazni, Muhammad Aghah district of Logar and Farah district of Farah province.
The Special Forces also destroyed a small communications cache of Taliban in Logar and two weapons cache of the group in Logar and Kandahar provinces, the officials added.
Full report at:
https://www.khaama.com/airstrike-kills-5-taliban-militants-in-takhar-province-04453/
--------
5 Taliban militants killed, 25 IEDs defused in Kandahar
16 Feb 2020
The Afghan National Defense and Security Forces killed 5 Taliban militants during an operation in southern Kandahar province, the Afghan Military said.
The Special Operations Corps said in a statement said the security forces killed 5 Taliban militants during a joint raid in Khakriz district of Kandahar.
The statement further added that the security forces killed the militants during a joint military operation.
Full report at:
https://www.khaama.com/5-taliban-militants-killed-25-ieds-defused-in-kandahar-04457/
--------
Southeast Asia
Islam sets guidelines on talking, spreading news
February 16, 2020
LETTERS: Health Minister Datuk Seri Dr. Dzulkefly Ahmad was recently reported to have said that we were not only facing the (Covid-19) virus, but also the 'viral' of fake news and information.
The statement was issued following a viral message that claimed a prisoner had died from the virus after eating a mandarin orange. Not only has the coronavirus spread like wildfire, so too has misinformation about it especially online.
The fake news and misinformation of the virus come in various forms: numerous conspiracy theories; dubious health advice as well as unofficial figures of death and infected people.
For example, one of the "unproven" tips allegedly from the Department of Health in the Philippines, which it later confirmed not true, claimed could prevent the disease was shared over 16,000 times on Facebook.
Such is the imperfection of the so-called "information" that now travels as fast as the speed of light, but unfortunately lacks credibility and requires serious verification of its truth and authenticity from the propagators.
In ascertaining and verifying information, Islam, being the complete way of life, is very particular—if not the most stringent ethical principles of all, even more so than any man-made laws—in demanding that every information received must first be checked and verified of its authenticity as stipulated in the Qur'an, Chapter 49 (al-Hujurat) verse 6.
The general ethical principle of Islam encapsulated in the well-known maxim of harmonious societal living objective is: "The fulfilment of something good and avoidance of something harmful" (jalb al-maslahah wa daf'u al-mafsadah).
At times, in order to attain the objective, any foreseen possible avenues that might bring to surface any evil or harm is blocked at the outset.
Similar to cases of bribery, Islam not only prohibits outright bribery, but also to the extent of merely accepting or giving "gifts" to someone who holds position of authority with the intention that it would be reciprocated is still not allowed.
Bribery, legally speaking in this country, can come in many disguised forms such as "gifts", "entertainment privileges", "sports facilities fees waiver", "offset monies" and so on as stipulated in the Malaysian Anti-Corruption Act.
Unfortunately, Muslims are among the highest number of people convicted for either giving or taking bribes in the country. Likewise, in the context of socialising between the different sexes, Islam not only prohibits adultery but even prohibits close proximity between a male and a female without the presence of a third party.
This is called the principle of "Sadd Dhara'i" which means to close off the means that can lead to evil. Yet again, Malay Muslims are among the highest number of those who dump their babies in the country, as a result of adultery and unwanted pregnancies. Similarly, in spreading fake news, lies and false information, or gossips, rumour-mongering, we are ahead of other races or nations, particularly our netizens.
Even the Malay terms or slang words have evolved from time to time to give afresh and so-called "positive" outlook of gossiping, from "mesyuarat tingkap" to "membawang" and so on.
Nevertheless, they all carry the same spirit and refer to the same activity. Shaykh Hamza Yusuf, a scholar from Zaytuna College, USA once said that: "…during those days, you need look for a partner to gossip or slander, but now with the advent of the internet and social media platforms, you can easily do it alone from your own room."
Indeed, Islam not only prohibits the spreading of fake news, slanders, lies, or false information, but even gossips are not allowed. Islam praises those who talk less and only do so out of necessity.
In another narration from Abu Hurayrah, the Prophet warned not to simply narrate (or in the current social media context is equivalent to "forward" or "share") whatever one hears without first verifying its truth and validity. He said: "It is enough for a man to prove himself a liar when he goes on narrating whatever he hears" (Muslim).
The repercussions of forwarding fake news might not be necessarily felt in this world alone—be caught by the relevant authority and subsequently charged for spreading it—but also in the Hereafter, be put in the Hellfire.
Indeed, Muslims then should always have in their mind the consequences of their "worldly" acts in the Hereafter before acting on anything in this temporal world.
https://www.nst.com.my/opinion/letters/2020/02/565969/islam-sets-guidelines-talking-spreading-news
--------
Dr M: Malaysia will not lose its religious values towards becoming a developed nation
16 Feb 2020
KOTA KINABALU: Malaysia will pave its own way towards becoming a developed nation without losing its religious values and while continuing to celebrate the multicultural communities, says Tun Dr Mahathir Mohamad.
The Prime Minister admitted that there might be concerns on the direction of the country in reaching developed status.
"Some might worry about losing Islamic values.
"But it is obvious that the progress and prosperity we are trying to reach, are much related to celebrating the diverse races and religions, while the teachings of Islam continue to grow rapidly and become the catalyst for development.
"This kind of balance can be reached and maintained if we stick to the basis of Islam namely 'addeen', which is a way of life," said Dr Mahathir.
He said this when opening the 63rd national-level Quran Recital and Memorisation Competition at the Sabah International Convention Centre (SICC) here Sunday (Feb 16) night.
He reminded the audience that every action and behaviour should be based on religious values.
He said therefore no Muslims should practise anything against the Quran and hadis, which would be detrimental and prevent them from gaining development.
"In our efforts towards a developed nation, the roles of family, school and the community must be strengthened so that good values are instilled among the younger generation.
"This is also in line with Islam as 'addeen'.
"There are many challenges in the Industrial Revolution 4.0 and we must be more innovative and bring progress to Malaysia based on our own mould.
"This is our country. We are the ones who will determine our fate. No one else would be able to outline our future except us," said the Prime Minister.
Meanwhile, Chief Minister Datuk Seri Mohd Shafie Apdal said the ta'aruf concept among diversity, that is getting rid of misconception or harbouring ill thoughts while accepting each other, could create a united nation.
Full report at:
https://www.thestar.com.my/news/nation/2020/02/16/dr-m-malaysia-will-not-lose-its-religious-values-towards-becoming-a-developed-nation
--------
Dr M reminds Muslims to strike a balance with others
Jason Santos
February 17, 2020
KOTA KINABALU: Malaysia's efforts to achieving developed-nation status requires Muslims to uphold unity with people of various races and religions, Prime Minister Dr Mahathir Mohamad said last night.
He said the government is aware that there are concerns that in achieving this goal, some parties believe the values and teachings of Islam would be compromised.
"But clearly the development and prosperity attained is linked to the multi-religious and multi-racial harmony, where the teachings of Islam can still be propagated and be the catalysts to progress.
"This balance can be attained and maintained if we hold on and continue our daily lives holding on to tenets of Islam which is the Ad Deen, a way of life," he said.
Mahathir made his remarks at the opening of the national Quran-reading competition at the Sabah International Convention Centre here.
Present were Deputy Prime Minister Dr Wan Azizah Wan Ismail, Minister in the Prime Minister's Department Mujahid Yusof, Sabah Deputy Chief Ministers Jaujan Sambakong, Wilfred Madius Tangau and Christina Liew, as well as other members of the Sabah cabinet. Mahathir said Putrajaya's endorsement of Rahmatan lil Alamin as the government's Islamic policy would help to improve the social wellbeing, prosperity and unity among the communities.
"This is in line with the Shared Prosperity Vision the government is trying to achieve in 2030," he said.
Malaysia also faced the challenges of the new industrial revolution and needed a society that is mature, knowledgeable, hardworking and which valued unity.
Sabah Chief Minister Mohd Shafie Apdal urged Sabahans to be accountable for the protection and development of Sabah.
In a speech read by Deputy Chief Minister Jaujan Sambakong, he said the state government was also taking steps to curb wrongdoing.
Full report at:
https://www.freemalaysiatoday.com/category/nation/2020/02/17/dr-m-reminds-muslims-to-strike-a-balance-with-others/
--------
Dr M a true leader of the Muslim world, says Imran Khan
04 Feb 2020
KUALA LUMPUR, Feb 4 — Pakistani Prime Minister Imran Khan has expressed his admiration of his Malaysian counterpart Tun Dr Mahathir Mohamad, whom he considers is a true leader.
Imran Khan said Dr Mahathir is an example of a leader who takes a stand, especially for the betterment of Islam and Muslims.
"There is a difference between an office holder and a leader. A leader always has a belief system and ideology.
"A leader always takes a stand and that is why we love and respect Prime Minister Dr Mahathir so much," he said, referring to Dr Mahathir's outspokenness against India.
Imran Khan, who gave a talk entitled 'Vision for Regional Peace and Security' at the International Institute of Advanced Islamic Studies (IAIS) here today, said this when asked by a member of the audience about India's move to stop buying Malaysian palm oil, following Dr Mahathir's criticism of India's actions in Kashmir and its new citizenship law.
The former cricket star said Dr Mahathir is also seen as a role model and statesman in the Islamic world who changed the destiny of so many people.
"We have seen how Malaysia transformed and developed under the leadership of Dr Mahathir. But what I also like about Malaysia is that it has a very civilised society.
"I find there is harmony between religions and ethnic groups which I think is a hallmark of civilised society.
"In the golden age era of Islam, people of different religions lived together. There was tolerance and acceptance... And you see in Malaysia people live in harmony, and in my opinion it's really something to be admired," he added.
Meanwhile, Imran Khan said the 1.3 billion Muslims of the world should speak up on the Kashmir issue, especially the Organisation of Islamic Cooperation (OIC).
"In my opinion, it could get worse. If you read history, whenever anyone stokes the fire of ultra-nationalism and directs hatred to other communities, it always leads to bloodshed," he said.
The prime minister also said Pakistan is always ready to reconcile with an India that believes in prosperity and poverty alleviation in the region.
He said among the first things he did after becoming Prime Minister was to reach out to his Indian counterpart.
"The greatest number of poor people live in the Indian subcontinent and the best way we can reduce poverty in the area is if the two countries start good relations.
"The moment tensions go down and we spend less on defence, the more prosperous it will be," he said, but noted that Pakistan kept getting rebuffed by its neighbour.
During the talk, Imran Khan also highlighted his vision of a Pakistan that is based on Prophet Muhammad's success in establishing Madinah as the first Islamic state with the people's welfare and rule of law as the main principles.
He said Pakistan has already embarked on becoming a welfare state, as for the first time in the country's history, health insurance was given to the weakest segment of society, benefiting six million families.
Full report at:
https://www.malaymail.com/news/malaysia/2020/02/04/dr-m-a-true-leader-of-the-muslim-world-says-imran-khan/1834464
--------
No compromise with provocative acts, says Mujahid
February 15, 2020
PETALING JAYA: Police have arrested a man who posted a live video stream showing him stomping on a copy of the Quran and making provocative comments.
He was arrested in Johor Bahru at 1.40pm and is expected to be held in remand from tomorrow, Bernama reported. The man was believed to have been beaten up after the video was widely shared.
The incident prompted the minister for Islamic affairs, Muhajid Yusof, to advise the public not to resort to post provocative actions on social media.
He said insulting speech and actions about Islam and the Quran were provocative acts on which there could be no compromise.
"I am confident the police have always acted sternly and promptly on complaints filed against crimes of contempt of Islam," he said in a statement here today.
He advised all parties not to act hastily or take matters into their own hands.
Full report at:
https://www.freemalaysiatoday.com/category/nation/2020/02/15/no-compromise-with-provocative-acts-says-mujahid/
--------
Arab World
Iraqi PM-designate pledges to name 'independent' cabinet this week
16 February 2020
Iraq's Prime Minister-designate Mohammed Tawfiq Allawi has vowed to announce this week his cabinet made up of "independent" and "impartial" figures.
"We're nearing a historic achievement: completing an independent cabinet of competent and impartial people, without the intervention of any political party," he said in a post on his Twitter account on Saturday.
He also pledged to "submit the names of these ministers within the current week."
Allawi, who was appointed as Iraqi premier in early February, has until March 2 to submit his cabinet to a parliamentary vote.
"We hope members of the parliament will respond and vote on them in order to start implementing the people's demands," he emphasized.
The appointment of Allawi followed an ultimatum by President Barham Salih, who said he would pick a new premier himself if political parties did not agree on a candidate.
Since October, Iraqis have staged street protests in several cities over unemployment and a lack of basic services, demanding the removal of the ruling political elite as well as early elections.
The demonstrations, however, took a violent turn later, with some participants vandalizing public property and opening fire on demonstrators during the mayhem.
Reports say more than 550 people have been killed and about 25,000 injured in the course of the violent protests.
The anti-government protests also led to the resignation of prime minister Adil Abdul-Mahdi in late November.
Upon his appointment, Allawi expressed support for the rallies and pledged justice for those killed in the violence.
He also promised to create jobs, fight corruption, and form a government free of sectarianism and factionalism before leading the country to early parliamentary elections.
Allawi is endorsed by influential Iraqi cleric Muqtada al-Sadr, who leads the largest parliamentary bloc Sairoon (Alliance Towards Reform).
https://www.presstv.com/Detail/2020/02/16/618770/Iraq-Mohammed-Tawfiq-Allawi-cabinet
--------
Syrian President al-Assad vows to defeat opposition, as forces gain new ground
16 February 2020
Syria's President Bashar al-Assad said on Sunday his government was determined to win back all Syrian territories, as state media reported significant advances against the last opposition-held enclaves in the country's northwest.
The Syrian government offensive has piled pressure on opposition forces backed by Turkey. On Sunday, Syrian troops captured at least 30 villages and towns in the western Aleppo countryside, state media and activists said.
The fighting in rural Aleppo and nearby Idlib province has unleashed a humanitarian crisis. Over 800,000 civilians out of nearly 4 million living in the enclave have been displaced, living in open fields and temporary shelters for the most part in harsh winter conditions.
The Syrian government's new advance effectively secures its hold on Aleppo province and its capital for the first time since 2012.
State news agency SANA reported reported 30 villages and towns around the city were captured on Sunday.
Rami Abdul-Rahman, the head of the Britain-based war monitor Syria Observatory for Human Rights, confirmed the report.
"This means the control of Aleppo (city), and the countryside and securing all of Aleppo," Abdul-Rahman said.
The armed opposition is now squeezed into a shrinking area of nearby Idlib province, where the government is also on the offensive.
The opposition had been driven out of Aleppo city's eastern quarters in late 2016, which they controlled for years while battling government forces who were in charge in the western part.
"The Syrian people are determined to liberate all Syrian territories," President Assad said according to the Syrian state news agency on Sunday.
Assad was speaking during a meeting with visiting Iranian parliamentary speaker Ali Larijani. Both Iran and Russia have heavily backed Assad in the civil war.
The Syrian leader also claimed "terrorists" in northwestern Syria were using residents as "human shields," in an attempt to stop Syrian troops from advancing into the territory.
Syria's government considers all the opposition in the nine-year war as "terrorists" and has repeatedly leveled accusation that they take residents of areas they control as hostages. But many of the displaced in Syria's Idlib province have fled the fighting in other parts of the country, choosing to live in areas outside of government control.
Turkey has sent thousands of troops and equipment into the opposition enclave, in an attempt to stall the government advance.
Turkey, which backs the opposition, has called for an end to the Syrian government offensive. It also fears that the displaced may overwhelm its borders. Turkey is already home to more than 3.5 million Syrian refugees. The United Nations has also called for a ceasefire.
Larijani, meanwhile, reiterated his country's support for Syria in fighting terrorism. Iran has played a key role in supporting Assad's war efforts, sending financial support as well as fighters to back up Syrian military operations.
Support from Russia and Iran has enabled Assad's forces to regain control of much of the territories they had lost to armed groups who worked to topple him.
Full report at:
https://english.alarabiya.net/en/News/middle-east/2020/02/16/Syrian-President-al-Assad-vows-to-defeat-rebels-as-forces-gain-new-ground.html
--------
Car bomb explodes in Syria, near Turkish border
16 February 2020
A car bomb attack by the Kurdish YPG militia killed two people and wounded five on Sunday in the northeastern Syrian town of Tel Abyad, near the Turkish border, the Turkish Defense Ministry said in a statement.
The Arab town, from which Turkish-backed forces last October pushed out the YPG militia in a major campaign spearheaded by the Turkish army, has seen a series of car blasts that have killed dozens of civilians.
"The perpetrator was captured alive along with another terrorist who came to the area with a bomb-rigged vehicle for a second attack," the ministry said.
Turkey's state-run Anadolu news agency said earlier, citing security sources, that four civilians were killed in the attack.
Turkey views the YPG as a terrorist organisation linked to Kurdish insurgents on its own soil. The group was not immediately available for comment.
Syrian Arab opposition groups accused the YPG of carrying out the blasts, which they say seek to sow fear in areas where Turkey has carved a sphere of influence with the help of Syrian Arab opposition groups it backs and arms.
The Arab inhabitants of the area look at Ankara as their protector and accuse the Syrian Kurdish militia of forcibly pushing out the tribal population from these border area where they claim the YPG has sought to change its demography.
Full report at:
https://english.alarabiya.net/en/News/middle-east/2020/02/16/Car-bomb-explodes-in-Syria-near-Turkish-border.html
--------
US military rejects Iraqi demand, offers partial withdrawal: Report
16 February 2020
The US military has offered senior Iraqi security officials plans for a partial withdrawal of troops from Iraq, reneging on an earlier promise to leave the Arab country, online news website Middle East Eye (MEE) reports.
It cited unnamed sources as saying that a meeting was held in great secrecy between the two sides in the private residence of the Canadian ambassador to Jordan in Amman last week.
A representative of the US military told the Iraqis that Washington was prepared to leave positions in or near Shia-majority areas, such as Balad airbase which houses US personnel about 80 kilometers north of Baghdad.
The Iraqis were told that Washington could even consider reducing its troops in the capital Baghdad, the report said.
However, the US side categorically dismissed withdrawing from Ain al-Asad, the biggest US airbase in Anbar province.
"We cannot even start talking about withdrawing [from Ain al-Asad]. Withdrawal is out of the question," the US representative said.
Ain al-Asad airbase came under missile fire from Iran last month, in response to the US assassination of top Iranian commander Gen. Qassem Soleimani, and the second-in-command of Iraq's Popular Mobilization Units (PMU) Abu Mahdi al-Muhandis at Baghdad international airport on January 3.
About 5,300 American forces are deployed across Iraq. Two days after the assassination, the Iraqi parliament approved a motion, calling for the withdrawal of all American forces.
Later on January 9, former Iraqi prime minister Adel Abdul-Mahdi called on the United States to dispatch a delegation to Baghdad tasked with formulating a mechanism for the move.
According to a statement released by the Iraqi premier's office, Abdul-Mahdi "requested that delegates be sent to Iraq to set the mechanisms to implement the parliament's decision for the secure withdrawal of (foreign) forces from Iraq" in a phone call with US Secretary of State Mike Pompeo.
He said that Iraq rejected violation of its sovereignty, particularly the US military's violation of Iraqi airspace in the assassination. The US State Department bluntly rejected the request the following day.
Angered by the Iraqi parliament's vote on January 5, US President Donald Trump threatened the Iraqis with "sanctions like they've never seen before" if American troops were asked to leave.
On January 10, he suggested blocking some $35 billion of Iraqi money "right now sitting in an account" in the United States.
Last week, Iraq's two leading Shia parliamentary coalitions of Sairoon (Marching Towards Reform) and al-Fatah (Conquest) renewed their calls for the withdrawal of American forces from the Arab country.
Calls have grown in Iraq for the US withdrawal since last December, when Trump made an unannounced visit to Ein al-Asad airbase.
The trip sparked a wave of condemnations from Iraqi political leaders, with some of them demanding a swift expulsion of American forces.
Recently, Trump ordered to withdraw all American troops from Syria and half of them from Afghanistan, but said he had no similar plans for Iraq.
The US, backed by the UK, invaded Iraq in 2003 claiming that the former regime of Saddam Hussein possessed weapons of mass destruction.
No such weapons, however, were ever found, and the invaders withdrew from Iraq, after nearly nine years of a military campaign that cost tens of thousands of Iraqi lives.
Leading a new coalition of its allies, the US returned to Iraq in 2014, when the Daesh terror group unleashed a campaign of destruction in the Arab country. Many reports, however, said US operations largely spared the terrorists and led, instead, to civilian deaths and inflicted damage on Iraqi infrastructure.
Full report at:
https://www.presstv.com/Detail/2020/02/16/618795/Iraq-US-troops-withdrawal-Ain-al-Asad-airbase
--------
Doha-Riyadh talks to end ongoing Persian Gulf dispute stalled in January: Qatari FM
16 February 2020
Qatari Foreign Minister Sheikh Mohammed bin Abdulrahman bin Jassim Al Thani says negotiations between Saudi Arabia and Qatar to resolve a bitter regional conflict were suspended in January without tangible progress.
The discussions began last October over a rift that saw Saudi Arabia, the United Arab Emirates, Egypt, and the tiny country of Bahrain sever diplomatic ties with Doha and impose an air, land, and sea blockade on Qatar in June 2017.
The quartet accused Qatar of "sponsoring terrorism" - a charge repeatedly and vehemently rejected by Doha.
The four nations urged the Qatari government to comply with a list of demands that included severing ties with Iran and closing a Turkish military base in Qatar. Doha flatly rejected the demands and said it was being targeted because of the independent policies that it pursued.
"It's been almost three years," Sheikh Mohammed said on Saturday at the Munich Security Conference in Germany. "We were not perpetrators and are open to any offer to resolve this problem," he said.
"Unfortunately efforts did not succeed and were suspended at the beginning of January and Qatar is not responsible for this," he added.
In December 2019, Qatar's then-prime minister Sheikh Abdullah bin Nasser bin Khalifa Al Thani attended an annual meeting of the Persian Gulf Cooperation Council (GCC) in Riyadh, its highest representation at the meeting since 2017.
"The work of the GCC has been affected by this crisis, and we hope to overcome many challenges next year," Sheikh Abdullah said at the time, after the closed-door meeting in the kingdom's capital.
In an interview with Qatar's Al Jazeera television news network aired last December, Qatar's foreign minister said the terrorism accusations leveled by Saudi Arabia and its allies against Qatar had proved to have "no basis at all."
Full report at:
https://www.presstv.com/Detail/2020/02/16/618769/Qatar-FM-Sheikh-Mohammed-bin-Abdulrahman-Al-Thani-Saudi-Arabia-blockade
--------
Africa
NAF denies killing 250 Boko Haram fighters in Maiduguri
February 16, 2020
The Nigerian Air Force says a supposed 'Breaking News Flash' with the headline "Nigerian Air Force Kills Over 250 Boko Haram Fighters In Maiduguri" is totally fake.
The NAF Director of Public Relations and Information, Air Commodore Ibikunle Daramola, made this known in a statement on Sunday in Abuja.
Daramola said the fake news said to have been released on February 13 by one 'Comr Aminu Shuaibu Musawa' did not originate from the NAF.
"The NAF wishes to categorically state that the false sensational news item, with its gory doctored visuals, is totally fake and did not originate from the NAF.
"Media houses and indeed the general public are please reminded that authentic information on the activities of the NAF will always be released officially by the Director of Public Relations and Information (DOPRI)," he said.
He also said authentic information on the activities of the Service would always be released officially by the DOPRI and carried on the NAF website as well as NAF official social media handles.
"Any reports emanating from other sources without verification from the NAF should be completely discountenanced," he said.
Daramola said the NAF had commenced action that would lead to the prosecution of the originator(s) of the aforementioned false report for disseminating fake news.
https://punchng.com/naf-denies-killing-250-boko-haram-fighters-in-maiduguri/
--------
South Sudan rebels reject president's peace compromise
16 February 2020
South Sudan rebels rejected on Sunday a peace offer by President Salva Kiir to return to a system of 10 states, paving the way for a unity government.
The rejection by rebel chief Riek Machar dashes hopes of breaking a deadlock and ending a six-year conflict that has left at least 380,000 people dead and millions in dire poverty.
Read: South Sudan rivals hold rare meeting as peace deal stalls
Kiir and Machar -- who lives in exile -- are under increasing international pressure to resolve their differences by a February 22 deadline.
Kiir on Saturday said the country would now be divided among the original 10 states -- a key opposition demand -- plus three "administrative areas" of Pibor, Ruweng and Abyei.
But rebel leader Riek Machar said Sunday he objected to the three administrative areas.
It "cannot be referred to as reverting to 10 states (and) as such cannot be accepted," Machar wrote in a statement.
"We therefore call upon President Kiir to reconsider this idea of creating administrative areas," he added.
Machar warned the three areas risked causing further problems, calling the issue a "Pandora's box".
The number of states is contentious because the borders will determine the divisions of power in the country.
When it gained independence from Sudan in 2011, South Sudan had 10 states, as set out in its constitution.
Kiir increased that in 2015 to 28, then 32 -- and has now reduced them back to 10, plus the three areas.
He issued an order late Saturday relieving all governors of the 32 states of their posts.
He has said the final matter of states would be debated once the unity government forms.
Of the three areas, the most contentious is thought to be oil-rich Ruweng, in the north.
Oil provides almost all of the government's revenue in South Sudan, making it one of the world's most oil dependent nations.
Full report at:
https://english.alarabiya.net/en/News/middle-east/2020/02/16/South-Sudan-rebels-reject-president-s-peace-compromise.html
--------
Ongoing Libya conflict 'deeply troubling': UN official
16 February 2020
The situation in war-torn Libya is "deeply troubling," a United Nations representative said Sunday, warning that a fragile truce was hanging "by a thread" as daily life in the North African country worsens.
Speaking after talks with foreign ministers in the German city of Munich, the UN's deputy special representative to Libya Stephanie Williams said that over 150 violations had been reported since last month's ceasefire was agreed.
She also slammed the ongoing breaches of a much-abused UN weapons embargo, even after foreign countries agreed in January to stop meddling in a conflict that has dragged in major regional rivals.
"The situation on the ground remains deeply troubling. The truce is holding only by a thread," Williams said on the sidelines of the Munich Security Conference.
"It is the Libyan people that continue to suffer the most. The economic situation continues to deteriorate, exacerbated by the oil blockade."
Libya has been mired in chaos since a 2011 NATO-backed uprising killed longtime dictator Muammar Qaddafi, with two rival administrations vying for power.
The conflict deepened when military leader Khalifa Haftar, who controls much of the south and east of Libya, seized Tripoli, the base of the UN-recognized Government of National Accord (GNA) led by Fayez al-Sarraj.
States including Russia, France, the United Arab Emirates, and Egypt support Haftar, while the GNA is backed by Turkey and Qatar.
Full report at:
https://english.alarabiya.net/en/News/north-africa/2020/02/16/Ongoing-Libya-conflict-deeply-troubling-UN-official.html
--------
Libya arms embargo a 'joke': UN official
16 February 2020
Violations of an arms embargo in Libya have become a joke and it is imperative that those who breach it are held to account, a senior UN official said on Sunday.
"The arms embargo has become a joke, we all really need to step up here," UN Deputy Special Representative to Libya Stephanie Williams told a news conference in Munich.
"It's complicated because there are violations by land, sea and air, but it needs to be monitored and there needs to be accountability."
https://english.alarabiya.net/en/News/north-africa/2020/02/16/Libya-arms-embargo-a-joke-UN-official.html
--------
Tunisia's PM designate forms new government but future uncertain
16 February 2020
Tunisian Prime Minister Elyes Fakhfakh on Saturday formed a new government but it immediately hit major hurdles after members of Ennahdha party pulled out of the line-up.
Fakhfakh was tasked by Tunisia's president to form a government after a previous list proposed under the leadership of Ennahdha was rejected by parliament following October legislative elections.
Several of the ministers chosen by Fakhfakh to join the cabinet are from the ranks of the Islamist-inspired party.
But even before he officially announced the line-up, Ennahdha said it was pulling out of the government.
"Ennahdha's decision places us in a difficult position," Fakhfakh said.
He said he had agreed with the president to search for a solution through legal and constitutional means, implying that his line-up could be modified.
Ennahdha won more seats than any other party in October's legislative election, but was still far short of a majority.
Fakhfakh, 47, was named minister of tourism in 2011 before serving as minister of finance from December 2012 until January 2014.
He became involved in politics again after Tunisia's 2011 revolution, joining the Ettakatol party, which had allied with Ennahdha.
The Islamist-inspired party is demanding a government of national unity.
"Ennahdha has decided not to take part in the government or in a vote of confidence," senior party member Abdelkarim Harouni told AFP on Saturday.
Full report at:
https://english.alarabiya.net/en/News/north-africa/2020/02/16/Tunisia-s-PM-designate-forms-new-government-but-future-uncertain-.html
--------
At least 30 killed by armed gangs attack in northwest Nigeria: Police
16 February 2020
Armed gangs killed 30 people in raids on two villages in an area of northwest Nigeria plagued by cattle rustlers and kidnappers, police said on Sunday.
Dozens of gunmen on motorcycles attacked the villages of Tsauwa and Dankar in Katsina state on Friday, shooting residents and burning homes.
"The bandits killed 21 people in Tsauwa and another nine in nearby Dankar," Katsina police spokesman Gambo Isah said.
"Most of those killed were old people and children who couldn't escape."
Police and soldiers deployed in the area after the attack and arrested one suspect, Isah said.
The attackers burnt homes, livestock and food supplies before fleeing, said Tukur Mu'azu, traditional chief of Batsari, a district the straddles the two attacked villages.
He gave the same death toll as the police for what he described as an "unprovoked attack".
"I have never seen such destruction in my life," the local leader told AFP as he attended the burial of the victims.
Rural communities in Katsina state, the home region of President Muhammadu Buhari, have frequently been targeted by gangs of cattle thieves and kidnappers abducting people for ransom.
The gangs launch attacks from their bases in a vast forest straddling Katsina and several neighboring states.
Residents across the affected areas have clubbed together to fill the security void by forming self-defense groups, but these vigilante outfits have often served to fuel the violence.
Full report at:
https://english.alarabiya.net/en/News/world/2020/02/16/At-least-30-killed-by-armed-gangs-attack-in-northwest-Nigeria-Police.html
--------
South Sudan president cuts number of states to 10, unlocking peace process
16 February 2020
South Sudan's President Salva Kiir said on Saturday he was cutting the number of states from 32 to 10, unlocking a stalled peace deal and paving the way for the formation of a long- awaited unity government.
"The compromise we have made today is a painful decision but a necessary one if that is what brings peace", Kiir said in a statement.
"I expect the opposition to be prepared to do the same."
The regional group IGAD had given the government until Saturday to find a solution over the number of states the country should have.
Disagreement between Kiir and former rebel leader Riek Machar over the number of states as well as a failure to integrate different fighting forces have been major obstacles to completing the peace process.
"In general we welcome the decision taken by the president to take the country to 10 states," said Manawa Peter, deputy spokesman of Riek Machar, adding, "this is a win-win decision for the people and we commend the president for his wise choice."
South Sudan's five-year civil war erupted soon after the country's formation in 2011 and created the worst refugee crisis in Africa since the Rwandan genocide.
Kiir and Riek Machar agreed a peace deal in 2018, pressured by the United Nations, the United States and countries in the region.
Under the deal, the two agreed to form a unity government by November 2019. They then pushed then the deadline back by 100 days, prompting Washington to recall its ambassador and impose sanctions on senior officials for their role in perpetuating the conflict.
The extended deadline was to finish next Saturday. Any extension beyond February 22 was "neither desirable nor feasible", the eight-nation East African bloc of nations, IGAD, warned last week.
Full report at:
https://www.presstv.com/Detail/2020/02/16/618761/Salva-kiir-south-sudan-peace
--------
Sudan's Bashir faces new corruption charges
Mohammed Amin
16.02.2020
KHARTOUM
Former Sudanese President Omar al-Bashir is facing new charges of corruption, money laundry and financing terrorism, according to the country's attorney-general.
In a statement on Sunday, the attorney-general said al-Bashir gave testimony in an investigation regarding the responsibility of some government officials for "financing the Muslim Brotherhood organization and other international terrorist agents".
The former president was also questioned regarding accusations of money laundry and suspected illegal money possession in connection with the selling of the Mobitel and MTN telecommunications companies to foreign investors, the statement said.
Al-Bashir, who ruled Sudan since 1989, was ousted by the military in April, 2019 after mass protests against his rule.
In December, the former president was sentenced to two years in prison for corruption. He is also facing charges of undermining the constitution over the 1989 military coup he led.
Full report at:
https://www.aa.com.tr/en/africa/sudans-bashir-faces-new-corruption-charges/1735775
--------
Roadside bomb kills 3 soldiers in Somalia
Mohammed Dhaysane
16.02.2020
MOGADISHU, Somalia
At least three Somali soldiers were killed after a blast struck a military vehicle on the outskirts of the capital Mogadishu on Sunday.
Local police officer Feysal Mohamed told Anadolu Agency that the source of the explosion was a roadside bomb.
"The blast was a roadside explosion which targeted a national army vehicle carrying soldiers. At least three were killed in the attack and more than four others wounded," said Mohamed.
Police and other security personnel reached the site of the incident and began investigations, he added.
No group has yet claimed responsibility for either attack, but al-Qaeda-affiliated group al-Shabaab has claimed responsibility for recent attacks in Somalia over the years.
Meanwhile, a soldier was killed an other three wounded in fighting between al-Shabaab near the city of Baidoa in the south of the country.
Full report at:
https://www.aa.com.tr/en/africa/roadside-bomb-kills-3-soldiers-in-somalia-/1735599
--------
Mideast
Iran's beleaguered president rules out resignation
February 17, 2020
TEHRAN: Iran's President Hassan Rouhani on Sunday ruled out resigning and vowed to see out his term, even as he admitted he had offered to step aside twice since being elected.
Speaking ahead of a general election next Friday, Rouhani also appealed to voters to turn out despite the fact that many moderate and reformist candidates were disqualified from the race. Rumours have swirled in Iran recently that the 71-year-old, whose second and last term ends next year, had been planning to quit, but his office denied the reports.
Rouhani's government has come under fire over the state of Iran's sanctions-hit economy and for allegedly failing to fulfil election promises.
The legitimacy of Rouhani and his government have been called into question after they were left in the dark for days after the armed forces admitted they "accidentally" shot down a Ukrainian airliner on January 8.
Hardliners have attacked his administration for negotiating a nuclear deal with world powers that ultimately backfired when the United States withdrew unilaterally and reimposed harsh sanctions.
"My resignation does not make much sense... we have made promises to the people and we will continue to fulfil those promises" despite the economic situation and pressure from "the enemy", Rouhani said, referring to the US.
"The idea of resigning (because of these recent problems) never occurred to me." But Rouhani admitted he had offered to resign twice in the past, and that they were rejec­ted by supreme leader Ayatollah Ali Khamenei.
"In the first months after my election, I told the supreme leader 'If you think for some reason that someone else or another government can serve the country better, I'm ready to go'," said Rouhani. "He vehemently rejected it," he told a news conference in Tehran.
https://www.dawn.com/news/1534977/irans-beleaguered-president-rules-out-resignation
--------
Israel hopes ICC 'friends' will help stave off Palestinian investigation
February 17, 2020
JERUSALEM: Israel's prime minister on Sunday hailed what he called efforts by friendly states to stop the International Criminal Court opening an investigation into alleged war crimes against Palestinians.
The court's chief prosecutor Fatou Bensouda said in December there was enough evidence for an investigation into thousands of killings – but asked the court to rule on whether it had the jurisdiction over the Palestinian territories.
Brazil, Hungary, Austria, Germany, the Czech Republic and Australia have asked the court over the past two weeks to let them file "amicus brief" opinions on the case, ICC records show.
Some, including Germany, said they would argue the court's jurisdiction did not extend to the Palestinian territories.
Brazil said it would argue that the Israeli-Palestinian crisis should be resolved through political dialogue, not a court ruling.
Netanyahu told his cabinet countries had responded to Israeli lobbying over the case.
"We are struggling against this (proceeding) and, at our side, I must say, are many friends around the world (which) joined the US in a steadfast stand alongside Israel."
The Palestinians were accepted as an ICC member in 2015 after they signed the court's founding Rome Statute, based on their United Nations "observer state" status.
Israel and the United States, neither of them ICC members, dispute the court's jurisdiction in the absence of a sovereign Palestinian state in the West Bank, Gaza or East Jerusalem.
The Organisation for Islamic Cooperation, representing 57 Muslim states, asked to file a brief, arguing that the Palestinians have sovereignty over the Palestinian territories.
The Palestinian Bar Association, the International Commission of Jurists and other legal and human rights organisation have also asked to filed briefs with the court to say it does have jurisdiction in this case.
Full report at:
https://www.freemalaysiatoday.com/category/world/2020/02/17/israel-hopes-icc-friends-will-help-stave-off-palestinian-investigation/
--------
Hezbollah slammed for unveiling Soleimani monument in Lebanon
February 17, 2020
BEIRUT: Hezbollah on Saturday unveiled a monument to Iranian Maj. Gen. Qassem Soleimani, who was killed by a US drone strike on Jan. 3.
The monument, on a hill in the southern Lebanese border town of Maroun Al-Ras, has been widely criticized on social media and by Lebanese politicians opposed to Hezbollah. "Are we in Lebanon or Iran? Why insist on changing the identity of Lebanon," tweeted May Chidiac, former minister for administrative development.
"Every day, Hezbollah asserts that it is a branch of the Iranian Revolutionary Guards … not (a) Lebanese (party)."
Former Justice Minister Ashraf Rifi said: "The establishment of the Soleimani Monument in the south has nothing to do with the confrontation with Israel, but rather with the assertion of Iran's mandate over Lebanon." He added: "The (Iranian) Quds Forces did not fight
for Jerusalem, but rather destroyed Syria and Iraq and transformed Lebanon into a failed state." Meanwhile, Hezbollah Secretary-General Hassan Nasrallah on Sunday called for a boycott of American goods and for "resistance" throughout the Arab and Islamic worlds. His remarks came as Iranian Parliament Speaker Ali Larijani arrived in Beirut to meet with senior Lebanese leaders.
Larijani had come from Syria, where he met with President Bashar Assad and reiterated Tehran's support for Damascus.
Full report at:
https://www.arabnews.com/node/1628851/middle-east
--------
Hezbollah's Nasrallah calls for boycott of US products as 'part of the battle'
16 February 2020
Hezbollah's Hassan Nasrallah has called for Lebanese citizens to boycott US goods and products as "part of the battle" against President Donald Trump's Middle East plan, the militia leader said in a speech on Sunday.
"Why are we not resorting to boycotting American products? This is part of the battle. If we do not want to boycott all goods, we choose some companies, and this is a form of confrontation," Nasrallah said in his televised speech.
"The Israeli is afraid of death while the American's weakness is his security and economy," he added.
Iraqi-Lebanese columnist and writer Hussain Abdul-Hussain reacted to Nasrallah's call for a boycott of US products by saying that his comments were out of touch with reality on the ground.
"This shows how dangerously delusional Iran and its militias are. Here, Hezbollah's Nasrallah calls on Lebanon to boycott US products. He doesn't understand that an economy in free fall, like Lebanon, cannot exert boycott/economic pressure on anyone, let alone America," Abdul-Hussain tweeted.
Lebanon may not survive if its new government fails, Nasrallah warned during his speech, urging the country's divided politicians not to obstruct the cabinet as it seeks to address an unprecedented economic and financial crisis.
Nasrallah also said there was no point in politicians trading blame over the causes of the crisis, after former prime minister Saad al-Hariri on Friday accused his rivals of pushing the country to near-collapse.
Banks are curtailing access to deposits, the Lebanese pound has slumped, inflation has spiked and firms are shedding jobs and slashing wages in a financial crisis. Hariri resigned last year amid mass demonstrations against the ruling class.
Full report at:
https://english.alarabiya.net/en/News/middle-east/2020/02/16/Hezbollah-s-Nasrallah-calls-for-boycott-of-US-products-as-part-of-the-battle-.html
--------
Israeli army thwarts attempt by Hamas hackers to 'seduce' soldiers
16 February 2020
The Israeli military on Sunday said it has thwarted an attempt by Palestinian militant group Hamas to hack soldiers' phones by posing as young, attractive women on social media, striking up friendships and persuading them into downloading malware.
Lt. Col. Jonathan Conricus told reporters that the phones of dozens of soldiers had been infected in recent months, although he said the army detected the scam early on and prevented any major secrets from reaching Hamas.
"We do not assess there is any significant breach of information," the military spokesman said.
Conricus said this was the third attempt by Hamas to target male soldiers through fake social media accounts, most recently in July 2018. But he said this latest attempt was by far the most sophisticated.
He said Hamas used a number of social media platforms, including WhatsApp, Facebook, Instagram and Telegram, to make contact with unsuspecting soldiers. Posing as young women on social media, the group struck up friendships with the soldiers, sending photos, texts and voice messages to them.
The "women" claimed to be new immigrants to explain their poor Hebrew, and even claimed to be deaf or hard of hearing as an excuse for texting, instead of speaking directly on the phone, Conricus said. The profiles appeared on multiple platforms, and he said the photos were disguised to make it difficult to "reverse track" them, giving the accounts additional authenticity.
"We see that the level of social engineering is much higher and much more advanced and sophisticated when compared to previous attempts done by Hamas," he said. "We see that they're of course learning and upping their game."
Eventually, they sent the soldiers links to "seduce" them into downloading what they said was a Snapchat-like app to exchange photos that could quickly disappear, Conricus said. In reality, the links were to three malware programs - Catch&See, ZatuApp and GrixyApp - that allowed Hamas to gain access to the soldiers' phones.
Full report at:
https://english.alarabiya.net/en/News/middle-east/2020/02/16/Israeli-army-thwarts-attempt-by-Hamas-hackers-to-seduce-soldiers-.html
--------
Griffiths announces Yemen agreement on first phase of prisoner swap deal
16 February 2020
Both sides of the conflict in Yemen agreed on a detailed plan to complete the first phase of a large-scale exchange of prisoners, UN Special Envoy for Yemen Martin Griffiths said in a statement.
The announcement of the deal came after a seven-day meeting between rival sides of the Yemeni conflict in the Jordanian capital Amman.
"I urge the parties to move forward with the exchange they agreed on today with the utmost sense of urgency. Progress has been too slow on this front. The pain of the thousands awaiting reunion with their loved ones must end," Griffiths said in a statement.
"Today the parties showed us that even with the growing challenges on the ground, the confidence they have been building can still yield positive results."
Full report at:
https://english.alarabiya.net/en/News/gulf/2020/02/16/Griffiths-announces-Yemen-agreement-on-first-phase-of-prisoner-swap-deal.html
--------
Religious minorities take part in Iran legislative elections
16 February 2020
Ghanbar Naderi
Christians, Jews, Zoroastrians, Armenians and Assyrians are getting ready to cast their ballots in Iran's eleventh parliamentary elections. Under the Constitution, there are five reserved seats in the legislature for Iran's religious minorities. Speaking to Press TV, voters said, their communities will take part in elections as it's a national duty.
Religious minorities have direct representation in parliament, and they can vote for one of the two candidates approved by the Guardian Council. Christians are the largest religious minority in Iran with some 250,000 in the country. With a population of around 15,000 in the capital and more across the country, Iran also has the largest Jewish minority in the Muslim world.
More than 7,000 candidates are on the campaign trail ahead of Friday's vote, especially in Tehran, which accounts for 30 seats in parliament. The two main camps, namely reformists and principalities, have issued several lists of candidates they want to field for the race, which will be held simultaneously with the midterm elections for the Assembly of Experts, a body whose members oversee the performance of the country's Leader.
https://www.presstv.com/Detail/2020/02/16/618827/Religious-minorities-take-part-in-Iran-legislative-elections
--------
President Assad says Syrians will liberate whole country from grips of terrorists
16 February 2020
President Bashar al-Assad says Syrians are determined to liberate the whole country from the clutches of foreign-sponsored Takfiri terrorists, amid a full-scale offensive by the army in the northwestern province of Idlib, the last militant bastion in a nine-year war.
Assad made the comment during a meeting with Iran's Parliament Speaker Ali Larijani and his accompanying delegation in the capital Damascus on Sunday.
Governments hostile to the Syrian nation, Assad said, are still trying to support terrorists who have taken civilians hostage and use them as human shields against advancing troops in Idlib.
The Syrian president said things cannot remain in the current state at the expense of Syrian lives and Syria's security and stability.
Larijani, for his part, affirmed the Islamic Republic's continued support for the Syrian government in its fight against terror.
He also congratulated the Syrian president for the significant gains the government troops have made against terrorists in Idlib, saying he deeply believed that Syrians were fully capable of liberating their entire land and restore Syria's status in the region.
The pair also discussed regional and international developments in light of the policy of spreading chaos and destabilization pursued by some Western countries, led by the United States.
Both sides also agreed on the necessity of taking joint action to raise the number of countries against such policies and cooperate with them in order to prevent more wars around the world.
Syria a key country in axis of resistance: Larijani
Earlier on Sunday and shortly after arriving in Damascus, Larijani met with his Syrian counterpart, Hammoudeh Sabbagh.
During the meeting, the top Iranian official said Syria was a key state in the axis of resistance and underlined the importance of bilateral ties.
"We will hold important consultations on issues of interest to Syrians under the current circumstances, in addition to discussing ways to develop bilateral relations," Larijani said.
Iran's Parliament Speaker Ali Larijani (C-L) meets with his Syrian counterpart, Hammoudeh Sabbagh, in Damascus, Syria, February 16, 2020. (Photo by SANA)
Sabbagh, for his part, said Syria and Iran had common ties, on top of which, fighting terrorism, conspiracy and sanctions, which are facing both countries.
He also stressed that the victories gained daily by the Syrian Arab Army on the ground are clear evidence on "the absolute victory of the strong will" in the face of all of these conspiratorial projects.
Idlib and small parts of the adjacent area in Aleppo form the only large territory in the hands of terrorists after the Syrian military managed to undo militant gains across the country and bring back almost all of the Syrian soil under government control.
The Syrian army has been making steady advances in the past few weeks, liberating a strategic city and a key highway which connects Damascus to Aleppo.
Full report at:
https://www.presstv.com/Detail/2020/02/16/618819/Syria-Iran-Assad-Larijani-Sabbagh-Idlib-US
--------
US names members of panel for West Bank annexation
16 February 2020
The US government has appointed members of a committee tasked with mapping out areas of the occupied West Bank that Israel plans to annex as part of President Donald Trump's self-proclaimed "Deal of the Century."
A senior Trump administration official told the Israel Hayom daily that US ambassador to Israel David Friedman will lead the joint committee.
"Honored to serve on the Joint Committee," tweeted Friedman Saturday. "Looking forward to getting started right away," he said.
Other committee members will include Friedman's senior adviser Aryeh Lightstone, and Scott Leith, a US National Security Council expert on Israel.
Israeli members will include tourism minister Yariv Levin and Israeli ambassador to the United States Ron Dermer.
The committee was announced by Trump last month during the unveiling of his scheme, which would see Israel control swathes of the West Bank in violation of the fundamental rights of the Palestinians.
Trump said the joint committee would be formed to "convert the conceptual map into a more detailed and calibrated rendering so that recognition can be immediately achieved."
There is still no set timeline for when the committee will finish its work, but Israeli prime minister Benjamin Netanyahu has been pressured by right-wing lawmakers in recent weeks to announce the immediate annexation of all settlements before Israelis head to the polls.
Three weeks ago, both Netanyahu and Friedman said that Israel would be able to do so before the election, and Netanyahu planned to turn the issue into the cornerstone of his re-election campaign.
Trump's son-in-law and adviser Jared Kushner, who is believed to be the architect of the so-called "Vision for Peace," has said the US administration and Israel had decided to wait until a team was formed to examine the maps, and that he hoped Israel would wait until after the election.
On January 28, Trump unveiled his plan negotiated with Israel but without Palestinians, as one side of any agreement, being involved in the process.
Palestinian leaders immediately rejected the plan, with President Mahmoud Abbas saying it "belongs in the dustbin of history."
They view the deal as a colonial plan meant to unilaterally control Palestine in its entirety and remove Palestinians from their homeland.
Palestinians denounce meeting with Israelis
On Saturday, Palestinian factions censured the participation of Palestinian figures in a meeting in Tel Aviv, organized by the so-called Israeli Peace Parliament whose members are former representatives of a variety of political parties and former Knesset members.
Twenty former members of the Palestinian Authority participated in the Friday meeting held under the banner "Yes to Peace," "No to Annexation" and "Two States for Two People."
Former Palestinian Authority economy minister Bassem Khoury, former health ministers Fathi Abu Mughlieh and Sameeh al-Abed, former local governance minister Hussein al-A'raj and former prisoners affairs minister Ashraf al-Ajrami were among the Palestinian representatives.
Denouncing the meeting, Hamas resistance movement said it was a "blow to all Palestinian positions rejecting US President Donald Trump's recently unveiled plan for Mideast peace."
Hamas spokesman Hazem Qassem said the gathering was a form of "normalization" with Israel that is rejected by all Palestinians.
"These meetings encourage some parties in the region to normalize their relations with the Zionist entity," Qassem said, adding, "They also weaken the movement of solidarity with our Palestinian people".
He also criticized the Palestinian Authority for allowing such meetings despite threats by its leaders to cut all ties with Israel.
Senior official of Palestinian Islamic Jihad movement Ahmed al-Mudalal also strongly condemned the meeting.
"How can we convince the world to reject normalization when some of us are promoting it and involved in it?" he exclaimed. "These meetings are intended to support Trump's 'Deal of the Century.'"
The Popular Front for the Liberation of Palestine (PFLP) denounced the meeting as a "stabbing of the Palestinian people."
It further called on the Palestinian Authority to dismantle the Palestine Liberation Organization (PLO)'s committee for interaction with Israeli society, which is responsible for organizing meetings between Palestinians and Israelis.
"Participation in normalization meetings with hostile Zionists proves that the Palestinian leadership is not serious about renouncing the Oslo Accords, halting security coordination [with Israel] and suspending all meetings with the Zionist entity," the PFLP added.
Al-Ahrar (The Free), a group of Fatah members in the besieged Gaza Strip, said the meeting was a "national and immoral crime" which violated the Palestinian Authority's position against the Trump plan.
Full report at:
https://www.presstv.com/Detail/2020/02/16/618785/Israel-Palestine-Trump-deal-of-century-West-Bank-annexation
--------
Yemen's Ansarullah releases video of shooting down Saudi Tornado fighter
15 February 2020
Yemen's Houthi Ansarullah movement has released a video of its Friday shoot-down of a Tornado fighter jet operated by the Saudi-led coalition in the skies of Jawf province in northern Yemen.
According to General Yahya Saree, the spokesman for the Ansarullah movement, the aircraft was targeted late Friday night in the province of al-Jawf, which borders Saudi Arabia.
Saree also noted that the multi-role combat aircraft was downed with an advanced surface to air missile.
The video of the downing was released on Saturday by Yemen's Al-Masirah TV.
The TV channel has also released a video of the plane wreckage, and the Houthi fighters searching the crash site.
Following the incident, Saudi warplanes bombarded the area where the fighter jet was downed, killing over 30 civilians.
Back in January 2018, the Yemeni missile units managed to shoot down a Tornado fighter jet and an F-15 warplane. Furthermore, the Yemeni forces have so far shot down numerous Saudi-led combat or surveillance drones as well as a number of helicopters.
The Yemeni army has devised and manufactured its own ballistic missiles and combat drones, which has changed power balance against the failing Saudi-led coalition.
In March 2015, Saudi Arabia, with the help of a number of its allies, particularly the United Arab Emirates (UAE), launched a brutal military campaign against impoverished Yemen, whose former President Abd Rabbuh Mansur Hadi had fled to Riyadh a few months earlier after stepping down the previous year.
The Saudi-led campaign, code-named Operation Decisive Storm, was launched to achieve two main objectives: bringing Hadi, a staunch ally of Riyadh, back to power, and crushing the Houthi Ansarullah movement, whose fighters have proved to be of significant help to the Yemeni army in defending the Arab country against the invaders since the onset of the imposed war.
Full report at:
https://www.presstv.com/Detail/2020/02/15/618757/Yemen-ansarullah-tornado-fighter-saudi
--------
North America
Trump demands Russia stop supporting Syria regime's 'atrocities'
17 February 2020
President Donald Trump has called for Russia to end its support for the Syrian regime's "atrocities" as he expressed US concern over violence in the Idlib region, the White House said Sunday.
In a call with Turkish President Recep Tayyip Erdogan, Trump "expressed concern over the violence in Idlib, Syria and... conveyed the United States' desire to see an end to Russia's support for the Assad regime's atrocities," the White House said.
President Bashar al-Assad's forces made new gains Sunday in their offensive against the last major rebel bastion in the northwest region of Idlib.
https://english.alarabiya.net/en/News/middle-east/2020/02/17/Trump-demands-Russia-stop-supporting-Syria-regime-s-atrocities-.html
--------
'Multiple rockets hit US military base in Baghdad'
16 February 2020
Multiple rockets hit a US military base near the country's embassy in Iraq's capital early Sunday, an American military source said, the 19th attack against US positions in the country since late October.
The assault sent warning sirens blaring across the high-security diplomatic compound but it was unclear exactly what was hit and how many rockets made impact, the source told AFP.
Multiple strong explosions followed by aircraft circling were heard near the Green Zone, the high-security enclave where the US embassy is located.
Sunday's attack, before dawn, was carried out with "small rockets" and caused no casualties, a coalition spokesman said in a statement on Twitter.
The Green Zone is home to several Western embassies and government offices including the parliament, the prime minister's office, and the presidency.
In recent months, however, the fortified zone has been repeatedly targeted by Katyusha rockets.
The Sunday attacks came a few weeks after the Islamic Revolution Guards Corps (IRGC) fired volleys of ballistic missiles at Ain al-Assad, a large airbase in Iraq's Anbar hosting about 1,500 US troops, and another outpost in Erbil, the capital of the semi-autonomous Iraqi Kurdistan.
The missile operation was in response to Washington's January 3 assassination of top Iranian general Qassem Soleimani, who led the IRGC's Quds Force.
The assassination also resulted in the death of Abu Mahdi al-Muhandis, who was the second-in-command of Iraq's Popular Mobilization Units (PMU).
Full report at:
https://www.presstv.com/Detail/2020/02/16/618762/Iraq-baghdad-US-embassy-rocket-attack
--------
US accuses Iran, Russia, and China of wrongdoings it does on the world stage: Writer
15 February 2020
Every wrongdoing the United States accuses of Iran, Russia, and China is exactly what Washington does on the world stage, according to an author and political commentator in Chicago.
"As US uses all the weapons in its arsenal to gain control over other nations, their resources, their populations. It's certainly is a military power, an economic power. It uses its political power to bully, pressure, bribe whatever on other countries to bend to its will," Stephen Lendman told Press TV in a phone interview on Saturday.
"Iran is a good example as anybody. The US has pressured Europe and other countries not to trade with Iran. Has Iran done anything? Has it broken international law? Has it attacked another nation? The answer is no to all these questions," he said.
"Iran is the region's leading proponent of peace. Its nuclear program has no military component. It has not attacked another country in centuries. Everything the US accuses Iran of, and Russia, China…is exactly what the US does on the world stage," the analyst said.
"So it literally blames other nations for its own wrongdoings, lying about other nations whether it's Iran, Russia, China, Venezuela, Syria, Cuba – it goes on and on and on," he noted.
US Secretary of Defense Mark Esper on Saturday warned that China is pursuing aggressive economic and military policies at the expense of other nations and challenging the "international order" established by Washington.
Beijing "is heading even faster and further in the wrong direction, more internal repression, more predatory economic practices, more heavy-handedness, and, most concerning for me, a more aggressive military posture," Esper said at the Munich Security Conference in Germany on Saturday.
The Pentagon chief also said Washington was working with US and European technology companies to develop 5G wireless technology and counter China's dominance in the industry.
Full report at:
https://www.presstv.com/Detail/2020/02/15/618748/US-accuses-of-Iran,-Russia,-and-China-of-wrongdoings-it-does-on-the-world-stage
--------
Trump thanks Erdogan for averting catastrophe in Idlib
Faruk Zorlu
17.02.2020
U.S. President Donald Trump thanked Turkish President Recep Tayyip Erdogan by phone for preventing a "humanitarian catastrophe" in northwestern Syria's Idlib province, the White House said Sunday.
"Trump expressed concern [yesterday] over the violence in Idlib, Syria and thanked Erdogan for Turkey's efforts to prevent a humanitarian catastrophe," deputy press secretary Judd Deere said in a statement.
"President Trump conveyed the United States' desire to see an end to Russia's support for the [Bashar al-Assad] regime's atrocities and for a political resolution to the Syrian conflict," he added.
The two leaders also discussed the need to eliminate foreign interference in Libya, Deere said.
"President Trump also reiterated that continued foreign interference in Libya would only serve to worsen the situation," he added.
Turkish troops are in Idlib as part of an anti-terror and peace mission.
In September 2018, Turkey and Russia agreed to turn Idlib into a de-escalation zone in which acts of aggression are expressly prohibited.
But more than 1,800 civilians have been killed in attacks by regime and Russian forces since, flouting a 2018 ceasefire and a new one that began on Jan. 12.
Libya's legitimate government has been under attack by renegade military commander Khalifa Haftar since last April, claiming the lives of more than 1,000 people.
Full report at:
https://www.aa.com.tr/en/americas/trump-thanks-erdogan-for-averting-catastrophe-in-idlib/1736037
--------
Yemen's warring parties agree to key prisoner exchange
Servet Günerigök
17.02.2020
WASHINGTON
Yemen's warring parties have agreed on a detailed plan to conduct a "large-scale" prisoner exchange, the UN said Sunday.
"This is a step towards the fulfillment of the parties' commitment to the phased release of all conflict-related detainees according to the Stockholm Agreement," it said in a statement.
The key announcement came after seven days of meetings between the Yemeni government and Houthi rebels concluded Sunday in Jordan's capital Amman at which it was decided to immediately begin exchanging lists for the upcoming release.
Last month, Jordan hosted a first round of talks between the two sides in hopes of reaching a mutually-acceptable prisoner-exchange agreement.
"Today the parties showed us that even with the growing challenges on the ground, the confidence they have been building can still yield positive results," said Martin Griffiths, the UN Special Envoy for Yemen.
He called on the factions in the war-weary country to proceed with the planned exchange "with the utmost sense of urgency".
"Progress has been too slow on this front. The pain of the thousands awaiting reunion with their loved ones must end," said Griffiths.
Late last year, peace talks in Sweden ended with a ceasefire being declared in Yemen's coastal province of Al-Hudaydah.
Since then, however, the warring parties have failed to withdraw from the province in line with the terms of the Stockholm agreement.
Yemen has been beset by violence and chaos since 2014, when Houthi rebels overran much of the country, including the capital Sanaa.
The crisis escalated in 2015 when a Saudi-led military coalition launched a devastating air campaign aimed at rolling back Houthi territorial gains.
Full report at:
https://www.aa.com.tr/en/americas/yemen-s-warring-parties-agree-to-key-prisoner-exchange/1736034
--------
URL: https://www.newageislam.com/islamic-world-news/first-muslim-police-chief-city/d/121085
New Age Islam, Islam Online, Islamic Website, African Muslim News, Arab World News, South Asia News, Indian Muslim News, World Muslim News, Women in Islam, Islamic Feminism, Arab Women, Women In Arab, Islamophobia in America, Muslim Women in West, Islam Women and Feminism