New Age Islam News Bureau
08 February 2014
India
• Film on Jihad in "Madrasas as Source of Terrorism" Controversy
• Crucial To Erase Misconceptions about Islam for National Peace: President AIMPLB
• Religious heads of all faiths stand united against Homosexuality under KDSV
North America
• New US Military Rules Allow Muslims to Wear Religious Garments
• 'Hug a Muslim': Comedians Come to Chapel Hill to Take On Islamophobia
• Kerry: Netanyahu, Abbas entitled to express objections to framework accord
• US military reluctant to put sex offenders behind bars
• Treasury Department identifies another Iran-based facilitator for al Qaeda
• US adds 4 Qods Force operatives to terrorism list for supporting terrorism in Afghanistan
• US stops adding al Qaeda leaders to 'kill list'
• Syria now 'a matter of homeland security': US official
Arab World
• Ban on fighters 'in line with Shariah': Saudi Official
• Syrian bombs in rebel-held Aleppo kill at least 15
• Tribal racism is a result of ignorance and illiteracy
• Egypt: Release women protesters facing trumped-up charges
• Egypt's popular satirist back on screen, jabs at media over El-Sisi
• Three killed in clashes as Morsi loyalists keep protesting
• Video of Quran teacher beating pupil under scrutiny in Saudi Arabia
• Syria Insurgents Engaged in Organ Trafficking
• Violence risks turning Egypt to Jihadi front
• Iraqi governor gives Anbar militants one-week ultimatum
Africa
• Inter-ethnic fighting in north Mali leaves 30 dead
• Anti-Balaka Militias Target Muslims in the Central African Republic
• Beer-drinking Christians roam Bangui in Muslim attire
• Tens of thousands of Muslims flee Christian militias in Central African Republic
Europe
• Top Tajik Cleric Urges Faithful to Shun Homosexuals
• Chechen commander for Al Nusrah Front reported killed in Aleppo
• Govt, Taliban must adopt Ireland formula: British journalist Ridley
• Thousands of Iraqi women illegally detained on suspicion of terrorism - HRW
• FGM: Pressure Mounts on UK Education Secretary as Petition Signatures Increase
• Pupils learn how to recite prayers in Arabic on visit to Crawley mosque
• UN nuclear experts back in Iran to tackle tougher issues
Pakistan
• Dialogue to continue after TTP clears stance on Constitution: JUI-S Spokesperson
• Taliban never sought Sharia's imposition earlier: Imran Khan
• I am no 'Taliban Khan', says Imran Khan
• Blow to Taliban talks: Lal Masjid's cleric pulls out over 'Sharia'
• Talks with TTP clear violation of Constitution: Malik
• Jamaat-i-Islami urges rulers for practical steps to resolve Kashmir issue
• Musharraf admits to have accepted 'some' US conditions after 9/11
• Complete shutdown in Karachi on MQM's call
Southeast Asia
• Sharia should not apply for non-Muslims: Aceh Ulema
• Sharia-Compliant Bonds on the Rise Thanks To Malaysia, Gulf States and Africa
• Teaching history properly is vital for national unity, says think-tank founder
• Putrajaya still in search of a solution to 'Allah' row, says Idris Jala
Mideast
• Al-Aqusa raided, Ain Hiljeh protest camp forcibly dispersed
• Two Palestinians killed in two Gaza blasts
• Turkey lends helping hand to Arakan Muslims
• Iran leader: Don't pin hope on sanctions relief
South Asia
• 1 million sign petition against new Afghan law to protect women abusers
• Myanmar President Orders Commission to Probe Rakhine Violence
• Explosion in Jalalabad city leaves 10 civilians killed or injured
• Haqqani Network suicide bomber arrested in Paktia
• More trials for Bangladesh's deflated opposition
• Action against attackers of Hindus: PM Sheikh Hasina
Compiled by New Age Islam News Bureau
URL: https://newageislam.com/islamic-world-news/film-jihad-madrasas-source-terrorism/d/35651
-----------
India
Film on Jihad in "Madrasas as Source of Terrorism" Controversy
February 08, 2014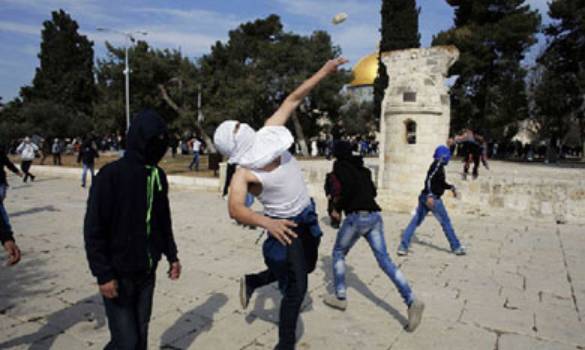 File Photo: The al-Aqusa mosque is considered one of Islam's holiest sites, situated on Jerusalem's Haram al-Sharif (Photo: Reuters)
----------
The Bombay high court on Wednesday admitted a Public Interest Litigation (PIL) seeking ban on the release of the film Ya Rab, scheduled for release on February 7.
The PIL has been filed by NGO Jamiat Ulema-e-Maharashtra. The applicant has objected to the depiction of "madrasas as source of terrorism" in the film. The matter is posted for hearing before Chief Justice of the Bombay high court Mohit Shah and Justice M.S. Sanklecha on Thursday.
According to advocate Mateen Shaikh, one of the lawyers appearing on behalf of the applicant, some of the scenes in the movie has portrayed that Aalims (teachers) in the madrasas are brainwashing students and preparing them for terrorist activities.
The petition has described these scenes as blatant, fictitious and wrongful depiction of madrasas and taken strong objections.
Petitioner Gulzar Azmi has said that madrasas are not centres of anti-national and anti-human activities, but they are educational institutions where apart from educating children, orphans with no place to go are also housed. "There are thousands of madrasas across the state and the exhibition of such wrong facts on the big screen will create communal disharmony and disturbance in the public," he further added.
Other lawyers of the petitioner, Afroz Ahmed Siddiqui and Ansar Tamboli, said, "The censor board denied issuing certificate for exhibition of the film twice. The producers then appealed to the Film Certificate Appellate Tribunal and were granted permission to show the movie."
http://www.asianage.com/mumbai/film-jihad-madrasa-controversy-650
-----------
Crucial To Erase Misconceptions about Islam for National Peace: President AIMPLB
February 08, 2014
Bhatkal: "Today, some evil elements are continuously trying to destabilize communal peace by spreading misconceptions about Muslims and Islams. The majority of the nation's intellectual population is falling for these misconceptions which are resulting in constant resentfulness of the people towards Islam and Muslims. This is very dangerous for the secular fabric and peaceful environment of our nation. To prevent such things, We need to clear the misconceptions which have gripped people's minds by providing them with the correct information regarding Islam and Muslims." said Moulana Rabey Hasani Nadwi, president of All India Muslim Personal Law Board. He was addressing the public in the annual function and prize giving ceremony of Moulana Abul Hasan Ali Nadwi Islamic Academy on Wednesday night at the Tanzeem ground, Bhatkal.
"It is elating to see Moulana Ilyas Nadwi putting his efforts towards this need of clearing the misconceptions from our fellow citizens' minds. He is fortunate to have been blessed with loyal and hardworking colleagues and scholars. We need to work together and to preach through our character to show the correct picture of Islam to the people." He added.
The annual program of MAHANIA (Moulana Abul Hasan Ali Nadwi Islamic Academy) started with the recitation of verses from the Holy Qur'an at around 9:00 PM followed by a series colorful and eye catching cultural programs by the young students of Ali Public school, which runs under the aegis of the academy. The cultural programes ended with two remarkable dramas.
Presenting the annual report of the academy's Islamiyat examinations, Moulana Afzal Shabandri Nadwi, (secretary, Islamiyat department of the academy) informed that from a total of 375 exam centers all over India, 85,668 students attended the examinations out of which 5228 were from Bhatkal and 2958 were from around Bhatkal. He further informed that 18300 students attended the exams from Karnataka while more than 59,000 students were from other states.
"In every 40 students, the students who have scored maximum marks will be awarded with gold and silver medals." He said.
Dr. Mahmood ur Rahman, former IAS officer and former vice chancellor of Muslim Aligarh University also spoke on the occasion. Mentioning the Mahmood ur Rahman commission report drafted by the Mahmood ur Rahman commission chaired by him, he said that the education level in Muslims was very low. "Compared to people of other communities, our people are several decades behind. We have to fill this gap by advancing ourselves in the field of education." He said. "We don't need just education. We need higher education." He added.
"We should erase the discord we find among ourselves. United, we should work. All our efforts should be united." He added. He also congratulated Moulana Ilyas Nadwi for the successful examinations conducted by the academy.
Bhatkal MLA Mankal Vaidya also attended the program briefly and was thanked for his efforts in constructing a road on the way which leads to the Ali public school. He was given a memento by the hands of Moulana Rabey Hasani Nadwi. Mr. Vaidya expressed his thanks and said that he hoped that the school will gain new heights. He also announced that a hostel for the students studying in colleges will soon be constructed in Bhatkal.
The annual Muniri award which is given to the top most scorer in the examinations on the Bhatkal level was given to two students who had tied with 100% results each. The two students who were given the Muniri award were Miss Fathima Rushda d/o Moulana Rahmatullah Ruknuddin (8th std., Anjuman Girls High school) and Miss Ayesha Simra d/o Nor ul Ameen Ruknuddin (6th std., Anjuman Noor primary school).
The best examination center awards were won by Anjuman Hami e Muslimeen and Naunihaal Central School. All the high scoring students were also awarded with medals.
The function ended at around 12:30 AM after the vote of thanks by Moulana Ansar Madani Nadwi, with the Dua of Moulana Farooq Nadwi.
http://www.sahilonline.org/english/newsDetails.php?cid=1&nid=22217
http://realtime.rediff.com/news/india/Crucial-to-erase-intercommunity-misconceptions-for-national-peace--Moulana-Rabey-Hasani/c6ab76e7a2262ebc?src=interim_alsoreadimage
-----------
Religious heads of all faiths stand united against Homosexuality under KDSV
February 08, 2014
Bangalore: In an open and united statement against the concept of homosexuality, religious leaders of various faiths in Bangalore have come under one banner and have strongly stood against the concept of homosexuality and have issued a joint statement, united under the Karnataka Dharmika Sauharda Vedike in Bangalore on February 6, 2013.
Issuing a joint statement in a press conference here in Bangalore, the leaders welcomed the decision taken by the supreme court on December 11 last year which criminalized homosexuality and strongly appealed that the court should not consider retaking it under the pressure of certain groups. "Homosexuality strikes at the very root of family and society. Medical research has shown that it reduces life expectancy and is a major concern for public health." the statement said.
The statement also welcomed the decision of the Supreme court and urged the government not to retake it under any kind of pressure or under the pretext of safe guarding individual freedom or rights.
The statement was signed by the religious heads of organizations of Hinduism, Christianity and Islam, including Arya samaj, Iamate Islami and several churches and masjids.
Convenor of Karnataka Dharmika Sauharda Vedike, Bangalore, Moulana Mohammad Yousuf Kanni, Belimata Mahasamsthana, Bangalore, Shree Shivarudra Mahaswamigalu, Priest of Sri Gurusing Sabha, Bangalore, Mr. Gyani Baldev Sing, Secretary of Jamaat-e-Islami Hind, Karnataka, Dr Belgami Mohammad Saad, Imam of City Jamia Masjid, Bangalore, Moulana Maqsood Imran Saheb, and PRO Archbishop, Bangalore, Father Ronnie Prabhu were present in the conference.
http://www.sahilonline.org/english/newsDetails.php?cid=2&nid=22213
-----------
North America
New US military rules allow Muslims to wear religious garments
February 08, 2014
The United States military has recently announced that it is going to provide more freedom for their members due to their possible religious reasons. New rules will allow soldiers to wear beard, for instance or certain garments that they consider important. Despite, that, certain religious representatives don't think that these new measures go far enough.
The new law states that a person can wear his garments, such as turban, as long as it doesn't interfere with his work and mission. That means that if a soldier needs to wear a helmet for safety reasons, the turban must be taken off.
The US Navy Rear Admiral John Kirby, said, "All of these changes that you're seeing writ large are really, I think, just an honest effort to make sure that - that Americans of all stripes and sizes are able to serve in the United States military."
The new rule was adopted straight after the incident with Nidal Hasan, who was convicted of a mass shooting at Fort Hood. The judge ordered him to shave his beard.
No need to say, that new rules also appear due to the pressure from the Muslim world, especially from Sikhs group. There are three Sikhs in the US military. One of them, Kamal Kalsi, shared his opinion about that: "We're very happy about that, but this is still a long ways from the policy change that we really need."
Full report at:
http://voiceofrussia.com/news/2014_02_08/New-US-military-rules-allow-Muslims-to-wear-religious-garments-7568/
-----------
'Hug A Muslim': Comedians Come to Chapel Hill To Take On Islamophobia
February 08, 2014
Since 9/11, some news accounts portray Muslim-Americans only as terrorist threats. These stories create stereotypes in the minds of the American public. A new film, The Muslims Are Coming, co-directed by Negin Farsad and Dean Obeidallah, follows a group of Muslim-American comedians on a tour across America.
The film will screen tomorrow in Chapel Hill as part of the North Carolina Comedy Arts Festival. Host Frank Stasio talks with Negin Farsad about the making of the film and the struggle against Islamaphobia.
http://wunc.org/post/hug-muslim-comedians-come-chapel-hill-take-islamophobia
-----------
Kerry: Netanyahu, Abbas entitled to express objections to framework accord
February 08, 2014
US Secretary of State John Kerry said he wants to allow the Israeli and Palestinian leadership to voice their concerns about a framework agreement he hopes to reach by an April deadline for continued peace talks.
Allowing Prime Minister Binyamin Netanyahu and Palestinian Authority President Mahmoud Abbas slight leeway in addressing the parameters could be the only way to continue talks, despite criticism from negotiators from both sides against such flexibility, Kerry said in an interview published Saturday with Washington Post columnist David Ignatius.
According to the top US diplomat, provisos from Netanyahu and Abbas were "the only way for them to politically be able to keep the negotiations moving. . . . For them as leaders to be able to embrace an endgame, they need to have the right to be able to have some objection."
Full report at:
http://www.jpost.com/Diplomacy-and-Politics/Kerry-Netanyahu-Abbas-entitled-to-express-objections-of-framework-accord-340762
----------
US military reluctant to put sex offenders behind bars
February 08, 2014
A recent review of cases related to sex crimes in the US's military bases in Japan has revealed that the majority of the service members convicted on sex assault charges escaped prison and got off light having only been fined, demoted, or removed from the military. Internal Department of Defense documents paint quite a disturbing picture of reluctance with which the US military prosecutes sex offenders, taking into account that in 30 cases the only punishment was a letter of reprimand and at often times seemingly strong cases were dropped or reduced to lesser charges.
According to records obtained by The Associated Press, only a third of 244 servicemen convicted of a sex assault, were actually put behind bars and served time.
The analysis of the reported sex crimes, filed between 2005 and early 2013, shows that military authorities' judgments were rather hit-or-miss and inconsistent as the Marines turned out to be the branch with most prison sentences (53 out of 270 cases) while in the Navy more than 70 were court-martialled or punished in some other way, with only 15 prison sentences.
The Air Force happened to be the most lenient as 21 offenders were punished with nothing more than a letter of reprimand.
Full report at:
http://voiceofrussia.com/news/2014_02_08/US-military-reluctant-to-put-sex-offenders-behind-bars-9621/
-----------
Treasury Department identifies another Iran-based facilitator for al Qaeda
By THOMAS JOSCELYN
February 08, 2014
In a series of designations released today, the US Treasury Department targets "a diverse set of entities and individuals located around the world for evading US sanctions against Iran, aiding Iranian nuclear and missile proliferation, and supporting terrorism."
One of the newly designated individuals is a part of al Qaeda's Iran-based network.
Treasury identifies Olimzhon Adkhamovich Sadikov (also known as Jafar al-Uzbeki and Jafar Muidinov) as an "Iran-based Islamic Jihad Union facilitator." The Islamic Jihad Union (IJU) is an offshoot of the Islamic Movement of Uzbekistan (IMU) and both groups are closely allied with al Qaeda.
Full report at:
http://www.longwarjournal.org/archives/2014/02/treasury_department.php#ixzz2sfD5knCB
-----------
US adds 4 Qods Force operatives to terrorism list for supporting terrorism in Afghanistan
By BILL ROGGIO
February 7, 2014
The US Treasury Department added to its list of global terrorists today three Iranian Revolutionary Guard Corps-Qods Force officers and one "associate" who are involved in the "use of terrorism and intelligence operations as tools of influence against the Government of the Islamic Republic of Afghanistan."
The designations of the Iranian Qods Force officers were among a series of sanctions by Treasury today that targeted "a diverse set of entities and individuals located around the world for evading U.S. sanctions against Iran, aiding Iranian nuclear and missile proliferation, and supporting terrorism." In addition to the four Qods Force officers and facilitators, the US also added an Islamic Jihad Union facilitator based in Iran who supports "Qaeda's Iran-based network" and its leader, Yasin al Suri. [See LWJ report, Treasury Department identifies another Iran-based facilitator for al Qaeda.]
The designation of the four Qods Force operatives "underscores Tehran's use of terrorism and intelligence operations as tools of influence against the Government of the Islamic Republic of Afghanistan," Treasury stated in its press release.
Full report at:
http://www.longwarjournal.org/archives/2014/02/us_adds_4_qods_force.php#ixzz2sfFN0oel
-----------
US stops adding al Qaeda leaders to 'kill list'
By BILL ROGGIO
February 08, 2014
If you want to 'end the war' against al Qaeda, one good way would be to declare that all of the global terror group's leaders are dead, and declare victory. And this seems to be exactly what the Obama administration is doing. And pretty much doing it at the behest of our 'friends' in Pakistan. The same Pakistani friends who insisted for 10 years that Osama bin Laden wasn't in Pakistan, until he was killed by US SEALs in a raid just outside Pakistan's version of West Point.
Read this report at The Wall Street Journal. Here is an excerpt, emphasis is mine:
The CIA has long added new targets to a longer "kill list" on a rolling basis as old targets are hit.
Full report at:
http://www.longwarjournal.org/threat-matrix/archives/2014/02/us_stops_adding_al_qaeda_leade.php#ixzz2sfFeHzeW
-----------
Syria now 'a matter of homeland security': US official
AFP | Feb 8, 2014
WASHINGTON: The Syria conflict has become a US domestic security concern, homeland security chief Jeh Johnson has said, one day after returning from talks in Europe where the war-torn nation topped the agenda.
Johnson returned late Thursday from a meeting in Poland with interior ministers from the United Kingdom, France, Germany, Spain, Italy and Poland. He was accompanied on the visit by US Attorney General Eric Holder.
"Syria was the number one topic of conversation for them and for us," Johnson yesterday said in his first major speech since assuming his post in late December.
"Syria has become a matter of homeland security," he added, in remarks at the Wilson Centre think tank in Washington.
Full report at:
http://timesofindia.indiatimes.com/world/us/Syria-now-a-matter-of-homeland-security-US-official/articleshow/30034979.cms
-----------
Arab World
Ban on fighters 'in line with Shariah': Saudi Official
February 08, 2014
The recent royal decree banning the support or participation in terror activities outside the Kingdom is in line with the Shariah, a government official said Friday.
"The royal order has been issued to fulfill the intent of the Islamic Shariah to maintain the security, unity and cohesion of the community," said Salman Al-Omri, assistant undersecretary at the Ministry of Islamic Affairs, Endowments, Call and Guidance, the Saudi Press Agency reported.
On Monday, Custodian of the Two Holy Mosques King Abdullah decreed jail terms of up to 20 years for citizens who fight in conflicts abroad or belong to "extremist religious and ideological groups, or those classified as terrorist organizations." Promoting the views of such groups and organizations "through speech or writing" would also incur prison sentences.
On Tuesday, Grand Mufti Sheikh Abdul Aziz Al-Asheikh warned that "false jihadists" were deceiving young Saudi men to fight in conflicts abroad.
Full report at:
http://www.arabnews.com/news/522711
-----------
Syrian bombs in rebel-held Aleppo kill at least 15
Associated Press | Beirut | February 8, 2014
Syrian activists say government military aircraft dropped barrel bombs on a rebel-held area in the northern city of Aleppo, killing at least 15.
The activist collectives, the Local Coordination Committees and the Aleppo Media Centre, reported Saturday bombings in Masaken Hanano.
The Local Coordination Committee reported 20 people killed, while the Aleppo Media Centre reported 15 killed. It is normal for activists to give different death tolls following bombings.
The crude bombs, cylinders packed with explosives and shrapnel that are hurled from helicopters, blew apart a building, according to footage uploaded by activists to social networks. The footage corresponded to The Associated Press reporting of the event.
Syrian forces have been relentlessly bombing rebel-held areas of Aleppo, trying to wrest full control over the city.
http://indianexpress.com/article/world/syrian-bombs-in-rebel-held-aleppo-kill-at-least-15/
-----------
Tribal racism is a result of ignorance and illiteracy
February 08, 2014
Most tribes in the Arabian Peninsula have inherited over the past centuries negative practices that were passed down to them from their ancestors. Excessive loyalty to one's tribe is a practice which has permeated the social fabric of most tribes. In fact, it has become an integral part of the daily life and beliefs of tribe members.
Tribal racism makes a member of one tribe disrespect members of other tribes. In some cases, it results in tribesmen supporting each other even when one of them has done something wrong.
Why have Saudi tribes adopted such negative practices? The answer is ignorance and illiteracy.
If we look at Islam, we will find that it is against tribal loyalty or loyalty to any race for that matter. All people are the same. Allah in the Holy Qur'an says: "O mankind, fear your Lord, who created you from one soul…" (1:4). However, many ignorant and uneducated persons still engage in such practices because they do not have any form of education. Allah the Almighty says in the Holy Qur'an: "O mankind, indeed We have created you from male and female and made you peoples and tribes that you may know one another. Indeed, the most noble of you in the sight of Allah is the most righteous of you." (49:13)
Prophet Muhammad (peace be upon him) said: "There is no difference between the black, the white, the Arab, and the non-Arab except by the level of piety." Tribal racism or loyalty does not exist in Islam.
Full report at:
http://www.saudigazette.com.sa/index.cfm?method=home.regcon&contentid=20140208195037
------------
Egypt: Release women protesters facing trumped-up charges
February 08, 2014
The Egyptian authorities must immediately and unconditionally release three women arrested last November at a protest at Mansoura University, said Amnesty International.
The organization said authorities should drop all the charges against the women, who are due to go on trial on Saturday 8 February. If convicted, they face up to life in prison.
"The detention of the three women at Mansoura University is just another example of the mounting crackdown on protesters and free expression in Egypt. They are facing fabricated and illegitimate charges simply for exercising their rights. The authorities have displayed a brazen disregard for the right to peaceful assembly in recent months and have sought to clamp down on any form of dissent with a restrictive new protest law," said Hassiba Hadj Sahraoui.
Full report at:
http://www.amnesty.org/en/news/egypt-release-women-protesters-facing-trumped-charges-2014-02-07
-----------
Egypt's popular satirist back on screen, jabs at media over El-Sisi
February 08, 2014
Egypt's top television satirist, Bassem Youssef, returned to screens Friday, fiercely jabbing at the cancellation of his show — El-Bernameg ('The Programme') — three months ago as well as the media frenzy surrounding popular military chief Abdel-Fattah El-Sisi, who is widely expected to be Egypt's next head of state.
Youssef's comeback came after several months of absence, interrupted by only one episode of his show last fall — the first since the July ouster of Islamist president Mohamed Morsi. His mockery of the pro-military nationalism sweeping the country, and the hero worship of El-Sisi, who led Morsi's overthrow, prompted his show to be suspended minutes before its next episode was scheduled to be broadcast.
Full report at:
http://english.ahram.org.eg/NewsContent/1/64/93698/Egypt/Politics-/Egypts-popular-satirist-back-on-screen,-jabs-at-me.aspx
------------
Three killed in clashes as Morsi loyalists keep protesting
February 08, 2014
At least three, including a teenager, were killed on Friday after supporters of ousted president Mohamed Morsi took to the streets to protest his ouster.
The day unfolded with nationwide clashes that saw pro-Morsi demonstrators, whose numbers were significantly lower than previous weeks, battling security forces and their political opponents.
A demonstrator was killed in Fayoum, south of Cairo, after a pro-Morsi protest was dispersed by security forces. The death was later confirmed by the health ministry's media advisor Ahmed Kamel.
Later in the day, medical sources confirmed to Ahram Online another death in the canal city of Ismailia. They also reported that a teenage student named Taha Youssef had been killed in Upper Egypt's Menya.
Full report at:
http://english.ahram.org.eg/NewsContent/1/64/93676/Egypt/Politics-/Three-killed-in-clashes-as-Morsi-loyalists-keep-pr.aspx
------------
Video of Quran teacher beating pupil under scrutiny in Saudi Arabia
4 February 2014
The Holy Quran Memorization Organization (HQMO) is probing a video showing a teacher allegedly beating up pupils in a Quran memorization session held in the Quba Mosque.
In the video, the teacher appears to be holding a black spiral hose in his hands, which he uses to beat the seven pupils while they beg him to stop.
Sheikh Emad Hafiz, HQMO deputy director, said the teacher will be asked to appear for an investigation, stressing that the organization is against the use of violent methods in Quranic sessions. "We have sent letters to all teachers before, asking them not to resort to any form of violence against students during such sessions," Sheikh Hafiz said.
Earlier, the organization dismissed a teacher for beating up children while teaching them the Holy Quran, Sheikh Hafiz said.
Full report at:
http://english.alarabiya.net/en/News/middle-east/2014/02/04/Video-of-Qur-an-teacher-beating-pupil-under-scrutiny-.html
------------
Syria Insurgents Engaged in Organ Trafficking
February 08, 2014
Foreign-backed militants operating in Syria are involved in organ trafficking with the help of some private companies based in Turkey, reports said.
The militants have set up special groups to target Syrian citizens and take them to hospitals for organ trafficking, Al-Alam reported.
They reportedly take photos and record videos of the corpses and publish them to give the impression that the atrocities were committed by Syrian government forces.
This is while the Israeli regime and its citizens have widely been identified in past years as the prime culprit in organ trafficking across the world.
The trafficked organs are said to be delivered to Turkey by private ambulances.
Recently, it was reported that some Turkish hospitals are also stealing the organs of injured Syrian citizens and selling them on the black market.
Full report at:
http://english.farsnews.com/newstext.aspx?nn=13921119000641
------------
Violence risks turning Egypt to jihadi front
February 08, 2014
An Islamic militant group that has waged a campaign of bombings and assassinations for months in Egypt has quickly advanced in weaponry and sophistication of attacks, drawing on the experience of Egyptians who fought in Syria's civil war.
The increasing capabilities of the group, called Ansar Beit al-Maqdis, Arabic for the Champions of Jerusalem, raises the danger that a wave of violence that began as a retaliation for the military's ouster of Islamist President Mohammad Mursi is evolving into a new front for regional jihadi groups.
Ansar Beit al-Maqdis first arose in the Sinai Peninsula, where for years militant groups largely made of up local Bedouin had carried out attacks, lobbing rockets into neighboring Israel and at times opening fire on military and police. Attacks escalated after the 2011 fall of autocrat Hosni Mubarak, when militants turned their guns more directly against Egyptian soldiers and police.
Full report at:
http://english.alarabiya.net/en/perspective/analysis/2014/02/07/Violence-risks-turning-Egypt-to-jihadi-front-.html
------------
Iraqi governor gives Anbar militants one-week ultimatum
February 08, 2014
An Iraqi provincial governor Saturday gave militants controlling a city near Baghdad one week to surrender as government forces made steady progress in an effort to end a weeks-long crisis.
The Anbar governor's ultimatum was directed at anti-government fighters who have held Fallujah for more than a month.
It comes amid a protracted surge in violence with security forces grappling with near-daily attacks nationwide in addition to the fighting in the western desert province.
Analysts and diplomats have called for the Shiite-led government to address Sunni grievances in order to undermine support for militants, but with April elections looming, Prime Minister Nuri al-Maliki has taken a hard line.
Full report at:
http://english.alarabiya.net/en/News/middle-east/2014/02/08/Iraqi-governor-gives-Anbar-militants-one-week-ultimatum-.html
------------
Africa
Inter-ethnic fighting in north Mali leaves 30 dead
February 08, 2014
(Reuters) - Around 30 ethnic Tuaregs were killed in northern Mali's Gao region in localised fighting with ethnic Peuls, the Ministry of Defence said on Friday.
"It was score-settling between Peuls and Tuaregs in the Djebok district," said Defence Minister Soumeylou Boubeye Maiga. He gave no details but added that fighting between the two groups happens frequently.
A shortage of good grazing land is one source of tension between the two communities.
A French-led offensive in January 2013 drove out Islamist militants who had seized control of northern Mali. Some fighters linked to al Qaeda are still holding out in pockets of territory in the north, but there were no indications of al Qaeda involvement in this week's clash.
Malian soldiers were investigating and interviewing witnesses, the commander of Malian forces in Gao, Colonel Abdoulaye Coulibaly told Reuters.
Full report at:
http://www.trust.org/item/20140207145243-kcaqc/?source=hptop
-----------
Anti-Balaka Militias Target Muslims in the Central African Republic
February 08, 2014
Recent fighting in the resource-rich Central African Republic (CAR) is inflicting a "human disaster" on the country. [1] Nearly one million residents of the country have been displaced, a majority of them from the northwestern region of the CAR that borders Cameroon and Chad, with over 370,000 displaced persons now in the country's capital of Bangui (Reuters, January 28). Approximately 2.2 million people, more than half of the country's population, are in immediate need of humanitarian assistance (UN News Centre, January 6). According to Reuters's estimate, at least 2,000 people were killed in the fighting between ethnic communities in the CAR during December 2013, when the Séléka rebel army overthrew the government of President François Bozize, an ethnic Gbaya (Reuters, January 28; al-Jazeera [Doha], December 15, 2013; for more information see Terrorism Monitor, January 9; April 3, 2013). Séléka is primarily composed of Muslim ethnic Gula, whose strength is bolstered by experienced Chadian and Sudanese volunteers.
Full report at:
http://www.jamestown.org/single/?tx_ttnews%5Bswords%5D=8fd5893941d69d0be3f37857626
-----------
Beer-drinking Christians roam Bangui in Muslim attire
World Bulletin / News Desk
February 08, 2014
Beer-drinking Christians, including women, wore traditional Muslim attire on Friday and roamed the streets of Kilometer 4, a Christian neighborhood of Bangui, capital of the Central African Republic (CAR).
"Today we're mocking Muslims by wearing their clothes and drinking beer," one of them told an Anadolu Agency reporter on the scene.
The Islamic faith expressly forbids the drinking of alcohol.
"We're free from Muslim domination, [former interim president] Michel Djotodia is gone, and Muslims are fleeing the country," he added happily.
Some members of the group pretended to perform Muslim prayer rites, while others danced to the cheers of onlookers.
Full report at:
http://www.worldbulletin.net/muslim-world/128432/beer-drinking-christians-roam-bangui-in-muslim-attire'
-----------
Tens of thousands of Muslims flee Christian militias in Central African Republic
February 08, 2014
BANGUI, Central African Republic – Tens of thousands of Muslims are fleeing to neighboring countries by plane and truck as Christian militias stage brutal attacks, shattering the social fabric of this war-ravaged nation.
In towns and villages as well as here in the capital, Christian vigilantes wielding machetes have killed scores of Muslims, who are a minority here, and burned and looted their houses and mosques in recent days, according to witnesses, aid agencies and peacekeepers. Tens of thousands of Muslims have fled their homes.
The cycle of chaos is fast becoming one of the worst outbreaks of violence along Muslim-Christian fault lines in recent memory in sub- Saharan Africa, tensions that have also plagued countries such as Nigeria and Sudan.
Full report at:
http://www.washingtonpost.com/world/africa/tens-of-thousands-of-muslims-flee-christian-militias-in-central-african-republic/2014/02/07/5a1adbb2-9032-11e3-84e1-27626c5ef5fb_story.html
-----------
Europe
Top Tajik Cleric Urges Faithful To Shun Homosexuals
February 8, 2014
DUSHANBE -- The leader of the Tajik Council of Ulemas (Islamic clerics) has called on Muslims to shun homosexuals, saying they will face "awful punishment" on Judgment Day.
Speaking at Friday Prayers in the Grand Mosque in Dushanbe on February 7,Saidmukarram Abdukodirzoda also called on all Muslims to bring up their children in the "right way" so that they avoid "sinful behavior."
Mullahs in Tajikistan's other mosques delivered similar messages on February 7 as the Tajik government's Committee for Religious Issues asked all clerics to discuss the issue of "nontraditional sexual relations" in their sermons.
Tajikistan and other former Soviet states decriminalized same-sex relations in the 1990s but societies in those nations remain largely hostile toward gays.
In Kyrgyzstan, acting Grand Mufti Maksat Hajji Toktomushev issued a fatwa against same-sex
http://www.rferl.org/content/tajikistan-cleric-homosexuals/25257066.html
------------
Chechen commander for Al Nusrah Front reported killed in Aleppo
February 08, 2014
A Chechen commander known as Saifullah al Shishani is reported to have been killed during fighting in the Syrian city of Aleppo. Units from the Al Nusrah Front for the People of the Levant, al Qaeda's official branch in Syria, and Ahrar al Sham, one of the larger units in the Islamic Front, are currently fighting Syrian forces in an effort to take control of a prison in Aleppo. The two jihadist groups teamed up in December in an effort to take the prison and an adjoining hospital.
Saifullah led the "Al-Khilafa army," or Army of the Caliphate, according to the Syrian Observatory for Human Rights. It is likely that this is a reference to the Ansar al Khilafah, of Supporters of the Caliphate, an Al Nusrah Front unit that was formed in December 2012. [See LWJ report, Syrian jihadists form 'Supporters of the Khilafah' Brigade]. The Al Nusrah Front and Ansar al Khilafah seized a village near Aleppo in July 2013 and executed Syrian soldiers.
Saifullah was previously a commander in the Muhajireen Army, which is led by Chechen commander Abu Omar al Shishani (the Chechen) and who has sworn allegiance to the Islamic State of Iraq and the Sham. Last year, Saifullah and another Chechen commander split with Abu Omar and the ISIS.
Full report at:
matrix/archives/2014/02/chechen_commander_for_al_nusra.php#ixzz2sfFs0kfo
-----------
Govt, Taliban must adopt Ireland formula: British journalist Ridley
February 08, 2014
KARACHI - Dubbing the ongoing peace process between the government and the Taliban as tough terrain to ride, a senior British journalist Yvonne Ridley has asked the two sides to follow the Northern Ireland Peace Formula that had ended decades long insurgency in the region.
Ridley, who is currently visiting Pakistan, fears that foreign forces that want continuation of militancy in Pakistan, will try their best to derail the process, but both – the government and the Taliban - have to hold their nerves to save the peace process from derailment.
"I have seen the worst time in Ireland and now I am seeing the best time there. The best experience we have got from Ireland episode is that if there is a determination and will, then nothing is impossible," Ridley said in an interview with this agency here the other day. She observes that the peace process aimed at ending over a decade-long militancy in the country will not be a walk in the park.
Full report at:
http://www.nation.com.pk/karachi/08-Feb-2014/govt-taliban-must-adopt-ireland-formula-ridley
-----------
Thousands of Iraqi women illegally detained on suspicion of terrorism - HRW
February 08, 2014
Thousands of women are being illegally held by Iraqi authorities and are subject to torture, rape and threats to their family. This comes from a Human Rights Watch report released on Thursday. The report has more than a hundred pages and explorers the extent to which such cases of abuse occur. The majority of more than 4,000 women detained in Interior and Defense Ministry facilities are Sunni, but the abuses the report documents affect women of all sects and classes of the Iraqi society. Erin Evers, Iraq Researcher of the Middle East and North Africa Division at Human Rights Watch, comments.
One of the women talking to the Human Rights Watch said that Iraqi women do not know who they fear more, Al-Qaeda or SWAT-Special Weapons And Tactics units. Why, in your opinion, it is ever possible that thousands of women are subject to such terrible treatment in Iraq?
That goes actually not from one of the woman that I interviewed but from a Fallujah resident. But I think that it definitely gets one of the major issues that the report highlights, which is that the counterterrorism measures that the Government is using in order to counter the terrorist threat in Iraq is actually harming innocent civilians more than it seems to be actually tackling terrorism.
Full report at:
http://voiceofrussia.com/2014_02_08/Thousands-of-Iraqi-women-illegally-detained-on-suspicion-of-terrorism-HRW-3929/
-----------
FGM: Pressure Mounts on UK Education Secretary as Petition Signatures Increase
February 08, 2014
Education Secretary Michael Gove faces mounting pressure to inform teachers and parents of the problem of female genital mutilation as a petition gathers signatures.
The campaign, which received 100,000 signatures in just 24 hours, urges the education secretary to write to all head teachers to inform parents and children about the practice of FGM.
This week, the government announced a concerted drive to raise awareness and tackle the problem, which affects an estimated 65,000 girls under the age of 15 in the UK.
Fahma Mohamed, the 17-year-old face of the campaign which is being headed by the Guardian, told the newspaper: "It's absolutely amazing that we have already got so many signatures, it really shows how many people are behind this.
Full report at:
http://www.ibtimes.co.uk/fgm-pressure-mounts-michael-gove-petition-signatures-increase-1435518
-----------
Pupils learn how to recite prayers in Arabic on visit to Crawley mosque
February 08, 2014
PUPILS from a Copthorne school were taken on a cultural visit to learn about Islam at a mosque.
Year 1 and 2 pupils at Copthorne Pre-prep School learned how to recite prayers in Arabic when they took a tour of Broadfield Mosque last month.
They heard how the mosque can accommodate 2,500 people and that many of the Muslim children attend a special school at the mosque from 5pm to 7pm to learn how to read the Qu'ran.
The children were shown how Muslims pray and were allowed to join in themselves if they wanted to.
The Year 1 pupils have also separately learnt about Chinese New Year.
http://www.eastgrinsteadcourier.co.uk/Copthorne-Pre-prep-students-visit-Crawley-mosque/story-20558413-detail/story.html#ixzz2sfSIBD4m
----------
UN nuclear experts back in Iran to tackle tougher issues
2014-02-08
TEHRAN: The United Nations atomic agency resumes talks in Tehran Saturday to tackle allegations of past Iranian weapons work and discuss more practical steps to increase the transparency of the country's nuclear drive.
The one-day encounter between Iran and the Vienna-based International Atomic Energy Agency will build on a framework deal agreed in November that required Tehran to take six practical steps by next Tuesday.
With completion of those measures — including a visit to the heavy water plant at the unfinished Arak reactor — negotiations on "more difficult things" are expected to begin, IAEA chief Yukiya Amano has said.
Full report at:
http://www.dawn.com/news/1085692/un-nuclear-experts-back-in-iran-to-tackle-tougher-issues
-----------
Pakistan
Dialogue to continue after TTP clears stance on Constitution: JUI-S Spokesperson
February 8, 2014
NOWSHERA: Peace talks will continue once Tehreek-e-Taliban Pakistan's (TTP) stance on the Constitution of Pakistan and Shariah law is known, coordinator of the TTP committee and Jamiat Ulema Islam-Sami ul Haq group (JUI-S) spokesperson Maulana Yousaf Shah told Express News on Saturday.
Shah stated that the Taliban leadership had not informed the TTP committee about their position on conducting dialogue within the parameters of the Constitution yet, further adding that the peace talks will progress once the TTP's stance is known.
On February 6, in the first round of talks between the government-nominated team of negotiators and Taliban-nominated intermediaries, it was proposed that talks will be held within the parameters of Constitution. It was agreed that all dialogue will be held within the parameters of Pakistan's Constitution.
Full report at:
http://tribune.com.pk/story/669165/dialogue-to-continue-after-ttp-clears-stance-on-constitution-yousaf-shah/
-----------
Taliban never sought Sharia's imposition earlier: Imran Khan
February 08, 2014
Islamabad: Cricketer-turned-politician Imran Khan has said Taliban's willingness for talks with government under Pakistan constitution exposes those who link terrorism with imposition of Sharia (Islamic law).
In the previous nine agreements with the government, the militants had never called for imposition of Sharia since no legislation could be carried out against the Sharia as per the Constitution of Pakistan, Geo News quoted Khan, the Pakistan Tehreek-e-Insaaf (PTI) chairman, as saying.
Khan reiterated that Taliban's terrorism was a backlash to the US war and the militants had also demanded of Pakistan to pull out from Washington's war and stop drone strikes.
http://www.ndtv.com/article/world/taliban-never-sought-sharia-s-imposition-earlier-imran-khan-480725
-----------
I am no 'Taliban Khan', says Imran Khan
Press Trust of India
February 8, 2014
Cricketer-turned-politician Imran Khan on Friday claimed the Taliban's decision to hold talks under Pakistan's Constitution has exposed the lobby that was deliberately maligning him with labels like "Taliban Khan".
Khan said his consistent assertion that the Tehrik-e- Taliban Pakistan's terrorism was the result of the US-led campaign against terror had been validated as the main demands of the militants were related to Pakistan extricating itself from the US-led war and the stopping of drone attacks.
"It has always been evident, and never more starkly than today, that the dollar-dependent lobby has been deliberately maligning me with false labels such as 'Taliban Khan', simply to draw attention away from the clear link between the US war on terror and terrorism in Pakistan," he said in a statement.
Full report at:
http://indianexpress.com/article/world/asia/i-am-no-taliban-khan-says-imran-khan/
-----------
Blow to Taliban talks: Lal Masjid's cleric pulls out over 'Sharia'
February 08, 2014
One of the members of the three-member Taliban-nominated committee and chief cleric of Lal Masjid Maulana Abdul Aziz, Friday announced that he would stay away from peace process until the government included the imposition of Sharia law. He made this announcement at a press conference.
According to him, although he is not disassociating himself from the whole process, he will not be part of the dialogue until the government promises imposition of Sharia law in the light of Quran and Sunnah and gives up its insistence that talks would be held within the parameters of Constitution.
The abrupt demand by one of the Taliban committee also surprised many including government committee members. Insiders claimed that the committee members contacted Maulana Samiul Haq, chief of the Taliban nominated team, and conveyed to him their concerns over Aziz's "unrealistic" demand. "I would join the team, once the government makes a promise of imposition of Sharia laws in the country," Maulana Aziz said.
Full report at:
http://www.brecorder.com/top-stories/0/1151036/
-----------
Talks with TTP clear violation of Constitution: Malik
February 08, 2014
ISLAMABAD - Former Interior Minister and PPP lawmaker Rehman Malik on Friday warned the government that its ongoing peace talks with the banned outfit were clear violation of the Constitution and proposed that outlawed Tehreek-e-Taliban Pakistan (TTP) should be removed from the list of proscribed organisations.
Senator Rehman Malik, on a point of order, sought clarification from the PML-N led Federal government that it should clear an ambiguity regarding the peace talks as under Clause 11-A of Anti-Terrorism Act (ATA), 1997, the government could not go into any peace agreement with a banned outfit like TTP. He also kept on stating that TTP could be excluded from the list of proscribed organisations as this demand was also coming from certain quarters.
Rehman Malik showing his apprehensions asked whether the politicians were not being pushed towards Article 6 of the Constitution of high treason as some members of political parties including Jamaat-e-Islami (JI) were part of the negotiating team from both sides.
Full report at:
http://www.nation.com.pk/islamabad/08-Feb-2014/talks-with-ttp-clear-violation-of-constitution-malik
-----------
Jamaat-i-Islami chief Munawar urges rulers for practical steps to resolve Kashmir issue
February 08, 2014
LAHORE - Jamaat-i-Islami chief Syed Munawar Hasan has impressed upon the rulers to adopt practical measures for the solution of the Kashmir issue instead of paying only lip-service to the issue.
Addressing the Friday congregation at Mansoora mosque, he said that the Kashmiris and their leadership had genuine grievances against the rulers in Islamabad who were anxious for friendship and trade with India and had pushed the Kashmir issue to the back-burner.
He said that Kashmir issue could not be resolved through slogans or resolutions in the Parliament.
Full report at:
http://www.nation.com.pk/national/08-Feb-2014/munawar-urges-rulers-for-practical-steps-to-resolve-kashmir-issue
-----------
Musharraf admits to have accepted 'some' US conditions after 9/11
2014-02-08
KARACHI: Former president Pervez Musharraf has conceded that he agreed on 'some' of the seven-point conditions set by the United States hours after the 9/11 attacks to 'be on the side of countries fighting terrorism', but also claimed to have 'rejected others'.
In an interview to SouthAsia Magazine, the former army chief said reports that he had surrendered to the US after a phone call from Colin Powell were fabricated.
According to him, he was only briefed by the then US secretary of state on the terrorist attack on the World Trade Centre and asked if Pakistan would be on the side of countries fighting terrorism.
Full report at:
http://www.dawn.com/news/1085661/musharraf-admits-to-have-accepted-some-us-conditions-after-911
-----------
Complete shutdown in Karachi on MQM's call
2014-02-08
KARACHI: A complete shutdown of the city was observed on Saturday due to a call for observing a 'day of mourning' across Sindh by the Muttahida Qaumi Movement (MQM) against extra-judicial killings of its party members, DawnNews reported.
On MQM's appeal to observe a day of mourning in the province, traders closed down their businesses, commercial centres and shops in Karachi.
Due to absence of public transport on roads, it became quite difficult for people to reach their destinations.
The Private School Management Association on Friday had issued its notification for schools to remain shut down.
Moreover, University of Karachi postponed all the exams scheduled for today and new dates for holding exams would be announced later, according to the UoK spokesman.
Full report at:
http://www.dawn.com/news/1085690/complete-shutdown-in-karachi-on-mqms-call
-----------
Southeast Asia
Sharia should not apply for non-Muslims: Aceh ulema
February 08 2014
Imposing sharia on non-Muslims is inappropriate as Islamic law only regulates matters relevant to Islam and to do so tarnishes the image of the faith and thus harms it, says an Acehnese cleric.
"It is impossible for Islamic law to regulate the lives of non-Muslims, since they do not adhere to Islam," said Aceh Clerics Association secretary-general Faisal Ali.
The Aceh Legislative Council recently passed the Qanun Acara Jinayat, a sharia-based criminal procedures code, which applies rules and punishments governing behavior in Islamic law to everyone in the province, including non-Muslims. Faisal called the measure a form of coercion and carelessness on the part of the legislature.
"This definitely is connected with this year's legislative and presidential elections," said Faisal.
According to him, the passage of this qanun (bylaw) was a ploy by Aceh's lawmakers and reflected a poor understanding of religion and law.
"It would be very difficult to apply such a qanun in Aceh because not all of the residents in Aceh are Muslim," said Faisal.
Full report at:
http://www.thejakartapost.com/news/2014/02/08/sharia-should-not-apply-non-muslims-aceh-ulema.html
-----------
Sharia-Compliant Bonds, Also Known As Sukuk Or Islamic Bonds, On The Rise Thanks To Malaysia, Gulf States and Africa
By Kathleen Caulderwood
February 08, 2014
Islamic finance, which includes a proscription against borrowers paying interest to lenders, will grow internationally to more than $100 billion this year, after a difficult 2013.
The issuance of sukuk, or shariah-compliant bonds, will likely exceed $100 billion this year thanks to general economic growth, demand from the Middle East and high development potential in Africa.
A report released Tuesday from Standard & Poor's explains that issuance of sukuk will exceed $100 billion in 2014.
"The long-term prospects for the sukuk industry remain promising as regulators continue to build and strengthen their frameworks to minimize barriers in the market and deepen liquidity," the report reads.
Full report at:
http://www.ibtimes.com/sharia-compliant-bonds-also-known-sukuk-or-islamic-bonds-rise-thanks-malaysia-gulf-states-africa
-----------
Teaching history properly is vital for national unity, says think-tank founder
February 08, 2014
Failure to teach history properly has enabled others to invent a past that threatens national unity in Malaysia today, a political scientist said.
Institute for Democracy and Economic Affairs (IDEAS) founding president Tunku Zain Al-Abidin Muhriz said there were too few references to Malaysia's own history in charting the vision for the future of the country.
Speaking at the opening of a forum organised by IDEAS, Tunku Zain pointed out that there was much material that young Malaysians could learn from about unity, patriotism and responsibility and that could be obtained by reading the first prime minister Tunku Abdul Rahman's writings.
Full report at:
http://www.themalaysianinsider.com/malaysia/article/teaching-history-properly-is-vital-for-national-unity-says-think-tank-found
----------
Putrajaya still in search of a solution to 'Allah' row, says Idris Jala
February 08, 2014
Datuk Seri Idris Jala, who has been criticised for not coming out strongly in defence of the 10-point solution he helped to draft to resolve the "Allah" row, today said Putrajaya is still finding a win-win solution between Muslims and Christians on the issue.
The Minister in the Prime Minister's Department said an announcement will be made at the "right time".
The 10-point solution, endorsed by the Cabinet in 2011 just before the Sarawak state election, allows Bibles in all languages to be imported into the country, including those in Bahasa Malaysia and Indonesia, which contain the word "Allah".
Jala said he would refrain from talking publicly on the controversy so as to "bring down the political temperature".
Full report at:
http://www.themalaysianinsider.com/malaysia/article/putrajaya-still-in-search-of-a-solution-to-allah-row-says-idris-jala
----------
Mideast
Al-Aqsa raided, Ain Hiljeh protest camp forcibly dispersed
February 08, 2014
Eighteen Palestinian worshipers were treated for injuries after clashes erupted in Jerusalem's Al-Aqsa Mosque compound Friday.
Following noon prayers, Israeli forces reportedly responded to stones hurled at them and raided the mosque. Tear gas, stun grenades, and rubber-coated bullets were used on the worshippers.
According to Palestinian Ma'an news agency, 18 were injured and at least seven were detained in the aftermath of the clashes.
Meanwhile, also on Friday, Israeli troops cleared a Palestinian protest camp the village of Ain Hijleh near Jericho in the West Bank, AFP reported.
Protestors had set up a week-long camp there to protest against Israel's refusal to withdraw from the Jordan Valley in the event of a peace deal with the Palestinians.
The camp was launched under the campaign banner "Melh Al-Ard" (Salt of the Earth), which according to its issued statement "aims at refusing the political status quo, especially given futile negotiations destroying the rights of our people (Palestinians) for liberation and claim to their land."
Full report at:
http://english.ahram.org.eg/NewsContent/2/8/93705/World/Region/AlAqsa-raided,-Ain-Hiljeh-protest-camp-forcibly-di.aspx
------------
Two Palestinians killed in two Gaza blasts
World Bulletin / News Desk
February 08, 2014
Two Palestinians were killed and four injured in two separate unexplained explosions on Friday in the Gaza Strip, medical sources said.
Eyewitnesses said that a huge blast rocked near Musab Ibn Umair Mosque in Al-Bureij refugee camp.
Gaza Health Ministry spokesman Ashraf al-Qadra told Anadolu Agency that the blast left a 27-year-old man dead and two injured.
Full report at:
http://www.worldbulletin.net/world/128444/two-palestinians-killed-in-two-gaza-blasts
----------
Turkey lends helping hand to Arakan Muslims
World Bulletin / News Desk
February 08, 2014
The IHH Humanitarian Relief Foundation has successfully delivered donations on behalf of the Turkish people for Rohingya (Arakan) Muslims in Myanmar.
The donations were delivered to Arakan, for those living in police-controlled villages, or camps, where they have taken shelter after being forced to leave their homes.
IHH South Asian Desk official, Eyup Ural told the Anadolu Agency (AA) that Turkey has always supported the Arakan Muslims.
Full report at:
http://www.worldbulletin.net/todays-news/128458/turkey-lends-helping-hand-to-arakan-muslims
------------
Iran leader: Don't pin hope on sanctions relief
AP | Feb 8, 2014
TEHRAN: Iran's supreme leader urged officials on Saturday not to pin hopes for economic recovery on the sanctions relief from a landmark deal reached with world powers on Tehran's nuclear programme.
Ayatollah Ali Khamenei also called on critics of the interim nuclear deal achieved on Nov. 24 in Geneva to be fair and give time to President Hassan Rouhani to pursue his policy of engagement with the outside world.
"The only solution to the country's economic problems is to employ (Iran's) infinite domestic capacities, not to pin hopes on the lifting of sanctions. No expectations from the enemy,'' Khamenei told army officers in Tehran.
Full report at:
http://timesofindia.indiatimes.com/world/middle-east/Iran-leader-Dont-pin-hope-on-sanctions-relief/articleshow/30059482.cms
------------
South Asia
1 million sign petition against new Afghan law to protect women abusers
February 08, 2014
With a bill that would be devastating for women's rights about to hit the desk of Afghan President Hamid Karzai, more than 1 million people around the world have signed a petition urging him to veto the proposed law, which would protect perpetrators of domestic violence, child abuse, forced marriages and marital rape.
In addition to the million-person petition more than 179,000 people have sent President Hamid Karzai personal messages asking him not to sign the new rule into law.
Ian Bassin, Campaign Director at Avaaz, said, "If President Karzai puts his name to this law, he'll be relegating countless women and girls to a life of rape and abuse. If he's serious about building a more secure future for Afghanistan and serious about his legacy, he won't sign this bill until this dangerous amendment is removed."
Full report at:
http://www.khaama.com/1-million-sign-petition-against-new-afghan-law-to-protect-women-abusers-3409
-----------
Myanmar President Orders Commission to Probe Rakhine Violence
February 08, 2014
Myanmar President Thein Sein on Friday appointed a commission to probe the death of a policeman which had sparked what was described as revenge killings of at least 40 Rohingya Muslims by Buddhist mobs in western Rakhine state last month.
The 10-member commission will probe the Jan. 13 death of a police sergeant in Du Chee Yar Tan (Ducheertan) village in Maungdaw Township and a Jan. 28 fire in a nearby village, according to orders for the panel published in state media Friday.
The orders, signed by President Thein Sein, wanted the panel to investigate "deaths and injuries and loss of property in the [two] incidents" in Rakhine, a hotbed of communal violence between minority Muslim Rohingyas and majority Buddhist Rakhines.
But the orders made no mention of allegations by the U.N. that at least 40 Rohingya men, women, and children were killed the same night after the police sergeant was killed by Rohingya villagers and that eight Rohingya men were killed by Rakhines in the village earlier, on Jan. 9.
Full report at:
http://www.rfa.org/english/news/myanmar/rakhine-02072014181601.html?utm_source=feedburner&utm_medium=feed&utm_campaign=Feed%3A+NamNguyen-GooglePublicPosts+(Google%2B+Posts)
-----------
Explosion in Jalalabad city leaves 10 civilians killed or injured
Feb 08 2014
At least ten civilians were killed or injured following an explosion in Jalalabad, the capital city of eastern Nangarahar province on Saturday.
The explosion took place on Saturday afternoon, leaving one civilian dead and nine others injured.
No group including the Taliban militants has so far claimed responsibility behind the incident.
http://www.khaama.com/explosion-in-jalalabad-city-leaves-10-civilians-killed-or-injured-3408
-----------
Haqqani Network suicide bomber arrested in Paktia
February 08, 2014
Afghan national security forces arrested a group of four Haqqani Network militants along with a suicide bomber in eastern Paktia province of Afghanistan.
The National Directorate of Security (NDS) following a statement, said the group was involved in coordinating terrorist attacks, explosions and suicide bombings in Gardez city.
NDS in its statement further added that the group was plotting to carry out a suicide attack,before they were arrested NDS operatives.
Full report at:
http://www.khaama.com/haqqani-network-suicide-bomber-arrested-in-paktia-2764
-----------
More trials for Bangladesh's deflated opposition
February 08, 2014
Ten years after they arrived, the weapons have found their victims. In April 2004 police in Chittagong, the main port city of Bangladesh, intercepted a shipment of rifles, submachine guns with silencers, 25,000 hand grenades and more, worth some US$5 million. Made in China, the arms may have been shipped with help from Pakistani spies set on causing trouble for India. The weapons were intended for rebels in Assam state in India's north-east, where insurgencies rumble on.
For years in Bangladesh the legal case went nowhere. Those involved in the arms shipment were ignored. The Bangladesh Nationalist Party (BNP), under Khaleda Zia, then prime minister, showed no interest in prosecutions. Only after the Awami League, the current government, took office in 2009 did prosecutors begin to consider the crime seriously. On January 30th a trial court sentenced 14 men—most of them from or affiliated to opposition parties—to death on smuggling charges related to the arms haul.
Full report at:
http://www.thedailystar.net/more-trials-for-bangladesh-s-deflated-opposition-10441
-----------
Action against attackers of Hindus: PM Sheikh Hasina
February 08, 2014
Prime Minister Sheikh Hasina said today that the government is determined to bring to the book those militants and terrorists who attacked the houses and temples of Hindu community during the national election.
She expressed the resolve while delivering a speech at Sarda Police Academy after taking salute at the training completion parade of the trainee assistant superintendents of police of the 31st BCS.
"The joint forces and police personnel were very much active to contain the violence unleashed by BNP-Jamaat-Shibir, before and after the election. After that, this communal force attacked the houses and temples of Hindu community. The government is determined to bring these militants-terrorists to book," she said.
Full report at:
http://www.thedailystar.net/action-against-attackers-of-hindus-pm-10460
-----------
URL: https://newageislam.com/islamic-world-news/film-jihad-madrasas-source-terrorism/d/35651