New Age Islam News Bureau
6 Jun 2018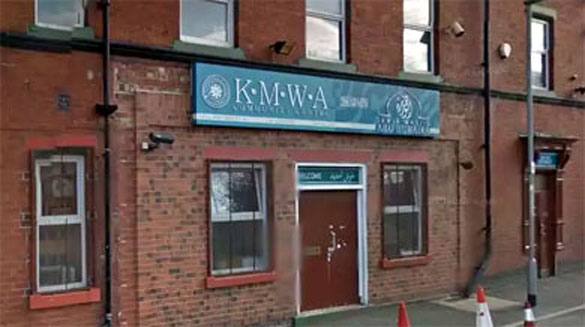 Police and fire crews were called to the Jamia Masjid Abu Huraira Mosque in Beeston, Leeds, where the main doorway had been set on fire ( Google )
-----
• Fighting Poverty with Islam in 'Militant-Hotbed' Shopian
• Muslim and Sikh Places Of Worship Set on Fire in Leeds in Suspected Hate Crimes
• Qatari Emir Embraces Islamic Preacher Who Authorized Killing U.S. Troops in Iraq
• Emergence of Daesh Raises New Security Challenge for Pakistan
• Islamic State Attack Kills 45 Pro-Assad Regime Fighters In East Syria, Reclaims 4 Villages In Euphrates Valley
India
• Fighting Poverty with Islam In 'Militant-Hotbed' Shopian
• RSS Rejects Its Muslim Unit's Iftar Request at Nagpur Office: Report
• Touching: Muslim Man Performs Family-less Hindu Friend's Last Rites in Bengal
• Hyderabad, where Ramzan is incomplete without Harees
• Infiltration bid foiled in J&K's Machhil, 3 terrorists killed
• Terrorists hurl grenades at Army, police camp in J&K's Bandipora
• SIMI: With UPA's ban coming to an end, MHA seeks updates on group's activities
• NIA court convicts three in 2011 terror funding case
--------
Europe
• Muslim and Sikh Places Of Worship Set on Fire in Leeds in Suspected Hate Crimes
• Tories Have Not Tackled Islamophobia, Conservative Muslim Forum Says
• Islamic Scholar Adnan Ibrahim Leaves Morocco without Giving Sermon
• Over 350 UK mosques urge May to probe Islamophobic views in her party
• Questions over rehabilitation of Kosovo's returning militants
• Grandson of Muslim Brotherhood founder on trial in France on rape charges
• Macron walks fine line as Netanyahu seeks anti-Iran front
• Israel's Netanyahu, France's Macron disagree over Iran deal
--------
North America
• Qatari Emir Embraces Islamic Preacher Who Authorized Killing U.S. Troops in Iraq
• American Muslims on Trump's Iftar: Thanks, But No Thanks
• Indian-American ISIS supporter sentenced to 5 years for lying in attempt to join US military
• US warns allies against financial dealings with Iran
• First Muslim Elected To US Congress Runs for Minnesota Attorney General
--------
Pakistan
• Emergence of Daesh Raises New Security Challenge for Pakistan
• Contents of Reham's Book Are against Family Values: PTI Information Secretary
• Gulalai defends Reham, points finger at Imran's character
• 3 FC personnel martyred, two others injured in Mustang suicide attack
• Pakistani journalist abducted in Lahore, returns home hours later
• Mush decides to return before general elections
• SC Asks Politicians to Arrange For Their Own Security
• Shahbaz warns against attempts to rig polls
• Call for judicial probe into Sikh leader's murder
----------
Arab World
• Islamic State Attack Kills 45 Pro-Assad Regime Fighters In East Syria, Reclaims 4 Villages In Euphrates Valley
• ISIL Storms Rival Terrorist Group in Southern Syria
• Syrian Army Repels ISIL's Heavy Offensive in Deir Ezzur
• People in Northern Syria Protest against Turkey-Backed Militants
• Kuwait to extend further support to Jordan
• Hariri: Prince Mohammed bin Salman plays vital role in Lebanon's stability
• Iraq's Abadi criticizes Turkey for 'political' dam filling
--------
Southeast Asia
• Mahathir Says His Govt Will Safeguard Islam As He Pushes Back Against Critics
• Vice Governor Sandiaga Uno says 40 mosques in Jakarta infiltrated by radicalism
• Chinese State Media: Southeast Asia 'Hub of World Terrorism Activities'
• Act constitutionally when it comes to Muslims, PAS reminds new AG
• Indonesian mosques launch Ramadan anti-plastic drive
• Gerindra Supports Rizieq's Idea of Creating 'Ummah Alliance'
• Indonesia, Australia to Continue Counterterrorism Cooperation
--------
Africa
Jordan King Stresses Terrorism Poses Ideological Challenge for Islam in Albania Venue
• There Is Nothing Like Islamic Terrorism in Nigeria – Oloyede
• Report says Italy will expel thousands of undocumented Tunisians
• US airstrike in Somalia kills 27 al-Shabaab militants
• Somalia: Army Repulses Al-Shabaab Attack in Bardere Town, 9 Killed
• Somalia: 10 Killed in Foiled Attempt By Al-Shabaab to Overrun Bardheere SNA Camp
--------
South Asia
• Taliban Commander among 4 Killed In US Airstrikes in Maidan Wardak
• Pakistan wants successful return of coalition forces from Afghanistan: Gen. Ghafoor
• Myanmar, UN sign pact on initial steps for Rohingya return
--------
Mideast
• At OIC, Turkey Urges Muslim Nations to Support Palestinians
• Quds Force Not Supporting Extremist Groups, Says Iran
• Arab Coalition air raids successfully target Houthi strongholds in Yemen
• Yemen's Houthis 'aim to clone Iranian regime structure' to replace parliament
• Salih Muslim's brother calls on Kurds to endorse Erdogan
• These are the conditions Houthis have set to withdraw from Yemen's Hodeidah
• Israel intelligence minister proposes 'military coalition' against Iran
• UN greatly concerned for lives of civilians in Yemen's Hudaydah
Compiled by New Age Islam News Bureau
URL: https://www.newageislam.com/islamic-world-news/fighting-poverty-with-islam-militant/d/115466
--------
Fighting Poverty with Islam in 'Militant-Hotbed' Shopian
By ANANDO BHAKTO
JUNE 5, 2018
In the unruly city centre in Shopian, a district swarming with militants in restive Kashmir in India's far north, thick coats of paint camouflage the graffiti on shops and houses. Locals say young boys lay bare their longing for "freedom" in mutinous words every day. Soldiers erase them swiftly.
But despite obvious conflict, Shopian brims with life and hope. Take the case of Salim Tak, a fruit merchant in his mid-60s who runs Rehmatal-lil-Alameen, an Islam-inspired community support charity that feeds, educates and provides medicine to the needy. "In the olden days, people in Shopian used to keep a bucket outside their house and donated a fistful of rice every day. The mosques kept earthen pots outside their premises, so that passersby could donate something. This is how Shopian ensured no-one slept hungry. But times changed… most people stopped paying Zakat and Ushr," Tak said.
Zakat is a 2.5% tax on one's annual savings and Ushr is a tax paid on agricultural land — generally 5% of the produce. Adult practising Muslims are expected to pay both as per Islamic guidelines.
In 2006, Tak and his friends decided to revive Shopian's "bucket-tradition" and opened the 'Bala muhalla baitul-mal', or a house of wealth. They put a bucket outside every house and went door-to-door, exhorting locals to wake up to their Islamic "duty".
"If people pay zakat and ushr as per Islam's guidelines, there would not be any deprivation in this world," Tak said.
"At first, we did not get many donors, but some people agreed to arrange food for patients and their attendants in Shopian's District Hospital. They brought home-cooked food to the hospital on a rotational basis," Abdul Qayoom Mangno, a member, said.
As word spread, more people joined them and money poured in. "We had seen their work. I was confident the money would reach the poor. As a Muslim I am bound to pay zakat on my savings, so I came forward to help them," Mukhtar Ahmed Malik, a donor, said.
Ghulam Hassan Dalal, a retired government employee, said the response from locals, in particular Shopian's rich apple orchard owners, was tremendous. Donations spiraled from Rs 40,000 in 2006 to Rs 6.3 million in 2016-2017.
The family of Farooq Sofi, a bread-maker who died a few years ago leaving behind a mentally challenged son, two daughters and an ailing wife, said they would have perished without the society. "They give us a monthly ration, they take care of my sister's education, and also pay for my brother's and my mother's medicine. I am getting married in two months. They will be organising my marriage ceremony too," Sofi's elder daughter said.
The year 2009 was grim for Shopian. Following the rape and murder of 22-year-old Neelofar Jan and her 17-year-old sister-in-law, people spilled on to the streets in protest. The crime was widely alleged to have been committed by soldiers. The town remained under a curfew-like situation for more than 47 days, reducing small traders and daily wage earners to penury.
"It was a tough time. Small businesses had dried up, and many people did not have anything to eat. We decided to expand our neighborhood baitul-mal across Shopian," Salim Tak said. The group soon teamed up with a voluntary trust in Srinagar.
Medicine
"The trust supplied us medicine for the poor. If ambulances were not available, our volunteers arranged private vehicles to ferry patients," said Mohamamd Yousuf Khan, a retired forest officer who currently chairs the group.
"Two years ago, two children, who had fallen into a water tank, died in the District Hospital, as there was no oxygen supply. After this incident, we decided to buy essential equipment that may come handy in an emergency," Tak said. The group now has 15 oxygen concentrators.
The Hospital management soon provided them a room in its premises, which the group turned into a multi-speciality clinic. "We bought wheelchairs, trolleys, equipment and oxygen cylinders. One of our boys is always available there for emergency care," Khan said. In 2011, the group purchased an ambulance which provides a free, round-the-clock service.
Dr Zahoor Malik Ahmad, medical superintendent of District Hospital, Shopian, lauded the group's work. "They have been instrumental in providing basic amenities to patients. They bear the medical expenses of the poor," he said. The group provides medicine to 99 families.
Javed Ahmad Shah, 30, said the group assists him with treatment for his 24-year-old wife Shah Jameel, who has an acute renal disorder. Javed is a labourer who earns Rs 400 a day, but with the group's support he has been able to meet the over Rs 20,000 expenses needed for his wife's monthly dialysis.
"We will open a dialysis centre in Shopian. It's going to cost us Rs 50-60 lakh, but we are hopeful we will be able to raise that amount," Khan said.
Rations and education
Tak said they raise 33 quintal of rice every month from the buckets placed outside local people's houses. The group sustains 223 families under its flagship project, Food for the Poor.
Donors said the group's service is humanity-driven and the religion of beneficiaries is irrelevant. Salim Tak said three Hindu Rajput families are given rations every month under their food project.
The society also provides marriage assistance to girls. "In 2017 we organised marriages of 14 girls. Since our inception, we have organised 88 weddings. These are simple marriage ceremonies, though," Altaf said.
Abdul Qayoom said the society also supports the education of 22 students.
Bisma Gulzar, currently studying at Srinagar's Agriculture University, thanks to assistance from the group told Asia Times: "The group has been helping me since I was in standard 10. Even today, they bear my tuition fees, hostel fees, and also send me money to pay for my food. When I get a good placement, I will join their charitable work," she said.
During the devastating floods in Kashmir in September 2014, Tak recalled that the then District Commissioner Bashir Ahmad wrote to him for help. "The government food storage was submerged in water, and the roads leading to Shopian were inundated. Luckily, we had enough stock of rice — around 100 quintals. The DC approached us for help and we were very happy to come forward." Bashir Ahmad later sent them a written acknowledgement of their good work.
Background checks and verifications are done on anyone looking for assistance from the group. Beneficiary status is also re-evaluated every six months to see if they still need assistance. "In 2017, we stopped assistance to 378 people, after our investigations revealed their financial condition had significantly improved," Treasurer Nazir Ahmad Bamdey said.
The Jammu and Kashmir government has twice sent them a certificate of appreciation. The group has inspired parallel models in Jam Nagar in Shopian and another one in Khadpora. The society's 23 executive members do not take any salary.
A donor, retired government official Rafiq Ahmad Tak said: "Every religion has good solutions. Islam says that even if a non-Muslim neighbor's son sleeps hungry, you cannot call yourself a Muslim. If all of us commit ourselves to social welfare, no one will be in need."
http://www.atimes.com/article/fighting-poverty-with-islam-in-militant-hotbed-shopian/
--------
Muslim and Sikh places of worship set on fire in Leeds in suspected hate crimes
Jun 6, 2018
Two late-night arson attacks on Muslim and Sikh places of worship in Leeds are being treated as hate crimes by police.
West Yorkshire Police were called to the Jamia Masjid Abu Huraira Mosque in Beeston, south of the city centre, where the main door had been set on fire at about 3.45am on Tuesday.
A few minutes later, the door of the Guru Nanak Nishkam Sewak Jatha Gurdwara was also set on fire in nearby Lady Pit Lane.
The Sikh Press Association said a bottle filled with petrol had been set alight at the doorstep of the Gurdwara, triggering a smoke alarm. Residents called the fire brigade and the police and the fire was quickly dealt with, they said.
Detective Inspector Richard Holmes, of Leeds District CID, said: "We are treating both these incidents as linked given the closeness of the locations and the similar times that they have occurred.
"While our investigation is still at a relatively early stage, we do believe these premises have been specifically targeted as places of worship and we are treating both incidents as arsons and hate crimes.
"We are currently carrying out extensive enquiries, including checks on CCTV in both areas, and we would like to hear from anyone who has witnessed any suspicious activity or seen any person or vehicles in the areas around the time these incidents have occurred."
He added: "We would also like to hear from anyone who has any other information that could assist the investigation.
"Clearly we will always treat incidents of this nature very seriously and will be doing everything we can to identify those responsible and bring them to justice."
In a statement, representatives of the Gurdwara said: "We have attended a police emergency meeting today and have been assured by the chief of Police that they are doing all they can to catch the criminals and will add extra police patrols in the area.
"They are working through the CCTV footage from around the mosque."
The statement added: "It is damaging for children to see their Gurdwara or Mosque threatened like this. The police are happy to come to talk to children if the community feels this will not deter youngsters coming to the Gurdwara on their own."
Dalbir Singh Sagoo, coordinator of the Sikh community Hate Crime forum, said: "Everyone must be more vigilant and must report any suspicious activity to the Hate Crime Reporting Centre in the Gurdwara or directly to the Police."
Inspector Ian O'Brien, who heads neighbourhood policing for south Leeds, said: "These incidents will cause an understandable level of concern in both the Muslim and Sikh communities in this area and we are working closely with key representatives from those communities to reassure them.
"Although it appears both locations have been specifically targeted as places of worship for these communities, there is nothing at this stage to suggest they are part of any wider pattern.
"We have increased our patrols of the area to provide visible reassurance to people living there and will continue to keep key community representatives informed as the investigation develops."
He added: "Hate crimes that target particular communities and have the potential to cause divisions and tensions cannot and will not be tolerated and we will continue to do everything we can to find those responsible and support and reassure the communities affected."
https://www.independent.co.uk/news/uk/home-news/leeds-arson-attack-hate-crimes-mosque-muslim-sikh-gurdwara-a8385176.html
--------
Qatari Emir Embraces Islamic Preacher Who Authorized Killing U.S. Troops in Iraq
June 5, 2018
The emir of Qatar last week embraced a prominent Islamic scholar who has encouraged Muslims to kill U.S. soldiers in Iraq and expressed hope for another Holocaust, according to newly surfaced photographs.
Qatar's emir, Sheikh Tamim bin Hamad al-Thani, on Wednesday hosted an iftar banquet for the Muslim holy month of Ramadan in honor of religious leaders, Qatari media reported. One of the theologians present was Yusuf al-Qaradawi, a radical Egyptian preacher and Muslim Brotherhood leader who is based in Doha, Qatar, and was banned from visiting the United States because of his calls to kill Jews and Americans.
The Anti-Defamation League's David Weinberg flagged al-Qaradawi's attendance on Twitter, noting some of the theologian's past radical statements. Al-Thani can be seen hugging al-Qaradawi in one photograph and appears to have given the preacher the seat of honor next to him.
Al-Qaradawi previously issued a fatwa stating that Muslims who are killed fighting U.S. soldiers in Iraq are martyrs.
"Those killed fighting the American forces are martyrs given their good intentions since they consider these invading troops an enemy within their territories but without their will," he told Al-Quds Press Agency.
That was not the preacher's only call for violence. In a statement that aired on Al Jazeera TV in 2009, al-Qaradawi said the Holocaust was a "punishment" for Jews and expressed hope for Muslims to carry out another genocidal campaign in the future.
"Throughout history, Allah has imposed upon the Jews people who would punish them for their corruption," al-Qaradawi said. "The last punishment was carried out by Hitler. By means of all the things he did to them—even though they exaggerated this issue—he managed to put them in their place. This was divine punishment for them. Allah willing, the next time will be at the hand of the believers."
Al-Thani's apparent embrace of al-Qaradawi is particularly significant given the recent scrutiny Qatar has undergone for financing Islamist terrorist operations. President Donald Trump last year castigated Qatar as a "funder of terrorism" and backed its rival Middle Eastern states, led by Saudi Arabia, in a regional feud.
However, al-Thani and Trump had a warm meeting in Washington, D.C. in April. Both men vowed to stop terrorist funding and work as allies. Trump called al-Thani a "great friend."
Experts have long noted the Qatari government's ties to terrorist financing and have accused Doha of spreading anti-American propaganda by funding Al Jazeera. The Washington Free Beacon disclosed earlier this year that the media network carried out a secret, months-long spy operation on American Jews and supporters of Israel.
http://freebeacon.com/national-security/qatari-emir-embraces-islamic-preacher-authorized-killing-u-s-troops-iraq/
--------
Emergence of Daesh raises new security challenge for Pakistan
Jun 6, 2018
ISLAMABAD: Islamic State (IS) or Daesh, has raised a new serious security challenge for Pakistan, as reported by a local news outlet.
This was revealed by the National Internal Security Policy (NISP) approved by federal cabinet last week. "The emergence of Daesh in close proximity to Pakistan has raised new internal security challenges. The potential for spillover in Pakistan with the support and collaboration of TTP and its offshoots is not a possibility to be ignored. This situation has been compounded by the return of battle-hardened militants from Syria and Iraq," it said.
Over 120 experts are involved in the formulation of NISP 2018-2023 which established a multi-pronged strategy to meet the goals.
"The threat of transnational terrorism is rearing its head again. TTP militants have relocated to Afghanistan. Daesh is establishing a footprint in Afghanistan near the Pakistani border with a very real potential of spillover into parts of Pakistan. This situation has been compounded by the return of battle-hardened militants from Syria and Iraq," read the policy.
The new policy further revealed that there is adequate evidence that radicalisation and militancy are no longer limited to Madaris alone. "Young people from relatively affluent and middle-class backgrounds, educated in mainstream universities and schools, are also vulnerable to extremist ideas and narratives. Terrorism is as much an urban phenomenon as rural and needs to be tackled as such. Cyberspace has emerged as a key domain for the spread of extremist ideas," read the executive summary of NISP which includes: "Reorient, Re-imagine, Reconcile, Redistribute, Recognise and an adoption of a Regional Approach."
https://www.pakistantoday.com.pk/2018/06/05/emergence-of-daesh-raises-new-security-challenge-for-pakistan/
--------
Islamic State attack kills 45 pro-Assad regime fighters in east Syria, reclaims 4 villages in Euphrates Valley
Jun 05, 2018
Beirut (Lebanon): An offensive by the Islamic State jihadist group in eastern Syria has left at least 45 pro-regime fighters dead, a monitoring group said on Tuesday.
Islamic State fighters launched the operation on Sunday against Euphrates Valley villages seized from them in 2017 by government forces and their allies, and have retaken four of them, the Syrian Observatory for Human Rights said.
The villages are located on the road between the provincial capital of Deir Ezzor and the city of Albu Kamal, which lies further south on the border with Iraq. Near those villages is the small town of Hajin, the single largest populated hub still under the control of Islamic State.
Observatory head Rami Abdel Rahman said at least 26 Islamic State fighters were also killed since "fierce" fighting started on Sunday. He said there had not yet been any intervention by Russian aircraft supporting pro-government forces in the area.
The observatory said the casualties on the pro-regime side were mostly fighters from Shiite militias present in the area, including groups from Iraq, Afghanistan and Lebanon's Hezbollah. The small pockets controlled by Islamic State in that area are the last dregs of the sprawling self-styled caliphate the group proclaimed over large parts of Syria and Iraq in 2014.
A series of victories by Russian-backed regime troops and US-backed Kurdish forces have shattered the caliphate, but thousands of surviving jihadists are holding out in remote parts of the Euphrates Valley
https://www.firstpost.com/world/islamic-state-attack-kills-45-pro-assad-regime-fighters-in-east-syria-reclaims-4-villages-in-euphrates-valley-4497499.html
--------
India
RSS rejects its Muslim unit's Iftar request at Nagpur office: Report
Jun 6, 2018
Days before former President Pranab Mukherjee's much-anticipated address at an RSS event, the Nagpur-based right wing organization is embroiled in another controversy.
The issue is related to an Iftar Party request made by the Rashtriya Swayamsevak Sangh's Maharashtra unit, which was rejected by the parent organisation.
According to a report by The Indian Express, the Rashtriya Muslim Manch, the sole Muslim organisation in the Sangh Parivar niche, on Tuesday said that there was no question of someone else hosting an Iftar as it is not what has been said in Islam.
'Iftar is always hosted by the one who throws the party. Islam doesn't ask someone else to host the party for Muslims. The request by the Maharashtra unit leader at Nagpur to the RSS is fundamentally flawed on this count and he has been told about it,' Rashtriya Muslim Manch's national president Mohammad Afzal was quoted as saying by The Indian Express.
The controversy that has been brewing for quite some time began last week when Faruq Sheikh, the convenor of Maharashtra Manch made a request for an Iftar party to RSS Nagpur Mahanagar Sanghchalak Rajesh Loya.
But the RSS turned down the request and reportedly said that, 'no parties can be hosted there.'
Meanwhile, the Muslim Rashtriya Manch's Iftar party in Mumbai has also raised some concerns. Trouble surfaced after objections were raised against the use of the state government-owned Sahyadri Guest House at Malabar Hill for the purpose.
Senior Rashtriya Swayamsevak Sangh functionary Indresh Kumar, who is Muslim Rashtriya Manch's chief patron, is scheduled to attend the event to be hosted on Monday.
"Government rules bar any activity other than official meetings and workshops (sic) from being held at the guest house. Even such events can only be scheduled by the senior-most elected officials (the chief minister, deputy chief minister, ministers and ministers of state) and the senior-most bureaucrats (the state's chief secretary, additional chief secretary, secretaries and officials of similar rank). The rules do not permit events of hosting Iftaar party, which is a religious event," noted Advocate Adil Khatri and RTI activist Shakeel Ahmed Shaikh, in a written application to Chief Minister Devendra Fadnavis about the "unauthorised use" of the guesthouse for the event.
http://www.dnaindia.com/india/report-rss-rejects-its-muslim-unit-s-iftar-request-at-nagpur-office-report-2622371
--------
Touching: Muslim Man Performs Family-Less Hindu Friend's Last Rites in Bengal
June 5, 2018
When 30-something-year-old Milan Das died a sudden death last month, his neighbours at Burdwan's Nurse Quarters in West Bengal had one thing on their minds: who would perform the family less man's last rites?
That's when his closest friend, Rabi Sheikh, signed up for the job.
People, of course, were shocked at first. After all, Rabi was Muslim, and Milan's last rites were to be performed as per Hindu rituals. But none of that seemed to have mattered to Rabi at this point. Tossing religious restrains aside, Rabi stepped up for his friend.
As everyone watched. Rabi performed all of Milan's funeral rituals down to the last detail, from lighting his pyre to hosting his shradh a few days back.
This act of Rabi's touched more than one heart and soon went on to be news. Even the Hindu priest who assisted Rabi in the rituals described himself as 'fortunate' to have witnessed such heart-warming friendship.
"I wonder if I will ever be so fortunate again. This is friendship winning over religious restrains," the priest told Anandabazar Patrika.
The Anandabazar Patrika report also quotes Rabi, who overcame his personal loss to step up for his friend.
"We were very good friends. There has hardly been a day in the last 10 years when we haven't met," the report quotes Rabi.
"He was to be deprived of a proper funeral because he had no family. How could I let that happen? So for the last 10 days, I have been following all rules that is required to perform in a Hindu funeral for my friend," Rabi said.
Reports have it that Milan died of heart ailment on May 29. After being unable to trace his family, police had decided to perform his funerals as an unidentified body, but Rabi stopped that from happening.
"We even chatted on May 28 night. Next day I came back from work and heard that he had passed away. I had never suspected this tragedy," Rabi said.
Full report at:
https://www.indiatoday.in/fyi/story/touching-muslim-man-in-bengal-performs-familyless-hindu-friend-s-last-rites-1250932-2018-06-05
--------
Hyderabad, where Ramzan is incomplete without Harees
June 5, 2018
Hyderabad: The Muslim holy month of Ramadan is incomplete in Hyderabad without the lip-smacking haleem dish.
Haleem, a stew of meat, lentils and wheat mixed with spices, is preferred for breaking the fast due to its energising nature, high nutritional value and soothing porridge-like texture.
The wide range of haleem available during the season is just amazing. With a price range of Rs 30 to Rs 160 per plate, the season's flavour is there for every pocket.
Going around this city, a fine blend of tradition and modernity, one comes across "bhattis" or brick-and-mud ovens in front of almost every hotel and roadside eatery.
Every Ramadan, the city sees a huge jump in the sale of fruits and the market is flooded with several varieties of dates, including imported ones. Stalls selling fried items and kebabs do brisk business. The special dishes of the month include dahi bade, but none comes close to haleem in popularity. It is such a craze during the fasting month that it trumps even biryani, the signature dish of Hyderabad.
It's not just the Muslims who relish haleem during the month. A large number of customers at popular eateries like Pista House, Shah Ghouse and Sarvi are non-Muslims.
As swanky cars slow down at Yousuf Tekri in Toli Chowki, popular for several food outlets, dozens of young caterers scramble to get closer to the vehicles to take orders. Sitting in their cars, young techies, businessmen, families and even tourists can be seen relishing the piping hot haleem.
Every evening, and till the early hours of the day, traffic chaos reigns supreme on this busy road which connects to the IT hubs of Hitec City and Gachibowli.
While the situation is no different in many areas in the old city of Hyderabad, some of the central parts of the city, the chaos in Toli Chowki highlights the intense competition among leading haleem makers.
Originally an Arabic dish, haleem is said to have come here during the Mughal period via Iran and Afghanistan.
The syrupy dish was Indianised with the addition of Indian spices, dry fruits, ghee and a unique style of cooking.
Chefs with their assistants are seen engaged through the day in the laborious process of making the sumptuous dish in large vessels cemented on the bhattis. The entire cooking process spanning about 10 hours is done on firewood.
At every eatery, one can spot two or more men mixing the ingredients and pounding the meat in the vessels with large wooden poles. The pounding ensures that the mixture turns into fine paste. It is served after being garnished with special spicy shorba (meat broth), carmelised onions, coriander and slices of lemon.
Haleem comes in all variants. Mutton, beef, chicken, fish, vegetarian, you name it. Every hotel claims to have its own unique taste. Some serve the mutton haleem in their own style by topping it with fried pieces of chicken, "zaban" (goat's tongue) and egg.
The price range suits every pocket. Small road-side eateries sell a plate (250-300 grams) of haleem (beef or chicken) for as low as Rs 30 while a plate of mutton haleem at popular food joint Pista House costs Rs 160.
The dish gained huge popularity over the last two decades thanks to Pista House, the brand which has gone global and claims to be the largest haleem maker in the world.
"When we started in 1998, we sold haleem for Rs 18 per plate," Managing Director of Pista House M.A. Majeed told IANS. Since then its popularity has grown by leaps and bounds and this year even before the start of Ramadan, it received about 60,000 inquiries.
Pista House has tried to introduce something new every year. "This year, we have introduced whole wheat haleem. We use whole wheat grain among other mostly natural and finest quality ingredients. We use less spices. This is exactly the same way haleem is prepared in Saudi Arabia," Majeed said.
Full report at:
https://www.siasat.com/news/hyderabad-where-ramadan-incomplete-without-harees-1365048/
--------
Infiltration bid foiled in J&K's Machhil, 3 terrorists killed
Jun 6, 2018
NEW DELHI: Three terrorists were killed as security forces successfully foiled an infiltration bid in Jammu and Kashmir's Machhil sector early on Tuesday morning, reported news agency ANI.
Troops noticed suspicious movement along the LoC in Macchil sector in Kupwara district and challenged the infiltrators, an Army official told PTI.
Three terrorists were killed in the ensuing gunfight.
A search operation is currently underway.
https://timesofindia.indiatimes.com/india/infiltration-bid-foiled-in-jks-machhil-3-terrorists-killed/articleshow/64473398.cms
--------
Terrorists hurl grenades at Army, police camp in J&K's Bandipora
Jun 5, 2018
NEW DELHI: Terrorists on Tuesday hurled grenades at Army and police camp at Hajin in Bandipora district of North Kashmir.
According to report, around four to six terrorists came from two sides of army camp of 13 Rashtriya Rifles and Hajin police station and fired around 8 Under Barrel Grenade Launcher (UBGL) towards Army and police.
"Army retaliated "heavily and effectively" the militants' fire," said a police officer. The exchange of fire is still going on.
The area has been cordoned off and combing operations have been started, the officer said.
The attack came hours after an Army vehicle was damaged in an IED explosion by militants in Sopore area of Baramulla district, an official said.
Full report at:
https://timesofindia.indiatimes.com/india/terrorists-hurl-grenades-at-army-police-camp-in-jks-hajan/articleshow/64469018.cms
--------
SIMI: With UPA's ban coming to an end, MHA seeks updates on group's activities
June 6, 2018
The Union Home Ministry has written to state governments, seeking an update on the activities of Students Islamic Movement of India (SIMI) so that a final call could be taken on the continuation of the ban imposed on it beyond January next year.
In a communication to all states, the ministry said the ban imposed on SIMI under the Unlawful Activities (Prevention) Act comes to an end on January 31, 2019, but if the central government finds that the group continues to indulge in unlawful activities, the prohibition may be imposed afresh.
"In case the state government finds that the aforesaid organisation is still indulging in unlawful activity and other activities prejudicial to the integrity and internal security of the nation or with a potential to threaten the secular fabric of the country, the relevant material covering cases under the Act registered before February 1, 2014, and their latest status indicating persons convicted, released, appeal preferred, if any, may be provided to this ministry," the letter sent by Joint Secretary in the Home Ministry S C L Das said.
Cases registered on or after February 1, 2014, and their status which can stand judicial scrutiny, any other relevant information concerning SIMI along with the state government's assessment and recommendation for a fresh ban may be furnished and a nodal officer may also be nominated for regular interaction and follow up, the letter said. The home ministry said it is essential to watch the activities of SIMI and if its membership continues then 'ipso facto' a case of unlawful activity under the law is made out.
"If this organisation and its members commit offences in furtherance of their aims and objectives, then the charge sheet would have to contain the reference to such violation of Act. This is important since the evidence of such activities in the form of FIRs and charge sheets are required to be produced before the Tribunal," the communication said.
Described as a terrorist organisation, the SIMI was first declared an outlawed outfit in 2001. Since then, it has been declared a banned group under the relevant law. The last time it was declared a banned outfit was under the UPA on February 1, 2014, for a period of five years. The ban was confirmed by a tribunal on July 30, 2014.
Full report at:
http://indianexpress.com/article/india/simi-with-upas-ban-coming-to-an-end-mha-seeks-updates-on-groups-activities-5205797/
--------
NIA court convicts three in 2011 terror funding case
by Abhishek Angad
June 5, 2018
NIA special court convicted three accused in a 2011 terror funding case and on Monday sentenced them to period already undergone after they pleaded guilty for their crime. District and Sessions Judge (DSJ) Poonam Bamba on Monday sentenced Mohammad Sadiq Ganai, Ghulam Jeelani Liloo and Farooq Ahmed Dagga for the offences punishable under various sections of Unlawful Activities Prevention Act.
The main accused, Ghulam Mohammad Bhat did not plead guilty and is currently in jail undergoing trial. It is the same case in which Hizbul Mujahideen chief Syed Salahuddin's 41-year-old son Shahid Yousuf, was arrested in 2017. An employee in the agriculture department, Yusuf allegedly received a few lakh rupees through an international wire transfer company. NIA has filed a supplementary chargesheet in the case this month and Yusuf is currently in jail. M M Pandit and Ajaz Ahmad Bhat, also chargesheeted, haven't been arrested.
During arguments on sentencing, Special Public Prosecutor, NIA submitted that the convicts had voluntarily come forward to plead their guilt and thus they have expressed their repentance for their acts. "Such an act of repentance of the convicts is a step towards reconnecting with the society…convicts have been facing trial for more than seven years. Therefore, this court may consider taking a lenient view, while passing the sentence," the prosecutor said.
Defence counsel Moinuddin Ansari said that convicts got "involved" in the unlawful activities due to misguidance. "However, on realising their mistake they came forward to admit their guilt. They now wish to lead a clean life…they are in judicial custody since 22.1.2011. By pleading guilty they have saved precious time of the court and that of the prosecuting agency," Ansari said.
DSJ Poonam Bamba said that by admitting their guilt, the convicts had admitted to the prosecution version that pursuant to criminal conspiracy, they collected funds received through illegal hawala channels from Pakistan via Delhi to be sent to J&K for the purpose of promoting unlawful activities in the state. "The convicts have been the member of terrorist organisations/associated with the activities. It could on account of misguidance and other attending facts and circumstances as plead…the fact that they have chosen to plead guilty is a sign of their repentance. The convicts seem to have realised their mistake and appear to be sincerely repenting for their acts and deeds…the convicts should get an opportunity to reform themselves and be a good citizen of this country," the court said.,
According to the court records, it was learnt through "reliable sources" that funds from Pakistan were being sent to J&K through Hawala channels via Delhi for funding "terrorism" and "secessionist" activities. "On the basis of this information certain telephone numbers were taken on a lawful interception and sources were deployed…it was revealed that one Maqbool Pandit, a member of the banned terrorist outfit, Hizb-Ul-Mujahideen bases in Pakistan was sending a huge amount of funds to the secessionist and terrorists, based in J&K via Delhi,"
Full report at:
http://indianexpress.com/article/india/nia-court-convicts-three-in-2011-terror-funding-case-5205079/
--------
Europe
Tories have not tackled Islamophobia, Conservative Muslim Forum says
Jun 6, 2018
The chairman of the Conservative Muslim Forum has accused his party of a failure to take action on Islamophobia and joined calls for an independent inquiry.
Mohammed Amin said the party was perceived as being "anti-Muslim" and had prioritised electoral concerns rather than taking "decisive action".
"There have been a number of incidents," he told the BBC.
A Tory spokesman said the party took all allegations seriously.
"The party has acted quickly when presented with evidence of inappropriate behaviour, suspending those involved and launching immediate investigations."
Warsi: Tories must act on Islamophobia
Last week the Muslim Council of Britain urged the party to launch an independent inquiry into alleged Islamophobia, saying there were now "more than weekly incidents" involving Tory candidates and representatives.
Mr Amin, who revealed his criticism in an Independent interview, said the forum's intervention was independent of the Muslim Council of Britain's demand.
He gave the example of Harrow East MP Bob Blackman, who hosted events in Parliament which a controversial Hindu nationalist attended.
At the time of the events, Labour and the MCB said Tapan Ghosh held "abhorrent" views about Muslims.
Mr Blackman said he did not regret sharing a platform with him, but did not agree with Tweets sent by Mr Ghosh about Muslims. Mr Ghosh has also insisted he is not Islamophobic.
Mr Amin also criticised the unsuccessful London mayoral campaign of Zac Goldsmith, who attempted to link his Labour rival Sadiq Khan to Islamist extremists.
He said he had been a Conservative member for 35 years and did not want to "rock the boat" but: "The Conservative Muslim Forum decided unanimously that the matter was so serious that we should actually make our position known publicly."
The Conservative hierarchy had "wished the issue would go away" rather than deal with it, he said, adding that while the party was not anti-Muslim it had "given excessive priority to electoral consideration rather than taking decisive action".
He also drew parallels with complaints about anti-Semitism in Labour ranks, warning of parties becoming "identified by racial or religious lines".
"There are bad eggs in all parties but you don't get the same bad eggs in every party," he added.
https://www.bbc.com/news/uk-44378791
--------
Islamic Scholar Adnan Ibrahim Leaves Morocco Without Giving Sermon
By Ahlam Ben Saga
June 5, 2018
Following the online controversy stirred by news of the scholar's attendance at the king's "Hassania" religious lectures, new speculations have erupted in the media about the scholar's hasty departure from Morocco.
According to Moroccan news outlet, H24 info, Ibrahim spent some time in a hotel in Morocco, awaiting the ministry's permission for him to lecture. However, because the ministry did not contact him amid the sharp criticism and condemnation expressed by religious conservatives, Ibrahim decided to leave.
On June 1, administrators of Ibrahim's official Facebook page announced his arrival in Morocco upon the ministry's invitation to him to attend religious lectures, held during Ramadan ever since the late King Hassan II's reign.
Later, the ministry denied Ibrahim's assertions, saying that Ibrahim was not invited to participate in any religious program, neither in mosques nor with any associations in the kingdom, and said that it prefers to keep a distance from the debates and controversy that the scholar raises.
The scholar's "liberal" or "reformist" views on Islam, such as his promotion of inheritance equality, have always provoked the criticism of more traditional or conservative Muslims.
Upon learning about his arrival to preach in Morocco, many religious Moroccans strongly rejected his participation and called for the ministry to go back on its decision, believing that his approach to Islam would misguide Moroccan Muslims.
"Adnan Ibrahim to preach in Morocco's mosques!!! Does the Ministry of Islamic Affairs accept Imam mosques to spread Adnan Ibrahim's ideas," questioned a Facebook user.
"How could the [ministry]invite the misguided and misguiding man, Adnan Ibrahim to mislead Moroccans," wrote another.
Full report at:
https://www.moroccoworldnews.com/2018/06/247956/adnan-ibrahim-leave-morocco/
--------
Over 350 UK mosques urge May to probe Islamophobic views in her party
Jun 5, 2018
More than 350 mosques and Muslim organizations across Britain have called on the ruling Conservative Party to launch a formal inquiry into increasing instances of Islamophobia within its ranks, according to a new report.
Up to 11 separate umbrella organizations from Wales, Belfast, Scotland, Manchester and other parts of the UK have asked Prime Minister Theresa May to address numerous examples of Islamophobic acts her party members had committed as they prepared for local elections during April and at the start of May, The Independent reported Monday.
Some Tory councilors stand accused of calling Islam the "new Nazism" and sharing articles that referred to Muslim people as "parasites."
Another example that stood out was a photo that David Boston, a Conservative candidate who was suspended days before local elections posted. The photo in question showed bacon hanging from a door handle, with the caption reading: "Protect your house from terrorists."
The calls come after the Muslim Council of Britain (MCB)'s letter to the party last week requesting a full internal audit to tackle the "more than weekly occurrences of Islamophobia from candidates and representatives of the party."
"We very much welcome the many councils of mosques who have written in support of our call for an inquiry into this issue" an MCB spokesperson said. "It reflects the importance that this issue holds in Muslim communities across the UK and the breadth of support for the Muslim Council of Britain."
Despite the widespread protests, Home Secretary Sajid Javid went on BBC on Monday to deny there was a problem with Islamophobia in the party.
He also attacked the MCB, claiming it did not represent British Muslims and was rather associated with extremism.
Harun Khan, the MCB's secretary general condemned the allegations, saying they only showed the "party had no interest in dealing with this matter."
"Rather than address the serious concerns raised by our message, Mr Javid has chosen to shoot the messenger," he said. "We have identified real weekly cases of Islamophobia in the Conservative Party, which the party has even acknowledged by suspending members.
Baroness Syeda Warsi, the former chairman of the Conservative Party, and Lord Mohamed Sheikh, an advisor to former PM David Cameron, have both supported the push for a probe.
Full report at:
http://www.presstv.com/Detail/2018/06/05/563986/UK-mosques-islamophobia-Tories-May
--------
Questions over rehabilitation of Kosovo's returning militants
Jun. 06, 2018
PRISTINA, Kosovo: One of Europe's smallest countries, Kosovo has produced more than its fair share of battle-hardened militants whom it is now trying to rehabilitate after their return home from Syria and Iraq. The fear is, however, that holding and isolating them in prison may only make the problem worse.
"Religious sects are better organized than the prison authorities," said Sami Lushtaku, a former Kosovo Liberation Army commander, who was jailed, then acquitted over crimes committed during the 1998-99 independence war.
Lushtaku's widely reported remark during an interview with several TV channels followed his detention in two jails, including a high-security center in Gerdoc, 25 kilometers from the capital, Pristina.
For the government of this small, mostly-Muslim Balkan nation, the returning militants are regarded as a real threat.
"Kosovo is threatened by those returning from war zones who intend to attack the multi-ethnic and multireligious character of Kosovo, its democratic government and its secular society," it said in a 2018-22 action plan.
Visar Duriqi, a Kosovo journalist who specializes in religious affairs, said that isolating the jailed militants can "prevent them from exerting any influence on people who have already broken the law and are more fragile."
But there is an ongoing debate over the strategy, with opponents arguing it only further alienates the militants and that, if they are to return to normal, they must be treated like any other prisoner.
According to official estimates, some 300 Kosovans fought with Al-Qaeda's Syrian ex-affiliate Nusra Front or Daesh (ISIS) since 2012.
More than 50 were killed but 130 have returned to Kosovo, with around 80 in all detained.
A 2015 law stipulates an up to 15-year jail term for returning militants and all others who fight in foreign conflicts.
"Relative to its population of 1.8 million, Kosovo is arguably the largest source of European jihadis in Syria and Iraq," according to estimated figures from 2015 by the U.S. think tank, the Combating Terrorism Center.
For the vice minister of the country's security forces, Burim Ramadani, "the main challenge is to make these men patriots and not to reinforce their hostility."
The Islamic Community of Kosovo (BIK) plans to have 20 imams under its supervision visit the militants. Radical Islamists should be engaged "in a reflection that will make them become normal citizens ... they should not be left to their world," chief mufti of the BIK, Sabri Bajgora, told AFP.
"We do not know how they will react" to the imams, Bajgora conceded, however.
Kosovo media has reported on the case of former militant Fitim Lladrovci, 28, who resumed his propaganda activities on social networks as soon as he was released from Gerdoc.
The problem was further highlighted at the recent trial of a group of young men accused of plotting an attack against the Israeli football team in neighboring Albania in November 2016.
Only one of them was a former militant but all were "in permanent contact with the members of Islamic State in Syria," prosecutor Merita Bina-Rugova said.
One member of the cell, Kenan Plakaj, sentenced to 18 months imprisonment and released pending an appeal, told AFP he sought a normal life, "to have kids, continue [my] career as a chemist and find a job."
But the leader of the group, Visar Ibishi, was defiant, refusing to leave his cell at Gerdoc prison and go to the court, where he was sentenced to jail for 10 years.
"I only know the justice of Allah and I do not feel either guilty or [as] a terrorist," he said during the trial.
According to Skender Perteshi, analyst at the Kosovar Center for Security Studies, former militants "now belong to an international terrorist network, have learnt to use arms and explosives, [and] have been very close to killings and massacres."
This is the sort of experience "that they bring to Kosovo," Perteshi added.
Breaking with Kosovo's tradition of liberal Islam, these men have often fallen under the influence of radical imams.
The preachers "played a role in propagating Islamic extremism," the government's action plan says.
Six have been prosecuted, with one, Zeqeria Qazimi, being sentenced to 10 years in jail in 2016 for inciting jihad.
Full report at:
http://www.dailystar.com.lb/News/World/2018/Jun-06/452189-questions-over-rehabilitation-of-kosovos-returning-militants.ashx
--------
Grandson of Muslim Brotherhood founder on trial in France on rape charges
June 05, 2018
PARIS: For the first time since his arrest on rape charges, the grandson of the founder of the Muslim brotherhood, Tariq Ramadan, appeared in court on Tuesday.
Three judges are due to examine two allegations of rape filed against Ramadan. Ramadan will be questioned by judges regarding allegations made by a French Muslim woman by the name of 'Mary' who claims that the Islamic studies scholar raped and assaulted her repeatedly between 2015 and 2016.
Ramadan faces further allegations of rape by three other victims, but his defense lawyer say that he had met all the women in question but never had any relationships with any of them.
Ramadan, a Swiss citizen, was taken into custody last February as part of an inquiry, in Paris, into rape and assault allegations made against him.
Full report at:
http://www.arabnews.com/node/1316406/world
--------
Macron walks fine line as Netanyahu seeks anti-Iran front
June 06, 2018
PARIS - French President Emmanuel Macron meets Israeli Prime Minister Benjamin Netanyahu on Tuesday on the second leg of his European trip amid deep differences over how to contain Iran's ambitions in the Middle East. It will be the third meeting of the two leaders in Paris since last July, and while they agree on the threats posed by Tehran's missile projects and foreign interventions, they differ strongly on the response.
Netanyahu has pursued his strident attacks against Tehran during his visit to Europe, warning during a stop in Berlin on Monday that Germany's activities risked creating a new influx of migrants towards the country.
Iran is intent on fuelling "a religious war inside Syria and the consequences will be many, many more refugees and you know where exactly they will come," he told German Chancellor Angela Merkel.
Netanyahu has been emboldened by US President Donald Trump's decision to pull out of the 2015 accord curbing Iran's nuclear programme - and the threat of harsh sanctions against European firms doing business in the Islamic Republic.
Macron has led a staunch defence of the accord, whose other signatories - France, Britain, Germany, China, Russia and the EU - have maintained a common front so far. Macron has warned that letting the deal fall apart will only inflame tensions, especially if harsh sanctions smother the economic relief Iranians began to enjoy after it was signed. He and Netanyahu are scheduled to hold a press conference after their talks and launch a season of cultural exchanges between their countries.
Their meeting was given further urgency after Tehran announced it would soon open a site for producing new centrifuges to increase its uranium enrichment capabilities.
Nuclear chief Ali Akbar Salehi said the moves were allowed under the accord, and "do not mean the negotiations (with Europe) have failed".
In a video posted on social media, Netanyahu reiterated his claims that the new enrichment capacity was aimed at producing nuclear weapons "to destroy the State of Israel".
Relations between Israel and the European Union had already been strained by the killing of 123 Palestinian protesters in Gaza by Israeli forces since March.
Macron denounced the "violence by Israel's armed forces" even as he noted the country's security concerns.
French Prime Minister Edouard Philippe cancelled a planned trip to Israel last month.
Several pro-Palestinian groups are planning protests against Netanyahu in cities across France, while three journalist unions have called his visit "intolerable", denouncing the killing of Palestinian journalists.
Against this backdrop, talks on seeking an end to the Palestinian conflict have fallen to the wayside, not least after Trump broke with decades of protocol by recognising Israel's claim of Jerusalem as its capital.
Full report at:
https://nation.com.pk/06-Jun-2018/macron-walks-fine-line-as-netanyahu-seeks-anti-iran-front
--------
Israel's Netanyahu, France's Macron disagree over Iran deal
5 June 2018
Israeli Prime Minister Benjamin Netanyahu and French President Emmanuel Macron held a joint news conference Tuesday yet stuck to their opposing views on Iran and the 2015 deal that curbed its nuclear program.
Talking to reporters in Paris after meeting the French leader at the Elysee Palace, Netanyahu said his main focus now was how to push Iranian forces out of Syria.
Netanyahu also called Tehran having nuclear weapons "the greatest threat to the world."
"The nuclear archive that we uncovered recently proves that Iran lied to the world about its nuclear weapons program. And I believe now is the time to apply maximum pressure on Iran, make sure that their nuclear program doesn't go anywhere," he said.
Macron said France will continue to work with the existing deal, which it considers the best way to control Iran's nuclear activity. The French president said he doesn't see how exiting the nuclear deal would help improve regional stability.
How can one "think that a total absence of controls and commitments is better than the 2015 framework?" he asked.
Netanyahu was a staunch opponent of the deal, and welcomed the Trump administration's decision last month to withdraw from it. Germany, Britain, France, Russia and China, which also signed the Iran nuclear agreement along with the United States, have said they want to preserve it.
Iran informed the UN nuclear watchdog on Tuesday that it will increase its nuclear enrichment capacity within the limits set by the 2015 agreement.
Macron on Tuesday also raised the issue of the Palestinian territories, expressing his "condemnation of any form of violence toward civilians and in particular, these past few weeks in Gaza."
Both leaders then headed to the nearby Grand Palais to inaugurate an exhibit on Israeli innovations, as part of a series of events commemorating the 70th anniversary of Israel's founding.
A few dozen protesters appeared on the city's Champs-Elysees Avenue near the exhibit site to demand the cancellation of the events and to denounce what they called Israel's "war crimes."
French police were out in force around the Grand Palais, breaking up groups of protesters.
Full report at:
https://english.alarabiya.net/en/News/world/2018/06/05/Israel-s-Netanyahu-France-s-Macron-disagree-over-Iran-deal.html
--------
North America
American Muslims on Trump's iftar: Thanks, but no thanks
June 6, 2018
A scene from the horror movie "Get Out." A moment of bloody betrayal -- the dreaded Red Wedding -- from HBO's "Game of Thrones." A medieval painting depicting a huge mouth devouring people as they eat.
On Wednesday, President Donald Trump's White House will host its first Iftar, the sundown meal that breaks fasts during the holy month of Ramadan. For some American Muslims, it's also time to break out the horror-movie memes.
White House press secretary Sarah Huckabee Sanders said "30 to 40" people had been invited to the iftar, though Trump administration officials haven't yet released a guest list or divulged many details about the event.
At least one thing seems clear: Many American Muslims are skeptical, if not scornful, about breaking bread with Trump, citing the President's rhetoric and actions towards Muslims and other religious and racial minorities.
"We do not need an iftar dinner," said Imam Yahya Hendi, the Muslim chaplain at Georgetown University. "Rather, we need to get the respect we highly deserve. Do not feed us and stab us."
Hendi attended a White House iftar in 2009, when President Barack Obama was in office. He said he was not invited this year. Like many of the prominent Muslims who had attended previous White House iftars, Hendi said he would not have attended if invited this year.
Many American Muslims said they suspect Trump's iftar is aimed at placating the country's allies overseas, rather than making genuine connections with their community, with whom the president has had a troubled relationship.
"I was not invited to the White House iftar, but I would not attend if I were," said Dalia Mogahed, director of research at the Institute for Social Policy and Understanding.
"Attending this event, especially during the holy month, a time of introspection and spiritual growth, would be inappropriate in my view as it would appear to normalize this administration's behaviour."
The Council on American-Islamic Relations plans to hold "NOT Trump's Iftar" event outside the White House as the main event is taking place inside.
A White House spokesperson did not immediately respond to a request for comment about the criticism.
Obama took heat, too
Hillary Clinton is generally credited with starting the modern-day tradition of yearly White House iftars in 1996. Since then, controversy over the dinners has ebbed and flowed with world events.
Shortly after the September 11 terrorist attacks in New York City and Washington, President George W. Bush tried to quell religious tension by praising Islam.
"All the world continues to benefit from this faith and its achievements," Bush said that November. "Ramadan and the upcoming holiday season are a good time for people of different faiths to learn more about each other. And the more we learn, the more we find that many commitments are broadly shared."
Even Obama, who was seen as an ally by many American Muslims, sparked fierce debates about the morality of participating in an White House iftar.
Some Muslims were upset by his drone program that targeted suspected terrorists, others that he failed to keep his promise to close the prison at Guantanamo Bay. In 2014, Obama was criticized for inviting Israel's ambassador and defending its use of force to protect its people from Hamas rockets.
"There was a healthy amount of debate every year over this when Obama was president," said Dilshad Ali, a managing editor at Patheos.com, a religion website. "And he was a pretty decent president."
Trump, Ali said, is another matter.
"I don't know anyone who would go to this iftar. It's quite clear that Muslims are not a community that Trump is looking out for."
Muslims wary of being 'tokenized'
During his presidential campaign, Trump angered many American Muslims by making incendiary statements such as "I think Islam hates us" and promising to temporarily ban Muslim immigration as a counterterrorism measure.
According to a 2017 Pew Research Center Survey, 74% of American Muslims say Trump is unfriendly to their community and two-thirds say he makes them feel worried. Just 8% of American Muslims voted for Trump.
Since Trump's election, American Muslims have been further angered by a series of executive orders severely curtailing refugees and immigrants from several Muslim-majority countries, moves many see as an enactment of his promised "Muslim ban."
Trump's retweet of anti-Muslim videos by a far-right British party continued to fan the flames. He has also stocked his administration with men, such as Secretary of State Mike Pompeo and national security adviser John Bolton, who have ties to groups that promote Islamophobia.
Omar Noureldin, vice president and spokesman for the Muslim Public Affairs Council, said that, in contrast to past years, no one from his council was invited to Wednesday's iftar. If they were, they would decline the invitation, he said.
"Our model of engagement with the government is that we have to believe we can move the needle in some respect, and given the policy and rhetoric from this White House, we don't believe that's possible, so we wouldn't put ourselves in the position to be 'tokenized.' "
Who's coming for dinner?
For many American Muslims, deciding whether or not to attend Trump's iftar is a relatively easy question. The harder question to answer is: who is going?
Many people assume that, as in past years, the guest list will be stocked with Cabinet officials and foreign diplomats, particularly from Muslim-majority countries. But no one really knows for sure. Even prominent Trump supporters say they didn't get an invite.
"It's for Muslim ambassadors and some Cabinet members," said Sajid Tarar, who led the group "American Muslims for Trump" and spoke at the Republican National Convention in 2016.
Qamar-ul Huda, a former State Department adviser on religion, said diplomats and Cabinet members were also regulars at other administrations' iftar dinners, though American Muslims from civil society have often been invited as well.
"I think it's just a symbolic showing of appreciation for certain allies, particularly in the Gulf," Huda said of Trump's iftar. "I don't think it's geared toward the American Muslim community at all."
That kind of thinking feeds notions of Islam as a "foreign" religion, Huda said, "a religion from overseas. Not a religion that has been here for three hundred years."
Still, Huda said he would have attended Trump's iftar, if he had been invited.
"I think whoever is in government should have access to sound advice. Others close to me would say, 'No way, you'd sacrifice your integrity."
For Eboo Patel, the founder of Interfaith Youth Core, interfaith iftars are part of his daily bread. But even he said he would have trouble accepting an invitation from Trump's White House.
Wednesday night is Lailutul Qadar, the night Patel, an Ismaili Muslim, commemorates the first revelation of the Quran to the Prophet Muhammad. It's his favorite religious event of the year.
"So I would politely decline if I were invited to the Trump White House iftar," Patel said. And if tomorrow night were not Lailutul Qadar?
https://edition.cnn.com/2018/06/05/politics/trump-iftar-muslims/index.html
--------
Indian-American ISIS supporter sentenced to 5 years for lying in attempt to join US military
05th June 2018
WASHINGTON: A 28-year-old Indian-American, who was raised Hindu before converting to Islam, has been sentenced to five years in jail for passport fraud and making false statements in his application to join the US military.
Shivam Patel, a supporter of the Islamic State terror group, told an FBI undercover employee that he wanted to commit jihad, the US Justice Department said.
The Williamsburg, Virginia man was sentenced yesterday to five years in prison for passport fraud and making false statements in his application to join the US military, it said in a press release.
Patel was also ordered to pay USD 4,000 in fines in connection with two counts of making false statements during his military application process, The Virginian-Pilot reported.
According to court documents and prosecutors, the newspaper said Patel was raised Hindu before converting to Islam several years ago.
According to court documents, Patel, who has a degree in criminal justice from Virginia State University, travelled to China in July 2016 to teach English.
While there, he grew displeased with how that country treated Muslims.
His employer arranged for Patel to fly back to Virginia in August, 2016, but, instead, Patel traveled to Jordan, where he was arrested a few days later for unspecified reasons. Court documents said Patel told taxi drivers and others in Jordan that he supported the Islamic State. Patel told an undercover employee and a confidential source that he wanted to join a "Muslim army" and commit jihad.
He explained he went to Jordan in part to find like-minded Muslims. He said he wanted to do something "bigger, better, and more purposeful."
A search of Patel's computer showed he researched how to join the Islamic State before he left for China.
After returning to the US, he applied to join the Army and Air Force.
When asked about his prior foreign travel as part of his applications, Patel did not disclose his trips to China or Jordan.
After he was asked to show an Army recruiter his passport, which would have revealed his prior travel to the recruiter, he filed an application for a new passport, falsely claiming that he had accidentally thrown his old passport away.
US special agents from the FBI recovered his original passport, which documented his undisclosed travel, when they arrested him in July 2017.
Patel pleaded guilty to the charges on February 8 and the US District Judge Mark S. Davis accepted the plea. Judge Davis said Patel's case was more serious than the typical false statement cases filed in federal court. He said Patel's attempt to join the military was "clearly some reason for concern."
Full report at:
http://www.newindianexpress.com/world/2018/jun/05/indian-american-isis-supporter-sentenced-to-5-years-for-lying-in-attempt-to-join-us-military-1824118.html
--------
US warns allies against financial dealings with Iran
5 June 2018
The United States warned governments and the private sector on Tuesday to crack down on what it described as Iranian efforts to exploit them to fund its support for terrorism, destabilizing actions in the region and rights abuses at home.
The appeal, in a speech by the senior US Treasury official for terrorism and financial intelligence, follows US President Donald Trump's May 8 decision to abandon the 2015 Iran nuclear deal and to re-impose US sanctions on the Islamic Republic.
"You must harden your financial networks, require your companies to do extra due diligence to keep them from being caught in Iran's deceptive web, and make clear the very significant risks of doing business with companies and persons there," Under Secretary of the Treasury Sigal Mandelker said.
"Companies doing business in Iran face substantial risks, and those risks are even greater as we re-impose nuclear-related sanctions," she added. "We will hold those doing prohibited business in Iran to account."
The US decision to leave the pact, under which Iran agreed to limit its nuclear program in return for relief from economic sanctions, has antagonized its other parties: Britain, China, France, Germany and Russia.
With US sanctions returning between now and Nov. 4, it is not clear how enthusiastic US allies or other nations such as China may be to comply with those sanctions, particularly those requiring foreign firms to reduce their imports of Iranian oil.
The weight of the US financial system and the reality of companies having to choose between selling to Iran or to the vast US market, is likely to force many private firms to comply.
"To those in the private sector, I urge you to also take additional steps to ensure Iran and its proxies are not exploiting your companies to support their nefarious activities," Mandelker said. "You have to do more to make sure your compliance programs are airtight."
"The Iranian regime will deceive your companies, undermine the integrity of your financial systems, put your institutions at risk of our powerful sanctions, all to fund terrorism, human rights abuses and terrorist groups," Mandelker added.
She repeated US threats to increase financial pressure unless Iran ceases actions such as supporting proxy forces hostile to the United States in Syria, Iraq, Lebanon and Yemen.
Full report at:
https://english.alarabiya.net/en/News/world/2018/06/05/US-warns-allies-against-financial-dealings-with-Iran.html
--------
First Muslim elected to US Congress runs for Minnesota attorney general
Jun 6, 2018
Democratic Rep. Keith Ellison, the first Muslim elected to Congress and a top official with the Democratic National Committee, filed to run for Minnesota attorney general Tuesday in a last-minute move triggered by the incumbent's decision to run for governor.
A sixth-term lawmaker widely regarded as among the most liberal members of Congress, Ellison had been eyeing statewide office in Minnesota for months. He considered running for the Senate seat vacated by former Sen. Al Franken before backing Gov. Mark Dayton's appointee, Sen. Tina Smith. And he weighed a run for attorney general until Lori Swanson, the current officeholder, decided to run for a fourth term this winter.
But Swanson changed course Monday, launching a late bid for Minnesota governor. Ellison and others pounced, filing for the office on Tuesday.
"It was attorneys general who led the fight against the Muslim ban," Ellison said after filing to run for the office, referring to President Donald Trump's ban on travel to the U.S. by visitors from several Muslim-majority countries. "I want to be a part of that fight."
Ellison's first statewide campaign will likely be far more challenging than his congressional runs. He represents a solidly Democratic district in Minneapolis and some surrounding suburbs and has never faced a major challenger since first being elected to Congress in 2006.
Ellison co-chaired the House's Congressional Progressive Caucus from 2011 to 2017 and recently assumed the charge of pushing to expand a Medicare-for-all, single-payer health care program. He has also served as deputy chairman of the Democratic National Committee since 2017, after losing the race for its top job to Tom Perez. Both Ellison and the DNC said he would keep his spot as deputy chairman.
By entering the race for attorney general, Ellison is taking on the state party's endorsed candidate as well as longtime Democratic state lawmaker and former Minnesota Attorney General Mike Hatch. All filed for the office Tuesday.
His decision not to run for a seventh term in Congress opens up a solidly Democratic seat. And Minnesota Democrats started lining up for a chance to take the seat before Ellison made his exit official.
State Sen. Patricia Torres Ray, a prominent voice on Latina issues, filed for Ellison's seat less than an hour after he filed for attorney general. Former state House Speaker Margaret Anderson Kelliher also jumped in.
Full report at:
https://www.dailysabah.com/americas/2018/06/05/first-muslim-elected-to-us-congress-runs-for-minnesota-attorney-general
--------
Pakistan
Contents of Reham's Book Are Against Family Values: PTI Information Secretary
Amir Wasim
June 06, 2018
ISLAMABAD: The Pakistan Tehreek-i-Insaf (PTI) has asked the party chief's ex-wife Reham Khan to "immediately contradict" the controversial contents of her unpublished book which have been circulating on social media for the last couple of days or be ready to face "criminal proceedings".
Speaking at a press conference on Tuesday, PTI information secretary Fawad Chaudhry claimed that the contents of Ms Khan's upcoming book were "pornographic" and against "family values". He also questioned the timing of its release.
"I demand that she contradict the contents of the book within 24 hours. Otherwise, whatever is written in the book is liable to criminal proceedings and cases will be registered," he said.
Alleging that the former ruling party Pakistan Muslim League-Nawaz (PML-N) was behind this, Mr Chaudhry asked the Election Commission of Pakistan (ECP) to take notice of the issue, "impose a ban on the book" and consider it a part of "pre-poll rigging".
The PTI's information secretary also asked the Pakistan Electronic Media Regulatory Authority (Pemra) to come into action and stop television channels from airing talk shows over the issue merely based on "gossip".
Mr Chaudhry claimed that he expected Ms Khan would step forward and deny the "absurd and bizarre" contents of her book, but "unfortunately she has not done so yet".
He said that Ms Khan did not care for the country or family values shared by the citizens of Pakistan.
"They were divorced three years ago, yet she announced that her book will be published now...at a time when elections are just 60 days away," he said.
"The Raiwind network is behind this, just like it was in the 1980s and 1990s when they targeted Benazir Bhutto and her mother...and in 1996 when Mr Khan launched the PTI. The same people ran a campaign against him by highlighting the Sita White incident," he added.
Mr Chaudhry claimed that a recent photograph of Ms Khan and her son with former US ambassador Hussain Haqqani doing the rounds on social media was sufficient evidence.
Discussing yet another photograph of Ms Khan, this time with former PML-N MNA from Rawalpindi Hanif Abbasi, Mr Chaudhry claimed that the PML-N leader had asked "what will Imran do if Reham's book is published before the election?"
Regarding Ms Khan's alleged emails with former interior minister Ahsan Iqbal, the PTI information secretary said that the exchange was also available on social media.
"Since Mr Iqbal and Ms Khan claim these emails are fabricated and fake, the Federal Investigation Agency's cybercrime unit should look into it," he said.
Legal notices
Ms Khan's controversial book has already been involved in a number of legal notices. She has sent a legal notice to actor Hamza Ali Abbasi for spreading false information.
Meanwhile, a businessman and friend of Mr Khan, Syed Zulfiqar Bukhari, former fast bowler Wasim Akram, PTI Foreign Media head Anila Khawaja and Ms Khan's ex-husband have also sent legal notices to her for maligning them in her unpublished manuscript.
Ms Khan, on the other hand, has refused to confirm or deny the contents of her book. On Tuesday evening, however, she tweeted: "Media has been dominated by a party that has only time for bullying & lying. Could you give this much air time to #Justiceforkhadija? She is not that important to the party of justice or their backers & hackers."
https://www.dawn.com/news/1412320/contents-of-rehams-book-are-against-family-values-fawad-chaudhry
--------
Gulalai defends Reham, points finger at Imran's character
Jun 6, 2018
Former Pakistan Tehreek-e-Insaf (PTI) member Ayesha Gulalai has come out in support of Reham Khan over a book controversy that has sparked an altercation between various circles in mainstream and social media.
Gulalai, who had announced to quit the PTI in August last year after levelling allegations of harassment and corruption against party chairman Imran Khan, called on Pakistani women to support Reham after the latter came under fire by the PTI and other prominent personalities over a leaked manuscript of her upcoming autobiography.
The book, titled 'Reham Khan', is said to revolve around her marriage to PTI chief Imran Khan, which ended in a divorce mere 15 months later. The book's manuscript was recently leaked online, which irked several PTI leaders who took to Twitter to accuse her of being part of an "agenda" ahead of the upcoming general election.
"Imran Khan is in moral decline, he has a [questionable] character," said Gulalai, adding that the PTI chief was "scared" of getting unmasked by the upcoming book.
"[Imran Khan] is using a mafia against Reham, he does not fulfil the requirements of Articles 62 and 63," the former PTI member claimed.
"He cannot run a government. He gets married, divorces, and then threatens [others] with help of a mafia."
On Monday, Reham, a former TV presenter, alleged that she was being "bullied" by PTI after the manuscript of her book was "stolen" and leaked to the media.
The same day, a 'pre-action defamatory protocol' letter surfaced on the media on behalf of her former husband Ijaz Rehman, former cricketer Wasim Akram, British-Pakistani businessman Zulfi Bukhari and Anila Khawaja, a British-Pakistani activist linked with PTI – citing "defamatory and malicious" content in her upcoming autobiography.
Full report at:
https://www.pakistantoday.com.pk/2018/06/05/gulalai-defends-reham-points-finger-at-imrans-character/
--------
3 FC personnel martyred, two others injured in Mustang suicide attack
JUNE 5, 2018
Three Frontier Corps (FC) personnel were martyred while two others were injured in a suicide attack near a check-post in Mustang city of Balochistan on Monday evening.
The incident occurred in the general area near Aziz FC check-post. The bodies and the injured personnel were shifted to Ghous Bakhsh hospital.
The deceased personnel were identified as sub inspector Munir Jan, Sepoy Ahmed Jan and Sepoy Parwez while the injured as Sepoy Nasir and Sepoy Irshad.
Last month, security forces foiled a major terrorist attack, killing all five suicide bombers who tried to storm a Frontier Corps (FC) compound in the city.
The terrorists mounted attack on FC Madadgar Centre, presumably in retaliation for the killing of the Balochistan LeJ chief, Salman Badeni, a day earlier, in one of the city's most secure neighbourhoods near Quetta cantonment. Eight security personnel were injured in the attack. The outlawed Tehreek-e-Taliban Pakistan (TTP) terrorist group claimed responsibility for the brazen attack.
https://dailytimes.com.pk/249232/3-fc-personnel-martyred-two-others-injured-in-mustang-suicide-attack/
--------
Pakistani journalist abducted in Lahore, returns home hours later
Jun 6, 2018
LAHORE: A 52-year-old Pakistani journalist and activist known for her criticism of Pakistan's military was allegedly abducted by unknown men here, but was later released as netizens took to social media blaming intelligence agencies for her forced disappearance.
Gul Bukhari was on her way to the Waqt TV studio for a show when she was intercepted and abducted on Sherpao Bridge in Lahore's Cantonment area at around 11pm last night.
The driver of the Waqt TV cab told the police that two persons came out of a double-cabin and asked Bukhari to get into their vehicle. "When she refused they bundled her up in the vehicle and sped away," he said, adding that her abductors did not say anything to him.
Later, Bukhari's family registered a missing report at a local police station.
As the news of Bukhari's abduction broke out, several people took to the social media blaming the intelligence agencies for her forced disappearance for her extreme views about the Pakistani army.
Some three hours later, Bukhari's family confirmed that she has returned home.
It, however, did not talk about her abductors.
Hammad, a police official, said the police had reached Bukhari's house but she refused to record her statement at the moment. "We will visit her in the morning again for her statement," he said.
Reacting sharply on Twitter, Pakistan Muslim League-Nawaz (PML-N) leader and daughter of former prime minister Nawaz Sharif, Maryam Nawaz, expressed her shock. "Extremely disturbing and worrisome news of Gul Bukhari's abduction. This is just cruel & worst kind of oppression. A sad day," she said.
Bukhari is a vocal critic of the Pakistan army. She is presently a contributing Op-Ed writer at The Nation and appears as an analyst on Waqt TV show '2vs2'.
In a separate incident, journalist Asad Kharal of BOL TV was allegedly attacked by unidentified men near the Lahore airport.
Kheral later posted pictures of his blood-soaked jacket and blood-stained face on his Twitter account. "I was attacked by some persons wearing masks. I am at hospital," he tweeted.
Senior police officer Bilal Zafar said, "Kharal has been tortured by unidentified persons when he was coming out of the Lahore airport."
He said a case will be registered on the statement of Kheral.
Kheral's colleagues, however, blamed the PML-N for the alleged attack. "Since Kheral is a strong critic of PML-N, its involvement cannot be ruled out in the attack," Director News BOL TV Babar Dogar said.
Full report at:
https://timesofindia.indiatimes.com/world/pakistan/pakistani-journalist-abducted-in-lahore-returns-home-hours-later/articleshow/64472303.cms
--------
Mush decides to return before general elections
June 05, 2018
ISLAMABAD - All Pakistan Muslim League chief Gen (retd) Pervez Musharraf has finally decided to return to the country before the upcoming general election scheduled on July 25.
The decision was taken at the party's core committee meeting held in Dubai where after threadbare discussion on all the aspects of Gen(retd) Musharraf's return including the pending cases against him in the courts and its impact, it was finally decided that party chief would land back in the country before the general election.
Sources aware of the deliberations said that most likely Gen (retd) Musharraf would return in the last week of the current month (June) or in the first week of July to lead the party's election campaign.
The legal team of the party gave a detailed briefing on the participation of the core committee and it was noted that all the cases against him (Musharraf) had been framed on flimsy grounds and politically-motivated and if these cases were properly pursued, the results would definitely come in favour of the party chairman.
Meanwhile, details of decisions taken at the core committee meeting would be announced after the parliamentary board meeting of the party on Tuesday and APML President Dr Mohammad Amjad would hold a press conference today (Tuesday) to announce some major decisions regarding Gen (retd) Musharraf's return to the country, pending judicial cases against him and a strategy for the APML's election campaign.
APML's Joint Secretary Information Shehzad Arbi Satti through a press release said that the APML core committee at its meeting held in Dubai has made some major decision about the party's policy in accordance with the upcoming general election.
The meeting chaired by Gen (retd) Musharraf decided about three major issues: Gen Musharraf's return to Pakistan, his facing of the court cases and the APML's election campaign.
Full report at:
https://nation.com.pk/05-Jun-2018/mush-decides-to-return-before-general-elections
--------
SC asks politicians to arrange for their own security
Nasir Iqbal
June 06, 2018
ISLAMABAD: The Sup­reme Court on Tuesday advised politicians, particularly the chief of his own faction of the Jamiat Ulema-i-Islam-Fazl, to arrange for their own security, declaring that it would not allow election campaign at the expense of the state.
On a suo motu notice, the Supreme Court had taken up the use of luxury vehicles by federal and provincial ministers and government officers beyond their entitlement. Laws allow ministers or officers to use a vehicle not above 1800cc.
During the proceedings, a three-judge Supreme Court bench headed by Chief Justice Mian Saqib Nisar summoned JUI-F chief Maulana Fazlur Rehman, secretary general Maulana Abdul Ghafoor Haideri and PML-N Senator Kamran Michael for still using government-provided protected vehicles, but when senior counsel Kamran Murtaza informed the court that the vehicles had been returned to the government, the court reversed its order.
Mr Murtaza also infor­med the court that Maulana Fazl had survived three assassination attempts on his life.
But the court asked the counsel to tell the JUI-F leader that he should arrange for his own security, adding that he should tell how much hard-earned money of the nation had been spent on the security detail for the Maulana's protection.
When the court asked about the security vehicles being provided to former president Asif Ali Zardari and Pakistan Peoples Party chairman Bilawal Bhutto-Zardari in Sindh, senior counsel Farooq H. Naek replied that both leaders were using their own vehicles instead of government vehicles.
The court, however, observed that it would not allow election campaign by different political leaders at the expense of the state.
Later at a separate event, Maulana Fazl expressed annoyance over the CJ's remarks and told journalists that there was a difference between protocol and security. "I call upon the chief justice and the prime minister to exchange protocol with me," he said. Video report of Shahbaz's house security sought
The apex court also asked the law officers to provide a video report showing the security arrangements at the Model Town residence of Punjab Chief Minister Shahbaz Sharif.
The court expressed its surprise under what laws the Punjab chief minister had been provided a bulletproof vehicle, adding that the police posts had been erected in the entire area leading to the residence of the chief minister and cars were parked at the parks.
However, the court was told that all the barricades and posts had been removed from the area.
The court ordered seven former ministers of Balo­chistan to return luxury vehicles by night or face a fine of Rs100,000 per day which will be enhanced to Rs200,000 per day after a week.
Luxury vehicles recovered
The bench was told that 105 protected luxury vehicles in the use of ministers and other officers beyond their entitlement had been recovered from the federal government.
Similarly, 49 vehicles out of a total of 56 have been recovered from Balochistan, Additional Attorney Gene­ral Nayyar Rizvi told the court.
Full report at:
https://www.dawn.com/news/1412312/sc-asks-politicians-to-arrange-for-their-own-security
--------
Shahbaz warns against attempts to rig polls
Zulqernain Tahir
June 06, 2018
LAHORE: Commenting on apprehensions surrounding the role of certain powers in preventing the Pakistan Muslim League-Nawaz (PML-N) from returning to power, party president Shahbaz Sharif warned of serious consequences if the upcoming elections were not held in a transparent manner.
"If free and fair elections are not held, the future (of the country) will be bleak," he said, while responding to a question about reports that the PML-N may be prevented from forming a majority bloc, in one way or another, and form the next government. He was speaking at a press conference on Tuesday to list the achievements of his five years in government in Punjab.
"All institutions will be strengthened in the wake of fair elections," he said, adding that it would allow Pakistan to move onto its next destination in terms of progress and prosperity. "And if the PML-N returns to power, all conspiracies (against it) will end," he said.
Says he, his son Hamza and son-in-law Imran have not appeared before NAB in Saaf Pani Company case due to 'selective' accountability
In response to question about why his elder brother Nawaz Sharif and niece Maryam Nawaz had continued with the confrontational stance against other state institutions — the judiciary and army — the PML-N chief said:"A country which has experienced four martial laws has institutions that are weak. I do not believe in clash of institutions. There should be no confrontation among them. How can we move forward if there is no harmony or consultation among institutions?"
Mr Sharif announced that if his party returned to power after the July 25 polls, it would immediately begin work on the Bhasha Dam and try to complete it as early as possible so as to solve the acute water and electricity shortage. "No doubt the Kalabagh Dam is inevitable for the country, but national unity is required in this regard. We will start work on the Bhasha Dam if we come to power and will try to complete it," he promised.
Responding to another question about the PML-N's chances of winning the election, Mr Sharif said, "If we form a majority, we will take the opposition along otherwise, we will play a constructive role from the opposition benches."
When asked why he and his son (Hamza) and his son-in-law (Imran Ali) had been avoiding appearing before the National Accountability Bureau (NAB) in the Punjab Saaf Pani Company case, Mr Sharif said the investigation had not been carried out in a fair manner.
"However, I will appear before NAB in this matter," he said, and added that his government had saved Rs70bn in projects related to the 56 public companies. He questioned NAB's "selective" accountability, saying that: "NAB is working here at a bullet's speed. The system will not work through selective accountability. The people (officials) are afraid (of NAB)."
When a reporter asked a question about the Supreme Court taking notice of massive salary packages given to the heads of 56 public companies in Punjab, Mr Sharif said he would not comment on the proceedings of the apex court, but there were other organisations, such as the Pakistan International Airlines, Pakistan State Oil, SNGPL and others, whose heads had salary packages of Rs5million, Rs4m and Rs2.4m, respectively. "I have not committed a sin by establishing these companies, as they were established in the past too. Their employees were hired from the open market and their salary packages were approved by a board of directors," he said, and added that his government had saved Rs682bn in various projects over the last five years. "This amount is unprecedented throughout the country's history," he said.
The PML-N chief lauded the sacrifices of army men. "More than 4,000 soldiers and army officers have sacrificed their lives. The Punjab government has given Rs1bn to the army to build a fence (along the Afghanistan border)," he said.
'Met Reham before PTI's 2014 sit-in'
When asked whether he had met Reham Khan, PTI chief Imran Khan's ex-wife, and financed her yet-to-be-released book, as the PTI is claiming, Mr Sharif said these allegations were baseless. He added that he had met Ms Khan before the PTI's 2014 sit-in at a PTV platform, "and that was the first and last meeting with her".
Detailing the achievements of the PML-Nawaz-led government in Punjab, Mr Sharif said: "My government brought 5,000MW to the system during the last five years while Imran Khan's government in Khyber Pakhtunkhwa added a negative 6MW to the system."
Full report at:
https://www.dawn.com/news/1412299/shahbaz-warns-against-attempts-to-rig-polls
--------
Call for judicial probe into Sikh leader's murder
June 06, 2018
PESHAWAR - Religious leaders belonging to different faiths condemned the killing of Sardar Charanjeet Singh in the provincial metropolis few days back, and stressed for implementation of the apex court's order to ensure protection to the lives and prosperities of non-Muslims across the country.
Speaking at a news conference at Peshawar Press Club on Tuesday, Pakistan Council of World Religions (Faith Friends) vice chairman Bishop Peter Sarfraz Humphrey said that Supreme Court had ordered for constitution of a task force to ensure protection of non-Muslims across the country. But the court order was yet not implemented, he lamented, due to which, he said, minorities' lives and properties, as well as religious places were not remained safe.
Humphrey said that it was a matter of concern that minorities were feeling insecure in the country, and the recent killing of Charanjeet Singh was a glaring example of it. He called upon the government to implement the superior court verdict to prevent such incident in future.
"No religion permits killing of an innocent human, neither someone has the right to take law of the land into his or her hands, Humphrey said. He urged upon police and law enforcement agencies to expedite investigations into the killing of Sardar Charanjeet Singh and arrest his murderers and award them exemplary punishment.
He also said that killing of innocent people belonging to religious minorities was a conspiracy hatched to sabotage peace process in the country. He said that certain forces were out to create disharmony among people belonging to different religions. He stressed the need for taking steps at gross root level to establish religious harmony and tranquillity in the country.
Humphrey said that the killing incident would have not happened had the SC order implemented in its letter and spirit. He said that no serious step had been taken to create religious harmony and ensure protection of religious minorities in the country.
Radesh Tony, a member of Sikh community on the occasion demanded constitution of judicial commission to probe into killing of Sardar Charanjeet Singh. He asked the government to announce a martyred package for the bereaved family of Charenjeet. He warned that if his demand were not met, his community would hold a long march to Islamabad after Eid-ul-Fitr.
Haroon Sarabdiyal from Hindu community said that government had not fulfilled its promise to provide community police for the protection of lives and properties as well as religious places of non-Muslims. He suggested that a special endowment fund should be established to extend financial assistance to the martyred families of religious minorities. He appealed to the Chief Justice of Pakistan and Chief of Army Staff to take notice of the killing of non-Muslims in the country.
Full report at:
https://nation.com.pk/06-Jun-2018/call-for-judicial-probe-into-sikh-leader-s-murder
--------
Arab World
ISIL Storms Rival Terrorist Group in Southern Syria
Jun 05, 2018
ISIL-affiliated Jeish Khalid bin Walid began the assault by storming the FSA positions on the outskirts Heet, which is a town that has been at the front-line of the battle for Western Dara'a for over a year.
According to pro-opposition activists in Dara'a, heavy clashes are ongoing between the two rival groups in Heet, with the ISIL terrorists still on the offensive this morning.
The ISIL claims they seized two points from the Free Syrian Army, while also killing at least five rebel fighters.
ISIL often advances at this axis in West Dara'a, but they later retreat after rebels launch a counter-assault.
Last week, the Syrian army forwarded a large number of fresh forces and a large volume of military hardware to the Southern part of the country to kick off a massive operation against terrorists in Dara'a province.
A large part of the fresh troops have deployed in Quneitra province.
In the meantime, local sources reported that a fresh round of infighting and differences covered Southern Syria, adding that the militants are not capable of controlling the security situation in their region.
The sources further said that six people were killed in infighting among terrorists in the town of Seida.
The source went on to say that a group of the Free Syrian Army stormed al-Basha'er University in the town of Nawa in Northwestern Dara'a, injuring a student.
http://en.farsnews.com/newstext.aspx?nn=13970315000341
--------
Syrian Army Repels ISIL's Heavy Offensive in Deir Ezzur
Jun 05, 2018
The army men battled with ISIL after the terrorist group stormed the small towns of Salehiyeh and al-Dowayer in Southeastern Deir Ezzur.
The army forces warded off the attack, killing a large number of terrorists and destroying their military hardware.
In a similar development on Monday, the army men engaged in fierce clashes with ISIL after the terrorists attacked the towns of al-Hasarat and al-Sha'afa on the Western bank of the Euphrates River and in Southeastern Deir Ezzur.
Also, the army's artillery and missile units opened heavy fire at the positions and movements of the terrorists in the region.
Full report at:
http://en.farsnews.com/newstext.aspx?nn=13970315000222
--------
People in Northern Syria Protest against Turkey-Backed Militants
Jun 04, 2018
The sources said that protesters specifically called on the Ankara-backed Free Syrian Army (FSA) and their allies to leave Jarabulus, as recent violence inside the town has made it unsafe for the residents.
The sources went on to say that the protests reported took place shortly after the rebel infighting resulted in the death of a number of civilians in Jarabulus this past week.
In a similar development on Saturday, over 500 civilians in Jarabulus embarked on demonstrating against the Turkish troops and their militant allies after Friday Prayers and called for expulsion of gunmen of the Ankara-led Euphrates Shield from their region.
A number of protestors hoisted the Syrian government's flag in the town and called for reestablishment of Syria's legal institution.
In some areas the protestors embarked on closing off roads and main streets in the region.
The demonstration came after seven civilians were killed and wounded in a fresh infighting between Ahrar al-Sham terrorists and Liwa al-Shomal affiliated to FSA.
Full report at:
http://en.farsnews.com/newstext.aspx?nn=13970314000427
--------
Kuwait to extend further support to Jordan
5 June 2018
Kuwait on Monday voiced willingness to support Jordan economically through increased investments and concessional loans.
The message was delivered to Jordan's King Abdullah by visiting Kuwaiti Deputy Prime Minister and Minister of State for Cabinet Affairs Anas Al Saleh .
The Kuwaiti official conveyed the greetings of Emir of Kuwait Sheikh Sabah Al Ahmad Al Sabah, who also affirmed Kuwait's support for Jordan under various circumstances and its constant readiness to support the Kingdom in all fields, according to a Royal Court statement.
Al Saleh said that Kuwait is currently considering more Kuwaiti investments in the Kingdom and extending concessional loans to support growth-stimulating projects.
Full report at:
https://english.alarabiya.net/en/News/middle-east/2018/06/05/Kuwait-to-extend-further-support-to-Jordan.html
--------
Hariri: Prince Mohammed bin Salman plays vital role in Lebanon's stability
6 June 2018
Lebanese Prime Minister Saad Hariri received a delegation of Saudi-Lebanese Business Council headed by Raouf Abu Zaki on Tuesday to discuss economic matters.
During the meeting, Hariri stressed on how important it is for the council to focus on encouraging investments and attracting more investors, to strengthen economic and trade exchanges between the two countries.
"The depth of ties between the two countries and the kingdom's favors over Lebanon under the leadership of the Custodian of the Two Holy Mosques King Salman bin Abdul Aziz and Crown Prince Mohammed bin Salman requires all of us to make every effort to further develop these relations to a level that is worthy of the people of Lebanon and Saudi Arabia," Hariri said during the meeting.
"Everyone knows the extent of the support given by Crown Prince Mohammed bin Salman to me personally and in actual fact the vital role he performs to support Lebanon's political, security and economic stability," Hariri added.
The prime minister also commended the crown prince's role in making the Cedar Conference in Paris a successful one, as well as the Rome II conference which was aimed at boosting the Lebanese army and security.
Full report at:
https://english.alarabiya.net/en/News/gulf/2018/06/06/Hariri-Prince-Mohamed-bin-Salman-plays-vital-role-in-Lebanon-s-stability.html
--------
Iraq's Abadi criticizes Turkey for 'political' dam filling
Jun 5, 2018
Iraqi Prime Minister Haidar al-Abadi has criticized Turkey for holding water behind a dam, a decision which affects irrigation in Iraq, saying the move serves Ankara's internal political purposes.
"... the whole issue is political and electoral, and Turkey is trying to use it to win the votes of its farmers", Abadi said Tuesday, making a clear reference to the upcoming snap votes in Turkey where the AKP party of president Recep Tayyip Erdogan is seeking to consolidate its ruling position.
Abadi said filling the basins at Ilisu earlier than expected would not affect Iraq's supply of drinking water but insisted that his government would pursue the case in contact with Turkey and neighboring Iran, which would also be affected by Turkey's decision.
However, Turkey's ambassador to Iraq said that his country had earlier informed Abadi's administration of the decision about Ilisu, adding that it won't harm Iraq's interest.
"We will not take any step without consultation with the neighboring country on how we can cooperate and provide support during any problem," Fatih Yildiz said in a briefing in Baghdad, adding, "This is an important matter for both countries."
Turkey's Ministry of Forest and Water Management said only a portion of the water running through Ilisu had been held. A spokesman of the ministry said the operations would not affect the flow of water on the Tigris as Turkey was "partially" filling the dam's basin by closing one of the valves on the first of three diversion tunnels. The official said the two other tunnels would be closed three and six months later respectively.
Iraq is already suffering from a drought that has reduced water levels in lakes and rivers. The public and the media in the Arab country have blamed Turkey for the water shortage as both Tigris and the Euphrates rivers which make up around 70 percent of Iraq's water resources flow through Turkey.
Full report at:
http://www.presstv.com/Detail/2018/06/05/564039/Iraq-Turkey-dam-dispute-Abadi
--------
Southeast Asia
Mahathir says his govt will safeguard Islam as he pushes back against critics
Jun 6, 2018
PUTRAJAYA - Malaysia's Prime Minister Mahathir Mohamad has said that Islam will continue to be safeguarded in the country, as he pushed back against critics who have questioned whether the new Pakatan Harapan (PH) government is sensitive to Islamic interests.
His critics have raised their concern following his government's push in the last two weeks to have a non-Malay-Muslim as the new Attorney-General (A-G).
The new government has also said it is reviewing the functions of the Islamic Development Department of Malaysia (Jakim), a powerful Islamic agency.
"There are people who say this government will not protect the religion of Islam, which is the official religion of our country," Tun Dr Mahathir told the audience attending a breaking of fast event on Monday in Putrajaya. "This is incorrect as we are also responsible for governing the country without contradicting the teachings of Islam."
Mr Tommy Thomas was on Tuesday (June 5) named the new A-G by the Malaysian King, following debate on why a Malay-Muslim was not named to replace outgoing A-G Mohamed Apandi Ali.
Mr Thomas is the first non-Malay-Muslim A-G since Mr Athi Nahappan in 1974 - that was 44 years ago.
Malay and Islamic non-governmental organisations, and several political leaders in Umno and Parti Islam SeMalaysia have voiced their worries that a non-Malay-Muslim wouldn't be sensitive to legal matters involving Islam and Muslims.
The issues raised over the new A-G followed another move by the PH government that set tongues wagging among its critics. This was its appointment of an ethnic Chinese finance minister, Mr Lim Guan Eng, the first time after a 44-year hiatus.
Malaysia's first two finance ministers after independence in 1957 were Chinese, but the post had been held by ethnic Malays from 1974.
Dr Mahathir in his speech on Monday said : "We know there are many who claim to be supposedly protecting Islam, they claim to want to set up an Islamic government but we find that their actions are in fact contrary to the teachings of Islam."
He added: "We will establish a government that upholds the laws and the Constitution of the country and we will not do anything contrary to Islam."
Meanwhile, Deputy Prime Minister Wan Azizah Ismail said there is no issue of Islam and Malay interests being undermined just because Mr Thomas is being appointed.
"We have the federal Constitution which is clear, and whoever is the attorney-general must uphold the constitution.
"Islam is the official religion, with freedom for other religions. The (position of the) royal institution, Bahasa Melayu, that is accepted by all Malaysians," Wan Azizah told Malaysiakini news site in an interview on Tuesday.
https://www.straitstimes.com/asia/se-asia/mahathir-says-his-govt-will-safeguard-islam-as-he-pushes-back-against-critics
--------
Vice Governor Sandiaga Uno says 40 mosques in Jakarta infiltrated by radicalism
Jun. 6, 2018
Following last month's deadly terrorist attacks in Surabaya and Riau, alarms have been raised about the growing religious extremism throughout Indonesia and officials warn that even the metropolitan capital of Jakarta has numerous mosques teaching radical ideology.
Jakarta Vice Governor Sandiaga Uno said yesterday that he had data from the Bureau of Mental and Spiritual Education (Dikmental) and the Jakarta Muslim Charitable Donations Board (Bazis) indicating that 40 mosques in the capital had been infiltrated with radical ideology.
Although Sandiaga did not reveal any more specifics about these mosques, he said that the Jakarta government would take steps to bring them back into the mainstream and prevent them from taking any dangerous actions.
Arguing that radicalism arises from poverty and the powerlessness in society, Sandiaga said one thing could do was to build up the economy around these mosques.
"One of the problems that causes radicalism is injustice and lack of understanding, which continues to be indoctrinated into young people, the next generation of our nation and so they want to take shortcuts.There is no other way than through education, so we will give them the chance to become entrepreneurs and successful people with the OK OCE program," Sandiaga said as quoted by Merdeka (OK OCE being Sandiaga's signature entrepreneurship program that he seems to find a reason to talk about during almost every interview he gives).
https://coconuts.co/jakarta/news/vice-governor-sandiaga-uno-says-40-mosques-jakarta-infiltrated-radicalism/
--------
Chinese State Media: Southeast Asia 'Hub of World Terrorism Activities'
5 Jun 2018
Islamic terrorists are relocating from the Middle East to Southeast Asia, home to the world's most populous Muslim-majority country, Indonesia, China's state-owned Global Times warned this week.
The flow of jihadis from the Middle East into Southeast Asia has rendered the region "the hub of world terrorism activities," Zhang Chi, an associate professor at People's Liberation Army (PLA)'s National Defense University, told the Global Times at the Shangri-La Dialogue in Singapore, which the United States attended.
Acknowledging that Islamic State (ISIS/ISIL) jihadists are "adapting" to the fall of their so-called caliphate in Iraq and Syria, the U.S. State Department cautioned in March that the terrorist group had established a presence in Southeast Asia with its main stronghold located in the Philippines.
Clashes between ISIS-linked terrorists and authorities in the Philippines' Marawi City left nearly 200 security forces and civilians dead last year alone.
Zhang urged Southeast Asian countries to cooperate with China on fighting terrorism in the region.
Global Times reports:
China and some Southeast Asian countries have already begun joint anti-terrorism drills and will expand cooperation in the near future, Zhang noted.
Terrorism spreads fast, Zhang said, and Southeast Asia's religious landscape and relatively less developed political and economic conditions make the region "a hotbed for extremists."
Li Wei, a counter-terrorism expert at the China Institute of Contemporary International Relations in Beijing, told the Global Times that China faces a threat from terrorists trying to infiltrate the Asian giant through the country's southeastern and eastern borders.
In August 2017, Voice of America (VOA) reported that ISIS was establishing a growing footprint in Southeast Asia, noting:
Analysts say as IS militants are losing ground in Syria and Iraq, the terror group is attempting to expand in Southeast Asia, which is home to a number of separatist and militant groups.
…
Some analysts say that many extremists in [the most populous Muslim-majority country of] Indonesia who wish to join IS [Islamic State] are now heading to the Philippines instead of Syria and Iraq, because conditions in the terror group's former strongholds have degraded due to the ongoing multi-front military campaign against the group in the region.
Southeast Asian countries have reportedly expressed concern about the battle-hardened fighters who are returning home after traveling to engage in jihad in Iraq and Syria.
In 2016, Indonesia's government alone reported that "between 169 and 300 Indonesians who fought for IS have returned home," VOA noted.
Zhang acknowledged that China, India, and other Asian countries have joined forces to fight terrorism in the region under the framework of Shanghai Cooperation Organization (SCO).
The Afghanistan-Pakistan region, which borders China's Muslim-majority Xinjiang province, is home to the "highest concentration" of terrorist groups in the world, according to the Pentagon.
Full report at:
http://www.breitbart.com/national-security/2018/06/05/chinese-state-media-southeast-asia-hub-world-terrorism-activities/
--------
Act constitutionally when it comes to Muslims, PAS reminds new AG
05 June 2018
By Zurairi Ar
KUALA LUMPUR, June 5 — Opposition party PAS has urged new Attorney-General (AG) Tommy Thomas act constitutionally, fairly and impartially by taking into account the historic aspect and intention of each legislation, especially in laws involving Muslims and related institutions.
After staunchly opposing the lawyer's nomination by Prime Minister Tun Dr Mahathir Mohamad, the Islamist party said it now accepts the Yang di-Pertuan Agong's decision to give assent to the appointment.
"PAS is ready to cooperate in all good things, and at the same time, will act as a constructive Opposition as a check-and-balance, by offering views, suggestions and make a stand in issues that concern public interest, either for Muslims or not," its secretary-general Datuk Takiyuddin Hassan said in a statement.
Yesterday, PAS information chief Nasrudin Hassan opposed Thomas' nomination, insisting that the AG must be a Muslim.
In a post on his Facebook page, Nasrudin said the AG should be able to advise Putrajaya in order to preserve Islam's position in the country.
"Has the Malaysian government run out of high-calibre Muslim lawyers to fill the AG post?" he had asked.
Despite PAS' concerns, the AG can refer to a Shariah law expert to advise the government on Islamic-related issues.
Full report at:
https://www.malaymail.com/s/1638724/act-constitutionally-when-it-comes-to-muslims-pas-reminds-new-ag
--------
Indonesian mosques launch Ramadan anti-plastic drive
June 6, 2018
A leading environmental organization is using the Islamic holy month of Ramadan as a platform in a campaign against the use of plastic in Indonesian mosques.
Greenpeace Indonesia, and the Indonesian Ulema Council, launched the campaign this week to mark World Environment Day, on June 5, at Pondok Indah Grand Mosque in South Jakarta.
"Plastic waste is a major issue in Indonesia. In 2015, Indonesia ranked second highest in the amount of waste produced," Muharram Atha Rasyadi, a Greenpeace campaigner, told ucanews.com.
He was referring to a study published in the journal Science in February that year saying Indonesia's, 250 million people, produced 3.2 million tons of plastic waste in 2010, some 1.29 million of which ended up in the ocean.
The figures placed the country second to China that contributed 8.8 million tons of waste, 27 percent of the world total.
"People tend to consume more during Ramadan. Fast-breaking meals in plastic containers are held at mosques. This adds to the amount of plastic waste," Rasyadi said.
Fatah, who manages Pondok Indah Grand Mosque, said the mosque produces a lot of plastic waste during Ramadan.
"A lot is produced and removed every day during Ramadan," said Fatah, who like many Indonesians only goes by one name, adding that the mosque usually gets rid of garbage every four days.
Rasyadi said the campaign, encouraging Muslims to use glass or China tableware for religious events and raising awareness among Muslims about environmental protection, would focus on Jakarta and Bandung to begin with.
Last year, Jakarta produced 7,000 tons of waste each day. Fifteen percent, or 1,050 tons, of that figure was plastic waste.
In the same year, Bandung produced 1,500 tons of waste, with a similar percentage of plastic waste.
"People are 'trapped' in a single-use habit. They use single-use plastic such as bottles, bags, straws and containers without thinking of the consequences on nature," Rasyadi said, adding that plastic waste is choking the country's seas and ruining fish stocks.
In 2017, the government committed to reducing marine plastic debris by 70 percent by the end of 2025.
The year previously, it launched its "Indonesia Free Waste 2020" campaign and began a trial policy to reduce plastic waste by instructing retailers to charge customers 200 rupiah (less than 1 US cent) for each plastic bag used.
"We want the government to issue such policies targeting retailers. We need to reduce plastic waste at source," Rasyadi said.
Hayu S. Prabowo, chairman of the Ulema Council's Environment and Natural Resources Preservation Desk, said Islam does teach the need to care for nature.
"Muslims are not only told to maintain a good relationship with God and others but also with nature so that it brings benefits to them," he said.
"A simple way they can do is not to use single-use plastic," he said.
"We want to work together with Greenpeace Indonesia to maintain the campaign," Fatah the mosque manager said.
Jesuit Father Alexius Andang Listya Binawan, episcopal vicar of Jakarta Archdiocese, which introduced an anti-plastic campaign in 2013, said there should be no let up in raising awareness about how harmful plastic is to the environment.
Full report at:
https://www.ucanews.com/news/indonesian-mosques-launch-ramadan-anti-plastic-drive/82491
--------
Gerindra supports Rizieq's idea of creating 'ummah alliance'
June 5, 2018
The Gerindra Party, a nationalist-based opposition party led by Prabowo Subianto, appears to have supported an idea floated by Islam Defenders Front (FPI) leader Rizieq Shihab that it form an "ummah alliance" to challenge President Joko "Jokowi" Widodo in the 2019 presidential election.
The party called on the nation's Islamic parties to stand behind its candidate, Prabowo, against Jokowi, who has only secured the support of one Islamic party, the United Development Party (PPP).
The initiative to form a religiously orientated political alliance was proposed after Prabowo met with National Mandate Party (PAN) patron Amien Rais and Rizieq in Mecca, Saudi Arabia, last week.
Gerindra deputy chairman Fadli Zon confirmed on Tuesday that the party's attempt to create an "ummah alliance" was Rizieq's idea. Rizieq, who fled to Saudi Arabia while under investigation for his alleged role in a pornography case, appears to have become more influential among conservative Muslim groups opposed to the Jokowi administration.
"It makes sense we name it an 'ummah alliance', because the coalition is for the sake of the ummah and all of the people," Fadli said.
The party's move has fueled concerns that sectarian politics could play a role in the upcoming presidential election as it did during the 2014 presidential election and the 2017 Jakarta gubernatorial election.
Gerindra is currently close to two Muslim-based parties — PAN and the Prosperous Justice Party (PKS). PAN is closely associated with Muhammadiyah, the nation's second-largest Islamic group after Nahdlatul Ulama (NU), while the PKS controls a vast network of urban Muslim activists inspired by Egypt's Muslim Brotherhood.
The National Awakening Party (PKB) is the only Muslim-based party that has yet to decide whether to side with Jokowi or Prabowo in 2019. The PKB's support could be decisive as it is widely regarded as the party of NU, even though, like Muhammadiyah, NU is an independent organization with no affiliation to any political parties.
Gerindra has reportedly offered the PKB ministerial seats, along with the Democratic Party, a nationalist party that remains undecided whether to back Jokowi or Prabowo or to create a third axis and offer an alternative candidate.
The PKB has been aggressively offering its chairman, Muhaimin Iskandar, as a vice presidential candidate to Jokowi and Prabowo, but neither has yet accepted the offer. The Democratic Party is also seeking to pair its member, Agus Harimurti, with either of the two candidates.
Full report at:
http://www.thejakartapost.com/news/2018/06/05/gerindra-supports-rizieqs-idea-of-creating-ummah-alliance.html
--------
Indonesia, Australia to Continue Counterterrorism Cooperation
June 05, 2018
Jakarta. Indonesia and Australia have agreed to continue cooperation in counterterrorism and cyber security, Chief Security Minister Wiranto said on Monday (04/06).
"We agreed to coordinate efforts with Australia to tackle terrorism. We also discussed how we can cut off terrorism financing," Wiranto said, after a meeting in Jakarta with recently appointed Australian Ambassador Gary Quinlan.
"We need to work together to accelerate our cyber capabilities, and to balance the fast regional and global developments," Wiranto said.
Since the 2002 Bali bomb attack that killed 88 Australians, the neighbor has been in close counterterrorism cooperation with Indonesia, helping the latter to fight the Jamaah Islamiyah terrorist group responsible for the bombing.
Today, Indonesia faces new threats from the Islamic State, which is trying to have a foothold in Southeast Asia.
According to a statement issued by the Coordinating Ministry for Political, Legal and Security Affairs, another special meeting is planned by Indonesia and Australia with Malaysia, the Philippines, New Zealand and Brunei.
This will be a follow-up to a meeting in July 2017, when the six countries agreed to synchronize law enforcement efforts and share intelligence on terrorist activities.
Last year, Indonesia adopted several approaches to step up security and tackle emerging threats, including stronger cooperation with Malaysia and the Philippines as a response to the hostile takeover of Marawi City in southern Philippines by Islamic militants.
The siege prompted concerns from Indonesia and Malaysia, which feared that militants could flee to nearby North Maluku and Sabah.
Last month, Indonesia saw the deadliest series of terrorist attacks on its soil, when terrorism convicts at the detention center of the National Police's Mobile Brigade (Brimob) in Depok, West Java, instigated a days-long riot and killed five officers. The incident was followed by suicide bombings in East Java, which killed 28 people.
Full report at:
http://jakartaglobe.id/news/indonesia-australia-continue-counterterrorism-cooperation/
--------
Africa
Jordan King Stresses Terrorism Poses Ideological Challenge for Islam in Albania Venue
June 5th, 2018
Deputising for King Abdullah, HRH Prince Ghazi Bin Muhammad, His Majesty's chief adviser for religious and cultural affairs and personal envoy, on Monday participated in an international anti-terror conference in Albania, a Royal Court statement said.
The conference, which was opened by Albanian Prime Minister Edi Rama and co-organised with the Dutch government, was held on the sidelines of a two-day gathering, which is part of the "Aqaba Meetings", a process launched by King Abdullah in 2015 to enhance security, military coordination and cooperation and exchange experiences and intelligence between regional and international partners to combat terrorism through a holistic approach.
Delivering the King's speech at the conference, Prince Ghazi commended a move to establish a coordination centre in Albania to counter violent extremism in the Balkans, noting that such challenges are mounting and all stakeholders should join forces to overcome them through cooperation and consultation.
Highlighting Jordan's efforts in this regard, the prince cited international interfaith initiatives launched by Jordan such as Amman Message, A Common Word, World Interfaith Harmony Week and the Baptism Site in Jordan Valley.
He stressed that the ideological challenge is terrorism in the name of Islam, reiterating that fighting terror is a war within the Muslim nation. He noted that Jordan presented the correct narratives against terrorism.
Since the feeling of resentment among individuals is manipulated by terror recruiters, Prince Ghazi said, ensuring justice and the rule of law and making way for dialogue are essential factors in the war against terrorists. The remarks were echoed by Balkan countries' leaders who took part in the conference, including the premiers of Kosovo and Bulgaria.
The Sunday-Monday meeting, which was held for the first time outside Jordan, particularly addressed security challenges in the Western Balkans, involving security and political officials from 22 countries, as well as officials from the Balkans, international partners and the EU.
https://www.albawaba.com/news/jordan-king-stresses-terrorism-poses-ideological-challenge-islam-albania-venue-1141574
--------
There is nothing like Islamic terrorism in Nigeria – Oloyede
JUNE 5, 2018
Lagos – Prof. Ishaq Oloyede, the Registrar, Joint Admission and Matriculation Board, has urged Nigerians to eschew hatred, conflicts, suspicion and imputation of motive to attract national development.
Oloyede, who is also the Secretary General of the Nigerian Supreme Council for Islamic Affairs (NSCIA), made the plea at the first Ramadan Lecture of the Point Newspapers held at LTV 8 Agidingbi, Lagos. Theme of the lecture is: "Achieving Peace, Stability and Good Governance in a Multi-Ethnic and Multi-Religious Society: The Islamic Perspective." According to him, the age-long conflict between the Tiv and the Fulani is as bad as it is being aggravated by political and religious irredentist assisted by irresponsible media. "If not for political expediency, the sociology of Tiv-Fulani relations and linguistic dynamics of asking 'where are my cows by Fulani man and the response of I have eaten it by a Tiv man would have resonated a long history of such inter-group relations. "But, where desperate politicians seek relevance, any straw can be held on to gain cheap political points. Nigerians should not fall for the propaganda, whether from the politicians or from religious bodies. "A deep reflection of what is being presented as a new clash would have shown that it is a conflict that is as old as Nigeria. "The colonial masters created grazing routes, forest reserves and mediating teams to address the economic and social friction between the Tiv-farmers and the roving herdsmen," he said. Speaking on the recent killings, he urged Nigerians to emulate the call by the Catholic Bishops on the government to take more drastic measures in addressing the killings in Benue and other places in Nigeria. "On the issue of Christians being killed by herdsmen, the truth remains that more Christians, like their Muslim counterparts, were killed by Boko Haram, no religious body held the former president responsible. "In spite of the alleged conspiracy theory that Boko Haram was an economic venture of some of public officers, the NSCIA did not accuse the former president as being sponsors. "Does it not smack if religious bigotry and undisguised wickedness that President Muhammadu Buhari is being directly targeted by the zealots?," he asked. In his contributions,, the Chairman of the Ramadan Lecture, Alhaji Tunji Ishola, also the Baba Adinni of Yorubaland, Edo and Delta, said that the topic was apt and timely. Ishola urged Nigerians to embrace peace. He said that Nigeria was not a circular nation, but "a multi-religious nation", describing Islam as a religion of peace. "Let me seize this opportunity to let Nigerians know that there is nothing like Islamic terrorism, Islam is a religion of peace and we are peaceful people. "It is also important that whatever is due to both religions must not be denied them on account of religion. Peace has always been practiced for the past 200 years in Yorubaland. "We have been experiencing peaceful coexistence in all religion. This topic is to enlighten ourselves on the peaceful coexistence. It is something that is worthy of note," Ishola said. (NAN)
https://www.vanguardngr.com/2018/06/nothing-like-islamic-terrorism-nigeria-oloyede/
--------
Report says Italy will expel thousands of undocumented Tunisians
5 June 2018
Reports coming from Rome on Tuesday revealed that Italy is planning to deport all Tunisians illegally living in the country, pointing out that many of them are involved in a few cases of theft, drug trafficking and violence.
On its Tuesday issue, the Corriere della Sera newspaper reported that the new Italian government is preparing to launch a massive campaign to expel "illegal immigrants" in the coming weeks.
The newspaper said that Tunisia ranked first in terms of the number of illegal immigrants coming to Italy, noting that more than 2,800 Tunisian immigrants arrived in Italy recently.
Right-wing newspaper Il Giornale quoted Salvini as saying that: "The priority of the new Italian government and the Interior Ministry is to stop the influx of migrants coming from Tunisia and Algeria".
The Italian Interior Minister sharply criticized Tunisia, accusing it of exporting criminals to his country, saying that 40,000 Tunisians were residing in Italy illegally.
Tunisia called the Italian ambassador, informing him of it surprise by the comments made by his country's new interior minister, Matteo Salvini, on Sunday regarding the migration of Tunisians to Italy.
This coincides with the announcement of the Tunisian officials of the death of at least 60 migrants after the sinking of their boat, which was heading to Italy, in one of the worst incidents of immigrants death for years.
Full report at:
https://english.alarabiya.net/en/News/north-africa/2018/06/05/Report-says-Rome-will-expel-thousands-of-undocumented-Tunisians.html
--------
US airstrike in Somalia kills 27 al-Shabaab militants
05 June 2018
U.S. forces in coordination with the Somali government conducted an airstrike in Somalia's northeastern Bari region over the weekend, killing 27 al-Shabaab militants, the U.S. Africa Command (Africom) said Monday.
The airstrike took place 41 kilometers (26 miles) southwest of the coastal town of Bosasso, the capital of Bari, on June 2, Africom said in a statement.
Africom said it currently assesses that no civilians were killed in the airstrike.
"U.S. forces will continue to use all authorized and appropriate measures to protect U.S. citizens and to disable terrorist threats" in Somalia, the statement said.
U.S. President Donald Trump authorized the conducting of airstrikes in Somalia soon after taking office.
Full report at:
http://www.worldbulletin.net/africa/202810/180-prisoners-escape-in-nigerias-jailbreak
--------
Somalia: Army Repulses Al-Shabaab Attack in Bardere Town, 9 Killed
5 JUNE 2018
Somali forces Sunday night repulsed attacks from the militant group Al-Shabaab in Bardere town in Lower Jubba region with reports indicating at least 9 militants were killed.
Sources said Al-Shabaab fighters attacked a military base in the town, leading to a clash which ensued for several hours during the night.
At least 9 Al Shabaab members died in the attack and two were captured alive by the Somali military, according to Farah Mohamed, a senior army commander in the area.
"We captured two fighters alive, we also seized weapons and ammunition. The men have been taken into the custody of the security forces," said Mohamed.
The officer did not disclose casualties on their side, but, Al Shabaab has claimed it inflicted heavy losses on the government forces.
Full report at:
http://allafrica.com/stories/201806050881.html
--------
Somalia: 10 Killed in Foiled Attempt By Al-Shabaab to Overrun Bardheere SNA Camp
5 JUNE 2018
At least 10 people were killed on Tuesday morning when Al-Shabaab and government clashed in the Gedo region town of Bardheere, Radio Dalsan reports. Two government soldiers and eight militants were killed in the fighting according to an official of Gedo region. Al-Shabaab had attempted to overrun the Bardheere Military camp but failed to succeed in executing the attack.
SNA displayed a captured militant.
The Al-qaeda linked group has intensified its activities since last Friday when they attacked the Hiraan region's Moqokori town where it claimed tens of SNA soldiers were killed. The group displayed bodies purported to be government soldiers. The town was recaptured on Saturday.
Full report at:
http://allafrica.com/stories/201806050695.html
--------
Mideast
At OIC, Turkey urges Muslim nations to support Palestinians
Jun 5, 2018
ISTANBUL: Turkey urged Muslim nations at an Organisation of Islamic Cooperation (OIC) summit on Friday to stand with the Palestinians against Israel, warning that the American decision to recognize Jerusalem as Israel's capital would only be the first among many moves against the Islamic world.
The call came on the heels of a week that has seen Turkey take a leading role in condemning Israeli actions in Gaza. Monday's killing of 59 Palestinians and wounding of hundreds of others was the deadliest day of cross-border violence in Gaza since a 2014 war between Israel and Hamas. As part of its efforts, the Turkish government organized a massive "Curse Oppression, Support Jerusalem'' rally and an extraordinary summit of the 57-member Organization of Islamic Cooperation, in a show of solidarity Friday. Speaking to leaders and high-level officials from Muslim nations, Erdogan called for unity, saying Jerusalem, the third holiest site in Islam, was their common cause. He said the United States had heightened regional tensions and argued its "Jerusalem decision is the harbinger of new operations against the Islamic world.''
Erdogan, the rotating term president of the OIC, called Israel's actions in Gaza "state terror,'' and compared them to the Holocaust.
"The children of those who were subjected to all sorts of torture in concentration camps during World War II are now attacking Palestinians with methods that would put Nazis to shame,'' he said.
Palestinian Prime Minister Rami Hamdallah criticized the US for becoming "part of the problem and not the solution'' and thereby disqualified itself as a peace process mediator by infringing on the Palestinians' ``historic, legal, natural and national rights'' with Monday's embassy move.
Jordanian King Abdullah II weighed in to say immediate resolutions were needed to economically support "the resistance of Palestinians'' and confront Israel's attempts at "changing Jerusalem's Arab, Islamic and Christian identity.''
Iranian President Hasan Rouhani spoke as participants broke their fast for Ramadan, calling the Trump administration a "dangerous threat'' to global peace and security. Rouhani said Muslim nations should consider "revising'' political and economic ties with the US, and called on the international community to "cut ties'' with Israel and boycott it through trade.
"If Israel faces a united front of Islamic nations, it will never be able to continue its crimes,'' the Iranian president said. He cited the example of the "new and young generation of Palestine who is aware of their rights and has no intention to withdraw or compromise.''
Before the summit, the Palestinian prime minister and Erdogan spoke to hundreds of thousands waving Palestinian and Turkish flags. Erdogan told the rally that the responsibility to defend Jerusalem lay with them as crowds chanted "Chief, take us to Jerusalem.''
He also slammed Islamic countries that failed what he termed "the Jerusalem test,'' saying "all we Muslims do is condemn'' and not unite. Erdogan said Muslim countries were "severe, intolerant and unconscientious'' to each other and "toothless and cowardly'' to unspecified enemies. Erdogan struck a more conciliatory tone at the summit.
At the morning session of the OIC summit, Turkey's Foreign Minister Mevlut Cavusoglu said, "we must prevent other countries from following the US example'' and that "precautions'' must be taken against those nations that voted against, abstained from or did not show up for a United Nations motion in December, some 128 countries overwhelmingly supported the UN against Washington's decision to recognize Jerusalem as Israel's capital.
Turkey's role in condemning the Israeli actions in Gaza has led to a diplomatic spat with Erdogan and Israeli Prime Minister Benjamin Netanyahu, who traded barbs on Twitter and temporarily expelled senior diplomats.
https://timesofindia.indiatimes.com/world/middle-east/at-oic-turkey-urges-muslim-nations-to-support-palestinians/articleshow/64466167.cms
--------
Quds Force not supporting extremist groups, says Iran
JUNE 6, 2018
ISLAMABAD: The Quds Force is one of the wings of the Islamic Revolutionary Guards Corps (IRGC) and an official military force of the Islamic Republic of Iran, which functions in a transparent and legal manner, a statement issued by the Iranian Embassy in Islamabad maintained.
"So, accusations regarding support to terrorist organizations and extremist groups in the world are completely false and unacceptable," the statement asserted, in response to an article published by Daily Times titled: "Iran's Quds Force: A Force of Chaos" on May 21.
"Islamic Republic of Iran on the invitation of the legal governments of Syria and Iraq and in order to root out terrorism and to provide military advisory and training has active presence in these two countries.Fortunately due to support of Iran, ISIS, a terrorist group, which had become a serious threat for the Middle East and West Asia was defeated," the embassy statement read. "Presence of Quds Force in the two countries had been in the said official framework which meant to defend the legal governments of the two countries and fight against terrorism. The said governments have expressed their gratitude and appreciation to the Quds Force for its role in eradication of terrorism from their territories," it added.
"Advice to US, Saudi Arabia and Israel to limit Quds Force and defuse its regional role is unfortunate. Whereas, it is clear for all that US and Israel are real enemies of the Islamic World. Recent harsh policies of US towards Pakistan and its withdrawal from Joint Comprehensive Plan of Action (JCPOA) and recent step of Trump regarding relocation of its embassy to Al Quds and its support to Zionist Regime are clear examples of US animosity and hash position towards the Islamic nations," the statement said, adding "Crisis like situation in the Middle East and spreading of terrorism in this region are the result of war mongering policies of the US."
https://dailytimes.com.pk/249518/quds-force-not-supporting-extremist-groups-says-iran/
--------
Arab Coalition air raids successfully target Houthi strongholds in Yemen
5 June 2018
A series of battles between Yemen's Houthi militia and Yemen's legitimate government forces resulted in the death of dozens of militiamen in a number of fronts in al Jawf on Tuesday.
Among the dead was Houthi leader Moqtada al-Assar who died in a battle in the al-Matoon district.
Army sources said that vicious battles took place in the districts of al-Matoon, al-Masloob, Khab and al-Shaaf and Bart al-Anan in northern and western al-Jawf.
Meanwhile, the coalition carried out air raids targeting Houthi military strongholds in al-Masloob.
The coalition carried out several other air raids also targeting Houthi military gatherings in bases north of the Imran governorate, and in southern Saada as well as in Hodeidah, resulting in dozens of militiamen deaths.
These operations came following the UN envoy to Yemen's five-day visit to Sanaa where he met with several Houthi leaders.
Martin Griffiths released a statement before his departure from Sanaa expressing his concern for the deteriorating humanitarian conditions and the wasting of time in negotiation a political solution.
Full report at:
https://english.alarabiya.net/en/News/gulf/2018/06/05/Arab-Coalition-air-raids-successfully-target-Houthi-strongholds-in-Yemen.html
--------
Yemen's Houthis 'aim to clone Iranian regime structure' to replace parliament
5 June 2018
For the fourth time in less than a month, the Houthi militias issued decisions to appoint its commanders in the Shura Council which it seeks to make it an alternative to the parliament, a move tantamount to cloning the Iranian regime's structure.
President of the so-called Supreme Political Council Mahdi al-Mashat issued a decision on Monday to appoint four Houthi commanders and supporters in the Shura Council.
A similar decision two days ago appointed three Houthis to the council. The total number of Houthis appointed by Mashat since he became president of the political council after the death of Salah al-Sammad is 50.
The Houthis' purpose of these appointments is to establish a legislative authority under their control and cancel the parliament, which they're not represented in, to legitimize their crimes, observers said.
Full report at:
https://english.alarabiya.net/en/News/middle-east/2018/06/05/Houthis-trying-to-clone-Iranian-regime-structure-to-replace-parliament.html
--------
Salih Muslim's brother calls on Kurds to endorse Erdogan
Jun 6, 2018
ERBIL, Kurdistan Region — Mustafa Muslim, the older brother of the former leader of Democratic Union Party (PYD) in Rojava, Salih Muslim, called on Kurdish population in Turkey to support President Recep Tayyip Erdogan's re-election.
"He is a believer and a Muslim. When a believer promises, they fulfill them … I say that they [Kurds] — all should support Erdogan in this stage," Muslim told reporters during an Iftar arranged by AKP in Diyarbakir on Sunday attended by Erdogan.
He was often seen on Turkish media during the country's offensive on the Kurdish city of Afrin and when PYD's armed wing People's Protection Units (YPG) was resisting Kurdish city of Kobane against ISIS where the professor spoke against the activities and policies of his younger brother's party.
The older Muslim was born in Kobane in 1940 and has studied Islamic studies in Syria. He has taught in Syria, Kurdistan Region, and Turkey.
He praised Erdogan's rule, claiming that no previous Turkish governments granted Kurds the things the AKP party has over it's the past 16 years.
"Before 20-30 years, no one dared to say: 'I am a Kurd' or work in the market. Thanks be to Allah, Kurds have their own income and TVs. Other things are being added step by step," said Muslim
He claimed that the people of Afrin have been "misled in the 50-60 years by communism," calling on Muslims to go to the city to "awaken them … by shaking and slapping them."
On the same day he said these remarks, Erdogan promised to turn the Kurdish city of Diyarbakir into a touristic destination through new projects.
He has a program on state-owned TRT where he interprets the Quran in Kurdish.
Full report at:
http://www.rudaw.net/english/middleeast/turkey/050620181
--------
These are the conditions Houthis have set to withdraw from Yemen's Hodeidah
5 June 2018
Senior political sources in Sanaa said the Houthis agreed to withdraw from Hodeidah in exchange of a number of conditions they proposed to Martin Griffiths, the United Nations special envoy to Yemen, who is currently visiting Sanaa.
These conditions include having the UN manage and run the Hodeidah Port, not intercept goods destined to their areas, obligate the legitimate government to pay employees' wages in areas they control, halt the war, not targeting the new areas they control, obligate the Arab coalition to halt its strikes and begin peace negotiations along with setting enough guarantees to not violate the ceasefire.
The sources added that the Houthis also demanded not targeting their commanders by strikes or any other attacks and called on the UN to condemn the murder of Salah al-Sammad, the president of the so-called political council.
Full report at:
https://english.alarabiya.net/en/News/middle-east/2018/06/05/These-are-the-conditions-Houthis-have-set-to-withdraw-from-Yemen-s-Hodeidah.html
--------
Israel intelligence minister proposes 'military coalition' against Iran
Jun 5, 2018
Israel has proposed that "a military coalition" be formed against Iran in case Tehran pursues "military-grade" uranium enrichment, suggesting that the military force would comprise of the Israeli regime, the US, the Western states and their Arab allies.
Speaking to media on Tuesday, Israeli Intelligence Minister Yisrael Katz claimed that Iran had once been running an "unsupervised" enrichment scheme with the potential of arming the country with nuclear weapons.
The allies will need to issue a statement against the Islamic Republic "if the Iranians don't surrender now, and try to return," he said, adding that the statement would be threatening Iranians that "a military coalition will be formed against them."
"There should be a clear statement by the president of the United States and all of the Western coalition" if Iran returns to enriching "military-grade" uranium, the minister said. "The Arabs and Israel surely would be there too," he added.
Washington and Tel Aviv, and to a lesser extent their Western and Arab partners, have claimed that Tehran's nuclear energy program harbors military aspects.
Iran has strictly and in all circumstances denied pursuing any military ambitions through its nuclear work.
The country asserts that under a fatwa (religious decree) issued by Leader of the Islamic Revolution Ayatollah Seyyed Ali Khamenei, its long-established policy is to oppose the acquisition, production, stockpiling, and use of nuclear weapons.
In December 2015, the International Atomic Energy Agency's governing board voted overwhelmingly in favor of a draft resolution, which closed the so-called possible military dimensions (PMD) case in Iran's nuclear program.
The vote brought an end to a 12-year investigation into the "past and present issues" regarding Iran's nuclear activities, which the United Nations nuclear watchdog had been probing under pressure from the Israeli regime, the US and their allies.
The vote came after Iran and the P5+1 group of countries signed a nuclear agreement in 2015.
The US, however, withdrew from the accord last month, emboldening Israel in its efforts to try to kill the deal and rally more support for its anti-Iran campaign.
Despite Tel Aviv and Washington's hostile endeavors, European states have vowed to keep respecting the deal and try their utmost to preserve it.
The Israeli minister's comments come as Prime Minister Benjamin Netanyahu has embarked on a tour of Europe to persuade European leaders to follow the US and ditch the Iran deal.
Full report at:
http://www.presstv.com/Detail/2018/06/05/563993/Israel-military-coalition-Iran-United-States-Arabs-nuclear
--------
UN greatly concerned for lives of civilians in Yemen's Hudaydah
Jun 5, 2018
The United Nations Yemen envoy has voiced great concerns over Saudi Arabia-backed militants attacks on the port city of Hudaydah.
"Apart from the avoidable humanitarian consequences of such a battle, I am also very concerned about the impact (on) chances of a political settlement of this conflict," said Martin Griffiths on Tuesday.
Griffiths, who was wrapping up a three-day visit to Yemen, added that talks had been positive, but further stressed that the military action on Hudaydah would have a negative impact on its civilian population.
"We are working very hard, focusing every day on moving forward in the political process. My aim is to restart negotiations which have not taken place for a very long time – for too long – and I want that to restart in the very near future," he added.
Griffiths is scheduled to give a report to the UN Security Council on June 18.
On Monday, a United Nations vessel delivering humanitarian aid to the Yemeni port of Hudaydah came under a suspected Saudi attack.
Yemen's Red Sea Ports Corporation that the vessel used by the UN's World Food Program (WFP) was attacked after delivering a shipment at Hudaydah.
Hudaydah, a port in western Yemen which is controlled by the ruling Houthi Ansarullah movement, is under a blockade by Saudi Arabia and its allies fighting the Houthis.
Reports over the past weeks have indicated that Saudi Arabia and its allies have been advancing on Hudaydah, launching frequent attacks on port authorities and guards patrolling at sea.
Riyadh claims that Yemen's Ansarullah movement uses the port for weapons delivery.
According to figures released by the Yemeni Ministry of Human Rights, more than 600,000 people have been killed or injured in the Saudi war since 2015.
Full report at:
http://www.presstv.com/Detail/2018/06/05/564043/un-yemen-saudi-hudaydah
--------
URL: https://www.newageislam.com/islamic-world-news/fighting-poverty-with-islam-militant/d/115466
New Age Islam, Islam Online, Islamic Website, African Muslim News, Arab World News, South Asia News, Indian Muslim News, World Muslim News, Women in Islam, Islamic Feminism, Arab Women, Women In Arab, Islamophobia in America, Muslim Women in West, Islam Women and Feminism