New Age Islam News Bureau
27 Nov 2014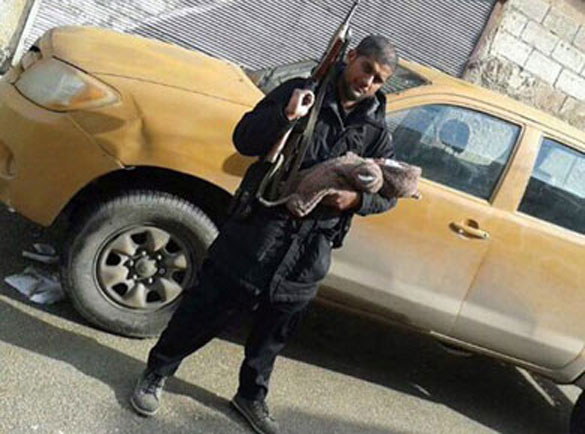 Abu Rumaysah who was born as Siddhartha Dhar, posted a photo with his son on Twitter (Photo courtesy Twitter)
----------
North America
• Fight With ISIS Needs 'Arab Face': U.S. Lawmaker
• ISIS Offers Help If Ferguson Protesters Accept Islam, Swear Loyalty to Caliph
• Israel, U.S. Attempting To Prevent Geneva Convention Summit on Palestinians
• Snowden leaks cost lives: Extremists 'changed their tactics after fugitive's leaks'
• U.S. man, who kept Syria travel secret, released
• U.S. 'horrified' by Syrian regime raids
India
• Indian-Origin Islamic State Member Poses With AK-47, Newborn Baby On Twitter
• Modi-Sharif Handshake Salvages Saarc Summit
• Militants attack Army base in Kashmir; 3 soldiers, 3 civilians killed
• 'No report of Islamic State trying to gain ground in J&K'
Arab World
• With Incentives and Brute Force, Isis Subdues Tribes
• Dozens of Isil Terrorists Killed In Iraq's Kirkuk
• Qaeda Branch Executes Syrian for 'Insulting Prophet'
• Nearly 600 ISIL Militants Killed in Iraq in 1 Month
• Egypt cabinet approves new 'terrorist entities' law
• ISIS fails to take Iraq's oil-rich Kirkuk
• Saudi Arabia seizes copies of the Quran with 'errors'
• Christians hold out in Syria's Aleppo despite jihadist threat
• Alcoholic Drinks, Zoo in ISIL Leader's Home
• Dozens Saudi imprisoned for terrorist activities
• Salafist Front protests for men only
• Egypt's Islamist movements divided over calls for 28 November uprising
• Moderate Muslims must take stand against extremists, says Jordanian prince
South Asia
• Two Islamists sentenced to death in Bangladesh
• Afghan attack targets British embassy car, 6 dead
• 5 Taliban militants killed in Ghazni and Helmand provinces
• Gulf ministers moot prior assessment of Asian workers
• Taliban militants kidnap 12 employees of Sher Khan Port in Kunduz
• President Yameen calls on SAARC to make its voice heard
• Huge arms, explosives at Chittagong Govt College
Pakistan
• Suspected IS pamphlet warns Pakistani tribesmen against spying for US
• Drone strikes kill 28 unknown people for every intended target: report
• Pakistan wants good relations with India: FO
• Let's fight against illiteracy, poverty, not each other: PM Nawaz Sharif
• Rehman Malik claims to have proof of ISIS presence in Pakistan
• In Pakistan, new TV show lifts veil on sex taboos
• Military to protect state institutions on November 30: Nisar
Africa
• Muslims Distance Boko Haram Activities from Islam
• Israel defying world, says South Africa
• Libya: Extremists Terrorizing Derna Residents - No Rule of Law
Mideast
• Illicit money from Jews abroad threatens Israel, government warns
• Palestinian, Israeli rights groups condemn home demolitions
• Yemen rescuers sought US, British, S. Africa hostages in raid
• 'Netanyahu may compromise on extreme versions of nation-state bill'
Europe
• British Muslims raise concern over new anti-terror law
• Should we have faith in the future of religious schools?
• Algerian army kills suspect in Frenchman's beheading
• HRW calls on Egypt to end FGM
• Syria "no-fly zone" not being considered: NATO General
Southeast Asia
• In Reminder to Stay United: Zahid to Screen IS Beheadings At Umno Assembly
• Hunt down, strip citizenship of those who defame PM, says Umno women's rep
• After sedition law repeal U-turn, Isma warns against challenging Malay-Muslim rights
Compiled by New Age Islam News Bureau
URL: https://www.newageislam.com/islamic-world-news/new-age-islam-news-bureau/fight-with-isis-needs-'arab-face'--us-lawmaker/d/100218
---------
North America
Fight With ISIS Needs 'Arab Face': U.S. Lawmaker
27 November 2014
A Republican lawmaker says the battle against the Islamic State group needs to have "an Arab face," even as the U.S. leads airstrikes to help defeat the militant group.
Congressman Rob Wittman said he agrees with a comment made by King Abdullah II while Wittman and other lawmakers were visiting Jordan this week.
"The U.S. can help, but this effort needs an Arab face," said Wittman, who chairs the readiness subcommittee of the House Armed Services Committee.
Wittman called Abdullah a key ally in the fight against the Islamic State, which has seized territory in battles across Syria and Iraq. Jordan is one of five Arab nations participating in a U.S.-led airstrike campaign.
Abdullah is scheduled to hold talks with President Barack Obama at the White House next week.
"All the Arab and Muslim nations need to come together to combat ISIS," Wittman said, using an alternate acronym for the group. He spoke in a telephone interview after returning from a five-day trip to Qatar, Afghanistan and Jordan.
Wittman called the Islamic militant group a "formidable force," but said the U.S. and its allies have made progress to degrade it.
Still, airstrikes alone are not enough to defeat the militants, he said. But Wittman said he does not see a need for U.S. ground troops in Syria.
Obama this month authorized the deployment of up to 1,500 more American troops to Iraq. That could more than double the total number of U.S. forces to 3,100.
http://english.alarabiya.net/en/News/middle-east/2014/11/27/Fight-with-ISIS-needs-Arab-face-U-S-lawmaker.html
---------
ISIS Offers Help If Ferguson Protesters Accept Islam, Swear Loyalty to Caliph
27 Nov, 2014
On Tuesday, Ferguson protesters received an offer of help from the Islamic State, also known as ISIS, the militant group that has taken control of large areas of Syria and Iraq. The offer of assistance came in the form of a tweet that promised help if protesters accept Islam and pledge allegiance to the group's leader, Abu Bakr al-Baghdadi.
"Accept Islam & Give Bayah to Abu Bakr Al Baghdadi & then we will send u soldiers that dont sleep (sic)," tweeted an individual identified as British-born jihadi Junaid Hussain, a 20-year-old militant who now goes by the name Abu Hussain al-Britani. The account that sent the tweet has since been suspended, but the tweet has caught the attention of a number of people.
Writing at PJ Media, Bridget Johnson noted that another jihadist Twitter account indicated that ISIS fighters may show up in Ferguson, Missouri, whether protesters accept their offer or not. "You never know if Dawlah supporters are getting in on the action in Ferguson, especially since more protests are planned," said "AbuUmar8246."
Others urged the Ferguson protesters to continue fighting while encouraging them to embrace Islam. Another tweet by Hussain encouraged protesters to reject American democracy: "We hear you and we will help you if you accept Islam and reject corrupt man-made laws like democracy and pledge your allegiance to Caliph Abu Bakr and then we will shed our blood for you and send our soldiers that don't sleep, whose drink is blood, and their play is carnage."
ISIS militants are well-known for their brutality, beheading anyone who does not conform to their brand of radical Islam. As we have reported, ISIS fighters have systematically beheaded children in Mosul and buried women and children alive in mass graves. The Anglican vicar of Baghdad said ISIS militants cut a five-year-old boy in half, and another witness said militants tore a woman in two after tying her to multiple vehicles. Another report claimed al-Baghdadi gave fighters permission to eat babies, but that report has not yet been confirmed.
It's not the first time ISIS has tried to capitalize on the unrest in Ferguson, Townhall noted. In August, a sign that read, "ISIS is here," was spotted in a CNN report.
"Whether ISIS will successfully make inroads in Ferguson remains to be seen, but the thought alone is chilling," Leah Barkoukis said. Even more chilling is the thought that the Obama administration may do nothing to prevent intervention by ISIS radicals. There is no word yet on whether or not protesters have rejected the offer of assistance from a group that is a declared enemy of the United States.
http://www.examiner.com/article/isis-offers-help-if-ferguson-protesters-accept-islam-swear-loyalty-to-caliph?
---------
Israel, U.S. attempting to prevent Geneva Convention summit on Palestinians
Nov 27, 2014
Israel and the United States are trying to dissuade the nearly 200 states that are party to the Fourth Geneva Convention from convening a special session in mid-December to address conditions in the West Bank, Gaza Strip and East Jerusalem, Israeli and Western diplomats told Haaretz Wednesday.
Government officials believe that convention sponsor Switzerland has come under strong pressure from the Palestinians and Arab states, and is expected to issue invitations to the conference within days.
In early April, following Israel's refusal to free the last scheduled group of Palestinian prisoners, and its announcement that it would build 700 homes in East Jerusalem, Palestinian Authority President Mahmoud Abbas decided to sign, in the Palestinian state's name, on 15 international conventions and ask to join them. One of them was the Fourth Geneva Convention, which deals with protecting the civilian population in fighting areas or occupied territories.
This move brought to a head the crisis that led to the collapse of U.S. efforts to extend the talks between Israel and the Palestinians. A few weeks later the Palestinians and Arab League asked Switzerland officially to call a conference of the convention signatories to discuss the Israeli occupation in the West Bank and East Jerusalem, as well as the damage Israel caused civilians in Gaza.
So far four attempts have been made to convene the Fourth Geneva Convention – all of them in regard to the Israeli-Palestinian conflict. The last attempt was made in 2009 after Operation Cast Lead in the Gaza Strip.
However, after consultations of the Swiss Foreign Ministry at the time, it was decided there wasn't sufficiently broad international support for holding the conference. In 2001, on the other hand, after the outbreak of the second intifada, such a conference was held. Israel and the United States boycotted it.
Recently Swiss diplomats said their country, as the convention's sponsor, couldn't decide by itself on calling the conference again. So Switzerland began consultations with the other signatory states to see if enough of them were interested in holding the conference.
Switzerland distributed to all the signatories a proposal to hold the conference in Geneva in mid-December. The Swiss made it clear they wanted the event to focus on the upholding of international humanitarian law.
The Swiss proposal is for a three-hour conference at an ambassadorial level, with few speeches and no media coverage except for a statement to the press to be released at the end.
"We made it clear we didn't want a political event or debate club, or a conference that would blame or criticize one of the sides," a Swiss diplomat said.
Israel objected to the move strongly despite the low profile Switzerland suggested. Senior Israeli diplomats went to Bern and Geneva a few times in a bid to persuade the Swiss Foreign Ministry not to hold the conference, saying Israel would boycott it if it were held.
"They told us that holding the conference would help a one-sided Palestinian move intended to make Israel look bad and attack it in an international forum," the Swiss diplomat said.
Updated draft refers to settlements
The conference cannot make binding decisions, but could increase international criticism of Israel's policy in the territories, especially regarding the settlements.
The Israeli fear over the conference increased after Jerusalem received an updated draft of its proposed contents. Unlike previous versions, the updated draft was phrased in a very political way, mentioning Israel by name and referring in detail to issues like the West Bank settlements.
Israeli and Swiss diplomats said the United States, Canada and Australia were helping Israel and exerting pressure on Switzerland and other states to thwart the conference. Israeli diplomats said that despite the fact that the Americans have yet to make a formal decision on the matter, U.S. officials have told Switzerland they would boycott the conference if it is held. Canada has conveyed a similar message to Switzerland.
Speaking with Haaretz on Wednesday, Edgar Vasquez, a spokesman for the U.S. State Department, affirmed the American disapproval. "We strongly oppose the convening of the High Contracting Parties to the Geneva Conventions and have made our opposition unmistakably clear," he said.
Foreign Minister Avigdor Lieberman held telephone conversations in the last few days with colleagues worldwide, asking them to object to the conference and declare they would boycott it if it is held. Also, Israeli ambassadors in several key Western states have been instructed to try to obtain a commitment from those states to boycott the conference.
The Palestinians, meanwhile, along with the group of Arab nations, are pushing for the summit to be held.
But he Israeli efforts look bound to fail. Israeli and Swiss diplomats estimate that the Swiss government will in the coming days announce the holding of the summit.
Western diplomats knowledgeable of the proceedings described the Swiss as determined to move forward despite the significant resistance by nations such as the U.S., Canada, Australia and others.
The Fourth Geneva Convention is one of the four treaties of the Geneva Conventions, adopted in 1949, which deals with the protection of civilian populations residing in areas of armed conflict and in areas under military occupation. The treaty forbids harming any agents uninvolved in the fighting – which includes, in addition to civilians, captured and wounded soldiers.
In regarding to a state of protracted military occupation - such as exists in the West Bank – the treaty decrees that the occupying power must uphold the human rights of the occupied civilian population, and ensure its conditions of living. The treaty also forbids any and all movement of civilian population from within the borders of the occupying power into the areas under military rule – such as the Israeli settlements in the West Bank.
Israel is a party to the convention, but the Knesset has never legislated the treaty into Israeli law. Israel claims the treaty is not applicable to the West Bank or East Jerusalem, for it considers these areas to be "disputed," and not as under occupation. Thus, Israel does not regard the settlements as violations to the treaty.
http://www.haaretz.com/news/diplomacy-defense/.premium-1.628704
---------
Snowden leaks cost lives: Extremists 'changed their tactics after fugitive's leaks '
Nov 27, 2014
Lives are being lost to terrorists because Edward Snowden hampered security service operations, according to terror experts.
Lord West, a former admiral who served as UK security minister until 2010, warned that extremists changed their tactics after the US fugitive leaked details of intelligence agency operations – with fatal results.
Raymond Kelly, a former New York Police Department commissioner, also said that leaks from Snowden had caused huge damage.
'People that I know, certainly in the US government, say that this is the worst leak that they are aware of,' he said. 'The damage is significant and ongoing and you can see it has also damaged relations between the US and other countries.
We see major corporations having difficulty doing business outside the US and, as a result, putting impenetrable encryption in their products which ultimately hurts the whole law enforcement effort.'
Lord West said the Government must reintroduce the Communications Data Bill, which is dubbed a 'snoopers' charter' by opponents.
The proposed legislation would make internet companies keep records of every website their customers visited.
Snowden, 31, became one of the world's most wanted men in June last year – less than a month after Lee Rigby's murder – when he broke cover as the civilian CIA worker who stole classified documents from the US National Security Agency.
He leaked information about attempts by spying agencies – including GCHQ and the NSA – to view citizens' private information.
He claimed that internet history, emails, text messages, calls and passwords were harvested.
Lord West, a former first sea lord, said: 'Since the revelations of the traitor Snowden, terrorist groups – in particular Isil (Islamic State) – have changed their methods of communications and shifted to other ways of talking to each other.
'Consequently there are people dying who actually would now be alive.
'It is now critical that we move forward the Communications Data Bill that was paused so unreasonably because there is a very real danger that unless we do this, I think it is not exaggerating to say that people will die in this country who would have been safe if that had been in place.'
Baroness Stowell, the Leader of the House of Lords, said: 'The leaking by Snowden and the reporting of his leaks have had a serious effect on intelligence gathering – that is unquestionable.'
MI5, MI6 and GCHQ chiefs insist they urgently need extended powers to track down terrorists but the Liberal Democrats claim the bill is 'dead and buried' because it is a breach of civil liberties.
Snowden, who was a computer specialist at an intelligence centre in Hawaii, tricked colleagues into handing over passwords so he could copy up to 1.7million files in one of the biggest leaks in US history.
The defence contractor claims he had to act because the US government's policies were a 'threat to democracy'. He fled to Hong Kong, then Russia, where he was granted asylum and now lives in a secret location.
http://www.dailymail.co.uk/news/article-2849605/Snowden-leaks-cost-lives-say-terror-experts-Extremists-changed-tactics-fugitives-leaks-intelligence-operations.html#ixzz3KGTEvtbo
---------
U.S. man, who kept Syria travel secret, released
27 November 2014
An 18-year-old man accused of trying to travel to Syria to join fighters with the Islamic State group left a few inadvertent clues on Facebook, but was able to hide weeks of planning from his parents, according to recently unsealed court documents.
Abdullahi Yusuf was released from jail Wednesday after his attorney noted he'd known for months he was being investigated but never fled.
Yusuf was stopped by FBI agents at the Minneapolis airport in May while trying to leave the U.S., but he wasn't arrested until Tuesday.
A judge agreed to release him into the custody of his parents, though prosecutors appealed.
Yusuf had no income when he obtained a passport, opened a checking account, and paid for an airline ticket to Istanbul, Turkey, according to court documents released after his arrest. On at least two occasions, federal agents watched as he left his high school after his father had dropped him off.
Full report at:
http://english.alarabiya.net/en/perspective/features/2014/11/27/Affidavit-U-S-man-kept-Syria-travel-plot-secret.html
---------
U.S. 'horrified' by Syrian regime raids
27 November 2014
The United States said Wednesday it was "horrified" by Syrian regime air strikes in the stronghold Raqqaa that killed at least 95 people, slamming the government for its "continued slaughter," Agence France-Presse reported.
The U.S. State Department condemned the strikes, and said the regime had no value for human life.
"We are horrified by the reports that [President Bashar al-] Assad regime's airstrikes yesterday in Raqa, Syria killed dozens of civilians and demolished residential areas," State Department spokeswoman Jen Psaki said in a statement.
The bombing Tuesday was the deadliest by Assad's air force since militants from the Islamic State of Iraq and Syria (ISIS) seized the city last year and declared it their capital.
It was not clear how many ISIS fighters were killed, but the Syrian Observatory for Human Rights said more than half of the dead were civilians.
"The Assad regime's continued slaughter of Syrian civilians further exposes its callous disregard for human life."
Full report at:
http://english.alarabiya.net/en/News/middle-east/2014/11/27/U-S-horrified-by-Syrian-regime-raids-slams-Assad.html
---------
India
Indian-origin Islamic State member poses with AK-47, newborn baby on Twitter
Nov 27, 2014
A 31-year-old Indian-origin Islamic State suspect, who is fighting in Syria, has posted a picture of him on Twitter posing with an AK-47 rifle and his new born baby. Abu Rumaysah who was born as Siddhartha Dhar, posted the photo on Twitter this morning, proudly showcasing his pleasure that his son will grow up in the Islamic State, the Independent reported today.
He was arrested in September in the UK along with eight others on suspicion of encouraging terrorist offences. Dhar was released on bail to reappear in December but he fled. Less than 24 hours after he was released on bail, Dhar took a bus to Paris with his pregnant wife and four young children. He travelled on to Syria before joining IS.
Just hours after publicly declaring he had arrived in Syria, the wanted terror suspect made another surprising announcement on Twitter. He said that he had become a father to a baby boy. "He is another great addition to the Islamic State. And he's definitely not British," Dhar said about the baby.
Dhar was well-known in the UK for frequent television appearances declaring his wish to live under the so-called Islamic State that militants are fighting to establish in Iraq and Syria. Despite being subject to a travel ban, Dhar left London on a coach bound for Paris and travelled on to an unknown IS stronghold to live with his wife and four children.
"Hopefully soon we can join forces to crush the global Crusade against Islam and Muslims in the East and West," he wrote. In an interview on Channel 4 News earlier this year, Dhar said he would happily denounce his British citizenship in order to go out to Syria and live in what he called "the Islamic State", under "the Shariah".
"I hope that one day Britain gets to live under the Shariah as well," he added. Up to 500 British citizens are believed to have travelled
to Iraq and Syria to join IS' battle to establish a hardline caliphate.
http://indianexpress.com/article/world/indians-abroad/indian-origin-islamic-state-member-poses-with-ak-47-newborn-baby-on-twitter/#sthash.W8oelNR6.dpuf
---------
Modi-Sharif handshake salvages Saarc summit
Reuters | Nov 27, 2014
NEW DELHI: A brief meeting between Prime Minister Narendra Modi and his Pakistani counterpart Nawaz Sharif appears to have salvaged a summit of South Asian leaders, with all eight countries clinching a last-minute deal to create a regional electricity grid.
Thursday's pact, to be signed at the summit's closing ceremony, will buttress Modi's ambition for South Asia to become a viable economic counterweight to China, which has made sweeping inroads in the region.
"Yes, the electricity agreement will be signed," Nepal's foreign minister Mahendra Bahadur Pandey told Reuters, as the leaders emerged from a mountain retreat outside the Nepali capital of Kathmandu.
Full report at:
http://timesofindia.indiatimes.com/india/Modi-Sharif-handshake-salvages-Saarc-summit/articleshow/45296970.cms
---------
Militants attack Army base in Kashmir; 3 soldiers, 3 civilians killed
TNN | Nov 27, 2014
SRINAGAR: Nine people, including three civilians and three Army soldiers, were killed in a fierce gunbattle between the security forces and militants near the international border in Jammu and Kashmir on Thursday, police said.
Militants dressed in Army uniforms attacked the Indian Army base near the town of Arnia on Thursday, as the leaders of India and Pakistan attended a Saarc summit aimed at boosting trade.
A gunfight between the militants and the Army was continuing, a senior Indian Army officer said. Three militants had been shot dead and one arrested, the officer said.
Four to five militants attacked the Army base near the town of Arnia, about four km (2.5 miles) from the border with Pakistan, the officer, who did not wish to be named as he is not authorised to speak to the media, said.
The militants had divided into two teams, with one group heading for an Army bunker and the other holed up inside a village house, the officer said.
The gunmen didn't infiltrate from the Pakistani side of the border, a senior Border Security Force official said.
Full report at:
http://timesofindia.indiatimes.com/india/Militants-attack-Army-base-in-Kashmir-3-soldiers-3-civilians-killed/articleshow/45295631.cms
---------
'No report of Islamic State trying to gain ground in J&K'
NATIONAL BUREAU
Nov 27, 2014
The Union Home Ministry on Wednesday said although some youths in Srinagar were found unfurling flags of the Islamic State (IS) on a few occasions during the past couple of months, there were no intelligence inputs that the outfit was trying to gain ground among the youth in Kashmir.
In a written reply in the Rajya Sabha, Minister of State for Home Affairs Kiren Rijiju said interrogation of the accused youths in these cases indicated that they had seen IS-related literature on social media and were fascinated by it.
"None of the youths were associated with any terrorist/militant organisations.. The Government is closely monitoring the situation and directed the intelligence and security agencies to identify all such elements," tweeted Union Home Minister Rajnath Singh, stating that these facts were stated in the reply.
http://www.thehindu.com/news/national/no-report-of-islamic-state-trying-to-gain-ground-in-jk/article6637194.ece
-------
Arab World
With Incentives and Brute Force, ISIS Subdues Tribes
27 November 2014
The Islamic State group is employing multiple tactics to subdue the Sunni Muslim tribes in Syria and Iraq under its rule, wooing some with gifts - everything from cars to feed for their animals - while brutally suppressing those that resist with mass killings.
The result is that the extremists face little immediate threat of an uprising by the tribes, which are traditionally the most powerful social institution in the large areas of eastern Syria and northern and western Iraq controlled by the group.
Any U.S. drive to try to turn tribesmen against the militants, as the Americans did with Sunnis during the Iraq war, faces an uphill battle.
Some tribes in Syria and Iraq already oppose the Islamic State group. For example, the Shammar tribe, which spans the countries' border, has fought alongside Kurdish forces against the extremists in Iraq. The U.S. and Iraqi governments have proposed creating a national guard program that would arm and pay tribesmen to fight, though the effort has yet to get off the ground.
Full report at:
http://english.alarabiya.net/en/perspective/features/2014/11/27/With-incentives-and-brute-force-ISIS-subdues-tribes.html
---------
Dozens of ISIL Terrorists Killed in Iraq's Kirkuk
Nov 27, 2014
Kurdish Peshmarga fighters inflicted heavy losses on the ISIL Takfiri group in Kirkuk on Wednesday, and managed to kill dozens of terrorists.
The Kurdish forces staged a series of operations in Maktab Khalid in South of Kirkuk, leaving a large number of the Takfiri militants dead and injured.
The ISIL Takfiri terrorists currently control parts of Syria and Iraq. They have threatened all communities, including Shiites, Sunnis, Kurds, Christians, Ezadi Kurds and others, as they continue their atrocities in Iraq.
Senior Iraqi officials have blamed Saudi Arabia, Qatar, and some Persian Gulf Arab states for the growing terrorism in their country.
The ISIL has links with Saudi intelligence and is believed to be indirectly supported by the Israeli regime.
http://english.farsnews.com/newstext.aspx?nn=13930905001192
---------
Qaeda branch executes Syrian for 'insulting prophet'
Nov 27, 2014
Al-Qaeda's Syrian branch executed a man it accused of insulting the Prophet Mohammed, in a summary killing mirroring those by the Islamic State group, a monitoring group said.
Al-Nusra Front militants shot dead the civilian, identified as Mohammad al-Mir, in the town of Irbin, just northeast of the capital Damascus, said the Syrian Observatory for Human Rights.
The man had been accused of "insulting the Prophet Mohammed and his family," said the Britain-based monitoring group.
Al-Nusra has regularly executed members of Syrian President Bashar al-Assad's regime, but has rarely been accused of carrying out such killings on religious grounds.
It pledged allegiance to Al-Qaeda chief Ayman al-Zawahiri in April, distancing itself from the Sunni extremist Islamic State (IS) group notorious for summarily executing those it accuses of apostasy.
Full report at:
http://english.ahram.org.eg/NewsContent/2/8/116535/World/Region/Qaeda-branch-executes-Syrian-for-insulting-prophet.aspx
---------
Nearly 600 ISIL Militants Killed in Iraq in 1 Month
Nov 27, 2014
Senior Iraqi sources announced that the Arab country's security forces have Killed hundreds of militants of the Islamic State of Iraq and the Levant (ISIL) in heavy clashes with the terrorists in the western parts of the country since the start of November.
"A sum of 590 ISIL militants have been killed in November," Al-Akhbariya news agency quoted a senior Iraqi military official as saying.
The source noted that 167 of the slain ISIL terrorists had joined the fight from abroad as they bore non-Iraqi nationalities.
"An international team is studying the DNA of the bodies of 380 ISIL militants who have been killed in clashes with Iraqi security forces," he added.
Full report at:
http://english.farsnews.com/newstext.aspx?nn=13930905000954
---------
Egypt cabinet approves new 'terrorist entities' law
Nov 27, 2014
A new anti-terrorism bill was approved by the Egyptian cabinet on Wednesday.
The law defines 'terrorist entities' and lays down penalties against any group identified as such by a criminal court.
According to Article 1 of the bill, a terrorist entity is any group which disrupts public order or threatens the safety, security or interests of society, or harms or frightens individuals or threatens their lives, freedoms, rights or security or harms national unity, Al-Ahram newspaper reported.
According to the bill, a terrorist entity is also any group which harms the environment and natural resources or communications or transportation or public and private buildings, money or property or occupies them or takes control of them, or hinders the work of public and judicial authorities or places of worship or hospitals or educational institutions or diplomatic and consular missions or regional and international organisations in Egypt, or disrupts the constitution and the law with force or threats or intimidation to realise the group's goals.
The bill gives executive authorities the right to dissolve any groups listed as terrorist entities and freeze their assets and money and arrest their members.
Full report at:
http://english.ahram.org.eg/NewsContent/1/64/116565/Egypt/Politics-/Egypt-cabinet-approves-new-terrorist-entities-law.aspx
---------
ISIS fails to take Iraq's oil-rich Kirkuk
26 November 2014
The Iraqi army and Kurdish peshmerga forces backed by the coalition air force on Wednesday repelled a major attack by the Islamic State of Iraq and Syria (ISIS) on the northern Iraqi city of Kirkuk, according to sources from the city.
"They are targeting Kirkuk and they want to control the oil sites," said peshmerga Major General Westa Rasul, according to AFP.
The attack began early on Wednesday morning against three villages west of the city of Kirkuk, sparking fighting that lasted for hours, Rasul and two other officers said.
ISIS managed to seize one village, but Kurdish forces backed by air strikes later succeeded in retaking it.
One policeman and five peshmerga, including a colonel and the son of a Kurdish politician, were killed and 28 wounded in the fighting, officers and a doctor said.
When federal security forces crumbled under the weight of the June offensive, Iraq's autonomous Kurdish region took control of a swathe of disputed northern territory it wants to incorporate against Baghdad's wishes.
Full report at:
http://english.alarabiya.net/en/News/middle-east/2014/11/27/ISIS-fails-to-take-Iraq-s-oil-rich-Kirkuk.html
---------
Saudi Arabia seizes copies of the Quran with 'errors'
Nov 27, 2014
Saudi authorities have seized copies of the Quran with printing errors, showcasing misinterpretation in the content related to other religions and sects, Saudi media reported on Wednesday.
Minister of Islamic Affairs, Endowments, Call and Guidance, Sheikh Saleh al-Sheikh told al-Watan newspaper that those copies were printed outside the kingdom and were being distributed in mosques by well-wishers.
"We have noticed that some copies came from outside printers, from some Arab and Islamic countries. Some of those copies were not carefully produced and were commercially brought into [the kingdom] and distributed by well-wishers in some mosques without knowing and they think that every copy is flawless," al-Sheikh was quoted as saying.
He said some verses had "errors" some religions and sects and highlighted the need for spreading awareness and stressing that "not every copy ot the Islamic holy book is safe."
He said some of the copies were found near Makkah's Grand Mosque.
http://english.alarabiya.net/en/News/middle-east/2014/11/26/Saudi-Arabia-seizes-copies-of-the-Quran-with-errors-.html
---------
Christians hold out in Syria's Aleppo despite jihadist threat
Nov 27, 2014
Tens of thousands of Christians have fled Syria's war-wracked second city Aleppo but many others are determined to hold out despite their dread of Islamic State jihadists.
Christians of various denominations make up around 10 percent of Syria's population and Aleppo alone was home to some 250,000 before the civil war reached the city in 2012.
In the Orthodox church of Mar Elias, the golden-robed deacon blesses his dwindling congregation of around 100 with incense as the choir muffles out nearby bombardment.
Families from government-controlled districts gather every Sunday evening in the church, which is brightly lit thanks to its generator, a major draw in a city where frequent power cuts plunge homes into darkness.
"A lot of members of our community have left because they lost their jobs and because of terror of Daesh," said Georges Bakhache, public relations officer for Aleppo's Christians, using the Arabic acronym for IS.
Full report at:
http://english.ahram.org.eg/NewsContent/2/8/116506/World/Region/Christians-hold-out-in-Syrias-Aleppo-despite-jihad.aspx
---------
Alcoholic Drinks, Zoo in ISIL Leader's Home
Nov 27, 2014
Variety of animals and also some sort of alcoholic drinks were found in the home of one of the ISIL terrorist group's leaders in Al-Anbar province in Iraq, sources said.
The president of the regional council told local media that different kinds of pills and alcohol and explosives materials were also found there, Al-Alam reported.
Iraqi forces regain control of al-Serajie and Al-Mahboubie villages located West of Al-Anbar.
http://english.farsnews.com/newstext.aspx?nn=13930905001262
---------
Dozens Saudi imprisoned for terrorist activities
Nov 27, 2014
The special criminal court in Riyadh has sentenced 70 Saudis and one Yemeni to jail terms ranging from 10 to 27 years.
The court also sentenced the Saudis to travel bans, with deportation for the Yemeni national once he completes his sentence. The guilty men were members of the Terrorist 86 cell.
The court deferred the verdicts against five absent defendants until its next session, while three other defendants were acquitted because of a lack of evidence presented by the prosecutor. One defendant was referred to a psychiatric clinic.
The families of the defendants, journalists, and a member of the Human Rights Commission were present at the sentencing.
Full report at:
http://www.arabnews.com/saudi-arabia/news/666061
---------
Salafist Front protests for men only
Nov 27, 2014
Salafist Front has called on its women supporters to stay at home during protests on Friday due to fears they will be attacked by the security forces.
"Our directive to our sisters and our daughters is to form revolutionary morale guidance groups online in order to combat the lies spread in the media," said a statement posted on its official Facebook page.
It called on women to cheer the protests from their balconies and document the event.
The Salafist Front is calling for nationwide protests as part of "The Muslim Youth Uprising" to restore Egypt's "Islamic identity."
Full report at:
http://english.ahram.org.eg/NewsContent/1/64/116586/Egypt/Politics-/Salafist-Front-protests-for-men-only.aspx
---------
Egypt's Islamist movements divided over calls for 28 November uprising
Nov 27, 2014
The Building and Development Party, the political wing of Al-Jamaa Al-Islamiya, a militant group that has renounced violence, announced on Sunday that it will not participate in the protests called by the Salafi Front to stage an "Islamic Uprising" on 28 November.
The Islamist political organisation Salafi Front has called for mass protests, which it called "the Muslim Youth Uprising", in response to what it described as "secular attempts to weaken and destroy the Islamic identity and Sharia".
Building and Development Party leader Essam Derbala said that the calls are problematic because "they focus on [Islamic] identity and Sharia Law, more than consensus," adding that that the calls contradict Sharia, which asks Muslims to cooperate and unite.
"Calling for an Islamic Revolution will only create division among the members of Islamist movements and will increase tensions between Islamists and non-Islamists. Moreover, it will lead to violence and a crackdown by the state," said Derbala in a statement published on the party's website.
Full report at:
http://www.dailynewsegypt.com/2014/11/24/egypts-islamist-movements-divided-calls-28-november-uprising/
---------
Moderate Muslims must take stand against extremists, says Jordanian prince
Nov 27, 2014
Moderate Muslims must take a stand against religious extremists who violate the core values of Islam, a brother of Jordan's king said Wednesday.
Prince Feisal al-Hussein also said that Jordan is trying to defuse religious tensions at the Temple Mount in Jerusalem, site of the Al-Aqsa Mosque. The holy site is sacred to Muslims and Jews.
Jordan serves as custodian of the Muslim-run shrine, which sits on the fault line of the Israeli-Arab conflict. Jordan is also part of a U.S.-led military coalition against the Islamic State group, which holds territory across Syria and Iraq.
The prince is chairman of "Generations for Peace," a group promoting peaceful conflict resolution. He said the organization he founded in 2007 has reached more than 200,000 young people in 50 countries.
Full report at:
http://www.haaretz.com/news/middle-east/1.628672
---------
South Asia
Two Islamists sentenced to death in Bangladesh
Nov 27, 2014
DHAKA: A Bangladesh court on Wednesday sentenced to death two Islamic militants for gunning down a police informant eight years ago, a prosecutor said.
A fast-track court handed down the sentences after earlier convicting the pair, both in their 20s and members of banned militant outfit Jamayetul Mujahideen Bangladesh (JMB), said prosecutor Taslima Yesmin.
One of the men protested against the severity of the sentence, shouting out that he was a minor at the time of the shooting in 2006.
"They were found guilty of obstructing state duties and shooting at a police source on Dec 29, 2006. The source later died in a hospital, "Yesmin said.
http://www.dawn.com/news/1147194/two-islamists-sentenced-to-death-in-bd
---------
Afghan attack targets British embassy car, 6 dead
Nov 27, 2014
KABUL: A suicide bomber attacked a British embassy vehicle in the Afghan capital Kabul on Thursday, killing one British citizen and at least five Afghans civilians, Kabul police said in a statement.
"One British national was killed in today's attack," police spokesman Hashmat Stanakzai said in an emailed press statement.
The British embassy made no immediate comment after earlier confirming that a number of embassy staff had been injured.
Earlier, an embassy spokesman confirmed the attack and said some people in the vehicle were wounded, without providing further details.
He added that the vehicle was not carrying any British diplomats. Kabir Amiri, the administrative head of Kabul hospitals, said that at least five Afghan civilians were killed and up to 34 wounded.
Full report at:
http://www.dawn.com/news/1147263/afghan-attack-targets-british-embassy-car-6-dead
---------
5 Taliban militants killed in Ghazni and Helmand provinces
Nov 27, 2014
At least five Taliban militants were killed following military operations by Afghan National Army (ANA) soldiers in southeastern Ghazni and Southern Helmand provinces.
The Ministry of Defense (MoD) said at least three of the militants were killed in Geru district in Ghazni and two others were killed in Mosa Qala district of Helmand.
A statement by MoD said at least five militants were also injured during the operations.
Afghan army forces also confiscated some weapons along with ammunition during the operations, the statement by MoD said.
In the meantime, an Afghan National Army (ANA) soldier was martyred following an Improvised Explosive Device (IED) attack.
The Ministry of Defense said the soldier was martyred in the past 24 hours, but no further details were given regarding the exact location.
The Taliban militants group has not commented regarding the report so far.
http://www.khaama.com/5-taliban-militants-killed-in-ghazni-and-helmand-provinces-8799
---------
Gulf ministers moot prior assessment of Asian workers
Nov 27, 2014
Member states of the Gulf Cooperation Council (GCC) are seeking to recruit only highly skilled qualified workers and their job performance assessment will be done in the country of origin, according to a top official of the Labor Ministry. The Kingdom has also mooted a plan to pilot job assessments in certain professions, the official said.
Ahmed F. Al-Fahaid, deputy minister of labor for international relations who was in Kuwait to attend the 3rd dialogue between the GCC and Asian manpower exporting countries, told Arab News in a telephone conversation that all GCC member states intend to improve the quality of workers arriving from Asian countries and implement a proper mechanism to assess their qualifications for the job as well as have an effective mechanism to redress disputes between the employer and the employee.
Full report at:
http://www.arabnews.com/saudi-arabia/news/666096
---------
Taliban militants kidnap 12 employees of Sher Khan port in Kunduz
Nov 27, 2014
The Taliban militants have kidnapped at least 12 employees of Sher Khan Port Authority in northern Kunduz province of Afghanistan.
Provincial police spokesman Syed Sarwar Hussaini confirmed that the employees were kidnapped late on Wednesday evening.
Hussaini further added police forces have launched an operation to release the kidnapped employees.
The Taliban militants group has not commented regarding the report so far.
Kunduz is among the volatile provinces in northern Afghanistan where Taliban militants and insurgents from the other militant groups are actively operating in a number of its districts.
Sher Khan Port is located next to Panj River near the border with Tajikistan. The port is considered as the main transit route linking Afghanistan with the Central Asian countries.
http://www.khaama.com/taliban-militants-kidnap-12-employees-of-sher-khan-port-in-kunduz-8798
---------
President Yameen calls on SAARC to make its voice heard
Nov 27, 2014
President Abdulla Yameen has called upon the SAARC nations to "walk the talk" and make their voice heard on the international stage.
"As a region, SAARC has the right, and surely has the might, to make it one of the most powerful regions in the world. Yet we continue to be led, rather than lead," Yameen told the inaugural session of the 18th SAARC Summit in Kathmandu.
"This region accounts for one-quarter of the world's population, yet as a region we hold limited sway, have limited say and we have not been heard enough, in the power rooms of the world."
Despite the association's charter calling for meetings at least once a year, the two-day summit is the first to be convened since 2011, when the Maldives hosted the event in Addu City.
Full report at:
http://minivannews.com/politics/president-yameen-calls-on-saarc-to-make-its-voice-heard-91292
---------
Huge arms, explosives at Chittagong govt college
Nov 27, 2014
Police have recovered a large amount of local weapons and explosives from two hostels of Chittagong Government College.
The drive started around 12:30pm on Thursday.
An assistant commissioner of Chittagong Police, Shah Abdur Rouf, said: "The hostels are empty. We broke the locks of the rooms and went in."
The police found weapons, petrol, crude bombs and bomb making materials.
"The drive is still on," he said.
Meanwhile, police have detained one person in this connection.
http://www.dhakatribune.com/bangladesh/2014/nov/27/huge-arms-explosives-chittagong-govt-college#sthash.H1yWSPbG.dpuf
---------
Pakistan
Suspected IS pamphlet warns Pakistani tribesmen against spying for US
Nov 27, 2014
PESHAWAR: A pamphlet attributed to the Islamic State militant organisation has been distributed in Wana area of South Waziristan, seeking the support of local tribesmen and warning them against spying for the United States.
The leaflet also warns locals against supporting and facilitating US drone strikes, which have killed several Tehreek-i-Taliban Pakistan (TTP) and Al Qaeda fighters since 2007.
In recent weeks, the name of IS has cropped up several times in militant circles in Pakistan and Afghanistan, far from organisations self-proclaimed "caliphate" in Iraq and Syria.
Leaflets calling for support of IS have recently been seen in parts of northwest Pakistan, while pro-IS slogans have appeared on walls in several cities across the country.
The pamphlet, the first such to appear in Wana, asks for the support of tribesmen, or otherwise face dire consequences. It thanks tribesmen for supporting South Waziristan militant commander Mullah Nazir, who was also killed in a US drone strike.
It also praises the tribesmen's support to Mullah Nazir's successor, Mufti Salahuddin Ayubi.
The authenticity of the Urdu pamphlet, which carries the IS stamp and monogram and the words 'Daish' and 'ISIS' on top, is still being ascertained.
Full report at:
http://www.dawn.com/news/1147054/suspected-is-pamphlet-warns-pakistani-tribesmen-against-spying-for-us
---------
Drone strikes kill 28 unknown people for every intended target: report
Nov 27, 2014
A report released by human rights charity Reprieve has found that US drone strikes on average kill 28 unknown people for every intended target.
In Yemen and Pakistan, the drone strikes have killed at least 1,147 unknown people in attempts to kill 41 named individuals, the report said.
The report takes into account the 2002-2014 timeline of drone strikes in Yemen and Pakistan, also identifying 41 men who appeared to have been killed multiple times.
This draws questions to President Obama administration's claims of dubbing the drone programme as 'precise', the report said.
In a press statement published on its website, the Reprieve termed its assessment as the first to provide an estimate of the number of people — including children in some cases — killed each time the US attempts to assassinate a 'high value target'.
The complete 16-page Reprieve report on US drone programme could be viewed here.
Key findings
Full report at:
http://www.dawn.com/news/1147038/drone-strikes-kill-28-unknown-people-for-every-intended-target-report
---------
Pakistan wants good relations with India: FO
November 27, 2014
ISLAMABAD: While the ongoing Saarc Summit in Nepal continues to be overshadowed by frosty ties and minimal interaction between Pakistan and India, Islamabad said on Thursday it wants good relations with its neighbour on the basis of equality, Radio Pakistan reported.
"Pakistan wants peace in the neighbourhood for the development of the entire region," Foreign Office Spokesperson Tasneem Aslam said during her weekly briefing in Islamabad.
Referring to Prime Minister Nawaz Sharif's address at Saarc, in which he called for a dispute-free region, Aslam said, "The prime minister in his address to the Saarc summit also stressed the need for focusing more on public welfare than on arms."
With analysts have blaming Saarc's failure on the mutual mistrust between Pakistan and regional powerhouse India, the foreign office spokesperson stated that Pakistan played a constructive role in negotiations leading up to the Saarc summit and actively participated in the Saarc standing committee and council of ministers.
Full report at:
http://tribune.com.pk/story/798121/pakistan-wants-good-relations-with-india-fo/
---------
Let's fight against illiteracy, poverty, not each other: PM Nawaz Sharif
Nov 27, 2014
KATHMANDU: Prime Minister Nawaz Sharif said on Wednesday that his vision for the region was of a "dispute-free South Asia" where, instead of fighting against one another, the countries jointly fought poverty, illiteracy, diseases, malnourishment and unemployment.
"We should build on convergences, minimise divergences and most of all, seek to augment complementarities for the greater good of the people of this region," the prime minister said in his address to the 18th summit of South Asian Association of Regional Cooperation (SAARC). The summit kicked off on Wednesday where leaders of the eight member SAARC states got together in Nepal's capital to find ways to make the regional grouping more viable and effective. Prime Minister Nawaz stressed that the gap between the promise of SAARC and reality of its accomplishments needed to be bridged.
Full report at:
http://www.dailytimes.com.pk/national/27-Nov-2014/no-exchange-of-courtesies-no-handshake-nawaz-modi-keep-distance
---------
Rehman Malik claims to have proof of ISIS presence in Pakistan
Nov 27, 2014
Pakistan's former interior minister Rehman Malik has claimed that he had documentary evidence about the presence of the dreaded Islamic State terror group in the country. He said Prime Minister Nawaz Sharif should sensitise the world community about the rapid penetration of IS into several countries and use the forum of SAARC (South Asian Association for Regional Cooperation) for setting up of an international desk for sharing information about the group's activities.
"I have solid proofs that Daish (or IS) has established its contacts with the Tehreek-i-Taliban Pakistan and it is quite possible that one of Taliban leaders will soon be named as its chief in Pakistan," Malik was quoted as saying by a newspaper. When asked about documents he possessed, the Pakistan People's Party leader said: "I will brief the nation about documentary proofs and will make them public in a couple of days."
Full report at:
http://indianexpress.com/article/world/neighbours/malik-claims-to-have-proof-of-isis-presence-in-pakistan/#sthash.Jy9aO78Y.dpuf
---------
In Pakistan, new TV show lifts veil on sex taboos
27 Nov, 2014
Doctor Nadim Uddin Siddiqui fixes his gaze on a camera in the shiny new studios of Health TV in Karachi, Pakistan's economic hub, and prepares to take the day's first question.
"My husband doesn't want to make love anymore, what should I do doctor?" the housewife asks over the phone.
In strait-laced Muslim Pakistan, a new TV show is trying to deal with the delicate subject of sex and embarrassing illnesses without angering conservatives.
Most of Pakistan's 80-odd television stations fill their airtime with cooking shows, soap operas, cricket and interminable chatshows debating the country's myriad political dramas.
But once a week, for an hour, Health TV does something very different: it takes questions from viewers on sex. Or more precisely, sexual problems.
"My husband only wants to do it once a week, sometimes once a fortnight, and it doesn't last very long," continues Ayesha the housewife, calling from the eastern city of Lahore.
The portly Siddiqui, his pearly white teeth glistening under the studio lights, doesn't miss a beat.
Full report at:
http://www.hindustantimes.com/entertainment/television/in-pakistan-new-tv-show-lifts-veil-on-sex-taboos/article1-1290544.aspx#sthash.a4Q3xFeT.dpuf
---------
Military to protect state institutions on November 30: Nisar
November 27, 2014
ISLAMABAD: As the Pakistan Tehreek-e-Insaf prepares for its 'decisive' rally on November 30, the government is devising strategies on how to deploy the military to protect state institutions.
"For protection of constitutional buildings, the government has determined how to engage military to keep protestors away from these offices on November 30," Interior Minister Chaudhry Nisar said, while addressing the media in Islamabad on Thursday.
"We will not allow them [protestors] to enter the Red Zone. Nobody will be allowed to take laws into his hands," he affirmed.
Claiming that the PTI has sought permission from the district administration to hold a rally at D-Chowk, Nisar said, "We will decide tomorrow whether to allow them to hold a rally at their proposed place or not."
Full report at:
http://tribune.com.pk/story/798108/military-to-protect-state-institutions-on-november-30-nisar/
---------
Africa
Muslims Distance Boko Haram Activities From Islam
Nov 27, 2014
The Nigeria Supreme Council for Islamic Affairs (NSCIA) and the Islamic Welfare Foundation have condemned the activities of the Boko Haram sect, maintaining that Islam preaches peace and respect.
Speaking during a conference tagged "Islam and the Nigerian State:A Centenary of Bridging Theocracy and Secularism", a Professor of Islamic Studies from the National Open University, Professor Ishaq Oloyede noted that both Islam and Christianity have unified different ethnic groups in the country and called for more understanding, tolerance and respect amongst worshipers in the country.
He also blamed lack of unity and fragmentation among Muslims as partly responsible for misinformation on Islam.
The President of Islamic Welfare Foundation, Mallam Aliu Bhadmus, frowned at what he called misinformation and attempt to dub Boko Haram members as Muslims.
He wondered how the group which kills, maims and abduct girls could be labelled Muslims when they indulge in unIslamic acts.
According to him, their actions are more political than religious.
The Vice Chancellor University of Ilorin, Professor Abdulganiyu Ambali also noted that Islam is a religion of peace that lays emphasis on good neighbourliness, insisting that those who practice Islam are forbidden to kill
http://www.channelstv.com/2014/11/25/muslims-distance-boko-haram-activities-from-islam/
---------
Israel defying world, says South Africa
Nov 27, 2014
PRETORIA: Israel is defying the world by "undermining" prospects for a two state solution through its settlements policy, South African President Jacob Zuma said on Wednesday as he welcomed visiting Palestinian leader Mahmud Abbas.
"The reality is that the overwhelming majority in the world agrees with the position of two states living side by side in peace, but we have a problem of a country that is defying all of that," said Zuma.
"We reiterate our call for the total cessation of all settlement activities," he told a joint news conference with Abbas.
Criticising the way the United Nations works, he added: "I don't think the system should allow that one country can defy the world." South Africa was ready to assist with negotiations between Israel and the Palestinians and had appointed two special envoys for the task, Zuma added.
Abbas said the Palestinians sought to benefit from South Africa's "successful experiences" in building an independent state.
Full report at:
http://www.dawn.com/news/1147197/israel-defying-world-says-south-africa
--------
Libya: Extremists Terrorizing Derna Residents - No Rule of Law
Nov 27, 2014
(Beirut) – Armed militias that control the eastern city of Derna are terrorizing residents through summary executions, public floggings, and other violent abuse. The abuses are taking place in the absence of state authorities and the rule of law. The groups include some that have affiliated with the extremist group Islamic State (also known as ISIS).
Human Rights Watch documented 3 apparent summary executions and at least 10 public floggings by the Islamic Youth Shura Council, an extremist group which publicly pledged allegiance to ISIS in November. Human Rights Watch also documented beheadings of three Derna residents in what appear to be war crimes, and dozens of seemingly politically motivated assassinations of public officials, judges and members of the security forces, and others, including women.
"Extremist militias controlling Derna in the absence of any state authorities have unleashed a reign of terror against its inhabitants," said Sarah Leah Whitson, Middle East and North Africa director. "Commanders should understand that they may face domestic or international prosecution for the grave rights abuses their forces are committing."
Full report at:
http://www.hrw.org/news/2014/11/27/libya-extremists-terrorizing-derna-residents
------------
Mideast
Illicit money from Jews abroad threatens Israel, government warns
Nov 27, 2014
The Israeli government has concluded that allowing money to come into the country from Jews who are residents of foreign countries but didn't pay taxes there is detrimental to Israel's reputation and economy, said Paul Landes, head of the Israel Money Laundering and Terror Financing Prohibition Authority.
"There are still some in Israel who see in a positive light money-laundering and illicit fund transfers by foreign residents," said Landes, speaking at Tuesday's Sderot Conference for Society at Sapir College.
The fact that Israel has become a tax shelter for Jews from around the world has become a source of irritation to Western nations, he added.
Landes presented figures showing a significant uptick in the amount of illicit money entering Israel's real estate market over the past several years. This has played a significant role in the country's skyrocketing housing prices, according to the data. TheMarker reported on these figures in depth in Friday's Hebrew edition.
Alongside the increased presence of illicit money in the real estate industry, Israel's shadow economy has grown to equal 26% of GDP, according to Dr. Avichai Snir of the Netanya Academic College and the Infinity Fund. As of 2013, some 355 billion shekels (about $91.8 million) in transactions were not reported to the authorities. The real estate market is one of the sectors with the largest sums of unreported transactions, according to Snir, who also addressed the Sderot gathering.
Full report at:
http://www.haaretz.com/business/1.628479
----------
Palestinian, Israeli rights groups condemn home demolitions
Nov 27, 2014
Palestinian and Israeli human rights organizations have condemned the recent punitive home demolitions ordered by Israeli authorities in occupied East Jerusalem, describing them as a form of "collective punishment."
The home of Abdel Rahman al-Shaludi, the 21-year-old Palestinian who drove a car into a crowd waiting for a train in Jerusalem, killing a three-month-old girl and an Ecuadorean tourist, was razed to the ground on Nov.19.
The Palestinian Al-Haq human rights group, Israel's B'Tselem, and the Israeli Committee against House Demolitions have all branded these orders a form of collective punishment.
Human Rights Watch has demanded that Israeli authorities halt the demolitions, as they "deliberately and unlawfully" punish "people not accused of any wrongdoing."
Although he was shot and killed on location, Shaludi's mother received a demolition notice a month after the incident.
Full report at:
http://english.alarabiya.net/en/perspective/analysis/2014/11/26/Palestinian-Israeli-rights-groups-condemn-home-demolitions.html
---------
Yemen rescuers sought US, British, S.Africa hostages in raid
Nov 27, 2014
An American, a Briton and a South African were among several hostages Yemeni forces sought to free from al Qaeda this week, the defence ministry said on its website, describing a raid that a US defence official said also involved US special forces.
In Monday night's assault on a cave in remote Hajr as-Say'ar district in the eastern province of Hadramout, Yemeni security forces rescued six Yemenis, a Saudi and an Ethiopian, and killed seven al Qaeda kidnappers, Yemeni officials have said.
Late on Wednesday the defence ministry's 26sept.net website quoted a soldier who had participated in the rescue as saying an American, a Briton and a South African held there had been moved elsewhere two days earlier.
Another foreign hostage, who may have been of Turkish nationality, was also apparently moved along with the three, the soldier was reported as saying. The soldier cited the rescued hostages for that information, the website said.
Full report at:
http://english.ahram.org.eg/NewsContent/2/8/116567/World/Region/Yemen-rescuers-sought-US,-British,-SAfrica-hostage.aspx
---------
'Netanyahu may compromise on extreme versions of nation-state bill'
Nov 27, 2014
Prime Minister Benjamin Netanyahu may be willing to reach a compromise regarding the Jewish nation-state bill, members of Likud, Yesh Atid and Habit Hayehudi surmise.
Contrary to previous reports, Netanyahu may not require the coalition to vote on two extreme versions of the bill – which defines Israel as a Jewish state and grants national rights only to the Jewish people, while upholding all citizens' rights as individuals – before presenting his own version that would replace those.
The coalition was supposed to vote on the bill on Wednesday, but the vote was postponed for a week.
However, Netanyahu discussed the bill, and presented several of it clauses, at a Knesset discussion on Wednesday that was meant to focus on the high cost of living in Israel.
Netanyahu's version does not explicitly mention the principle of equality, but does include a vague clause that refers to the state affirming "the personal rights of all [Israel's] citizens according to law."
Full report at:
http://www.haaretz.com/news/national/.premium-1.628742
---------
Europe
British Muslims raise concern over new anti-terror law
Nov 27, 2014
LONDON: British Muslim rights groups and ordinary faithful said they felt singled out by a tough new anti-terror law unveiled on Wednesday, labelling the planned legislation divisive and rushed.
While there is agreement on the need to prevent would-be British militants from joining the ranks of the Islamic State (IS) group, there is also unease over the government's hardline strategy.
"For us to live in the same community and work together, we have to fight together. I think these laws will separate us," said Fatima Ali, 46, a nurse.
"I think they were made too hastily," she said.
Britain has around 2.8 million Muslims, making up 4.4 per cent of the population, and many are concentrated in London in ethnically diverse areas like Whitechapel where Ali works.
The area is home to the East London Mosque, billed as the city's oldest and as serving the country's largest Muslim congregation.
Full report at:
http://tribune.com.pk/story/797568/british-muslims-raise-concern-over-new-anti-terror-law/
---------
Should we have faith in the future of religious schools?
27 Nov, 2014
An interesting perspective on those Ofsted reports claiming that independent Muslim schools in Tower Hamlets were failing to safeguard their pupils and rendering them prey to extremist views and radicalisation.
Rabbi Dr Jonathan Roman, from the pressure group Accord, which campaigns for open access to faith schools, argues that the Tower Hamlets affair just happens to involve Muslim schools – but that flaws such as neglecting secular studies and not being interested in wider society could happen in any faith school.
It did seem to me that last Friday's inspection reports were probably the best argument I had ever heard for reverting to a secular education system. The trouble is, how do you go about it? It would appear to be too bold a move to introduce, even in just the state sector.
Former Education Secretary Michael Gove tried to open up admissions to faith free schools by insisting that 50 per cent of admissions should be retained for pupils of a different faith or none. Many of these schools, though, failed to attract enough interest from outside of their own faiths.
Full report at:
http://www.independent.co.uk/news/education/schools/should-we-have-faith-in-the-future-of-religious-schools-9885740.html
---------
Algerian army kills suspect in Frenchman's beheading
Nov 27, 2014
Algerian Justice Minister Tayeb Louh said on Wednesday that the army last month killed a jihadist suspected of taking part in the beheading of Frenchman Herve Gourdel.
"One of the suspects was eliminated in October by the army during an anti-terrorist operation," Louh told reporters, citing a probe into the murder of Gourdel.
The hiker was kidnapped in September and later beheaded by Jund al-Khilifa or "Soldiers of the Caliphate," a militant organization which has pledged allegiance to the jihadist Islamic State group.
http://english.alarabiya.net/en/News/africa/2014/11/26/Minister-Algerian-army-kills-suspect-in-Frenchman-s-beheading.html
---------
HRW calls on Egypt to end FGM
Nov 27, 2014
Human Rights Watch (HRW) has called on the Egyptian government to take "clear action to end the practice of female gentile mutilation."
The New York-based rights group issued a statement on Thursday after a court acquitted a father and a doctor accused of performing a female circumcision operation that killed a teenage girl in the Nile Delta city of Mansoura last year.
It was the first time Egyptian courts have looked into an FGM case, a practice that was officially banned in 2008.
The statement stressed that Egypt was required under international human rights treaties to hold accountable those who practice violence against women, including FGM.
"Female genital mutilation is banned in Egypt but the practice continues, possibly because there is a lack of investigations, prosecutions, and convictions," Rothna Begum, a researcher on women's rights in the Middle East and North Africa told HRW.
The statement said the Egyptian authorities need to ensure that the law criminalising FGM is enacted.
Full report at:
http://english.ahram.org.eg/NewsContent/1/64/116587/Egypt/Politics-/HRW-calls-on-Egypt-to-end-FGM.aspx
---------
Syria "no-fly zone" not being considered: NATO General
Nov 27, 2014
NATO is not considering establishing a "no-fly zone" in northern Syria, something Turkey has been calling for to alleviate security and humanitarian pressures on its southeastern borders, one of the alliance's top generals has told Reuters.
Turkey has NATO's second largest military and is host for Land Command (LANDCOM), which is charged with improving the effectiveness and response time of the alliance's land forces.
Although Turkey has made no formal request to NATO for help in establishing a no-fly zone, it has repeatedly said that willing nations should put one in place to create safe areas in Syria, allowing some of an estimated 1.6 million Syrian refugees to be repatriated.
"A no-fly zone is a resource intensive undertaking," Lieutenant General John Nicholson, the new head of LANDCOM, told Reuters in an interview at his headquarters in the Turkish coastal city of Izmir.
Full report at:
http://english.ahram.org.eg/NewsContent/2/8/116511/World/Region/Syria-nofly-zone-not-being-considered-NATO-General.aspx
--------
Southeast Asia
In Reminder to Stay United: Zahid To Screen IS Beheadings At Umno Assembly
NOVEMBER 27, 2014
KUALA LUMPUR, Nov 27 — Datuk Seri Ahmad Zahid Hamidi is expected to shock Umno delegates this Saturday by showing uncensored videos of beheadings by militant group Islamic State (IS) during his winding-up speech at the party's general assembly.
English daily New Straits Times (NST) quoted the Umno vice-president as saying that the video will serve as a "warning" to the Umno delegates of a possible future for the country should they fail to unite against the threat.
"If they still do not wise up and realise the seriousness to be united, this will happen. I want to show them (the delegates) that the threat is real," he told reporters after a meeting with representatives of Palestinian resistance movement Hamas.
Among those from Hamas in the meeting were Political Affairs head Mohammad Naser and Islamic Relations head Dr Khaled Qadami.
Yesterday, Prime Minister Datuk Seri Najib Razak tabled a White Paper in Parliament titled "Addressing the threat of Islamic State", where he outlined the history of IS, the threat the group poses and the impact it has on Malaysians as well as the danger in allowing its skewed Islamic teachings and practice of violence to spread in Malaysia.
According to the White Paper sighted by Malay Mail Online, of the 39 Malaysians there, 17 were involved in IS while 22 joined Ajnad al-Sham.
Full report at:
http://www.themalaymailonline.com/malaysia/article/in-reminder-to-stay-united-zahid-to-screen-is-beheadings-at-umno-assembly#sthash.NtchqcXH.dpuf
---------
Hunt down, strip citizenship of those who defame PM, says Umno women's rep
Nov 27, 2014
KUALA LUMPUR, Nov 27 — Putrajaya must revoke immediately the citizenship of any Malaysian who defamed the prime minister and the country's leaders, a Wanita Umno delegate said today.
Datuk Jamelah A Bakar told the Umno annual general assembly that such critics must be hunted down, otherwise they would flee overseas and continue their actions, a stark departure from yesterday's call by her wing chief Datuk Seri Shahrizat Abdul Jalil who said criticism against the government should be allowed and not be criminalised under the Sedition Act 1948.
"We demand that those who defame our leaders, including against our prime minister who works hard, be hunted down to the last wormhole," said Jamelah.
"If not, they will continue defaming and they'll flee overseas. We must ensure that their citizenship is stripped immediately. Appropriate punishment must be imposed on them.
"They were born in Malaysia, they enjoyed everything in Malaysia, they enjoyed Malaysia's wealth, but they simply criticise our leaders," she added.
Earlier today, Prime Minister and Umno president Datuk Seri Najib Razak dialled back on his Full report at:
http://www.themalaymailonline.com/malaysia/article/hunt-down-strip-citizenship-of-those-who-defame-pm-says-umno-womens-rep
---------
After sedition law repeal U-turn, Isma warns against challenging Malay-Muslim rights
Nov 27, 2014
KUALA LUMPUR, Nov 27 — Islamist group Ikatan Muslimin Malaysia (Isma) praised Datuk Seri Najib Razak today for declaring that the Sedition Act 1948 will stay and called for an end for alleged challenges against the position of Malays, Islam and Malay rulers.
Isma also thanked the Prime Minister for listening to the voices of Malay-Muslim NGOs, saying this decision will placate Malays and Bumiputera who "love their country".
"Those who love the country, especially the Malays and Bumiputera, are against any threats towards national harmony," Isma president Abdullah Zaik Abd Rahman said on the group's website.
"The spirit from the announcement is to defend the national core that becomes the base for the social contract."
The group also reminded those he called "extremists" to respect the Federal Constitution following Najib's announcement.
In his policy speech at the start of the 65th Umno General Assembly today, Najib declared that the Sedition Act 1948 will continue to exist after consultation with party leaders, NGOs and grassroots members.
Full report at:
http://www.themalaymailonline.com/malaysia/article/after-sedition-repeal-u-turn-isma-warns-against-challenging-malay-muslim-ri
---------
URL: https://www.newageislam.com/islamic-world-news/new-age-islam-news-bureau/fight-with-isis-needs-'arab-face'--us-lawmaker/d/100218