New Age Islam News Bureau
1 Nov 2016
• Nigerian Soldiers, Police Sexually Abuse Boko Haram Victims: HRW
• Over 90 Militants Killed in Failed Attack on Syrian Army Positions in Dara'a
• Tehran Terms Aoun Presidency a 'Victory for Hezbollah'
South Asia
• Fifteen Temples in Bangladesh Vandalised, Houses of Hindus Looted Over Allegations of Disrespect Shown To Islam on Facebook
• Amid News Blackout, Myanmar Politician Blames Muslims for Torched Villages
• Afghan elders killed in suicide attack on meeting
• Bangladesh condemns reported missile attack targeting Makkah
• Brahmanbaria Mayhem: Role of admin in question
-----
Africa
• Nigerian Soldiers, Police Sexually Abuse Boko Haram Victims: HRW
• Al Shabaab Seizes Town from Somali Government
• ISIS claims responsibility for attack outside US embassy in Nairobi
• Anti-graft activist among 4 dead in Libya blast
• Boko Haram refugees raped by officials, security force
• Nigerian Shi'ites Say They Face Repression
-----
Arab World
• Over 90 Militants Killed in Failed Attack on Syrian Army Positions in Dara'a
• Syrian Army Gives Militants Last Ultimatum to Surrender in Eastern Damascus
• Second Column of Syrian Special Forces, Several Russian T90 Tanks Arrive in Aleppo
• Turkey Setting Up Military Base in Northern Syria
• Riyadh says two IS cells busted
• Iraqi forces make first push into Mosul
• Lebanon elects Aoun as president, ending two-year vacuum
• UAE jails seven for links to Hezbollah
• Kurdish authorities detain Japanese journalist in Iraq
• Syrian army makes gains in Damascus
• King, EU foreign policy chief discuss bilateral cooperation and Syria
• Saudi Cabinet slams Houthi missile attack near Makkah
• Pakistan reaffirms support for KSA's anti-terror fight
---------
Mideast
• Tehran Terms Aoun Presidency a 'Victory For Hezbollah'
• Yemen's Sides 'Must' Prioritize National Interest
• War pushes Yemen to partition
• UN's Yemen envoy to return to region to broker peace deal
---------
India
• Pakistan Suspends Nickelodeon Channel's Licence for Airing Indian Content
• Over 55 Per Cent of Under trials Muslim, Dalit or Tribal: NCRB
• What Is SIMI? All You Need To Know
• Madhya Pradesh Police Kill 8 SIMI Under-trials Hours after Jailbreak; Lawyer Wants CBI Probe
• Two beaten to death in Aligarh clash on Diwali
• After their names were made public, Pakistan may recall four Delhi High Commission officials
• India to approach Pakistan foreign ministry for release of soldier
-----
Europe
• British Police Investigate Raising Of Hezbollah Flags on Ashura
• Bosnia Stands Up Again, Defies World
• Dutch anti-Islam MP goes on trial for hate speech
----
Pakistan
• Govt, PTI Urged To Shun Confrontation Over Corruption
• Hindus Celebrate Diwali in Shikarpur
• Imran Khan petitions Supreme Court against 'siege' of Bani Gala
• Interior ministry seeks FC contingent from KP for security in Islamabad
• Infuriated PTI workers attack Geo News van in Swabi
• Al Qaeda suspect gunned down in Khushab 'encounter'
-----
Southeast Asia
• Leaders of Nahdlatul Ulema and Muhammadiyah Reject Violent Rally
• Can't blame non-Muslim businesses for own ignorance, Muslims told
• Poetry Reading Celebrates Youth Pledge Day in Solo
• Indonesian officials urge calm ahead of Jakarta election protest
• Freed Indonesians recall Somali kidnap ordeal
• HRW releases images of anti-Rohingyas abuses
------
North America
• For American Muslims, the US Elections Is Like Choosing Between A Rock And A Hard Place
• 'Don't feel safe': US gun store says won't arm Muslims, Clinton supporters
Compiled by New Age Islam News Bureau
URL: https://www.newageislam.com/islamic-world-news/new-age-islam-news-bureau/fifteen-temples-in-bangladesh-vandalised,-houses-of-hindus-looted-over-allegations-of-disrespect-shown-to-islam-on-facebook/d/108977
-------
Fifteen Temples in Bangladesh Vandalised, Houses of Hindus Looted Over Allegations of Disrespect Shown To Islam on Facebook
October 31, 2016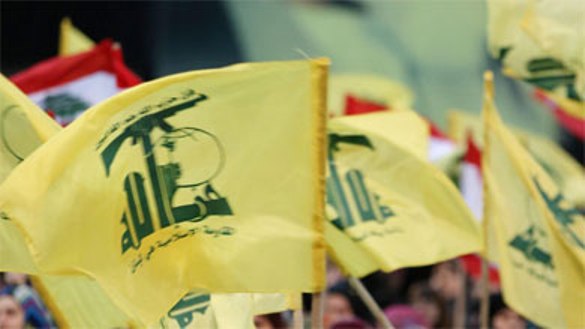 Raising Hezbollah's flag falls under the penalty of anti-terrorism laws according to British laws. (File photo: AP)
Desecration follows charges of disrespect to Islam on Facebook; police see hand of JeI and Islami Chhatra Shibir.
At least 15 Hindu temples in Bangladesh have been vandalised over allegations of disrespect shown to Islam on Facebook, triggering panic among the minority community in the Muslim-majority nation.
Temples in Brahmanbarhia district's Nasirnagar were vandalised on Sunday; besides over 100 houses of Hindus in the area have also been looted.
After the mayhem for hours, two temples in adjacent Habiganj's Madhabpur also came under attack, police and witnesses said.
Six persons were arrested for their alleged involvement in the attack.
Paramilitary Border Guards Bangladesh (BGB) have been deployed in Nasirnagar and Madhabpur Upazila headquarters along with the Rapid Action Battalion, police and Armed Police Battalion, bdnews24.com reported.
The district's Deputy Commissioner Rezwanur Rahman and Superintendent of Police Mizanur Rahman inspected the area later in the afternoon.
But the leaders of the local Hindu community say the panic that has gripped them is not going away.
Ditto, attack on Buddhists
The attack was carried out in a style followed by the attackers of Buddhist community in Cox's Bazar in 2012 on a similar allegation of disrespect towards Islam through a Facebook post.
Locals said Nasirnagar incident started with a Facebook post by one Rasraj Das from Harinberh village under Haripur Union Parishad.
Police detained Rasraj on Friday immediately after the allegation of blasphemy had surfaced against him. He was sent to jail following a court order, Mr. Mizanur Rahman said.
Protests against Rasraj's post were called under the banner of 'Ahle Sunnat Wal Jamaat' in Habiganj district headquarters and Nasirnagar. Demonstrations were also announced in Habiganj's Madhabpur.
Madrasa students stage protest
A group of madrasa students demonstrated on the premises of Brahmanbarhia Press Club while hundreds of people blocked Sarail-Nasirnagar-Lakhai road by torching tyres on Sunday.
Mr. Mizanur, quoting witnesses, said a group of the demonstrators, armed with local weapons, vandalised the temples at Duttubarhi, Namashudraparha and Ghoshparha, and Jagannath Temple and Goura Temple.
They also vandalised and looted the houses of the Hindu families. Several priests were injured in the attack, he said.
One platoon of the BGB was deployed first to bring the situation under control. The other forces joined them later.
Mr. Mizanur said preparations to file separate cases over the attacks were under way.
Mr. Rezwanur Rahman told the media that those responsible for the attack would get 'exemplary' punishment after investigation.
Nasirnagar Upazila Parishad Vice-Chairman Anjan Deb said, "The situation is apparently calm now but the Hindu community is still panicked."
Coming after Kali Puja
Madhabpur Upazila Puja Udjapon Committee chief Sunil Das said the members of the religious minority community were pained by the attack, which was carried out a day after Kali Puja.
Mr. Mizanur blamed Jamaat-e-Islami and its student wing Islami Chhatra Shibir for the attack.
"The opportunist quarter carried out this attack to embarrass the government. Those behind it will be found out and dealt with in a tough manner," he said.
thehindu.com/news/international/south-asia/15-hindu-temples-in-bangladesh-vandalised/article9288320.ece
-------
Nigerian Soldiers, Police Sexually Abuse Boko Haram Victims: HRW
31 October 2016
Nigerian soldiers and policemen have raped and sexually abused women and girls fleeing the Islamist militant group Boko Haram, Human Rights Watch said on Monday.
Forty-three cases of "sexual abuse, including rape and exploitation", were documented in July, HRW said.
The women and girls were housed at seven camps in Maiduguri, the capital of Borno state, where Boko Haram's seven-year insurgency began. That insurgency has displaced more than two million people and killed some 15,000 in Nigeria's northeast.
An army spokesman declined to comment and referred the matter to the defense ministry. A spokesman for the department could not be reached by phone and did not respond to a text message. A spokesman for the Nigerian police could not be reached on his mobile phone.
The rights group said it was also told of abuse carried out by camp leaders and members of security groups set up to help the military fight the insurgents.
Four people told HRW they were drugged and raped. Thirty-seven said they had been coerced into sex through false marriage promises and material and financial assistance.
A 17-year-old girl said she was raped by a policeman who approached her in a camp.
"One day he demanded to have sex with me. I refused but he forced me," she said, adding that it happened once. She said he threatened to shoot and kill her when she discovered that she was pregnant.
Full report at:
english.alarabiya.net/en/News/africa/2016/10/31/Nigerian-soldiers-police-sexually-abuse-Boko-Haram-victims-HRW.html
-------
Over 90 Militants Killed in Failed Attack on Syrian Army Positions in Dara'a
Nov 01, 2016
TEHRAN (FNA)- Syrian Army troops repelled a joint attack of the terrorist groups on their positions in Northern Dara'a, killing over 90 militants and wounding many more, a field commander said.
"A coalition of terrorist groups of al-Muhajirin and al-Ansaar, Jabhat al-Nusra, Faloujet Houran, Jeish al-Yarmouk, Bait al-Maqdes, Liwa al-Karama, Mujahidi Houran, al-Liwa al-Rade'a, Ahrar Nawa, al-Mu'taz Bellah and Jund al-Malahem struck the Syrian army's strongholds in Northern Dara'a," the source said.
"The army troops inflicted major casualties on the militants, destroying four explosive-laden suicide vehicles and 16 surveillance drones," the source added.
"After being defeat, the terrorist groups transferred their injured members to Israeli medical centers," he said.
Full report at:
http://en.farsnews.com/newstext.aspx?nn=13950811000378
-------
Tehran Terms Aoun Presidency A 'Victory For Hezbollah'
1 November 2016
JEDDAH: Lebanese lawmakers ended a two-year political vacuum Monday by electing as president ex-army chief Michel Aoun, who promised to protect the country from spillover from the war in neighboring Syria.
The deeply divided Parliament took four rounds of voting to elect 81-year-old Aoun, whose supporters flooded streets across the country waving his party's orange flag.
"Lebanon is still treading through a minefield, but it has been spared the fires burning across the region," Aoun said after taking the presidential oath.
"It remains a priority to prevent any sparks from reaching Lebanon," the Maronite Christian leader said.
Syria's five-year war has been a major fault line for Lebanon's political class, and analysts have warned Aoun's election will not be a "magic wand" to end divisions.
The next challenge will be forming a government and that is expected to take months of wrangling.
Presidential media office chief Rafik Chlala said consultations to name a prime minister would begin Wednesday morning, with an announcement expected at noon Thursday.
It remains unclear if Lebanon's perpetually ineffectual political class can solve key problems, including a trash crisis that has seen rubbish pile up in open dumps.
The Parliament that elected Aoun has twice extended its own mandate, avoiding elections because of disagreements over a new electoral law.
Full report at:
http://www.arabnews.com/node/1004731/middle-east
--------
South Asia
Amid News Blackout, Myanmar Politician Blames Muslims For Torched Villages
2016-10-31
While Myanmar's central government remains largely silent and the country's powerful military maintains a blockade on the Maungdaw conflict zone in Rakhine state, a state lawmaker said on Monday that satellite imagery of burned villages and accounts of rape and looting by soldiers carried by international media or human rights groups were "wrong."
International media and aid organizations have issued reports based on local villagers' accounts of security forces arbitrarily arresting residents, killing unarmed civilians, burning down homes, and raping women in Maungdaw in the aftermath of an Oct. 9 attack that killed nine guards on Myanmar's border with Bangladesh.
The government has denied the reports, which emerged from an information blackout as the army has restricted journalists, aid workers, and human rights monitors from accessing Maungdaw, a majority-Muslim area in a state that has experienced bloody sectarian clashes in recent years pitting majority Buddhists against Rohingya, a mostly stateless group of Muslims.
Rakhine state lawmaker Aung Win, leader of a committee set up to investigate the Maungdaw attacks, told RFA's Myanmar Service that outsiders were getting the story wrong because they hadn't visited the area at the center of the conflict.
"I want to say that most of the information in the reports about the Maungdaw situation by international media and organizations is wrong," Aung Win said.
"They should write something only after observing the actual situation on the ground. They are only talking about human rights, but they also should know Myanmar's laws," he added. He did not specify which laws he believed the outsiders were unaware of.
Aung Win heads an investigative commission set up by the Rakhine state parliament on Oct. 24, which is comprised of 11 regional legislators from different political parties and tasked with investigating the deadly attack on Oct. 9. Members of the group visited villages in Buthidaung and Maungdaw townships near the Bangladesh border.
"What we saw during our visit was mostly women, older people, and children who had fled from their places out of fear, while the men stayed at their homes because their rice paddies are in the villages," he said. "We also saw some Muslim villages with no one there."
'Like military strongholds'
After visiting Aung Zayya village in Maungdaw, the committee came to the conclusion that almost all villagers had been involved in the attack, and that some had set fires that burned down their own homes, Aung Min said.
The committee also concluded that residents of nearby Watpate village were also involved in the attack, and afterwards moved out of the area with weapons they had stolen from the border guard posts, he said.
"All Bengali villages are like military strongholds," Aung Win said, using a derogatory term for Rohingya that is used by Myanmar's Buddhists, who view the Muslims as illegal immigrants from Bangladesh.
"When we arrived in those villages, we saw no kitchen items such as pots or plates," Aung Min said. "This shows they had plans."
The lawmaker's assertions could not be independently verified amid tight military restrictions on access to the Maungdaw area that in addition to keeping news from getting out have prompted warnings that not enough food and medical aid is getting in to displaced people.
In the wake of the attacks, Myanmar army soldiers and border guards locked down parts of Maungdaw to search for others involved in planning and carrying out the incident. Myanmar government officials have blamed a Rohingya group, which received training and funding from Islamists outside the country, for the Oct. 8 attack and subsequent violence.
The Reuters news agency last week quoted eight Rohingya women as saying they had been raped by soldiers. The allegations were denied by Myanmar Presidential spokesman Zaw Htay, and the agency reported on Monday that security forces warned women in one village about talking to the media.
Satellite imagery as evidence
On Monday, Human Rights Watch issued satellite imagery recorded on Oct. 22 that presents evidence of fire-related destruction in at least three Maungdaw villages. The group also reviewed thermal anomaly data gathered by an environmental satellite sensor that detected the presents of multiple burning fires in two of the same villages on Oct. 14.
"The discovery of active fires and large burn scars in these villages is consistent with arson attacks reported in Maungdaw district since Oct. 9 by Rohingya groups, human rights organizations, and media accounts quoting witnesses to the violence," New York-based HRW said in a news release.
"These satellite images of village destruction could be the tip of the iceberg given the grave abuses being reported," said Phil Robertson, HRW's deputy Asia director. "The Burmese government has a responsibility to hold accountable both the perpetrators of the Oct. 9 attacks against state officials, and government security forces who committed—and may still be committing—serious abuses in pursuit of those attackers."
Despite this, the current situation in areas from which residents fled during the attacks is now more stable, though the border fence separating Myanmar from neighboring Bangladesh is not strong enough to prevent people from cutting through the wire and illegally entering Myanmar, Aung Min said.
To prevent other attacks from occurring in the future, authorities must consider building a brick wall along the border, constructing more ethnic villages in the area and creating jobs for those who live there, forming village militias to protect residents, and increasing the number of border guards and outfitting them with an adequate supply of weapons, he said.
On Oct. 28, HRW called on the Myanmar government to invite the United Nations to participate in an impartial investigation of the attacks and allegations of human rights abuses.
A delegation of U.N. aid agencies and foreign diplomats were expected to visit the area on Monday, according to the rights group. It was not clear if the visit took place as scheduled.
http://www.rfa.org/english/news/myanmar/amid-news-blackout-myanmar-politician-blames-muslims-for-torched-villages-10312016155616.html
------------
Afghan elders killed in suicide attack on meeting
November 01, 2016
Islamic State claimed responsibility for a suicide attack that devastated a gathering of local elders in the eastern Afghan province of Nangarhar on Monday.
Afghan officials said four people were killed and seven wounded in the attack, while a statement from Islamic State said 15 "apostates" were killed and 25 wounded.
Attaullah Khogyani, spokesman for the governor of Nangarhar which is the main stronghold of Islamic State in Afghanistan, said the meeting of elders had been called to settle a dispute between local people when the bomber staged his attack.
"Elders from Pachiragam district had gathered in Jalalabad city at a house to resolve their internal disputes and make a front against Islamic State but a suicide bomber disrupted the meeting, killed and wounded several people including elders," he said.
Councils of tribal elders are a fundamental means of managing affairs in many parts of Afghanistan where government control is weak but they have been targeted by Islamic State as it seeks to establish its own authority in eastern Afghanistan.
The militant group, which in Afghanistan is based mainly in Nangarhar, issued a picture of the suicide bomber and said he had opened fire on the gathering before detonating his explosive belt, an account corroborated by survivors.
President Ashraf Ghani issued a statement condemning the attack.
http://nation.com.pk/international/01-Nov-2016/afghan-elders-killed-in-suicide-attack-on-meeting
------------
Bangladesh condemns reported missile attack targeting Makkah
2016-10-31
Bangladesh has expressed "deep concern" at the reported missile attack by the Houthi militia targeting the holiest shrine of Islam in Makkah, Saudi Arabia.
The foreign ministry in a statement said Bangladesh "strongly condemns such attacks on the very fundamental symbol of faith and unity of Muslim Ummah".
"Bangladesh reiterates its commitment to stand by the government and the people of the Kingdom to protect and secure the two holy mosques," read the statement.
The Saudi-led coalition intervening in Yemen's civil war on behalf of the government said in a statement on Oct 27 that it had destroyed a ballistic missile launched by Yemen's Houthi militia toward Makkah before it could do any damage.
The Shia Muslim Houthis confirmed the launch of a Burkan-1 ballistic missile into Saudi Arabia in a statement on their official news agency. But it said it had been aimed at King Abdulaziz International Airport in Jeddah, the kingdom's busiest airport.
http://bdnews24.com/bangladesh/2016/10/31/bangladesh-condemns-reported-missile-attack-targeting-makkah
------------
Brahmanbaria Mayhem: Role of admin in question
November 01, 2016
Sunday's attacks on the Hindus in Brahmanbaria's Nasirnagar Upazila could have been averted had the local administration and police acted promptly and taken preventive measures, say victims and locals.
Tensions had been brewing in the area since Saturday, as two Islamist groups -- Touhidi Janata and Ahle Sunnat Wal Jamaat -- called two protest rallies for Sunday over a local Hindu youth's alleged Facebook post "hurting religious sentiment of the Muslims," they say.
But neither the law enforcement agencies nor the administration took the matter seriously. They didn't take steps to ward off any untoward incident, a number of victims and locals told this correspondent yesterday.
The administration and police remained almost "inactive" while the religious bigots carried out attacks on temples, Hindu houses and businesses.
Armed with sticks and sharp weapons, the zealots, mostly from Touhidi Janata, went on the rampage in Duttabari, Goura Mandir, Jagannath Mandir and Kashipara Mandir. Idols at the temples were either destroyed or damaged, they said.
Police personnel sat idle during the attacks, alleged Nasirnagar Upazila Vice Chairman Anjan Kumar Dev and Upazila Puja Udjapan Committee President Kajal Jyoti Dutta -- both victims of the attacks.
Anjan said the administration and police should take responsibility for the attacks on the Hindus.
"On the previous night, they [attackers] asked all to join the protests, and announced plans to hold protest rallies… How could the administration allow them to hold such rallies," he asked.
Kajal said both the administration and police were "unusually late" in their response to the attacks.
Abdur Rahim, headmaster of Ashutosh Pilot High School in the upazila, said, "Things could have been different if the administration had taken necessary measures to bring the situation under control."
From the protest rally at the school's playground, members of Touhidi Janata urged locals over loudspeakers to attend their programme. They even asked shop owners to shut their outlets and join it, according to locals and victims.
In the name of protesting the Facebook post, Touhidi Janata men tried to instigate people by giving speeches over loudspeakers from different mosques for hours since Saturday morning, they said.
But the upazila administration or Nasirnagar Police Station didn't do anything to keep the zealots in check. Instead, they let them go ahead with their plots to wreak mayhem, they alleged.
Muklesur Rahman, chairman of Touhidi Janata's Nasirnagar unit, said they had organised the protest rally at the school playground but he denied the allegations that they were involved in the attacks.
"We condemn the attack and demand punishment of the culprits," the leader of the Qawmi madrasa-based Islamist organisation told this correspondent at his Jamia Siddiqia Ramizia Madrasa office in Nasirnagar last night.
Muklesur, also imam of Nasirnagar Upazila Complex mosque, said he had no idea about the attackers wearing panjabi and prayer caps as described by the witnesses.
On Sunday noon, around 200 religious bigots attacked at least five temples, and vandalised and looted about 100 Hindu houses in several localities in Nasirnagar over a Facebook post purportedly from the account of Rasraj Das, 27.
The attackers also beat up more than 100 people.
Earlier on Saturday noon, locals handed over Rasraj to police.
Asked, Nasirnagar Upazila Nirbahi Officer Choudhury Muazzam Ahmed said some bigots from the rally under the banner of Touhidi Janata launched an attack on the Hindus in the area.
He said the administration had given permission to hold rallies upon promises from both the Islamist groups that those would be peaceful.
Under police protection, the UNO himself attended Touhidi Janata's rally that began at 10:00am on Sunday. Upazila Parishad Chairman APM Moniruzzaman Sarkar and Officer-in-Charge of Nasirnagar Police Station Abdul Quader were also present there.
"I don't see any negligence on the part of the administration," said the UNO.
Contacted, Mizanur Rahman, superintendent of police in Brahmanbaria, said there was a shortage of manpower at different police stations, including the one in Nasirnagar, as a large number of police personnel were deployed in different unions for yesterday's Union Parishad polls.
The SP said the DC office had already formed a committee to investigate the incident and see if there was any negligence on the part of the upazila administration.
Police also formed another probe committee to find out whether any of the police personnel was insincere in carrying out duties.
"We will take action if anyone is found guilty of negligence," he said.
Ranjan Kumar Das, Brahmanbaria senior additional superintendent of police, said two of the victims -- Kajal and Goura Mandir Committee General Secretary Nirmal Chowdhury -- filed two cases with Nasirnagar Police Station against over 1,000 unnamed people on Sunday.
Despite repeated attempts, Abdul Quader, officer-in-charge of Nasirnagar Police Station, could not be reached over his mobile phone.
Police have so far arrested 15 people in connection with the attacks. They, however, didn't disclose their identities.
Additional police personnel and members of Border Guard Bangladesh have been deployed in the areas.
Meanwhile, local Awami League last night demanded resignation of the UNO and the OC of Nasirnagar Police Station for their "failure" to prevent the violence.
Asked, Senior Home Secretary Mozammel Haque Khan said, "A vested quarter always wants to destabilise the government. And it is the government's duty to resist such attempts."
He said "a new group" emerged and its aim is to create troubles for political gains. They wouldn't be spared. The government would not compromise with them.
"We will resist incidents like that of Brahmanbaria. If it can be done peacefully, we will do it peacefully. But if not, we will do it by force," he added.
Yesterday, this correspondent visited the affected areas, including Kashipara, Daspara, Ghoshpara, Duttapara and Nomoshudrapara, and talked to more than 50 victims of the Hindu community and 40 locals in Nasirnagar Union.
The attackers ran amok in the areas for about three hours since Sunday noon, but police didn't turn up in any of the places on time. The law enforcers finally brought the situation under control after 2:00pm, according to victims and locals.
The attackers beat up over 100 people, including women and children, of the minority community.
Armed with locally made weapons, iron rods and sticks, several groups of religious bigots from Nurpur, Bhuban and Rosulpur areas joined members of Touhidi Janata, and carried out the attacks in the Hindu localities, said witnesses.
Chanting slogans against the Hindus, the attackers vandalised houses, and looted valuables, including mobile phones, gold ornaments and televisions. They even snatched earrings and jewelleries from a number of Hindu women.
They didn't even spare children. During the attack on a house at Mistiripara, two of the bigots hit a two-and-a-half-year-old child as he was crying during the looting.
"After the youths looted Tk 60,000 and five tolas of gold from the locker, I begged them not to take money from my elder daughter's purse, as she would need it to go to her college for the BA examinations tomorrow.
"But they took away all the money -- Tk 2,000 -- from my daughter's purse," said Protima Das of Daspara, who was in tears.
A Hindu woman at Nomoshudrapara said, "We hid our 14-year-old daughter under the bed to save her from the attackers."
The attackers set fire to a cattle shed there.
In Kashipara, musical instruments, including harmonium, were seen floating in a pond. The attackers also vandalised a Kali Temple in the area.
The religious zealots also set alight fishing nets of Hindu fishermen, ignoring their pleas that their livelihood depended on those, said Anurup Das of Mistiripara.
http://www.thedailystar.net/frontpage/brahmanbaria-mayhem-role-admin-question-1307440
------------
Africa
Al Shabaab seizes town from Somali government
30 October 2016
The Islamist group al Shabaab seized a town northwest of Somalia's capital from government forces on Sunday, the latest small center taken by the militant group trying to topple the country's Western-backed government.
Al Shabaab, which once ruled much of Somalia, has been fighting for years to impose its strict interpretation of Islam on Somalia. African Union and Somali troops have driven it from major urban strongholds and ports, but they have often struggled to defend smaller, more remote areas from attacks.
"Many al Shabaab fighters attacked us this morning and after brief fighting we left the town for tactical reasons," Somali army Major Hussein Edin told Reuters from the nearby town of Baidoa. One Somali soldier was killed, he said.
Full report at:
https://english.alarabiya.net/en/News/africa/2016/10/31/Nigerian-soldiers-police-sexually-abuse-Boko-Haram-victims-HRW.html
------------
ISIS claims responsibility for attack outside US embassy in Nairobi
30 October 2016
A follower of ISIS was responsible for an attack last week on a Kenyan police officer outside a US embassy in Nairobi, the group's Amaq news agency said on Saturday.
A knife-wielding man whom police described as a criminal was shot dead outside the US Embassy in Nairobi last Thursday after he attacked and injured a Kenyan police officer.
"The person who carried out the stabbing of a guard outside the American embassy in Nairobi last Thursday was a soldier of ISIS responding to calls to target coalition countries," Amaq said.
Full report at:
https://english.alarabiya.net/en/News/africa/2016/10/31/Nigerian-soldiers-police-sexually-abuse-Boko-Haram-victims-HRW.html
------------
Anti-graft activist among 4 dead in Libya blast
31 October 2016
BENGHAZI, Libya: A prominent anti-corruption activist was one of four people killed in an explosion in Libya's second city of Benghazi, in the east of the strife-torn country, officials said Sunday.
"An explosion caused by a mortar shell occurred in the Al-Kish neighborhood" of Benghazi, said Mohamad Al-Azumi, a spokesman for forces allied with controversial Field Marshal Khalifa Haftar.
He said the shell hit a group of cars, sparking the blast.
A medical official said the explosion on Saturday night killed four people and wounded 23 others, all of them civilians including "the well-known anti-corruption activist Mohamad Bugaighis."
Another source in the forces loyal to Haftar said the shell stuck near the headquarters of a brigade located in an area also known for its cafes and shops.
The origin of the mortar round was unknown, said the source.
Bugaighis was known for his support of the idea that Haftar be made commander of the Libyan national army, as well as his opposition to Islamists.
For two and a half years, Benghazi has seen bloody battles between loyalist forces led by Haftar and armed groups including jihadists from the Daesh group and Ansar Al-Sharia, which is close to Al-Qaeda.
Full report at:
http://www.arabnews.com/node/1004486/middle-east
------------
Boko Haram refugees raped by officials, security force
31 October 2016
LAGOS, Nigeria: Human Rights Watch says Nigerian government officials, soldiers and police are raping and sexually exploiting women and girl refugees from Boko Haram, instead of protecting them.
A report from the New York-based organization says shortages of food, medicine and clothing in refugee camps compounds the vulnerability of victims including many unaccompanied girls and women orphaned and widowed by the 7-year uprising.
Human Rights Watch documented in July the rapes and sexual exploitation of 37 females, including four who said they were drugged and then abused. Some describe having sex in exchange for food for their children.
Full report at:
http://www.arabnews.com/node/1004791/world
------------
Nigerian Shi'ites Say They Face Repression
October 31, 2016
ABUJA, NIGERIA —
Members of Nigeria's largest Shi'ite Muslim group say they still are being unjustly targeted by the Nigerian government and security forces, with 44 Shi'ite Muslims arrested last week as hundreds gathered in Jos, in the Nigerian state of Plateau, for a religious ceremony called the day of Ashura.
Saifullah Kabir's mother was one of those arrested.
"I visited her one time; that was last week," Kabir said. "She said she don't know what offense she has done."
Meanwhile, Kabir's two sisters, ages 16 and 14, are in police detention.
Plateau state police spokesman Tyopev Terna says those detained were charged with public disturbance. Minors are being held in a cell in a police station while the adults, like Kabir's mother, are in prison.
"They are with us on court order," Terna said. "We are not the ones keeping them. It is the court that said they should be taken to prison. The prison said, help us with your facilities so we can keep them there. They are in safe hands. They are in a very good facility."
The activities of Nigeria's largest Shi'ite group, the Islamic Movement of Nigeria, were recently banned in the neighboring state of Kaduna.
Full report at:
http://www.voanews.com/a/nigeria-shiites-say-face-repression-from-government/3573230.html
------------
Arab World
Syrian Army Gives Militants Last Ultimatum to Surrender in Eastern Damascus
Nov 01, 2016
TEHRAN (FNA)- The Syrian Army has given the terrorists of Jeish al-Islam and their allies a final ultimatum to fully surrender in Eastern Ghouta, informed sources said on Tuesday.
"After the recapture of Tal (hill) Kurdi and Tal al-Sawan, Syrian government forces are to storm Jeish al-Islam's strongholds in the towns of al-Shifouniyeh and al-Reihan to pave the ground for the liberation of the city of Douma," the sources said.
"The Syrian army has given a last chance to the militants in Douma region to lay down arms and turn in themselves to government authorities," the sources added.
"Syrian government forces will not end anti-terrorism operation in Damascus province untill the full seizure of Douma and its countryside," the sources pointed out.
In the meantime, Damascus Governor General Ala Ibrahim underlined that the Syrian army and its allies have restored full security to Damascus and are to reinvigorate it, rejecting the possibility that terrorists, including ISIL, might infiltrate Damascus Security Ring.
Syrian Army troops and popular forces continued their advances against Jeish al-Islam terrorists in Eastern Ghouta on Monday, capturing at least 25 square kilometers and developing control near the key city of Douma.
Full report at:
http://en.farsnews.com/newstext.aspx?nn=13950811000707
------------
Second Column of Syrian Special Forces, Several Russian T90 Tanks Arrive in Aleppo
Nov 01, 2016
TEHRAN (FNA)- Commandos of the Desert Hawks Brigade along with a supply of TOW missiles and several T90 tanks arrived in the Northern province of Aleppo to join other army units in the fierce battle against against the terrorist groups in the region, military sources said Tuesday.
"This is the second convoy of the Syrian Special Forces, also known as Liwa Suqour al-Sahra, that has arrived in Aleppo this week," the sources said.
"The Deseret Hawks Brigade forces will join their comrades to strengthen the army forces' combat capabilities," they added.
Full report at:
http://en.farsnews.com/newstext.aspx?nn=13950811000473
----
Turkey Setting Up Military Base in Northern Syria
Nov 01, 2016
TEHRAN (FNA)- Turkey, supported by the US, continues occupation of lands in Northern Syria within the framework of the Euphrates Shield operation, a Lebanese daily wrote, disclosing that Ankara is setting up a military base in the region.
According to al-Safir newspaper, Turkey is implementing the scenario played in Iraq's Bashiqa now in a village in Northern Aleppo.
The suspicious moves of certain Turkish army units near al-Zareh village in the Southern parts of al-Rae'i town (near the Syrian-Turkish border) show that Ankara is seriously pursuing establishment of a military base in Northern Syria.
According to the newspaper, the goal of such moves is setting up a military base, airbase or camp by the Turkish army under the pretext of the Euphrates Shield operation.
Informed sources said on Sunday that Ankara had dispatched more soldiers and military equipment to the Northern territories of Syria to strengthen its Euphrates Shield Operation.
"The Turkish Army has sent more forces to Jindris region at the Turkish border with Syria in Northwestern Aleppo," the sources said.
News sources, for their part, said on Monday that Ankara has dispatched reinforcement to two border regions of Qarqmish and Ugozeli in Gaziantep in Southern Turkey.
Full report at:
http://en.farsnews.com/newstext.aspx?nn=13950811000647
---
Riyadh says two IS cells busted
November 01, 2016
RIYADH: Saudi authorities said on Sunday they had foiled a plot to bomb a football stadium during a World Cup qualifying match and dismantled two "terrorist" cells linked to the militant Islamic State (IS) group.
The interior ministry said in a statement that four suspects from each cell had been arrested.
One of the cells had planned to park a bomb-laden vehicle outside Al-Jawhara stadium in Jeddah during an October 11 World Cup qualifying football match between Saudi Arabia and the United Arab Emirates, the ministry said.
Its members were two Pakistanis, a Syrian, and a Sudanese, the ministry said, without providing further details of the plot or arrests.
The other group had been plotting attacks against security forces and its members had received orders from an IS leader in Syria, the ministry said.
Its alleged members were based in Shaqra, northwest of Riyadh, and are all Saudis, the ministry statement said, adding that the suspects had all confessed.
Six other Saudis were detained and were being questioned over alleged links to the cell, it said.
Full report at:
http://www.dawn.com/news/1293352/riyadh-says-two-is-cells-busted
------------
Iraqi forces make first push into Mosul
November 01, 2016
BAGHDAD - Advancing Iraq troops broke through Islamic State defense lines in an eastern suburb of Mosul on Monday, taking the battle for the insurgent stronghold to inside the city limits for the first time, a force commander said.
They made the gain as the offensive to recapture Mosul - the largest military operation in Iraq since the US-led invasion that toppled Saddam Hussein in 2003 - entered its third week.
Commanders had warned earlier that the battle for the city, the hardline militants' de facto capital in Iraq, could take weeks and possibly months.
Troops of the Iraqi army's Counter-Terrorism Service (CTS) moved forward on Gogjali, an industrial zone on the eastern outskirts, on Monday after two weeks of fighting to clear surrounding areas of the insurgents.
They then reached Karama district, their first advance into the city itself, an officer said.
"They have entered Mosul," he said.
"They are fighting now in Hay (district) al-Karama.
A Reuters correspondent in the village of Bazwaia saw plumes of smoke rising from a built-up area a few kilometers away which a commander said was the result of the clashes in Karama.
The fighting ahead is likely to be more difficult as civilians still live there, unlike most villages taken so far by the Iraqi forces which were emptied of their Christian population.
Islamic State singled out religious minorities in northern Iraq, including Christians and Yazidis, for killing and eviction after leader Abu Bakr al-Baghdadi declared a caliphate in 2014 over territory they captured there and in neighboring Syria.
Full report at:
http://nation.com.pk/international/01-Nov-2016/iraqi-forces-make-first-push-into-mosul
------------
Lebanon elects Aoun as president, ending two-year vacuum
November 01, 2016
BEIRUT - Lebanon's Michel Aoun, a former general backed by the powerful Hezbollah movement as well as longtime rivals, was elected president Monday ending a political vacuum of more than two years.
The deeply divided parliament took four rounds of voting to elect Aoun, whose supporters flooded streets and squares across the country to celebrate his victory.
In Beirut's majority-Christian neighbourhood of Ashrafiyeh, supporters launched fireworks and loosed volleys of celebratory gunfire, as Aoun took the oath of office before lawmakers.
But analysts have warned his election will not be a "magic wand" for Lebanon, which has seen longstanding political divisions exacerbated by the war in neighbouring Syria and has struggled to deal with an influx of more than a million Syrian refugees.
The 81-year-old former army chief had long eyed the presidency, and his candidacy was backed from the beginning by Hezbollah movement, his ally since a surprise rapprochement in 2006.
But the key to clinching the post was the shock support of two of his greatest rivals: Samir Geagea, leader of the Christian Lebanese Forces, and former premier Saad Hariri.
Hariri, who Aoun is expected to appoint prime minister, said his endorsement was necessary to "protect Lebanon, protect the (political) system, protect the state and protect the Lebanese people".
Lebanon's political divide has been deepened by the war in neighbouring Syria, where Hezbollah and its allies back President Bashar al-Assad, even dispatching fighters to bolster his forces.
Hariri and his political allies firmly oppose Assad, as well as Hezbollah, which they accuse of seeking to monopolise power in Lebanon.
Full report at:
http://nation.com.pk/international/01-Nov-2016/lebanon-elects-aoun-as-president-ending-two-year-vacuum
------------
UAE jails seven for links to Hezbollah
November 01, 2016
A United Arab Emirates court sentenced seven people to up to life in prison for establishing a cell linked to the Lebanese Shi'ite militant group Hezbollah, state media said on Monday.
An Emirati man and two Lebanese men were handed life sentences and an Egyptian woman and another Emirati man were each jailed for 10 years, according to state news agency WAM.
An Iraqi and another Lebanese man were each jailed for 15 years.
The charges included "handing over information about a government department" and "oil production in the UAE" as well as "maps of a gas field" to Hezbollah, WAM said.
In February, the UAE along with Saudi Arabia, Bahrain, Qatar, Oman and Kuwait - all US-allied Sunni Muslim states - declared the Iran-backed Hezbollah a terrorist organization and warned any citizen or expatriate against any links to it.
Full report at:
http://nation.com.pk/international/01-Nov-2016/uae-jails-seven-for-links-to-hezbollah
------------
Kurdish authorities detain Japanese journalist in Iraq
1 November 2016
A Japanese freelance journalist covering the fighting in Iraq has been detained by Kurdish authorities.
Japanese government spokesman Yoshihide Suga said Tuesday in Tokyo that "we are aware that he is currently being detained" and that Japan is trying to determine why.
Japan's Kyodo News agency says that journalist Kosuke Tsuneoka was reporting on the battle to recapture the city of Mosul from the ISIS group.
Full report at:
https://english.alarabiya.net/en/News/middle-east/2016/11/01/Kurdish-authorities-detain-Japanese-journalist-in-Iraq.html
------------
Syrian army makes gains in Damascus
1 November 2016
The Syrian army and its allies seized a strategic area in the besieged rebel-held eastern Ghouta area of Damascus, tightening their grip on the biggest insurgent stronghold near the capital.
Opposition forces said the army stormed the town of Tel Kurdi on Sunday bringing them only a few kilometers from the city of Douma, the once sprawling urban heart of the eastern rural area of Damascus known as al Ghouta.
"After intensive battles on this front that continued more than fifty days in which the Assad militias used a scorched earth policy, the Mujahdeen were forced to retreat from the area," said Hamza Bairqdar, the military spokesman for Jaish al Islam, the biggest rebel group in the area.
Since the start of the year, Syrian government forces and their allies, including Lebanese Hezbollah fighters, have moved into Eastern Ghouta from the south, the southwest, and the east, helped by infighting among rebel groups that control the area.
"The collapse of the fronts is due to the internal fights," said Adnan Abdul Aziz, a lawyer in the rebel run Douma local council.
Tel Kurdi comes after a string of advances from the towns of Hosh Nasri, al Fara and before that Maydaa and Deir al-Asafir that culminated in the seizing of a southern agricultural belt.
The densely populated rural Ghouta area consists of farms and towns stretching northeast from Damascus that has been in rebel hands since the uprising began in 2011.
Securing Damascus
Several hundred thousand people are believed to be trapped in Eastern Ghouta, an action similar in scale to the 250,000 civilians under siege in Aleppo.
Government troops, backed by Russian air power and Iranian-backed militias, have been rooting out pockets of rebellion near the capital, notably taking the suburb Daraya.
Daraya's fall put pressure on other besieged rebel strongholds, boosting government hopes of subduing western and eastern suburbs of Damascus whose close proximity to Assad's seat of power posed a major threat.
Separately, in the southwest of Damascus, in an area known as the Western Ghouta, the Syrian army and its allies have severed supply lines between rebel-held Khan al Shih, a Palestinian refugee camp, and the town of Zakiya to its south. The army had earlier seized the nearby town of Deir Khabyeh.
Full report at:
https://english.alarabiya.net/en/News/middle-east/2016/10/31/Saudi-king-appoints-new-finance-minister-.html
------------
King, EU foreign policy chief discuss bilateral cooperation and Syria
1 November 2016
RIYADH: European Union High Representative for Foreign Affairs and Security Policy and Vice President of European Commission Federica Mogherini, who wrapped up a 12-hour visit to the capital on Monday, held talks with Custodian of the Two Holy Mosques King Salman in the afternoon.
During the meeting held at Al-Yamamah Palace, she discussed a number of issues of common interest and aspects of cooperation between the Kingdom and the European Commission, the executive body of the European Union.
In a statement on her Twitter account, Mogherini said the talks with King Salman focused on bilateral cooperation between the Kingdom and the European Union. She also said that the discussions also touched on the problems in Syria and Yemen.
The meeting was attended by Minister of State and Cabinet Member Musaed bin Mohammed Al-Aiban, Minister of State, Cabinet Member and Acting Minister of Culture and Information Essam bin Saad bin Said, Minister of State for Foreign Affairs Nizar Obaid Madani and a number of Saudi and EU officials.
Following her meeting with the king, the EU official also met Deputy Foreign Affairs Minister Madani at the headquarters of the Foreign Ministry here. She said that she discussed more on Syrian crisis and the country's future in her talks with Madani.
The EU foreign policy chief was in Tehran before coming to the Kingdom. Mogherini met there with President Hassan Rouhani and Foreign Minister Javad Zarif, and had discussions on regional problems.
Full report at:
http://www.arabnews.com/node/1005161/saudi-arabia
------------
Saudi Cabinet slams Houthi missile attack near Makkah
1 November 2016
RIYADH: The Cabinet on Monday condemned Thursday's Houthi ballistic missile attack that emanated from Saada, Yemen.
The missile was intercepted and downed by Saudi air defense forces before it could reach its target and cause harm.
Custodian of the Two Holy Mosques King Salman chaired the weekly Cabinet meeting at Al-Yamamah Palace.
The Cabinet noted that the attack that targeted the Grand Mosque and the House of God has deeply hurt Muslims.
The Cabinet highlighted the condemnation of the strike by Islamic, Arab and friendly Muslim countries and organizations, ulema and ordinary Muslims who voiced support for the Kingdom in its defense of the two holy mosques.
The Cabinet lauded the heroic efforts of the Saudi security forces in different military sectors to protect the Kingdom's borders and preserve its security.
The Cabinet condemned the deadly terror attack that hit the police academy in the Pakistani city of Quetta and the explosion that targeted a hotel in the Kenyan city of Mandera, killing and injuring scores of people.
The Cabinet lauded the participation of the Saudi security forces in the first joint Arabian Gulf security drill of the GCC member countries hosted by Bahrain.
Full report at:
http://www.arabnews.com/node/1005176/saudi-arabia
------------
Pakistan reaffirms support for KSA's anti-terror fight
1 November 2016
RIYADH: Pakistani Ambassador Manzoorul Haq on Monday reaffirmed that his country condemns terrorism in all its forms and manifestations, and fully stands with the government and the people of Saudi Arabia in the fight against terrorism.
The Ministry of Interior on Sunday announced that it had foiled terrorist attacks targeting different places in the Kingdom including Al-Jawhara Stadium in Jeddah during a football match between the Kingdom and the United Arab Emirates (UAE) on Oct.11, and their intensified field operations successfully led to the identification and arrest of terror suspects including two Pakistani nationals.
Commenting on the developments, the Pakistani ambassador told Arab News that terrorists have no region, religion or country.
Full report at:
.arabnews.com/node/1005136/saudi-arabia
------------
Mideast
Yemen's sides 'must' prioritize national interest
1 November 2016
The United Nations Special Envoy for Yemen said on Monday the that the deterioration of the economic situation threatens to worsen the humanitarian crisis, calling on Yemeni actors prioritize national interest.
"After 18 months of horrific fighting, thousands of deaths, injuries and unspeakable human suffering, we all need to ask how long will Yemenis remain hostages to personal and reckless political decisions," Special Envoy Ismail Ould Cheikh Ahmed told the Security Council at a briefing on the situation in the country.
"Despite […] calls for the Yemeni parties to fully commit to the peace process, the parties continued to embark on unilateral actions, which risk undermining the prospects for peace," he added.
The envoy said the peace plan envisaged a new vice-president for Yemen and a national unity government which would lead a transitional period before holding elections.
"The roadmap includes establishing military and security committees to be able to oversee the delivery of weapons and the withdrawals from Sanaa, Hodeida and Taiz," Ould Cheikh Ahmed said.
Yemen has been engulfed in violence for several years' now, with civilians in Taiz – the third largest city with a population of over 600,000 – suffering daily shelling by Houthi militias and their Saleh allies.
Full report at:
english.alarabiya.net/en/News/middle-east/2016/11/01/UN-envoy-calls-Yemen-s-warring-sides-to-prioritize-national-interest.html
------------
War pushes Yemen to partition
November 01, 2016
Noah Browning - Yemen has endured thousands of air strikes and the deaths of more than 10,000 people in a 19-month war that has also unleashed hunger on the desperately poor country - but its biggest challenge may be yet to come.
The conflict has led to Yemen's de facto partition, with rival armies and institutions in the north and south, and could mean the map of the Middle East will have to be redrawn.
A three-day truce to allow in more humanitarian aid and prepare a political settlement collapsed last week, reflecting deadlocked efforts to end the stalemated war.
But behind the combatants' disagreements over how to share power, Yemen's future as a unified state appears increasingly in doubt.
Such a possibility appeared remote when a coalition of Arab states began launching air strikes in March 2015 to restore to power President Abd Rabbu Mansour al-Hadi, driven from the capital, Sanaa, by the Iranian-allied Houthi movement in 2014.
It seems less fanciful now.
Full report at:
/nation.com.pk/international/01-Nov-2016/war-pushes-yemen-to-partition
------------
UN's Yemen envoy to return to region to broker peace deal
1 November 2016
JEDDAH: UN's special envoy for Yemen Ismail Ould Cheikh Ahmed said Monday he would return to the region without delay to try to convince warring parties in Yemen to reach a peace deal that would end the 19-month war in Yemen.
"The dawn of peace could be near if parties decided to prioritize national interests and work on rebuilding a stable state for all people," Ould Cheikh said on Monday.
"It is now the responsibility of the delegations to prioritize peace, rather than partisan agendas. Parties must engage in good faith," he added.
"I briefed the UN Security Council today (Monday) on the latest developments in Yemen and challenges facing efforts to ensure the country's return to peace. What Yemen is witnessing today contravenes the commitments made by the parties to the UN," he said yesterday on his Twitter account.
Yemen's President Abed Rabbo Mansour Hadi rejected the latest UN peace proposal, saying it "rewards the putschists" who seized power in Sanaa, while the Houthi militias said the roadmap has "fundamental flaws."
The UN envoy stressed that he conducted consultations with the parties over the last few weeks, and presented a comprehensive and detailed roadmap to end the conflict, stressing that he roadmap is consistent with UN Security Council Resolution 2216, the GCC Initiative and the outcomes of the Yemeni National Dialogue Conference.
"The roadmap contains a set of sequenced political and security steps, conducted in parallel, which would help Yemen return to peace. It foresees the creation of military and security committees, which would supervise withdrawals and handover of weapons in Sanaa, Hodeida and Taiz," he said.
"The committees would also be tasked with ensuring the complete end of military violence and the safety of population and state institutions. The roadmap lays out interim political arrangements, including appointment of a new vice president and the formation of a Government of National Unity," said the envoy, adding that the international community supports the roadmap because it includes guarantees for the political representation all political groupings.
Full report at:
http://www.arabnews.com/node/1005171/middle-east
------------
India
Pakistan suspends Nickelodeon channel's licence for airing Indian content
Nov 1, 2016
ISLAMABAD: The Pakistan Electronic Media Regulatory Authority (Pemra) has suspended the licence of Nickelodeon channel for airing cartoons dubbed in Hindi language.
The electronic media watchdog on Monday announced that the licence was suspended over violation of Pemra directives, following the October 19 decision which stated that any satellite channel or those with landing rights would face bans over screening of Indian content, Dawn news reported.
The statement issued by Pemra said that all distribution networks have been informed about the suspension of Nickelodeon channels. The decision will come into effect immediately.
Pemra has imposed a complete ban on airing Indian content on local television and FM radio channels.
Full report at:
http://timesofindia.indiatimes.com/world/pakistan/Pakistan-suspends-Nickelodeon-channels-licence-for-airing-Indian-content/articleshow/55173400.cms
------------
Over 55 Per Cent of Under trials Muslim, Dalit or Tribal: NCRB
November 1, 2016
OVER 55 per cent of undertrials across the country are either Muslims, Dalits or tribals, according to the National Crime Records Bureau's prison data for 2015. According to the NCRB, over two-thirds of all jail inmates are undertrials. The data also shows that more than 70 per cent of undertrials have not passed Class 10.
Muslims, Dalits and tribals together account for 39 per cent of India's population, thus their share among undertrials is disproportionate to their population. According to the 2011 Census, Muslims make up 14.2 per cent, Scheduled Castes (SC) 16.6 per cent and Scheduled Tribes (ST) 8.6 per cent of India's population.
Besides, the three communities have a lower representation among convicts as compared to undertrials. Together, they account for 50.4 per cent of all convicts.
Among Muslims, the community's share of convicts is 15.8 per cent, slightly above their representation in population, but their share among undertrials — at 20.9 per cent — is far higher.
Full report at:
http://indianexpress.com/article/india/india-news-india/over-55-per-cent-of-undertrials-muslim-dalit-or-tribal-ncrb-3731633/
------------
What is SIMI? All you need to know
October 31, 2016
by Kanishka Singh
Eight members of the banned Islamist fundamentalist group Students Islamic Movement of India (SIMI) were killed in an encounter on Monday, hours after they escaped from Bhopal Central Jail. The convicts apparently escaped by scaling a wall and killing a prison guard. The jailbreak drew heavy criticism while the encounter brought praise from different quarters. Madhya Pradesh chief minister Shivraj Singh Chouhan has demanded a probe into the matter. The eight fugitives were identified by the police as — Amzad, Zakir Hussain Sadiq, Mohammad Salik, Mujeeb Shaikh, Mehbood Guddu, Mohammad Kalid Ahmed, Aqeel and Majid.
SIMI has been active for nearly four decades now. The group is known to be responsible for some of the bloodiest terrorist attacks in Indian history. Here is all you need to know about SIMI:
Students Islamic Movement of India (SIMI) is an Islamic fundamentalist terrorist organisation which works to the agenda of liberating India by converting it into an Islamic country.
The organisation is run by fundamentalist and extremist students who aim to establish Dar-ul-Islam (Islamic land) in India by either converting people forcefully or with violence. Under the Unlawful Activities (Prevention) Act, 1967, the group is proscribed as a terrorist organisation. The outfit has claimed responsibility for several terrorist attacks across the country in recent years and is spread across several states from north to south India operated by localised compact modules. The group has declared jihad on non-Islamic India as part of its doctrine.
SIMI was established April 25, 1977 in Aligarh, Uttar Pradesh. The first founder president of the group was Professor Mohammad Ahmadullah Siddiqi who taught Journalism and Public Relations at the Western Illinois University Macomb in Illinois, US.
The outfit came to the forefront as a student wing of the pre-Partition Islamist organisation Jamaat-e-Islami (Hind). However, after ideological conflicts in 1981 over the visit of Palestinian leader Yasser Arafat, SIMI separated from JIH prompting the latter to form another students wing — Students Islamic Organisation (SIO).
The group wants to establish Islamic Rule in India based on Sharia law and doesn't believe in the idea of Indian nation state or a secular democratic state structure. The group has exploited vulnerable youth over decades in propagating radical Islam and promoting their idea of "Islami Inquilab" (Islamic Revolution).
The group was outlawed by the Indian government in 2001 under the Prevention of Terrorism Act (POTA). However, the act itself was repealed later by the UPA government. The group has a strong footprint in states like Uttar Pradesh, Delhi, Gujarat, Maharashtra, Madhya Pradesh, Kerala, Assam and Andhra Pradesh.
Full report at:
http://indianexpress.com/article/research/students-islamic-movement-of-india-bhopal-central-jail-madhya-pradesh-all-you-need-to-know-about-simi-3730875/
------------
Madhya Pradesh Police Kill 8 SIMI Under-trials Hours after Jailbreak; Lawyer Wants CBI Probe
November 1, 2016
HOURS after they announced that eight activists of the banned Students Islamic Movement of India (SIMI) had escaped from the Central Jail in Bhopal early on Monday morning killing a guard, the Madhya Pradesh police said that all eight had been killed in an encounter in an isolated, forested area over 15 km from the prison premises.
The eight accused, Amzad Ramzan Khan, Zakir Hussain, Sheikh Mehboob, Mohammad Saliq, Mujeeb Sheikh, Akeel Khilji, Khalid Ahmed and Majeed Nagori, were facing trial on several charges, including murder of two ATS constables, sedition, jail break and bank robberies, and were lodged in what is said to be the state's most secure prison.
Mehboob alias Guddu; Hussain and Khan were among the seven SIMI activists who had escaped from a jail in Khandwa three years ago before being nabbed again in Odisha this year, said police.
Chief Minister Shivraj Singh Chouhan praised the police for their "quick action" and said he had briefed Union Home Minister Rajnath Singh about the incident. The National Investigation Agency (NIA) has been asked to probe the matter, he said.
Describing the jailbreak as "very serious", Chouhan announced the suspension of five jail officials, including DIG (jail) and the jail superintendent, and the transfer of Additional DG (jail).
Contradictions have emerged over the official version of the encounter with videoclips doing the rounds showing police firing at what appeared to be bodies on the ground, amid shouts of "kill them". It was unclear who shot the clips but State Home Minister Bhupendra Singh did not dispute their authenticity.
Bhopal: Police investigate the encounter site at the hillocks of Acharpura village after the STF killed 8 Students of Islamic Movement of India (SIMI) activists who escaped Central Jail killing a security guard in Bhopal on Monday. (PTI Photo)
Senior officers claimed that police started firing only after being shot at by the accused and that they had initially asked the eight to surrender. Some officials claimed that the accused also threw stones at the police team.
Full report at:
http://indianexpress.com/article/india/india-news-india/simi-activists-undertrials-flee-shot-dead-bhopal-jailbreak-video/
------------
Two beaten to death in Aligarh clash on Diwali
by Ishita Mishra
November 1, 2016
TWO men were beaten to death in a clash in Aligarh on Diwali day. Another man who received bullet injuries is out of danger. Heavy police force has been deployed in the area and senior police officials are camping in the city to maintain peace.
While the police said 55-year-old Bindu Khan and son Mohabbat, 17, were killed in Aligarh's Kaudiaganj locality following a dispute over parking, some residents said they had started the clash by objecting to bursting of firecrackers and opening fire.
The police announced the deaths only after midnight to ensure the situation didn't escalate during the festival. The funeral was held under strict police security on Monday afternoon. An FIR of murder and disturbing peace has been lodged against nine named and several unidentified men.
Dinesh Kumar, 38, who was shot, owned the shop in front of which the Khans reportedly parked their bike.
DIG Rajendra Singh Yadav and Aligarh SSP Rajesh Kumar Pandey have arrived in the city. The area has a mixed population of Hindus and Muslims.
The SSP said Khan had gone with sons Mohabbat and Nehruddien to the local market, in an area dominated by Hindus, on Sunday afternoon. "When Dinesh objected to them parking the bike in front of his shop, one of the three men who was carrying a pistol shot at him. Hearing the sound of the firing, the local shopkeepers and public gheraoed the three and thrashed them with bamboos and stones. While one managed to flee, the other two were lynched," Pandey said.
Nehruddien (28), the eyewitness to the incident, denied the charge of firing, and said he didn't know what provoked the mob. He said the three of them had gone to the market to buy tiles. "My father and I stayed at the tile shop while Mohabbat went home to show a sample to our mother. He returned with a bleeding nose and alleged that Dinesh's nephew Kapil had beaten him. We rushed to Kapil's house to know what had happened, and even before listening to us, they stated thrashing us. I managed to flee but my father and brother could not. We heard that they were beaten with bamboos and stones for two hours. Even police couldn't gather courage to enter the area to save them," he said.
Dinesh's mother Harpyari Devi claimed the clash erupted over bursting of firecrackers. As Bindu and his sons were crossing the lane outside their house around 2:30 pm on Sunday, she said, a child set off a firecracker. As the three objected, Kapil reportedly went outside to accost them.
Full report at:
http://indianexpress.com/article/india/india-news-india/two-beaten-to-death-in-aligarh-clash-on-diwali-one-injured-3731309/
------------
After their names were made public, Pakistan may recall four Delhi High Commission officials
Shailaja Neelakantan
Nov 1, 2016
NEW DELHI: Islamabad is considering pulling out four officials from its New Delhi High Commission who were named during interrogation by Mehmood Akhtar+ , the commission official caught and expelled by India last week+ for spying, Dawn reported today.
After Akhtar was interrogated+ , India released his statement to the public and included in it the names of the four officers. Now, these officers and their families in New Delhi are "facing difficulties" a Pakistan foreign office official told Dawn. And that's the reason Islamabad may pull out these officials, he said.
"This is under consideration. A final decision would be taken shortly," said the official, to Dawn yesterday.
Pakistani officials believe India's move to make public the four officials' names was a "deliberate and provocative action" to "heighten the tensions" between the two countries.
"We consider it as a serious breach of diplomatic norms. The Indian move has complicated the already tense situation and threatened the lives of our diplomatic staff," the official said.
The official narrated to Dawn that a son of one of the four officers named, had to be taken home from school recently "after he was ridiculed by his class fellows following this disclosure."
In a phone call to Dawn, one of the family members of staff at the Pakistan High Commission in Delhi criticized the Pakistan government for "not proactively and forcefully" responding to the threats to their safety. "It is a matter of life and death for us, but the government's response has been too meek," the family member said.
India last Thursday declared Akhtar persona non-grata for espionage activities after he was caught red handed by Delhi Police with documents relating to defence deployment.
Akhtar told Dawn the statement he gave after he was detained - in which he named the four other officials - was done under pressure.
Full report at:
http://timesofindia.indiatimes.com/india/After-their-names-were-made-public-Pakistan-may-recall-four-Delhi-High-Commission-officials/articleshow/55174290.cms
------------
India to approach Pakistan foreign ministry for release of soldier
Nov 1, 2016
NEW DELHI: In a change of tack, the government will diplomatically pursue the release of Chandu Babulal Chavan+ , the Indian soldier who 'inadvertently' crossed over into PoK+ on September 29, the day Indian Army's surgical strikes took place on terror launch pads across LoC.
This is significant because until now only the Indian army DGMO (Director General of Military Operations), Ranbir Singh, had sought Chavan's release+ from his Pakistan counterpart. Official sources said since the Pakistan army had not responded to the plea that Chavan be released, the government felt it was important that the matter be taken up with the Pakistan foreign ministry.
The Ministry of External Affairs (MEA) had so far kept away from Chavan's case, allowing the army to handle the situation.
A 37 Rashtriya Rifles sepoy, Chavan was posted in the Mendhar sector in J&K when he was reported missing hours after the surgical strikes. On October 2, defence minister Manohar Parrikar had said that a 'well established mechanism through the DGMO' had been activated to seek Chavan's release. He had also said that since the situation was tense, it would take some time to bring him back.
India has denied any link between the surgical strikes and the disappearance of Chavan. The army has asserted that such inadvertent crossings by soldiers and civilians are not unusual and that there are existing mechanisms to ensure their return.
The army had hoped that Pakistan would return Chavan, a resident of Dhule in Maharashtra, despite the military standoff. "Now that there is no response from the Pakistan army, the matter is being strongly taken up with the Pakistan foreign ministry," said a source.
Pakistan had initially denied that Chavan was in its custody. On October 13 though, Indian government officials had said that the Pakistan DGMO had acknowledged that Chavan was in their custody and that he was being interrogated.
Full report at:
http://timesofindia.indiatimes.com/india/India-to-approach-Pak-foreign-ministry-for-release-of-soldier/articleshow/55167827.cms
------------
Europe
British police investigate raising of Hezbollah flags on Ashura
30 October 2016
British police are investigating an incident where flags affiliated with the Lebanese militant Hezbollah group were raised during Shiite Muslim commemorations earlier this month.
Demonstrators on Oct. 12 have reportedly raised "Hezbollah" flags at a procession marking Ashura.
Raising Hezbollah's flag falls under the penalty of anti-terrorism laws according to British laws.
Full report at:
https://english.alarabiya.net/en/News/world/2016/10/30/British-police-investigate-raising-of-Hezbollah-flags-on-Ashura.html
------------
Bosnia stands up again, defies world
1 November 2016
SARAJEVO: From destroyed buildings and bodies on roads, to spa resorts, cafes, restaurants, hotels and many others tourist facilities, Sarajevo smiles again with a new Bosnian generation who have begun carving out their future in Bosnia and Herzegovina.
Most young Bosnian men and women did not themselves witness the war in 1990s, but are eager to make their homeland just like other European states.
Bosnia and and Herzegovina is a rapidly emerging country in the Balkan region, seeking to attract investors and tourists to explore business opportunities.
The Balkan country has awoken from a destructive war with a new soul brought on by a new generation — many of whom lost their parents in the genocidal crimes committed by Serbian forces in the not-so-distant past.
Following a number of violent incidents in early 1992, the Bosnian War is commonly viewed as having started on April 6, 1992 and ended on December 14, 1995.
This conflict was part of the breakup of the former Yugoslavia. Following the Slovenian and Croatian secessions from the Socialist Federal Republic of Yugoslavia in 1991, the multi-ethnic Socialist Republic of Bosnia and and Herzegovina, which was inhabited mainly by Muslims Bosnians (44 percent), as well as Orthodox Serbs (32.5 percent) and Catholic Croats (17 percent), passed a referendum for independence on Feb. 29, 1992.
During the war, the Arab and Muslim world watched on with horror as images of slaughtered Bosnian Muslims filtered through international media. The whole Muslim nation announced its solidarity with their Bosnian Muslim brothers and sisters as a result, and major Arab and Islamic countries, especially Saudi Arabia, Kuwait, the UAE and Pakistan strongly supported the Bosnian people.
Full report at:
http://www.arabnews.com/node/1005081/world
------------
Dutch anti-Islam MP goes on trial for hate speech
31 October 2016
SCHIPHOL, Netherlands: Dutch anti-Islam MP Geert Wilders went on trial Monday in a landmark case on hate speech as a high-security court heard how children had been scared by inflammatory calls that fewer Moroccans should live in the country.
As expected, the firebrand MP with the peroxide-blonde hair snubbed the court, leaving his defense lawyer to read out a statement to explain the no-show.
"It is a political process and I have decided not to be present. It's my right as a politician to speak out if there is a problem in the Netherlands," Wilders' statement said. Prosecutors confirmed they would not demand that he appear.
Analysts say the highly anticipated trial will test the boundaries of freedom of expression as general elections loom in March.
Three judges are hearing the case against Wilders, 53, on charges of insulting a racial group and inciting racial hatred after comments he made about Moroccans living in the Netherlands.
The trial focuses in part on a comment made at a March 2014 local government election rally, when Wilders asked supporters whether they wanted "fewer or more Moroccans in your city and in the Netherlands."
When the crowd shouted back "Fewer! Fewer!" a smiling Wilders answered: "We're going to organize that."
His 2014 statements were met with outrage including from the small but vocal Dutch Muslim community. An avalanche of 6,400 complaints followed.
The judges Monday laid out the case against Wilders including reading out complaints against him by a number of Dutch Moroccans and citizens.
"We are feeling discriminated against" and "our children are afraid," some of the complaints read.
Full report at:
http://www.arabnews.com/node/1004771/world
------------
Pakistan
Govt, PTI urged to shun confrontation over corruption
November 01, 2016
KARACHI - Jamat-ud-Dawa (JuD) Pakistan Chief Prof Hafiz Mohammad Saeed said on Monday that international conspiracies were behind political unrest in Pakistan.
Addressing a press conference at Markaz Taqwa Gulshan-e-Iqbal here, Saeed opined that political uncertainty in the country was also the result of ignoring the Kashmir issue.
"PML-Nawaz and opposition parties should jointly initiate a campaign for the independence of Indian held Kashmir, instead of exchanging blows over corruption," he asserted.
JuD Karachi Chief Dr Muzamil Iqbal Hashmi and others were also present on the occasion.
Drawing attention toward Indian brutalities in occupied Kashmir, Saeed said that people of the valley had been facing injustices, oppression and cruelty for decades now.
He said that the Kashmiris had so far sacrificed thousands of lives in their struggle for freedom.
"Thousands have been forcibly taken away by Indian agencies," he added.
"Furthermore, the occupied Kashmir has suffered worst violence after the death of Burhan Wani," he said, and added, "The endless imposition of curfew has also created shortage of food while the Indian army has not spared the women whom it has arrested in hundreds.
" He demanded the government to send a relief convoy to Kashmir.
Talking about the confrontation between PML-N and PTI, Saeed said that both these parties had been busy in maligning each other for a long time now.
"This atmosphere of hostility resulted in incidents such as the attack on Police Training College in Quetta," he argued.
Full report at:
http://nation.com.pk/karachi/01-Nov-2016/govt-pti-urged-to-shun-confrontation-over-corruption
------------
Hindus celebrate Diwali in Shikarpur
November 01, 2016
SUKKUR - Members of the Hindu community in Shikarpur and its adjoining areas on Monday celebrated Diwali.
To celebrate the festival, community members light earthen lamps that symbolizes the lighting of such lamps by the people of Ayodhya.
The PML-N leader, Advocate Jai Jai Vishnu, said that Diwali was celebrated to mark the return of Rama after completing a 14-year exile in jungle, as per Hindu faith.
At Hindu temples across the Shikarpur district, special gatherings were held to mark the occasion.
Full report at:
http://nation.com.pk/karachi/01-Nov-2016/hindus-celebrate-diwali-in-shikarpur
------------
Imran Khan petitions Supreme Court against 'siege' of Bani Gala
Nov 1, 2016
Pakistan Tehreek-i-Insaf (PTI) chairman Imran Khan on Tuesday filed a petition in the Supreme Court against his 'virtual' house arrest, the arrest of "thousands" of PTI workers over the past three days, and the alleged manhandling of female PTI activists.
The petition states that while PTI's leaders and workers have been practicing their constitutional rights to protest and movement within the country, the federal government has 'gone on a warpath'.
"Since Oct 28, the federal government has used containers to block entrances into the federal capital, disconnecting KPK from the rest of the country."
The petition further states that blockages around Khan's house and deployment of police forces there prevented him from reaching the SC today where he was due to present himself.
'Is asking for justice pressurising judiciary?'
Imran Khan on Tuesday asked if asking for justice from the courts regarding government crackdown on his party workers is tantamount to pressurising judiciary.
"Is asking for justice pressurising the courts?" he asked.
"If we want to know from the courts [why] we are being baton-charged, roads are being blocked and women are being arrested... is this pressurising the courts?"
He said PTI leaders will raise the issue in Supreme Court.
"What crime have we committed that PTI workers are being arrested? Why was I put under house arrest?"
He also questioned under which law the Pervez Khattak-led convoy of PTI protesters was stopped from reaching Islamabad.
Full report at:
http://www.dawn.com/news/1293593/imran-khan-petitions-supreme-court-against-siege-of-bani-gala
------------
Interior ministry seeks FC contingent from KP for security in Islamabad
IFTIKHAR A. KHAN
Nov 1, 2016
ISLAMABAD: The interior ministry has asked Khyber Pakhtunkhwa's inspector general of police to send a contingent of the Frontier Constabulary (FC) to assist the Islamabad police in maintaining law and order in the capital during the Pakistan Tehreek-i-Insaf's (PTI) protest on Wednesday.
The IGP, who had earlier said he would not be able to spare the FC personnel in view of the situation in the province, has again been approached by the interior ministry.
The IGP was assured that the force would be sent back as soon as the situation returns to normal in Islamabad.
The new letter written by the interior ministry to the IGP recognises his professional capabilities as a responsible and dutiful officer. It said the federal government was fully aware of the security situation and demands of KP.
He was asked as to what his reaction as a responsible officer would have been had he been the IGP Islamabad in a situation where an armed mob had set aside demands of the law to take the federal capital hostage and paralyse lives of citizens.
"Would you not have acted to ensure supremacy of the law and protect the fundamental rights of the citizens?" the letter asked.
Under siege
In another letter addres­sed to KP Chief Secretary Abid Saeed, Interior Secretary Arif Ahmed Khan said various intelligence reports had indicated the intentions of a select group of people who had planned to march towards Islamabad on Nov 2 from KP with a declared intention of paralysing the city and holding hostage the people and government institutions in the federal capital.
"It has also been learnt that certain cabinet ministers and members of the KP Assembly intend to lead some of these processions along with their official and personal armed guards," the letter said.
Full report at:
http://www.dawn.com/news/1293587/interior-ministry-seeks-fc-contingent-from-kp-for-security-in-islamabad
------------
Infuriated PTI workers attack Geo News van in Swabi
Nov 1, 2016
Charged Pakistan Tehreek-i-Insaf (PTI) protesters attacked a Geo News DSNG van in Swabi on Tuesday, TV footage showed.
Infuriated protesters broke the satellite van's window and attempted to set the vehicle on fire, Geo reported.
Full report at:
http://www.dawn.com/news/1293594/infuriated-pti-workers-attack-geo-news-van-in-swabi
------------
Al Qaeda suspect gunned down in Khushab 'encounter'
November 01, 2016
KHUSHAB, PAKISTAN : Police on Tuesday gunned down a suspected terrorist in an alleged encounter in Khushab.
The 'encounter' took place in Katwai area of Khushab, within the remits of Naushera police station, officials said. The suspect reportedly belonged to al Qaeda. Police shifted the body of the deceased to hospital for medico-legal formalities.
Earlier, in June an alleged Islamic State commander was killed while three others fled on Wednesday in a police encounter.
Full report at:
http://nation.com.pk/national/01-Nov-2016/al-qaeda-suspect-gunned-down-in-khushab-encounter
------------
Southeast Asia
Leaders of Nahdlatul Ulema and Muhammadiyah Reject Violent Rally
November 1, 2016
The country's two largest Muslim organizations have stated that they do not support a rally slated for Friday, which is expected to draw hundreds of Islamic hard-liners.
The announcement was seen as a bid to ease tension after circulating information suggesting the rally could turn violent has put Jakartans on alert for the past few days.
Leaders of Nahdlatul Ulema (NU) and Muhammadiyah said separately that they would not encourage their members to take part in the rally, let alone any provocative actions at the event. Thousands of extremists including from outside Jakarta are expected to stage a protest in front of the State Palace to demand the prosecution of Jakarta Governor Basuki "Ahok" Tjahaja Purnama for alleged blasphemy when citing a Quranic verse a month ago.
"[No member] is allowed [to join the rally]. I prohibit them," NU chairman Said Aqil Siradj said on Monday, adding that the use of NU symbols at the rally was also prohibited.
According to him, the rally would violate religious principles if it caused damage and national instability.
The country's second-largest Muslim organization, Muhammadiyah, which has around 40 million followers nationwide, meanwhile, said it would not prohibit its members from participating in the rally, but emphasized that it would never intentionally mobilize them for such purposes.
"Joining a rally is every individual's right, but those who are interested [in participating] should not bring any organizational attributes," Muhammadiyah secretary-general Abdul Mu'ti told The Jakarta Post. He added that Muhammadiyah "has its own way to voice its aspirations".
In Bandung, West Java, Rachmat Syafe'i, the chairman of the Indonesian Ulema Council (MUI) West Java chapter, called on all MUI members not to join or support the rally.
"Our position is in line with the stance of the MUI central board, which is that we urge law enforcement bodies to take firm action toward all people who are proven to have insulted the Quran. But we are against the rally and prohibit the use of our attributes at it," he said in Bandung.
The rally will be the second major demonstration against Ahok after a previous one on Oct. 24. Islamic hard-liners have claimed that they would not stop until the National Police charged Ahok for his alleged insult of Islam.
Executives of the Gerindra Party Fadli Zon and Islam-based Prosperous Justice Party (PKS) Fahri Hamzah, who are supporting the Anies Baswedan-Sandiaga Uno ticket in the upcoming Jakarta gubernatorial race, have said they would join the rally.
For some, the move was seen as an affirmation that the demonstration had a hidden political agenda to undermine the Ahok-Djarot Saiful Hidayat ticket.
House of Representatives Speaker Ade Komarudin said on Monday that "all party elites should refrain from taking part in the rally".
Full report at:
http://www.thejakartapost.com/news/2016/11/01/muslim-leaders-reject-violent-rally.html
------------
Can't blame non-Muslim businesses for own ignorance, Muslims told
BY SYED JAYMAL ZAHIID
October 31, 2016
KUALA LUMPUR, Oct 31 — Muslims have the obligation to know the halal status of the food they want to consume and cannot blame non-Muslim businesses for their own ignorance, Islamic scholars said.
Former Terengganu Mufti Datuk Ismail Yahya and member of PKR'S Islamic Council Wan Ji Wan Hussein believe if non-Muslim outlets have made it clear that their food is non-halal, they should not be held responsible if Muslim consumers failed to observe the notice.
"Both parties must be responsible. The shop must make it clear that it is not halal," Ismail, now a legal adviser for progressive Islamic NGO Sisters in Islam, told Malay Mail online.
"And if the outlets have (put a notice of its non-halal status), it is the responsibility of Muslims themselves to know not to eat there," he added.
Wan Ji, on the other hand, said non-Muslim businesses have the right to sell whatever product without having to placate Muslim consumers.
The young independent preacher added Muslim themselves must educate themselves about the choices they make, and cannot accuse non-Muslim businesses of attempting to confuse Islam's followers if the non-halal status of their products were made clear.
"Non-Muslims have the right to sell whatever product they want and say a Muslim entered the premise and mistakenly consumed a food that make up the core product of the company then you can't blame the company can you?"
Controversy struck fast food outlet Ninja Joe following complaints over its decision to name one of its burgers "P. Ramly", a move that drew accusations by some Muslim consumers of attempt to confuse.
Ninja Joe is known as a non-halal fast food chain company that specialises in pork burgers, even among Muslims.
But Ismail also said that the company was inviting trouble by choosing a Muslim's name for a pork burger.
Full report at:
http://www.themalaymailonline.com/malaysia/article/cant-blame-non-muslim-businesses-for-own-ignorance-muslims-told
------------
Poetry Reading Celebrates Youth Pledge Day in Solo
November 1, 2016
Jakarta. As part of country-wide events celebrating the 88th anniversary of the Youth Pledge on Friday (28/10), Solo, Central Java, hosted a special poetry reading.
The Youth Pledge declaration was made by young Indonesian nationalists during the Second Youth Congress in 1928, in which they recognized the then-Dutch colony as their motherland and pledged to speak the common language of Indonesian.
In Solo, the day was celebrated with poetry at the Sunan Hotel, with 28 representatives from different cultural and social groups reading the works of famous Indonesian poets, such as Chairil Anwar, Sapardi Djoko Damono, W.S. Rendra and Sitor Situmorang.
Among the readers were Miss Indonesia 2015 Anindya Kusuma Patri and prominent Muslim leader and poet Mustofa Bisri, known to Indonesians as "Gus Mus."
Gus Mus read one of his own poems, "Aku Masih Sangat Hafal Nyanyian Itu" ("I Still Remember That Song"), which carries a strong message of tolerance and unity, of Indonesia being the home for each and every Indonesian.
Full report at:
http://jakartaglobe.beritasatu.com/features/poetry-reading-celebrates-youth-pledge-day-solo/
------------
Indonesian officials urge calm ahead of Jakarta election protest
OCT 31, 2016
JAKARTA (REUTERS) – Top Indonesian officials on Monday (Oct 31) called for calm ahead of a planned protest by hardline Muslim groups that has fuelled concern over religious and ethnic tension in the run-up to next year's election of the capital's governor.
Thousands of hardline Muslims are expected to take to the streets on Friday to protest against the incumbent, who is a Christian and the first ethnic Chinese in the job, after he made comments about the Islamic holy book, the Koran.
But political, security, and religious figures in the world's largest Muslim-majority nation have urged demonstrators to protest peacefully.
"I, along with religious and political figures, have been cooling sentiment...because rivalries exist, but after elections, we must stand together to build the nation,"President Joko Widodo told a joint news conference with top opposition official Prabowo Subianto.
Earlier on Monday, in response to a question about the planned protest, Widodo said, "Protesting is a democratic right and the government guarantees the right to express opinions, but also prioritises public order."
Protest organiser the Islamic Defenders Front, a small hardline group, is known for violent protests and attacks against minorities since it was formed in 1999.
It has also frequently protested against Jakarta governor Basuki Tjahja Purnama, known locally as "Ahok".
The group made no immediate comment in response to the officials' call for calm.
The government will deploy thousands of police and military personnel to provide security on the day of the protest.
Full report at:
http://www.straitstimes.com/asia/se-asia/jakarta-on-high-alert-ahead-of-nov-4-mass-protest-by-muslim-hardliners
------------
Freed Indonesians recall Somali kidnap ordeal
31 October 2016
Four Indonesian fishermen had an emotional reunion with their families Monday after returning home following a kidnap ordeal at the hands of Somali pirates, recalling the horrors they endured.
Looking skinny, weak and tired, the sailors hugged their sobbing relatives at a ceremony in the capital Jakarta that came about a week after they were released, along with 22 other Asian captives following almost five years as hostages.
"We are still traumatized, we're still afraid," said one of the captives, 24-year-old Sudirman, who like many Indonesians goes by one name.
"We don't know what we are feeling right now. Even as we stand here, we can't believe it. Is this a dream? This must be a miracle -- thank you God."
The crew, who also came from Cambodia, China, the Philippines, Taiwan and Vietnam, were taken hostage after their fishing vessel was seized in March 2012 south of the Seychelles.
The Omani-flagged vessel, the Naham 3, was the last commercial ship seized at the height of Somalia's piracy scourge, with its crew the second-longest held hostage by Somali pirates.
Sudirman said the Indonesians spent one and a half years on the boat before being taken ashore and held at a site in the wilderness.
Full report at:
https://english.alarabiya.net/en/News/asia/2016/10/31/Freed-Indonesians-recall-Somali-kidnap-ordeal-.html
------------
HRW releases images of anti-Rohingyas abuses
November 01, 2016
NEW YORK : Human Rights Watch Monday released satellite imagery showing at least three burnt villages in Myanmar's restive Rakhine State, home to the persecuted Rohingya Muslims, and urged the government to seek United Nations' help in investigating the destruction.
"New satellite images reveal destruction in Rakhine State that demands an impartial and independent investigation, something the Burmese (Myanmar) government has yet to show it's capable of doing," Phil Robertson, deputy Asia director at New York-based Human Rights Watch, said in a statement.
"The government should end its blanket denial of wrongdoing, and blocking of aid agencies, and stop making excuses for keeping international monitors from the area.
The high-resolution imagery of the burnt villages was recorded on October 22 and, and Human Rights Watch called on the Myanmarese government to urgently allow the United Nations to assist in investigating the destruction in the area.
"UN-assisted investigation needs to examine the deadly attacks on border guard posts on October 9, and allegations that government security forces subsequently committed summary killings, sexual violence, arson, and other rights abuses against ethnic Rohingya villagers in Rakhine State's Maungdaw district," Human Rights Watch said.
"These satellite images of village destruction could be the tip of the iceberg given the grave abuses being reported," Robertson said.
Myanmar's military does not allow rights organizations and journalists to visit the remote region of Rakhine, which borders Bangladesh.
A government-sponsored delegation of UN aid agencies and foreign diplomats was expected to visit the region on Monday, marking the first time international aid agencies would be allowed into the area since October 9.
Northern Rakhine has been under a military lockdown since an alleged attack on the country's border guards three weeks ago left nine police officers dead.
Full report at:
nation.com.pk/international/01-Nov-2016/hrw-releases-images-of-anti-rohingyas-abuses
------------
North America
For American Muslims, the US elections is like choosing between a rock and a hard place
November 1st, 2016
Islam and Muslims have been a recurring subject in this year's US presidential elections. The anti-Muslim rhetoric has mobilized more American Muslims to register as all citizens must do in order to vote.
With only a week remaining before America elects its new president, Arab News caught up with a few American Muslims to hear their expectations and concerns about the current presidential candidates.
Ashreen Ghalib is the mother of a two-year-old and has been living in Dallas, a major city in Texas, for the last eight years. She is primarily concerned about her safety and security as a Muslim living in the US.
"My husband is always concerned when I go out alone because I wear the hijab and things are no longer as safe as they were before. You need to be aware of your surroundings," she said.
Ghalib is one of the six to seven million Muslims living in America, according to the Council on American-Islamic Relations (CAIR). Since the beginning of the campaign, Republican candidate Donald Trump's comments against Muslims, Hispanics and immigrants in general have shocked the country.
Trump's calls for banning Muslims from the US and taking "extreme vetting" measures have heightened anti-Muslim sentiments in the country. On the other hand, Democratic presidential candidate Hillary Clinton has often referred to Muslims as "tools for intelligence" or "to be the eyes and ears on our frontlines."
"I wasn't happy with what Hillary said in one of the debates about Muslims being the eyes and ears on the frontlines in the fight against terrorism. Why don't they talk about Muslims as ordinary people doing ordinary things? Why are Muslims always mentioned in connection with something related to terrorism?" she wondered.
According to several reports, Islamophobic attacks against Muslims are at a peak due to politicians' anti-Muslim rhetoric. Other reasons are surely the terror attacks in Orlando and San Bernardino. A study conducted by the Tow Center for Digital Journalism, "Hate and Incriminate: The US Election, Social Media, and American Muslims," reveals that "hate speech against Muslims is not simply tolerated and largely unpunished, but normalized into a valid political position."
"The prevalence of Islamophobia has been coupled with a selective definition of terror under US law, contributing to the belief that all terrorists are Muslims and hence that all Muslims be viewed with suspicion, justifiably hated, excoriated, and even banned," it added.
Faiz Razi was born in America and has voted in every single election since he was 18. He works as a teacher in Chicago and thinks that this election has been very different from those in the past.
Full report at:
albawaba.com/news/american-muslims-us-elections-choosing-between-rock-and-hard-place-899446
------
'Don't feel safe': US gun store says won't arm Muslims, Clinton supporters
Oct 31, 2016
A US gun store owner has put up a controversial sign and published an advertisement in a daily, refusing to sell arms to Muslims and Hillary Clinton supporters. The ad said, "We do not feel safe selling to terrorists."
Paul Chandler, the owner of Altra Firearms in rural Jackson Center, Pennsylvania, said he turns customers away at his door who are Muslims or those who support Hillary Clinton for president.
The 54-year-old business owner has posted a sign on the door of Altra Firearms conveying those rules, and he is currently running an advertisement in a local newspaper declaring: "Please NO Muslims or Hillary Supporters? -- We do not feel safe selling to terrorists!."
Chandler told ThinkProgress that, as the owner of a store that brands itself as "politically incorrect firearms", he is free to turn Democrats and Muslims away.
"She's clearly stated that she doesn't think Americans should have what she calls 'assault weapons' or even guns themselves," he said about Clinton.
The Democratic nominee, however, has said she believes in people's right to keep and bear arms, and will not abolish the Second Amendment.
Ads by ZINC
"It's incrementalism. She will take one gun away and then she'll take the next gun and the next gun until finally there's no guns. So if you're supporting her, I'm not going to arm you," Chandler was quoted as saying.
The stance is not new for him as Chandler said he has had a sign on his door, telling supporters of President Barack Obama to "go to hell" and that he has never been comfortable selling firearms to Muslims.
"They want to destroy America, they want to destroy the American way of life," he said.
"And so we're putting more and more Muslims...here, and I don't feel safe arming them," he added.
Full report at:
hindustantimes.com/world-news/don-t-feel-safe-us-gun-store-says-won-t-arm-muslims-clinton-supporters/story-t37EPevHlWCzzfdWBssBgK.html
-----
URL: https://www.newageislam.com/islamic-world-news/new-age-islam-news-bureau/fifteen-temples-in-bangladesh-vandalised,-houses-of-hindus-looted-over-allegations-of-disrespect-shown-to-islam-on-facebook/d/108977
New Age Islam, Islam Online, Islamic Website, African Muslim News, Arab World News, South Asia News, Indian Muslim News, World Muslim News, Womens in Islam, Islamic Feminism, Arab Women, Womens In Arab, Islamphobia in America, Muslim Women in West, Islam Women and Feminism, Moderate Islam, Moderate Muslims, Progressive Islam, Progressive Muslims, Liberal Islam, Liberal Muslims,Islamic World News, Attack in Munich, Munich Attack, Terror in Munich