New Age Islam News Bureau
28 Jan 2015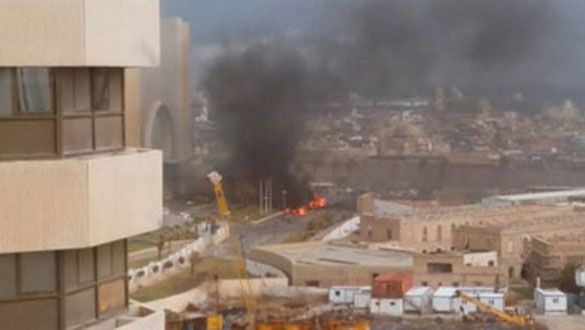 Amateur video shows black smoke rising outside Tripoli's luxury Corinthia Hotel in Libya Photo by @alitweel - Libyan Blogger
-------------
Arab World
• Fiery Islamic State Group Cleric Gives Voice to Radicals
• Over 60 Militants Killed in Syrian Army Operations
• Iraq: Army Kills over 30 ISIL Terrorists in Anbar
• Three More Beheaded Under New Saudi King
• Senior Iraqi Politician: US Should Account For Sending Aids to ISIL
• Over 20,000 Foreign-Backed Terrorists Fighting Damascus Government
• Fatwa Allows Citizens to Pledge Allegiance to Saudi King via Social Websites
• Syria: ISIL Receives Largest Cargo of US-Made
• Israel, Takfiri groups 'aim to destabilize' Lebanon
• Salman to Obama: Don't Let Iran Get Nuclear Bomb
• Father of Jordan pilot urges Amman to save son 'at any price'
• Egypt's Grand Mufti defends Brotherhood arrests
• Egypt Condemns Western Outrage at Fatal Shooting of Protester
• Iraq: ISIL Terrorists Suffer Losses in Anbar
Pakistan
• 92 Suspected Militants Killed In Strikes
• Mumtaz Qadri's Legal Team Outnumbers Police Presence at IHC
• Startling Revelations: Is Operative Confesses To Getting Funds via Us
• Is Names Ex-TTP Man as Regional Chief
• Nawaz Sharif: Want ties with India based on mutual respect
• Pakistan Criticizes India's Inclusion in Nuclear Suppliers Group
• Alleged Jamia Hafsa detainee sent to new shelter home
• Over two dozen militants storm Levies check post in Qila Saifullah
• Charlie Hebdo protesters storm Christian boys' school in Bannu
• Musharraf blames Kayani for delay in action against Taliban
India
• Shiv Sena Wants 'Secular', 'Socialist' Deleted From Preamble to Constitution
• Tamil Daily Threatened Of 'Charlie Hebdo Style' Attack
• Heed Obama on religious tolerance: Congress
• NIA: Take action against cops who framed Liaquat
• Pakistan Rangers violate ceasefire in Jammu
North America
• ISIS Warns White House and Obama in New Video
• Obama Tackles IS Fight, Iran with New Saudi King
• Pentagon confirms U.S. talks with Yemen's Houthis
• Majority of Americans unaware about Sikhs and Sikhism: Survey
• Bucking Obama, senior Democrat seeks limits on war against Islamic State
• Scores of foreign fighters among Kobane dead: US official
Europe
• Muslims First Victims of 'Terrorism': French FM
• UK Jews and Muslims Team Up Against Hate
• Second round of Libya talks end on 'positive' note: UN
• Syrian rival delegations meet in Moscow
Africa
• 3,000 Child Soldiers to Be Freed In War-Torn South Sudan
• Gunmen Storm Luxury Libyan Hotel, Killing American, 9 Others
• Group Linked to ISIS Says it's Behind Assault on Libyan Hotel
• Three killed in protest against UN in Mali
• Somalia: Al-Shabab leader says he has quit terror group
• Nigeria's Sharia police arrest 12 over 'gay wedding'
South Asia
• Afghan Taliban Confirm Visit to China
• PM Sheikh Hasina: Take any action to stop violence
• Afghans arrest commander of group that claimed killing Swedish journalist
Mideast
• Turkey Providing Help to ISIL Terrorists Fighting in Libya
• Iran Arrests Several Jeish al-Adl Terrorists
• Facebook complies with Turkish court order, starts censoring Prophet (PBUH) images
• Israeli aircraft strike positions in Syria: Israeli army
• Houthi leader blames separatists in South Yemen for political stalemate
• Israeli HR Group: Military Attacks on Palestinian Homes Appeared to Violate Law
• Hezbollah carried out deadly attack on Israeli convoy
Southeast Asia
• Interfaith work goes on despite PAS bashing, says Mujahid
• Consult parents on new Child Act, says group amid caning furore
• KPK Says it Will 'Force' Police Witnesses to Comply in Budi Graft Case
Compiled by New Age Islam News Bureau
URL: https://www.newageislam.com/islamic-world-news/new-age-islam-news-bureau/fiery-islamic-state-group-cleric-gives-voice-to-radicals/d/101239
-----------
Arab World
Fiery Islamic State Group Cleric Gives Voice to Radicals
28 January 2015
BEIRUT (AP) — Turki al-Binali has crisscrossed the Islamic State group's self-declared caliphate in Syria and Iraq with a pistol holstered at his side, delivering fiery sermons in which the 30-year-old provides religious justification for its bloody rampage across the region.
The young Bahraini preacher, who has emerged as one of the extremists' leading ideologues, promotes a version of Islam that has been rejected, not only by mainstream religious authorities, but even by veteran jihadi clerics now increasingly out of touch with the new generation of radicals.
Al-Binali, who sports long hair and a dark beard, is not the most senior cleric in the group — that title belongs to a secretive Iraqi named Abdullah Abdul-Samad — but he is perhaps the most visible, said Hisham al-Hashimi, an Iraq-based researcher who closely follows jihadi groups.
"He is a very important part of the religious council of Daesh," al-Hashimi said, using an alternate Arabic acronym for the group. "He is like the fence that defends the ideology of Daesh from penetration." Al-Binali also wrote the official biography of the group's leader, Abu Bakr al-Baghdadi.
The young preacher has given lectures and engaged online with critics and supporters. His edicts and statements are printed and distributed in areas under the group's control, said an Islamic State group fighter in Syria, who spoke to The Associated Press on condition of anonymity because he is not a spokesman for the group.
Al-Binali hails from a prominent Bahraini family and rose to become a well-known figure in the tiny Gulf nation's ultra-conservative Salafi movement. He studied for a time at Dubai's Islamic and Arabic Studies College but was deported because of his ideology, according to a biography written by Austrian jihadi Mohammed Mahmoud. He continued his studies at Islamic universities in Bahrain and Beirut before traveling to Syria last year and joining the Islamic State group, according to jihadi websites.
In a photo posted on jihadi websites, he's shown in a mosque in the northern Iraqi city of Mosul in July, wearing a white gown and turban with a pistol holstered under his arm, preaching to dozens of worshippers and jihadi fighters.
In its march across the region, the Islamic State group has massacred hundreds of captives, mainly Syrian and Iraqi soldiers, sometimes displaying their heads in public squares. Its clerics have justified such acts by citing a verse from the Quran that reads: "So, when you meet (to wage jihad in God's cause) those who disbelieve, smite at their necks until you have killed and wounded many of them, then bind a bond firmly."
The extremist group also has beheaded two American journalists, two British aid workers and an American aid worker. It presented the killings as a response to U.S.-led airstrikes and said it was justified in beheading the five captives because they had entered territory controlled by the extremists without an agreement of protection. A German journalist received such protection and was allowed to report on the group late last year before returning unharmed.
Al-Binali himself has provided religious justification for the enslavement of hundreds of women from Iraq's Yazidi minority.
Writing in an online forum, he said: "There is no doubt that enslaving women of infidel warriors" is permitted. He pointed to a religious opinion by a 13th century cleric who said that in wartime, "it is not permitted to kill women and children but they become slaves to Muslims."
Leading Islamic authorities have condemned the Islamic State group's atrocities and rejected its self-styled caliphate as illegitimate because it was declared unilaterally without the consensus of established clerics. But such criticism matters little to the militants, who view mainstream religious authorities as tools of the region's autocratic states.
More problematic is pushback from veteran jihadis, including some closely affiliated with al-Qaida. The Islamic State group broke away from the global network founded by the late Osama bin Laden in 2013 over a bitter ideological rift, and has battled al-Qaida's affiliate in Syria.
Abu Muhammad al-Maqdisi, a Jordanian cleric who once mentored Abu Musab al-Zarqawi, the slain head of al-Qaida in Iraq, has condemned the Islamic State group's brutality. Abu Qatada, another radical Jordanian preacher deported from Britain, described its members as "criminals." And Al-Qaida's powerful Yemeni affiliate has explicitly rejected the beheading of captives.
But when it comes to recruiting a new generation of radicals, the Islamic State group has been buoyed by its sleek online media operations and its battlefield successes.
"There is certainly an issue of generational divide here: that (the Islamic State) is attracting the younger 'intellectuals' and fighters," said Aymenn al-Tamimi, an expert on Syrian and Iraqi militants.
Al-Binali has struck back at his mainstream critics, disputing the widespread comparison of the Islamic State to the Khawarej, an early Islamic movement that later generations of scholars considered so extreme as to have left the faith entirely.
But as recently as November he warned the leadership of his own movement that it faces "slow collapse" unless it can get well-known extremist clerics on board, according to an anonymous Twitter account called "wikibaghdady" that frequently publishes inside information about the group.
There is no independent confirmation of the "wikibaghdady" reports, but Radwan Mortada, an expert on jihadi groups who writes for Lebanon's Al-Akhbar daily newspaper, said he believes the reports are largely accurate.
After al-Binali's appeal, the leadership gave him the green light to approach clerics from Jordan, Saudi Arabia, Morocco, Yemen and elsewhere to try to win them over and convince them to come settle in Islamic State group-controlled areas, according to the Twitter account.
The unnamed clerics rejected the offer, it said.
Associated Press writer Reem Khalifa in Manama, Bahrain, contributed to this report.
http://news.yahoo.com/fiery-islamic-state-group-cleric-gives-voice-radicals-070138919.html
------------
Over 60 Militants Killed in Syrian Army Operations
January 28, 2015
Syrian military forces killed a large number of foreign-backed militants during their recent operations across the Middle Eastern country.
At least 66 terrorists were killed in clashes with the Syrian army in various areas, including the suburbs of the capital, Damascus, and the Southern province of Daraa, Syria's state news agency SANA reported on Tuesday.
Some 15 terrorists were killed in an army airstrike in the town of Douma in the Eastern countryside of Damascus.
A separate army operation took the lives of over 35 militants in the town of Sheikh Miskin in Daraa. No mention has been made to the Syrian army fatalities in SANA's report.
Syrian forces have recently escalated their attacks against the militants of the Al-Qaeda-linked al-Nusra Front in Daraa after the group captured a military base near Sheikh Miskin.
In another operation in the Northwestern province of Idlib, almost 16 militants were killed by Syrian troops.
Over the past months, the Syrian army has made major gains in its battle against Takfiri militants across the country.
Syria has been grappling with a deadly crisis since March 2011. The violence fueled by Takfiri groups has so far claimed the lives of over 200,000 people, according to the UN.
http://english.farsnews.com/newstext.aspx?nn=13931108000691
-----------
Iraq: Army Kills over 30 ISIL Terrorists in Anbar
January 28, 2015
Iraqi troops continued to make advances in their fight against the ISIL Takfiri group in the Western province of Anbar, and managed to kill more than 30 terrorists, a military source said.
A senior army official, speaking on condition of anonymity, said that the army soldiers inflicted hefty losses on the ISIL in the areas of al-Ma'arid, al-Na'imiyah and Albu-Hadid in the city of Fallujah, leaving more than 30 terrorists dead.
The source added that the situation in Fallujah is under the full control of the Iraqi security forces.
The ISIL Takfiri terrorists currently control a shrinking part of Syria and Iraq. They have threatened all communities, including Shiites, Sunnis, Kurds, Christians, Ezadi Kurds and others, as they continue their atrocities in Iraq.
Senior Iraqi officials have blamed Saudi Arabia, Qatar, and some Persian Gulf Arab states for the growing terrorism in their country.
The ISIL has links with Saudi intelligence and is believed to be indirectly supported by the Israeli regime.
http://english.farsnews.com/newstext.aspx?nn=13931108000334
-----------
Three More Beheaded Under New Saudi King
By: Press Trust of India | Riyadh
Jan 28, 2015
Saudi Arabia on Tuesday beheaded two more of its citizens and a Pakistani, continuing the strictest punishment under new King Salman. Omar bin Yahya bin Ibrahim al-Barkati was tried and convicted of incest, the interior ministry said in a statement carried by the official Saudi Press Agency.
"He was executed as punishment for his crime and as a lesson to others," the ministry said, adding that authorities carried out the sentence in southwestern Asir region. In a separate case, Yassir bin Hussein al-Hamza was executed in northwestern Jawf region after his trial and confession for smuggling amphetamine pills, the ministry said.
A third convict, Latif Khan Nurzada, a Pakistani, was executed for trafficking heroin into the kingdom. He was executed in the Muslim holy city of Mecca, the ministry said in another statement. According to an AFP tally, their executions bring to 16 the number of Saudis and foreigners put to death this year under the kingdom's strict version of Islamic Sharia law.
Four have been executed since King Salman took office last Friday after the death of his predecessor Abdullah. Under Abdullah, the number of executions jumped from 27 in 2010 to around 80 annually, with 87 last year. The oil-rich Gulf Arab state faces constant international criticism over its human rights record, including the use of the death penalty.
http://indianexpress.com/article/world/middle-east-africa/three-more-beheaded-under-new-saudi-king/#sthash.rIwe1lR4.dpuf
---------
Senior Iraqi Politician: US Should Account for Sending Aids to ISIL
January 28, 2015
Political Advisor to the Head of the Islamic Supreme Council of Iraq Mohsen Hakim blasted the US for dispatching aids to the ISIL terrorist group, and said Washington should account for its deeds which have led to the reinvigoration of the terrorist group.
"Several people have testified and even there are footages and images which show that equipment, weapons and medicine were sent to the ISIL and the US statesmen should account for repeating the same mistake several times," Hakim told FNA on Tuesday.
He said that even in the joint operations room in which the Iraqi and US officers are present, several satellite images were seen of the ISIL trafficking in certain areas in Iraq, which had been reported to the US army but they didn't take action against those ISIL positions.
"The Americans attack some special targets and not all of them," Hakim said.
In relevant remarks in December, UN Special Representative for Iraq Nickolay Mladenov in a meeting with Chairman of Iran's Expediency Council Akbar Hashemi Rafsanjani in Tehran underlined that the ISIL terrorist group could be easily defeated in the short-run despite the allegations made to the opposite.
Full report at:
http://english.farsnews.com/newstext.aspx?nn=13931107000409
-----------
Over 20,000 Foreign-Backed Terrorists Fighting Damascus Government
January 28, 2015
The number of foreign-backed militants fighting against the Syrian government has exceeded 20,000, media reports said.
The terrorists are identified as coming from 50 different countries, including some 4,000 from the West European nations, WND news website reported.
The report said 1,200 of the fighters have come from France, and another 500-600 each from Britain and Germany. But Belgium produced the highest per capita participation, with 40 fighters per million population, it said.
Meantime, Kurdish fighters in the last 24 hours expelled ISIL terrorists from the Syrian border town of Kobani after more than four months of fighting, said a monitor.
Fighters from the Kurdish People's Protection Units (YPG) had "expelled all Islamic State (of Iraq and the Levant) fighters from Kobani and have full control of the town", said Rami Abdel Rahman, director of the so-called Syrian Observatory for Human Rights.
The Kurds are pursuing some terrorists on the Eastern outskirts of Kobani, "but there is no more fighting inside now", Rahman said.
Full report at:
http://english.farsnews.com/newstext.aspx?nn=13931107000455
---------
Fatwa Allows Citizens to Pledge Allegiance to Saudi King via Social Websites
28 January 2015
A member of the Council of Senior Scholars said pledging allegiance to Custodian of the Two Holy Mosques King Salman through social networking websites is allowed, especially since the monarch is the first Saudi king to have a Twitter account.
Sheikh Abdullah Al-Manie, a member of the council, said that any citizen can use social media to pledge allegiance to King Salman, stressing the importance of this gesture in Islam, local media reported.
Social networking websites during the past two days have remained an active platform used by Saudi citizens to offer condolences to the royal family on the passing away of King Abdullah and pledge allegiance to the country's new leadership.
"On Twitter, there are more than one million tweets pledging allegiance to King Salman, while there were over a million messages during the past three days on the same site condoling the death of King Abdullah," Saeed Jadallah, a social network expert told Arab News.
Full report at:
http://www.arabnews.com/saudi-arabia/news/695856
-----------
Syria: ISIL Receives Largest Cargo of US-Made
January 28, 2015
Syrian security sources disclosed that the Islamic State of Iraq and the Levant (ISIL) terrorist group is using the state-of-the-art weapons which are only manufactured by the US, adding that the largest such cargo has been dispatched to the terrorists just recently.
"These weapons were given to the ISIL inside Syria and only kilometers away from the Turkish border," the Arabic-language Al-Waqt news website quoted an informed source as saying on Tuesday.
He noted that the advanced weapons included anti-armor missiles as well as light and semi-heavy weaponry.
The report said the consignment contained the largest cargo of US-made arms aid sent to ISIL so far.
Full report at:
http://english.farsnews.com/newstext.aspx?nn=13931107001527
-----------
Israel, takfiri groups 'aim to destabilize' Lebanon
Jan 28, 2015
Israel and takfiri groups have one thing in common: inciting sectarian strife in Lebanon with the aim of destabilizing the country, according to high-ranking security sources.
"There is a link in the chain of military events that happened recently. There is more than a linkage between the Israeli airstrike in Qunaitra and the attacks by ISIS and the Nusra Front [on the Lebanese Army] in Ras Baalbek," one of the sources told The Daily Star.
"Lebanon is facing an Israeli threat and a takfiri-terrorist threat, both of which are aimed at stirring up sectarian sentiments and sabotaging the current equation of stability in the country with a view to disrupting the atmosphere of the ongoing dialogue [between the Future Movement and Hezbollah]," the source said.
"However, the result was contrary [to what Israel and takfiri groups had planned] as most political parties upheld the internal dialogue and refused to be dragged into attempts to push the country toward a civil war or sectarian strife," the source added.
Full report at:
http://www.dailystar.com.lb/News/Lebanon-News/2015/Jan-28/285560-israel-takfiri-groups-aim-to-destabilize-lebanon.ashx#sthash.Q98LOn1o.dpuf
----------
Salman to Obama: Don't let Iran get nuclear bomb
Jan 28, 2015
RIYADH/ON BOARD AIR FORCE ONE: Saudi Arabia's King Salman and U.S. President Barack Obama tackled a range of sensitive regional issues Tuesday during Obama's one-day visit to Riyadh, as the Saudi monarch highlighted his country's stance that Iran should not be allowed to acquire a nuclear weapon.
The two leaders touched on the volatile situation in Saudi Arabia's neighbor Yemen, where Shiite Houthi rebels have launched a power grab, as well as the thorny negotiations between Iran and the West over a nuclear program that Iran insists is for civilian and not military purposes.
Full report at:
http://www.dailystar.com.lb/News/Middle-East/2015/Jan-28/285566-salman-to-obama-dont-let-iran-get-nuclear-bomb.ashx#sthash.Rcl0vvfc.dpuf
----------
Father of Jordan pilot urges Amman to save son 'at any price'
January 28, 2015
The father of a Jordanian pilot facing execution with a Japanese hostage by the Islamic State group has urged authorities to save his son "at any price".
In a video released on Tuesday, IS threatened to kill airman Maaz al-Kassasbeh and journalist Kenji Goto unless Amman releases a female jihadist being held in a Jordanian prison.
The Japanese government says it believes the deadline expires around 1400 GMT on Wednesday.
Kassasbeh's father Safi and several dozen members of the family's Karak tribe held a demonstration outside the government headquarters in Amman late on Tuesday.
They held his picture and a slogan reading: "We are all Maaz".
"We have only one request, Maaz's return at any price," Safi was quoted by local media as saying.
"The authorities have been reassuring, saying they have had contacts about the release of our son," he said, but "we have heard nothing from them after the latest video."
A Jordanian military source told AFP on Tuesday that the country's security services were verifying the authenticity of the recording.
Full report at:
http://english.ahram.org.eg/NewsContent/2/8/121545/World/Region/Father-of-Jordan-pilot-urges-Amman-to-save-son-at-.aspx
-----------
Egypt's Grand Mufti defends Brotherhood arrests
January 28, 2015
Egypt's top Islamic cleric backed the arrest of more than 500 supporters of the blacklisted Muslim Brotherhood following clashes over the weekend on the anniversary of the country's 2011 uprising.
"I am not sad for this outcome as such criminals ought to be prosecuted," Egypt's Grand Mufti Sheikh Shawky Allam told reporters in Singapore.
"I strongly condemn their actions as they are crimes that breach the laws of our country," said Sheikh Allam during a four-day visit to the Southeast Asian city-state at the invitation of the local Islamic Religious Council.
"Those that have been arrested will be prosecuted legally. The reason they have been arrested is not political because they have transgressed the law," the cleric added through an interpreter.
Full report at:
http://english.ahram.org.eg/NewsContent/1/64/121531/Egypt/Politics-/Egypts-Grand-Mufti-defends-Brotherhood-arrests.aspx
-----------
Egypt Condemns Western Outrage at Fatal Shooting of Protester
JAN. 28, 2015
Egypt's Foreign Ministry expressed dismay on Tuesday that the killing of a female activist in Cairo, which occurred as riot police used force to disperse a peaceful protest, had drawn widespread condemnation from the West.
The death of the activist, Shaimaa al-Sabbagh, on Saturday sparked outrage online in large part because it was so well-documented. Wrenching images of Ms. Sabbagh bleeding in the arms of a colleague who picked her up after her heart and lungs were pierced by shotgun pellets reverberated on social networks.
While Interior Ministry officials initially denied that the police officers who were filmed firing in her direction had played any part in her death, the state prosecutor opened an investigation a day later, in the face of widespread skepticism and the testimony of numerous witnesses.
Full report at:
http://www.nytimes.com/2015/01/28/world/middleeast/egypt-condemns-western-outrage-at-fatal-shooting-of-protester.html
-----------
Iraq: ISIL Terrorists Suffer Losses in Anbar
January 28, 2015
The Iraqi army launched a major offensive against the ISIL Takfiri group in the Western province of Anbar, killing several terrorists, a military official said.
A senior army official, speaking on condition of anonymity, said that the army troops continued to make gains in their fight against the ISIL in al-Salam neighborhood near the district of al-Fallujah, leaving at least seven terrorists dead.
The ISIL Takfiri terrorists currently control a shrinking part of Syria and Iraq. They have threatened all communities, including Shiites, Sunnis, Kurds, Christians, Ezadi Kurds and others, as they continue their atrocities in Iraq.
Senior Iraqi officials have blamed Saudi Arabia, Qatar, and some Persian Gulf Arab states for the growing terrorism in their country.
The ISIL has links with Saudi intelligence and is believed to be indirectly supported by the Israeli regime.
http://english.farsnews.com/newstext.aspx?nn=13931107000223
-----------
Pakistan
92 suspected militants killed in strikes
January 28, 2015
PESHAWAR: Seventy-six suspected militants were killed in North Waziristan and 16 in Khyber Agency when planes pounded their hideouts in the two volatile regionsy, the military said.
"In a precise aerial strike in Dattakhel area of North Waziristan in the afternoon, 53 militants, including 12 foreigners, were killed. Six hideouts, an ammunition dump and seven explosives-laden vehicles were destroyed," said an ISPR statement.
The jet fighters targeted militants' positions in Kharh Tangi, some 35km west of the agency headquarters of Miramshah. Most of the foreigners killed were Uzbeks, military sources said.
In another strike in the same area later, 23 militants were killed, the ISPR claimed.
Since the area is off-limits to journalists, it is difficult to independently verify the number and identity of the dead.
Full report at:
http://www.dawn.com/news/1159955/92-suspected-militants-killed-in-strikes
-----------
Mumtaz Qadri's legal team outnumbers police presence at IHC
January 28, 2015
ISLAMABAD: The legal team representing the convicted murderer of former Punjab governor Salmaan Taseer outnumbered the police presence at the Islamabad High Court (IHC) on Tuesday.
At least 90 lawyers came to court to defend Mumtaz Qadri, while over 300 of his supporters gathered outside court premises to egg him on.
The men were carrying placards and shouting slogans in favour of the slain governor's assassin.
This was still a marked decrease from the last time. When the case was heard in 2011, at least 3,000 of his supporters gathered outside the courts.
Inside court premises, defence lawyers assembled under the leadership of Khawaja Mohammad Sharif, former chief justice of the Lahore High Court (LHC). Another former LHC judge, Mian Nazeer Akhtar, was also part of Qadri's panel.
Full report at:
http://www.dawn.com/news/1159926/mumtaz-qadris-legal-team-outnumbers-police-presence-at-ihc
-----------
Startling revelations: IS operative confesses to getting funds via US
January 28, 2015
ISLAMABAD: Yousaf al Salafi – allegedly the Pakistan commander of Islamic State (IS) or Daish – has confessed during investigations that he has been receiving funds through the United States.
Law enforcing agencies on January 22 claimed that they arrested al Salafi, along with his two companions, during a joint raid in Lahore. However, sources revealed that al Salafi was actually arrested sometimes in December last year and it was only disclosed on January 22.
"During the investigations, Yousaf al Salafi revealed that he was getting funding – routed through America – to run the organisation in Pakistan and recruit young people to fight in Syria," a source privy to the investigations revealed to Daily Express on the condition of anonymity.
Full report at:
http://tribune.com.pk/story/828761/startling-revelations-is-operative-confesses-to-getting-funds-via-us/
-----------
IS names ex-TTP man as regional chief
January 28, 2015
The Islamic State (IS) has confirmed it has nominated former Tehreek-e-Taliban Pakistan (TTP) spokesperson Hafiz Saeed Khan as its commander for the region.
Saeed Khan, who left the TTP in 2013, appeared in a video 10 days ago.
However, the news of his appointment as an IS commander was broadcast through an audio message, posted on a Twitter account, apparently run by the militant outfit.
IS commander Abu Muhammad Al-Adni has also confirmed the outfit has appointed its chief for Afghanistan and Pakistan. Saeed Khan belongs to Orakzai Agency and he has served as head of the TTP Orakzai chapter. However, he had parted ways with the TTP after the killing of the TTP chief Baitullah Mehsud in a drone strike.
http://tribune.com.pk/story/828707/spreading-roots-is-names-ex-ttp-man-as-regional-chief/
-------
Nawaz Sharif: Want ties with India based on mutual respect
28 January 2015
Pakistan Prime Minister Nawaz Sharif on Wednesday said that he wanted relations with India based on equality and mutual respect, values which are vital for peace in the region, a media report said.
In a meeting with Pakistan High Commissioner to India Abdul Basit in Islamabad, Mr. Sharif said that Pakistan longed for good relations with all countries, including India and desired to achieve peace in the region, The News International reported.
The meeting was held to brief the Prime Minister on the status of India-Pakistan bilateral relations.
Mr. Sharif said that he deemed it necessary for both India and Pakistan to resolve outstanding issues, including Kashmir.
http://www.thehindu.com/news/international/south-asia/nawaz-sharif-want-ties-with-india-based-on-mutual-respect/article6830226.ece
-----------
Pakistan Criticizes India's Inclusion in Nuclear Suppliers Group
By SALMAN MASOOD
Jan 28, 2015
ISLAMABAD, Pakistan — In an unusually critical statement, a senior Pakistani official said that Pakistan remained opposed to India's inclusion in the Nuclear Suppliers Group and feared that the country's growing nuclear cooperation with the United States could harm deterrence efforts in South Asia.
The statement by Sartaj Aziz, the Pakistani national security adviser, came after President Obama wound up his visit to India, during which the United States and India announced an array of trade and strategic agreements.
Pakistan and India have had an antagonistic relationship since the end of British rule and their partition in 1947. In recent years, Pakistan has viewed growing United States-India cooperation with apprehension.
Full report at:
http://www.nytimes.com/2015/01/28/world/asia/pakistan-criticizes-indias-inclusion-in-nuclear-suppliers-group.html
-----------
Alleged Jamia Hafsa detainee sent to new shelter home
Jan 28, 2015
ISLAMABAD: Sessions Judge Nazir Ahmad Gujana sent Uzma Qayyum, the girl who her family alleged was detained at Jamia Hafsa, women's seminary at Lal Masjid, to another shelter home on Tuesday.
Judge Gujana, who is investigating the matter on the orders of the Supreme Court, has sent the 26-year-old girl to the Benazir Bhutto Shelter Home and Crisis Centre in H-9 for one week.
She is to appear before the judge following the end of this week to record her statement.
He said that her family will be able to visit her at the shelter during this period.
Last week the judge had sent the girl to Darul Aman shelter home in Rawalpindi.
Advocate Muhammad Haider Imtiaz, representing Uzma's father, told Dawn that the Darul Aman managers allowed the family just one visit during the last week.
"Uzma did not mingle with the other women at the shelter and kept to herself. The judge felt that she needed an environment where she could interact with other people," he said.
Run by the Ministry of Law and Justice, the Benazir Bhutto Women Shelter Home and Crisis Centre also provides psychological counseling to women.
Full report at:
http://www.dawn.com/news/1159920/alleged-jamia-hafsa-detainee-sent-to-new-shelter-home
-----------
Over two dozen militants storm Levies check post in Qila Saifullah
January 28, 2015
QUETTA: A group of 25-30 militants stormed a check post of the Balochistan Levies in Qila Saifullah on Wednesday and fled with rifles and motorcycles, a senior official of the Balochistan Levies told The Express Tribune.
"Five personnel inside the check post were encircled by the militants, and the incident took place at about 2:30am," the senior official said.
The militants seized five official rifles, three motorbikes, five bulletproof jackets and a walkie-talkie.
"The militants have fled towards the mountainous areas of Murghagebzai in Zhob district, which shares a border with Waziristan, Afghanistan and Khyber-Pakhtunkhwa," the official said.
Full report at:
http://tribune.com.pk/story/828916/over-two-dozen-militants-storm-levies-check-post-in-qila-saifullah/
-----------
Charlie Hebdo protesters storm Christian boys' school in Bannu
January 28, 2015
PESHAWAR: Hundreds of students protesting against a French magazine for publishing cartoons of Prophet Muhammed (pbuh) stormed a Christian boys' school demanding it close, officials and police said Tuesday.
Four students were slightly hurt in the incident in which took place in Bannu on Monday, which happened as students from local colleges and schools demonstrated against the cartoons printed in French satirical weekly Charlie Hebdo.
"A group of some 200 to 300 protesting students entered Panel High School after jumping its outer walls and forcibly opened the gates," school principal Fredrick Farhan Das told AFP.
He said the students who wanted the school to be shut damaged the property and smashed windows.
Full report at:
http://tribune.com.pk/story/828418/charlie-hebdo-protesters-storm-christian-boys-school-in-bannu/
-----------
Musharraf blames Kayani for delay in action against Taliban
January 28, 2015
KARACHI: Former army chief retired Gen Pervez Musharraf believes that one of the reasons why the country's security challenges have become almost insurmountable now is because his successor, retired Gen Ashfaq Parvez Kayani, was too scared to take action against militants.
In an interview with Dawn on Tuesday, Gen Musharraf said that it was Gen Kayani's own reluctance — and not poor judgement — that caused him to not launch an operation against the Taliban.
"You see, the main issue is that when a government is inactive, it requires an army chief to go and coax it into action. That's what [Gen] Raheel has done. So either Gen Kayani was scared or too reticent or too reserved. He didn't want to go and discuss this matter."
'I don't think there should be martial law'
When this reporter pointed out that Gen Kayani must have gone to the then Pakistan Peoples Party government for an extension in his term as army chief — and the PPP government was said to have acquiesced within hours — Gen Musharraf said: "But that was for his own person. The army was clear in its views as a whole. They wanted action, even in Kayani's days. Kayani has to be asked why he did not act [against militants]. I wouldn't be able to comment on that. But the delay was all in that period."
Full report at:
http://www.dawn.com/news/1159948/musharraf-blames-kayani-for-delay-in-action-against-taliban
-----------
India
Shiv Sena Wants 'Secular', 'Socialist' Deleted From Preamble To Constitution
28 January 2015
A day after row erupted over a Republic Day advertisement of the Union Information and Broadcasting Ministry, the Shiv Sena on Wednesday demanded "permanent deletion" of the words "secular" and "socialist" from the preamble to the Constitution.
An acrimonious war of words had broken out between political parties on Tuesday when an advertisement issued by the I&B Ministry carried a picture of the preamble to the Constitution as it appeared before the 42nd Amendment, without the words "secular" and "socialist".
"We welcome the exclusion of the words ('secular' and 'socialist') from the Republic Day advertisement. Though it might have been done inadvertently, it is like honouring the feelings of the people of India. If these words were deleted by mistake this time, they should be deleted from the Constitution permanently," Sena MP Sanjay Raut said.
"From the time they (the words) were included in the Constitution, it is being said that this country can never be secular. Balasaheb Thackeray and before him Veer Savarkar had been saying that India was divided on the lines of religion. Pakistan was created for Muslims, thus, what remains is a Hindu Rashtra," Mr. Raut said.
Full report at:
http://www.thehindu.com/news/national/sena-wants-secular-socialist-deleted-from-preamble-to-constitution/article6830288.ece
-----------
Tamil daily threatened of 'Charlie Hebdo style' attack
28 January 2015
CHENNAI: A Tamil newspaper has received a letter threatening an attack similar to the one on the office of French satirical magazine Charlie Hebdo, police said.
"We have received the letter from the newspaper and a probe is on," a senior police official said.
The letter, typed in English, says "Yesterday-Paris Charlie Hebdo, Tomorrow — Dinamalar." The words appear against the background of India's map.
The letter was sent through post by unidentified elements claiming to belong to an outfit called "The Base Moment," and said to be based at "3/10, Ukkadam, Kovai, Tamil Nadu, India."
Below the map is a picture of Osama Bin Laden and the words "By al-Qaida," and some Arabic words appearing like a signature, the police official said.
"It can be a fictitious outfit or someone may be trying to play mischief or it may have some other motive ... we do not know ... only after the probe's completion we will be able to comment," the official said, declining to elaborate.
Security personnel have been deployed at the office of the newspaper.
http://timesofindia.indiatimes.com/india/Tamil-daily-threatened-of-Charlie-Hebdo-style-attack/articleshow/46032662.cms
-----------
Heed Obama on religious tolerance: Congress
TNN | Jan 28, 2015
NEW DELHI: PM Modi should heed Barack Obama's advice on religious freedom and stop the activities of RSS outfts, Congress said on Tuesday, underlining that the US president's caution was inspired by the recent controversies over conversions.
Party spokesman Randeep Surjewala said, "We are happy that President Obama noted and called upon young Indians to celebrate India's foundational values of diversity, religious freedom and right to practise different faiths besides calling upon them to fght bigotry and sectarianism which Congress has epitomized and protected as core idea of India.
We hope PM Modi and BJP will learn it as a lesson for course-correction from unilateralism to pluralism." The opposition party said the US President's speech referred to "recent acts of intolerance" under the BJP government. "His speech was contextual to events taking place in India ... reports that reject growing societal intolerance and schism that's developing between people practising different faith," he said.
Full report at:
http://timesofindia.indiatimes.com/india/Heed-Obama-on-religious-tolerance-Congress/articleshow/46037149.cms
-----------
NIA: Take action against cops who framed Liaquat
28 January 2015
The National Investigation Agency (NIA) has written to the Ministry of Home Affairs (MHA), asking it to take disciplinary action against the officers of the Delhi Police Special Cell, who framed Liaquat Shah and labelled him as a Hizb ul Mujahideen militant planning terror strikes in Delhi to avenge the hanging of Afzal Guru in 2013.
According to the NIA charge sheet in the case, the Special Cell officers were "negligent in recovering CCTV footage in and around Jama Masjid area" and had submitted "damaged data that could not be retrieved in spite of advanced forensic examination". The Special Cell had raided a room here and claimed to have found arms and ammunition.
The NIA charge sheet also says that between March 20 and March 21 that year, main accused Sabir Khan Pathan, who allegedly planted the arms and ammunition at Haji Arafat Guest House in Jama Masjid area, spoke to Special Cell officers on 40 occasions.
Though the charge sheet mentions Special Cell ACP, Inspectors, head constables and constables by their names as those with whom Pathan was in touch, they have not been named as accused in the case.
Full report at:
http://indianexpress.com/article/india/india-others/nia-take-action-against-cops-who-framed-liaquat/99/#sthash.D2CJ6ULR.dpuf
-----------
Pakistan Rangers violate ceasefire in Jammu
IANS | Jan 28, 2015
JAMMU: Pakistan Rangers overnight targeted Border Security Force (BSF) posts on the International Border in Jammu, a source said on Wednesday.
"Pakistan Rangers targeted some BSF outposts in R S Pura sector of the International Border at 9.30 p.m. yesterday (Tuesday)," a BSF source told IANS here.
"They used small weapons and automatics to target our positions," the source said, adding India retaliated using similar calibre weapons.
"Firing exchanges between the two sides continued for nearly two hours. No casualty or damage has been reported from our side," the source added.
There was calm on the International Border in Jammu and Kashmir during the three-day stay of the US President Barack Obama in India.
The ceasefire violation by Pakistan came hours after Obama left for Saudi Arabia.
http://timesofindia.indiatimes.com/india/Pakistan-Rangers-violate-ceasefire-in-Jammu/articleshow/46039439.cms
-----------
North America
ISIS warns White House and Obama in new video
ISIS threatens Obama in new beheading video after Japanese hostage says jihadis will execute him and Jordanian airman within 24 hours unless jailed female terrorist is released
January 28, 2015
Islamic State militants threaten to cut off Barack Obama's head and turn the U.S. into a Muslim province in the latest gruesome video to emerge from their self-styled caliphate.
'Know, oh Obama, that will reach America,' proclaims a black-clad militant. 'Know also that we will cut off your head in the White House, and transform America into a Muslim Province.'
The militant delivers his biblical-sounding tirade flanked by comrades and standing over a kneeling Kurdish soldier who, in a gruesome climax to the video, has his head cut off.
The video has emerged on the day the Islamic State threatened to kill a Japanese journalist and a Jordanian pilot within 24 hours unless a jailed female terrorist is released.
Memri TV discovered the latest video and translated it from Arabic. The Biblical-sounding threats do not stop at America, but also include a message for France and 'it's sister' Belgium.
'We advise you that we will come to you with car bombs and explosive charges, and will cut off your heads,' the militant warns.
Full report at:
http://www.dailymail.co.uk/news/article-2928426/ISIS-claim-execute-Japanese-hostage-24-hours.html#ixzz3QA9lApt8
-----------
Obama tackles IS fight, Iran with new Saudi king
January 28, 2015
RIYADH: US President Barack Obama led a heavyweight delegation to Saudi Arabia to meet new King Salman and discussed the two countries' ongoing fight against the Islamic State group.
The leaders also tackled the issue of Iran's nuclear programme and human rights in the conservative kingdom, a senior US official said.
Riyadh has been part of the US-led coalition carrying out air strikes against IS since last year and is a long-time regional ally of Washington.
But analysts say Riyadh has grown dissatisfied with what it sees as a lack of American engagement in crises elsewhere, including Yemen and Libya, as the US looks to Asia.
There has also been unease in the kingdom about Obama's pursuit of a nuclear deal with Shiite-dominated Iran, the regional rival of Sunni-majority Saudi Arabia.
Members of the 29-member bipartisan US delegation, which included former Bush-era officials, said they wanted to show support for the US-Saudi relationship.
"I believe it is important that we demonstrate to the Saudis the importance that they represent to us," said James Baker, secretary of state during the first Gulf War against Iraqi dictator Saddam Hussain.
Full report at:
http://www.dawn.com/news/1159970/obama-tackles-is-fight-iran-with-new-saudi-king
-----------
Pentagon confirms U.S. talks with Yemen's Houthis
28 January 2015
U.S. officials are holding discussions with representatives of the Shiite militia in Yemen who have forced the resignation of the country's president, a Pentagon spokesman said Tuesday.
But the discussions with the Houthi militiamen do not amount to an agreement to share intelligence on al-Qaeda in Yemen, Rear Admiral John Kirby told reporters.
"Given the political uncertainty, it's fair to say that U.S. government officials are in communication with various parties in Yemen about what is a very fluid and complex political situation," Kirby said.
"It is also accurate to say that the Huthis, as participants in ... these events, will certainly have reason to want to speak to international partners and the international community about their intentions and about how this process is going to unfold," he said.
"The U.S. government is participating in those discussions."
Full report at:
http://english.alarabiya.net/en/News/middle-east/2015/01/28/U-S-officials-hold-talks-with-Yemen-s-Houthis.html
-----------
Majority of Americans unaware about Sikhs and Sikhism: Survey
28 January 2015
A majority of Americans are unaware of what Sikhism is and mistake Sikhs for Muslims despite the country being home to more than half a million of them, a latest study has said amid a rise in hate crimes against the members of the minority community since 9/11.
According to the study titled 'Sikhism in the US: What Americans know and need to know', many Americans have never heard of the religion and only 11 per cent of them have a personal acquaintance or friend who is a Sikh.
The majority of Americans (60 per cent) admit to knowing nothing at all about Sikh Americans and knowledge of Sikhism is substantially lower than for other minority religious groups in the United States.
Full report at:
http://indianexpress.com/article/world/americas/majority-of-americans-unaware-about-sikhs-and-sikhism-survey/#sthash.o16Nl1Zw.dpuf
----------
Bucking Obama, senior Democrat seeks limits on war against Islamic State
28 January 2015
Frustrated with White House inaction, a senior House of Representatives Democrat will introduce legislation Wednesday formally authorizing President Barack Obama's war on the so-called Islamic State nearly six months after it began. Rep. Adam Schiff's Authorization for the Use of Military Force (AUMF) would impose strict limits that the Pentagon publicly opposes, forbidding the use of U.S. ground troops to carry out combat missions and limiting military action to Iraq and Syria.
Schiff, the top Democrat on the House Intelligence Committee, said in an exclusive interview with Yahoo News that he is "frustrated generally because we haven't had any movement on an authorization and we've been at war almost half a year.
"I'm frustrated with the White House, but I have the most discomfort with the Congress itself, because it's our constitutional responsibility to declare war," the California lawmaker said. "We're the institution that has the strongest interest in moving and exercising our prerogative under the Constitution."
Full report at:
http://news.yahoo.com/bucking-obama--senior-democrat-seeks-limits-on-war-against--islamic-state-232820045.html
----------
Scores of foreign fighters among Kobane dead: US official
28 January 2015
Washington (AFP) - Large numbers of foreign fighters are among the jihadists killed in the battle for the Syrian town of Kobane, a senior US official said Tuesday, saying the concerted campaign was halting the militants' march.
The Kurdish People's Protection Units (YPG) announced the "liberation" of Kobane on Monday, depriving the Islamic State group (IS) of a strategic prize to add to its territory in Syria and Iraq.
The United States says Kurdish fighters are now in control of about 90 percent of the town on the Syrian-Turkish border.
"ISIL is now, whether on order or whether they are breaking ranks, is beginning to withdraw from the town," a senior State Department official told reporters.
Full report at:
http://news.yahoo.com/scores-foreign-fighters-among-kobane-dead-222335111.html
----------
Europe
Muslims first victims of 'terrorism': French FM
January 28, 2015
French Foreign Minister Laurent Fabius called for international cooperation against extremism, saying Muslims have been the first victims of "terrorism".
"No one fights under the name of religion," Fabius told journalists in Kuwait, the first Muslim country he has visited since last month's deadly attack by Islamist gunmen on French magazine Charlie Hebdo.
When Kuwait and France fight "against terrorism, we fight those who are not only liars, but also killers," he said. "Muslims have been the first victims of those terrorists."
Fabius called for more solid international cooperation to rein out extremism saying that "this is a battle we should win."
Kuwaiti Foreign Minister Sheikh Sabah Khaled al-Sabah said Kuwait and France had "identical views on terrorism," and reiterated Kuwait's strong condemnation of the "brutal attacks in France," a reference to Charlie Hebdo.
Sabah also warned that "terrorism is a threat for all of us," and called for greater efforts to drain funding of radical groups and recruitment of fighters.
Fabius said France looks to Islam as a moderate religion and stressed that French authorities will apply the law firmly against any acts against Islam or Muslims.
Full report at:
http://english.ahram.org.eg/NewsContent/2/8/121521/World/Region/Muslims-first-victims-of-terrorism-French-FM.aspx
-----------
UK Jews and Muslims team up against hate
Jan 28, 2015
London, United Kingdom - Muslims and Jews living in the same North London neighbourhood are making a stand together against hate crime amid concerns of an increased threat to both communities in the aftermath of the Paris attacks.
Jewish communities in the UK have been on a heightened state of alert since a siege orchestrated by a gunman at a kosher supermarket in the French capital left four hostages dead, with police and Jewish neighbourhood watch groups stepping up security around synagogues and schools.
The government also pledged police support for mosques amid reports of an increase in anti-Muslim hate crime following the linked attack by gunmen claiming allegiance to al-Qaeda in the Arabian Peninsula on the offices of the satirical newspaper Charlie Hebdo.
Meanwhile, a widely reported survey conducted earlier this month by the Campaign Against Antisemitism, a lobbying group established last year, suggested that increased numbers of British Jews were questioning their place in their own country.
More than half of respondents said they were fearful that Jews had no long term future in Europe, and one in four said they had considered leaving the UK because of rising anti-Semitism.
Full report at:
http://www.aljazeera.com/indepth/features/2015/01/uk-jews-muslims-team-hate-150127091540305.html
----------
Second round of Libya talks end on 'positive' note: UN
January 28, 2015
A second round of peace talks between Libya's warring factions ended in Geneva on Tuesday in a "positive atmosphere," the UN said, as IS militants staged a deadly attack on a Tripoli hotel.
Participants at the two-day UN-brokered talks included a range of groups and representatives of civil society, who stressed the need to fast-track dialogue on forming a unity government.
"Discussions were conducted in a positive atmosphere reflecting the sense of national responsibility and a sincere determination to find solutions to end the political and military conflict," the UN mission in Libya UNSMIL said.
The participants underscored the need for a sustained truce, and discussed the criteria for selecting members of the unity government, as well as its mandate and programme.
They also unanimously rejected terrorism and "strongly condemned" Tuesday's car bombing at the Corinthia Hotel popular with foreigners, which left at least one person dead.
During a first round of UN-mediated discussions in Geneva earlier this month, the warring sides agreed on a roadmap to form a unity government.
Full report at:
http://english.ahram.org.eg/NewsContent/2/8/121516/World/Region/-Second-round-of-Libya-talks-end-on-positive-note-.aspx
-----------
Syrian rival delegations meet in Moscow
28 January 2015
Syrian opposition figures and representatives of the regime of President Bashar al-Assad began talks in Moscow Wednesday aimed at restarting long-stalled peace negotiations to end the country's brutal war.
The 32 members of various opposition groups tolerated by the authorities in Damascus and six members of the official Syrian delegation led by the ambassador to the United Nations Bashar Jaafari began their meeting at 0700 GMT, one of the opposition participants told AFP.
The Kremlin-sponsored talks were not expected to yield a major breakthrough as the main opposition group, the exiled National Coalition, has refused to attend.
The leading internationally-recognized opponents of Assad have stayed away, arguing that Russia -- one of Assad's few remaining allies -- cannot be an honest broker.
The opposition source at the meeting said that those attending were putting forward a "ten-point list" aimed at defusing the nearly four years of civil war that has claimed more than 200,000 lives since 2011.
The source said that the opposition figures at the meeting would not immediately insist on establishing a transition government to ease Assad from power.
After the meeting this morning, Russia's Foreign Minister Sergei Lavrov was set to meet the Syrian delegation.
http://english.alarabiya.net/en/News/middle-east/2015/01/28/Syria-opposition-Assad-representatives-meet-in-Moscow-.html
---------
Africa
3,000 child soldiers to be freed in war-torn South Sudan
Jan 28, 2015
JUBA, South Sudan (AP) — About 3,000 child soldiers will be gradually released from an armed group in South Sudan, the United Nations children's agency said after 280 children were freed.
More phased releases will happen in the coming weeks, said UNICEF, which helped negotiate the freedom of the children, aged from 11 to 17.
"These children have been forced to do and see things no child should ever experience," UNICEF South Sudan Representative Jonathan Veitch said in a statement. "The release of thousands of children requires a massive response to provide the support and protection these children need to begin rebuilding their lives."
They were recruited by the South Sudan Democratic Army Cobra Faction, an armed group whose leader David Yau Yau signed a peace agreement with the South Sudan government last year.
Full report at:
http://news.yahoo.com/norway-sanctions-possible-rivals-sudan-conflict-084804263.html
---------
Gunmen storm luxury Libyan hotel, killing American, 9 others
January 28, 2015
TRIPOLI, Libya (AP) — In the latest sign of Libya's descent into chaos, gunmen stormed a luxury hotel used by diplomats and businessmen in the capital Tuesday, killing 10 people, including an American, a French citizen and three people from Asia.
Two attackers were killed following an hourslong standoff that included a car bomb that exploded in the parking lot of the seaside Corinthia Hotel. It was unclear if other gunmen were involved in the attack, which also killed five Libyan guards.
Twitter posts and a statement on social media purported to say a Tripoli affiliate of the Islamic State group was behind the attack. However, there was little evidence outside of that to back up the claims in a country awash in armed extremist groups who would be equally suspect.
The SITE Intelligence Group, a U.S.-based militant monitoring group, reported that the two dead gunmen were identified online as sympathizers of the Islamic State group and said they targeted the hotel because it houses diplomatic missions and "crusader" security companies. However, The Associated Press was unable to independently confirm the claims, which didn't conform with the group's earlier postings from Libya.
Full report at:
http://news.yahoo.com/car-bomb-explodes-outside-luxury-hotel-libyas-tripoli-085339533.html
------------
Group Linked to ISIS Says It's Behind Assault on Libyan Hotel
By SULIMAN ALI ZWAY and DAVID D. KIRKPATRICK
JAN. 28, 2015
TRIPOLI, Libya — Militants claiming allegiance to the Islamic State said they were responsible for an armed assault on a luxury hotel that killed at least eight people here on Tuesday, the most significant in a string of terrorist attacks against Western interests and government institutions in the capital since the ouster of Col. Muammar el-Qaddafi more than three years ago.
Four or five gunmen shouting "God is great" stormed the hotel, the Corinthia, in the early morning, witnesses said. The attackers fired their guns into the lobby, battling guards and indiscriminately shooting at civilians, according to witnesses, news reports and people in contact with associates inside the hotel.
Officials said at least five of those killed were foreign visitors. The State Department confirmed that an American had been killed, and witnesses said he was a former Marine working in security. The Associated Press, citing an executive at Crucible, a security company in Fredericksburg, Va., later identified the American as David Berry, a contractor with Crucible.
Full report at:
http://www.nytimes.com/2015/01/28/world/middleeast/islamic-state-tripoli-libya-terror-attack.html
-----------
Three killed in protest against UN in Mali
January 28, 2015
Three people were killed in northern Mali in a demonstration against the United Nations military mission in the restive west African nation, government and hospital sources said.
Witnesses described how violence erupted as a huge crowd of angry youths, gathering for a second day outside the MINUSMA headquarters in the city of Gao, threw stones and attempted to storm the building.
"Here in the morgue in Gao we have at least three dead protesters, some killed by gunshot wounds... There are also several serious injuries," a hospital official told AFP.
An official in the ministry for security and civil protection confirmed the deaths, adding that the situation remained "very tense".
Full report at:
http://english.ahram.org.eg/NewsContent/2/9/121500/World/International/Three-killed-in-protest-against-UN-in-Mali.aspx
-----------
Somalia: Al-Shabab leader says he has quit terror group
28 January 2015
MOGADISHU, Somalia (AP) — A leader of Somalia's Islamic extremist group al-Shabab with a $3 million bounty on his head announced Tuesday he has quit the insurgency and renounced violence perpetrated by the al Qaida-linked group.
Zakariya Ismail Hersi, who was al-Shabab's intelligence chief, called for reconciliation while speaking to the media for the first time since his surrender to Somali authorities in late December.
"I can confirm that as of today I am no longer a member of Al-Shabaab and I have renounced violence as a means of resolving conflict and I will aim to achieve my goals towards peaceful means, and through reconciliation and understanding," Hersi said.
Some analysts say Hersi defected because he feared for his life because of friction with colleagues loyal to Ahmed Godane, the al-Shabab leader who was killed by a U.S. air strike last year.
Full report at:
http://news.yahoo.com/somalia-al-shabab-leader-says-quit-terror-group-154027697.html
---------
Nigeria's Sharia police arrest 12 over 'gay wedding'
28 January 2015
Kano (Nigeria) (AFP) - Twelve young men were arrested in the north Nigerian city of Kano for allegedly planning a gay wedding, the Islamic law-enforcement agency, the Hisbah, said on Tuesday.
The suspects, most of them teenagers, were detained on Monday at a popular resort on the outskirts of the city, said the head of the Hisbah, Aminu Daurawa.
Homosexuality is banned under federal law in Nigeria, where last year new legislation was passed outlawing same-sex marriages and the promotion of civil unions.
In northern states, where Sharia runs parallel to the state and federal justice system, homosexuality is punishable by death, although the sentence is rarely, if ever, enforced.
"We have 12 men in custody, including the bride. We arrested them at the venue of a planned gay wedding," Daurawa told AFP.
Full report at:
http://news.yahoo.com/nigerias-sharia-police-arrest-12-over-gay-wedding-180121588.html
---------
South Asia
Afghan Taliban confirm visit to China
January 28, 2015
The Taliban delegation's rare visit visit to China has led to speculations in Afghanistan about a possible Beijing role in the Afghan peace process. PHOTO: AFP
ISLAMABAD: The Afghan Taliban confirmed on Tuesday that its representatives visited China recently but balked at the possibility of the militia seeking Beijing's mediation in any talks with President Ashraf Ghani's administration.
Earlier, the Taliban and China had declined to officially comment on the reported visit of Taliban representatives to Beijing ahead of President Ghani's maiden visit to the Chinese capital in October, last year.
The Chinese delegation was headed by Qari Din Muhammad Hanif, a senior negotiator in the Taliban political office in Qatar. The Taliban's rare visit has led to speculations in Afghanistan about a possible Beijing role in the Afghan peace process.
Taliban spokesman Zabihullah Mujahid, however, clarified on Tuesday that the visit was not aimed at seeking Beijing's role to mediate with the Kabul administration.
Full report at:
http://tribune.com.pk/story/828763/afghan-taliban-confirm-visit-to-china-back-page/
----------
PM Sheikh Hasina : Take any action to stop violence
January 28, 2015
Prime Minister Sheikh Hasina has asked the police force to take any action to stop violence in a bid to ensure public safety.
The premier made the remarks while addressing the senior officials of Bangladesh Police marking the Police Week-2015 at her Tejgaon office on Wednesday.
Sheikh Hasina said:"As the premier, I'm giving you the liberty to take any action wherever and whenever it will be felt necessary against the arsonists."
She also urged the police officials to work with strong mentality to handle the terrorist and militant activities of BNP-Jamaat.
"My only expectation is the improvement of the law and order so that we can move forward to boost the economy of the country," she added.
Sheikh Hasina also criticised BNP for not to stop their ongoing blockade that causes sufferings for the people of the country.
http://www.dhakatribune.com/politics/2015/jan/28/pm-take-any-action-prevent-violence#sthash.6LfRzQue.dpuf
-----------
Afghans arrest commander of group that claimed killing Swedish journalist
January 28, 2015
KABUL: Afghanistan's main intelligence agency, National Directorate of Security (NDS), said on Wednesday it had arrested a commander of a militant group known as the "Suicide Front", that claimed responsibility last year for the execution-style killing of a Swedish journalist.
Nils Horner, 51, who worked for Swedish Radio and held dual British-Swedish nationality, was shot dead in the capital's diplomatic quarter in last March.
The killing compounded fears of deteriorating security ahead of the withdrawal of most foreign troops.
The militant group had separately claimed responsibility for the killing of the governor of the province of Logar the previous year.
"The National Directorate of Security detained a militant commander for the terrorist group Mahaz-i-Fedaiyan ... with two pistols, two time bombs and a silencer," said Hassib Sediqi, a spokesman for the agency, referring to the group.
The militants, who described themselves as a Taliban splinter faction, said the radio journalist was a spy for Britain's intelligence agency.
Full report at:
http://www.dawn.com/news/1159984/afghans-arrest-commander-of-group-that-claimed-killing-swedish-journalist
-----------
Mideast
Turkey Providing Help to ISIL Terrorists Fighting in Libya
January 28, 2015
A Turkish hospital in Istanbul admitted four ISIL commanders, who were wounded in military operations in Libya, media reports said.
The Libyan intelligence and security sources disclosed that four ISIL commander named Mohammad Sasi Al-Fallah, Emad Al-Ayoub, Ahmad Yahya and Salim Balaou have been dispatched to Turkey for treatment, the Al-Dastour news agency reported.
The four ISIL commanders were reportedly wounded in clashes with the Libyan army in the city of Sirte.
Libya has become a scene of clashes between the foreign-backed Takfiri terrorists and the Libyan army.
Libya is caught up in a conflict involving two rival governments -- an internationally recognized one based in Eastern Libya and a rival administration set up in Tripoli after an armed faction called Libya Dawn took over the capital.
Most foreign governments closed their embassies and pulled their staff out of Tripoli after fighting between the rival factions erupted last summer.
http://english.farsnews.com/newstext.aspx?nn=13931107001664
-----------
Iran Arrests Several Jeish al-Adl Terrorists
January 28, 2015
Iran announced on Tuesday that it has arrested 20 members of the al-Qaeda-affiliated Jeish al-Adl terrorist group.
"20 members of the Jeish al-Adl terrorist grouplet have been arrested in their hideout," Iranian Deputy Interior Minister Hossein Ali Amiri told reporters in Tehran today.
Amiri, who is also the spokesman of the Interior Ministry, declined to provide any further detail about the exact location or date of the arrests.
Jeish al-Adl is responsible for several terrorist attacks in Iran, specially in the Southeastern bordering areas.
14 Iranian border guards were killed and 6 more were injured during the terrorist attack by outlaws affiliated to Jeish al-Adl terrorist group in Saravan border region in Southeastern Iran in October 2013.
Full report at:
http://english.farsnews.com/newstext.aspx?nn=13931107001171
-----------
Facebook complies with Turkish court order, starts censoring Prophet (PBUH) images
January 28, 2015
Complying with a Turkish court order, Facebook has started to censor pictures of Prophet Muhammad (PBUH), deemed hurtful to a majority of Muslims living in Turkey, said a report published on The Washington Post.
The decision comes barely weeks after Facebook CEO Mark Zuckerberg posted an unrelenting statement on his profile declaring his unwavering support for the right to free speech and solidarity with the French satirical magazine Charlie Hebdo, which suffered a deadly attack that took 12 lives, most of whom were cartoonists. He included the #Jesuischarlie hashtag in his post to show support for the slain victims.
On Sunday, a Turkish court had ordered Facebook to block a number of pages deemed insulting to the Prophet Muhammad (PBUH), threatening to stop access to the whole social networking site if it does not comply. The country is believed to have 40 million members on Facebook.
Full report at:
http://www.dawn.com/news/1159983/facebook-complies-with-turkish-court-order-starts-censoring-prophet-pbuh-images
-----------
Israeli aircraft strike positions in Syria: Israeli army
Jan 28, 2015
(Reuters) - Israeli aircraft struck two Syrian army positions early on Wednesday, the army said, in retaliation for rockets launched at the Israel-occupied Golan Heights a day earlier.
The strike came amid rising frontier tension 10 days after an Israeli air strike in Syria killed an Iranian general and several Lebanese Hezbollah guerrillas.
"The Israel Defence Forces (IDF) hold the Syrian Government accountable for all attacks emanating from its land, and will operate by any means necessary to defend Israeli civilians," said Israeli military spokesman Lieutenant-Colonel Peter Lerner.
On Tuesday, at least two rockets from Syria hit the Golan Heights and Israel responded with artillery fire, the army said. That incident forced Israel to evacuate its Mt. Hermon ski resort on the Golan Heights, although a resort official said it had reopened for business on Wednesday.
Full report at:
http://www.reuters.com/article/2015/01/28/us-israel-syria-idUSKBN0L10E720150128
-----------
Houthi leader blames separatists in South Yemen for political stalemate
Jan 28, 2015
SANA, Yemen — The Houthi rebel group that has seized control of Yemen's capital said Tuesday that separatist forces in the south were responsible for the impasse preventing an end to the political crisis convulsing the country.
"Some forces in the south are taking provocative steps," the leader of the group, Abdel Malik al-Houthi, said. "This country is for all of us and can fit all of us."
Houthi proposed new talks, and his group released a presidential aide seized 10 days ago as a good-will gesture. But there was no indication that his words signaled an easing to the crisis in Yemen, the Arab world's poorest country and an incubator for Al Qaeda in the Arabian Peninsula.
Full report at:
http://www.nytimes.com/2015/01/28/world/middleeast/houthi-leader-blames-separatists-in-south-yemen-for-political-stalemate.html?gwh=CF7023C60153F2BC6CDB1203950B8779&gwt=pay
--------
Israeli HR Group: Military Attacks on Palestinian Homes Appeared to Violate Law
JAN. 28, 2015
JERUSALEM — An Israeli human rights group said Israel's attacks on residential buildings in Gaza during the 50-day war against Hamas last summer appeared in at least some instances to violate the provisions of international law and raised grave legal concerns in others, according to a report to be published on Wednesday.
The group, B'Tselem, which is identified with the Israeli left and focuses on human rights issues in Gaza and in the Israeli-occupied West Bank, said it had investigated 70 cases in which more than 600 Palestinians were killed inside homes, a majority of them — children, women and men over the age of 60 — considered unlikely to have been involved in the fighting.
The study was at least the third by a human rights organization on the Gaza conflict, coming after reports by Amnesty International and Physicians for Human Rights-Israel, but as the first major one written by an Israeli group, it could have more resonance here than the others. It was published as prosecutors at the International Criminal Court in The Hague, at the urging of Palestinian leaders, have been conducting a preliminary inquiry into possible war crimes in Palestinian territories.
Full report at:
http://www.nytimes.com/2015/01/28/world/israeli-group-says-military-attacks-on-palestinian-homes-appeared-to-violate-law.html
-----------
Hezbollah carried out deadly attack on Israeli convoy
28 January 2015
At least four Israeli soldiers were killed after Lebanon's Hezbollah militant group fired an anti-tank missile at an Israeli military vehicle near the disputed border area of Shebaa Farms on Wednesday, according to Lebanese media reports.
A Lebanese political source told Reuters that Hezbollah has launched a "big operation" targeting an Israeli military convoy in the Shebaa farms frontier. At least four soldiers were killed and two others were wounded in the attack, Lebanese media reports said.
Israel's Channel 2 television said the vehicle was hit by the projectile but did not mention reports on casualties.
Full report at:
http://english.alarabiya.net/en/News/middle-east/2015/01/28/Israel-crossed-Iran-s-red-lines-after-Golan-attack.html
-----------
Southeast Asia
Interfaith work goes on despite PAS bashing, says Mujahid
January 28, 2015
PAS National Unity Committee chairman Datuk Dr Mujahid Yusof Rawa, who is well-known for his work in building bridges to bring Muslim and non-Muslim communities together, is not letting anyone stand in his way.
Even though his party leaders sometimes made remarks that touched on race and the religious sensitivities of other communities, he said such "challenges" would not hamper his efforts to create unity among all Malaysians.
"I won't say they will hamper my work. They are just challenges, which will not stand in the way of the greater good. That is a historical fact. If you want to do something big, you need to think and act big.
"I do face criticism within my party as well, and sometimes they are not based on my work. It is political assassination but that is part of the dynamics of a political party. People who attack others often have their own motives," he told The Malaysian Insider today.
Yesterday, Mujahid and several other local PAS grassroots leaders met Christian leaders in Penang for a luncheon. Among those present at the small, informal and closed event was Bishop Sebastian Francis.
Full report at:
http://www.themalaysianinsider.com/malaysia/article/interfaith-work-goes-on-despite-pas-bashing-says-mujahid#sthash.KdaClHnb.dpuf
-----------
Consult parents on new Child Act, says group amid caning furore
January 28, 2015
Parents must be consulted when the new Child Act is being drawn up, a non-governmental organisation told Putrajaya, after uproar over its proposal to outlaw caning of minors.
Ikram Malaysia women's wing chief Datin Paduka Che Asmah Ibrahim said the Women, Family and Community Development ministry's plan to enact a new Child Act should take into account Islamic views as well as the Malaysian culture.
She added that the parents and the public had to be educated to ensure the welfare of children was protected.
"Parents need to understand about disciplining and punishing their kids. Discipline means setting a limit on all aspects of life and has to be inculcated among children since young. This is aimed to ensure a harmonious life and not to scare or worse, abuse children," she said in a statement today.
Full report at:
http://www.themalaysianinsider.com/malaysia/article/consult-parents-on-new-child-act-says-group-amid-caning-furore#sthash.Ut6kLnId.dpuf
-----------
KPK Says it Will 'Force' Police Witnesses to Comply in Budi Graft Case
January 28, 2015
Jakarta. Indonesia's anti-graft agency has vowed to continue its investigation into corruption suspect and would-be Indonesian police chief Budi Gunawan, despite key police witnesses failing to cooperate.
The Corruption Eradication Commission (KPK) had called seven high-ranking members of the National Police as witnesses in the case by Tuesday evening, but so far only one — Ins. Gen. (Ret.) Syahtria Sitepu — had responded.
The lack of cooperation comes amid heightened tensions between the two institutions, sparked by the KPK's naming of Budi as a graft suspect on Jan. 13.
Budi, who was President Joko Widodo's sole nominee for chief of the National Police, is being investigated in connection to at least Rp 54 billion ($4.3 million) in undeclared funds passing through his bank accounts.
KPK spokesperson Priharsa said if the senior officers continued to be uncooperative, his organization would have to force them to comply.
Full report at:
http://thejakartaglobe.beritasatu.com/news/kpk-says-will-force-police-witnesses-comply-budi-graft-case/
-----------
URL: https://www.newageislam.com/islamic-world-news/new-age-islam-news-bureau/fiery-islamic-state-group-cleric-gives-voice-to-radicals/d/101239