New Age Islam News Bureau
16 Jun 2013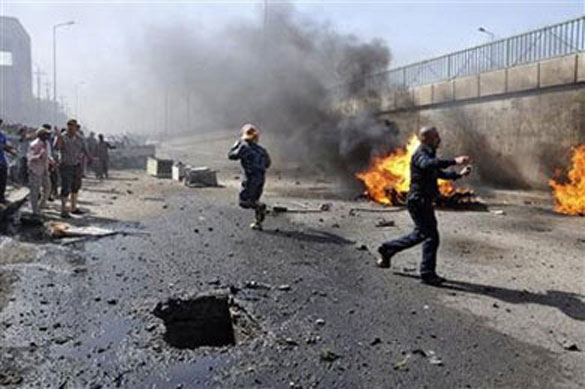 A policeman (R) reacts at the scene of a car bomb attack, where police reported 30 dead and 19 injured, in Nasiriyah city, REUTERS/Stringer
---------
Pakistan
• Female Suicide Bomber Carried Out Quetta Attack
• Jinnah's burnt Ziarat residency: A piece of Pakistan died today
• Death toll in SW Pakistan attacks increases to 24
• Eye for an eye: Home Minister says violence will be met with violence
• Armed militants kill three policemen in Killa Saifullah
• Gunmen in Pakistan kill 2 anti-polio workers
• Pakistan militants claim Quetta twin attacks
• 'It's too early to say if MQM will join the govt'
• Sense and sensibility: H R Minister turns down house with a mosque
Arab World
• Car bombs, shootings kill 30 across Iraq
• Qaeda-linked militants blow up Shiite hall in Syria: NGO
• Gunmen kill four Lebanese Shiites: Security source
• Kuwait court orders parliament dissolution, calls for elections
• Qaeda in Iraq rejects Zawahiri ruling on Nusra
• Egypt Salafist party casts doubt over Mursi's Syria stance
• Thousands of Jihadists join war in Syria
• King Abdullah returns early to Saudi Arabia as Syrian conflict intensifies
• Jordan's king says he's ready to fend off threats
• Iraq journalists held for 'stealing' minister's notepad
Mideast
• Iran's New President, Moderate Cleric Hassan Rohani Hails 'Victory of Moderation'
• Erdogan's Dramatic U-Turn A Mothers Join Protesters in Turkey
• Rouhani 'tone' may reopen doors for Iran
• Iran press hails president-elect as 'Sheikh of hope'
• Turkey police storm Protest Park after PM ultimatum
• Iran exiles near Baghdad attacked
• Israel official: Iran sanctions must be tightened
• Report: Iran to send 4,000 Revolutionary Guards to bolster Assad's forces
• Sanctions on Iran should increase: Netanyahu
Europe
• Four stabbed in British mosque attack
• Ban urges Pakistan to do 'all it can' to bring Quetta attackers to justice
• Putin urges closer ties with Iran after Rouhani win
• UNESCO meets to discuss fate of Syrian sites, heritage list
• UN chief Ban Ki-moon concerned over Israeli settlements in West Bank
Africa
• Mali 'suicide-vest workshop found'
• South Sudan 'preventing aid to Jonglei victims'
India
• Ishrat Jahan Has Become Pawn in the Political Game: Mother
• Farooq Abdullah for 'softening' of India-Pakistan border
• No Urdu, Malayalam and Hindi translators, so no letters for jailed A'bad blasts accused
• Paid news, decline role of editors a major threat to media: Ansari
• CBI 'rejects' probe into Khalid's death
• Kashmir is very important to me, says Rahul
• Salman Khurshid's Iraq visit: Oil import likely to be top on agenda
• Dalit Muslims support Nitish Kumar
South Asia
• Blame game: Kabul protests 'attack' by Pakistani troops
• Kaspersky rates Maldives 16th on online attack threat list
• MDP launches higher education policy, pledges raising enrolment rate to 40 percent
North America
• 'Tip of the Iceberg': Senators Warn Far More Data May Not Be Safe
• India resists normalisation of Indo-Pak ties more vehemently: US expert
• Ready to engage directly with Iran says John Kerry
• Barack Obama to meet Vladimir Putin, will discuss Syrian conflict
• NSA programs broke terror plots in 20 nations: US intelligence
• Chemical weapons use hampers Syrian deal: John Kerry
• US-bound Egypt plane diverted after threat
Southeast Asia
• Evidence of Bombing, Attacks Surface in Wake of Aceh Kidnapping
Compiled by New Age Islam News Bureau
URL: https://newageislam.com/islamic-world-news/female-suicide-bomber-carried-quetta/d/12108
--------------
Pakistan
Female Suicide Bomber Carried Out Quetta Attack
June 16, 2013
QUETTA: The bomb attack on Sardar Bahadur Khan University, Quetta – which killed 14 female students – was carried out by a female suicide bomber, Express News reported, quoting security sources on Sunday.
On June 15, a bomb was detonated in the parking lot of the university, killing 14 female students and injuring as many as 19 other students.
When these victims were shifted to the Bolan Medical Complex, a second blast took place and as many as 14 terrorists stormed the hospice. They killed four FC personnel and the deputy commissioner who responded to the attack.
Security forces surrounded the hospice before commandoes stormed the complex and killed the attackers. At least four attackers were killed while one suspect was arrested.
The outlawed sectarian extremist group, Lashkar-e-Jhangvi (LeJ), claimed credit for the grisly attacks.
http://tribune.com.pk/story/563942/female-suicide-bomber-carried-out-quetta-attack-security-sources/
--------------
Jinnah's burnt Ziarat residency: A piece of Pakistan died today
Jamaluddin
Jun 15, 2013
Smoke, dust, blood, fire and it is all gone; a piece of Pakistan is dead.
June 15, 2013 will be remembered forever. Today, the beautiful building that adorns our hundred rupee notes was burnt and destroyed by militants who flung hand grenades at Jinnah's residency in Ziarat. All the historical photographs and furniture was destroyed. As always, the militants who committed this despicable act of senseless violence escaped unhurt.
Today, a wood and brick building came down, but along with it, our beloved Quaid-e-Azam's memory too was tarnished.
A quick history check: Ziarat residency was constructed in 1892 with the idea of it becoming a sanatorium due to the presence of a Juniper forest in the area in which it was constructed. Later on it was converted into a summer residence of the Agent to the Governor General. But it being the building where Quaid-e-Azam Mohammad Ali Jinnah spent his last days is what it makes it truly historical.
Nations all around the world, preserve such places, securing them, guarding them from any calamity – manmade or natural. However, we failed to protect our revered founder's second last earthly residence. Jinnah loved the peace and quiet of Ziarat, as Fatima Jinnah in her book My Brother informed us.
It was a majestic building, with so much history attached to it.
Its walls were privy to the musings of the ailing leader who was concerned about the genocide that was occurring along the border; who was worried about the future of the newly created state; who was constantly pondering over who would replace him in the future and whether he would be able to keep the ship of Pakistan afloat.
This, once majestic house saw many leaders arrive, begging for Jinnah's guidance. Its walls saw Jinnah fighting bravely against tuberculosis, unwilling to give up. The house is now a pile of rubble, and Jinnah's memory from it has been torched.
The very fact that the founder of the nation's residence has now been burnt down to the ground- destroyed in a militant attack- speaks volumes about what we as a nation have come down to since 1948.
It is not just about the priceless archives, photos and Quaid's furniture; it is not about the loss of a tourist hotspot in Ziarat. It's about preserving the memories of a man who gave his all for our freedom. It is about the preserving the idea of Pakistan, where every ethnicity and religious group is free to live and practice its customs, because this has nothing to do with the business of the state.
Yet, when intolerance and tyranny seeps in, it destroys the ideals on which this state was founded upon.
When people are alienated with daily abductions and killings, then you force them down the path of separatism and this further leads down towards terrorism.
Burning down Ziarat residency was a symbolic act of terrorism – an act by militants to show the world that they don't want Quaid's Pakistan anymore. By burning down Ziarat residency terrorists have shown that the idea of being part of Quaid's Pakistan is abhorrent to them.
The impact of this event is enormous. How many people will go missing? How many schools and pipelines will be blown up? How many innocent people will now be shot in the aftermath?
In a way, the burnt down hulk of Ziarat residency is a perfect metaphor for the state of Pakistan's affairs.
Pakistan lies burnt to the ground with militancy, corruption and nepotism rife. Maybe in the future, Jinnah's home in Ziarat might be restored, replicas of furniture installed and so on. It might even look exactly the same as it did before, but will we and our country be able to rise out of the ashes? That remains to be seen.
I hope our authorities will take appropriate steps to ensure the security of all places associated with Quaid-e-Azam. I think we owe him at least this much!
For now, Dear Quaid, I am sorry we couldn't protect your legacy despite all that you gave us.
http://blogs.tribune.com.pk/story/17721/jinaahs-burnt-ziarat-residency-a-piece-of-pakistan-died-today/
------------
Death toll in SW Pakistan attacks increases to 24
June 16, 2013
QUETTA, Pakistan — Pakistani police say the death toll from attacks on a hospital and a women's university bus in a southwestern provincial capital has increased to 24.
Senior police officer Fayaz Sumbal said Sunday that a doctor and two nurses who were critically wounded in the suicide attack on the Bolan Medical complex in the city of Quetta died overnight.
In the first of Saturday's attacks in Quetta, a blast ripped through a bus carrying female students, killing 14.
When the victims were taken to the nearby hospital, a suicide bomber struck killing three plus the three who died later. Other attackers captured parts of the complex, triggering a siege by security forces in which four paramilitaries also died.
The radical Lashkar-e-Jhangvi group claimed responsibility for the attacks. Six attackers also died. — AP
http://www.saudigazette.com.sa/index.cfm?method=home.regcon&contentid=20130616170066
--------------
Eye for an eye: Home Minister says violence will be met with violence
June 16, 2013
QUETTA: Stressing that the new government wants to ensure peace throughout the country, Interior Minister Chaudhry Nisar Ali Khan said on Sunday that the state will negotiate with those willing to talk but those bent on using violence will get a similar response.
Nisar was addressing a press conference along with Balochistan chief minister Dr Abdul Malik Baloch in Quetta
Balochistan witnessed a day of bloodshed on June 15 as Lashkar-e-Jhangvi massacred 28 people in the long-suffering city of Quetta in an attack that involved bombing inside a women university and exchange of fire at a hospital.
Also on the same day, Balochistan Liberation Army (BLA) attacked Muhammad Ali Jinnah's residence in Ziarat, leaving it in ruins.
The interior minister said the nation is fighting a "kind of war" and that everyone must take part, especially the media.
Nisar also announced a gallantry award for Deputy Commissioner Abdul Mansoor Khan Kakar who died in the Quetta attack.
The interior minister said that the Balochistan-related decisions – to be announced soon – will assure people that the PML-N-led government means business in the province.
Not revealing the plans, Nisar said they will be new and transparent and will be implemented with stakeholders' consent.
Ziarat residency
Nisar reiterated government's resolve to restore the residence to its former glory.
"We want to rebuild the Quaid's house in three months, however, the engineers will be able to give the exact time-frame for its complete restoration," he said.
The interior minister also said that he has asked his officers to talk to the provincial governments to make a plan to protect all the national monuments.
http://tribune.com.pk/story/563972/eye-for-an-eye-nisar-says-violence-will-be-met-with-violence/
--------------
Armed militants kill three policemen in Killa Saifullah
June 16, 2013
CHAMAN: Three officials were killed in a militant attack on a police check post in the Muslim Bagh area of Chaman, Balochistan on Sunday, reported Express News.
More security officials were called in to contain the situation.
The security situation in Balochistan has been unstable since the past few days.
On Saturday, the Lashkar-e-Jhangvi massacred 28 people in the long-suffering city of Quetta in what is the first major terror attack after the new government took power.
Hours before this latest outrage came a blow at the country's very heritage by the BLA, who destroyed Quaid-e-Azam's residency in Ziarat.
http://tribune.com.pk/story/563963/3-policemen-killed-in-chaman-check-post-attack/
--------------
Gunmen in Pakistan kill 2 anti-polio workers
Jun 16, 2013
PESHAWAR, Pakistan — Pakistani police say gunmen have killed two anti-polio workers in northwest Pakistan.
Swabi District Police Chief Mohammad Saeed says the two Pakistani health workers were killed Sunday while on a vaccination drive in Kandar village.
He says gunmen arrived on foot and later disappeared.
Pakistan is one of the world's few remaining countries, along with Afghanistan and Nigeria, still affected by the polio virus.
Full report at:
http://www.saudigazette.com.sa/index.cfm?method=home.regcon&contentid=20130616170085
--------------
Pakistan militants claim Quetta twin attacks
16 June 2013
A Pakistani militant group behind a series of bloody assaults on minority Shiite Muslims has said it carried out attacks on a bus carrying women students and a hospital that killed at least 25.
The extremist Sunni outfit Lashkar-e-Jhangvi said a female suicide bomber struck the bus in Quetta, capital of the restive Baluchistan province on Saturday, killing 14 women students.
A follow up attack around 90 minutes later on a hospital treating survivors left at least 11 dead and led to a prolonged gun battle between security forces and militants occupying part of the building.
Full report at:
http://english.alarabiya.net/en/News/asia/2013/06/16/Pakistan-militants-claim-Quetta-twin-attacks.html
--------------
'It's too early to say if MQM will join the govt'
June 16, 2013
KARACHI: Former interior minister and Pakistan Peoples Party's trouble-shooter Rehman Malik is likely to visit the Muttahida Qaumi Movement (MQM) headquarters today to do what he does best – woo the disgruntled.
But the MQM is expected to give a tough time to PPP, claiming that it has no desire to join the provincial government as yet. After the governor met the chief minister recently, the speculation began with some placing their bets on the MQM leaving the opposition benches to sit with the provincial government.
Full report at:
http://tribune.com.pk/story/563721/of-handshakes-cold-shoulders-its-too-early-to-say-if-mqm-will-join-the-govt/
--------------
Sense and sensibility: H R Minister turns down house with a mosque
June 16, 2013
LAHORE: Minister for Human Rights and Minorities Khalil Tahir Sindhu's name came up for a draw for the allotment of residences for provincial ministers in the GOR-I, 3-Club Road.
The house which had previously served as an office of the chief minister's secretariat includes a mosque.
But Sindhu said considering a lot of minority people would be visiting him it might be more appropriate for him to get another residence instead so that there was no question of perceived disrespect for the mosque.
Full report at:
http://tribune.com.pk/story/563788/sense-and-sensibility-minister-turns-down-house-with-a-mosque/
--------------
Arab World
Car bombs, shootings kill 30 across Iraq
June 16, 2013
BASRA — Attacks across Iraq killed at least 30 people on Sunday, police and medics said, intensifying fears of a descent into all-out sectarian war.
Ten years after the US-led invasion that toppled leader Saddam Hussein, a stable power-sharing compromise between Iraq and ethnic Kurdish factions is still elusive and violence is on the rise.
More than 1,000 people were killed in militant attacks in May, according to the United Nations, making it Iraq's deadliest month since the intercommunal strife of 2006-07.
Regional sectarian tensions have been inflamed by the conflict in Syria, Iraq's neighbour.
Two car bombs exploded minutes apart in the southern oil hub of Basra, 420 km (260 miles) southeast of Baghdad, killing at least five people and tearing off shop fronts.
Full report at:
http://www.saudigazette.com.sa/index.cfm?method=home.regcon&contentid=20130616170067
--------------
Qaeda-linked militants blow up Shiite hall in Syria: NGO
June 16, 2013
Extremist fighters claiming to be from an al Qaeda-linked group have blown up a Shiite religious building in the Syrian province of Deir Ezzor, a watchdog said on Sunday.
The Syrian Observatory for Human Right said the attack occurred on Friday in the eastern village of Hatlah, where rebel fighters killed at least 60 Shiites earlier in the week.
"Videos show the destruction of a Shiite hussainiyah by the Islamic State of Iraq and the Levant in the village of Hatlah in Deir Ezzor," the group said.
"The destruction was apparently carried out the day before yesterday (Friday)," it added.
Two videos distributed by the Observatory showed fighters who identified themselves as belonging to the Islamic State of Iraq and the Levant inside the religious building, stepping on Shiite books.
Full report at:
http://www.hindustantimes.com/world-news/restofasia/Qaeda-linked-militants-blow-up-Shiite-hall-in-Syria-NGO/Article1-1077177.aspx
--------------
Gunmen kill four Lebanese Shiites: Security source
16 Jun 2013
Unidentified gunmen killed four Lebanese Shiites in the eastern Bekaa region on Sunday, a security source told AFP, as the conflict in Syria raises tensions in the country.
"Gunmen killed three members of the Jaafar family and a man from the Amhaz family while they were passing through the Qaa area of the Bekaa," the security source said, referring to two Shiite clans.
http://english.ahram.org.eg/NewsContent/2/8/74138/World/Region/Gunmen-kill-four-Lebanese-Shiites-Security-source.aspx
--------
Kuwait court orders parliament dissolution, calls for elections
16 June 2013
Kuwait's constitutional court on Sunday scrapped last December's parliamentary election which was boycotted by the opposition but approved the controversial electoral law that sparked the boycott.
The court, whose rulings are final, called for a fresh election to replace the current loyalist-dominated parliament, in the verdict read out by presiding judge Yousef al-Mutawah.
Kuwait's emir, Sheikh Sabah al-Ahmad al-Sabah, decreed the controversial amendment to the electoral law last October intensifying a bitter dispute which had engulfed the emirate since 2006, sparking street protests, some of which turned violent.
Full report at:
http://english.alarabiya.net/en/News/middle-east/2013/06/16/Kuwaiti-court-dissolves-parliament-orders-new-elections.html
--------------
Qaeda in Iraq rejects Zawahiri ruling on Nusra
16 June 2013
Al-Qaeda's leader in Iraq has defied orders from the group's global chief, Ayman al-Zawahiri, to break up his claimed union with a jihadist group in Syria, according to an audio message released Saturday.
The purported remarks by Islamic State of Iraq head Abu Bakr al-Baghdadi in the message posted on jihadist forums indicate tensions between ISI and Al-Qaeda's central command.
In April, Baghdadi announced that ISI had merged with Syria's Al-Nusra Front.
Al-Nusra leader Abu Mohammed al-Jawlani acknowledged a relationship between the two groups, but he denied there had been a merger and publicly pledged his allegiance to Zawahiri.
Full report at:
http://english.alarabiya.net/en/News/middle-east/2013/06/15/Qaeda-in-Iraq-rejects-Zawahiri-ruling-on-Nusra-.html
--------------
Egypt Salafist party casts doubt over Mursi's Syria stance
16 June 2013
Egypt's Salafist al-Nour Party on Saturday boycotted a "support for Syria" rally in which president Mohammed Mursi announced the cutting of ties with the Syrian regime.
The group said the boycott was due to party officials questioning the timing of Mursi's announcement.
"The first reason we boycotted the rally is that because we have in fact been (supporting) Syria for more than a year and a half on different levels as part of (our campaign) 'One Nation.' Speaking of which, a new cargo of aid is headed to Syria on Monday, God willing," Nadar Bakkar, the party's spokesperson, wrote on Twitter.
Full report at:
http://english.alarabiya.net/en/News/middle-east/2013/06/16/Egypt-Salafist-party-casts-doubt-over-Mursi-s-Syria-stance.html
--------------
Thousands of Jihadists join war in Syria
Jun 16, 2013
Abdulrahman Al-Rashed
For a year now extremist groups have been urging Muslim youths to join the war in Syria. They did in fact succeed in bringing in hundreds of different nationalities. It's said that their number has reached thousands.
The new development is that this number is quickly increasing. The number of jihadists in Syria will be a lot more than the number we've witnessed in the past 20 years in Afghanistan, Iraq and Somalia.
The major reasons for that are the heinous crimes of the Syrian regime and the involvement of Hezbollah, Iranian forces and Iraqi militias - all of whom are Shiite - turning the war into a sectarian one.
Full report at:
http://english.alarabiya.net/en/views/2013/06/13/Thousands-of-Jihadists-join-war-in-Syria.html
--------------
King Abdullah returns early to Saudi Arabia as Syrian conflict intensifies
Jun 16, 2013
Jeddah : King Abdullah was back in Saudi Arabia today after flying home early from a convalescence stay in Morocco to follow events, as the Syrian conflict intensifies, state media reported.
The king flew back last evening from Morocco, where he had been staying since May 31, "because of the turn of events that the region is currently going through," the official SPA news agency said.
Full report at:
http://www.indianexpress.com/story-print/1129511/
--------------
Jordan's king says he's ready to fend off threats
June 16, 2013
AMMAN, Jordan — Jordan's king says his nation is prepared to fend off any threats from its larger Syrian neighbor.
Abdullah II says Jordan "will emerge victorious in the face of all challenges, the way we always have in the past" as he addressed cadets graduating from Jordan's largest military academy on Sunday.
Full report at:
http://www.saudigazette.com.sa/index.cfm?method=home.regcon&contentid=20130616170077
--------------
Iraq journalists held for 'stealing' minister's notepad
Jun 16, 2013
Baghdad : Iraqi press freedom activists today decried the detention for more than 10 days of two journalists accused of stealing the notebook of the country's defence minister following a meeting of political leaders.
Mohammed Fuad and Afdhal Jumaa are alleged to have stolen Saadun al-Dulaimi's notepad after the June 1 meeting, which had been convened in order to ease tensions and break a long-standing deadlock that has paralysed lawmaking and contributed to a spike in violence.
The meeting was held in a large conference hall in Baghdad, with journalists in attendance for the duration of the talks.
Full report at:
http://www.indianexpress.com/story-print/1129503/
------------
Mideast
Iran's New President, Moderate Cleric Hassan Rohani Hails 'Victory of Moderation'
16 June 2013
DUBAI: Moderate cleric Hassan Rohani won Iran's presidential election on Saturday with a resounding defeat of conservative hard-liners, calling it a victory of moderation over extremism and pledging a new tone of respect in international affairs.
Though thousands of jubilant Iranians poured onto the streets in celebration of the victory, the outcome will not soon transform Iran's tense relations with the West, resolve the row over its nuclear program or lessen its support of Syria's president in the civil war there — matters of national security that remain the domain of Supreme Leader Ayatollah Ali Khamenei.
But the president runs the economy and wields broad influence in decision-making in other spheres. Rohani's resounding mandate could provide latitude for a diplomatic thaw with the West and more social freedoms at home after eight years of belligerence and repression under President Mahmoud Ahmadinejad, who was legally barred from seeking a third consecutive term.
Full report at:
http://www.arabnews.com/news/455181
--------------
Erdogan's Dramatic U-Turn A Mothers Join Protesters In Turkey
Jun 16, 2013
In a dramatic U-turn, Turkish prime minister Erdogan met members of a group opposed to the redevelopment of Gezi Park in Istanbul on the night of June 13, 2013. Although only hours before the Turkish PM warned his patience had run out and those occupying Gezi Park to leave. The referendum idea, floated by one of Erdogan's associates, seemed to have gone by the wayside. But demonstrations in Ankara were once again subject to police intervention during the early hours of June 14 while the critical meeting between Erdogan and the Taksim was under way.
The police used tear gas and water cannons against the demonstrators at the Kennedy Avenue . Five people have reportedly been taken into custody.
The protests in Ankara were less crowded due to heavy rains in the Turkish capital. Police had intervened at the same area during the three previous days.
Erdogan's surprise second meeting on Gezi Park 's fate in Ankara started past 11:30 p.m. local time.
Full report at:
http://www.countercurrents.org/cc140613A.htm
--------------
Rouhani 'tone' may reopen doors for Iran
AFP | Jun 16, 2013
TEHRAN: New President Hassan Rouhani's experience as Iran's nuclear negotiator will go a long way toward changing the "tone" of talks with major powers and could lead to an easing of sanctions, analysts say.
His negotiating skills won him the respect of his European interlocutors and the monicker "diplomat sheikh".
But his policies under reformist president Mohammad Khatami were abandoned in 2005 when President Mahmoud Ahmadinejad was elected and Rouhani quit his post over differences.
"Rouhani cannot change the core of Iran's nuclear strategy, which is determined by the supreme leader," Ayatollah Ali Khamenei, Ali Vaez, the Brussels-based International Crisis Group's senior analyst on Iran, told AFP.
Full report at:
http://timesofindia.indiatimes.com/world/middle-east/Rouhani-tone-may-reopen-doors-for-Iran/articleshow/20617827.cms
------------
Iran press hails president-elect as 'Sheikh of hope'
AFP | Jun 16, 2013
TEHRAN:The election of moderate cleric Hassan Rouhani as Iran president signals a return of hope and reforms and that the people desire a policy of moderation over extremism, newspapers said on Sunday.
"A salute to Iran and to the Sheikh of hope," the pro-reformist Etemad daily declared on its front-page over a colour picture of a smiling Rouhani flashing a V-for-victory sign.
"The sun of my moderation has risen," said Arman, another pro-reformist publication.
Hassan Rouhani was declared Iran's new president on Saturday, ending eight years of Mahmoud Ahmadinejad's conservative grip on the top job that had isolated the Islamic republic internationally.
Full report at:
http://timesofindia.indiatimes.com/world/middle-east/Iran-press-hails-president-elect-as-Sheikh-of-hope/articleshow/20615156.cms
--------------
Turkey police storm protest park after PM ultimatum
16 June 2013
ISTANBUL: Turkish police stormed an Istanbul park with tear gas and water cannon Saturday after Prime Minister Recep Tayyip Erdogan warned protesters to end their occupation of the site.
The crackdown came just two hours after Erdogan issued an ultimatum to protesters to leave Gezi Park, the epicenter of nationwide protests, ahead of a rally of his ruling party in the city on Sunday.
Thousands of startled campers scrambled to escape the clouds of acrid smoke, clearing the site within minutes and leaving only empty tents behind. A city cleaning crew and bulldozers swiftly moved in to clear the site.
The Taksim Solidarity group, seen as most representative of the protesters, condemned what it described as a "brutal attack."
Full report at:
http://www.arabnews.com/news/455189
--------------
Iran exiles near Baghdad attacked
16 June 2013
BAGHDAD: A rocket attack on an Iranian exile group housed at a camp near Baghdad yesterday resulted in fatalities, a United Nations spokeswoman said, the second deadly attack on the camp this year.
"I can confirm that there was a deadly attack," UN spokeswoman Eliana Nabaa told AFP. "We don't have the figures but yes, people were killed and injured."
A police colonel, speaking on condition of anonymity, put the toll at three dead and 11 wounded from six mortar blasts.
Full report at:
http://www.arabnews.com/news/455111
--------------
Israel official: Iran sanctions must be tightened
June 16, 2013
JERUSALEM — A senior Israeli official said Sunday that sanctions on Iran should be increased to pressure Tehran to end its suspect nuclear program, despite the election of a reformist-backed president, as nuclear efforts remain firmly in the hands of ruling clerics.
Yuval Steinitz, Israel's minister of intelligence and strategic affairs, spoke to Army Radio a day after the surprise victory by Hasan Rowhani in Iran's presidential election was announced.
Although Rowhani is considered as a relative moderate and had the backing of Iranian reformists, Supreme Leader Ayatollah Ali Khamenei is the ultimate authority on all state matters and key security policy decisions— including nuclear efforts, defense and foreign affairs — remain solidly in the hands of the ruling clerics and their powerful protectors, the Revolutionary Guard.
Full report at:
http://www.saudigazette.com.sa/index.cfm?method=home.regcon&contentid=20130616170072
--------------
Report: Iran to send 4,000 Revolutionary Guards to bolster Assad's forces
16 June 2013
Iran is to reportedly send 4,000 Iranian Revolutionary Guards to Syria to support President Bashar al-Assad in the fight against opposition forces, according to the The Independent on Sunday.
In what was described as an Iranian "military decision," the British newspaper said Iran was now "fully committed to preserving Assad's regime," citing unnamed pro-Iranian sources.
The sources "have been deeply involved in the Islamic Republic's security, even to the extent of proposing to open up a new 'Syrian' front on the Golan Heights against Israel," The Independent's Robert Fisk wrote.
Full report at:
http://english.alarabiya.net/en/News/middle-east/2013/06/16/Report-Iran-to-send-4-000-troops-to-aid-Bashar-al-Assad.html
--------------
Sanctions on Iran should increase: Netanyahu
AP | Jun 16, 2013
JERUSALEM: Israeli Prime Minister Benjamin Netanyahu warned the international community on Sunday against easing sanctions on Iran following the election of a reformist-backed president, as the country's nuclear efforts remain firmly in the hands of Iran's extremist ruling clerics.
Netanyahu made the comments a day after the surprise victory by Hassan Rouhani in Iran's presidential election was announced. Although Rouhani is considered a relative moderate and had the backing of Iranian reformists, supreme leader Ayatollah Ali Khamenei is the ultimate authority on all state matters and key security policy decisions, including nuclear efforts, defense and foreign affairs, remain solidly in the hands of the ruling clerics and their powerful protectors, the Revolutionary Guard.
Full report at:
http://timesofindia.indiatimes.com/world/middle-east/Sanctions-on-Iran-should-increase-Netanyahu/articleshow/20615482.cms
--------------
Europe
Four stabbed in British mosque attack
16 June 2013
LONDON: Four men including a police officer were in hospital Sunday after being stabbed during an attack at a mosque in the English city of Birmingham, police said.
Officers were called out to a mosque in the city's Ward End area late Saturday after reports that three men had been stabbed, said a spokesman for West Midlands Police.
While a suspect was being arrested one of the officers was himself stabbed, the spokesman added. All four of the victims were in a stable condition in hospital, he said.
Police are holding a 32-year-old man on suspicion of attempted murder.
http://www.arabnews.com/news/455190
--------------
Ban urges Pakistan to do 'all it can' to bring Quetta attackers to justice
June 16, 2013
United Nations Secretary-General Ban Ki-moon on Saturday strongly condemned the series of deadly attacks targeting a bus, a hospital facility and a national monument Balochistan, which left at least 20 civilians dead, many of whom were female students.
In a statement issued by his spokesperson, Ban said no cause justifies such violence, and noted with dismay that "violence against women and educators has increased in recent years, the aim being to keep girls from attaining the basic right to education."
Full report at:
http://tribune.com.pk/story/563841/ban-urges-pakistan-to-do-all-it-can-to-bring-quetta-attackers-to-justice/
--------------
Putin urges closer ties with Iran after Rowhani win
Jun 16, 2013
MOSCOW — Russian President Vladimir Putin on Sunday congratulated Hassan Rowhani on his victory in Iran's presidential election and urged him to forge closer ties with Moscow.
"Putin expressed confidence that Hassan Rowhani's work on this high post will promote the flourishing of (Russian) friend Iran and further strengthen Russian-Iranian relations," the Kremlin quoted Putin as saying in a message to Iran's president-elect.
Full report at:
http://www.saudigazette.com.sa/index.cfm?method=home.regcon&contentid=20130616170076
--------------
UNESCO meets to discuss fate of Syrian sites, heritage list
16 June 2013
Six ancient Syrian sites as well as Australia's Great Barrier Reef could be listed as endangered by UNESCO, which Sunday begins its annual session to decide which global cultural and natural treasures merit World Heritage status.
The main task of the United Nations Educational, Scientific and Cultural Organization committee will be to decide whether 31 sites, including Japan's Mount Fuji and the city of Agadez in Niger, are of "outstanding universal value."
Around 1,300 delegates are due to attend the ten day conference in Cambodia, which is officially opened in the capital Phnom Penh late Sunday with a speech by Cambodian premier Hun Sen. The closing ceremony is to be held in the country's own heritage site, the temple complex of Angkor in Siem Reap.
Full report at:
http://english.alarabiya.net/en/life-style/art-and-culture/2013/06/16/Concern-over-Syrian-heritage-as-UNESCO-meets.html
--------------
UN chief Ban Ki-moon concerned over Israeli settlements in West Bank
Jun 16, 2013
Jerusalem : UN Secretary-General Ban Ki-moon has expressed concern over Israel's latest announcement on going ahead with plans to build more than 1,000 homes in two isolated Jewish settlements in the West Bank, with his spokesman calling the move a "violation of international law."
The Israeli announcement on Thursday also drew swift US condemnation while Palestinian officials complained that it was undercutting US peace efforts at a sensitive time.
Israeli settlement building lies at the heart of the impasse over restarting negotiations on the terms of a Palestinian state alongside Israel. The Palestinians hope to build their state in the West Bank, Gaza and east Jerusalem, lands Israel captured in 1967.
Full report at:
http://www.indianexpress.com/story-print/1129505/
----------
Africa
Mali 'suicide-vest workshop found'
Jun 16, 2013
A workshop to make suicide bomber vests has been discovered in northern Mali, the French army has said.
About 5,000kg of fertiliser intended to be used as explosive was also uncovered in Bourem, a town on the Niger River between Gao and Timbuktu.
A sample suicide vest and 18 sewing machines were found and it appears local women were employed there, a French army spokesman told the BBC.
French forces have led an operation to oust Islamist militants from the north.
The al-Qaeda-linked groups had taken advantage of a coup in March 2012 to take control of the north of Mali, including major cities such as Gao, Kidal and Timbuktu where they imposed a strict form of Islamic law.
Since January, about 4,000 French troops with the help of Malian and West African soldiers have gained control of the vast desert region's main towns and cities.
Full report at:
http://www.bbc.co.uk/news/world-africa-22914904
----------
South Sudan 'preventing aid to Jonglei victims'
Jun 16, 2013
The authorities in South Sudan are preventing the provision of humanitarian assistance to some 120,000 people hiding in malaria-infested swamps, a medical charity has said.
Many of them fled into the bush amid fighting in Jonglei state between the army and rebels over the last month.
They do not have access to safe drinking water, food or medical care, Medecins Sans Frontieres (MSF) said.
South Sudan says Khartoum backs several rebel groups - charges it denies.
In turn, Sudan says the South supports militias on its territory.
Jonglei state has been hit by widespread ethnic violence since South Sudan became independent from Sudan in July 2011, with much of it taking place in Pibor county.
Earlier this week, South Sudanese President Salva Kiir said that it was difficult to differentiate between civilians and rebels in Jonglei state.
Full report at:
http://www.bbc.co.uk/news/world-africa-22912223
-------------
India
Ishrat Jahan Has Become Pawn in the Political Game: Mother
Sukanya Shantha
Jun 15 2013
Mumbai: After nine years and repeated changes in the line of investigation, 45-year-old Shamima Begum, mother of Ishrat Jahan, says any new development seems like yet another political manoeuvre.
"What new will they unearth now? Ishrat has become a pawn in the political war. It wouldn't have taken them (the shooters) more than a few minutes to kill my daughter. But I have been waiting nine years to know who was behind this," Shamima told The Indian Express on Friday.
She was reacting to the summons sent out by the CBI to question Intelligence Bureau special director Rajendra Kumar for his alleged involvement in the 2004 fake encounter. Ishrat, then a 19-year-old Khalsa College student, and four others were gunned down nine years ago on June 15, 2004, on the outskirts of Ahmedabad when they were allegedly on their way to assassinate Gujarat CM Narendra Modi.
CBI director Ranjit Sinha on Thursday claimed the agency had sufficient evidence to establish Rajendra Kumar's involvement in the fake encounter. Shamima said this doubt was raised long ago.
"We have been telling them (investigating agencies) repeatedly that if my child was killed following an input from the IB, how is it that no one in the Maharashtra police was briefed?" Shamima said. Ishrat's family is currently on the long, slow road to gathering itself together. Her brother Anwar works for a firm in Thane. One of her sisters is married, and Shamima is trying to get the other married too.
"People have been wary of building a relationship with us. But things have slowly changed. The ones who earlier believed that my child had indeed gone to kill someone, today understand we are just a pawn in the hands of these political sharks," Shamima said, sitting at the NCP office in Kausa. Local political leaders and activists have helped Shamima fight her case. While the NIA has remained tight-lipped on Ishrat's alleged link with the Laskhar-e-Toiba, Shamima said, "Even if my daughter was a terrorist, which law permits the cold-blooded killing of a person without a trial?" Following his arrest in September 2009, Lashkar operative David Coleman Headley had told the FBI that Ishrat had been recruited for Lashkar by its commander Muzammil.
Shamima asks: "Where did she get the training then? My child was a regular college-going girl. If she was a Fidayeen, when and how did she train herself?"
http://www.indianexpress.com/news/ishrat-has-become-pawn-in-the-political-game-mother/1129433/
--------------
Farooq Abdullah for 'softening' of India-Pakistan border
PTI | Jun 15, 2013
JAMMU: Union minister Farooq Abdullah on Saturday batted for "softening" of borders between India and Pakistan to improve the relations between the two nations and enable people of either side to meet.
Pointing out at soft borders in the Europe, the Union minister for new and renewable energy said, "This has transformed the socio-economic landscape of entire Europe and I don't see any reason why Indo-Pak region will not progress and prosper once there is mutual trust and strong bonding between the two nations."
Insisting that Jammu and Kashmir, in particular, will reap the benefits of Indo-Pak friendship, Farooq said, "Bonds of friendship between the two neighbours will help in solving the problems of millions on either side of the border."
Full report at:
http://timesofindia.indiatimes.com/india/Farooq-Abdullah-for-softening-of-India-Pakistan-border/articleshow/20607950.cms
--------------
No Urdu, Malayalam and Hindi translators, so no letters for jailed A'bad blasts accused
Satish Jha
Jun 16, 2013
Ahmedabad: Four months after they received six letters from the relatives of the accused in the 2008 Ahmedabad serial blasts case, Sabarmati Central Jail authorities are yet to hand these over to their intended recipients. The reason: They are in languages for which they do not have translators.
These letters are written in Urdu, Malayalam and Hindi!
The matter came to light when four of the six inmates filed a complaint to the special designated court, which on Friday ordered the Sabarmati Central Jail authorities to send these letters for translation to the Ahmedabad Municipal School Board.
Full report at:
http://www.indianexpress.com/story-print/1129383/
--------------
Paid news, decline role of editors a major threat to media: Ansari
Jun 16, 2013
Expressing concern over media freedom, Vice President Mohammad Hamid Ansari on Saturday said that paid news and declining roles of the editors and their editorial freedom was posing a "major threat" to the media.
"Certain media related developments in the country are raising questions regarding its objectivity and credibility. Paid news and the declining roles of the editors and their editorial freedom are posing a major threat to the Indian media," Mr. Ansari said.
Full report at:
http://www.thehindu.com/news/national/paid-news-decline-role-of-editors-a-major-threat-to-media-ansari/article4817208.ece
--------------
CBI 'rejects' probe into Khalid's death
Jun 16, 2013
Lucknow : The CBI is understood to have turned down the UP government's recommendation for investigation into alleged HuJI operative Khalid Mujahid's death while he was being taken to Faizabad from Lucknow district jail on May 18.
While the UP government had dispatched a letter to DoPT on May 19, requesting for a CBI investigation into the case, the Department of Personnel and Training (DoPT) has yet not issued a notification for the investigation.
A notification from DoPT, under section 5 of the Delhi Special Police Establishment (DSPE) Act, is required before the CBI accepts a case, sources said.
CBI chief information officer Dharini Mishra confirmed on Friday that the CBI had not received any notification in the case.
Full report at:
http://www.indianexpress.com/story-print/1129363/
--------------
Kashmir is very important to me, says Rahul
AHMED ALI FAYYAZ
Jun 16, 2013
Launching the National Rural Livelihoods Mission-subsidiary Umeed — the Rs. 755 crore empowerment initiative for nine lakh women in 143 community blocks — here on Saturday, Congress Vice President Rahul Gandhi said he had an indelible commitment to peace and progress in Jammu and Kashmir.
"Kashmir is very important to me. I come from Kashmir and I would like to see participation of womenat the local level. I would like to see Kashmir progress possibly as one of the fastest growing States in the country," Mr. Gandhi said. Referring to his October 2012 interaction with the youth at the University of Kashmir, he said women's empowerment, employment and capacity building among the youth and strengthening of the local body institutions were the marked features of his initiative.
Full report at:
http://www.thehindu.com/news/national/other-states/kashmir-is-very-important-to-me-says-rahul/article4817987.ece
---------
Salman Khurshid's Iraq visit: Oil import likely to be top on agenda
PTI | Jun 16, 2013
NEW DELHI: External affairs minister Salman Khurshid will embark on a two-day visit to Iraq on June 19 during which he will hold talks with top Iraqi leadership on issues of mutual interest including import of oil.
Khurshid, the first senior Indian leader to visit the oil-rich Arab country in last 23 years, will meet his Iraqi counterpart HoshiyarZebari and discuss bilateral, regional and international issues of mutual interest.
Full report at:
http://timesofindia.indiatimes.com/india/Salman-Khurshids-Iraq-visit-Oil-import-likely-to-be-top-on-agenda/articleshow/20617923.cms
---------
Dalit Muslims support Nitish Kumar
IANS | Jun 16, 2013
PATNA: Dalit Muslims marched here on Sunday in support of chief minister Nitish Kumar's likely decision to end his party's alliance with the Bharatiya Janata Party (BJP).
Hundreds of Dalit Muslims took part in the march under the banner of Pasmanda Muslim Mahaj.
"We support Nitish Kumar for his daring move to oppose the BJP and its likely prime ministerial candidate, Gujarat chief minister Narendra Modi," said Mahtab Ansari, a member of the Mahaj.
Mahaj's two leaders - Ali Anwar Ansari and Saleem Perwej - are considered close to Nitish Kumar. Ali Anwar is a JD-U Rajya Sabha member and Perwej is a JD-U legislator.
The JD-U is expected to formally end its alliance with the BJP on Sunday.
http://timesofindia.indiatimes.com/india/Dalit-Muslims-support-Nitish-Kumar/articleshow/20615907.cms
--------------
South Asia
Blame game: Kabul protests 'attack' by Pakistani troops
June 16, 2013
ISLAMABAD: Kabul has lodged a protest over alleged firing in southern Afghanistan from the Pakistani side and warned that it was capable of responding to 'aggression' in kind.
Afghan officials alleged that Pakistani troops had fired into a border district in the Kandahar province on Thursday. A senior Pakistani diplomat was summoned to the Afghan foreign ministry on Saturday to seek an explanation for the attack which killed a policeman and injured two others.
"The deputy director of the first political division, Baba Khan Aslami, has asked the Pakistani charge d'affaires in Kabul, Jan Bahader, for an explanation for the artillery and mortar attack from Loy Band on an Afghan border police post in Karizak, Kandahar," the Afghan foreign ministry statement said.
Full report at:
http://tribune.com.pk/story/563824/blame-game-kabul-protests-attack-by-pakistani-troops/
--------------
Kaspersky rates Maldives 16th on online attack threat list
By Minivan News | June 15th, 2013
Internet security firm Kaspersky has ranked the Maldives 16th in a list of countries where the highest percentage of its customer base face online attacks, placing it between Ukraine and Moldova.
The Bloomberg news agency has reported that the list found 47 percent of Kaspersky's customers in the Maldives had come under attack from cyber criminals during 2012.
Based on internet world statistics, around 34 percent of the Maldives population – an estimated 134,860 people – were online last year, the report added.
Full report at:
http://minivannews.com/category/news-in-brief
--------------
MDP launches higher education policy, pledges raising enrolment rate to 40 percent
By Ahmed Naish | June 16th, 2013
The Maldivian Democratic Party (MDP) unveiled its higher education policy in simultaneous events across 19 islands and two cities on Friday (June 14), pledging to raise the enrolment rate from six percent of school leavers to 40 percent in the next five years.
Launching the policy in the island of Naifaru in Lhaviyani atoll, former President Mohamed Nasheed said that the MDP's objective was to usher in "a golden age" for higher education in the Maldives.
"We cannot let students finish their education after they complete O' Levels. A student who wants to pursue higher education, even if he barely passed, will have that opportunity," the MDP presidential candidate said.
Full report at:
http://minivannews.com/politics/mdp-launches-higher-education-policy-pledges-raising-enrolment-rate-to-40-percent-59460
--------------
North America
'Tip of the Iceberg': Senators Warn Far More Data May Not Be Safe
Lauren McCauley
June 13, 2013
Members of the Senate Appropriations Committee took the opportunity Wednesday during a previously scheduled hearing to challenge the director of the National Security Agency about the extent of the agency's domestic surveillance, during which it was made clear that what has been revealed thus far is just the "tip of the iceberg."
Responding specifically to questions regarding whether "e-mail contacts" are being "vacuumed" by the Obama administration's clandestine interpretation of the Patriot Act's surveillance powers, NSA Chief Keith Alexander responded, "I don't want to make a mistake" and reveal too much. He added that disclosing such details may cause "our country to lose some sort of protection."
Full report at:
http://www.commondreams.org/headline/2013/06/13-0
----------
India resists normalisation of Indo-Pak ties more vehemently: US expert
Jun 16, 2013
Washington : An eminent American expert on South Asia has said that resistance to normalisation of Indo-Pak relations is coming more from New Delhi than Islamabad.
"The recent election in Pakistan, as well as the normalising of US-Pakistan relations, are necessary but not sufficient conditions for the regularising of India-Pakistan
relations," noted American scholar Stephen P Cohen has said.
"Nawaz Sharif may have his heart in the right place, but there may be more resistance in India than he expects; this would be tragic, but perhaps likely," Cohen said.
"Also welcome are the growth of trade, and other ties, but the opposition to normal relations in both countries, perhaps more in India now than Pakistan, is still substantial," said Cohen during the release of his latest book, "Shooting a Century: The India Pakistan Conundrum", which hit the book stores this week.
Full report at:
http://www.indianexpress.com/story-print/1129499/
--------------
Ready to engage directly with Iran says John Kerry
Jun 16 2013
Washington : Despite having reservations on the transparency of the electoral process, the US said it is ready to engage directly with the Iranian Government led by its newly elected President moderate Hassan Rowhani with the hope that the new leader will honor international obligations.
"We, along with our international partners, remain ready to engage directly with the Iranian government. We hope they will honor their international obligations to the rest of the world in order to reach a diplomatic solution that will fully address the international community's concerns about Iran's nuclear program," Secretary of State John Kerry said yesterday.
Full report at:
http://www.indianexpress.com/news/ready-to-engage-directly-with-iran-says-john-kerry/1129729/
-----------
Barack Obama to meet Vladimir Putin, will discuss Syrian conflict
Jun 16, 2013
Washington : US President Barack Obama will meet his Russian counterpart Vladimir Putin on the sidelines of the G-8 Summit in Northern Ireland on Monday during which the two leaders are expected to discuss Syria and Afghanistan, besides other critical issues.
This would be the first bilateral meeting between the two leaders after both returned to office.
"They clearly have a very broad agenda to discuss. That will include the situation in Syria. That will include Afghanistan, where Russia has cooperated with us in securing both our transit routes for our troops and also promoting stability in the region," Deputy National Security Advisor Ben Rhodes told reporters at a White House news conference.
Full report at:
http://www.indianexpress.com/story-print/1129457/
--------------
NSA programs broke terror plots in 20 nations: US intelligence
June 16, 2013
Top US intelligence officials have said that information gleaned from two controversial data-collection programs run by the National Security Agency thwarted potential terrorist plots in the US and more than 20 other countries and that gathered data is destroyed every five years. Last
year, fewer than 300 phone numbers were checked against the database of millions of US phone records gathered daily by the NSA in one of the programs, the intelligence officials said in arguing that the programs are far less sweeping than their detractors allege.
Full report at:
http://www.hindustantimes.com/world-news/northamerica/NSA-programs-broke-terror-plots-in-20-nations-US-intelligence/Article1-1077187.aspx
--------------
Chemical weapons use hampers Syrian deal: John Kerry
June 16, 2013
US secretary of state John Kerry warned for the first time on Saturday that chances for a political settlement in Syria could be undermined by the Assad regime's use of chemical weapons. Kerry spoke by phone Friday with his Iraqi counterpart Hoshyar Zebari and the pair discussed Syria and
talks set to be held on the crisis in Geneva, the state department said.
The top US diplomat "reaffirmed that the United States continues to work aggressively for a political solution with the goal of a second Geneva meeting," after the first gathering a year ago that set out outlines for a political settlement that was never reached, his office said in a statement.
Full report at:
http://www.hindustantimes.com/world-news/northamerica/Chemical-weapons-use-hampers-Syrian-deal-John-Kerry/Article1-1077121.aspx
--------------
US-bound Egypt plane diverted after threat
Jun 16, 2013
A plane from Cairo bound for New York was diverted by fighter jets to an emergency landing in the U.K. after a passenger discovered a letter threatening the aircraft, officials said Saturday.
Police said late Saturday there had been no arrests, and that authorities are working to ascertain who wrote the note in a lavatory which forced Flight 985 carrying around 300 passengers en route to John F. Kennedy Airport to make an emergency landing at Glasgow's Prestwick Airport.
Full report at:
http://www.thehindu.com/news/international/usbound-egypt-plane-diverted-after-threat/article4819688.ece
----------
Southeast Asia
Evidence of Bombing, Attacks Surface in Wake of Aceh Kidnapping
June 16, 2013
Indonesian oil and gas company Medco E&P Malaka was the target of several unreported attacks in the weeks leading up to the kidnapping of a Scottish oil-drilling supervisor, including a bombing of a worker's barracks and the shooting of company equipment, a source in the National Police said on Sunday.
Police are investigating possibile links between the kidnapping of Malcolm Primrose, 61, and the previously unreported May 23 bombing at Medco E&P Malaka, the Aceh subsidiary of Medco Energi Internasional, said the source, who wished to remain anonymous because of the ongoing investigation into the case.
The bomb failed to cause any significant damage or injuries the source said. But the construction of the bomb, and its remote cell phone detonator, have caused some investigators to pause.
Full report at:
http://www.thejakartaglobe.com/news/evidence-of-bombing-attacks-surface-in-wake-of-aceh-kidnapping/
--------------
URL: https://newageislam.com/islamic-world-news/female-suicide-bomber-carried-quetta/d/12108