New Age Islam News Bureau
9 Sept 2018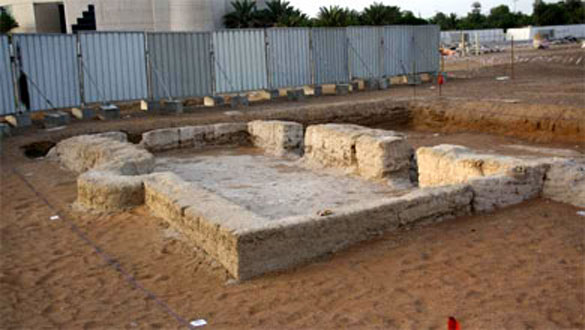 1,000-Year-Old Mosque Discovered In UAE
----
• Fatwas, Niqabs And 'Acceptable Standards': Is Conservative Islam On The Rise Across Indonesia?
• Egypt Sentences 75 People to Death Over 2013 Islamic Protests
• Muslim Man Builds Temple for Ganesha
• Ahmadi Economist's Removal: Pak Editorials Slam Imran Khan's Capitulation to Religious Extremists
• Ongoing War Being Waged Against the People, Constitution of the Country: Ghani
Southeast Asia
• Fatwas, Niqabs And 'Acceptable Standards': Is Conservative Islam On The Rise Across Indonesia?
• China Is Detaining Muslims in Vast Numbers. The Goal: 'Transformation.'
• PAS is tarnishing image of Islam
• China is detaining Muslims in vast numbers. The goal: 'Transformation.'
• Cradle CEO's stepsons held in murder probe
• Shariah caning milder than school's version, says Terengganu MB
--------
Arab World
• Egypt Sentences 75 People to Death Over 2013 Islamic Protests
• 1,000-Year-Old Mosque Discovered In UAE
• Ansarallah Blames Saudi Coalition for Failure of Geneva Talks
• Terrorists Attack Hama's Residential Areas with Banned Turkish Weapons
• Deadly Clashes Erupt between Syrian Army, Kurdish Militia in Hasaka
• Syrian Army Keeps Rolling on Terrorists' Centers in Sweida Deserts
• Senior Tahrir Al-Sham Commander Assassinated in Idlib
• 18 dead as Syria Kurds clash with regime forces
• Syrian govt. forces target Jabhat Fateh al-Sham terrorists in Hama
--------
India
• Muslim Man Builds Temple for Ganesha
• Halal Tourism Takes Flight for City's Religious Travellers
• 'Aiding Terror Group': 5 'Bangladeshis' Charged In India
• No Muslim ever told Hindus to change how they pray, but some are trying to stop 'Azaan' now: Farooq Abdullah
• Unidentified gunmen shot dead 'Ansar Ghazwat-ul-Hind' terrorist in J&K's Srinagar
• Kashmir journalist was 'in contact' with Hizbul militant, cops tell court
• Navjot Singh Sidhu: Pakistan Set To Allow 'Visa-Less Entry' To Pilgrims Headed For Kartarpur Sahib
--------
Pakistan
• Ahmadi Economist's Removal: Pak Editorials Slam Imran Khan's Capitulation to Religious Extremists
• Second Economist Resigns From Pakistan EAC Over Exclusion of Ahmadi Scholar
• UN Envoy Terms Stay Of Afghans in Pakistan 'A Protracted Refugee Crisis'
• Govt ready for body to probe rigging charges, says Fawad
• PTI plans two-tier LG system sans tehsil councils in Punjab
• CPEC top priority, Qureshi assures Chinese minister
--------
South Asia
• Ongoing War Being Waged Against the People, Constitution of the Country: Ghani
• Taliban's Military Commission Chief for Badakhshan Killed with His Comrades
• Zimmermann reaffirms NATO's support after deadly bombings in Kabul city
• Taliban militants blown up by own explosives in Laghman province
• Attack on checkpoint in western Afghanistan kills 9
--------
Mideast
• Saudi, Allies Trying To Strangle Yemen through Economic Pressure: Houthi
• UN's Yemen Office Shows Blatant Bias in Siding with Houthis, Finds US Center
• Yemeni naval forces destroy booby-trapped Houthi boat in the Red Sea
• Coalition aircraft destroy Houthi ballistic missiles, radar sites in Saada
• Yemen's army kills dozens of Houthis in clashes in eastern Hodeidah
• Scores of Saudi troopers, mercenaries slain, injured in Yemeni army offensives
• Yemen govt accuses Houthis of 'sabotage' for not showing up in peace talks
--------
Africa
• Boko Haram Overruns Key Crossroads Town in Northern Nigeria
• Philippines, Jordan to fight terror jointly
• Uneasy truce may not last long in embattled Libyan capital
• Tunisia feared the return of militants from abroad. The threat now is those who never left.
--------
North America
• US Govt Misleading Americans on Afghanistan: Report
• Pompeo Calls Out Khamenei's Hypocrisy over Iran's Lack of Aid to Palestinians
• US sends reinforcements to its Syria base after Russia warning of attack
• American marines fire shots to warn Russian forces in Syria
• UN echoes Erdogan, fears potential catastrophe in Idlib
--------
Europe
• European Tourist Accepts Islam in UAE, Inspired By Police
• As Putin incites more atrocities in Syria, Europe is exposed as craven
Compiled by New Age Islam News Bureau
URL: https://www.newageislam.com/islamic-world-news/fatwas-niqabs-acceptable-standards-conservative/d/116324
--------
Fatwas, niqabs and 'acceptable standards': Is conservative Islam on the rise across Indonesia?
By Tasha Wibawa
Sep 9, 2018
In the latest interpretation of sharia law in Indonesia's Aceh province, it is now "haram" — or religiously forbidden — for a woman to sit at the same cafe table as a man she is not married or related to.
The local government notice issued in one small Aceh city also advised businesses not to serve women after 9:00pm, unless they were accompanied by a male family member or husband.
Those were just two of 14 listed "acceptable standards" for restaurant and cafe patrons, and the latest in a string of events highlighting the rise of Islamic conservatism across the Indonesian archipelago.
The most notable in recent weeks was the imprisonment of a minority Buddhist ethnic-Chinese woman, known as Meiliana, after she complained about the volume of a mosque's call to prayer.
The country also saw kindergarten students parade in niqabs and fake assault rifles, as well as a fatwa that claimed the life-saving measles vaccine contained haram substances.
The list of standards for hospitality businesses was released by a local mayor in Aceh, where Islamic criminal law works hand-in-hand with the largely secular laws of Indonesia.
While not legally binding, it illustrates the entanglement of politics and religion in the country, which some say has been exacerbated by President Joko Widodo's recent appointment of a hardline Islamic cleric as his 2019 presidential running mate.
So what is happening in a country that is one of Australia's closest neighbours? Has it become more conservatively Islamic?
More than 200 cases of religious freedom violations
The independent Indonesian think tank Setara Institute found Jakarta to be the most religiously intolerant city in the majority Muslim country, with 23 accounts of violations so far this year.
While results from Aceh — where sharia law has been introduced — have not been released this year, last year's results found West Java and Jakarta were far more intolerant.
Reported incidents included discrimination, assault, hate speech and the sealing of houses of worship for other religious groups — as well as a disproportionate impact of blasphemy laws on minority groups.
The organisation also found 201 cases of religious freedom violations across the country's 20 provinces, mostly towards minorities.
Associate professor at the Australian National University, Greg Fealy, said there had been a greater frequency of cases of rising conservatism in the past decade.
However, he said it was too complex a matter to simply take a national snapshot based on these events.
Some experts believe the trend started in 2017 during a conservative Islamic-backed movement which saw the removal of Jakarta's former minority Christian governor, Basuki Tjahaja Purnama, more commonly known as Ahok.
Deputy chairman of the Setara Institute, Bonar Tigor Naipospos, said politicising religion was a very effective way to mobilise large numbers of people.
"And Pak Ma'ruf Amin [Mr Widodo's running mate] is one of the main keys to awakening the wave of intolerance in Indonesia," he said.
Muslim majority, not 'Muslim country'
Indonesia is the largest Muslim society in the world, with 87 per cent of its 270 million people identifying as Muslim.
However religious pluralism and tolerance are considered to be part of Indonesia's five founding principles of Pancasila.
"Indonesia has chosen its own way by choosing Pancasila as a middle road, by stating we are not secular, but we are not a Muslim country," Mr Naipospos said.
But survey data presented by Dr Fealy show middle-class Indonesians are expressing increasingly intolerant views.
In 2017, more than half a million people took to the streets of Jakarta in a successful public pressure campaign under the banner of "defenders of Islam".
It became a wake up call to moderate Muslims in the country who believed Islamic fundamentalism existed only on the fringe.
It was also a turning point for the country's moderate brand of Islam.
Some are concerned the current trajectory will result in a more conservative Islamic country — similar to Iran's abandonment of secularism following the Islamic Revolution in 1978-1979, and the Islamic revival following Anwar Sadat's death in Egypt.
Those events saw both cultures shift away from secularism following a change of government, but Dr Fealy does not think Indonesia will follow the same path.
"While it's possible that sections of society will continue to grow more conservatively Islamic and intolerant … we should be careful about assuming that Indonesia will continue in some kind of inexorable Islamisation curve over the next 20 years."
Baby death following vaccine fatwa
A baby in the Muslim-majority province of Jambi recently died from the rubella virus.
The mother contracted the disease during pregnancy, and her child was born with defects due to it.
It came after peak Islamic body Indonesian Ulama Council (MUI), released a fatwa saying the vaccine for measles-rubella contained "haram" substances.
The council said it contained traces of pork and human cells, which are religiously forbidden.
While they still allowed its use due to the importance of the vaccine, the decree reportedly hindered immunisation drives in Muslim-majority provinces.
Aman Pulungan, president of the Indonesian Paediatric Society, said it was a matter of great urgency.
"The timing for the fatwa has definitely posed a hindrance."
Political tool or a shift to the 'right'?
Mr Widodo's decision to select Ma'ruf Amin, a hardline Islamic cleric, as his running mate has seen him face criticism that he may be conceding to conservative Islamic forces.
Independent voter surveyor Poll Tracking Indonesia found more than 58 per cent of Indonesian voters take into account the religious credentials of the presidential and vice-presidential candidates.
With the 2019 presidential elections looming, analysts have said the race has become a question of who is "more Muslim".
Mr Widodo's inability to protect his former ally Ahok in 2017 has exposed the Government's apparent vulnerability to mass political movements under the banner of Islam.
Meanwhile, his decision to ban a number of hardline Islamist groups in response has fuelled opposition groups.
Dr Fealy said Mr Widodo's decision to choose Mr Amin was a political move aimed at removing the issue of religion as a potential vulnerability.
"By contrast, [opposition leader] Prabowo Subianto is from a religiously plural family and he's not particularly Islamic … however, he has a long history of using religion for political purposes.
"The reality is that in the presidential elections next year, we have two figures who don't have all that high Islamic credibility by themselves."
Indonesia has never had a president, or vice-presidential candidate, who was not a Muslim — highlighting the close relationship between the religion and politics.
Mr Naispospos thinks the relationship between religion and politics in Indonesia will continue to strengthen in the foreseeable future, but he remains hopeful Indonesia's future will still be one of its own brand of secularism.
"The issue of religion and politics [in Indonesia] is always dynamic," he said.
"One moment, religion can be stronger than politics, but that pendulum can swing."
http://www.abc.net.au/news/2018-09-09/are-we-seeing-a-rise-in-islamic-conservatism-across-indonesia/10173972
--------
Egypt sentences 75 people to death over 2013 Islamic protests
Sep 9, 2018
AN Egyptian court has sentenced 75 people to death, including top leaders of the outlawed Muslim Brotherhood, for their involvement in a 2013 sit-in protest by Islamists that was broken up by security forces in an operation that left hundreds dead.
In a case involving 739 defendants facing charges ranging from murder to damaging property, the court also sentenced to life in prison the head of the Brotherhood, Mohammed Badie, and 46 others.
Mahmoud Abu Zaid, a photojournalist known as "Shawkan" whose detention has been decried by rights groups at home and abroad, received five years in prison. He was detained in August 2013, meaning that he should walk free within days for time served.
Several mass trials of Islamists that yielded dozens of death sentences have been held in Egypt since 2013, when the military, then led by President Abdel- Fattah el-Sissi, removed an Islamist president who hails from the Brotherhood, which has since been outlawed and designated a terror group. The trials and death sentences have consistently drawn scathing criticism from rights groups at home and abroad, which have branded the process as a mockery of justice.
On Saturday, Amnesty International condemned the sentences of the latest mass trial, which it described as "disgraceful."
"The Egyptian authorities should be ashamed. We demand a retrial in an impartial court and in full respect of the right to a fair trial for all defendants, without recourse to the death penalty,' said senior Amnesty official Najia Bounaim.
The London-based rights group also noted that not a single member of the security forces faced legal proceedings over what it called the massacre that took place when police broke up the sit-in on Aug. 14, 2013.
The sit-in at a square in a Cairo suburb was staged by supporters of Islamist president Mohammed Morsi of the Brotherhood. He became Egypt's first freely elected president in 2012 but was ousted in July 2013 by the military following days of street protests calling on him to step down.
It is widely believed that breaking up the sit-in along with another one across Cairo, also staged by Islamists, left an estimated 900 people dead. One of Morsi's sons, Osama, was among 22 defendants who received 10-year jail terms on Saturday, while 374 were sentenced to 15 years and 215 to five years. Proceedings were dropped against five defendants who have died since the trial began.
Saturday's convictions, which can be appealed, are the latest chapter in a crackdown waged by authorities against government critics the scale of which has not been seen in living memory in Egypt.
Since Morsi's ouster, authorities have jailed thousands of Islamists along with some of the secular, pro-democracy activists behind a 2011 popular uprising that forced autocrat Hosni Mubarak to step down after 29 years in power. The crackdown has also enforced tighter controls over the media as well as civil society groups, rolling back most of the freedoms won by the 2011 uprising.
https://www.news.com.au/world/middle-east/egypt-sentences-75-people-to-death-over-2013-islamic-protests/news-story/f9a5d571d6830fc74e4845f165ad2cf8
--------
Muslim Man Builds Temple for Ganesha
Sep 9, 2018
MYSURU: The Gauri-Ganesha festival is just three days away, and 14 kilometres from Chamarajnagar district headquarters, a Muslim man is busy making arrangements for the installation of an idol of Lord Ganesha, the destroyer of all obstacles.
T Rahman, a 61-year-old retired employee of the irrigation department, grew upset when the Ganesha idol was stolen from Chikkahole reservoir area. "Last year, a few unidentified thieves stole the idol of Lord Ganesha from the Chikkahole project area park. I was upset and felt a strong need to build a new temple for the Lord. When the same thoughts continued in my dream, I decided to build a new temple," he said.
Rahman, after his retirement, has begun working as the gate officer for both the Suvarnavathi and the Chikkahole reservoirs, which are located in 3-kilometre radius.
Local residents see a true champion of secularism in Rahman. "It's a positive trend that we are willing to even build a place of worship for another community. We do not mind even visiting each other's shrine. This is the true spirit of Indian culture," says Raghu Gowda, a resident of Chikkahole dam area, where the temple is coming up.
Ritualistic necessities, however, delayed Rahman's plans to open the temple during the Gauri-Ganesha festival itself. "All of us were eager to open the temple at the time of upcoming Gauri-Ganesha festival. The idol, which was sculpted in Tamil Nadu, was also ready. But the priests informed me that before the installation of any idol, it must be kept immersed in water for six days, and in paddy for another six days. We won't be able to open the temple during this Ganesha Chaturthi. But it will be done at the earliest," he said.
When enquired about the cost involved, Rahman declined to share the details. "It is Lord's work. So, I will not share any details," he said.
https://timesofindia.indiatimes.com/city/mysuru/muslim-man-builds-temple-for-ganesha/articleshow/65737959.cms
--------
Ahmadi economist's removal: Pak editorials slam Imran Khan's capitulation to religious extremists
Sep 8, 2018
NEW DELHI: "Pitiful", "blatant cowering to the religious right" and "a blow to an inclusive Pakistan" is how the Islamic nation's media described the Imran Khan government's capitulation on Friday to religious fundamentalists by asking economist Atif Mian to step down from a government council simply because he belonged to a minority sect.
Not just that, two other economists, Asim Ijaz Khwaja and Imran Rasul, who were also appointed to the Khan-led 'economic advisory council' (EAC) resigned from the newly-formed body, for how Mian was dropped.
"Being a Muslim I can't justify this" act of dropping Mian, a highly regarded Princeton economist, who's said to be among the world's top 25 economists, said Khwaja.
"Have resigned from EAC. Painful, deeply sad decision. Grateful for chance to aid analytical reasoning but not when such values compromised. Personally as a Muslim I can't justify this. May Allah forgive/guide me&us all.Ever ready to help.Pakistan Paindabad", tweeted Khwaja.
Have resigned from EAC. Painful, deeply sad decision. Grateful for chance to aid analytical reasoning but not when…
https://t.co/RFQzTKFP7W
— Asim Ijaz Khwaja (@aikhwaja) 1536327290000
Rasul said he's resigning because he "profoundly disagrees" with basing such decisions on religious affiliation.
"With a heavy heart, I have resigned from the EAC this morning. The circumstances in which Atif was asked to step down are ones I profoundly disagree with. Basing decisions on religious affiliation goes against my principles, or the values I am trying to teach my children," tweeted Rasul.
With a heavy heart, I have resigned from the EAC this morning. The circumstances in which Atif was asked to step do… https://t.co/IwXpMtmmZD
— Imran Rasul (@ImranRasul3) 1536386219000
On Friday, days after strongly defending Mian's nomination, with phrases like "we will not bow to extremists", Khan's Pakistan Tehreek-i-Insaf (PTI) announced that Mian will not be on the council. Mian's appointment was virulently opposed by several extremist individuals and groups, including the far-right Islamist Tehreek-i-Labbaik (TLP) Pakistan.
These people believe Mian has no place in a government body simply because he's an Ahmadi and because his sect doesn't believe that Muhammad is the last prophet sent to guide mankind. In fact, a minister in the PTI government even referred specifically to Mian's faith being the reason for dropping him.
"A pitiful surrender" is how newspaper The Nation titled its editorial condemning Mian's removal.
"What is most worrying is that this decision displays PTI's lack of grit, indicating that the party will be unable to withstand pressure from religious groups in the future as well, which will only become more violent and active now that their demands are met," said the editorial.
Is it now going to be more of the same then with this government, which in its first weeks, showed signs that it was indeed going to keep its promises of building a 'Naya Pakistan' - 'New Pakistan' - where corruption, nepotism and discrimination have no place?
The Nation believes so.
"Perhaps we should have known it was too good to be true. The PTI government had been having a honeymoon period for its few weeks- with several on-the surface successes like the cancellation of the Dutch cartoon competition and its austerity promises; the government's conviction on a tone of reconciliation and betterment of the country made us believe that the party's tendency of backing out of its promises would not spill over to its governance. Alas, we were wrong," lamented the editorial.
Dawn's editorial said that the campaign by far-right religious elements to remove Mian "threatened to engulf the PTI government in a crisis that, sadly, could have quickly spiralled out of control."
The editorial was very likely referring to the extremist TLP's demonstrations last November that brought Islamabad to a near standstill. The group was protesting what it believed was a watering down of the country's stringent blasphemy laws. The then government capitulated to the TLP's demand to remove the law minister who then resigned.
Still, bowing to extremists' demands isn't the way forward, said Dawn. In fact, it makes extremism mainstream like was demonstrated in the recent general elections in Pakistan.
Consider this: The TLP was formed as recently as in 2015 and yet it fielded a whopping 152 candidates. By comparison, parties that have been in Pakistani politics for decades fielded just between 40-75 candidates more than the TLP.
Then there is an outfit called the Allah-o-Akbar Tehreek (AAT). This is the platform for none other than terrorist Hafiz Saeed's Milli Muslim League, which has been denied registration by Pakistan's election commission, due to its links with the banned Saeed-held Jamaat-ud-Dawa. AAT fielded 43 candidates in Punjab and seven in Khyber Pakhtunkhwa, for a total of 50.
Rounding off the Islamist trifecta was the religio-political parties' alliance - Muttahida Majlis-i-Amal (MMA)- which comprises the ultra-conservative, Islamist, religious, and far-right parties of Pakistan that was formed back in 2002. This lot, headed by Jamiat Lemma-i-Islam chief Maulana Fazlur Rehman, put up candidates in 173 constituencies.
In fact, while counting of votes was underway and it emerged that Khan's PTI was leading but would be short of a majority, there was even talk of PTI seeking the support of MMA. In the end, it didn't have to, because PTI got a whole host of independent winning candidates to support it and make up the numbers.
In this scenario then, what was the need for Khan to accede to extremists' demands?
"The PTI has clearly erred in both strategy and political will…," said Dawn's editorial.
Khan's capitulation will cost the country's economy too. Pakistan's financial state is dire. US network CNBC said last month that Pakistan's foreign exchange reserves are at four-year lows, which are pressuring the local rupee and triggering worries that Islamabad may soon be unable to finance monthly import bills. And of course, it is awash in external debt, "having taken on loans from China for the $62 billion China-Pakistan Economic Corridor," said CNBC.
Mian is a highly-regarded international economist who could help pull Pakistan out of the financial mess it's in. Even the government's own information minister Fawad Chaudhry - at the time when PTI was saying it would not bow to extremiststalked about what an asset Mian would be.
"This is a man who the entire world is saying will receive a Nobel Peace Prize in the next five years. He has been appointed to the economic advisory council, not the Council of Islamic Ideology or something else," said Chaudhry.
An editorial in newspaper The News International said that getting Mian to resign doesn't look good even for the economy.
"This blatant cowering to the religious Right does not bode well for the much lauded EAC, which was supposed to comprise the cream of Pakistan's economists and the private sector," it said, referring sarcastically to how the PTI described its decision to drop Mian as a "tough" one.
Mian himself said he resigned for the sake of the PTI government's stability, which he said had been under a lot of adverse pressure from Muslim clerics and their supporters, reported Dawn.
https://timesofindia.indiatimes.com/world/pakistan/ahmedi-economists-removal-editorials-in-pakistan-slam-capitulation-of-imran-khan-government-to-religious-extremists/articleshow/65730729.cms
--------
Ongoing war being waged against the people, constitution of the country: Ghani
Sep 08 2018
President Mohammad Ashraf Ghani says the ongoing war is being waged against the people and constitution of the country.
He made the remarks during a meeting with the religious scholars, youths, and other representatives of the West of Kabul city, which saw a series of deadly attacks during the recent months.
President Ghani further added that the national security of the country is facing a major threat and conspiracy which has been proved with the issues related to the West of Kabul city, emphasizing that the war is being waged against the people and constitution of Afghanistan.
According to President Ghani, the steps taken in this regard are not sufficient and the relevant authorities have been instructed that the city should be divided in four zones and the security coordination centre in the West of city will be turned into a proper security centre in the near future.
Emphasizing on the implementation of security plans in the zonal framework, President Ghani further added that joint security committees should be established based on the recommendations of the people and a mechanism should be prepared for reporting from the lower level up to the Commander-in-Chief level.
In regards to the recommendations of the supply of weapons to certain mosques and worship plaes, President Ghani instructed the relevant authorities to review the request as well as the existing security gaps in the mosques and other religious places.
He also instructed the security officials to work with the local institutions to further strengthen the security plans and present a report regarding the developments in this regard to the presidential palace.
President Ghani also urged the elders of West of Kabul to clearly mention their demands and priorities in their plans and share during the upcoming meetings.
https://www.khaama.com/ongoing-war-being-waged-against-the-people-constitution-of-the-country-ghani-05917/
--------
Southeast Asia
China Is Detaining Muslims in Vast Numbers. The Goal: 'Transformation.'
By Chris Buckley
Sept. 8, 2018
HOTAN, China — On the edge of a desert in far western China, an imposing building sits behind a fence topped with barbed wire. Large red characters on the facade urge people to learn Chinese, study law and acquire job skills. Guards make clear that visitors are not welcome.
Inside, hundreds of ethnic Uighur Muslims spend their days in a high-pressure indoctrination program, where they are forced to listen to lectures, sing hymns praising the Chinese Communist Party and write "self-criticism" essays, according to detainees who have been released.
The goal is to rid them of devotion to Islam.
Abdusalam Muhemet, 41, said the police detained him for reciting a verse of the Quran at a funeral. After two months in a nearby camp, he and more than 30 others were ordered to renounce their past lives. Mr. Muhemet said he went along but quietly seethed.
"That was not a place for getting rid of extremism," he recalled. "That was a place that will breed vengeful feelings and erase Uighur identity."
This camp outside Hotan, an ancient oasis town in the Taklamakan Desert, is one of hundreds that China has built in the past few years. It is part of a campaign of breathtaking scale and ferocity that has swept up hundreds of thousands of Chinese Muslims for weeks or months of what critics describe as brainwashing, usually without criminal charges.
Though limited to China's western region of Xinjiang, it is the country's most sweeping internment program since the Mao era — and the focus of a growing chorus of international criticism.
China has sought for decades to restrict the practice of Islam and maintain an iron grip in Xinjiang, a region almost as big as Alaska where more than half the population of 24 million belongs to Muslim ethnic minority groups. Most are Uighurs, whose religion, language and culture, along with a history of independence movements and resistance to Chinese rule, have long unnerved Beijing.
After a succession of violent antigovernment attacks reached a peak in 2014, the Communist Party chief, Xi Jinping, sharply escalated the crackdown, orchestrating an unforgiving drive to turn ethnic Uighurs and other Muslim minorities into loyal citizens and supporters of the party.
"Xinjiang is in an active period of terrorist activities, intense struggle against separatism and painful intervention to treat this," Mr. Xi told officials, according to reports in the state news media last year.
In addition to the mass detentions, the authorities have intensified the use of informers and expanded police surveillance, even installing cameras in some people's homes. Human rights activists and experts say the campaign has traumatized Uighur society, leaving behind fractured communities and families.
"Penetration of everyday life is almost really total now," said Michael Clarke, an expert on Xinjiang at Australian National University in Canberra. "You have ethnic identity, Uighur identity in particular, being singled out as this kind of pathology."
China has categorically denied reports of abuses in Xinjiang. At a meeting of a United Nations panel in Geneva last month, it said it does not operate re-education camps and described the facilities in question as mild corrective institutions that provide job training.
"There is no arbitrary detention," Hu Lianhe, an official with a role in Xinjiang policy, told the U.N. Committee on the Elimination of Racial Discrimination. "There is no such thing as re-education centers."
The committee pressed Beijing to disclose how many people have been detained and free them, but the Ministry of Foreign Affairs dismissed the demand as having "no factual basis" and said China's security measures were comparable to those of other countries.
The government's business-as-usual defense, however, is contradicted by overwhelming evidence, including official directives, studies, news reports and construction plans that have surfaced online, as well as the eyewitness accounts of a growing number of former detainees who have fled to countries such as Turkey and Kazakhstan.
The government's own documents describe a vast network of camps — usually called "transformation through education" centers — that has expanded without public debate, specific legislative authority or any system of appeal for those detained.
The New York Times interviewed four recent camp inmates from Xinjiang who described physical and verbal abuse by guards; grinding routines of singing, lectures and self-criticism meetings; and the gnawing anxiety of not knowing when they would be released. Their accounts were echoed in interviews with more than a dozen Uighurs with relatives who were in the camps or had disappeared, many of whom spoke on condition of anonymity to avoid government retaliation.
The Times also discovered reports online written by teams of Chinese officials who were assigned to monitor families with detained relatives, and a study published last year that said officials in some places were indiscriminately sending ethnic Uighurs to the camps to meet numerical quotas.
The study, by Qiu Yuanyuan, a scholar at the Xinjiang Party School, where officials are trained, warned that the detentions could backfire and fan radicalism. "Recklessly setting quantitative goals for transformation through education has been erroneously used" in some areas, she wrote. "The targeting is imprecise, and the scope has been expanding."
Eradicating a 'Virus'
The long days in the re-education camp usually began with a jog.
Nearly every morning, Mr. Muhemet recalled, he and dozens of others — college graduates, businessmen, farmers — were told to run around an assembly ground. Impatient guards sometimes slapped and shoved the older, slower inmates, he said.
Then they were made to sing rousing patriotic hymns in Chinese, such as "Without the Communist Party, There Would Be No New China." Those who could not remember the words were denied breakfast, and they all learned the words quickly.
Mr. Muhemet, a stocky man who ran a restaurant in Hotan before fleeing China this year, said he spent seven months in a police cell and more than two months in the camp in 2015 without ever being charged with a crime. Most days, he said, the camp inmates assembled to hear long lectures by officials who warned them not to embrace Islamic radicalism, support Uighur independence or defy the Communist Party.
The officials did not ban Islam but dictated very narrow limits for how it should be practiced, including a prohibition against praying at home if there were friends or guests present, he said. In other sessions, the inmates were forced to memorize laws and write essays criticizing themselves.
"In the end, all the officials had one key point," he said. "The greatness of the Chinese Communist Party, the backwardness of Uighur culture and the advanced nature of Chinese culture."
After two months, Mr. Muhemet's family was finally allowed to visit the camp, located near "New Harmony Village," a settlement built as a symbol of friendship between ethnic Uighurs and the majority Han Chinese. "I couldn't say anything," he recalled. "I just held my two sons and wife, and cried and cried."
The Xinjiang government issued "deradicalization" rules last year that gave vague authorization for the camps, and many counties now run several of them, according to government documents, including requests for bids from construction companies to build them.
Some facilities are designed for inmates who are allowed to go home at night. Others can house thousands around the clock. One camp outside Hotan has grown in the past two years from a few small buildings to facilities on at least 36 acres, larger than Alcatraz Island, and work appears to be underway to expand it further, according to satellite photos.
In government documents, local officials sometimes liken inmates to patients requiring isolation and emergency intervention.
"Anyone infected with an ideological 'virus' must be swiftly sent for the 'residential care' of transformation-through-education classes before illness arises," a document issued by party authorities in Hotan said.
The number of Uighurs, as well as Kazakhs and other Muslim minorities, who have been detained in the camps is unclear. Estimates range from several hundred thousand to perhaps a million, with exile Uighur groups saying the number is even higher.
About 1.5 percent of China's total population lives in Xinjiang. But the region accounted for more than 20 percent of arrests nationwide last year, according to official data compiled by Chinese Human Rights Defenders, an advocacy group. Those figures do not include people in the re-education camps.
Residents said people have been sent to the camps for visiting relatives abroad; for possessing books about religion and Uighur culture; and even for wearing a T-shirt with a Muslim crescent. Women are sometimes detained because of transgressions by their husbands or sons.
One official directive warns people to look for 75 signs of "religious extremism," including behavior that would be considered unremarkable in other countries: growing a beard as a young man, praying in public places outside mosques or even abruptly trying to give up smoking or drinking.
'We Are in Trouble'
Hotan feels as if under siege by an invisible enemy. Fortified police outposts and checkpoints dot the streets every few hundred yards. Schools, kindergartens, gas stations and hospitals are garlanded in barbed wire. Surveillance cameras sprout from shops, apartment entrances and metal poles.
"It's very tense here," a police officer said. "We haven't rested for three years."
This city of 390,000 underwent a Muslim revival about a decade ago. Most Uighurs have adhered to relatively relaxed forms of Sunni Islam, and a significant number are secular. But budding prosperity and growing interaction with the Middle East fueled interest in stricter Islamic traditions. Men grew long beards, while women wore hijabs that were not a part of traditional Uighur dress.
Now the beards and hijabs are gone, and posters warn against them. Mosques appear poorly attended; people must register to enter and worship under the watch of surveillance cameras.
The government shifted to harsher policies in 2009 after protests in Xinjiang's capital, Urumqi, spiraled into rioting and left nearly 200 people dead. Mr. Xi and his regional functionaries went further, adopting methods reminiscent of Mao's draconian rule — mass rallies, public confessions and "work teams" assigned to ferret out dissent.
They have also wired dusty towns across Xinjiang with an array of technology that has put the region on the cutting edge of programs for surveillance cameras as well as facial and voice recognition. Spending on security in Xinjiang has soared, with nearly $8.5 billion allocated for the police, courts and other law enforcement agencies last year, nearly double the previous year's amount.
The campaign has polarized Uighur society. Many of the ground-level enforcers are Uighurs themselves, including police officers and officials who staff the camps and security checkpoints.
Ordinary Uighurs moving about Hotan sometimes shuffle on and off buses several times to pass through metal detectors, swipe their identity cards or hand over and unlock their mobile phones for inspection.
A resident or local cadre is assigned to monitor every 10 families in Xinjiang, reporting on comings and goings and activities deemed suspicious, including praying and visits to mosques, according to residents and government reports. Residents said the police sometimes search homes for forbidden books and suspect items such as prayer mats, using special equipment to check walls and floors for hidden caches.
The authorities are also gathering biometric data and DNA. Two Uighurs, a former official and a student, said they were ordered to show up at police buildings where officers recorded their voices, took pictures of their heads at different angles and collected hair and blood samples.
The pressure on Uighur villages intensifies when party "work teams" arrive and take up residence, sometimes living in local homes. The teams ask villagers to inform on relatives, friends and neighbors, and they investigate residents' attitudes and activities, according to government reports published online.
One account published last year described how the authorities in one village arranged for detainees accused of "religious extremism" to be denounced by their relatives at a public rally, and encouraged other families to report similar activities.
"More and more people are coming forward with information," Cao Lihai, an editor for a party journal, wrote in the report. "Some parents have personally brought in their children to give themselves up."
A Uighur woman in her 20s who asked to be identified only by her surname, Gul, said she came under scrutiny after wearing an Islamic head wrap and reading books about religion and Uighur history. Local officials installed cameras at her family's door — and inside their living room.
"We would always have to be careful what we said and what we did and what we read," she said.
Every week, Ms. Gul added, a neighborhood official visited and spent at least two hours interrogating her. Eventually, the authorities sent her to a full-time re-education camp.
Ms. Gul, who fled China after being released, later tried to contact her brother to find out if he was in trouble. He sent a wordless reply, an emoticon face in tears.
Afterward, Ms. Gul's mother sent her another message: "Please don't call us again. We are in trouble."
Broken Families
The Chinese government says it is winning a war against Islamic extremism and separatism, which it blames for attacks that have killed hundreds in recent years. Information about such violence is censored and incomplete, but incidents appear to have fallen off sharply since 2014, when the "deradicalization" push began.
Still, many who have emerged from the indoctrination program say it has hardened public attitudes against Beijing.
"It was of absolutely no use," said Omurbek Eli, a Kazakh businessman, of his time held in a camp in 2017. "The outcome will be the opposite. They will become even more resistant to Chinese influence."
For many families, the disappearance of a loved one into the camps can be devastating, both emotionally and economically — a point reflected in reports posted online by the party's "work teams."
Some of these reports describe Uighur families unable to harvest crops on their own because so many members have been taken away, and one mentioned a mother left to care for five children. In another report, an official near Hotan described holding a village meeting to calm distraught relatives of those sent to the camps.
The mass internments also break Uighur families by forcing members to disown their kin or by separating small children from their parents. So many parents have been detained in Kashgar, a city in western Xinjiang, that it has expanded boarding schools to take custody of older, "troubled" children.
"Whether consciously or unconsciously, authorities in Xinjiang have recognized the power of families as an alternative source of authority," said Rian Thum, a professor at Loyola University in New Orleans who has followed the detentions. "The kind of extreme party loyalty they want has no room for that."
Ms. Gul said the camp she was in was ramshackle enough that children who lived nearby sometimes crept up to a window late at night and called out to their mothers inside. "Their children would come and say, 'Mother, I miss you,'" she said.
"We didn't say anything," she added, "because there was a camera inside the cell."
https://www.nytimes.com/2018/09/08/world/asia/china-uighur-muslim-detention-camp.html
--------
PAS is tarnishing image of Islam
Moaz Nair
September 9, 2018
Terengganu, under PAS rule, is again in the limelight for the wrong reasons. The recent public caning meted out to two women accused of attempting to commit a lesbian sexual activity (sihaq in Arabic) is uncalled for, and has brought criticism and caused ripples of unease across the country.
This caning has given a bad image to Islam and is going to derail any economic investments by foreigners in the state — one of the poorest in the country.
PAS clerics should be mindful that Islam provides Muslims with a code of behaviour, ethics and social values which helps them in tolerating and developing adaptive coping strategies to deal with offenders who have committed personal sins.
One of these is to show guidance, and not to punish or humiliate them in public. Offenders of this sort should be counselled as to what is allowed and what is prohibited in Islam and society.
When reproaching homosexual offenders, it would be more sensible if it is educative in nature.
Muslims claim that Islam is a religion that advocates dakwah (proselytising). First-time offenders therefore need counselling more than corporal punishment that could lead offenders to ostracise themselves from society.
Homosexuality is no doubt "sinful" in Islam as it is against the order of human nature. Human beings, as ordained, are created in pairs, each with certain physical and psychological characteristics to complement and complete one another and to accomplish certain roles.
One of their main biological roles is to procreate and develop society.
Cognitive failure and surroundings
Offenders can be subjected to counselling sessions and be advised that in Islam, as well as in many other religions, LGBT and homosexuality are considered as "distasteful" human traits.
Counselling is akin to dakwah and this would create more awareness among these offenders.
They should be humanely apprised of the negativity and that these mental and physical traits of theirs would create disorder in society as well as degrade a person and the family structure, and hence the society.
They should be led to the realisation that this detestable act is considered "sinful" in Islam, as the Quran says: "We had sent Lot when he said to his people, 'Do you commit such immorality as no one has preceded you with from among the worlds? Indeed, you approach men with desire, instead of women. Rather, you are a people transgressing beyond bounds." (7:80-81).
From the psychologist's point of view, humans engaging in homosexual activities are considered an unnatural act. People usually have the urge to do so because of their cognitive failure and surroundings.
However, the tendency to become LGBTs and homosexuals can be attributed to many factors — genetic as well as the surroundings during puberty, among others.
Offenders can thus be referred to qualified counsellors or medical officers for advice.
This disorder, in reality, transcends race and religion and is found in all societies. There is at least one mention of lesbian behaviour in the extra-Quranic narrative: "Sihaq of women is zina (illegitimate sexual intercourse) among them."
And since this act can be detrimental to the wellbeing of the people, courteous steps could be taken to discourage sexual activities among homosexuals.
However, no punishment on homosexuals is mentioned explicitly in the Quran, except that a curse will befall them or their society, as what is mentioned in the Quran: "And We rained upon them a rain [of stones]. Then see how the end of the criminals was." (7:84)
Perhaps for this reason, religious clerics in the state of Terengganu applied the ta'zir provision of the shariah (refers to punishment for offences at the discretion of the judge or Qadi) on the female couple accused of sihaq. In this context, the punishment meted out was solely based on the discretion of the judge.
The judge could have felt that caning the accused in public and imposing a hefty fine on them would deter them and others from committing offences of this nature. Shockingly, there was no mention that the pair would first be counselled before imposing any form of punishment.
Neither was it mentioned that they would be called for counselling thereafter to rehabilitate them since they were first-time offenders.
Mental malaises can be considered a 'malady'
PAS clerics should take heed of an Islamic narrative that "Allah has sent down a cure even as He has sent down the disease".
Likewise, to the physicians, Muslims or otherwise, mental malaise can be considered a "malady" that has afflicted many into becoming LGBTs and homosexuals. Therefore, counselling them is still the best remedy.
Different studies have found that being truly religious increases a person's faithfulness in the counselling process.
Religion can be considered to be one of the most important psychosocial factors in human life, and it's imperative for Muslims to recognise how Islam can help prevent different mental disorders that has brought about unnatural sex among human beings.
In the past, Muslim scholars during the Persian civilisation, with the inspiration of Greek thinkers and logicians, have discussed the concept of psychology, psychiatry, psychotherapy and their relationship to mental health.
For instance, Ibn Sina observed mental disorders as conditions that were physiologically determined. Al-Razi considered mental disorders to be medical conditions, to be treated using psychotherapy and drug treatments.
He was the first Muslim physician who introduced methods of psychotherapy, and he had achieved a lot of success in discovering the definition and symptoms of mental health.
Psychotherapy was already widely used in treating mental disorders by progressive Muslim thinkers and philosophers of the past. There was even a mental ward in Baghdad, Iraq, in 705CE, established by al Razi.
Present day Muslim clerics, who are still in the dark, should thus take a cue from them and delve into the management of different human psychiatric or psychological disorders, as this is also an intrinsic part of the religion.
There have been many studies on exploring the impact of Islamic values on adaptation of a person's cognitive errors, and how these Islamic values can help in prevention of different human psychological and physiological disorders.
Present-day judicious Muslim clerics could adopt several of these cognitive themes that could help to correct the cognitive errors among LGBTs and homosexuals.
Warped mentality of the feudal age
The recent caning of these two women in the state was supposedly done under the ta'zir provision of the shariah law. In other words, this has to do with human discretion and predilection, based on acceptable and non-acceptable moral precepts in a society. If discretion is applied in ta'zir, the judge could also have considered other means of punishment since it was the offenders' first-time misdemeanour and the possibility that they were misguided into behaving as such.
Unfortunately, the judge must have erroneously felt that by caning the offenders, he has fulfilled God's law and earned His blessings. Little did he realise that offenders of this nature should be handled with mercy, as often pronounced in the many Quranic verses.
If PAS clerics feel that caning LGBT offenders can change their lifestyles, they are wide off the mark. Caning them in view of the public will only invite more resentment and criticism from the public.
The one crucial aspect that PAS clerics did not factor in is the process of rehabilitation that is intrinsic in all progressive societies.
Muslim clerics should therefore adopt a psychosocial model, based on Islamic counselling — the shariah path, as well as the contemporary approach to psychotherapy, where these people can seek assistance from qualified religious and medical personnel to deal with their mental and psychological snags.
Their main role for this purpose is to provide advice on social and mental health issues which would be in accordance with the Islamic and present-day moral principles. This form of counselling is more cultured than meting out harsh punishments for the public to have delight in, while humiliating the offenders.
PAS clerics should explore the impact of Islamic values and beliefs on modification of the offenders' cognitive errors, and how these Islamic values can help in prevention of different psychological and physiological disorders.
Full report at:
https://www.freemalaysiatoday.com/category/opinion/2018/09/09/pas-is-tarnishing-image-of-islam/
--------
Cradle CEO's stepsons held in murder probe
09 September 2018
KUALA LUMPUR, Sept 5 — Police detained today the two teenage stepsons of Cradle Fund Sdn Bhd CEO Nazrin Hassan in a murder investigation, after his neck was found with injuries from an arrow.
A police source told Malay Mail that the two boys in secondary school were picked up at 9.30pm earlier from their grandfather's house, following the arrest of Nazrin's wife, Samirah Muzzaffar, and her ex-husband yesterday morning.
"Investigations found puncture holes in the neck — marks from an archery arrow.
"The boys were picked up as part of investigations as it is learnt they both play archery and there were other leads upon interrogation with their parents that led to their arrest," the source said.
Samirah, the 43-year-old daughter to Malaysian Muslim political scientist and Islamic reformist Chandra Muzaffar, was picked up from her home yesterday in Taman Tun Dr Ismail at 2.15am.
The children were at Chandra's house when police called earlier.
Samira's 43-year-old ex-husband was also picked up yesterday at 1am in Sepang. Both were remanded for seven days starting yesterday.
Nazrin's death on June 14 was reclassified from sudden death to murder on August 3, following laboratory test results from the Selangor Fire and Rescue Department that showed foul play.
The results showed traces of petrol in Nazrin's room on the top floor of a double-storey semi-detached house in Mutiara Damansara, resulting in the fire.
Malay Mail reported on August 6 that a police source revealed the laboratory results showed traces of petrol on Nazrin's head, bedframe and mattress, as well as his handphone.
Full report at:
https://www.malaymail.com/s/1670848/cradle-ceos-stepsons-held-in-murder-probe
--------
Shariah caning milder than school's version, says Terengganu MB
08 September 2018
KUALA TERENGGANU, Sept 8 — The recent Shariah caning meted out on lesbian couple in Terengganu was milder than the one carried out by school disciplinary teachers, said Mentri Besar Ahmad Samsuri Mokhtar.
He said the caning in Shariah only aimed at educating the public without causing injury to the offender, and its implementation should not cause confusion and perceived negatively.
"I'm not sure if the parties who protested against the punishment have the knowledge on how the caning is carried out. They should get the right information, because in reality it is not as bad as it sounds.
"In fact, I personally talked to several people who were present and witnessed the caning and they said it was lighter than the ones carried out at schools. Don't put Shariah caning on the same context as the civil ones as the two are very different," he said, commenting on criticisms from several quarters regarding the caning.
On September 3, the 22 and 32-year-old lesbian couples were caned six times after being found guilty of attempting to have sex in a car at Dataran Arena Squre, Dungun, 1.50pm on April 8, and fined RM3,300 or four months in prison, if they failed to pay the fine.
Ahmad Samsuri said the caning in Terengganu was not the first as Pahang, Kelantan and Sabah had previously implemented the similar sentencing.
"The caning was carried out by the federal government agency, the Prisons Department ... there is certain procedure to follow and the five-minute sentencing carried out that day sent fear among the people around the world that they can't do this kind of thing, and we pray that this culture does not exist in Terengganu," he said.
Meanwhile, in separate development, the state aimed at increasing the participation of international runners in the Sultan Mahmud Bridge International Run (LAJSM) in order to place the event in the world-famous tourism calendar in the future.
Ahmad Samsuri said more promotional efforts would be implemented through the State Tourism Department to attract professional runners, especially from overseas.
"This year, a total of 53,000 participants joined LAJSM including 3,000 participants are from the state, 4,000 are from outside Terengganu while 1,000 international participants from Kenya, Japan, United States, Laos, India, France, United Kingdom, Singapore and Indonesia.
Full report at:
https://www.malaymail.com/s/1670722/shariah-caning-milder-than-schools-version-says-terengganu-mb
--------
Arab World
1,000-Year-Old Mosque Discovered In UAE
September 9, 2018
The mosque is the the earliest yet discovered in the country.
A mosque, believed to be 1,000 years old, has highlighted what the UAE was like when the religion of Islam came to its shores. This was a period of time which ushered in a wave of change across the area that is now known as the UAE. The new religion brought with it a set of values and beliefs that have since defined the history of the country.
Archeologists from the Department of Culture and Tourism - Abu Dhabi (DCT Abu Dhabi) are continuing to make discoveries that shed new light on the history of the country as Islam made its way into it.
Close to the construction site of the Sheikh Khalifa mosque in Al Ain, DCT Abu Dhabi archaeologists discovered several falaj (irrigation waterways), at least three buildings and, more significantly, a mosque which dates back to Islam's early golden age of the Abbasid Caliphate - 1,000 years ago. The mosque is the earliest yet discovered in the UAE.
Mohamed Khalifa Al Mubarak, Chairman of DCT Abu Dhabi, said: "The new findings at the Al Ain archaeological sites prove the richness of the region's history, which allows us to expand our knowledge of ages long past. The discovery of a mosque from the Abbasid period in Al Ain demonstrates the deeply-rooted influences of Islam in the region, despite the immense distance from where Islam first emerged and at a time when modes of transportation were quite rudimentary.
"However, these findings display clear and profound cultural influences that reveal how the connections established by our ancestors with neighbouring cultures and nations transcended borders and surmounted transport difficulties, which in turn calls for further analysis to form a holistic understanding of our past."
Experts have revealed that the buildings at the site, made from mudbrick, are the remains of a small fortress and several other structures. People living in these buildings would have obtained fresh water from several falaj that they constructed around the settlement. Falaj technology has a deep history in Al Ain, stretching back 3,000 years. In the early Islamic period, the people of Al Ain improved the existing technology by using fired bricks to ensure the stability and durability of the underwater channels. When excavated, these falaj were still intact.
But the archaeologists believe it is the discovery and excavation of a mudbrick mosque that places Al Ain on the global map as an important centre during the early Islamic period. Experts were alerted to the fact that it is a mosque by the presence of a mihrab (a niche in the wall of the mosque, at the point nearest to Makkah) on the interior room and on the exterior. Thus the faithful would have prayed inside and outside the mosque, just as they do today.
Fragments of pots, which were likely used for ablution (ceremonial washing) and other ritual purposes, were found inside the mosque and date from the 9th to the 10th Centuries CE. These discoveries and a radiocarbon date from one of the nearby falaj confirm that the mosque is the earliest yet discovered in the UAE.
Experts believe that this simple mosque indicates the popularity and crucial position of Islam in the UAE in the centuries following the Prophet Muhammad (PBUH). Along with groves of date palms supported by the falaj, Al Ain in the early Islamic period was already in a form that would be recognisable today.
The DCT's experts are continuing to research in Al Ain and elsewhere in Abu Dhabi, in a bid to shed further light on the early centuries of Islam.
Archaeologists have investigated a Christian church that dates to this time on the island of Sir Bani Yas. This building highlights another critical feature of the early Islamic period: a tolerance and acceptance of other religions, which is still a feature of life in today's UAE.
How Islam opened up trade avenues
Archaeologists also believe the finds from the mosque point to another important feature of early Islamic society - that the spread of Islam opened up trade and ushered in a new global age of commerce. In addition to imported ceramics from the rest of the Arabian Gulf, several fragments of Dusun ceramics were discovered in the mosque and adjacent buildings. This unique pottery was produced in the Guangdong province of south China and was traded across east Asia and the Middle East.
That Arab merchants and sailors ventured far from their homes to trade for these goods, is now indicated by the discovery of an Arabian dhow shipwreck off the coast of Indonesia. Experts from the Department of Culture and Tourism - Abu Dhabi (DCT Abu Dhabi) don't know if people in Al Ain travelled that far, but the discoveries indicate that the town, perhaps known then as Tawwam, was part of a vibrant global economic system. It likely participated in the trade through one of the ports that existed on the coast at this time.
https://www.khaleejtimes.com/news/general/photos-1000-year-old-mosque/-discovered-in-uae
--------
Ansarallah Blames Saudi Coalition for Failure of Geneva Talks
Sep 08, 2018
"Denial of permission to the Omani plane to transfer the Yemeni delegation is clear violation of human rights," al-Houthi was quoted as saying by the Arabic-language al-Masirah news channel on Saturday.
He further voiced suspicion over Riyadh's true intentions for denying permission to the Omani plane, and called it flagrant insult to the negotiating delegation.
The UN-brokered negotiations were suspended after the Saudi-led coalition withheld permission for the flight carrying Ansarallah delegation from continuing .
Al-Houthi called on UN Special Envoy to Yemen Martin Griffiths to change the venue of such talks from Geneva to Sana'a.
UN-brokered talks to end Yemen's three-year war were meant to begin on Sept. 6, but only representatives of fugitive president Abd-Rabbu Mansour Hadi turned up as Ansarallah insisted their plane to Geneva be allowed to evacuate dozens of injured people to neighboring Oman.
"The United Nations is now facing a choice where it should prove that it refuses the violation of the international and humanitarian law .... not allowing the Omani plane to take the delegation and the wounded is a flagrant violation," Mohamed Ali al-Houthi said late on Friday on Twitter.
Full report at:
http://en.farsnews.com/newstext.aspx?nn=13970617000938
--------
Terrorists Attack Hama's Residential Areas with Banned Turkish Weapons
Sep 08, 2018
The terrorists of Jeish al-Izzah targeted civilian neighborhoods in Mahradeh city in Northern Hama from al-Latamanieh with Turkey-made cluster bombs, killing and injuring at least 39 civilians, including a number of women and children, battlefield sources said.
The sources said that Turkey has equipped the terrorist groups in Northern Syria with banned weapons such as cluster bombs.
The Syrian army also retaliated by pounding terrorists' positions in Kafar Zita, al-Latamanieh, al-Zuka Hasraya, al-Arbaeen, Mourek, Latmin and Hayalin in Northern Hama with heavy missile and artillery attacks.
The Syrian troops managed to inflict heavy losses and casualties on terrorists in their attacks.
The news comes as Ankara is duty-bound to monitor and prevent terrorists' movements in accordance with Astana agreement.
Meantime, the Syrian army has been pounding the military positions and moves of the terrorists in Northern Hama and Southern Idlib as a prelude to its impending massive military operations in Idlib.
The Damascus Army forces on Friday hit hard the command centers of Al-Nusra Front and other terrorist groups in al-Latamineh 8 kilometers East of Khan Sheikhoun and the village of al-Tah North of Khan Sheikhoun in Southern Idlib.
The Syrian Army also pounded the terrorists' training centers in Tal Aas village in Southern Idlib.
Meantime, other Syrian army units hit the terrorists' positions in the outskirts of Kafar Zita town in the Northern countryside of Hama province, destroying terrorists' field hospital in the region.
News websites close to terrorist groups, meantime, reported that the Syrian army's missile and artillery units pounded the towns of al-Bariseh and al-Khovin on Thursday.
The Syrian air force also pounded al-Latamineh after bombarding the terrorists' positions in Northern countryside of Hama.
In a relevant development last month, the Russian and Syrian fighter jets carried out massive bombing raids on terrorists' positions in Northwestern Hama and Western Idlib, inflicting major losses on the terrorists.
The Arabic-language Moraseloun news website reported that the fighter jets conducted a heavy bombing on terrorists' positions in a large region stretching from Southern Idlib to the al-Ghaab Plain in an introduction to the upcoming ground assault.
Full report at:
http://en.farsnews.com/newstext.aspx?nn=13970617000964
--------
Deadly Clashes Erupt between Syrian Army, Kurdish Militia in Hasaka
Sep 08, 2018
The Arabic-language al-Mayadeen news channel reported on Saturday that 11 Syrian army men were killed in clashes with the Kurdish militia in the town of Qamishli.
Meantime, the Arabic-language service of RT reported that the Syrian army and Kurdish fighters engaged in clashes on Hasaka road near the Red Crescent garage in Qamishli, inflicting tolls on both sides.
It quoted witnesses as saying that the clashes erupted after the Kurdish units detained tens of candidates in the Syrian government's local council elections in the province.
The Kurdish militants have detained over 250 candidates in Hasaka, threatening them to withdraw their nomination.
The incident happened as people in the town of Qamishli in Hasaka province have several times in the past few months poured into the streets, demonstrating against the US-backed Syrian Democratic Forces (SDF) militias and hoisted the Damascus government's flag.
Full report at:
http://en.farsnews.com/newstext.aspx?nn=13970617000983
--------
Syrian Army Keeps Rolling on Terrorists' Centers in Sweida Deserts
Sep 08, 2018
The army soldiers engaged in fresh battle with terrorists Northeast of Toloul al-Safa in the Eastern deserts of Sweida, advancing 1km in the depth of terrorists' positions in Qa al-Banat area.
In the meantime, the Syrian army units advanced in the depth of rocky areas from Western angle towards Qabr Sheikh Hussein (Sheikh Hussein Grave), seizing control of several regions.
The army's artillery and missile units, meantime, pounded the positions and movements of the terrorists in Toloul al-Safa, inflicting major losses on the terrorists.
Fields sources, meantime, reported that the army men have tightened their grip on the terrorists by taking control over several ponds and breaking the terrorists' defense lines in valleys and rugged terrains.
Earlier reports said that the army units fortified newly-captured positions in the rocks in Toloul al-Safa in the Eastern deserts of Sweida, preparing to drive ISIL out of the last strongholds in Toloul al-Safa.
The army forces have been pounding ISIL's main positions in Toloul al-Safa, destroying a large volume of their weapons and equipment and killing tens of the terrorists, especially their snipers.
Full report at:
http://en.farsnews.com/newstext.aspx?nn=13970617000676
--------
Senior Tahrir Al-Sham Commander Assassinated in Idlib
Sep 08, 2018
Field sources in Northern Syria reported on Saturday that a group of unknown assailants killed Tahrir al-Sham's security commander Abu Hajar al-Ansari in a gun attack in Jabal al-Zawiyeh region in Idlib.
They added that al-Ansari was responsible for protecting Tahrir al-Sham's Mufti Abu al-Yaqzan al-Misri.
Meantime, a bomb was detonated in the town of Ma'arat al-No'eman in Southern Idlib, killing several militants.
Also, explosion of a bomb near a court building in the town of Salqayn in Northwestern Idlib killed and wounded a number of terrorists.
In a relevant development last Sunday, at least five senior commanders of Tahrir al-Sham Hay'at were killed in a chain of blasts in the Northwestern province of Idlib, local sources reported.
Ahmad Fo'ad Dayb, a commander of Tahrir al-Sham, was killed after a bomb, planted in his vehicle, went off in the town of Saraqib in Idlib.
In the meantime, local sources reported that four blasts in the towns of Samin, Salqin, Qah and al-Dana near the border with Turkey killed at least five commanders of Tahrir al-Sham.
Full report at:
http://en.farsnews.com/newstext.aspx?nn=13970617000890
--------
18 dead as Syria Kurds clash with regime forces
8 September 2018
Clashes between Kurdish forces and regime fighters in the divided northeastern city of Qamishli killed 18 combatants Saturday, the Kurdish forces and a war monitor said.
The rare flare-up in the Kurdish-majority city near the Turkish border saw 11 regime fighters and seven Kurds killed, the Kurdish security forces known as Asayesh said in a statement.
The Syrian Observatory for Human Rights, a Britain-based war monitor, reported the same death toll for the fighting near a Kurdish checkpoint in the city.
The Asayesh said a regime "patrol opened fire on our forces with light and medium weapons, causing our forces to respond to this violation, which killed 11 regime fighters... and seven of our comrades".
The Observatory said the shootout started when Asayesh members at the checkpoint asked regime fighters aboard a patrol vehicle to step out but they refused.
"When they did not comply, the shooting started on the car," Observatory chief Rami Abdelrahman said, and the clashes escalated after both sides called in reinforcements.
An AFP correspondent at the scene saw empty camouflaged pick-up trucks in the street.
Some bore bullet holes, while traces of blood were visible on the tarmac, he said.
Kurdish forces control most of Qamishli, but regime forces and allied militiamen hold part of the city and its airport.
Deadly clashes last broke out between Kurdish forces and pro-regime fighters in Qamishli in April 2016, but ended days later with a truce.
That fighting began with a scuffle at a checkpoint and, according to Kurdish security forces, killed 17 civilians, 10 Kurdish fighters and 31 regime troops and militia.
With US-led support, Syria's Kurds played a prominent role in the war against the Islamic State group during which they seized large swathes of northern and northeastern Syria where they have set up automous institutions.
The Damascus regime has vowed to reintegrate the Kurdish-held areas, by force if necessary.
Full report at:
https://english.alarabiya.net/en/News/middle-east/2018/09/08/18-dead-as-Syria-Kurds-clash-with-regime-forces-.html
--------
Syrian govt. forces target Jabhat Fateh al-Sham terrorists in Hama
Sep 8, 2018
Syrian army forces have targeted terrorists from the Jabhat Fateh al-Sham Takfiri terror group, formerly known as al-Nusra Front, in the country's west-central province of Hama as government forces and allied fighters from popular defense group are trying to purge the Arab country of foreign-backed Takfiri militants.
Syria's state-run television reported that army troopers had shelled terrorist strongholds in the town of al-Lataminah, located 39 kilometers northwest of the provincial capital Hama, and other militant-held areas in the northern edge of the province.
The offensive came after Jabhat Fateh al-Sham militants fired shells on the government-controlled town of Mahardah, located about 23 kilometers northwest of Hama, killing nine people and wounding 20 others. Three of the injured are said to be in a critical condition.
Meanwhile, Syrian army forces have beefed up their presence in the hilly Tulul al-Safa region northeast of Jabal al-Arab volcanic plateau in the country's southwestern province of Sweida.
Syria's official news agency SANA reported that army units, in cooperation with allied forces, carried out special military operations against Daesh terrorists in the area, destroying a large number of their positions.
The report added that government forces had managed to kill a large number of militants, and cut off their supplying routes.
Syria has been gripped by foreign-backed militancy since March 2011. The Syrian government says the Israeli regime and its Western and regional allies are aiding Takfiri terrorist groups wreaking havoc in the country.
Syrian army troopers, backed by allied fighters from popular defense groups, have recently made major territorial gains in battles against Daesh and other foreign-sponsored Takfiri terrorist groups, almost capturing the entire southern part of the country after securing the capital Damascus and other key areas.
The major militant stronghold remains in the northwestern province of Idlib, where government forces are preparing to launch a full-scale military offensive.
Takfiri militants are also in control of some areas of Hama province, and are holding some desert regions near the border with Turkey.
Full report at:
https://www.presstv.com/Detail/2018/09/08/573561/Syrian-govt-forces-target-Jabhat-Fateh-alSham-terrorists-in-northern-Hama
--------
India
Halal Tourism Takes Flight for City's Religious Travellers
Sep 9, 2018
City-based diamond jeweler Imtiaz Motiwala has just returned from annual Haj pilgrimage. But if a tour operator offered him an Umrah (half-Haj) visit plus a tour to Turkey where he can visit the museum housing the Prophet's mementos, he would grab the opportunity.
And Motiwala is not alone looking for such halal tours. In keeping with the growing demand for halal tourism, a three-day 'Islamic Travel Mart' (October 12, 13 and 14) at World Trade Centre in Mumbai is being held.
Many leading halal travel and tourism professionals from across the country are expected to participate to discuss how to further promote halal tourism in Islamic countries.
The show will have tour operators of Haj, Umrah, Ziyarat (visits to holy places), destination tour management companies, financial service and transport service providers. With 31% of the world's Muslims living in South Asia and India having the second largest Muslim population after Indonesia, halal tourism has great future here, said industry sources.
When asked why Mumbai has been chosen to host this Islamic tourism show, Yusuf Ahmed Khereda of Al Khalid Tours and Travels says: "Apart from being the business and entertainment capital of India, Mumbai is home to a huge affluent Muslim population. It is hub of Haj, Umrah and Ziyarat tour operators and has close proximity with Saudi Arabia and other Gulf countries."
Afzal Patel of Atlas Tours and Travels, another participant in the show, is offering a package called "combo Umrah" where apart from Mecca and Medina, travelers can also visit places in Turkey, Dubai, Morocco, Iraq and Iran. "The Mart will enable tour operators to operate in an organized way and it should help customers to plan their visits better," says Patel.
According to the Global Muslim Travel Index 2017, the halal or Muslim friendly tourism market was valued at US$155 billion in 2017 and is expected to gallop to US$300 billion by 2026.
Apart from providing halal food and non-alcoholic beverages, the halal tourism offers accommodation in hotels where travellers are not exposed to pork, casino, bars and discotheques. Tourists are given guided tours of sites associated with Islamic history.
"Our hotels in the Muslim countries comply with sensitivities of our guests. Halal tourism is an expanding market and a lot needs to be done to make this sector stronger," said Youri El-Maghrabi, director of sales and marketing, at the Oberoi Medina.
Affluent Muslims now have plenty of choices to visit holy places. Tour operators preparing to showcase their "wares" at the upcoming Islamic Mart are readying up to give their religious customers what they want. For an extra price, of course.
https://timesofindia.indiatimes.com/city/mumbai/halal-tourism-takes-flight-for-citys-religious-travellers/articleshow/65737406.cms
--------
'Aiding Terror Group': 5 'Bangladeshis' charged in India
September 09, 2018
India's top counter-terror body National Investigation Agency (NIA) has pressed charges against five alleged Bangladeshis on charges of aiding terror outfit Ansarullah Bangla Team (ABT).
The charge sheet was filed with the NIA court in Mumbai on Friday against Mohammed Habibur Rahman Habib alias Raj Jesub Mandal, Ripon Hossain alias Rubel, Hannan Anwar Khan alias Hannan Baburli Gazi, Md Hassanali alias Md Amirali and Azarali Subhanalla Islam alias Raja Jesub Mandal, said a statement posted on the NIA website.
The charge sheet against the "Bangladeshi nationals" has been filed under sections 120B (criminal conspiracy) and 471 (using as genuine a forged document) of the Indian Penal Code, relevant sections of strict Unlawful Activities (Prevention) Act of 1967 and section 14 of the Foreigners Act of 1946.
All the five alleged Bangladeshis were arrested by the Anti-Terrorism Squad of western Indian city of Pune in Maharashtra state on charges of aiding and harbouring members of ABT in Pune.
The NIA said its investigation revealed that the five were staying in India without valid documents and were working as workers at various construction sites in Pune.
They had fraudulently obtained Indian Permanent Account Number (PAN) Cards needed for filing income tax returns and opening bank accounts, multipurpose identity Aadhaar cards, election cards and ration cards in fictitious names by providing fake or forged documents, the NIA statement read.
The five "Bangladeshis" used the said Aadhaar and PAN cards to obtain Indian SIM cards, open bank accounts and seek employment in India.
The NIA said its probe also brought out that the arrestees in 2017 provided shelter and money to one Tushar Bishwas alias Tanvir, a member of the Ansarullah Bangla Team, against whom a charge-sheet under the Unlawful Activities (Prevention) Act of 1967 was earlier filed by the NIA.
Full report at:
https://www.thedailystar.net/india/news/indias-nia-files-charge-sheet-against-5-bangladeshis-aiding-abt-1630951
--------
No Muslim Ever Told Hindus To Change How They Pray, But Some Are Trying To Stop 'Azaan' Now: Farooq Abdullah
Sep 8, 2018
National Conference president Farooq Abdullah on Saturday said if the country wants to come out of the atmosphere where attacks are happening on the people from minority communities, then "we have to respect every citizen and their religion as well".
"No Muslim has ever told any Hindu or Christian to change the way they practice their religion or change their food habits or has stopped them from visiting their religious places. But, when they tell us not to offer prayers in a particular way or stop 'Azaan' (call for prayers), they want to change Gandhi's India," Abdullah said.
Abdullah said every religion has to be respected and people have to be given the rights as enshrined in the Constitution.
He was addressing party workers at a function in Srinagar to mark the 36th death anniversary of his father and party founder Sheikh Mohammad Abdullah.
The former Jammu and Kashmir Chief Minister accused "agencies" of spreading rumours about danger to Kashmiri Pandits living in the valley and called upon his party workers and the people of Kashmir to safeguard the community.
"I want to tell the NC workers that a new danger is there. There are rumours are being floated and I think agencies are doing it like it was done during (former governor) Jagmohan's time, that Kashmiri pandits are in danger and they should be cautious. This is being done to spread fear in the country so that there are clashes between Muslims and Hindus.
"I want to tell not only the workers of NC, but the people of Kashmir, that pandits are our brothers and it is our duty to safeguard them. Make sure no Hindu feels unsafe here. Every Kashmiri whether people from Hurriyat (Conference), NC, Congress or PDP - is duty bound to safeguard them," he said.
Abdullah also threatened to boycott the assembly and parliamentary polls too if the Centre does not take effective steps for protection of Article 35-A, days after the National Conference announced its decision to not participate in the panchayat and urban local bodies (ULB) elections.
Article 35-A, which was incorporated in the Constitution by a 1954 Presidential Order, accords special rights and privileges to the citizens of Jammu and Kashmir and bars people from outside the state from acquiring any immovable property in the state. It is facing legal challenge in the Supreme Court.
Full report at:
https://www.dnaindia.com/india/report-no-muslim-ever-told-hindus-to-change-how-they-pray-but-some-are-trying-to-stop-azaan-now-farooq-abdullah-2660773
--------
Unidentified gunmen shot dead 'Ansar Ghazwat-ul-Hind' terrorist in J&K's Srinagar
Sep 8, 2018
SRINAGAR: Unidentified gunmen shot dead a terrorist belonging to the 'Ansar Ghazwat-ul-Hind' - an affiliate of al-Qaeda in the valley led by Zakir Musa - here on Saturday, police said.
The gunmen fired upon a youth in the Hazratbal area of the city here, resulting in his on the spot death, a police official said.
He said the youth has been identified as Asif Nazir Dar, a resident of the Panzgam area of Awantipora in south Kashmir's Pulwama district.
Dar was an active terrorist associated with the Hizbul Mujahideen, but later defected to Musa-led Ansar Gazwat-ul-Hind, the official said.
He said a pistol and two magazines were recovered from the slain terrorists.
An al-Qaeda affiliated Global Islamic Media Front had on July 27, 2017, announced Musa as the head of the Ansar Ghazwat-ulHind.
Full report at:
https://timesofindia.indiatimes.com/india/unidentified-gunmen-shot-dead-ansar-ghazwat-ul-hind-terrorist-in-jks-srinagar/articleshow/65734041.cms
--------
Kashmir journalist was 'in contact' with Hizbul militant, cops tell court
September 9, 2018
Two weeks after detaining, and subsequently arresting, a journalist, Asif Sultan, Jammu and Kashmir Police has told a Srinagar court that he was "in contact" with a Hizbul Mujahideen militant, and that he used to "glorify" militants in his news reports.
The court has sent Asif to 15-day judicial remand. He has been shifted to Srinagar central jail. Asif's family and his employers maintain that he was picked up for his reporting, and he has no militant links.
Various journalists' associations in the Valley, including Kashmir Editors' Guild, have called for Asif's release and asked the police to make the charges against him public.
On Saturday, the police told the court that their probe is completed and that the journalist is not required by police any longer.
"He was in contact with Abass Sheikh (senior Hizbul Mujahideen militant from south Kashmir). (He) was playing an important role by providing him (Sheikh) all the possible help to carry out terrorist activities," the police told the court in a written reply to Asif's bail application, moved on Tuesday.
The police have also taken objection to Asif's reportage in Srinagar-based news magazine 'Kashmir Narrator'. "In journalism, he would instigate people in Jammu and Kashmir, especially Kashmir Valley, by glorifying terrorists associated with Hizbul Mujahideen," the police reply reads. "In his magazine, 'Kashmir Narrator', he would often give coverage to Hizbul Mujahideen terrorists, especially Burhan Wani, to attract youth towards terrorist organisations, especially Hizbul Mujahideen."
Asif's last big report — on slain Hizb militant Burhan Wani — was published on Burhan's second death anniversary this July.
The magazine's editor Showkat Motta told The Sunday Express that while they filed for Asif's bail on Tuesday, the police did not respond until today. "They filed the written response today at 3.30 pm and brought him to court just 10 minutes before (the court's) scheduled closure," he said. "We had no time to respond to charges levelled by the police."
Asif's father Mohammad Sultan Saida alleged that the police are trying to frame his son.
The police have said that they have seized the journalist's cellphone and laptop and sent it to the forensic lab in Chandigarh for examination.
Full report at:
https://indianexpress.com/article/india/kashmir-journalist-was-in-contact-with-hizbul-militant-cops-tell-court-5346809/
--------
Navjot Singh Sidhu: Pakistan set to allow 'visa-less entry' to pilgrims headed for Kartarpur Sahib
by Kanchan Vasdev
September 8, 2018
Under attack for over a fortnight for hugging Pakistan Army Chief Qamar Javed Bajwa, Punjab Local Bodies Minister Navjot Singh Sidhu Friday announced that Pakistan was set to allow pilgrims from the Indian side to Kartarpur Sahib gurdwara across the border a "visa-less entry" even as his government remained silent on his claim.
Sidhu made the announcement to the media at his official residence after referring to a TV interview of Pakistan's Information Minister Fawad Chaudhry saying "Kartarpur border was being opened."
Showing a video clip of Chaudhry to The Indian Express, Sidhu said, "Mera janam safal ho gaya."
In the video clip, Chaudhry is heard telling the TV reporter, "Kartarpur border is being opened. No visa would be required to visit the Gurdwara. A corridor would be made out from there and the pilgrims would be able to come up till that place."
Singing praises of Imran Khan, Sidhu said, "He has gone beyond friendship. I do not see it as a corridor but a bridge to connect two countries. I see it as a bridge to peace. What did we get from the bloodshed of all these decades?"
He said he had learnt that Khan held meeting with all stakeholders, including Bajwa, and it was decided that the entry should be allowed. He said he had already tweeted to Khan, "I thank my friend Imran Khan for this noble goodwill gesture. He has not walked two steps but miles and opened the doors for infinite possibilities. I am indebted forever," Sidhu said.
Sidhu said he urged upon the Government of India to match up the steps taken by Pakistan, "I urge upon the GOI to take a step in the direction of peace."
Full report at:
https://indianexpress.com/article/india/navjot-singh-sidhu-pakistan-set-to-allow-visa-less-entry-to-pilgrims-headed-for-kartarpur-sahib-5346319/
--------
Pakistan
Second economist resigns from Pakistan EAC over exclusion of Ahmadi scholar
Sep 8, 2018
ISLAMABAD: London-based economist Imran Rasul has become the second member of the new Pakistan government's Economic Advisory Council (EAC) to resign in protest against the exclusion of noted US-based academic Atif R Mian who was told to step down from the body due to a backlash over his Ahmadi faith.
Succumbing to pressure from the hardliners, the Pakistan government on Friday withdrew the nomination of noted economist Mian, a member of the minority Ahmadi community, from the newly-constituted economic panel, according to media reports.
"With a heavy heart, I have resigned from the EAC this morning," Rasul, a professor of economics at University College, London, said in a tweet on Saturday With a heavy heart, I have resigned from the EAC this morning. The circumstances in which Atif was asked to step
do… https://t.co/IwXpMtmmZD
— Imran Rasul (@ImranRasul3) 1536386219000
The economist said he "profoundly disagrees" with the circumstances in which Mian was asked to resign from the council.
"Basing decisions on religious affiliation goes against my principles, or the values I am trying to teach my children," he said.
In a series of tweets, Rasul spoke in favour of Mian's appointment to the advisory council, saying "if there was one academic on the EAC that Pakistan needs, it was him (Mian)".
Wishing the government and the EAC luck for the future, the professor said he remains willing to offer "non-partisan, evidencebased advice" that can help improve economic policymaking in Pakistan.
Rasul said while Pakistan is full of talent, it "needs leaders willing to draw on all this talent, and that are willing to appeal to our better sides, for the common good and not sow division."
Rasul quit after another EAC member, Asim Ijaz Khwaja, professor of International Finance and Development at the Harvard Kennedy School, announced his decision to resign from the advisory council following Mian's exclusion.
The government's climbdown came three days after it had defended the academic's nomination to the EAC led by Prime Minister Imran Khan, saying in categorical terms that it will "not bow to extremists".
The Ahmadis are designated as non-Muslims in Pakistan's Constitution and their beliefs are considered blasphemous in most mainstream Islamic schools of thought. They are often targeted by extremists and their places of worship vandalised.
Mian, a Massachusetts Institute of Technology-educated Pakistani-American economics professor at the prestigious Princeton University, was recently named member of the 18-member EAC to advise the government on economic policy. He is the only Pakistani to be considered among International Monetary Fund's list of 'Top 25 brightest young economists'.
His appointment was embroiled in a controversy after it was opposed by several individuals and reigiuos groups, including the hardline Islamist party Tehreek-i-Labbaik Pakistan (TLP), who objected to his Ahmadi faith.
https://timesofindia.indiatimes.com/world/pakistan/second-economist-resigns-from-pakistan-eac-over-exclusion-of-ahmadi-scholar/articleshow/65733496.cms
--------
UN envoy terms stay of Afghans in Pakistan 'a protracted refugee crisis'
Zulfiqar Ali
September 09, 2018
NOWSHERA: United Nations High Commissioner for Refugees (UNHCR) Filippo Grandi has described the decades-long stay of Afghan refugees in Pakistan as "a protracted refugee crisis" and urged the world community not to forget the displaced people.
"We call them protracted refugees and I always say that protracted refugees should not be forgotten," he said while talking to media personnel after visiting the Voluntary Repatriation Centre (VRC) for Afghan refugees at Azakhel, Nowshera, on Saturday.
UN Undersecretary-General for Humanitarian Affairs and Emergency Relief Coordinator Mark Lowcock and film star Mahira Khan, who has been designated the UNHCR advocate for refugees and youth of the host communities, accompanied Mr Grandi.
The high commissioner said the stay of Afghans in Pakistan for nearly four decades was one of the longest refugee situations in the world. He said these Afghans would complete 40 years of their refuge next year.
He rejected the perception that Afghan refugees in Pakistan would never go back to their country. More than four million had returned to Afghanistan over the past 20 years and many were ready to go back home, he said.
"We saw this morning that refugees were going back, but not many, because they (Afghans) are concerned about their security," he said.
Millions of Afghans took refuge in Pakistan when the former Soviet Union invaded their country in 1979. According to the UNHCR, over four million refugees had returned to their country since 2002.
Pakistan is still hosting around three million Afghan nationals, including 1.4 registered refugees. Voluntary repatriation had slowed down during the last two years because of surge in violence, lack of basic amenities and unemployment in Afghanistan.
Officials said that only 10,000 refugees had returned to Afghanistan since March 1, 2018 which indicated the slow pace of return. Only 45 refugee families left the VRC for their home country on Saturday as the sprawling VRC, Azakhel, was offering a deserted look.
Only a few Afghan boys and girls who were invited to the meeting with the UNHCR and his entourage were seen taking selfies with Mr Grandi and Mahira Khan. The two met refugee children, women and youth who apprised them of their problems.
"Unfortunately the situation has deteriorated. We have to help Afghans to get out of this bad period of insecurity, poverty and bring back services especially education," the high commissioner said.
Mr Grandi said that Prime Minister Imran Khan during their meeting in Islamabad on Friday was very clear about the problems of refugees and assured him that Pakistan would never force (Afghans) to go back to Afghanistan.
He called for more resources and most importantly political attention to help Afghans restore peace to their country. "We should not be pessimistic," he said, adding that they would help young Afghans to go back and rebuild their country.
He said that young refugees needed education and skill to rebuild their country.
He called Mahira Khan a very powerful advocate to highlight issues and thanked Pakistan for a very long hospitality to Afghan refugees.
Ms Khan while speaking on the occasion said: "I am very happy to be doing this job". She said that more than half of the refugees were children. "If we come together we can make future of this world better," said the film star.
Earlier, Mark Lowcock said that he visited Bara, Khyber tribal district, and talked to local people about the situation. He said 10,000 houses and hundreds of schools and other buildings had been destroyed during militancy in Khyber district.
He said he saw children sitting on the floor in schools. He said the government had launched schemes in affected areas and people were given cash through ATMs to rebuild their damaged homes.
Meanwhile, Mr Grandi commended charitable work of the Shaukat Khanum Memorial Cancer Hospital, saying that providing free-of-cost treatment to underprivileged cancer patients was a noble act.
"Hospitals like this are a symbol of hope for thousands of cancer patients who have little resources," Mr Grandi said during his visit. The UN refugee agency had provided high-tech machines worth Rs710 million to Peshawar's Shaukat Khanum Memorial Cancer hospital to support free-of-cost treatment to cancer patients, including Afghan refugees.
Full report at:
https://www.dawn.com/news/1431827/un-envoy-terms-stay-of-afghans-in-pakistan-a-protracted-refugee-crisis
--------
Govt ready for body to probe rigging charges, says Fawad
September 09, 2018
ISLAMABAD: Minister for Information and Broadcasting Fawad Chaudhry on Saturday said the government was ready to constitute a commission to probe alleged rigging in the general elections as per the demand of the opposition.
Responding to the allegations levelled by Leader of the Opposition in the National Assembly Shahbaz Sharif in a video message, the minister said the opposition had so far failed to explain the nature of the perceived rigging. Also, he added, the opposition had not yet submitted terms of references for a probe into the rigging allegations.
He said the opposition was using the issue of election rigging as a political stunt without producing any concrete evidence. The opposition should present a concrete proposal to probe the alleged rigging, he added.
However, he commended Pakistan Tehreek-i-Insaf (PTI) Senator Azam Khan Swati for pointing out deficiencies in the Result Transmission System.
Denying the allegations of curtailing China-Pakistan Economic Corridor (CPEC) projects, Mr Chaudhry said the government would complete all CPEC projects besides ensuring transparency and effectiveness.
Regarding increase in gas, fertiliser and electricity prices, the minister said the government did not increase the prices. The PML-N government had destroyed the departments of gas and electricity, and the fertilizer industry. He explained that the government was resolving the issue of circular debt.
Strongly denying the allegations levelled by Mr Shahbaz, the minister said Nawaz Sharif and his daughter were convicted and sent to Adiala jail during the government of Pakistan Muslim League-Nawaz and the allegations were surprising and astonishing. Mr Chaudhry said the Sharifs faced corruption allegations as they could not prove the source of their income and assets. He said nobody had ever made so much money in such a short period of time.
Full report at:
https://www.dawn.com/news/1431822/govt-ready-for-body-to-probe-rigging-charges-says-fawad
--------
PTI plans two-tier LG system sans tehsil councils in Punjab
Intikhab Hanif
September 09, 2018
LAHORE: The Pakistan Tehreek-i-Insaf (PTI) government is going to introduce a two-tier local government system in Punjab and two other provinces with all-powerful mayors, huge development funds and control over many departments.
Punjab has proposed elimination of the tehsil council level in the proposed new set-up. In that case, it will only have district and union councils. Khyber Pakhtunkhwa's proposal is to retain only tehsil and village councils. Office of the mayor will be designed on the model of London or Washington, meaning a powerful mayor, sources said.
A decision to this effect was taken on Saturday at a meeting in Islamabad attended by representatives from Punjab, Khyber Pakhtunkhwa and Balochistan. The final decision will be taken by Prime Minister Imran Khan soon, sources told Dawn.
The local government would, as agreed, be given one-third of the province's total annual development budget that would be distributed among the local councils as per their eligibility. The mayors would be elected directly with the entire district as the electoral college, not the house. The idea is that people should be allowed to elect a mayor of their choice.
The division between urban and rural areas of a district reintroduced by the previous Shahbaz Sharif government will remain intact. Local government elections will be held on party basis, as non-party polls are not possible under the Lahore High Court's decision in the Imrana Tiwana case. Non-party elections are not even allowed under Article 140 of the Constitution.
Like the local government system of 2001, the powers of over 20 departments will be transferred to district governments, including tourism, transport and sports. The district-level management of these three departments will be transferred to the district governments for the first time in history.
The local governments will be given powers of executive magistrates to enforce local and special laws to handle profiteering, adulteration, encroachments, tampered weights and measures and recovery of municipal taxes and bills.
At present, an overwhelming majority of mayors and local council members belonged to the PML-N, but the law under which they were elected -- Local Government Act 2013 -- gave them no powers. Even the local functions in big cities such as Lahore were being handled by companies created by the former Punjab government. Officials say that law contains no provision under which the councils can be suspended or dismissed; they will cease to exist only after the PTI government introduces a new law.
Sources said that Punjab offered to do away with the middle tier of tehsil councils in view of the problems faced under the Musharraf-era local government system. The absence of check and balance mainly led to corruption and mismanagement in these councils, which in fact were the backbone of the system.
They said that the new system would be designed after taking positive bits from both the devolution-based Local Government Ordinance 2001 and Local Government Act 2013. But the 2001 law would remain dominant.
The sources further said the federal government wanted to replace union councils in Punjab with village councils as those in KP. But the proposal was rejected by a committee in Punjab working on the issue under Governor Chaudhry Sarwar. The committee comprised federal ministers Ghulam Sarwar Khan and Fawad Chaudhry, and provincial ministers Raja Basharat and Aleem Khan. The reason for rejection was that Punjab would not be able to handle village councils owing to management issues. There were 4,105 union councils in Punjab and 20,000 villages.
Full report at:
https://www.dawn.com/news/1431777/pti-plans-two-tier-lg-system-sans-tehsil-councils-in-punjab
--------
CPEC top priority, Qureshi assures Chinese minister
September 09, 2018
ISLAMABAD: The government on Saturday said it would continue to accord top priority to the China-Pakistan Economic Corridor (CPEC).
The assurance was extended to Chinese Foreign Minister Wang Yi by his host Shah Mehmood Qureshi, who noted that his government saw it as a significant project for the socioeconomic development of the country.
Mr Wang is on a three-day visit to Pakistan — the first by a senior Chinese official since the Pakistan Tehreek-i-Insaf-led government assumed office last month.
The visit is meant to engage with the new government, re-emphasise the importance of bilateral ties and learn about its position on relations particularly with regard to CPEC.
Diplomatic observers are taking a keen interest in the project because of the evolving regional situation in which new alignments are emerging. Pakistan and China, which have a longstanding relationship, are seen to be getting further closer.
Speaking at a joint press conference with Mr Wang, the Pakistani foreign minister said: "The CPEC will remain a priority for the government."
Mr Qureshi reassured Mr Wang that Pakistan and China had a time-tested relationship, which would not be affected by the change of governments.
"The two sides expressed their convergence that social economic development will be an important area under CPEC cooperation between Pakistan and China," the Foreign Office said in a statement on the meeting that preceded the press talk.
The Chinese minister too reaffirmed Beijing's commitment to the relationship. He said that Pakistan would always be a priority for China in its foreign policy.
"The State Councillor reiterated that Pakistan was China's 'iron brother' and the bilateral partnership served as an anchor for regional peace and stability. China will work with Pakistan to prioritise CPEC projects so as to benefit all regions of Pakistan," said the FO.
At the press conference, Mr Wang rejected the impression that CPEC projects were compounding Pakistan's debt burden.
Twenty-two projects were undertaken as part of the CPEC, out of which nine have been completed while 13 are in progress.
He said that contrary to the perception that CPEC projects were behind Pakistan's growing debt burden, the mega project was helping increase growth rate of Pakistani economy by 1-2 per cent every year, besides creating around 70,000 jobs.
Mr Wang said that Pakistan and China were ready to include in the mega project any other country that might be interested in it, to extend its benefits to the entire region.
Army chief
Talking to Gen Qamar Bajwa at the GHQ, the Chinese minister said Pakistan's contribution to regional peace and security needed to be acknowledged by the world.
He expressed his satisfaction over the security measures taken for the CPEC projects and the Chinese personnel working on the projects.
Matters relating to regional security and bilateral cooperation were discussed during the meeting, the ISPR said.
Full report at:
https://www.dawn.com/news/1431876/cpec-top-priority-qureshi-assures-chinese-minister
--------
South Asia
Taliban's military commission chief for Badakhshan killed with his comrades
Sep 08 2018
The military commission chief of the Taliban group for northeastern Badakhshan province has been killed with his comrades during the military operations.
The 209th Shaheen Corps of the Afghan Military in the North in a statement said Mawlavi Hamidullah was killed with his six comrades in Orgu district.
The statement further added that three militants were also wounded during the same operations which are being conducted to suppress the militants in this province.
According to 209th Shaheen Corps, the militants were killed or wounded as part of the ongoing Khanjar-14 operations.
The anti-government armed militants including the Taliban group have not commented regarding the report so far.
Badakhshan was among the relatively calm provinces in the Northeastern parts of the country but the security situation of the province has deteriorated during the recent years as the anti-government armed militants have been attempting to expand their activities in this province and other key provinces in the Northeastern regions.
https://www.khaama.com/talibans-military-commission-chief-for-badakhshan-killed-with-his-comrades-05920/
--------
Zimmermann reaffirms NATO's support after deadly bombings in Kabul city
Sep 08 2018
The NATO Senior Civilian Representative to Afghanistan Cornelius Zimmermann reaffirmed the alliance's support to Afghanistan after twin bombings in Kabul left several people dead, including journalists and athletes.
"The NATO Senior Civilian Representative for Afghanistan, Ambassador Cornelius Zimmermann, strongly condemns the barbaric twin attacks that claimed many precious lives in the west of Kabul last night, amongst them sportsmen, journalists and other civilians," a statement released by NATO's Senior Civilian Representative's office stated.
The statement further added "He expresses his deepest sympathies and condolences with the bereaved families and wishes a swift recovery for the wounded. NATO stands firm with Afghanistan, as our Afghan partners continue to fight terrorism and pursue lasting peace for all Afghans."
The Ministry of interior (MoI) says the death toll from a coordinated suicide attack in capital Kabul has climbed to at least 26 people.
Deputy spokesman for the Ministry of Interior Nusrat Rahimi said at least 91 people have also sustained injuries in the two back to back suicide attacks.
The first explosion took place at around 6pm local time on Wednesday after a suicide bomber detonated his explosives inside a wrestling club.
Full report at:
https://www.khaama.com/zimmermann-reaffirms-natos-support-after-deadly-bombings-in-kabul-city-05919/
--------
Taliban militants blown up by own explosives in Laghman province
Sep 08 2018
At least three Taliban militants were blown up by own explosives in eastern Laghman province of Afghanistan, the Afghan Military said.
According to 201st Silab Corps of the Afghan Military in the East, three Taliban militants were killed while planting an improvised explosive device in Gardi Salaw area of Alisheng district.
The source further added that the militants were killed after the improvised explosive device went off prematurely.
Taliban and other militants often use IED as the weapon of their choice to target the security forces and government but in majority of such attacks ordinary civilians are targeted, besides such attacks often claims the lives of the militants as well.
The UN Assistance Mission in Afghanistan (UNAMA) in its latest report stated that 1,692 civilians were killed in the first six months of 2018.
According to UNAMA, the use of improvised explosive devices (IEDs) in attacks by Anti-Government Elements remained the leading cause of civilian casualties.
Full report at:
https://www.khaama.com/taliban-militants-blown-up-by-own-explosives-in-laghman-province-05918/
--------
Attack on checkpoint in western Afghanistan kills 9
September 09, 2018
KABUL, Afghanistan: An Afghan official says insurgents have attacked a checkpoint in the western Herat province, killing at least nine Afghan security forces and wounding another six.
Gelani Farhad, the provincial governor's spokesman, says the attack late Saturday ignited a gunbattle in which around 10 insurgents were killed and five wounded. He says the attack was likely carried out by the Taliban, who are active in the district and frequently target security forces and government officials.
Afghan forces have struggled to combat both the Taliban and a Daesh affiliate since the US and NATO formally ended their combat mission in 2014.
http://www.arabnews.com/node/1369146/world
--------
Mideast
Saudi, allies trying to strangle Yemen through economic pressure: Houthi
Sep 8, 2018
The leader of Yemen's Houthi Ansarullah movement says Saudi Arabia and its regional allies, which are involved in an atrocious military campaign against Yemen that has claimed the lives of tens of thousands of innocent civilians and left the country's critical infrastructure in ruins, are seeking to choke off the Yemeni nation through economic pressure.
Addressing his supporters via a televised speech broadcast live from the Yemeni capital city of Sana'a on Saturday evening, Abdul-Malik al-Houthi stated that American statesmen were making economic and political interests out of the Saudi-led aggression on Yemen as it had poured billions of dollars into the US Treasury.
He warned that Yemen's economy was under attack; and that the Riyadh regime and its allies eyed oil-rich regions inside the conflict-plagued Arab country and were trying to wrest control over them.
"The Yemeni nation is going through a difficult economic situation. Enemies are seeking to freeze the Yemeni overseas assets. They want Yemen to be a client state," Houthi pointed out.
Turning to the UN-brokered peace talks in Geneva, Houthi said representatives of the Houthi movement needed guarantee for safety during the negotiations.
"Aggressors cannot act as guarantors of our delegates' safety. The fact is that the US is not happy with peace talks as it has benefited a lot from the Saudi-led aggression on Yemen," the Ansarullah leader commented.
Houthi delegates were reportedly prevented by Saudi Arabia from attending peace negotiations in the Swiss city of Geneva earlier this week.
Ansarullah accused the Saudis of planning to strand the delegation in Djibouti, where their plane was to make a stop en route to Geneva.
The Saudis were "still refusing to give permission to an Omani plane" to land at the Yemeni capital Sana'a and take the delegation to Geneva, the movement said.
Loay al-Shamy, a senior Yemeni Information Ministry official in Sana'a, said, "Regarding the peace talks, the delegation was formed and their names were announced and were ready to go but the UN, under pressure from the United States and Britain could not fulfill what was agreed on."
The agreement was "to provide an Omani plane for the delegation that will participate in Geneva and offer the assurances required for the return of the delegation," he said.
"We saw during the last talks that the delegation was stuck abroad and the UN could not bring them back home," Shamy noted.
Delegates from Yemen's former government and representatives of the Houthi movement held their last UN-sponsored negotiations in Kuwait in 2016 in a bid to hammer out a "power-sharing" deal but they fell apart after the Saudi-backed side left the venue.
Saudi Arabia and a number of its regional allies launched a devastating military campaign against Yemen in March 2015, with the aim of bringing the government of former President Abd Rabbuh Mansur Hadi back to power and crushing Ansarullah.
Some 15,000 Yemenis have been killed and thousands more injured since the onset of the Saudi-led aggression.
More than 2,200 others have died of cholera, and the crisis has triggered what the United Nations has described as the world's worst humanitarian disaster.
https://www.presstv.com/Detail/2018/09/08/573589/Saudi-Arabia-allies-trying-to-strangle-Yemen-through-economic-pressures-Houthi
--------
UN's Yemen office shows blatant bias in siding with Houthis, finds US center
8 September 2018
A US research center has documented a series of evidence that the United Nations has sided with the Houthis and the mullahs of the Iranian regime when dealing with the humanitarian crises in Yemen.
The Islamic State of Iran Crime Research Center (ISICRC), the US Center for Monitoring the Crimes of the Iranian regime, said in a report posted on its website that the United Nations obtained a video showing that a UN World Food Program truck was attacked by mortar fire. The clip included the voices of the Houthi militia members speaking in Arabic and shouting slogans.
However, the press release issued by the United Nations World Food Program did not refer to the Houthis in commenting on the incident.
The US Center confirmed that the UN office in Yemen showed its blatant bias towards the Houthis and their allies even before this incident.
In 2006, the Houthi militias marched through the streets of Sanaa chanting slogans in support of their military leader, Mohammad Ali al-Houthi. Suddenly, and according to the center, George Khoury, Country Director of the United Nations Office for the Coordination of Humanitarian Affairs (OCHA) in Yemen, joined the march and addressed those assembled with a speech in support of the Houthis, in a precedent that demonstrated the United Nations involvement and bias towards the pro-Iranian militias.
The UN's bias did not stop there, but it expanded, according to the American Research Center for Monitoring the Crimes of the Iranian Regime, to include Hezbollah militia in Lebanon.
The Center reported that Ruwaida al-Hajj, a Lebanese Shiite close to Hezbollah, was preparing to take over the UN Secretariat's expert team in Yemen and chose Beirut - which is controlled by Hezbollah - as headquarters of the UN Secretariat, despite the protests from the Yemeni legitimate government.
Full report at:
https://english.alarabiya.net/en/News/middle-east/2018/09/08/American-center-UN-s-Yemen-office-shows-blatant-bias-in-siding-with-Houthis.html
--------
Yemeni naval forces destroy booby-trapped Houthi boat in the Red Sea
9 September 2018
Yemeni naval forces on Friday foiled a bombing operation in which Houthi militias were was planning to attack international shipping in the Red Sea with a booby-trapped boat.
A military source told Al Arabiya that an improvised explosive device was planted on the boat and was speeding on international waters in the Red Sea at speeds reaching more than 35 miles per hour.
Full report at:
https://english.alarabiya.net/en/News/gulf/2018/09/09/Yemeni-naval-forces-destroy-booby-trapped-Houthi-boat-in-the-Rea-Sea.html
--------
Coalition aircraft destroy Houthi ballistic missiles, radar sites in Saada
8 September 2018
Arab Coalition aircrafts have destroyed a ballistic missile belonging to the Iranian-backed Houthi militias in the district of al-Yafra district in Yemen's Saada province.
Coalition spokesman Col. Turki al-Maliki said that they pinpointed the location of a ballistic missile in an area close to the al-Safra district in Saada province and locked in to the site's coordinates.
He also added that the operation took place at dawn on Friday and the vehicle and missile were destroyed.
He added that the coalition aircrafts also destroyed a site where Houthis were storing radars used in monitoring coalition aircrafts in Jabal Anam, Saada.
Full report at:
https://english.alarabiya.net/en/News/gulf/2018/09/08/Coalition-aircrafts-destroy-Houthi-ballistic-missiles-radar-sites-in-Saada.html
--------
Yemen's army kills dozens of Houthis in clashes in eastern Hodeidah
September 09, 2018
DUBAI: Dozens of Houthi militants were killed and many others wounded in a military operation launched by units of the Yemeni army, east of Hodeidah, Saudi state-news channel Al-Ekhbariya reported Sunday morning.
During the operation, the Amaliqa Brigades — captured several militants, including leaders, as well as weapons and equipment left behind by the fleeing militia, according to a statement on the Yemeni Armed Forces official website September net.
The army also announced that the Amaliqa Brigades opened safe routes for displaced civilians to leave the areas of Kilo 16 and Kilo 10.
The military source said a large number of families fled the area where their homes were at risk of cross fire, and were escorted to safe zones where they were given medical treatment and food.
Full report at:
http://www.arabnews.com/node/1369141/middle-east
--------
Scores of Saudi troopers, mercenaries slain, injured in Yemeni army offensives
Sep 8, 2018
Scores of Saudi soldiers and Saudi-sponsored militiamen loyal to Yemen's former president Abd Rabbuh Mansur Hadi have lost their lives when Yemeni army soldiers and fighters from allied Popular Committees launched separate offensives against their positions in the kingdom's border regions over the past 24 hours.
An unnamed Yemeni military source told the Arabic service of Yemen's Saba news agency that Yemeni troops and their allies fired a Badr-1 ballistic missile at a gathering of Saudi troopers in the kingdom's southwestern border region of Asir, leaving several of them dead or injured.
Eight Saudi mercenaries were also killed when Yemeni troops and fighters from Popular Committees targeted their camp in the al-Alab border crossing of the same Saudi region.
Elsewhere in Najran region, located 844 kilometers south of the Saudi capital Riyadh, a group of Saudi-backed militiamen were targeted in al-Ajashar desert with a barrage of Katyusha rockets.
A number of artillery rounds also slammed onto al-Khazra border crossing, with no immediate reports about casualties or the extent of damage caused.
Moreover, Yemeni snipers shot and killed a Saudi soldier at al-Shabakah military base in the al-Sharafa region of Najran.
Four Saudi mercenaries were killed and several others injured when Yemeni troops and their allies targeted their positions in Talah area.
Yemeni forces also shelled the fortifications of Saudi soldiers and their mercenaries in Sawda, Jabal al-Doud and Jabal Qais mountainous districts in Saudi Arabia's border region of Jizan, situated 966 kilometers south of Riyadh, according to the Yemeni military source.
Separately, dozens of Saudi-sponsored militiamen were killed or injured when Yemeni troopers and their allies destroyed their positions in the al-Durayhimi district of Yemen's strategic western province of Hudaydah.
A military vehicle carrying dozens of Saudi mercenaries was struck with a guided missile in the al-Ghayl district of the northern Yemeni province of Jawf.
Saudi Arabia and a number of its regional allies launched a devastating military campaign against Yemen in March 2015, with the aim of bringing the government of Hadi back to power and crushing the country's Houthi Ansarullah movement.
Some 15,000 Yemenis have been killed and thousands more injured since the onset of the Saudi-led aggression.
Full report at:
https://www.presstv.com/Detail/2018/09/08/573579/Scores-of-Saudi-troopers-mercenaries-slain-injured-in-Yemeni-army-offensives
--------
Yemen govt accuses Houthis of 'sabotage' for not showing up in peace talks
September 08, 2018
GENEVA: Yemen's foreign minister accused the Houthi militia on Saturday of "trying to sabotage the negotiations" that ended without their attendance in Geneva and said that the UN envoy had not been firm enough with them.
"We want the UN to be firmer in bringing the other party to the negotiations", Yemeni Foreign Minister Khaled al-Yamani told a press conference before leaving the Swiss city after three days of talks with UN envoy Stephen Griffiths on confidence-building measures including prisoner releases.
Al-Yamani, who led the government delegation, also accused the Houthis of being "totally irresponsible".
"If they were sincere in reaching peace, they should have come, even if we were meeting in separate rooms," he said.
Anwar Gargash, Minister of State for Foreign Affairs for the United Arab Emirates, a key member of the Saudi-led coalition of Sunni Arab states, tweeted: "Despite the serious setback in Geneva the way forward is still a political solution. What is perhaps clearer now to the international community is the unwillingness of the Houthis to engage in good faith with such a process."
Despite the Houthis failure to show up, Griffiths said thatdid not signify the peace process was deadlocked
"They would have like to get here, we didn't make conditions sufficiently correct to get them here," Griffiths told a news conference, declining to elaborate.
He said he would meet in the coming days with the Houthi leadership in Sanaa and Muscat, Oman.
The Houthi group said on Friday it was still waiting for the United Nations to guarantee that the flight carrying its delegation to Geneva would not be inspected by Saudi coalition forces and could evacuate some of its wounded.
Griffiths, referring to peace processes, said on Saturday: "A restart is a very delicate, fragile moment. People are coming at a time when perhaps all of their constituencies are not fully engaged and don't see ahead of time results that will come out of talks.
"So I don't take this as a fundamental blockage in the process," he added.
Confidence-building measures such as prisoner releases, increasing humanitarian access, especially to the city of Taiz, and reopening Sanaa airport were discussed with the government, he said.
Full report at:
http://www.arabnews.com/node/1368671/middle-east
--------
Africa
Boko Haram overruns key crossroads town in northern Nigeria
8 September 2018
Boko Haram extremists have overrun a key crossroads and military outpost in northern Nigeria, residents said Saturday. Gudumbali is a town to which just months ago the government encouraged displaced people to return.
The Borno state secretary of the self-defense hunters association, Bunu Bukar, said the extremists attacked on Friday afternoon. There were no immediate reports of deaths.
"Suddenly, I saw people running all over the place shouting, 'They have come! They have come!'" resident Umara Modu told The Associated Press. "I saw the attackers right inside our town but, surprisingly, they told us to calmly take our property and move out because we are not the target."
He said about half the town's population fled as the extremists entered without resistance. The fighters are thought to be with the Boko Haram faction under Abu Mus'ab al-Barnawi that has the backing of the ISIS.
"I will never go back to Gudumbali again, no matter the assurance, because we went back after the military authority and the Borno state government promised us adequate security," Modu said.
Security forces had no immediate comment.
Gudumbali was the site of one of the deadliest encounters in the fight again Boko Haram, with scores of soldiers killed in 2015.
The town also was among the first communities targeted in a military operation that launched earlier this year to return thousands of people displaced by Boko Haram to their homes in Nigeria's northeast with the goal of resuming normal life.
The government under President Muhammadu Buhari more than once has declared Boko Haram defeated but the extremists continue to carry out attacks in the impoverished northeast and Lake Chad region.
The security situation is a major challenge in Africa's most populous country as elections approach next year.
https://english.alarabiya.net/en/News/world/2018/09/08/Boko-Haram-overruns-key-crossroads-town-in-northern-Nigeria.html
--------
Philippines, Jordan to fight terror jointly
September 09, 2018
MANILA: Philippine President Rodrigo Duterte and Jordan's King Abdullah II vowed to fight terrorism and violent extremism at their meeting in Amman, even as they both acknowledged that it could take years to end the menace.
Duterte, the first sitting Philippine president to visit Jordan, met the King on Thursday at Al -Husseinieh Palace Courtyard to discuss terrorism and the welfare of overseas Filipino workers (OFW).
During their talks, the two leaders noted that the scourge of terrorism continue to threaten their countries' security, a major concern main that bind the two nations.
"Again over the past several months, if not the past year or two, the cooperation between our two countries to fight the evil that you have to suffer in your country as we suffer in ours, I think, is a testament to the international cooperation and coordination that is now becoming much more apparent, because this is an issue that's going to last with us not only for the next five to 10, 15 years," said King Abdullah II.
He added, "it will take a while to overcome the mentalities that these very horrible evil people perpetrated in your region and in mine.."
For his part, Duterte concurred that "it will take us a lot more years to stop" terrorism. "Our concern against terrorism brings us here. Well, of course, as we have discussed, the arms would be of great help. If there's any value, it is the friendship that goes with it," he continued.
Jordan has agreed to provide two used Cobra attack helicopters to the Philippines, which will be delivered July next year.
Special Assistant to the President Christopher Go confirmed this to reporters, as the Philippines's Department of National Defense (DND) and the Jordan Armed Forces-Arab Army also signed a Memorandum of Understanding (MOU) on defense cooperation.
Philippine officials said the two Cobra attack helicopters will be a big help in the military's campaign against internal security threats, which include militant groups that have pledged allegiance to Daesh.
Duterte also expressed gratitude King Abdullah and to the people of Jordan for hosting Filipino workers in their country, and for treating them "very well."
In a speech upon his arrival in Davao in the Philippines on Saturday, Duterte reported the signing of two labor agreements that will enhance the standards of protection for Filipinos working there.
He emphasized that his government will continue to do its part to ensure that the rights of Filipinos working abroad are protected.
Full report at:
http://www.arabnews.com/node/1369076/world
--------
Uneasy truce may not last long in embattled Libyan capital
September 09, 2018
TRIPOLI/TUNIS: Residents of Tripoli emerging from their homes to take advantage of a cease-fire between armed groups noticed one thing straight away. The militias had not withdrawn their heavy weapons from strategic locations in the Libyan capital.
A truce brokered by the UN on Tuesday after a week of violence between local fighters has largely been observed.
The clashes, which left dozens dead, pitted four big armed groups in Tripoli against rivals from other towns. The fighters had joined forces in 2011 to topple Muammar Qaddafi but since then they have refused to disarm, using their guns to compete for access to public funds.
But even as the cease-fire began, residents and diplomats braced themselves for more violence.
The factions withdrew their pickup trucks mounted with anti-aircraft guns and dismantled checkpoints. But they kept their heavy weapons at key positions such as Matiga airport, government ministries and some of the city's main streets.
"It's good that there is no fighting now but the two sides are still in their positions," said a frightened resident who gave his name only as Mohamed. "I am afraid clashes will erupt any time."
The armed groups have vowed to resume hostilities if talks to be hosted by UN Special Envoy Ghassan Salame do not result in a lasting settlement.
"We are committed to the cease-fire as long it has not been breached by the other side," said Ahmad Ben Salim, spokesman for the Special Deterrence Force, one of the biggest Tripoli units.
"Our force is still in its position ... and we are waiting for what will emerge with the cease-fire."
The force's main opponent, known as the 7th Brigade, also confirmed to Reuters it would stay in its positions.
Blunt speech
In a blunt speech at the UN Security Council on Wednesday, Salame said groups that violate the cease-fire must be held to account and the time for impunity was over. Salame has been trying for a year to pave the way for national elections. But he gave no details of what he planned to do if the truce was broken.
"It was encouraging that he overtly states that impunity must end," said Tarek Megerisi, a visiting fellow at the European Council on Foreign Relations.
"However, as always the implementation details are absent," Megerisi said. "How will the monitoring and punitive measures he mentions work in practice?"
A Western diplomat added: "Salame needs to do something bold now but it's not clear what he could do. If nothing happens it will be a break for the militias to recharge their batteries."
With no national army or foreign peacekeepers in place, the only short-term fix would be to allow some of the groups from outside Tripoli to pay their fighters from public funds. Turning young men with guns into civil servants has been the main policy goal since 2011, but it has not succeeded.
As the armed groups became greedier, and emptying state coffers to pay them off left little money to fix dilapidated hospitals and other infrastructure, frustrated youths were driven to join the militias.
Militias have meanwhile been looking for new sources of funds. Diplomats said fighters providing security for ministries are forcing officials to provide letters of credit intended for imports. These are used to obtain foreign currency which can be changed on the black market at a favorable rate.
Army training
After the fall of Qaddafi, Western powers tried to train a Libyan army. But that plan ended in 2014 when the country split into rival administrations in west and east.
The powers have since switched tactics, allowing the UN-backed administration in Tripoli to legitimate "super militias," giving them state funds and titles for the sake of stability.
Salame is now expected to negotiate a broader power sharing agreement under which more fighters will be brought in with the aim of securing Tripoli.
However, diplomats fear that General Khalifa Haftar, who has conquered much of the east with his Libyan National Army faction and is said to be planning to run for president, may intervene in Tripoli.
"The liberation of Tripoli in accordance with a military plan is an inevitable choice," Haftar said on Thursday. "The crisis in Tripoli must end as soon as possible and we cannot be silent in the current situation."
Haftar has long contemplated extending his influence in the west of Libya by linking up with local groups there.
Since the outbreak of fighting in Tripoli, pro-Haftar TV channels have supported the 7th Brigade, which comes from Tarhouna, south of Tripoli.
But the Tarhouna forces cooperate with an Islamist commander, Salah Badi, an opponent of the general. Haftar, meanwhile, has built a reputation for fighting people he calls "terrorists."
Such fragile alliances show how difficult it will be for Salame, the sixth UNLibya envoy since 2011, to build on the cease-fire.
Those who have met him recently say he has been frustrated by lack of progress since unveiling a peace plan a year ago that would entail a new constitution and a national government.
Full report at:
http://www.arabnews.com/node/1369081/middle-east
--------
Tunisia feared the return of militants from abroad. The threat now is those who never left.
By Sudarsan Raghavan
September 8, 2018
TUNIS — Four years ago, thousands of Tunisian jihadists began flowing to the battlefields of Iraq, Libya and Syria to join the Islamic State and al-Qaeda — more than from any other nationality. Ever since, Tunisian and Western authorities have feared their return and the possible chaos that could follow.
So far, those fears haven't materialized, according to Tunisian authorities, Western diplomats and regional analysts.
Instead, the Islamic State and al-Qaeda are recruiting a new generation of locals to stage terrorist attacks at home, including one in July near the Algerian border that left six national guardsmen dead.
"This is primarily homegrown," said Matt Herbert, a partner at Maharbal, a Tunis-based security consulting firm. "The majority of Tunisians who survived Libya and Syria have not returned."
The continuing local recruitment of militants highlights the challenges facing Tunisia, the only nation to emerge as a democracy after the 2011 populist revolts across the region that became known as the Arab Spring. Although the ideological appeal of the Islamic State and al-Qaeda appears to have shrunk in many parts of the country, diplomats and analysts say a post-revolution era of political, economic and social turmoil is still breeding resentment, especially among Tunisia's youth.
Frustration over a lack of economic opportunities and social mobility has driven more than 3,000 Tunisians to leave for Europe this year, more than from any other nationality, according to the United Nations' migration agency. These same factors have caused others to join extremist groups, especially in areas long neglected by the government.
"Socioeconomic crises are the best fuel either for illegal migration or, in worst-case scenarios, for feeding terrorism," said Patrice Bergamini, the European Union's ambassador to Tunisia.
Much of the recruitment is taking place in Tunisia's impoverished southwestern mountains along the border with Algeria. Both the Islamic State, also known as ISIS, and al-Qaeda in the Islamic Maghreb, the terrorist network's branch in North and West Africa, have affiliates operating along the border.
Although the extremists are said to be mostly Tunisians, they also include Algerians, West Africans and Libyans, regional analysts said. Only about 15 to 20 Tunisians are thought to be returnees from Libya and Syria, they added.
At least 5,500 Tunisians have traveled in recent years to Iraq, Libya and Syria to join the Islamic State and al-Qaeda, according to U.N. estimates.
Many of the Tunisians who went to Libya died in late 2016 in the fight to retake Sirte, the capital of the Islamic State's so-called caliphate in North Africa, and in the battle for the Tunisian border town of Ben Guerdane, analysts said.
And many of the extremists who went to Syria and Iraq are thought to have died fighting there. Survivors of those battles are thought to be among a pocket of Islamic State militants holding out in eastern Syria or held in Syrian prisons. Some are probably in hiding. Others slipped away to Libya to join the Islamic State affiliate there, or may have joined a branch in Egypt's northern Sinai Peninsula.
As many as 800 fighters have returned to Tunisia, and the vast majority of them are incarcerated around the country.
The extremists now active in Tunisia, some analysts say, are using the country as a staging ground for attacks on Algeria, which has fought a long confrontation with al-Qaeda and, more recently, a new Islamic State branch.
"Tunisia is the land of recruitment," said Michael Bechir Ayari, Tunisia senior analyst for the International Crisis Group.
Others say Tunisia itself remains a target because of the government's relatively liberal views on Islam, women and freedom of expression.
In 2015, Tunisian gunmen with the Islamic State attacked the resort town of Sousse and the famed Bardo Museum in the capital, killing scores of people, mostly foreign tourists. The following year, more Tunisians belonging to the Islamic State entered from Libya and tried to seize Ben Guerdane before Tunisian security forces repelled them.
Since then, the Islamic State and al-Qaeda have carried out more attacks in Tunisia, but none as catastrophic. Today, an estimated 200 militants belonging to either the Islamic State or al-Qaeda are operating in the mountains, although the number of sympathizers is unknown, analysts said.
The attack in July near the Algerian border illustrated the militants' continuing ambitions. The national guard vehicles were on patrol in a remote mountainous patch near the town of Jendouba when the militants, hidden in the bush, threw a grenade and a gunfight ensued.
"It was a treacherous ambush," said Omar Benaissi, a top local official in Ghardimaou, the impoverished region where the attack happened. "The six were killed in the moment the attack happened."
Residents and officials suspected that the militants may have been tipped off to the convoy by local supporters. Al-Qaeda's local branch asserted responsibility for the attack, which analysts say was intended to show that the militants are still a force and to use for recruitment.
"The groups still operating out there in the mountains out west have a lot of skill," Herbert said. "They seem to have grown in size over the past couple of years. They have a lot of resilience to withstanding Tunisian attempts to end this conflict."
Hatem Hwawi, a teacher and blogger in Jendouba, said most of the local residents lead hardscrabble lives and resent the government, making them susceptible to militant appeals.
"They are miserable and can be easily recruited by the terrorists," he said. "The Tunisian authorities are creating a fertile soil for terrorists, either by marginalizing the security forces or marginalizing the people economically."
Hwawi, who said he helped carry the wounded soldiers into the hospital, described them as ill-equipped, with guns and shoes in poor condition.
Tunisian authorities say they have made progress in tackling the local militancy, noting the decrease in attacks nationwide. The United States has provided tens of millions of dollars to enhance security on the Libyan border.
Security analysts give high marks to the nation's U.S.-trained counterterrorism forces for gathering intelligence and for penetrating and dismantling cells. But the analysts are concerned about non-elite forces, such as police and border guards, who have less training and are more corruptible.
Analysts also are increasingly concerned about the potential for radicalization in Tunisia's prisons, where many extremists are kept in cells with common criminals.
"It is definitely a worry, since there is a huge population of individuals in overcrowded prisons planning their next strategic moves for whenever they are released from prison," said Aaron Zelin, an expert on jihadist groups with the Washington Institute for Near East Policy and author of a forthcoming book on the history of Tunisian jihadism.
Full report at:
https://www.washingtonpost.com/world/tunisia-feared-the-return-of-militants-from-abroad-the-threat-now-is-those-who-never-left/2018/09/07/aafa6c84-aacf-11e8-9a7d-cd30504ff902_story.html?noredirect=on&utm_term=.9f95793919eb
--------
North America
US govt misleading Americans on Afghanistan: report
Anwar Iqbal
September 09, 2018
WASHINGTON: The US government misleads its public to justify the 17-year-old war in Afghanistan, routinely using inflated data to justify its stay, The New York Times reported on Saturday. The report compares the US government's data with those provided by various international aid agencies and with NYT's own research and concludes that Washington does not want Americans to know the real situation in Afghanistan.
While the US government says the Taliban control or contest 44 per cent of districts in Afghanistan, the NYT report claims that the insurgents actually control or contest about 61pc area. Since 2017, the Taliban have held more Afghan territory than at any stage since the American invasion in October 2001.
The report also notes that so far more than 2,200 Americans have been killed in the Afghan conflict, and Washington has spent more than $840 billion. "The war has become more expensive, in current dollars, than the Marshall Plan, which helped to rebuild Europe after World War II," the report claims. "That investment has created intense pressure for Americans to show the Taliban are losing and the country is improving."
The report also disputes the US military's claim that the Afghan government effectively "controls or influences" 56pc of the country. The NYT, how­ever, says that in many districts, the Afghan government controls only the district headquarters and military barracks, while the Taliban control the rest.
Similarly, on paper, Afghan security forces outnumber the Taliban by the ratio of 10 to 1, or even more. But one third of their soldiers and police officers are "ghosts", who have left or deserted without being removed from payrolls. Many others are poorly trained and unqualified.
https://www.dawn.com/news/1431814/us-govt-misleading-americans-on-afghanistan-report
--------
Pompeo calls out Khamenei's hypocrisy over Iran's lack of aid to Palestinians
8 September 2018
United States Secretary of State Mike Pompeo has traded barbs with Iranian Supreme Leader Ali Khamenei, saying that Iran provides support for terrorists while only donating small amounts of money to Palestinian aid organizations.
"Iran's regime punished Palestinians by providing them just $20,000 — yes, $20,000 — via UNWRA from 2008 to 2017," Pompeo tweeted on Saturday.
America's top diplomat's response came after Khamenei tweeted at Turkish President Recep Tayyip Erdogan, saying that the Palestinians "should not be neglected even for a second".
Full report at:
https://english.alarabiya.net/en/News/middle-east/2018/09/08/Pompeo-calls-out-Khamenei-s-hypocrisy-over-Iran-s-lack-of-aid-to-Palestinians.html
--------
US sends reinforcements to its Syria base after Russia warning of attack
Sep 9, 2018
The US military is sending more than 100 Marines to Syria as reinforcements to protect an illegal American base there for training anti-Damascus terrorists after repeated Russian warnings of an impending attack on the militants in the area south of the terror-ravaged country, the Pentagon said.
According to the Saturday statement by the US Defense Department, the American troops were flown by helicopter to the base located in the small town of at-Tanf, near Syria's borders with Iraq and Jordan, pro-US military news website Task & Purpose reported.
The base is being used by US Special Forces to train anti-Syria terrorists allied with a US-led coalition that claims to battle foreign-backed Daesh (ISIL) militants, widely believe to be sponsored by Washington-allied Saudi Kingdom.
Meanwhile, the US Central Command (CENTCOM) said the Marines deployed to at-Tanf would conduct a multi-day exercise using live ammunition.
"Our forces will demonstrate the capability to deploy rapidly, assault a target with integrated air and ground forces and conduct rapid exfiltration," said CENTCOM's chief spokesman Capt. William Urban.
According to the report, US officials dealing with the Syria issue have further stated in recent days that "the administration is now resolved to stay in Syria longer than President [Donald] Trump previously indicated" in a purported bid to "finish the fight against Islamic State but also to see the withdrawal of Iranian fighters."
This is while Trump had previously stated that he wanted American troops out of Syria as soon as possible and redirected millions of dollars meant to help rebuild Syria to other military projects.
Russia warns US of impending attack on Tanf
The development came following US press reports that Moscow has sent messages to Washington in recent days, warning that Russian military along with Syrian government forces were planning an offensive on what they refer to as terrorist forces near at-Tanf.
CNN cited several US military officials as saying on Friday that Russia has warned the Pentagon twice in the past week that its forces, together with Syrian troops, were prepared to wage an attack on terrorists in the area where dozens of US troops are stationed at At-Tanf garrison, described as "a key strategic location" for the US as it competes with Iran and Russia for influence in the region.
The report further underlined that Moscow's warning has sharply raised US commanders' concerns that American troops would be at risk if a Russian attack goes forward, prompting Washington to warn Moscow "not to challenge the US military presence."
According to the report, US Defense Secretary James Mattis and Chairman of the Joint Chiefs of Staff Gen. Joseph Dunford were aware of the latest intelligence, adding that American troops in Syria "have the right of self-defense if they are attacked and would not need to ask permission from higher levels of the government before acting."
US warns Russia, Syria against attacking Tanf
Reacting to Moscow's warnings, US military officials "bluntly warned Russia and Syria not to go forward with an attack within a 35-mile-wide security zone that the US maintains around Tanf," Task & Purpose further reported.
"The United States does not seek to fight the Russians, the government of Syria or any groups that may be providing support to Syria in the Syrian civil war," said CENTCOM spokesman Lt. Col. Earl Brown, as quoted in the report. "However, the United States will not hesitate to use necessary and proportionate force to defend U.S., coalition or partner forces."
Brown further stated that Russian military officials first notified the US on September 1 through a special communication channel "that they intended to enter the At-Tanf deconfliction zone to pursue terrorists."
According to the report, that was followed by a letter sent Thursday to Lt. Gen. Paul E. Funk II, the commander of US forces in Syria, warning that Russia planned to carry out "precision strikes" near Tanf against ISIL militants, a warning that prompted Funk to speed up plans to dispatch additional troops to the base.
Pentagon officials were also cited in the report as saying that Russia's threat to carry out precision strikes against Tanf suggested it might be contemplating use of airstrikes, missiles, long-range artillery or bombardment from Russian warships in the Mediterranean.
The officials further added that such an attack may prompt American forces to respond with "punishing reprisals using similar weapons, especially if a Russian attack caused casualties to the US or its allies."
Brown also pointed out that Moscow has previously agreed not to enter the zone around Tanf, saying: "We expect the Russians to abide by this agreement."
US forces on high alert in Syria
The report further underlined that US military forces in Syria were put on high alert after Russian bombardment of terrorist targets in the country's Idlib province in an apparent preparation of a looming offensive against the militants, as well as Moscow's latest warning of an impending attack on militant forces based near the key US training garrison in at-Tanf.
It added that the garrison was also "the sight of a series of clashes between US-led coalition forces and militias loyal to the government of Bashar al-Assad during the summer of 2017," clashes that raised "the possibility of an armed conflict between Russian, Iranian, and US proxy forces in the region."
Full report at:
https://www.presstv.com/Detail/2018/09/09/573602/US-military-Syria-base-atTanf-garrison-Russia-warning-Syrian-forces-Daesh-militants
--------
American marines fire shots to warn Russian forces in Syria
Sep 8, 2018
US Marines stationed in Syria have fired air and artillery shots into a desert area in south to send Russian forces a warning.
The air assault in the southern Syrian desert backed by artillery fire aimed to send a strong message to Russia, two US defense officials told Fox News on Friday.
The message we want to convey to Russia is to not send your forces inside a restricted area near an American military outpost in southern Syria, they said.
Earlier, the Russian military command had on two occasions coordinated with the Americans that it intended to launch a military operation against militants in southern Syria near the At Tanf garrison where US special operations forces are located. Both times, American forces declined to cooperate with the Russian command.
Back in July, US Defense Secretary James Mattis had said that the US forces, for the time being, would have no cooperation with the Russian military command stationed in Syria.
US defense officials are opposed to coordination with the Russian forces fighting the militants in Syria.
The US military and Russian forces are conducting two independent military operations in the country.
Russian forces are in Syria at the request of the government of Bashar al-Assad to help fight the Daesh militants who have been wreaking havoc across the country for years.
Full report at:
https://www.presstv.com/Detail/2018/09/08/573593/US-Marines-Russia-Syria-Military-Tanf
--------
UN echoes Erdogan, fears potential catastrophe in Idlib
08.09.2018
By Umar Farooq
WASHINGTON
UN Special Envoy to Syria Staffan de Mistura on Friday echoed remarks by Turkish President Recep Tayyip Erdogan, saying the world needs to avoid a "potential catastrophe" in Syria's northwestern Idlib province.
Speaking via video conference at a meeting of the UN Security Council, De Mistura emphasized the need for civilian voices in Idlib to be heard by the international community.
The Bashar al-Assad regime recently announced plans to launch a major military offensive in Idlib, which is controlled by various armed opposition groups.
During his remarks to the council, the UN envoy held up a photo of a woman civilian in Idlib and noted that 98.8 percent of the population in the area are civilians.
De Mistura also received a letter from 1,000 women currently in Idlib, who urged the international community to remember that they are civilians, not terrorists.
"They are teachers, doctors, nurses, engineers, writers and homemakers, and many of them came from many parts of Syria. So Idlib in many ways symbolizes a mosaic of Syria," de Mistura said.
He went further to say that while there are different armed groups in Idlib, there needs to be a different approach in order to separate them from the rest of the population.
On Friday, the leaders of Iran, Russia and Turkey met in Tehran to discuss the situation and planned offensive in Idlib by the Assad regime. De Mistura noted that Erdogan had put a substantive number of ideas on the table, and he is looking forward to hearing more.
De Mistura will meet with representatives of the three countries in Geneva next week.
"We want a country without war, and we want a future in which we can be alive. They too are against terrorists, but they cannot show that because the situation is very difficult," he said on behalf of the population of Idlib.
Full report at:
https://www.aa.com.tr/en/americas/un-echoes-erdogan-fears-potential-catastrophe-in-idlib/1249574
--------
Europe
European tourist accepts Islam in UAE, inspired by police
September 8, 2018
Inspired and touched by Abu Dhabi tourism police's values of tolerance and civilised approach, a Dutch female tourist has converted to Islam.
The Tourism Section in Investigation Directorate, after liaising with the competent entities, hosted Christina Dafano, who deeply expressed her happiness to embrace Islam, according to a statement issued by Abu Dhabi Police on Saturday.
After reciting the Shahada, Dafano changed her name Noura.
The statement added that the tourist had enquired about Sheikh Zayed Grand Mosque, as she wanted to visit it. The police not only guided her but also contacted the police office at the mosque to organise her visit and teach her about tolerance and peaceful coexistence (in Islam).
Colonel Ahmad Almazrouei, deputy director of the directorate, emphasised the police force's keenness to adopt a tolerance as a professional standard for policing to promote security and safety in Abu Dhabi.
Dafano expressed her happiness in embracing Islam - stressing the tourism police staff's attitude as a 'pivotal push' for her conversion.
The police gifted her the book "Zayed" in English, which chronicles the journey of the late founding father, Sheikh Zayed bin Sultan Al Nahyan, who made the UAE a symbol of tolerance paving the way for a modern, stable and secure country.
https://www.khaleejtimes.com/news/general/european-tourist-accepts-islam-in-uae-inspired-by-police
--------
As Putin incites more atrocities in Syria, Europe is exposed as craven
Nick Cohen
9 Sep 2018
From massacre to exile to racism to subversion and back again, Vladimir Putin has caught Europe in a rolling trap. The war crimes that Russia encourages the sectarian Assad regime to commit force Syrians to run. When a small proportion of them reach Europe (for never forget the rich world takes only a tiny minority of the world's refugees) their presence drives Putin-supporting nationalists into power on anti-Muslim tickets.
The iron wheel is about to turn again and grind up the lives of hundreds of thousands. Diplomatic attempts to prevent a battle look as if they have failed, as they have failed so monotonously in Syria. In all likelihood, Bashar al-Assad's forces and their Russian and Iranian backers will soon begin their assault on Idlib province. Russian planes are already trying to take out defences, and there is every reason to expect a catastrophe. Doubtless, Assad's forces will use chemical weapons again and Russia's proxies on the "alt-left" will invent conspiracy theories to deny their existence. Our filthy decade has taught criminals that they can break the taboo on the use of chemical weapons – one of the few limits on man's inhumanity to man – and not only be rewarded for it but acquitted of guilt.
The Islamists in Idlibwill presumably fight to the death, and I cannot pretend to care for them one way or another. The democratic fighters and the civilians are another matter. These are the people who out of fear of Assad's torture chambers have nowhere left to run to except over the border and Turkey, which says it cannot take any more refugees. The UN warns of a humanitarian crisis on a scale not previously seen in Syria – which is quite a claim.
To talk of Europe's problems in these grim circumstances seems glib. Yet the most dynamic force in European politics is the fear of uncontrolled borders and radical Islam. It helped drive the Brexit vote and the election of backlash nationalists across the continent, whose peculiarities deserve more attention than they receive. They are nationalists of a rare type: supposed patriots who collaborate with their countries' enemies. Nigel Farage's Leave.EU held multiple meetings at the Russian embassy. Alexander Yakovenko, Russia's ambassador in London, offered Arron Banks, Farage's loudmouthed bagman, a piece of a Siberian goldmine business. Now that Russia is committingsmall-scale small-scale chemical attacks on British soil, the flattery appears to have paid off. Nowhere on the radical British right do you hear challenges to Russian aggression.
If the contradiction between love of country and loyalty to Putin is wide here, it yawns in the Czech Republic. This year marks the 50th anniversary of the crushing of the Prague spring. Alexander Dubček, the leader of the then Czechoslovakian communist party, thought he could allow freedom of speech, democratisation – all the forbidden fruits – while remaining a part of the Soviet empire. The Soviet Union put him right by sending in 250,000 troops and 6,000 tanks. The civil resistance and the the men and women who died are in the Russian attack were honoured with due solemnity in Prague this summer. But the Czech president, Miloš Zeman, could not bring himself to appear at the official commemoration because he is a Putin apologist. The Czech Republic feels like a post-colonial country where the former imperial overlord still holds sway.
There ought to be a revolt against the country's compromised leaders. But when I talked to Czech intellectuals in Prague they were close to despair. The Czech opposition is factionalised and unable to mount a coherent challenge to the ruling order. Civil society is degraded. You may not think much of the British media, but there is nothing like travelling in eastern Europe to make you see its slender virtues. Press freedom is dying in the Czech Republic and there are few journalists able to hold the pro-Russian elite to account. More frighteningly, the new right in the Czech Republic and across Europe is replacing with anti-Muslim bigotry a patriotism that defends the nation against hostile foreign powers.
The fact that he is now the willing tool of an aggressive Russia in no way makes him a collaborator, Zeman implies. The real enemy is Islam. "No one has invited the refugees," he thundered recently. "Islamists are coming to subjugate Europe."
We are always being told to understand the fears of what the new elite calls in its most condescending voice "ordinary people". But if Nigel Farage, Viktor Orbán, Marine Le Pen, Donald Trump and – the way he is going – Boris Johnson were serious about limiting migration they would support the creation of safe havens in Syria so that refugees had somewhere to hide – a demand the original and democratic Syrian revolutionaries of 2011 made as soon as Assad set his troops on them. They do nothing of the sort. Instead, they support a Russia whose crimes against humanity produce the very refugees they affect to deplore. As a way of generating votes, I suppose the hypocrisy has a logic to it; a logic they can follow without fear of challenge from a modern left that has abandoned any claim to internationalism or basic moral fitness.
There is no need for Farage or indeed Johnson to worry about attacks from the degraded British Labour party, whose ethical collapse is becoming daily more evident to all with eyes to see. Jeremy Corbyn was the willing and paid servant of Press TV, the state propaganda network of an Iran whose proxies now threaten Idlib. Nothing, not Iran's record in Syria, nor its treatment of women, ethnic minorities and gays, could shake his dog-like devotion. His spokesman Seumas Milne flew to Russia in 2014 to abase himself before Putin and tried to spread conspiracy theories about the Salisbury chemical attack.
Full report at:
https://www.theguardian.com/commentisfree/2018/sep/09/putin-pretends-peace-europe-caught-in-trap
--------
URL: https://www.newageislam.com/islamic-world-news/fatwas-niqabs-acceptable-standards-conservative/d/116324
New Age Islam, Islam Online, Islamic Website, African Muslim News, Arab World News, South Asia News, Indian Muslim News, World Muslim News, Women in Islam, Islamic Feminism, Arab Women, Women In Arab, Islamophobia in America, Muslim Women in West, Islam Women and Feminism