New Age Islam News Bureau
8 Oct 2013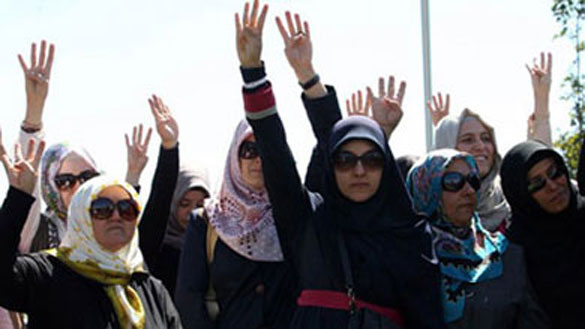 Turkey Lifts Decades-Old Ban On Islamic Head Scarf in State Institutions
-----------
Mideast
• Fatwa Allows Sex Change in Iran, But Stigma Remains
• Turkey Lifts Decades-Old Ban On Islamic Head Scarf in State Institutions
• Erdogan, Gulen Combat Islamophobia, Extremism
• Hamas Activists Accuse Meshaal of Preferring Life in Exile
• Palestine to set up embassy in Pakistan
• Iran won't unblock Facebook, Twitter: official
Arab World
• Blasts across Baghdad kill at least 72 people
• ISIL Terrorists Kill 7, Injure 20 Civilians in Northern Syria
• Syrian Army Kills Tens of Armed Rebels in Reef Damascus
• Dissolve Brotherhood party, judges' panel advises Egypt
• Saudi Arabia renews support to Egypt against 'terrorism'
• Maliki Says Terrorism in Iraq 'Directly Related' to Syria
• Saudi Arabia: Students who violate Sharia law face therapy, suspension
• Syrian opposition sets conditions for Geneva II
• Islamists visit Constitution Party's Dawoud after brutal attack
• Saudi preacher jailed over daughter's death
• Bahrainis Hold Demos against Al Khalifa Regime
• Syrian Army Kills Al-Nusra Commander in Reef Idlib
• US-Approved Rebel Group Recruits 13-Year-Old Boy as Sniper who Killed 32, Including 13 Civilians
South Asia
• Chittagong Lalkhan Madrasa: A Den of Banned Islamist Militant Outfit Huji
• Maldives Supreme Court annuls first round of presidential elections
• China arrests 110 in Xinjiang for spreading online rumours
• Pro Nasheed TV station set on fire in Maldives
• President Waheed complains to Canada over FM "inappropriate remarks"
• Transparency International "gravely concerned" about safety of Maldives staff, volunteers
• China dismisses worries over missile deal with Turkey
India
• Terrorism to Be Dealt With Individually and Collectively: President in Turkey
• Manipuri Muslims in al-Qaida camps: Intel report
• 160 couples tie knot in mass wedding in Muzaffarnagar
• Samba terror attack: BSF, J&K police found wanting
North America
• Using Islamophobia to Discredit Obama Is Shameful
• Obama Escalates Bush-Initiated 'War on Terror' in Africa
• US target in Somalia plotted serial Kenya attacks: Spy report
• US still expects to sign pact with Afghanistan
• Ahmed Godane and Ikrimah al-Muhajir new toppers in terrorist hall of fame
Africa
• Extremists kill seven civilians in Nigerian mosque
• Libya jihadists share ideals, not ties with Qaeda: Experts
• Foreign fighter, top militants fought off US forces: Shabab
• Libya militants seek to avenge al Qaeda leader capture
• Uganda: Lawyers Want Islamic Courts Regulated
• Kenyan Muslim Clerics Condemn Mombasa Violence
• Mali 'Islamists' blow up bridge near Gao
Pakistan
• Islam and Religious Parties Not against Girl's Education: Sami ul Haq
• Eight injured in grenade attack at police station in Quetta
• Karachi operation: Police claim arresting 97 suspects
• PTI claims shock win in PP-72, PML-N bags PP-240 seat
• Govt silent over extremists' hide collection drive
Europe
• Russia Would 'Welcome' Indonesia in Syria Peace Talks: Putin
• NATO expresses concern about Turkey's Chinese missile deal
• UK's new crime-fighting agency to work with Turkey
• 'Britain's FBI', the National Crime Agency is launched
Southeast Asia
• Ad Blitz as Indonesia Rules Spare Shariah Loans
• Uproar over Malaysia lawmaker's call to 'shoot first' when faced with criminal suspects
Compiled by New Age Islam News Bureau
URL: https://newageislam.com/islamic-world-news/fatwa-allows-sex-change-iran,/d/13896
----------
Mideast
Fatwa Allows Sex Change in Iran, But Stigma Remains
Oct 08 2013
Iran ranks second in the world in the number of sex-reassignment surgeries performed each year.
The Iranian government goes so far as to subsidize the surgeries, paying up to half of the high expenses of both surgery and treatment. Iran says an average of 300 of these surgeries is performed in the country each year.
In 1987, Ayatollah Ruhollah Khomeini's fatwa gave the green light for sex-reassignment surgeries. While many consider the now-female Maryam Molkara the first Iranian transsexual to undergo sex-reassignment surgery in 1987, a 60-year-old issue of the Iranian Ettelaat newspaper cites an earlier case. The newspaper ran the story of a proud and happy girl-turned-boy Farhad (formerly Faridah) and his nurse in Tehran's Pahlavi hospital.
"Deep down, Farideh had always felt she's a boy," his mother said, "so I brought her to Tehran from our city [Shabestar, in western Azerbaijan] for evaluation." As Ettelaat informs us, Farideh successfully underwent surgery and treatment in Tehran and when interviewed, expressed enthusiasm for serving in the military.
Maryam Molkara (formerly Fereydoun), however, was religious, and apparently intended to encourage the clerics to issue a fatwa allowing sex reassignment. Khomeini did so, and Fereydoun became Maryam and continued to live in Iran as a woman until she passed away last year.
Another version of the story behind Khomeini's fatwa is that he decided to issue it after meeting with a couple who were not sexually attracted to each other and could not have intercourse because one of them felt out of place.
Some believe that the ayatollah had made a decision about transsexuals' years before the 1979 Islamic Revolution, while he was in exile in Iraq and after having read a letter from Molkara, requesting the cleric's blessing to transform and become a woman.
Iran's Health Ministry reports that 56% of transsexuals are males who would rather be female, and 44% are women who want to become men.
Tehran's fashion of dealing with openly transsexual citizens willing to reassign their gender is yet another paradoxical aspect of the administration's peculiar prescriptions for "curing" homosexuals.
While Iran does not acknowledge attraction to the same sex, it encourages individuals who, they believe, are confused sexually or from their perception, suffer from sexual disorders to seek out switching their gender. While valid and legal, this option is not as easy as it may sound.
Dr. Mehrdad Baghaei, an Iranian surgeon who specializes in sex-reassignment surgery in Tehran and has been active and well-known in this field over the past decade, told Al-Monitor that most of his patients are young. In a phone interview, he said, "Yet, from time to time, I see unusual cases. Just this morning, I operated on a 61-year-old man, married with grown kids, who wants to become a woman."
Baghaei added that religious families have less trouble fathoming and accepting their loved ones as transsexuals, since they have faith in what they consider God's will and would much rather see their family member undergo gender change than be gay.
The Islamic Republic of Iran basically has the same approach: If you stand on either side of the sexual spectrum, as expected, you're accepted. It's the "in-between" that makes the government uneasy.
The path to sex reassignment is by no means a short one, nor is it simple — not if aid from the government is desired or needed. An individual who feels the urge to switch genders must start the process by seeing an authorized psychiatrist. These psychiatrists are known and listed, most of them specializing in sexology.
Baghaei tells Al-Monitor, "Six psychiatrists need to examine the patient and talk with them, usually during multiple sessions, to confirm the necessity of gender change. Then, a commission of psychiatrists needs to sign off on the diagnosis of 'sexual disorder.' A forensic examiner of the Iranian Legal Medicine Organization is then required to see the patient and confirm the diagnosis, at which point the Legal Medicine Organization issues a permit validating the sex-reassignment surgery."
The Welfare Organization of Iran covers half of the total expenses of gender change, which includes surgeries, hormone therapy and psychological aftercare. There is usually a wait-list for this coverage. Most patients find waiting worth their while, since it rarely exceeds six months. Immediately after the sex-reassignment surgery, the government issues a new birth certificate for the transsexual citizen and the original one is discarded.
Sina (formerly Simin) is a 26-year-old transsexual receiving hormone therapy and counselling. Talking with Al-Monitor over the phone, he sounds like a teenager whose voice has not quite broken yet. He tells me he looks forward to having a really deep voice. Sina, who co-owns a fancy boutique in the centre of Tehran, tells me he is ecstatic about having a girlfriend. He says, "I'm really proud of the decision I made. I'm much more comfortable now, too. Got rid of the hassle of wearing a headscarf. Now I can unbutton my shirt and show a bit of chest hair. It's gradually getting hairier, so I'll get to open the second button soon."
But not everyone is as elated as Sina. Rouzbeh, 18, lives in northern Iran, by the Caspian Sea. He's already gotten the slip of paper he'd always yearned for: the permit for living his dream of becoming Roudabeh. He's at the gate, waiting to be let in — except the gate is locked. He told Al-Monitor that he sleeps with the permit under his pillow at night; it is his most invaluable piece of property, his passport to finally breaking free.
Rouzbeh is religious, and is having an extremely difficult time convincing his family that he really feels feminine. He tells me that he attempted suicide last month and prays day and night for God to take him away or grant his wish of becoming his true inner self: a woman, which is what, according to him, Islam supports.
But Rouzbeh's parents have tried to "get him well" since he turned 13. They have taken him to top doctors both in their city and in Tehran. They have forced Rouzbeh to take male hormones. They just cannot wrap their heads around "him" longing to be "her."
The challenge of being a transsexual Iranian citizen is not so much the transformation itself as it is surviving the storm of stigma which exists. One may have a different birth certificate, a different look, a different name, but most likely will be forced to find a different job, different mannerisms and a different skin: a much, much thicker one, one that can tolerate the taboo of being a transsexual Iranian.
http://www.al-monitor.com/pulse/originals/2013/10/iran-subsidizes-sex-change-surgery.html#ixzz2h7nT96lW
----------
Turkey Lifts Decades-Old Ban On Islamic Head Scarf in State Institutions
Oct 08 2013
Turkey lifted a ban on women wearing the Islamic head scarf in state institutions on Tuesday, ending a decades-old restriction as part of a package of reforms meant to bolster democracy.
The ban, whose roots date back almost 90 years to the early days of the Turkish Republic, has kept many women from joining the public work force, but secularists see its abolition as evidence of the government pushing an Islamic agenda.
The new rules, which will not apply to the judiciary or the military, were published in the Official Gazette and take immediate effect in the majority Muslim but constitutionally secular nation.
"A regulation that formally intervened in freedom of clothing and lifestyle - a source of inequality, discrimination and injustice among our people - has become history," Deputy Prime Minister Bekir Bozdag said on his Twitter account.
The debate around the head scarf goes to the heart of tensions between religious and secular elites, a major fault line in Turkish public life.
Critics of Prime Minister Tayyip Erdogan see his Islamist-rooted AK Party as seeking to erode the secular foundations of the republic founded on the ruins of an Ottoman theocracy by Mustafa Kemal Ataturk in 1923.
Erdogan's supporters, particularly in the country's conservative Anatolian heartlands, say he is simply redressing the balance and restoring freedom of religious expression to a Muslim majority.
The lifting of the ban, based on a cabinet decree from 1925 when Ataturk introduced a series of clothing reforms meant to banish overt symbols of religious affiliation for civil servants, is part of a "democratisation package" unveiled by Erdogan last week.
The reform programme - in large part aimed at bolstering the rights of Turkey's Kurdish community - included changes to the electoral system, the broadening of language rights and permission for villages to use their original Kurdish names.
An end to state primary school children reciting the oath of national allegiance at the start of each week, a deeply nationalistic vow, also took effect on Tuesday.
http://english.ahram.org.eg/NewsContent/2/8/83509/World/Region/Turkey-lifts-decadesold-ban-on-Islamic-head-scarf.aspx
----------
Erdogan, Gulen Combat Islamophobia, Extremism
Oct 08 2013
I place great importance on integration between the Middle East and Europe — or, in a broader sense, between the Muslim and Western worlds. The biggest obstacle in the way of integration at present is the phenomenon of Islamophobia, which, for the Western world in particular, is as dangerous at least as anti-Semitism.
Islamophobia signifies words and actions that breach the religious freedom, civic liberties and human rights of Muslims and often provoke discrimination, prejudice and hate crimes. This has existed throughout history between Muslims and Christians and between the West and Islam. Islamophobia in the West emerged on a greater scale essentially in the wake of the Iranian revolution, the terrorist attacks in Lebanon and Pakistan, and because of al-Qaeda and Osama bin Laden. Undoubtedly, this was exacerbated in the aftermath of 9/11.
9/11 as turning point
In this context, both Muslims and Westerners have a lot of questions to contemplate. How do the drone attacks affect Pakistanis and Yemenis? How do the US invasions of Iraq and Afghanistan affect the people who experience the invasions? Likewise, for Americans, the attacks in New York, Washington and most recently in Boston mean that they are under attack. Osama bin Laden was clever. If one were to terrorize the United States, one had to strike the symbol of American economic wealth, the World Trade Center. Just imagine how Turks, Iranians or Arabs would have reacted if foreign assailants had attacked their most strategic, symbolic centers.
How did Islamophobia spread so fast?
According to the prominent scholar of Islam John Esposito, people are just curious when a person blows up a building, but when a series of buildings are blown up in various places they start asking questions about why those incidents occur in certain Western and Muslim countries. Seeing also the Sunni-Shiite confrontation, Westerners come to believe that there must be "something wrong" with Islam and begin to live in fear. Esposito argues that governments, Islamophobes and political analysts exploit and exaggerate the fear.
As Esposito points out, Bush and Obama were both elected on promises catering to this American mindset, pledging to be tough on terrorism, ensure security and not allow big terrorist attacks. Unfortunately, Obama has repeated many things that Bush had done which, in my opinion, fueled Islamophobia. In the last US presidential campaign, most candidates had a troubled record with Islam and Muslims.
In a sense, the West — and the United States in particular — was caught unprepared to deal with the issue of Islam. As recently as the early 1970s, some academics studying Islam were regarded as odd ducks since Islam conjured up flying carpets, abracadabra and sheikhs, etc. In a tongue-in-cheek account of those years, Esposito remembers how he was ignored by fellow scholars and the media when he began teaching Hinduism, Buddhism and Islam in 1974. He says he owes his career to Ayatollah Ruhollah Khomeini, recounting how he became a much sought-after scholar in the wake of the Iranian revolution.
Certainly, members of the Muslim world have many responsibilities to fulfill in this context. Muslims have to be more critical and open about their problems. But there is hope. For instance, there are prominent nongovernmental organizations in Muslim countries. When members of those nongovernmental groups produced videos about violence against women in Muslim society, they ran into trouble with their own societies. Even though everybody is aware of this type of violence, some members of those societies vehemently denied the problem, unwilling to expose their "dirty laundry."
One should also keep in mind that Islamophobia is part of xenophobia in the West. In the United States, individuals, political parties and websites often act unfavorably toward foreigners. They act unfavorably not only toward Muslims, but toward all foreign ethnic groups. In the United States, it can be a problem to look like a Muslim even if you are not one —Sikhs in the United States, for instance, sport beards and turbans and are often insulted and even physically attacked.
Media and Islamophobia
Some Western media have no doubt played a significant role in spreading Islamophobia. There is a popular saying about how events attract the media's attention and make headlines: "If it bleeds, it leads." For many people, good news is boring. In the United States, a news story about dialogue between Christians, Muslims and Jews likely would not air in prime time, but rather at 6 a.m., if then. Television channels are expected to air such human interest stories, but no one has told the channels when to air them. Fox News' coverage of topics concerning Muslims and Islam is an example. However, this does not mean that the mainstream media are always and necessarily anti-Islam. Incidents of child abuse in the Roman Catholic Church, for instance, are covered widely by the mainstream media in the United States. The essential motivation for such coverage is to boost sales and ratings.
Islam and extremism
The main factor fueling Islamophobia in the West is extremist elements in the Muslim world. But non-extremist Muslims as well as religious leaders representing and interpreting Islam also have a share in the problem. Muslim religious leaders, for instance, fail to stand up against extremism as strongly as necessary.
A major exception in this regard is a person from Turkey: Fethullah Gulen, an Islamic leader who has stood up on those issues, sometimes at great risk. During the 2000 intifada, Gulen said he grieved also for the Israeli dead, drawing the ire of extremist groups in Turkey. We could well describe Gulen as the religious leader who has taken the most unequivocal stance in the Muslim world on any type of Islam-associated violence. He is also the religious leader who has worked the hardest for the healthy integration of the Western and Muslim words. Gulen has maintained that Muslims should not hate the West and that many Western values such as democracy and human rights and the principles of the market economy are compatible with Islam and that Muslims, too, should embrace these values and economic principles.
The significance of Gulen's approach would be better understood if we recall one recent incident. Several months ago, a Kuwaiti parliament member wrote a letter to the Saudi mufti asking whether the construction of a new church in Kuwait would be compatible with Islam. The Saudi mufti replied that Islam required not only the banning of the construction of a new church, but also the closure of existing ones. Both Gulen and Mehmet Gormez, the head of Turkey's Religious Affairs Directorate, openly criticized the Saudi mufti's stance. And this is how religious leaders should be. This is a valuable attitude.
Turkish Prime Minister Recep Tayyip Erdogan has taken an equally important stance, recommending secular and democratic systems to all Arab countries he has visited. That a political leader of Islamist roots maintains that secularism is the guarantee of social peace is significant. Erdogan has given a message to the Muslim Brotherhood and other Islamist movements in the Middle East and North Africa to abandon the idea of an Islamic state and grasp the importance of the secular state. Only such messages can stamp out Islamophobia.
http://www.al-monitor.com/pulse/originals/2013/10/erdogan-gul-islam-moderate-combat-extremism.html#ixzz2h7oKPrDl
----------
Hamas Activists Accuse Meshaal Of Preferring Life in Exile
Oct 08 2013
The rumors have been circulating inside and outside Gaza for a long time. Khaled Meshaal, the head of Hamas' political bureau, is supposedly in hot water in his new abode in Qatar and is looking for another place to live. Al-Monitor correspondent Adnan Abu Amer talked with the spokesman of the movement's political bureau, Izzat al-Rishq, who denied the rumor and claimed that this is only propaganda aimed to harm Hamas.
Mousa Abu Marzouk, a senior Hamas member who has lived in Cairo ever since Hamas officials abandoned Damascus, also wrote on his Facebook page that Meshaal continues to live in Qatar. Marzouk added that no limitations are placed on Meshaal, hinting at stubborn rumors that Meshaal has been under house arrest ever since Qatar's change of government. It is interesting that Marzouk and al-Rishq were forced to deny rumors in the name of the head of the political bureau, when Meshaal actually lives very close to Al Jazeera's network studios. Meanwhile, Meshaal's face was not seen and his voice was not heard [on the screen] for months.
Meshaal's disappearance off the radar provides another opportunity for Hamas leaders in Gaza, who disagree with Meshaal's path and oppose his leadership, to verbally attack him. Some of them accuse him of being responsible for one of the largest crises faced by Hamas since its inception. According to his detractors, Meshaal abandoned one of the sacred principles of the organization since its founding: the collaboration of all the movement heads when making decisions. Meshaal began to make decisions on his own, and caused erosion in the position of the Shura Council that, in the past, had been the supreme authority for all decisions. Meshaal only introduced his close associates into the council, and ignited a severe dispute with the heads of the movement in the Gaza Strip.
The Hamas sources I talked with have long since raised the argument that Meshaal no longer has an excuse to continue to live in another Arab state besides Palestine — in other words, Gaza. "Enough, this is a different era," said an official from the movement. "It's about time that he return home to his nation and, like everyone else, feel what it's like to live in Gaza." He brought the example of Imad al-Almi, one of the movement's leaders, who decided to return and settle with his family in Gaza, after the movement's offices were closed in Damascus.
Khaled Meshaal was born in Silwad, a village in the Ramallah district. He left the village as a youth, together with his family, to settle in Kuwait after the 1967 Six-Day War. In the early 1990s Meshaal joined the Hamas political bureau that was established by Moussa Abu Marzouk, and served as his deputy. In 1995, Abu Marzouk was arrested by the Americans.
The basis of Hamas' political bureau was founded by Marzouk in the US state of Virginia. The bureau's raison d'être was to raise funds for the movement's activities in the territories, thus operating outside Israel's reach. This is also one of the reasons that led to Meshaal's election as leader of the movement, after Israel's assassination of Sheikh Ahmed Yassin and Abdel Aziz Rantisi in the spring of 2004.
Meshaal's disadvantage turned into an advantage. Hamas had always boasted, over the years, that its leaders were part and parcel of Gaza's refugee camps impoverished population. Now, however, it was forced to choose a leader who not only had not been born in the Strip, but had never even stepped foot on its turf in his life. Meshaal's geographical distance from Gaza and the territories and his distance from Israel's assault helicopters that had eliminated Hamas leaders one after the other, now became an advantage.
But since then, a lot of water has passed under the bridge. The Hamas movement won the elections and founded an elected government and for seven years has had its own prime minister in the Gaza Strip. If Meshaal would live among his nation, say his detractors, he would see that he faces no greater danger to his life than that which hovers above the head of Prime Minister Ismail Haniyeh. The Gazans also do not spare their criticisms of Moussa Abu Marzouk, who preferred to settle his family in turbulent Cairo instead of returning to Rafah, the city of his birth.
Hamas is isolated today not only because the Muslim Brotherhood has been sent packing from Egypt, but also because of its shaken relationship with Iran and, of course, Syria. Meshaal had placed his bets on Qatar to replace Tehran as the movement's main ally, but Qatar emerged as weak as a broken reed.
At the head of those who criticize Meshaal's policies and leadership is Mahmoud al-Zahar, who has formed a camp of supporters around him. Zahar is wont to tell his associates that Meshaal acted like a blindfolded horse that barged into a concrete wall, breaking his head and damaging his brain. Zahar felt that Meshaal lurched straight ahead, refusing to heed warnings and listen to advice.
Zahar's words mainly refer to the crisis that emerged between Hamas and Iran "our friend," as he calls it. Zahar is the only one in Hamas that has kept a channel open with Tehran. There are those in the Strip who argue that this is the only window of opportunity remaining for the movement's hopes of rescue and recovery from the current economic crisis that threatens to lead to its collapse.
Will Meshaal finally decide to come to Gaza and settle down there? It's very doubtful whether a person who has been accustomed to comfortable living conditions and freedom of movement all his life would come to live in the crowded, besieged Strip. If Meshaal were forced to leave Qatar, he would probably find new reasons not to choose Gaza so as not to fall into the hands of his enemies who lie in wait for him around every corner. And this time, for a change, the enemies are not from Israel.
http://www.al-monitor.com/pulse/originals/2013/10/meshaal-qatar-hamas-crisis-exile-beirut.html#ixzz2h7o6Wp15
----------
Palestine to set up embassy in Pakistan
Oct 08 2013
Islamabad: Palestine is all set to get its own embassy building in Islamabad with the Pakistan government giving USD one million grant for the construction of the complex.
Foreign Secretary Jalil Abbas Jilani had presented a cheque to Palestinian Ambassador Walid Abu Ali.
The funds had been promised by Pakistan when then President Asif Ali Zardari met with Palestinian President Mahmoud Abbas during his visit to Pakistan in February this year.
Speaking on the occasion, the foreign secretary said that Pakistan had always supported the Palestine cause and the grant was one of the many gestures presented by Pakistan to express their solidarity with the people of Palestine, a statement by the Ministry of Foreign Affairs said.
Last year, the UN General Assembly passed a motion that granted Palestine a non-member observer state, a step short of full member status.
Only 133 of the 193 member states of the UN recognise the State of Palestine.
http://www.indianexpress.com/news/palestine-to-set-up-embassy-in-pakistan/1179854/
--------
Iran won't unblock Facebook, Twitter: official
October 08, 2013
Iran does not plan to unblock Facebook and Twitter for the general public even if some top government officials use it, the minister of telecommunications and information technology said Monday. State TV quoted Mahmoud Vaezi as saying that the ban on the popular social networking sites
will remain in place. Hours later however, he denied making such remarks and said the issue is still under study.
President Hasan Rouhani uses Twitter and Iran's Foreign Minister Javad Zarif has both a Twitter and a Facebook page. There is a Twitter and Facebook page in the name of Iran's top leader Ayatollah Ali Khamenei, which appears to be genuine although Khamenei himself doesn't tweet.
Full report at:
http://www.hindustantimes.com/world-news/restofasia/Iran-won-t-unblock-Facebook-Twitter-official/Article1-1132299.aspx
-----------
Arab World
Blasts across Baghdad kill at least 72 people
Oct 08 2013
At least 72 people were killed and 109 others were injured after nine blasts rocked the Iraqi capital on Monday evening, Al Arabiya's correspondent reported.
However, according to Agence France-Presse, eight car bombs and two roadside bombs exploded in eight areas in and around Baghdad.
Meanwhile, Reuters said eight of the 10 blasts in Baghdad were in mainly Shiite districts. Reuters reported another explosion in a mixed area in addition to one in the predominantly Sunni Muslim neighborhood of Doura.
Full report at:
http://english.alarabiya.net/en/News/middle-east/2013/10/07/Officials-Baghdad-province-bombings-kill-19.html
----------
ISIL Terrorists Kill 7, Injure 20 Civilians in Northern Syria
Oct 08 2013
TEHRAN (FNA)- The Islamic State of Iraq and the Levant (ISIL) militants launched mortar attacks on a Kurdish-populated region in Northern Syria, killing several civilians and injuring many more.
The ISIL terrorists killed 7 civilians and injured 20 others during their mortar attacks on the Kurdish town of Afrin in the Western parts of Reef (countryside of) Aleppo in Northern Syria.
The fighting between Kurds and the foreign-backed militants in Syria has sharply escalated in recent months, with Kurdish fighters inflicting heavy losses on the terrorists.
Full report at:
http://english.farsnews.com/newstext.aspx?nn=13920716001147
---------
Syrian Army Kills Tens of Armed Rebels in Reef Damascus
Oct 08 2013
TEHRAN (FNA)- The Syrian army killed a large number of armed rebels in a series of military and mop-up operations in Reef (countryside of) Damascus on Monday.
The army killed more than 60 terrorists in heavy clashes in Eastern Ghouta of Reef Damascus today, FNA dispatches said.
The Syrian army also arrested 10 armed rebels who were trying to escape to Daraya region in Reef Damascus.
The reports also said that the battle between the Syrian army and the armed rebels is still raging in al-Moazamiya region of Reef Damascus. The army has killed tens of terrorists and injured dozens more in heavy clashes in the region. There has yet been no report on casualties on the side of the Army.
Full report at:
http://english.farsnews.com/newstext.aspx?nn=13920716000496
---------
Dissolve Brotherhood party, judges' panel advises Egypt
Agencies | Oct 8, 2013
CAIRO: A panel of Egyptian judges has recommended the dissolution of the Muslim Brotherhood's political party , a move that signals a widening crackdown on the group. The judges' recommendation on Monday said the party represents an outlawed group. The recommendations will be delivered to a Cairo court reviewing a case demanding the party's dissolution on October 19.
The Brotherhood's party was registered in 2011, months after the ouster of President Hosni Mubarak — the first time the 85-year old organization formed a political party. It went on to win a majority in the first post-Mubarak parliament, and its leader, Mohammed Morsi, later won office as Egypt's first democratically elected leader. Morsi was ousted in a popularly backed military coup in July.
Full report at:
http://timesofindia.indiatimes.com/world/middle-east/Dissolve-Brotherhood-party-judges-panel-advises-Egypt/articleshow/23686764.cms
--------
Saudi Arabia renews support to Egypt against 'terrorism'
Oct 08 2013
Egypt's interim President Adly Mansour won fresh support from King Abdullah for his country's fight against "terrorism" as he Tuesday wound up a trip to Saudi Arabia, official news agency SPA said.
Mansour arrived Monday in the Red Sea city of Jeddah on his first official trip abroad since he replaced the Islamist Mohamed Morsi after the army deposed him on July 3 amid mass protest against his rule.
Abdullah, who was the first leader to welcome Morsi's ouster, affirmed the kingdom's support to Egypt against "terrorism, deviance, and sedition, and against whoever tries to interfere in Egypt's internal affairs," SPA quoted him as saying.
Full report at:
http://english.ahram.org.eg/NewsContent/1/64/83513/Egypt/Politics-/Saudi-Arabia-renews-support-to-Egypt-against-terro.aspx
----------
Maliki Says Terrorism in Iraq 'Directly Related' to Syria
Oct 08 2013
BAGHDAD — Iraqi Prime Minister Nouri al-Maliki, in an exclusive written interview with Al-Monitor, said that Iraq supports a "transitional government that will manage affairs until elections are held and a constitution is adopted" in Syria.
Maliki, who opposed a US strike on Syria and any outside military intervention there, said that he told US Vice President Joe Biden two years ago that Syria "would not be resolved in two years, or even more, and that the social situation, the political and population structure and the sensitive region make it difficult to predict the end of an armed conflict of such cruelty and ferocity."
Full report at:
http://www.al-monitor.com/pulse/originals/2013/10/maliki-iraq-interview-us-iran-syria.html#ixzz2h7nrVq4g
----------
Saudi Arabia: Students who violate Sharia law face therapy, suspension
Oct 08 2013
Saudi Arabia's education ministry has ordered school officials to deal with students making fun of Islam or discussing subjects that violate Sharia law through "behavioral adjustment and life-skills sessions," combined with "voluntary" community service, BBC News reported.
Arab News quoted sources as saying students who violate the rule will be suspended for a year only to be allowed back if the local education authority is satisfied with their progress. The decision comes after the ministry expressed concern about the harmful effect of anti-Islamic behavior on students and the community.
Full report at:
http://www.washingtontimes.com/news/2013/oct/7/saudi-arabia-students-who-violate-sharia-law-face-/#ixzz2h6i5NAZA
----------
Syrian opposition sets conditions for Geneva II
Oct 08 2013
The head of the Syrian National Coalition Monday listed conditions that need to be "guaranteed" in order for the main opposition group to participate in the proposed Geneva II conference aimed at solving the 30-month Syrian conflict.
"We do not reject participation in Geneva II but we request guarantees for its success. And if we receive these guarantees we will show them to the military leaders," Ahmed al-Jarba told reporters.
Jarba, who described Iran as an "enemy" and "occupier" of Syrian land, said the Islamic republic must not participate as "mediator" in the conference.
Iran and the Lebanese Shiite movement, Hezbollah, have fought alongside the Syrian regime of Bashar al-Assad against rebels.
Full report at:
http://english.alarabiya.net/en/News/world/2013/10/07/Syrian-opposition-sets-conditions-for-their-participation-in-Geneva-II.html
----------
Islamists visit Constitution Party's Dawoud after brutal attack
Oct 08 2013
Constitution Party spokesman Khaled Dawoud says he was visited by Islamist figures after being subject to a brutal knife attack on Friday.
Dawoud, a former spokesman for the anti-Morsi National Salvation Front (NSF), was stabbed in his chest and sustained a severe wound to his hand on Friday in central Cairo after being attacked by protesters supporting deposed president Mohamed Morsi, who hails from the Muslim Brotherhood.
Without identifying the specific visitors, Dawoud said that four representatives from the Muslim Brotherhood's Freedom and Justice Party (FJP), Al-Gamaa Al-Islamiya's Building and Development Party, and the Salafist Call visited him to express sorrow over the incident.
The quartet, who are members of the pro-Morsi National Alliance to Support Legitimacy, told him that the assailants do not represent Islam or Muslims.
Full report at:
http://english.ahram.org.eg/NewsContent/1/64/83472/Egypt/Politics-/Islamists-visit-Constitution-Partys-Dawoud-after-b.aspx
----------
Saudi preacher jailed over daughter's death
October 08, 2013
A Saudi preacher accused of torturing his five-year-old daughter and beating her to death has been sentenced to eight years in prison and 600 lashes.
The case of Fayhan al-Ghamdi made headlines around the world earlier this year when it was suggested that a Saudi court might let him walk free.
Activists began a campaign named after his daughter, "I am Lama", to press the authorities to prevent that happening.
Al-Ghamdi is not recognised as a cleric by the Saudi religious establishment.
Child abuse helpline
Full report at:
http://www.bbc.co.uk/news/world-middle-east-24438375
---------
Bahrainis Hold Demos against Al Khalifa Regime
Oct 08 2013
TEHRAN (FNA)- Bahrainis took to the streets in the Northeastern island of Sitra for the sixth consecutive day to denounce the Al Khalifa regime's unrelenting crackdown on pro-democracy protests.
On Monday, people from all walks of life attended marches in Sitra to demand reforms and an end to the decades-old rule of the Al Khalifa dynasty, press tv reported.
Earlier in the day, a court in Bahrain sentenced nine anti-regime activists to life in prison after convicting them of being allegedly involved in an attack in November 2011 in the capital city of Manama.
Full report at:
http://english.farsnews.com/newstext.aspx?nn=13920716000511
---------
Syrian Army Kills Al-Nusra Commander in Reef Idlib
Oct 08 2013
TEHRAN (FNA)- The Syrian army killed a notorious Al-Qaeda ringleader in heavy clashes in Reef (outskirts of) Idlib in Northern Syria Monday night.
According to FNA dispatches from Northern Syria, the Syrian army has killed Mazen Al-Khatib, also known as Abu Al-Qader, in recent clashes in Ariha city in Reef Idlib.
Al-Khatib was the commander of the Al-Nusra Front in Kafr Nabl town in Reef Idlib.
A number of websites affiliated to Al-Qaeda terrorists confirmed that Al-Khatib has been killed in clashes in suburban Ariha city.
Full report at:
http://english.farsnews.com/newstext.aspx?nn=13920716000615
---------
US-Approved Rebel Group Recruits 13-Year-Old Boy as Sniper who Killed 32, Including 13 Civilians
Oct 08 2013
TEHRAN (FNA)- This interview with a 13-year-old boy, called Shaaban Abdallah Hamedah, from Aleppo reveals how a rebel group that goes by the name of 'Ahfad al-Rasoul' (Grandsons of the Prophet) Brigade recruited him as a sniper to kill people in an area of Aleppo, irrespective of whether they were military personnel, civilians, or even other rebels. The Grandsons of the Prophet Brigade has been approved by the Obama administration to receive weapons directly from the US, besides the fact that it is already being heavily armed directly by Qatar.
http://english.farsnews.com/player.aspx?nn=13920715000680
-----------
South Asia
Chittagong Lalkhan Madrasa: A Den of Banned Islamist Militant Outfit Huji
Oct 08 2013
The Quaumi madrasa in Chittagong, which came under spotlight after explosion of locally made hand grenades on its premises on Monday, has long been known as a den of banned Islamist militant outfit Harkat-ul-Jihad al Islami (Huji). Mufti Izharul Islam Chowdhury, founder of Jamiat ul Ulum Al Islamia Madrasa – otherwise known as Lalkhan Bazar Madrasa – played a significant role in spreading the network of the radical outfit across the country since early 1990s with the ultimate goal of launching a jihad. A source in Chittagong, who has close links with these networks, told the Dhaka Tribune last evening that the madrasa had even trained Huji members in operating arms so they could fight in the battlefield as trained jihadis. The source also confirmed that Mufti Izhar, founder principal of Lalkhan madrasa, had very close links with Osama Bin Laden and Mollah Omar of the terrorist organisation al-Qaeda. Izhar travelled to Afghanistan on several occasions and met Laden, Omar and many other Taliban leaders.
Full report at:
http://www.dhakatribune.com/bangladesh/2013/oct/08/lalkhan-madrasa-den-huji#sthash.7DDjzD88.dpuf
----------
Maldives Supreme Court annuls first round of presidential elections
By JJ Robinson | October 8th, 2013
The Supreme Court has annulled the first round of the 2013 presidential elections citing electoral irregularities, despite unanimous positive assessment of the polling by more than a thousand local and international election observers.
The 4:3 verdict cited a confidential police report submitted to the court allegedly claiming that 5600 votes were ineligible. The report has not been made public and was not shown to the Election Commission's defence lawyers.
Former President Mohamed Nasheed emerged the front-runner with 45.45 percent of September 7's vote, while half-brother of former President Gayoom, Abdulla Yameen, came second with 25.35 percent.
Full report at:
http://minivannews.com/politics/supreme-court-annuls-first-round-of-presidential-elections-67952
----------
China arrests 110 in Xinjiang for spreading online rumours
October 08, 2013
Nearly 400 people in China's north-western Xinjiang region have been investigated for spreading online rumours, state media report.
From 26 June to 31 August 110 people were detained and 164 received a warning, the Xinjiang Daily reports.
The suspects disseminated religious extremism and material that threatened stability, it said.
Xinjiang is home to mostly Muslim Uighurs who are a minority in China and have often clashed with authorities.
The Xinjiang Daily, regarded as the mouthpiece of the local Communist Party committee, says the rapid rise of internet users in Xinjiang has seen an increase of religious extremism spreading online.
Criminal offences online such as instigating violence and creating and spreading rumours have also increased, the paper says.
China's leaders are currently trying to stamp out online rumours, which they believe stir unrest.
The Xinjiang Daily report did not say whether any suspects had been released.
http://www.bbc.co.uk/news/world-asia-china-24444505
-----------
Pro Nasheed TV station set on fire in Maldives
Reuters
Male, October 07, 2013
Unidentified men in masks attacked a private television channel in the Maldives that backs ousted leader Mohamed Nasheed and set it on fire on Monday, police said, amid protests by Nasheed's party over a suspended presidential election. The Maldives, a tropical Indian Ocean resort
archipelago, cancelled a presidential run-off election that was due to take place on September 28 after the Supreme Court ordered officials to postpone it. Nasheed had won a first round on September 7 but did not get enough votes for an outright victory.
Yamin Rasheed, chief executive of Raajje TV, said men in masks armed with knives entered the building early in the morning, attacked a guard, broke a door and poured petrol on the station floor.
Full report at:
http://www.hindustantimes.com/world-news/maldives/Pro-Nasheed-TV-station-set-on-fire-in-Maldives/Article1-1132163.aspx
-----------
President Waheed complains to Canada over FM's "inappropriate remarks"
By JJ Robinson | October 8th, 2013
President Mohamed Waheed has written a letter of complaint to Canadian Prime Minister Stephen Harper, accusing Canada's Foreign Minister John Baird of making "inappropriate and derogatory remarks" towards Acting Foreign Minister Mariyam Shakeela during the Commonwealth Ministerial Action Group (CMAG)'s meeting on September 27.
The Commonwealth's human rights and democracy arm had "expressed concern at developments" in the Maldives following the Supreme Court's delay of the run-off elections, noting the Commonwealth election observation team's assessment that "this was a credible electoral process and met the standards for democratic elections to which Maldives has committed itself."
Full report at:
http://minivannews.com/politics/president-waheed-complains-to-canada-over-foreign-ministers-inappropriate-remarks-harshly-worded-questions-67964
----------
Transparency International "gravely concerned" about safety of Maldives staff, volunteers
By Leah Malone | October 7th, 2013
Transparency International has expressed "grave concern" about staff and volunteer safety and "alarm" over the intimidation and public allegations threatening its Transparency Maldives chapter.
"Transparency International is gravely concerned about the safety of chapter staff and volunteers following an attack on one of its volunteers and telephone threats received by chapter members," the international anti-corruption NGO highlighted in a press statement issued today (October 7).
Full report at:
http://minivannews.com/politics/transparency-international-gravely-concerned-about-safety-of-maldives-staff-volunteers-67909
----------
China dismisses worries over missile deal with Turkey
Oct 08 2013
China's Foreign Ministry dismissed concerns about Turkey's decision to co-produce a missile defense system with a Chinese firm, saying on Tuesday that the United States and others were needlessly politicising a purely commercial deal.
Both the United States and NATO have expressed worry about the $3.4 billion deal, saying the system would not be compatible with those of Turkey's other allies.
Some NATO diplomats have also said integrating a Chinese system into NATO's defenses would raise cyber-security concerns and issues about NATO swapping technical data with a Chinese firm.
Full report at:
http://www.hurriyetdailynews.com/china-dismisses-worries-over-missile-deal-with-turkey-.aspx?pageID=238&nID=55886&NewsCatID=345
----------
India
Terrorism to Be Dealt With Individually and Collectively: President in Turkey
Oct 08 2013
Turkey : Raising the issue of cross border terrorism during his first visit to Turkey, a traditional ally of Pakistan, President Pranab Mukherjee on Tuesday said the menace must be dealt both 'individually and collectively' as it was a threat to global peace.
The President also made it clear that India was against any third party intervention to resolve bilateral issues with Pakistan.
The President, who met his Turkish counterpart Abdullah Gul and held 'restricted' talks with Turkish prime Minister Recep Tayyip Erdogan yesterday, said both the leaders agreed with him that terrorism was a menace threatening the world and it needed to be dealt both 'individually and collectively'.
Full report at:
http://www.indianexpress.com/news/terrorism-to-be-dealt-with-individually-and-collectively-pranab-mukherjee/1179866/
----------
Manipuri Muslims in al-Qaida camps: Intel report
TNN | Oct 8, 2013
IMPHAL: Manipur Police are verifying an intelligence report that said at least 20 Manipuri Muslims recently left the state to train under al-Qaida. However, it is not clear which country they have gone to. The youths belong to Imphal East, Thoubal and Chandel districts.
Manipur director general of police M K Das said the intelligence report is yet to be officially verified and that the security forces have so far not found any concrete evidence of the presence of any al-Qaida operatives in the state. However, the police have been on a sharp vigil since they received the report, he added. "We will take all-out action once the intelligence inputs are corroborated," the state police chief said.
Full report at:
http://timesofindia.indiatimes.com/india/Manipuri-Muslims-in-al-Qaida-camps-Intel-report/articleshow/23668888.cms
----------
160 couples tie knot in mass wedding in Muzaffarnagar
Oct 08 2013
Muzaffarnagar : One hundred and sixty couples, who were displaced after last month's riots and were living in a relief camp, tied the knot at a mass wedding at Shahpur in the district.
The 'nikah' was performed by Maulana Mahmood Madani, general secretary of Jamiat Ulama-i-Hind, last evening for the victims displaced by the communal riots.
The organisation has provided Rs 15,000 each and essential items for daily use to the newly-wed couples, Madani said.
Several people have lost their homes and were forced to live in relief camps after the Muzaffarnagar riots that claimed at least 62 lives.
Full report at:
http://www.indianexpress.com/news/160-couples-tie-knot-in-mass-wedding-in-muzaffarnagar/1179865/
----------
Samba terror attack: BSF, J&K police found wanting
Bharti Jain, TNN | Oct 8, 2013
NEW DELHI: The Centre has found lapses on part of the Border Security Force (BSF) as well and Jammu & Kashmir Police while analyzing the September 26 fidayeen attack on a police station and Army camp in Jammu region.
The Union home ministry, based on inputs from intelligence agencies, concluded that BSF, which is in charge of the International Border (IB) at Kathua, was not carrying out patrolling at the unfenced stretch through which the three terrorists sneaked in from across Pakistan.
Reports indicate that the terrorists infiltrated on the morning of the attack, taking advantage of the elephant grass that provided them a perfect cover. This is confirmed by the absence of any breach in the fenced stretch.
Full report at:
http://timesofindia.indiatimes.com/india/Samba-terror-attack-BSF-JK-police-found-wanting/articleshow/23660664.cms
-------
North America
Using Islamophobia to Discredit Obama Is Shameful
07 October 2013
By Dawud Walid, Sun and News (Hastings, Michigan)
To the editor: A letter printed in the September 28 edition of the Sun & News titled "Who is running America?" which was critical of President Obama is riddled with numerous fallacies about Islam.
The Qur'an encourages freedom of thought and good relations with people of various persuasions, not conversion through force nor wanton violence against any religious group.
The Qur'an clearly says in chapter 2, verse 256, "Let there be no compulsion in religion, for right guidance is clear from error." It also says in chapter 5, verse 32 that whoever kills a soul is like killing all of humankind and whoever saves a life is like saving humanity.
A cursory reading of the Qur'an will also show that the vast majority of verses provide spiritual inspiration, parables and stories of prophets such as Abraham, Moses and Jesus Christ. Few verses in the Qur'an are of legalistic nature such as avoiding consumption of pork and alcohol to inheritance rules. Sharia, which means path towards faithfulness, is not a strict code of laws, which the author misrepresents, nor are American Muslims lobbying to have Islam become the law of the land.
Full report at:
http://www.cair.com/press-center/cair-in-the-news/12185-using-islamophobia-to-discredit-obama-is-shameful.html
----------
Obama Escalates Bush-Initiated 'War on Terror' in Africa
Jon Queally
Oct 08 2013
Two separate operations by US Special Forces over the weekend expose a military policy in Africa that critics say is a dangerous and unpredictable game.
Both in Libya and Somalia on Saturday, so-called 'capture or kill' operations were launched—spearheaded by the Joint Special Operations Command (JSOC)—in which high-value leaders of Islamic militant groups were targeted for assassination or kidnapping.
In Libya on Saturday, a raid backed by the FBI and CIA but reportedly executed by elite military personnel, led to the reported capture of Nazih Abdul-Hamed al-Ruqqai—better known by his alias Abu Anas al Libi—an alleged high-level al Qaeda operative wanted in connection to several bombings leading back to the late 1990's.
Full report at:
http://www.commondreams.org/headline/2013/10/07
----------
US target in Somalia plotted serial Kenya attacks: Spy report
Oct 08 2013
Ikrima, the militant targeted by US special forces in a failed weekend raid, is a Somali-based thinker, planner and operator who has relentlessly plotted attacks on neighbouring Kenya, intelligence services and analysts believe.
Kenyan and Western security agencies have identified Ikrima - the nom de guerre of Abdikadar Mohamed Abdikadar - as the link man for commanders of the al Shabaab Islamist group in Somalia with al Qaeda and Kenya's home-bred militants.
They have not established that Ikrima, a Kenyan of Somali origin who spent several years in Norway, was involved in last month's attack on a Nairobi shopping mall that killed 67 people, for which al Shabaab has claimed responsibility.
Full report at:
http://english.ahram.org.eg/NewsContent/2/9/83512/World/International/US-target-in-Somalia-plotted-serial-Kenya-attacks-.aspx
----------
US still expects to sign pact with Afghanistan
2013-10-08
WASHINGTON: The Obama administration is optimistic that a US-Afghan agreement over the future role of American troops in the country can be finalised in the next few weeks despite two main sticking points and President Hamid Karzai's emotional outburst Monday alleging that the US and Nato repeatedly violate Afghan sovereignty.
Nearly a year of negotiations have so far failed to yield a deal and it is still possible that the two sides will never reach an agreement.
The US wants to keep as many as 10,000 troops in Afghanistan to go after the remnants of Al Qaeda, but if no agreement is signed, all US troops would have to leave by Dec 31, 2014.
Roughly 95 per cent of the dozen-page agreement is complete and the rest is penciled in until the two sides can agree on language, according to an Obama administration official who spoke on condition of anonymity as the official was not authorised to speak publicly about the negotiations.
Full report at:
http://www.dawn.com/news/1048275/us-still-expects-to-sign-pact-with-afghanistan
----------
Ahmed Godane and Ikrimah al-Muhajir new toppers in terrorist hall of fame
Chidanand Rajghatta, TNN | Oct 8, 2013
WASHINGTON: Forget al-Qaida's Ayman Al Zawahiri and Lashkar-e-Taiba's Hafeez Saeed for now; The United States has elevated two little known Somali terrorists to the top of its rogues gallery. Their names: Ahmed Godane and Ikrimah al-Muhajir.
US commando raids in Somalia over the weekend were aimed at capturing or eliminating Ikrimah, and possibly Godane, both of whom are believed to be have been involved terror attacks in Nairobi, Kenya, that has killed scores of people. The US operation, led by a Navy Seals Six team, the same group that infiltrated Pakistan and killed Osama bin Laden, was foiled by the alert Somali group, but the effort has catapulted the two thugs into the terrorists' hall of fame.
Full report at:
http://timesofindia.indiatimes.com/world/us/Ahmed-Godane-and-Ikrimah-al-Muhajir-new-toppers-in-terrorist-hall-of-fame/articleshow/23684718.cms
--------
Africa
Extremists kill seven civilians in Nigerian mosque
AP | Oct 8, 2013
DAMBOA (Nigeria): Gunmen believed to be Islamic militants lured Muslims with a call to prayer and gunned them down as they entered the mosque in Damboa village in the latest killings reported in an Islamic uprising in northeast Nigeria, residents and officials said.
The tactics used by Nigeria's Boko Haram terrorist network in Monday's attack that killed seven residents seem to contradict the thinking of some other Islamic extremists on the continent.
Al-Shabab gunmen allowed Muslims to leave Kenya's Westgate mall during their Sept 21 attack, acting on the realisation that the indiscriminate killing of Muslims is a strategic liability.
Full report at:
http://timesofindia.indiatimes.com/world/rest-of-world/Extremists-kill-seven-civilians-in-Nigerian-mosque/articleshow/23675643.cms
----------
Libya jihadists share ideals, not ties with Qaeda: Experts
Oct 08 2013
Abu Anas al-Libi, captured in a daring US raid, was once in Osama bin Laden's inner circle, but appears to have had few ties to Libya's new generation of jihadists.
Islamists inspired by Al-Qaeda's war on the West have flourished in chaotic post-Gaddafi Libya, but evince little interest in the core group founded by bin Laden in the 1990s, which has been decimated by arrests and US drone strikes in the decade-long War on Terror.
But in a measure of the limited success of that campaign, young militants now wave the black banner of radical Islam in war zones from Mali to Syria, while Libi appears to have lived the quiet life of a retiree in Tripoli, with little if any involvement in his country's growing jihad.
His story traces the arc of Al-Qaeda's decades-long struggle and growth from a small group of embittered exiles to an ideology seized upon by militants locked in conflicts across the Muslim world.
Full report at:
http://english.ahram.org.eg/NewsContent/2/8/83495/World/Region/Libya-jihadists-share-ideals,-not-ties-with-Qaeda-.aspx
----------
Foreign fighter, top militants fought off US forces: Shebab
Oct 08 2013
A foreign fighter and two top Somali militants were present in a house that was attacked over the weekend by US special forces, a Shebab commander told AFP Monday.
Moalim Abdirahman Abu-Isa, a commander for the Al Qaeda-linked Islamist group in the southern port town of Barawe, said one Shebab militant was killed but that several US Navy SEALS were believed to have been wounded.
"Three mujahedeen fighters, one of them a non-Somali brother, stayed in the house when it was attacked but they have shown incredible bravery and resisted the enemy," Abu-Isa said.
"They have shot several of the enemy and one of the mujahedeen fighters was blessed with martyrdom," he added, without giving further details of the militants' identities.
A witness in the area reported seeing a light skinned fighter with a flowing beard later leave the house protected by gunmen, while the dead body of the Shebab who had been killed was carried away.
Full report at:
http://english.ahram.org.eg/NewsContent/2/9/83477/World/International/Foreign-fighter,-top-militants-fought-off-US-force.aspx
----------
Libya militants seek to avenge al Qaeda leader capture
Oct 08 2013
DUBAI (Reuters) - Libyan militants have called for the kidnapping of American citizens in Tripoli and for attacks on gas pipelines, ships and planes to avenge the capture of a senior al Qaeda figure by U.S. special forces in Libya last week.
Nazih al-Ragye, better known by the cover name Abu Anas al-Liby, is a suspect in the 1998 bombings of the U.S. embassies in Kenya and Tanzania that killed 224 civilians.
He was snatched on the streets of Tripoli on Saturday and is being held aboard a Navy ship in the Mediterranean Sea, U.S. officials said.
Full report at:
http://in.news.yahoo.com/libya-militants-seek-avenge-al-qaeda-leader-capture-085006363.html
----------
Uganda: Lawyers Want Islamic Courts Regulated
BY JEFF ANDREW LULE
Oct 08 2013
The Muslim Centre for Justice and Law (MCJL) has called on Government to regulate the Qadhi (Islamic Sharia) courts for fair justice. During a one day workshop at Hotel Africana on Friday, the organization's vice president; Nazifah Namayanja said the Informal Islamic courts must be regulated like other formal courts.
"Qadhi court administrators lack knowledge about the secular law and human rights. They continue to handle cases beyond their jurisdiction," she noted. Qadhi courts are mandated to handle marriage, divorce, inheritance and custody issues but some end up handling case like rape and defilement, according to Namayanja.
Full report at:
http://allafrica.com/stories/201310070112.html
----------
Kenyan Muslim Clerics Condemn Mombasa Violence
7 OCTOBER 2013
Kenyan Muslim leaders have publicly condemned the burning of a church in Mombasa after riots broke out Friday (October 4th), sparked by the killing of Sheikh Ibrahim Ismail and three others, Kenya's Capital FM reported.
Representatives from the Supreme Council of Kenyan Muslims (SUPKEM), Jamia Mosque Committee, Majlis Ulamaa Kenya, Kenya Council of Imams and Ulamaa and the Muslim Human Rights Forum called the riots and the burning of the church "appalling".
The representatives also criticised the police for killing four rioting youth during the confrontations. Despite the fact that the youth were disrupting peace, the religious leaders said they should have been allowed their day in court.
Full report at:
http://allafrica.com/stories/201310080074.html?aa_source=sptlgt-grid?aa_source=sptlgt-grid
----------
Mali 'Islamists' blow up bridge near Gao
October 08, 2013
Suspected Islamist militants have blown up a bridge near Mali's northern town of Gao, the army says.
The bridge over the River Niger near Bentia is on the only route between Gao and neighbouring Niger.
The attack comes a day after shells were fired into Gao, also by suspected Islamists.
Islamist militants controlled the whole of northern Mali until France and several African countries ousted them earlier this year.
An election was held in July amid efforts to reunite the country and restore democracy.
Last week, the MNLA ethnic Tuareg separatist rebels attacked Kidal, the main town north of Gao, after saying they were pulling out of a peace deal.
Full report at:
http://www.bbc.co.uk/news/world-africa-24441634
-----------
Pakistan
Islam and Religious Parties Not against Girl's Education: Sami ul Haq
South Asian News Agency
October 08, 2013
NOWSHERA, (SANA): Amir Jamiat Ulema-e-Islam of his faction Maulana Sami ul Haq has said that Islam and religious parties are not against women and girls education.
He said that the anti-Islamic forces and West have hijacked Malala Yousufzai for fulfillment of their agenda, adding that the Western countries are adding salt to the wounds of Muslims in the name of Malala.
He said the dialogues are only way forward for resolving issues with Afghan and Pakistani Taliban, adding that if Pakistan and America would continue using force for next 100 years the problems would not be resolved.
Full report at:
http://www.sananews.net/english/islam-religious-parties-not-against-girls-education-samiul-haq/
-----------
Eight injured in grenade attack at police station in Quetta
2013-10-08
QUETTA: A hand-grenade attack at Quetta's New Sariab police station on Tuesday wounded eight persons, including policemen, DawnNews reported.
Unknown motorcyclists hurled a hand grenade at the New Sariab police station situated on the outskirts of Quetta which exploded causing injuries to eight people.
The attackers managed to flee from the scene.
The victims were shifted to Civil Hospital Quetta for treatment where the condition of three wounded was reported as critical.
Full report at:
http://www.dawn.com/news/1048276/eight-injured-in-grenade-attack-at-police-station-in-quetta
----------
Karachi operation: Police claim arresting 97 suspects
2013-10-08
KARACHI: Rangers personnel on Tuesday arrested 23 suspects during targeted operations in different parts of Karachi whereas police claim to have arrested 97 suspects in the past 24 hours, DawnNews reported.
Operations were conducted in Lyari, Purana Haji Camp, Usmanabad, Bihar Colony, Jamshed Road, Liaquatabad, Pak Colony, Gulshan-i-Iqbal, North Nazimabad and other areas.
According to a Rangers' spokesperson, the arrested suspects were affiliated with political parties and some had links with gang wars. Moreover, sub-machine guns (SMGs), rifles and other weapons were also recovered from the suspects during the raids.
Full report at:
http://www.dawn.com/news/1048285/karachi-operation-police-claim-arresting-97-suspects/print
----------
PTI claims shock win in PP-72, PML-N bags PP-240 seat
Oct 08 2013
FAISALABAD/ DERA GHAZI KHAN: Pakistan Tehrik-i-Insaf (PTI) candidate Sheikh Khurram Shehzad has won the by-election in PP-72 Faisalabad-XXII, defeating favourite Khawaja Liaquat of ruling Pakistan Muslim League-Nawaz (PML-N) on Monday.
According to unofficial results, Shehzad secured 23,972 votes while his rival Liaquat could manage to bag only 18,256 votes.
Full report at:
http://www.dawn.com/news/1048102/by-polls-pti-claims-shock-win-in-pp-72-pml-n-bags-pp-240-seat
----------
Govt silent over extremists' hide collection drive
ZULFIQAR ALI
Oct 08 2013
PESHAWAR: The Khyber Pakhtunkhwa government on Monday kept mum during the provincial assembly session about the hide collection campaign by extremist groups in the province ahead of Eidul Azha.
Awami National Party parliamentary leader Sardar Hussain Babak, who raised the issue on a point of order, said workers of various extremist groups had begun wall chalking, displayed posters and circulated handbills in Peshawar and other areas of the province to seek skins of the animals to be sacrificed this Eidul Azha.
He said there were several relief and charity organisations across the country, which generated funds by collection of hides and those funds were being spent in relief and social activities.
Full report at:
http://www.dawn.com/news/1048257/govt-silent-over-extremists-hide-collection-drive
----------
Europe
Russia Would 'Welcome' Indonesia in Syria Peace Talks: Putin
Oct 08 2013
Russian President Vladimir Putin said on Tuesday that Moscow would welcome Indonesia joining Syria peace talks scheduled to take place in Geneva later this year.
"We believe it is possible to expand the number of [conference] participants by including such big Muslim states like Indonesia," Putin said on the sidelines of an APEC summit in Indonesia.
"In my opinion, it would be quite natural and we'd welcome it," he was quoted as saying by state news agency ITAR-Tass.
http://www.thejakartaglobe.com/news/russia-would-welcome-indonesia-in-syria-peace-talks-putin/
----------
NATO expresses concern about Turkey's Chinese missile deal
Oct 08 2013
The head of NATO expressed concern Oct.7 over Turkey's decision to co-produce a missile defense system with a Chinese firm, saying he expected Ankara to choose a system that was compatible with those of other allies.
Turkey has said it is likely to sign a $3.4 billion missile defense deal with a Chinese firm that is subject to U.S. sanctions, although its decision is not yet final.
The United States has expressed serious concerns to Turkey, saying the Chinese missile defense system would not work with NATO systems.
NATO Secretary-General Anders Fogh Rasmussen said choosing a defense system was a national decision.
Full report at:
http://www.hurriyetdailynews.com/nato-expresses-concern-about-turkeys-chinese-missile-deal.aspx?pageID=238&nID=55868&NewsCatID=359
----------
UK's new crime-fighting agency to work with Turkey
Oct 08 2013
The U.K.'s newest crime-fighting agency, the National Crime Agency (NCA) is set to operate in tackling criminals all around the world, with a special emphasis attached to Turkey.
"The NCA will work with its Turkish partners to tackle threats including drug trafficking and illegal migrants, with Turkey's location straddling both Europe and Asia presenting particular challenges," the British Embassy in Ankara said in a statement released on Oct. 7. "The new agency will build on its already strong relationship between law enforcement in the U.K. and Turkey," the Embassy added.
Full report at:
http://www.hurriyetdailynews.com/uks-new-crime-fighting-agency-to-work-with-turkey.aspx?pageID=238&nID=55862&NewsCatID=351
----------
'Britain's FBI', the National Crime Agency is launched
Oct 08 2013
LONDON — Britain's new crime-fighting agency starts work on Monday with the power to mobilize intelligence from multiple sources and direct police forces across the country to tackle drug gangs, corruption, cyber crime and child sex abuse.
The National Crime Agency, dubbed Britain's version of the US Federal Bureau of Investigation (FBI) by media, will consist of more than 4,000 officers and will take on many of the duties of its widely criticized predecessor, the Serious Organized Crime Agency (SOCA), while also having additional powers.
Full report at:
http://www.saudigazette.com.sa/index.cfm?method=home.regcon&contentid=20131008183027
----------
Southeast Asia
Ad Blitz as Indonesia Rules Spare Shariah Loans
Oct 08 2013
Indonesian banks are preparing marketing campaigns to highlight a rule change that makes it costlier for borrowers to get non-Islamic mortgages than Shariah-compliant products.
Bank Indonesia raised minimum downpayments for all home loans to at least 30 percent from 20 percent on Sept. 24 to cool rising property prices, exempting two types of Islamic mortgages from the change. BRI Syariah and BNI Syariah, units of the nation's second- and fourth-largest lenders, said in interviews last week they are preparing promotions for such loans, which are currently uncommon in Indonesia.
Full report at:
http://www.thejakartaglobe.com/business/ad-blitz-as-indonesia-rules-spare-shariah-loans/
----------
Uproar over Malaysia lawmaker's call to 'shoot first' when faced with criminal suspects
Oct 08 2013
Outrage was growing in Malaysia Monday over a call by a security minister for police to "shoot first" when faced with criminal suspects, with the opposition branding his remarks as giving a "licence to kill".
Ahmad Zahid Hamidi, the minister for internal security, made the comment at a gathering with community leaders last Friday to discuss security in the wake of a recent spike in violent crime.
"I think the best way is that we no longer compromise with them. There is no need to give them any more warning. If we get the evidence, we shoot first," the Malaysian Insider web news portal quoted him as saying.
Full report at:
http://english.ahram.org.eg/NewsContent/2/9/83423/World/International/Uproar-over-Malaysia-lawmakers-call-for-police-to-.aspx
----------
URL: https://newageislam.com/islamic-world-news/fatwa-allows-sex-change-iran,/d/13896