New Age Islam News Bureau
15 August 2022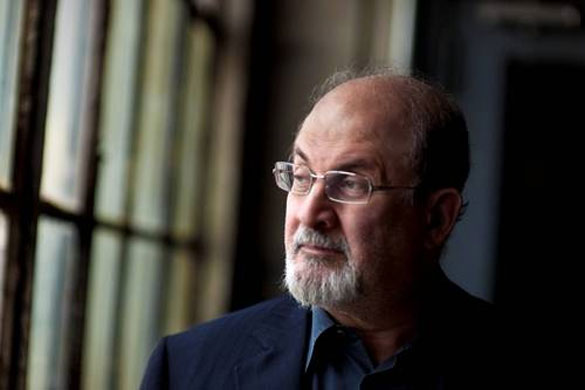 Salman Rushdie
----
• Pakistan's Independence Day Observed As Black Day by Various Parties and Organisations
• Message In PM Modi's Independence Day Speech: Dignity For Women, Pride In Indian Roots – And Other Related Stories
• Tunisian Preacher Muhammed Zain Al-Din, Stirs Controversy Over Verses Regarding 'Coup'
• The Salman Rushdie Fatwa Is Reflected In Every Banned Book And No-Platforming
Mideast
• 'Rushdie And His Supporters Are To Blame' For His Stabbing: Iran Foreign Ministry
• Iran lawmaker says attack on Rushdie was 'warning' to 'killers' of Qassem Soleimani
• BDS Slams West's 'Painful, Infuriating' Double Standards on Wars in Ukraine, Gaza
• Israeli strikes hit Iranian targets near Russia's Mediterranean bases: Sources
• Salman Rushdie's stabbing in the US highlights deep divisions in Iranian society
• Seven injured, two seriously, in Jerusalem attack: Police
• Social media accounts of Rushdie attacker indicate support for Iran's IRGC: Report
• Turkey's top court rules to keep Kurdish politician with dementia in jail
• Iran denies being involved in attack on Salman Rushdie
--------
Pakistan
• Flourishing Islamic Terrorism In Pak Serious Threat To World, Says Exiled Sindhi Leader, Shafi Muhammad Burfat
• Pakistan Taliban Begin To Leave Swat Valley After Talks With Govt
• Imran Khan commends India's foreign policy, plays EAM Jaishankar's clip at Lahore rally
• Imran flays govt for 'cracking down' on pro-PTI media
• Imran conspiring to create divisions in army: Ahsan Iqbal
• Saudi Arabia plans renewal of $3b deposit to Pakistan
• Four soldiers martyred in Dir, Balochistan terror attacks: ISPR
• Reports on presence of TTP operatives in Swat 'exaggerated': ISPR
--------
India
• Muslims, Christians Barred From Voting In Constitution Of 'Hindu Rashtra'
• Mangaluru: Muslims To Give Out 1,000 Sweets For Communal Harmony
• Islam does not permit violence: AIMPLB member
• Hyderabad: Muslim matrimonial conclave to be held today
• 'World of Islam has to enter modern world' — Salman Rushdie said during 2013 India visit
• Salman Rushdie attack prompts muted reaction in India and Pakistan
• ATS nabs 'aide of JeM operative' in Fatehpur
--------
Africa
• Somali Military Claims Capturing Al-Shabaab Stronghold, Killing Terrorists
• Turkish volunteer students engage in social, humanitarian activities in Uganda
• Turkish, Ugandan traders agree to boost cooperation, exports at meeting
--------
Europe
• French Muslims Pray for Rain as Unprecedented Drought Hits Europe
• French satirical magazine Charlie Hebdo slams Rushdie stabbing
• UN rights chief to visit Rohingya camps in Bangladesh
• Perception at odds with reality of generous Saudi humanitarian support for Ukraine
--------
South Asia
• Afghan Journalists in Exile Light Candles to Remember 'One Year of Silence'
• Taliban's Acting Interior Minister Returns to Afghan Capital to Inaugurate Mosque after Al-Qaeda Leader Death
• Sri Lankan Navy rejects reports of conducting war games with Pakistan
• Taliban's First Year in Office "Tumultuous" and Their Accomplishments 'Negative' Says ex-President Karzai
• Surging Border Tensions; Iranian Delegation Arrives in Afghan Capital to Discuss Border Issues
• Taliban offer security to Indian mission
• Taliban to bring new curriculum in Afghanistan for girls' education
--------
Southeast Asia
• Malaysia Under Fire For LGBT 'So-Called Rehabilitation Approach' Programs
• Task Force On Jihad Against Inflation in Malaysia Has Positive Impact On Price Reduction: Minister
• Forgotten Malaysian victims of Hiroshima atomic bombing
• Malaysia's former leader Najib Razak begins final bid to toss out graft conviction
--------
Arab World
• Iraq Judiciary Dismisses Al-Sadr's Demand To Dissolve Parliament
• 41 dead in fire at Egyptian church west of Cairo
• People from Rushdie attacker's hometown in Lebanon condemn attack
• Egypt appoints 13 new ministers in cabinet reshuffle
• Kuwait appoints its first ambassador to Iran since 2016
• Saudi tourist visa holders now allowed to perform Umrah: Ministry
• Saudi, US forces launch joint military drill
• 'YPG/PKK terror group remains in Syria with backing from Assad regime, Iran'
• Syrian Interim Government, opposition figures express solidarity with Türkiye
--------
North America
• Attack On Salman Rushdie 'Appalling,' Says US National Security Adviser
• Rushdie assailant Matar charged with attempted murder, denied bail because of international support
• Republican report knocks Biden's Afghanistan retreat, eyes post-midterm scrutiny
• Taliban haven't changed, resistance by Afghans to grow, says ex-US security official Lisa Curtis
Compiled by New Age Islam News Bureau
URL: https://newageislam.com/islamic-world-news/fatwa-rushdie-islamic-terror-iranian/d/127716
--------
Fatwa against Rushdie created foundation of Islamic terror, says Iranian writer Masih Alinejad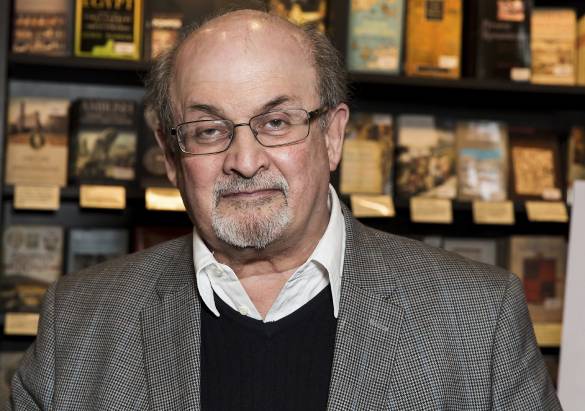 Salman Rushdie
----
Geeta Mohan
New Delhi
August 14, 2022
Iranian dissident and activist Masih Alinejad, living in exile in the US, condemned the stabbing of Salman Rushdie and said a fatwa or edict, calling for Rushdie's death over his book, by Iranian leader Ayatollah Ruhollah Khomeini 38 years ago, created a foundation of Islamic terror.
"We strongly believe that when Khomeini issued the fatwa and the current leader repeated the fatwa, it created a foundation on Islamic terror. We, the people of Iran are suffering from the same fatwa and the same religious extremists in society," Alinejad told India Today.
Alinejad, who said her only crime was giving voice to voiceless people, is fearful of the Iranian regime.
"Last year, the FBI stopped a kidnapping plot and this year they stopped a man in front of my house, with a loaded gun, from trying to kill me," she said.
"My fear is rational, (Islamo) phobia is irrational. ISIS, the Taliban and Islamic Republic are scary, their ideology is written on our bodies. They can kill us, but they cannot kill the idea of writing and fighting Islamic ideology," she added.
Alinejad further said the "terror attack" on Rushide and assassination attempts on others for speaking out against Islamic ideology are scary. But we are more determined than ever to fight this ideology and gain our identity back, she added.
On Social Media Influence
The Iranian writer said the leader who re-issued the fatwa is enjoying freedom of speech on social media when Iranians are denied access to Twitter. She said social media is being used to promote the fatwa and encourage young men like Hadi Matar, the US resident who stabbed Rushdie, to target those who dared to speak against Islamic ideology.
"Kick all the terrorists out of social media because they are using the platform to spread violence against journalists, authors, writers and ordinary people," Alinejad said.
Salman Rushdie is on a ventilator with a damaged liver and may lose an eye after he was stabbed by 24-year-old Hadi Matar. While the attack drew global condemnation, hardline newspapers in Iran have praised the assailant.
Rushdie's book The Satanic Verses has been banned in Iran since 1988, as many Muslims consider it to be blasphemous.
Source: India Today
Please click the following URL to read the text of the original story:
https://www.indiatoday.in/world/story/fatwa-against-salman-rushdie-the-satanic-verses-book-created-foundation-islamic-terror-writer-masih-alinejad-1987970-2022-08-14
--------
Pakistan's Independence Day Observed As Black Day by Various Parties and Organisations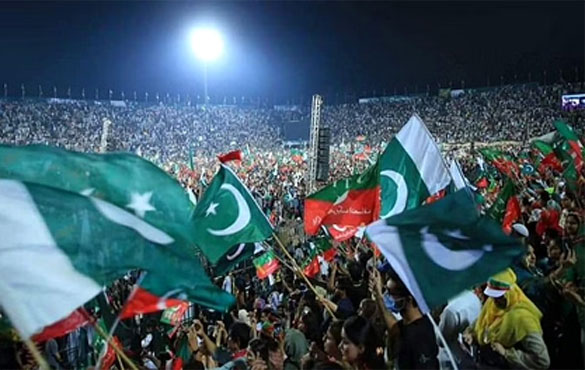 Pakistan's ex-PM Imran Khan massive anti-govt rally in Lahore (Photo Credit: Twitter)
-----
Aug 14, 2022
ISLAMABAD: The 76th Independence Day of Pakistan was observed as 'Black day' as people, political activists and opposition parties showed dissatisfaction with the government.
In North and South Waziristan, people are burning in fore of terrorism since long. The presence of dreaded terror outfits like the Taliban and Islamic State has made their life miserable and Paksitani security agencies have failed to provide them protection.
The Opposition parties continue with their anti-government protests across the country. The Pakistan Tehreek-e-Insaf led by former Prime Minister Imran Khan held a big power show in Lahore hockey Stadium for the "Haqeeqi Azadi '' show. On the other hand, Tehreek-e-Labbaik Pakistan (TLP) held a rally from Liaquat Bagh to Faizabad Rawalpindi in the name of "Nazria Pakistan conference and Relly".
Imran Khan invited his workers all over Pakistan to join his Lahore Jalsa. PTI supporters also placed screens in different cities including Karachi, Islamabad and Rawalpindi to listen to Imran Khan's address.
TLP also organised Nazriya Pakistan March and Conference from Liaquat Bagh to Faizabad interchange. For this purpose, TLP workers closed the Faizabad and the Murree road in Rawalpindi.
Due to both parties' Processions, roads in Lahore and the twin cities were blocked for the whole day. Traffic was diverted and people were stuck in for hours.
Imran khan held a huge power show in Lahore to celebrate 75th independence day and emphasis "Real Freedom" once again.
He criticized the other party leaders for corruption and accused them of Slavery for America. But at the same time, Imran khan clarified that he is not Anti America. He wants friendship with US This is the latest sharp switch of Imran Khan from his previous stance regarding the US. Previously, Imran Khan accused America of Conspiracy against him and loud to not slavery of America.
He also warned that some people are trying to create clashes between PTI and Army so they should remember that Bengal's largest party and Pakistan army clashes resulted in the Fall of Dhaka.
On Independence day, rather than talking about the unity and development of Pakistan, Imran Khan once again criticised institutions for conspiracy against him.
He accused the Chief Election Commissioner of Pakistan (ECP) of rigging the By-Elections in Punjab. Imran khan called CEC a Coward man and he accused him that he couldn't bear a Boot/Shoe on his back, therefore he ganged up with PDM.
Tehreek-e-Labbaik Pakistan had organized a 'Pakistan Ideology March and Conference' regarding the 75th Independence Day.
Before addressing the rally at Faizabad Interchange, the TLP chief led a procession starting from Liaquat Bagh in Islamabad's twin city of Rawalpindi.
A large number of TLP workers and supporters participated in the rally and procession, carrying banners, placards and TLP flags.
Saad Hussain Rizvi, the head of Tehreek-e-Labbaik Pakistan (TLP) has said that "some elements are fooling the country and the nation just for political interests" and those who are asking for forgiveness from the US should have mercy on the people of Pakistan.
He also said that the child has been nurtured and the nation cannot experiment anymore. Soon we will see the spectacle of the twelfth player.
The TLP chief lamented that 'Half of the country is under the spell of torrential rains while politicians are fighting each other and playing 'Jail- Jail'/"Prison - Prison".
In Pakistan-occupied Kashmir when some political parties tried to hold events on 75th Independence Day, the local Kashmiris forcibly stopped the event and shouted Azadi or freedom slogans.
As when Pakistan is celebrating its 75th Independence Day, it is observed as `Black Day' by a large section of the society.
Source: Times Of India
Please click the following URL to read the text of the original story:
https://timesofindia.indiatimes.com/world/pakistan/pakistans-independence-day-observed-as-black-day/articleshow/93558443.cms
--------
Message In PM Modi's Independence Day Speech: Dignity For Women, Pride In Indian Roots – And Other Related Stories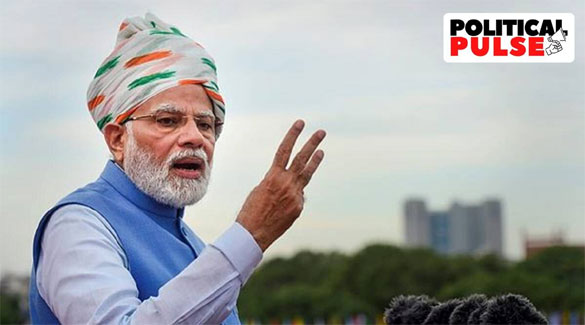 Prime Minister Narendra Modi addresses the nation on the occasion of the 76th Independence Day at the Red Fort. (PTI)
-----
By Shubhajit Roy | New Delhi
August 15, 2022
As India celebrated the 75th anniversary of its independence on Monday, Prime Minister Narendra Modi framed his political argument on two pillars — spelling out a five-point "pran" (commitment/resolve) for the future and how the twin challenges of "corruption" and "dynasty politics and nepotism" confront the nation.
The Prime Minister's Independence Day speech focused on the big picture, and not the micro as in the past. It was devoid of any announcements on any social sector schemes. Modi largely dwelt on the ideas for the future as he spelt out the vision for the next 25 years and painted the big picture.
The Prime Minister, who has taken up issues of importance in the past earlier — cleanliness in 2014 and getting rid of the "chalta hai" attitude in 2017 — struck a chord with women as he emphasised the "dignity" of women. "It is important that in speech and conduct, we do nothing that lowers the dignity of women," he said, appealing to people to watch how and what they say to the women.
This was an important intervention, as he used his political capital to push the message of respecting women who are part of an ever-growing and decisive — and, at times, independent of the menfolk — constituency of voters.
Modi in his speech gave a broad direction for the next quarter of a century. He described the "Panch Pran of Amrit Kaal" — the five commitments for the next 25 years.
And, then the PM laid out the first Pran (commitment) — the "goal of developed India by 2047". This was an important target setting for people who, as he said in his speech, are part of an "aspirational society". He stoked the ambition of Indians by firmly placing this target in front of them. At one point, he said that those who are 25 years now will be 50 when the country turns 100. And he knows his constituency: the youth. India's median age this year is 28 years.
The second pran is to "remove any trace of colonial mindset" — a euphemism of sorts for his push towards the dictum "Indians don't need any certificates from the world". This comes from recent experiences where statements are sometimes made by foreign governments, UN bodies, international surveys, and even foreign rating agencies.
The third pran is "to take pride in our roots" — again a reminder to people about their nationalistic pride, a calling card of sorts for the current dispensation. And the 75th anniversary is an apt moment to reawaken that consciousness. The BJP has been seeking to push this for the last eight years — from Yoga to Ayurveda, and that has been one of the larger goals for the government.
The fourth pran underlined by Modi was "unity". Here, he talked about workers and women, and brought in the issue of women's dignity, and the coarseness of language against women in public discourse. This is expected to touch a deep chord with women in society.
And the fifth pran, as the PM has underlined earlier, is the sense of duty and responsibility of citizens. He sought to frame this argument by saying that while the government will try to bring in facilities and amenities for the people of the country, it is the duty of the people and the citizenry to save and conserve resources that are finite.
The speech, which lasted for 82 minutes was not among the longest. In 2016, he had spoken for 96 minutes and in 2014, it was 86 minutes.
Twin challenges
Besides the five commitments, he marked out the two challenges that were aimed at the political opposition.
By naming corruption in his speech, he clearly targeted the Congress and the Trinamool Congress (TMC). At one point, he said that while some people did not have money, some were finding it difficult to hide their money — a clear reference to the visuals of wads of currency notes that were recently recovered from the premises of former TMC leader Partha Chaterjee's aide.
And, while talking about corruption, Modi spoke of the need to hate the corrupt and view them with contempt — a new framing in the fight against corruption. With the shadow of corruption on leaders of parties such as the Aam Aadmi Party, which had the crusade against corruption as its main political plank, and the Congress, the PM turned up the heat by naming the issue of corruption as one of the two major challenges.
The second major challenge confronting the nation, according to Modi, is that of "dynasty" and "nepotism". While he said that "pariwarwad" and "bhai-bhatijawad" was not just limited to the political arena, and that other institutions and sectors were also plagued by this problem, the political opposition was clearly his target.
This is not a new theme and the PM has talked about it many times in the past, most recently at the three-day BJP national executive meeting in early July. But identifying it as the major challenge on the 75th anniversary of the country's independence has larger political overtones.
This also means that Modi, on Monday, launched the political campaign for 2024 on these twin challenges of "corruption" and "nepotism" — something that he is familiar with, has used in the run-up to the 2014 general elections, and knows that it still has resonance among the electorate.
The speech in 2022, however, was shorn of new announcements and initiatives unlike in the past. In 2014, Modi announced seven initiatives — Jan Dhan Yojana, Skill India, Make in India, Digital India, Swachchh Bharat, Saansad Adarsh Gram Yojana, and the abolition of the Planning Commission that paved the way for NITI Aayog. In 2015, in his second speech, he announced fewer schemes — Start-Up India, Stand-Up India, and the electrification of 18,000 villages within 1,000 days, among others.
But, Monday's speech clearly showed that he was not in a mood to make any new announcements, with the economy recovering after the Covid-19 pandemic. The focus rather was on consolidating on the basis of schemes of the past. And, there, he talked about competition between states, saying they should move from "cooperative federalism" to "cooperative competitive federalism" in the future. This was a way to signal states to perform and provide for the people.
Source: Indian Express
Please click the following URL to read the text of the original story:
https://indianexpress.com/article/political-pulse/prime-minister-narendra-modi-independence-day-2022-speech-8091140/
--------
Tunisian Preacher Muhammed Zain Al-Din, Stirs Controversy Over Verses Regarding 'Coup'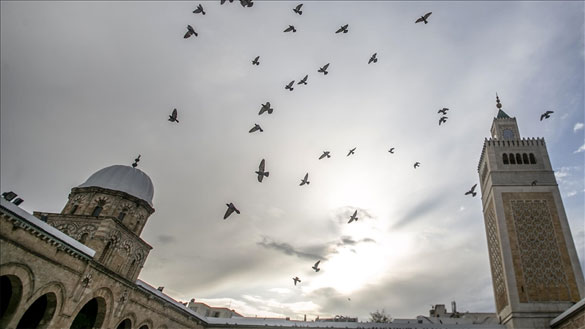 File Photo/ aa.com
----
13.08.2022
TUNIS, Tunisia
Controversy is heating up in Tunisia after local authorities suspended a Muslim preacher for reciting verses from the Noble Quran, Islam's holy book, regarding "coup".
Muhammed Zain al-Din, 60, a preacher in the eastern Nabeul province, told local media that he recited the verses during prayer last week in the presence of Minister of Religious Affairs Ibrahim al-Shaibi.
After the prayer, Zain al-Din said he was urged by the minister to avoid these verses amid a deep political crisis in the North African country.
"I was given a 10-day leave by the local authorities without giving any reason," the preacher said, adding that he was later told by the authorities that he can resume his work.
There was no comment from the Tunisian authorities on the allegation.
Tunisia has been in the throes of a deep political crisis that has aggravated the country's economic conditions since President Kais Saied ousted the government, suspended parliament and assumed executive authority last year.
While Saied insists his measures were meant to "save" the country, critics have accused him of orchestrating a coup.
Source: Anadolu Agency
Please click the following URL to read the text of the original story:
https://www.aa.com.tr/en/middle-east/tunisian-preacher-stirs-controversy-over-verses-regarding-coup-/2660662
--------
The Salman Rushdie fatwa is reflected in every banned book and no-platforming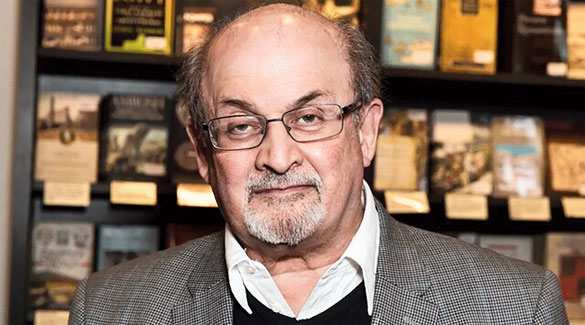 Salman Rushdie
---
August 15, 2022
The fatwa issued against Salman Rushdie in 1989 was a death sentence. His crime, according to Ayatollah Khomeini, was to insult Mohammed and mock Islam in his novel The Satanic Verses. And for this alleged blasphemy, the Ayatollah called on "all brave Muslims" to kill Salman Rushdie (and his publishers and translators) for the greater glory of Allah and the spiritual desire of martyrdom.
There had been previous attempts to assassinate Salman Rushdie, and his Japanese translator Hitoshi Igarashi was indeed murdered. Others have been assaulted and seriously injured over the decades as a result of the Ayatollah's exhortation "to kill them without delay, so that no one will dare insult the sacred beliefs of Muslims henceforth".
It has only taken 33 years for an assassin to finally stab Salman Rushdie around a dozen times, but the Shi'a fatwa doesn't sleep. It was reportedly abrogated in 1998 when Iran and the UK were normalising relations, but junior foreign ministers don't trump grand ayatollahs, whose title literally means 'word of the God'. Supreme leader Ayatollah Khamenei confirmed in 2017 that the fatwa was still in effect, and Ayatollah Hassan Saneii made martyrdom even more attractive with the inducement of a $3million bounty.
To their credit, Penguin have never given in to the threats, and they still publish it. But even today, booksellers don't sell The Satanic Verses for fear of retribution, having seen book stores firebombed or ransacked. The book is banned totally in many countries with significant Muslim populations. For a fictional comedic work of turgid prose and a barely detectable plot, you might consider this a slight overreaction, but it touches on a quranic controversy of some critical historical and literary interest; namely, whether the Qur'an was 'infiltrated' by the words of Satan, and Mohammad was deceived into thinking they came from Allah.
This is not the time or place for quranic form criticism or an exposition of Prophetology; merely (or not so merely) to make an observation that Salman Rushdie is supported robustly by advocates of free speech and secular-humanists, many of whom decry an awful lot of religion as 'fanatical', but less support is coming from Church leaders (the Archbishop of Canterbury only tweeted at 10.00pm last night, and nothing at all has been heard from Pope Francis). It's as though they have some sympathy with the cause of the fatwa, if not the fatwa itself; that Salman Rushdie is entitled to express his views freely, but in The Satanic Verses he went too far and offended religious sensitivities.
But people should be free to criticise and lampoon religion, not least because so much of it absolute tosh an eminently lampoonable. If authors like Salman Rushdie must be censored for expressing a view on an aspect of 'Muslimness', then anyone who speaks or writes what may be considered 'offensive' and be no-platformed or have their work banned, for why should Islam uniquely be protected?
Ayatollah Khomeini's fatwa didn't terminate our foundation of liberty (being the freedoms of conscience and religion, speech and expression), but there is now a discernible tendency to self-censor; to remain silent instead of defending free speech, especially in the public space of media and the institutions of education.
After all, there is still an RE teacher somewhere in Batley (or maybe no longer in Batley) who lives in hiding in fear for his life.
Tolerance seems to have become a one-sided imposition rather than a mutually-expressed value, which is perhaps why both the Archbishop and the Pope have remained silent. Salman Rushdie 'disrespected' Islam, they might say. And yes, we must all be tolerant of his right to express his views, but since religious zealots are somewhat lacking in tolerance, it is incumbent upon the rest of us to tolerate their intolerance and retreat from freedom of expression.
But why should the Qur'an (or any aspect of Islam) be protected from free inquiry? Why should authors and publishers be intimidated from expressing or propagating such inquiry?
Well..
Charlie Hebdo.. Asia Bibi.. Samuel Paty.. Salman Taseer..
Blasphemy has consequences, and zealots don't give up even if the blasphemers retract or apologise. And so we self-censor, or our institutions ensure that we comply with 'hate speech' legislation, which extends to any criticism of whatever may be held dear if someone decides to feel offended by what you say. Nothing may unsettle the spirit; nothing may disturb the mind.
So when JK Rowling is threatened with death on Twitter for her belief that that there is male and female and trans-women are not women, it is a fatwa decreed and promulgated by the self-appointed zealots of another religion. And when she expresses compassion for and solidarity with Salman Rushdie, the fatwa is reiterated.
JK Rowling Twitter death threat Salman Rushdie fatwa
Astonishingly, this isn't considered by Twitter to be a breach of the code of conduct, so JK Rowling simply has to live with.
Or not live with it.
It calls for a special kind of bravery to confront the moral fatwas of postmodern pluralism, or endure the oppression of its prophets, priests and kings. Far easier – as it has always been – to remain silent, or to recant swiftly and hope and pray for the best.
Far easier to ensure 'trigger warnings' are given, plays aren't performed, texts are bowdlerised, comedians are cancelled, books are removed altogether, and thoughtful and intelligent speakers are 'no-platformed', rather than defend the right to freedom of expression, which necessarily includes the right to offend. But when the authoritarian instinct is to bully the nonconformist by public shaming and destroying the reputations of those who dare to challenge the new moral orthodoxy, it is unsurprising that few feel strong enough to make a stand.
And so one fatwa leads to another, because all must be 'protected' from the new blasphemy. You may agree with Salman Rushdie completely: you might even be a Muslim and praise him for his enlightenment. But God help you if you express it publicly – or in the university, when reasoned critical argument and the tolerance of opposing views on some matters is no longer a cherished virtue of the learning experience.
And if you refuse to self-censor, your criticism of whatever sacred cow is turned back on you, such that your argument is considered 'hate', and your reason becomes bigotry. The objective is to smear the target, control the language of debate, even censor discussion on matters of political morality altogether. Once you shame nonconformity and crush dissent, you control the public space.
It is for this reason that the freedoms of speech and expression must defended robustly, because those who are not free in speech or expression are simply not free. Yes, you might offend against someone's cherished spiritual beliefs, but so what? Are we really prepared to live in a society where the pursuit of free inquiry is bound by perpetual pussy-footing around 'respect' and 'tolerance'?
And to those who say a 'balance' must be found, there is none to find between freedom of expression and 'respect' or 'tolerance' in relation to religion. All gods, prophets, sacred beliefs and holy books must be subject to criticism, scorn, mockery and defamation. If they are not, we coerce the unbeliever to tolerate the intolerable; to respect that which is unworthy of respect because its precepts are repugnant, its prophets are false, and its god is a myth.
Freedom of expression and freedom of speech are the philosophical progeny of freedom of religion. Where there is freedom of religion, there must be freedom from religion. When our mainstream media and political leaders demand obeisance to 'tolerance' in relation to religions – meaning, of course, one religion in particular – we must necessarily subsume the freedoms of speech and expression to the new sharia blasphemy code, which you breach it at your peril.
And you won't find many books, discussions or guest speakers on this in the university.
Source: Archbishop Cranmer
Please click the following URL to read the text of the original story:
https://archbishopcranmer.com/the-salman-rushdie-fatwa-is-reflected-in-every-banned-book-and-no-platforming/
--------
Mideast
'Rushdie and his supporters are to blame' for his stabbing: Iran foreign ministry
15 August, 2022
Salman Rushdie and his supporters are the only people to blame for Friday's attack on the novelist, Iran's Foreign Ministry said on Monday.
Rushdie is recovering after being stabbed repeatedly at a public appearance in New York state.
Freedom of speech does not justify Rushdie's insults against religion in his writing, ministry spokesperson Nasser Kanaani told a news briefing.
The Indian-born writer has lived with a bounty on his head since the publication of his 1988 novel "The Satanic Verses," which is viewed by some Muslims as containing blasphemous passages.
In 1989 Iran's then Supreme Leader Ayatollah Ruhollah Khomeini issued a fatwah, or edict, calling on Muslims to kill the novelist and anyone involved in the book's publication.
The Iranian government said in 1998 it would no longer back the fatwah, and Rushdie has lived relatively openly in recent years.
"Salman Rushdie exposed himself to popular outrage by insulting Islamic sanctities and crossing the red lines of 1.5 billion Muslims," Kanaani said.
"During the attack on Salman Rushdie, we do not consider anyone other than himself and his supporters worthy of reproach, reproach and condemnation...No one has the right to accuse Iran in this regard."
Source: Al Arabiya
Please click the following URL to read the full text of the original story:
https://english.alarabiya.net/News/middle-east/2022/08/15/-Rushdie-and-his-supporters-are-to-blame-for-his-stabbing-Iran-foreign-ministry
--------
Iran lawmaker says attack on Rushdie was 'warning' to 'killers' of Qassem Soleimani
13 August, 2022
The attack against novelist Salman Rushdie was a "warning" to the "killers" of Islamic Revolutionary Guard Corps (IRGC) commander Qassem Soleimani, an Iranian lawmaker said on Saturday.
Malek Shariati, who represents several electoral districts in Tehran province in the Iranian parliament, wrote on Twitter that the attack against Rushdie, regardless of whether Iran was directly involved in it, was a "warning to the killers of martyr Soleimani."
"If Iran was directly involved, it proves the power of Islamic Iran. If the attack was carried out by a Muslim acting independently of Iran, it shows that the revolution has been exported to the heart of the enemy. If the US and the UK were behind this, it serves as a lesson for those who trust the West," Shariati wrote on Twitter.
"In any case, [the attack] is a warning to the killers of martyr Soleimani," he added.
Soleimani was killed in a US airstrike in Iraq on January 3, 2020, ordered by then President Donald Trump. He headed the Quds Force, the overseas arm of Iran's Islamic Revolutionary Guard Corps (IRGC).
The US on Wednesday charged a member of the IRGC with plotting to murder John Bolton, a staunch opponent of the Iranian regime who served as national security advisor to former President Donald Trump.
The murder plot was "likely" in retaliation for the killing of Soleimani, the US Justice Department said in a statement.
Iran versus Rushdie
Rushdie, who has lived with a bounty on his head since the late 1980s, was stabbed in the neck and torso on Friday as he prepared to speak at an event in western New York. Andrew Wylie, Rushdie's book agent, said the author "will likely lose one eye; the nerves in his arm were severed; and his liver was stabbed and damaged."
Hadi Matar, the suspect in the attack, has been charged with attempted murder and is being held without bond, the Chautauqua County District Attorney's office said on Saturday.
A preliminary review of Matar's social media accounts showed he had sympathies for "Shia extremism" and the IRGC, NBC News reported on Friday, citing a law enforcement official with direct knowledge of the investigation.
Rushdie has long faced death threats for his fourth novel, "The Satanic Verses," published in 1988.
In 1989, Ruhollah Khomeini, Iran's supreme leader at the time, pronounced a fatwa, or religious edict, calling upon Muslims to kill Rushdie and anyone involved in the book's publication for blasphemy.
Iranian organizations, some affiliated with the government, have raised a bounty worth millions of dollars for Rushdie's murder. Khomeini's successor as supreme leader, Ali Khamenei, has reaffirmed the fatwa on multiple occasions, most recently in 2019 through his Twitter account.
Source: Al Arabiya
Please click the following URL to read the full text of the original story:
https://english.alarabiya.net/News/middle-east/2022/08/13/Iran-lawmaker-says-attack-on-Rushdie-was-warning-to-killers-of-Qassem-Soleimani
--------
BDS Slams West's 'Painful, Infuriating' Double Standards on Wars in Ukraine, Gaza
2022-August-14
In a Saturday statement, the Palestinian National Committee to Boycott Israel (BNC), which is the largest coalition of Palestinian political parties that leads the international pro-Palestine Boycott, Divestment, and Sanctions (BDS) movement, called for escalation of popular resistance and campaigns to boycott the Israeli regime in response to its massacres and crimes against the defenseless Palestinian people in the besieged Gaza Strip, Rai al-Youm reported.
The statement added that in addition to the United States, Britain and the European Union, those Arab countries that normalized relations with the Tel Aviv regime are also complicit in Israel's crimes against the Palestinian people through their security-military alliances with Israel and their betrayal of the Palestinian cause.
Under circumstances that people in the Gaza Strip continue their valiant resistance against Israel's acts of aggression and systematic killing and injuring of hundreds of Palestinians, including children, the West and Arab coalition allows the regime to continue its crimes, it said.
The statement emphasized that the West's double standards in dealing with the military conflict in Ukraine and the brutal war waged by Israel in the Gaza Strip are painful and infuriating.
The occupying apartheid regime of Israeli has not only been made in the West but is still being armed, financed, and protected by Western states engulfed in neo-colonialism and old racism, especially the United States, the United Kingdom and the European Union, it said.
It added that Israel's recent attack on Gaza was added to the unjust siege on the Palestinian people in the enclave that has been going on for 15 years.
Some international law experts believe that Israel's barbaric siege of Gaza is a precursor to genocide of a part of the Palestinian nation, the statement pointed out.
The statement came after European Union's Foreign Policy Chief Josep Borrell on Thursday admitted that the 27-nation bloc applies double standards when it comes to the wars in Ukraine and Israeli-occupied Palestine but said double standards permeate international relations anyway.
"We are often criticized for double standards. But international politics is to a large degree about applying double standards. We do not use the same criteria for all problems," Borrell said in an interview with El Pais newspaper when asked why Brussels is so much more willing to support the people of Ukraine than the people of Gaza.
Last Friday, Israel launched a devastating military onslaught against the besieged Gaza Strip, killing dozens of civilians, including at least 17 children, and injuring hundreds more during airstrikes that lasted for three consecutive days.
The occupying regime in Tel Aviv brought the entire enclave under land, aerial, and naval blockade in June 2007.
The United States has always been one of the main supporters of the Israeli regime and its violence against Palestinians in the occupied West Bank and the Gaza Strip.
Critics believe both the US and major European powers apply double standards towards different nations, including the people of Ukraine and Palestine.
As many as 1.3 million out of the 2.1 million Palestinians in the besieged Gaza (62 percent) require food assistance as well, according to the United Nations' Office for the Coordination of Humanitarian Affairs (OCHA).
Source: Fars News Agency
Please click the following URL to read the full text of the original story:
https://www.farsnews.ir/en/news/14010523000373/BDS-Slams-Wes's-'Painfl-Infriaing'-Dble-Sandards-n-Wars-in-Ukraine-
--------
Israeli strikes hit Iranian targets near Russia's Mediterranean bases: Sources
15 August, 2022
Israel hit Iranian targets in a series of strikes on Sunday near the ancestral home region of Syrian President Bashar al Assad, and close to Russia's main Syrian bases on the Mediterranean coast, regional intelligence and Syrian military sources said.
The Syrian army earlier said three servicemen were killed and three were wounded in two simultaneous Israeli attacks south of the province of Tartous, and another on the capital of Damascus. It gave no details of the specific locations.
The strikes on the northeastern outskirts of Damascus hit outposts run by Lebanon's pro-Iranian Hezbollah group, two Syrian military defectors familiar with the region said.
A Syrian army officer in the Tartous coastal region told Reuters on condition of anonymity an Iranian base near the village of Abu Afsa, south of the port city was targeted alongside an air defense and radar station nearby.
Israel has staged hundreds of strikes against alleged Iranian targets in recent years, but has mostly avoided hitting the coastal provinces where Russia's main military assets are concentrated.
The latest strikes are part of an escalation of what has been a low-intensity conflict whose goal was to slow down Iran's growing entrenchment in Syria, Israeli and regional military experts say.
The strikes were close to the Russian navy's only Mediterranean base in the port of Tartous where Russian warships are docked, while Moscow's major Hmeimim air base is also in nearby Latakia province.
Russia's intervention alongside Iran helped turn the tide in favor of Assad in an over decade old conflict.
The coastal areas are inhabited mainly by Assad's minority Alawite sect that dominates the higher echelons of power in the security force and army.
Russian forces in Syria regularly turn a blind eye to Israeli air strikes against suspected Iranian-sponsored deployments and arms transfers.
But tensions have mounted between Israel and Russia over the former's condemnation of the Ukraine war and the latter's scrutiny of a Jewish emigration agency.
Israel last month said its military jets came under Russian anti-aircraft fire over Syria in May but they missed their target, describing the confrontation as a "one-off incident
Syria blamed Israel for major strikes on its main international airport in Damascus last June that heavily damaged runways and forced a halt for several weeks to flights.
Source: Al Arabiya
Please click the following URL to read the full text of the original story:
https://english.alarabiya.net/News/middle-east/2022/08/15/Israeli-strikes-hit-Iranian-targets-near-Russia-s-Mediterranean-bases-Sources
--------
Salman Rushdie's stabbing in the US highlights deep divisions in Iranian society
14 August, 2022
Many Iranians have turned to social media to show their anger and praise over the attack on novelist Salman Rushdie at a lecture in New York state, with some conspiracy theories linking it to Tehran's nuclear talks in Vienna.
Rushdie remained hospitalized after he was repeatedly stabbed on Friday. His agent has said he is likely to lose an eye, among other injuries.
Authorities in Iran, where the author's novel "The Satanic Verses" had drawn death threats since 1989, have made no public comment about the attack. But hardline state media outlets have celebrated it with headlines like "Satan has been blinded".
Many ordinary Iranians have expressed their sympathies, however, posting on social media about their anger at the Islamic Republic's clerical rulers for issuing a fatwa, or religious edict, in 1989 that urged Muslims to kill Rushdie.
"Through the fatwa, the Iranian regime is responsible for the attack on Salman Rushdie. This attack is not only an assault on freedom of speech, but shows how dictators have expanded their reach around the world to challenge security," tweeted an Iranian user identified as Behrouz Boochani.
In 2019, Twitter suspended Iran's Supreme Leader Ayatollah Ali Khamenei's account over a tweet that said the fatwa issued by the late founder of Iran's 1979 Islamic revolution, Ayatollah Ruhollah Khomeini, against Rushdie was "solid and irrevocable".
Iran blocks access to Facebook, Twitter, and YouTube but millions of Iranians easily get around that by using virtual private networks.
Some Iranians have blamed the United States of plotting to disrupt the nuclear talks, during which Tehran and Washington have been struggling to salvage Iran's nuclear pact with world powers that former US President Donald trump exited in 2018.
"..., isn't it odd that as we near a potential nuclear deal, the US makes claims about a hit on (John) Bolton... and then this happens?," Mohammad Marandi, a media adviser to Iran's chief nuclear negotiator, tweeted -- drawing hundreds of likes and retweets, as well as people chiming in with their own similar comments.
Washington has charged an Iranian with plotting to murder Bolton, a national security adviser to Trump. Iran has rejected the accusation as "baseless."
In its online Sunday issue, the hardline Kayhan newspaper, whose editor-in-chief is appointed by Khamenei, wrote: "Divine vengeance has befallen Rushdie. Trump and (former US Secretary of State Mike) Pompeo are next."
Those comments echoed praise for the attacker in other hardline Iranian media on Saturday. Online posters also voiced their vitriol.
"I hope you die," tweeted Iranian Mohammad, using the trending hashtag #SalmanRushdie in Farsi.
Source: Al Arabiya
Please click the following URL to read the full text of the original story:
https://english.alarabiya.net/News/middle-east/2022/08/14/Salman-Rushdie-s-stabbing-in-the-US-highlights-deep-divisions-in-Iranian-society
--------
Seven injured, two seriously, in Jerusalem attack: Police
14 August, 2022
Seven people were injured, two of them critically, after a shooting attack on a bus in Jerusalem's Old City, Israeli police and medics said early Sunday.
"The police were informed of a shooting of a bus ... Police have cordoned off the scene and are searching for a suspect who fled," the police said.
A suspected shooter has been arrested in connection with the attack, police said.
Israel's emergency medical services, the Magen David Adom (MDA), called the incident a "terror attack in the Old City".
"We were on scene very quickly. On Ma'ale Hashalom St. we saw a passenger bus standing in the middle of the road, bystanders called us to treat two males around 30 years old who were on the bus with gunshot wounds," MDA paramedics said in a statement.
Bus driver Daniel Kanievsky said the attack occurred near King David's Tomb.
"I was coming from the Western Wall. The bus was full of passengers. I stopped at the station of the Tomb of David. At this moment starts the shootings. Two people outside I see falling, two inside were bleeding. Everybody panicked," he told reporters at the scene.
Since March, 19 people -- mostly Israeli civilians inside Israel -- have been killed in attacks mostly by Palestinians. Three Israeli Arab attackers were also killed.
In the aftermath, Israeli authorities increased operations in the occupied West Bank.
More than 50 Palestinians have been killed, including fighters and civilians, in operations and incidents in the West Bank since then.
Last week saw three days of intense conflict between Israel and Islamic Jihad militants in the densely populated Palestinian enclave of Gaza.
Source: Al Arabiya
Please click the following URL to read the full text of the original story:
https://english.alarabiya.net/News/middle-east/2022/08/14/Seven-injured-two-seriously-in-Jerusalem-attack-Police
--------
Social media accounts of Rushdie attacker indicate support for Iran's IRGC: Report
13 August, 2022
A preliminary review of the social media accounts of the man who attacked novelist Salman Rushdie showed he had sympathies for "Shia extremism" and Iran's Islamic Revolutionary Guard Corps (IRGC), NBC News reported on Friday, citing a law enforcement official with direct knowledge of the investigation.
Rushdie, 75, was being introduced to give a talk to an audience of hundreds on artistic freedom at western New York's Chautauqua Institution on Friday when a man rushed to the stage and lunged at the novelist, who has lived with a bounty on his head since the late 1980s.
Police identified the suspect as Hadi Matar, a 24-year-old man from Fairview, New Jersey, who bought a pass to the event.
The law enforcement official said there were no "definitive links" between Matar and the IRGC but added that a cellphone messaging app belonging to Matar included images of slain IRGC commander Qassem Soleimani and "an Iraqi extremist sympathetic to the Iranian regime," NBC News reported.
Rushdie has long faced death threats for his fourth novel, "The Satanic Verses," published in 1988.
In 1989, Ruhollah Khomeini, Iran's supreme leader at the time, pronounced a fatwa, or religious edict, calling upon Muslims to kill Rushdie and anyone involved in the book's publication for blasphemy.
Iranian organizations, some affiliated with the government, have raised a bounty worth millions of dollars for Rushdie's murder. Khomeini's successor as supreme leader, Ali Khamenei, has reaffirmed the fatwa on multiple occasions, most recently in 2019 through his Twitter account.
Source: Al Arabiya
Please click the following URL to read the full text of the original story:
https://english.alarabiya.net/News/middle-east/2022/08/13/Social-media-accounts-of-Rushdie-attacker-indicate-support-for-Iran-s-IRGC-Report
--------
Turkey's top court rules to keep Kurdish politician with dementia in jail
13 August, 2022
Turkey's Constitutional Court Friday decided to keep a Kurdish politician with dementia in jail, the ruling said.
Aysel Tugluk, now 57, was the deputy co-chair of the pro-Kurdish Peoples' Democratic Party (HDP) before her arrest in 2016.
She was sentenced in 2018 to 10 years in prison for "belonging to a terrorist organization."
The country's top court rejected a plea for her release, but ordered that she receive regular neurological and psychiatric treatment in hospital.
"The evolution of her illness must be followed and the need for a release evaluated at regular intervals," the court ruled.
Tugluk's lawyer Serdar Celebi on Saturday last week told AFP that merely providing medication was not enough, and her illness was only worsening in detention.
Her supporters believe she developed dementia after witnessing Turkish nationalists attack her mother's funeral in Ankara in 2017. She had been authorized to attend.
Source: Al Arabiya
Please click the following URL to read the full text of the original story:
https://english.alarabiya.net/News/middle-east/2022/08/13/Turkey-s-top-court-rules-to-keep-Kurdish-politician-with-dementia-in-jail-
--------
Iran denies being involved in attack on Salman Rushdie
August 15, 2022
TEHRAN, Iran: An Iranian government official denied on Monday that Tehran was involved in the assault on author Salman Rushdie, in remarks that were the country's first public comments on the attack.
The comments by Nasser Kanaani, the spokesman of Iran's Foreign Ministry, come over two days after the attack on Rushdie in New York.
However, Iran has denied carrying out other operations abroad targeting dissidents in the years since the country's 1979 Islamic Revolution, despite prosecutors and Western governments attributing such attacks back to Tehran.
"We, in the incident of the attack on Salman Rushdie in the US, do not consider that anyone deserves blame and accusations except him and his supporters," Kanaani said. "Nobody has right to accuse Iran in this regard."
Rushdie, 75, was stabbed Friday while attending an event in western New York. He suffered a damaged liver and severed nerves in an arm and an eye, his agent said. He was likely to lose the injured eye.
His assailant, 24-year-old Hadi Matar, has pleaded not guilty to charges stemming from the attack through his lawyer.
The award-winning author for more than 30 years has faced death threats for "The Satanic Verses." Iran's late Supreme Leader Ayatollah Ruhollah Khomeini had issued a fatwa, or Islamic edict, demanding his death. An Iranian foundation had put up a bounty of over $3 million for the author.
Kanaani added that Iran did not "have any other information more than what the American media has reported."
Freedom of speech does not justify Rushdie's insults upon religion in his writing, Kanaani said.
Source: Arab News
Please click the following URL to read the full text of the original story:
https://www.arabnews.com/node/2142911/middle-east
--------
Pakistan
Flourishing Islamic Terrorism In Pak Serious Threat To World, Says Exiled Sindhi Leader, Shafi Muhammad Burfat
14 August, 2022
Frankfurt [Germany], August 14 (ANI): Mushrooming of Islamic terrorism in Pakistan is a serious threat to the world and humanity, said exiled Sindhi political leader Shafi Muhammad Burfat on the 75th Independence Day of Pakistan on Sunday.
Burfat, the chairman of Jeay Sindh Muttahida Mahaz (JSMM), who is living in Germany calls August 14 `Black Day' as the people in Sindh and Balochistan provinces have been living as slaves for past many decades.
They are even suffering due to growing extremism in these regions.
"The two Nation theory which laid the basis for the formation of the theocratic state of Pakistan in 1947 backed by strategic interests of the British imperialism in the region at that time, is the real political and ideological inspiration and cause behind the savage Islamic extremism and terrorism victimizing the civilized nations of the world today", Burfat said.
He added that it is the only state on the globe of mother Earth that was created by the world superpowers on the basis of religious fundamentalism to serve their strategic interests in the region and that's why this Islamic theocratic fascist state and its savage intelligence agency ISI was supplied with resources needed to create and nourish the Islamic extremist terrorist groups like Taliban, Al-Qaida, Haqqani Network, Lashkar-e-Tayyeba (LeT), Jamaat-ud-Dawa, Lashkar-e-Jhangwi and various others and then, set them free to terrorize the entire humanity in Afghanistan, Kashmir, Middle East and Europe.
Burfat, who also held a protest in Germany to show his anger against Pakistan said: "The whole world has witnessed that Pakistani military and agency ISI has been getting dollars from the world in the name of war on terror and at the same time were hiding, sheltering and protecting terrorist Al-Qaida Chief, Osama Ben Laden."
Speaking to ANI, Burfat said that even today the ISI is sheltering international terror fame Hafiz Saeed and financing and running the Islamic terrorist networks like Haqqani Network.
The terrorism that is shaking the entire world today, from USA and Canada to Europe is inspired by the same Islamic theocratic psyche that laid the ideological basis for the establishment of Pakistan.
"This ideology is in fact, the fascist basis for the imperialist interests of Punjab established in the name of Islam, run by fascist corrupt mafia like Army and its agency ISI. This state is such a fraudulent and wicked state that has been misguiding the world in using the funds acquired by it in the name of war against terrorism in crushing the secular nationalist movements of Sindhi and Baloch nations", said JSMM chief.
He believes that on one hand, Pakistan is creating Islamic extremist terrorists and is forcefully imposed upon the historic, secular Sindhi and Baloch nations in the name of Islamic ideology and identity on the other.
"Today, we are protesting here to tell the entire world that Nuclear Arsenals, atomic warheads of Pakistan and Two Nation Islamic Ideology are the biggest threats to world peace, and all are inspired by the radical Islamic crusade called Jihad based on the Islamic extremist ideology that has always remained a psychological doctrine of Pan-Islamic dream of conquering the Earth and establishing Islamic rule over it", said Shafi Burfat.
He added: "Today, the 14th of August is the day of formation of Pakistan, a state that savagely massacred 3 million Bengalis in 1971. In fact, this is the day of Pan-Islamic dream to establish Islamo-fascist rule over the entire world and therefore this is the day of the national slavery for Sindh and black day for entire humanity".
"Therefore, as the custodian of historic values of Indus civilization, we Sindhis are observing it as a black day in Sindh and Europe".
He appealed to the people and governments of all the democratic civilized nations and international institutions for human rights to take a serious notice and immediate action against Pakistan, its corrupt military mafia and its savage intelligence agency, the ISI, who have been massacring the Sindhi and Baloch.
Source: The Print
Please click the following URL to read the full text of the original story:
https://theprint.in/world/flourishing-islamic-terrorism-in-pak-serious-threat-to-world-says-exiled-sindhi-leader/1082881/
--------
Pakistan Taliban begin to leave Swat valley after talks with govt
Aug 14, 2022
ISLAMABAD: Pakistan Taliban, whose presence in Khyber Pakhtunkhwa province's Swat valley set alarm bells ringing in Islamabad, have started leaving the region after talks with the government.
Taliban militants reportedly occupied hilltops of Swat district's Matta subdivision a few months ago which created panic in a number of neighbouring districts, The News International newspaper reported.
The Taliban's unexpected appearance led to anger among the people and caused damage to tourism as the day Taliban were reported to have arrived in the valley, the report added.
Initially, both the Khyber Pakhtunkhwa and Shehbaz Sharif governments kept quiet on the issue. After the issue came to the limelight, Pakistan Defence Minister Khawaja Asif said that they were in touch with the Afghan government about the Taliban's appearance in Swat.
"The Taliban accepted requests of the local elders and agreed to leave Swat peacefully. By Saturday afternoon, the Taliban started leaving Swat via Dir," a Pakistan senior government official told The News on condition of anonymity.
The Pakistani newspaper said the government had moved additional troops to Swat and deployed them in different places for a likely offensive against the Taliban.
"Luckily, the situation returned to normal and there was no incident of violence in the valley. The role played by the people of Swat for peace is remarkable," he added.
Since the Taliban took control of Afghanistan, Pakistan has increasingly complained of attacks across the border from Afghanistan, an issue that has become a source of diplomatic tension.
Talks between the two sides began in October 2021 to seek a political solution to the issue. The talks that were held at the request of the Afghan Taliban led to a one-month ceasefire in November. However, the truce could not last long as differences emerged soon.
The ongoing peace talks between the TTP and Pakistan government reached a stalemate as the outlawed group refused to give in on its demand for the reversal of the merger of the erstwhile Federally Administered Tribal Areas (FATA) with the Khyber-Pakhtunkhwa province.
Source: Times Of India
Please click the following URL to read the full text of the original story:
https://timesofindia.indiatimes.com/world/pakistan/pakistan-taliban-begin-to-leave-swat-valley-after-talks-with-govt/articleshow/93558144.cms
--------
Imran Khan commends India's foreign policy, plays EAM Jaishankar's clip at Lahore rally
Aug 14, 2022
ISLAMABAD: Former Pakist prime minister Imran Khan has once again commended India for its independent foreign policy as he slammed the West for being critical of India for buying Russian oil.
Addressing a huge gathering in Lahore, Imran played a video clip of India's foreign minister S Jaishankar from Bratislava Forum held in Slovakia and praised the Indian minister for standing firm to the US pressure over buying cheap oil from Russia.
"If India which got independence at the same time as Pakistan and if New Delhi can take a firm stand and make their foreign policy as per the need of its people then who are they (Prime Minister Shehbaz Sharif government) who are towing the line," Imran Khan said at the gathering, a video of which was shared by several media outlets.
"They (US) ordered India to not buy oil from Russia. India is US' strategic ally, Pakistan is not. Let us see what India's Foreign Minister said when the US asked them not to buy Russian oil."
Imran Khan then played out external affairs minister Jaishankar's video clip.
"Jaishankar is telling them who are you? Jaishakar said that Europe is buying gas from Russia and we will buy it as people need it. This is what an independent country is ('yeh hoti hai Azad Haqumat')," he said while praising India.
He also slammed the Shehbaz government for bowing down to US pressure on buying Russian oil.
"We had spoken to Russia about buying cheaper oil but this government has no courage to say no to US pressure. Fuel prices are skyrocketing, people are below the poverty line. I am against this slavery."
The clip of EAM Jaishankar played during Lahore Jalsa was of June 3, when in response to a question on India buying Russian oil, he counter questioned, 'Is buying Russian gas not funding the war?"
Jaishankar made these remarks at the GLOBSEC 2022 Bratislava Forum being held in Slovakia on the topic 'Taking Friendship to the Next Level: Allies in the Indo-Pacific Region'.
EAM Jaishankar had hit back at the unfair criticism of Indian oil purchase from Russia amid the Ukraine war that has created a knock-off effect on the world economy.
While defending India's oil imports from Russia, Jaishankar stressed that it is important to understand how the Ukraine conflict is impacting the developing countries. He also questioned why only India was being questioned while Europe continues to import gas from Russia amid the Ukraine war.
Source: Times Of India
Please click the following URL to read the full text of the original story:
https://timesofindia.indiatimes.com/world/pakistan/imran-khan-commends-indias-foreign-policy-plays-eam-jaishankars-clip-at-lahore-rally/articleshow/93557029.cms
--------
Imran flays govt for 'cracking down' on pro-PTI media
August 15, 2022
ISLAMABAD: Former prime minister Imran Khan has condemned what he called a government crackdown on the media houses and journalists supporting Pakistan Tehreek-i-Insaf's narrative.
"I want to warn our nation of an unprecedented crackdown campaign by the imported government and state machinery against media houses and journalists who are carrying PTI and my narrative to the public," Mr Khan tweeted on Sunday. "Two journalists, Arshad Sharif and Sabir Shakir, have had to leave Pakistan fearing for their lives."
In subsequent tweets, he said others like Imran Riaz Khan, Sami Ibrahim and Ayaz Amir had suffered threats, violent attacks and arrests.
"In my mass public campaign across Pakistan from next week, I will take up the issue of media freedom and freedom of expression. If we allow these terror tactics, designed simply to target PTI and myself, to succeed, then we will be returning to the dark days of dictatorship when there was no independent media and no room for freedom of expression."
He said haqeeqi azadi (real freedom) could not be achieved without a free media and freedom of speech as guaranteed in the Constitution.
Meanwhile, former PTI leader Fawad Chaudhry alleged on Sunday that the information ministry had received Rs750 million from the government to observe Independence Day celebrations but "still failed to hold impressive events".
Source: Dawn
Please click the following URL to read the full text of the original story:
https://www.dawn.com/news/1704976/imran-flays-govt-for-cracking-down-on-pro-pti-media
--------
Imran conspiring to create divisions in army: Ahsan Iqbal
August 15, 2022
NAROWAL: Imran Khan has been conspiring to divide the Pakistani Army at the behest of his "external sponsors", said Federal Minister for Planning and Development Ahsan Iqbal here on Sunday.
Speaking at flag-hoisting ceremony attended by PML-N local leaders and workers, former interior minister said the Pakistan Tehreek-i-Insaf chairman wanted to get "real freedom" by breaking the army's discipline.
He said Imran Khan was doing "political sabotage" in Pakistan by taking funds from India and Israel.
He said the party Quaid Nawaz Sharif would return to Pakistan before the next general election.
Mr Iqbal said it had always been the PML-N's stance that the institution of the army should remain away from politics.
He said whenever the situation in Pakistan improved and the country's economy started moving towards development, Imran started staging sit-ins and strikes in the country, citing the PTI's 2013 agitation that resulted in postponement of the Chinese president's visit to Pakistan.
He also alleged that Imran Khan had ruined the China Pakistan Economic Corridor (CPEC) project.
He said after the PTI' government emptied the country's coffers, the genie of poverty and inflation came out of the bottle, while the country was crushed under the burden of external debt.
He said that after Pakistan went for nuclear tests in 1998, restrictions were imposed on it, but the situation was not as bad as it was during Imran's government.
Terming Imran's slogan of "real freedom" the biggest joke on the country, Ahsan Iqbal said it could not be achieved by destroying the country's economy or plunging it into debt crisis and destroying projects like CPEC.
He said real freedom could only be achieved by strengthening the country's economy and freeing it of foreign debt.
Blasting Imran's claims of "saying no to slavery", he said the PTI chairman was sending envoys to US and begging the American ambassador for arranging a meeting with President Biden.
He said if Imran Niazi was contesting by-election from nine constituencies of the National Assembly, it clearly meant that the PTI had no candidates there.
Ahsan Iqbal said now Imran Khan himself was seeking 'NRO' in the foreign-funding case, but "we will not give it to him".
He claimed that Imran was repeatedly sending messages, seeking reconciliation and closure of the foreign funding case, but it would not be closed now.
"You stole billions of rupees. You spread chaos in politics by taking funds from Pakistan's enemies. You have campaigned against national institutions. Imran Khan, you will have to answer this," he said.
Source: Dawn
Please click the following URL to read the full text of the original story:
https://www.dawn.com/news/1704909/imran-conspiring-to-create-divisions-in-army-ahsan-iqbal
--------
Saudi Arabia plans renewal of $3b deposit to Pakistan
August 14, 2022
ISLAMABAD: Saudi Arabia is planning to renew its $3 billion deposit in assistance to Pakistan, as the South Asian nation looks to rein in one of Asia's highest inflation rates and stave off a current-account crisis, according to people familiar with the matter, reported Bloomberg.
The Saudi Finance Ministry plans to renew its $3 billion deposit with State Bank of Pakistan as soon as this week, the people said, asking not to be identified discussing private deliberations. The kingdom also plans to provide $100 million a month for 10 months in petroleum products that will be granted as additional support, the people added.
Pakistan's funding gap has been covered after the kingdom's commitment, the people said, adding that the assurance will pave the way for the International Monetary Fund's loan approval at the end of the month.
Saudi Arabia has been coordinating with the IMF to ensure that Pakistan is fully supported, one of the people said. The commitment can be announced within the next two days, said one of the people.
Representatives for Saudi Arabia and Pakistan's Finance Ministry didn't immediately respond to Bloomberg messages seeking comment.
The aid comes as the IMF has been looking to assess Saudi Arabia's commitment to financing Pakistan before the multilateral lender disburses fresh funds to the South Asian nation.
Bloomberg reported in July that the IMF wanted to ensure that Saudi Arabia will follow through with as much as $4 billion in funding to Pakistan to ensure Islamabad does not have a funding gap after the IMF loan.
Pakistan has a gaping trade deficit, a large fiscal hole and a $1.7 billion debt payment due in December. Averting default will depend on whether external support from Saudi Arabia and other countries materializes. Without it, default seems increasingly likely.
Saudi Arabia extended support multiple times to the nation. It pledged $4.2 billion in assistance to Pakistan when the former prime minister Imran Khan visited the kingdom in October. That included a deposit of $3 billion with the State Bank of Pakistan to help shore up its reserves and a facility to finance oil derivatives trade worth $1.2 billion during the year.
The kingdom discussed extending the term of its $3 billion deposit with Pakistan when Pakistan's Prime Minister Shehbaz Sharif met the kingdom's Crown Prince Mohammed bin Salman in May.
The matter is crucial because, while the IMF is due to lend Pakistan $1.2 billion, this would be insufficient for Prime Minister Shehbaz Sharif's government to avoid a debt default.
Source: Pakistan Today
Please click the following URL to read the full text of the original story:
https://www.pakistantoday.com.pk/2022/08/14/saudi-arabia-plans-renewal-of-3b-deposit-to-pakistan/
--------
Four soldiers martyred in Dir, Balochistan terror attacks: ISPR
August 14, 2022
RAWALPINDI/DIR: Four Pakistan Army soldiers embraced martyred in two terror incidents occurred in Dir area of KPK and in Balochistan on Sunday.
According to a statement issued by the ISPR, two soldiers embraced martyrdom when an improvised explosive device (IED) exploded as personnel of security forces passed by in Barawal area of Dir District.
Resultantly, Sepoy Sajid Ali, age 30 years and resident of Kotli, Azad Kashmir and Sepoy Adnan Mumtaz, age 32 years, resident of Poonch, Azad Kashmir) embraced shahadat (martyrdom).
Following the incident, the security forces launched an operation to clear the area and eliminate any terrorists present in the region.
In another incident, two soldiers embraced martyrdom and another sustained gunshot wounds in an attack on security forces in Balochistan.
According to Inter-Services Public Relations (ISPR) statement, the security forces late on Saturday night successfully repulsed the distant fire raid on their post in the Khost town near Harnai district and pursued the escaping terrorists into the nearby mountains.
"As a follow-up, during an encircling effort to cut off fleeing terrorists, a heavy exchange of fire took place between terrorists and a security forces patrol as well," the military's media wing said.
During the skirmish, two army soldiers embraced martyrdom and an officer got injured while causing losses to the terrorists, it added.
"Security forces, in step with the nation, remain determined to thwart attempts at sabotaging peace, stability and progress of Balochistan," according to the ISPR.
Source: Pakistan Today
Please click the following URL to read the full text of the original story:
https://www.pakistantoday.com.pk/2022/08/14/two-soldiers-killed-one-hurt-in-balochistan-attack-ispr/
--------
Reports on presence of TTP operatives in Swat 'exaggerated': ISPR
August 14, 2022
RAWALPINDI: Pakistan Army on Saturday dismissed reports regarding the presence of a large number of banned Tehreek-e-Taliban (TTP) armed members in Swat Valley.
The military's media wing the Inter-Services Public Relations (ISPR), said in a statement on Saturday: "During the past few days, a misperception about the alleged presence of large number of proscribed organisation TTP's armed members in Swat Valley has been created on social media."
After confirmation on the ground, it added, the reports have been found as "grossly exaggerated and misleading".
"Presence of small number of armed men on few mountain tops between Swat and Dir has been observed, located far away from population," it added.
The ISPR said that apparently, these individuals sneaked in from Afghanistan to resettle in their native areas. "A close watch is being maintained on their limited presence and movement in mountains."
Source: Pakistan Today
Please click the following URL to read the full text of the original story:
https://www.pakistantoday.com.pk/2022/08/14/reports-on-presence-of-ttp-operatives-in-swat-exaggerated-ispr/
--------
India
Muslims, Christians barred from voting in constitution of 'Hindu Rashtra'
13th August 2022
A group of 30 Hindu seers and experts prepared the first draft of the constitution for the proposed 'Hindu Rashtra.' Haridwar Dharam Sansad seer Anand Swaroop released a preamble for the constitution, which states that minorities, specifically Muslims and Christians, will be barred from voting.
A 32-page draft will be presented during the Prayagraj Dharam Sansad, which is to be held in March 2023 in Sangam city. The first draft outlines the major changes in the field of education defense, law and order, a system of voting, and the rights of the head of state.
Another notable aspect of the draft is that it aims to shift the national capital from New Delhi to Varanasi, and also proposes the establishment of a Parliament of religions in Uttar Pradesh's Kashi.
According to the proposed constitution, the current parliament will be replaced by a 543-member Dharam Sansad. Gurukuls will replace the education system, and old laws will also be scrapped.
Apart from the aforementioned features, military training would be compulsory for each and every citizen. Agriculture would be completely exempted from taxes. It is to be noted that during the Prayaraj Dharam Sansad in February 2022, a resolution was passed to make India "A Hindu Nation."
The cover of the draft depicts the map of the proposed "Akhand Bharat" which aims to merge countries that have separated from India.
"There will be an executive system wherein Hindus, Sikhs, Buddhists, and Jains will all get the right to exercise their franchise. People of every caste will have the facility and security to live in the nation," Swaroop was quoted as saying by the Times of India.
The seer further said that Muslims and Christians will have the right to do business and are welcome to stay in the country, however, they will not have the right to vote.
Source: Siasat Daily
Please click the following URL to read the full text of the original story:
https://www.siasat.com/minorities-barred-from-voting-in-constitution-of-hindu-rashtra-2389349/
--------
Mangaluru: Muslims to give out 1,000 sweets for communal harmony
Aug 14, 2022
Mangaluru: A group of Muslims from the city have joined hands to distribute 1,000 sweet boxes called 'boxes of happiness,' on the occasion of the Azadi Ka Amrit Mahotsav. Seif Sultan, who is part of this drive, said, "In the wake of an uneasy calm that prevailed following the three murders in the district last month, we will undertake the distribution of sweets for communal harmony, in 10 areas of the city, at autorickshaw stands, police stations, shops, temples and churches, on Monday."
"Following the murders, there is a lot of misconception in society, regarding a particular faith. Hence as a community, a group of friends decided to come together and make 1,000 boxes of sweets to be distributed. The boxes will be distributed by our Muslim brothers, to people of different faiths," Seif said. There will be no formal programme or speeches to be made on the occasion. Each box, costing about Rs 50, will have a packet of juice, chocolate, cake and other snacks.
Source: Times Of India
Please click the following URL to read the full text of the original story:
https://timesofindia.indiatimes.com/city/mangaluru/mangaluru-muslims-to-give-out-1000-sweets-for-communal-harmony/articleshow/93550350.cms
--------
Islam does not permit violence: AIMPLB member
August 14, 2022
All-India Muslim Personal Law Board (AIMPLB) member Maulana Khalid Rasheed Farangi Mahali Saturday condemned the attack on author Salman Rushdie and said Islam does not permit such acts.
The Sunni cleric said as per Islamic laws, one must follow the law of the land.
Source: Indian Express
Please click the following URL to read the full text of the original story:
https://indianexpress.com/article/cities/lucknow/islam-does-not-permit-violence-aimplb-member-8088729/
--------
Hyderabad: Muslim matrimonial conclave to be held today
Sameer Khan
14th August 2022
Hyderabad: Invite only Muslim matrimonial conclave by Siasat Matri has become the talk of the town as it is helping many prospective brides and grooms in finalizing their matrimonial alliances.
After the conclusion of the recently held conclave, families of prospective brides and grooms who were invited were successfully able to finalize the matches.
As it is an invite-only meeting, the profiles of the prospective brides and grooms are first analyzed by Siasat Matri team, and based on their expectations, they are invited to the conclave.
Due to profile analyses by the expert team, the chances of the matches getting finalized increases drastically. This is one of the secrets behind the high success rate of the recently held conclave.
Next matrimonial conclave
The next matrimonial conclave is going to be held today at Siasat Office, Abids. In the event, a total of 45 persons who were invited by the Siasat Mati team are going to interact with each other face-to-face.
As done in the last conclave, the profiles are shortlisted based on the expectations mentioned in the profiles.
The conclave is scheduled to begin at 1 pm today.
How to become part of next matrimonial conclave?
In order to become part of the next matrimonial conclave, prospective brides and grooms can register online on the Siasat Matri website (click here).
After registration, the Siasat Matri team will analyze the profile, and based on the expectations, families of prospective brides and grooms will be invited to the next matrimonial conclave.
Apart from it, the profiles will be showcased (Only after taking consent) in the episode of the matrimonial video series.
Following is the latest episode of the series.
Siasat Matri's video matrimonial series and conclave are ensuring that prospective brides and grooms find their life partners easily.
All services can be availed on mobile by downloading the Android Application of 'Siasat Matri' from the Google Play store (Download Now) & iOS App for Apple (Download Now).
Source: Siasat Daily
Please click the following URL to read the full text of the original story:
https://www.siasat.com/hyderabad-muslim-matrimonial-conclave-to-be-held-today-2389874/
--------
'World of Islam has to enter modern world' — Salman Rushdie said during 2013 India visit
14 August, 2022
New Delhi: Salman Rushdie, whose novel The Satanic Verses drew death threats from Iranian leaders in the 1980s, was stabbed in the neck and abdomen Friday at a literary event in New York. A man went on stage and attacked the 75-year-old Indian-born British author as he was about to give a lecture.
This is the text of an NDTV Walk the Talk interview conducted by Shekhar Gupta in 2013, when Salman Rushdie was visiting Delhi.
Shekhar Gupta (SG): How wonderful to have you with us, Salman Rushdie, two feet away, not on a flickering screen.
Salman Rushdie (SR): Yes, this is really me.
SG: It has taken us some time getting you on the show, but good to see you in India, sort of often, because I think you threaten to bore us by coming here so often that it will cease to be news.
SR: That's right, but this time, I hope the thing that will be news is something which I care about, which is the film of Midnight's Children, which has been a long time coming. The book is already more than 30 years old and there have been attempts before to dramatise it, but which for one reason or another didn't happen. In some ways, I think of it as a kind of karma because the kind of team we managed to get behind it this time was much superior to any of the people who have previously been interested in it.
SG: And also, a film is a good ploy to get people who are lazier about reading.
SR: I think if the film is well liked, it will take some people back towards the book. But I think you also have to think of a film as a thing of its own. In the end, if you are making a movie, you are trying to make a good movie. And I would say to Deepa (Mehta) that we should not think of it so much as an adaptation of the book as a relative of the book. It's like the first cousin of the book, like there's a strong family resemblance, but it's not exactly the same thing. I think there's that point always in an adaption.
SG: And has she answered that question well enough?
SR: Yes, I have to say I am very happy with the film. We were lucky in many ways. I mean, of course, Deepa is a wonderful director…first of all, she's a wonderful director of actors and she is also a wonderful director of child actors.
SG: And she is tough enough to deal with celebrities like you.
SR: You know, she's just as much a celebrity. What was good was that we are both very direct kind of people.
SG: But many lesser filmmakers would be intimidated by your reputation.
SR: It wasn't to do with it. We just got on very well because both of us speak our minds, both of us are direct people. So that meant that we were, quite early, able to make an open working relationship. I mean I had admired her films before, I had actually interviewed her on television in America when she released Water.
SG: And what do you remember from that interview?
SR: I remember being struck by the film. But I remember how easy the conversation was between us. There was no awkwardness or stiffness which happens sometimes. And then, I was in Toronto because I had a book coming out and (I was) at her place for dinner. So we were talking about maybe doing something. And then, she suddenly said, who has the rights to Midnight's Children? I said, as it happens, I have the rights and she said, can I do that? I said okay. That was the deal. I think it was instinct on her part and an instinctive reaction on my part. And then, we were both a little bit nervous when we settled down to work on it. But the first time we sat down to talk about it seriously in my study in New York, we had both made lists of images and scenes and things we thought should be in the film and so on. And what struck both of us was that the lists were almost identical. So then we thought that we were actually on the same page trying to make the same movie. From then on, our confidence grew in each other, we began to trust each other. There were times when I would say, look, this is something we have to have and she would give in. And sometimes, she would say, look, I don't want to do that, I want to do it like this and you just have to trust me. And I would say, okay, we'll try to do that.
SG: Until at the end she made you narrate.
SR: Which had never occurred to me.
SG: That was a googly.
SR: Yes, that was. Deepa is very determined. I was resistant to it. I thought, get an actor to do it, somebody who does this for a living. I mean, the rest of the film was so beautiful—the cinematography, the performances, etc—I didn't want to be the amateur person spoiling it. So I was quite nervous about it but in the end, it seems to have worked out.
SG: Every reviewer would have said, because Salman Rushdie would not keep himself out of the film…
SR: Exactly. He wrecked the film. Well, I tried very hard to stay out of it. Even to the extent that there was one point where Deepa wanted me to play a small cameo in the movie and I said I shouldn't do that because that would be distracting to the audience.
SG: So, it's a kind of a sweet revenge. You know, if you can't read my book, for whatever reason, I give you my film.
SR: Well, people can read Midnight's Children. It has been here all this time. Actually, one of the things that was very important to me, when the book came out all those years ago, was the fact that people here liked it. I always thought that if people in India had not cared for it, then it doesn't matter how many Booker prizes…
SG: If I could make a statement—if people in India and elsewhere had read The Satanic Verses, then this reaction would not have been justified.
SR: I think those people who have actually read the book more or less don't have the theatrics. I've had quite a few people who were involved in demonstrations and protests against the book back at that time come up to me and sort of apologise and say, I've read your book and actually like it. You know, strange things happen when you take the trouble to read.
SG: Many of us were so disappointed that the book was banned without anyone having read it. I think it was just a panic reaction with an election coming up.
SR: Fortunately, we live in an age now when you can't ban books.
SG: Right, you just download them.
SR: Exactly. I think that's one of the great benefits of this information age.
SG: So now that you've made a movie out of one, will you make a movie out of another one?
SR: I don't think I will write the adaptation again. For me, it was a very interesting experience. I think if I was to do another movie, I would like to write the original screenplay for cinema. Adapting is a very difficult thing. I always thought Haroun and the Sea of Stories would make a good film. I always thought that The Enchantress of Florence would make a good film.
SG: Is it one of the biggest creative prizes for a writer to have a film made?
SR: No, it's just the next project. As a writer, you go from project to project. You don't give them rankings. It was interesting because it was something I've never done. I think one of the things you are always looking for, as an artist, is to find a challenge that you haven't faced before.
SG: When you saw the first cut of the film, was there anything that surprised you? Nobody knows the story and the book more intimately than you.
SR: The first thing I did was to see the rushes and then, I saw all the footage. What struck me was that we were lucky in our lighting cameraman because the look of the film—the extraordinary beauty of the film—is quite something. Whether or not you like the story, you can't deny that it looks very beautiful. And it also looks like we had a hundred million dollars to spend, which we did not. Giles Nuttgens, the cameraman, has such an extraordinary eye that he makes it look like it's a huge budget movie. Also, Dilip Mehta's production design was meticulous, his attempt to recreate the India, Pakistan and Bangladesh of that period, the 50s, 60s, 70s. It was sometimes shocking to me that he would create rooms which reminded me of the rooms that I had grown up in. And people carrying objects like cameras, which I remember my father carrying around.
SG: We've been unfair in depriving you of that connection with your past. We would have preferred to do this interview in Ballimaran today.
SR: My father's family was an Old Delhi family. When my parents were married, that's where they lived. My parents moved from Delhi to Bombay just about a year before I was born. I never actually lived in Old Delhi.
SG: And you speak so fondly of your father in your book.
SR: I am so pleased because I think it's easy to see, especially if you read Midnight's Children, that there were difficulties in my relationship with my father in real life. But there was also this other side which I finally got to talk about, which is how much I owed to him and how much of his idea, his way of seeing the world, became my way of seeing the world.
SG: Talk about two things he taught you.
SR: He taught me not to believe in religion. That was interesting and he was completely without religious beliefs. But he had enormous scholarly interest, particularly in the history of Islam. What else did he teach me? Scepticism. He was a considerable intellectual in many ways. And he was not unlike many desi parents. He could be a real slave driver.
SG: Almost a quarter century has gone since that tamasha started over The Satanic Verses. Tell me, Salman, the sole purpose of 99.99 per cent having become so angry about the book without having read a line.
SR: 99 per cent of whom? I think the book has a lot of admirers. It has a lot of Muslim readers.
SG: How then do you explain this phenomenon?
SR: Because an enormous campaign was run against it. If you spend 20 years abusing something from the pulpit of every mosque in the world, you are going to create a certain climate.
SG: I am talking about mythology. How do mythologies get created?
SR: One of the reason why writers and people in power so often have conflicts is that politicians also are trying to make up the world, trying to present versions of reality, which they want us to buy and quite often, those versions are ridiculously untrue. It is part of the nature of power to make up a world to suit itself. And that's sadly what happened to me. One of the ironies of our age is that you find the writers of fiction, which is supposed to be untrue, often being obliged to be the truth-teller because the people who are supposed to be telling you what it is, are lying to you. It is the ancient conflict of art and power. I just got caught up in one of those conflicts.
SG: First of all, for India to be the first country to ban it was a shame. That was a time India made many mistakes.
SR: I agree. It was very disappointing to me. I am trying to move beyond it. Twenty-five years is a long time. And I think to be able to be here today in a sort of completely ordinary way, to have the movie opening, which all kinds of people were saying nobody would let it be seen, it will be banned because it's Salman Rushdie or whatever…but none of that happened.
SG: None of that will happen. Your first reviewer who reviewed your proof copy has now even blamed me for..
SR: Oh… it's your fault?
SG: That I highlighted the reviewer or that I highlighted the Satanic Verses
SR: Usually, the default setting is… blame me.
SG: You are too big a guy to be blamed. Everyone wants to be a friend…
………………………..
SR: One of the things people think is that Midnight's Children is a novel about India; it's also a novel about Pakistan and it's also a novel about Bangladesh. It's a novel which really tries to be about the birth of not just one nation, but actually the birth of three nations. So in that sense, it's a broad-spectrum book.
SG: And three nations have fascinatingly all followed different routes to nation building.
SR: In 1947, you could have said that these three places were variations of the same place. And they felt like that. As a child, because half my family was in Pakistan, I would travel to Karachi, Islamabad or Rawalpindi and it didn't feel so different. But now, these three countries, as you say, are very different from each other.
SG: The more remarkable thing recently has been the path that Bangladesh has taken. It's remarkable for a country like Bangladesh to declare itself a secular republic, for the army to support the idea, for a government to change through elections.
SR: Very impressive.
SG: What happened with Pakistan? Why are they the angriest Muslims in the world? They are not Palestinians, they are not Iraqis, they are not even Afghans.
SR: I can't answer that question because I have not been able to go there for 25 years.
SG: Not even when your mother passed away?
SR: Not even when my mother passed away, which was sad to say the least. But you know that these things change. I mean, if had you asked me this question, say, 15-20 years ago, I would have said the angriest Muslims are in Iran. So these things shift. I think a lot of it has to do with economic desperation. If you have a generation of young men who have no hope, that makes you angry. And religion can jump in and be a way of expressing that. I think a lot of it has to do with education.
SG: But does it also come from a confused reading of history? I mean, you combine so much history with your writing, so much fact with fiction.
SR: The way in which we are taught our past shapes the way in which we think about the future. That's why you have to look at education, at textbooks, at the way religious instruction is given. If you are going to raise in your schools generations of children who are given wrong facts about their country's past and they are taught about their religion and the rest of the world in ways which are very hostile, then you know that's going to make trouble.
SG: And with faulty readings of history, you can create entire mythologies.
SR: Then it becomes the business of artists, theoretically whose job is to make things up, to try and tell the truth. There's a moment in Midnight's Children,talking about Bangladesh. We know there were atrocities committed by the Pakistan army in Bangladesh at the end of the war. And yet, for decades, Pakistanis would deny that that had happened. I remember because I was around. So the act of remembering and writing it down in a book becomes a political act when the official truth is denying that. That's also true to a certain extent about the Emergency. You find that the truth of memory, the truth of your lived experience becomes at odds with the official truth.
SG: So what future do you see for the Islamic world? You said fundamentalism will eventually destroy itself. I read it in documents declassified by the Americans that in 1955 or 1956, when Eisenhower was very worried about communism, Nehru told him: Don't worry, communism has the seeds of its own destruction. It was something for a sworn socialist to say. He has been proven right.
SR: Here's a simple fact. The world of Islam has to enter the modern world. It has to learn how to live in the modern world. This world in which information is free, in which people do not live according to, let's say, the cultural codes of Arabia in the 7th century. And you can see that there's a great desire among the young people. At some point, in order to thrive, those countries have to modernise their ideas, their thinking, their institutions and they have to offer their people more liberty.
SG: But have you seen the subcontinent become more mature or less over the decades?
SR: I think Pakistan has become very far backward. As you were saying about Bangladesh, that's a very encouraging development. India goes in both directions at the same time. There are things in India that have got much worse. Particularly in the area of free expression, they've gone much worse.
SG: At the same time, even I have some sympathy with the argument that the internet is being misused, particularly by the people who use it anonymously.
SR: I agree that it's creating a generation of very rude people. I think the anonymity really helps with that. I am worried about that, I am worried about the fact that there's so little sense of accountability. I am worried about that because I put my name on what I write.
SG: So Salman, what's next for you? I believe you are coming back to writing fiction?
Source: The Print
Please click the following URL to read the full text of the original story:
https://theprint.in/walk-the-talk/world-of-islam-has-to-enter-modern-world-salman-rushdie-said-during-2013-india-visit/1082693/
--------
Salman Rushdie attack prompts muted reaction in India and Pakistan
Shah Meer Baloch and Amrit Dhillon
13 Aug 2022
The literary world and public figures across the globe have expressed shock and outrage after the author Salman Rushdie was attacked at an event in New York.
But in Pakistan, an Islamic republic, there was a deep silence from celebrated writers and politicians following the attack on the author, while in India, where Rushdie was born, it is a bank holiday this weekend. Apart from some liberals expressing horror at the stabbing, reaction has been muted.
The author, whose writing led to death threats from Iran in the 1980s, was stabbed in the neck and torso as he was about to give a lecture in western New York. He remains on a ventilator after being attacked on stage in western New York state on Friday morning and his spokesperson, Andrew Wylie, said that the author may lose an eye following the attack.
Rushdie has been accused of blasphemy in the Islamic world for his book The Satanic Verses.
The book caused huge controversy as some Muslims accused the text of blasphemy and of mocking Islam. This also sparked protests across the UK by British Muslims.
Blasphemy is a hugely sensitive issue in Pakistan, with even unproven allegations provoking mob lynchings and violence.
Salman Taseer, a governor of Punjab, was killed by his security guard in Pakistan's capital in Islamabad, in 2011. Taseer had called for reforms to the blasphemy legislation and promised to help Asia Bibi, a Christian woman who was accused of blasphemy after an argument with a Muslim woman.
As even talking about Rushdie's attack can bring condemnation and death threats, many dare not speak out.
Veengas, a journalist and founder of a non-profit news organisation the Rise News, tweeted: "Some are still thinking about whether to tweet on #SalmanRushdie – you call yourself an author, journalist, and activist but have no courage to condemn the violent action. Your silence describes everything. Sane minds won't encourage violence regardless of who you are."
The Guardian tried to contact writers and novelists for their reactions, but most did not respond.
Cyril Almeida, a journalist, said in the fog of the Iranian fatwa, many had forgotten that some of the first protests against Rushdie were in Pakistan. But matters have largely been overtaken by the assassination of Salman Taseer.
"The Asia Bibi episode unleashed a wave of bigotry that has swept over society to the point that, today, one of [Pakistan's] biggest parties in terms of votes polled is a party founded on a single point agenda of having blasphemy laws ferociously enforced. In this environment, few activists or writers dare to speak even in the narrowest and most cautious of ways," said Almeida.
A few condemned the attack on Rushdie on social media, albeit with caution. Mehr Tarar, a writer, said in a tweet: "Salman Rushdie, excl Satanic Verses, is one of the greatest writers of all time. Attacking someone for his novel – written 33 years ago as an atheist, non-believer in Islam or something else he wrote – makes no sense at all. Our Islam doesn't allow anyone to be killed for their views."
More than a hundred people reacted to her tweet. One responded: "I respect you a lot, but don't indulge in this matter. If I were there, I could have done worse."
India was the first country to impose a ban on The Satanic Verses in 1988. There has been no statement from the Indian government or the main opposition, the Congress party. The Congress party was in power when the book came out and quickly decided to ban it. Natwar Singh, external affairs minister at the time, defended the ban on Saturday, justifying it as necessary to avoid law and order problems.
Singh told the Indian news agency the Press Trust of India what he told the then prime minister, Rajiv Gandhi, when asked what he thought about banning the book: "All my life I have been totally opposed to banning books, but when it comes to law and order, even a book of a great writer like Rushdie should be banned.
"The entire Muslim world is going to flare up. We have a large number of Muslims and apart from that, what the book contains at this time is not acceptable."
Conservative Muslim groups and clerics were outraged by the book, despite for the most part not having read it, and burned copies as part of street protests, demanding a ban.
Gandhi was accused by the Bharatiya Janata party, which is now in power, of "pandering" to the most regressive elements in Muslim society for the sake of votes, without caring about freedom of expression.
Rushdie, in angry letter to Gandhi, accused him of capitulating to a handful of Indian Muslim politicians and clerics who were "extremists".
Decades later, the Hindu nationalist BJP is in power and has been accused of marginalising and targeting India's Muslims and eagerly grabbing opportunities to attack some of them as terrorist sympathisers who will do anything to defend Islam.
Source: The Guardian
Please click the following URL to read the full text of the original story:
https://www.theguardian.com/books/2022/aug/13/salman-rushdie-attack-prompts-muted-reaction-in-india-and-pakistan
--------
ATS nabs 'aide of JeM operative' in Fatehpur
by Manish Sahu | Lucknow
August 15, 2022
The Uttar Pradesh Anti-Terrorist Squad (ATS) on Sunday took in its custody an associate of a 24-year-old man who was arrested two days ago for allegedly having been ordered by terror group Jaish-e-Mohammed (JeM) to eliminate former BJP spokesperson Nupur Sharma.
Sharma was suspended from the party following her remarks on Prophet Muhammad.
On Friday, the agency had arrested Mohammad Nadeem from Saharanpur, claiming that he was in contact with several terror groups, including the JeM, and was planning to attack government buildings and police premises. Nadeem confessed that he was given the task to eliminate Nupur Sharma, the ATS claimed.
On the basis of information shared by Nadeem during the preliminary inquiry, the police conducted raid at 19-year-old Habibul Islam, alias Saifullah's residence in Fatehpur district. Then he was taken to the agency's Kanpur office for questioning.
"During his questioning, Habibul confessed that he knows Nadeem and that both of them are linked with the JeM network," said Additional Director General of Police (Law and Order) Prashant Kumar.
The ATS claimed to have recovered a cellphone, a SIM card and a knife from Habibul's possession.
Natives of Motihari in Bihar, his family has been staying on rent in Fatehpur for the last two decades. Habibul has three brothers and his father Jafrul Islam is a teacher at a madrasa.
"During the questioning, it came to light that Habibul had prepared virtual IDs of around 50 persons, including Nadeem's, besides people associated with the terror groups. Nadeem was in contact with his handlers in Pakistan and Afghanistan through different social media platforms, including Telegram, WhatsApp and Facebook," added the officer. The police said Habibul had joined several groups with virtual IDs. He used to upload videos in which people are persuaded to join jihad. "Habibul told us that his Pakistan handlers were asking him to visit the neighbouring country to attend jihadi training sessions so as to start such activities after returning to India," the ATS said in a press release.
The agency has decided to seek Habibul's custodial remand to zero in on his links in India and abroad. This is the third arrest in the last one week. On August 9, the ATS had arrested one Sabahuddin Azmi (25) for allegedly planning to carry out a blast on Independence Day.
Habibul's father told mediapersons that he got information about the arrest of his son when police officials called them from Lucknow on Sunday.
"Habibul, who was hafiz, was doing a course on alima (Islamic studies). After Eid, he left the education in the middle and returned home. When I got annoyed with him for leaving education in the middle, Habibul took admission in a madarsa in Pratapgarh district."
Habibul was staying at the madarsa for a long time and used to visit his house during festivals, he added. "He used to stay at the madarsa throughout the year and would come home during holidays," said the father, adding that the police must have acted against him on the basis of evidence.
Source: Indian Express
Please click the following URL to read the full text of the original story:
https://indianexpress.com/article/cities/lucknow/ats-nabs-aide-of-jem-operative-in-fatehpur-8090620/
--------
Africa
Somali military claims capturing al-Shabaab stronghold, killing terrorists
Mohammed Dhaysane
14.08.2022
MOGADISHU, Somalia
Several al-Shabaab terrorists were killed after the Somali army conducted a military operation against the al-Qaeda-linked terrorist group in the central region of Hiran, liberating the group's stronghold, an official said on Sunday.
A military official in the region told Anadolu Agency over the phone that during the operation the army liberated Teedaan village near the town of Mahas in the Hiran region which has been the terrorists' biggest base.
He added the army's counterterrorism operations to hunt down the terrorists continue in the region.
Since the beginning of this month, the region of Hiran has seen a spike in military activities against al-Shabaab terrorists who last month reportedly crossed the region's border with Ethiopia's Somali region.
Source: Anadolu Agency
Please click the following URL to read the full text of the original story:
https://www.aa.com.tr/en/africa/somali-military-claims-capturing-al-shabaab-stronghold-killing-terrorists/2661093
--------
Turkish volunteer students engage in social, humanitarian activities in Uganda
Hamza Kyeyune
14.08.2022
KAMPALA, Uganda
A group of Turkish volunteer students visited an orphanage in Luweero, central Uganda, and participated in social, cultural and humanitarian activities.
The Turkish students arrived in Uganda as part of the Experience Sharing Program (ESP), a project run by the Turkish state aid agency, Turkish Cooperation and Coordination Agency (TIKA), Anadolu Agency, and TRT (Turkish Radio and Television Corporation) among others.
The students also painted and repaired the orphanage, gaining practical skills and sharing their experiences with their hosts.
Merve Kara, a student at Karadeniz Technical University in Trabzon province in northern Türkiye, told Anadolu Agency that she was thrilled by the life-changing experience of volunteering in Uganda.
"Spending time with the orphans and volunteering at the orphanage is invaluable. I would love to come back many more times," she said.
Esma Nur Yildirim, a student at the University of Inonu in Malatya province in central Türkiye, told Anadolu Agency that they painted the main school entrance and several classrooms.
"We have brought smiles on the faces of many children today. We painted their walls, played with them and learned a new culture through this exchange program," she said.
Under the program, TIKA is sending some 300 Turkish students from all the 81 provinces in Türkiye to 30 countries between July 1 and Sept. 10 to take part in different projects and activities in their host countries.
Omer Aykon, the TIKA country coordinator in Uganda, said the project aims to create a space where children can be happy and have an opportunity to learn life skills.
"The emotional situation of the orphans changed today, and this is what we work for every day. We will continue supporting life-changing projects like this to better the living conditions of orphans," he said.
Source: Anadolu Agency
Please click the following URL to read the full text of the original story:
https://www.aa.com.tr/en/africa/turkish-volunteer-students-engage-in-social-humanitarian-activities-in-uganda/2660917
--------
Turkish, Ugandan traders agree to boost cooperation, exports at meeting
Hamza Kyeyune
13.08.2022
KAMPALA, Uganda
The Kampala Capital City Authority (KCCA) and the Bosphorus Expo held the International Business-to-Business meetings Friday in Kampala to strengthen trade cooperation and boost goods exportation.
The meetings came on the heels of a successful Türkiye-Uganda business summit that was co-hosted by the Foreign Economic Relations Board of Turkiye (DEIK) and the Uganda Investments Authority in Kampala earlier this year.
Several Turkish companies have opened manufacturing plants and businesses in Uganda, creating jobs and boosting the local economy.
"Türkiye is promoting a model of encouraging its companies to invest more in developing economies rather than just exporting goods to these countries because this helps the local economy to develop," Emek Basak Eker, Uganda's Honorary Consul to Antalya told news reporters in Kampala.
She said she would coordinate with Turkish investors to boost investment, production, and export surplus.
Uganda exports a wide variety of flagship products to Turkiye, including coffee, tea, vanilla, cocoa beans, processed fruits, fish, and handicrafts, and have increased exports by 418% in 2021, Türkiye's Ambassador to Uganda Fikret Kerem Alp said recently.
Uganda has a growing robust domestic market of nearly 45 million people and those who invest in Uganda now have access to the new East African Community (EAC) market hosting 266 million people and a GDP of $243 billion, according to the Uganda Investment Authority.
The EAC stretches from the Indian Ocean to the Atlantic Ocean.
Utuk Bengisu, the founder of Bosphorus Expo and chairman of the World Cooperation Industries Forum said that the time to invest in Uganda and enhance partnerships is now, adding that Türkiye offers a ready market for Ugandan products.
He announced that a World Cooperation Industries Forum (WCI) to bring Turkish manufacturers and exporters together with potential partners from the entire African continent will be held in Türkiye in September.
Source: Anadolu Agency
Please click the following URL to read the full text of the original story:
https://www.aa.com.tr/en/africa/turkish-ugandan-traders-agree-to-boost-cooperation-exports-at-meeting/2660472
--------
Europe
French Muslims Pray for Rain as Unprecedented Drought Hits Europe
August 15, 2022
The exceptional drought is affecting the country and its neighbors for almost two months, with no significant rainfall in Western, Central and Southern Europe.
Seeking guidance from Allah, the president of the French Council for the Muslim Religion (CFCM) Rhône-Alpes, Benaissa Chana, launched an appeal for mosques on Friday August 12 "to devote a moment of prayer at the time of Jumhat prayer for rain," Saphir News reported.
The call echoes the one launched by the Union of French Mosques (UMF) earlier this month.
"Water is vital for life, it is essential (element) for our planet, both for human beings and other species and creatures," Chana said.
"God can make everything possible. By His mercy, we can ask Him to grant us what we need (the rain), as the Prophet of Islam (PBUH) taught us," he added.
The drought affecting Europe is expected to continue in what experts say could be the worst drought in 500 years.
Muslims' prayer for rain is a well-known practice from the tradition of the Prophet Muhammad (PBUH).
Source: IQNA
Please click the following URL to read the full text of the original story:
https://iqna.ir/en/news/3480100/french-muslims-pray-for-rain-as-unprecedented-drought-hits-europe
--------
French satirical magazine Charlie Hebdo slams Rushdie stabbing
13 August 2022
PARIS, France — French satirical magazine Charlie Hebdo, whose 12 staff members were gunned down in 2015 over cartoons about Prophet Mohammed considered blasphemous by many Muslims, said Saturday that nothing justified the stabbing of Salman Rushdie.
The British author, who spent years in hiding after an Iranian fatwa ordered his killing, was on a ventilator following a stabbing attack at a literary event in New York state Friday.
"Nothing justifies a fatwa, a death sentence," Charlie Hebdo said.
"At the time we are writing these lines we do not know the motives" of the attacker, it said, speculating ironically whether it was spurred by global warming, the decline in purchasing power, or a ban on watering potted plants during the current heatwave.
The magazine's managing editor, known as Riss and a survivor of the 2015 attack, said Rushdie's assailant was probably a practicing Muslim and slammed the "little and mediocre spiritual heads who are intellectually nil and culturally ignorant."
Rushdie's 1988 book "The Satanic Verses" transformed his life when Iran's first supreme leader Ayatollah Ruhollah Khomeini issued a fatwa, or religious decree, ordering his killing.
Source: Times Of Israel
Please click the following URL to read the full text of the original story:
https://www.timesofisrael.com/french-satirical-magazine-charlie-hebdo-slams-rushdie-stabbing/
--------
UN rights chief to visit Rohingya camps in Bangladesh
August 14, 2022
DHAKA: United Nations rights chief Michelle Bachelet arrived in Bangladesh today for a four-day visit that will include a trip to squalid camps housing nearly a million Rohingya refugees from Myanmar.
The exodus of Rohingya was sparked by a 2017 Myanmar army offensive against the mostly Muslim minority, with the UN's highest court last month giving the green light to a landmark case accusing the Buddhist-majority country of genocide.
Five years later the refugees refuse to go home in the absence of guarantees for their safety and rights from military-ruled Myanmar, making host country Bangladesh increasingly impatient.
Bangladesh, meanwhile, has come under fire for its own rights record under Prime Minister Sheikh Hasina, whom Bachelet will meet during her visit, as well as local activists.
Nine groups including Human Rights Watch said that Bachelet should "publicly call for an immediate end to serious abuses including extrajudicial killings, torture, and enforced disappearances" in Bangladesh.
In December the US imposed sanctions on a notorious elite police unit and seven top security officers, including the national police chief, over gross human rights violations.
Under Hasina, security forces have killed thousands of people in staged shootouts, while hundreds of others, most of them from the opposition, have disappeared, activists say.
The government denies the allegations, and ahead of Bachelet's visit Dhaka said in a statement that it would highlight its "sincere efforts to protect and promote human rights of the people".
Source: Free Malaysia Today
Please click the following URL to read the full text of the original story:
https://www.freemalaysiatoday.com/category/world/2022/08/14/un-rights-chief-to-visit-rohingya-camps-in-bangladesh/
--------
Perception at odds with reality of generous Saudi humanitarian support for Ukraine
RAWAN RADWAN
August 14, 2022
JEDDAH: The perception that Saudi Arabia is not helping Ukrainians affected by the war with Russia is completely at odds with the reality.
The firmness of the Kingdom's commitment to supporting refugees and resolving the conflict has been evident since the outbreak of hostilities. Aid pledges have been matched by donations that are already making a big difference.
A $10 million Saudi humanitarian package for war-displaced Ukrainians has just been signed off by the UN High Commissioner for Refugees, the World Health Organization and Saudi Arabia's leading humanitarian aid agency.
About half of the $10 million grant has been allocated for distribution through the King Salman Humanitarian Aid and Relief Centre (KSrelief).
In April, King Salman directed KSrelief to provide this amount of support for immediate assistance and give "urgent medical and shelter aid" to Ukrainian refugees, giving priority to those arriving in Poland.
Delivering on the Kingdom's promise during his ongoing visit to Poland, Dr. Abdullah Al-Rabeeah, adviser at the Royal Court and supervisor general of KSrelief, also discussed the humanitarian situation with Polish, UNHCR and WHO officials, according to a Saudi Press Agency report.
It said Al-Rabeeah visited several health establishments and facilities, taking time to speak to some Ukrainian refugees who had fled to Warsaw from their war-torn country.
"Thank you very much, and thanks to the center for helping us. The situation is as you can see," a Ukrainian resident of a refugee center told Al-Arabiya news channel.
"All of us came from Ukraine, and we were in a very bad way. Thanks to you, our situation has improved. Thanks a lot, and we wish peace to the whole world."
At the Poland-Ukraine border, Al-Rabeeah lauded the collaboration between the WHO, KSrelief, and the Polish government. "We highly appreciate the partnership with the WHO. Our work together has made great support to refugees and those in need here and elsewhere," he said in a video released by WHO Poland.
KSrelief has donated funds to support the critical response efforts for Ukrainians in Poland, with the delivery of emergency medical supplies and equipment benefiting more than 1 million people in need.
The Kingdom's support for Ukrainian refugees is an extension of its well-known humanitarian efforts in more than 85 countries, yet several reports have hinted that Saudi Arabia has picked sides in the conflict because of its ties to Russia as a fellow OEPC+ member.
Despite the political and humanitarian initiatives taken by the Kingdom, urging all parties to come to the negotiating table to resolve the conflict through dialogue and diplomacy, the Kingdom's efforts have been viewed with skepticism in some quarters.
A March report by the Wilson Center, a US government-linked public policy think tank, claimed that Saudi Arabia "has decided to side with Russia" and "chose Putin over Biden," accusing the Kingdom of playing political games to keep oil prices high.
The remarks came despite the Kingdom's repeated offers to both mediate between the warring parties and increase oil production along with neighboring Gulf countries.
The differences between the Western and Arab positions on the question of how to end the war have not stopped either side from addressing the humanitarian emergency.
For its part, Saudi Arabia has reiterated that though ending the ongoing war in Ukraine is no easy feat, the Kingdom has treated the issue just as any ongoing crisis in the region, stressing that human suffering is the same in all conflicts and that violence is not the solution.
In March, Saudi Arabia's Crown Prince Mohammed bin Salman told Russian President Vladimir Putin that the Kingdom was ready to exert all efforts to mediate between the two nations.
In May, Prince Faisal bin Farhan, Saudi Arabia's foreign minister, met with his Ukrainian counterpart, Dmytro Kuleba, at the World Economic Forum in Davos, Switzerland, to discuss the crisis.
Less than a week later, Prince Faisal bin Farhan met with his Russian counterpart Sergey Lavrov during the latter's visit to Riyadh, where he underscored the importance of reaching a political solution to achieve security and stability for all involved.
Though scant details on Lavrov's visit and meeting with Gulf Cooperation Council ministers were released, the trip was still misinterpreted as evidence of Saudi Arabia's support for Russia, even though the Kingdom and other Gulf states had opted to stay neutral, treating the war in Ukraine in "a fair context" and providing aid to the needy.
In June, Prince Faisal bin Farhan clarified the Kingdom's position further: "Our stance as Gulf countries regarding the Russian-Ukrainian crisis is unified," he said on June 1 during a speech at the opening of the 152nd session of the Ministerial Council of the Gulf Cooperation Council.
"Today we had two fruitful meetings with the Russian and Ukrainian ministers, during which we stated our unified stance regarding the Russian-Ukrainian crisis and its negative consequences, namely the food security of the affected countries and the world."
Saudi Arabia's decision to remain neutral and prioritize humanitarian engagement during the war also ought to be viewed in the context of public opinion. In a recent Arab News-YouGov poll, of the more than 1,000 Saudis who were asked for their opinion, 14 percent blamed US President Joe Biden for the conflict while 21 percent blamed NATO.
While a high number of Saudi respondents expressed skepticism about NATO's involvement with the conflict, 41 percent of Saudis said they did not know or were not sure who was to blame.
Throughout the conflict, more than 40 countries, organizations, and individual donors have made pledges and commitments, some of which have made their way to the 6.3 million refugees fleeing Ukraine as well as those who remained. But there is a striking gap between pledged and delivered support.
Thus far, most Western governments have given priority to military assistance over humanitarian aid.
According to the Kiel Institute for the World Economy, the US has pledged $23.8 billion in military aid, the highest number to date, but has only allocated $8.9 billion in humanitarian assistance.
According to the center, that number has since increased but by a relatively small percentage. Similarly, the EU pledged $12.3 billion in military aid but just $1.4 billion has been siphoned for humanitarian response and aid packages.
Since the outbreak of the conflict, Western and Arab governments have been under no illusion that the need for a resolution of the conflict is no less pressing than addressing the humanitarian emergency.
Last month, President Biden visited Jeddah and met with King Salman and Crown Prince Mohammed bin Salman. The two sides discussed several topics of concern, including energy, security and the crisis in Ukraine.
Soon after Biden left the Kingdom, Adel Al-Jubeir, Saudi Arabia's minister of state for foreign affairs, spoke to CNBC to set the record straight. "We have said from the very beginning, we supported the UN General Assembly Resolution and the inadmissibility abuse of force, about the sovereignty of nations and respect for that," he said.
"We have called for a peaceful resolution to this; stop the fighting and get to the negotiating table and work out your differences peacefully.
"The concern that we have is that escalation on one side leads to escalation on the other side and before you know it, things are more likely to spin out of control and we all pay the price."
For good measure, Al-Jubeir said: "We've reached out to both Russia and Ukraine. We've urged them to move towards a ceasefire settlement and their conflict peacefully. We continue to be engaged with them as are a number of other countries, and our hope is that they will be able to recognize that it's better to argue across the table from each other than fight across the battlefield, because of the unintended consequences of war and conflict."
Meanwhile, when it comes to humanitarian giving, Saudi Arabia's pledges continue to be matched by its actions.
Source: Arab News
Please click the following URL to read the full text of the original story:
https://www.arabnews.com/node/2142746/saudi-arabia
--------
South Asia
Afghan Journalists in Exile Light Candles to Remember 'One Year of Silence'
By Saqalain Eqbal
14 Aug 2022
Following the Taliban's takeover of Afghanistan, several Afghan journalists who fled to Pakistan called the anniversary of the country's fall as the day of the death of freedom of speech and lit candles to remember "one year in silence".
Dozens of Afghan journalists were forced to leave the country for Pakistan after the Taliban took control of Afghanistan.
Some protestors warned the media that the Taliban's rule had killed the media and free speech, and they appealed to the international community to pay attention to the situation of the media in Afghanistan.
As only one day remains till the anniversary of the Taliban rule in Afghanistan, which in their opinion represents the downfall of press and expression freedom, the Afghan journalists who are currently living in exile have repeatedly congregated to raise their voices to the authorities.
Those who claim that free speech is on the verge of dying one year from now warn that if things do not change, people soon will live in a coercive and oppressive society.
Source: Khaama Press
Please click the following URL to read the full text of the original story:
https://www.khaama.com/afghan-journalists-in-exile-light-candles-to-remember-one-year-of-silence-289848/
--------
Taliban's Acting Interior Minister Returns to Afghan Capital to Inaugurate Mosque after Al-Qaeda Leader Death
By Saqalain Eqbal
August 14, 2022
Sirajuddin Haqqani, the Taliban's acting interior minister, inaugurated the Al-Fatha mosque inside the ministry in the presence of Timothy Weeks, a former professor at the American University of Afghanistan, according to a statement released by the Taliban Ministry of Interior on Saturday.
The Taliban government's Ministry of Internal Affairs has released images and said that a mosque was founded using Sirajuddin Haqqani's personal assets.
Sirajuddin Haqqani, the Taliban prominent figure returned to Kabul, the Afghan capital, fourteen days after Ayman al-Zawahiri, the chief of al-Qaeda, was killed in a US drone attack.
Sirajuddin Haqqani allegedly left the capital and fled to Paktika province with a convoy of civilians shortly after the US raid on Ayman al-Zawahiri's residence in the Sherpur area of Kabul.
These sources state that one of Sirajuddin Haqqani's relatives, who serves as the Taliban's acting interior minister, apparently owned the house where the Al-Qaeda chief was attacked.
Later, in an interview, Zalmay Khalilzad, the former US Special representative for Afghanistan Reconciliation Affairs, stated that the Haqqani network's leaders were "certainly" aware of Ayman al-Zawahiri's presence in Kabul.
The Taliban, on the other hand, said that the group was uninformed of the al-Qaeda leader's stay in Kabul.
Ayman al-Zawahiri, the leader of Al-Qaeda, was killed earlier by a CIA drone assault in Kabul, the capital of Afghanistan, according to Joe Biden, the president of the US. The Taliban, however, condemned the US operation, calling it a violation of the Doha agreement.
According to the Washington Post's report, Timothy Weeks is an Australian, who was taken as a hostage back in 2016 by Taliban forces and freed after three years of captivity as a part of the deal to release Taliban prisoners, with Sirajuddin Haqqani being one.
Source: Khaama Press
Please click the following URL to read the full text of the original story:
https://www.khaama.com/haqqani-returns-to-afghan-capital-to-inaugurate-mosque-after-al-qaeda-leader-death-574945/
--------
Sri Lankan Navy rejects reports of conducting war games with Pakistan
Aug 14, 2022
COLOMBO: The Sri Lankan Navy on Sunday rejected as "fallacious" media reports that it will hold war games with a Pakistani warship docked at the Colombo port but confirmed that it will hold a "Passage Exercise" in the western seas with PNS Taimur as it leaves the island nation.
The docking of Pakistan's newly-commissioned Chinese-built frigate at the Colombo port on Friday came amid Sri Lankan government allowing a high-tech Chinese research ship to visit the southern port of Hambantota from August 16 till 22 for "replenishment purposes," despite India's concern over the vessel's presence in its neighbourhood.
Sri Lanka allowed PNS Taimur to make a port call in Colombo while on its way to join the Pakistan Navy fleet after the Bangladesh government denied it permission to dock at Chattogram Port.
The Sri Lankan Navy in a statement on Sunday said the Pakistan Navy Ship (PNS) Taimur, which arrived in Sri Lanka on Friday on a formal visit, is scheduled to conduct a Passage Exercise with SLNS Sindurala in seas off Colombo as she departs the island nation on August 15 upon completion of her visit.
"In this backdrop, certain media reports circulating about a 'War Game' between Sri Lanka Navy and Pakistan Navy are fallacious," the release said.
It said that the Sri Lanka Navy, with the concurrence of foreign navies, conducts Passage Exercises as a routine engagement when their visiting naval ships departing the island after making official port calls.
"The prime motive of these efforts is to enhance interoperability, partnerships and goodwill as well as exchange best practices with foreign navies," it said.
It said the Sri Lankan Navy had conducted similar Passage Exercises with the navies of countries such as India, Pakistan, Bangladesh, Japan, Germany, UK, Russia and Australia on a number of previous occasions.
"Conducting similar naval exercises with regional and extra-regional navies will enable each partner to overcome common maritime challenges in the future, through enhanced cooperation. In addition, such engagements will also be vital for its own maritime operations of the Sri Lanka Navy," the statement said.
PNS Taimur is the second of four powerful Type 054A/P frigates built by China. It was delivered to the Pakistan Navy in Shanghai on June 23. The first ship in the Type 054A/P-class, the PNS Tughril, joined the Pakistan Navy Fleet in January. Two more frigates of the same class are currently under construction in China.
PNS Taimur took part in exercises in Malaysia and Cambodia along its journey to Karachi. The 134m-long ship is a technologically advanced and highly capable sea asset having hi-tech weapons and sensors, the latest combat management and electronic warfare system to fight under multi-threat environments.
The Sri Lankan government on Saturday said that it has allowed Chinese ballistic missile and satellite tracking ship, 'Yuan Wang 5', to dock at the southern port of Hambantota from August 16 till 22 for "replenishment purposes," days after Colombo asked Beijing to defer the portcall amidst India's concern over the vessel's presence in its neighbourhood.
The Chinese research ship was earlier scheduled to arrive on Thursday and remain at the port until August 17 for replenishment. However, the Sri Lankan foreign ministry requested the Chinese embassy here to postpone the vessel's visit following security concerns raised by India. Subsequently, the vessel did not dock at the Hambantota port on Thursday as planned.
Source: Times Of India
Please click the following URL to read the full text of the original story:
https://timesofindia.indiatimes.com/world/south-asia/sri-lankan-navy-rejects-reports-of-conducting-war-games-with-pakistan/articleshow/93556447.cms
--------
Taliban's First Year in Office "Tumultuous" and Their Accomplishments 'Negative' Says ex-President Karzai
By Saqalain Eqbal
14 Aug 2022
Hamid Karzai, the former president of Afghanistan, said in an interview with Indian media that, with the exception of the decreased casualties, all of the achievements gained during the first "tumultuous" year of the Taliban rule are "negative".
The number of casualties in the country is decreasing, former president Karzai remarked in an interview with India Today, an Indian media outlet, but said that the people still face significant challenges.
Hamid Karzai has stressed that the collapse of the last Afghan government was a disaster and that the country's economy is currently in a very precarious position exacerbated by the widespread exodus of educated people.
The Afghan leader added that the Taliban has promised to reopen the schools in the future, but he noted that they must be reopened immediately in order to protect the girls' right to an education.
At the same time, many women's rights activists and journalists have reacted to the anniversary of Afghanistan's fall and the Taliban rule, expressing concern over a year under Taliban rule.
Source: Khaama Press
Please click the following URL to read the full text of the original story:
https://www.khaama.com/talibans-first-year-in-office-tumultuous-and-their-accomplishments-negative-says-ex-president-karzai-57485/
--------
Surging Border Tensions; Iranian Delegation Arrives in Afghan Capital to Discuss Border Issues
By Saqalain Eqbal
14 Aug 2022
The Iranian embassy in Kabul has announced that a delegation from Iran, led by the Iranian deputy minister of foreign affairs, has arrived in Kabul, the Afghan capital, to discuss border matters with the Taliban officials.
According to the announcement of the embassy of Iran in Kabul, the Iranian delegation arrived in Kabul on Sunday, August 14.
The announcement names Alireza Bigdeli as the delegation's chairman. He is the Deputy Foreign Minister for Consular, Parliamentary, and Iranian Expat Affairs at the Ministry of Foreign Affairs.
The purpose of the Iranian official, Bigdeli's visit to Kabul, according to the embassy, is consular cooperation, encompassing securing shared borders and legalizing Afghan nationals' travel to Iran.
The Iranian official's visit coincides with a border confrontation that took place on Sunday night, late July, between the Iranian military and Taliban forces in the Hirmand region of Iran.
The confrontation, according to Taliban border commander Mohammad Ebrahim Hewad, took place in the Darwish area of the Kang district of Nimruz province, which borders Iran. One Taliban soldier was killed and another was injured.
Source: Khaama Press
Please click the following URL to read the full text of the original story:
https://www.khaama.com/surging-border-tensions-iranian-delegation-arrives-in-afghan-capital-to-discuss-border-issues-457584/
--------
Taliban offer security to Indian mission
AUGUST 14, 2022
Taliban dispensation hopes to get 'unfinished projects' completed
The Foreign Ministry of the Taliban dispensation in Afghanistan on Saturday said it welcomed India's diplomatic presence in Kabul and promised to ensure security to the Indian mission in the Afghan capital.
In a statement, it said India's diplomatic presence in Afghanistan would result in the completion of "unfinished projects" that India had initiated and the commencement of new ones.
The statement said Afghanistan "welcomes India's step to upgrade its diplomatic representation in Kabul."
In June, India re-established its diplomatic presence in Kabul by deploying a "technical team" in its embassy in the Afghan capital.
India had withdrawn its officials from the embassy after the Taliban seized power last August following concerns over their security.
"Besides ensuring security, we will pay close attention to the immunity of the diplomats and cooperate well in endeavours," it said.
"The Afghan government hopes that upgrading diplomatic representation and dispatching diplomats would strengthen Afghan-India relations leading to the completion of unfinished projects by India and the commencement of new vital projects," the Afghan Foreign Ministry said.
Last month, Taliban supreme leader Hebatullah Akhundzada said no one would be allowed to use Afghan soil to launch attacks on other countries.
India has not recognised the new regime in Afghanistan and has been pitching for the formation of a truly inclusive government in Kabul, besides insisting that Afghan soil must not be used for any terrorist activities against any country.
In the last few months, India supplied several consignments of humanitarian aid to Afghanistan.
Source: The Hindu
Please click the following URL to read the full text of the original story:
https://www.thehindu.com/news/international/taliban-offer-security-to-indian-mission/article65766520.ece
--------
Taliban to bring new curriculum in Afghanistan for girls' education
August 14, 2022
After backlash by the international community over the neglect of girls' education in Afghanistan, the Taliban have created a "directorate of academic curriculum", local media reported on Saturday.
Under the direction of the United Nations Educational, Scientific and Cultural Organization (UNESCO), the Afghan university officials would revise the curriculum of local institutions, Khaama Press reported.
Ahmad Taqi, a spokesman for the Ministry of Higher Education, said the directorate is aimed at reviewing and developing the academic curriculum of all universities across Afghanistan in light of Islamic laws.
Khaama Press reported that the office will have six directors and fifty-two employees.
"We created commissions to review the curriculum, invited representatives and experts from public and private universities from all over the country, held several meetings and reconsidered the curriculum," Taqi said, as TOLOnews quoted.
Several human rights and education activists had urged world leaders in an open letter recently to mount diplomatic pressure on the Taliban to reopen secondary schools for girls in the war-torn country as the Taliban's brutal regime in Afghanistan will soon complete a year in August.
Young girls and women have been compromising with their aspirations as it has been almost 300 days since their development has been distorted, the activists said adding, that if this situation persists, their aims and hopes will suffer greatly, reported Khaama Press.
World leaders, regional allies, and international organizations were urged in the letter to take serious actions to fulfil their commitments in order to promote and protect Afghan girls' rights, especially the right to education which was snatched away from them after the Taliban-led Afghan government banned the education for girls in classes 6 and above.
Taliban has imposed draconian restrictions on the rights to freedom of expression, association, assembly and movement for women and girls.
The Taliban's decision to ban female students above grade six from going to school has drawn widespread criticism at the national and international levels. Further, the Taliban regime which took over Kabul in August last year has curtailed women's rights and freedoms, with women largely excluded from the workforce due to the economic crisis and restrictions.
As a result of this, women and girls in Afghanistan are facing a human rights crisis, deprived of the fundamental rights to non-discrimination, education, work, public participation and health. Afghan women are staring at a bleak future due to a number of restrictions imposed by the Taliban governing aspects of their lives within 10 months of Afghanistan's takeover.
According to HRW, women and girls are blocked from accessing health care as well. Reports suggest that women and girls facing violence have no escape route. Allowing girls into schools and other educational institutes has been one of the main demands of the international community.
The majority of countries have refused to formally recognize the Taliban amid worries over their treatment of girls and women and other human rights issues.
Source: Business Standard
Please click the following URL to read the full text of the original story:
https://www.business-standard.com/article/international/taliban-to-bring-new-curriculum-in-afghanistan-for-girls-education-122081301147_1.html
--------
Southeast Asia
Malaysia Under Fire For LGBT 'So-Called Rehabilitation Approach' Programs
August 13, 2022
Global rights watchdog Human Rights Watch (HRW) has strongly criticized Malaysia's state-sponsored programs for "conversion" of LGBT groups that allegedly fuel discrimination, marginalization, and violence against the communities.
HRW released a report "I Don't Want to Change Myself" on Aug. 10 detailing the anti-LGBT conversion practices, discrimination, and violence prevalent in Malaysia.
The 71-page report is based on in-person and telephone interviews of LGBT persons conducted from March 2018 to July 2021 by the HRW and Justice for Sisters, a Malaysia-based transgender rights group,
Rights groups say the Malaysian government's so-called rehabilitation approach for LGBT communities is superficial and does not rely on any scientific evidence.
"Malaysia's current rehabilitation and criminalization approaches to LGBT people are based neither on rights nor evidence," said Thilaga Sulathireh, co-founder of Justice for Sisters.
"The programs, while framed as compassionate, internalize societal and structural discrimination and foment self-hatred among LGBTQ and gender diverse persons and hostility among the rest of the population," she further added.
Malaysia's Penal Code and Syariah Criminal Offenses Enactment at the state level criminalize sexual orientations for Muslims for violating Islamic teachings.
The Malaysian Penal Code stipulates up to 20 years in prison for any proven instances of anal or oral sex between partners of any sex.
The Syariah enactments that are in practice in the individual states are aimed to regulate "offenses against precepts of the religion of Islam."
However, the government rhetoric and cultural stigma force LGBT people to change their sexual orientation and buckle under pressure, the report says.
It noted that the pressure to renounce LGBT tendencies cuts across all religious groups in Malaysia.
Christian churches reportedly conduct exorcisms, counseling sessions, and classes that deplore the gay community.
"It was very traumatic. I was pinned down and people were praying over me, cupping the side of my head, [they] shouted at me to get the demons of possession out of me," said Darren Tan, a 28-year-old gay man from Johor.
Many Christian and Muslim facilities have been reported to engage in "treatment" of LGBT individuals, though they deny any such activities.
The government's stance in this matter has been observed to be more toward the "rehabilitation" of LGBT individuals.
The report points to instances where individuals who do not comply with the government's requirements to identify with a heterosexual and cisgender identity are threatened with punishment.
"When the religious authorities keep drilling into your head, "You're a sin, you're a sinner," you start to believe it. The government pumps a lot of money to fight LGBT," said Manis Chen, a long-time transgender rights activist.
"The government's use of the law to criminally prosecute LGBT people is only part of the story in Malaysia," said Kyle Knight, senior LGBT rights researcher at HRW.
Source: UCA News
Please click the following URL to read the full text of the original story:
https://www.ucanews.com/news/malaysia-under-fire-for-lgbt-conversion-programs/98385
--------
Task Force On Jihad Against Inflation in Malaysia Has Positive Impact On Price Reduction: Minister
08- 14- 2022
KOTA BHARU: The Special Task Force on Jihad Against Inflation is seen to have a positive effect, especially in reducing the price of controlled goods during the current inflation faced by the country, said Minister in the Prime Minister's Department (Economy) Datuk Seri Mustapa Mohamed.
He said the setting up of the task force has a beneficial impact in dealing with inflation, especially in relation to enforcement involving cooking oil leading to a decrease in the price of the controlled item.
"Inflation is a problem faced by the world today. Alhamdulillah, in these past few weeks we have found that the world's inflation seems to have reduced a little and it may have a good effect on Malaysia," he said.
He said this to reporters after visiting the Federal Department joint-use building at the Kelantan State Development Office near Tunjung, here today.
Elaborating, Mustapa, who is also a member of the task force, said that meetings are held twice a week to discuss various issues by involving various ministries, adding that this seems to work very well as all measures and actions can be done in a more focused manner and given priority.
"Prime Minister Datuk Seri Ismail Sabri Yaakob recently mentioned that the supply of chicken has also become stable and the selling price is also lower than the set ceiling price which is RM9.40 per kilogramme," he said.
Source: The Sun Daily
Please click the following URL to read the full text of the original story:
https://www.thesundaily.my/home/task-force-on-jihad-against-inflation-has-positive-impact-on-price-reduction-mustapa-MC9589871
--------
Forgotten Malaysian victims of Hiroshima atomic bombing
Dineskumar Ragu
August 14, 2022
GEORGE TOWN: Every year, when the world mourns the victims of the atomic bombing of Hiroshima, Japan, on Aug 6, 1945, only a few people remember the three Malaysian victims of the attack.
Two of them lie buried in Japan. A third survived.
The survivor, Abdul Razak Abdul Hamid, is briefly mentioned in a Form 4 history textbook, but there is no mention of Nik Yusof Nik Ali and Syed Omar Syed Mohammad Alsagoff, says Aaron Denison, currently a post-graduate student at Hiroshima University.
"Nik Yusof and Syed Omar should be added to the history textbook in Malaysia," he said in an interview with FMT. "Also, the Malaysian government should organise a memorial in Malaysia to recognise all three as war victims."
Syafiq Faliq Alfan, an assistant language teacher currently based in Kaita, Hiroshima, agreed. He too said that Malaysian victims of the Hiroshima bombing deserved to be better known.
Nik Yusof and Syed Omar were both 17, and Razak, 19, when they were sent to Japan two years earlier under a Japanese programme for people in occupied Southeast Asia.
The three were among 12 young people from Malaya chosen by the occupation authorities. All three, with 17 other foreign students, were enrolled at Hiroshima University to study education after preparatory training in Tokyo.
When the US dropped the atomic bomb on Hiroshima, in the world's first use of nuclear weapons, the blast levelled the city and killed more than 150,000 people. On Aug 9, 1945, another bomb was dropped on Nagasaki, killing more than 220,000 people. Japan surrendered six days later.
Nik Yusof and Syed Omar died from the blast radiation while attempting to leave their campus, which was just 1.5km from Ground Zero, said Denison, citing a book that was written about Nik Yusof.
He said Nik Yusof was cremated after his body was found near Itsukaichi City and a Buddhist priest later volunteered to bury his remains in an Islamic ceremony at Kozenji Temple.
Syed Omar died in Kyoto Hospital and his remains were buried at Enkoji Temple in Kyoto.
Denison said the book, entitled "Remembering Nik", was written by a Hiroshima peace volunteer, Keiko Aoki, in which she recounted that a doctor named Hamajima donated his blood to the gravely injured Syed Omar.
Hamajima asked Syed Omar whether he hated the Japanese for the tragedy that befell him and his response was: "Why should I hate you? You and I are brothers because you gave me your blood to try and save my life."
Memorial services
Denison said Nik Yusof's grave was the only Muslim one at the temple. A memorial service is held there every year by the temple and a group of volunteers.
Syafiq said Hiroshima University also helped organise the service and would notify Malaysian students and provide transport to the temple, a 90-minute drive away.
He said Nurhaizal Azam Arif, a Malaysian associate professor at Hiroshima City University, would usually assist in the service.
Syafiq said the temple organised an official memorial ceremony in 1964, when the embassy and family members of Nik Yusof were invited.
"This year's memorial ceremony was interesting since Nurhaizal himself did a presentation on the life of Nik Yusof," he told FMT.
Source: Free Malaysia Today
Please click the following URL to read the full text of the original story:
https://www.freemalaysiatoday.com/category/nation/2022/08/14/forgotten-malaysian-victims-of-hiroshima-atomic-bombing/
--------
Malaysia's former leader Najib Razak begins final bid to toss out graft conviction
August 15, 2022
PUTRAJAYA, Malaysia: Malaysia's top court Monday began hearing a final appeal by former Prime Minister Najib Razak to toss out his graft conviction linked to the massive looting of the 1MDB state fund.
He would become Malaysia's first former prime minister to be imprisoned if his case fails. Najib, 69, has reiterated his innocence and has been out on bail pending his appeals.
He was sentenced to 12 years in jail by a high court in July 2020 after being found guilty of abuse of power, criminal breach of trust and money laundering for illegally receiving $9.4 million (42 million ringgit) from SRC International, a former unit of 1MDB.
The Court of Appeal upheld the conviction and sentence in December, describing the case as a "national embarrassment." His last avenue, the Federal Court, is scheduled to hear the case until Aug. 26.
Najib has changed to a new team of lawyers for his final appeal. His defense team is attempting to introduce new evidence that would spark a retrial, citing conflict of interest by the high court judge who convicted Najib.
1MDB was a development fund Najib set up shortly after taking power in 2009. Investigators allege at least $4.5 billion was stolen from the fund and laundered by Najib's associates.
The scandal sparked investigations in the US and several other countries and caused the downfall of Najib's government in 2018 elections. Najib faces a total of 42 charges in five separate trials linked to 1MDB, and his wife is also on trial for corruption.
Despite his graft conviction, Najib remains politically influential. His United Malays National Organization leads the current government after defections of lawmakers caused the collapse of the reformist government that won the 2018 polls.
Source: Arab News
Please click the following URL to read the full text of the original story:
https://www.arabnews.com/node/2142856/world
--------
Arab World
Iraq judiciary dismisses al-Sadr's demand to dissolve parliament
14 August, 2022
Iraq's judiciary said Sunday it lacks the authority to dissolve parliament as demanded by Iraqi Shia cleric Muqtada al-Sadr, who is engaged in an escalating standoff with political rivals.
Followers of al-Sadr, in defiance of his Shia rivals of the pro-Iran Coordination Framework, have been staging a sit-in protest at Iraq's parliament.
In the latest twist to the political turmoil, the firebrand cleric has urged the judiciary to dissolve parliament by the end of this week to pave the way for new legislative elections.
But the judiciary replied that "the Supreme Judicial Council has no jurisdiction to dissolve parliament," citing "the principle of a separation of powers."
Under the constitution, parliament can only be dissolved by an absolute majority vote in the house, following a request by one-third of deputies or by the prime minister with the approval of the president.
Nearly 10 months on from the last elections, Iraq still has no government, new prime minister or new president, due to repeated squabbles between factions over forming a coalition.
In the latest turmoil to strike the oil-rich but war-scarred nation, al-Sadr has called for "early democratic elections after a dissolution of parliament."
The Supreme Council said it agreed with al-Sadr's criticism of the system's "failure to elect a president of the republic, a prime minister and the absence of a government formed within the constitutional timeframe."
"This is an unacceptable situation that must be remedied," it said.
The Coordination Framework opponents of al-Sadr launched their own Baghdad sit-in on Friday, nearly two weeks after his supporters stormed parliament and began an open-ended protest, first inside, then outside the legislature.
The opposing encampments are the latest turn in a standoff which has so far remained peaceful.
On Twitter, a close associate of al-Sadr, Saleh Mohamed al-Iraqi, said it was time to show "which of the two sides has the most support" among the Iraqi people.
He called on al-Sadr's supporters across the country to rally in Baghdad for a "million-man demonstration," without giving a date.
Al-Sadr's camp launched the sit-in after the Coordination Framework nominated a candidate they saw as unacceptable for prime minister.
The cleric's bloc emerged from the October elections as parliament's biggest, but still far short of a majority.
Source: Al Arabiya
Please click the following URL to read the full text of the original story:
https://english.alarabiya.net/News/middle-east/2022/08/14/Iraq-judiciary-dismisses-al-Sadr-s-demand-to-dissolve-parliament
--------
41 dead in fire at Egyptian church west of Cairo
Ibrahim al-Ghazen
14.08.2022
At least 41 people were killed and 14 others injured in a fire that erupted at an Egyptian church west of Cairo early Sunday, the Coptic Church said.
The fire broke out in Abu Sefein Church in the Greater Cairo district of Imbaba as a service was underway, the state news agency MENA reported.
The Coptic Church reported the death toll, citing Health Ministry officials.
The Interior Ministry said the blaze was caused by a short circuit.
Health Ministry spokesperson Hossam Abdel-Ghaffar said 30 ambulances were dispatched to the scene to transfer the victims to nearby hospitals.
Egyptian President Abdel-Fattah El-Sisi extended condolences during a phone call with Pope Tawadros II of Alexandria and head of the Coptic Orthodox Church.
Sisi said all state institutions are providing the required support to contain the effects of the tragic incident, his spokesman Bassam Rady said.
Coptic Christians make up around 15% of Egypt's 100 million population, according to unofficial estimates.
Source: Anadolu Agency
Please click the following URL to read the full text of the original story:
https://www.aa.com.tr/en/middle-east/41-dead-in-fire-at-egyptian-church-west-of-cairo/2660967
--------
People from Rushdie attacker's hometown in Lebanon condemn attack
August 14, 2022
BEIRUT: The father of Hadi Matar, the man who stabbed novelist Salman Rushdie in the US on Friday, is refusing to talk to anyone. Since hearing about his 24-year-old son's crime, he has not received any visitors at his home in the southern Lebanese town of Yaroun — not even the town's mayor.
Mayor Ali Qassem Tuhfa told Arab News: "Matar's parents have been separated for 10 years. The father returned to Yaroun while his family stayed in the US. He revived the family's old business of raising livestock and has been taking care of a small herd. He has little to no social life and does not talk to anyone."
Yaroun is close to the town of Maroun Al-Ras in the district of Beit Jbeil. (Arab News)
Yaroun is close to the town of Maroun Al-Ras in the district of Beit Jbeil. It is about 125 km from Beirut. Previously, the people of the town were famous for farming and raising livestock.
Yaroun is a border town that was abandoned by many residents during the Israeli occupation of southern Lebanon in the 1970s. Some also emigrated before then, leaving only about 500 residents. This number increases with the temporary return of expatriates during the summer and other holidays, with records showing that 9,000 people originate from the town.
Both Christians and Muslims live in Yaroun, the mayor explained, while noting that the majority of emigrants have gone to Australia and North and South America.
Samer Wehbe, a journalist from the area, said: "When the expatriates gradually returned, they built beautiful houses that resembled the homes in which they lived abroad, giving the town a wealthy appearance. The majority of townspeople do not live there permanently; only when they come back to Lebanon on holidays and special occasions. Political affiliations remain vague, although the town is located in a pro-Hezbollah area, as it is adjacent to Maroun Al-Ras, in which Hezbollah scored major victories against the Israeli occupation."
Mayor Tuhfa said that Matar was born and raised in the US. "I have been the mayor for six years and have never seen him in town," he said.
Tuhfa explained: "Matar's mother is also from Yaroun, but she is not related to her husband. Her name is Silvana Firdaus. Matar has one sister who also lives with her mother in the US."
He added: "The news of Matar's crime raised questions in the town, which mainly focused on 'why did he do that?' His act was even condemned, bearing in mind that no one knows him (Matar) on a personal level."
Activists' reactions on social media platforms were mixed. One considered that Matar is "only an American of Lebanese descent, who apparently suffers a deep identity crisis."
Hezbollah refrained from commenting on the attack on Rushdie. According to Reuters, an official said the group "had no additional information on the stabbing attack against novelist Salman Rushdie." The official added: "We don't know anything about this subject so we will not comment."
Source: Arab News
Please click the following URL to read the full text of the original story:
https://www.arabnews.com/node/2142496/middle-east
--------
Egypt appoints 13 new ministers in cabinet reshuffle
13 August, 2022
Egypt's President Abdel Fattah al-Sisi announced a cabinet reshuffle on Saturday to enhance the government's performance, the website of Egypt's presidency reported.
Al-Sisi said he asked the parliament to convene on Saturday to discuss changes to some ministerial portfolios, adding that the changes have been agreed on after consultations with the premier.
"This is in order to improve the performance of the government with regard to a number of key domestic and foreign issues that contribute to protecting the state's interests and capabilities and directly [improce] the services offered to citizens," the president said.
Source: Al Arabiya
Please click the following URL to read the full text of the original story:
https://english.alarabiya.net/News/middle-east/2022/08/13/Egypt-appoints-13-new-ministers-in-cabinet-reshuffle
--------
Kuwait appoints its first ambassador to Iran since 2016
14 August, 2022
Kuwait has appointed an ambassador to Iran, both countries said on Sunday, more than six years after recalling its top envoy to Tehran in 2016.
Ambassador Bader Abdullah al-Munaikh handed his credentials to Iranian Foreign Minister Hossein Amirabdollahian in Tehran on Saturday, Iran's foreign ministry said on its website. Kuwait's foreign ministry confirmed Munaikh was appointed envoy to Iran.
Iran already has an ambassador in Kuwait.
The move comes as Saudi Arabia works to improve ties with Iran, with which it has been locked in a rivalry that has played out across conflicts in the region.
Riyadh broke off ties with Tehran in January 2016 after Iranian protesters stormed the Saudi embassy in Iran after Saudi Arabia executed a prominent Shia cleric.
Kuwait recalled its envoy to Iran as other Gulf Arab states downgraded ties to rally behind Riyadh. Kuwait has maintained relatively good relations with Tehran under a foreign policy balancing ties with its larger neighbors.
The United Arab Emirates is working to send an ambassador to Iran as it seeks to rebuild bridges following years of tensions, a senior Emirati official said last month.
Source: Al Arabiya
Please click the following URL to read the full text of the original story:
https://english.alarabiya.net/News/gulf/2022/08/14/Kuwait-appoints-its-first-ambassador-to-Iran-since-2016
--------
Saudi tourist visa holders now allowed to perform Umrah: Ministry
13 August, 2022
People who hold a tourist visa to visit Saudi Arabia can now perform Umrah during their stay in the country, the Ministry of Hajj and Umrah announced on Thursday.
Citizens of 49 countries, who can apply for a tourist visa online, will benefit from the service, the ministry said, noting that those eligible for e-visas can also obtain a tourist visa upon their arrival at airports in the Kingdom.
The ministry also said that holders of US, UK and Schengen visas also qualify to perform Umrah while visiting Saudi Arabia, adding that people who hold family visit visas can also apply to perform Umrah while in the Kingdom by applying through the Eatmarna app.
Earlier this month, Saudi Arabia removed barriers that were placed around the Kaaba just in time for Umrah season.
The barriers had been placed during the COVID-19 pandemic as part of the Kingdom's preventative measures.
Over the years, Saudi Arabia has spent billions of dollars on making one of the world's biggest religious gatherings more secure.
Source: Al Arabiya
Please click the following URL to read the full text of the original story:
https://english.alarabiya.net/News/gulf/2022/08/13/Those-with-tourist-commercial-visas-now-allowed-to-perform-Umrah-WAM
--------
Saudi, US forces launch joint military drill
Ibrahim al-Khazen
13.08.2022
Saudi and US forces launched a joint military drill in the Red Sea province of Yanbu on Saturday, the state news agency SPA reported.
SPA said the month-long exercise, codenamed "Native Fury 22", includes combined tactics, interoperability, logistical operations between Saudi forces and US naval counterparts.
"The exercise aims at training on bilateral military and operational plans as well as exchanging expertise between the two sides," Saudi general Saud al-Okaili said.
US naval forces arrived in the oil-rich kingdom on Tuesday to participate in the exercise.
On August 3, the US State Department said it approved the selling of 300 Patriot missiles along with other military equipment to Saudi Arabia for $3.05 billion.
Source: Anadolu Agency
Please click the following URL to read the full text of the original story:
https://www.aa.com.tr/en/middle-east/saudi-us-forces-launch-joint-military-drill/2660654
--------
'YPG/PKK terror group remains in Syria with backing from Assad regime, Iran'
13.08.2022
ERBIL, Iraq
The YPG/PKK terror group's continued presence in Syria is because it has the backing of the Bashar al-Assad regime and Iran, according to a Syrian Kurdish opposition figure.
This arrangement aims to "prevent Kurds from taking part in the Syrian revolution and defending their rights," Kava Azizi, the representative of the Kurdish National Council (ENKS) in northern Iraq's Kurdish Regional Government (KRG), told Anadolu Agency.
The US is also working with the terror group "for its own interests," he said.
The SDF, a label used by the terror group in Syria, "does what they (US) need" and Washington "gives weapons" in return, he added.
The terror group does nothing for Kurds and has no interest in solving our problems, he said.
"Kurds and their issues are nowhere on their agenda. This is simply an armed organization with a Marxist ideology," he said, adding that the terror group's sole aim is to "attack oppressed people" to forcibly recruit "fresh blood."
He said the terror group is "not only involved in extortion and kidnappings for ransom in Syria, but also sells oil and buys agricultural products from people at very low prices."
It also gets extortion and ransom money from people going to Syria from Europe and northern Iraq, he added.
'No legitimacy'
This terrorist group "cannot solve the problems of Kurds anywhere, not just in Syria," Azizi reiterated.
Currently it is "fighting for the destruction of the KRG," he added.
He said the YPG/PKK has silenced the public and journalists as it does not want the world to hear the plight of the Kurds.
"This so-called organization (YPG/PKK) holds no legitimacy for us, just as it does not see us as a legitimate force," he said.
"They treat us completely arbitrarily and abide by no laws," he added.
He said the EKNS did not seek the YPG/PKK's permission before setting up offices in Syrian areas controlled by the terror group.
Source: Anadolu Agency
Please click the following URL to read the full text of the original story:
https://www.aa.com.tr/en/middle-east/ypg-pkk-terror-group-remains-in-syria-with-backing-from-assad-regime-iran/2660637
--------
Syrian Interim Government, opposition figures express solidarity with Türkiye
Ömer Koparan, Eşref Musa
13.08.2022
Political and military leaders of the Syrian opposition on Saturday expressed solidarity with Türkiye over the heinous treatment of a Turkish flag in northern Syria earlier this week.
"The Turkish flag, like the flag of the Syrian revolution, is a symbol of pride, a title of victory, the emblem of a great people, and its place is above the heads of the heroes and the bodies of the martyrs. Those who cross limits will be held accountable," the Syrian National Army (SNA) said in a statement.
In a tweet, SNA commander Seyf Ebubekir said the reprehensible act was carried out by YPG/PKK terrorists.
"The Turkish flag is sacred. Those who lay hands on it will be punished," he said.
Abu Amsha, another SNA commander, said the Turkish flag "is sacred …. for all Muslims in the Islamic world."
The Syrian Interim Government's Defense Ministry said the Turkish flag is "a sacred symbol for the Turkish people and army, whose blood has been shed on our land."
"Therefore, we must respect this sacred symbol … that was attacked by some prejudiced and ignorant people who do not represent the values of the revolution," it said in a statement.
A separate Syrian Interim Government statement hailed Türkiye's support for the Syrian opposition.
The struggle will continue until the Bashar al-Assad regime is overthrown and the Syrian people achieve their goals of freedom and dignity, the statement said.
The National Coalition of Syrian Revolutionary and Opposition Forces, an umbrella group of Syria's political opposition, also condemned the incident.
"We do not approve of … the burning of the flag of a brotherly country, whose blood is mixed with our blood in the fight against terrorism and which protects approximately 4 million," the group said in a statement.
Leading figures of various Syrian tribes also expressed solidarity with Türkiye.
Source: Anadolu Agency
Please click the following URL to read the full text of the original story:
https://www.aa.com.tr/en/middle-east/syrian-interim-government-opposition-figures-express-solidarity-with-turkiye/2660596
--------
North America
Attack on Salman Rushdie 'appalling,' says US National Security Adviser
Beyza Binnur Dönmez
14.08.2022
The US National Security Adviser said Saturday that the attack on author Salman Rushdie is "appalling".
"We're all praying for his speedy recovery," Jake Sullivan wrote on Twitter. "And we're thankful to good citizens and first responders for helping him so swiftly."
Rushdie's agent told the New York Times that the award-winning author, who was attacked Friday on stage in the state of New York, is on a ventilator and cannot speak, his arm and liver are injured and he might lose an eye.
The suspect who attacked Rushdie was taken into custody, police said Friday.
Pictures on social media showed Rushdie, whose works have prompted death threats, lying on stage at the Chautauqua Institution as police and bystanders attempted to provide first aid.
Footage also showed bystanders rushing to the stage in the immediate wake of the attack.
The attack took place before a lecture he was about to present.
Rushdie suffered a stab wound to his neck and was transported to a hospital, New York State Police said in a statement.
An interviewer also suffered a minor head injury, police added.
Rushdie is the author of several novels that won widespread acclaim, including Midnight's Children, which won the Booker Prize in 1981.
But his book, "The Satanic Verses," was the subject of controversy seven years later, with late Iranian Ayatollah Ruhollah Khomeini issuing a fatwah calling for his death because of the novel.
Source: Anadolu Agency
Please click the following URL to read the full text of the original story:
https://www.aa.com.tr/en/americas/attack-on-salman-rushdie-appalling-says-us-national-security-adviser/2660768
--------
Rushdie assailant Matar charged with attempted murder, denied bail because of international support
RAY HANANIA
August 14, 2022
CHICAGO: The literary agent for Salman Rushdie — attacked by a pro-Iran activist at an event in New York state on Friday — said that the author had been taken off his ventilator, was able to talk and had been making jokes.
Hadi Matar, 24, arrested for the attack, was charged but denied bail as prosecutors argued that he had international support for his actions.
Rushdie's literary agent, Andrew Wylie, told media on Sunday that the author, the subject of a death fatwa issued by the late Iranian Ayatollah Ruhollah Khomeini 33 years ago, remained hospitalized due to serious injuries.
Wylie had previously described Rushdie's condition as bleak, noting that the author was in a "critical condition," that he was "likely to lose an eye," and had suffered damage to his arm and his liver.
The news about the improved condition of Rushdie, 75, however, encouraged hope and tempered the attack as a failed attempt by the extremist Iran regime, accused of fostering terrorism around the world.
The suspect, Hadi Matar, 24, pleaded not guilty to charges of attempted murder in the second degree and assault in the second degree. He was arraigned on Saturday night at Chautauqua County Jail in New York.
Bail for Matar was denied with prosecutor's arguing that Matar had international support and could easily flee the country.
Chautauqua County District Attorney Jason Schmidt told Judge Marilyn Gerace that the fatwa issued by Iran in 1989 "plays an important role for bail consideration because his resources don't matter to me . . . the agenda that was carried out yesterday is something that's adopted and sanctioned by larger groups and organizations well beyond jurisdictional borders of Chautauqua County . . . Even if this court sets a million-dollar bail, we stand a risk that this bail could be met because of that."
Matar, who is from Fairview, New Jersey, is scheduled to appear again in court on Friday. He is being represented by a New York public defender assigned to represent him by the court.
Calls for a crackdown on Iranian terrorism and violence escalated as police continued to investigate Matar's motives and possible ties to supporters of Iran's regime.
Matar's Facebook page and social media included photos of Khomeini and other Iran regime leaders.
"The stabbing of Salman Rushdie was not a spontaneous act," said Ali Safavi, a member of the foreign affairs committee of the Paris-based National Council of Resistance of Iran, who strongly condemned the attack. "Over 30 years ago, Ruhollah Khomeini, founder of Iran's ruling theocracy, issued a fatwa to murder him. His successor Ali Khamenei confirmed it and state institutions set a $3.5 million reward. Lesson to be learned is that appeasement backfires and emboldens terrorism."
Former US president, Bill Clinton, wrote on Twitter: "Salman Rushdie has lived his life courageously and refused to let intimidation silence him, his art, and what he stands for. I am keeping him in my thoughts and praying for his recovery."
Clinton's post drew criticism from some writers, who accused the former president of turning a blind eye to violence against Muslims and Palestinians, but stopped short of praising Matar.
Hillary Clinton, former US secretary of state, tweeted: "I'm horrified by the cowardly attack on Salman Rushdie and praying for his speedy recovery. As he once wrote: 'A poet's work (is) to name the unnamable, to point at frauds, to take sides, start arguments, shape the world, and stop it from going to sleep'."
Chautauqua County Executive P.J. Wendel issued a statement offering thoughts and prayers for Rushdie's recovery.
"The small tranquil community of the Chautauqua Institution has been shaken to its core by an act of violence, which has reverberated across Chautauqua County and western New York. It is disappointing that we live in a society where we cannot listen to the differences of others, especially in a place like the institution where thinkers and problem-solvers from around the world come to share their stories," Wendel said.
"I thank all of the emergency and law enforcement agencies who have done a tremendous job in responding to this horrific event. It is through their quick response that they were able to mitigate the situation and capture the alleged assailant."
Author Stephen King posted on Twitter that the attack had depressed him: "I'm trying to cheer myself up this afternoon. What happened to Salman Rushdie preys on my mind."
US Secretary of State Antony J. Blinken denounced as "despicable" the role played by Iranian state institutions for having "incited violence against Rushdie for generations", adding that Iran's state-affiliated media "recently gloated about the attempt on his life."
"IWe join those across the country and around the world who are keeping Salman Rushdie in our thoughts in the aftermath of this heinous attack. More than a literary giant, Rushdie has consistently stood up for the universal rights of freedom of expression, freedom of religion or belief, and freedom of the press. While law enforcement officials continue to investigate the attack, I am reminded of the pernicious forces that seek to undermine these rights, including through hate speech and incitement to violence" he said.
"The United States and partners will not waver in our determination to stand up to these threats, using every appropriate tool at our disposal. The strength of Rushdie — and that of all of those around the world who have endured such threats — steels our resolve and underscores the imperative of standing united as an international community against those who would challenge these universal rights," he added.
Republican Senator Marsha Blackburn, a strong critic of President Joe Biden, turned the debate to politics, attacking Biden's efforts to reach an accord with Iran on nuclear weapons.
"Iran has been plotting for the death of Salman Rushdie since 1989 and offered a bounty to anyone who assassinates him. Yesterday, he was attacked on stage. Meanwhile, the Biden administration is open to having additional talks with this dangerous, terrorist regime," Blackburn wrote on Twitter.
Rushdie was about to address the Chautauqua Institution, a nonprofit education center and summer resort near Buffalo, New York, when he was attacked. Rushdie was planning to speak about America being a place of "asylum for writers and other artists in exile."
Source: Arab News
Please click the following URL to read the full text of the original story:
https://www.arabnews.com/node/2142541/world
--------
Republican report knocks Biden's Afghanistan retreat, eyes post-midterm scrutiny
14 August 2022
US Republican senators are planning to use an interim report about President Joe Biden's chaotic withdrawal from Afghanistan to scrutinize him if the party clinches the majority in Congress this year.
The strategy is expected to be published this week in a 118-page, an interim report called "'A Strategic Failure': Assessing the Administration's Afghanistan Withdrawal."
The report offers a detailed look at last year's chaotic withdrawal, which created horrific scenes of chaos outside and inside Kabul international airport.
One year ago, the Taliban took over power in Afghanistan in the midst of Biden's withdrawal of US forces from the country.
Included in the report are Republicans' intentions, if they take the majority, to use subpoena power to compel officials to sit for transcribed interviews, naming 34 current and former officials that they say the State Department has blocked from appearing before the committee
"The Biden administration had largely wasted the four months since the president announced the full withdrawal, failing to adequately plan for the anticipated Taliban takeover," the committee wrote.
Republican lawmakers request that Biden officials appear for open hearings or risk being subpoenaed.
If they take the majority, the Republicans plan to use subpoena power to compel officials to sit for transcribed interviews, naming 34 current and former officials that they say the State Department has blocked from appearing before the committee.
Republicans also plan to subpoena documents that they say the State Department has failed to provide, including "documents, messages, reports, legal opinions, meeting readouts, and other materials related to the withdrawal from Afghanistan."
They primarily focus on a lack of planning leading up to the withdrawal and analyze a series of missteps and errors that complicated what was ultimately a deadly evacuation.
Videos of tragic incidents, recorded by Afghan news media, were widely shared on social media, showing desperate Afghans trying to climb onto the exterior of the US C-17 cargo plane and falling from it following takeoff.
It remains unclear how many people lost their lives in the incident.
The situation in Afghanistan aggravated in the aftermath of the withdrawal of the US forces, who invaded the country more than two decades ago to topple the Taliban in response to the September 11 attacks in the United States.
Source: Press TV
Please click the following URL to read the full text of the original story:
https://www.presstv.ir/Detail/2022/08/14/687377/US-Republican-lawmakers-are--using-an-interim-report-examining-President-Joe-Biden%E2%80%99s-chaotic-withdrawal-from-Afghanistan
--------
Taliban haven't changed, resistance by Afghans to grow, says ex-US security official Lisa Curtis
NAYANIMA BASU
15 August, 2022
New Delhi: Afghans will gradually push back against the Taliban, and this will strengthen the national resistance movement against the regime, according to Lisa Curtis, a former US National Security Council (NSC) official with extensive experience in South Asia.
In an exclusive interview with ThePrint on the completion of one year of the Taliban's rule in Afghanistan, Curtis blamed the radical insurgent group's re-emergence on the US' "abrupt and chaotic" withdrawal from the besieged country last August.
Curtis, who has earlier worked in the CIA as a senior analyst for South Asia, US State Department, and on Capitol Hill, is currently Senior Fellow and Director of the Indo-Pacific Security Program at the Center for a New American Security (CNAS), a Washington-based think-tank.
Afghanistan found itself facing a grave security crisis last year as the US-led NATO, which arrived in the country in 2001 in the aftermath of 9/11 for its "war on terrorism", exited the country in a much-criticised move following talks with the Taliban.
As the Taliban marched into Kabul on 15 August 2021, hundreds of people crowded airports in a bid to flee the country, haunted by memories of the group's previous stint in power (1996-2001), which was marked by repression and brutality.
While the Taliban assumed power with the promise of being more moderate than the last time, Curtis said the past year has shown that the group hasn't changed much — it not only continues to shelter terrorists but also denies rights to Afghan women and girls, she added.
"The elimination of (al-Qaeda chief) Ayman al-Zawahiri on 31 July was a major counterterrorism win for the US and it shows that the US does have the capabilities to take terrorists off the battlefield when it chooses to do so," Curtis said, referring to al-Zawahiri's killing in a US drone strike in Kabul. "So, in a way, it vindicates President Biden and his claims that over-the-horizon counterterrorism operations can be effective."
But, Curtis said, it doesn't justify the disastrous exit of the US a year ago.
"The world watched as the Afghans clung to planes since they were leaving. It was an abrupt withdrawal, very chaotic, very little preparation and I think that has left a stain on Biden's foreign policy as well as the US more generally," she added.
With the coming in of the Taliban, former Afghan President Ashraf Ghani fled the country, leaving it in the lurch. Immediately after taking over, the Taliban shut down the main airport in Kabul in an effort to prevent Afghans from leaving the country. A blast outside the airport the same month killed around 180 Afghans and 13 US military personnel. The Islamic State claimed responsibility for the attack.
"What's worse is that, a year later, we see the Taliban have not changed. They are still repressing women, not allowing girls to go to high school. They are not allowing the women to hold most jobs, they can't travel out of their homes without a male companion," Curtis said.
In addition, she added, it's clear that the Taliban has not broken its ties with al-Qaeda.
"We know this because al-Zawahiri was sheltering in a home owned by Sirajuddin Haqqani. So, we can see that the Taliban has not changed. It is quite a terrible situation for the Afghan people."
Sirajuddin Haqqani is Afghanistan's acting interior minister and the head of the dreaded Haqqani Network, which was designated a foreign terrorist organisation by the United States in 2012. Haqqani is still on US FBI's 'Most Wanted' list carrying a $10 million bounty on his head.
In her interview, Curtis called for the reinstatement of travel bans on the Taliban, and engaging Afghanistan's National Resistance Front (NRF) — particularly the movement's leaders who are currently in Tajikistan — in a dialogue.
Resistance movement
Curtis, who has served as deputy assistant to the US president and NSC senior director for South and Central Asia from 2017 to 2021 under three successive national security advisers, said that, going forward, it will become harder for the Taliban to rule Afghanistan as Afghans are now slowly beginning to give up and will begin to accelerate the resistance movement under the NRF.
"I don't think the Afghan people will accept the increasingly harsh treatment that's been meted out by the Taliban leadership, including the Haqqanis. I think what you will see is more people gravitating towards resistance," she said.
There are already pockets of resistance, she said, referring to the NRF, which is led by Ahmad Massoud, son of 'Lion of Panjshir' Ahmad Shah Massoud — revered in Afghanistan for his battle against the Taliban until his assassination in 2001 — and former Afghanistan vice-president Amrullah Saleh.
The NRF regularly engages in fighting with the Taliban in the Panjshir Valley.
According to Curtis, both Massoud and Saleh are currently living in Tajikistan.
"I think you'll see more and more people resisting what the Taliban is trying to do. You can't hold down people, take away their rights, not provide them the benefits and services and expect them not to rise up and not to resist such kind of rule," she told ThePrint.
But she said the coming together of the NRF with "different opposition forces" like the erstwhile Northern Alliance — a coalition of several militia groups who fought the Taliban from 1996 to 2001 under Massoud and supported the American forces — looks "difficult" at the moment.
"Right now, there are a lot of divisions among the Afghans that have fled the country. So, it really depends if there can be some cohesion and unity among the different factions," she told ThePrint. "Northern Alliance was a group of different factions that came together for one purpose. We don't have that right now. We have the National Resistance Front but there hasn't been coming together of different opposition forces."
Although the US isn't currently providing any real assistance to the NRF, it should engage them in discussions, she said.
"The US can't all of a sudden ignore these people. It has engaged with them for the last 20 years. The US Embassy should engage the leaders of the resistance movement who are based in Tajikistan, just gather information. They are players in Afghanistan," she said.
'Reinstate travel ban on Taliban'
Curtis, who's an expert on counterterrorism strategy in South and Central Asia, said that the UN Security Council (UNSC) should reinstate its travel ban on the Taliban.
The travel ban was revoked in 2019 in order to let the Taliban leadership travel to Doha for peace talks with the erstwhile Donald Trump administration, which culminated in an agreement in February 2020 that paved the way for NATO's withdrawal.
On 20 August, the UNSC will be taking up the issue of extending the travel ban waiver. Said Curtis: "It is wrong for Muttaki (Taliban acting foreign minister Amir Khan Muttaqi) and other Taliban leaders to be able to travel overseas to attend international conferences like the conference in Uzbekistan".
In July, the government of Uzbekistan hosted a special conference on Afghanistan to discuss its future under Taliban rule. The conference was attended by over 30 countries. In that conference the Taliban sought investments from the international community.
"How can they be allowed to travel around, gain legitimacy while they have these horrible restrictions on women and girls which no other country in the world has? It's outrageous," she said.
Peace talks, for which the travel ban was first lifted, are "dead, and there's no reason that the Taliban needs to travel outside of Afghanistan", she added.
"In fact, it comes up for consideration on 20 August, so there's an opportunity for the US to demonstrate that it is not going to continue to put up with Taliban's repression of women and its lies on terrorism now that we know that they are sheltering the al-Qaeda," she said.
According to Curtis, any kind of engagement with the Taliban by the US or other world powers "should be conditioned on how they are treating their own people and what they are doing to ensure that the country will not emerge as a terrorist safe haven".
"Until we see specific steps on that front, I don't think there should be any engagement or investment in Afghanistan," she said.
India's engagement with the Taliban
On India's engagement with the Taliban, Curtis said New Delhi has made its own decision to reopen its embassy in Kabul but the US shouldn't because it needs to uphold the values of democracy and human rights.
That is India's choice but I think for the US, it stands for democracy [and] human rights. [In particular] the Biden administration has trumpeted that as part of its foreign policy. If that's the case, then they should be standing up for the women and girls of Afghanistan, which means not engaging, not investing. The US should play its leadership role," she added.
"But the bottom line," she said, "is that the US is not as influential in Afghanistan".
Source: The Print
Please click the following URL to read the full text of the original story:
https://theprint.in/world/taliban-havent-changed-resistance-by-afghans-to-grow-says-ex-us-security-official-lisa-curtis/1080243/
--------
URL: https://newageislam.com/islamic-world-news/fatwa-rushdie-islamic-terror-iranian/d/127716
New Age Islam, Islam Online, Islamic Website, African Muslim News, Arab World News, South Asia News, Indian Muslim News, World Muslim News, Women in Islam, Islamic Feminism, Arab Women, Women In Arab, Islamophobia in America, Muslim Women in West, Islam Women and Feminism