New Age Islam News Bureau
22 Dec 2018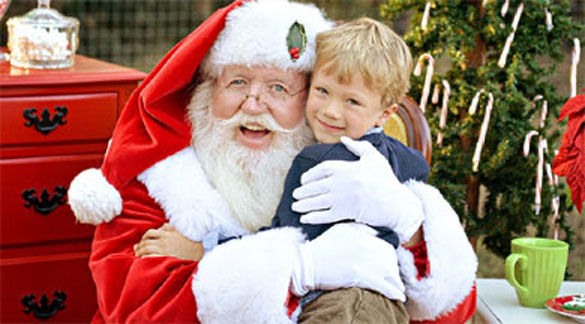 This Kid Confused A Muslim Man For Santa Claus & The Man's Been Playing Along For 4 Years. Source: Party Characters For Kids
------
• Father Christmas: Muslim Man Who Was Mistaken For Santa Visits Boy Every Year
• China, Pakistan Hatch 'Secret Plan' To Build New Fighter Jets: NYT
• Religious Discourse Is Being Used To Persuade Egyptians to Limit Families
• 'State Support for Terrorist Proxies Will Not Be Tolerated': US's Veiled Warning To Pakistan
• Somalia's Islamist Rebels Al Shabaab Declare War on Islamic State
• For Education Overhaul, Malaysian PM Moots Cutting Back On Religious Studies
• It Is Time For Renaissance for Muslim Community in India, Says Former AMU V-C
Europe
• Father Christmas: Muslim Man Who Was Mistaken For Santa Visits Boy Every Year
• France Shuts Down 'Secret' Islamic Preschool in Marseille
• UK: Muslim Group Blasts Boris Johnson Whitewash
• German Police Rule Out Islamist Attack Plot at Airport
• Russia offers to host Palestine-Israel, Hamas-Fatah meetings
• Bulgaria adopts religious denominations act amendments
--------
Pakistan
• China, Pakistan Hatch 'Secret Plan' To Build New Fighter Jets: NYT
• Had Come To Pakistan for Research On Islam, Says Detained Czech Model In Fresh About-Turn
• COAS confirms death sentences of 14 convicted in military courts
• Opposition in Senate rejects 'selective accountability'
• 'Generous support': UAE pledges $3bn to boost Pakistan's liquidity, reserves
• New provinces be made on administrative grounds: Tahirul Qadri
• Sanjrani Visits Headquarters of Military Alliance during Saudi Visit
• 'US-Pakistan relations improving despite attempts to ruin them'
• Pakistan stands with China in face of US-led claims
--------
Arab World
• Religious Discourse Is Being Used To Persuade Egyptians to Limit Families
• White Helmets Engaged In Organ Trafficking, Aiding Terrorists, Looting In Syria: Watchdog
• Dozens of Civilian Bodies Found in Mass Grave in Iraq's Kirkuk Province
• Saudi Arabia welcomes new UN resolution on Yemen
• Arab Coalition: Houthis Violated Hodeidah Ceasefire 62 Times In 72 Hours
• 27 killed in US airstrikes on Syria's Dayr al-Zawr
• Netanyahu says Israel to increase its "efforts" in Syria after US troop pullout
• Egyptian delegation joins talks in Makkah
--------
North America
• 'State Support for Terrorist Proxies Will Not Be Tolerated': US's Veiled Warning To Pakistan
• Official: US, Saudi, UAE Work to Reach Peace Deal In Afghanistan By 20 April
• Erdogan declares support for Iran, defies US sanctions
• NATO vows continued engagement in Afghanistan amid US troop pullout plan
--------
Africa
• Somalia's Islamist Rebels Al Shabaab Declare War on Islamic State
• Nigeria: Why Governments Should Recognise Religion's Role in Governance
• Nigeria police arrests Boko Haram don behind 2015 Abuja bombing
--------
Southeast Asia
• For Education Overhaul, Malaysian PM Moots Cutting Back On Religious Studies
• Indonesian Muslims Protest against China's Treatment of Uighurs
• Groups in Sarawak Denounce Islamic 'Propagation' Remarks By Malaysian Minister
• In Penang, similar rally by Muslims demanding justice for Adib
• NGO Opposes Mandatory HIV Screening For Non-Muslim Couples
--------
India
• It Is Time For Renaissance for Muslim Community in India, Says Former AMU V-C
• Hanuman's Many Avatars: From Hindu to Jain To Muslim Now Poof, Courtesy Another Bjp Leader
• 6 terrorists killed in encounter in Jammu & Kashmir's Pulwama
• What did I say to be called a traitor: Naseeruddin defends his comment on mob violence
• Bulandshahr Violence: 'We Are Being Targeted Because We Are Muslims' Says Safruddin
• Pak High Commissioner places Chaddar at Hazrat Nizamuddin Aulia Dargah
• Imran Khan raised Kashmir issue with UN chief: UN spokesman
• Naseeruddin Shah's on-screen Pakistani agent character has awakened: BJP leader
• 'Expressing Concern about Nation I Love': Protests Prevent Naseeruddin From Opening Ajmer Lit Fest
--------
South Asia
• Another Year of Unresolved Terror In Bangladesh
• Ershad-Jamaat No More Political Factors in Bangladesh
• A Lost Generation of Rohingya Grows up Without Education
• 3 Hizb ut Tahrir members arrested in Sylhet
• 'Awami League Manifesto More Favourable For Religious Minority Groups'
• ARG Palace slams Taliban for refusing direct talks with peace negotiators
--------
Mideast
• Turkey to Delay Syria Operation, Erdogan Welcomes US Decision To Withdraw Troops
• UN Mission To Oversee Hodeidah Ceasefire Starting Sunday Dec 23
• US: Iran arms Houthis and complicates the Yemeni conflict
• Israeli forces shoot dead 3 Palestinians, including teen, wound dozens more in Gaza Strip
Compiled by New Age Islam News Bureau
URL: https://www.newageislam.com/islamic-world-news/father-christmas-muslim-man-mistaken/d/117237
--------
Father Christmas: Muslim Man Who Was Mistaken For Santa Visits Boy Every Year
December 21, 2018
Santa Claus might not be real for most people but for one lad Santa is 100% real and even brings him gifts every year, reported UK Asian Magazine.
Mr Hussain from Tooting happened to be walking past a house in his local area in 2013 when a young boy named Alfie shouted 'Santa'.
Mr Hussain not wanting to disappoint the young boy gave him some money and which started a friendship which sees Hussain visit Alfie every year to give him gifts. He even no calls round on their birthdays.
Alfie's mum, Tracy Ashford-Rose, told BuzzFeed News that Christmas wouldn't be the same without a visit from "Santa".
She said she remembers "my little Alfie shouting out for me, 'look it's, Father Christmas!'"
Hussain "got three houses away and came back to knock on my door; he said he couldn't pass without giving a gift as my little boy thought he was Father Christmas," Ashford-Rose continued.
"This was four years ago, and we still exchange gifts to each other. He comes to see Alfie and my daughter Hayley on their birthdays and gives gifts, he never forgets the dates.
"We now call him Grandad Christmas. We see him throughout the year, he shakes Alfie's hand, and has a cuddle. Christmas wouldn't be the same without him now."
Amanda Taylor-Purchase, a professional photographer and the family's former neighbour, was at the house when Hussain called round last Sunday, and she shared the heartwarming story on Facebook.
"It's not very often that I get a tear in my eye at a photo shoot, but that guy just did it for me. I thought I had to tell that story," she told BuzzFeed News.
"I've known Alfie since he was just a baby, there's not much that stops him in his tracks, but when he saw 'Father Christmas' he came running into me and said 'you've got to come, the real Santa Claus is at our door, he comes to our house.'"
Taylor-Purchase added: "When I looked out I was a bit confused," because Hussain does not actually look like Father Christmas.
"Not at all," she said, "obviously it's just the beard association for Alfie – he's a little fellow, very skinny, wearing a business suit. It's the sweetest thing, Alfie doesn't see the colour of skin, the colour of clothing, he sees the colour of someone's heart.
"This guy looked so friendly and so welcoming and he saw his big white beard and thought he was Santa Claus."
"One year there were balloons outside and he saw it was his birthday," Taylor-Purchase added. "Now he stops by and gives him a birthday present, and a Christmas present, it's become a tradition.
"For him to come back and knock every year and not forget his birthday, not forget Christmas, and even remember his older sister who doesn't believe in Santa – it's just the sweetest thing."
Taylor-Purchase posted the story on a local Facebook group, and many people were so touched that they said they wanted to give their own gifts to the "real Santa Claus".
Accompanied by Alfie, she took two bags filled with treats down to surprise Hussain on Friday.
"I don't want to make assumptions but if he's not a Christian man, if it's not his faith, but he's still doing all of this for a little boy, he's just going above and beyond," Taylor-Purchase added.
https://nation.com.pk/21-Dec-2018/muslim-man-who-was-mistaken-for-santa-visits-boy-every-year
--------
China, Pakistan hatch 'secret plan' to build new fighter jets: NYT
DECEMBER 21, 2018
Beijing has insisted for years that the US$1 trillion global transportation infrastructure push known as the Belt and Road Initiative is purely economic in nature and is not part of an effort to expand military endeavors.
There may now be evidence that military cooperation has been explicitly outlined as part of the BRI, according to a report from the New York Times on Thursday.
Maria Abi-Habib wrote that the publication has reviewed a confidential plan to expand Pakistan's building of Chinese military equipment, including advanced fighter jets.
"All those military projects were designated as part of China's Belt and Road Initiative," the article claims.
The confidential proposal was drafted by the Pakistani Air Force and Chinese officials early this year and calls for the creation of a special economic zone under the umbrella of the China-Pakistan Economic Corridor, a key link in the BRI. The zone would be the location for manufacturing of a new generation of fighter jets.
The project would represent the first time navigation systems, radar systems, and onboard weapons would be jointly assembled by the two countries inside of Pakistan.
Pakistani officials confirmed the proposal, which would also expand existing production of Chinese JF-17 fighter jets.
http://www.atimes.com/article/china-pakistan-hatch-secret-plan-to-build-new-fighter-jets-nyt/?utm_source=The+Daily+Report&utm_campaign=8130a88d06-EMAIL_CAMPAIGN_2018_12_21_11_15&utm_medium=email&utm_term=0_1f8bca137f-8130a88d06-31634709
--------
Religious Discourse Is Being Used To Persuade Egyptians to Limit Families
16/12/2018
Religious discourse is being used to persuade Egyptians to limit families to two children in line with government efforts to ease population density. The government has threatened to cut social aid to families who don't comply.
Egypt's Grand Mufti Shawki Allam recently issued fatwas that reflect the remarkable shift in the institutions' dealing with family matters. "Family planning and birth reduction are inevitable religious matters. They've become a religious duty that is part of what is needed and necessary," he said.
This pro-government policy religious discourse represents the shortest way to change the attitudes of poor social groups, in which family planning is often absent.
The World Health Organisation has said much of the Egyptian population's reluctance to use contraceptives and follow family planning programmes show that conservative religious attitudes are conflicting with the government's economic development agenda.
Mahmoud Gamal, an illiterate building attendant in El Matareya district north of Cairo and father of six, said he had been raised to believe a large family is preferable because "interfering in having two or three children is forbidden religiously."
Gamal's opinion is common among a social class that the government believes is fuelling unsustainable population growth. That class inherited conservative religious and cultural attitudes that are resistant to certain family planning methods.
Samia Mansour, a sociology professor at Ain Shams University in Cairo, said that "any step aimed at persuading families to reduce birth rates will not work without the relevant accompanying religious, media and cultural discourse because there is a firm belief planted by grandparents in offspring that interfering with the number of births is haram."
Mansour said controlling the religious discourse about family planning and limiting parents to two children requires the government to exercise control over the imams, sheikhs and jurists who offer a differing voice to the official religious institutions. Unchecked religious authorities tell people that parents must not interfere in procreation matters. Such fatwas are impossible to override.
Some extremist religious militants have orchestrated a social media campaign deriding the views of Egypt's educational institute, Dar al-Ifta, on family planning. Salafists say official religious institutions are being used as a cover to legitimise the government's decision to limit financial aid to needy families who have only two children. They say this is also likely to lead to further legislation heaping heavy penalties on families that refuse to abide by birth-reduction initiatives.
The Egyptian Ministry of Health established additional family planning clinics to provide free contraceptives and initiated a radio programme produced for the "Two are Enough" campaign in cooperation with al-Azhar University and Dar al-Ifta. The programme focuses on correcting what it views as religious misconceptions on family planning.
The ministry is training nurses and rural social workers in family planning centres on how to encourage rural women to limit family size to two children. The ministry plans to carry out about 4 million door-to-door visits and 5,000 awareness-raising seminars focused on the benefits of small families.
The major stumbling block lies with those wishing for large families who do not understand or ignore the government's message. For them, a child, from an economic standpoint, is much more important than the government's aid, as the latter could be interrupted at any moment.
Three heads of families interviewed said they do not believe in family planning. They said that, for modest-income families, particularly in rural areas, losing government aid is inconsequential because their "economy" is based on their children. Their lives would not be affected by the suspension of the government's monthly aid that one of their children can earn in three or four days.
There are other factors that make it difficult to convince low income parents to adopt the government's approach on family planning in exchange for aid, such as early marriages, lack of education and a cultural emphasis on women having a male child, which can cause them to give birth over and over.
Mansour said changing cultural norms and ideas related to childbearing would require raising awareness through civil society, religious institutions and the media, in addition to incentivising families who respond. Sanctions alone, she said, would not shift a deeply ingrained culture and one religious institution by itself would not be able to correct ideas long espoused by religious hardliners.
https://thearabweekly.com/can-fatwas-help-egypt-birth-control
--------
'State support for terrorist proxies will not be tolerated': US's veiled warning to Pakistan
Dec 21, 2018
WASHINGTON: The US has told all its regional partners, including Pakistan, that state support for terrorist proxies will not be tolerated, the Pentagon has said, expressing concern over the free movement of some militant groups in Pakistan that are presenting security challenges for Afghanistan.
The Pentagon, in its semi-annual Afghan report to the US Congress that covers the period of June to November 2018, said on Thursday that Taliban and the Haqqani Network retain freedom of movement in Pakistan.
The Pentagon's remarks came amidst reports that President Donald Trump is planning to withdraw US troops from Afghanistan.
In the report, the Pentagon said that Afghanistan faces a continuing threat from an externally supported insurgency and the highest regional concentration of terrorist groups in the world.
"In this reporting period, the US continued to call on regional partners to reinforce our messages that state support for terrorist proxies will not be tolerated, that cross-border cooperation between Afghanistan and Pakistan is essential, and that the Taliban cannot achieve its objectives through continued military conflict," the Pentagon said.
"Although Pakistani military operations have disrupted some militant sanctuaries, certain groups — such as the Taliban and the Haqqani Network — retain freedom of movement in Pakistan. The United States continues to convey to all levels of Pakistani leadership the importance of taking action against all terrorist and militant groups," it said.
According to the report, the Haqqani network continues to be an integral part of the Taliban's effort to pressure the Afghan government in Kabul and eastern Afghanistan.
Sirajuddin Haqqani's role as a Taliban deputy probably increased Haqqani influence within the Taliban leadership, and resulted in an increase in Haqqani influence to areas outside its normal operating areas of Paktika, Paktiya, and Khost provinces in eastern Afghanistan, it said.
The Afghanistan-Pakistan border region remains a sanctuary for various groups, including the Taliban, alQaeda core (AQ), al-Qaeda in the Indian Subcontinent (AQIS), the Haqqani Network (HQN), Lashkar-eTaiba (LeT), Tehrik-e-Taliban Pakistan (TTP), ISIS-K, East Turkestan Islamic Movement (ETIM), and the Islamic Movement of Uzbekistan (IMU).
Terrorist sanctuaries on both sides of the border present security challenges for Afghanistan and Pakistan and pose a threat to regional security and stability, the report said.
The South Asia Strategy, which was announced by Trump in August 2017, has focused on pressuring Pakistan to limit support and safe-haven for proxy terrorist and militant groups and to play a constructive role in facilitating Afghan reconciliation, the Pentagon said.
"Regional efforts in the South Asia Strategy aim to expand burden sharing, neutralize potential spoilers to US and coalition efforts, limit threats to the United States and our allies and partners, and develop and support a durable political settlement in Afghanistan," the Pentagon said.
The South Asia strategy prioritises regional engagement to limit hedging against the Afghan government and create an international consensus for peace.
The Pentagon said the existence of more than 20 terrorist or insurgent groups in Afghanistan and Pakistan requires an Afghan-supported US platform in the region to monitor, contain, and respond to these threats.
https://timesofindia.indiatimes.com/world/south-asia/state-support-for-terrorist-proxies-will-not-be-tolerated-uss-veiled-warning-to-pakistan/articleshow/67189850.cms
--------
Somalia's Islamist rebels Al Shabaab declare war on Islamic State
12/22/2018
Somalia's Al Shabaab has declared war on Islamic State in Somalia in an address carried by radio station Radio Andalus on Friday."We have given them a chance to change, but they have continued their wrongheadedness," spokesperson Ali Rage said."Our senior command has ordered our fighters to attack and eliminate the 'disease' of IS," Rage added, as he expanded on the offensive code named Disease Eradication.The spokesperson also accused the movement of "spoiling the ongoing jihad in Somalia".
Al Shabaab is a militant Islamic movement formed in 2006 in response to the Ethiopian invasion of Somalia, following years of unrest after a 1991 coup.They have led an insurgency against a weak government, and once controlled large swathes of the unstable African country. However, they have been beaten back by an alliance of African Union peacekeepers with international support in the last few years.Tensions between the group and Islamic State, which found a base in the state of Puntland, have existed ever since IS arrived in 2015.Al Shabaab, an Al Qaida affiliate, primarily sees itself as a Somali resistance group. A lot of its sway in the region relies on latent levels of nationalism in Somali society.IS ideology, while remaining in line with extreme Islamic teachings, is much more global in its outlook, which directly threatens Al Shabaab leaders.Al Shabaab is a state within a state, with a standing army that numbers in the thousands, and power structures that have now stood the test of time. But despite its numerical disadvantage, IS launched attacks on Al Shabaab earlier this month.On Tuesday this week, IS claimed to have killed 14 Al Shabaab fighters in a video seen by Voice of America.
https://www.i24news.tv/en/news/international/africa/191472-181221-somalia-s-islamist-rebels-al-shabaab-declare-war-on-islamic-state
--------
For Education Overhaul, Malaysian PM Moots Cutting Back On Religious Studies
21 December 2018
KUALA LUMPUR, Dec 21 — Prime Minister Tun Dr Mahathir Mohamad announced tonight that the overhaul of Malaysian education will diminish the current focus on religion.
Speaking at his alma mater Sultan Abdul Hamid College's (SAHC) annual dinner, Dr Mahathir said the focus on religion has caused students ill-equipped to get jobs.
"Someone changed the curriculum in school and now national schools have become religious schools.
"They are all learning about the religion of Islam and not learning anything else. As a result, those who pass in school are not very conversant with subjects that are useful for them to get jobs, but they are very good ulama," he said.
Noting that the current school system produced many Islamic religious scholars or ulama, he said: "And when you have too many ulama, they always differ from each other, and they mislead their followers and they quarrel with each other."
To address the problem of schools being overly-focused on religion, Dr Mahathir said the timetable and curriculum in schools would be changed.
"Because of that, we are going to change the timetable and curriculum in the schools, we will still study religion, but not all periods in one day, maybe one or two periods in a week," he said.
"But we need to master all the other subjects, because if we want to progress, Malaysians must be well-educated, not only in reciting Quran, but also in other languages. If we don't, we are going to be very backward," he said.
"So the school curriculum will be changed and modified, so that now we will have national schools that will teach everybody all the important subjects that will be useful for them when they mature and become independent individuals," he said.
Dr Mahathir said Malaysia is currently going through a difficult phase and needs development, adding that the country needs well-educated people and those who are able to interact with others and speak up for the nation.
"We have to work very hard in order to catch up with other people.
"And although we have to say our prayers, but we also need to spend a good time on mastering all the other subjects that are taught in the school," he said.
In his speech, Dr Mahathir also said that Malaysians were formerly known to have good command of the English language.
Dr Mahathir encouraged Malaysians to master English which he described as a "universal language" and crucial for acquiring new knowledge to help the country progress, saying that learning the language would not diminish their Malay or Malaysian identity.
The Kedah-born Dr Mahathir was speaking at the dinner organised by the Sultan Abdul Hamid Old Collegians Association (Sahoca) KL, of which he is also lifetime president.
This year also marks the 110th anniversary of the SAHC, where his father Mohamad Iskandar was its first principal when the school was then known as the Government English School.
SAHC is also the alma mater of various other prominent individuals such as Malaysia's first prime minister Tunku Abdul Rahman Putra Al-Haj, Kedah ruler Sultan Sallehuddin Sultan Badlishah, four former Kedah Mentri Besar, several former Chief Justice of Malaysia, former ministers including Tun Daim Zainuddin.
https://www.malaymail.com/s/1705356/for-education-overhaul-pm-moots-cutting-back-on-religion-studies
--------
It is time for renaissance for Muslim community in India, says former AMU V-C
December 21, 2018
It is time for renaissance for the country's Muslim community to develop itself and the nation, said Lt Gen (retd) Zameer Uddin Shah, who was also Vice Chancellor of Aligarh Muslim Unuversity, on Wednesday at a discussion on empowering young Muslims.
He said modern secular school education for the community is a must for its development.
"I have been repeatedly requesting all to join us for the renaissance in the Muslim community," said Shah in his key note address at a day-long workshop on 'Strategies and Approaches for Empowering Young Muslims -- Building Resilience, strengthening nation' in Patna.
He said children belonging to the community must be given best school education and for this the community should build schools with modern outlook with Islamic ethos on the lines of Christian missionaries-run institutions.
"We have set up a modern school in Muzaffarnagar in Uttar Pradesh. It is named Sir Syed National School. AMU students have donated Rs 51 lakh to build this school," he said. "We hope to set up another similar school in Saharanpr".
He said he was surprised when 40 Muslim families in Uttar Pradesh came forward to offer 2 acre each for setting up such schools in the state. "Government funds and other forms of assistance may come, but Muslims have to set up world-class schools for children. Other communities have done so," he said.
Shah said the condition of the Muslim community today is similar to what it was in 1857. "The community is marginalised, impoverished, victimised and at the bottom of development indicators," he said. "But fault for this pathetic situation of the community lies with us. We have neglected the importance of education, particularly modern education."
Others prominent people who addressed the workshop included Venkatesh Srinivasan of UNFP, Sadur Rahman of UNICEF, Amir Subhani, principal secretary Minority Welfare, Bihar, and Dr A.S. Nakdar, founder of American Federation of Muslims of Indian Origin.
https://www.business-standard.com/article/news-ians/it-is-time-for-renaissance-for-muslim-community-in-india-says-former-amu-v-c-118122100975_1.html
--------
Europe
France Shuts Down 'Secret' Islamic Preschool in Marseille
Dec 21, 2018
The French Ministry of Education decided to close an Islamic preschool in Marseille for not complying with France's academic rules.
In an interview with the French channel RMC Minister of Education Jean Jacques Bourdin said that the school, which relies on fundamentalist Salafi teachings based on physical jihadism, was closed on Monday, December 17.
The minister said that the school, not corresponding with France's educational "norms" had "lied" about the situation of its students.
"Every morning, [the schoolchildren] would be accompanied to a place that looks nothing like a school," the minister stated, as reported by French daily Le Figaro.
The minister indicated that a law passed in July gives the ministry the right to shut down schools that do not follow the country's norms, especially those which adopt notions of fundamentalist Islam, for fear that the institutions would "indoctrinate" the children.
Bourdin announced that authorities will instead enroll the Islamic school students in traditional public schools. The school had only 43 students aged 2 to 6 years old.
French authorities are reportedly investigating the types of courses the school gave to the students and whether the courses bore any characteristics of "extremism."
It is not the first time that France has closed an Islamist school. In 2016 the country closed an Islamic primary school in Toulouse, southwest France, that made children attend for more hours than the national curriculum's regulations.
The Toulouse court gave the school's headteacher a four-month jail sentence.
https://www.moroccoworldnews.com/2018/12/261203/france-shuts-down-secret-islamic-preschool-marseille/
--------
UK: Muslim group blasts Boris Johnson whitewash
21.12.2018
By Muhammad Mussa
LONDON
British Muslims' top umbrella group on Friday blasted the ruling Conservatives' whitewash of Islamophobic remarks by Boris Johnson, the former foreign secretary.
After examining an August column for the Daily Telegraph in which Johnson compared Muslim women who wear the niqab and burka to "letterboxes and bank robbers," a Tory panel ruled his slurs "respectful and tolerant" and defended his right to use "satire."
Calling the comments "dehumanising," the Muslim Council of Britain -- an umbrella group for some 500 mosques, schools, and associations -- said that far from being "satire," Johnson's "denigrating" column had inspired Islamophobic attacks.
"Reports at the time suggested that his Telegraph column had real-world consequences, directly leading to 'copycat' verbal assaults against Muslim women and the unleashing of hate and Islamophobia from Conservative supporters," said a statement by the council.
"Mr Johnson is not a satirist – he is a Member of Parliament, and as such has a responsibility to set the tone for the rest of the UK to follow," added the statement.
"In this case, it is far-right Islamophobes who have been empowered to follow his rhetoric."
In August senior Conservative MPs and the prime minister herself demanded an apology from Johnson, but none was given.
Full report at:
https://www.aa.com.tr/en/europe/uk-muslim-group-blasts-boris-johnson-whitewash/1345021
--------
German police rule out Islamist attack plot at airport
DECEMBER 21, 2018
BERLIN (Reuters) - German police raided several apartments on Friday as part of an investigation into what they say may have been a reconnaissance operation at Stuttgart airport, but said they had found no evidence of an Islamist attack plot.
Two men without luggage were seen observing security checks at the airport on Dec. 12. A day later, a similar incident was reported at Charles de Gaulle airport in Paris, prosecutors said, which had prompted police to step up security at Stuttgart and other nearby airports.
The suspects had also taken a woman to the airport and were watching her make her way through the security checks, prosecutors said.
"The searches turned up no evidence of preparations for an Islamist-terrorist attack," prosecutors and police said in a joint statement.
Police searched several apartments in western and southwestern Germany earlier on Friday.
Full report at:
https://uk.reuters.com/article/uk-germany-security-airport/german-police-rule-out-islamist-attack-plot-at-airport-idUKKCN1OK10Q
--------
Russia offers to host Palestine-Israel, Hamas-Fatah meetings
Dec 22, 2018
Russia has officially proposed to organize a meeting between chief Palestinian and Israeli officials as part of wider efforts to resolve the conflict between the two sides.
The announcement was made by Russian Foreign Minister Sergei Lavrov on Friday at a press conference held after a meeting with his Palestinian counterpart Riyad al-Maliki in Moscow.
"We see the desire of some external players to push the Palestinian problem into the background, depriving it of priority in regional affairs," Lavrov said.
To counter such attempts, the speediest restoration of Palestinian unity is of particular importance, he said.
He also expressed deep concern about the United States' stance on the Palestinian issue and its disregard for international resolutions.
During Friday's talks, Lavrov recalled that an intra-Palestinian dialogue was held in 2017, when participants discussed the possibility of repeating this practice in 2019 with the participation of all Palestinian factions, including Fatah and Hamas.
The Israelis do not rule out in principle the possibility of a meeting, but they are not yet ready to agree on a concrete date because of the absence of unity between the Palestinians, Lavrov said.
Maliki, in turn, said the Palestinian side is always ready to accept the Russian invitation to hold a meeting with Israelis, the Palestinian news agency Wafa reported.
He said Palestinian President Mahmoud Abbas had accepted the initiative of Russian President Vladimir Putin to organize a meeting with Israeli Prime Minister Benjamin Netanyahu in Russia, but the idea was rejected by the Israeli side.
Maliki further called on Russia and the international community to pressure Israel to abide by its agreements with the Palestinians and comply with the relevant international resolutions.
The Palestinian minister also stressed the need for finding an international mechanism on the basis of international references and resolutions, leading to a settlement based on a two-state solution and the establishment of an independent Palestinian state with East Jerusalem as its capital.
The Palestinian leadership has been divided between Fatah and Hamas since 2006, when the latter scored a landslide victory in parliamentary elections in the Gaza Strip. Hamas has ever since been running the coastal enclave, while Fatah has been based in the autonomous parts the Israeli-occupied West Bank.
Full report at:
https://www.presstv.com/Detail/2018/12/22/583593/Iran-Israel-Russia-Palestine-meeting
--------
Bulgaria adopts religious denominations act amendments
21.12.2018
The Bulgarian Parliament on Friday adopted an amendment bill on religious denominations that will see an increase in public subsidies for two largest religious communities -- Orthodox Christians and Muslims.
Under the amendments in the Religious Denominations Act, the Grand Mufti's Office will receive an annual support of €3 million (around $3.41 million) from the government.
Celal Faik, the secretary general of the Grand Mufti`s Office, told Anadolu Agency that: "Our lawmakers have accepted the most 'soft' version of the bill, which has been discussed for about three months."
According to the bill, each follower of different religions identified in the last census held in 2013 will receive €5 (around $5.7) aid per year.
Communities with a ratio of less than 1 percent to the general population of Bulgaria will also be supported every year from the state budget.
Bulgaria with a total population of 7 million hosts some 1.5 million Muslims.
Full report at:
https://www.aa.com.tr/en/europe/bulgaria-adopts-religious-denominations-act-amendments/1345571
--------
Pakistan
Had come to Pakistan for research on Islam, says detained Czech model in fresh about-turn
by Mahmood Idrees
December 21, 2018
LAHORE – In a big shift in her previous statement, Czech model Tereza Hluskova, who was arrested for trying to smuggle nine kilogrammes of heroin, said that she had come to Pakistan to conduct research on Islam.
The foreign model had earlier confessed to smuggling heroin to the United Arab Emirates but now, she claimed that the purpose of his visit to do research on the religion, reported local media.
In the latest about-turn, she also denied smuggling the drugs from the Allama Iqbal International Airport Lahore, adding that the officials arrested her for no reasons.
Earlier this year, Tereza Hluskova was travelling to Ireland via Abu Dhabi when she was caught by Customs officials after successfully passing through two Anti-Narcotics Force (ANF) checking counters at Allama Iqbal International Airport in January. She was shifted to Customs House after the officials refused to hand her over to the ANF.
https://en.dailypakistan.com.pk/pakistan/had-come-to-pakistan-for-research-on-islam-says-detained-czech-model-in-fresh-about-turn/
--------
COAS confirms death sentences of 14 convicted in military courts
DECEMBER 22, 2018
RAWALPINDI: Chief of Army Staff General Qamar Javed Bajwa on Friday confirmed death sentences awarded to 14 men convicted on terrorism charges by military courts.
The information was shared in a statement issued by the Inter-Services Public Relations (ISPR).
The statement said the convicted men were involved in heinous offences related to terrorism, including attacking the Armed Forces/Law Enforcement Agencies of Pakistan, destruction of communication infrastructure, police station, educational institution and killing of innocent civilians.
As many as 16 people including 13 Armed Forces personnel died in these incidents and 19 suffered injuries, the ISPR said.
The convicts were tried by special military courts with 20 convicts being awarded imprisonment, the statement added. They were identified as follows: Mohi Ud Din S/O Salah Ud Din and Gul Zameen S/O Shah Kameen Khan, members of a proscribed organisation. They were involved in attacking Armed Forces and Law Enforcement Agencies, which resulted in the death of a civilian, three soldiers and injuries to five other soldiers, the ISPR said. They were also found in possession of explosives. The press statement said that the convicts admitted their offences before the Judicial Magistrate and also while making a statement at their respective trials. They were awarded death sentence.
Fazal Hadi S/O Bakht Rawan, a member of a proscribed organisation, was involved in an attack which resulted in the death of three soldiers. He was also involved in the destruction of Hazara/ Gulibagh Bridge and a police station as well as the kidnapping of two civilians for ransom. The convict confessed his offences before the Judicial Magistrate and during his statement at the trial, said the ISPR. He was awarded death sentence.
Muhammad Wahab S/O Hazrat Buland, Gul Muhammad S/O Ghulam Sardar, Bashir Ahmed S/O Nadir Khan and Afreen Khan S/O Masam Khan were involved in an attack which resulted in the death of Subedar Awal Khan, Naik Azmat Ullah and injuries to another soldier. They were also found in possession of firearms and explosives. These convicts confessed their offences before the Judicial Magistrate and also while making a statement at their respective trials, said the ISPR statement. They were awarded death sentences.
Barkat Ali S/O Bakht Hazir, Muhammad Islam S/O Muhammad Zada, Rooh Ul Amin S/O Zarin and Shtamand S/O Baishmand were involved in killing of innocent civilians and attacks which resulted in death of civilians Muhammad Umar, Mukhtiar Ahmad, Havildar Allah Dita and Sepoy Bacha Hussain and injuries to two civilians. They were involved in the destruction of Government Girls educational institutions in Swat. They were also found in possession of firearms and explosives. The convicts admitted their offences before the Judicial Magistrate and also while making a statement at their respective trials, said the statement. They were awarded death sentences.
Bacha Wazir S/O Bakhat Nazir was involved in an attack which resulted in the death of Naik Ghulam Hassan and injuries to another soldier. He was found in possession of firearms and explosives. The convict confessed his offences before the Judicial Magistrate and during his statement at the trial, according to the ISPR. He was awarded death sentence.
Mohammad S/O Abdul Shakoor was involved in an attack which resulted in the death of Sepoy Sajid Khan and injuries to five other soldiers. He was also found in possession firearms and explosives. The convict confessed his offences before the Judicial Magistrate and during his statement at the trial, said the statement. He was awarded death sentence.
Full report at:
https://dailytimes.com.pk/336138/coas-confirms-death-sentences-of-14-convicted-in-military-courts/
--------
Opposition in Senate rejects 'selective accountability'
Iftikhar A. Khan
December 22, 2018
ISLAMABAD: As the opposition in the Senate rejected on Friday what it called selective accountability and voiced concern over "witch-hunt in the name of accountability", parliamentary leader of the Pakistan Peoples Party in the house Sherry Rehman questioned the purpose and timing of the prime minister's assistant Shahzad Akbar's meeting with a joint investigation team (JIT) probing the money laundering case ahead of former president Asif Ali Zardari's appearance before a banking court.
Raising the issue on the floor of the house, Senator Rehman said: "According to media reports, Special Assistant to the Prime Minister on Accountability Shahzad Akbar held a meeting with JIT members at FIA office and summoned witnesses as well. Why is Shahzad Akbar holding meetings with JIT representatives when Asif Zardari is expected to appear before banking court for bail extension?"
She expressed concern over the government's influence on the accountability process and said: "The government is doing politics of victimisation in the name of accountability. It seems the government and accountability institutions are working and conspiring together. If government claims it has no role in cases against PPP leaders, why Special Assistant to the Prime Minister on Accountability Shahzad Akbar was holding meetings with JIT members all the night? The government will have to explain the purpose of the meeting but unfortunately there is no federal minister in the house to speak on this serious issue."
The joint opposition walked out of the Senate in protest against the absence of government ministers.
Former Senate chairman Mian Raza Rabbani, while taking part in the discussion on the president's address to the joint sitting of parliament, called for across-the-board accountability, saying that selective accountability was unacceptable.
He said that politicians, bureaucrats, military officers and members of the judiciary should be tried under the same law and proposed formation of a federal accountability commission for the purpose. He said that use of accountability as a tool to advance political agenda had not worked.
Likewise, he added, the attempts to run political parties through "remote control" had also served no purpose. Observing that it was time to stop playing games with the state, he said discretionary powers of the National Accountability Bureau (NAB) chairman must be abolished.
Noting that several opportunities had been lost, Mr Rabbani referred to a Supreme Court directive to do away with the plea bargain deal provision from the NAB law. He said the apex court had warned that it would strike down the law itself if it was not done by February. The PPP senator asked the government to do it before the court acted, saying that there would be no room for objection in such a step by the court.
He said the Constitution provided for trichotomy of powers, but regretted that there was a lack of harmony among state organs, including parliament, the executive and the judiciary that led to encroachment upon the domain of one institution by the other. He said the state effectively functioned and the institutions strengthened only when the constitutional requirements were met.
Mr Rabbani regretted that about six years had passed but the National Finance Commission (NFC) award had not seen light of the day.
Terming parliament mother of all institutions, he said the executive was answerable to both houses of parliament, adding that attempts were under way to render parliament dysfunctional. "I was shocked and bewildered when the foreign minister said there were certain things which could not be shared (with the Senate)".
He said that an in-camera session of parliament could be convened if some sensitive matters were involved, adding that a joint meeting of the Senate committees on defence and foreign affairs could also be held.
The former Senate chairman called for immediate constitution of a parliamentary committee on national security.
Senator retied Gen Abdul Qayyum said that improvement in governance was the key to addressing the root cause of corruption, adding that steps should be taken for capacity development and judicial, civil services and police reforms should be introduced.
He said the president should have touched upon the global threats and their magnitude. He was of the view that Pakistan was in a disastrous situation and faced with two-directional threat. Warning that the dimensions of hybrid warfare were lethal, he said diplomatic efforts should be made to defuse the threat.
Full report at:
https://www.dawn.com/news/1452964/opposition-in-senate-rejects-selective-accountability
--------
'Generous support': UAE pledges $3bn to boost Pakistan's liquidity, reserves
December 21, 2018
The United Arab Emirates has announced its intention to deposit US$3 billion (equivalent to AED11 billion) in the State Bank of Pakistan "to support the financial and monetary policy of the country", reported WAM, the official news agency of the Emirates. The Abu Dhabi Fund for Development said, in a statement today, that it will deposit the said amount in the coming days to enhance liquidity and monetary reserves of foreign currency at the bank.
The country's support for Pakistan's fiscal policy is based on the historical ties between the two people, said WAM, and the two friendly countries and the desire to further develop the bilateral cooperation in all fields.
Following the announcement, Prime Minister Imran Khan took to Twitter to thank the UAE government for "supporting Pakistan so generously in our testing times".
"This reflects our commitment and friendship that has remained steadfast over the years," said the prime minister.
The Abu Dhabi Fund for Development has financed eight development projects in Pakistan with a total value of AED1.5 billion, including AED931 million in grants, added WAM. The funds covered projects in sectors such as energy, health, education and roads.
Pak-UAE ties
The PTI-led government, which completed its 100 days in power on November 26, counted "resetting relations with key partners including Saudi Arabia and the UAE" among its accomplishments in its performance report.
Since assuming office in August, the premier has visited the UAE twice.
The first visit took place in September when Khan visited Saudi Arabia and then the UAE. He was received by Crown Prince of Abu Dhabi Sheikh Mohammed bin Zayed bin Sultan Al Nahyan and the two countries had agreed to strengthen economic, trade and investment relations.
The next month, a UAE delegation — comprising CEOs/senior officials of major companies including Mubadala Petroleum, ADIA (Sovereign Wealth Funds), Etisalat, DP World, Dubai Investment Authority, Emaar Properties, Aldahra Agriculture and Abu Dhabi Fund for Development — arrived in Pakistan.
According to Foreign Minister Shah Mahmood Qureshi, the one-day visit of the delegation — headed by Dr Sultan Aljaber, minister of state and CEO of Abu Dhabi National Oil Company — was a follow-up to the prime minister's maiden visit to Abu Dhabi.
In November, the premier embarked on his second trip to the UAE amid reports that the gulf state was ready to extend financial assistance to Pakistan. Khan was received by the Abu Dhabi crown prince in the UAE capital and was accorded a reception at the presidential palace, which was followed by delegation-level talks.
He was accompanied by a high-level delegation comprising Foreign Minister Qureshi, Finance Minister Asad Umar, Petroleum Minister Ghulam Sarwar Khan, Power Minister Omar Ayub Khan, PM's Adviser on Commerce Abdul Razak Dawood, PM's Adviser on Accountability Shahzad Akbar and Chief of the Army Staff Gen Qamar Javed Bajwa, among others.
Full report at:
https://www.dawn.com/news/1452799/generous-support-uae-pledges-3bn-to-boost-pakistans-liquidity-reserves
--------
New provinces be made on administrative grounds: Tahirul Qadri
December 22, 2018
LAHORE: The new provinces should be on administrative rather than linguistic grounds, demands Pakistan Awami Tehreek chief Dr Tahirul Qadri.
Addressing his party workers, he said "for the first time, all parties – both in government and in opposition – are now in favour of south Punjab province and this opportunity should not be missed. Stock of administrative issues should be taken and the initiative be taken. By creating new provinces on administrative preferences, issues like unemployment, education and poverty alleviation can be better handled. It will further ensure judicious allocation of funds, better resource mobilisation and justice at local level. All these steps need to be taken and taken urgently," he said.
He expressed his satisfaction over court's allowing formation of new Joint Investigation Team (JIT) for a probe into Model Town incident. "The previous government formed the JIT unilaterally, which also worked unilaterally: totally ignoring the PAT point of view. The present government has also played a positive role in formation of a new JIT, which is praiseworthy. The PAT is convinced that justice will only be delivered when characters behind the veils are unveiled. The new JIT would, hopefully, do the job as per satisfaction of heirs of those killed in the incident."
https://www.dawn.com/news/1452847/new-provinces-be-made-on-administrative-grounds-tahirul-qadri
--------
Sanjrani visits headquarters of military alliance during Saudi visit
Dec 22, 2018
ISLAMABAD: Senate Chairman Muhammad Sadiq Sanjrani during his official visit to Saudi Arabia visited the Headquarters of the military alliance established under command of Saudi Arabia for the restoration of legitimate government in Yemen along with members of his delegation.
Chief of the Military Alliance Lieutenant General Prince Fahad Bin Turki Bin Abdul Aziz Al Saud gave a briefing to the visiting delegation regarding the joint military forces and their operations, says a press release.
Senate chairman expressed appreciation of the warm welcome and hospitality from the hosts. Sadiq Sanjrani observed that the Muslim Ummah was facing a heap of issues of which terrorism was the primary and Saudi Arabia had also faced a number of such incidents planned internally and externally. He remarked that Pakistan has always stood against terrorism and its incited activities and will always support the cause of rooting out terrorism. He said that Pakistan supports the unconditional restoration of peace and return of occupying rebel forces. He appreciated the efforts of the joining military forces in the restoration of peace in Yemen. The delegation was told by the chief of the military alliance that prominent success has been achieved in restoring peace and return of rebels in Yemen.
Senate chairman expressed his hope that the coalition of military forces will garner more support from other countries and be more successful. He said that His Majesty King Salman Bin Abdul Aziz and Crown Prince Muhammad Bin Salman have taken all possible measures for bringing peace in Yemen and for rehabilitation of people which is highly commendable.
Full report at:
https://www.pakistantoday.com.pk/2018/12/22/sanjrani-visits-headquarters-of-military-alliance-during-saudi-visit/
--------
'US-Pakistan relations improving despite attempts to ruin them'
Muna Habib
DECEMBER 22, 2018
Democratic Congresswomen Sarah Jackson has launched the Congressional Pakistan Caucus Foundation (CPCF) at the Pakistan's Embassy to help young American-Pakistanis engage politically, despite the recent dip in bilateral relations between the two countries.
Speaking to journalists at the launch event, Jackson said: "Even though funds were cut in the appropriations – the amendments that came to the floor to try to make it worse did not get support."
Speaking on the trajectory of the Pakistani- American relationship, she said that the strength of Pakistan "is a very strong Pakistani- American community" that will help improve the bilateral relationship.
"The remarks by some members of the Trump's administration don't characterise the totality of our relationship and I would like to see continued dialogue and engagement, especially with the new PM," she said.
Her view was echoed by Californian Democratic Congressman Eric Swalwell, who voted against US President Donald Trump's attempts to cut aid to Pakistan. "Suspending aid and elevating controversial issues above all other concerns is not the way to deal with Pakistan," he said.
On the launch of the CPCF, he said: "Part of the mission of the foundation is to encourage young Pakistani Americans to come to Washington. The foundation will provide funds to those young people who do not have the financial means to work without pay."
The Congressional Pakistan Caucus Foundation (CPCF), a non-partisan non-profit group, will work with the Congressional Pakistan Caucus. The foundation will include members of Congress working with Pakistani Americans. The aim of the foundation will be to help provide opportunities for American Pakistani young people in the US Political system.
Full report at:
https://dailytimes.com.pk/335996/us-pakistan-relations-improving-despite-attempts-to-ruin-them/
--------
Pakistan stands with China in face of US-led claims
Dec 21, 2018
Pakistan has defended China over its treatment of minority Muslim community, describing US and other Western claims of rehabilitation centers for Uighurs as media sensationalism.
Lawmakers in Pakistan's northernmost region of Gilgit-Baltistan demanded earlier this year that authorities in China's Xinjiang province immediately release dozens of Chinese women married to Pakistani men.
Mohammad Faisal, spokesman for Pakistan's ministry of foreign affairs, said in Islamabad some media outlets were spreading fake news about the Chinese women married to Pakistani nationals.
"Some section of foreign media are trying to sensationalize the matter by spreading false information," Faisal said.
"As per Chinese authorities, out of 44 women, six are already in Pakistan. Four have been convicted on various charges, three are under investigations, eight are undergoing voluntary training. Twenty-three women are free and living in Xinjiang of their own free will."
Human Rights Watch has accused the Chinese government of carrying out "repressive policies" against the Muslims in Xinjiang.
It has claimed governmental controls over day-to-day life in Xinjiang, primarily affecting ethnic Uighurs, Kazakhs and other minorities.
According to estimates cited by a UN panel, numerous camps have been set up in China's vast Xinjiang region, holding as many as one million ethnic Uighurs and other Muslim minorities.
Chinese officials have dismissed the allegations and instead characterized the camps as "vocational education and employment training centers" for "criminals involved in minor offenses."
They have long linked their measures in Xinjiang with counter-terrorism efforts, arguing that separatists are bent on joining Takfiri terrorists like al-Qaeda.
Last March, Chinese President Xi Jinping called on the military to erect a "Great Wall of Steel" around the restive region after an apparent spike in killing that authorities blame on Takfiri terrorists.
Pakistan's pronouncement of support for China comes amid Islamabad's tensions with the US, which have escalated under the Trump administration.
Full report at:
https://www.presstv.com/Detail/2018/12/21/583532/Pakistan-China-Muslim-Uighur
--------
Arab World
White Helmets Engaged In Organ Trafficking, Aiding Terrorists, Looting In Syria: Watchdog
Dec 21, 2018
The Western-backed White Helmets "aid" group has engaged in organ trafficking, terrorist logistics support and looting in Syria, a report presented to the UN said.
The evidence was presented by the director of the Russia-based Study of Democracy Foundation Maxim Grigoriev on Thursday.
The report is based on interviews with over 100 eyewitnesses, including 40 White Helmets members, 50 local residents and 15 former terrorist fighters.
Over 500 civilians were also surveyed in the Syrian cities of Aleppo and Deraa.
"There is overwhelming evidence which proves that the White Helmets centers were permanently engaged in building fortifications for battle positions for terrorist and illegal armed groups who had been supplying them with water and food and evacuating wounded terrorists from the front line," said Grigoriev.
Grigoriev detailed how the group provided logistics support for armed groups, assisting in transporting troops and supplies.
The researcher went on to quote a White Helmets member from the formerly terrorist-held Syrian town of Douma saying, "for instance, we dug trenches in the towns of Mesraba and al-Shaifuniya and constructed an earthen mound."
The director presented harrowing accounts indicating the group's involvement in human organ trafficking.
"People evacuated by the White Helmets often did not come back alive," Grigoriev said quoting a witness from an area where the group operated.
"For example, a person receives a minor injury, is rescued, evacuated and then brought back with their stomach cut open and with their internal organs missing."
Citing reports from the organization's members in the Syrian town of Saqba, the study also revealed extensive corruption within the group's network, with leaders making private gains out of donations and members looting the civilian population.
"Sometimes we came to help, entered a flat, and, if we found gold or jewelry, seized it," Grigoriev quoted a White Helmets member in Douma. "In one flat, there was a woman who felt ill, we came to help her, found some gold and stole it."
Reiterating previous reports about the group's attempts at staging civilian casualties and chemical attacks, Grigoriev pointed to a particular case in Jisr al‑Haj, Aleppo where trash was set on fire and bodies were brought from a local morgue to stage a filmed rescue.
A written testimony from a White Helmet member claimed that everyone involved had received an extra $50 for the effort.
Grigoriev went on to explain that "undeniable evidence" indicated the group had been taking written orders from terrorist groups and that almost all group members were paid staff, not volunteers.
The evidence, the researcher said, proved that the White Helmets is not an "aid group" but an extension of terrorist groups in Syria.
"Facebook accounts of members of the White Helmets are full of propagandist materials of terrorist groups, including [Daesh] and al-Qaeda, praising Osama bin Laden and other individuals listed by the UN as terrorists," added Grigoriev.
The director highlighted that "hundreds of photos with weapons in their hands" were available on social media.
Russia's UN envoy Vassily Nebenzia, who was also present at the UN hearing, said the evidence showed that "the White Helmets deserve to be on the United Nations' designated terrorist list."
The so-called White Helmets group, projected by the West as "civil defense workers," was established by former British Army officer James Le Mesurier in 2014.
The self-styled volunteer rescue group has been repeatedly accused of acting as the media arm for Takfiri terrorist groups, and charged with staging false flag chemical attacks in a bid to prompt Western military intervention in Syria.
In July, several hundred people affiliated with the group were evacuated from southern Syria to Israel amid a successful Syrian Army operation in the region.
The UK, Canada, and Germany have proudly announced interest in accepting the White Helmets as refugees.
https://www.presstv.com/Detail/2018/12/21/583535/White-Helmets-guilty-of-heinous-crimes
--------
Dozens of civilian bodies found in mass grave in Iraq's Kirkuk Province
Dec 21, 2018
Iraqi authorities have uncovered a mass grave in the country's northern province of Kirkuk that contains the remains of dozens of civilians believed to have been executed by Daesh Takfiri terrorists when they were in control of the area.
Adel Ismail, a lieutenant-colonel in the Iraqi federal police force, told media outlets on Friday that the latest macabre discovery was made on Thursday in the Hawija district of Kirkuk province.
The official noted the grave contained the remains of "innocent Iraqi civilians" who "were abducted and then killed" by Takfiri terrorists.
Wani Firas, a resident of the area, said it was found in what appears to be a deep well in the Al-Abbassi area of Hawija.
"This is a mass grave used by Daesh." Firas said, adding, "They used to come here, execute and throw (the victims) inside, and we used to watch and observe from nearby."
This comes as security forces have discovered dozens of mass graves since they drove out Daesh terrorists in 2017 after three years of occupation of swathes of northern and western Iraq.
The Office of the UN High Commissioner for Human Rights (OHCHR) says more than 200 mass graves, containing the remains of thousands of people, have been discovered in territories previously controlled by Daesh Takfiris in Iraq.
"The UN Assistance Mission for Iraq (UNAMI) and the UN Human Rights Office have documented the existence of 202 mass grave sites in the provinces of Nineveh, Kirkuk, Salahuddin and Anbar in the northern and western parts of the country," the OHCHR said in a report published last month.
The UN body further noted that there are maybe more mass graves, and it is difficult to determine the total number of people in the mass graves.
Former Iraqi Prime Minister Haider al-Abadi declared the end of military operations against Daesh in the Arab country on December 9, 2017.
On July 10 that year, he formally declared victory over Daesh in Mosul, which served as the terrorists' main urban stronghold in the conflict-ridden Arab country.
In the run-up to Mosul's liberation, Iraqi army soldiers and volunteer Hashd al-Sha'abi fighters had made sweeping gains against Daesh.
Iraqi forces took control of eastern Mosul in January 2017 after 100 days of fighting, and launched the battle in the west on February 19 last year.
Daesh began a terror campaign in Iraq in 2014, overrunning vast swathes in lightning attacks.
Full report at:
https://www.presstv.com/Detail/2018/12/21/583567/Iraq-Adel-Ismail-Kirkuk-Daesh-OHCHR
--------
Saudi Arabia welcomes new UN resolution on Yemen
21 December 2018
Saudi Arabia has welcomed on Friday the new UN security council resolution on Yemen and said that it confirms the success of military pressure on Houthis.
The kingdom also said that the presence of international observers will prevent Houthis from obstructing and violating the ceasefire in Hodeidah.
The kingdom pointed out that the resolution reassures that the diplomatic efforts by Saudi foreign minister Adel al-Jubeir and Saudi ambassador to the UN Abdullah al-Mouallimi had direct influence on the international community's decisions.
The kingdom also clarified that the resolution supports the Sweden deals as well as confirms the effectiveness of resolution 2216.
Full report at:
https://english.alarabiya.net/en/News/gulf/2018/12/22/Saudi-Arabia-welcomes-new-UN-resolution-on-Yemen-.html
--------
Arab Coalition: Houthis violated Hodeidah ceasefire 62 times in 72 hours
21 December 2018
The Arab Coalition said on Friday that Houthis violated the Sweden deal on a ceasefire in Hodeidah.
The Coalition added that the ceasefire has been breached 62 times in the past 72 hours.
The Houthi breaches included attacks with different kinds of arms, according to the coalition supporting the Yemeni legitimate government.
Areas where the ceasefire deal was violated include Ad Durayhimi, At Tuhayat, al-Hali and other areas, the coalition said.
The Coalition also expressed its support for the Yemeni army's commitment to the ceasefire.
Full report at:
https://english.alarabiya.net/en/News/gulf/2018/12/21/Arab-Coalition-Houthis-violate-Swedish-agreement-on-ceasefire-in-Hodeidah.html
--------
27 killed in US airstrikes on Syria's Dayr al-Zawr
Dec 22, 2018
The US and its allies have conducted air raids on Syria's eastern Dayr al-Zawr province, killing more than two dozen people, including eight children.
The so-called Syrian Observatory for Human Rights (SOHR) said that the deadly strikes hit the village of al-Sha'afa, situated on the eastern bank of the Euphrates River, on Friday.
"At least 27 people were killed this morning in al-Sha'afa," SOHR head Rami Abdel Rahman said, adding that several people were seriously injured in the US-led coalition attacks.
He further noted that eight children were among the civilian victims of the airstrikes.
Al-Shaafa and Hajin are the two main villages in the last pocket of territory still occupied by the Daesh Takfiri terrorist group in Dayr al-Zawr near the Iraqi border.
The Syrian army managed to liberate Dayr Al-Zawr city from the grip of Daesh in November 2017.
The US and its allies have been bombarding what they call Daesh positions inside Syria since September 2014 without any authorization from the Damascus government or a UN mandate.
The aerial assaults have failed to fulfill their declared aim of countering terrorism, but destroyed much of Syria's infrastructure and left many civilian casualties.
The fresh US air raids came two days after President Donald Trump announced an abrupt decision to pull out American troops from Syria after claiming victory over Daesh there.
The Pentagon also confirmed that it had started the process of withdrawing all 2,000 American troops from Syria
Trump's announcement, however, raised concerns among Washington's European and regional allies, which have long been supporting a myriad of anti-Damascus militants.
Full report at:
https://www.presstv.com/Detail/2018/12/22/583600/Syria-Dayr-Zawr-strike
--------
Netanyahu says Israel to increase its "efforts" in Syria after US troop pullout
Dec 21, 2018
Prime Minister Benjamin Netanyahu has vowed to intensify Israel's "efforts" in Syria after US President Donald Trump announced a full withdrawal of American troops from the Arab country.
"We will continue to act in Syria to prevent Iran's efforts to militarily entrench itself against us. We are not reducing our efforts, we will increase our efforts," Netanyahu said on Thursday.
"I know that we do so with the full support and backing of the US," Netanyahu said at the fifth Israel-Greece-Cyprus summit held in Beersheba.
Netanyahu said Wednesday he had received advanced warning of the US troop pullout from Syria in telephone conversations with Trump on Monday, and US Secretary of State Mike Pompeo on Tuesday.
Trump on Wednesday announced that US troops had defeated the Daesh terrorists in Syria and he sought to pull some 2,000 US troops out of Syria.
Trump's decision upended a central pillar of US Middle East policy, and stunned US lawmakers and allies, who challenged the president's claim of victory against Daesh.
But Trump says no one should be surprised by the abrupt announcement.
Israel to continue operations along Lebanon border
In his Thursday comments, the Israeli premier also vowed that the Israeli military will continue its operations along the occupied Palestinian territories' border with Lebanon, where Tel Aviv claims are tunnels dug by the Lebanese Hezbollah resistance movement.
"These tunnels were built by Hezbollah with direct support and funding from Iran," Netanyahu claimed.
He also described it as part of "the Iranian web of aggression in the Middle East" and vowed to keep destroying the "tunnels" until its total annihilation.
Back on Dec. 4, the Israeli military started its operation along Lebanon's border under the pretext of "cutting off" the alleged tunnels.
Israeli military spokesperson Lieutenant Colonel Jonathan Conricus claimed that "a number of tunnels" had penetrated the Israeli-occupied territories.
He claimed that Hezbollah has been developing an offensive plan that would "shift the battleground into Israel." According to unnamed Israeli officials, the operation would likely "take weeks."
Israeli military spokesperson Avichay Adraee said the Lebanese government was responsible for the build-up of the tunnels.
Lebanese Prime Minister-designate Saad Hariri warned the Tel Aviv regime against launching a new military aggression against his country, saying they would not succeed in case it opted to do so.
Delivering a speech at the Chatham House think tank in London on Dec. 13, Hariri downplayed the possibility of Israel waging another war on Lebanon, questioning what the Israeli military's previous wars had accomplished.
"Did Israeli attacks weaken Hezbollah?" he commented.
Hariri noted that whilst Beirut does not want war, the Tel Aviv regime does not want peace.
Full report at:
https://www.presstv.com/Detail/2018/12/21/583543/Netanyahu-Syria-Iran-Lebanon-Trump-Hezbollah
--------
Egyptian delegation joins talks in Makkah
December 21, 2018
JEDDAH: Saudi Arabia's Hajj and Umrah Minister Mohammed Salih Bentin held talks with Maj. Gen. Mohammad Amr Ali Lutfi, assistant minister of interior for administrative affairs in Egypt, and his delegation in Makkah on Thursday.
The two men discussed cooperation in the field of Hajj and Umrah, as well as issues of common interest.
Last week, the Saudi minister separately received Sudanese, Algerian and Palestinian delegations.
Meanwhile, Dr. Abdulfattah bin Suleiman Mashat, deputy minister of Hajj and Umrah, held discussions with Sheikh Maksatbek Toktomushev, the mufti of Kyrgyzstan.
Full report at:
http://www.arabnews.com/node/1424126/saudi-arabia
--------
North America
Official: US, Saudi, UAE work to reach peace deal in Afghanistan by 20 April
21 December 2018
Afghan peace talks held in the United Arab Emirates will yield "very positive results by the beginning of next year", the Saudi ambassador to Washington said on Thursday, adding to hopes of progress to end the 17-year war in Afghanistan.
Khalid bin Salman added on his Twitter account that the talks were productive and would "help promote intra-Afghan dialogue towards ending the conflict".
The US special envoy for Afghan peace talks, Zalmay Khalilzad arrived in Kabul on Wednesday to meet government leaders following his discussions with Taliban representatives in Abu Dhabi earlier this week.
Officials from Saudi Arabia and the United Arab Emirates took part in the Abu Dhabi meeting, at least the third encounter between Khalilzad and Taliban envoys since he was named to oversee the peace effort from Washington's side in September.
In an interview with Afghanistan's Ariana Television, Khalilzad repeated that, ideally, an agreement would be reached before presidential elections, currently scheduled for April 20.
"I think it would be great if we could reach a peace deal before the elections," he said, according to a transcript provided by the U.S. Embassy in Kabul.
"But it doesn't only depend on Afghanistan's government. It depends on the Taliban too,"
The United States insists that any peace settlement must be agreed between Afghans but the Taliban have so far publicly refused to talk directly to the Afghan government, which they say is an illegitimate, foreign-imposed regime.
In a separate interview with Tolo News, Khalilzad said Trump was "in a hurry", having promised the American people that he wanted to end the war in Afghanistan.
"But it should not be misinterpreted - we want peace here with respect to set objectives - that Afghanistan will not be a threat for the U.S. - and that we have a positive relationship with Afghanistan," he said.
"... but if the Taliban are not prepared for that and war continues, then we will stand by the Afghan government and people," he said.
Washington hopes Saudia Arabia and the UAE can push Pakistan to use its leverage on the Taliban to drop their refusal to talk directly with the Afghan government.
Khalilzad said that during the Abu Dhabi meeting, the two countries had proposed a three-month ceasefire between the Taliban and the Afghan government but that the Taliban had asked for more time to consult with their leadership
"We told them, if they want peace or if they are serious about peace, they should sit with the Afghans and respond as soon as possible to the Emirati and Saudi suggestion."
https://english.alarabiya.net/en/News/world/2018/12/21/Official-US-Saudi-UAE-work-to-reach-peace-deal-in-Afghanistan-by-20-April.html
--------
Erdogan declares support for Iran, defies US sanctions
21 December 2018
Turkish President Recep Tayyip Erdogan said on Thursday that Turkey did not approve of US sanctions on Iran, as they would lead to destabilization in the region, Turkish state-run Anadolu news agency reported.
"The US decision on the sanctions against Iran puts regional safety and stability in danger," Erdogan said. "I want to stress once more that we, Turkey, do not support these decisions."
"We will continue to be in solidarity with brotherly Iran at a time when pressures on Iran mounts which we find unjust," Erdogan said at a news conference with his Iranian counterpart Hassan Rouhani in the Turkish capital Ankara, according to Ahvalnews.
Erdogan said Ankara was ready to take any measures to decrease the negative impacts of the sanctions on economic relations between Turkey and Iran. The Iranian president called US sanctions a 100 percent terrorist act.
Turkey is among eight countries to which the United States granted a six-month exemption for trading with Iran when a new round of sanctions on Iranian financial activities and oil and gas sales went into force on Nov. 5.
Full report at:
https://english.alarabiya.net/en/News/world/2018/12/21/Erdogan-declares-support-for-Iran-defies-US-sanctions.html
--------
NATO vows continued engagement in Afghanistan amid US troop pullout plan
Dec 21, 2018
NATO has emphasized its commitment to maintaining its armed forces in Afghanistan despite Washington's announcement of its intent to pull out thousands of US troops from the war-torn country.
"Our engagement is important to ensure that Afghanistan never again becomes a safe haven for international terrorists who could threaten us at home," NATO's spokeswoman Oana Lungescu said on Friday as quoted in an AFP report.
She declined, however, to comment on the recently announced plan by US President Donald Trump to withdraw a considerable number of the 14,000 American military service members deployed in Afghanistan.
Lungescu underlined that NATO foreign ministers met as recently as this month to express "steadfast commitment to ensuring long-term security and stability in Afghanistan."
The report also quoted an unnamed US official as saying that a "decision has been made. There will be a significant withdrawal."
This while US-based news outlets have also reported that more than 7,000 American troops are due to return home from Afghanistan.
Responding to press inquiries about such reports, Lungescu only stated: "We have seen the reports. For any comments, I refer you to the US authorities."
Moreover, the NATO spokeswoman pointed to Washington's key role in the alliance and specifically hailed US Defense Secretary Jim Mattis, who dramatically announced his resignation on Thursday. "Secretary Mattis has made a key contribution to keeping NATO strong and ready to deal with the significant security challenges we face."
"He is widely respected as a soldier and a diplomat... We are grateful for the iron-clad commitment of the United States to NATO," Lungescu added. "US leadership keeps our transatlantic alliance strong."
According to the report, a contingent of the US forces deployed to Afghanistan are part of the NATO-led Resolute Support mission, purportedly engaged in training and advising local Afghan troops battling Taliban militants.
An unspecific number of American combat forces in Afghanistan, however, are part of a US-led so-called "counter-terrorism mission," and it is not clear from initial press reports which of the troops will be the first to be withdrawn from the terror-ravaged nation.
Trump has often been at odds with fellow NATO leaders, accusing a number of European allies, such as Germany and France, of not contributing sufficiently to the alliance in terms of military spending.
A massive US-led military force invaded Afghanistan in 2001 in a declared "war on terror," initially aimed at toppling the ruling Taliban regime in the country and uprooting the presence of allied al-Qaeda terrorist group.
However, nearly 18 years later, Taliban and Daesh terrorists continue to plague Afghanistan. Numerous attempts by US emissaries have been made to engage Taliban in peace talks.
Full report at:
https://www.presstv.com/Detail/2018/12/21/583582/Afghanistan-US-NATO-troop-pullout-military-forces-spokeswoman-Oana-Lungescu-President-Donald-Trump
--------
Africa
Nigeria: Why Governments Should Recognise Religion's Role in Governance
21 DECEMBER 2018
By Sulaimon Salau
The need for governments at all levels to critically observe the role of religion in governance has been stressed, with optimism that dealing with various religious beliefs in fairness, equity and balance would engender peace and stability in the polity.
The Islamic Welfare Foundation (IWF) in a communique issued at the end of 2018 Conference on Islam in Nigeria (COIN) held at Crescent University, Abeokuta, said Nigerians are a very religious people and they desire that their different religions reflect in both the private and public lives, hence governments should recognize the role of religion in governance.
It stated: "While much of Christianity had been embedded in Nigeria's legal and social fabrics since the colonial era, it is not the same with Islam. This is what causes agitation among Muslims who feel short-changed by the system. Equity and fairness in the Nigerian nation as well as trust and mutual understanding between the people, will be enhanced if a level playing field is created for all religions in the affairs of the nation.
"This is the only way Nigeria would evolve as a truly multi-religious nation as against her present status as a nation dominated by the religion of those who colonised the country. Our national creed going forward should be, "equal opportunity for all" it stated.
The group however implored religious leaders to promote ethical values, urging them to always seek balanced, transparent and patriotic intervention in national issues as religiosity and patriotism are mutually reinforcing.
The coneference which paraded speakers like Judge Abdul-Jabbar Bola Ajibola, Alhaji Sarafa Ishola, the Baba Adini of Yoruba Land, Edo and Delta and Mallam Yusuf Ali, Professor Ishaq Lakin Akintola and Reverend Clement Taiye Omidiora, appraised of the current situation in Nigeria regarding Islamic theocracy and modernism.
It was however observed that there is no contradiction between theocracy and modernism as both share common values such as freedom, peace, progress, morality, good conscience and good governance; the two major religions in Nigeria, Islam and Christianity, support theocracy and both uphold its applicability in contemporary Nigeria; and that Islamic Theocracy once governed some parts of Nigeria to the admiration of both local and international observers.
The group therefore recommended that advocates of Islamic theocracy should better propagate the idea by codifying what it entails and promote same through mass enlightenment and education.
https://allafrica.com/stories/201812210117.html
--------
Nigeria police arrests Boko Haram don behind 2015 Abuja bombing
Dec 22, 2018
Police in Nigeria have reported the arrest of a wanted Boko Haram commander believed to have masterminded major attacks in the country in 2015.
Police said their Intelligence Response Team, IRT, arrested Umar Abdul Malik in the commercial capital, Lagos. He is credited with masterminding two – Kuje and Nyanya – bombings in Abuja in 2015.
According to an unnamed security sources, Umar is also a bank robber and explosive expert whose operations have affected both civilians and especially members of the police.
Local media reports that police had engaged one of his gangs in Abuja following which he fled three weeks ago to Lagos. Four members of his gang were arrested in the IRT op that led to his arrest in an undisclosed area of the commercial capital.
Activities of a gang he leads is said to have resulted in the death of seven soldiers in Abuja. His operational axis is also said to extend to other states like Ondo and Edo.
"He was the grand commander of the attack and rescue operations of the prison in Niger States early this year, during which he lost one of his eyes. During the operation, over 100 prisonsers escaped," a security source is reported to have said.
Full report at:
http://www.africanews.com/2018/12/21/nigeria-police-arrests-boko-haram-don-behind-2015-abuja-bombing/
--------
Southeast Asia
Indonesian Muslims Protest Against China's Treatment of Uighurs
December 21, 2018
Jakarta: Hundreds of Muslims held a rally outside the Chinese embassy in the Indonesian capital, Jakarta, on Friday to protest against the treatment of members of the mostly Muslim ethnic Uighur minority in China's far western Xinjiang region.
A United Nations panel of human rights experts said in August it had received many credible reports that 1 million ethnic Uighurs in China were being held in what resembled a "massive internment camp that is shrouded in secrecy".
The United Nations called for the immediate release of those detained on the "pretext of countering terrorism".
Opposition groups in Indonesia, has the world's largest Muslim population, have criticised President Joko Widodo for not providing enough support for China's Uighur community.
"The United Nations must speak out, the OIC (Organisation of Islamic Cooperation) must speak out, Muslims must take a stand against the Chinese government," said protester Ridwan Abdul Ridho said on Friday.
China says Xinjiang faces a threat from Islamist militants and separatists. It rejects all accusations of mistreatment and denies mass internment, although Chinese officials have said some citizens guilty of minor offences were being sent to vocational centres to work.
China worries that Uighurs, who speak a Turkic language, have gone to places like Afghanistan, Pakistan, Syria and Iraq to fight for militants.
The Indonesian foreign ministry said it had summoned the Chinese envoy in Jakarta to "convey concern from various parties in Indonesia on the condition of people of Uighur in China" and called on China to respect freedom of religion.
https://www.news18.com/news/world/indonesian-muslims-protest-against-chinas-treatment-of-uighurs-1980265.html
--------
Groups in Sarawak denounce Islamic 'propagation' remarks by Malaysian minister
DEC 20, 2018
Four indigenous civil society groups in Sarawak on Thursday (Dec 20) joined church organisations to protest against remarks by Education Minister Maszlee Malik over Islamic propagation in state schools.
The indigenous organisations, which fight for human rights for Sarawak native groups, were protesting against his comments early this week that indicated schools in Sarawak and Sabah are fertile grounds for Islamic conversion.
Dr Maszlee said in Parliament that the two East Malaysian states are "medan dakwah" (arena for Islamic propagation).
He asked Muslim teachers from Peninsular Malaysia sent to Sarawak and Sabah to spread their faith by converting local non-Muslim students.
The four native groups are from the Orang Ulu and Dayak communities. representing Gerakan Anak Asal Sarawak, Borneo Resources Institute, Tanah Hak Bangsa Asal Sarawak and Save Sarawak Rivers. They held the protest in Miri.
Social activist Peter Kallang, chairman of Save Sarawak Rivers, told The Star that what Mr Maszlee said was very alarming.
"Teachers are civil servants. They cannot double as preachers to convert non-Muslim students. The Education Ministry is violating the rights of Sarawakian and Sabahan non-Muslims if it is sending teachers from the peninsula here to convert local students to Islam," he said.
The groups want an official investigation to determine how many teachers from the peninsula were coaxing students in East Malaysia under their charge to convert to Islam.
On Wednesday, the Association of Churches in Sarawak said it was "deeply concerned" about Mr Maszlee's comments.
"The statement by the Education Minister is not in the spirit of the Malaysia Agreement 1963 and appears to be sanctioning Islamic religious teachers from Peninsular Malaysia to promote Islamisation and propagation to local students in non-religious schools in Sabah and Sarawak," ACS said in a statement.
Mr Maszlee in a speech on Thursday said his words "medan dakwah" had been misunderstood.
"When I said teachers in Sabah and Sarawak must use it as a medan dakwah, some immediately think of religion. That is a narrow interpretation. Making someone smart is also dakwah."
"When I raised it in Parliament, those in Sabah and Sarawak (complained), saying I used schools for dakwah. I want to correct this. Teaching goodness is dakwah," he said, according to Malaysiakini news site.
Full report at:
https://www.straitstimes.com/asia/se-asia/groups-in-sarawak-denounce-islamic-propagation-remarks-by-malaysian-minister
--------
In Penang, similar rally by Muslims demanding justice for Adib
21 December 2018
GEORGE TOWN, Dec 21 — A group of representatives from various Muslim non-governmental organisations (NGO) held a peaceful demonstration in front of a mosque here after Friday prayers demanding justice for Muhammad Adib Mohd Kassim.
The group of about 100 gathered outside Masjid Jamek Hashim Yahaya here to demand that the police bring the culprits behind the firefighter's death to justice, around the same time their brethren did so in Putrajaya.
"The police must do their duty; don't be so slow. They must arrest those responsible and charge them with murder," one of them, Azmi Jaafar, said.
Several others took turns to speak to the crowd, calling for justice and demanding that the Fire and Rescue Department also submit a memorandum to the government and the police to arrest those behind Adib's death.
They said the Muslim and Malay NGOs would willingly collect funds to hire lawyers for Adib's family to take legal action.
"If the police need more funding to conduct a proper investigation, we will collect funds and donate it to them," one of them said.
Mohd Sophian Mohd Zain, from Persatuan Kebajikan Surplus Pulau Pinang, also called for minister P. Waytha Moorthy and Selangor exco V. Ganabathirau to be sacked, a demand also made in Putrajaya.
He said the government should heed the public's call for the sacking of the minister who he claimed had caused racial tension that escalated the Sri Maha Mariamman Devasthanam temple fracas.
The small crowd later marched to the nearest Fire and Rescue Department station that is located further down the road.
Full report at:
https://www.malaymail.com/s/1705250/in-penang-similar-rally-by-muslims-demanding-justice-for-adib
--------
NGO opposes mandatory HIV screening for non-Muslim couples
21 Dec 2018
PETALING JAYA: Sarawak AIDS Concern Society (SACS) is opposed to the proposal by the Women, Family and Community Development Ministry to make it mandatory for non-Muslim couples who intend to marry to undergo HIV testing.
"In echoing the statement by the Malaysian AIDS Council, Sarawak AIDS Concern Society (SACS) strongly objects the proposal.
"This is in line with the stance of World Health Organization (WHO) and UNAIDS that do not support compulsory screening of individuals for HIV.
"In screening a person for HIV, one's personal choice must be respected while adhering to ethical and human rights principles," it said in a statement on Friday (Dec 21).
Previously, Datuk Seri Dr Wan Azizah Wan Ismail said the Ministry was discussing with various ministries on making it mandatory for non-Muslims couple to undergo mandatory HIV testing before tying the knot.
The Malaysian AIDS Council had previously also criticised the Ministry's proposal saying that a compulsory HIV testing was not an effective, long-term solution, adding that HIV testing should be done on a voluntary basis.
SACS said compulsory HIV screenings would not provide any long-term solution in addressing the increase of HIV cases in the country.
It added that a negative result from a screening test provides a false sense of security that a person will never get infected by HIV after marriage.
"The risk of getting infected still exists if one continues to be involved in high-risk activities associated with HIV transmission after screening," it said.
Full report at:
https://www.thestar.com.my/news/nation/2018/12/21/ngo-opposes-mandatory-hiv-screening-for-non-muslim-couples/
--------
India
Hanuman's Many Avatars: From Hindu To Jain To Muslim Now Poof, Courtesy Another BJP Leader
December 21, 2018
There is a new theory in the market. Lord Hanuman never existed, propounded by another Bharatiya Janata Party (BJP) leader.
Another we say, because due to some divine intervention there have been a slew of only BJP leaders who are trying to guess Lord Hanuman's roots. And with no coherence on the raging issue of his possible antecedents
So after a Hindu (Dalit to be precise), a Muslim, a Jain and a Hindu again (Jat), Lord Hanuman is declared to be non-existent by Udit Raj, a BJP MP from Delhi -- albeit scientifically.
He told the media: "If we talk archaeologically, and scientifically, there is no physical proof that Hanuman ever existed."
Raj, though, seconded the assertion of his chief minister, Yogi Adityanath, too.
He said, "But if we overlook the facts, he must be a Dalit or a tribal."
ADITYANATH'S THEORY
Adityanath had, during a poll rally in Malakheda of Alwar district in November, said, "Hanuman was a forest dweller, deprived and a Dalit. Bajrang Bali worked to connect all Indian communities together, from north to south and east to west."
In furtherance, BJP MP Savitribai Phule on December 4 said Lord Hanuman was a slave to manuvadi people. Manuvad denotes upper caste.
By claiming that Hanuman as a slave to manuvadi people, Phule took a step ahead of Adityanath and referred to him as a tribal.
Hanuman Was A Jain Too
Following this, a Jain priest in Bhopal, Madhya Pradesh, claimed Lord Hanuman was a Jain.
Aacharya Nirbhay Sagar Maharaj, who heads a Jain temple in Samasgad, nearly 25 km from Bhopal, said according to Jain scriptures, Lord Hanuman was a Jain. He was part of the 169 great persons identified in Jainism.
AND THEN HE BECAME A MUSLIM
BJP MLC Bukkal Nawab was on December 20 quoted as saying by ANI that Lord Hanuman was a Muslim.
"Humaara maanna hai ki Hanumanji musalmaan thhay. Issliye musalmaanon mein naam rakha jaata hai Rehman, Ramzam, Farman, Zeeshan, Qurbaan. Saare naam kareeb kareeb unke naam se miltey hain [We believe Lord Hanuman was a Muslim. That's why all the Muslim names are derived from his name]," he said.
NO IF, NO BUT, BECAUSE HE WAS A JAT
A BJP minister in the Uttar Pradesh government on December 21 argued that Hanuman was a Jat.
And he has a justification too. When Jats see someone in trouble, he says, they jump in -- even if they don't know the people or the issue. He points out that Hanuman helped Ram and his abducted wife Sita without knowing who they were.
Whoa!
Adityanath should just do one thing -- call a cabinet meeting and decide what religion/caste/ethnicity Lord Hanuman really belongs to. Will help his men and the countrymen a great deal, we say.
https://www.indiatoday.in/india/story/hanuman-2-0-he-is-hindu-muslim-and-jain-but-scientifically-he-does-not-exist-1414631-2018-12-21
--------
6 terrorists killed in encounter in Jammu & Kashmir's Pulwama
Dec 22, 2018
NEW DELHI: Six terrorists were killed in an encounter in Jammu and Kashmir's Tral area of Pulwama district.
A foreign militant belonging to the Zakir Musa outfit, Ansar Ghazwatul Hind, was among the killed terrorists in the gunfight.
Swayam Prakash Pani, Inspector General of Police, confirmed that six terrorists were killed in the encounter.
A police official said arms and ammunition were recovered from the encounter site, adding the identity and group affiliation of the slain terrorists are being ascertained.
Security forces had launched a cordon and search operation in Arampora village in Awantipora, Tral this morning following specific intelligence input about the presence of terrorists there, a police official said.
Full report at:
https://timesofindia.indiatimes.com/india/six-terrorists-killed-in-encounter-in-jammu-kashmirs-pulwama/articleshow/67203481.cms
--------
What did I say to be called a traitor: Naseeruddin defends his comment on mob violence
December 21, 2018
A day after a controversy erupted over Naseeruddin Shah's remarks on mob violence, the veteran actor Friday clarified his intent saying he made those comments as a "worried Indian" and that he has the right to express concerns about the country he loves.
The 68-year-old actor had earlier voiced his concerns over how "the death of a cow has more significant than that of a police officer" and how he doesn't see "the situation improving anytime soon," referring to the Bulandshahr violence where a policeman lost his life to mob fury over alleged cow slaughter.
"What I said earlier was as a worried Indian. I have said this earlier as well. What did I say this time that I am being called a traitor? It is very strange," Shah told reporters at his alma mater, St Anselm's Senior Secondary School.
Responding to a question about the backlash he is receiving on social media, Shah asked, "I have to bear criticism. If they have the right to criticise, then I also have the same right. I am expressing concerns about the country I love, the country that is my home. How is that a crime?"
He had expressed anxiety over the growing mob violence in a video interview with Karwan-e-Mohabbat India, which the organisation shared on its YouTube channel on Monday. Shah said the "poison has already spread" and it will be now difficult to contain it. "It will be very difficult to capture this djinn back into the bottle again. There is complete impunity for those who take law into their own hands. In many areas we are witnessing that the death of a cow is more significance than that of a police officer," he added.
Full report at:
https://indianexpress.com/article/india/im-expressing-concerns-about-country-i-love-how-is-that-a-crime-asks-naseeruddin-shah-5504056/
--------
Bulandshahr violence: 'We are being targeted because we are Muslims' says Safruddin
Dec 22, 2018
Tears rolled down the eyes of Sarfuddin as he hugged his children – two sons and a daughter – after spending 16 days in jail on fake charges of cow slaughter in Bulandshahr.
For Sarfuddin, a post-graduate in political science, the 16-day nightmare is over but questions and agony remain.
As Sarfuddin returned to his village Nayabaans after his release from jail on Friday, he burst into tears on seeing the villagers coming to meet him.
Interestingly, Nayabaans is also the native village of Bajrang Dal district co-ordinator Yogesh Raj, who had lodged an FIR against Sarfuddin and three others accusing them of cow slaughter.
Yogesh is prime accused in Bulandshahr violence which led to violence in Bulandshahr resulting in the killing of two people, police inspector Subodh Kumar Singh and a local Sumit Kumar. Yogesh is on the run.
"I don`t know why the Allah punished me for none of my fault. Who will return 16 precious days of my life and sufferings of my family and children," said Sarfuddin, who runs a small cloth shop in Syana town of Bulandshahr.
"We are being targeted because we are Muslims. The administration has failed to nab the real troublemakers even 18 days after the violence," he said.
Squarely blaming Yogesh Raj for hatching a conspiracy to send him to jail on false charges, Sarfuddin said: "He was against me as I was the president of village`s Waqf Madni Masjid. I was trying to seek permission for mounting loudspeaker on the mosque and to carry out some construction work. Yogesh was against it and pressurised the officials not to entertain our requests."
The special investigation team (SIT) looking into the Bulandshahr violence gave a clean chit to Sarfuddin and three others, identified as Sajid, Asif and Banne. They were released from jail late on Thursday evening.
According to Sarfuddin, Yogesh included his name in the FIR along with that of Sudaif Chaudhary, Iliyas, Sajid, Anas, Sharafat and Parvez. He alleged that the police sent him, along with Sajid, to jail without verifying facts.
"I thank the SIT and the media who highlighted the fact that we were falsely implicating in the case, which eventually ensured justice," he said.
Sarfuddin said he would reopen his shop and send his children to school again.
His brother Mohd Hussain said the children were reluctant of going to school as they were unable to stand the remarks being made by fellow students.
"I had gone to participate in Tablighi Ijtema in Bulandshahr on November 30. I was assigned the duty of taking care of the parking lot. I stayed there till the religious programme ended on December 3," Sarfuddin said.
"My brother Mohd Hussain and other villagers joined me there on December 1 and in the evening of December 3. We were there when we came to know about the violence and killings of inspector Subodh Singh and Sumit," he said.
Sarfuddin said as the situation was volatile they decided to stay away from the village and went to a relative's home. "It was there that my brother received a call from the police who informed him that I was wanted in cow slaughter case," he said.
Sarfuddin said Hussain tried to explain that he was not present in the area when the incident took place but the police insisted that he be handed over to them.
"After discussing the matter, the villagers decided that I should be handed over to the Syana police in their presence," he said.
The villagers said that another named accused Sajid and his family had shifted to Faridabad about 12 years ago. Sajid was also attending Tablighi Ijtema after which he returned to Faridabad.
Villagers said they called Sajid from Faridabad and handed him over to the police on December 5.
Another accused, Sharafat, was released after three days of detention when the police found no evidence against him.
Police also picked up one Asif from Aurangabad locality and Banne of Kheliya village. Notably, their names were not in the FIR.
However, the SIT found all of them innocent and recommended their release.
Asif's brother Aas Mohammad said, "He (Asif) lives in Mumbai with his two children and wife. He is into the sale and purchase of watches. He had come here to meet us. The police barged into our house on December 4 and took him with them."
"We tried to convince the police but they threatened us that they would book us too," Mohammad alleged.
Asif has decided to leave for Mumbai on Saturday and said he would not visit the place again.
"I have spent my precious 16 days in jail despite being innocent. I don't want to come here again," said Asif.
Another accused Banne, who also returned to the village, refused to talk about the trauma that he suffered in jail.
Full report at:
https://www.hindustantimes.com/lucknow/bulandshahr-violence-we-are-being-targeted-because-we-are-muslims-says-safruddin/story-EqxzfTIQaeiN2SvWeMOVDP.html
--------
Pak High Commissioner places Chaddar at Hazrat Nizamuddin Aulia Dargah
Dec 22, 2018
New Delhi: Pakistan's High Commissioner to India, Sohail Mahmood, presented the traditional Chaddar at the Dargah Sharif her on Friday on the eve of the 715th annual Urs of Hazrat Nizamuddin Aulia.
The High Commissioner was received at the shrine by Sajjadah Nasheen Dewan Tahir Nizami and other members of the Dargah Committee.
After placing the Chaddar, Mahmood offered dua while Nizami did the dastaarbandi (traditional turban) on the occasion.
The High Commissioner also visited the Dargah of Hazrat Amir Khusro (RA) and offered dua.
Hazrat Nizamuddin Aulia was the third Spiritual Successor (Khalifa) of Hazrat Khwaja Moinuddin Chishti (RA). He is known for his love for humanity as a means of realizing love with the Creator. His followers are spread across South Asia, including Pakistan.
The Urs of Hazrat Nizamuddin Aulia, a 14th century Sufi saint of the Chishtia Order and one of the most famous in the world, is celebrated every year with traditional zeal and fervor, and is attended by devotees and Zaireen from different parts of the world.
Full report at:
https://www.siasat.com/news/pak-high-commissioner-places-chaddar-hazrat-nizamuddin-aulia-dargah-1448502/
--------
Imran Khan raised Kashmir issue with UN chief: UN spokesman
Dec 22, 2018
UNITED NATIONS: Pakistan Prime Minister Imran Khan telephoned UN chief Antonio Guterres and raised the issue of Kashmir, a UN spokesman has said.
Stephane Dujarric, the spokesman for the UN Secretary General, did not give further details about the conversation between Khan and Guterres.
When asked by PTI to comment on India's strong retort to Khan that Pakistan should mind its own business and that Kashmir is an integral part of India, Dujarric said, "Our position on Kashmir has been reiterated. There is an observer group as mandated by the Security Council,"
He was referring to the UN Military Observer Group in India and Pakistan (UNMOGIP).
Dujarric added that the Pakistani Prime Minister wanted to speak to the Secretary-General.
"It's only normal that the Secretary-General speak to Heads of Governments and Heads of State and, as I said, I can confirm that the call took place and that the Prime Minister raised the issue of Kashmir," Dujarric said.
In a set of recent tweets, Khan said that "Kashmiris must be allowed to decide their future". He also tweeted that Pakistan would raise the issue of India's alleged human rights violations at the United Nations.
External Affairs Ministry spokesperson Raveesh Kumar in response said that "the statements coming out from their side demonstrates the insincerity and duplicity".
The UNMOGIP was established in January 1949 and currently has a total of 118 UN and civilian staff. Following the IndiaPakistan war in 1971 and a subsequent ceasefire agreement of December 17 of that year, the tasks of UNMOGIP have been to observe, to the extent possible, developments pertaining to the strict observance of the ceasefire and to report there on to the Secretary-General.
Full report at:
https://timesofindia.indiatimes.com/india/imran-khan-raised-kashmir-issue-with-un-chief-un-spokesman/articleshow/67203668.cms
--------
Naseeruddin Shah's on-screen Pakistani agent character has awakened: BJP leader
Dec 21, 2018
LUCKNOW: Uttar Pradesh BJP chief Mahendra Nath Pandey took a dig at actor Naseeruddin Shah over his recent remark on Bulandshahr violence saying that the latter seems to develop the sentiments of his on-screen character of a Pakistani agent he portrayed in one of his movies.
Speaking to ANI, Pandey said, "Naseeruddin Shah is a good artiste. In one of his movies, he played the role of a Pakistani agent. I think that sentiment has got awakened in him now."
Recently, a video surfaced on the social media where Shah can be heard saying, "At many places, the death of a cow is being given more importance than the killing of a policeman. I feel anxious for my children because tomorrow if a mob surrounds them and asks, 'Are you a Hindu or a Muslim?' they will have no answer. It worries me that I don't see the situation improving anytime soon."
Full report at:
https://timesofindia.indiatimes.com/india/naseeruddin-shahs-on-screen-pakistani-agent-character-has-awakened-bjp-leader/articleshow/67198206.cms
--------
'Expressing concern about nation I love': Protests prevent Naseeruddin from opening Ajmer Lit Fest
by Hamza Khan
December 22, 2018
Veteran actor Naseeruddin Shah on Friday wondered why he was being called a traitor for expressing concerns about the country he loves, even as protests in Ajmer prevented him from inaugurating the Ajmer Literature Festival (ALF).
Speaking to Harsh Mander-led Karwan-e-Mohabbat earlier this week, Shah had said, "The poison has already spread. It will be very difficult to capture this djinn back in the bottle. There is complete impunity for those who take law into their own hands. In many areas we are witnessing that the death of a cow has more significance than that of a police officer. I feel anxious thinking about my children. Because they don't have a religion… tomorrow if a mob surrounds them and asks 'are you a Hindu or a Muslim?' they will have no answer. It worries me because I don't see the situation improving anytime soon. These matters don't scare me, they make me angry…"
Earlier this month, inspector Subodh Kumar Singh was killed in mob violence in Uttar Pradesh's Bulandshahr districts after cow carcasses were found.
As the video of Shah went viral and drew criticism from some sections, the Congress tweeted on Thursday evening, "Naseeruddin Shah we concur, do not fear the hate, fight it."
On Friday, Shah, who was in Ajmer to attend the ALF, said, "I don't know why (people are criticising the comments), because what I said was as a concerned Indian… I don't know what I have said now that I'm being called a traitor.
"Main apne mulk, jis sey main pyar karta hun, jo mera apna ghar hai, main uske bare me baat keh raha hun, apni fikr zahir kar raha hun. Isme kaunsa maine gunah kiya (I am saying something and expressing concern about my nation which I love, which is my home. What sin have I committed?)," Shah told reporters at St Anselm's Senior Secondary School in Ajmer, his alma mater, where he "returned after 52 years".
Shah was scheduled to attend ALF's inaugural ceremony at 2 pm on Friday, along with wife Ratna Pathak Shah and poet Ras Bihari Gaur, who is the festival coordinator. This was to be followed by a session titled 'Naseer ki Nazar' at 2.30 pm.
Full report at:
https://indianexpress.com/article/india/expressing-concern-about-nation-i-love-protests-prevent-naseeruddin-from-opening-ajmer-lit-fest-5504791/
--------
South Asia
Another year of unresolved terror in Bangladesh
December 21, 2018
Threats to Bangladesh's internal security continue to emanate from groups affiliated with al-Qaeda and the so-called Islamic State (IS). The key groups operating in Bangladesh are the Jamma'atul Mujahideen Bangladesh (JMB) and Ansar al-Islam. An IS-centric offshoot of JMB, often referred to as the Neo-JMB, is also active. Despite sustained counter-terrorism operations, these groups continue to adapt to the evolving security environment and form new alliances.
Since the IS-inspired attack in 2016, Bangladeshi law enforcement agencies have scaled up their operations across the country — 906 people have been arrested for their alleged involvement in Neo-JMB and around 100 militants were killed during these operations. This has created leadership disarray within Neo-JMB and drastically reduced its capacity to raise funds and carry out attacks.
As the year draws to a close, Neo-JMB appears weakened but not yet contained. The group has a new leader reviving the group. Recruitment continues and the group is allegedly planning terror attacks. There is also the possibility of lone-wolf or single actor attacks, as pro-IS propaganda materials are still available online and circulated through social media.
This year has also seen the re-emergence of JMB, which is gradually rebuilding its networks after the arrest of hundreds of JMB leaders and activists in 2005. According to Bangladeshi authorities, JMB and Ansar al-Islam (the Bangladeshi wing of al-Qaeda) are possibly working together, or at least have similar targets. The July 2018 killing of Shahjahan Bachchu — a writer, publisher and former left-wing politician — is a case in point. Bachchu came under the radar of both terrorist groups thanks to his secular blogs. The groups then worked in tandem to kill him: Ansar al-Islam conducted the reconnaissance while JMB eliminated him.
In mid-2018, JMB opened a new wing in India: Jama'atul Mujahedeen India (JMI). The group believes in using Qital (armed struggle) to 'uproot polytheism and to establish Islam' and that the Indian subcontinent is a future battlefield for establishing the caliphate.
The revival of JMB highlights the possibility of a new wave of terrorist activities in Bangladesh, especially as the country prepares for elections at the end of 2018. The group vehemently opposes and may try to target polling centres.
Bangladesh and India have carried out around 100 joint operations to dismantle JMB. But the success of this campaign will be limited unless a long-term strategy is formed to check Islamist militancy.
While the Bangladesh government's response to terrorism in 2018 was largely operational, they have put in place a range of strategic initiatives. Authorities are focussing on the threat of cyber-radicalisation and mobilisation by militant groups. They are also engaging Muslim clerics to create greater awareness of extremism and terrorism and working to regulate Madrassa education.
Bangladeshi authorities continue to organise community engagement programs and inter-faith dialogues. Some agencies are currently working with academics to promote an in-depth understanding of preventing and countering violent extremism. Law enforcement agencies are also using mobile-apps to collect human intelligence and feedback from the community.
Bangladesh's key challenge at this juncture is to build a well-structured counter-terrorism strategy and action plan. This should include cyber platforms for encouraging moderation and a policy for rehabilitating extremists.
Hampering Bangledesh's efforts is the limited coordination between counter-terrorism agencies and the prison system. Quite often, terrorist detainees and inmates bribe prison officers to be transferred to prisons of their choice. This makes monitoring difficult.
One positive development has been the establishment of an Anti-Terrorism Tribunal (ATT) — under the 2009 Anti-Terrorism Act — to more efficiently trial terrorist suspects. The ATT will be in charge of the Dhaka cafe attack trial. The second tribunal will be set up in Chittagong.
Notwithstanding the decline in attacks, the terrorist threat in Bangladesh remains real and the fight against it is likely to continue. Despite the sustained operational response, terrorist groups have been able to survive, re-organise and expand. Bangladesh's response must be recalibrated. While police and other law enforcement agencies are doing their part in the operational realm, there is a need to ensure continuity and to rethink strategic options. As a new administration takes over in 2019, it remains to be seen how Bangladesh will work to reduce the threat.
Iftekharul Bashar is an Associate Research Fellow with the International Centre for Political Violence and Terrorism Research (ICPVTR), S Rajaratnam School of International Studies (RSIS), Nanyang Technological University, Singapore.
http://digitalglobalist.com/2018/12/21/another-year-of-unresolved-terror-in-bangladesh/
--------
Ershad-Jamaat no more political factors in Bangladesh
Mustafa Ali Noor
Dec 22, 2018
As the next general election in Bangladesh is at the doorstep, it is becoming clear that Gen Hussain Muhammad Ershad's Jatiyo Party (JP) and militancy-linked Jamaat-e-Islami Bangladesh (JIB) are no more any factor in country's politics. Long back though, Ershad's Jatiyo Party had become a house of political clowns, militancy-linked Jamaat-e-Islami Bangladesh too is now seen by the Bangladeshi voters as "another Al Qaeda."
According to Abha Shankar, Senior Intelligence Analyst at the Investigative Project on Terrorism, and Sam Westrop, Director of Islamist Watch, Jamaat is seen as a "violent South Asian Islamist group."
These counterterrorism experts wrote in an article, "Founded in Lahore (then British India) in 1941 by the Islamist theorist Abul Ala Maududi, JI [Jamaat-e-Islami] has established branches in countries all around the world, including a substantial network in the United States. JI came to prominence in 1971 after its operatives assisted in the murder of hundreds of thousands of Bangladeshis fighting for freedom from Pakistani rule. Three million people reportedly died in the catastrophic war and millions fled to neighboring India as refugees.
"In the decades since the 1971 war, JI has committed violent acts all across South Asia and, today, the Bangladeshi branch is closely involved with Islamist terror in both Bangladesh and India. JI leaders have openly expressed support for Taliban terrorists and mourned their deaths. And in 2017, the U.S. government designated Hizbul Mujahideen, a Kashmiri jihadist group and JI Pakistan's "militant wing," as a terrorist organization."
They further wrote, "In America, JI operatives have their own prominent institutions, which pose as representative bodies of American Muslims. These institutions and their officials have served as vocal supporters of JI in Pakistan and Bangladesh, helped coordinate protests against the War Crimes Tribunal in Bangladesh, and organized lobbying and PR efforts in D.C.
"In fact, one of the JI war criminals tried in absentia in Bangladesh, Ashrafuzzaman Khan, fled to the U.S. and helped establish and lead one of these American JI organizations: the Islamic Circle of North America (ICNA). Testimony and evidence showed that Khan served as the "chief executor" of a JI killing squad, named Al-Badr. The war crimes tribunal concluded that he had carried out the abduction and murder of 18 Bangladeshi intellectuals. "They killed top professors, journalists, and doctors to make the nation devoid of any talent," senior prosecutor M.K. Rahman said immediately following the guilty verdict against Khan.
"ICNA does not hide its JI affiliations, and is openly identified as a JI proxy within Islamist circles. ICNA's educational programs have featured staunch hardline ideologues, and JI founder Maududi's books have been promoted on the website of ICNA's youth division, Young Muslims. In fact, JI leader Yusuf Islahi, a leader of JI's Indian affiliate (JI Hind), has spoken at ICNA conventions and is a chief patron of an ICNA proselytizing project named "WhyIslam." At a 2001 JI Hind event hosted in the Indian city of Aligarh, Islahi reportedly blamed Jews for the 9/11 attacks, which he nevertheless described as a befitting response to American arrogance.
"ICNA operates an international relief arm named Helping Hand for Relief and Development, a 501(c)(3) which raised an astonishing $40 million in 2016. Despite its position as one of the wealthier charities in America, Helping Hand organized a conference in Pakistan last December with the Falah-e-Insaniat Foundation, which was designated as a terrorist organization by the State Department in 2010 because of its function as the charitable wing of the Pakistani terrorist network Lashkar-e-Taiba, which helped mastermind the 2008 Mumbai attacks.
"Helping Hand chairman Mohsin Ansari (also the former chairman of ICNA Relief) openly identifies as a JI member, and refers to the convicted 1971 killers as "heroes" whom the "Pakistani nation will remember… for centuries to come." He praises Islamist politicians who are elected in spite of efforts by "anti-Muslim media headed by jews [sic]." And in 2016, Ansari revealed that ICNA was asked to arrange funeral prayers for one of the executed war criminals, Motiur Rahman Nizami, the founder of the Al Badr killing squad. Ansari praised Nizami and noted that his son had "has worked in USA (sic) tirelessly for years to help relieve the victimization of Jammat workers in Bangladesh."
"Terror ties have dogged American JI groups for years. One of the two women indicted for their role in a 2015 Islamic State bomb plot lived in an ICNA-run shelter and appeared in ICNA promotional material. And just the other week, on Sept. 6, an ICNA official in Connecticut, Fareed Khan, was indicted by a grand jury after lying to the FBI about his involvement with ICNA and Helping Hand. An FBI affidavit revealed that Khan had been questioned on suspicion of financing terror in Pakistan through the purchase and sale of medical supplies."
It should be mentioned here that, Jamaat-e-Islami Bangladesh is an extremist minority movement. In South Asia, it has never achieved significant electoral success. It has no mandate, advocates hardline Islamism, and has engaged in brutal violence for decades.
Jatiyo Party & Jamaat seen as liability:
While most of the policymakers of Bangladesh Nationalist Party (BNP) now are seeing Jamaat-e-Islami as its burden, similar opinion is being already created amongst the policymakers of the ruling Awami League about its coalition partner Jatiyo Party. According to latest surveys, Jatiyo Party and Jamaat-e-Islami jointly have less than 3 percent support from the voters. Some of the BNP leaders even are openly criticizing the decision of party's top leadership of giving party's symbol Paddy Sheaf' to pro-militancy group Jamaat.
Full report at:
https://www.weeklyblitz.net/news/ershad-jamaat-no-more-political-factors-in-bangladesh/
--------
A Lost Generation of Rohingya Grows up Without Education
By Tun Khin
December 22, 2018
Mohammed is one of more than 700,000 Rohingya refugees who fled into Bangladesh after the Myanmar army launched a vicious "clearance operation" in August 2017. Soldiers raped, killed, and torched their way through Rakhine state, home to the vast majority of Rohingya, committing what the UN and many others have called crimes against humanity and possibly even genocide.
But while Mohammed witnessed unimaginable violence and destruction before fleeing across the border, he is also keenly aware of other threats to his community's future – not least a lack of access to education. Before fleeing into Bangladesh, Mohammed's opportunities to attend school had become increasingly limited in Myanmar, as authorities started segregating Muslim and Buddhist children following violence in 2012. In the relative safety of Bangladesh, meanwhile, Mohammed has become one of hundreds of thousands of Rohingya children who are being denied formal schooling opportunities, to a large extent because of restrictions imposed by the Bangladeshi government.
The lack of access to education for Rohingya on both sides of the Naf – the river separating Myanmar and Bangladesh – is threatening to create a lost generation of Rohingya children. This month, the Burmese Rohingya Organization UK launched a new report spotlighting this hidden crisis, while calling on the world to take action as soon as possible. As Mohammad himself told us: "If you want to harm a community you don't need to kill them. Just don't let them study."
Enjoying this article? Click here to subscribe for full access. Just $5 a month.
Inside Myanmar, Rohingya have faced a debilitating and state-sponsored system of discrimination for decades. This has included denying Rohingya citizenship and the rights associated with it, as well as imposing serious restrictions on their freedom of movement. Across large parts of Rakhine state, Rohingya need to obtain permission to travel to towns or even to leave their villages, meaning that access to opportunities to make a living or gain an education are scarce.
These restrictions are not new, but have been part of the daily reality for Rohingya for generations. They form the more subtle part of the genocide the Myanmar authorities are subjecting Rohingya too. But the discrimination in Rakhine State serves the same purpose as the military's violence that grabbed international headlines in 2017 – to make life for Rohingya so unbearable that we see no option but to leave. I myself, for example, felt compelled to flee Rakhine state in the mid-1990s when the Myanmar government prevented me from attending university simply because I was Rohingya.
This system of segregation, however, has tightened significantly since 2012, when state-sponsored violence overwhelmingly targeting Rohingya swept Rakhine state. Since then, authorities started segregating previously mixed Buddhist-Muslim schools, leaving many Rohingya in separate education facilities where the quality of teaching and materials are extremely poor. Many government teachers refuse to work in Rohingya schools; those that do agree often subject students to humiliation and neglect. Mohammad himself describes how his own situation changed from 2012: "After that, the teacher kept us in separate classes. One for Rohingya, one for Rakhine. They gave them all the attention – all the resources. The teacher would call us 'Kalar' [a pejorative term for Rohingya] and would no longer want to teach us."
There are also reports that since 2017, Myanmar authorities have been targeting teachers and other educated Rohingya — further aggravating the collective capacity for education. It is no coincidence that more than 73 percent of Rohingya in Rakhine state self-identify as illiterate today.
But even in the relative safety of Bangladesh, the lack of access to education has continued. While the Bangladeshi government generously opened its borders to Myanmar at the height of the crisis, the same authorities have since imposed worrying restrictions inside the refugee camps that house hundreds of thousands of Rohingya. Refugees are, for example, largely prohibited from leaving the camps, while international aid groups have been barred from building more sustainable shelters in order to not imply a sense of permanency.
These restrictions also apply to education. Rohingya refugee children are not allowed to attend formal education or to be taught in Bangla languages, apparently because the authorities in Dhaka fear these could become "pull factors," convincing more refugees to enter Bangladesh and settle there permanently. Instead, education in the camps is being provided by a range of international and Bangladeshi NGOs as well as community-based organizations. Rohingya are often taught in informal "temporary learning centers" where the quality of education and curriculum can vary significantly depending on the NGO involved.
As grateful as the Rohingya community is toward Dhaka for hosting close to a million refugees, we also urge the government to rethink its approach to education. Rohingya refugees will remain in Bangladesh for the foreseeable future – the only way they will be able to constructively give back to Bangladeshi society is if they are allowed to better themselves through education and access to livelihoods. We call on the Bangladeshi authorities to immediately remove all barriers to education for refugees, and to ensure that Rohingya community leaders are involved in decision making around aid and development.
The only long-term and viable solution to the crisis, however, lies inside Myanmar. The Myanmar authorities must immediately dismantle the system of apartheid, remove all restrictions on the human rights of Rohingya (including on access to education and freedom of movement), and grant Rohingya citizenship under national law.
Full report at:
https://thediplomat.com/2018/12/a-lost-generation-of-rohingya-grows-up-without-education/
--------
3 Hizb ut Tahrir members arrested in Sylhet
December 21st, 2018
Police have arrested three active members of the banned radical Islamist outfit Hizb ut-Tahrir from the Tilagor Burhanbag area of Sylhet city, on Thursday night.
The arrestees are - Mahfuzur Rahman alias Protik, 23, Anwarul Islam alias Khokon, 22, and Zubair Alam Bappi, 22.
Sylhet Metropolitan Police Additional Deputy Commissioner (Media) Jedan Al Musa said that police arrested the individuals while they were distributing anti-government leaflets in the area and seized around 145 such leaflets.
Shahporan Police Station OC Akhter Hossain said the detainees are students of the Sylhet Agricultural University and filed a lawsuit against them under the anti-terrorism act.
https://www.dhakatribune.com/bangladesh/nation/2018/12/21/3-hizb-ut-tahrir-members-arrested-in-sylhet
--------
'Awami League Manifesto More Favourable For Religious Minority Groups'
December 21st, 2018
Bangladesh Hindu-Buddhist-Christian Oikya Parishad General Secretary Rana Dasgupta demanded the re-establishment of the 1972's constitution
The Hindu-Buddhist-Christian Oikya Parishad has said the manifesto declared by the Awami League is the most supportive and favourable for the rights of the minorities in Bangladesh.
Rana Dasgupta, general secretary of the organization representing the religious minorities of Bangladesh, made the remark during a press briefing held to discuss and comment on the manifestos declared by all the parties for the upcoming general election.
The press briefing was held at the National Press Club's VIP lounge on Friday.
Rana said: "The current constitution has nothing in common with the 1972 constitution. This constitution does not guarantee equal rights for all the citizens, especially the minorities."
He added: "The Awami League, in their election manifesto, has mentioned the re-establishment of the four core state principles of the '72 constitution. They want to bring back the constitution which the Father of the Nation Bangabandhu Sheikh Mujibur Rahman established to ensure equal rights for all despite their religious differences.
"The present constitution does not comply with those beliefs of the father of the nation. Thus we are again demanding the re-establishment of the '72 constitution," he said.
While reading out from a written statement during the press conference he said: "The Awami League manifesto is more democratic, and progressive in comparison with the election manifestos declared by the other two major political parties – BNP, and Jatiya Party."
"We are thankful to all the political parties including the Communist Party of Bangladesh, who have complied with our seven-point demand," he said.
Rana furthered: "I hope that after the 11th parliamentary election, whoever constitutes the government and even the opposition party, will take cautious steps for proper implementation of the promises declared in their respective election manifesto."
Full report at:
https://www.dhakatribune.com/bangladesh/election/2018/12/21/al-manifesto-more-favourable-for-religious-minority-groups
--------
ARG Palace slams Taliban for refusing direct talks with peace negotiators
Dec 21 2018
The Presidential Palace of Afghanistan, ARG Palace, has slammed the Taliban group for refusing direct talks with the delegation of governmental peace negotiators in Abu Dhabi.
ARG Palace in a statement said the government of Afghanistan positively responds to the demands of the citizens of country and national consensus for peace but unfortunately direct negotiations did not take place with the opposition side.
The statement further added that the government played fulfilled its duty but did not achieve its ambitions from the opposition side and negotiations in Abu Dhabi took place with the representatives of U.S., Saudi, and UAE.
According to ARG Palace, the representatives of Saudi Arabia, UAE, and U.S. expressed deep regret regarding Taliban's decision to refrain from direct talks with the peace negotiators of the government of Afghanistan.
The statement by ARG Palace also added that the Taliban group showed that they do not want the welfare of the region, are not committed to peace, and want continuity of war by rejecting the justified demands of the people of Afghanistan and the international community.
Full report at:
https://www.khaama.com/arg-palace-slams-taliban-for-refusing-direct-talks-with-peace-negotiators-02972/
--------
Mideast
Turkey to delay Syria operation, Erdogan welcomes US decision to withdraw troops
21 December 2018
President Tayyip Erdogan said on Friday that Turkey would postpone a military operation against Syrian Kurdish fighters in northeast Syria as he "cautiously" welcomed Washington's decision to withdraw its troops in the area.
The surprise announcement from US President Donald Trump this week that Washington would withdraw its roughly 2,000 troops has upended a pillar of American policy in the Middle East. Critics say it will make it harder to find a diplomatic solution to Syria's seven-year-old civil war.
But for Ankara, the step removes a source of friction with the United States. Erdogan has long castigated his NATO ally over northeastern Syria, where Washington has backed Syrian Kurdish YPG fighters.
Turkey considers the YPG a terrorist organization and an offshoot of the armed Kurdistan Workers' Party (PKK), fighting for Kurdish autonomy across the border on Turkish soil.
Erdogan announced plans last week to start an operation east of the Euphrates River in northern Syria to push the YPG out of the area, which it largely controls.
This week he said the campaign could come at any moment. But on Friday, he cited the United States' move and a phone call with Trump as a reason to wait.
"We had decided last week to launch a military incursion in the east of the Euphrates river ... Our phone call with President Trump, along with contacts between our diplomats and security officials and statements by the United States, have led us to wait a little longer," he said in a speech in Istanbul.
"We have postponed our military operation against the east of the Euphrates river until we see on the ground the result of America's decision to withdraw from Syria."
Erdogan said this was not an "open-ended waiting period".
https://english.alarabiya.net/en/News/middle-east/2018/12/21/Turkey-to-delay-Syria-operation-Erdogan-welcomes-US-decision-to-withdraw-troops.html
--------
UN mission to oversee Hodeidah ceasefire starting Sunday Dec 23
22 December 2018
The Dutch General Patrick Christopher will arrive on Saturday to Yemen's Aden to meet Yemeni government officials about his UN mission.
According to sources, the general leaves the Jordanian capital, Amman, tomorrow morning to Aden, after which he will directly go to Sanaa to meet with members of the Houthi militias.
General Patrick will leave on Sunday afternoon to Hodeidah, under the protection of the UN and in cooperation with the Arab Coalition, where he will start his mission, according to sources.
Earlier, the Yemeni government announced its commitment to the Hodeidah ceasefire, while Houthi militias broke it in its first minutes.
https://english.alarabiya.net/en/News/gulf/2018/12/22/UN-mission-to-oversee-Hodeidah-ceasefire-to-start-on-Sunday-Dec-23.html
--------
US: Iran arms Houthis and complicates the Yemeni conflict
21 December 2018
The political coordinator of the US mission to the UN, Rodney Hunter, expressed to the Security Council on Friday his country's regret that the new UN resolution on Yemen did not hold Iran accountable for its actions in the war-torn country.
The United States had wanted to condemn Iran for breaching an arms embargo on Yemen, but Russia objected, diplomats said.
"We hope that in the days to come Iranian missiles or misdeeds do not shatter the promise of peace and bring us back to where we were before. But if that does happen, this council may come to regret this omission," US diplomat Rodney Hunter told the Security Council after the vote.
At the end of last month, the US provided evidence on Iran violating UN arms export ban in Yemen.
Full report at:
https://english.alarabiya.net/en/News/gulf/2018/12/21/US-Iran-arms-Houthis-and-complicates-the-Yemeni-conflict.html
--------
Israeli forces shoot dead 3 Palestinians, including teen, wound dozens more in Gaza Strip
Dec 21, 2018
Three Palestinians, including a teenage, have been shot dead by Israeli fire and nearly fifty others have sustained injuries during anti-occupation protests along the border between the besieged Gaza Strip and Israeli-occupied territories.
Gaza's Health Ministry spokesman Ashraf al-Qodra said 16-year-old Mohammed al-Jahjuh was fatally shot in the neck, while 47 others, including a local journalist, were wounded by Israeli gunfire during border protests and clashes east of Gaza City on Friday.
Al-Jahjuh was "hit in the neck by a bullet (fired) by Israeli soldiers", the spokesman said.
Abdulaziz Ibrahim Abu Sharia, 27, and Maher Yaseen, 40, were the other fatalities of the Israeli attack.
The Israeli army said around 8,000 Palestinians had gathered along the fence separating Gaza from the occupied territories.
The Palestinian protesters threw rocks from behind clouds of black smoke of burning tires at Israeli troops, who responded with tear gas and live fire.
Tensions have been running high near the fence since March 30, which marked the start of a series of protests dubbed "The Great March of Return." Palestinian protesters demand the right to return for those driven out of their homeland.
The clashes in Gaza reached their peak on May 14, the eve of the 70th anniversary of Nakba Day, or the Day of Catastrophe, which coincided this year with Washington's relocation of the US embassy from Tel Aviv to occupied Jerusalem al-Quds.
More than 220 Palestinians have so far been killed and over 20,000 others wounded in the renewed Gaza clashes, according to the latest figures released by the Gaza Health Ministry.
Gaza has been under Israeli siege since June 2007, causing a decline in living standards as well as unprecedented unemployment and poverty.
Israel has also launched several wars on the Palestinian sliver, the last of which began in early July 2014 and ended in late August the same year. The Israeli military aggression killed nearly 2,200 Palestinians and injured over 11,100 others.
Tensions have also been running high in the occupied West Bank as the Israeli military regularly opens fatal fire on Palestinians, accusing them of seeking to attack its personnel.
Human rights groups have repeatedly slammed the Tel Aviv regime for its shoot-to-kill policy as a large number of the Palestinians killed at the scene of attacks did not pose any serious threat to Israelis.
Israeli troops have on numerous occasions been caught on camera brutally killing Palestinians, with the videos going viral online and sparking condemnations of the regime's military.
Full report at:
https://www.presstv.com/Detail/2018/12/21/583575/Palestine-Gaza-Mohammed-alJahjuh--Ashraf-alQodra-Israel
--------
URL: https://www.newageislam.com/islamic-world-news/father-christmas-muslim-man-mistaken/d/117237
New Age Islam, Islam Online, Islamic Website, African Muslim News, Arab World News, South Asia News, Indian Muslim News, World Muslim News, Women in Islam, Islamic Feminism, Arab Women, Women In Arab, Islamophobia in America, Muslim Women in West, Islam Women and Feminism