New Age Islam News Bureau
30 Apr 2020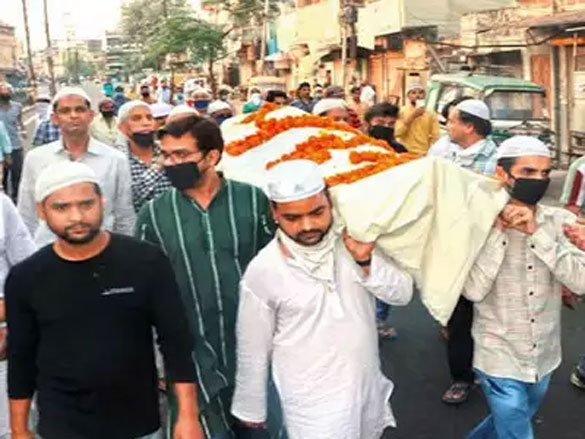 Ramesh's body, covered in marigold flowers and lifted by men men in white skull caps, sailed past several deserted locali attracting curious glares from windows.
------
• Fasting Muslim Men Take Out Funeral Procession of Hindu Priest, Covered in Marigold Flowers, In Meerut
• 'Dikh Na Jaanaa Tum Log': On Camera, UP BJP MLA Threatens Muslim Vegetable Seller
• Don't Say Taraweeh Prayers Following Live Broadcast: Islamic Foundation, Bangladesh
• Thermal Cameras Installed at Makkah's Grand Mosque to Combat Coronavirus
• Turkish President, Erdogan, Backs Cleric Who Said Homosexuality 'Brings Disease'
• Unable to Celebrate Ramadan At His Local Mosque Because Of Lockdown, Boy, 8, Builds 'Magical' Mosque Out of Cardboard
• Iftar-To-Go - German Mosque Delivers Ramadan Meals To Needy Non-Muslims
• Ramadan Takes on A Quiet Meaning This Year, As COVID-19 Restrictions Disrupt Rituals and Gatherings in Indonesia
• Street, Mosque Sealed After Corona Case Surfaces in Mardan, Peshawar
• CAIR Welcomes U.S. Commission's Recommendation to Sanction India as Violator of Religious Freedom, Targeting Muslims
• Libya: Hifter's Forces Announce Ramadan Cease-Fire After Military Setbacks
• Muslims Eager to Queue for Curries at What Could Be Australia's First Ramadan Drive-Through
--------
India
• Fasting Muslim Men Take Out Funeral Procession of Hindu Priest, Covered in Marigold Flowers, In Meerut
• 'Dikh Na Jaanaa Tum Log': On Camera, UP BJP MLA Threatens Muslim Vegetable Seller
• Three persons arrested for creating ruckus at mosque in Greater Noida
• Bengal should test more, Trinamool government appeasing Muslims: BJP
• Prime Minister Modi greets Hasina on Ramadan, discusses pandemic situation
• Ramadan 2020: Sixth rozasehri& iftar timings for Delhi, Mumbai, Chennai, Bengaluru, Patna on April 30
• AIMIM leader Waris Pathan did not threaten cops to open mosques amid lockdown, 2016 video viral
------
South Asia
• Don't Say Taraweeh Prayers Following Live Broadcast: Islamic Foundation, Bangladesh
• Gazipur Mayor Zahangir Backtracks On Mosque Reopening Decision
• Afghan forces repulse Taliban attack in Kandahar province, killing at least 13 militants
• Reactions to spread of coronavirus among employees of Afghanistan's largest media group
• Taliban's claim, concern, warning regarding coronavirus spread in jails
• China reacts as coronavirus cases show a steep rise in Afghanistan
-----
Arab world
• Thermal Cameras Installed at Makkah's Grand Mosque to Combat Coronavirus
• UNSC Voices Concern About Secessionist Bid In South Yemen
• 'Saudis pursuing hidden agenda in southern Yemen'
• Ramadan WhatsApp scam: Beware of Link Claiming to Be to Sheikh Mohammed's Website
• Dubai Islamic Bank first-quarter profit falls 18% on 1.5 bln dirhams in provisions
• ERC provides Ramadan Mir to Hadramaut residents in Yemen
• Intermittent fasting: The health trend Muslims have been practicing for centuries
• DHFC calls all artists to participate in Ramadan-themed virtual gallery
------
Mideast
• Turkish President, Erdogan, Backs Cleric Who Said Homosexuality 'Brings Disease'
• Interesting Customs and Traditions to Mark the Holy Month of RamadanIn Northwestern Iran
• Iran Backs United Yemen, Its Territorial Integrity As UAE-Aligned Separatists Declare Self-Rule
• Persian Gulf identity of Islamic Republic of Iran: Navy commander
• Turkey censures Haftar for seeking 'military dictatorship' in Libya
• Iran has key role in keeping security of Persian Gulf: Leader
• Rouhani, Imran Khan call for more trade ties as Pakistan PM blasts US sanctions on Iran
------
Europe
• Unable to Celebrate Ramadan At His Local Mosque Because Of Lockdown, Boy, 8, Builds 'Magical' Mosque Out of Cardboard
• Iftar-To-Go - German Mosque Delivers Ramadan Meals To Needy Non-Muslims
• Militants eliminated in Russia's Yekaterinburg were Islamic State supporters
• Germany Raids Mosques, Outlaws Hezbollah
• North Wales PioneerConwy's kind-hearted Muslim community rallies to support local foodbanks
-----
Southeast Asia
• Ramadan Takes on A Quiet Meaning This Year, As COVID-19 Restrictions Disrupt Rituals and Gatherings in Indonesia
• COVID-19 Patients in West Nusa Tenggara Break Out of Isolation, Pray at Mosques
• House grills govt over 'unconstitutional' Perppu
• Bank Indonesia buys US$11.2b in govt bonds to support rupiah, financing needs
• Health DG: Bulk of new cases are imported ones
• Covid-19 update: 94 new cases reported, no new deaths
• Only one person in a car in Sabah, for now
• Tenaga powers Bursa higher, boost from positive China data
-----
Pakistan
• Street, Mosque Sealed After Corona Case Surfaces in Mardan, Peshawar
• Capital Sees Biggest Rise In Covid-19 Cases In A Single Day, Again
• Engro pledges Rs20m to expand Covid testing at Shaukat Khanum Hospital
• Highest Number Of Virus Deaths In Single Day In Pakistan
• PPP opposes LG polls based on census results' delimitation
• Feasibility of projects must focus on public purpose, observes SC
• 49 policemen arrested in Rawalpindi under different charges
-----
North America
• CAIR Welcomes U.S. Commission's Recommendation to Sanction India as Violator of Religious Freedom, Targeting Muslims
• Sincerity, Religious Questions, and the Accommodation Claims of Muslim Prisoners
• Islamic Republic of Mauritania: Request for Disbursement Under the Rapid Credit Facility-
• Trump: 'I don't believe polls' that show Biden leading presidential race
-----
Africa
• Libya: Hifter'sForces Announce Ramadan Cease-Fire After Military Setbacks
• COVID-19 Rewrites Ramadan Rituals - Jamaica-Based Muslims Adapt As Mosques Remain Empty
• Tunisia medics spending Ramadan in isolation
• Islamic cleric begs for release of his kidnapped twins
------
Australia and New Zealand
• Muslims Eager to Queue for Curries at What Could Be Australia's First Ramadan Drive-Through
• Christchurch mosque attack: No date yet for gunman's sentencing
Compiled by New Age Islam News Bureau
URL; https://www.newageislam.com/islamic-world-news/fasting-muslim-men-take-funeral/d/121717
------
Fasting Muslim Men Take Out Funeral Procession of Hindu Priest, Covered in Marigold Flowers, In Meerut
Ishita Bhatia
Apr 30, 2020
MEERUT: When Ramesh Mathur, 68, a temple priest, passed away on Tuesday afternoon, his shattered family needed four shoulders to take his body to crematorium. They got many.
Ramesh's body, covered in saffron marigold flowers and lifted by men in white skull caps, sailed past several deserted localities attracting curious glares from windows. Some even clicked photos and recorded videos, which were shared widely on social media platforms as a proof of social harmony. Ramesh lived with his elderly wife and a son in Meerut's Shahpir Gate, a Muslim dominated locality.
"My father had a tumour in his food pipe. The treatment was going on for long. But, suddenly on Tuesday afternoon, he passed away leaving us distraught. My elder brother, who was in Delhi, could not reach home on time as there was some difficulty in arranging the pass. Relatives, too, could not come due to lockdown. This is when the neighbours came out for our help and took the funeral for last rites to crematorium," said ChandarMauli Mathur, the younger son. The elder son arrived home from Delhi on Wednesday. The Mathur family has been living in the area for the last 80 years now. "All the Muslim people in our colony are just like our brothers," says Chandar. The family lives in a 'dharamsala' in Shahpir Gate area, where Ramesh worked as a priest for a temple inside.
When contacted, Mohammad Mobin, councillor of Shahpir Gate area, said, "These are the times when we should stand by each other against all odds and show
humanity. I am glad that despite being on fast and amid the fear of coronavirus, all the men stood by the family when they needed them the most."
https://timesofindia.indiatimes.com/city/meerut/uttar-pradesh-fasting-muslim-men-take-out-funeral-procession-of-hindu-priest-in-meerut/articleshow/75463072.cms
-----
'Dikhnajaanaa tum log': On camera, UP BJP MLA threatens Muslim vegetable seller
Apr 30, 2020
A BJP MLA in Uttar Pradesh capital was caught on tape threatening a Muslim vegetable seller for not telling his real name and then asking him to stay away from his locality.
A video of Mahoba'sCharkhari MLA Brijbhushan Rajput using expletive against the vegetable seller went viral on social media. Rajput is heard scolding the vendor for telling a lie "despite being a Muslim".
When questioned about the video, Rajput accepted that it was indeed him but defended himself saying that it was the vendor who was lying about his identity.
"Yes, it was my video. I reprimanded him because he was lying. He said his name was Rajkumar while his name is Rehmuddin. He wasn't wearing masks&gloves. We know,16 vegetable sellers in Kanpur&1 in Lucknow tested COVID-19 positive," the MLA said.
In the video currently viral on various social media, Rajput is heard asking the man his name, In response, he says Rajkumar. At this, the MLA scolds him and asks the vendor's son to tell his real name.
"If you people are seen in the locality, then you will be thrashed (aajkebaadmohallemeindikhnajaanaa tum log...Nahi to maar maarketheekkardenge)," he says.
Defending his action, Rajput said "Is it a crime to ask the name of any person. He told me an incorrect name, which is a crime.""When the vegetable vendor entered the lane (where his house is situated in Lucknow's ), one of my aides asked him to show his Aadhaar card. The vegetable vendor gave his incorrect name. He did not have the licence to sell vegetables," he was quoted as saying by PTI.
This is not the first incident where a BJP legislator is targeting a vegetable vendor on the basis of religion. On Tuesday, the BJP issued a show-cause to its Barhaj legislator Suresh Tiwari for allegedly asking people not to buy vegetables from Muslims.
https://www.dnaindia.com/india/report-dikh-na-jaanaa-tum-log-on-camera-up-bjp-mla-threatens-muslim-vegetable-seller-2823061
-----
Don't Say Taraweeh Prayers Following Live Broadcast: Islamic Foundation, Bangladesh
Apr 30,2020
The Islamic Foundation on Wednesday said that saying Taraweeh prayers during Ramadan following live broadcast on television would not be acceptable from the religious point of view.
According to Shariah, the standing in queues behind an imam is essential for offering prayers in Taraweeh which is not possible from home.
Earlier on April 23, the religious affairs ministry said 12 people including two imams can attend Taraweeh prayers at each mosque. The move was part of an initiative to prevent the transmission of coronavirus.
Meanwhile, coronavirus claimed eight more lives in the last 24 hours till Wednesday, taking the death toll in the country to 163.
Besides, a record number of 641more people tested positive for coronavirus during the period, pushing the number of confirmed cases in the country to 7,103.
https://www.newagebd.net/article/105442/dont-say-Taraweeh-prayers-following-live-broadcast-islamic-foundation
-----
Thermal cameras installed at Makkah's Grand Mosque to combat coronavirus
April 29, 2020
MAKKAH: Sheikh Dr. Abdulrahman Al-Sudais, president of the General Presidency for the Affairs of the Two Holy Mosques, inaugurated Wednesday thermal cameras to detect feverish worshippers at the entrance of the Grand Mosque.
Al-Sudais praised this modern technique promoting the safety and security of worshippers and halting the spread of the coronavirus.
He said: "It is our duty to use technology in the service of the safety and security of our people, to promote preventive and precautionary measures and fight the pandemic."
The cameras deployed at the Grand Mosque were distributed at King Fahd, Ismael, and Safa gates, and are operated around the clock.
https://www.arabnews.com/node/1667026/saudi-arabia
-----
Turkish President, Erdogan, Backs Cleric Who Said Homosexuality 'Brings Disease'
April 28, 2020
ANKARA, Turkey — President Recep Tayyip Erdogan on Monday threw his weight behind Turkey's top Muslim cleric, who caused a storm by claiming homosexuality "brings disease and causes this generation to decay."
In his first sermon during the holy month of Ramadan on Friday, Ali Erbas also maintained that hundreds of thousands of people every year are exposed to HIV due to homosexuality and adultery and called on worshipers to come together to fight "this kind of evil."'
Erdogan — a pious Muslim whose ruling party has roots in Turkey's Islamic movement — said Erbas had fulfilled the duties of "faith, the wisdom (of Islam) and of his office" and that his words were binding for all Muslims. He said the tone of the criticism against the cleric had turned into a "deliberate attack against Islam."
The Ankara-based Human Rights Association has filed a criminal complaint against Erbas, accusing him of sedition, and the Ankara lawyers' association accused him of inciting hatred. The association called for his removal from office, saying it would not be surprised if the cleric were next to call on people "to light torches and burn women as witches."
Meanwhile, the Ankara chief prosecutor's office said it was launching a criminal investigation against the Ankara lawyers' group for "insulting religious values." Many ruling party officials and supporters have also rallied around Erbas on Twitter.
Homosexuality is not banned in Turkey. Erdogan's government however has in the past few years banned LGBTQ parades and other events, often citing public security.
https://www.nbcnews.com/feature/nbc-out/turkish-president-backs-cleric-who-said-homosexuality-brings-disease-n1194206
--------
Unable to Celebrate Ramadan At His Local Mosque Because Of Lockdown, Boy, 8, Builds 'Magical' Mosque Out of Cardboard
April 30, 2020
A SCHOOLBOY unable to celebrate Ramadan at his local mosque because of the lockdown has built his own one out of cardboard at home.
Yahya Murad Hussain, eight, used packaging from a desk his parents had delivered to their home in Bradford and decorated it with sweet wrappers and fairy lights. It took him a week to make with help from mum Auzma Yousaf on the more intricate parts of the design.
Every day Yahya adds an inspirational word or phrase to the display, such as 'be happy' or 'smile'. He said: 'I wanted it to be a special and a peaceful place in the house. It is magical and it makes me feel happy when I go in there.'
His mum said: 'We're so proud of him. It has not been easy for him not seeing his friends, so this project has given him a positive purpose.'
https://www.metro.news/boy-8-builds-magical-mosque-out-of-cardboard/1995260/
----
Iftar-to-go - German mosque delivers Ramadan meals to needy non-Muslims
APRIL 29, 2020
WUPPERTAL, Germany (Reuters) - A mosque in the western German city of Wuppertal is delivering meals to elderly Muslims unable to break the fast with their families due to lockdown as well as to non-Muslims struggling to make ends meet.
Volunteers at the mosque, run by one of Germany's largest associations of mosques (DITIB), provide meals to anyone who places an order.
"People can't go to the mosque so it's really nice that they deliver it to my home," said NazmiyeOdabasi, leaning over her window sill to pick up a sealed meal box, her hair covered with a small blue scarf.
Mustafa Temizer, a member of DITIB in Wuppertal, said the mosque had originally planned to deliver 1,000 meals a day to impoverished residents of the city who rely on food banks that were forced to close by the pandemic.
But as food banks reopened this month and Ramadan started last week, the mosque decided to deliver meals financed by donations to both Muslims breaking their daily fast at sunset and non-Muslims in need. Some 300 meals are delivered each day.
"We are not just serving members of our community but we are working with the city of Wuppertal," said Temizer, standing near his silver car emblazoned with a sticker reading 'Iftar delivery.'
"We added a lot of people in need to our list and we deliver to them too. They really appreciate it of course and the more people are hearing about this, the more sign up."
Mosques, churches, synagogues and other houses of worship will be allowed to open their doors to the faithful starting on May 4 under hygiene rules that include limiting the number of people to 50.
https://uk.reuters.com/article/uk-health-coronavirus-germany-iftar/iftar-to-go-german-mosque-delivers-ramadan-meals-to-needy-non-muslims-idUKKBN22B22O?rpc=401&
-----
Ramadan takes on a quiet meaning this year, as COVID-19 restrictions disrupt rituals and gatherings in Indonesia
By NivellRayda
30 Apr 2020
JAKARTA: The parking lot of a small shopping complex near my home was filled with dozens of cars parked in an unruly manner.
Some headed to the minimarts to look for cold drinks and biscuits, while others made a beeline for the handful of hawkers selling sweet desserts, savoury fritters and colourful traditional cakes.
The regular customers, workers of nearby clothing shops, hair salons and offices, were mostly absent thanks to the so-called large-scale social restrictions imposed by the city government to curb the spread of COVID-19, leaving many shops and buildings shuttered.
Not too far away from the vendors were a handful of motorcycle taxi riders, their eyes fixated on their phones hoping that someone would order food from a nearby restaurant or iced coffee from an adjacent cafe.
Further down the driveway, a pair of security guards were ready to erect a metal barrier to close the shopping complex's entrance. Under the social restrictions order, shops and minimarts must close at 6pm while restaurants are only permitted to serve takeouts.
By the time the call to prayer was made, signifying the end of fasting for the day, everything ground to a halt at the shopping complex and indeed, in much of the city.
This Ramadan, in my neck of the woods at least, there are no worshipers flocking to the neighbourhood mosque to perform the evening Ramadan prayer tarawih.
There are also no teenage boys and youths going around the neighbourhood in the early hours, hitting the electricity poles and lamp posts to wake people up so they can enjoy their sahur pre-fasting meal.
The pandemic has changed how people observe the holy month in the world's largest Muslim-majority country. But COVID-19 hasn't changed the meaning of Ramadan.
It might be less festive but I was taught that Ramadan is about sacrifice, giving up our earthly desires, sidelining our urges and controlling our emotions in exchange for blessings from God.
I was also taught that Ramadan is about empathising with the plight of others less fortunate than ourselves. And I feel quite fortunate.
Around the world there are more than three million people who have tested positive for the coronavirus. Out of this, around 200,000 have died.
Meanwhile, there are millions of health workers on the frontline in the battle against COVID-19, who don't have the luxury of being at home with their families out of fear of infecting their loved ones.
Giving up on my desires to go outside and setting my boredom aside is a small price to pay for the health and safety of my family as well as others.
I miss going to different Ramadan bazaars in different locations across the city to shop for food and snacks, or simply watch people.
My ngabuburit ritual involves heading out with my camera to do some street photography or, when weather permits, capturing the glorious sunset peeping through the city's skyline.
Restaurants would be full of people looking to stage communal iftar, particularly all-you-can-eat restaurants whose seats have to be booked days in advance.
In a time when people are told to stay indoors and restaurants can only serve takeout, a gathering with more than five people could mean hefty fines or even a jail sentence.
Chairs are seen at a restaurant closed temporarily amid the spread of coronavirus disease (COVID-19) outbreak, at Sanur beach in Bali, Indonesia, March 29, 2020. (Photo: Reuters/NyimasLaula)
Some friends suggested on a WhatsApp group that we should have an online video conference during iftar in lieu of an actual meet up.
I can only imagine how chaotic that plan would be. Even well-organised, formal meetings can be affected by technical glitches and setbacks. Imagine what it would be like when there are two dozen friends all trying to talk at the same time, in a country with patchy Internet coverage.
Not wanting to spoil the fun, I said nothing while the others agreed, some enthusiastically. But at the end of the day, we could not settle on a mutually convenient date.
One week into Ramadan, I cannot help but wonder how the pandemic would change how Muslims in Indonesia observe the IdulFitri holiday, which marks the end of the fasting month.
A girl wearing a protective face mask and synthetic gloves sits on luggage as she queues for temperature checking amid the spread of coronavirus disease (COVID-19) at Halim Perdanakusuma airport in Jakarta, Indonesia, Mar 20, 2020. (Photo: REUTERS/Willy Kurniawan)
But the government has so far appeared to be reluctant to ban domestic flights altogether, opting to make commercial flights available only to passengers on business trips.
On the eve of IdulFitri, Indonesians like to celebrate the end of Ramadan by singing "takbiran" prayers and pounding on the drums. They sometimes do this in a parade on foot or in a convoy of cars, trucks and motorcycles.
We would visit the neighbours and relatives to symbolically ask for forgiveness and rid ourselves of past grudges and mistakes. We would also give money to their children and eat ketupat rice cake and chicken curry together.
And we would often do this in our new shirts and dresses. Because let's face it. Who wants to be caught wearing the same dress as the one you wore last year?
Nasaruddin Umar, the Imam of Southeast Asia's largest mosque Istiqlal, told a press conference on Apr 20 that we must all make sacrifices this Ramadan because of the pandemic.
These sacrifices, Mr Umar continued, include stopping ourselves from going to mosques and participating in social or religious gatherings.
"Nevermind a pandemic of this magnitude, in a time of flood or heavy rain, the Prophet (Muhammad) once asked his followers to pray at home," the cleric said.
And indeed, Ramadan feels very different this year, particularly for those, including myself who have been working from home these past few months because of the pandemic.
But the real difference for me is that this year, my wife, who is also working from home, will be together with me as we better appreciate the meanings of the fasting month.
https://www.channelnewsasia.com/news/asia/covid-19-ramadan-indonesia-iftar-fasting-social-restrictions-12687238
-----
Street, Mosque Sealed After Corona Case Surfaces InMardan, Peshawar
14 HOURS AGO
PESHAWAR: District administration Mardan has sealed a street and mosque in Sector J at Sheikh Maltoon Town, Mardan after reporting of a corona positive case, said a news release issued here Wednesday.
On the directives of the Deputy Commissioner (DC), Mohammad Abid Khan Wazir, the Water and Sanitation Services Company (WSSP), Mardan has washed both the affected street and mosque with chlorine and conducted disinfectant spray under the supervision of the Additional Assistant Commissioner (AAC), Ali Raza.
Similarly, the local Tehsil Municipal Administration (TMA) under the precautionary measures marked spots with a distance of six feet in the mosque to enable the people to keep appropriate social distancing while offering prayers and Taraweeh. The mosque would be unsealed after getting further directives.
https://www.pakistantoday.com.pk/2020/04/29/street-mosque-sealed-corona-case-surfaces/
----
CAIR Welcomes U.S. Commission's Recommendation to Sanction India as Violator of Religious Freedom, Targeting Muslims
April 29, 2020
Ibrahim Hooper
(WASHINGTON, D.C. – 4/29/20) — The Council on American-Islamic Relations (CAIR), the nation's largest Muslim civil rights and advocacy organization, today welcomed the United States Commission on International Religious Freedom's (USCIFR) condemnation of India's violations of religious rights, particularly those of its Muslim community.
A USCIRF report decried the "sharp downward turn in India" whereby the Indian "national government used its strengthened parliamentary majority to institute national-level policies violating religious freedom across India, especially for Muslims."
In its 2020 Annual Report released yesterday, USCIF recommended that State Department designate India as one of the "countries of particular concern" (CPCs).
"CAIR welcomes USCIRF's recommendation that the U.S. government sanction agencies and officials in Modi-led India who violate the civil rights and religious freedoms of religious minorities, including Indian Muslims.
"The State Department and U.S. Congress should not delay in implementing USCIRF's recommendations — as not acting only further jeopardizes the rights and safety of Indian Muslims living under the threat of religious persecution by the Modi-led government and its right-wing allies."
"India took a sharp downward turn in 2019. The national government used its strengthened parliamentary majority to institute national-level policies violating religious freedom across India, especially for Muslims. Most notably, it enacted the Citizenship (Amendment) Act, which provides a fast track to Indian citizenship for non-Muslim migrants from Afghanistan, Bangladesh, and Pakistan already residing in India. According to government officials' statements, this law is meant to provide protection for listed non-Muslim religious communities—but not for Muslims—against exclusion from a nationwide National Register of Citizens and the resulting detention, deportation, and potential statelessness. The national and various state governments also allowed nationwide campaigns of harassment and violence against religious minorities to continue with impunity, and engaged in and tolerated hate speech and incitement to violence against them. Based on these developments, in this report USCIRF recommends CPC designation for India." CPCs are countries where the government engages in or tolerates "particularly severe" violations of religious freedom.
Impose targeted sanctions on Indian government agencies and officials responsible for severe violations of religious freedom by freezing those individuals' assets and/or barring their entry into the United States under human rights-related financial and visa authorities, citing specific religious freedom violations;
Strengthen the U.S. Embassy's and consulates' engagement with religious communities, local officials, and police, especially in regions impacted by religiously motivated violence;
Increase U.S. partnerships with Indian law enforcement to build capacity to protect religious minorities, houses of worship, and other holy sites, and confront religious-based hate crimes; and
Allocate funding to support civil society to create a monitoring and early warning system in partnership with police to challenge hate speech and incitement to violence.
Created by International Religious Freedom Act, USCIRF is an independent, bipartisan U.S. government advisory body, separate from the State Department, that monitors religious freedom abroad and makes policy recommendations to the president, secretary of state, and Congress.
CAIR is America's largest Muslim civil liberties and advocacy organization. Its mission is to enhance understanding of Islam, protect civil rights, promote justice, and empower American Muslims.
La misión de CAIR es proteger las libertadesciviles, mejorar la comprensión del Islam, promover la justicia, y empoderar a los musulmanesen los Estados Unidos.
https://www.cair.com/press_releases/cair-welcomes-u-s-commissions-recommendation-to-sanction-india-as-violator-of-religious-freedom-targeting-muslims/
-----
Libya: Hifter's forces announce Ramadan cease-fire after military setbacks
30.04.2020
A spokesman for Libya's eastern-based forces said Wednesday that they would cease fire during the rest of the Islamic holy month of Ramadan.
"The General Command announces a pause in all military operations from its side, and any breach by the terrorist militias will be met with immediate and harsh response," Ahmed al-Mosmari, who represents the forces of military commander Khalifa Hifter, said.
The move was in response to international appeals for a humanitarian truce during Ramadan and, according to news agency AP, so authorities could focus on dealing with the coronavirus pandemic.
Libya has been torn between two rival administrations – the UN-backed Government of National Accord (GNA) based in Tripoli, and a parallel administration based in the eastern city of Benghazi which is aligned with forces loyal to General Khalifa Hifter.
The most recent round of fighting began in April last year when Hifter's forces launched an offensive trying to take Tripoli, clashing with an array of militias loosely allied with the GNA.
Violence has escalated in recent weeks with the warring sides accusing each other of shelling civilian neighborhoods. In recent days, the GNA declared its forces had made gains by recapturing two strategic cities west of Tripoli from Hifter's forces. Reuters reported that the pro-GNA forces were supported by Turkish military drones that targeted eastern supply lines.
The truce announcement comes amid political uncertainty in the eastern camp after Hifter said on Monday that he would no longer recognize a UN-brokered 2015 power-sharing deal. Hifter said the agreement has "destroyed the country," and is now "a thing of the past."
The acting UN envoy in Libya, Stephanie Williams, on Tuesday called for a humanitarian truce during Ramadan which could pave the way for a permanent cease-fire.
Libya has been embroiled in conflict and lawlessness since the NATO-backed overthrow of longtime dictator Moammar Ghadafi in 2011. Despite pledges made at a high-profile peace summit in Berlin earlier this year, the chaos has worsened in recent weeks.
The clashes have also complicated Libya's efforts to fight the coronavirus pandemic. So far the country has reported 61 cases and two deaths. The World Health Organization said Tuesday that shelling and water shortages near Tripoli are "just some of the threads that impede our work to protect innocent people from COVID-19 and other health risks."
https://www.dw.com/en/libya-hifters-forces-announce-ramadan-cease-fire-after-military-setbacks/a-53286715
-----
Muslims eager to queue for curries at what could be Australia's first Ramadan drive-through
30-04-2020
Islamic leaders on the Gold Coast believe they have opened Australia's first drive-through takeaway food service for Muslims observing the month Ramadan.
Gold Coast Islamic Society president Hussin Goss said the sudden closure of the Arundel Mosque last month due to the coronavirus pandemic had forced them to think outside the square.
"Like Maccas has a drive-through, we've got a drive-through for people picking up their meals, taking them home, and breaking their fast."
Each day during the month, Muslims abstain from eating, drinking, smoking, and participating in anything that is ill-natured or excessive from dawn until sunset.
"We have a lot of international students and, as we're all aware, they don't have jobs. They don't have any income coming in at all," he said.
Student Junaid Ali said the drive-through was a big opportunity for students to see fellow Muslims as they missed Ramadan with their families.(ABC Gold Coast: Mark Zita)
University student Junaid Ali said he was very grateful for the drive-through, but he was disappointed not to be gathering with his family.
On March 23 the Prime Minister announced the closure of pubs, licenced clubs, cinemas, and places of worship to reduce the spread of COVID-19.
More than a month on, and with the spread seemingly under control, Mr Goss is calling on the Federal Government to loosen some restrictions.
"I would hope that the Prime Minister would look at opening up places of worship before they open up pubs and restaurants," said the Gold Coast Islamic leader.
https://www.abc.net.au/news/2020-04-30/queueing-at-australias-first-ramadan-drive-through/12200622
----
India
Three persons arrested for creating ruckus at mosque in Greater Noida
Apr 29, 2020
ShafaqueAlam
The police on Wednesday arrested three persons for allegedly creating ruckus at a mosque and throwing out mats and other things in Bhanota village in Surajpur. The suspects were identified as Satish Singh, Dinesh Sharma, and Neeraj, residents of Bhanota village.
The complainant, Sadin, said that there has been a mosque in the village since 2011. "We had bought a piece of land from a local in 1994 and donated it for the mosque. Locals later built the mosque and started offering prayers," he said.
The complainant said that on March 22, a group of locals, including the suspects, reached the mosque and asked his family members, who are custodians, to lock it due to the outbreak of coronavirus disease (Covid-19). Sadin said that the mosque has been closed since then and no one has offered prayers there.
However, on April 28, a group of 100 to 150 persons gathered at the mosque and forced the family to open the lock. "They threw out the mats and other things from the mosque and also videographed the incident. They also threatened the local Muslims with dire consequences and left," he said in the complaint. The complainant said that the mob also violated lockdown norms by gathering in huge numbers and creating a ruckus.
Chand Khan, a resident, said that there are around 100 Muslim families in the village and only one mosque. "We had built this mosque to offer prayers and educate our children. The premises have been locked for one month and there is no activity here. But a section of people does not want us to return to the mosque," he said.
Pradeep Tripathi, station house officer, Surajpur police station, said that based on the complaint, they registered a case against the suspects under Section 147 (rioting), Section 188 (disobedience to order duly promulgated by public servant), Section 153A (promoting enmity between different groups on grounds of religion, race, place of birth, residence, language, etc), Section 295-A (deliberate and malicious acts, intended to outrage religious feelings), Section 504 (intentional insult), and Section 506 (criminal intimidation) of the Indian Penal Code.
"The three suspects were arrested from their residences on Wednesday. During interrogation, they said that at the time of the land deal, the buyer had not stated that they would use the land for a mosque," Tripathi said.
https://www.hindustantimes.com/cities/three-persons-arrested-for-creating-ruckus-at-mosque-in-greater-noida/story-7kZkhiURh1qNNe7bDv9fCL.html
-----
Bengal should test more, Trinamool government appeasing Muslims: BJP
Apr 30, 2020
By Rakesh Mohan Chaturvedi
NEW DELHI: BJP has slammed the Mamata Banerjee-led government in West Bengal for not conducting 'enough tests' to identify Covid-19 patients. It cited the example of Maharashtra, Madhya Pradesh and Gujarat, which recorded 400 out of total 1,008 deaths, to allude that Bengal was 'not testing enough' to keep under wraps the number of people infected by the pandemic. Incidentally, the same charge has been levelled against India by foreign agencies for having a relatively low number of reported cases and deaths.
In a letter to Banerjee which was released to the press on Wednesday, BJP general secretary Kailash Vijayvargiya alleged she had been practising 'vote-bank politics' by 'appeasement', making it a 'haven for illegal Bangladeshi immigrants' and giving 'unchecked powers to the Muslim community' to conduct their affairs. "You keep saying that one has to bear if a milch cow kicks. It is because of your shameful appeasement politics that the Muslim community disdainfully violated the lockdown, throwing caution to the wind," Vijayvargiya alleged. He referred to an incident in Tikiyapara, Howrah, on Tuesday were the Muslim community attacked the police which tried to disperse people from crowding a market. The attack caused "grievous and irreparable loss" to the morale of the department, he alleged.
The letter referred to the CM's opposition to the inter-ministerial central team that visited the state and the steps taken to deal with the situation, the central government's rations 'not reaching' the poor, the tussle between governor Jagdeep Dhankar and Banerjee and doctors and medics 'not being provided' personal protective equipment which endangered their lives. Two eminent doctors have succumbed to Covid-19 in the line of duty in Bengal.
"Is human death mere statistic to you? The day when you announced 18 deaths in West Bengal, you officers admitted in front of the ICMT sent by the central government that the real number was 57," Vijayvargiya said in his letter. The official toll is 20 at the moment.
https://economictimes.indiatimes.com/news/politics-and-nation/bengal-should-test-more-trinamool-government-appeasing-muslims-bjp/articleshow/75462141.cms
------
Prime Minister Modi greets Hasina on Ramadan, discusses pandemic situation
APRIL 30, 2020
Continuing with India's proactive diplomacy with Bangladesh, Prime Minister Narendra Modi on Wednesday dialled his counterpart Sheikh Hasina in Dhaka and discussed the COVID-19 pandemic in the region. The telephonic conversation was initiated by Mr. Modi who conveyed greetings of the holy month of Ramadan to the people of Bangladesh and Sheikh Hasina. Mr. Modi and Ms .Hasina assessed the status of implementation of the measures taken to deal with the pandemic which has affected more than 30,000 people in India and around 7,000 in Bangladesh. "Both the leaders expressed satisfaction at continuation of supply of essential items across the border through road, rail, inlnd waterways and air," said a press release from the Indian side.
Bangladesh like India has been in a lockdown though it has allowed essential supplies and transport with India whenever necessary. It has also flown several flights to India to evacuate a large number of its nationals stranded because of the lockdown. Mr. Modi and Sheikh Hasina were part of the March 15 teleconference that led to the formation of the SAARC COVID-19 Emergency Fund which has been used to deal with the outbreak in South Asia.
Diplomatic sources indicated that the call shows a continued Indian desire to address the damage to ties sustained during the 2019 election campaign and subsequently by the shrill campaign from sections of the ruling establishment in India during the CAA and NRC episodes. "It appears like Prime Minister Modi's continued attempts to keep ties with Bangladesh warm after last year's difficulties," said a diplomatic source.
https://www.thehindu.com/news/national/prime-minister-modi-greets-hasina-on-ramadan-discusses-pandemic-situation/article31467542.ece
-----
Ramadan 2020: Sixth rozasehri& iftar timings for Delhi, Mumbai, Chennai, Bengaluru, Patna on April 30
April,30-2020
Muslims across the world are celebrating the holy month of Ramadan with dawn-to-dusk fasting. In India, five rozas have passed with April 30, Thursday being the sixth day of Ramadan.
In Ramadan (also spelt as Ramzan), Muslims fast from dusk to dawn. Fasting is one of the five pillars of Islam. The fast begins before the sunrise with a small meal called sehri and is broken with an evening feast called Iftar.
The month of Ramadan, the ninth in the Islamic calendar which follows the lunar cycle, has special significance in the religion as it is believed the Holy Quran was sent down to earth in the month and was revealed to Prophet Mohammad in parts.
While five-times a day prayers are compulsory for Muslims throughout the year, the month has special Taraweeh prayers which are offered in groups. This year, in the light of social distancing norms and nationwide lockdown over coronavirus, Muslims have been advised not to gather for prayers and feast.
There are fixed timings of sehri and iftar for each day. Sehri timing means that the meal has to be finished before the given time and iftar timing is for breaking the fast.
https://www.dnaindia.com/india/report-ramadan-2020-sixth-roza-sehri-iftar-timings-for-delhi-mumbai-chennai-bengaluru-patna-on-april-30-2823060
------
AIMIM leader Waris Pathan did not threaten cops to open mosques amid lockdown, 2016 video viral
Kinjal
29th April 2020
A video of former AIMIM MLA Waris Pathan was shared by BJP MLA Arjun Singh with the claim that Pathan is threatening Mumbai police during the lockdown. In the video, Pathan can be heard telling a cop to not disrupt people from offering namaz. "These people have been praying here for the last 40 years. Do not try shutting down the mosque, do not try to shut down the loudspeakers," he says.
Facebook user Ankur Gupta shared the video with the following caption – "#Warispathan…. See their dadagiri with our Coronavirus warriors who is doing their duty towards us to save our lives & these type of mullahs are threatening the police officer who is doing his duty very honestly."
The video is viral on Twitter and Facebook. Alt News has also received multiple fact-check requests on its official mobile application.
A keyword search on Youtube – 'Waris Pathan police Mumbai Live' – took us to the same video uploaded by the channel on November 18, 2016. The description of the video is as follows – "Video of MIM MLA Waris Pathan abusing police has gone viral. This happened when police asked Pathan to lower down the loud speaker's voice which did not go well with Pathan and he started abusing the police."
In the complete video, one can hear Pathan asking the cop to let the hospital and mosque function per usual since they have permission till 10 PM. Further in the clip, he addresses the crowd – "You all don't break law and order. They [police] are not troubling us. They are supporting us. It is our duty to stay within the bounds of law and order."
Mumbai Live had also carried an article on the incident. A YouTube channel AIMIM India had shared the video on November 14, 2016, with the following caption – "Yesterday's Night Situation was tensed at Byculla due to issue of Loudspeakers at Mosque..Police were harassing locals..AIMIM Byculla MLA Advocate Waris Pathan intervens and solved the issue..Thousands gathered on streets..Thanks to our Brave Daring MLA Waris Pathan."
Sir @CPMumbaiPolice I would like to bring it to your notice that some people are trying to spread false news in this pandemic by posting 5yrs old video where the issue of loudspeaker was resolved after my timely intervention in the presence of Cops. @asadowaisi
Therefore, BJP MLA Arjun Singh targeting AIMIM leaders Waris Pathan using an old video. He falsely claimed that Pathan threatened policemen to keep mosques open during the lockdown imposed due to coronavirus outbreak.
Independent journalism that speaks truth to power and is free of corporate and political control is possible only when people start contributing towards the same. Please consider donating towards this endeavour to fight fake news and misinformation.
https://www.altnews.in/2016-video-of-aimim-leader-waris-pathan-arguing-with-cops-shared-as-recent/
----
South Asia
Gazipur Mayor Zahangir backtracks on mosque reopening decision
30 Apr 2020
In a video posted on Facebook on Wednesday, he urged the citizens to follow the religious affairs ministry's instructions limiting the presence of worshippers even during Ramadan.
"No one can act beyond government instructions. I've talked to the mayor about it. He said he would withdraw his announcement," Nurul said.
Police turned away Muslim worshippers who came to offer Friday prayers at mosque as the government has imposed strict restrictions on gathering due to the coronavirus outbreak. Photo: Asif Mahmud OveMd Anwar Hossain, commissioner of Gazipur Metropolitan Police, said the governing bodies of all the mosques have been reminded of the government instructions and the mosques were making people aware of these on megaphone.
Gazipur, an industrial hub, is one of the mostly affected districts with 320 confirmed coronavirus cases, just after Dhaka and Narayanganj.
But Zahangir, who won the election in 2018 on the ruling Awami League's ticket, said on Tuesday that "only a few areas in the metropolis have coronavirus patients."
The city corporation would be cooperative if the Muslim worshippers of the areas with no coronavirus patient want to offer Juma and Taraweeh prayers at mosques, he said.
The government has decided not to allow more than 12 people at mosques for Ramadan evening prayers this year as the coronavirus outbreak continues to escalate. The 12 will include senior clerics and other mosque officials.
The restrictions on congregational prayers in mosques have remained in force. Five is the most number of people allowed to pray in mosques. As many as 10 men can offer Juma prayers on Fridays.
https://bdnews24.com/bangladesh/2020/04/30/gazipur-mayor-zahangir-backtracks-on-mosque-reopening-decision
-----
Afghan forces repulse Taliban attack in Kandahar province, killing at least 13 militants
30 Apr 2020
The Afghan forces repulsed a Taliban attack in southern Kandahar province and killed at least 13 assailant militants during the operation.
The Special Operations Corps in a statement said the Taliban militants attacked the security posts in Shah WaliKot district late on Tuesday night.
The statement further added that the Afghan forces responded to the attack, killing at least 13 assailant militants.
The Special Operations Corps also added that the Afghan forces confiscated an M-16 rifle, an Ak-47 rifle, an RPG rocket launcher and two binoculars of the rifles during the operation.
https://www.khaama.com/afghan-forces-repulse-taliban-attack-in-kandahar-province-killing-at-least-13-militants-04742/
----
Reactions to spread of coronavirus among employees of Afghanistan's largest media group
30 Apr 2020
Reports regarding the outbreak of the novel coronavirus among employees of Moby Group, one of Afghanistan's largest media group's, left the social media users appalled as the disease is sharply spreading the country.
The Tolo News run by Moby Group, confirmed Wednesday that some employees of Moby Group have contracted the novel coronavirus (COVID-19) virus.
Tolo News did not elaborate further but two prominent journalists of the news channel confirmed that they have tested positive for the disease.
Yaser Abrar, one of the journalists and anchors of Tolo News, confirmed in an online post that he has tested positive for COVID-19 as he sought support and advices from the people to fight the disease.
Tamim Hamid, another reporter of Tolo News, also confirmed in an online post that he is in the middle of the fight against coronavirus, expressing hopes that he would soon return to work and join his colleagues in the field of reporting.
Meanwhile, the social media users and media activists have massively taken to social media websites offering good wishes to Tolo News and Moby Group employees who have contracted the disease.
Reacting to reports regarding the outbreak of COVID-19 among Moby Group employees, Tariq Arian, a spokesperson for the Ministry of Interior, tweeted that the doctors, police and reporters are in the frontline of the fight against coronavirus.
This comes as the Ministry of Public Health announced Wednesday that the total positive cases of the novel coronavirus (COVID-19) have reached 1939 as the authorities recorded 110 new positive cases.
https://www.khaama.com/reactions-to-spread-of-coronavirus-among-employees-of-afghanistans-largest-media-group-04740/
-----
Taliban's claim, concern, warning regarding coronavirus spread in jails
29 Apr 2020
The Taliban group has claimed that 46 inmates have contracted the novel coronavirus in Afghan jails, warning that the group would avenge if its prisoners lose their lives due to the disease.
"We had previously warned that the prisoner situation in the Kabul administration jails is dire as facilities are packed and there are widespread issues regarding food, drink and medicine availability therefore if the novel coronavirus were to enter these prisons, it could prove catastrophic," the group said in a statement.
The statement further added "Responsibility here falls squarely on the shoulders of the United States of America because if it had shown urgency in the implementation of the agreement, we could have made major progress in all facets including the release of prisoners and detainees would have been saved from this danger."
"The Kabul administration officials along with the supposed human right organizations and those raising humanitarian slogans all failed at taking this issue seriously and have pushed the situation to the brink," the statement said, adding that "The Islamic Emirate has serious concerns about the health of its prisoners and calls on the various international right organizations to not treat this humanitarian issue in a tactful or political manner but to properly execute their responsibilities in saving the lives human beings."
The group also added "All sides must understand that if the prisoners of the Islamic Emirate are lost, each one will be asked about and revenge taken upon the cold-hearted enemy."
https://www.khaama.com/talibans-claim-concern-warning-regarding-coronavirus-spread-in-jails-04739/
-----
China reacts as coronavirus cases show a steep rise in Afghanistan
29 Apr 2020
The government of China pledged more support to Afghanistan amid rising cases in the novel coronavirus (COVID-19) disease in the country, pledging 7.2 tons of anti-epidemic materials supply which will be delivered by a charter flight.
"The epidemic is still spreading in Afghanistan. There are new confirmed cases every day. The Chinese embassy in Kabul has been in close contact with the Ministry of Public Health of Afghanistan to keep up with the situation," the Chinese Ambassador in Afghanistan Wang Yu said.
He also added "Based on the new demand of Afghanistan for fighting the epidemic, the Chinese embassy in Kabul has arranged another charter flight to deliver the second batch of anti-epidemic materials assistance to Afghanistan."
"The materials we are going to hand over are from China International Development Cooperation Agency and other Chinese organizations," the Ambassador said, adding that "This batch includes more materials than the first batch, including test kits, medical protective masks, surgical masks, protective clothing, protective goggles and infrared temperature guns. The total materials are in 727 boxes, weighing 7.2 tons."
This comes as the Ministry of Public Health announced earlier today that the total positive cases of COVID-19 has climbed to 1,939 across the country.
https://www.khaama.com/china-reacts-as-coronavirus-cases-show-a-steep-rise-in-afghanistan-04738/
-----
Arab world
UNSC voices concern about secessionist bid in south Yemen
30 April 2020
The United Nations Security Council (UNSC) has expressed deep concern about a declaration of self-rule in Yemen's south by separatists allied to the United Arab Emirates (UAE), reaffirming the world body's strong commitment to Yemen's "unity and sovereignty."
On Sunday, the so-called Southern Transitional Council (STC), a UAE-backed secessionist organization, declared "emergency rules" in Yemen's southern provinces.
The separatists, once part of the Saudi-led military coalition against Yemen and loyal to the Arab country's former president Abd Rabbuh Mansur Hadi, broke ties with Saudi-sponsored militants in Yemen and accused Hadi of corruption and mismanagement.
UAE-backed separatists break with their once-allied Saudi-sponsored militants in Yemen, saying they will establish a self-ruled administration in the war-torn country's southern regions.
The Saudi-led coalition, comprised of a number of Saudi Arabia's allies, the most significant of them being the UAE, invaded Yemen in March 2015 to restore power to Hadi, who had fled to Riyadh earlier amid a popular uprising.
On Wednesday, members of the UNSC issued a statement expressing their concern that the STC's actions "could distract from the efforts of [UN] Special Envoy Martin Griffiths to secure a nationwide ceasefire, confidence-building measures, and the restart of a Yemeni-led and owned inclusive political process."
They also urged the self-proclaimed Hadi regime and the Houthi movement, whose members have helped establish a new government following Hadi's escape, to "reinforce their engagement with a view to reaching agreement on the Special Envoy's proposals as soon as possible."
The UNSC also called on the STC to expedite the implementation of an agreement that was signed by the UAE-backed separatists and Hadi's self-proclaimed regime in Riyadh last November with the aim of bringing about reconciliation between the two sides.
The agreement came after the separatists took over Aden — once declared by Hadi his regime's "temporary capital" in Yemen — and opened a chapter of months-long bloody clashes between the two sides.
The STC was founded in 2017 and has since been receiving full support from the UAE, largely due to Abu Dhabi's desire to exert control over southern Yemeni ports and through them over the maritime routes around the Arabian Peninsula.
A day after the STC declared the establishment of its so-called emergency rule in southern Yemen, the deeply-divided Saudi-led military coalition called on the separatists to return to the Riyadh agreement.
A Saudi Arabia coalition that is invading Yemen calls on UAE-backed separatists that used to ally it to return to a so-called de-confliction deal after they declared "self-rule."
The clashes that preceded the Riyadh deal and the Emirati-backed forces' recent declaration expose wide gaps between Saudi Arabia and the Emirates concerning the direction of a war that has fallen short of all of its objectives.
https://www.presstv.com/Detail/2020/04/30/624260/Yemen-south-self-rule-UN
-----
'Saudis pursuing hidden agenda in southern Yemen'
30 April 2020
The Saudi-led coalition, mired in a years-long war in Yemen, has rejected a declaration of self-rule by pro-Emirati militants in Yemen's southern regions.
National political parties led by the Ansarallah movement described the move by Riyadh as a cover-up to achieve its goals.
The Saudi-led coalition has urged the UAE-backed forces to return to a power-sharing deal signed in Riyadh last November; however, political analysts say Riyadh is using the case as a pretext for its hidden agendas.
Riyadh's agreement halted months of heavy clashes between the UAE-backed troops and forces loyal to former Yemeni president Abd Rabbuh Mansur Hadi. Both sides serve the Saudi-led military coalition and have been engaged in a bloody war on Yemeni people since March 2015.
Experts have stressed that there is no military solution to the conflict in Yemen. The latest Saudi attempts to tear the country apart will be another failure for the Kingdom and will only leave a trail of deaths and destruction.
https://www.presstv.com/Detail/2020/04/30/624242/Yemen-Saudi-coalition-UAE-separatists%C2%A0
-----
Ramadan WhatsApp scam: Beware of link claiming to be to Sheikh Mohammed's website
April 29, 2020
Ali Al Shouk
Dubai: UAE authorities have issued a warning about a WhatsApp scam with a suspicious link to a Ramadan contest to win Dh1 million.
The Telecommunications Regulatory Authority (TRA) posted a video on its Twitter account showing the message, saying the prize was offered by His Highness Sheikh Mohammed Bin Rashid Al Maktoum, Vice-President and Prime Minister of the UAE and Ruler of Dubai.
The fake link appears to be to Sheikh Mohammed's website, offering people the chance to answer three religion questions to win the prize money.
"Scam messages start popping at the beginning of Ramadan. This site alleged that it is Sheikh Mohammad bin Rashid's official website. When you see the link on WhatsApp, it shows that it's the Sheikh's website but when you click on the link, the website changes and is not like the one showed in the message," TRA said in the video.
"The site is fake. Be careful of short links received from unknown people. It might be a trick to scam you, be careful" TRA added in the video.
https://gulfnews.com/uae/ramadan-whatsapp-scam-beware-of-link-claiming-to-be-to-sheikh-mohammeds-website-1.71246269
----
Dubai Islamic Bank first-quarter profit falls 18% on 1.5 bln dirhams in provisions
23 APR 2020
Dubai Islamic Bank posted 1.11 billion dirhams ($302 million) in net profit for the first three months of this year compared to 1.36 billion dirhams for the same quarter in 2019, a drop of 18.31%.
The UAE's largest standalone Islamic bank said in a bourse filing on Thursday (Apr 30) its profit was achieved "despite creating additional provision and buffers of nearly AED 1.5 billion" ($408 million).
"Extraordinary gain and recurring profits allowed us to build further stage 1, 2 & 3 provisions adding to the management overlay totaling AED c.1.5 bln to protect the financial position of the bank from any expected impacts emanating from the pandemic, oil price volatility and low interest rate environment," said Chilwan.
DIB CEO Adnan Chilwan said the bank adopted "a highly conservative approach" to provisioning in the first quarter to build coverage and protection against impacts on asset quality arising from the economic fallouts.
Financing went up by 17% year-on-year to reach 216.17 billion dirhams. This includes consumer financing of 52 billion dirhams and corporate financing of 133 billion dirhams.
Along with other UAE banks, Dubai Islamic is offering relief packages for retail and corporate clients to soften the impact of the COVID-19 crisis and other economic fallouts. They include repayment holidays, deferred monthly instalments, and debt consolidation.
UAE authorities have also extended stimulus packages worth billions of dollars to mitigate the economic impact of the pandemic and lower oil prices, but even with these, the credit profiles of GCC banks are set to weaken, according to Fitch Ratings.
DIB has concluded its acquisition of Noor Bank through a share swap transaction and the smaller institution's operations are currently being integrated into DIB. The process is scheduled for completion by the end of the year, said the bank.
https://www.salaamgateway.com/story/dubai-islamic-bank-first-quarter-profit-falls-18-on-15-bln-dirhams-in-provisions
----
ERC provides Ramadan Mir to Hadramaut residents in Yemen
30-04-2020
HADRAMAUT, 30th April, 2020 (WAM) -- The Emirates Red Crescent, ERC, has begun its distribution of Ramadan Mir across various districts of the Hadramaut Governorate, targeting underprivileged families, as part of the UAE's efforts to support the people of Yemen.
The ERC responded via its annual Ramadan Mir campaign, which will see 1,000 meals distributed across Hadramaut daily throughout the Holy Month.
Hamid Rashid Al Shamsi, an ERC representative in Hadramaut, noted that the campaign is part of the UAE aid authority's framework of spreading the spirit of volunteering and charitable giving, in a bid to support individuals in need.
He explained that the campaign is part of the ERC's annual projects implemented during Ramadan, embodying the values of fraternity and tolerance.
http://wam.ae/en/details/1395302839803
------
Intermittent fasting: The health trend Muslims have been practicing for centuries
DEEMA AL-KHUDAIR
April 30, 2020
JEDDAH: Muslims have been practicing eating patterns similar to intermittent fasting for centuries.
Intermittent fasting has been around for over five decades and there are different forms. It is a popular health and fitness trend, with people using it to lose weight, improve their health and simplify their lifestyles as a number of studies show that it can have positive effects on the body and brain.
It is an eating pattern that cycles between periods of fasting and eating. It does not specify which foods you should eat but rather when you should eat them.
Saudi clinical and sports dietitian and lecturer at King Abdulaziz University, SundosMalaikah, said elderly Muslims held onto the habit of fasting twice a week as it was Sunnah (the way of the prophet).
"I appreciate the fact that we've been practicing this method of fasting years before it became cool and popular," Malaikah told Arab News. "Many of the older generation continue to fast all year long because they've seen how good it makes them feel. A lot of our grandparents fast Mondays and Thursdays, and it's part of their lifestyle. They don't know the scientific health benefits of fasting, they merely follow it because it's Sunnah and makes them feel good and lighter and I like that. There's even a two-five fasting method where you fast two days a week only which is what the Sunnah recommends - to fast Mondays and Thursdays.
Malaikah said that, when done right, there were many health benefits to fasting. It could help reduce excess body weight, improve glucose control, enhance insulin sensitivity, reduce blood lipids, and reduce risk of chronic disease.
"People usually say they feel 'lighter' when they fast because we're giving our digestive system a lot of time to digest food and eliminate waste."
"However, some would argue that proper fasting as it is done during Ramadan shows even more pronounced benefits since it's more rigorous."
She added that the problem was that some people lost all the health benefits of fasting by binging when they were finally allowed to eat "which is exactly the opposite of what we want to achieve."
"Unfortunately, during Ramadan we observe many wrong eating behaviors such as binge eating, buying too much dessert, preparing more food than what the family needs and so on. To make fasting easier, our meals should be carefully planned so that they're highly nutritious, have enough protein, healthy fat and complex carbohydrates."
Clinical dietitian, Arwa Bajkhaif, said Ramadan fasting was a time-restricted intermittent fasting practiced by adult Muslims for a whole lunar month every year.
"In my opinion, they both would have similar health benefits if implemented healthily and correctly, since the main similarity for both of them is the practice of abstinence or restriction of food, calorie-containing drinks and or water for a certain period regardless of the aim or the reason behind the fasting whether it's for religious, spiritual reasons or aiming for losing weight," Bajkhaif told Arab News.
She said there was no ideal number of hours for intermittent fasting when it came to weight loss advantage but that practicing was worth a try.
"Unfortunately, currently, there is not enough evidence for us to neither generalize what the ideal number of fasting hours nor to tell whether intermittent fasting is a sustainable treatment for obesity as well as if it's health-related benefits are maintained for a long time. But it's still worth trying."
She said many people found intermittent fasting to be more flexible than strict calorie counting and that, since there was a certain eating window and less time for eating was required, less planning was required too. By eating fewer and burning more calories, intermittent fasting caused weight loss by changing both sides of the calorie equation. Ramadan fasting could be an effective approach for weight loss as well as for diabetes and disease prevention.
Bajkhaif warned that intermittent fasting was not recommended for children, teens, people on medication that required food intake, diabetic patients, those with eating disorders, pregnant and breastfeeding women.
She said Islam was a great teacher for every Muslim. "It prompts us to avoid many problems before they happen. Its benefits are great to us as Muslims, including feeling for those in need, and it promotes self-control and avoiding the health problems caused by extravagance. Our religion also urges us to take care of our health - that is one of God's blessings on us - and this is an individual responsibility of all Muslims," she added.
https://www.arabnews.com/node/1667201/saudi-arabia
------
DHFC calls all artists to participate in Ramadan-themed virtual gallery
April 30 2020
In support of 'Stand with Creatives' campaign, Doha Festival City (DHFC) has announced the launch of its community-driven initiative targeting all artists in Qatar in an opportunity to showcase their artwork in Ramadan-themed virtual gallery.
Under the umbrella of DHFC's ongoing 'Qatar Unites Us' community initiative, both established and up-and-coming artists will have the opportunity to get their artwork published on the mall's highly-viewed platforms such as their website and social media channels, and enjoy the opportunity to put their creativity on display.
DHFC encourages everyone in Qatar to submit their Ramadan-themed artworks, whether it's a painting, photography, digital art or calligraphy starting from May 1.
Participants can submit their artwork on the link: https://www.dohafestivalcity.com/home/whats-on/events/virtualgallery. Deadline for submission is May 10.
All submitted artwork will be reviewed and selected carefully by designated team from DHFC. Once successful, the selected artworks will be posted on the mall's dedicated 'Qatar Unites Us' virtual gallery on their website www.dohafestivalcity.com as well as social media channels between May 11 and 15 with full credit to the artists in an effort to provide them the exposure and recognition that they deserve.
Successful applicants must ensure all artworks are themed under "Ramadan in Qatar", mentioning the artist's name and supported by a statement in both English and Arabic languages along with the artwork title and description.
Participants should also provide high-quality pictures or scans of their artwork, their social media handles, and website URL (if applicable).
Robert Hall, general manager of DHFC, said: "We are pleased to give all of Qatar's artists, whether professionals or amateurs, the opportunity to be featured across our channels.
We take pride in supporting the #StandwithCreatives initiative to promote creativity within the community, and under our ongoing #QatarUnitesUs community programme, we hope to be able to give back to Qatar's creative community the recognition it deserves especially in times like these." There are more than 430 stores, including 46 exclusive brands, at DHFC.
https://www.gulf-times.com/story/662025/DHFC-calls-all-artists-to-participate-in-Ramadan-t
-----
Mideast
Interesting Customs and Traditions to Mark the Holy Month of Ramadan In Northwestern Iran
April 30, 2020
People in western and northwestern Iran have interesting customs and traditions to mark the holy month of Ramadan.
It has been hundreds of years that Azeris (people from northwestern provinces of East Azarbaijan and West Azarbaijan) begin practicing the Qabakhlama Tradition 3 to 10 days before the arrival of the month of Ramadan to honour the occasion. They do not mark Ramadan by fasting only. Rather, they clean their houses and mosques for one month of praying and worshipping. Local women, especially those in villages, attach special importance to cleaning homes because they believe a house which is not cleat as Ramadan begins will not be blessed during the holy month.
In some parts of East Azarbaijan province, it is customary for each family to sacrifice an animal, one that they can afford, and then use that meat to cook meals throughout the month of Ramadan. They believe doing so will bring blessings to the house. They would make meals served before dawn and at fast-breaking time at dusk with this meat. Of course, the fast-breaking table in this locality always has two items on it: dates and salt. People in East Azarbaijan believe Imam Ali would break his fats with dates and salt; hence, the same should be on their table, too.
In northwestern Iran, it is a custom to look at oneself in the mirror after Ramadan begins at recite prayers for the souls of Prophet Mohammad and his Household. Still many of the elderly grab the mirror and move it round themselves and other family members at home after seeing themselves in the mirror in order to ward off evil and vice. This tradition is based on the belief that the hearts of the faithful should be clean like a mirror.
In most cultures, it is a custom in Ramadan to wake up neighbours and people in the neighbourhood at dawn when people have Suhoor. In northwestern Iran, a ritual called "Obashdan" is practiced whereby people wake up their neighbours at the time of Suhoor. In the past, villagers would specify the time of dawn as well as the call-to-prayers time by tracking the movements of stars. In this region, people now wake up neighbours and locals by reciting prayers at mosques as well as banging on the drums and home doors.
Another Ramadan tradition in northwest Iran is the "TabaghOrooji" ritual which is performed for families whose daughter or son has just got married. In this tradition, the family of the groom puts some clothes, shawls, headscarves and different types of cookies and fruit on a tray and takes it to the newlywed couple's home as a Ramadan gift.
Azeri women decorate tables with colourful foods in Ramadan. One of the foods cooked in Ramadan and served at fast-breaking time at dusk is the "Tareh-Halvasi" pudding.
The traditional bread known as "Yaghlifatir" is another popular food cooked in the month of Ramadan and found on the tables of most Azeri people. If someone wants to give a votive offering or a gift in Ramadan, they cook this type of bread. They believe they feel less hungry when they eat this type of bread
https://ifpnews.com/ramadan-traditions-in-northwestern-iran
-----
Iran backs united Yemen, its territorial integrity as UAE-aligned separatists declare self-rule
29 April 2020
Iranian Foreign Ministry Spokesman Abbas Mousavi says Tehran backs a united Yemen, warning against insurgency attempts there, after separatist groups allied with the United Arab Emirates (UAE) declared self-rule in the south of the war-torn country.
Mousavi said Wednesday that the only solution to the establishment of stability in the Arab country was unity among Yemeni groups and comprehensive intra-Yemeni talks.
"Based on its principled policy, the Islamic Republic of Iran supports the united Yemen whose territorial integrity is protected," he added.
He pointed to recent declaration of self-rule in Yemen's south and warned, "Such actions will not only fail to help solve the current problems in Yemen, but will complicate the situation in the country."
Stressing the need to stop the war against Yemen and end the brutal siege against the country, the spokesman said the only way "to help stabilize Yemen is [to foster] unity among the Yemeni groups and hold comprehensive political talks between the various groups to form a united and inclusive government."
The remarks came after the so-called Southern Transitional Council (STC)last week declared a state of emergency and announced "self-administration rule" in Yemen's southern regions, including the port city of Aden — which has served as the seat of Yemen's former Riyadh-allied government during the Saudi-led war.
Saudi Arabia and the US react to a self-rule declaration by separatists in southern Yemen, calling on the UAE-backed militants to rescind their move and return to the Riyadh power-sharing agreement.
UN Yemen envoy Martin Griffiths said in a statement that he was worried by the developments, adding, "Now, more than ever, all political actors must cooperate in good faith, refrain from taking escalatory actions, and put the interests of Yemenis first."
Even the Saudi-led military alliance urged the STC to rescind its self-rule declaration, saying it was an "escalatory action" at a time all parties should focus on confronting the coronavirus.
Yemen has been under a Saudi-led war that has killed thousands of lives since Riyadh and its allies intervened in March 2015 to bring back to power former Yemeni president Abd Rabbuh Mansur Hadi and crush the Houthi Ansarullah movement.
Some 24 million people in Yemen — about 80% of the population — are reliant on humanitarian aid and millions are on the brink of starvation.
https://www.presstv.com/Detail/2020/04/29/624221/Iran-Yemen
-----
Persian Gulf identity of Islamic Republic of Iran: Navy commander
Apr 29, 2020
Tehran, April 29, IRNA -- Commander of the Iranian Army's Navy Rear Admiral Hossein Khanzadi said in a statement on Wednesday that the Persian Gulf constitutes part of identity of the Islamic Republic of Iran and today it has turned into a center of confrontation between the Islamic Iranian civilization and global arrogance, led by the United States and Britain.
Geographical names are rooted in the history and civilization of geographical areas. That is, the interaction of geography and civilization. The name of Persian Gulf is reminiscent of mutual interaction between Iran and the Persian Gulf and their impacts on each other, he said.
No other geography and civilization has had interaction with the Persian Gulf as much as Iran and the Iranian maritime civilization have had, and the name of the Persian Gulf stems from the historical and civilizational interaction between Iran and the Persian Gulf.
Geographically, the Persian Gulf is located at the center of the earth and boasts of major geo-economic and geo-strategic values such as the Strait of Hormuz, the strategic oval of energy and the vast geography of Islamic Iran, which are valuable both in maritime power theory and territorial power theories, the commander said, noting that these capacities attain a special power and value in interaction with the Iranian-Islamic civilization that has been activated, become dynamic and meaningfully independent, as well as stable thanks to the Islamic Revolution.
Historically, Iran has never had as much self-made power and credibility in the sea as it does today, a power that has not been borrowed, he said.
"We give security and credibility to the seas, and we take advantage of its opportunities for peace, collective security, interaction with friends, and confrontation with enemies, and we will put an end to arrogant expansionism. This is a divine promise," Rear Admiral Khanzadi said.
What worries the enemy in this atmosphere is not our military, political and economic power, but it is the ideals of Islamic Iran, which has universal power and attraction thanks to its geopolitical capacities, he said.
"In the wake of oppressive sanctions, we have entered the world with the power of knowledge and thought, and we will astound the world," Rear Admiral Khanzadi said, noting that therefore, the name of the Persian Gulf is worth this region. As the name of the Bay of Pigs befits failure of the Americans and is linked to their humiliation.
The commander further maintained that the Americans bring the regional countries nothing but the second-hand crises that the Islamic Republic of Iran is capable of controlling them! Therefore, wandering in the Persian Gulf and the seas around the Islamic Republic of Iran is forbidden! Imposing undesirable and cruel security arrangements on the region is forbidden!
As long as the United States and its allies are wandering in the region, collective and global security will be meaningless! American security means terror, intimidation, controlled insecurity, and the imposition of proxy wars on the region and the world. The region and the world must be cleansed of the American wanderings and to do that unity, empathy and convergence are needed, he said.
"We are very serious in maintaining collective peace and security in the region and will never allow any external element to make the region insecure," Khanzadi reiterated.
https://en.irna.ir/news/83770118/Persian-Gulf-identity-of-Islamic-Republic-of-Iran-Navy-commander
----
Turkey censures Haftar for seeking 'military dictatorship' in Libya
29 April 2020
Turkey says it will defend the internationally recognized government of Libya against the 'military dictatorship' planned by renegade General Khalifa Haftar, who has claimed to have a "mandate" to rule the African country.
Libya plunged into chaos in 2011, when a popular uprising and a NATO intervention led to the ouster, and later killing, of long-time dictator Muammar Gaddafi. The country has been divided between the Tripoli-based government and a camp in the eastern city of Tobruk, supported militarily by Haftar's rebels since 2014.
"With this announcement, Haftar has once again demonstrated that he does not seek a political solution to the crisis in Libya, does not support international efforts in this regard... and aims to create a military dictatorship in the country."
Haftar, who has been receiving support from the United Arab Emirates, Egypt, and Saudi Arabia, launched an offensive to capture Tripoli in April last year, but has so far failed to achieve his objective of ousting the UN-backed Government of National Accord (GNA).
Ankara supports the GNA and has sent troops and pro-Turkish Syrian militants to boost the government of Prime Minister Fayez al-Sarraj.
In the Wednesday statement, Ankara reiterated that it would "definitely continue to stand by the brotherly Libyan people in defending the Government of National Accord and all other legitimate institutions of Libya."
The ministry also called on the international community to "respond, without further delay, to this person, who undoubtedly exposed his intention to establish a junta regime in Libya."
Peter Stano, the lead spokesman of the External Affairs of the European Union, said the unilateral declaration was "unacceptable."
In Moscow, Russian Foreign Minister Sergei Lavrov warned Haftar against any "unilateral" action. the diplomat said Russia does not support the warlord's statement that he would "decide unilaterally the way for the Libyan people to live."
https://www.presstv.com/Detail/2020/04/29/624191/Libya-Haftar-Turkey
------
Iran has key role in keeping security of Persian Gulf: Leader
30 April 2020
Leader of Iran's Islamic Revolution says Iran has a key role in keeping the security of the Persian Gulf, and the presence of extra-regional forces threatens any initiative that could benefit the people of the region.
In a series of tweets published on the Twitter page of Ayatollah Seyyed Ali Khamenei on Wednesday, the Leader also said that the Persian Gulf belongs to the nations living there, and those are the ones responsible for ensuring its security.
"Iran with its long coastlines has a key role in keeping the security of this region. By God's grace we will do our part. This is our historical, geographical and regional duty," said one the tweets, which were posted on the occasion of the National Persian Gulf Day.
The Leader also said that a "wise and rational collective policy" in favor of the people of the region cannot be achieved while foreign forces are present in the Persian Gulf.
The #PersianGulf region can be managed by a wise and rational collective policy that benefits all Persian Gulf countries. The factor that threatens such a proper, wise move is the presence of foreign forces in the region.
The #PersianGulf is our home & the place for the presence of the great #IranianNation. The shores of the Persian Gulf & much of the Gulf of Oman, belong to this nation, & it should be present there. It should demonstrate its power. We're a powerful nation with a great history.
"The Americans should know that this waterway is called 'the Persian Gulf.' It is not called 'the New York Gulf' or 'the Washington Gulf,'" President Rouhani told a cabinet session in Tehran.
"They should understand the circumstances [surrounding the body of water] by taking into consideration both its name and the nation that has preserved it for thousands of years, and, therefore, stop hatching plots against the Iranian nation every day," Rouhani stated.
US President Donald Trump alleged in a recent tweet that he had ordered the US Navy to "shoot down and destroy" Iranian gunboats that "harass" American ships, following a recent confrontation between US warships and Iranian military boats in the waters.
The IRGC denounced the American vessels for their "unprofessional and perilous" behavior in the waterway, and said they had "caused trouble" for one of the elite force's logistics ships that was on a routine patrol.
A US Navy statement claimed that about a dozen IRGC boats had approached several US naval vessels in the Persian Gulf "in dangerous and harassing" ways.
https://www.presstv.com/Detail/2020/04/30/624234/Iran-has-key-role-in-keeping-security-of-Persian-Gulf:-Leader
-----
Rouhani, Imran Khan call for more trade ties as Pakistan PM blasts US sanctions on Iran
29 April 2020
Iranian President Hassan Rouhani and Pakistani Prime Minister Imran Khan have called for the further expansion of bilateral ties, especially trade cooperation.
Rouhani called for the reopening of the border markets of Iran and Pakistan while observing healthcare guidelines, saying it will lead to the growth of Tehran-Islamabad trade relations.
Croatia's president, whose country holds the rotating presidency of the EU Council, has slammed the US sanctions on Iran amid the outbreak of coronavirus.
Expressing hope that the two countries will boost their economic cooperation, Rouhani also called for the implementation of the agreements already signed between Tehran and Islamabad.
Imran Khan also emphasized the development and deepening of relations with Iran, especially economic and trade cooperation, and welcomed the resumption of trade activities on the borders of the two countries and the operation of border markets in accordance with healthcare guidelines.
He said the resumption of trade between the two countries will significantly contribute to Pakistan's economy, which has been plagued by the coronavirus.
The Pakistani prime minister also condemned the US imposition of sanctions and increased economic pressure on Iran amid the difficult conditions that the world is facing due to the coronavirus pandemic, and said, "I take it upon myself to support Iran in the face of illegal US actions."
Iran's President Rouhani says the United States is violating international health regulations despite a coronavirus pandemic plaguing almost all world nations.
Pointing to the historical and cultural commonalities between the two nations and the friendly and growing relations between the two governments in various fields, including trade and economy, the two presidents stressed the need to develop all-out relations and cooperation to ensure the interests of both nations.
Rouhani and Berdimuhamedow discussed the problems and difficulties caused by the coronavirus for most countries in the world, stressing the need for efforts of all nations in the fight against COVID-19 while urging mutual cooperation between the two countries towards the goal.
Rouhani said Iran has made good achievements in the fight against the deadly virus and was ready to share its experience with Turkmenistan.
For his part, Berdimuhamedow highlighted Iran's status in the region's economic and trade relations, and said the development of relations and sincere cooperation with friendly countries, especially the Islamic Republic of Iran based on mutual respect is a priority for Turkmenistan.
Iran, one of the Middle Eastern countries hardest hit by the pandemic, has mobilized all its resources to contain COVID-19, the respiratory disease caused by coronavirus, despite the hardships due to the US sanctions.
The US re-imposed its sanctions on Iran in May 2018 after unilaterally leaving a historic UNSC-endorsed nuclear accord with the Islamic Republic and five other major powers in defiance of global criticism.
The administration of US President Donald Trump has not only snubbed global calls in recent weeks to halt the sanctions, but has even imposed more restrictive measures on the Islamic Republic.
https://www.presstv.com/Detail/2020/04/29/624208/Iran-Pakistan-Khan
-------
Europe
Militants eliminated in Russia's Yekaterinburg were Islamic State supporters
30 APR,2020
MOSCOW, April 30. /TASS/. The three militants, eliminated in Yekaterinburg, were supporters of the IS terror group, outlawed in Russia and many other countries, Russia's National Antiterrorism Committee (NAC) press service told TASS Thursday.
"According to the information available to the NAC operational headquarters, [the militants] were supporters of the IS international terror group and they plotted high-profile crimes of terrorist nature," NAC said.
The counterterrorism operation took place in Yekaterinburg suburbs late Thursday. It began after the national security agencies were tipped off about the location of individuals involved in terrorist activities. The militants were blockaded in a private residence in Yekaterinburg's Chkalovsky District. The residents of neighboring buildings were evacuated.
"After the bandits were offered to surrender, they opened fire, and were neutralized by the Federal Security Service (FSB) Special Forces. An improvised explosive device, firearms and ammo were discovered at the scene," the NAC said.
https://tass.com/society/1151769
-----
Germany raids mosques, outlaws Hezbollah
By Madeline Chambers
April 30, 2020
Berlin: Germany has banned all Iran-backed Hezbollah activity on its soil and designated it a terrorist organisation, the Interior Ministry said on Thursday.
Police also conducted early morning raids on mosque associations in four cities across Germany. Security officials believe up to 1050 people in Germany are part of Hezbollah's extremist wing.
Israel and the United States had been pushing Germany to ban the organisation. Germany had previously distinguished between Hezbollah's political arm and its military units, which have fought alongside Syrian President Bashar al-Assad's army.
Police raided four mosque associations in Dortmund and Muenster in the western state of North Rhine-Westphalia, Bremen and Berlin which they believe are close to Hezbollah, the Interior Ministry said.
A heavily armed Shiite Islamist group already designated a terrorist organisation by the United States, Hezbollah is also a significant backer and coalition partner of the government of Lebanese Prime Minister Hassan Diab, which took office in January.
"We now hope other European nations will take a close look at Germany's decision and reach the same conclusion about the true nature of Hezbollah," Harris said.
Last December, the German parliament approved a motion urging Chancellor Angela Merkel's government to ban all activities by Hezbollah on German soil, citing its "terrorist activities" especially in Syria.
On a trip to Berlin last year, US Secretary of State Mike Pompeo said he hoped Germany would follow Britain in banning Hezbollah. Britain introduced legislation in February 2019 that classified Hezbollah as a terrorist organisation.
https://www.theage.com.au/world/europe/germany-raids-mosques-outlaws-hezbollah-20200430-p54oqz.html
------
North Wales PioneerConwy's kind-hearted Muslim community rallies to support local foodbanks
29th April
The Conwy Islamic Society donated two pallets of food to foodbanks in Abergele, Penmaenmawr, Llanfairfechan, Conwy, Colwyn Bay and Kinmel Bay.
They were responding to an appeal by North Wales Police and Crime Commissioner Arfon Jones who was concerned that foodbanks were running short of supplies to meet the increased demand caused by the pandemic lockdown.
The donation was organised by Ghulam Yasin, the owner of the Texaco garage in Llanrwst, with the help of Cllr Abdul Khan, the vice chair of Conwy County Borough Council, working with his fellow Plaid Cymru councillor, Aaron Wynne.
"The Conwy Islamic Society regularly donates food to the community particularly at the start of the Islamic holy month of Ramadan but this year we decided to make a much larger donation than we normally would.
"We have two full pallets of food that will be distributed between different foodbanks. However, due to the logistics of delivering the goods we have asked representatives of the foodbanks to come to one meeting point in Llanrwst to collect the food.
Councillor Khan, who is also the proprietor of Colwyn Bay's Clock House Restaurant, says Ramadan is a very important festival to the Muslim community.
He added: "During Ramadan a Muslim must have nothing by mouth, no drink, food, even a cigarette if they smoke, between sunrise and sunset.
"And Islam teaches us it doesn't matter what religion or faith we follow we are all human beings and need support. That's why the Conwy Islamic Society is making this donation, it's for the whole community.
"The food is mainly dried goods such as pasta and tinned goods such as baked beans. At this time of uncertainty with the Coronavirus having such a profound effect on society it's vital we, in the Muslim community, do what we can to help the whole community."
He said: "I can only thank the Muslim community for such an amazing initiative and for showing such wonderful support to foodbanks across Conwy.
"The Muslim community is often misunderstood but acts of community spirited kindness such as this shows we have far more in common than that which divides us.
"The Covid-19 health crisis we are experiencing means many foodbanks are simply getting far less food donated than they were before the pandemic took hold.
"Of course. while they are seeing donations diminish demand is growing as people are struggling to buy the basic foodstuffs they need on a daily basis .
Cllr Aaron Wynne, from Llanrwst, said: "Cllr Khan and the Iman of the Canolfan Iman Centre Mosque at Llandudno Junction asked if I could help in the distribution of the donated food and I was delighted to do so.
"We thought it easier to ask the food banks to travel to Llanrwst to collect the food rather than drive around delivering to them.
" I have been busy contacting the respective foodbanks and I went to the distribution point and joined the PCC and Cllr Khan to load the food stuffs into vehicles.
"We read all the time and hear on the news about this alleged divide between the Muslim community and the rest of society but it's just wrong.
"In Conwy we have many doctors, nurses, shop workers, catering trade staff and many other professions that are Muslims all playing an important role in their local communities."
https://www.northwalespioneer.co.uk/news/18413880.conwys-kind-hearted-muslim-community-rallies-support-local-foodbanks/
-----
Southeast Asia
COVID-19 patients in West Nusa Tenggara break out of isolation, pray at mosques
April 30, 2020
Several COVID-19 patients in West Nusa Tenggara with a recent travel history to a tabligh (Islamic mass gathering) in Gowa, South Sulawesi have escaped quarantine, putting others in their vicinity at risk of contracting the disease.
A confirmed case in Central Lombok regency, identified as 50-year-old SL, broke out of isolation at a local hospital and walked home.
He snuck out of an isolation room at Praya General Hospital on Tuesday evening. His escape attempt was recorded by a hospital CCTV camera, as reported by kompas.com.
SL was later found in a field in Penujak village located nearly 10 kilometers from the hospital and taken back to the hospital by local health workers. The video depicting the encounter, as well as CCTV recording of SL's escape has since circulated on social media.
"We finally found him in a field near the Lombok International Airport overpass," an unidentified person recording the video said in the footage.
SL recently traveled to Gowa, where more than 8,200 people gathered for an international Islamic event last month, and has since tested positive for COVID-19.
"The patient said he performed subuh [dawn prayer] at Wage Mosque and later proceeded toward Panujak village, where he was found by health workers in the morning," Omdah said.
Another incident occurred in the provincial capital of Mataram, where a COVID-19 patient placed under isolation went out and participated in congregational tarawih (evening Ramadan prayers) at a local mosque.
A team from a community health center (Puskesmas) in Taliwang was deployed to conduct contact tracing on the patient, a 57-year-old man identified as S.
S, who had previously tested positive for COVID-19, did not immediately report the test result to health authorities. The patient initially resisted being placed under isolation, but eventually relented.
West Nusa Tenggara has recorded 221 confirmed cases and four deaths linked to the disease as of Wednesday. Provincial capital Mataram is the outbreak epicenter in the region, with 77 COVID-19 cases and two deaths due to the disease.
https://www.thejakartapost.com/news/2020/04/30/covid-19-patients-in-west-nusa-tenggara-break-out-of-isolation-pray-at-mosques.html
------
House grills govt over 'unconstitutional' Perppu
GhinaGhaliya
While the country struggles to flatten the infection curve, a debate has erupted over a regulation that grants the government the power to allocate emergency COVID-19 spending and a legal shield that protects officials executing the programs.
The executive order, Regulation in Lieu of Law (Perppu) No. 1/2020, which is pending approval from the House of Representatives, allows the government to extend the state budget deficit beyond the legal cap of 3 percent of gross domestic product (GDP) and allocate the spending for programs related to COVID-19 without the approval of the House.
The spending will be declared as costs to save the country from the pandemic, and any officials executing the related policies "in good faith and according to the law" cannot be subject to criminal or civil charges.
Indonesian Democratic Party of Struggle (PDI-P) lawmaker Arteria Dahlan said the Perppu infringed on the House's right to deliberate the state budget.
"The [Perppu] is to guarantee people's welfare. But isn't it trespassing constitutional rules [by granting sole authority over the budget] to the government?" he said on Wednesday during a hearing on coronavirus budget monitoring.
Facing the unprecedented crisis caused by the SARS-CoV-2 virus, the government has imposed extraordinary measures to curb transmission. Aside from applying social and travel restrictions, the government has budgeted Rp 405.1 trillion (US$24.6 billion) for COVID-19 relief measures, Rp 150 trillion of which will be allocated to economic recovery while another Rp 110 trillion will fund social aid. About Rp 75 trillion will go to health care.
If the Perppu is passed by mid-year, the government will not have to propose an amendment to the 2020 state budget to the House to make the large amount of COVID-19 funding available before the end of this year.
Lawmakers and antigraft activists have questioned the large allocation for economic recovery, as the government has also allocated large budgets for social assistance and support for industries.
A group of activists has submitted a judicial review petition to the Constitutional Court, demanding a review of Article 2 of the Perppu, which strengthens the government's budget spending authority, and Article 27 on government officials' impunity.
Marwan Jafar, a lawmaker from the National Awakening Party (PKB), praised the Perppu for accelerating efforts to combat the virus but also noted that the government should abide by the Constitution, which mandated that amendments of the state budget be passed by the House.
"We must not allow a repeat of the BLBI [Bank Indonesia liquidity support] and Bank Century graft scandals that caused great state losses," he said.
The BLBI and Bank Century bailouts are considered among the largest financial scandals in the country's history, and saw government officials imprisoned after being implicated in embezzlement of budget funds.
In the BLBI case, BI provided liquidity support to commercial banks to restore public faith in banks as they suffered massive runs during the 1998 financial crisis, but most of the money was later found to have been embezzled.
In a verdict later overturned, former Indonesian Bank Restructuring Agency (IBRA) chairman SyafruddinArysadTumenggung was sentenced to 13 years for allegedly discharging SjamsulNursalim, the owner of Bank Dagang Negara Indonesia (BDNI), from the obligation to repay the government, reportedly causing Rp 4.58 trillion in state losses. He was acquitted by the Supreme Court last year.
The bailout of Bank Century (now Bank Mutiara) in 2008 turned into a political scandal with lawmakers questioning the ballooning cost of bailing out the bank, which amounted to Rp 6.76 trillion.
The House launched a legislative inquiry into the case in 2010 that almost led to former president Susilo Bambang Yudhoyono being impeached. Finance Minister Sri MulyaniIndrawati, who held the same position at that time, was forced to leave her post.
In July 2014, the Jakarta Corruption Court sentenced former BI deputy governor Budi Mulya, the first suspect in the case investigated by the Corruption Eradication Commission (KPK), to 10 years in prison. The investigation, however, has since moved at a snail's pace.
KPK chief FirliBahuri said the antigraft agency monitored the disbursement of COVID-19 funds by the central government and local administrations regardless of the Perppu. He warned officials that, under the Corruption Law, people convicted of graft during a natural disaster could receive a maximum penalty of death.
Despite numerous natural disasters and public emergencies since 1999, the death penalty has not yet been handed down to a person convicted of such a crime.
The finance minister's special staff member YustinusPrastowo said extending the budget deficit was the only way the government could fund the extraordinary policies taken during the pandemic. He dismissed concerns that the government would "go astray" with the budget deficit, as it would have to pay for it in the coming years.
https://www.thejakartapost.com/news/2020/04/30/house-grills-govt-over-unconstitutional-perppu.html
-----
Bank Indonesia buys US$11.2b in govt bonds to support rupiah, financing needs
Adrian Wail Akhlas
April 30, 2020
Bank Indonesia (BI) has bought up to Rp 173.1 trillion (US$11.24 billion) worth of government bonds from primary and secondary markets in a bid to stabilize rupiah and support the government's financing needs.
BI Governor Perry Warjiyo said the central had bought Rp 166.2 trillion worth of government bonds from foreign investors in the secondary market since early this year amid the decline of the rupiah against the US dollar.
He said the Rp 2.3 billion worth of government debt papers were purchased during the government's regular auction on Tuesday. This is in addition to Rp 1.72 trillion worth of bonds bought by BI in a regular auction on Tuesday last week and Rp 2.93 trillion bought by the central bank in a "greenshoe option" on Wednesday last week.
"We see that the government's financing needs will be fulfilled by the market," Perry told reporters in a virtual press conference on Wednesday, adding that bond investors should not bet on Indonesia selling debt at higher yields, as the amount to be raised for the rest of the year will be manageable and the inflow of foreign funds would push yields lower.
The government on Tuesday raised Rp 16.62 trillion, below the target of around Rp 20 trillion to Rp 40 trillion, despite total incoming bids of Rp 44.4 trillion as investors bid yields that were too high.
"The market will see, at the beginning they bid for yields that were too high, thinking the sum to be raised would be large," Perry said, suggesting that investors had bet the government would pay higher yields as it would need a large amount of funds to finance the extra spending for COVID-19 mitigation efforts.
The country's budget deficit is expected to widen to 5.07 percent of GDP this year as the government would have to increase its gross issuance of debt to Rp 1.4 quadrillion this year to finance the COVID-19 mitigation and rescue program, according to Perry.
However, Perry says, the central bank sees only Rp 425 trillion in bond offerings for the rest of 2020 as the government maximizes spending from other sources, including its own cash, as well as loans from development banks, among others.
The government plans to provide another Rp 35.3 trillion in new tax incentives for 18 sectors, including those hardest-hit by the COVID-19 pandemic, such as tourism and the food and beverage sector.
This is on top of the Rp 436.1 trillion stimulus packages previously announced by the government to strengthen social safety nets, boost healthcare spending and for economic recovery programs.
The government raised another Rp 62.62 trillion from government debt papers on Monday and seeks to secure $750 million in loans from development banks, according to Finance Minister Sri MulyaniIndrawati and Finance Ministry data.
Previously, Indonesia had raised $4.3 billion in dollar-denominated bonds, including the longest-dated 50-year dollar bond ever issued by an Asian nation, earlier this month. It also sold around Rp 14 trillion in sharia sovereign bonds last week.
By early May, BI will have injected a total of Rp 503.8 trillion in additional liquidity to banks and the financial system to help cushion the economic impact of the virus outbreak and to strengthen the rupiah as part of its quantitative easing measures.
The rupiah gained against the greenback over the last few weeks, strengthening to Rp 15,394 per dollar as per 11 a.m. on Wednesday from this year's low of 16,625 per US dollar, according to Bloomberg data.
The currency has depreciated as much as 18 percent this year before bouncing back to the current level as the central bank moved to support the rupiah by buying government bonds from foreign investors as they dumped Indonesian assets over fears related to COVID-19.
https://www.thejakartapost.com/news/2020/04/30/bank-indonesia-buys-us11-2b-in-govt-bonds-to-support-rupiah-financing-needs.html
-----
Health DG: Bulk of new cases are imported ones
30 Apr 2020
By JOSEPH KAOS Jr
PUTRAJAYA: Malaysia recorded a slight jump in new Covid-19 cases, with the bulk of the 94 new cases contributed from imported cases after 72 new infections were found from students returning from Indonesia.
Health director-general Datuk Dr Noor Hisham Abdullah says this means 226 Malaysians who returned from abroad since April 3 have been infected with Covid-19.
"This means, only 22 of today's cases are local transmissions, " he said at the ministry's daily Covid-19 press conference here yesterday.
Dr Noor Hisham also said that 55 more patients have been discharged, meaning 4,087 patients have recovered since the outbreak in Malaysia.
On the relaxation of restrictions, Dr Noor Hisham said the ministry was drawing up guidelines for childcare centres, solo exercise, and schools, before they could consider allowing such activities to resume.
"Let the economic sectors start and we monitor the situation for two or even four weeks, before we can decide to let the social and education sectors reopen, " he said.
"There will be no close contact sports. Exercise will be considered provided they follow our guiding principles, which are social distancing and no public gatherings, " he said.
"We have provided the guiding principles, and now we are in the process of looking into the SOP of all sectors. The announcement will be made soon, " he said.
On whether restrictions would be lifted at green zones or localities free of Covid-19, Dr Noor Hisham said the ministry was also drawing up the SOP on this, but no decision had been made.
https://www.thestar.com.my/news/nation/2020/04/30/health-dg-bulk-of-new-cases-are-imported-ones
-----
Covid-19 update: 94 new cases reported, no new deaths
29 Apr 2020
PUTRAJAYA: Malaysia reported 94 more Covid-19 cases on Wednesday (Apr 29), bringing the total number of Covid-19 infections in the country to 5,945.
Health director-general Datuk Dr Noor Hisham Abdullah also said at the Health Ministry's daily Covid-19 media briefing on Wednesday (April 29) that 55 more patients had been discharged in the same 24-hour span.
This means 4,087 patients have recovered from Covid-19 in Malaysia since the outbreak began.
Malaysia's Covid-19 recovery rate is now at 68.75% out of the total number of positive cases.
There are only 1,758 active cases being treated in the country's health facilities at present.
There are currently 40 patients in intensive care units (ICU) with 18 on ventilator support.
Malaysia is currently in the fourth phase of the movement control order (MCO), which is set to end on May 12.
https://www.thestar.com.my/news/nation/2020/04/29/covid-19-update-94-new-cases-reported-no-new-deaths
-----
Only one person in a car in Sabah, for now
29 Apr 2020
By MUGUNTAN VANAR
KOTA KINABALU: Sabah will not immediately adopt the new ruling by the Federal government allowing two people from a household to go out together during the movement control order (MCO), says Datuk Seri MohdShafieApdal (pic).
The Chief Minister said the Sabah Covid-19 Command Centre would need to look into the relaxed ruling announced under phase four of the MCO which took effect on Wednesday (April 29).
"We will need to study its impact first, " he told reporters after meeting China's expert consultant team on Covid-19, who were in his office to share their experiences in handling the Covid-19 pandemic.
Currently, the practice of allowing a second person in a car is only allowed for medical reasons and other valid reasons.
https://www.thestar.com.my/news/nation/2020/04/29/only-one-person-in-a-car-in-sabah-for-now
----
Tenaga powers Bursa higher, boost from positive China data
30 Apr 2020
By Joseph Chin
KUALA LUMPUR: Bursa Malaysia extended its gains on the final trading day of April, as investor sentiment was underpinned by the strong overnight close on Wall Street and positive China economic data.
At 9.23am, the FBM KLCI was up 10.70 points or 0.78% to 1,391. Turnover was 791.77 million shares valued at RM329.14mil. There were 428 gainers, 98 losers and 213 counters unchanged.
Asian stocks amid optimism from corporate results and signs of progress in treating the coronavirus. The dollar held this week's retreat, Bloomberg reported.
Aiding market sentiment was China's services activity expanded at a faster pace in April, but business is expected to take some time to fully recover due to the lingering impact from the coronavirus crisis at home and globally, Reuters reported.
The official non-manufacturing Purchasing Managers' Index (PMI) rose to 53.2, from 52.3 in March, the National Bureau of Statistics said on Thursday. The 50-point mark separates growth from contraction on a monthly basis.
At Bursa on Wednesday, retail investors were net buyers at RM23mil while local institutions were net sellers at RM22.2mil and foreign funds at RM800,000.
Rakuten Trade anticipated the KLCI to test the 1,400 level but it also continued to advise caution as it envisaged a plethora of bear traps as the higher the market, the more susceptible it will be to negative news.
KL Kepong was the top gainer among plantations, up 30 sen to RM20.94 while among the energy stocks, Petronas Dagangan climbed 26 sen to RM20.46.
As for tech and semicon-related stocks, Dufu advanced 22 sen to RM3.87 and MPI 18 sen to RM10.80.
https://www.thestar.com.my/business/business-news/2020/04/30/tenaga-powers-bursa-higher-boost-from-positive-china-data
-------
Pakistan
Capital sees biggest rise in Covid-19 cases in a single day, again
Munawer Azeem
April 30, 2020
ISLAMABAD: Another 36 cases of Covid-19 have been reported in the capital, the single biggest increase in the city since the outbreak began. The total number of cases in Islamabad is now 297.
Capital administration and police officials told Dawn that teams involved in surveillance to prevent the spread of the coronavirus in Islamabad have noticed that people living in Taramri and Shahzad Town are not practicing social distancing, which has resulted in the spread of the disease among them.
Social distancing is also not being practiced in shops that have opened with the capital administration's permission, they said, which may spread the virus among people further.
The teams have asked senior police and administration officials in these areas to enforce social distancing to prevent the spread of the coronavirus, and strict legal action should be taken against those who ignore or do not follow SOPs.
BharaKahu, Tarlai and I-10 are the capital's Covid-19 hotspots, the officials said, with 32, 31 and 30 cases reported from these areas, respectively.
BharaKahu also has 125 suspected cases, followed by 97 in Phulgran, 90 in Tarlai, 85 in Shah Allah Ditta, 68 in G-8, 67 in G-7, 66 in F-7, 63 in Kuri, 57 in G-6 and 51 in G-5.
A total of 91 cases have been reported in the 31 to 45 age group, 54 in 46 to 60 age group, 43 from the 21 to 30 age group, 29 from the 61 to 80 age group, 25 from the 11 to 20 age group, 12 from the zero to 10 age group and four from the 81 and above age group.
There have been 56, 50 and 61 confirmed cases reported consecutively in the capital in the last three weeks, along with 31, 661 and 692 suspected cases.
A paramedic at the Capital Development Authority Hospital has tested positive. She has been isolated at her home in Rawalpindi, which has been declared a quarantine facility.
On directives from the capital administration, 28 other staffers from the hospital have been tested - including 16 doctors and paramedics - and their reports are awaited.
President Dr ArifAlvi on Wednesday also reported a violation of standard operating procedures (SOP) at a mosque on Lehtrar Road to the deputy commissioner and Ministry of Religious Affairs.
Dr Alvi said on Twitter that he visited four mosques in the Lehtrar Road area and witnessed SOP violations at one of them. Deputy Commissioner Mohammad Hamza Shafqaat responded on the same platform saying that the administration acted immediately to implement SOPs there and issued directives to officials checking the violation, he said.
The administration and police officials said that SOPs regarding prayer congregations are being observed at more or less all mosques other than Lal Masjid. There are currently 233 students, including eight minors, and eight teachers, inside the mosque.
They said all the prayer congregations at Lal Masjid are violating SOPs introduced to prevent the spread of the coronavirus.
The concerned departments, including the police, have asked the administration to negotiate with Maulana Abdul Aziz to persuade him to move Jamia Hafsa to G-7/3-2 from Lal Masjid.
https://www.dawn.com/news/1553282/capital-sees-biggest-rise-in-covid-19-cases-in-a-single-day-again
----
Engro pledges Rs20m to expand Covid testing at Shaukat Khanum Hospital
April 30, 2020
KARACHI: As part of the Hussain Dawood Pledge worth Rs1 billion, the Engro Foundation has committed to providing Rs20 million in financial assistance to the Shaukat Khanum Memorial Cancer Hospital to expand the Covid-19 testing capacity across southern Punjab and strengthen the health sector to cope with the pandemic.
Under the "Southern Punjab Screening Program — Free of Cost" campaign, the Engro Foundation would sponsor the Shaukat Khanum Memorial Cancer Hospital and Research Centre to use its existing network of pathology laboratory collection centres to provide free of cost testing services to the deserving patients.
To ensure maximum coverage of the rural population, the testing campaign would be initially deployed in Multan, Dera Ghazi Khan, Layyah, Muzaffargarh, Bahawalpur and Bahawalnagar, a press release said on Wednesday.
According to Hussain Dawood, Engro Corporation chairman: "The rate of growth of Covid-19 in Pakistan exposes our healthcare system to a multitude of risks. It is only through partnerships that we will be able to amplify enablement and create the desired impact."
Ghias Khan, President and CEO of Engro Corporation, said: "The gradual increase in number of Covid-19 cases in Southern Punjab has placed an additional burden on the region's healthcare sector. It is imperative that the rate of testing is increased in these areas for early detection and control of local virus transmission."
https://www.dawn.com/news/1553374/engro-pledges-rs20m-to-expand-covid-testing-at-shaukat-khanum-hospital
-----
Highest number of virus deaths in single day in Pakistan
Ikram Junaidi
April 30, 2020
ISLAMABAD: As coronavirus cases surpassed the 15,000 mark with the highest number of deaths in a single day, the government on Wednesday decided to bring back 7,500 overseas Pakis­tanis in the first week of May.
Moreover, at the request of Afghanistan, the government decided to allow export of non-essential goods along with essential items to the neighbouring country.
Special Assistant to the Prime Minister (SAPM) on National Security Dr Moeed Yusuf said at a press conference that 26 persons died during the past 24 hours while 44 were in a critical condition. However, he said the mortality rate was only 2.1 per cent in Pakistan as compared to around 7pc in other countries.
"Moreover, 80pc of the deceased were over 50 years old and 70pc of the overall deceased were suffering from some other critical diseases [such as cancer, heart problem and diabetes]," he added.
Since a large number of overseas Pakistanis have been trying to return to the country, Dr Yusuf said, it had been decided to bring 7,500 Pakistanis from different countries during the first week of May.
"Our major focus will be on the Gulf states as thousands of Pakistanis have become jobless or their visas have expired. So they will be brought back from Saudi Arabia, Oman and the United Arab Estates. Some flights will be operated from Sudan, Kenya and the United Kingdom," he added.
"Moreover, Qatar Airways will be hired to bring Pakistanis from America, Australia and Africa. Those who are abroad should contact the embassies to register themselves as the embassies are preparing lists considering the situation and conditions and who should come to Pakistan first," he said.
Dr Yusuf said there was no restriction on the persons wanted to go abroad and advised them to travel via the Pakistan International Airlines.
Talking about the policy for overseas Pakistanis, the SAPM said they had to stay in quarantine for 48 hours after their arrival, but it could take some more days before allowing them to join their families. "Tests are conducted after 48 hours, but it can take another 24 to 36 hours to get results depending on the number of pending samples in labs. Moreover, even if a passenger's test is declared negative, he/she can be kept in quarantine for a few days because sometimes tests of a large number of passengers are confirmed due to which those who are declared negative also become vulnerable to the disease," he explained.
Dr Yusuf said a number of passengers insisted that they should be allowed to leave because they were not sick without realising that they could be asymptomatic.
He said the Torkham and Chaman borders were opened on April 10 for export of essential items to Afghanistan. "However, now it has been decided to allow exporters to export non-essential goods as well. Moreover, there are five districts in Balochistan which get essential items from Iran so trade from Iran to those districts is also allowed.
"However, the border with India will remain closed. There are some Pakistanis stranded in India, but they are not allowed by India to return [to Pakistan] due to lockdown there. We have been trying to bring them back at the earliest," Dr Yusuf said.
Meanwhile, the Sindh government reiterated that it was not going to lift lockdown imposed about a month ago to contain the spread of the coronavirus.
A key member of the Sindh administration and close aide to the chief minister Barrister Murtaza Wahab said the provincial government reviewed the situation "almost daily" and made the strategy.
"President ArifAlvi would attend the meeting tomorrow [Thursday] at the CM House where he would be briefed about the measures and steps being taken in the wake of Convid-19," he told Dawn.
"We would also brief him about the challenges being faced by the provincial government in the current situation. There is nothing about lifting lockdown or restrictions. We very much realise that the difficulties are being faced by the people due to lockdown and that's why we keep reviewing things and come up with fresh decisions to bring maximum ease to their lives while at the same time keeping them safe from the pandemic."
https://www.dawn.com/news/1553372/highest-number-of-virus-deaths-in-single-day-in-pakistan
-----
PPP opposes LG polls based on census results' delimitation
Iftikhar A. Khan
April 30, 2020
ISLAMABAD: The Pakis­tan Peoples Party-Parlia­mentarians (PPP-P) has said that any delimitation of constituencies for local government (LG) elections on the basis of provisional census results will be unconstitutional.
In a letter to Chief Elec­tion Commissioner Sikan­dar Sultan Raja, in-charge of PPP election cell Taj Haider has pointed out that the 24th Amendment of the Consti­tution limited the use of the provisional figures to the general elections of 2018 and subsequent by-polls.
He said the amendment reads: "Provided that for purposes of the next general elections to be held in 2018 and by-elections related thereto, the allocations shall be made on the basis of provisional results of the 2017 Census which shall be published by the Federal Government."
Mr Haider said the figures obtained in the Census 2017 were highly controversial since the Statistic Division had conducted the census on de jure basis which had excluded migrants from other provinces from the population of the province of their current residence. This method had substantially reduced the population of Sindh, he added.
Mr Haider said at the time of the passing of the 24th Amendment, he was PPP parliamentary leader in the Senate. Many rounds of negotiations were held on the issue and the amendment could only be passed when an agreement was reached at a meeting of parliamentary leaders of all political parties in the Senate, presided over by the then prime minister Shahid Khaqan Abbasi.
The PPP leader has also appended a copy of that agreement with the letter for reference.
https://www.dawn.com/news/1553343/ppp-opposes-lg-polls-based-on-census-results-delimitation
------
Feasibility of projects must focus on public purpose, observes SC
April 30, 2020
ISLAMABAD: The Supreme Court observed on Wednesday that though it was not here to make business decisions which should be left to experts, the feasibility of projects needed to ensure that the public purpose was kept in mind.
"All the future bidding projects should keep into account public purpose," observed a three-judge implementation bench of the Supreme Court that had taken up a case relating to 141-acre Royal Palm Golf and Country Club, Lahore.
The bench, headed by Justice Umar Ata Bandial, directed the Pakistan Railways (PR) to complete the feasibility of the desired projects to be built on the land and file it within one month for the court to consider the same.
The court also ordered the appointed audit firm to complete the audit of the club for the remaining years to enable further proceedings to take place.
Barrister Syed Ali Zafar, appearing on behalf of the Mainland Husnain Pakistan Limited (MHPL), former management company of the Royal Palm Golf and Country Club, informed the court that due to the ongoing Covid-19 crisis, the Pakistan Railways had shut down the club altogether.
On the court's query, the PR submitted a report of the consultant appointed by it in which various business proposals relating to the project were detai­led. One of the suggestions was to lease the project with the permission to build apartments on the railway land.
Mr Zafar said that he had not received the report and that he had objections to the report, including that the rebidding had to be done by the PR in accordance with the laws and judgements of the apex court, including the verdict issued in this very case.
The responsibility of the elite club was assumed by the Ministry of Railways in compliance with the June 28, 2019 SC order in which the apex court had held illegal the agreement on 141 acres of railway land leased out to Maxcorp/MHPL to develop a private elitist club, Royal Palm Golf and Country Club, in Lahore.
In its judgement, the apex court had ordered the MHPL to hand over the land with all its assets and infrastructure back to the PR with a directive that normal activities of the club and its operations would not be impeded in any manner, like dining areas, golf course, gymnasium, sports activities, swimming pools, cinema halls and wedding functions that had already been booked. Such activities would be held as per the booking orders, the Supreme Court had decreed.
The order had also required the chartered accountants A.F. Ferguson and Company to hand over all records and transfer management of the club within a week.
During pre-partition times in 1911, the then provincial government of Punjab had granted a lease in perpetuity of a prime property located on Canal Bank Road, Lahore, to the railways department. The Railways Golf Club was set up on the property with an objective to provide recreational facilities to employees of the railways department. The club consisted of an 18-hole golf course, a swimming pool, a club house and housing accommodation for the lower staff of the railways department.
In 2000, a decision was made to offer the club on commercial lines to interested parties to finance, redesign, develop and manage its operations.
The Supreme Court judgement had come on a 2011 joint petition filed by former minister of state for railways Ishaq Khan Khakwani, now a PTI leader, Dr Mobashir Hassan, one of the founding members of the PPP, as well as the Railways Board.
The dispute revolves around the lease of 141 acres of railway land to the MHPL by the PR allegedly in a non- transparent manner and flagrant violation of settled principles to develop the Rs50 billion Royal Palm Golf and Country Club.
https://www.dawn.com/news/1553377/feasibility-of-projects-must-focus-on-public-purpose-observes-sc
-------
49 policemen arrested in Rawalpindi under different charges
April 30, 2020
RAWALPINDI: As many as 49 police officials and employees, including a traffic warden have been arrested for misuse of powers, backing criminals and under various charges during ongoing tenure of City Police Officer Mohammad Ahsan Younas.
This was perhaps for the first time that a CPO had ordered registration of FIRs against police personnel and ordered their arrests in Rawalpindi district.
Police spokesman said on Wednesday ever since the CPO assumed charge of his office in December 2019, he had pledged to take strict legal action against police officials found involved in crimes of patronizing criminals directly or indirectly.
He said such police personnel would be treated like an accused and strict accountability process was initiated in Rawalpindi police.
He said FIRs had been registered against 49 officers and employees of Rawalpindi police on various charges including keeping people in illegal detention, torturing, operating gambling dens, supporting gamblers, attempted murder, murder, etc.
Police spokesman said all the police personnel nominated in the FIRs have been arrested – except the one – for whom police raids were underway and hopefully he would be captured within next 24 hours.
Majority of the police officials involved in misuse of power and other crimes had been posted in different police stations of Potohar and Rawal divisions.
https://www.dawn.com/news/1553280/49-policemen-arrested-in-rawalpindi-under-different-charges
------
North America
Sincerity, Religious Questions, and the Accommodation Claims of Muslim Prisoners
Adeel Mohammadi
ABSTRACT. Two doctrines—the religious-question doctrine and the sincerity doctrine—control the evaluation of religious-accommodation claims. According to these doctrines, courts evaluating religious-accommodation claims must not consider the content of religious beliefs, but may consider the sincerity with which those beliefs are held. These two doctrines are well established in American constitutional history, dating back at least seventy-five years to United States v. Ballard. Yet, by using the example of Muslim prisoner accommodation claims, this Note shows that the doctrinal account is, in practice, a fiction. In the adjudication of Muslim prisoner claims, courts frequently rely on what Islam has to say, usually focusing on inconsistencies between prisoners' claims and Islamic doctrine as a method to summarily deny those claims. Thus, the line between sincerity and religious questions—one enthusiastically conserved by higher courts—remains relatively unpoliced by the district courts.
This Note articulates a new way of understanding the porousness of the boundary between sincerity and religious questions. By conceiving of the key inquiry as having less to do with a claimant's religious convictions and more to do with the plausibility of the claim, this Note provides a new doctrinal account that would justify the seemingly erroneous behavior of courts across the country.
AUTHOR. Yale Law School, J.D. 2019; Harvard Divinity School, M.T.S. 2016; University of Southern California, B.A. 2014. I am deeply grateful to Khaled A. Beydoun, Nathan S. Chapman, Amy Chua, Paul Gewirtz, Michael A. Helfand, and Jed Rubenfeld for their comments on earlier drafts of this Note. The editors at the Yale Law Journal, especially Zohaib Chida, Briana M. Clark, and Ela A. Leshem, provided meticulous and invaluable feedback. All shortcomings are my own. And God knows best.
https://www.yalelawjournal.org/note/sincerity-religious-questions-and-accommodation-claims
-----
Islamic Republic of Mauritania : Request for Disbursement Under the Rapid Credit Facility-Press Release; Staff Report; and Statement by the Executive Director for the Islamic Republic of Mauritania
April 29, 2020
The Covid-19 pandemic is having a dramatic human, economic, and social impact on Mauritania. The short-term economic outlook has weakened rapidly owing to the sharp deterioration in global conditions and the impact of domestic containment measures. Growth is expected to turn negative this year, with severe hardships on the population. Risks are tilted to the downside given the possibility of a more extensive global and domestic Covid-19 outbreak, a much steeper economic decline this year, and more gradual recovery thereafter.
https://www.imf.org/en/Publications/CR/Issues/2020/04/29/Islamic-Republic-of-Mauritania-Request-for-Disbursement-Under-the-Rapid-Credit-Facility-49382
-----
Trump: 'I don't believe polls' that show Biden leading presidential race
April 30, 2020
WASHINGTON – President Donald Trump told Reuters on Wednesday he does not believe opinion polls that show his likely Democratic presidential opponent, Joe Biden, leading in the 2020 race for the White House.
During an interview in the Oval Office, the Republican president said he did not expect the election to be a referendum on his handling of the coronavirus pandemic and added he was surprised the former vice president was doing well.
"I don't believe the polls," Trump said. "I believe the people of this country are smart. And I don't think that they will put a man in who's incompetent."
"And I don't mean incompetent because of a condition that he's got now. I mean he's incompetent for 30 years. Everything he ever did was bad. His foreign policy was a disaster," Trump said.
Polls conducted this week by Reuters/Ipsos about a general election matchup showed that 44% of registered voters said they would back Biden in the Nov. 3 election, while 40% said they would support Trump.
More critical for Trump, a recent poll by Reuters/Ipsos of the three key battleground states of Michigan, Wisconsin and Pennsylvania had Biden with a 45%-39% edge over the president. Trump's victories in those states in the 2016 election helped propel him to the White House.
Trump closely questioned his campaign manager, Brad Parscale, and other political advisers after they showed him poll numbers showing him losing the re-election race to Biden, according to a source familiar with the matter.
The president was told he was behind Biden in many key battleground states and would have lost the Electoral College if the election had taken place in April.
"No, I don't think so. I think it's a referendum on a lot of things," Trump said. "I think it's going to be a referendum on all the things we've done and certainly this will be a part of it, but we've done a great job."
The president has sought to stir up discord in Democratic Party ranks about Senator Bernie Sanders, who dropped out of the Democratic presidential race and endorsed Biden earlier this month.
The president has suggested that if fellow progressive Senator Elizabeth Warren had dropped out of the Democratic contest earlier, Sanders would have prevailed over Biden.
"He should never have won the primary, ever in a million years, because those votes were taken away. They were taken away from Bernie Sanders. And I think I'm going to get a lot of Bernie Sanders voters," Trump said.
Trump has sought to make the case to Sanders' supporters that their preferred candidate was treated unfairly, building on resentment that still lingers from 2016 when former Secretary of State Hillary Clinton beat Sanders for the nomination before losing to Trump in the general election.
https://nypost.com/2020/04/30/trump-brushes-off-polls-showing-biden-leading-presidential-race/
------
Africa
COVID-19 Rewrites Ramadan Rituals - Jamaica-Based Muslims Adapt As Mosques Remain Empty
April 30, 2020
COVID-19 has unravelled the thread of worship and social cohesion that bind Jamaica's 6,000 Muslims, but adherents have, like other people of faith, adapted rituals to cope with the new norm of distancing.
This reality has become more apparent in the holy month of Ramadan – marked by introspection, communal prayer, and fasting – which started last Thursday.
The coronavirus pandemic floored Michael and Sharon Gillett-Chambers' plans to visit the holy city of Mecca in Saudi Arabia this year.
Michael, a Jamaican, and Sharon, a Trinidadian, operate the popular baby supplies retail store Simply Halal and mostly worship at the Central Masjid on South Camp Road in Kingston. But the government statute bans gatherings exceeding 10 people.
"It's the first time ever I'm experiencing a Ramadan like this. Ramadan is our beloved month. It is an exciting month for us ... ," Mrs Gillett-Chambers said.
The couple have two children – a nine-year-old and a 12-year-old – who also partake in the fasting, prayer, and last-day festivities of the month.
But the family misses fellowshipping with believers at the Masjid, especially for Iftar, the dinner that ends the daily fast in a country that has become a melting pot of Muslims from Guyana, Nigeria, Pakistan, India, Jordan, and Palestine.
"Different families put on the Iftar dinner, and so you may go to the Masjid today and it's a Pakistani cuisine, you may go tomorrow and it is an African cuisine. Muslims look forward to the month of fasting, and I have spoken to so many Muslims that I have seen since Ramadan, and everybody is, like, almost in mourning. They miss it so much!" Mr Gillett-Chambers said.
Like the Gillett-Chamberses, Sheikh Tijani, head of Islamic education at the Islamic Council of Jamaica (ICOJ), has also repurposed a room for prayer to Allah.
COVID-19 does not exempt worshippers from fasting, said Tijani, unless they have tested positive for the virus or have received medical advice.
Though they are not able to gather for the various prayer sessions, Tijani has found means to engage members digitally. Tijani shared that there are a number of new Muslims, mainly in the downtown area, who will be observing Ramadan for the first time.
"When it's time for prayer, we get all the community in Kingston on WhatsApp, and we had the Zoom discussion three days before the fasting, and there will be another one, maybe on Wednesday, so they can ask questions," he said.
"We usually get it from California, UK, or Saudi Arabia, but this year, we only had one source. The one that we got, we tried to stretch it and package it to make every Muslim in Jamaica get," Tijani said.
He said that the most frequently asked question by Muslims regarding Ramadan is how the last day, known as Eid-al-Fitr, the festival of breaking the fast, will be celebrated.
"If the coronavirus continues, we will ask every family to cook, get the best of their clothes, and sit down in your house. We will announce the time of the prayer so that you will be able to do the same prayer in your house," Tijani explained.
"We are required to wash our hands five times a day at least, and every time we use the bathroom, we have to purify ourselves," he said, adding that handshaking, hugging, kissing, and other forms of contact are limited.
http://jamaica-gleaner.com/article/lead-stories/20200430/covid-19-rewrites-ramadan-rituals-jamaica-based-muslims-adapt-mosques
------
Tunisia medics spending Ramadan in isolation
30 April 2020
Amira Jamoussi, a doctor on the front line fighting the novel coronavirus in a hospital in Tunisia, is spending the Muslim holy month of Ramadan away from her family.
"It's been five weeks since I've held my children in my arms," Jamoussi said, before putting on a protective suit, mask and eye gear to start her shift.
Jamoussi works in the intensive care unit of the Abderrahmane Memmi hospital in Ariana, north of the capital Tunis.
Like many working in wards treating COVID-19 patients, she is living away from her loved ones in order to avoid the risk of spreading the infection.
That's particularly difficult during the month of Ramadan -- usually a time when families come together for meals at dusk when the day-time fast is broken.
"What helps us hold on is the satisfaction of seeing patients pull through," said Jamoussi, who has a seven-year-old son and 11-year-old daughter.
Tunisia has officially declared 40 coronavirus deaths from 975 cases since early March, and so far has avoided seeing its hospitals overwhelmed by the disease.
Many front-line hospital workers are staying in isolation during their rotations and for five to 14 days after they finish.
Those who live alone, or have a separate bathroom, can self-isolate in their own homes but others are put up in hotel rooms or hostels provided by regional authorities or hotels free of charge.
Public-sector doctors in Tunisia are paid between 2,000 and 3,600 dinars ($690-$1,245), and other medical workers earn a few hundred dinars,
"I was very afraid of infecting my family. I had nightmares about it", said Jamoussi, who found through her own connections, a small flat.
Life in isolation has become "particularly difficult with Ramadan", said NawelChaouch, head of the pulmonology department at the Abderrahmane Memmi hospital.
Some staff members have been able to spend a few days with their families after quarantining and if they test negative for the virus -- and avoid close contact.
Doctors and nurses have shared photos on social media of dirty rooms and sandwiches for meals, while others have been left waiting for lodgings for hours at the end of their shifts.
Jamoussi, who is in her forties, paid tribute to private donors who have helped equip her team at the hospital and improve the daily lives of medical workers.
Around a hundred medical personnel are in isolation in the capital Tunis, where the main facilities treating coronavirus patients are located, according to health ministry official Mohamed Rabhi.
The government has not requisitioned hotels for those requiring isolation, instead counting on facilities to volunteer their services.
Rabhi acknowledged that finding a place for everyone has not been easy, as the country had also struggled to find accommodation for some 9,000 people repatriated from abroad who needed to be isolated.
https://www.dailymail.co.uk/wires/afp/article-8272025/Tunisia-medics-spending-Ramadan-isolation.html
-------
Islamic cleric begs for release of his kidnapped twins
April 29, 2020
By Musliudeen Adebayo
An Ibadan based-Islamic cleric, Sheikh TaofeeqAkewugbagold on Wednesday appealed to the abductors of his twins, for the release of the two children.
DAILY POST gathered that the twin children, a male and a female were kidnapped at gunpoint at the Abatakan area in Ojoo, Ibadan, last Saturday.
Akewugbagold in a telephone conversation with DAILY POST noted that though the family has been contacted, the abductors are yet to demand any ransom.
While explaining that about four suspects were arrested, Akewugbagold confirmed that those arrested are his workers, whom the police suspects.
"Yes, police arrested some people, but they are my workers. They are not the abductors. But, we did not suspect anybody.
https://dailypost.ng/2020/04/29/islamic-cleric-begs-for-release-of-his-kidnapped-twins/
-----
Australia and New Zealand
Christchurch mosque attack: No date yet for gunman's sentencing
Apr 30 2020
A date for the sentencing of the gunman in the Christchurch mosque attacks is not yet able to be scheduled.
The 20-year-old was due to appear in court on Friday to set a date for his sentencing, but the hearing has been moved to another nominal date of June 2.
Justice Cameron Mander issued a minute on Thursday stating that preparation for the sentencing hearing is under way, but it has not yet been possible to set a firm sentencing hearing date.
The judge said it is anticipated there will be some clarity by June 2 regarding what coronavirus alert level the country will be operating at, and arrangements for sentencing will have been confirmed by then.
The terrorist pleaded guilty to 51 charges of murder, 40 charges of attempted murder and a charge of engaging in a terrorist act when he appeared in the High Court at Christchurch in March. The attacks happened at two Christchurch mosques on March 15, 2019. The gunman appeared in court via audio-visual link from Auckland Prison, Paremoremo, where he is being held in maximum security.
https://www.stuff.co.nz/national/crime/121359278/christchurch-mosque-attack-no-date-yet-for-gunmans-sentencing
-----
URL: https://www.newageislam.com/islamic-world-news/fasting-muslim-men-take-funeral/d/121717
New Age Islam, Islam Online, Islamic Website, African Muslim News, Arab World News, South Asia News, Indian Muslim News, World Muslim News, Women in Islam, Islamic Feminism, Arab Women, Women In Arab, Islamophobia in America, Muslim Women in West, Islam Women and Feminism