New Age Islam News Bureau
6 Dec 2013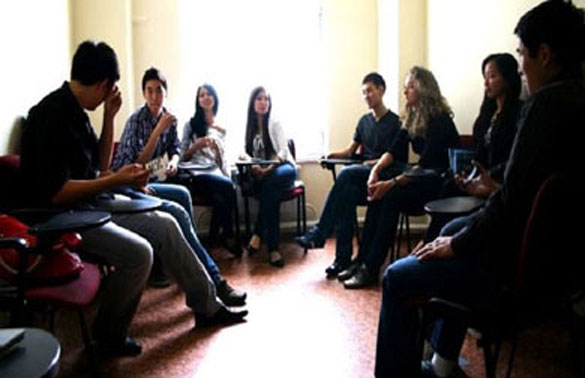 Kazakhstani youth discuss social issues during a training session in Almaty December 2. [Olga Pavlovskaya]
----------
Pakistan
• Family Planning Advocates Face Fatwas from Fundamentalists in Pakistan
• Five militants among Six people killed in Balochistan clash
• Pakistani immigrant sues U.S. over false arrest in war on terrorism
• Pakistan's ties with US is that of slavery not friendship: Imran Khan
• Establishment, Al Qaeda wanted Benazir dead: book
• Jamaat-i-Islami wants to end NATO blockade
• Ahle Sunnat Wal Jamaat Punjab president gunned down in Lahore
• Gender justice: 659 potential forced marriages prevented
Southeast Asia
• Female Police Can Move to Aceh if They Wish to Wear Veil: Dep. Chief
• Umno declares war on Shia Muslims, deviants and gays
• Court Keeps Ahmadiyah Mosque Locked Up in Bekasi
• More Malay millionaires needed to safeguard Islam, says Umno delegate
• Malaysia ruling party tightens embrace of Islam to gain support
Europe
• Kazakhstani parents concerned about extremists recruiting children
• French Army Launches C. Africa Operation as Massacre Fears Loom
• English Defence League surround Portsmouth mosque
• Syria's UN Envoy Confirms Arrest of 300 Saudis and Death of Thousands
• Pope sets up Vatican committee against child sex abuse
• Russian special military complex can help with Syrian chemical weapons destruction – expert
Arab World
• Egypt reportedly to declare Muslim Brotherhood 'terrorist organization'
• Secular Syria Rebels Mull Rejoining Gov't to Fight Al-Qaeda
• Salafist Nour Party: Will vote 'yes' in the Egyptian constitution referendum
• Syria conflict sees sharp rise in European fighters
• Jihadists execute Iraqi cameraman in Syria: RSF
• Syrian opposition alleges new poison gas attack
• Syrian rebels demand hostage swap for abducted nuns
Africa
• Sharia Council accuses Nigerian Christians of waging war against Islam
• Car Bombing Kills 8 in Northern Somalia
• Nearly 100 dead in Central African Republic before French troops arrive
• Algeria kills high-level al-Qaida leader: Official
• Nelson Mandela death: South Africa and world mourn
• Mali Must Urgently Identify Bodies Found in Mass Grave
• Tunisia's Ennahda blames Popular Front for obstructing dialogue
South Asia
• Bangladesh apex court clears way for Jamaat leader's execution
• Afghan media revolution follows Taliban overthrow
• Maldives wins WTA's "World's Leading Island Destination 2013"
• Maldives Education Ministry pledges to introduce Arabic to more schools
• Ershad: Media exaggerated suicide threat
Mideast
• Hate crime narrowly defined in Turkey's democratization package
• Palestinians spurn US security ideas for peace with Israel
• Israel urges EU human rights body to return 'anti-Semitism' definition to website
• Turkish daily Taraf accused of 'spying' and 'terror acts' for publishing state document
India
• Iranian warships on three-day goodwill visit to Mumbai
• Developments in Bangladesh keep India on tenterhooks
• Bhagalpur riots: Process to restore land to 17 families begins
• Cleric files FIR against Taslima Nasreen's anti-fatwa tweet
• US wants people-to-people ties with India: Diplomat
North America
• U.S. Muslim Group Calls Nelson Mandela's Death a Loss for All Humanity
• Small US force to remain in Afghanistan for foreign policy reasons
• US repatriates two Algerian Guantanamo detainees
• Israel security key in talks on peace, Iran: Kerry
Compiled by New Age Islam News Bureau
URL: https://www.newageislam.com/islamic-world-news/new-age-islam-news-bureau/family-planning-advocates-face-fatwas-from-fundamentalists-in-pakistan/d/34738
----------
Pakistan
Family Planning Advocates Face Fatwas from Fundamentalists in Pakistan
Dec 06 2013
MUMBAI: Healthcare activists promoting family planning in Pakistan are facing constant Fatwas from conservative forces, killing of volunteers and kidnapping of the public health activists, apart from the lacklustre support from the government.
"Five of our staff members were killed by the fundamentalists. But the sister of one of the martyrs came up to join and the take the social fight further as a health worker," says Sayed Kamal Shah, CEO of Rahnuma which is the largest NGO working in the area of reproductive health. He was in Kochi to make a presentation at the ongoing global health conference on social marketing and social franchising, being organized by HLFPPT from December 3 to 5.
The main hurdles of family planning programmes in Pakistan are lack of political will, insufficient public funding, unavailability, stigma, family pressure and religious concerns, he said. "The attitude among the people is changing fast now and there is huge demand. The unmet needs for contraceptives are 33 percent. The people want to buy contraceptives, but availability is the concern," he explained.
The government spending is below 25% in Pakistan where now the provincial governments were entrusted to handle health subject, making the things further complicated. "The political parties are also not ready to take a stand to support the family planning as in the case of clergies," he added.
"The allocation is not coming. There is no national policy for health or education and there is no commitment from the external donors to support the programmes after 2014," Shah said.
http://timesofindia.indiatimes.com/world/pakistan/Family-planning-advocates-face-fatwas-from-fundamentalists-in-Pakistan/articleshow/26918552.cms
----------
Five militants among Six people killed in Balochistan clash
SYED-ALI-SHAH
December 6, 2013
QUETTA: At least five militants and a security personnel were killed in an armed clash in Balochistan's volatile Naseerabad district on Thursday evening, an official said.
Khan Wasey, the Spokesman for Frontier Corps Balochistan said five militants were killed during an armed clash with security forces in Naseerabad's Pat Feeder area.
He said one security personnel was killed and another was injured in the clash.
The security forces had launched a search operation for the recovery of 13 kidnapped employees of Uch Power Plant when they clashed with militants in the area.
Khan Wasey said the personnel also recovered a large quantity of arms and ammunition from the militant's possession.
More personnel were called in the area in the aftermath of the exchange of fire to bring the situation under control.
http://www.dawn.com/news/1060702/six-people-killed-in-balochistan-clash
---------
Pakistani immigrant sues U.S. over false arrest in war on terrorism
Dec 06 2013
ORLANDO, Fla., Dec 5, Reuters - A Pakistani immigrant who says he was held for more than 10 months in solitary confinement after being falsely arrested on terrorism charges has filed a lawsuit in federal court in Miami, saying he was a victim of "overzealousness" in the U.S. war on terrorism.
Irfan Khan, a 40-year-old Muslim, emigrated to the United States from Pakistan in 1994 and is a naturalized U.S. citizen.
He is the son of a 78-year-old south Florida imam who was sentenced to 25 years in prison by a judge in August for funneling more than $50,000 to the Pakistani Taliban.
Hafiz Kahn was convicted in March on four counts of providing money and support to the group, which the United States considers a terrorist organization. He had faced a maximum of 60 years in prison, and prosecutors sought a 15-year sentence.
The lawsuit, filed on Tuesday in U.S. District Court, says Irfan Khan was arrested in California in May 2011 on charges that included providing material support for terrorism and the Pakistani Taliban.
Subsequently transferred to a prison in Florida, he was also accused of supporting a conspiracy to maim, kidnap or murder persons overseas, according to the lawsuit.
All charges against Khan were dropped in June 2012, but only after he had been held for 319 days in solitary confinement, according to the lawsuit.
"The conduct the government subjected Irfan to, as a result of his religion, national origin, and its overzealousness in its war on terror was and still is, by all standards, horrendous," the complaint says.
"I couldn't even imagine myself in this situation," Khan told Reuters on Thursday evening. "I was shocked at the time. I'm still shocked. I don't know why it happened, how it happened, and that's why we are doing this. To get some answers."
He did not elaborate, but the lawsuit accuses the government of false arrest, imprisonment and malicious prosecution.
A spokesman for the U.S. Justice Department could not be reached for comment on the lawsuit after Reuters learned of it late on Thursday.
The government accused Khan of wiring money in 2008 to a commander of the Pakistani Taliban named Akbar Hussain, but Khan maintains that he actually was sending money to his wife, who was visiting Pakistan, through her uncle who is also named Akbar Hussain but who is a retired college professor.
The lawsuit also claims that a neutral translator would have disagreed with the government's interpretation of two telephone conversations cited by prosecutors that Khan had with his father in the father's native language of Urdu and Pashto.
The lawsuit states that Khan could be heard on the phone calls criticizing the Pakistani government but not advocating violence, as was claimed by government prosecutors.
Following his arrest, Khan said he lost his job and his car. He also said his wife had to move with their two children out of concerns for their safety.
Since his release, Khan, who is looking for a job in Miami, said one bank refused to allow him a checking account, and his former employer refused to talk to him.
Michael Hanna, a discrimination attorney with the Morgan & Morgan law firm in Orlando, said Kahn is seeking justice and unspecified damages.
Case 1:13-cv-24366-CMA, Irfan Khan v United States of America, was filed in U.S. District Court, Southern District of Florida. (Additional reporting and editing by Tom Brown; Editing by Ken Wills)
http://www.trust.org/item/20131206033319-a5cq2/?source=hpbreaking
----------
Pakistan's ties with US is that of slavery not friendship: Imran Khan
Dec 06 2013
Islamabad : Cricketer-turned-politician Imran Khan Thursday said Pakistan's relationship with the US is that of "slavery not friendship" as his party held a demonstration outside parliament against drone strikes.
Addressing the protest, Khan accused politicians of having dual policies when it comes to the US. He said lawmakers should be honest with the people of Pakistan.
"All political parties had decided to stop NATO supplies if drone strikes did not stop. Now these parties are criticising the only party (Pakistan Tehrik-e-Insaf) which is doing so," Khan said.
"Pakistan's relationship with the US is that of slavery not friendship."
Khan's supporters recently began blocking NATO supply trucks going to Afghanistan via Khyber-Pakhtunkhwa, which is ruled by his party.
He cautioned the centre not to attempt to overthrow his party's government in Khyber-Pakhtunkhwa as this would result in the federal government being overthrown.
Meanwhile, the Foreign Office stressed the need for talks to solve the issue of drone strikes and NATO blockade.
"We have seen reports that the US has suspended the NATO supplies through Torkham for security of transporters. The government has continued the arrangement for passage of NATO supplies in order to facilitate drawdown of NATO forces from Afghanistan," Foreign Office spokesman Aizaz Chaudhry said.
"The government of Pakistan has consistently called for an end to drone strikes and has taken up this matter at the highest level with the United States and has also taken it up at United Nations."
Chaudhry said the issue of drone strikes has been discussed at length and the government has taken up the matter bilaterally with the US and raised it at international fora.
"We believe the approach that our government is pursuing is quite effective. There is an emerging world opinion questioning the legitimacy and usefulness of drone strikes," he told a news briefing.
http://www.indianexpress.com/news/pakistans-ties-with-us-is-that-of-slavery-not-friendship-imran-khan/1203749/
----------
Establishment, Al Qaeda wanted Benazir dead: book
2013-12-06
NEW YORK, Dec 5: A new book brings to a wider audience a theory of cover-up, sweeping blame and staggering security failures behind the 2007 assassination of former prime minister Benazir Bhutto.
Author and Chilean diplomat Heraldo Munoz headed an enquiry which issued a damning UN report in 2010 that said Ms Bhutto's death could have been prevented and that Pakistan deliberately failed to investigate the case properly.
Now a UN assistant secretary general, his book 'Getting away with murder: Benazir Bhutto's assassination and the politics of Pakistan', goes on sale in the United States next week.
Oxford-educated Bhutto served twice as prime minister and had returned from exile to stand in elections when she was killed in a gun and suicide attack on December 27, 2007. Six years later, no one has been convicted of her murder.
Full report at:
http://www.dawn.com/news/1060832/establishment-al-qaeda-wanted-benazir-dead-book
---------
Jamaat-i-Islami wants to end Nato blockade
December 6, 2013
PESHAWAR, Dec 5: After the US announcement to suspend Nato shipments to and from Afghanistan via Khyber Pakhtunkhwa, Jamaat-i-Islami's Peshawar district chapter on Thursday recommended to the party's provincial leadership to announce the winding up of the two weeks long sit-ins in the province.
The recommendation was made during a meeting held here, where JI, Peshawar district chief Bahrullah Khan was in the chair.
A participant told Dawn that there was no need to continue with sit-ins as the US government had announced to suspend movement of Nato supply trucks out of Afghanistan via Khyber Pakhtunkhwa.
Full report at:
http://www.dawn.com/news/1060849/ji-wants-to-end-nato-blockade
---------
Ahle Sunnat Wal Jamaat Punjab president gunned down in Lahore
2013-12-06
LAHORE: The provincial leader of the Ahle Sunnat Wal Jamaat (ASWJ), Maulana Shamsur Rehman Muavia, was shot dead Friday by unknown gunmen in Lahore.
According to initial reports, unknown gunmen opened fire on the ASWJ leader's vehicle in the Ravi Road locality of the provincial capital.
Sources in the ASWJ said Muavia was taken to Mayo hospital, but he succumbed to his wounds before he could be treated.
According to DawnNews, a large contingent of police personnel reached the location where the incident took place. Police has also taken custody of the leader's body.
http://www.dawn.com/news/1060907/aswj-punjab-president-gunned-down-in-lahore
---------
Gender justice: 659 potential forced marriages prevented
December 6, 2013
LAHORE: "The Gender Justice Programme (GJP) has prevented 659 potential forced marriages in the last three years…it also helped 558 women obtain their inheritance shares," Norwegian Church Aid (NCA) Senior Programme Officer Rabia Waqar said on Thursday.
She was speaking at a consultation organised to discuss the gender justice issues and innovative strategies that need to be adopted to address them.
Waqar said the NCA had worked with Muslim, Hindu and Christian religious leaders who had delivered "over 8,000 sermons denouncing gender based violence."
She said the programme adopted a rights based approach to counter gender based violence instead of "a charity approach focusing only on service delivery."
Full report at:
http://tribune.com.pk/story/641830/gender-justice-659-potential-forced-marriages-prevented/
---------
Southeast Asia
Female Police Can Move to Aceh if They Wish to Wear Veil: Dep. Chief
DECEMBER 06, 2013
The Deputy Chief of the National Police has responded to the controversy surrounding whether or not female police officers can wear headscarves by telling those who wish to cover their hair that they can be transferred to Aceh, which is governed in part by Shariah law.
"If they can't sleep because of not wearing headscarves, they can be temporarily assigned to Aceh," Comr. Gen. Oegroseno said on Thursday. "It's not difficult."
Oegroseno on Nov. 28, 2013, ordered that the policy's implementation would be postponed, insisting it will have to wait for the formal regulation. His decision has sparked criticism.
Oegroseno is exasperated that this issue has become a problem so soon into the tenure of the new police top brass. After being installed as National Police chief, Gen. Sutarman said on Sept. 19, 2013 that policewomen would soon be allowed to wear headscarves. As soon as he made the announcement, many policewomen started using wearing the veil, but in colors and prints that were not compatible with police uniform.
http://www.thejakartaglobe.com/news/female-police-can-move-to-aceh-if-they-wish-to-wear-veil-dep-chief/
-----------
Umno declares war on Shia Muslims, deviants and gays
DECEMBER 06, 2013
Umno has declared war on Shia Muslims, gays, lesbians, trans-sexuals, liberals and those who have insulted Islam, saying the government should set up a commission to protect the country's official religion.
The country's largest party of Muslims today tabled a resolution in its assembly to introduce a bill in the Dewan Rakyat to amend Article 3 of the Federal Constitution to only acknowledge Sunni Islam as the official religion of Malaysia.
Full report at:
http://www.themalaysianinsider.com/malaysia/article/umno-declares-war-on-shia-muslims-deviants-and-gays
-----------
Court Keeps Ahmadiyah Mosque Locked Up in Bekasi
DECEMBER 06, 2013
A beleaguered Ahmadiyah congregation in Bekasi was handed a hollow victory on Thursday when a court invalidated a municipal order to board up the group's mosque — then went on to uphold another order to keep the building locked.
Muhamad Isnur, a lawyer from the Jakarta Legal Aid Foundation (LBH Jakarta) representing the congregation, told the Jakarta Globe that it had been a roller-coaster day of rulings from the Bandung State Administrative Court.
In the first case, the court ruled that an order to board up the mosque with iron sheets was unlawful because it was issued by the Bekasi municipal secretary who had no authority to do so.
Full report at:
http://www.thejakartaglobe.com/news/court-keeps-ahmadiyah-mosque-locked-up/
-----------
More Malay millionaires needed to safeguard Islam, says Umno delegate
DECEMBER 06, 2013
An Umno Pandan delegate said today that more Malay millionaires are needed to protect the dignity of Islam.
Urging the government to produce more millionaires, Datuk Mohd Haniff Koslan also said the number of Malay millionaires was smaller than those from other races with only nine Malays among the top 50 millionaires in the country.
"Malay millionaires are important as Malays are Muslim. When Malays are rich, Islam will be protected," he said when debating the party president's speech at the Umno General Assembly at the Putra World Trade Centre.
Mohd Haniff urged that government-linked companies (GLCs) play a primary role in producing more Malay millionaires.
"If it is possible, I would like to suggest that GLCs produce more Malay millionaires," he said.
He also said the failure to produce more millionaires should not be blamed on the government or the laziness of the Malay community.
Full report at:
http://www.themalaysianinsider.com/malaysia/article/more-malay-millionaires-needed-to-safeguard-islam-says-umno-delegate
----------
Malaysia ruling party tightens embrace of Islam to gain support
Dec 06 2013
KUALA LUMPUR, Dec 6 (Reuters) - Malaysia's ruling party, stung by an election setback in May, is burnishing its Islamic credentials, aiming to gain ground among majority ethnic Malay voters in a move that could heighten concern over growing religious intolerance in the multi-racial Southeast Asian country.
The coalition led by the United Malays National Organisation (UMNO) suffered its worst election result, hurt by the desertion of ethnic Chinese voters and many urban dwellers, including Muslim Malays, its traditional bedrock of support.
Ahead of the party's annual general assembly this week, Prime Minister Najib Razak shored up his support by making concessions to the party's conservative wing, rolling back his previous liberal social reforms, boosting steps to favour ethnic Malays economically and stressing UMNO's role as a protector of the Islamic faith.
Full report at:
http://www.trust.org/item/20131206042621-hjrlr/?source=hpbreaking
-----------
Europe
Kazakhstani parents concerned about extremists recruiting children
Dec 06 2013
ALMATY – Lyudmila Ivanova, 70, has lived alone in Almaty for more than a year: her daughter came under extremist influence a few years ago and has moved abroad somewhere to continue working with the extremist group that recruited her.
"She began to feel drawn to that [extremist] movement five years ago, and she left the country for good last year," Ivanova said. "She's now seeking with my help to sell the apartment I gave her as a gift. She's breaking my heart by refusing to return, however hard I've urged her to."
"Honestly, I don't know how all this will end," Ivanova said. "I tell everybody she emigrated, while I continue to ask her to come back. I'm ashamed to tell anybody about her religious fixation."
Full report at:
http://centralasiaonline.com/en_GB/articles/caii/features/main/2013/12/05/feature-01
----------
French Army Launches C. Africa Operation as Massacre Fears Loom
Dec 6, 2013
French soldiers patrolled the Central African Republic's capital on Friday after the United Nations gave the green light for foreign troops to restore security following a new bloodbath that left dozens of bodies strewn in the streets.
Two warplanes overflew Bangui, but otherwise an eerie quiet reigned in the capital as the French operation got under way, a day after more than 120 people were killed in the city — many clubbed or hacked to death in violence that erupted amid international warnings that the country risked sectarian massacres.
The CAR has descended into chaos since a motley coalition of rebel fighters known as Seleka overthrew the government in March and installed their own chief, Michel Djotodia, as president — the first Muslim leader of the majority Christian country.
Full report at:
http://www.thejakartaglobe.com/international/french-army-launches-c-africa-operation-as-massacre-fears-loom/
-------------
English Defence League surround Portsmouth mosque
World Bulletin / News Desk
Dec 06, 2013
Members of the far-right English Defence League (EDL) gathered outside the Jami Mosque in Portsmouth on Wednesday night, after they heard rumors that a group of young men from the mosque had gone to Syria to fight against Bashar al-Assad's regime forces.
In response, United Against Fascism (UAF) organized a counter protest outside the mosque. The EDL held up signs saying 'terrorists are being radicalized here.'
Meanwhile, the Scottish Defence League, an off-shoot of the EDL, had to cancel plans to protest against Muslims in Glascow after the local MP ordered the authorities to prevent any protests taking place on the grounds of a school where the construction of a new mosque has been proposed.
The EDL has establishes branches all over Britain, including Wales and Scotland, and has inspired a wave of 'defence league' movements across Europe in protest against Muslims.
http://www.worldbulletin.net/?aType=haber&ArticleID=124378
---------
Syria's UN Envoy Confirms Arrest of 300 Saudis and Death of Thousands
Dec 06, 2013
TEHRAN (FNA)- Syria's Permanent Envoy to the UN Jaafari confirmed arrest of 300 Saudis and death of thousands attacking Syria, saying, "Saudi authorities released these criminals, most of whom belong to terrorist organizations such as Al-Qaeda and others, some of them dating back to previous eras where they spent years in Saudi prisons".
http://english.farsnews.com/player.aspx?nn=13920913001095
----------
Pope sets up Vatican committee against child sex abuse
Dec 06 2013
Pope Francis Dec. 5 set up a committee to fight child sex abuse in the Catholic Church and give pastoral care to victims following a recommendation from a council of cardinals he has asked to advise him.
The announcement was made by US cardinal Sean O'Malley, the archbishop of Boston and one of the eight members of the council, who said the precise composition of the new committee will be announced "in the near future".
O'Malley said the council suggested the new committee Dec. 4 and Francis approved it today, adding that the initiative was also in line with the zero tolerance approach of pope emeritus Benedict XVI.
Full report at:
http://www.hurriyetdailynews.com/pope-sets-up-vatican-committee-against-child-sex-abuse.aspx?pageID=238&nID=59073&NewsCatID=393
----------
Russian special military complex can help with Syrian chemical weapons destruction - expert
Dec 06 2013
The UN and the Organization for the Prohibition of Chemical Weapons – OPCW – are awaiting approval from an unnamed country to use its port to remove Syria's deadly chemicals to be destroyed offshore. That's according to head of the joint mission Sigrid Kaag, who briefed the UN Security Council on the matter on Wednesday but did not identify the country the joint mission had been in talks with. Meanwhile, Russia's Ambassador to the United Nations Vitaly Churkin told reporters that Moscow will provide Syria with the equipment necessary to destroy the country's chemical arsenal. He said this would help to deal with the shortage of supplies needed to carry out the operation.
They're apparently talking about the so-called 'damaged chemical munition destruction complex', says Mikhail Khodaryonok, editor-in-chief of Russia's military weekly newspaper, Voenno-promyshlenny kur'er.
Full report at:
http://voiceofrussia.com/2013_12_06/Russian-special-military-complex-can-help-with-Syrian-chemical-weapons-destruction-expert-8699/
----------
Arab World
Egypt reportedly to declare Muslim Brotherhood 'terrorist organization'
Dec 06 2013
Egyptian media reported Thursday that the government is preparing to deem the Muslim Brotherhood "a terrorist organization," as pro-Morsi organizations sent out a call for protests to be held over the weekend.
The Egyptian El-Watan newspaper, which tends to support the military and oppose the Muslim Brotherhood, reported that interim Prime Minister Hazem el-Beblawi discussed in a closed meeting with a number of ministers a detailed directive that declares the Brotherhood a terrorist organization.
The government blames the organization for violence and terrorism that has taken place since Mohamed Morsi was removed from power on July 3.
Meanwhile, the pro-Morsi alliance, the Pro-Legitimacy and Anti-Coup Coalition called on Thursday for renewed protests this weekend, according to Ahram Online.
Since Morsi was ousted as president, many protests have been held all over the country, with many leading to violent clashes with government security forces.
The protest expected for Friday is in memory of killed protesters and the protest on Saturday is to show solidarity with 21 female protesters who were sentenced to prison, 14 of them drawing an 11 year sentence.
Full report at:
http://www.jpost.com/Middle-East/Egypt-reportedly-to-declare-Muslim-Brotherhood-terrorist-organization-334166
----------
Secular Syria Rebels Mull Rejoining Gov't to Fight Al-Qaeda
Dec 06, 2013
TEHRAN (FNA)- Free Syrian Army (FSA) commander Gen. Salim Idris announced he is dropping the demand for President Bashar Assad to resign before the Geneva II peace conference looming on January 22.
He said that he's content with talks toward an eventual transition at the end of the negotiation process, Antiwar.com reported Wednesday.
That may not sound like much on the surface, but it points to what officials say is a significant shift in the secularist rebel perspective, as they consider merging with the Assad government to end their mutual fighting and instead focus on the war against al-Qaeda and the rest of the Wahhabi extremist militants.
Gen. Idris addressed the prospect very directly in his comments, saying that the growing FSA fighting with Al-Qaeda has left them fighting a war on two different fronts. As foreign Wahhabi extremists continue to flock to Al-Qaeda factions like Jabhat al-Nusra, that's a problem that's only going to get worse, as some 5,500 foreign fighters in Al-Qaeda in Iraq (AQI) alone look to dominate the rebel-controlled Northwest.
http://english.farsnews.com/newstext.aspx?nn=13920914000625
------------
Salafist Nour Party: Will vote 'yes' in the Egyptian constitution referendum
Dec 06 2013
Salafist Nour Party said they will agree to the amendments made to the Egyptian constitution in the upcoming referendum.
Younnes Makhioun, the party's head, said at a press conference on Thursday that "even though the constitution includes articles that the party does not agree upon," they will still call upon citizens to vote yes in the referendum. Doing so is in the interest that all Egyptians are yearning for, in terms of development and stability, Makhioun said.
A final draft of the constitution was submitted on Tuesday by Amr Moussa – head of the 50-member panel assigned to amend the 2012 charter predominantly drafted by Islamists – to Egypt's Interim President Adly Mansour. A public referendum is to be called within a month.
The Salafist Nour Party – represented by the only Islamist member on this largely liberal panel – had repeatedly voiced its intent to retain the articles pertaining to religion, highly considered as "identity articles."
Full report at:
http://english.ahram.org.eg/NewsContent/1/64/88359/Egypt/Politics-/Salafist-Nour-Party-Will-vote-yes-in-the-Egyptian-.aspx
-----------
Syria conflict sees sharp rise in European fighters
Dec 06 2013
COPENHAGEN: A new wave of Europeans is heading to Syria, their ranks soaring in the past six months as tales of easy living and glorious martyrdom draw them to the rebellion against Bashar Assad.
The Western Europe-based rebels, mostly young men, are being recruited by new networks that arrange travel and comfortable lodging in the heart of rebel territory.
The 11 western European countries with the biggest contingents in Syria are estimated to have some 1,200-1,700 people among rebel forces, according to government and analyst figures compiled by The Associated Press. That compares to estimates of 600-800 from those countries in late spring.
Full report at:
http://www.arabnews.com/news/488111
----------
Jihadists execute Iraqi cameraman in Syria: RSF
Dec 06 2013
Fighters linked to Al-Qaeda have kidnapped and executed an Iraqi freelance cameraman working in northern Syria, a press freedom watchdog told AFP on Thursday.
"Yasser Faysal al-Joumaili's execution was the first of a foreign journalist in Syria's so-called liberated areas," said Soazig Dollet, head of Reporters without Borders (RSF) Middle East and North Africa desk.
Joumaili had been working as a freelance cameraman for an unidentified Spanish media outlet in strife-torn Aleppo province for about 10 days, Dollet said.
He was kidnapped by fighters of the Islamic State of Iraq and the Levant (ISIL) while on his way out of Syria and executed in the northwestern border province of Idlib on Wednesday, she added.
Full report at:
http://english.ahram.org.eg/NewsContent/2/8/88372/World/Region/Jihadists-execute-Iraqi-cameraman-in-Syria-RSF.aspx
----------
Syrian opposition alleges new poison gas attack
World Bulletin / News Desk
Dec 6, 2013
Opposition activists again accused President Bashar al-Assad's forces of using poison gas in Syria's civil war on Thursday, saying victims had been discovered with swollen limbs and foaming at the mouth.
The activists told Reuters that two shells loaded with gas hit a rebel-held area in the town of Nabak, 68 km (40 miles) northeast of Damascus, on a major highway in the Qalamoun region. They reported seven casualties.
Separately, the Syrian Revolution Coordinators Union also accused Assad's forces of using poison gas.
Full report at:
http://www.worldbulletin.net/?aType=haber&ArticleID=124392
--------
Syrian rebels demand hostage swap for abducted nuns
World Bulletin / News Desk
Dec 6, 2013
A Syrian rebel group calling itself "Free Qalamoun" has claimed the kidnapping of 12 nuns and said it wants to trade them for a thousand female detainees held by the government, a pan-Arab newspaper reported on Friday.
Rebel spokesman Mohannad Abu al-Fidaa told Asharq al-Awsat that the nuns were safe but "will not be released until several demands have been implemented, most importantly, the release of 1,000 Syrian women held in regime prisons".
Full report at:
http://www.worldbulletin.net/?aType=haber&ArticleID=124420
----------
Africa
Sharia Council accuses Nigerian Christians of waging war against Islam
Dec 06 2013
The Supreme Council for Sharia in Nigeria has accused Christians in the country of waging war against Islamic religion.
Speaking at a press briefing on Sunday, Secretary General of the group, DR. Ibrahim Datti Ahmad called on Muslims in the county to wake up and challenge the dangerous development by devising appropraite strategies against it.
According to him, "for quite some time, there have been numerous cases of Christians involved in terrorist related acts, but such cases are never investigated by the Police and SSS, even in instances where they were caught red handed in the act."
The full statement reads below:
Gentlemen of the Press, I welcome you all to this Press Conference on a very important and weighty issue on the serious concerns of Muslims over a Systematic war on Muslims and Islam by the Federal Government, controlled by CAN. Since the end of Military dictatorship in 1999, Muslims and other objective observers have witnessed, with incredible consternation, the progressive transformation of the Nigerian State into a government of CAN, by CAN and for Christians, in character, structure and policies. This ugly development, now appropriately christened a "transformation agenda", appears to have reached its zenith, involving practically all Federal Government Institutions and resources, with the active support of all security agencies and the Armed forces, all pursing in unison, the objective of collective punishment, marginalization, intimidation and demonization of Muslims and Islam.
Full report at:
http://dailypost.com.ng/2013/12/05/sharia-council-accuses-nigerian-christians-of-waging-war-against-islam/
----------
Car Bombing Kills 8 in Northern Somalia
Dec 06 2013
Police in Somalia's semi-autonomous Puntland region say a suicide car bomb attack has killed at least eight people and wounded 37 others.
The attack took place Thursday in the northern port city of Bosasso.
Police say the bomber rammed a convoy of security vehicles. At least six soldiers are among those wounded.
An eyewitness told VOA the death toll could be higher because some of the injured were in serious condition.
There were no immediate claims of responsibility, but the Puntland government blamed al-Shabab.
Full report at:
http://allafrica.com/stories/201312051509.html?aa_source=sptlgt-grid?aa_source=sptlgt-grid
----------
Nearly 100 dead in Central African Republic before French troops arrive
AP | Dec 6, 2013
BANGUI, Central African Republic: Fighting swept through the capital of Central African Republic, leaving nearly one hundred people dead and posing the biggest threat yet to the country's new government. The UN Security Council authorized an intervention force to prevent a bloodbath between Christians and Muslims.
Witnesses and aid workers say at least 98 people are dead in Bangui after a day of clashes between the Muslim armed fighters who rule the country and a Christian militia who opposes them.
An Associated Press journalist counted 48 bodies at a mosque in a northern neighborhood late on Thursday. Separately, Doctors Without Borders confirmed at least 50 people were dead at hospitals they are running.
Full report at:
http://timesofindia.indiatimes.com/world/rest-of-world/Nearly-100-dead-in-Central-African-Republic-before-French-troops-arrive/articleshow/26924216.cms
----------
Algeria kills high-level al-Qaida leader: Official
Dec 06 2013
Algiers : Algerian army helicopters killed a top al-Qaida leader and four associates as they sped through the southern Algerian desert, a local official said on Thursday.
The two four-wheel-drive vehicles were hit as they were carrying Khalil Ould Addah, known as Abu Bassen, the number three leader in the terror network's North African branch, said the official from the southern regional capital of Tamanrasset.
"The trail of the two all-terrain vehicles was being followed closely by the army that wanted to take them alive but at the last minute the decision was made to use helicopters to bomb their vehicles," he told The Associated Press on condition of anonymity because he was not authorized to speak to the media.
Full report at:
http://www.indianexpress.com/news/algeria-kills-highlevel-alqaida-leader-official/1203787/
----------
Nelson Mandela death: South Africa and world mourn
Dec 06 2013
South Africans have gathered in Johannesburg and Soweto to mourn their former leader, Nelson Mandela, who died on Thursday aged 95.
Crowds paid tribute, dancing and singing in front of Mr Mandela's former home in Soweto throughout the night.
Flags flew at half mast after President Jacob Zuma announced his death in a late night national TV address.
Mr Mandela spent 27 years in jail before becoming South Africa's first black president in 1994.
His administration replaced the racist white-minority regime that had enforced segregation of black and white people in a policy known as apartheid.
Full report at:
http://www.bbc.co.uk/news/world-africa-25252626
----------
Mali Must Urgently Identify Bodies Found in Mass Grave
Dec 06 2013
Authorities in Mali must urgently identify the 21 bodies found in a mass grave last night, believed to belong to soldiers abducted in May 2012, Amnesty International said.
"Ever since the soldiers were abducted from the Kati Military Camp, their loved ones have been desperate to know what has happened to them. Authorities in Mali must now do everything in their power to give the families the full truth," said Gaëtan Mootoo, Mali researcher at Amnesty International, who met with some of the relatives of the soldiers last week.
"Unfortunately, the initial reports seem to confirm our fears that the 21 soldiers could have been executed," added Gaëtan Mootoo. "Amnesty International extends its deepest sympathies to all the families concerned."
Full report at:
http://allafrica.com/stories/201312051461.html?aa_source=sptlgt-grid?aa_source=sptlgt-grid
----------
Tunisia's Ennahda blames Popular Front for obstructing dialogue
World Bulletin / News Desk
Dec 06, 2013
Tunisia's ruling Ennahda party on Thursday blamed the opposition Popular Front coalition for hindering the national dialogue aimed at breaking the political deadlock in the Arab African country.
Ennahda spokesman Ziad Laadhari insisted that the main political forces from the ruling alliance and the opposition had agreed on nominating former finance minister Jalloul Ayed to form new government, but the Popular Front refused.
The Ennahda-led government has promised to resign – once a consensus is reached on a new premier - to allow the formation of an interim cabinet to organize and supervise upcoming parliamentary elections.
Full report at:
http://www.worldbulletin.net/?aType=haber&ArticleID=124405
-----------
South Asia
Bangladesh apex court clears way for Jamaat leader's execution
Dec 06 2013
Bangladesh's Supreme Court cleared the way for the execution of a senior leader of the fundamentalist Jamaat-e-Islami, three months after it overturned a tribunal's ruling that sentenced him to life for genocide during the 1971 war.
The apex court headed by Chief Justice M. Muzammel Hossain issued the full text of the verdict given in September to award the death penalty to Abdul Quader Mollah, an assistant secretary general of Jamaat, reversing the special tribunal's verdict.
The announcement is likely to spark fresh violence at a time when the country is witnessing widespread clashes over the upcoming general elections.
"The countdown for executing the verdict began today... under the jail code the jail authorities must execute the judgement in between 21 and 28th days of receipt of the copy," senior prosecution lawyer Rana Dasgupta told PTI.
He, however, said a copy of the judgement was already sent directly to the concerned government representative or Dhaka's district magistrate, who is also the custodian of jail, to carryout the subsequent procedures under the law.
Full report at:
http://www.thehindu.com/news/international/south-asia/bangladesh-apex-court-clears-way-for-jamaat-leaders-execution/article5425931.ece
----------
Afghan media revolution follows Taliban overthrow
Dec 06 2013
KABUL – Analysts and journalists are calling the progress made by Afghanistan's media since the fall of the Taliban regime in 2001 revolutionary.
"The right phrase would be 'a complete revolution,'" Sami Yousafzai, a senior Afghan tribal journalist, said.
"During the Taliban rule, there were no media," he told Central Asia Online. "One radio broadcast called 'Voice of Sharia' was used solely for religious broadcasts, jihadist speeches and official propaganda."
The Taliban's ouster ended an era of tyranny and "opened up Afghan society," Zia Bumia, president of the Afghan chapter of the South Asian Free Media Association, said.
Full report at:
http://centralasiaonline.com/en_GB/articles/caii/features/pakistan/main/2013/12/04/feature-01
-----------
Maldives wins WTA's "World's Leading Island Destination 2013"
Dec 06 2013
The Maldives has been awarded the title of "World's Leading Island Destination" at the 2013 World Travel Awards (WTA) Grand Finale hosted at the La Cigale Hotel in Doha, Qatar last week.
This is the third time the Maldives has won the prestigious travel award. The WTA is hailed as the "Oscars of the Travel Industry."
The Maldives competed against Bali in Indonesia, Barbados, Cook Islands, Crete in Greece, Jamaica, the Madeira Islands, Mauritius, the Seychelles, Sicily in Italy, St. Lucia, and Zanzibar in Tanzania this year.
Full report at:
http://minivannews.com/travelandarts/maldives-wins-wtas-%E2%80%9Cworld%E2%80%99s-leading-island-destination-2013%E2%80%9D-72910
----------
Maldives Education Ministry pledges to introduce Arabic to more schools
Dec 06 2013
The Ministry of Education has pledged to introduce Arabic to more schools in the next academic year.
Speaking to the press today, Minister of Education Dr Aishath Shiham said Arabic will be available at "many" schools throughout the Maldives next year.
In addition to Arabic, the Education Ministry intends to expand civic education in the curriculum and introduce Like Skills Education as a separate subject to educate students on life skills such as conflict resolution and responsible citizenship.
Full report at:
http://minivannews.com/category/news-in-brief
----------
Ershad: Media exaggerated suicide threat
Dec 06 2013
Jatiya Party Chairman HM Ershad said on Friday that the Media has exaggerated the news of the suicide threat that he gave on Wednesday. He said: "Media has exaggerated the issue. They present my speech of committing suicide in a wrong way before people. I said I would rather die than changing my statement of rejecting the polls. But, Media changed it to something else." he claimed. He made the statement while addressing journalists at his President's Park residence in Baridhara on Friday morning, one day after his statement: "I will commit suicide if anyone tries to deceive me." He said: "I will never go with you [Awami League]. I carry four loaded guns all the time, I will commit suicide as soon as they try to provoke me." "This is a commitment to my countrymen and I will keep it till my last breath," he said on Wednesday night.
Full report at:
http://www.dhakatribune.com/politics/2013/dec/06/ershad-media-exaggerated-suicide-threat#sthash.zBkRuVEZ.dpuf
----------
Mideast
Hate crime narrowly defined in Turkey's democratization package
Dec 06 2013
The long-anticipated "democratization package" was finally submitted to Parliament on Dec. 5, but the 17-article package's content with regard to hate crimes does not touch upon the social and cultural aspects of hate crime at all.
"A person who bars the selling, handing over or renting movable goods or real property to a person; who prevents a person from using of certain service offered to the public; who bars employment; and who prevents a person from running a regular economic activity, because of hatred stemming from the difference of language, race, nationality, color, gender, disability, political views philosophical belief, religion or sect, will be sentenced to prison for a period of one to three years," the amended article states.
Full report at:
http://www.hurriyetdailynews.com/hate-crime-narrowly-defined-in-turkeys-democratization-package.aspx?pageID=238&nID=59100&NewsCatID=339
----------
Palestinians spurn US security ideas for peace with Israel
Dec 06 2013
RAMALLAH, West Bank (Reuters) - The Palestinians rejected ideas raised by visiting U.S. Secretary of State John Kerry on Thursday for security arrangements under a possible future peace accord with Israel, a Palestinian official said.
There was no immediate response from the United States or Israel, which has long insisted on keeping swathes of its West Bank settlements, as well as a military presence on the territory's eastern boundary with Jordan, under any peace deal.
The official, who spoke on condition of anonymity and declined to elaborate on the proposals, said Kerry presented them to Palestinian President Mahmoud Abbas after discussing them separately with Israeli Prime Minister Benjamin Netanyahu.
Full report at:
http://www.trust.org/item/20131205180034-zzssu/
----------
Israel urges EU human rights body to return 'anti-Semitism' definition to website
Dec 06 2013
The Foreign Ministry called on the EU's Fundamental Rights Agency to return a working definition of "anti-Semitism" to its website, after removing it last month.
The agency dropped the definition and is now unable to define the term, the agency informed JTA on Tuesday.
"We are not aware of any official definition [of anti-Semitism]," spokeswoman Blanca Tapia was quoted as saying by JTA.
In its 2012 "Who we are" booklet, the agency listed "Define areas of work" among its tasks, but Tapia told the wire service that the agency "has no mandate to develop its own definitions."
Full report at:
http://www.jpost.com/Jewish-World/Jewish-News/Israel-urges-EU-human-rights-body-to-return-anti-Semitism-definition-to-website-334172
----------
Turkish daily Taraf accused of 'spying' and 'terror acts' for publishing state document
Dec 06 2013
Daily Taraf, which published a document from a 2004 National Security Council (MGK) meeting about a state action plan against the activities of Islamic scholar Fethullah Gülen's movement, has been charged with "spying" and "terrorism," in an investigation launched by the Istanbul Public Prosecutor.
"Obtaining documents regarding state security," "political or military spying," "exposing documents regarding the state's security or political good," and "revealing forbidden information," are counted as the crimes that Taraf is accused of committing.
Full report at:
http://www.hurriyetdailynews.com/turkish-daily-taraf-accused-of-spying-and-terror-acts-for-publishing-state-document.aspx?pageID=238&nID=59120&NewsCatID=341
----------
India
Iranian warships on three-day goodwill visit to Mumbai
Rajat Pandit,TNN | Dec 5, 2013
NEW DELHI\MUMBAI: Iranian warships have come calling to Mumbai on "a goodwill visit" as part of the bilateral defence ties with India, even as the US and five other major powers are engaged in another round of talks to limit Iran's controversial nuclear programme to civilian energy and medical needs only.
The Iranian warships — destroyer Alborz, helicopter-carrying tanker Bandar Abbas and a Russian-origin Kilo-class submarine Younes — entered the Mumbai harbor on Thursday as part of the three-day visit.
"The Iranian warships, with a crew of 544 personnel, are on a routine overseas deployment. They are docked in the civilian area, not the naval area. The Iranian delegation, along with their ambassador, counsel general and senior officers, will call on Western Naval Command chief Vice Admiral Shekhar Sinha and also take part in other exchanges during the visit," said an official.
Full report at:
http://timesofindia.indiatimes.com/india/Iranian-warships-on-three-day-goodwill-visit-to-Mumbai/articleshow/26919916.cms
----------
Developments in Bangladesh keep India on tenterhooks
Dec 06 2013
KOLKATA: Even as scores of Bangladeshi citizens continue to pour across the international border every day, both through legal channels and illegally, agencies in India are keeping their fingers crossed on developments in the neighbouring country that goes to the polls a month later. Border districts of West Bengal have been put on high alert to prevent a spillover of the ongoing violence in Bangladesh into India.
"The fast deteriorating law and order situation across the border is a matter of grave concern to us. We fear that if things get completely out of hand in Bangladesh, the government there may call in the Army to maintain law and order. The situation will worsen if this happens," an official in Kolkata said.
Full report at:
http://timesofindia.indiatimes.com/india/Developments-in-Bangladesh-keep-India-on-tenterhooks/articleshow/26917608.cms
----------
Bhagalpur riots: Process to restore land to 17 families begins
Dec 06 2013
Patna : The Bihar government initiated Thursday the process to restore land to the 17 Muslim families who had to abandon their houses in Garhotia under Lodhipur during the 1989 Bhagalpur riots.
Chief Minister Nitish Kumar had claimed on 30 October in Delhi that land had been restored to these families but a report in 'The Indian Express' on December 4 showed the ground reality was different and that none of the 17 families had been returned land 24 years after the riots.
The Bhagalpur district administration sent a team to Garhotia on Thursday and got measured a 7,405-square-foot plot illegally held by one Patel Yadav of Anantpur Tola. Mustakeem, one of the 17 beneficiaries, said: "Plots were measured and photographed. But we have not yet received possession slips. We have been asked to wait for possession."
Full report at:
http://www.indianexpress.com/news/bhagalpur-riots-process-to-restore-land-to-17-families-begins/1203970/
----------
Cleric files FIR against Taslima Nasreen's anti-fatwa tweet
Pervez Iqbal Siddiqui,TNN | Dec 6, 2013
LUCKNOW: A cleric in Bareilly has lodged an FIR with local police accusing Bangladeshi author and columnist Taslima Nasreen of hurting religious sentiments of the minority community in one of her tweets that appeared in a section of the media in their edition dated November 6.
The complaint lodged by Hasan Raza Khan takes serious objection to Tasleema's tweet in which she says "In India, criminals who issue fatwas (edict) against women don't get punished". Hasan Raza Khan in his complaint said a mufti (qualified Islamic scholar) issues fatwas in the light of the teachings of the sacred book and Hadith (references to Islam that were penned down by noted religious leaders of the Prophet's era). By describing the muftis as criminals Tasleema Nasreen had hurt the religious sentiments of Muslims, says Hasan Raza in his complaint that was submitted at the City Kotwali police station in Bareilly late Wednesday night.
Full report at:
http://timesofindia.indiatimes.com/india/Cleric-files-FIR-against-Taslima-Nasreens-anti-fatwa-tweet/articleshow/26925330.cms
----------
US wants people-to-people ties with India: Diplomat
Vithika Salomi, TNN | Dec 6, 2013
PATNA: With India-US trade crossing $100 billion, US embassy spokesperson Peter Vrooman on Thursday said America now aims at promoting people-to-people ties with India besides working together to counter terrorism.
Reiterating US President Barack Obama's words that Indo-US ties would be one of the most defining partnerships of the 21st century, Vrooman said, "US was supportive of India's increased role in regional and global institutions as it has a powerful influence in South Asia. A strong Indian presence would lead to the economic prosperity of the entire region."
According to the stats provided by Vrooman, there were nearly 3 million Indian Americans in the US. "Police chiefs of many US cities are on a visit to New Delhi for a conference this week that would help Indian police officials learn new ways of countering crime or mass attacks. In fact, rape cases have caught the attention of the world," he said, adding that a rise in the number of Indian American families was changing the face of bilateral ties. He said India and the US had suffered due to terrorism and should work together to eliminate it.
Full report at:
http://timesofindia.indiatimes.com/india/US-wants-people-to-people-ties-with-India-Diplomat/articleshow/26924465.cms
----------
North America
U.S. Muslim Group Calls Nelson Mandela's Death a Loss for All Humanity
Dec 06 2013
WASHINGTON, D.C., - The Council on American-Islamic Relations (CAIR), the nation's largest Muslim civil rights and advocacy organization, today said that the death of Nelson Mandela is a loss for all humanity and that the South African leader will remain an example to those fighting for human rights.
In a statement reacting to news of Mandela's death, CAIR National Executive Director Nihad Awad said:
"Throughout his life, Nelson Mandela served as an example of strength in adversity to all those fighting for freedom and justice. His legacy of uncompromising perseverance in the face of bigotry and injustice will live on for generations to come.
"He was a unique historic figure. From his jail cell, he demonstrated vision and courage, and taught the world the true meaning of steadfastness. Outside his cell, he demonstrated Full report at:
http://www.digitaljournal.com/pr/1626491
----------
Small US force to remain in Afghanistan for foreign policy reasons
Dec 06 2013
The bulk of the ISAF international coalition troops are due to pull out of Afghanistan next year, but a small US force will stay on. Washington has been bargaining with President Hamid Karzai over the conditions that the US force in question will operate on in the Islamic Republic. The US has even threatened to withdraw all of its troops, leave Karzai to his own devices and see how he will deal with the Taliban. But Kabul doesn't take the threat seriously.
The NATO-led coalition has currently 98,000 troops deployed in Afghanistan, with the United States servicemen accounting for the bulk of the force. The US force that will stay on is estimated to be anything between 8,000 to 15,000-man strong. The Terra America portal editor, Boris Mezhuyev, said this about the US force objectives in an interview with the Voice of Russia.
Full report at:
http://voiceofrussia.com/2013_12_06/Small-US-force-to-remain-in-Afghanistan-for-foreign-policy-reasons-1170/
----------
US repatriates two Algerian Guantanamo detainees
December 06, 2013 AFP
WASHINGTON : Two detainees were sent home to Algeria from the US prison camp in Guantanamo Bay Thursday, over the prisoners' protests that they feared persecution there.
A Pentagon statement said Djamel Saiid Ali Ameziane and Bensayah Belkecem were transferred from the "war on terror" prison after a review "which examined a number of factors, including security issues."
"The United States coordinated with the government of Algeria to ensure these transfers took place with appropriate security and humane treatment assurances," it said.
The transfers were the latest in a series stemming from President Barack Obama's much delayed efforts to meet his vow to shutter the US detention center in Cuba.
Full report at:
http://www.nation.com.pk/international/06-Dec-2013/us-repatriates-two-algerian-guantanamo-detainees
---------
Israel security key in talks on peace, Iran: Kerry
AFP
2013-12-06
JERUSALEM: US Secretary of State John Kerry insisted Thursday that Israel's security is a top priority for Washington, both in nuclear talks with Iran and peace talks with the Palestinians.
Kerry held a day of talks with Israeli and Palestinian leaders aimed at driving forward peace negotiations which appear to have made little headway since beginning under his patronage in late July.
A senior Palestinian official described the negotiations as being at "a very difficult" stage.
But Iran was also a central issue when Kerry met Israeli Prime Minister Benjamin Netanyahu for more than three hours in their first face-to-face meeting since their political falling out over the Iran nuclear deal.
Full report at:
http://www.dawn.com/news/1060741/israel-security-key-in-talks-on-peace-iran-kerry
---------
URL: https://www.newageislam.com/islamic-world-news/new-age-islam-news-bureau/family-planning-advocates-face-fatwas-from-fundamentalists-in-pakistan/d/34738