New Age Islam News Bureau
7 Oct 2017
• Families of Slain, Jailed ISIS Operatives Getting Monetary Support in Peshawar: Report
• 'Game Over' Iraqi Forces See Beginning of the End for ISIS
• Trump To Send Top Lieutenants to Pakistan with Tough Message
• Kremlin Says Russia-Saudi Military Cooperation Not Directed At 3rd Party
• Rajasthan: Muslims Forced To Leave Village after Threats from Upper Caste Hindus
• Bangladeshi Muslim Religious Group Call to Arm Rohingya
Pakistan
• Families of Slain, Jailed ISIS Operatives Getting Monetary Support in Peshawar: Report
• Lobby in Govt Wants to Alter Khatm-e-Nabuwat law: Siraj
• Govt Warns Of Action over 'Jihad Fatwas'
• Terror safe havens on Afghan side the real concern: Pakistan
• Pakistan facing foreign-funded terrorism: Maleeha Lodhi
• Man distributing Hizb leaflets in capital held
• Death toll from Jhal Magsi blast climbs to 21
--------
Arab World
• 'Game Over' Iraqi Forces See Beginning of the End for ISIS
• Al-Qaida Releases Call for Jihadist Unity, Purportedly From Leader
• ISIL Terrorists Driven Out of 91% of Syria
• Arab League Secretary General says no to a Kurdish state
'• Jihadi Gran' gets 10 years after joining son in Syria
• Syrian Army Liberates Several Areas in Successful Bid to Kick ISIL out of Quaryatayn
• Syrian Army Advances against Terrorists in Golan Heights
• Several Civilians Killed, Injured in Terrorists Attacks on Villages in Damascus Province
• Syrian Army Makes Fresh Gains in War on Terrorists in Northern Homs
• 600 FSA Terrorists to Leave Southern Damascus for Northern Syria Imminently
• Al-Qaeda-linked fighters launch new attack in central Syria
--------
North America
• Trump To Send Top Lieutenants to Pakistan with Tough Message
• CPEC Passes Through Disputed Territory: US
• US cancels planned war games with Arab allies over Qatar
• Three men arrested in suspected plot to bomb New York City subway and Times Square
• Civil Rights Groups Demand Transparency on Trump's Muslim Ban
• Trump To 'Decertify' Iran Deal, but Asks Congress Not To Reimpose Sanctions: Reports
--------
Europe
• Kremlin Says Russia-Saudi Military Cooperation Not Directed At 3rd Party
• U.N. Fears 'Further Exodus' Of Muslim Rohingya from Myanmar
• UN blacklists Saudi-led coalition for killing children in Yemen
• 'Mafia Effect' Keeps Islamic Terrorism at Bay in Italy: Report
• British Muslim Man Jailed For Showing Beheading Video To Kids
• British man arrested over Facebook post threatening Muslims
• France hands 'Mama Jihad' the maximum sentence for role in terrorist conspiracy
--------
India
• Rajasthan: Muslims Forced To Leave Village after Threats from Upper Caste Hindus
• India, EU Name Dawood, Hafiz Saeed, Rehman Lakhvi In Joint Fight Against Terror
• 20 With Bangla Terror Links Missing In Uttar Pradesh
• Terrorists attack SPO, son at their home in Kashmir's Kupwara district
• ED issues FEMA notice to LeT terrorist, Hawala dealers
• India, Australia discuss joint effort to counter terrorism
• Two sent to judicial custody for helping Pakistan-based terrorists
--------
South Asia
• Bangladeshi Muslim Religious Group Call to Arm Rohingya
• Kabul Protesters Want Foreign Forces Out Of Afghanistan
• No sign of radicalisation in Rohingya, says Bangladesh Foreign Secretary
• Shafi: Efforts being made to convert Rohingya Muslims into atheists
• PM Hasina urges international pressure on Myanmar
• TV journos allegedly assaulted at Hefazat rally
--------
Mideast
• Arab Coalition Says UN Report on Yemen Was Fed Misleading Material
• Turkey to Open New Crossing with Iraq in Response to Kurdish Vote: Yildirim
• Coalition drones strike Houthi militias near Saudi border
• Turkey beefs up border security against Daesh, PKK
• Saudi Arabia, Russia urge end to Palestinian suffering
--------
Southeast Asia
• Is Indonesia's Military Chief Making a New Political Power Play?
• Amid vigilante threats, Ahmadis offer olive branch to PPIM
• Register to benefit from 2018 budget, private tahfiz schools told
--------
Africa
• Sudan Welcomes US Decision to Lift 20-Year Sanctions
• Bodies of Egyptians Killed by Islamic State in Libya Recovered: Report
• Four US soldiers killed in Niger ambush during counter-terrorism mission
• Nigeria: Cooperation 'key' to defeating jihadists
Compiled by New Age Islam News Bureau
URL: https://www.newageislam.com/islamic-world-news/families-slain-jailed-isis-operatives/d/112803
--------
Families of Slain, Jailed ISIS Operatives Getting Monetary Support in Peshawar: Report
Oct 7, 2017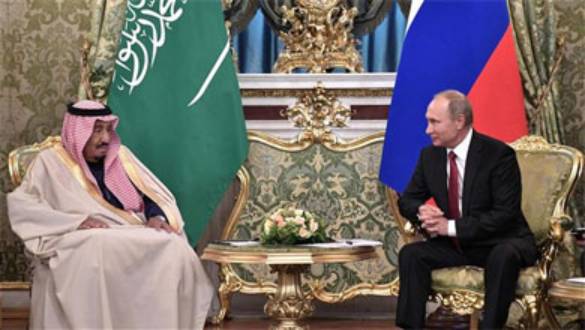 Russian President Vladimir Putin (R) meets with Saudi Arabia's King Salman in the Kremlin in Moscow, Russia October 5, 2017. Sputnik/Alexei Nikolsky/Kremlin via REUTERS
-----
Citing a report available with it, a local media outlet reported Friday that Islamic State in Iraq and Syria (ISIS) militants in Peshawar have been receiving monetary assistance from Afghan traders as well as various religious factions operating in the city.
The outlet reports that the families of these militants – some of whom killed in military operations in Khyber Pakhtunkhwa or put in jail – have sources of financial support within Peshawar and from across the border. Besides, some of the donations are used to procure arms from local factories.
The report reveals a startling level of IS influence in the city, whereby, the organisation is not only able to establish a media cell, but also distribute cash grants and sacrificial meat among families of the commanders and militants on Eidul Azha.
The outlet quoted sources as saying that an ISIS base camp was raided in Chamkani, Peshawar, resulting in several terrorists being killed and others nabbed; a list of sources of funds was also recovered.
The sources further said that a network of militants presenting themselves as traders was disrupted through intelligence-based operation, adding that presently, there are groups raising funds in Mardan and Charsadda, which are closed to being dismantled as well.
https://www.pakistantoday.com.pk/2017/10/07/families-of-slain-jailed-is-operatives-getting-monetary-support-in-peshawar-report/
--------
'Game Over' Iraqi Forces See Beginning of the End for ISIS
By DAVID ZUCCHINO
OCT. 6, 2017
A Shiite militia fighter praying on a road outside Hawija on Friday, a day after Iraqi forces retook the city from Islamic State militants. Credit Ahmad Al-Rubaye/Agence France-Presse — Getty Images
HAWIJA, Iraq — The jubilant outpouring that erupted in the heart of Hawija on Friday, the day after Iraqi forces claimed victory there, celebrated more than the fact that the Islamic State militants had finally been routed from the city, their last major urban stronghold in Iraq.
For many of the Shiite Muslim militiamen, who sped through the streets in pickups, flying militia colors and blaring religious music on loudspeakers, and the federal paramilitary police, who feasted on mutton and rice, their swift two-week victory represented the beginning of the end for militants who just three years ago ruled a third of Iraq.
"Game over," said Gen. Sabah al-Aboda of the Iraqi police, as he chewed a date in the shade of a collapsed storefront. "When they lost Mosul, they were broken."
General Aboda and other officers said the militants had been badly led and poorly supplied since they were driven from Mosul, Iraq's second-largest city, after a punishing nine-month battle that ended in July. They lost some of their best commanders and cadres, the commanders said, and their supply lines to Syria were cut by Iraqi forces.
Beyond that, officers and soldiers said, hundreds of militants never fired a shot in the Hawija operation. Following their commanders' orders, they fled north with their families to surrender to Kurdish forces, they said.
But others stayed and fought, the troops said. Most were killed, though some escaped and a few were taken prisoner, according to General Aboda.
On Friday, corpses of several militants lay where they had fallen, some with weapons still at their sides. Downtown Hawija, the site of the heaviest fighting, was a jumble of collapsed walls and crushed storefronts.
Kareem Gita, a Shiite militiaman who commanded a checkpoint in the shattered city center Friday, said many militants had lost the will to fight.
"Their leaders failed them," he said. "A lot of fighters ran away. The rest, we killed."
A handful of militants remained holed up in the city on Friday, General Aboda said. He said Iraqi forces were searching for them as engineering teams worked to clear streets and buildings of roadside bombs and booby traps.
Fighting continued just outside the city. Gunfire rattled in the distance and pillars of black smoke spun skyward as Iraqi troops pursued fleeing militants north of Hawija. Col. Ryan Dillon, the spokesman for the American-led coalition forces in Baghdad, said the militants were operating from a shrinking slice of territory.
Assuming Hawija's outlying districts are finally cleared, the Islamic State in Iraq would be left with a string of desert outposts in the Euphrates River valley and the city of Qaim on the Syrian border. The group still controls significant territory in Syria.
But the militants never made much of a stand in Hawija. For the first week or so, commanders said, some fought back as government troops squeezed them from three directions in outlying areas. Trapped, they made a final stand in the city center. After three days of urban fighting, commanders said, the battle ended on Thursday.
Burned-out civilian vehicles, some upturned and others riddled with bullet holes, lay among rubble in the city center. Soldiers said many had carried Islamic State fighters.
But virtually no destroyed military vehicles were visible, suggesting that militants in and around Hawija can no longer obtain the gun-mounted Humvees and armored troop carriers they used in Mosul.
"They don't know how to fight anymore," said Rohaid Talal, 22, a Shiite militiaman.
Before the operation, Iraqi forces dropped leaflets instructing residents to flee. About 75,000 to 80,000 took refuge in outlying districts, according to Naji Ibrahim Hawas, head of the Hawija provincial council. Those residential areas seemed mostly untouched.
For civilians, who began to emerge at the city's edge on Friday, the defeat of the Islamic State offered salvation after three years under the militants' harsh rule. Like residents of other Sunni cities controlled by ISIS, they described public beheadings in the city square, people shot in the foot if caught with a cellphone, and beatings for such offenses as wearing dishdasha hems too low or beards too short.
"They beat me with a belt in front of my children — it shamed me," said Raad Mohammed Jasim, 38, who said he was jailed for three weeks by militants who stole his sheep and car.
Abdul Basit, 21, who like Mr. Jasim remained in the Hawija district under ISIS rule, said he was shocked that so many militants had fled without a fight because they had seemed so terrifying and ruthless.
"Just seeing their faces and their beards made me tremble," Mr. Basit said.
The sight of Shiite militiamen parading through a Sunni city did not seem to alarm many residents.
"They helped liberate us," said Mr. Hawas, the provincial council leader. "We prefer anyone to Daesh," he added, using an Arabic acronym for the Islamic State, also known as ISIS or ISIL.
He was preparing to slaughter 30 sheep to thank government forces, including the militiamen. He said Shiite militia units will soon hand control of Hawija to local police and to Sunni tribal leaders.
From 2005 to 2007, Sunnis and Shiites fought a brutal civil war. In 2013, Hawija was at the forefront of a brief uprising that pitted Sunni gunmen against the Shiite-dominated government of Nuri Kamal al-Maliki, then the prime minister.
Human rights groups have accused Shiite militiamen in liberated Sunni cities such as Falluja of executing Islamic State prisoners and civilians accused of supporting them. Several militants who surrendered to Kurdish forces last week said they feared execution if captured by Shiite militiamen.
General Aboda said all militants captured in Hawija were turned over to Iraqi military intelligence officers.
The military coalition in Hawija included Iranian-trained militiamen, federal police officers and local Sunni tribal fighters. They were backed by American airstrikes and artillery.
Mr. Hawas and other Sunni residents complained about the Kurdish fighters known as pesh merga, who maintained defensive lines a few miles north of the city. They said the overwhelming vote last month for independence from Iraq for the Kurdish autonomous region had undercut the fight against the Islamic State. The Kurds should annul the vote, many said.
There are fears that Iraqi forces will clash with pesh merga fighters now that the two sides' front lines are closer after the fall of Hawija. Kurdish leaders and the government in Baghdad are locked in a tense confrontation over the vote, with Iraq threatening military and economic reprisals if the Kurds don't annul the results.
"If they insist on their independence, then of course we may have to fight them," General Aboda said. But he added that the police had been ordered by Baghdad to avoid any confrontation with Kurdish fighters.
"They told us not to provoke anything," said another police commander in Hawija, Gen. Maitham al-Abbodi.
Despite the military triumph, not everyone was so sanguine about the end of Islamic State. Col. Kareem Aboud of a federal police SWAT unit, who was providing security for food deliveries to displaced Hawija district residents, said he was not convinced that the Islamic State was on the verge of complete defeat in Iraq.
"They're like a cancer," he said. "You can never declare them dead."
Falih Hassan contributed reporting from Hawija, and Rod Nordland from Dibis, Iraq.
https://www.nytimes.com/2017/10/06/world/middleeast/iraq-isis-hawija.html?mtrref=www.google.co.in&gwh=7F9CA5E4BA2C123CCB13A550A359860A&gwt=pay
--------
Trump to send top lieutenants to Pakistan with tough message
October 07, 2017
WASHINGTON: President Donald Trump will dispatch his top diplomatic and military advisors to Pakistan in the coming weeks, turning up the heat on a nuclear-armed ally accused of harboring terror groups.
Weeks after Trump angrily accused Islamabad of providing safe haven to "agents of chaos," Secretary of State Rex Tillerson plans to depart for Pakistan late this month.
He will be followed by Secretary of Defense Jim Mattis, according to US and Pakistani sources.
The one-two punch is designed to drill home Trump's message that 'Pakistani state support for jihadist groups has to end', according to officials briefed on the visits.
Washington has long been frustrated by 'Pakistan's willingness to offer cross-border safe havens to Taliban factions and armed jihadist groups fighting US troops and their Afghan allies.'
The relationship reached the breaking point in 2011, when president Barack Obama sent commandos into Pakistan in 2011 to kill Al-Qaeda leader Osama bin Laden, who was living in a military garrison town.
With little change since then, Trump came to office indicating that Washington's frustration had reached the point where something had to give.
"We have been paying Pakistan billions and billions of dollars at the same time they are housing the very terrorists that we are fighting," he said in an August address.
But in the six weeks since Trump signaled that tougher tone, there have been precious few signs that the calculus in South Asia has changed.
Mattis told Congress this week that he will try "one more time" to "see if we can make this work."
- 'Not acceptable' -
"To this point, we have not seen any impact on military-to-military relations," said one Pentagon official, suggesting any change would not happen after Mattis's visit.
Visiting Washington, Pakistan's foreign minister Khawaja Asif appeared unwavering.
He lashed out at "hollow allegations" about Pakistan harboring terrorists as "not acceptable."
"That is not the way you talk to 70-year-old friends," Asif said bitterly.
"Instead of accusations and threats we should cooperate with each other for the peace in the region," he added in confirming Tillerson's visit.
While professing anger in public, Pakistani officials in private complain about receiving no concrete requests to target the Haqqani network or other groups.
US officials have been reticent to share some intelligence for fear of tipping off targets with links inside Pakistan's government.
Earlier this month, a US drone killed three suspected militants in an attack on a compound in Pakistan's tribal region.
Pakistani officials also complain of receiving mixed messages from the Trump administration, which is still struggling to find its feet under a mercurial commander-in-chief.
A September meeting in New York between Vice President Mike Pence and Prime Minister Shahid Khaqan Abbasi was said to be cordial, despite Trump's fire and brimstone rhetoric.
"It was a very good meeting with the vice president," said Asif.
After that, Pakistan officials said, they were surprised at a tougher tone outlined in public by Mattis and in private by Trump's National Security Advisor HR McMaster.
- 'Call Pakistan's bluff' -
Some optimists point to a visit by Pakistan's army chief to Kabul as evidence that Islamabad is moderating, after years of support propping up the Taliban.
But many, having watched this debate for decades, are less convinced.
The Taliban and groups like Lashkar-e-Taiba, they argue, remain a potent tool in the hands of Pakistani intelligence.
"Of course they don't get the message" said Christine Fair, a South Asia expert at Georgetown University.
"Pakistan is not going to do anything different than its already doing unless the administration can figure out a way to do what no administration has previously done."
"That is basically to call Pakistan's bluff and impose some meaningful punishment."
Trump has warned that military aid -- which was halved between 2012 and 2016 -- could be cut further, a move that Fair dismisses as insufficient.
"It's basically saying that we're going to cut back the money the US taxpayer is giving to Pakistan," she said.
"That's not punishment. Pakistan is not entitled to our money. What they are really talking about is giving Pakistan less of an allowance."
Policymakers have considered revoking Pakistan's non-NATO ally status, with deep symbolic but limited practical impact.
Punitive economic sanctions -- that could force Pakistan closer to China, Russia or Turkey -- seem a long way off.
And Pakistan remains vital for the United States as a route to resupply its forces in Afghanistan and for supplying the Afghan army.
http://nation.com.pk/national/07-Oct-2017/trump-to-send-top-lieutenants-to-pakistan-with-tough-message
--------
Kremlin says Russia-Saudi military cooperation not directed at 3rd party
Oct 6, 2017
Kremlin spokesman Dmitry Peskov has briefed reporters about the peaceful content of recent talks between Russian President Vladimir Putin and King Salman bin Abdulaziz of Saudi Arabia.
Salman arrived in the Russian capital, Moscow, on Wednesday on the first ever visit by a Saudi monarch to Russia.
The Saudi monarch, who is heading a high-level delegation on a four-day trip to Moscow, met with Putin on Thursday to discuss buying arms, stabilizing global oil prices as well as the conflict in Syria.
The two leaders discussed military cooperation during their talks, Peskov said on Friday.
"The improvement of military cooperation between Russia and Saudi Arabia ... is not directed against a third party and we believe it's groundless to express concern about this issue," Peskov said, adding, "Work on this will be continued."
The Kremlin spokesman also said the "state of affairs in the oil markets and Russian-Saudi cooperation in the interests of stabilizing the situation on these markets were touched upon."
Media reported on Thursday that Russia's Rosoboronexport, the state organization for exporting military equipment, and Saudi Arabian Military Industries had signed a memorandum on the purchase and localization of military products.
Russian Deputy Prime Minister Dmitry Rogozin told reporters that Saudi Arabia was interested in buying S-400 missile system, which has not been finalized yet.
In reaction to the deal on the missile system, Washington expressed concern. Earlier this year, Saudi Arabia purchased tens of billions of dollars' worth of military equipment from the United States.
Russia and Saudi Arabia are currently at loggerheads over the conflict in Syria. Moscow has backed Syria's legitimate fight against terror and has even deployed boots on the ground. Riyadh, however, has openly backed groups that have used violence to topple the government of President Bashar al-Assad.
http://www.presstv.ir/Detail/2017/10/06/537685/Saudi-Arabia-Russia-Peskov
--------
Rajasthan: Muslims Forced To Leave Village after Threats from Upper Caste Hindus
Oct 06, 2017
About twenty Muslim families left their village in western Rajasthan following alleged threats from Hindu upper caste villagers, in a string of events starting with the murder of a folk singer, police said on Friday.
The 200-odd Muslim people, including women and children, are living under police protection in homes of their relatives at Balad, about 20 km from their village Dantal in Jaisalmer district.
The mass exodus is the latest in a series of incidents targeting the minority community in the BJP-ruled state, where a cattle trader from Haryana, Pehlu Khan, was lynched in April by a cow protection vigilante group.
Trouble at the Jaisalmer village began during a Navratri function in a village temple on September 27, where folk musician Amad Khan performed religious songs, a tradition in Dantal, about 700 km from state capital Japiur.
Khan, 45, belongs to a folk artist community known as Langa Maganiyaar.
Police said a village faith healer, Ramesh Suthar, asked Khan to sing a particular raga so that the spirit of the temple goddess enters his body, one of the so-called miracles traditional occultists claim they can perform.
Police said Suthar used to prescribe cures to various problems of the local people, attributing the solutions to the spirit of the goddess.
Suthar, however, blamed Khan's allegedly poor singing as a reason for the goddess abandoning him on that day, police said.
"He (Suthar) broke Khan's musical instruments and also assaulted him," a local police officer said.
The same night, Suthar with two others allegedly kidnapped Khan from his home, Khan's younger brother Suge Khan said. "Later, my brother's body was thrown outside the house."
The next day, elders of a dominant Hindu community allegedly threatened Khan's family members against lodging a complaint with police.
"We got scared and buried his body quietly," Suge Khan said.
They, however, mustered courage a few days later when their relatives from nearby villages came and assured them of "all help".
Suge Khan said after the complaint was lodged, Ramesh Suthar and other upper caste villagers ordered the Muslims to leave the village.
"They threatened us that if we did not leave the village they will kill us. After that about 20 families consisting around 200 members have left the village and took shelter at nearby Balad village in our relative's house," Suge Khan said.
Dantal village sarpanch Khet Singh refuted the allegations of threat, saying Adam Khan died due to cardiac arrest.
Villagers only suggested to his family that since it was a natural death do should not take the matter to police, he said, adding when the people refused to accompany Khan's family to register the case, the Muslims left in anger.
"Along with sub-divisional officer, I met them yesterday and tried to convince them (to return)...some anti-social elements are trying to disturb the harmony."
However, police said prima facie Khan died due to physical assault.
Jaisalmer superintendent of police SP Gaurav Yadav said they were trying to convince the Muslims to return.
"We have assured them of protection if they want to return...We have also spoken to village elders and told them that cases would be lodged if they threaten the Muslims," Yadav added.
Police arrested Ramesh Suthar on October 4 but two of his accomplices are absconding, The body of Khan was exhumed and an autopsy conducted, police added.
Police, however, said the Muslims have only lodged a murder complaint but refrained from officially accusing anyone of threat and intimidation.
http://www.hindustantimes.com/india-news/rajasthan-muslims-families-forced-to-leave-village-after-threats-from-upper-caste-hindus/story-Puvkn20gslx0PS94QyQw7H.html
--------
Bangladeshi Muslim religious group call to arm Rohingya
06 Oct 2017
CHITTAGONG, Bangladesh: Thousands of Islamist hardliners marched in Bangladesh's port city of Chittagong Friday (Oct 6) calling for the government to arm Rohingya Muslim refugees fleeing a crackdown in Myanmar's troubled Rakhine state.
More than half a million Rohingya have fled to Bangladesh since attacks by militants belonging to the Muslim minority on Myanmar police posts sparked brutal reprisals by security forces.
The refugees accuse Myanmar's army - flanked by mobs of ethnic Rakhine - of slaughtering them and burning their villages in a campaign which the United Nations says amounts to "ethnic cleansing".
Myanmar's military have blamed the unrest on the Rohingya.
Up to 15,000 people joined the demonstrations in Bangladesh's second largest city, police said, organised by hardline Islamist group Hefazat-e-Islam to protest against the killings of the Rohingya.
"We demanded a halt to the genocide of the Rohingya," Hefazat spokesman Azizul Hoque Islamabad told AFP.
"We have also asked the government to train and arm the Rohingya so that they can liberate their homeland," he said.
Communities in Chittagong share close cultural, religious and linguistic ties with the Rohingya, and images on social media purportedly showing abuses against the Muslim minority in mainly Buddhist Myanmar have aroused strong sympathy in Bangladesh.
Islamist parties, including Hefazat, have staged several demonstrations over the issue in recent weeks and some firebrand leaders have called on the government to go to war with Myanmar to liberate Rakhine for the persecuted Rohingya.
Experts said Bangladeshi Islamist extremist groups could exploit the situation and forge closer ties with Rohingya militants.
The plight of the Rohingya, a Muslim minority who are reviled and denied citizenship in Myanmar, has roused anger across the Islamic world, with protests held in Pakistan, Malaysia and Indonesia.
The influx has also put Bangladesh under immense strain, with the South Asian country already hosting at least 300,000 Rohingya refugees in squalid camps along its border with Myanmar before the latest surge in arrivals.
http://www.channelnewsasia.com/news/asiapacific/bangladeshi-muslim-religious-group-call-to-arm-rohingya-9287784
--------
Pakistan
Lobby in govt wants to alter Khatm-e-Nabuwat law: Siraj
October 07, 2017
LAHORE - Jamaat-e-Islami chief Senator Sirajul Haq has said there is a lobby in the government that wants to abolish the articles relating to Khatm-e-Nabuwat in the constitution.
Talking to media persons after a meeting with PTI Vice Chairman Shah Mehmud Qureshi at Mansoora, he called upon the government to expose the lobby, disassociate itself from such elements and punish them so that nobody could dare to make such a heinous attempt in the future.
Sirajul Haq said the issue of Khatm-e-Nabuwat and dignity of the holy prophet (PBUH) was a matter of faith for 210 million Pakistanis and any attempt to alter the laws in this regard could never succeed. He said it was a matter of satisfaction that the JI MNAs took notice of the conspiracy on time otherwise the government was not ready to accept there was any evil move.
He said the contradictions in the government statements had come to the fore. He said in the beginning, the government had denied there was any amendment, but now the word "declaration" had been promptly replaced with the word "affidavit". He said Punjab Chief Minister Shehbaz Sharif had also demanded punishment for the people behind the move. Sirajul Haq said the JI with the support of likeminded parties would raise the issue in the Senate with full force as they could not remain silent on it.
He further said a transparent electoral system was inevitable to ensure free and fair elections. He said he had discussed with the PTI central leader the issue of NAB chairman's appointment. He said it has been his old demand that NAB chairman should not be appointed by prime minister and leader of the Opposition. Instead, a judicial committee, headed by the chief justice of the Supreme Court and comprising the chief justices of the high courts, should be assigned this assignment, he said, adding such a procedure would make the office of NAB chairman free from politics.
Sirajul Haq also called for continuous dialogue between the opposition parties on national issues as he believed that differences among the opposition would only benefit the ruling party. He said the present status quo had added to the problems of the masses.
The JI chief alleged Foreign Minister Khawaja Asif had turned to be an approver for the US against his own countrymen.
PTI Vice Chairman Shah Mehmd Qureshi told the media on the occasion that the statement of the US government in regard to the stability of Shahid Khaqan Abbasi's government after Foreign Minister Khawaja Asif's meeting was a matter of deep concern for the entire nation.
He said the incompetence of the government had been exposed on the Khatm-e-Nabuwat issue and there was a great unrest among the people.
Shah Mehmud Qureshi said the entire electoral amendments bill had been rendered controversial because of clause 203 allowing a disqualified person to become the head of a political party.
He said the masses were now sick of the friendly opposition and the deal between the government and PPP. The opposition parties should elect a new leader of the opposition so that they could play the role of a true opposition.
He said institutions were far more important than individuals. He said the people were aware of the elements that had been attacking the institutions like the Supreme Court.
Shah Mehmud Qureshi said Pakistan Army officers and jawans were offering their lives in the war on terror whereas the rulers were refuting the armed forces' narrative at foreign level, adding the narrative of Foreign Minister Kh Asif was not different from that of India and the US.
http://nation.com.pk/national/07-Oct-2017/lobby-in-govt-wants-to-alter-khatm-e-nabuwat-law-siraj
--------
Govt warns of action over 'jihad fatwas'
07-Oct-17
ISLAMABAD: Interior Minister Ahsan Iqbal on Friday called on clerics and religious leaders to denounce 'jihad fatwas' posted by people on social media, declaring that in an Islamic country only the State had the right to declare jihad, not a mohalla or a mosque.
"Only the state can declare jihad … no group of people has the right to declare jihad against another group," he told the National Assembly while speaking on the suicide blast at Dargah Fatehpur Sharif near Gandawa area of Jhal Magsi district. "We need to prevent that from happening and I humbly request religious leaders to condemn the fatwas posted on social media. If we let this go on, the country will turn into a battlefield with various groups and ethnicities pitted against each other," he added.
"The enemy wants Muslims to behead each other. If we continue treading this path of violence and unrest, we wouldn't even need an [external] enemy to destroy us," the minister said. "If we start handing out fatwas on kufr in every street and neighbourhood, and the maulvi in every street mosque starts handing out fatwas about who is kafir and who is Muslim, then there will only be chaos. It is God who is to decide who is going to heaven or hell … it is not our job," he said.
The minister said it was not the right of the any individual to issue decree and declare any person non-Muslim or to do politics in the name of religion.
"Another thing people do is give out fatwas about who can be murdered - that is not for individuals to decide, only the state can decide such matters."
The minister stressed for strengthening unity among all ranks to completely efface the menace of terrorism from the country and called upon political parties to join hands to defeat enemies of the country.
During the last four years, Pakistan has achieved significant successes in the war against the terrorism, he said, and added some elements were entering from across the border and hitting the soft targets in the country. "Such cowardly attacks cannot create fear and defeat the people. Our enemy is not familiar that these attacks would further enhance courage and determination of people," he said.
The minister said during the last four years, the government had successfully launched operations 'Zarb-e-Azb' and 'Rudd ul Fasaad' which helped stamp out terrorism from the country. He said eradication of terrorism from the country was a prerequisite for prosperity and development of the country.
Full report at:
http://dailytimes.com.pk/islamabad/07-Oct-17/govt-warns-of-action-over-jihad-fatwas
--------
Terror safe havens on Afghan side the real concern: Pakistan
07-Oct-17
WASHINGTON: Foreign Minister Khawaja Asif has said that Pakistan is extremely concerned about safe havens of terrorists who are mostly operating from ungoverned spaces in Afghanistan which are more than 40 percent of the total area of the country.
At his interaction with US and foreign media at the Pakistan Embassy late Thursday night, the minister said a number of terrorist attacks in Pakistan in recent months have been traced back to these elements operating from these bases in Afghanistan.
"On our part, we have completely wiped out all the hideouts used by terrorists and anti-state elements. However, this is an ongoing process with continuing intelligence-based operations by law enforcement agencies across the country," he said. "We have offered candid cooperation to Afghanistan during the recent visit of COAS and foreign secretary to Kabul where they had successful and productive meetings with President Ashraf Ghani, CEO Abdullah Abdullah and others in the Afghan hierarchy," he added. The foreign minister said Pakistan believes that unless there is stability in Afghanistan, the dividends of peace in the region would continue to elude. "To achieve that goal both US and Pakistan need to work closely," he stressed.
"I would like to reiterate that Pakistan will continue to play its positive role in bringing peace to the region through measures agreed upon by all relevant stakeholders. We believe that a political approach characterized by an Afghan-owned and Afghan-led process will yield durable peace in the interest of Afghanistan and the broader region."
He said, "In our renewed efforts towards establishing regional peace, we hope that the international media, particularly the US media, will play a positive role and reflect Pakistan's changing realities in its reporting." He also invited the media luminaries gathered there to visit Pakistan with a view to acquiring a first-hand experience of the fast changing reality in the country.
The minister said Pakistan greatly values its relationship with the US in the seven-decade long history of result-oriented cooperation. "We want to build a relationship founded on mutual respect. We firmly believes that through consistent, structured and constructive engagement, at political and diplomatic levels, both the countries can continue to work together for the common goal of peace, stability and prosperity in South Asia."
Full report at:
http://dailytimes.com.pk/pakistan/07-Oct-17/terror-safe-havens-on-afghan-side-the-real-concern-pakistan
--------
Pakistan facing foreign-funded terrorism: Maleeha Lodhi
07-Oct-17
NEW YORK: Pakistan's Ambassador to the United Nations Maleeha Lodhi on Friday told the world body that Pakistan faces a terrorist threat "primarily supported and financed from outside its borders".
Pakistan "will be able to defeat these forces too", she vowed, while speaking during the UN General Assembly's debate on 'Measures to Eliminate International Terrorism' which took place in its Sixth Committee.
Maleeha said that the country had turned the tide against terrorism as a result of its comprehensive efforts over the past several years, supported by a firm domestic political consensus. "Pakistan has conducted the largest anti-terrorism operation anywhere in the world," she said. "We have launched an across-the-board military campaign to destroy terrorist infrastructures and bases in the Pakistan-Afghanistan border region and our tribal areas."
She said that Pakistan would also embarked on a law enforcement operation targeting those in the urban areas who had fled the military operations in the tribal areas.
The ambassador said that the success of Pakistan's two-pronged approached had resulted in a sharp reduction of terrorist activities across Pakistan over the past two years. According to the Global Terrorism Index, terrorism in Pakistan is now at its lowest point since 2006.
"We have lost over 27,000 of our citizens and law enforcement personnel to this scourge and have also suffered economic losses of over $120 billion," she said.
Expressing Pakistan's firm resolve to continue its fight against terrorism, Maleeha Lodhi said that these human and financial losses had not diminished Pakistan's commitment to fight this menace. "It has only reinforced our will to fight until the last terrorist is eliminated from our soil," she stressed.
Reiterating Pakistan's unequivocal condemnation of terrorism in all its forms and manifestations, including state terrorism, the Pakistani envoy said that there could be no justification for the killing of innocent people anywhere, regardless of the cause or pretext. She called for cooperation among the international community to fight terrorism, as it was a collective challenge that had claimed innocent lives, caused widespread destruction, undermined social stability and disrupted state structures. "With Daesh becoming its new and even deadlier face, terrorism and violent extremism continue to be among the most complex and imposing challenges of our time," she commented.
The envoy called for urgent and focused attention to address "festering disputes", unresolved conflicts, unlawful use of force, aggression, foreign occupation and denial of the right to self-determination.
Political and economic injustice, she pointed out, fuels animosities, breeds hostility and often leads to violent reactions. "We must also ensure that the measures we take to counter terrorism remain within the framework of international law," she said.
She also called for addressing the issue of defamation of religions and demonisation of communities in the upcoming review of the UN's Global Counter Terrorism Strategy, as they incited hatred and could lead to violent reactions.
Full report at:
http://dailytimes.com.pk/pakistan/07-Oct-17/pakistan-facing-foreign-funded-terrorism-maleeha-lodhi
--------
Man distributing Hizb leaflets in capital held
07-Oct-17
ISLAMABAD: A man distributing pamphlets of the proscribed outfit Hizb ut-Tahrir (HuT) outside a mosque in Islamabad was arrested by police on Friday. Police said five men were handing out pamphlets outside a mosque in Sector G-7/2 meant to incite the public against the government and state institutions.
When they saw the police approaching, they tried to flee. The police, however, managed to arrest one of them identified as Naeem Yunus. Pamphlets found in his possession were published by the HuT, a banned militant organisation.
According to police, the pamphlets read, "Get rid of this weak leadership which seeks honour in subservience to and alliance with America." The papers also carried a hate speech against the government and the institutions of Pakistan. The police have booked five suspects under the anti-terrorism laws.
http://dailytimes.com.pk/pakistan/07-Oct-17/man-distributing-hizb-leaflets-in-capital-held
--------
Death toll from Jhal Magsi blast climbs to 21
Syed Ali Shah
October 07, 2017
The death toll from Thursday's deadly suicide bombing in Jhal Magsi rose to 21 after another victim succumbed to his injuries at Larkana Hospital on Friday, DawnNews reported.
Several people, including a police constable, had died on Thursday in the attack, which occurred at the entrance of the Dargah Pir Rakhel Shah in Fatehpur, a small town in the Jhal Magsi district of Balochistan.
A First Information Report was lodged against unidentified persons by Station House Officer at the Gandawah police station, an officer who wished to remain anonymous told Dawn on Friday. Security agencies and police are investigating the incident.
Deputy Commissioner Jhal Magsi Asadullah Kakar said on Friday that the victims of the blast, including the police constable, had been buried in different parts of the district amid tight security.
Currently, nine people are under treatment in the Larkana Hospital while 14 are admitted at Gandawah District Headquarters Hospital. A dozen patients, who had received minor injuries, were discharged from Gandawah Hospital after receiving treatment. One injured woman had been shifted to the Aga Khan Hospital in Karachi.
The deputy commissioner assured that the hospitals are taking "good care" of the injured.
The bombing was the second deadly attack on a shrine in Pakistan in 2017. In February this year, another suicide bomber had killed more than 80 people and injured more than 250 in an attack targeting the busy Lal Shahbaz Qalandar shrine in Sehwan, Sindh.
Full report at:
https://www.dawn.com/news/1362152/death-toll-from-jhal-magsi-blast-climbs-to-21
--------
Arab World
Al-Qaida Releases Call for Jihadist Unity, Purportedly From Leader
October 06, 2017
Rikar Hussein
Al-Qaida leader Ayman al-Zawahiri is urging followers around the world to unify against what he calls the "international satanic alliance."
In a 28-minute undated audio-video message that surfaced Wednesday, al-Zawahiri said, "We are facing the fiercest attack in the history of Muslims. The Crusaders, atheist Russia, China, Rawafidh [rejectionists], secularists and the treacherous rulers have all joined hands against us."
VOA could not independently verify the authenticity of the message.
Al-Zawahiri took charge of the al-Qaida terror organization after his predecessor, Osama bin Laden, was killed in a U.S. Navy SEAL raid in 2011 in Pakistan's Abbottabad. His precise whereabouts are unknown, but security analysts think he most likely is hiding in the Afghan-Pakistan border region.
The message, released less than a month after the 16th anniversary of the Sept. 11, 2001, terrorist attacks on the U.S., came as the terror organization is facing a series of defeats around the world, particularly in Syria, where its offshoot groups are being squeezed by the Russian-backed Syria government.
The Russian Defense Ministry on Wednesday claimed its airstrikes in Idlib province in northern Syria had critically injured Abu Mohammed al-Golani, the leader of the al-Qaida-linked Tahrir al-Sham group, and killed 12 of his field commanders.
Bitter competition
Once a leading terror group, al-Qaida has engaged in acrimonious and at times bloody competition with other Islamist groups over the years. The rivalry between the group and the Islamic State in Syria has resulted in the deaths of thousands of fighters from both sides.
"There is no way out for us except uniting our ranks to confront this aggression," al-Zawahiri said in the message. "Let us mobilize our efforts, divide our roles, distribute our responsibilities and together diffuse the efforts of the enemy."
Al-Zawahiri blamed the fighting among violent Islamist groups on "the principle goals of America" and its allied countries in the Islamic world. He claimed the U.S. has worked to splinter a united global jihadist movement into regional jihadi groups in discord with each other.
"This fragmentation, severing of bonds with one another, this distance and division among ourselves, is only the prelude to defeat, if not defeat itself," he said.
Last month, Hamza bin Laden, a son of Osama bin Laden, believed to be in his late 20s, also released a video asking for unity among jihadi militants around the world and calling for a new effort to save Syria from the Bashar al-Assad regime.
"Extreme vigilance and urgent, organized, serious action is needed to support the people of Sham before it's too late," he said in an audio recording. Sham is the region that includes the modern-day countries of Syria, Lebanon and Jordan.
Al-Qaida weakening
Experts said the recent desperate call by al-Zawahiri for unity, less than a month after Hamza bin Laden's message, reflected al-Qaida's diminishing ability to recruit more fighters. They said the group was concerned that the failure of jihadist groups to retain their territories could dissuade militants from joining these groups.
"He is concerned, given the collapse of the [Islamic State] caliphate," Colin P. Clarke, a political scientist at the RAND Corporation, a global policy research group, told VOA. "He is worried that some jihadists might leave jihad altogether."
Clarke warned that al-Qaida would most likely take an opportunistic approach to filling the vacuum created by the defeat of the Islamic State group and draw IS members into its ranks, especially in Syria, because of the ongoing conflict in the country and its strategic location.
"Syria is a better place to use as a logistical staging ground for attacks against the West, and much more so than Yemen, due to geography and proximity to Turkey, which is a land bridge to Europe," he said.
Experts like Daveed Gartenstien-Ross of the Washington-based Foundation for Defense of Democracies argue that despite being significantly degraded through U.S. and international efforts, al-Qaida is unlikely to be completely defeated in the near future, because over the years, the group has demonstrated its ability to adapt to pressure.
"Al-Qaida seems to have more lives than a cat. ... It has skillfully played itself off [IS] to portray the organization as being the 'moderate jihadists,' people whom you might not like but you can do business with," Gartenstein-Ross said while speaking at the launch of a report on the current jihadist threat published by the Washington-based New America Foundation.
https://www.voanews.com/a/al-qaida-releases-audio-leader-calling-for-unity/4059837.html
--------
ISIL Terrorists Driven Out of 91% of Syria
Oct 06, 2017
An infography in the Krasnaya Zvezda (Red Star) newspaper shows that 91.6 percent of Syria's land is now free from the ISIL terrorist group (Daesh).
It also shows that the Russian Air Force made some 500 sorties in the past week, destroying almost 1,400 ISIL assets.
Russian forces in Syria have also continued scouting ISIL-controlled territories using surveillance drones.
They have flown more than 190 missions during that period and identified over 129 ISIL targets.
The war in Syria has been on since 2011. A security vacuum let the ISIL seize large swathes of land and proclaim an Islamic caliphate in the areas under its control. Russia launched a military operation in Syria in September 2015 to provide air support for Syrian government forces that have pushed back ISIL from much of Syrian territories.
http://en.farsnews.com/newstext.aspx?nn=13960714000355
--------
Arab League Secretary General says no to a Kurdish state
6 October 2017
The Arab League has taken a clear position on the Kurdish call for independence.
"Today the Kurds are calling for a State of their own… why not the Yazidis, why not the Pashtuns, why not the Assyrians, why not lots of others?" said Secretary General of the League of Arab States, Ahmed Aboul Gheit, in his opening speech at NATO Defense College Foundation's conference on Arab geopolitics in Rome, Italy.
Watch the conference live here
"History teaches us that separation and division create more violence and sometimes also ethnic cleansing", explained Gheit, mentioning the Balkans' experience as an example.
Kurds are considered the largest stateless minority in the world, with an estimated 30 million people scattered throughout Turkey, Iraq, Iran, Syria and Armenia. With a referendum held at the end of September, the Kurds living in northern Iraq voted to secede from the country. Nearly 93 percent of voters cast their ballots for secession.
Inclusive process
"There is no room for exclusive political process, only an inclusive political process can bring people together and defend nation States. Fragmentation is not the answer", said Gheit addressing NATO audience on Thursday in Rome.
Decentralization is a key measure that should be implemented, as central governments should give some autonomy to local communities, the Secretary General said.
Also read: France offers to mediate between Baghdad and Kurds
The Kurdish bid for autonomy wasn't welcomed by Iraq's central government, Turkey and Iran. Not even the United States, which is considered Kurds' closest ally, supported the referendum, fearing instability and a decreased focus on fighting ISIS.
Focus on ISIS
"The focus which used to be like a laser beam on ISIS is now not 100 percent there, so there has been an effect on the overall mission to defeat ISIS in Iraq as a result of the referendum," said Colonel Ryan Dillon, spokesman of the US-led coalition fighting ISIS.
According to Gheit, the nation State can't be changed as it is the basic structure of the Arab order, but sovereignty alone is not enough to enhance regional stability.
Also read: Coalition spokesman: Kurdish referendum caused loss of focus fighting ISIS
Full report at:
https://english.alarabiya.net/en/News/middle-east/2017/10/06/Arab-League-Secretary-General-says-no-to-a-Kurdish-state.html
--------
'Jihadi Gran' gets 10 years after joining son in Syria
Oct 7, 2017
A court on Friday sentenced a radicalized French woman to 10 years in prison after traveling to Syria where her son was fighting alongside Islamic State militants.
Christine Riviere, 51, dubbed by investigators as "Jihadi Gran", was arrested in 2014 after three trips to Syria, which she said were aimed at spending time with her son in case he was killed.
Announcing the decision, the judge said Riviere had demonstrated "a firm commitment" to Islamic State and had contributed to strengthening the group logistically.
France, like other European nations, is wrestling with how to deal with those returning from the Syrian conflict. A presidency official said last week that half of the 500 children were born there, and in total about 2,000 French nationals or residents had gone to the two countries,
"Instead of trying to disengage your son, it seems on the contrary that you encouraged him," the judge said.
Investigators believe that Riviere's son, Tyler Vilus, climbed the Islamic State hierarchy to lead a Francophile group.
Arrested in July 2015 in Turkey and now imprisoned in France, Vilus is suspected of having known members of the network that planned and carried out the November 2015 attacks in Paris in which 130 people were killed.
Full report at:
http://nation.com.pk/international/07-Oct-2017/jihadi-gran-gets-10-years-after-joining-son-in-syria
--------
Syrian Army Liberates Several Areas in Successful Bid to Kick ISIL out of Quaryatayn
Oct 06, 2017
The sources said that the army men, backed up by Russian choppers, attacked ISIL's positions in al-Hazm region, scoring a new advance after a fierce battle with the terrorists holed up in the Northwestern part of Quaryatayn.
The sources added that army liberated al-Hazm yesterday afternoon, putting them on the Northwestern outskirts of Quaryatayn for the first time since last week.
The sources went on to say that the army has now surrounded Quaryatayn from three different sides, as they await orders to reenter the town from the high command.
Relevant reports said on Wednesday that the army troops captured more regions in the Central part of the country, purging completely Eastern Hama of ISIL terrorists.
A military source said that the army soldiers won back the village of Hardaneh and Tal (hill) Ayed and Tal Adimeh in Eastern Hama.
The source further said that the ISIL suffered heavy casualties and its military hardware sustained major damage in the attacks.
Full report at:
http://en.farsnews.com/newstext.aspx?nn=13960714000267
--------
Syrian Army Advances against Terrorists in Golan Heights
Oct 06, 2017
The army's 90th Brigade, backed up by Fouj Al-Joulan and Liwa Suqour Al-Sahra, attacked the tall hilltop of Tal Dhib'at, where they were confronted by a large force comprised of Free Syrian Army (FSA) and Al-Nusra Front (Tahrir al-Sham Hay'at or the Levant Liberation Board).
Within hours of launching the attack, the army soldiers and their allies managed to capture Tal Dhib'at, forcing the terrorists to withdraw towards another part of the Beit Jinn Farms.
Since the militants refused to accept a reconciliation deal in this part of the Golan Heights, the Beit Jinn pocket remains absent from any de-escalation agreement.
As long as the so-called rebels refuse to end hostilities in this area, the Syrian army will continue their field operations until the former reconsiders their decision.
Militant-affiliated news websites reported last month that the Syrian Army forwarded a long convoy of armored vehicles and tanks along with a large number of fresh soldiers to the last bastion of the terrorists in the Western part of Damascus province.
The websites reported that the army sent 21 tanks, 16 BMP armored vehicles and tens of military vehicles along with a large number of forces to areas surrounding the militant-held town of Beit Jinn in Western Damascus.
Full report at:
http://en.farsnews.com/newstext.aspx?nn=13960714000283
--------
Several Civilians Killed, Injured in Terrorists Attacks on Villages in Damascus Province
i Oct 06, 2017
One civilian was killed and several more were wounded after the villages of Darbal and Hineh in Southwestern Damascus came under heavy missile attacks by the terrorist groups.
Militant-affiliated news websites reported last month that the Syrian Army forwarded a long convoy of armored vehicles and tanks along with a large number of fresh soldiers to the last bastion of the terrorists in the Western part of Damascus province.
The websites reported that the army sent 21 tanks, 16 BMP armored vehicles and tens of military vehicles along with a large number of forces to areas surrounding the militant-held town of Beit Jinn in Western Damascus.
Full report at:
http://en.farsnews.com/newstext.aspx?nn=13960714000461
--------
Syrian Army Makes Fresh Gains in War on Terrorists in Northern Homs
Oct 06, 2017
The sources said that the army, led by the 4th Division and Qalamoun Shield forces of the 3rd Division, liberated a large part of lands East of Jubb al-Jarah, including several small towns in this desert region.
The sources further said that the army liberated the villages and settlements of Al-Wudayhi, Salam Sharqi and Um Tuwaynah Al-Shamaliyah.
The army forces are now on the verge of liberating the entire Northern Homs that is under the ISIL's occupation.
In relevant developments on Thursday the army forces won back control of two villages of Tal Shahab and al-Lujj in the Eastern parts of Job al-Jarah.
Full report at:
http://en.farsnews.com/newstext.aspx?nn=13960714000183
--------
600 FSA Terrorists to Leave Southern Damascus for Northern Syria Imminently
Oct 05, 2017
News websites affiliated to the dissidents quoted a source close to the local council in al-Qadam district in Southern Damascus as saying that based on an agreement between the Syrian government and the terrorists in the region, 600 militants will be transferred to Northern Syria in the near future.
The source noted that the agreement also includes the regions occupied by the FSA, adding that the militants turning down the reconciliation offer will leave the region for Idlib province and the town of Jarabulus in Aleppo.
Late in September, the FSA agreed to terms in al-Qadam District of Southern Damascus after a successful round of negotiations with the army.
According to a military source in Damascus, the Syrian Arab Army gave the rebels one last chance to surrender the al-Qadam district before their forces moved in to clear the areas of all militants.
Full report at:
http://en.farsnews.com/newstext.aspx?nn=13960713000707
--------
Al-Qaeda-linked fighters launch new attack in central Syria
7 October 2017
BEIRUT: Al-Qaeda-linked fighters on Friday attacked a key central Syrian village at the crossroads between areas under regime control and those controlled by insurgents, activists said. In eastern Syria, meanwhile, regime forces reportedly entered a town that is one of Daesh's biggest strongholds.
According to the Britain-based Syrian Observatory for Human Rights, Syrian regime forces and allied militiamen entered western parts of Mayadeen, including the town's wheat silos compound and the sheep market.
The regime-controlled Syrian Central Military Media earlier said that troops were marching south from Deir Ezzor toward Mayadeen, under the cover of airstrikes.
If the report proves true and Syrian troops indeed entered Mayadeen, it would mark another blow for the extremist group, which has lost wide areas of Iraq and Syria in its self-declared caliphate over the past year.
Omar Abou Leila, from the monitoring group DeirEzzor 24, said he could not confirm or deny the report, though he added that it was possible, given the regime forces' days-long advance.
Airstrikes on Mayadeen and nearby areas over the past days have killed and wounded scores of people, including 15 civilians — women and children among them — who were killed when a missile slammed into a regime-held neighborhood in the city of Deir Ezzor on Thursday evening.
The attack on the village of Abu Dali in central Hama province was led by Al-Qaeda-linked Hay'at Tahrir Al-Sham — Arabic for Levant Liberation Committee and also known as HTS. It came two weeks after insurgents attacked a nearby area where three Russian soldiers were wounded.
Earlier this week, Russia's military claimed the leader of the group was wounded in a Russian airstrike and had fallen into a coma. The military offered no evidence on the purported condition of Abu Mohammed Al-Golani.
The group subsequently denied Al-Golani was hurt, insisting he is in excellent health and going about his duties as usual. The group's fighters have been gaining more influence in the northwestern province of Idlib and northern parts of Hama, where they have launched attacks on rival militant groups, as well as areas controlled by the government.
Abu Dali had been spared much of the violence and had functioned as a local business hub between opposition-run areas and those under President Bashar Assad's forces.
The observatory said Al-Qaeda fighters captured several areas in the village on Friday. The HTS-linked Ibaa news agency did not mention the attack but said Russian warplanes were bombing areas the group controls in northern Syria.
Violence in eastern Syria has escalated significantly in recent weeks as Syrian troops with the help of Russian air cover have been closing in on Mayadeen.
The DeirEzzor24 monitoring group said the missile in the Thursday evening airstrike that killed 15 hit near a school in the Qusour neighborhood. Three children and three women were among those killed, the group said Friday, blaming Daesh for the attack. The school and a nearby residential building were destroyed.
The Russian military has accused the US of turning a blind eye and effectively providing cover to Daesh operations in an area in Syria that is under US control.
The Russian Defense Ministry spokesman, Maj. Gen. Igor Konashenkov, said that Daesh militants have used the area around the town of Tanf near Syria's border with Jordan — where US military instructors are also stationed — to launch attacks against the Syrian Army.
He said the area has become a "black hole," posing a threat to the Syrian regime army's offensive against Daesh in eastern Deir Ezzor province.
Separately, the Russian military said one of its helicopters had made an emergency landing in Syria but that its crew was unhurt.
According to the Defense Ministry, the Mi-28 helicopter gunship landed in Hama province on Friday due to a technical malfunction. The two crewmen were not injured and were flown back to base. The ministry said the helicopter was not fired upon.
Full report at:
http://www.arabnews.com/node/1173616/middle-east
--------
North America
CPEC Passes Through Disputed Territory: US
Anwar Iqbal
October 07, 2017
WASHINGTON: The Trump administration has informed Congress that it too believes the China-Pakistan Econo­mic Corridor (CPEC) passes through a disputed territory — originally an India claim aimed at thwarting the development plan.
The $56 billion CPEC passes through Pakis­t­an's northern areas, which India claims is part of the disputed Jammu and Kashmir territory.
"The One Belt, One Road also goes through disputed territory, and I think that in itself shows the vulnerability of trying to establish that sort of a dictate," US Defence Sec­retary James Mattis told the Senate Armed Services Committee.
Examine: CPEC and Kashmir issue
Secretary Mattis and Chairman Joint Chiefs of Staff Gen Joseph Dun­­­ford ap­­peared before the Sen­ate and House armed services panel earlier this week to brief US lawmakers on the current situation in the Pak-Afghan region.
Secretary Mattis said the US oppo­sed the One Belt, One Road policy in principle because in a globalised world, there were many belts and many roads, and no one nation shou­­ld put itself into a position of dictating One Belt, One Road. And it opposed the one going through Pakistan also because it passed throu­­gh a disputed territory.
The new US position on CPEC will further strain already tense rel­ations between the US and Pakistan, which also opposed the greater role Washington has assigned to India in Afghanistan in a strategy President Trump announced on Aug 21.
"As far as Afghan­is­tan goes, as we try to separate out variables where, in some areas, we work with China, for example, terrorism — I think there are areas where we can work — find common ground with China when it comes to counterterrorism, and we should exercise those areas pretty fully," said the US defence chief.
"But we should be under no illusions," he warned. "There are areas where, also, strategically, we need to confront China where we think it's unproductive — the direction they're going in."
https://www.dawn.com/news/1362283/cpec-passes-through-disputed-territory-us
--------
US cancels planned war games with Arab allies over Qatar
Oct 6, 2017
The United States military has cancelled a number of planned war games with its Persian Gulf Arab allies over their persisting dispute with another key Arab ally, Qatar, in an apparent attempt to press an end to the months-long row.
The US military's Central Command made the announcement on Friday, without much elaboration, and only pointing to Washington's rising concerns over the dispute between a group of Saudi-led countries and Qatar.
The US views the Persian Gulf region, which is home to the US Navy's 5th Fleet and other key military bases, strategically.
"We are opting out of some military exercises out of respect for the concept of inclusiveness and shared regional interests," said Central Command spokesman Air Force Col. John Thomas in a statement in response to queries from the Associated Press.
"We will continue to encourage all partners to work together toward the sort of common solutions that enable security and stability in the region," he added, without offering further details.
The dispute over Qatar started on June 5, when Bahrain, Egypt, Saudi Arabia, and the United Arab Emirates (UAE) severed diplomatic relations with Doha and imposed a partial siege on it.
The quartet of Arab countries justified their hostile actions by accusing Qatar of backing terrorist elements. Doha, however, denied the accusation, saying that it was being targeted for political reasons.
American military authorities initially reacted indifferently to the dispute, saying that they had no impact on their operations in the region. As the dispute continued, however, US Defense Secretary Jim Mattis visited Doha to offer his support. Washington further agreed to an ensuing sale of its F-15 jet fighters to Qatar in a deal worth $12 billion.
Full report at:
http://www.presstv.ir/Detail/2017/10/06/537646/US-Persian-Gulf-allies-war-games-cancellation-Qatar
--------
Three men arrested in suspected plot to bomb New York City subway and Times Square
OCT. 6, 2017
Joseph Tanfani
A Canadian citizen inspired by Islamic State to create "the next 9/11" and two other men plotted to attack Times Square and the New York City subway system with bombs and a shooting rampage during the Muslim holiday of Ramadan last year, according to federal charges unsealed Friday.
Abdulrahman El-Bahnasawy, 19, of Mississauga, Canada, bought bomb-making materials and studied maps of the subway system, but the planned attacks were thwarted by an undercover FBI agent who was posing online as an Islamic State sympathizer, the charges said.
El-Bahnasawy was arrested in May 2016 and has already pleaded guilty.
Also charged were Talha Haroon, 19, a U.S. citizen living in Pakistan, and Russell Salic, 37, of the Philippines, who allegedly wired $423 to help finance the plot. Both have been arrested and are awaiting extradition to the U.S., authorities said.
According to the charges, El-Bahnasawy and Haroon declared their support for Islamic State and were inspired by deadly terrorist attacks in Paris and Brussels.
"We seriously need a car bomb at times square …. look at those crowds of people!" El-Bahnasawy said in one message to the undercover agent, according to court papers. He also expressed a desire to "shoot up concerts cause they kill a lot of people."
"We just walk in with guns in our hands. That's how the Paris guys did it," he wrote, according to the charges.
He bought bomb-making materials in Canada, including about 40 pounds of hydrogen peroxide, which can be used to make a powerful explosive, along with batteries, Christmas lights and thermometers.
Haroon said that Times Square was "a perfect place to hit them." He added, "I wanna kill … them in thousands," the charges state.
But Haroon never made it to the United States, and El-Bahnasawy was arrested as soon as he arrived in New Jersey from Canada.
Salic, who told the undercover agent that he longed to go to Syria and join Islamic State there, actually wired the money into a government account.
There is no sign that the terrorist group participated in the planning. But the charges said Haroon and El-Bahnasawy claimed approval from an Islamic State cell in Pakistan.
Full report at:
http://www.latimes.com/politics/washington/la-na-pol-isis-plot-1507327922-htmlstory.html
--------
Civil Rights Groups Demand Transparency on Trump's Muslim Ban
Oct 6, 2017
A trio of civil rights groups on Thursday filed a lawsuit challenging the Trump administration's refusal to release critical details related to its latest Muslim travel ban.
The lawsuit filed by Muslim Advocates, Americans United for Separation of Church and State, and Southern Poverty Law Center demands that the Trump administration provide information regarding a waiver process built into the Muslim ban by which foreign nationals barred from entry by Trump's executive orders may nonetheless gain entry to the United States.
Trump on September 24 announced his third attempt to implement his long-promised Muslim travel ban by way of presidential proclamation. The proclamation bars indefinitely entry for most nationals from Iran, Libya, Somalia, Syria, and Yemen, countries included in Trump's previous Muslim bans. (Trump's prior two Muslim bans barred entry for nationals from these countries for 90 days.) Chad and North Korea were added last month to the list of countries whose nationals are barred from entry into the United States.
The proclamation includes a process that permits consular officers to grant waivers on a "case-by-case" basis, thus allowing foreign nationals who might otherwise be barred to enter the United States.
Trump administration officials have been silent about the procedures that will be implemented to evaluate waiver requests, prompting immigration rights advocates to demand transparency.
In June, seeking more information regarding the waiver process, Muslim Advocates, Americans United for Separation of Church and State, and Southern Poverty Law Center filed a request for information under the Freedom of Information Act. The Trump administration ignored their requests, prompting the civil rights groups to file a lawsuit demanding that Trump be compelled to release the information.
"The waiver process will be one of the only ways people from the barred countries may be able to enter the United States," the civil rights group said in a press release. "However, the administration has not provided any meaningful information to the public on how to apply for a waiver or the qualification standards and has yet to release information regarding any granted waivers."
Full report at:
https://rewire.news/article/2017/10/06/civil-rights-groups-demand-transparency-trumps-muslim-ban/
--------
Trump to 'decertify' Iran deal, but asks Congress not to reimpose sanctions: Reports
Oct 7, 2017
US President Donald Trump is expected to "decertify" the 2015 nuclear agreement with Iran, while quietly encouraging Congress not to reimpose sanctions that could unravel the landmark deal, according to reports.
Trump's national security advisers have recommended he should not certify the nuclear deal, officially known as the Joint Comprehensive Plan of Action (JCPOA), but keep the agreement intact for now.
Trump, who has described the accord as "the worst deal ever," has until October 15 to decide whether to certify that Iran is in compliance with the accord.
Under the deal, Washington agreed to waive nuclear-related sanctions in exchange for Tehran restricting its nuclear program. Trump's senior advisers have been warning him that other signatories to the JCPOA, including European allies, were unlikely to reimpose their own sanctions if the US decided to withdraw from the deal.
Meanwhile, a group of European ambassadors made a trip to Capitol Hill to make their case before Congress that the nuclear agreement should remain in place.
The ambassadors from the UK, EU, France and Germany met with at least 30 senators this week, warning that there is a "lot of misunderstanding" on Capitol Hill regarding the Iran deal.
They also noted that other signatories to the JCPOA - Russia and China in particular - have little appetite for reopening negotiations on the accord. Tehran has also repeatedly made clear it has no intention of renegotiating the terms of the deal.
Trump has repeatedly accused Iran of not keeping with the "spirit" of the international deal. "They have not lived up to the spirit of the agreement," he said at a White House meeting with senior military leaders on Thursday.
The warning came two days after Secretary of Defense James Mattis told a congressional panel he believed the deal was in America's interest and that Trump should "consider staying in." Secretary of State Rex W. Tillerson has also publicly supported the agreement with Iran.
However, Tillerson and others have worked on a strategy under which Trump would "decertify" the nuclear accord but pass the baton to Congress to save the agreement. After that, Congress would rescind a law requiring the president to certify Iran's compliance every 90 days.
In 2015, Congress passed the Iran Nuclear Agreement Review Act. The law, among other things, requires the president to certify every 90 days that Iran is complying with the terms of the deal and that continuing to waive sanctions is in the "national security interests of the United States."
President Trump has already done that twice - albeit reluctantly.
White House Press Secretary Sarah Sanders said Thursday that Trump had made a decision on the nuclear accord and would announce it "soon."
"The president's team has presented a united strategy that the national security team all stands behind and supports," she said.
If Trump refuses to certify the JCPOA, which he is expected to announce during a speech on Tuesday, Congress has 60 days to decide whether to put sanctions back on. Even if that happens, a dispute resolution process written into the deal provides another month before the US can withdraw from the UN-backed agreement.
The International Atomic Energy Agency (IAEA) and the US intelligence agencies have said that Iran is in compliance with the JCPOA. However, Trump might use the "national security interests" card as a pretext to "decertify" the deal.
US Ambassador to the UN Nikki Haley said last month that Trump was likely to point to Iran's missile program as well as its support of Hezbollah to argue that the nuclear accord was not in US national security interests.
Full report at:
http://www.presstv.ir/Detail/2017/10/07/537741/Trump-quietly-asks-Congress-to-save-Iran-deal
--------
Europe
U.N. fears 'further exodus' of Muslim Rohingya from Myanmar
OCTOBER 6, 2017
GENEVA/YANGON (Reuters) - The United Nations braced on Friday for a possible "further exodus" of Muslim Rohingya refugees from Myanmar into Bangladesh six weeks after the world's fastest-developing refugee emergency began, U.N. humanitarian aid chief said.
Some 515,000 Rohingya have arrived in Bangladesh from Myanmar's western state of Rakhine in an unrelenting movement of people that began after Myanmar security forces responded to Rohingya militant attacks with a brutal crackdown.
The United Nations has denounced the Myanmar military offensive as ethnic cleansing but Myanmar insists its forces are fighting "terrorists" who have killed civilians and burnt villages.
Rights groups say more than half of more than 400 Rohingya villages in the north of Rakhine state have been torched in a campaign by the security forces and Buddhist vigilantes to drive out Muslims.
Mark Lowcock, U.N. under-secretary-general for humanitarian affairs, reiterated an appeal for access to the population in northern Rakhine, saying the situation was "unacceptable".
Buddhist-majority Myanmar has blocked most access to the area, although some agencies have offices open in towns there and the International Committee of the Red Cross is helping the Myanmar Red Cross to deliver aid.
"This flow of people of Myanmar hasn't stopped yet. Obviously there's into the hundreds of thousands of Rohingya still in Myanmar, and we want to be ready in case there is a further exodus," Lowcock told a news briefing in Geneva.
Lowcock said a senior U.N. official was expected to visit Myanmar in the next few days.
An estimated 2,000 Rohingya are arriving in Bangladesh every day, Joel Millman of the International Organization for Migration, told a separate briefing.
Myanmar officials have said they attempted to reassure groups trying to flee to Bangladesh but could not stop people who were not citizens from leaving.
The official Myanmar News Agency said on Friday "large numbers" of Muslims were preparing to cross the border. It cited their reasons as "livelihood difficulties", health problems, a "belief" of insecurity and fear of becoming a minority.
RAIN-DRENCHED CAMPS
Aid agencies have warned of a malnutrition crisis with about 281,000 people in Bangladesh in urgent need of food, including 145,000 children under five and more than 50,000 pregnant and breastfeeding women.
Cholera is a risk, amid fears of disease spreading in the rain-drenched camps where aid workers are trying to install sanitation systems, a spokesman for the World Health Organization said.
About 900,000 doses of cholera vaccine are due to arrive this weekend and a vaccination campaign should start on Tuesday.
U.N.-led aid bodies have appealed for $434 million over six months to help up to 1.2 million people - including 300,000 Rohingya already in Bangladesh before the latest crisis and 300,000 Bangladeshi villagers in so-called host communities.
The Rohingya are regarded as illegal immigrants in Myanmar and most are stateless.
Myanmar leader Aung San Suu Kyi has faced criticism for not doing more to stop the violence, although a military-drafted constitution gives her no power over the security forces.
She has condemned rights abuses and said Myanmar was ready to start a process agreed with Bangladesh in 1993 by which anyone verified as a refugee would be accepted back.
Lowcock said talks between Myanmar and Bangladesh on a repatriation plan were a useful first step.
"But there is clearly a long way to go," he said.
Both the United States and Britain have warned Myanmar the crisis is putting at risk the progress it has made since the military began to loosen its grip on power.
China, which built close ties with Myanmar while it was under military rule and Western sanctions, has been supportive.
In Washington, U.S. officials said sanctions and the withholding of aid were among the options available to press Myanmar to halt the violence but they had to be careful to avoid worsening the crisis.
"We don't want to take actions that exacerbate their suffering. There is that risk in this complicated environment," Patrick Murphy, a deputy assistant secretary of state, told a hearing of the U.S. House of Representatives Foreign Affairs Committee.
Murphy said efforts were under way to identify those responsible for rights violations.
http://www.reuters.com/article/us-myanmar-rohingya/u-n-fears-further-exodus-of-muslim-rohingya-from-myanmar-idUSKBN1CB17P
--------
UN blacklists Saudi-led coalition for killing children in Yemen
Oct 7, 2017
UNITED NATIONS - The Saudi Arabia-led coalition fighting in Yemen has been placed on a UN blacklist for killing and maiming children, drawing fresh calls from rights groups to step up pressure on Riyadh over the conflict.
The group was briefly included on the annual list of shame last year before a threat by Saudi Arabia to cut off its funding to UN programs forced a reversal.
In announcing the move, Secretary-General Antonio Guterres noted that the coalition had taken some measures to improve the protection of children.
"In Yemen, the actions of the coalition to restore legitimacy in Yemen objectively led to that party being listed for the killing and maiming of children," said a report released along with the list as an annex.
In 2016, the coalition was responsible for 683 child casualties and for 38 verified attacks on schools and hospitals, it said.
Yemen's government forces, pro-government militias, the Huthi rebels and Al-Qaeda in the Arabian Peninsula (AQAP) were also cited for violations, but in a separate section of the list that said they had failed to protect children.
Guterres spoke to Saudi King Salman ahead of the release of the list, which UN officials had shared with Riyadh months earlier to avoid a repeat of the clash that followed the blacklisting by his predecessor Ban Ki-moon last year.
KSA rejects blacklisting
Saudi Arabia on Friday rejected the UN's move to blacklist the coalition fighting in Yemen for the killing and maiming of children, calling the information cited in the international body's annual list "misleading."
"We reject the inaccurate and misleading information and figures contained in the report," the Saudi Ambassador to the UN Abdallah al-Mouallimi told a news conference at the United Nations, insisting the Saudi-led coalition does everything possible to avoid hitting civilians.
Ban removed the coalition from the list and publicly complained that it was unacceptable for countries to "exert undue pressure" on the United Nations to avoid scrutiny. Saudi Arabia denied that it had pressured Ban and has since insisted that the coalition is respecting its obligations under international humanitarian law.
In a statement, Guterres stressed that the blacklist was "not only to raise awareness" but also to "promote measures that can diminish the tragic plight of children in conflict." The UN chief said he was encouraged that some governments were taking steps to spare children from the horrors of conflict and voiced hope that "more will follow."
The report and the list were on Thursday sent to the Security Council, which includes countries such as the United States, Britain and France that support the coalition in its war against Iran-backed Huthi rebels.
Human Rights Watch applauded the decision to include the coalition on the list but disputed the view that the military was taking measures to protect children.
"The coalition needs to stop making empty promises to exercise caution, take concrete action to stop these deadly unlawful attacks in Yemen, and allow desperately needed fuel and aid to reach those in need," said Jo Becker, HRW's children's rights advocate.
"Until this happens, governments should suspend all Saudi weapons sales," she said. The report said the coalition was responsible for 683 of the total 1,340 child casualties last year in Yemen and for 73 percent of the 52 attacks on schools and hospitals. The council will hold a debate on the report on October 31. Swedish Ambassador Olof Skoog, who leads the council's committee on children and armed conflict, backed Guterres' efforts to engage with Riyadh on the next steps and said the list should serve to "promote change."
Full report at:
http://nation.com.pk/international/07-Oct-2017/un-blacklists-saudi-led-coalition-for-killing-children-in-yemen
--------
'Mafia Effect' Keeps Islamic Terrorism at Bay in Italy: Report
6 Oct 2017
Italy has managed to avoid the brutal consequences of Islamist terrorism thanks to its decades-long war on powerful organized crime, according to a new article in the UK-based Economist magazine.
"The fight against Italy's formidably organised criminals has given its police a wealth of experience in monitoring tightly knit target groups," the article states. "It was enhanced by the campaign to subdue the left- and right-wing terrorists who wrought havoc in Italy in the 1970s and 1980s."
Despite repeated threats against Italy, and Rome in particular, the Islamic State has so far been thwarted in its efforts to bring down the wrath of Allah on the Italian peninsula.
In one of its videos titled "Meeting at Dabiq," the Islamic State portrayed its vision of the end of the world culminating in an epic battle in Rome between Islam and the West. The film depicted Islamist militants marching toward Rome's Coliseum and foretold of a final battle for world domination to be fought in Rome between Islamist true believers and Western "crusaders."
Yet although Italy is a prime target for jihadists, it stands out as one of the only European countries to have never suffered loss of life to Islamic terrorism.
According to the Economist, experience with the Mafia has "encouraged judges to take a more expansive attitude than in other European countries to issuing warrants for wiretaps and particularly to the electronic surveillance of suspects' conversations."
"Italy's recent history may also explain its hardline approach to apologists for terrorism," it reads.
But experts suggest that Italy's experience with the Mafia does not fully explain its success in eluding Islamic terrorist attacks.
"The main difference is Italy doesn't have a big population of second-generation immigrants that have been radicalised or could potentially be radicalised," said Francesca Galli, an assistant professor at Maastricht University and an expert in counter-terrorism policies.
According to the Pew Research Center, Italy's Muslim population is only about half that of France, both as a percentage of its overall population and in absolute terms. The percentage of Muslims living in Italy is also substantially lower than it is Germany, Belgium, or Great Britain.
A smaller Muslim population means that ghettoized areas that have become seedbeds of Islamic terror in Paris's St. Denis area or the Molenbeek district of Brussels simply do not exist in Italy. With its current crisis of mass immigration from northern Africa, the situation in Italy may be different in the future, but for the moment there are fewer opportunities for Islamic radicalization in Italy.
Italian counterterrorism units are also notoriously unapologetic about adopting measures that more squeamish cultures shy away from, another result of years of fighting organized crime. Strategic and tactical differences include a greater willingness to profile potential terrorists and to immediately deport foreigners who pose a terror threat.
Full report at:
http://www.breitbart.com/london/2017/10/06/report-mafia-effect-keeps-islamic-terrorism-bay-italy/
--------
British Muslim Man Jailed For Showing Beheading Video To Kids
October 06, 2017
LONDON: A British Muslim man was today sentenced to six years' imprisonment by a UK court for showing an ISIS beheading video to schoolchildren.
Zameer Ghumra was found guilty of disseminating terrorist propaganda and trying to brainwash young boys into supporting ISIS at Nottingham Crown Court today.
The 38-year-old pharmacist, believed to be of Arabic origin, also told the children they should kill anyone who insulted Islam and instructed them to make only Muslim friends.
"These were shocking crimes which damaged the children and caused offence to the vast majority of law-abiding Muslims," Judge Gregory Dickson said.
The judge also noted the lack of remorse shown by Ghumra during his trial when determining his sentence.
The jury was told that the children, who came in contact with the accused at a madrassa he had set up, were encouraged to go to Syria to fight with the ISIS where they would have to behead people.
Ghumra also followed various ISIS-linked social media accounts and made the two children follow similar accounts.
Prosecutor Simon Davis said Ghumra had told a customer that ISIS were "not bad people - they're only defending themselves".
Ghumra, from the city of Leicester, was working as a pharmacist in Oundle, Northamptonshire, when he was arrested at Birmingham Airport in September 2015.
He had denied the charges and claimed that the children had been induced to make "false allegations" against him.
Sue Hemming of the Crown Prosecution Service (CPS) said: "Zameer Ghumra tried to brainwash impressionable children with this violent ideology by making one watch beheading videos and urging them both to adopt a hard line religious outlook."
"The CPS case was that he intended to radicalise them in the hope that they would go on to be involved in terrorism. "The children were brave to give evidence and we would like to thank them for helping to secure this conviction of a dangerous man," Hemming said.
Ghumra was found guilty of the charge of disseminating "terrorist propaganda" in the form of a graphic Twitter video on his mobile phone between January 2013 and September 2014.
Full report at:
https://www.ndtv.com/world-news/british-muslim-man-jailed-for-showing-beheading-video-to-kids-1759660
--------
British man arrested over Facebook post threatening Muslims
October 06, 2017
A British man has been arrested for his Facebook post which said he had no worries about ending the life of any Muslim.
The post has later been removed from his account.
Eric King, 63, of St Austell, Cornwall, England, has been sharing other hateful posts and comments on social media including a video of a man urinating on the Quran, reports Metro.
Another post of King's account said: "Islam needs to be wiped off the face of the earth, if that means killing all Muslims, so be it," above a shared post from Britain First regarding religion in Germany.
Angry at ISIS activities, King posted on his facebook account on September 15 saying: "Why are we being forced to except all these immigrants, they are the scum of the world I hate every one of them, I have no worries about ending the life of any Muslim, they are more than happy to end the lives of all white people, the day is coming when we the white true people of the UK will revolt and take the country back."
This post has been removed from his account later.
Among others who complained about King's hate speech both online and offline, a man from his neighbourhood said requesting anonymity: "The violent threats towards Muslims worry me greatly having friends and knowing people of that faith live locally. I would expect them to speak up regarding Islamic extremist and I don't see Mr King's hate speech any differently."
Full report at:
http://www.dhakatribune.com/world/europe/2017/10/06/british-man-arrested-posting-threatening-hate-speech-muslims/
--------
France hands 'Mama Jihad' the maximum sentence for role in terrorist conspiracy
2017-10-06
A French woman who travelled three times to Syria in support of her jihadist son was sentenced to 10 years in prison on Friday for being part of a terrorist conspiracy.
Christine Riviere, 51, was sentenced for her "unfailing commitment" to jihad and for helping a number of young women travel to Syria to marry jihadists including her son, Tyler Vilus.
It was the maximum sentence possible and included a stipulation that Riviere, a Muslim convert nicknamed "Mama Jihad" in the French press, will be ineligible for parole for seven years.
Vilus, 27, travelled to Syria to fight alongside the Islamic State group in 2012 or 2013.
Riviere, who visited her son three times in 2013 and 2014, denied fighting with the Islamic State group, though she posted pictures on Facebook of decapitations and of herself holding a Kalashnikov.
"I didn't want to push him to die a martyr, but that could happen," she said of her son. "Then he would be in heaven, near Allah."
Friday's verdict came barely a week after the conviction and sentencing of another French mother of a jihadist.
Nathalie Haddadi, 43, whose son fought and is thought to have died in Syria, was given a two-year jail sentence for financing terrorism because she wired funds to him.
Haddadi's lawyer Herve Denis said she would appeal the verdict, to avoid it becoming a precedent for the 2,000 French parents whose children had travelled to Syria to wage jihad.
Riviere's 30-year-old son Leroy, in tearful testimony, said he did not think his mother had "killed innocents".
"She left for her son, for love, not to fight," he said.
He described Riviere as a loving mother who dreamed of going on a world cruise with her sons, who were named after characters in the television series "Fame".
A psychiatrist who served as an expert witness at the trial said Riviere had lost her critical and moral judgement and had fantasies about sharing her son's extremism.
'She is completely lost'
Her lawyer Thomas Klotz described a woman who had lost her bearings but had only a rudimentary knowledge of Islam. "She is completely lost, we are in the heart of darkness," he said.
The prosecutor called Riviere a "jihad madam" because she supplied brides to IS soldiers.
Riviere said she converted to Islam in 2012 at her son's behest but would have been drawn to the religion anyway, saying it had "calmed" her.
Riviere, the daughter of funfair workers, was arrested in July 2014 as she was preparing a fourth visit.
Full report at:
http://www.france24.com/en/20171006-french-mother-mama-jihad-maximum-sentence-vilus-syria-terrorist-conspiracy
--------
India
India, EU name Dawood, Hafiz Saeed, Rehman Lakhvi in joint fight against terror
by Shubhajit Roy
October 7, 2017
In a first, India and the European Union (EU) have named three globally proscribed terrorists — Hafiz Saeed, Zaki-ur-Rehman Lakhvi and Dawood Ibrahim — in their joint statement and shown convergence in views to combat terrorism. While Saeed and Lakhvi are accused of the 2008 Mumbai terror attacks, Dawood is accused of the 1993 Mumbai blasts.The announcement was made following talks between Prime Minister Narendra Modi and visiting European Council President Donald Franciszek Tusk and European Commission President Jean-Claude Juncker at the 14th India-EU summit here.
Naming of the three terrorists, who have conducted terror attacks in India leading to hundreds of deaths, is being perceived as a significant takeaway from the India-EU summit. A separate joint statement on "cooperation in combating terrorism" said, "The leaders agreed to strengthen cooperation to take decisive and concerted actions against globally proscribed terrorists and terror entities, including Hafeez Saeed, Zaki-ur-Rehman Lakhvi, Dawood Ibrahim, Lashkar-e-Tayibba, Jaish-e-Mohammad, Hizb-ul-Mujahideen, Haqqani Network, Al Qaeda, ISIS (Da'esh) and their affiliates."
During the 13th India-EU summit in March 2016, the joint statement had only mentioned the terror outfits. Addressing a joint press event with the EU leaders, Modi said, "We have agreed to strengthen our security cooperation and work together against terrorism. We will not only further strengthen our bilateral cooperation on this issue, but will also increase our cooperation and coordination in multilateral fora."
Tusk said, "We have adopted a joint declaration on counter-terrorism in which we agreed to counter violent extremism and radicalisation, particularly online, and to deal effectively with the threat by foreign terrorist fighters, terrorist financing and arms supply." After the muted response to the Uri attack last year, the joint statement made amends and mentioned the "recent terror attacks in Pathankot, Uri, Nagrota, Anantnag (Amarnath Yatra), Srinagar, Paris, Brussels, Nice, London, Stockholm, Manchester, Barcelona, Turku, and other terrorist attacks".
It said that "recalling the November 2008 terror attacks in Mumbai, the leaders called for the perpetrators of these attacks to be brought to justice. They further called for greater unity, stronger international partnership and concerted action by the international community in addressing the menace of terrorism."
There was, however, no major headway on the much-delayed free trade pact. Juncker said, "It is the time for a Free Trade Agreement between India and the European Union — (but) once the conditions are right, and only when the conditions are right, we resume (talks). Today's summit is an important step in the right direction."
He said that chief negotiators from the two sides will chart the way forward in the coming days. The joint statement said the leaders expressed their shared commitment to strengthening the economic partnership between India and the EU. It noted the ongoing efforts of both sides to "re-engage actively towards timely relaunching negotiations for a comprehensive and mutually beneficial India-EU Broad Based Trade and Investment Agreement (BTIA)".
On the issue of Rohingyas, the joint statement said India and the EU expressed "deep concern" at the recent spate of violence in the Rakhine state of Myanmar, which has resulted in the outflow of a large number of people from the state, many of whom have sought shelter in Bangladesh.
"Both sides took note that this violence was triggered by a series of attacks by Arakan Rohingya Salvation Army (ARSA) militants, which led to loss of lives amongst the security forces as well as civilian population," the joint statement said. "Both sides recognised the need for ending the violence and restoring normalcy in the Rakhine state without any delay."
http://indianexpress.com/article/india/india-eu-name-dawood-ibrahim-hafiz-saeed-rehman-lakhvi-in-joint-fight-against-terror-4878247/
--------
20 with Bangla terror links missing in Uttar Pradesh
Oct 7, 2017
Lucknow: Twenty Bangladeshi youngsters, believed to be in touch with Islamic terror organisation recruiters have gone missing from western UP over the years.
The revelation has been made in a report prepared by Anti-Terrorist Squad of the UP police, which arrested four illegal Bangladeshi immigrants linked to Bangladesh-based terror modules in the past 10 weeks.
All four had taken refuge in Saharanpur and were staying in Deoband, the Islamic seminary in western UP.
According to ATS sources, an alert has been sounded for absconder Faizan, who acted as a key recruiter and indoctrinated youth into jihad.
IG UP ATS Asim Arun said, "Faizan went missing from Saharanpur in the first week of August. We had recovered IS literature from his room and he had even scribbled a few things on a piece of paper used for making lethal bombs".
Linked to Jamaat-ul-Mujahideen, Ansarullah Bangla and other Islamic terror outfits, Mr Faizan, was apparently trying to wage war against the country and had visited Kashmir valley.
Through cash deposit receipts found in his room, the ATS found that Faizan had received money from different sources, regularly. "Most of the payments the group of illegal immigrants received were valued below `50,000 but we were surprised to see up to `9.80 lakh deposited in one go in accounts operated by them at Saharanpur", the IG said. Other security agencies in the country have been alerted to look out for Mr Faizan.
Mr Faizan moved to UP in 2011 and stayed at Deoband. UP ATS started hunting for him from July 30 after a Bangladeshi nat-ional identified as Noman was arrested from Pulwa-ma district in Jammu and Kashmir.
Mr Noman had also stayed at Deoband briefly before shifting to Kashmir to wage a war against the country with IS-backed jihadis.
Mr Faizan, along with his close aides Fazar Ali and Abdullah, used to prepare forged government IDs for illegal immigrants.
Uttar Pradesh ATS arrested Mr Abdullah, while three other Bangladeshi nationals have also been arrested since August 6.
Full report at:
http://www.asianage.com/india/all-india/071017/20-with-bangla-terror-links-missing-in-uttar-pradesh.html
--------
Terrorists attack SPO, son at their home in Kashmir's Kupwara district
Oct 7, 2017
SRINAGAR: A special police officer (SPO) and his 11-year-old son were injured after terrorists opened fire in Handwara in north Kashmir's Kupwara district on Friday evening. DSP Handwara Shabir Khan said the militants barged inside the house of SPO Mohammad Altaf Khan in Hajin village and opened indiscriminate fire. Altaf and his minor son Waqif Altaf received bullet injuries.
Both were taken to a nearby hospital for treatment. Waqif suffered a head injury and his condition was stated to be critical, police said.
A joint team of police, Special Operations Group, army and CRPF reached there and launched a manhunt for the assailants.
LeT terrorist, two hawala dealers get ED notice:The ED has issued show cause notices to a Lashkar-e-Taiba terrorist, Ayub Mir, and two Delhi-based hawala dealers receiving funds from a London-based entity and supplying them to terrorists in the Valley and other parts of the country.
Full report at:
https://timesofindia.indiatimes.com/india/terrorists-attack-spo-son-at-their-home-in-kashmirs-kupwara-district/articleshow/60978591.cms
--------
ED issues FEMA notice to LeT terrorist, hawala dealers
Oct 6, 2017
NEW DELHI: The Enforcement Directorate (ED) has issued a FEMA show cause notice to an alleged Lashkar-e-Taiba (LeT) operative and two Delhi-based hawala dealers in connection with a terror financing case.
The central probe agency said it had issued the notice under provisions of the Foreign Exchange Management Act (FEMA) against "Mohammed Ayub Mir and two other Delhi-based hawala dealers, Bech Raj Bengani and Harbans Singh".
It said Mir was an active member of Pakistan-based terrorist organisation Lashkar-e-Taiba.
Mir, it said, was arrested by the special cell of the Delhi Police when he was collecting Rs 7 lakh through hawala dealing from Singh on instructions of a London-based entity.
"Mir has confessed his association with the LeT. He was involved in collecting and delivering money through hawala for the terrorist organisation. Singh has also admitted that he was engaged in delivering the hawala payments on the instructions of Bengani," the Enforcement Directorate (ED) said in a statement.
Bengani, it said, was a "racketeer in hawala trade and a regular offender, and was earlier booked under the FERA (now repealed) and a penalty of Rs 50 lakh was imposed on him in 1993".
Full report at:
https://timesofindia.indiatimes.com/india/ed-issues-fema-notice-to-let-terrorist-hawala-dealers/articleshow/60972672.cms
--------
India, Australia discuss joint effort to counter terrorism
October 7, 2017
A joint steering committee of India and Australia discussed the issues of enhanced cooperation in terrorism, cyber crime and deradicalisation at their first meeting in New Delhi on Friday.
The two sides discussed the scope for cooperation in counter-terrorism and checking extremism and radicalisation, besides joint efforts to check illegal financial transactions, counterfeiting and cyber-crimes, a Home Ministry statement said.
Issues related to human trafficking, combating narcotics trafficking, and sharing information between law enforcement agencies were also discussed. The two sides agreed to pursue further the agenda for cooperation in specific areas with meetings of operational joint working groups involving agencies concerned, the statement said.
Full report at:
http://indianexpress.com/article/india/india-australia-discuss-joint-effort-to-counter-terrorism-4878387/
--------
Two sent to judicial custody for helping Pakistan-based terrorists
October 6, 2017
Two persons arrested for allegedly providing logistical and material support to terrorists infiltrating from Pakistan into Kashmir for carrying out subversive activities were today sent to judicial custody by a Delhi court for a month.
District Judge Poonam A Bamba sent Zahoor Ahmed Peer and Nazir Ahmed Peer to jail after they were produced in the court by the National Investigating Agency (NIA) which submitted that they were not required for further custodial interrogation.
Both the accused, residents of Wahama, Kupwara, in North Kashmir, were arrested on September 19 by the NIA from Jammu in connection with a case registered in July last year.
Police in Jammu and Kashmir had arrested a Pakistani national, Bahadur Ali, from Handwara in North Kashmir in July last year and allegedly seized a large quantity of incriminating material, including arms and ammunition, from him. The case was later handed over to the NIA.
The two accused allegedly provided material and logistical support to Ali and his associates soon after their infiltration into Indian territory, the NIA said.
Both the accused were local supporters of Ali and had visited Pakistan thrice and met terrorists from Hizbul Mujahideen and Lashkar-e-Taiba (LeT) and were still in their contact, it was alleged.
In January this year, the NIA had charge-sheeted Ali, a member of the banned terror outfit LeT who had been arrested from Yahama village of Handwara on July 24 last year.
The charge sheet highlighted gaps along the Line of Control (LoC) as Ali along with two other terrorists had walked undetected for seven days.
The NIA said Ali alias Saifullah Mansoor along with two associates, Abu Saad and Abu Darda, all trained terrorists, infiltrated into Indian territory equipped with arms and ammunition, navigation equipment, combat material and other articles.
The trio entered India during the intervening night of June 12-13 last year and reached their destination around June 20. The area is expected to be dotted by security personnel as part of counter-infiltration grid.
On June 22, Ali's two associates left to get some food, leaving Ali on a hill top. Both were killed in an encounter.
According to the NIA charge sheet, investigation had established that Ali, a school dropout and originally a resident of Jia Bagga Village of Raiwind in Lahore, Pakistan, was also provided a map depicting parts of Jammu and Kashmir and Pakistan-occupied-Kashmir (PoK).
Full report at:
http://indianexpress.com/article/india/two-sent-to-judicial-custody-for-helping-pakistan-based-terrorists/
--------
South Asia
Kabul protesters want foreign forces out of Afghanistan
Oct 6, 2017
Afghans have taken to the streets of the capital Kabul to protest against the presence of foreign troops in the country.
The rally was held ahead of the anniversary of the US invasion of Afghanistan 16 years ago.
The protesters on Friday chanted slogans against "occupation," while holding anti-US and anti-NATO placards.
"We cannot bear occupation anymore," said one protester from the Solidarity Party, which organized the rally.
"Every day we witness them bombing our cities and thousands of innocent people are killed … we want justice we want all the US and NATO occupiers to leave Afghanistan as soon as possible and leave the country to the Afghan people to decide what they want," added the protester.
The United States launched Operation Enduring Freedom on October 7, 2001, joined by military forces from the United Kingdom. The two were later joined by other forces, including the Northern Alliance.
The US-led NATO forces rapidly drove the Taliban militants ruling the country from power by December 17, 2001, and built military bases near key cities across the country.
Most of the al-Qaeda and Taliban militants fled to neighboring Pakistan, or retreated to rural or remote mountainous border regions such as the Tora Bora, where they still have a military presence to this day.
US-led combat troops withdrew from Afghanistan at the end of 2014, after which Afghan troops took charge of fighting Taliban militants and a nascent presence of the Daesh Takfiri terrorist group, which was seeking a foothold in the war-ravaged country.
In August, US President Donald Trump announced a plan that would send thousands of additional US and allied troops to Afghanistan.
Despite the presence of foreign forces, one-third of Afghanistan is either controlled or contested by the Taliban and other militant groups, which control the booming drug trade in the country.
http://www.presstv.ir/Detail/2017/10/06/537697/Asia-Afghanistan-Kabul-Rally--US-Occupation
--------
No sign of radicalisation in Rohingya, says Bangladesh Foreign Secretary
October 7, 2017
by Shubhajit Roy
Stressing that he has not seen any sign of radicalisation among Rohingya refugees, Bangladesh Foreign Secretary Shahidul Haque Friday said that he would not comment on India's move to deport them but hoped that "in the end… humanitarian issues will get due consideration".
Haque's position runs contrary to New Delhi's stance that Rohingya refugees in India pose a national security threat amid fears of radicalisation. Haque, who met Foreign secretary S Jaishankar in the Capital on Thursday evening, was also hopeful of India's support to Bangladesh in the wake of the refugee crisis. This was the third meeting between the two foreign secretaries in the past month-and-a-half following sessions in Colombo and New York last month after the crisis escalated.
Asked about India's plan to deport around 40,000 Rohingya refugees, Haque, "I will not comment on India's decision….but I hope, in the end, humanitarian issues will get due consideration." Haque is one of Bangladesh Prime Minister Sheikh Hasina's trusted lieutenants.
On whether there has been radicalisation among Rohingya in Bangladesh, Haque said he has been to refugee camps several times in the last few weeks but "there has not been any sign of radicalisation in these people".
Haque, however, said there was always a possibility of radicalisation since radical elements would try to take advantage of the situation but it was the government's responsibility to not allow that to happen. "It is not an alarming situation," he told reporters at the Bangladesh High Commission.
Haque, who also met National Security Advisor Ajit Doval Thursday, said they discussed all aspects of the issue, with the continuing influx of Rohingya refugees from Mynamar figuring "prominently".
Describing the violence in Myanmar's Rakhine state as "ethnic cleansing", Haque said the international community has been made aware of how the country was "snatching the rights" of the Rohingya.
"It is not only a people's movement but also a security issue, a border issue, which has the potential to destabilise the region, not just areas in Myanmar and Bangladesh," he said.
On India's position that Rohingya pose a security threat, Haque said, "Not that it always becomes (a security threat), depends on how you manage it. So far the government of Bangladesh has been able to contain that. It has not moved into a security area… The population continues to remain neutral. They all look forward to
go back. It is the responsibility of the State not to allow it (radicalisation) to happen."
The Bangladesh Foreign Secretary said there is a tendency to view such issues from the prism of radicalisation, but that obfuscates the fact that it is above all a humanitarian issue, involving women and children who "need support".
"India has been with Bangladesh during difficult times like in 1971 or subsequently. They are our closest partner. We agreed this is a huge burden on Bangladesh and it has potential to destabilise the region. I think we were speaking in the same language," he said.
Full report at:
http://indianexpress.com/article/world/no-sign-of-radicalisation-in-rohingya-bangladesh-foreign-secretary-4878063/
--------
Shafi: Efforts being made to convert Rohingya Muslims into atheists
October 06, 2017
Hefazat-e-Islam Bangladesh chief Shah Ahmed Shafi has said that efforts were being made to convert Rohingya Muslims into atheists in the makeshift camps for the displaced Rohingya in Cox's Bazar.
Shafi made the claim while offering a special prayer at a Hefazat rally in the city's Laldigi Maidan on Friday.
The radical Islamist group organised the grand rally to press home its demand for Myanmar to take back the Rohingya who have fled to Bangladesh to escape military persecution in their homeland, the Rakhine state.
Also Read- Hefazat: Jihad against Myanmar if Rohingya killing continues
Urging all Muslims to stay alert regarding the evil motive of conversion, the nonagenarian cleric prayed to Allah to protect the Rohingya Muslims and their families.
Dubbing Myanmar's de facto leader Aung San Suu Kyi an international terrorist, Hefazat-e-Islam Secretary General Junaid Babunagari asked the Bangladesh government to sever all diplomatic ties with Myanmar.
Full report at:
http://www.dhakatribune.com/bangladesh/2017/10/06/shafi-convert-rohingya-aetheists/
--------
PM Hasina urges international pressure on Myanmar
October 07, 2017
Prime Minister Sheikh Hasina has urged the international community, including the UK, to mount pressure on Myanmar to take back the displaced Rohingya people from Bangladesh.
"International pressure on the Myanmar government should continue, so that Naypyidaw is forced to take back its forcibly displaced Rohingya nationals from Bangladesh," said the prime minister.
Sheikh Hasina, who took a stopover in London on her way back home from the USA, made the comment when Tariq Mahmood Ahmad, the Lord Ahmad of Wimbledon and also the UK Minister of State for the Foreign and Commonwealth Office, paid a courtesy call to her at the hotel on Friday.
Briefing media, Prime Minister's Press Secretary Ihsanul Karim said Sheikh Hasina also sought support of the international community, including the UK, in shifting the forcibly displaced Myanmar people in Bangladesh to a new location.
She also conveyed her regards to the British prime minister through Lord Ahmad.
The UK state minister praised the people of Bangladesh and Prime Minister Sheikh Hasina for saving the lives of tens of thousands of Rohingya people by giving them shelter.
Terming the influx of Rohingya people into Bangladesh a humanitarian crisis, Lord Ahmad said the UK government will pledge 30 million pounds in support of the refugees.
"We [UK] are keen to continue support for the displaced Rohingya people in Bangladesh," he added.
Bangladesh High Commissioner to the UK Nazmul Qaunine was present during the courtesy call.
Rohingya crisis will not affect Bangladesh's progress
Reiterating that Bangladesh always tackles its problems head on, Prime Minister Sheikh Hasina has assured that the country will continue to make great strides in development, despite the recent influx of Rohingya refugees.
She made the remarks while exchanging views with Awami League leaders based in the UK and other European countries on Thursday. Her Press Secretary Ihsanul Karim briefed reporters after the meeting.
"We, the Bangali nation, fought and liberated the country at the call of Father of the Nation Bangabandhu Sheikh Mujibur Rahman. We do not falter in the face of a problem, we tackle them head on," the prime minister said in the meeting.
Hasina also added that discussions with Myanmar over resolving the Rohingya crisis has made significant progress, following the recent visit of its Minister of the Office of State Counsellor Kyaw Tint Swe to Bangladesh.
Speaking about the plight of Rohingya people, Hasina said: "We cannot throw them [the Rohingya] out into the Bay of Bengal. If we could feed 16 crore people, we can also feed an additional five to seven lakh people at their time of distress."
Full report at:
http://www.dhakatribune.com/bangladesh/foreign-affairs/2017/10/07/pm-hasina-urges-international-pressure-myanmar/
--------
TV journos allegedly assaulted at Hefazat rally
October 06, 2017
Three broadcast journalists of two private television channels allegedly came under assault on Friday, while discharging their professional duties during a rally of Hefazat-e-Islam Bangladesh.
The radical Islamist group organised the rally at the city's Laldigi Maidan to press home its demand for Myanmar to take back the forcefully displaced Rohingya who have fled to Bangladesh since August 25, to escape military persecution in their homeland – the Rakhine state.
The journalists who came under assault were identified as Channel 24 cameraperson Selim Ullah, Channel 24 reporter Zubayer Manjur, and Saiful Islam, cameraperson of Banglavision.
Latefa Runa, joint secretary of the TV Journalists' Association, Chittagong, told the Dhaka Tribune that the members of Hefazat took away the microphone and damaged the camera that was with the Channel 24 crew.
"We condemn this heinous attack on the journalists and demand the attackers be brought to book without delay," added Runa.
Safique Ahmed Sajib, president of the TV Camera Journalists' Association, said that the three TV journalists came under attack while covering the rally of Hefazat-e-Islam Bangladesh.
"A TV camera was damaged and microphone was snatched away during the assault. Legal measures should be taken against the attackers," demanded Sajib.
Victim Saiful Islam told the Dhaka Tribune that Harun Izhar became angry as his father, Hefazat-e-Islam senior leader Izharul Islam, did not get the chance to speak at the rally.
"At one stage of the rally, the followers of Harun Izhar locked into an altercation with some of the leaders who were on the stage. We came under assault when we were filming the altercation between the Hefazat leaders," said Saiful.
When contacted, Azizul Haque Islamabadi, central organizing secretary of Hefazat-e-Islam, told the Dhaka Tribune that he came to know of the incident after the end of the rally.
Full report at:
http://www.dhakatribune.com/bangladesh/nation/2017/10/06/tv-jurnos-assaulted-hefazat/
--------
Mideast
Arab coalition says UN report on Yemen was fed misleading material
7 October 2017
The Arab coalition fighting against Houthis in Yemen, issued a statement on Friday claiming that a UN report on children and armed conflict was fed misleading material from "non-independent sources."
While expressing its satisfaction and appreciation for the UN Secretary-General's praises, the coalition said it completely rejects the false information expressed in the report.
The coalition voiced its reservations over the content of the report and ureged the UN to rectify it.
UN report credibility
The coalition noted that this does not only affect itsimage, but also jeopardizes the UN report's credibility.
It also rejected the methods by which the UN was provided with misleading and inaccurate information. The coalition claimed such an act was aimed at diverting attention from the crimes of Houthi militias and fighters allied to ousted Yemeni President Ali Abdullah Saleh.
The coalition also stressed its commitment to abide by international standards and laws for civilian safety and protection. It said it is also committed to take utmost caution and care to avoid harming civilians.
https://english.alarabiya.net/en/News/gulf/2017/10/07/Arab-coalition-UN-report-on-Yemen-was-fed-misleading-material-.html
--------
Turkey to open new crossing with Iraq in response to Kurdish vote: Yildirim
Oct 7, 2017
Turkish Prime Minister Binali Yildirim says Ankara intends to open a new border crossing with Iraq in cooperation with the central government in Baghdad after the Anatolian country closed the existing crossing in response to last week's controversial referendum on independence in Iraq's Kurdistan region.
"We have proposed opening the new Ovakoy gate, west of the currently used Habur gate, to Baghdad and we are expecting their support. We will be happy to discuss this with (Iraqi Prime Minister Haider) al-Abadi," the Turkish prime minister said at a press conference on Friday.
Yildirim added that his Iraqi counterpart had officially invited him to Baghdad to discuss regional issues, particularly the independence plebiscite the Kurdistan Regional Government (KRG) held on September 25 despite fierce opposition from Baghdad and regional countries, including Iran and Turkey.
The Turkish prime minister further said that Ankara sought to "improve" its relations with the Iraqi central government, and wanted comprehensive cooperation with Baghdad on economy, defense and security issues. However, he added that "the context and the date of the visit will be determined later."
On the day of the so-called referendum, Turkish President Recep Tayyip Erdogan said his country would seal the Habur border crossing, Turkey's sole land border with the Arab country and the KRG's main gateway to the world.
On Thursday, the Turkish leader reiterated that Ankara would "soon" shut its border and airspace to the KRG. "Flights to northern Iraq have already been suspended, the airspace and borders will also close soon," he said in a televised speech in the Turkish capital.
Earlier on Thursday, Erdogan had told reporters that Turkey would decide jointly with Iran and the central government in Baghdad whether to cut oil exports from the Iraqi Kurdistan.
On Wednesday, Erdogan held meetings with Iranian officials in Tehran. In a joint press conference with Iranian President Hassan Rouhani, Erdogan warned that Turkey would take stronger steps in response to the Kurdish referendum.
Iran, for its part, has announced that it is opposed to the "unilateral" scheme for the independence of the Iraqi Kurdistan, underlining the importance of maintaining the integrity and stability of Iraq and insisting that the Kurdistan region is part of the majority Arab country.
A day before the secession vote, Iran also closed its airspace to all flights to and from the Kurdish region at the request of the Iraqi government.
Full report at:
http://www.presstv.ir/Detail/2017/10/07/537721/Turkey-Iraq-KRG-referendum-border-crossing-Yildirim-Erdogan-Iran
--------
Coalition drones strike Houthi militias near Saudi border
6 October 2017
Arab Coalition drones targeted Houthi Militia posts near the Saudi-Yemen border.
The drones also spotted for forces loyal to ousted President Ali Abdullah Saleh present alongside the border.
The strikes destroyed military vehicles that transferred militias towards Saudi borders to plant mines, according to a coalition statement.
The strikes also targeted Houthi military reinforcements gathered in Bayhan district in Shabwah governorate destroying an arms cache.
Houthi militias and forces loyal to Saleh stationed in the Al Maton district in Jawf governorate were simultaneously targeted in shelling by Yemeni Army forces alongside the popular resistance force.
A Yemeni military source told Al Arabiya that Houthi militia men stationed themselves in residents' houses and farms and used people as human shields.
https://english.alarabiya.net/en/News/gulf/2017/10/06/WATCH-Coalition-drones-strike-Houthi-militias-near-Saudi-border.html
--------
Turkey beefs up border security against Daesh, PKK
7 October 2017
ANKARA: Turkey has beefed up its border security, primarily due to threats posed by the outlawed Kurdistan Workers' Party (PKK) and Daesh.
PKK militants have infiltrated popular touristic Turkish cities such as Mugla, Fethiye and Koycegiz via the Syrian port city of Latakia, Interior Minister Suleyman Soylu said Thursday.
Security forces killed five PKK militants in Mugla earlier that day, with two militants reportedly at large in the same area.
Security forces are also continuing counterterror operations and airstrikes in eastern Turkey and northern Iraq against PKK hideouts, ammunition depots and militants preparing for possible attacks.
Meanwhile, Turkish police carried out raids against suspected Daesh cells in big cities such as Istanbul, Konya and Izmir.
Turkey recently completed a 688-km-long security wall along its border with Syria. Twenty-one high-security, bulletproof and portable watchtowers are being built in the area, and 10 military officers will reside in each of them.
In order to intervene along the border in emergency situations, passenger routes will be built at 10-km intervals, especially in areas where Daesh is believed to have placed handmade explosive traps.
Sertac Canalp Korkmaz, a researcher in security studies at ORSAM, a think tank in Ankara, said it is not the first time PKK militants have tried to attack coastal tourist hotspots.
"However, recent security measures at the Syria border, and cross-border operations against PKK hideouts in northern Iraq, have pushed terror organizations to infiltrate Turkey via different routes, or by using proxy cells inside the country," Korkmaz told Arab News.
"But the latest security measures in the coastal zones show that Turkey's intelligence capacity in counterterrorism efforts has greatly increased."
He said the high-tech border security measures have led to the PKK changing tactics, such as using armed drones.
"The security void in Iraq and Syria, due to geopolitical tectonic changes and the lack of a common counterterrorism approach by the international community, is being filled by terror groups and increasing security threats in the region," he added.
Turkey's military recently placed anti-drone systems at some border posts against possible attacks by terror groups.
Metin Gurcan, a former military officer and security analyst at the Istanbul Policy Center, said he thinks the PKK's presence in the western coastal cities may not be heavily armed.
"This might be an intentional strategy by the terror group to divert the military from the south-eastern provinces toward western cities," Gurcan told Arab News.
"Military zones in Turkey are vulnerable to vertical assaults from the air. Anti-drone defense systems should be integrated into all military levels, until the squadron," he said.
Full report at:
http://www.arabnews.com/node/1173621/middle-east
--------
Saudi Arabia, Russia urge end to Palestinian suffering
7 October 2017
MOSCOW: Saudi King Salman on Friday said he and Russian Prime Minister Dmitry Medvedev "stressed the importance of ending the suffering of the Palestinian people and achieving a just, comprehensive and permanent peace for the Palestinian question."
During their meeting in Moscow, the monarch added, they agreed that "accomplishing peace and stability in the Gulf and Middle East region, with the crises it is currently witnessing in Yemen and Syria, requires Iran to halt its expansionist policies, commit itself to the principles of good neighborliness, respect international norms and laws, and refrain from interfering in the internal affairs of other nations."
Saudi Arabia is keen to develop relations with Russia, King Salman said, a sentiment echoed by Medvedev, who expressed the Russian government's pleasure with the monarch's visit.
King Salman said his country "is going through a historical and fundamental phase of total development, which has been translated into Vision 2030. We look forward to (Russia's) participation and its cooperation in implementing the programs of this vision in a way that serves our common interests."
He added: "The efforts of our countries in the field of oil have borne fruit in reaching an agreement for reducing production and achieving a balance between the interests of consumers and producers. We stress our commitment to the stability of the international oil market."
Medvedev praised Thursday's talks between King Salman and Russian President Vladimir Putin on developing bilateral cooperation in all fields.
Full report at:
http://www.arabnews.com/node/1173681/saudi-arabia
--------
Southeast Asia
Is Indonesia's Military Chief Making a New Political Power Play?
October 06, 2017
Indonesian military (TNI) commander General Gatot Nurmantyo has positioned himself as the new bête noire of Indonesian politics. He's not the black creature of the French expression, but double green – the Army, the ultimate defender of the republic, and Islam. Nurmantyo, it seems, is making a play for political power through an appeal to both nationalism and Islam, a potent combination.
Recent Developments
Long a controversial figure, he is set to retire in six months' time. Over the past few weeks, he has been outspoken on a number of sensationalist issues. Previous attempts to stake a political position were pulled back by President Joko Widodo. But this time Nurmantyo appears to have thrown off the shackles, while formally still declaring his submission to his supreme commander.
Enjoying this article? Click here to subscribe for full access. Just $5 a month.
In the post-fact world popularized by the United States' 45th president, Donald Trump, the Indonesian elite is embarking on another play of an old theme, perhaps to remind the world that post-fact discourses are an age-old art form in their country.
Much heat has been generated by Nurmantyo's order of September 18 that all military personnel should watch The Betrayal of G30S/PKI, the classic propaganda movie that has framed Indonesians' concept of their recent past since it was first screened to the nation in 1984.
The title of the G30S movie refers to the September 30 movement, when a coup attempt blamed on the Indonesian Communist Party (PKI) in 1965 sparked one of the worst bloodbaths of the 20th century.
Nurmantyo further raised the heat over the issue by publicly lambasting Defense Minister Ryamizard Ryacudu, who contested the order, stating that he doesn't take orders from the minister but only the president.
Then, on September 22, Nurmantyo told a meeting of retired senior officers that non-military institutions were about to import 5,000 firearms, insisting that only the military and police were allowed to use weapons.
The general threatened to attack any institution if it owns weapons capable of destroying tanks, planes, and ships because "only the military has the right to possess such weapons."
To informed observers, the suggestion that some unnamed force was about to obtain armaments capable of taking out "tanks, planes and ships" is a very obvious echo of a 1965 plan hatched by PKI sympathizer and Air Force commander Omar Dhani to ship in 100,000 weapons to arm a "fifth force" that would essentially have been an armed PKI militia.
Dhani's action was seen at the time as an attempt to lever the PKI into effective power by sidelining the military. Jakarta in 1965 was filled with rumors that a clash was coming between the PKI and the military, rumors that proved correct when rebel officers led a short-lived takeover of the capital after abducting and killing six generals. Whether the PKI was actually behind the coup attempt is a factor that has been conveniently ignored.
Is history repeating itself? Nurmantyo appears keen to convince the nation that a new attempt to overthrow established authority is in the making. The general, who gave an indication of where he stands in the political mix last December when he appeared at a major Muslim demonstration wearing a white prayer cap, has now won immediate support from those same Muslim hardliners, to whom the PKI is anathema.
Self-exiled leader of the Islamic Defenders Front (FPI) Rizieq Shihab, in a speech recorded to commemorate Islamic New Year on September 21, accused the authorities and law enforcers of allowing the PKI to regain its foothold in the country.
According to Shihab, the resurgence of the PKI is part of concerted attacks against Muslims by the government. "The PKI continues to launch dangerous movements across the country, as their sympathizers are allowed to hold various activities by law enforcement personnel," he said, according to a report in the Jawa Pos.
Shihab added that this further confirmed that Indonesia has been overpowered by foreign countries, particularly China. "Our country is sold to foreign powers and China," he said, calling on his supporters to continue waging war against the enemies of Islam. He stressed that there could be no reconciliation with any party that attacked adherents of the religion.
The website Portal Islam has declared Nurmantyo "the best general for the Muslim faithful and the people of Indonesia."
It is no coincidence that the TNI commander is due for retirement next March. In speaking out now and stirring up a major issue – albeit without any apparent foundation – he appears to be setting himself up for a new career in political life. His use of the anniversary of the attempted coup and with Armed Forces Day celebrated on October 5 provide plenty of scope for grandstanding in the public eye, giving him the chance to dominate the national discourse and raise fears of a new 'communist' takeover.
A Shortage of Evidence
The lack of any evidence to support Nurmantyo's argument that the nation is under threat from leftist sources has done little to minimize the impact. The PKI issue was never difficult to drag out of the treasure chest of potent and ever-lasting bones of contention, the "latent danger" often scrawled on walls.
A forlorn meeting on September 16 of activists, some of them the descendants of persons banned from all public life, who had often spent decades in jail, provided the excuse for the country's latest set of conspiracy theorists to start a hue and cry.
The police averted any direct confrontation on that occasion, but an event the following evening, staged as a music and art performance at the Indonesian Legal Aid Foundation (YLBH) saw an assault by purported hardline thugs who tried to force their way into the building. They claimed that communist supporters were attending the meeting.
A non-event was thus posited as evidence of a major underground movement to overthrow the state and sideline the Muslim majority. Meanwhile Nurmantyo's claim that weapons are being imported for shadowy institutions with a hidden agenda also appears to be baseless.
"There are certain parties who seek top positions through immoral ways and I promise I will make them whine, not only cry, even when generals are involved," he told the meeting of military retirees. "It is dangerous when TNI (members) play politics; it will deny us our rights and it is the start of all the fighting, of the demise of this country. We will do anything (to prevent that) and we are looking for your blessings."
His comments on the weapons were quickly dismissed by Coordinating Minister for Politics, Security and Legal Affairs Wiranto, who told a press conference on September 25 that 500 weapons were involved, not 5,000, and that they were for the use of the State Intelligence Agency (BIN). Ryacudu also told reporters that there was no substance to Nurmantyo's claims, brandishing a letter from the Defense Minister authorizing the purchases.
Redder Than The Reds
President Joko Widodo is now the latest target of an old game of 'who is strongest against the reds.' Conveniently for the contestants in the battle over who will lead Indonesia in 2019, the president is under pressure to address inequality, but doing anything about it could easily be misconstrued as socialist in tone.
Widodo has actively courted Chinese money to fund his drive to modernize the economy. When seeking election, rumors circulated that the Javanese former furniture businessman was actually Chinese.
The issues being stirred up are potent. Nurmantyo's insinuation that something close to an insurrection could be being planned will appall the stoutly nationalist. Allegations that the PKI is making a return and threatening Islam in Indonesia speaks to many of the Muslim faithful, particularly the hard-liners who showed their power in ousting former Jakarta governor Basuki Tjahaja Purnama (popularly known as Ahok) and put him in jail earlier this year.
At the Center for Southeast Asian Studies-Indonesia, director Yosef Djakababa explains why the PKI issue has been wheeled out. "The PKI has been a convenient scapegoat since the New Order era when the government criminalized so many people with accusation (of involvement with) the PKI. The tendency continues today, in which anyone can be discredited by accusing him or her of being involved in the PKI. It is an effective way for mass mobilization behind a political move. Moreover, there is no agreement by the government about the actual history and how it should be presented. Mass mobilization becomes easier by labeling communism as anti-religion, so that hard-liners (Muslims) will beat up those who are accused of communist."
While Widodo tries hard to get around the country and press the flesh, his response to all of the rhetoric has been restrained. He has suggested that it might be a good idea to make a new version of the events of 1965 rather than allow the much-contested position portrayal of Arifin C. Noer's movie to dominate the discourse. There has been much debate in the public sphere about what such a movie should portray, but it can be guaranteed that the PKI, once the third largest communist party in the world, would continue to be the villain.
The film, and the associated decades-long program of brainwashing of an entire nation, created a convenient bogey man to be trotted out at any time elite groups want to test the strength of an opponent. The anti-communist rhetoric is the perennial antidote to any group that challenges the status quo.
Nurmantyo's allies have reinforced his message. Retired Lt. Gen. Kiki Syahnakri, head of the Association of Retired Army Personnel (PPAD), in an op-ed in Kompas daily on September 26, stated that "… what is claimed as a move to promote human rights and to straighten out history (the debate over some form of reconciliation for victims of the 1965 purges) is actually an attempt of one party/group to cleanse/restore its reputation, monopolize truth and at the same time lay the blame on other parties."
Maj. Gen. Kivlan Zein, who continues to face charges of sedition himself, has been prominent in the campaign against the so-called PKI masses. In the past he has claimed that the PKI is no longer a latent threat, but a real and present one with a large membership and its own headquarters.
Active Dissent
Opposing this push is the normal collection of activists constantly present on the frontline of Indonesian civil society. Hendardi, head of the Setara Institute for Democracy and Peace, claimed that "the TNI commander is demonstrating a poor example to soldiers, who up until now have been disciplined to develop good relations with the police…"
"He is involving those soldiers in a serious conflict of interests that can only benefit the TNI commander himself, who throughout the month of September has been trying to grab public attention with hateful and destructive comments… He is maneuvering to find new enemies, not in the interest of the nation but for his own short-term political advantage." Hendardi's advice to Widodo is to be cautious, since Nurmantyo is clearly seeking to raise his political profile.
Rachland Nashidik, a former director of NGO Imparsial and now a leading figure in Susilo Bambang Yudhoyono's Democratic Party, states that Nurmantyo has overstepped his authority. In a statement, he said the general should not have shared intelligence on the proposed weapons purchase with retired officers, since such information is supposed to be purely for the president to hear. Instead the information was aired at a meeting at which members of the media were present and immediately spread the information into the public sphere.
More important, he argued, was that Nurmantyo's threat to attack any group that tried to gain military force was in conflict with his authority. Such policy decisions could only be taken by government officials chosen by a democratic election. His responsibility under the law on TNI is to follow orders, not to create policies, he said.
"For the sustainability of democracy, we should all be able to understand that an order for 5,000 weapons by the intelligence agency – assuming that is correct – is little different from a TNI commander who plays politics and overshoots his authority."
Dr. Najib Azca, head of the Center for Security and Peace Studies at Gadjah Mada University, writing in the new Indonesian edition of the Conversation, sees a clear link between recent events and the coming presidential election. The attack on the YLBH event was a follow-up to the "Defend Islam Action" that colored so much of the country's political landscape at the end of last year. "Within Islamic political circles, the issue of communism has strong appeal," he noted.
Islamic political actors are stirring up fears of a new threat to Islam, a potent message guaranteed to win support from the Muslim faithful. "It is an effective marketing strategy because it is able to touch the nerve of political mobilization. The effect is remarkable: people are prepared to sacrifice, as members of a collective movement, to defend and support Islam."
Nurmantyo, he says, is portraying himself as "green-green" – a military man who is at the same time a defender of Islam. "Political Islam on the whole is extremely disappointed with the government. A construction has emerged in which the Widodo government and the National Police are persecuting religious teachers and Islamic groups. There is an accusation that the government is anti-Islam and supports a revival of communism." Widodo and National Police chief Gen. Tito Karnavian are under pressure to demonstrate that they are not "pro-PKI," he states.
Proxy War Theorist
Nurmantyo has been the subject of controversy ever since 2014, when he began a series of speeches at universities warning students that shadowy forces were attempting to erode Indonesia's independence in order to grab its natural resources.
In 2015 he released a booklet in which he accused foreign powers of trying to infiltrate almost all segments of Indonesian society, ranging from the education system and media to Islamic organizations, corporations and political parties. He also views narcotics and a permissive culture as foreign ploys to weaken the nation.
In December that year he told a national defense seminar in Makassar, South Sulawesi, that "foreign powers will try to control the national media, disrupt the country's social fabric, instigate internal disputes between the TNI and the National Police and also instigate disputes among the political parties and increase the smuggling of narcotics."
Conflicts currently occurring in the Middle East could shift towards countries near the equator, he said. "Currently, 70 percent of the conflicts in the world are instigated because of the demand for energy. But in the future, the struggle for energy would shift towards instigated wars to gain access to food, energy and water."
Many observers believe that Nurmantyo's main interest is not defending the nation from shadowy forces poised to attack it by non-military means, but improving his own political position. Now firmly allied with right-wing Islamic forces, he represents a mounting problem for the president.
On September 27, he attended a discussion of the G30S issue held by the opposition Prosperous Justice Party (PKS) and was reported to have praised the party for its consistency and told senior party officials he was 'proud' to be at the event.
Nurmantyo could be hoping he will appeal to opposition parties as a suitable challenger to Widodo at the 2019 presidential elections. To achieve that, he would need the support of Greater Indonesia Movement (Gerindra) founder Prabowo Subianto, long expected to mount his own challenge to Widodo in an attempt to reverse his 2014 defeat.
An alternative theory is that he is bucking to be chosen as Widodo's running mate in the 2019 election. That, the theorists hold, would undermine Subianto's support base among nationalist and Muslim groups.
Widodo does not need to take Nurmantyo's ambitions too seriously. Results released on September 29 of a poll conducted by respected Saiful Mujani Research and Consulting showed that 86.8% of its 1,220 respondents did not believe that the PKI has made a return. Only 5% of respondents believed that the PKI was a current threat.
Arya Fernandes, a researcher at Jakarta-based think-tank the Center for Strategic and International Studies (CSIS), says the floating of the PKI issue lacks potency. "From the electoral point of view, throughout the reform period (since the end of the Suharto era) the use of the communism issue has empirically given no significant impact on the number of voters.
"Nurmantyo has detected an opportunity to run in the presidential election if Subianto decides to back off as they have similar voters' characteristics. Subianto has suffered stagnation of votes to 20%-30%."
In January this year, rumors were flying that Widodo planned to replace his senior commander, after Nurmantyo was seen to have unnecessarily stirred up a dispute with Australia about some insulting material at a military training exercise in Perth. But Widodo chose not to act, presumably feeling that it was better to leave the general where he could keep a close eye on him rather than have him scheming from a desk at Armed Forces headquarters while he waited out his retirement.
That retirement is now coming closer and Widodo will soon have to make a decision on when to sack Nurmantyo. For many in Widodo's government, not least Wiranto and Ryacudu, it appears that relegation to the back benches for Nurmantyo could not come soon enough.
https://thediplomat.com/2017/10/is-indonesias-military-chief-making-a-new-political-power-play/
--------
Amid vigilante threats, Ahmadis offer olive branch to PPIM
BY SHAZWAN MUSTAFA KAMAL
October 6, 2017
KUALA LUMPUR, Oct 6 — Followers of the Ahmadiyyah community in Selangor have invited the Malaysian Muslim Consumers' Association (PPIM) to an open dialogue, after a threat was made against them during the latter's press conference last month.
In a letter written by Ainul Yakin M. Zin, a spokesman for the Malaysian Ahmadiyyah community to PPIM, the group proposed that both sides invite 250 people for the event which should also be recorded.
"We would be grateful for the offer as it is in line with Allah's command in the Quran for us to conduct a dialogue as a means to sort out any issues," read a copy of the letter shown by a member of the community to Malay Mail Online.
When contacted, PPIM chief activist Datuk Nadzim Johan said his group will accept the offer for an open dialogue on "religious issues" but the topics of discussion must be ironed out beforehand and that religious authorities should also be present.
"I think we accept… Our only issue is that there must be a limit to the promotion of their religion, because in Malaysia you cannot propagate any other religion besides Islam," he told Malay Mail Online.
Despite Nadzim's claim, Ahmadiyyah is not a separate religion, but an Islamic movement.
The Ahmadis, who are derogatorily called Qadianis here, adhere to the same beliefs as the Sunni branch of Islam, but also believe that their founder Mirza Ghulam Ahmad was the Imam Mahdi, Islam's prophesied redeemer.
At a PPIM press conference on September 27, Masridzi Sat, a spokesman for a group calling itself Gerakan Banteras Aktiviti Haram asked state religious authorities to take action against Baitusalam, a three-storey building in Kampung Nakhoda, Batu Caves — a nexus for Ahmadiyyah followers here.
Masridzi reportedly hinted that inaction by the authorities may lead to his group taking the law into their own hands.
Full report at:
http://www.themalaymailonline.com/malaysia/article/amid-vigilante-threats-ahmadis-offer-olive-branch-to-ppim#Z9Tr2k1ZHj57GxdC.97
--------
Register to benefit from 2018 budget, private tahfiz schools told
October 07, 2017
KUALA LUMPUR: Private tahfiz schools have been urged to register with the respective state Islamic religious departments to enable them to benefit from the 2018 Budget to be tabled on Oct 27.
Deputy Minister in the Prime Minister's Department Datuk Dr Asyraf Wajdi Dusuki said the registration would also enable smooth channelling of aid to the institutions and students concerned.
"On behalf of the government I hope they (private schools) will register so that whatever announcements to be made by the Prime Minister (Datuk Seri Najib Tun Razak) could be distributed with ease.
"The government had never sidelined the agenda of elevating Islam... in fact the budget had been increasing every year and since the current prime minister's administration the allowance for imams and those at the forefront of upholding Islam had been raised three times."
He said this to reporters after opening the 1439H Federal Territory Maal Hijrah celebration on Friday.
The Prime Minister recently said that the government would announce "something" in the 2018 Budget on Oct 27 in relation to tahfiz schools in the country.
At the event, former Pasir Puteh Member of Parliament Datuk Che Min Che Ahmad was announced as recipient of the Federal Territory's Tokoh Maal Hijrah 1439H/2017 award for his contribution in elevating Islamic religious institutions in the country.
Che Min, 69, who is also former deputy director-general at the Department of Islamic Development Malaysia (Jakim) and director of Federal Territories Islamic Religious Department (Jawi) said the award was in recognition of his contribution as a civil servant for 30 years.
Full report at:
http://english.astroawani.com/malaysia-news/register-benefit-2018-budget-private-tahfiz-schools-told-157162
--------
Africa
Sudan welcomes US decision to lift 20-year sanctions
07 October 2017
The Sudanese Foreign Ministry welcomed the lift of sanctions by the United States after twenty years.
In a written statement published late Friday, Sudanese Foreign Ministry said the leadership, government and people welcome the permanent lift of the economic sanctions.
"Sudanese leadership, government and people welcome the positive decision made by the U.S. President Donald Trump on Friday to permanently lift the economic sanctions on Sudan," the statement said.
"Sudan regards it as a positive development in the history of the Sudanese-U.S. relations and a natural outcome of a frank, transparent and constructive dialogue that reviewed all concerns between the two countries," it added.
The statement also said Sudan was looking forward to building natural and progressive ties with the U.S., "but this necessitates removing Sudan's name from the list of countries sponsoring terrorism."
The U.S. on Friday announced the permanent lift of sanctions against Sudan, the decision will go into effect on Oct. 12.
Two weeks ago, Sudan welcomed the U.S.' decision to remove it from the list of countries whose citizens are banned from entering the U.S.
Sudan was one of six Muslim-majority countries on the original list, but President Donald Trump on Sunday, Sept. 24, ordered it to be dropped as he issued a new list under which eight nations now have complete or partial blocks on travel to the U.S.
http://www.worldbulletin.net/africa/194731/sudan-welcomes-us-decision-to-lift-20-year-sanctions
--------
Bodies of Egyptians Killed by Islamic State in Libya Recovered: Report
Oct. 6, 2017
TRIPOLI (Reuters) - The bodies of 21 Egyptian Christians killed by Islamic State in its former Libyan stronghold of Sirte have been recovered, the attorney general's office said on Friday.
The bodies were found in the same orange jumpsuits the victims were wearing when they were filmed being killed in the coastal city in February 2015, according to a statement provided to Libya's Al-Ahrar TV channel.
Sadiq al-Sour, the head of investigations for the attorney general's office, said last week that the area where the bodies were buried had been identified after a captured commander gave details of its whereabouts.
Islamic State took control of Sirte in 2015 and lost the city late last year to local forces backed by U.S. air strikes.
(Reporting by Ahmed Elumami; Writing by Aidan Lewis; Editing by James Dalgleish)
https://www.usnews.com/news/world/articles/2017-10-06/bodies-of-egyptians-killed-by-islamic-state-in-libya-recovered-report
--------
Four US soldiers killed in Niger ambush during counter-terrorism mission
Oct 7, 2017
The United States military said on Friday that a fourth soldier was killed during an attack on Wednesday in Niger, raising the death toll from an incident that has thrown a spotlight on the US counter-terrorism mission in the West African nation.
The US had previously announced three US Army Special Forces soldiers had been killed and another two wounded when a joint US-Nigerien patrol came under attack near the village of Tongo Tongo.
It did not disclose until Friday that a fourth soldier had been missing.
Officials said his body was found by Nigerien forces on Friday morning near the site of the ambush, ending an extensive rescue and recovery mission.
No group has taken responsibility for the killings, although officials, speaking on condition of anonymity, say the US suspects a local branch of the Islamic State group was responsible.
The US military's Africa Command declined to publicly name any group but said the American military would hunt down the insurgents.
"Absolutely, we are resolved and stalwart in our efforts to go after those who attacked this joint patrol of Nigerien and US forces," said Army Colonel Mark Cheadle, a spokesman for the US military's Africa Command.
From initial accounts, the 40-member patrol, which included about a dozen US troops, came under a swift attack by militants riding in a dozen vehicles and on about 20 motorcycles.
Islamist militants form part of a regional insurgency in the poor, sparsely populated deserts of West Africa's Sahel.
Jihadists have stepped up attacks on UN peace keepers, Malian soldiers and civilian targets since being driven back in northern Mali by a French-led military intervention in 2013.
US President Donald Trump and French President Emmanuel Macron discussed joint counter-terrorism operations in the Sahel to defeat Al Qaeda and other terrorist groups during a call on Friday, the White House said.
Colonel Cheadle said the US and Nigerien troops had been meeting with local leadership at the time of the attack, in what had been seen as a relatively lower-risk endeavour for America's elite commandos.
There was not even any armed air cover at the time that could carry out air strikes if necessary.
Colonel Cheadle acknowledged that loss of elite US forces would trigger a review of how the US military carries out operations but did not suggest any move to scale back the American mission.
On Friday the US military published the names of the three Army Special Forces soldiers from 3rd Special Forces Group (Airborne) who were killed in the engagement.
They were Staff Sergeant Bryan Black, 35, of Puyallup, Washington, Staff Sergeant Jeremiah Johnson, 39, of Springboro, Ohio and Staff Sergeant Dustin Wright, 29, of Lyons, Georgia.
The US military said it had surged resources to Niger to try to locate the missing American soldier.
Full report at:
http://www.abc.net.au/news/2017-10-07/us-soldiers-killed-in-niger-ambush/9026364
--------
Nigeria: Cooperation 'key' to defeating jihadists
Oct 7, 2017
Maiduguri, Nigeria | AFP | Greater international cooperation is required to defeat Boko Haram and neutralise the threat from the Islamist militants in Nigeria and beyond, military commanders and politicians said this week.
The jihadists, who are allied to the Islamic State group, have destroyed swathes of remote northeast Nigeria since 2009, killing at least 20,000 people and forcing more than 2.6 million from their homes.
Counter-insurgency operations since early 2015 have pushed them out of captured towns and villages to the point where the government in Abuja now believes they are a spent force.
But with deadly attacks still a regular occurrence, Nigeria's highest-ranking army officer said a "collective effort" was needed to counter its guerilla tactics — and those of similar groups who have wreaked havoc elsewhere around the world.
"We understand the challenges across the spectrum of asymmetric warfare," Nigeria's chief of army staff, Lieutenant General Tukur Yusuf Buratai, said on Wednesday at the headquarters of operations against the militants in the northeastern city of Maiduguri.
"This… is a global phenomenon. We must work in synergy to make sure that the terrorism that has been affecting not only here and in the sub-region (of West Africa) but indeed globally" is ended, he added.
A regional force comprising troops from Nigeria and its neighbours Cameroon, Chad, Niger and Benin, has helped push Boko Haram out of captured territory since early 2015.
But Western nations have largely held back from more direct involvement in the conflict, including sales of weapons and equipment because of the Nigerian army's poor human rights record.
US, British, French and German soldiers, among others, are currently present in a "non-lethal" advisory and support roles, in areas from providing Nigerian troops with intelligence and infantry training to tackling the threat from improvised explosive devices.
Senior commanders on the ground say the goal now is to develop the Nigerian Army's skills so people can return to their homes and begin rebuilding their lives.
– Foreign weapons –
President Muhammadu Buhari and his predecessor Goodluck Jonathan have said the refusal of Western government the Nigerian military hardware has hampered its efforts to tackle Boko Haram.
A $600 million deal with the United States for 12 fighter aircraft was held up after more than 100 civilians were killed in an airstrike in January this year.
Nigeria said this week the purchase had finally been approved.
Britain's foreign minister, Boris Johnson, also said last month that a request for further equipment was being considered.
London's minister in charge of armed forces, Mark Lancaster, who reviewed British Army support programmes across northern Nigeria this week, said "the real key" to improvement was proper basic training, including in human rights.
The presence of foreign nations was "a genuine recognition that the problems we face here in Nigeria are not just Nigeria's problems in the northeast," he told AFP.
Full report at:
https://www.independent.co.ug/nigeria-cooperation-key-defeating-jihadists/
--------
URL: https://www.newageislam.com/islamic-world-news/families-slain-jailed-isis-operatives/d/112803
New Age Islam, Islam Online, Islamic Website, African Muslim News, Arab World News, South Asia News, Indian Muslim News, World Muslim News, Women in Islam, Islamic Feminism, Arab Women, Women In Arab, Islamophobia in America, Muslim Women in West, Islam Women and Feminism