New Age Islam News Bureau
17 Apr 2017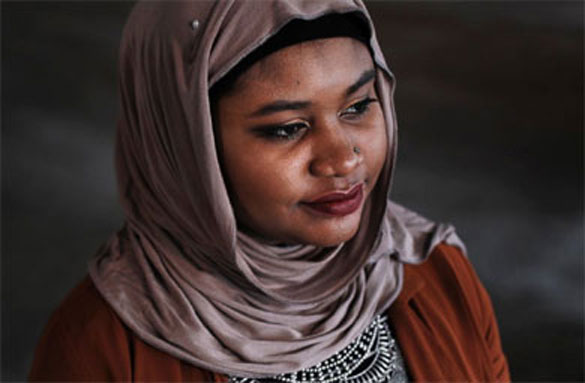 Fatimah Farooq is shown, Tuesday, March 14, 2017 in Ann Arbor, Mich. Farooq counsels refugees from places like Iraq and Syria, who have been victims of trauma, torture or sex trafficking. Personally, she tries to help relatives from Sudan, some of whom have faced barriers resettling in the United States as her parents did right before she was born. In between, she is trying to navigate being black, Muslim and a daughter of immigrants.(AP Photo/Paul Sancya)
------
• False Blasphemy Accusers Use Islam to Serve Their Own Purposes: Imam-e-Ka'aba
• All India Muslim Personal Law Board Announces Code of Conduct for Triple Talaq
• Erdogan Wins Turkey Referendum As Opposition Cries Foul
• Time to Promote Bangladesh as Muslim Friendly Destination
• US Urges Pakistan, Russia to End Support for Afghan Taliban
Arab World
• False Blasphemy Accusers Use Islam to Serve Their Own Purposes: Imam-e-Ka'aba Shaikh Saleh
• At Least 68 Children Dead In Syria Evacuees Bombing
• Al-Rai al-Youm Newspaper: US Merely Dares to Attack Arab States Not N. Korea
• Riyadh Offers Financial Aid to Trump for Continued Strikes on Syria
• Syria Restarts Evacuating Process after Terrorists Kill Tens of Civilians in Aleppo Outskirts
• Iraqi Christians celebrate Easter, dream of returning home
• Syrian Air Force Pounds ISIL's Key Bases in Raqqa Using Iraqi Intel
• Syrian Commander: Terrorists Using Chemical Weapons in Hama Battles
• Syrian Army Tightening Noose on Terrorists in Two Key Towns in Northern Hama
• Homs: Terrorist Groups Suffer Major Losses under Syrian Army's Heavy Fire
• Syrian army retakes control of strategic town in Hama province
--------
India
• All India Muslim Personal Law Board Announces Code of Conduct for Triple Talaq
• Muslim Outfits Laud Telangana CM for Quota Hike
• Pakistan violates ceasefire along LoC
• Jammu and Kashmir: FIR Against Unnamed Army Jawans After Video Of Man Tied To Jeep And Paraded Surfaces
--------
Mideast
• Erdogan Wins Turkey Referendum As Opposition Cries Foul
• Iranian Official Admits Tehran Bid To Supply Missiles to Houthis
• Saudi, Jordan Forces Carry Out Joint Drill
• Yemeni forces launch 'Operation Naval Arrow' to remove Houthi mines
• Massive bombs will fail to guarantee US security: Iran official
• Jailed Fatah leader urges solidarity with hunger striking Palestine prisoners
--------
Europe
• Assad Is an 'Arch-Terrorist', Says British FM
• Pope Decries 'Vile' Attack on Syrians in Easter Address
• How Morocco's king aims to thwart extremist threat
--------
South Asia
• Time to Promote Bangladesh as Muslim Friendly Destination
• Russia Shows Willingness to Host Afghan Peace Talks
• Karzai's criticism goes too far, will not serve Afghanistan's interests: Khalilzad
• 10 rockets seized before being fired on Kabul city
• Afghanistan has strong US and NATO support to defeat terrorism: Gen. Murad
• Karzai: No Forgiveness for Nangarhar Attack, US Should Leave Afghanistan
--------
North America
• US Urges Pakistan, Russia to End Support for Afghan Taliban
• Black Muslims Aim for Unity in Challenging Time For Islam
• UWT professor to detail Muslim contributions to American life
• It's Not Enough to Dismiss Islamophobia
• US reaffirm support to improve and develop capabilities of Afghan Air Force
--------
Pakistan
• Federal Minister for Following Islam to Fight Terror
• Son of Tribal Elder among Four Dead In Qila Abdullah Jirga Clash
• Joint operation against Fazlullah 'possible'
• Christian community celebrates Easter with fervour
• JI stresses early execution of Indian spy
--------
Southeast Asia
• Pluralism versus Hardline Political Islam: What's At Stake for Indonesia in This Week's Jakarta Election?
• Ties Warm between PAS, Umno Ahead Of Malaysian Election
• Pastor Raymond Koh's abduction highlights anti-Christian fears in Malaysia
• King Salman Center for International Peace to be Launched in Malaysia
• 'Islamic Factor' Colours Final Round of Jakarta Governor Vote
--------
Africa
• Three Niger Police Arrested After Deadly Student Demo
• Uganda: Who Is to Blame for Musumba's Misfortunes in Kamuli Elections?
Compiled by New Age Islam News Bureau
URL: https://www.newageislam.com/islamic-world-news/false-blasphemy-accusers-use-islam/d/110798
--------
False Blasphemy Accusers Use Islam to Serve Their Own Purposes: Imam-e-Ka'aba
April 17, 2017
RIYADH – Imam-e-Ka'aba Shaikh Saleh Bin Muhammad Ibrahim has said that the people who wrongly accuse others of blasphemy use the name of Islam to serve their own purpose.
In an interview on Sunday, Shaikh Saleh expressed that such false accusers had a "disease in their heart" and so they should be dealt with strictly.
He said when it comes to accusing someone of blasphemy, there are two types of people, "those who are illiterate and those who misuse Islam for personal gains", adding there is no reprieve in religion for the latter.
He further said that a person who accuses someone wrongly out of ignorance must be educated. "Arrogance is the biggest hurdle in the way of being just and being a believer," he said. "Therefore, arrogance is the biggest menace." He added, therefore, we work to impart education, create awareness and spread Islamic injunctions in a good way.
Besides, condemning false accusers of blasphemy, the Imam-e-Kaaba maintained that tolerance should not be confused with letting someone attack the faith.
"It is not any kind of tolerance to let such people remain un-monitored who openly commit blasphemy. We must make stern decisions to protect our faith, principles, sanctity or values," said Shaikh Saleh.
The religious cleric appreciated the role of Pakistan and added Pakistanis have made a great impression in countries where they are living as minorities.
The Imam-e-Ka'aba said, "200 million people live in Pakistan. Pakistan is an exemplary country. It is seen active in all fields. As a Muslim country, we respect Pakistan a lot. Respect for religion is the identity of Pakistan."
While talking about the security of Iran and certain other Muslim countries, the Imam-e-Ka'aba said, "By holding tight to the rope of Allah, minor differences are settled. People who spread sectarianism will never be successful. Islam gives the message of peace and love. Pakistan and Saudi Arabia are brothers to each other. The creation of military alliance is the victory of the Muslim world. Pakistan and Saudi Arabia are both part of this military alliance, who will defeat the enemy together."
The debate regarding accusing someone of commuting blasphemy started once again after a student 'Mashal Khan' of Abdul Wali Khan university was lynched last week over allegations of blasphemy.
https://en.dailypakistan.com.pk/pakistan/false-blasphemy-accusers-use-islam-to-serve-their-own-purposes-imam-e-kaaba-shaikh-saleh/
--------
All India Muslim Personal Law Board announces code of conduct for triple talaq
16th April 2017
LUCKNOW: Facing uproar over the issue of triple talaq, the All India Muslim Personal Law Board (AIMPLB) on Sunday brought out an eight-point code of conduct for minority community while pronouncing talaq.
In a deterring measure against the 'misuse the provisions of triple talaq', the Board decided to ostracise those who do it in one sitting. The committee sought social boycott of those choosing 'such an improper way of triple talaq' to dissolve the marriage.
Refusing to accept any outside interference to curb the practice of triple talaq, the Board maintained that it was its "constitutional" right to get the Muslim personal law implemented. However, in a shift from its earlier stand when it was not ready to listen to anything on triple talaq, the Board did agree that doing it in one go was unfair and improper.
The right way to annul a marriage, says the Board's new code of conduct, is to do it in three sittings with a gap of at least a month between two sittings as once pronounced, the practice led to annulment of 'Nikaah' (marriage).
The AIMPLB, which is an umbrella organisation of various Muslim bodies in India and is considered a representative of the community, appealed to all Muslim clerics, particularly, the Imams who lead Friday prayers in mosques, to educate
the Muslim men about the demerits of triple talaq and its implications in the society. "They should be dissuaded from indulging in practice which is not the correct way of reaching a divorce," resolved the AIMPLB working committee.
Coming out strongly in support of triple talaq till recently, the Board has been calling it an internal issue of community and that any outside interference would be deemed as an infringement in the religious rights of the community guaranteed by the Constitution of India.
Moreover, a number of Muslim women, victim of the practice, have approached courts and dispensation both at the Centre and State seeking institutional intervention to put a leash on triple talaq as they feel it against the fundamental right to gender equality and a life to be lived with pride and dignity.
The Constitutional Bench of Supreme Court is set to start the hearing in triple talaq related petitions from May 11. It may be recalled that Centre has already made the submission of its stand in the court through an affidavit in October last year while AIMPLB had been harping over the point that it would accept no judicial ruling over the issue.
http://www.newindianexpress.com/nation/2017/apr/16/all-india-muslim-personal-law-board-announces-code-of-conduct-for-triple-talaq-1594233--1.html
--------
Erdogan wins Turkey referendum as opposition cries foul
Apr 17, 2017
Turkish President Recep Tayyip Erdogan narrowly won a historic referendum on Sunday that will tighten his grip on power, but the knife-edge result left the country bitterly divided and the opposition crying foul.
The sweeping constitutional changes approved in the vote create a presidential system that will grant Erdogan more power than any leader since modern Turkey's founder Mustafa Kemal Ataturk and his successor Ismet Inonu.
The result could also have even wider implications for Turkey which joined Nato in 1952 and for the last half-century has set its sights on joining the European Union.
The 'Yes' campaign won 51.4 per cent of the vote against 48.6pc for 'No', the election commission said in figures quoted by state news agency Anadolu, in a count based on 99.5pc of the ballot boxes. Turnout was a high 85pc.
As huge crowds of flag-waving supporters celebrated on the streets, Erdogan praised Turkey for taking a "historic decision".
"With the people, we have realised the most important reform in our history," he added.
But opposition supporters in anti-Erdogan districts of Istanbul showed their dissatisfaction by bashing pots and pans with kitchen utensils to create a noisy protest. Hundreds also took to the streets in the areas of Besiktas and Kadikoy.
Supreme Election Board chief Sadi Guven confirmed that the 'Yes' camp had emerged victorious, but the opposition has vowed to challenge the outcome.
'New page opened'
The referendum was held under a state of emergency that has seen 47,000 people arrested in an unprecedented crackdown after a failed military putsch against Erdogan in July last year.
In a nail-biting end to a frenetic campaign, the 'No' share of the vote climbed as more ballots were counted, after lagging well behind in the early count, but failed to overtake the 'Yes' votes.
"This is a decision made by the people. In our democracy's history, a new page has opened," said Prime Minister Binali Yildirim, whose job will disappear under the constitutional changes.
In a television interview on Friday Erdogan had predicted a far clearer victory saying polls showed a 55-60 percent share of the vote.
But voting patterns showed Turkey deeply divided over the changes, with the 'No' vote victorious in the country's three biggest cities.
The 'Yes' vote held up strongly in Erdogan's Anatolian heartland but the Aegean and Mediterranean coastal regions and Kurdish-dominated southeast backed the 'No' camp.
In a major disappointment for the president, the 'No' vote was just ahead in his hometown of Istanbul and in the capital Ankara and clearly ahead in the third city of Izmir.
A statement issued by European Commission head Jean-Claude Juncker and EU foreign affairs chief Federica Mogherini said that in view of the closeness of the result, the Turkish authorities need to seek the "broadest possible national consensus" for the changes.
Erdogan made relations with the EU a key issue in his referendum campaign, lambasting Brussels for failing to make progress on Ankara's stalled accession talks and he accused Germany and the Netherlands of acting like the Nazis when they barred pro-government rallies.
'Totally invalid'
Turkey's two main opposition parties said they would challenge the results over alleged violations.
The pro-Kurdish Peoples' Democratic Party (HDP) said it would challenge two-thirds of the votes, saying: "There is an indication of a 3-4 percentage point manipulation of the vote."
Republican People's Party (CHP) chief Kemal Kilicdaroglu said the actions of the election authorities "caused the referendum's legitimacy to be questioned" insisting that the 'No' side had won at least 50pc of votes cast.
"Believe me, this election is not over," deputy CHP leader Erdal Aksunger told CNN Turk, quoted by the Dogan news agency. "This is totally invalid. We are declaring this here."
The opposition had already complained that the referendum was conducted on unfair terms, with 'Yes' posters ubiquitous on the streets and opposition voices squeezed from the media.
Closely watched on Monday will be the initial assessment of the international observer mission of the OSCE Office for Democratic Institutions and Human Rights (ODIHR) and the Parliamentary Assembly of the Council of Europe (PACE).
'Robust and muscular'
Erdogan again warned Brussels he would sign any bill agreed by parliament to reinstate capital punishment, a move that would automatically end Turkey's EU bid.
If the opposition failed to support the bill, Erdogan said another referendum could be held on reinstating the death penalty.
Western reactions to the referendum will be crucial after Erdogan accused Turkey's allies of failing to show sufficient solidarity in the wake of the failed coup.
"We would like other countries and institutions to show respect to the decision of the nation," Erdogan said.
The new system would dispense with the office of prime minister and centralise the entire executive bureaucracy under the president, giving Erdogan the direct power to appoint ministers.
It is due to come into force after elections in November 2019. Erdogan, who became president in 2014 after serving as premier from 2003, could then seek two more five-year terms.
"I don't think he (Erdogan) will reverse course. I don't think Erdogan will change the robust and muscular approach to politics that he has adopted so far," said Fadi Hakura, Turkey expert at London-based Chatham House think tank.
https://www.dawn.com/news/1327537/erdogan-wins-turkey-referendum-as-opposition-cries-foul
--------
Time to promote Bangladesh as Muslim friendly destination
16/04/2017
(MENAFN - #Bangladesh Monitor) Dhaka : Speakers at a seminar on "Emergence of Halal Tourism: How #Bangladesh can benefit" at Pan Pacific Sonargaon on April 1, held on the sidelines of US-Bangla Travel Mart-2017 suggested that #Bangladesh tap this fast emerging tourism segment by marketing itself as a Muslim-friendly destination.
The term "Muslim friendly" is more appropriate. Majority of the people of People's Republic of #Bangladesh are Muslims, they said, adding everything is Halal here, but it is time to put up signage that it is so.
Conferences on Halal tourism should be attended by stakeholders to inform other participants of the conferences that such options are available in Bangladesh.
By default food is Halal, but we need the Halal certification. Aktaruz Zaman Khan Kabir, former CEO, #Bangladesh Tou-rism Board and an Additional Secretary of the government of Bangladesh, said.
It is very much needed if we consider the amount of business transacted, he said.
Syed Golam Qadir, Managing Director, Wonder Ways Ltd, said we should not miss the opportunity. We will not have to do a great deal of job. It is only that we recognise it as such.
Presenting his country's scenario, Hanif Zakaria, Gene-ral Manager Bangladesh, Etihad Airways said United Arab Emirates has positioned itself as a Muslim friendly destination and also designated Tajmahal Hotel as a non-alcoholic hotel. Many hotels in UK and Europe are Halal, he said.
Taufiq Rahman, Chief Executive, Journey Plus said definitely everything is Halal here. When we bring tourists from abroad we provide food that is Halal. We also show them the sixty-domed mosque, Star Mosque and other mosques, he said.
Shamnoon Moheb Chow-dhury, Director, GoBDGo said though we were purely outbound before, we have now launched GoHalal to tap this segment.
Masud Hossain, Managing Director, Bengal tours said, #Bangladesh is full of mosques, big and small, from the Sultanate period to the present days. To project them to tourists we could the educated but unemployed students of madrashas as guides, as it has been done in Malaysia.
He recounted a poignant story of Japanese tourists who sought alcohol every evening, but after they heard the Magreb Azan, they stopped seeking liquor.
TAT's Halal app, e-book
Isra Stapana-seth, Director, Bangladesh, Nepal, Bhutan, North and East India, Tourism Authority of #Thailand (TAT) in his Power-Point presentation "Thailand: Muslim Frien-dly Destina-tion" said Thai-land has identified the country's ability to cater to a range of products and services for Muslim travellers.
Many of our shopping complexes provide facilities for Muslim prayers, he said, adding, Halal food is becoming commonplace in Thailand. We are seeing increasing number of Muslim-friendly hotels and restaurants, and tourist attractions.
Stapanaseth said 8.6 per cent of Thais are Muslims, i.e., 5.762 million people practicing the religion.
In a digital development, the Thai government together with the Tourism Authority of #Thailand have created a multi-lingual app that lists over 500 go-to Halal-friendly locations (mosque, hotel, food and attractions).
The application has many useful functions such as searching nearby locations, providing details of places and map navigation. The user can save their favourite places into personal list. The app has also a Qibla compass.
There is also an e-book directory which offers information on services during Ramadan, religious facilities, Halal food, Muslim-friedly hotels and Muslim-friendly tour programmes.
Both the app and the e-book directory can be down loaded from TAT website.
Muslims enjoy full state support and are free to teach and observe their religion. There are 3600 mosques in Thailand, with 180 mosques in Bangkok alone.
Halal certification started in #Thailand in 1969. There are 4,000 Halal-certified factories producing 120,000 products.
TAT New Delhi office will try to create awareness about this market with advertisements in the media and working with the tour operators of Bangladesh, Stapanaseth said.
#Malaysia experience
Nur Alyssa Coraline Yussin, an expert from Tourism Malaysia's Islamic Tourism Centre (ITC), in her PowerPoint presentation "The Emergence of Muslim-Friendly Tourism: Malaysia's Experience" giving a picture of Muslim visitor arrivals and expenditure 2000-2010 said, 25 million Muslim visitors spent US20 billion in 2000, which rose to 116 million visitors who spent US121 billion. The figure will be increasing in 2020 to 180 million visitors who would be spending US212 billion.
The global spending of Muslim tourists in 2015, excluding Haj and Umrah was US151 billion - 11 per cent of global expenditure while the expected global spending of Muslim tourists is expected to rise to US243 billion in 2021, which will be 13 per cent of global expenditure.
Yussin said that 23 per cent of the world's population was Muslim in 2014 which will rise to 26 per cent in 2030, pointing out that 50 per cent of Muslims are under the age of 25 years; 70 per cent of the Arab population in under the age of 25 years; and 66 per cent of the Muslim population is under 30 in Europe and North America.
She said it is the new generation of Muslim travellers who should be targeted. They are highly educated and have high spending power; generally second and third generation from Europe, UK and USA; and increasingly seeking out goods and services with Islamic value.
Coraline Yussin said the needs of Muslim travellers require to be attended to, which, she said, were : Understanding of Islamic principles; holistic approach to the Islamic tourism value chain; value creation through products and services; upholding the integrity of Islamic tourism; instilling Muslim-friendly components; and looking for an enriched experience with choices.
Yussin also said that the industry players in #Malaysia were more comfortable with the term Muslim-friendly tourism.
Earlier, in his opening remarks at the seminar, Kazi Wahidul Alam, Editor, The #Bangladesh Monitor, said US and #EuropeanUnion were the top beneficiaries of Muslim tourism spending, netting nearly US64 billion of inbound expenditure in 2015 or around 44 per cent of the total.
When it comes to the biggest spenders, the Middle East leads the pack, accounting for 60 per cent of all outbound Muslim tourism expenditure, worth about US60 billion.
Asia and Europe are the second largest markets in terms of outbound Muslim tourism expenditure, each generating around 20 per cent of total spending.
The sector is expected to grow by 50 per cent in volume and 35 per cent in value over the next five years, but its potential is yet to be unlocked.
Kazi Wahidul Alam concluded saying, #Bangladesh having a population of over 180 million, of which Muslim population is over 90 per cent, has all the potentials to position itself as one of the most Muslim-friendly destinations.
http://menafn.com/1095397474/Time-to-promote-Bangladesh-as-Muslim-friendly-destination
--------
US urges Pakistan, Russia to end support for Afghan Taliban
April 17, 2017
Kabul - The United States is calling on regional countries, including Russia and Pakistan, not to support the Taliban in their bid to "perpetuate the very long war" in Afghanistan.
US National Security Adviser HR McMaster made the remarks Sunday after talks with Afghan leaders on his first trip to Kabul since taking office.
Afghan officials said the discussions focused on bilateral security matters, fighting regional terrorism and strengthening the Afghan National Defence and Security Forces, or ANDSF.
McMaster told local TOLOnews that Taliban insurgents who refuse to engage in a government-led peace and reconciliation process must be defeated on the battlefield. He said the United States is committed to strengthen Afghan forces to enable them to achieve that objective.
He would not say whether President Donald Trump will send more troops to Afghanistan once his administration concludes its review of the Afghan policy.
McMaster's visit follows calls by US military commanders for adding "a few thousand" more troops to the roughly 8,400 American troops already in Afghanistan.
"No one should support the Taliban. No one should support armed resistance against the Afghan government and the Afghan people," the adviser said when asked to comment on Russia's overt contacts with the Taliban.
"What we would like is all countries in the region to play a productive role, a positive role and to help the Afghan people rather than to try to perpetuate this very long conflict," he said.
McMaster said, without elaborating, that those who are perpetuating and helping cause the Afghan violence "ought to be exposed and held accountable."
Russia last week hosted a new round of multi-nation talks on security and peace prospects for Afghanistan. Pakistan, China, Iran, India, Afghanistan and five former Soviet Central Asian states were among the participants. The meeting ended with Moscow offering to host peace talks between the Afghan government and the Taliban, though the insurgent group had already dismissed the conference as an event motivated by the political agendas of the organizers.
According to Voice of America (VOA), the American adviser on Monday (today) will travel to neighbouring Pakistan, which is accused of harbouring Taliban sanctuaries on its soil and covertly supporting the insurgents. He emphasised the need for Islamabad to pursue its interests in Afghanistan through diplomacy and not through violence.
"As all of us have hoped for many many years, we have hoped that Pakistani leaders will understand that it is in their interest to go after these groups less selectively than they have in the past, and the best way to pursue their interests in Afghanistan and elsewhere is through diplomacy, not through the use of proxies that engage in violence," McMaster said.
Responding to Thursday's massive bomb attack by the US military against the stronghold of Islamic State in the eastern Afghan province of Nangarhar, McMaster said the terrorist group threatens all civilised people and must be defeated.
"Well, it is not just the bomb but it is really what our soldiers are doing every day alongside courageous Afghan soldiers, fighting Daesh, ensuring that these people who victimized women, who shoot people in hospital beds, we cannot tolerate the existence of that kind of an organisation," he said.
Talking to ABC News, McMaster said the Trump administration was weighing diplomatic, military and economic responses to its Taliban and Islamic State enemies in Afghanistan.
Interviewed from Afghanistan, McMaster said the United States had a more reliable Afghan partner than before but at the same time had reduced the degree and scope of its effort in that country. "Our enemy sensed that and they have redoubled their efforts and it's time for us, alongside our Afghan partners, to respond," he said.
Trump, who took office on Jan 20, had asked US officials, including some in the Treasury and Commerce departments, to work together to integrate the various political, diplomatic, military and economic responses available, McMaster said.
"We'll give him those options. And we'll be prepared to execute whatever decision he makes," he said.
McMaster met President Ashraf Ghani and other senior Afghan officials to discuss bilateral ties, security, counter- terrorism, reforms, and development, according to a palace statement.
McMaster praised anti-corruption efforts and assured Ghani that the United States would continue to support and cooperate with Afghanistan on a number of issues, according to the palace.
Ghani told McMaster that "terrorism is a serious issue for the security of the world and the region" and if serious steps are not taken it would affect "generations" of people, according to the statement.
Illicit drugs and corruption also top the list of threats to Afghanistan's security, Ghani told the visiting officials.
http://nation.com.pk/national/17-Apr-2017/us-urges-pakistan-russia-to-end-support-for-afghan-taliban
--------
Arab World
At least 68 children dead in Syria evacuees bombing
Apr 17, 2017
Nearly 70 children were among those killed when a suicide car bombing tore through buses carrying evacuees from besieged government-held towns in Syria, a monitor said on Sunday.
Saturday's blast hit a convoy carrying residents from the northern towns of Fuaa and Kafraya as they waited at a transit point in rebel-held Rashidin, west of Aleppo.
At least 68 children were among the 126 people killed in the attack, the Syrian Observatory for Human Rights said, updating a previous toll of 112 dead.
At least 109 of the dead were evacuees, the Britain-based monitoring group said, while the rest were aid workers and rebels guarding the convoy.
The evacuations were taking place under a deal between Syria's regime and rebels that is also seeing residents and rebels transported out of Madaya and Zabadani, towns near Damascus which are surrounded by pro-government forces.
The agreement is the latest in a string of evacuation deals, which the government of President Bashar al-Assad says are the best way to end the violence after more than six years of civil war.
Rebels say they amount to forced relocations after years of bombardment and crippling sieges.
Body parts and the belongings of evacuees -- including clothes, dishes and even televisions -- were still strewn at the scene of the attack on Sunday, an AFP correspondent said.
The shattered buses were nearby as was the shell of a pick-up truck -- with little left but its engine block -- that was apparently used to carry out the bombing.
There was no immediate claim of responsibility for the bombing, though the key Ahrar al-Sham rebel group denied any involvement. The government blamed "terrorists" -- a catch-all term for its opponents.
The Observatory, which relies on a network of sources inside Syria to monitor the conflict, said hundreds of people were also wounded in the blast.
'People crying and shouting'
It said a petrol station at the transit point was caught up in the explosion, adding to the number of victims.
The Syrian Red Crescent said three of its workers were among the wounded.
Maysa al-Aswad, a 30-year-old evacuee from Kafraya, said she was sitting on one of the buses with her six-month-old son Hadi and 10-year-old daughter Narjis when the blast shook the parked convoy.
"Hadi was on my lap and Narjis on a chair next to me. When the explosion happened I hugged them both and we fell to the floor," she told AFP by telephone from near Aleppo.
"I didn't know what was happening, all I could hear was people crying and shouting," she said.
"All I can think about is how we survived all the death during the last few years and then could have died just after we finally escaped."
More than 5,000 people left Fuaa and Kafraya and about 2,200 left Madaya and Zabadani on Friday, the latest in a series of evacuations from the four towns under the agreement.
The evacuation process resumed after the bombing, the Observatory said, with the residents of Fuaa and Kafraya eventually arriving in Aleppo, Syria's second city which the government gained full control of last year.
Wounded survivors, including many children, were taken for treatment at an Aleppo hospital.
'Monstrous, cowardly attack'
UN aid chief Stephen O'Brien condemned the bombing, saying in a statement: "The perpetrators of such a monstrous and cowardly attack displayed a shameless disregard for human life."
Pope Francis on Sunday also urged an end to the war in Syria as he presided over the traditional Easter mass in Rome.
The pontiff said he hoped that Jesus Christ's sacrifice might help bring "comfort and relief to the civil population in Syria, prey to a war that continues to sow horror and death".
The residents and rebels from Madaya and Zabadani arrived late Saturday in rebel-held territory in Idlib province, where they were greeted with embraces and shots fired into the air.
It was not immediately clear whether further evacuations were taking place on Sunday.
The evacuation deal was brokered by Qatar, a longtime supporter of Syrian opposition forces, and Iran, a key regime ally.
Shiite-dominated Iran has repeatedly raised concerns for the residents of Fuaa and Kafraya, who are mainly Shiites and were besieged by Sunni rebels.
Syria's war has left more than 320,000 people dead since erupting in 2011, with more than half the population forced from their homes and hundreds of thousands trapped under siege.
http://nation.com.pk/international/16-Apr-2017/at-least-68-children-dead-in-syria-evacuees-bombing
--------
Al-Rai al-Youm Newspaper: US Merely Dares to Attack Arab States Not N. Korea
Apr 16, 2017
Al-Rai al-Youm newspaper pointed to the US missile strikes against Syria's al-Shayrat airbase in Homs province earlier this month and drop of a GBU-43/B MOAB - the largest non-nuclear weapon in its arsenal - on Afghanistan last Thursday, and said the North Korean officials are just joking about the "empty threatening message they receive from the US.
The Koreans never take Washington's threat seriously because they enjoy the needed missile and atomic capability to strike back and they are always ready to do so, the paper said, adding that Pyongyang knows that the US never dares to take the military option.
The Arab daily voiced regret that the US just dares to attack the weak Arab and Islamic countries because it rests assured that it would never be given a response for its aggressions.
"But North Korea is not an Arab or Muslim country and it will certainly respond the US aggression despite its high costs," it continued, and said hence, the US never attacks them.
On April 7, the United States launched 59 Tomahawk cruise missiles at the Syrian military airfield in Shayrat near the city of Homs.
Donald Trump said the attack was a response to the alleged chemical weapon use in Syria's Idlib on April 4, which Washington blames on the Syrian government.
Syrian opposition had claimed forces loyal to President Bashar al-Assad had used a chemical gas on people in the Northwestern province, killing nearly 80 and injuring 200. Syrian president argued his government has no chemical weapons after agreeing to have them destroyed in 2013. He also ruled out having used chemicals against own people.
Also, Friday saw global audiences awaking to news the US military had dropped a GBU-43/B MOAB against what it called the ISIL position in Afghanistan's Nangarhar province.
The event marked the use of the weapon on the battlefield for the first time in history.
The bomb is nicknamed the Mother of All Bombs for its 11-tonne blast yield and it is worth $16 million.
Full report at:
http://en.farsnews.com/newstext.aspx?nn=13960127001523
--------
Riyadh Offers Financial Aid to Trump for Continued Strikes on Syria
Apr 16, 2017
"The Saudi officials who were not optimistic following the election of Trump decided to coax the American businessman into cooperation by financial offers," a diplomatic source close to the Saudi family said on Sunday.
Referring to the Saudi King's initiative for a phone conversation with Trump immediately after the US missile attack on Syria, the source said the phone call was not just aimed at expressing pleasure in the attack, and the Saudi King expressed the hope that similar strikes on Syria would be repeated by the US.
According to the source, King Salman has also underscored his country's preparedness to provide Washington with great financial incitements to continue airstrikes on Syria.
Other source close to the Saudi family also said that Trump has ordered his team to assess the whole costs of launching missile attacks and airstrikes against Syria to be submitted to Riyadh.
On April 7, the United States launched 59 Tomahawk cruise missiles at the Syrian military airfield in Shayrat near the city of Homs.
Donald Trump said the attack was a response to the alleged chemical weapon use in Syria's Idlib on April 4, which Washington blames on the Syrian government.
Full report at:
http://en.farsnews.com/newstext.aspx?nn=13960127001348
--------
Syria Restarts Evacuating Process after Terrorists Kill Tens of Civilians in Aleppo Outskirts
Apr 16, 2017
The sources reported that the army has resumed evacuation of residents from the besieged towns of Fua'a and Kafraya in Idlib after buses carrying them were hit by the terrorists on Saturday, killing at least 112 people.
Reports said earlier today that at least 100 people, including women and children, were killed and hundreds more were wounded in a suicide bombing near Aleppo that struck a bus convoy evacuating people from besieged towns of Fua'a and Kafraya in Idlib province.
A Syrian bus convoy transporting the residents of two Shiite-populated towns in Idlib being evacuated in a deal between warring parties hit by a huge blast. The explosion hit al-Rashedeen district on the Western outskirts of Aleppo as buses were stopping at a checkpoint on Saturday afternoon.
A delay in the agreement reportedly left thousands of evacuated people stranded at two transit points on Aleppo's outskirts since late Friday. The buses were waiting to take people who were evacuated from Fua'a and Kafraya from militant-held territory into the government-controlled city.
According to latest reports, terrorists reportedly loaded the car in which they hid the bomb with children's food supplies to sneak it into the area.
At least 100 people were killed and more than 500 others sustained injuries. A Facebook page of the pro-government Fua'a and Kafraya villages stressed that all those in three buses were killed or were still missing.
Several hours after the blast, Syrian media and the Observatory reported that the population transfer resumed.
The Syrian Army and militant groups had agreed to allow over 3,500 militants leave four towns Northwest of Damascus in return for the evacuation of 8,000 civilians from Fua'a and Kafraya in the Northwestern Province of Idlib in several phases.
Based on an agreement concluded in late March between the Damascus officials and gunmen, around 3,800 fighters and their family members were to leave the towns of Madhaya, Baqin, al-Zabadani and al-Jabal al-Sharqi for militant-held region in Idlib via four passageways.
Full report at:
http://en.farsnews.com/newstext.aspx?nn=13960127001402
--------
Iraqi Christians celebrate Easter, dream of returning home
Apr 17, 2017
IRAQ: Hundreds of Iraqi Christians gathered on Sunday in a church damaged by Islamic State north of Mosul, celebrating Easter there for the first time since 2014.
"God willing, the celebration of the resurrection of Christ will also mark the return and rising-up of the Christians in Iraq," said Kyriacos Isho, 75, who was accompanied by his 12 children and grandchildren at Mar Gewargis (St George) Chaldean Catholic church in Tel Esqof.
Tel Esqof, or Bishop's Hill in Arabic, did not sustain the same amount of damage as other Christian towns overrun by the militants three years ago in the plain of Nineveh.
Kurdish Peshmerga fighters dislodged the hardline Sunni militants from Tel Esqof just a week after it had fallen, in August 2014. On Sunday, they stood guard around the church.
The militants had smashed the church's windows, though a new cross has now been put up in place of the one the militants took down.
A fresh breeze on Sunday cooled the white chapel as the choir sang hymns in Chaldean, a language close to the Amaraic spoken by Jesus.
The mass ended with a festive distribution of soft drinks and colored eggs in the inner courtyard by a French group, SOS Chretiens d'Orient.
Islamic State targeted all non-Sunni Muslims living under its rule, and inflicted harsh punishment on Sunnis who refused to abide by its extreme interpretation of Islam.
The region's Christians were given an ultimatum: pay a tax, convert to Islam, or die by the sword. Most of them fled to the autonomous Kurdish region, across the Zab river to the east.
NOT REALLY HOME
More than 350 families returned to Tel Esqof which has been more secure since October, when US-backed Kurdish and Iraqi forces launched an offensive to dislodge the militants from Mosul, taking back dozens of villages and towns along the way.
For many, though, Tel Esqof is not really home, but simply a place where they feel safe in the company of relatives or friends.
Madeleine Roufael, a 70 year-old widow, is still waiting to return to Mosul, about 20 km (12 miles) to the south.
"Thank God," she repeats, grateful to be celebrating Easter once again. "God willing, we will return home."
Six months into the Mosul offensive, the front line in the battle has moved well into the city, with Islamic State militants surrounded in a few districts on the western side of the Tigris river.
Full report at:
http://nation.com.pk/international/16-Apr-2017/iraqi-christians-celebrate-easter-dream-of-returning-home
--------
Syrian Air Force Pounds ISIL's Key Bases in Raqqa Using Iraqi Intel
Apr 16, 2017
The statement released on the Arabic-language Elam al-Harbi website said the Syrian air force received valuable information from the Iraqi military intelligence units within the quadrilateral Intelligence Sharing Center.
It added that based on the intel the Syrian warplanes launched repeated combat sorties over ISIL's largest positions in Raqqa with the most prominent suicide and military commanders inside them.
Elam al-Harbi further added that ISIL's Hasaba (monitoring forces) base, Financial Council, ISIL's Religious Board Center and the terrorist group's Economic Council were destroyed in the air raids.
In the meantime, two hideouts of ISIL in Raqqa were targeted and destroyed in the airstrikes, the statement said, adding that two senior ISIL commander killed in the assault.
In a similar attack, the Syrian fighter jets, informed by Iraq's military intel, also launched massive airstrikes on ISIL's positions along the two countries' bordering areas in the same region on Saturday, destroying the terrorist group's most important bases in Raqqa province.
The Arabic language Elam al-Harbi news website reported that the Syrian air force attacked ISIL bases in Raqqa city, the town of Bu Kamal and the village of al-Dashisheh near the Iraqi border which sheltered several notorious commanders of the terrorist group after being informed of their hideouts by the Iraqi intelligence organization.
It also added that after the attacks, one of the terrorists' bases, namely ISIL's Assembly Council, in Raqqa and the group's command center in Bu Kamal were both smashed.
Meantime, the ISIL center for ruling different parts of the militant-controlled areas in Syria's Bu Kamal region was destroyed.
Also, during the operations, a large number of ISIL suicide bombers and foreign militants in the village of al-Dashisheh in the Southern parts of Hasaka province who sought to enter Iraq through Tal al-Safouk border checkpoint were targeted. Early battlefield reports said the terrorists sustained heavy casualties in the strike.
The airstrikes were carried out after a senior Syrian officials said that some 5,000 EU nationals are currently fighting in Syria among the ranks of ISIL and other terrorist groups, warning it will be a disaster for European security if the militants are allowed to return home.
Full report at:
http://en.farsnews.com/newstext.aspx?nn=13960127001494
--------
Syrian Commander: Terrorists Using Chemical Weapons in Hama Battles
Apr 16, 2017
"After liberation and cleansing operations in the village of al-Majdal in Hama province, we witnessed use of chemical weapons by the terrorists," Mohannad al-Haj Ali, also a member of the Syrian parliament, said on Sunday.
Stressing that Jeish al-Izza terrorist group has used chemical weapons, including the use of chlorine gas, he said, "Most members of the group are foreigners and since they have more knowledge about such weapons compared with other groups, they have been supplied with them."
Expressing regret that this is not the first time such dangerous weapons are being used by Jeish al-Izza terrorist group, al-Haj Ali said that the current battles in Hama are aimed at making the army busy and deviate its focus from the battles in Aleppo and Homs.
In a relevant development today, the Syrian Army's artillery and missile units along with the country's warplanes targeted the defense lines and movements of Al-Nusra Front in six different regions in Northern Hama, inflicting major losses on the terrorists.
The artillery and missile units opened heavy fire at the strongholds of Al-Nusra in the towns of Souran, Taybat al-Imam, Atshan, Tal (hill) Bazam and Tal Skeik in Northern Hama, killing or wounding a number of terrorists and destroying their military vehicles and equipment.
Full report at:
http://en.farsnews.com/newstext.aspx?nn=13960127001105
--------
Syrian Army Tightening Noose on Terrorists in Two Key Towns in Northern Hama
Apr 16, 2017
The soldiers of the Fifth division of the army, backed up by the country's Air Forces, stormed Al-Nusra's positions and managed to advance against them near the town of Halfaya, laying siege on the militants in the town from three directions.
In the meantime, the army men drove Al-Nusra out of al-Azreh hill and laid siege on the terrorists in the town of Taybat al-Imam after advancing towards Northwest of Hama province.
Field sources reported that the army units managed to advance against terrorists from the village of al-Tawim towards the villages of al-Qabir and Ma'arzaf, inflicting major losses on Al-Nusra, adding that the army men further changed their way towards al-Majdal region and reopened Mahradeh-Hama highway, lifting terrorists' siege on Mahradeh.
Full report at:
http://en.farsnews.com/newstext.aspx?nn=13960127000772
--------
Homs: Terrorist Groups Suffer Major Losses under Syrian Army's Heavy Fire
Apr 16, 2017
The artillery and missile units pounded ISIL's positions South of al-Abtar mountain, Salam al-Qarbi, al-Sultaniyah and Um al-Rish in Eastern Homs, destroying several positions and killing or wounding a number of the terrorists.
ISIL's military equipment was also badly damaged in the attack.
The artillery units also attacked heavily the sites and positions of Al-Nusra in the towns and villages of al-Ameriyeh, Tal Abu al-Sanasel, al-Sa'an al-Aswed South of the town of Talbiseh in Northern Hama, destroying the terrorist group's sites and killing or wounding a large number of them.
Also, government troops in Syria fended off repeated attacks by several ISIL-affiliated groups on a number of army positions in Eastern Homs on Thursday, inflicting heavy losses on them.
Full report at:
http://en.farsnews.com/newstext.aspx?nn=13960127000567
--------
Syrian army retakes control of strategic town in Hama province
Apr 17, 2017
Syrian government forces and their allies in the fight against foreign-backed militants have seized back a strategic town near the city of Hama in west-central Syria, militants and residents say.
The Syrian army stormed Suran on Sunday following a series of airstrikes, forcing most of the Takfiri terrorists to retreat from the town.
According to the report, the so-called parachute bombs were used in the attack on the terrorists' positions in the town as well as other towns in the area, including Latamneh and Kafr Zeita.
"There was hysterical bombing that targeted the town and the whole area and rebels fought fierce battles until they were forced to pull out," said one militant, a member of the Jaish al-Izza terrorist group, which has a strong presence in Hama province.
Suran is strategically important as it is the army's northern gateway to the city of Hama, the provincial capital. The Syrian troops had captured the town last year, but they later lost control over it in a militant offensive.
The army's advance into Suran rolls back most of the territorial gains made by terrorists after a major offensive last month in northern Hama province in the center of the populated west of the country.
According to the report, the foreign-backed Takfiri militants fired dozens of rockets on the nearby Hama military airport.
Jaish al Nasr, a militant group affiliated with the so-called Free Syrian Army, said it had targeted the airport with forty missiles, causing several fires in the compound of the air base.
Full report at:
http://www.presstv.ir/Detail/2017/04/17/518339/Syria-army-Suran-Hama
--------
India
Muslim Outfits Laud Telangana CM for Quota Hike
Apr 17, 2017
CHARMINAR: Several socio-religious and political Muslim outfits lauded the Telangana government's move to clear the decks for 12 per cent reservations for Muslims in education and employment.
The Majlis-e-Ittehadul Muslimeen (MIM) congratulated the Telangana chief minister K Chandrasekhar Rao even as it reiterated that the existing four percent reservations exist under the BC (E) category. The remaining eight percent, the party said, should be given without affecting the existing reservations by creating a separate category - BC (F) - category so that Muslim groups that are not included in the BC (E) category may benefit from reservations.
The party differed with the stand of Bharatiya Janata Party which said that according to reservations to Muslims it is based on religion and, therefore, unconstitutional. It accused the saffron party of double standards even as it said that the reservations are based on backwardness.
Majlis Bachao Tehreek (MBT) too lauded the move. "It's a historic decision by chief minister K Chandrasekhar Rao in passing the resolution for 12% reservation for the oppressed Muslims," party spokesperson Amjedullah Khan said even as he hoped that the move would correct 'fault-lines of history' in a time of majoritarianism. He, however, questioned the absence of MIM floor leader Akbaruddin Owaisi in the legislative assembly.
Other organisations like the Jamaat-e-Islami Hind, Telangana and Odisha hailed the move. They maintained that the move is based on socio-economic backwardness of the Muslim community. "There is empricial data available. G Sudhir committee and several other committees and bodies have proved by means of data that the Muslim community is backward. Those who are saying that this is wrong are doing so on the basis of communal propaganda perpetuated by right-wing forces," Jamaat-e-Islami Hind, Telangana and Odisha president Hamed Mohammed Khan said.
Full report at:
http://timesofindia.indiatimes.com/city/hyderabad/muslim-outfits-laud-kcr-for-quota-hike/articleshow/58215853.cms
--------
Pakistan violates ceasefire along LoC
April 17, 2017
Pakistani troops fired from automatic weapons and shelled mortars on forward posts along the Line of Control (LoC) in Rajouri district of Jammu and Kashmir on Monday, in the sixth instance of ceasefire violation this month. "Pakistani Army fired indiscriminately from small arms and automatic weapons and resorted to mortar shelling from 0800 hours today on Indian Army posts along the LoC in Noushera belt of Rajouri district," a defence spokesman said.
Army troops deployed on forward posts retaliated and the exchange was continuing till last reports came in. This is the sixth ceasefire violation this month.
On April 8, Pakistani troops violated the ceasefire along the LoC in Rajouri district of Jammu and Kashmir by resorting to firing on forward posts.
On April 5, ceasefire violation took place along the LoC in Poonch district.
On April 4, Pakistani Army fired mortar shells on Indian Army posts along the LoC in Bhimbher Gali sector of Rajouri district.
On April 3, Pakistani troops had shelled mortar bombs on forward posts in Balakote sector of Rajouri district.
In the second ceasefire violation on April 3, Pakistani troops had shelled Indian posts along the LoC in Digwar area in Poonch sector.
In the same area, a Junior Commissioned Officer (JCO), Naib Subedar S Sanayaima Som, was killed in an improvise explosive device (IED) blast along the LoC in Poonch sector on April 1. There were four violations of the ceasefire along the LoC in Poonch in March.
Full report at:
http://indianexpress.com/article/india/pakistan-violates-ceasefire-along-loc-india-pakistan-border-indian-army-4616189/
--------
Jammu and Kashmir: FIR against unnamed Army jawans after video of man tied to jeep and paraded surfaces
April 17, 2017
The Jammu and Kashmir police have registered an FIR unnamed army personnel after the video of a man being tied to the Army jeep and paraded in Srinagar surfaced on the internet, reports news agency PTI. The Army personnel used a civilian as a human-shield in Srinagar while passing from road surrounded by stone pelters during the polling in Beerwah area of the Srinagar Lok Sabha constituency on April 9.
According to the report, the FIR has been registered under sections 342 (punishment for wrongful confinement), 149 (every member of unlawful assembly guilty of offence committed in prosecution of common object), 506 (punishment for criminal intimidation) and 367 (kidnapping or abducting in order to subject person to grievous hurt) of the Ranbir Penal Code.
Full report at:
http://indianexpress.com/article/india/jammu-and-kashmir-fir-against-army-jawans-after-video-of-man-tied-to-jeep-and-paraded-surfaces-4616140/
--------
Mideast
Iranian official admits Tehran bid to supply missiles to Houthis
16 April 2017
Iranian cleric Mehdi Taeb, who also heads the Ammar Strategic Foundation, admitted that Tehran supplies the Houthis in Yemen with weapons.
In a video which activists circulated on social media, Taeb, who is close to the Supreme Guide Ali Khamenei, said the nuclear agreement between Tehran and the P5+1 group prevented delivering Iranian-made surface-to-surface missiles to the Houthis three times.
He also criticized Iranian President Hassan Rowhani and said the latter's negotiations with the US to seal Iran's nuclear agreement obstructed the delivery of missiles to the Houthis to strike at Saudi-led coalition jets.
"We tried to deliver the missiles three times and we were about to but they suddenly retreated because the Americans threatened to suspend the negotiations," he reportedly said.
Full report at:
https://english.alarabiya.net/en/News/gulf/2017/04/16/Iranian-official-admits-Tehran-bid-to-supply-missiles-to-Houthis.html
--------
Saudi, Jordan forces carry out joint drill
16 April 2017
Units from Jordan Armed Forces-Arab Army (JAF), on Saturday, arrived at the Saudi King Abdulaziz Naval Base (KANB), while a group of Royal Saudi Naval Forces (RSNF) arrived at the Marka military airport in Amman, to carry out the "Abdullah 5" joint military drill this week.
The Abdullah 5 joint drill between the Jordanian and Saudi armed forces is part of a series of joint training programs between the armies of the two countries.
The three-week drill aims at enhancing joint cooperation, exchanging of expertise, developing military skills, training in counter-terrorism operations, dealing with ammunitions and raising combat efficiency.
Also, according to Jordanian official news agency PETRA, The Jordan Armed Forces- Arab Army (JAF) will carry out the Eager Lion 2017 joint drill with the US side and the participation of 23 countries May 7-18.
Full report at:
https://english.alarabiya.net/en/News/middle-east/2017/04/16/Saudi-Jordan-forces-carry-out-joint-drill.html
--------
Yemeni forces launch 'Operation Naval Arrow' to remove Houthi mines
16 April 2017
Yemen's legitimate forces launched an operation codenamed Naval Arrow on Sunday in an effort to remove naval mines which they say were planted by Houthi militias.
The mines, which are believed to have been sourced from Iran and which are used in old-fashioned submarines, threaten fishermen and residents of islands near the coasts of Midi. They also threaten international navigation in the Bab al-Mandeb Strait.
Operation Naval Arrow was launched at the Midi front, northwest of the Hajjah governorate.
Yemeni forces aim to end the presence of rebel cells in these areas and clean the southwestern Midi coasts and their islands of naval mines.
Full report at:
https://english.alarabiya.net/en/News/gulf/2017/04/16/Yemeni-forces-launch-Operation-Naval-Arrow-to-remove-Iranian-made-mines.html
--------
Massive bombs will fail to guarantee US security: Iran official
Apr 16, 2017
A senior Iranian official has slammed as illegitimate the recent measure taken by Washington to drop a massive non-nuclear bomb on Afghanistan, stressing that such measures would fail to make the US secure.
"Bombing people and countries [by the US] will never enhance this country's national security," Secretary of Iran's Supreme National Security Council (SNSC) Ali Shamkhani said in a meeting with Azerbaijan's Defense Minister Lieutenant General Zakir Hasanov in Tehran on Sunday.
He added that unilateral measures by the US and some of its allies and their efforts to undermine regional security were simply strengthening terrorist groups in the region and would render futile political approaches to solve the ongoing crises.
The SNSC secretary warned that the threat of terrorism and its root causes, including Takfiri ideology, which was promoted by some regional countries, have led to the creation of crises across the Middle East and were hindering the progress of Muslim states.
"Several cases of the use of chemical weapons by terrorist groups have been recorded and lack of appropriate response to them or playing a blame game and misleading [people] will result in a human catastrophe and their repeated use in other countries," Shamkhani said.
The SNSC secretary made the comments a few days after the United States bombed Afghanistan's eastern Nangarhar Province with a non-nuclear weapon, nicknamed the 'mother of all bombs'.
Defense officials in Kabul have claimed that some 100 Daesh militants were killed after US jets dropped the 21,600-pound (9,797-kg) GBU-43.
US military commanders have sought to justify the use of the bomb, saying it was necessary to target Daesh militants entrenched in booby-trapped tunnels in a remote mountainous region.
US commander in Afghanistan, General John Nicholson, said on Friday that military needs, and not political reasons, were considered in using the bomb.
Elsewhere, Shamkhani noted that Tehran and Baku have numerous commonalities in defense, political, regional, cultural and religious sectors and stressed the importance of improving the two countries' relations in strategic fields.
The Azeri defense minister, for his part, said the two countries were faced with common threats such as Takfiri and terrorist groups.
Full report at:
http://www.presstv.ir/Detail/2017/04/16/518283/Iran-Azerbaijan-US-Afghanistan-Ali-Shamkhani-Zakir-Hasanov
--------
Jailed Fatah leader urges solidarity with hunger striking Palestine prisoners
Apr 17, 2017
Former Fatah Movement leader Marwan Bargouthi has called for solidarity with Palestinian prisoners ahead of a mass hunger strike.
"We call upon our people to join demonstrations, rallies, sit-ins, and general strikes, as we urge (Palestinian) President Abu Mazen (Mahmoud Abbas), Palestinian leadership, and Palestinian factions to take steps at every level to free prisoners and support them in their battle," said Bargouthi in a Sunday released statement.
A large number of Palestinian prisoners from across the political spectrum are set to go on hunger strike on Monday in protest to the condition of Israeli prisons and to mark Palestinian Prisoners' Day.
Bargouthi went on to accuse the Tel Aviv regime of being "accomplice in the occupation's crimes through detentions, unjust court sentences, and torture," adding that "prisoners are being tried by illegitimate courts that must be boycotted as tools of the occupation."
He added that the strike has been organized to defy Israeli authorities' "tyrannical" policies used against Palestinians prisoners, such as "arbitrary detentions, torture, medical negligence, and the deprivation of family visits."
According to a report released by three Palestinian non-governmental organizations, a total of 6,500 Palestinians, including women, children and lawmakers, are being held in prisons and detention facilities across the occupied territories.
Full report at:
http://www.presstv.ir/Detail/2017/04/17/518330/palestine-hunger-strike-israeli-jails
--------
Europe
Assad is an 'arch-terrorist', says British FM
Apr 17, 2017
LONDON - Syrian President Bashar al-Assad is an "arch-terrorist" and it is time Russia realised he is "literally and metaphorically toxic", British Foreign Secretary Boris Johnson said Sunday.
Johnson said Assad's ally Moscow still had time to be on the "right side of the argument", in a Sunday Telegraph newspaper article. "Assad uses chemical weapons because they are not only horrible and indiscriminate. They are also terrifying," Johnson wrote. "In that sense he is himself an arch-terrorist, who has caused such an unquenchable thirst for revenge that he can never hope to govern his population again. He is literally and metaphorically toxic, and it is time Russia awoke to that fact. They still have time to be on the right side of the argument."
Johnson was widely criticised for failing to get the G7 to back his bid for new sanctions against senior Russian and Syrian figures following the chemical weapons attack in Syria's Idlib province that killed dozens and caused an international outcry.
But he said the chemical assault had changed the West's stance on Syria. "The UK, the US and all our key allies are of one mind: we believe that this was highly likely to be an attack by Assad, on his own people, using poison gas weapons that were banned almost 100 years ago," he wrote.
"Let us face the truth: Assad has been clinging on. With the help of Russians and Iranians, and by dint of unrelenting savagery, he has not only recaptured Aleppo. He has won back most of 'operational' Syria."
Before the April 4 chemical attack, the West was "on the verge of a grim consensus", which had now changed, said Johnson. The consensus had been that it would be more sensible to concentrate on the fight against Islamic State jihadists and to accept reluctantly that removing Assad, "though ultimately essential — should await a drawn out political solution".
A suicide car bomb attack on buses carrying Syrians evacuated from two besieged government-held towns killed 43 people on Saturday, as US-backed fighters advanced in their push towards the IS group's Raqa stronghold.
http://nation.com.pk/international/17-Apr-2017/assad-is-an-arch-terrorist-says-british-fm
--------
Pope decries 'vile' attack on Syrians in Easter address
16 April 2017
On Christianity's most joyful day, Pope Francis lamented the horrors generated by war and hatred, delivering an Easter Sunday message that also decried the "latest vile" attack on civilians in Syria.
Both in his impromptu homily during Mass in St. Peter's Square and later in his formal "Urbi et Orbi' Easter message delivered from the balcony of St. Peter's Basilica, Francis reflected on a litany of suffering in the world, including wars, oppressive regimes, human trafficking, corruption, famine and domestic violence.
He encouraged people to hold fast in their "fearful hearts" to faith, acknowledging that many people wonder where God is amid so much evil and suffering in the world.
Some 60,000 people, including multi-national throngs of pilgrims and tourists, endured tight anti-terrorism security checks - and, later, a brief downpour - to hear Francis and receive his blessing.
The crowd size, cited by the Vatican security forces, was smaller in comparison to some other Easters, when about 100,000 turned out for the occasion.
After Mass, Francis toured the square in his open-topped, white popemobile and waved back to well-wishers.
Syrian civilians
In his balcony address, Francis prayed that God would sustain those working to comfort and help the civilian population in Syria, "prey to a war that continues to sow horror and death."
He cited the explosion on Saturday that ripped through a bus depot in the Aleppo area where evacuees were awaiting transfer, killing at least 100 people.
"Yesterday saw the latest vile attack on fleeing refugees," the pope said, also praying for peace in the Holy Land, Iraq and Yemen.
Separately, in a letter he sent to the bishop of Assisi, the birthplace of St. Francis, whose name he chose for his papacy, the pope decried the "scandalous reality of a world still marked by the divide between the endless number of indigent" and the "tiny portion of those who possess the majority of riches and presume to decide the fates of humanity."
Francis has repeatedly championed the dignity of migrants fleeing war, persecution or poverty. On Sunday, he recalled "all those forced to leave their homelands as a result of armed conflicts, terrorist attacks, famine and oppressive regimes."
The church's first pontiff from Latin America voiced concern over the "political and social tensions" in the world as well as the "scourge of corruption" on his home continent. Francis also mentioned hostilities and famine plaguing parts of Africa.
Speaking of Europe's problems, Francis cited the continued conflict and bloodshed in Ukraine and prayed for hope for those struggling with high unemployment, especially young people.
Break with tradition
Traditionally, the pope gives no homily during the late-morning Easter Mass, saving his reflections for the "Urbi et Orbi" message at noon.
But Francis broke with that tradition, giving an off-the-cuff homily during Mass about what he described as a nagging question for many faithful: Why are there so many tragedies and wars if Jesus has risen from the dead, a belief that Christians celebrate each Easter?
"The Church never ceases to say, faced with our defeats, our closed and fearful hearts, 'stop, the Lord is risen.' But if the Lord is risen, how come these things happen?" Francis asked.
Full report at:
https://english.alarabiya.net/en/News/world/2017/04/16/Pope-decries-vile-attack-on-Syrians-in-Easter-address.html
--------
How Morocco's king aims to thwart extremist threat
Apr 17, 2017
A 20-minute drive south out of central Rabat, the Mohammed VI Institute is a large complex of plush, cream-coloured buildings, sitting behind a fence. Although the luxurious premises resemble a private university, they are in fact a pillar of Moroccan religious diplomacy.
The institute was opened in 2015 by the king and it is a training centre for young Islamic preachers, housing 1,200 live-in students from Morocco, sub-Saharan Africa and France. The institute's international reach reflects its status as a major tool in Morocco's efforts to encourage a moderate strain of Islam, not just domestically but beyond its borders.
"It's a good school, a very good school," Musa Sano, a 23-year-old student from Guinea, says as he leaves the institute through the front gate. "It's good for Morocco. It's good for Africa."
This is part of a wide-ranging strategy by Morocco and its king to counter extremism through an array of "soft" initiatives. These have included establishing a radio station, Radio Coran, which broadcasts prayers throughout the day, and even the 2015 pardoning of 37 apparently repentant Salafists serving prison sentences for terrorism-related offences.
Dismissed by some as superficial, and by others as political distractions, these efforts nonetheless reflect Morocco's determination not to fall into the kind of religion-fuelled turmoil that gripped Egypt in the wake of the Arab Spring, or which saw neighbouring Algeria riven by civil conflict.
Terrorist attack
The regime's concerns about extremism were prompted, in great part, by a 2003 terrorist attack in Casablanca, which killed 45 people, followed by another in Marrakech in 2011, which killed 17.
In January, the CIA warned that Morocco was one of several countries at risk of suffering a terror attack of the kind seen in Nice, Berlin and the UK recently. But another worry for Moroccan authorities are the nationals who go abroad to commit such attacks. A Belgian man of Moroccan origin, Gelel Attar, was charged with plotting the 2015 Paris attack, while Spanish authorities frequently arrest Moroccans on terrorism charges – most recently three men accused of recruiting for Islamic State in Catalonia and Valencia.
A Moroccan national investigation bureau, set up in 2015, has made about 600 arrests and dismantled about 40 cells, according to the government. But it is Morocco's 53-year-old king, bearer of the title "Commander of the Faithful", whom many credit with controlling the extremist threat.
In a televised speech last summer, Mohammed VI's condemnation of terrorists could not have been clearer, when he said: "They are people who have been misguided and they are destined to live in hell forever."
Mohamed Daadaoui, an expert on the politics and monarchy of Morocco at Oklahoma City University, says: "Morocco has long been successful at countering the rise of extremism through advancing a version of Moroccan royal Islam that has the monarch at the helm."
Allegiance to king
The regime's virtual monopoly of the religious sphere, Daadaoui adds, "has inoculated the institution of the monarchy against challenges from extremism", a strategy that is bolstered by the king's claim of ancestral descent from the family of the prophet Mohammed.
Abdelali Hamiddine, a senior figure in the Islamist Justice and Development Party (PJD), which has governed since 2011, is confident that Moroccans' allegiance to their king as their religious leader helps keep fundamentalism at bay.
"Terrorist organisations like Islamic State have no future in Morocco, except some young people who are influenced by some texts on the internet or on Facebook," he tells The Irish Times.
He also points to social conditions in Morocco, which he says "are far better than in Egypt or Algeria".
Morocco has not seen the kind of political upheaval that the Arab Spring of 2011 sparked in neighbouring north African countries. Instead, it has been relatively stable, with King Mohammed overseeing a parliamentary system which was merely tweaked in the wake of the unrest. Yet some suspect the king's campaign of Islamic moderation is simply a crafty way of burnishing his international image while ramping up vigilance and repression of dissidents.
Maati Monjib, a political historian and human rights campaigner, says the king and his regime "are exaggerating the menace of Islamism in Morocco in order to take back the rights that were recognised and respected during the Arab Spring in 2011 and 2012". Burka ban
Earlier this year, reports emerged that the Moroccan regime had banned the sale of the burka in many towns and cities. However, the garment is easy to make at home, inviting the conclusion that the prohibition was an empty gesture.
"Extremism is gaining ground," says Mohamed Elboukili, an academic and member of the Moroccan Association for Human Rights (AMDH). He believes the problem is being sown among younger generations who are under the influence of an increasingly illiberal education system.
He offers the example of the Muslim headscarf, which he says most of his female students now wear, in contrast to 15 years ago when few of them did.
"You can say to me this scarf doesn't mean anything. Yes, it doesn't mean anything, but it's isolating the girl from the boy," he says. "Now she's wearing the scarf, but later on she's not going to shake hands with the boy . . . Later on she's not going to study in the same class with boys. Those are the mechanisms of an Islamist state, that's how it works."
Full report at:
http://www.irishtimes.com/news/world/africa/how-morocco-s-king-aims-to-thwart-extremist-threat-1.3050735
--------
South Asia
Russia shows willingness to host Afghan peace talks
Apr 17, 2017
KABUL: Russia has shown its willingness to host peace talks between the Afghan government and the Taliban.
Shakib Mustaghni, spokesman for the Afghan Ministry of Foreign Affairs (MoFA), said this in a press conference.
Representatives from Afghanistan, Russia, Iran, Pakistan, Kazakhstan, Kyrgyzstan, Turkmenistan, Tajikistan, Uzbekistan, China and Indiaattended the Moscow meeting on Friday.
Mustaghni said participants at the Moscow meeting had asked the Taliban to end the war and join the peace process.
"They have asked the Taliban to cut their ties with other terrorist groups, lay down their weapons and come to the negotiation table with the Afghan government," he said.
According to him, a session about a regional consensus on peace in Afghanistan would be held in Kabul in the near future.
Meanwhile, the Afghan Defense Ministry commented on the session and said it was a force which had the responsibility to fight the war against the Taliban.
"We will use our latest facilities to eliminate those who commit subversive activities against peace, national security and sovereignty of the country," the defense ministry spokesman Mohammad Radmanish said.
http://nation.com.pk/international/16-Apr-2017/russia-shows-willingness-to-host-afghan-peace-talks
--------
Karzai's criticism goes too far, will not serve Afghanistan's interests: Khalilzad
Apr 16 2017
The former US Ambassador to Afghanistan Zalmay Khalilzad has said the criticism by the former Afghan President Hamid Karzai goes too far and will not serve the interests of Afghanistan.
Khalilzad who has also served as US Ambassador to Iraq and UN, said the criticism will also not advance peace in the country.
Karzai declared a hard stance against the United States on Saturday as he was speaking during a gathering in Kabul.
He strongly condemned the use of GBU-43 bomb also referred to as the Mother of All Bombs in eastern Nangarhar province of Afghanistan.
The former President vowed to step up efforts in a bid to oust the US military from the country following the massive airstrike in Achin Nangarhar against ISIS terrorists involving the non-nuclear GBU-43 bomb.
He slammed the government for allowing the US forces to carry out the strike and insisted that the move would be a national treason if the government had approved the use of the massive bomb.
The remarks by Karzai followed despite the Afghan government said it was in the loop when the airstrike was carried out.
The Afghan government has not formally reacted to the harsh criticism of Karzai but the Presidential Palace in a Twitter post said "Every Afghan has the right to speak their mind. This is a country of free speech."
Full report at:
http://www.khaama.com/karzais-criticism-goes-too-far-will-not-serve-afghanistans-interests-khalilzad-02580
--------
10 rockets seized before being fired on Kabul city
Apr 16 2017
At least ten rockets were seized by the Afghan security forces before the militants manage to fire them on Kabul city.
The Kabul police commandment said the rockets were placed and were prepared for the attack in Khak-e-Jabar district.
The rockets were transferred to Hesarak district of Nangarhar to Khak-e-Jabar for the attack, the police commandment said, adding that the rockets were of BM1 type.
The anti-government armed militant groups have not commented regarding the report so far.
This comes as the militant groups are attempting to increase their insurgency as the weather gets warm across the country, specifically in capital Kabul.
A suicide attack rocked Kabul city last week leaving at least six people dead and around five others wounded.
The incident took place in the vicinity of the second police district of the city close to the ministry of defense compound after a suicide bomber detonated his explosives near a vehicle carrying the government workers.
Full report at:
http://www.khaama.com/10-rockets-seized-before-being-fired-on-kabul-city-02579
--------
Afghanistan has strong US and NATO support to defeat terrorism: Gen. Murad
Apr 16 2017
Afghanistan has a strong support from the United States and the North Atlantic Treaty Organization (NATO) in the fight against terrorism and for the defeat of the terrorist groups, the Deputy Chief Staff of the Afghan National Army (ANA) forces General Murad Ali Murad said.
Speaking to reporters in Kabul today, Gen.Murad said the visit by U.S. National Security Advisor, Mr. McMaster demonstrates the strong support of our allies in defeating common enemy.
Gen. Murad further added Gen. Mc Master met with the National Security Adviser of Afghanistan Mohammad Hanif Atmar NSA and then will meet the Ministry of Defense authorities.
He also added that the Khalid clearance operations were launched today to defeat the enemies of Afghanistan and secure and maintain security in the country.
According to Gen. Murad, the Afghan National Defense and Security Forces are committed to defeat the enemy with the support of their allies, hailing the US for greatly supporting the Afghan forces.
The Khalid operations were launched in some of the restive districts of the country last week with the officials saying the main purpose of the operations is to eliminate terrorists from the volatile parts of the country.
Full report at:
http://www.khaama.com/afghanistan-has-strong-us-and-nato-support-to-defeat-terrorism-gen-murad-02581
--------
Karzai: No Forgiveness for Nangarhar Attack, US Should Leave Afghanistan
Apr 16, 2017
"I strongly oppose the use of Mother of All Bombs (MOABs) on Nangarhar and consider it as an obscene act and violence against our people, territory, environment and national sovereignty," Karzai told FNA on Sunday.
Blasting the US for using the MOABs to kill a limited number of terrorists, he said that hazards of the bomb for Afghanistan and its environment are like atomic bombs.
Karzai also lashed out at the Afghan government for supporting the US attack, and said, "The use of this bomb is not acceptable at all and by carrying out such dreadful and violent operations against the Afghan people the US has no more right to make any claim in Afghanistan. Washington proved that it uses Afghanistan as a test field for its dangerous and lethal weapons."
Stressing that the Afghan people don't allow foreigners to make any aggression against them, he said, "Therefore, by its Thursday operations, the US has lost the legitimacy for any claims and it should leave Afghanistan."
Friday saw global audiences awaking to news the US military had dropped a GBU-43/B MOAB against what it called the ISIL position in Afghanistan's Nangarhar province.
The Thursday event marked the use of the weapon on the battlefield for the first time in history.
The bomb is nicknamed the Mother of All Bombs for its 11-tonne blast yield and it is worth $16 million.
Full report at:
http://en.farsnews.com/newstext.aspx?nn=13960127001488
--------
North America
Black Muslims aim for unity in challenging time for Islam
17 April 2017
DEARBORN, Michigan: In her job as a refugee case manager, Fatimah Farooq would come to work in a hijab and speak with her clients in Arabic. Nonetheless, she found herself being asked whether she was Muslim.
It's not easy, Farooq says, navigating her dual identities as black and Muslim.
"I'm constantly trying to prove that I belong," said Farooq, who now works in public health. "It's really hard not to be an outsider in a community — especially today, in the current times."
Many Muslims are reeling from a US presidential administration that's cracked down on immigrants, including through the introduction of a travel ban that suspends new visas for people from six Muslim-majority countries and is now tied up in court. But black American-born Muslims say they have been pushed to the edges of the conversations — even by those who share the same religion.
They say they often feel discrimination on multiple fronts: For being black, for being Muslim and for being black and Muslim among a population of immigrant Muslims. Farooq, whose Sudanese parents came to the US before she was born, said her own family used to attend a largely African-American mosque but then moved to a predominantly Arab one — yet in both cases still felt like "outsiders."
The identity issues have rippled into social media with Twitter's #BeingBlackAndMuslim and @BlkMuslimWisdom formed in recent weeks to amplify stories of black Muslims, whether it's to praise Mahershala Ali, who is black and became the first Muslim actor to win an Oscar, or to express concern over the lack of black speakers at a recent Islamic conference. Tensions are also being aired at community town halls, with panelists questioning why there hasn't been more involvement from Arab and South Asian Muslims in Black Lives Matter events.
In response, activists say they're seizing the opportunity to unite Muslims of all backgrounds.
Kashif Syed, who lives in the Washington, D.C. area, grew up in a family of South Asian Muslim immigrants around Detroit that was insulated from black Muslims. Now that he's part of a young professional Muslim community, he's trying to honor the experiences of others.
"We're seeing increasingly visible threats to Muslims across the country now — it's an important reminder of what black communities have endured for generations in this country," said Syed, who volunteers at Townhall Dialogue, a nonprofit fostering discussions about US Muslim identity. "I can't really think of a better time for non-black Muslims to start examining how we got here, and what lessons we can learn from the hard-won victories of black communities from the civil rights movement."
Organizer Shamar Hemphill, a black Chicago native who works for the Inner-City Muslim Action Network, said Republican President Donald Trump's executive orders such as the travel ban have made organizers "quadruple" efforts to form alliances, including recent calls for Muslim groups to attend and organize around Martin Luther King Jr. Day events.
"We're not going to allow any policy or federal piece of legislation to separate us and isolate us. We're going to come together and protect each other," he said. "It's also a great opportunity because it brings us out of our silos."
Other attempts at unity have been made over the years. Imam Zaid Shakir at the California-based Zaytuna College, a liberal arts Muslim college, has delivered lectures about similarities between the Prophet Muhammad's farewell sermon and King's "I Have a Dream Speech."
The Council on American-Islamic Relations holds events around the birthday of Malcolm X, a Nation of Islam member who came into mainstream Islam. And IMAN in Chicago has celebrated hip hop, featuring Muslim rappers like Grammy-winner Rhymefest.
Asha Noor, whose family fled Somalia's civil war when she was a baby, helped organize a town hall after Trump announced his first travel ban in February, which blocked travelers from seven predominantly Muslim countries and put the US refugee program on hold. That ban has since been replaced with a newer version.
Noor said she feels there's less attention paid to the plight of refugees from her native Somalia and Sudan, the two African countries in Trump's executive order. She sees it as part of a "continuous erasure of the black Muslim experience."
"Black Muslims often face a two-front challenge, both within the community and the larger American society," said Noor, who worked for Take on Hate, a campaign challenging discrimination against Arabs and Muslims. "You can never be too sure if assaults or micro-aggressions are coming because you're black, Muslim, or both."
Central to the issue, experts say, is that Islam is largely portrayed as something foreign. That's a misconception University of San Francisco professor Aysha Hidayatullah encounters when teaching an "Islam in America" class where she looks at Islam's presence in America from the slave trade to civil rights — something that is a surprise to many of her students.
"It's a class that is focused mainly on recovering the black memory of Islam in this country," she said. "That's the element that's forgotten."
Compared with the general population, US Muslims are more racially diverse with a larger percentage born abroad. There's disagreement on how many millions reside in the US, but it's commonly accepted that American blacks represent about one-third of Muslims in this country.
Many came to the religion through the Nation of Islam, which veers from mainstream Islam on several core teachings, leading many immigrant Muslims to consider it too divergent from their faith. But Imam W. Deen Mohammed transformed the movement after taking it over in the 1970s and gradually moved his thousands of followers toward mainstream Islam, while Louis Farrakhan took leadership of the black separatist Nation of Islam.
Despite the history of blacks in the Muslim faith, Tariq Touré, a Maryland writer and activist, says South Asian and Arab narratives still dominate the conversation.
"It's disheartening, because black Muslims can't even get a word in as to how they're navigating all of this," said Touré, who's black. "We really struggle with it all — the bridges that have been burned and the barriers that have been built within the Muslim communities when it comes to race."
Abdul Rahim Habib, an American-born college student, said even his close friends assumed he converted to Islam because they didn't associate being black with being Muslim. That's even though the 21-year-old's Nigerian father and grandparents are Muslim. While growing up in Chicago, he could remember moments when Arab Muslims refused to greet him with "As-Salaam-Alaikum," a wish of peace customary among all Muslims.
"A lot of our Arab brothers and sisters didn't really care about being brothers and sisters until this point when they started having problems," he said.
http://www.arabnews.com/node/1085766/world
--------
UWT professor to detail Muslim contributions to American life
BY BROOKE THAMES
Apr 17, 2017
University of Washington Tacoma professor Turan Kayaoglu will speak Tuesday about Muslim life in the United States.
The free talk will focus on immigration, race relations and contributions to the arts, demonstrating the effect of Muslims on American history, politics and culture.
"The debates about American Muslims play prominently in discussions, such as religious freedom, immigration, security and foreign policy," said Kayaoglu, associate vice chancellor for research at UWT.
"Focusing on American Muslim experiences, my talk aims to engage the audience on how the debates about American Muslims will shape the future of America."
The talk, "American Muslims: History, Culture and Politics," will begin at 7 p.m. at Lakewood Pierce County Library, 6300 Wildaire Road SW, Lakewood.
Full report at:
http://www.thenewstribune.com/news/local/article144837519.html
--------
It's Not Enough to Dismiss Islamophobia
EMMA GREEN
Apr 17, 2017
Controversies over Islam take somewhat different shapes in Europe and the United States. While France attempts to ban burkinis, or full-body bathing suits worn by some Muslim women, U.S. state legislatures attempt to ban the use of sharia law in American courts.
And yet, argues Nadia Marzouki in her new book, Islam: An American Religion, anti-Islam arguments in the West have become "surprisingly standardized." It's "no longer possible to discuss Islam's place in Western societies without systematically invoking a series of normative oppositions: good/bad, moderate/radical, faith/law, West/Muslim, modernity/tradition, and so on," she writes. "For a majority of Americans and Europeans, Islam remains an opaque object that one is unable to think of in any way other than as a problem, threat, or retrograde legal code."
It's not enough to understand this simply as Islamophobia, argues Marzouki, who is a research fellow at Harvard University's Belfer Center and the Centre National de la Recherche Scientifique in Paris. She believes Islam has become a cipher in Western societies for the tough questions of secular, liberal democracies: how much to champion liberty over equality, for example, and whether legal rights should entitle Muslims to fully express their faith in public. As much as Europe and the U.S. have different histories and legal traditions, she claims, anti-Muslim groups in both places share their discomfort with these challenges.
At the same time, Muslims in the U.S. have become distinct from other Muslims around the world, Marzouki says: They have embraced the American tradition of civil religion, which mixes a sense of transcendent purpose with a sense of civic duty. Understanding Islam as an American religion, and understanding why anti-Muslim groups react to Islam the way they do, she argues, is the only way to deescalate the tension surrounding the religion in America and abroad.
I spoke with Marzouki about attitudes toward Islam in America and Europe. Our conversation has been edited for length and clarity.
Emma Green: What are the fundamental differences—and similarities—between attitudes toward Islam in Europe and in the United States?
Nadia Marzouki: I wanted to go beyond this notion that you have two distinct models of understanding Islam in Europe and in the U.S. I wanted to focus on the increasing convergence between modes of argument about Islam in Europe and the U.S. due to right-wing organizations that have been working together.
You have very different Muslim communities and populations in the U.S. and in Europe—different ethnic backgrounds, national backgrounds, forms of socioeconomic status, occupations, and number and percentage in the population. Despite all these very important differences, you end up having debates that are organized around the same stereotypes: the invasion of Muslims in the suburbs of America or Europe, the oppression of women, mosques turning into breeding camps for terrorism, stealth jihad, sharia.
I want to suggest that anti-Muslim movements are maybe not just an effect of distinct historical and legal traditions. These debates about Islam say something more profound about an unease among parts of the public toward democracy and the meaning of political community.
Green: People in the U.S. sometimes refer to Europe as an example of what can happen in America if Muslims don't assimilate into their broader communities. President Trump, for example, has pointed to Sweden and France as examples of disordered Muslim communities.
Why do you think that comparison is so common?
Marzouki: The notion that the Muslim population is replacing the old European population has been very common in the discourse in right-wing and anti-Muslim movements in the U.S. Arguments do not spread just by themselves. They have been manufactured by specific organizations. There's been an important back-and-forth—some people from the U.K. or the Netherlands or Switzerland have been invited and brought these arguments to the U.S.
Green: Don't some of these anti-Muslim figures in Europe, including Marine Le Pen and Geert Wilders, have very different coalitions than those in the U.S.—including support from some members of the European LGBT community?
Marzouki: One major difference between Europe and the U.S. is that anti-Muslim arguments in the U.S. haven't been very prominent within the Democratic Party or the left. Maybe you can find a few exceptions here and there, but broadly speaking, it's mostly people from the right wing of the Republican Party. In Europe, some of the arguments about the fear of Islam, etc., have been endorsed by the right, but also by the left.
Green: You describe a process all religious groups go through in America: They start taking responsibility for the country's founding myth of pluralism, which says that every religious group should have the freedom to worship in the U.S. Do you think the American Muslim community has gone through that process?
Marzouki: Major American Muslim organizations have been focused on defining their struggle as belonging to this mythology of American pluralism. In speeches, Muslim leaders will say things like, "Yes, Muslims right now are going through difficult and challenging times, but we should not despair of what the American constitution and political system offer us. This is the price to pay. All communities have been through this kind of challenging time of suspicion and discrimination."
When two students were murdered at the University of North Carolina at Chapel Hill, it was a tragic murder, but at the same time it was interesting to see the response of American Muslims. They were insisting that these students were brilliant and about to be extremely good contributors to their country and society. Their profile was defined in order to celebrate, even in these tragic circumstances, the American idea of a pluralist society.
Green: You also argue that all American religions also get "neutralized" into "faith and spirituality." What do you mean by that?
Marzouki: The strategy of American Muslims to be recognized, accepted, and integrated has been to argue that Islam is primarily just a form of ethics and faith—it's inoffensive, harmless, and has no impact on the public sphere. Muslims are normal citizens, normal humans, who just happen to have a different ethics, and do not have any intention to transform, invade, or hijack the constitution or American politics.
This nicely fits in the mythology of the American civil religion. Acceptable religious practice in America is primarily invisible and private. Expressing your faith in a more public and political way is a threat to democracy and modernity.
This begs the question of whether Muslims can make political interventions that are not immediately cast as dangerous or un-American.
Green: Other groups, like Mormons, have gone through intense periods of persecution and suspicion in American history. These days, Mormons are widely accepted as a religious group. Why hasn't that happened with Muslims—some of whom have been in the U.S. longer than the Mormon church has existed?
Marzouki: Islam has been constructed consistently in an ambivalent way at once as an ultra religion and as a non-religion. It's an ultra-religion in the sense that it embodies too much of religion, too much legal obligation. Islam is always defined or reduced to sharia by these anti-Muslim groups—an indication of fear that Islam is too legalistic.
Islam, at the same time, has been constructed as a non-religion. All the legislators supporting anti-sharia bills argue that sharia is not part of a religion—it's an ideology. They do this for various reasons. One is to suggest that if Islam is not a religion, Muslims do not have the right to claim the protection of the First Amendment.
Despite the fact that Muslims have been around since they were slaves from Africa, there's always this discrepancy between reality and the public construction of Islam.
Green: You argue that anti-Muslim demonstrators are objecting to more than just Islam—they're reacting to the world, and more specifically to the values of a secular, liberal democracy. What do you mean by that?
Marzouki: I was intrigued by the arguments of people opposing the Islamic Center in New York in 2010. It was not about rights; it was about what is right. Anti-mosque people were not saying, "We hate Islam," "we don't want Muslims," or "you don't have a right to build a mosque." What they were saying was more specific: "We don't deny you the right to build an Islamic center. But we think this is inappropriate. This is not the right place or time."
Full report at:
https://www.theatlantic.com/politics/archive/2017/04/marzouki-islamophobia/523188/
--------
US reaffirm support to improve and develop capabilities of Afghan Air Force
Apr 17 2017
The United States reaffirmed support to improve the develop the capabilities of the Afghan National Defense and Security Forces (ANDSF) particularly the Afghan Air Force, the US National Security Adviser Gen. Herbert Raymond McMaster has said.
The National Security Adviser of Afghanistan Mohammad Hanif Atmar said he discussed in details regarding the further expansion of the Afghanistan and US military relation during his meeting with his counter Gen. McMaster.
Atmar further added that Gen. McMaster has said US was fully committed to expand its military support to Afghanistan.
He said Gen. McMaster also reaffirmed his country's full support from ANDSF 4 Year security plan and stated that with the implementation of this plan terrorists would be defeated in Afghanistan.
Gen. McMaster also assured NSA Atmar of US support for the efforts of Afghan Govt. for Peace Process, according to the Office of the National Security Council.
The US National Security Adviser arrived in Kabul on Saturday to review the situation and the US policy in Afghanistan.
He was leading a delegation of the US officials during his visit to Afghanistan.
Full report at:
http://www.khaama.com/us-reaffirm-support-to-improve-and-develop-capabilities-of-afghan-air-force-02583
--------
Pakistan
Federal Minister for Following Islam to Fight Terror
April 17, 2017
SIALKOT-Federal Minister for Defence, Water and Power Khawaja Asif urged the students to follow the teachings of Islam to curb terrorism and sectarianism.
Addressing a ceremony to distribute laptops to 300 students at University of Gujrat (UoG) Sialkot Campus, he said that only the light of knowledge could curtail hate, torture, violence and lynching incidents in the society.
He strongly condemned the incident occurred at Mardan's Abdul Wali Khan University. He said we should play pivotal role in spreading the light of the knowledge everywhere to remove the attitude of hate, ignorance and violence.
He said that lack of of education and knowledge always developed and promoted the thoughts of violence. "We have to battle against ignorance and extremism through education. We should also be committed to making individual and collective efforts to transfer the legacy of love, affection, unity, peace, tolerance, patience and brotherhood to our coming generations," he said.
He said that it was the need of hour that terrorism and religious sectarianism should be crushed with full force. He noted that Islam is the religion of peace it never allows hate, ignorance and violence. Islam and all the other religions give the message of peace, love, affection, tolerance, respect of humanity, unity and brotherhood, he said.
He students are the future of the nation as they could play a pivotal role in crushing terrorism and ignorance through education. He said that the government was encouraging the students at every level by providing them the advanced educational facilities and laptops, enabling them to serve the nation in a better way.
FUNDS RELEASED: The Punjab government has released a special grant of Rs1 billion for establishing a flyover in Sialkot city's congested China Chowk.
Provincial Minister for Local Bodies Punjab Mansha Ullah Butt stated this while addressing a meeting of the party workers at PML-N House Sialkot. He said that tenders for the Sialkot flyover project would be invited within the next couple of days. The project would be completed in a stipulated period of one year. He said that Punjab Chief Minister Muhammad Shehbaz Sharif would soon inaugurate this project, as well.
Govt claims serving public
Federal Minister for Planning and Development Ahsan Iqbal said that the government was successfully implementing a multi-dimensional strategy for raising the living standard of the people.
Full report at:
http://nation.com.pk/national/17-Apr-2017/kh-asif-for-following-islam-to-fight-terror
--------
Son of tribal elder among four dead in Qila Abdullah jirga clash
April 16, 2017
At least four people were killed and five others injured after a fight broke out at a tribal jirga in Balochistan's Qila Abdullah district on Sunday evening.
Levies officials said two groups of the same tribe clashed at a jirga held to settle a dispute in the Gulistan subdivision of the district. They said the reason behind the clash could not be immediately ascertained.
The son of a tribal elder was also among the dead. Fellow members of the tribe rushed the injured to Quetta for medical treatment.
Full report at:
http://nation.com.pk/national/16-Apr-2017/son-of-tribal-elder-among-four-dead-in-qila-abdullah-jirga-clash
--------
Joint operation against Fazlullah 'possible'
April 17, 2017
ISLAMABAD - Afghan Ambassador to Pakistan Dr Omar Zakhilwal yesterday hinted that a joint operation against TTP leader Mullah Fazlullah could be possible in near future, as he expressed hope for improvement in Pak Afghan relations this year.
In an exclusive interview with Waqt Television, the ambassador said Afghanistan could never allow India to use its soil against Pakistan, terming such an impression to be an insult to the whole Afghan nation.
Talking in programme 'Embassy Road', he expressed the hope that the relations between Islamabad and Kabul would see an improvement despite the current chill in bilateral ties.
Hinting at the backchannel efforts for normalisation of relations between the two neighbours, Dr Omar Zakhilwal said, "The year 2017 will see the relations between the two countries turning warm from cold."
Dispelling the impression of framing anti-Pakistan policies on the pull of India, Afghan Ambassador said his country was a sovereign state and it charts its policies on foreign affairs, national security, and economy purely in line with the national interest. Believing that Kabul was doing New Delhi's bidding was therefore an insult to the whole Afghan nation, he added.
When his attention was drawn towards the use of Afghan soil for terrorism in Pakistan and the concerns of Pakistan government in this connection, the Afghan envoy said that it was on the demand of Pakistan that Afghan authorities had killed Qari Yasin and some other terrorists wanted by Islamabad.
To a question about handing over of Tehreek-e-Taliban Pakistan leader Mullah Fazalullah to Pakistan, who is hiding somewhere in Afghanistan, he said that he was not a lame duck which the Afghan authorities could hand over to Pakistan. But he said that a joint operation against Fazalullah could be possible.
He, however, demanded of Islamabad to also take action against those militants who were openly roaming around in Pakistan and were engaged in the terrorist attack of heinous nature in Afghanistan.
Recalling the visit of Afghan President Ashraf Ghani to Pakistan soon after assuming the office, the Afghan Ambassador said that he had undertaken the visit despite advice from certain quarters not to do so, but he had put his credibility on the stake and finally left Islamabad empty handed.
He further said that it was on his advice that Ghani held meeting with the then Army Chief of Pakistan.
Full report at:
http://nation.com.pk/national/17-Apr-2017/joint-operation-against-fazlullah-possible
--------
Christian community celebrates Easter with fervour
April 17, 2017
SAMBRIAL/KAMALIA-The Christian community celebrated Easter with religious zeal amidst foolproof security. In Kamalia, TT Singh District Coordinator Minority Affairs and Human Rights Ashraf Jan Sandhu greeted the Christian community across Pakistan on Easter and extended best wishes to them.
Addressing a gathering here at Christian Colony, he pointed out that they are blessed to celebrate Easter in Pakistan. He advised that all Christians in Pakistan must prove themselves to be true followers of Christ through acts not by mere words. "Love, tolerance and brotherhood should be our first priority in our dealings with others," he said, adding that Christ's coming to life from death is a sign of victory for the downtrodden, the impoverished and the sick. "The country we live in is not less than a blessing of God. We must appreciate this and strive to rid the country of all social evils by propagating the message of peace," he emphasized. He proclaimed that all minorities in Pakistan have dreamt of bringing prosperity and peace to the country, adding that the Christian community is ready to render any sacrifice to fulfil this dream.
In Sambrial, the biggest Easter congregation was held at St Francis Catholic Church in Mohallah Fazalpura. Addressing the participants, Father Almas Yusuf said that Easter teaches the lesson of peace, love and humanity. Other main functions of Easter were held in Church of Pakistan and GAF Church in Sambrial city.
Full report at:
http://nation.com.pk/national/17-Apr-2017/christian-community-celebrates-easter-with-fervour
--------
JI stresses early execution of Indian spy
April 17, 2017
SARGODHA- Jamaat-e-Islami ameer Sirajul Haq stressed the need for executing Indian spy Kulbhushan Jadhav to emanate a strong message to the enemy.
Addressing a ceremony here at local religious seminary, the JI ameer claimed that no one will ever dare even think about destabilising Pakistan if execution of the Indian spy is materialised. He said that how the public will be compensated in a country where the Senate chairman is struggling for his rights. There is no strategic and geographical basis behind the existence of Pakistan as it came into being in the name of Islam, he pointed out, adding Shariah enforcement is necessary for solution to all problems the country is faced with. He also expressed concerns over United States' bombardment near Pak-Afghan border, saying policies for the national security should be made in light of the prevailing circumstances. He held former president Pervez Musharraf responsible for the ongoing unrest in the country. He stressed the need for change the country's political and judicial system to harmonise it with the national needs.
Full report at:
http://nation.com.pk/national/17-Apr-2017/ji-stresses-early-execution-of-indian-spy
--------
Southeast Asia
Pluralism versus Hardline Political Islam: What's At Stake for Indonesia in This Week's Jakarta Election?
Apr. 16, 2017
By Tom Allard and Gayatri Suroyo
Jakarta voters head to the polls on Wednesday to elect a governor for Indonesia's teeming capital after a campaign that incited political and religious tensions in the world's most-populous Muslim country.
Surveys have shown the race tightening to a statistical dead heat, with incumbent Governor Basuki "Ahok" Tjahaja Purnama, an ethnic Chinese Christian, closing in on rival Anies Baswedan, a former education minister.
Ahok is standing trial on blasphemy charges stemming from the divisive campaign that also featured mass rallies led by Islamist hardliners and alleged plots to overthrow President Joko Widodo, who is popularly known as Jokowi.
The Jakarta election is viewed as a larger choice ahead of a 2019 presidential poll between the secular policies Indonesia has practiced since its post-World War Two independence and a hardline political Islam that has strengthened in recent years.
"This is a test case for Indonesian pluralism, if it can withstand the pressure of the religious groups, the populists," said Wimar Witoelar, a political analyst and an adviser to former Indonesian president Abdurrahman Wahid.
"Indonesia is at a crossroads, and I mean Indonesia, not just Jakarta."
A survey conducted April 12-14 by polling firm Indikator showed Anies with 48.2 percent support versus 47.4 percent for Ahok, with 4.4 percent undecided.
WORRIES ABOUT BACKLASH
The business community is worried about a possible violent backlash from the losing side in the election, which could affect the investment climate and endanger Jokowi's fit-and-start economic reforms.
Southeast Asia's biggest economy grew 5.2 percent in 2016 and the government expects a repeat of that this year. Indonesian stocks are up 12.6 percent on the year, making the Jakarta market one of Asia's best performers.
Kartika Wirjoatmodjo, chief executive officer of the country's largest state bank, Bank Mandiri, said in an interview that whoever won "we (should) make sure it doesn't affect any of the long-term policies, especially on the openness and … ease of doing business and attracting investment."
Ahok, who replaced Jokowi in 2014 as Jakarta governor after serving as his deputy, saw his popularity soar as he tackled decrepit infrastructure, chronic flooding and endemic corruption in the traffic-clogged city of over 10 million.
His support plunged after an edited video circulated last September suggesting Ahok had mocked a verse in the Koran used by his opponents to argue Muslims should not vote for a person holding different religious beliefs.
Amid two rallies last year that drew hundreds of thousands of protesters, Ahok was charged with blasphemy, forcing him to make regular appearances in court during the campaign.
The hardline Islamists behind the rallies – led by the Islamic Defenders Front (FPI), a group known for attacks on religious minorities and extorting money from nightclubs – were cultivated by Ahok's rivals. Baswedan was accused of betraying his moderate Islamic roots when he met and sang with FPI leader Habib Rizieq, who was twice imprisoned for inciting violence in 2003 and 2008.
Ahok recovered to win the first round on Feb. 15 with 43 percent of the vote, compared to 40 percent for Baswedan and 17 percent for Agus Yudhoyono, son of former president Susilo Bambang Yudhoyono, who drew support from conservative Muslims.
CHINESE PLOTS
The FPI was among groups circulating hoax news stories on social media during the campaign of a pending invasion of Chinese workers and Chinese plots to decimate Indonesia's crops with contaminated chili
The FPI has vowed to stage further protests and a "revolution" if Ahok wins, according to flyers circulated by the group.
A senior government official said a victory for Ahok could reignite religious tensions and China-baiting at a time when the government is chasing Chinese investment for much-needed infrastructure.
"I worry that if a sizeable portion of the electorate feels cheated there could be a very serious backlash," said the official, who asked for anonymity to speak freely about the political climate in Indonesia.
However, political analyst Tobias Basuki also saw risks for the national government and its reform agenda if Baswedan won, given plans by his political patron Prabowo Subianto to challenge Jokowi in the 2019 presidential poll.
Baswedan was Jokowi's campaign manager in the 2014 presidential election, when he beat Subianto. But Jokowi sacked him as education minister last year.
"Anies and Prabowo controlling Jakarta would impede Jokowi every step of the way," Basuki said.
https://coconuts.co/jakarta/news/pluralism-versus-hardline-political-islam-whats-stake-indonesia-weeks-jakarta-election/
--------
Ties warm between PAS, Umno ahead of Malaysian election
APRIL 17, 2017
KUALA LUMPUR — Malaysia's opposition Parti Islam Se-Malaysia (PAS) president Abdul Hadi Awang said voters should select either his Islamist party or the ruling United Malays National Organisation (Umno) to govern the country as Malay political power lies with both entities. The comments seem to further cement the warming alliance between the two rivals.
"The political power of the Malays is with PAS and Umno. If any parties wish to govern Malaysia, choose PAS or Umno. We are always open to any parties that want to be with PAS, the condition is to accept Islam," he said in an interview published yesterday in Mingguan Malaysia, the Sunday edition of Malay language paper Utusan Malaysia. PAS has had a tenuous relationship with Umno since the 1970s, when PAS was temporarily in the Umno-led Barisan Nasional (BN) ruling coalition.
Ties between the two parties however have warmed up since last year, when Umno President Najib Razak began overtures urging PAS to work together with his party, in what is seen as an attempt to align the Malay vote ahead of the next general election, expected to be held this year.
Mr Najib had also initially backed a controversial Private Member's Bill tabled by Mr Hadi to amend the Syariah courts (Criminal Jurisdiction) Act 1965 aimed at enhancing the power of the Syariah courts, with some observers saying it was an attempt to win votes from the rural heartlands.
But the move resulted in strained ties with Umno's non-Muslim partners, who are concerned it will enable hudud laws to be implemented in Malaysia. The prime minister said last month that BN will not be tabling amendments to the Act, following a discussion among its 13 component parties. The Bill was allowed to be tabled in Parliament earlier this month, but the debate was deferred hours later.
In the interview, Mr Hadi also addressed claims that the government had purportedly given way for his Bill to be tabled in Parliament, leading to a perception that the parties have a secret pact.
He said PAS' cooperation with Umno is based on the policy of "ta'awun", cooperation in matters that are good and non-cooperation in evil matters.
"PAS was with Umno in the issues involving the RUU355, Rohingya," he said, in reference to the Malay acronym for the Act.
Full report at:
http://www.todayonline.com/world/asia/ties-warm-between-pas-umno-ahead-malaysian-election
--------
Pastor Raymond Koh's abduction highlights anti-Christian fears in Malaysia
APRIL 17 2017
The well-planned abduction by at least 15 masked men of a Protestant pastor and the disappearances of three other church-linked people in Malaysia have prompted fears of religious vigilantism in the Muslim-majority nation.
Security camera footage showed the daylight abduction of the 62 year-old pastor Raymond Koh in the leafy suburb of Kelana Jaya near the capital Kuala Lumpur on February 13.
A convoy of three black SUV's, two cars and two motor cycles blocked Mr Koh's car.
Several men ran to Mr Koh's car while one filmed the incident and another stopped traffic, witnesses said.
The abduction took less than a minute.
Initially police and Mr Koh's family believed he had been kidnapped for ransom.
But two months later the family have not heard from his abductors and now believe that "religious elements" grabbed him in an act of "vigilantism or terrorism."
Mr Koh runs a non-government organisation called Harapan Komuniti (Hope Community) which helps the poor, single mothers and drug addicts.
The organisation was investigated in 2011 by Malaysia's Islamic authorities after being accused of attempting to convert Muslims when its members hosted a party with Muslim attendees at a church.
The allegations were dropped.
Later, several Muslims lodged police reports against Mr Koh alleging he had tried to convert Muslim youths to Christianity, as rumours about him circulated on the social media.
Two bullets arrived in his mail.
Apostasy is an offence in the country.
Mr Koh's son Jonathan told the BBC his father would never ask anyone to leave Islam.
"His alleged proselytism is not an excuse for kidnapping. If he did anything wrong, he should have the right as any citizen to trial," he said.
"He's passionate, he loves people, he loves God."
Mr Koh said the abductors knew who his father was, where he was going and probably had been tracking him.
"It was very professionally executed," he said.
Mr Koh's family have offered a reward for his safe return.
Malaysia's police, who have urged the local media not to publicise the abduction, appear to have no leads in the case which they are treating as a disappearance, because no ransom demand has been made.
Lawyer members of the Malaysian Bar issued a statement on April 11 expressing concern about "unprecedented mysterious disappearances" in the country.
One social activist named as missing arrived back in Kuala Lumpur on Sunday after travelling to Thailand without telling his family.
But last November another pastor and welfare activist, Amri Che Mat, 44, was taken from his car after it was blocked by other vehicles in the state of Perlis in the north-east of peninsular Malaysia.
Full report at:
http://www.smh.com.au/world/pastor-raymond-kohs-abduction-highlights-antichristian-fears-in-malaysia-20170417-gvm0k8.html
--------
King Salman Center for International Peace to be Launched in Malaysia
Apr 17, 2017
Kuala Lumpur – Saudi Arabia and Malaysia revealed the commencement of their coordination to continue necessary arrangements to launch King Salman Center for Global Peace within 90 days from the announcement date, in the framework of what the two countries have earlier announced regarding establishing the center in Malaysia.
Malaysian Defense Minister Hishammuddin bin Hussein Onn and and Makkah-based Muslim World League Secretary General Sheikh Dr. Mohammed bin Abdulkarim Al-Isa, who is also supervisor general of the Intellectual War Center, an affiliate of the defense ministry of the Kingdom of Saudi Arabia, held on Saturday a joint press conference to highlight the joint Saudi-Malaysian announcement to establish an international peace center in Malaysia to be named "King Salman Center for International Peace."
The center will be established in collaboration among Intellectual War Center, the Security and Defense Center, affiliate of the ministry of defense of Malaysia, Malaysian Islamic Teachings University and the Muslim World League, who have agreed on a 90-day period to launch the facility.
The two senior officials confirmed that the Kingdom and Malaysia have agreed to be partners in launching the center soon as they share identical point of view on the vision, message, values and objectives of the center.
Full report at:
http://english.aawsat.com/theaawsat/news-middle-east/saudi-arabia/king-salman-center-international-peace-launched-malaysia
--------
'Islamic Factor' Colors Final Round of Jakarta Governor Vote
April 16, 2017
WASHINGTON —
For the second time in as many votes, the "Islamic factor" is expected to play a key role in the outcome of Jakarta's gubernatorial election. The latest local poll suggests that a run-off vote for the city's de-facto mayor on Wednesday is too close to call.
The run-off quickly became a continuation of a struggle that emerged in the initial vote, when moderates favoring a pluralistic society faced off against conservatives eager for Islam to dominate politics and society in Indonesia's huge capital city.
Violence and protests marked campaigning before a three-way vote in February that left the current governor, Basuki "Ahok" Tjahaja Purnama, who is ethnically Chinese and a Christian, pitted against Anies Baswedan, who is Muslim. With only 164,255 votes separating the two, and third-place candidate Agus Harimurti Yudhoyono holding a 17-percent share of the vote, neither Purnama nor Baswedan won a majority, and a run-off was required.
This stage of the campaign has been punctuated on social media by the frequent use of a word once heard only rarely in public discourse in Jakarta — "kafir," or heathen, to describe Purnama and the voters supporting him, even those who are Muslim. Banners commanding "Don't vote for a heathen" hang throughout Jakarta, the capital of a Muslim-majority nation that recognizes all citizens' right to freedom of religion.
The change in the tone of the campaign reflects Baswedan's changing views. The former education minister in the government of President Joko Widodo has courted conservative and hard-line Muslims. While he once described the Defenders of Islam Front (FPI) as a radical group, photos of him with the FPI chairman taken in January remain popular on social media. After the first round of voting, local media reports said he suggested there may have been fraud at polling stations in predominantly ethnic-Chinese areas.
Baswedan "has changed his views very much on issues of pluralism and tolerance," said Sarah Shair-Rosenfield, an associate professor at the School of Politics and Global Studies at Arizona State University, who studies Indonesian elections.
"The election, for many, seems like a sort of question for Jakarta — and perhaps to a wider extent for Indonesia — about whether or not it is acceptable to have a non-Muslim as governor of the country's largest city."
Purnama, popular with middle-class residents for his work to curtail corruption and improve the quality of life, is a so-called "double-minority" in a majority-Muslim nation. He was accused of blasphemy, a criminal offense, last year, and his trial before a panel of judges continues; a verdict has been delayed until the day following the run-off vote. Purnama has apologized for his comments and denied any wrongdoing.
Protests by hardliners against Purnama have left many "concerned about the future of pluralism in Indonesia," said Jeremy Menchick, an assistant professor at the Pardee School of Global Studies at Boston University, whose book Islam and Democracy in Indonesia: Tolerance without Liberalism was published last year. "There's also a perception that intolerance is winning."
Shair-Rosenfield suggested that while public support for groups such as the FPI fluctuates, "it is a little concerning" to see candidates who are "willing to make deals with hardliners."
Full report at:
https://www.voanews.com/a/indonesia-jakarta-governor-vote/3812289.html
--------
Africa
Three Niger police arrested after deadly student demo
Apr 17, 2017
NIAMEY - Nigerien authorities said Sunday three police officers have been arrested after allegedly assaulting a demonstrator at a violent student protest this week that left one person dead and forced the closure of Niger's top university. Abdou Moumouni University in Niamey was reopened on Saturday after President Mahamadou Issoufou held talks with student leaders in a bid to defuse the crisis.
The campus had been closed since hundreds of unhappy students joined a demonstration Monday demanding better living and studying conditions. The protest paralysed traffic as demonstrators set up barricades of tree trunks, blocks of stone and burning tyres, mainly on the right bank of the River Niger where the campus is located. Security forces used tear gas to disperse the demonstrators, who responded by throwing stones, according to images shown on local television.
One protester died after a fall which was not linked to police action, the authorities said, but the students' union insisted the death was a result of the student having been hit by a police tear gas cannister. An inquiry has been opened.
National police spokesman Adily Toro told reporters that the three officers were arrested over another incident involving a protester. They have "broken the laws and the rules of the republic" and "will answer for their acts before competent courts", Toro said.
A video posted on social media and broadcast on private television stations shows police officers hitting a protester while forcing him to chant: "Long live the police." According to official figures, 313 people were arrested, but 140 have since been released. A total of 109 people were injured, including 88 protesters and 21 police. The government also reopened another university in the central city of Maradi, Niger's third largest, which had also been shut down because of student protests.
http://nation.com.pk/international/17-Apr-2017/three-niger-police-arrested-after-deadly-student-demo
--------
Uganda: Who Is to Blame for Musumba's Misfortunes in Kamuli Elections?
17 APRIL 2017
By Opio Sam Caleb & Isaac Mufumba
Dead bodies, wounded fighters, mangled pieces of steel protruding from shells of bombed out buildings, debris and shattered glass strewn across burnt out compounds constitute some of the first pieces of evidence of the ravages of war.
Kamuli Municipality too has just emerged from a war, but it has been one of a different nature. The evidence is, therefore, different.
It is constituted of crushed pieces of essanja (dry banana leaves), empty plastic cups, and drained out plastic sachets of cheap alcohol and empty cooking oil drenched paper bags strewn over some of the streets to which supporters of the ruling NRM took on Wednesday evening to celebrate their victory over the Opposition Forum for Democratic Change (FDC).
Ms Rehema Watongola was declared winner of Wednesday's by-elections with 8,726 votes, while the FDC candidate, Ms Salaamu Musumba, came second with 5,778 votes.
The other three candidates, all of them Independents, were Prossy Naikoba Kanakutanda who polled 169 votes, Michael Kiboome who polled 103 votes and Samuel Walujo who pulled the proverbial tail with 63 votes.
The election had been called after the High Court in Jinja annulled Ms Watongola's February 2016 victory over lack of requisite academic qualifications. An attempt to overturn the ruling in the Court of Appeal did not succeed, which led the Electoral Commission (EC) into calling another election.
Musumba, who had led the legal challenge that led to the annulment of last year's election was jovial and oozing with confidence for most of the campaign.
The arrival of Dr Kizza Besigye, who still commands quite a huge following in Busoga sub-region, in Kamuli on Monday, seemed to throw the ruling NRM into a panic. This was evident in initial attempts to block his entry into Kamuli.
Even when there was a rethink, the NRM still came out looking even more panicky when the police attempted to force him not to use the Jinja-Kamuli highway on grounds that it was to be used by the President's convoy.
FDC supporters smelt blood and went for the final onslaught.
Despite the colossal sums of money spent on "mobilising" the populace to turn up for the finally rally which was to be addressed by among others the party's chairman, President Museveni, the population seemed to prefer to attend the FDC rally.
Dr Besigye was quick to cash in on the imbalance between the two camps to urge the FDC supporters to do all in their power to overcome "the oppressors".
"This is a peoples war, they have the machinery, money, we have the people so it is a matter of time, so we need to place our people in advance in there," he urged.
The levels of enthusiasm exhibited by rival supporters as they left their parties' respective rallies seemed to suggest that the NRM was headed for a defeat, but that was never to be. Why?
What went wrong
Developments like the surprise showing up of her husband, State minister for Urban Development Isaac Musumba, at her rivals' campaign rallies had not been envisaged. One could, therefore, not have planned to mitigate its effects, but some scenarios could have been either nipped in the bud or countered.
The Basoga say, "n'omugezi awubwa" (even the wise are susceptible to occasional errors in judgement). That seems to have been Ms Musumba's cup in this particular election. Ms Musumba and the entire FDC seemed to forget that elections in most parts of Busoga and the rest of the country are won on mostly trivialities and not issues.
Had they paid closer attention to Kamuli's political history, they would perhaps not have made the provision of quality representation for the people of Kamuli central to their campaign message.
Despite the fact that the district has had quite a number of highly educated people occupying elective office, once in a while a not so highly educated person emerges and dominates the political scene. That was evidenced in the late 1990s when the late Kawugu Kawoya Mugaino emerged to challenge the status quo.
Despite having been duly nominated, he was disqualified from participating in the 2001 elections over lack of requisite qualifications. That allowed his lone challenger, Mr Karoli Baligeya Isabirye, to sail through unopposed.
The deceased was, however, one of those men who drew inspiration from the American Civil War General, George Armstrong Custer, who believed that, "it is not how many times you get knocked down that count, it is how many times you get back up".
He bounced back to defeat Aggrey Bangu in 2008, but in April the same year he was sent packing after the High Court ruled that he was not qualified to lead the district.
He won back the seat during the 2011 local council elections, but was once again ejected in December 2011.
If others believe that "disability is not inability", the late Mugaino believed that "poor education does not mean failed leadership". That went down well with the populace, most of whom were actually never more qualified than himself.
Ms Musumba's campaign team seemed to forget that the population has not undergone any serious transformation since the days of the late Mugaino. They are still of the same low levels of education and would, therefore, have found it easy to identify with someone like themselves. In Ms Watongola, who was not laying any claim to high levels of education, they had found such a person. An attack on her was deemed to be one on them.
"When a toothless mother resorts to abusing and beating the innocent child especially one who resembles the father, she is merely abusing or beating the husband so they are abusing you who have not gone to school, who come for my pilau and are poor to love me because of chairs, tents but this is our level and I am the one who knows your basic needs," became Ms Watongola's message at all campaign rallies.
One other factor that could have been misread was the Muslim card. Muslim community is quite sizeable in number. While Ms Salaamu Musumba's husband, minister Isaac Musumba, is a Muslim, she remains a practicing Catholic.
While the Catholic leadership in the district were missing in action during her campaigns, the same could not be said of the Muslim leadership in Ms Watongola's campaigns. They were more than visible, especially during her last campaign at Butemire Primary School.
However, it will most probably come down to a question of consistency or the lack of it. It had been known right from 2001 when Dr Besigye emerged to challenge Mr Museveni on the Reform Agenda ticket, that Ms Musumba was "in agreement" with the reformists.
It had not been until the formation of the Parliamentary Advocacy Forum (PAFO) early in the years of the 7th Parliament that Ms Musumba, jumped out of the political closet. It was, therefore, little wonder that she was one of the founder members of FDC and contested subsequent elections on the party's ticket.
In all, Ms Musumba has contested nine different elections. Three of those elections (Constituent Assembly elections March 1994, 1996 and 2001 parliamentary elections) were under the no party Movement system, while the rest (2006 parliamentary elections, 2008 LC5 by-elections, 2011 parliamentary elections, 2012 LC5 by-elections and 2016 parliamentary elections and 2017 Kamuli Municipality parliamentary by-elections) have been under a multiparty political dispensation.
Ms Musumba won four of the nine races she participated in, winning just once in her last four elections.
She represented Bugabula South twice as MP and became LC5 chairperson in the 2012 by-election after losing in the 2011 general election.
The tone of the campaign messages have, however, been changing. In the period between 2006 and a few months before the 2008 by-elections, Ms Musumba believed that the NRM government had nothing to offer Busoga sub-region.
"When they see different sets of convoys with lead cars, one going to Bugweri County (home of Second Deputy Prime Minister Kirunda Kivejinja) and another going to Kamuli (home district of Speaker of Parliament Rebecca Kadaga), they think that Busoga is okay! No we are not okay," she was always known to complain.
The message has, however, mellowed ever since 2012 when she warmed up to Ms Kadaga in order to win the Kamuli LC5 by-elections.
In 2014, she was part of President Museveni's entourage to the Vatican, which sparked off rumours that she had crossed to the ruling NRM, but back home her alliance with Ms Kadaga collapsed. This compelled her to announce that she was to contest against her, which did not materialise.
Nevertheless, this had left many in her own party wondering about her principles game plan and whether she is still working for the party.
"Musumba stole the flag from me. She is confused and doesn't know what she wants. She even failed to build FDC party structures when she was the LC5 chairperson," Ms Prossy Naikoba says.
That, plus the conspicuous absence of the FDC president, Maj Gen Mugisha Muntu, and other top local FDC honchos like Mr Paul Mwiru and Mr Abdu Katuntu, might be a pointer at the fact that the hobnobbing with Mr Museveni and other NRM people have left her in an awkward position.
She is neither trusted at home nor yonder. What next then for Ms Salaamu Musumba?
"I will talk to myself and decide the next course of action after the Easter holiday," she said moments after her latest defeat.
Kamuli and the nation are waiting, watching the space.
Full report at:
http://allafrica.com/stories/201704170118.html
--------
URL: https://www.newageislam.com/islamic-world-news/false-blasphemy-accusers-use-islam/d/110798
New Age Islam, Islam Online, Islamic Website, African Muslim News, Arab World News, South Asia News, Indian Muslim News, World Muslim News, Women in Islam, Islamic Feminism, Arab Women, Women In Arab, Islamophobia in America, Muslim Women in West, Islam Women and Feminism