New Age Islam News Bureau
12 Feb 2019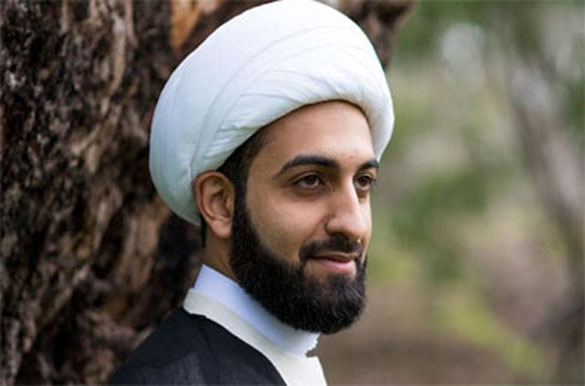 Imam Tawhidi, who has not been recognized by the Australian National Imams Council nor is he affiliated with any Australian mosque (according to ABC investigation),
----
• Fake Imam, Imam Tawhidi, Darling of Zionists and Hindu Fanatics, Visiting India
• Why Did the Supreme Court Deny a Muslim's Plea for an Imam at His Execution?
• Turkey's New Sunni Islamism Matches History of Totalitarianism - Academic
• Egypt Arrests Students for Mocking Christianity Online
• Germany Closes Muslim Kindergarten over Islamist Links
• Thousands of Catholics Celebrated 500 Years Of Christianity In Bangladesh
• Be More Open To Using Cannabis For Medical Purposes, Muslim Consumer Group Says
India
• Fake Imam, Imam Tawhidi, Darling of Zionists and Hindu Fanatics, Visiting India
• Al Qaeda Attempting to Exploit Rising Hindu-Muslim Tensions, Says Report
• Encounter between security forces, militants underway in J-K's Pulwama
• PDP leader wants back remains of Afzal Guru, Maqbool Bhat
--------
North America
• Why Did the Supreme Court Deny a Muslim's Plea for an Imam at His Execution?
• Trump Administration Threatens To Veto Any Anti-Saudi Resolution By Congress
• Muslim US Lawmaker Apologises For Remarks Which Triggered Anti-Semitism Row
• Eyeing leverage over Taliban, US ramps up Afghanistan airstrikes to decade-long high
• US wants ex-Saudi aide punished in Khashoggi killing
• US acting Pentagon chief meets Afghan president
--------
Mideast
• Turkey's New Sunni Islamism Matches History of Totalitarianism - Academic
• Israel destroys Palestinian house near Bethlehem
• In Revolution anniversary speech, Rouhani lays claim to Bahrain, other neighbours
• Two leading Shian political blocs renew call for withdrawal of US troops from Iraq
• Yemeni retaliatory attack leaves 8 Saudi soldiers dead in Jizan
• Two Palestinians killed inside Gaza lifeline tunnel after inhaling toxic gas
• Turkey orders 1,112 people arrested over Gulen links
--------
Arab World
• Egypt Arrests Students for Mocking Christianity Online
• ISIS Adapting Into a Covert Threat Beyond Iraq And Syria
• Egypt parliament to vote to extend el-Sisi's rule this week
• Withdrawal of US forces in Syria likely to start in 'weeks'
• 20 more Syrian civilians killed as US-led warplanes bombard Dayr al-Zawr
• Airstrikes kill 16 civilians as US-backed Syrian forces battle to take last Daesh pocket
• Syrian state media says Israel artillery strikes Quneitra province
--------
Europe
• Germany Closes Muslim Kindergarten over Islamist Links
• Russia seeks to vindicate Afghan war, 30 years after pullout
• Russia jails Daesh pair for 15 years over planned attacks
• Moscow plays power broker by hosting Palestinian unity talks
--------
South Asia
• Thousands of Catholics Celebrated 500 Years Of Christianity In Bangladesh
• NATO Defense Ministers to review operations in Afghanistan, Kosovo, Iraq
• Rohingya activists bemoan failure of Muslim countries to address Myanmar crisis
• Abdullah blames 'stubborn Taliban' for ongoing conflict in Afghanistan
• Myanmar's Buddhist refugees face hardship at border
• Bangladesh stops more Rohingya taking risky trip to Malaysia
• Taliban Red Unit militant among several killed, wounded in Badghis and Uruzgan operations
--------
Southeast Asia
• Be More Open To Using Cannabis For Medical Purposes, Muslim Consumer Group Says
• Islamist Party Leaders Face Corruption Probe In Malaysia
• Pursue one peace accord with all Muslim groups
• Indonesia's slide towards identity politics
• Leader of massive, grassroots Islamic movement urges Europe's political center to unite
--------
Pakistan
• Gen Bajwa Lauds Gen (R) Raheel for Middle East Peace Efforts
• 2 Multan brothers booked on sedition charges for taking part in PTM protest
• Bill on domestic violence introduced amid MMA reservations
• Govt urged to own overseas Pakistanis who declared themselves Afghans
• PTM leaders responsible for murder of Khaisor whistleblower, brother alleges
--------
Africa
• Terrorism expanding in Sahel region: African Union
• Nigerian refugees struggle in aftermath of Boko Haram attacks
• Nigeria's Election Brings Dual Crises Back to the Polls: Corruption and Boko Haram
Compiled by New Age Islam News Bureau
URL: https://www.newageislam.com/islamic-world-news/fake-imam-imam-tawhidi-darling/d/117726
--------
Fake Imam, Imam Tawhidi, Darling of Zionists and Hindu Fanatics, Visiting India
February 11, 2019
By Syed Zafar Mehdi
Imam Tawhidi, who has not been recognized by the Australian National Imams Council nor is he affiliated with any Australian mosque (according to ABC investigation), is again in news.
The white-turbaned trouble-monger masquerading as a cleric is visiting India to attend a cultural festival organized by a prominent television group close to radical Hindu organizations.
Over the past few days, social media has been abuzz over Tawhidis much-publicized visit to India. While he has been ecstatically welcomed by the ideological right (RSS and ilk), including some leaders of the ruling party, Muslim organizations and peace activists have strongly denounced his agenda-based visit.
Tawhidi banks heavily on his aggressive PR machinery, dishing out inflammatory statements that stoke the flames of sectarianism and malign the image of Islam. Thats precisely why he is idolized by right-leaning ideologues from America to Israel to India. He makes their job easier.
Over the last few days, his interviews have appeared in leading newspapers of India, in which he spews venom against Muslims, against Islam, against Pakistan, against Iran, against the Islamic revolution. He makes no secret of his surreptitious love affair with Zionists in Israel and Hindutva brigade in India.
In an interview with Times of India, Tawhidi described himself as a peace advocate working for healthy interfaith dialogue. In the same breath, he denounced Pakistans version of Islam, which he said is amended to fit the narrative of the government and to justify all of its wrongdoings. Exactly the kind of rhetoric Hindu fanatics in India want to hear from their foreign guests.
He went on to label Irans revolutionary guards and Lebanons Hezbollah movement as Shia terrorist organizations, in line with what his masters in Tel Aviv and Washington have suckled him.
Tawhidis association with Iran is old. He was born in the holy city of Qom and had his elementary and secondary education in the religious seminaries of the city. Owing to his suspicious activities, he was expelled from the Qom seminary after which he traveled to Australia and unveiled his real face there.
He has toured many countries in the West in recent years promoting his warped worldview and distorted image of Islam, thereby bringing bad name to the religion he falsely claims to profess. The latest being India, where he has overt and covert association with Hindu militant organisations that have been accused of mob lynching of Muslims in recent past.
Some of the people he has met in India over the past few days based on his Twitter feed include the infamously famous hate-mongers BJP politician Subramanian Swamy and writer Tarek Fateh. Both Swamy and Fateh are master conspiracy theorists whose job is to polarize communities in India for vote bank politics.
In May 2018, Swamy, who is known for whipping communal passions, said Muslims of India were the descendants of Hindus, so if any Muslim citizen of India identifies with or glorifies Islamic rule in India, he should be declared a defeated alien. Fateh, a Pakistan-born and India-based writer, in September 2018 said Muslims owe Ram Mandir to Hindus and it would be constructed in Ayodhya, a disputed site in northern India where a historic mosque was demolished by radical Hindus on December 6, 1992.
Tawhidis camaraderie with these people is based on their common hatred for Islam and Muslims. Their meetings are part of the larger plot to demean the great religion of Islam and its great adherents.
He not only hates Muslims, but he also promotes the views that fit the narrative of Hindu fanatics in India. For instance, in an interview with right-wing portal OpIndia last year, he said Pakistan is an illegitimate country founded upon hate and blood, and added that Kashmir is a Hindu land and it belonged to India before Pakistan was created.
To please his friends in New Delhi, Tawhidi even jumped in defense of India forces and legitimized the cold-blooded killing of Kashmiri youth Qaiser Amin in Kashmir earlier this year.
While he has been praised by far-right ideologues including American Hindu author David Frawley, anti-Islamophobia and peace activists like Middle East Eye columnist CJ Werleman have criticized him in unequivocal terms.
In a November 2017 article titled The Islamophobia Industrys favourite Imam is a fake, Werleman brilliantly exposed the fake Imam and the darling of New Atheists. His cartoonish and paradoxical efforts to portray himself as the sum of all xenophobic fears, while at the same time echoing xenophobic narratives made him an irresistible magnet to Australian media outlets and racist hate groups, he wrote.
While the radical Hindu groups in India rolled red carpet for him, Muslim organisations strongly protested against his visit. Majlis Ulama-e-Hind, a body of Muslim clerics in India, expressed its strong disapproval over Tawhidis visit by writing a letter to Indias Home Minister Rajnath Singh.
Maulana Kalbe Jawad, general secretary Majlis Ulama-i-Hind and top Shia cleric, said the man was masquerading as a scholar while he was not related to Shiism or Islam, because his preaching and books are against the teachings of Islam and Shiite faith.
Shujaat Ali Quadri, National President of Muslim Students Organisation of India, also opposed his visit to India, terming him a puppet of the West and Israel.
Alt News founder Pratik Sinha accused him of spreading fake news. He was soon blocked on Twitter.
To protest against Tawhidis visit to India and denounce his hate-filled rhetoric, hashtags like #GoBackTawhidi, #NoToTawhidi, #ImamOfFitna have been trending on Twitter in India.
He is a fraud, a big fraud, wrote on Twitter user. His only agenda is to humiliate Muslims and show disrespect to Islam, which is also the agenda of Zionists and Hindutva groups.
https://www.tehrantimes.com/news/432817/Fake-Imam-darling-of-Zionists-and-Hindu-fanatics
--------
Why Did The Supreme Court Deny A Muslim's Plea For An Imam At His Execution?
Feb 12th 2019
WHEN THE SUPREME COURT cleared the way for Alabama to execute Domineque Ray, a Muslim man who had wanted his imam by his side as he died, the legal commentary ranged from surprised to outraged. The justices' order, on February 7th, approved by a 5-4 vote—with the four liberal-leaning justices in dissent—made no mention of the apparent constitutional problem with Alabama's refusal to grant Mr Ray's request. According to Alabama Department of Corrections policy, the prison's Christian chaplain may be present during a lethal injection and, on request, "will kneel at [an inmate's] side and pray with him", but clergy of other faiths are barred from the room.
On February 6th, the Eleventh Circuit Court of Appeals had delayed Mr Ray's execution on the grounds that Alabama's Christian-clergy-only rule seemed to violate the constitutional bar on preferring one faith over others. In a 28-page opinion explaining this position, Judge Stanley Marcus wrote for two colleagues in concluding that "it looks substantially likely to us that Alabama has run afoul of the establishment clause of the First Amendment". Mr Ray's claim "touches at the heart" of America's ideal of religious liberty. "[W]e can think of no principle more elemental to the establishment clause", they wrote, "than that the states and the federal government shall not favour one religious denomination over another".
https://www.economist.com/democracy-in-america/2019/02/12/why-did-the-supreme-court-deny-a-muslims-plea-for-an-imam-at-his-execution
--------
Turkey's new Sunni Islamism matches history of totalitarianism - academic
Feb 11 2019
The rise to supremacy of the political Islamist-rooted Justice and Development Party (AKP) is widely seen as coinciding with the regression of democracy and rise of totalitarianism. Yet it would be a mistake, political scientist and Ahval contributor Cengiz Aktar said in an academic article , to deduce from this that Islam is incompatible with democracy and a pluralistic society.
"I'm tending to consider that Turkish failure has more to do with historical features of the polity than Islam's alleged innate inadequacies," Aktar said in his article, published in the January 2019 edition of Philosophy and Social Criticism journal.
The Turkish attitude to Islam until the AKP period had, Aktar said, a "schizophrenic" quality, which emerged from a founding principle that placed the religion as "the single common denominator among the participants" of the new, secular nation envisioned by the republic's founders.
"The modus operandi obviously excluded the non-Muslim groups from the composition of the nation right from the beginning. Paradoxically it also excluded Muslim masses from the composition of the new nation by virtue of the principle of secularism or rather laicism, in a perfectly schizophrenic modus," Aktar wrote.
"In other words, Turkey today is precisely at a point where Islam is becoming finally its main identity: 'nation' and 'Muslim', merging finally as one and the same," said the scholar. "Such completion of Islam's nationalization both literally and figuratively opened up, on the same time the opportunity of its total instrumentalization."
This, he argues, has entailed Sunni homogenisation and corresponding demographic engineering to rid Turkey of ethnic or religious minorities "who don't correspond to the redefined Sunni Turk," mirroring the "dreadful precedent" set during the late Ottoman period, when minorities were massacred or expelled from Turkish territory.
So, Aktar said, as in that period, today's situation sees the country's minorities being marginalised or forced out entirely. With as many as 3.5 million "obedient Sunni Syrian refugees" currently in Turkey, and many of these willing to stay on, the AKP regime has a large reserve of potential citizens to replace them with, the scholar added. "The Sunni homogenization is in full swing."
President Recep Tayyip Erdoğan, meanwhile, has pushed "undemocratic political culture to its conceptual limits" through a "A representative system of government exclusively defined by holding elections – moreover, non-free and unfair – in an environment where participation, power sharing, governance, accountability, and transparency are inexistent."
The political group that gains the majority – in this case Erdoğan's own "tribe" of Sunni Muslim voters, is allowed to rule at its own discretion, and Erdoğan has seized the Turkish judiciary and tied it to his political will to ensure it can do so.
Yet this, Aktar said, is not a new situation but a development of the system in place in the "Old Turkey" that preceded the AKP's rule.
"'Political law' finds its essence in westernized Old Turkey's political customs that excludes the majority, whereas its present-day nemesis excludes all kind of minorities and cultural diversities," he said.
Consequently, Erdoğan has mustered an "overwhelming mass of followers" that shows "totalitarian features," with which the president is able to communicate "in plain Turkish packed with quick fixes, in line with (their) level of education."
"It looks as though the New Turkey project, as defined and conveyed by the regime through a sense of Sunni Islamist belonging, matches, and legitimizes the expectations of a totalitarian behavior nurturing at the social level," Aktar said.
All these features of the AKP's rule, however, have their roots in prior periods of Turkish history, from the absolutist Ottoman sultan Abdulhamit II and the Jacobinist Young Turks who preceded the switch to a republic, to the totalitarian aspects of the Armenian and Syriac genocides of 1915-1916.
The "failure of Turkish political Islam and the simultaneous rise of totalitarianism seem to have to do with an abortive social contract unqualified for accepting the peaceful antagonisms of various ethnic, religious, and social groups," Aktar said.
"Regardless the ideology underneath, Turkish homo politicus is against power sharing, devolution, and pluralism. He is keen of justice only if that justice is for the followers of his asabiyya. He is keen to preserve the 'master-obedient servant' relation, worships a radical nationalism, and be predisposed to violence ... Overall, he is not prone to democracy and pluralism," he said.
https://ahvalnews.com/turkish-islamism/turkeys-new-sunni-islamism-matches-history-totalitarianism-academic
--------
Egypt arrests students for mocking Christianity online
February 11, 2019
CAIRO: Egyptian authorities have arrested four students for mocking Christian rituals in an online video and ordered them to be kept in custody for four days, a judicial source said Monday.
The university students aged between 19 and 24 were accused of being in "contempt of the Christian religion," the source said.
If tried and found guilty they could face up to five years in prison.
They were arrested last week and remanded in custody by the state prosecutor overnight Sunday.
At the end of January they posted a video on YouTube in which they were allegedly seen mocking Coptic hymns and prayers.
But they later removed the clip and posted an apology online.
Copts, a Christian minority which accounts for 10 percent of Egypt's 98 million people, have repeatedly complained of marginalization in the mostly Muslim country.
In recent years they have been targeted by Daesh group extremists.
Trials for "contempt" of Christianity are rare in Egypt where more frequently charges are levelled for contempt of Islam usually against liberal Muslim intellectuals.
In 2016 four Coptic teenagers were found guilty of being in contempt of Islam and three of them were handed five-year sentences each after mocking Muslim prayer in a video.
Later that year they fled the country, traveling to Switzerland where they obtained political asylum.
http://www.arabnews.com/node/1450536/middle-east
--------
Germany closes Muslim kindergarten over Islamist links
11.02.2019
Officials in the city of Mainz on Monday withdrew the license of the only Muslim kindergarten in the state of Rhineland-Palatinate amid allegations that the facility was promoting Salafism.
The president of the state's youth office, Detlef Placzek, said the promotion of Salafist materials meant that the nursery no longer adhered to the German constitution.
Officials had a duty to intervene, Placzek said, when an operator was unwilling or unable to "to create the conditions that ensure the well-being of children."
Arab Nil-Rhein chairman Samy El Hagrasy rejected the accusations of extremism and said he would be appealing. "We accept and respect the constitution," said El Hagrasy, adding that the decision was "incomprehensible and a mystery."
Children not in 'acute danger'
Alarm bells were first sounded in 2012, when a controversial preacher began attending events for the Arab Nil-Rhein (Arab Nile-Rhine) mosque association, which is responsible for the Al Nur day nursery.
Further information only came to light in autumn last year, with the revelation that inappropriate literature had been shared at the kindergarten and that the center had worked with an infamous figure within the ultra-conservative Salafist movement.
Children at the kindergarten are all due to switch to other day care centers by March 31, with preparations already being made by the city. A grace period was possible because there was no evidence of "acute danger to life and limb of the children," officials said.
At present there are 18 children at the kindergarten between the ages of three and six.
https://www.dw.com/en/germany-closes-muslim-kindergarten-over-islamist-links/a-47469565
--------
Thousands of Catholics Celebrated 500 Years Of Christianity In Bangladesh
February 11, 2019
Thousands of Catholics celebrated 500 years of Christianity in Bangladesh by paying tribute to early missionaries, martyrs, and Mother Mary from Feb. 7-8. The celebrations coincided with an annual pilgrimage to the popular Our Lady of Lourdes shrine in Diang, Chittagong Archdiocese.
About 7,000 people including 11 bishops, 75 priests, 18 religious brothers and 80 nuns flocked to the two-day program.
On Feb. 7, they paid tribute to early Christian martyrs who were buried in Diang's old cemetery in 1607.
Soldiers from the former Arakan Kingdom, now part of Myanmar's northern Rakhine State, reportedly killed 600 Portuguese Christians shortly after the turn of the century.
That massacre followed the martyrdom in 1602 of Portuguese Jesuit priest Father Francesco Fernandez at the hands of the Arakanese, four years after he became the first Catholic missionary to set foot in Chittagong and Diang.
This happened some 80 years after the first Christian traders sailed from Goa in India, then a Portuguese stronghold, and landed at Chittagong port in 1517, after which they helped to set up the first Christian settlements in the area.
The Vatican made Chittagong the seat of East Bengal Vicariate in 1845. It fell under the control of Dhaka Diocese from 1886-1927, when the Holy See created Chittagong Diocese. This was elevated to an archdiocese in 2017.
Hills of Diang
In remembrance of its fabled history, hundreds of Catholics climbed the hilly roads of Diang this month to honor those early martyrs and missionaries by offering flowers and lighting candles on their ancient tombs.
Apostolic Nuncio Archbishop George Kocherry and Holy Cross Archbishop Moses M. Costa of Chittagong also unveiled a new "Rosary Garden" in the shape of rosary beads at the Marian shrine as a sign of respect.
Those who turned up were treated to a documentary charting the arrival of the first Christians in Chittagong, as well as the various success stories and tribulations of the Church over the last five centuries.
"Five hundred years is sign of fullness, a matter of pride, joy and new inspiration for us. This is a calling for us to be missionaries and move toward a new way of serving the people," Archbishop Costa told ucanews.com.
The prelate said a plan to build a monument to commemorate those early martyrs and missionaries was in the process of being thought out.
"The massacre of the 600 Christians took place on Nov. 14, so we would like to declare that date Martyrs Day," he said.
Devotion to Mary
On the afternoon of Feb. 7, thousands of people joined a candlelight Rosary prayer procession around the hills of Diang. Devotees prayed, sang Marian songs, and made stopovers on the road as they took time to reflect and pray.
Catholics have been making this pilgrimage for nearly 40 years, thanks in part to the charitable and promotional efforts of Brother Flavian Laplante, a Holy Cross missionary from Canada.
He devoted himself to providing education and social services for the poor and needy in Diang in the 1940s and set up the Marian grotto and ashram (hermitage) in 1946 so people could flock there to pray. It was designated a shrine three decades later.
Brother Flavian died in 1981 and was buried nearby. In 2009, he was declared a "Servant of God," the first step toward sainthood.
Holy Mass and interfaith gathering
On Feb. 8, Archbishops Kocherry and Costa joined a number of bishops in offering a special Holy Mass at the shrine.
"Today, we gratefully remember the martyrs of Diang and Chittagong, who shed their blood to keep up their faith. Our faith is a legacy of their extraordinary faith and their holy blood," Holy Cross Bishop Lawrence Subroto Howlader of Barishal Diocese said during the homily.
Later, a thanksgiving program featured traditional Bengali music, and dances and plays from indigenous cultures.
Apostolic Nuncio Kocherry compared Diang to Nazareth.
"Jesus grew up in Nazareth and [the Christian] faith was born there, after which it spread all over the world. Similarly, Christianity took root here in Diang before spreading all over Bangladesh," the nuncio said.
"We all have a duty to propagate our faith to others," he added.
That same day, Our Lady of Holy Rosary Cathedral in Chittagong hosted an interfaith gathering featuring Muslims, Hindus, Buddhists and Christians.
Maolana Amzad Hossain, a Shia Muslim imam, said it was important the different religions remembered their commonalities instead of their differences.
"Muslims call the creator Allah and Christians call him God. He is the same person," he said. "This understanding is crucial for interfaith dialogue as we seek the way to harmony and peace."
https://www.ucanews.com/news/bangladesh-fetes-500-years-of-christianity/84485
--------
Be more open to using cannabis for medical purposes, Muslim consumer group says
12 February 2019
KUALA LUMPUR, Feb 12 — The use of imported cannabis-based products should be given a chance and accepted for medical purposes, according to Malaysian Consumers Association of Malaysia (PPIM) chief activist Datuk Nadzim Johan.
He said the government and the parties involved should be more open to using cannabis for medical purposes as there have been many clinical studies conducted in medical laboratories, locally and abroad.
"It's just that we have to look into how far the use of the products can be controlled and at the same time to carry out more clinical research on the plant and how it can be used as alternative medicine.
"It's a huge loss if we refuse to make optimal use of the plant when it has been proven effective in the treatment of various illness, including cancer and nerve diseases," he told Bernama when contacted here yesterday.
He explained that apart from diversifying the types of medical treatments, the cannabis-based products had also been seen capable of reducing the cost of treatment as it was cheaper and can be cultivated commercially in line with the existing law provisions relating to controlled plants.
"We are aware that the cost of treatment, especially for cancer, is very high and burdening. So, if there is an alternative, it may help those patients. Right now, the most acceptable alternative is the cannabis-based product, like it has been accepted in the United States, Thailand and Mexico," he said.
On Sunday, Deputy Health Minister Dr Lee Boon Chye government would only consider cannabis-based products for medical purposes when there is strong evidence to show its efficacy and that it is safe for use.
He said pharmaceutical companies and others who wish to import the drug must show proof that it is safe and effective. — Bernama
https://www.malaymail.com/news/malaysia/2019/02/12/be-more-open-to-using-cannabis-for-medical-purposes-muslim-consumer-group-s/1722048
--------
India
Al Qaeda Attempting to Exploit Rising Hindu-Muslim Tensions, Says Report
February 12, 2019
New Delhi: A report put together by a leading think tank on global security issues has stated that the Al Qaeda is attempting to exploit the rising tensions between Hindus and Muslims in India. In its report titled - 'Al Qaeda In The India Subcontinent: The Nucleus Of Jihad In South Asia', the Soufan Centre, which was founded by former FBI agent Ali Soufan, has said that the growing communal divide and increased incidences of violent attacks on Muslims in India has created an atmosphere of fear and exacerbated tensions between the two religious communities.
"Al Qaeda in the Indian Subcontinent (AQIS) is attempting to exploit this hostility through repeated Urdu language rhetoric in the form of propaganda pushed out on various social media channels," the report published in January earlier this year stated. It also quashed the common notion that the outfit and its affiliates only operate and thrive in conflict zones such as Yemen, Libya and Syria. "AQIS illustrates how Al Qaeda successfully infiltrates, operates and spreads its ideology in countries experiencing relative calm, like India. This model may prove to be Al-Qaeda's blueprint for the future," the report further stated.
The report also talked about how the situation in Kashmir "has taken an unprecedented turn". "For the first time since the onset of conflict in Kashmir, the region is responding to the appeal of groups like Al-Qaeda. Local Kashmiris lead the AQIS wing in the contested territory which reflects the growing Islamization of Kashmiri militancy."
Elaborating further, it states that Al Qaeda is making efforts to reframe the jihadi narrative in Kashmir, which in turn will bolster its operations in India. "Since 2007, Al Qaeda has worked to delegitimize Pakistan's role in the Kashmir conflict through a targeted Urdu-language messaging campaign. It has repeatedly posited Kashmir militancy as an ISI-sponsored jihad, rather than a legitimate jihad and wants to wrest control of jihad in Kashmir from Pakistan," the report read.
The primary argument to the above, the report cited, was that the Pakistani regime due to its close proximity to the United States, was an apostate un-Islamic government, "Such a framing has helped Al-Qaeda to claim that Pakistan, and its militant proxies focused on Kashmir, are fighting a corrupt jihad and misappropriating critical resources that could be harnessed by Al-Qaeda toward more effective ends," the report said.
The Soufan Centre report also mentioned a "potent faction of Hizbul Mujahideen", headed by Zakir Musa that has pledged its allegiance to AQIS. "Additionally, Al-Qaeda's ideological influence over groups lie HUJI and Jaish-e-Muhammad, which have historically operated in Kashmir, is also strengthening its narrative in Kashmir. This demonstrates the prospective threat posed by AQIS through its efforts to shift both ideological terms of jihad and the source of the conflict's legitimacy in an effort to transform Kashmir into the centre of gravity for jihadists in South Asia," the report further said.
Such an alignment of interests between AQIS and local Kashmiri groups, the report further stated, would transform the political struggle of Kashmiris into a religious one and also pose a grave threat to the Indian hinterland. "India may see a revival of the violence of the 1990s, when Kashmiri groups launched frequent attacks," it added.
https://www.news18.com/news/india/al-qaeda-attempting-to-exploit-rising-hindu-muslim-tensions-says-report-2033385.html
--------
Encounter between security forces, militants underway in J-K's Pulwama
Feb 12, 2019
An encounter is underway in Ratnipora village of south Kashmir's Pulwama district. Officials said that two to three militants are believed to be trapped in a house which has been encircled by the forces.
Locals said that around mid night, army and police launched a search and cordon operation in Ratnipora village which turned into an encounter.
Police spokesman has confirmed that an operation is underway in the Ratnipora village. Mobile internet services have been suspended in the area.
Full report at:
https://www.hindustantimes.com/india-news/encounter-between-security-forces-militants-underway-in-j-k-s-pulwama/story-m2JIKCVTSpQRvgy4Iq6LAP.html
--------
PDP leader wants back remains of Afzal Guru, Maqbool Bhat
Feb 11, 2019
A leader of former chief minister Mehbooba Mufti's Peoples Democratic Party (PDP) on Monday wrote to Prime Minister Narendra Modi seeking the remains of separatist Jammu and Kashmir Liberation Front (JKLF) founder, Maqbool Bhat, and 2001 Parliament attack convict, Afzal Guru.
Bhat was hanged at Delhi's Tihar jail on February 11, 1984, for the murder of a policeman and his body was buried on the prison premises. Guru, too, was buried at Tihar after his hanging at the prison on February 9, 2013.
"I can with utmost responsibility say that should the Government of India decide to act upon this request [for returning the remains], the animosity of Kashmiris and their sense of alienation can be brought down by several notches,'' said PDP leader and Rajya Sabha member, Fayaz Mir, in a letter to Modi as a shutdown was observed in Kashmir on Bhat's 35th death anniversary.
In his letter, Mir cited the demands for clemency for former Prime Minister Rajiv Gandhi's killers. "I do not think it is appalling or disrespectful to seek the return of mortal remains of two Kashmiri men to their families.''
Mir said Guru was sent to the gallows even though he was at number 28 on the list of death row prisoners. He called his execution and the refusal to return his body "a sore misery and a dark blemish" on the world's largest democracy. "It was, by all means, an unconstitutional measure and has been called out for its huddled and secretive manner by almost all ideological groups in the country,'' wrote Mir, whose party lost power in June 2018 after the Bharatiya Janata Party withdrew its support to Mufti's government.
BJP state spooesman Altaf Thakur termed the letter as a political stunt of the PDP. "In four and half years, the MP never raised this issue in the parliament. PDP has done its politics always on the dead bodies and they are doing it again now."
Separatist Joint Resistance Leadership had called for the shutdown to mark Bhat's death anniversary on Monday.
Full report at:
https://www.hindustantimes.com/india-news/pdp-leader-wants-back-remains-of-afzal-guru-maqbool-bhat/story-qfo4OKHhVQ1KAlsmN5ajSI.html
--------
North America
Trump administration threatens to veto any anti-Saudi resolution by Congress
Feb 12, 2019
The Trump administration threatens to veto a bid by the United States Congress to end the country's military support for the Saudi Arabia-led coalition's onslaught in Yemen.
The administration claimed on Monday that the resolution was inappropriate, harming the country's regional relations and stated efforts to halt "violent extremism", according to Reuters.
The administration also maintained that the military support constitutes a security agreement with the Saudi government, which does not involve troops deployment and therefore technically not considered a "use of military force."
Congress, however, believes that US intervention in Yemen is an instance of use of force in a foreign conflict, giving the body constitutional power to authorize or block the administration's measures.
President Donald Trump ignored a Friday deadline by Congress to determine who ordered the assassination of Saudi journalist Jamal Khashoggi and whether he intends to impose sanctions on Riyadh, prompting an angry backlash on Capitol Hill.
Members of Congress, including many of Trump's fellow Republicans as well as Democrats, have urged a strong response to the murder of Khashoggi as well as the Saudi-led war against Yemen, which has led to a humanitarian crisis.
A group of senators from both political parties last Thursday renewed their push to penalize the oil-rich kingdom, unveiling legislation to bar some arms sales and impose sanctions on those responsible for Khashoggi's death.
Despite previously gaining bipartisan support in the Republican-controlled Senate in December, the resolution vote was blocked in the House of Representatives, which was also dominated by Republicans.
Having gained House majority in January, Democrats intend to take up the resolution this week.
https://www.presstv.com/Detail/2019/02/12/588324/Trump-to-veto-any-antiSaudi-resolution
--------
Muslim US lawmaker apologises for remarks which triggered anti-Semitism row
FEBRUARY 12, 2019
"Anti-Semitism is real, and I am grateful for Jewish allies and colleagues who are educating me on the painful history of anti-Semitic tropes," Ms. Omar, the first Somalian American lawmaker, said Monday.
US lawmaker Illhan Abdullahi Omar, one of the first two Muslim women in the US Congress, has "unequivocally" apologised for her remarks which sparked an anti-Semitism row and drew widespread condemnation including from President Donald Trump who termed it a "terrible statement".
Ms. Omar, who was elected to the House of Representatives last November, on Sunday in a tweet questioned the financial relationship between the powerful American Israel Public Affairs Committee (AIPAC) and members of the Congress.
While reacting to a Republican critic, Ms. Omar, 37, said "It's all about the Benjamins baby," referring to American $100 bills featuring the likeness of Benjamin Franklin.
"Anti-Semitism is real, and I am grateful for Jewish allies and colleagues who are educating me on the painful history of anti-Semitic tropes," Ms. Omar, the first Somalian American lawmaker, said Monday.
"My intention is never to offend my constituents or Jewish Americans as a whole. We have to always be willing to step back and think through criticism, just as I expect people to hear me when others attack me for my identity. This is why I unequivocally apologise," she said, after top Democratic leaders sought an apology from her on her tweets.
On Monday, Mr. Trump told reporters abroad Air Force One that the apology was not enough.
"I think she should be ashamed of herself. I think it was a terrible statement and I don't think her apology was adequate," he said.
Asked what she should say, Mr. Trump replied, "she knows what to say".
Democratic leaders led by House Speaker Nancy Pelosi described her tweets as highly offensive.
"We are and will always be strong supporters of Israel in Congress because we understand that our support is based on shared values and strategic interests. Legitimate criticism of Israel's policies is protected by the values of free speech and democratic debate that the United States and Israel share," they said.
"But Congresswoman Omar's use of anti-Semitic tropes and prejudicial accusations about Israel's supporters is deeply offensive. We condemn these remarks and we call upon Congresswoman Omar to immediately apologise for these hurtful comments," Democratic leaders said.
Congressman Dean Phillips had an impassioned, face to face conversation with Omar during which he expressed offense to her recent anti-Semitic tropes and extended an invitation for future discussions aimed at fostering a better understanding between Jewish and Muslim members of Congress.
"I strongly condemn anti-Semitism in all its forms, including comments made by my colleague that - purposefully or not - have propagated dangerous and destructive stereotypes of the Jewish people and the State of Israel.
"As elected leaders, it is our collective responsibility to set standards of respect and elevate understanding between the communities we represent," he said.
Ms. Omar and her Democratic colleague from Minnesota were the first two Muslim women elected to the House of Representatives during the last November mid-term polls.
"As Americans and Jews, we expect our politicians to condemn bigotry, not to fuel it. Words matter. At a time when anti-Semitism is on the rise in the US and abroad, Rep Omar is promoting the ugly, anti-Semitic conspiracy theory that Jews have an outsized influence over politics," said Jonathan A Greenblatt, CEO and national director of the Anti-Defamation League.
Full report at:
https://www.thehindu.com/news/international/muslim-us-lawmaker-apologises-for-remarks-which-triggered-anti-semitism-row/article26245266.ece
--------
Eyeing leverage over Taliban, US ramps up Afghanistan airstrikes to decade-long high
Feb 12, 2019
The US military conducted more airstrikes in Afghanistan last year than any other year in the past decade, official data shows, a telltale sign that the administration of US President Donald Trump is stepping up engagement in order to get the upper hand in peace talks with the Taliban.
American fighter jets, bombers, attack aircraft and drones dropped 7,362 weapons on targets across Afghanistan in 2018, according to latest statistics released by the US Air Forces Central Command.
That's more than the past three years combined and much higher than 2011, the second second-highest year on record, where American aircraft dropped 5,411 weapons.
Overall, American aircraft performed 8,196 sorties in 2018, almost double the number of those carried in 2017, according to the data. Most of the strikes were carried out in September and November.
Airstrike kills 21 civilians in Helmand province
Local officials confirmed late Sunday that US-led airstrikes in the southern province of Helmand had killed at least 21 Afghan civilians on Friday night.
Mohammad Hashim Alkozai, a lawmaker in the Sangin district, where the raids took place, said at least 13 civlians were killed in one attack and right in another.
"Innocent people, women and children, are the only victims of the airstrikes," he noted.
Peace talks with Taliban
Unnamed US military officials confirmed to The New York Times last week that the US had stepped up attacks against the Taliban to give American negotiators leverage in direct peace talks with the group.
The dramatic increase in attacks against the Taliban and the Daesh terror outfit in Afghanistan comes after Trump's announcement in December that he was going to end the 17-year-long US war there.
The Republican president made it clear during his 2016 campaign that he would bring home all the roughly 14,000 US troops from the Afghanistan war, which he back then described as a "total disaster"
In 2017, however, he unveiled plans to prolong the war by sending more troops to Afghanistan, a decision that was seemingly made under the influence of then Defense Secretary James Mattis.
During that period, the Pentagon sent around 3,500 additional troops to Afghanistan and authorized the use of the 10,000 kilogram (21,600-pound) GBU-43 Massive Ordnance Air Blast (MOAB) -- nicknamed "mother of all bombs."
But a year later, Trump made another surprising U-turn by deciding to withdraw from Afghanistan and Syria, a decision that prompted Mattis to resign.
He doubled down on that decision during his State of the Union speech last week, where he also spoke highly of ongoing peace talks with the Taliban.
"In Afghanistan, my administration is holding constructive talks with a number of Afghan groups, including the Taliban," Trump said. "As we make progress in these negotiations, we will be able to reduce our troop presence and focus on counter-terrorism. We do not know whether we will achieve an agreement -- but we do know that after two decades of war, the hour has come to at least try for peace."
Representatives of the US and the Taliban militant group have held several rounds of talks in over the past weeks. The latest round was held last month, and the next round is scheduled for February 25.
Efforts to negotiate a peace deal have been beset by disagreement in recent weeks as leaders of the militant group reject the Kabul government's offer for direct talks.
Earlier this month, Taliban sidestepped Kabul by holding direct talks with powerful Afghanistan politicians, including former President Hamid Karzai, in Moscow, the Russian capital.
"The Americans agreed to withdraw half of their troops immediately. The withdrawal will start from February 1 and continue until end of April," Abdul Salam Hanefi, deputy head of the Taliban's political office in Qatari capital Doha, told reporters in Moscow.
This is while US negotiator Zalmay Khalilzad has repeatedly stressed that "nothing is agreed until everything is agreed. 'Everything' must include an intra-Afghan dialogue and comprehensive ceasefire."
Earlier this week, the Taliban threw out Afghan President Ashraf Ghani's offer to open a political office in Kabul, saying the offer was aimed at "harming the peace efforts." The group says it is looking forward to get global recognition.
Acting US Defense Secretary Patrick Shanahan met with Ghani during a surprise visit to Kabul on Monday to "discuss a broad range of defense issues," according to the Pentagon.
Full report at:
https://www.presstv.com/Detail/2019/02/12/588341/US-airstrikes-Afghanistan-Trump-Taliban-peace-talks-Doha
--------
US wants ex-Saudi aide punished in Khashoggi killing
12.02.2019
By Michael Hernandez
WASHINGTON
The U.S. is asking Saudi Arabia behind closed doors to hold a former top official implicated in the murder of Washington Post columnist Jamal Khashoggi to account, according to a report published Monday.
Riyadh has thus far staunchly resisted U.S. pressure to take action against Saud al-Qahtani over Khashoggi's Oct. 2 slaying in the Saudi consulate in Istanbul, The Wall Street Journal reported, citing anonymous Saudi and American officials.
Al-Qahtani previously served as the de facto right-hand man to Crown Prince Mohammed bin Salman, a post he has since been formally removed from even as he has continued to serve as an informal adviser to Saudi Arabia's royal court.
"We don't see that Saud al-Qahtani is very constrained in his activities," an anonymous senior State Department official told the newspaper.
Al-Qahtani was one of 17 Saudis sanctioned by the U.S. in December over Khashoggi's killing. Turkey is also seeking his extradition.
Saudi officials confirmed to the Journal that he remains an informal advisor to bin Salman, the Kingdom's de facto ruler, even after he was fired by Saudi King Salman.
Pressure has continued on the U.S. administration to hold bin Salman personally responsible for Khashoggi's killing, but it has so far resisted.
Full report at:
https://www.aa.com.tr/en/americas/us-wants-ex-saudi-aide-punished-in-khashoggi-killing/1389858
--------
US acting Pentagon chief meets Afghan president
12.02.2019
By Servet Gunerigok
WASHINGTON
U.S. Acting Secretary of Defense Patrick Shanahan met with Afghan President Ashraf Ghani on Monday in the Afghan capital Kabul, said a Pentagon spokesperson.
In a statement, Cmdr. Sean Robertson said Shanahan met Ghani at the presidential palace to reaffirm the U.S.'s commitment to Kabul through the implementation of President Donald Trump's South Asia strategy.
"The leaders discussed a broad range of defense issues, including the importance of the U.S.-Afghanistan security relationship and of achieving a political settlement to the war that ensures Afghanistan is never again used as a safe haven from which terrorists can plan and launch terrorist attacks against the United States, our interests, and our allies," said the statement.
In his first visit to Afghanistan, Shanahan praised the "sacrifices made by Afghan and Coalition troops" and reaffirmed Washington's "continued support to Afghan forces as they lead the fight to defend their country".
The meeting comes amid a renewed push for a peaceful end to the Afghan conflict.
Full report at:
https://www.aa.com.tr/en/americas/us-acting-pentagon-chief-meets-afghan-president/1389888
--------
Mideast
Israel destroys Palestinian house near Bethlehem
Feb 11, 2019
Israeli regime forces have demolished a Palestinian house in a village in the occupied West Bank city of Bethlehem, displacing its inhabitants of five.
The Palestinian Ma'an news agency reported on Monday that dozens of heavily-armed Israeli soldiers escorted bulldozers to the northern part of the village of al-Walajah in Bethlehem and demolished a 100-square-meter property there.
The house was owned by a Palestinian named Majdi Shweiki, and he lived there with his family, according to local sources.
Ma'an said about 180 homes in al-Walaja Village had received demolition notices from Israeli regime authorities and that 40 of them had received demolition orders under claims that they had been built without "building permits," which the Israeli regime never issues in the so-called Area C of the West Bank anyway.
Area C, which is under full Israeli control, makes up more than 60 percent of the entire occupied West Bank. Eighty eight percent of the area lies in the strategic Jordan Valley, which comprises a third of the occupied West Bank.
The Israeli authorities frequently demolish Palestinian buildings and structures in the area, with Bedouin and herding communities being particularly vulnerable to that practice.
International bodies and rights groups say Israeli demolitions of Palestinian structures in the occupied West Bank and East Jerusalem al-Quds are an attempt to uproot Palestinians from their native territory and confiscate more land for the expansion of illegal settlements.
Israel has been occupying the West Bank, including East al-Quds, since 1967. Ever since, it has been building settlements throughout the land, in a move condemned by the United Nations (UN) and considered illegal under international law.
About 600,000 Israelis live in over 230 illegal settlements in the West Bank and East Jerusalem al-Quds.
Israeli settler assaults journalist in Hebron
In a separate report a day earlier, Ma'an said that an Israeli settler had attacked a journalist in the southern occupied West Bank city of al-Khalil (Hebron).
The journalist, named Issa Amr, said the attacks and assaults against locals and internationals are a proof of the Israel's apartheid and ethnic cleansing policy in al-Khalil.
Israeli hate attacks in Nablus
Citing a Palestinian official, Ma'an also said Israeli settlers had attacked Palestinian vehicles with rocks in Huwara Town near the northern occupied West Bank city of Nablus.
Ghassan Daghlas, the Palestinian Authority (PA) official in charge of monitoring Israeli settlement policy in the northern part of the West Bank, told the news agency that the extremist settlers smashed the windows of several Palestinian vehicles parked in front of Palestinian homes in the northern area of Huwara.
Daghlas said that Israeli settlers had organized a protest in Nablus City, sealing off several roads.
Israel's continued settlement expansion on Palestinian territories has been a major sticking point in Israeli-Palestinian talks, which have stalled since 2014.
https://www.presstv.com/Detail/2019/02/11/588295/Israel-Palestinian-house-demolition-Bethlehem
--------
In Revolution anniversary speech, Rouhani lays claim to Bahrain, other neighbours
11 February 2019
Iranian President Hassan Rouhani on Monday laid historical claims to a number of Arabian Gulf countries without naming them.
In a speech marking the 40th anniversary of the Islamic Revolution in Tehran, Rouhani said: "47 years ago, which is seven years before the Islamic Revolution during the reign of the traitor Pahlavi regime, an important part of southern Iran separated, and we have read that geographically it was a part of Iran, and its 14th province. That was done by Pahlavi."
Rouhani was referring to the Kingdom of Bahrain, which Iranian officials in the past have referred to as the "14th province". The United Nations conducted a referendum in Bahrain in 1970, which asserted the country's independence.
"Hundred years ago, a large part of Iran was separated. In those parts, many countries in the south of the Gulf have formed," Rouhani said. During the speech, Rouhani also laid claims to several areas including parts of land that are currently in Azerbaijan, Armenia, and Georgia.
Full report at:
https://english.alarabiya.net/en/News/gulf/2019/02/11/In-Revolution-anniversary-speech-Rouhani-lays-claim-to-Bahrain-other-neighbors.html
--------
Two leading Shian political blocs renew call for withdrawal of US troops from Iraq
Feb 12, 2019
Iraq's two leading Shia parliamentary coalitions of Sairoon (Marching Towards Reform) and al-Fatah (Conquest) have renewed their call for the withdrawal of American forces from the Arab country.
On Monday, a delegation from Sairoon bloc, led by Iraqi Shia cleric Muqtada al-Sadr, held talks with members of Fatah alliance, headed by secretary general of the Badr Organization Hadi al-Ameri.
At a press conference following the meeting, Nasser al-Rabie, the head of the Sairoon delegation, stressed that the two political parties share a common stance on the pullout of foreign troops from the Iraqi territory.
Ameri, for his part, said that the continuation of the American forces' presence in Iraq is not possible in the current form and requires a new agreement.
The Americans, he added, were thrown out from Iraq in 2011, but they once again entered the country in 2014 under the pretext of fighting against the Daesh Takfiri terrorist group.
The two political alliances had a few days ago expressed their objection to the US military presence in Iraq.
Calls have grown in Iraq for the US exit since last December, when President Donald Trump made an unannounced visit to al-Asad Air Base in the western Anbar Province.
The trip sparked a wave of condemnations from Iraqi political leaders, with some of them demanding the swift expulsion of American forces.
Recently, Trump ordered to withdraw all American troops from Syria and half from Afghanistan, but said he had no similar plans for Iraq.
The US, backed by the UK, invaded Iraq in 2003 under the pretext that the former regime of Saddam Hussein possessed weapons of mass destruction.
No such weapons, however, were ever found in the country, and the invaders withdrew from Iraq, after nearly nine years of a military campaign that cost tens of thousands of Iraqi lives.
Leading a new coalition of its allies, the US returned to Iraq in 2014, when the Takfiri Daesh terror group unleashed a campaign of destruction in the Arab country. Widespread reports, however, said the Washington-led operations largely spared the terrorists and led, instead, to civilian deaths and inflicted damage on Iraqi infrastructure.
Full report at:
https://www.presstv.com/Detail/2019/02/12/588336/Iraq-Sairoon-Fatah-US-withdrawal
--------
Yemeni retaliatory attack leaves 8 Saudi soldiers dead in Jizan
Feb 11, 2019
At least eight Saudi troopers have been killed when Yemeni army soldiers, backed by fighters from allied Popular Committees, launched a surprise attack against them in response to Riyadh's war on their conflict-stricken country.
A Yemeni military source, speaking on condition of anonymity, told Arabic-language al-Masirah television network that Yemeni soldiers and their allies targeted the Saudi forces in the Madafin area of the kingdom's southern border region of Jizan, situated 966 kilometers south of the capital Riyadh, on Monday evening.
Earlier in the day, Saudi troops had launched a salvo of artillery rounds and mortar shells against residential neighborhoods in the Munabbih district of Yemen's northwestern province of Sa'adah.
There were no immediate reports about possible casualties or the extent of damage caused.
Separately, Saudi-led military aircraft struck Sirwah district in the central Yemeni province of Ma'rib. No reports of fatalities were immediately available though.
Elsewhere in the Dawran Ans district of the southeastern province of Dhamar, Saudi-led warplanes launched four aerial assaults, though no reports of casualties were quickly available.
Battle tanks belonging to Saudi-sponsored militiamen loyal to Yemen's former president Abd Rabbuh Mansur Hadi also shelled al-Monqim village in the al-Durayhimi district of the western Yemeni province of Hudaydah. No casualties have so far been reported.
Saudi Arabia and a number of its regional allies launched a devastating military campaign against Yemen in March 2015, with the aim of bringing Hadi's government back to power and crushing Ansarullah.
According to a report by the Armed Conflict Location and Event Data Project (ACLED), a nonprofit conflict-research organization, the Saudi-led war has so far claimed the lives of around 56,000 Yemenis.
The Saudi-led war has also taken a heavy toll on the country's infrastructure, destroying hospitals, schools, and factories. The UN has already said that a record 22.2 million Yemenis are in dire need of food, including 8.4 million threatened by severe hunger. According to the world body, Yemen is suffering from the most severe famine in more than 100 years.
Full report at:
https://www.presstv.com/Detail/2019/02/11/588296/Yemeni-retaliatory-attack-leaves-8-Saudi-soldiers-dead-in-Jizan
--------
Two Palestinians killed inside Gaza lifeline tunnel after inhaling toxic gas
Feb 11, 2019
Two Palestinians, including a police officer from Hamas resistance movement, have been killed inside a lifeline tunnel between Egypt and the besieged Gaza Strip, due to inhaling poisonous gas.
The spokesman for the Gaza Ministry of Interior and National Security, Iyad al-Bozum, said in a statement on Monday that 39-year-old Major Abdul Hamid al-Akar and Sobhi Abu Qershein, 28, "suffocated to death inside the tunnel after inhaling unknown poisonous gases."
The statement added that Palestinian civil defense teams were able to retrieve the bodies of the two Palestinians "after a great deal of efforts that lasted several hours," noting that the pair had lost their lives "while trying to rescue Palestinians who had been trapped in the tunnel."
Two other security officers were rescued and taken to hospital for treatment, Bozum pointed out.
The statement, however, did not provide further details about the details of the deaths.
A Palestinian security source, requesting anonymity, said the Egyptian military used gas to halt the use of lifeline cross-border tunnels under the southern sector of the Gaza Strip. The Egyptian army could not be reached for comment.
The report comes as Palestinians have been holding weekly rallies on the Gaza border to protest the 12-year siege on the enclave and reaffirm the right of refugees to return to their homes they were forcibly expelled from during the 1948 creation of Israel.
More than 250 Palestinians have been killed by Israeli forces ever since anti-occupation protest rallies began in the Gaza Strip on March 30. Over 26,000 Palestinians have also sustained injuries.
The Gaza clashes reached their peak on May 14 last year, on the eve of the 70th anniversary of Nakba Day (Day of Catastrophe), which coincided this year with the US embassy relocation from Tel Aviv to occupied East Jerusalem al-Quds.
On June 13, 2018, the United Nations General Assembly adopted a resolution, sponsored by Turkey and Algeria, condemning the Israeli regime for the deaths of Palestinian civilians in the Gaza Strip.
The resolution, which had been put forward on behalf of Arab and Muslim countries, garnered a strong majority of 120 votes in the 193-member assembly, with eight votes against and 45 abstentions.
The resolution called on UN Secretary General Antonio Guterres to make proposals within 60 days "on ways and means for ensuring the safety, protection, and well-being of the Palestinian civilian population under Israeli occupation," including "recommendations regarding an international protection mechanism."
Full report at:
https://www.presstv.com/Detail/2019/02/11/588281/Two-Palestinians-killed-inside-lifeline-tunnel-in-southern-Gaza-Strip
--------
Turkey orders 1,112 people arrested over Gulen links
February 12, 2019
ISTANBUL: Turkey ordered the arrest of 1,112 people over suspected links to the network of US-based Muslim cleric Fethullah Gulen, who is accused of orchestrating an attempted coup in 2016, broadcaster CNN Turk reported on Tuesday.
The operation was among the biggest that have been launched against alleged supporters of Gulen since the failed putsch, in which 250 people were killed. Gulen, a former ally of President Tayyip Erdogan, has denied involvement in the coup attempt.
CNN Turk said the operation was centered on the capital, Ankara, but was spread across 76 provinces. No further details were immediately available.
More than 77,000 people have been jailed pending trial since the coup attempt and widespread arrests are still routine. Authorities have suspended or sacked 150,000 civil servants and military personnel.
Full report at:
http://www.arabnews.com/node/1450806/middle-east
--------
Arab World
ISIS adapting into a covert threat beyond Iraq and Syria
Arthur MacMillan
February 12, 2019
ISIS commanders are changing their tactics and the group remains the biggest terrorist threat facing the world despite losing its main bases in Iraq and Syria, a UN investigator warned on Monday.
Michele Coninsx, assistant secretary general in charge of counter-terrorism, said there was evidence of the insurgents finding new ways to raise money. She also said that despite a reverse in the Middle East, its global intent and network had been retained.
Her remarks to the UN Security Council come as US-backed fighters in Syria try to clear ISIS fighters from Baghouz, the last pocket of land under the terror group's control in the north of the country.
"This change in circumstances has forced ISIS to adapt and transform itself into a covert, more locally-focused network in Iraq, yet ISIS has retained its global intent and global networks," she said.
"Of all international terrorist organisations it remains the most likely to carry out a large-scale complex attack... and it continues its determination to undermine stabilisation efforts and to fuel sectarian tensions."
Briefing the council on the UN secretary general's eighth report on ISIS, she said the insurgents were using mobile payment systems to raise money in West Africa and outlined concerns about blockchain technology and cryptocurrencies of becoming new channels for terrorist financing.
Her report to the council coincides with widespread concern about US President Donald Trump's decision to withdraw American troops from Syria. He said on Friday that all of ISIS's one-time caliphate would probably be back under sovereign control by the end of this week. Numerous officials have said ISIS fighters may simply have retreated temporarily and will be able to regroup as soon as coalition forces are no longer present to disrupt their operations.
The UN's latest report said the danger posed to the international community had increased partly because of foreign terrorist fighters returning to their home countries. ISIS remains active because of its residual efforts in finance, logistics, military intelligence, security, doctrine and media propaganda. And while fighters have left Syria some have simply moved into Iraq and are helping ISIS there.
"It is in a phase of transition, adaptation and consolidation," the report said of the group. "It is organising cells at the provincial level, replicating key leadership functions."
Speaking at Monday's meeting of the Security Council, British ambassador Jonathan Allen said ISIS was "still the most significant terrorist threat to the UK".
"They retain their leadership and capacity to inspire and encourage others to do great harm," he added.
https://www.thenational.ae/world/africa/isis-adapting-into-a-covert-threat-beyond-iraq-and-syria-1.824664
--------
Egypt parliament to vote to extend el-Sisi's rule this week
11 February 2019
Egypt's parliament has put a rush on voting on proposed constitutional amendments that would allow President Abdel-Fattah el-Sisi to stay in office well beyond his current term, which ends in 2022.
The vote was initially scheduled for next week, but is now being held as early as Wednesday, lawmaker Nadia Henry said Monday.
The development comes despite concerns that Egypt is slipping back into authoritarianism, eight years after a pro-democracy uprising ended autocrat Hosni Mubarak's nearly three-decade rule.
El-Sissi led the 2013 military overthrow of elected but divisive Islamist President Mohammed Morsi, and was elected the following year.
Once approved by lawmakers, the constitutional amendments would have to be put to a national referendum, Parliament spokesman Ahmed Saad el-Din said Sunday.
The 596-seat assembly had given its preliminary approval to the changes last week. The motion is near-certain to be approved by the legislature, packed with el-Sisi's supporters.
The amendments also include novelties: the office of vice president, a revived Senate, and a 25 percent quota for women in Parliament. It also calls for "adequate" representation for workers, farmers, young people and people with special needs in the legislature.
The president would have the power to appoint top judges and bypass judiciary oversight in vetting draft legislation before it is voted into law.
The amendments are no surprise; pro-government figures and media have been lobbying for months that two terms are not enough for el-Sisi to fulfil his vision of modernizing the country, including overhauling its economy and defeating extremist militants.
Yasser Rizq, chairman of the state-owned al-Akhbar daily and a close confidant of el-Sisi, argued that the amendments were necessary to prevent extremist from gaining power. He said he expects the referendum to take place before the Muslim holy month of Ramadan when Muslims fast from sunrise to sunset. This year, Ramdan is expected to start in early May.
Former foreign minister Amr Moussa on Saturday called for "a wide national dialogue" on the amendments. Moussa, who also served as Arab League secretary-general, had chaired the panel that drafted Egypt's current constitution in 2014.
Full report at:
https://english.alarabiya.net/en/News/middle-east/2019/02/11/Egypt-parliament-to-vote-to-extend-el-Sisi-s-rule-this-week.html
--------
Withdrawal of US forces in Syria likely to start in 'weeks'
11 February 2019
The United States is likely just weeks away from starting the withdrawal of ground troops from Syria ordered by President Donald Trump, the top US commander overseeing American forces in the Middle East said on Sunday.
US Army General Joseph Votel, head of the US Central Command, cautioned that the exact timing would depend on the situation in Syria, where US-backed fighters have launched a final assault against ISIS enclaves near the Iraqi border.
The US military has already started withdrawing equipment from Syria. Asked whether the withdrawal of America's more than 2,000 troops would begin in days or weeks, Votel said: "Probably weeks. But again, it will all be driven by the situation on the ground."
"In terms of the withdrawal ... I think we're right on track with where we wanted to be," Votel told reporters traveling with him during a trip to the Middle East.
"Moving people is easier than moving equipment and so what we're trying to do right now is again kind of clear out those materials, that equipment that we do not need."
Trump's surprise announcement in December that he was withdrawing American troops from Syria helped trigger the resignation of his defense secretary, Jim Mattis, and sent US military officials scrambling to construct a withdrawal plan that preserves as many gains as possible.
Hundreds of additional troops have been sent to Syria to facilitate the withdrawal.
US officials have long estimated that the Syria pullout could take until sometime in March or April to execute fully, but have been reluctant to set an exact timeline given hard-to-predict battlefield conditions.
Votel did not speculate about when the drawdown would be completed.
Iraq troops steady
One big question has been whether some US forces in Syria might move to neighboring Iraq, where the US has more than 5,000 troops helping Baghdad fight ISIS and prevent the group's resurgence.
Votel said he did not believe the US would broadly increase overall troop numbers in Iraq. He did leave open the possibility of changing the composition of forces to help the US keep pressure on the extremist group.
Referring to future US troop levels in Iraq, Votel said: "I think it's going to remain more or less steady."
"This isn't just wholesale -- 'Everybody in Syria move over to Iraq.' That doesn't make sense," Votel said.
Votel is one of many current and former US officials who have warned of the risk of a resurgence by ISIS unless the US and its allies can keep pressure on the group following the US withdrawal. They say ISIS still has enough leaders, fighters, facilitators and financial resources to fuel a menacing insurgency.
But a clear US plan on how to keep up the pressure has yet to be articulated. It is also unclear whether the US will be able to satisfy the security concerns in Syria of its NATO ally Turkey without sacrificing the interests of US-backed Kurdish fighters there.
Ankara sees the Kurdish militia as terrorists.
Washington views the Kurdish militia as loyal partners in the fight against ISIS, whose help will likely continue to be needed to prevent the group's resurgence.
The Pentagon's own internal watchdog released a report last week warning about the risks still posed by ISIS. It cautioned that, absent sustained pressure, the group would likely resurge in Syria within six to 12 months and retake some limited territory.
Full report at:
https://english.alarabiya.net/en/News/middle-east/2019/02/11/Withdrawal-of-US-forces-in-Syria-likely-to-start-in-weeks-.html
--------
20 more Syrian civilians killed as US-led warplanes bombard Dayr al-Zawr
Feb 11, 2019
Nearly two dozen civilians have been killed when the US-led coalition purportedly fighting the Daesh Takfiri terrorist group conducted a series of airstrikes in Syria's embattled eastern province of Dayr al-Zawr.
Local sources told Syria's official news agency SANA that the aerial attack hit Baghouz town in the province on Monday, leaving four people dead.
Hours later, the so-called Syrian Observatory for Human Rights reported that 16 civilians, including seven children, lost their lives when US-led coalition warplanes pounded areas on the eastern bank of the Euphrates.
The developments came only two days after US-led military aircraft bombarded al-Tayyaneh town in the same Syrian province, leaving three people dead and several others injured.
The aerial assaults damaged some private and public property in the targeted area as well.
The US-led coalition has been conducting airstrikes and operations against what are said to be Daesh targets inside Syria since September 2014 without any authorization from the Damascus government or a United Nations mandate.
The military alliance has repeatedly been accused of targeting and killing civilians. It has also been largely incapable of achieving its declared goal of destroying Daesh.
Syria has on numerous occasions condemned airstrikes by the US-led coalition, asking the UN to force Washington and its allies to put an end to their military intervention in the Arab country.
On January 19, the Syrian Ministry of Foreign Affairs and Expatriates, in two separate letters addressed to UN Secretary General Antonio Guterres and the former rotating president of the Security Council, Francisco Antonio Cortorreal, censured US-led coalition strikes conducted against al-Baghuz al-Tahtani village in Dayr al-Zawr a day earlier, saying the US-led warplanes had targeted dozens of families fleeing from areas controlled by Daesh.
Local sources, requesting anonymity, told SANA that 20 people were killed in the raid when US-led warplanes bombarded residential buildings in al-Baghuz al-Tahtani.
"This new crime is in line with the criminal acts that the US-led coalition is perpetrating systematically and on a daily basis against Syrian people, and in flagrant violation of Syria's sovereignty and territorial integrity," said the letters.
"The activities of this alliance are illegal as it has been formed outside the UN framework. Such acts have only contributed to the expansion of extremist terrorist organizations, especially Daesh. Cooperation and coordination between these terrorist groups and this alliance has been documented in numerous letters that [the] Syrian Arab Republic has sent to the Security Council," added the letters.
The ministry also called on the UN Security Council to shoulder its responsibilities regarding the establishment of international peace and security, and put an immediate halt to crimes against humanity that were being carried out by this "rogue" coalition against Syrian civilians and infrastructure.
Full report at:
https://www.presstv.com/Detail/2019/02/11/588275/Four-more-Syrian-civilians-killed-as-USled-warplanes-bombard-Dayr-alZawr
--------
Airstrikes kill 16 civilians as US-backed Syrian forces battle to take last Daesh pocket
February 11, 2019
NEAR BAGHOUZ: US-led coalition air strikes on the last Daesh pocket in Syria on Monday killed 16 civilians, including at least seven children, a war monitor said.
Eight women and one elderly man were also among the civilians killed while trying to flee towards the Iraqi border, said Rami Abdel Rahman, the head of the Britain-based Syrian Observatory for Human Rights.
The coalition was not immediately available for comment, but has repeatedly said it does its utmost to avoid targeting civilians.
The Kurdish-led Syrian Democratic Forces (SDF) backed by artillery fire from a US-led coalition continued to battle a fierce extremist fightback Monday.
Mushrooming black clouds rose over the embattled extremist holdout in eastern Syria, as missiles and a warplane streaked through the sky.
More than four years after the extremists declared a "caliphate" across large parts of Syria and neighboring Iraq, several offensives have whittled that proto-state down to a tiny holdout.
The SDF on Saturday announced the final push to expel hundreds of diehard extremists from that patch on the Iraq border.
The US-led coalition maintained a steady beat of bombings on the last Daesh pocket on Monday after an early morning Daesh counterattack caused several SDF casualties.
"IS launched a counterattack on our forces and we are now responding with rockets, air strikes and direct clashes," SDF spokesman Mustafa Bali told AFP.
The sound of bombs echoed dozens of kilometers away and columns of dark grey smoke could be seen from SDF territory.
Bali said there were "dozens of SDF hostages held by IS" inside their last foothold, but denied reports of executions.
The Syrian Observatory for Human Rights, a Britain-based monitor, said the alliance of Kurdish and Arab fighters had pressed on Monday morning in the face of tough obstacles.
"The SDF are advancing slowly in what remains of the IS pocket" on the edges of the village of Baghouz, Observatory chief Rami Abdel Rahman said.
But land mines, Daesh snipers, and tunnels the extremists have dug out for their defense are hindering the advance, he said.
Backed by coalition air strikes, the SDF alliance has been battling to oust the extremists from the eastern province of Deir Ezzor since September.
Since December, tens of thousands of people, most women and children related to Daesh fighters, have fled to SDF territory.
US-backed forces have screened the new arrivals, weeding out potential extremists for questioning.
On Monday, dozens of coalition and SDF fighters were stationed at a screening point for new arrivals from Daesh areas.
Coalition forces stood over about 20 men who were crouching on the ground.
Some 600 people were able to reach SDF territory on Sunday after fleeing the fighting, the Observatory said.
Among them, were 20 suspected IS members, including two French women, seven Turks, and three Ukrainians, said the monitor, which relies on sources inside Syria.
The SDF — which has said it expects the final offensive to be over in days — announced Sunday that it had taken some 40 positions from the extremists following direct combat involving light weapons.
Full report at:
http://www.arabnews.com/node/1450496/middle-east
--------
Syrian state media says Israel artillery strikes Quneitra province
February 11, 2019
AMMAN: Israeli tank artillery hit a demolished hospital and an observation post in Syria's southern Quneitra province near the border with Israel, Syrian state media said on Monday, adding there had been only material damage.
The two sites were hit by several tank artillery rounds, state media reported.
Asked about the reported Quneitra strikes, an Israeli military spokeswoman declined comment.
Israel has mounted attacks in Syria as part of its effort to counter the influence carved out there by Iran, which has supported Syrian President Bashar Assad in the war that erupted in 2011.
A senior Israeli official said in September Israel had carried out more than 200 attacks against Iranian targets in Syria in the last two years
Full report at:
http://www.arabnews.com/node/1450561/middle-east
--------
Europe
Russia seeks to vindicate Afghan war, 30 years after pullout
February 12, 2019
MOSCOW: Soviet authorities themselves condemned the USSR's bloody occupation of Afghanistan, but 30 years later some in Vladimir Putin's Russia are coming to see the operation in a more positive light.
After a decade of military intervention to bolster Kabul's embattled Communist government against militant fighters, the USSR finally pulled out its last units on February 15, 1989.
The withdrawal, ordered by Soviet leader Mikhail Gorbachev, was a humiliating defeat for the Union and helped lead to its collapse.
Mikhail Kozhukhov, who covered the conflict as a correspondent for the Komsomolskaya Pravda newspaper, remembered how the final Russian troops left without joy or bitterness.
"The soldiers were dreaming only of one thing: getting home safe and sound," Kozhukhov, now 62, told AFP.
The reporter remembered crossing the "Friendship Bridge" across the Amu Darya river separating Afghanistan from then-Soviet Uzbekistan in the second-last armored vehicle of the last Soviet convoy, flying red flags.
One of the armored vehicles carried the body of 20-year-old Igor Lyakhovich, who was killed a day earlier and is officially the last of more than 14,000 Soviet war dead in a conflict that killed more than one million Afghans.
"Along the route you could see the 'ghosts' who had come down from the mountains to watch our retreat from a distance," said Kozhukhov, using a Russian term for elusive Afghan partisans.
"The eyes of the inhabitants of the snowy village were full of hate or spite because they were being left to the mercy of fate," Kozhukhov said.
The journalist, who briefly served as Putin's press secretary in 1999 and 2000, says that "the intervention in Afghanistan was always a tragic and senseless escapade."
The intervention was extremely unpopular with the Soviet public and was officially condemned in 1989 at the height of Gorbachev's policy of "glasnost," or transparency.
But this judgment is now being reassessed, under pressure from veterans.
Putin in 2015 appeared to back the intervention, saying that the Soviet leadership was trying to confront "real threats" even though he acknowledged "there were many mistakes."
In late January, Russia's parliamentary defense committee backed a draft resolution saying that "the moral and political condemnation of the decision to send in Soviet troops" was "against the principles of historical justice."
The Soviet troops helped the Afghan authorities fight "terrorist and extremist groups" and curbed the growing security threat facing the USSR, the draft resolution says.
The draft resolution, however, has yet to be voted on in full session, reflecting the authorities' reluctance formally to revisit this traumatic episode.
Historian Irina Shcherbakova of Memorial rights group says that amid heightened tensions with Western powers in recent years, "Russia is reviving its Soviet past to justify its new opposition to the West."
For political analyst Pyotr Akopov from pro-Kremlin site Vzglyad, "the ex-combatants and the whole of Russian society need vindication for this war."
"We have nothing to apologize for, we didn't use napalm... and we even managed to leave Afghanistan with our supporters replacing us, which the Americans have never managed to do."
Alexander Kovalyov, president of the association of ex-combatants for the CIS region including most ex-Soviet countries, insists the invasion of Afghanistan was justified and says Gorbachev "betrayed all the dead" by condemning it.
"Without our troops, the Americans would have installed their missiles to target Moscow," he said.
"Gorbachev was right to finish this war but we should have kept on supporting Kabul with the necessary arms for it to resist," said Kovalyov, who served as a deputy commander in charge of political indoctrination of an army regiment sent in to secure the withdrawal.
Konstantin Volkov went to Afghanistan in late 1981 as a conscript at the age of 17, full of enthusiasm after following Soviet media reports.
He was responsible for radio communications, taking part in 70 missions and was decorated for intercepting correspondence between the Mujahideen.
Demobilized in 1983 in good physical health, he says the war haunted his dreams for 15 years.
He was ordained as a Russian Orthodox priest and is now Father Konstantin. At his church in a village outside Moscow, around 30 of his fellow "Afghans" (Soviet veterans) gather every February 15.
"I suggest to my former comrades that they express penitence and don't think any more about what happened in that war," he told AFP.
http://www.arabnews.com/node/1450816/world
--------
Russia jails Daesh pair for 15 years over planned attacks
February 11, 2019
MOSCOW: A Russian court on Monday jailed two members of the Daesh group for 15 years for planning attacks on a mall and public transport in Moscow, news agencies reported.
Bakhtiyor Makhmudov and Zafarkhon Rakhmatov from Muslim-majority Tajikistan will serve their sentences in a "strict regime camp," a court statement said.
Russia's FSB security service arrested the duo in December 2017, accusing them of planning suicide bombings over the New Year and during a forthcoming presidential election campaign.
The pair pleaded guilty, the RIA Novosti news agency said.
Almost 2,900 Russian extremists, mainly from Muslim-majority republics in the south of the federation, have fought in Iraq and Syria, according the FSB.
Several thousand others from ex-Soviet Central Asian countries are also believed to have fought in conflicts there.
Full report at:
http://www.arabnews.com/node/1450531/middle-east
--------
Moscow plays power broker by hosting Palestinian unity talks
February 11, 2019
As Russia takes on an increasingly active role in the Middle East, it appears to have found a new intractable goal to tackle: brokering Palestinian unity.
Moscow is hosting three days of talks between Palestinian political factions starting on Monday, with the aim of giving the groups an opportunity to discuss obstacles to "restoring unity in the Palestinian ranks".
Russia's Foreign Ministry specifically named the main Palestinian groups, Fatah and Hamas, in their statement confirming the meetings which began on Monday. The two factions have been at odds since 2007 when Hamas violently wrested control of the Gaza Strip.
Hamas says the Palestinian Authority, which is run by Fatah, should pay the salaries of public servants in the Gaza Strip who were appointed after the rift. Meanwhile, Fatah insists that Hamas dissolve its military wing, saying that the Palestinian Authority can legitimately bear arms.
The venue for the talks is the Institute of Oriental Studies, where Palestinian President Mahmoud Abbas was a doctoral student. KGB documents made public in 2016 suggest that Mr Abbas may have been recruited as Soviet agent during his stint in Moscow, but the Palestinians deny this, calling it an Israeli smear.
His rival, Hamas leader Ismail Haniyeh was due to visit Moscow in January, but his visit was postponed just days in advance. This time around, the participation of the main groups including Islamic Jihad was confirmed by the Palestinian Embassy in Russia on Monday.
An embassy spokesperson added that the Palestinian delegates would be received by Russian Foreign Minister Sergei Lavrov on Tuesday. According to Palestinian state-run media, Russia's Deputy Foreign Minister Mikhail Bogdanov met briefly with Fatah officials before the talks began.
Despite hosting the conference, Russia's ability to bring the sides together is limited, observers say, adding that the factions invited to the talks have their own reasons for participating.
Ghaith Al-Omari, a senior fellow at the Washington Institute, says both Fatah and Hamas, the only participants with real clout, are coming to Moscow for tactical reasons and have no intention of making any substantive moves.
"Hamas, which craves international recognition, will argue to its public that its presence in Moscow shows that it is no longer isolated," Mr Al-Omari told The National. "For Fatah, participating in the talks will allow it to argue to its public that it is engaged in reconciliation."
"Nothing much will be achieved in the coming three days," he added.
The talks in Moscow come just one week after the Kremlin hosted representatives from the Taliban and opposition Afghan officials. On Thursday, Russian President Vladimir Putin will host his Iranian and Turkish counterparts as part of efforts to bring about a resolution to the conflict in Syria.
For Russia, which has played an increasingly dominant role in the Middle East in recent years, hosting talks on Palestinian unity is another opportunity to showcase its ability to speak to both sides of any conflict, analysts said.
"Russia wants to demonstrate again and again that it can negotiate with everyone," said Anton Mardasov, a Russian Middle East analyst. "Today, with Israel, tomorrow with Hamas, the day after, with Egypt and Qatar."
Mr Mardasov said Russia may be shoring up its position with Palestinian leaders in advance of the US plans to unveil its strategy to end the Israeli-Palestinian conflict. US President Donald Trump is reportedly planning on announcing his "deal of the century" after Israeli elections in April.
Russia has repeatedly said it is prepared to host Israeli-Palestinian talks. And Mr Abbas, who most recently visited Moscow in July last year, told Russian state-run media in February that he is prepared to meet with Israeli Prime Minister Benjamin Netanyahu in talks brokered by Russia.
"We're talking here about the fact that the United States cannot be the only mediator," he said. "We trust President Putin, and we're ready to accept his invitation at any time."
Full report at:
https://www.thenational.ae/world/mena/moscow-plays-power-broker-by-hosting-palestinian-unity-talks-1.824639
--------
South Asia
NATO Defense Ministers to review operations in Afghanistan, Kosovo, Iraq
12 Feb 2019
The NATO Defense Ministers will review the alliance's operations in Afghanistan, Kosovo, Iraq and at sea during the defense ministerial which will be held on 13th and 14th of February.
A NATO official said "The Ministerial will begin with a session focused on the Intermediate-Range Nuclear Forces Treaty. Allies will have an opportunity to exchange views and provide guidance on the implications of Russia's breach of the INF Treaty. All Allies agree that Russia's violation of the treaty erodes the foundation of arms control and undermines Allied security. Allies will then discuss efforts to strengthen the Alliance's defence and deterrence."
The official further added that "The focus will be on NATO's readiness initiative, which requires Allies to have 30 land battalions, 30 air squadrons and 30 combat vessels ready to use within 30 days. Ministers will also discuss efforts to address security challenges from the South. SACEUR and SACT will provide updates on these subjects, including work to adapt the NATO command structure."
The official also added that the ministers will review NATO operations in Afghanistan, Kosovo, Iraq and at sea on 14th of February.
"The Ministerial will end with a session with the European Union and Finland and Sweden for talks on European defence initiatives and NATO-EU cooperation" the official said adding that "With respect to Afghanistan, the NATO Defence Ministers will review the current situation and exchange views on how best to continue supporting the further development and sustainment of the Afghan security forces and current efforts to move forward an Afghan-led and Afghan-owned peace and reconciliation process."
https://www.khaama.com/nato-defense-ministers-to-review-operations-in-afghanistan-kosovo-iraq-03291/
--------
Rohingya activists bemoan failure of Muslim countries to address Myanmar crisis
11 February 2019
Muslim-majority countries continue to prioritise economic interests over the rights and lives of the Rohingya-Muslim minority facing an ongoing genocide in Myanmar, activists and other attendees at an historic international conference in New York have told Middle East Eye.
Speaking on Saturday on the sidelines of the event at Barnard College, Rohingya activists, responding to the latest round of Saudi deportations of Rohingya as reported by MEE on Friday, said leaders of Muslim-majority countries had not demonstrated a political will to help put a stop to the persecution of the Rohingya.
Last week's deportations follow the repatriation of 13 Rohingya from Riyadh to Dhaka in January.
Those deported were subsequently imprisoned in Bangladesh, drawing the ire of Amnesty International and the UN Special Rapporteur on human rights in Myanmar, Yanghee Lee. In a press briefing last month, Lee urged the governments of India and Saudi Arabia - both of whom have deported Rohingya to Bangladesh in recent months - to refrain from doing so.
Raiss Tinmaung, a Rohingya activist based in Canada, said that he could not understand why the kingdom would return a dozen persecuted, oppressed individuals to Bangladesh.
"What difference does it make to keep a dozen more people in your country? But then what can I expect from a country like Saudi Arabia that murders its own people, and is currently killing children in Yemen," the 37-year-old Tinmaung told MEE.
"We have to accept that dollars are a lot more important than concern for the so-called Muslim world."
Organised by the Free Rohingya Coalition, "The international conference on protection and accountability in Burma," primarily focused on the question of justice and the prospects of accountability, after Myanmar's military-led offensive in northwestern Rakhine state left thousands dead and uprooted almost a million Rohingya in 2017.
The two-day conference, attended by activists, scholars and legal experts, also saw prominent messages of solidarity and support from Lee, the UN Special Reporteur on human rights, and US civil rights activist Angela Davis.
Lee said in a pre-recorded video message that the continued deportations from Saudi Arabia and India demonstrated the "internationalization of the Rohingya issue".
"Saudi Arabia recently deported 13 Rohingya to Bangladesh, where they have been arrested and charged with forging the passports that they used to travel to Saudi. Bangladesh authorities must remember that this group also fled persecution in Myanmar," she said.
John Packer, director of Human Rights Research and Education Centre (HRREC) at the University of Ottawa, said it was important to remember that Saudi Arabia's decision to deport Rohingya was something new. Estimates vary, but the Saudi government says there are currently around 300,000 Rohingya in the country.
"The Saudis for the longest time, allowed these people to stay. So that is an important, factual part," Packer told MEE.
"Today we talk about Bangladesh with more than a million Rohingya , but we forget that for a long time, the most [outside Myanmar] were in Saudi Arabia. This turn of heart is recent. So something has happened.
"I think the Saudi government is rattled right now, and they seem to be going backwards."
Jeff Crisp, former head of the UNHCR's Policy Development and Evaluation Service, told MEE that for the Saudi kingdom to send refugees back to Bangladesh, which is already dealing with more than a million refugees, was terribly unfair.
"Saudi Arabia has a history of expelling people when they have run out of uses for them," Crisp said.
'Extent of the indignity'
Yasmin Ullah, a student and activist based in Montreal, told MEE that though there have been some efforts from Turkey, Malaysia, and to some extent Qatar, the community did not hold much expectation from the "dictatorial Muslim regimes".
"My uncle died in Saudi Arabia some years ago, because he was stateless and could not receive proper health care. He was suffering from a mental problem... he died chained to a pole," the 26-year-old, who moved across to Canada as a refugee in 2011, said. She described her uncles death "as the extent of the indignity".
"Muslim countries have a responsibility. But their track record doesn't suggest that they care," she added.
The governments of Muslim-majority nations have been repeatedly accused of being soft on Myanmar over their treatment of the Rohingya.
Leaders of the Organisation of Islamic Cooperation (OIC) admitted as much in October, expressing regret and promising to adopt a stronger stance on the matter.
Though Turkey and Malaysia have offered and provided a large amount of aid to the Rohingya, the Maldives remains the only Muslim-majority country to have severed trade ties with Myanmar following the events of 2017.
Packer, from the University of Ottawa, said that some OIC countries were less mobilised than others because of pressure from China.
"Indonesia is interested in this issue, so is Malaysia, because of the interest and sentiment on the street, but there is a difference when it comes to their governmental stances because certainly they have investments," Packer said.
Tinmaung, the activist from Canada, said that where Muslim governments have been mostly slow or hesitant to respond, given the economic investments in Myanmar, Muslim publics around the world have been sympathetic and helpful.
On Friday, MEE published footage showing Rohingya men being transported to Jeddah airport for deportation to Bangladesh.
Many Rohingya who remain jailed in Saudi Arabia are on a variety of South Asian passports, which have often been forged.
Full report at:
https://www.middleeasteye.net/news/rohingya-activists-bemoan-failure-muslim-countries-address-crisis-myanmar
--------
Abdullah blames 'stubborn Taliban' for ongoing conflict in Afghanistan
11 Feb 2019
The Chief Executive of the Government of National Unity Abdullah Abdullah has said the main reason behind the ongoing conflict is the 'stubbornness' of Taliban leaders.
Speaking during the meeting of Council of Ministers, Abdullah said the steps which they (Taliban) have taken are for publicity and concessions, not for goodwill or for real negotiations.
Admitting that compromises are needed to pave the way for further peace talks, Abdullah said it would be impossible to insist on one's own demands and expect peace as well.
Abdullah further added that peace requires sacrifice but not to sacrifice the wishes of people, emphasizing that Afghanistan belongs to all Afghans and everyone has the right to have dignified peaceful lives and achieve their demands in a peaceful way and through political campaigns, insisting that it would not be important that the wishes of certain groups are accepted by all Afghans as this will be tested and will be proved that the Afghan people want, whether they will choose an oppressive past, demand the current situation or want a better situation.
In the meantime, he warned that with domestic unity it would not be efficient to move towards peace.
Full report at:
https://www.khaama.com/abdullah-blames-stubborn-taliban-for-ongoing-conflict-in-afghanistan-03287/
--------
Myanmar's Buddhist refugees face hardship at border
February 11, 2019
Buddhist refugees recently displaced by fighting between Myanmar's military and insurgents face hard times in a remote Bangladeshi village and at the border between the countries.
Some 200 Buddhists from Chin and Rakhine states crossed the border into Bandarban district in southeastern Bangladesh on Feb. 4-5 and hundreds gathered at the border before Bangladeshi guards sealed it off.
They fled their homes to escape violence amid an escalation in fighting between the Arakan Army, an ethnic Rakhine insurgent group, and the military in recent weeks.
"There are about 200 people in 37 families in Cheih Kaying Para (village) and all them are Buddhists from Myanmar. They are suffering from a shortage of food and clothes in the cold weather of late winter," Aung Thoai Ching Marma, an ethnic Marma and chairman of Ruma subdistrict council in Bandarban, told ucanews.com.
Bandarban is part of the Chittagong Hill Tracts (CHT) and one of three hilly and forested districts bordering Myanmar. The CHT is home to about 25 Buddhist-majority ethnic indigenous groups.
The refugees hail from ethnic Chin, Khumi and Rakhine groups, Marma said.
"Since the area is remote and often unreachable by phone, it is difficult to know what is exactly going on. Some local people are supporting them with food and clothes, which is insufficient," he said.
The local government has not made any decision regarding assistance for the refugees, Marma added.
Muhammad Daudul Islam, chief government officer of Bandarban district, says he is aware of the new arrivals.
"As far as we know, displaced Myanmar nationals are staying at the zero line of the border. The border guards have asked them to go back to their home. The government has no plan for them. If we can confirm arrival of refugees, we will see what to do about them," Islam told ucanews.com.
The United Nations Refugee Agency (UNHCR) has appealed to Bangladesh's government to allow Myanmar refugees in and support them.
"UNHCR is aware of reports of escalating violence and a deteriorating security situation in southern Chin State and Rakhine State. This has reportedly led to internal displacement and a number of new arrivals from Myanmar seeking safety in the Bandarban border region of Bangladesh," UNHCR spokesman Andrej Mahecic told a press briefing in Geneva on Feb. 8.
UNHCR is deeply concerned about the humanitarian impact of continuing violence in Myanmar and the potential for both further internal displacement and the outflow of refugees, he said.
"As part of inter-agency efforts, UNHCR stands ready to support the humanitarian response in the affected areas in Myanmar. UNHCR has also offered its support to the government of Bangladesh to assess and respond to the needs of people who have arrived seeking safety from violence in Myanmar," Mahecic added.
Bangladesh's Cox's Bazar district is home to more than one million ethnic Rohingya Muslim refugees from Rakhine State.
Most Rohingya fled to Bangladesh to escape deadly military crackdowns in Rakhine in 2016 and 2017 following Rohingya militant attacks on Myanmar security forces.
Full report at:
https://www.ucanews.com/news/myanmars-buddhist-refugees-face-hardship-at-border/84488
--------
Bangladesh stops more Rohingya taking risky trip to Malaysia
FEB 11, 2019
COX'S BAZAR, Bangladesh (AFP) - Bangladesh security forces stopped 22 Rohingya Muslims from being smuggled to Malaysia by boat, officials said on Monday (Feb 11), the second group in three days prevented from leaving squalid refugee camps.
Border Guard Bangladesh (BGB) forces found 11 women, 10 children and a man at a village on the Bay of Bengal coast, near the border with Myanmar, on Sunday.
The 22 had paid traffickers up to US$1,200 (S$1,630) each to get a place on a small boat for the dangerous journey, a BGB officer said. The people smugglers fled before security forces arrived.
About 740,000 of the Muslim minority fled Myanmar for Bangladesh after a military clampdown in the Buddhist-majority nation in August 2017.
There were already 300,000 Rohingya already in Bangladesh where they are largely confined to the overflowing camps.
"The traffickers took whatever they could from the refugees," Lieutenant Colonel Asadud Zaman Chowdhury, BGB chief for the town of Teknaf, told AFP.
He added that it was possible many of the young women would have ended up in "forced prostitution".
It is the fourth time since November that Rohingya have been intercepted attempting to get a boat to Muslim-majority Malaysia.
On Friday, border guards stopped 30 Rohingya from boarding a boat and sent them back to their camps.
Authorities fear that more Rohingya will try to take boats to Malaysia while the Bay of Bengal is calm up until the end of March.
Bangladesh's refugee commissioner Mohammad Abul Kalam said "an internationally organised racket" was preying on desperation in the Rohingya camps.
"The refugees are lured by false promises. They simply don't have any idea how dangerous these sea journeys can be," he told AFP.
Full report at:
https://www.straitstimes.com/asia/se-asia/bangladesh-stops-more-rohingya-taking-risky-trip-to-malaysia
--------
Taliban Red Unit militant among several killed, wounded in Badghis and Uruzgan operations
12 Feb 2019
A member of the Red Unit of Taliban was killed along with several others during the operations in Badghis and Uruzgan provinces.
According to the informed military sources, several other militants were also wounded during the same operations.
The sources further added Afghan Special Forces conducted a raid in Badghis province killing 10 Taliban fighters and wounding 17 others.
A Taliban Red Unit militant and 12 other Taliban fighters were killed by multiple airstrikes in Tarin Kot city of Uruzgan province, the sources added.
Full report at:
https://www.khaama.com/taliban-red-unit-militant-among-several-killed-wounded-in-badghis-and-uruzgan-operations-03292/
--------
Southeast Asia
Islamist party leaders face corruption probe in Malaysia
February 11, 2019
Lavish spending by Islamist leaders in Malaysia has come under the spotlight and authorities want them to explain the source of their wealth.
Investigations have been opened by the Malaysian Anti-Corruption Commission following disclosures that Malaysian Islamic Party (PAS) leaders had purchased luxury vehicles including a Range Rover, Audi A6, Toyota Vellfire, BMW motorcycle and a Mercedes-Benz among others.
The probe comes on the heels of an out-of-court settlement on Feb. 2 in Britain between PAS leader Abdul Hadi Awang and blogger Clare Rewcastle-Brown of Sarawak Report over corruption allegations.
Hadi had sued Rewcastle-Brown for defamation in 2017 after she wrote that PAS leaders received 90 million ringgit (US$22 million) from former premier Najib Razak in exchange for the party's support in the last general election.
The settlement triggered calls in Malaysia for authorities to investigate the purchase of costly foreign-made vehicles and property.
Former senior PAS leader Nasharuddin Mat Isa and Nik Mohamad Abduh Nik Abdul Aziz, a young, firebrand leader in the party, had their statements recorded on Feb. 8 and at least eight more PAS leaders are expected to be questioned.
A purported audio recording, confirmed as genuine by Hadi Awang in his suit, of Nik Abduh telling PAS colleagues that millions of ringgit had indeed passed from Najib's United Malays National Organisation (UMNO) to PAS was used by Sarawak Report in its defense.
People claiming to have witnessed Nik Abduh utter the remarks have since come forward with their testimonies on social media.
Nik Abduh has denied taking bribes from UMNO and urged those spreading the audio clip to repent.
Senior PAS central leader Mohd Khairuddin Aman Razali also dismissed the recording, saying that many people sound like PAS leaders.
In a damage limitation exercise, PAS leader Hadi Awang told the media at a hastily called press conference that the party's funds came from having over a million members, thousands of kindergartens and hundreds of schools.
"So don't be confused about where PAS gets its money from," he said in Marang, Terengganu, adding that the party would cooperate with investigators to clear its name.
The deputy chief minister of Kelantan state, Mohd Amar Nik Abdullah, dismissed the allegations of corruption. Kelantan and Terengganu state are ruled by the conservative Islamic party.
"The accusations at the High Court in London are 100 percent untrue and owe more to hearsay. I have bought cars but only those that are within my means. Surely a deputy menteri besar (chief minister) can buy a car priced more than 100,000 ringgit," he was quoted as saying by local media.
Disgraced former premier Najib, who is due to stand trial on the first of a series of corruption and money-laundering charges this week, has denied paying PAS the colossal sum.
https://www.ucanews.com/news/islamist-party-leaders-face-corruption-probe-in-malaysia/84478
--------
Pursue one peace accord with all Muslim groups
FEBRUARY 12, 2019
The Organization of Islamic Conference (OIC) made good sense in its suggestion that the Philippine government synchronize its peace agreements with the two Muslim rebel groups in Mindanao under a single, coherent plan for enduring peace in the South.
A policy of following separate tracks in forging peace with the Moro National Liberation Front (MNLF) and the Moro Islamic Liberation Front (MILF) is a gross mistake, as amply demonstrated when turmoil and confusion surrounded the holding of a plebiscite on the Bangsamoro Organic Law (BOL). Pursuing separate deals with the two groups is likely to harvest only false hopes for peace.
The question now is how the nation can move forward with Mindanao stuck in fresh tension and uncertainty. The situation cannot be resolved with fanciful pronouncements by the Commission on Elections and politicians about success in the BOL plebiscite.
An important constitutional question about the BOL still has to be resolved by the Supreme Court.
The OIC has valid ground to voice its opinion because it played a mediating role in the forging of the 1996 GRP-MNLF peace agreement that led to the establishment of the Autonomous Region of Muslim Mindanao (ARMM) during the time of President Fidel V. Ramos.
Along with MNLF leaders, the OIC maintains that the 1996 agreement has not been fully implemented in accordance with its letter and spirit.
The government and the MNLF were working on the conclusion of the final implementation of the 1996 agreement when the administration of former president Benigno S. Aquino 3rd acceded to office. Mr. Aquino decided to abandon the agreement in 2013 and opted to pursue a separate peace agreement with the MILF, with Malaysia brokering the talks.
Although the Aquino initiative wound up with its own peace agreement in Mindanao, it resulted in more questions than answers. And it produced such tragedies as the Mamasapano Massacre, among others.
We share the view of experts and seasoned negotiators that the Philippine government should forge one peace agreement with Muslim groups as one community for peace and stability to hold, and in order to conform with the strict guidelines of the Philippine Constitution.
Clearly, the pact with the MILF cannot stand alone as a fig leaf for peace in Mindanao.
It is indubitably correct now to seek the synchronization or unification of the 1996 peace accord with the MNLF and the Bangsamoro deal with the MILF under a common pact that can endure.
By linking the two peace accords, the two Muslim groups and the government can work toward establishing real and lasting peace in Mindanao.
By indicating his desire to talk with the MNLF, President Rodrigo Duterte will open the door for fruitful negotiations and synchronization.
And by focusing future talks on the resolution of the remaining issues in the two peace agreements, the level of statecraft in Mindanao peacemaking can be advanced to a higher level.
Full report at:
https://www.manilatimes.net/pursue-one-peace-accord-with-all-muslim-groups/510328/
--------
Indonesia's slide towards identity politics
Rafiqa Qurrata Aʹyun
11.02.2019
This year, in the run-up to Indonesiaʹs 2019 presidential election there was another high profile blasphemy conviction, when Meiliana, a Buddhist woman of Chinese heritage, was sentenced to eighteen monthsʹ jail for complaining about the volume of the mosque loudspeakers in her neighbourhood in North Sumatra. Her High Court appeal was rejected in October 2018.
It all began in July 2016 when Meiliana complained to the one of her neighbours that the mosqueʹs speakers used for the adzan (call to prayer) were too loud. At first the village leader treated Meilianaʹs complaint as an issue that was appropriate to be resolved through mediation. Although some people said that Meiliana had blasphemed, according to her lawyer, Ranto Sibarani, the caretaker of the mosque had forgiven Meiliana for this.
However, a rumour spread in her neighbourhood that Meiliana wanted adzan to be banned altogether. This rumour provoked public anger and in the week that followed vigilantes burned down numerous Buddhist temples. Eight rioters were arrested and convicted, receiving jail terms of one to four months.After investigating the riot, the local police described Meiliana as the provocateur and formally accused her of blasphemy. However, in August 2016 the director of the Criminal Investigation Agency of the Indonesian National Police (Bareskrim Polri) stated that Meilianaʹs request that the volume of the mosqueʹs loudspeakers be reduced did not amount to blasphemy. As a consequence, six months after Meiliana complained about the noise from the mosque, the police were yet to lay a charge for blasphemy.
Vigilante pressure
Within the same period, a series of mass rallies in Jakarta were organised by a vigilante group, the Islamic Defenders Front (FPI), along with Ahokʹs political opponents to pressure the police to declare Ahok a blasphemy suspect.This inspired the Alliance of the Students and Independent Communities (Aliansi Mahasiswa dan Masyarakat Independent Bersatu) in North Sumatra to request a fatwa from the Indonesian Council of Islamic Scholars (MUI) of Tanjungbalai region in early January 2017, stating that Meiliana has insulted Islam.
The MUI is a quasi-state organisation that is responsible for producing religious opinions which serve as the main reference when police name blasphemy suspects. At this time, the MUI still did not issue a fatwa. However, the North Sumatra branch of Indonesiaʹs second-largest Islamic organisation, Muhammadiyah, did release a statement attributing Meliana with responsibility for provoking the riot.
In mid-January 2017, the leader of the FPI Rizieq Shihab visited Medan, the capital of North Sumatra, to drum up support for the Islamic movement inspired by the anti-Ahok rallies. A week later, on 24 January 2017, the MUI of North Sumatra finally released a fatwa, accusing Meiliana of blasphemy. This fatwa became the basis for the police continuing their investigation and bringing the case to court. It also became the main evidence used by the judge in finding Meiliana guilt of blasphemy.
Guidance but no regulation
In many places in Indonesia, recitations from the Koran are played on mosque loudspeakers before and after the five daily calls to prayer. Although this is a long-established practice, it is not unheard of for disputes to arise about volume. However, this is the first time such as dispute has resulted in the criminal prosecution of the complainant. There was a civil case related to a similar issue recorded in 2013 in Aceh, but the charge was eventually revoked because of pressure from locals.
The government has tried to prevent such disputes through instructions issued by the director general for Islamic community guidance at the Ministry of Religious Affairs. The idea of limiting the use of loud speakers has also been suggested by leading Islamic figures, including the late Abdurrahman Wahid – a former Nahdlatul Ulama (NU) leader who was also known as a moderate Islamic thinker. Vice President Jusuf Kalla – an NU advisory board member – has also recommended moderating the volume of adzan. Yet this suggestion is hardly ever taken up by mosques, even those affiliated with NU, and many still use high volume loudspeakers.
Melianaʹs conviction has added to a growing number of blasphemy cases. More than 130 people have been convicted of blasphemy since the beginning of the democratic era in 1998, a ten-fold increase from the previous authoritarian period.
Indonesiaʹs blasphemy law (article 156a of the Criminal Code) defines blasphemy as an act which ʹhas the character of being at enmity with, abusing or staining a religion adhered to in Indonesiaʹ, when this is done with ʹthe intention to prevent a person adhering to any religion based on belief in the almighty God.ʹ
Notably, although the definition theoretically includes an act blaspheming one of the official religions in Indonesian other than Islam –Protestantism, Catholicism, Hinduism, Buddhism and Confucianism – in most of the recorded cases people have been convicted of blaspheming Islam.
A new type of blasphemy
Prior to Meilianaʹs conviction, three main kinds of actions had led to blasphemy prosecutions. Firstly, cases related to different interpretations of religion, when a member of a religious minority promotes an idea that the majority considers deviant. Secondly, cases where the defendant has insulted a part of a religion or a religious symbol, as Ahok was found to have done when he quoted a Koranic verse and insinuated that the verse has been used by his political opponents to deceive voters. Thirdly, in cases relating to proselytisation. Meilianaʹs may be regarded as a new kind of blasphemous act. Since blasphemy is not comprehensively defined, the decision could become a new precedent for interpreting other complaints about noisy mosque loudspeakers as blasphemy.
Moreover, a provision which extends the criminal prohibition on blasphemy was recently included in the mass organisation law passed by President Joko Widodo (Jokowi), which could allow for the criminalisation of members of an organisation that indirectly engages in blasphemy. The latest draft of the Criminal Code amendment also expands the blasphemy offence.
In the run-up to the 2019 presidential election, no political campaigns advocate revoking the law. Indeed, it would seem that both pairs of candidates, Jokowi-Maʹruf Amien and Prabowo Subianto-Sandiaga Uno, support the use of the blasphemy law because it is endorsed by conservative Muslims.
Jokowiʹs decision to choose Maʹruf Amin – the MUIʹs chairman who released the fatwa that supported Ahokʹs blasphemy case – as his running mate indicates that he considers garnering the support of conservative Muslims to be more important than minority rights. In the case of Prabowo and Sandiaga, their support for the blasphemy law is also unsurprising given the support they receive from the so-called ʹ212 Alumniʹ, the collection of hardline Islamic groups that participated in the protest against Ahok on 2 December 2016.
Full report at:
https://en.qantara.de/content/abusing-blasphemy-legislation-indonesias-slide-towards-identity-politics
--------
Leader of massive, grassroots Islamic movement urges Europe's political center to unite
February 12, 2019
On January 31 and February 1, 2019, Kyai Haji Yahya Cholil Staquf—General Secretary of Nahdlatul Ulama (NU), the world's largest Muslim organization, and Emissary of Indonesia's largest Islamic political party, PKB—led an official delegation to address the European Parliament's center-left and center-right political groupings at the invitation of Portuguese Socialist Party MEP Ana Maria Gomes and the United Nations Interregional Crime and Justice Research Institute (UNICRI).
Visiting in his capacity as a member of Indonesia's Presidential Advisory Council, with a protocol rank equivalent to Minister of State, Mr. Staquf delivered a heavily-attended speech urging Europe's centrist politicians to halt the rapidly accelerating polarization of European societies by acknowledging and addressing legitimate concerns raised by populist forces about the nexus of national and international security threats linked to Islam, terrorism and migration.
Speaking at a European Parliament Joint Meeting entitled "Innovative Approaches to Preventing and Countering Violent Extremism," Mr. Staquf explained that "Islamist radicalism and terror continue to exert a strong appeal to many Muslims, because of the fact that these are directly linked to obsolete and problematic tenets within classical Islamic law (fiqh, often conflated with shari'ah), which Muslims generally regard as an authoritative source of religious guidance." Mr. Staquf urged the audience, which included MEPs and policy experts affiliated with the European Parliament's center-left grouping—the Progressive Alliance of Socialists and Democrats (S&D)—to "engage in frank discourse about these problematic tenets of Islamic orthodoxy, while encouraging Muslin religious authorities and Middle East governments to boldly acknowledge and reform them."
The center-right European People's Party (EPP) think tank—the Wilfried Martens Centre for European Studies—hosted Mr. Staquf the following day at the Brussels Security Forum, the third edition of the World Security Forum, a closed, invitation-only platform where political leaders, officials, experts and practitioners discuss complex and enduring national security challenges. Mr. Staquf highlighted the need to "address issues related to Islam and migration that are fueling populism… and to supply a coherent vision, strategy, methodology and message to mainstream politicians who wish to address the growing problem of radicalization from a humanistic, tolerant and moderate perspective."
Mr. Staquf critiqued Western governments' tendency to ignore and even deny the obvious theological roots of violent and non-violent Islamist extremism. Mr. Staquf's penetrating remarks—regarding "analytical surrender and the consequent failure of governments to accurately diagnose the root causes of Islamist extremism"—validate discussions that have recently emerged at the heart of the EU itself. These developments reflect the fact that "the multi-billion-euro P/CVE ("Preventing/Countering Violent Extremism") industry has proven ineffective, due to flawed root cause analysis, while religious supremacism, separatism and violence continue to spread."
The European Union Court of Auditors stated, in its "Special report n°13/2018: Tackling radicalisation that leads to terrorism" that: "The [EU] Commission does not evaluate its overall success in achieving policy goals… The Commission has not: broken down the overall objectives of its counter-radicalisation policy into more specific and measurable objectives; established appropriate indicators and targets for EU funds used, in order to measure performance in addressing radicalisation; [nor] provided a comprehensive overview of EU-financed counter-radicalisation actions." The Court of Auditors report also states that "Commission actions to… address radicalisation often measure achievements in terms of amount of activity (e.g., the number of meetings held or documents produced) rather than effectiveness."
On December 12, 2018—the day after an Islamist attack on the Strasbourg Christmas market, whose whose highly symbolic target selection evidenced a clear religious motivation—the European Parliament adopted a "Report on Findings and Recommendations of the Special Committee on Terrorism," with 474 votes in favour, 112 against and 75 abstentions. MEPs Monika Hohlemeier (EPP) and Helga Stevens (ECR) served as co-rapporteurs, with substantial input from Ana Maria Gomes (S&D). This report addressed the issue of religious extremism—also described in the report as 'Islamist extremism,' 'Radical Islamic Fundamentalism,' 'Wahhabism,' 'Salafism' and 'jihadism'—with unprecedented clarity, regarding both the nature of the threat and measures necessary to prevent Islamist terrorism.
Acknowledging the sensitive and highly controversial nature of these issues, Mr. Staquf offered NU and PKB's assistance to European political parties and the nations they govern. "Meeting this unprecedented global challenge requires understanding the nature and scale of the threat we face; encouraging members of society to openly discuss these issues; and enabling political elites to act assertively and decisively, by building societal consensus."
Full report at:
https://www.weeklyblitz.net/interfaith/leader-of-massive-grassroots-islamic-movement-urges-europes-political-center-to-unite/
--------
Pakistan
Gen Bajwa lauds Gen (r) Raheel for Middle East peace efforts
Feb 12, 2019
RAWALPINDI: Former Pakistan Army chief General (r) Raheel Sharif, who now heads a 41-nation Saudi-led military coalition, called on Chief of Army Staff Gen Qamar Javed Bajwa at the General Headquarters in Rawalpindi on Monday, an Inter-Services Public Relations (ISPR) statement said.
According to the army's media cell, matters related to regional stability and peace were discussed in the meeting. The army chief also lauded the efforts by the Islamic military coalition for enduring peace, added the ISPR.
A delegation of the Islamic Military Counter Terrorism Coalition led by Gen (r) Raheel Sharif arrived in Islamabad late Sunday. This is the maiden visit of the delegates of Islamic Military Counter Terrorism Coalition to Pakistan. During their two-day visit, the delegates of the Islamic military coalition will meet the top civil and military leadership. Former army chief General (r) Raheel Sharif is also scheduled to meet Prime Minister Imran Khan. The delegation will also meet Senate chairman and Foreign Minister Shah Mahmood Qureshi.
Reportedly, the focus of the delegates' meetings with top civil and military leadership will be on the regional situation as well as counter-terrorism measures taken by the coalition. The delegation is also expected to discuss the upcoming visit of Saudi Crown Prince Mohammad Bin Salman to Pakistan.
According to a media report, the prince's exercise equipment, furniture and other personal belongings have reached Islamabad, while his security team and Saudi media representatives have also arrived in the capital ahead of his two-day visit.
Gen (r) Raheel Sharif was made the chief of the 41-nation Islamic military coalition formed to combat terrorism in 2017.
The coalition was initially proposed as a platform for security cooperation among Muslim countries and included provisions for training, equipment and troops, and the involvement of religious scholars for devising a counter-terrorism narrative.
Raheel Sharif's appointment as the commander-in-chief of the Saudi-led alliance had sparked a debate over how the move will impact Pakistan's foreign policy, and whether it was fully sanctioned by the parliament.
https://www.pakistantoday.com.pk/2019/02/11/former-army-chief-raheel-sharif-calls-on-coas-bajwa-at-ghq/
--------
2 Multan brothers booked on sedition charges for taking part in PTM protest
Imran Gabol
February 12, 2019
Multan police on Monday arrested two brothers, Rawal Asad and Anas, under sedition charges for joining a protest on the call of Pashtoon Tahaffuz Movement (PTM) chairman Manzoor Pashteen at the city's Nawan Shaher Chowk.
Asad, a student at the Government Emerson College, Multan, and Anas, who studies at a local college, were arrested during a raid at their residence in the city's Northern Bypass area.
A case was registered against the two on behalf of the state under charges:
153 (Wantonly giving provocation with intent to cause riot-if rioting be committed; if not committed) of the Pakistan Penal Code (PPC),
123-A (Condemnation of the creation of the State, and advocacy of abolition of its sovereignty) of the PPC,
124-A (Sedition) of the PPC,
290 (Punishment for public nuisance in cases not otherwise provided for) of the PPC,
291 (Continuance of nuisance after injunction to discontinue) of the PPC,
Punjab Sound Systems Regulation Act 2015-16 and
16 Maintenance of Public Order (MPO)
According to the first information report (FIR), a copy of which is available with *Dawn.com*, around 30 to 35 people had gathered at Multan's Nawan Shaher Chowk and had blocked the road, causing disruption of traffic.
The protesters, which reportedly included the two brothers, had gathered on the call of Manzoor Pashteen and were chanting slogans against state institutions, especially the army, the FIR said.
Among those named in the FIR are Rawal Asad, Fazeel Asghar, Samiullah, Mohammad Bilal, Mohammad Nadeem, Mamoon Khan, Khali Ahmed, Dr Saddam, Hazrat Bilal, Abdul Basit, Zabeehullah, Ismat Muslim, Nasrullah Khan, Momin Khan, Abdul Qadeer Khan, Asmatullah Kakar, Jahangir Khan, Abdul Wahid Khan, Habat Khan and Haji Rafique Kakar.
Crackdown against PTM activists
On Saturday, Lahore-based academic Dr Ammar Ali Jan was arrested from his residence for "leading a group of 100-150 people of the "Pashtun Ittehad Movement" who had gathered on the call of Manzoor Pashteen" in the provincial capital's Liberty area. The academic was later released after receiving bail from the Model Town Katchery.
Also last week, rights activist Gulalai Ismail — along with 17 others associated with the group — was detained while protesting outside the National Press Club in Islamabad over the death of PTM leader Arman Loni. She was released following alleged intervention from senior members of the Pakistan Tehreek-i-Insaf (PTI) government at the centre.
Earlier on Jan 31, police had arrested six PTM activists from outside the Quetta Press Club during a protest demonstration against a bombing in Loralai which claimed the lives of nine people. Later, a sessions court in Quetta ordered the release of the six activists on bail.
Full report at:
https://www.dawn.com/news/1463379/2-multan-brothers-booked-on-sedition-charges-for-taking-part-in-ptm-protest
--------
Bill on domestic violence introduced amid MMA reservations
Zulfiqar Ali
February 12, 2019
PESHAWAR: The Khyber Pakhtunkhwa Domestic Violence against Women (Prevention and Protection) Bill was introduced in the provincial assembly on Monday as members of the Muttahida Majlis-i-Amal remained apprehensive about the proposed law.
"The government should not pass the bill in haste. We (MMA) will bring amendments to the bill and will vet it on the yardstick of the Holy Quran and Sunnah," member of the religious alliance Inayatullah Khan said soon after law and parliamentary affairs minister Sultan Mohammad Khan introduced the bill in the house.
Maulana Lutfur Rehman, another MPA of the alliance, expressed reservations about the bill and termed the matter very serious.
He asked Speaker Mushtaq Ahmad Ghani to refer the bill to the house's select committee and said the previous Punjab government had to withdraw the law after religious parties opposed it.
Law minister Sultan Mohammad assured MMA members that the government would accommodate the opposition's suitable amendments to the bill.
He said the bill would be put in the house for detailed discussion and might be referred to the committee.
The previous government of the Pakistan Tehreek-i-Insaf kept the bill regarding domestic violence against women in cold storage for more than three years.
The Jamaat-i-Islami, which was a coalition partner of the PTI in KP from 2013 to 2018, was not in favour of the bill.
The Jamiat Ulema-i-Islam-Fazl was also against the bill.
The PTI's previous government had referred the bill to the Council of Islamic Ideology in 2016 before introducing it in the assembly to pacify religious circles. The council had turned down the draft, saying it's in contradictions with the Shariah.
"The bill to provide prevention of domestic violence against women in order to protect women from sexual abuse, psychological abuse, economic abuse and stalking and for the matters connected herewith and ancillary there to," states statement of objects and reasons of the proposed law.
Section 3(1) of the bill says no person shall commit, aid and abet for the commission of the act of domestic violence.
According to sub-section 2 of Section 3, any person, who commits an act pursuant to sub-section (1), shall be deemed to have committed an offence under this Act and shall be liable to be punished for such imprisonment and fine as provided for the said offence in the Pakistan Penal Code 1860 (act No XLV of 1860).
The bill proposes the formation of a seven-member district protection committee to be headed by the deputy commissioner concerned.
The committee will meet at least once a month.
Its main functions are to assist the victim in obtaining any medical treatment necessitated due to the domestic violence and to relocate the victim to safer place and keep official record in respect of the incidents of domestic violence.
The government will establish a toll free help line for reporting of the domestic violence incidents, shelter homes and take other necessary measures to accomplish the objective of this act.
Minister Sultan Mohammad also introduced the Khyber Pakhtunkhwa Ministers (Salaries, Allowances and Privileges) Act, 2019, to amend Section 8's sub-section (2) of the Khyber Pakhtunkhwa Act No IV of 1975, suggesting increase in house furnishing grant from Rs500,000 to Rs1,000,000 per year.
The opposition through an adjournment motion highlighted the ongoing tug-of-war between the governor and chief minister over the delegation of powers in the erstwhile Fata.
MMA MPA Inayatullah in his motion said despite the enactment of 25th Amendment to the Constitution, certain administrative powers in the merged tribal districts had been transferred to the governor, which he considered to be unconstitutional.
He said the government had lost administrative powers after the constitutional amendment.
Opposition leader Akram Khan Durrani said the tussle between Governor Shah Farman and Chief Minister Mahmood Khan had triggered uncertainty in the province.
He said after the approval of that constitutional amendment, all powers had been delegated to the chief minister.
Mr Durrani said the police and levies forces had been brought under the deputy commissioners in tribal districts.
He said the chief secretary and provincial police officer were transferred the same day in an unprecedented development.
The opposition leader said merger with KP had created administrative vacuum in the erstwhile Fata and the abrupt transfer of top officials had caused uncertainty.
ANP MPA Khushdil Khan termed the formation of a four-member advisory council for seven merged district unconstitutional.
He said the government had no legal and constitutional powers to form advisory council comprising former bureaucrats.
Minister Sultan Mohammad said the chief minister was the chief executive of the province and that he enjoyed all powers and that the governor only advised the government on matters.
He said a summary for the appointment of judges to seven merged districts had been approved, while the police system would be introduced there very soon.
A question regarding financial and clinical audit of eight teaching hospitals of the province run under the Medical Teaching Institutions Act was referred to the standing committee on health.
Full report at:
https://www.dawn.com/news/1463282/bill-on-domestic-violence-introduced-amid-mma-reservations
--------
Govt urged to own overseas Pakistanis who declared themselves Afghans
Ikram Junaidi
February 12, 2019
ISLAMABAD: The Senate Standing Committee on States and Frontier Regions on Monday took up the matter of Pakistanis who went to Europe and the US posing as Afghans and who are now stuck there as they cannot get Afghan or Pakistani passports.
"It is time to look into the issue as so many families are miserable. We need to identify and declare them Pakistanis and issue them passports so they can return or live quality lives freely in other countries," the committee chairman, Taj Mohammad Afridi said.
He said he met many young people in the UK who had declared themselves Afghan refugees.
"It has become difficult with time to get documentation which means they cannot get Pakistani or Afghan passports. Some of the young people sought asylum but they cannot prove they are Afghans," he said.
Mr Afridi said the government must address the issue.
A representative of the ministry said there are three categories of Afghan refugees in Pakistan- those who have proof of registration, those who came to Pakistan without registration but registered themselves later, and those who were not registered and are still living in Pakistan.
"The situation has become complicated because of this," he said.
Senator Shamim Afridi said some of his servants are also Afghans but have Pakistani national identity cards.
"I suggest that instead of dividing Afghans into categories, they should be allowed to work in Pakistan and given Pakistani nationality," he said.
The committee chairman said the prime minister had also said that those born in Pakistan will be given Pakistani citizenship.
"However this has not been done yet. I suggest the government look into the issue and mitigate the sufferings of people living in Pakistan for generations. Government should ensure the future of children in the tribal areas of Khyber Pakhtunkhwa is secure," he said.
Full report at:
https://www.dawn.com/news/1463259/govt-urged-to-own-overseas-pakistanis-who-declared-themselves-afghans
--------
PTM leaders responsible for murder of Khaisor whistleblower, brother alleges
Feb 12, 2019
Brother of Malik Matorkay has held top leaders of Pashtun Tahaffuz Movement (PTM) responsible for his sibling's murder on Sunday in Khaisor village of North Waziristan Agency.
Matorkay was the maternal uncle of Shariatullah — a man who abducted a Marri Petroleum Company Ltd employee — and had given the statement that security personnel had not harassed Shariatullah's family as was being portrayed by the PTM, claiming that he was present at the time of the raid.
According to a report on the Khaisor incident which was compiled by North Waziristan deputy commissioner, PTM leaders Manzoor Pashteen, Mohsin Dawar, Ali Wazir and three others have been accused of murdering Matorkay. Tehsildar Mir Ali had submitted his report to the deputy commissioner.
The assistant commissioner has also attached a statement of Parkhay Khan, the brother of slain tribesman, with the report.
Parkhay said that a video of Hayat Khan's misstatement went viral on social media two to three weeks ago. He said that his brother had rejected the recorded statement of Hayat Khan on the Khaisor incident.
He said that the PTM along with a jirga in Dera Ismail Khan tried to bulldoze their houses but failed to do so; however, they threatened Matorkay of serious consequences.
Parkhay further stated that two armed assailants riding a motorcycle opened fire at him in Lakki Marwat on February 9 but he survived the assassination attempt after which his brother was killed in a targeted attack on February 10.
Funeral prayers offered:
Funeral prayers of Malik Matorkay, who was martyred on Sunday at his house, were offered at Bichi, North Wazirstan district on Monday.
No PTM figures or political leadership of PTM attended the funeral.
On the other hand, MNA Mohsin Dawar has condemned the killing of Matorkay. "Another condemnable act which once again questions the large scale military presence in Waziristan. The timing of the killings make it more suspicious. The matter needs to be investigated," he tweeted.
KHAISOR INCIDENT:
Matorkay was the uncle of Hayat Khan – the 13-year-old boy who was reportedly persuaded by PTM activist Noorul Islam Dawar to give a video message against security forces for adopting unfair means in their search for his elder brother Shariatullah.
In an interview with foreign media, Jalat Khan, father of Shariatullah, confirmed that his son was a terrorist.
Shariatullah is said to have abducted and burnt four MPCL employees and a Frontier Corps soldier on October 23, 2018.
Another employee, Zahid Mehmood, was taken a hostage and kept by Shariatullah at his house in Khaisor with the help of his father Jalat and brother Irfan.
When security forces went to rescue Mehmood, Shariatullah managed to escape into the mountains with the abductee.
Hayat was persuaded to give a video statement against the security forces, sources said.
Full report at:
https://www.pakistantoday.com.pk/2019/02/11/ptm-leaders-responsible-for-murder-matorkays-brother/
--------
Africa
Terrorism expanding in Sahel region: African Union
11.02.2019
Terrorism is expanding in the Sahel region -- a region encompassing western and northwestern Africa, an African Union (AU) official said on Monday.
"The whole of West Africa is on alert," Smail Chergui, AU Commissioner for Peace and Security told reporters following the closed-door 32nd Summit about the State of Security in Africa.
Chergui said that terrorism was expanding on a "daily basis" in the region and that Africa was ill-prepared against the threat which he said was "imported."
He described even Burkina Faso -- a site of relative calm in West Africa -- as facing an expanding menace of criminal and terrorist attacks.
Libya
Chergui said the AU and UN agreed to cooperate on convening a national reconciliation conference in Libya. The date is yet to be announced, he added.
"Libyan people have suffered enough," he said, adding that it was armed groups, militias and external meddling that further complicated an already convoluted situation, without naming any single interfering foreign power.
He said that the planned reconciliation conference on Libya would be inclusive and that all Libyan stakeholders would take part, underlining that the country's situation affected neighboring countries as well, referring to a recent attack in Chad by armed men coming out of Libya.
Somalia
On Somalia, Chergui said that while some challenges remained, progress was being made on "implementing the federal transitional plan."
"We want to prepare the Somali National Forces to take over security," he added, stressing that this could only be achieved after "positive development".
An African Mission in Somalia (AMISOM) -- a multinational armed intervention in the country located in the Horn of Africa -- has been keeping the peace in Somalia as the militant group Al-Shabaab continues its attacks.
South Sudan
Chergui said South Sudan was respecting the ceasefire as provided for in the peace deal reached by the warring parties on Sept. 12, 2018.
He appealed to the international community to provide the necessary financial resources for South Sudan to support the implementation of the peace process as opposing forces in the eastern African nation prepared to form a "Revitalized -- Transitional Government of National Unity" in May.
https://www.aa.com.tr/en/africa/terrorism-expanding-in-sahel-region-african-union/1389447
--------
Nigerian refugees struggle in aftermath of Boko Haram attacks
Feb 12, 2019
When Boko Haram militants stormed into her hometown, heavily pregnant Nigerian mother Mariam Adoum dropped everything and ran for her life.
Four days after she reached this desert town across the border in neighbouring Cameroon, she gave birth in a flimsy tent in a makeshift refugee camp, and wonders how she will care for the baby.
"It's so difficult to have a child here. I'm scared," she says. "We came with nothing. We need milk and proper shelter. My baby will grow up here. We don't have a choice."
Mariam is among 35,000 women, children and men who have fled a surge of attacks by Boko Haram in recent days in and around Rann, in Nigeria's restive Borno State, many streaming into Goura in Cameroon's Makary District.
When the gunfire broke out, elderly resident Fanne Gambo started to run, and did not look back as neighbours fell around her.
"We could hear gunshots behind us," she says shortly after arriving in this desert settlement. "I did not really see what was happening, I only saw corpses lying here and there, people being killed."
Violence has been ongoing in northeast Nigeria since the Boko Haram insurgency erupted in 2009, forcing more than 2.5 million people from their homes within the Lake Chad Basin in a desperate search for safety.
As the insurgency grinds on, thousands have been displaced several times within Nigeria itself, while thousands of others like Blama Tchama, have sought safety over the border on numerous occasions.
"We have been to Cameroon seven times and each time, we are sent back to Nigeria. But this time around, we are here to stay … There is no security where we are coming from," she laments.
Her most recent escape came after the Multinational Joint Task Force (MNJTF) which came to secure the city after an attack on January 14 withdrew, leaving residents to face militants, armed with rifles and rocket launchers.
"They tried to defend themselves on their own. But how could they, with their outdated bows and arrows against heavily armed fighters?" Blama asks.
The MNJTF, which includes forces from Cameroon, Chad, Nigeria, Niger and Benin, aims at countering Boko Haram and preventing other insurgent groups from gaining ground across the Lake Chad region.
The vast majority of the recent arrivals fled during a single weekend, 26-27 January, crossing the El-Beid River en masse, some with a few belongings packed on to donkey carts, others carrying them on their heads.
"In this remote and desert environment, the needs are tremendously great in number," says Geert Van de Casteele, the assistant representative in Cameroon for UNHCR, the UN Refugee Agency, who travelled to Goura to meet new arrivals and assess their needs. "It is about providing healthcare, food, water and medical assistance and to rapidly find resources with which to construct temporary shelter in a region characterised by particularly rough climate conditions," he adds.
Together with the UN Development Programme and other partners, UNHCR has launched an appeal for US$135 million to help the hundreds of thousands of people displaced by the worsening Boko Haram insurgency in the Lake Chad Basin region.
Urgent action is needed in order to support the small West African nation, which already hosts 400,000 refugees, including some 135,000 Nigerians.
"People here make it clear to us they do not want to return to Rann, which has come under attack at least four times since September 2018," Van de Casteele says. "They no longer feel safe, and it is on us today to offer them the protection they have a right to," he adds. Last month, UNHCR expressed alarm at reports of the forced return by Cameroon of several thousands refugees into violence-affected Borno state.
Among those who fears she will never be safe in northern Nigeria is mother-of-four Amma Zarama Hamat, who lost her first-born son to Boko Haram violence two years ago, and has lived amid violence for the past eight years.
"They regularly come to take everything we have. They take our food, they take everything we own, and leave," she says. "I can't ever go back there. I barely escaped with my life. I lost my first-born son. Now I'm here and I can't leave. I will die here in Cameroon."
Gaelle Massack, UNHCR External Relations officer in Cameroon hopes and prays that the needs of all the refugees, in all sectors, will be met.
Full report at:
https://www.unhcr.org/news/stories/2019/2/5c6139e74/nigerian-refugees-struggle-aftermath-boko-haram-attacks.html
--------
Nigeria's Election Brings Dual Crises Back to the Polls: Corruption and Boko Haram
Feb. 11, 2019
ABUJA, Nigeria — Muhammadu Buhari won the presidency in a historic election in Nigeria four years ago by promising to crush two scourges that had plagued the nation for years: endemic corruption and a war with Islamist extremists.
Back then, Mr. Buhari, a former military general, rode a wave of voter desire to impose greater accountability on the government, end a brutal war with the extremist group Boko Haram and bring back the hundreds of female students taken as captives.
Now, as Mr. Buhari is in the final throes of a bruising re-election campaign, he stands accused of falling short on all fronts.
Critics say Mr. Buhari has used his antigraft mantra to crush adversaries. Boko Haram is gaining ground, launching sophisticated attacks on weary, underequipped soldiers. And many of the captive students are still missing.
Out of 60 contenders, Mr. Buhari's leading opponent is Atiku Abubakar, a candidate with little military experience and a past so checkered with corruption allegations that the United States refused for years to grant him a visa.
As voters prepare to go to the polls this weekend for what appears to be a tight election in Africa's most populous country, the electorate has increasingly lost hope that the government will ever be free of graft. Instead, voters are fixated on mounting violence in pockets of the nation and everyday issues like having reliable electricity.
"Corruption was there before and it continues. But what of security? What of employment? And food?" said Debbie Okochi, who on a recent afternoon was selling electronics at a market in Lagos, where the streets were lined with cardboard cutouts of candidates. "Everything has become worse."
Both leading candidates are slinging accusations at one another while traveling the country for last-minute rallies. The European Union is sending observers.
In a long communiqué released last weekend, President Buhari suggested that corruption and vote-buying were infecting the election process.
He said the fight against graft will take time, quoting an old proverb: "Only the patient one can milk a lion."
Mr. Buhari, 76, a former military strongman, first took power in Nigeria in 1983 after a military coup. He launched a war on corruption by jailing political actors without trial and committing widespread human rights abuses.
For his political comeback, he assured voters he was a reformed democratic leader. He entered the presidency in 2015 buoyed by the fact that his victory marked the nation's first peaceful passing of power from one party to another.
Corrupt officials braced for what was known then as "the Buhari effect," a wide-scale crackdown on graft. A former defense minister was so worried he fled the country.
Mr. Buhari quickly empowered a team to investigate illicit money flows and make high-profile busts of former government officials, seizing properties and uncovering millions of dollars in cash hidden inside apartment walls.
But Mr. Buhari has backed off some prosecutions in exchange for political support and overlooked some wrongdoing. It was only after pressure mounted on his policy during the campaign season that officials brought charges against one of his top appointees for stealing money intended for Boko Haram victims, a case uncovered in 2017.
Among Mr. Buhari's critics, Senator Shehu Sani, a member of Mr. Buhari's party, said that "the presidency uses insecticides" to fight corruption among those outside his circle, but only "deodorant" on his allies.
Last week, Mr. Buhari suspended the nation's chief justice, claiming he was holding millions in undeclared bank accounts, in violation of an ethics code. The removal from office of a judge who would rule on any issues were the election contested was so swift that it prompted statements of concern from the United States, Britain, the European Union and others.
Mr. Abubakar jumped on the issue, calling the act "dictatorial" and "antidemocratic." In an ominous sign, the governor of Kaduna proclaimed afterward that any foreign actor who intervened in Nigeria's affairs would return home "in body bags."
Mr. Buhari's campaign has rejected accusations that any of his moves against corruption, including his suspension of the justice, have political undertones.
Mr. Abubakar, 72, a former vice president, has been notably quiet on the issue of fighting graft, even downplaying the need to clean up the government. His opponents say that's because of corruption allegations against him.
A United States Senate subcommittee in 2010 held up Mr. Abubakar as a prime example of overseas corruption for funneling tens of millions of dollars' worth of Nigerian oil revenues into foreign shell accounts. The dealings of Mr. Abubakar and one of his wives were contained in a report, "Keeping Foreign Corruption Out of the United States," to show that tougher laws were needed to keep foreign officials from using American banks to bring suspect money into the country.
He was also a key figure in the 2009 bribery trial of an American congressman. Prosecutors said Mr. Abubakar, then Nigeria's vice president, was the intended recipient of a freezer full of cash that former Representative William Jefferson believed would help secure telecommunications contracts to benefit his family.
Boladele Adekoya, an adviser to Mr. Abubakar, called any corruption allegations baseless and pointed out that Mr. Abubakar has never been charged with a graft-related crime.
When Mr. Abubakar made a bid for the presidency in 2007, election officials purposefully left his name off the ballot because he was facing a corruption investigation. He challenged the decision, restoring his name but taking third place in the vote. He rejected the election as not credible.
Last month, Mr. Abubakar was granted a visa to travel to Washington, where he hobnobbed on Capitol Hill. His press team blasted photos of the trip on social media, apparently a signal to voters that he had been absolved by the Americans.
Mr. Abubakar's campaign has sought to shift the national conversation away from corruption and onto the economy. The tactic has targeted voters who seem to have given up that anyone will ever beat back graft.
"They now believe the country is so corrupt that it is nearly impossible to really conquer it," said Alwan Hassan, the national field director for the All Progressives Youth Forum, which supports Mr. Buhari.
Meanwhile, outside the country's most populous cities, security has become a major worry and will likely affect whether tens of thousands of people are able to cast votes.
Conflicts have flared between livestock herders and farmers competing for land. Gangs have launched attacks from enclaves in vast forests. Separatists in the south have resisted heavy-handed responses from the military.
But nowhere is the situation more grave than in the nation's northeast, where Boko Haram and a splinter group loyal to the Islamic State have ramped up attacks, despite Mr. Buhari's claim that he defeated the group.
The extremists have carried out more complicated missions against military installations and posted online a gruesome video of an attack on soldiers.
Multiple attacks on the city of Rann have emptied it, sending 30,000 people fleeing for their lives. Thousands have run across the border into Cameroon, according to Doctors Without Borders, where they have no water, shelter or food. The United Nations estimates a total of 60,000 people have been displaced since November.
In Maiduguri, hundreds of displaced people protested last week, blocking roads and tearing down campaign signs, saying they didn't have enough to eat.
During testimony before the United States Congress last week, Gen. Thomas D. Waldhauser, the leader of United States Africa Command, said that Boko Haram and its factions had grown to as many as 5,000 fighters and "taken large pieces of real estate."
Separately, about 100 students from the village of Chibok are still being held captive by Boko Haram. Mr. Buhari had promised to bring them back but has barely mentioned them on the campaign trail.
Yomi Akinola, who drives a taxi in Lagos, said that the campaign season usually brings an air of excitement and optimism. But he had little faith in either leading candidate.
Full report at:
https://www.nytimes.com/2019/02/11/world/africa/nigeria-election-corruption.html
--------
URL: https://www.newageislam.com/islamic-world-news/fake-imam-imam-tawhidi-darling/d/117726
New Age Islam, Islam Online, Islamic Website, African Muslim News, Arab World News, South Asia News, Indian Muslim News, World Muslim News, Women in Islam, Islamic Feminism, Arab Women, Women In Arab, Islamophobia in America, Muslim Women in West, Islam Women and Feminism