New Age Islam News Bureau
17 Jul 2017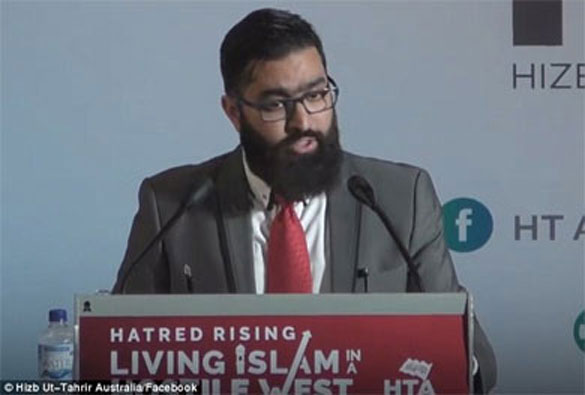 Muslims have become an 'existential threat' in the world today, similar to how the Jewish people were viewed in Germany before and during WWII, Mr Qureshi (pictured) argued
-----
• Extremist Islamic Leader Compares the Extermination of Six Million Jews during the Holocaust to the Way Muslims Are Treated Now
• How JeM Chief Masood Azhar Is Using Modi's Israel Visit, Spate of Lynchings To Instigate Indian Muslims
• Indonesian Province May Move Canings Away From Public Eye
• Saudi, Yemeni and Pakistani Jailed For Joining Daesh
• Israel Reopens Aqsa Mosque Compound, Muslims Refuse To Enter In Protest
Europe
• Extremist Islamic Leader Compares the Extermination of Six Million Jews during the Holocaust to the Way Muslims Are Treated Now
• Britons Want UK to Release Report on Saudi Funding Of Extremism
• Most Britons oppose UK arms sales to Saudi Arabia: Poll
• 14 Saudis face imminent execution for protesting: Reprieve
• Muslim School Where Library Books Said Husbands Could Beat Wives to Be Taken Over By Government
• Australia to boost army powers in response to potential terror attacks
-------
India
• How JeM Chief Masood Azhar Is Using Modi's Israel Visit, Spate of Lynchings to Instigate Indian Muslims
• Humanity Has No Bounds: Local Muslims Save Many Lives Of Amarnath Pilgrims After The Bus Accident
• Shahi Imam Asks Pakistan PM to Persuade Militant Youth for Ceasefire
• Muslim Filmmaker Adopts Cow to Spread Peace Message
• One More Arrested for Slapping Muslim Trader for Not Raising the Slogan 'Bharat Mata Ki Jai'
• Kashmir: Hizbul Mujahideen module busted, three arrested
• Kulbhushan Jadhav's plea of mercy now with army chief: Pakistan
• Opposition to demand debate on China's involvement in Kashmir: Congress
-------
Southeast Asia
• Indonesian Province May Move Canings Away From Public Eye
• Najib: Malaysia Condemns Israel Closing Al-Aqsa Mosque
• Online foreign exchange trader jailed eight years for supporting IS
• Raids against illegal immigrants in Malaysia currently off, says Minister Nurul Islam
• Malaysia, Indonesia may report EU palm oil curbs to WTO
• Encrypted Messaging App Telegram Blocks Terror-Related Channels Amid Rising Security Concerns
-------
Arab World
• Saudi, Yemeni and Pakistani Jailed For Joining Daesh
• Takfiris Fight Each Other As Assad Ouster Fades Away
• Iraq: ISIL Executes Several Own Commanders for Fleeing Battlefield
• Syria: Kurdish-Led SDF Captures 35 Percent of ISIL-Held Raqqa City
• Ex-Saudi Crown Prince's Absence in Funeral Prayer for Uncle Proves Rumours about House Arrest
• Syrian Army Expanding Security Zone against Terrorists' Threats in Eastern Damascus
• ISIL's Crude Trade Destroyed Badly Following Syrian Army's Recent Advances in Homs
• Lebanese Hezbollah Discloses Int'l Plot against Syria Using Refugee Issue
• Terrorist Groups Preparing for Large-Scale Battle in Syria's Idlib
• 100s of Iraqi soldiers, fighters killed in US-led airstrikes: Iraqi MP
-------
Mideast
• Israel Reopens Aqsa Mosque Compound, Muslims Refuse To Enter In Protest
• Iran to Take Legal Action against Canada for Recognition of US Court Rulings
• Turkey: Erdogan's Obsession to Take Jerusalem
• Muslim Authority Protests Temple Mount Security Measures, Blocks Entrance
• Iran responds to Pakistan-based terrorist attack
• Arab homes in Israel face demolition after attack
• Erdogan and Supporters Stage Rally on Anniversary of Failed Coup
-------
South Asia
• Not Anti-Islam: Trump Café Popular In Muslim-Majority Bangladesh, Says Owner
• Afghan Forces Seize Control of District Centre in Nawa
• Mamata offended at Hindu extremists insulting Hasina
• Pakistani tribal elders support fencing along Durand Line
• Construction of four townships approved for Nangarhar province
• Noor harshly criticizes govt leaders, vows new coalition to be announced in Kabul soon
• Spanta slams Ghani for remaining silent regarding violations in Durand Line
-------
North America
• A Roadmap for Arab-American Political Mobilization
• Pro-LGBTQ Groups Kicked Out Of Muslim Conference
• UAE hacked Qatari websites, US intelligence sources confirm
• Belgium must withdraw frigates off Libya: Minister
• Quebec City Muslim cemetery rejected 19-16 in nearby town referendum
-------
Pakistan
• Tribal Elders Flay Anti-Pakistan Jirga Held in Afghanistan
• Mob attacks police station in Fateh Jang to free arrested spiritual healer
• Blast kills two security personnel in Peshawar's Hayatabad
• Two FC men martyred, five injured in Peshawar blast
'• Taliban' suicide bomber kills two in NW Pakistan
-------
Africa
• Muslim Group Slams Danjuma, Christian Elders over Alleged Plans to Islamize Nigeria
• Egypt says it destroyed 15 arms-laden SUVs from Libya
• Jordan, Jerusalemites insist on Al-Aqsa status quo
• Nigeria: Where Is Nigeria As a Nation Today, Do You Want to Be? - U.S. Envoy
Compiled by New Age Islam News Bureau
URL: https://www.newageislam.com/islamic-world-news/extremist-islamic-leader-compares-extermination/d/111857
-------
Extremist Islamic Leader Compares the Extermination of Six Million Jews during the Holocaust to the Way Muslims Are Treated Now
17 July 2017
A leader of a hard-line Islamist group has compared the treatment of Muslims to the massacre of millions of Jewish people during the Holocaust.
Muslims have become an 'existential threat' in the world today, Hizb ut-Tahrir media representative Hamzah Qureshi was recently recorded telling fellow group members.
The growing fear of Islam is comparable to Germany's declaration that the Jewish people 'needed to go entirely' almost 70 years ago, Mr Qureshi argued.
'In Europe during the 19th and 20th century the 'Jewish question' interrogated the status of Jews and soon morphed from an allegedly neutral inquiry into a question of serious threat,' he began.
'Numerous answers were proposed – resettlement, integration, assimilation, deportation and so on as Jews were labelled an obstacle to the German nation and the insidious enemy within.'
As fears grew, the Holocaust was offered as a 'final solution' to the 'Jewish question,' he said.
'Today though brothers and sisters there is a "Muslim question",' he said.
'The same answers that were given for the Jewish question are now being suggested for the Muslim version – integration, assimilation, deportation and so on. Muslims have become that existential threat, that enemy within and that persistent danger,' Mr Qureshi said.
'Muslims are told that in order to be accepted they must conform to a certain set of values different to their own.'
'All this begs the confronting question. What will be the final solution to this 'Muslim Question?'
Mr Qureshi's comments come after fellow Hizb ut-Tahrir spokesman Uthman Badar was captured on camera saying Muslims who leave the religion should be put to death.
'The ruling for apostates as such in Islam is clear, that apostates attract capital punishment and we don't shy away from that,' Badar said in Sydney in May. An apostate is someone who decides to leave Islam.
His extraordinary admission was exclusively captured on camera by Daily Mail Australia and the matter has now been referred to the Australian Federal Police by Justice Minister Michael Keenan.
Hizb ut-Tahrir Australia removed references to that apostasy policy from its website as Alison Bevege, a freelance journalist, sued the group for making her to sit in a women's-only section at a separate talk in October 2014.
During the group meeting, Ms Bevege held up a printed copy of Hizb ut-Tahrir's draft constitution of the Khilafah state published on the UK site, which was on the group's Australian website until 2015.
This outlines their vision for a global Islamic caliphate, which has Muslims and non-Muslims living under sharia law.
She asked about their policy of killing people born as Muslims who leave the faith.
Article 7c of the document said: 'Those who are guilty of apostasy (murtadd) from Islam are to be executed according to the rule of apostasy, provided they have by themselves renounced Islam.'
Badar initially responded by saying the policy wasn't on its website before explaining how the group's apostasy policy was compatible with Islam.
'The whole thing covers different aspects of Islamic sharia law,' he said.
'The role of apostasy in Islam is very clear. Again, this is one of the things the West doesn't like and seeks to change the role of apostasy.'
A spokeswoman for Justice Minister Michael Keenan condemned language that incites or advocates violence.
'Language that incites or advocates violence is not freedom of speech,' the spokeswoman said.
'This matter has been referred to the AFP.'
Badar's remarks came after he delivered the keynote lecture for the forum, which was called 'Sharia and the modern age'.
He said Islam was incompatible with a secular separation of religion and state, democracy, individual rights and even the process of science, which he called 'scientism'.
He compared calls to fit Islam within a secular society to domesticating a wild animal, putting Hizb ut-Tahrir at odds with secular Muslims who reject sharia law.
'The West seeks to domesticate Islam, to control, to bring within, the way you domesticate animals,' he said.
Badar described calls to reform Islam from secular Muslims as 'pernicious', 'insidious' and 'dangerous' and called for radical change.
'Always when you hear these sorts of calls, alarm bells should ring,' he said.
'The Islam people are calling for fits very well within modernity. They're giving in to the pressure to conform.'
About 100 people were at the publicly-advertised lecture with men making up about two-thirds of the audience.
Women were segregated from the men on the left-hand side of the room, apart from Ms Bevege who stood at the back.
Following the lecture, a group of men followed Daily Mail Australia to a parked car.
One older man bizarrely demanded to know if men and women had equality in Australia.
An ex-Muslim from Bangladesh, Shakil Ahmed, attended the talk and later described his disgust with Hizb ut-Tahrir and Islamists, which orchestrated marches in his home country in 2013.
Islamists staged marches in the capital Dhaka after the murder of gay rights activists and atheist bloggers.
'Their primary demand was the death of apostates and blasphemers,' Mr Ahmed, 20, told Daily Mail Australia.
He said it was depressing to hear Hizb ut-Tahrir voice their support for the killing of ex-Muslims in Australia.
'What I felt instinctively is that the reason I left my country was so that I could escape from the exact same people that I found in that room,' he said.
As an ex-Muslim atheist in Bangladesh, he was discreet about his beliefs.
'Apart from a close circle of family and friends, we don't integrate with others as we don't know how they would react to our views,' he said.
Another Bangladeshi student Shubhajit Bhowmik also attended the lecture.
The Hindu blogger was on the same death list as atheist blogger Avajit Roy when he got hacked to death in 2015 in Dhaka for promoting secularism.
Farabi Shafiur Rahman, an extremist blogger and member of Hizb ut-Tahrir in Bangladesh was arrested in connection with Roy's murder.
'Once you escape from death, then you will hardly find things that will scare you,' Mr Bhowmik told Daily Mail Australia about seeing Hizb ut-Tahrir Australia leaders in the flesh.
Another Islamist group of religious madrasa teachers, Hefazat e Islam, circulated hit lists of Bangladesh and emerged after Hizb ut-Tahrir was banned in 2009.
Like Hizb ut-Tahrir, they have campaigned in Bangladesh to dismantle parliamentary democracy, scrap aspects of the constitution that contradict sharia law and wind back women's rights.
The latest revelation about Hizb ut-Tahrir in Australia comes as Islamists in Pakistan take to social media to demand the killing of atheist blogger Ayaz Nizami.
He and two others were charged with blasphemy this week by a court in Islamabad and face the death penalty.
Hizb ut-Tahrir operates in 40 nations, including Australia and the United Kingdom, but is banned in Bangladesh along with other Muslim and Muslim-majority nations including Turkey, Egypt, Jordan, Saudi Arabia and Uzbekistan.
http://www.dailymail.co.uk/news/article-4701858/Islamic-leader-compares-Holocaust-Muslims-treatment.html
-------
How JeM Chief Masood Azhar Is Using Modi's Israel Visit, Spate of Lynchings To Instigate Indian Muslims
Jul 17, 2017
Banned terror outfit Jaish-e-Mohammad (JeM) is instigating Muslims by raising issues such as Narendra Modi's visit to Israel, lynching of Muslim youths, apart from the Kashmir issue, to target the Prime Minister and Uttar Pradesh Chief Minister Yogi Adityanath.
In two separate audio messages, the outfit has threatened attacks from Kashmir to Kanyakumari and calls chemicals, medicines and petroleum their latest weapons.
Security agencies are on their toes after the two audio messages surfaced this week. The messages are in the name of 'Saadi', a pen name used by JeM chief Masood Azhar.
The messages are written by Azhar himself and the audio is recorded by one of his associates identified as Talah, the man behind Pathankot attack, claims security agencies. What has left security forces in a tizzy is that soon after the release of the video, an attack was carried out on Amarnath pilgrims in which seven people were killed. Also, a packet of white powder was discovered inside the Uttar Pradesh Assembly, which was found to be Pentaerythritol tetranitrate (PETN), a plastic explosive that is the most dangerous of its kind.
JEM'S NEW WEAPONS
The terror outfit also revealed plans of attacks through vehicles, electricity, petrol, fertilizer, sand and medicines. Azhar, also the mastermind of the Parliament attack, called for the use of 'new weapons for war' instead of traditional ones such as guns, grenades and bullets.
In the audio, he highlighted that now there is no need of bombs, bullets, guns, grenade, launchers or training in this 'fight for jihad'. He further indicates a new style of attacks with use of props such as vehicles, electricity, petrol, fertilizer and more significantly, medicines. The audio also says that jihadis now do not require any mastermind, instigation or training as they are 'self motivated'.
MODI, YOGI ON TARGET RADAR?
It is to be mentioned here that the chemical substance found in the UP Assembly building (PETN) also has medicinal uses and is often used in the treatment of certain heart conditions such as angina pectoris. Medicines such as Lentonitrat contains maximum amount of PETN and its variables are available in the market. The audios, copies of which are available with Mail Today, have also been acknowledged by security agencies.
Modi and Yogi's names have been taken multiple times in the messages. Azhar expressed anger at Modi's visit to Israel and called for action against Jews and Hindus whom he called his 'first enemies'. He also blamed the government and Hindus for the recent lynching of a Muslim youth in Haryana on a train. Security forces on Saturday gunned down three JeM terrorists in Tral area of Jammu and Kashmir's Pulwama district. The killing of the terrorists is a major setback for the outfit which is trying to revive its activities.
http://indiatoday.intoday.in/story/masood-azhar-jaish-e-mohammad-jem-pakistan-muslims-lynching/1/1003669.html
-------
Indonesian province may move canings away from public eye
Jul 17, 2017
Two months after Indonesia's most conservative province drew international headlines for publicly caning two young gay men for having sex with each other, the governor is considering making such whippings private to avoid negative news media attention and prevent any adverse impact on outside investment.
The proposed changes in Aceh province have caused a stir in Indonesia ever since local news media reported that Indonesia's president, Joko Widodo, had met with the newly inaugurated governor, Irwandi Yusuf, to discuss ways to improve the province's international image.
In an interview with local media, vice governor Nova Iriansyah said that because of the international attention on public whippings: "We will minimalise press coverage and conduct it inside prisons. Right now it's in front of the mosque, right after Friday prayers."
He added, "I think the national government is right that we have to do something."
In a statement, the governor's office emphasised the provisional nature of the discussions to end public canings, noting that the decision required approval from Muslim scholars and Aceh's legislature.
Even as the Indonesian province considers moving the public floggings indoors, a highly conservative state in neighbouring Malaysia, Kelantan, passed a law allowing it to become the first state in the country to hold public canings. Currently, caning in Malaysia is conducted in private, often in prison yards and away from crowds.
Publicly beaten
On caning days in Aceh, huge crowds gather to watch as convicts are publicly beaten, an event resembling a medieval spectacle. Longtime critics of public caning said they were glad to hear that the punishment might be phased out. "It will mean nobody will be publicly humiliated anymore," said Ratna Sari, the head of Women's Solidarity, Aceh, a progressive group.
Still, she said, it was only a "small step forward" since canings would still be conducted, only out of sight.
Two men accused of having sex with each other were each sentenced in May to 85 lashes in public, the first case of people being punished for homosexuality in the province under a strict version of sharia, Islamic law. The sentences alarmed rights activists, who called the punishment a dangerous development in Aceh, a semiautonomous province on the northern tip of the island of Sumatra.
One of Indonesia's poorest provinces, a legacy of the three-decade civil war with Jakarta, it has received comparatively little investment from Jakarta-based conglomerates.
Irwandi, the pragmatic new governor, won office with a pledge to develop energy and infrastructure, and to ensure that Aceh's residents benefited from their province's natural resources, which include some of Indonesia's largest oil reserves. Some Acehnese politicians worry that investors from Jakarta and abroad are unnerved by news media portrayals of Aceh as an austere land where moral infractions are strictly punished.
The province, which was granted the right to establish sharia after ending the brutal civil war with the government in 2005, has imposed a strict version of the legal code of Islam. Efforts to change how sharia is enforced are very controversial in Aceh.
Under fire
Hardline Islamist groups have called on Joko not to interfere in the province's affairs, and the new governor is under fire at home for consulting with Jakarta on local sharia ordinances.
Still, this is not the first time that Irwandi has stood up to hardline Islamists. In a previous stint as governor, from 2007 to 2012, he refused to sign into law a version of sharia that mandated adulterers be stoned to death. Ultimately, Aceh's department of sharia revised the criminal code and sent parliament a new version without the provision on stoning.
In Malaysia on Wednesday, Kelantan's legislature, which is controlled by the conservative Pan-Malaysian Islamic Party, amended the state's sharia code to allow public punishment. Caning is a standard penalty in the country, meted out by both secular and sharia courts.
Alia Affendy, communications officer for Sisters in Islam, a group that advocates for a progressive version of Islam, denounced the new law. A news release from the organisation referred to public caning as "a deplorable form of humiliation and shaming" that would build an "increasingly repressive environment".
Alia said in an interview that the new law was part of a broader national effort by conservative groups to alter Malaysia's legal code. "There is a big fundamentalist movement changing the law, not just at the state legislative level, but also at the federal level," she said.
Punishment
Ultraconservative Muslims often back public forms of punishment, which they believe have greater deterrent value. "Sharia punishments must be executed in public," Kelantan's deputy chief minister, Mohd Amar Nik Abdullah, told Bernama, a state news agency. Malaysia, a multi-ethnic nation of 30 million people, has a population that is 60 per cent Muslim, though the country has large Chinese and Indian minorities who tend not to be Muslim. Politicians have been debating how public whippings would affect the country's image abroad, with Mohamed Nazri bin Abdul Aziz, the nation's tourism and culture minister, telling the news media that the whippings would not have an effect on tourism because tourists rarely visited Kelantan anyway.
Other politicians swiftly contradicted this assertion. "This can become a new Malaysian tourism product for Nazri to sell overseas so that non-Muslims, particularly those from developed nations, can see ancient and barbaric punishments being carried out in the democratic and modern Malaysia," said Zainuddin Maidin, a former information minister, according to the local news website Malaysiakini.com.
https://www.irishtimes.com/news/world/asia-pacific/indonesian-province-may-move-canings-away-from-public-eye-1.3156707
-------
Saudi, Yemeni and Pakistani jailed for joining Daesh
MOHAMMED AL-SULAMI
17 July 2017
JEDDAH: The Specialized Criminal Court in Riyadh on Sunday issued preliminary verdicts against three defendants who were found guilty of supporting and being involved in terrorist organizations.
The first defendant, a Saudi national, was found guilty of supporting Daesh and traveling to Turkey to join its ranks in Syria, as well as for meeting with a number of extremists and funding terrorism by paying transportation costs for members to travel to conflict areas. The court sentenced him to six years in prison, starting from the date of his arrest, five of which are based on Royal Decree No. 44 of 3/4/1435AH. He was also issued a travel ban for six years upon his release from prison.
The second defendant, a Yemeni, was also found guilty of supporting Daesh and carrying out some of its activities in the Kingdom, as well as for traveling to Turkey to join the organization in Syria and meeting with extremists. He was found guilty of funding terrorism by receiving a ticket to Turkey and storing it on his computer. He was also sentenced to six years in jail.
His jail sentence will be followed by his deportation from the Kingdom, the court ruled.
The third defendant, a Pakistani national, was charged with monitoring Daesh's electronic websites, meeting with extremists, agreeing with some of them to go to Turkey to join the organization in Syria, and participating in their activities.
He was sentenced to three years in jail starting from the date of his arrest, and 80 lashes after the court also convicted him of intoxication and drug consumption.
http://www.arabnews.com/node/1130641/saudi-arabia
-------
Israel reopens Aqsa Mosque compound, Muslims refuse to enter in protest
Jul 16, 2017
Israeli forces have reopened the al-Aqsa Mosque compound in East Jerusalem al-Quds two days after they closed it following a deadly shooting in the area, but Muslims refused to enter in protest to newly imposed security measures, including metal detectors and cameras.
The highly-sensitive compound, which includes the al-Aqsa mosque and the Dome of the Rock, was reopened on midday Sunday after the Israeli regime closed it on Friday, shortly after a bloody gunfight in the courtyard of the sacred site left two Israeli policemen and three Palestinians dead.
Israeli authorities at the time said the closure was necessary to install metal detectors and additional cameras in a bid to boost security in the compound, but the highly unusual decision of banning Muslims to hold Friday prayers in the mosque sparked anger and condemnation both from Palestinians and Jordan, custodians of the al-Aqsa Mosque compound.
The unusual and provocative decision in closing the site also set off a flurry of condemnation from the Muslim world with the Arab League calling it a dangerous move. Other Muslim countries also slammed the closure as a violation of the basic rights of Palestinians.
On Sunday, dozens of Muslim worshipers held midday prayers outside the compound, at an entrance to the site next to the Lions' Gate entry to the Old City, in a bid to show their dissent with the newly-implemented measures.
"We reject the changes imposed by the Israeli government. We will not enter through these metal detectors," said Sheikh Omar Kiswani, al-Aqsa director.
The order to set up metal detectors and cameras in the site, known to Jews as the Temple Mount, came directly from Israeli Prime Minister Benjamin Netanyahu as he spoke of the new measures late on Saturday.
"I instructed that metal detectors be placed at the entrance gates to the Temple Mount. We will also install security cameras on poles outside the Temple Mount but which give almost complete control over what goes on there," he said.
Israeli police said that shortly after the reopening of the site some 200 people had passed through the gates.
According to an agreement signed between the Tel Aviv regime and the Jordanian government, after Israel's occupation of East Jerusalem al-Quds in 1967, visits to the compound by Israelis are permitted but non-Muslim worship is prohibited.
The occupied lands have witnessed tensions ever since Israeli forces imposed restrictions on the entry of Palestinian worshipers into the al-Aqsa Mosque compound two years ago.
The Tel Aviv regime has been trying to change the demographic makeup of Jerusalem al-Quds by constructing settlements, destroying historical sites and expelling the local Palestinian population.
More than 300 Palestinians have lost their lives at the hands of Israeli forces since October 2015, when the tensions intensified.
Tel Aviv has come under fire for using violence against Palestinians and adopting a policy of shoot-to-kill.
http://www.presstv.ir/Detail/2017/07/16/528659/Palestine-Israel-alAqsa-Mosque-East-Jerusalem-alQuds-Netanyahu
-------
Europe
Britons want UK to release report on Saudi funding of extremism
Jul 16, 2017
Britons urge the government of Prime Minister Theresa May to release a report about Saudi Arabia's funding of extremists operating in the UK, and to stop selling arms to the kingdom.
An exclusive poll for The Independent showed Sunday that an overwhelming majority of the public believe it is wrong for Britain to provide the Saudis with billions of pounds worth of weapons being used against innocent civilians in Yemen.
The poll by BMG Research has found that only 18 percent of people support those sales "while the Middle Eastern state is engaged in Yemen's civil war" – while 58 percent are against it.
"Instead of giving the Saudis a stern talking to, ministers are flogging them arms," Tom Brake, a Liberal Democrat frontbench MP, said.
"They are desperate for shady Middle Eastern trade deals because they are hell-bent on taking us out of the world's most lucrative single market, in Europe, with nations who share our values."
Saudi Arabia has been incessantly pounding Yemen since March 2015 in an attempt to reinstate former president Abd Rabbuh Mansur Hadi, a staunch ally of Riyadh, and to undermine the Houthi Ansarullah movement. The Riyadh regime has, however, failed to reach its goals.
Last week, the UK High Court issued a ruling, saying that the government was not breaking the law by continuing to sell arms to Saudi Arabia.
Apart from selling arms to the Saudi kingdom, the UK government has refused to release its report on Saudi and other foreign funding for extremism in Britain.
The new study now shows that most people want the government to release the report, even if it damages diplomatic relations between the two countries.
Sixty-four percent want the report to be made "publicly available in full," while only 11 percent back its suppression.
"Liberal Democrats forced the Conservatives to commission a report into Saudi funding of extremism, so where is the full report?" Brake asked.
"It is totally hypocritical of ministers to condemn terrorism if they won't also tackle the causes of terrorism. The public sees that, but scandalously the Conservatives don't want to offend the world's largest funder of" extremism.
This comes after the British government published a brief summary of a Home Office-commissioned report into the funding of extremism in the country, but announced that it would not publish in full the report on the sources of funding of extremism and terrorism in the UK, citing security reasons.
http://www.presstv.ir/Detail/2017/07/16/528644/UK-Saudi-Arabia-poll-extremism
-------
Most Britons oppose UK arms sales to Saudi Arabia: Poll
Jul 16, 2017
A majority of the British public believes the UK must end arms sales to Saudi Arabia over its large-scale slaughter of civilians in Yemen, according to a new poll.
An exclusive poll conducted by BMG Research for The Independent has found that 58 percent of people say it is wrong for Britain to supply billions of pounds of weapons to Saudi Arabia.
The poll also shows that 64 percent of the public want the government of Prime Minister Theresa May to release a suppressed report into Saudi Arabia's funding of extremism in Britain, even if it damages relations with Riyadh.
On Wednesday, UK Home Secretary Amber Rudd cited national security reasons for not publishing a report commissioned by former Prime Minister David Cameron that shows the majority of foreign funding for extremism in the UK came from Saudi Arabia.
The survey underscores the public's deep concern about the UK's close relationship with an autocracy embroiled in a devastating war in Yemen.
The UK has licensed 3.3 billion pounds worth of weapons since the beginning of Saudi Arabia's war on Yemen in March 2015.
The United Nations and other international organizations have accused the Saudi-led coalition of bombing hospitals, schools and wedding parties in Yemen.
The UN has declared Yemen a "humanitarian catastrophe," with sanitation systems destroyed and at least 300,000 people infected with cholera.
The opposition to weapons sales has extended into the government, with key Conservative lawmakers thought to be debating privately for arms sales to be halted.
"This just shows how fast the Conservatives are moving away from public opinion," said Tom Brake, a Liberal Democrat lawmaker. "Instead of giving the Saudis a stern talking to, ministers are flogging them arms."
Last week, the UK High Court ruled that London's weapons sales to Riyadh are not against the law.
The ruling came despite the judges conclusion that there was "a substantial body of evidence suggesting that the [Saudi-led] coalition committed serious breaches of international humanitarian law in the course of its engagement in the Yemen conflict".
Full report at:
http://www.presstv.ir/Detail/2017/07/16/528668/UK-poll-arms-sales-Saudi
-------
14 Saudis face imminent execution for protesting: Reprieve
Jul 15, 2017
A leading rights group has called on the US and UK governments to stop Saudi Arabia from executing 14 people who face death based on evidence gathered under torture.
Reprieve, which is based in London, said all 14 people were sentenced by the controversial Specialized Criminal Court, which used confessions extracted through torture as the basis for convictions.
Nearly all were charged with offenses related to attending protests, Reprieve said.
Among those facing imminent execution are Munir al-Adam, who is half-deaf and partially-blind, and Mujtaba'a al-Sweikat, who was only 17 when he was sentenced to death.
The rights group called on US President Donald Trump and UK Prime Minister Theresa May to urge the new Saudi Crown Prince Mohammad bin Salman to halt the executions.
'This is an extremely worrying move from the increasingly brutal regime in Saudi Arabia. To execute a disabled man and a juvenile protestor would be an appalling breach of international law and world leaders cannot stand silently by and let this happen," said Maya Foa, the director of Reprieve.
"President Trump and Theresa May need to tell the new Saudi Crown Prince loudly and clearly that this is an unacceptable red line that should not be crossed," she said.
The organization stressed that Saudi Arabia was using the fight on terrorism as a pretext to sentence juveniles and protesters to death.
"This marks a further escalation of executions under the new Crown Prince Mohammad bin Salman, with 14 executions already this week, including 4 persons who had been sentenced to death on protest-related charges," it said on its website.
Saudi Arabia has long been under fire for its grim human rights record. Saudi Arabia carried out 157 executions in 2015, most of which were beheading by sword, according to Amnesty International.
Full report at:
http://www.presstv.ir/Detail/2017/07/15/528526/US-UK-Saudi-Reprieve-execution
-------
Muslim school where library books said husbands could beat wives to be taken over by Government
Harriet Agerholm
Jul 17, 2017
The Government has ordered the takeover of a state-funded Muslim school in Birmingham where a boy died in March.
Ofsted visited the Al-Hijrah School after nine-year-old Mohammed Ismaeel Ashraf reportedly suffered an allergic reaction and collapsed while at school. He was taken to hospital, but died shortly afterwards.
An earlier inspection found books in the library that said husbands were allowed to beat their wives and could force them to have sex.
A June report said the school was "inadequate", saying pupils were not "sufficiently" safe and staff were not prepared for medical emergencies.
The school is currently embroiled in a long legal battle to allow it to segregate girls and boys.
Amanda Spielman, chief inspector at Ofsted, told The Sunday Times: "I am deeply concerned about the idea that total segregation of children within a mixed school is acceptable."
In November, the High Court ruled that Ofsted inspectors were wrong to punish the school on the basis of the "erroneous" assumption that segregation amounted to unlawful discrimination.
The judge said: "There is no evidence in this case that segregation particularly disadvantages women."
Full report at:
http://www.independent.co.uk/news/uk/home-news/muslim-school-taken-over-government-ofsted-al-hijrah-mohammed-ismaeel-ashraf-birmingham-gender-a7843511.html
-------
Australia to boost army powers in response to potential terror attacks
Jul 17, 2017
The Australian prime minister says Canberra is set to extend the powers of the military to take action in response to potential terrorist attacks in the country.
On Monday, Malcolm Turnbull announced a set of proposed changes to Australia's security laws, which pave the way for an easier army deployment to respond to "terrorist incident."
Under the changes territory police forces would remain the first responders to possible terror attacks on Australian soil, but they would be authorized to ask for the army's help during such incidents before exhausting all their capacity.
Special forces would also be embedded in law enforcement agencies for better cooperation. Defense officials will also provide specialized training to police forces as part of the measures.
"What I am doing is taking a lot of the red tape and the gum out of the works to enable the cooperation between the police and the ADF (Australian Defense Forces) and particularly the specialists ... so they can work together more seamlessly," Turnbull said on Monday.
"In the current threat environment, it's most likely that a terrorist attack will use simple methodologies, a knife, a gun, a vehicle and the attack itself could be over in minutes," Turnbull said.
He said the proposed measures "will ensure that the ADF is more readily available to respond to terrorism incidents, providing state and territory police with the extra support to call on when they need it."
Turnbull also said the government will need to mobilize all available resources to stand up against terrorists.
"Our enemies are agile and innovative….We have to ensure that every resource we have - legislative, military, police, intelligence, security - is always at the highest standard … We have to stay ahead of them," he said.
The decision to grant the army greater powers came following a review of security forces' responses to a spate of local and international incidents.
In May, a coronial inquiry established that police had failed to give a swift response to a 16-hour siege at a central Sydney cafe in December 2014. Two hostages were killed in the siege, which was described as Australia's deadliest Daesh-inspired incident.
Full report at:
http://www.presstv.ir/Detail/2017/07/17/528722/Australia-Prime-Minister-Anti-Terrorism
-------
India
Humanity has no bounds: Local Muslims save many lives of Amarnath pilgrims after the bus accident
July 17, 2017
Jammu: Sixteen Amarnath pilgrims were killed and 26 seriously injured when the bus in which they were travelling plunged into a gorge in Jammu and Kashmir's Ramban District on Sunday, authorities said.
Soon after the accident, about a dozen lives of Amaranth pilgrims were saved by the locals of the Banihal area.
Activists from an NGO by the name 'WE FOR U', which is operating since 2004, rushed to the spot and started rescue operations. In order to inform the other activists to reach and help in the rescue operation, they made a WhatsApp group.
According to the report published in "India Today", Amir Wani was the first NGO activist to reach the spot.
The rescue team was headed by activist, Ilyas Banihali. He also met the Chairman of Shri Amarnath Shrine Board and the Governor of the State, NN Vohra. During the meeting, he informed that despite several requests, district administration did not supply the equipment required for rescue operations.
After the meeting, he told that the Governor assured them that the board will provide Rs. 5 lakh for the equipment.
It may be noted that the Jammu and Kashmir State Road Transport Corporation Bus was on its way from Jammu to Kashmir Valley when the driver reportedly lost control over the vehicle at Nichnala near Banihal town on the Jammu-Srinagar highway.
"Sixteen pilgrims were killed on the spot while 26 others have been injured," a police officer said. The deceased comprised 14 men and two women.
Of the injured, five were taken to Srinagar, 19 others were airlifted to the Government Medical College Super Specialty Hospital in Jammu and two are being treated at Banihal hospital.
The spokesman said the bus carried 43 persons including the driver.
Army, police and paramilitary forces launched a rescue operation which was joined by the locals, who helped to take out the injured pilgrims from the wreckage site.
Army helicopters flew the injured to Jammu City.
Prime Minister, Narendra Modi, Home Minister, Rajnath Singh, Jammu and Kashmir Chief Minister, Mehbooba Mufti and former Chief Minister of Jammu and Kashmir, Omar Abdullah expressed grief over the accident.
Modi said: "Extremely pained by the loss of lives of Amarnath yatris… My thoughts are with the families of the deceased. I pray that those injured recover soon."
Rajnath Singh said that he spoke to Mehbooba Mufti regarding the accident. She apprised him of the rescue operations.
"My heart goes out to the families of the Amarnath yatris who lost their loved ones in the bus accident. My prayers are with the injured," he added.
It is to be noted that this is the second tragedy to hit the Amarnath pilgrimage since militants ambushed a bus on July 10, killing eight people.
http://www.siasat.com/news/humanity-no-bounds-local-muslims-save-many-lives-amarnath-pilgrims-bus-accident-1212542/
-------
Shahi Imam Asks Pakistan PM to Persuade Militant Youth for Ceasefire
July 16, 2017
The Shahi Imam of Delhi's Jama Masjid, Syed Ahmed Bukhari, has written to Pakistan Prime Minister Nawaz Sharif urging him to persuade militant youth and Hurriyat leaders to agree for a ceasefire and resolve the Kashmir issue through dialogue. In a nearly one-month-old letter, Bukhari had said the Kashmir issue is becoming volatile day-by-day, resulting in an increase in tension between the two countries and the only practical way to ease tension on the border is initiation of dialogue between India and Pakistan.
"Thousands of people are living under the shadow of AK-47, a life besieged by bloodshed," he said.
This game of death and destruction is making the situation grave. Due to these circumstances, millions of Indian Muslims are also facing a trying situation. Whenever ties between the two countries are tense it directly affects the Muslims of India, Bukhari said.
"The Kashmir issue can neither be solved through guns and stones nor through military expeditions. We should create an environment conducive for the talks at the earliest.
"Through the exchange of views and dialogue on the larger issues, we all should formulate a strategy that is in the interest of both nations," he said in the letter.
Referring to what former prime minister Atal Bihari Vajpayee had said that "one could change friends but not the neighbours", Bukhari said he perceived in the context of current situation positive measures aimed to ensure dialogue process is needed keeping in view the interest of the two countries and their people.
"I request you to kindly persuade the militant youth and Hurriyat leaders to agree for a ceasefire through your good offices and influence," the Shahi Imam said.
Full report at:
http://indianexpress.com/article/india/shahi-imam-bukhari-asks-pakistan-pm-nawaz-sharif-to-persuade-militant-youth-for-ceasefire-4752672/
-------
Muslim Filmmaker Adopts Cow to Spread Peace Message
Jul 16, 2017
In times of cow vigilantism and lynchings, a Muslim filmmaker adopted a cow and a calf and performed house warming rituals for the animals at his home in Kota on Sunday.
Sarosh Khan, who is from Kota but lives in Mumbai, tried to send a message to the society against violence in the name of the cow. Wearing a skull cap and Pathani suit, he performed Hindu rituals and put vermilion on the head of the bovines at his home in Vigyan Nagar.
"Islam does not preach hate against Hindus or any other religions. Everyone should respect each other and end violence in the name of cows," said Khan, who has produced and acted in several Hindi and Rajasthani films, including Payback, Kota Junction and Bhanwari.
Khan, who has bought a Gir cow and calf for Rs 50,000 said that fake cow vigilantes are carrying out violence in the name of cow protection. "So I decided to adopt cows and rear them in my house to convey a message to the society that Muslims too love cows. If my initiative can end violence in the name of cows, I will be satisfied," he said.
He also appealed to cow vigilantes to adopt stray cattle if they really consider cows as their "mother".
Assistant professor of Jagadguru Ramanandacharya Rajasthan Sanskrit University (JRRSU) Shastri Kosalendradas performed the Hindu rituals. "I have performed house warming of cows for Hindus in the past as well, but it is for the first time that a Muslim has performed such a ceremony," said Kosalendradas.
He added that the Vedas assert that cows are not the "mother" of a particular community or any country but is the mother of the entire world and its inhabitants.
Full report at:
http://www.hindustantimes.com/jaipur/muslims-filmmaker-adopts-cow-to-spread-peace-message/story-wnn5fe6Rm6fGxXoR9dKEpM.html
-------
One More Arrested for Slapping Muslim Trader for Not Raising the Slogan 'Bharat Mata Ki Jai'
July 16, 2017
Another person was arrested on Sunday for allegedly slapping a Muslim trader when he refused to raise the slogan of 'Bharat Mata ki Jai' during a protest by Bajrang Dal activists against the recent terror attack on Amarnath pilgrims, police said. Kapil, a resident of Gandhi Dairy Colony Hisar, was arrested from Panchkula, they said. The accused was produced before a duty magistrate here who sent him to 14-days judicial custody, police said. Anil Kumar (28), a resident of Hisar's Rishi Nagar, was arrested in this connection on Wednesday.
The Bajrang Dal activists had taken out the march near a mosque in Hisar on Wednesday to protest the Amarnath terror attack. The trader hailing from Saharanpur in Uttar Pradesh had come to the mosque to offer prayers on that day when someone in the crowd asked the victim to raise the slogan. When the victim refused, he was allegedly slapped by someone in the crowd, police said, adding that a complaint was filed by the trader against around 100 unidentified people. A Bajrang Dal leader had said earlier that no one from the outfit had slapped the trader.
http://indianexpress.com/article/india/one-more-arrested-for-slapping-muslim-trader-during-bajrang-dal-protest-4753211/
-------
Kashmir: Hizbul Mujahideen module busted, three arrested
July 16, 2017
Security forces arrested three persons in Kashmir's Baramulla district after busting a Hizbul Mujahideen module, police said on Sunday. The Hizbul module was actively involved in recruiting militants by luring young boys in the area to join the outfit. Around 10 boys were rescued in the operation carried out by the Baramulla police and other security forces.
Baramulla SSP, Imtiyaz Hussain Mir told news agency PTI that the module was being spearheaded by Hizbul Mujahideen commander Parvez Wani alias Mubashir, who is a resident of Gagloora Handwara in north Kashmir's Kupwara district. He added that the module was planning to send many boys to Pakistan on valid visas for training in militant camps inside Pakistan-Occupied Kashmir (PoK).
The arrested persons — Ansarullah Tantaray, Abdul Rashid Bhat and Mehrajuddin Kak – were all from Baramulla district. "One of the accused Abdul Rashid Bhat had visited Pakistan in the month of May this year and obtained training for undertaking terrorist activities in Khalid bin Waleed camp of HM located in PoK," the SSP was quoted as saying by PTI. Mir also said that Bhat had got the visa from Pakistani High Commission in New Delhi "on the recommendation of a separatist organisation."
Full report at:
http://indianexpress.com/article/india/kashmir-hizbul-mujahideen-module-busted-three-arrested-4753034/
-------
Kulbhushan Jadhav's plea of mercy now with army chief: Pakistan
Jul 17, 2017
ISLAMABAD: Pakistan army said on Sunday that its chief General Qamar Javed Bajwa is reviewing the evidence against former Indian Navy officer Kulbhushan Jadhav who was sentenced to death by a military court in April over espionage and terror charges.
"The mercy appeal is pending before the chief of army staff. All evidence and case proceedings against him (Jadhav) are being examined by the army chief, and he will take a decision on the basis of merit and justice," Major General Asif Ghafoor, chief of Pakistan army's media wing Inter-Services Public Relations, said while addressing a press conference in the garrison city of Rawalpindi.
According to an ISPR statement issued on June 22, Jadhav had filed a petition for mercy to Gen Bajwa last month after his earlier plea was rejected by the military's appellate court. If the army chief declines his appeal, Jadhav would still be eligible under Pakistani law to make a request to president Mamnoon Hussain.
Jadhav, according to Pakistan, was arrested on March 3, 2016, through a counter-intelligence operation in Balochistan's Mashkhel area, a claim which is rejected by India. New Delhi says Jadhav was abducted from Iran. He was sentenced to death on April 10 this year but the International Court of Justice (ICJ) had stopped Pakistan from carrying out the punishment on May 18.
In violation of the Vienna Convention, Pakistan has turned down all Indian requests seeking consular access to Jadhav. New Delhi has made at least 18 requests to Pakistan to give consular access to its national.
Full report at:
http://timesofindia.indiatimes.com/india/kulbhushan-jadhavs-plea-of-mercy-now-with-army-chief-pakistan/articleshow/59624181.cms
-------
Opposition to demand debate on China's involvement in Kashmir: Congress
July 16, 2017
Observing that differences with China over Kashmir was a new focal point, the Congress on Sunday said it would seek a debate in Parliament on the issue, while asserting that the party stood with the government on matters of territorial integrity and national security. The government has closed all doors for dialogue on Kashmir "which has led to political suffocation in the Valley", senior Congress leader Ghulam Nabi Azad said.
"If the government thinks that elimination and guns are the only ways to curb tension in Kashmir, we are not with them," he told reporters after an all-party meeting a day before Parliament opens for the monsoon session. The leader of Opposition in the Rajya Sabha said that earlier "Pakistan would figure in discussions on Kashmir, but now China is mentioned without fail".
Azad said the Congress has conveyed to the government that there are some sensitive issues related to the internal and external security that needed to be discussed during the Parliament session. He also said opposition parties will seek a discussion on the India-China standoff in the Dokalam area near the Bhutan trijunction.
Full report at:
http://indianexpress.com/article/india/opposition-to-demand-debate-on-chinas-involvement-in-kashmir-congress-4753213/
-------
Southeast Asia
Najib: Malaysia condemns Israel closing Al-Aqsa Mosque
July 16, 2017
KUALA LUMPUR: Prime Minister Najib Razak said Malaysia strongly condemns Israel for closing the Al-Aqsa Mosque.
"Malaysia strongly condemns Israel for closing the Al-Aqsa mosque and denying the rights of the Muslims to perform Friday prayers there," he said in his Twitter account today.
According to news reports, Israeli police closed and cancelled Friday prayers in the Al-Aqsa Mosque after three Palestinians and two Israeli police officers were killed in a gun battle in the mosque compound.
Al Jazeera, the independent news channel in the Arab world, reported that following the incident Israeli police cleared the Al-Aqsa Mosque and closed it to the public.
Meanwhile, Wisma Putra, in a statement today stressed that the action by the Israeli authorities was a violation of international laws and norms.
"This is the first time since 1969 that Muslim worshippers are banned from performing Friday prayers in the Al-Aqsa Mosque," it said.
The foreign ministry further stressed that the provocative action by Israeli constitutes a flagrant violation of Muslims' rights to perform their religious rituals in their holy places free from any restriction and that the freedom to worship was a right guaranteed under the international law.
Thus, the ministry said Malaysia demanded that Israel immediately re-open the Al-Aqsa Mosque to Muslim worshippers and cease any action that would change the status quo of the Islamic holy site.
http://www.freemalaysiatoday.com/category/nation/2017/07/16/najib-malaysia-condemns-israel-closing-al-aqsa-mosque/
-------
Online foreign exchange trader jailed eight years for supporting IS
July 17, 2017
KUALA LUMPUR, July 17 — An online foreign exchange trader was sentenced to eight years' jail by the High Court here today for giving support to the Daesh terrorist group.
Judicial Commissioner Datuk Ab Karim Ab Rahman handed down the sentence on Hizmi Razli Abdul Rahim, 33, after the man who pleaded guilty to the charge, and ordered him to serve the sentence from the date of his arrest, which was Sept 21 last year.
In the judgment, Ab Karim said the act by Hizmi Razli in supporting the Daesh movement by making the "bai'ah" (loyalty pledge) to the terrorist group through the Telegram application oh his mobile phone was not a joke. It is not something playful. Terrorism starts with giving support and the court should view seriously the matter.
"It is a serious offence and the punishment should be a lesson to you and others," he said.
Hizmi Razli was charged with giving support to the Daesh group by pledging his loyalty through the Telegram application on his handphone in the chat group "gagak hitam" using the name "Abu Al-Farish".
The offence was committed at 12.37am on March 30 last year in Kampung Pulau Kapas, Kota Baru, Kelantan.
The charge, under Sedition 130J(1)(a) of the Penal Code, provides an imprisonment for life, or imprisonment for up to 30 years, or with fine, and shall be liable to forfeiture of any property used in connection with the commission of the offence.
In mitigation, Hizmi Razli, represented by lawyer Mohd Hazrin Arif Wahab, said he it was his first offence and regretted doing it and that he was remorse and promised not to repeat the mistake.
Full report at:
http://www.themalaymailonline.com/malaysia/article/online-foreign-exchange-trader-jailed-eight-years-for-supporting-is
-------
Raids against illegal immigrants in Malaysia currently off, says Minister Nurul Islam
2017-07-16
"According to their deadline, the illegal immigrants can sort out the legal issues by December. But they had started the raids suddenly. Then our government reached out to them about this and they stopped the crackdown," Nurul Islam told a seminar at the ministry on Sunday.
Malaysia's immigration department had accepted applications for temporary work permits or Enforcement Cards (e-cards), which is mandatory for any immigrant worker with proper documents to extend their stay, for the past four months. The deadline ended on Jun 30.
That very midnight, the immigration authorities launched a large-scale operation to flush out illegal immigrants in the southeast Asian country. Of the 1,035 foreign nationals detained on Jul 1, 515 people were Bangladeshis.
According to Bangladesh High Commission officials, the e-card grants permission to stay until Feb 15 next year.
This means that those without a valid passport or permission to work may stay and work in Malaysia until Feb 14.
But the high commission has urged all Bangladeshis to obtain legal status as soon as possible by collecting their passports and finish the rehiring process.
The expatriates' welfare and overseas employment minister on Sunday said Malaysian government's position was the obstacle in shutting down the syndicate in the labour market there.
"Bangladesh government did not set up the syndicate in the Malaysian labour market. The Malaysian government did that. Bangladesh had sent a list of at least 1,100 agencies. But they only approved 10 of them for exporting manpower."
"They could have shut the market if we hadn't agreed to 10 agencies. That's why we didn't say anything else about this."
Nurul Islam said the government is working to open up new labour markets in different countries including Japan and Russia.
Bangladesh has sent 554,000 workers abroad in the first six months of 2017, Director General of Bureau of Manpower, Employment and Training or BMET Selim Reza told the seminar on Sunday.
Full report at:
http://bdnews24.com/bangladesh/2017/07/16/raids-against-illegal-immigrants-in-malaysia-currently-off-says-minister-nurul-islam
-------
Malaysia, Indonesia may report EU palm oil curbs to WTO
July 17, 2017
KUALA LUMPUR: Malaysia and Indonesia plan to raise the prospect of European Union (EU) curbs on the imports of palm oil with the World Trade Organisation (WTO), both countries said in a joint statement on Sunday.
A resolution by the European Parliament in April called for the EU to phase out by 2020 the use of vegetable oils in biodiesel that are produced in an unsustainable way leading to deforestation.
The resolution includes palm oil, an important commodity for Indonesia and Malaysia, which produces nearly 90% of the world's palm oil.
The statement, following a meeting between Malaysia and Indonesia's trade ministers, said that the two Southeast Asian countries would meet in end-July to "discuss and coordinate" palm oil issues, including organising a joint mission to Europe to "engage with relevant parties and stakeholders."
The two nations will coordinate plans via the Council of Palm Oil Producing Countries (CPOPC), a joint initiative by Malaysia and Indonesia to work together in managing stockpiles and supporting prices.
"Malaysia and Indonesia will consider taking this issue to the World Trade Organisation (WTO) if the Resolution becomes an EU Directive and discriminatory in nature," said the statement, issued by Malaysia's international trade and industry ministry.
The palm oil industry has faced widespread criticism in recent years for its links to deforestation and is often accused of annual haze outbreaks in the region due to open burning being used as a cheap way to clear land.
France said earlier this month it would take steps to restrict the use of palm oil in producing biofuels.
Full report at:
http://www.freemalaysiatoday.com/category/nation/2017/07/17/malaysia-indonesia-may-report-eu-palm-oil-curbs-to-wto/
-------
Encrypted Messaging App Telegram Blocks Terror-Related Channels Amid Rising Security Concerns
Jul 17, 2017
Jakarta. The co-founder of encrypted messaging service Telegram announced on Sunday (16/07) that the app has blocked access to all public channels that the Indonesian government believes contains terror-related propaganda.
Pavel Durov, co-founder and chief executive of Telegram, said the messaging app has established a team of moderators who have a good understanding of Indonesia and its language to better detect and and delete terrorism propaganda.
Durov's comments come following the government's move on Friday to limit access to the app, threatening a total ban in the future if the service fails to clamp down on material it deems dangerous.
Durov, who founded the app with his brother Nikolai in 2013, said: "A lot of Telegram's early adopters come from Indonesia," and now the messaging service has "several million users" in the country.
"I am personally a big fan of Indonesia – I've been there a few times and have many friends there. So it made me upset to hear that the Indonesian Ministry of Communication and Information Technology suggested they would have to block Telegram in Indonesia," Durov said in a message to his roughly 40,000 followers on Telegram.
He said ICT Ministry officials recently emailed the company a list of public channels that the ministry suspected of being a haven for terrorism-related content.
"Our team was unable to quickly process them [...] Unfortunately, I was unaware of these requests, which caused this miscommunication with the ministry," Durov added.
The Russian entrepreneur said Telegram responded to the ICT Ministry to set up a direct channel of communication to allow both sides to work "more efficiently on identifying and blocking terrorist propaganda in the future."
The ICT Ministry announced on Friday it was blocking access to the heavily encrypted platform on concerns that it was being used to spread "radical and terrorist propaganda" in the world's largest Muslim-majority nation.
National Police chief Gen. Tito Karnavian told reporters on Sunday that Telegram is a favored application for terrorists and terror sympathizers, due largely to the app's heavily encrypted system that can accommodate up to 10,000 members in individual channels, making it hard for authorities to detect any terrorism-related messaging.
Tito said perpetrators involved in the suicide bombing on the Kampung Melayu bus station in East Jakarta in May and the attack in Thamrin, Central Jakarta in January 2016 used Telegram to coordinate the attacks.
"[...] We want to pin them [terrorists] by banning Telegram. We'll also seek if they use other communications channels. We'll also want to see how this [ban] affects them. Everything will be evaluated," Tito said.
Privacy-Oriented but No Friend of Terrorists
Despite championing privacy for its users, Dubrov said Telegram has been involved in a war to fight terrorists by making it difficult for them to communicate on its platform.
"Telegram is heavily encrypted and privacy-oriented, but we're no friends of terrorists – in fact, every month we block thousands of ISIS-related public channels and publish the result of this work in @isiswatch," Durov said in his comment, referring to an alternative moniker for Islamic State.
As of July 14, Telegram has banned 3,169 Islamic State-related bots and channels in the first two weeks of this month alone.
"We're constantly striving to be more efficient at preventing terrorist propaganda, and are always open to ideas on how to get better at this," he said, adding he is confident that both Indonesia and Telegram can efficiently eradicate terrorist propaganda without disrupting millions of Telegram users in the country.
The ministry's director for information application, Sameul Pangerapan, told the Jakarta Globe on Friday there had been "data collecting and correspondence" with Telegram prior to blocking access to it.
The ministry previously requested Internet service providers block access to 11 domain name systems of Telegram, while the app's desktop version can no longer be accessed.
However, as outlined in its code of conduct, the ICT Ministry cannot request a ban or block on any web portal, but instead only processes requests from other government institutions. It is not yet clear which government agency or ministry made the initial request to the ministry to block access to Telegram's web portal.
The ministry said in a statement on Friday that many Telegram channels "contain radical and terrorist propaganda, hatred, ways to assemble bombs and launch attacks, and disturbing images."
Telegram also offers "Secret Chat," which uses end-to-end encryption and leaves no traces on its servers.
The director of the Jakarta-based Institute for Policy Analysis of Conflict, Sidney Jones, told the Jakarta Globe on Saturday that Telegram "is considered safe, even though many governments have the technology to read it."
She pointed out that the platform has indeed been used to spread radicalized messages and has served as a place of recruitment for terrorists.
Full report at:
http://jakartaglobe.id/news/telegram-says-it-has-blocked-terrorist-related-channels-form-dedicated-moderators-over-indonesias-security-concerns/
-------
Arab World
Takfiris fight each other as Assad ouster fades away
Jul 16, 2017
Raging clashes between Takfiri terrorists in Idlib are raising fears of widespread violence in the northwestern Syrian province which is held by militant groups.
The fighting between Ahrar al-Sham, which is backed by Saudi Arabia, Qatar and Turkey, and al-Qaeda-linked Hay'at Tahrir al-Sham is the the first major escalation of infighting among Takfiri groups since they reached a truce in February.
Idlib has become the base for thousands of terrorists who fled Syria's largest city of Aleppo after facing a rout against government forces in December in their worst defeat since March 2011.
Rival terrorist groups are now competing for clout in the territories they control after seeing their campaign to topple the Syrian government broadly in tatters.
On Saturday, Ahrar al-Sham said Hay'at Tahrir al-Sham, also known as HTS, was sending reinforcements to the town of Saraqeb and the Jabal al-Zawiya region in preparation for an attack, accusing the group of acts of "tyranny."
The Ibaa News Agency of HTS, instead, accused Ahrar al-Sham of setting up checkpoints and detaining one of its commanders and his bodyguard.
The so-called Syrian Observatory for Human Rights, a UK-based monitor which is sympathetic to militants, said the two groups had clashed near the village of Tel Touqan.
More clashes loom as the two sides are rushing militants to the frontlines, with the US news agency Associated Press expressing worries that the infighting could affect their fight against Syrian troops who have been gaining ground over the past year.
Further confrontation could also draw other terrorist groups into the infighting, especially after Hay'at Tahrir al-Sham reported the deaths of two more members near the Sarjeh village and blamed Suqour al-Sham, a strong Ahrar al-Sham ally.
Hay'at Tahrir al-Sham is part of a Takfiri coalition spearheaded by Jabhat Fateh al-Sham, which was formerly known as al-Nusra Front or al-Qaeda's Syria offshoot.
Due to the barbarity of their actions, al-Nusra and Daesh are not subject to an all-Syria truce deal clinched late last year with the mediation of Russia, Iran and Turkey.
The infighting among terrorist groups comes as international efforts to bring more Syrian areas under the ceasefire gain track and more militant groups desist from their campaign to topple the Syrian government.
On Saturday, Russia's Ambassador to the UN Office in Geneva, Alexey Borodavkin, said UN-led Syria talks have a chance of making progress because demands for the overthrow of President Bashar al-Assad have receded.
He said the seventh round of talks which ended on Friday had produced positive results, especially a "correction" in the approach of the main opposition delegation, the Saudi-backed High Negotiations Committee, whose mantra before was "Assad must go".
"The essence of this correction is that during this round the opposition never once demanded the immediate resignation of President Bashar al-Assad and the legitimate Syrian government."
Borodavkin said the HNC and its backers in Western and Persian Gulf capitals have realized that peace needs to come first, and then political reforms could be negotiated.
Over the past year, the opposition has suffered military defeats at the hands of Syrian forces and neither US President Donald Trump nor French President Emmanuel Macron is calling for Assad's immediate ouster.
http://www.presstv.ir/Detail/2017/07/16/528631/Syria-Idlib-Ahrar-alSham-Hayat-Tahrir-alSham
-------
Iraq: ISIL Executes Several Own Commanders for Fleeing Battlefield
Jul 16, 2017
The source said that ISIL arrested 12 commanders of its forces in Tal Afar and executed them on charges of fleeing the town.
The source added that after their defeat in Mosul and losing a large number of fighters the ISIL's front in Tal Afar has collapsed.
Relevant reports said on Saturday that clashes broke out between members of the Takfiri ISIL terrorist group at a mosque in Northwestern Iraq, where four of the terrorists were killed or injured in the infighting.
Al-Sumaria television network on Saturday cited a local source as saying anonymously that heavy gunfire had broken out at the mosque in the Northwestern Iraqi province of Nineveh's Tal Afar District.
The source added that ISIL, which suffered crushing defeats at the hands of the Iraqi military in the recent past, was witnessing a breakup and increasing internal differences gave way to open clashes.
The source declared that the group went about arresting some of its elements after the recent confrontation.
ISIL announced Tal Afar town, West of Mosul, as an independent state from the group's proclaimed caliphate, according to a local source from Nineveh province.
"ISIL leadership in Tal Afar declared in a brief statement that the town has become an independent state from the caliphate and threatened strict punishment against whoever violates order," the source said.
Speaking on condition of anonymity, the source added that "Tal Afar was completely controlled by Arabs and foreigners with no local leaders in the wake of the mass executions that was carried out over the past few weeks."
The group, according to the source, considered the town as independent with its leaders, which marks a sudden development that comes one day after the group announced the murder of its leader Abu Bakr al-Baghdadi.
The Iraqi Army announced Monday that Baghdad forces recaptured the key town of Mosul, ISIL's de facto capital in the Arab country, after 9-month of bloody battle with the Takfiri terrorists in Nineveh province.
Iraqi Prime Minister Haider al-Abadi announced in October 2016, the start of a military operation to recapture Mosul.
Baghdad declared earlier in January that the Iraqi troops managed to capture the Eastern part of the key ISIL stronghold in Nineveh province. The Iraqi Army started a new phase of its military operation late February to drive the ISIL terrorists out of their bastion in the Western part of the city of Mosul.
The second largest city in Iraq fell to the ISIL group in 2014, when the Takfiri terrorists began a campaign of death and destruction in the Arab country.
The United Nations predicted that it will cost more than $1 billion to repair basic infrastructure in Mosul. In some of the worst affected areas, almost no buildings appear to have escaped damage.
Full report at:
http://en.farsnews.com/newstext.aspx?nn=13960425000940
-------
Syria: Kurdish-Led SDF Captures 35 Percent of ISIL-Held Raqqa City
Jul 16, 2017
Kurdish-language news websites quoted Omar Holiri, one of the commanders of SDF, as saying that the Kurdish fighters have imposed control over 35 percent of Raqqa city after 40 days of non-stop battle against ISIL in the city.
Relevant reports said last week that the SDF imposed control over more neighborhoods in Raqqa city.
The sources said that the SDF continued to hit ISIL's positions from several directions and advanced towards the Central part of the city.
They added that the Kurdish fighters drove ISIL out of the historic Citadel of Haron al-Rashid and managed to advance 700m in the neighborhood towards the city center.
The SDF, meantime, captured al-Mazareh square North of al-Barid neighborhood.
The Kurdish forces entered the Old Raqqa neighborhood and won control over half of it after reaching the Old Grand Mosque.
Also, the SDF fighters pushed ISIL back from 75 percent of Raqqa' Ancient Wall and approached the city's silos.
The Kurdish-led forces also seized control over the villages of Ajil and Kasreh Mohammad Aqa.
Full report at:
http://en.farsnews.com/newstext.aspx?nn=13960425001362
-------
Ex-Saudi Crown Prince's Absence in Funeral Prayer for Uncle Proves Rumours about House Arrest
Jul 16, 2017
According to the Arabic service of Skypress news website, a number of Saudi social media activists have launched a campaign to pressure the Saudi government to waive the house arrest order against bin Nayef.
They have used #Free bin Nayef to Participate in His Uncle's Funeral Ceremony on their pages after he was absent during the funeral prayers offered by Saudi King Salman for Abdulrahman bin Abdulaziz while other members of the royal family were present in the ceremony.
Sources in the Saudi royal guards revealed late last month that new crown prince Mohammed bin Salman has ordered them to keep the ousted crown prince, Mohammed bin Nayef, under house arrest.
"The Saudi royal guards have been ordered to permanently deploy at the palace where Mohammed bin Nayef, the former Saudi crown prince, resides in Riyadh," informed royal guards sources told al-Khalij al-Jadid news website.
They added that the order means bin Nayef is house arrest.
Also, al-Ahd al-Jadid news website reported on its twitter page that Mohammed bin Salman has ordered to put 5 Saudi princes and a number of interior ministry officers under house arrest for their continued contacts with bin Nayef after he was dethroned by the Saudi king Salman.
Last month, the Saudi king replaced Crown Prince Mohammed bin Nayef bin Abdulaziz with his own son, Mohammed bin Salman, the deputy crown prince and defense minister.
According to a royal decree, Mohammed bin Salman, 31, was also named deputy prime minister, and shall maintain his post as defense minister, the official Saudi Press Agency (SPA) reported.
The SPA also confirmed that 31 out of 34 members of Saudi Arabia's succession committee chose Mohammed bin Salman as the crown prince.
The Saudi king had earlier stripped Nayef of his powers overseeing criminal investigations and designated a new public prosecution office to function directly under the king's authority.
In a similar move back in 2015, the Saudi king had appointed his nephew, then deputy crown prince Mohammed bin Nayef as the heir to the throne after removing his own half-brother Prince Muqrin bin Abdulaziz Al Saud from the position.
Under the new decree, King Salman further relieved Mohammed bin Nayef of his duties as the interior minister. He appointed Prince Abdulaziz bin Saud bin Nayef as the new interior minister and Ahmed bin Mohammed Al Salem as deputy interior minister.
Mohammed Bin Salman is already in charge of a vast portfolio as chief of the House of Saud royal court and chairman of the Council for Economic and Development Affairs, which is tasked with overhauling the country's economy.
The young prince was little known both at home and abroad before Salman became king in January 2015.
However, King Salman has significantly increased the powers of Mohammed, with observers describing the prince as the real power behind his father's throne.
The power struggle inside the House of Saud came to light earlier this year when the Saudi king began to overhaul the government and offered positions of influence to a number of family members.
In two royal decrees in April, the Saudi king named two of his other sons, Prince Abdulaziz bin Salman and Prince Khaled bin Salman, as state minister for energy affairs and ambassador to the United States, respectively.
Late April, media source disclosed that Mohammad bin Salman has literally bribed the new US administration by paying $56m to Donald Trump.
According to reports, bin Salman is paying off the US to buy its support for finding a grip over the crown.
"Since Uncle Sam's satisfaction is the first step for the Saudi princes to get on the crown, paying off Washington seems to be a taken-for-granted fact," Rami Khalil, a reporter of Naba' news website affiliated to the Saudi dissidents wrote.
He added that since the Justice Against Sponsors of Terrorism Act (JASTA) is like a sword over the head of the al-Saud, they have no way out but to bribe the US, noting that the Yemen quagmire is also another reason for Riyadh to seek Washington's support.
Also, a prominent Yemeni analyst said early June that the US has been paid several trillion dollars by Saudi Arabia to protect its crown, adding that Riyadh has recently bribed Washington's support for the Yemen war with $200bln.
"Washington has asked for more money to defend the Saudi regime and Riyadh has recently paid $200bln to the US for the costs of its support for the war in Yemen," Saleh al-Qarshi told FNA.
"This is apart from the huge amounts of money that Saudi Arabia pays to the US treasury for protecting its crown," he added.
According to al-Qarshi, former Saudi Intelligence Chief Turki al-Feisal revealed last year that his country has bought the low-profit US treasury bonds to help the US economy.
As the defense minister, Mohammed bin Salman has faced strong international criticism for the bloody military campaign he launched against neighboring Yemen in 2015 amid his rivalry with bin Nayef, the then powerful interior minister.
Saudi Arabia has been striking Yemen since March 2015 to restore power to fugitive president Mansour Hadi, a close ally of Riyadh. The Saudi-led aggression has so far killed at least 14,000 Yemenis, including hundreds of women and children.
The World Health Organization (WHO) in Yemen also announced that more than a thousand Yemenis have died of cholera since April 2017 as Saudi Arabia's deadly campaign prevented the patients from travelling abroad for treatment and blocked the entry of medicine into the war-torn country, continues hitting residential areas across Yemen.
Despite Riyadh's claims that it is bombing the positions of the Ansarullah fighters, Saudi bombers are flattening residential areas and civilian infrastructures.
According to several reports, the Saudi-led air campaign against Yemen has drove the impoverished country towards humanitarian disaster.
Nearly 3.3 million Yemeni people, including 2.1 million children, are currently suffering from acute malnutrition. The Al-Saud aggression has also taken a heavy toll on the country's facilities and infrastructure, destroying many hospitals, schools, and factories.
Full report at:
http://en.farsnews.com/newstext.aspx?nn=13960425001262
-------
Syrian Army Expanding Security Zone against Terrorists' Threats in Eastern Damascus
Jul 16, 2017
The source said that the army has relocated a large number of soldiers from de-escalation zones in Southern Syria to the battlefronts in Ein Terma and Jobar.
The source further said that the first convoy of fresh forces, including several tanks and missile launchers left de-escalation zones for Eastern Ghouta, adding that more military columns will be dispatched to Eastern Damascus in the coming days.
The source went on to say that tough battle is currently underway between the army soldiers and terrorists in Ein Terma and Jobar, adding that the army will intensify its attack after arrival of fresh forces.
Relevant reports said on Saturday that the army forces deployed in Mount al-Jarin in Southeastern Damascus stormed terrorists' positions and managed to advance 4km against the militants and reached the Um Ezn hill.
The army men took control over several positions and villages, including Rajm al-Aranb, Ba'ar Mahroutheh South of Mount Sis and Arz Jalayqam East of the same mountain and Abu Khashbeh dam West of the Sis.
The terrorists left behind a number of dead or injured members and retreated from the battlefield.
Full report at:
http://en.farsnews.com/newstext.aspx?nn=13960425001136
-------
ISIL's Crude Trade Destroyed Badly Following Syrian Army's Recent Advances in Homs
Jul 16, 2017
The sources said that as the army's Tiger Forces alongside other pro-government fighters started anti-terrorism operation to take back the strategic town of al-Sukhnah in Eastern Homs, the army soldiers managed to liberate half a dozen oil fields from ISIL militants which resulted in another big loss for the Takfiri terrorist group.
The sources further said that the pro-government forces have imposed full control over several oil and gas fields in Homs in the recent months, adding that the army is resolved to continue the advance to capture more oilfields in near future.
In late June, the wife of an ISIL member killed in Syria disclosed close relations between the terrorist group and Ankara, warning that an army of ISIL militants were stationed in Turkey.
Nour al-Hoda, the former wife of an ISIL terrorist who was killed in the battle in Syria after divorcing her, said that she was transferred from Gaziantep in Turkey to the town of al-Rai'e at the bordering areas between Syria and Turkey, adding that every day a large number of ISIL militants enter Syria through the Turkish borders before the eyes of the country's border guards.
She also underlined ISIL's strong activities in Turkey, and said, "I can say that now an army of ISIL members are in Turkey and most of them are active in Ezine, Gaziantep and Urfa."
Nour al-Hoda also said that Turkey also supplied the ISIL with logistic supports, clothes and foodstuff.
She quoted her former husband as saying that Ankara and the ISIL had good trade ties and Turkey gained good revenues through oil trade with the terrorist group.
Russia had earlier announced that Turkish President Recep Tayyip Erdogan and his family members are directly involved in illegal oil deliveries from ISIL oil fields in Syria.
Turkey's leadership, including President Erdogan and his family, was involved in illegal oil trade with ISIL militants, the Russian Defense Ministry said, adding that Turkey was the final destination for oil smuggled from Syria and Iraq.
Full report at:
http://en.farsnews.com/newstext.aspx?nn=13960425001083
-------
Lebanese Hezbollah Discloses Int'l Plot against Syria Using Refugee Issue
Jul 16, 2017
"One of the European officials has revealed this issue which means that they want to use the issue of the refugees in Lebanon as a political leverage against the Syrian government and claim that the government should be blamed for the wave of refugees leaving their country and therefore, facilitate adoption of international resolutions against it," Qassem was quoted as saying by the Arabic-language al-Nashrah news website on Sunday.
Warning that the UN and certain world powers are impeding refugees return to their country, he called on the Lebanese government to negotiate on the issue with the government in Damascus.
There are 1 million Syrian refugees currently registered with the United Nations' refugee agency in Lebanon, although the Lebanese government places the total figure of resident Syrian refugees at close to 1.5 million.
Full report at:
http://en.farsnews.com/newstext.aspx?nn=13960425001137
-------
Terrorist Groups Preparing for Large-Scale Battle in Syria's Idlib
Jul 16, 2017
Tahrir al-Sham and Ahrar al-Sham have dispatched a large number of fresh forces and a large volume of military equipment to their positions in Tal al-Towqan and Saraqib and other battlefields in Eastern Idlib after their recent clashes in Tal Toqan region.
Sources close to the terrorist groups disclosed that Tahrir al-Sham Commander Abu Mohammad al-Joulani is preparing for a vast war against Ahrar al-Sham, adding that al-Joulani intends to impose control over large territories that are now under Ahrar al-Sham to lay siege on Saraqib and Jabal al-Zawiyeh to separate al-Ghaab plain from the North.
Relevant reports said on Friday that a fierce battle broke out between the two largest militant groups in Syria, as two former allies clashed in Killi, Idlib province.
The heavy clashes started when a large Ahrar Al-Sham convoy began moving towards a Tahrir al-Sham Hay'at base in Killi, and the latter opened fire on the convoy.
According to opposition activists, clashes have died down now, however, several civilians were wounded during the militants' infighting.
Full report at:
http://en.farsnews.com/newstext.aspx?nn=13960425000789
-------
100s of Iraqi soldiers, fighters killed in US-led airstrikes: Iraqi MP
Jul 16, 2017
An Iraqi lawmaker has blamed the US-led coalition purportedly fighting the Daesh Takfiri terrorist group in the country and neighboring Syria for killing hundreds of army soldiers and pro-government fighters from the Popular Mobilizations during airstrikes against alleged militant hideouts.
Faleh al-Khazali, a member of the Iraqi parliament's security and defense committee, said in a statement on Sunday that US-led military aircraft have struck Iraqi forces in many areas, and killed hundreds of them, Arabic-language Iraq News Network reported.
Khazali noted that the Western military contingent is "not serious about fighting Daesh militants, and seeks to support them through maintaining safe and accessible supply routes."
The Iraqi legislator further called on the Joint Operations Command (JOC) to "coordinate, control and provide more accurate information regarding the strikes of the US-led coalition in a bid to reduce the loss of innocent civilians as well as government troops."
Khazali underlined that the extent of the damage caused by the US-led coalition warplanes could be best surveyed in the troubled western province of Anbar, where the substantial level of destruction has delayed the return of displaced people to their native areas.
Iraqi police arrest female Daesh leader in Mosul
Meanwhile, Iraqi security forces have arrested a woman in the Old City of Mosul, who is considered as the female leader of Daesh terror outfit.
Arabic-language Shafaaq news agency reported on Sunday that the woman, identified by the nom de guerre Ahlam Mohsen Ali, was arrested less than a week ago with her brother, a prominent terrorist, as the pair were trying to escape from the western quarter of Mosul and sneak into the eastern side.
The woman grew up in al-Houd village of Qayyarah subdistrict, which lies on the western bank of Tigris River and some 60kilometers (35 miles) south of Mosul. She left her husband months before the fall of Mosul in June 2014, while collecting sensitive intelligence about Iraqi security personnel and their fortifications.
On July 10, Iraqi Prime Minister Haider al-Abadi formally declared victory over Daesh extremists in Mosul, which served as the extremists' main urban stronghold in the conflict-ridden Arab country.
In the run-up to Mosul's liberation, Iraqi army soldiers and volunteer fighters from the Popular Mobilization Units, commonly known by the Arabic name Hashd al-Sha'abi, had made sweeping gains against Daesh since launching the operation on October 17, 2016.
The Iraqi forces took control of eastern Mosul in January after 100 days of fighting, and launched the battle in the west on February 19.
Full report at:
http://www.presstv.ir/Detail/2017/07/16/528695/Iraqi-soldiers-Hashd-alShabi-fighters-killed-USled-coalition-Daesh-female-leader-arrested
-------
Mideast
Iran to Take Legal Action against Canada for Recognition of US Court Rulings
Jul 16, 2017
"The former Canadian government cut ties (with Iran) in a unilateral move and embarked on measures, including removal of Iran's political immunity in Canada, which paved the ground for the US families to file a lawsuit against Iran and it is one of the obstacles in our relations (with Canada)," Foreign Ministry Spokesman Bahram Qassemi said on Sunday.
"The ruling for confiscating Iran's properties is unacceptable and is in violation of the principle of governments' immunity and we will protest and pursue the case through judiciary bodies," he added.
In relevant remarks early July, Qassemi had blasted a Canadian court's recognition of the US courts' rulings against Iran, and said the US move runs counter to the international judicial norms.
"Principally, the issuance of a ruling against a foreign country runs counter to the principle of equality of states and is in violation of their immunity under international law," Qassemi said, adding, "The Islamic Republic of Iran reserves the right to oppose and follow up on the ruling."
The Iranian foreign ministry spokesman underlined that irrespective of internal power divisions in Canada, the country's administration would be "directly liable for any possible material and spiritual damage caused by various branches of the Canadian government as a result of such measures" which are in contradiction to the international law.
A Canadian court earlier this month accused Iran of supporting terrorism, upholding a previous ruling by a US court, which required the Islamic Republic to pay around $1.7 billion in damages to "American victims of terrorism".
The Court of Appeal for Ontario rejected Iran's request to reconsider the ruling, arguing that doing so would amount to a breach of Canada's Justice for Victims of Terrorism Act (JVTA).
The JVTA allows so-called victims of terrorism to sue foreign states for damages.
http://en.farsnews.com/newstext.aspx?nn=13960425000540
-------
Turkey: Erdogan's Obsession to Take Jerusalem
by Burak Bekdil
July 17, 2017
Less than a year ago, Turkey and Israel agreed to end their six-year-long diplomatic stand-off and officially "normalized" their relations. They appointed ambassadors Kemal Okem to Israel and Eitan Na'eh to Turkey, two prominent career diplomats, who, since then, have been struggling actually to normalize formally normalized ties. As some observers, including your humble correspondent, cautioned in 2016:
"Erdogan had pragmatically agreed to shake hands with Israel, but his ideological hostility to the Jewish state and his ideological love affair with Hamas have not disappeared; so the Turkish-Israeli 'peace' would not be easy to sustain".
Only half a year into the "normalized charter" Erdogan in May pledged that his government would work with the Palestinian people to guard against the "Judiazation of Jerusalem." This may be vintage Erdogan. The Turkish president's promise was not too different from a call for a struggle to guard against the "Catholicization of the Vatican."
It is elementary history that Jerusalem's pre-Islamic period of 3300-1000 BCE appeared in the book of Genesis -- the time of Abraham, Isaac and Jacob -- when Erdogan's ancestors were probably hunters in the steppes of Central Asia. The years 1000-732 BCE marked the period of the ancient kingdoms of Israel and Judah. Simply put, Jerusalem's Judaic history dates back to thousands of years before the birth of Islam.
Nevertheless, according to Erdogan, there is a necessity "to protect-against the Judaization of Jerusalem." Erdogan, in his May speech, also repeated an earlier call for Muslims from around the world to "visit al-Aqsa" mosque, located on the Temple Mount in Jerusalem. "As a Muslim community, we need to visit al-Aqsa Mosque often," he said. "Each day that Jerusalem is under occupation is an insult to us."
In 2016, a total of 26,000 Turks visited al-Aqsa Mosque (out of a population of 80 million). Erdogan also said he wants "hundreds of thousands of Muslims" at the Muslim holy site in his campaign to "flood Jerusalem [with Muslims] and drive out the occupiers".
During the reconciliation with Israel, Ankara pledged to end its support for Hamas; Turkey even expelled Saleh al-Arouri, the most senior Hamas official then residing in the country. But ultimately, there were reports that Erdogan was not really willing to live up to his end of the bargain. The journalist Yoav Zitun wrote in Ynet News:
Hamas' presence in Turkey continues despite the departure of Saleh al-Arouri, who headed Hamas in Turkey before leaving the country following Israeli demands during the reconciliation negotiations.
His successors are recruiting Palestinian students to study in Muslim countries in general and Turkey in particular. The students are then sent for military training in Lebanon or Syria, and from there, return to the West Bank to carry out attacks against Israel.
Zitun details some intriguing cases:
For example, two months ago, the IDF and Shin Bet detained, a Palestinian who had been living in Turkish Cyprus for several years. In August 2015, Qazmar was recruited in Jordan by Hamas, given military training and explosives expertise. During a meeting with Hamas operatives in Istanbul last January, he was instructed to recruit terrorists in the West Bank using encrypted memory cards.
Another highly publicized case concerns Muhammad Murtaja, who has head of a humanitarian aid organization of the Turkish government in Gaza. According to the Shin Bet following his arrest, Murtaja was accused of transferring millions of dollars to Hamas operatives that was donated by Ankara.
Turkish money flowing into the hands of men who are committed to the annihilation of Israel is part of ideology, not humanitarian aid.
Trying to brand itself as the international savior of the Islamist cause, Turkey has, since 2004, invested millions of dollars into 63 different projects designed to "defend and strengthen the Muslim heritage and character of Jerusalem." The money is often channeled through a government agency, the Turkish Cooperation and Development Agency (TIKA).
In these efforts to "defend and strengthen Jerusalem's Muslim heritage and character" Turkey also partnered with Sheikh Raed Salah, leader of the Northern Branch of the Islamic Movement in Israel, and with Sheikh Akram Sabri, a former mufti of Jerusalem. Both men oppose to Israel's right to exist.
Full report at:
https://www.gatestoneinstitute.org/10638/turkey-erdogan-jerusalem
-------
Muslim Authority Protests Temple Mount Security Measures, Blocks Entrance
BYUDI SHAHAM
JULY 16, 2017
Islamic authorities in Jerusalem called on Palestinians on Sunday to avoid entering the Temple Mount, following a decision by Israel to place checkpoints with metal detectors at the compound gates. The site was reopened after a deadly attack on Friday killed two Israeli policemen.
At this stage, only two of 10 gates – The Gate of the Tribes (Bab al-Asbat) and The Council Gate (Bab al-Majlis) – will open to the public, a police spokesman told The Jerusalem Post.
The decision to reopen the Temple Mount for prayer services followed moves to place metal detectors next to each gate to monitor and prevent the smuggling of firearms into the compound and install surveillance cameras to improve security. It was not disclosed, however, when and where the cameras will be placed.
Shortly thereafter, members of the Jerusalem Islamic Wakf, the Muslim religious body that oversees the compound, protested the new security measures and called on Muslim worshipers to avoid entering the compound. The Muslim leaders said Waqf personnel would not return to the mosques for the time being.
"This is a severe violation of the status quo," said Sheikh Omar al-Kiswani, the director of al-Aksa Mosque, located on the Temple Mount.
In a statement to the press, al-Kiswani said prayers would take place outside the gates until the metal detectors were removed, demanding a return to the way things were in 1967 when there was no police presence at the site.
He then asked: "How could they check hundreds of thousands of people who come here every Ramadan?" Prime Minister Benjamin Netanyahu, who is on a diplomatic trip to Paris, said he believes the status quo should remain unchanged but that the metal detectors are there to stay and security cameras should be installed to prevent similar attacks in the future.
Outside the Gate of the Tribes, some 300 people gathered to protest the situation, and performed the noon prayer at the spot.
Some of those gathered called on Jordan's King Abdullah and the rest of the Muslim world to interfere and help to return the security situation to its status before the attack. Others were heard shouting at police: "Disgrace, enough with that, you are suffocating us! Al-Aksa belongs to Muslims!" They also chanted: "With blood and spirit we will liberate al-Aksa."
The protesters, in fact, helped enforce the canceled ban, urging those who wished to enter not to proceed. Nevertheless, according to a police statement, hundreds of worshipers entered the compound.
Most of the day passed in relative quiet, though a couple of violent incidents were reported.
At approximately 5 p.m. the protesters were evacuated from the plaza of the Gate of the Tribes by police after violent clashes were sparked.
According to the local residents, the violence began when one of the protesters threw a bottle of water at three passing Jewish women.
According to a Red Crescent medic at the scene, four people were injured during the clashes.
A police spokesman said one suspect was arrested for attempting to attack a police officer during the incident.
MK Taleb Abu Arar (Joint List), who arrived at the Gate of Tribes, told the Post the security steps taken by Israel were contributing to the deterioration of the situation, and that placing the metal detectors would bring more bloodshed.
"It is far more than breaching the status quo. The Israeli government is defiling the mosques. They took advantage of the situation to impose a complete control over the compound... This move is fanning the flames and I see Israel as only the responsible cause of this situation," he said.
Abu Arar said the situation was unacceptable to the Palestinian people and also called for avoiding entering the compound.
"This is our mosque and when we enter it we want to feel that," he said.
"The Jews have no rights whatsoever to this mosque – it is for Muslims only. We will not accept being checked every time we want to get inside. We are asking to go back to normal and enter freely, as it was three day ago," he added.
Fatah vice chairman Mahmoud al-Aloul said Palestinian Authority President Mahmoud Abbas is holding "intensive phone calls" with international parties to reverse the new Israeli security measures in and around the Temple Mount.
Aloul also accused Israel of trying to impose a new reality on the Temple Mount.
"Israel is seeking to realize a plan to divide al-Aksa Mosque in terms of time and place," he told a meeting of Palestinian political, religious and civil society leaders. "It [Israel] is exploiting the latest Jerusalem operation to begin work on its plan."
Meanwhile, Temple Mount activists reported that, despite the police statements, Jews were not allowed to enter the compound.
Full report at:
http://www.jpost.com/Arab-Israeli-Conflict/Temple-Mount-reopens-for-prayer-following-deadly-Friday-attack-499842
-------
Iran responds to Pakistan-based terrorist attack
Jul 16, 2017
Terrorists based in Pakistan have fired projectiles at Iran's border region of Saravan, killing two local workers, the Islamic Revolution Guards Corps (IRGC) has said in a statement.
"On Saturday afternoon, a terrorist team associated with the global arrogance and foreign intelligence services fired at the Islamic Republic of Iran's borders in the Saravan region with indirect fire weapons and light weaponry, martyring two native workers," an IRGC statement said.
"The combatants of the IRGC Ground Force at the Quds base reacted to the terrorist move, killing one of the terrorists and wounding two others," it added.
The statement said other members of the terrorist group fled deeper into the Pakistani territory after facing retaliation from IRGC troops.
On Wednesday, IRGC Ground Force commander Brigadier General Mohammad Pakpour (seen below) said his forces would target terrorists anywhere they choose.
"We will target counter-revolutionary forces, outlaws and terrorists who are being trained and are planning and plotting to destabilize our border regions anywhere in the world," he said.
Tehran has frequently complained to Islamabad about foreign-backed terrorists who use the Pakistani territory to launch attacks in Iran's Sistan and Baluchestan Province.
In April, 11 Iranian border guards were killed and three others injured in clashes near the border town of Mirjaveh. The Pakistan-based Jaish ul-Adl terror group claimed responsibility for the attack.
Full report at:
http://www.presstv.ir/Detail/2017/07/16/528621/Iran-Pakistan-IRGC-Sistan-and-Baluchestan-Saravan
-------
Arab homes in Israel face demolition after attack
Jul 17, 2017
Israel's Public Security Minister Gilad Erdan says he is considering demolishing the homes of Arab-Israelis in the wake of a deadly attack at the Haram al-Sharif which Jews call Temple Mount.
The attack carried out by three residents of the northern city of Umm al-Fahm on Friday left two Israeli police officers dead, sparking an elaborate security crackdown in the region.
Erdan said "as the likelihood that others will follow their example increases, we will have to consider the demolition of their homes," Israeli media reported on Monday.
The decision comes even as Israel's "high court of justice" ruled against the demolition of the homes of the Israeli killers of East Jerusalem al-Quds teenager Muhammed Abu Khdeir, who was murdered in a grisly 2014 attack.
Israel employs the draconian measure of home demolitions against the families of Palestinians accused of terrorism, arguing it serves as a deterrent for further attacks. Critics say the practice unjustly punishes whole families for crimes they have not committed.
Arab lawmakers in the Knesset said the Israeli leaders were exploiting the Friday incident to further restrict Palestinians in the occupied territories and make life harder for them.
MK Ayman Odeh said Israeli Prime Minister Benjamin Netanyahu is transforming the conflict into a religious one, following measures adopted to restrict access to the Haram al-Sharif, which was closed after the attack.
Israel reopened the site outside al-Aqsa Mosque on Sunday, but tensions persisted as Palestinians protested the new metal detectors placed at the entrance to the compound.
The new equipment fanned protests that Israel had unilaterally changed the rules regarding religious worship and "tourist" visits by Israeli extremists at the complex.
"Prime Minister Netanyahu, he is the one who wants to turn the conflict from a political conflict to a religious one, and this is why he sponsors provocative entries by settlers to the compound of the [al-Aqsa] Mosque," Odeh said.
Another Arab lawmaker, MK Issawi Frej, hit out at the new decision to demolish Palestinian homes.
"There are those who are hurting from the events of last Friday, and there are others like Minister Gilad Erdan who are exploiting them to instigate more incitement and hatred," he said.
"Where were these threats when Israelis burned to death a Palestinian boy, or when an Israeli soldier murdered in cold blood Muslim and Christian Israeli citizens in Shfaram. We do not fight hatred through discrimination," Frej said.
He was referencing the Abu Khdeir murder as well as the 2005 killing of four Arab Israelis after army soldier Eden Natan Zada opened fire on a public bus traveling through Shfaram, wounding 12 others.
On July 31, 2015, Israeli settlers killed another Palestinian baby, when they threw firebombs and Molotov cocktails into two Palestinian houses in the Duma Village, some 25 kilometers southeast of the city of Nablus in the West Bank, setting them ablaze while their inhabitants were asleep. The arson attack killed an 18-month-old baby, Ali Dawabsheh, and critically wounded his father and mother, Sa'ad and Riham, who later succumbed to their injuries.
Israeli authorities have responded to such incidents with a typical composure, where the cases have got stuck in protracted legal proceedings and justice has hardly been served.
Full report at:
http://www.presstv.ir/Detail/2017/07/17/528719/Israel-Palestinian-Temple-Mount
-------
Erdogan and Supporters Stage Rally on Anniversary of Failed Coup
By PATRICK KINGSLEY
JULY 16, 2017
ISTANBUL — Less than a week after the largest opposition rally in Turkey in years, hundreds of thousands of President Recep Tayyip Erdogan's supporters made their own show of strength by gathering on Saturday night to commemorate the anniversary of last year's failed coup.
It was a sign that the president, who has led a vast crackdown against his opponents in the 12 months since the botched putsch, still has significant support.
The failed coup has given Mr. Erdogan more opportunities to buttress his new national narrative for the country and extend his grip on power, firing or suspending about 150,000 people and arresting 50,000 others suspected of supporting the coup attempt.
Mr. Erdogan has often referred to the coup plotters' defeat as a "second war of independence," and the rally on Saturday was the centerpiece of an elaborate day of pageantry that implicitly placed the president as the hero of what he implies is a liberation struggle.
After speaking in Istanbul, the president flew to Ankara, Turkey's capital, where he appeared at another rally before attending a special ceremony in Parliament at 2:32 a.m. on Sunday, a year to the minute since putschist pilots bombed the building in 2016.
To encourage people to attend the rallies, Turks were allowed to travel free by public transportation — ferries, subways and buses — which was mostly covered with banners and slogans about the attempted coup's anniversary. Officials unveiled several monuments to victims of the coup, and cellphone companies sent text messages reminding their customers of the anniversary. Some even played a recorded message from the president before some calls.
The pageantry masked rising unease about the scale of Mr. Erdogan's post-coup crackdown.
This time last year, mainstream political factions were united in their opposition to the coup attempt, in which more than 240 were killed and over 2,000 injured before civilians and loyalist soldiers managed to regain control.
In the year since, the political opposition has gradually grown disaffected with Mr. Erdogan's crackdown. This purge has been used to target most forms of peaceful opposition, rather than the alleged masterminds and protagonists of the putsch, who are believed to hail largely from an Islamic movement loyal to Fethullah Gulen, the exiled Muslim cleric.
On July 9, hundreds of thousands of protesters turned out for a rally in Istanbul, the culmination of a three-week trek from Ankara that was led by the head of the opposition, who challenged Mr. Erdogan to institute changes or face a "revolt against injustice."
But on Saturday, standing on the shores of the Bosporus in Istanbul, both Mr. Erdogan and his supporters appeared unapologetic about the intensity of the crackdown.
"We will rip off the heads of those traitors," Mr. Erdogan said. "Be sure that none of the traitors who betrayed this country will remain unpunished."
He also repeated a threat to reinstate the death penalty, a warning he has often made in the past year, and one that would end Turkey's chances of joining the European Union.
"I don't look at what Hans and George say," Mr. Erdogan said, in a dig at European politicians. "I look at what Ahmet, Mehmet, Hasan, Huseyin, Ayse, Fatma and Hatice say."
The crowds cheered the comments. In interviews, several attendees said the president was right to prioritize the security of the state above all else.
"These things are necessary," said Halit Emin Yildirim, a 21-year-old student at the rally. "The homeland comes first. If I don't have a homeland, where can I have a democracy?"
Officially, however, the anniversary events were a commemoration of the failed coup's victims and a celebration of the resilience of Turkish democracy, rather than a means of burnishing Mr. Erdogan's brand.
"We're actually very sad when somebody is saying that the government is taking advantage of this military coup," said Mehdi Eker, a lawmaker and deputy head of Mr. Erdogan's party, the Justice and Development Party, or A.K.P. Saturday's pageantry, Mr. Eker added, was intended "to fortify the democratic institutions."
But critics of the government say that Mr. Erdogan has tried to use the failed coup not only as the pretext to accelerate a crackdown on most forms of opposition, but also to further his vision of a new Turkey.
Since his party's election in 2002, Mr. Erdogan, a conservative Muslim, has slowly eroded some of the foundational myths that had underpinned Turkish identity since the creation of the secular Turkey republic, in 1923.
Though avoiding a full-frontal challenge to secularism, Mr. Erdogan has long expressed a wish to create "a new Turkey." He spoke of inspiring "a pious generation" of young Turks, steadily increased references to Islam in the national curriculum and removed some references to the ideas of Mustafa Kemal Ataturk, the founder of modern Turkey.
Mr. Erdogan has also revived interest in the Ottoman sultans who ruled Turkey and the surrounding region before the creation of the Turkish republic, and whose legacy Ataturk sought to play down.
At noon prayers on Friday, thousands of imams read a sermon, written by the central government, that compared the failed coup's civilian victims to those who died during the liberation struggle. In his speech on Saturday, Mr. Erdogan even cited a nationalist poem about that war.
"This is Erdogan 2.0 in tackling the secular republic," said Aykan Erdemir, a former opposition lawmaker who is now an analyst at the Foundation for Defense of Democracies, a research organization.
"Rather than tackling the secular republican vision head on, he is transforming it" by harnessing some of the key touchstones of the secular republican tradition for his own purposes, Mr. Erdemir said.
But while liberals see Mr. Erdogan as a threat to many democratic freedoms, his supporters often argue that he has upheld the civil rights that are most important to them. Since coming to power 15 years ago, he has gradually removed restrictions on public displays of Islamic piety while rapidly improving infrastructure, health care and social security programs.
Another supporter at the rally on Saturday, Mustafa Bas, a 44-year-old tile builder, recalled visiting Europe in 2000 and being crushed with disappointment that the services there might never be available in Turkey.
Full report at:
https://www.nytimes.com/2017/07/16/world/europe/turkey-recep-tayyip-erdogan-rally-coup.html
-------
South Asia
Not anti-Islam: Trump Café popular in Muslim-majority Bangladesh, says owner
Jul 16, 2017
Dhaka: A cafe in Dhaka named after Donald Trump has been luring Bangladeshis undeterred by his controversial politics and more interested in snapping selfies with a life-size cutout of the US president.
The cafe was opened in January by a self-professed Trump fan who rejects the notion that the US president is 'anti Islam', saying diners at his cafe in the heart of Muslim-majority Bangladesh agreed.
"If he were anti-Muslim, he would not have visited Saudi Arabia and had a good time there," cafe owner Shafiul Islam said, adding none of Trump's decisions had affected Bangladesh's 144 million-odd Muslims.
Politics appears to be last thing on many diners' minds as they pose for photos with a cardboard cutout of the US president, placed strategically at the entrance by 29-year-old businessman Islam.
"Girls are his bigger fans. They come to take selfies with the Trump picture. Children love him too," he said, adding more visitors snapped photos than ordered food.
The cafe serves Thai, Chinese and Indian dishes, with specials given names like the "Trump burger".
CNN is broadcast to give an extra American flavour, while the wi-fi password is "Ivanka Trump".
But it's the pull power of the man himself bringing in curious customers.
Nuzhat Sultana, said the cafe -- which Islam says will soon include wallpapered images of the Oval Office and Trump's family -- was "very fascinating".
"The best part is the sudden illusion when you enter the cafe and see the US president welcoming you at the door!" she said.
http://www.deccanchronicle.com/world/neighbours/160717/not-anti-islam-trump-caf-popular-in-muslim-majority-bangladesh-says-owner.html
-------
Afghan Forces Seize Control of District Centre in Nawa
Jul 17 2017
The Afghan national defense and security forces seized control of the district center of Nawa in southern Helmand province, nine months after it was captured by the Taliban insurgents.
According to the local government officials, the control of the district center fell to Afghan forces during the operations earlier this morning.
The officials further added that clearance operations are still underway by the joint forces, mainly focusing on clearing the mines planted by the Taliban insurgents.
This comes as General Radmanish, MOD deputy spokesperson said Sunday that the clearance operation is ongoing in the south and north parts of Nawa district aiming to completely clear the district of brutal Taliban presence. He said ANDSF are now controlling Nawa district and are clearing mines and IEDs planted by Taliban to protect civilian lives.
He also added that the government will soon resume public services, and open clinics and schools in this district. Residents of this district were deprived of public services over the past year due to the Taliban presence in this district.
Full report at:
http://www.khaama.com/afghan-forces-seize-control-of-district-center-in-nawa-03158
-------
Mamata offended at Hindu extremists insulting Hasina
July 17, 2017
The West Bengal chief minister sent a letter to the BJP government in Delhi complaining about a right wing group burning Sheikh Hasina's effigy
Mamata Banerjee, the chief minister of the Indian state of West Bengal, appears to have taken offense with the burning of an effigy of Prime Minister Sheikh Hasina by a right-wing group in Kolkata.
The Vishwa Hindu Parishad, a Hindu extremist group, held this demo outside the Bangladesh Deputy High Commission in Kolkata in protest of what they say is the persecution of Hindus in the country.
Mamata, whose interpositions have kept the crucial Teesta River water sharing treaty between Dhaka and Delhi from happening for six years, inflicting a major dent in bilateral ties, appeared upset with this insult against Sheikh Hasina.
She wrote a letter to the BJP-led central government asking it to reign in the Parishad's unruly activists, saying this disrespectful gesture towards Hasina would not bode well for India-Bangladesh ties.
Hindu Parishad members shouted slogans against the Bangladesh government at their protest on July 1, which Mamata's government permitted to be held in front of the deputy high commission. They also submitted a memorandum to the commission that said the Bangladesh government had failed to protect the minority Hindu community.
Two weeks after that protest, a letter was sent from the West Bengal chief minister's office to Union Minister of External Affairs Sushma Swaraj. In that letter, Mamata demanded that the centre control the Hindu Parishad's behaviour.
"The manner in which the Viswa Hindu Parishad protested in Kolkata that day does not bode well for India-Bangladesh diplomatic relations. If the Indian government truly wants Dhaka on its side, it should control the unruly behaviour of the Sangh Parivar and its members," Mamata wrote in the letter.
Hindu Parishad and several other right wing Hindu nationalist organisations are members of the umbrella organisation Sangh Parivar, along with Rashtriya Swayamsevak Sangh (RSS), which is considered the parent organisation of the ruling BJP party.
Hindu Parishad meanwhile reacted derisively to Mamata's letter.
"First of all, we don't take orders from the BJP government in Delhi. So it is unclear what it means when she asks the central government to control us," Parishad spokesperson Vinod Bansal told the Bangla Tribune.
"Second, the Parishad is willing to listen to anyone but Mamata Banerjee about what will improve Bangladesh-India ties," he added.
Parishad sources also said that although Sheikh Hasina was a great friend of India, "she must take responsibility for the persecution of Hindus in Bangladesh and take measures to protect the Hindus."
The Viswa Hindu Parishad did not feel that bilateral ties would be affected if it reminds her of those responsibilities.
Full report at:
http://www.dhakatribune.com/bangladesh/foreign-affairs/2017/07/17/mamata-offended-hindu-extremists-insulting-hasina/
-------
Pakistani tribal elders support fencing along Durand Line
Jul 17 2017
The tribal elders of the Federally Administered Tribal Areas of Pakistan declared their support to fencing work along the Durand Line.
The elders endorsed the work by the Pakistan military during a gathering (Jirga) in Khyber Agency on Sunday.
According to the local media reports, elders from all the regions of FATA attended the Jirga to discuss the ongoing situation, including fencing work and the deteriorating relations between Kabul and Islamabad.
The elders of FATA also accused India of using its consulates in Afghanistan to fuel insurgency and claimed that the Afghan soil is being used against Pakistan, a claim which repeatedly been rejected by the Afghan government.
They also accused President Mohammad Ashraf Ghani of implementing the New Delhi policies and insisted that the fencing work along the line will prevent the movement of militants between the two countries.
The latest endorsement of fencing work along Durand Line comes as the Afghan officials have repeatedly opposed with the unilateral work along the line.
Full report at:
http://www.khaama.com/pakistani-tribal-elders-support-fencing-along-durand-line-03159
-------
Construction of four townships approved for Nangarhar province
Jul 17 2017
The construction of four townships in eastern Nangarhar province has been approved by the ministry of urban development and housing of Afghanistan.
The plan was approved during a meeting between the provincial governor and the minister of urban development and housing Syed Sadat Mansoor Naderi, attended by several other high level provincial officials.
Nangarhar governor Gulab Mangal said the construction plan for four townships in Nangarhar was proposed to the ministry of urban development and housing, which was formally approved by the ministry and provincial officials.
He said the plan includes construction and expansion of Baharabad phase 3, Ghalai Obdal, Zarawar Zahid police academy lecturers township, and the Jalalabad city PD#4 township.
The housing development director Abdul Qahar Haidary said the housing issues of Nangarhar residents will be resolved by some extent with the construction of the townships.
Full report at:
http://www.khaama.com/construction-of-four-townships-approved-for-nangarhar-province-03156
-------
Noor harshly criticizes govt leaders, vows new coalition to be announced in Kabul soon
Jul 16 2017
The governor of the northern Balkh province and chief executive of Jamiat-e-Islami once again criticized the government leaders in a harsh way, insisting that his party and allies cannot remain silent as major conspiracies are being orchestrated, particularly pointing towards the deadly attack on Salim Izadyar's funeral in Kabul last month.
Speaking during a gathering for the first after the agreement for formation of a new political coalition, Noor said the government, specifically the chief executive failed to ensure security of the ordinary people during the protests who were shot dead and even run over by the armored vehicles.
Noor said the chief executive has particularly failed to ensure the right of those people who had once casted votes in his favor in the elections.
In other parts of speech, Noor said a major conspiracy is being orchestrated against the Jamiat-e-Islami party and its allies and the last month's attack on the funeral Salim Izadyar, the son of the deputy chairman of the Senate House, was plotted to eliminate the party's leaders.
He said the deployment of four suicide bombers on the funeral ceremony remains questionable as even the chief executive who is a member of the security council, failed to ensure security for an important event.
Full report at:
http://www.khaama.com/noor-harshly-criticizes-govt-leaders-vows-new-coalition-to-be-announced-in-kabul-soon-03155
-------
Spanta slams Ghani for remaining silent regarding violations in Durand Line
Jul 16 2017
The former Afghan president's national security advisor Rangin Dadfar Spanta slammed the government leaders and President Mohammad Ashraf Ghani for their silence regarding the violations along the Durnad Line.
Speakign during a gathering to announce the formation of a new political movement, Spanta said the government is busy suppressing the civil movements and protesters while unprecedented violations are being committed along the Durand Line.
Spanta further added that Pakistan is steadily operating along the Durand Line and have even moved forward from the zero line as the Pakistani leaders eye to enforce colonial authority on Afghanistan.
He said the recent moves by the government of national unity to suppress the protesters, including the attacks on rallies last year and the suppression of Movement for Change protesters were unique in the history of the country.
The new political movement, Mehwar, was formed by the former Afghan intelligence chief Rahmatullah Nabil and Spanta.
According to Nabil, the leadership council of Mehwar consists of 74 members and the movement has been established with its main aim being the fight against discrimination.
Full report at:
http://www.khaama.com/spanta-slams-ghani-for-remaining-silent-regarding-violations-in-durand-line-03154
-------
North America
A Roadmap for Arab-American Political Mobilization
07/17/2017
It is an unsettling and curious conversation being had by Arab-Americans since Trump's inauguration and the travel ban. Arab Christians seeking a voice in Washington felt that their voice was heard and reflected in section five of the original ban, while other Arabs struggled to meet with representatives in Washington in some effort to explain "who we really are." Both routes are wrong and dangerous, not only for Arab-Americans, but also for Arabs in the Middle East and North Africa.
At what point in the history of our political experience in the United States has either route proved successful? In Trump's joint session address on February 28, he referred to everyone from Arab countries as Muslim despite the ban's distinction between Arab Muslims and Christians. The President's blanket statement regarding a collective Arab identity was ignorant at best. Neither the U.S. government nor the clamoring effort of Arab-Americans adequately recognizes the rich ethnic and religious diversity of the Middle East and North Africa.
President Trump's ban is misguided at best. An immigration policy that favors Arab Christians over Arab Muslims further deprives the Arab world of its diversity and aggravates existing religious sectarian strife. The U.S. has benefited from Middle Eastern, North African, and Asian refugees, Christian and Muslim alike. Americans need to see the current refugee crisis for what it really is: the stripping of beloved homelands from Arabs who would otherwise have stayed in their countries had it not been for unjustified wars and blanket bombings.
The narrative that America is at war with radical Islam and that Arab Christians need saving is hollow. There is no evidence that Christians or any non-Muslim minority in America is being saved or even kept safe by the United States. If the claim were true, then what is to be said for Khalid Jabara, an Arab Christian, who called the police only to be ignored by them and later shot dead by his neighbor who called him a "dirty Arab."
This is a call for Arab-Americans to find their collective voice in this opportune time, to politically engage in a manner that clearly articulates an overriding narrative. Arab-Americans have repeatedly yielded power in exchange for perceived security. We may be safe from the battles that rage back home, but there is another battle gaining strength right here in the U.S. We must have the courage and cohesion to face it. We can no longer hide in places of worship and behind our religious leaders. Politics is not their job. It is an arena into which they are thrust precisely because our mobilization is stalled. Rhetoric that utilizes regional conflicts to justify division in our community for the sake of national security must be resisted, questioned, and countered.
First, we must agree to be under a shared name umbrella. All of us are not ethnically Arab, but we are all culturally Arab. This is not to belittle or erase our individual identities. Washington does not see us as a sum made up of diverse ethnic groups, and to simply fall in line with that assumption, without re-defining what it means, will not help us advance our interests. We are a minority spread across the country, and we lack strong concentrations in more than one city. We need to agree on 'Arab-American' as our shared umbrella. Let's not make this word the hill our efforts die on.
Secondly, there must be a radical confrontation of our relations with one another as people from a region that is Muslim-majority and contains several religious minority groups. We must work together to heal the wounds our Arab governments and Arab societies have inflicted upon us as a result of religious sectarian strife in our homelands. It is imperative that we do not carry the baggage of our parents or our own negative experiences from the motherlands to America. This is not to minimize the experience or forget it, but to forgive it. We must see past our lost battles and envision winning the war as a united front. Washington's rhetoric of security for select Arabs will inevitably fail us and, as we have seen, it does not produce any fruit. If it did, then what of the lost lives of Khalid Jabara, Sarahan Sarahan, and the Barakat siblings of Chapel Hill?
Finally, we must learn the tools of successful political mobilization from our African and Latino-American brothers and sisters. These tools include organizing caucuses, PACs, and initiatives as well as how to produce political leaders from our community. Currently, there are American cities with a high population of Arabs represented by non-Arabs, predominantly Caucasians. It is due time that we see our own in State capitols and on The Hill. African and Latino-Americans did not wait for permission, higher census numbers, or more money to come into their households in order to organize. They saw that the time was ripe or past due for mobilizing their communities.
Arab-Americans, our time is now. We love America, we have served her in a myriad of ways, and now, we have one request: a place at the table for our unified voice. As in Shirley Chisholm's famous call to action, "If they don't give you a seat at the table, bring a folding chair."
http://www.huffingtonpost.com/entry/a-roadmap-for-arab-american-political-mobilization_us_596c75c0e4b06a2c8edb47cb
-------
Pro-LGBTQ groups kicked out of Muslim conference
July 16, 2017
Earlier this month, Muslims for Progressive Values (MPV), a pro-LGBTQ and pro-gender equality Muslim organization, partnered with the Human Rights Campaign (HRC) to host a table at the annual Islamic Society of North America (ISNA) convention in Chicago, and MPV says they were forced to leave because of their advocacy of LGBTQ equality.
ISNA is the largest Muslim organization in the country whose mission is "to be an exemplary and unifying Islamic organization in North America that contributes to the betterment of the Muslim community and society at large." Their programs include education, interfaith outreach, and services for Muslim immigrants.
ISNA has taken pro-LGBTQ stances in the past, including taking part in an interfaith coalition in support of anti-discrimination legislation in 2013 and declaring itself "outraged" by the Pulse shooting. HRC has also participated in the conference before without being kicked out.
This year, Frank Parmir from MPV and HRC's religion and faith program manager Michael Toumayan co-hosted a table at the conference, and both organizations distributed pro-LGBTQ brochures. Their booth was approved by convention organizers in advance.
Parmir posted on Facebook that the table didn't get much attention, and he speculated that convention-goers might not have understood that HRC was an LGBTQ organization. At around 3 in the afternoon, though, an attendee in "full Salafi garb and beard" started lecturing Parmir and Toumayan about homosexuality. "To be a 'real Muslim,' one must assert that homosexuality is a sin," Parmir says the man said.
At some point, they agreed to end the discussion. An hour later, a group of convention organizers including Conference Director Basharat Saleem approached the table and asked them to shut it down because "the convention was a religious, private, and family-oriented event." They said they wanted to discuss the decision, and security personnel escorted them to another room for a conversation with Saleem and Farhan Syed of the ISNA Executive Council, according to an MPV press release.
When it became apparent that they were not going to be allowed to stay, they tried but were unable to contact leaders at MPV and HRC. So they packed up their things and left.
On their way out, Parmir asked to have one last conversation with ISNA organizers. They again affirmed their support for LGBT legal rights, but they had a problem with the brochures that advocated acceptance of LGBTQ people within the Muslim community and equality for women in Islam.
"They are glad to affirm HRC's advocacy of legal rights for sexual minorities," Parmir posted on Facebook. "But they are very uncomfortable with MPV's advocacy of gender equality and LGBTQ inclusion. [..] Their religious values do not allow any suggestion that members of the LGBTQ community can be Muslim if they are not repentant. They are adamantly opposed to the notion that there is any room in Islam for a conversation about the possibility of any equality of legitimacy between heterosexual intimacy and homosexual intimacy."
MPV's statement included the titles of some of the literature that ISNA did not like, which included HRC's "Coming Home to Islam and to Self" and "Coming Out as a Straight Supporter," as well as MPV's brochure of principles, which advocates inclusive prayer spaces for LGBTQ people, and their "#ImamsForShe" campaign.
"I think if HRC had not partnered with MPV, the booth would have been ok," Parmir said.
Full report at:
https://www.lgbtqnation.com/2017/07/pro-lgbtq-groups-kicked-muslim-conference/
-------
UAE hacked Qatari websites, US intelligence sources confirm
Jul 17, 2017
The United Arab Emirates was behind an effort to hack Qatari government news and social media websites, sparking a diplomatic dispute among Arab states, US intelligence officials say.
Newly analyzed information gathered by US intelligence agencies confirmed last week that the late May hack was orchestrated by the UAE, The Washington Post reported Sunday.
The hack sparked anger among some Persian Gulf states over comments attributed to Qatari Emir Sheikh Tamim bin Hamad Al Thani on sensitive issues, including Iran, Israel and the US, on May 24.
Immediately after the move, Saudi Arabia, the UAE, Bahrain and Egypt rushed to ban all Qatari media.
US President Donald Trump also rushed to back the Saudis, who had just clinched an arms deal with Washington worth of billions of dollars, although Secretary of State Rex Tillerson called on all sides to deescalate.
"The nation of Qatar has unfortunately been a funder of terrorism, and at a very high level," Trump said at the time.
As The Post released the new report, citing unnamed sources with the American intelligence community, the Emirati ambassador to the US, Yousef al-Otaiba, rejected the allegations as "false" by issuing a statement.
"The UAE had no role whatsoever in the alleged hacking described in the article," read the statement. "What is true is Qatar's behavior. Funding, supporting, and enabling extremists from the Taliban to Hamas and Qadafi. Inciting violence, encouraging radicalization, and undermining the stability of its neighbors."
Otaiba's private email account has also been hacked by an apparently pro-Qatari organization, called GlobalLeaks.
According to The Post, "Many of the emails highlight the UAE's determination over the years to rally Washington thinkers and policymakers to its side on the issues at the center of its dispute with Qatar."
Full report at:
http://www.presstv.ir/Detail/2017/07/17/528707/US-spies-UAE-hacked-Qatari-websites-
-------
Belgium must withdraw frigates off Libya: Minister
Jul 16, 2017
Belgium should withdraw its frigate from an EU mission to break up human trafficking networks near Libya because the presence of such vessels encouraged migrants to make the perilous journey across the central Mediterranean, the migration minister said.
Belgium has sent a frigate to take part in an EU operation to map and disrupt networks of people smugglers off the Libyan coast who send migrants towards Italy, often on ramshackle dinghies which are barely seaworthy.
While saving the migrants is not the core task of the military vessels that are part of the mission, they often have to do so.
"I personally think this operation should not be repeated because it is pure lunacy. There is no logic to it," migration minister Theo Francken told broadcaster VTM.
"It is not about whether we should save them or not. We should. But this creates an effect of drawing in migrants with more dead people as a result. It is a shame on Europe," Francken, who has a record of criticizing NGOs over their behavior in the Mediterranean, added.
A spokeswoman for the Belgian defense ministry said the country would continue to be part of the mission only if the Libyan government allowed EU vessels inside its waters, as foreseen in phase two of the EU operation.
In the first six months of 2017, some 85,000 people arrived on Italy's southern shores, a fifth more than in the same period last year, EU border agency Frontex said earlier this month.
Full report at:
http://www.presstv.ir/Detail/2017/07/16/528679/Belgium-EU-Mediterranean-Libya-Migration-
-------
Quebec City Muslim cemetery rejected 19-16 in nearby town referendum
JULY 16, 2017
SAINT-APOLLINAIRE, Que. — It was by the slimmest of margins that a plan to establish the Quebec City area's first Muslim-owned and run cemetery was defeated in a referendum Sunday by a vote of 19 to 16.
Voters were deciding whether or not to allow a zoning change for the proposed site in Saint-Apollinaire, 35 kilometres southwest of Quebec City.
The plan for the cemetery was developed after January's deadly mosque shooting, but the issue was sent to a referendum after enough people came forward to oppose the project.
In the end, the outcome came down to the 35 people who cast valid ballots -- a tough pill to swallow for the man who led the project.
"How can it be that 19 (people) can stop a project by several thousand people? It doesn't make sense!" said Mohamed Kesri, the man mandated by the Quebec City mosque to lead the project.
Saint-Apollinaire Mayor Bernard Ouellet also said he was disappointed by the result, which he chalked up to "fear and disinformation."
"I think there needs to be more understanding when it comes to Muslims," he said. "I've said this from the beginning, I think what turned people against (the project) is a lot of misunderstanding about that group," he said.
But another resident, who was involved in the campaigning, said she and many others believe a multi-faith cemetery would be a better choice for the city.
"Multi-denominational is the future," said Sunny Letourneau, who lives outside the voting area but says she would have voted 'no' had she cast a ballot.
"Young people under 50 are more and more numerous in not wanting to attend any church at all."
Letourneau said various other solutions were proposed, including an Islamic section in a multi-faith cemetery.
Far from being a victory, she said the referendum results were sad for everyone.
"People are extremely divided," she said through tears. "Some families are being driven apart by this."
Ouellet says he doesn't have a "Plan B" now that the initiative has been rejected.
"I don't have another step in sight," he said.
Due to a Quebec law permitting referendums on zoning matters, only 49 people who live and work around the proposed site were eligible to vote.
Thirty-six of 49 registered voters cast ballots. One was rejected.
Kesri previously indicated he wouldn't give up the project, saying the Muslim community deserves the same rights as all other religious groups, which have their own burial grounds.
"There are Catholic cemeteries, Protestant cemeteries, Jewish cemeteries — we aren't inventing anything here," he told The Canadian Press last week.
In June, Quebec adopted a law allowing municipalities to forgo referendums on land projects in order to give more power to local authorities.
Kesri said Quebec City's Muslim community was considering pressuring politicians to have the new legislation applied — if need be.
Quebec City's Muslims have been looking for a cemetery for two decades, but made a renewed push after they completed the payment for the city's main mosque, in 2011, Kesri said.
Full report at:
http://www.torontosun.com/2017/07/16/quebec-city-muslim-cemetery-rejected-19-16-in-nearby-town-referendum
-------
Pakistan
Tribal elders flay anti-Pakistan jirga held in Afghanistan
17-Jul-17
by Ahmad Nabi
KHYBER AGENCY: Tribal elders criticized an anti-Pakistan jirga convened in Kabul yesterday and stressed upon the Afghan government not to let someone use Afghan soil against Pakistan.
They said they will never hesitate to lay down their lives for the sake of their motherland. The views were expressed by the tribal elders while addressing a Fata peace grand jirga held at the Sports Complex, Jamrud on Sunday.
Besides former federal ministers Noor Haq Qadri and Malik Waris Khan Afridi more than two thousand participants, including tribal elites, members of civil society and tribal people from different walks of life from across FATA and Afghanistan joined the gathering.
Addressing the occasion, Qadri, Waris, Malik Darya Khan, Malik Manan and Afghan cleric Hashmi criticised the anti-Pakistan gathering held in Kabul on Saturday and demanded that the Afghan government not allow anyone to use Afghan land against Pakistan and to avoid such kind of activities that affected bilateral relations of both the neighboring countries.
"Spreading of Indian influence in Afghanistan and establishing of more than sixty five Indian consulates causing security threat to Pakistan," they argued.
The speakers added that when the USSR attacked Afghanistan in 1979, it was India that supported the Russian offense, however Pakistan came forward and extended every possible assistance to the Afghan refugees but ironically, the Afghan rulers had forgot all of sacrifices of Pakistan and let the Indians use Afghan land against Pakistan which is regretful.
The tribal elders said that the Durand Line was a permanent and recognized border between Afghanistan and Pakistan and those elements in Afghanistan who denied that fact were just making it a political slogan to misguide the Afghans.
"Tribesmen favor better relations base on mutual interests of both countries and the tribals are ready to play their due role to establish good relation between Pakistan and Afghanistan", the elders remarked.
Offering their services, they urged the Pak authorities to initiate a tribal Jirga that visits Kabul and calls on Afghan rulers to bring normalcy to the relationship between the two brotherly neighbours.
It is to be mentioned here that last week an anti-Pakistan Tribal Jirga had been organized in Kabul in which speakers uttered some poisonous words against Pakistan and had rejected the Durand Line as a permanent boundary between Pakistan and Afghanistan.
Prior to it, according to administration official, due to security reasons and tribal Jirga, the Jamrud bazaar was suspended for all kind of activities.
http://dailytimes.com.pk/pakistan/17-Jul-17/tribal-elders-flay-anti-pakistan-jirga-held-in-afghanistan
-------
Mob attacks police station in Fateh Jang to free arrested spiritual healer
July 16, 2017
A charged crowd of believers attacked a police station in Fateh Jang, Punjab to free a spiritual healer after he was arrested by the law enforcers on Sunday, Express News reported.
Police had arrested spiritual healer Khadim Hussain Shah and the caretaker of a shrine, Amjad Ali Shah, for the former entering the town despite a ban on his entry. However, the healer's followers attacked the police station where he was locked up.
They burnt important documents there and threatened to set on fire the entire police station if the spiritual healer were not released.
According to Express News, the angry protesters occupied the police station and thrashed the police personnel including the station house officer. A heavy contingent of police was called to control the situation.
Full report at:
https://tribune.com.pk/story/1459283/mob-attacks-police-station-fateh-jang-free-arrested-spiritual-healer/
-------
Blast kills two security personnel in Peshawar's Hayatabad
July 17, 2017
Islamabad : At least two Frontier Constabulary (FC) personnel were killed and seven others injured in a suicide blast in Peshawar's Hayatabad on Monday.
The explosion occurred near the Bagh-e-Naran Chowk in Hayatabad, reports the Dawn.
Rescue teams and security officials have rushed to the blast site.
According to initial reports, it has not been ascertained as yet whether the explosion was caused by a planted bomb or a suicide attacker. (ANI)
http://www.siasat.com/news/blast-kills-two-security-personnel-peshawars-hayatabad-1212585/
-------
Two FC men martyred, five injured in Peshawar blast
17-Jul-17
PESHAWAR: At least two Frontier Constabulary (FC) personnel died and five others were left injured as a powerful blast hit Peshawar's Hayatabad area early Monday.
Sources state that the blast was a suicide attack but there has been no confirmation from authorities.
According to reports the attacker rammed his explosive-laden motorcycle into the convoy of FC personnel, killing the security officers and leaving at least five wounded,
This explosion took place near Hayatabad area of Bagh-e-Naran Chowk clost to Bajaur Agency and Jamrud.
The bodies of the martyred and the injured have been shifted to Hayatabad Medical Complex
Full report at:
http://dailytimes.com.pk/pakistan/17-Jul-17/two-fc-men-martyred-five-injured-in-peshawar-blast
-------
'Taliban' suicide bomber kills two in NW Pakistan
17-Jul-17
PESHAWAR: A suicide bomber struck a vehicle carrying members of the paramilitary Frontier Corps (FC) in Pakistan's northwest Monday, killing two and wounding six others, police said, in an attack claimed by the Taliban.
The attack took place in the upscale Hayatabad area of Peshawar, the capital of Khyber Pakhtunkhwa province.
The blast came a day after the Pakistani military said it has launched a fresh ground operation in a strategically important valley in the region, part of an operation that began in November to clear the militancy-wracked area.
"A suicide bomber hit the FC vehicle in Hayatabad killing two men and wounding six others, including two FC soldiers and four civilians," local senior police official Imran Malik told AFP.
The two killed were both members of the FC, part of the Pakistani army who specialise in operations along the border with Afghanistan.
Another senior police official, Sajjad Khan, confirmed the attack and casualties, which the Tehreek-e-Taliban Pakistan (TTP, or Pakistani Taliban) claimed in a statement.
Peshawar, which has suffered for years from militancy and unrest, was the site of Pakistan's deadliest ever attack, a Taliban assault on an army-run school in 2014 that left more than 150 people dead, most of them children.
Violence across Pakistan has declined in recent years following a series of military offensives against insurgents along the country's northwestern border.
But the remnants of militant groups are still able to carry out periodic bloody attacks, particularly in the northwest.
On Sunday the military announced the new ground operation in the Rajgal Valley in Khyber Agency, one of the seven semi-autonomous tribal regions along the border with Afghanistan.
The offensive is part of Operation Radd-ul-Fassad, which was launched after a wave of attacks across the country in February.
A military spokesman said the operation in the mountainous valley, aimed at preventing Islamic State militants from crossing into Pakistan from Afghanistan as well as targeting members of the Pakistani Taliban, would be "difficult".
He said some 500 families had been evacuated from the area ahead of the operation, and that Afghan and NATO forces across the border had been notified.
The announcement comes a day after reports in Pakistani media suggested that a new bill passed last week by Washington includes provisions for tightening restrictions on United States assistance to Pakistan.
Full report at:
http://dailytimes.com.pk/pakistan/17-Jul-17/taliban-suicide-bomber-kills-two-in-nw-pakistan
-------
Africa
Muslim group slams Danjuma, Christian elders over alleged plans to Islamize Nigeria
By Ameh Comrade Godwin
July 17, 2017
The Jama'atu Nasir Islam has rejected claims by the retired Generals and members of the National Christian Elders' Forum, NCEF that Nigeria is drifting towards being Islamised.
Recall that the National Christian Elders' Forum had last week claimed that there was an underground move by Islamic leaders to impose an Islamic agenda on Nigeria.
Reacting to the claims, the Muslim body, headed by the Sultan, described the claim as unfortunate, especially coming from a respected elder like Danjuma and others in the Christian forum.
The National Secretary of the JNI, Dr. Aliyu Abubakar-Khalid, who spoke with newsmen in Kaduna on Sunday, argued that the allegations were mere diversion from the "genocide" being perpetrated against Muslims in Taraba State.
Abubakar-Khalid argued that instead of the Christian elders dwelling on issues capable of dividing the country, such as the activities of the Indigenous People of Biafra and other related problems, the Forun had chosen to hammer on "what does not exist."
The JNI secretary stated, "It is unfortunate for elders to behave this way.
"Are there any Christians in this country that have been asked to denounce their faith?
"This is a mere gimmick and a trick in order to bury the 'genocidal' killing of defenceless Muslims and they are talking about Nigeria drifting towards Islamisation and Sharia."
http://dailypost.ng/2017/07/17/muslim-group-slams-danjuma-christian-elders-alleged-plans-islamize-nigeria/
-------
Egypt says it destroyed 15 arms-laden SUVs from Libya
17 July 2017
CAIRO: Egypt's military says its jet-fighters have destroyed 15 all-terrain vehicles carrying weapons and explosives along with "criminal elements" after they were detected getting ready to cross the Libyan border into Egypt.
A military statement Sunday said warplanes monitored and "dealt" with the vehicles over the past 24 hours, but it did not say whether the airstrikes targeted them while on Egyptian soil. It also did not mention Libya by name.
Egypt's porous desert border with Libya has been the source of serious concern to authorities, who contend Islamic militants and smugglers use it as their route into Egypt. It said militants who attacked Christians in a series of suicide bombings in recent months were trained and sponsored by extremists in Libya, where chaos has prevailed since a 2011 uprising.
http://www.arabnews.com/node/1130631/middle-east
-------
Jordan, Jerusalemites insist on Al-Aqsa status quo
17 July 2017
AMMAN: The general director of the Jordanian Jerusalem Awqaf, Sheikh Azzam Al-Khatib, has called on Israel to abide by existing understandings and the need to preserve the status quo in Al-Aqsa Mosque compound.
The Jordanian Waqf authorities in Amman, the office of King Abdallah and the people of Jerusalem reject any changes to the status quo, Al-Khatib said.
Israel has "unilaterally set up four metal detectors at Lion's Gate and two at Al-Majles Gate, which is a total violation of the status quo," he told Arab News.
He added that his staff — comprising more than 300 male and female guards, preachers, muezzins, museum staff and other civil servants working in the mosque — refuse to pass through metal detectors.
"This is our mosque, we're entrusted to guard it and we won't accept Israeli impositions on it," Al-Khatib said.
An attempt to bring in a coffin to be prayed over was halted because Israeli authorities insisted on having the coffin go through metal detectors.
While the call to prayer was made Sunday after the mosque's 48-hour closure by Israel, most worshippers chose to pray beyond Israeli checkpoints rather than go through the metal detectors.
The Israelis "gave us all the keys (to the mosque gates) except the Lion's Gate keys, which they'll give us soon," Al-Khatib said.
"We've changed over 50 locks, and we've set up a supervisory committee that will oversee the process of documenting if any materials have been taken or damaged during the 48 hours when we lost control over our own mosque."
He credited King Abdallah's call to Israel's prime minister with the gradual reopening of the mosque.
"As a result of the call by his majesty, there were no gender or age restrictions as to who's allowed entry to the mosque," Al-Khatib said.
Full report at:
http://www.arabnews.com/node/1130636/middle-east
-------
Nigeria: Where Is Nigeria As a Nation Today, Do You Want to Be? - U.S. Envoy
16 JULY 2017
The Charge d' Affairs of the United States Mission in Nigeria, Mr David Young, on Sunday enjoined Nigerians to shun political, religious and ethnic sentiments, and to always love themselves.
Young, who is also an ordained Pastor, made the appeal in a sermon entitled "Where is Nigeria as a Nation Today and Where Do You Want to be?," in Lagos.
The Envoy said in a sermon at the Redeemed Christian Church of God (RCCG), Olive Tree Parish, Banana Island, Lagos, that it was imperative for Nigerians to embrace agape love.
"Whether you are Yoruba, Ibo, Fulani or Hausa, Muslim or Christian, Nigerians should love themselves and their neighbours.
"We must understand the kind of love that Jesus wants us to have for ourselves and for God. Agape love is a special love. This is the kind of love that would make Nigerians truly love themselves and even their enemies.
"This is really the type of love that Nigerians need today. This kind of love is also needed in America," he said.
Young said that it was important for Nigerians to realise that God sent Jesus to demonstrate and teach humanity agape love.
The Charge d' Affairs also urged Nigerians to learn to begin to live according to Biblical Scriptures on the need for them to always love themselves and their neighbours.
Young said that it was imperative for Nigerians to also known that Jesus did not encourage or support actions and attitudes that would divide people and communities.
"You should love yourselves because love came from God to us all. We must all focus on how to live on agape love.
"We need to work for justice and respect for all people around us, irrespective of their tribe, religion and lifestyle.
"We need to symbolically wrap everything we do or engage in, with the love of God. We need to know that Jesus is always walking with us, but we are not seeing him.
Full report at:
http://allafrica.com/stories/201707170112.html
-------
URL: https://www.newageislam.com/islamic-world-news/extremist-islamic-leader-compares-extermination/d/111857
New Age Islam, Islam Online, Islamic Website, African Muslim News, Arab World News, South Asia News, Indian Muslim News, World Muslim News, Women in Islam, Islamic Feminism, Arab Women, Women In Arab, Islamophobia in America, Muslim Women in West, Islam Women and Feminism