New Age Islam News Bureau
29 March 2017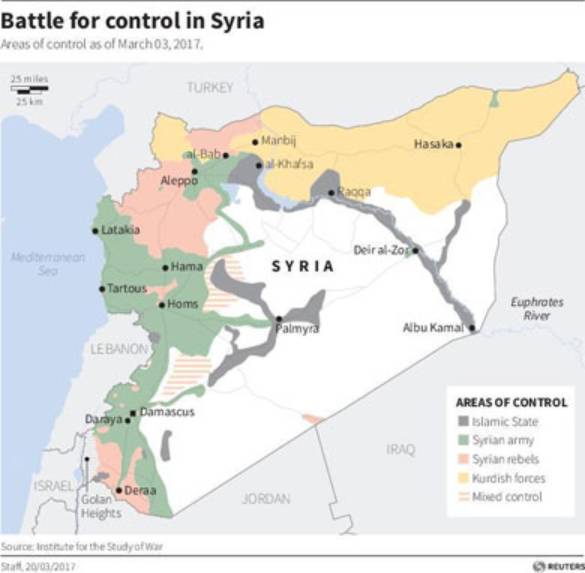 A map showing areas of control in Syria as of March 19, 2017. Institute For The Study Of War/Reuters
------
• Extremist Ideologies Promoted By Riyadh Root of Terrorism: Iran
• Speakers Stress Promotion of Sufis' Teachings to Create Tolerant Society
• US Muslim Cop Called 'ISIS Leader', Fired For Complaining
• Russian Military Can Now Bomb Syrian Rebels and Isis From Iran
• Muslim Youth Who Posted a Sadhu Buying Meat Photo on Facebook Held
Mideast
• Extremist Ideologies Promoted By Riyadh Root of Terrorism: Iran
• Arab Leaders Seek Common Ground on Palestinian State At Summit
• KSA shoots down 'smuggled' Yemen rebel missiles
• US vows to end 'Israel-bashing' at United Nations
• Yemen captures senior al Qaeda leader
• Iran UN ambassador calls for destruction of all nuclear weapons
-------
Pakistan
• Speakers Stress Promotion of Sufis' Teachings to Create Tolerant Society
• Saudi-Led Mily Alliance Not Sectarian, Pakistan Tells Iran
• Ludhianvi Hopeful of Ahle Sunnat Wal Jamaat's 'Unbanning'
• COAS says Army has become battle-hardened in the fight against terrorism
• Pakistan's 'Last Jew' Wins Right to Convert from Islam
• US Spies Still Being 'Secretly' Issued Visas, Claims Rehman Malik
• Action taken on 340 human rights cases in Sindh: Rizvi
-------
North America
• US Muslim Cop Called 'ISIS Leader', Fired For Complaining
• 'No Science Meets In the US Next Year If Trump Does Not Revoke Ban on Muslim-Majority Nations'
• Muslim Americans in the Heartland Reckon With Sting of National Politics
-------
Europe
• Russian Military Can Now Bomb Syrian Rebels and Isis From Iran
• German Official Accuses Turkey of 'Intolerable' Spying
• Muslim and murderer? No, says UK minister Sajid Javid
• British soldier's sentence for killing injured Taliban cut
• Russia, Iran ink economic deals as Rouhani visits Moscow
-------
India
• Muslim Youth Who Posted a Sadhu Buying Meat Photo on Facebook Held
• Muslim-Born Salabeg, the Jagannath Devotee Who Brought the Lord to the Masses
• Militants ransack policeman's house in Kashmir
• 3 killed as Army fires on J&K mob trying to shield terrorist
-------
Southeast Asia
• Zaid Wants Muslims to Speak Out Against Unilateral Child Conversions
• Muslim Extremists Increase Pressure on Indonesian Christians
• Indonesia: Muslims protest parish construction; police fire tear gas
• Gov't Must Anticipate Returning Indonesian ISIS Combatants: Lawmaker
• Najib courts Muslim vote with welcome for controversial preacher
-------
Arab World
• ISIS Video Shows Two Men Beheaded For 'Sorcery' In Egypt's Sinai
• Agreement Reached Between Hezbollah and Al-Qaeda-Linked Factions in Syria
• Syria: Hundreds of Gunmen, Family Members Leave Key District in Homs
• Syrian Army Makes Fresh Advances in Eastern Damascus, Kills Hundreds of Terrorists
• Syrian Army Discovers US-Made Arms in Terrorists' Positions in Aleppo Province
• Syrian Armed Forces Hit Terrorists' Centres Hard West of Aleppo Province
• Senior Terrorist Commander Killed in Clashes with Syrian Army in Hama
• Syria: ISIL's Non-Syrian Members Leave Raqqa City
• Damascus: Terrorists' Missile Depot Destroyed in Syrian Army Attack
• Saudi security forces raid extremists' hideout in Qatif
-------
South Asia
• Bangladesh Struggles to Contain New Outbreak of Violence
• Taliban Commanders among 21 Killed In Helmand Airstrikes: MoD
• Afghanistan reacts over alleged fencing of Durand Line by Pakistan
• Taliban's most senior leader killed in East of Afghanistan
-------
Africa
• Nigerian Army Searching for Terrorist Leader in Recovered Areas
• 10 people abducted in Boko Haram raid in Nigeria
• Nigeria: Don't Try Kanu under Sharia Law, IPOB Warns
• Libya: Kenyan Doctors Killed in Raid on Libya Isis Base
Compiled by New Age Islam News Bureau
URL: https://www.newageislam.com/islamic-world-news/extremist-ideologies-promoted-riyadh-root/d/110578
-------

Extremist ideologies promoted by Riyadh root of terrorism: Iran
Mar 28, 2017
Iran has dismissed recent allegations by a Saudi military official against the Islamic Republic, saying the extremist ideologies cultivated by Saudi Arabia are the root cause of terrorism in the Middle East.
Extremist ideologies developed in Saudi Arabia have led to the formation of various Takfiri terrorist groups, which are threatening people in the region and across the world, Iranian Foreign Ministry Spokesman Bahram Qassemi said on Tuesday.
He added that Takfiri terrorists and their regional and international supporters posed the real threat to the region, adding that the patrons were committing the most heinous crimes in the Middle East in the name of fighting terror.
Qassemi was responding to allegations by Brigadier General Ahmed al-Asiri, the spokesman for the Saudi military and the Riyadh-led coalition targeting Yemen. Asiri had accused Iran, without offering any evidence, of meddling in the region and openly smuggling weapons to militants and terrorist groups.
The Iranian spokesperson further said that Tehran had always made all-out efforts to promote convergence and collective movement among regional countries in a bid to establish stability in the region while Saudi Arabia's lack of prudence in relying on the US government had led to instability.
"We had also previously announced that meddling by extra-regional countries throughout history has resulted in nothing but instability, rift and the spread of terrorism and violence and has never brought any benefit to regional nations," Qassemi added.
On March 26, 2015, Saudi Arabia began airstrikes on different areas across Yemen, its southern neighbor, in an attempt to reinstall the former Yemeni government, which was a close ally of Riyadh.
The campaign, which also involves ground operations and a naval blockade, has so far left over 12,000 civilians dead, pushing the Arab world's poorest country to the verge of famine.
Indiscriminate Saudi bombardments have taken a heavy toll on Yemeni infrastructure, including schools and hospitals, with prominent rights groups censuring Riyadh's military for the use of internationally-banned weapons against Yemeni civilians.
As the war enters its third year, Saudi Arabia has failed to achieve its declared goals of war and seems without an exit strategy.
http://www.presstv.ir/Detail/2017/03/28/515901/Iran-Saudi-Arabia-Yemen-Middle-East-US-Bahram-Qassemi-Ahmed-alAsiri
-------
Speakers stress promotion of Sufis' teachings to create tolerant society
March 29, 2017
KHAIRPUR - One-day National Conference on the Role of Saints in the Promotion of Human Dignity and Religious Harmony was held at Shah Abdul Latif University, Khairpur on Tuesday, which was organised by the Institute of Islamic Studies.
Professor Dr Muhammad Yousuf Khushk, Dean, Faculty of Arts & Languages presided over the conference.
Speaking on the occasion, Professor Dr Muhammad Yousuf Khushk said, "Tassawuf reflects the religion.
Through the promotion of Sufism, we can ensure peace and tranquility and harmony in our society."
Dr Khushk further said, "Under the leadership of Vice Chancellor Professor Dr Parveen Shah, we are committed to promoting the Islamic values and ethics and also promoting the research culture on campus."
He added it was high time that the teachings and philosophy of saints were propagated in order to establish a tolerant, egalitarian and enlightened society.
Syed Waqar Hussain Shah Latifi, Custodian of Hazrat Shah Abdul Latif Bhittai, speaking as a chief guest, said the holy shrines of the saints were the real source and concept of Islam. "The shrines are the model of brotherhood, where there is no discrimination between Hindus and Muslims, he said, and added, "All human beings are equal.
He noted that recent terror attacks on shrines showed disrespect to the philosophy of saints.
Syed Waqar Shah further said that the first ever idea of global village was floated by Hazrat Shah Abdul Latif Bhittai some 300 years ago.
"It is high time that human dignity and religious harmony is promoted in order to create a tolerant society, wherein, all religions could exist," he asserted.
Khawaja Moeenud Din Mehboob Koreja, Custodian of the shrine of Khawaja Ghulam Farid, Kot Mithan, said, "Our Sufis have veneration for human kind. Approximately 9 million Hindus embraced Islam in the sub-continent due to the teachings of Khawaja Moeen-ud-Din Chishti Ajmeri," he said, and added, "This is a glaring example of soft image of a Sufi."
He pointed out that Sufis had never issued edicts (fatwas) against any religion. "The shrines of saints are a binding force in Pakistan for the promotion of peace, tranquility and brotherhood," he said.
He was of the view that Sufism was the philosophy of life. "Sufis are against prejudices and biases," he added.
Professor Dr Zahid Ali Zahidi, Chairman, Department of Islamic Studies, University of Karachi talked about 'Sufiana Shaire me Ishq Ka Tassawar.
He said that Sufi and Aarif both had love and affection for the human beings. "The philosophy and poetry of Maulana Jalaluddin Roomi, Hazrat Lal Shahbaz Qalandar and Allama Iqbal is directly concerned with the masses," he pointed out.
He opined that militancy, extremism and intolerance could be eliminated from the society through the teachings of Sufis,
because Sufis believed in humanism.
Professor Dr Muhammad Anwar Pathan, Dean, Faculty of Islamic Studies, University of Sindh Jamshoro said, "It is the duty of state to protect the lives, properties and belongings of the citizens and provide conducive and congenial environment to minorities and provide opportunities to the citizens without any discrimination."
Professor Dr Abdul Wahid Indhar, Zain-ul-Aabideen Arejo, Qamar-un-Nisa Larik, Dr Allah Wasayo Soomro, Dr Sajjid Ali Raeesi and others also spoke on the occasion.
Among others, Professor Dr. Ghulam Ali Mallah, Professor D. Taj Muhammad Lashari, Prof Dr Ghulam Sarwar Markhand, Professor Dr Amir Hussain Shar, Prof Dr Ikhtiar Ali Ghumro, Prof Dr Najma Noor Phulpoto, Dr Sofia Yousuf Khushk, Dr Syed Zulfiqar Ali Shah, Sarfaraz Ali Korejo,. Mukhtiar Begum, Mujeeb-ur-Rahman Solangi and others attended the conference.
http://nation.com.pk/karachi/29-Mar-2017/speakers-stress-promotion-of-sufis-teachings-to-create-tolerant-society
-------
US Muslim Cop Called 'ISIS Leader', Fired For Complaining
Mar 28, 2017
An Iranian-origin ex-police officer in the US has filed a discrimination lawsuit after being fired, alleging that his colleagues in the police department called him an "ISIS leader" and asked if he rode a goat to work.
Ramtin Sabet, who was fired last month, has filed a federal lawsuit alleging that he was fired after he complained that he was constantly harassed for practising his Muslim faith.
He alleged that he was repeatedly called a terrorist by his co-workers at the North Chicago Police Department, told he was an "ISIS leader working as a police officer" and asked if he rode a goat to work, according to the lawsuit.
Sabet, an Iranian immigrant, is suing the city of North Chicago and its former and current police chiefs, the Chicago Tribune reported.
He has alleged that he complained both formally and informally to his supervisors but they did nothing to deter or investigate his claims.
Sabet joined the department in 2007 and later filed two separate complaints with the Equal Employment Opportunity Commission (EEOC) alleging discrimination at work.
North Chicago officials denied that harassment or discrimination against Sabet occurred.
Police Chief Richard Wilson, in a statement on Friday, said the city embraces diversity.
"Officer Sabet was terminated for violations of police department rules and regulations," he was quoted as saying.
"He has challenged that determination. The city plans to vigorously defend its decision," Wilson said.
Sabet contends in the lawsuit that he was fired for complaining to the EEOC about what he called "severe and pervasive" discrimination and harassment that went on for years and included mocking of his religion, culture and food.
North Chicago officials responded in court records by saying that Sabet's performance kept him from becoming a field training officer and attending supervisor school.
"It was like I was being hazed all the time," Sabet was quoted as saying.
He said the officers, whom he considered his "brothers in blue," told him he held his gun like a "terrorist Muslim".
Sabet said they made derogatory comments about him in public and while dealing with suspects.
Sabet, who has worked as a police officer for 15 years, pulled a colleague out of a fire and assisted others when they were injured or shot on the job, he said in a statement released by the Chicago chapter of the Council on American-Islamic Relations (CAIR), which is representing him.
"We trust our police departments to keep us safe. We trust that they have moral fortitude that they should practice within their own departments, as well as with the citizens that they serve," CAIR-Chicago Executive Director Ahmed Rehab said.
http://www.hindustantimes.com/world-news/us-muslim-cop-called-isis-leader-fired-for-complaining/story-8Ejehh82uhyuJhRGN4qm6O.html
-------
Russian Military Can Now Bomb Syrian Rebels And Isis From Iran
3/28/17
Iran announced Tuesday it would allow Russia limited use of Iranian air bases to launch missions in Syria, where both Moscow and Tehran back the Syrian government against the Islamic State group, also known as ISIS, and various insurgent groups.
Iran's Foreign Minister Mohammad Javad Zarif told Reuters that Tehran would evaluate each individual request by Moscow to use Iran's military facilities to bolster offensives by the Syrian army and pro-government militias, which include the Iran-backed Lebanese Shiite Muslim Hezbollah. Iran previously permitted Russian jets to use Iran's Hamadan Air Base, also known as Shahid Nojeh Air Base, in August, marking the first time a foreign power was granted such a privilege in the nearly four-decade-long history of the Islamic Republic. This permission was revoked after the government was criticized by Iranian hardliners, but Zarif's latest statement came as Moscow and Tehran strove for closer bilateral and international cooperation.
"Russia doesn't have a military base [in Iran], we have good cooperation, and on a case by case basis, when it is necessary for Russians fighting terrorism to use Iranian facilities, we will make a decision," Zarif told Reuters.
The move came during a visit Monday by Iranian President Hassan Rouhani and Zarif to Moscow and marked a warming in relations between the two nations as the position of their mutual partner, Syrian President Bashar al-Assad, grew more powerful in the seventh year of his civil war against rebels backed by Turkey, the Gulf Arab states and, formerly, the West. The U.S., once a primary sponsor of the Syrian opposition, has since backed the Kurd-dominated Syrian Democratic Forces (SDF) and launched an operation this week against ISIS' de facto capital of Raqqa in northern Syria. Russia has also provided training to U.S.-backed Kurdish militant organizations such as the People's Protection Units (YPG), considered a terrorist organization by Turkey.
While in Moscow, Rouhani expressed his hope Monday for "a new turning-point" in Iran's relationship with Russia, according to Reuters. In addition to increased military cooperation in Syria, Rouhani was expected to discuss several lucrative energy and economic deals during a meeting Tuesday with President Vladimir Putin. Rouhani was set to run for reelection in May and would likely face more conservative opponents critical of efforts by the Rouhani administration to open Iran diplomatically and economically.
http://www.newsweek.com/russia-military-now-bomb-syria-rebels-isis-iran-575237
-------
Muslim Youth Who Posted a Sadhu Buying Meat Photo on Facebook Held
March 29, 2017
A Muslim youth from Jhabua who shared an image of a Sadhu buying meat was arrested and sent to jail on Tuesday.
Atik Afzal Khan, a BMHS practitioner, had shared the image on his Facebook page on Monday with the caption: "Rahim Ki Dukan Se Ram Hari Sabjiya Kharidate Hue, Ek Durlabh Tasvir (Ram buys green vegetable from Rahim's shop, a rare photograph).
The Kotwali Police booked the private practitioner in his late twenties under Section 505 (2) of the IPC and produced him before a local court that sent him to judicial custody. Police constable Ramkumar Yadav said one Anil Hemraj Prajapati, 21, had lodged a complaint against Khan, a resident of Kailash Marg in Jhabua town.
http://indianexpress.com/article/india/muslim-youth-who-posted-meat-purchase-photo-held-4590163/
-------
Mideast
Arab leaders seek common ground on Palestinian state at summit
29 March 2017
Divided Arab leaders arriving in Jordan for a summit on Wednesday are seeking common ground to reaffirm their commitment to a Palestinian state, a longstanding goal that US President Donald Trump last month put into doubt.
The Dead Sea meeting is expected to have a bigger turnout than recent Arab summits, Jordanian officials say, and security forces cast a high profile in the capital Amman with armored vehicles standing at traffic junctions as leaders flew in.
While they are highly unlikely to bridge rifts over the regional role of Iran or intractable wars in Syria and Yemen, Arab leaders remain united in supporting a two-state solution to the Israeli-Palestinian conflict.
"We are concerned that there should be an Arab consensus on the Palestinian file so that this reflects clearly in the discussions of Arab states and their leaders with the new American administration," Palestinian Foreign Minister Riyad al-Maliki told Reuters.
Before taking office in January, Trump promised to move the US embassy in Israel from Tel Aviv to Jerusalem - something adamantly opposed by Arabs as tantamount, in their view, to recognizing Israeli sovereignty over Jerusalem.
The Palestinians want Arab East Jerusalem - which Israel captured in a 1967 war and later annexed in a move not recognized internationally - as the capital of a future state encompassing the Israeli-occupied West Bank and the Gaza Strip.
Israeli-Palestinian peace talks have been frozen since 2014.
Trump also, during a White House news conference with Israeli Prime Minister Benjamin Netanyahu last month, he indicated he was open to a one-state solution to the conflict.
That would be deeply problematic for both sides, as it would mean either two systems for two peoples - something Palestinians would see as apartheid and endless occupation - or equal rights for all, which would compromise Israel's character.
The Arab monarchs and presidents attending Wednesday's summit will meet at the Dead Sea, only a few km (miles) from the West Bank and with Israeli settlements visible to the naked eye.
The United States is sending a representative to the summit, Maliki said. Egyptian President Abdel-Fattah al-Sisi and Jordan's King Abdullah are both scheduled to meet Trump soon.
A draft resolution on Jerusalem and seen by Reuters will require all Arab states to respond to any move by any country to move its embassy there, without specifying the United States.
"The Palestinian issue is the central issue. It is the root cause of conflict in the region and its resolution is the key to peace and stability. We hope we will be able to again relaunch efforts that would get serious negotiations restarted again," said Jordanian Foreign Minister Ayman Safadi.
https://english.alarabiya.net/en/News/middle-east/2017/03/29/Arab-leaders-seek-common-ground-at-summit-on-Palestinian-state.html
-------
KSA shoots down 'smuggled' Yemen rebel missiles
Mar 29, 2017
RIYADH - Saudi Arabia intercepted four missiles fired by Yemeni rebels on Tuesday, a Saudi-led coalition said, in what it described as evidence of arms smuggling through a rebel-held Red Sea port.
The coalition has said previously that it destroyed much of the Shiite rebels' missile capability early in its two-year-old bombing campaign and says persistent launches show they are receiving new deliveries from abroad.
"Early this morning, four missiles were intercepted," the coalition said. "The ongoing missile attacks on Saudi cities provide clear evidence of the arms smuggling that continues to take place in Yemen, notably through the port of Hodeida." The coalition said that the missiles targeted Khamis Mushait, which houses the coalition's main airbase for its operations in Yemen, and Abha, another city close to the Yemeni border. It said they were intercepted without casualties or damage. The coalition has previously accused Shiite Iran of smuggling weapons to its coreligionists, a charge Tehran denies.
The coalition has enforced an air and sea blockade of rebel-held areas since the start of its intervention in March 2015.
Hodeida is the main port of entry for UN-supervised aid deliveries to rebel areas.
The UN World Food Programme said on Friday that a third of Yemen's 22 provinces were on the brink of famine.
Full report at:
http://nation.com.pk/international/29-Mar-2017/ksa-shoots-down-smuggled-yemen-rebel-missiles
-------
Yemen captures senior al Qaeda leader
28 March 2017
Yemeni troops captured a senior leader of al Qaeda in the Arabian Peninsula (AQAP) during an early morning raid on Tuesday in the southeastern Hadramawt region, a local security official said.
Special forces stormed the house in a remote village where Abu Ali al-Sayari was hiding, the official said. They detained three others and killed two more.
Al Qaeda militants took advantage of Yemen's civil war, which began in 2015, seizing parts of the country's south before government soldiers and troops from the Arab coalition drove them out of major population centers.
Full report at:
https://english.alarabiya.net/en/News/gulf/2017/03/28/Yemen-captures-senior-al-Qaeda-leader.html
-------
Iran UN ambassador calls for destruction of all nuclear weapons
Mar 29, 2017
Iran's ambassador to the UN Gholamali Khoshroo has called for the total eradication of nuclear weapons.
Khoshroo reiterated Iran's call during a UN conference aimed at creating a nuclear weapons ban treaty in New York on Tuesday.
"Iran, as a victim of chemical weapons, strongly feels the danger posed by the existence of weapons of mass destruction and is determined to engage actively in international diplomatic efforts to save humanity from the menace of nuclear weapons," he said. Khoshroo stressed that Iran is committed to its Non-Proliferation Treaty (NPT) obligations, which include negotiations based on effective nuclear disarmament measures.
He added that several countries continue to ignore international calls and treaties for nuclear disarmament and even continue to increase their nuclear stockpiles. "They do not have political determination to abandon doctrines of nuclear deterrence and nuclear terror," he went on to say.
Iran's UN ambassador noted that boycotting the talks by many countries, including the US, shows that the world's nuclear powers are by no means committed to the eradication of nuclear arms. Britain and France were also among the some 40 countries that did not join the talks.
Full report at:
http://www.presstv.ir/Detail/2017/03/29/515947/iran-un-npt-nuclear-arms
-------
Pakistan
Saudi-Led Mily Alliance Not Sectarian, Pakistan Tells Iran
March 29, 2017
ISLAMABAD - Pakistan has told Iran the Saudi-led military alliance was not sectarian and Islamabad will not become part of any anti-Tehran agenda, sources said.
Officials in the foreign ministry told The Nation on Tuesday that since Pakistan valued its ties with both Saudi Arabia and Iran, it could not annoy any one of them.
"We have been in contact with Iran in the recent days and have tried to clarify Pakistan's position. We have told them, Islamabad was part of any anti-terrorism alliance not an anti-Iran alliance," said an official, citing contacts with the Iranian counterparts.
Earlier, the government allowed former army chief Raheel Sharif to command a Saudi Arabia-led military alliance of 39 Muslim states.
Defence Minister Khawaja Mohammed Asif said that the Saudi government had formally requested Pakistan seeking General Sharif's services.
"Raheel Sharif has been allowed to join the military alliance," he said.
Asif said that the government was ready to clear its position on the issue in the parliament if any lawmaker raised it.
The alliance was formed by Saudi Arabia in December 2015 with its headquarters in Riyadh.
Iran had objected to the formation of the alliance fearing it was a Sunni-alliance rather than a Muslim alliance.
The government had also delayed approval to Raheel Sharif – considering Iran's objections —- for several months before finally giving a nod to the former army chief.
Another foreign ministry official said that Pakistan had assured Iran it would not let the alliance become sectarian in nature.
"Iran says it will wait and see how the alliance goes but they have their fears. Pakistan values its ties with both Iran and Saudi Arabia," he added.
This week, National Security Adviser Nasir Janjua said that Islamic military alliance – led by former army chief Raheel Sharif – would bring unity to the Muslim world.
Januja stressed that with his experience Gen Sharif would remove internal misunderstandings among Muslim countries. "Iran and other countries opposed to the alliance will also benefit from this," he said.
Defence analyst Major General Farooq Malik (retd) said that the Saudi government trusted Pakistan so it sought Raheel Sharif's services.
He said that the alliance was formed against terrorism and Pakistan could not support any anti-Iran block as it had friendly relations with the Muslim country.
Dr Shaheen Akhtar from the National Defence University (NDU) Pakistan had always tried to remove differences among the Gulf countries.
"We have good ties with all the Muslim countries, which is of advantage. We can use this influence to unite Muslims," she said.
Former ambassador Shahid Amin said that Pakistan had special relations with all the Muslim-majority countries in the Gulf and the Middle East.
"We cannot obviously annoy a friend for another friend. We should all work together," he said.
Amin said that Pakistan had traditional ties with Iran and regular contacts between the two countries would not allow the anti-Pakistan elements to create differences between the neighbours.
http://nation.com.pk/national/29-Mar-2017/saudi-led-mily-alliance-not-sectarian-pakistan-tells-iran
-------
Ludhianvi Hopeful of Ahle Sunnat Wal Jamaat's 'Unbanning'
KALBE ALI | MUNAWER AZEEM
Mar 29, 2017
ISLAMABAD: Ahmed Lud­hianvi, leader of the proscribed Ahle Sunnat Wal Jamaat (ASWJ), on Tuesday expressed confidence that his party would be taken off the list of banned organisations.
Though his claim was not verified by any official Dawn spoke to, Mr Ludhianvi said he had held meetings with officials and the political leadership in this regard.
He said that meeting officials or political leaders from the centre or Punjab was a routine matter for all politicians, including himself.
"I have one bone to pick with the system — whenever there is a need to pacify enraged ASWJ workers or to negotiate with militants, I am called in for the sake of Pakistan. But, legally, I am a proscribed person and my party is still a banned group," he told journalists.
He was referring to negotiations with the militants who had attacked the General Headquarters (GHQ) in 2009. The ASWJ leader said: "The decision-makers of the state have acknowledged my grievances, but if they are not ready to allow us to work as a legal entity in the country, I will not cooperate with them in the future."
He said the ban only supported extremists within their ranks and weakened the genuine leadership, criticising the state authorities for failing to curb terrorism that had engulfed the country.
"We have had four or five operations in the recent past, such as Zarb-i-Azb, the National Action Plan and now Raddul Fasaad, but where are we heading?"
He called upon the government to lift the ban, not only on his party, but also on the arch rivals, the Shia Ulema Council (SUC) led by Allama Sajid Naqvi.
"They have filed a case before the Lahore High Court for the implementation of an apex court decision removing the ban," he said, adding: "The court asked the interior ministry to respond within one month, but it has already been over a year now."
Mr Ludhianvi seemed optimistic that the ban on their mainstream opponents would soon be lifted by the court.
"After the ban on [SUC] is lifted, we too will approach the court of law," ASWJ chief said.
Both Sipah-i-Sahaba Pakistan (SSP) and Tehreek-i-Jaferia Pakistan (TJP) were banned in 2002 by the Musharraf regime.
The SSP later began to operate as the Millat-i-Islamia Pakistan, which was banned by the interior ministry. It currently functions under the banner of ASWJ, which is also on the list of proscribed groups.
On the other hand, the TJP became the Tehreek-i-Islami, which was also banned. It now operates as the SUC.
The ASWJ leader also claimed that the party and the TJP had been the victims of conspiracies by those with vested interests, who benefited from anarchy and unrest. "These are local as well as foreign players," he added.
"But for the sake of peace in the country, I am not only ready to meet Allama Sajid Naqvi, but I will even to go to his house and initiate a joint struggle to end the culture of hate and extremism. But this meeting has to be under state patronage so that the decisions taken are implemented," he said.
He criticised the incumbent leadership for not honouring the commitments they made back in the late 1990s, when all parties had agreed on a joint code of conduct.
He claimed that some workers had resorted to violence in the early 1990s after being subjected to targeted killings and state persecution, but said that group had long been expelled from the party.
Full report at:
https://www.dawn.com/news/1323522/ludhianvi-hopeful-of-aswjs-unbanning
-------
COAS says Army has become battle-hardened in the fight against terrorism
29-Mar-17
BAHAWALPUR: Chief of Army Staff (COAS) General Qamar Bajwa visited Bahawalpur Garrison on Tuesday.
According to the Inter-Services Public Relations, the top general was given "a detailed briefing on operational preparedness, ongoing internal security operations and other aspects of Corps functioning". The COAS expressed his satisfaction on the state of operational preparedness of the corps for conventional war as well as performance in ongoing internal security operations. He said, "Experience of war against terrorism has made our Army battle hardened which makes our soldiers better prepared for conventional war." Addressing garrison officers, Bajwa apprised them about security environment and cardinals of Operation Radd-ul-Fasaad.
Full report at:
http://dailytimes.com.pk/punjab/29-Mar-17/coas-says-army-has-become-battle-hardened-in-the-fight-against-terrorism
-------
Pakistan's 'last Jew' wins right to convert from Islam
28 Mar, 2017
After much legal wrangling, Pakistan has officially allowed a man who has been dubbed the country's "last Jew" to change his religion from Islam to Judaism.
Fishel Benkhald was born to a Muslim father and Jewish mother. At the time of his birth, he was registered as a Muslim but says he never practiced Islam and had been seeking to be officially recognized as Jewish on state documents.
Benkhald's campaign gained international media attention and he was given the moniker "The Last Jew in Pakistan". The activist, 29, told the Times of Israel that his earliest childhood memories are of practicing Judaism with his mother in Karachi.
Benkhald, who has the Muslim name 'Faisal' on his Pakistani ID cards, has identified himself as a Jew on official censuses. He previously said on Facebook that he was beaten up for arguing for rights for non-Muslim Pakistanis.
However, Pakistan's National Database and Registration Authority (NADRA) reportedly has little track record of accepting religious conversion requests such as Benkhald's.
The conversion could potentially be interpreted as committing apostasy, which some Muslim scholars argue breaks Islamic law, and which has been criminalized in several countries – though not Pakistan.
Full report at:
https://www.rt.com/viral/382608-pakistan-jew-islam-apostasy/
-------
US spies still being 'secretly' issued visas, claims Rehman Malik
SYED IRFAN RAZA
ISLAMABAD: Former interior minister Rehman Malik has claimed that Pakistani visas are still being 'secretly' issued to US intelligence officials.
Talking to reporters outside the Parliament House here on Tuesday, he said the government was accusing the previous government of the Pakistan Peoples Party (PPP) of issuing visas to US spies, though it was still issuing visas to US officials.
He claimed that Pakistani authorities would continue to issue visas to US officials till they continued to receive the Coalition Support Fund (CSF) from the US government. "Has the government stopped receiving the CSF, which is received by the Ministry of Finance and dispersed through the Ministry of Defence," he said. "If the CSF is stopped, then the government will not issue visas to US officials... In fact the process of issuance of visas to US officials has never been stopped by the present government."
Pakistan has been receiving the CSF from the United States since the Musharraf regime for providing services to the coalition force fighting against terrorists in Afghanistan.
Former interior minister links issuance of visas to US officials to Coalition Support Fund
Rehman Malik served as interior minister in the last PPP government when the then prime minister Yousuf Raza Gillani issued a letter to Pakistan's ambassador to the US Husain Haqqani allowing him to issue visas to US officials. The issue of visas granted then to US intelligence officials has triggered a debate in political circles of the country putting the main opposition PPP on the back foot.
Interior Minister Chaudhry Nisar Ali Khan claimed a couple of days ago that the government had withdrawn powers of Pakistan's ambassador to the US to issue visas on his own.
Full report at:
https://www.dawn.com/news/1323523/us-spies-still-being-secretly-issued-visas-claims-rehman-malik
-------
Action taken on 340 human rights cases in Sindh: Rizvi
29-Mar-17
LARKANA: The Chairperson, Sindh Human Rights Commission (SHRC), Justice (R) Majida Rizvi has said that SHRC has so far taken action on 340 cases till todate. She said that commission has powers to take suo moto notice of any human rights violation, adding 'we have powers to help and rehabilitate women, children, men, minorities, and we are striving for that purpose'.
She was addressing the participants of the SHRC meeting held at the office of the Deputy Commissioner here on Tuesday. She said that a focal person should be appointed with the approval of SSP Larkana for protecting human rights. She said that a shelter home is must for homeless and unsupported children which will save their future.
She asked the NGOs to send their recommendations to the commission assuring them to take action on them. DC Kashif Ali recommended that Sepco should be made bound to supply uninterrupted electricity supply to hospitals and disposals of sewerage lines from their respective grid stations, adding that criminal cases should be filed against the thieves of government healthcare power.
He also recommended that washrooms should also be constructed in the schools wherever these are not available and availability of sweepers must also be ensured there. Deputy Commissioner claimed that there was no ghost school in Larkana district, adding due to non-availability of budget and teachers, some schools were closed.
Due to lack of proper planning, some problems were surfacing. "We can construct schools and hospitals, but these can be run with provision of required manpower and proper planning."
Full report at:
http://dailytimes.com.pk/pakistan/29-Mar-17/action-taken-on-340-human-rights-cases-in-sindh-rizvi
-------
North America
'No science meets in the US next year if Trump does not revoke ban on Muslim-majority nations'
Mar 29, 2017
Physicists from across the world, including those from India, have resolved that no scientific conferences will be organised in the US in 2018 if the Trump government continues with its ban on the entry of citizens from Muslim-majority countries.
The International Union of Pure and Applied Physics (IUPAP), comprising 61 countries that includes India (via the Indian National Science Academy), passed the resolution saying that "bans on movement of people based on nationality will have adverse effects on physics in the US and worldwide."
"Should any ban on the entry of citizens of any country to the US be in place in October 2017, when IUPAP determines which conferences it will support in 2018, the IUPAP Policy on Free circulation of Scientists will require it to refrain from supporting any conferences in the US," read a statement from Bruce H J McKellar, president, IUPAP.
In January, US President Donald Trump signed an executive order that placed a temporary ban on refugees and travellers to the US from seven Muslim-dominated countries – Syria, Iran, Iraq, Sudan, Libya, Somalia and Yemen. But earlier this month, Trump signed a new executive order that exempted Iraq from the original list of seven banned countries.
"It (the resolution) is in line with a long-standing policy of the Union that no bona fide scientist should be excluded from participating in an international conference on the grounds of national origin, nationality, or political considerations unrelated to science," professor Deepak Mathur, chairperson of the IUPAP National Committee, and physicist at the Tata Institute of Fundamental Research told HT. "India has consistently supported this policy, which is based on the universality of science."
The IUPAP Council has requested the Trump government to revoke the executive order, and not place bans based on nationality in the future.
"Legitimate concern about the access of terrorists to the US can be addressed through more focussed and thus more effective measures," it said.
The council has also said that the ban on the movement of scientists is not in the interest of the US and is "an assault on the progress of physics in the US and around the world".
"The Executive Order: Border Security and Immigration Enforcement Improvements has negative consequences for physics in the US and around the world…The restrictions placed on free circulation of scientists by this Executive Order will have unintended consequences on the quantity and quality of physics research done in the US. And because many of the students, when they graduate, work in the US industry, the quality of industrial innovation, especially in high-tech industries, will also be adversely affected," read the statement.
The IUPAP Council's decision follows a policy adopted at the 27th General Assembly in 2011, calling for free movement of scientists since physics is an international discipline. The IUPAP Policy on Free circulation of Scientists reads, "If scientists are excluded from attending IUPAP-sponsored international conferences by a host institution or country, it should register its concern at the highest level of that institution or country, and should not sponsor any future events in that country until such exclusions have been eliminated."
http://www.hindustantimes.com/mumbai-news/no-science-meets-in-the-us-next-year-if-trump-does-not-revoke-ban-on-muslim-majority-nations/story-w4UiKHAMbDmVqQs830Ht7L.html
-------
Muslim Americans in the heartland reckon with sting of national politics
29 March 2017
President Trump campaigned on a promise to ban Muslims from the United States, and imposed travel restrictions on people from several Muslim-majority countries in his first few days in office. These moves have rattled Muslim-Americans, even those who have lived in the U.S., for generations. One of those communities is in Cedar Rapids, Iowa.
Cedar Rapids is a corn processing capital. Quaker Oats has a factory there, right on the Cedar River. In the late 1800s this all-American town was a beacon to Syrian and Lebanese immigrants. And today, Linn County—where Cedar Rapids is located—is home to an estimated 5,000 Muslims.
Reporters Daniella Cheslow and Hannah Sheehan were in Cedar Rapids in the early days of the Trump administration, and they bring us this snapshot of the community.
"The community of Iowa welcomed the immigrants and hosted them, and they become part of the fabric of Iowa. It's not jobs or money, it's community. Iowa had a good heart."
Thirty-five years ago, Imam Taha Tawil arrived in Cedar Rapids, Iowa, while visiting the United States for his brother's wedding. Tawil, who worked as an attorney in a religious court in Jerusalem, was enchanted by a tiny Midwestern community of Muslims, the descendants of Syrian and Lebanese immigrants. In 1934, those newcomers built the longest standing Muslim house of worship in America, the Mother Mosque.
"The community of Iowa welcomed the immigrants and hosted them, and they become part of the fabric of Iowa," Tawil says. "Iowa had a good heart."
Like those early Middle Eastern immigrants, Tawil stayed on as well, using his skills as an Islamic scholar and a fluent Arabic speaker to lead a community where many third- and fourth-generation immigrants speak only English. He also restored the Mother Mosque, which had been rented to a church and then neglected for years. Tawil got it listed on the National Registry of Historic Places. It stands as a monument to the community's history, even as most worshippers pray a few miles away in the Islamic Center of Cedar Rapids, built in 1971, which is covered in white tile and capped with two blue domes.
In recent months some Muslims in Cedar Rapids have begun to feel rattled. During his presidential campaign, Donald Trump proposed banning Muslim immigration to the US, and in his first few days in office, he imposed travel restrictions from Muslim-majority countries. The ripples from those restrictions have filtered into this community, despite its long history.
On weekdays, Muslim kids go to a Montessori school held in the building. Iowa native Surriah Igram founded it in 2009 and named the school My Iman, which means "My Faith". Igram has five kids and says she founded the school as a place where they could learn Arabic and cultivate a strong Muslim identity. Today there are 26 students, ages 3 to 8. They read books like "It's Ramadan, Curious George" and study Arabic letters off colorful embroidered charts.
In opening the school, Igram was carrying on a family tradition of creating institutions in Cedar Rapids. Her great-grandfather, a Lebanese immigrant, helped build the Mother Mosque. She says it's an amazing feeling to see the school take shape.
"It's like how you feel about a plant that's grown, a beautiful plant," Igram says. "You feel great about that because you've had it for years and you helped it grow."
And at first, Igram was eager to introduce reporters into her life, inviting us to visit her family at home. But then, she changed her mind and asked if we could we meet at a coffee shop instead.
"I started to feel nervous because I didn't want to expose to expose my kids or my family," she says.
Igram says this anxiety is new for her. She was born in Iowa's capital, Des Moines. She's used to feeling comfortable as a Muslim in America. But she says she started feeling nervous during Trump's campaign. At one rally in 2015, a man in the crowd stood up and said, 'the problem in this country is Muslims' — and Trump didn't say a thing.
Igram says the incident signaled a change in the way her fellow Americans see her, and it has pushed her into lockdown.
"Going out at night, I don't do that anymore," Igram says. "I go to the grocery store, but I really try to limit where I go because I'm nervous about how people might feel."
Hate groups targeting Muslims have nearly tripled in America since the beginning of 2016, according to the Southern Poverty Law Center. Some research shows that women who cover their hair with a hijab are more likely victims than others. Igram started to cover her hair when she was 19.
"I chose to do it," she says. "I was never religious before that."
Since then, the hijab has become a symbol of her faith, but she says she wonders "all the time" if people would feel differently about her if she took it off.
"I go into the garage sometimes and the door's open," she confesses, "and I won't wear my scarf and I think to myself, it'll be so much easier. I'll just put my hair in a bun, nobody's going to look at me any different."
But then, she keeps wearing it. "I'm too attached and I'm too stubborn," she says, and adds, "I want to be a good example for my girls."
Sending her kids to Islamic school reinforces that example, Igram says. There they can learn Arabic she can't speak, and become confident in their Muslim faith.
Otmane Benjilany sends his daughter Iris, 8, to My Iman. Benjilany moved to Cedar Rapids from Morocco 11 years ago. He married an American woman from Iowa, and now they have two daughters. Iris is the oldest.
Benjilany runs a food truck called O's Grill, which is decorated with a cartoon drawing of his face in a baseball cap. He volunteers at My Iman, chaperoning school trips and serving in past years as gym teacher. He gives his phone number out to new neighbors in case they need his help.
"All my friends call him Dad because he's so fun," Iris says.
It took Benjilany seven years to get approved as a U.S. citizen. This past election, he voted for the first time, and he cast his ballot for Trump. Benjilany says he didn't like Hillary Clinton, but something else was driving his vote — a longing for different kind of America.
"What happened to old days, like just in the '50s, the '40s, even the '60s?" Benjilany says. "Those old values, they seem to be lost."
Benjilany invites us to watch Iris play one of her first-ever basketball games. She charges down the court, sunlight pouring in from high windows in the gleaming YMCA building.
"Look at all these beautiful kids, playing and enjoying their time, having fun on a Saturday morning. That's what matters," he says.
It's also the weekend President Trump signs his first executive order restricting travel from seven Muslim-majority countries.
"I'm with him. You know? To fight those guys, the bad guys," Benjilany says. "You don't need nobody going to come here and ruin it for the rest of us."
Some non-Muslims in town see the world like Benjilany does.
Norm and Ginny McCreary moved in next door to the Islamic Center 20 years ago. They say the mosque is a good neighbor. Sometimes, they hear the kids from My Iman playing on a hill during recess.
"The school teacher…takes them up there to the top, and then they just roll down in their clothes. I mean, it's funny," Norm McCreary says. "And then once in awhile, they slide down on their garbage can lids in the snow."
Like Benjilany, the couple also voted for Trump. Norm says under President Barack Obama, there were too many immigrants taking jobs and medical care. Ginny wanted a leader who puts security first. She thinks President Trump is off to a good start.
"I think he's trying to keep us safe and other people safe," Ginny McCreary says. She says she finds it hard to imagine that some Muslims in Cedar Rapids now feel threatened.
"I mean, I've never been afraid of them," she says.
But families at My Iman have felt afraid, worried about anti-Muslim rhetoric or being targeted for the way they look. At the same time, they've been receiving support. For weeks, neighbors and church groups have been leaving flowers and greeting cards at the school. After a gunman killed six people at a mosque in Quebec in January, some neighbors offered to escort nervous parents on errands around town.
Igram, the school's founder, says these gestures make the school feel like a safe haven, but she senses a storm outside.
"You're in your bubble. I mean, you've got your school. You're in that bubble and people support you. And I'm in my bubble at home with my friends and my family," Igram says. "But going outside, I've experienced things. My cousin was at a Lowe's and this guy came up to her and basically said that she didn't belong here."
Igram says maybe she's more sensitive to the change in atmosphere because of her family's deep roots.
Full report at:
http://kalw.org/post/muslim-americans-heartland-reckon-sting-national-politics#stream/0
-------
Europe
German official accuses Turkey of 'intolerable' spying
Mar 29, 2017
BERLIN - A German state minister on Tuesday accused Turkey of "unacceptable" spying on alleged followers of exiled preacher Fethullah Gulen, whom President Recep Tayyip Erdogan blames for a failed coup attempt last year.
"It is notable with what intensity and ruthlessness the people living abroad are being investigated," said Boris Pistorius, interior minister of the northern German state of Lower Saxony.
"It's intolerable and unacceptable," he said at a press conference.
Ankara had asked Berlin to help spy on about 300 alleged Gulen supporters, Pistorius said, adding that the list was handed to Germany's spy service, which turned it over to state governments.
But Pistorius's state decided instead to inform the more than 10 targets, including a school and at least two companies, fearing people could suffer "retaliation" if they travelled to Turkey while unaware they were on a watch list.
Turkish authorities were acting with "something close to paranoia," he said, adding that "all Gulen supporters are assumed to be terrorists and enemies of the state even though there is not the tiniest scrap of evidence."
"Until today, we have no evidence whatsoever that Gulen supporters have violated any rules in any way."
Although US-based cleric Gulen, 75, has always denied charges that he was involved in the failed coup last July to overthrow Erdogan, Ankara has cracked down hard on his followers.
More than 41,000 people in Turkey have been arrested over suspected links to Gulen's movement, and 100,000 fired or suspended from their jobs. Many of them are teachers, police, magistrates and journalists.
In February, German police raided the homes of four Turkish Muslim preachers suspected of spying on alleged Gulen supporters for Erdogan's government.
Erdogan has in turn accused Germany of harbouring Kurdish and other "terrorists", claiming that Berlin is refusing to hand over alleged suspects.
Germany's foreign intelligence chief Bruno Kahl also raised heckles in Turkey last week when he said he was unconvinced Gulen was behind the failed coup of July 15.
Ankara had repeatedly tried to convince Berlin that Gulen, who lives in a secluded compound in Pennsylvania, was behind the coup, "but they have not succeeded", Kahl told Der Spiegel magazine.
Kahl said that the putsch was launched by a "part of the military" that expected to be targeted in an ongoing government purge.
The latest German accusations came as ties are already badly strained over a wide range of issues surrounding human rights, particularly after the failed coup.
Berlin has emerged as a strident critic of Ankara's post-coup crackdown, and is also urging Turkey to release a correspondent for the German daily Die Welt, who is jailed on terror charges.
Ankara has been riled by German authorities' refusal to allow some Turkish ministers to campaign in the country for a "yes" vote ahead of the April 16 referendum on giving Erdogan the powers of an executive presidency.
http://nation.com.pk/international/29-Mar-2017/german-official-accuses-turkey-of-intolerable-spying
-------
Muslim and murderer? No, says UK minister Sajid Javid
Mar 28, 2017
You literally cannot be both a Muslim and a murderer, Sajid Javid, a cabinet minister in the Theresa May government, said on Monday.
His remarks, made at an event to honour achievers in Britain's Muslim community, came even as Scotland Yard continues to probe last week's Westminster attack carried out by Khalid Masood.
Javid is the communities secretary and held the portfolio of business, innovation and skills in the David Cameron government, when he was closely involved in the Tata group's plans to sell its assets in the UK.
Speaking at the Muslim News Awards for Excellence 2017, established by Muslim News publication, Javid said those who attack and kill in the name of Islam had no right to do so.
"I'm no religious scholar. Many years have passed since I studied the Quran as a child. But even I know it offers no justification for what happened in Paris, or for the kind of indiscriminate slaughter that came to Westminster last week," he said.
"You literally cannot be both a Muslim and a murderer. Nor do the views and actions of the extremists have anything in common with our daily lives…Yet we can't deny that these people think they are Muslims. They identify as Muslims. They genuinely believe they are acting for the glory of Islam."
Javid said events such as the one honouring Muslim achievers showed that extremists had failed and that they did not speak for British Muslims.
Muslim achievers, he said, showed "they (extremists) represent nobody but their sad, twisted selves. The extremists want to drive a wedge between Muslims and non-Muslims...They want us to turn on each other," he said.
"So just imagine how it must anger them when they see Muslims playing such a positive role in this great nation. How it must stick in their craw when they see us celebrating what we do for the country we love. They will hate this event because it shows, once again, that they have failed."
Full report at:
http://www.hindustantimes.com/world-news/muslim-and-murderer-no-says-top-uk-minister/story-sL36MmEhR8IFZWlO9bIpqK.html
-------
British soldier's sentence for killing injured Taliban cut
Mar 29, 2017
LONDON - A British court on Tuesday cut a soldier's sentence for killing an injured Taliban fighter to seven years after his murder conviction was reduced to manslaughter on the grounds of diminished responsibility.
Veterans hugged, cheered and waved flags bearing former Royal Marine Alexander Blackman's image outside the Royal Courts of Justice in London after the ruling, which means he could be released within weeks.
Blackman was sentenced in 2013 for shooting the fighter at close range in Afghanistan's Helmand Province on September 15, 2011, after the man was seriously injured by fire from an Apache helicopter. "There you are. Shuffle off this mortal coil... It's nothing you wouldn't do to us," Blackman was heard saying, paraphrasing William Shakespeare's "Hamlet", in footage captured by a camera on another soldier's helmet.
"Obviously this doesn't go anywhere, fellas. I just broke the Geneva Convention," he said to his fellow Royal Marines, a reference to international laws governing the treatment of prisoners of war.
Blackman was originally sentenced to life in prison with a 10-year minimum although this was later reduced to eight years to account for the fact he was suffering from combat stress disorder.
That was the same reason given by judges earlier this month for downgrading his conviction to manslaughter.
"As with any person sentenced to a determinate term, his release will ordinarily be at the half-way point of the sentence," judge Robert Thomas said on Tuesday.
That means Blackman would be released three and a half years after his original December 2013 conviction.
Full report at:
http://nation.com.pk/international/29-Mar-2017/british-soldier-s-sentence-for-killing-injured-taliban-cut
-------
Russia, Iran ink economic deals as Rouhani visits Moscow
Mar 29, 2017
MOSCOW - Russia signed Tuesday a string of bilateral agreements with Iran as President Vladimir Putin hosted his Iranian counterpart Hassan Rouhani for his first official visit to Moscow.
The meeting between Putin and Rouhani, who have grown closer through their mutual support of Syrian president Bashar al-Assad, mostly focused on flourishing economic ties in the fields of energy and industry. Putin said in televised comments after the meeting that trade between the countries had "grown more than 70 percent" last year.
"This is truly a good result considering that it was achieved in unstable global conditions and amid persistent volatility on the commodity and currency markets," Putin said. A joint statement published by the Kremlin said that "special attention" had been paid to cooperation in energy, with both sides pledging to continue efforts to stabilise the international market.
In addition to cooperation on Syria, energy and defence ties have deepened between Iran and Russia in recent years.
Russia is to build nine of Iran's 20 proposed nuclear reactors and has emerged as a long-term arms partner, supplying Tehran with its S-300 air defence missile system. The relationship has blossomed under Rouhani despite the countries having a complicated history over territory, oil and Communist ideology.
Rouhani is looking to boost Iran's economy ahead of elections in May, in which he is expected to stand for a second term. Putin also hailed the countries' role in ensuring peace in Syria, where both Russia and Iran have shored up Assad.
The joint statement said that cooperation between Tehran, Moscow and Ankara to bring the Syrian regime and armed rebels to the negotiating table was "an important step on the road to the success of the Geneva negotiations under the auspices of the United Nations."
Rouhani said that Moscow and Tehran had "begun effective cooperation" in countering "terrorists" in Syria, in a speech at Moscow State University where he was granted an honorary doctorate.
Although the two sides reiterated the importance of cooperation on Syria, Rouhani's visit came as splits emerge between the countries over the role to be played by Turkey, which is backing opponents of the regime.
Full report at:
http://nation.com.pk/international/29-Mar-2017/russia-iran-ink-economic-deals-as-rouhani-visits-moscow
-------
India
Muslim-born Salabeg, the Jagannath devotee who brought the Lord to the masses
by Namit Hans
March 29, 2017
The grandiose Puri temple, dedicated to Lord Jagannath, his brother Balbhadra and sister Subhadra, is of paramount importance to Hindus as one of the four abodes or chardham and hence a sacred pilgrimage site. This centuries-old temple and stories of its origination find mention in old Hindu texts such as Brahma Purana and Rig Veda. Over the years, the cult of Lord Jagannath has expanded and transformed. There have been several devotees, stories of whose devotion became a part of the folklore associated with the temple. But one story stands out, that of Salabeg, a 17th-century poet who wrote paeans in praise of the lord.
Brother Balabhadra leads the way.
In the middle comes,
the sister with a pretty moon-face,
mingling with the noisy crowd
The 'Dark One' follows behind.
Says Salabega, i am a Yavana
The excerpt from one of the most popular poems written by him describes the annual 'Rath Yatra' of Lord Jagannath during which the wooden statue of the Lord is taken out of the temple, placed on a cart and paraded around the town for his devotees to have a glimpse.
There are a number of folklores associated with Jagannath temple which throw light on Salabeg's deep devotion for the Lord. However, to ascertain his exact origins and identity, using the literary proofs that exist beyond his creations, it can be assumed that Salabeg was born in early 17th century. "Some have worked on his date of birth as 1606 or 07. As his writings say, he was the son of a Muslim father and Brahmin mother," says Pritish Acharya, professor of history at Regional Institute of Education in Bhubaneswar.
Muhammad Yamin, the author of the book 'Impact of Islam on Orissan culture', in one of his articles, cites references from Baharistan-i-Ghalibi by Mirza Nathan and Dandyatabhakti Rasamruta of Ramdasa to corroborate these claims. Going by these accounts, it can be concluded that Salabeg's father Jahangir Quli Khan or Lalbega served as Subedar of Bengal from 1607 to 1608. Salabeg's father died just a year after he was born and hence he spent most of his time with his mother. This could explain his devotion to Lord Jagannath.
http://indianexpress.com/article/research/salabeg-the-jagannath-devotee-who-brought-the-lord-to-the-masses-4590411/
-------
Militants ransack policeman's house in Kashmir
Mar 29, 2017
SRINAGAR: Militants ransacked a senior police officer's house in Kulgam district in a third such incident in the last seven days in the Valley.
According to police, four militants on Tuesday night ransacked the house of a senior police officer in Khudwani village.
They threatened the inmates before leaving the house.
A day earlier, militants had ransacked an assistant sub-inspector's house in Dairoo village of Shopian district.
Earlier, they looted the house and torched the car of a Jammu and Kashmir Prisons Department officer in Budgam district.
During all these incidents, the police officers were not present in their homes.
Full report at:
http://timesofindia.indiatimes.com/india/militants-ransack-policemans-house-in-kashmir/articleshow/57886187.cms
-------
3 killed as Army fires on J&K mob trying to shield terrorist
M Saleem Pandit
Mar 29, 2017
SRINAGAR: Following up on Army chief Gen Bipin Rawat's warning that civilians trying to disrupt combat operations against militants would be treated as overground members of terror outfits and dealt with harshly, the Army fired at civilian sympathisers of a holedup terrorist, killing three of them, in J&K on Tuesday.
A joint team of the Army, police and CRPF surrounded a house at Zuin village in central Kashmir's Budgam in which the Hizbul Mujahideen terrorist was hiding. An encounter began at 5.30am once the terrorist began firing. Civilian protesters soon gathered at the spot and began pelting the forces with stones, injuring more than 60 police and CRPF men along with four soldiers, Army spokesman Col Rajesh Kalia said. The Army had to fire at the protesters, killing three of them — all in their twenties — before the eight-hour-long operation ended with the terrorist, Tauseef Ahmed, being gunned down.
CRPF DIG Sanjay Kumar was quoted by agencies as saying, "The operation was really difficult... we had to fight it on two different platforms, against militants and local people." He added, "A few people really made our day difficult... Lot of commotion, stone pelting, abusing and injuring our people." Youngsters from nearby villages, too, began throwing stones at the security personnel to give cover to the terrorist and help him escape, police sources said.
Tuesday's incident showed that Gen Rawat's warning to a section of J&K civilians has not had much impact, while also displaying the Army's new willingness to sternly deal with them. The stone throwers killed were identified as Zahid Rashid Ganai and Kaisar Ahmad of Zuin village and Ashfaq Ahmad Wani of Rangreth.
"As the forces approached, the terrorist hiding in the house began firing. We then retaliated," police said. By the end of the encounter, the house was leveled with blasts triggered by the security forces. Police retrieved Tauseef's body and found an assault rifle and ammunition on him.
Full report at:
http://timesofindia.indiatimes.com/india/3-killed-as-army-fires-on-jk-mob-trying-to-shield-terrorist/articleshow/57883071.cms
-------
Southeast Asia
Zaid wants Muslims to speak out against unilateral child conversions
March 28, 2017
PETALING JAYA: Former minister Zaid Ibrahim today appealed to Muslims, urging them to speak up in kindness and fairness against unilateral child conversion.
"I don't know if I'm going to heaven, but those who have no heart will go nowhere. How can anyone condone a unilateral child conversion?
"It's not too late for good Muslims to speak up. We need to have capacity for kindness and being fair to others, even if not a Muslim."
The lawyer turned politician declared on Twitter that "we have lost our soul" if Malaysia did not prohibit the conversion of a child to Islam by one parent at the expense of the other.
"Is being a Muslim more important than being human?"
He asked whether the pain of a mother deprived of her child had no bearing in Islam.
To resolve interfaith custody conflicts between Muslim and non-Muslim parents, a bill to amend Law Reform (Marriage and Divorce) Act 1976 (Act 164) was tabled in Parliament last November.
It was to be debated at the present sitting of the Dewan Rakyat but has been pushed back to No 8 in the order of proceedings.
Once passed, the amendment allows only the civil courts to rule in matters pertaining to civil marriages, even if one spouse converts to Islam.
However, Muslim legal experts have argued that the bill is "null and void" as it contradicts Islamic jurisprudence, which states that when a parent converts to Islam, his or her child (if the child has not yet reached puberty) automatically becomes a Muslim, too.
Former chief justice Ahmad Fairuz Abdul Halim said any law which contradicts Islamic jurisprudence, derived from the Quran and Sunnah, was null and void.
On these grounds, Haniff Khatri Abdulla, who is legal aide to former prime minister Dr Mahathir Mohamad, has challenged the validity of the bill that seeks to end unilateral child conversions.
"In Islam, there is jurisprudence dealing with issues that arise when a person converts to Islam.
"These include disputes over what happens to the convert's previous union, to the child from that union, the religion of that child, the matrimonial and custodial rights.
"On that basis, any amendment to the Law Reform (Marriage and Divorce) Act 1976 (Act 164) which does not comply with Islamic jurisprudence, in that situation, would be null and void. That's what I've been arguing for the last 12, 13 years," Haniff Khatri said.
Zaid, however, has expressed empathy for those embroiled in custody battles for their children, who along with their spouses, had converted to Islam.
Among the better-publicised cases is that of kindergarten teacher M Indira Gandhi, who challenged the conversion of her three children after a protracted court battle for custody.
http://www.freemalaysiatoday.com/category/nation/2017/03/28/zaid-wants-muslims-to-speak-out-against-unilateral-child-conversions/
-------
Muslim extremists increase pressure on Indonesian Christians
28 MARCH 2017
Intolerance against Christians has increased considerably in Indonesia, specially since Jakarta governor Basuki Tjahaja Purnama "Ahok" stepped into the role from the deputy post without election in 2014, when his predecessor, Joko "Jokowi" Widodo became President of the country.
Ahok, a Christian of Chinese descent, is currently on trial on blasphemy charges, after he commented about a Quranic verse, in a speech he gave in the Thousand Islands regency in September 2016.
AHOK WON ELECTIONS FIRST ROUND
Basuki repeatedly denied the charges, and despite the pressure, he decided to keep running for the re-election in Indonesia's most populated region.
The Christian politician won the first round with 43% of the votes, followed closely by Islamic conservative former Education and Culture Minister, Anies Baswedan, who has the 40% of the votes.
There will be a second round on April 19, because no candidate secured 50% of the votes in the first-round election on February 15.
"A MUSLIM GOVERNOR FOR JAKARTA"
Banners with provocative anti-Ahok messages are still rife in the Indonesian capital.
The banners read: "KJS and KJP are funded by the city. Whoever is elected as governor, KJS and KJP will stay. Let's march to victory! A Muslim governor for Jakarta." KJS is the city-funded health insurance program, known for its Jakarta Health Card. KJP refers to the city's education fund, known for its Jakarta Smart Card.
Current Deputy Governor Djarot Saiful Hidayat called on Ahok's political opponents to stop playing the religion card ahead of the run-off election. "These things have got to stop. You can't exploit religion to get into power", Djarot told reporters.
ANTI-AHOK BANNERS
Authorities in Jakarta have already removed 526 provocative banners from all corners of the capital. One of them had read "Muslims who vote for an infidel or a blasphemer do not deserve a funeral prayer."
Acting Jakarta Governor Soni Sumarsono said "Jakarta administration will make efforts to take these banners down because they are provocative and contain sensitive religious and ethnicity issues."
"These banners were placed in inappropriate areas. It is for the sake of public order and peace, ahead of the gubernatorial election run off", Sumarsono added.
THREE CHURCHES BANNED FOR RELIGIOUS ACTIVITIES
But the Christian candidate is not the only coming under pressure of Islamic radicals.
Indonesian authorities in Bogor, West Java, have banned three churches from holding religious activities.
According to UCANews, the Methodist Church Indonesia, Huria Batak Protestant Church and a house used by Catholics for catechism classes were ordered to close their doors. Local authorities argued they could not guarantee the safety of the communities.
The Setara Institute for Democracy and Peace, has reported that West Java has the highest incidence of religious intolerance, with 41 cases reported last year.
YEARS OF DISCRIMINATION
Reverend Abdi Saragih of the Methodist Church in Bogor, confirmed that over the years his church has been facing intimidation from government as well as radical Muslim groups.
The Asian Human Rights Commission (AHRC) called the government to "revise the law on the establishment of worship places without any discrimination among the various religions and beliefs that exist in Indonesia".
Meanwhile, after having been closed down for seven years, another church in Bogor was told that it could reopen its doors if it also allowed a mosque on its premises.
Over the years the GKY Church held meetings in different places but resorted recently to holding open-air services outside the Presidential palace in Jakarta.
CATHOLIC CHURCH ATTACKED
According to the Associated Press, several hundred protesters from the group called Forum for Bekasi Muslim Friendship staged the demonstration to protest against the building of the Santa Clara Catholic church.
Eye witnesses told AP that the protesters had tried to force their way into the property and threw rocks and bottles at the building before police fired the tear gas in order to disperse them.
Full report at:
http://evangelicalfocus.com/world/2434/Islamic_radicals_increase_pressure_on_Indonesian_Christians
-------
Indonesia: Muslims protest parish construction; police fire tear gas
March 28, 2017
Throwing bottles and rocks, several hundred Muslims gathered on March 24 to protest the construction of a Catholic parish in Kaliabang, a city located near the Indonesian capital of Jakarta.
Police fired tear gas on the protestors and asked the priest to leave for his own safety, according to the Associated Press. The wire service reported that the area's 12,000 Catholics currently worship in storefronts and other informal gathering places.
Full report at:
https://www.catholicculture.org/news/headlines/index.cfm?storyid=31120
-------
Gov't Must Anticipate Returning Indonesian ISIS Combatants: Lawmaker
Mar 29, 2017
Jakarta. House of Representatives Commission I Deputy Chairman Tubagus Hasanuddin called on the government to exercise caution over returning Indonesian Islamic State militants after the extremist group suffered a heavy loss in Mosul, a city in northern Iraq.
Hasanuddin said ISIS activists might now eye terror targets in other regions, including Southeast Asia and Indonesia.
The lawmaker said at least 600 Indonesians had joined the extremist group in Syria, but did not provide details on their origins or current whereabouts.
"ISIS followers from Indonesia, around 600 of them, may soon return to Indonesia quietly," Hasanuddin said on Tuesday (28/03).
Australian intelligence officials, according to Hasanuddin, have been warning their Indonesian counterparts that many ISIS combatants may be returning to their countries of origin to set up new bases there.
According to his sources, ISIS want to set up bases in Indonesia, southern Philippines and the south of Thailand.
The geographical terrains in these regions are considered ideal for military training and storing logistics supplies – especially since there are still many spots unreachable by law enforcers.
In Indonesia, regions in Sulawesi and Maluku, especially in Halmahera, have been targeted by extremists looking for hiding places.
"They might also launch clandestine operations in West Java, especially in urban areas," Hasanuddin added.
Hasanuddin advised the government to run tighter intelligence operations to prevent combatants from Iraq and Syria returning to Indonesia.
One of the measures Hasanuddin recommended is to tighten security in border areas.
Intelligence operations should also be escalated especially in regions that could be targeted by ISIS.
The lawmaker also suggested law enforcers should look for extremists hiding explosive materials and firearms in Indonesia.
"We should also educate communities to cut off links with returning ISIS combatants," he said.
Full report at:
http://jakartaglobe.id/news/govt-must-anticipate-returning-indonesian-isis-combatants-lawmaker/
-------
Najib courts Muslim vote with welcome for controversial preacher
MARCH 29, 2017
KUALA LUMPUR — Malaysia has rolled out the red carpet for controversial Islamic scholar Ismail Musa Menk, a move that analysts have suggested could be part of efforts by Prime Minister Najib Razak to burnish his Islamic credentials to appeal to middle-class Muslim voters ahead of the general election.
"(Mufti) Menk is popular among middle-class Malaysian Muslims ... and if this is to be read as a political motive, then this ... will boost Najib's popularity with that group," Dr Norshahril Saat, a Fellow at the Iseas-Yusof Ishak Institute told TODAY.
ADVERTISING
inRead invented by Teads
The Zimbabwe-born Mufti Menk has more than 2.3 million Facebook fans and 1.3 million Twitter followers who regularly share his positive quotes on life.
However, the cleric has flirted with controversy: His strong stance against homosexuality led universities in Britain to cancel his speaking tours in 2013 and he had allegedly advised Muslims against wishing others Merry Christmas.
He was due to give a talk at a religious conference in Singapore in 2015 but his segment was cancelled for "reasons the authorities did not disclose", according to the organiser.
Still, Mufti Menk was in Malaysia over the weekend for an Islamic conference where he was one of the keynote speakers.
Mr Najib hosted a religious talk attended by the preacher at his official residence on Monday night after meeting the latter on Friday, an encounter that the Prime Minister wrote about in his blog. Photos of them were uploaded on both Mr Najib and Mufti Menk's social media accounts.
"Victory only comes to those who are most patient," Mr Najib quoted the preacher in his blog, noting that those were the words that "struck me the most" in their meeting to discuss about Islam, extremism, as well as the plight and welfare of Muslims around the world.
The Prime Minister referenced the trials and tribulations faced by Prophet Muhammad and said: "This is one of the reasons why that quote by Mufti Menk struck a chord with me. That has been the way of Rasulullah SAW, and must continue to be the way forward for us Muslims."
Malaysia's national polls are not due until next year but Mr Najib is expected to call for snap polls this year after battling issues surrounding state firm 1Malaysia Development Berhad and overcoming efforts by former Malaysian prime minister Dr Mahathir Mohamad to remove him.
Full report at:
http://www.todayonline.com/world/asia/najib-courts-muslim-vote-welcome-controversial-preacher
-------
Arab World
ISIS video shows two men beheaded for 'sorcery' in Egypt's Sinai
29 March 2017
ISIS's branch in Egypt's Sinai Peninsula posted a video on Tuesday depicting the beheading of two men the militant Islamist group said it had found guilty of practicing witchcraft and sorcery.
The video, posted on a Telegram channel often used by ISIS, showed the group forming a religious police unit known as the Hasbah in northern Sinai, where it has waged an insurgency for years. The rugged, thinly populated peninsula borders Israel, Gaza and the Suez Canal.
No comment was immediately available from Egypt's military or Interior Ministry.
In the video, two elderly men appear in orange jumpsuits and are taken out of a black van and led to the desert, where they are beheaded. A man reads out what he says is a verdict from a Sharia court condemning them to death for "apostasy, sorcery, claiming the ability to tell the future, and leading people to polytheism."
ISIS uses the terms sorcerers and heretics to refer to adherents of Sufism, a non-violent form of Islam involving mystical rituals that has been practiced for centuries.
ISIS has killed hundreds of soldiers and police in Sinai since 2013, when fighting intensified, but the video shows the militants are expanding their activities to target civilians.
"Thanks be to God who has allowed the Islamic State's soldiers in Sinai in applying his law and instituting religion in spite of all the infidels, apostates and envious Jews," one fighter can be seen and heard saying.
In the video, which is also notable for the fact that the men speaking in it are unmasked, fighters are shown seizing trucks full of cigarettes and drugs, and then burning them.
They are also seen handing out fliers with religious advice to motorists at checkpoints and raiding a Sufi gathering and arresting a number of men, who are given a religious sermon and then made to sign a document saying they will repent.
Fighters are also seen smashing television sets and satellite dishes, destroying tombs they say go against Islamic burial laws, and using sticks to beat men accused of smuggling.
They are also shown blowing up what they describe as Sufi shrines.
ISIS has instituted similar religious police units in Syrian and Iraqi territories it controls. The Egyptian branch first showed signs of expanding its goals beyond fighting security forces when in December it bombed a church adjoining Cairo's St Mark's Cathedral, the seat of the Coptic papacy, killing 28 people.
In February the militants threatened all Egyptian Christians, the Middle East's largest Christian community, in a video, and began circulating names of Christians who must leave Sinai or die.
Within a period of three weeks they killed seven Christians, prompting almost 200 families to flee northern Sinai, church officials and human rights groups say.
https://english.alarabiya.net/en/News/middle-east/2017/03/29/ISIS-beheads-two-men-for-sorcery-in-Egypt-s-Sinai-.html
-------
Agreement reached between Hezbollah and al-Qaeda-linked factions in Syria
28 March 2017
The agreement includes the release of 1,500 detainees to the Syrian regime, as well as a 9-month truce that includes the city of Idlib, Maara Masreen, Tifnaz and Ram Hamdan, and several other towns in the northern countryside of Idlib, as well as the towns of Babila and Beit Wamil, south of Damascus.
Representatives of Ahrar-al Sham and Tahrir al-Sham affiliated with Al-Qaeda have agreed with representatives of the Iranian Revolutionary Guard and Hezbollah to evacuate the residents of Kafriya and Al-Fu'ah in the countryside of Idlib, in exchange for the fighters in Zabadani, Madaya, Bloudan, and hundreds of the detainees held by the Syrian regime, Al Arabiya reported on Tuesday.
According to the agreement, the first evacuation from Kafriya and Al-Fu'ah will take place on April 4, and the second on the 6 th of the same month.
Full report at:
https://english.alarabiya.net/en/News/middle-east/2017/03/28/Agreement-reached-between-Hezbollah-and-al-Qaeda-linked-factions-in-Syria-.html
-------
Syria: Hundreds of Gunmen, Family Members Leave Key District in Homs
Mar 28, 2017
The sources said that 530 gunmen that had turned down the government's peace offer left al-Wa'er district along with almost 1270 family members for Jarabalus town in Northern Aleppo.
They added that relocation of the second group of gunmen from al-Wa'er is now complete after the evacuation of 1,800 gunmen and their family members.
Local sources in Homs said on Monday that over 250 gunmen along with their family members were evacuated from al-Wa'er district in the Northwestern outskirts of Homs city in line with the peace agreement between the militants and the Syrian army.
The sources said that the second group of gunmen and their family members that refused to lay down arms to receive amnesty from the Syrian government left al-Wa'er district.
Full report at:
http://en.farsnews.com/newstext.aspx?nn=13960108000412
-------
Syrian Army Makes Fresh Advances in Eastern Damascus, Kills Hundreds of Terrorists
Mar 28, 2017
The army forces engaged in fierce clashes with Al-Nusra in a region between the districts of Jobar and al-Qaboun and seized control over al-Mar river that is behind al-Abbaseen region.
Well-informed sources said that over 800 Al-Nusra terrorists have been killed in the battles with the army soldiers in Jobar and al-Qaboun.
The sources added that the army has made use of advanced arms and missiles in the battle against the terrorists in Jobar and al-Qaboun.
Reports said on Sunday that the entire members of a group of ISIL terrorists were killed in clashes with the Syrian Army troops in Northwestern Damascus.
Full report at:
http://en.farsnews.com/newstext.aspx?nn=13960108000444
-------
Syrian Army Discovers US-Made Arms in Terrorists' Positions in Aleppo Province
Mar 28, 2017
The Arabic desk of Sputnik quoted a military source as saying that the army has discovered three hideouts of ISIL in Aleppo province used by the terrorist group as arms depot and temporary jails for women, adding that a large volume of US-made arms and munitions have been found in the hideouts.
Also one of the jailed women in the hideouts said that ISIL killed a number of female prisoners who had rejected the terrorists' various demands.
A source said in January that the Syrian Army's engineering units discovered another depot of arms and ammunition that belonged to Jeish al-Fatah terrorists.
The source said that terrorists had turned people's houses in Bostan al-Qasr (Bustan al-Kaser) into arms depots and after forcing them out.
The depot in Bostan al-Qasr was reportedly also used as a workshop for building weapons and munitions.
In the meantime, Commander of Russia's International Mine Action Center Ivan Gromov disclosed in late December that a large volume of weapons, manufactured in the US, Germany and Bulgari, were discovered as Russian sappers were on a mine clearance mission in Eastern Aleppo.
Full report at:
http://en.farsnews.com/newstext.aspx?nn=13960108000520
-------
Syrian Armed Forces Hit Terrorists' Centres Hard West of Aleppo Province
Mar 28, 2017
The army's artillery and missile units pounded heavily the positions of the terrorists in the districts of al-Rashedeen 4 and 5 in the Southwestern outskirts of Aleppo city to the Western direction of the Journalists' Association district, Khan al-Asal settlement, the Research Center area, al-Mansoureh settlement, Western direction of Family House neighborhood, Tal (hill) Showeiheneh, West of Jam'iyat al-Zahra district and Zahrat Abd Rabeh region, inflicting major unspecified number of casualties on the terrorists.
In the meantime, the fighter jets bombed the positions of terrorists in Khan al-Asal, Qabtan al-Jabal (mount), Dar al-Izza town West of Aleppo city, the towns of Khan Touman, Khalseh, al-Zerbeh in Southern Aleppo and Kafr Hamra and Haraytan towns North-West of Aleppo city.
Military reports said that the army units engaged in heavy fighting with the terrorists West of Jam'iyat al-Zahra district and Journalists' Association, near Khan al-Asal, Tal Soweiheneh and Family House.
The source added that the army intends to cut off the terrorists' lines of movements between Northern and Western Aleppo that are the house to the Al-Nusra and Nouralddeen al-Zinki Movement's strongholds.
Military sources said Earlier this month that the Syrian Army dispatched a large number of forces and a large volume of military equipment to Southern and Western Aleppo to kick off an imminent anti-terrorism there.
Full report at:
http://en.farsnews.com/newstext.aspx?nn=13960108000730
-------
Senior Terrorist Commander Killed in Clashes with Syrian Army in Hama
Mar 28, 2017
The sources said that Mohammad Kamal al-Qasim nom de guerre Abu Rabi'a, a senior commander of the Idlib Free Army, was killed in battle with the army soldiers in Northwestern Hama.
The sources added that the army men that freed the settlement of Ma'arzaf earlier today managed to drive terrorists out of Soubin village in Northwestern Hama.
They went on to say that Abu Rabi'a was the second commander of Sawt al-Haq battalion of the Idlib Free Army that was killed in clashes with the army men.
Also the army targeted the movements of the terrorists in areas near al-Salamiyah town on Monday, restoring security to a road connecting the town to Homs city.
The army's artillery units and aircraft pounded terrorists' concentration centers and gatherings along a road connecting al-Salamiyah town in Southwestern Hama to Homs city.
Army reports said the terrorists suffered heavy casualties in the attack and retreated from their positions near the road.
Full report at:
http://en.farsnews.com/newstext.aspx?nn=13960108000551
-------
Syria: ISIL's Non-Syrian Members Leave Raqqa City
Mar 28, 2017
The source said that all the foreign members of ISIL have left Raqqa city along with their family members for Deir Ezzur, adding that the remaining pockets of the terrorists in the city are the locals of Raqqa, Aleppo and Idlib.
The source who requested anonymity said an Egyptian judge of the ISIL also left Raqqa along with his family members for al-Mayadeen town in Deir Ezzur province on Monday, adding that over 600 non-Syrian ISIL families lived in al-Ferdows neighborhood but all of them have left the city now.
The source added that over 70 families of ISIL's non-Syrian members left Raqqa by ferry via the Euphrates River on Sunday.
The predominantly Kurdish Syrian Democratic Forces (SDF) continued their advances against ISIL within the framework of the Euphrates Rage Operation and managed to take full control over al-Tabaqa military airport on Sunday night.
The Arabic language al-Arabiya reported that the SDF fighters engaged in fierce clashes with the ISIL and drove them out of the key al-Tabaqa airbase in Western Raqqa.
Kurdish sources, meantime, reported that the SDF combatants also pushed ISIL back from their positions in al-Ajal village South of al-Tabaqa airbase.
A Russian daily reported earlier this month that the ISIL power was declining in Raqqa and Mosul, adding that the terrorist group was very much likely to pick up Deir Ezzur as its new self-proclaimed capital.
Full report at:
http://en.farsnews.com/newstext.aspx?nn=13960108000334
-------
Damascus: Terrorists' Missile Depot Destroyed in Syrian Army Attack
Mar 28, 2017
Tens of missiles depoted by the Al-Nusra Front were destroyed in the army's artillery and missile attacks on the terrorist group's positions in Jobar district.
A 120mm cannon of the Al-Nusra was also destroyed in the attack, military sources said.
They added that the Syrian Air Force meantime launched heavy strikes on terrorists' positions in a region between Ein Terma and Zmelka and also their positions behind Nahr (river) Tora in Jobar.
The sources also reported that the entire tunnels and secret pathways of the terrorists in al-Qaboun district in the Northeastern outskirts of Damascus have been discovered, underlining that the district will be cleaned of terrorists completely in the next few days.
Relevant reports said on Monday that the army soldiers fortified their newly-seized positions in the depth of Jobar district, while other units of the army separated al-Barzeh district from al-Qaboun district North-East of Damascus city.
Military sources reported that the Syrian air force also carried out several combat sorties over the terrorists' positions in the Eastern outskirt of Damascus city to back up the ground forces.
Full report at:
http://en.farsnews.com/newstext.aspx?nn=13960108000287
-------
Saudi security forces raid extremists' hideout in Qatif
28 March 2017
Al Arabiya has learned that Saudi security forces raided the farm of captured extremist Hussein al-Faraj on Tuesday north of Qatif's Awamiya neighborhood in the eastern province of Saudi Arabia.
According to the sources, fierce clashes erupted as security forces approached the farm where people were hiding inside.
Those caught at the farm in Tuesday's raid have been linked to a string of terror activities that rocked the restive neighborhood in Qatif in recent weeks.
Full report at:
https://english.alarabiya.net/en/News/gulf/2017/03/28/Saudi-security-forces-raid-extremists-hideout-in-Qatif.html
-------
South Asia
Bangladesh Struggles to Contain New Outbreak of Violence
March 28, 2017
Bangladesh is struggling to contain a new outbreak of violence linked to the Islamic State that threatens to stoke fears about investing in the fast-growing South Asian nation.
At least five attacks in March -- including two separate attacks claimed by IS in two days -- and an army raid on a single apartment building reveal the extent of Bangladesh's internal security problem. The army shot dead four militants, including a woman, in the security operation, which is ongoing. Two militants were found with suicide vests strapped to their bodies, said Brigadier General Fakhrul Ahsan, a spokesman for Bangladesh army, at a media briefing on Monday night.
On Friday, a suicide attacker blew himself up at a police checkpoint near the airport in Dhaka, while security services began an anti-terrorism raid on an apartment building in Sylhet, a city about 200 kilometers northeast of the capital. A further six people, including two policemen, were killed in a bomb blast and a suicide attack on Saturday that injured 40 others near the building under siege.
The fresh wave of violence is the first since an Islamic State-linked group killed 22 people including 17 foreigners last July at an upscale cafe in Dhaka's diplomatic area, prompting concerns that the deteriorating security situation could hurt the nation's garment industry and dent an economy forecast to expand 7.1 percent this year. The government's denial of the existence of IS networks risks complicating the security response.
"The economic impact on Bangladesh could be substantial," said Amarnath Amarasingam, a senior research fellow at the London-based Institute for Strategic Dialogue. "For two attacks to happen in the same week and to have them claimed so quickly is a clear indication that there is an ISIS network in the country."
Foreign Investors
The attacks come after Prime Minister Sheikh Hasina's long battle against the rise of Islamic militancy in the Muslim-majority nation. Rising fears about IS-linked attacks in Bangladesh threaten to derail Hasina's effort to speed up economic growth and attract investments from abroad, including in the country's garment sector.
"The worsening security situation in Bangladesh has worried current and potential foreign investors," said Reshmi Khurana, head of South Asia at Kroll Associates Inc., a global political risk firm. "They are investing significant resources in assessing and consolidating their security arrangements on the ground and while they have not scaled back their investments in Bangladesh, they are more closely evaluating their future commitment to the country."
'Head In The Sand'
The militants holed up in the Sylhet building seemed "well-trained and equipped," and had planted improvised explosive devices around the building to block access inside, Ahsan told reporters on Sunday.
The blast near the airport on Friday was the second suicide attack in a week in the capital Dhaka. On March 17, a suicide bomber blew himself up after he was stopped by security forces on duty near the barracks of the Rapid Action Battalion, an elite anti-terrorism force. The following day, on March 18, a motorcyclist armed with explosives was shot dead as he tried to crash into a security checkpoint.
The Islamic State took credit for the attacks in Sylhet and Dhaka, according to counter-terrorism organization, the SITE Intelligence Group, citing the IS news agency Amaq. However, the government continues to downplay the presence of IS networks in the country, a stance that is likely to complicate the effectiveness of the response, said Amarasingam, the analyst.
"It doesn't help to keep your head in the sand and ignore the international ties and networks these individuals have developed," he said. "If ignored, they are more likely to plant roots and cause future damage."
https://www.bloomberg.com/politics/articles/2017-03-28/fresh-wave-of-violence-revives-investor-fears-in-bangladesh
-------
Taliban commanders among 21 killed in Helmand airstrikes: MoD
Mar 28 2017
At least twenty one Taliban insurgents including two of their local commanders were killed in a series of airstrikes in southern Helmand province of Afghanistan.
The Ministry of Defense (MoD) said the Taliban commanders killed in the airstrikes have been identified as Mullah Toryali and Mullah Ahmad who was also famous as Zabiullah.
MoD further added that the airstrikes were carried out in the vicinity of Nahr-e-Saraj district of Helmand.
Helmand is among the volatile provinces in southern Afghanistan where the Taliban insurgents are actively operating in its various districts and frequently carry out insurgency activities.
This come as reports emerged last week suggesting that the control of the strategic Sangin district has fallen to the Taliban insurgents.
However, the provincial military council said the Afghan forces only retreated from the main market area of the district following two months of heavy battle.
The council also added that the decision was taken to prevent the civilian casualties as enormous collateral damage was incurred to the local residents.
Full report at:
http://www.khaama.com/taliban-commanders-among-21-killed-in-helmand-airstrikes-mod-02459
-------
Afghanistan reacts over alleged fencing of Durand Line by Pakistan
Mar 28 2017
The Afghan government reacted over alleged fencing work by the Pakistani authorities along the Durand Line, emphasizing that any movement without Kabul's consent would be impossible and ineffective.
The Ministry of Foreign Affairs (MoFA) spokesman Ahmad Shakib Mostaghani made the remarks during a press a conference in Kabul today.
Mostaghani further added that the Afghan government has not noted any movement along the Line, apparently gesturing towards the move along the zero line of the Durand Line.
This comes as the Pakistani Army Chief of Staff General Qamar Javid Bajwa has said the fencing work has started in Momand Agency and Bajaur since the two areas are mostly affected by the militant groups.
However, the former Pakistani President Asif Ali Zardari welcoming the fencing work along the line, emphasized on mutual consultations between Kabul and Islamabad for proper securing of the routes.
Zardari said proper securing of borders with mutual consultation will put an end to allegations of cross-border incursions of militants.
He also called on Kabul and Islamabad to for concerted and sincere efforts by both countries to overcome mistrust and suspicions.
Tensions remain high between Kabul and Islamabad over the closure of the routes along the Line last month which remained closed for nearly a month.
Full report at:
http://www.khaama.com/afghanistan-reacts-over-alleged-fencing-of-durand-line-by-pakistan-02458
-------
Taliban's most senior leader killed in East of Afghanistan
Mar 28 2017
One of the most senior leader of the Taliban group has been killed during a special military operation in eastern Laghman province of Afghanistan.
Provincial governor's spokesman confirmed that Nasir Ahmad was killed during an operation in Qarghai district of Laghman last night.
In the meantime, the provincial government in a statement said a shadow district governor of the group identified as Rohullah was killed during the operation.
The statement further added that Nasir Ahmad was involved in major roadside bombings and other terrorist related activities including missile attacks on 201st Silab Corps of the Afghan National Army.
An operation to kill or arrest Nasir Ahmad was also conducted in Laghman province last month but he managed to escape the raid, the statement added.
Laghman has been among the relatively calm provinces since the fall of the Taliban regime in 2001 but the anti-government armed militant groups have increased their insurgency in some parts of the province during the recent years.
Full report at:
http://www.khaama.com/talibans-most-senior-leader-killed-in-east-of-afghanistan-02460
-------
Africa
Nigerian Army Searching for Terrorist Leader in Recovered Areas
Mar 29, 2017
Abuja, Mar 28 (Prensa Latina) The Nigerian Army explored today several recovered areas that were under control of the terrorist group Boko Haram, with the objective of finding the leader of that faction, Abubakar Shekau.
Nigerian security forces highlighted that they were trying to discover the whereabouts of that extremist leader, who was regarded as dead by this Government several times.
'He fled. Thus, we suppose he could be hiding in the Sambisa woods, but we will not take easy. We are going after him,' said Nigerian Defense Minister Mansur Dan Ali.
Shekau is the leader of one of the two factions in which the fundamentalist sect was divided: one has the mount as its main theater of operations and the other is led by Abu Musab al-Barnawi and is related to the Islamic State, based on the Lake Chad region.
The extremist organization has among its purposes to establish the Sharia or the Law of Islam in the northwest of Nigeria and the victims of its attacks include more than 15,000 people in the last seven years.
More than two million displaced people have gone to to safe places since the attacks began.
http://www.plenglish.com/index.php?o=rn&id=10942&SEO=nigerian-army-searching-for-terrorist-leader-in-recovered-areas
-------
10 people abducted in Boko Haram raid in Nigeria
28 March 2017
Ten people have been abducted in Nigeria's northeastern Borno State following Boko Haram attacks over the weekend, a security official said on Tuesday.
State-owned News Agency of Nigeria (NAN) quoted the local commandant of the Nigeria Security and Civil Defense Corps Ibrahim Abdullahi as saying that six men and four women had been kidnapped in the village of Kalari in the Konduga district .
The abduction is the first to be reported in several months.
Abdullahi said the incident underscores militants' attempts to shore up their fighting force as army continues to raid their hideouts.
"Internally Displaced Persons (IDPs) who are desperate to return to their liberated communities should desist from living in areas that are not properly secured by armed personnel," said the official.
Full report at:
http://www.worldbulletin.net/africa/186979/10-people-abducted-in-boko-haram-raid-in-nigeria
-------
Nigeria: Don't Try Kanu Under Sharia Law, IPOB Warns
28 MARCH 2017
By Vincent Ujumadu
The Indigenous People of Biafra, IPOB, warned, yesterday, against any attempt to try its detained leader, Mazi Nnamdi Kanu, under Sharia law, insisting that doing so amounted to continuing what it described as the ongoing crime against pro-Biafra groups in Nigeria.
IPOB media and publicity secretary, Mr Emma Powerful, in a statement in Awka, likened what the pro-Biafra groups were going through, to what the people of Biafra went through during the 1967 -1970 civil war that claimed the lives of many people, mainly Christians.
Describing the alleged move to try Kanu and others under Sharia law, Powerful observed that even in the predominantly Muslim part of Northern Nigeria, nobody had been tried secretly under Sharia law since the creation of Nigeria by the British merchants in 1914 and wondered why Nnamdi Kanu and other Christians in the southern part of Nigeria should be exposed to such trial.
He wondered why the United Nations and other world leaders had decided to keep quiet over the matter concerning the IPOB leader, despite the fact that the United Nations had in its charter a provision for the right of the indigenous people to have their self determination.
The IPOB spokesman said it was unfair for Justice Binta Nyako of the Federal High Court, Abuja to derail from the Nigerian regular judicial process under common law, to Sharia process considered to be a religious law and not permissible in a supposed secular state like Nigeria because Nnamdi Kanu was involved.
He said: "The world must be wary of President Muhammadu Buhari's introduction of Sharia law in the ongoing trial against the leader of the Indigenous People of Biafra through Justice Binta Nyako. It is dangerous for the law court, which is supposed to douse tension in the country to introduce religious war.
"We, Biafrans and IPOB members worldwide, have waited enough and are still waiting for justice to prevail with the ongoing trial of our leader, Mazi Nnamdi Kanu, and others detained illegally and we have shown the whole world how peaceful, civilized and determined we are towards the restoration of the independent state of Biafra.
"We have called for referendum and peaceful separation, but we have found out that it will only bring us more harm and pain because the United Nations, UN, and other world powers have failed to stop the arrest and killing of unarmed peaceful Biafra agitators."
He continued: "Are they keeping quiet until we take up arms? We don't see the need to take up arms because it is not a must that Biafra restoration will go into war for the second time before we get our freedom. But if the UN and other world bodies allow us to go into war for the second time before we achieve our independent, it will be a war of revenge and bitterness.
Full report at:
http://allafrica.com/stories/201703280409.html
-------
Libya: Kenyan Doctors Killed in Raid On Libya Isis Base
28 MARCH 2017
By Fred Mukinda
Two Kenyan trainee doctors on the police list of wanted terrorists have been killed in a sting operation in Libya.
Farah Dagane Hassan, 26 and Hiish Ahmed Ali, 25, who were interns at Kitale hospital before they fled Kenya, died in the Libyan city of Sirte after a raid against Islamic State remnants there.
Before the trainee doctors fled, investigations linked them to a terrorism network comprising young doctors that was planning biological weapon attacks in the country.
The plan was uncovered in April last year after one of the suspected masterminds, Mohammed Abdi Ali aka Abu Fidaa, also a doctor, was arrested.
He and his wife Nuseibah Mohammed, alias Ummu Fidaa, a medical student, are facing terrorism charges in court.
Police offered Sh4 million to anyone with information that could lead to the arrest of any of the young doctors on the list of most wanted terror suspects.
Investigations that followed unearthed that Isis in Syria had established an international terror network with agents in Kenya, Uganda, Libya, Sudan, Nigeria, Somalia, Niger, Algeria, Tanzania, Ethiopia, South Sudan and Egypt.
The network relied on a human trafficking ring called the "Magafe network" for the transportation of recruits.
HUMAN TRAFFICKING
Security agencies are now collaborating with their counterparts in other countries to better understand the terrorism organisation and other organised crime outfits involved in conventional crimes such as human trafficking, human organ harvesting, abduction and ransoms.
Investigations have so far established 10 routes used by the Magafe network to transport terror recruits from Kenya to Syria and Libya by sea, air or road.
One of the air routes flies them to the United Arab Emirates, then on to Syria.
Another one flies them to Lagos, then takes them on a road trip to neighbouring Niger, on to Algeria and then to Libya, ending with a sea journey through the Mediterranean Sea to Syria.
Another road takes them to Kampala, then to Juba in South Sudan after which they go north to Khartoum, on to Egypt and finally to Syria by sea.
The Ethiopian route takes them from Nairobi to Addis Ababa while the rest of the journey to Sudan and Egypt is by road. The recruits then cross the Mediterranean to reach Syria.
The trainee doctors studied medicine at Kampala International University in Uganda, where they were recruited.
POSTED TO KITALE
Hiish was brought up in Mansa village, Fafi constituency. He completed his medical studies in June, 2015, and registered with the Health ministry. He was then posted to the Kitale public hospital.
"According to his classmates, Hiish behaved normally and was very religious during his university years. He liked reading the Koran and did not like watching videos," according to a government document.
Kenyan doctor trainees killed in Libya Hiish Ahmed Ali and Farah Dagane Hassan. PHOTOS | AGENCIES
Farah joined the university in September, 2010 and completed his studies in January, 2016, joining the hospital the following month in February.
The two travelled to Libya through the Kampala-Khartoum-route.
"On arrival, they joined the ranks of Isis and started recruiting individuals from Kenya. They lured young graduates with false promises of a new life, gainful employment with handsome pay and sometimes through false ideology," said the report.
RECRUITS RESCUED
In the transnational operation by government agencies, the documents says, some of the Kenyan recruits were rescued and are being rehabilitated.
A young woman in her 20s, going under the pseudo name Fatma to protect her identity, told authorities how she was inducted and taken to Libya, where she joined a group of other women from Kenya, Somalia and Eritrea.
They travelled by bus to Kampala and then to Sudan during the 12-day trip in which they were joined by young men.
According to her, each had a different reason to travel; some were escaping harsh economic conditions in their countries while others felt they were fulfilling religious obligations.
Full report at:
http://allafrica.com/stories/201703290129.html
-------
URL: https://www.newageislam.com/islamic-world-news/extremist-ideologies-promoted-riyadh-root/d/110578
New Age Islam, Islam Online, Islamic Website, African Muslim News, Arab World News, South Asia News, Indian Muslim News, World Muslim News, Women in Islam, Islamic Feminism, Arab Women, Women In Arab, Islamophobia in America, Muslim Women in West, Islam Women and Feminism