New Age Islam News Bureau
28 Jan 2014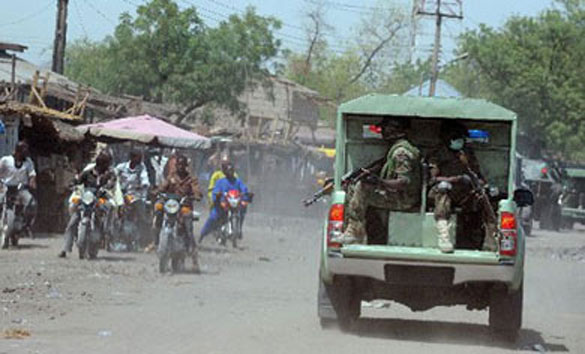 A Joint Military Task Force patrolling the streets of the restive north-eastern Nigerian town of Maiduguri, Borno State on April 30, 2013. PHOTO/AFP
-----------
Africa
• Extremist Attacks on Nigerian Church, Village Leave 99 Dead
• 13 killed in C. African Republic, UN envoy says Muslims vulnerable
• South Sudan: Satellites Show War Crimes in Malakal
Pakistan
• Osama bin Laden still alive in people's hearts: Jamaat-e-Islami Chief
• Grisly discovery: 11 more bodies found in Khuzdar mass grave
• Bilawal asks political parties to unite against Taliban threat
• Woman killed, two injured in Kurram landmine explosions
• Imran unhappy over K-P govt stopping Malala's book launch
Arab World
• ISIL Is Led by Member of Saudi Royal Family
• Seven Iraqi security personnel killed as unrest surges
• Lebanon Mufti accuses US of stirring Mideast strife
• US accuses Syrian government of harming talks by denying aid
• Takfiri Sheikh Omar Atrash Confesses to Beirut Bombing
• Al-Qaeda declares war on Lebanon: Army, Hezbollah targets
• Saudi organisation to spend MVR 1.6 million to spread Quranic teachings in Maldives
South Asia
• Bangladeshis in UK offer prayer for persecuted Hindus
• 17 Taliban militants killed, 7 others injured in Afghan operations
• Cross-border shelling from Pakistan kills 4 children in Kunar
• Taliban militants killed while placing roadside bombs in Helmand
• Maldivian arrested for the crime of human trafficking
• Karzai suspicious of US involvement behind recent attacks
Southeast Asia
• Philippine military says 17 Muslim rebels killed
• Rethink Shariah police, it wouldn't solve issues plaguing Muslims, says Dr Mahathir
• Federal court to decide if non-Muslims can practise Islamic law
• Saudi Arabia Donates Free Qurans to Malang Police
• Malaysia no longer land of peace and tolerance, says Pakistan website
North America
• US Congress secretly approves weapons flow to 'moderate' Syrian rebels
• Muslim Best Buy Ad with 'Mustafa' Reflects Greater Acceptance in American Society
• CAIR: How NSA Spying Impacts Muslim Communities and Cultivates Islamophobia
• Working toward true partnership with Pakistan: Kerry
• Pentagon notifies Congress of possible F-16 upgrades for UAE
India
• India looking to further boost its Look Middle East policy
Europe
• Breivik Opposed Spencer, Fjordman, Exploited Counter Jihad for Nazi Goals
• Former Dutch soldier trains jihadist recruits to fight Assad
• Humanitarian support masks intense political tussle during Geneva-2 talks
• Assad future blocks progress in Syria peace talks
Mideast
• Turkish PM Erdoğan accuses Gülen movement of trying to 'steal national will'
• Drugs, ammunition seized in operation in south-eastern Turkey
• Abbas agreed to Jewish settlers in a future Palestinian state
• Israel barrier threatens to split West Bank villages
Compiled by New Age Islam News Bureau
URL: https://www.newageislam.com/islamic-world-news/new-age-islam-news-bureau/extremist-attacks-on-nigerian-church,-village-leave-99-dead/d/35483
------------
Africa
Extremist Attacks on Nigerian Church, Village Leave 99 Dead
The Associated Press P
January 28th, 2014
Islamic fighters used explosives and heavy guns to attack a village and worshippers during a Christian church service in Nigeria's northeast, killing at least 99 people and razing hundreds of homes, officials and witnesses said.
The attacks in Borno and Adamawa states resulted in one of the highest death tolls in recent attacks by fighters who are defying an eight-month-old military state of emergency in three states in northern Nigeria designed to halt an Islamic uprising.
Attackers caused several explosions in Kawuri village in Borno state after launching their assault near the weekly market as vendors were packing up on Sunday night, the security official said.
He said 52 people died and the entire village of 300 homes was burned. He also said two improvised explosive devices that were left behind went off on Monday morning, narrowly missing security personnel who were collecting bodies in Kawuri.
The official blamed suspected Boko Haram fighters for the attack.
A police official who evacuated wounded victims confirmed at least 52 people were killed and 16 wounded.
Ari Kolomi, who fled from his village, which is 70km outside Maiduguri, the Borno state capital, said, "No house was left standing" by the more than 50 men who attacked, armed with explosives and guns.
Kolomi was searching for relatives in the village to make sure they had survived the attack.
State Police Commissioner Lawan Tanko confirmed the attack but said he was awaiting details on the casualties.
Also on Sunday, fighters in Adamawa state, south of Borno, stormed a church during a Sunday morning service in Wada Chakawa village.
They fired guns, set off explosives and took residents hostage, said the Reverent Raymond Danbouye, a spokesman for the Catholic Diocese of Yola. He said about two dozen people were killed and buried on Monday.
Local chairman, Maina Ularamu, said officials recovered 45 bodies including those of two police officers. He urged calm, saying: "I believe security operatives are on top of the situation."
Suspected Boko Haram members set off explosives and fired into the church, then burned houses and took residents hostage during a five-hour siege, residents said.
"They used explosives during the attack on worshippers, and many people lost their lives," said villager Moses Apogu.
Another resident said some people were taken away and later killed.
General Rogers Nicholas, commander of a local brigade said officials were still tallying the death toll and that troops were deployed to track the attackers.
Nearly 200 people have been killed this month in attacks by suspected members of the Boko Haram network in the area around Maiduguri.
The city is the birthplace of the group, whose name in the local Hausa language means "Western education is forbidden".
A January 14 car bomb exploded in Maiduguri, killing about 70 people.
Officials blamed Boko Haram, though the state governor suggested it was the work of political opponents.
Other attacks have forced the flight of hundreds of villagers in about 30 farming communities around Maiduguri. Some of the displaced are camping on the outskirts of the state capital.
More than 5,000 refugees from the violence have fled to Cameroon and Niger this month, the UN said last week.
http://www.aljazeera.com/news/africa/2014/01/gunmen-kill-worshippers-at-nigeria-church-2014127163355304649.html
------------
13 killed in C.African Republic, UN envoy says Muslims vulnerable
January 28th, 2014
At least 13 people were killed in Central African Republic on Monday as the top U.N. human rights official warned of escalating reprisals against Muslims and urged foreign governments to do more to stop the country being torn apart.
Almost one million people, or a quarter of the population, have been displaced by fighting since the mostly Muslim Seleka rebel group seized power in March in the majority Christian country. At least 2,000 people have been killed.
In recent days, Seleka fighters have steadily abandoned the riverside capital Bangui, leaving Muslim civilians at the mercy of Christian militia, known as 'anti-balaka' or 'anti-machete' in the local Sango language.
Looting and mob violence mainly targeting predominantly Muslim neighbourhoods of Bangui have intensified despite the presence of a 1,600-strong French intervention force and thousands of African peacekeepers.
A spokesman for the local Red Cross said it had recovered 13 dead bodies from the streets of Bangui on Monday, in both Christian and Muslim neighbourhoods, and treated eight wounded.
"The security and human rights situation has further deteriorated over the past few days," U.N. High Commissioner for Human Rights Navi Pillay said in a statement.
"Muslim civilians are now extremely vulnerable. Many are being pushed out of the country, alongside ex-Seleka, and are now fleeing, mostly towards the Chadian border," she said.
"We simply cannot let the social fabric of this country be torn apart," Pillay said. "I call as a matter of utmost urgency upon the international community to strengthen peacekeeping efforts... Many lives are at stake."
Bringing some relief to the local population, a World Food Programme convoy of 10 trucks carrying 250 tonnes of cereal arrived in the capital under a French military escort. The convoy had been stranded for three weeks at the Cameroonian border by fears over the security situation.
DAILY KILLINGS
In a bid to restore a functioning government, new Prime Minister Andre Nzapayeke named a cabinet of 20 ministers including several technocrats, some former ministers and supporters of Seleka and the anti-balaka militia.
Interim President Catherine Samba-Panza, elected by a transitional assembly last week, has pledged to open talks with armed groups and take the country to elections, scheduled to be held by early next year. She has called for more international troops to be deployed.
The European Union last week pledged around 500 additional soldiers, but it was unclear which countries would contribute troops and when they would arrive.
U.N. Secretary-General Ban Ki-moon is due to report to the Security Council next month on options for the likely transformation of the African operation into a U.N. peacekeeping force within six months.
The Catholic Archbishop of Bangui, Dieudonné Nzapalainga, and the head of the country's Islamic community, Imam Oumar Kobine Layama, during a visit to Britain, urged London to back the EU force and plans for a larger U.N. peacekeeping mission.
Highlighting the Muslim plight in Bangui, a Reuters witness in the Miskine neighbourhood watched on Monday as looters dismantled Muslim-owned shops and homes, most of which had already been stripped of their goods.
Gunfire erupted as French forces, firing tear gas, tried to disperse angry Christian crowds attempting to erect barricades on the streets. The witness saw one woman with a gunshot wound.
"As Seleka loses ground, Muslim communities are being systematically attacked by anti-balaka. There's killing on a daily basis," Peter Bouckaert, emergencies director for Human Rights Watch, told Reuters. (Additional reporting by Tom Miles in Geneva and Michael Collett-White in London; Additional reporting and writing by Joe Bavier; Editing by Gareth Jones and Alister Doyle)
http://www.trust.org/item/20140127201800-nrw4e/?source=hpagehead
----------
South Sudan: Satellites Show War Crimes in Malakal
January 28th, 2014
Washington, DC — As United Nations officials head to South Sudan to assess the humanitarian situation on the ground, new satellite imagery acquired by the Satellite Sentinel Project confirms reports of damage and destruction in Malakal between January 18 and 27 in a new situation report released today.
Today, United Nations Under-Secretary-General for Humanitarian Affairs Valerie Amos will travel to Upper Nile, where over 42,000 people have been displaced by violence. Satellite images of Malakal from January 27 show at least 210 tukuls burned to the ground in one of the city's quarters. Malakal, a multi-ethnic city, housing Shilluk, Nuer, Dinka, Bari and many others, has been the location of recent violence, with reports that much of it has been across ethnic lines. Nearly 25,000 people are sheltered in the U.N. compound in the northern part of town.
The imagery also corroborates photos released earlier this month by the World Food Program, which showed a WFP warehouse area before it was looted, and additional damage to the warehouse tents observed on January 27. The report highlights that laws of war mandate both respecting and protecting "humanitarian relief personnel" and "objects". This new imagery, which shows recent destruction on WFP property used for their operations, may offer independent evidence of war crimes.
Akshaya Kumar, Enough Project Sudan and South Sudan Analyst, says: "Targeting humanitarians neutrally delivering life-saving assistance is not just abhorrent, it is a war crime. This satellite imagery of Malakal's neighborhoods reduced to ashes and looted compounds highlight the real cost of this conflict."
Read the situation report: http://www.satsentinel.org/blog/satellites-show-war-crimes-malakal
The Satellite Sentinel Project, or SSP, a partnership between the Enough Project and DigitalGlobe, conducts monitoring of the border between Sudan and South Sudan to assess the human security situation, identify potential threats to civilians, and detect, deter and document war crimes and crimes against humanity. The Enough Project provides field research, policy context, and communications strategy. DigitalGlobe provides imagery from its constellation of satellites and geospatial analysis from the DigitalGlobe Analysis Center. SSP is funded primarily by Not On Our Watch.
http://allafrica.com/stories/201401280663.html?aa_source=mf-hdlns
------------
Pakistan
Osama bin Laden still alive in people's hearts: Jamaat-e-Islami Chief
January 28, 2014
ISLAMABAD: People like the late al Qaeda leader Osama bin Laden do not die but stay alive in the hearts of people, stated Jamaat-e-Islami (JI) Ameer Syed Munawar Hasan while addressing a seminar in Islamabad, Express News reported on Tuesday.
Hasan added that death of the al Qaeda leader was considered a big victory for 60% of the countries around the world, but the US is afraid that bin Laden will come back alive after the withdrawal of Nato troops from Afghanistan.
Commenting on the pull-out of foreign troops, the JI chief remarked that Afghanistan has become the "graveyard of science and technology" for the West.
The US had planned to withdraw several thousand troops from war-torn Afghanistan last year and Nato has set 2014 as a deadline for a complete withdrawal. The US had a 150,000-strong Nato operation in the country and it also plans to withdraw all its combat troops by the end of this year.
In May, 2011, bin Laden was shot dead deep inside Pakistan in a night-time helicopter raid by US covert forces, ending a decade-long manhunt for the mastermind of the September 11 attacks.
World leaders had welcomed the news of bin Laden's killing.
http://tribune.com.pk/story/664425/osama-bin-laden-still-alive-in-peoples-hearts-ji-chief/
------------
Grisly discovery: 11 more bodies found in Khuzdar mass grave
January 28, 2014
QUETTA: Authorities found around a dozen more bodies on Monday in a mass grave discovered in Tutak, about 50 kilometres from Khuzdar city, on Saturday.
At least 11 bodies were brought to the District Headquarters Hospital, which were decomposed beyond recognition, like the two discovered on Saturday, said medics. A total of 13 bodies have been recovered so far.
Vultures and crows hovering over the area had attracted the attention of local shepherds to the desolate area who informed the administration about what they suspected to be a mass grave.
Full report at:
http://tribune.com.pk/story/664328/grisly-discovery-11-more-bodies-found-in-khuzdar-mass-grave/
------------
Bilawal asks political parties to unite against Taliban threat
2014-01-28
KARACHI: Bilawal Bhutto-Zardari, Chairman of the Pakistan Peoples Party (PPP) and son of former prime minister Benazir Bhutto has called on the country's political leadership to wake up to the threat posed by militant groups including the Tehrik-i-Taliban Pakistan (TTP).
Speaking to the BBC's Lyse Doucet in an interview, Bilawal said some of the country's political leaders were afraid to take a clearly defined position on the issue of talks with the Taliban.
The PPP chairman said "we are failing" as the country's brave voices were dying out one after the other, adding that if we acted in unison, the Taliban would not be able to challenge us.
On the topic of negotiations with the Taliban, Bilawal said Pakistan should maintain a strong position and for that the militants would have to first be defeated and subdued.
Bilawal added that there was no consensus in the country on the issue of holding talks and whatever consensus had been developed earlier was wasted by the politicians who called Pakistan's war America's war.
Full report at:
http://www.dawn.com/news/1083287/bilawal-asks-political-parties-to-unite-against-taliban-threat
------------
Woman killed, two injured in Kurram landmine explosions
014-01-28
KURRAM AGENCY: A woman was killed and two others were injured when two landmine explosions occurred in the Kurram tribal region, DawnNews reported.
According to official sources, unknown persons had installed two bombs at a roadside in the Sarsarang area of Upper Kurram near the Pak-Afghan border.
Three women, who were walking on the road, struck the bombs, causing them to explode loudly. Subsequently, one woman was killed and her two daughters sustained injuries.
The injured women were shifted to Agency Headquarters Hospital.
Full report at:
http://www.dawn.com/news/1083292/woman-killed-two-injured-in-kurram-landmine-explosions
------------
Imran unhappy over K-P govt stopping Malala's book launch
January 28, 2014
Pakistan Tehreek-e-Insaaf Chairperson Imran Khan said in a Twitter update that he did not understand why the Khyber-Pakhtunkhwa (K-P) government had stopped the launch of Malala Yousafzai's book I am Malala on Tuesday.
The book was scheduled to launch today at Peshawar University, however, the K-P government stopped the launch.
Minister for Information Shah Farman told Express News that the government banned the book launch in the university as it was not relevant to its curriculum. He added that the K-P government does not object to the book itself, but is opposed to its launch in a university.
Farman stated that allowing educational institutes to launch books which are not relevant to their curriculum would be like "opening pandora's box".
Full report at:
http://tribune.com.pk/story/664418/imran-confused-over-k-p-government-stopping-malalas-book-launch/
------------
Arab World
ISIL Is Led by Member of Saudi Royal Family
Jan 28, 2014
TEHRAN (FNA)- Prince Abdul Rahman Al-Faisal, who is the son of late King Faisal of Saudi Arabia and the brother of the current Saudi Foreign Minister Saud Al-Faisal, supports terrorist groups in Syria, an arrested member of the terrorist group said.
http://english.farsnews.com/player.aspx?nn=13921107000390
------------
Seven Iraqi security personnel killed as unrest surges
Jan 28 2014
Gun attacks north of Baghdad killed seven members of Iraq's security forces Tuesday, the latest in a surge in violence fuelling fears the country is slipping back into all-out conflict.
Coupled with a deadly standoff between security forces and anti-government fighters in the western province of Anbar, unrest this month has left more than 850 people dead, the worst prolonged period of bloodshed since Iraq began emerging from a brutal sectarian war in 2008.
On Monday the United States said it plans to sell Iraq 24 Apache attack helicopters in a $4.8 billion deal to help the country fight militants while foreign leaders have urged the Shiite-led government to address long-term grievances in the disaffected Sunni community to undercut support for militancy.
Full report at:
http://english.ahram.org.eg/NewsContent/2/8/92847/World/Region/Seven-Iraqi-security-personnel-killed-as-unrest-su.aspx
------------
US accuses Syrian government of harming talks by denying aid
Jan 28, 2014
The Syrian government is poisoning the atmosphere of peace negotiations with the opposition by denying delivery of vital aid supplies to civilians including in the besieged Old City of Homs, a US official said on Tuesday.
He called for the government of President Bashar al-Assad to approve immediately the full list of proposed convoy movements requested by the United Nations to the Old City of Homs, Mouadamiyah, Douma, Yarmouk, Mleiha, and Barzeh.
Full report at:
http://english.ahram.org.eg/NewsContent/2/8/92849/World/Region/US-accuses-Syrian-government-of-harming-talks-by-d.aspx
------------
Takfiri Sheikh Omar Atrash Confesses to Beirut Bombing
Jan 28, 2014
A suspect arrested in connection with a recent deadly bombing in the Lebanese capital confessed to recruiting suicide bombers, and to having received cars rigged with explosives bound for Dahiyeh, a suburb South of Beirut.
The Lebanese army intelligence arrested Takfiri sheikh Omar Ibrahim al-Atrash, a key Al-Qaeda-linked terrorist involved in recruiting suicide bombers and planning terrorist attacks, in an operation on Friday, Al-Alam reported.
Quoting unnamed sources, al-Jadeed TV reported on Monday that because of his confessions and evidence, Atrash would not have any political protection, unlike previous suspects who had been released due to political pressure.
Full report at:
http://www.dailystar.com.lb/News/Lebanon-News/2014/Jan-27/245433-lebanon-mufti-accuses-us-of-stirring-mideast-strife.ashx#ixzz2renrROr5
------------
Al-Qaeda declares war on Lebanon: Army, Hezbollah targets
Jan 28, 2014
Three al-Qaeda-affiliated militant groups have declared war on Lebanon. In a single day, the trio delivered the opening salvo of their Lebanese campaign, issuing threats in what appeared to be coordinated statements.
Three prominent terrorist groups, the Abdullah Azzam Brigades, al-Nusra Front in Lebanon, and the Islamic State of Iraq and the Levant (ISIL) have now declared war on Lebanon. The three groups timed their announcements to take place on the same day.
Around noon on January 25, a recorded speech by Abu Sayyaf al-Ansari was broadcast, in which he pledged allegiance to ISIL. In the recording, Ansari also addressed clerics in Lebanon, especially the Muslim Scholars Association, warning them against stabbing the militants in the back. Ansari then gave a message to Sunnis enlisted with the "army of the cross," a reference to the Lebanese army, calling on them to defect.
Full report at:
http://en.alalam.ir/news/1560094#sthash.4ODfO84z.dpuf
------------
Saudi organisation to spend MVR 1.6 million to spread Quranic teachings in Maldives
By Minivan News | January 27th, 2014
Saudi Arabian organisation Al Hayat al Alamiya li Tadabbur al Quran ul Karim has decided to run a program to promote Quranic studies in the Maldives.
Delegates from the organisation signed a memorandum of understanding with the Ministry of Islamic Affairs on Sunday night, under which they have pledged to spend MVR1.6 million for related projects.
Full report at:
http://minivannews.com/category/news-in-brief
------------
South Asia
Bangladeshis in UK offer prayer for persecuted Hindus
January 28th, 2014
Hindu groups in the UK organised a prayer service and fund raising campaign for the minority community in Bangladesh which has suffered extensive post-election violence.
The prayer service started at Kingsley Hall in East London with Narayan Puja followed by Nam Kirton, Arati and a special prayer.
Hindus from London and faraway places from Bradford and Burnley took part in it, while people from other faiths joined the congregation to show their solidarity.
The congregants demanded safety for Hindus and speedy trial of crimes committed against them. They also urged people of all faiths to show respect for this minority group.
Full report at:
http://www.thedailystar.net/city/bangladeshis-in-uk-offer-prayer-for-persecuted-hindus-8766
------------
17 Taliban militants killed, 7 others injured in Afghan operations
Jan 28 2014
At least 17 Taliban militants were killed and 7 others were injured during joint military operations by Afghan national security forces.
The interior ministry of Afghanistan following a statement, said the operations were conducted during the past 24 hours by Afghan police, Afghan army and Afghan intelligence – National Directorate of Security (NDS) operatives.
The statement further added that the operations were conducted in Helmand, Logar, Maidan Wardak, Uruzgan, Kunduz and Laghman provoinces of Afghanistan.
Interior ministry confirmed that 17 Taliban militants were killed, 7 militants were injured and 11 others were arrested during the operations.
Full report at:
http://www.khaama.com/17-taliban-militants-killed-7-others-injured-in-afghan-operations-3361
------------
Cross-border shelling from Pakistan kills 4 children in Kunar
Jan 28 2014
According to local authorities in eastern Kunar province of Afghanistan, at least four children were killed following cross-border shelling from Pakistani soil in eastern Kunar province of Afghanistan.
A spokesman for the 201 Silab Military Corps for eastern Afghanistan, Haroon Yousufi, confirming the report , said the children were killed after a rocket fired from Pakistan's soil hit a residential house in Marwa district.
Mr. Yosufi further added that a service member of the Afghan border protection police forces was also killed following the cros-border incursion.
Full report at:
http://www.khaama.com/cross-border-shelling-from-pakistan-kills-4-children-in-kunar-3360
------------
Taliban militants killed while placing roadside bombs in Helmand
Jan 28 2014
At least three Taliban militants were killed while placing improvised explosive device in southern Helmand province of Afghanistan.
The interior ministry of Afghanistan following a statement, said the incident took place on Monday in Maraj district of Helmand province.
The statement further added that three Taliban miliants were blown up while they were busy planting improvised explosive device (IED) on a roadside to target Afghan and coalition forces.
The Taliban militants group has not commented regarding the incidnet so far.
Full report at:
http://www.khaama.com/taliban-militants-killed-while-placing-roadside-bombs-in-helmand-3359
------------
Maldivian arrested for the crime of human trafficking
By Minivan News | January 27th, 2014
Police have arrested a 48 year old male from the island of Goidhoo in Baa Atoll on charges of engaging in the crime of human trafficking. In addition to him, seven expatriates were also arrested under the same case.
According to police, six of the seven expatriates had been working without work permits, and the remaining one had been in hiding from the sponsor who had initially brought him into the country.
Full report at:
http://minivannews.com/category/news-in-brief
----------
Karzai suspicious of US involvement behind recent attacks
Jan 28 2014
According to reports, Afghan president Hamid Karzai is suspicious that the United States is involved behind the recent deadly attacks in Afghanistan, including the coordinated attack on the Lebanese restaurant which left at least 21 dead.
An Afghan official quoted by Washington Post has said that president Karzai believes that the US government and military have been a hidden force behind the recent attacks.
The official further added that Karzai believes that the attacks were planned to weakn his government and further destabilize the country.
Full report at:
http://www.khaama.com/karzai-suspicious-of-us-involvement-behind-recent-attacks-3362
------------
Southeast Asia
Philippine military says 17 Muslim rebels killed
2014-01-28
MANILA: The Philippine military said Tuesday it had killed 17 militants opposed to a peace deal between the government and the country's main Muslim rebel group, as fighting raged for a second day.
More than 1,500 troops are involved in the offensive against the Bangsamoro Islamic Freedom Fighters (BIFF) in remote farming areas of the mainly Catholic country's Muslim south, regional military spokesman Colonel Dickson Hermoso said.
He said 17 BIFF members had been confirmed killed in this week's clashes, while two soldiers and one civilian were wounded.
The assault was launched on Monday, two days after the successful end of negotiations between the government and the Moro Islamic Liberation Front (MILF) aimed at ending a decades-long insurgency that has killed tens of thousands.
Full report at:
http://www.dawn.com/news/1083290/philippine-military-says-17-muslim-rebels-killed
------------
Rethink Shariah police, it wouldn't solve issues plaguing Muslims, says Dr Mahathir
Jan 28 2014
Former Prime Minister Tun Dr Mahathir Mohamad today objected to the formation of a Shariah police unit, saying it would not solve the issues plaguing Muslims.
"Let me make it clear, I do not agree with the plan to set up a police Shariah unit," Dr Mahathir said in his latest blog post today.
"The Islamic religion does not encourage coercion, nor should it be used as the basis to form a police state."
Dr Mahathir said he fulfilled his religious obligations of praying, fasting, paying his dues (zakat), not because he was afraid the religious authorities would arrest him if he did not.
"I fulfil my religious obligations and responsibilities not out of fear, but because I am a Muslim who practices Islam. Because of my beliefs," he said.
Full report at:
http://www.themalaysianinsider.com/malaysia/article/rethink-shariah-police-it-wouldnt-solve-issues-plaguing-islam-says-dr-m
------------
Federal court to decide if non-Muslims can practise Islamic law
Jan 28 2014
The Federal Court will decide whether non-Muslim lawyers can be Shariah lawyers in the Federal Territories of Kuala Lumpur, Putrajaya and Labuan.
This follows the decision of the apex court today to grant leave to Putrajaya's application to appeal against the Court of Appeal's ruling six months ago which stated that non-Muslim lawyers are eligible to practise the Islamic law.
Today, the leave application was allowed without contest by the five-man bench chaired by Tan Sri Raus Sharif as the single question framed by Putrajaya fulfilled the criteria under the Courts of Judicature Act 1964.
Full report at:
http://www.themalaysianinsider.com/malaysia/article/federal-court-to-decide-if-non-muslims-can-practise-islamic-law
----------
Saudi Arabia Donates Free Qurans to Malang Police
Jan 28 2014
Malang. Police in Malang, East Java, distributed free Qurans on Monday donated by Saudi Arabia in a bid to encourage deeper Islamic teaching to officers.
"This Quran donation is from the Kingdom of Saudi Arabia, which said it was willing to give us as many Qurans as we requested," said Adj. Sr. Comr. Deriyan Jayamarta, the Malang Police chief.
Deriyan added that the kingdom had donated 1,200 Qurans to be distributed to all police officers in Malang.
The Saudis have also contributed some Rp 200 million ($16,400) for the renovation of a mosque in the Malang Police headquarters complex. Construction of the mosque is expected to be completed by Ramadan this year, or mid-June.
Full report at:
http://www.thejakartaglobe.com/news/saudi-arabia-donates-free-Qurans-to-malang-police/
------------
Malaysia no longer land of peace and tolerance, says Pakistan website
Jan 28 2014
Malaysia's global image as a moderate and progressive Muslim country is being tarnished by increasing racial and religious intolerance, and more recently, the attack on a church in Penang, a Pakistan online news website reported today.
Despite the millions of ringgit spent by Prime Minister Datuk Seri Najib Razak to promote this moderate image through his anti-extremist Global Movement of Moderates, the Allah row and incidents stemming from it show that this may not be the case anymore, Pakistan Today said.
The writer, Masood Khan, said for the rest of the Muslim world, Malaysia used to be an "island of peace and tolerance".
Full report at:
http://www.themalaysianinsider.com/malaysia/article/malaysia-no-longer-land-of-peace-and-tolerance-says-pakistan-website
------------
North America
US Congress secretly approves weapons flow to 'moderate' Syrian rebels
By REUTERS
Jan 28 2014
WASHINGTON - Light arms supplied by the United States are flowing to "moderate" Syrian rebel factions in the south of the country and US funding for months of further deliveries has been approved by Congress, according US and European security officials.
The weapons, most of which are moving to non-Islamist Syrian rebels via Jordan, include a variety of small arms, as well as some more powerful weapons, such as anti-tank rockets.
The deliveries do not include weapons such as shoulder-launched surface-to-air missiles, known as MANPADs, which could shoot down military or civilian aircraft, the officials said.
The weapons deliveries have been funded by the US Congress, in votes behind closed doors, through the end of government fiscal year 2014, which ends on Sept. 30, two officials said.
The apparently steady weapons flow contrasts with the situation last summer, when lethal US aid to the Syrian rebels dried up for a time due to congressional reservations.
Full report at:
http://www.jpost.com/Middle-East/US-Congress-secretly-approves-weapons-flow-to-moderate-Syrian-rebels-339558
------------
Muslim Best Buy Ad With 'Mustafa' Reflects Greater Acceptance In American Society
January 28th, 2014
(RNS) Viewers watching the American Football Conference championship game between the Denver Broncos and New England Patriots earlier this month may have seen a Best Buy commercial for a Sharp 60-inch television that seemed ordinary, but in one way was extraordinary.
The ad shows a young, clean-shaven salesman named Mustafa talking about the television, advising customers and relaxing at home watching movies and football with his friends.
"I'm never going to get these guys out of here," he jokes to his girlfriend at the end.
While the commercial never identifies Mustafa as a Muslim, many might assume that given his name, a diminutive for Muhammad. For viewers used to seeing negative images of Muslims on television, the commercial was a rare exception.
Full report at:
http://www.huffingtonpost.com/2014/01/27/muslim-best-buy-ad_n_4673840.html?utm_hp_ref=religion
------------
CAIR: How NSA Spying Impacts Muslim Communities and Cultivates Islamophobia
January 28th, 2014
In the second episode of our new podcast, Firedoglake's Kevin Gosztola and I speak with Gadeir Abbas, a staff attorney with the Council on American-Islamic Relations (CAIR), about the NSA surveillance as it relates to and impacts Muslim communities. This part really stood out and should leave you outraged:
The saddest thing I've ever heard as a CAIR staff attorney, and I hear lots of sad things, was when a young guy told me that when he goes to the mosque to pray, his mom warns him to be careful. And the mom warns him to be careful because there's an understanding based on experience that the mosque is likely filled with informants and infiltrators that are not there to make us any safer but there to extract information from innocent Americans by any means necessary.
That's right, for once a conversation about NSA spying that focuses, not on white dude bros, but its impact on marginalized communities. Gadeir also breaks down the roots of NSA spying, which was cultivated and justified through the vilification of Muslims.
Next, Kevin and I discuss several news items, including the brain-dead Texas woman kept on life support despite her and her families wishes because she's pregnant, a series of unfortunate Stand Your Ground cases in Florida and the NATO 3 trial being largely ignored by the mainstream media. We also ponder the likelihood of New York City Mayor Bill de Blasio offering to send the NYPD to attack Iran for Israel given his over-the-top masturbutory speech to AIPAC last week.
We're working on posting our episodes to iTunes. In the mean time, you can listen below or download the episode from SoundCloud.
------------
Working toward true partnership with Pakistan: Kerry
IANS | Jan 28, 2014
WASHINGTON: US secretary of State John Kerry said on Monday that he has been working toward a "true partnership" with Pakistan since taking office a year ago.
The top American envoy made the remarks as he reopened the US-Pakistan strategic dialogue at the State Department with Sartaj Aziz, the adviser to Pakistani Prime Minister Nawaz Sharif on national security and foreign affairs, Xinhua reported.
"We all know there've been occasional hiccups and challenges, but we really believe that there are fundamental interests that we need to unite around, and particularly in economic and security spheres," Kerry said.
Full report at:
http://timesofindia.indiatimes.com/world/us/Working-toward-true-partnership-with-Pakistan-Kerry/articleshow/29475740.cms
------------
Pentagon notifies Congress of possible F-16 upgrades for UAE
Reuters | Jan 28, 2014
WASHINGTON: The Pentagon has notified Congress of a possible sale of weapons and other equipment valued at $270 million that would be part of a larger, multibillion-dollar deal for 30 more F-16s that is still under discussion by Lockheed Martin Corp and the United Arab Emirates.
The Defense Security Cooperation Agency told lawmakers it had approved the sale of guns, navigational systems, night vision devices and other equipment as part of a "Block 61" version of the F-16s, if that deal is finalized.
Lockheed is continuing to negotiate with UAE about a direct commercial sale of the F-16s, but congressional approval is needed for some of the equipment that would go on the jets.
Full report at:
http://timesofindia.indiatimes.com/world/us/Pentagon-notifies-Congress-of-possible-F-16-upgrades-for-UAE/articleshow/29471881.cms
------------
India
India looking to further boost its Look Middle East policy
Sachin Parashar,TNN | Jan 28, 2014
NEW DELHI: Close on the heels of India's participation in Geneva II over Syria, India is looking to further boost what has come to be known as its Look Middle East policy.
Government sources said on Tuesday that as a part of that exercise foreign minister Salman Khurshid will travel soon to Morocco, Tunisia and Sudan.
The past few months have seen a series of visits to India by influential leaders from the region including those by the foreign ministers of Egypt and UAE and also the Secretary General of the Arab League. India says this has been indicative of its enhanced engagement with key Arab countries of the Middle East.
Full report at:
http://timesofindia.indiatimes.com/india/India-looking-to-further-boost-its-Look-Middle-East-policy/articleshow/29490646.cms
------------
Europe
Breivik Opposed Spencer, Fjordman, Exploited Counter Jihad for Nazi Goals
January 28th, 2014
Gates of Vienna has the full text of Breivik's letter and in it he states that his manifesto, as he calls it the "compendium" was carefully selected to damage the people he opposed, namely Fjordman, he doesn't mention Robert Spencer by name, but he is clearly included.
"The compendium was, among other things, of a calculated and quite cynical <<gateway-design>> (the 2+?+?=6-approach), created to strengthen the ethnocentrism wing in the contra-jihad movement, by pinning the whole thing on the anti-ethnocentrism wing," Breivik writes.
"The idea was to manipulate the MSM and others so that they would launch a witch-hunt and send their <<media-rape-squads>> against our opponents. It worked quite well," Breivik writes.
Full report at:
http://www.frontpagemag.com/2014/dgreenfield/breivik-opposed-spencer-fjordman-wilders-exploited-counterjihad-for-nazi-
------------
Former Dutch soldier trains jihadist recruits to fight Assad
January 28th, 2014
In the first case of its type, a former Dutch soldier has been discovered in a secret Syrian training camp preparing new jihadist recruits to fight, and most likely die, opposing the regime of President Bashar al-Assad.
The fighter, whose face was fully visible during an interview for the TV current affairs programme Nieuwsuur, was named only as "Yilmaz" – and said he had decided to leave the army in 2012 after watching the people of Syria die in their thousands without any international intervention.
"If the Netherlands had been willing to send its own troops to try to stop the slaughter, I would have been the first to volunteer and to fight alongside my former colleagues – but nobody has done anything and I cannot live that way."
Full report at:
http://www.irishtimes.com/news/world/europe/former-dutch-soldier-trains-jihadist-recruits-to-fight-assad-1.1669793
------------
Humanitarian support masks intense political tussle during Geneva-2 talks
ATUL ANEJA
Jan 28 2014
Syrian government troops dominate Homs — once a focal point of the conflict — but parts of the old city are still under the opposition's control.
The tussle over humanitarian assistance to the embattled city of Homs is masking the latent contest for political ascendancy between the opposition and the government during ongoing talks in Geneva.
Syrian government troops dominate Homs — once a focal point of the conflict — but parts of the old city are still under the opposition's control. Analysts say that the government apprehends that the humanitarian steps that are being proposed can be used by the opposition as cover for easing pressure on the besieged militants that are embedded among civilians in pockets inside the city.
Full report at:
http://www.thehindu.com/news/international/humanitarian-support-masks-intense-political-tussle-during-geneva2-talks/article5623619.ece
------------
Assad future blocks progress in Syria peace talks
Jan 28 2014
The gulf between the two sides was on full display at a turbulent morning session in which delegations from the opposition and the Syrian government faced off on the question of Mr. Assad's future.
The key issue of a transitional government to replace President Bashar Assad blocked any progress on Monday in Syrian peace talks, described by one delegate as "a dialogue of the deaf."
The chief U.N. mediator expressed frustration over inflammatory public remarks by the two sides as he sought to identify some less-contentious issues in hopes of achieving any progress at all at the bargaining table.
Full report at:
http://www.thehindu.com/news/international/assad-future-blocks-progress-in-syria-peace-talks/article5626946.ece
------------
Mideast
Turkish PM Erdoğan accuses Gülen movement of trying to 'steal national will'
Jan 28 2014
Prime Minister Recep Tayyip Erdoğan has slammed the Fethullah Gülen movement without directly giving a name, accusing the movement of "being hostile against its own country" and attempting "to steal the national will."
"Islam is no one's exclusive possession. Concepts such as serving and raising students are humanitarian concepts," Erdoğan said Jan. 28 during a ruling Justice and Development Party (AKP) group meeting.
The followers of Gülen, who lives in self-imposed exile in the United States, call themselves "Hizmet" (Service).
"Despite many of our sincere brothers, who have started with the love of service, the organization has preferred to be a tool for Turkey's enemies," Erdoğan said.
Full report at:
http://www.hurriyetdailynews.com/turkish-pm-erdogan-accuses-gulen-movement-of-trying-to-steal-national-will.aspx?pageID=238&nID=61665&NewsCatID=338
------------
Drugs, ammunition seized in operation in southeastern Turkey
Jan 28 2014
Security forces have seized 250 kilograms of drugs and ammunition in an operation backed by air support in the southeastern province of Diyarbakır.
The ammunition seized in the operation launched in the Lice district includes 138 Kalashnikov bullets, 37 Kanas bullets, and two Kanas clips.
Meanwhile, 60 people have been detained in the central Anatolian town Konya in a drug operation.
Anti-smuggling and Organized Crime Branch of the Konya Police Department reportedly began to follow suspects six months ago on charges of drug smuggling. After collecting evidence, a group of 600 police officers simultaneously raided some 70 residences in the morning hours of Jan. 28.
Full report at:
http://www.hurriyetdailynews.com/drugs-ammunition-seized-in-operation-in-southeastern-turkey.aspx?pageID=238&nID=61662&NewsCatID=341
------------
Abbas agreed to Jewish settlers in a future Palestinian state
Jan 28 2014
Labor leader Shelly Yacimovich claimed on Tuesday morning that she had discussed the possibility of Jewish settlers who did not wish to leave their West Bank communities, staying in a Palestinian state as citizens. Yacimovich stated on Israel Radio that Palestinian Authority President Mahmoud Abbas had accepted the proposal in a meeting between herself and Abbas in May, 2013.
Yacimovich was responding to strong opposition from right-wing parties in the government as well as certain elements on the Left to comments made by an official in Netanyahu's office that the prime minister believes the residents of Judea and Samaria should be allowed to remain in a Palestinian state.
Full report at:
http://www.jpost.com/Diplomacy-and-Politics/Yacimovich-Abbas-agreed-to-Jewish-settlers-in-a-future-Palestinian-state-339598
------------
Israel barrier threatens to split West Bank villages
Jan 28 2014
Israel's separation barrier could soon destroy the livelihoods and redraw the demographics of two Palestinian villages south of Jerusalem, locals say, should an imminent court ruling approve its planned route.
The barrier -- in parts an eight-metre-high (25-foot) concrete wall -- would cut through ancient irrigation systems relied upon by the West Bank village of Battir, separate residents of nearby Beit Jala from their olive groves and divide a local Christian community.
The Supreme Court rules on Wednesday whether to approve the defence ministry's planned route, after a flurry of petitions by locals and activists pleading to redirect it.
The ministry insists the barrier, whose construction began in 2002 during the bloody second Palestinian intifada (uprising) and which now snakes some 440 kilometres through the West Bank, is essential for Israeli security.
Full report at:
http://english.ahram.org.eg/NewsContent/2/8/92806/World/Region/Israel-barrier-threatens-to-split-West-Bank-villag.aspx
------------
URL: https://www.newageislam.com/islamic-world-news/new-age-islam-news-bureau/extremist-attacks-on-nigerian-church,-village-leave-99-dead/d/35483