New Age Islam News Bureau
20 May 2022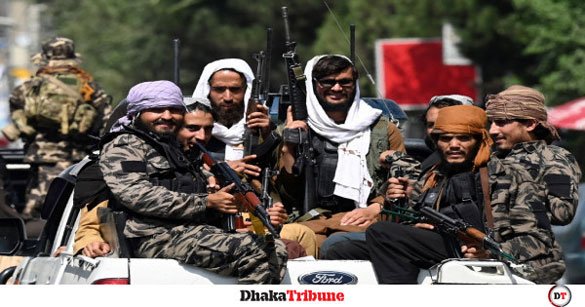 File photo: Taliban fighters patrol on vehicles along a street in Kabul on September 2, 2021 AFP
----
• "We Keep Naughty Women, Those Who Protested the Regime's Restrictions on Women Rights, At Home," Says Taliban Leader Sirajuddin Haqqani
• US Claims Taliban May Lose Restrictions on Al-Qaeda Over the Next 12 To 24 Months
• Cylindrical Structure Found In The Middle Of 'Wuzu' Pond Which Resembled A 'Shivlinga': Gyanvapi Mosque Survey Decoded
• Israeli Army Says It Will Not Open Criminal Probe into Journalist's Killing: Report
South Asia
• The Afghanistan Freedom Movement Group Claims Responsibility for Today's Explosion of Mazar-e-Sharif
• Tajik Military launches "anti-terrorism" Operations on Afghan Border
• Former National Security Advisor Apologizes for His Role in Afghanistan's Downfall
--------
North America
• US Reaffirms Commitment to Helping Saudi Arabia Defend Itself from External Threats
• US, Israeli defence chiefs discuss Iran, Ukraine war in Washington
• US defence secretary says he shares Saudi concerns over Iran's destabilizing activities in region
• Biden welcomes Finland, Sweden to join NATO, as Turkey balks
--------
India
• Country Will Be Ruined If Movement Begins To Save Gyanvapi Mosque, Shahi Idgah: Babri Case Plaintiff
• Krishna Janmabhoomi-Shahi Idgah case: Mathura court allows lawsuit seeking removal of mosque
• UP: Deoband clerics slam govt over halting grants to new madrasas
• Politics In The Name Of Religion, Threat To Democracy: Ashok Gehlot Slams Centre over Its Stand on Gyanvapi Mosque Case
• JD (U), BJP Lock Horn over Gyanvapi Mosque Row
• Telangana Congress leaders question KCR silence on Shah's vow to scrap Muslim quota
• Gyanvapi mosque case: Varanasi court fixes 23 May for next hearing
• Ahmedabad: PIL wants temple work at Pirana dargah halted
• Namazis allowed 2 drums of 1,000 litres of water for Wuzu
• Indonesia lifts palm oil curbs, relief in India
• Police arrest Muslim leader for Neemuch violence, recommends NSA
--------
Mideast
• Iran Sends Two Activists, Kevyan Samimi and Narges Mansouri Back To Jail: Reports
• AEOI Chief: Iran Gains Self-Sufficiency in N. Fuel Cycle
• Iran 'heavily disrupts' internet access after protest: HRW
• Jewish worshippers clash with police at pilgrimage site in Israel's Mount Meron
• Israeli Military Identifies Soldier's Rifle That May Have Killed Shireen Abu Akleh
• Turkey's opposition to NATO's Nordic enlargement fuels row ahead of June summit
• Iran Unveils Home-Made Simorq Airplane
--------
Pakistan
• Imran Khan Deliberately Isolated Pakistan: Jamiat-e-Ulema Islam-Fazl
• Pak's Relationship with India 'Particularly Complicated' By New Delhi's Decisions: Bilawal
• In US, Pak foreign minister Bilawal defends Imran Khan's controversial Moscow visit
• From cars to jams, Pak bans import of luxury items amid sinking economy
• TTP ceasefire month after release of 2 of its leaders on death row in Pakistan
• Pakistan condemns in 'strongest possible terms' Kashmiri leader Yasin Malik's conviction after 'sham trial'
• Defamation case registered against journalist Sami Ibrahim
• Fazlur Rehman seeks state institutions' support for nascent government
• Karachi blast suspect received orders from Iran-based commander, says Pakistan
--------
Southeast Asia
• Pope Invites Muslim Governor, Ridwan Kamil, From Indonesia to Vatican In Recognition Of His Efforts to Promote Interreligious Dialogue
• PM Calls On Malaysians to Condemn Zionist Atrocities against Palestine
• PKR man sees irony in Saifuddin's talk against race politics
• Be the change you want to see, Young Syefura tells those criticising DAP as Chinese chauvinists
--------
Arab World
• Lebanon's Emboldened Opposition Goes from Protest to Parliament
• Saudi Religious Moderation: The World's Foremost Publisher of Qur'ans Has Yet to Get the Message
• US Announces New Hezbollah-Related Sanctions on Lebanese Businessmen, Companies
• UAE President to send AED35 million humanitarian aid to Somalia
• US military review of civilian casualties in Syria flawed, claims Human Rights Watch
--------
Africa
• Jordan's King Restricts 'Delusional' Prince Hamzah's Movement, Communications
• Deborah Samuel: CPFN Calls for Open Preaching To Muslims against Taking Law Into Their Hands
• For the first time in half-a-century, Chad welcomes Israeli envoy
• Sudan arrests communist party figures as thousands protest coup
• Burkina Faso attacks leave 11 soldiers, 15 gunmen dead: Army
--------
Europe
• Swedish Journalist Says Turkiye Is Right To Oppose Stockholm's NATO Membership
• Italian premier to visit Turkiye in July for bilateral talks
• Germany arrests leading members of DHKP-C terror group
• Tajikistan detains 114 over clashes in troubled eastern region
• Sweden's approach towards 'protecting' terrorists
Compiled by New Age Islam News Bureau
URL: https://newageislam.com/islamic-world-news/exiled-afghan-warlords-national-resistance-taliban/d/127048
--------
Exiled Afghan Warlords And Exiled Politicians Form High Council Of National Resistance To Fight Taliban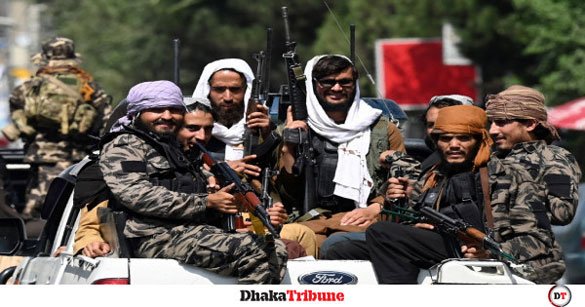 File photo: Taliban fighters patrol on vehicles along a street in Kabul on September 2, 2021 AFP
----
May 20, 2022
KABUL/GENEVA: Former Afghan warlords and exiled politicians announced the creation of a High Council of National Resistance against the Taliban on Thursday, calling on the Islamists to form a more inclusive government or risk civil war.
Since the Taliban surged back to power on the heels of a hasty withdrawal of US troops last year, there have been only limited and sporadic attempts to resist their rule.
But on Tuesday 40 political figures met in Ankara by invitation of former Afghan vice-president and warlord Abdul Rashid Dostum, who found refuge in Turkey after Kabul fell in August.
Participants said their council should pave the way for the "liberation" of Afghanistan, the group said in a statement on Thursday.
"We demand the Taliban end their destruction and set the table for talks to find solutions to the current problems of Afghanistan," they said.
The Islamists "should learn from the experiences of history that no group can have a stable government through acts of force and pressure", the council added.
Founding members of the council include former Balkh province governor Atta Mohammad Noor, leader of the Hazara community Mohammad Mohaqiq, and Ahmad Wali Massoud of the National Resistance Front (NRF), the main group currently waging an armed insurgency against the government. Long-time Taliban opponent and warlord Abdul Rab Rasul Sayyaf is also a signatory.
The council's aim is "to try to solve the problems of Afghanistan through talks", a spokesman for Dostum said. "The Taliban should accept that they can't run the government or rule alone", otherwise "Afgha­nistan will experience civil war once again", he said.
At the beginning of the week, the Taliban announced the creation of a commission that would contact politicians in exile.
Taliban officials have said they hope to convene an assembly of citizens, tribal leaders and religious heads to discuss the topic of "national unity".
However, after making promises for an inclusive government, the Islamists in September formed an executive comprised exclusively of Taliban members, and almost entirely from the ethnic Pashtun group.
The new rulers in Kabul are already facing attacks from the NRF led by Ahmad Massoud — son of late commander Ahmad Shah Massoud — who has stepped up assaults in his former Panjshir valley stronghold.
In its statement, the council said it considers armed resistance to the Taliban "legitimate".
UN slams closure of rights body
The United Nations on Thursday slammed the Taliban's closure of the Afghanistan Independent Human Rights Commission (AIHRC), calling it a "deeply retrograde step".
Since the Taliban seized power last August the hardline Islamists have closed several bodies that protected the freedoms of Afghans, including the electoral commission and the ministry for women's affairs.
UN human rights chief Michelle Bachelet said she was "dismayed" at the dissolution.
"The AIHRC performed extraordinary work in extremely difficult conditions over many years, shining a spotlight on the human rights of all Afghans, including victims on all sides of the conflict," she said in a statement.
"It has however, been unable to operate on the ground since August.
"The AIHRC has been a powerful voice for human rights and a trusted partner of UN Human Rights, and its loss will be a deeply retrograde step for all Afghans and Afghan civil society."
The work of the commission, which included documenting civilian casualties of Afghanistan's two-decade war, was halted when the Taliban ousted a US-backed government last year and the body's top officials fled the country.
Bachelet said that during her visit to Kabul in March, she discussed with the de facto authorities the importance of re-establishing an independent human rights mechanism that can receive public complaints and bring concerns to the authorities.
Source: Dawn
Please click the following URL to read the text of the original story:
https://www.dawn.com/news/1690489
--------
"We Keep Naughty Women, Those Who Protested the Regime's Restrictions on Women Rights, At Home," Says Taliban Leader Sirajuddin Haqqani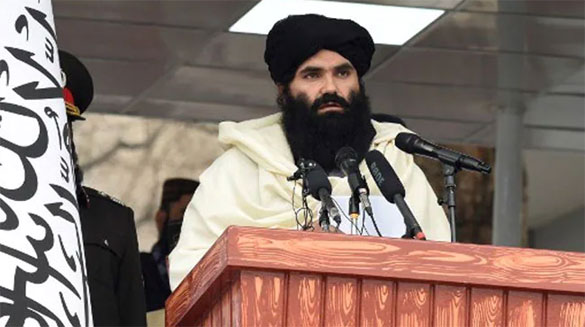 Taliban leader and Afghanistan's acting interior minister Sirajuddin Haqqani. (AFP File Photo)
-----
May 19, 2022
The Taliban have promised to "good news" on the return of girls to schools in the country. But those who protested the regime's restrictions on women rights should stay at home, the group's senior functionary has said.
"We keep naughty women at home," Afghanistan's acting interior minister Sirajuddin Haqqani said in an interview to CNN.
While Sirajuddin made the comments with a laugh, the Taliban leader did explain what he meant by the phrase. "By saying naughty women, it was a joke referring to those naughty women who are controlled by some other sides to bring the current government into question."
In the same interview on Monday, the Taliban's co-deputy leader had promised that girls will soon be allowed to study in schools.
He argued that girls could already go to primary school. "Above that grade, the work is continuing on a mechanism" to allow girls to attend secondary school, he said in his first televised interview.
"Very soon you will hear very good news about this issue," Haqqani added.
The "mechanism", according to Haqqani, was linked to school dress codes, explaining that education should be based on Afghan "culture" and "Islamic rules and principles".
In a recent decree, the Taliban regime banned female students above grade six from participating in their classes. The girls were further told to stay home until the Islamic Emirate announces its next decision.
Haqqani also said that the Taliban regime is seeking "good relations with the US and the international community."
Responding to a question on whether his outfit still considers US as the enemy, said that they do not "look at them (US) as enemies" and are committed to the Doha agreement, and want relations with the US based on principles and diplomatic norms, according to Tolo News.
Taliban seized control of Afghanistan after the withdrawal of American forces in August last year.
Source: ND TV
Please click the following URL to read the text of the original story:
https://www.ndtv.com/world-news/taliban-leader-sirajuddin-haqqani-says-we-keep-naughty-women-at-home-2989894
--------
US Claims Taliban May Lose Restrictions On Al-Qaeda Over The Next 12 To 24 Months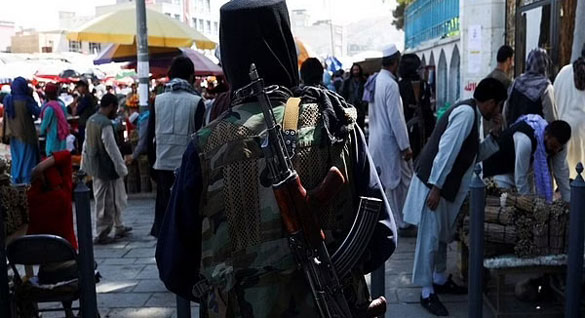 Representative Image/ The Print
----
20 May, 2022
Kabul [Afghanistan], May 20 (ANI): The US Central Command (CENTCOM) assessed that the Taliban may lose its restriction on the Al-Qaeda over the next 12 to 24 months and will allow them the greater freedom of movement and the 'ability to train, travel, and potentially re-establish an external operations capability'.
"The DoS (Department of State) assessed that the Taliban has taken steps to implement many of its counterterrorism commitments in the 2020 Doha Agreement with the US Government regarding al-Qaeda and other groups, though continued monitoring and engagement will remain essential. However, USCENTCOM assessed that the Taliban will likely loosen these restrictions over the next 12 to 24 months, allowing al-Qaeda greater freedom of movement and the ability to train, travel, and potentially re-establish an external operations capability," Tolo News reported citing Lead Inspector General Report.
According to the report, the Daesh is the top terrorist threat in Afghanistan with around 2,000 members operating in the country and some analysts said that some of the organizations are inflating the issues in Afghanistan.
"The reports of the officials and some American organizations in this regard are most likely based on political issues, they either overemphasize or downplay the issue but the truth is as long as these groups are present on Afghan soil and are active here and being supported, it is dangerous for Afghanistan and they should be considered an imminent threat," Asadullah Nadeem, a military veteran said.
However, the current Afghan government denied the presence of terrorist groups in their country.
"There are no movements, no forces in our country which can plan attacks against others. The Islamic Emirate, based on its policy, doesn't allow anyone to use the Afghan soil against others," Bilal Karimi, Deputy Spokesman for the Islamic Emirate was quoted as saying by Tolo News. (ANI)
Source: The Print
Please click the following URL to read the text of the original story:
https://theprint.in/world/us-claims-taliban-may-loose-restrictions-on-al-qaeda/963346/
--------
Cylindrical Structure Found In The Middle Of 'Wuzu' Pond Which Resembled A 'Shivlinga': Gyanvapi Mosque Survey Decoded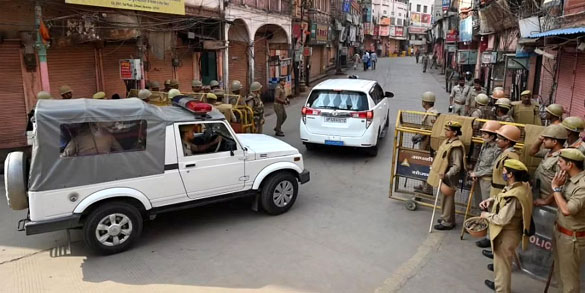 Security personnel stand guard as officials move towards Gyanvapi Masjid complex. (Photo | PTI)
-----
19th May 2022
By Namita Bajpai
LUCKNOW: The report of the survey conducted on Gyanvapi mosque premises on May 14-16 reportedly makes a mention of a 'cylindrical structure of black stone' found in the middle of 'Wuzu' (ablution) pond which resembled a 'Shivlinga'.
The court had appointed commission to conduct the survey on mosque premises while hearing case no. 693/2021, Rakhi Singh vs UP government, where the plaintiff had sought permission for daily worship of Maa Shringar Gauri situated on mosque premises.
As per the highly placed sources, the court commission has reportedly made a clear mention of the survey report about the 'structure' of black stone found in well-like structure in the centre of Wuzu pond of Gyanvapi mosque and it looks like a Shivlinga.
The other details about the cylindrical structure in the report say that as soon as it became visible to the survey commission, the plaintiffs and their lawyers started claiming it as 'Shivlinga' while the mosque authorities termed it as a fountain which has been lying defunct for 12 -20 years.
As per the sources, the report mentions that the mosque staff failed to give a definite time period for which the fountain was lying defunct. Initially, they claimed that it was not working for the last 20 years but then came down to 12 years.
Even there has reportedly been a mention of how the mosque staff failed to make it operational when asked to do so, said the sources adding that a white layer was found on the top of the cylindrical structure.
The sources also claimed that reported talked about a layer -- half an inch thick – and a thin hole of 63 cm depth was noticed at the centre of the cylindrical structure.
The report also mentions that despite search, no arrangement for attaching water supply pipe to operate the fountain was found therein.
The sources also claimed measurement of cylindrical structure -- 2.5 ft in height and 4 ft of radius at the base—was also mentioned in the report which stated that the white layer of 9 inch radius (which was divided in five parts) was fixed from outside at the top of the structure.
The sources also claimed that as per the report, when the layers of moss deposited over cylindrical structure were removed, the colour of stone was found as black and it looked was like a 'Shivlinga'.
The report also reportedly contains the ground-plan, zig-zag cuts inside domes of mosque and the main mandaps which matched the map of ground plan of Aadi Visheshwar temple as printed in a number of books, said the sources.
More specific details of structures and carvings have also been reportedly mentioned in the report. During the survey, a 'swastik' was found on inner wall near the south pole of the main dome.
Symbols of three 'damroos' were reportedly spotted at the main gate of the mosque.
In the north-west direction, a 15 ft x15 ft basement was spotted and it was reportedly covered with debris. The stones lying in the debris had images resembling the architecture of north Indian temples.
The sources also claimed that the survey report referred to a three ft deep pond having 30 taps all around it. At a distance of 8 ft 3 inch from the pond, an idol resembling 'Nandi' was reportedly spotted by the surveyors.
Moreover, the images of trishul, snake, bells, betel leaves, elephants, bases for keeping idols of deities were also reportedly found during the survey as the report mentioned, said the sources.
Meanwhile, the report submitted by sacked advocate commissioner Ajay Kuamr Mishra of the videography survey conducted by him on May 6 and 7 also mentioned that many signs resembling architecture of north Indian temples like lotus, snakes and idols were reportedly evident on western wall of the Gyanvapi mosque.
Source: New Indian Express
Please click the following URL to read the text of the original story:
https://www.newindianexpress.com/nation/2022/may/19/cylindrical-structure-swastik-trishul-gyanvapi-mosque-survey-decoded-2455587.html
--------
Israeli army says it will not open criminal probe into journalist's killing: Report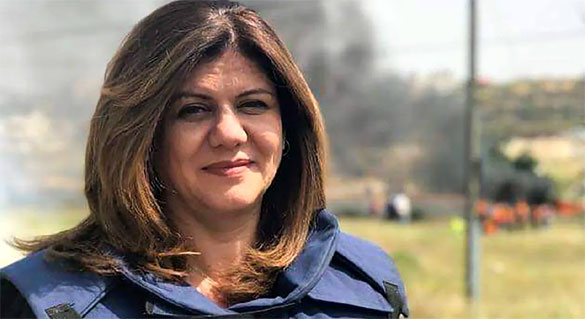 Shireen Abu Akleh was shot in the head while reporting on an Israeli raid in the West Bank city of Jenin last week CREDIT: Al Jazeera Handout/EPA-EFE/Shutterstock
----
Yousef Ibrahim and Awad al-Rujoub
19.05.2022
RAMALLAH, Palestine
The Israeli army on Thursday said it will not open a criminal investigation into the killing of Al Jazeera journalist Shireen Abu Akleh.
"There was no need to open a Military Police investigation at this stage," the Jerusalem Post quoted an Israeli military statement as saying.
The statement cited "no real suspicion of a criminal act" in Abu Akleh's killing, adding that the army's interim investigation could not determine whether she was killed by Israeli or Palestinian gunfire.
On May 11, Abu Akleh, 51, was covering an Israeli military raid near the Jenin refugee camp in the occupied West Bank when she was shot dead. Palestinian officials and her employer, Al Jazeera, said she was killed by Israeli forces.
The Palestinian Foreign Ministry slammed the decision, and held Israel fully responsible for the killing.
Many governments, rights groups, and press bodies have sought a transparent probe into the veteran Palestinian journalist's killing.
Source: Anadolu Agency
Please click the following URL to read the text of the original story:
https://www.aa.com.tr/en/middle-east/israeli-army-says-it-will-not-open-criminal-probe-into-journalists-killing-report/2592679
--------
South Asia
The Afghanistan Freedom Movement Group Claims Responsibility for Today's Explosion of Mazar-e-Sharif
By Saqalain Eqbal
20 May 2022
Tahreek-e-Azadi Afghanistan (Afghanistan Freedom Movement) claimed responsibility for an attack on the 209th AlFath Taliban Corps convoy in Mazar-e-Sharif, Balkh province.
An explosion occurred this morning, Thursday, May 19, in Mazar-e-Sharif Sharif's 5th district, and it is believed that the target of the explosion was a Taliban army convoy, leaving three people wounded.
Mohammad Asif Waziri, a spokesman for the Taliban police office in Balkh province, reported hours later that a vehicle carrying civilian personnel of the 209th AlFath Corps had been attacked, injuring three people. The injured were then taken to the corps hospital.
However, according to Khalid Pasoon, a spokesman for the Tahreek-e-Azadi Afghanistan, at least ten people were killed and twelve were injured in the incident.
He described the attack as the result of a magnetic mine explosion.
He further said that the blast completely destroyed a truck transporting Taliban forces.
Pictures of the mini-bus carrying Taliban forces were also released on social media after the explosion, and the picture shows the vehicle being completely destroyed.
Source: Khaama Press
Please click the following URL to read the full text of the original story:
https://www.khaama.com/the-afghanistan-freedom-movement-group-claims-responsibility-for-todays-explosion-of-mazar-e-sharif46382/
--------
Tajik Military launches "anti-terrorism" Operations on Afghan Border
By Saqalain Eqbal
19 May 2022
Tajikistan's Interior Ministry has announced the commencement of "anti-terrorist" military operations on the Border with Afghanistan and China to combat terrorism.
Reuters also reported on Wednesday, May 18th, that the operation was launched in Gorno-Badakhshan region near the Tajik border with Afghanistan and China.
Several days of protests in Tajikistan's Badakhshan province preceded the operation. The demonstrators claim that the governor and mayor of Badakhshan failed to appropriately prosecute the death of a civil activist in police custody, and that they should resign as a result.
Several protestors were hurt in conflicts between police and protesters, according to eyewitnesses. The Tajik Interior Ministry said on Tuesday that one protester was killed and three police officers were injured during the protests.
Tajikistan's Interior Ministry has alleged that the protests in Badakhshan region are being organized by "international terrorist groups" that provide firearms and ammunition to Tajik demonstrators and their representatives in order for them to "carry out terrorist acts."
Protesters, on the other hand, claim that their actions are nonviolent and protected by the law.
Source: Khaama Press
Please click the following URL to read the full text of the original story:
https://www.khaama.com/tajik-military-launches-anti-terrorism-operations-on-afghan-border75831/
--------
Former National Security Advisor Apologizes for His Role in Afghanistan's Downfall
By Saqalain Eqbal
20 May 2022
Hamdullah Mohib, the National Security Advisor to former president Ashraf Ghani Ahmadzai, has publicly apologized for his role that contributed to the fall of the country to the insurgent group of the Taliban.
Admitting his failures, Mohib in an interview with BBC World has stated that "anything related to [his] failures, [he] takes full responsibility for and apologize[s] for it".
Previously, he was invited to speak about the current situation in Afghanistan, in the prestigious Oxford Union.
At the Oxford Union, he held the media responsible for the collapse of Afghanistan, while dozens of Afghans protested in front of the Oxford Union, blaming him for the fall of the previous government.
Prior to the event at the Oxford Union, thousands of students and university faculty members had signed an online petition to the Oxford Union, requesting the cancellation of Mohib's speech.
While expressing his regrets, Mohib encouraged those involved in the fall of the country "to come forward and explain the situation". "We owe it to the Afghan people, … history, … to the partnership and sacrifices that we have made," he added.
Mohib stated that people should "learn" from this experience to offer better future to the Afghan nation.
Source: Khaama Press
Please click the following URL to read the full text of the original story:
https://www.khaama.com/former-national-security-advisor-apologizes-for-his-role-in-afghanistans-downfall46382/
--------
North America
US reaffirms commitment to helping Saudi Arabia defend itself from external threats
19 May ,2022
The US has reaffirmed its commitment to helping Saudi Arabia defend itself from external threats, the Pentagon said Thursday.
The Pentagon statement was released after the US-Saudi Strategic Joint Planning Committee met this week in Washington.
Under Secretary of Defense for Policy Colin Kahl led the US delegation, while Deputy Minister of Defense Prince Khalid Bin Salman led the Saudi delegation.
Kahl and Prince Khalid reaffirmed the strength of the US-Saudi defense partnership, the Pentagon said. "Dr. Kahl affirmed the Kingdom of Saudi Arabia as a strategic partner of the United States and underscored US commitment to supporting the Kingdom in defending itself against external threats."
The two officials also spoke about the US approach to China "as its pacing challenge." They also touched on the war in Yemen, maritime threats, and violent extremist organizations.
Iran's destabilizing actions in the region were also a topic of discussion. The pair agreed to increase cooperation and work to counter the smuggling of illicit weapons to violent non-state groups in the Middle East.
The Pentagon said Kahl praised the transformation process at Saudi Arabia's Ministry of Defense, "a top priority for Saudi Arabia and for the United States."
Source: Al Arabiya
Please click the following URL to read the full text of the original story:
https://english.alarabiya.net/News/gulf/2022/05/19/US-reaffirms-commitment-to-helping-Saudi-Arabia-defend-itself-from-external-threats
--------
US, Israeli defence chiefs discuss Iran, Ukraine war in Washington
Servet Günerigök
19.05.2022
WASHINGTON
US Defense Secretary Lloyd Austin discussed a range of issues Thursday with his Israeli counterpart Benny Gantz, including Iran, the war in Ukraine and tensions between Israel and Palestine.
"The Secretary reiterated the United States' ironclad commitment to Israel's security and to maintaining Israel's qualitative military edge," the Pentagon said in a statement about the meeting in Washington.
"The two leaders discussed the Administration's commitment to preventing Iran from obtaining a nuclear weapon and addressing Iran's destabilizing actions throughout the region. Secretary Austin also emphasized the Department's focus on working closely with Allies and partners to help Ukraine defend itself in the face of Russia's unprovoked and unjust aggression," it said.
Austin praised Gantz for "Israel's deepening relationships with countries across the region and the increasing opportunities for military-to-military cooperation enabled by Israel's transition into the U.S. Central Command Area of Responsibility," it added.
The two defense chiefs also discussed tensions between Israel and Palestine. Austin "underscored the importance of de-escalating tensions and protecting civilians in Jerusalem and the West Bank," said the statement.
Source: Anadolu Agency
Please click the following URL to read the full text of the original story:
https://www.aa.com.tr/en/americas/us-israeli-defense-chiefs-discuss-iran-ukraine-war-in-washington/2592683
--------
US defence secretary says he shares Saudi concerns over Iran's destabilizing activities in region
May 19, 2022
RIYADH: US Secretary of Defense Lloyd Austin said he shares Saudi Arabia's concerns over Iran's destabilizing activities in the region on Thursday.
In a tweet, Austin added that he welcomed the Kingdom's constructive efforts in advancing the current truce in Yemen which came into effect on April 2. He said the truce should be extended.
Saudi Deputy Defense Minister Prince Khalid bin Salman earlier met with the defense secretary during his visit to Washington for the US-Saudi Strategic Joint Planning Committee.
The officials reviewed the Saudi-US partnership, and ongoing and future strategic military and defense cooperation between the two countries.
Source: Arab News
Please click the following URL to read the full text of the original story:
https://www.arabnews.com/node/2085736/saudi-arabia
--------
Biden welcomes Finland, Sweden to join NATO, as Turkey balks
19 May ,2022
US President Joe Biden met the leaders of Sweden and Finland on Thursday to advance their applications to join the NATO military alliance, as Turkey repeated its opposition to the move.
Biden, who has lauded cooperation between Europe and the US in standing up to Moscow during a Russian invasion of Ukraine, stood with Swedish Prime Minister Magdalena Andersson and Finnish President Sauli Niinistö in a sunny White House Rose Garden bedecked with flags.
He cheered the "momentous" day, giving his strong support for the two great democracies" to "join the strongest most powerful defensive alliance in the history of the world."
"They meet every NATO requirement and then some," Biden said, adding he is submitting paperwork today to the US Congress "for speedy approval once NATO approves their accession."
Turkey has expressed strong opposition to including Finland and Sweden in the alliance, asking Sweden to halt support for Kurdish militants it considers to be part of a terrorist group and both to lift their bans on some sales of arms to Turkey.
All 30 NATO members need to approve any new entrant. Turkish President Recep Tayyip Erdogan said in a video posted on his Twitter account on Thursday that Turkey had told allies that it will reject Sweden and Finland's membership.
Source: Al Arabiya
Please click the following URL to read the full text of the original story:
https://english.alarabiya.net/News/world/2022/05/19/Biden-welcomes-Finland-Sweden-to-join-NATO-as-Turkey-balks
--------
India
Country Will Be Ruined If Movement Begins To Save Gyanvapi Mosque, Shahi Idgah: Babri Case Plaintiff
19 MAY 2022
Main plaintiff in the Ram Janmabhoomi-Babri Masjid case Haji Mahboob has claimed that the country will be ruined if Muslims begin a movement to save the Gyanvapi mosque in Varanasi and the Shahi Idgah in Mathura. He alleged that after the Babri mosque, the Rashtriya Swayamsevak Sangh (RSS) is now conspiring to take away the Gyanvapi mosque and the Shahi Idgah.
"They should forget about taking away the two mosques forcibly as there will be a big movement to save the Gyanvapi mosque and the Idgah in Mathura, and Muslims will not back down this time," Mahboob said. "Gyanvapi Masjid will remain where it is. A propaganda is being created that a Shivling has been found. It is indeed a fountain in the mosque's wazookhana," he said.
Talking about the Babri mosque verdict, Mahboob said, "The Supreme Court in its Ayodhya verdict, even after accepting every thing in favour of Babri Masjid, awarded the decree in favour of Ram Mandir. We remained silent and allowed the Ayodhya issue to get resolved," he added.
Source: Outlook India
Please click the following URL to read the full text of the original story:
https://www.outlookindia.com/national/country-will-be-ruined-if-movement-begins-to-save-gyanvapi-mosque-shahi-idgah-babri-case-plaintiff-news-197562
--------
Krishna Janmabhoomi-Shahi Idgah case: Mathura court allows lawsuit seeking removal of mosque
May 19, 2022
NEW DELHI: A district court in Mathura on Thursday accepted a petition demanding the removal of Shahi Idgah masjid from the Krishna Janmabhoomi land. The petition claims that the masjid has been built on the land belonging to the Keshav Dev temple, the birthplace of Lord Krishna.
Lawyer Hari Shankar Jain said the court has accepted one of the multiple pleas on the matter.
The petitioners in the case are also seeking ownership of 13.37 acres of land of Shri Krishna Janmabhoomi besides the removal of Shahi Idgah mosque built on it.
They have requested the court to hand over the entire land to the de-facto owner, Lord Shri Krishna Virajman.
Source: Times Of India
Please click the following URL to read the full text of the original story:
https://timesofindia.indiatimes.com/india/krishna-janmabhoomi-shahi-idgah-case-mathura-court-allows-lawsuit-seeking-removal-of-mosque/articleshow/91659411.cms
--------
UP: Deoband clerics slam govt over halting grants to new madrasas
20th May 2022
Saharanpur: 'Ulemas' (body of Muslim scholars) at Deoband, which is home to one of the largest Islamic seminaries in the country, have questioned Uttar Pradesh government's recent decision of not giving grants to new madrasas in the state.
Maulana Qari Ishaq Gora, patron of Jamiat Dewat-ul Muslameen, an organisation involved in religious teachings, said, "The government must make it clear why it has taken this decision."
Gora asked if the government did not have the budget or if such a decision only applied to madrasas.
Another Deoband-based cleric, Maulana Asad Qasmi, said, "Now, the government has decided that new madrasas will not get grants, but the reason for this decision has not been given."
He added that the government should build schools and colleges in Muslim-dominated areas.
He also said nearly 75 per cent of Muslim children study in schools and 25 per cent in madrasas for which Muslim community gives donations.
"We don't need government grants but this decision reflects their thinking," Qasmi added.
According to government data, of the 16,461 madrasas in the state, only 558 received the grants.
Source: Siasat Daily
Please click the following URL to read the full text of the original story:
https://www.siasat.com/up-deoband-clerics-slam-govt-over-halting-grants-to-new-madrasas-2330716/
--------
Politics in the name of religion, threat to democracy: Ashok Gehlot slams Centre over its stand on Gyanvapi mosque case
19 May, 2022
Jaipur (Rajasthan) [India], May 19 (ANI): After the Supreme Court adjourned the hearing in the Gyanvapi mosque case till Friday, Rajasthan Chief Minister Ashok Gehlot slammed the Centre for 'doing politics in the name of religion' and posing a 'threat to democracy'.
Addressing the reporters here on Thursday, Gehlot said, "Where is the country heading? The Centre is doing politics in the name of religion. This is posing a threat to democracy."
"Common people have to realise that they are being misled in the name of religion. This is not in favour of public interest," Gehlot said.
After the Supreme Court adjourned the hearing in the Gyanvapi mosque case till Friday, the Varanasi court too has posted the matter to May 23 for the next hearing. Deferring the hearing till Friday, the apex court on Thursday asked the lower court, before which the proceedings are pending, not to take any further action in the case till then.
The decision came after the SC was informed that Senior Advocate Hari Shankar Jain, who is representing the Hindu side before the Varanasi court and was indisposed on the last date of hearing, had been discharged from hospital only Wednesday.
Source: The Print
Please click the following URL to read the full text of the original story:
https://theprint.in/politics/politics-in-the-name-of-religion-threat-to-democracy-ashok-gehlot-slams-centre-over-its-stand-on-gyanvapi-mosque-case/963242/
--------
JD (U), BJP lock horn over Gyanvapi mosque row
May 20, 2022
PATNA: NDA allies in Bihar, BJP and JD(U), locked horns on Thursday over the ongoing Gyanvapi mosque controversy with their leaders taking different stands on the vexed issue.
Minority welfare minister Jama Khan from JD(U) insisted that nothing should be done to disrupt the prevailing sense of "bhaichara" (brotherhood) and harmony between communities. However, deputy CM Renu Devi, who represents BJP in the Nitish Kumar government, emphasised — without mentioning the purported 'shivling' found in the ablution pond of Gyanvapi — that there was need to restore the lost "samskara" (traditions).
"Nothing should be done to disrupt brotherhood and harmony. This is my position, and this is also the stand of my party JD(U)," Khan said, adding, "I keep saying that any book or granth related to faith can be ignored if one does not offer namaz or does not do puja. But if the 'bhaichara' and harmony is disrupted, no such book or granth will pardon anyone."
Source: Times Of India
Please click the following URL to read the full text of the original story:
https://timesofindia.indiatimes.com/india/jdu-bjp-lock-horn-over-gyanvapi-mosque-row/articleshow/91675262.cms
--------
Telangana Congress leaders question KCR silence on Shah's vow to scrap Muslim quota
by Sreenivas Janyala
May 19, 2022
Telangana Congress leaders are questioning Chief Minister K Chandrashekhar Rao's silence on Union Home Minister Amit Shah's statement that the Muslim quota will be scrapped if the BJP comes to power in the state.
"CM KCR has reacted on almost every issue, including paddy procurement, during the review meeting he held on Wednesday. But he did not speak a single word on the four per cent Muslim quota that Amit Shah has threatened to quash. Why is he silent on this crucial issue concerning nearly 14 per cent of the state's population? Is he afraid of countering Amit Shah or should we take his silence as consent to the BJP leader's demand? said Mohammed Ali Shabbir, a former minister and former leader of the Opposition in the Legislative Council, on Thursday.
Syed Nizamuddin and Mateen Shareef, two other Congress leaders, also raised the same question.
Addressing a public meeting at Tukkuguda on the outskirts of Hyderabad on May 14, the last day of party state chief Bandi Sanjay Kumar's Praja Sangram Yatra, Shah said the BJP was not in favour of religion-based reservation and would remove the Muslim quota if it formed the next government in Telangana.
Stating that the Muslim quota was eating into the reservation meant for other marginalised communities, Shah said a BJP government would extend the benefits to Scheduled Castes, Scheduled Tribes and Other Backward Classes. At present, out of the 50 per cent reservation in the state, 25 per cent is for Backward Classes, 15 per cent for SCs, six per cent for STs and four per cent for Muslims.
Shabbir said that KCR came to power in the 2014 elections on the promise of giving 12 per cent reservation in jobs and education to Muslims within four months. However, this promise remains unimplemented even after eight years, he said.
"While CM KCR and other TRS leaders have stopped talking about the 12 per cent Muslim quota, they seem to have joined a conspiracy to end the 4 per cent Muslim reservation. If we look at the chronology, the TRS government denied representation to Muslims in important bodies like the Telangana State Public Service Commission, vice-chancellors of universities, etc. It stopped the fee reimbursement, which led to the closure of over 70 per cent of minority-run engineering and other professional colleges. Denial or delay in the release of scholarships forced lakhs of minority students to discontinue their higher studies. Now the TRS-BJP seems to have hatched a conspiracy to end the four per cent Muslim quota," he said.
"Even five days after Union Home Minister Amit Shah threatened to end the Muslim quota, CM KCR has not reacted to the statement. "KCR's silence for so long has sent a clear message that the TRS government would not defend the four per cent Muslim quota," he said while reminding that it was a Congress government that implemented the Muslim reservation in 2004-05 and fought a long legal battle to protect it. The four per cent Muslim quota, still in force in Telangana and Andhra Pradesh thanks to a Supreme Court order issued in March 2010, has benefited nearly 20 lakh socially and economically backward Muslims categorised as BC-E, he added.
Shabbir demanded that KCR clarify his stand on the continuance of the four per cent reservation. He feared the TRS government might not fight the case in the Supreme Court to continue the quota. However, he said the Congress would never allow the TRS and BJP to sabotage the Muslim quota under any circumstances.
Source: Indian Express
Please click the following URL to read the full text of the original story:
https://indianexpress.com/article/india/political-pulse/telangana-congress-leaders-question-kcr-silence-amit-shah-muslim-quota-7926501/
--------
Gyanvapi mosque case: Varanasi court fixes 23 May for next hearing
May 19, 2022
Varanasi: A Varanasi court hearing the Gyanvapi-Shringar Gauri case on Thursday posted the matter to May 23 for the next hearing.
Both the parties filed their objections and counter-objections on Thursday. In view of the Supreme Court's order to the lower court not to proceed with the matter till Friday, it fixed May 23 for the next hearing, Madan Mohan Yadav, the lawyer representing the Hindu side, said.
Abhay Yadav, the lawyer appearing for the Muslim side, said the plaintiff had demanded the court-appointed team to carry on with its proceedings by demolishing certain walls, "to which we have objected".
"Also, a government counsel had demanded the removal of fish from a man-made pond located on the premises of the mosque. These fish are ours and we have raised our objection to this petition as well," he said.
The two petitions filed in the Gyanvapi case were to be heard on Wednesday, but due to a lawyers' strike over the remarks of a special secretary-level official, the hearings could not be held.
The strike call was given by the Banaras Bar Association and the Central Bar Association and the hearing was scheduled on the same on Thursday.
On Tuesday, Rekha Pathak, Manju Vyas and Sita Sahu had filed an application in the court, stating that there is a basement to the east of the spot where a "Shivling" was claimed to have been found. The basement has been sealed with brick, stone and cement, they said.
Besides, there is also a wall and a basement in front of an idol of Nandi in the Kashi Vishwanath temple, and this basement has also been blocked with brick, stone, sand and other items, they said.
They had also asked for orders to the court-appointed team to report the length, width and height of the "Shivling", besides to open the door of the west wall, which is covered with debris inside the barricading, and to carry out its work there.
Accepting the application, the court had said it would hear the matter on Wednesday.
Source: Firstpost
Please click the following URL to read the full text of the original story:
https://www.firstpost.com/india/gyanvapi-mosque-case-varanasi-court-fixes-23-may-for-next-hearing-10695151.html
--------
Ahmedabad: PIL wants temple work at Pirana dargah halted
May 20, 2022
AHMEDABAD: A Muslim organization has filed a PIL in the Gujarat high court complaining that a new temple is being constructed on the premises of Imamshah Bawa Dargah at Pirana village on the outskirts of Ahmedabad. The petitioner has invoked the Places of Worship Act, 1991.
Last week, Muslim trustees of the Imamshah Bawa Roza Sansthan, the petitioner in the present case, the Sunni Awami Forum, and the Imamshahi Sadat Committee requested the district collector and superintendent of police to immediately intervene and stop the construction of a temple on the dargah premises.
They submitted, "Under the guise of renovation permission granted by the district collector on June 4, 2021, for the Imamshah Bawa Dargah at Pirana village, the dargah trust and a few miscreants are trying to convert the Muslim shrine into a temple."
They claimed that the construction violates the permission granted by the authorities. They demanded videography of the complex to assess the situation and the appointment of a commission to draw up a panchnama to get the current situation on record. They also complained that it has been becoming difficult for devotees to visit and pray at the dargah, as they are being provoked by chanting of slogans.
As the authorities did not respond to the representation, the Sunni Awami Forum filed a PIL seeking directions to stop the temple construction and not disturb the present situation of the dargah complex. The petitioner invoked the Places of Worship Act, which has been invoked by Muslims in courts in cases pertaining to the Gyanvapi Masjid in Varanasi, the Shahi Idgah Masjid in Mathura and the Quwat-e-Islam Masjid in Delhi.
The petitioner on Thursday requested the HC for an early hearing, but the court was not inclined to allow so for a public interest litigation. The history of the Pirana shrine has been an exemplar of communal harmony, with a large section of Imamshah Bawa devotees belonging to Hindu communities called Satsangi.
Source: Times Of India
Please click the following URL to read the full text of the original story:
https://timesofindia.indiatimes.com/city/ahmedabad/ahmedabad-pil-wants-temple-work-at-pirana-dargah-halted/articleshow/91675626.cms
--------
Namazis allowed 2 drums of 1,000 litres of water for wuzu
May 20, 2022
VARANASI: On the eve of Friday namaz, the district administration held a meeting with the authorities of Gyanvapi mosque management committee — Anjuman Intejamia Masajid — on Thursday and made it clear that they were equally responsible for the security of sealed wuzu pond as the Supreme Court had issued order to restrict entry of anyone to the place where shivling was found, in their own petition.
District magistrate Kaushal Raj Sharma said that apart from holding meeting with mosque management authorities, a notice has also been issued to them. "They have been directed to ensure that no one tampers the seals on nine doors of the pond and no provocative act takes place there during Friday namaj," he said.
Source: Times Of India
Please click the following URL to read the full text of the original story:
https://timesofindia.indiatimes.com/city/varanasi/namazis-allowed-2-drums-of-1000-litres-of-water-for-wuzu/articleshow/91675333.cms
--------
Indonesia lifts palm oil curbs, relief in India
May 20, 2022
NEW DELHI: Indonesia on Thursday announced its decision to lift the oil export ban on palm oil from May 23, a move which comes as a huge relief for India which is battling the steepest inflation in nearly eight years.
Indonesian President Joko Widodo announced the decision to lift the ban bringing much needed relief for users of palm oil across the world. The ban had added to the inflationary pressures as prices of edible oils soured hit by the twin impact of the export ban and the war in Ukraine which has hit sunflower oil supplies. Industry players said the move is expected to calm edible prices and streamline supplies. The impact of the decision was already visible with retail prices climbing down a tad.
B V Mehta, executive director of Solvent Extractors' Association (SEA), said, "The lifting of ban on export of palm oil by Indonesia will ease the supplies and soften the domestic prices. Since the announcement on Thursday, the retail prices have reduced by Rs 2/kg." Soaring edible oil prices have contributed significantly to stubborn price pressures.
India imports around 6 lakh tonnes of palm oil every month and nearly 50% of this comes from Indonesia.
Palm oil accounts for nearly 38% of the total consumption of edible oils in India and palm oil is more popular in the hospitality, restaurants and catering segment. Any change in prices of palm oil impacts prices of all other edible oils.
Source: Times Of India
Please click the following URL to read the full text of the original story:
https://timesofindia.indiatimes.com/india/indonesia-lifts-palm-oil-curbs-relief-in-india/articleshow/91675200.cms
--------
Police arrest Muslim leader for Neemuch violence, recommends NSA
May 19, 2022
BHOPAL/ NEEMUCH: Days after Neemuch town in Madhya Pradesh erupted in violence following an attempt by Hindu organisations to install an idol near a Muslim shrine, the state police on Thursday arrested the head of the town's Muslim Intejamia Committee and recommended that district collector Mayank Agrawal invoke the stringent National Security Act (NSA) against him for his alleged provocative speeches.
On Sunday, Hindu organisations attempted to install an idol of Lord Hanuman near a Muslim shrine in Neemuch's Purani Kacheri area, leading to stone pelting and arson by a mob. The administration seized the idol on Tuesday.
Ghulam Rasool Pathan, head of Muslim Intejamia Committee, was arrested on Thursday, two days after chief minister Shivraj Singh Chouhan directed the district officials to take strict action against those who were trying to create tension, and to resolve the matter swiftly.
"I have been receiving information regarding a few people who are misguiding youngsters to create tension. The administration should take strict action against them," the CM had told district officials at the review meeting.
After his arrest, Pathan supported staged protests at the district collector's office, and police had to resort to force to disperse the crowd.
The Muslim community said that the administration was taking "biased actions" and alleged that instead of taking action against the Hindu organisations involved in Sunday's incident, the administration was targeting Muslims.
Harun Rashid, a local leader of the community, said, "Immediately after the CM's direction, they arrested Ghulam Rasool Pathan. Pathan is a reputed person in Neemuch and he was not even present at the spot when the tension erupted. Pathan is ill and was taking treatment and had met the collector to maintain peace and harmony in the district."
Meanwhile, VHP district president Anu Paal Singh Jhala said, "We want the reinstallation of the idol as it was installed at the right place. The administration doesn't have any problem with encroachment by Dargah caretakers but they have an issue with the installation of the idol. The district administration hurt the religious sentiments. We have called a bandh on Friday to register our protest."
District officers said they are acting as per law.
Neemuch superintendent of police Suraj Verma said, "For the past one year, Sadar Ghulam Rasool Pathan is trying to polarise the Muslim youth. He was staging protests and giving memorandums on international matters to fill the young minds with hatred. He also called the chief minister and home minister terrorists. On the day of communal tension, Pathanwas not present on the spot but was directing people over the phone. We have call details."
The SP said he had written to the collector to invoke NSA against him.
Source: Hindustan Times
Please click the following URL to read the full text of the original story:
https://www.hindustantimes.com/cities/bhopal-news/police-arrest-muslim-leader-for-neemuch-violence-recommends-nsa-101652961236723.html
--------
Mideast
Iran Sends Two Activists, Kevyan Samimi and Narges Mansouri Back To Jail: Reports
19 May, 2022
Two Iranian activists have been returned to jail on suspicion of "plotting against national security" while on provisional release, media in the Islamic republic said on Thursday.
One of them, Kevyan Samimi, who is close to the nationalist and religious opposition, is a veteran dissident who served jail time both before and after the Islamic revolution of 1979.
Samimi "has been sent back to prison at the end of his furlough for resuming his activities against national security and his contacts with counter-revolutionary groups abroad," Mehr news agency said.
The 73-year-old journalist had been granted prison leave on medical grounds in late February. He had been serving a three-year sentence in Semnan, nearly 200 kilometres (125 miles) east of the capital.
"The medical examiner ordered his return to prison after a new examination," Mehr said.
State news agency IRNA said women's rights and labour activist Narges Mansouri was also arrested.
Mansouri had been detained in August 2019 before being released on bail in November that year, reports said.
She was later accused of giving "provocative interviews with the aim of starting riots" in the country, IRNA said.
She was alleged to have "committed acts against the security during her two and a half years of provisional release," said the agency.
It added that she had "tried to flee the country... after having learned that the judiciary was going to return her to prison."
Earlier this week, Mehr reported the arrest of Tehran academic Saeed Madani Ghahfarokhi on suspicion of "maintaining links abroad and carrying out activities that threaten national security."
Source: Al Arabiya
Please click the following URL to read the full text of the original story:
https://english.alarabiya.net/News/middle-east/2022/05/19/Iran-sends-two-activists-back-to-jail-Reports
--------
AEOI Chief: Iran Gains Self-Sufficiency in N. Fuel Cycle
2022-May-19
"The efforts of the enemies by committing sabotage in the field of nuclear technology have made it the frontline. Our scientists stood up at the order of the Leader who said, "produce yourselves", Eslami said on Wednesday.
"They acted on the issue of 20% fuel, which was needed by Tehran's research reactor, and today we produce not only 20% fuel but also working on production of 60% fuel," he added.
Eslami referred to the crucial production of radiopharmaceuticals, saying the country is now moving toward using nuclear medicine in plasma therapy.
Eslami also touched on the "very important" role of heavy water which the enemies try to forbid Iran from using by accusing it of seeking to produce nuclear weapons.
He said if it had not been for the strategies of Supreme Leader of the Islamic Revolution Ayatollah Seyed Ali Khamenei, "we would have not got into nuclear technology and fallen far behind by now".
"The country's development plans must move without interruption, and the efforts of the country's scientists and youth must be spent for the great goals of the country, and we must endure hardships and vicissitudes to reach the peak," Eslamis said.
He also said science and technology is the field of empowerment, but international organizations have sought in recent years to make the fields of aerospace, nuclear technology, information technology, biotechnology and nanotechnology an exclusive avant gard domain for a few select countries and prevent others, including Iran, from achieving them by creating obstacles.
Source: Fars News Agency
Please click the following URL to read the full text of the original story:
https://www.farsnews.ir/en/news/14010229000272/AEOI-Chief-Iran-Gains-Self-Sfficiency-in-N-Fel-Cycle
--------
Iran 'heavily disrupts' internet access after protest: HRW
20 May ,2022
Iranian authorities have "heavily disrupted" internet access in multiple provinces, a Human Rights Watch report published on Friday found.
The report also found that Iranian authorities arrested several prominent activists on "baseless accusations" in the midst of labor union strikes and the ongoing protests against rising prices, since May 6, 2022.
Those affected are in a dozen small towns across the country, HRW said in the report. Those arrested include a prominent sociologist and four labor rights defenders, it said.
On Tuesday, Al Arabiya English reported that the demonstrations broke out in Iran's central province of Isfahan on Tuesday with protestors voicing anger against Iran's clerical leaders.
Source: Al Arabiya
Please click the following URL to read the full text of the original story:
https://english.alarabiya.net/News/middle-east/2022/05/20/Iran-heavily-disrupts-internet-access-after-protest-HRW
--------
Jewish worshippers clash with police at pilgrimage site in Israel's Mount Meron
19 May, 2022
A crowd of Jewish worshippers broke through police barriers on Thursday at an annual pilgrimage in Israel's Mount Meron, a year after 45 people were crushed to death in a stampede.
Israeli police said "dozens of extremists" broke into a section of the religious site while "wildly flinging the fences and endangering human life."
The police retreated from the site when a group of worshippers broke barriers and stormed in, an AFP photographer said, adding that officers later returned.
More than 10,000 faithful had converged on the site under tightened security measures for the start of the pilgrimage on Wednesday.
The Mount Meron pilgrimage occurs on the Lag BaOmer holiday, when mainly ultra-Orthodox Jews throng the site of the tomb of revered second century rabbi Shimon Bar Yochai.
On April 30 last year, a stampede broke out in the male section of the gender-divided site as the size of the crowd turned a narrow passageway into a deadly choke-point.
At least 16 children were among those trampled to death, in what then-prime minister Benjamin Netanyahu called "one of the worst" disasters in Israel's history.
An AFP photographer saw several worshippers arrested and handcuffed by police on Thursday. In addition, some security cameras and electrical equipment at the site were sabotaged, the photographer said.
Police then stopped the movement of additional faithful toward the site, where the pilgrimage runs until Thursday night.
Prime Minister Naftali Bennett said Wednesday that his government made a "considerable investment" in new safety measures to ensure there is no repeat of last year.
Among the changes is a cap of 16,000 pilgrims allowed on the site at any given moment.
On Tuesday, police said they had seized knives and hammers from an "extremist ultra-Orthodox faction" which allegedly intended to sabotage communications infrastructure at the site.
Source: Al Arabiya
Please click the following URL to read the full text of the original story:
https://english.alarabiya.net/News/middle-east/2022/05/19/Jewish-worshippers-clash-with-police-at-pilgrimage-site-in-Israel-s-Mount-Meron
--------
Israeli Military Identifies Soldier's Rifle That May Have Killed Shireen Abu Akleh
19 May ,2022
The Israeli military has identified a soldier's rifle that may have killed Palestinian-American journalist Shireen Abu Akleh, but said it cannot be certain unless the Palestinians turn over the bullet for analysis, a military official said Thursday.
The announcement marked a small sign of progress in the investigation into the killing of Abu Akleh, who was fatally shot on May 11 while covering an Israeli military raid in the occupied West Bank.
Palestinian officials, along with fellow journalists who were with Abu Akleh, have said Israeli troops stationed nearby killed her. The Israeli army says she was shot during a battle between troops and Palestinian gunmen, and it cannot be determined who fired the fatal bullet without a proper analysis.
Israel has called for a joint investigation with the Palestinians. But the Palestinians, who have the bullet, have refused, saying they don't trust Israel. They say they are conducting their own investigation and they are ready to cooperate with any country except for Israel.
The military official stressed that while the source of the shot is still unclear, "we have narrowed down the IDF weapon that might be involved in the fire exchange near Shireen."
He renewed the call for the Palestinians to release the bullet. If they do so, he said, Israel will "hopefully be able to compare the bullet to that barrel and check if there is a match." He spoke on condition of anonymity under military briefing guidelines.
The military last week released the results of a preliminary investigation that offered two possible causes of death. It said that in one scenario, she may have been hit by Palestinian gunfire during a fierce shootout with Israeli troops.
In the second scenario, it said she might have been hit by an Israeli soldier who shot through a "designated firing hole" in a military vehicle at a Palestinian gunman who was shooting at the vehicle. It said it could not determine the source of fire without analyzing the bullet.
The Palestinians have been conducting their own investigation. Last Friday, the Palestinian public prosecutor said preliminary findings show Abu Akleh was killed by deliberate fire from Israeli troops. The prosecutor said the investigation would continue.
Bellingcat, an independent Dutch-based open-source research firm, has conducted its own analysis of material gathered largely from videos on social media. It said its initial findings lent support to Palestinian witnesses who say she was killed by Israeli fire. Abu Akleh, a Palestinian-American and 25-year veteran of the satellite channel, was killed in the Jenin refugee camp in the northern West Bank.
Source: Al Arabiya
Please click the following URL to read the full text of the original story:
https://english.alarabiya.net/News/middle-east/2022/05/19/Israeli-military-identifies-soldier-s-rifle-that-may-have-killed-Shireen-Abu-Akleh
--------
Turkey's opposition to NATO's Nordic enlargement fuels row ahead of June summit
May 19, 2022
ANKARA: Turkey's opposition to NATO's decision to open accession talks with Finland and Sweden has sparked debate about concessions Ankara might extract to greenlight membership for the two Scandinavian countries — the biggest change in European security architecture for decades.
Any country seeking to join NATO requires consensus approval from its 30 members, with the next NATO summit in Madrid coming in late June.
Turkish President Recep Tayyip Erdogan insists that Ankara, a NATO member since 1952 and possessing the alliance's second largest military, does not support membership for Finland and Sweden, accusing both countries of harboring terror groups.
Turkey has told allies that it will say no to Sweden and Finland's NATO applications, Erdogan said in a video posted on his Twitter account on Thursday.
"This move, which has poured cold water on expectations about Finland and Sweden's 'historic' accession to the military alliance, was not really a surprise," said Paul Levin, director of Stockholm University's Institute for Turkish Studies.
Turkey has long criticized Sweden's policy of turning a blind eye to the presence of the outlawed Kurdistan Workers' Party on its soil despite being classified as terrorist group by the US and EU.
However, for Levin, what Erdogan wants in return has a number of possible interpretations.
"Sweden's policy against the PKK and its Syrian Kurdish YPG offshoot in northern Syria was an issue of concern not only for the ruling government in Turkey, but also for the national security establishment for a long time. In that respect, the disagreement over this critical issue has been a widely-shared sentiment," he told Arab News.
Finland and Sweden have imposed arms embargoes since 2019 over Turkey's cross-border operation into Syria against Syrian Kurdish militants. Contacts between top Swedish officials and YPG leaders have been condemned by Ankara.
But, for Levin, there is always a domestic political dimension behind such decisions in Turkey.
"Erdogan's personal concern is staying in power ahead of the looming elections in 2023 amid a troubled economy," he said.
"Playing hardball with the West is likely to appeal (to a) domestic audience and consolidate stronger public support that needs nationalistic motivations."
However, Levin is not convinced Turkey's opposition to NATO enlargement will persuade Washington to approve Turkey's request in October to buy 40 Lockheed Martin F-16 fighters, and approximately 80 modernization kits for its current warplanes, which the US has so far refrained from doing.
"The presence of (the) Russian-made S-400 defense system on Turkish soil renders the acquisition of the F-35 aircraft impossible because of the interoperability problems. I'm not sure that the US Congress can approve the sale of other modernization kits as well because it can be considered as a concession against Turkey's blackmail," he said.
On Wednesday, Swedish Minister for Defense Peter Hultqvist held meetings with his US counterpart Lloyd Austin in Washington, while Turkish Foreign Minister Mevlut Cavusoglu met with his US counterpart Antony Blinken in New York.
Cavusoglu also held recent talks with his Swedish and Finnish counterparts in Berlin.
"Negotiations are going on to reach a diplomatic resolution," Levin said.
"But, I don't expect that Sweden (will) give some kind of public concessions on human rights that could drive the ruling Social Democrats into (a) corner ahead of the parliamentary elections in September."
Sweden currently has six sitting Kurdish members of parliament.
"Giving up the Kurdish cause by extraditing 33 people accused of terrorism charges in Turkey will not play well with the Swedish government, as the country hosts a wide Kurdish diaspora," Levin added.
Turkey wants the Nordic duo to stop supporting Kurdish militant groups on their soil, to refrain from having contact with PKK members, and to lift bans on arms sales to Turkey.
For Karol Wasilewski, director of actionable analytics at Warsaw-based agency NEOŚwiat, Turkey wants to show its NATO allies that it is dead serious when it says that its security interests, particularly its sensitivity about PKK and YPG issues, should be respected.
"For a long time, and not without reason, Turkey has had a feeling that the approach of its allies to its security interests does not correspond to the country's contribution to the alliance's security," he told Arab News.
But Wasilewski thinks that the problem will be solved with negotiations between Turkey, Sweden and Finland, with the support of the US and NATO Secretary-General Jens Stoltenberg.
"Perhaps Erdogan's statement that Turkey can't agree on membership for countries that sanction Turkey was a signal of area where the compromise could be made," he said.
"Turkey would definitely drive a hard bargain, but I find it very difficult to imagine that this would translate to a hard veto.
"Turkey is well aware of the benefits that Finish and Swedish membership to NATO would bring, and that blocking the enlargement would result in immense pressure from the rest of (the) member countries. And Turkey simply can't afford a strong backlash from the West."
Soner Cagaptay, director of the Turkish Research Program at the Washington Institute, thinks that Turkey's main objection to the Nordic expansion of NATO is rooted in existing PKK fundraising networks in Sweden, and Sweden's public ties with YPG officials.
"Following closed-door conversations, Sweden could take measures to satisfy Turkey's sensitivities," he told Arab News.
Stoltenberg also made it clear that Turkey's concerns will be addressed in a way that does not delay the membership process.
Cagaptay thinks that there are several explanations about Erdogan's hardline rhetoric on NATO enlargement.
"He decided to up the ante to publicly embarrass Stockholm to get concrete steps," Cagaptay said.
"There is also a Russian angle, where one veto inside NATO against Nordic expansion would make Russian President Vladimir Putin extremely happy.
"On the US side, Erdogan also signals that his objection to the NATO enlargement may be lifted if Biden convinces Sen. Bob Menendez in lifting his objections against Turkish defense exports," Cagaptay added.
Source: Arab News
Please click the following URL to read the full text of the original story:
https://www.arabnews.com/node/2085701/middle-east
--------
Iran Unveils Home-Made Simorq Airplane
2022-May-19
The aircraft has been produced by the specialists of the Iran Aviation Industries Organization.
"Given the developments in the region and the threats against the Islamic Republic, aircrafts play an important role in the transportation of cargo, personnel, and support for the armed forces on battlefields," General Ashtiani said.
Ministry of Defense and Armed Forces Logistics of Iran, as a power-building, authorizing, and supporting organization of the Armed Forces has a great mission to increase the deterrent power of the Islamic Republic, he said.
Meeting the needs of the armed forces in various fields of land, sea, air, and electronic warfare is a key priority of the ministry of defense, General Ashtiani stressed.
Simorq transport aircraft is a redesigned and advanced version of the same generation, which perfectly fits the needs of the country and Armed Forces, he said.
Equipped with high-tech, indigenous materials, the Simorq aircraft has been designed in accordance with Iran's climatic conditions as well as international standards and regulations, General Ashtiani said.
Iran has made great progress in manufacturing different aircraft, including planes and drones.
Spokesman of the Iranian Armed Forces Brigadier General Abolfazl Shekarchi said on Thursday that Iran has the upper hand in drone production in the region, making it possible for the country to meet its needs while cooperating with other regional countries on producing reconnaissance drones.
During an official ceremony in Dushanbe on Tuesday, Iran inaugurated a manufacturing plant for indigenously-developed Ababil 2 multi-role tactical unmanned aerial vehicles in Tajikistan in a bid to promote joint defense and military cooperation.
Addressing the ceremony, Chief of Staff of the Iranian Armed Forces Major General Mohammad Hossein Baqeri said that the Islamic Republic of Iran, with the efforts of its committed specialists and scientists and by using its internal capacities, has been able to make a significant growth in all military and defense dimensions, specially production of drones.
"Today we are in a position that we can export military equipment to allied and friendly countries in addition to meeting domestic needs in order to increase security and lasting peace," he said.
Source: Fars News Agency
Please click the following URL to read the full text of the original story:
https://www.farsnews.ir/en/news/14010229000530/Iran-Unveils-Hme-Made-Simr-Airplane
--------
Pakistan
Imran Khan Deliberately Isolated Pakistan: Jamiat-e-Ulema Islam-Fazl
May 20, 2022
KARACHI: Pakistan Democratic Movement (PDM) and Jamiat-e-Ulema Islam-Fazl (JUI-F) chief Maulana Fazlur Rehman on Thursday said that former Prime Minister Imran Khan has become a psychopath and because of his politics, Pakistan has become isolated in the world.
"The sanctity of the holy places in Saudi Arabia was deliberately violated by Jewish agents," said Fazlur Rehman, while addressing a rally on Preedy Street near Mazar-e-Quaid in Karachi to condemn the hooliganism at the Masjid-e-Nabvi (SAW) by the Pakistan Tahreek-e-Insaf (PTI) supporters.
He said those who desecrated the sanctity of the Masjid-e-Nabvi would be pursued on every front, saying; "Agents of the Jews in Pakistan will be drowned into the sea." He said he paid due respect to the courts but has the right to ask the courts respectfully why did they take suo motu notice of Imran Khan's speech at the rally, when the prime minister used his constitutional and legal powers, saying that if that's what the courts wanted to do, then should come and rule.
The JUI-F chief said, "The courts should decide in accordance with the law and the Constitution, and do not come under any pressure." He further said, "If you have to take notice of the speeches of rallies, then what will happen if people from other political parties also come?"
Fazl said the person who made a decision against Nawaz Sharif was later appointed as the director FIA. "When Bashir Memon said that Imran Khan used to call him to register cases against the people, why didn't you take notice of it?" he asked the courts. He said the courts did not take notice of the cries for justice to 'Afia Siddiqui' but took notice of a speech at a rally. Maulana Fazlur Rehman said the JUI-F demanded that the army should act as neutral and not interfere in the country's politics. "Today when the army is within the neutral constitutional limits, certain circles are calling it animal," he said, adding that the army was the guardian of the state, not of any government. "The people, the Constitution, and the democratic system are the watchdogs of the government."
Rehman said former PM Imran Khan had an agenda to increase the dollar price up to Rs200, saying; "There could be no improvement in the country unless the confidence of the institutions is restored and the people are convinced that no effort is being made to bring Imran Khan back."
The PDM chief assured the Pakistan Army that his party workers would always stand by it whenever needed for the national security and protection of the borders. He said a lobby in the country has been talking about recognising Israel. "After the JUI-F's Thursday rally, no one will dare talk about recognising Israel in the country again."
Rehman said the narrative of Imran Khan's letter has ended, saying, "We have removed Imran Khan in a constitutional and legal way, as the parliament and public representatives have rejected the PTI-led government. Now he is trying to come back in an illegal way."
The JUIF chief said: "Imran Khan says cassette has been recorded. I ask who recorded the cassette." Talking about Imran Khan's assassination plot claims, Rehman said the JUI-F leaders have been targeted in assassinations and assassination attempts. "Imran Khan is talking about his security even after getting the security of over 300 police and Rangers personnel." He said before coming into power, Imran Khan used to say that Kashmir should be divided into three parts and indeed Kashmir was divided into three parts. "One was given to Modi, one is given to Pakistan and one is Gilgit-Baltistan."
The PDM chief said later Imran Khan said without the army, Pakistan would have been divided into three parts. "Where did this three-part formula come from?" he asked. The JUI-F supremo said there are two stages -- creating political and economic instability -- to divide the country. "The removal of Nawaz Sharif's government created political instability in the country and Imran Khan was brought to destroy the country's economy," he added. Rehman said the JUI-F is the only religious political party that had to protect democracy and Islamic constitutional provisions and rites.
Maulana Fazlur Rehman said the country's 70 years of struggle was shattered during Imran Khan's four-year regime, and the mess could not be cleaned in four days what the PTI-led government had spread around. He asked all the parties to collaborate to drag the country out of this crisis within one year rather destabilizing the system. Rehman said the world was not trusting Imran Khan anymore to invest in the country.
Source: The News
Please click the following URL to read the full text of the original story:
https://www.thenews.com.pk/print/959209-imran-deliberately-isolated-pakistan-jui-f-chief
--------
Pak's relationship with India 'particularly complicated' by New Delhi's decisions: Bilawal
Yoshita Singh
20.05.22
Pakistan's Foreign Minister Bilawal Bhutto Zardari has said that his country's relationship with India has been "particularly complicated" by New Delhi's decision to abrogate Article 370 in Jammu and Kashmir and the recent recommendation by a delimitation commission, underlining that at this moment the "practical space" for economic activity, dialogue and diplomacy is "very limited."
Foreign Minister Bilawal, who is on a maiden visit to the US, made the remarks while responding to questions during a press conference here on Thursday.
"As far as the question of our relationship with India is concerned, it is particularly complicated" by their recent actions in Kashmir - firstly the August 5, 2019 decision to abrogate Article 370 in Jammu and Kashmir as well as the recent decision by the delimitation commission on Jammu and Kashmir, he said.
Bilawal said that these actions "have complicated this matter." He alleged that these actions are an "assault" on the United Nations, on the UN Security Council resolutions and the Geneva Convention.
He said "such actions make it very difficult for us to hold a dialogue" with India.
"Having said that, we are very cognizant of the fact that economic activity, dialogue, diplomacy are ultimately the ways and means for countries to engage with each other and resolve disputes. I just note that particularly at the moment given this aggressive, hostile behaviour, the practical space for that happening is very limited," he said.
The delimitation panel, formed in March 2020, earlier this month notified its final report giving six additional assembly seats to the Jammu region and one to the Kashmir Valley and bringing areas of Rajouri and Poonch under the Anantnag parliamentary seat. Jammu division will now have 43 assembly seats and Kashmir 47 in the 90-member House.
Tensions between India and Pakistan have spiked since New Delhi abrogated the Article 370 of the Constitution to revoke the special status of Jammu and Kashmir on August 5, 2019. India's decision evoked strong reactions from Pakistan, which downgraded diplomatic ties and expelled the Indian envoy.
India has categorically told the international community that the scrapping of the Article 370 was its internal matter. India has repeatedly told Pakistan that Jammu and Kashmir "was, is and shall forever" remain an integral part of the country. It also advised Pakistan to accept the reality and stop all anti-India propaganda.
India has told Pakistan that it desires normal neighbourly relations with Islamabad in an environment free of terror, hostility and violence.
On a question on India's decision to ban wheat exports, he said, "it is obviously the decision of the Indian government to decide what it wishes to do" and added that such restrictive and protective actions are being discouraged through multilateral forums like the UN Security Council meeting on conflict and food security called by the US.
"We all must work together to meet the needs of those who can't meet their food security targets," he said.
To a question on the domestic political situation, Bilawal said "on the international front, we have a foreign policy vacuum. On the economic front, we have an economic catastrophe staring at us in the face, and we have a highly polarized political society.
Source: Telegraph India
Please click the following URL to read the full text of the original story:
https://www.telegraphindia.com/world/paks-relationship-with-india-particularly-complicated-by-new-delhis-decisions-bilawal/cid/1866020
--------
In US, Pak foreign minister Bilawal defends Imran Khan's controversial Moscow visit
May 20, 2022
NEW YORK: There was no possibility that Imran Khan would have known about Russia's plans to invade Ukraine when he visited Moscow, Pakistan's new Foreign Minister Bilawal Bhutto-Zardari has said, as he defended the ousted premier's controversial visit to meet President Vladimir Putin nearly three months ago.
Khan met President Putin in the Kremlin on February 24, the day the Russian leader ordered a "special military operation" against Ukraine.
By visiting Moscow, he had also become the first Pakistani premier to visit Russia in 23 years after former premier Nawaz Sharif travelled to Moscow in 1999.
But Khan's visit to Moscow, despite US attempts to dissuade him, further soured Islamabad's relations with Washington.
"As far as the former Prime Minister's (Khan) trip to Russia, I would absolutely defend the former prime minister of Pakistan. He conducted that trip as part of his foreign policy and without knowing that — no one is psychic, no one has a sixth sense — there's no way we could have possibly known that that would be the time [when] the current conflict will start," Bilawal said while addressing the press at the UN headquarters on Thursday, and added that "it is very unfair to punish Pakistan for such an innocent action."
Bilawal, who took charge last month as the foreign minister, reiterated that Islamabad continued to stand by the principles of the United Nations, including the non-use of force, when asked about the way forward in the ongoing conflict in Ukraine.
In March, Pakistan had abstained from voting in United Nations General Assembly resolution calling on Russia to stop the war, and urged that the conflict be resolved through dialogue and diplomacy.
"We are not part of any conflict. We do not wish to be part of any conflict. In fact, we continue to emphasise on the importance of dialogue and diplomacy to resolve this conflict as soon as possible. And we will certainly not take any side or take the side of the aggressor within this context," Bilawal, who is on his first major international visit after assuming charge last month, said.
Khan, the 69-year-old cricketer-turned-politician, has been adamant that he was ousted from power last month through an alleged US-backed vote of no-confidence since Washington did not like his Russia policy.
These claims were strongly refuted by the US.
Meanwhile, Bilawal is currently on a maiden visit to the US at the invitation of the US Secretary of State Anthony Blinken to attend the ministerial meeting on the "Global Food Security Call to Action".
On Wednesday, Bilawal met Blinken at the UN headquarters and talks focussed on bolstering regional security and strengthening bilateral and economic ties.
In his remarks before his meeting with Bilawal, the first face-to-face interaction between the two ministers, Blinken said Washington is "very pleased" to be working with the foreign minister and with a new government in Pakistan.
Source: Times Of India
Please click the following URL to read the full text of the original story:
https://timesofindia.indiatimes.com/world/pakistan/in-us-pak-foreign-minister-bilawal-defends-imran-khans-controversial-moscow-visit/articleshow/91679913.cms
--------
From cars to jams, Pak bans import of luxury items amid sinking economy
May 20, 2022
ISLAMABAD: Pakistan's new government on Thursday said it would ban the import of over 30 luxury items including cars and fruit jams under an "emergency economic plan" in a move to help boost the country's economy. Cash-strapped Pakistan has been hit by a storm of crippling debt, dwindling foreign currency reserves and galloping inflation.
The national currency hit a historic low on Thursday, with 200 rupees fetching $1. "My decision to ban (the) import of luxury items will save the country precious foreign exchange," PM Shehbaz Sharif tweeted. The move was an effort to target the country's elite, with the banned goods including mobile phones and cars — which make up the largest share of import bills on the list — as well as cosmetics, jams and weapons. "We will be able to save $6 billion by imposing a ban on import of the luxury items," information minister Marriyum Aurangzeb sa- id, adding that the ban would be effective immediately. "The decision will give a boost to the local economy and industry". Citing an "emergency situation", she said Pakistanis will have to make sacrifices under the economic plan.
Source: Times Of India
Please click the following URL to read the full text of the original story:
https://timesofindia.indiatimes.com/world/pakistan/from-cars-to-jams-pak-bans-import-of-luxury-items-amid-sinking-economy/articleshow/91677265.cms
--------
TTP ceasefire month after release of 2 of its leaders on death row in Pakistan
May 20, 2022
ISLAMABAD: The ceasefire announcement that terror outfit Tehreek-e-Taliban Pakistan (TTP) agreed to during talks in Kabul with the Pakistan government, facilitated by the Afghan Taliban, was in return for a major concession Islamabad made last month in releasing two important TTP leaders, both of whom were on death row, sources have said.
Pakistan has reportedly freed former Swat TTP spokesman Muslim Khan and commander Mehmood Khan after securing presidential pardon for both. The two leaders were in military custody since their arrest was announced by the Pakistan Army in September 2009. A military court convicted them and their death sentences were confirmed by army chief General Qamar Javed Bajwa in December 2016.
The two militant commanders have not been handed over to the TTP so far, the sources said. They remain in Pakistan but have been allowed to communicate with the TTP leadership. They are expected to be fully released after negotiations between the two sides reach a settlement.
Kabul's statement on May 18 that a short-term ceasefire agreement has been reached between Islamabad and TTP was announced on Twitter by spokesman for the Islamic Emirate of Afghanistan Zabihullah Mujahid. "Talks were held in Kabul between the government of Pakistan and the Taliban Movement of Pakistan with the mediation of the Islamic Emirate," Mujahid tweeted. The talks, he said, began in Kabul on Monday. "In addition to making significant progress on other issues, a temporary ceasefire has also been agreed upon by the two sides," Mujahid said in his tweet.
The TTP team was led by the group's chief Mufti Noor Wali Mehsud, while unconfirmed reports on social media suggested that senior official figures from Pakistan participated in the talks. Earlier, there were reports suggesting that Peshawar's corps commander and former ISI chief Lt Gen Faiz Hameed and a top military official of Pakistan had visited Kabul for talks with TTP.
TTP spokesman Mohammad Khurasani said the ceasefire would last till May 30. The ceasefire, he said, had been announced on the demand of the 32-member committee of the Mehsud tribe, mostly based in Pakistan's restive South Waziristan tribal district, and the 19-member committee of tribes from Malakand division of northwestern Khyber Pakhtunkhwa province. "Talks were underway between the heads of the committees representing the government of Pakistan and the TTP," he added.
Source: Times Of India
Please click the following URL to read the full text of the original story:
https://timesofindia.indiatimes.com/world/pakistan/ttp-ceasefire-month-after-release-of-2-of-its-leaders-on-death-row-in-pakistan/articleshow/91673313.cms
--------
Pakistan condemns in 'strongest possible terms' Kashmiri leader Yasin Malik's conviction after 'sham trial'
Naveed Siddiqui
May 20, 2022
Pakistan has condemned "in strongest possible terms" the conviction of Kashmiri leader Yasin Malik by an Indian court after a "sham trial" in a "manifestly dubious and motivated case" and urged Indian authorities to stop the victimisation of the "true representatives of the Kashmiri people".
Yesterday, an Indian court convicted Malik in a terrorism-related case, filed by the National Investigation Agency (NIA), that carries a maximum sentence of the death penalty or life imprisonment. He had been charged with terrorist acts, illegally raising funds, being a member of a terrorist organisation and criminal conspiracy and sedition.
According to the Press Trust of India, during the hearing on Thursday, the Kashmiri leader protested the charges, saying that he was a "freedom fighter".
"Terrorism-related charges levelled against me are concocted, fabricated and politically motivated," his organisation, the Jammu and Kashmir Liberation Front — one of the first armed freedom fighting groups to come into existence in India-occupied Kashmir (IoK) — cited him as telling the court.
"If seeking azadi (freedom) is a crime, then I am ready to accept this crime and its consequences," he told the judge.
Subsequently, Judge Praveen Singh set May 25 for hearing arguments from both sides on sentencing and has directed Malik to provide an affidavit regarding his financial assets.
In a statement issued on Thursday evening following the conviction, the Foreign Office (FO) called the development "highly reprehensible" and said that the "fictitious charges" against him were not only in defiance of the Universal Declaration of Human Rights (UDHR) and International Covenant on Civil and Political Rights (ICCPR) but also attempted to make "conjectural insinuations about Pakistan".
"The renewed haste with which cases against Kashmiri leadership are being pursued further exposes the nefarious Indian designs to undermine historic and distinct political and cultural identity of IIOJK (Indian illegally occupied Jammu and Kashmir)," it said, highlighting that Malik's conviction and the "motivated cases" conjured up against other Kashmiri leaders was proof of the malicious Indian campaign being run to deprive Kashmiris of their true leadership.
"The inhuman incarceration of Mr Yasin Malik in the infamous Tihar jail, his sham trial in concocted cases, fallacious conviction, and malfeasant attempts at defiling the legitimate struggle of the Kashmiris for their right to self-determination as 'terrorism' further illustrate India as a serial violator of human rights and usurper of the fundamental rights of the Kashmiris," the FO said.
"The struggle for the right of self-determination in Kashmir is indigenous and cannot be dampened by the draconian strong-arm tactics of the Indian Government."
Pakistan further urged the Indian government to stop the victimisation of Kashmiris through inhuman detentions and trumped up charges.
India, it said, must release all political prisoners detained on "trumped-up charges", stop human rights violations in the region, lift the brutal military siege, and let Kashmiris exercise their right to self-determination according to their aspirations and relevant UN Security Council resolutions.
The FO also stressed the international community to counsel India to drop all fabricated charges against all political leaders of IoK including Malik, ensure their safety and well-being, and provide them complete legal protections, including the right to a free and fair trial.
Earlier, the FO had also issued a demarche to the Indian charge d'affaires for framing fabricated charges against Malik.
The Indian diplomat was conveyed Pakistan's grave concern that in a bid to suppress the voice of indigenous Kashmiri leaders, Delhi had started implicating them in fictitious and motivated cases.
The Indian side was also conveyed Pakistan's deep concern over the brutal treatment meted out to the Kashmiri leader despite his chronic ailments and a steep decline of his health.
FM Bilawal raises Kashmir issue with US congressman
Meanwhile, Foreign Minister Bilawal Bhutto-Zardari raised the issue of Jammu and Kashmir with US Congressman Adam Smith in a virtual meeting on Thursday.
According to a statement issued by the Ministry of Foreign Affairs, Bilawal specifically drew congressman's attention to the steps recently taken by India to redraw the constituencies in IoK through an illegal delimitation process in order to change the Muslim majority into minority in the occupied territory.
Pakistan would remain proactive in exploring opportunities and overtures for steering South Asia towards peace, security and stability, he said.
Bilawal is in New York on his maiden visit to US as foreign minister. During their meeting yesterday, the FM and the Congressman also discussed strengthening bilateral and defence ties between the two countries and the need for sustained engagement in the area.
Source: Dawn
Please click the following URL to read the full text of the original story:
https://www.dawn.com/news/1690622/pakistan-condemns-in-strongest-possible-terms-kashmiri-leader-yasin-maliks-conviction-after-sham-trial
--------
Defamation case registered against journalist Sami Ibrahim
May 20, 2022
RAWALPINDI: The Attock police have filed a defamation case against journalist Sami Ibrahim, accusing him of making false allegations, attempting to seduce a security employee from his duty.
The police filed a case against Mr Ibrahim under section 505, 131 and 499 of the Pakistan Penal Code, which deal with statements creating or promoting enmity, hatred, attempting to seduce a soldier, sailor or airman from his duty.
The FIR was based on a complaint by Akhtar Javaid advocate, a resident of Attock city, who said he viewed 'Canadian Pak News', a Youtube channel of Mr Ibrahim, a resident of Lahore, two weeks ago.
"He gave his opinion in his vlog against right of speech with bad attention and used obnoxious words against judiciary and armed forces.'
The complainant said in the FIR that the suspect had hatched a conspiracy and spread rumours against state institutions.
Source: Dawn
Please click the following URL to read the full text of the original story:
https://www.dawn.com/news/1690556/defamation-case-registered-against-journalist-sami-ibrahim
--------
Fazlur Rehman seeks state institutions' support for nascent government
May 20, 2022
KARACHI: Questioning the Supreme Court suo moto notice on apprehensions that criminal justice might be undermined by people in positions of authority, the chief of Jamiat Ulema-i-Islam-Fazl (JUI-F), Maulana Fazlur Rehman, on Thursday demanded "solid and full support" of the state institutions for the newly placed coalition government to bring the country out of crises "created under the Pakistan Tehreek-i-Insaf rule".
Calling it crucial to make public his complaint against the apex court move's, the JUI-F chief, however, was confident unlike other leaders of the Shehbaz Sharif government that the country would be back on track once the unity among coalition partners and support from the state institutions sync with each other.
Addressing Taqaddus Haram-i-Nabwi Conference at main Preedy Street under the shadows of Quaid e Azam's mausoleum, Fazl criticised the PTI chairman and ousted prime minister Imran Khan for deliberately "creating a chaos" through fake narratives and propaganda.
"With due respect, I want to make a complaint and raise a question for the respectable apex court and its judges," he said and added: "Why you took suo moto notice when the chief executive [PM Shehbaz] of the country using his legitimate authority decided to transfer few FIA [Federal Investigation Agency] officers? What prompted you to take suo moto notice? Who asked you to do this? You never took notice when one of your own judges in the previous government was raising so many questions. You never took a notice when the former FIA chief Bashir Memon disclosed about the pressure from Imran Khan for false cases against the opposition leaders. Through such moves, you are undermining your respect and dignity."
He said the coalition government was facing immense pressure challenges due to "mess created by Imran Khan" which could only be handled with unity of the "democratic political forces" and "support from the state institutions".
"If the state institutions don't show support, the government would not be able to keep its confidence lifted," he said.
"We can only come out of these crises when the state institutions and true democratic forces come up with coordinated cooperation. I know that some crises are being created, but we don't need to get panicked. We don't need to come under pressure. We don't need to get impressed by such rallies [of Imran Khan]. Things would take time, but ultimately, this country would be back on track."
He called the former prime minister "an agent of Israeli lobby" who was "placed" to change the country's geography. To strengthen his argument, he referred to the 2016 Panama Case that led to fall of the then premier Nawaz Sharif.
Source: Dawn
Please click the following URL to read the full text of the original story:
https://www.dawn.com/news/1690497/fazlur-rehman-seeks-state-institutions-support-for-nascent-government
--------
Karachi blast suspect received orders from Iran-based commander, says Pakistan
NAIMAT KHAN
May 19, 2022
KARACHI: Counterterrorism authorities in Pakistan said on Thursday that a suspect in an attack in the port city of Karachi last week had been trained in Iran and was receiving instructions from the Iran-based commander of a Pakistani separatist group.
One person was killed and several were injured in a bomb blast late on May 12 in the Saddar neighbourhood of Karachi. The assault was claimed by the little-known Sindhudesh Revolutionary Army (SRA), a dissident faction fighting for independence in the province of Sindh.
The attack came two weeks after a female suicide bomber killed four people, including three Chinese nationals, in an attack on a minibus carrying staff from a Beijing cultural program at Karachi University.
In a press release on Thursday, the Counter Terrorism Department (CTD) for Sindh said special investigation teams formed in the wake of the latest spate of attacks were able to identify a number of suspects through intelligence sources and the use of technology.
Police used intelligence gathered from the investigation teams to trace three suspects from the Saddar attack on Wednesday as they traveled by motorcycle to transport explosives in Karachi on the instructions of what the CTD said was an Iran-based SRA commander called Asghar Shah.
In a gun battle with the three suspects, two identified as Allah Dino and Nawab Ali were killed while a third suspect fled the scene.
"The accused (Allah Dino) had been taking instructions from Asghar Shah, who operates his group (of the SRA) from Iran," Syed Khurram Ali Shah, a senior CTD official, told reporters on Thursday.
"The eliminated terrorist Allah Dino was a master of bomb-making and he got his military training from neighbouring country Iran," the CTD press release said.
Source: Arab News
Please click the following URL to read the full text of the original story:
https://www.arabnews.com/node/2085661/world
--------
Southeast Asia
Pope Invites Muslim Governor, Ridwan Kamil, From Indonesia To Vatican In Recognition Of His Efforts To Promote Interreligious Dialogue
By Konradus Epa
May 19, 2022
An Indonesian provincial governor has been invited to meet Pope Francis at the Vatican in recognition of his efforts to promote interreligious dialogue.
Ridwan Kamil, the governor of West Java province, announced the invitation on May 18 ahead of a 10-day visit to Europe.
Kamil, a Muslim, said he felt deeply honored and surprised by the invitation and that he would meet Poe Francis on May 23.
Holy Cross Father Agustinus Sugiharto, chairman of the Commission for Interreligious Affairs of Bandung diocese confirmed that the invitation had been offered.
He said the invitation came through the Apostolic Nunciature, the Holy See's embassy in Jakarta and that Holy Cross Bishop Antonius Subianto of Bandung had already briefed Kamal on Vatican protocol for meeting the pope.
Kamil said the invitation came because the pope was impressed with his "English for Ulama" or "English for clerics program" designed to promote peaceful interreligious dialogue which has attracted international recognition.
The program, which began in 2019 with the cooperation of the British embassy, "aims to strengthen interreligious relations by improving communication," Kamil said on May 18.
He said it trains young clerics from various religions in West Java to speak English in order to promote interreligious dialogue and spread peace in Indonesia and other countries.
At least 30 young clerics have been taught so far and they can speak English well.
Kamil, a former mayor of Bandung, the capital of West Java province, said the inspiration came from the fact that the province was known for its high level of religious intolerance among Muslims, which was partly the result of poor communication.
Source: UC News
Please click the following URL to read the full text of the original story:
https://www.ucanews.com/news/pope-invites-muslim-governor-from-indonesia-to-vatican/97323
--------
PM calls on Malaysians to condemn Zionist atrocities against Palestine
May 20, 2022
SEPANG: Prime Minister Datuk Seri Ismail Sabri Yaakob has urged Malaysians to rise up and criticise the atrocities of the Zionists against Palestine to restore the rights and dignity of its people.
He said the matter is a joint responsibility when a certain community is being oppressed.
"Malaysia is one of the countries which has been vocal on the issue. The atrocities against Palestinians must stop.
"In fact Malaysia views seriously the killing and brutalities carried out by the Israeli regime against the Palestinians," he said in his speech text read by Special Advisor to the Prime Minister, Datuk Seri Jamil Khir Baharom at the opening of the 2022 Ulama Summit here today.
The summit held for the first time, assembles 150 ulama and scholars all over the world to discuss the issue with the theme "Solidarity for the liberation of al-Aqsa".
He said Malaysia views seriously the issue of atrocities against Muslims in Palestine by continuing to support and play its role in all efforts towards the well-being of Muslims.
"Malaysia will continue to play its role as a Muslim country without fear or favour and to support efforts for the solidarity and well-being of Muslims especially in liberating al-Aqsa which is the third holiest Muslim city," he said.
He said Malaysia's commitment and stand for Palestine were among the matters raised at the Special Asean-United States Summit chaired by US President Joe Biden in Washington, DC recently.
"Malaysia was vocal in calling on the US to use its influence to resolve the issue which has prolonged for 74 years," he said, adding that the war had also threatened the fabric of international peace.
Describing Malaysia's support for Palestine as one that is not only based on religion, he said the struggle is also to assist to restore the rights and dignity of Palestinians.
He added that the killing of a veteran Al-Jazeera journalist by the Israeli army in the West Bank also showed its brutality, as they even disrespected the body of Shireen Abu Akleh, 51, when Israeli soldiers pushed and hit the pall-bearers.
"This is the reality today," he said.
Ismail Sabri hoped that the organisation of the summit would bring Malaysia closer to a workable solution and bear fruit for the ummah and the Islamic nation.
He also prayed that Allah SWT would grant the wisdom and courage to seek justice in the era of modern human civilisation, thus enabling Muslim countries to continue to fight for freedom from any form of oppression.
Source: NST
Please click the following URL to read the full text of the original story:
https://www.nst.com.my/news/nation/2022/05/797837/pm-calls-malaysians-condemn-zionist-atrocities-against-palestine
--------
PKR man sees irony in Saifuddin's talk against race politics
Samuel Chua and Reshna Reem Ganesan
May 20, 2022
PETALING JAYA: PKR organising secretary Nik Nazmi Ahmad sees irony in Saifuddin Abdullah's call for curbs on racial politics, noting that the foreign minister belongs to a race-based party.
He alleged that Saifuddin played into racial politics when he joined Bersatu after quitting PKR.
"He betrayed Pakatan Harapan and PKR and decided to become a member of Bersatu, which we all know is a race-based party," Nik Nazmi said.
In 2018, then Bersatu chairman Dr Mahathir Mohamad, in defending the party's race-based approach, said it was a "realistic" course since Malaysians were split along racial lines.
Nik Nazmi told FMT he nevertheless agreed that racial politics should be curbed.
Saifuddin spoke against racial politics and other manifestations of race consciousness in a formal speech he gave last Tuesday.
He urged the government to work towards curbing racial politics, which he said was the source of various social diseases.
He said hate speech and other shows of racism would cause animosity and could lead to violence.
He called for racial tolerance, inter-racial understanding and the embrace of cultural diversity, saying these should form the foundation for peaceful coexistence.
Batu Kawan MP Kasthuri Patto said Saifuddin's suggestion should be tabled in the Cabinet.
"I would like to hear the reaction of the other Cabinet members to the idea of eliminating racial politics as most of them opposed the International Convention on the Elimination of All Forms of Racial Discrimination when PH was in power," she told FMT.
She said Saifuddin should act on his words.
She asked whether Prime Minister Ismail Sabri Yaakob was ready to dig deeper and weed out race-based policies, which she said had led to racial discrimination.
Klang MP Charles Santiago said this was a tall task as the system of governance in the country revolved around race and religion.
Source: Free Malaysia Today
Please click the following URL to read the full text of the original story:
https://www.freemalaysiatoday.com/category/nation/2022/05/20/pkr-man-sees-irony-in-saifuddins-talk-against-race-politics/
--------
Be the change you want to see, Young Syefura tells those criticising DAP as Chinese chauvinists
By Keertan Ayamany
20 May 2022
KUALA LUMPUR, May 20 — Malays who believe DAP to be Chinese-dominant can and should join the party to correct this directly, said central executive committee member Young Syefura Othman.
Saying no party was perfect, Young Syefura told Malay Mail that she nevertheless felt DAP frequently gave chances for new members to lead, regardless of race, which made it ideal for those opposed to communal politics.
"For me (the solution is) simple, then more Malays should join DAP. Then we will be more balanced.
"Because people always say DAP is a Chinese party. Then you, who are Malay, you should join and you will know what it really is like," said the Ketari assemblyman.
In recent years, DAP leadership has been pushing for more non-Chinese members, especially Malays, as it tries to win the hearts of the largest race in Malaysia.
However, the party polls last month seem to show that DAP has regressed in its goal, as Young Syefura was the only Malay member voted into the party's highest echelon — the central executive committee (CEC).
Previous Malay members of the CEC, Tengku Zulpuri Shah Raja Puji and Zairil Khir Johari, failed to be voted in.
Nevertheless, Tengku Zulpri was eventually co-opted into the committee, along with Syahredzan Johan, the political secretary of party veteran Lim Kit Siang.
In Parliament, DAP currently holds the highest number of seats with 42, ahead of Umno's 38 and PKR's 36.
However, Tengku Zulpuri, who is a member of the Pahang royal family, is currently the only Malay DAP MP.
Young Syefura said that those wishing to join DAP, especially Malays, must be able to accept multiracialism and multiculturalism, and be prepared to be attacked for joining it.
Among others, political rivals such as Umno regularly accuse DAP of being anti-Malay and Islam, leading to members of the community who join the party being labelled as race traitors.
"They must understand what they want to do for themselves, and what they want to do for the party," she said.
"I am still labelled by all kinds of names, as well as other popular Malay leaders. You need to be strong enough to face this.
Source: Malay Mail
Please click the following URL to read the full text of the original story:
https://www.malaymail.com/news/malaysia/2022/05/20/be-the-change-you-want-to-see-young-syefura-tells-those-criticising-dap-as-chinese-chauvinists/7740
--------
Arab World
Lebanon's emboldened opposition goes from protest to parliament
19 May ,2022
When Halime El Kaakour enters Lebanon's parliament as a newly elected lawmaker next week, she will step past the same concrete barriers that security forces erected to keep her and other protesters out during massive anti-government rallies in 2019.
Powered by that protest movement and popular anger over the financial implosion that followed, about a dozen activists and reform-minded newcomers like her were elected to the 128-member legislature on Sunday.
"You don't want us to enter parliament as normal citizens? You blocked us and put up walls? Well, now we're entering as MPs," Kaakour, who has a PhD in public international law and teaches at the Lebanese University, told Reuters.
Reform-minded candidates ran without the financial resources or staff of established factions but still won more than 200,0000 votes, second only to powerful armed group Hezbollah, gaining seats across Lebanon's electoral districts and sects.
It marked a significant break from politics-as-usual in Lebanon, where a handful of parties claiming to represent the country's mosaic of religious sects have dominated politics since a 1975-90 civil war.
"People can't believe it... We are planting hope, and God willing, we will harvest change," said Kaakour, 46, and the only Sunni Muslim woman in parliament.
Their wins weren't the only surprises in Sunday's poll. Shia armed movement Hezbollah and its allies lost the majority they had won in 2018, while their opponents - the Christian Lebanese Forces party - made sizeable gains.
Analysts say that could heighten sectarian tensions as the LF pushes for Hezbollah's disarmament - but most new candidates say there are more pressing issues at hand.
'The battle is economic'
They blame established parties for policies that unleashed an economic crisis that has pushed nearly three-quarters of Lebanon's population under the poverty line and seen the local pound lose more than 90 percent of its value.
"For more than 30 years, they have been saying the same things, while electricity and water and education were at rock-bottom and they divided spoils and stole," Kaakour said.
"The priority now is to respond to people's crisis of living... the battle is economic par-excellence."
Elias Jrade, an eye surgeon who won a seat in Hezbollah's south Lebanon stronghold, told Reuters he would seek to reform the healthcare system, electricity woes and public schools.
Jrade unseated one of Lebanon's longest-sitting MPs: 70-year-old Assaad Hardan, who had been in parliament for 30 years.
The slender Christian Orthodox said he ran because of his daughter's urge to join anti-government demonstrations after the Beirut port blast of 2020, which many blame on safety failings by senior officials.
"I thought, shame on me. My 16-year-old daughter wants to protest to build a nation for me. That should be my duty," he told Reuters, holding back tears. He spoke three days after the election, between back-to-back operations at his Beirut clinic, which he said he intends to continue as MP.
"You'll know I've betrayed you the minute I stop working here. I feed myself and others off the sweat of my brow - so if I stop working, I'll be feeding off of the sweat of your brow instead," said Jrade.
Like-minded newcomers have been meeting to align their positions, but Jradi said he preferred not to form a single party so each could continue to operate independently. Either way, Jrade said, he doesn't plan to be in parliament for long.
Source: Al Arabiya
Please click the following URL to read the full text of the original story:
https://english.alarabiya.net/features/2022/05/19/Lebanon-s-emboldened-opposition-goes-from-protest-to-parliament
--------
Saudi religious moderation: the world's foremost publisher of Qur'ans has yet to get the message
May 19, 2022
By Dr. James M. Dorsey
When the religious affairs minister of Guinea-Conakry visited Jeddah last week, his Saudi counterpart gifted him 50,000 Qur'ans.
Saudi Islamic affairs minister Abdullatif Bin Abdulaziz Al-Sheikh offered the holy books as part of his ministry's efforts to print and distribute them and spread their teachings.
The Qur'ans were produced by the King Fahd Complex for the Printing of the Holy Qur'an, which annually distributes millions of copies. Scholar Nora Derbal asserts that the Qur'ans "perpetuate a distinct Wahhabi reading of the scripture."
Similarly, Saudi Arabia distributed in Afghanistan in the last years of the US-backed government of President Ashraf Ghani thousands of Qur'ans produced by the printing complex, according to Mr. Ghani's former education minister, Mirwais Balkhi. Mr. Balkhi indicated that the Qur'ans were identical to those distributed by the kingdom for decades.
Mr. Ghani and Mr. Balkhi fled Afghanistan last year as US troops withdrew from the country and the Taliban took over.
Human Rights Watch and Impact-se, an education-focused Israeli research group, reported last year that Saudi Arabia, pressured for some two decades post-9/11 by the United States and others to remove supremacist references to Jews, Christian, and Shiites in its schoolbooks, had recently made significant progress in doing so.
However, the two groups noted that Saudi Arabia had kept in place fundamental concepts of an ultra-conservative, anti-pluralistic, and intolerant interpretation of Islam.
The same appears true for the world's largest printer and distributor of Qur'ans, the King Fahd Complex.
Saudi Crown Prince Mohammed bin Salman has, since his rise in 2015, been primarily focussed on social and economic rather than religious reform.
Mr. Bin Salman significantly enhanced professional and personal opportunities for women, including lifting the ban on women's driving and loosening gender segregation and enabled the emergence of a Western-style entertainment sector in the once austere kingdom.
Nevertheless, Saudi Islam scholar Besnik Sinani suggests that "state pressure on Salafism in Saudi Arabia will primarily focus on social aspects of Salafi teaching, while doctrinal aspects will probably receive less attention."
The continued production and distribution of Qur'ans that included unaltered ultra-conservative interpretations sits uneasily with Mr. Bin Salman's effort to emphasize nationalism rather than religion as the core of Saudi identity and project a more moderate and tolerant image of the kingdom's Islam.
The Saudi spin is not in the Arabic text of the Qur'an that is identical irrespective of who prints it, but in parenthetical additions, primarily in translated versions, that modify the meaning of specific Qur'anic passages.
Commenting in 2005 on the King Fahd Complex's English translation, the most widely disseminated Qur'an in the English-speaking world, the late Islam scholar Khaleel Mohammed asserted that it "reads more like a supremacist Muslim, anti-Semitic, anti-Christian polemic than a rendition of the Islamic scripture."
Religion scholar Peter Mandaville noted in a recently published book on decades of Saudi export of ultra-conservative Islam that "it is the kingdom's outsized role in the printing and distribution of the Qur'an as rendered in other languages that becomes relevant in the present context."
Ms. Derbal, Mr. Sinani and this author contributed chapters to Mr. Mandaville's edited volume.
The King Fahd Complex said that it had produced 18 million copies of its various publications in 2017/18 in multiple languages in its most recent production figures. Earlier it reported that it had printed and distributed 127 million copies of the Qur'an in the 22 years between 1985 and 2007. The Complex did not respond to emailed queries on whether parenthetical texts have been recently changed.
The apparent absence of revisions of parenthetical texts reinforces suggestions that Mr. Bin Salman is more concerned about socio-political considerations, regime survival, and the projection of the kingdom as countering extremism and jihadism than he is about reforming Saudi Islam.
It also spotlights the tension between the role Saudi Arabia envisions as the custodian of Islam's holiest cities, Mecca and Medina, and the needs of a modern state that wants to attract foreign investment to help ween its economy off dependency on oil exports.
Finally, the continued distribution of Qur'ans with seemingly unaltered commentary speaks to the balance Mr. Bin Salman may still need to strike with the country's once-powerful religious establishment despite subjugating the clergy to his will.
The continued global distribution of unaltered Qur'an commentary calls into question the sincerity of the Saudi moderation campaign, particularly when juxtaposed with rival efforts by other major Muslim countries to project themselves as beacons of a moderate form of Islam.
Last week, Saudi Arabia's Muslim World League convened some 100 Christian, Jewish, Hindu, and Buddhist religious leaders to "establish a set of values common to all major world religions and a vision for enhancing understanding, cooperation, and solidarity amongst world religions."
Once a major Saudi vehicle for the global propagation of Saudi religious ultra-conservatism, the League has been turned into Mr. Bin Salman's megaphone. It issues lofty statements and organises high-profile conferences that project Saudi Arabia as a leader of moderation and an example of tolerance.
The League, under the leadership of former justice minister Mohammed al-Issa, has emphasised its outreach to Jewish leaders and communities. Mr. Al-Issa led a delegation of Muslim religious leaders in 2020 on a ground-breaking visit to Auschwitz, the notorious Nazi extermination camp in Poland.
However, there is little evidence, beyond Mr. Al-Issa's gestures, statements, and engagement with Jewish leaders, that the League has joined in a practical way the fight against anti-Semitism that, like Islamophobia, is on the rise.
Similarly, Saudi moderation has not meant that the kingdom has lifted its ban on building non-Muslim houses of worship on its territory.
The Riyadh conference followed Nahdlatul Ulama's footsteps, the world's largest Muslim civil society movement with 90 million followers in the world's largest Muslim majority country and most populous democracy. Nahdlatul Ulama leader Yahya Cholil Staquf spoke at the conference.
In recent years, the Indonesian group has forged alliances with Evangelical entities like the World Evangelical Alliance (WEA), Jewish organisations and religious leaders, and various Muslim groups across the globe. Nahdlatul Ulama sees the alliances as a way to establish common ground based on shared humanitarian values that would enable them to counter discrimination and religion-driven prejudice, bigotry, and violence.
Nahdlatul Ulama's concept of Humanitarian Islam advocates reform of what it deems "obsolete" and "problematic" elements of Islamic law, including those that encourage segregation, discrimination, and/or violence towards anyone perceived to be a non-Muslim. It further accepts the Universal Declaration of Human Rights, unlike the Saudis, without reservations.
The unrestricted embrace of the UN declaration by Indonesia and its largest Muslim movement has meant that conversion, considered to be apostasy under Islamic law, is legal in the Southeast Asian nation. As a result, Indonesia, unlike Middle Eastern states where Christian communities have dwindled due to conflict, wars, and targeted attacks, has witnessed significant growth of its Christian communities.
Christians account for ten percent of Indonesia's population. Researchers Duane Alexander Miller and Patrick Johnstone reported in 2015 that 6.5 million Indonesian had converted to Christianity since 1960.
That is not to say that Christians and other non-Muslim minorities have not endured attacks on churches, suicide bombings, and various forms of discrimination. The attacks have prompted Nahdlatul Ulama's five million-strong militia to protect churches in vulnerable areas during holidays such as Christmas. The militia has also trained Christians to enable them to watch over their houses of worship.
Putting its money where its mouth is, a gathering of 20,000 Nahdlatul Ulama religious scholars issued in 2019 a fatwa or religious opinion eliminating the Muslim legal concept of the kafir or infidel.
Source: Modern Diplomacy
Please click the following URL to read the full text of the original story:
https://moderndiplomacy.eu/2022/05/19/saudi-religious-moderation-the-worlds-foremost-publisher-of-qurans-has-yet-to-get-the-message/
--------
US announces new Hezbollah-related sanctions on Lebanese businessmen, companies
9 May ,2022
The US sanctioned several Lebanese individuals and companies on Thursday for their work to facilitate funds to the Iran-backed Hezbollah.
Ahmad Jalal Reda Abdallah and five of his associates were designated, along with eight of Abdallah's companies in Lebanon and Iraq.
"This action illuminates Hezbollah's modus operandi of using the cover of seemingly legitimate businesses to generate revenue and leverage commercial investments across a multitude of sectors to secretly fund Hezbollah and its terrorist activities," the Treasury Department said in a statement.
Hezbollah was designated a terrorist organization by the US in 1997. Several European and Gulf nations followed suit years later.
The Treasury Department accused Hezbollah of establishing companies with "opaque ownership structure" to conceal their involvement in the businesses. The US also said Hezbollah was hiding its participation in companies to hide its role in criminal activities such as altering medication labels for black market pharmaceutical sales.
"Hezbollah has built a web of businesses to hide its activities and generate funds for its destabilizing activities, all at the expense of accountability and public safety in Lebanon and the region," said Under Secretary of the Treasury for Terrorism and Financial Intelligence Brian Nelson.
But the Treasury Department official said Washington was committed to protecting Lebanon's financial system and its private sector from Hezbollah's abuse.
Source: Al Arabiya
Please click the following URL to read the full text of the original story:
https://english.alarabiya.net/News/middle-east/2022/05/19/US-sanctions-Lebanese-businessman-his-companies-over-Hezbollah-links
--------
UAE President to send AED35 million humanitarian aid to Somalia
20 May, 2022
UAE President Sheikh Mohamed bin Zayed Al Nahyan has ordered that AED35 million of urgent humanitarian aid is to be sent to Somalia to support its developmental efforts and alleviate extreme poverty, according to state news agency WAM.
The aid reaffirms the UAE's commitment to helping friendly countries and its efforts to develop its bilateral relations with Somalia, it said.
Somalia is currently experiencing one of its worst droughts in living memory.
UNICEF estimates estimated 4.8 million people are experiencing severe food insecurity, while around 1.4 million children are likely to be acutely malnourished by the end of 2022. About 3.5 million people are facing acute water shortages.
Source: Al Arabiya
Please click the following URL to read the full text of the original story:
https://english.alarabiya.net/News/gulf/2022/05/20/UAE-President-to-send-AED35-million-humanitarian-aid-to-Somalia
--------
US military review of civilian casualties in Syria flawed, claims Human Rights Watch
May 19, 2022
LONDON: Internal US military reviews of operations resulting in civilian harm remain "fundamentally" flawed and require urgent redress despite pledges made last year, Human Rights Watch said on Thursday.
On Tuesday, the US Department of Defense released a public summary, but not the full report, of an airstrike it conducted against Syria in 2019 in which it acknowledged faults for the handling of the operation but found no one accountable.
Sarah Yager, Washington director of Human Rights Watch, said: "It's disappointing but not surprising the DOD has once again refused to hold itself accountable for civilian deaths."
She added: "In addition to resolving obvious flaws in its investigative process, the US military should publish the full review, as a show of respect to the victims' families and to prevent future abuses."
Defense Secretary Lloyd Austin initiated the review after a November New York Times article condemned an initial investigation for its failure to acknowledge that dozens of civilians had been killed by the strike on Baghouz in March 2019 and alleged individuals within the DOD had sought to cover up the extent of civilian harm.
Despite Austin's intervention and pledge to create a Civilian Harm Mitigation and Response Action Plan, HRW said this latest review failed in its commitments to transparency, lacked information from witnesses, used "an overly elastic definition of combatants" and did not provide amends for the civilians harmed.
The NGO claimed the DOD classified all adult males as combatants, regardless of their participation in hostilities, contravening international humanitarian law standards on distinguishing between civilians and combatants; relied on incorrect Syrian allies, rather than properly verifying information received; and provided no evidence of interviews with people outside the US military.
In a statement, HRW said: "Instead, it appears that the military reviewers relied upon the same incomplete information in the review that they relied upon to conduct the airstrike."
Yager pointed to the failure to investigate as proof that the US Congress needed to intervene to urgently address the military's handling of civilian harm.
Source: Arab News
Please click the following URL to read the full text of the original story:
https://www.arabnews.com/node/2085726/middle-east
--------
Africa
Jordan's king restricts 'delusional' Prince Hamzah's movement, communications
19 May ,2022
Jordan's King Abdullah issued a decree Thursday restricting the movement, place of residence and communications of his half-brother Prince Hamzah.
The king issued the royal decree after approving a recommendation submitted to him on December 23 by a council formed under the Royal Family Law, state news agency Petra reported.
The king explained his decision, saying that when Prince Hamzah's actions of "sedition" emerged, he decided to handle the matter within the family in the hope that Prince Hamzah "would come to his senses."
"However, after a year and a half, he [failed] to do so… and I [unfortunately] realized that he will not change his ways," King Abdullah said in a letter. "I realized he [suffers from] a delusion where he sees himself as the guardian of our Hashemite legacy and where he believes that [he is the victim] of a systematic campaign [launched against him] by our institutions."
The king also noted that Prince Hamzah's remarks and actions "reflected his denial of the reality he lives" and showed that he rejects to bear responsibility for his actions.
In April 2021, Jordan's Deputy Prime Minister Ayman Safadi said Prince Hamzah had attempted to mobilize local officials for actions intended to harm Jordan's security.
Prince Hamzah apologized in March in a letter to the king over the attempt, saying he bears the responsibility for any mistakes made against the king and the country and for the consequences of his actions which pertain to "sedition."
"My brother, Hamzah, continues to ignore all the facts and conclusive evidence," the king also said, adding that Prince Hamzah manipulated facts "to back his fake account" of events.
"Unfortunately, my brother truly believes his claims," he added.
King Abdullah also described Prince Hamzah's actions as "irresponsible" actions that aim to sow unrest, noting that even though Prince Hamzah had pledged to quit these actions, he soon "returned to the path he's adopted for years."
"He puts his interests above the country's interests… and plays the role of the victim."
The king revealed that he had been patient and tolerant for years in the hope that Prince Hamzah would one day "mature" and contribute to serving the people of Jordan and protecting the country and its interests.
Prince Hamzah continued to suspect everyone around him while justifying his inability to serve the country by claiming he was "targeted," King Abdullah said.
The king also revealed that he received complaints from army commanders and soldiers saying that Prince Hamzah arrogantly dealt with them and that he attempted to "raise doubts about the professionalism of the Armed Forces."
Acknowledging that he's well-aware of the country's challenges, King Abdullah said he welcomes constructive criticism. But, "these challenges cannot be resolved through actions that attempt to exploit the economic circumstances to spread despair."
Commenting on Prince Hamzah's absence during the funeral of their uncle, Prince Mohammed bin Talal, in April, King Abdullah said Prince Hamzah refused to attend the funeral to "strengthen the idea that he's the victim."
The king also said that Prince Hamzah ignored the advice of members of the royal family to amend his ways, adding that a private letter that Prince Hamzah sent him on January 15 "misrepresented facts… and ignored everything that does not harmonize with his version of events."
"He ignored what has been exposed about his suspicious relations and communications with Bassem Awadallah as well as Hassan bin Zaid who sought assistance from foreign embassies to inquire about the possibility of supporting him in case a change in governance happens," the king said, adding that Prince Hamzah was well-aware of bin Zaid's actions.
Awadallah, who once served as a top adviser to the king, and bin Zaid, a member of the royal family, were found guilty of sedition and incitement in July 2021 and sentenced to 15 years in prison.
After Prince Hamzah sent him the letter in January, the king also explained that he responded to the letter and later met with him to present "a roadmap to rebuild trust."
"I was optimistic when he decided to acknowledge what he has done, and he sent me a letter [in March] apologizing to the nation and me."
However, it was only weeks before Prince Hamzah "proved his ill intentions, as he went back to playing the role of the victim," the king said, adding that Prince Hamzah did not leave his residence for an entire month and issued a statement relinquishing his royal title even though he's well-aware that granting and relinquishing titles is the king's jurisdiction.
Prince Hamzah also sent a private letter to the king asking him to allow him to keep the "financial and logistical privileges" of his title during the next phase.
The king noted that he would not allow anyone – not even his brother – to put his interests above the country's interests.
"Hence, I have decided to approve the council's recommendation," he said, adding that he had been patient about approving it because he wanted to give Prince Hamzah a chance to review his actions.
"Considering his destructive behavior, I will not be surprised if he issues abusive statements. However, we will not waste time to respond to him as I [firmly believe] he will continue to [act upon] his misleading [version of events] for the rest of his life."
Source: Al Arabiya
Please click the following URL to read the full text of the original story:
https://english.alarabiya.net/News/middle-east/2022/05/19/Jordanian-royal-decree-restricts-freedom-of-movement-of-Prince-Hamza
--------
Deborah Samuel: CPFN calls for open preaching to Muslims against taking law into their hands
May 19, 2022
By Amos Tauna
The Christian Pentecostal Fellowship of Nigeria (CPFN) has called on Islamic leaders to educate their followers through open preaching in Mosques and mass media on the negative effects of taking laws into their hands whenever they are aggrieved by alleged infringement on their religious beliefs.
The National Chairman, CPFN, Pastor E.S Awojide, in a statement through Elder Segun Bamidele, its National Publicity Secretary, was reacting to the gruesome murder of Deborah Samuel of Shehu Shagari College of Education, Sokoto, who was stoned to death and burnt for alleged blasphemy of Prophet Muhammad.
The Christian Pentecostal Fellowship of Nigeria condemned the killing and described the act as inhuman and illegal.
According to the statement, the Sultan of Sokoto, the leader of all Muslims in Nigeria, and other Islamic leaders should openly preach to all Muslims never to attack or kill any person for whatever reason, but to report any allegation of infringement of any law or custom to the Police and not to take laws into their hands.
It opined that preaching openly in the mosque and on national television would carry weight and convince Muslims that killing others for blasphemy was not the appropriate thing to do.
According to CPFN, although the Sultan had issued a statement against the killing of the student, it was not enough for him and the head of the Supreme Council for Islamic Affairs in Nigeria.
It stated, "The Sultan should let his followers know the consequences of violation of all human rights guaranteed under the Constitution of the Federal Republic of Nigeria."
He condemned in strongest terms what he called a "heinous incident" and called for the investigation, arrest, and prosecution of all those involved not just the two already apprehended.
The statement stated that the laws of the land do not allow anyone to take the life of another fellow human for any reason.
The CPFN, therefore, commiserated with the family of Deborah Samuel, all Christians in Sokoto State and Nigeria at large, appealing to them to maintain calm and orderliness in the face of the challenge.
The national chairman also called on Governor Aminu Tambuwal of Sokoto State and President Muhammadu Buhari to, as a matter of urgency, bring the people behind the gruesome murder of Deborah Samuel to book.
Source: Daily Post
Please click the following URL to read the full text of the original story:
https://dailypost.ng/2022/05/19/deborah-samuel-cpfn-calls-for-open-preaching-to-muslims-against-taking-law-into-their-hands/
--------
For the first time in half-a-century, Chad welcomes Israeli envoy
20 May ,2022
Israeli diplomat Ben Bourgel presented his credentials to the president of Chad this week - the first time in half-a-century the country has welcomed an Israeli ambassador, as the two countries move to strengthen diplomatic ties.
The Israeli Embassy in Senegal announced on Twitter that Bourgel, the non-resident ambassador to a host of African nations including Senegal, Gambia and Guinea, presented his credentials to Chad President Mahamat Idriss Deby Into on Tuesday.
On Twitter, the Israeli Embassy said: "This marks an important benchmark in the deepening of the relations between Chad and Israel since their resumption in 2019.
"Ambassador Bourgel and his team will work to strengthen the cooperation between the two countries in areas of common interest such as climate change, agriculture, water management and health."
Israel and Chad had friendly relations in 1960s after the north-central African nation was granted independence from France. But, like a number of its sub-Saharan neighbors, Chad cut off ties with the Jewish state in the early 1970s, due to pressure from the late Libyan ruler Muammar Gaddafi.
Source: Al Arabiya
Please click the following URL to read the full text of the original story:
https://english.alarabiya.net/2022/05/20/For-the-first-time-in-half-a-century-Chad-welcomes-Israeli-envoy-
--------
Sudan arrests communist party figures as thousands protest coup
19 May ,2022
Sudanese security forces arrested leading anti-coup figures on Thursday, their party said, during protests by thousands against last year's military takeover.
"Security forces raided the house of the political secretary of the Sudanese Communist Party Mohammed Mukhtar al-Khatib," the party said in a statement.
Another leading party member was also arrested at Khartoum airport, and the two men were taken to an "unknown location," the party said.
The arrests came despite a pledge by coup leader General Abdel Fattah al-Burhan to free political detainees to set the stage for talks among Sudanese factions.
Last month, authorities released several anti-coup civilian leaders arrested in a crackdown.
The Communist Party members were detained following a trip to Juba, South Sudan where they met with rebel leader Abdel Wahid Nour who has refused to sign a landmark 2020 peace deal with the Sudanese government, according to the party statement.
They also visited rebel-held areas in South Kordofan controlled by Abdelaziz al-Hilu, who also abstained from the 2020 deal, it said.
Thousands of protesters on Thursday took to the streets, mainly in Khartoum but also elsewhere, to again call for civilian rule in the latest rally against the October coup led by Burhan, according to AFP correspondents.
The pro-democracy Central Committee of Sudan Doctors said security forces fired tear gas "in large quantities" to quell the protests.
Regular mass demonstrations have rocked Sudan since the coup which derailed a fragile political transition set in motion after the 2019 ouster of longtime president Omar al-Bashir.
Demonstrations have been met by a violent crackdown which has so far killed at least 95 protesters and wounded hundreds of others, according to medics.
The United Nations, along with the African Union and regional bloc IGAD, have been pushing to facilitate Sudanese-led talks to resolve the crisis after the northeast African country's latest coup.
Source: Al Arabiya
Please click the following URL to read the full text of the original story:
https://english.alarabiya.net/News/middle-east/2022/05/19/Sudan-arrests-communist-party-figures-as-thousands-protest-coup
--------
Burkina Faso attacks leave 11 soldiers, 15 gunmen dead: Army
20 May ,2022
Eleven soldiers and 15 gunmen have been killed in a suspected extremist attack in eastern Burkina Faso, the army said.
On Thursday, security and local sources gave a provisional toll of seven soldiers killed in an assault on a military unit, while a separate attack on a bus left one civilian dead.
But in a statement released overnight, the military chief of staff said that 11 troops had been killed.
"A complex attack -- shells fired, followed by direct fire on the base" in Madjoari in the Kompienga province, it said in a statement.
"Eleven soldiers lost their lives... (and) at least 20" wounded, it said.
Army warplanes helped to "neutralise at least 15 terrorists who were trying to escape after the attack," it said.
On Saturday, around 40 people - many of them civilian volunteers with the army - were killed in three suspected extremist attacks in the same regions.
The new head of state, Lieutenant-Colonel Paul-Henri Sandaogo Damiba, says he has made the security crisis his "priority".
Damiba overthrew elected president Roch Marc Christian Kabore in January, accusing him of being ineffective in the face of extremist violence.
After a relative lull when Damiba took power, a surge in attacks has claimed almost 200 lives.
Source: Al Arabiya
Please click the following URL to read the full text of the original story:
https://english.alarabiya.net/News/world/2022/05/20/Burkina-Faso-attacks-leave-11-soldiers-15-gunmen-dead-Army
--------
Europe
Swedish journalist says Turkiye is right to oppose Stockholm's NATO membership
Atila Altuntas
19.05.2022
STOCKHOLM
Turkiye has valid grounds for opposing Sweden's NATO membership, a Swedish journalist said in his column on Thursday.
PM Nilsson, foreign affairs editor at Swedish daily Dagens Industri, said that there are legitimate reasons for Turkiye to stand against Sweden's application to join NATO.
He said the Social Democratic Party's precondition for Magdalena Andersson's election as premier was the "agreement" it made with independent MP Amineh Kakabaveh to help the YPG/PKK terror group.
The agreement was "weird" and "unconstitutional," he said.
"It was to deepen cooperation with the YPG/PKK in Syria. This agreement means that a single lawmaker dictates Sweden's foreign policy through the YPG, which is defined by Turkiye as the Syrian branch of the PKK," according to Nilsson.
He further said this "untenable agreement" showed that there is no "misunderstanding" by Turkiye, as opposed to what Swedish Foreign Minister Ann Linde said.
On the election of Andersson as Sweden's prime minister, far-right Sweden Democrats leader Jimmie Akesson had said that the Social Democratic Party was negotiating with the PKK terror group to form a government.
"We saw that the Social Democratic Party would establish a close relationship with the PYD, a branch of the PKK terror group, via Kakabaveh to form the government," Akesson had said.
Source: Anadolu Agency
Please click the following URL to read the full text of the original story:
https://www.aa.com.tr/en/europe/swedish-journalist-says-turkiye-is-right-to-oppose-stockholms-nato-membership/2592475
--------
Italian premier to visit Turkiye in July for bilateral talks
Baris Seckin
19.05.2022
ROME
The Italian premier said on Thursday that he would visit Turkiye in July for bilateral talks.
Addressing the parliament on the latest developments in Ukraine, Mario Draghi reiterated Italy's stance against Russia's war on Ukraine.
He said no intergovernmental summit has been held between Italy and Turkiye for 10 years, adding his visit will come in early July.
The premier said that during his visit, the two sides will discuss diplomatic efforts to end the conflict in Ukraine and strengthen bilateral ties.
Regarding the alleged war crimes committed by Russian forces in Ukraine, the Italian premier said that he offered Italy's support to investigate these claims as mass graves were found in the war-torn country.
Also touching on the increasing NATO actions in the eastern flank, Draghi underlined that in addition to 2,500 Italian soldiers in Eastern Europe, Italy will send 1,000 more soldiers to Hungary and Bulgaria.
Source: Anadolu Agency
Please click the following URL to read the full text of the original story:
https://www.aa.com.tr/en/europe/italian-premier-to-visit-turkiye-in-july-for-bilateral-talks/2592385
--------
Germany arrests leading members of DHKP-C terror group
19.05.2022
BERLIN
German police have arrested three senior members of the far-left terror group DHKP-C, authorities said on Thursday.
The terror group's alleged Germany chief Ozgul E., and two other leading figures, were arrested following a lengthy investigation, the Federal Prosecutor's Office said in a statement.
Ozgul E., who is also on Turkiye's list of most-wanted terrorists, was arrested on Monday in the southwestern city of Heidelberg, according to the prosecutors.
She was suspected of organizing the terror group's propaganda, recruitment and funding activities across Germany, and is believed to have supplied fake passports to the members of the group.
Serkan K., who had coordinated the terror group's activities in northern Germany, was arrested in Hamburg on Tuesday.
Prosecutors said a third senior member of the group, Ihsan C., was arrested in the western city of Bochum on Wednesday.
He was suspected of coordinating DHKP-C's activities in southern Germany, organizing propaganda activities, and providing fake ID documents and logistical support for the terror group.
Germany banned the DHKP-C in 2000, but the group is still active in the country, and has around 650 followers among the immigrant population, according to the domestic intelligence agency BfV.
Besides Turkiye, the US and the European Union list the DHKP-C as a terror organization.
Source: Anadolu Agency
Please click the following URL to read the full text of the original story:
https://www.aa.com.tr/en/europe/germany-arrests-leading-members-of-dhkp-c-terror-group/2592263
--------
Tajikistan detains 114 over clashes in troubled eastern region
19 May ,2022
Police in Tajikistan said Thursday over 100 people were arrested in a "counter-terror operation" after fatal clashes roiled an eastern region that the authoritarian regime has long struggled to control.
Nine people, eight of whom the government described as "militants," and one officer were killed Wednesday following the worst violence in the remote Gorno-Badakhshan region since 2012.
The interior ministry said police detained 114 "members of a terrorist group" during operations in the region's Rushan district, with a further eight members of the group still at large.
The situation in Rushan had "normalized," the ministry said in a statement carried by Tajikistan's state information service.
Gorno-Badakhshan has been a flashpoint of tensions since the end of a five-year civil war that began shortly after the Central Asian nation gained its independence with the collapse of the Soviet Union in 1991.
Linguistically, religiously and ethnically distinct from other regions, it was a home to rebels who opposed government forces during the conflict before the parties reached an uneasy truce.
Authorities announced a "counter-terror operation" Tuesday in response to protests in the city of Khorog that began over the weekend and included calls for the government-appointed regional head to step down, media said.
Internet has been largely unavailable in the region since the unrest began and mobile communications have also been affected.
A rare independent media outlet in the national capital Dushanbe, Asia-Plus, said this week it would cease reporting on the conflict "under the threat of closure" by the government.
Authorities informed the website its coverage was "one-sided" and "destabilizes the situation in the country," Asia-Plus said.
In a joint statement, the European Union delegation in Tajikistan and the embassies of Britain, France, Germany and the United States called on "all parties to spare no effort to de-escalate, exercise restraint and refrain from excessive use of force and incitement to violence."
Among the government's key targets in the region is Mamadbokir Mamadbokirov, a local powerbroker, that authorities describe as "leader of an organised criminal group."
Officials have not yet said whether Mamadbokirov has been detained.
Source: Al Arabiya
Please click the following URL to read the full text of the original story:
https://english.alarabiya.net/News/world/2022/05/19/Tajikistan-detains-114-over-clashes-in-troubled-eastern-region
--------
Sweden's approach towards 'protecting' terrorists
Kemal Karadag
19.05.2022
Sweden has an approach to "protect" terrorists as it has either rejected or failed to respond to Turkiye's requests for extradition of fugitive terror group members, Anadolu Agency has learned.
According to sources, Sweden refused the extradition and granted citizenship to Mehmet Sirac Bilgin, Aysel Alhan, Aziz Turan, Ragip Zarakolu, and Halef Tak, who are all affiliated with the PKK/YPG terror group.
The extradition request of FETO members, including Harun Tokak, a senior operative of the terror group and its so-called Israel representative, as well as Bulent Kenes, a former editor of FETO's English-language mouthpiece Today's Zaman, was also not responded to.
Similarly, Stockholm never got back to Turkiye's demand for the extradition of FETO members Levent Kenez and Yilmaz Ayten, who was granted asylum in Sweden after living in Afghanistan for years.
In its more than 35-year terror campaign against Turkiye, the PKK – listed as a terrorist organization by Turkiye, the US, and EU – has been responsible for the deaths of over 40,000 people, including women, children, and infants. The YPG is PKK's Syrian offshoot.
FETO and its US-based leader Fetullah Gulen orchestrated the defeated coup of July 15, 2016 in Turkiye, in which 251 people were killed and 2,734 injured.
Source: Anadolu Agency
Please click the following URL to read the full text of the original story:
https://www.aa.com.tr/en/europe/swedens-approach-towards-protecting-terrorists/2592537
--------
URL: https://newageislam.com/islamic-world-news/exiled-afghan-warlords-national-resistance-taliban/d/127048
New Age Islam Islam Online, Islamic Website, African Muslim News, Arab World News, South Asia News, Indian Muslim News, World Muslim News, Women in Islam, Islamic Feminism, Arab Women, Women In Arab, Islamophobia in America, Muslim Women in West, Islam Women and Feminism