New Age Islam News Bureau
28 Nov 2013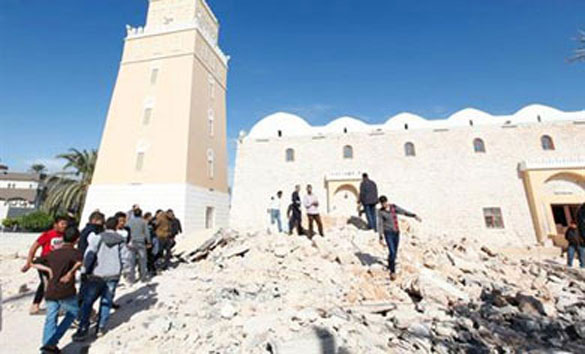 People gather to inspect a destroyed shrine at Murad Agha mosque, which was bombed early this morning, in Tripoli, November 27, 2013. REUTERS/Ismail Zitouny
----------
Arab World
• Execution-Style Killings in Iraq Raise Fears of Return to Sectarian Violence
• 15 killed as Iraq struggles to stem unrest
• Appeals Court Of Jeddah Upholds 15-Year Jail Sentence of 'Al-Qaeda Mufti'
• Syrian troops capture western town
• Fighting rages near Damascus, missile hits Raqa: Monitor
• Egypt's highest-profile secular activists threatened with arrest
Pakistan
• CIA's Most Senior Officer in Pakistan 'Unmasked' By Imran Khan's Party
• Taliban presence hindering law enforcers, SC told
• Will recover Baloch missing persons before Dec 10, Khawaja Asif tells SC
• UN panel questions drones legality
• No ban on religious processions yet: IGP
• Lieutenant General Aslam resigns after he fails to become Pak army chief
• Taliban tell Pakistanis to 'stop praising Sachin Tendulkar'
North America
• NSA 'Collected Details of Online Sexual Activity' Of Islamist Radicals
• CNN censors Russian Ambassador to UN assessment of Syrian rebel activities
• Iran can continue building at Arak nuclear site, US says
• US offers to destroy Syrian chemical arms at sea
Mideast
• 500 Turks fighting alongside Al Qaeda in Syria: Turkish interior ministry
• Three Palestinian militants killed in Israeli West Bank raid
• Iran invites UN atomic watchdog to visit Arak site Dec 8 - IAEA
• New breed of radical Islamists in West Bank worries Israel, PA
• Mideast peace 'urgent' but possible: Israeli president
India
• Gujarat to Supreme Court: Sachar panel illegal, only to help Muslims
• India likely to fast-track Iran port, oil plans
• Ram Leela and a new Pakistani love affair with India
Africa
• Rwanda launches circumcision campaign to tackle HIV
• Blast destroys centuries-old Libya shrine
• Nigeria Sharia police smash 240,000 bottles of beer
• Mali's coup leader Sanogo charged with murders
Europe
• 15 radical Islamists held in Russia
• UN to send envoy to Bangladesh amid rising violence
• French Burqa ban challenged in top European court
• Germany's Turkish community says let down by coalition deal on dual citizenship
• Report: London is mediating indirect secret talks between US and Hezbollah
• Russia greets Syria gov't decision to go to Geneva-2
South Asia
• Bangladesh opposition extends nationwide strike amid violence
• Armed forces ready to be deployed when EC wants: CEC Bangladesh
• Bomb blasts kill 6 in eastern Afghanistan
• Maldivian Parliament privileges committee seeks intervention in MP Hamid appeal case
• Maldives eyes alternative fish export markets, Maldives fish to be labelled 'halal'
Southeast Asia
• Counter-espionage unit always on alert against spying, says Malay Minister
Compiled by New Age Islam News Bureau
URL: https://www.newageislam.com/islamic-world-news/new-age-islam-news-bureau/execution-style-killings-in-iraq-raise-fears-of-return-to-sectarian-violence/d/34636
----------
Arab World
Execution-Style Killings in Iraq Raise Fears of Return to Sectarian Violence
By DURAID ADNAN
Nov 28 2013
BAGHDAD — A family of five killed in their home. A group of men shot dead in a field. Eight bodies, tied up in cable, discovered on a farm, each with a bullet in the head.
More than 300 Iraqis have been killed this month in bombings and shootings in markets, along roadsides, near schools and mosques, and in bakeries. On Tuesday, the United Nations Security Council condemned the recent spike in violence in Iraq and the deliberate targeting of places where civilians congregate.
But on Wednesday, the daily tally of violence took on an air of pinpoint deliberation with the execution-style killings of several groups of civilians, a grim reminder of the worst days of sectarian warfare in the country. While major bombings have become common, the killings reintroduced the prospect of a resurgence in the type of violence that rattled Iraq in 2006 and 2007.
The bodies of the eight young men tied in cable were found on a farm in Jubor, a Sunni city south of Baghdad, the same place other bodies had been dumped during the sectarian turmoil seven years ago.
The bodies of five men shot in the head and chest were found in an open field in Shula, a Shiite neighborhood in Baghdad, the authorities said.
The five family members, including two boys and a girl, were killed by gunshot in their house in Hurriya, a Shiite-majority neighborhood of Baghdad, the police said. They were identified as Sunni, but no further information about them was immediately released.
The 18 dead were among at least 40 people, including security forces, who were killed in attacks across Iraq on Wednesday.
There was no immediate claim of responsibility or way to identify the killers. In the past, the authorities have blamed Sunni militants linked to Al Qaeda, and some point to the civil war in neighboring Syria as a reason sectarian divisions in Iraq have intensified.
"It's clear that Al Qaeda, which represents the Sunnis, and the Shiite militias are again back in the streets," said Mazin al-Jubori, a military expert and a former officer during the era when Saddam Hussein was in power.
"But now it is more dangerous than before, as now some of them are in the government and they have power and access," he said. "The government must increase their information service better than keeping hundreds of useless checkpoints, as things might go worse than the dark days of 2006 to 2007."
In other violence on Wednesday, two public markets in the Baghdad neighborhoods of Dora and Talbiya were hit by bomb blasts, and four civilians were killed, security and medical workers said.
"This is the second time I get wounded in an explosion," said one victim, Ali Ahmed, 33, whose legs were injured in the Dora explosion, which he said killed his friend. "Now I would prefer if I die. Every day I lose a friend or a family member."
In southwestern Baghdad, three mortar shells fell near residential areas, killing three civilians and wounding five, while in Baya, another neighborhood in the capital, attackers in a speeding car sprayed gunfire into a public market, killing one civilian and wounding seven, security and medical sources said.
Later in the evening Wednesday, a suicide bomber struck a Sunni area of Abu Ghraib, west of Baghdad, the police said, killing 12 Sunni mourners in a funeral tent and wounding 32.
In western Anbar Province, two suicide bombers attacked two police stations, killing five policemen and wounding 18, according to police and medical officials.
In northern Iraq, four soldiers were killed and seven wounded when a roadside bomb was detonated next to their patrol in Mosul, a police official said. A police officer in Tikrit was killed when an improvised bomb fastened to his car blew up.
In Khanakeen, north of Diyala Province, in an area of dispute between Arabs and Kurds in Iraq, four Kurdish security force members were killed and 11 wounded when a suicide car bomber sped into their base, the police said.
Christine Hauser contributed reporting from New York.
http://www.nytimes.com/2013/11/28/world/middleeast/a-grim-day-for-civilians-in-iraq-as-executions-spike.html?ref=middleeast
----------
15 killed as Iraq struggles to stem unrest
Nov 28 2013
Attacks in Iraq on Thursday killed 15 people as a senior police officer escaped assassination, the latest in a surge of violence nationwide that authorities have failed to stem.
The bloodshed, in which more than 6,000 people have been killed this year, is the worst violence in Iraq since 2008.
It comes just months before a general election and has forced Baghdad to appeal for international help in battling militancy.
Although there have been no claims of responsibility for much of the unrest, officials have voiced concern over a resurgent Al-Qaeda emboldened by the civil war raging in neighbouring Syria.
In the restive city of Tikrit, north of Baghdad, a car bomb targeting Salaheddin provincial police chief Major General Juma al-Dulaimi killed three civilians and wounded two others, police and medical sources said.
Dulaimi himself escaped unharmed.
And a suicide car bombing at a police checkpoint near Samarra, also in Salaheddin, killed three police including a first lieutenant and wounded three more, according to officials.
Meanwhile in Baghdad, a roadside bomb targeting a patrol of Sahwa anti-Al-Qaeda-militiamen killed two people, one of them a Sahwa fighter, and two other bombs elsewhere in the capital left four people dead.
From late 2006 onwards, Sunni tribal militias known as the Sahwa turned against their co-religionists in Al-Qaeda and sided with the US military, helping to turn the tide of Iraq's insurgency.
Sunni militants view them as traitors and frequently target them.
Also on Thursday, gun attacks in the northern city of Mosul killed three people, including two members of the Yazidi religious sect, near their home.
Violence worsened sharply after security forces stormed a Sunni protest camp in northern Iraq on April 23, sparking clashes in which dozens died.
The authorities have made some concessions aimed at placating the protesters and Sunnis in general, such as freeing prisoners and raising the salaries of Sahwa fighters, but the underlying issues remain unaddressed.
Thursday's attacks take to nearly 600 the number of people killed this month, according to AFP figures based on security and medical sources.
http://english.ahram.org.eg/NewsContent/2/8/87716/World/Region/-killed-as-Iraq-struggles-to-stem-unrest.aspx
----------
Appeals Court Of Jeddah Upholds 15-Year Jail Sentence of 'Al-Qaeda Mufti'
JEDDAH: MD SULAMI
28 November 2013
A special criminal court has upheld a 15-year prison term that was handed to Sulaiman Al-Alwan, also known as the "Al-Qaeda mufti," in October.
The sentence was upheld after Al-Alwan appealed the preliminary ruling.
Al-Alwan was arrested on April 28, 2004, and released on bail in December 2012 for trial.
The Court of Appeals ruling is final and should be implemented immediately, which means he has six more years in jail and will be banned from traveling for 10 years on completion of his sentence.
The presiding judge of the special court in Riyadh had earlier convicted Al-Alwan of charges of visiting Al-Qaeda members and sanctioning suicide operations.
He was charged with abusing the nation's judges and bureaucrats and accusing them of being more loyal to the country's rulers than to divine rules and Prophetic traditions.
He described the religious scholars as "sultans" who only issue fatwas that suit the country's leaders.
Charges against him also included questioning the legitimacy of the country's rulers and financing terrorism through Al-Qaeda by collecting for and providing financial aid to Abu Musab Al-Zarqawi, Al-Qaeda's leader.
He also called on security personnel not to follow orders from higher authorities to protect them from blasphemy, in addition to supporting 9/11 and breaking parole terms by visiting the houses of suspects arrested in security raids.
The 15-year prison sentence includes eight years for money laundering according to Article 16 of the law against money-laundering.
Al-Alwan is banned from traveling abroad for 10 years.
The defendant is to decide the means of atonement at the end of his sentence and will be subject to new lawsuits if he is found to be in violation of the law once again.
http://www.arabnews.com/news/484261
----------
Syrian troops capture western town
Nov 28, 2013
Syrian state TV says government forces have captured a western town near the border with Lebanon, a week after opposition fighters seized it.
The Britain-based Syrian Observatory for Human Rights confirms troops are almost in full control of Deir Attiyeh, whose population is nearly a third Christian.
President Bashar Assad's forces launched an offensive this month in the rugged Qalamoun region north of the capital and along the Lebanese border in an attempt to prevent the flow of fighters from its western neighbour.
Last week troops captured the town of Qara, one of the biggest in the area. A day later the rebels launched a counteroffensive and captured the nearby Deir Attiyeh.
The fighting forced thousands of Syrians to flee to Lebanon.
http://www.thehindu.com/news/international/world/syrian-troops-capture-western-town/article5401167.ece
---------
Fighting rages near Damascus, missile hits Raqa: Monitor
Nov 28 2013
Rebels and loyalists clashed on two key fronts near Damascus, as a missile hit Raqa city in northern Syria early Thursday, killing six people and wounding 30, a monitor said.
The frontline battles raged around the Qalamoun area that links Damascus to the central city of Homs and east of the capital where rebels are fighting to break a year-long siege, said the Syrian Observatory for Human Rights.
The early morning clashes were especially fierce around Qalamoun's Deir Attiyeh which rebels, including jihadist fighters, seized from the army last week, said the Britain-based group.
Full report at:
http://english.ahram.org.eg/NewsContent/2/8/87690/World/Region/Fighting-rages-near-Damascus,-missile-hits-Raqa-Mo.aspx
----------
Egypt's highest-profile secular activists threatened with arrest
Nov 28 2013
Arrest warrants were issued for two of Egypt's highest-profile activists on Wednesday, a day after 79 other secular campaigners were detained in Cairo in the largest crackdown on non-Islamist dissent since the fall of Mohamed Morsi. It was the first use of a draconian new protest law that was enacted on Sunday and has been condemned by the UN and human rights groups.
Ahmed Maher, the leader of a youth movement that helped spearhead Egypt's 2011 revolution, and Alaa Abd El Fattah, an activist targeted by every administration since Hosni Mubarak, were accused of masterminding a protest outside the Egyptian parliament.
"We're back to Mubarak's time," said Maher by telephone, while he considered whether to hand himself in to the police. "I feel it's the same atmosphere as it was in 2008, when I was hiding and trying to escape the police, and trying to make my wife and family safe."
Full report at:
http://www.theguardian.com/world/2013/nov/27/egypt-secular-activists-arrested-protest-law
----------
Pakistan
CIA's Most Senior Officer in Pakistan 'Unmasked' By Imran Khan's Party
Nov 28 2013
The political party led by the former cricket star Imran Khan claims to have blown the cover of the CIA's most senior officer in Pakistan as part of an increasingly high-stakes campaign against US drone strikes.
The Pakistan Tehreek-e-Insaf (PTI) party named a man it claimed was head of the CIA station in Islamabad in a letter to police demanding he be nominated as one of the people responsible for a drone strike on 21 November, which killed five militants including senior commanders of the Haqqani Network.
John Brennan, the CIA director, was also nominated as an "accused person" for murder and "waging war against Pakistan".
The US embassy said it could not comment but was looking into the matter. The CIA spokesman Dean Boyd would not confirm the station chief's name and declined to immediately comment, AP reported.
Full report at:
http://www.theguardian.com/world/2013/nov/27/cia-officer-pakistan-imran-khan-party
----------
Taliban presence hindering law enforcers, SC told
November 28, 2013
KARACHI: The Supreme Court was informed on Wednesday that the law enforcement agencies are unable to launch an operation against arms and drug dens in certain parts of the city, such as Sohrab Goth, Yousuf Goth, alAsif Square, Jannat Gul Town and Machhar Colony, due to the presence of the Taliban.
During the hearing of the Karachi violence suo motu case on Wednesday, Customs chief collector Muhammad Yahya disclosed that Sohrab Goth has become a dumping site for smuggled arms, ammunitions, drugs and other goods. Sharing a report of the Customs intelligence directorate, he revealed that private companies running passenger coaches and goods transport vehicles are also involved in the smuggling of the arms from upcountry.
"The weapons dumped in these areas are smuggled to other parts of the city in these buses and vans," he added. The collector even named a private inter-city public transport and goods transport company for being involved.
Full report at:
http://tribune.com.pk/story/637896/taliban-presence-hindering-law-enforcers-sc-told/
----------
Will recover Baloch missing persons before Dec 10, Khawaja Asif tells SC
November 28, 2013
KARACHI: The 738 people missing from Balochistan will be recovered before December 10, newly appointed Minister for Defence Khawaja Asif told the Supreme Court, Express News reported on Thursday.
Asif appeared before the four-member larger bench – headed by Chief Justice Iftikhar Muhammad Chaudhry – today, along with the attorney general and Balochistan leaders.
The case was heard at the apex court's Karachi Registry where Asif said that the government has determined the whereabouts of the missing persons and they will soon be recovered.
Expressing dissatisfaction over the progress of the case, the chief justice said people had pinned hopes on the new government but the situation has not changed.
Full report at:
http://tribune.com.pk/story/638250/will-recover-baloch-missing-persons-before-dec-10-khawaja-asif-tells-sc/
----------
UN panel questions drones legality
Nov 28 2013
UNITED NATIONS - Pakistan called for immediate end to illegal US drone strikes on its territory, after a UN committee unanimously adopted a resolution that underscores need for an international agreement on legal questions involving the use of remotely piloted aircraft.
"When armed drones kill unarmed, innocent civilians, there is a clear breach of international law," Ambassador Masood Khan said while explaining Pakistan's position on the draft approved by the General Assembly Third Committee which deals with social, humanitarian and cultural questions.
Full report at:
http://www.nation.com.pk/pakistan-news-newspaper-daily-english-online/national/28-Nov-2013/un-panel-questions-drones-legality
----------
No ban on religious processions yet: IGP
November 28, 2013
LAHORE - Punjab Inspector General of Police (IGP) Khan Baig on Wednesday straightforwardly rejected the reports that the government was about to impose a complete ban on all types of religious gatherings and processions.
The provincial police chief also made it clear that the Punjab police, so far, have not received instructions from the government regarding the much-speculated ban on Majalis and processions.
"The police will provide foolproof security to all type religious gatherings and processions to maintain peace and harmony among the public in the province," IGP Khan Baig stated this while talking to a 16-member delegation of Shia leaders, who called on him at the central police office (CPO) on Wednesday.
Full report at:
http://www.nation.com.pk/pakistan-news-newspaper-daily-english-online/lahore/28-Nov-2013/no-ban-on-religious-processions-yet-igp
----------
Lieutenant General Aslam resigns after he fails to become Pak army chief
PTI | Nov 28, 2013
ISLAMABAD: Lieutenant General Haroon Aslam of the Pakistan Army, on November 28, resigned a day after he was superseded by his two juniors who were made the new army chief and the chairman joint chief of staff committee.
Aslam has sent his resignation letter to defence ministry from the GHQ, Geo News reported.
Lieutenant General Aslam had also skipped the farewell dinner hosted by Prime Minister Nawaz Sharif for the outgoing army chief General Ashfaq Parvez Kayani.
He was the senior most general after Kayani. However, Sharif appointed Lieutenant General Raheel Sharif as the 15th chief of the army staff and Lieutenant General Rashad Mahmood as the new CJCSC.
Full report at:
http://timesofindia.indiatimes.com/world/pakistan/Lieutenant-General-Aslam-resigns-after-he-fails-to-become-Pak-army-chief/articleshow/26522242.cms
--------
Taliban tell Pakistanis to 'stop praising Sachin Tendulkar'
Nov 28 2013
The Pakistani Taliban have urged the country's media to support cricket captain Misbah-ul-Haq even though he is a "pathetic player".
At the same time spokesman Shahidullah Shahid warned the media to stop praising Indian cricket hero Sachin Tendulkar, who retired this month after a brilliant 24-year career.
His comments in a video message urged Pakistanis to be more patriotic.
Correspondents say that they come at a critical time for the Taliban.
Pakistan Taliban - or Tehreek-e-Taliban Pakistan (TTP) - leader Hakimullah Mehsud was killed in a drone strike earlier this month, to be replaced days later by Mullah Fazlullah. At the same time the militants are under pressure to take part in peace negotiations with the government.
Full report at:
http://www.bbc.co.uk/news/world-asia-25135586
--------
North America
NSA 'Collected Details of Online Sexual Activity' Of Islamist Radicals
Nov 28 2013
The NSA has been collecting details about the online sexual activity of prominent Islamist radicals in order to undermine them, according to a new Snowden document published by the Huffington Post.
The American surveillance agency targeted six unnamed "radicalisers", none of whom is alleged to have been involved in terror plots.
One document argues that if the vulnerabilities they are accused of were to be exposed, this could lead to their devotion to the jihadist cause being brought into question, with a corresponding loss of authority.
As an example of vulnerabilities, it lists: "Viewing sexually explicit material online or using sexually persuasive language when communicating with inexperienced young girls."
The names of the six targeted individuals have been redacted. One is listed as having been imprisoned for inciting hatred against non-Muslims. Under vulnerabilities, the unnamed individual is listed as being involved in "online promiscuity" as well as possibly misdirecting donations.
Full report at:
http://www.theguardian.com/world/2013/nov/27/nsa-details-online-sexual-activity-islamist-radicals
----------
CNN censors Russian Ambassador to UN assessment of Syrian rebel activities
Nov 28 2013
The US CNN TV channel has dropped from its interview with the Russian Ambassador to the United Nations his appeal for the need to take into account the will of the Syrian people, who mostly support the incumbent President Bashar al-Assad, and also Churkin's statement that the Syrian opposition is stonewalling humanitarian activities, the ITAR-TASS news agency reports.
The interview is accessible on the CNN website. The final edition of the programme by a prominent host Christiane Amanpour lacks Churkin's answers to some key questions, one of which was about Assad's role after the start of the transition period. "This is for Syrians to decide", Churkin said in the full version of the interview, which has been posted on the website of the Russian Embassy to the United Nations. According to Churkin, "the reality is that many Syrians, in fact the better part of the Syrian population, back up President Assad, and this should also be taken into account". "So, let's launch a dialogue and make it possible for Syrians to make their own choice of the path towards ending the conflict", the diplomat said.
Full report at:
http://voiceofrussia.com/news/2013_11_28/CNN-cuts-out-part-of-Vitaly-Churkin-interview-1487/
----------
Iran can continue building at Arak nuclear site, US says
Nov 28 2013
Iran will pursue construction at the Arak heavy-water reactor, Foreign Minister Mohammed Javad Zarif was quoted as saying on Wednesday, despite a deal with world powers to shelve a project they fear could yield plutonium for atomic bombs. Iran claimed that it will refrain from nuclear activities banned under the Geneva deal. So the US has said Iran can take on some construction at the nuclear facility.
The Arak facility was one of the most heated issues discussed during the nuclear talks in Geneva. After the agreement was announced on Sunday, the US said that Iran would not continue its "activities" at the Arak site or advance toward plutonium production.
According to the deal, Iran agreed that it would not make "any further advances of its activities" on the reactor, which is currently under construction near the western Iranian town of Arak.
Full report at:
http://voiceofrussia.com/news/2013_11_28/Iran-can-to-continue-building-at-Arak-nuclear-site-despite-deal-US-says-8131/
---------
US offers to destroy Syrian chemical arms at sea
AP | Nov 28, 2013
WASHINGTON: The Obama administration is offering to destroy some of Syria's deadliest chemical weapons in international waters aboard a nearly 700-foot (213-meter), US government-owned ship, US officials said.
The plan, still subject to final approval, would involve destroying the weapons, likely aboard the MV Cape Ray in the Mediterranean Sea, with US Navy warships patrolling nearby.
This approach would avoid the vexing diplomatic, environmental and security problems posed by disposing of the materials on any nation's soil.
Full report at:
http://timesofindia.indiatimes.com/world/us/US-offers-to-destroy-Syrian-chemical-arms-at-sea/articleshow/26512169.cms
---------
Mideast
500 Turks fighting alongside Al Qaeda in Syria: Turkish interior ministry
2013-11-28
ISTANBUL: Hundreds of Turks have crossed the border into Syria to fight with Al Qaeda linked jihadists against the Damascus regime, according to a Turkish interior ministry report.
Turkey's government, which is fiercely opposed to President Bashar al-Assad, has come under fire for allegedly turning a blind eye to militants and weapons crossing the long border into Syria.
The interior ministry report, published in several Turkish newspapers on Wednesday, said about 500 Turkish citizens had joined the ranks of the Al-Nusra Front and the Islamic State of Iraq and the Levant (ISIL).
Full report at:
http://www.dawn.com/news/1059093/500-turks-fighting-alongside-al-qaeda-in-syria-report
----------
Three Palestinian militants killed in Israeli West Bank raid
Nov 28 2013
Israeli security forces have killed three Palestinian militants in the West Bank, Israeli security officials say.
Two of the militants were killed in a shoot-out when security forces tried to arrest them, near Hebron, a domestic intelligence official said.
Explosives and guns were found in their vehicle, police said. A third militant who had reportedly been with the pair was killed in a later gun battle.
Full report at:
http://www.bbc.co.uk/news/world-middle-east-25111227
----------
Iran invites UN atomic watchdog to visit Arak site Dec 8 - IAEA
Nov 28 2013
The UN atomic watchdog said Thursday that Iran has invited it to visit the heavy water production plant at its Arak site on December 8, for the first time since August 2011.
"I can inform the board that we have received an invitation from Iran to visit the Heavy Water Production Plant at Arak on 8 December," International Atomic Energy Agency chief Yuyika Amano said.
The International Atomic Energy Agency (IAEA) cannot verify Iran's undeclared activity in the nuclear sphere, IAEA Director General Yukiya Amano said at a meeting of the IAEA Council of Governors here on Thursday.
Full report at:
http://voiceofrussia.com/news/2013_11_28/Iran-invites-UN-atomic-watchdog-to-visit-Arak-site-Dec-8-IAEA-5779/
----------
New breed of radical Islamists in West Bank worries Israel, PA
Nov 28 2013
Extremist Salafi jihadists threaten to exploit a power vacuum in the territories.
A day after special forces killed three members of a Palestinian Salafi-jihadi terrorist cell near Hebron, senior security sources said Wednesday that the extremist movement that drove the gunmen to act remains a marginal force, but one that could grow in scope and danger if it exploits a power vacuum in the West Bank.
The terror cell that was intercepted and found to be in possession of explosives and firearms on Tuesday night was planning a kidnapping attack on IDF soldiers, according to security sources.
Full report at:
http://www.jpost.com/Defense/New-breed-of-radical-Islamists-in-West-Bank-worries-Israel-PA-333279
----------
Mideast peace 'urgent' but possible: Israeli president
November 28, 2013
MEXICO CITY: Israeli President Shimon Peres said that peace with the Palestinians was urgent and possible amid faltering negotiations between the two sides.
Peres, speaking during a visit to Mexico City, said he welcomed the new round of talks, revived in July with the aim of reaching an agreement within nine months.
"We weren't born to be enemies, we weren't born to rule other people, we weren't born to take land form anybody else; we were born with the call for peace," he said after talks with Mexican President Enrique Pena Nieto.
Full report at:
http://tribune.com.pk/story/638246/mideast-peace-urgent-but-possible-israeli-president/
----------
India
Gujarat to Supreme Court: Sachar panel illegal, only to help Muslims
Nov 28 2013
New Delhi : Terming UPA's pre-matriculation minority scholarship scheme as "arbitrary and discrimiNATOry," the Gujarat government has told the Supreme Court that the Rajinder Sachar Committee was unconstitutional, and that its "target was to help Muslims only".
The affidavit — filed in response to the Centre's stand that the scheme was valid and that the Modi government was to blame for the "deteriorating condition" of Muslims in Gujarat — has strongly criticized the manner in which the PMO set up the Sachar panel in 2005 to survey the socio-economic conditions of Muslims, while ignoring other religious minorities.
"The Sachar Committee is neither constitutional nor statutory. It has not taken into consideration other religious communities, i.e. Sikhs, Christians, Buddhists and Parsis. Therefore, it cannot form the basis of the scheme... The Committee's target was to help the Muslims only," the state, which wants the scheme struck down, has contended.
Full report at:
http://www.indianexpress.com/news/gujarat-to-supreme-court-sachar-panel-illegal-only-to-help-muslims/1200518/?india_top
----------
India likely to fast-track Iran port, oil plans
Indrani Bagchi,TNN | Nov 28, 2013
NEW DELHI: India is looking at ways to intensify engagement with Iran after the country's nuclear agreement with the P5+1 over the weekend.
A strategy session chaired by national security adviser Shivshankar Menon on Tuesday with senior officials from the ministries of finance, shipping and petroleum zeroed in on three sectors where India would try to do something extra for Iran.
An Iranian ship, Dinayat, has been stranded in Mundra port in Gujarat for the past year-and-a-half over some payments owed to a Singapore-based firm. The Iranian government has repeatedly urged India to release the ship but sources said there was a court order to seize the ship. In recent months, Iran has asked India to pay off the ship's debts from the huge amount of money kept in UCO Bank. India pays 45% of its oil payments to Iran in rupees.
Full report at:
http://timesofindia.indiatimes.com/india/India-likely-to-fast-track-Iran-port-oil-plans/articleshow/26488374.cms
----------
Ram Leela and a new Pakistani love affair with India
Kingshuk Nag,TNN | Nov 28, 2013
LAHORE: Popular conversation in Lahore's affluent society these days revolves around whether they have seen Bollywood's latest release, 'Ram Leela', which is running to packed audiences in many cinema halls. This is not the only movie being lapped up by the denizens of Lahore. Though the reviews in the local papers have dubbed the movie as being mediocre, 'Gori Tere Pyar Mein' is also drawing audiences. On a Sunday evening show at a multiplex in the city's posh Gulberg area, the audience breaks into thralls as the hero of the movie, the dhoti clad Imran Khan, runs away from the marriage mandap.
Full report at:
http://timesofindia.indiatimes.com/world/pakistan/Ram-Leela-and-a-new-Pakistani-love-affair-with-India/articleshow/26502933.cms
----------
Africa
Rwanda launches circumcision campaign to tackle HIV
Nov 28 2013
Rwanda says it has become the first country to launch a nationwide campaign to "non-surgically" circumcise 700,000 men in an attempt to cut rates of HIV infection.
The health ministry said circumcision was a crucial part of its strategy for achieving an Aids-free generation in Rwanda, where the adult HIV rate of 2.9% is already among the lowest in Africa.
Agnes Binagwaho, the health minister, said at the project's launch: "Rwanda is the first country to launch non-surgical adult male circumcision with an aim of reducing HIV infection."
The ministry said it aimed to circumcise 700,000 males between the ages of 15 and 49 across the country by the end of 2016. It is receiving support from the Global Fund to Fight Aids, Tuberculosis and Malaria, the US and the UN.
Full report at:
http://www.theguardian.com/world/2013/nov/27/rwanda-non-surgical-circumcision-hiv
----------
Blast destroys centuries-old Libya shrine
Nov 28 2013
Suspected Islamic extremists destroyed a centuries-old shrine in the Libyan capital, but the tomb inside withstood the attack, witnesses said.
The explosives were placed around the mausoleum of Murad Agha, the first Ottoman governor of Tripoli, who ruled from 1551-1553. The shrine is attached to a mosque of the same name, which did not appear to have been damaged.
Witnesses at the scene told AFP the explosion went off at around 4:00 am (0200 GMT).
Hardline Islamists -- who view the veneration of saints and shrines as a pagan holdover forbidden by Islam -- have targeted other shrines in Libya since long-ruling dictator Moamer Kadhafi was toppled and killed in a 2011 uprising.
Full report at:
http://english.ahram.org.eg/NewsContent/2/8/87648/World/Region/Blast-destroys-centuriesold-Libya-shrine.aspx
----------
Nigeria sharia police smash 240,000 bottles of beer
Nov 28 2013
Police enforcing Islamic law in Nigeria's city of Kano publicly destroyed some 240,000 bottles of beer Nov. 27, the latest move in a wider crackdown on behaviour deemed "immoral" in the area.
The banned booze had been confiscated from trucks coming into the city in recent weeks, said officials from the Hisbah, the patrol tasked with enforcing the strict Islamic law, known as sharia. Kano's Hisbah chief Aminu Daurawa said at the bottle-breaking ceremony he had "the ardent hope this will bring an end to the consumption of such prohibited substances".
A large bulldozer smashed the bottles to shouts of "Allahu Ahkbar" (God is Great) from supporters outside the Hisbah headquarters in Kano, the largest city in Nigeria's mainly Muslim north. Kegs containing more than 8,000 litres of a local alcoholic brew called "burukutu" and 320,000 cigarettes were also destroyed.
Full report at:
http://www.hurriyetdailynews.com/nigeria-sharia-police-smash-240000-bottles-of-beer.aspx?pageID=238&nID=58660&NewsCatID=357
----------
Mali's coup leader Sanogo charged with murders
Nov 28 2013
Mali's ex-coup leader has been charged with "murders and assassinations", the justice ministry has said.
Armed troops went to Amadou Sanogo's home to take him before a judge, after which he was remanded in custody.
He had repeatedly been called in for questioning over the deaths of six soldiers during an army protest in September but failed to appear.
The March 2012 coup plunged Mali into chaos, allowing Islamist militants to take over territory in the north.
The al-Qaeda-linked insurgents were ousted from the major towns in the north with the help of France and West African troops earlier this year.
Full report at:
http://www.bbc.co.uk/news/world-africa-25130505
----------
Europe
15 radical Islamists held in Russia
2013-11-28
MOSCOW: Russian police detained 15 heavily-armed radical Islamists in Moscow who allegedly belong to a banned offshoot of the Al Qaeda terror network and were preparing suicide strikes.
The interior ministry said members of Takfir wal-Hijra – a group formed in Egypt in the late 1960s and outlawed in Russia in 2010 – had been discovered hiding weapons and suicide belts along with extremist literature.
Footage aired on Russian national news channels showed helmeted riot police burst into a high-rise apartment in a pre-dawn raid and throw several men face down on the floor.
Police were shown opening plastic bags holding grenades and pistols as well as a heavy black object identified by one unnamed officer as an explosive belt.
Full report at:
http://www.dawn.com/news/1059083/15-islamists-held-in-russia
----------
UN to send envoy to Bangladesh amid rising violence
November 28, 2013
DHAKA: A United Nations envoy will visit Bangladesh to hold talks with political parties about ending an election standoff that has sparked deadly violence, an official said Thursday.
UN assistant secretary general for political Affairs Oscar Fernandez-Taranco will arrive on December 6 to hold discussions on "election preparations", Foreign Secretary Shahidul Haque told AFP.
Haque would not give details of the four-day visit, which comes as the main opposition holds deadly street protests against the timing of the January 5 elections and threatens a boycott.
But the mass-circulation Daily Star, without naming sources, said the envoy would carry "a strong message" from the UN chief to rival political leaders to hold "free, fair, credible and inclusive" polls.
Full report at:
http://tribune.com.pk/story/638256/un-to-send-envoy-to-bangladesh-amid-rising-violence/
----------
French burqa ban challenged in top European court
Nov 28, 2013
Europe's top rights court on Wednesday began hearing a challenge to France's ban on the Islamic face veil from a woman who argued the so-called burqa ban violated her religious freedom.
Wearing a garment that conceals the face is banned in public under a law dating to 2011.
The law is aimed at wearers of the burqa — a full-body covering with a mesh screen for the eyes) — and niqab — a veil that covers the face with just a slit for the eyes.
Women caught wearing the garment can be fined 150 euros (203 dollars) or required to take citizenship classes. In most cases, however, the police let the woman off with a warning, if she uncovers her face for an identity check.
Full report at:
http://www.thehindu.com/news/international/world/french-burqa-ban-challenged-in-top-european-court/article5397390.ece
-----------
Germany's Turkish community says let down by coalition deal on dual citizenship
Nov 28 2013
Angela Merkel's conservatives broke a party taboo on Nov. 27 in allowing Germans of foreign origin dual citizenship as part of a coalition deal with the Social Democrats, but Turkish nationals living in Germany said the planned reform did not go far enough.
The conservatives have long opposed allowing people born in Germany to hold both German citizenship and that of another non-European Union country and it proved one of the most contentious issues in the talks on forming a new government. The country has some of the most stringent citizenship laws in Europe.
Full report at:
http://www.hurriyetdailynews.com/germanys-turkish-community-says-let-down-by-coalition-deal-on-dual-citizenship.aspx?pageID=238&nID=58654&NewsCatID=351
----------
Report: London is mediating indirect secret talks between US and Hezbollah
Nov 28 2013
The US and Hezbollah are in secret indirect talks managed by London dealing with the fight against Al-Qaida, regional stability and other Lebanese political issues.
Senior British diplomatic sources, quoted in a report in Kuwaiti newspaper Al-Rai on Wednesday, said British diplomats are holding discussions with leaders of the Lebanese organization and transferring the information to the Americans.
The discussions "are aimed at keeping tabs on the changes in the region and the world, and prepare for the upcoming return of Iran to the international community," according to diplomatic sources in Washington.
Full report at:
http://www.jpost.com/Middle-East/Report-London-is-mediating-indirect-secret-talks-between-US-and-Hezbollah-333245
----------
Russia greets Syria gov't decision to go to Geneva-2
Nov 28 2013
Russia has welcomed the decision of Syria's government to dispatch a delegation to the January peace conference in Geneva, Switzerland, to negotiate a way out of the ongoing crisis with no pre-conditions.
The statement was made today on the heels of the meeting between Syrian ambassador in Moscow, Riyad Haddad, with Russia's deputy foreign minister Mikhail Bogdanov.
The Assad administration said on November 27 it was ready to go to the negotiating table without any prerequisites.
Full report at:
http://voiceofrussia.com/news/2013_11_28/Russia-greets-Syria-gov-t-decision-to-go-to-Geneva-2-9339/
----------
South Asia
Bangladesh opposition extends nationwide strike amid violence
Nov 28, 2013
Bangladesh's opposition party BNP and its allies have extended their two-day nationwide strike by 23 hours to push for the postponement of the elections, even as 18 people have died in violence in the past three days.
"It will now be a 71-hour blockade to be ended at 5 am on Friday," the BNP's joint secretary general Ruhul Kabir Rizvi told reporters late on Wednesday night.
Media reports quoting unidentified opposition sources said the BNP-led 18-party alliance with fundamentalist Jamaat-e-Islami being a major partner was likely to come up with fresh protests on Sunday after the Friday-Saturday weekend.
The third consecutive day of the blockade on Thursday began with reports that opposition activists hurled petrol bombs on a police Armoured Personnel Carrier, injuring 10 people.
Police retaliated with rubber bullets.
Full report at:
http://www.thehindu.com/news/international/south-asia/bangladesh-opposition-extends-nationwide-strike-amid-violence/article5400862.ece
-----------
Armed forces ready to be deployed when EC wants: Chief Election Commissioner Kazi Rakibuddin Ahmed
Nov 28 2013
The armed forces have assured that they are ready to be deployed any time ahead of the next general election as per the requirement of the Election Commission, Chief Election Commissioner Kazi Rakibuddin Ahmed said today.
"A decision might be taken on the time of deployment when the EC meets with returning officers in the next sitting," Rakibuddin told reporters after his meeting with the principal staff officer of the armed forces and the heads of other law enforcement agencies at his secretariat office.
Full report at:
http://www.thedailystar.net/beta2/news/armed-forces-ready-to-be-deployed-when-ec-wants-cec/
----------
Bomb blasts kill 6 in eastern Afghanistan
Nov 28 2013
Six civilians were killed and some injured on Thursday when two bombs exploded in eastern Afghanistan, a local official said.
"A bomb was placed in a car and second one was a roadside bomb, but it is not yet clear if they were remotely detonated," said Ahmad Zia Abdulzai, a spokesman for the governor of Nangarhar province.
Abdulzai said all the victims of the bombings that took place in the province's Achin district were civilians, adding that an investigation has been launched by the police.
No one claimed responsibility for the bombs.
http://voiceofrussia.com/news/2013_11_28/Bomb-blasts-kill-6-in-eastern-Afghanistan-1833/
-----------
Maldivian Parliament privileges committee seeks intervention in MP Hamid appeal case
By Daniel Bosley | November 28th, 2013
The Majlis Parliamentary Privileges Committee has unanimously decided parliament should intervene in the appeal case of member Hamed Abdul Ghafoor, who was sentenced to six months for failure to attend Criminal Court hearings.
"The committee was of the opinion that the Criminal Court had acted outside of the boundaries of the law by summoning MP Hamid to court on a day when the parliament as well as committee sittings were scheduled," said Deputy Chair of the Committee and Maldivian Democratic Party (MDP) MP Imthiyaz 'Inthi' Fahmy.
"Therefore this action by Criminal Court was clearly against the Privileges Act, thus a violation of privileges of both an MP and the parliament as a whole. On this grounds the committee has sent the report to Majlis Speaker to which the Speaker."
Full report at:
http://minivannews.com/politics/parliament-privileges-committee-seeks-majlis-intervention-in-mp-hamed-appeal-case-72452
---------
Maldives eyes alternative fish export markets, Maldives fish to be labelled 'halal'
By Mohamed Naahee | November 28th, 2013
The government has said that the Maldives will look to alternative fish export markets, including the middle-eastern and the Malaysian market, after withdrawing its application for European Union (EU) duty-free status of imported fish from the country.
Earlier this November, the EU declined to extend the duty-free status on Maldivian fish exports under its Generalized System of Preferences (GSP) program – a non-reciprocal trade agreement extended to developing countries – as the government had not ratified all 27 required international conventions.
Full report at:
http://minivannews.com/business/government-eyes-alternative-fish-export-markets-maldives-fish-to-be-labelled-%E2%80%98halal%E2%80%99-72479
----------
Southeast Asia
Counter-espionage unit always on alert against spying, says Malay Minister
Nov 28 2013
The Home Ministry's surveillance and counter-intelligence unit is always on the alert to thwart foreign spying, said its minister, Datuk Seri Dr Ahmad Zahid Hamidi.
"We are equipped with control mechanism and firewalls to combat spying. Since surveillance can still be done via satellite, we strive to deter the threats.
"Let me remind superpowers to always respect the sovereignty of other countries and respect their secrecy.
"Spying on another country is unacceptable," he told reporters at the opening of Sekolah Agama Tarbiyah Husnul Khatimah by the Sultan of Johor Sultan Ibrahim at the Kluang Prison here today.
Full report at:
http://www.themalaysianinsider.com/malaysia/article/counter-espionage-unit-always-on-alert-against-spying-says-ahmad-zahid-bern
-----------
URL: https://www.newageislam.com/islamic-world-news/new-age-islam-news-bureau/execution-style-killings-in-iraq-raise-fears-of-return-to-sectarian-violence/d/34636