New Age Islam News Bureau
28 Jun 2020
• Erdogan's Agenda: Neo-Ottoman Ambition or Pan-Islamist Zeal?
• Some Foreigners Acted as Virus Carriers: Police on Delhi Tablighi Jamaat Event
• UNESCO Warns Turkey: Converting Hagia Sophia Into Mosque Is Illegal
• Muslim Council of Elders Pledges Its Support to Al Sayyed Ali Al-Amine in Face of Targeted Smear Campaign
• 4 Police Officers in San Jose Put on Leave Over Racist, Anti-Muslim Facebook Posts
• Russian Intelligence Unit Paid Taliban To Target U.S. Troops in Afghanistan
• Malaysian PM Calls for Global Consensus to Counter West Bank Annexation
• Boko Haram Enjoying Media Patronage Without Paying
• Christchurch Mosque Attack: Gunman Brenton Tarrant Interviewed To 'Provide Answers To The New Zealand Public'
-----
Mideast
• Erdogan's Agenda: Neo-Ottoman Ambition or Pan-Islamist Zeal?
• Hamas, Islamic Jihad preparing response to annexation - Palestinian media
• ShafeiJameh Mosque: a place of worship notable for atmospheric interior design
• 'I never imagined it': Hanan Ibrahim reflects on being one of few Muslim models to wear a hijab on the runway
• Iran Appreciates Pakistan's Stance on Unity of Islamic Ummah
• Iran official says MKO still planning anti-Islamic Republic sabotage
• Is Iran having trouble managing its Shia proxies in the Middle East?
-----
India
• Some Foreigners Acted as Virus Carriers: Police on Delhi Tablighi Jamaat Event
• Covid-19: 52 People Arrested for Flouting Norms by Gathering at Mosque In UP's Shamli
• Centre trying to change Muslim majority character of J&K through domicile rules alleges PDP
• First Covid, now hunger, Bhagalpur migrants start packing — again
• Employment avenues declining for JK youth: Dr Farooq Abdullah
• Search operation launched in several villages near LoC in Rajouri after reported suspicious movement
-------
Europe
• UNESCO Warns Turkey: Converting Hagia Sophia Into Mosque Is Illegal
• YouTube Channel Set Up by Burton Nursery Boss Has Cartoons to Educate on Islam
• Hundreds March in Berlin Against Racism
• Italians Protest Against Israel's Annexation Plan
• Police name man shot by officers during Glasgow attack
• Brits will have to live with it, says Merkel while Johnson repeats threat to walk away
------
Arab world
• Muslim Council of Elders Pledges Its Support to Al Sayyed Ali Al-Amine in Face of Targeted Smear Campaign
• Worshippers at Mosques 'Ecstatic' As Egypt Allows Public Prayers
• Saudi Press: Saudi Arabia Targets 100 Million Visitors Annually By 2030
• Muslim World League aims to promote religious tolerance, understanding: Al-Issa
• Islamic banking entities provide financing of OMR4.1 billion
• Jeddah bids fond farewell to iconic airport terminal
• Egypt executes Libyan militant al-Mesmari, 2017 terrorist attack mastermind: Ministry
-------
North America
• 4 Police Officers in San Jose Put on Leave Over Racist, Anti-Muslim Facebook Posts
• US Envoy Urges Condemnation of Muslim Brotherhood's Call to Kill Gays
• Joe Biden Attacks Trump Over 'Outrageous' Report Russia Paid Afghan Militants to Kill US Soldiers
• Locked Down? Open Up To 'Ramy,' A Religious Muslim Who Orthodox Jews Understand
• Huge cluster of shipwrecks in small Maryland bay gives rise to a "wildlife mecca"
• AI Gleaned Information About Emerging Threats, Future Plots From bin Laden Raid
-------
South Asia
• Russian Intelligence Unit Paid Taliban To Target U.S. Troops in Afghanistan
• Explosion in Kabul city leaves 2 dead including a woman
• 4 Taliban militants killed, 3 arrested in Jawzjan province
-------
Southeast Asia
• Malaysian PM Calls for Global Consensus to Counter West Bank Annexation
• Reject politics of deception, says Anwar
• Ismail Sabri denies involvement in new party
• Dr Mahathir supports nomination of ShafieApdal as opposition's PM candidate
-------
Africa
• Boko Haram Enjoying Media Patronage Without Paying
• Nigerian Military Says 'Scores' of Militants Killed in Air Raids
• Genocide in Nigeria: Calling it what it is
• Mahmoud Dicko: Mali Imam Challenges President Keïta
• Alhaji Kouanda installed Asere Muslim Chief
• As it reopens its air, land and sea borders, Tunisia announces its categorization plans – Libyans watch eagerly
-------
New Zealand
• Christchurch Mosque Attack: Gunman Brenton Tarrant Interviewed To 'Provide Answers To The New Zealand Public'
------
Pakistan
• Govt Working on Chinese Seed Technology for Yield-Enhancing: Fakhar Imam
• FM Qureshi inaugurates rebuilt mosque at foreign ministry
• NA Speaker revives dormant Balochistan committee
• Asad, Sindh governor meet Pagara ahead of voting on budget
Compiled by New Age Islam News Bureau
URL; https://www.newageislam.com/islamic-world-news/erdogans-agenda-neo-ottoman-ambition/d/122234
------
Erdogan's agenda: Neo-Ottoman ambition or pan-Islamist zeal?
By LELA GILBERT
JUNE 28, 2020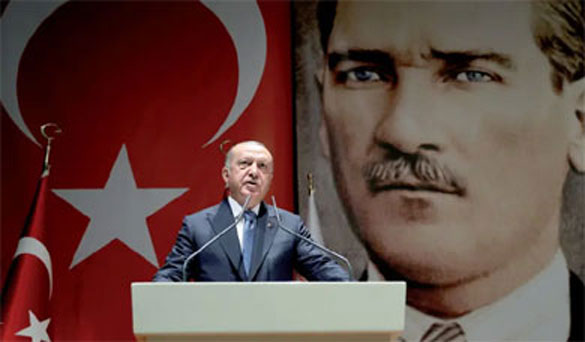 Turkish President Reçep Tayyip Erdoğan addresses a meeting of his ruling AK Party in Ankara on July 26
(photo credit: CEM OKSUZ/TURKISH PRESIDENTIAL PRESS OFFICE/HANDOUT VIA REUTERS)
-----
Turkish aggression in at least five countries has been headlined in international news reports just this month, June 2020. These accounts focus on President Recep Tayyip Erdogan's latest intrusions into Israel, Libya, Iraq, Syria and Greece.
Meanwhile, it is noteworthy to those of us who focus on international religious freedom that whenever Turkey moves in, religious freedom moves out. There can be no lasting freedom of worship for any faith unless it conforms with Turkey's Islamic practices.
In Israel, an article was released on June 15 by the Jerusalem Center for Public Affairs reporting that Turkey is working nonstop to gain influence on the Temple Mount, in the Old City of Jerusalem and in eastern Jerusalem neighborhoods.
Writer Nadav Shragai points out, "In the second decade of the 21st century, Turkish nonprofit associations – and sometimes the Turkish government itself via the governmental aid agency TIKA [Turkish Cooperation and Coordination Agency] – have funneled tens of millions of dollars into various initiatives that have enhanced Turkey's influence... "
Shragai says, "In many of the locations, the activity has been done in cooperation with activists ideologically linked to the Muslim Brotherhood movement in east Jerusalem... "
Informed observers already know what the Muslim Brotherhood and its cohorts think about Jews and Judaism – on the Temple Mount and elsewhere.
In Libya, Seth Frantzman reported for The Jerusalem Post on June 20 that Egypt and Turkey might come to blows over Turkish aggression in the ongoing Libyan Civil War. Egypt, the United Arab Emirates, Saudi Arabia, Russia, along with others, back General Khalifa Haftar. Turkey and Qatar back the GNA.
Frantzman explains that the Government of the National Accord (GNA) in Tripoli, "is a loose confederation of different groups, some of whom are linked to the Muslim Brotherhood and Turkish backing." GNA is also rooted in the Muslim Brotherhood movement.
In Iraq, Turkey has recently bombed Sinjar Mountain, where countless Yazidi refugees have taken shelter. On FRC's Washington Watch broadcast, Michael Rubin, a scholar and expert on the Middle East, explained that Erdogan's primary goal is his continued ethnic cleansing of Kurdish groups.
However, Rubin went on to say that many Yazidis have returned to live on Sinjar Mountain, "... the refugees, the women, the girls who have been returning from Syria, liberated from ISIS. They're trying to get their life together.
"And it's not clear why the Turks are insisting on bombarding them. It really undercuts the development and it raises questions about whether Turkey is waging counter-terrorism, and it's clear they're not, or whether they're pursuing a religious agenda – an intolerant religious agenda, said Rubin."
In Syria, the Washington Kurdish Institute reported, "During the first days of June 2020, around 20 different human rights organizations signed a petition to raise awareness on crimes carried on by the many Turkish-backed militias in Afrin, Syria and asked for international intervention.
"In areas under Turkey's control," Genocide Watch reported following that deadly incursion, "civilians have been subjected to horrific crimes against humanity committed by Turkish forces and Turkish supported militias. Kurdish towns have been bombed and destroyed... Hundreds of civilians have been summarily executed. Kurdish and Yazidi women have been kidnapped and subjected to sexual slavery... "
THOUSANDS OF Christians fled the invasion of Afrin; few remain. And now minorities in Northeast Syria are once again fearful because of Turkish threats.
In Greece, Arabic news reported on June 14, "In an escalating war of nerves between Athens and Ankara, bilateral relations have deteriorated, sparking fears of a military confrontation between the two NATO allies. Greek Defense Minister Nikolaos Panagiotopoulos recently highlighted the country's 'readiness for military conflict with Turkey.'"
Greece has protested Turkish drilling in more than 20 sites in the Mediterranean Sea that it claims as its own territory. A confrontation also took place between a Greek naval vessel and a Turkish military escort in recent days. Even rumors of an impending Turkish invasion of Greece have been reported, although unverified.
Even today, Greek Orthodox properties in Turkey are confiscated and desecrated. Christian refugees from Syria and Iraq – Syriac, Protestant and Orthodox alike – who fled to Turkey from ISIS have been deprived of their ability to support themselves and dare not practice their faith. Kidnappings and murders have been reported.
In its most recent report, the US Commission on International Religion Freedom recommended that the US government "Include Turkey on the US Department of State's Special Watch List for engaging in or tolerating severe violations of religious freedom pursuant to the International Religious Freedom Act.
"... Government officials and politicians continued to propagate expressions of antisemitism and hate speech, and no progress was made during the year to repeal Turkey's blasphemy law... In several instances in 2019, Armenian, Assyrian, and Greek religious and cultural sites, including numerous cemeteries, faced severe damage or destruction ..., "stated the report.
Erdogan's reckless, ruthless intrusion into country after country is believed by some to reflect his vision of a glorious, neo-Ottoman Empire. Other scholars are more inclined toward viewing his motivation as strictly religious, demanding pan-Islamist conquest. Certainly the two dreams are not mutually exclusive.
Meanwhile, the US government has been exceedingly – even excessively – tolerant of Erdogan's widespread human rights abuses. Perhaps the time has come time for reevaluation and restoration of a US policy that was not compromised toward Turkey. It needs to reflect indiscriminate justice and equality – including uncompromising demands for religious freedom for all.
https://www.jpost.com/middle-east/erdogans-agenda-neo-ottoman-ambition-or-pan-islamist-zeal-633040
-----
Some Foreigners Acted as Virus Carriers: Police on Delhi Tablighi Jamaat, Event
June 28, 2020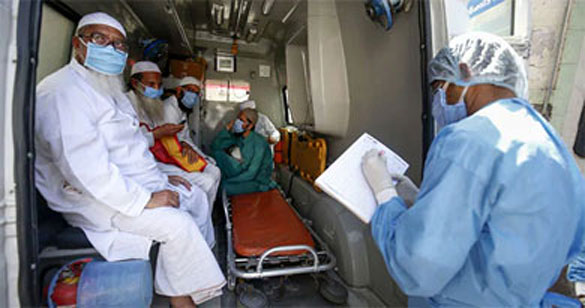 Delhi Police has filed around 59 chargesheet in Delhi Islamic Sect event. (File)
-----
New Delhi: Delhi Police, in its chargesheets filed against foreign members of Tablighi Jamaat, said that they have disobeyed the regulation and lockdown, most of them had arrived from countries where COVID-19 infection was already creating havoc, and some acted as carriers of the highly infectious coronavirus.
"An international gathering of Tablighi Jamaat Muslims on Indonesia's Sulawei Island was cancelled on March 18 over concern about the spread of the coronavirus, which had already killed 25 people and infected 309 in the country," the police said in its chargesheet.
The foreign Tablighi Jamaat members have disobeyed the regulation and lockdown despite being asked repeatedly by the local police and other authorities to do so.
The chargesheet further added that various precautionary directions were not followed by the Markaz organizers at the Banglewali Masjid, Hazrat Nizamuddin, Delhi. The authorities of Markaz at Tablighi Jamaat Headquarters were contacted by Delhi Police on March 21 and Mufti Shahzad of the Markaz was asked to take immediate action for preventing the spread of this disease. Police had directed the organisers to send the foreign devotees back to their respective countries and other Indian persons to their respective native places.
"The foreigners who are accused in this case have caused a situation where a highly infectious disease such as coronavirus infection may spread and threaten the lives of the inmates and the general public at large. They have failed to follow the lawful directions of the above authorities, which makes them liable to be prosecuted and punished under section 3 of the Epidemic Disease Act, 1897," the chargesheet said.
The police also chargesheeted them under Sections 51 of the Disaster Management Act, 2005 as the accused persons, in this case, have refused to comply with lawful directions of the authorities, resulting in the loss of lives.
During the investigation, foreigners accepted that they had participated in the Tablighi Jamaat Markaz for the purpose of professing and propagating the principles and doctrines of the Tablighi Jamaat and had remained at the Banglewali Masjid for some period.
A similar gathering by Tablighi Jamaat in Malaysia, between February 27 to March 1, led to more than 500 COVID-19 cases in that country, including three Indonesians, the police said.
"A large number of foreigners from Indonesia, Malaysia and other countries had then arrived in India and had participated in the Tablighi Jamaat Markaz event at the Banglewali Masjid, Hazrat Nizamuddin, Delhi. It is needless to point out that some of these foreigners have acted as carriers of the highly infectious coronavirus and had thus brought over the infection from their respective countries to India," the chargesheet said.
https://www.ndtv.com/india-news/coronavirus-india-some-foreigners-acted-as-virus-carriers-police-on-delhi-mosque-event-2253391
------
UNESCO warns Turkey: Converting Hagia Sophia into mosque is illegal
Jun 27, 2020
"UNESCO has been investigating the issue regarding the conversion of Hagia Sophia into an Islamic mosque since Recep Tayyip Erdoğan made such an announcement,"
-----
"UNESCO has been investigating the issue regarding the conversion of Hagia Sophia into an Islamic mosque since Recep Tayyip Erdoğan made such an announcement," said Ernesto Ottone Ramírez, Assistant Director-General for Culture of UNESCO, in an interview with the Greek newspaper Ta Nea.
The Chilean official said that UNESCO had sent a letter to the competent Turkish authorities since the beginning of June, but they had not received any reply. At the same time, he told the newspaper Ta Nea that the World Heritage Convention stipulated that before taking any decision regarding the status of a Cultural Heritage Monument, such as Hagia Sophia, a decision of the UNESCO Intergovernmental Committee for the Safeguarding of Intangible Cultural Heritage is required.
"We are waiting for a reply to a letter that we have sent in which we raise a series of questions to the competent authorities in Turkey. When a member state (Greece) submits a request to our organisation about a specific monument of World Cultural Heritage, the matter must be addressed to the state in which the monument is located (Turkey) and after that, we wait for a reply," he said.
He added, "We will continue to send letters until we receive a reply. The matter will be assessed at the next meeting of the Committee for the Safeguarding of Intangible Cultural Heritage. In fact, the Convention stipulates that a report must be sent to the competent authorities for any changes in the status of a site that belongs to the 1,241 UNESCO World Heritage Sites."
The matter has come to the attention of UNESCO following the intervention of several "third parties", said the senior official. He referred to the requests submitted by the Greek government to the international organisation but also to a relevant letter sent by a citizens' organisation.
https://orthodoxtimes.com/unesco-warns-turkey-converting-hagia-sophia-into-mosque-is-illegal/
-----
Muslim Council Of Elders Pledges Its Support To Al Sayyed Ali Al-Amine In Face Of Targeted Smear Campaign
28-06-2020
ABU DHABI, 27th June, 2020 (WAM) -- The Muslim Council of Elders is closely monitoring the recent smear campaign targeting one of its members, His Eminence Al Sayyed Ali Al-Amine, who is considered a symbol of moderateness in his home country of Lebanon and the Arab and Muslim worlds alike.
The Council reiterates its deep regret at such vicious smear campaigns which have targeted notable Muslim and Christian leaders in Lebanon. The Council recognises these campaigns seek to sow discord within Lebanon through the silencing of moderate calls for unity and coexistence.
The Council reaffirms its commitment and solidarity with His Eminence Al Sayyed Ali Al-Amine as well as prominent personalities facing such smear campaigns within Lebanon. The Council is confident that the people of Lebanon will reject these irresponsible actions and will not allow it to divide and inflame tensions within their country.
The Muslim Council of Elders, under the Chairmanship of His Eminence Dr Ahmed El-Tayeb, the Grand Imam of Al-Azhar maintains that tolerance and co-existence for all citizens are the only ways to ensure a continued advancement of nations. History has proven that nations can only continue to advance with the entirety of its peoples, and that Lebanon will continue to be a symbol for tolerance, moderateness as well as an essential component of dialogue communication in the world.
http://wam.ae/en/details/1395302851615
------
4 police officers in San Jose put on leave over racist, anti-Muslim Facebook posts
June 28, 2020
Four police officers in San Jose, California, have been placed on leave while the department says it is investigating alleged racist and anti-Muslim posts on Facebook.
The investigation apparently grew out of a blog post Friday on Medium by an anonymous author who claims to be "the partner of an active law enforcement officer in a San Francisco Bay Area police department."
The Medium article includes screenshots of alleged posts by active and retired San Jose officers, including some that the author says were posted to a private Facebook group of both retired and current officers in the city.
The screenshots include an alleged post by a retired officer who lambastes Black Lives Matter protesters as "racist idiots," "un-American" and "enemies." Another screenshot, allegedly of a post by a current officer in San Jose, says, "Black lives don't really matter."
The article also includes screenshots of anti-Muslim posts allegedly made in the private Facebook group, including one comment saying, "I say re-purpose the hijabs into nooses."
Officer Gina Tepoorten, a spokesperson for the San Jose Police Department, said an administrative probe into the comments is underway, and "four of our officers have been placed on administrative leave while the investigation is conducted."
Asked why the department has not identified the officers put on leave, she said, "The department is conducting an Internal Affairs investigation and therefore we cannot comment on personnel matters."
Police Chief Eddie Garcia said in a statement, "While I have no control over what former employees post online, I can voice my outrage after hearing about these comments made online."
"Any current employee involved with bigoted activity online will promptly be investigated and held accountable to the fullest extent in my power. We have no place for this," Garcia said.
San Jose Mayor Sam Liccardo said he is demanding a full investigation into the incident and expects "that racist, anti-Muslim or menacing comments expressed by any current SJPD Officer will be met with termination."
"I want to be crystal clear. There is no place in our police department or our union for racists or bigots or for those who enable them by not speaking up when you see those types of behaviors," he said. "And I say this to anyone who participated, the San Jose Police Officers' Association will provide you no shelter, no protection. We will not represent you because you do not represent us."
https://www.nbcnews.com/news/us-news/4-police-officers-san-jose-put-leave-over-racist-anti-n1232344
-----
Russian intelligence unit paid Taliban to target U.S. troops in Afghanistan
27 Jun 2020
A unit of the Russian intelligence service paid the Taliban group militants to carry out attacks against the U.S. forces in Afghanistan, it has been reported.
A Russian spy unit paid members of Afghanistan's Taliban movement to conduct lethal attacks on U.S. troops in that country, according to a classified American intelligence assessment, cited in a report by Fox News.
The report further added that the assessment of the role played by Russia's military intelligence agency, the GRU, in fostering attacks on American soldiers, comes as President Trump is pushing the Pentagon to withdraw a significant portion of U.S. forces from Afghanistan and as U.S. diplomats try to forge a peace accord involving the Taliban and the U.S.-backed Afghan government.
The intelligence assessment regarding Russia's actions in Afghanistan was delivered to the White House earlier this spring, and until recently had been known only to a handful of officials, a person familiar with it said.
According to fox News, its contents were reported earlier Friday by the New York Times.
It couldn't be determined whether Russian bounties paid to Taliban fighters resulted in any American combat deaths in Afghanistan.
https://www.khaama.com/russian-intelligence-unit-paid-taliban-to-target-u-s-troops-in-afghanistan-08924/
-----
Malaysian PM calls for global consensus to counter West Bank annexation
June 28, 2020
Malaysian Prime Minister called for a global consensus to counter the West Bank annexation plan.
Speaking at the opening ceremony of the Association of Southeast Asian Nations (ASEAN) summit via videoconference, Malaysian Prime Minister Tan Sri Muhyiddin Yassin called on the international community, especially the UN Security Council to condemn the Israeli annexation of the West Bank.
According to Yassin, the international community must act to ensure that the plan to annex the part of the West Bank is not implemented.
The Malaysian prime minister went on to say that his country is deeply concerned about the future of the Palestinian people, as the annexation plan will escalate tension in the Middle East.
He further said that this illegal and unilateral move by the Israeli regime raises questions regarding its fake sincerity towards a peaceful and lasting solution to the long-running Israeli-Palestinian conflict.
https://en.abna24.com/news//malaysian-pm-calls-for-global-consensus-to-counter-west-bank-annexation_1050806.html
------
Boko Haram enjoying media patronage without paying
28 June 2020
Sir: They said war doesn't decide who is right but who is left. Narratives of media reports on counter insurgency in northeastern part of Nigeria is another threat of cyber terrorism and counter- inflicting technique of the dread sect, the system of reports and technique of media narratives are basically incomplete. And by media, I mean social media inclusive. The Nigerian army has come under intense criticism in recent weeks following days of attacks against civilians. Criticism in itself is not bad when justified, what's dangerous though is that the vast majority of criticisms leveled against the Nigerian army's handling of the war and calling for a periodic Messiah is politically-motivated. Nigerians are playing a guerilla GameStop.
Boko Haram can only look at the cruelty of the criticisms against the military by Nigerians and embolden them further. The fact that the most acidic criticism and condemnation against the President are coming from southerners shows that Boko Haram is benefiting from two powerful dynamics: the growing unpopularity and anger among Nigerians against Buhari administration, and the toxic political climate, where the ruling party is doing all it can to highlight the success of the military, and opposition camp using every opportunity to create a false narrative of a successful Boko Haram and a defeated Nigerian military. Politicising the security situation without thinking about the consequence is playing with fire.
Nigerians should put politics aside and consider the security implications of what they are doing. Nigerians in the South not living under a constant threat of being blown to pieces or stepping on landmines should be supporting the military. Instead many Nigerians and media houses want the military to fail so they can say I told you so. It is Nigerians who are calling for sanctions against Nigeria under trumped up allegations of genocide against Christians as evident of the brutality of the Nigerian army by a corrupt state. The Nigerian government underestimated how powerful media and social media can be.
The persistent criticisms are fueling external interference. Well, it didn't take long for Boko Haram to abandon its fight with the military and cowardly train its guns against defenseless and innocent Nigerian civilians irrespective of religious affiliations. The new kid on the block, the self-proclaimed bandits are nothing but a hybrid jihadist group funded by certain powers to take the heat off Boko Haram. Certain interest groups are alarmed at the speed in which Boko Haram is being decimated. They figure that by opening multiple fronts an already overstretched Nigeria security will be hard pressed to continue its blistering offensives against Boko Haram if troops have to be diverted to other areas.
Boko Haram is not a formidable force regardless of what the media say. They are not brave warriors. They are a cowardly sect whose strategy for survival depends on hitting those unable to fight back and ideological support from a foreign government for quasi self-determination. Nigerians should stop this knee jerk reactionary approach towards the Nigerian military and think with their head and not their sentiments. The catalyst of this is that the neighbour next door might be enjoying the show today but if all hands are not on deck, we might be sharing a bed tomorrow in an unknown location.
https://guardian.ng/opinion/boko-haram-enjoying-media-patronage-without-paying/
------
Christchurch mosque attack: Gunman Brenton Tarrant interviewed to 'provide answers to the New Zealand public'
28-06-2020
The Royal Commission into the Attack on the Christchurch Mosques says it has interviewed the shooter as part of its efforts to provide the public with answers about the tragic shooting.
In March this year, the offender pleaded guilty to 51 charges of murder, 40 charges of attempted murder and a charge of engaging in a terrorist act and was convicted on every count.
Royal Commission chair, the Honourable Justice Sir William Young, said much of the material for the investigation has come from police and other agencies but the interview with the offender would "help with some areas of uncertainty".
"In addition, the Terms of Reference and the Inquiries Act 2013 require the Royal Commission to observe the principles of natural justice in respect of any person who may be the subject of adverse comment in the Royal Commission's report. That includes the individual," Justice Young said.
Commissioner Jacqui Caine said the interview was done as part of the commission's promise to the public that it would leave no stone unturned.
"This was a carefully considered decision driven by the need to observe natural justice and the ultimate goal of providing answers to the New Zealand public through an authoritative final report."
The interview with the individual was done in private at Auckland Prison, Paremoremo. The content of the interview is strictly confidential at this point, the commission said.
https://www.newshub.co.nz/home/new-zealand/2020/06/christchurch-mosque-attack-gunman-brenton-tarrant-interviewed-to-provide-answers-to-the-new-zealand-public.html
------
Mideast
Hamas, Islamic Jihad preparing response to annexation - Palestinian media
JUNE 27, 2020
By JERUSALEM
Palestinian newspaper al-Quds reported on Saturday afternoon that the military arms of several Gaza-based organizations have begun taking steps in the field in response to any Israeli move to implement the annexation plan, which is scheduled for early July.
Sources close to the Palestinian Islamic Jihad said there is full coordination between the organization, Hamas and other factions regarding the steps that would be taken, both politically and on the ground, against Israel's plans.
https://www.jpost.com/breaking-news/hamas-islamic-jihad-preparing-response-to-annexation-palestinian-media-632985
-----
ShafeiJameh Mosque: a place of worship notable for atmospheric interior design
June 27, 2020
TEHRAN – Photos show the lavishly-decorated prayer hall of ShafeiJameh Mosque, which stands tall in the ancient city of Kermanshah in western Iran.
Graced with eye-catching architecture, the Sunni Muslims' place of worship, is predominantly notable for having atmospheric hypostyle halls, intricate stucco, and sets of faience. The latter is a form of different-colored tiling sandwiched together to create the design.
The mosque was completed in 1945 under the auspices of Sunni benefactors. In fact, its interior design is in some ways like its Turkish counterparts. Verses of the Holy Quran have been inscribed on the stucco. The ceilings are impressively adorned by geometric patterns while encircling arched windows and letting in the sunlight during the day.
The mosque, however, has somehow modest exterior when it comes to extravagant use of ornamentation. It has several modest domes and two minarets.
Visitors to the mosque can also revel in the nearby Tarikeh bazaar, a traditional marketplace stretched along labyrinth alleys. Kermanshah is a cradle of civilization due to its antiquity, rich culture, and Neolithic sites that yielded rich collections of stone tools and fossil bones.
https://www.tehrantimes.com/news/449305/Shafei-Jameh-Mosque-a-place-of-worship-notable-for-atmospheric
------
'I never imagined it': Hanan Ibrahim reflects on being one of few Muslim models to wear a hijab on the runway
27 June 2020
She became Melbourne Fashion Festival's first Muslim model to wear a hijab on the runway last year.
And Hanan Ibrahim told The Sunday Telegraph's Stellar magazine that she never envisioned a career in the industry.
The 27-year-old who previously worked as a full-time radiation therapist said: 'I never imagined that a woman who wears a hijab would - or could - be used as a model.'
'I never imagined it': Hanan Ibrahim (pictured), 27, reflected on being one of few Muslim models to wear a hijab on the Australian runway, in The Sunday Telegraph's Stellar magazine +6
'I never imagined it': Hanan Ibrahim (pictured), 27, reflected on being one of few Muslim models to wear a hijab on the Australian runway, in The Sunday Telegraph's Stellar magazine
Two years ago, Hanan's fate was sealed when she attended a runway show and was approached by a talent scout.
https://www.dailymail.co.uk/tvshowbiz/article-8466157/Muslim-model-Hanan-Ibrahim-wearing-hijab-runway.html
-----
Iran Appreciates Pakistan's Stance on Unity of Islamic Ummah
Jun 27, 2020
TEHRAN (FNA)- Iranian ambassador to Karachi Seyed Mohammad Ali Hosseini welcomed the recent remarks of Pakistani Premier Imran Khan with regards to the interests of the Islamic Ummah.
"We appreciate and support the statements of Prime Minister Imran Khan about the interests and unity of Muslims," Hosseini tweeted in Urdu on Friday.
In relevant remarks on June 24, Pakistan's new Ambassador to Tehran Rahim Hayat Qureshi said that his country supports Iran at international forums and prioritized expansion of trade ties with the country.
The Pakistani envoy described Iran as a very important and influential country in the region, and said, "Relations with Iran are of great importance to Pakistan and all Pakistani officials emphasize the development of these relations."
The new Pakistani ambassador said the development of trade and economic relations with Iran was one of his priorities, adding that the situation of trade borders between the two countries will soon return to pre-coronavirus conditions.
During the meeting, Rouhani emphasized the need to reopen borders and expand trade and goods exchanges between Iran and Pakistan, and stressed the need for the two countries to implement their agreements.
He stressed the need to develop and deepen bilateral relations and relations with Pakistan in all fields, and said, "I hope that the cooperation between the two countries in ensuring the security of the common borders will continue and expand."
Referring to the restrictions imposed on border crossings between Iran and Pakistan due to the outbreak of the coronavirus, the Iranian president expressed hope that the borders will be reopened soon in accordance with health protocols so that border market activities will be further promoted to contribute to trade exchanges between the citizens of the two countries.
https://en.farsnews.ir/newstext.aspx?nn=13990407000160
------
Iran official says MKO still planning anti-Islamic Republic sabotage
Jun 27, 2020
Kashan, June 27, IRNA - Head of Plan and Budget Organization of Iran Mohammad BaqerNobakht says that the terrorist group of Mojahedin-e Khalgh Organization (MKO) are sill making planning for hurting the Islamic system.
Nobakht made the remarks in this central Iranian city on Friday evening in his address to a ceremony in commemoration of the 1981 victims of a terrorist attack on building of the Islamic Republic Party in Tehran that led to killing of Chief Justice Ayatollah Mohammad Beheshti and 72 others.
About the conditions created in the country after the sanctions and the coronavirus pandemic, Nobakht said the government endeavors to breeze through the problems, tackle the shortages and defend the Islamic system.
He highlighted Iran's power in the region regarding its national capabilities in the areas of peaceful nuclear energy and aerospace.
In April, Islamic Revolution Guards Corps's (IRGC) Nour-1 during an operation from Dasht-e Kavir- great desert in central Iran- was successfully placed into orbit 425 km above the Earth's surface.
Elsewhere, he talked of the death of a black man- George Floyd- in the hand of the US police, and said that the United States does not even care about its own citizens, let alone the other nations.
The MKO whose name is on the black list by many Governments as a terrorist organization ran from Iran in 1986 to Iraq where they were given a camp by Iraqi dictator Saddam Hussein.
https://en.irna.ir/news/83835064/Iran-official-says-MKO-still-planning-anti-Islamic-Republic-sabotage
-----
Is Iran having trouble managing its Shia proxies in the Middle East?
Jun 27, 2020
Iran is gradually reducing its presence in the Middle East in the face of Israeli attacks and an economic crisis triggered by the pandemic and sanctions.
Iran-backed Shia forces dominated the Middle East's political landscape, covering Lebanon, Syria, Iraq and Yemen, building Tehran's influence from the Mediterranean Sea to Central Asia.
The Iranian footprint in the region expanded since the US invasion of Iraq in 2002. But that dynamic could change as Iran suffers from the effects of a deadly pandemic, which has killed more 10,000 of its citizens, and grapples with crushing US sanctions, while on the other hand the Israeli army has been continuously hitting Iran-affiliated forces across Syria and Iraq.
"Iran has no money anyway and its Shia militias are not welcomed," said Kamal Alam, a military analyst on Middle Eastern history and politics.
"Russia is now restructuring the Syrian army, getting rid of the Shia militias. Some are leaving and their numbers are reducing there. But it will take a while, depending on the security partnership between Damascus and Tehran," Alam told TRT World.
According to several Israeli officials, there is considerable evidence that Iran is reducing its presence in Syria due to relentless Israeli air strikes and rocket attacks.
Firstly, Alam thinks that Iran's revolutionary ideology does not resonate well with the Syrian regime leader Bashar al Assad's Baath Party members. For decades the Damascus-Tehran axis has mainly stayed intact due to "security factor" according to Alam.
"As a result, Iran has little room to maneuver through Syria's domestic politics [as Assad gradually secures its political position]," Alam said.
"Syria prefers Russia in every way as an ally to Iran. Russia and the Syrian government themselves do not see a major role for Iran in the country's post war period," Alam said.
"Damascus realises that a continued Iranian presence in Syria is a certain hindrance to redevelop its connections with Arab allies such as Saudi Arabia, UAE, Bahrain and Egypt. They are stepping up slowly to come to Syria and this will automatically balance out Iran in the long run," the analyst observes.
But he still thinks that Iran will remain an important ally of Damascus though in a different role and with a lower physical presence.
While Syria is a Sunni-majority country led by an Alawite family, which has strong connections with Iran's Shia ideology, Iraq is a Shia-majority country. But Shia-majority Iran is also having serious problems in Iraq, where it has been a dominant power since the 2002 US invasion.
Most recently, more than a dozen members of a powerful Iranian-backed Shia militia have been arrested by Iraqi security forces in the country's capital Baghdad, shocking Tehran again after its top general Qassem Soleimani's assassination by American forces in January and continuing widespread protests against Iran.
"With the raid, Iraqi and US security forces seized four rockets, which were initially planned to be launched to American forces, inside the group's headquarters," Bulovali told TRT World.
Last month, the US and Iraq began a crucial negotiation process to settle a strategic pact, which aims to strengthen relations between Baghdad and Washington, reducing Iran's influence over Iraq.
Bulovali thinks that some Iran-backed forces, which are particularly tied to hardliner Revolutionary Guards, want to sabotage that process, increasing their rocket attacks to US bases since then. The recent joint US-Iraq raid over the Shia militia base appeared to be a response to Iran.
Iran still does not do much because there is an internal power struggle between moderate forces in the government and radicals in the country's Revolutionary Guards, according to Bulovali.
"While the Guards defend an aggressive approach by immediately escalating tensions in the Middle East, the foreign ministry advocates a wait-and-see policy until the US elections to see whether Trump will stay or leave," the Iraqi analyst said.
Under US support, Israelis are preparing themselves to occupy the West Bank, one of the two remaining Palestinian enclaves. Iran's resistance front opposes the move.
https://www.trtworld.com/magazine/is-iran-having-trouble-managing-its-shia-proxies-in-the-middle-east-37632
------
India
Covid-19: 52 people arrested for flouting norms by gathering at mosque in UP's Shamli
Jun 27, 2020
MUZAFFARNAGAR: Fifty-two people were arrested in a town in Shamli district of Uttar Pradesh for gathering at a mosque for Friday prayers, violating orders that prevent large assemblies to combat the spread of Covid-19, police said here.
They were arrested as assembly of more than five people at religious places in the state is prohibited in view of the outbreak, SHO Yashpal Dhama said on Saturday.
A case was registered under various sections of the law, the SHO said, adding that all of them were later released on bail.
https://timesofindia.indiatimes.com/city/meerut/covid-19-52-people-arrested-for-flouting-norms-by-gathering-at-mosque-in-ups-shamli/articleshowprint/76661713.cms
-----
Centre trying to change Muslim majority character of J&K through domicile rules alleges PDP
June 26, 2020
The Peoples Democratic Party (PDP) on Friday accused the centre of trying to change the Muslim majority character of Jammu and Kashmir by introducing the domicile rules. In a statement, the PDP voiced its stern opposition to the domicile rules, reiterating that through such underhand means, the government of India intends "demographic flooding in Jammu and Kashmir while plundering people of their identity and constitutional guarantees".
PDP spokesman said that the objective of population replacement in J&K is to change the Muslim majority character of the state at a time when everything in the country is viewed through the prism of religion.
"As the agenda unfolds it becomes clear that along with the intended demographic change, the target is also the jobs, natural resources, cultural identity and everything that the people of Kashmir had tried to save by acceding to India with firm constitutional guarantees," said the spokesman.
He added that the scrapping of Article 370 was a "constitutional fraud" which disregarded even larger national interest for the communal agenda of the ruling party, as is now becoming evident by events in and around J&K and Ladakh. "It is time that the government of India recognized the fallacy of its actions in J&K and reverses its "communally driven agenda" and see the pain that it has caused to people here as it threatens to hurtle the entire region into an era of unending instability," said the PDP spokesman.
https://www.thestatesman.com/india/centre-trying-change-muslim-majority-character-jk-domicile-rules-alleges-pdp-1502903943.html
-----
First Covid, now hunger, Bhagalpur migrants start packing — again
June 28, 2020
by Dipankar Ghose
They had dreamt of Bhulni. Their green fields, mango trees and families. It is what kept them going even as hungry in the special trains, or on the back of trucks, for days and nights. But now that they are here, that dream is falling apart, infected by reality. Bihar's villages have no work, no sustenance. It was why they left. And it is why, despite the yearning to be home at a time of crisis, they will have to leave again.
With 63,962 returning migrants, a rising Covid curve, and a town full of aspirations, Bhagalpur is a microcosm of Bihar — where the system is tottering under the weight of numbers and the scale of unemployment.
Bhagalpur is also the focus of a month-long assignment by The Sunday Express to track how lives and livelihoods in smalltown India are coping with the unlockdown.
In a small courtyard in Bhulni panchayat's Mehesleti village, 20 men share their stories, each echoing the other. No one wears a mask, and social distancing has been thrown to the wind, even though the district, with 430 cases, is second in the state behind Patna, with 557. There are no officials to check, and the residents themselves gave up long ago. Here, fear of the virus has been replaced by fear of hunger.
First Covid, now hunger, Bhagalpur migrants start packing — again In a small courtyard in Bhulni panchayat's Mehesleti village, 20 men share their stories, each echoing the other. (Express photo by Dipankar Ghose)
Rakesh Ranjan Singh left home during his teens in 2004. He was last in Andhra Pradesh's Kurnool, earning Rs 400 as a daily wage labourer. "I got back by train in the middle of May, and was told by officials that I would get a job. They registered my name at the railway station, and the Hajipur quarantine centre. It has been a month, and there is no work," he says.
So far, all that he has received is a message on his small feature phone: a number and a message of congratulations, saying he has been registered with the Industries Department. "What do I do with this message?" Singh asks.
Over the past month, Mehesleti has seen promises made on TV, in newspapers, and on WhatsApp for those with smartphones. They read that the state would give Rs 1,000 to returning migrants under a Corona Sahayata scheme, or that MNREGA would be expanded. But not one of them has received the money, or a rural job card. The refrain: "Where will we go to ask? Everything is shut."
First Covid, now hunger, Bhagalpur migrants start packing — again The walls of the panchayat building in Chara Badgaon village are freshly painted in yellow, and the trees around show signs of manicure. (Express photo by Dipankar Ghose)
About a kilometre away, the walls of the panchayat building in Chara Badgaon village are freshly painted in yellow, and the trees around show signs of manicure. The foundation stones proclaim that Chief Minister Nitish Kumar inaugurated the building on January 9, 2020. But by May, parts of the block were used as a quarantine centre which, like many others in Bihar, was shut by June 15.
At 11.30 am on a bright morning last week, there was a lock on the Panchayat Bhavan. Inside a complaint box was a pack of torn playing cards. Across a newly built pond, an MNREGA bhavan was open, and manned by Sharan Dev Singh, who identified himself as a "pratinidhi".
He said MNREGA work was on the rise, but didn't have the numbers. In front of him, four labourers were digging up dirt for the pond. They were MNREGA workers who had never left the village.
In Bhagalpur, the number of households that worked under MGNREGA declined to 40,118 in May this year in comparison to 43,431 during the same month last year. The number of persondays generated, too, came down to 7.55 lakh against last year's 9.16 lakh.
In the absence of work, conversation turns to the future. Anil Singh earned Rs 600 a day as a mason in Delhi. More than a month ago, he paid Rs 3,500 to be one of 70 people, squashed in the back of a truck for three nights and two days. He ate one packet of biscuits and six bananas over that time. But now? "Chorikarenge (We will steal)," he says, half in jest, half in pain. Then, his eyes begin to well up, "They say soil is gold here. Is the soil more fertile in Punjab than here? There, they put up industries. Here, they put up nothing."
There is comfort in family, and the fields provide some food. Yet, the residents are buying fewer soap bars and lesser salt; fewer vegetables and no fruit; and, no shampoo. "There is also the weight of debt," says Diwakar Kumar who worked in Rajkot, and has taken a Rs 50,000 advance on his salary. Others have taken from Rs 4,000 to Rs 5000 from their employers.
For now, these are loans interest-free. "But if there is a medical problem, or something else, where will the money come from? The mahajans (money lenders) will give you money at an interest of five per cent per month. Nobody survives that," says a resident.
"We must go back to our jobs and earn," he says. Rakesh Ranjan Singh and Kailash Prasad will stay for a month, until paddy transplantation is over. Some others will hold out till "Chhat Puja", and perhaps the state elections. But Ranjit, 21, is clear: "I will leave soon." He worked in an advertising company in Ranchi, fixing billboards. "The company owes me Rs 15,000, and I am afraid I will lose that money," he says. He is afraid of Covid, too. And when he had set off for his village on a motorcycle, he was beaten by policemen, several times, he says. "All I want is to stay home and work here. But I can't. Every day, I tell myself, I will leave tomorrow."
https://indianexpress.com/article/india/first-covid-now-hunger-bhagalpur-migrants-start-packing-again-6479585/
------
Employment avenues declining for JK youth: Dr Farooq Abdullah
June 28, 2020
National Conference President and MP from Srinagar Dr. Farooq Abdullah Saturday expressed concern over "declining employment opportunities" for the youth of J&K.
Expressing concern over the "burgeoning unemployment rate" and "shrinking avenues" for educated youth in public as well as private sector, the Party President said, "It is entrepreneurship that will act as an antidote to current unemployment crisis, will inevitably provide limitless opportunities to our youth and will provide much needed boost to our ailing economy."
"Ours," he said, "is a state which has numerous opportunities in agriculture, handicrafts, food processing, and other untapped resources in the service and hospitality sector but unfortunately most of the avenues haven't been leveraged due to a number of reasons."
The NC leader in a statement said that at a time when entrepreneurship is much touted to provide employment to JK youth and boost the economy, "young and budding entrepreneurs continue to suffer due to lack of support from government and financial institutions,"
"Merely providing financial and infrastructural support to the budding entrepreneurs won't suffice; measures for skill development are also needed. We ought to create an environment where in our academic institutes, entrepreneurship development centers, and district industrial centers work hand in hand under a strong and multifarious youth friendly policy framework," he said while calling for an entrepreneur friendly taxation regime, speedy and single window clearance for all startups.
The NC President said that there is a great deal of confusion "festering the minds of our youth about starting their own ventures which needs to be allayed. It can be achieved through counseling in schools, colleges and universities. Media too has a role to play in this regard."
Meanwhile, the NC President inaugurated a popular franchisee of a food joint at Sangramal Shopping Complex in Srinagar. On the occasion he congratulated the proprietor of the franchise Ashiq Rafiq Khan and wished him good luck.
He was accompanied by the party's Additional General Secretary Dr Sheikh Mustafa Kamal.
https://www.greaterkashmir.com/news/front-page-2/employment-avenues-declining-for-jk-youth-dr-farooq-abdullah/
-----
Search operation launched in several villages near LoC in Rajouri after reported suspicious movement
Sumit Bhargav
June 28, 2020
Army and police on Sunday morning launched a search operation in several villages near the Line of Control (LoC) in Kalsiyan area of Nowshera after reports of some suspicious movement, officials said.
An official said that Kalsiyan, Bhawani, Ganya and other adjoining villages have been cordoned off the security forces after reports of presence of suspected persons.
"All these villages fall within a radius of around one to two kilometres from Kalsiyan and Baba Khori sub sectors of Nowshera sector," he said.
They claimed that the forces have received information of suspected movement in the area after which the entire area has been cordoned off.
"Teams of security forces are on job. We cannot comment much on this at this point of time as the operation is underway," said a senior police officer.
An infiltration bid was foiled by the army on May 28 in Kalal area, which is around six kilometers from Kalsiyan. Three militants were killed and as many pushed back, army had claimed.
https://www.greaterkashmir.com/news/jammu/search-operation-launched-in-several-villages-near-loc-in-rajouri-after-reported-suspicious-movement/
------
Europe
YouTube channel set up by Burton nursery boss has cartoons to educate on Islam
27 JUN 2020
ByAdnan Rashid
A Burton woman has launched a YouTube channel aimed to educate the Muslim and non-Muslim community on Islam.
Serina Yates has set up Burton Dawah Channel, a YouTube channel where she will post regular narrations based on Islamic history and stories about Muslim prophets in the form of short animated movies.
Mrs Yates, who lives in Branston Road said: "The aim of the YouTube channel is to integrate the community by running motivational Islamic lectures.
"I want to air programs to promote the understanding of the true essence of Islam and not to judge Islam by how it is portrayed in the current climate.
"Through the animation videos we will highlight role models and promote their cause and deliver purposeful videos for both children and adults.
"We will invite individuals to submit their blogs which they feel will benefit the community and look to review products and services that can benefit the community.
"Ultimately the message is to bridge communities into one big family, have conversations on events happening in the world and look to contribute to our society in a positive and impactful way."
https://www.derbytelegraph.co.uk/burton/youtube-channel-set-up-burton-4259600
------
Hundreds march in Berlin against racism
June 28, 2020
AhlulBayt News Agency (ABNA): A Black Lives Matter rally drew hundreds in Berlin on Saturday afternoon.
A police spokesman estimated around 1,100 people took part.
Placards included slogans like "Police Violence Kills", "I Can't Breathe" and "Racism Has A System Here Too".
Music was played on a stage, and most participants complied with coronavirus health measures such as social distancing and the use of a face covering.
https://en.abna24.com/news//hundreds-march-in-berlin-against-racism_1050832.html
------
Italians protest against Israel's annexation plan
June 28, 2020
Rallies in protest against plans by Israel to annex parts of the West Bank have been held in several Italian cities. Many fear such a move will further inflame tensions in the region.
Rallies against Tel Aviv's unilateral plan to annex large swaths of the occupied West Bank and Jordan Valley were held in 18 Italian cities, including Rome, Milan, Naples and Bari.
In the Italian capital, thousands of people gathered in Campidoglio, the seat of the mayor's office and of the town administration, to have their voices heard on Prime Minister Benjamin Netanyahu's annexation push.
Protesters at the rally on capitoline hill argue that an annexation of parts of occupied West Bank would not only violate international law but it would likely inflame tensions in the already volatile region.
The rally was called by a number of regional Palestinian communities and supported by hundreds of groups, including left-leaning political parties, Italy's three major unions CGIL-CISL and UIL, the National association of partisans ANPI and dozens of charitables and humanitarian organizations.
Over 1,000 European parliamentarians denounced Israel's annexation plan in past days saying the move would be fatal to the prospects of Israeli-Palestinian peace.
https://en.abna24.com/news//italians-protest-against-israels-annexation-plan_1050805.html
------
Police name man shot by officers during Glasgow attack
June 27 2020
Police have named the man shot by officers during an attack in Glasgow on Friday as BadreddinAbadlla Adam, 28, from Sudan.
In a statement on Twitter, Police Scotland said the identity is "based on information the deceased provided to the Home Office earlier this year".
In a statement on Twitter, Police Scotland said it "will continue to investigate the circumstances surrounding the incident in Glasgow".
It added: "The police discharge of firearms resulting in a fatality will also continue to be fully investigated by the Police Investigations and Review Commissioner (PIRC).
"Both of these inquiries, which take place under the direction of the Lord Advocate, are ongoing and it would not be appropriate to speculate either about the events or the outcomes of these investigations."
Constable David Whyte, 42, was one of six people injured during the incident at the Park Inn Hotel in West George Street on Friday, in which a male suspect was shot and killed by police.
In a statement posted on Twitter by Police Scotland, Mr Whyte said the scene officers attending the incident were confronted with is something he will never forget.
The officer, who remains in a stable condition, thanked his colleagues who "put themselves in harm's way to contain this incident and assist with the vital treatment given to myself and others at the scene by other emergency services".
Mr Whyte added: "Despite suffering serious injuries myself, I know that the swift actions of colleagues saved lives and prevented a far more serious incident.
"I would like to thank the medical staff at Queen Elizabeth University Hospital for their outstanding care in the hours following this incident.
"Finally, I would like to thank the public for all their kind messages of support and for the good wishes from all at Police Scotland. It means a lot and has brought both myself and my family great comfort at this difficult time."
Police Scotland, which has said the attack is not being treated as terrorism, has launched an appeal for any witnesses to come forward.
Following an update from Police Scotland on Saturday, First Minister Nicola Sturgeon tweeted: "My thoughts today remain with Constable Whyte – whose bravery we are all deeply grateful for – and the other people who sustained injuries in yesterday's terrible incident. I wish them all a full and speedy recovery."
"I reported him to the hotel reception and then the next day, yesterday morning, the housing manager talked to me and I said to him everything he (the attacker) said to me. And in the afternoon, it happened."
https://www.belfasttelegraph.co.uk/news/uk/police-name-man-shot-by-officers-during-glasgow-attack-39321555.html
------
Brits will have to live with it, says Merkel while Johnson repeats threat to walk away
Patrick Daly
June 28 2020
British prime minister Boris Johnson has repeated his threat to walk away from trade talks with Brussels after German chancellor Angela Merkel warned Britain would have to "live with the consequences" of abandoning close ties.
During a conversation with Polish prime minister Mateusz Morawiecki yesterday, Downing Street confirmed Johnson reiterated his position that the UK was prepared to leave on "Australia terms" if no agreement was forthcoming.
Australia has no bespoke trade deal with the European Union, leading Brexit critics to describe the proposals as akin to leaving on no-deal terms, albeit with a number of mini-deals put in place to allow vital sectors, such as air travel, to continue.
A No 10 spokeswoman, issuing a read-out of a phone discussion with Morawiecki, said: "On the UK's future relationship with the EU, the prime minister welcomed the agreement on both sides to an intensified process of negotiations in July.
"He said the UK would negotiate constructively but equally would be ready to leave the transition period on Australia terms if agreement could not be reached."
The remarks come after Merkel warned Britons would have to "live with the consequences" of Johnson rejecting predecessor Theresa May's plan to continue close economic links with Brussels after Brexit.
Merkel spoke with European newspapers ahead of Germany assuming the rotating presidency of the EU council on July 1, and a day after Johnson's senior Brexit adviser had signalled that the next phase of talks with the bloc would be tough.
Negotiations are still deadlocked after months of virtual talks - which have been held by teleconferencing due to the Covid-19 pandemic - with fishing rights and EU calls for a so-called "level playing field" proving to be major stumbling blocks.
Merkel said: "With prime minister Boris Johnson, the British government wants to define for itself what relationship it will have with us after the country leaves.
"If Britain does not want to have rules on the environment and the labour market or social standards that compare with those of the EU, our relations will be less close."
Merkel (65), who has led Germany since 2005 and will retire from politics when her fourth term as chancellor ends next year, also insisted that a no-deal Brexit would not be a personal defeat for her.
Johnson has continually insisted that the UK would reject an EU offer to extend the Brexit transition period beyond the end of the year.
He also said that what he called some of the EU's more "unrealistic positions" would have to change in order to achieve progress.
Frost said he was looking forward to the resumption of face-to-face talks on Monday in the wake of the coronavirus outbreak. He said: "These meetings will be smaller and focused on seeing whether we can begin to make genuine and rapid progress towards an agreement."
https://www.independent.ie/world-news/europe/brits-will-have-to-live-with-it-says-merkel-while-johnson-repeats-threat-to-walk-away-39321892.html
------
Arab world
Worshippers at mosques 'ecstatic' as Egypt allows public prayers
Hamza Hendawi
June 27, 2020
The suburban Cairo mosque was full soon after the call for the noon prayers rang out on Saturday, forcing some worshippers to pray on the plaza or the lawn outside. But that was not because their numbers were more than the opulent mosque could ordinarily hold; social distancing meant that each one required more space.
In times of grave crisis, such as the deadly Covid-19 pandemic that has menaced Egypt for the past five months, religious practices ordinarily observed are sometimes shelved in good faith. The oft repeated Quranic verse and saying of the Prophet Mohammed that urges Muslims to stand shoulder-to-shoulder during war and prayers, like a wall whose bricks are closely cemented together, has become somewhat perilous to apply.
"It was a very difficult time for all of us, but we are back and we offer our thanks to Allah," said the imam, whose call for the prayers did not include "pray at home", the phrase inserted when mosques were closed in March.
"Contrary to what many believe, our religion is very flexible," said the young imam after he led up to 100 men in prayer at a mosque that could easily accommodate 500 to 600. "We have missed the houses of God and we are back now. It's a blessing for which we are filled with gratitude and we should try and keep it by observing rules," he told worshippers who showed up wearing blue surgical masks and carrying their own prayer rugs as part of precautions against the coronavirus.
Egypt on Saturday reopened mosques for worshippers for the first time since it ordered them shuttered three months ago, ending one of the most debated and emotionally charged measures to contain the spread of Covid-19.
Ironically, the decision to reopen the mosques along with churches, restaurants, cafes, cinemas and theatres came as the country of 100 million people is gripped by the worst stretch of the pandemic, with new cases of Covid-19 numbering well above 1,000 every day.
As of Friday night, authorities had reported 62,755 cases and 2,620 deaths. Of these, 36,203 cases and 1,565 fatalities – more than half of the total – were recorded this month.
The government maintains that Egyptians must learn to live with Covid-19 as best they can until a vaccine is developed, but they must also adhere to preventive measures such as social distancing, wearing masks in public and adopting hygienic practices like frequent washing of hands.
The aim, argues the government, is to prevent a continuing lockdown from causing an economic meltdown that would wipe out hard-won gains made over years of harsh reforms to overhaul the economy such as removing state subsidies on basic goods and services and introducing new taxes. But the grim numbers of Covid-19 cases and fatalities have led some to question the wisdom of reopening the country now.
Some Egyptians are using social media to warn that it is too soon to return to business as usual, urging their compatriots to stay home if they can, especially in the greater Cairo area, home to some 25 million people and more than half of all fatalities and cases since the coronavirus outbreak began in mid-February.
They also warned against frequenting cafes and restaurants, although authorities have instructed owners to operate at just 25 per cent of capacity, the ratio also applied to cinemas and theatres. A nighttime curfew has been lifted and July 1 will see the reopening of airports and the resumption of international and domestic flights. Public beaches and parks, deemed too dangerous, will remain shut.
Amid the debate about the timing of returning life to normal, the reopening of mosques appears to be the one move that is winning almost universal approval in this overwhelmingly Muslim nation. However, the traditional Friday sermon, like the Sunday liturgies, remain banned.
"I was happy to go back today," said Sayed Mohammed, a 67-year-old businessman who offered the dawn prayers on Saturday at a downtown Cairo mosque frequented mostly by fundamentalist Salafi Muslims. "Some of the men brought their young children, something that's only done during Ramadan or the major religious holidays. You could see that everyone was ecstatic," he said.
Facing possible fines or loss of licence if they flaunt the regulations, most cafes in Cairo restricted seating to pavements outside their establishments and diligently enforced the limit on patrons and the mandatory use of masks indoors.
"We are back, and that's really good, but with 25 per cent capacity, sales will be pretty low," said a waiter at a coffee house belonging to an international chain.
https://www.thenational.ae/world/mena/worshippers-at-mosques-ecstatic-as-egypt-allows-public-prayers-1.1040148
------
Saudi Press: Saudi Arabia Targets 100 million Visitors Annually by 2030
2020/06/28
Riyadh, June 28, 2020, SPA -- Saudi newspapers highlighted in their editorials today a number of issues, at local, regional, and international arenas.
Al-Riyadh newspaper said in its editorial that the tourism industry in the Kingdom of Saudi Arabia is witnessing a significant development, and targeting 100 million visitors annually by 2030.
The paper pointed out that the Ministry of Tourism has announced its plans to increase the number of tourist sites by more than 150% in less than two years only, confirming the government's keenness to develop this sector and achieve its full goals.
The paper concluded that supporting tourism industry in Saudi Arabia aims to increase its contribution to the Kingdom's GDP from 3 to 10 percent, and most importantly, to secure one million new job opportunities.
Al-Yaum newspaper said in its editorial that the Kingdom of Saudi Arabia is one of the founding and active countries in the United Nations General Assembly and playing important roles in many of its specialized organizations and agencies.
The paper said that the efforts of Saudi Arabia are including in financial and logistical support to the United Nations Center for Combating Terrorism, and commit to promote international principles and the rule of law.
The paper cited the statement of the Permanent Representative of the Kingdom of Saudi Arabia to the United Nations, Ambassador Abdullah bin Yahya Al-Muallami, in the virtual ceremony to commemorate the seventy-fifth anniversary of the signing of the United Nations Charter held yesterday, who emphasized the supportive position of Saudi Arabia for every option to restore peace and harmony, as it beliefs in the principles of the United Nations Charter.
https://www.spa.gov.sa/viewfullstory.php?lang=en&newsid=2102955#2102955
------
Muslim World League aims to promote religious tolerance, understanding: Al-Issa
27 June 2020
The Muslim World League (MWL) and its campaigns aim to build bridges between different sects of Islam and promote the values of tolerance, understanding and friendship with other religions, Mohammad al-Issa, MWL Secretary General told Al Arabiya.
Al-Issa said that the MWL campaigns aim "highlight the high values of Islam and to affirm its positive openness, and that our religious understandings accept God almighty's choice in variation and diversity."
"The conversation builds bridges for understanding, promotes friendship and brotherhood among all, which is the portal for trust and collaboration that all of humanity needs," he added.
Al-Issa highlighted the "Mecca Document Conference" which took place in May 2019 and brought together religious scholars from 27 sects of Islam.
The document detailed Islamic principles and promoted tolerance while repelling hate preachers and any sect which considered another sect as "inferior".
Al-Issa stressed that MWL's work had no political agenda and no other goals other than to promote "peace and harmony amongst all."
He also emphasized that the MWL cooperates with Saudi Arabia as a leader in all efforts to combat "extremist ideas, specifically in the Muslim world."
https://english.alarabiya.net/en/features/2020/06/27/Muslim-World-League-aims-to-promote-religious-tolerance-understanding-Al-Issa.html
-----
Islamic banking entities provide financing of OMR4.1 billion
June 27, 2020
Muscat: The Islamic banking entities provided financing of OMR4.1 billion at the end of April 2020, recording a growth of 8.9 per cent over that a year ago.
Total deposits held with Islamic banks and windows increased by 7.7 per cent to OMR3.5 billion.
The total assets of Islamic banks and windows stood at OMR4.9 billion and constituted about 14 per cent of the banking system's assets as of end-April 2020.
https://timesofoman.com/article/3016416/business/islamic-banking-entities-provide-financing-of-omr41-billion
-----
Jeddah bids fond farewell to iconic airport terminal
RAWAN RADWAN
June 28, 2020
JEDDAH: Jeddah's international airport is bidding a fond farewell to its distinctive south terminal, known for its unique triangular tent-shaped exterior and large glass facade, as flight operations move to a new base.
Inaugurated by King Khalid in April 1981 after transferring all operations from its previous location near Jeddah's Al-Sulaimania district, King Abdul Aziz International Airport (KAIA) has become one of the main gateways into the Kingdom not only for travelers but for millions of pilgrims.
For many worshippers, the airport's south terminal has been their first stop on a journey of a lifetime to perform Hajj or Umrah at the Grand Mosque in Makkah or visit the Prophet's Mosque in Madinah.
Inaugurated by King Khalid in April 1981 after transferring all operations from its previous location near Jeddah's Al-Sulaimania district, King Abdul Aziz International Airport has become one of the main gateways into the Kingdom not only for travelers but for millions of pilgrims.
With its iconic high ceilings that resemble the inside of a tent, it has served millions of passengers and is one of the busiest air terminals in the Kingdom. It also serves as the headquarters for Saudi Arabia's national airline Saudia.
The first direct flight to New York City took off from KAIA in June 1981 and other international destinations were added that year.
It was recently reported that KAIA accounts for 36 percent of the total number of passengers in the Kingdom.
The closure of the south terminal and the moving of all operations to the airport's newly opened T1 terminal — inaugurated by King Salman last September and capable of handling 30 million passengers a year — is aimed at ensuring the airport remains a key link between the East and West and continues to serve the city's residents and welcome pilgrims.
https://www.arabnews.com/node/1696511/saudi-arabia
------
Egypt executes Libyan militant al-Mesmari, 2017 terrorist attack mastermind: Ministry
27 June 2020
Egypt has executed Libyan militant Abdelrahim Mohamed al-Mesmari, the mastermind behind the 2017 terrorist attack in the western desert area Wahat, the Ministry of Defense announced on Saturday.
Al-Mesmari was captured in 2017 during a raid on a group blamed for a deadly attack in which authorities have said 16 policemen were killed. The Military Criminal Court in 2019 sentenced the Libyan national to death and another 32 individuals were sentenced to life in prison for their role in the attack. Twenty others were found to be innocent.
A group called Ansar al-Islam claimed responsibility for the attack, posing a new threat to Egyptian security forces who were battling a stubborn ISIS insurgency in the Sinai Peninsula since 2013.
Upon being captured, al-Mesmari told authorities that he adopted extremist ideas following the revolution on former Libyan dictator Muammar Gaddafi. He later joined a group in Egypt headed by former Egyptian army officer EmadeddineAbdulhamid, also known as Sheikh Hatem. Both men were reportedly working for officer-turned- extremist Hesham Ashmawi, who was executed in Egypt in March 2020.
https://english.alarabiya.net/en/News/middle-east/2020/06/27/Egypt-executes-Libyan-militant-al-Mesmari-2017-terrorist-attack-mastermind-Ministry.html
-----
North America
US envoy urges condemnation of Muslim Brotherhood's call to kill gays
By BENJAMIN WEINTHAL
JUNE 27, 2020
The former US ambassador to Germany and high-profile member of the Trump administration on Friday urged that all American agencies and officials condemn a Muslim Brotherhood member for declaring that homosexuals should be murdered.
Egyptian TV host Hala Samir said on June 16 in a monologue on her show on Watan TV (Turkey-based Egyptian Muslim Brotherhood) that "Ibn Abbas quoted the Prophet Muhammad as saying: 'If you find men engaged in a homosexual act – kill the active one as well as the passive one.' Don't start asking: 'Are you active or passive?' Just kill both."
The NGO The Middle East Media Research Institute (MEMRI) first reported Samir's anti-gay comments and translated her remarks into English.
According to MEMRI, "She explained that Muhammad's companions had disagreed only with regard to the method of killing the homosexuals and she elaborated that some of these methods include burning them alive, throwing them off a high place, and stoning them. In addition, Samir said that lesbianism is also prohibited by Islamic law."
After Grenell, who was the first openly gay member of a presidential cabinet when he served as acting director of national intelligence, posted his tweet, he wrote that "Twitter launched an investigation of me for this tweet calling it unacceptable to kill gay people. But they allow the Muslim Brotherhood"s video calling for the death of gay people to continue. @jack."
The Jerusalem Post asked on Twitter if the German Social Democratic State Minister Michael Roth plans to condemn the Muslim Brotherhood's lethal homophobia.
Roth tweeted on Saturday: "On 1 July, Flag of Germany will assume the EU-Presidency for 6 months. We thus bear a special responsibility for our Flag of European Union. There is no place here for homophobia, racism, antisemitism or antiziganism. We will actively support equal opportunities and equality for LGBTI people. Globalpride."
He added that "Let's stand shoulder to shoulder with human rights activists. Let's show our support in particular where LGBTI people are under pressure, marginalised, discriminated+persecuted. Thanks to all those who work for a world where we can celebrate our differences without fear. #pride."
Roth's Social Democratic colleague at the Foreign Ministry, Niels Annen, has previously celebrated Iran's regime. Iran's regime, according to a 2008 British WikiLeaks dispatch, executed between 4,000-6,000 gays and lesbians.
Roth has previously not responded to Post queries about the accusation that he represses free speech on Twitter. The German Journalist Tobias Huch is pursuing claims against Roth for blocking him on Twitter.
Huch wrote on Twiter on Saturday: "He (Staatsminister [State Minister] Michael Roth, #SPD) blocked me on twitter, because I wrote an article about the@AuswaertigesAmt[Foreign Ministry.] He hates the freedom of press."
After Huch criticized the German foreign ministry for failing to help German citizens in Kurdistan during the coronavirus crisis, Roth blocked him.
In 2019 Annen blocked this Jerusalem Post reporter in connection with critical reports about his allegedly pro-Iran policy. A legal claim filed by the German lawyer Joachim Nikolaus Steinhöfel resulted in Annen lifting the block in 2019.
The right to view Twitter accounts of German government officials, politicians and diplomats is considered by German media freedom advocates to be part of basic freedom of the press protections in Germany.
https://www.jpost.com/international/us-envoy-urges-condemnation-of-muslim-brotherhoods-call-to-kill-gays-633022
------
Joe Biden Attacks Trump Over 'Outrageous' Report Russia Paid Afghan Militants to Kill US Soldiers
28.06.2020
A New York Times report has claimed, citing officials with knowledge of intelligence, that Trump had known for months but ignored briefings that Russia had offered cash rewards to Afghan militants for killing US troops. Both Russia and the Taliban denied the report, and the White House said Trump had not been aware of the information.
Joe Biden has slammed Donald Trump over a report that the US president failed to act on intelligence "findings" about an alleged Russian plot against US troops in Afghanistan.
"The truly shocking revelation that if the Times report is true…is that President Trump, the commander in chief of American troops serving in a dangerous theatre of war, has known about this for months, according to the Times, and done worse than nothing", Biden said during a virtual town hall on Saturday.
The presumptive Democratic nominee, who was among those senators who authorised Bush to invade Iraq, called the report a "betrayal of the most sacred duty we bear as a nation — to protect and equip our troops when we send them into harm's way".
Biden added that he was "quite frankly outraged" by the report, promising to confront Russia and "impose serious costs" on the country if he gets elected.
According to The New York Times, American intelligence officials concluded months ago that Russia had offered bounties to kill US troops in Afghanistan amid peace talks between the Trump administration and the Taliban last year.
The story claimed that the National Security Council discussed the matter in March and that Trump had been personally briefed but did not react. Democratic Senator Tammy Duckworth has called for a hearing into the report, claiming that Trump has "encouraged Russia to interfere in our democracy".
The United States started a war in Afghanistan, then controlled by the Taliban, in 2001 in response to the 9/11 attacks that were blamed on Osama bin Laden, who was supposedly hiding out in the Central Asian country.
More than 111,000 Afghans and over 2,400 US troops have been killed since the invasion, which ousted the Taliban from power but failed to completely end the insurgency. The Trump administration signed a peace deal with the militants this February, following 18 months of on-and-off negotiations, although ongoing attacks against both troops and civilians have brought the viability of that deal into question.
The NYT quoted a spokesman for the Taliban as denying the claims about Russian rewards and calling the report an attempt to defame the movement. "These kinds of deals with the Russian intelligence agency are baseless — our target killings and assassinations were ongoing in years before, and we did it on our own resources", the spokesman said. "That changed after our deal with the Americans, and their lives are secure and we don't attack them".
Russia also denied the accusations and said that employees at its US Embassy had received threats after the publication.
"This blunt story vividly illustrates the low intellectual abilities of US intelligence's propaganda staff, who instead of making up something more elaborate has come up with such nonsense", a Russian Foreign Ministry spokesperson said on Saturday, adding: "What else one can expect from the intelligence that has miserably failed to succeed in the 20-year war in Afghanistan".
The White House did not address the veracity of the bounty intelligence, but maintained that neither President Donald Trump nor Vice President Mike Pence were briefed on it.
https://sputniknews.com/us/202006281079739053-joe-biden-attacks-trump-over-outrageous-report-russia-paid-afghan-militants-to-kill-us-soldiers/
------
Locked down? Open up to 'Ramy,' a religious Muslim who Orthodox Jews understand
28-06-2020
NEW YORK (JTA) — The ink had not yet dried on my color-coded, scheduled-by-the-hour Shabbat plan when my phone chimed.
I quickly shelved my dream of a proper eight hours of sleep, set my Spotify to rousing Hasidic music, and got to work transforming vegetables, oils and spices into mezze that would hopefully round out the meal.
The rhythms of religiously observant life are misunderstood, even to those inside of it. It is not about dogma, nor about checking off a series of obligations and avoiding violations. For the individual, it requires a slow ego death.
"Homo religious is a romantic who chafes against concrete reality and tries to flee to distant worlds that restore his spirits with their purity and pristine clarity," Rabbi Joseph Soloveitchik wrote in his 1944 book "Halakhic Man." "Halakhic man, however, takes up his position in this world and does not move from it. He wishes to purify this world, not to escape from it."
An observant life does not scoff at transcendence, nor at secular wisdom. But it views the individual's role not as enlightening the self, but as bringing transcendence into the real world around them. To the Orthodox, this is the meaning of existence itself, and the power by which we change our world. In 2020, living this way is more challenging than ever.
The award-winning Hulu series "Ramy" provides a masterful look into the challenges of balancing tradition, modernity, aspirations and desires through the eyes of Ramy Youssef, an American-born child of Muslim Egyptian immigrants. The first season is mostly about him trying to find himself. The second season, released by Hulu on May 29, is mostly about him trying to find God.
I have found myself describing the show to friends as a portrait of "a Modern Orthodox Muslim" — referencing Modern Orthodox Judaism, the broad term for the movement that mixes Jewish law and tradition into the modern world. Ramy doesn't drink or do drugs, he prays five times a day, he fasts on Ramadan. He struggles to refine his beliefs and balance his culture with his modern ethic. He believes premarital sex is wrong and has it anyway — leaving a trail of increasing destruction as he goes.
The show will feel familiar, if not intimately so, to American Jewish audiences — especially Modern Orthodox ones. It has the Middle Eastern cultural touchpoints, the superstitions, the feeling of being too American for your family and not quite American enough for your fellow Americans, the quasi-Birthright trip to Egypt, the pick-and-choose approach to religious law, the zealous convert characters, the search for meaning and the newly religious who take it upon themselves to criticize others for choices they themselves would have made only months ago.
Parts of 'Ramy,' such as the suburban New Jersey setting, are based on creator Ramy Youssef's real life. (Screenshot from YouTube/via JTA)
"I don't want desires. I don't want anything. I just want God," Ramy says in one episode after having a particularly rough go at it. But as his sheikh Ali Malik tells him in another context, "Islam is like an orange — the rind without the flesh is bitter and useless. The flesh without the rind will wither and rot." Rules preserve us. But rules are far from what it's all about.
"Ramy" thus provides us with a lens into the full range of challenges of a modern religious life. It's not easy to find a community, to battle one's baser instincts, to juggle being the "other" while also blending in too much for the liking of earlier generations and having friends that don't share your path. It's hard today to give back to others in a selfless way, to find a mentor, to find a partner with the same values.
Herein lies the paradox: observant religious life, whether Muslim or Jewish, requires a lot from the individual. But ultimately, it isn't about the "I" at all — it's about the world we build together.
You think, "I do these things and I don't do these things and that's who I am. But it's a trick of the devil, you know?" a recent convert to Islam tells Ramy in season 1.
The show gives us plenty to cringe at, plenty to root for and plenty to grapple with as we attempt our own balance of ancient tradition and modern life.
As Soloveitchik might put it: Ramy, with "his glance fixed upon the higher realms, forgets all too frequently the lower realms and becomes ensnared in the sins of ethical inconsistency and hypocrisy…[he has] been so intoxicated by [his] dreams of an exalted supernatural existence that [he has] failed to hear the cries of 'them that dwell in the houses of clay.'"
Ramy's biggest weakness is his lofty ideals. He crashes and burns, time and again. He gets so close! And you'll be rooting for him to the bitter end.
https://www.timesofisrael.com/locked-down-open-up-to-ramy-a-religious-muslim-who-orthodox-jews-understand/
------
Huge cluster of shipwrecks in small Maryland bay gives rise to a "wildlife mecca"
June 27, 2020
Kayakers who take to the Potomac River as the weather gets warmer could find themselves immersed in floating history, if the tide is right. An ill-fated fleet of wooden steam ships has been rotting away in the brackish water of Mallows Bay in Maryland for nearly a century.
"It's the largest collection of shipwrecks in the western hemisphere … just in this tiny bay," Joel Dunn, Chesapeake Conservancy president told CBS News' Christina Ruffini.
Joel Dunn took CBS News' Christina Ruffini through a trio of ships known as the "three sisters," a triangular area where the old boats have become floating forests. CBS NEWS
The ships were commissioned over a century ago in 1917, when President Woodrow Wilson needed more ships to fight German U-boats. The goal was to build 1,000 in less than two years — prioritizing quantity over quality.
"They were built quickly, inexpensively, with green wood," Maryland's underwater archeologist Susan Langley said. "Initially these were gonna be just expendable, and so they didn't put a lot of effort in."
The war ended before even one of the ships made it across the Atlantic. Eventually, they were gathered, stripped for salvage and abandoned in the bay.
The once-endangered osprey is one of the many species of wildlife making a home among the shipwrecks CHRIS MADDALONI/ROLL CALL/GETTY IMAGES
"That ship has now become a wildlife sanctuary, a wildlife mecca," Dunn observed. "It's got plants and animals that are thriving as a result of the structure the hull of the ship provides."
In addition to wildlife, the ships also bring tourism to the area. Dunn said he hopes they will get people "on the water" and "inspired to take part."
https://www.cbsnews.com/news/shipwrecks-potomac-mallows-bay-wildlife-mecca/
-----
AI Gleaned Information About Emerging Threats, Future Plots From bin Laden Raid
JUNE 26, 2020
On May 2, 2011, U.S. Navy special operators carried out a Central Intelligence Agency-led operation to kill or capture Osama bin Laden, the founder of al-Qaida, the group responsible for many terrorist activities, including the 9/11 attacks. The raid on the compound in Abbottabad, Pakistan, owned by OBL, as he was called, was launched from Afghanistan.
The operators that entered the compound gathered a treasure trove of documents explained Brian Drake, Defense Intelligence Agency's Science and Technology director of artificial intelligence, as he spoke via a webcast discussion yesterday. The webcast, titled "Human Machine Team: The Intersection of Diverse Skill Sets" was sponsored by Defense One.
DIA's National Media Exploitation Center, working with the CIA, the National Geospatial-Intelligence Agency and others, collaborated on this, Drake said.
The media that was captured was flown to NMEC, where rudimentary artificial intelligence was able to exploit the data to discover future al-Qaida plans.
NMEC invested early in AI capabilities across the board, he said, in things like text recognition, object detection, machine translation and audio and image categorization that allowed them to go through petabytes of data that they get from document exploitation.
The result was tens of billions of pieces of relevant data that allowed analysts to quickly delve into the terrorist organization. The data alerted them to future plots, emerging threats and a greater understanding of mysteries they didn't understand before, he said.
Had AI not been used in that instance, it would have taken the entire federal workforce to piece the puzzle together and it still probably wouldn't have succeeded, he noted.
AI can enable analysts not only to discover what they're looking for, but also enable them to gain insights from things they don't know they're looking for but are relevant and important, he added.
The speed of AI analyzing the media after the raid on Osama bin Laden's compound in Abbottabad, Pakistan, was approximately a couple of hours. Today, AI can deliver the same information analysts need in mere milliseconds, he said.
Jane Pinells, the chief of test/evaluation of AI for the Defense Department's Joint Artificial Intelligence Center, who also spoke, said that AI will soon deliver an even greater competitive advantage to warfighters.
Part of that effort, she said, will be done with interdisciplinary teams from such fields as neuroscience, education and experimental psychology, who can understand how the human-machine teaming with AI can be best integrated with the warfighters.
Communications will be especially key, she added. "Operators need to understand how the technology works, and what the limitations and risks with AI systems are."
Another important piece of AI is ethics in using these systems. If AI cannot be employed in a responsible way on the battlefield "then we will not use AI for that mission," she said. Everyone at the JAIC is responsible for ensuring this.
https://www.defense.gov/Explore/News/Article/Article/2234142/ai-gleaned-information-about-emerging-threats-future-plots-from-bin-laden-raid/
------
South Asia
Explosion in Kabul city leaves 2 dead including a woman
27 Jun 2020
An explosion in Kabul city killed civilians including a woman, the officials in Kabul Police Headquarters said.
FerdawsFaramurz, a spokesperson for Kabul Police Headquarters said an explosion killed two civilians in the vicinity of 12th district of Kabul city.
According to Faramurz, the incident took place at around 7:45 am local time in the vicinity of Pul-e Charkhi area of Kabul city.
He also added that a magnetic bomb, planted in a civilian vehicle, went off, killing at least two civilians, including a woman.
Meanwhile, the sources in Afghanistan Human Rights Commission confirmed that two employees of the commission were killed in an explosion in Kabul city earlier today.
No individual or group including Taliban has so far claimed responsibility for the incident so far.
https://www.khaama.com/explosion-in-kabul-city-leaves-2-dead-including-a-woman-08926/
------
4 Taliban militants killed, 3 arrested in Jawzjan province
27 Jun 2020
The security forces killed 4 Taliban militants and arrested 3 others following clash in northern Jawzjan province of Afghanistan.
The 209th Shaheen Corps in a statement said a clash broke out between security forces and Taliban militants in Chupli Tapa Village of Khamab district on Friday night.
The statement further added that the security forces killed 4 Taliban militants during the clash and arrested 3 others.
The security forces also confiscated some weapons and munitions following the clash, the 209th Shaheen Corps added in its statement.
The Taliban group has not commented regarding the incident so far.
https://www.khaama.com/4-taliban-militants-killed-3-arrested-in-jawzjan-province-08925/
------
Southeast Asia
Reject politics of deception, says Anwar
JUNE 28, 2020
KUALA LUMPUR: PKR president Datuk Seri Anwar Ibrahim has called for the rejection of what he described as the politics of deception.
In a posting on his Facebook page last night, the Port Dickson Member of Parliament said politics was not just about the struggle for power but also how it would be translated.
"In the current situation, there are people fishing in troubled waters, suddenly wanting to be a hero. But what I want to stress is — let's get back on track.
"This is not a venue for politicians to use tactical manoeuvres to grab power. Politics is about governance, matters concerning the people.
"What are the policies to be put forward? Are they to maintain a dilapidated and corrupt administrative style that oppressed, as has happened now or before?" he said in the video titled 'Reject Politics of Deception'.
Anwar did not mention any names but his posting came in the wake of a statement by former prime minister Tun Dr Mahathir Mohamad that several opposition leaders had nominated PartiWarisan Sabah (Warisan) president Datuk Seri MohdShafieApdal as the opposition's prime minister candidate.
https://ww.theborneopost.com/2020/06/28/reject-politics-of-deception-says-anwar/
------
Ismail Sabri denies involvement in new party
JUNE 28, 2020
PEKAN: Umno vice-president Datuk Seri Ismail Sabri Yaakob has refuted speculations about him joining or being involved in the establishment of a new party purportedly known as 'PartiReformasi Bersatu Negara', which has gone viral on social media since Friday.
Ismail Sabri, who is a Senior Minister (Security Cluster), stresses that he is loyal to Umno, which he joined more than three decades ago, apart from not being engaged in discussions with several leaders linked to leading the new party.
"I live and die with Umno. If I were to stop being in politics, I would also stop being in Umno. There is no issue of me joining another party as the news is only to confuse the people.
"I only came to know about it yesterday when asked by people…I do not know whose party it is, or who and how my name is in it," he told reporters after attending a 'People's Gathering' in FeldaChini 3 here yesterday.
Ismail Sabri also did not rule out the possibility of the issue of setting up a new party by quarters who wanted to create a false perception that there was a problem in the Perikatan Nasional (PN)-led government.
He was commenting on allegations that his name was listed as the deputy president of the party, which would be chaired by Prime Minister Tan Sri Muhyiddin Yassin, apart from a list comprising several ministers and leaders of other political parties.
In another development, Ismail Sabri reminded voters of Chini state constituency to come out to vote for Barisan Nasional (BN), which was seen as facing 'an easy task' in retaining the seat.
"Even though we are being challenged by only independent candidates, we should not take it easy, as a contest is still a contest. Do not be indifferent on the matter as this is our stronghold," he said.
Ismail Sabri was also optimistic that Chini residents would favour BN's candidate, as the performance of the PN-led government had been proven over its capability in steering the country, as Malaysia emerged as one of best countries in handling the Covid-19 pandemic.
Apart from that, the spirit of Muafakat Nasional between Umno and PAS was also seen as a factor for a BN victory in the Chini by-election considering the series of wins in by-elections since forging the cooperation in early 2019.
Polling for the Chini by-election on July 4 will see BN's MohdSharim Md Zain, 41, being challenged by two Independent candidates – businessman Tengku Datuk Zainul Hisham Tengku Hussin, 64, and Mohd Shukri Mohd Ramli, 49, who is blog writer.
The by-election was necessitated following the death of incumbent Datuk Seri Abu Bakar Harun, 60, on May 7 in Kuala Lumpur Hospital, due to heart attack.
In the 14th general election, Abu Bakar representing BN won with a 4,622-vote majority after obtaining 10,027 votes to defeat Mohd Fadhil Noor Abdul Karim of PAS who received 5,405 votes while Mohamad Razali Ithnain of PKR garnered only 1,065 votes. — Bernama
https://www.theborneopost.com/2020/06/28/ismail-sabri-denies-involvement-in-new-party/
------
Dr Mahathir supports nomination of ShafieApdal as opposition's PM candidate
JUNE 28, 2020
KUALA LUMPUR: Former prime minister Tun Dr Mahathir Mohamad yesterday said he fully supported a proposal by Amanah, PartiWarisan Sabah (Warisan) and DAP to nominate Warisan president Datuk Seri MohdShafieApdal as the prime minister candidate of the opposition.
Dr Mahathir, who is the member of Parliament for Langkawi, said the decision to nominate MohdShafie, who is also Sabah Chief Minister, as the prime minister candidate was reached at an informal meeting he had with his allies at RumahTetamu Sabah here on Thursday (June 25).
The meeting also agreed to nominate PKR president Datuk Seri Anwar Ibrahim as the candidate for Deputy Prime Minister 1 and former deputy president of Bersatu Datuk Seri Mukhriz Mahathir for the post of Deputy Prime Minister 2, he said.
"During the discussions, I was open to any suggestions including excluding me as a candidate for the post of prime minister. Among the proposals was the nomination of Datuk Seri MohdShafieApdal as prime minister (candidate).
"We unanimously agreed that Datuk Seri MohdShafieApdal be named as the prime minister candidate. I fully supported this proposal. It is important that we have a firm stand so that the people will know our stand," he said in a statement yesterday.
He said Mukhriz and MohdShafie were at the meeting, which was also attended by Amanah present Mohamad Sabu and DAP secretary-general Lim Guan Eng.
Dr Mahathir said he believed that if this move was realised, it would further strengthen ties between peninsular Malaysia, and Sabah and Sarawak.
Meanwhile, in a separate statement, Mohamad Sabu and Lim Guan Eng said Amanah and DAP took note of Dr Mahathir's statement after the informal meeting two days ago and the proposal to name MohdShafie as the opposition's new candidate for prime minister if the opposition recaptured Putrajaya.
They said Amanah and DAP viewed this as a new option to realise efforts to restore the people's mandate which was given to Pakatan Harapan (PH) and Warisan in the 14th general election. (GE14).
However, this proposal needs to be discussed at the central leadership level of Amanah and DAP before it is taken to the PH presidential council for a joint decision, the two leaders said.
Prior to this, PH partners Amanah and DAP had asked Dr Mahathir and Anwar to find common ground on the opposition's prime minister candidate. This was after PKR, the other component in PH, stood firm in rejecting Dr Mahathir to be the opposition's choice to be prime minister if they came back to power.
Dr Mahathir, who was PH chairman, quit as Malaysia's seventh prime minister after PH lost its majority in Parliament in February. PH took over Putrajaya after winning GE14 in May 2018.
Bersatu president Tan Sri Muhyiddin Yassin then teamed up with Umno-led Barisan Nasional, PAS and a few other parties to form the new government called Perikatan Nasional.
https://www.theborneopost.com/2020/06/28/dr-mahathir-supports-nomination-of-shafie-apdal-as-oppositions-pm-candidate/
-----
Africa
Nigerian Military Says 'Scores' of Militants Killed in Air Raids
June 27, 2020
Nigerian forces attacked Boko Haram bases in the Tongule and BukarMeram communities in the northeastern Borno State and killed "scores of their fighters," the West African nation's military said.
The air strikes went ahead on June 25 after about 35 militants were spotted at a settlement shielding the Islamist insurgency in Tongule, John Enenche, a military spokesman, said in emailed statement on Saturday. Others were spotted at BukarMeram, where "several" insurgents were killed, he said.
Boko Haram has waged a violent campaign since 2009 to impose its version of Islamic law in Africa's most populous country. Nigeria is almost evenly split between a mainly Muslim north and a predominantly Christian south.
https://www.bloomberg.com/news/articles/2020-06-27/nigerian-military-says-scores-of-militants-killed-in-air-raids
-----
Genocide in Nigeria: Calling it what it is
JUNE 27, 2020
In terms of lives lost, families separated, people imprisoned, and churches shut down, the 21st century has, so far, been the worst period of persecution against Christians in recorded history. Among the hottest persecution hot-spots is Nigeria. According to religious freedom watchdog Open Doors USA, Nigeria ranks at #12 worldwide for persecution of Christians.
Islamic terrorist organization Boko Haram is the known villain in Nigeria, and justifiably so. They are among the most brutal Islamist radical terror groups in the world. Just last week, attacks in northeastern Nigeria by a Boko Haram splinter-group left dozens of soldiers and civilians dead. Back in January, the group beheaded Nigerian pastor LawanAndimi. Kidnapped from his village and forced to negotiate for his release with the government, Andimi wouldn't break. Instead, he turned his hostage video into a stunning testimony to Christ.
Still, as bad as Boko Haram is, much of the recent bloodshed in Nigeria has been perpetrated by militant Hausa-Fulani herdsmen. This largely Muslim ethnic group specializes in night raids on Christian villages in Nigeria's Middle Belt. In a statement last June, Nigerian Christian leaders claimed that "over 6,000 persons—mostly children, women and the aged—[have been] maimed and killed in night raids by armed Fulani herdsmen." They also described the "continuous abduction of under-aged Christian girls by Muslim youths" for forced marriages.
According to Open Doors, these attacks are essentially "religious cleansing," attempts "to eradicate Christianity" from the region. According to Nigerian Christians, the more appropriate word is genocide.
As I pointed out last March, genocide has been carefully defined by the International Convention for the Prevention and Punishment of Genocide, and the word should not be tossed around carelessly. Genocide is action intended to destroy in whole or in part "a national, ethnic, racial, or religious group."
Clearly, genocide is what Boko Haram and the Fulani herdsman are after in Nigeria. Nigerian president Muhammadu Buhari, however, denies this. In a recently issued statement, he insisted that "false allegations of persecution of Christians" are "a most misleading campaign." President Buhari, by the way, is the son of a Fulani chief.
Thankfully, there are international voices taking the plight of Nigerian Christians seriously. The U.K. Parliament released a report putting the G-word front and center. Entitled, "Nigeria: Unfolding Genocide?" the report issues a stirring call to Britain and the world "to speak out on behalf of all the survivors and victims of violence," and "to highlight the seriousness of the situation and the level of injustice that Nigerian Christians face."
Describing the report in Forbes (and by the way, good for Forbes for covering this story), one human rights activist called for "comprehensive investigations and prosecutions" by bodies like the International Criminal Court. But, she insisted, the first step has to be that the world admits "the nature and severity of the atrocities. The crimes must be recognized for what they are and 'a most misleading campaign' is not that name."
Edifi is a powerful app that aggregates thousands of the best Christian podcasts in one place. Cut through the noise and grow your faith by diving into the world's top Christian podcasts. Find entertainment and inspiration. Download the FREE app today!
The U.S. must lead the way. Earlier this month, an executive order by President Trump made religious freedom a foreign policy and national security priority. It's now time to make act on those words. Nigerian Christians can't afford to wait.
Besides calling this crisis what it is, a genocide, the U.S. could ease the process for asylum-seekers and immigrants from Nigeria. Nigeria was among the six countries President Trump added to the travel and immigration ban in February and, currently, Nigerian refugees hoping to flee to the United States must prove their need by submitting an exhaustive stack of paperwork. Those in danger should not have to go to so much trouble to demonstrate what the world should already know.
Please, consider supporting Open Doors and other organizations that raise awareness, advocate for, and offer support for the persecuted. Even so, as important as political and financial assistance are, Christians in Nigeria need one thing from us above anything else: our prayers.
https://www.christianpost.com/voices/genocide-in-nigeria-calling-it-what-it-is.html
------
Mahmoud Dicko: Mali imam challenges President Keïta
By Paul Melly
June 28, 2020
Corruption and cronyism, weak public services and national leadership, electoral malpractice and the government's inability to bring an end to inter-communal and jihadist violence have fuelled popular frustration.
Opposition political parties have joined together to organise demonstrations, but theirs has not been the decisive voice that has repeatedly brought tens of thousands out on to the streets in a display of public anger unprecedented for decades - and which has now forced MrKeïta and his ministers to negotiate.
He is the central player in this challenge to a president who looks complacent and bereft of energy and ideas in the face of the huge problems that continue to pile up for Mali, despite the presence of close to 15,000 international troops and constant injections of external aid.
He has been a major player in public life for at least a decade, but today more than ever he is demonstrating his clout. In April 2019 he organised protests that forced the sacking of then prime minister SoumeylouBoubeyeMaïga.
This year's huge protest, on 5 June during Friday prayers, was confined to the capital Bamako and Sikasso, a city in the south.
But two weeks later crowds were also out in Kayes in the west, Ségou in south-central and even in the ancient desert city of Timbuktu, on the fringes of the Sahara. And the movement could spread further still.
International mediators too - from the UN peacekeeping mission to Mali, the European Union (EU) and the Economic Community of West African States (Ecowas) - have also taken care to sound out Imam Dicko.
He came to prominence in 2009 as head of the High Islamic Council, leading a campaign of mass protest that forced Mali's then President AmadouToumani Touré to water down a reform of family law that would have bolstered the rights of women.
Born in the mid-1950s in the Timbuktu region, Imam Dicko was originally a teacher of Arabic, who studied in Saudi Arabia and became the religious leader of the mosque in Badalabogou, a leafy riverside suburb of Bamako.
He was also secretary of the main government religious organisation until the end of the one-party regime and establishment of democracy almost three decades ago.
He is really an advocate of traditionalist West African Islam, conservative in his view of family issues but a strong defender of Mali's pre-Muslim cultural roots and pluralistic religious culture and reverence for mysticism. Timbuktu, for example, is known as "the city of 333 saints".
Imam Dicko has always opposed both the imposition of harsh physical punishments in the name of Islam and the ideology of violent jihad.
When Islamist militants took over the north of Mali in 2012, he tried to reach a solution through talks, even meeting jihadist commander Iyad Ag Ghaly.
And when the militants abandoned dialogue and launched a new offensive, threatening to break through to the south and advance towards Bamako, Imam Dicko welcomed France's military intervention of January 2013, arguing that its soldiers were rescuing Malians who were "in distress" after being abandoned by fellow Muslim countries.
Yet for Imam Dicko, welcoming the French intervention that saved Bamako from the jihadists never meant also buying into some wider liberal modernity agenda.
Yet he has always stuck to his conservatism. He said the militants responsible for a 2015 attack on the Radisson Blu hotel in Bamako had been sent by God to punish Malians for homosexuality, imported from the West.
And his nationalist sentiments show through when he accuses France of ambitions to re-colonise his country. In that he is like many compatriots - delighted to be rescued back in 2013 but now tiring of a French military operation that has still not managed to shut down the jihadist armed groups.
Back in the 2013 election he endorsed MrKeïta, who was running for president on a waffly slogan of restoring national pride after the crisis of the previous two years.
But today the president is under political siege while MrCissé is a hostage in the hands of jihadist militants, after being kidnapped on the rural campaign trail for parliamentary elections this March.
As for Imam Dicko, he abandoned President Keïta in 2017 and last year stepped down from the High Islamic Council to form his own Islamist political movement, the Coordination des Mouvements, Associations et Sympathisants (CMAS).
He has been involved in attempts to develop a new dialogue with Ag Ghaly and other jihadist leaders still pursuing the armed struggle, an avenue that MrKeïta is also attempting to pursue.
His opposition allies are secular and the current protests are fuelled by anger at all the things that have gone wrong rather than any broad popular appetite for transforming Mali into an Islamic republic.
Besides the relentless security crisis across the north, there have been a string of corruption scandals, while a teachers' strike had already shut many schools long before the virus lockdown.
But he might agree to retreat into a more titular role, while the opposition joins a unity government that moves real power out of his hands.
Could that leave the field open for Imam Dicko to emerge as the standard bearer of a nationalist tradition exasperated with the deal-making of the conventional political class?
https://www.bbc.com/news/world-africa-53176083
------
Alhaji Kouanda installed Asere Muslim Chief
Jun 26 , 2020
The Asere Divisional Council of the Ga Traditional Council has installed Alhaji MassudKouanda as the Asere Muslim Chief.
At a colourful but short ceremony at the Asere Palace on Thursday, June 25, this year, NiiAyi Moshe I was taken through all the prescribed rituals in installing a chief in the Asere Divisional Council by the Chief of Asere, NiiAsereBoi VII and his elders and other chiefs in the area.
With the playing of traditional drums and the firing of musketry, NiiAyi Moshe I, dressed in a beautiful white Muslim attire, danced his way to the inner court of the palace where the chiefs in the area together with some selected guests had gathered.
In a brief remarks after his installation, NiiAyi Moshe I, expressed his gratitude to the chiefs and elders of the Asere area for selecting him as the Muslim chief in the area.
For his part, the Chief of AsereNiiAsereBoi VII, called on all to give the newly installed chief the needed support to enable perform his duties.
He expressed the hope that NiiAyi Moshe I would collaborate and corporate with other chiefs in the area to bring the needed development to the people.
Alhaji MassudKouanda has lived in Sowutoum Auntie Aku for over 30 years where he had also been installed the Ga Moshe Chief of Auntie Aku by the chiefs in the area with the stool name, NiiAdotey I.
NiiAyi Moshe I, a businessman, is married to two wives— Heidi kouanda and HajiaNamawuMassudKouanda with whom he had eight children.
https://www.graphic.com.gh/news/general-news/alhaji-kouanda-installed-asere-muslim-chief.html
------
As it reopens its air, land and sea borders, Tunisia announces its categorization plans – Libyans watch eagerly
By Sami Zaptia.
27 June 2020:
With a close eye by many Libyans on its reopening of its air, land and sea borders today, last Wednesday, Tunisia announced new measures for the entry of visitors to its territory.
The measures will be based on the epidemiological classification of the Coronavirus situation in other countries. Initial reading of the categorization suggests that Libyans with a place of residence in Tunisia will be allowed in – but will be forced to undergo 14-day isolation upon arriving in Tunisia.
For the majority of Libyans who have no place of residence in Tunisia, it looks as if as long as Libya is ranked as a country with a high spread of Coronavirus – they will not be allowed into Tunisia.
In its government statement, Tunisia classified the Coronavirus status of countries into three distinct groups. The first group includes countries with low epidemic prevalence; the second includes countries with medium epidemic spread, while the third is made up of countries characterised by high spread of the virus.
Libyans will be watching where Tunisia classifies their country. Tunisia's decision will have great ramifications for Libya – and western Libya specifically. Tunis and Istanbul airports are Libya's (western Libya's) most important transit airports. They are the most used airports by Libyans to travel to Tunisia and Turkey – and the most used transit points.
Libyans have been optimistically speculating – and hoping – that economic needs will encourage Tunisia to classify Libya in the second group – which would allow them access. This will also depend on Libyan authorities lifting their curfew and reopening their borders – which are currently closed until 7 July.
Tunisia has announced that travellers from the first group of countries will not be subject to specific preventive measures. While arrivals from the second group of countries where the spread of the virus is medium will have to present a screening test (RT-PCR) carried out 72 hours earlier, and not exceeding 120 hours, upon arrival in Tunisia.
For travellers coming from these two groups of countries, (Tunisians or tourists) who wish to stay in a hotel, Tunisia has stressed the need to go to the hotel on board tourist buses that respect the provisions of the Tunisian tourism health protocol, in supervised groups.
These groups will be subject to the requirements of "supervised residence" in hotels and are called upon to respect the health protocol of Tunisian tourism.
Supervised groups of tourists and residents in hotels are allowed to visit museums, monuments and archaeological tourist sites while respecting the health protocol of each site, according to the communiqué.
Arrivals wishing to leave the supervised residence may carry out, at their own expense, an RT-PCR analysis at the request of the person concerned or at the request of the country of residence, from the sixth day of the date of entry into Tunisia.
Today, with Libya's Coronavirus cases increasing to 713, Libya may be categorised in the third group of countries deemed to be of the high spread of the Coronavirus.
For the third group which covers Tunisians residing abroad or foreigners from countries in the third group, and those who have a place of residence in Tunisia, these will be required to undertake in writing to self-isolate for 14 days and to undergo another screening test if symptoms of the disease appear.
The RT-PCR analysis is carried out at the request of the person concerned if he or she wishes to leave the self-isolation, at his or her own expense, and from the sixth day of entry into Tunisia.
For the third group of countries, with a high epidemic prevalence, the opening of borders will be limited to Tunisians residing in these countries, provided that they present a screening test (RT-PCR) carried out 72 hours before arrival in Tunisia and not exceeding 120 hours upon arrival.
This is coupled with the need to observe a mandatory quarantine for a period of 7 days at the expense of the person concerned, and to submit to another laboratory analysis at the expense of the State, while undertaking to observe a self-quarantine period of a further 7 days after this test.
The Prime Ministry has indicated that travellers to Tunisia will be asked to fill in a health data form before leaving the airport, port or border post of the country of residence, specifying that this procedure could be carried out electronically.
Tunisia's National Observatory for New and Emerging Diseases will determine the epidemiological situation in the various countries that have ended the general lockdown period and announced the opening of their borders, on the basis of internationally agreed scientific and epidemiological criteria.
https://www.libyaherald.com/2020/06/27/as-it-reopens-its-air-land-and-sea-borders-tunisia-announces-its-categorization-plans-libyans-watch-eagerly/
-----
Pakistan
Govt working on Chinese Seed Technology for yield-enhancing: Fakhar Imam
June 27, 2020
Minister for National Food Security Syed Fakhar Imam says technological modernization can increase cotton yield in the country.
He was talking to a two-member delegation of Pakistan Cotton Ginners Association who called on him in Islamabad today [Saturday].
They discussed the cotton production situation in Pakistan.
Acknowledging the concerns of the delegation, the Minister assured that the government is working on Chinese Seed Technology for yield-enhancing and securing funds to lower the cost of production to make cotton production a profitable business.
Syed Fakhar Imam further said that his Ministry would take up the Taxation issue with Finance Division and leave no stone unturned to get relief for the ginning sector.
https://www.radio.gov.pk/27-06-2020/govt-working-on-chinese-seed-technology-for-yield-enhancing-fakhar-imam
-----
FM Qureshi inaugurates rebuilt mosque at foreign ministry
June 27, 2020
ISLAMABAD, Jun 27 (APP):Minister for Foreign Affairs Makhdoom Shah Mahmood Qureshi Saturday inaugurated Al-Noor Mosque rebuilt at the foreign affairs ministry.
The minister unveiled the plaque of the mosque and reviewed the reconstruction work.
Director General Headquarters of the ministry apprised the minister of the project.
On the occasion, the foreign minister especially prayed for the elimination of COVID-19 pandemic and progress and prosperity of Pakistan.
Foreign Secretary Sohail Mahmood and senior officers of the ministry were also present.
https://www.app.com.pk/fm-qureshi-inaugurates-rebuilt-mosque-at-foreign-ministry/
-----
NA Speaker revives dormant Balochistan committee
June 28, 2020
ISLAMABAD: It was almost two weeks after the decision of the Balochistan National Party-Mengal (BNP-M) to quit the ruling coalition and failure of a government team to woo the party head Sardar Akhtar Mengal that National Assembly Speaker AsadQaiser on Saturday finally revived a dormant special committee on the Balochistan issues which he had constituted some four months ago.
BNP-M MNA Agha Hassan Baloch represented party chief Akhtar Mengal in the maiden meeting of the Special Parliamentary Committee on Balochistan which was held at the Parliament House and presided over by the speaker himself.
According to a handout issued by the National Assembly Secretariat after the meeting, the members of the committee decided to form a four-member sub-committee under the convenership of Minister for Inter-Provincial Coordination Dr Fehmida Mirza to prepare "comprehensive terms of reference (ToR), encompassing all the issues relating to Balochistan".
It was also decided that a representative of the BNP-M and Defence Minister PrevezKhattak, who is the head of the government negotiating team, would be especially invited to assist the sub-committee while it developed the ToR.
Representing the BNP chief Akhtar Mengal, MNA Hassan Baloch contended that the Balochistan issues had been getting intense since 2006 and needed to be addressed forthwith. He suggested examining the recommendations formulated by the parliamentary committee headed by Chaudhry Shujaat Hussain after meeting Nawab Akbar Bugti.
He suggested that the committee looked into the issue of missing persons besides meeting with their families to hear their grievances, especially in Baloch dominating districts. He said the BNP also demanded that the details of the China Pakistan Economic Corridor (CPEC) projects in Balochistan should be made public.
The Pakistan Tehreek-i-Insaf (PTI) government had suffered a setback on June 17 when the BNP-M announced its decision to quit the ruling coalition at the centre ahead of the vote on the federal budget, putting the ruling party at the mercy of six other smaller allies due to its fragile majority in the National Assembly.
The decision had been announced by BNP-M chief Akhtar Mengal on the floor of the National Assembly while taking part in general debate on the budget.
MrMengal had accused the PTI of having a "non-serious attitude" towards Balochistan problems and complained about its failure to implement two agreements reached with his party at the time of the formation of the government soon after the general elections in 2018.
The BNP-M and the PTI had signed a six-point memorandum of understanding in August 2018 for an alliance at the centre. The six points were: recovery of missing persons, implementation of the National Action Plan on terrorism, observance of six per cent job quota for Balochistan in federal government departments, immediate repatriation of Afghan refugees and construction of dams in the province to resolve acute water crisis.
Later, a two-member government team comprising Defence Minister Pervez Khattak and Planning and Development Minister Asad Umar held talks with MrMengal, but the talks ended without making any headway.
Speaking at the parliamentary committee meeting, NA Speaker AsadQaiser said the parliament and public representatives were the best option to put forth the solution of the socio-economic issues faced by Balochistan and its people.
The speaker said Balochistan and its issues had always been the top priority of the government which resolved that Pakistan's development and its progress was attached with peace and progress of the province.
He said issuance of an executive order regarding immediate implementation of Balochistan's six per cent employment quota in federal departments expressed the seriousness of Prime Minister Imran Khan for addressing the issues of Balochistan.
He said the parliamentary committees in the parliamentary system across the world had recommendatory role to play and this committee would make its all-out efforts to recommend best possible solution of the issues faced by Balochistan.
The speaker said the CPEC emanated from Gilgit-Baltistan and culminated in Balochistan increasing significance of the province, therefore, ensuring transfer of the real benefits of CPEC to the local people needed to be looked into by the parliamentary committee.
Deputy Speaker Qasim Suri, who is also a member of the committee and belongs to Balochistan, said that the government was seriously looking into the resolution of issues confronting peace and development in the province.
IPC Minister Dr Fehmida Mirza said Balochistan and resolution of its issues had always been the top priority of the parliamentarians across the country. She pointed out that comprehensive TOR were essential to make this committee more effective.
Pervez Khattak said that the government had taken various steps for mitigating the grievances of the people of Balochistan and assured continuation of that resolve in future too.
The members of the special committee stressed that the parliament should play its role in resolution of the genuine issues of the province rotting since decades. They said that the CPEC was undoubtedly a game changer for Pakistan and Balochistan, thus government should ensure deliverance of their right to the people of the province. They expressed confidence that the committee under the stewardship of the speaker would take the lead.
In a related development, Pakistan Peoples Party (PPP) chairman Bilawal Bhutto-Zardari on Saturday talked to BNP-M chief Sardar Akhtar Mengal over telephone. Besides discussing the current political situation in the country, Mr Bhutto-Zardari discussed his plan of convening a multi-party conference (MPC) of the opposition parties next week with MrMengal.
According to a statement issued by the PPP Media Centre, Mr Bhutto- Zardari while talking to the BNP-M chief said the present budget was harmed the interests of the people and therefore it could not be accepted.
"(Prime Minister) Imran Khan is attacking the constitution of Pakistan by criticising the 18th Constitution Amendment. The Covid-19 pandemic has spread everywhere in the country due to the incapability of Imran Khan and his government," the PPP chairman was quoted to have told MrMengal.
They also talked about the government's actions with regard to the National Finance Commission award and the MPC scheduled for next week.
Mr Bhutto-Zardari said the "selected" had no compassion for the poor people of the country. People did not get the benefit of decrease in petroleum prices due to shortage of oil in the market but now the increase of petroleum prices would further increase inflation, he said.
"Every day of this selected prime minister is increasing the problems for them," the PPP chairman concluded.
https://www.dawn.com/news/1565695/na-speaker-revives-dormant-balochistan-committee
-----
Asad, Sindh governor meet Pagara ahead of voting on budget
Imran Ayub
June 28, 2020
KARACHI: Caught in a challenging position as its allies are becoming disgruntled, the Pakistan Tehreek-i-Insaf (PTI) government on Saturday tried to woo its partner — the Grand Democratic Alliance (GDA), an umbrella organisation of several parties in Sindh — when federal Minister for Planning and Development Asad Umar and Sindh Governor Imran Ismail called on Pakistan Muslim League-Functional (PML-F) president Syed Sibghatullah Shah Rashidi, better known as PirPagara, ahead of Monday's crucial voting to pass the federal budget.
Though both sides came up with an impression that the meeting was a routine exercise and termed it a sitting to discuss matters of mutual interest, sources privy to the development said that the PTI side had in fact come to extend fresh assurances to the GDA leader to address his party's concerns ahead of Monday's session of the National Assembly where the GDA has three votes.
When asked about the motive and agenda of the visit of Mr Umar and the governor to PirPagara's residence Kingri House, they both called it a goodwill gesture and expressed confidence about smooth passing of the budget on Monday.
"There is no reason for any disagreement [with the GDA]," Mr Umar said in reply to a question after the meeting. "You would see our partnership is going smooth with understanding. I don't know that any of the GDA's members are unhappy. We are not here to convince anyone. It's not that we are facing any challenge regarding the budget. There would be voting [on the federal budget 2020-21] on Monday and you would see there would be no problem."
Only on Thursday, Ayaz Latif Palijo, the president of QaumiAwami Tehreek — a member of the GDA — publicly criticised Prime Minister Imran Khan and called him a "reserved" leader while comparing him with previous rulers of the country.
"Benazir, Musharraf and Zardari were always found attached with their allies," MrPalijo tweeted. "Though Nawaz Sharif always ignored Sindh, he was always loyal with his allies Fazlur Rehman, Achakzai and Bizenjo. Imran Khan always stays reserved with other parties and his allies. He has never met any promise, neither offered any authority. You all now are seeing the results."
However, after Saturday's meeting, Governor Ismail also insisted that they had good relations with the GDA and brushed aside the impression of any differences between the PTI government and its ally.
"There is no difference [between the government partners]," the governor said. "PirPagara always guides us and helps us to evolve our strategy and policy. We briefed him about ongoing and upcoming federal-funded projects in Karachi and other parts of Sindh. He has always been very kind and supportive. We believe that this partnership would go a long way."
Syed Sadaruddin Shah Rashidi, a senior leader of the PML-F, also made a positive gesture and to a query about the promises made by the PTI government at the time of their alliance some two years ago, he blamed the 18th Amendment for being the "key bottleneck in several initiatives".
"We are all aware of the system under which the governments are being run both at the Centre and in the province," he said. "But let me tell you that under the 18th Amendment of the Constitution, the centre cannot show any effective performance [in a province] or prove its loyalty. Once the budget is passed, we have requested the federal government to look into this issue and demanded audit of funds spent by the provincial government during all these years in the name of devolution and development."
https://www.dawn.com/news/1565670/asad-sindh-governor-meet-pagara-ahead-of-voting-on-budget
------
URL: https://www.newageislam.com/islamic-world-news/erdogans-agenda-neo-ottoman-ambition/d/122234
New Age Islam, Islam Online, Islamic Website, African Muslim News, Arab World News, South Asia News, Indian Muslim News, World Muslim News, Women in Islam, Islamic Feminism, Arab Women, Women In Arab, Islamophobia in America, Muslim Women in West, Islam Women and Feminism