New Age Islam News Bureau
12 May 2013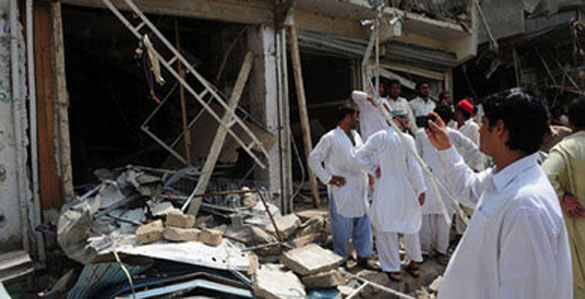 Election Day bombing sweeps Pakistan
-----------
Pakistan
• Election Day Violence in Pakistan Kills Over 50
• Imran Khan faces ultimate test in governing Taliban stronghold
• Saudi royal family's key personalities; Karzai greet Nawaz Sharif
• Gilani, Ashraf face rout in polls; PPP suffers huge setback
• Pakistan marks democratic milestone in violence-marred poll
• Nawaz promises to stand together with West in taking on terror
• Big names bite the dust in Pak polls
• Allegations 'rig 'Karachi polls
• 'Islamic banking effective for non-Muslim economies'
• PTI not to make alliance with PML-N: Hashmi
• PML-N activists celebrate victory in center, Punjab
• Fate of President Zardari, provincial governors uncertain
• Khoso condemns NWA, Balochistan blasts, attack on PTI convoy
• PML-N dominates Punjab, PTI rule K-P, PPP hold Sindh
• Amritsar village celebrates Nawaz Sharif's victory
------------
India
• Manmohan Singh congratulates Nawaz Sharif, invites him to India
• India hopes for good ties with Pak under Nawaz Sharif
• Two persons arrested in Bangalore blasts case
• Jammu and Kashmir C M greets Sharif, hopes Pak leader will restart peace process
• Jobs for Indians on Riyadh embassy website
------------
Arab world
• Syria-linked group blamed in Turkey blasts; 43 die
• Suicide bomber targets senior Iraq intel officer
• Iraqi Kurds wary of PKK fighters coming from Turkey
• Tunisia says 800 Tunisian Islamists fighting in Syria
• Yemen police 'dismantle' al-Qaeda cell
• Saudi jails Lebanese man for helping woman to convert
• Mubarak says 'history will view me fairly'
• Copt charged with killing converted Muslim wife commits suicide
• No Saudi suspect in Tanzania church blast — embassy
• Bangladeshis allowed to change sponsors in Saudi Arabia
------------
Africa
• Deal with former rebels ends Libya siege
• Jihadist group claims northern Mali suicide attacks, tells foreign troops to leave
------------
Southeast Asia
• Convicted Rapists Face Tough Sentences under Proposed Shariah Bylaws
• Densus 88 'Forced to' Use Deadly Force in Bloody Terrorism Raids
------------
South Asia
• Bangladeshi women, men protest against hard-line group in Dhaka
• Rights body urges Dhaka to probe Islamist protest deaths
• Afghanistan accuses Iran of holding 21 labourers
• Razakar founder Yusuf sent to jail
------------
North America
• Anger over burial of Boston bomb suspect
• US officials charge suspect with bomb possession
------------
Mideast
• Turkey: 9 detained in connection with car bombings
• Senior Iran officials join presidential race
• Israelis march against austerity measures
------------
Europe
• Russia withheld details on Boston suspect
Compiled by New Age Islam News Bureau
URL: https://newageislam.com/islamic-world-news/election-day-violence-pakistan-kills/d/11537
------------
Pakistan
Election Day Violence in Pakistan Kills Over 50
May 12, 2013
Mansoor Khan and Bari Baloch
KARACHI/QUETTA
The Election 2013 ended under the shadow of bomb blasts, rocket firings and shootings across the country, killing more than 50 people on the polls day.
Four bomb blasts occurred in various areas of Karachi while three cracker attacks and exchange of fire were recurrent during the day.
Twin blasts in Qaidabad area of Karachi, targeting an Awami National Party (ANP) candidate, killed eleven and injured 40 including children. The bomb ripped though the ANP polling camp located in Dawood Chali area where ANP candidate for PS-128 Amanullah Mehsud was present.
When people gathered to rescue the victims, another bomb exploded. The victims were rushed to Jinnah Postgraduate Medical Centre (JPMC).
Law enforcement agencies reached the site but enraged ANP workers did aerial firing and asked the lawmen to leave. The Bomb Disposal Squad (BDS) said that the first bombing was a low intensity cylinder blast while the second explosion was a remote control bombing.
Separately, five people including two ranger personnel were killed and eleven other persons were wounded when a suicide bomber hit his motorcycle with the rangers' vehicle in Manghopir.
DSP Zahid Hussain said the rangers were checking the people when they signalled a bike to stop but the motorcyclist drove into the mobile. Four rangers are among the injured.
In another incident, motorcyclists thrown a hand grenade at the KMC School located near Metro Cinema while another grenade was thrown in 19/D, Rangar Muhallah, Madina Colony.
Two men were killed when a bus was blown up. Police said that bomb was planted in the bus and was exploded with remote control. Politically motivated violent incidents were also took place in various areas of the city.
A young man Shahid Razak affiliated with the MQM was killed during a clash with the PPP in New Karachi Industrial Area. A man, Aslam, was shot dead in PIB Colony police limits while another gunned down at UP More area of New Karachi police station.
A PPP local leader, Noman But aka Nomi, was gunned down by armed men in Lyari's Kalri area during a clash with Kutchi Rabita Committee.
The BDS defused a bomb in Nishter Roadarea that was planted close to a polling station.
Eight people, including a child were killed and dozens others were injured including two security personnel in incidents of bomb blasts, hand grenade hurling, rocket attacks and firing in various parts of Balochistan, on Saturday.
Unknown persons threw a hand grenade at polling stations of PB-4 in Killi Shabo area of Quetta city, killing one child and injuring eight persons including a child.
Three people were killed and five were wounded in an armed clash between two rival political parties in Killi Faizo area of Qila Abdullah.
Following the incident tension spread in the area, the angry mob blocked roads and set two vehicles on fire. Law enforcement agencies rushed to the site after the incident to control the situation.
Unidentified armed men opened fire on a polling station at Sourab area of Kalat district. Resultantly, two people were killed and three others sustained injuries. In Naseerabad district, one man was killed and seven others wounded in a landmine blast.
Police said that some people were heading towards polling station in a tractor trolley in Chattar area that rolled on a landmine. A vehicle of political workers was exploded by a remote controlled bomb in Gott Azam Khan area of Naseerabad in which two people got injured.
The office of Balochistan National Party's candidate Mir Ahmad Nawaz was attacked near Burma Hotel in Sariab road Quetta with a hand grenade but no casualty was reported.
The office of Awami National Party candidate from NA-260 Naik Muhammad Kakar was attacked with a hand grenade. Five persons were injured in the attack.
A man was killed while district president of Balochistan BNP Haji Gulam Yasin Baloch escaped miraculously a life attempt when unknown persons opened fire at him at a polling station in Kharan district.
Three rockets were fired at the different polling stations in Nushki area while two rockets were fired in Kohlu district. Incidents of rocket firing were reported in Barkhan, Perkoh and Dera Murad Jamali.
Four people were killed and six others injured when gunmen ambushed a convoy of nephew of independent candidate in Chattar area of Naseerabad.
The caravan of independent candidate Syed Khadim Hussain Shah's nephew was returning to Nasseerabad from Chattar when armed men targeted it. Four people were killed and six others wounded in the attack.
Staff Reporter from Peshawar adds: Three men were killed and 19 more got injured in blasts and firing near polling stations in Khyber Pakhtunkhwa and Fata.
A bomb planted with a motorcycle exploded in front of a women polling station on Charsadda Road at Larama locality in NA-3. Twelve people got injured including a police constable.
In another blast, one man died in Sheikh Muhammaddi area on Kohat road in Badaber area in the suburbs of Peshawar.
Separately, a remote controlled bomb went off when a police van was passing through Mashokhel area. Two persons were killed and six others including five policemen got wounds.
Two people were killed and three wounded in a scuffle during polling in Bhakkar district. Staff Reporter from Rawalpindi adds: A political worker was killed while three others sustained injuries when a clash erupted between the supporters of the PTI and PML-N.
Political workers of PTI and PML-N gathered at Rehmanabad where election offices of both parties were situated. The workers pelted stones at each other and three men got injured. A PTI supporter was shot dead amid clash. In Gojar Khan, three people were killed in a gun clash between the PML-N and PTI workers.
http://www.nation.com.pk/pakistan-news-newspaper-daily-english-online/national/12-May-2013/election-day-violence-kills-over-50
------------
Imran Khan faces ultimate test in governing Taliban stronghold
May 12, 2013
ISLAMABAD: In perhaps the most dramatic outcome of Pakistan's elections, Imran Khan's party has won power in the northwest, putting to the ultimate test the former cricket star's anti-US rhetoric and calls for peace talks with the Taliban.
After years of war, displacement and broken promises from religious parties and the secular Awami National Party (ANP), voters on the frontline of the Taliban insurgency rewarded Khan's untested party with the highest number of seats.
For Pakistan Tehreek-e-Insaaf (PTI), which previously only held one seat, it was a staggering victory in Khyber Pakhtunkhwa (KPK) — one of the most troubled parts of the country — and hands Khan an almost poisoned chalice of responsibility.
Early results indicate PTI has secured at least 33 seats in the 99-member KPK provincial assembly, with nearest rival Jamiat Ulema-e-Islam on 15 seats.
Bitterly opposed to US drone strikes and Pakistani offensives against Taliban fighters blamed for killing thousands of people, victory in the northwest propels PTI from the lofty ideals of opposition to the comfortable realities of government.
Many analysts believe Khan will have a rude awakening and will realise very quickly that his policies of appeasement are naive, that it is not just "America's war" and that the Taliban are not people he can do business with.
"They will wake up to reality very quickly because the stance of the Taliban is such that it is absolutely not reconcilable with any government in KPK or in the federal capital," said Saifullah Khan Mahsud of the FATA Research Center.
The ANP, which governed KPK for the last five years, was all but wiped out at the polls, sent packing by an electorate fed up with corruption and their inability to bring peace to the war-racked province.
Khan, on the other hand, presented himself as a charismatic leader. He visited repeatedly, talking with and walking among ordinary people. He promised peace and denounced the US drone strikes — it proved a heady combination.
The Taliban, who denounce democracy as un-Islamic, killed more than 150 people during the election campaign, including 24 on polling day itself. Secular parties in the outgoing government suffered by far the heaviest losses.
In a telephone conversation with AFP, Taliban spokesman Ehsanullah Ehsan said the insurgents would first "wait till political parties form their government in centre and Khyber Pakhtunkhwa" before announcing their policy.
But referring to PTI and the Pakistan Muslim League-N, which won the national polls, before the election he also warned that: "If they also come into conflict with Islam, then we will decide to target them."
That could present PTI with the uncomfortable prospect of having to go back on the policies that got them elected, says Umair Javed, a Pakistani columnist.
"Right now Imran is very clear on ending things. That would mean you completely stop sharing intel, you put an end to the transit network for NATO, the (US) drone programme has to end.
"But being in power and having to govern a province is a huge experience for the party and will help in tempering some of their more extreme positions in the war on terror and relationship with the US," he says.
One crucial aspect will be the relationship between PTI in the province and Nawaz Sharif's government in the centre. Both leaders voiced similar positions on the war on terror though Sharif is seen as a pragmatist.
But even if a decision is taken to reach out to the Taliban to initiate a peace deal, similar policies of talks have unravelled in recent years.
"He wants peace without fighting the war. We could well see another peace deal, and after a few months of Taliban misrule and injustice public opinion would once more sour," said Shaukat Qadir, a retired brigadier and security analyst.
Pakistani troops have been fighting for years, but it was only in 2009 that the country largely united for the first time behind an operation against the Taliban in Swat after a video emerged in 2009 showing the flogging of a 17-year-old girl.
But much will likely depend on Pakistan's powerful military. Army chief, General Ashfaq Kayani, has been a strong US ally but junior ranks are increasingly fed up with the bloody war and opposed to American intervention.
"It is a very tricky situation because on the one hand the army chief mentioned recently that political forces and the military should be on the same page and there is no compromise with those forces which they are fighting," says retired general Talat Masood.
http://tribune.com.pk/story/548233/imran-khan-faces-ultimate-test-in-governing-taliban-stronghold/
------------
Saudi royal family's key personalities; Karzai greet Nawaz Sharif
May 12, 2013
Some key personalities of Saudi royal family have greeted Nawaz Sharif on his thumping victory in the May 11 elections.
Sources said that Saudi personalities congratulating Nawaz Sharif have expressed their well wishes for him and prayed for his successes and prosperity of Pakistan.
Afghan President Hamid Karzai, on Sunday also telephoned Nawaz Sharif and greeted him on his party triumph in general elections.
The Afghan President also expressed good wishes for Nawaz Sharif and his party.
http://www.nation.com.pk/pakistan-news-newspaper-daily-english-online/lahore/12-May-2013/saudi-royal-family-s-key-personalities-karzai-greet-nawaz-sharif
------------
Gilani, Ashraf face rout in polls; PPP suffers huge setback
May 12, 2013
In an embarrassing setback to Pakistan Peoples Party that ruled the country since 2008, former Pakistan Prime Minister Raja Pervez Ashraf lost the election along with his predecessor Yusuf Raza Gilani's two sons.
Mr. Ashraf, has suffered a humiliating defeat in NA-51 (Rawalpindi-II), Geo News reported.
As per unofficial and initial results, Pakistan Muslim League-Nawaz (PML-N) candidate Raja Mohammad Javed Ikhlas won the seat.
Ikhlas drew 82,339 while Raja Pervez Ashraf was way down with 23,233 votes received.
Similarly, Mr. Gilani's both sons, Ali Musa Gilani and Abdul Qadir Gilani, have lost in polls from their Multan constituencies.
Abdul was kidnapped by suspected Taliban terrorists last week while he was campaigning.
Earlier, a Pakistani court had disqualified Yousuf Raza Gilani.
Going by the unofficial results, the PPP — which ruled the country for the last five years — has faced a major setback and has been effectively confined to Sindh.
As per available trends, PPP is likely to come a distant third but could play an important role in the government formation if PML-N fails to get a simple majority in the 342 seat strong National Assembly.
Top leaders of the party, including former Information Minister Qamar Zaman Kaira, lost their seats in the largest province of the country, Punjab.
Currently, the PPP has a majority in the upper house of Parliament, at least for the next one and a half years. Major legislation would not be possible for the new ruling party without the PPP's consent.
In the 1970 elections, Zulfikar Ali Bhutto's PPP conquered Punjab, with Lahore being considered one of the party's hubs for some time after that stunning victory.
But the unofficial results of the 2013 election show that the party has once again been confined to Sindh, as it was in 1997 when the Benazir Bhutto—led PPP secured less than 20 National Assembly seats, Express News reported.
The party tried hard to restore its image in Punjab during the last five years but apparently its poor performance shattered its dreams. The PPP also promised to bifurcate Punjab, but even this slogan could not earn it votes in south Punjab, it said.
In the 2008 elections, the Asif Ali Zardari—led PPP secured 97 National Assembly seats. After getting 24 reserved seats for women and four reserved seats of minorities, the total number of NA seats for the PPP was 124 in a house of 340. The party formed a coalition government with the help of MQM, ANP and JUI-F.
http://www.thehindu.com/news/international/south-asia/gilani-ashraf-face-rout-in-polls-ppp-suffers-huge-setback/article4708565.ece
------------
Pakistan marks democratic milestone in violence-marred poll
11 May 2013
Pakistanis voted in a landmark test of democracy on Saturday and were quickly reminded of the militant violence that plagues the country, with election-related bombings in several cities.
An attack on the office of the Awami National Party (ANP) in the commercial capital, Karachi, killed 10 people and wounded 30, followed by another blast minutes later.
An explosion destroyed an ANP office in the northwest. There were no immediate reports of casualties. Television channels also reported an explosion in the city of Peshawar.
Pakistan's Taliban, who are close to al Qaeda, have killed over 110 people in election-related violence since April. The group, which is fighting to topple the U.S.-backed government, regards the elections as un-Islamic.
The election will bring the first transition between civilian governments in a country ruled by the military for more than half of its turbulent history.
The people hope the polls will deliver change and ease frustrations with the Taliban, a feeble economy, widespread corruption, chronic power cuts and crumbling infrastructure.
"The problems facing the new government will be immense, and this may be the last chance that the country's existing elites have to solve them," said Anatol Lieven, a professor at King's College, London, and author of a book on Pakistan.
"If the lives of ordinary Pakistanis are not significantly improved over the next five years, a return to authoritarian solutions remains a possibility," Lieven wrote in a column in the Financial Times.
Disenchantment with the two mainstream parties appeared this week to have brought a late surge of support for former cricket star Imran Khan, who could end up holding the balance of power.
Khan, 60, is in hospital after injuring himself in a fall at a party rally, which may also win him sympathy votes.
With no clear-cut winner, weeks of haggling to form a coalition will follow, which would raise the risk that the government is undermined by instability.
That would only make it more difficult to reverse the disgust with politicians felt among the country's 180 million people and drive through the reforms needed to revive its near-failed economy.
Power cuts can last more than 10 hours a day in some places, crippling key industries like textiles, and a new International Monetary Fund bailout may be needed soon.
The Taliban have focused their anger on secular-leaning parties like the outgoing coalition led by the Pakistan People's Party (PPP) and the ANP. Candidates, fearful of being assassinated, have avoid open campaigning.
The army stayed out of politics during the five years of the last government, but it still sets the nuclear-armed country's foreign and security policy and will steer the thorny relationship with Washington as NATO troops withdraw from neighbouring Afghanistan next year.
The party of former prime minister Nawaz Sharif looks set to win the most seats in the one-day vote. But Khan could deprive Sharif of a majority and dash his hopes for a return to power 14 years after he was ousted in a military coup, jailed and later exiled.
Pakistan's best-known sportsman, who led a playboy lifestyle in his younger days, Khan is seen by many as a refreshing change from the dynastic politicians who long relied on a patronage system to win votes and are often accused of corruption.
Threat Of Attacks
Voters will elect 272 members of the National Assembly and to win a simple majority, a party would have to take 137 seats.
However, the election is complicated by the fact that a further 70 seats, most reserved for women and members of non- Muslim minorities, are allocated to parties on the basis of their performance in the contested constituencies. To have a majority of the total of 342, a party would need 172.
Khan appeals mostly to young, urban voters because of his calls for an end to corruption, a new political landscape and a halt to U.S. drone strikes on Pakistani soil.
Early opinion polls had put the share of votes for his Tehrik-i-Insaf (PTI) party as low as single figures. However, a survey released on Wednesday showed 24.98 percent of voters nationally planned to vote for his party, just a whisker behind Sharif's Pakistan Muslim League (PML-N).
The Herald magazine poll showed Sharif's party remained the front-runner in Punjab, which, with the largest share of parliamentary seats, usually dictates the outcome of elections.
It also pointed to an upset for the PPP, placing it third. Pakistan's politics have long been dominated by the PML-N and the PPP, whose most prominent figure is President Asif Ali Zardari, widower of assassinated former premier Benazir Bhutto.
"The PPP didn't take care of the poor masses and always engages in corrupt practices whenever they come to power," said Sher Nabi, a banker from Peshawar.
"So we've decided to vote for the PTI candidate this time and test Imran Khan to see if he proves as honest as he claims."
Pakistan, which prides itself on its democratic credentials, ordered the New York Times bureau chief in Islamabad to leave the country on the eve of national elections, the newspaper said on Friday.
A two-sentence letter was delivered by police officers to the home of the bureau chief, Declan Walsh, it said.
"It is informed that your visa is hereby cancelled in view of your undesirable activities," the Times quoted the letter as saying. "You are therefore advised to leave the country within 72 hours."
http://english.ahram.org.eg/NewsContent/2/9/71163/World/International/Pakistan-marks-democratic-milestone-in-violencemar.aspx
------------
Nawaz promises to stand together with West in taking on terror
May 12, 2013
The next prime minister Mian Nawaz Sharif has promised to stand together with the West in taking on the forces of terrorism, hours after voting finished in the country's historic general election.
During a close-fought campaign Nawaz Sharif had promised to end drone strikes and review the country's relationship with America.
As he publicly claimed victory in the poll, the two-time prime minister sought to reassure Western governments and said he would not pull back on the fight against al-Qaeda and the Taliban.
"I have experience of working with US counterparts and will be very happy to further work with them," he told The Sunday Telegraph.
"What is most important is that we must never allow our soil to be used by anyone to create problems with any country in this world."
Full report at:
http://www.nation.com.pk/pakistan-news-newspaper-daily-english-online/lahore/12-May-2013/nawaz-promises-to-stand-together-with-west-in-taking-on-terror
------------
Big names bite the dust in Pak polls
May 12, 2013,
ISLAMABAD: Many stalwarts of Pakistani politics, including ex-Prime Minister Raja Pervez Ashraf, bit the dust in the polls that saw a large number of people exercising their vote for a historic democratic transition.
The biggest upset was of PPP's Ashraf, who suffered a humiliating defeat in Rawalpindi-II (National Assembly-51), Geo News reported.
As per unofficial and initial results, Pakistan Muslim League-Nawaz (PML-N) candidate Raja Mohammad Javed Ikhlas won the seat.
Other top leaders of the PPP, also lost their seats. Those who were defeated included, former information ministers Qamar Zaman Kaira and Firdous Ashiq Awan, Punjab President of PPP Manzoor Ahmad Wattoo, former public account committee chairman Nadeem Afzal Gondal, and Bushra Aitzaz, the wife of Barrister Chaudhry Aitzaz Ahsan.
PPP's central leader and former federal minister Nazar Muhammad Gondal and Tasleem Qureshi were also among the losers.
Similarly, Gilani's both sons, Ali Musa Gilani and Abdul Qadir Gilani, lost in polls from their Multan constituencies.
Abdul was kidnapped by suspected Taliban terrorists last week while he was campaigning.
Chaudhry Anwar Ali Cheema, a veteran politician who has been winning elections since 1985, ran out of luck this time. Contesting on PML-Q ticket, Cheema lost the 2013 elections to PML-N candidate Zulfikar Ali Bhatti.
Cricketer-turned-politician Imran Khan, in a setback, lost from a Lahore constituency against PML-N candidate Sardar Ayaz Sadiq. Khan's loss in Lahore was seen as a major upset and a psychological defeat for the party.
Full report at:
http://timesofindia.indiatimes.com/india/Big-names-bite-the-dust-in-Pak-polls/articleshow/20014112.cms
------------
Allegations 'rig 'Karachi polls
May 12, 2013
Karachi :Karachi was the focus for allegations of fraud during Pakistan's landmark general elections, though the polling was transparent in most parts of the country.
Mismanagement and allegations of rigging at various polling stations in the port city led some parties to announce boycott of elections there. All fingers were pointed to the Muttahida Qaumi Movement (MQM), which denied rigging claims and came up with its counter accusations in this regard.
Despite security threats and other hitches, the citizens came out for exercising their vote right in large numbers. The economic nerve of the country has 20 national assembly and 42 provincial assembly seats. But election on two national assembly constituencies has been postponed due to killing of candidates in poll violence.
The Chief Election Commissioner Fakhruddin G Ebrahim raised his concerns with Karachi Corps Commander and Rangers DG that polling staff in many constituencies in the metropolis were threatened, preventing them from performing their duties.
Voting was extended by three hours in sevenKarachiconstituencies after complaints that polling stations opened late, and the Election Commission of Pakistan (ECP) announced repolling on 42 polling stations of NA-250, constituency largely controlled by the MQM.
But reports suggested that mismanagement and non-transparency was observed in many other constituencies too. Polling booths in various parts of the city were left on the mercy of political workers, who were found indulging in unfair activities. The election staffs were also found involved in the rigging at some places.
Various polling stations, especially in the constituencies NA-242, NA-243, NA-244, NA-248, NA-250, NA-252, NA-253, NA-256 etc were in the grip of Tahppa Mafia (riggers). Some political groups also scuffled at the polling booths as the security too was inadequate. All this fuss resulted in boycott of the elections by some parties, including Jamat-e-Islami, Sunni Itehad Council and Muhajir Qoumi Movement.
"Some armed workers of some political parties and banned religious outfits were moving freely in different polling stations. The polling staffs were quite under pressure due to the presence of armed men in the polling booths, while the law enforcers were not there to play their role," an observer said.
According to reports, NA-242 constituency was in grip of some armed men of a banned militant outfit, while armed men belonging to a nationalist party called the shots at some polling stations of NA-253. In the same constituency, rigging mafia of a well-rooted party was active at some polling stations in Safora Goth, Gulistan-e-Johar, Block-7 and 9, Gulshan-e-Iqbal, Block-6. A polling staff told The Nation that some members of polling staff were involved in the rigging. He said they were employees of the government but workers of a political party.
During the visits to various polling stations, the citizens, talking to The Nation, expressed serious concerns over the lethargic behaviour of the law enforcement agencies. They said they were much enthusiastic about exercising their right to franchise but were gripped by fear and pressure at the same time due to poor security arrangements.
Jammat-e-Islami (JI) said it was boycotting the elections altogether in Karachi and the southern city of Hyderabad, accusing the MQM of rigging and violence. JI is thought to be the third largest party in the city after the MQM and the Pakistan People's Party (PPP). Jamhori Watan Party and Sunni Ittehad Council also announced their boycott of the elections.
Cricket star Imran Khan's Tehreek-e-Insaaf (PTI) also accused the MQM of massive rigging in the city. Without naming MQM, PPP Sindh Secretary Information Taj Haider said that polling stations in Karachi were captured by a group of people. JWP Chief Talal Bugti said the elections were not free and fair. All these parties demanded reelection in Karachi and some even in Hyderabad too which is the second largest city of Sindh.
Full report at:
http://www.nation.com.pk/pakistan-news-newspaper-daily-english-online/national/12-May-2013/allegations-rig-karachipolls
------------
'Islamic banking effective for non-Muslim economies'
By Mohsin Khan
May 12, 2013
KARACHI: Islamic banking is not merely for Muslims in terms of an interest-free transaction but it is also profitable even for the non-Muslims in economic terms, Daily Times learnt on Saturday.
Meezan Bank Executive Vice President and Head of Consumer Banking and Marketing Muhammad Raza said Islamic banking was launched primarily for Muslims but generally it is also beneficial even for non-Muslims as the representatives from some non-Muslim countries approached him to elaborate the Islamic banking financial model at the end of an International Conference on Housing Finance held in India last month.
He said he was called on the International Conference on Housing Finance on Housing - an engine for inclusive growth organised by National Housing Bank of India in New Delhi last month in which representatives from 12 countries had participated. There he presented Islamic house financing model developed by Meezan Bank. After the conference ended, participants from Nigeria, Japan and Afghanistan approached him, expressed their interest in Islamic banking model and asked to elaborate it to them. He said Meezan Bank has recently provided its advisory services to Sri Lanka.
"This is what we have developed and now is the time to share it with other people, in fact to export it," he added. Afghanistan has also approached Meezan Bank to share the Islamic banking model, which has been presented to them and is now under consideration.
He cited an example, "United Kingdom has 32 percent Muslim population and is promoting London as an Islamic finance hub." He said the only reason behind it is that they are aware of its benefits for the economy. "However, being a non-Muslim country they cannot implement it with the name Islamic banking so they would rename it and promote it as ethical banking."
It points they have began to understand Islamic banking and are working on this, he added.
According to a recent estimate by Standard & Poor's, the global market potential for Islamic banks is estimated at $4 trillion. The countries like Oman, Nigeria, Tanzania, Uganda and Maldives have opened their doors for Islamic finance and are encouraging new and existing financial institutions to offer Islamic financial services to their customers.
Full report at:
http://www.dailytimes.com.pk/default.asp?page=2013%5C05%5C12%5Cstory_12-5-2013_pg5_3
------------
PTI not to make alliance with PML-N: Hashmi
May 12, 2013
Pakistan Tehreek-i-Insaf (PTI) President Makhdoom Javed Hashmi said on Sunday that PTI will not make an alliance with Pakistan Muslim League–Nawaz (PML-N).
Unofficial poll results suggest that PML-N is currently leading the elections.
Talking to the media, Hashmi said that the election results were in accordance with his assessment which he had earlier shared with PTI chairman Imran Khan.
He added that PTI had brought about the change as the youth cast their votes which was a healthy sign.
Full report at:
http://www.nation.com.pk/pakistan-news-newspaper-daily-english-online/national/12-May-2013/pti-not-to-make-alliance-with-pml-n-hashmi
------------
PML-N activists celebrate victory in center, Punjab
May 12, 2013
ISLAMABAD:Pakistan Muslim League-Nawaz (PML-N)'s activists celebrating their party's thumping victory in Punjab and a majority in the centre to form the governments, following May 11 elections.
Pakistan Tehreek-e-Insaf (PTI) also impressed with an impressive performance especially in Khyber Pukhtunkhaw coming close to becoming the second largest party in the country and its activists rejoicing too out processions on G.T. Road and Khyber Road.
According to unconfirmed, unofficial and incomplete results thus far ML-N has won 132 seats, while PTI trailing with 36 seats, Pakistan People's Party (PPP) 32, Jamiat Ulema-e-Islam (JUI-F) 12, Muttahida Qaumi Movement (MQM) 13, Muslim League-Q (ML-Q) 1, Jamaat-e-Islami (JI) 3 and independents bagged 24 seats. Awami National Party (ANP) couldn't win a single seat so far.
Province-wise results show that ML-N leading in Punjab, PTI in Khyber Pukhtunkhaw, PPP in Sindh interior, MQM in Karachi and Hyderabad, while ANP has been washed out.
According to initial estimate of Election Commission of Pakistan (ECP) polling percentage remained within 60 to 70 percent-- a record in Pakistan's democratic history.
Prominent among those winning the elections thus far are: ML-N Chief Mian Muhammad Nawaz Sharif, PTI Chairman Imran Khan, Javed hashmi, Shahbaz Sharif, Ahsan Iqbal, Shahid Khaqan Abbasi, Farooq Sattar, Shah Mahmood Quraishi, Makhdoom Amin Faheem, Faisal Karim Kundi, Fazlur Rahman, Fahmeeda Mirza, Faryal Talpur, Khurshid Shah, Naveed Qamar, Nabeel Gabol, Jamshed Dasti, and Sumera Malik.
Full report at:
http://www.thenews.com.pk/article-100618-PML-N-activists-celebrate-victory-in-center,-Punjab
------------
Fate of President Zardari, provincial governors uncertain
May 12, 2013
Ashraf Mumtaz
LAHORE : As the PML-N has emerged as the single largest party in the National Assembly, Mian Nawaz Sharif will set a new record in the country's history by becoming the prime minister for a third term.
And with the PML-N assuming power, the fate of President Zardari and all four provincial governors hangs in the balance.
President Zardari has already lost all vital powers since the enactment of the 18th constitutional amendment. And with the PML-N returning to power, he will not be allowed to transgress his jurisdiction. The court has already disallowed him to take part in any political activity, because of which his status in the times ahead will be that of an inmate of a 'five-star prison', or the presidency.
President Zardari was once the most powerful head of the state. He had all the powers that were available to Gen Musharraf under the 17th amendment. And since he was also exercising all powers of the ruling PPP chairman, no other head of state was comparable to him.
Under the constitution, the president can be removed through a resolution passed by a two-thirds majority of parliament. For the time being, the PML-N will not be in a position to get rid of him because of the lack of the required parliamentary support.
To be able to remove the president, the PML-N will have to seek support from other parties, especially those having sufficient representation in the Upper House of parliament.
Even if the PML-N did not try to remove him, it will be very difficult for President Zardari to co-exist with the new government.
According to a political observer, the status of President Zardari will now be no different from that of the late president Fazal Elahi Chaudhry, who was the head of state when Mr Bhutto was the prime minister.
In those days, on the boundary walls of the presidency were seen demands: "Release President Elahi".
Full report at:
http://www.nation.com.pk/pakistan-news-newspaper-daily-english-online/national/12-May-2013/fate-of-president-zardari-provincial-governors-uncertain
------------
Khoso condemns NWA, Balochistan blasts, attack on PTI convoy
May 12, 2013
Prime Minister Justice (Retd) Mir Hazar Khan Khoso has strongly condemned blasts in North Waziristan Agency (NWA) and Balochistan, while he has also condemned an attack on the convoy of PTI leader Ayla Malik near Mianwali, besides expressing shock over the death of an independent candidate from NA-241 and PS-95 Karachi.
Taking serious notice of bomb blast in T-Chowk, Dera Allayar, Jaffarabad, Balochistan, in which several people have sustained injuries, the Prime Minister asked the provincial government and the local authorities to rush rescue teams to the scene of the blast and provide all possible assistance to the injured.
After having the news of blast in Miramshah, NWA, he condemned the attackers and expressed grief and sorrow over the loss to precious human lives and injuries to many. The Prime Minister has directed Governor Khyber Pakhtunkhwa (KPK) to submit a report on the unfortunate incident and carry out an immediate rescue operation. He also directed the governor to reinforce and tighten the security measures in FATA.
Prime Minister Khoso has expressed grief and shock over the death of Shakil Ahmed, an independent candidate for NA-241 and PS-95 in Karachi. He condemned this unfortunate incident and appealed to all the political parties to maintain peace and calm in the national interest. He also directed the provincial government to tighten the security measures for the protection of the candidates and maintaining law and order.
Full report at:
http://www.nation.com.pk/pakistan-news-newspaper-daily-english-online/islamabad/11-May-2013/khoso-condemns-nwa-balochistan-blasts-attack-on-pti-convoy
------------
PML-N dominates Punjab, PTI rule K-P, PPP hold Sindh
May 12, 2013
The unofficial results for the provincial assembly elections predict the three major parties, the PML-N, the PPP and the PTI will form strong bases in Punjab, Sindh and Khyber-Pakhtunkhwa respectively.
The PML-N has swept the Punjab Assembly elections according to results so far, holding a massive 134 of 183 unofficially announced seats.
Similarly in Sindh, the PPP managed a clear victory with 42 of 69 unofficially announced seats so far.
Full report at:
http://tribune.com.pk/story/548201/pml-n-dominates-punjab-pti-rule-k-p-ppp-hold-sindh/
------------
Amritsar village celebrates Nawaz Sharif's victory
Yudhvir Rana
May 12, 2013
JATTI UMRA: With Nawaz Sharif's Pakistan Muslim League - Nawaz (PML-N) emerging as the largest party in the initial results, his native village in India, JattiUmra erupted in jubilations.
The residents of Jatti Umra, near Amritsar, are keeping a close eye on the election developments in neighbouring country and have even started distributing sweets on listening to news that PML-N is heading for a landslide victory.
And they have a reason to celebrate, not only Sharif's family lived here but Sharif also helped around two dozen youth of this village in getting jobs in Qatar and other gulf countries . Besides they believe that with Sharif in power in Pakistan, the relations between two countries will improve for better.
Sharif's family had migrated to Pakistan before partition where he was born in Lahore on December 25, 1949.
When Chief Minister Parkash Singh Badal had gone to Pakistan accompanied by the then prime minister Atal Behari Vajpayee in bus on March 20th 1999, he had taken soil of Jatti Umra village for Nawaz Sharif, the then Prime Minister of Pakistan. Sharif's family house was later converted into Gurdwara.
The residents of village gathered in Gurdwara on Sunday and performed 'ardas' (prayer of supplication) for his party's victory in the elections.
Massa Singh, 86, friend of Nawaj Sharif's father Mian Mohammad Sharif told TOI "We are glued to TV channels and are happy that our boy is on way to create history in Pakistan". He said they had gathered at his ancestral resident now turned into a Gurdwara and offered prayer for his success. He said he was hopeful that dissolving differences with India and bridging gaps would be on top agenda of Sharif. "The derailed peace process with Pakistan will be back on track" he said.
Singh who proudly shows the his picture with Sharif kept in his wallet said that it was due to Sharif's links with the people of his ancestral village that more than two dozen youth were working in factories of Sharif' family in Doha Qutar ."The boys who are working in his relatives factories are very happy and never faces any problem" said he.
Full report at:
http://timesofindia.indiatimes.com/india/Amritsar-village-celebrates-Nawaz-Sharifs-victory/articleshow/20011615.cms
------------
India
Manmohan Singh congratulates Nawaz Sharif, invites him to India
May 12, 2013
NEW DELHI: Reaching out to the new government in Pakistan, Prime Minister Manmohan Singh on congratulated Nawaz Sharif and his party PML-N for their emphatic victory in elections and conveyed desire to work with him to chart "a new course" in India-Pakistan relations.
Singh also invited Sharif to visit India at a mutually-convenient time.
"The Prime Minister has extended his congratulations to Sharif and his party for their emphatic victory in Pakistan's elections," the PMO said in a statement.
Singh also congratulated the people and the political parties of Pakistan for braving the threats of violence and voting in large numbers.
Full report at:
http://timesofindia.indiatimes.com/india/Manmohan-Singh-congratulates-Nawaz-Sharif-invites-him-to-India/articleshow/20016807.cms
------------
India hopes for good ties with Pak under Nawaz Sharif
May 12, 2013
NEW DELHI: External affairs minister Salman Khurshid on Sunday hoped that India will continue to have good relations with Pakistan if former Prime Minister Nawaz Sharif comes to power after the general elections there.
"India welcomes whatever result that comes out of a democratic election. Our government has had relations with Nawaz Sharif. From Prime Minister's side also congratulations will be offered to him," Khurshid said.
"I hope we can continue to have good relations if he comes to power," he said.
Sharif was on Sunday set for a third term as Pakistan's prime minister as his PML-N party took a massive lead over its rivals in early poll results, making a remarkable comeback after having been toppled in a military coup in 1999 and sent into exile. He returned to Pakistan shortly before the 2008 polls and rebuilt his party.
Full report at:
http://timesofindia.indiatimes.com/india/India-hopes-for-good-ties-with-Pak-under-Nawaz-Sharif/articleshow/20012783.cms
------------
Jammu and Kashmir C M greets Sharif, hopes Pak leader will restart peace process
PTI | May 12, 2013,
NEW DELHI: Jammu and Kashmir chief minister Omar Abdullah congratulated PML-N chief Nawaz Sharif on Sunday for his party's performance in the historic general elections and hoped that the former Pakistani premier will live up to his commitment to restart the peace process.
"Congratulations to Nawaz Sharif. I hope he is now able to live up to his commitment to restart his peace process interrupted in 1999," Omar tweeted as early poll trends showed Sharif set for a third term as Pakistan's Prime Minister.
"I suppose we'll have to wait for a post election scenario to emerge in our country before any meaningful engagement can begin #IndoPak," Omar posted on micro blogging site Twitter.
Pakistan Muslim League-Nawaz (PML-N) took a massive lead over its rivals in early poll results, making a remarkable comeback after Sharif was toppled in a military coup in 1999 and subsequently sent into exile.
As per Pakistan TV projections, no single party would win a simple majority of 172 seats in the 342-member National Assembly.
"Given the bloody election Pakistan has seen I hope they now realise that there can be no good terrorists & bad terrorists, all terror is bad," Omar posted.
Full report at:
http://timesofindia.indiatimes.com/india/Omar-greets-Sharif-hopes-Pak-leader-will-restart-peace-process/articleshow/20012834.cms
------------
Jobs for Indians on Riyadh embassy website
Sunday 12 May 2013
RIYADH: The Indian Embassy in Riyadh has a list of companies on its website offering employment for workers wanting to change jobs.
This is one of a number of services outlined by the embassy yesterday to help its nationals. There is also advice provided for those wanting to go home.
A press note said that the embassy continues to get requests from companies in Saudi Arabia offering employment to Indians who wish to change their jobs. This information is available on its website.
The embassy is currently studying the details of the labor concessions announced by the Saudi authorities on Friday and will provide regular advisories on any clarifications needed.
The embassy also advised the Indian community to regularly check its website at www.indianembassy.org.sa for information published in various regional languages.
It also said that the embassy would continue to collect emergency certificate (EC) applications from those wanting to leave Saudi Arabia on exit visas. Those who have submitted EC applications would get their papers in due course.
Workers also have to provide information on whether they want to continue to work in Saudi Arabia by using the concessions announced by the Saudi authorities on Friday. The embassy will contact each EC applicant either by telephone or through volunteers. The embassy will establish EC distribution centers in various cities in the Kingdom as required.
Full report at:
http://www.arabnews.com/news/451295
------------
Arab world
Syria-linked group blamed in Turkey blasts; 43 die
12 May 2013
REYHANLI, Turkey: In one of the deadliest attacks in Turkey in recent years, two car bombs exploded near the border with Syria on Saturday, killing 43 and wounding 140 others. Turkish officials blamed the attack on a group linked to Syria, and a deputy prime minister called the neighboring country's intelligence service and military "the usual suspects."
The blasts, which were 15 minutes apart and hit the town of Reyhanli's busiest street, raised fears that Turkey could increasingly be drawn into Syria's brutal civil war.
Turkey already hosts Syria's political opposition and rebel commanders, has given shelter to hundreds of thousands of Syrian refugees and in the past retaliated against Syrian shells that landed in Turkey.
Deputy Prime Minister Besir Atalay said the assailants were from Turkey, but were linked to Syria's intelligence service.
"We have to a great extent completed our work toward identifying the assailants," he told reporters. "We have established that the organization and assailants have links to the pro-regime mukhabarat (intelligence) organization."
He did not name the group, but said the aim of the attack was to pit Turks against Syrian refugees in Reyhanli.
Earlier, another deputy prime minister, Bulent Arinc said: "Our thoughts are that their mukhabarat and armed organizations are the usual suspects in planning and the carrying out of such devilish plans," he said.
Arinc said the attacks were still being investigated, but that If it's proven that Syrian was behind the attack, Turkey would "do whatever is necessary," without specifying if that included military action.
One of the car bombs exploded outside the city hall while the other went off outside the post office. Reyhanli, a main hub for Syrian refugees and rebels in Turkey's Hatay province, is just across the border from Syria's Idlib province. Private NTV television, citing unnamed security sources, said the explosions were remote-controlled and that plastic explosives were used.
Images showed people frantically carrying the wounded through the rubble-strewn streets to safety. Black smoke billowed from a tall building.
The explosions came days before Prime Minister Recep Tayyip Erdogan is scheduled to travel to the US for talks, which are expected to be dominated by the situation in Syria. The car bombings also follow allegations by Erdogan the Syrian regime has fired about 200 missiles tipped with chemical weapons.
Syrian mortar rounds have fallen over the border before, but if the blasts turn out to be linked to Syria it would be by far the biggest death toll in Turkey related to its neighbor's civil war.
Syria shares a more than 500-mile (800-kilometer) border with Turkey, which has been a crucial supporter of the Syrian rebel cause. Ankara has allowed its territory to be used as a logistics base and staging center for Syrian insurgents.
Atalay said 43 people were killed and 140 others were wounded in the blasts. There was no immediate information on the identities or nationalities of the victims.
The bombings" will increase the pressure on the US president next week to do something to show support to Turkey when Erdogan visits him in Washington," said Soner Cagaptay, an expert on Turkey at the Washington Institute. "Washington will be forced to take a more pro-active position on Syria, at least in rhetoric, whether or not there is appetite for such a position here."
Salman Shaikh, director of the Brookings Doha Center, said the attack may force Turkey to take action.
"It should be a defining moment for Turkey," Shaikh said. "It has been supporting the rebels, and there has been strong rhetoric. But this may be a moment where it really has to assert itself — if it is the Assad regime (behind the bombings), and it is quite conceivable it is."
Turkey's opposition criticized the government's policy on Syria, saying its active support of the rebels had put the country's security at risk.
"Erdogan's discourse of hatred toward Assad and provocations against the administration in Damascus is coming back to us in the form of attacks and provocations," said Devlet Bahceli, chairman of a nationalist opposition party.
The force of Saturday's explosions gutted some buildings, and the charred shells of cars littered the streets.
"Three buildings partly collapsed and became unusable," Talat Karaca, who witnessed the second explosion from his rooftop, told The Associated Press by telephone. "We couldn't approach the scene for a long time because of the blaze."
Khawla Sawah, the medical director of the Union of Syrian Medical Relief Organizations in Reyhanli, said the town's main hospital was full and many of the wounded were taken to the nearby city of Antakya and to a clinic set up by the Syrian medical relief group on Reyhanli's outskirts. The center received 11 wounded, including one Turk and 10 Syrians.
She said some of the injured told her that the cars that exploded had Syrian license plates.
Both Sawah and another witness, Suzan Alhasoglu, said the incident raised tension in Reyhanli with angry youths attacking Syrians cars and other targets.
"The authorities are asking Syrians to stay home and not drive around in Syrian cars," Sawah said. "Syrian doctors at the Reyhanli hospital were asked to go home too."
Turkey's military released a statement condemning the attack and Foreign Minister Ahmet Davutoglu vowed from Berlin that Turkey would act.
"Those who for whatever reason attempt to bring the external chaos into our country will get a response," he said.
The US Embassy in Ankara issued a statement condemning the "murderous attack" in Reyhanli and said Washington "stands with the people and government of Turkey to identify the perpetrators and bring them to justice."
The main Syrian opposition group, the Syrian National Coalition, condemned the attack and said it stands together with the "Turkish government and the friendly Turkish people."
The coalition sees "these heinous terrorist acts as an attempt to take revenge on the Turkish people and punish them for their honorable support for the Syrian people," it said.
Full report at:
http://www.arabnews.com/news/451260
------------
Suicide bomber targets senior Iraq intel officer
May 12, 2013
TIKRIT: - A suicide bomber targeted the home of a senior Iraqi intelligence officer north of Baghdad on Saturday, killing three people, while three more died in other attacks, officials said.
The bomber detonated a small tanker truck at the home of police Brigadier General Ismail al-Juburi, a senior officer for Nineveh province, killing his son, nephew and sister-in-law - and wounding 21 others, police and a doctor said.
It was not immediately clear if Juburi was present at the time of the attack, which took place in the Al-Sharqat area.
Suicide bombings, usually carried out by Sunni militants, including those linked to Al-Qaeda, are a relatively rare type of attack in Iraq. Roadside bombs, magnetic "sticky bombs" on vehicles and shootings are more common.
However, four suicide bombers struck in various parts of northern Iraq on Wednesday, killing four people.
Full report at:
http://www.nation.com.pk/pakistan-news-newspaper-daily-english-online/international/12-May-2013/suicide-bomber-targets-senior-iraq-intel-officer
------------
Iraqi Kurds wary of PKK fighters coming from Turkey
May 12, 2013
AL-AMADIA, Iraq : Iraqi Kurds living near the border are wary of thousands of Kurdish fighters leaving Turkey for northern Iraq, and hope the move does not lead to more Turkish air and artillery strikes.
For years, Turkey's military has targeted fighters from the Kurdistan Workers' Party in Iraq's autonomous Kurdistan region, keeping farmers from their land and sometimes killing and wounding civilians. The PKK, which has fought a 29-year nationalist campaign against Ankara, is now withdrawing its fighters into Iraq, where it already has bases, as part of a peace drive with Turkey.
While it is a positive sign for peace prospects, the movement of some 2,000 additional PKK fighters into Iraq has not put residents at ease. "We hope not to hear the sounds of Turkish artillery and airplanes bombarding our mountains again," said a man.
"We are afraid that the fighting will start again," Saeed said.
A flare-up of violence would not be without precedent. Mass PKK withdrawals in 1999 were disrupted when Turkish forces ambushed departing rebels, killing around 500 people and wrecking hopes for a permanent peace.
The PKK has also claimed Turkey was boosting troop numbers near the border and warned against provocations that could hamper the process.
Saeed said that, due to the conflict, "we left large areas of our lands, areas that are still deserted."
"I wish they could reach permanent solutions with the Turkish government," Saeed said, but he does not believe that will happen any time soon.
Karwan Ahmed, 37, said that "all we want is for things to get better."
"I think the best thing is to reach permanent solutions with Turkey for the Kurdish issue there," Ahmed said.
"We hope that the Kurds in Turkey get their rights so that things would get better permanently, and the fighters would return to their people," he said.
The PKK fighters are leaving Turkey on foot, travelling through the rugged border zone to reach their safe havens in the Qandil mountains in northern Iraq, where they will join the thousands of fighters already there.
Turkish Prime Minister Recep Tayyip Erdogan has repeatedly vowed that retreating rebels "will not be touched" and said "laying down weapons" should be the top priority for the PKK.
Turkey is believed to be home to the largest single community of ethnic Kurds, who are scattered across Turkey, Iraq, Iran and Syria.
Over the years, the PKK's demands have evolved from outright independence to autonomy as well as cultural and language rights.
The group, which is blacklisted as a terrorist organisation by Turkey, the United States and the European Union, took up arms in 1984. Since then, the conflict has killed around 45,000 people.
Full report at:
http://www.nation.com.pk/pakistan-news-newspaper-daily-english-online/international/12-May-2013/iraqi-kurds-wary-of-pkk-fighters-coming-from-turkey
------------
Yemen police 'dismantle' al-Qaeda cell
12 May 2013
Yemeni police Sunday raided a house in the southern city of Aden, killing one suspected Al-Qaeda militant and arresting three, an official said, adding that the cell was plotting attacks on vital installations.
"We have dismantled a terror cell in one of the houses near Mansura district" in Aden, the security official said.
"Security forces managed to kill one of its members who tried to blow himself up using two explosive-laden belts."
Three other suspected members of the cell were arrested and police seized dozens of explosive belts, he said, adding that the cell had been planning attacks on strategic installations in Aden.
Al-Qaeda was driven out of most of its strongholds across south Yemen in an army offensive backed by U.S. drone strikes last year.
Full report at:
http://english.alarabiya.net/en/News/middle-east/2013/05/12/Yemen-police-dismantle-al-Qaeda-cell-.html
---------------
Saudi jails Lebanese man for helping woman to convert
May 12, 2013
RIYADH: A Saudi court jailed a Lebanese man for six years and sentenced him to 300 lashes after convicting him of encouraging a Saudi woman to convert to Christianity, local dailies reported Sunday.
The same court sentenced a Saudi man convicted in the same case to two years in prison and 200 lashes for having helped the young woman flee the ultra-conservative Muslim kingdom, local daily Al-Watan said.
A court delivered the verdict in Khobar in the kingdom's east, where the woman and the two accused worked for an insurance company.
The July 2012 case caused a stir in Saudi Arabia, which applies a strict version of Islamic Sharia law that stipulates Muslims who convert to another religion must be sentenced to death.
The woman, known only as "the girl of Khobar", was granted refuge in Sweden where she lives under the protection of unspecified NGOs, according to local press reports.
She had appeared in a YouTube video last year in which she announced that she had chosen to convert to Christianity.
Her family's lawyer Hmood al-Khalidi said he was "satisfied with the verdict," according to the press.
Full report at:
http://www.dailystar.com.lb/News/Middle-East/2013/May-12/216776-saudi-jails-lebanese-man-for-helping-woman-to-convert.ashx#axzz2T7v41XzC
----------
Mubarak says 'history will view me fairly'
12 May 2013
In his first interaction with the media since he was removed from power in February 2011, Hosni Mubarak, Egypt's former leader, has said President Mohamed Morsi faces a difficult job and it is too early to judge his performance.
Mubarak made the comments in an interview with the newspaper El-Watan on Saturday.
"He is a new president who is carrying out weighty missions for the first time, and we shouldn't judge him now," Mubarak said.
The 85-year-old also said he was concerned about lax security, apparently referring to increased crime, and a rise in activity by armed groups in the Sinai Peninsula.
El-Watan, which published the interview on Sunday, said its reporter broke through security lines to speak to Mubarak, who is facing a retrial over charges of complicity in the death of protesters killed in the popular uprising that swept him from office. Mubarak said: "History will judge and I am still certain that the coming generations will view me fairly."
The former leader, who was president for almost 30 years, said he was saddened by what he described as the difficult conditions facing the poor and the Egyptian economy.
Hammered by political instability, the economy is in the doldrums and the government is in negotiations with the International Monetary Fund to secure a bailout loan.
"This is the secret of my sadness: to see the poor in this condition," said Mubarak, who was toppled by an uprising fuelled in part by economic hardship.
'Fear for the country'
Full report at:
http://www.aljazeera.com/news/middleeast/2013/05/2013512103642636596.html
------------
Copt charged with killing converted Muslim wife commits suicide
12 May 2013
A Christian-Coptic man in the Upper Egyptian governorate of Assiut committed suicide on Saturday by jumping off the fourth floor of the Assiut courthouse, where he was set to face questioning over the stabbing of his wife.
Romany Farhan Amir was charged with killing his wife, Habiba Shaaban (formerly known as Azza Walim) outside their son's school on Saturday, angered by her conversion to Islam months prior, Al Ahram Arabic news website reported.
During the questioning, Amir confessed to killing his wife, who had separated from him following her conversion. He said he was afraid she would kidnap their son from his school.
Violence associated with the reported conversions of Coptic women to Islam and vice versa, has been common occurrences in Egypt's tense religious environment, where Copts make up approximately 10 percent of the population in a majority Muslim country.
Full report at:
http://english.ahram.org.eg/NewsContent/1/64/71254/Egypt/Politics-/Copt-charged-with-killing-converted-Muslim-wife-co.aspx
------------
No Saudi suspect in Tanzania church blast — embassy
12 May 2013
JEDDAH: Saudi Arabia's Embassy in Tanzania has clarified that a Saudi man found near the site of an explosion in the Arusha city last week was not a suspect, but only a witness, the SPA reported yesterday.
Meanwhile, Saudi Ambassador to Tanzania Hani Abdullah Momenah reiterated the Kingdom's condemnation of any act of terror while conveying the Kingdom's condolences to the government of Tanzania.
Full report at:
http://www.arabnews.com/news/451300
------------
Bangladeshis allowed to change sponsors in Saudi Arabia
IRFAN MOHAMMED
12 May 2013
JEDDAH: Members of the Bangladeshi community in Jeddah were ecstatic yesterday after receiving news that they would be allowed to transfer their sponsorship like other expatriates under the Kingdom's new labor concessions announced Friday.
Bangladeshi workers were previously banned from transferring their residency and work permits. The government of the Asian country had petitioned the Saudi government over the years for this to happen.
Labor Ministry spokesman Hattab Al-Anazi told Arab News yesterday that the government has allowed "all nationalities including Bangladeshis" to transfer their sponsorship or depart from the Kingdom. He said the three-month grace period for workers to rectify their work status, which ends on July 3, also applies to all expatriate communities.
Bangladesh Consul General Mohammad Nazmul Islam confirmed that Bangladesh workers could now change their sponsorship. He thanked the Saudi authorities for agreeing to the request.
There were numerous inquiries yesterday at the Jeddah passport and labor offices about the information. There were also queues at the Bangladesh Consulate where workers were seen trying to verify the information.
Munir Abdul Rasheed who lost five job opportunities over the last four years was very happy.
Nizamuddin, a worker who used to run a grocery store in north Jeddah, said he could now make a move to get a new job.
Full report at:
http://www.arabnews.com/news/451289
------------
Africa
Deal with former rebels ends Libya siege
12 May 2013
Armed groups have ended a nearly two-week siege of Libya's foreign and justice ministries in the capital after reaching a deal with the government, the Libyan justice minister has said.
"Those who were at the two ministries have handed over the two ministries to a committee formed by the government and the General National Congress and have now departed," Salah al-Marghani, justice minister, said on Saturday.
The armed groups surrounded the ministries in Tripoli late last month to press parliament to pass a law banning anyone who held a senior position under the late leader Muammar Gaddafi from holding office in the new administration.
The move came after hundreds of people rallied on Friday to denounce the use of violence by militias. The activists accuse the Muslim Brotherhood of trying to seize power by force.
Prime Minister Ali Zeidan had announced on Wednesday there would be a cabinet reshuffle "in the coming days," against the backdrop of the country's latest political crisis, sparked by the besieging of the two ministries.
"There will no doubt be a ministerial reshuffle in the coming days," he told reporters.
The move comes as hundreds of leaders in the oil-rich east agreed to join forces to defend their territory against similar attacks.
Powerful group
A commander of a militia group stationed at the gates of the vacant foreign ministry said late on Saturday that the building been handed over to a committee made up of members of parliament and leaders connected to the armed protests.
The Supreme Security Council, the umbrella group of former rebel fighters under the command of the interior ministry that has led the seige, is now better armed and more powerful than the police.
"The protesters had retreated because [some of] their demands were realised," the commander told the Reuters news agency.
Foreign ministry officials were not immediately available to comment on the details of the deal.
Other media outlets quoted the justice minister as saying the foreign ministry and the justice ministry had been handed over to a government committee.
'Unfair and too sweeping'
Rights groups and diplomats criticised the measure banning former Gaddafi officials, saying its terms were too sweeping and could cripple the government.
They also argued it was unfair because it made no exception for those who had spent decades in exile and had been instrumental in the toppling of Gaddafi nearly two years ago.
Parliament caved in and approved the legislation a week later, leading the armed groups - who say they are revolutionaries and not militia - to expand their list of demands, including the resignation of Prime Minister Ali Zeidan.
The growing tension between the groups and the government has alarmed federalists and other factions in the east, prompting their leaders to unite to defend their territory from a similar assault.
Representatives from these groups pledged on Saturday to revive the Cyrenaica Congress. Formed about a year ago to demand greater autonomy for the east, it sets out a manifesto for a federal Libya.
"We will not let Cyrenaica be ruled by the power of force," said Ahmed Zubair al-Senussi, a distant relative of King Idris, who was deposed in a military coup led by Gaddafi in 1969.
Senussi will remain the symbolic head of the congress.
In addition to selecting a head and combining military forces, the leaders moved to start a television channel for the region.
The eastern congress agreed to start work on June 1, when it will hold its first assembly in the city of Al Baida.
For about 10 years after Libya became an independent state in 1951, the country was run along federal lines with three regions.
Power was devolved to Cyrenaica, to the southern province of Fezzan and to Tripolitania in the west.
Full report at:
http://www.aljazeera.com/news/africa/2013/05/201351261230257352.html
------------
Jihadist group claims northern Mali suicide attacks, tells foreign troops to leave
May 11, 2013
A radical jihadist group in northern Mali that ruled the town of Gao for nearly a year says it was behind the latest suicide attacks.
Alioune Toure, the former head of the Islamic police in Gao, told Radio France Internationale the Movement for Oneness and Jihad in West Africa was responsible for the attacks.
Toure said "the muhajadeen had struck and they're going to keep striking the enemy," according to the interview released Saturday. He called for foreign soldiers to leave Mali and for negotiations between "Muslim brothers of the region."
Full report at:
http://www.foxnews.com/world/2013/05/11/jihadist-group-claims-northern-mali-suicide-attacks-tells-foreign-troops-to/
------------
Southeast Asia
Convicted Rapists Face Tough Sentences Under Proposed Shariah Bylaws
By Nurdin Hasan
May 12, 2013
Banda Aceh. The Aceh Legislative Council (DPRA) is mulling a Shariah bylaw that would mandate tougher sentences for convicted rapists than those doled out under the Indonesian Criminal Code.
Convicted rapists would be lashed up to 200 times with a rattan cane before facing up to 200 months in jail, according to a copy of Aceh's proposed "Qanun Jinayat" obtained by the Jakarta Globe. Under Indonesia's current Criminal Code, rapists face a maximum of 12 years — or 144 months — in prison.
The Qanun Jinayat also included stricter protections for children and victims of sexual harassment. Those found guilty of statutory rape face the same penalty as convicted rapists. The sentence is doubled — a maximum of 400 lashes and 400 months in prison — for those convicted of forcibly raping a child.
Sexual harassment would carry a maximum sentence of 60 lashes and either 600 grams of pure gold — the equivalent of $27,930 on today's market — or 60 months in prison. Penalties would be doubled if the victim is a child.
The Aceh chapter of Nahdlatul Ulama (NU) supported the draft bylaws, explaining that rapists deserved harsh sentences because of the seriousness of their crime.
"With heavy punishment in the Qanun Jinayat we hope there will be no more violations of Islamic Shariah in Aceh because people will think thoroughly if they want to commit something that is forbidden by the religion," NU Aceh chair Teungku Faisal Ali said.
The strictly conservative province adopted Shariah Law in 2001 as part of a special autonomy agreement with the central government. Aceh's Shariah Police currently enforce four Islamic bylaws, including laws barring close contact between unmarried couples, alcoholic beverages and gambling. Women are also required to wear a headscarf. The bylaws have also been used by Shariah Police to crack down on tight jeans and punks.
The legislative council is currently debating the issuance of additional bylaws, including one that criminalizes same-sex relationships. Under the proposed bylaw, same-sex couples would be publicly lashed 100 times. The regulation has gained traction among some of Aceh's political leaders, including Banda Aceh Deputy Mayor Illiza Sa'aduddin Djamal.
NU chair Teungku pushed for swift deliberation on the proposed bylaws, arguing that Aceh needed stricter Islamic regulations to curb "immorality."
Full report at:
http://www.thejakartaglobe.com/news/convicted-rapists-face-tough-sentences-under-proposed-shariah-bylaws/
------------
Densus 88 'Forced to' Use Deadly Force in Bloody Terrorism Raids
May 12, 2013
Indonesia's National Police backed the use of deadly force by the department's anti-terrorism squad Densus 88 in recent raids, explaining that the deaths of seven terrorism suspects was something the police were "forced to do."
Densus 88 conducted raids in five provinces as part of a crackdown on a terrorist cell accused of using the proceeds from armed robberies to fund militant activities in the restive district of Poso, Central Sulawesi. Police arrested 17 alleged terrorists in the stings and killed seven others.
National Police chief Gen. Timur Pradopo said the killings were necessary and conducted according to police procedure. Officers tried negotiating with the suspects, who were barricaded inside homes, and warned them of the repercussions of failing to surrender, he said.
When the suspects refused to surrender, Densus 88 members stormed the homes, killing seven in shootouts.
"We tried not to have any casualties and we will legally take the responsibility [for the deaths]," Timur told the Indonesian news portal Detik.com.
The deaths of key members of the previously unknown terrorism cell, like recruiter Abu Roban, represent a lost opportunity for police to gather fresh information on Indonesia's home-grown terrorist organizations. Men like Abu, who allegedly worked with fugitive terrorism suspect Santoso, could have provided key information on the whereabouts of a man police describe as an expert bomb-maker and skilled financier.
Full report at:
http://www.thejakartaglobe.com/news/densus-88-forced-to-use-deadly-force-in-bloody-terrorism-raids/
------------
South Asia
Bangladeshi women, men protest against hard-line group in Dhaka
May 11th, 2013
by atish saha
Around 15,000 Bangladeshis protested in front of the Press Club area in favor of feminist policies and in opposition to hardline Islamist group Hefazat-e-Islam. The majority-female protests included a contingent of men.
Islamist Party Hefazat-e-Islam's demand of banning women from public appearance is a formula of making the country financially disable, said women's rights activists and leaders at a mass gathering, yesterday.
The gathering of Many thousands people, under the banner of Pratibadi Nari Gana Samabesh (a mass gathering of protesting women) was held in front of the National Press Club in the city.
Full report at:
http://www.demotix.com/news/2044319/bangladeshi-women-men-protest-against-hardline-group-dhaka#media-2044292
------------
Rights body urges Dhaka to probe Islamist protest deaths
May 12, 2013
DHAKA - Bangladesh should hold an independent probe into a police crackdown on Islamist protests in which dozens died earlier this week to prevent future "bloodbaths", a global human rights body urged Saturday.
There are varying death tolls but an AFP tally from police and medical sources shows 38 people were killed Sunday and Monday when police sought to end protests by tens of thousands of Islamists in Dhaka and other locations.
"Without an independent investigation, accountability and improved policing methods, we could see serial bloodbaths" in Bangladesh," Brad Adams, Asia director of New York-based Human Rights Watch, warned.
The Islamists are trying to pressure the government into introducing a new anti-blasphemy law and have been calling for the execution of bloggers.
Adams also criticised Hefajat-e-Islam or Protectorate of Islam, the hardline Islamic group behind the protest, for recruiting boys from seminaries to take part in the demonstrations.
They "were terrified by the experience of seeing dead bodies and large-scale violence", Adams said in a statement, adding: "Putting children in harm's way is extremely irresponsible."
London-based rights group Amnesty International also called for "an independent and impartial investigation into police use of force" this week, saying its own probe found at least Full report at:
http://www.nation.com.pk/pakistan-news-newspaper-daily-english-online/international/12-May-2013/rights-body-urges-dhaka-to-probe-islamist-protest-deaths
------------
Afghanistan accuses Iran of holding 21 labourers
May 12, 2013
KABUL (Afghanistan): Afghanistan has accused Iran of holding as many as 21 migrant Afghan workers following a border shooting incident during the weekend and has filed a formal complaint to Tehran, an official said Sunday.
According to local accounts, Iranian border guards opened fire on the Afghan labourers on Friday as they tried to cross the boundary illegally looking for work, said Abdul Rahman Zhawandai, a spokesman for the provincial governor in the northwestern Farah province.
Several wounded laborers were brought to a district hospital in Farah, Zhawandai said. Some of them said that four of their compatriots were killed in the shooting and 21 were taken by the Iranian guards, the official said.
But details remained sketchy and the labourers' testimonies conflicted, Zhawandai added.
In Kabul, Afghanistan's foreign ministry spokesman, Janan Mosazai, told reporters that a complaint was lodged Saturday with Iran's ambassador to Afghanistan.
"We are following this issue very seriously through our embassy in Tehran," said Mosazai. He added that while the migrants were trying to enter Iran illegally, "the reaction of Iran should have been a civilian reaction, not a military" one - a reference to the shooting.
Protests over the incident erupted on Sunday, with dozens of local residents rallying in the streets of the provincial capital, also named Farah, shouting anti-Iranian slogans.
Poor Afghans routinely try to sneak into Iran in search of work as day laborers.
Elsewhere in Afghanistan, a roadside bomb on Sunday killed a district prosecutor in southern Helmand province, where Taliban insurgents roam with relative ease in much of the countryside.
Full report at:
http://timesofindia.indiatimes.com/world/middle-east/Afghanistan-accuses-Iran-of-holding-21-labourers/articleshow/20016222.cms
------------
Razakar founder Yusuf sent to jail
SUNDAY, MAY 12, 2013
Rapid Action Battalion men take Jamaat leader AKM Yusuf to Rab-2 office after arresting him at his house on Sunday. Photo: Star
Jamaat-e-Islami leader AKM Yusuf, known as the founder of Razakar, sent to jail on Sunday hours after his arrest in connection with wartime offences.
The International Crimes Tribunal-1 also set Monday for hearing his bail petition. Law enforcers produced him in tribunal around 4:15pm.
The judges passed the order from their chamber in presence of the prosecution and defence lawyers as he was taken to the tribunal at the end of the day's proceedings.
Yusuf is facing 15 war crimes charges, which include genocide, killing, looting, arson, religious conversion and deportation of people during the 1971 Liberation War.
Earlier in the day, law enforcers arrested Yusuf in the capital shortly after the tribunal ordered his arrest.
A team of Rab-2 arrested the founder of Razakar, an auxiliary group of then Pakistan army, at his residence in Dhanmondi.
He was whisked off to Rab-2 office in Agargaon immediately after his arrest, said Lt Col Anisur Rahman, commanding officer of the unit.
Yusuf was handed over to Dhanmondi police around 2:30pm, said Sheikh Maruf Hasan, deputy Full report at:
http://www.thedailystar.net/beta2/news/yusuf-faces-arrest/
------------
North America
Anger over burial of Boston bomb suspect
11 May 2013
Boston Marathon bombing suspect Tamerlan Tsarnaev has been buried in a rural cemetery in Virginia, infuriating some members of the area's Muslim community as well as local officials who said they were not consulted.
Some of the officials said on Friday that that they would examine whether all laws were followed and could seek to have his body moved elsewhere.
They said they were not informed about the burial and were concerned about the site becoming a shrine to anti-US sympathisers.
This week's interment at a small Islamic cemetery ended a long search for a community willing to take the body, which had been kept at a funeral parlour in Massachusetts.
Tsarnaev was killed on April 19 after a gun battle with police. His younger brother, Dzhokhar, was captured later and remains in custody.
The ethnic Chechens, who had lived in the US for several years, are accused of setting off two shrapnel-packed pressure-cooker bombs on April 15 near the marathon's finish line, killing three people and injuring more than 260.
Ruslan Tsarni, the brothers' uncle, took responsibility for the body after Tamerlan's wife, Katherine Russell, said she wanted it released to her in-laws.
He said his nephew was buried in a cemetery in Doswell with the help of a faith coalition. "The body's buried," he said. "That's it."
'Reviled and maligned'
Dozens of communities approached about hosting a gravesite had refused, many with concerns about vandalism and a backlash from the public.
Martha Mullen, a mental health counsellor who helped arrange the burial, told the AP news agency in a brief telephone interview that she had offered to help after seeing news reports about the refusals.
Mullen said she was not the only person who helped with arrangements.
She said the backlash from some local officials, some cemetery neighbours and online critics has been unpleasant, but she has no regrets.
"I can't pretend it's not difficult to be reviled and maligned," she said. "But any time you can reach across the divide and work with people that are not like you, that's what God calls us to do."
Mullen, a graduate of United Theological Seminary in Dayton, Ohio, sent emails to various faith organisations to see what could be done.
She heard back from the Islamic Funeral Services of Virginia, which arranged for a funeral plot at the Al-Barzakh cemetery.
The cemetery is hidden among the rural woods and hills, about 50km north of Richmond, and contains only 47 graves in all.
No consultation
Sheriff Tony Lippa and Board of Supervisors chairman Floyd Thomas of Caroline County said no state or local officials were told that Tsarnaev would be buried there.
Permission is not required from officials as long as laws are followed. The officials said they do not want the county remembered as the resting place for someone allegedly tied to a horrific act, but it was unlikely they would be able to do anything.
Imam Ammar Amonette, of the Islamic Centre of Virginia, said his group was never consulted and that Mullen reached out to a separate group, the Islamic Society of Greater Richmond.
"The whole Muslim community here is furious. Frankly, we are furious that we were never given any information. It was all done secretly behind our backs," Amonette said, adding it "makes no sense whatsoever" that Tsarnaev's body was buried in Virginia.
"Now everybody who's buried in that cemetery, their loved ones are going to have to go to that place."
Bukhari Abdel-Alim, vice president of The Islamic Funeral Services in Virginia, said in a statement that they disagree with Tsarnaev's actions but are obligated to "return his body to the earth".
"Its not a political thing, it's more so we have somebody that has passed away, he can't bury himself," he said.
Full report at:
http://www.aljazeera.com/news/americas/2013/05/20135111072214997.html
------------
US officials charge suspect with bomb possession
May 12, 2013
WASHINGTON: Federal authorities have charged a Texas man with illegal possession of bomb making materials, but would not say whether the arrest is linked to a probe into last month's deadly explosion at a fertilizer plant.
The US Justice Department said in a statement that Bryce Ashley Reed, 31, was arrested late Thursday and arraigned at a hearing Friday in Waco, Texas.
An affidavit said authorities searched his home last month and found various components for building a pipe bomb, including galvanized metal pipe, fuses and various highly combustible chemicals. The Justice Dept said Reed will remain in federal custody pending a hearing in Waco on May 15, 2013. In an earlier statement on Friday, officials in Texas announced that they have launched a criminal probe in the explosion.
But Justice Department officials said they "will not speculate whether the possession of the unregistered destructive device has any connection to the West fertilizer plant explosion on April 17, 2013."
Officials in Texas meanwhile, would not be drawn as to whether they possess any new information causing them to suspect foul play.
"This disaster has severely impacted the community of West, and we want to ensure that no stone goes unturned and that all the facts related to this incident are uncovered," said Steven McCraw, director of Texas Department of Public Safety, in a statement.
Federal officials said the investigation is being carried out by the Bureau of Alcohol, Tobacco and Firearms, along with various state and local authorities.
The huge blast three weeks ago leveled a large swath of West, with several first responders among the dead.
Full report at:
http://www.nation.com.pk/pakistan-news-newspaper-daily-english-online/international/12-May-2013/us-officials-charge-suspect-with-bomb-possession
------------
Mideast
Turkey: 9 detained in connection with car bombings
May 12 2013
Turkey's interior minister says authorities have detained nine people in connection with the car bomb attacks that killed 46 people in a Turkish town near the Syrian border.
Muammer Guler says the attacks were carried out by a group linked to Syria's intelligence service, but did not name the group.
Syria on Sunday rejected Turkey's allegations that it was behind the bombs.
Full report at:
http://www.thejakartapost.com/news/2013/05/12/turkey-9-detained-connection-with-car-bombings.html
------------
Senior Iran officials join presidential race
12 May 2013
Iranian election authorities say several high-profile politicians, including reformists and allies of Mahmoud Ahmadinejad, the outgoing president, have registered for presidential elections to be held on June 14.
Mohammad Bagher Qalibaf, Tehran's mayor, Ali Akbar Javanfekr, an Ahmadinejad adviser, and Davood Ahmadinejad, the president's elder brother, are among hundreds who have joined the race ahead of Saturday's registration deadline.
Former president Akbar Hashemi Rafsanjani has also registered himself as a candidate.
Rafsanjani, 78, is expected to draw support from reformists because he backed the opposition movement whose protesters were crushed after the last disputed election in 2009.
"He [Rafsanjani] wields enormous political clout in this country," Al Jazeera's Soraya Lennie, reporting from Tehran, said.
"He is a pragmatist. He sometimes flip-flops between the conservative camp and reformist camp, depending on who he is supporting.
"He favours economic reforms, revitalising Iran's economy and fixing it after the Iran-Iraq war in the 1980s. But he also favours better relations with the US, with Arab countries and the rest of the world."
Iran's chief nuclear negotiator Saeed Jalili and pro-reform activists Ebrahim Asgharzadeh and Javad Eta'at have also signed up.
Applicants vetted
The campaign is taking shape as open season on Ahmadinejad's legacy and his combative style that bolstered his stature among supporters but alarmed critics.
Ahmadinejad is barred by law from seeking a third term due to term limits under Iran's constitution.
The Guardian Council, a constitutionally-mandated 12-member council, will vet the applicants before allowing them to run.
The poll will be the first presidential election since 2009, when mass protests dubbed the "Green Movement" erupted after the disputed re-election of Ahmadinejad over reformist candidates Mir Hossein Mousavi and Mehdi Karoubi.
Since then, reformists who espouse greater social and political freedoms have been suppressed or sidelined. Mousavi, his wife, and Karoubi have been under house arrest for more than two years.
'Principlists'
The prestige of Iran's most powerful man, Supreme Leader Ayatollah Ali Khamenei, now appears threatened by intense rivalry between groups polarised by Ahmadinejad, who has been accused of wanting to erode the system of clerical rule.
Full report at:
http://www.aljazeera.com/news/middleeast/2013/05/201351110486268772.html
------------
Israelis march against austerity measures
12 May 2013
About 2,000 Israelis have marched in central Tel Aviv to protest against an expected austerity budget, police have said.
The protesters rallied on Saturday against proposed income tax and VAT rises and government spending cuts due for cabinet debate on Monday.
They directed their ire at Yair Lapid, who became finance minister after January's election where his Yesh Atid party became the second-largest party in parliament and a partner in Prime Minister Benjamin Netanyahu's coalition government.
Lapid ran on a ticket vowing to help the middle class, who would be hit by the proposed budget with raised taxes and slashed benefits.
Protesters in Tel Aviv carried posters of Lapid and banners that read "Take from the tycoons, not us," referring to the plan to raise workers' income tax by 1.5 percentage points while increasing corporate taxes by one point.
'Demonstrating against yourselves'
Lapid has said that caution was needed to stop employers from leaving for other countries.
"Who are you demonstrating against?" he said in an interview aired on Friday by privately owned Channel 2 television.
Full report at:
http://www.aljazeera.com/news/middleeast/2013/05/2013511201215743489.html
------------
Europe
Russia withheld details on Boston suspect
May 12, 2013
WASHINGTON : - Russia withheld "crucial" information from the United States on one of the suspects of last month's deadly Boston Marathon bombings, The Wall Street Journal reported late Friday.
Citing unnamed US officials, the Journal said on its website that the information consisted of text messages between the mother of Tamerlan Tsarnaev and a Russian relative.
Tsarnaev died in a shootout days after the April 15 twin blasts that killed three people and wounded more than 260 near the finish line of the race. His younger brother Dzhokhar - a fellow suspect captured after an extensive manhunt - is in custody. Boston Marathon bombing suspect Tamerlan Tsarnaev has been buried in a Muslim cemetery in Virginia, after authorities spent a week searching for a final resting place for the ethnic Chechen's remains.
The body of Tsarnaev, who was killed in an April 19 shootout with police, was moved earlier this week from the Graham Putnam & Mahoney funeral home in Worcester, Massachusetts, police there said on Thursday.
The funeral home had faced unrelenting protests over the past week as it struggled to find a cemetery willing to accept the body.
The controversy, however, appeared not have ended on Friday. Officials from Caroline County, Virginia, where the cemetery is located, said they were reviewing the burial to make sure it was legal.
Floyd Thomas, chairman of the Caroline County Board of Supervisors, said, "We don't want the county to be known as the place where the remains of someone who committed this crime are buried. But if it was done legally, there is nothing much we can do about it."
Tsarnaev, 26, and his brother Dzhokhar Tsarnaev, 19, were suspected by the Federal Bureau of Investigation of setting off bombs at the finish line of the Boston Marathon on April 15, killing three people and injuring 264. Dzhokhar is in a prison west of Boston after being charged with crimes that could carry the death penalty if he is convicted.
On Friday, the city of Boston released an updated death certificate for Tsarnaev showing that he was buried in Al-Barzakh Muslim Cemetery in Doswell, Virginia, outside Richmond.
Ammar Amonette, imam of the Virginia Islamic centre, said he disapproved of the decision.
"It was done by individuals without our knowledge or consent," Amonette said. "We are quite upset. It's affected thousands of Muslims and we were not consulted. It has nothing to do with us."
Thomas said if any laws had been broken "we would try to undo what has been done."
Representatives of another Islamic centre in the area, the Islamic Society of Greater Richmond, could not immediately be reached.
Full report at:
http://www.nation.com.pk/pakistan-news-newspaper-daily-english-online/international/12-May-2013/russia-withheld-details-on-boston-suspect
------------
URL: https://newageislam.com/islamic-world-news/election-day-violence-pakistan-kills/d/11537