New Age Islam News Bureau
11 Sept 2013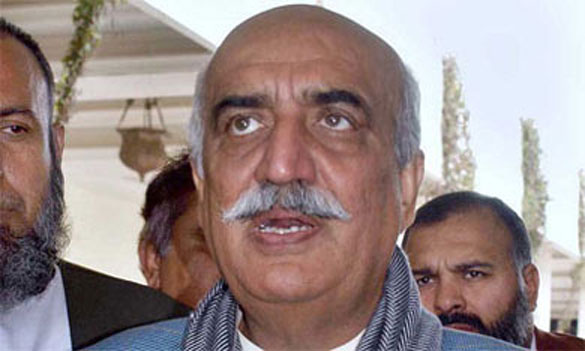 Leader of the Opposition in Pak National Assembly Syed Khurshid Ahmed Shah
-----------
Pakistan
• Eighty Nine Percent Pakistanis Say Suicide Bombing Is 'Never Justified': PEW Report
• Leader of Opposition: easier to negotiate with Afghan Taliban than Pakistanis
• President for following Quaid's principles of 'Unity, Faith, Discipline'
• Military huddle: Resolve to eliminate terrorism reiterated
• Framework ready for talks with Taliban: Interior Minister
• Pakistani Taliban, army exchange prisoners
• 9 killed in Karachi violence
• ISI, IB officers in Pakistan caught cheating in exam
• APC receives mixed response from Baloch nationalist leaders
• Altaf demands formation of new provinces
North America
• Most Muslims reject Taliban, Al Qaeda: survey
• 12 years later, horrors of 9/11 shaping American opinion on Syria, Middle East
• Syria agrees to Russia weapons plan to 'uproot US aggression'
• Text of US president Barack Obama's speech on Syria
• No ground troops, air campaign in Syria, Barack Obama says
• US says 8 more countries join statement on Syria
• John Kerry says Russia to send US Syria plan
• Nawaz' desire for Afghan peace seems genuine: US
Arab World
• Syrians Worry Islamists Will Replace Assad and Life Will Get Worse
• Jihadists force Syria Christian 'to convert at gunpoint'
• Gulf States: Russian proposal on Syria will not stop bloodshed
• Suicide bombs hit Egypt military in Sinai, kill 6
• Young preacher lauds Australia's strength to embrace all faiths
• Syrian rebel commander slams 'dirty deal' on chemical weapons
Europe
• Halal slaughter ban invalid under EU law: Polish Muslims
• UN probe: 8 massacres by Syria regime, 1 by rebels
• Putin: Syria chem. arms handover will work only if US calls off strike
• French Muslim leaders pan 'secularism charter', warn of 'stigma' boost
• Russia to sell improved S-300 air defences to Iran
Mideast
• Mufti of Jerusalem warns of the seriousness of Jewish calls for storming Al-Aqusa
• 150 settlers storm al-Aqusa mosque this morning
• Israel to give 'Prisoner X' family $1 mln payout
• PKK's urban wing vows to support 'democratic protests'
India
• Deoband issues fatwa banning photography as un-Islamic
• In Jaipur, Modi's skull cap, Burqa of secularism
• India backs Russia on securing global custody of Syria's chemical weapons
• Jat Pradhan shelters 150 Muslims at his home
• Iran demanded $500,000 to free Indian oil tanker
• India-Bangladesh border to have Wagah-like retreat ceremony on Gandhi Jayanti
• Envoy retracts remark on 'Indian jihadis'
• Dukhtaran-e-Millat founder-chairperson's 3 nephews arrested in Pakistan for "terror links"
• Hindus, Muslims in 2 villages show UP how to live and let live
• Came all the way from Lahore at the wrong time
• Khurshid-Aziz Kyrgyzstan meet to chalk out PMs' New York date
Africa
• Nigeria: '63 Policemen Killed By Ombatse Cult'
• Blast kills police colonel in Libya
• Explosion wrecks foreign ministry building in Libya's Benghazi
• Inauguration of New Quranic Sciences Centre in Mauritania
Southeast Asia
• Muslim rebels display human shield tied by rope in southern Philippine standoff
• Child Domestic Worker Laws Unenforced: Malang Study
• Children Left Behind as Indonesia Moves Forward
• Filipino Muslim rebels call for international mediation
South Asia
• Chinese Man Owns Collection of Rare Quran Manuscripts
• Preparations underway for second round of presidential election in Maldives
• Bangladesh Jamaat Chief was seen in Pak army pickup
• Afghans summon U.S. envoy over 'civil war' remark
Compiled by New Age Islam News Bureau
URL: https://www.newageislam.com/islamic-world-news/new-age-islam-news-bureau/eighty-nine-percent-pakistanis-say-suicide-bombing-is--never-justified---pew-report/d/13461
----------
Pakistan
Eighty Nine Percent Pakistanis Say Suicide Bombing Is 'Never Justified': PEW Report
September 10, 2013
A new survey conducted by 'Pew Research Centre' has found that as many as 89% of Pakistanis currently believe suicide bombings or other acts of violence targeting civilians are "never justified". Another two percent stated they sometimes can be justified, while one percent stated they are "often" justified.
The survey reports opinions from 11 Muslim countries from face-to-face interviews of 8, 989 Muslims conducted during March 3 to April 7, 2013, across Egypt, Indonesia, Jordan, Lebanon, Malaysia, Nigeria, Pakistan, the Palestinian territories, Senegal, Tunisia and Turkey.
"Across 11 Muslim publics surveyed by the Pew Research Center, a median of 67% say they are somewhat or very concerned about Islamic extremism. In five countries – Pakistan, Jordan, Tunisia, Turkey and Indonesia – Muslim worries about extremism have increased in the past year."
With respect to Pakistan, Pew reports overwhelmingly negative views of suicide bombing.
"Indeed, about three-quarters or more in Pakistan (89%), Indonesia (81%), Nigeria (78%) and Tunisia (77%), say suicide bombings or other acts of violence that target civilians are never justified."
It also states that currently, an estimated 67% of Pakistanis are 'concerned' about the threat of Islamic extremism, which is an increase, compared with 58% in 2012.
The survey further says:
"Although substantial percentages in some countries do think suicide bombing is often or sometimes justified – including a 62% majority of Palestinian Muslims, overall support for violence in the name of Islam has declined among Muslim publics during the past decade.
On its research on the various pro-Islamic militant groups operating across the world, the survey yields:
"The Taliban are viewed negatively by a median of 51% of Muslims in the countries polled. Hezbollah and Hamas fare little better. Hezbollah, in particular, has seen its support slip in key Middle Eastern countries, including a 38 percentage point drop in favorable views among Egyptian Muslims since 2007."
Islamic Extremism
Elsewhere on the globe, concern about Islamic extremism varied from country to country.
"In Indonesia, the Muslim public is evenly split: 48% concerned vs. 48% unconcerned. Turkey, meanwhile, is the only country surveyed where at least half of Muslims (51%) say they are not worried about Islamic extremism."
"In Tunisia, six-in-ten Muslims are now very concerned, up from 42% saying the same a year ago…in the Palestinian territories, the proportion of Muslims worried about extremism has declined 14 percentage points since 2011, the last time the question was asked there."
Suicide Bombing
In some countries, substantial minorities of Muslims say attacks on civilians are at least sometimes justified to defend Islam from its enemies; in the Palestinian territories, a majority of Muslims hold this view.
Half or more of Muslims in most countries surveyed say that suicide bombing and other acts of violence that target civilians can never be justified in the name of Islam. In Malaysia, however, roughly a quarter of Muslims (27%) take the view that attacks on civilians are sometimes or often justified.
More importantly, the report indicates that support for suicide bombing is not correlated with religious devoutness.
"Generally, Muslims who say they pray five times per day are no more likely to support targeting civilians to protect Islam than those who pray less often. The only exception is the Palestinian territories, where 66% of Muslims who pray five times per day say suicide bombing is often or sometimes justified versus 49% of those who pray less than five times per day."
Extremist Groups
Overall, views of extremist groups are negative across the Muslim publics surveyed. A median of about a third or fewer have a positive view of Al Qaeda, the Taliban, Hamas, or Hezbollah. And in no country polled do any of these organizations receive majority Muslim support.
In Pakistan, most of the candidates surveyed offered no opinion on this front, though amongst those who did, most people were against the groups.
Al Qaeda
46% Pakistanis are against the organisation whereas 13% are in favour of it, with 41% choosing not to offer an opinion.
However, in Palestine, positive ratings of Al Qaeda have ticked up seven percentage points since 2011 among Muslims (from 28% to 35% favourable).
Hamas
72% Pakistanis did not offer an opinion, and 16% of the remaining ones thumbed Hamas down. In the Palestinian territories, opinions of Hamas are mixed, with 45% of Muslims viewing the group unfavourably, compared with 48% who say they have a favorable view.
"Since 2007, support for Hamas has also declined among Muslims in Pakistan (-31), Jordan (-20), Malaysia (-20), Indonesia (-19), and Turkey (-10)."
Hezbollah
Muslim attitudes toward Hezbollah are mixed in Senegal, Tunisia, and Indonesia, with many offering no opinion.
In Palestine, 43% are in favour of the group with 49% against it.
In Pakistan, again, 72% recorded no opinion. 13% said they were not in favour of the group against a 15% who said they were.
The Taliban
A median of 51% of all Muslims have an unfavorable view of the Taliban, the Islamic fundamentalist movement almost exclusively based in Afghanistan and Pakistan. Majorities of Muslims in Lebanon (92%), Jordan (82%), Egypt (70%), Turkey (70%), and Pakistan (65%) have a negative opinion of the group. About half of Muslims in Nigeria (51%), Tunisia (50%), and the Palestinian territories (50%) share this view.
http://tribune.com.pk/story/602460/89-pakistanis-say-suicide-bombing-is-never-justified-pew-report/
----------
Leader of Opposition: easier to negotiate with Afghan Taliban than Pakistanis
2013-09-11
ISLAMABAD: Leader of the Opposition in National Assembly Syed Khurshid Ahmed Shah Tuesday said the government should hold result-oriented dialogue with Taliban to curb terrorism and restore peace in the country.
Speaking to journalists at his chamber in the Parliament House, he said, "There are two types of Taliban: Afghans and Pakistanis. It is easy to negotiate with the Afghan Taliban as compared to the Pakistanis, because there are around 59 groups operating in the country."
Shah said the Pakistan People's Party (PPP) government had brought Sufi Muhammad to the negotiating table for 13 times, but all efforts went in vain as many agreements reached in the talks were not even adhered to by the Taliban themselves.
He urged the government to devise a mechanism to check the mushroom-growth of seminaries in the country. "The government will have to take strict decisions to improve the law and order situation in the country. The PPP will support the government in this regard as it has backed the government's stance at the All Parties Conference (APC)," he added.
NAB Chairman's appointment
Syed Khurshid Ahmed Shah signalled that the matter of appointing Chairman National Accountability Bureau (NAB) was in process and would be sorted out by September 16 with mutual understanding of both sides.
Referring to his meeting with Prime Minister Nawaz Sharif in NAB Chairman's appointment matter, the PPP leader termed it positive. He denied disclosing the names of the aspirants for the position, given to the government by the opposition.
http://www.dawn.com/news/1042012/shah-says-easier-to-negotiate-with-afghan-taliban-than-pakistanis
----------
President for following Quaid's principles of 'Unity, Faith, Discipline'
September 11, 2013
Associated Press of Pakistan
ISLAMABAD, Sept 11 (APP): President Mamnoon Hussain has urged the need to follow the principles of Quaid-e-Azam in letter and spirit to rid the country of various challenges, including the threat from militant mind-set, economic challenges and poverty etc. "The need to follow the principles of 'Unity, Faith and Discipline' was never as great as it is today," President Hussain said in his message on the occasion 65th death anniversary of the Founder of Nation Quaid-e-Azam Muhammad Ali Jinnah. He said the observance of death anniversary of Quaid-e-Azam on September 11 each year was the occasion for the nation to renew the commitment to those principles of democracy, constitutionalism and egalitarianism that the Father of the Nation propounded throughout his life.
"The day is an occasion for us to reflect as to how far we have measured up to the expectations of our Quaid and how far we have been successful in achieving those objectives that led to the creation of the state", he added.
He said, "Our Quaid was a leader of unmatched qualities of uprightness, honesty, integrity and unflinching courage of conviction. A staunch believer and advocate of the democratic ideals, he believed in constitutionalism and egalitarianism."
"On his death anniversary therefore the best way to pay homage to the Quaid is to reiterate our adherence to those principles that were pursued by our Quaid and for which Pakistan was created", he added.
The President said, "Let us on this day reiterate to stand united in confronting all challenges that we face. Let us continue striving together for strengthening of a democratic, moderate and egalitarian system in this country."
"On this day, I call upon the nation to also pay homage to all those who have made valuable contributions towards the state and upholding the ideals of Quaid", he said.
The President also prayed for the Quaid's soul to rest in eternal peace.
http://www.app.com.pk/en_/index.php?option=com_content&task=view&id=238258&Itemid=2
----------
Military huddle: Resolve to eliminate terrorism reiterated
September 11, 2013
ISLAMABAD: The chiefs of the country's armed forces met on Tuesday to discuss internal and external security challenges facing the nation and reiterated their resolve to safeguard the territorial integrity of Pakistan.
The Joint Chiefs of Staff Committee (JCSC) meeting, held at the Joint Staff Headquarters in Rawalpindi, comes on the heel of the All Parties Conference held on Monday, where political leadership agreed to initiate peace talks with militants.
Full report at:
http://tribune.com.pk/story/602799/military-huddle-resolve-to-eliminate-terrorism-reiterated/
----------
Framework ready for talks with Taliban: Nisar
September 11, 2013
ISLAMABAD - Avoiding questions about what procedure the government would adopt to hold peace dialogue with militant groups and what kind of demands they had made to the government, Interior Minister Chaudhry Nisar Ali Khan Tuesday said the decision of the all parties conference (APC) to hold peace dialogue was not influenced by foreign pressure.
Briefing the media persons on Monday's APC and on the law and order situation in Karachi at the Punjab House during a press conference, interior minister said Tehreek-e-Taliban Pakistan (TTP) and other militant groups had so far made no demands to the government to undergo a peace deal and the first interaction from both sides would determine the demands.
Full report at:
http://www.nation.com.pk/pakistan-news-newspaper-daily-english-online/editors-picks/11-Sep-2013/framework-ready-for-talks-with-taliban-nisar
----------
Pakistani Taliban, army exchange prisoners
11 September 2013
The Associated Press, Dera Ismail Khan
The Pakistani Taliban and the army have exchanged prisoners as a confidence building measure ahead of possible peace talks.
Two Pakistani intelligence officials and a Taliban commander say the exchange Wednesday included six militants and two paramilitary Frontier Corps soldiers.
Full report at:
http://english.alarabiya.net/en/News/asia/2013/09/11/Pakistani-Taliban-army-exchange-prisoners.html
--------
9 killed in Karachi violence
September 11, 2013
KARACHI - Two cops and a political worker among nine people were killed in separate incidents of violence here on Tuesday.
A worker of the MQM was shot dead at Sector 11, Orangi Town.
The victim was identified as Rasheed Abbas. SHO Amjad Kiyani said he was associated with the MQM unit 124. He was sitting near his home when two armed men riding a motorcycle came close to him and escaped after shooting him. He was shot multiple times and died on the spot. The body was taken to Abbasi Shaheed Hospital for autopsy.
Full report at:
http://www.nation.com.pk/pakistan-news-newspaper-daily-english-online/karachi/11-Sep-2013/9-killed-in-karachi-violence
----------
ISI, IB officers in Pakistan caught cheating in exam
Sep 11 2013
Islamabad : Around 500 candidates, including 50 officials from Pakistan's Inter-Services Intelligence (ISI) and Intelligence Bureau (IB), have been caught "cheating" while appearing for an entrance test to fill vacancies in Pakistan's premier National Counter Terrorism Authority, according to a media report today.
Full report at:
http://www.indianexpress.com/news/isi-ib-officers-in-pakistan-caught-cheating-in-exam/1167710/
----------
APC receives mixed response from Baloch nationalist leaders
2013-09-11
QUETTA: Nationalist parties in Balochistan have termed the recovery of 'missing persons' and an end to the 'kill and dump' policy as key to a solution for issues relating to the militancy-hit province.
The recently held All Parties Conference (APC) had empowered Chief Minister Balochistan Dr Abdul Malik Baloch to sort out issues through political means.
"This meeting authorises the provincial government of Balochistan and its chief minister to initiate the process of dialogue with all estranged Baloch elements inside and outside of the country with a view to bring them back to (the) national mainstream," said a consensus resolution passed by the APC.
Full report at:
http://www.dawn.com/news/1042145/apc-receives-mixed-response-from-baloch-nationalist-leaders
----------
Altaf demands formation of new provinces
2013-09-10
KARACHI: Muttahida Qaumi Movement (MQM) chief Altaf Hussain Tuesday said that attention should be paid to equitable distribution of national resources and elimination of the sense of deprivation among different groups and new provinces should be formed in the country.
While addressing a joint meeting of the MQM Rabita (Coordination) Committee in London and Pakistan, he said formation of new provinces will guarantee security and prosperity of the country.
Full report at:
http://www.dawn.com/news/1041914/altaf-demands-formation-of-new-provinces
----------
North America
Most Muslims reject Taliban, Al Qaeda: survey
2013-09-11
WASHINGTON, Sept 10: At least six-in-ten Muslims in Pakistan are concerned about the spread of religious extremism in their country and 65 per cent reject the Taliban, says a survey released on Tuesday.
The Washington-based Pew Research Centre interviewed adult Muslims in 11 Muslim majority countries to determine their views on extremism.
The data shows that more than two years after the death of Osama bin Laden, concern about religious extremism remains widespread among Muslims from South Asia to the Middle East to sub-Saharan Africa.
Full report at:
http://www.dawn.com/news/1042033/most-muslims-reject-taliban-al-qaeda-survey
----------
12 years later, horrors of 9/11 shaping American opinion on Syria, Middle East
Sep 11 2013
Washington : Twelve years on, haunting memories of Sept. 11 are shaping the debate over American pursuits in Syria.
As Americans mark the anniversary of the 2001 terrorist attacks, the nation again is wrestling with painful questions about al-Qaida, weapons of mass destruction and the risks of American inaction. At the center of the debate is President Barack Obama, who has sought to move the US away from what he has called the ``perpetual wartime footing'' it found itself on in the years after 9/11.
Full report at:
http://www.indianexpress.com/news/12-years-later-horrors-of-911-shaping-american-opinion-on-syria-middle-east/1167669/
----------
Syria agrees to Russia weapons plan to 'uproot US aggression'
Sep 11 2013
Moscow/ washington : In a dramatic turn of events, Syria today agreed to a Russian proposal to surrender its chemical weapons to "uproot US aggression", hours after President Barack Obama said he would "absolutely" put on holdany military strike on the country if it does so.
Pouncing on a casual remark by US Secretary of State John Kerry that Syria could avoid a military attack by turning over its chemical weapons, Russia yesterday proposed to Damascus to put its chemical weapons stockpiles under international control and then have them destroyed.
Full report at:
http://www.indianexpress.com/news/syria-agrees-to-russia-weapons-plan-to--uproot-us-aggression-/1167557/
----------
Text of US president Barack Obama's speech on Syria
AP | Sep 11, 2013
Text of US president Barack Obama's speech on Syria, as provided by the Federal News Service:
My fellow Americans, tonight I want to talk to you about Syria, why it matters and where we go from here. Over the past two years, what began as a series of peaceful protests against the repressive regime of Bashar al-Assad has turned into a brutal civil war. Over a hundred thousand people have been killed. Millions have fled the country. In that time, America has worked with allies to provide humanitarian support, to help the moderate opposition and to shape a political settlement.
Full report at:
http://timesofindia.indiatimes.com/world/us/Text-of-US-president-Barack-Obamas-speech-on-Syria/articleshow/22476008.cms
----------
No ground troops, air campaign in Syria, Barack Obama says
AP | Sep 11, 2013
WASHINGTON: President Barack Obama is pledging that he won't deploy ground combat troops or wage a prolonged air campaign against Syria.
In his nationally televised speech on Tuesday seeking public support for a possible military strike against President Bashar Assad's government, the president also promised he would not pursue an open-ended military action.
Obama said he realized that many Americans were weary of military action after the wars in Iraq and Afghanistan. He said the limitations he was imposing on the potential strike would ensure against the US sliding down a slippery slope into another prolonged war.
Full report at:
http://timesofindia.indiatimes.com/world/us/No-ground-troops-air-campaign-in-Syria-Barack-Obama-says/articleshow/22475552.cms
----------
US says 8 more countries join statement on Syria
AP | Sep 11, 2013
WASHINGTON: The White House says eight more countries have signed a statement blaming Syrian President Bashar Assad for a chemical weapons attack and calling for a strong international response.
The additions announced Tuesday bring the total number of supportive countries to 33, up from 25 on Monday.
Full report at:
http://timesofindia.indiatimes.com/world/us/US-says-8-more-countries-join-statement-on-Syria/articleshow/22471027.cms
----------
John Kerry says Russia to send US Syria plan
AFP | Sep 11, 2013
WASHINGTON: Russia will send the United States details of its proposal to secure Syria's chemical weapons stockpile later Tuesday, US secretary of state John Kerry said.
The details would come during the "course of the day," Kerry said, shortly after talking with Russian foreign minister Sergei Lavrov by telephone.
But he insisted that any plan must lay out "consequences" if it turns out to be a delaying tactic to avoid US military action.
Full report at:
http://timesofindia.indiatimes.com/world/us/John-Kerry-says-Russia-to-send-US-Syria-plan/articleshow/22469665.cms
----------
Nawaz' desire for Afghan peace seems genuine: US
September 11, 2013
WASHINGTON - A US envoy on Tuesday praised Pakistan's newly elected Prime Minister Nawaz Sharif for seeking 'more meaningful dialogue' with Afghan President Hamid Karzai and supporting reconciliation in Afghanistan. "This seems to be a genuine desire. I think it's somewhat accelerated since the new government came into office," said James Dobbins, the US special envoy for Afghanistan and Pakistan.
Full report at:
http://www.nation.com.pk/pakistan-news-newspaper-daily-english-online/national/11-Sep-2013/nawaz-desire-for-afghan-peace-seems-genuine-us
--------
Arab World
Syrians Worry Islamists Will Replace Assad and Life Will Get Worse
September 11, 2013
Marine Olivesi
Mohamed is nervous. The 23-year-old was a pro soccer player in Syria's main league before the war. Now he hopes to join a club here in Turkey.
The local Turkish coach flicks through pictures of his potential new recruit, and invites him for a tryout.
Mohamed came to Turkey with his family last week. His brother needs treatment at the hospital. And he wants to play soccer.
The family is from the Northern city of Raqqa. Located about 120 miles east of Aleppo, Raqqa is the only main city fully controlled by the armed opposition today in Syria.
Full report at:
http://www.theworld.org/2013/09/syria-islamists-replace-assad/
----------
Jihadists force Syria Christian 'to convert at gunpoint'
September 11, 2013
Jihadists who overran Syria's ancient town of Maalula last week disparaged Christians as "Crusaders" and forced at least one person to convert to Islam at gunpoint, say residents who fled the town. Many of Maalula's people left after a first rebel assault knocked out an army checkpoint at
the entrance to the strategic town on September 4. Some went to a nearby village and others to Damascus, about 55 km to the south.
One of them, Marie, was still frightened as she spoke of that day.
"They arrived in our town at dawn... and shouted 'We are from the Al-Nusra Front and have come to make lives miserable for the Crusaders," an Islamist term for Christians, Marie said in Damascus, where she and hundreds of others attended the burial Tuesday of three Christian pro-regime militiamen killed in the fighting.
Full report at:
http://www.hindustantimes.com/world-news/restofasia/Jihadists-force-Syria-Christian-to-convert-at-gunpoint/Article1-1120702.aspx
----------
Gulf states: Russian proposal on Syria will not stop bloodshed
10 September 2013
A Russian proposal for Syria to place its chemical weapons under international control to avoid a Western strike would not stop bloodshed, the Gulf Arab states said on Tuesday.
"We've heard of the initiative ... It's all about chemical weapons but doesn't stop the spilling of the blood of the Syrian people," Bahrain's Foreign Minister Sheikh Khaled bin Ahmed al-Khalifa told a news conference in Jeddah.
Bahrain holds the presidency of the Sunni Muslim-led Gulf Cooperation Council, a main backer of rebels fighting to overthrow Syrian President Bashar al-Assad. Its foreign minister said the GCC states were ready to deal with any threat against them based on their support for the rebels, according to Reuters.
Full report at:
http://english.alarabiya.net/en/News/middle-east/2013/09/10/Gulf-states-Russian-proposal-on-Syria-will-not-stop-bloodshed.html
-------
Suicide bombs hit Egypt military in Sinai, kill 6
September 11, 2013
A pair of suicide bombers rammed their explosives—laden cars into military targets in Egypt's volatile Sinai on Wednesday, killing at least six soldiers and wounding 17 people, security officials and a military spokesman said.
One of the two bombings in the town of Rafah brought down a two—story building housing the local branch of military intelligence, while the other struck an army checkpoint.
The near—simultaneous attacks nudged the violence in the strategic Sinai Peninsula closer to a full—blown insurgency, compounding Egypt's woes at a time when the country is struggling to regain political stability and economic viability more than two years since longtime autocrat Hosni Mubarak was toppled in a popular uprising.
Full report at:
http://www.thehindu.com/news/international/world/suicide-bombs-hit-egypt-military-in-sinai-kill-6/article5116130.ece
----------
Young preacher lauds Australia's strength to embrace all faiths
September 11, 2013
JEDDAH — "We never knew that Islam was such a peaceful religion and Muslims are embracive and inclusive." This was the feedback that I had from many Australian citizens after attending the Australian Islamic Peace Conference (AIPC) held in March this year, says Waseem Razvi, founding President of the Islamic Research and Educational Academy (IREA), which organized the conference.
Full report at:
http://www.saudigazette.com.sa/index.cfm?method=home.regcon&contentid=20130911179986
-------
Syrian rebel commander slams 'dirty deal' on chemical weapons
11 September 2013
A Syrian rebel commander criticized on Tuesday a Russian plan for Syria to surrender its chemical weapons to avoid a Western military attack as a "dirty deal" and an international maneuver.
"What is happening is an attempt to save Obama from a tree he climbed, after that Russia left him there and took the ladder," Colonel Abdul Jabbar al-Oqaidi, a senior commander in the Free Syrian Army, said in an interview with Al Arabiya.
Full report at:
http://english.alarabiya.net/en/News/middle-east/2013/09/11/Syrian-rebel-commander-slams-dirty-deal-on-Syria-s-chemical-weapons.html
-------
Europe
Halal slaughter ban invalid under EU law: Polish Muslims
September 11, 2013
Poland's Muslim community on Tuesday said a controversial nationwide ban on Halal and kosher slaughter, which has spurred intense debate at home and abroad, was invalid under European law.
The EU directive "applies in Poland and in this case it supersedes national law," Poland's top Muslim leader, Mufti Tomasz Miskiewicz, said, quoting an expert legal analysis commissioned by the Muslim community and the meat industry.
Animal rights activists have hailed the ban, but Jewish and Muslim leaders in overwhelmingly Catholic Poland argue that it violates their religious freedom and Israel has called it "unacceptable".
Full report at:
http://news.yahoo.com/halal-slaughter-ban-invalid-under-eu-law-polish-203917291.html
----------
UN probe: 8 massacres by Syria regime, 1 by rebels
September 11, 2013
GENEVA (AP) — At least eight massacres have been perpetrated in Syria by President Bashar Assad's regime and supporters and one by rebels over the past year and a half, a U.N. commission said Wednesday.
The commission's probe highlights the worsening pattern of violence against civilians, including executions and hospital bombings, as the government battles to retake lost territory from the rebels, including Islamist foreign fighters who also have carried out war crimes.
"The perpetrators of these violations and crimes, on all sides, act in defiance of international law. They do not fear accountability. Referral to justice is imperative," says the report by the U.N. commission investigating human rights abuses in Syria.
Full report at:
http://news.yahoo.com/un-probe-8-massacres-syria-regime-1-rebels-092544776.html
----------
Putin: Syria chem arms handover will work only if US calls off strike
September 11, 2013
Russian President Vladimir Putin said that Syria's chemical arms handover will only work if the US and its allies renounce the use of force against Damascus.
"Of course, all of this will only mean anything if the United States and other nations supporting it tell us that they're giving up their plan to use force against Syria. You can't really ask Syria, or any other country, to disarm unilaterally while military action against it is being contemplated," President Putin said on Tuesday.
Full report at:
http://rt.com/news/putin-syria-chemical-weapons-669/
----------
French Muslim leaders pan 'secularism charter', warn of 'stigma' boost
September 11, 2013
Leaders of France's 6 million Muslims have been discouraged by the new 'secularism charter' designed to toughen rules banning religion from schools. Critics say it's unsuitable for modern-day France, home to Europe's largest Muslim population.
From now on, the 'Charter for Secularity in School', which starts out by declaring that France "respects all faiths" and that the state is neutral in regard to them, is to be displayed in every state-funded school across the country in order to "be seen" and respected.
Full report at:
http://rt.com/news/muslim-secularism-charter-schools-652/
----------
Russia to sell improved S-300 air defences to Iran
VLADIMIR RADYUHIN
September 11, 2013
Russia has taken a "principled" decision to sell Iran an improved version of the S-300 air defence missiles and to build a second nuclear reactor at Bushehr, a Russian newspaper reported.
President Vladimir Putin instructed the government to prepare the two proposals for his meeting with his Iranian counterpart, Hassan Rouhani, on Friday on the sidelines of a Shanghai Cooperation Organisation summit in Bishkek, Kyrgyzstan, the Kommersant daily said on Wednesday quoting a source close to the Kremlin.
Full report at:
http://www.thehindu.com/news/international/world/russia-to-sell-improved-s300-air-defences-to-iran/article5116677.ece
----------
Mideast
Mufti of Jerusalem warns of the seriousness of Jewish calls for storming Al-Aqusa
September 10, 2013
OCCUPIED JERUSALEM, (PIC) -- Grand Mufti of Jerusalem and Palestine Sheikh Mohammad Hussein warned of the growing Israeli calls for storming Al-Aqusa Mosque and tightening the Jewish control over it.
The last of these calls was by the occupation Police Commissioner Yohanan Danino in which he falsely claimed the right of Jews to pray inside Al-Aqsa considering it one of the yards the alleged temple.
Sheikh Hussein said in a statement on Tuesday: "The remarks and practices by the occupation authorities against the holy sites, particularly the Al-Aqusa Mosque, represent serious violations."
Full report at:
http://www.palestine-info.co.uk/En/default.aspx?xyz=U6Qq7k%2bcOd87MDI46m9rUxJEpMO%2bi1s7bOdSae
---------
150 settlers storm al-Aqusa mosque this morning
September 10, 2013
OCCUPIED JERUSALEM, (PIC)-- Nearly 150 Jewish settlers stormed al-Aqsa Mosque in occupied Jerusalem on Tuesday led by rabbis telling them about the alleged temple.
A state of tension has prevailed among the Muslim worshipers who protested the presence of the Jewish settlers in the Islamic holy site.
The Aqsa Association for Religious Endowments (Waqf) and Heritage called on the Arab and Islamic world to take firm positions to protect al-Aqsa mosque from the Israeli serious schemes. The foundation also stressed the need to intensify the Muslim presence in al-Aqsa mosque.
Full report at:
http://www.palestine-info.co.uk/En/default.aspx?xyz=U6Qq7k%2bcOd87MDI46m9rUxJEpMO%
----------
Israel to give 'Prisoner X' family $1 mln payout
11 September 2013
Israel is to pay more than $1 million to the family of an alleged Mossad spy who hanged himself in prison in 2010, the justice ministry has said.
"After negotiations, the two parties (Israel and the family) have reached an agreement whereby the state will pay 4 million shekels ($1.1 million or 842,000 euros) to the deceased's family," the ministry said in a statement late on Tuesday.
The family of Ben Zygier, an Australian-Israeli known as "Prisoner X," had accused Israel of negligence in dealing with his case, according to the statement.
Full report at:
http://english.alarabiya.net/en/News/world/2013/09/11/Israel-to-give-Prisoner-X-family-1-mln-payout.html
---------
PKK's urban wing vows to support 'democratic protests'
September 11, 2013
The outlawed Kurdistan Workers' Party (PKK)'s urban wing has vowed to support the "democratic protests across the country" that started at Taksim Gezi Park in May while demanding a week-long mass protest starting Sept. 16 to demonstrate against the lack of education in Kurdish.
The Kurdish Communities Union (KCK), the urban wing of PKK, said in a statement on Sept. 11 that they would force the ruling Justice and Development Party (AKP) to take steps in the democratization process by supporting the protests across the country.
Full report at:
http://www.hurriyetdailynews.com/pkks-urban-wing-vows-to-support-democratic-protests.aspx?pageID=238&nID=54243&NewsCatID=341
----------
India
Deoband issues fatwa banning photography as un-Islamic
PTI | Sep 11, 2013
NEW DELHI: India's leading Islamic seminary Darul Uloom has issued a fatwa, saying "photography is unlawful and a sin", even though Saudi Arabia allows photographers inside the holy city of Mecca and live telecast of 'namaz' is beamed on Islamic channels across the world.
Mufti Abdul Qasim Nomani, Mohtamim (Vice-Chancellor) of Darul Uloom Deoband, said on the phone, "Photography is un-Islamic. Muslims are not allowed to get their photos clicked unless it is for an identity card or for making a passport."
He said Islam does not permit video-taping of marriages or clicking of pictures to save as mementos for future generations.
When pointed out that Saudi Arabia, which follows the Wahabi school that aspires to return to the earliest fundamental sources of Islam, allows photography in the holiest of Islamic cities Mecca and beams live coverage through the year, Nomani said, "Let them do it. We do not allow it. Not everything they do is correct."
Full report at:
http://timesofindia.indiatimes.com/india/Deoband-issues-fatwa-banning-photography-as-un-Islamic/articleshow/22483056.cms
----------
In Jaipur, Modi's skull cap, Burqa of secularism
Sweta Dutta Posted online: Wed Sep 11 2013
Jaipur: It was a sight that was hard to miss: A few thousand Muslim men wearing skull caps and women wearing Burqas attending a massive BJP rally that was being addressed by Gujarat Chief Minister Narendra Modi.
But the secret behind the politically intriguing visual was bared when sources in the BJP revealed that the party had bought 5,000 skull caps and Burqas each two days before the event to be distributed to Muslims attending the rally.
Full report at:
http://www.indianexpress.com/news/in-jaipur-modi-s-skull-cap-burqa-of-secularism/1167454/
----------
India backs Russia on securing global custody of Syria's chemical weapons
TNN | Sep 11, 2013
NEW DELHI: Throwing its weight behind Russia's proposal for securing international custody of Syria's chemical weapons, India described the move as a positive development. According to international media reports, Damascus accepted the proposal from Moscow bringing to an end the threat of imminent military strikes by the US, at least for time being.
Full report at:
http://timesofindia.indiatimes.com/india/India-backs-Russia-on-securing-global-custody-of-Syrias-chemical-weapons/articleshow/22473756.cms
--------
Jat Pradhan shelters 150 Muslims at his home
Manu Pubby: Wed Sep 11 2013
Shaper : It was a quirk of fate that brought the army convoy to the palatial house of Bijender Singh, Pradhan of Kharad village. The army was responding to a call by an Assam Rifles Jawan posted in the Northeast about the fate of his family. When the army reached the house on Monday afternoon and the doors were opened, its 150 occupants breathed a sigh of relief.
For two days, the Jat Pradhan had been sheltering the 150 Muslims in his house – mostly women, children and the elderly — assuring them safety at risk to his own family even as mobs roamed the neighbourhood.
Full report at:
http://www.indianexpress.com/news/jat-pradhan-shelters-150-muslims-at-his-home/1167412/
----------
Iran demanded $500,000 to free Indian oil tanker
Sachin Parashar, TNN | Sep 11, 2013
NEW DELHI: Indian tanker Desh Shanti was held to ransom by Iranian authorities — spearheaded by the dreaded Iranian Revolutionary Guard Corps (IRGC) — for 26 days, the Centre has concluded in a damning initial assessment of the incident that has sent shockwaves across countries in Asia and Europe importing oil from the Persian Gulf. More alarmingly, it has been revealed that authorities at Iran's Bandar Abbas port had demanded $500,000 from India to release the tanker which was carrying crude from Iraq.
Full report at:
http://timesofindia.indiatimes.com/india/Iran-demanded-500000-to-free-Indian-oil-tanker/articleshow/22469863.cms
----------
India-Bangladesh border to have Wagah-like retreat ceremony on Gandhi Jayanti
Deeptiman Tiwary, TNN | Sep 10, 2013
NEW DELHI: This Gandhi Jayanti on October 2, the India-Bangladesh border will for the first time witness a Wagah border-like retreat ceremony where drills by border forces from both the countries will accompany cultural programmes.
Home ministers of both the countries will attend the function, said sources. It would, however, not replicate the aggression expressed by forces of India and Pakistan at Wagah in Punjab during march drills as Bangladesh is a friendly country, said BSF sources.
Full report at:
http://timesofindia.indiatimes.com/india/India-Bangladesh-border-to-have-Wagah-like-retreat-ceremony-on-Gandhi-Jayanti/articleshow/22463944.cms
----------
Envoy retracts remark on 'Indian jihadis'
September 11, 2013
India summoned Syrian ambassador Riad Abbas for his remarks on the presence of "Indian jihadis" fighting the Syrian war. However, the Syrian envoy categorically stated that "he had not made any remarks on the presence of Indian jihadis" and had spoken about jihadis in general, who were coming in from Turkey.
He also informed that the mother of a UK citizen of Indian origin had called him up pleading for his release.
Full report at:
http://www.hindustantimes.com/India-news/newdelhi/Envoy-retracts-remark-on-Indian-jihadis/Article1-1120299.aspx
----------
Dukhtaran-e-Millat founder-chairperson's 3 nephews arrested in Pakistan for "terror links"
AHMED ALI FAYYAZ
Sep 11 2013
In a significant development, unprecedented in the last 25 years of Kashmir's separatist strife, the Pakistani authorities have conducted a series of raids in the national capital of Islamabad and arrested three nephews of the Dukhtaran-e-Millat founder-chairperson Syed Asiya Andrabi last Saturday.
Ms. Andrabi confirmed the raids by the Pakistan police and told The Hindu that Dr. Syed Mujahid Gilani, Syed Irtiyaz-un-Nabi Gilani [sons of her sister Syed Rehana Andrabi and Dr. Full report at:
http://www.thehindu.com/news/national/asiya-andrabis-3-nephews-arrested-in-pakistan-for-terror-links/article5114048.ece
----------
Hindus, Muslims in 2 villages show UP how to live and let live
September 10, 2013
In the midst of riot-hit Muzaffarnagar district where 38 people have been killed in communal clashes since Saturday, two villages have emerged as islands of communal harmony where the area's famed 'Ganga Jamuna tehzeeb' is still alive.
Even as bloody clashes eroded the trust between the two communities in the area, the Jat-dominated Mohammadpur Shakist village did not allow its lone Muslim family to leave for 'safer' options.
Full report at:
http://www.hindustantimes.com/India-news/uttarpradesh/Hindus-Muslims-in-2-villages-show-UP-how-to-live-and-let-live/Article1-1120178.aspx
----------
Came all the way from Lahore at the wrong time
DEVESH K. PANDEY
Sep 11 2013
Anxious to meet his grandchildren after a long gap of three years, 77-year-old Syed Murtaba Raza boarded the Samjhauta Express from Lahore on September 7, oblivious of the communal riots that had broken out in this district the same day. Dashing all his hopes of a warm reception, co-passengers on a train to Muzaffarnagar informed him that curfew had been imposed and the entire city virtually turned into a fortress.
Full report at:
http://www.thehindu.com/news/national/other-states/came-all-the-way-from-lahore-at-the-wrong-time/article5114004.ece
----------
Khurshid-Aziz Kyrgyzstan meet to chalk out PMs' New York date
Express news service Posted online: Wed Sep 11 2013
New Delhi : External affairs Minister Salman Khurshid will have an "informal" meeting with his Pakistani counterpart Sartaj Aziz on Friday in Kyrgyzstan during which they will try to schedule a meeting between their PMs in New York later this month.
When asked whether there will be a meeting between Khurshid and Aziz on the sidelines of the 13th Shanghai Cooperation Organisation (SCO) summit on Friday, Ministry of External Affairs' official spokesperson Syed Akbaruddin said the External Affairs Minister will take the opportunity to interact "informally" with other leaders there.
Full report at:
http://www.indianexpress.com/news/khurshidaziz-kyrgyzstan-meet-to-chalk-out-pms--new-york-date/1167367/
----------
Africa
Nigeria: '63 Policemen Killed By Ombatse Cult'
10 SEPTEMBER 2013
A total of 63 policemen were killed in the Ombatse cult violence of May 7 in Nasarawa State, police authorities told an inquiry commission yesterday, giving a toll that nearly tripled official figures announced days after the incident.
In the wake of the ambush on security personnel which happened just outside the state capital Lafia, the police command had said 23 policemen were killed, even though media reports gave much higher numbers.
But in a submission before the state inquiry commission in Lafia yesterday, a police officer said a total of 63 policemen as well as 10 operatives of the State Security Services (SSS) were killed in the violence.
Full report at:
http://allafrica.com/stories/201309100594.html?viewall=1
----------
Blast kills police colonel in Libya
2013-09-11
BENGHAZI (Libya): A blast killed a police colonel in Benghazi on Tuesday, a security services spokesman said, the latest in a string of attacks against police and soldiers in the eastern Libyan city.
Benghazi was the cradle of the 2011 revolt that toppled and killed dictator Moammar Qadhafi, but it has been hit by a wave of deadly attacks against security forces personnel.
Full report at:
http://www.dawn.com/news/1042047/blast-kills-police-colonel-in-libya
----------
Explosion wrecks foreign ministry building in Libya's Benghazi
11 September 2013
On the anniversary of last year's attack by militants on the U.S. consulate in Benghazi, a powerful blast on Wednesday caused serious damage to a foreign ministry building in the eastern Libyan city of Benghazi.
Witnesses speaking to AFP news agency said the blast appeared to have been caused by a car bomb.
Full report at:
http://english.alarabiya.net/en/News/middle-east/2013/09/11/Blast-wrecks-Libyan-foreign-ministry-building-in-Benghazi-.html
--------
Inauguration of New Quranic Sciences Center in Mauritania
September 11, 2013
A new Quranic sciences center has been launched in the West African country of Mauritania.
The Bu Talmit Quranic and Quranic Sciences Center was inaugurated in a ceremony in Abi Talmat region on Monday, September 9, Al-Siraj website reported.
It has been established by the Mauritanian Al-Anara Society and funded by a Qatari-based institute named Sheikh Thani Bin Abdullah.
Full report at:
http://iqna.ir/en/news_detail.php?ProdID=1286025
--------
Southeast Asia
Muslim rebels display human shield tied by rope in southern Philippine standoff
By Erik de Castro
September 11, 2013
ZAMBOANGA CITY, Philippines (Reuters) - Rogue Muslim rebels seeking to declare an independent state put a dozen civilians tied together by rope on display as a human shield on Wednesday as a standoff with security forces in a southern Philippine city entered its third day.
Waving white flags, the hostages shouted "please don't shoot" at soldiers as rebel snipers perched on roof of a residential block fired at the troops about 500 meters away in the Santa Barbara district of Zamboanga, a key port on the southern island of Mindanao.
Full report at:
http://news.yahoo.com/muslim-rebels-display-human-shield-tied-rope-southern-080246083.html
---------
Child Domestic Worker Laws Unenforced: Malang Study
September 11 2013
Malang. Demand for underage domestic workers is high in Malang, East Java because they can be paid less than adults, and employers do not fear getting caught.
The government classifies child domestic labor as one of the "worst forms of child labor" according to Indonesia's National Action Plan Against Child Labor.
Child domestic workers are paid between Rp 300,000 and Rp 500,000 ($26-$43) per month, according to a Malang Community and Development Studies Institute (LPKP) survey from October to December 2011.
Full report at:
http://www.thejakartaglobe.com/news/child-domestic-worker-laws-unenforced-malang-study/
----------
Children Left Behind as Indonesia Moves Forward
September 11 2013
Successful economic development in recent years has failed to lift the livelihoods of children in Indonesia, participants in a conference in Jakarta agreed on Tuesday, arguing that specific programs are needed to protect children and ensure that they benefit from economic growth.
The two-day conference began on Tuesday, with delegates from 15 countries coming together to discuss child poverty and social protection. Representatives from governments and civil society groups also shared lessons learned from successful policy changes that helped to accelerate the reduction of child poverty in the Asia-Pacific region and beyond.
Full report at:
http://www.thejakartaglobe.com/news/children-left-behind-as-indonesia-moves-forward/
----------
Filipino Muslim rebels call for international mediation
AP | Sep 11, 2013
ZAMBOANGA, Philippines: Muslim rebels holding scores of hostages in the southern Philippines are demanding international mediation, an official said on Wednesday, as fresh rounds of fire broke out between government troops and the guerrillas on the third day of the standoff.
The rebels, enraged by a broken peace deal with the government, are holding the civilian hostages as human shields near the port city of Zamboanga. Troops have surrounded the Moro National Liberation Front guerrillas and their hostages in four coastal villages.
Full report at:
http://timesofindia.indiatimes.com/world/rest-of-world/Filipino-rebels-call-for-international-mediation/articleshow/22478889.cms
----------
South Asia
Chinese Man Owns Collection of Rare Quran Manuscripts
September 11, 2013
A Chinese man has amassed a fine collection of rare Quran manuscripts.
Majin Fu, the Chinese farmer who lives in Muslim-majority region of Ningxia in Haiyuan Province, has collected the manuscript copies from different places both inside China and elsewhere.
Some of the copies in the collection are invaluable as they date back to around one thousand years ago.
The farmer has allowed TV networks to film the copies, which he keeps in a 10-meter room, for the first time.
Full report at:
http://iqna.ir/en/news_detail.php?ProdID=1286342
----------
Preparations underway for second round of presidential election in Maldives
By Minivan News | September 11th, 2013
Preparations are underway for the second round run-off of the presidential election scheduled for September 28.
Former President and Maldivian Democratic Party (MDP) candidate Mohamed Nasheed, who placed first in the first round with 45.45 percent of the vote, will be facing off against runner up Progressive Party of Maldives (PPM) candidate Abdulla Yameen who took 25.35 percent of the vote.
Full report at:
http://minivannews.com/category/news-in-brief
----------
Bangladesh Jamaat Chief was seen in Pak army pickup
September 11th, 2013
A prosecution witness yesterday told a war crimes court that he saw Jamaat Chief Motiur Rahman Nizami with Pakistani soldiers on a pickup carrying the headmaster of a Pabna school and two others shortly before they were killed on June 10, 1971.
"Two pickups came and stopped at Madhpur intersection [in Pabna]. I saw Nizami sitting beside a [Pakistani] major in the first pickup," said Yusuf Ali Biswas, the 21st prosecution witness in the war crimes case against Nizami.
Full report at:
http://www.thedailystar.net/beta2/news/nizami-was-seen-in-pak-army-pickup/
----------
Afghans summon U.S. envoy over 'civil war' remark
11 September 2013
The Associated Press, Kabul
Afghan President Hamid Karzai has summoned the U.S. ambassador to complain about a fellow diplomat's comment that "there already is, of course, a civil war in Afghanistan."
U.S. Special Representative for Afghanistan and Pakistan James Dobbins made the remarks in a recent interview with Voice of America's Deewa news service.
Full report at:
http://english.alarabiya.net/en/News/asia/2013/09/11/Afghans-summon-U-S-envoy-over-civil-war-remark.html
----------
URL: https://www.newageislam.com/islamic-world-news/new-age-islam-news-bureau/eighty-nine-percent-pakistanis-say-suicide-bombing-is--never-justified---pew-report/d/13461