New Age Islam News Bureau
10 Jun 2018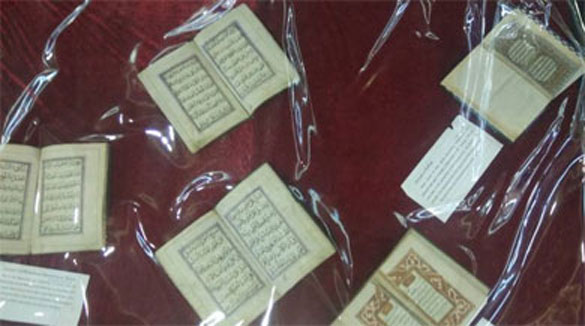 Abrol's have 250 Islamic calligraphic images at their art gallery – 130 of them written on Vellum, the delicate sheath between the hide and the meat of an animal. (Express photo by Basharat Masood)
-----
• Eid Al-Fitr: Moon Sighting for Muslims Should Be Decided On Scientific Basis to Help People Agree On Single Date
• Muslims Are 'Targeted' And 'Abused', Says Shahi Imam after BJP Reaches Out to Him For Support
• Young Afghans Hope for First Truce after Lifetime of War
• Man Commits Suicide at Mecca's Grand Mosque
• Nawaz Denies Receiving Money from ISI, Mehran Bank In Asghar Khan Case
India
• Eid Al-Fitr: Moon Sighting for Muslims Should Be Decided On Scientific Basis to Help People Agree On Single Date
• Muslims Are 'Targeted' And 'Abused', Says Shahi Imam after BJP Reaches Out to Him For Support
• Hindu Family's Collection of Islamic Manuscripts a Major Attraction in Srinagar
• In The Islamic World, India Has Handled US Well
• Indian Embassy's Annual Iftar Banquet Brings Together Egyptians and Indian Community
• Churches in India Accused of Conspiring With the Vatican to Destabilize Modi's Government
• Naqvi Meets India Islamic Cultural Centre Chief Sirajuddin Qureshi, Says Rights Of Minorities Safer In India Than Anywhere Else
• Namaz in Gurugram: 'We're Not Doing Anything Wrong… People Should Understand That'
• RSS's Muslim wing makes bid to remove "misconceptions" about Sangh, BJP
• 3 AMU students booked for distorting religious slogan
• Hindus Observe 'Roza' In These Border Villages
--------
South Asia
• Young Afghans Hope for First Truce after Lifetime of War
• 'UN Deal with Myanmar Could Return Rohingya Muslims To Killing Fields'
• 19 Afghan police killed in Taliban attack on base
• NATO Secretary General welcomes ceasefire announcement by Taliban
• Kunduz attack claims the lives of 24 ALP and Public Uprising forces
--------
Arab World
• Man Commits Suicide at Mecca's Grand Mosque
• This Family Posed As Jihadists to Save Their Son from ISIS
• IS militants lose ground in Syria town after major attack
• Terrorists Assassinating Peace Committee Members to Stop Peace Talks in Southern Syria
• More US-Backed Militias Assassinated by Unknown Gunmen in North-eastern, Eastern Syria
• Terrorist Centres Receive Severe Blow in Syrian Army Attack in Aleppo Province
• More Gunmen Defect from US-Backed SDF in North-eastern Syria
• Bomb kills one, injures eight in Iraq's Diyala province
• Saudi Attorney General says prosecutors to stand firm in cases of harassment
• Saudi law clamps down on all forms of harassment
--------
Pakistan
• Nawaz Denies Receiving Money from ISI, Mehran Bank In Asghar Khan Case
• Army Says It Wants Journalist's Abduction Investigated
• Mamnoon, Rouhani discuss ways to improve trade ties
• Most Sindh cabinet members supporters of PPP: Sattar
• Former militant, relative of TTP commander shot dead in Peshawar
• Accountability court to seek third extension in corruption references against Sharif family
• Musharaf to contest election against Farooq Sattar and Mustafa Kamal in Karachi
--------
Mideast
• G7 Vows To Ensure Iran Nuclear Program 'Remains Peaceful'
• Watch Sudanese Mercenaries Fight alongside Saudi-Led Forces In Yemen
• UNGA meeting on Gaza called for Wednesday
• Iran, Russia Stress Continued Anti-Terrorism, Defence Cooperation
• Turkish official says US and Turkish troops to patrol Syria's Manbij
• Arab coalition says dozens of Houthis killed in the past 24 hours
• Funeral held for Palestinians killed by Israeli fire
• 9 PKK militants killed as drone strike targets southeastern Turkey
--------
Southeast Asia
• Muslim Groups, Authors Want Pakatan Govt to Lift Book Bans
• Political Islam of PAS will grow, says Proham
• Indonesia, Malaysia, Philippines to Conduct Joint Training for Anti-IS Ground Patrols: Indonesian Minister
• Indonesia's churches are 'soft targets' for radicals
--------
Africa
• Libya's Military Storms Last Stronghold of Extremists in Derna
• Islamic Fundamentalists Sow Terror in Northern Mozambique
• US commando killed, four wounded in Somalia attack
• Jordan's king, crown prince to attend Mecca quartet meeting
• Group rebuilds police college buildings wrecked by Boko Haram
• Three soldiers, 13 'terrorists' killed in Mali attacks: sources
--------
North America
• US Soldier Killed In Al-Shabab Ambush in Somalia
• Canada scrambled to figure out Trump 'Muslim ban': U.S. documents show
--------
Europe
• Rouhani and Putin Discuss US Exit from Nuclear Deal
• Thousands Marched In Support Of Palestine on Al-Quds Day In Berlin
• Emergency UN General Assembly meeting on Wednesday to discuss Israeli aggression
• Bataclan terror victims demand: Who gave soldiers order 'not to enter'?
• Pro-Tory Facebook group filled with Islamophobic abuse
Compiled by New Age Islam News Bureau
URL: https://www.newageislam.com/islamic-world-news/eid-al-fitr-moon-sighting/d/115500
--------
Eid Al-Fitr: Moon Sighting for Muslims Should Be Decided On Scientific Basis to Help People Agree On Single Date
Rasheed Kidwai
Jun 09, 2018
In the first week of June 2018, a report appeared in Mumbai's Urdu newspapers before the third week of Ramzan ended. It was said that the special Itikaf, done during the last Ashr (ten days) of Ramzan, will start a day later.
Actually, this issue was of the moon or the Hijri date. Since Islamic Hijri era is calculated according to the lunar cycles, this year's Ramzan was also going on at different times across India, because the moon had not been visible in some parts of the country. Thus, Roza was observed wherever the moon was visible. After a few days, Eid al-Fitr will be celebrated and there is a good chance that this problem with the moon will persist. Many times, Eid was celebrated on one day in one part of the country and on another day in another part.
In the 21st century, shouldn't a single date on which Muslims celebrate Eid in a big country like India be an issue worth thinking about? Apart from an effort to show Muslim unity, Eid being celebrated on a single date would have sent the practical message of unity. And everyone would be able to have a holiday on the same day. Different Muslim religious groups, organisations and institutions such as Muslim Personal Law Board should take initiative in this direction. Keeping in mind some religious rules, the moon's visible day can be determined on the basis of astronomical calculations.
Right now, it is a necessary practice to see the moon to celebrate Eid. It is only after viewing of the moon that the Islamic months begin and end, like the months of Ramzan and Shawwal. Eid al-Fitr is celebrated on the first date of Shawwal. Thus, after Eid al-Fitr moon is seen, the month of Shawwal begins. It is this moon which also marks the end of the month of Ramzan.
Many religious scholars say that in the Quran, there are no clear instructions about determining the month by looking at the moon, but it refers to the arrival of the month. Despite this, if anyone finds out through any source that Ramzan has arrived, he or she should keep fast.
Therefore, it is not necessary to view the moon in a way that has become traditional in our country to decide on Ramzan or Eid. Similarly, the Hadith (statements and deeds of Hazrat Muhammad Sallam) also speaks of 'knowledge'.
At present, there is an overwhelming majority of Muslims of Hanifi, Maliki, Hambli and Shafai ideologies. Now, whether they are living in America, Canada, Australia, UK, Europe, West Asia or elsewhere, they all depend on Saudi Arabia for the moon sighting. Therefore, Ramzan begins with the announcement of Ramzan from Saudi Arabia, and even if Eid is announced there, others also celebrate Eid.
On the contrary, the religious scholars of the South Asian countries still cling to seeing the moon by referring to the change in horizon. Keeping an archaic view alive, they continue issuing instructions to celebrate Eid on the sighting of the new moon. Although this year, the situation has changed and many Muslims in many parts of the country did not see the moon themselves but had accepted Ramzan on the basis of information received from the media.
The point of the matter is that while not negating the tradition of seeing the moon in the new month, there should also be arrangements made — on the basis of mathematical calculations and astronomy — to decide on the moon.
The issue connected with this is that of the means of setting the roja, the prayer of Magrib (at sunset) and the time of Sahri. These three practices are fully connected with sunrise and sunset. Their calculations can also be determined on a scientific basis. It should be remembered that before the arrival of Hazrat Muhammad, the calendar of Jews was prevalent in 'Tour-Gothiyyat' (age of agony). This was also a moon-based calendar. But an extra month was added to this calendar so that Haj or other festivals would fall during a specified time instead of falling in summer or winter. Later, Hazrat Muhammad made the moon-based calendar, from which all the festivals came into being in the natural order of every season.
https://www.firstpost.com/india/eid-al-fitr-moon-sighting-for-muslims-should-be-decided-on-scientific-basis-to-help-people-agree-on-single-date-4503951.html
--------
Muslims are 'targeted' and 'abused', says Shahi Imam after BJP reaches out to him for support
Jun 9, 2018
NEW DELHI: Shahi Imam of Delhi Jama Masjid on Saturday conveyed his displeasure after Union minister Vijay Goel met him as part of BJP's 'Sampark for Samarthan' campaign, saying that Muslims in India are "targeted and abused".
The Union minister met Imam Maulana Syed Ahmed Bukhari today as part of BJP's contact for support campaign ahead of the Lok Sabha election next year.
"They've come to us but Muslims are targeted and abused. There is one year left for election if they do something, it's welcome but we have a lot of complaints," Bukhari said.
The 'Sampark for Samarthan' (contact for support) campaign was launched to mark the four years of Modi government last month. As many as 4,000 BJP functionaries will contact 1 lakh people, who are recognised names in their fields, to inform them about the government's works during the past four years.
Apart from Goel, Union Minister for Minority Affairs Mukhtar Abbas Naqvi today met India Islamic Cultural Centre chief Sirajuddin Qureshi as part of the BJP's nationwide campaign.
Naqvi informed them about the government's work aimed at "inclusive growth", a statement issued by his office said.
He told them that Prime Minister Narendra Modi has become an "effective and strong voice for peace and humanity" in India and the world. He said social-communal harmony and tolerance is the DNA of India.
"We have to work together to strengthen the fabric of our unity. Minorities in India are safe and socio-religious, constitutional rights of the minorities are safer here than any other democratic country in the world," Naqvi said.
Earlier this month, BJP chief Amit Shah called on actor Madhuri Dixit and industrialist Ratan Tata in Mumbai as part of the initiative. He has also met
https://timesofindia.indiatimes.com/india/muslims-are-targeted-and-abused-says-shahi-imam-after-bjp-reaches-out-to-him-for-support/articleshow/64521651.cms
--------
Young Afghans hope for first truce after lifetime of war
June 10, 2018
KABUL - Afghans exhausted by a nearly 17-year war that is older than many of the country's citizens breathed a sigh of relief Saturday after the Taliban announced its first ceasefire since the 2001 US invasion - but some remain wary.
The decision to suspend fighting for the first three days of Eid, the holiday that marks the end of the fasting month of Ramadan and a time when Muslims visit family and friends, took many in the war-weary country by surprise. Afghans flooded Facebook with messages of hope that the unprecedented ceasefire, which came two days after the government's own unexpected announcement of a week-long halt to operations against the Taliban, could lead to a longer-lasting peace deal.
"It is a good move by the government and Taliban. Anyone who has lost someone to this war will welcome it," wrote Mohammad Najeeb. Shah Jahan posted: "I hope this is a step towards peace. I also hope other terrorist groups such as Daesh don't disrupt it." Daesh is the Arabic acronym for the Islamic State group, which has a relatively small but potent presence in Afghanistan.
"I still cannot believe they (the Taliban) accepted the ceasefire offer. This is the very first ceasefire I have witnessed since I was born," wrote Karwan, whose profile had only one name.
"For as long as I can remember it has been war, war, war."
Baktash Mobarez said the Taliban's announcement had "brought so much hope and happiness" to a country worn down by four decades of conflict.
"Imagine if one day all of the 20 terrorist groups active here stop fighting," he said. But others expressed doubts over the Taliban's sincerity, pointing to the dozens of Afghan security forces killed in a spate of attacks claimed by the group in the hours leading up to the announcement.
'Three days is not enough'
Militants launched two separate assaults in the western province of Herat and the northern province of Kunduz overnight, killing at least 36 soldiers and police, officials said.
The group also claimed responsibility for an attack on an Afghan military base in the southern province of Kandahar.
At least 23 soldiers were killed and another nine wounded in the raid, Shah Wali Kot district police chief Padshah Khan told AFP.
The casualty toll could not be immediately confirmed.
"It makes no difference, they have already started killing loads of people before the ceasefire," wrote Hashim Akbari. "They have killed dozens of people in Herat and Kunduz in one day. They will kill more to make up for their ceasefire days."
A woman in Kabul told AFP that three days was not enough and instead "we should reach for a sustainable peace throughout the country". Civilians have paid a disproportionate price in casualties as a result of the protracted conflict.
More than 10,000 civilians were killed or wounded in 2017, down nine percent from the previous year, UN figures show. But casualties from suicide bombings and attacks were up 17 percent last year as the Taliban and IS ramp up assaults in urban areas, particularly Kabul. After many fits and starts with past peace initiatives, some Afghans pleaded for a higher power to resolve the conflict. "May God turn this ceasefire into a permanent ceasefire between the Taliban and Afghanistan," Faridullah Talash wrote on Facebook. "We are tired of war and bloodshed."
https://nation.com.pk/10-Jun-2018/young-afghans-hope-for-first-truce-after-lifetime-of-war
--------
Man commits suicide at Mecca's Grand Mosque
June 9, 2018
\R Riyadh, Jun 9 (AFP) A man has committed suicide by throwing himself off the roof of the Grand Mosque in Islam's holiest city of Mecca, Saudi police said today.
"A foreigner threw himself from the roof of the Grand Mosque in Mecca" to the courtyard below, "resulting in his instant death", state news agency SPA said, quoting police.
The rare act was not the first of its kind to take place in Mecca, the holiest city in Islam -- which, like other monotheistic religions, prohibits suicide.
The body was transported to hospital, with an investigation underway "to determine the victim's identity, what led to the act and how he was able to commit it despite the existence of a metal fence", SPA said.
Last year, a Saudi man tried to set himself on fire in front of the Kaaba -- the square stone building in the centre of the mosque compound -- but was stopped by security forces.
Every year, millions of Muslim pilgrims from across the world travel to Mecca and Medina, Islam's second holiest site, also in western Saudi Arabia. (AFP) KIS KIS
https://www.indiatoday.in/pti-feed/story/man-commits-suicide-at-mecca-s-grand-mosque-1256221-2018-06-09
--------
Nawaz denies receiving money from ISI, Mehran bank in Asghar Khan case
JUNE 9, 2018
ISLAMABAD: Pakistan Muslim League-Nawaz (PML-N) lifetime president Nawaz Sharif on Saturday denied receiving money from the ISI and the then Meezan bank CEO Younus Habib for PML-N's election campaign.
The Supreme Court (SC) of Pakistan had directed Nawaz Sharif, PML-N leader Javed Hashmi, Abida Hussain among 21 others to submit a reply over allegations of receiving money from ISI and Mehran bank CEO.
Nawaz submitted a 4-page reply before the apex court in which he denied receiving any sort of financial help to bolster PML-N's election campaign in 1990. He further mentioned that he had also submitted a reply before the FIA in the regard in September, 2015.
The SC on Wednesday ordered Nawaz Sharif, Javed Hashmi along with other 29 respondents to submit written replies till June 9 in Asghar Khan case.
Chief Justice of Pakistan (CJP) Justice Saqib Nisar while heading a three-member bench resumed hearing of the implementation of Asghar Khan verdict case.
Earlier, Nisar had questioned Nawaz's absence despite the issued court notices.
During the hearing, Attorney General (AG) informed the court that Nawaz Sharif was waiting for his counsel to represent him. The court granted more time to Nawaz to seek legal counsel.
CJP directed that a separate reply will be sought from Sharif for every date, stating that "Nawaz will be investigated at every cost".
https://dailytimes.com.pk/251271/nawaz-denies-receiving-money-from-isi-mehran-bank-in-asghar-khan-case/
--------
India
Hindu family's collection of Islamic manuscripts a major attraction in Srinagar
June 9, 2018
Quranic verses, written in golden letters on vellum, that adorn the walls of 'Shireen Qalam' – an Islamic art exhibition organised by the Jammu and Kashmir Cultural Academy – attract every visitor to the exhibition for two reasons: the beautiful calligraphic images and the man who has preserved these old and rare manuscripts.
Suresh Abrol is a Hindu from Jammu. Abrol and his family have been preserving these rare Islamic manuscripts, including old Quranic manuscripts, for over a century now. The Abrol's have set-up their own museum and manuscript library – Shashvat Art Gallery – in their house.
"We have inherited it from our grandfather Late Lala Rekhi Ram," says Abrol. "He was Maharaja's jeweller and had a great jewellery collection. He developed an interest in it and started to collect miniature paintings also".
His grandfather's interest in manuscripts started when he would go to Tawi river for the morning bath. "It has been over 95 years now. He used to go to the river for bathing and people would come there to throw their old manuscripts in the river," says Abrol. "He would collect these manuscripts from them and bring them home. People then would say he has gone mad. But he would say it is his passion".
Slowly the collection started to grow and today the Abrol's have 250 Islamic calligraphic images at their art gallery – 130 of them written on Vellum, the delicate sheath between the hide and the meat of an animal.
A science graduate, who also holds a degree in naturopathy, Abrol's own interest in collecting these manuscripts started when he visited the Prince of Wales Museum. "After that visit, I also started to develop an interest in it and I bought many new manuscripts," he says. "I would go the scrap dealers and sift through the old books".
At the exhibition in Srinagar, Abrol has displayed – for the first time – 40 Islamic calligraphic images, a 24 feet long family tree of Muslim prophets and a miniature Quran written on cloth. The exhibition also showcases the oldest Quranic manuscript in valley written some seven hundred ago. The other attractions include a 300-year-old book by Kashmiri author Mohammad Azam Dedmari on the botanical herbs of Kashmir, a Quranic manuscript written in 24-carat gold, a 628-year-old manuscript of Quran written on Kashmiri paper and a 150-year-old handwritten Quran gifted by a Kashmiri Hindu Pandit Harmanand Koul.
The Abrols' have been maintaining these manuscripts of their own without any help from the government. "We are three brothers and all of us deal with jewellery. Whatever, we need to do for the preservation of these manuscripts, we do it ourselves from our own pocket," says Abrol. "We generally used the traditional methods of preservation which are cost effective".
http://indianexpress.com/article/india/hindu-familys-collection-of-islamic-manuscripts-a-major-attraction-in-srinagar-5210941/
--------
In The Islamic World, India Has Handled US Well
09th June 2018
One of the most embarrassing incidents in India's foreign policy occurred in 1969, when New Delhi sought membership in a Summit meeting of the leaders of Islamic countries and was denied entry. It was at this meeting that the 'Organisation of Islamic Cooperation (OIC)' was formed. The 57 member-countries, with a population of 1.3 billion, have Muslim majorities. The OIC claims it represents the 'collective voice of the Muslim world'. It also pledges to 'safeguard and protect the interest of the Muslim world', for 'promoting international peace and harmony'. While the prime target of the OIC was Israel, Pakistan used this forum to get resolutions passed against India, on Jammu and Kashmir, which were strongly endorsed by Saudi Arabia and Turkey.
Given the vulnerabilities of international groupings based exclusively on religion, the OIC has now reduced itself to a farce. The organisation is today tearing itself apart—sectarian and civilisational differences are eroding all pretensions of religious unity. The historic rivalries and disputes between the Turks, Persians (Iranians) and Arabs, accompanied by sectarian Shia-Sunni differences, now transcend all talk of the unity of the Muslim 'Ummah'.
The latest instance of this phenomenon was manifested, when the Trump Administration moved its Embassy to Jerusalem, thereby recognising Israeli sovereignty over the Al Aqsa Mosque, Islam's third holiest shrine. While lip service was paid to solidarity with their Palestinian brethren, the OIC members did precious little collectively, to mobilise international opinion for the Palestinian cause.
Turkish President Recep Tayyip Erdogan convened a Summit meeting of the OIC to express Muslim outrage at the American move, averring: "Israel is an occupying State and a terror State." Despite all the rhetoric, only 20 Heads of State of the 57 OIC countries attended the Summit. Notable absentees included rulers of Saudi Arabia, which hosts the OIC Headquarters, and Egypt. There is little that emerged from the Summit to mobilise support for the Palestinian call for a 'two State solution'.
While Saudi Arabia and its allies such as Egypt and the UAE chose to downplay the Summit, there was high-level participation from their rivals Iran and Sudan. Turkey has joined the fray in West Asian rivalries by backing Qatar in its disputes with Saudi Arabia and the UAE. The Saudis are also planning to build a canal along their borders with Qatar, undermining Qatar's maritime links.
Shia-dominated Iraq has, however, played a balancing role in its relations with Saudi Arabia and Iran. But, the melting pot in India's neighbourhood is Yemen, with escalating tensions between the Sunni-dominated, Saudi-backed government, and its Sunni opponents and Shia Houthi rebels, backed by Iran. Thousands have perished in this bloody conflict. Over three million people have been displaced and 18 million need humanitarian assistance. The Yemeni opposition has retaliated with missile attacks on Saudi Arabia.
Full report at:
http://www.newindianexpress.com/magazine/voices/2018/jun/10/in-the-islamic-world-india-has-handled-us-well-1825105.html
--------
Indian embassy's annual iftar banquet brings together Egyptians and Indian community
9 Jun 2018
The embassy of India in Egypt hosted its annual iftar banquet at the headquarters of India House in Zamalek on 6 June, continuing a long tradition of celebrating the two countries' shared culture and strong bonds of friendship.
In his welcome address, the Charge d'Affaires Dr. Vinod Bahade conveyed warm greetings from the people of India on the occasion of the holy month of Ramadan.
Dr. Bahade explained that prayer and fasting are common to many religions in India and that Ramadan is the time when the country's Muslim community, the second largest in the world, comes together in prayers, charity, feasting and fasting.
He also highlighted India's respect and tolerance towards different religions due to the country's diversity.
Dr. Bahade highlighted the rich influence of Islam in everyday Indian life, including in music, fashion, festivals, customs and traditions.
He also pointed out that the Indian city of Kerala is home to one of the oldest mosques in the world, the Cheraman Juma Mosque. Built around 629 CE, it stands as an example of the integration of Islam into Indian history and culture, Bahade explained.
Egypt's Assistant Foreign Minister for Asian Affairs Khaled Sarwat and former Deputy Foreign Minister for Asian Affairs Mohamed Hegazi attended the occasion, as did Vice President of the Egypt-India Friendship Association Nadia Jerdini and members of the organisation.
Full report at:
http://english.ahram.org.eg/NewsContent/5/1188/302087/Arts--Culture/City-Lights/Indian-embassys-annual-iftar-banquet-brings-togeth.aspx
--------
Churches in India accused of conspiring with the Vatican to destabilize Modi's government
Jun 09, 2018
The Hindutva organization's accusation came after the Archbishop of Goa and Daman, Father Filipe Neri Ferrao, wrote a letter to churches saying the Constitution is in danger.
In May, Archbishop of Delhi Anil Couto had said in a letter to parishes that there was a "turbulent political atmosphere" in the country, and asked them to "pray for the country".
"Churches in India are in collusion with the Vatican, and are trying to create an atmosphere of distrust against the present government," said Surendra Jain, the Vishwa Hindu Parishad joint general secretary, in New Delhi on Wednesday (June 6). "The Constitution of India is in danger because of the attacking political stand of the church and its agenda of religious conversions," the Scroll quoted him as saying.
The Vishva Hindu Parishad (World Hindu Council), abbreviated VHP, is an Indian right-wing Hindu nationalist organization based on the ideology of Hindutva.
"This is a conspiracy to install governments which can run on the directions of the Vatican. Like the award-wapsi gang, the church too is acting like a contract killer to destabilize the elected governments," Jain said, referring to a group of academicians who returned their awards to the government a few years ago, in protest against the rising intolerance in the country.
"The same church remained a mute spectator when Emergency was imposed in the country, Kashmiri Hindus were brutally killed in the Valley and Sikhs were butchered in the 1984 riots," the VHP leader said. "For the church, these events do not put the Constitution in danger."
Jain also claimed that the churches protest only when a Bharatiya Janata Party-led government is in power.
Indian Catholic Bishops' Conference denies accusations
The Catholic Bishops' Conference of India – the apex decision making body of the Indian Catholic Church – has said that letters written by the Delhi and Goa Archbishops were not directed at a certain party and only called for prayers for the country.
"They are not directed at voting for a certain party or against a certain party and are just calls for the country and its democratic set-up. While political leaders have contacted me, including those from the ruling party, I have explained to all of them that there is nothing political about these letters and that we do not wish to indulge in politics. We are only thinking and praying for the good of the country," Father Theodore Mascarenhas, Secretary General of CBCI, said.
CBCI authorities said that controversies were being needlessly created. "What concerns the citizens also concerns the Church and especially when it regards the issues of social justice, …," Mascarenhas said.
Indian Constitution in danger, writes Goa's Archbishop
With the 2019 elections approaching, Goa's Archbishop Filipe Neri Ferrao has advised Catholics to play an "active role" in politics while warning that the "the Indian Constitution is in danger" and that "a kind of monoculturalism" has gripped the country, the Indian Express reported.
In his annual pastoral letter for 2018-19, which was released on June 3rd, Ferrao wrote: "It is advisable that the lay faithful play an active role in the political field; they should, however, follow the dictates of their conscience while doing so and shun 'sycophantic' politics. They should thus strengthen democracy and, on the other hand, help to improve the functioning of the state administration. The ideals of social justice and the fight against corruption are of utmost importance."
Stating that people across the country are being "uprooted from their land and homes in the name of development", the Archbishop warned that "human rights is being trampled" as "in recent times we see a new trend emerging in our country which demands uniformity in what and how we eat, dress, live and even worship, a kind of mono-culturalism".
Ferrao's letter comes weeks after Delhi Archbishop Anil Couto wrote in a letter that India is "witnessing a turbulent political atmosphere" and the community should begin a "prayer campaign" ahead of the elections. Couto's remarks faced criticism, including from Home Minister Rajnath Singh, following which he clarified that they were not directed at the ruling Bhartia Junta Party (BJP) or Rashtriya Swayamsevak Sangh (RSS).
This is the first time that Ferrao has openly urged Catholics in Goa to prepare for the elections. Catholics account for over 25 per cent of the state's population of 1.5 million.
In the letter, Ferrao wrote that the Catholic Bishops' Conference of India had declared in its plenary assembly that the Church should "diligently promote and stand by values like secularism, freedom of speech and freedom to practice one's religion enshrined in the Indian Constitution".
While focussing on poverty, Ferrao wrote that the need to "work hard to protect the Constitution" is more urgent now. "At the time of elections, the candidates confuse the minds of many people by making false promises. And the people, on their part, often sell their precious vote for selfish, petty gain," he wrote.
According to George Marlin of the National Review,Indian Prime Minister Modi's rise to power has gone hand in hand with growing Hindu intolerance of Christianity and Islam. Fanatic adherents of radical Hindu nationalism regard both faiths as foreign imports that do not belong on Indian soil.
During the 2017 Christmas season alone, there were 23 incidents. Most dramatic was the arrest of 30 priests and seminarians singing Christmas carols in Madhya Pradesh state.
Full report at:
http://www.milligazette.com/news/16315-churches-in-india-accused-of-conspiring-with-the-vatican-to-destabilize-modi-s-government
--------
Naqvi Meets India Islamic Cultural Centre Chief Sirajuddin Qureshi, Says Rights Of Minorities Safer In India Than Anywhere Else
June 9, 2018
Union Minister for Minority Affairs Mukhtar Abbas Naqvi today met India Islamic Cultural Centre chief Sirajuddin Qureshi as part of the BJP's nationwide "contact for support" campaign ahead of the Lok Sabha election next year. Representatives from Muslim educational institutes and other social fields were present when Naqvi met Qureshi. Naqvi informed them about the government's work aimed at "inclusive growth", a statement issued by his office said. He told them that Prime Minister Narendra Modi has become an "effective and strong voice for peace and humanity" in India and the world. He said social-communal harmony and tolerance is the DNA of India. "We have to work together to strengthen the fabric of our unity. Minorities in India are safe and socio-religious, constitutional rights of the minorities are safer here than any other democratic country in the world," Naqvi said.
The 'Sampark for Samarthan' (contact for support) campaign was launched to mark the four years of Modi government last month. As many as 4,000 BJP functionaries will contact 1 lakh people, who are recognised names in their fields, to inform them about the government's works during the past four years. Earlier this month, BJP chief Amit Shah called on actor Madhuri Dixit and industrialist Ratan Tata in Mumbai as part of the initiative. He has also met Today, Naqvi said "desperate and disappointed evil forces" want to disturb peace but the people's commitment to peace and unity will defeat and isolate such forces.
He said the government is committed to "development with dignity" and "empowerment without discrimination". "We have to work together to strengthen the fabric of our unity. Minorities in India are safe and socio-religious, constitutional rights of the minorities are safer here than any other democratic country in the world," he was quoted as saying in the statement. Naqvi informed the representatives about government schemes such as Jan Dhan Yojana, Mudra Yojana, Garib Nawaz Kaushal Vikas Yojana, Seekho aur Kamao, Begum Hazrat Mahal Girls Scholarship.
Full report at:
https://www.financialexpress.com/india-news/mukhtar-abbas-naqvi-meets-india-islamic-cultural-centre-chief-sirajuddin-qureshi-says-rights-of-minorities-safer-in-india-than-anywhere-else/1199856/
--------
Namaz in Gurugram: 'We're Not Doing Anything Wrong… People Should Understand That'
by Sakshi Dayal
June 10, 2018
At 11 am every Friday, Abdul Wajid, 27, leaves his single room in Lane No. 5 of Gurgaon's Basai village, and walks to a group of shanties located less than 500 metres down the road. As he looks on, the settlement's occupants, numbering over 300, set about unfolding mats and sheets. A tempo arrives and drums filled with water are unloaded and placed in a corner for use.
Around 12.30 pm, the worshippers begin arriving — a mix of people reflecting the melting pot that Gurgaon has grown to become. Among them are labourers, autorickshaw drivers, shopkeepers, and employees of the private sector, the latter standing out in their crisp shirts and neatly ironed trousers.
Wajid has been leading the Jumu'ah (Friday prayers) here for the last four years, as the imam of the congregation. While it's usually only the Jumu'ah prayers — for which an imam is required — that are held in the open, Wajid does so every day for the benefit of the slumdwellers.
However, this Ramzan is different. It is the first Muslim holy month since members of radical Hindu outfits protested in May against Friday prayers being held in the open in Gurgaon. The spot where Wajid conducts prayers is among the 23 open spaces in the city, down from 100 earlier, where Friday prayers have been officially allowed by the administration since May 10.
Although the Jumu'ah is usually over by 2 pm, Wajid is back in his room by only an hour later, waiting till the mats and sheets have been folded up and the area cleared. Most Fridays, he eats his lunch with the residents of the shanties, many of them migrants from UP. There will, however, be no food this Friday, this being the month of fasting.
The youngest of a labourer's three sons, Wajid, who is from Bareilly in UP, completed his madrasa education in 2009, after which he conducted prayers at a masjid. In 2014, he moved to Gurgaon. Turning on the desert cooler in his room, Wajid says, "I was always clear that I wanted to help people, help them gain an understanding of what is right and what is wrong."
Wajid is paid Rs 10,000 by a Muslim committee for conducting the prayers. Of this, he spends Rs 1,000 on monthly rent for the 8×8 ft room, which has two single beds and two small tables. The remaining space is almost entirely taken up by books, kept in piles on the tables or lined along shelves.
Wajid, who reads the namaz five times a day in the shanties, says Ramzan days are the busiest. "The Jumu'ah usually sees hundreds of people, but the number reaches over a thousand during Ramzan," he says. Wajid gets up at 3 am and leaves for the first namaz of the day at 4 am, returning two hours later. At 11 am, he leaves for the afternoon prayers, and repeats the walk to the shanties at 5 pm. "It is between 3 pm and 5 pm that I catch up on my studies," he says.
"After the evening prayers, around 6 pm, I usually take Urdu and Arabic classes for children for two hours, with a break to read the namaz. I teach around 35 students in two batches," he says. He returns home around 9 pm, after reading the fifth and final namaz of the day, and joining the slumdwellers as they break their fast with a meal of mixed vegetables and rice.
Wajid says his congregration wasn't among those in Gurgaon that faced protests over namaz at open places. Officials had then said further negotiations on the 23 sanctioned places would take place after Ramzan. "Both groups have been cooperating with administration so far. We are open to discussions but will not compromise on peace and order in the city," says Gurgaon Deputy Commissioner Vinay Pratap Singh.
However, Wajid says, the tension has had an impact on his congregation, leaving people with "a certain amount of uncertainty". A month later, prayers continue to be held under police security. Says Wajid, "The biggest issue in Gurgaon is lack of masjids. The ones that exist are either not maintained well or are far away. There is no option but to conduct Friday prayers in the open."
Waqf Board officials confirm this, saying there are "two-three lakh Muslims" in Gurgaon, and "less than 30 places of worship". Wajid says, "I have never seen this kind of discord in Gurgaon over something as peaceful as prayers. We are not doing anything wrong, and people should understand that. Hamara mazhab bhi hamein desh ki hifazat karne ko kehta hai, watan se mohabbat karna sikhata hai (Our religion too asks us to protect our country, love our country)."
A couple of hours later, as he addresses the congregation ahead of the afternoon prayers, held under a makeshift canopy, Wajid talks to them about the prices of various foodgrains. Soon, he advises everyone to get their Aadhaar cards made. "If we don't get proper identification documents, it not only complicates our lives but also gives people a chance to disgrace Islam needlessly. It is our responsibility to make sure we do not give people that opportunity," Wajid says into a microphone.
Full report at:
http://indianexpress.com/article/india/muslim-minority-population-gurgaon-imam-ramzan-aadhaar-card-foodgrainswere-not-doing-anything-wrong-people-should-understand-that-5211091/
--------
RSS's Muslim wing makes bid to remove "misconceptions" about Sangh, BJP
June 10, 2018
Lucknow, Jun 10 (PTI) Making an all-out effort to woo Muslims ahead of the 2019 Lok Sabha polls, the RSS-backed Muslim Rastriya Manch (MRM) is organising 'Eid Milan' programmes and Iftar parties to "remove misconceptions" among a section of people about the Sangh and the BJP.
The MRM also claims that it sponsors the education of over 2,000 Muslim children and doles out a pension of Rs 1,000 per month to women who were given 'talaq'.
The organisation will organise an 'Eid Milan' programme in New Delhi on June 19, to which Muslim clerics and RSS leaders will be invited, National Convenor, MRM, Muhammad Afzal told PTI.
"Guests from other countries and ambassadors will also be invited to the programme during which the MRM will try to remove misconceptions related to the RSS and the BJP," he said.
Afzal said RSS chief Mohan Bhagwat was also invited to the event, but he is expected to give it a miss due to other engagements.
The MRM has been hosting Iftar parties at a number of places. RSS leader Kumar Indresh attended some of them.
"The Iftar parties were organised in Mumbai and Dehradun. More such events will be held in Meerut and Pune this week," he added.
The MRM is reaching out to Muslims, informing them about the works of the RSS and trying to change their views about it, Afzal said.
"We are bearing the cost of education of over 2,000 Muslim children. A pension of Rs 1,000 per month has been started for women, who were given 'talaq'. At present, a thousand women are availing it," he said.
The organisation claims it has set up "foodgrain banks" for the poor.
Such facilities are operational in Uttar Pradesh, Madhya Prasesh and Maharastra, Afzal said.
The MRM has established a trust to provide free education to meritorious students. It has been named after freedom fighter Ashfaqullah Khan, he said.
The RSS's Muslim wing had last year organised Iftar parties and served cow milk and its products to drive home the message of 'save the cow' and that consumption of its meat invites diseases.
Full report at:
https://www.indiatoday.in/pti-feed/story/rss-s-muslim-wing-makes-bid-to-remove-misconceptions-about-sangh-bjp-1256518-2018-06-10
--------
3 AMU students booked for distorting religious slogan
Anuja Jaiswal
Jun 9, 2018
AGRA: A case was registered against three students of Aligarh Muslim University (AMU) on Saturday evening here after a Twitter post, which "offended" religious sentiment of a community, was shared and condemned widely. The post, in which the three youths named in the FIR were tagged, had a distorted version of a religious slogan, which snowballed into a major row and a group of students of the varsity approached police with a complaint.
Later, police registered a case against the three students under section 295 of India Penal Code (deliberate and malicious acts intended to outrage religious feelings of any class by insulting its religion or religious beliefs). They were also booked under IT Act.
The controversial post was initially shared by Bhole Vishwakarma, who, according to his Twitter and Facebook profile, is a writer and photographer based in New York.
AMU Students Union president Mashkoor Ahmad Usmani said the post was "gross". "Strict action should be taken against whosoever is responsible for it," Usmani said.
Usmani claimed that the three youths are former students of AMU. However, AMU spokesperson Shafey Kidwai said, "We can confirm their status only after checking the record. As of now, I am not aware whether these students are pursuing courses from the university or have passed out from here."
Full report at:
https://timesofindia.indiatimes.com/city/agra/3-amu-students-booked-for-distorting-religious-slogan/articleshow/64522079.cms
--------
Hindus observe 'roza' in these border villages
Vimal Bhatia
Jun 10, 2018
JAISALMER: During Ramzan, it is difficult to distinguish between Hindus and Muslims residing in villages along the Indo-Pak border in Rajasthan as Hindus observe 'roza'(fast) as enthusiastically as their Muslim brethren during the holy month.
The practice, prevalent among members of the Meghwal community that follow Rajput saint Pir Pithora, whose shrine is in Pakistan's Sindh province, is more common in Barmer and Jaisalmer districts, which form 2,500-km border with Pakistan.
Same rituals and traditions can be seen in Hindu and Muslim families. Even though Barmer is reeling under severe heat and temperatures are hovering around 47 degrees Celsius, the Hindus are observing roza unflinchingly along with Muslim brothers and sisters giving a message of communal peace and brotherhood.
The practise seems common among the refugee Hindus, who crossed over during the 1965 and 1971 wars and have settled down in border villages of Godhad Ka Tala, Rabasar, Sata, Sinhania, Bakhasar, Kelnore, etc.
To everyone's surprise, Muslims in these villages also love to celebrate many Hindu festivals for instance Diwali and observe fast during Navratras. They even sing Hindu devotional songs along with their Hindu neighbours on special occasions.
Full report at:
https://timesofindia.indiatimes.com/city/jaipur/hindus-observe-roza-in-these-border-villages/articleshow/64525920.cms
--------
South Asia
'UN deal with Myanmar could return Rohingya Muslims to killing fields'
Jun 10, 2018
Rohingya Muslim refugees in Bangladesh and experts say a recent deal between Myanmar and the United Nations (UN) falls short of guaranteeing the Muslims' safe return to Myanmar, where thousands of them have already been killed in state-sponsored violence. The UN Development Program (UNDP) on Wednesday signed an agreement with the Myanmarese government to return some of the 700,000 Rohingya refugees who have fled persecution in their villages in Myanmar's Rakhine State and who are now living in crowded makeshift camps in Bangladesh.
The deal has, however, disconcerted the refugees, who say they won't return unless they are given safety guarantees and citizenship by the Myanmarese government, according to the Associated Press.
Though the Muslim community has lived in Myanmar for generations, its members are denied citizenship by the government in Naypyidaw, which persistently describes them as illegal immigrants from Bangladesh, where they are also denied citizenship.
In the deal between the UN and Myanmar, the Muslims have not been referred to by their common name — the Rohingya. Instead, they have been referred to merely as "displaced persons," potentially indicating that the UN has adopted the Myanmarese government position.
Thousands of Rohingya Muslims were killed, arbitrarily arrested, or raped by Myanmarese soldiers and Buddhist mobs mainly between November 2016 and August 2017, when many of the surviving members started fleeing to Bangladesh en masse.
In their absence, the government has bulldozed their villages, built new housing structures, and shuttled Buddhist citizens from elsewhere in the country to populate the area.
The UN has described the campaign as a textbook example of "ethnic cleansing" and possibly "genocide."
The refugees now demand a UN security force to guarantee their safe return to their villages, according to a Saturday piece on the Anadolu news agency by experts, who described the new agreement as inadequate.
Experts Maung Zarni and Natalie Brinham warned the UN that sending the Rohingya back home "could potentially result in another round of mass killings, further decades of containment in concentration camps or deliberate slow starvation," — all of which have happened to the Muslims in the past.
They argued that the refugees remained "largely unpersuaded" by the repatriation deal because it did not guarantee their safe return.
"The conditions on the ground indicate no semblance of physical safety for any returning Rohingyas," they wrote.
They said "there is little prospect for their reintegration into the predominantly Buddhist society," adding that "the frightening prospects of being marched back to Myanmar's 'killing fields,' has unnerved Rohingya refugees in Bangladesh."
UN officials, however, said the agreement was an important first step. They said it would create a "framework of cooperation" designed to create conditions for the "voluntary, safe, dignified and sustainable" repatriation of the Rohingya.
A recent report by the humanitarian group, Doctors without Borders, said at least 9,400 Rohingyas were killed in Rakhine from August 25 to September 24 last year. It revealed that the deaths of 71.7 percent or 6,700 Rohingyas were caused by violence. That figure included 730 children below the age of 5, according to Doctors without Borders.
http://www.presstv.com/Detail/2018/06/10/564502/Myanmar-Rohingya-UN-deal-killing-fields
--------
19 Afghan police killed in Taliban attack on base
June 09, 2018
KUNDUZ: At least 19 Afghan police officers were killed Saturday in a pre-dawn raid by the Taliban on a base in the northern province of Kunduz, officials said, hours before the militants announced an unprecedented ceasefire starting next week.
The Taliban claimed responsibility for the attack, which came a day after the insurgents stormed a military base in the western province of Herat, killing 17 Afghan soldiers.
Kunduz provincial governor spokesperson Nehmatullah Taimuri said five members of the local police force were also wounded in Saturday's attack on a police base in Qal-e-Zal district.
Provincial police spokesperson Enhamuddin Rahmani confirmed the death toll and said eight Taliban fighters were also killed.
Both attacks came hours before the Taliban announced a ceasefire with Afghan security forces for the first three days of Eid, the holiday that caps Ramazan and which is due to begin at the end of next week.
That unexpected move came two days after the Afghan government's own surprise announcement of an apparently unilateral week-long halt to operations against the Taliban.
Full report at:
https://nation.com.pk/09-Jun-2018/19-afghan-police-killed-in-taliban-attack-on-base
--------
NATO Secretary General welcomes ceasefire announcement by Taliban
Jun 10 2018
The NATO Secretary General Jens Stoltenberg welcomed the announcement of ceasefire by the Taliban group.
According to Stoltenberg, the announcement of the ceasefire can be a step towards Afghan-led and Afghan-owned peace talks.
Stoltenberg further added that NATO stands with the Afghan people in their efforts for peace and reconciliation.
The Taliban group announced on Saturday announced that the leadership of the group has decided to declared ceasefire during the three days of Eid-ul-Fitr during which no attack will be carried out on Afghan forces.
This comes as President Ghani on Thursday announced a ceasefire with the Taliban group and said no operations will be carried out against the fighters of the group starting from 27th of Ramadan to 5th day of Eid.
Full report at:
https://www.khaama.com/nato-secretary-general-welcomes-ceasefire-announcement-by-taliban-05349/
--------
Kunduz attack claims the lives of 24 ALP and Public Uprising forces
Jun 09 2018
At least twenty four security personnel belonging to the Afghan Local Police (ALP) and the Public Uprising Forces lost their lives in an attack by the Taliban militants in northern Kunduz province.
According to the local officials, the incident took place late on Friday night in the vicinity of Qala Zal district.
Provincial governor's spokesman Nematullah Temori confirmed that 19 ALP soldiers lost their lives in the attack.
However, the district administrative chief Amanuddin Qureshi confirmed the incident said doznes of Taliban insurgents launched a coordinated attack on security posts in Baghcha and Kalokh areas, leaving at least 25 people dead.
He said the Afghan security forces immediately responded to the attack by deploying forces and at least eight militants were killed in the retaliatory fire.
Qureshi further added that at least nine Taliban insurgents were also wounded during the clashes with the security personnel.
The anti-government armed militant groups including Taliban insurgents have not commented regarding the report so far.
Full report at:
https://www.khaama.com/kunduz-attack-claims-the-lives-of-24-alp-and-public-uprising-forces-05346/
--------
Arab World
This family posed as jihadists to save their son from ISIS
June 10, 2018
IN SEPTEMBER 2014, a 22-year-old man named Yassin left his home in France to join ISIS. Three weeks later, he was in a makeshift hospital in Syria, having taken a bullet for the cause. His intestines were partially gone, his hip was broken and he didn't even know if the man who'd operated on him was a real doctor.
But out of this misery and pain came a saviour, a brave soul who charged into the deadly territory, with no training or resources, to rescue him.
It was his mother.
The story of Yassin, and how his family ventured into the most dangerous region in the world to save him, is one of the tales in The Returned: They Left to Wage Jihad, Now They're Back, by David Thomson.
Yassin, the Arab-Muslim son of French doctors, achieved high marks in high school and planned to study medicine like his parents.
But after failing several key college exams, he soothed his frustration watching Islamic State videos on social media, yearning for the life of wealth, leisure and accomplishment they falsely depicted.
"They show you videos of shining knights saving the world," Yassin told Mr Thomson after his return to France. "There was a kind of madness to it, almost a collective trance, that convinces you to do it and that everything will be fine."
Yassin travelled to Syria and found his way to ISIS. He was unprepared for the chaos.
Along with other new recruits, he was told they would be sent to Deir Ez-Zor Airport in northeast Syria, where ISIS and the Syrian regimen had been engaged in heavy fighting for over three years.
A few nights before they were sent — barely 10 days after Yassin arrived in Syria — they were given military "training."
"Fighters came with trucks loaded with Kalashnikovs," Mr Thomson writes. "Each recruit received an assault rifle and one full clip of bullets. Two days to learn to shoot while sitting, standing and lying down. And then they were sent to the front."
Three days after they arrived, the Syrian regimen began a relentless bombing campaign accompanied by gun and rocket fire.
Yassin was shot in the lower back, the bullet ripping apart his intestines.
He was shipped to an ISIS hospital in Mayadin, Syria, in so much pain that he wished for death.
Back in France, his parents were desperate to know where their son went.
Yassin hadn't told his family he was leaving, and they only learned of his whereabouts from a stranger.
"Just after Yassin's departure," Mr Thomson writes, "one of his sisters received a telephone call from a woman informing her that her brother was in Syria. The dialling code was from Great Britain.
Jihadists often use applications that allow them to generate false numbers."
Yassin's mother, Nadia, kept the numbers that called and frantically tried to reach her son.
"I would send messages. 'Please, take pity on me, tell my son to contact me, please.' I'd try to make them feel sympathy for me so that he'd contact me. And then, the next day, sometimes, he would send a message on WhatsApp."
In the suffering over their missing son, the family's life became "centred on the telephone."
"We would even take turns going to the toilet," Nadia told Mr Thomson, "to be sure that one of us could always pick up quickly. He called once when we were driving; we went into a tunnel and he called. Yes … Hello? Then we were cut off. He didn't call back afterwards. It was horrible."
Five months after his departure, Yassin contacted them via Skype, and his face appeared on the screen. He looked gaunt, having lost a tremendous amount of weight.
It was clear he wasn't well.
He said he was staying in an ISIS convalescence home, and his parents barely recognised him.
"Yassin, usually a joking and lively young man, appeared in the dark, very weak, expressing himself painfully in a low voice. He tried to hide his wounds in the shadows," writes Mr Thomson, who makes clear that the family assumed Yassin was not alone and could not speak freely.
"They talked for several minutes. Answering their barrage of questions, he tried to be reassuring but remained evasive. As doctors, his parents were in no way fooled."
Nadia knew her son needed help and became obsessed with the idea of rescuing him.
"Our son needs us," she thought. "I'll feel guilty all my life if he needed me and I didn't do anything. I have to go and see what's wrong with him. If I stay here, I'll lose my mind."
After some internet research, Nadia decided the best chance they had to rescue Yassin was for her and her husband, Faisal — who supported his wife's plan — to volunteer as doctors for ISIS.
But there was a complication. The couple had two teenage daughters, age 14 and 15. When new recruits join ISIS, the group has them provide all their personal information including who's in their family, so ISIS knew about the girls. If the couple showed up pledging fealty without their daughters, it would ring hollow and ISIS could execute them on the spot out of suspicion. The plan would only work if the girls came along, a tremendous risk given that women and girls there were often used as sex slaves.
But when they discussed it as a family, the girls were adamant.
"We want to see him, too," they said. "He's our brother."
Together, they decided that the entire family would travel to Syria and pretend to join ISIS in order to rescue Yassin.
"They prepared in secret," Thomson writes. "To friends, family and colleagues, they pretended they were leaving for a few months to the West Indies, to work as medical replacements.
"We didn't know how long we'd be gone," said Nadia. "To make it believable, everyone had to think we were really going to work there."
When they were ready, they contacted Yassin via WhatsApp and told him to recommend them to his emir. Then, they booked a flight to Turkey.
Upon arrival, they were met by an ISIS official, taken to a hotel and given fake Syrian IDs.
Once inside ISIS territory, Faisal was taken to see Yassin and found him in grave condition, having lost almost one-third of his body weight.
Recognising the need for better care, Faisal arranged for Yassin to be transferred to a hospital in Raqqa in exchange for him and Nadia agreeing to work there as doctors. They were also provided with an apartment.
While working at the hospital, Nadia insisted that her daughters never leave her side. They nursed Yassin back to health within a few months and then had to figure out the hard part — how to get out.
Since ISIS had forbidden outside travel, requesting a pass was a great way to get yourself suspected of espionage and sentenced to death.
Regardless, the couple requested a travel pass to pick up a fictional third daughter, who they said was pregnant and wished to join her family so she could join the caliphate. This request was granted.
The family contacted their lawyer in France, who arranged for an official at the Turkish consulate to meet them at the border. The next morning, the family piled into a Kia that ISIS had loaned them and embarked on their journey home.
When Faisal presented his pass at the first ISIS checkpoint, he was informed that since it was Saturday, the Turkish border was closed. By this point, they couldn't return, as their packed car would have raised suspicion.
Faisal told the guard they had arranged for a smuggler to bring their daughter across the border that day. When the guard replied, " 'It's not possible. Give me the smuggler's number,' " Faisal pretended not to have a telephone.
They were ordered to pull the car to the side of the road and waited an agonising hour as the guards deliberated, then stopped all work for one of their daily prayers. But when Faisal realised the guard hadn't looked back at them in some time, he slowly drove away.
Obstacle number two came just 10 meters before the Turkish border, at a second ISIS checkpoint.
Seeing the approaching car, two men ran at the family, armed with Kalashnikovs. When Faisal showed his pass, one of the men asked who had allowed them through. He told them about the first guard, and the man said he would call the post to verify his claim. And then the family got ridiculously lucky.
"At that very moment," Mr Thomson writes, "a Syrian refugee tried to climb the border wall but fell and hurt himself."
When the guard saw the refugee, he hung up the phone, told Faisal to wait there and ran to the man. "If he had contacted the first roadblock," Faisal later said, "we were dead. We would have been imprisoned."
Instead, Faisal turned the car around and drove back toward ISIS territory.
They drove around for a while and then called the official at the French consulate, who said he'd arrange for the Turkish authorities to contact the ISIS checkpoint, letting them know the family could pass through.
"No, anything but that!" Faisal told the man. "You'd be signing our death warrant!"
Out of options, Nadia saw just one solution.
"Drive down along the wall, along the border," she said. "There's got to be a way through."
And so they drove, with no idea of their ultimate destination.
"Along the way," Mr Thomson writes, "an old Syrian shepherd told them about an abandoned border gate that had been closed for a long time, used by illegal immigrants."
They found the gate late that afternoon. They called their contact again. He met them there accompanied by members of the Turkish military, and they crossed into safety.
Yassin had spent seven months in Syria; his family, three.
Upon his return to France, he was "placed in pre-trial detention in [a] prison hospital in Fresnes," Mr Thomson writes. "Wearing an electronic ankle bracelet, and with his identity papers confiscated, Yassin is now trying to resume a normal life, navigating between family and judicial obligations, in particular going to see a psychiatrist to combat [his] radicalisation."
At the time of the book's writing, Yassin was back in school and awaiting trial on charges of "criminal association, for the purpose of preparing acts of terrorism." If convicted, he faces 10 years in prison.
As for the family, "they too were suspected by the police of having ties to [ISIS]," Mr Thomson writes. "Why did they leave for Syria without informing the authorities? Why did they stay almost three months, agreeing to work for the Islamic State? Why did they put their two daughters at risk, exposing them to the possibility of being indoctrinated, married to a jihadist or even killed in a bombing raid?
"To all these questions, Nadia and Faisal respond with the same answer: Their goal was to save Yassin. In the end, no charges were filed against them."
Nadia and Faisal are now adjusting to their new reality as the family of a suspected terrorist and figuring out how to move on from there.
"We're just trying to make the most of life now," Nadia said. "Your life can change overnight, so quickly and so cruelly, that you have to know how to make the most of it. The past has become so dark and painful that we don't want to think about it anymore. It's time to look to the future now."
This article was originally published in theNew York Postand has been reproduced here with permission.
https://www.news.com.au/world/middle-east/this-family-posed-as-jihadists-to-save-their-son-from-isis/news-story/3e2f8743b1e774a5f0b79795319bbb7c
--------
IS militants lose ground in Syria town after major attack
June 10, 2018
BEIRUT - The Islamic State group had lost ground Saturday in a town on the Syrian-Iraqi border after pro-regime forces repelled a major attack the day before, a Britain-based monitor said.
Violent clashes were ongoing in Albu Kamal, which lies in the Euphrates Valley in eastern Syria, the Syrian Observatory for Human Rights monitoring group said. "IS has retreated from inside the town to its western and northwestern parts" after pro-regime forces pushed back the militants, Observatory head Rami Abdel Rahman said.
Pro-government reinforcements had arrived, he said. On Friday, IS used at least 10 suicide bombers in its offensive on Albu Kamal, swiftly taking several of its neighbourhoods, the monitor said.
It was the biggest attack on the town since the militant group lost it in November 2017, and the latest in a string of attacks by IS across Syria.
Neither Syrian state media nor the army reported Friday's attack on Albu Kamal.
The fighting in the town over the past 24 hours has killed 30 pro-regime fighters, the Observatory said. These include 16 regime troops among them a general, as well as 14 non-Syrian combattants, notably Iranians and Lebanese Hezbollah movement fighters, the monitor said. Twenty-one IS militants were also killed in that same period, including the 10 suicide bombers, according to the same source.
IS has ramped up its attacks against pro-regime forces since its fighters in May left their last bastion near Damascus under an evacuation deal with the regime.
IS in 2014 proclaimed a cross-border "caliphate" in Syria and neighbouring Iraq, but has since lost most of its territory to various military offensives.
Its presence is mostly confined to pockets of eastern Syria in the vast desert stretching from the country's centre to the border with Iraq.
Earlier this week, IS assaults in the eastern province of Deir Ezzor killed 45 pro-regime fighters. On Thursday, IS militants also killed 22 pro-regime fighters in surprise attacks in the southern province of Sweida, a monitor said.
Years after IS, Syrian Kurds rebuild Kobane alone
After giving up on getting help from Syrian Kurdish authorities, Ahmed Saleh relied on relatives abroad to repair his home in Kobane after it was heavily damaged in a battle against jihadists.
Much of the border town along Syria's northern frontier with Turkey was left in ruins after US-backed Kurdish forces ousted the Islamic State group from it in early 2015.
Saleh fled to Turkey in the battle's early stages and came back a year later to find two of his home's three rooms destroyed.
"We returned to Kobane after the battles had stopped and were shocked by the huge destruction in the town," Saleh said.
The one-time shoe repairman hoped authorities would step in, but said he eventually "lost hope". "We had to live in these homes and we weren't going to wait for these empty promises," said the 45-year-old.
Instead, he turned to family members abroad, who sent remittances. "My son in Germany and my brother in Iraqi Kurdistan helped me so my children and I could return home," he said.
So far Saleh has spent the equivalent of $1,150 fixing up his house, little by little. All it needs now is a final coat of paint. Other homes in his eastern neighbourhood of Butan have also been roughly restored. Bullet holes are still visible, but many walls have been re-erected and painted.
Mohammad Naesan, who lives in the nearby Martyr Kawa district, repaired his one-storey house by hand and with his own savings.
"Our home was completely destroyed by IS," the 76-year-old Naesan told AFP, clutching a copy of Holy Quran and sitting on his front stoop with his wife and children. "The municipality came and recorded all the damage to the buildings. But then they didn't do a thing," he said.
"No one helped us. Rebuilding was so expensive, and it cost me a lot."
Central government forces withdrew from Kurdish-majority areas in northern Syria in 2012, leaving local authorities to set up semi-autonomous institutions.
As IS began grabbing swathes of northern Syria it attacked Kobane in late 2014.
The four months of fighting it took to push the jihadists out pulverised about half the city, mostly in its north and east, said Anwar Muslim, the town's top official.
"Five thousand homes were destroyed in Kobane, about 70 percent of which have been rebuilt," Muslim told AFP.
He said remittances were crucial for rebuilding individual homes as authorities did not have the budget to help.
They focused instead on rehabilitating the gutted infrastructure, bringing water and electricity to residents, and rebuilding a dozen schools.
But power cuts and water shortages remain rampant and Muslim said he felt disappointed by the lack of support from the US-led coalition, the Kurds' key partner in the anti-IS fight.
"So far, the coalition hasn't provided any support despite us speaking dozens of times about the fact that, as we beat IS together, we should rebuild together," he said.
The coalition has provided funds to several areas recaptured from IS after Kobane to demine and rehabilitate infrastructure like bridges and water networks.
Today, Kobane's population stands at 250,000, down from 400,000 before the start of Syria's seven-year war, Muslim said.
"We're trying to create jobs, increase services, and open universities so people come back," he said.
While some have scrapped together the cash to revamp their homes, others say it is prohibitively expensive.
"We can't afford to rebuild," said Muslim Nabu, 32, a Kurdish language teacher who instead is renting a house.
Not only have authorities not helped, he said, but "the municipality collected money from people under the pretext it was for a building licence".
In one section of Kobane, the most heavily damaged, officials are intentionally refraining from rebuilding.
Authorities want to leave the northern sector as an open-air museum, a testament to their hard-fought battle against IS.
A row of scorched cars practically sizzle beneath the sun against a backdrop of gutted homes, which officials want to keep empty.
Muslim said compensation has been handed out for 258 of 500 affected homes.
But residents say those plans are out of touch with their own painstaking efforts to clear rubble by hand and rebuild on their own dime.
Faydan Khaleel, who lives there with her husband and mother-in-law, said she had only just finished restoring their home.
"My husband worked for daily wages until we were able to rebuild and return to live here," said the 45-year-old, sitting cross-legged in the shade, a purple scarf pulling her hair back.
"But now they're saying they're turning it into a museum and we have to leave."
Full report at:
https://nation.com.pk/10-Jun-2018/is-militants-lose-ground-in-syria-town-after-major-attack
--------
Terrorists Assassinating Peace Committee Members to Stop Peace Talks in Southern Syria
Jun 09, 2018
The Arabic-language website of Sputnik reported that the terrorists have carried out a number of assassinations against the members of the Peace Committees and their family members and even local officials and family members of the Syrian army soldiers to prevent implementation of the reconciliation plan in Southern Syria.
A sum of 21 officials and renowned figures operating in Peace Committees, including Mayor of the small town of Abedin Naji Mustafa al-Mustafa and Mayor of al-Qariyeh al-Qabi Abdurrahman al-Shalibani, have been assassinated since the start of de-escalation zone plan in Dara'a province since December 2017.
In the meantime, Secretary of the Arab Socialist Ba'ath Party in Dara'a Hossein al-Refayee said that the entire officials, parties and residents in the region have strongly urged enforcement of the reconciliation plan, expulsion of the terrorists and granting government amnesty to those militants that lay down their arms.
He further added that the terrorists who oppose the peace agreement with the army are assassinating peace activists to block the peacd process, adding that 15 peace activists have recently been assassinated by the militants.
Earlier reports said that the Syrian Army dispatched the longest ever convoy of forces and military equipment to the Southern province of Dara'a in preparation for a major assault in the region.
The army sent tens of tanks, military vehicles, missile launchers, trucks carrying heavy weapons and military hardware along with a large number of elite forces to Dara'a province.
Local sources, meantime, said that thousands of army men have left their positions in Eastern Qalamoun and Damascus for Dara'a and Quneitra provinces in the last two days.
The army plans to launch a large-scale operation in Southern Syria to free the entire Dara'a province and impose full control over the border with Jordan and the key Nasib border-crossing.
Also, Northern Sweida that is under the control of the Al-Nusra front (also known as Fatah al-Sham Front or the Levant Liberation Board) and its affiliated terrorists will be freed if the army scores victory in the operation.
Full report at:
http://en.farsnews.com/newstext.aspx?nn=13970319000858
--------
More US-Backed Militias Assassinated by Unknown Gunmen in Northeastern, Eastern Syria
Jun 09, 2018
The sources said that the US-backed SDF suffered almost fifty casualties in several assassination operations in a region at Deir Ezzur-Hasaka border, adding that the SDF has been forced to cut off al-Kharafi road between the two Eastern provinces after the attacks.
The sources said a sum of 45 SDF members, including two commanders, were killed in several blasts along the al-Kharafi road near the village of Roweished on June 2.
The sources went on to say that the bodies of two SDF gunmen were also found on the road connecting the village of Um Madafeh to al-Malaheh West of al-Shadadi region, adding that the SDF has embarked on arresting and investigating people in al-Arishe, al-Shadadi and Merkadeh region in Southern Hasaka after the assault.
In the meantime, other sources in Northern Hasaka reported that four more SDF militias were killed in a booby-trap explosion in the village of Tal Khanazir.
Last week, the SDF opened fire at civilians that demonstrated against the SDF and called for their expulsion from Raqqa city.
The popular uprising occurred after the Kurdish militias dispatched more troops and equipment to al-Makeft East of al-Romeileh and erected several checkpoints.
The SDF deployed forces in Mashlab, al-Romeileh, Seif al-Dowlaeh, al-Sabahiyeh and al-Dar'eiyeh neighborhoods in Raqqa city to disperse people.
In the meantime, Kurdish security forces arrested 58 renowned figures in Hasaka province after they tried to leave Hasaka for Aleppo city to take part in a conference about occupation by the US army and Turkish troops.
Full report at:
http://en.farsnews.com/newstext.aspx?nn=13970319000780
--------
Terrorist Centers Receive Severe Blow in Syrian Army Attack in Aleppo Province
Jun 09, 2018
The terrorist groups, deployed in al-Lairamoun region in the Northwestern countryside of Aleppo city, targeted residential areas in al-Nile street.
The artillery and missile units responded to the terrorists' mortar attack and pounded Tahrir al-Sham's positions and movements in al-Lairamoun and Jam'iyat al-Zahra region, destroying one of the positions and a military vehicle and killing several terrorists on board.
The artillery and missile units further targeted terrorists' centers in the village of Tadil, al-Mansoureh settlement and near al-Mohandeseen2 region, killing more terrorists.
In the meantime, other units of the army clashed fiercely with terrorists near the town of Zamar in Southern Aleppo.
On Monday, the army began an assault by launching a large number of artillery shells and missiles on the terrorist-held regions in al-Mansoura and al-Rashedeen settlements in Western Aleppo.
For the last two weeks, the terrorists in Western Aleppo took advantage of the Turkish military's presence in the region by launching missiles and artillery shells from the latter's observation posts against residential areas in Aleppo city.
Full report at:
http://en.farsnews.com/newstext.aspx?nn=13970319000666
--------
More Gunmen Defect from US-Backed SDF in North-eastern Syria
Jun 09, 2018
Over 30 SDF militias defected from the Washington-backed SDF in Raqqa city after their commander ordered them to storm protesting civilians in the city.
In the meantime, a sum of 300 Arab members of the SDF that had been dispatched to Raqqa from their positions in Northeastern Syria rejected obeying their commanders' orders to crack down on popular uprising in region and withdrew from their new positions in the city.
Local sources said that yet the SDF continued their crackdown on protesters in Raqqa, adding that the SDF has set up over 15 checkpoints in residential areas in the city and its militias have been patrolling regularly across the city.
In a relevant development last week, unknown attackers opened fire at a group of the SDF in al-Karamah settlement in Eastern Raqqa, killing a militiaman and injuring nine more.
Full report at:
http://en.farsnews.com/newstext.aspx?nn=13970319000522
--------
Bomb kills one, injures eight in Iraq's Diyala province
9 June 2018
At least one person was killed and eight were wounded after a bomb went off on Saturday in the Iraqi town of Khalis in Diyala province, security sources said.
No further details were immediately available.
https://english.alarabiya.net/en/News/middle-east/2018/06/09/Bomb-kills-one-injures-eight-in-Iraq-s-Diyala-province-security-sources.html
--------
Saudi Attorney General says prosecutors to stand firm in cases of harassment
10 June 2018
Saudi Arabia's Attorney General Sheikh Saud al-Mojeb has lauded the recent royal order to establishing a system to combat cases harassment derived from the provisions of the Islamic Sharia.
Mojeb said that the system came in light of the keenness of the Saudi government to protect members of society from the "shameful behavior that is far from Islamic teachings and moral values, and the protection of virtue and moral integrity required by law and system within the family, the working or public life to achieve security and tranquility within them and help increase legal cultural awareness among all segments of society".
He also praised the efforts of the Ministry of Interior in preparing the integrated project and raising it during a short period of time to provide guarantees and social protection for all citizens and residents.
"That the public prosecution represented in the constituencies will stand firm in the face of all methods of harassment in the light of the provisions of the system," a statement by Saudi Press Agency read. "In order to balance the right of the victim and the right to protect third parties from malicious complaints, which indicate that the same rules apply to the same penalties for the practice of harassment," the statement added.
The Attorney General pointed out that he was appointed to form a working group to identify the provisions of the system and its implications and to adapt the criminal descriptions of the acts committed by it and identify the elements of the crime of harassment and mechanisms of action to achieve the enforcement of the system and its objectives.
"It also guarantees the right of the individual to preserve his or her dignity, privacy and personal and private freedom, as provided for in this regard, and guarantees the right of society to ensure that criminals do not escape punishment," the statement read.
Full report at:
https://english.alarabiya.net/en/News/gulf/2018/06/10/Saudi-Attorney-General-says-prosecutors-to-stand-firm-in-cases-of-harassment.html
--------
Saudi law clamps down on all forms of harassment
June 10, 2018
JEDDAH: Saudi Attorney General Sheikh Saud Al-Mujib extended his thanks and appreciation to King Salman and the crown prince when he passed the long-sought anti-harassment law derived from the Islamic Shariah.
Al-Mujib said this step reflects the government's eagerness to protect community members from shameful behaviors alien to Islamic teachings and proper moral values, and to instill moral integrity and virtues pursued by law and religion so as to promote security and reassurance and increase legal and cultural awareness about it among all segments of society.
Al-Mujib also hailed the work of the Ministry of Interior in quickly preparing and submitting an integrated draft law to provide security and social protection for all citizens and residents.
"There is a provision in the law to punish those who make false and malicious claims about harassment," added Al-Mujib.
Al-Mujib noted that he had formed a working group to identify the anti-harassment law's provisions and its implications, as well to determine the criminal description of acts sanctioned under the law, to identify the elements of the crime of harassment and to develop a mechanism to enforce the law and its goals.
"This law aims at combating the crime of harassment, preventing it, applying punishment against perpetrators and protecting the victims in order to safeguard the individual's privacy, dignity and personal freedom which are guaranteed by Islamic law and regulations," he added.
He pointed out that an intensive training program specialized in the mechanisms of dealing with issues of sexual harassment has been approved and will be launched within days in all branches of the office.
Full report at:
http://www.arabnews.com/node/1318836/saudi-arabia
--------
Pakistan
Army says it wants journalist's abduction investigated
June 10, 2018
ISLAMABAD: The Pakistan Army has denied it was behind the abduction of a British-Pakistani activist known for criticising the military, in an incident that prompted a wave of condemnation and increased fears of a crackdown on free speech.
Gul Bukhari, 52, was detained for several hours by unknown men in Lahore late on Tuesday, one day after the military held a press conference warning that it's monitoring citizens who criticise Pakistan.
She was released early Wednesday.
When news of her abduction broke it caused a furore, with widespread calls for her release and fingers pointed at the military.
The British High Comm­ission expressed "concern" at the incident as activists called on the army to tolerate dissent.
"(The) army is not behind the abduction of Gul Bukhari," Maj Gen Asif Ghafoor, chief military spok­es­man, told reporters late on Friday.
"We actually want a thorough investigation in this case," he said.
The military routinely says it is not involved in enforced disappearances, but the statement was a rare on-the-record denial.
Journalists have spoken of "pressure" not to cover the criticisms, adding to an atmosphere of repression.
During a wide-ranging press conference on Monday that appeared to address the mounting criticism, the military issued a veiled warning to online critics, saying it had the capacity to monitor social media accounts.
Maj Gen Ghafoor briefly flashed an image on screen showing what appeared to be Twitter handles and names, including of at least one prominent journalist, but refused to elaborate further, fuelling the outcry over free speech.
On Friday night, he said they "did not intend to implicate journalists".
https://www.dawn.com/news/1413201/army-says-it-wants-journalists-abduction-investigated
--------
Mamnoon, Rouhani discuss ways to improve trade ties
June 10, 2018
QINGDAO (China): President Mamnoon Hussain met his counterparts from China, Iran and Tajikistan on Saturday and expressed the resolve to further strengthen ties with the three friendly countries.
During their meeting on the sidelines of the 18th summit of the Shanghai Cooperation Organ­isation (SCO), President Hussain and President Xi Jinping discussed in considerable detail matters related to bilateral ties and regional and global issues.
President Hussain congratulated President Xi on hosting the SCO summit and wished it a resounding success. He said Pakistan supported assumption of the SCO's leadership by China and appreciated the various initiatives proposed by Beijing in the organisation during the last one year.
Mr Hussain praised the Belt and Road Initiative and lauded the keen interest taken in the China-Pakistan Economic Corridor (CPEC) by the Chinese leader. President Xi said China attached great importance to its relations with Pakistan, which would continue to remain a priority for Beijing. He praised Pakistan's efforts in fighting terrorism and its role in enhancing stability and peace in the region.
Iranian president
During their meeting, President Hussain and his Iranian counterpart Hassan Rouhani agreed to further strengthen the ties between their countries by enhancing people-to-people contacts and trade and other activity between Gwadar and Chabahar ports.
President Hussain lauded Iranian Supreme Leader Ayatollah Khamenei's statement in which he expressed support for the just struggle of the Kashmiri people.
Presidents Hussain and Rouhani agreed that connectivity between the ports of Gwadar and Chabahar would further improve ties.
On the issue of the Joint Comp­rehensive Plan of Action, President Hussain expressed the hope that all parties to the nuclear deal would continue to implement the agreement and uphold their commitments.
The two leaders emphasised that peace and stability in Afghanistan was important for both Pakistan and Iran.
A statement issued by Iran's foreign ministry quo­ted the Iranian leader as saying: "Iran is ready to have mutual investment with Pakistan in various fields."
Tajik leader
Full report at:
https://www.dawn.com/news/1413203/mamnoon-rouhani-discuss-ways-to-improve-trade-ties
--------
Most Sindh cabinet members supporters of PPP: Sattar
Azfar-ul-Ashfaque
June 10, 2018
KARACHI: Senior Muttahida Qaumi Movement-Pakistan leader Dr Farooq Sattar on Saturday criticised the caretaker set-up in Sindh, saying most members of the Fazlur Rahman-led cabinet were Pakistan Peoples Party supporters.
Talking to the media at the City Courts after filing his nomination papers, he demanded that the chief election commissioner take notice of development funds being spent in Sindh despite the announcement of the election schedule.
Although the name of caretaker chief minister was finalised between Leader of the Opposition Khwaja Izharul Hasan and former chief minister Murad Ali Shah, Dr Sattar's criticism of the caretaker cabinet suggests that no consultation was made with his party on the names of caretaker ministers.
He termed the spending of development funds and unjust delimitation of electoral constituencies "pre-poll rigging" and warned of staging sit-ins if the July 25 elections were rigged.
He also alleged that some PPP men were still using government vehicles when they came to the City Courts to file their nomination papers.
Nomination papers from three NA seats filed
Dr Sattar — who heads the PIB faction of the MQM-P after developing differences with the Bahadurabad group — filed his nomination papers for contesting the July 25 elections from three National Assembly constituencies in Karachi.
"I am filing my nomination papers from NA-241 [Korangi district], NA-245 [East district] and NA-247 [South district]," he told reporters. Recalling that over 160 workers of his party were still missing, he said the MQM-P was being denied political freedom.
He demanded that his party be allowed to reopen all offices in Karachi and the rest of Sindh.
Hinting at the possibility of boycotting the elections, he said: "We can go to any extent if we see a minus-MQM formula [in the election]." However, he quickly added that he never had said that he would boycott the elections.
The MQM-London has already announced that it will boycott the July 25 elections.
It is still unclear that which MQM [group] would get its traditional election symbol of kite to contest election. Until today, both groups, the PIB and Bahadurabad ones, separately filed their nomination papers.
Full report at:
https://www.dawn.com/news/1413131/most-sindh-cabinet-members-supporters-of-ppp-sattar
--------
Former militant, relative of TTP commander shot dead in Peshawar
June 10, 2018
PESHAWAR: A former militant and close relative of banned Tehreek-e-Taliban Pakistan (TTP) top commander was shot dead by unknown persons in Raghzai area of Tehsil Makin South Waziristan on Friday.
Concerned officials in Wana, headquarter of South Waziristan confirmed the target killing of Bakhatawar, alias Achanak in his village in Raghzai, adjacent to the Shawal mountainous region connecting both North and South Waziristan with the Pak-Afghan border.
Bakhtawar is stated to be a close relative of banned TTP top commander Said Khan Sajna who was considered to be a confidential aide of Hakim Ullah Mehsud.
Bakhtawar was surrendered to the government through a traditional jirga a couple of months back.
Full report at:
https://www.pakistantoday.com.pk/2018/06/09/former-militant-relative-of-ttp-commander-shot-dead-in-peshawar/
--------
Accountability court to seek third extension in corruption references against Sharif family
JUNE 10, 2018
LAHORE: The Supreme Court (SC) will hear a petition on Sunday (today) seeking another extension for ending the trials against former premier Nawaz Sharif and his family in the corruption references filed by the National Accountability Burau (NAB) after the apex court's verdict in the infamous Panama case.
The two-member bench presided by Chief Justice of Pakistan (CJP) Saqib Nisar will hear the petition at the apex court's Lahore Registry.
After the Panama Papers verdict in July 2017, the SC had given a deadline of six months which ended in mid-March.
The deadline was then extended by two months after the judge requested the apex court to extend the deadline.
Earlier, the trial court submitted a second plea for the deadline extension. The application was approved by the SC which ordered both sides to complete the corruption cases by June 9.
On June 4 the accountability court judge, while hearing the Al-Azizia reference, had said that he would request another extension to wrap up corruption references against the Sharif family.
Full report at:
https://dailytimes.com.pk/251748/accountability-court-to-seek-third-extension-in-corruption-references-against-sharif-family/
--------
Musharaf to contest election against Farooq Sattar and Mustafa Kamal in Karachi
JUNE 9, 2018
KARACHI: Former president General (retd) Pervaiz Musharraf on Saturday submitted nomination papers for NA 247 constituency in Karachi.
Musharaf received the nomination papers for NA 247 Sadar and Aram Bagh.
Musharraf will be up against MQM-P convener Farooq Sattar, PSP leader Mustafa Kamal, Pakistan Tehreek-e-Insaf (PTI)'s Arif Alvi, Pakistan Peoples Party (PPP) leader Aziz Memon and Jamat-e-Islami (JI) candidate Hafiz Naeem-ur-Rahman.
A representative received the nomination papers for Pervaiz Musharraf and were sent to Dubai for signature.
Earlier this week, the Supreme Court of Pakistan lifted lifetime ban of former dictator and allowed him to contest general election 2018.
Full report at:
https://dailytimes.com.pk/251281/musharaf-to-contest-election-against-farooq-sattar-and-mustafa-kamal-in-karachi/
--------
Mideast
G7 vows to ensure Iran nuclear program 'remains peaceful'
9 June 2018
G7 leaders pledged Saturday to ensure Iran's nuclear program remains peaceful in a joint statement between the US and European allies angered by Donald Trump's pullout from an internationally-agreed accord.
"We are committed to permanently ensuring that Iran's nuclear program remains peaceful, in line with its international obligations and commitments to never seek, develop or acquire a nuclear weapon" the leaders said at the end of a two-day summit in Canada.
"We condemn all financial support of terrorism including terrorist groups sponsored by Iran. We also call upon Iran to play a constructive role by contributing to efforts to counter terrorism and achieve political solutions, reconciliation and peace in the region," the statement added.
The G7 group includes European heavyweights such as Germany, France and Britain who -- along with the US -- were all signatories to the 2015 nuclear accord which allowed for the lifting of sanctions on Iran.
US President Donald Trump said on Saturday that his fellow G7 leaders had expressed their commitment to containing Iran's "nuclear ambitions" at their summit in Canada.
"G7 nations remain committed to controlling Iran's nuclear ambitions," said Trump, who has angered European leaders by pulling out of an internationally-negotiated nuclear accord.
The US move to reimpose sanctions on Iran -- lifted under the accord that aims to ensure Tehran will not develop a nuclear bomb -- has already seen many European investors who returned to the country start to wind down operations.
https://english.alarabiya.net/en/News/middle-east/2018/06/09/G7-agreed-on-controlling-Iran-nuclear-ambitions-Trump-.html
--------
Watch Sudanese mercenaries fight alongside Saudi-led forces in Yemen
Jun 9, 2018
A video shows Sudanese mercenaries fighting alongside Saudi-led forces against Houthi Ansarullah forces in Yemen's eastern province of Hudaydah.
The footage shows the Sudanese forces patrolling near the city of al-Jah, 50 kilometers from the port city of Hudaydah, on Thursday, firing mortar shells against Ansarullah positions.
The presence of Sudanese forces in Yemen comes despite Sudan's announcement last month about assessing whether to continue its participation in the Yemen war or downgrade its presence in the military campaign led by Saudi Arabia.
Domestic voices in the North African country have long urged a withdrawal from the Saudi-led coalition and those calls gained momentum after three senior Sudanese officers and scores of soldiers were killed during a battle in northern Yemen on April 10.
Nearly 15,000 people, mostly civilians, have been killed in Saudi-led airstrikes and other attacks since the war started in March 2015. The campaign lacks any international mandate and rights groups and governments around the world continue to criticize those involved in the war, including the United Arab Emirates and Sudan.
Sudan's Akhbar el-Youm newspaper has quoted informed sources as saying that there is a strong trend among the leaders of the state to withdraw Sudanese forces from Yemen amid mounting pressure.
The report has also revealed that the Sudanese troops fighting in Yemen have not received their salaries from Riyadh.
Full report at:
http://www.presstv.com/Detail/2018/06/09/564468/Yemen-Sudan-saudi-war
--------
UNGA meeting on Gaza called for Wednesday
June 10, 2018
UNITED NATIONS : The UN General Assembly will hold an emergency meeting next Wednesday at 3:00 pm (19:00 GMT) to vote on an Arab-backed resolution on Gaza, the body's president Miroslav Lajcak announced Friday.
The resolutaion will condemn Israel, and will be similar to one vetoed by the United States in the Security Council last week, which called for protecting Palestinians from Israeli aggression, according to diplomats. It comes as four Palestinians were killed by Israeli fire on the Gaza border on Friday, as weeks of deadly clashes with protesters continued.
Resolutions adopted by the General Assembly have no binding value, unlike those passed by the Security Council.
"We will work next week to get the maximum number of votes," a diplomat from a country that supported the measure told AFP.
Arab countries turned to the General Assembly in December after the US vetoed a Security Council vote on a resolution to condemn its decision to move its embassy in Israel from Tel Aviv to Jerusalem.
Fourteen members of the Security Council backed the December resolution, though the US as well as the council's four other permanent members retain a right to veto.
The measure then received 128 votes out of 193 in the General Assembly.
A diplomatic source said the emergency meeting had been pushed by the Organization of Islamic States and the Arab League.
Several European countries have tried to dissuade Palestinians and Arab countries from demanding a vote in the General Assembly after last week's US veto.
"Everyone told them not to do it," said a diplomat on condition of anonymity, arguing the resolution could be counterproductive if it doesn't receive at least as many votes as the one obtained in December on Jerusalem.
Danny Danon, Israel's ambassador to the UN, condemned the planned resolution.
"It is unfortunate that instead of condemning the terrorists of Hamas, some countries are looking to satisfy their domestic political needs by bashing Israel at the United Nations," Danon said in a statement.
It is not entirely clear what form of protection the Palestinians of Gaza are seeking, from observers to a full blown peacekeeping force.
Arab states have recently turned to UN Secretary-General Antonio Guterres to make proposals on this matter.
But according to a diplomat who asked for anonymity, he said he needed a mandate from the Security Council to look further into the issue.
On Friday, four Palestinians were killed in the Gaza Strip by Israeli soldiers near the border fence during new clash-ridden protests in the blockaded enclave.
At least 129 Palestinians have been killed by Israeli fire since protests broke out along the Gaza border on March 30. There have been no Israeli casualties.
Protests peaked on May 14 when at least 61 Palestinians were killed in protests to coincide with the controversial opening of the US embassy in Jerusalem
Full report at:
Critics say it amount to collective punishment of the territory's two million residents.
https://nation.com.pk/10-Jun-2018/unga-meeting-on-gaza-called-for-wednesday
--------
Iran, Russia Stress Continued Anti-Terrorism, Defense Cooperation
Jun 09, 2018
"Iran and Russia's cooperation in fighting the ISIL and other terrorist groups in the region have been effective and yielded results and this cooperation will continue," Rouhani said in the meeting on the sidelines of the two-day Shanghai Cooperation Organization (SCO) summit.
He also underscored Russia's important role in protecting the 2015 nuclear deal and its implementation after the US withdrawal.
Putin, for his part, said that Moscow will continue cooperation with Iran in economic and defense fields as well as energy swap.
"Regional cooperation with Iran, specially to resolve the crisis in Syria, will continue," he added.
Putin described the US withdrawal from the nuclear deal as a unilateral and illegal move, and said, "Moscow will continue talks with other sides to support the nuclear deal."
He also referred to Iran's good partnership in the SCO as an observer, and said Moscow supports Tehran's full membership in the organization.
US President Donald Trump announced on May 8 that the US would no longer remain part of the Joint Comprehensive Plan of Action (JCPOA) and promised to re-impose the highest level of economic sanctions against Iran in response to Tehran's development of its nuclear program.
After Trump's declaration, the Iranian government issued a statement, calling the US withdrawal as "unlawful". The statement underlined Iran's prerequisites for continuing the deal with the five world powers after the US pullout of the agreement.
"Iran, as a country that has remained committed to its legal obligations, will pursue the US Government's decision to withdraw from the JCPOA as provided by the mechanisms and provisions of the accord, and if the US withdrawal is not fully compensated and the full interests of the Iranian people are not met and guaranteed – as stated in the accord and as outlined by Iran's Leader on 9 May – it will exercise its legal right to take whatever reciprocal measures it deems expedient. Other parties to the JCPOA, and especially its three European signatories, must take necessary action to safeguard the accord and to implement their commitments – which they proved incapable of fully performing even while the US was nominally a party to the deal, due to the obstructions by the Trump Administration – and to proceed from giving pledges to taking practical action without any preconditions," it said.
"None of the provisions or timeframes within the JCPOA, which were the subject of twelve years of negotiations, are negotiable in any manner. The US, which has through its meddling and erroneous policies ignited extremism, terrorism, destruction, war and child killing in our region, is in no position to issue any diktat about the Islamic Republic of Iran's lawful presence within its own region nor its effective support for the peoples of Syria and Iraq in their endeavor to fight extremists. The US and its allies, which through their support for the regime of Saddam Hussein, including equipping it with chemical weapons and the most advanced military equipment while blocking Iran's access to any means of defense victimized the Iranian people for eight years, and currently turning our region into a powder keg through their sale of hundreds of billions of dollars of useless advanced weaponry devouring the financial resources of the region, are in no position to impose restrictions on the Islamic Republic of Iran's lawful means of defense, including defensive ballistic missiles which have been designed to carry conventional weapons based on the bitter experiences of the war with the regime of Saddam Hussein. Indeed, such efforts explicitly violate the principles of international law, and the Islamic Republic of Iran's legitimate right to self-defense under Article 51 of the United Nations Charter," it added.
"As announced by the President of the Islamic Republic of Iran on 8 May, the Foreign Minister has been tasked with the duty of taking the necessary measures to obtain required guarantees from the remaining parties to the JCPOA as well as Iran's other economic partners, and to immediately report the results of this mission. Meanwhile, the President of the Atomic Energy Organization of Iran has been tasked with taking all necessary steps in preparation for Iran to pursue industrial-scale enrichment without any restrictions, using the results of the latest research and development of Iran's brave nuclear scientists."
"The people of Iran will with calm and confidence continue their path towards progress and development and the Government of the Islamic Republic of Iran has foreseen all necessary measures to facilitate this under any circumstances," the statement continued.
Full report at:
http://en.farsnews.com/newstext.aspx?nn=13970319000846
--------
Turkish official says US and Turkish troops to patrol Syria's Manbij
9 June 2018
Turkey's defense minister says Turkish and US soldiers will patrol the key northern Syrian town of Manbij as part of a deal reached this week for the withdrawal of a Syrian Kurdish militia.
Speaking in Brussels after a NATO summit late Friday, Defense Minister Nurettin Canikli said he met his American counterpart James Mattis.
He said: "We had a very detailed, constructive and positive meeting on the Manbij roadmap."
Turkey has repeatedly called on the US to stop backing the Syrian Kurdish People's Protection Units, or YPG, which it considers terrorists and an extension of a Kurdish insurgency within its own borders.
The US-backed force has been instrumental in fighting ISIS and pushing them out of northern Syria, including in Manbij.
Full report at:
https://english.alarabiya.net/en/News/middle-east/2018/06/09/Turkish-official-says-US-and-Turkish-troops-to-patrol-Syria-s-Manbij.html
--------
Arab coalition says dozens of Houthis killed in the past 24 hours
9 June 2018
The Arab coalition forces supporting the Yemeni legitimate government, announced that it had inflicted huge loses among the Houthi militias in Saada province during the past few hours.
The coalition confirmed that it killed 44 Houthi in the last 24 hours and destroyed 46 pieces of military equipment and arms.
Yemen's legitimate government forces supported by the Arab coalition have made field progress in recent days in both al-Jawf and the Saada governorate north of Yemen, amid the continuing collapse of the Houthi militias in their major strong hold of Saada. In Taiz, Yemen's legitimate government forces made new progress, advancing toward west of the city, taking control on al-Safra, al-Jubaira, al-Machbak and other locations overlooking al-Ramadah link between the governorates of Taiz and al-Hodeidah
Full report at:
https://english.alarabiya.net/en/News/gulf/2018/06/09/Arab-coalition-44-Houthi-dead-in-the-past-few-hours.html
--------
Funeral held for Palestinians killed by Israeli fire
Jun 9, 2018
Mourners have attended a funeral procession for two Palestinians shot dead by Israeli forces during anti-occupation protests in the besieged Gaza Strip.
Palestinians gathered on Saturday in the cities of Khan Younis and Rafah to bid farewell to two victims, one a 15-year-old boy, who were both shot dead during protests at the Israeli fence separating Gaza from the occupied territories a day earlier.
The demonstration dubbed "One-Million March for al-Quds" was held to mark International Quds Day that was also observed in many countries to condemn Israel's decades-long occupation of Palestine and its atrocities against Palestinians.
The annual event, which falls on the last Friday of the Muslim fasting month of Ramadan, is a legacy of the late founder of the Islamic Republic Imam Khomeini, who designated the day in solidarity with the Palestinians.
According to medics, Israeli troops killed four Palestinians, including a boy, and wounded hundreds of others on Friday with live fire or tear gas used against protesters at the Gaza fence as weeks of deadly clashes with protesters continue.
The Friday rallies came after months of mass protests in Gaza which proved Israel's inability to stop the Palestinians despite widespread use of deadly force against unarmed protesters.
Since late March, over 120 Palestinian protesters have been killed and thousands more wounded by Israeli forces, mainly sharpshooters.
The Israeli military has come under intense international criticism for permitting its forces to open fire on unarmed protesters in Gaza.
Full report at:
http://www.presstv.com/Detail/2018/06/09/564452/Palestine-funeral-Gaza-Israel-protest-Quds-Day
--------
9 PKK militants killed as drone strike targets southeastern Turkey
Jun 9, 2018
At least nine members of the Kurdistan Workers' Party (PKK) militant group have been killed when the Turkish military carried out an airstrike on the country's southeastern province of Sirnak.
The provincial governor's office said in a statement that the aerial assault took place in Bestler-Dereler region near the provincial capital city of Sirnak, situated some 1,000 kilometers east of the capital Ankara on Friday.
Security sources, speaking on condition of anonymity, said a policeman sustained injuries during the counter-terror operation. He later succumbed to his gunshot wounds.
Separately, Turkey's Defense Minister Nurettin Canikli said Turkish forces have neutralized over 500 PKK terrorists in Iraq's northern semi-autonomous Kurdistan region since the beginning of the current year.
The Turkish military generally uses the term "neutralize" to signify that the militants were killed, captured or surrendered.
At least three Turkish soldiers were killed and another sustained injuries on June 4, when PKK militants launched a rocket attack in Turkey's southeastern province of Hakkari.
Security sources, requesting anonymity, said Kurdish PKK terrorists mounted the assault from a mountainous area on the Iraqi side of the border.
The Turkish military then started an operation in the area to "neutralize" the militants.
PKK militants regularly clash with Turkish forces in the Kurdish-dominated southeast of Turkey attached to northern Iraq.
Turkey, along with the European Union and the United States, has declared the PKK a terrorist group and banned it. The militant group has been seeking an autonomous Kurdish region since 1984.
A shaky ceasefire between the PKK and the Turkish government collapsed in July 2015. Attacks on Turkish security forces have soared ever since.
Over the past few months, Turkish ground and air forces have been carrying out operations against PKK positions in the country as well as in northern Iraq and neighboring Syria.
Full report at:
http://www.presstv.com/Detail/2018/06/09/564430/9-PKK-militants-killed-as-drone-strike-targets-southeastern-Turkey
--------
Southeast Asia
Muslim groups, authors want Pakatan govt to lift book bans
9 Jun 2018
AS the Pakatan Harapan government settles in, some authors and groups want it to review bans on their books enforced by the previous administration.
These bans were instituted by the Home Ministry under the Barisan Nasional government, known for its conservative Islamist leanings.
Most of the bans were on books by authors like Faisal Tehrani, the Islamic Renaissance Front (IRF) and Sisters in Islam (SIS), who challenged BN's interpretation of the religion and its application of shariah law.
Faisal, who is an academic, said he will put in a request with the new government to lift bans on seven of his books.
However, the author, whose real name is Faizal Musa, said he will wait until the dust has settled on the attorney-general's appointment.
Faisal, who lectures at Universiti Kebangsaan Malaysia, said the PH government is newly formed and has a lot of things on its plate.
"I would like to (have the bans lifted), but I think it's not an important thing to do now because PH has been the government for just three weeks.
"They have been doing a lot of things, especially (pertaining to) 1MDB," Faisal told The Malaysian Insight, referring to the 1Malaysia Development Bhd financial scandal.
"I will ask my lawyer to apply (for the bans to be lifted). It is in my plans."
The latest ban on his book was on September 6 last year, when the Home Ministry banned AKU _______, MAKA AKU ADA! (I _______, Therefore I Exist!), published by Dubook Press Sdn Bhd.
The gazette on the ban said the book is "likely to be prejudicial to public order, likely to alarm public opinion, and prejudicial to public interest".
Faisal's other books that were banned include Sebongkah Batu di Kuala Berang, Karbala Tiga Kali Seminggu and Ingin Jadi Nasrallah, as they allegedly contain Shia elements.
IRF's Dr Ahmad Farouk Musa said it will wait for the government to complete its changes to the Islamic Development Department (Jakim).
"We have not appealed to the Home Ministry yet.
"Since the reason given by (former) home minister Ahmad Zahid Hamidi was that the ban was based on a report by Jakim, we are waiting for the changes that will happen in Jakim before we submit our application to the home minister."
The ministry banned IRF's Wacana Pemikiran Reformis (Jilid I) and Wacana Pemikiran Reformis (Jilid II) (A Discourse on Reformist Thought, Volumes I and II).
The BN administration had said the publications were "likely to be prejudicial to public order and interest", and "likely to alarm public opinion".
The ministry also banned the Bahasa Malaysia and English versions of Turkish author Mustafa Akyol's Islam Without Extremes: A Muslim Case for Liberty.
IRF had helped translate the book into BM.
Rozana Isa of SIS said the group's Muslim Women and the Challenge of Islamic Extremism was banned two years after it was published.
"The banning of books in Malaysia is an arbitrary practice that must end. Such enforcement undermines the public's intelligence and limits access to knowledge."
SIS wants the ban on its book, as well as those on IRF and Faisal's, to be lifted.
"We hope that the new government will acknowledge and give credence to the Malaysian public to decide for themselves what they want or don't want to read." – June 9, 2018.
https://www.themalaysianinsight.com/s/53699
--------
Political Islam of PAS will grow, says Proham
10 June 2018
JOHOR BARU: Political Islam, as practised by PAS, is on the rise with the Islamist party having secured 18% of the popular vote at the recent General Election.
Secretary-general of the Association for the Promotion of Human Rights (Proham) Datuk Dr Denison Jayasooria (pix) predicted a further growth in strength of the party over the next 10 years.
"We must accept (this) and practise moderation," he told a public forum with the theme 'The reform agenda and the role of the civil society' today.
"We need to article the position of Islam from the understanding of the Federal Constitution, role of the Rulers and the state governments."
Denison was speaking at the forum organised by Malaysian CSO-SDG Alliance, Engage, Proham, Johor chapter of the International Women's Peace Group (IWPG) and Johor Indian Business Association (JIBA).
He said there are still many challenges ahead in the country's process of change, such as resistance from certain political forces, Islamist and Malay NGOs on the appointment of the minister of finance and the attorney-general on racial and religious grounds.
Denison said he foresees resistance to changes of institutions seen as political propaganda tools, such as the National Civics Bureau (BTN) and the Department of Islamic Development Malaysia (Jakim).
Meanwhile, Engage chairman Thomas Fann, said civil society organisations are willing to work for the changes for a better Malaysia.
He said the government had promised in Pakatan Harapan (PH) Manifesto that such organisations will be given platform in participating social reforms.
Fann said Engage is working on a report on "Make Johor Jaya a better livable place" .
He added that 30 residents are working on the community project since three weeks ago. It will outline some recommendations on local agendas and the proposals will be submitted to the Exco for Women Development and Tourism Liow Cai Tung, who is the Johor Jaya assemblyperson.
Full report at:
http://www.thesundaily.my/news/2018/06/10/political-islam-pas-will-grow-says-proham
--------
Indonesia, Malaysia, Philippines to Conduct Joint Training for Anti-IS Ground Patrols: Indonesian Minister
2018-06-08
Indonesian troops will take part in a training exercise on Borneo island with their counterparts from Malaysia and the Philippines for potential joint land-based patrols targeting pro-Islamic State (IS) militants, Defense Minister Ryamizard Ryacudu said Friday.
Ryamizard first talked about the plan to add joint ground patrols as part of trilateral military efforts to curb the spread of IS in the region during a speech last weekend at the Shangri-La Dialogue security conference in Singapore, which was attended by high-level leaders from Asian countries and beyond. Joint sea and air patrols are already in place.
"In the future, two months from now, we will step up and elevate this cooperation through the land forces joint operation," he told the Singapore meeting.
"The aim of this joint operation is to locate ISIS in the southern Philippines and stop it from spreading," the Indonesian defense minister said, using another acronym for IS.
On Friday, Ryamizard said the three countries would soon take part in a joint training exercise for ground patrols, but he did not give a specific date.
"The exercise will be in Kalimantan after Lebaran," he told reporters after a ceremony at the Defense Ministry in Jakarta, referring to Indonesian Borneo and the Indonesian word for the Eid holiday that marks the end of the Islamic fasting month of Ramadan.
Philippine and Malaysian defense officials could not be reached immediately to confirm this information.
But during a bilateral meeting in Singapore with Malaysian counterpart Mohamad Sabu, Ryamizard said the training exercise "at a company level" would focus on "anti-guerrilla warfare, urban warfare and how to tackle snipers."
A company is a military unit that usually consists of 80 to 150 soldiers and often commanded by a major or a captain.
Ryamizard told Mohamad that the militants in southern Philippines were skilled marksmen and it was necessary for the three countries to equip their forces with better rifles.
The three nations began trilateral patrols in June last year after pro-IS militants launched a siege in the southern Philippine city of Marawi. Five months of vicious fighting ended in October and killed at least 1,200 people, mostly militants, including the acknowledged Philippine IS leader Isnilon Hapilon.
The Marawi fighting emboldened other Southeast Asian terror cells aligned with the Syria- and Iraq-based IS, according to analysts.
Among the 31,500 foreign fighters who had joined IS in Syria, about 800 came from Asia, including 400 from Indonesia, the largest Muslim-majority country, Ryamizard said on June 2, citing intelligence data from his government.
In Singapore, Ryamizard talked about the joint plans to curb the spread of IS in and around the southern Philippines as his own country grappled with a string of terror attack in recent weeks, including bombings that targeted three churches and killed 51 people, including 13 civilians, seven police and 31 suspects.
Indonesia, a nation of 262 million people, faces a resurgence of extremist attacks as security analysts warned that dozens of its citizens would return home after fighting for IS in the Middle East.
"Maritime patrols have been already implemented, the air patrols too, even though mostly through drones, but it is the same. But not the land patrols yet, even though the combined land forces exercise is very important," Ryamizard said.
Malaysia's Sabah state is a short boat ride from islands in the Philippines' Mindanao region, where pro-IS Muslim guerrillas and other armed Muslim groups operate. The waters between the two countries are extremely porous and analysts said the three nations shared coastal borders that have long been used for smuggling routes.
To involve elite forces
Indonesia's Defense Ministry spokesman, Brig. Gen. Totok Sugiharto, told BenarNews that the exercise would involve the three forces from the Indonesian National Army (TNI).
"This is also a continuation of the collaboration of the intelligence sharing strategy 'Our Eyes' which was launched earlier," he said, referring to sub-regional cooperation with Brunei Darussalam, Malaysia, Philippines, Singapore and Thailand launched earlier this year in Bali, Indonesia.
Khairul Fahmi, a military observer from the International Institute for Strategic Studies (IISS), told BenarNews the joint ground patrol exercises are needed as the three neighbors face militant groups with similar characteristics.
Full report at:
https://www.benarnews.org/english/news/indonesian/indonesia-militants-06082018181130.html
--------
Indonesia's churches are 'soft targets' for radicals
June 8, 2018
Indonesia was hit by a series of suicide attacks against three churches and the central police station in Surabaya, the country's second-largest city on May 13-14.
In this interview conducted by Marianne Dardard from Eglises d'Asie, Indonesia specialist Delphine Alles, a researcher in Jakarta for the Research Institute on Contemporary Southeast Asia (IRASEC) and a lecturer in political science at the Universite Paris-est Creteil, explains the situation facing the nation's Christian minority.
Dardard: The Surabaya attacks are the deadliest (27 deaths, including 13 terrorists) since the 2002 attacks in Bali (202 dead), which were the bloodiest in the country's history. What's new about the Surabaya attacks?
Delphine Alles : The mode of family action is what has caused the greatest astonishment. It's the first time that parents have perpetrated suicide attacks with their children in Indonesia. The other dimension that needs to be pointed out is the level of coordination and [technical prowess] of these attacks, which far exceeds that of the Bali and Jakarta attacks in the early 2000s.
According to the police, at least two of the three "kamikaze" families belonged to the same Koranic study group, and the authorities found 54 operational explosive ordinances in the home of the perpetrators of the attack against the headquarters of the Surabaya police.
Dardard: In February an individual armed with a sword wounded many people inside a church in Yogyakarta in the center of the archipelago. Before that he had reportedly tried to team up with jihadists. Should we be worried by the increasing number of attacks against churches and Christians, who represent 9 percent of the Indonesian population?
Delphine Alles: To this day it has not been possible to establish a link between the events in Surabaya and the Yogyakarta attack, which has been considered an isolated attack in the absence of any claim of responsibility. On the other hand, the attacks against churches — which hark back to a mode of action that was frequent in the early 2000s — come at a time of intensified internal divisions in Indonesia.
This could be observed in late 2017, with the accusations of blasphemy levelled against the former governor of Jakarta, Basuki Tjahaja Purnama, who is of Chinese and Christian origin, by groups like the Islamic Defenders Front. This stigmatization is not representative of the entire Indonesian society but comes at a time when the Christian minority is becoming once again a prime target for groups ready to go into action.
This is one of the objectives of the pro-Islamic State group Jamaah Ansharut Daulah (JAD), to which many of the Surabaya terrorists belonged. JAD has called on Indonesians to attack what it calls 'internal miscreants': religious minorities, but also state representatives, especially the police forces involved in the fight against terrorism.
There is perhaps also an operational reason. Churches are softer targets than places frequented by foreigners, such as embassies, hotels and shopping malls, since they have no security systems. During peak periods such as Christmas or Easter, some are guarded by the militias of Muslim organizations, which lend their services to show their attachment to pluralism, but this was not the case on May 13.
Dardard: Do these attacks against churches weaken the myth of a moderate Islam in Indonesia?
Delphine Alles: The issue is raised at every attack since Indonesia's international image was battered by the Bali attacks, but we have to go beyond this image and observe the resilience of Indonesian society.
Political groups and civil society organizations, most of them Muslim, immediately condemned the attacks. The involvement of children has accentuated the rejection of these acts of violence by Indonesian society. To try to ease the tensions spawned by the rise of radicalism, the Indonesian government decided in the early 2000s to highlight the Islamic side of the national identity and promote the representation of Indonesia as the first Muslim-majority democracy that practices tolerant Islam.
The authorities highlight, in particular, their institutional synthesis, which is based on the "Pancasila," a national ideology based on five principles, the first of which is belief in a single God — without favoring any one religion.
However, behind this discourse and its institutional foundations, the divisions are significant. One of the current challenges is not only promoting pluralism or tolerance, which can be satisfied with simple coexistence without interaction, but maintaining the possibility of discussing religious issues, not only between communities, but also within them.
Within Muslim civil society, for example, each attack sparks discussions on recognizing or not the self-proclaimed Islamic nature of their authors. Many voices are raised to take this up and advocate a process of contextualizing the texts they use to legitimize the violence, but the issue remains sensitive.
Dardard: What challenges do these attacks raise in the country with the most Muslims in the world?
Delphine Alles: Indonesia faces an image challenge abroad and a cohesion challenge at home, something the government is aware of. The difficulty is finding the means to confront this without definitively alienating the fringe of public opinion attracted by religious radicalism.
If it actively promotes pluralistic Islam that is in keeping with the institutions, the government is tempted to reduce the violence to exogenous factors to maintain the idea of national cohesion.
That has helped to minimize the localized violence that creates a climate of violence that goes beyond the issue of terrorism, particularly between religious or ethnic minorities and groups seeking to impose their own vision of purity, by targeting, for example, what they consider to be places of debauchery.
While terrorists are broadly condemned, organizations like the Islamic Defenders Front are now part of the political and social landscape. They are still very much in the minority, but the visibility of their mobilization, combined with the relative ideological vacuum on the other side, occasionally enables them to act as kingmakers in the political arena, as was the case with the election of the governor of Jakarta last year.
Full report at:
https://www.ucanews.com/news/indonesias-churches-are-soft-targets-for-radicals/82504
--------
Africa
Libya's military storms last stronghold of extremists in Derna
9 June 2018
Libyan military announced on Saturday that its forces stormed the last extremist stronghold in Derna, the eastern city held by ISIS since the 2011 armed uprising.
On Monday Libya's National Army General Khalifa Haftar said that victory was near for his forces in Derna.
The Libyan National Army launched an offensive on May 7 to "liberate" the coastal city, home to about 150,000 people and held by the extremists since the uprising that ousted former Muammar Qaddafi.
"Victory is near," Haftar said in a video published on YouTube, adding that his forces had "cleaned up" suburbs of the city.
https://english.alarabiya.net/en/News/north-africa/2018/06/09/Libya-s-military-storms-the-last-stronghold-of-terrorists-in-Derna.html
--------
Islamic fundamentalists sow terror in northern Mozambique
2018-06-10
Villagers in northern Mozambique have been under siege from alleged Muslim militants who have decapitated 23 civilians and burnt at least 230 houses in the past three weeks.
Thousands have now fled to the city of Pemba, the capital of Cabo Delgado Province.
The militants, who started the insurgency in October, are called al-Sunna or al-Shabaab and are believed to be behind the beheading of five villagers on Wednesday in the Quissanga district.
Yussuf Adam, contemporary history professor at Eduardo Mondlane University in Maputo, and one of three authors of a study by the African Centre for Strategic Studies released in March, said there were massive human rights violations on the side of both the militants and the Mozambican defence force fighting them.
He said the militants' "actions have changed – first they were not killing people, but now they are doing that".
"The state is reacting in the same manner – killing, flaying, burning and closing mosques."
More than 70 civilians are reported to have been killed since the beginning of the insurgency eight months ago; 16 militants and three soldiers were also killed.
About 470 people – including 314 Mozambicans, 50 Tanzanians, three Ugandans, one Somali and more than 100 unidentified people allegedly linked to the militants – have been detained.
At the beginning of the insurgency, the militants mainly targeted Mozambique Defence Force units, police stations and state buildings.
But in the past three weeks, small bands consisting of about six men and women have been focusing on targeting civilians.
Although the Mozambican military says the insurgents are weakening because their groups have reduced in size, a study released last month in Maputo by academics Salvador Forquilha, João Pereira and Sheik Saide Habibe states that they are reducing the size of their units to reduce losses if they come under attack by the army.
Reports last week, confirmed by the government, stated that Democratic Republic of Congo forces were on the ground providing support to Mozambique. In January, Mozambique and neighbouring Tanzania signed a memorandum of understanding to collaborate in the fight against the militants.
Research suggests the militants either have ties to or are inspired by international terrorism, and holding similar aims and goals, such as "establishing an Islamic state following sharia law and eschewing the government's secular education system".
Mainstream imams contacted by the African Centre for Strategic Studies in two northern districts reported that one of the leaders of the insurgents was a Gambian by the name of Musa and the other was a Mozambican named Nuro Adremane, who is said to have received a scholarship to train in Somalia.
The group, researchers found, capitalises on local grievances against the government, which they use to drum up local support. Researchers state that the fundamentalist interpretation of Islam, which the militants espouse, reinforces an ideology introduced in the region in recent years, apparently by young men who received scholarships to study in Sudan, Saudi Arabia and other Gulf states.
Sheik Bakar, of the Islamic Council of the district of Montepuez, is cited by the African Centre for Strategic Studies as saying the group's leaders were influenced by Mombasa-based imam Sheik Aboud Rogo, who was assassinated in 2012 after being placed on the US and UN sanctions list for allegedly supporting Somalia's
al-Shabaab militants.
One of the group's several names, Swahili Sunna, "suggests a goal of establishing a Swahili state among the Swahili-speaking populations".
"The reference appears to harken back to an earlier period when a series of Swahili city-states dotted the east African coast from southern Somalia to Mozambique," the research found.
Swahili is spoken in three African regions: the Great Lakes, east Africa and in southeast Africa, which includes Mozambique.
Full report at:
https://www.news24.com/Africa/News/islamic-fundamentalists-sow-terror-in-in-northern-mozambique-20180610
--------
US commando killed, four wounded in Somalia attack
June 10, 2018
WASHINGTON : An American commando was killed Friday in an attack in southern Somalia that also wounded four US military personnel along with a Somali soldier,
officials said.
The attack occurred in Jubaland, where a large force comprising about 800 Somali, Kenyan and US troops were working to clear a large area of Al-Qaeda-aligned Al-Shabaab fighters.
The multinational force "came under mortar and small-arms fire at approximately 2:45 pm Mogadishu time (1145 GMT), killing one US service member and injuring four US service members and one partner force member," the US military's Africa Command said in a statement.
A military official told AFP the dead American was a special operations commando, but further details were not being released pending notification of next of kin.
US President Donald Trump offered his condolences via Twitter.
"My thoughts and prayers are with the families of our serviceman who was killed and his fellow servicemen who were wounded in Somolia. They are truly all HEROES," Trump tweeted, misspelling the name of the country in which the attack took place.
The mission's objectives were to "clear Shabaab from contested areas, liberate villages from Shabaab control and establish a permanent combat outpost designed to increase the span of federal government of Somalia security and governance," Africa Command said.
"The US provided advice, assistance and aerial surveillance during the mission."
More than 500 American forces are partnering with African Union Mission to Somalia (AMISOM) and Somali national security forces in counterterrorism operations, and have conducted frequent raids and drone strikes on Al-Shabaab training camps throughout Somalia.
Last year, a Navy SEAL was killed in a nighttime attack in Somalia, marking the first US military combat death there since the infamous "Black Hawk Down" events of 1993, when 18 American servicemen died in the Battle of Mogadishu.
Full report at:
https://nation.com.pk/10-Jun-2018/us-commando-killed-four-wounded-in-somalia-attack
--------
Jordan's king, crown prince to attend Mecca quartet meeting
9 June 2018
King Abdullah II and Crown Prince Hussein bin Abdullah of Jordan will participate in the Mecca meeting called by King Salman with leaders of the United Arab Emirates and Kuwait to discuss aid Jordan in the face of the economic crisis.
The Jordanian monarch stressed the importance of the relationship between his country and the countries participating in the meeting scheduled for Sunday.
In an interview with Al Arabiya television, Jordanian Parliament Speaker Atef Tarawneh said: "The relationship between the Kingdom of Saudi Arabia and Jordan is strong and historic."
Importance of Saudi support
The Parliament Speaker stressed the importance of the Saudi support, which will bring Jordan out of the economic crisis it is experiencing at present.
He explained that Jordan hopes that the GCC grant in the current economic situation will be a good opening for the country.
A statement by the Saudi Royal Court said that a four-nation meeting was scheduled to be held in Mecca on Sunday to discuss ways of supporting Jordan to break the economic crisis.
Full report at:
https://english.alarabiya.net/en/News/middle-east/2018/06/09/Jordan-s-King-Abdullah-Crown-Prince-to-attend-Mecca-meeting.html
--------
Group rebuilds police college buildings wrecked by Boko Haram
June 9, 2018
Abdulkareem Haruna
The North East Regional Initiative (NERI), a non-governmental organization (NGO) has handed over two renovated training halls at the police college, Maiduguri, to the Nigeria police force.
The police college is the second largest federal government owned tertiary institution in Borno State after the University of Maiduguri.
It was among the first public institutions that suffered attack by Boko Haram when the group picked up arms in June 2009.
Despite several interventions by both the federal and state governments in rebuilding public structures affected by Boko Haram conflict, the police college was left in its state of decay.
The NGO said the gesture was aimed at helping the foremost training college upgrade its capacity for training police officers that are to be deployed to communities liberated from Boko Haram.
The two 650-seater capacity police training halls were among the several dilapidated structures that littered the 45-year-old police training institution.
The college has been responsible for the recruitment and training of millions of junior cadre police officer mostly from the northeast geopolitical zone.
NERI's intervention was described as first of its kind in the life of the college.
NERI, a USAID funded NGO, said the rehabilitation was part of its commitment to supporting public security institutions to achieve peace in reclaimed communities.
"By rehabilitating the two halls, NERI is improving government's responsiveness to enabling the return of civil authority and preparing the grounds for recovery and reintegration in the Northeast," said Suleiman Dauda, the Programme Manager of NERI in Borno State.
Mr. Dauda, who made this statement while handing over the renovated structures to the Police College Commandant said "after the (Boko Haram) conflict, security and civil authority must be restored to facilitate the proper resettlement of the liberated communities".
"This can only be achieved by the deployment of enough policemen to those liberated communities."
The college commandant, Uwem Akpan, a commissioner of police, thanked NERI for taking the lead in rendering assistance of that magnitude to the police in the conflict ridden zone.
Mr. Akpan said he was positive the rebuilt buildings would go along way in "creating the conducive atmosphere for the training of the policemen".
Full report at:
https://www.premiumtimesng.com/regional/nwest/271712-group-rebuilds-police-college-buildings-wrecked-by-boko-haram.html
--------
Three soldiers, 13 'terrorists' killed in Mali attacks: sources
June 10, 2018
Three Malian soldiers and 13 "terrorists" were killed in fighting at an army camp in central Mali today, the defence ministry said.
The troops "repelled a terrorist attack in the early morning," in the central town of Boni," the ministry said.
The army forces "killed 13 terrorists and recovered arms and munitions," and three soldiers were killed while the attack was repelled, the statement added.
Earlier, military sources told AFP that two troops had been killed, along with 13 terrorists in two attacks in the region.
Residents in Boni told AFP that helicopters were later circling the area but that calm had returned by afternoon.
Islamic extremists linked to Al-Qaeda took control of the desert north of Mali in early 2012, but were largely driven out in a French-led military operation launched in January 2013.
In June 2015, Mali's government signed a peace agreement with coalitions of armed groups. But the jihadists remain active, and large tracts of the country remain lawless.
Full report at:
https://www.business-standard.com/article/pti-stories/three-soldiers-13-terrorists-killed-in-mali-attacks-sources-118061000004_1.html
--------
North America
US soldier killed in al-Shabab ambush in Somalia
09 June 2018
One U.S. special forces soldier was killed and four others wounded Friday in an attack by al-Shabab militants in southern Somalia, U.S. Africa Command (Africom) announced in a press release.
A "partner force" service member was also wounded, the statement added.
Members of the Somali National Security Forces (SNSF), Kenyan Defense Force (KDF) and U.S. forces were conducting a joint operation in the city of Jubaland when they came under mortar and small-arms fire.
"A large force consisting of approximately 800 forces from the SNSF and KDF were conducting a multi-day operation approximately 350 kilometers southwest of Mogadishu when the attack occurred," Africom said.
"The mission's objectives were to clear al-Shabab from contested areas, liberate villages from al-Shabab control and establish a permanent combat outpost designed to increase the span of Federal Government of Somalia (FGS) security and governance," it added.
The American soldiers were providing advice, assistance and aerial surveillance during the mission.
One of the wounded U.S troops received medical care in the field while the other three and the wounded partner force member were medically evacuated to receive additional treatment.
The names of the victims are being withheld pending notification of next of kin.
U.S. President Donald Trump authorized the conducting of airstrikes in Somalia soon after taking office. There are roughly 500 U.S. troops and two military headquarters there.
U.S. forces have been working with the Somali government to fight the al-Shabab terror group, which has publicly boasted of its alliance with al-Qaeda and has been fighting Somalia's internationally recognized government for control of the country since the militant group was ousted from Mogadishu in 2011 by African Union-led forces.
http://www.worldbulletin.net/africa/202925/us-soldier-killed-in-al-shabab-ambush-in-somalia
--------
Canada scrambled to figure out Trump 'Muslim ban': U.S. documents show
June 4, 2018
OTTAWA - Not only were Canadian officials scrambling to limit problems for travellers, they were simply trying to grasp what was going on when the Trump administration issued an executive order last year banning people from seven predominantly Muslim countries from entering the United States.
Newly released internal notes from the U.S. Department of Homeland Security reveal Canadian government officials fired off a list of 16 detailed questions with the aim of figuring out the order's impact on everything from refugee claims to biometric tracking.
The records were recently released to The Canadian Press in response to a February 2017 request under the U.S. Freedom of Information Act, asking for materials used to brief then-homeland secretary John Kelly in advance of phone calls with Canadian Public Safety Minister Ralph Goodale.
Some 400,000 people and more than $2 billion worth of goods and services cross the Canada-U.S. border every day.
The order - officially the Executive Order on Protecting the Nation from Foreign Terrorist Entry into the United States - applied to people from Iran, Iraq, Libya, Somalia, Sudan, Syria and Yemen. As soon as it was signed on Jan. 27, 2017, confusion erupted about who was allowed into the U.S., as did persistent headaches for some travellers from Canada.
The Nexus trusted-traveller cards of about 200 Canadian permanent residents were suddenly cancelled. There were several reports of minorities being turned away at the U.S. border. And a surge of would-be refugees coming north through remote border points continues to this day.
A week after the executive order, Goodale told the House of Commons the Liberal government was trying to ensure Canadian dual-nationals could still use their Nexus cards at the border.
The newly released notes, prepared in February 2017, said card holders "should not be impacted" by the executive order, though Homeland Security was open to hearing about specific examples of people having trouble.
The U.S. records say Canadian officials wanted to know how the order would apply to citizens of a restricted country who were also landed immigrants in Canada.
They appeared to wonder whether a biometric system for keeping track of people entering or leaving the U.S. would apply to Canadian citizens. "How can we work together to discuss alternatives that build on the existing collaboration we have at our shared land border?" Canadian officials asked.
Among the other questions from Ottawa:
Do measures in the executive order related to U.S. privacy policies affect the "treatment of data" held about Canadians?
Are there more details about planned standards to prevent "terrorist or criminal infiltration by foreign nationals?"
What impact, if any, does the order have on the asylum determination system?
Under the Safe Third Country Agreement between Canada and the U.S., an asylum-seeker must claim refugee status in whichever of the two countries they arrive first.
As a result, Canadian officials asked whether a refugee claimant from one of the seven listed countries, turned away by Canada due to the binational agreement, would be permitted to re-enter the U.S.
Goodale spoke by phone with Kelly about the executive order on Jan. 30 and 31, 2017.
Whenever there is a significant policy change affecting cross-border travel, there are questions about the implications for Canadians, said Scott Bardsley, a spokesman for Goodale.
"We are grateful to the United States for their assistance to help us understand the effects of executive orders. Canadians now have a better understanding of these changes."
Beatrice Fenelon, a spokeswoman for Immigration, Refugees and Citizenship Canada, said her department was "very satisfied" with the response from Homeland Security.
A revised but largely similar version of the U.S. executive order was introduced about six weeks after the first one ran into judicial roadblocks.
In anticipation of its release, Goodale asked to speak with Kelly on Feb. 27, 2017.
Homeland security notes drafted for Kelly, who has since become Donald Trump's chief of staff, advised that Goodale might "express concerns regarding the increasing numbers of asylum seekers entering Canada between land ports of entry from the United States."
Media reporting linked the northward flow to the initial executive order, sparking calls in Canada to suspend or scrap the Safe Third Country Agreement, the notes mentioned. However, they added that the trend actually predated the order, and a majority of the asylum seekers had a valid visa that would have allowed them to remain in the United States.
The U.S. notes suggested Canada look within its own borders for the cause.
Full report at:
https://www.ctvnews.ca/politics/canada-scrambled-to-figure-out-trump-muslim-ban-u-s-documents-show-1.3957846
--------
Europe
Rouhani and Putin discuss US exit from nuclear deal
9 June 2018
Iranian President Hassan Rouhani says he would like to discuss the situation following the US withdrawal from the Iranian deal with Russian President Vladimir Putin.
Speaking at the start of his Saturday's meeting with Putin on the sidelines of the Shanghai Cooperation Organization in Qingdao, China, Rouhani hailed close ties between Russia and Iran. Iran has an observer status in the SCO, and Putin said that Moscow would support the full-fledged Iranian membership.
Rouhani said that the U.S. exit from the nuclear agreement with Iran warrants an "important and serious discussion between our two countries."
Rouhani also hailed Russia-Iran cooperation in Syria, saying "our role in the region is quite significant." Russia and Iran have staunchly backed Syrian President Bashar Assad, helping turn the tide of war in his favor.
https://english.alarabiya.net/en/News/world/2018/06/09/Rouhani-and-Putin-discuss-US-exit-from-nuclear-deal.html
--------
Thousands marched in support of Palestine on Al-Quds Day in Berlin
Jun 9, 2018
Thousands marched in support of Palestine on Al-Quds Day in Berlin, Saturday. Protesters held banners asking for justice for the State of Palestine.
According to local media, there were over 2,500 demonstrators. The march encountered several small groups of counter protesters who chanted slogans and held banners in support of Israel.
A strong police presence followed the rally to prevent confrontations between the different sets of protesters.
http://www.presstv.com/Detail/2018/06/09/564487/Germany-AlQuds-Day-protest-held-in-Berlin
--------
Emergency UN General Assembly meeting on Wednesday to discuss Israeli aggression
June 09, 2018
UNITED NATIONS: The UN General Assembly will hold an emergency meeting next Wednesday at 3 p.m. to vote on an Arab-backed resolution on Gaza, the body's President Miroslav Lajcak announced Friday.
The resolution will condemn Israel, and will be similar to one vetoed by the US in the Security Council last week, which called for protecting Palestinians from Israeli aggression, according to diplomats.
It comes as four Palestinians were killed by Israeli fire on the Gaza border on Friday, as weeks of deadly clashes with protesters continued.
There are no vetoes in the 193-member world body, but while Security Council resolutions are legally binding, General Assembly resolutions are not.
"We will work next week to get the maximum number of votes," a diplomat from a country that supported the measure told AFP.
Arab countries turned to the General Assembly in December after the US vetoed a Security Council vote on a resolution to condemn its decision to move its embassy in Israel from Tel Aviv to Jerusalem.
December resolution
Fourteen members of the Security Council backed the December resolution, though the US as well as the council's four other permanent members retain a right to veto.
The measure then received 128 votes out of 193 in the General Assembly.
A diplomatic source said the emergency meeting had been pushed by the Organization of Islamic Cooperation and the Arab League.
Several European countries have tried to dissuade Palestinians and Arab countries from demanding a vote in the General Assembly after last week's US veto.
"Everyone told them not to do it," said a diplomat on condition of anonymity, arguing the resolution could be counterproductive if it doesn't receive at least as many votes as the one obtained in December on Jerusalem.
Danny Danon, Israel's ambassador to the UN, condemned the planned resolution.
"It is unfortunate that instead of condemning the terrorists of Hamas, some countries are looking to satisfy their domestic political needs by bashing Israel at the United Nations," Danon said in a statement.
It is not entirely clear what form of protection the Palestinians of Gaza are seeking, from observers to a full blown peacekeeping force.
Arab states have recently turned to UN Secretary-General Antonio Guterres to make proposals on this matter. But according to a diplomat who asked for anonymity, he said he needed a mandate from the Security Council to look further into the issue.
On Friday, four Palestinians were killed in the Gaza Strip by Israeli soldiers near the border fence during new clash-ridden protests in the blockaded enclave.
At least 129 Palestinians have been killed by Israeli fire since protests broke out along the Gaza border on March 30. There have been no Israeli casualties.
Protests peaked on May 14 when at least 61 Palestinians were killed in protests to coincide with the controversial opening of the US Embassy in Jerusalem
Crippling blockade
The Jewish state maintains a crippling blockade of Gaza it says is necessary to isolate Hamas.
Critics say it amount to collective punishment of the territory's two million residents.
The resolution expected to be put to a vote also demands that Israel refrain from the use of excessive force and "deplores the firing of rockets from the Gaza Strip against Israeli civilian areas." It calls for an immediate cease-fire.
The Palestinians are also strongly backing an investigation into events in Gaza by the Geneva-based Human Rights Council and a separate General Assembly investigation, said Palestinian UN Ambassador Riyad Mansour.
Full report at:
http://www.arabnews.com/node/1318816/middle-east
--------
Bataclan terror victims demand: Who gave soldiers order 'not to enter'?
2018-06-09
Survivors and families of victims of the 2015 Bataclan attack in Paris filed a legal complaint Friday over the inaction of some soldiers that night in what could expose egregious failings within France's military and political commands.
The legal complaint was triggered by the testimony of a top military commander who gave evidence during a parliamentary investigation of the actions of police and military on the night of the attacks of November 13, 2015.
General Bruno Le Ray, Military Governor of Paris, defended the order he'd given that prevented eight soldiers located near the Bataclan concert hall from intervening in the attack because he thought "it unthinkable to put soldiers at risk just hoping, hypothetically, to save other lives", Samia Maktouf, a Paris lawyer for the survivors and victims' families, told FRANCE 24.
She said the soldiers were told not to use their weapons or even administer first aid to the many victims shot during the two-hour siege by jihadists affiliated to the Islamic State (IS) group at the music venue.
"The military did not make any mistake, they were acting under instruction," said Maktouf, stressing that the complaint she filed is not aimed at punishing the soldiers.
"We want the judge to identify who gave the command not to enter [the Bataclan]."
Why weren't special forces deployed?
During the 2016 parliamentary probe headed by Georges Fenech, questions were raised as to why the country's special operations force, the elite unit of the Sentinelle who specialise in counter-terrorism, were not deployed at the Bataclan.
In the concluding report, Fenech pointed to a lack of coordination and confusing lines of authority that had slowed down the response of the forces as the attack unfolded. However, he did not ascribe blame "at men but at organisations", he told Le Figaro in an interview.
Maktouf believes otherwise and is suing on behalf of her clients to determine who gave the orders to hold the Sentinelle officers back. It is these individuals who she believes are ultimately responsible for the fatal failings that led to the deaths of 90 concert goers at the Bataclan.
Responding to Friday's announcement of a legal complaint being filed, Col. Patrik Steiger, spokesman for the French Armed Forces Staff, defended the actions of security forces saying in a written statement that the soldiers took all measures possible to protect police officers at the scene, to protect the victims fleeing the hall and to facilitate the arrival of emergency assistance.
"The military intervened spontaneously on the night of November 13, they arrived [at the Bataclan] while police were already present. The military secured areas around the Bataclan in coordination with, and at the request of, the internal security forces," Col. Steiger said in a written statement to FRANCE 24.
Asking the 'right questions'
The parliamentary probe led to tougher anti-terrorism laws and reforms to enable greater intelligence sharing and cooperation between France's security and police forces. But, says Maktouf, it provided little in the way of justice for the survivors and the victims for whom Maktouf continues to fight.
She said that she had written to several judges and prosecutors asking for answers but that she did not receive answers to her questions.
"It may be in three or five years, but we will not give up until we have an answer," she said. "Time has no meaning for people who have lost loved ones. We are all targets, we will not be able to fight terrorism if we don't ask the right questions and get the right answers. I have never found any feelings of revenge (by the victims) they are only interested in knowing the truth only because they don't want to see other parents suffering as much as they are today."
Individual soldiers, she stressed, were not to blame. The military is devoted to saving lives. I'm sure they were frustrated by not being able to save lives. They've also been traumatised."
Full report at:
http://www.france24.com/en/20180608-paris-attack-bataclan-victims-answers-military-order
--------
Pro-Tory Facebook group filled with Islamophobic abuse
9 Jun 2018
A controversial pro-Conservative Facebook group has been exposed as containing Islamophobic, homophobic and racist comments about public figures including Sadiq Khan, Diane Abbott and anti-Brexit campaigner Gina Miller.
Comments include demands to "expel the London mayor" and "send back" immigrants, while another post states that "Islam should be banned". There are also homophobic remarks about Scottish Tory leader Ruth Davidson, posted after she announced that she was pregnant.
A 42-page dossier of abusive material from the Conservative Debating Forum, a 2,700-strong Facebook group that can be joined by invitation or by permission of moderators, has been collected by the left-leaning Red Roar blog. It found that several sitting Tory MPs, as well as dozens of Tory councillors, were members of the closed group.
Tories listed included the pro-Brexit MP Jacob Rees-Mogg, a popular figure with the party's grassroots. However, he said he was furious to find he had been signed up without his knowledge and had now left. Former minister George Freeman and MPs Glyn Davies and Andrew Rosindell were also listed as members, but all said they had no knowledge of being signed up and left after being alerted to the group's content. There is no suggestion that any of the MPs posted inappropriate material.
Comments in the group include the suggestion that Islam represents an "existential threat" to Britain. Another said only "mental illness" could persuade someone to convert to Islam. Khan, the London mayor, is a regular target of abuse, with one commenter suggesting he should be "expelled" to prevent the growth of Islam in London. Several say they could not back a Muslim prime minister as it could lead to "a parallel legal system including heathen Sharia law".
The Tories have recently faced calls to tackle Islamophobia in the party. Former cabinet minister Sayeeda Warsi has backed an independent inquiry, a demand raised by the Muslim Council of Britain. Some Muslim Tory members have complained about being marginalised.
Images of Abbott, the shadow home secretary, doctored to be explicit, were shared in the group, with suggestions that she wants to "change the racial profile of the country". Other comments include comparisons between the MP and a gorilla. There are shocking instances of homophobia against Davidson. Members state that her pregnancy represents "degeneracy" and is "sick". One says: "Homosexuals shouldn't raise children." Another adds: "You make your filthy bed and you lie in it." Anti-Brexit campaigner Miller is described as "a damned foreigner". Commenters call for her to "go home" and to "get what she deserves".
After being contacted by the Observer, the group's administrators relaunched it under the name the Conservative Politics Society. They told members that "in recent times our forerunner has sadly not lived up to what the group was originally founded for". They also said they were drawing up a code of conduct.
A spokesman for the group apologised for the content and said it took its complaints procedure "incredibly seriously". He said: "We have been particularly tougher on people who overstep the mark in recent months.
"Whilst we try to be very stringent on these matters, we cannot control the words of individual members in a forum of this size beyond banning them if reported. We are deeply saddened that despite our best efforts to prevent situations like this from arising, some individuals cannot seemingly abide by group rules."
Full report at:
https://www.theguardian.com/politics/2018/jun/09/pro-tory-facebook-group-filled-with-islamophobic-abuse
--------
URL: https://www.newageislam.com/islamic-world-news/eid-al-fitr-moon-sighting/d/115500
New Age Islam, Islam Online, Islamic Website, African Muslim News, Arab World News, South Asia News, Indian Muslim News, World Muslim News, Women in Islam, Islamic Feminism, Arab Women, Women In Arab, Islamophobia in America, Muslim Women in West, Islam Women and Feminism