New Age Islam News Bureau
13 Apr 2018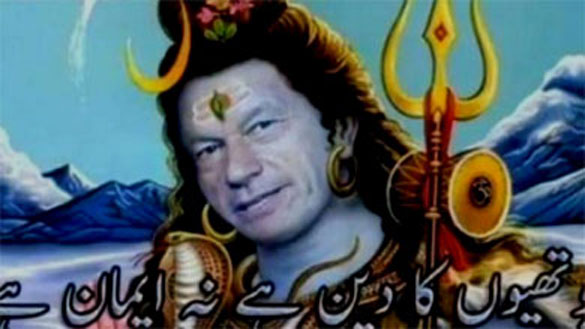 In order to turn the Muslim majority of Pakistan against Imran Khan, who has allegedly gained a lot of support from the Hindu communities in Pakistan, an offensive post was shared on social media platform by the supporters of Nawaz Sharif. Photo credit: www.thelallantop.com
-----
• Egypt's Grand Mufti Says Buying Facebook 'Likes' Is Deceiving, Forbidden In Islam
• Kathak on Sufism Style to Be Performed In Bhopal
• Nawaz Sharif Fans Reimagine Imran Khan as Lord Shiva, Pakistani Hindus Demand Action
• Turkish Religious Authority Launches Drive against Terrorists Exploiting Islam
• UK Launched Cyber-Attack on Islamic State
Arab World
• Egypt's Grand Mufti Says Buying Facebook 'Likes' Is Deceiving, Forbidden In Islam
• Muslim World League Calls for Young People to Be Better Informed About Evils of Extremism
• King Salman Humanitarian Aid and Relief Chief Reviews Health Services for Rohingya Refugees at Cox's Bazar
• 16 dead in attack at Iraq funeral of anti-IS fighters
• New Terrorist-Held Region in Eastern Damascus to Join Peace
• Jeish Al-Islam Ringleader Leaves Eastern Ghouta
• Syria's Assad: Western action would 'further destabilize' region
• Saudi Arabia, Spain sign $2.2bn defense deal
--------
India
• Kathak on Sufism Style to Be Performed In Bhopal
• Do Not Seek Meo Muslim Votes, They Fool Hindu Girls with Love Jihad: BJP's Alwar MLA
• National Investigation Agency Cracks Down On Isis Kerala Netizens
• Kathua Rape, Murder Exposes 'India's Religious Friction', Says Foreign Media
• Hindu protests against Rohingya intensify in India's Jammu
• IUML to Forge Alliance with Secular Parties in Upcoming Lok Sabha Elections
• Pakistan should normalise relations with India, then talk Kashmir: Haqqani
--------
Pakistan
• Nawaz Sharif Fans Reimagine Imran Khan as Lord Shiva, Pakistani Hindus Demand Action
• ISI Employed To Get Material against Maryam, Safdar: JIT Head
• No one can harm Pakistan as long as nation stands behind army: COAS
• PUC chief calls for Muslim unity
• 'Engineered protests' won't be allowed, says army chief
• Appeasing religious circles: Punjab promulgates ordinance allowing four loudspeakers at mosques
• Pakistan shares 'actionable intelligence' with Afghanistan
• JI threatens to shut down Karachi
--------
Mideast
• Turkish Religious Authority Launches Drive against Terrorists Exploiting Islam
• Turkey Says Plans to Place Quarter of Top Students in Islamic Schools
• Jerusalem Conference guests denied entry by Israel
• Saudi FM: Palestine will top discussions at the 29th Arab League summit
• Arab states aim to block Israeli Security Council bid: Palestinian FM
• Israeli troops kill Palestinian at Gaza border
• Jubeir: Iran and terrorism are two sides of one coin
• Iran wants Idlib freed, occupying US troops out of E Syria: Senior official
• Arab states campaigning to block Israel's Security Council bid: Al-Maliki
--------
Europe
• UK Launched Cyber-Attack on Islamic State
• Far-Right Groups Attack 3 Mosques in Netherlands
• Saudi Crown Prince discusses military cooperation with Spanish Defense Minister
• War between Russia, US can't be ruled out: Moscow
• EU Council extends sanctions on Iran by one year
• Dutch FM suspects chemical attack in Syria's Douma
• German nationalist apologizes for blaming attack on Muslims
--------
Southeast Asia
• Indonesia's Aceh to Take Caning Indoors after Backlash
• Ismail Sabri: Malay 'Special Rights' And Islam in Jeopardy If Vote Given To DAP
• Suhakam inquiry gets heated during questioning of Perlis mufti
• Lawyer Siti Kasim grills Asri over Shia and Sunni
--------
South Asia
• 4 ISIS Militants Blown Up By Own Explosives in Kunar Province
• Myanmar Minister Meets Muslim Rohingya Refugees in Bangladesh as Confidence-Building Measure
• Angry Myanmar activists grab Zuckerberg's attention on hate speech
• Four IS militants killed in Afghanistan
• Afghan armed forces pound Taliban targets in response to Ghazni attack
--------
North America
• Trial Asks Whether A Mentally Ill Man Can Commit A Terrorist Act
• Mosque open houses combat negative stereotypes of Muslims
• Pentagon cautions White House: Syria strike could trigger wider war
• 'No final decision has been made' on Syria: White House
--------
Africa
• Boko Haram Has Abducted Over 1,000 Children in Nigeria since 2013: UNICEF
• Libyan spokesman: No comment on reports of Haftar being treated in Paris
• Bomb blast kills 5 at stadium in Somalia
Compiled by New Age Islam News Bureau
URL: https://www.newageislam.com/islamic-world-news/egypts-grand-mufti-says-buying/d/114924
--------
Egypt's Grand Mufti Says Buying Facebook 'Likes' Is Deceiving, Forbidden In Islam
April 12, 2018
Egypt's Grand Mufti has issued a 'fatwa' (religious ruling) against buying 'likes' on social media platforms, a mechanism commonly used by people running social media channels who opt to buy their followers in order to boost their numbers, Al-Masry Al-Youm reports.
"Boosting content is permissible in Sharia law as long as it's in a manner to promote an account, a product, a page or a publication in order for the content to reach a certain number of user targeted in exchange of money," Shawki Allam, Egypt's Grand Mufti, said.
Allam stated, however, that if the number of likes or followers seen on an advertised product or page does not reflect real-life circumstances, it is then considered an "immoral" and "deceiving" act, and is therefore forbidden by religious law.
He explained that boosting content is deemed permissible as it is simply money spent by the page administrator in exchange of a service, in this case, reaching a certain number of audience. Meanwhile, boosting interaction through fake 'reacts', 'likes', or comments is a clear violation of honesty, as it considered fraud and misleading to the audience, as it no way reflects tangible reach.
He further mentioned that the management policies of all social media platforms clearly state that pages should not contain fake, misleading or deceiving content.
http://www.egyptindependent.com/grand-mufti-says-buying-facebook-likes-is-deceiving-forbidden-in-islam/
--------
Kathak on Sufism Style to Be Performed In Bhopal
06 April 2018
Kathak on Sufism style will be performed in city of lakes. The noted Kathak exponent of the city V Anuradha Singh will spread the charm of her signature dancing style 'Sufi dance' at a classical dance event to be held at Shaheed Bhavan. She will be performing on Friday, marking the grand dance festival.
The Sufiyana Raks dance will be performed by Singh before the Bhopalites wherein she will show the innocence and purity of Sufism. The event is being organized by Kirti Ballet and Performing Arts group, Bhopal in association with Department of Culture, Madhya Pradesh.
It is to be noted that V Anuradha Singh is one Kathak exponent who does not need any introduction as she has created a niche for herself in classical dancing style. In the past years she had been a part of various dancing events on national and international platforms.
Hailing from Bhopal, Anuradha is noted Kathak dancer for her innovation and improvisation in traditional Kathak technique. Rhythmic understanding, ability to extemporize with speedy rhythms and preserving pure Kathak classical style are some of her qualities. Experimenting with classical Sufi Kathak, she has evolved a refined, sophisticated style in pure classical form, based on fast speeds, swift turns, mind thrilling footwork, delicacy of movements and impressive expressions.
Anuradha is one of the well known dancers of solo classical Kathak dance. With enchanting stage presence she has earned acclamation for intense and sensitive dance presentations. She has performed solo Kathak internationally in addition to more than 50 prestigious Government organized festivals in India and has also given across the world.
http://www.dailypioneer.com/state-editions/bhopal/kathak-on-sufism-style-to-be-performed-in-bhopal.html
--------
Nawaz Sharif fans reimagine Imran Khan as Lord Shiva, Pakistani Hindus demand action
April 12, 2018
Pakistan's General Elections are just around the corner. Scheduled in July 2018, the elections have forced the Pakistani parties to gear up and make the most of the time left.
There are three major parties in Pakistan:
Pakistan Muslim League - Nawaz - PML(N) - Led by Nawaz Sharif
Pakistan Tehreek-e-Insaf - PTI - Led by Imran Khan
Pakistan Peoples Party - PPP - Led by the Bhutto family
The Pakistani political parties are ready to do anything, even if it means facing major backlash for it.
In order to turn the Muslim majority of Pakistan against Imran Khan, who has allegedly gained a lot of support from the Hindu communities in Pakistan, an offensive post was shared on social media platform by the supporters of Nawaz Sharif.
The huge controversy came to light after a page by PML(N) supporters posted a controversial picture of Imran Khan superimposed as Lord Shiva.
The post was intended to show that Imran Khan is closer to his Hindu supporters but instead, it backfired in the cruelest way.
The incident was even discussed in Pakistan's Parliament.
Farhan Laghari, a member of PPP, also tweeted and raised this issue on social media. He shared a video of a Pakistan's parliament session where the issue was raised shedding light on how this photoshopped image disrespected the Hindu community. An inquiry will be held as per the speaker's ruling.
The post, however, has been removed from the social media. A screenshot of the same has been attached at the end of the article.
https://www.indiatoday.in/fyi/story/nawaz-sharif-supporters-post-imran-khan-superimposed-as-lord-shiva-hindu-communities-demand-action-1210531-2018-04-12
--------
Turkish religious authority launches drive against terrorists exploiting Islam
April 13, 2018
Religion dominates the daily life of millions in Muslim-majority Turkey, yet it is also a useful means for terrorist groups to enlist new recruits to their warped view of Islam.
To counter the false religious propaganda by Daesh and Gülenist Terror Group (FETÖ), state-run Presidency of Religious Affairs (DİB) has launched a new initiative. Through imams and other staff in mosques and offices across Turkey, the religious authority wants to raise awareness against the threat of exploitation or abuse of religion by the terrorist groups.
Clerics and theologians will be enrolled by DİB for the campaign that will organize conferences and produce TV and radio programs. The matter will also be included in the weekly sermons at mosques all across Turkey.
Detailing the projects at a press conference in Ankara yesterday, DİB President Ali Erbaş said that the administrators of the authority along with Islamic scholars will attend events to raise awareness this month and the next in 40 cities across Turkey in the first leg of the initiative. He said they would also attend programs on local TV and radio stations to inform the public about the issues.
"We want citizens to ask [DİB] if they need advice on religious education and knowledge, so as not to heed those abusing the religion," Erbaş said.
The religious authority had released detailed reports before on what impact Daesh and FETÖ had on the image of Islam.
Turkey is among the countries branded "infidel" by the terrorist group Daesh, which adheres to a warped version of Islam that justifies acts of terror. Turkish security forces have been involved in a long-running campaign to thwart Daesh terrorism.
The country's efforts against Daesh made it a primary target of the terrorist group, which carried out a number of gun and bomb attacks targeting Turkish security forces and civilians. The terrorist group has managed to attract radicalized youth from Turkey as well as al-Qaeda sympathizers to its ranks. Several Turks, including one individual wanted for plotting some major Daesh attacks, are among the members fighting for the terrorist group in Syria and Iraq.
Like Daesh, FETÖ recruited its followers by brainwashing them through religious messages before exploiting them to for the group's benefit. The members did not question leadership or orders, a DİB report says.
FETÖ, which operates around the world through a large network of schools, institutions and unions, is recognized as a terrorist group in Turkey. The government blames it for the July 15, 2016 coup attempt in the country that killed 250 people and wounded more than 2,000. The government says that the group's self-exiled leader Fetullah Gülen masterminded the coup attempt.
In the 1970s, FETÖ emerged as a religious group and then a "peaceful" movement that advocated interfaith dialogue and worldwide education for the poor and needy. However, FETÖ's decades-long attempts to infiltrate the police, judiciary, military and other state institutions returned in last year's coup attempt. The DİB report suggested that Gülen's followers have been turned into robotic militants who do not question his leadership or orders.
https://www.dailysabah.com/turkey/2018/04/13/turkish-religious-authority-launches-drive-against-terrorists-exploiting-islam
--------
UK launched cyber-attack on Islamic State
12 April 2018
The UK has conducted a "major offensive cyber-campaign" against the Islamic State group, the director of the intelligence agency GCHQ has revealed.
The operation hindered the group's ability to co-ordinate attacks and suppressed its propaganda, former MI5 agent Jeremy Fleming said.
It is the first time the UK has systematically degraded an adversary's online efforts in a military campaign.
Mr Fleming made the remarks in his first public speech as GCHQ director.
"The outcomes of these operations are wide-ranging," he told the Cyber UK conference in Manchester.
"In 2017 there were times when Daesh [an alternative name for Islamic State] found it almost impossible to spread their hate online, to use their normal channels to spread their rhetoric, or trust their publications."
Mr Fleming said much of the cyber-operation was "too sensitive to talk about", but had disrupted the group's online activities and even destroyed equipment and networks.
"This campaign shows how targeted and effective offensive cyber can be," he added.
But Mr Fleming said the fight against IS was not over, because the group continued to "seek to carry out or inspire further attacks in the UK" and find new "ungoverned spaces to base their operations".
'Blurring boundaries'
Mr Fleming also criticised Russia over what he called "unacceptable cyber-behaviour" that was a "growing threat" to the UK and its allies.
He recalled the NotPetya ransomware attack on Ukraine last year, which eventually spread across the world. The UK and US later said the Russian military were behind the attack, a claim that Moscow denied.
"They're not playing to the same rules," Mr Fleming said. "They're blurring the boundaries between criminal and state activity."
He said the use of a nerve agent on Sergei and Yulia Skripal in Salisbury was "stark and shocking", and demonstrated "how reckless Russia is prepared to be".
The UK has said Moscow was "culpable" for the attack, but Russia denies any any involvement.
"The robust response from the UK and from the international community shows the Kremlin that illegal acts have consequences. And it looks like our expertise on Russia will be in increasing demand," he said.
Following the speech, the chief executive of the National Cyber Security Centre, Ciaran Martin, told the BBC the Notpetya case was also an example of the Russian recklessness mentioned by Mr Fleming.
Asked if the disclosures about offensive cyber-actions were a veiled warning to Russia, Mr Martin said sometimes the best form of defence is defence.
Inspectors back UK in spy poisoning row
What happened to Sergei and Yulia Skripal?
Mr Fleming went on to describe some of GCHQ's other goals, which include tracking down people who use the dark web to distribute child sex abuse images.
Cyber has created a new landscape for attackers and defenders, he said, and the challenges were "vast" but were being met by a strong and lawful GCHQ.
On Wednesday, Mr Fleming announced a new GCHQ base is to open in Manchester, hoping to draw "tech savvy recruits".
http://www.bbc.com/news/technology-43738953
--------
Arab World
Muslim World League calls for young people to be better informed about evils of extremism
MOHAMMED AL-SULAMI
April 13, 2018
JEDDAH: Young people must be fully aware of the true meanings of Islamic texts and understand their purposes, to protect youths and counter the suspicions, allegations and corrupt interpretations of Islam that have been promoted by extremists for a long time in a number of countries in the region.
The call came from Mohammed bin Abdul Karim Al-Issa, the secretary-general of the Muslim World League, in a speech during the presentation of the Abdullah bin Bader Al-Swaidan Award for Excellence in the Eastern Province.
Al-Issa said that the award is considered a pioneering model for safeguarding young people and promoting religious and national awareness of extremism.
He said: "Saudi Arabia has identified and removed more than 800 harmful intellectual materials launched by Daesh through thousands of messages on social networking sites.
"It is not enough to totally reject extremism and warn against it, because it thrives through the spreading of ideas that prey on and promote a negative type of religious sentiment devoid of the necessary level of awareness that can defeat the fallacies of extremism.
The Swaidan Award is the largest award in the Kingdom. More than 115,000 young men and women took part in the most recent edition, a record number of students in general education.
http://www.arabnews.com/node/1283901/saudi-arabia
--------
King Salman Humanitarian Aid and Relief chief reviews health services for Rohingya refugees at Cox's Bazar
April 12, 2018
JEDDAH: Dr. Abdullah Al-Rabeeah, the supervisor-general of King Salman Humanitarian Aid and Relief Center reviewed on Thursday the services being provided by the hospital in Sadar District for Rohingya refugees at Cox's Bazar.
Al-Rabeeah visited the hospital's rooms and the Pathology Department and reviewed the hospital's needs and shortages of medical supplies, medicines, and other equipment, and spoke to a number of patients and beneficiaries of the services.
Al-Rabeeah also inspected the warehouses' project financed by the center to assist Rohingya refugees in cooperation with International Organization for Migration, in Nella village, Teknaf Nell.
On Wednesday, the KSRelief team also visited the Republic of Mauritius to assess the damage and humanitarian needs caused by the recent floods in the country.
Full report at:
http://www.arabnews.com/node/1283801/saudi-arabia
--------
16 dead in attack at Iraq funeral of anti-IS fighters
April 13, 2018
SAMARRA - At least 16 people died in a bomb attack Thursday during funerals in a northern Iraqi village for fighters killed by the Islamic State group, the village's mayor said.
"Two bombs exploded as the funeral procession was entering the cemetery" in Asdira, near the town of Sharqat, Salaheddin Shaalan told AFP.
Most of 14 people wounded in the blast were in "critical condition", he said.
Officials said the injured could not be transported to a hospital outside the village as night had fallen and inhabitants feared being ambushed by IS.
The funeral was for five members of the Hashed al-Shaabi paramilitary units, which fought alongside the army to expel the militant group from Iraqi towns last year.
They were killed on Wednesday night in a militant attack on a military convoy in the village, 250 kilometres (150 miles) north of Baghdad, a police official said.
The attack was the deadliest in Iraq since a January 16 double suicide bombing in Baghdad that cost 31 lives.
The Iraqi government declared victory over IS in December after pushing the militants out of their final holdouts along the border with Syria.
But the group retains the capacity to strike despite losing control of vast swathes of Iraqi territory it seized in 2014.
It still clings to pockets of desert in war-torn Syria and appears to be able to cross the porous border between the two neighbours.
Militants sometimes manage to snatch control of roads at night, especially in the Salaheddin province where Thursday's attack took place, and Anbar province along the border with Syria, security experts say.
Full report at:
https://nation.com.pk/13-Apr-2018/16-dead-in-attack-at-iraq-funeral-of-anti-is-fighters
--------
New Terrorist-Held Region in Eastern Damascus to Join Peace
Apr 12, 2018
Local sources in the town of al-Dhumayr reported on Thursday that the terrorists in the region have reached an agreement during negotiations with the Syrian and Russian armies in al-Dhumayr airbase to leave the region.
Based on the agreement, other terrorists who don't intend to leave the region will be granted amnesty by the Syrian government.
The Syrian army regained full control of Eastern Ghouta after the last groups of Jeish al-Islam terrorists left the town of Douma.
The development came after Jeish al-Islam ringleader Ossam al-Bawizani, along with other senior commanders of the terrorist group, left the town of Douma in Eastern Ghouta after an agreement with the Syrian army.
The Syrian Observatory for Human Rights reported on Thursday that most senior Jeish al-Islam commanders, including Bawizani and the group's Mufti, Abu Abdolrahman Ka'akeh, evacuated Douma on Wednesday.
It added that terrorists have also surrendered all their heavy weapons, including armored vehicles, tanks and missile-launchers, to the Russian military police stationed in the region.
Meantime, the Russian defense ministry reported that 1,521 terrorists and their family members left Douma on 40 buses through al-Wafideen corridor in the past 24 hours.
13,504 terrorists and their family members left Douma, and the number of militants and family members who have evacuated Eastern Ghouta of Damascus with the help of the Russian Reconciliation Center for Syria has reached 644,166.
The entire Eastern Ghouta of Damascus is now under the control of the Syrian army after Jeish al-Islam terrorists left the town of Douma, the Russian Reconciliation Center for Syria announced.
Head of the Center Yuri Yuftshenko said on Thursday that the Syrian army forces have regained full control of Douma after the country's official flag was hoisted in the town, adding that Eastern Ghouta is declared fully liberated.
He added that when control of Douma is delivered to the legal government in Syria, the Russian military units will enter the town to supervise over implementation of laws.
Full report at:
http://en.farsnews.com/newstext.aspx?nn=13970123000886
--------
Jeish Al-Islam Ringleader Leaves Eastern Ghouta
Apr 12, 2018
The Syrian Observatory for Human Rights reported on Thursday that most senior Jeish al-Islam commanders, including Bawizani and the group's Mufti, Abu Abdolrahman Ka'akeh, evacuated Douma on Wednesday.
It added that terrorists have also surrendered all their heavy weapons, including armored vehicles, tanks and missile-launchers, to the Russian military police stationed in the region.
Meantime, the Russian defense ministry reported that 1,521 terrorists and their family members left Douma on 40 buses through al-Wafideen corridor in the past 24 hours.
13,504 terrorists and their family members left Douma, and the number of militants and family members who have evacuated Eastern Ghouta of Damascus with the help of the Russian Reconciliation Center for Syria has reached 644,166.
The entire Eastern Ghouta of Damascus is now under the control of the Syrian army after Jeish al-Islam terrorists left the town of Douma, the Russian Reconciliation Center for Syria announced.
Head of the Center Yuri Yuftshenko said on Thursday that the Syrian army forces have regained full control of Douma after the country's official flag was hoisted in the town, adding that Eastern Ghouta is declared fully liberated.
He added that when control of Douma is delivered to the legal government in Syria, the Russian military units will enter the town to supervise over implementation of laws.
Full report at:
http://en.farsnews.com/newstext.aspx?nn=13970123000803
--------
Syria's Assad: Western action would 'further destabilize' region
12 April 2018
Syrian President Bashar al-Assad warned on Thursday that threats of Western military action in response to an alleged chemical attack would only lead to further chaos in the region.
"These voices, and any possible actions, will only contribute to further destabilization in the region," Assad said.
His comments, made as he received Ali Akbar Velayati, foreign policy advisor to Iran's Supreme Leader Ayatollah Ali Khamenei, were posted on the Syrian presidency's social media accounts.
https://english.alarabiya.net/en/News/middle-east/2018/04/12/Syria-s-Assad-Western-action-would-further-destabilize-region.html
--------
Saudi Arabia, Spain sign $2.2bn defense deal
April 12, 2018
Saudi Arabia and Spain signed a $2.2 billion framework agreement on defense co-operation at a ceremony on Wednesday in the Spanish capital.
The Kingdom will buy five small warships from the Spanish state-owned shipbuilder Navantia, Spain's army will train Saudi military personnel and contractors will build a naval construction center in Saudi Arabia.
The deal was among a raft of agreements on business, trade and culture reached during the Saudi Crown Prince Mohammed bin Salman's visit to Spain, which concluded on Wednesday.
Earlier, the crown prince was welcomed by Spain's King Felipe VI at the Zarzuela Palace on the outskirts of Madrid. The king hosted a luncheon in his honor attended by senior Spanish officials and businessmen. The crown prince then held talks with Defense Minister Maria Dolores Cospedal and Prime Minister Mariano Rajoy.
Spain is a leader in sectors such as renewable energy and infrastructure, which are key to Saudi Vision 2030.
Full report at:
http://www.arabnews.com/node/1283741/saudi-arabia
--------
India
Do Not Seek Meo Muslim Votes, They Fool Hindu Girls with Love Jihad: BJP's Alwar MLA
Dev Ankur Wadhawan
April 13, 2018
Banwari Lal Singhal, a BJP MLA from Alwar district, known for his controversial comments, is at it again.
Singhal claimed that he does not seek votes from members of Meo community accusing them of being involved in criminal activities.
"It's not politics. I have a clear viewpoint. In Alwar, if we see the list of crimes, people from Meo community rank in a large number, be it making a fool or love jihad, or fooling sisters and daughters of Hindu community by making fake IDs. Boys are making fake Facebook accounts with Hindu names and by chatting with girls on the site, they dupe them," Singhal said.
Singhal added, "Today, when I said that I do not go to ask their votes, firstly, I also know they do not even give votes here. Secondly, if I ask for their votes, then it can become my compulsion that I help them in saving them from their crimes. I do not want to help these criminals in any way. That is why, I keep myself away from them. Even in elections, neither do I expect their votes nor do I go asking for it."
"I have to say that these people should be investigated."
However, according to Singhal, not all from Meo community are criminals.
Singhal had earlier claimed that Muslim population is being increased to ensure that the Muslim community takes the reins of the entire country's rule in their hands by 2030.
https://www.indiatoday.in/india/story/alwar-bjp-mla-banwari-lal-singhal-meo-muslims-love-jihad-community-criminal-1211113-2018-04-13
--------
National Investigation Agency Cracks Down On Isis Kerala Netizens
13 April 2018
The National Investigation Agency (NIA) has intensified its efforts to prevent the propagation over the social media of messages aimed at wooing Keralites into the global terror force, Islamic State (ISIS).
As part of the crackdown, the investigation agency has reportedly instructed the authorities of the social media platform 'Telegram' to remove groups that are specialising in propagation of Islamic State ideology. The agency's efforts were triggered allegedly by the appearance in a section of the media some voice messages about the recruitment of youths into the ISIS.
The NIA has learned that messages are being circulated extensively over the social media with the objective of recruiting more youths into the ISIS from Kerala, which had become an important centre for sourcing manpower for the terror group a long time back. Telegram is perhaps the most preferred platform for propagating such messages, according to sleuths.
As per reports, the NIA had succeeded in getting at least three such Telegram App groups specialising in propagating Islamic State ideology taken off the cyberspace last year. The NIA turned its attention to the matter now as such messages had started coming out of ISIS centers abroad recently after a long lull.
However, the Telegram messages that had reached Kerala recently had not contained explosively provocative contents but the NIA has brought the groups under surveillance especially because the messages contained matters pertaining to ISIS-related cases that came under the agency's ongoing investigations, a Kerala TV channel quoted a top NIA official as saying.
The most important terror case the NIA is looking into Kerala is the one related to the disappearance of 22 persons including women and children from Kasaragod and Palakkad districts in May-June, 2016, who had allegedly joined the ISIS in Afghanistan. The case was registered by the Kerala Police and the NIA took over the probe later. A Special NIA Court had on March 24 sentenced Yasmeen Mohammed Zahid, a 30-year-old woman of Bihar origin, to seven years' rigorous imprisonment in the case relating to the recruitment of 15 persons including Abdul Rashid Abdullah from Padanna, Kasaragod, allegedly the group's coordinator and second husband of the woman.
"It is almost impossible for agencies to lay their hands on the roots of such social media collectives as the people behind them are based in places that are entirely out of reach for them. All that the agencies can do is to take down the particular pages but they can come up with another collective," said a former Kerala Police official who was with its cyber wing.
This is not the first time efforts by the ISIS to lure Kerala youths into it with campaigns through social media platforms had caught the attention of the investigating and Intelligence agencies. They had in July last year found out that some of the people belonging to the group of 22 were managing a WhatsApp collective intended at spreading the ideology of Jihad.
The admin of one of the WhatsApp groups the agencies had identified then, "Message to Kerala", was one Abu Isa, presumably the same Isa from Yakkara, Palakkad, a Christian youth who converted to Islam who had gone to Afghanistan with his wife Fatima, a Hindu girl who had embraced Islam.
Full report at:
http://www.dailypioneer.com/nation/nia-cracks-down-on-isis-kerala-netizens.html
--------
Kathua rape, murder exposes 'India's religious friction', says foreign media
Apr 12, 2018
India's terrible record in crimes against women is once again international headlines after the gang-rape, torture and death of an eight-year-old girl in Jammu and Kashmir's Kathua district.
The girl was abducted and savagely attacked to terrify the Bakarwals, a Muslim community of nomadic herders she belonged to, into leaving Kathua, the police have alleged.
International news organisations' reports speak about how the crime has "split" Jammu and Kashmir along communal lines and that it was another instance of "battleground in India's religious wars". These organisations noted that news about the crime in Kathua came as India was debating a 17-year-old woman's allegation of rape against a legislator in Uttar Pradesh's Unnao district.
Here's how the foreign publications reported the Kathua case. [Note: The name of the murdered girl in Kathua has been removed from the news reports quoted here.]
New York Times
On Tuesday, the NYT carried a story by the newspaper's South Asia correspondent Jeffrey Gettleman that focused on how the rape and murder had fuelled religious tensions in India.
"It seemed another isolated, horrific episode of sexual violence in India, perpetrated against a powerless girl by brutal men. But in the months since...the murder, the case has become another battleground in India's religious wars.
Hindu nationalists have turned it into a rallying cry — not calling for justice for..., but rushing to the defence of the accused. All of the men arrested are Hindu, and ...nomadic people, the Bakarwals, are Muslim," says the story.
The Washington Post
The Washington Post covered the case in detail, with stories and follow-ups. In her article, Malwa Eltagouri writes of how the crime has inflamed Hindu-Muslim tensions. "...case is the latest example of India's religious friction: As some denounce sexual violence and demand justice for [the girl's] family, others demand justice for the men accused."
In a column for the Wapo, Indian journalist Barkha Dutt writes, "This week, two cases of rape and murder — one of a shepherd girl in Kathua in Jammu and Kashmir, the other in Unnao, in India's most populous state, Uttar Pradesh — have been moments of acute national shame. They have proved how the powerful conspire to enable and protect sexual abusers. Worse, they have exposed the ugliest underbelly of India. Political and societal responses to these charges of rape have revealed entrenched misogyny, religious hatred and a shameful class bias. They have held up a mirror to the worst in us."
The Associated Press
The news agency's story contrasts the Kathua case with the protests that erupted after the December 16 gang rape in Delhi in 2012. "But the gang rape, torture and death of a Muslim girl in...Kashmir has seen far different protests: Thousands of members of a radical Hindu group with links to the ruling party have marched to demand the release of the six men accused in the repeated rape and killing of the girl inside a Hindu temple. Hundreds of Hindu lawyers have protested that the men, two of them police officers, are innocent," it says.
BBC
The BBC has a detailed report on how the girl disappeared and the subsequent investigation, and how the incident has set Kashmir on edge. "The crime has shocked the community, exposing the fault lines between Hindu-majority Jammu and the Muslim-majority Kashmir valley in a sharply divided state," the BBC report says.
The Asia Times
A report in The Asia Times said that details of the crime remained "cloudy" while the response of local officials was "strangely subdued" amid "claims that her community occupies land eyed by a 'rival' Hindu village".
Full report at:
https://www.hindustantimes.com/india-news/kathua-rape-murder-exposes-india-s-religious-friction-says-foreign-media/story-jQmTjTA3J6PCp9oTSs9ewN.html
--------
Hindu protests against Rohingya intensify in India's Jammu
April 12, 2018
Hundreds of Hindus marched on the streets of Jammu city on April 11 as part of an intensified campaign calling for the deportation of thousands of Rohingya refugees from Jammu and Kashmir, India's only Muslim-majority state.
Roads were deserted and businesses, schools and colleges were shut in the Hindu stronghold as various Hindu groups protested what they called government inaction in removing the refugees from the state.
"The Rohingya are living in Jammu illegally and want to criminalize our society," said Paviter Singh, a leader of Jammu Province People's Forum that supported the shutdown protests. "We will keep protesting" until the government deport Rohingya from the state, he said.
Udhay Chand, a chief of the pro-Hindu Duggar Pradesh Party, told ucanews.com that the federal government has failed to handle the Rohingya issue by not organizing refugee camps near the border with Myanmar as per guidelines of a U.N. resolution. The failure has allowed refugees to scatter across the entire country, especially in the Jammu region, he said.
An estimated 40,000 Rohingya now live in India after more than 670,000 of them fled their native Rakhine State following a Myanmar military counter-insurgency campaign against Rohingya militants beginning August 2017.
The federal government announced a plan in December to deport all Rohingya Muslims from India, but that is being contested in the country's Supreme Court. Two Rohingya refugees — Mohammad Salimullah and Mohammad Shaqir — petitioned the Supreme Court last November, which resulted in the deportation moves being suspended.
Hindu groups say that the estimated 5,000 Rohingya refugees — who mostly live in makeshift shanties in Jammu — could play into the hands of local Islamic militants who seek to free the Muslim-dominated state from Indian rule.
Manish Sahni, state general secretary of the Hindu party Shiv Sena, said the protests are a "warning to the government to take stern action against the illegal settlement of Rohingya or be ready to face dire consequences."
Sahni said that the Rohingya must be deported from Jammu because "they have polluted our culture and making the society worse with each passing day."
Tasleem Ahsraf, a Muslim civil society activist in Kashmir, said the protests are aimed at placating Hindu sentiments ahead of the national elections in 2019.
"Otherwise, what is the reason to shut schools and business against few hundred people who eke out living by collecting scarp on the roads?" asked Ashraf said. "This is utterly insane and vicious," she added.
A ucanews.com reporter spoke with several Rohingya refugees in Jammu but they were too afraid to be interviewed about the protests.
Muslim groups in the state have denounced the deportation calls. They point out that the refugees are already living in squalid conditions and have been the target of several mob attacks.
Three people were killed and six injured on Nov. 26 last year when a Hindu mob set fire to 150 Rohingya shanties in Jammu.
Most Rohingya in the state live in the Hindu-dominated Jammu area because of its warmer climate, which is similar to their home country. Jammu and Kashmir has some 12 million people, 77 percent of them Muslims, but Hindus make up 62 percent of Jammu's population. Muslims make up 96 percent of the population in the Kashmir area.
Full report at:
https://www.ucanews.com/news/hindu-protests-against-rohingya-intensify-in-indias-jammu/82050
--------
IUML to forge alliance with secular parties in upcoming Lok Sabha elections
13th April 2018
THIRUVANANTHAPURAM: The Indian Union Muslim League (IUML) will forge electoral alliance with like-minded secular parties in the upcoming Lok Sabha elections. At a press meet in Thiruvananthapuram soon after his re-election as the national general secretary of the IUML, P K Kunhalikutty MP said the party would try to forge electoral understanding with parties which have a secular mooring in the coming Parliament elections. But the party will not do anything which affects the poll prospects of the UPA in general and with whom the electoral alliance can be forged will be decided in line with stance of the UPA, he said.
When asked if the party would forge an alliance with parties which previously had a truck with the BJP-led NDA, he said: "the political situations have always been subjected to change and it is not possible to crosscheck the entire history of a political party while forging an alliance. Our aim is to create a secular front at the national level based on the present scenario and then align with a major political front at the Centre."
The national council meeting condemned the NDA move to bring in a uniform civil code terming it would affect the plurality of the country. The meet passed a resolution against the rising atrocities against the Dalits and minorities. There is total lawlessness in the country and breakdown in constitutional values. This is visible from the fact that the Centre is now trying to confuse the people when it failed to convince the public on all fronts, said Prof K M Mohideen, national president, IUML.
The IUML national general council also made an amendment to its constitution to form three more affiliated organisations. The party would form an All India Farmers Forum and an All India Professional Forum at the national level to raise the issues of farmers and professionals. Further, an All-India Muslim Cultural Centre will be formed taking a cue from the Kerala Muslim Cultural Centre (KMCC), a global organisation of Muslims from Kerala, said K M Mohideen.
The office-bearers of the party criticised the reluctance of the Left in Kerala in forging a secular alliance against fascist forces. The national council meeting re-elected Kunhalikutty as general secretary and Khader Moideen as national president. E T Mohammed Basheer MP has been retained as the national organising secretary. P V Abdul Wahab MP has been chosen the national treasurer of the party.
Full report at:
http://www.newindianexpress.com/states/kerala/2018/apr/13/iuml-to-forge-alliance-with-secular-parties-in-upcoming-lok-sabha-elections-1800811.html
--------
Pakistan should normalise relations with India, then talk Kashmir: Haqqani
April 13, 2018
Former Pakistan ambassador to the US Husain Haqqani said on Thursday that Pakistan should first normalise its relations with India and then try to resolve the Kashmir issue. "Other countries have disputes but they do not hold themselves prisoners to those disputes. China and Taiwan have healthy trade relations. The ASEAN (Association of Southeast Asian Nations) countries have majority of trade amongst themselves. The NAFTA (North American Free Trade Agreement) countries — the US, Canada and Mexico, conduct 50 per cent of trade amongst themselves.
Pakistan can do other things like trade, travel and education and then talk about Kashmir, instead of doing it the other way round," he said. Haqqani was speaking at the National Center for Performing Arts on Thursday evening at the launch of his new book, Reimagining Pakistan: Transforming a Dysfunctional Nuclear State. The former diplomat has written three other books on Pakistan.
In a conversation with writer Anil Dharker, Haqqani said that Pakistan needs to be pragmatic about resolving the Kashmir dispute. "Indian and Pakistani policy has not benefitted the people of Kashmir. First normalise relations with India and Afghanistan and then may be it is time to realise Mr Jinnah's dream of relations between India and Pakistan being on the lines of the USA and Canada," he said.
Haqqani was also critical of Pakistan's judiciary, after the Supreme Court issued a warrant for his arrest in February. Haqqani, who resigned from the government, is based in Washington D.C., where he works for a think-tank.
"Pakistan's judiciary has never been independent since 1950 and has been adjunct to the deep state. The judiciary's role is subservient to the deep state," he said.
Full report at:
http://indianexpress.com/article/india/pakistan-should-normalise-relations-with-india-then-talk-kashmir-haqqani-5135328/
--------
Pakistan
ISI employed to get material against Maryam, Safdar: JIT head
Malik Asad
April 13, 2018
ISLAMABAD: The Accountability Court hearing the Avenfield Apartments reference was informed on Thursday by chief of the joint investigation team (JIT) constituted in the Panama Papers case that the Inter-Services Intelligence (ISI) was employed to procure key material against Nawaz Sharif's daughter, Maryam Nawaz, and her husband retired Captain Mohammad Safdar.
On April 4, the JIT head and star witness in the reference against Mr Sharif, Wajid Zia, had testified that evidence related to the Capital FZE, which ultimately led to the former premier's disqualification as a parliamentarian, had been collected by two members of the probe team — Brigadier Kamran Khurshid of the Military Intelligence (MI) and Irfan Naeem Mangi of the National Accountability Bureau — in a single day.
On Wednesday, the ousted prime minister had criticised the inclusion of personnel belonging to the ISI and MI in the team investigating his case, which did not involve issues of terrorism or national security.
Responding to a question during his cross-examination on Thursday, Mr Zia told the court: "We utilised the services of Brigadier Noman Saeed [of ISI] to deliver the relevant material to Robert W. Radley." Defence counsel Amjad Pervez had asked the witness how the JIT had delivered the trust deeds and other documents signed by Maryam Nawaz, Mr Safdar and others.
It was on the basis of Mr Radley's report that the JIT had concluded the trust deeds of the offshore companies were not genuine.
The defence counsel asked Mr Zia whether it was possible for him to hire Mr Radley directly because under the Supreme Court order of May 5, 2017 every state institution was bound to extend assistance to the JIT.
Mr Zia admitted that Mr Radley could have been hired directly through Pakistan's High Commission in London. Mr Pervez then asked him why the JIT felt the need for engaging for the purpose Quist Solicitor, the law firm of his cousin Akhtar Riaz Raja. The star witness was thinking of a suitable answer when lead prosecutor Sardar Muzaffar Abbasi interfered and said the Supreme Court had allowed the JIT to hire experts. Mr Zia then replied that because the investigation team was working under a tight deadline, the law firm was hired to save precious time.
In response to a question, Mr Zia said that Mr Raja had called him to congratulate him on his appointment as head of JIT of a high-profile case. "Did anyone ever call you upon such an assignment in the past?" asked Mr Pervez.
The witness remained quiet for some time before prosecutor Abbasi said it was routine to receive best wishes from relatives on such occasions.
Annoyed over the interference by the lead prosecutor, Mr Pervez complained to Judge Mohammad Bashir that the prosecution was "depriving the accused of their legitimate right to fair trial".
Earlier the lead defence counsel had alleged that prosecutor Abbasi had met forensic expert Robert Radley in the UK "to influence his testimony", an undesirable practice in legal proceedings. Advocate Pervez also said the JIT procured the forensic record and other material related to the trust deeds in violation of the relevant provisions of the Criminal Procedure Code and that the statements of relevant officials had not been recorded as per the legal practice.
Interaction with media
Talking to journalists after the proceedings, Mr Sharif said that with the passage of time truth was coming to the fore.
He said the identity of the 40 "unknown persons" working in the JIT secretariat must be revealed who he said had prepared a "false report".
The former premier termed the reference "a blessing in disguise" and said he was thankful to Allah because the truth "is finally emerging".
The decision of the Supreme Court to disqualify him as a parliamentarian on the basis of an Iqama had already been proved wrong, he claimed.
https://www.dawn.com/news/1401341/isi-employed-to-get-material-against-maryam-safdar-jit-head
--------
No one can harm Pakistan as long as nation stands behind army: COAS
APRIL 12, 2018
RAWALPINDI: Chief of Army Staff (COAS) General Qamar Javed Bajwa on Thursday said that no external forces can hurt Pakistan as long as the entire nation stands behind the country's armed forces.
"The army pays tributes to the mothers of all martyrs whose brave sons sacrificed their lives for our homeland. As long as the nation stands shoulder to shoulder with the armed forces, no one can harm Pakistan," COAS said while speaking to an awards ceremony at General Headquarters (GHQ).
Gen Bajwa said that although the armed forces have eliminated terrorism from the country, the war against extremism and extremist elements continues. He added that the nations that forget their martyrs fade out from history.
The army chief continued that some elements are trying to disrupt peace in FATA. "There are elements inside and outside FATA that have started a movement to hurt the integrity of Pakistan, but they will not succeed in their attempts to do so," he added.
Full report at:
https://dailytimes.com.pk/227181/no-one-can-harm-pakistan-as-long-as-nation-stands-behind-army-coas/
--------
PUC chief calls for Muslim unity
April 13, 2018
LAHORE: Prevailing challenges of Ummah demands unity of Muslim world and it is need of the hour to keep check on forces responsible for reinforcing menace of terrorism, extremism and sectarian violence in Muslim countries, said Pakistan Ulema Council Chairman Hafiz Tahir Mehmood Ashrafi. Talking to delegates of Pakistan Forum of Dubai and Abu Dhabi here Thursday, Hafiz Tahir Mehmood Ashrafi said thousands of Pakistanis working in UAE are like Pakistan's representatives and ambassadors in these Gulf states. He also asserted that attempts won't succeed in creating differences within Pakistan and Arab countries. He said entire Muslim world has been facing multiple challenges and a 'fire' is being ignited to trigger chaos in Muslim countries. Palestine, Syria and Kashmir have been facing severe challenges of state terrorism while missile attacks are being planned on Saudi Arabia. All these challenges could only be settled with unity of Muslims, adding endeavours should be started for ending animosity between Saudi Arabia and Iran.
https://www.thenews.com.pk/print/303812-puc-chief-calls-for-muslim-unity
--------
'Engineered protests' won't be allowed, says army chief
Baqir Sajjad Syed
April 13, 2018
ISLAMABAD: Chief of the Army Staff Gen Qamar Javed Bajwa said on Thursday that "engineered protests" would not be allowed to reverse the gains of counterterrorism operations and cautioned the nation against forgetting sacrifices of "real heroes".
The army chief was speaking to notables in Peshawar and at an investiture ceremony at the General Headquarters in Rawalpindi.
Gen Bajwa did not name the social movement for the rights of Pakhtun people, Pakhtun Tahaffuz Movement (PTM), but it was abundantly clear from his remarks, which included references to PTM's demands for clearance of mines and removal of check-posts, that he was referring to their protests.
Apparently, the army chief was forced into giving his position on the protests after leaders of some mainstream political parties, including Pakistan Peoples Party chairman Bilawal Bhutto-Zardari and Pakistan Tehreek-i-Insaf chairman Imran Khan, expressed their support for the PTM protests that are being seen as a movement for the rights of Pakhtuns. The PTI chief had also said that he would raise the PTM concerns with Gen Bajwa.
The movement was initially launched in protest against the extra-judicial killing of Naqeebullah Mehsud in Karachi and for getting justice for the slain young man. A 10-day-long protest held in Islamabad to press for the arrest of suspended SSP Rao Anwar, who is allegedly involved in Mehsud's killing, earned the PTM sympathies from all sections of society, encouraging leaders of the movement to expand their agenda to include other grievances of Pakhtuns.
The military was initially receptive to their demand of seeking justice for Naqeebullah, but later became critical of the motives of its leadership, especially after the movement got support from Kabul and some other world capitals. These concerns got reinforced when PTM leaders talked about seeking "international guarantees" for redressal of their grievances and taking their issues "to the United Nations" and appealing "to the global society".
Speaking about PTM's demands for removal of what they call "mines" and "check-posts", Gen Bajwa said: "Measures to facilitate general public at check-posts without compromising security and clearance of unexploded ordnance were already in process on completion of kinetic operations".
He, however, cautioned against haste in the process. "No one is more interested than security forces to have such peace and stability environment which allow their complete de-induction. However, threat is still residing across the border and some disorganised residual potential including the ones morphed into Afghan refugees. Therefore we still need to move with caution".
Notwithstanding genuine problems of peaceful citizens, he maintained that military's concern was that "no anti state agenda in the garb of engineered protests etc aimed at reversing the gains achieved at heavy cost in blood and national exchequer succeeds".
At the ceremony at the GHQ, Gen Bajwa regretted that no sooner had peace returned to Fata than a "movement was started".
On this occasion, he warned against forgetting the sacrifices of "real heroes", who laid down their lives for the country, saying nations that forget their heroes were wiped off. He also pointed to the "limited ability" of "our nation" to "remember history".
Full report at:
https://www.dawn.com/news/1401345/engineered-protests-wont-be-allowed-says-army-chief
--------
Appeasing religious circles: Punjab promulgates ordinance allowing four loudspeakers at mosques
Intikhab Hanif
April 13, 2018
LAHORE: The Punjab government on Thursday promulgated the Punjab Sound Systems (Regulation) (Amendment) Ordinance, allowing four external sound systems (loudspeakers) at the places of worship (mosques) in the province.
The ordinance has amended the Punjab Sound Systems Regulation Act, 2015 that was a part of a set of five laws the Punjab government had introduced to curb extremism and terrorism as a part of the National Action Plan announced in the aftermath of the Peshawar Army Public School attack.
This law had allowed just one loudspeaker in mosques (places of worship) and also regulated its usage, providing for punishment for a violation.
Officials said on Thursday, the governor had signed the ordinance. It was likely to be published in the evening or by Friday.
The number of loudspeakers had been increased while accepting the plea that the number does not matter when it comes to misusing the gadget.
The Punjab government had agreed to amend the law early this year to appease the religious circles greatly annoyed with the PML-N for the change of words of the oath of parliamentarians introduced by amending the Elections Reforms Act.
The purpose of the Punjab Sound Systems (Regulation) Act 2015 law was "to prevent public nuisance and the voicing of utterances of controversial nature likely to cause public disorder, to regulate, control and prohibit the use of certain sound systems in the province in the interest of environment, public order, decency, and to guard against incitement to terrorism or the commission of any offence."
One of its articles provided for one external sound system at a place of worship (only) for the purpose of Azan (prayer call), Arabic Khutba (sermon) delivered on Fridays or Eid prayers, announcement of death of a person, besides lost or found (a thing or a person) announcements.
Officials said the new ordinance had allowed use of increased number of loudspeakers at the mosques. The other conditions under which they could be used would remain intact.
An official said the government had promulgated the ordinance after accepting the plea of some religious circles that the restriction on more than one loudspeakers won't help check incitement to mischief that could be committed by using a single device as well.
Full report at:
https://www.dawn.com/news/1401252/appeasing-religious-circles-punjab-promulgates-ordinance-allowing-four-loudspeakers-at-mosques
--------
Pakistan shares 'actionable intelligence' with Afghanistan
April 12, 2018
Pakistan said on Thursday that it has shared information about hideouts of the militants in the border regions, who routinely launch attacks on check posts, with neighbouring Afghanistan.
"We have shared actionable intelligence with the Afghan side about the hideouts of militants along the Pakistan-Afghan border," Foreign Ministry spokesman Mohammad Faisal said at the weekly news briefing, and urged Afghanistan to take actions on other terrorist-infested areas to fully address the issue of the terrorist sanctuaries.
The spokesman said Pakistani forces have eliminated the Tehrek-e-Taliban Pakistan, Jamaat-ul-Ahrar and Lashkar-e-Islam and other terrorist organisations from its own soil through the major operation codenamed "Zarb-e-Azb" that was conducted in North Waziristan tribal region in 2014.
"They (terrorists) have relocated themselves in Afghanistan. The Islamic State too has made sanctuaries on the Afghan side of the Pakistan-Afghan border," the Pakistani spokesman said.
Full report at:
http://www.business-standard.com/article/news-ians/pakistan-shares-actionable-intelligence-with-afghanistan-118041201434_1.html
--------
JI threatens to shut down Karachi
April 13, 2018
KARACHI - With a three-day ultimatum to KE for ending loadshedding in Karachi Jamaat-e-Islami (JI) Karachi chapter warned of shutting down port city.
JI leadership expressing concern over current power crisis has scheduled a protest drive against the private power company that would be initiated on Friday (Today) by holding protest demonstration at 50 key places in city, whereas if demands were not meet the demos would be held in Red Zone areas along with the call to shut down all the activities in Karachi.
Hafiz Naeemur Rehman who is JI Karachi Chief narrated the entire plan of party's current protest drive against KE during a press conference at a protest camp established outside KE head office Gizri Karachi on Thursday. JI other leaders including Birjees Ahmed, Abdul Wahab, Saifuddin Advocate, Abdul Wahid Sheikh, Imran Shahid, Zahid Askari were also present on occasion.
He said that party earlier staged demonstrations against KE and on the assurance of Governor Sindh Muhammad Zubair it was called off. Since then the Governor instead of taking the issues serious advocated KE and nothing was witnessed that would have relief the citizen.
We would not let KE run after stealing billion of rupees from citizen said Naeem adding that JI has not halted its movement against the irregularities of private power company and had scheduled to hold protest demonstrations against prolonged load shedding, hike in tariff and 'nexus of K-Electric and National Electricity Power Regulatory Authority' at 50 places of Karachi. If the people were not given relief then JI would move its protest demonstration in Red Zone of city along with the call to shut down Karachi, warned Naeem.
Appealing Chief Justice of Pakistan to take notice of KE's misdeeds, JI leader said that Governor Sindh who is representative of the federation has failed to endorse JI's 17 points legal demands.
He said that after the privatization of KESC open space has been given to the private power company to loot billions of money from citizen. The political forces even aware with wrongdoing of KE remained silent and never raised voice.
Naeem said JI is the only party which has brought the real picture of KE and its administration. Party has been moving with the zero tolerance over the misdeed of private power company and the movement will continue until the citizen were given relief, vowed JI leader.
Furthermore, Majlis-e-Wahdat-e-Muslimeen Karachi Chapter has also announced to hold protest demonstration against KE at Nizamabad Chowrangi. MWM spokesperson said that demo to be hold after the Friday prayers is part of the protest drive against loadshedding, overbilling and looting of billions of rupees by KE.
Full report at:
https://nation.com.pk/13-Apr-2018/ji-threatens-to-shut-down-karachi
--------
Mideast
Turkey Says Plans to Place Quarter of Top Students in Islamic Schools
April 12, 2018
BY DAREN BUTLER
ISTANBUL (Reuters) - Nearly a quarter of top-performing students entering Turkish upper schools are expected to be placed in religious Imam Hatip schools, the education minister said on Thursday, a level which secular critics say unfairly prioritizes Islamic education.
The top 10 percent of students currently in their final year of middle school are set to win places in selected schools under a new entrance exam system in June, part of education reforms drafted on President Tayyip Erdogan's orders.
Erdogan has said one of his goals is to forge a "pious generation" in largely Muslim Turkey and the number of pupils at Imam Hatip schools, founded to train future imams and preachers, rose five-fold to 1.3 million students in the last six years.
According to the exam system guide posted on the education ministry website, nearly 300 of the 1,367 schools selected to receive students who pass the exam are Imam Hatip schools.
Education Minister Ismet Yilmaz told broadcaster CNN Turk in an interview the religious school allocation was low compared to the 62 percent allotment for science and regular high schools.
"Is everyone going to Imam Hatips? That's an exaggeration," he said. "We envisage the level going to Imam Hatips will be 23 percent. Twenty-three percent is not bigger than 62."
"We are not forcing anyone to do anything," he said, adding parents did not have to send children to particular schools.
While Imam Hatip students make up 11 percent of the total upper school population, they were allocated some 23 percent of funding in this year's budget, a Reuters report showed in January.
"The government is trying to direct successful pupils towards Imam Hatips by raising their profile, having been unable to achieve the desired success and increase demand for them," main opposition CHP party MP Utku Cakirozer told Reuters.
More than one million students will complete middle school this year and the 90 percent who are not placed through exams will make preferences for schools near their homes.
Under the previous system, all students took the upper school entrance exam and Yilmaz said the new system was designed to limit the number of students facing the stress of exams.
The Egitim-Sen teachers' union said in a statement it was launching a court challenge to the new system.
"The AKP continues to insist on a policy of making education religious," it said, referring to Erdogan's ruling AK Party.
https://www.usnews.com/news/world/articles/2018-04-12/turkey-says-plans-to-place-quarter-of-top-students-in-islamic-schools
--------
Jerusalem Conference guests denied entry by Israel
by Linah Alsaafin
April 13, 2018
A number of international religious figures and politicians, including a Ghanaian legislator, have been denied entry by Israel after they were set to attend a conference in the occupied West Bank city of Ramallah.
The 9th International Conference on the Holy City of Jerusalem kicked off on Wednesday, but there was a glaring absence of attendees, including a 13-member Indian delegation, a mufti from Sri Lanka, a Bosnian Muslim scholar, and the head of Australia's Islamic Council.
Ras Mubarak, the Ghana MP, was due to deliver a speech at the conference but was turned away twice at the Allenby border crossing.
"I arrived on Tuesday but was denied entry and told to return this morning only to receive the same harassment and be denied entry once again," Mubarak told Al Jazeera, adding that he was honouring an invitation by the Palestinian Authority to speak at the conference.
"The Israelis asked me what I was going to do in Palestine," he continued. "They had given me permission to enter, and then they revoked this authorisation.
"They didn't give me any reasons for denying me entry."
Mubarak, a member of the National Democratic Congress party, said the Israelis turned away two buses of people, including academics and Muslim scholars, who had arrived at the border.
Mubarak described the ordeal at the border as "unfortunate, but not surprising".
"It is not the first time they have prevented a politician or activist from entering the West Bank," he said. "It is part of an attempt to harass friends of Palestine.
"It is incumbent upon all of us to show solidarity at the African Union and UN level to ensure that this doesn't keep happening."
'There is no Palestine'
Ami Mehl, Israeli ambassador to Ghana, told Ghana's Starr News radio that Mubarak's claims of being denied entry for no reason were "just not true".
"He came without a visa to the border, [and] was asked to wait," Mehl told radio host Naa Dedei Tettey.
"I was in the middle of a conversation with Israeli authorities about his case and when I was notified he had decided to turn back and go back to his hotel in Jordan."
When Tettey mentioned that Mubarak said he had Israeli clearance to visit the West Bank, Mehl said that was a "complete lie".
Mehl then lost his cool after Tettey quoted Mubarak as saying he had permission from Israel to enter the OPT (Occupied Palestinian Territories).
"If you want to talk to me, you will use the terminology I use," he shouted. "There is no OPT; there is no Palestine, there was never a Palestine. It is Israel."
"It's bullsh**, it's propaganda," the Israeli ambassador went on. "[Mubarak] came to Israel without a visa. He is a propaganda machine for the Palestinians, so we do not take him seriously".
Travel permits revoked
Mahmoud Hamad, who is responsible for receiving the conference's guest delegations after they cross the Allenby border, told Al Jazeera that all the participants were issued Israeli travel permits to enter the West Bank.
"Sixty-five internationals flew into Amman airport carrying travel permits from Israeli authorities," Hamad said. "These permits were revoked upon their arrival to Allenby border.
"They came from all over the world: Australia, Mozambique, Guatemala, UK, Nigeria, Bulgaria, Ghana, South Africa, Sweden, Italy, Sri Lanka, Zambia.
"The Israeli border authorities told them all that as participants of the 9th International Conference on Jerusalem, they cannot enter."
Arrangements, including accommodation, were made for the invitees in Amman instead, and they participated in the conference through satellite video.
Jerusalem cause 'alive and well'
The first conference was held in 1931 by Jerusalem's Mufti Hajj Amin Husseini to counter the British Mandate policies affecting the status of Jerusalem.
The second conference was held in 2011, and has been hosted annually since then, with invitations extended to numerous delegations, mostly from across the Arab and Muslim world, "to discuss the importance Jerusalem holds among the three Abrahamic religions in the face of Israel's intransigence and occupation".
Khalil Karajeh, a member of the conference's preparatory committee, said this year's conference was under the theme of "Jerusalem is the capital of Palestine".
"It was a challenge to US President Donald Trump's decision to recognise the city as Israel's capital," Karajeh told Al Jazeera.
"The conference is a message to the world that the Jerusalem cause is alive and well in the hearts of people."
Karajeh said "a lot of our Muslim brothers, especially the Turkish people, feel that visiting Jerusalem is obligatory since it holds Islam's third holiest site," referring to al-Aqsa Mosque.
For Ras Mubarak, it was his first attempt to visit the West Bank. He confirmed that he would file a complaint with the Ghanaian parliament.
Full report at:
https://www.aljazeera.com/news/2018/04/jerusalem-conference-guests-denied-entry-israel-180412141116195.html
--------
Saudi FM: Palestine will top discussions at the 29th Arab League summit
April 12, 2018
London: The preparatory and ministerial meetings of the 29th Arab League summit began on Thursday in Riyadh where senior Arab officials are discussing various political, security, and military developments facing the region.
The Saudi Minister of Foreign Affairs Adel Al-Jubeir said in his opening remarks at the ministerial meeting on Thursday that Palestine and the situation there will top discussions at the Arab summit.
He also said that Iran and terrorism are two sides of the same coin, and called on Arab ministers to work together to stop Iran meddling in Arab affairs.
The Saudi foreign minister praised Saudi - Iraqi rapprochement and said that Riyadh has allocated $1.5 billion for the reconstruction of Iraq.
As part of his speech on the most important challenges facing the Arab world, the Saudi Foreign Minister Adel Al-Jubeir said that 117 Houthi ballistic missiles had been fired at Saudi cities. He added that Houthi terrorist acts are destabilizing security and stability in Yemen.
With regards to aid in Yemen, the foreign minister said that Saudi Arabia has funded humanitarian and development programs, in addition to Yemen's central bank with over $10 billion over the past three years.
Meanwhile, the Secretary-General of the Arab League Aboul Gheit said that the League condemns Iran's interference in Bahrain and other countries in the region.
The Secretary-General of the Arab League Ahmed Aboul Gheit and the Special Envoy for Syria Staffan de Mistura met on the sidelines of the Arab foreign minister's meeting.
The spokesman for the Arab League's Secretary-General Mahmoud Afifi said that Aboul Gheit was given a presentation by de Mistura about the latest results of his communications with international and regional parties that aim to allow political negotiations between Syrian parties to recommence in Geneva under the auspices of the United Nations. They also discussed his political and military assessment of the recent escalation of the crisis in Syria.
Jordan and Egypt signed the agreement on the liberalization of trade in services among Arab states at the inaugural ministerial meeting of the economic and social council of the 29th Arab summit.
Full report at:
http://www.arabnews.com/node/1283471/saudi-arabia
--------
Arab states aim to block Israeli Security Council bid: Palestinian FM
April 13, 2018
Riyadh: A campaign by Arab states to block Israel's bid for a Security Council seat has gained support weeks ahead of a scheduled UN vote, the Palestinian foreign minister said Thursday.
"We are doing everything possible to convince as many countries as possible to block the vote on Israel's bid for a seat at the Security Council," Riyad al-Maliki told reporters in Riyadh ahead of the Arab Summit this weekend.
"We need to secure the one-third vote necessary for a veto, and we believe we can, as Arab and Islamic states," the minister added.
Maliki said the Palestinian effort to block the vote had also received significant support from European allies.
Israel, Germany and Belgium are in the running for two coveted spots at the Security Council, the UN's most powerful branch.
The 193 members of the UN General Assembly are scheduled to vote on the seats in June.
The United Nations in 2012 approved the recognition of a sovereign Palestinian state but left the status of Jerusalem hanging.
East Jerusalem was annexed by Israel in the 1967 war, and the sector is today widely considered occupied territory.
US President Donald Trump in December announced the United States would recognise Jerusalem as the capital of the Jewish state of Israel, sparking a wave of outrage across the Arab world.
"A country that violates international laws and conventions, that violates UN resolutions and principles, cannot sit down to dictate the fate of security and peace around the world," Maliki said of Israel.
"This is a clear violation of these principles and we must work to stop their plans. We need to make sure there are no surprises".
Israeli forces have killed 31 Palestinians and wounded hundreds others since March 30 as mass protests erupted along the Gaza border. There have been no Israeli casualties.
Full report at:
https://www.siasat.com/news/arab-states-aim-block-israeli-security-council-bid-palestinian-fm-1341454/
--------
Israeli troops kill Palestinian at Gaza border
April 13, 2018
GAZA CITY - Israeli troops shot dead a Palestinian man during clashes at the Gaza border on Thursday evening, the Hamas-run Gaza health ministry said.
It named him as Abdullah al-Shahari, 28, and said he was shot east of the southern Gaza town of Khan Yunis.
The Israeli military told AFP it was not aware of such an incident.
Mass demonstrations along the border since March 30 have sparked clashes in which Israeli forces have killed 33 Palestinians. Most died during protests along the border but others have been hit by tank fire.
Islamist movement Hamas has controlled Gaza since 2007 and fought three wars with Israel since.
A Hamas fighter was killed by an Israeli strike in the Gaza Strip earlier Thursday, the health ministry said.
Israel said the air raid was in response to gunfire at an Israeli warplane carrying out earlier strikes, which followed a bomb blast at Israel's border fence on Wednesday.
Tens of thousands of Palestinians have gathered at five main sites along the Gaza Strip's border with Israel on the past two Fridays in what has been dubbed the "Great March of Return".
More mass protests are planned for April 13.
While the majority of the protesters have been peaceful, smaller numbers have approached Israel's border fence, throwing stones and rolling burning tyres towards troops.
Full report at:
https://nation.com.pk/13-Apr-2018/israeli-troops-kill-palestinian-at-gaza-border
--------
Jubeir: Iran and terrorism are two sides of one coin
12 April 2018
Saudi Foreign Minister Adel al-Jubeir said on Thursday in a meeting with Arab League foreign ministers ahead of the 29th Arab summit to be held in Riyadh, that the Palestinian issue is a top priority at the summit.
Jubeir added that his country deplored the announcement of Washington as the capital of Israel.
The Saudi Foreign Minister stressed that terrorism must be dealt with firmly and the sources of its funding should be dried up.
Jubeir noted that there is no peace with the continued Iranian intervention in the region.
He added that Iran and terrorism are two sides of the same coin in the region.
The Saudi minister said that the Houthi militias bear full responsibility for the crisis in Yemen.
On Iraq, he said the kingdom is supporting reconstruction with funds.
Arab League condemns Iranian interference
Ahmed Aboul Gheit, Secretary-General of the Arab League, said that the serious crises in the region facilitated foreign interference.
He added that the victory over ISIS must be consolidated by calling for the reconstruction of the affected areas.
Gheit condemned Iranian interference in Bahrain and other Arab countries.
He pointed out that there is an Arab consensus on the unity of Syrian territory, pointing out that a political solution is the best way to resolve the crisis and also stressed the need to maintain the Geneva process to achieve a political solution to the crisis.
Full report at:
https://english.alarabiya.net/en/News/middle-east/2018/04/12/Al-Jubeir-Iran-and-terrorism-are-two-sides-of-one-coin.html
--------
Iran wants Idlib freed, occupying US troops out of E Syria: Senior official
Apr 12, 2018
Following Syria's victory in Eastern Ghouta, a senior Iranian official has expressed hope for the Arab nation's army to liberate Idlib Province, now a major militant bastion, and cleanse the country's eastern regions of "occupying" US troops.
Speaking at a press conference in Damascus on Thursday, Ali Akbar Velayati, a senior aid to Leader of the Islamic Revolution Ayatollah Seyyed Ali Khamenei, underlined the strategic significance of Idlib and said he hoped the northwestern province would be "liberated soon."
"East of the Euphrates is also a very important area. We hope big steps would be taken in order to liberate this area and expel the occupying Americans," Velayati added.
The Iranian official made the comments following a meeting with Syrian President Bashar al-Assad, which took place shortly after Russia announced the liberation of the Eastern Ghouta suburb of the Syrian capital, Damascus.
Eastern Ghouta was once a major militant stronghold and a launch pad for deadly terror attacks against residents and civilian infrastructure in Damascus.
Both Tehran and Moscow are giving Damascus a helping hand in its countrywide counter-terrorism battles. Iran has been offering military advisory assistance to the national Syrian army, while the Russian air force is providing air cover to its ground operations.
Idlib, the birthplace of militancy
The foreign-backed crisis in Syria first broke out in Idlib in 2011. The province has been the focal point of the militant campaign against the Damascus government.
Syrian government forces retook Idlib a year later, but it fell back into the hands of militants in 2015, when a coalition of Takfiri terrorists, including then al-Qaeda offshoot, al-Nusra Front, and Ahrar al-Sham, launched an offensive in the province, seized Idlib City and laid a siege to the Shia-majority villages of al-Fu'ah and Kafriya.
Currently, the dominant militant force in Idlib is the so-called Hayat Tahrir al-Sham, which was formed after Nusra Front rebranded itself as Jabhat Fatah al-Sham and swallowed smaller militant groups there.
As the Syrian army stepped up its anti-terror operations and gained major victories across the country, militants and their families began to pour into Idlib under ceasefire deals with the government.
Many of the militants came from Aleppo late last year, others from Homs and more recently from Eastern Ghouta after reaching evacuation deals with the Damascus government in the aftermath of their losses on the battlefield.
The Syrian government has over the past few years dealt heavy blows to Idlib-based militants in its sporadic military operations, but a concentrated liberation push is yet to come.
US occupation of Syria's east
Amid the mayhem in Syria, the US has been busy with its own unilateral military activities on Syrian soil besides leading a coalition of its allies purportedly fighting Daesh terrorists.
Damascus has denounced Washington's military presence in Syria as illegal and a violation of its national sovereignty. It has repeatedly filed complaints with the UN over the American occupation of its soil.
Russia has warned the US, which has more than 2,000 forces in Syria, over its attempts to establish a permanent foothold on the eastern bank of the Euphrates and up to the Iraqi border.
The US has also been running a military base in the eastern Syrian town of al-Tanf since 2014 with the declared purpose of fighting Daesh.
Tanf is located in a zone where Syria, Iraq and Jordan's borders meet and is, hence, of paramount strategic importance.
Moscow has on numerous occasions reported that terrorists are freely operating "under the nose" of Washington around the Tanf base.
Full report at:
http://www.presstv.com/Detail/2018/04/12/558271/Iran-Syria-Idlib-US
--------
Arab states campaigning to block Israel's Security Council bid: Al-Maliki
Apr 13, 2018
The Palestinian foreign minister says Arab states have launched a campaign to gather support for blocking an Israeli bid to win a seat on the UN Security Council ahead of an upcoming vote on the issue.
"We are doing everything possible to convince as many countries as possible to block the vote on Israel's bid for a seat at the Security Council," Riyad al-Maliki told reporters in the Saudi capital Riyadh on Thursday.
Maliki, who was speaking ahead of an Arab summit this weekend, said, "We need to secure the one-third vote necessary for a veto, and we believe we can, as Arab and Islamic states."
He said the Palestinian effort to block the vote had also received significant support from European allies.
An entity "that violates international laws and conventions that violates UN resolutions and principles, cannot sit down to dictate the fate of security and peace around the world," Maliki said of Israel.
"This is a clear violation of these principles and we must work to stop their plans. We need to make sure there are no surprises," he said.
Israel, Germany and Belgium are in the running for two coveted spots at the Security Council. The 193 members of the UN General Assembly are scheduled to vote on the seats in June.
In all, five seats are up for grabs but three of those are reserved for Africa, Latin America and the Asia-Pacific region, which traditionally have rallied around one candidate from their group.
The five new members will serve a two-year term starting in 2019.
In November 2012, the United Nations General Assembly voted to upgrade Palestine's status from "non-member observer entity" to "non-member observer state" despite strong opposition from Israel.
Israel occupied the West Bank and East Jerusalem al-Quds during the Six-Day War in 1967. It later annexed East Jerusalem al-Quds in a move not recognized by the international community.
Irish envoy summoned over anti-Israeli action
Separately, the Israeli ministry of foreign affairs on Thursday summoned Irish Ambassador Alison Kelly in connection with the Dublin mayor's participation in an anti-Israeli demonstration in the West Bank's city of Ramallah as well as with "two hostile decisions against Israel taken this week by the Dublin city council."
Earlier in the week, the Dublin city council urged the Irish government to boycott Israel and expel its ambassador from the country over the killings of anti-occupation protesters in Palestine.
In reaction to the move, Israel said it would deny entry to Dublin Mayor Micheal Mac Donncha. However, the mayor entered Israel on Tuesday night on the way to an event in Ramallah.
Mac Donncha said he was unaware that he had been banned, and passed through immigration at the Tel Aviv airport because the ban order sent to immigration officials misspelled his name.
The Israeli Foreign Ministry also said it expected an official response from the Irish government on the actions of the mayor and the Dublin City Council, "who are waging a campaign of hatred and discrimination" against the Tel Aviv regime.
More than 30 Palestinians have been killed and hundreds wounded by Israeli forces since March 30 as thousands have approached the Gaza border fence for anti-occupation rallies.
Protesters are being shot by Israeli snipers while posing no threat.
Full report at:
http://www.presstv.com/Detail/2018/04/13/558330/Palestinian-FM-alMaliki-Israel-UNSC-bid-Irish-envoy-Alison-Kelly
--------
Europe
Far-Right Groups Attack 3 Mosques In Netherlands
12 April 2018
Far-right groups have attacked three mosques in the Netherlands, a Muslim charity fund official said Thursday.
The extreme right-wing Rechts in Verzet group early Thursday put up banners with Islamophobic content in the entrance of two mosques in Enschede province, Cevdet Keskin from the Netherlands Diyanet Foundation said.
Another mosque complex in Houten province was also desecrated by a far-right group which also put up banners with anti-Islam slogans at the entrance of the mosque.
The group shared footage of the banners on their social media account which read, "We don't want a mosque", and "Islam is terror".
Keskin said that the attack was yet another sign of rising Islamophobia in the country.
"The continued attacks on the mosques in the Netherlands show that necessary measures are not being taken. We expect from the relevant authorities to do their best for the security of mosques," he said.
Keskin said that a complaint was filed with the police after the mosque visitors found the banners.
http://www.worldbulletin.net/europe/200996/eu-calls-for-accountability-for-war-crimes-in-syria
--------
Saudi Crown Prince discusses military cooperation with Spanish Defense Minister
12 April 2018
Saudi Crown Prince Mohammed bin Salman met on Thursday with Spanish Defense Minister María Dolores Cospedal García in Madrid.
Upon the arrival of the Crown Prince, the national anthems of both kingdoms were played accompanied by a guard of honor.
The meeting reviewed the bilateral relations and areas of cooperation between the two countries, and developing the defense and military cooperation, as well as discussing the potential opportunities for the transfer and localization of technology, in accordance with the Saudi vision 2030.
The two sides also discussed developments in the Middle East and the world, including efforts to combat terrorism and extremism.
The meeting was attended by Prince Mansour bin Khalid bin Farhan, the Saudi Ambassador to the Kingdom of Spain, the official delegation accompanying the Crown Prince and the senior officials of the Spanish Ministry of Defense.
On Wednesday, the Saudi crown prince arrived in the Spanish capital Madrid on his first official visit.
Prince Mohammed bin Salman will meet Prime Minister Mariano Rajoy Berri and a number of Spanish officials.
The Saudi Crown Prince will also sign a number of agreements between Saudi Arabia and Spain.
The Crown Prince's visit aims to promote bilateral relations and to discuss issues of mutual interest.
Full report at:
https://english.alarabiya.net/en/News/gulf/2018/04/12/Mohammed-bin-Salman-discusses-military-cooperation-with-Spanish-Defense-Minister-.html
--------
War between Russia, US can't be ruled out: Moscow
Apr 12, 2018
Russian Ambassador to the United Nations Vassily Nebenzia has called on the United States and its allies to drop plans for potential military intervention in Syria, warning he "cannot exclude" the possibility of direct military confrontation between Moscow and Washington in case the Arab country is attacked.
Speaking after a closed-door UN Security Council meeting over US President Donald Trump's threats of an imminent military action against Syria over an alleged chemical attack, Nebenzia told reporters Thursday that the presence of Russian troops in the Middle Eastern country had made the situation even more dangerous.
"The immediate priority is to avert the danger of war," Nebenzia said. "We hope there will be no point of no return."
Asked whether by that he meant a war between Russia and the US, the Russian envoy said, "We cannot exclude any possibilities, unfortunately, because we saw messages that are coming from Washington. They were very bellicose."
The US and its allies have been threatening Damascus with military action since April 7, when a suspected chemical attack on the Syrian town of Douma, Eastern Ghouta, reportedly killed 60 people and injured hundreds more.
The possibility of an attack grew larger on Wednesday, after Trump warned Russia, one of Syria's key supporters in the fight against foreign-backed militancy, to "get ready" to shoot down American missiles over Syria soon.
Earlier on Thursday, Trump said he would spend the day holding several meetings that he expected would lead to a decision "fairly soon."
So far none of the Security Council meetings over the issue has yielded result. Calling another meeting of the council for Friday, Moscow has asked UN Secretary General Antonio Guterres to brief the body in person.
Sweden also launched a new bid to prevent escalation by proposing a UNSC resolution on Thursday that would ask Guterres to send a high-level disarmament team to Syria to address "all outstanding issues" regarding the use of deadly chemical agents as weapons.
Some UN diplomats told Reuters that the proposal had failed to win much support among the 15-member council.
Thanking Sweden for the effort, Nebenzia said, "Frankly in the circumstances we find ourselves now, this is not an immediate priority."
Moscow and Damascus have already invited the Organization for the Prohibition of Chemical Weapons (OPCW) to send a fact-finding mission to Douma and investigate the alleged use of chemical weapons there.
Full report at:
http://www.presstv.com/Detail/2018/04/12/558317/US-Russia-Nebenzia-Syria-chemical-Douma-Trump
--------
EU Council extends sanctions on Iran by one year
12 April 2018
The EU Council on Thursday extended its sanctions it imposed on Iran in 2011 by one year.
"On 12 April 2018, the Council extended until 13 April 2019 its restrictive measures responding to serious human rights violations in Iran," the council said in a statement.
The statement said the measures consist of "a travel ban and an asset freeze against 82 people and one entity", and "a ban on exports to Iran of equipment which might be used for internal repression and of equipment for monitoring telecommunications".
The legal acts will be published on the official EU journal on Friday, it added.
http://www.worldbulletin.net/europe/200993/eu-calls-for-accountability-for-war-crimes-in-syria
--------
Dutch FM suspects chemical attack in Syria's Douma
12 April 2018
The Dutch foreign minister said on Wednesday that there were "serious suspicions of the use of chemical weapons" in an attack in Syria's Douma region.
"The use of chemical weapons is a serious violation of international law," Stef Blok said in a statement.
"Based on a preliminary analysis of the 'Situation Center' of the OPCW [Organization for the Prohibition of Chemical Weapons], the existing OPCW Fact Finding Mission for Syria has immediately started collecting information from all available sources to determine whether chemical weapons have been deployed.
"This indicates that there are very serious suspicions of the use of chemical weapons," Blok said.
The foreign minister described images coming from Douma as "terrible".
The White Helmets, a civil defense agency, blamed the Syrian regime for Saturday's attack in Douma, a district in Eastern Ghouta, which it said killed 78 civilians and injured hundreds of others.
On Tuesday, Russia vetoed a UN Security Council draft text that would have established a new expert body to determine culpability for a suspected chemical attack in Syria.
Full report at:
http://www.worldbulletin.net/europe/200985/dutch-fm-suspects-chemical-attack-in-syrias-douma
--------
German nationalist apologizes for blaming attack on Muslims
By David Rising 
April 12, 2018
BERLIN — A deputy leader of the nationalist Alternative for Germany party apologized Thursday for falsely blaming a fatal van attack in Muenster on Islamic extremists, saying that she leapt to conclusions too quickly.
Beatrix von Storch said on her Facebook page that "I made a mistake with my tweet about Muenster and I'm sorry." She added that she should have waited "until the facts were clear."
"Like millions of Germans I assumed that it was an Islamic attack," she said.
The apology came after widespread criticism, including from within her own party, of her tweet suggesting Chancellor Angela Merkel's open-door refugee policy was to blame after a man drove into a crowd Saturday.
Two people were killed many more injured.
When authorities revealed the van's driver to be a German with no known extremist links, von Storch initially doubled down, tweeting that the suspect was an "imitator of Islamist terror."
The online reaction to the attack prompted German Interior Minister Horst Seehofer earlier this week to call for an end to the "mood of hate" on social media, saying that "society cannot accept that some abused this terrible event for their own perfidious purposes."
Despite the apology, in her Facebook post von Storch took one more swipe at the chancellor, saying "I don't ever want to be like Angela Merkel who doesn't admit her mistakes."
Full report at:
https://www.washingtonpost.com/world/europe/german-nationalist-apologizes-for-blaming-attack-on-muslims/2018/04/12/93ffcab0-3e1e-11e8-955b-7d2e19b79966_story.html
--------
Southeast Asia
Indonesia's Aceh to take caning indoors after backlash
April 12
BANDA ACEH, Indonesia — Indonesia's conservative Aceh province will no longer allow canings for violations of Shariah law to be carried out in public, its governor said Thursday, apparently in response to international condemnation of the caning last year of two men for gay sex that damaged Indonesia's moderate image.
A memorandum of understanding signed by Aceh Gov. Irwandi Yusuf and Yuspahruddin, head of the provincial Law and Human Rights office, stipulates that caning can only take place inside prisons or other places of detention.
It says adults can still witness the punishment but recording won't be allowed. The numbers of people will be much smaller than the hundreds who regularly cheered the outdoor proceedings.
"The aim of holding the caning inside prison is to prevent it from being watched by children, without cameras and hand phones," Yusuf said after signing the memorandum, witnessed by Indonesian Minister of Law and Human Rights Yasonna Laoly.
Aceh is the only province in Muslim-majority Indonesia that practices Shariah law, a concession made by the central government in 2001 as part of efforts to end a decades-long war for independence.
Human Rights Watch dismissed the change to indoor whipping as cosmetic and called for Aceh to abolish caning and the laws that allow it. It said caning remains a form of torture whether it is carried out in public or not.
"Torture is torture whether you do it in public, outside a mosque after Friday prayers, or inside a room, banning anyone from taking a picture," said the group's Indonesia researcher, Andreas Harsono. "It's still torture, it's still traumatizing."
Human Rights Watch also appealed for Aceh to release four people arrested in March for same-sex conduct, who each face up to 100 lashes under the province's Islamic criminal code.
Hundreds of people have been publicly caned since the punishment was introduced in Aceh in 2005.
The province's implementation of Shariah law has become increasingly harsh and now also applies to non-Muslims. Last May, the province for the first time caned two men for gay sex after vigilantes broke into their home and handed them over to religious police.
Footage of the men, both in their 20s, being caned dozens of times in front of a baying crowd galvanized international criticism of Shariah law in the province and was another blow to Indonesia's reputation for moderation following the imprisonment of the capital Jakarta's minority Christian governor for blaspheming Islam.
Making the canings private was proposed in July last year after Yusuf met with President Joko "Jokowi" Widodo amid concerns that tourism and investment could be affected.
The last canings were on Feb. 27, when five people including two Christians convicted of gambling were punished in the provincial capital, Banda Aceh.
https://www.washingtonpost.com/world/asia_pacific/indonesias-aceh-to-take-caning-indoors-after-backlash/2018/04/12/e66b3fbe-3ec8-11e8-955b-7d2e19b79966_story.html?utm_term=.1e7870bc1944
--------
Ismail Sabri: Malay 'special rights' and Islam in jeopardy if vote given to DAP
April 13, 2018
KUALA LUMPUR, April 13 — Every vote for the DAP is akin to giving power to the Pakatan Harapan (PH) pact to eliminate the purported Malay "special rights" and the "uniqueness" of Islam, according to Umno supreme council member Datuk Seri Ismail Sabri Yaakob.
The incumbent Bera MP said DAP's strategy was to get Malay votes in GE14 by fielding Malay candidates in Chinese and Malay majority constituencies, Utusan Malaysia reported today.
"DAP is still being controlled by its adviser Lim Kit Siang, secretary-general Lim Guan Eng and whoever is aligned to their cause.
"Their concept of Malaysian Malaysia aims to eliminate the special rights of the Malays and bumiputera while discarding the uniqueness of Islam.
"Even though Malay candidates are contesting, the motto is still being championed by them," he was quoted as saying.
Ismail Sabri said Malay candidates were used as a tool to confuse and cheat the race to give their votes to DAP in order for the party to secure power in the May 9 polls and urged voters not to be tricked.
Full report at:
http://www.themalaymailonline.com/malaysia/article/ismail-sabri-malay-special-rights-and-islam-in-jeopardy-if-vote-given-to-da
--------
Suhakam inquiry gets heated during questioning of Perlis mufti
12 Apr 2018
KUALA LUMPUR: Proceedings at the Human Rights Commission of Malaysia (Suhakam) inquiry into missing activist Amri Che Mat became heated when Perlis mufti Datuk Dr Mohd Asri Zainul Abidin (pic) was giving his testimony.
Bar Council lawyer Siti Kasim had grilled Dr Mohd Asri during his testimony, who was visibly annoyed with her line of questioning.
She had asked his opinion if Syiah teachings could threaten national security.
Her questions included whether Dr Asri knew that he had been accused of being a Wahabi Muslim.
"What is your point?" he replied when testifying on Thursday (April 12) in the Suhakam inquiry into the disappearance of Amri and two others.
Siti also asked Dr Asri if he agreed that Islamic State leader Abu Bakar al-Baghdadi was a Sunni, and he retorted by asking her how she knew that was the case.
There were several more exchanges before Suhakam commissioner Datuk Mah Weng Kwai stepped in and reminded both parties to maintain decorum during the inquiry.
Earlier, Dr Asri said he had told Amri that he was free to practise his Syiah beliefs as long as he did it in the confines of his own home.
He also claimed that Amri had told him that he believed in Syiah teachings and practised "contract marriages", among other things.
"I don't want to disturb the thoughts of these people. That is in your head and your decision. But when you conduct activities and people complain, it involves a question of peace," he said in his testimony.
Dr Asri also said he also had a one-on-one meeting with Amri at his office on Oct 22, 2015, one day after visiting him at home in Padang Bohor, Perlis, as he had received informal complaints about Amri.
Asked about how he learned of Amri's disappearance, Dr Asri said it was through news reports.
He added that he did not have any information about Amri's whereabouts.
Amri had driven his in his SUV out from his home in Kangar at about 11.30pm on Nov 24, 2016.
His vehicle was later found at the construction site of the Bukit Cabang Sports School.
The inquiry is being held to investigate the disappearances of Amri, Pastor Joshua Hilmi and his wife Ruth Sitepu.
The Suhakam inquiry is held under Section 12(1) of the Human Rights Commission of Malaysia Act.
Full report at:
https://www.thestar.com.my/news/nation/2018/04/12/questioning-of-perlis-mufti-at-suhakam-inquiry-gets-heated/
--------
Lawyer Siti Kasim grills Asri over Shia and Sunni
April 12, 2018
KUALA LUMPUR: Perlis mufti Mohd Asri Zainul Abidin was today grilled on Shia and Sunni Islam, as he took the witness stand at the Human Rights Commission of Malaysia's (Suhakam) inquiry into the disappearance of an activist accused of practising Shia Islam.
Lawyer Siti Kasim, appearing for the Bar Council today, asked Asri whether the Federal Constitution specified any Islamic school of thought when it mentions Islam.
Asri agreed with her suggestion that the constitution makes no mention of Sunni, Shia or Ahmadiah, the latter two of which are considered "deviant" by Malaysia's Islamic authorities.
Asri also agreed to a question on whether he was accused of promoting Wahhabism, the controversial form of Islam prevalent in Saudi Arabia and known for its restrictive rules.
Siti Kasim then asked Asri if Perlis too had issued a fatwa against Shia Islam, to which Asri said the fatwa had yet to be gazetted.
Siti Kasim: Do you agree that the fatwa was gazetted in 2012?
Asri: As far as I know, no. I was not a mufti then.
Siti Kasim: We have proof that it has been gazetted. A mufti must be aware of the laws under his purview. Do you agree or not?
Asri: I disagree. I know of the fatwa, I don't know about the gazette.
Siti Kasim: So as far you are concerned, it has not been gazetted.
Asri: Yes.
Siti Kasim: So action cannot be taken if it's not gazetted?
Asri: Yes.
Siti Kasim: So since there was no action taken, someone not satisfied with Amri must have taken action on their own.
Asri: Disagree. It does not happen in Malaysia. Unless there is information from the police.
Siti Kasim then asked Asri if he was worried about Shia Muslim activities and if he felt that Shia Muslims were extremists.
Asri had earlier told the inquiry that he went to Amri's house to check on complaints that he was spreading Shia teachings.
Asri, who is a vocal critic of Shia Islam, in January labelled it as a threat to national security, sparking criticism from rights groups who said that most suspected members of the Islamic State (IS) nabbed in Malaysia were Sunni Muslims.
Siti Kasim: Do you know of Abu Suffiyan, Muhammad Aqif, a terrorist from Malaysia, who is a Muslim but Sunni?
Asri: What is Sunni?
Full report at:
http://www.freemalaysiatoday.com/category/nation/2018/04/12/lawyer-siti-kasim-grills-asri-over-shia-and-sunni/
--------
South Asia
4 ISIS militants blown up by own explosives in Kunar province
Apr 12 2018
At least four militants affiliated with the Islamic State of Iraq and Syria (ISIS) terrorist group were blown up by own explosives in eastern Kunar province of Afghanistan.
The 201st Silab Corps of the Afghan Military in the East said the incident took place on Wednesday in the vicinity of Chapa Dara district.
The source further added that four ISIS militants were blown up in Wach Nawa area while they were planting an improvised explosive device on a roadside.
According to the Silab Corps, at least two of the militants were killed and two others were wounded after they were blown up in a premature explosion.
The anti-government armed militant groups frequently use explosives materials for the roadside bombings and car bombings to target the government staff and security personnel.
However, in majority of such incidents the ordinary civilians are targeted besides such bombings incur casualties to the security personnel and in some cases the Taliban militants themselves are killed or wounded.
A total of 10,453 civilian casualties – 3,438 people killed and 7,015 injured – were documented in the 2017 Annual Report released last month by the UN Assistance Mission in Afghanistan (UNAMA) and the UN Human Rights Office.
The report further added that the high number of casualties to the civilians were inflicted by suicide bombings and other attacks using improvised explosive devices (IEDs).
https://www.khaama.com/4-isis-militants-blown-up-by-own-explosives-in-kunar-province-04860/
--------
Myanmar Minister Meets Muslim Rohingya Refugees in Bangladesh as Confidence-Building Measure
April 13th, 2018
The U.N. refugee agency called a Myanmar minister's visit to Bangladesh to meet Muslim Rohingya refugees a confidence-building measure, but said conditions in Myanmar were not ready for their return.
Myanmar Social Welfare Minister Win Myat Aye, who heads rehabilitation efforts in Myanmar's troubled western Rakhine state, told about 50 Rohingya refugees in Bangladesh on Wednesday that getting the repatriation process moving was top priority.
But the U.N. High Commissioner for Refugees (UNHCR) said on Thursday Myanmar was not prepared.
"Conditions in Myanmar are not yet conducive for the voluntary, safe, dignified and sustainable return of refugees," it said in a statement, adding that the responsibility remains with the government to create such conditions.
According to U.N. officials, nearly 700,000 Rohingya have fled into Bangladesh from Rakhine to escape a military crackdown since August, amid reports of murder, rape and arson by Myanmar troops and Buddhist vigilantes which the United Nations has likened to "ethnic cleansing."
Buddhist-majority Myanmar rejects the charge, saying its security forces launched a legitimate counter-insurgency operation on Aug. 25 in response to Rohingya militant attacks.
The refugees are living in cramped camps in the port of Cox's Bazar and Bangladesh is keen for them to return home soon, especially with the oncoming monsoons expected to cause major devastation at the camps.
The UNHCR called on Myanmar to provide the agency unhindered access in Rakhine to assess the situation and monitor the return and reintegration of refugees if and when they voluntarily return.
Acknowledging the mistrust and fear of the Rohingya of Myanmar, Win Myat Aye told the group of refugees on Wednesday to set aside the past and to prepare to go back, promising new villages would be built with hospitals and schools.
Full report at:
https://www.albawaba.com/news/myanmar-minister-meets-muslim-rohingya-refugees-bangladesh-confidence-building-measure-1116504
--------
Angry Myanmar activists grab Zuckerberg's attention on hate speech
April 13, 2018
By AGENCE FRANCE PRESSE, YANGON, Bum, Apr 12 – A whoop of disbelief erupted in the small office used by anti-hate speech activists in Myanmar when they spotted the name that had dropped into their email inbox: Mark Zuckerberg.
In a week that saw the Facebook CEO field questions in Washington over privacy breaches and election interference, angry online warriors have thrust Myanmar and its volatile social situation into the forefront of the debate on how to fix the platform.
They say Facebook is used as a tool to spread incendiary posts, bringing bloodshed to the largely Buddhist country that has expelled some 700,000 Rohingya Muslims to Bangladesh since late last year.
"It's not just problematic. It's dangerous and they need to take more responsibility," said Htaike Htaike Aung, executive director of MIDO, which promotes digital rights.
While battling power outages from their front-room office in a Yangon suburb, they penned a letter along with five other Myanmar groups to Zuckerberg questioning his recent assertions about combatting hate speech in the combustible country.
The personal reply and apology from the Silicon Valley boss came as a shock not least because they had only written to him the night before.
He thanked them for reporting posts on the platform and said Facebook was boosting its Burmese-language staff to "better understand the specific local challenges and build the right tools to help keep people there safe".
Facebook has come under increased pressure in Myanmar as the Rohingya crisis has intensified.
In January the social media giant removed the account of extremist monk Wirathu who had spent years posting denigrating remarks about Muslims to an enormous following, and it has also tried to regulate the use of anti-Muslim terminology.
But activists say the platform's response rate is too slow, with malicious posts gaining traction for more than 48 hours on average before they are removed – by which time they have often gone viral.
A dangerous cocktail
Pressure is building on Facebook regionally after recent violence against Muslims in Sri Lanka, while activists in Vietnam accuse it of helping the government scrub dissident content online.
But the platform is especially powerful in Myanmar, which emerged in 2011 from half a century of military rule that kept people firmly offline.
The country has since leapfrogged into the smartphone era and onto Facebook, which now boasts nearly 30 million active users in a nation of just over 50 million.
Army chief Min Aung Hlaing claims one of the most popular pages in the country with more than 1.3 million followers. Civilian leader Aung San Suu Kyi has some 2 million.
Both understand the platform's dominance, using their pages to make key announcements.
Facebook serves as an easy one-stop-shop for entertainment, social interaction, work and news for a population that is still "not very highly digitally literate", according to Jes Petersen, CEO of local tech hub Phandeeyar.
Hailed for 2015 elections that elevated Suu Kyi to power, Myanmar has faced widespread condemnation for a brutal military-led campaign against the Rohingya after insurgents attacked border guard posts in August.
United Nations investigators have said hate speech and incitement to violence against the stateless minority are rampant on Facebook and that the site has morphed into a "beast".
In January, the government posted the names and photos of some 1,300 Rohingya — including at least 46 children — labelling them "terrorists", in what the UN team called a "clear violation" of the right to a fair trial.
But problems on the platform have been brewing for years.
One example that came up in the Capitol Hill hearing was a photo of local Muslim journalist Aung Naing Soe from November 2016 that circulated on Facebook calling for him to be killed for being a "terrorist".
The company initially said the post did not violate "community standards" and by the time it was removed it had been shared thousands of times.
The reporter told AFP that the harassment has continued and derogatory Facebook posts are still online urging authorities to "punish" him.
Don't shoot the Messenger?
In another case, messages were spread last September across Myanmar saying Buddhists and Muslims were each preparing attacks against the other.
Zuckerberg, in an interview with Vox media, said Facebook had detected the messages, an assertion that prompted the activists to write their open letter.
They reminded him that they had been the ones to report the posts and, even then, it took three days for the platform to act — later acknowledged by the Facebook CEO in his apology.
His promises to add technology and dozens more Burmese-language reviewers leave them underwhelmed.
They point out there are some 1,700 Facebook staff in Germany, where there is strict legislation for removing hate speech posts within 24 hours.
For others, however, shooting the messenger is not the answer to Myanmar's deeply rooted problems.
Full report at:
https://www.capitalfm.co.ke/news/2018/04/angry-myanmar-activists-grab-zuckerbergs-attention-hate-speech/
--------
Four IS militants killed in Afghanistan
April 12, 2018
At least two militants affiliated with the terror outfit Islamic State (IS), have been killed and two others have been injured by own explosives in Afghanistan's eastern Kunar province.
The incident took place in the vicinity of Chapa Dara district in Wach Nawa area when four IS militants were planting an improvised explosive device on a roadside, reported Khaama Press, citing, the Afghan Military, as saying.
According to the report, the anti-government armed militant groups often use explosives materials for the roadside and car bombings to target the government staff and security personnel.
Full report at:
http://www.business-standard.com/article/news-ani/four-is-militants-killed-in-afghanistan-118041201359_1.html
--------
Afghan armed forces pound Taliban targets in response to Ghazni attack
Apr 12 2018
The Afghan armed forces launched heavy airstrikes and ground operations to pound the Taliban targets in response to a coordinated attack the group launched on Khwaja Omari district last night.
Provincial governor's spokesman Mohammad Arif Noori said the air and ground offensive was launched earlier today in response to last night's attack.
He said at least 38 militants were killed and more than 30 others were wounded after their positions came under heavy airstrikes as well as ground operations.
Noori further added that the members of the Afghan National Defense and Security Forces have not suffered any casualty during the operation.
The provincial governor's spokesman also added that the operation continued until around 11 am and the situation is normal in the area now.
The provincial police commandment in a statement earlier confirmed that the district administrative governor of Khwaja Omar district Ali Shams Dost was killed in the attack last night.
The statement further added that the Taliban militants launched a coordinated attack on the district compound and security posts late on Wednesday night.
Full report at:
https://www.khaama.com/afghan-armed-forces-pound-taliban-targets-in-response-to-ghazni-attack-04862/
--------
North America
Trial asks whether a mentally ill man can commit a terrorist act
April 12, 2018
By ROSIE DIMANNO
"I have a licence to kill. I have a green light to kill. One soldier is all it takes. Just one."
— From the diary of Ayanle Hassan Ali
"I intended to go somewhere today but was stopped because I didn't have socks. Something as simple as clothing worn on my feet kept me home. Was I being melodramatic? No, because I was willing to even don a substandard sock, but was without a pair. 'Sock Sharaf' as I like to call it, is a feeling of pride that I get when I have clean socks. A lot can be gauged about a person from their socks."
— From the diary of Ayanle Hassan Ali
There is no dispute that Ayanle Hassan Ali walked into a military recruitment centre in North York on March 14, 2016, and attacked several soldiers, swinging a kitchen knife.
It's right there in the agreed statement of facts between prosecution and defence.
Was it a terrorist act? Certainly, jihadists who cleave to a war between civilizations — Muslims versus infidels — and have embraced a death cult obsession operate as if granted licence to kill, to maim, to wreak havoc. Radical Islamist websites urge believers to drive vehicles into crowds of innocents, to commit suicide bombings, to take up whatever weapon is at hand and slay even one kafir. Thus is global terrorism sowed.
Crazy to most of us. Rational to them.
But Ali, a 30-year-old Canadian born to Somali immigrant parents, is also diagnosed with schizophrenia. Forensic psychiatrists called to a Toronto courtroom this week by both prosecution and defence agree on this central point.
The defendant's symptoms first began to appear in late adolescence and had completely overwhelmed him on that March day, when he left his Etobicoke home with the intention of achieving martyrdom.
He heard voices sending him messages, suggestions. The TV spoke to him. The radio spoke to him. Government agencies were monitoring his thoughts. He believed himself possessed by jinns, malevolent spirits.
His mother long ago was diagnosed with schizophrenia, too, a mental illness with hereditary links.
Anti-psychotic drugs, administered since his arrest and hospitalization in a psychiatric ward, have eased Ali's symptoms. His thoughts are no longer wildly disorganized. He doesn't spend hours staring at the wall. The voices in his head have quietened. But in the expert opinion of psychiatrists, he is still far from well.
Well enough to stand trial, though — originally, in 2016, he was deemed unfit on a treatment order — now understanding the severity of the charges against him and the judicial process. It is a fairly low legal threshold.
And none of it — the delusions, the hallucinations, the feeling of persecution, the agitation and confusion and withdrawal from all normal social involvement — means, definitively, that Ali could not have simultaneously held terrorist beliefs nor radicalized himself by adopting the violent urgings he sought out on terrorist websites.
It is such a fine distinction, a blurring of illness and corrosive ideology.
Ali has pleaded not guilty to three counts of attempted murder, three counts of assault with a weapon, two counts of assault causing bodily harm and one count of carrying a weapon (the knife) for the purpose of committing an offense, all "for the benefit of, at the direction of or in association with a terrorist group."
Except prosecutors have never been able to identify this terrorist group or any evidence that Ali had a connection with such an organization.
Defence lawyers are arguing that Ali should be found not criminally responsible (NCR) for the lesser and included offences — attempted murder, assault, the weapons offence — but that the acts were not committed with any relation to a terrorist group. They are seeking acquittal on the terrorism-related charges. The prosecution — federal Crowns — want Ali found not criminally responsible for the terrorism offences.
The Crown's forensic psychiatrist, Dr. Philip Klassen, took the stand on Thursday, qualified to give expert opinion evidence devolving from some 41/2 hours of interviews with the defendant, plus a review of the compendious medical and case files. "I did find forming an opinion about Mr. Ali challenging," he admitted. Adding: "I think this man had descended into the burden of illness that he had."
He said Ali should be found NCR for his actions due to serious mental health issues.
Throughout the direct and cross examinations, Ali sat without expression in the dock, hands folded together. The anti-psychotic drugs have caused him to gain some 80 pounds. Behind him were the three sisters who Klassen said he leaned on heavily for an understanding of their brother and the family's escalating crisis.
It is a sad story. Mental illness is not a choice.
At the time of the attack, Klassen said, Ali believed himself morally justified. As Klassen wrote in his psychological assessment, of asking Ali whether he would engage in similar behaviour today: "I probably wouldn't do it."
Not exactly a stirring rejection of his criminal act.
But it appears Ali, said Klassen, was "using religion to restore order to his mind — in some sense becoming the hero of his own story instead of the victim of his story."
Would he be a risk to public safety, asked Crown attorney Sarah Egan. "Left to his own devices, Mr. Ali would probably stop the medication." The psychosis now under control would return. Without those restraints, "I think he is a significant threat to public safety."
Neither Klassen, nor probably anyone, could firmly establish where the psychosis ended and the violent jihadist beliefs to which Ali subscribed at the height of his illness began. Though both were intertwined. "I have an imperfect understanding of the relationship between those sentiments and schizophrenia."
Justice Ian Macdonnell has yet to rule on this phase of the trial.
Defence lawyers Nader Hasan and Maureen Addie told reporters afterward that Ali is simply not a terrorist and shouldn't be prosecuted under Section 83.2 of the Criminal Code: Anyone who commits an indictable offence "for the benefit of, at the direction of or in association with a terrorist group is guilty of an indictable offense and liable to imprisonment for life."
"He's someone who is mentally ill. And sometimes a mentally ill guy waving around a knife is really just that — a mentally ill guy waving around a knife.''
Hasan said the defence is worried that, if Ali is found not criminally responsible on terrorism, it "might effect his treatment going forward."
"Because this is so unusual. It's never happened before, that's someone been found NCR on terrorism," under Section 83.2, which Hasan argues is intended for a narrow group.
"We don't think the Crown's case holds water because they've charged him with committing this indictable offence for the benefit of, at the direction of or in association with a terrorist group. But there is no group. They didn't find any such connection. The Crown's theory is he's a terrorist group of one, that one being himself. We don't think, as a matter of interpretation, that's how Parliament intended this provision to work. This was a provision aimed at dealing with terrorist groups. That doesn't mean that you can't commit terrorist offense acting entirely alone but this particular provision is about committing violent acts or other crimes for terrorist groups."
Hasan added: "Let's be clear. We're not asking for an outright acquittal. We're asking for acquittal on terrorism and NCR on the underlying acts of violence. So we're not saying he should just walk out of here a free man. The included offences — that's what he did. And that's what he lacked the criminal responsibility to do."
Ali, who wanted to kill a soldier yet couldn't leave his house one day because of unmatched socks, returns to court on April 20.
https://www.thestar.com/opinion/star-columnists/2018/04/12/trial-asks-whether-a-mentally-ill-man-can-commit-a-terrorist-act.html
--------
Mosque open houses combat negative stereotypes of Muslims
By Bill Murphy
April 12, 2018
When the Bear Creek Islamic Center recently held an open house, more than 100 Christians and residents living near the mosque were able to pose questions about whether Islam considers Jesus a God, fosters terrorism and views women as a lesser gender.
MOST POPULAR
Rice, partners envision innovative future for retired Sears building in Midtown Jury deliberating in ex-Congressman Steve Stockman's federal... Texans cut offensive lineman Derek Newton Astros Balls & Strikes: Inside Lance McCullers' struggles against the Twins Smith: Rockets veteran Trevor Ariza opens up as playoffs loom Donald Trump returning to Houston in May Houston home sales tumble for first time since Hurricane Harvey
"People live with opinions formed from sound bites," said Kate Sunday, who is a Methodist and came with her husband. "We have dear Muslim friends who go to the mosque, and we wanted to experience what they experience. We differ when it comes to our prophet. But we are all children of God."
GainPeace, a Chicago nonprofit established to promote better understanding of the Islamic faith, local mosques and other Islamic groups, has held more than 3,000 open houses during the past four years to combat negative stereotypes of Muslims and the Muslim faith.
Open houses have been held in nearly every major U.S. city, with a quarter of mosques holding at least one open house annually in recent years, said GainPeace executive director Sabeel Ahmed.
TRANSLATOR
To read this article in one of Houston's most-spoken languages, click on the button below.
Select Language▼
HOUSTON BELIEF
Fatima Yakub, 27, does a henna design on mosque guests during the Open Mosque Day at the Bear Creek Islamic Center, Saturday, March 10, 2018, in Houston. ( Marie D. De Jesus / Houston Chronicle ) Mosque open houses combat negative stereotypes of Muslims A World War II era banner from Beth Jacob Congregation, is displayed at Rice University Tuesday, March 27, 2018, in Houston. ( Jon Shapley / Houston Chronicle ) Rice University creating archive to preserve history of city's Thousands of pilgrims hold candles as they surround the empty tomb where it is believed Jesus was buried, inside the Church of the Holy Sepulchre in Jerusalem during the Christian Orthodox ceremony of the Holy Fire, which celebrates Christ's resurrection. (AP Photo/Ruth Fremson) Message of Easter: Death does not have the last word Two Emmanuel Episcopal Church members embrace after the Maundy Thursday service at the Temple Sinai. Through Harvey, church and temple come together under one Yasmin Thawerbhory, center, attends the celebration marking the Aga Khan's 60th year as spiritual leader of the Ismaili Muslims. Visit by the Aga Khan inspires Ismaili Muslims across the country Spiritual master Srila Bhaktisiddhanta Sarasvati Thakura was the key figure in launching the Hare Krishna movement in America. Faith or religion: The eternal function of the soul
"We have felt that there are many barriers between Americans, and these barriers are giving rise to Islamophobia," said Ahmed, a physician, who spoke at the Bear Creek Islamic Center open house. "This event helps us connect as humans. At the end of the day, we find that we have so many things in common."
Visitors learned that Bear Creek Islamic Center served as a shelter during Hurricane Harvey, runs a food pantry and is a social and community center for Muslims. Along with GainPeace, the Islamic Society of Greater Houston and the Houston unit of the Islamic Circle of North America also sponsored the Bear Creek open house in west Harris County.
Suzanne Itani, president of Taiba, a Houston nonprofit that works to empower and mentor Muslim women, said non-Muslims have so many misconceptions of Islam.
The open house was, she said, "an excellent program. It allows us to own our own narrative rather than what is out there in the media. It's a great effort to bridge our communities and get to know each other and break down barriers."
As she tried to corral her wandering young son, who was sporting face-paint, Stacey Bohm said the open house had made her aware of how Muslims are pigeon-holed.
"I came to learn more, and I brought my kids so they can enjoy the experience. They don't really know anything about Muslims. The event was nice," she said. Organizers "talked about stereotypes against Muslims."
Visitors received a gift bag that included a Quran and a dozen brochures on the central tenets of Islam, Islam's view of Jesus and the reasons why some Muslim women wear hijabs.
Ahmed encouraged visitors to read the Quran to gain a better understanding of Islam.
"They will find that Islam stands for justice and peace and harmony. Just like the crusaders and the Inquisition and the KKK do not represent Christianity, some misguided Muslims don't represent the just teachings of Islam," he said. "If you want to know what Islam is, pick up a Quran. You will find that Muslims are here to work to better their communities."
Here are snippets on Islam from the brochures (published by GainPeace and the Islamic Circle of North America) given out at the open house:
On Allah, the Arabic name for God
"Belief and worship of the One True God is the cornerstone of a Muslim's belief."
"The message of Islam is simple: To believe and worship One True God alone and to accept Prophet Muhammad (peace be upon him) as His final messenger."
"Worshipping others beside God or associating partners or equals with God is the worst sin in Islam. This includes ascribing some of God's attributes to other objects or beings (e.g., idols); claiming that God has a son, mother or any other partner; or disbelieving in God."
RELATED
FRANCISCO E. "PANCHO" ORTIZ Let dreamers stay, enrich our nation We're in the midst of an apocalypse. And that's a good thing.
On Jesus and whether he was a divinity
"Jesus is a figure who is loved and revered by billions of people the world over, yet there is much confusion surrounding the status of this colossal personality. Muslims and Christians both hold Jesus in high regard but view him in different ways."
"Thousands of prophets were sent by Allah, at least one to every nation, with the same message: to worship Allah alone and not associate any partner with Him. Some of these Prophets include Adam, Noah, Joseph, Abraham, Jacob, Isaac, Moses, Jesus and Muhammad (peace be upon them all). Jesus (peace be upon him) was one of the greatest Prophets sent by Almighty God."
"Some Christians claim that 'Jesus is God' or part of a trinity - that he is the incarnation of God on earth, and that God took on a human form. However, according to the Bible, Jesus was born, ate, slept, prayed and had limited knowledge - all attributes not befitting God. God has attributes of perfection whereas Man is the opposite. How can anything be two complete opposites simultaneously?"
On Islam's view of terrorism
"In war, the targeting of innocent non-combatants is a despicable act which Islam clearly prohibits. In fact, Muslims are not even allowed to destroy plants and animals unnecessarily, let alone innocent humans. … However, it is important to distinguish between terrorism and legitimate resistance to occupation, as the two are very different."
On hijab
Full report at:
https://www.houstonchronicle.com/life/houston-belief/article/Mosque-open-houses-combat-negative-stereotypes-of-12828511.php
--------
Pentagon cautions White House: Syria strike could trigger wider war
Apr 13, 2018
US Defense Secretary James Mattis has warned that a military strike on Syria carried the risk of spiraling out of control, cautioning the White House as it weighs how to respond to a suspected chemical attack outside Damascus last weekend.
Speaking before a House Armed Services Committee hearing on Thursday, Mattis said his primary concern in planning military action was avoiding anything that would trigger a wider war.
"On a strategic level, it's how do we keep this from escalating out of control," he said.
President Donald Trump initially threatened this week that he was committed to attacking the government of President Bashar al-Assad, which he accused of using chemical weapons in Douma.
However, Trump later softened his rhetoric, suggesting he was awaiting further advice and assessment before a final decision was made.
"Never said when an attack on Syria would take place," he tweeted. "Could be very soon or not so soon at all!"
Mattis insisted the US policy in Syria still remained the same, which was the total defeat of the Daesh terrorist group without getting directly involved in the conflict.
"Our strategy remains the same as a year ago," he said. "It is to drive this to a U.N.-brokered peace but, at the same time, keep our foot on the neck of ISIS until we suffocate it," referring to Daesh.
The terror organization has been driven from most of the territory it held in Iraq and Syria, but pockets of militants remain.
On Thursday, Russia announced that the Syrian army had liberated Douma less than two months into its counter-terrorism operation in Eastern Ghouta.
"With every victory achieved on the field, the voices of some Western states are raised and actions are intensified in an attempt by them to change the course of events," President Assad said after the announcement.
"These voices and any possible action will contribute nothing but an increase in instability in the region, threatening international peace and security," he was quoted by Syrian state TV as saying.
The US has been in close consultations with Britain and France about launching a military operation in Syria as early as the end of this week, officials said.
French President Emmanuel Macron said Thursday France had proof the Assad government launched chlorine gas attacks, and that it would not tolerate "regimes that think everything is permitted."
British Prime Minister Theresa May met with her cabinet, agreeing that it was "highly likely" President Assad was responsible for Saturday's alleged chemical attack in Douma.
May's cabinet agreed on the need to "take action" against the Syrian government, but added that the prime minister would continue to coordinate with allies.
Mattis, however, told lawmakers that the United States still had no hard proof, but he believed the Syrian government was responsible for Saturday's attack.
The Organization for the Prohibition of Chemical Weapons, based in the Netherlands, announced it was deploying a fact-finding team to Douma, which was expected to arrive Saturday.
US officials have not said whether the presence of the international investigators could affect the timing of a potential military strike.
The plans for military action have especially been complicated because of the presence of roughly 2,000 Russian troops, who have been stationed in the country since 2015.
Full report at:
http://www.presstv.com/Detail/2018/04/13/558329/Pentagon-Syria-strike-trigger-wider-war
--------
'No final decision has been made' on Syria: White House
Apr 12, 2018
President Donald Trump and his national security aides have discussed US options on Syria and "no final decision has been made," according to the White House.
"We are continuing to assess intelligence and are engaged in conversations with our partners and allies," White House press secretary Sarah Sanders said in a statement on Thursday.
The statement added that Trump would soon speak with French President Emmanuel Macron and British Prime Minister Theresa May.
The White House announcement came shortly after the British PM won backing from her "war cabinet" to take action with the United States and France in Syria to "deter the further use of chemical weapons."
May and her senior ministers agreed it was "highly likely" the government of Syrian President Bashar al-Assad was responsible for the recent alleged chemical weapons attack in the Arab country, declaring the use of chemical weapons must not "go unchallenged."
Trump, May vow to deter Assad: UK
The British prime minister's office said on Thursday that May and Trump vowed to deter President Assad from further using chemical weapons in an attack.
"They agreed it was vital that the use of chemical weapons did not go unchallenged, and on the need to deter the further use of chemical weapons by the Assad regime," May's office said in a statement. "They agreed to keep working closely together on the international response."
The US and its allies have been threatening Damascus with military action since April 7, when a suspected chemical attack on the Syrian town of Douma, Eastern Ghouta, reportedly killed 60 people and injured hundreds more.
The possibility of an attack grew larger on Wednesday, after Trump warned Russia, Syria's key supporter in the fight against foreign-backed militancy, to "get ready" to shoot down American missiles over Syria soon.
But Trump tempered those remarks on Thursday, saying the US response could be "very soon or not so soon at all!"
"Never said when an attack on Syria would take place. Could be very soon or not so soon at all!" Trump wrote on Twitter.
"In any event, the United States, under my Administration, has done a great job of ridding the region of ISIS [Daesh]. Where is our 'Thank you America?'"
French President Macron said on Thursday that Paris has proof the Syrian government carried out the attack, without offering details of any evidence.
Full report at:
http://www.presstv.com/Detail/2018/04/12/558320/No-final-decision-has-been-made-on-Syria-White-House
--------
Africa
Boko Haram has abducted over 1,000 children in Nigeria since 2013: UNICEF
April 13, 2018
As Nigeria prepares to mark the fourth anniversary of the Chibok kidnapping, UNICEF reported on Friday that over 1,000 children have been abducted by jihadists since 2013.
"Since 2013, more than 1,000 children have been abducted by Boko Haram in northeastern Nigeria, including 276 girls taken from their secondary school in the town of Chibok in 2014," said UNICEF in a statement.
"These repeated attacks against children in schools are unconscionable," Mohamed Malick Fall, a UNICEF representative in Nigeria.
Boko Haram's fight to establish a hardline Islamic state in northeast Nigeria has claimed at least 20,000 lives and displaced more than two million people.
Schools, particularly those with a secular curriculum, have been targeted by Boko Haram, whose name roughly translates from Hausa -- the language spoken widely across northern Nigeria -- as "Western education is forbidden".
At least 2,295 teachers have been killed and more than 1,400 schools destroyed by the extremists since the conflict started in 2009, according to UNICEF.
While a 2015 offensive launched by Nigerian President Muhammadu Buhari successfully reclaimed swathes of territory back from the jihadists in Nigeria, the group still stages deadly attacks on both military targets and civilians.
In February, the extremists shocked Nigerians by driving unopposed into the northeastern town of Dapchi and kidnapping over 100 schoolgirls. The response from the authorities -- denials then contradictions -- was eerily similar to the confusion when the Chibok girls were kidnapped. Most of the girls have since been returned, but the brazen abduction revived painful memories of the Chibok kidnapping in 2014.
Of the 276 girls kidnapped by Boko Haram from the northeastern town of Chibok on April 14, 2014, over 100 are still missing.
Abubakar Shekau, the mercurial Boko Haram leader responsible for using girls as suicide bombers, has claimed in videos that the girls have converted to Islam and have been "married off".
For those following Boko Haram, the Dapchi kidnapping wasn't entirely a surprise. Over the past year, the jihadists have ramped up attacks, killing soldiers, kidnapping government workers and terrorizing the northeastern city of Maiduguri with relentless suicide bombings.
Under pressure to live up to his election promise of beating Boko Haram, this month Buhari reiterated his support for the release of US$1 billion in emergency funds to fight the extremists.
Buhari's government has recovered scores of the girls. But the negotiations with the jihadists -- which reportedly involved ransom payments and the release of high-ranking commanders -- rankled critics who questioned the wisdom of funding and rejuvenating the ranks of the extremists.
http://www.thejakartapost.com/news/2018/04/13/boko-haram-has-abducted-over-1000-children-in-nigeria-since-2013-unicef.html
--------
Libyan spokesman: No comment on reports of Haftar being treated in Paris
12 April 2018
A Libyan military spokesman declined on Wednesday to address directly reports that key coalition military commander Khalifa Haftar was in the French capital Paris for medical treatment.
Ahmed al-Mismari, spokesman for the Libyan National Army (LNA) that Haftar leads, gave a press statement in the eastern city of Benghazi late on Wednesday, after more than 24 hours of conflicting rumors and reports about Haftar's health and whereabouts.
One high-ranking East Libyan military source told Reuters on Tuesday that Haftar had been flown to Jordan, and would travel on from there to a third country for treatment for a critical health condition.
A second source close the East Libyan military command said on Wednesday that Haftar was in France, but gave no details on his condition. Both sources asked not to be named because of the sensitivity of the issue.
Libya's 218 TV channel, which is supportive of the LNA, reported that Haftar "was undergoing a medical inspection in Paris and that there was no real danger to his health".
Several French media also reported that Haftar was being treated at a Paris hospital.
Haftar, 75, has for several years been the dominant figure in Eastern Libya, and has widely been seen as seeking national power in the oil-rich nation of six million.
Full report at:
https://english.alarabiya.net/en/News/north-africa/2018/04/12/Libyan-spokesman-No-comment-on-reports-of-Haftar-being-treated-in-Paris.html
--------
Bomb blast kills 5 at stadium in Somalia
Apr 13, 2018
A bomb killed up to five spectators at a soccer match in southern Somalia, police and a lawmaker said on Friday, the first time an explosion has targeted a stadium.
The blast went off in the port town of Barawe, in the Lower Shabelle region, when residents were watching a soccer match on Thursday afternoon, police said, adding that al-Qaeda-linked al-Shabab could be behind the attack.
Police said it appeared to have been detonated by remote control.
"The bomb killed five people and injured a dozen others in the football field. All the casualties were from the onlookers," Mahad Dhoore, a lawmaker for South West state told Reuters.
Police officer Mohamed Aden said the al-Shabab group was suspected of being behind the attack and put the number of the dead at four and the wounded at 12.
"We believe al-Shabab was behind (the bombing) and that the target was officials who were not seated there at the time of the match. The bomb looked like a remotely-controlled one that was planted there," Aden told Reuters from Barawe.
Al-Shabab are fighting to topple Somalia's Western-backed central government and establish their own rule based on their strict interpretation of Islamic law.
The group frequently carries out bombings and gun attacks in the capital, Mogadishu, and other parts of Somalia.
Full report at:
http://www.presstv.com/Detail/2018/04/13/558338/Somalia-bomb-stadium-alShabab
--------
URL: https://www.newageislam.com/islamic-world-news/egypts-grand-mufti-says-buying/d/114924
New Age Islam, Islam Online, Islamic Website, African Muslim News, Arab World News, South Asia News, Indian Muslim News, World Muslim News, Women in Islam, Islamic Feminism, Arab Women, Women In Arab, Islamophobia in America, Muslim Women in West, Islam Women and Feminism