New Age Islam News Bureau
13 Oct 2018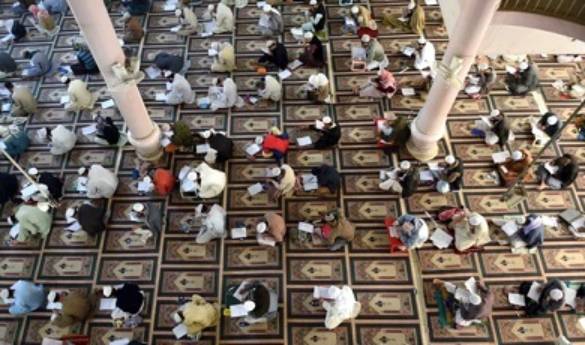 Photo: In this file photo, Islamic religious students take mid-term exams at Jamia Binoria, a seminary in Karachi, on Jan. 26, 2017. (AFP)
----------
• Pakistani scholars question PM Khan's plans to reform madrassas
• Supreme Court stays Uttarakhand HC order barring fatwas
• Islamophobes contemplate a civil war in France
Arab World
• Egyptian military court sentences 17 people to death over church bombings
• Daesh reverting to insurgency after losing 'caliphate'
• Saudi interior minister slams 'media lies' on 'orders to kill Khashoggi'
• US-Iraqi forces arrest suspected members of Daesh funding network
• Thirty-two Syrians rescued at sea off Lebanon, attempting to reach Cyprus
• Erdogan renews threat of another Syria incursion as Kurdish militia still in Manbij
• Saudi Arabia's firm stance on Palestinian issue highlighted
• Sikh Charity Langar Aid Feeds Thousands Of War-Torn Refugees In Iraq And Syria
--------
Pakistan
• Pakistani scholars question PM Khan's plans to reform madrassas
• Taliban welcome US special envoy's peace initiative
• Islamists rally in Pakistan for death sentence for Christian
• UK hails Pakistan's achievements in war against terror
• FATF slams Pakistan for failing to plug terror funding
• US to review Chinese debt before decision on Pakistan's loan request
• 1,700 polling stations categorised as 'highly sensitive' for Oct 14 by-polls
• CJP takes notice of alleged encroachment of land belonging to Sindh's Hindu community
• Govt to construct cancer hospital in Quetta: Imran Khan
• Britain commends Pak's security, counter-terrorism measures
--------
India
• Supreme Court stays Uttarakhand HC order barring fatwas
• 163 militants killed in Kashmir this year
• If Orders Can be Issued For Triple Talaq, Then Why Not on Ram Temple, Asks Sena
• Terrorists shoot policeman dead in J&K's Baramulla
• 'Scholar-turned-Hizbul Mujahideen terrorist ignored appeals to return home'
• Action against Rohingya should not be seen through prism of human rights: Rajnath
• AMU students face sedition charge after funeral prayer bid for militant killed in J&K
• Shanghai Cooperation Organisation meet: No thaw in India-Pak freeze, Sushma Swaraj underlines terror threat
• NIA court orders attachment of four properties of Zakir Naik
--------
Europe
• Islamophobes contemplate a civil war in France
• UK refuses to take back British ISIS fighters detained in Syria
• UK imam fired for anti-Saudi comments
• 'Punish a Muslim day' hoaxer who also threatened Queen in hate spree faces jail
• Antoine Sfeir: French-Lebanese scholar and writer who critiqued political Islam
• US trying to create 'quasi-state' in Syria: Russia
• Macron 'awaiting explanation' from Iran on who ordered France bomb plot
--------
Mideast
• Israeli forces kill six Palestinians during Gaza protests
• Trump using Iranophobia to sell American munitions to Arab states: Nasrallah
• Israel orders immediate halt to Gaza fuel deliveries
• Yemen's army advances in Saada, launches coordinated attacks on Houthis
• Top Yemen Bahai figure disappears amid Houthi crackdown
--------
South Asia
• Taliban militants, civilians suffer heavy casualties in a premature car bomb explosion
• Sylhet-5 constituency: Long-standing coalitions might collapse in six-way fight for seat
• Rohingyas are not the thin end of Islamic wedge
• Ghani met with the SG of Islamic Military Counter-terrorism Coalition
--------
Southeast Asia
• Where intellectuals have failed in changing the Malay mindset
• Two Alleged Leaders Of Banned Islamic Group Arrested In Tatarstan
• China has just made it legal to isolate its Uighur Muslim minority from society for 're-education'
• DPM Teo Chee Hean, Minister-in-charge of Muslim Affairs Masagos Zulkifli to lead delegations to Middle East
• New exhibition on the haj showcases Kampong Glam's past as centre for Muslim pilgrims
• Hadi insists on Oktoberfest ban, claims offensive to Muslims
• Jokowi camp slams Prabowo's 'Make Indonesia Great Again' slogan
--------
Africa
• 18 soldiers killed, scores missing in latest Boko Haram invasion of Nigerian military base
• Ethiopia: FETO terror group afloat with German support
• Ahmadiyya Muslim Mission holds maiden peace conference
• 833 minors released from armed group in Nigeria
• Al-Qaeda Affiliate Reportedly Using Iran As Transit Point For Banned Exports
--------
North America
• Canada voices concern on human rights in S.Arabia
• Pompeo urges Turkey to release remaining detained Americans
• American senators: US-Saudi relationship 'on the line'
• Lawyer of US cleric: Brunson to leave Turkey
Compiled by New Age Islam News Bureau
URL: https://www.newageislam.com/islamic-world-news/egyptian-military-court-sentences-17/d/116623
--------
Egyptian military court sentences 17 people to death over church bombings
October 12, 2018
By Kara Fox and Muhammad Darwish
An Egyptian military court sentenced 17 people to death on Thursday over their involvement in the 2016 and 2017 bombings of three churches and a police checkpoint that killed more than 80 people, according to Ahram, an English language news site affiliated with state run daily Al-Ahram.
Nineteen others were sentenced to life in prison for the attacks, Ahram reported.
ISIS claimed responsibility for the April 2017 bombing of two Coptic Christian churches in the cities of Tanta and Alexandria. At least 45 people were killed in the strikes, which targeted the minority group on the first day of the faith's Holy Week leading up to Easter.
In December 2016, another attack at a Coptic church in Cairo killed 25 people. ISIS also claimed responsibility for that attack.
While acknowledging the attacks were "utterly reprehensible," human rights group Amnesty International criticized the verdict of the "unfair military trial," saying it "will not deter further sectarian attacks."
"Those accused of involvement in these heinous crimes must be retried in a civilian court in proceedings that comply with international human rights law and fair trial standards," Amnesty's North Africa Campaigns Director Najia Bounaim said.
Coptic Christians face persecution and discrimination that has spiked since the toppling of Hosni Mubarak's regime in 2011.
Coptic churches and homes have been set on fire, members of the Coptic minority have been physically attacked and their property has been looted, Amnesty International reported last year.
There is also little Christian representation in Egypt's government.
Coptic Christians make up about 10% of Egypt's 91 million residents. They base their theology on the teachings of the apostle Mark, who introduced Christianity to Egypt, according to St. Takla Church in Alexandria, the capital of Coptic Christianity.
http://mattersindia.com/2018/10/egyptian-military-court-sentences-17-people-to-death-over-church-bombings/
--------
Pakistani scholars question PM Khan's plans to reform madrassas
October 12, 2018
KARACHI: Upset over the previous governments' lackadaisical attitude, Pakistan's religious scholars said that while Prime Minister Imran Khan shows promise in making religious schools a part of the mainstream educational framework, it's unlikely his plans will be brought to fruition.
Khan has repeatedly called for reforms in the education system to bring the seminaries, also known as madrassas, in line with the modern education system.
Last week, during a meeting with the delegation of the Ittehad-e-Tanzeemat-e-Madaris-e-Deeniya Pakistan, an alliance of religious schools in the country, Khan had said that uniformity in the basic educational system was imperative to work toward nation building. The delegation was headed by Mufti Muneeb-ur-Rehman and comprised heads of all madrassa boards, while the premier was accompanied by federal ministers of education, religious affairs and a coterie of other officials.
Yaseen Zafar, head of the Wafaqul Madaris Al Salfia — the board of religious seminaries representing the Salafi school of thought — told Arab News that Khan's government and past leaders, including former Prime Ministers Nawaz Sharif, Benazir Bhutto "were also sincere in their efforts to mainstream the seminaries," adding that the madrassas never opposed the plans either.
"It's the bureaucracy, which hampers the process by raising objections to the key demand of registration of the board," Zafar said, adding that he feared Khan's plans would meet a similar fate.
Aamir Tauseen, former chairman of the Pakistan Madrassa Education Board, agrees that when it comes to meeting the demands of clerics, specifically granting them the status of official education boards, the bureaucracy has always raised various objections, treating religious schools as unequal or as a hotbed for terrorism. "Since they are educated through the modern system, they have a specific mentality and consider the religious schools backward," he said.
Taking cognizance of the issues discussed, Khan said: "It was unjust to ignore the contributions of madaris (seminaries) and associate them with terrorism."
Maulana Hanif Jalandhari, chief of Wafaqul Madaris Al-Arabia Pakistan (the board of Arabic religious seminaries of Pakistan), said that in the meeting with the prime minister, it was decided that all measures agreed upon with the previous governments would be implemented.
He added that Khan had formed a committee comprising ministers of education and religious affairs which, "after consultation with the madrassa leadership would draft the recommendations".
Detailing the limitations of including the seminaries in the mainstream educational framework, Jalandhari said: "To us, the madaris are already mainstreamed as they're imparting Islamic education in a country, which was carved out of (pre-partition) India for implementation of Islamic teachings. For the government, however, the mainstreaming is that graduates of madrassas should be able to work in other fields of life. For this, the madrassas will have to start teaching English language, science, mathematics and social studies. In return, the government will have to recognize our degrees."
One solution to the problem could be if "the basic education in schools and madrassas is the same till grade 10," he said, adding that: "The religious seminaries should teach modern subjects whereas modern schools should incorporate religious subject in their syllabus."
Tauseen said the timeline of efforts for mainstreaming madrassas dates backs to the 1970s when an educational commission headed by Air Marshal Noor Khan recommended introducing modern subjects in religious seminaries.
In 1974, after the recommendations failed to see the light of day, all five boards were accredited by the University Grant Commission of Pakistan, which accepted the highest madrasa degree of "Shahadat Aalia" as equal to a Master of Arts (MA), Tauseen said.
"Almost every government formed a commission in this regard but in vain. In 1999, Mahmood Ahmed Ghazi recommended the establishment of a Pakistan Madrassa Education Board, which was setup in 2001. This board was aimed at mainstreaming the madrassas but all five boards rejected the proposal," he said.
Tauseen, who took charge of the board in August 2014, said that it remained dysfunctional for 11 years primarily due to the "adverse attitude of the Religious Affairs Ministry".
Inclusion of the madrassas in the mainstream became a part of the National Action Plan, which was formulated in the aftermath of the December 2014 attack on the Peshawar Army Public School. "Several meetings of different committees, education ministry, National Anti-Terrorism Authority and Interior Ministry were held and I, being head of the Pakistan Madrasa Board, was part of all of them. Several recommendations were prepared; however, with a change of government none were implemented," he said.
Citing a lack of coordination and understanding as the main reasons for the delay in the implementation of plans, Tauseen suggested that madrassas should first have the complete data on hand, which should be shared with the government, as the first step toward mainstreaming. This could be followed up with the introduction of a uniform syllabus in the second phase.
There are three types of seminaries: Maktabs (schools for day scholars), madrassas (seminaries with boarding and lodging) and darul uloom (seminaries for higher studies). Together, they are responsible for more than 37,000 institutions, with nearly 4 million students acquiring education from them.
Jalandhari said that around 30,000 madrassas are registered with the five boards representing various schools of thought in Islam. Abdul Kabir Qazi, home secretary of the Sindh province, said there are a total of 10,033 madrassas in Sindh out of which 7,724 are operational while 2,309 were shut down after the geo-tagging exercise. "We have registered all the seminaries in Sindh province," Qazi told Arab News. "All the madrassas in the province have been geo-tagged," he added.
Wakeel Ahmed Khan, former secretary of religious affairs, refutes the allegations and instead blames the 'inconsistency of policies' of the succeeding governments for hampering the development of the madrassas.
"For mainstreaming madrassas, modern disciplines should be taught and religious education should be an additional focus," the former secretary told Arab News.
Drawing a comparison with the religious seminaries in the UK, he said: "They are accredited with the UK education boards on their terms and simultaneously to their branches in Pakistan… they have accepted this mainstreaming happily."
http://www.arabnews.com/node/1386636/world
--------
Supreme Court stays Uttarakhand HC order barring fatwas
Oct 13, 2018
NEW DELHI: The Supreme Court on Friday stayed the Uttarakhand HC direction barring all religious outfits from issuing 'fatwas' and issued notice to the state government on a plea challenging the validity of its order.
Agreeing to hear the plea of Muslim organisation Jamiat Ulama-e-Hind which challenged the HC's August 30 order, a bench of Justices Madan B Lokur and Deepak Gupta sought response from the state government.
The HC, while declaring 'fatwas' unconstitutional and illegal, had passed the order after taking cognisance of a media report of a panchayat issuing 'fatwa' for banishing a rape survivor's family from a village in Roorkee district. "In Uttarakhand, all religious bodies, statutory panchayats, and any other groups of people are banned from issuing fatwas, since they infringe upon statutory rights, fundamental rights, dignity, status, honour and obligation of individuals," the high court had said.
Challenging the HC order, the petitioner contended that the order banning issuance of 'fatwa' by religious outfits was illegal and unsustainable as the issue had been adjudicated by the SC in 2014 and legality of 'fatwa' upheld. It has said that "only authorised and well qualified person is competent to issue fatwa i.e. Darul Ifta (fatwa council) or Muftis are jurists qualified to give authoritative opinion as per Shariat law known as fatwas."
"A candidate is conferred the degree of Mufti after he successfully completed the comprehensive course in Islamic jurisprudence which takes 8 to 10 years, " the petition said. It said a fatwa is only an opinion and not binding on the court, state or individual. "The HC has erred in passing the impugned order in haste only on the basis of the news item on same day without summoning the officials concerned and without testing the veracity of the news item where the word 'fatwa' is not printed but 'farman' of so-called panchayat is printed," the petition said.
https://timesofindia.indiatimes.com/india/supreme-court-stays-uttarakhand-hc-order-barring-fatwas/articleshow/66189246.cms
--------
Islamophobes contemplate a civil war in France
Oct 13, 2018
The escalating violence in French media continues to worsen every day. I am surprised that my fellow citizens are encouraging a possible civil war in France with calmness and serenity, as if it were a normal scenario we should anticipate in the short or long term. How can it be? How can French people and intellectuals easily debate a "war against Islam" without feeling shame or sense any trouble? Yes, we are used to reoccurring debates about the "war on Islamic terror" and "assimilation problems" in French media, but now journalists and politicians are coldly discussing a "war against Islam" and a civil war. Their claim is explicit, straightforward and unequivocal: Islam and Muslims as a whole are a national threat, and France should tackle it.
On Sept. 15, the polemicist Eric Zemmour warned France of a coming "civil war against Islam and its French collaborators" on the public radio station France Inter. On Sept. 27, journalists Zineb El Rhazoui and Jean-Claude Dassier respectively claimed, "Women wearing headscarves belong to and manifest an ideology of radical Islam that leads to terrorism" and "we are in armed conflict against Islam," on the popular C News TV channel. On Oct. 3, former French Interior Minister Gerard Collomb claimed in his resignation speech, "Today we live side-by-side … I am afraid that tomorrow we will live face-to-face," portraying implicitly French Muslims and French non-Muslims as enemies. The list is desperately long, and we could find many more examples of such statements.
It seems that for those French journalists and demagogues, any display of affiliation to Islam, such as headscarves, halal food or prayers, constitutes a rejection of French values, isolation from the rest of the society and finally, a call for terror attacks. In other words, they intrinsically link the way of life of millions of French Muslims with the terrible terror attacks that took place in the last years in France. As a result, every Muslim has become the target, the national enemy, the impure and the ones we should neutralize.
How can we explain this dangerous semantic shift?
It is true that a far-right minority has always attributed all French problems to Arab or Muslim communities and advocated extreme solutions. Yet, open and blatant hate speech toward Muslims has become the new norm in mainstream media. One may argue that this semantic shift reflects the high degree of violence submerging French society after every Daesh terror attack. For sure, no one may euphemize the deep consequences of these terror attacks upon French society. They led to more resentment among French people in general and stigmatization of French Muslims in particular. On June 2018, French police even arrested 10 far-right members of a shadowy cell that plotted to attack Muslims, including attacks on veiled women, imams, mosques and halal grocery stores.
Yet, we should also recognize that hate speech against Islam and Muslims has deeper roots than Daesh attacks alone. There has been a structural approach to Islam since the colonization that systematically refers to Islam as inferior, barbaric and reactionary. We know for instance that French colonial authorities organized human zoos as well as anti-headscarf campaigns in North African colonies. Many sociological studies have already related the old French colonial policy of Islam and the post-colonial dispositive toward North African workers and families established in France. I mean, here a range of segregating discourses materialized in law, urbanism and symbols that led to relegate Muslim populations to subaltern jobs, to the city's suburbs, to limited social rights and to poor civic participation.
Irrational hate speech can have terrible consequences
These allusions to civil war not only represent the normalization of anti-Muslim discourse but also the legitimization of hate attacks toward individuals. These statements are irresponsible since similar rhetoric has led to mass deportation, massacres and genocides in the past. Is this really the alternative we want to oppose the Daesh threat? Is it not time to tackle French challenges through rational deliberation and thoughtful speech? Is it not time for all of us to be responsible?
In a period of economic and social crisis, it has become very difficult to advocate pragmatic and reasonable approaches. Yet, there are some facts no one can deny. There are around 6 million Muslims in France, most of them born and raised in the country; 6 million Muslims who work, study, vote and simply live in France. We have no choice but to live together, whether we like it or not. We have no choice but to find solutions to our common problems if we do not want to face the worst-case scenario. It is simple: There is no other plan but to renew respectful dialogue and common understanding; otherwise, we will be condemned to watch our society sink into the bloody abyss of hatred, just a few decades after the end of World War II and the Algerian War.
https://www.dailysabah.com/op-ed/2018/10/13/islamophobes-contemplate-a-civil-war-in-france
--------
Arab World
Daesh reverting to insurgency after losing 'caliphate'
October 13, 2018
BEIRUT: After being nearly defeated on the battlefields of its would-be caliphate, Daesh has reverted to what it was before its spectacular conquests in 2014, analysts say — a shadowy insurgent network that targets civilian populations with guerrilla-style attacks and exploits state weaknesses to incite sectarian strife.
In Iraq and Syria, hardly a week goes by without the group staging an attack on a town or village, keeping its opponents on edge even as it fights US-backed forces advancing on the last remaining slice of territory under its control near the countries' shared border.
Hisham Al-Hashimi, a Daesh expert who advises the Iraqi government, said the group now operates like it did in 2010, before its rise in Iraq, which culminated four years later with the militants seizing one of Iraq's biggest cities, Mosul, and also claiming the city of Raqqa in Syria and declaring a "caliphate" across large areas of both countries.
Al-Hashimi said the world's most dangerous insurgent group is trying to prove that despite losing its territorial hold, "it still has long arms to strike."
While it fends off attacks on its remaining pockets in Syria, a recent surge in false claims of responsibility for attacks also signals that the group is struggling to stay relevant after losing its proto-state and its dominance on the international news agenda. The main figures behind the group's once sleek propaganda machine have mostly been killed. Raqqa fell a year ago this month, and the group has lost all but 2 percent of the territory it held in Iraq and Syria.
There are concerns, however, that while Daesh may never be able to recreate the kind of territorial hold it once had, it is trying to latch on to new territory.
One of the group's deadliest attacks since the collapse of the supposed caliphate came in late July, when dozens of masked Daesh fighters stormed the southern city of Sweida and nearby villages inhabited by members of Syria's Druze minority, gunning down more than 200 people and kidnapping about 30, mostly women and children.
The ambush shook the community, which had stayed on the sidelines of Syria's seven-year civil war and took many by surprise, raising fears that as the militants are on the retreat, they will try to regroup in remote pockets of territory like this once quiet corner of the country.
Last month, Daesh fighters stormed the northern Iraqi village of Gharib, killing three villagers and wounding nine after residents refused to collaborate with them and give them supplies such as food and ammunition. Last week, Daesh attacked the village of Saadiyeh, south of the northern Iraqi city of Mosul, killing three and abducting one.
The group regularly stages attacks in villages in the provinces of Diyala, Salahuddin and Kirkuk and elsewhere, targeting local officials or police because they work for the state.
Iraqi military spokesman Big. Gen. Yahya Rasoul said this week that security forces have begun a broad operation in the western province of Anbar that borders Syria to take out Daesh sleeper cells.
Analysts warn that this could be the beginning of a new resurgence of the group similar to the one that preceded their rise in 2010, after many thought the group's predecessor had been defeated during the US surge there in 2007.
Hassan Hassan, senior research fellow at George Washington University's Program on Extremism, wrote in a recent article that Daesh has been able to undergo an orderly transition from caliphate to insurgency without fracturing.
Last month, US-backed Syrian fighters of the Syrian Democratic Forces began a final push to retake Hajjin, the last pocket held by Daesh on the eastern banks of the Euphrates River near the Iraq border. They have had to advance slowly as the extremists rely on mines, snipers fire and suicide attacks in defending their positions.
Clashes this week in the Syrian village of Sousah left more than two dozen fighters on both sides dead as Daesh fighters took advantage of a sandstorm and bad visibility to attack SDF positions.
It's not clear how many militants are still fighting with Daesh. A UN report released in August said Daesh has up to 30,000 members distributed roughly equally between Syria and Iraq, and said its global network increasingly poses a threat.
The UN report said that despite the defeat of Daesh in Iraq and most of Syria, it is likely that a reduced "covert version" of the militant group's "core" will survive in both countries, with significant affiliated supporters in Afghanistan, Libya, Southeast Asia and West Africa.
http://www.arabnews.com/node/1386891
--------
Saudi interior minister slams 'media lies' on 'orders to kill Khashoggi'
13 October 2018
Saudi Arabia's Interior Minister Prince Abdulaziz bin Saud bin Naif bin Abdulaziz affirmed on Saturday the kingdom's condemnation and denunciation of false accusations circulated in some media over the disappearance of Jamal Khashoggi.
He also stressed that what has been circulating about "orders to kill" Khashoggi are "lies and baseless allegations against the Saudi government, which is committed to its principles, rules and traditions and is in compliance with international laws and conventions," according to Saudi Press Agency.
He praised the cooperation with Turkish authorities through the Joint Investigation Commission and other official channels, stressing it was important that the media play a role in relaying facts, without affecting the investigation and judicial proceedings.
Full report at:
https://english.alarabiya.net/en/News/gulf/2018/10/13/Saudi-interior-minister-slams-media-lies-on-orders-to-kill-Khashoggi-.html
--------
US-Iraqi forces arrest suspected members of Daesh funding network
October 12, 2018
IRBIL, Iraq: A joint task force of US coalition and Iraqi special forces has arrested 10 suspected members of a network that provided funding for Daesh in Baghdad and the northern city of Irbil, the coalition said on Thursday.
The task force conducted raids from Oct. 7-9 and arrested suspected members of the Rawi financial network, which operated as a "financial facilitation group" for the militants, the coalition said in a statement.
"The arrests deal a major blow to ISIS' (Daesh) capacity to threaten and terrorize civilians," said Maj. Gen. Patrick B. Roberson, commander of Special Operation Joint Task Force — Operation Inherent Resolve.
"This demonstrates that those who assist in, sponsor, or provide financial, material or technological support to ISIS will face severe consequences."
Iraq declared victory over the militant group in December after retaking swathes of territory it held but its fighters have since then waged a campaign of kidnappings and killings.
Separately, an army officer was killed and three soldiers were captured in western Iraq after militants attacked their vehicle, security sources said on Thursday.
The attack took place late on Wednesday in the town of Akaz, 5 km from the Qaim district of Anbar province. The unit was delivering food to other troops, the sources told Reuters.
No group has claimed responsibility for the attack but Daesh militants are active in the area.
Usually militants kill soldiers and take officers captive whom they view as higher value targets, the sources said, but the reverse happened on Wednesday night.
At least eight people were killed and 12 wounded in a suicide car-bomb attack on a security checkpoint in the same area last August.
Security forces retook Qaim, which lies 300 km west of Baghdad in the Sunni province of Anbar, on the border with Syria, in November. It was one of the last remaining territories in Iraq held by Daesh.
The group's fighters have since then waged a campaign of killings and abductions.
In another development, Iraq's government has named Oil Minister Jabar Al-Luaibi as head of a new National Oil Company which will serve as an umbrella organization for state oil firms, an Oil Ministry spokesman told Reuters on Thursday.
Parliament voted in March to establish the company, which is meant to manage Iraq's upstream operations, freeing up the ministry to set plans and strategies for developing the sector.
The decision was voted on unanimously in Cabinet last week, spokesman Asim Jihad said. The positions of oil minister and National Oil Company chief are not related, he added.
"The appointment decision was made for many reasons, including the experience Luaibi has," Jihad said. Luaibi will also remain as oil minister in Prime Minister Haider Abadi's outgoing government, he said.
Iraqi President Barham Salih named former Oil Minister Adel Abdul-Mahdi as prime minister-designate earlier this month and tasked him with forming a new government. It is unclear if Luaibi will remain after that.
"The issue of selection of a new minister is the responsibility of the prime minister-designate. Anything is possible, we will wait and see," said Jihad.
Full report at:
http://www.arabnews.com/node/1386376/middle-east
--------
Thirty-two Syrians rescued at sea off Lebanon, attempting to reach Cyprus
12 October 2018
The Lebanese navy and a UN force have rescued 32 Syrian refugees whose boat broke down as they attempted to reach Cyprus, the navy said Friday.
The United Nations peacekeeping force in Lebanon, UNIFIL, said it found the craft on Thursday morning after receiving reports of a missing boat.
The "small white boat", carrying 19 men, six women and seven children, was stranded at sea northwest of Beirut, it said.
"The boat was out of fuel and the passengers had been without food and water for four days," it said in a statement.
It said Lebanese navy vessels arrived and transported the passengers to Beirut on Thursday night.
The Lebanese military said 32 Syrians and a Lebanese citizen were aboard the craft, and were attempting to reach the eastern Mediterranean island "illegally".
The United Nations' refugee agency (UNHCR) has registered nearly one million Syrian refugees in Lebanon.
Humanitarian representatives and government officials say the number is likely much higher, since many Syrians who have fled to Lebanon are not officially registered with the United Nations.
In September, EU member Cyprus announced it was looking to broker a repatriation agreement with Beirut because of an increased influx of migrants from Lebanon.
Full report at:
https://english.alarabiya.net/en/News/middle-east/2018/10/12/Thirty-two-Syrians-rescued-at-sea-off-Lebanon-attempting-to-reach-Cyprus.html
--------
Erdogan renews threat of another Syria incursion as Kurdish militia still in Manbij
October 12, 2018
ISTANBUL/AFRIN,Syria: The Turkish president is suggesting that Turkey's military could soon launch a new operation across the border into northern Syria, in zones held by Syrian Kurdish fighters.
Recep Tayyip Erdogan's statement is renewing a threat to expand Turkey's military operations into areas east of the Euphrates River held by US-backed Syrian Kurds.
Ankara considers the Syrian Kurdish militia as terrorist and part of a Kurdish insurgency within Turkey.
Erdogan says: "God willing, very soon ... we will leave the terror nests east of the Euphrates in disarray." He spoke on Friday at a military ceremony honoring Turkish commando soldiers.
Turkey launched incursion into Syria in 2016 and 2018, into areas west of the Euphrates, pushing Daesh militants as well as Syrian Kurdish fighters from the border area.
Turkish President Recep Tayyip Erdogan said on Friday that the Kurdish YPG militia has not left the northern Syrian town of Manbij, contrary to a US-Turkish agreement, and Turkey will do what is necessary.
"They are now digging trenches in Manbij. What does this mean? It means 'we've prepared the graves, come and bury us'," Erdogan said at a rally in southern Turkey. "They said they would abandon the area in 90 days, but they haven't. We will do what is necessary."
Meanwhile, residents of Syria's Afrin region say they are suffering a litany of abuses at the hands of Turkish-backed fighters.
They say the fear of harassment has kept them shuttered inside their homes since Ankara and its Arab opposition allies overran the then overwhelmingly Kurdish city in March after a two-month air and ground offensive.
Their testimonies, given under pseudonyms because of fear of retribution, paint a picture of a chaotic city with little protection for civilians. "They robbed my son's house and didn't leave a thing — not even the clothes," says 55-year-old resident Ahmad.
His own motorcycle and 20 gas canisters were seized by opposition fighters, who also looted his family's liquor store.
Since Turkish troops and pro-Ankara Arab fighters captured the city from the Kurdish People's Protection Units (YPG), the UN and human rights groups, including Amnesty International, have documented widespread abuses.
Half of the enclave's 320,000 residents fled, according to a recent report by the UN Commission of Inquiry, and most are unable to return.
Those who have often found their homes occupied by fighters or by Arab civilians displaced from other parts of Syria, the UN said.
Other returned to homes "stripped of furniture, electrical appliances and all decor," in large-scale looting.
Ahmad and his family fled the fighting but came back recently to scenes of devastation with their property looted and their hometown barely recognizable. "When we came back, not even our tractor was left," he said. "They don't even let us sleep at night, with all the shooting."
Turkey has denied allegations of abuses, and fighters say proven offenders are punished.
But residents say not enough is done to curb violations. And it is not only Kurds who have fallen victim to the lawlessness.
Samia, an Arab student in Afrin, says she has been permanently scarred by her father's brutal killing by armed men trying to steal their family car. "The first time they tried, my father kicked them out of the house. They came back a second time for revenge and killed him," she recounts. Fighters investigated, but "the killer went to jail for just one month," she said.
Separately, The UN's World Food Program is preparing for a vast new wave of refugees likely to flee to Turkey if a looming conflict breaks out in Syria's flash point Idlib region, WFP Executive Director David Beasley said Friday.
Beasley said the agency is "pre-positioning rations for short term, middle range, along the Turkish border."
Full report at:
http://www.arabnews.com/node/1386491/middle-east
--------
Saudi Arabia's firm stance on Palestinian issue highlighted
October 13, 2018
JEDDAH: Saudi Arabia's Education Minister Dr. Ahmed bin Mohammed Al-Issa highlighted the remarkable development and achievements of the Islamic Educational, Scientific and Cultural Organization, as he led his country's delegation at the organization's 13th General Conference in Morocco on Oct. 11 and 12.
He added that its performance and successes have strengthened its position and helped to support joint Islamic action, and that it will continue to develop and posper with the support of member states.
"ISESCO's initiatives and projects, in its current and future plans, are one of the cornerstones of creating a bright and prosperous future for the Islamic world," Al-Issa said, affirming the importance of the ongoing efforts to support the Palestinian people against Israeli aggression. He also stressed Saudi Arabia's firm stance on the Palestinian issue and its importance to the Muslim world.
"King Salman clarified, during the Arab Summit held recently in Saudi Arabia, that the Palestinian cause is our first issue and will remain so until the Palestinian people have all their legitimate rights," he said, highlighting the Kingdom's $50 million donation to the Islamic Waqf Support Program in Al-Quds, and a $150 million donation to the United Nations Relief and Works Agency for Palestine Refugees in the Near East.
He emphasized the right of Palestinian children and youths to education, which he said is a humane and legitimate right, noting that skills are increasingly becoming the basis for the labor market.
Full report at:
http://www.arabnews.com/node/1386851/saudi-arabia
--------
Sikh Charity Langar Aid Feeds Thousands Of War-Torn Refugees In Iraq And Syria
Oct 8, 2018
A Sikh charity is setting up bakeries to feed thousands of hungry refugees in the war-torn regions surrounding Syria and Iraq.
Langar Aid – an extension of the UK-based NGO Khalsa Aid – has provided free bread and water to those fleeing the conflicts from a base in northern Iraq since the start of the year.
It set up a bakery in the Pesh Harbour area around 35km from the Kurdish city of Duhok and 10kms from the Syrian border, which continues to operate today.
The charity will send a fact-finding mission back to Iraq next week with a mind to open a further bakery even closer to the Syrian border in the coming months.
The idea was borne because fighters from Islamic State (IS) also know as ISIS or ISIL, were destroying food coming in for Yazidi refugees.
Langar is the term used in Sikhism for a common canteen or kitchen where food is served to all visitors for free.
The BBC explains: "There are no rituals observed and in the langar everyone eats together. All the food is vegetarian so that no religious group is offended.
"Guru Nanak Dev Ji established the langar because he rejected the Hindu caste system where people of different castes do not eat together."
Volunteers and staff with the charity face challenges however.
Khalsa Aid CEO Ravinder Singh Sidhu told Huffington Post UK he is often mistaken for an IS militant because of his turban and beard.
He explained he wears bright coloured clothing and turbans to distinguish himself from members of the terror groups, who favour black.
He added: "I have to be careful about how people perceive me. Sadly our turbans and beards are being hijacked by IS and Al Qaeda."
Speaking to IBTimes, he said: "We provided food and aid to many Assyrian Christians in Erbil and to Yazidis in the Kurdish region near the Syria border, both of whom had been persecuted by IS.
"They would show us photos of girls who were abducted by IS and family members who were killed. We heard very raw, emotional tales of suffering."
Full report at:
http://www.sikhnet.com/news/sikh-charity-langar-aid-feeds-thousands-war-torn-refugees-iraq-and-syria
--------
Pakistan
Taliban welcome US special envoy's peace initiative
Tahir Khan
OCTOBER 13, 2018
ISLAMABAD: Afghan Taliban will respond positively to suggestion by top American peace envoy, Zalmay Khalilzad, about the formation of a team for talks with the United Sates, Taliban leader Mullah Agha Jan Mutasim said on Friday.
Khalilzad, US special representative for Afghanistan reconciliation, had urged the Taliban and the Afghan government to form an authorised team of negotiators for peace talks during his visit to Kabul this week.
The High Peace Council (HPC), responsible for peace process, says it will form inclusive negotiating team, according to reports.
Mutasim, who once headed the Taliban political committee, argues that the Taliban are likely to include senior officials and members from the powerful leadership council in the negotiation team for formal talks with the US.
The US and Taliban officials met in Qatar in July and had agreed to continue the process. Khalilzad is likely to oversee the dialogue process with the Taliban.
"As the US has now opened direct meetings with the Taliban to find out a political solution to the Afghan conflict and Khalilzad has suggested the Taliban and the Afghan government to form teams for dialogue, the Taliban will also form a team as they also favour political solution," Mutasim told Daily Times from Kabul.
Mutasim, who had been a close confidant of Mullah Omar, added: "The Taliban's real problem is with the Americans and that is the presence of foreign forces. The Taliban give top priority to this issue. They also want removal of the names of their leaders from the sanctions list and this is also related to the Americans as the Kabul administration has no powers in these issues."
He went on to say that the Taliban had not started this war rather it was imposed on them. "If the US intends to end the war, I am confident both (US and Taliban) can reach an understanding to end the conflict in direct talks," Mutasim said.
Asked if the Afghan government would endorse the Taliban-US direct talks, the Taliban leader said all Afghans wanted to put an end to the war.
"All political leaders, former Mujahideen leaders, political parties, elders and the public are eager to see peace and they will support any deal between the Taliban and the US," he said.
When asked about the reports that the Afghan officials have met the Taliban leaders in Saudi Arabia over security of the upcoming parliamentary elections, he said that the reports were false. "Taliban have respect for Saudi Arabia and recognise the kingdom's role and if there are talks in Saudi Arabia that will be open."
Meanwhile, Saudi Arabia's Crown Prince Mohammed bin Salman met Khalilzad in Riyadh and reviewed bilateral relations between the two friendly countries as well as efforts exerted on the Afghan arena," Saudi Press Agency reported.
The meeting was attended by a number of officials, including Saudi Foreign Minister Adel al-Jubeir.
The US envoy, who earlier held talks in Islamabad on his peace mission this week, is on his first visit to five countries to explore options for political solution to the problem.
To a question about the Taliban contacts with Russia and Iran, Mutasim did not rule out Taliban contacts with both countries but said that the "US-imposed war had forced the Taliban to develop relations with all those who are anti-US".
"I think Taliban neither have friendship with Russia and Iran nor they want but options are open to establish contacts with any country," he said.
https://dailytimes.com.pk/309700/taliban-welcome-us-special-envoys-peace-initiative/
--------
Islamists rally in Pakistan for death sentence for Christian
October 12, 2018
Islamabad, Oct 12 (AP) Hundreds of supporters from an extremist Islamist party have rallied in the eastern Pakistan city of Lahore to pressure judges to uphold a death sentence for a Christian woman convicted of blasphemy.
Asia Bibi has been on death row since 2010 after she was convicted of insulting Islam's Prophet Muhammad.
Chanting "Hang infidel Asia," activists from the Tehreek-e-Labbaik party also rallied in other cities Friday, threatening nationwide protests if authorities free the woman.
Pakistan's Supreme Court earlier this week postponed ruling on her final appeal and her lawyers are hopeful of an acquittal arguing she was falsely accused.
That has angered Islamists who want her to be publicly hanged.
Full report at:
https://www.india.com/news/agencies/islamists-rally-in-pakistan-for-death-sentence-for-christian-3377904/
--------
UK hails Pakistan's achievements in war against terror
OCTOBER 13, 2018
The United Kingdom (UK) has acknowledged Pakistan's achievements in the ongoing war against terrorism as well as its efforts towards regional peace and stability.
"British leadership was unanimous in acknowledging Pakistan's extraordinary achievements in counter terrorism and commended the improved security situation in Pakistan and its positive efforts towards regional peace and stability," according to a press statement issued by the Inter-Services Public Relations (ISPR) following the meetings of Chief of Army Staff General Qamar Javed Bajwa with senior military officials in London.
During his visit to UK, General Bajwa met Chief of Defence Staff (CDS) General Sir Nicholson Carter. The meeting was followed by delegation-level talks on security environment and bilateral cooperation. Later, the COAS called on Secretary of State for Defence Gavin Williamson, Prime Minister's Special Representative for Afghanistan and Pakistan Gareth Bayley and National Security Adviser Mark Sedwill.
Full report at:
https://dailytimes.com.pk/309767/uk-hails-pakistans-achievements-in-war-against-terror/
--------
FATF slams Pakistan for failing to plug terror funding
Oct 12, 2018
Not impressed with Pakistan's efforts to combat terror financing, a delegation of the Financial Action Task Force has asked it to do more to strengthen its legal framework to avoid being blacklisted by the watchdog, a media report said on Thursday. Dawn reported that FATF's Asia Pacific Group delegation was not impressed with the progress made by Pakistan so far as it found the legal framework insufficient, and the institutional arrangements weak.
https://timesofindia.indiatimes.com/world/pakistan/fatf-slams-pakistan-for-failing-to-plug-terror-funding/articleshow/66172304.cms
--------
US to review Chinese debt before decision on Pakistan's loan request
Anwar Iqbal
October 13, 2018
WASHINGTON: The United States said that it will examine closely Pakistan request for a loan from the International Monetary Fund (IMF), adding that "part of the reason that Pakistan found itself in this situation is Chinese debt".
Asked at a Thursday news briefing how would the United States deal with Pakistan's request, State Department spokesperson Heather Nauert said: "In all cases, we examine that closely from all angles of it, including Pakistan's debt position, in evaluating any type of loan programme".
Ms Nauert also blamed Pakistan's loan arrangement with China for the country's economic woes.
"I think part of the reason that Pakistan found itself in this situation is Chinese debt and the fact that there is debt that governments have incurred that they maybe thought wouldn't be so tough to bail themselves out of, but has become increasingly tough," she said.
On Tuesday, IMF chief economist Maurice Obstfeld urged Pakistan to review the loans it was receiving from China and avoid "excessive debts which cannot be repaid".
Recently, a bipartisan group of 16 US senators claimed in a joint statement that China's Belt and Road Initiative, which also funds projects in Pakistan, was a debt-trap. The recipients often found themselves deeply in debt to China and were forced to make painful concessions, they warned.
In an interview to a US television network CNBC in July, Secretary of State Mike Pompeo said that the United States would not allow Pakistan to use the US taxpayers' dollars to repay China.
"Make no mistake: We will be watching what the IMF does," he said.
Pakistani officials reject this argument, pointing out that their indebtedness to China is much smaller than imagined.
In an official statement issued in August, Islamabad pointed out that "China stepped forward to support Pakistan's development at a time when foreign investment had dried up and economic activity was being crippled by energy shortages and infrastructure gaps".
The United States is the largest contributor to the IMF and has 17.68 per cent of voting rights in major decisions. China is third, behind Japan, and controls 6.49 per cent of the vote.
Full report at:
https://www.dawn.com/news/1438716/us-to-review-chinese-debt-before-decision-on-pakistans-loan-request
--------
1,700 polling stations categorised as 'highly sensitive' for Oct 14 by-polls
Iftikhar A. Khan
October 13, 2018
ISLAMABAD: As many as 1,727 polling stations out of the total 7,489, set up for by-polls being held in 35 constituencies of national and provincial assemblies on Sunday, have been categorised as 'highly sensitive'.
According to details shared by the Election Commission of Pakistan (ECP), 848 out of total 5,193 polling stations in Punjab, 544 of total 1,555 in Khyber Pakhtunkhwa (KP), 201 of total 544 in Sindh and 134 of total 197 in Balochistan have been classified as 'highly sensitive'
The proportion of most sensitive polling stations is highest in Balochistan (68.02 per cent), followed by KP (34.98pc), Sindh (20.20pc) and Punjab (16.32pc).
An official of the ECP said that security cameras had been installed at all the sensitive polling stations which would be guarded by army troops. He said deployment of troops was started on Friday and that the troops would remain deployed there till Oct 15, a day after the polling.
The designated in-charges of army personnel deployed in and outside the polling stations will enjoy the powers of a magistrate first class during the entire period of their deployment and will be empowered to summarily try those found involved in impersonation, capturing of polling stations or violation of other relevant provisions of the law.
District returning officers and returning officers for the by-elections have also been given powers of magistrate first class.
Among the total 11 National Assembly's constituencies for which by-polls will be held, nine are in Punjab and one each in Sindh and KP.
As Pakistan Tehreek-i-Insaf's candidates have already been elected unopposed from Punjab Assembly's constituencies PP-87 (Mianwali) and PP-296 (Rajanpur), by-polls will now be held for 24 provincial assemblies' constituencies — 11 in Punjab, two in Sindh, nine in KP and two in Balochistan.
Most of these seats had been vacated by those who were elected on more than one seat in the July general elections. Among them was also Prime Minister Imran Khan who won elections from all the five NA constituencies he contested.
Full report at:
https://www.dawn.com/news/1438715/1700-polling-stations-categorised-as-highly-sensitive-for-oct-14-by-polls
--------
CJP takes notice of alleged encroachment of land belonging to Sindh's Hindu community
Haseeb Bhatti
October 12, 2018
Chief Justice of Pakistan (CJP) Mian Saqib Nisar took a suo motu notice of "alleged illegal encroachments" on properties owned by the Hindu community in Sindh, DawnNewsTV reported on Friday.
A notification issued by the Supreme Court (SC) Registrar's office today stated that the CJP had taken notice of the issue on a video released by Bhagwan Devi, a retired professor, in which she claimed that the Hindu community in Sindh was the victim of "the worst lawlessness and mismanagement".
In the video, that came to light last week, she said that the land mafia was taking over properties owned by Hindus in Sindh, especially Larkana, on the basis of "false power of attorney". Devi added that affected members of the community were also being threatened into silence.
"Many Hindus of Larkana have sold their properties and are ready to leave [the country]," she regretted, adding that many have already left.
She also claimed that a "situation similar to that of Native Americans was being created for the local Hindus". She accused Sindhi nationalists and the authorities for remaining silent.
Devi said that she had been protesting before the Larkana Press Club for the past 15 days with husband Bhagwan Das, a paediatrician and a professor. She appealed to the "CJP and 205 countries" to take notice of the Hindu community's plight.
Full report at:
https://www.dawn.com/news/1438546/cjp-takes-notice-of-alleged-encroachment-of-land-belonging-to-sindhs-hindu-community
--------
Govt to construct cancer hospital in Quetta: Imran Khan
Oct 13, 2018
ISLAMABAD: Prime Minister Imran Khan says the government will construct a cancer hospital in Quetta in collaboration with the Pakistan Army.
Talking to a group of students from Balochistan that called on him in Islamabad on Friday, the Prime Minister said that like other parts of the country, an effective local government system will also be introduced in Balochistan.
He said the government is also working on water projects in Balochistan.
https://www.pakistantoday.com.pk/2018/10/13/govt-to-construct-cancer-hospital-in-quetta-imran-khan/
--------
Britain commends Pak's security, counter-terrorism measures
Oct 13, 2018
LONDON: Chief of Army Staff (COAS) General Qamar Javed Bajwa met the United Kingdom (UK) Chief of Defence Staff (CDS) General Sir Nicholson Carter in London on Friday wherein the British leadership commended the security situation in Pakistan, according to an Inter-Services Public Relations (ISPR) press release.
He also called on Secretary of State for Defence Gavin Williamson, Prime Minister's special representative for Afghanistan and Pakistan (SREP) Gareth Bayley, and National Security Advisor (NSA) Mark Sedwill.
Upon arrival, Gen Bajwa was presented with a guard of honour.
The meeting was followed by delegation level talks on the security environment and cooperation.
The discussions ranged from the bilateral bond created by sizeable Pakistani diaspora in Britain as well as shared interests in evolving global geopolitical and geo-economic environment.
"The British leadership was unanimous in acknowledging Pakistan's extraordinary achievements in counter-terrorism and commended the improved security situation in Pakistan and its positive efforts towards regional peace and stability," ISPR said about the meetings.
"Pakistan is moving steadily towards enhanced stability and is ready to take Pakistan-UK bilateral security relationship to the next level for mutual benefit and in other fields of common interests," the COAS was quoted as saying.
The army chief is in London on an official visit during which he will meet the United Kingdom's civil and military leadership.
Full report at:
https://www.pakistantoday.com.pk/2018/10/12/britain-commends-paks-security-counter-terrorism-measures/
--------
India
163 militants killed in Kashmir this year
October 13, 2018
Rouf Ahmad
With the elimination of top Hizb commander Manan Wani and his associate Ashiq Hussain in Kupwara district of north Kashmir, the total number of millitants killed since January this year has reached 163.
Most encounters broke out in south Kashmir Anantnag, Pulwama and Shopian districts where 89 millitants were killed and in north Kashmir 39 millitants eliminated. The other millitants were killed in central Kashmir.
In 2016, 150 millitants were killed. A total of 213 millitants were eliminated in 2017.
After launching 'operation all out' by security forces against millitants in the middle of 2017, most top commanders were struck down by joint operations of the Army, CRPF and JKP. Security forces succeeded in eliminating A and A++ category millitants which include Abu Dujana and Bashir Lashkari of LeT; Sabzar Bhat, Abu Haris, Manan Wani and Yasin Itoo of Hizbul Mujahideen.
Though there was a lull in 'operation all out' during the month of Ramzan which started from May 17, the suspension of counter insurgency operations was aimed at providing a chance to peace but millitants did not follow truce and carried out several attacks on security forces.
Security forces maintained restraint, but millitants carried out several attacks during that period in which eminent journalist Shujat Bukhari was assassinated. Security forces resumed the operation on 17 June of and since then almost on a regular basis, security forces have launched CSO's checking and search operations in different towns and villages of Kashmir valley to hunt down millitants.
Zakir Musa of Gazwat ul Hind, Riyaz Naikoo of Hizbul Mujahideen and Zeenat ul Islam of LeT are on the top hit list categorised as A++. These millitants are involved in many cases of attack on security forces, killings of policemen and civilians.
The challenge on the other hand for the Army is to stop infiltration as winters are ahead and most peaks will get covered with snow. Due to western disturbance, winter season started earlier this year and most peaks of the valley will recieve snowfall.
https://www.indiatoday.in/india/story/163-militants-killed-in-kashmir-this-year-1367062-2018-10-13
--------
If Orders Can be Issued For Triple Talaq, Then Why Not on Ram Temple, Asks Sena
October 12, 2018
New Delhi: Shiv Sena MP Sanjay Raut on Friday said that a triple talaq-like ordinance should be passed by the Narendra Modi-led government for the construction of Ram temple in Ayodhya.
"Before 2019, Ram Mandir matter should be settled and construction work must start. Today, BJP is ruling at Centre and state. Law should be made to build Ram Temple. If orders can be issued for triple talaq,for SC/ST, then why not on Ram Temple," asked Raut, while toughening stand on the issue of Ayodhya dispute.
The Sena, which has resolved to go solo in the future elections, has often targeted the BJP for "delaying" the construction of Ram temple in Ayodhya despite having a majority.
On Tuesday, the Sena had said that Bharatiya Janata Party (BJP) would be termed a "liar" if the Ram temple is not built in Ayodhya. "Lord Ram brought "achche din" (good days) for the BJP, but the party failed to fulfil the promise of building a temple dedicated to him at Ayodhya in Uttar Pradesh," the saffron party had said.
Earlier, a delegation of saints associated with the Vishwa Hindu Parishad (VHP) had called on President Kovind to press for their demands of immediate construction of a grand Ram Temple in Ayodhya.
"The complete saint fraternity believes that Ram Mandir should be made immediately by passing an ordinance. We met the President of India today and requested him to do the needful in this regard. At this time there is 'Rambhakt' nationalist government at most places in the country which can work in this direction."
Full report at:
https://www.india.com/news/india/shiv-sena-pitches-for-triple-talaq-like-ordinance-for-ram-temple-construction-in-ayodhya-3377524/
--------
Terrorists shoot policeman dead in J&K's Baramulla
Oct 13, 2018
SRINAGAR: Terrorists shot dead a policeman in his house in Sopore township of Jammu and Kashmir's Baramulla district, police said on Saturday.
Unidentified terrorists barged inside the house of Javid Ahmad Lone at Warpora in the outskirts of the town in north Kashmir district late Friday night and fired upon him, a police official said.
He said Lone suffered critical injuries and later died.
He was working as a follower in the police department, the official said, adding a case was registered.
https://timesofindia.indiatimes.com/india/terrorists-shoot-policeman-dead-in-jks-baramulla/articleshow/66191029.cms
--------
'Scholar-turned-Hizbul Mujahideen terrorist ignored appeals to return home'
Oct 13, 2018
NEW DELHI: Hizbul Mujahideen terrorist Mannan Wani, who was a research scholar at Aligarh Muslim University before taking up the gun, had ignored repeated appeals from his family and friends to return to the mainstream. According to sources in the security establishment, he chose instead to use his ability to articulate views better, thanks to his high education and Wahabi leanings, to convince young Kashmiris to join terror ranks.
"Multiple appeals were made to Wani after he went missing from AMU and his image wielding a gun as a Hizbul Mujahideen recruit surfaced on social media. However, he remained firm on his decision. Being highly educated and well read, he was better at articulating views justifying violence as a means to achieve 'azaadi'. His articulation of Wahabism was seen as a major pull factor for Kashmiris keen to join militancy," said an officer of the Central security establishment.
Wani was killed on Thursday in a gunfight with the security forces at Kupwara.
Stating that Wani, notwithstanding his brief stint in Hizbul Mujahideen, had turned into somewhat of a 'mastermind' for local recruitment, an officer commented: "Despite being highly educated, he chose to wield the gun. A terrorist who picks up the gun either kills or gets killed. In his case, the latter has turned out to be true. Terrorists like Wani are more dangerous than those involved in actual attacks, as they lend their mind and thought process to sell militancy to Kashmiris and push up local recruitment into militancy".
As per an estimate, over 130 locals have been recruited so far this year by terror outfits in J&K.
Sources said that with sustained anti-terror operations depleting the number of terrorists J&K hinterland, there is a conscious effort by terror outfits to maintain the minimum strength of their operatives in the Valley at 300. As per reports, around 160 of the 300 terrorists now active in J&K are locals while the remaining are foreign terrorists. However, with anti-terror encounters happening regularly, intelligence officers say their overall strength sometimes threatens to dip below 300, which could put them at a disadvantage as they would no longer have presence in all areas of Kashmir. "So, the effort by groups like Hizbul Mujahideen is to get more educated recruits into its ranks. This is bound to add to the appeal of militancy, thus encouraging more Kashmiri youths to take up the gun," said an officer.
https://timesofindia.indiatimes.com/india/scholar-turned-hizbul-mujahideen-terrorist-ignored-appeals-to-return-home/articleshow/66189387.cms
--------
Action against Rohingya should not be seen through prism of human rights: Rajnath
Oct 12, 2018
NEW DELHI: Home minister Rajnath Singh said on Friday that action against the Rohingya and other illegal immigrants should not be viewed through the prism of human rights as India has never ill-treated foreigners.
Addressing the silver jubilee foundation day event of the National Human Rights Commission in New Delhi, Singh said India is a secular country and the human rights are not based on any religion.
"I believe there is no place for inhuman actions in the name of strict action.
But it is also my firm belief that actions taken in the national and societal interest should not be seen from the viewpoint of human rights violation," he said, in presence of Prime Minister Narendra Modi, the chief guest at the function.
The home minister said on many occasions, some people express concern over the human rights of criminals or terrorists.
"I want to ask when such a criminal or terrorist not only violates the human rights of others but also takes away their right to live, in such a situation how we can raise the issue of human rights of such criminals," he said.
Singh said action against illegal immigrants in India should not be seen from the point of view of human rights. "There was no inhuman behaviour towards them. I am happy to note that the Supreme Court's recent decision was in favour of deportation of seven Rohingyas (from Assam), he said.
The home minister said human rights should be seen in proper perspective as human rights means everyone has a right to a dignified life.
"In this direction, our government has implemented many significant schemes for the benefit of crores of people and provided them food, housing, health and education for girl children," he said.
Singh also emphasised the importance of women's safety in India.
He said the NHRC, since its inception 25 years ago, has achieved many milestones and secured a place for itself in the institutional framework of the country.
Full report at:
https://timesofindia.indiatimes.com/india/action-against-rohingya-should-not-be-seen-through-prism-of-human-rights-rajnath/articleshow/66184923.cms
--------
AMU students face sedition charge after funeral prayer bid for militant killed in J&K
by Manish Sahu
October 13, 2018
Police in Aligarh have invoked several sections of the Indian Penal Code, including one related to sedition, in their FIR against two named and several unidentified Kashmiri students of Aligarh Muslim University (AMU) who allegedly tried to conduct namaz-e-janaza (funeral prayers) on the campus following the killing of PhD student-turned-militant Mannan Bashir Wani in north Kashmir Thursday.
A resident of Kupwara in J&K, Wani was expelled from AMU in January this year after he appeared in a photograph on social media with a message claiming he had joined militant organisation Hizbul Mujahideen. Aligarh Civil Lines SHO Vinod Kumar said: "FIR has been filed on a complaint of police sub-inspector Israr Ahmed who collected information about yesterday's incident through his source. The two Kashmiri students, who are named in the FIR, are Waseem Ayub Malik and Abdul Hafeez Meer. Other unnamed students are also from Kashmir. As per FIR, Kashmiri students of AMU on Thursday raised slogans of 'azadi, azadi' on the campus. They also raised slogans against the country while showing support to a terrorist."
According to the SHO, the FIR has been filed under IPC sections including 147 (rioting), 124A (sedition), 153-A (promoting enmity between different groups on grounds of religion, race, place of birth, residence, language, etc., and doing acts prejudicial to maintenance of harmony) and 153-B (imputations, assertions prejudicial to national integration).
"We are presently in coordination with AMU administration and will also seek footage of CCTVs installed on the campus to identify the other accused. So far, no one has been arrested and an investigation into the case has begun," the SHO said.
Meanwhile, the AMU Friday issued notice to nine Kashmiri students for allegedly trying to conduct namaz-e-janaza on the campus. A three-member committee, including two assistant proctors and a deputy proctor, has been formed to submit a report.
"Disciplinary action has been initiated against nine Kashmiri students by issuing notices to them. So far, nine Kashmiri students have been identified and the committee is presently examining footage of CCTV installed at the AMU campus to identify other students who attempted to take out the namaz-e-janaza," said AMU public relation in-charge M Shafey Kidwai.
Full report at:
https://indianexpress.com/article/india/amu-mannan-wani-jk-hizbul-mujahideen-5400093/
--------
Shanghai Cooperation Organisation meet: No thaw in India-Pak freeze, Sushma Swaraj underlines terror threat
By Shubhajit Roy
October 13, 2018
Despite being in the same room, Foreign ministers of India and Pakistan did not meet at the Shanghai Cooperation Organisation (SCO) in Tajikistan capital Dushanbe. This was the second time in a fortnight when External Affairs Minister Sushma Swaraj and Pakistan's Foreign Minister Shah Mahmood Qureshi were attending a multilateral meeting.
Both were in New York on September 27 at the SAARC foreign ministers' meeting, but Swaraj had walked out of the meeting after delivering her speech, citing other commitments. India had last month cancelled a scheduled meeting in New York, accusing Pakistan of terrorist attacks on security personnel and glorification of terrorists. Pakistan denied the charges, saying that they were mere excuses given by Delhi, and had blamed the Indian leadership for vacillating on the bilateral meeting.
At Tajikistan's capital to attend the two-day conclave of Shanghai Cooperation Organisation's (SCO) Council of Heads of Government (CHG), Swaraj said on Friday: "Terrorism remains the most overwhelming threat to our common goals of development and prosperity."
As the footprint of terrorism expands, governments must assume their national responsibility and cooperate with each other, she said in the presence of Pakistan's Foreign Minister Qureshi.
In an apparent reference to the USD 50 billion China-Pakistan Economic Corridor (CPEC), Swaraj said all connectivity initiatives must be based on the principles of respect for sovereignty and territorial integrity, consultations, good governance, transparency, viability and sustainability.
India has opposed the CPEC projects and protested to China as it is being laid through Pakistan-occupied Kashmir.
India has actively supported the SCO Qingdao Summit Leaders' "Appeal to Youth" against radicalisation of youth, she said and congratulated all her colleagues on the successful completion of the 'SCO Peace Mission 2018'. It was the first time India participated in these counter-terrorism exercises.
Swaraj said India stands committed to a peace process which is Afghan-led, Afghan-owned and Afghan-controlled that can help Afghanistan emerge as a peaceful, secure, stable, inclusive and economically vibrant nation. "In this context, we welcome the signing of the Protocol of the SCO-Afghanistan Contact Group on the sidelines of the Qingdao Summit. We would be happy to co-host with Afghanistan, the next meeting of the SCO-Afghanistan Contact Group in India," she said.
It is the second CHG meeting since India became a full member of the SCO in June 2017. India was an observer at the SCO since 2005 and has generally participated in the ministerial-level meetings of the grouping which focus mainly on security and economic cooperation in the Eurasian region.
India became a full member of the grouping last year and New Delhi's entry into it is expected to increase the bloc's heft in regional geo-politics and trade negotiations besides giving it a pan-Asian hue. Along with India, Pakistan was also granted membership of the SCO last year.
Full report at:
https://indianexpress.com/article/india/shanghai-cooperation-organisation-meet-india-pakistan-sushma-swaraj-terrorism-5399974/
--------
NIA court orders attachment of four properties of Zakir Naik
October 12, 2018
A special NIA court here has ordered the attachment of four properties in Mumbai belonging to absconding Islamic preacher Zakir Naik, booked under an anti-terror law. Charged under the Unlawful Activities (Prevention) Act (UAPA) two years ago, Naik was declared a proclaimed offender by the court in June 2017.
Following the same, the National Investigation Agency (NIA) had attached two flats and a commercial establishment in the city belonging to the 52- year-old televangelist. The central agency's application seeking permission to attach four properties in the Mazgaon area that were owned by Naik was allowed Thursday by the special court.
The court accepted the plea after the NIA submitted that Naik, staying overseas, was trying to sell these properties since his funding from various sources has been stopped after the central agency filed a case against him. Advocate Anand Sukhdev, who appeared for the NIA, told the court that Naik was trying to obtain citizenship in several foreign nations and therefore, was trying to raise money for the same by selling these Mazgaon properties.
Full report at:
https://indianexpress.com/article/india/zakir-naik-nia-court-islamic-preacher-attachment-properties-5399836/
--------
Europe
UK refuses to take back British ISIS fighters detained in Syria
12 October 2018
The United Kingdom is refusing to take back at least nine Britons held in Syria with links to ISIS, which include two members of the so-called Beatles cell as well as two unidentified women and their children, according to The Telegraph.
The newspaper reported that the British government wants Syria to deport El Shafee Elsheikh and Alexanda Kotey, the two members of ISIS's execution squad, to the United States.
In an attempt to find out more about the two men arrested by the Kurdish internal security forces, Al Arabiya English reached out to a Kurdish senior official in the Ministry of Foreign Affairs in Qamishli. However, he refused to disclose any information. The Kurdish official stressed that "security requirements" prevent the disclosure of additional information on the detainees.
"Two of the detainees are dual nationals and have both British and Canadian citizenship," Abdulkarim Omar, co-chair of the Foreign Relations Commission in north Syria, told Al Arabiya English.
Elsheikh and Kotey have had their British passports revoked, however the other held fighters all have British passports. Meanwhile, some of the children are thought to have been born in ISIS camps in Syria and are therefore considered stateless.
The Telegraph reported that the British government admitted to the difficulty it faces bringing foreign fighters to justice, but denied blocking their return.
Those arrested include members of the "Jihadi John" organization, known for killing and torturing foreign hostages and executing Western journalists in Syria and Iraq.
One of the detained ISIS fighters, Jack Letts' parents are being tried for three charges of funding terrorism after they had sent money to their son.
"Western countries refuse to accept their detained citizens because they pose a threat to [their countries]," Omar said.
US military advisers and experts are investigating the detainees held by the internal security forces in northern Kurdish areas.
https://english.alarabiya.net/en/News/middle-east/2018/10/12/UK-refuses-to-take-back-detained-British-ISIS-fighters.html
--------
UK imam fired for anti-Saudi comments
Oct 12, 2018
A British Imam has been fired from a Saudi-financed London mosque after he criticized the Saudi Crown Prince Mohammad bin Salman and the country's royal family.
Imam Ajmal Masroor was fired from the Fitzrovia Mosque, also known as Goodge Street mosque in central London, which is run by the Saudi-funded Muslim World League.
Masroor's firing took place just days after he used his personal Facebook page to post a video which described the Saudi royal family as "corrupt, despotic and totally anti-Islamic."
In another post, the imam also criticised Mohammed bin Salman for arresting opposition activists and Islamic scholars.
"I am 100 percent sure that they fired me because of my comments about Mohammad bin Salman where I said he was not a reformer but a conformer," said Masroor."When I asked why they were firing me, I was told that it was an order that had come from the top. Which means the Saudi government wanted me out."
Masroor said the mosque management had previously reprimanded him for his vocal criticism of the Saudi royal family, stating that he was permitted to criticise Saudi Arabia online, but not inside Goodge Street mosque.
"In the last five years, I was reprimanded at least five times by the management for my comments about Saudi Arabia," Masroor told the media. "They would ask me not to speak about the king or the Saudi regime. I had several heated arguments with the current director on this issue. In the end, we agreed that I would not criticise Saudi Arabia in my sermons, but I was allowed to post my views online, which I regularly do."
In a statement released online, the Muslim World League said it had "no option" but to fire Masroor from his position at the mosque.
"It was agreed with him that the mosque pulpit is not the place to attack people, governments, groups or sectors to express certain political views," said the Regional Director of the Muslim World League. "He continued provoking public opinion against the individuals, governments, causing a stir in the society, shaming and accusing falsely, so no option was left but to stop dealing with him in any way."
The League also distanced itself from claims made by Masroor that the mosque had only given space to Saudi projects.
"The biggest concern is that Saudi Arabia is not only now interfering with its own citizens but those in the UK" said Masroor.
Saudi Arabia is currently facing a growing chorus of criticism global leaders over the disappearance and alleged murder of Saudi journalist Jamal Khashoggi inside Riyadh's consulate in Istanbul last week.
Full report at:
https://www.presstv.com/Detail/2018/10/12/576809/UK-imam-fired-for-antiSaudi-comments
--------
'Punish a Muslim day' hoaxer who also threatened Queen in hate spree faces jail
Oct 13, 2018
A white supremacist has admitted to devising a hate campaign that included "punish a Muslim day" and sending hoax letters to the Queen, Theresa May and her predecessor David Cameron.
David Parnham sent hundreds of vicious notes to Muslims and mosques, many containing white powders that sparked full-scale security alerts.
The 35-year-old also targeted high-profile figures with poison pen letters threatening violence during his two-year hate campaign.
He now faces jail after pleading guilty at London's Old Bailey to 15 offences, including soliciting murder, making bomb hoaxes and sending letters with intent to cause distress.
In letters to Asian MPs and mosques he included white supremacist imagery, wrote "P*ki filth", and signed himself off as "Muslim Slayer", prosecutors said.
His first letters, sent in June 2016, contained a white powder intended to look like poison such as anthrax.
A message to the then-prime minister Mr Cameron said: "Allah is great."
From his home in Lincoln, Parnham then sent another wave of white powder letters, including ones addressed to the Queen and Theresa May, then home secretary.
One envelope prompted a chemical attack alert at a Royal Mail sorting office.
A letter to a mosque in Hull warned people they would be "slaughtered very soon".
He admitted devising the "punish a Muslim day" letters that caused widespread alarm earlier this year, and suggested Muslims be "exterminated".
Some letters offered £100 for each murder.
One read: "Your brains will be splattered all over the walls. A good Muslim is a dead Muslim. Killin Muslims is awesome."
Parnham was an avowed fan of white supremacist Dylann Roof, who in 2015 shot dead nine black worshippers at a church in South Carolina.
He even wrote to the convicted mass murderer in an American prison, saying: "My main reason for disgust is Muslims. I hate these animals with a passion. I sent letters with white powder to some mosques in London they had to close down parliament because of it."
Counterterrorist experts caught him four months ago after extensive investigations including collecting his DNA and fingerprints from some of the letters.
He was remanded in custody until 23 November, when he will be sentenced.
Detective Chief Superintendent Martin Snowden, head of Counterterrorism Policing North East, said: "This case has affected a substantial number of victims across the country and beyond. The abusive, racist and threatening language used in the letters has caused major distress.
Full report at:
https://www.independent.co.uk/news/punish-muslim-day-queen-white-supremacist-david-parnham-mosques-david-cameron-a8581806.html
--------
Antoine Sfeir: French-Lebanese scholar and writer who critiqued political Islam
Oct 13, 2018
An intermediary between the east and west is a trite expression but one that perfectly encapsulates Antoine Sfeir, who has died aged 69.
Sfeir was the founder and editor of Les Cahiers de l'Orient ("Notebooks from the East"), a French quarterly devoted to the study and reflection of the Arab and Muslim world, from Morocco to Indonesia.
The French-Lebanese scholar, author and journalist was a sought-after commentator on Middle Eastern affairs in the French media.
Born in Beirut in 1948 to a Maronite Christian family, Sfeir began his career as a journalist in 1968 at Lebanon's most widely read Francophone daily newspaper L'Orient-Le Jour, which was established in 1971 and "partisan to a liberal, Christian leaning line," according the Arab Press Network.
Civil war broke out in Lebanon in 1975 and the following year a 27-year-old Sfeir was kidnapped and tortured by a militia affiliated with the Popular Front for the Liberation of Palestine (PFLP), reportedly on the orders of the Syrian regime who believed he was a spy of Israel. He was held by his captors for a week, and later recounted the ordeal, which left him with scars on his face in his book Le jour ou ma vie s'est arrêtée ("The day my life stopped"), published in 2012.
Sfeir decided to leave then-war-torn Lebanon for France where, during the mid-1980s, he worked at newspapers La Croix (The Cross) and then Le Pèlerin (The Pilgrim). It was from Paris in 1985 that he founded Les Cahiers. He continued to publish essays and articles in many of France's other esteemed press institutions and soon gained himself the stature of a recognised and respectable expert on the Middle East.
Sfeir's views in the early 2000s warned against the dangers of Islamic radicalism, well before it became one of the media's most ubiquitous and critical topics, as it is today. In 2004, he said fundamentalist foreign imams were finding an eager audience in France's deprived suburbs of large immigrant populations. "The kids there already watch Arab stations on satellite TV, with their bloodthirsty slogans and anti-western propaganda," he told The Guardian. "They've already been totally radicalised."
One of his most notable interventions was a 2002 article published in Lyon Mag, in which Sfeir took aim at the influential Oxford professor Tariq Ramadan, a leading advocate of political Islam and grandson of Muslim Brotherhood founder Hassan al-Banna, as "a specialist in double-speak". Sfeir claimed that Ramadan's influence on impressionable Muslim youths was more dangerous than that of violent Islamists.
Ramadan tried unsuccessfully to sue him for defamation. Sfeir emboldened critics of the relatively moderate thinker on political Islam and bridge-builder between Islamic orthodoxy and secular democracy. They accuse him of being two-faced, adjusting his position according to his (religious or secular) audience, supporting the oppression of women and waging a clandestine jihad on the liberal West. (Ramadan is currently fighting rape charges in France.)
A further illustration of Sfeir's disagreement with religious influences was his co-founding in 2005 of the Observatoire de la Laïcité, a study group aimed at strengthening the principle of secularism as an integral part of France's republic and democracy.
Sfeir's most controversial academic offering was perhaps his book Tunisie, terre de paradoxes published in 2006, for which he was accused of supporting the regime of Zine El Abidine Ben Ali, the former president ousted during the Arab Spring (who in 2012, after fleeing to Saudi Arabia, was sentenced in absentia to life imprisonment on charges of theft, inciting violence and repression of protests).
In the book, Sfeir denies the existence of a police state in Tunisia, saying, "it is no more a police state than the United States, Great Britain, or even France," and was accused by many of colluding with Tunisia's authoritarian regime. At the time, he replied that he always considered "the Tunisian people as an example for the whole region" in terms of education, modernisation and regional integration, as well as in the fight against religious fundamentalism. However, after the Tunisian revolution of 2011, Sfeir conceded to having been "heavily deceived" on Tunisia and the Ben Ali regime.
Sfeir was the director of the Centre for Study and Reflection on the Middle East, the president of the School of International Relations at Paris-Sorbonne University and a former professor of international relations at the Sorbonne's communication and journalism school.
In 2009, Sfeir was made an Officer of the Legion of Honour. His latest book published in 2012, L'islam contre l'Islam: l'interminable guerre des sunnites et des chiites (Islam vs. Islam: The Endless War of Sunnis and Shiites) lays out the origins of the historic Sunni and Shiite schism, arguing that this irreconcilable doctrinal divergence is integral to understanding the current geopolitical situation in the Middle East, earned him the French city of Nancy's Book and Human Rights Prize in 2013.
Sfeir's final blog post is dated 10 May 2018. It is titled Trump et le nucléaire iranien, ou comment se tirer une balle dans le pied ("Trump and the Iran nuclear deal, or how to shoot yourself in the foot"), and was dedicated and critical of the US president's decision to withdraw from the historic agreement.
According to Bérénice Murgue-Khattar, former assistant and contributor at Les Cahiers who knew him well, Sfeir had also been critical of France's approach to foreign policy in the Middle East in recent years. "He considered that we must not ignore the lines of power in the Middle East, such as the confrontational relationship between Shiites and Sunnis, and he insisted that the Middle East is an ethnic and confessional mosaic," she said.
Sfeir reportedly continued his daily rituals until the day he died, enjoying the pastries of his native Lebanon and his Gitanes. "From the beginning of his illness a few years ago, Antoine had accepted it with a lot of philosophy. As a believer, death, he said, is part of life," Murgue-Khattar said.
Full report at:
https://www.independent.co.uk/news/obituaries/antoine-sfeir-scholar-french-lebanese-political-islam-tariq-ramadan-a8577686.html
--------
US trying to create 'quasi-state' in Syria: Russia
Oct 12, 2018
Russian Foreign Minister Sergei Lavrov says the US is seeking to use its allies in Syria, especially the Kurds, in order to establish a quasi-state east of the Euphrates River and create illegal structures there.
"On Syrian territory there are vast lands east of the Euphrates where absolutely unacceptable things are taking place," Lavrov said in a Friday interview with the French website of Russia's state-run RT channel, along with France's Paris Match and Le Figaro.
"The US is trying to use these lands through their Syrian allies – above all, through the Kurds – in order to establish a quasi-state there," he went on to say.
"But the US is by all means illegally seeking to establish a quasi-state on this territory, trying to do everything there to create conditions for a normal way of living for their subordinates, creating a structure of authority which is an alternative to those legitimate [structures] of the Syrian Arabic Republic," the top Russian diplomat noted.
Lavrov stressed that the US is encouraging the resettlement of refugees in the territories under their control, undermining the peace process in the country.
"The question is why they, on the eastern bank of the Euphrates River which is controlled by the US and their local allies, do not have to wait until the beginning of a credible political process," he asked.
He said the US "planned to establish a territory that would be a kind of a prototype of a new state or it will be another round of the most dangerous game with Iraqi Kurdistan, the idea of the so-called unified Kurdistan."
Lavrov regretted that the US is trying to "catch the fish they want" in such "muddy waters", adding that such kind of strategies "never ended up well".
The Russian minister's remarks echoed concerns earlier raised by Turkey over US massing of heavy weapons in support of Kurdish militants on the eastern side of the Euphrates.
Turkish President Recep Tayyip Erdogan said recently that "the biggest threat to Syria's future lies in the nests of terror to the east of the Euphrates," citing the Kurdish People's Protection Units (YPG) and the Democratic Union Party (PYD) which are supported by the US.
Lavrov said last month that "the main danger to Syria's territorial integrity originates from the eastern bank of the Euphrates, where independent and autonomous structures are created under the direct control of the United States."
A couple of weeks ago, Syrian Foreign Minister Walid al-Muallem also took a swipe at the US for a collapse of talks between the Syrian government and the Kurdish forces who are allegedly encouraged by the US to push for further autonomy.
Full report at:
https://www.presstv.com/Detail/2018/10/12/576834/Russia-Lavrov-US-quasi-state-Syria-Kurds
--------
Macron 'awaiting explanation' from Iran on who ordered France bomb plot
October 12, 2018
PARIS: French President Emmanuel Macron said on Friday it was not clear whether a foiled attack on a Paris-based Iranian opposition group was ordered by the higher echelons of authorities in Tehran.
"As you know Iran is sometimes divided into different factions and tensions, and so I can't say today whether the order came from the top or from this (security) service or that division," he told France 24 television in an interview.
France's foreign ministry said on Oct. 2 there was no doubt the Iranian intelligence ministry was behind the June plot and froze assets belonging to Tehran's intelligence services and two Iranian nationals.
The plot targeted a meeting of the National Council of Resistance of Iran (NCRI) outside Paris. US President Donald Trump's lawyer Rudy Giuliani and several former European and Arab ministers attended the rally.
Belgium charged an Iranian diplomat and three other individuals on Oct. 10 with planning to bomb the meeting. Two of the suspects were intercepted by Belgian police.
One senior French official told Reuters the plot is likely to have been hatched by hard-liners looking to undermine President Hassan Rouhani, who has tried to improve Iran's relations with the outside world.
Macron said he was still awaiting explanations, but that Rouhani had not given him any during two exchanges he had with the Iranian president.
The hardening of relations between Paris and Tehran could have far-reaching consequences for Rouhani's government, which is looking to European capitals to salvage a 2015 nuclear deal after the United States pulled out and reimposed tough sanctions.
Full report at:
"I've never been naive with Iran or thought it would be easy," Macron said.
http://www.arabnews.com/node/1386686/middle-east
--------
Mideast
Israeli forces kill six Palestinians during Gaza protests
October 13, 2018
JERUSALEM: Six Palestinian proterters were killed and 140 others were wounded by Israeli forces on Friday during protests along Gaza's border, Gaza health officials said.
Israel said its troops had shot and killed a group of Gazans who broke through the fence with a bomb and attacked an army post.
With the latest deaths, the number of Gazans killed since the border protests began on March 30 has reached 200, according to the Palestinian health ministry.
Israeli security personnel have been deployed in large numbers around the Palestinian village of Khan al-Ahmar, sources said. The Bedouin village is said to be slated for demolition and Palestinian villagers have been protesting against the imminent move. The Israeli military said that the demonstrators, numbering around 14,000, had been "hurling rocks, explosive devices, firebombs and grenades" at Israeli troops and at the fence.
Israeli military spokesman Lt Col Jonathan Conricus tweeted that one group had "detonated a bomb on the Israel-Gaza border fence", allowing around 20 people to climb through the hole.
He said around five members of the group then launched an organised attack against a military post inside Israel and all of them were killed by Israeli troops.
The Palestinian protesters are demanding an end to an Israeli and Egyptian blockade on the narrow coastal strip, which is home to around two million Gazans. They also seek the right to return to lands that Palestinians were forced to leave in 1948.
Israel accuses Hamas, which controls Gaza, of orchestrating the protests along the border fence to provide cover for attacks and to distract from Gazas economic plight.
Hamas denies the allegations.
The Israeli military has been criticised by the Palestinians as well as several international human rights groups for its lethal response to the protests.
Israel says its troops have used "riot dispersal means" and have fired "in accordance with standard operating procedures".
One Israeli soldier has been killed by a Palestinian sniper during the weekly protests, and tracts of Israeli land have been scorched by incendiary kites and balloons.
Hamas had seized control of Gaza from Western-backed Palestinian President Mahmoud Abbas in 2007 and has since fought three wars with Israel, most recently in 2014.
Hamas chief Ismail Haniyeh said on a visit to Istanbul on Friday that his group was talking to several parties, including Qatar, Egypt and the United Nations, and he hoped that the talks "could lead to calm in return for breaking the siege".
https://www.dawn.com/news/1438732/israeli-forces-kill-six-palestinians-during-gaza-protests
--------
Trump using Iranophobia to sell American munitions to Arab states: Nasrallah
Oct 12, 2018
The secretary general of Lebanon's Hezbollah resistance movement says US President Donald Trump knows no limits in his efforts to blackmail Arab states of the Middle East region through the Iranophobic language.
Addressing his supporters via a televised speech broadcast live from the Lebanese capital city of Beirut on Friday evening, Sayyed Hassan Nasrallah said Trump's latest remarks that Iran planned to take control of the Middle East in just "12 minutes" were meant to lure regional rulers into paying him exorbitant sums of money in return for preserving their regimes.
"As (the late founder of Iran's Islamic Revolution) Imam Khomeini said the US government is an administration of thieves. It is a regime of theft. Former US presidents were also thieves but did not perpetrate their misdeeds blatantly. The incumbent one, however, robs Arab leaders and humiliates them at the same time," Nasrallah pointed out.
"Trump shows no respect for ethics, human rights and justice in his remarks. We are witness to a US regime, which does not shy away from using the language of contempt and humiliating anyone, albeit it might be their friend and ally," he said.
The Hezbollah chief further noted that Trump views the Islamic Republic of Iran as a great and strong establishment, while considers all Arab states buying billions of dollars worth of weapons from him as fairly feeble that cannot last on their legs for more than 12 minutes without his support.
"Trump is making use of the anti-Iran rhetoric in a bid to sell billions of dollars worth of American munitions and military hardware to Arab rulers," he said.
Nasrallah then advised Arab leaders to reconsider their reliance on American statesmen, saying, "The United States is the same country, which denied the deposed Shah of Iran, Mohammad Reza Pahlavi, a visa for cancer treatment. This came despite the fact that he used to be a long-time US ally in the region."
"Arab leaders would better allocate the billions of dollars that they are paying Trump to solving their own nations' problems," the Hezbollah secretary general commented.
He also scoffed at Israeli Prime Minister Benjamin Netanyahu's allegations about Hezbollah's secret weapons sites, stressing that his movement's policy is to maintain vigilance and not to respond to such trumped-up charges.
"Denial of Israeli allegations would be a free favor to the Tel Aviv regime," Nasrallah said.
Elsewhere in his remarks, the Hezbollah chief stated that he has on occasions demanded the quick formation of a new unity government in Lebanon.
Full report at:
https://www.presstv.com/Detail/2018/10/12/576812/Trump-using-Iranophobia-to-sell-American-munitions-to-Arab-states-Nasrallah
--------
Israel orders immediate halt to Gaza fuel deliveries
2 October 2018
Israeli Defence Minister Avigdor Lieberman on Friday ordered an "immediate" halt to deliveries of fuel to the Gaza Strip after violent clashes with Palestinians on the Gaza-Israel border.
"Following the serious incidents in the Gaza Strip, the defense ministry orders the immediate halt to the delivery of fuel" to the area, he said in a statement.
Diesel fuel funded by Qatar and had been transferred this week from Israel into power plants in Gaza.
The Palestinian Authority, run by Fatah in the West Bank, accused Qatar of defying the Palestinian government by paying for the diesel fuel needed to keep power plants in Gaza running.
Top Palestinian official and member of Fatah, Ahmad Majdalani, said the party remains suspicious of the Qatari role in meddling in the affairs of the Gaza Strip, controlled by Hamas.
Qatar has defied the government in Ramallah by sending trucks of fuel to Gaza, he said in statements to the Palestinian News Agency.
Full report at:
https://english.alarabiya.net/en/News/middle-east/2018/10/12/Israel-orders-immediate-halt-to-Gaza-fuel-deliveries-.html
--------
Yemen's army advances in Saada, launches coordinated attacks on Houthis
12 October 2018
The Yemeni army backed by the Arab coalition, continues advancing in several districts of the governorate of Saada, taking control of new posts which were under the control of the pro-Iranian Houthi militia, particularly in the districts of Zaher, Baqim and Kataf.
Military sources confirmed to Al Arabiya news channel that the Yemeni army launched a successful attack on a post controlled by the Houthis in the directorate of Zaher, killing more than nine members of the militia, while others managed to escape.
In Baqim district, the Yemeni army launched coordinated attacks, allowing its forces to advance to the center of the district, following support from coalition aircraft that destroyed reinforcements of the Houthis in the area.
Full report at:
https://english.alarabiya.net/en/News/gulf/2018/10/12/Yemen-s-army-advances-in-Saada-launches-coordinated-attacks-on-Houthis.html
--------
Top Yemen Bahai figure disappears amid Houthi crackdown
October 12, 2018
CAIRO: Friends of the spokesman for Yemen's Bahai religious minority say he has been detained by Houthi militias who control the country's north.
Two friends of Abdullah Yahia Al-Ayolofi said Friday that unidentified men snatched Al-Ayolofi from a market in a district called Al-Jarraf in Sanaa on Thursday. His whereabouts remain unknown, they said.
A security official tells The Associated Press that Houthi militiamen seized Al-Ayolofi earlier in the week.
Al-Ayolofi, a convert to Bahaism, has been outspoken about Houthi abuses against Bahai followers.
All spoke on condition of anonymity for fear of retribution.
Full report at:
http://www.arabnews.com/node/1386661/middle-east
--------
South Asia
Taliban militants, civilians suffer heavy casualties in a premature car bomb explosion
Oct 12 2018
At least nineteen, people including Taliban militants and ordinary civilians, were killed or wounded in a premature car bomb explosion in northern Faryab province of Afghanistan.
The 209th Shaheen Corps of the Afghan Military in the North in a statement said the incident has taken place in the vicinity of Khwaja Namosi Bazar, leaving at least ten militants and five civilians dead.
The statement further added that the Taliban militants were looking to detonate the car bomb in Maimana city to target security forces or the electoral campaigns.
However, the 209th Shaheen Corps said the car bomb went prematurely as the militants were transporting it to the city, leaving ten militants dead and four others wounded.
According to the 209th Shaheen Corps, at least five civilians also lost their lives in the explosion.
The anti-government armed militant groups including Taliban militants have not commented regarding the incident so far.
Faryab is among the relatively volatile provinces in North of Afghanistan where the Taliban militants are actively operating in some of its districts and often carry out terrorist related activities.
https://www.khaama.com/taliban-militants-civilians-suffer-heavy-casualties-in-a-premature-car-bomb-explosion-06139/
--------
Sylhet-5 constituency: Long-standing coalitions might collapse in six-way fight for seat
October 12th, 2018
Awami League expects victory, but BNP and many Islamist parties also in the running
The Sylhet-5 seat currently held by the chief whip of HM Ershad's Jatiya Party has traditionally been governed by time-honoured coalitions, but these could all fall apart as the two main parties eye a slice of the action at the upcoming parliamentary elections.
Selim Uddin was elected unopposed for JaPa at the 10th national election after the Awami League candidate, Masuk Uddin Ahmed, withdrew his nomination in support of Ershad's party.
However, unwilling to let Jatiya Party lead the constituency, several grassroots level leaders of Awami League have started campaigning heavily ahead of the 11th national election.
In a similar manner, BNP candidates withdrew their nominations in favour of their coalition partner, Jamaat-e-Islami, in the eighth and ninth national elections. This time, with the cancelation of Jamaat's registration, BNP leaders have actively started campaigning in the Kanaighat and Zakiganj upazilas.
Jatiya Party leaders have also started campaigning, while several Jamaat leaders are running as independent candidates, lending energy to the race in this particular constituency.
Split between the Kanaighat and Zakiganj upazilas near the banks of the Surma and Kushiara Rivers, the main problems facing the 321,651 registered voters of Sylhet-5 are land erosion, flooding, and other natural disasters.
To gain their support, hopeful candidates have focused on arranging meetings and seminars, increasing messaging over mass communication, and participating in different social events.
At the same time, they have increased contact with top central leaders in Dhaka with the hopes of clinching a nomination.
In total, there are five propsective candidates from Awami League, three from BNP, four from Jatiya Party, three from Jamiaat e Ulama, one from Khilafat Majlish, and one from Anjumane Al Islah.
Awami League expects victory
Aside from Sylhet Awami League Vice-President Masuk Uddin Ahmed, a number of other Awami League leaders are hopeful of securing a nomination.
One hopeful is Dr Ahmed Al Kabir, the former chairman of Rupali Bank who hopes to get a nomination through his good connections to Finance Minister Abdul Mal Abul Muhith and Education Minister Nurul Islam Nahid, and from being a presidium member of central Jubo League.
"I have good relationships with Awami League leaders (and) I have been working with the local communities closely in the hope of securing a nomination," said Kabir, who is also the main sponsor of private volunteering organization Shimantik.
"Developing the education sector will be my priority if I am elected."
Another aspiring candidate is the councillor of Dhaka North City Corporation and the former general secretary of Ramna-Shahbagh police station Awami League, Foyzul Munir Chowdhury. He has been attending different social programs in the region since last year in support of his bid.
Abdul Mumin Chowdhury, an advisor to central Farmers' League, has also expressed his hopes of becoming an MP from Sylhet-5 constituency.
Other than that, the former general secretary of Sylhet district Chhatra League and Supreme Court lawyer Mostak Ahmed has also continued campaign activities in the hopes of getting a nomination.
BNP's active presence
Jamaat-e-Islami candidate Mawlana Farid Uddin Chowdhury has a proud history in the Sylhet-5 constituency. He won the seat in the eighth national election under the banner of the BNP-led coalition, and he was also nominated in the ninth national election.
However, BNP is unwilling to let the seat go this time around. The president of BNP Kanaighat upazila, Mamunur Rashid, has announced his desire to reclaim the seat from Jamaat, and has started campaign activities to that end.
"Even though BNP has previously withdrawn their nominations from the constituency in favour of Jamaat, this time the party is hopeful of nominating its own candidate," said Mamunur, who is also the general secretary of district Jubo Dal.
Others hoping for the BNP nomination are the vice-president of district BNP and chairman of Kanaighat upazila parishad, Ashique Chowdhury; and the former MP Abdul Kahir Chowdhury.
"If BNP participates in the election under the directive of BNP Chairperson Khaleda Zia, I will ask for the nomination," Ashique Chowdhury said.
"I have an active presence on the election scene. I will run for election if I can secure a nomination."
Jatiya Party hopes to retain constituency
General Secretary of central Jatiya Party and former Chairman of Zakiganj upazila parishad, Sabbir Ahmed, was selected as the party's candidate in the 10th national election.
Although central Joint General Secretary Selim Uddin hails from the nearby upazila of Bianibazar, he filed a nomination as an independent candidate in the 10th national election. Later, he won the uncontested seat after Sabbir withdrew his nomination upon the party's decision.
Selim is hopeful of clinching a nomination this year as well, but Sabbir will not step down. "As part of my electoral activities, I visited the election area last Tuesday," Selim told the reporters.
Other than those two, members of central Jatiya Party Saifuddin Khaled and M Zakir Hossain also expect to get a nomination.
Islamist parties
Several Islamist parties will run candidates for the Sylhet-5 constituency.
They include the joint secretary of UK Khilafat Majlish, Enamul Hasan, and the organizational secretary of central Jamiaat e Ulama, Islam Obaidullah Faruq,
Also hoping to stand are Europe Jamiaat leader Abdul Hafiz, and Sylhet metropolitan city Jamiaat leader Abdur Rahman Siddiqui. Both are on the list of candidates awaiting Jamiaat's nomination.
Rumours are also rife that the president of Anjumane Al Islah, Huchchamuddin Chowdhury, might also stand for the election.
Full report at:
https://www.dhakatribune.com/bangladesh/election/2018/10/12/sylhet-5-constituency-awami-league-expects-victory-many-islamist-parties-in-the-running
--------
Rohingyas are not the thin end of Islamic wedge
Oct 13, 2018
The newspaper photograph of seven Rohingya men whom the Indian government recently deported to Myanmar made me wonder if they would have been treated differently if they had not been Muslim. Religion may or may not be "the opium of the people" but it is certainly the single strongest determinant of individual as well as collective behaviour throughout Asia. When race is added, it makes a powerful brew. That explains the harsh political reasoning of the Tatmadaw (Myanmar's ruling military junta) which knows it can count on public support when it denies Rohingyas citizenship under the 1982 nationality law and insists they cannot be recognised as one of the country's eight "national indigenous races".
A pocket of Muslim South Asians would sit ill on a Mongolian Buddhist nation that sees itself in terms of Thailand and Cambodia. It's a cruel situation but not of India's making and in no way the responsibility of either the people or government of today's India. India has more mouths than it can feed, and more socio-political problems than it can cope with. The Muslim factor compounds challenges even when this country is at its most secular. The Hindutva bias of Narendra Modi's government cannot be accused of setting a new trend in the matter of refugees. It has always been implicitly accepted that while Indians must make people of all faiths feel at home, India's dominant culture is Hindu.
That had an unintended bearing on the illicit movement of people from erstwhile East Pakistan to West Bengal, Assam and Meghalaya. The cost of a "jungle passport" in those days depended in practice on whether the migrant was Hindu or Muslim. Hindus paid more to the East Pakistan border guards and less to the Indian, rates being reversed for Muslims. Reportedly, Hindu refugees were treated more sympathetically at the Indian border. Amit Shah's "termite" jibe singled out Bangladeshi Muslims. The logic is that Hindus have nowhere to go save India unless Bangladesh transforms itself into a truly secular society which is not likely to happen. The late Zulfiqar Ali Bhutto went to the heart of the matter in 1971 when he said that if what he called "Muslim Bangla" was more Muslim than Bangla, it should remain in Pakistan. If it was more Bangla than Muslim, it should merge with West Bengal. Similarly, if Rohingyas are Myanmarese, they must stay where they are and international pressure must be brought to bear on Naypyidaw, Myanmar's capital and administrative headquarters, to come to an amicable arrangement that no longer endangers Rohingya lives and property. It has been done in Kosovo and Iraqi Kurdistan by translating the world community's generous expressions of sympathy and support into positive action.
A solution on similar lines would not only save hapless Rohingyas from threatened extinction but would provide tremendous encouragement to other beleaguered minorities like the Chakmas, Chechens and Basques, to say nothing of various Indian groups that feel isolated or marginalised. But if Rohingyas are Bengali and Muslim — the order doesn't matter — their natural refuge is Bangladesh where they originated, despite claims of Mughal, Arab and Portuguese lineage. At one time, the British Raj treated Arakan as part of Bengal Presidency. Moreover, movement was free during all those decades when Burma was a province of British India so that western Burma became almost an extension of east Bengal. The community knows this too, and sought merger with the proposed East Pakistan before Partition. Rohingyas have taken several steps since then to emphasise their Muslim identity. One such was the militant Arakan Rohingya Salvation Army with suggestions of Pakistani, Saudi Arabian, Malaysian and Afghan links and funds from Islamic sympathisers in Australia. As recorded before in this column, the ARSA insurgency simmered all through 2016 and the first half of 2017.
It began as the even more fundamentalist-sounding Harakah al-Yaqin movement led by Attullah Abu Ammar Jununi, who was born in Pakistan and raised in Saudi Arabia before he returned home to lead the struggle against Tatmadaw-sponsored Buddhist vigilantes and the official repression that began formally in 1978 when the junta launched a military crackdown codenamed Operation King Dragon. The challenge now for India, Bangladesh and the United Nations is to find an equitable and pragmatic solution that does not affect the security or social stability of any country. Myanmar, of course, is in total denial, claiming not only that far from being victims of atrocities, Rohingyas are actually the perpetrators of violence. In Myanmarese eyes, they are illegal immigrants who have stayed longer in their country than the Indian labourers, rickshaw pullers, lawyers, clerks and judges who were sent packing in 1948, but are no more welcome because of that. This national conviction might explain what is globally deplored as Aung San Suu Kyi's enigmatic silence. Maurice Collis of the Indian Civil Service, who spent 22 years in Burma and courageously risked both British wrath and Burmese anger, has left behind vivid accounts of how the Burmese proletariat hunted down and butchered Indians while their social superiors watched in approving silence.
India may have a moral role in the controversy as the world's biggest and Asia's only parliamentary democracy, but no direct legal liability. It is difficult to disagree with the admittedly unsympathetic response of the minister of state for home, Kiren Rijiju, when the question was raised last year. "As far as we are concerned, they are all illegal immigrants," he said. "They have no basis to live here. Anybody who is an illegal migrant will be deported." Responding to another question, he said state governments had been instructed to set up district level task forces to identify and deport "the illegally staying foreign nationals" while India discussed "illegal immigration" with neighbouring countries. The fact that the seven deported men were in or travelling to Kerala is bound to raise suspicion. The Rohingya language and culture could not be farther removed from the Malayali lifestyle. The only commonality could be that of religion, since 27 per cent of Keralans are Muslim. Strengthening this bond would also inevitably lead to increased fear and misgiving to the detriment of minority security and an increasingy fragile secular polity.
Full report at:
http://www.freepressjournal.in/analysis/rohingyas-are-not-the-thin-end-of-islamic-wedge-sunanda-k-datta-ray/1374346
--------
Ghani met with the SG of Islamic Military Counter-terrorism Coalition
Oct 12 2018
President Mohammad Ashraf Ghani on Thursday met with the Secretary General of the Islamic Military Counter Terrorism Coalition Gen. Abdulelah al-Saleh.
The Office of the President, ARG Palace, in a statement said the meeting was organized in Gul Khana Palace of the Presidential Palace before noon today.
The statement further added that the delegation of the Islamic Military Counter Terrorism Coalition led by Gen. al-Saleh was received by President Mohammad Ashraf where the two sides held talks regarding the fight against terrorism and extremism, preventing financial support to terror groups, military cooperation, and Afghan-led peace process.
Gen. Saleh reaffirmed the Islamic Military Counter Terrorism Coalition's all-out support to the Afghan government and the Afghan nation in the fight against terrorism as he called the menace of terrorism a joint threat to all.
Full report at:
https://www.khaama.com/ghani-met-with-the-sg-of-islamic-military-counter-terrorism-coalition-06138/
--------
Southeast Asia
Where intellectuals have failed in changing the Malay mindset
Tajuddin Rasdi
October 13, 2018
I recently attended a forum featuring high-profile Malay academics and intellectuals at UKM. The forum was about how to change the Malay mindset in the new Malaysia. It was attended by an all-Malay audience, as far as I could tell without looking at the registration book. It was organised by Atma or Institut Alam dan Tamdun Melayu, an important institute at UKM which seeks to document and develop many branches of knowledge within the Malay civilisation. As I understand, it also includes non-Malay sources that have their origin within the geographical, temporal and political boundaries of the Malay world.
At first, I was excited about getting a glimpse of the world of Malay intellectuals at a university purported to be the centre of excellence in the Malay language, research and discourse. But after two hours of listening to deliberations centred on Islamic issues, administrative concerns of the university leadership and a blame-game on politicians, I left feeling rather disappointed and extremely worried.
I came specifically to hear about four important things which I thought would change the discourse on new Malay values and responsibilities in nation-building, but my concerns were either dismissed or not addressed.
My first concern was the definition of "failure" in Malay society. Because the discourse was about changing the Malay mindset, I assumed the race had failed in some things. The panellists did mention "kegagalan Melayu" but stopped short of explaining what these failures were.
In order to progress, we must know where and what we have failed at. I recommend that future Malay discourses organised by such important institutions as Atma list clearly the failures of the Malay elite in providing the appropriate narrative, attitude and value system for a democratic and multiracial Malaysia.
The Malay intellectuals should also consider stating aloud the failures of the Malay leadership in politics, civil administration, education, economics and religious tolerance.
When Anwar Ibrahim was stripped of his Malay decency and his dignity of citizenry, the Malay intellectuals were silent. When Jamal Yunos and the Red Shirts hooligans shouted obscenities at other races, again, they were completely quiet. When some Malay leaders now facing corruption charges robbed the country blind, they were still silent. They sat demurely on the sidelines, even when Ibrahim Ali threatened to burn the Bible.
What does all this silence mean? Does it mean the Malay intellectuals are afraid of authority? Does it mean they consider these events which violated constitutional rights, religious tolerance and basic human decency too trivial for professors and prestigious research universities to deliberate on? Or worse, do they actually "agree" with many of the extremist acts in this country under the banner of Islamic and Malay supremacy?
If the Malay intellectuals do not acknowledge these failures of the Malay institutions, administration and religious authorities, what hope is there of changing the less educated or even the well-educated rakyat? I hope the Malay intellectuals are not in denial mode.
My second concern was the issue of racial, religious and historical inclusiveness. Throughout the whole two hours plus of discourse, the Malay intellectuals went round and round about Islam and political governance. The entire discourse was devoid of any discussion of learning habits, behaviours or values of other cultures.
It should have included a serious discussion of what perpetrated and inflamed the narrative of "Malays are good and others in Malaysia or the world are bad". It should also have dealt with the hatred of Malays of parties such as DAP.
My own writings have been ignored, ridiculed and objected to, just because I used to be a DAP member. People can attest to the fact that while I was a member, my writings always dealt academically with the issue at hand. I never engaged in what is construed as propaganda in writing or speaking. I even wrote against Penang's P Ramasamy on the Rayani Air issue.
Why doesn't Atma invite Liew Chin Tong, Lim Guan Eng, Zairil Khir Johari and Dr Ariffin or Aziz Bari to a free-for-all dialogue at UKM or UiTM? Discussions on new Malay values, thoughts and narrative constructs should take into account the best practices, values and thoughts of the different minority groups in Malaysia. If not, then I would say that the Malay discourse is not comprehensive, inclusive or open.
The Malay intellectuals must also engage with civil society and discover for themselves the real issues and problems within specific social groups. I don't understand how Malays more than 2,000 years ago wrote in Sanskrit, probably with Palava letters and words, and discussed various social and spiritual issues within the Hindu-Buddhist framework, yet now identify only Islam within a framework that I deem shallow, narrow and restrictive.
Intelligence, like the development of words, needs exposure to many forms of thought, actions and beliefs. Classic Malay literary works such as Hang Tuah were told in a language that claimed its origins from more than 10 different civilisations. How restricted the Malay people have become.
My third concern was about academic and media engagement. In the forum, I raised the issue of academics needing to take the social, religious and political narratives away from politicians like Tajuddin Abdul Rahman or worse, Jamal Yunos, and reclaim them under the rationality and morality of Malay-Islam. One of the panellists, who is from the same public university I was at prior to my retirement in 2015, dismissed my concerns by implying that the media panders only to their readership.
I had to put up with this kind of dismissive attitude from three other professors from the same university two decades ago. I remember asking the deputy vice-chancellor about writing in the media to educate the people, and the person rubbished it by saying the Malays only like to listen to stories about hantus and puaka.
On another occasion, I engaged in a heated debate about media writing as one of the important promotion criteria in academia. The professor concerned wanted to take that criteria out because he thought that the writings were worthless as they are read by simple folk and not evaluated by serious academics. Another time, another professor, also from the same university, dismissed my ideas about writing books and media articles to educate the public. He said some disciplines, like architecture, may be easier to explain and understand, but not physics or the hard sciences.
To my mind, all these academics must have no knowledge of people like Michio Kaku, Stephen Hawking and Mario Salvadori who wrote many books on physics and engineering in order to educate the public. Some even write children's books. These academics know that the more the public can appreciate their concerns, the more grants and funding they are likely to obtain from philanthropists and billionaires like Robert Kuok.
Professors of public universities, to my mind, are used to royal treatment at ministries and from policymakers from whom all of their funding comes. They simply do not care what Tok Mat, Ah Lek and Muthusamy who sell goreng pisang, chicken rice and putu mayam think about what is important for the nation's growth. These academics fail to understand the sacred responsibility of democracy where the people get to elect their representatives to make changes in policies. What if Tok Mat, Ah Lek and Muthusamy got elected to Parliament? How would they respond to the many social, religious, economic and sustainability concerns of this nation? Impossible? I have heard enough nonsense from Umno MPs to accept the idea that any one of these lay people can be elected into public office because the simplistic narrative of race, religion and money politics controls the floor. If the Malay intellectuals do not claim centre stage in reforming the narrative of social, economic and environmental sustainability, then the narrative will be hijacked by the likes of Isa Samad or worse, Saiful Bukhari. Perhaps the public university professors would then accept Saiful as our ninth prime minister!
Finally, I was hoping that the discourse might touch on the issue of the Malay vs non-Malay narrative, the Islam vs non-Islam narrative and a changed perspective of history. How long are Malays going to be fed with the same bland narrative that Malaysia is Tanah Melayu and Malays have special privileges? The special privileges should be on a needs-based framework, not a racial one anymore.
Then there is the embarrassing narrative of the Malays being better than other cultures because of Islam and some unique feature of that particular race. I think every race would have a similar narrative and if its members don't get over that self-delusion, that race will not go very far in global competitiveness and self-development.
The most dangerous of all narratives is the idea that Islam is for the Malays and that others of different faiths are "enemies" never to be trusted. I find this narrative very strong in PAS and Umno, and among Islamic officials and even Muslim NGOs. If the Malay intellectuals do not deal with changing these three narratives, our race relations will deteriorate further than what Prof Dr Syamsul says: that Malaysians are in a state of "stable tension".
The Malay intellectuals also have to rewrite historical perspectives to produce one which blames equally every race in a tragedy such as May 13 and shares all the accolades in success stories such as independence in 1957. History is simply a jumble of facts that can be constructed to produce a narrative which can help us in the present. Since there is no such thing as an "absolute history" where everything about the past is "truthfully" understood, we can and should create a much fairer story to tell our children.
I would like to go on record to applaud Atma for its effort to reignite the fire of rethinking the Malay mindset. My one and only advice is, please be inclusive in the framework and social variables. Without such inclusiveness, the Malays, destined to lead this country, can only be the leaders of a privileged few.
https://www.freemalaysiatoday.com/category/opinion/2018/10/13/where-intellectuals-have-failed-in-changing-the-malay-mindset/
--------
Two Alleged Leaders Of Banned Islamic Group Arrested In Tatarstan
13 Oct 2018
Two alleged leaders of the Hizb ut-Tahrir Islamic group have been arrested in Russia's Tatarstan region.
The Vakhitov district court in the Tatar capital, Kazan, on October 12 ordered that Rais Gimadiyev and Ildar Akmetzyanov must be placed in pretrial detention.
The two men were detained on October 11 on suspicion of leading a Hizb ut-Tahrir' cell in Tatarstan, which was allegedly propagating extremist ideas.
Hizb ut-Tahrir is a global organization based in London that seeks to unite all Muslim countries into an Islamic caliphate.
Russia's Supreme Court banned the group in 2003, branding its supporters 'extremists.'
Members of Hizb ut-Tahrir insist the group is peaceful.
With reporting by TASS, Interfax, and Tatar-Inform RFE/RL's Tatar-Bashkir Service
Full report at:
https://www.malaysiasun.com/news/258119063/two-alleged-leaders-of-banned-islamic-group-arrested-in-tatarstan
--------
China has just made it legal to isolate its Uighur Muslim minority from society for 're-education'
Oct 13, 2018
The country's far-west Xinjiang has just revised its legislation to allow local governments to detain those it believes to be influenced by religious extremism.
The revised laws effectively give the government power to imprison people in propaganda camps for patriotic "re-education".
The facilities have drawn an international outcry, with allegations of torture and authoritarian force used against the country's minority one million Uighur Muslim population.
WHAT IS THE NEW LAW?
According to the new Article 33 of Xinjiang's regulations against extremism: "Educational transformation institutions such as vocational skill education and training centres shall teach the national common language, laws and regulations, and vocational skills."
It goes on: "The centres should organise and carry out anti-extremist ideological education, psychological correction, and behaviour correction to transform the thinking of the trainees so as to help them return to society, and to their family."
This is vastly different to the previous law, which advised "concentrated education" and "behaviour correction" against extremism, which was defined as inciting hatred, discrimination, and violence.
It did not imply that subjects would be separated from their families, as the new article does.
The new law also suggests the Chinese government is no longer denying the brutality of the camps, by acknowledging "psychological correction" and that those detained will be isolated from society and their families.
WHAT'S GOING ON IN XINJIANG?
Xinjiang is a large autonomous region in the country's northwest bordering the former Soviet Central Asian republics, Mongolia, Afghanistan, Pakistan and India.
Estimated hundreds of thousands of Muslim Uighurs — a Turkic ethnic group primarily based in Xinjiang — have been subjected to arbitrary detention and torture here for years.
As we speak, over a million Muslims in China's northwest region of Xinjiang are allegedly being held in prison-like camps disguised as "re-education facilities", according to human rights organisations, US officials and survivors.
There are also reports of Muslim inmates forced to eat pork and drink alcohol, which are forbidden in their religion.
The Chinese government has not previously denied the existence of the camps, but claimed the institutions are just re-education facilities that teach Chinese language and Chinese laws on Islam and political activity.
An official Chinese Communist Party recording compared Islam to an "infectious disease".
The recording, obtained by Radio Free Asia, said: "Members of the public who have been chosen for re-education have been infected by an ideological illness.
"Being infected by religious extremism and violent terrorist ideology and not seeking treatment is like being infected by a disease that has not been treated in time, or like taking toxic drugs … There is no guarantee that it will not trigger and affect you in the future."
Former inmates have described disturbing indoctrination programs that can last several months, in which they're forced to renounce their religion and pledge allegiance to the state.
Over the past decade, the region has transformed into an occupied surveillance state, where the people, including their movements and beliefs, are controlled by the government.
It all started in 2009, when thousands took to the streets in a mass demonstration in the region's capital, Urumqi.
They were protesting the recent killing of Uighur migrant workers in Guangdong, in the country's south.
Buses were smashed, stones were thrown through shop windows and passers-by were assaulted, according to media reports. They set vehicles on fire, with riot squads brought in to restore order with tear gas and armoured vehicles.
There were 197 fatalities, and almost 2000 injuries before order was restored.
By any country's standards, such a protest would be heavy-handed, but in authoritarian China — where protests are neither allowed nor tolerated by the Communist government — it was next-level, and armed police were brought in to contain the violence.
Communist Party officials responded by effectively creating a surveillance state.
In a Black Mirror-style system, every resident of the region was given a label: "Safe", "Normal" or "Unsafe", which was determined by their age, faith, religion, foreign contacts and overseas travel. Those in the "Unsafe" category were sent to internment camps.
According to US officials, they installed facial recognition cameras, mobile phone scans, conducted DNA collections, and increased an intrusive police presence.
The Chinese government claims the institutions are just re-education facilities that teach Chinese language and Chinese laws on Islam and political activity. But those who have lived through them beg to differ.
XINJIANG'S MUSLIM INTERNMENT CAMPS
Mass detentions of Uighurs are reported to have started early last year. Citizens might simply disappear in the middle of the night, or upon disembarking a returning flight to the region.
Iman*, who came from a middle-class Uighur family, studied in the United States and elsewhere in China.
When he came back to Xinjiang, he was detained upon arrival, despite breezing through interrogators' questions and having nothing incriminating on his person.
He was later taken to a prison-like internment house, where his meticulously-structured days would consist of re-education films and workshops in which he was taught to reinterpret Islam. The light in the bedroom, which he shared with two dozen other men, was never turned off.
After 17 days of hell, the guards released him with a chilling warning: "I'm sure you may have had some ideological changes because of your unpleasant experience but remember: Whatever you say or do in North America, your family is still here and so are we."
But now, he was part of Xinjiang's intrusive surveillance database — his "criminal" status forbade him from entering shopping centres, boarding public transport and setting foot in public buildings.
Another inmate, a Kazakh Muslim named Bekali, had an even more difficult experience.
He said if he refused to follow orders each day, he was forced to stand at a wall for five hours at a time. Then, he was sent to solitary confinement and deprived of food for 24 hours straight. After 20 days in the camp, he wanted to commit suicide.
"The psychological pressure is enormous, when you have to criticise yourself, denounce your thinking — your own ethnic group," Bekali told Associated Press in tears. "I still think about it every night, until the sun rises. I can't sleep. The thoughts are with me all the time."
After a torturous interrogation program, in which he was hung by his wrists and mined for information, he was taken to a re-education camp.
He said inmates would wake up together before dawn, sing the Chinese national anthem, and raise the Chinese flag at 7.30am. They gathered back inside large classrooms to learn "red songs" like "Without the Communist Party, there is no New China," and study Chinese language and history.
Before meals of vegetable soup and buns, the inmates would be ordered to chant: "Thank the Party! Thank the Motherland! Thank President Xi!"
Bekali was kept in a locked room almost around the clock with eight other internees, who shared beds and a wretched toilet. Cameras were installed in toilets and even outhouses.
Inmates were forced to criticise themselves and their religion in front of each other, and apologise for wearing Islamic clothing and teaching the Qu'ran. Praying, of course, was strictly forbidden.
It's unknown how many prisoners may be held in the camps, but a Human Rights Watch report estimates that up to 800,000 of the region's 22 million population may have been in them.
Even outside of the camps, all aspects of life are controlled for the minority residents.
According to a Buzzfeed News report, growing a beard or naming your child Muhammad or Medina can get you reported to police.
Women are reportedly banned from wearing burqas and veils in Xinjiang. Residents are no longer allowed to fast. And as of 2016, millions of residents were made to surrender their passports and seek permission from the government in order to leave China.
Full report at:
https://www.news.com.au/world/asia/china-has-just-made-it-legal-to-isolate-its-uighur-muslim-minority-from-society-for-reeducation/news-story/7f658a14a870a03512a938e060268b45
--------
DPM Teo Chee Hean, Minister-in-charge of Muslim Affairs Masagos Zulkifli to lead delegations to Middle East
OCT 12, 2018
SINGAPORE - Deputy Prime Minister and Coordinating Minister for National Security Teo Chee Hean will visit Oman from Oct 12 to 14, as part of Singapore's ongoing engagement with countries in the Middle East.
In Oman, Mr Teo will meet Deputy Prime Minister for the Council of Ministers Sayyid Fahd Bin Mahmoud Al Said. Mr Teo will be hosted to a meal by the secretary-general of the Ministry of Foreign Affairs Sayyid Badr Bin Hamad Bin Hamood Al Busaidi. He will also meet senior Omani businessmen, and attend a dinner reception for the Singaporean community in Oman.
Mr Teo will be accompanied by Minister for the Environment and Water Resources Masagos Zulkifli, Senior Parliamentary Secretary for Foreign Affairs and Trade and Industry Tan Wu Meng, and officials from the Ministry of Foreign Affairs and other agencies.
The trip is Mr Masagos' first to the Middle East as the new Minister-in-charge of Muslim Affairs.
Mr Masagos will also visit Jordan and Egypt from Oct 14 to 16. He will be accompanied by senior officials from the Ministry of Culture, Community and Youth and the Islamic Religious Council of Singapore (Muis), including its deputy chief executive, Dr Albakri Ahmad.
While in Jordan, Mr Masagos and members of the delegation will meet the recently-appointed president of University of Jordan, Professor Abdel-Karim Al-Qudah, and other senior officials as well as tour the university's Sharia Faculty.
Mr Masagos will also be engaging Singaporean students in a dialogue.
In Cairo, Egypt, Mr Masagos will be the guest of honour at the Al-Azhar University's annual graduation ceremony for Singaporean students where he is expected to deliver a speech to the graduating class. He will attend a reception and a dialogue with Singaporean students from Al-Azhar University.
Full report at:
https://www.straitstimes.com/singapore/dpm-teo-chee-hean-minister-in-charge-of-muslim-affairs-masagos-zulkifli-to-lead
--------
New exhibition on the haj showcases Kampong Glam's past as centre for Muslim pilgrims
OCT 12, 2018
SINGAPORE - For nearly a century, thousands of Muslim pilgrims from the region would flock to Kampong Glam before they boarded steamships to the holy city of Mecca in Saudi Arabia - more than 7,000km away.
To help travellers prepare for their haj and the 14- to 18-day steamship journey in the 1950s and 1960s, the district became a hive of activity, with services such as pilgrim brokers, boarding houses and shops selling sundry goods.
After the 1970s, cheaper air travel meant that pilgrims no longer needed to transit through Kampong Glam, but traces of this past can still be found in the area.
A new exhibition at the Malay Heritage Centre highlights Singapore's historical role as the first stop of the haj from the late 19th century to the 1970s.
Visitors to the gallery can learn more about the millennia-long tradition through personal accounts of pilgrims who have made this spiritual journey.
On Friday (Oct 12), President Halimah Yacob will launch the exhibition as well as the annual Malay CultureFest at the Malay Heritage Centre in Kampong Glam.
The exhibition is titled Undangan ke Baitullah: Pilgrims' Stories from the Malay World to Makkah.
It opens on Friday and will last till June 23 next year. Admission is free.
The haj is a religious obligation for Muslims who are physically and financially able to make the trip to Saudi Arabia.
Ms Suhaili Osman, the centre's curator, said the exhibition and festival provide a platform to share this part of the Malay-Muslim culture with people outside the Islamic faith.
"By sharing stories of the haj, our exhibition hopes to provide visitors with another layer of understanding of Singapore, and our links to neighbours in the region and the rest of the world over the larger course of history," she added.
The cultural festival will span three weekends starting from Friday.
It will feature workshops, dance and theatre performances, including a contemporary dance troupe from Padang, Indonesia.
Full report at:
https://www.straitstimes.com/singapore/new-exhibition-on-the-haj-showcases-kampong-glams-past-as-centre-for-muslim-pilgrims
--------
Hadi insists on Oktoberfest ban, claims offensive to Muslims
13 October 2018
KUALA LUMPUR, Oct 13 — PAS president Datuk Seri Abdul Hadi Awang criticised the government for not prohibiting Oktoberfest celebrations this year, saying the Bavarian festival was against Muslim culture.
While claiming non-Muslims are free to celebrate any events that are not against their religious principles, he said such events must be reconciled with Muslim sensitivities and respect of Islam.
"We acknowledge that Malaysia is a multi-racial country so non-Muslims are free to celebrate what they want, but at the same time, any actions that can cause 'harm' must be prohibited.
"We should respect the sensitivity of each other's religion to maintain the harmony in the country," he was quoted as saying in Kuala Terengganu yesterday by PAS organ Harakah.
The Marang MP said the event, which he claimed caused public anxiety, is also seen as an attempt to "invite" Muslims to participate in activities that are frowned upon in Islam.
Such dog-whistling politics is typical of the party that couches its religious conservatism in the guise of wanting to preserve "multicultural" harmony.
Previous iterations of Oktoberfest were banned following complaints by PAS, coinciding with Umno's overtures for cooperation with the Islamist party.
The new Pakatan Harapan government has removed such restrictions, with authorities now saying such events may proceed so long as they are not ostentatious and remained clearly prohibited to Muslims.
One such Oktoberfest celebration was opened in the MidValley area here on Thursday after meeting guidelines set by City Hall.
Federal Territories Minister Khalid Abdul Samad previously said such festivals may take place as long as the organiser abides by set guidelines such as holding the event indoors and securing the relevant local authorities' approval.
Full report at:
https://www.malaymail.com/s/1682406/hadi-insists-on-oktoberfest-ban-claims-offensive-to-muslims
--------
Jokowi camp slams Prabowo's 'Make Indonesia Great Again' slogan
October 12, 2018
The Joko "Jokowi" Widodo-Ma'ruf Amin camp has criticized Prabowo Subianto's "Make Indonesia Great Again" speech, an obvious reference to United State President Donald Trump's Make America Great Again slogan. Politicians in Jokowi's camp are concerned that Prabowo would follow in Trump's footsteps by igniting bigoted and racist sentiments.
"What is the purpose [of the slogan]? Does Prabowo want [certain] races or religions to be supreme here [in Indonesia]?" said Raja Juli Antoni, the Jokowi-Ma'ruf campaign team's deputy secretary, on Friday.
"Indonesia's ideology is based on Pancasila, we are united and live with the principle of gotong royong [mutual cooperation]," said Abdul Kadir Karding, the campaign team's deputy chairman.
Prabowo delivered his speech during an Indonesian Islam Propagation Institute (LDII) national working meeting in Jakarta on Thursday.
"I wonder why Indonesians are afraid of saying 'Indonesia First: Make Indonesia Great Again' to their people?" Prabowo said as quoted by tempo.co.
"Why are there no leaders who have the courage to say that what is important is to provide jobs for Indonesians," he added.
A political communication expert from Paramadina University, Hendri Satrio, said Prabowo was testing the waters when he quoted Trump.
"It seems like both presidential election candidates are still exploring strategies that suits them. Jokowi, for example, is still seeing if he can raise the infrastructure issues, while Prabowo is testing the waters by using Trump's slogan because the US president's exposure among urbanites are quite high," Hendri told The Jakarta Post on Friday.
Full report at:
http://www.thejakartapost.com/news/2018/10/12/jokowi-camp-slams-prabowos-make-indonesia-great-again-slogan.html
--------
Africa
18 soldiers killed, scores missing in latest Boko Haram invasion of Nigerian military base
October 12, 2018
Multiple military sources have separately confirmed to PREMIUM TIMES that a Boko Haram gunfire which erupted at a base of Nigerian soldiers in Borno State on Monday was far greater in severity than the military publicly admitted.
At least eighteen soldiers were confirmed killed, eight battling to survive at the hospital after being critically wounded and about 157 feared missing when insurgents raided an outpost of 157 Battalion in North-eastern Nigerian village of Metele, military sources said.
Those missing comprised 151 soldiers and six officers. The wounded were evacuated about 115 kilometres from Metele to the 7 Division Medical Services and Hospital, as well as the remains of the 18 killed in action, sources said.
Heavy military equipment including at least two T-72 tanks, two armoured personnel carriers and two gun trucks were either set ablaze or rendered "unserviceable" by the insurgents, PREMIUM TIMES learnt.
The Nigerian Army acknowledged the attack on Twitter late Monday, saying the heavy firefight was ongoing even though it appeared to have ended at that time having been on for about seven hours before the tweet was posted, according to military sources.
In an update on Wednesday, the army confirmed also on Twitter that soldiers sustained losses, but put the casualties at seven for troops and seventy six for the insurgents. It also said sixteen soldiers were wounded.
But the army did not acknowledge that scores of soldiers remained unaccounted for, and their commanders already feared they had gone missing in action. The commanders also confirmed that 18 soldiers were killed, contrary to only seven which the army publicly owned up to.
Before the attack, at least 15 officers and 470 soldiers were on ground at the base in Metele, a strength that was significantly depleted in the aftermath.
Ahmed Dikko, the theatre commander of Operation Lafiya Dole, visited the Kinnasara Cantonment to rally the troops on Tuesday, informing them about what transpired in Metele before visiting the wounded at the hospital.
It was not immediately clear how military authorities are treating the case of the 157 missing soldiers. The chief of army staff, Tukur Buratai, warned a few weeks ago that there would be harsh consequences for any soldiers who abandoned their position in the face of firepower from Boko Haram.
The warning followed weeks of heavy military losses in a war President Muhammadu Buhari and military chiefs had long proclaimed victory. Scores of soldiers have been killed or wounded in action and hundreds missing in a string of insurgents' assaults on military bases since July.
News Flash: Troops Engaging Boko Haram Terrorists In Metele: Troops of 157 Battalion Metele in Northern Borno are presently engaging BHTs in a fierce gun battle. The BHT have been repelled and reinforcement of men and materiel have been mobilized from Kangarwa and Arege.
— Nigerian Army (@HQNigerianArmy) October 8, 2018
Unfortunately, the NA lost 7 soldiers while 16 were wounded in action. The #COAS Lt Gen TY Buratai has commiserated with the families of the deceased and directed that the wounded be given adequate medical attention. Details later.
— Nigerian Army (@HQNigerianArmy) October 10, 2018
The Boko Haram insurgency has caused the death of about 100,000 people since 2009, according to the Borno State Government, whose state is most affected by the insurgency.
Due to the efforts of the military and other security agencies, the terror attacks have been largely limited to Adamawa, Borno and Yobe since 2016. Before then, attacks were carried out in many Northern Nigerian states including Kano, Nasarawa and Abuja.
Despite the efforts of the military, however, the latest attacks show the terrorists are still able to carry out attacks on civilian and military targets.
https://www.premiumtimesng.com/news/headlines/290009-18-soldiers-killed-scores-missing-in-latest-boko-haram-invasion-of-nigerian-military-base.html
--------
Ethiopia: FETO terror group afloat with German support
12.10.2018
An official letter obtained by Anadolu Agency has revealed that Germany has officially been supporting operations of the Fetullah Terrorist Organization (FETO) in Ethiopia.
A letter written and officially sealed by the German Embassy in Addis Ababa in May 2017 vouches for the FETO-linked investment group named Kaynak.
The then Prime Minister Hailemariam Desalegn had directed relevant authorities, including trade and education ministries as well as the country's investment commission, to revoke the license of Kaynak due to its ties to the terror group.
Desalegn's office also directed the Education Ministry to transfer six schools owned by the FETO to Turkey's Maarif Foundation.
The schools were not transferred to the foundation.
The letter which was signed by diplomat Jutta Luig stresses that Kaynak -- which also manages FETO schools in Ethopia -- promotes investments by German companies and businesses in the country and asks Ethiopian officials to provide all necessary convenience to them.
"German citizens have recently purchased a company called Kaynak Educational and Medical Services based in Addis Ababa. We kindly ask all involved authorities to support our investors wherever possible," the letter reads.
-Terror group strips schools for cash
Recently, former employees of Ethiopian FETO-linked schools filed a complaint against school administrators and teachers on allegations including the theft of aid money, embezzlement, and tax evasion.
Last year, shortly after the Ethiopian President Mulatu Teshome said the FETO-linked schools -- renamed as Intellectual Schools -- would be handed to the Turkish government, the schools were sold to a German citizen, whom they claimed was an investor.
FETO and its U.S.-based leader Fetullah Gulen orchestrated the defeated coup of July 15, 2016, which left 251 people martyred and nearly 2,200 injured.
Ankara also accuses FETO of being behind a long-running campaign to overthrow the state through the infiltration of Turkish institutions, including the military, police, and education.
Full report at:
https://www.aa.com.tr/en/africa/ethiopia-feto-terror-group-afloat-with-german-support/1279948
--------
Ahmadiyya Muslim Mission holds maiden peace conference
Oct 12 , 2018
The Ahmadiyya Muslim Mission in Ghana has held its maiden international Peace Conference to inspire concerted efforts for lasting global peace and justice through the teachings of Islam.
The conference which was themed: "Peace and Global Justice", was attended by participants from different Ghanaian and international organisations.
They included clergymen from other African countries, diplomats, legislators, academicians, security servicemen and traditional rulers.
New technologies
The Head of the Worldwide Ahmadiyya Muslim Community, Hadzrat Mirza Masroor Ahmad, whose message was read by the Ameer and Missionary of the Ahmadiyya Muslim Mission in Ghana, Maulvi Muhammad Noor Bin Salih, said the advancement of new technologies despite connecting people had affected world peace by brewing tension among different groups.
Such tensions, he observed, were visible in the increased polarisation of societies that had often led to violence and bloody civil wars in some countries.
"The risks to civilisation are increasing. Weapons are being manufactured and stockpiled at an alarming rate. And this is unquestionably due to new technologies," he said.
He called on world leaders to seek peace by acting with justice which would require showing regard for one another and fulfilling one another's right.
"We appeal to them to look at the long-term future of the world rather than to be blinded by short-term and narrow self-interests," he added.
Advice for leaders
The Consul General of Tuvalu in London, Sir Dr Iftikhar Ahmad Ayaz, encouraged leaders to shun corruption, promote rule of law, show sensitivity to the cause of the people and also allow religion to take it rightful place as a unifying force in establishing a society of brotherliness and mutual affection.
Those, he said, were the catalysts for the realisation of peace and justice that correlate with good governance, eradication of poverty and economic progress.
He further advocated women empowerment through education and the abandonment of cruel and primitive practices which tended to disfavour the poor and marginalised in the society.
International order
For his part, the Dean of Academic Affairs at the Ghana Armed Forces Command and Staff College, Dr Vladimir Antwi Danso, chastised the current international systemic order for being the cause of destabilisation around the globe.
According to him, the search for peace by the international order had at different phases led to the laying down of rules through policies on how states should be governed.
However, that had oftentimes led to chaos where one state interfered with the governance process of other states without any reprimand or repercussion from international bodies, which by extension had created a vacuum for other terrorist groups to emerge. He called on global institutions to be more independent and firm in ensuring that members who flouted the laws were dealt with.
The Ahmadiyya Africa Peace Prize, which is an award presented to an individual or organisation for the advancement of peace, was given to the Archbishop of Abuja, Cardinal John Olorunfemi Onaiyeka.
Full report at:
https://www.graphic.com.gh/news/general-news/ahmadiyya-muslim-missionholds-maiden-peace-conference.html
--------
833 minors released from armed group in Nigeria
12.10.2018
At least 833 minors have been released from the ranks of a local vigilante movement involved in the fight against Boko Haram in Nigeria's northeast, representing a huge step towards ending the use of child soldiers in armed conflicts.
Baba Shehu, a leader of the government-backed Civilian Joint Task Force (CJTF), told Anadolu Agency Friday morning that the decommissioning of the children followed a recent commitment to remove all underage people from their ranks.
"These children don't really carry arms but they help either as spies to spot and neutralize Boko Haram terrorists or serve for errands," said Shehu. "The exercise [of removing them from the vigilante force] is an ongoing thing."
UNICEF praised the initiative in a statement on Friday, calling it the first formal step in the vigilante group's commitment to end and prevent the recruitment and use of children.
In September 2017, the group signed an action plan aiming to put measures in place to end and prevent child recruitment.
"The release of these children from CJTF shows commitment to implement the provisions of the Action Plan and to uphold international humanitarian law, human rights laws as well as other regional and national legislations, protecting children's rights," the statement quoted Pernille Ironside, deputy representative of UNICEF Nigeria and the co-chair of the UN Country Task Force on Monitoring and Reporting on grave child rights violations (CTFMR), as saying.
"This is a significant milestone in ending the recruitment and use of children, but many more children remain in the ranks of other armed groups in either combat or support roles. We call on all parties to stop recruiting children and let children be children."
UNICEF said a total of 1,469 children (1,175 boys and 294 girls) associated with the CJTF have been identified within the city of Maiduguri as at Friday.
Full report at:
https://www.aa.com.tr/en/africa/833-minors-released-from-armed-group-in-nigeria/1279959
--------
Al-Qaeda Affiliate Reportedly Using Iran As Transit Point For Banned Exports
October 13, 2018
An Al-Qaeda-linked militant group is using Iran as its main transit point for illegal charcoal exports from Somalia, enabling the group to earn millions of dollars in profits, a report to the UN Security Council seen by media says.
According to a report cited by AFP and Reuters on October 12, since March, the main destination for the illegal shipments has been ports in Iran, where the charcoal is packaged into white bags labelled "Product of Iran."
The United Nations has banned Somali charcoal imports since 2012 to cut sources of revenue for Al-Shabaab, an Al-Qaeda affiliate that generates revenues for its Islamist insurgency by levying taxes on charcoal production in the regions it controls.
The UN estimates that, despite UN sanctions banning such exports, Somalia produced some 3.6 million bags of charcoal in 2017 for export, generating some $7.5 million in revenue for Al-Shabaab.
The report called Iran a "weak link" in implementing the UN's charcoal ban, and also cast blame on countries such as Ghana and the Ivory Coast for allowing charcoal traffickers to "exploit weaknesses" in their certification processes.
The illegal shipments that arrive in Iran usually carry certificates that falsely state that the Somali charcoal originated in Comoros, Cote d'Ivoire, or Ghana, the unpublished UN report says.
The document identifies Iranian ports in the Kish and Qeshm free zones as the main destinations of the Somali charcoal shipments since March 2018.
From there, the charcoal is sent on "Iran-flagged dhows" to ports in the United Arab Emirates, Oman, Dubai, and elsewhere, where it is mainly used for cooking and smoking shisha water pipes, the report says.
The Iranian mission to the UN did not immediately respond to a request for comment.
The report says Iran became a transit point for the illegal Somali shipments after Oman tightened its customs procedures.
The report provided to the UN council was drafted by a UN group of experts tasked with monitoring sanctions on the Somali militants.
Al-Shabaab militants have vowed to overthrow the Somali government, which is backed by the UN and a 20,000-strong force from the African Union stationed in the country.
While Al-Shabaab was pushed out of Mogadishu in 2011 and lost many of other bastions, they still control vast rural areas in the country.
Full report at:
https://www.rferl.org/a/al-qaeda-affiliate-al-shabaab-somlia-reportedly-using-iran-transit-point-illegal-charcoal-shipments-earning-millions-dollars/29541307.html
--------
North America
Canada voices concern on human rights in S.Arabia
12.10.2018
Canadian Prime Minister Justin Trudeau on Friday said that his country will stay "clear and strong" on human rights issues in Saudi Arabia.
"We have been extremely active both in private and in public over many years now around our concern for human rights in Saudi Arabia, and we will continue to be clear and strong in speaking up for human rights around the world regardless of with whom," Trudeau told reporters at the biennial Francophone summit in Armenia.
On the disappearance of prominent Saudi journalist Jamal Khashoggi, the Canadian prime minister said that there is "a lot more to uncover" on the issue.
A columnist for the Washington Post, Khashoggi has not been heard from since Oct. 2, when he visited the Saudi consulate in Istanbul.
"This particular case is of course of concern and we join with our allies around the world in expressing serious issues with these reports. Obviously, there's a lot more to uncover on what happened here," he said.
Since Khashoggi went missing, speculation has mounted that he was killed at the behest of the Saudi authorities, who have yet to provide a convincing explanation for his disappearance.
https://www.aa.com.tr/en/americas/canada-voices-concern-on-human-rights-in-sarabia/1280378
--------
Pompeo urges Turkey to release remaining detained Americans
13 October 2018
US Secretary of State Mike Pompeo on Friday urged Turkey to quickly release other Americans in detention after it freed a pastor at the center of a crisis in relations.
"Pastor (Andrew) Brunson is finally coming home to America, following a long ordeal for the pastor and his family. We hope that the Turkish government will quickly release our other detained US citizens and State Department locally employed staff," Pompeo tweeted.
— Secretary Pompeo (@SecPompeo) October 12, 2018
"The world should know that (President Donald Trump) and the State Department continue to work hard to bring home all American hostages and those wrongfully imprisoned and detained," he tweeted.
The United States had imposed tariffs and sanctioned senior government officials to pressure Turkey on Brunson, whose two-year detention had particularly outraged Trump's conservative Christian base.
But two Turkish employees of US diplomatic missions remain in jail. One of them, former Adana consulate staffer Hamza Ulucay, was Friday denied release in a separate court hearing.
Full report at:
https://english.alarabiya.net/en/News/world/2018/10/13/Pompeo-urges-Turkey-to-release-remaining-detained-Americans.html
--------
American senators: US-Saudi relationship 'on the line'
Oct 12, 2018
US Senators have warned President Donald Trump that ramping up pressure on the Saudi royal family over the disappearance of US-based journalist Jamal Khashoggi could endanger relations between Washington and Riyadh.
Khashoggi, a Virginia-based critic of Saudi Crown Prince Mohammed bin Salman's policies, has been unaccounted for since October 2 when he visited the Saudi diplomatic mission in Istanbul to get paperwork for his marriage to his Turkish fiancée.
Authorities in Turkey believe he died there at the hands of a "murder squad" flown from Riyadh to kill him and dispose of his body. His body was smuggled out, they say, perhaps in a diplomatic car.
Top Republican senators expressed hope on Thursday that the Trump administration would heed their warning and act on the Senate's request for the White House to conduct a statutorily required investigation into Khashoggi's case or whether punitive measures, including sanctions, against the Saudi regime were needed.
"I think the burden of proof is now on the Saudis to demonstrate that they were not participants in any way in harming, killing or kidnapping Mr. Khashoggi," said Senator Tim Kaine (D-Va.), a member of the Senate Foreign Relations Committee.
"The burden of proof is on them. They got to show it, and if they don't show it, I think it will fundamentally change the nature of the relationship," he added.
Trump – who favors a particularly close relationship with Saudi Arabia – expressed concern earlier in the day about Khashoggi's fate and pledged to find out what had happened.
"We have investigators over there and we're working with Turkey, and, frankly, we're working with Saudi Arabia," Trump said on Fox News. "We want to find out what happened. He went in, and it doesn't look like he came out. It certainly doesn't look like he's around."
Trump, who visited Riyadh in his first trip abroad as president and announced plans to sell the $110 billion in weapons to the Saudis, also dismissed in his Thursday's remarks the idea of abandoning the arms deal over the suspected murder of the prominent Saudi journalist at the hands of the Riyadh regime's death squads in Turkey.
"We don't like it, and we don't like it even a little bit," Trump told reporters in the Oval Office about Khashoggi's disappearance. "But as to whether or not we should stop $110 billion from being spent in this country … that would not be acceptable to me."
"What good does that do us?" Trump asked, speaking to reporters. "This took place in Turkey and to the best of our knowledge, Khashoggi is not a United States citizen," Trump added, brushing aside the fact that the journalist lived in the US.
Most members of the Senate Foreign Relations Committee sent Trump a letter on Wednesday night, calling on him to conduct an investigation under the Global Magnitsky Human Rights Accountability Act.
That law stipulates that the president must conduct an investigation if requested by the leaders of the Foreign Relations Committee, and then report back to the panel on whether the US will levy sanctions.
Foreign Relations Committee Chairman Bob Corker, who signed the letter, described the request for a Magnitsky investigation as a "pretty strong step" that would force Trump to take action.
"They will be under immense pressure, immense pressure if it's determined that Saudi Arabia was involved to sanction pretty severely the people who have been involved in this," Corker said of the US administration in Washington.
In an interview on Thursday, Corker told reporters that "everything indicates" the Saudis murdered Khashoggi.
The Saudi dissident's fate remains shrouded in mystery, with several reports indicating that he has been either killed or kidnapped at the consulate by 15 Saudi operatives – among them bin Salman's elite close protection unit – who had arrived in Istanbul on the same day only to leave Turkish soil hours later.
The Washington Post cited several of Khashoggi's friends as saying that the prominent journalist had over the past months had been asked by senior Saudi officials close to return back home from the US, offering him "protection" and "even a high-level job."
Khashoggi had, however, voiced distrust of the Saudi officials, and said they were unlikely to keep their words.
Full report at:
https://www.presstv.com/Detail/2018/10/12/576813/US-Senators-Saudi-royal-family-Jamal-Khashoggi-Mohammed-bin-Salman
--------
Lawyer of US cleric: Brunson to leave Turkey
12.10.2018
U.S. pastor Andrew Craig Brunson will leave Turkey after completing legal procedures, his lawyers said, after a court released him on Friday.
An Izmir court sentenced the pastor to three years and 45 days in prison, but he will not serve the time in jail.
The court credited his time spent in detention, and ended his house arrest and travel ban.
Speaking to reporters after the court's decision, Ismail Cem Halavurt said: "My client will leave the country. There are a couple of procedures to remove the provisions of judicial control. It will not take long."
The cleric was arrested on Dec. 9, 2016 on charges of being member of Fetullah Terrorist Organization (FETO). On July 25, citing Brunson's health problems, an Izmir court ordered him moved from jail to house arrest.
Brunson's charges include spying for the PKK -- listed as a terrorist group by both the U.S. and Turkey -- and FETO, the group behind the defeated coup attempt in Turkey of July 2016.
Turkey and the U.S. have faced rocky relations following Washington's imposition of sanctions over Brunson's detention.
Full report at:
https://www.aa.com.tr/en/americas/lawyer-of-us-cleric-brunson-to-leave-turkey/1280191
--------
URL: https://www.newageislam.com/islamic-world-news/egyptian-military-court-sentences-17/d/116623
New Age Islam, Islam Online, Islamic Website, African Muslim News, Arab World News, South Asia News, Indian Muslim News, World Muslim News, Women in Islam, Islamic Feminism, Arab Women, Women In Arab, Islamophobia in America, Muslim Women in West, Islam Women and Feminism