New Age Islam News Bureau
28 May 2013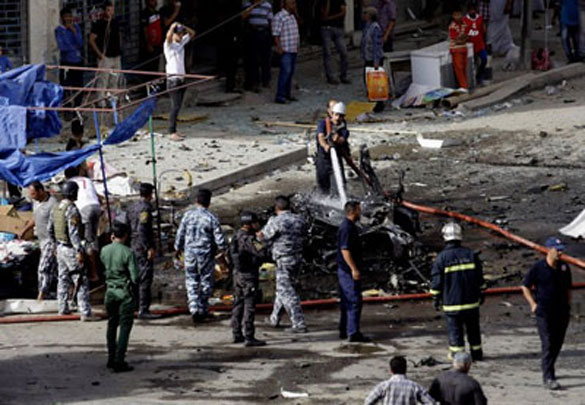 Photo: Bombs tear through Iraqi capital, killing at least 66
---------
Arab World
• Egyptian Jihadist Leader: Bin Laden Blew Himself Up To Avoid Capture
• Bombs tear through Iraqi capital, killing at least 66
• Grand Mufti of Dubai slams UK soldier's killing
• Watchdog: Car bomb kills four in Syria's Homs
• At least 15 inmates die in fighting at Syria jail: NGO
• 3 Lebanese Soldiers Killed on Syrian Border
• Iraq death toll passes 500 in May
• Fresh reports of Syrian forces using chemical arms
• Sniper kills Syrian journalist from pro-govt TV
• U.N. rights body mulls resolution on foreign fighters in Syria's Qusayr
• Jordan jails jihadists for trying to go to Syria
Europe
• Pakistani duo threatened to blow up jet, UK court told
• 4 more arrests in France over Toulouse terrorist attacks
• The reaction to the Woolwich murder denies British Muslims a political voice
• France to probe samples from Syria for sign of chemical arms
• Russia says missile systems for Syria will deter 'hotheads'
• Russia admits 'tall order' to hold Syria peace talks
• UNHCR chief 'profoundly disturbed' on use of armed drones
• Lee Rigby murder: Police make 10th arrest
• UK to step up internet surveillance following Woolwich murder
India
• Bangalore bomb blast: Cases filed against 11 Muslims were foisted, says report
• Cops accused in Ishrat fake encounter case get bail as CBI fails to file charge sheet
• Indian sentenced to death in UAE
• India upset over Iran's poser on US nuclear transfer
• PM's special envoy on Pak meets Sharif
• Students Islamic Organization organizes career guidance workshop
• Indian students of International School-Jeddah excel in Class XII exam
• Iran offers sweeteners to push more oil
• Indian arms handler held in Bangladesh
South Asia
• China says Xinjiang minorities too busy dancing to make trouble
• Afghan Mohajirs' voluntary return to home from Pakistan begins
• 7 Afghan Police Killed by Commander's Guests
• Suu Kyi slams two-child limit for Rohingya Muslims
• Kabul University spawns next generation of freedom fighters
• Taliban criticise Kabul's pink balloon project being un-Islamic
• Maldives "fully implements" three of UN's 145 human rights recommendations
• Uniqlo won't sign Bangladesh safety pact – WSJ
• Hannan Shah accuses govt of 'killing' Hefazat activists
North America
• In Terror Shift, Obama Took a Long Path
• U.S. Shift Poses Risk to Pakistan
• US senator McCain enters Syria to meet rebels
• CAIR Distributes New Mosque Safety Guidelines
Africa
• Nigerian Army Says Kills Three Islamists in Boko Haram Crackdown
• Libyan assembly chief to quit over Gaddafi-era law
• Libya Congress chief set to quit Tuesday over ban law
Pakistan
• Pakistan Ulema Council calls for interfaith dialogue
• Waiting for PML-N response to join federal govt: Fazl
• Nawaz made Pakistan's defence insurmountable: Shahbaz
• 475 kg explosive material found from PECHS
• Islamic ideology is key to unity, says Maulana Thanvi
• 26/11 attacks: Pakistan court adjourns hearing on Hafiz Saeed's plea
• Benazir murder case: FIA has 14 days to submit charge sheet against Musharraf
• Son of deputy cleric of Lal Masjid's Plea: I fear Musharraf's 'free exit'
• One killed after militant attack on levies check post in Balochistan
• Bomb blast in Swat kills peace committee leader's son
• Pakistan lawyer and sons killed in 'sectarian' attack
Southeast Asia
• Victimized Ahmadiyah Group 'Not Surprised' by Release of Suspects in West Java
• Priyo Budi Santoso Now Implicated in Quran Graft
• With big lead in popularity, Najib heads for win in Umno battle
• Najib: Female labour force participation must be improved
• Philippine Muslim rebels plan to form political party
Mideast
• Israel Says Russian Anti-Aircraft System Not Headed to Syria Yet
• Iran decries Bahrain move to ban contact with Hezbollah
Compiled by New Age Islam News Bureau
URL: https://newageislam.com/islamic-world-news/new-age-islam-news-bureau/egyptian-jihadist-leader--bin-laden-blew-himself-up-to-avoid-capture/d/11777
--------------
Arab World
Egyptian Jihadist Leader: Bin Laden Blew Himself Up To Avoid Capture
By Ayman Sharaf
May 27, 2013
Cairo: Nabeel Naeem Abdul Fattah, former leader of the Egyptian Islamic Jihad (1988- 1992), claimed that Al Qaida chief Osama Bin Laden was not shot dead by US Special Forces (SEALs) in 'Operation Geronimo', but blew himself up to avoid capture soon after they launched the raid at his Abbotabad compound in Pakistan on May 2, 2011.
"Bin Laden's burial at sea story was fishy. US President Barack Obama lied when he claimed that Bin Laden was buried at sea. Bin Laden's body parts were cut into multiple pieces, which is similar to suicide attacks following the bombing, so as not to leave any clue to the US forces to identify him," added Abdul Fattah - who was not in Abottabad at the time of Bin Laden's death, but says he heard what happened from a Bin Laden relative - in an exclusive interview with Gulf News.
Abdul Fattah, who was a personal guard of Bin Laden, confirmed that Bin Laden was wearing an explosive belt all the time in the last ten years of his life and insisted on not giving himself up to the Americans.
"US intelligence services had planned to nab him alive, but they miscalculated. He blew himself up to avoid capture. Also, he wanted to keep his secrets until death and he had many sponsors from Gulf States as they were sending him money. He wanted to rescue them from any trouble. He swore in front of the Kaaba to keep all his secrets till death," Abdul Fattah said.
Abdul Fattah pointed out there is a possibility that one of Bin Laden's supporters had betrayed him. "It was hard to infiltrate the close circle around Bin Laden. His personal guards were only Yemenis or Saudis who wouldn't be hired by any hostile party," Abdul Fattah asserted.
Abdul Fattah explained how the Americans reached Bin Laden: "A brother of a Kuwaiti detainee of Pakistani origin in Guantanamo Bay was close to Bin Laden. He appeared in Kuwait in 2008 when the CIA asked Kuwaiti authorities not to arrest him or track him down. He used to visit his family and go to Pakistan with a fake passport. US intelligence services were monitoring his telephone and tapping all conversations to know his contacts. They then discovered that he was usually switching off his mobile in a certain place where they weren't able to trace him anymore.
"After months of monitoring that guy the Americans failed to find Bin Laden's house. They organised a mass vaccination campaign to protect children against smallpox. As they found Arab children in the area they tested their DNA to determine the origin of their paternal line. Once US intelligence services knew of Bin Laden's and his family's existence in the Abbotabad compound, they decided to launch their raid on it.
"Bin Laden and his men defended themselves. They fired shots at the helicopter that has carried the US Special Forces unit. As the SEALs killed two of his guards and shot him in his thigh, he triggered his explosive belt".
Abdul Fattah concluded his memorial of Bin Laden's death referring to a source close to one of the dead guards. He refused to mention his name to protect him, adding that "one day Bin Laden's wife will tell this story."
Abdul Fattah recalls what Bin Laden said to him a long time ago in Makkah, even before he left Saudi Arabia, "If we manage to draw America into the Afghan quagmire we will be able to do things that are unprecedented."
"Among the people who went to Afghanistan and fought the USSR, we used to say that the Americans were crazy. They saw and witnessed how the Soviets were humiliated and left. The Soviets had more perseverance than the Americans. Soviet soldiers would drink from the sewers, whereas American soldiers would cry if you took their mineral water away. They need it even for showering. The Russians, in contrast, would drink from the sewage flowing in the streets," Abdul Fattah added.
"Unfortunately, what Bin Laden said turned out to be true, because God gave America a very stupid president [George W. Bush] who sent Americans to Afghanistan, where they will be defeated," Abdul Fattah said.
Obama's media adviser met Abdul Fattah in Egypt during a conference last year. Abdul Fattah told him: "You will be defeated, not because you are fighting the Taliban, but because you are fighting geography and nobody can beat geography."
Al Qaida came to an end
Regarding Jihadist groups' affiliates with Al Qaida, Abdul Fattah said that these groups in Egypt's Sinai and other places who claim nowadays to be connected to Al Qaida are nothing but a media show. They say that they belong to Al Qaida in order to scare people, because it is connected with 9/11 attacks. The truth is that they never belonged to Al Qaida or know anything about it. Al Qaida has vanished since the death of Bin Laden.
"The current regime in Egypt [Muslim Brotherhood] wants to blow this out of proportion, in order to claim that the alternative is worse. Just like the previous regime did with regard to the Muslim Brotherhood. They say: the alternative is worse, so you are better off with us," Abdul Fattah asserted.
Ayman Al Zawahiri is all talk
Abdul Fattah doesn't believe in Ayman Al Zawahiri's ability to be an effective successor to Bin Laden.
He said that he cannot do anything and he is just talking. "All he does is to send out recorded messages and I know him personally. He does not have the charisma or the determination. He is swayed by other people's opinions. Five or six people around him tell him what to do. He's no Bin Laden. There is a huge difference between them.
"When Mohammad Al Zawahiri [brother of Ayman] was released from prison after Egypt's revolution, a few young men gathered around him because he is Ayman's brother. Security services let him move freely and contact people in order to crack down on all who gather around him," Abdul Fattah added.
He said that Mohammad Al Zawahiri makes contradictory statements. "First he says that democracy is heresy and that the voters are infidels, and then he says that they will fight whoever attacks [President Mohammad] Mursi. Besides, Mursi is now Mr. Democracy himself. Why accuse us voters of heresy? You should be accusing him first."
Sadat's murder
Sitting in a poor apartment beside the archaic Roman Catholic Patriarch in Al Zaher, one of the oldest neighbourhoods in Cairo, Abdul Fattah recalls his history as a leader of Egypt's Al Jihad organisation, which assassinated the late president Anwar Sadat in 1981, waged a terrorist war in the 1990s and helped give birth to Al Qaida. He was once "the right arm" of Ayman Al Zawahiri, the former Al Jihad leader who now heads Al Qaida.
"I am the one who sent Mohammad Atta to Afghanistan," Abdul Fattah says proudly of the lead pilot of the September 11, 2001, attacks.
Abdul Fattah was released from prison in March 2011, just weeks after the fall of Hosni Mubarak, who had kept him locked up for 20 years. Al Jihad abandoned violence in Egypt years ago. "We were exhausted," he says, and at 57, he looks it. The former jihadist concedes that Egypt is headed toward Western-style democracy: "It's the only available option."
http://gulfnews.com/news/region/egypt/egyptian-jihadist-leader-bin-laden-blew-himself-up-to-avoid-capture-1.1189353
--------------
Bombs tear through Iraqi capital, killing at least 66
(AP) / 28 May 2013
A coordinated wave of car bombings tore through mostly Shia areas of Baghdad on Monday, killing at least 66 people and maiming nearly 200 as insurgents step up the bloodshed roiling Iraq.
The attacks in markets and other areas frequented by civilians are the latest sign of a rapid deterioration in security as sectarian tensions are exacerbated by anti-government protests and the war in neighbouring Syria grinds on.
More than 450 people have been killed across Iraq in May. Most of the killings came over the past two weeks in the most sustained wave of violence since US troops left in December 2011.
The surge in attacks is reminiscent of the sectarian carnage that pushed Iraq to the brink of civil war in 2006 and 2007. April was Iraq's deadliest month since June 2008, according to a United Nations tally that put last month's death toll at more than 700.
There was no immediate claim of responsibility for Monday's bombings, but they bore the hallmarks of Al Qaeda's Iraqi arm. The group, known as the Islamic State of Iraq, frequently uses car bombs and coordinated blasts against Shias to undermine Iraqis' confidence in the Shia-led government.
The day's deadliest attack happened when two bombs exploded in the eastern Habibiya area on the edge of the sprawling Shia district of Sadr City. Those blasts killed 12 and wounded 35, police said.
Twin blasts also struck an open-air market in the predominantly Shia Al Maalif area, killing six and wounding 12.
Another car bomb exploded in the busy commercial Sadoun Street in downtown Baghdad. It killed five civilians and wounded 14, police said. Among the wounded were four policemen who were at a nearby checkpoint.
The central street is one of the capital's main commercial areas and is lined with clinics, pharmacies and shops. Fire-fighters were seen struggling to extinguish flames as police sealed off the area. Several shops were partially damaged or burned.
''What crime have those innocent people committed?' asked witness Zein Al Abidin. 'Who is responsible for these massacres?'
Elsewhere across the bloodied capital city, police reported:
A car bomb went off in the eastern New Baghdad area as officers were waiting for explosives experts to dismantle it. A civilian was killed and nine others wounded.
In the north, a blast in the Sabi Al Boor neighborhood killed eight civilians and wounded 26. In the Kazimiyah district, a car bomb blew up near a bus and taxi stop, killing four and wounding 11.
Another blast killed four and wounded nine in the Shaab area. And an attack in the Hurriyah neighborhood left five dead and 14 wounded.
A bomb in the south-western neighborhood of Bayaa killed six civilians and wounded 16.
In Baghdad's central Sadria area, a car bomb killed three civilians and wounded 11.
In the east, a blast killed five and wounded 12 in the Jisr Diyala area. Car bombs also struck the Baladiyat neighborhood, killing four and wounding 11.
And in Madain, about 20 kilometres (12 miles) south of central Baghdad, a car bomb killed three and wounded nine.
Medical officials confirmed the causality figures. All officials spoke on condition of anonymity because they were not authorized to release information.
The day's bloodshed was the deadliest since last Monday, when a wave of attacks killed 113 people in Shia and Sunni areas. That was the deadliest single day in Iraq since July 23, when attacks aimed largely at security forces killed 115.
The US Embassy issued a statement condemning the latest attacks.
Although violence has decreased sharply since the height of the insurgency that followed the 2003 U.S.-led invasion, militants are still capable of carrying out lethal attacks nationwide. The recent wave of attacks has raised tensions between the country's Sunni minority and Shia-led government.
Since late December, members of Iraq's Sunni community have been protesting against the government. They cite a range of grievances, including poor services, discrimination and the application of tough anti-terrorism policies they believe unfairly target their sect.
The unrest is fuelling long-simmering sectarian rifts in the country that only grew more divisive after an April 23 crackdown by security forces on a Sunni protest camp. The crackdown in the town of Hawija left many protesters dead.
Maria Fantappie, an Iraq analyst at the International Crisis Group, linked the uptick in violence to the protests and said the events at Hawija marked a turning point.
'They transformed the political crisis into a series of local conflicts in the Sunni-populated provinces,' she said. 'As it stands, the risk is a metastasis of armed clashes across these provinces.'
She said outright civil war between the protesters — who remain divided over their support for violence — and security forces loyal to the Shia-led government is unlikely, however.
Alarmed by a nationwide deterioration in the security situation, Iraqi Prime Minister Nouri Al Maliki recently ordered a reshuffle in senior military ranks.
Authorities have also launched a military operation in the country's western Anbar province to chase down fighters from Al Qaeda in Iraq.
The group is growing stronger as a result of rising lawlessness on the Syrian-Iraq frontier and cross-border cooperation with the Syrian militant group Jabhat Al Nusra, or the Nusra Front, a rebel faction fighting to oust President Bashar Assad.
http://www.khaleejtimes.com/kt-article-display-1.asp?xfile=/data/middleeast/2013/May/middleeast_May318.xml&section=middleeast
--------------
Grand Mufti of Dubai slams UK soldier's killing
Ahmed Shaaban
28 May 2013
Islam, widely known for tolerance and peaceful coexistence, has nothing to do with violent and terrorist acts.
This was affirmed by the Grand Mufti of Dubai, Dr Sheikh Ahmed Al Haddad while commenting on a heinous crime in which a British soldier was hacked to death in London apparently by two Kenyan Muslims who were shouting slogans.
"Not a single rational human being, be they Muslims or not, will agree with what the two killers did; I even doubt that they are Muslims."
Speaking to Khaleej Times on Monday, Dr Al Haddad said such is a shameful behaviour reflects that of a lunatic apparently suffering from schizophrenia.
"There is no doubt that the killers, being Muslims this time, do not speak for Muslims worldwide (who stand for) the merciful and tolerant teachings of Islam."
Islam is acknowledged by Muslims and non-Muslims as a divine religion based on the principles of peaceful coexistence, mercy, cooperation, benevolence, honesty and loyalty, he added.
Dr Al Haddad said Islam is the religion of Abraham, Moses, Jesus, and all prophets (Peace be upon them all). "The first and permanent principle of Islam is asserted in Chapter 16/124 of the Holy Quran: (Invite to the way of your Lord with wisdom and good instruction, and argue with them in a way that is best.)
"This is the true Islam which is spreading in every nook and corner across the globe, and most beloved and accepted by rational and unbiased people who loves right and justice.
While statistics say that Islam is the fastest growing among over 4,200 religions in the world today, the emirate of Dubai saw the conversion of 17,704 new Muslims, from 75 nationalities — some 65 per cent women, between 1996 and 2011.
The same applies to the Islamic Information Centre of the Dubai government-run Dar Al Ber Society which helped over 18,000 people convert to Islam since 1993.
The Grand Mufti of Dubai said the two apostates, who asked passers-by to photograph and film their appalling crime, have not done this because they are Muslims.
"Murder or crime knows no religion or land; it is mostly interrelated with treachery and aggression; acts strictly fought by Islam and Muslims."
Dr Al Haddad said Islam, all along its bright history, has been known for peaceful coexistence.
http://www.khaleejtimes.com/nation/inside.asp?xfile=/data/nationgeneral/2013/May/nationgeneral_May534.xml&section=nationgeneral
--------------
Watchdog: Car bomb kills four in Syria's Homs
28 May 2013
A car bomb attack killed four people on Monday in a regime-controlled district of the central Syrian city of Homs, the Syrian Observatory for Human Rights watchdog reported.
Dozens of other people were wounded, some of them seriously, when the car exploded in the Waer neighborhood of Homs, said the Britain-based group which relies on a network of activists and medics across Syria for its reports.
Full report at:
http://english.alarabiya.net/en/News/middle-east/2013/05/28/Watchdog-Car-bomb-kills-four-in-Syria-s-Homs.html
-----------
At least 15 inmates die in fighting at Syria jail: NGO
Fifteen Syrian prisoners are killed in shelling of central prison in Syria's northern town of Aleppo
28 May 2013
At least 15 prisoners were killed over the weekend in clashes between rebels and troops at the central prison in Syria's northern town of Aleppo, a watchdog said on Tuesday.
Citing phone calls from sources inside the prison, the Syrian Observatory for Human Rights said "at least 15 prisoners were killed in shelling of the prison, which rebel fighters have besieged."
Full report at:
http://english.ahram.org.eg/NewsContent/2/8/72542/World/Region/At-least--inmates-die-in-fighting-at-Syria-jail-NG.aspx
-----------
3 Lebanese Soldiers Killed on Syrian Border
By HANIA MOURTADA and DAVID JOLLY
May 28, 2013
BEIRUT, Lebanon — Unidentified gunmen attacked a Lebanese border checkpoint on Tuesday, killing three soldiers before fleeing into Syria, the official Lebanese news agency reported, raising fears that the crisis in Syria is destabilizing the vulnerable country.
The gunmen opened fire on the soldiers from inside a car, near the town of Arsal in the Bekaa Valley, according to the Lebanese National News Agency report.
Ahmad al-Fliti, Arsal's deputy mayor, said details were unknown because the attack apparently took place at night. "Normally, there are no armed groups that we know of here, so there are doubts about what happened," he said. Abu Omar, a Syrian refugee who has been living in Arsal for months, said a Lebanese Army unit had been deployed in the town after the incident, and that "a horrifying calm is reigning over Arsal." Syrian refugees in the town, who arrived only 10 days ago, "are quite shaken," he added, "because, as you know, they just fled the shelling and the violence in Syria."
Full report at:
http://www.nytimes.com/2013/05/29/world/middleeast/syria.html?ref=middleeast&_r=0&gwh=08548E35727049641C98ADD5900C0515
--------------
Iraq death toll passes 500 in May
May 28, 2013
BAGHDAD: Violence in Iraq has killed more than 500 people in May, AFP figures showed on Tuesday, as authorities struggled to contain a wave of unrest that has raised fears of new sectarian conflict.
And the UN envoy to Iraq urged the country's leaders to meet to resolve long-running political crises that have paralysed the government and been linked to its inability to reduce the violence.
As of Monday, 503 people were killed and 1,273 wounded, making May the deadliest month in at least a year, according to the data, based on reports from security and medical officials.
May is the second month in a row in which more than 400 people have been killed, for a total exceeding 960 people in less than two months.
Full report at:
http://dawn.com/2013/05/28/iraq-death-toll-passes-500-in-may/
--------------
Fresh reports of Syrian forces using chemical arms
Agencies | May 28, 2013
PARIS: French newspaper Le Monde reported on Monday that the Syrian army is using chemical weapons against rebel forces in the outskirts of Damascus, quoting two of its journalists who were in the area in April and May.
The journalists "witnessed over several consecutive days" the use of explosive chemical weapons and their effects on rebel fighters in the village of Jobar on the outskirts of the capital, reporter Jean-Philippe Remy wrote.
Photographer Laurent Van der Stockt reported that on April 13 he saw fighters "suffocating and vomiting" in the area after an apparent attack using chemical weapons.
Full report at:
http://timesofindia.indiatimes.com/world/middle-east/Fresh-reports-of-Syrian-forces-using-chemical-arms/articleshow/20303323.cms
--------------
Sniper kills Syrian journalist from pro-govt TV
May 27, 2013
Sniper fire killed a well-known Syrian journalist working for a pro-government television channel near the Lebanese-Syrian border on Monday, the state news agency said. Yara Abbas, a reporter for the al-Ikhbariya news channel, was killed near Debaa airport in Homs province. Forces loyal
to President Bashar al-Assad there have been trying to recapture the base from the rebels seeking to oust him.
Full report at:
http://www.hindustantimes.com/world-news/restofasia/Sniper-kills-Syrian-journalist-from-pro-govt-TV/Article1-1066700.aspx
--------------
U.N. rights body mulls resolution on foreign fighters in Syria's Qusayr
28 May 2013
A draft resolution condemning the Syrian regime's use of foreign fighters in the besieged town of Qusayr will be debated on Wednesday by the U.N.'s top rights body,
The draft resolution, presented on Tuesday, "condemns the intervention of foreign combatants fighting on behalf of the Syrian regime in al-Qusayr," an implicit reference to the involvement of fighters from Lebanon's Shiite group Hezbollah in the fierce battle for the strategic town.
The Syrian army, backed by fighters from Hezbollah, began an assault on the rebel stronghold of Qusayr on Sunday May 19.
Full report at:
http://english.alarabiya.net/en/News/middle-east/2013/05/28/U-N-rights-body-mulls-resolution-on-foreign-fighters-in-Syria-s-Qusayr.html
-----------
Jordan jails jihadists for trying to go to Syria
Nine Salafists are sentenced to 5 years' hard labour
27 May 2013
A Jordanian military tribunal on Monday jailed nine Muslim extremists who were planning to go to neighbouring Syria to fight for jihad, a court official said.
"Today, the state security court initially sentenced nine Salafist jihadist for five years' hard labour each. But it immediately reduced the sentences for six of them to two-and-a-half years' hard labour," the official told AFP.
Full report at:
http://english.ahram.org.eg/NewsContent/2/8/72466/World/Region/Jordan-jails-jihadists-for-trying-to-go-to-Syria.aspx
-----------
Europe
Pakistani duo threatened to blow up jet, UK court told
Kounteya Sinha, TNN | May 28, 2013
LONDON: The Chelmsford Magistrates Court was informed on Monday that taxi driver Tayyab Subhani (30) and restaurant worker Mohammed Safdar (41) not only tried to barge into the cockpit of a Pakistan Airlines plane but also shouted threats that "crew and passengers would be killed and the aircraft blown up before landing."
The Court called the threat "false, misleading or deceptive" and charged the duo—both from Nelson in Lancashire with endangering an aircraft. The passengers were flying to the UK from Pakistan.
Prosecutor Chris McCann told the court the case was "serious" and involved the deployment of RAF jets to ensure the plane, which was carrying 308 passengers, landed safely. Both men spoke only to confirm their names and addresses.
Full report at:
http://timesofindia.indiatimes.com/world/uk/Pakistani-duo-threatened-to-blow-up-jet-UK-court-told/articleshow/20303367.cms
--------------
4 more arrests in France over Toulouse terrorist attacks
May 28, 2013
The French police on Tuesday arrested four more men in connection with last year's killing campaign by Islamist gunman Mohamed Merah, in Toulouse, France. The arrested persons are believed to be friends of the Merahs.
Some of the suspects were arrested in Merah's hometown of Toulouse, where he killed four of his seven victims in March 2012 before being shot dead by police in a raid.
The others were arrested in Paris, France Info said. Merah shot dead three paratroopers, three Jewish schoolchildren and a Rabbi in Toulouse and the nearby town of Montauban.
Full report at:
http://www.thehindu.com/news/international/world/4-more-arrests-in-france-over-toulouse-terrorist-attacks/article4759520.ece
--------------
The reaction to the Woolwich murder denies British Muslims a political voice
Denying the right to discuss British foreign policy in the wake of the horrific murder in Woolwich is short-sighted and dangerous
Rachel Shabi
28 May 2013
This debate isn't just sealed shut, it has round-the-clock protection. In the context of the Woolwich killers, there is to be no connection made to British foreign policy in the Middle East. That, we are told, is because the link is erroneous, an attempt to justify (as opposed to just understand), and an appeasement to terrorists. Oh, and also: those making the link only do so because of a tedious tendency to blame the west for everything.
Full report at:
http://www.guardian.co.uk/commentisfree/2013/may/28/woolwich-murder-british-muslims
--------------
France to probe samples from Syria for sign of chemical arms
May 28 2013
Paris : French authorities will analyse samples brought back from Syria by two journalists after they reported the Syrian army was using chemical weapons against rebel forces, a top official said today.
There have been mounting reports of the use of chemical arms in Syria, where a bloody conflict has raged for over two years and claimed more than 94,000 lives amid reports of widespread rights violations.
A top French government official, who wished to remain anonymous, said today samples had been handed over to authorities by the journalists, without saying where the samples were from. "We have agreed to analyse them," he said.
Full report at:
http://www.indianexpress.com/news/france-to-probe-samples-from-syria-for-sign-of-chemical-arms/1121663/
----------
Russia says missile systems for Syria will deter 'hotheads'
AP | May 28, 2013
MOSCOW: Russia will not scrap plans to deliver an air defense system to Syria despite Western opposition because it would help deter "hotheads" intent on intervention in the two-year-old conflict, the deputy foreign minister said on Tuesday.
It also accused the European Union of "throwing fuel on the fire" by letting its own arms embargo on Syria expire.
Israel and France had urged Moscow to refrain from sending high-precision S-300 missile systems to President Bashar al-Assad's government, which is battling a Western and Gulf Arab-backed insurgency.
Full report at:
http://timesofindia.indiatimes.com/world/europe/Russia-says-missile-systems-for-Syria-will-deter-hotheads/articleshow/20311816.cms
----------
Russia admits 'tall order' to hold Syria peace talks
May 28, 2013
PARIS: Russian Foreign Minister Sergei Lavrov admitted Monday it would not be easy to organise Syria peace talks, as European efforts to reach an accord on whether to arm the rebels appeared to have stalled.
Speaking after talks in a Paris hotel with US Secretary of State John Kerry, Lavrov said ensuring the success of the proposed peace conference was "not an easy task, it's a very tall order."
The two men have been working to organise the talks under the aegis of the United Nations to bring together the Syrian regime and the opposition in a bid to end a bloody conflict that has raged for more than two years.
Full report at:
http://tribune.com.pk/story/555451/russia-admits-tall-order-to-hold-syria-peace-talks/
--------------
UNHCR chief 'profoundly disturbed' on use of armed drones
May 27, 2013
GENEVA: The UN High Commissioner for Human Rights, Navanethem Pillay, on Monday spoke out against the use of armed drones.
In her statement on the opening day of the 23rd Session of the UN Human Rights Council, Pillay said she was "profoundly disturbed at the human rights implications of the use of armed drones in the context of counter-terrorism and military operations".
The High Commissioner's statement echoed Pakistan's long held position that drone strikes are counter-productive.
Full report at:
http://tribune.com.pk/story/555117/unhcr-chief-profoundly-disturbed-on-use-of-armed-drones-in-pakistan/
--------------
Lee Rigby murder: Police make 10th arrest
May 28, 2013
Police are continuing to hold a 10th person in connection with the murder of soldier Lee Rigby in Woolwich.
The 50-year-old man was arrested in Welling, south-east London on Monday, on suspicion of conspiracy to commit murder.
Police are also searching two addresses in south-east London and one address in south London.
Two suspects who were shot by armed police at the scene of the killing remain in hospital.
Michael Adebolajo, 28, and Michael Adebowale, 22 - both Britons of Nigerian descent who are understood to be converts to Islam - are in a stable condition.
Full report at:
http://www.bbc.co.uk/news/uk-england-22679755
--------------
UK to step up internet surveillance following Woolwich murder
Kounteya Sinha, TNN | May 28, 2013
LONDON: The British government has revived plans to snoop into people's emails, internet accounts and mobile phone texts.
Following the recent killing of British soldier Lee Rigby in Woolwich, UK's home secretary Theresa May said that thousands face risk of being radicalized by hate preachers and the charter legislation for snooping needs to be revived.
The controversial bill will involve tracking individuals' email, internet and mobile text use. The proposal has the full backing of Britain's monarch Queen Elizabeth.
Full report at:
http://timesofindia.indiatimes.com/world/uk/UK-to-step-up-internet-surveillance-following-Woolwich-murder/articleshow/20300117.cms
--------------
India
Bangalore bomb blast: Cases filed against 11 Muslims were foisted, says report
TNN | May 28, 2013
COIMBATORE: A report of the fact-finding team from the National Confederation of Human Rights Organisation (NCHRO) reveals that the cases filed against 11 Muslim suspects in connection with Malleswaram bomb blast were foisted by the Tamil Nadu and Karnataka police and evidences were fabricated against them.
The bomb blast took place near BJP office on April 17. The fact-finding team comprised NCHRO's TN president Bhavani B Mohan, Karnataka president Ramesh and others. The team had visited Malleswaram and held enquiry with people there. Nine suspects were arrested from Coimbatore in the case.
Speaking to media, Mohan said the Bangalore police filed an FIR immediately after the blast saying that the blast was carried out by members of terrorist and anti-national organizations.
"This clearly shows that the Bangalore police didn't conduct any detailed investigation before filing the FIR. They have fixed the accused without conducting any investigation as per law."
Full report at:
http://timesofindia.indiatimes.com/india/Bangalore-bomb-blast-Cases-filed-against-11-Muslims-were-foisted-says-report/articleshow/20301216.cms
--------------
Cops accused in Ishrat fake encounter case get bail as CBI fails to file charge sheet
TNN | May 28, 2013
AHMEDABAD: Suspended IPS officer G L Singhal was on Monday released on bail in the 2004 Ishrat Jahan fake encounter case after the CBI did not file a chargesheet against him within the stipulated 90 days.
At least half-a-dozen IPS officers had been arrested in Gujarat's four main fake encounter cases so far and Singhal is the first one to get bail. This has raised eyebrows, particularly because five IPS officers, including DIG D G Vanzara, have been incarcerated for six years now in the fake killing of Sohrabuddin Sheikh, his wife, Kauserbi, and aide Tulsiram Prajapati.
There is a feeling among legal experts that CBI has gone soft on the cops by not filing the chargesheet in time with an eye on information which may implicate former minister of state for home Amit Shah and chief minister Narendra Modi.
Full report at:
http://timesofindia.indiatimes.com/india/Ishrat-Jahan-fake-encounter-case-Cop-gets-bail/articleshow/20301821.cms
--------------
Indian sentenced to death in UAE
IANS | May 28, 2013
DUBAI: A 28-year-old Indian man has been sentenced to death by a court in the United Arab Emirates (UAE) for murdering a housewife last year.
The court of first instance in Dubai found the accused, an accountant by profession, guilty of killing the woman by slitting her throat in her house at Bur Dubai here and then decamping with jewellery, the Khaleej Times reported Tuesday.
Full report at:
http://timesofindia.indiatimes.com/world/middle-east/Indian-sentenced-to-death-in-UAE/articleshow/20312629.cms
----------
India upset over Iran's poser on US nuclear transfer
May 28 2013
New Delhi : India is upset as Iran has questioned the transfer of nuclear material and technology by the US and the Nuclear Suppliers Group's decision to exempt New Delhi despite not being a signatory to the Nuclear Non-Proliferation Treaty.
At a key NPT review conference held recently, Iran's Permanent Representative to the International Atomic Energy Agency (IAEA) Ali Asghar Soltanieh said without naming India, "I have to warn that the extension of full nuclear cooperation to non-parties, exemption from strict export regulations of nuclear material and technology, such as NSG, which is an admiration for non-adherence to the NPT, is a crystal clear non-compliance of the non-proliferation provisions of the Treaty by western countries, specifically the US and the EU."
Full report at:
http://www.indianexpress.com/news/india-upset-over-irans-poser-on-us-nuclear-transfer/1121478/
----------
PM's special envoy on Pak meets Sharif
TNN | May 28, 2013
NEW DELHI: Raising hopes that the Indo-Pak peace process may be resurrected with the new Nawaz Sharif government, S L Lambah, PM's special envoy on Pakistan, met with the new Pakistani PM on Monday. A statement, issued by the PMO late Monday evening, said, "They took the opportunity to discuss ways to take the dialogue process forward to address all issues of concern to the two countries and to advance peace, friendship and cooperation between the two South Asian neighbours."
Full report at:
http://timesofindia.indiatimes.com/india/PMs-special-envoy-on-Pak-meets-Sharif/articleshow/20303364.cms
--------------
Students Islamic Organization organizes career guidance workshop
28 May 2013
Mumbai: Students Islamic Organization of India (SIO), Mumbra unit organized a career guidance workshop for graduates and post graduates students of Mumbra on 26 May, 2013 at JIH Women's Centre with motto to spread awareness about UPSC/ MPSC examinations as well as higher education (Post Graduation to PhD) and also the soft skills required to survive in the corporate world.
This was the 2nd Successful workshop organized by SIO Mumbra for graduates. Near about 103 Students from all over Mumbra actively participated in the workshop. Guests for the workshop were welcomed by Parvez Khan, President SIO-Mumbra.
Full report at:
http://twocircles.net/2013may28/sio_organizes_career_guidance_workshop.html
--------------
Indian students of International School-Jeddah excel in Class XII exam
28 May 2013
The Indian International School-Jeddah (IISJ) has set new records in the All-India Senior Secondary Certificate (Class XII) examinations conducted by the Central Board of Secondary Education in March-April-2013. The results were declared yesterday.
"The IISJ has once again set new records with 1,435 distinctions in different subjects and 608 A1 grades," said Principal Syed Masood Ahmed.
Sara Abdul Rahim has topped the school scoring 96.2 percent followed by Mohammed Salman Ahmed with 96 percent and Sabiunnisa Moideen Sahib with 95.8 percent.
A total of 506 students from the IISJ appeared for the examinations. Of them, 49 students secured 90 percent and above, 469 got 60 percent and above, and five were placed in compartment.
Full report at:
http://www.arabnews.com/news/453165
-------------
Iran offers sweeteners to push more oil
TNN | May 28, 2013
NEW DELHI: Iran on Monday offered oilfields on lucrative terms, expressed willingness to route a gas pipeline through sea to avoid Pakistan and insurance to refiners to prod India into buying more oil from Teheran, but New Delhi did not bite.
Iranian oil minister Rostam Ghasemi made these offers as sweeteners at his meeting with his Indian counterpart M Veerappa Moily on Monday.
India has reduced its crude purchase from Iran to 13 million tonne in 2012-13 from 18 million tonne in the previous year on the face of the US and the EU sanctions which have blocked international gateways for payments.
Full report at:
http://timesofindia.indiatimes.com/india/Iran-offers-sweeteners-to-push-more-oil/articleshow/20303595.cms
--------------
Indian arms handler held in Bangladesh
SYED SAJJAD ALI
May 28, 2013
The Border Security Force (BSF) is to seek information from its Bangladeshi counterpart over the detention of an Indian arms handler in the Chittagong Hill Tracts. Border Guards, Bangladesh (BGB), had arrested a resident of Sabroom in south Tripura, along with two other suspects, at Matiranga area of the hill tracts.
The detainee has been identified as Gautam Tripura of Beltali locality in Sabroom. Reports suggest that he and his accomplices Laxmi Chakma and Ramchandra Chakma used to procure arms from Myanmar and smuggle them to the Chittagong Hill Tracts, in which several Indian extremist groups are running training camps.
Full report at:
http://www.thehindu.com/news/national/indian-arms-handler-held-in-bangladesh/article4757045.ece
--------
South Asia
China says Xinjiang minorities too busy dancing to make trouble
May 28 2013
Beijing: Many Uighurs, a Turkic-speaking Muslim people who live in energy-rich Xinjiang, chafe at Chinese restrictions on their culture, language and religion, and the region is frequently the scene of deadly ethnic violence.
Last month, 21 people were killed in clashes in the heavily ethnic Uighur part of Xinjiang near the old Silk Road city of Kashgar, the deadliest unrest since July 2009, when nearly 200 people were killed in riots in the Xinjiang capital of Urumqi.
China says it offers broad freedoms in Xinjiang, though few Chinese officials make the effort to learn the Uighur language or understand much about Islam in what is officially an atheist country.
Speaking to reporters in Beijing, deputy Xinjiang governor Shi Dagang said he had worked in southern Xinjiang for more than a decade and never had to carry a gun or have a police escort.
Full report at:
http://www.indianexpress.com/news/china-says-xinjiang-minorities-too-busy-dancing-to-make-trouble/1121633/
----------
Afghan Mohajirs' voluntary return to home from Pakistan begins
May 28, 2013
PESHAWAR: Afghan Mohajirs' voluntary return home under the supervision of Untied Nations High Commissioner for Refugees (UNHCR) has kicked off on Tuesday here, Geo News reported.
Sources said that 600 persons of 85 families from Swabi Barkai Camp have left for Afghanistan in a convoy of 40 trucks under the supervision of UNHCR officials in Khaybar Pukhtunistan.
UNHCR has provided $150 per person besides the transport facility to all those voluntarily returning to Afghanistan.
http://www.thenews.com.pk/article-102776-Afghan-Mohajirs-voluntary-return-to-home-begins
--------------
7 Afghan Police Killed by Commander's Guests
May 28, 2013
KABUL, Afghanistan — An official says two guests invited by an Afghan police commander to eat with him at his checkpoint picked up weapons after dinner and opened fire, killing him and six of his men.
Ahmad Jawed Faisal, spokesman for the governor of Kandahar province, did not say what the motive might have been for the late Monday attack in the remote district of Arghistan.
He says one officer survived and told authorities what happened.
http://www.nytimes.com/aponline/2013/05/28/world/asia/ap-as-afghanistan.html?ref=world&gwh=65AFAEACEEC0C75C22DD61A37AB6E170
--------------
Suu Kyi slams two-child limit for Rohingya Muslims
May 28, 2013
Myanmar's Opposition leader Aung San Suu Kyi and Islamic leaders expressed dismay over decisions by authorities in western Myanmar to restore a two-child limit on Muslim Rohingya families, a policy that does not apply to Buddhists and follows accusations of ethnic cleansing.
Some Buddhists, however, welcomed the plan for addressing their fear of a Muslim population explosion.
Authorities in strife-torn Rakhine state said this past weekend that they were restoring a measure imposed during past military rule that banned Rohingya families from having more than two children. Details about the policy and how it will be enforced have not been released, sparking calls for clarity and concerns of more discrimination against a group the U.N. calls one of the world's most persecuted people.
Full report at:
http://www.thehindu.com/news/international/south-asia/suu-kyi-slams-twochild-limit-for-rohingya-muslims/article4758798.ece
----------
Kabul University spawns next generation of freedom fighters
Emma Graham-Harrison in Kabul
27 May 2013
In the rising heat of a May morning, Afghan riot police wielding batons and shields separate a cluster of students and young activists, one shouting support for a women's rights law the other an undergraduate group stopping traffic with a loud march backing their embattled professor.
Around the corner, dozens of students on the eighth day of a hunger strike lie listlessly beside blast-resistant concrete barriers watching supporters and the idle curious file past. More than 80 had pledged not to eat until Kabul University removed the head of the social science department, the man the second group were marching to endorse.
Full report at:
http://www.guardian.co.uk/world/2013/may/27/kabul-university-spawns-generation-freedom-fighters-afghanistan
--------------
Taliban criticise Kabul's pink balloon project being un-islamic
By AFP
May 28, 2013
KABUL: The official Taliban website has published an article criticising the project in which 10,000 pink balloons were given away for free in Kabul, saying the event encouraged un-Islamic behaviour.
Under the headline "Was it a balloon show or a mini-skirt show?", the piece said that the conceptual artwork was a trick to promote Western values among the young Afghan volunteers who helped hand out the balloons.
"The West is using different techniques to promote their culture in Afghanistan, sometimes they do it in an undercover way," the author, Qari Habib, wrote in Pashto in the critique published on Sunday.
Full report at:
http://www.thenewstribe.com/2013/05/28/taliban-criticise-kabuls-pink-balloon-project-being-un-islamic/
--------------
Maldives "fully implements" three of UN's 145 human rights recommendations: UPR mid-term assessment
By JJ Robinson | May 27th, 2013
The Maldives has "fully implemented" only three of the UN Human Rights Council's 145 recommendations since its Universal Periodic Review (UPR) at the start of 2012.
A mid-term assessment of the Maldives' commitment to human rights instruments, such as the International Covenant on Civil and Political Rights (ICCPR), stated that 12 recommendations had been "partially implemented", 33 "not implemented" – or rejected outright – while 96 recommendations received "no response".
Recommendations fully implemented included provisions relating to accepting the Rome Statute of the International Criminal Court (ICC), and the withdrawal of certain reservations to the Convention to Eliminate All Forms of Discrimination Against Women (CEDAW).
Full report at:
http://minivannews.com/politics/maldives-fully-implements-three-of-uns-145-human-rights-recommendations-upr-mid-term-assessment-58593
--------------
Uniqlo won't sign Bangladesh safety pact – WSJ
May 28, 2013
Fast Retailing Co Ltd, the Japanese operator of the Uniqlo and Theory fashion brands, for now will not sign a legally binding safety pact for factories in Bangladesh, preferring to ramp up its own inspections, the Wall Street Journal reported on Monday.
In April, more than 1,100 garment workers died in the collapse of the eight-story Rana Plaza building in Bangladesh, putting pressure on fashion brands to improve worker safety.
Instead of joining rivals like Sweden's H&M and Spain's Inditex, owner of the Zara brand, in signing the pact, Fast Retailing will improve disaster preparedness and building inspections at its partner factories on its own, said the Journal, which interviewed a company executive.
Full report at:
http://www.thedailystar.net/beta2/news/uniqlo-wont-sign-on-to-bangladesh-safety-pact-wsj/
--------------
Hannan Shah accuses govt of 'killing' Hefajat activists
May 28, 2013
BNP standing committee member Brig Gen (retd) ASM Hannan Shah yesterday accused the government of "killing" Hefajat-e Islam activists on May 6 after alluring them to hold a rally at the capital's Shapla Chattar.
He alleged that around 1,60,000 bullets were fired on the Hefajat activists to flush them out from the area between Shapla Chattar and Dainik Bangla intersection.
Full report at:
http://www.thedailystar.net/beta2/news/hannan-shah-accuses-govt-of-killing-hefajat-activists/
--------------
North America
In Terror Shift, Obama Took a Long Path
By PETER BAKER
May 28, 2013
WASHINGTON — The pivot in counterterrorism policy that President Obama announced last week was nearly two years in the making, but perhaps the most critical moment came last spring during a White House meeting as he talked about the future of the nation's long-running terrorism war. Underlying the discussion was a simple fact: It was an election year. And Mr. Obama might lose.
For nearly four years, the president had waged a relentless war from the skies against Al Qaeda and its allies, and he trusted that he had found what he considered a reasonable balance even if his critics did not see it that way. But now, he told his aides, he wanted to institutionalize what in effect had been an ad hoc war, effectively shaping the parameters for years to come "whether he was re-elected or somebody else became president," as one aide said.
Full report at:
http://www.nytimes.com/2013/05/28/us/politics/in-terror-shift-obama-took-a-long-path.html?ref=world&gwh=C4D2FA2CB406982F77EA5B67E29A08B1
--------------
U.S. Shift Poses Risk to Pakistan
By DECLAN WALSH
2013/05/26
From multibillion-dollar military aid to stealthy and secretive drone strikes, Pakistan, perhaps even more than Afghanistan, has been the central focus of America's 12-year war on Islamist militancy.
Now, as President Obama's landmark policy speech on Thursday made clear, all of that is changing. Drone strikes are dwindling, the war in Afghanistan is drawing to a close and the battle against Al Qaeda is receding.
Pakistani leaders who have long demanded an American exit from their region may get their wish, but a broader disengagement is also likely to diminish the financing, prestige and political importance Pakistan held as a crucial player in global counterterrorism efforts, and could upset its internal stability.
Full report at:
http://www.nytimes.com/2013/05/26/world/asia/us-shift-poses-risk-to-pakistan.html?pagewanted=all&pagewanted=print
--------------
US senator McCain enters Syria to meet rebels
(AFP) / 27 May 2013
WASHINGTON - US Senator John McCain crossed from Turkey into Syria on Monday to meet with rebel leaders in the war-torn nation, according to a spokesman for the top lawmaker who advocates arming the Syrian opposition.
McCain, the 2008 Republican presidential nominee, slipped across the border in an unannounced visit lasting several hours before he returned to Turkey.
Full report at:
http://www.khaleejtimes.com/kt-article-display-1.asp?xfile=/data/middleeast/2013/May/middleeast_May314.xml&section=middleeast
--------------
CAIR Distributes New Mosque Safety Guidelines
5/23/13
'Best Practices for Mosque and Community Safety' produced in response to bias attacks
(WASHINGTON, D.C., 5/23/13) -- The Council on American-Islamic Relations (CAIR), the nation's largest Muslim civil rights and advocacy organization, said today it is distributing new safety and security guidelines to mosques and other Islamic institutions nationwide.
View the front cover and a sample page.
CAIR said the first phase of the distribution will focus on mosques in the Washington, D.C., area.
The new CAIR publication, "Best Practices for Mosque and Community Safety," was produced in response to recent bias attacks, including a series of incidents last year targeting American Muslim institutions.
Full report at:
------------
Africa
Nigerian Army Says Kills Three Islamists in Boko Haram Crackdown
May 28, 2013
ABUJA — Nigerian soldiers have killed three members of Islamist militant sect Boko Haram and arrested 25 more in the northeast, the army said on Tuesday, two weeks after the launch of a major ground and air offensive to crush the group's four-year rebellion.
President Goodluck Jonathan declared a state of emergency in three northeast states of Borno, Yobe and Adamawa on May 14 and ordered thousands of additional troops to the area where Boko Haram has established bases and weapons dumps.
The assault in the remote semi-deserts along the borders with Cameroon, Chad and Niger is Jonathan's biggest effort yet to end fighting in which thousands have died. Security sources say soldiers from Niger and Cameroon are also involved.
Full report at:
http://www.nytimes.com/reuters/2013/05/28/world/africa/28reuters-nigeria-violence.html?ref=africa&gwh=5FF44C69406E50517F13AB269D9FF5EE
--------------
Libyan assembly chief to quit over Gaddafi-era law
(AFP) / 27 May 2013
TRIPOLI - The president of Libya's highest political body will resign on Tuesday after a law was passed banning those who served under the ousted government of slain leader Muammar Gaddafi, an aide said on Monday.
Mohamed Al Megaryef "will on Tuesday evening submit his resignation before members of the General National Congress", the national assembly, one of his advisers said.
"The members of the General National Congress will elect a new president in the coming days," the adviser said, but without elaborating on the reasons for Megaryef's planned resignation. Megaryef was Libya's ambassador to India in the 1980s before he defected and joined the opposition in exile.
Full report at:
http://www.khaleejtimes.com/kt-article-display-1.asp?xfile=/data/middleeast/2013/May/middleeast_May307.xml&section=middleeast
--------------
Libya Congress chief set to quit Tuesday over ban law
May 27, 2013
The head of Libya's national assembly is set to resign on Tuesday, sources close to him said, following passage of a law banning anyone who held a senior post under the late Muammar Gaddafi from government.
The legislation was adopted at the demand of armed factions who helped end
Gaddafi's 42-year rule in 2011 but critics and diplomats fear it could strip government of experienced leaders, further complicating the transition to an orderly democracy.
Armed violence and lawlessness caused in part by militia groups who often do as they please has hobbled governance in wide areas of the oil-producing North African state.
An adviser to General National Congress president Mohammed Magarief said he was expected to announce his resignation in a speech to the body on Tuesday.
Full report at:
http://www.hindustantimes.com/world-news/africa/Libya-Congress-chief-set-to-quit-Tuesday-over-ban-law/Article1-1066893.aspx
-----------
Pakistan
Pakistan Ulema Council calls for interfaith dialogue
May 28, 2013
LAHORE: Pakistan Ulema Council's central chairman Allama Tahir Mehmood Ashrafi has called for interfaith dialogue for peace and interfaith harmony. He said that interfaith harmony is only possible if we "respect each other's religion. London incident could be an act of individual but relating it to any religion or nation is not justified."
He was addressing the Interfaith Dialogue Conference in Vienna, Austria. More than 200 delegates of different religions across the world participated in the conference.
Speakers at the conference stressed that these types of dialogues should be organised worldwide. Speakers also condemned the attacks on mosques in reaction to British soldier's murder. They said people of different religions are living across the world but there are some groups of extremists and miscreants who want clashes between religions.
Full report at:
http://www.dailytimes.com.pk/default.asp?page=2013\05\28\story_28-5-2013_pg7_9
--------------
Waiting for PML-N response to join federal govt: Fazl
May 28, 2013
PESHAWAR: Jamiat Ulema-e-Islam (JUI-F) chief Fazlur Rehman said on Monday his party was waiting for the Pakistan Muslim League-N response to join the federal government and work together to broker a peace deal with the banned militant organisation Tehreek-e-Taliban Pakistan.
"The PML-N has been appraised of JUI-F priorities and there is no truth in media reports that we are seeking a ministry and other concessions," he told media after chairing a meeting of the parliamentary committee and central working committee. Media reports have said that JUI-F has been demanding a federal ministry, chairmanship of National Assembly Committee on Kashmir and Islamic Ideology Council. Fazl said he had not yet talked to prime minister-designate Nawaz Sharif over peace talks with the TTP. He, however, added that the JUI-F and PML-N were negotiating terms for the former's joining of the federal government.
Full report at:
http://www.dailytimes.com.pk/default.asp?page=2013\05\28\story_28-5-2013_pg7_14
--------------
Nawaz made Pakistan's defence insurmountable: Shahbaz
May 28, 2013
LAHORE: Punjab Chief Minister-designate on Monday in his message on the eve of Youm-e-Takbeer said that Mian Muhammad Nawaz Sharif has made the country's defence insurmountable and May 28 is a historic day for the nation of Pakistan.
Shahbaz Sharif said the nation was lucky to have Nawaz Sharif as its leader again who always keeps the country's sovereignty supreme.
"Nawaz Sharif as the prime minister defied international pressure and made a crucial decision on May 28, 1998, and I am sure the way Nawaz Sharif made the country's defence stronger by conducting six nuclear tests in response to India's five, he would successfully steer Pakistan out of economic crisis through his prudent policies," said the younger Sharif. He said PML-N's victory in the May 11 polls proves that people know well the difference between the politics of mere slogans and that of delivery.
Full report at:
http://www.dailytimes.com.pk/default.asp?page=2013\05\28\story_28-5-2013_pg7_13
--------------
475 kg explosive material found from PECHS
May 28, 2013
KARACHI: Rangers claim to have recovered about 475 kilogrammes of explosive material during a raid in PECHS Society on Monday. Officials said that the raid was conducted at an empty building in PECHS Society upon receiving information provided by a detainee. They said that three suspects were also taken into custody during the operation and were shifted to an undisclosed location for further questioning. Rangers spokesman said that the recovered explosives included 400 kilogrammes of ammonium nitrate and 75 kilogrammes of hydrogen oxide, adding that these chemicals are used in making explosives and bombs. Separately, police have arrested an alleged target killer during a raid in Sohrab Goth's Godhra Colony. Full report at:
http://www.dailytimes.com.pk/default.asp?page=2013\05\28\story_28-5-2013_pg12_8
--------------
Islamic ideology is key to unity, says Maulana Thanvi
24th May, 2013
KARACHI: Maulana Ihteshamul Haq Thanvi yesterday urged the Government not to allow anything which would create discord and ill-will among the people of the various regions of the country.
He was addressing a public meeting at Patel Park in observance of "Black Day" to protest against the arbitrary assessment of property tax in Karachi under the East Pakistan Urban Immovable Tax Act.
The Maulana in his presidential address regretted that the Islamic ideology which was the basis of Pakistan had almost been forgotten and its place had been taken by narrow-minded nationalism and parochialism.
Full report at:
http://dawn.com/2013/05/24/islamic-ideology-is-key-to-unity-says-thanvi/
----------
26/11 attacks: Pakistan court adjourns hearing on Hafiz Saeed's plea
PTI | May 28, 2013
LAHORE: A Pakistani court has adjourned for nearly four months the hearing of a petition filed by Lashkar-e-Taiba founder Hafiz Mohammad Saeed seeking legal aid from the government to defend himself in a US lawsuit over the 2008 Mumbai attacks.
A Deputy Attorney General told Lahore High Court Chief Justice Umar Ata Bandial yesterday that the US State and Justice Departments had challenged the American court's jurisdiction for issuing summons to former Inter-Services Intelligence chief Ahmed Shuja Pasha and other Pakistani officials over the Mumbai attacks.
Full report at:
http://timesofindia.indiatimes.com/world/pakistan/26/11-attacks-Pakistan-court-adjourns-hearing-on-Hafiz-Saeeds-plea/articleshow/20306143.cms
--------------
Benazir murder case: FIA has 14 days to submit charge sheet against Musharraf
May 28, 2013
RAWALPINDI: In the Benazir Bhutto murder case, the special Rawalpindi anti-terrorist court gave 14 days' time to the Federal Investigation Agency (FIA) to submit a charge sheet against former military ruler Pervez Musharraf, DawnNews reported.
ATC special court judge Chaudhry Habibur Rehman heard the case.
During the hearing, Chaudhry Muhammad Azhar, special prosecutor for the FIA, requested the court to grant him 14 days' time to submit a charge sheet. The court granted the request and directed Azhar to present the charge sheet upon the next hearing of the case.
Full report at:
http://beta.dawn.com/news/1014457/benazir-murder-case-fia-has-14-days-to-submit-charge-sheet-against-musharraf
--------------
Son of deputy cleric of Lal Masjid's Plea: I fear Musharraf's 'free exit'
May 28, 2013
ISLAMABAD: Fearing Pervez Musharraf being given a 'safe exit' from Pakistan, son of deputy cleric of Lal Masjid Abdur Rashid Ghazi is seeking a murder case against the former president and approached Islamabad High Court (IHC) on Monday.
Haroon Rashid Ghazi filed the application through his counsel Advocate Tariq Asad for registration of First Information Report against Musharraf for killing his father Abdul Rashid Ghazi and his grandmother Sahib Khatoon.
Full report at:
http://tribune.com.pk/story/555338/sons-plea-i-fear-musharrafs-free-exit/
--------------
One killed after militant attack on levies checkpost in Balochistan
May 28, 2013
QUETTA: Armed militants attacked a levies checkpost in the Khuzdar district of Balochistan on Monday, levies said.
One levies official was killed and another injured in the attack.
A levies official, who preferred not to be named, told Dawn.com that four militants riding on two motorcycles opened indiscriminate fire at Graisha Levies check post.
He said one levies personnel deployed at the check post was killed and another injured.
The assailants managed to escape unharmed from the spot. The attack was followed by an exchange of fire between militants and levies personnel.
Full report at:
http://beta.dawn.com/news/1014183/one-killed-after-militant-attack-on-levies-checkpost-in-balochistan
--------------
Bomb blast in Swat kills peace committee leader's son
May 28, 2013
SWAT: A bomb blast took place in Swat's Mingor area killing Burgat Ali, son of a PML-N leader and peace committee member Sher Ali, on Tuesday.
Moreover, police said 10 people were injured in the explosion and the bomb was detonated through a remote controlled Improvised Explosive Device (IED).
Sher Ali was a relative of the Deputy Superintendent of Police (DSP) Puran Tehsil Khan Bahadar Khan who died in yesterday's bombing in Shangla.
No one claimed responsibility for Tuesday's attack.
http://beta.dawn.com/news/1014456/bomb-blast-in-swat-kills-peace-committee-leaders-son
--------------
Pakistan lawyer and sons killed in 'sectarian' attack
May 28, 2013
Attackers shot dead a lawyer and his two sons aged 12 and 15 in Karachi on Tuesday in a suspected sectarian attack, police said, the latest in a wave of violence against Pakistan's Shiite Muslims. The men, on a motorbike, gunned down high court lawyer Kausar Saqlain and his sons Owais
Abbas and Mohammad Abbas as he took them to school.
"Apparently it seems a sectarian killing," Iqbal Mahmood, the Karachi police chief, told AFP, though he said the case was still under investigation.
Karachi, a city of 18 million people, contributes 42% of Pakistan's GDP but is rife with murders and kidnappings and has been plagued for years by ethnic, sectarian and political violence.
Full report at:
http://www.hindustantimes.com/world-news/pakistan/Pakistan-lawyer-and-sons-killed-in-sectarian-attack/Article1-1067206.aspx
--------------
Southeast Asia
Victimized Ahmadiyah Group 'Not Surprised' by Release of Suspects in West Java
By Arientha Primanita
May 28, 2013.
Two suspects of an attack on Ahmadiyah Muslims in Tasikmalaya, West Java, received approval to be released from detainment on Monday; a move which the members of the minority community say was an in justice.
Asep Taufik Ahmad, a member of the Ahmadiyah community in the Sukamaju village of Singaparna sub district, said that the release of the suspects was not surprising.
"Unjust treatment is not something new for us. We are accustomed to it. Since the very beginning [of the incident] we did not hope [for] much," he told the Jakarta Globe on Tuesday.
West Java Police approved the bail proposal of two men, identified as T.A. and A.R., who were held for 20 days after they allegedly damaged property. Sr. Comr. Martinus Sitompul, the West Java Police spokesman, said that the bail proposal was filed by the suspects' attorney on Monday and the police approved it shortly after.
"We also think we have conducted enough investigation," Martinus told news portal Tempo.co on Monday.
Full report at:
http://www.thejakartaglobe.com/news/victimized-ahmadiyah-group-not-surprised-by-release-of-suspects/
--------------
Priyo Budi Santoso Now Implicated in Quran Graft
By Markus Junianto Sihaloho
May 28, 2013.
The Corruption Eradication Commission on Monday said that it had preliminary evidence that senior Golkar Party politician Priyo Budi Santoso was involved in the Quran procurement scandal.
"Investigators have obtained preliminary evidence, some of which had been previously reported in the media," Busyro said during a journalist workshop on anti-corruption in Sukabumi, West Java on Saturday.
Priyo is alleged to have received 1 percent from the Religious Affairs Ministry's computer laboratory procurement budget and 3.5 percent from its Quran procurement budget in 2011.
Full report at:
http://www.thejakartaglobe.com/news/priyo-budi-santoso-now-implicated-in-Quran-graft-2/
--------------
With big lead in popularity, Najib heads for win in Umno battle
May 28, 2013
KUALA LUMPUR, May 28 — Datuk Seri Najib Razak is likely to prevail in the upcoming contest for Umno's presidency because there is practically no one in the country who matches his stature and popularity at the moment, Singapore's Straits Times (ST) newspaper reported today.
The newspaper said that the win will strengthen his position as prime minister and give him the power to carry out his "national reconciliation" after the divisive May 5 general election.
In an analysis of the post-GE13 scenario, the Singapore daily pointed out that possible contenders for the party's top post could be his own deputy or one of the three vice-presidents.
Full report at:
http://www.themalaysianinsider.com/malaysia/article/with-big-lead-in-popularity-najib-heads-for-win-in-umno-battle/
--------------
Najib: Female labour force participation must be improved
May 28, 2013
KUALA LUMPUR, May 28 — Datuk Seri Najib Razak said female labour force participation, which currently is at 47 per cent, must be improved to ensure robust and sustainable growth in the country.
The prime minister said more jobs aligned to women's needs should be offered to encourage their participation in the workforce such as through home-based, part-time or flexible working hours.
Full report at:
http://www.themalaysianinsider.com/malaysia/article/najib-female-labour-force-participation-must-be-improved/
--------------
Philippine Muslim rebels plan to form political party
The Moro Islamic Liberation Front, Philippine's Muslim rebel group, plan to form political party to run an autonomous region to be created in 2016 under current administration
27 May 2013
The Philippines' main Muslim rebel group plans to set up a political party in preparation for the 2016 elections, the chief rebel peace negotiator said Monday.
The Moro Islamic Liberation Front (MILF) signed a ceasefire in 2003, giving up its quest for an independent homeland in return for significant power in a proposed autonomous region in the nation's south.
Full report at:
http://english.ahram.org.eg/NewsContent/2/9/72454/World/International/Philippine-Muslim-rebels-plan-to-form-political-pa.aspx
------------
Mideast
Israel Says Russian Anti-Aircraft System Not Headed to Syria Yet
May 28, 2013
JERUSALEM — An advanced anti-aircraft system destined for Syria has not left Russia yet, but Israel will know how to act if it does, Defense Minister Moshe Yaalon said on Tuesday.
Yaalon's remarks appeared to contradict Israel's air force chief, who said last week the shipment of S-300 missiles was "on its way" to Syrian President Bashar al-Assad, who is battling a popular uprising that has turned into a civil war.
Full report at:
http://www.nytimes.com/reuters/2013/05/28/world/middleeast/28reuters-syria-crisis-israel.html?ref=middleeast&gwh=482829D0174700DEB334B75468670626
--------------
Iran decries Bahrain move to ban contact with Hezbollah
28 May 2013
Iran on Tuesday said it regretted Bahrain's move to ban the Sunni-ruled kingdom's opposition groups from having contact with Hezbollah, Lebanon's Shiite militant movement and close ally of Tehran.
"Bahrain's stance towards Hezbollah is regretful," foreign ministry spokesman Abbas Araqchi said at his weekly press conference.
Bahrain on Monday banned opposition groups from all contact with Hezbollah in a bid to limit the movement's perceived influence on its restive Shiite majority.
Full report at:
http://english.alarabiya.net/en/News/middle-east/2013/05/28/Iran-decries-Bahrain-move-to-ban-contact-with-Hezbollah.html
------------
URL: https://newageislam.com/islamic-world-news/new-age-islam-news-bureau/egyptian-jihadist-leader--bin-laden-blew-himself-up-to-avoid-capture/d/11777