New Age Islam News Bureau
30 Dec 2014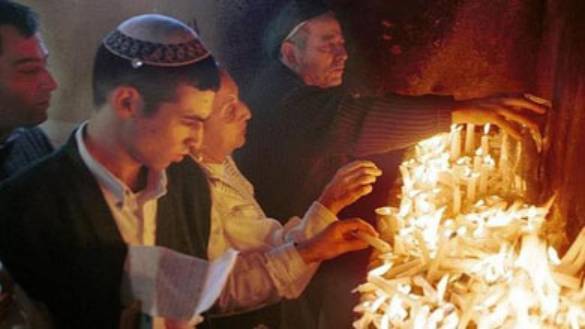 Jewish pilgrims light candles inside the shrine at the site of the 120 year-old tomb of Rabbi Abu Hatzeira northwest of Cairo, Egypt. (Photo courtesy: Associated Press)
-----------
Arab World
• Egyptian Court Permanently Bans Jewish Festival on 'Moral' Grounds
• IS Magazine Lauds Sydney Hostage-Taker, Calls for More 'Lone Wolf' Attacks
• Iraq's Sunnis May Seek Iran Help against ISIL
• Arabs Endorse U.N. Bid to End Israeli Occupation
• ISIL releases interview with captive Jordanian pilot
• Shoura Refers Birth Control Issue to King After a Second No Vote
• No News from 136 Turkmens Kidnapped By Jihadists
• Suicide Bomber Hits Shiite Pilgrims in Iraq, Kills 17
• ISIS claims car bomb targeting Syria gas plant
• High Security measures at Ahmed Hamdi tunnel as 'terrorists' flee Sinai
• Syrian Army Ambushes Terrorist Command Convoy, Kills Scores
South Asia
• Top Bangladeshi Jamaat Leader Sentenced To Hang For War Crimes
• 8 ANA Martyred, 36 Militants Killed In Military Operations
• Residents of Maiwand in Kandahar took weapons against Taliban
• 200 Taliban militants surrender to Gen. Dostum in Jawzjan
• China to step up free trade talks with Middle East
India
• Muslim Scholars Drop Out Of Oriental Meet After Receiving Threat Letters
• Congress: Islamabad Must Realize Terror Is Frankenstein Monster
• No Converted Manjhi Turns Up For 'Ghar Wapsi'
• India sees red as Pakistani court suspends Zakiur Rehman Lakhvi's detention
Africa
• 10 Civilians Killed While Fleeing South Sudan Territory: Sources
• US air strike 'targets al-Shabab leader'
• Kenya: Do Not Block Anti-Terror Laws, Jubilee Tells Court
• Kenyan Police Deny Involvement in Cleric's Death
• Libya in $6 mln push to tackle oil port fires
Pakistan
• We Are Fighting Terrorism with Books: Punjab CM
• Iran Fires 42 Mortar Shells into Balochistan
• Militants torch two primary schools in Khurram
• Three bullet-riddled bodies recovered from Balochistan's Turbat
• Militancy affects everything except corruption in Fata
• Khyber Pakhtunkhwa police to launch emergency alert app
• Nacta launches 1717 helpline to report terror-related complaints
• Senate says military courts against constitution
• Peshawar tragedy reunited the political parties, masses: Yousaf Raza Gilani
Europe
• UN Urges Myanmar to Give Citizenship to Rohingya Muslims
• Islamic State to Systematically Target Europe in 2015: French Expert
• Europe is not headed for an Islamist apocalypse
• Fire at Sweden mosque for second time in four days
• Fears Ancient Egyptian and Roman papyrus scrolls could be destroyed
Mideast
• Israel Expects World Community to Oppose Palestinian Efforts at UN
• Palestinians to Push Ahead With UN Resolution
• Gaza's children struggle to overcome nightmares of war
• Israeli military shoots and kills Palestinian stone thrower
• 'Qaeda' ambush on Yemeni general kills two soldiers
North America
• US Says Palestinian Draft Resolution Not Constructive
• Washington Tries 'Passive Tough Love' In Iraq
• Top Special Forces general confessed the US is clueless about ISIS
• Obama doesn't rule out US Embassy in Tehran
• Congress has notified $532 million for Pakistan: US envoy
• Ex-NYT reporter banned from UPenn conference after comparing Israel to ISIS
• Obama: Iran has 'chance to get right with the world'
Southeast Asia
Court Ruling Affirms Religious Authorities Are Limited by Law
Jokowi to upgrade RI's military and defence
'Malaysian mess' will turn country into extremist state, warns Jeffrey Kitingan
Compiled by New Age Islam News Bureau
URL: https://www.newageislam.com/islamic-world-news/new-age-islam-news-bureau/egyptian-court-permanently-bans-jewish-festival-on-'moral'-grounds/d/100764
-------
Arab World
Egyptian court permanently bans Jewish festival on 'moral' grounds
30 Dec, 2014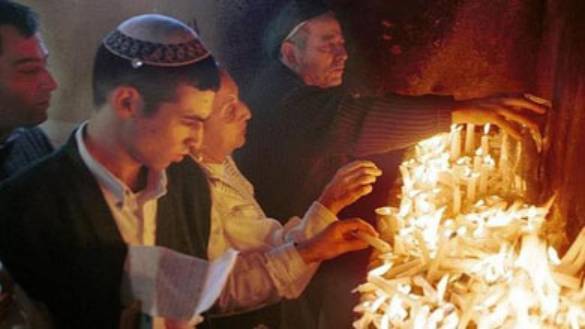 Jewish pilgrims light candles inside the shrine at the site of the 120 year-old tomb of Rabbi Abu Hatzeira northwest of Cairo, Egypt. (Photo courtesy: Associated Press)
-----------
An Egyptian court permanently banned a Jewish celebration that has taken place since the 1979 peace deal with Israel and asked the government to remove the tomb where it takes place from a list of official shrines, judicial sources said on Monday.
The court said its decision was due to "moral offences" committed in previous years at the three-day festival celebrating the birth of Rabbi Jacob Abu Hasira. It did not elaborate on what the offences were.
Jews, mostly from outside Egypt, have congregated every year at the 19th century tomb around Jan. 1 even though the festival was cancelled for security reasons after the 2011 uprising that ousted former President Hosni Mubarak.
Monday's ruling would make the ban permanent unless a higher court overturns it on appeal.
The court called for the government to reverse the 2001 recognition of the festival by state tourism officials and to remove the tomb in Egypt's Nile Delta region of Buheira from a list of recognized shrines.
Local residents have previously complained of the disruptive security presence that comes with the festival.
http://english.alarabiya.net/en/News/middle-east/2014/12/29/Egyptian-court-permanently-bans-Jewish-festival-on-moral-grounds-.html
-------
IS Magazine Lauds Sydney Hostage-Taker, Calls for More 'Lone Wolf' Attacks
December 30, 2014
The latest issue of the Islamic State's magazine, "Dabiq," includes a foreword praising the actions of Man Haron Monis, the man who held 17 people hostage in a cafe in Sydney, Australia, earlier this month. Two of the people held hostage by Monis -- Tori Johnson and Katrina Dawson -- were killed in the siege.
"Dabiq," a full-colour, heavily illustrated magazine, is published by the Islamic State group's media arm, Al- Hayat, and is distributed as a PDF file on social media. Its latest edition was released on December 24 and is titled "Al-Qaidah of Waziristan: A Testimony From Within." It includes an interview with Lieutenant Moaz Kassasbeh, the Jordanian pilot captured by Islamic State gunmen last week after his fighter jet crashed during a bombing run over Raqqa in Syria, as well as a piece apparently written by British hostage John Cantlie about Islamic State's plans to introduce a gold-based currency.
This edition of "Dabiq" opens with a lengthy unsigned foreword, glorifying Sydney hostage-taker Monis for carrying out a "daring raid."
A self-styled Muslim cleric, Monis was an Iranian granted political asylum in Australia in 1996. At the time of the siege, he faced a raft of serious criminal charges, including 40 sexual and indecent assault charges.
During the siege, Monis asked police for an Islamic State flag. Athough Monis is not known to have had any affiliation with the extremist group, Dabiq portrayed him as a man who had "resolved to join the mujahedin (fighters) of the Islamic State" and praised him for carrying out an attack against the "crusader coalition" -- Islamic State's term for the U.S.-led coalition against it in Iraq and Syria -- on his home soil.
Rather than "undertaking the journey to the lands of the Khalifah (Islamic State's term for the areas under its control) and fighting side by side with his brothers," Monis had acted alone and hit "the Kuffar (infidels) where it would hurt them most -- in their own lands and on the very streets where they presumptively walk in safety."
Dabiq also emphasized that the attack perpetrated by Monis had not been complicated to carry out, yet he had "prompted mass panic, brought terror to the entire nation."
The "Dabiq" article praising (and coopting) the actions of Monis in Sydney is not the first time that the Islamic State group has called for Muslims in the West to carry out similar "lone wolf" attacks against local targets in their home countries.
These calls have increasingly become a part of Islamic State's official propaganda via the Al-Hayat media wing, but similar calls to action have also been made by Islamic State militants outside of the auspices of Al- Hayat.
Two recent videos issued by Al-Hayat have featured Western militants calling on Muslims in France and Canada to commit terrorist acts on domestic soil if they are not able to travel to Syria to join Islamic State there.
The first video, titled "What Are You Waiting For?", is in French with Arabic subtitles and was released on November 20. In it, a French militant named Abu Salman told French Muslims to "operate within France. Terrorize them and do not allow them to sleep due to fear and horror. There are weapons and cars available and targets ready to be hit."
On December 8, Islamic State released another video featuring Canadian convert John Maguire, who now goes under the name Abu Anwar al-Kanadi. In language that is highly reminiscent of that used in the "Dabiq" foreword, Maguire said that Canadian Muslims would carry out attacks in Canada "where it hurts you most. On your very own soil."
Maguire referred to two terror attacks in Canada, including the October attack allegedly carried out by 25-year-old Martin "Ahmad" Rouleau, who rammed his car into two Canadian Forces members in Montreal, killing one of them.
An earlier video, made by a group of ethnic Chechen Islamic State militants in Kobani, called on North Caucasian Muslims living in Europe to commit terrorist acts there. "There are no civilians. Kill them all wherever they are, that is in Europe itself. Kill just one Frenchman, one American."
The trend of Islamic State praising acts of domestic terror and calling for others appears to come amid increased measures to prevent potential militants from travelling to Syria and Iraq to join Islamic State there, and amid reports that U.S.-led air strikes have killed more than 1,100 jihadists.
Even though the air strikes have not yet succeeded in routing the Islamic State group, they have made a difference in the way that the militants are fighting, and they have caused losses.
The messages given by Islamic State are that if potential militants cannot come to Syria then they are not exempt from joining in the fighting, and that they must attack the West by "bringing the war back to their own soil," as "Dabiq" put it.
The French video, "What Are You Waiting For?", primarily calls on French Muslims to come to Syria or Iraq, and offers the alternative of murdering French civilians at home if this is not possible; the Chechen video has a similar message.
The "Dabiq" foreword takes this message a step further, praising Sydney hostage-taker Monis for his "daring raid" which was carried out "rather than" go to Syria, not as a second-best option. In praising Monis for "joining the mujahedin of the Islamic State," "Dabiq" also lauds the effectiveness of domestic terror on Western morale.
"All the West will be able to do is to anxiously await the next round of slaughter...The Muslims will continue to defy the Kafir (infidel) war machine, flanking the crusaders on their own streets," "Dabiq" added.
http://www.rferl.org/content/islamic-state-dabiq-sydney-lone-wolf-attacks/26769336.html
----------
Iraq's Sunnis may seek Iran help against ISIL
30 Dec, 2014
Baghdad - Iraqi Sunni tribal sheikhs threatened to resort to the United States' rival in the region, the Islamic Republic of Iran, to get the needed military support in their fight against the Islamic State of Iraq and the Levant (ISIL), if the US did not respond to their demands, warned Iraqi lawmakers and tribal sheikhs.
The warning came during a meeting with US Senator, John McCain, who embarked on a short visit to Baghdad on Friday.
cCain met with several Iraqi lawmakers and tribal sheikhs representing the Sunni-dominated provinces of Anbar, Saladin, Diyala as well as the towns constituting the belt of Baghdad, to discuss proposed plans to confront ISIL.
Three Iraqi Sunni figures who attended the meeting told Al Jazeera that a list of demands was submitted to McCain asking for US ground troops, weapons and funds to accelerate the liberation of areas seized by ISIL and grant them (Sunni tribes) a bigger role in the battle against ISIL.
The disgruntled tribal leaders, according to Sunni figures, made it clear that they were considering alternative options to get the much needed military support to drive away ISIL fighters, and that Iran was on top of the list of alternatives.
"[McCain] was told clearly that if the Americans kept watching the situation [in Anbar, Saladin and Diyala provinces] and did not intervene, we will ask another regional power to fill the gap," a senior Iraqi lawmaker who attended the meeting, told Al Jazeera on condition of anonymity.
"We have already opened many channels with Iran and they have offered unconditional support including weapons, funds and even fighters if required," he said.
ISIL fighters overran the second largest city in Iraq, Mosul, in June, with hardly any resistance from the Iraqi army. A few days later, ISIL fighters seized the neighbouring province of Salahuddin and vast parts of southern Kirkuk.
They now have control over most of the cities and towns of the Sunni-dominated province of Anbar.
Iran was the first regional country that responded to the Iraqi government's calls for assistance to stop ISIL advances towards the capital.
Iranian military commanders, accompanying Iraqi forces and Shia militias, have played a vital role in gaining control over the border towns of Jalawla and Saadia, in Diyala province, a few weeks ago and driving ISIL fighters from Jurf al-Sakhar, one of the main supply routes for ISIL in southern Baghdad.
Iran, according to analysts, was also quick to cover the large shortage of weapons and ammunition for the Iraqi troops and Kurdish forces.
On Sunday, official Iranian media reported that an Iranian Revolutionary Guards commander, who was training Iraqi troops and militia fighting ISIL, was killed in the Iraqi city of Samarra.
McCain, who was mostly just listening during the meeting, according to the lawmaker, asked for clarification relating to that point.
"McCain stopped us a lot when it came to that point, he looked very interested and was asking questions like who, when, where, why and how," the lawmaker said.
The meeting which lasted 90 minutes was held at the house of the Iraqi speaker, Saleem al-Joubori, in the Green Zone, the most fortified area in Baghdad that contains governmental buildings and many foreign embassies including the US and British embassies.
The tribal leaders and lawmakers had also expressed their dismay at the lack of a serious US policy to liberate their lands and "the US' double standards" in dealing with the Sunni tribes in these provinces compared to the Kurds.
"The attendees have expressed their anger and dissatisfaction at the US and the [US-led] international coalition that does not support them in their war against Daesh [ISIL] while they rose up when Daesh got close to the Kurdish region and quickly intervened," Salah al-Joubori, a senior Sunni lawmaker who also attended the meeting, told Al Jazeera.
Salah al-Joubori, who confirmed that Sunni tribes have threatened to get assistance from Iran, added that McCain did not make any promises or offer any plans to explain how the US will address their demands although the meeting was "frank and realistic".
"The man is a senator and he has nothing to do with the decision-making [related to arming and funding the Sunni tribes]. He will transfer all what he heard, in addition to the written list of demands, to Congress," Joubori said.
Iraqi Sunni leaders who met McCain, as several senior officials who are familiar with the talks confirmed, were hoping to convince the US administration to put pressure on the Iraqi government to form the long-awaited National Guard troops, arm the Sunni tribes and keep the Kurdish forces and Shia militias away from the Sunni areas.
"US is able to put great pressure on the Iraqi government and force it to form the National Guard, support the [Sunni] tribes and prevent the Peshmerga and Shia militias from entering the Sunni areas," a senior Sunni figure told Al Jazeera on condition of anonymity.
"We believe that the Iraqi government is deliberately holding up the formation of the National Guard and does not support the [Sunni] tribes."
In a briefing held on Saturday at the US embassy in Baghdad, McCain told reporters that the US will train and arm Sunni tribal fighters who will be part of the planned National Guard troops in Anbar.
"The Iraqi government will arm 4,000 tribesmen, in Anbar, within the National Guard troops which will be formed [later], and their training and arming will be through the Iraqi government," he said.
http://www.aljazeera.com/news/middleeast/2014/12/iraq-sunnis-may-seek-iran-help-against-isil-201412289341166411.html
-------
Arabs endorse U.N. bid to end Israeli occupation
30 December 2014
Arab ambassadors on Monday endorsed Palestinian amendments to a U.N. resolution that would call for an end to Israel's occupation within three years, a proposal strongly opposed by Israel and the United States and virtually certain to be defeated.
Jordan's U.N. Ambassador Dina Kawar, the Arab representative on the Security Council, told reporters after the closed-door meeting of the 22 Arab envoys that the revised text would be submitted to the council later Monday.
The draft resolution, obtained by The Associated Press, affirms the urgent need to achieve "a just, lasting and comprehensive peaceful solution" to the decades-old Palestinian-Israeli conflict within 12 months and sets a Dec. 31, 2017 deadline for Israel's occupation to end.
It calls for an independent state of Palestine to be established within the June 1967 borders, with East Jerusalem as its capital, and security arrangements "including through a third-party presence." It demands "a just solution" to all other outstanding issues including Palestinian refugees, prisoners in Israeli jails and water.
Even if the resolution musters the minimum nine required "yes" votes, the United States, Israel's closest ally, is certain to veto it if necessary. The U.S. insists there must be a negotiated solution to the Israeli-Palestinian conflict.
Kawar said the Palestinian and Jordanian leaders would be contacting each other Monday "to find the best time to cast the vote in the Security Council on the amended version."
Palestinian President Mahmoud Abbas said before the Arab group met that the revised resolution would be submitted Monday and voted on Tuesday.
The Palestinian U.N. Ambassador Riyad Mansour told reporters after the meeting that a vote "could happen tomorrow, or the day after tomorrow." But Kawar, when asked whether the vote could be put off until after Jan. 1 said: "Everything is possible." Five newly elected members joining the Security Council on Thursday are considered more supportive of the Palestinians than the five members leaving the council and could give them the nine "yes" votes to force a U.S. veto.
U.S. State Department spokesman Jeff Rathke told reporters in Washington on Monday that the new draft resolution "is not something that we would support, and other countries share the same concerns that we have."
"We think it sets arbitrary deadlines for reaching a peace agreement and for Israel's withdrawal from the West Bank, and those are more likely to curtail useful negotiations than to bring them to a successful conclusion," Rathke said. "Further, we think that the resolution fails to account for Israel's legitimate security needs."
Israel's Prime Minister Benjamin Netanyahu said in a statement Monday that if the Security Council doesn't reject the resolution, "we will."
The Palestinian Authority is "seeking to impose on us a diktat that would undermine Israel's security, put its future in peril," he said. "Israel will oppose conditions that endanger our future."
Netanyahu said Israel expects at least "the responsible members" of the international community to vigorously oppose the resolution "because what we need always is direct negotiations and not imposed conditions."
Mansour, the Palestinian envoy, has said the Palestinians can't return "to the same cycle of failed negotiations," which he says Israel uses to entrench its occupation. He has urged international support for the resolution setting a 2017 deadline for a complete Israeli withdrawal.
The Palestinians initially circulated a draft resolution on Oct. 1 asking the council to set a deadline of November 2016 for an Israeli withdrawal from all Palestinian territory occupied since 1967. France had been working for a U.N. resolution aimed at restarting Israeli-Palestinian peace negotiations, setting a two-year deadline for success.
http://english.alarabiya.net/en/News/middle-east/2014/12/30/Arabs-endorse-U-N-bid-to-end-Israeli-occupation.html
---------
ISIL releases interview with captive Jordanian pilot
30 Dec, 2014
The Islamic State in Iraq and the Levant (ISIL) has published in its monthly English-language magazine an interview with the Jordanian pilot captured last week after his plane crashed in northern Syria.
In his statements in the extremist group's Dabiq magazine, First Lietuenant Muadh al-Kasasbeh says his F-16 was shot down last week by a heat-seeking missile near the Islamic State group's de facto capital of Raqqa.
He says he ejected from the aircraft and landed in the Euphrates River, where he was taken captive by ISIL fighters.
The United States has denied that the ISIL shot down the Jordanian aircraft.
In the same issue of the magazine, the ISIL group also praises the attack on a café in Sydney, Australia this month.
http://www.hurriyetdailynews.com/isil-releases-interview-with-captive-jordanian-pilot.aspx?pageID=238&nID=76260&NewsCatID=352
-------
Shoura refers birth control issue to king after a second no vote
30 Dec, 2014
The Shoura Council on Monday decided to present a controversial population control policy document, prepared by the government, to Custodian of the Two Holy Mosques King Abdullah after it was rejected twice by the 150-member strong consultative body.
"We will attach the content of the Shoura discussions on the issue and the result of the vote of this session and the previous one," said Mohammed Al-Amr, secretary-general of the council following a meeting chaired by Abdullah Al-Asheikh, president of the Shoura Council.
The Shoura law mandates that decisions are passed on the basis of the majority vote. "If a resolution is not passed by the majority, it is floated again in the next session, and failing that, it is passed to the king to give his opinion," Al-Amr said.
Full report at:
http://www.arabnews.com/saudi-arabia/news/681876
-------
No news from 136 Turkmens kidnapped by jihadists
30 Dec, 2014
There has been no news from the 136 Turkmen hostages who were kidnapped by jihadists in Tal Afar in Iraq more than three months ago.
The Islamic State of Iraq and the Levant (ISIL) has kept the hostages in Mosul for three months; however, there has been no information for the past 10 days and their destination following Mosul is not known. There are five-month-old babies among the 136 hostages, 74 of whom are children and 62 of whom are women between 18 and 35-years-old.
"We have not been able to hear from our women and children. Somebody should hear our plea," said Kadriye Ziyai, the head of Turkmen Women's League.
The list of hostages was given to Turkey's Prime Minister Ahmet Davutoglu during his visit to the neighboring country in the second half of November.
Full report at:http://www.hurriyetdailynews.com/no-news-from-136-turkmens-kidnapped-by-jihadists.aspx?pageID=238&nID=76253&NewsCatID=352
-------
Suicide bomber hits Shiite pilgrims in Iraq, kills 17
30 Dec, 2014
A suicide bomber attacked Shiite pilgrims north of Baghdady, killing at least 17 people, officials and a survivor of the blast said.
The attack in the Taji area, which targeted a tent serving refreshments to pilgrims, also wounded at least 35 people.
Pilgrims from Iraq and abroad are making their way to Samarra, north of Baghdad, to commemorate the death of Hassan al-Askari, one of the 12 revered Shiite imams, who is buried in the city.
"We were distributing food, fruit and tea to the pilgrims who were walking to Samarra, and a suicide (bomber) blew himself up," Sajjad, 25, said at a Baghdad hospital where his brother Mustafa was being treated for shrapnel wounds.
Full report at:http://english.alarabiya.net/en/News/middle-east/2014/12/29/Suicide-bomber-hits-Shiites-in-Iraq-killing-17-.html
-------
ISIS claims car bomb targeting Syria gas plant
30 Dec, 2014
ISIS claimed responsibility for a car bomb, which exploded near a gas plant in Syria's Homs province on Monday killing eight people, including four soldiers, and wounding 15, a monitoring group said.
"Eight people were killed in a car bomb attack on a checkpoint guarding the Firqlos gas plant in Homs province, and 15 others were wounded. Four of the dead were regime troops," said the Syrian Observatory for Human Rights.
While the militant group said its two bombers, both Moroccan, were killed, state news agency SANA claimed regime troops captured the attackers.
SANA, quoting a military source, said "guards captured the two terrorists who detonated the pick-up truck at the entrance to the plant while they were trying to flee."
ISIS has previously targeted oil and gas facilities in Iraq and Syria as the group seeks funds for its fight to seize territory for a self-proclaimed Islamic "caliphate."
Full report at:
http://english.alarabiya.net/en/News/middle-east/2014/12/29/ISIS-claims-car-bomb-targeting-Syria-gas-plant.html
-------
High Security measures at Ahmed Hamdi tunnel as 'terrorists' flee Sinai
30 Dec, 2014
Egyptian authorities have tightened security measures on Monday at the Ahmed Hamdi tunnel – connecting the eastern and the western banks of the Suez Canal – as terrorist groups are allegedly fleeing Sinai after deadly attacks by government forces, Al-Ahram's Arabic news website reported.
About 300 policemen are participating in the heightened security operation.
The army has recently intensified its decade-long campaign against a jihadist insurgency in Sinai. Army periodic statements say Egyptian security forces have killed hundreds of militants in the northern part of Sinai.
The most prominent of the jihadist groups that have claimed responsibility for attacks in Sinai against army and police personnel is Ansar Beit Al-Maqdis which recently claimed allegiance to the Islamic State.
Last Tuesday marked the latest attack by militants against government targets in the Sinai Peninsula as an explosion struck a pipeline that carries gas to Jordan.
http://english.ahram.org.eg/NewsContent/1/64/119098/Egypt/Politics-/High-Security-measures-at-Ahmed-Hamdi-tunnel-as-te.aspx
-------
Syrian Army Ambushes Terrorist Command Convoy, Kills Scores
30 Dec, 2014
The Syrian army ambushed a terrorist convoy that was transporting a number of militant commanders in Assal al-Ward on the barrens of Qalamoun in Damascus countryside, inflicting heavy losses upon them.
The Syrian army killed dozens of militants who were trying to infiltrate into the barrens of Qara, Breij and Ras al-Marra in Qalamoun, Al-Manar reported Monday.
The Syrian warplanes also targeted several ISIL concentration centers at the crossings of Mira, Mertbaya and al-Zamrani on Qalamoun's barrens.
The Syrian army on Monday further continued to launch wide-scale military operations against foreign-backed terrorist organizations across the country, killing and injuring scores of their members and foiling their infiltration attempts.
In a different context, the Kurdish fighters killed 18 ISIL terrorists in Kobani.
http://english.farsnews.com/newstext.aspx?nn=13931009000212
-------
South Asia
Top Bangladeshi Jamaat leader sentenced to hang for war crimes
30 Dec, 2014
Dhaka: Bangladesh`s war crimes court Tuesday sentenced a leading Islamist to death for rape, mass murder and genocide during the country`s 1971 independence conflict.
ATM Azharul Islam, 62, became the 16th person and the 11th Islamist to be convicted of atrocities by the International Crimes Tribunal, which found him guilty of being a key member of a notorious pro-Pakistan militia.
Azharul Islam is the assistant secretary general of the nation`s largest Islamist party, the Jamaat-e Islami.
He was ordered "hanged by the neck" for the genocide of more than 1,200 people in a flood plain in the northern district of Rangpur.
"No doubt, it was mass murder," presiding judge Enayetur Rahimjudge Rahim told a packed court.
Those killed included hundreds of minority Hindus in one of the worst episodes of the nine-month war, which saw what was then east Pakistan break away from the regime in Islamabad.
http://zeenews.india.com/news/world/top-bangladesh-islamist-sentenced-to-hang-for-war-crimes_1522405.html
-------
8 ANA martyred, 36 militants killed in military operations
Dec 30 2014
Ministry of Defense says eight Afghan National Army soldiers have embraced Shahatad in enemy actions.
General Zahir Azimi, the ministry's spokesman says these soldiers were martyred during military operations carried out in Helmand, Kandahar, Kapisa, Nooristan, Kunar, Nangarahar and Kabul provinces.
A statement issued by Azimi on Tuesday morning states that the operations were conducted during past 24 hours.
Statement adds that 36 insurgents were also killed in these operations while scores injured and 13 arrested.
According to the statement the insurgents killed included Mullah Abdul Aziz, Taliban nominated district governor for Tagab district of Kapisa province and Peer Mohammad a Taliban commander in the area.
As per the statement 28 Improvised Explosive Devises (IEDs) were defused and a good quantity of arms and ammunitions was seized by the military personnel.
Taliban have stepped up their attacks against the security forces.
A suicide attacker targeted an Afghan National Army base in Maidan Wardak province this morning injuring two soldiers.
http://www.khaama.com/8-ana-martyred-36-militants-killed-in-military-operations-2628
-------
Residents of Maiwand in Kandahar took weapons against Taliban
30 Dec, 2014
Residents of Maiwand district of southern Kandahar province on Monday took their weapons against Taliban.
A group of 150 people who have started the uprising announced their support to the government.
Group's leaders who are local elders ask government to supply them with weapons and ammunitions.
Group's leaders are saying that Taliban's increasing insurgency made them order their boys to take weapons and fight the Taliban.
Maiwand is the 2nd district in Kandahar where residents are taking weapons against Taliban.
Before this residents of Pajwai district stood against the insurgency of Taliban.
http://www.khaama.com/residents-of-maiwand-in-kandahar-took-weapons-against-taliban-2624
-------
China to step up free trade talks with Middle East
30 Dec, 2014
China will speed up free trade talks with six countries on the Arabian peninsula and begin trade negotiations with Israel next year, state media said on Tuesday, as Beijing accelerates efforts to sign such agreements.
China and members of the Gulf Cooperation Council - Bahrain, Kuwait, Oman, Qatar, Saudi Arabia and the United Arab Emirates - started free trade talks in 2004, and a deal will help China cut costs on energy imports from the region, the official China Daily said.
"GCC countries consider China as a major market for their petrochemical products, and this (FTA) will assist those nations in their industrial development," Zhang Shaogang, head of the Commerce Ministry's international trade and economic affairs department, was quoted as saying.
Zhang added that the ministry has finished a feasibility study on launching free trade talks with Israel, and hopes to sign it sometime in the next few years, the English-language newspaper said.
China inked major free trade agreements with Australia and South Korea this year, and already has deals with a handful of other countries, including Costa Rica, Peru, New Zealand and the Association of Southeast Asian Nations.
http://www.jpost.com/Breaking-News/China-to-step-up-free-trade-talks-with-Middle-East-386106
-------
200 Taliban militants surrender to Gen. Dostum in Jawzjan
30 Dec, 2014
Around 200 Taliban militants renounced violence and surrendered to first Vice-President Gen. Abdul Rashid Dostum in northern Jawzjan province on Monday.
The militants laid down their weapons and announced their support from the Government of National Unity in Darzab district, during Gen. Dostum's visit.
Gen. Dostum is visiting the northern Jawzjan province after he was instructed by President Mohammad Ashraf Ghani, according to an online statement from Gen. Dostum's office.
He welcomed the surrender of Taliban militants and said the move by Taliban militants in Jawzjan is a step that would lead to a nationwide peace and stability.
Gen. Dostum called on other militants to join peace process, similarly as the militants have surrendered in Jawzjan province.
He also pledged to provide employment opportunities for all the militants who laid their weapons and joined peace process.
Jawzjan is among the relatively volatile provinces in northern Afghanistan where anti-government armed militant groups are actively operating in a number of its remote districts and often carry out insurgency activities.
https://www.khaama.com/200-taliban-militants-surrender-to-gen-dostum-in-jawzjan-8892
---------
India
Muslim Scholars Drop Out Of Oriental Meet After Receiving Threat Letters
30 Dec, 2014
At least seven participants of the All-India Oriental Conference (AIOC) to be held in Guwahati next month have dropped out after receiving threat letters.
The letters, received only by Muslim scholars, state: "If you will come at Guwahati, Assam, our people will kill you [sic]."
The threats have been sent under the letter head "Rashtriya Hindu Sena" and the address is of Bhartiya Vichar Sadhna publications, Sangh Karyalaya, Nagpore. A letter received by Jawaharlal Nehru University Arabic professor Rizwanur Rehman by speed post was sent from Vadodara, Gujarat.
Following the threat, at least seven teachers of the Aligarh Muslim University have dropped out of the event. In a letter to the organisers, Islamic Studies scholar Abdul Majid Khan wrote, "Assam has witnessed another wave of killings. It is desirable that Islamic Studies section conference is held either in Delhi or in Aligarh where participants can make their presentation."
Full report at:
http://www.thehindu.com/news/national/muslim-scholars-drop-out-of-oriental-meet-after-threats-from-hindutva-group/article6735885.ece
-------
Congress: Islamabad Must Realize Terror Is Frankenstein Monster
TNN | Dec 30, 2014
NEW DELHI: Congress on Monday hit out at Pakistan over the possible release of Mumbai attack mastermind Zaki-ur Rehman Lakhvi, saying that it appears that the neighbouring country is "not prepared to learn any lesson" even after the killing of more than a hundred schoolchildren by terrorists.
Party spokesman Abhishek Singhvi alleged that Lakhvi's case was that of lax prosecution and some even believe it was "collusive prosecution".
"Pakistan must realise that approach to terrorism cannot be selective —- one for India and the other for Pakistan," said Singhvi, terming terror as a "Frankenstein monster".
Lakhvi is among the seven Pakistani nationals accused of planning and abetting the brazen terror attack in Mumbai on November 26, 2008 that left 166 dead, including foreigners.
A Pakistani court on December 18 had granted bail to Lakhvi, the LeT operations commander, sparking condemnation in India. The following day, Lakhvi was detained by Pakistani authorities for three more months, under the Maintenance of Public Order (MPO).
Islamabad High Court Judge Noorul Haq N Qureshi, while accepting Lakhvi's application challenging his detention under MPO, suspended the government's order in this regard and directed him to submit a surety bond of Rs 1 million. The court also asked Lakhvi to ensure his presence in every hearing of the case.
http://timesofindia.indiatimes.com/india/Congress-on-Lakhvis-imminent-release-Islamabad-must-realize-terror-is-Frankenstein-monster/articleshow/45683104.cms
-------
No Converted Manjhi Turns Up For 'Ghar Wapsi'
30 Dec, 2014
The much-hyped "ghar wapsi" event organised by the VHP proved to be a damp squib as none of the 42 converted Christian Manjhi families —who were provided adequate police security — turned up at the "purification" function on Monday. Around 50 villagers, mostly OBC Yadavas who are already Hindus, attended the function that saw a Havan amid chants of Vedic mantras and distribution of saffron scarves and Tulsi necklaces.
The VHP leaders, however, claimed some Christians attended the Ghar Wapsi event organised near Atiya village. Gaya BJP MP Hari Manjhi, who had visited the village on December 26 and was supposed to attend the function, stayed away because of "political reasons". VHP's prant Sanrakshak Uday Kumar Verma said the outfit would set up one-teacher school or ekal Vidyalaya where the village students would also be taught about Hindu values. The Gaya district administration, which had received complaints from some Manjhi families about the VHP leaders putting pressure on them to reconvert, had deployed adequate forces at Manjhi settlements and also succeeded in forcing the saffron outfit to organise the "ghar wapsi" at some distance from their houses to avoid clashes. The 42 converted families have altogether 198 members.
Full report at:
http://indianexpress.com/article/india/india-others/no-converted-manjhi-turns-up-for-ghar-wapsi/99/#sthash.a59ezr8q.dpuf
--------
India sees red as Pakistani court suspends Zakiur Rehman Lakhvi's detention
Omar Farooq Khan, TNN | Dec 30, 2014,
ISLAMABAD: A Pakistani court on Monday suspended Laskhar-e-Taiba (LeT) terrorist and key 26/11 handler Zakiur Rehman Lakhvi's detention under the Maintenance of Public Order (MPO).
The detention was ordered after Islamabad came under fire for leaving loopholes in the 26/11 case against Lakhvi (54) in Pakistan that allowed him to get bail on December 17.
Lakhvi's bail provoked outrage and raised questions about Pakistan's resolve to fight terrorism a day after the country suffered the worst terrorist attack on an army-run school in Peshawar in which around 150 people, mostly kids, were killed.
The Islamabad high court suspended Lakhvi's three-month detention under MPO in response to his petition challenging it days after an anti-terrorism court ordered his bail.
The 26/11 attacks handler moved the court on Friday after the government rejected his release plea.
Full report at:
http://timesofindia.indiatimes.com/world/pakistan/India-sees-red-as-Pakistani-court-suspends-Zakiur-Rehman-Lakhvis-detention/articleshow/45682862.cms
-------
Africa
10 civilians killed while fleeing South Sudan territory: sources
30 Dec, 2014
December 29, 2014 (BENTIU) – At least 10 civilian were killed as they attempted to flee Unity state's capital, Bentiu in to Sudan, sources within the displaced peoples' camp said Monday.
"Five men and five women were shot dead in Unity state oil fields as they attempted to flee South Sudan to the Sudanese border," John Gatgach, a resident told Sudan Tribune.
He said the group left Bentiu on Saturday and ended up being killed.
Gatgach blamed pro-government forces for allegedly carrying out the tragic killings.
"These people were simply killed because they want to cross from South Sudan to the Sudanese territory for safety reasons. Many of them (IDPs) used to escape from the camp heading to Sudan as they fear continues attacks from both warring parties," he said.
The armed opposition military spokesperson separately confirmed the incident in a statement he extended to Sudan Tribune on Monday.
"A total of 16 civilians, 5 of whom were women lost their lives in separate targeted killing by [Salva] Kiir's tribal army and allied militias in two of Unity state's nine counties," said Brig. Gen. Lul Ruai Koang.
Full report at:
http://www.sudantribune.com/spip.php?article53494
-------
US air strike 'targets al-Shabab leader'
30 Dec, 2014
The United States has launched an air strike targeting a senior leader of Somalia's al-Shabab group, the Pentagon has said.
Military spokesman Rear Admiral John Kirby said the raid on Monday hit a target in Saacow, in sourthern Somalia, shortly after the armed group's intelligence chief surrendered to government and African Union forces.
Kirby did not identify the targeted fighter's name.
"At this time, we do not assess there to be any civilian or bystander casualties," he said.
"The strike took place in the vicinity of Saacow, Somalia," Mark Wright, spokesperson for the department of defence, said in a statement on Monday.
"We are assessing the results of the operation and will provide additional information, when appropriate, as details become available."
Full report at:
http://www.aljazeera.com/news/africa/2014/12/us-air-strike-targets-al-shabab-leader-2014122922222891124.html
-------
Kenya: Do Not Block Anti-Terror Laws, Jubilee Tells Court
30 Dec, 2014
THE government has put up a spirited fight to convince the High Court not to block implementation of the new security laws.
Attorney General Githu Muigai, Director of Public Prosecutions Keriako Tobiko and Solicitor General Njee Muturi yesterday said Cord has not demonstrated any "imminent danger or threat that will be occasioned to anyone" if the law is not blocked.
Cord had sought to have the court stop the Security Laws (Amendment) Act until challenges to its constitutionality can be heard.
High Court Judge George Odunga is to rule on Friday January 2, 2015, whether to suspend the Act, pending hearing of the main petition by three judges.
The Act was signed into law by President Uhuru Kenyatta on December 19, a day after Parliament passed it, despite uproar and fist fights in the House.
The opposition coalition argues that the law, which is a collection of 34 amendments, is invalid because it was enacted contrary to the Standing Orders of the National Assembly.
Cord argues that the Presidential Assent was unconstitutional and violates the rights of suspects to a fair trial and being presumed innocent until proven guilty. It also hobbles the media and civil society.
Full report at:
http://allafrica.com/stories/201412300308.html
-------
Libya in $6 mln push to tackle oil port fires
30 December 2014
Libya's recognized government has contracted a U.S. firefighter firm to help extinguish blazing fires at storage tanks in the el-Sidr oil port, a spokesman said on Monday.
Work is set to start within five days, government spokesman Mohammad Bazaza said, confirming a statement on the government website. The value of the contract was $6 million, the statement said, without naming the company.
Fire has been raging for days at several storage tanks at el-Sidr , Libya's biggest oil port, due to clashes of brigades allied with competing governments vying for control of the country's oil facilities.
Libya's oil output has shrunk further after the blazing oil tanks at a major terminal helped push world oil prices higher and put a strain on the country's dollar currency reserves.
Libya is surviving on a mere 128,000 barrels per day from fields connected to the eastern port of Hariga, an oil official said on Monday, while fighting halted the major ports Es Sider and Ras Lanuf.
Full report at:
http://english.alarabiya.net/en/News/middle-east/2014/12/30/Libya-in-6-mln-plan-to-tackle-oil-port-fires.html
----------
Pakistan
We Are Fighting Terrorism with Books: Punjab CM
December 30, 2014
LAHORE: Knowledge is the best weapon against extremism and the government is, therefore, committed to lifting the standards of education, Chief Minister Shahbaz Sharif said on Monday.
He was speaking to British High Commissioner Philip Barton.
The chief minister said those who had killed 133 children in a terrorist attack at a school in Peshawar on December 16 would be brought to book. He said the nation would fight terrorism with unity.
"All political and religious parties have agreed on the National Action Plan against terrorism."
Sharif said terrorism was a major hurdle in the way of progress and prosperity. He praised Pakistan Army for its fight against terrorism. He said more than 40,000 Pakistanis had lost their lives in the war. "The sacrifices rendered by us are unprecedented. We must win this war to secure the future of our youth," he said.
Full report at:
http://tribune.com.pk/story/814252/resilient-nation-we-are-fighting-terrorism-with-books-says-shahbaz/
-------
Iran fires 42 mortar shells into Balochistan
30 Dec, 2014
QUETTA: Iranian border guards fired 42 mortar shells into Zamuran, a town in Turbat district of Balochistan bordering Iran in the early hours of Monday.
At least four Pakistani citizens sustained minor injuries and two pickup cars were partially damaged in the explosions which took place at the Jalgi area of Buleda tehsil, an official of Turbat Levies told The Express Tribune.
The attack was carried out soon after three Iranian elite Revolutionary Guards Corps (IRGC), sent to reinforce border police, were killed in an attack in the southeast of Iran near Pakistan, according to Iranian media reports.
Armed "bandits" killed the IRGC members on Sunday near the city Saravan in the Sistan-Balochistan region, according to a Revolutionary Guard (RG) statement, carried by Fars news agency.
Full report at:
http://tribune.com.pk/story/813988/retaliatory-action-iran-fires-42-mortar-shells-into-balochistan/
-------
Militants torch two primary schools in Kurram
30 Dec, 2014
PESHAWAR: Militants set fire to two primary schools in Kurram Agency on Tuesday as authorities extended winter holidays amid threats of attacks, officials said.
The incident comes two weeks after the massacre of 150 people at an army-run school in Peshawar, where 134 children were among the victims gunned down by heavily-armed Taliban militants.
Tuesday's pre-dawn arson attacks took place in two villages in the Kurram tribal district, where Taliban insurgent activity and violence between Shia and Sunni Muslims are rife.
Amjad Ali Khan, the district's top administrative official, told AFP the attackers had doused furniture with petrol before setting it ablaze.
All the wooden benches and desks along with school records were destroyed and buildings were damaged, Khan said.
No group immediately claimed responsibility but Khan blamed "militants" for the latest attacks.
Full report at:
http://www.dawn.com/news/1154040/militants-torch-two-primary-schools-in-kurram
-------
Three bullet-riddled bodies recovered from Balochistan's Turbat
30 Dec, 2014
QUETTA: Levies personnel recovered three bullet-riddled bodies from Balochistan's Turbat district on Tuesday.
Levies sources told Dawn that the bodies were found in the Mand area of Turbat. Local residents in Mand had spotted the bodies and had informed Levies personnel.
The bodies were later shifted to a hospital for identification. A large number of people gathered at the hospital to see the bodies, Levies said.
"The victims had received multiple bullet wounds," Levies sources said, adding that the victims were shot from a close range.
Police and other law enforcement agencies reached the spot immediately and a probe into the incident was launched.
There has been no claim of responsibility for the killings as yet.
http://www.dawn.com/news/1154037/three-bullet-riddled-bodies-recovered-from-balochistans-turbat
-------
Militancy affects everything except corruption in Fata
30 Dec, 2014
PESHAWAR: Can anyone imagine a robbery in the office of a political agent, the most influential and top government official in a tribal agency? Not indeed. Two and a half years on, millions of rupees were taken away from the said office, but the officials concerned are yet to confirm whether the looted amount has been recovered.
If such is the state of affairs at the office of political administration, can a common man living in tribal area expect good governance, security and other services efficiently from this kind of administration?
The problem lies, perhaps, not with the writ of the government in the tribal areas, but with the corrupt mindset of the officials, right from top to bottom, working in Fata and enjoying powers in the absence of laws to check corruption.
The military operations in Fata may have eliminated militants, but weeding out corruption is still a challenge. In fact, corruption and bad governance are thriving in Fata where all other things are disturbed by militancy.
Full report at:
http://www.dawn.com/news/1154019/militancy-affects-everything-except-corruption-in-fata
-------
Khyber Pakhtunkhwa police to launch emergency alert app
30 Dec, 2014
PESHAWAR: The Khyber Pakhtunkhwa (KP) police plans to launch an android-based SOS application 'One-Click' which aims to notify the police of possible emergency situations in schools in Peshawar.
The app is being developed in the aftermath of the attack on Army Public School Peshawar on December 16 which led to the loss of 141 lives.
According to a handout, the KP police has started 'this high alert security service on Android which will send a short message service (SMS) and call the police in one click'.
The police further said that in case of any emergency situation, a person can alert a nearby police checkpost by using the app.
Besides the field officers, a click on the alert button would also send a message to at least ten police stations including the central police office.
The app will also help guide the police to the spot.
The handout said the service will eventually be expanded and cover all schools and educational institutes across the province.
http://www.dawn.com/news/1153866/khyber-pakhtunkhwa-police-to-launch-emergency-alert-app
-------
Nacta launches 1717 helpline to report terror-related complaints
30 Dec, 2014
ISLAMABAD: The National Counter-Terrorism Authority (Nacta) on Tuesday announced to establish a dedicated telephone line extension 1717 to report terrorism and terror-related complaints.
The Interior Ministry has appealed to all citizens to remain vigilant with regards to their surroundings and report on the given extension in case they witness any suspicious person or activity.
The 1717 emergency helpline would be working round the clock and is said to have a state-of-the-art system.
The government has been taking various initiatives to curb terrorism in the wake of the brutal attack on the Army Public School in Peshawar.
A national action plan has also been agreed upon by all the major political stakeholders in the country to devise a joint-national strategy in countering terrorism. Establishment of military courts to try terrorists has been an important initiative in this regard.
More than 140 people — mostly children — were killed when several militants stormed into the Army Public School on Dec 16. Factions of outlawed Taliban outfits had claimed responsibility for carrying out the attack.
http://www.dawn.com/news/1154029/nacta-launches-1717-helpline-to-report-terror-related-complaints
-------
Senate says military courts against constitution
30 Dec, 2014
ISLAMABAD: The Upper House strongly opposed formation of military courts and warned that formation of such courts for speedy trial of terrorists and constitutional amendment for this purpose will hit basic structure of constitution.
Taking part in a debate on the TTP terrorist attack on schoolchildren, PPP's Senator Raza Rabbani blamed successive governments for terrorism, especially the ruling Pakistan Muslim League-Nawaz (PML-N), saying it did not release required funds to the National Counter Terrorism Authority (NACTA) and did not implement the National Internal Security Policy. "The collective sharing of intelligence which was the backbone of the so-called policy has not materialized. NACTA, which was supposed to be the key body in the policy lies ineffective," he lamented.
Full report at:
http://www.dailytimes.com.pk/national/30-Dec-2014/senate-says-military-courts-against-constitution
-------
Peshawar tragedy reunited the political parties, masses: Yousaf Raza Gilani
30 Dec, 2014
BUREWALA – Pakistan People's Party (PPP) senior leader Yousaf Raza Gilani has said that no doubt Peshawar terrorist was a national tragedy but the positive aspect of the incident is that it united entire national and brought political leader of Pakistan on single platform.
He stated this while talking to journalist after offering condolence on the death of former MPA Sardar Khalid Saleem Bhatti with his family here on Monday. Gilani hailed the decision of lifting ban on execution of accused of death sentence and establishing military courts to deal with menace of terrorism. He said that the PPP has always kept national interest as priority and supported any move for interest of Pakistan and masses. He said that Peshawar tragedy has proved that the PPP hue and cry against terrorism was not baseless. He said that the PPP has accepted all decision taken in All parties conference (APC) to in larger national interest despite having some reservations.
He rebuffed the reports of differences among top leadership of the PPP as disinformation. He claimed that the existing democracy in Pakistan was due to efforts of slain the PPP chairperson Benazir Bhutto.
http://www.dailytimes.com.pk/national/29-Dec-2014/peshawar-tragedy-reunited-the-political-parties-masses-gilani
-------
Europe
UN urges Myanmar to give citizenship to Rohingya Muslims
30 Dec, 2014
The U.N. General Assembly approved a resolution urging Myanmar to provide "full citizenship" to its Rohingya Muslim minority.
The 1.3 million Rohingyas are denied citizenship under national law and are effectively stateless and have almost no rights. Myanmar authorities want to officially categorize them as "Bengalis," implying they are illegal migrants from neighbouring Bangladesh.
After Myanmar started a transition from dictatorship to democracy in 2011, newfound freedom of expression fanned the flames of hatred against the Rohingyas by the Buddhist majority. Violence by Buddhist mobs left up to 280 people dead most of them members of the religious minority and chased another 140,000 from their homes.
The resolution, adopted by consensus, stressed the Assembly's "serious concern" about the government's treatment of the Rohingyas, sending a strong message from the 193-member world body that the international community is united in wanting change in Myanmar's treatment of its minorities.
Full report at:
http://www.thehindu.com/news/international/world/un-urges-myanmar-to-give-citizenship-to-rohingya-muslims/article6737735.ece
-------
Islamic State to systematically target Europe in 2015: French expert
30 December 2014
In an interview with Sputnik, well-known French journalist and Middle East intelligence services expert Jean-Michel Vernochet said that he foresees an impending Islamic State group attack on Europe in the very near future.
According to Vernochet, there are some who, in addition to seeking "to transform Europe into the land of Islam," also "want to turn it into the land of war."
"You've probably heard about the recent events in France – in Nantes and in Dijon, in the suburbs of large cities," Vernochet recalls. "Police officers attacked by people wielding knives; cars ramming into crowds –in Nantes and in Dijon! Some people were seriously hurt. And more of these incidents keep happening."
The expert notes that while "authorities are attempting to downplay [these incidents] as unrelated outbreaks," in reality "there is a connection. The perpetrators are being portrayed as unstable individuals. Let us assume that they acted on personal motives, as it makes things appear much better. Obviously they are unstable [individuals], which is why they did all these things, but there are many others who carefully consider their actions, and whose [terror] actions may be much more effective as a result."
Full report at:
http://www.turkishweekly.net/news/177882/islamic-state-to-systematically-target-europe-in-2015-french-expert.html
----------
Europe is not headed for an Islamist apocalypse
30 Dec, 2014
The Islamic State flag is a familiar sight in public parks and squares, the police are scared of entering Muslim areas and a seething mass of fundamentalists are poised to establish a caliphate. Welcome to Europe, 2014 – at least according to a primetime Israeli TV show aired last week.
Channel 10 Arab affairs correspondent Zvi Yehezkeli, famed for previous exposés of the so-called Islamification of Europe, returned to London to discover the massed armies of jihad approaching the gates of Vienna. Or something.
Yehezkeli's series of news reports, called "Hijra," does not reflect any reality that I, a citizen of Europe, recognize. I've travelled to some dozen European countries in the last year without seeing the black flag of the Islamic State, also known as ISIS or ISIL, flying anywhere at all. Multiculturalism brings its challenges, but it is over the top to foretell the demise of Western civilization.
Full report at:
http://www.haaretz.com/opinion/.premium-1.634366
----------
Fire at Sweden mosque for second time in four days
30 Dec, 2014
A fire broke out at a mosque in Sweden early on Dec. 29 in what appeared to be the second arson attack in less than a week on a place of Muslim worship, officials said.
No-one was reported hurt in the blaze, which started around 3 a.m. at a mosque in the southern town of Eslov, police said in a statement. The fire was quickly put out and caused only minor damage, it said.
While police said the cause was under investigation, a fire department spokesman said it appeared to be an act of arson.
"There is no possible natural explanation for this type of fire to break out" by itself, Gustaf Sandell told public radio.
The blaze comes days after an arsonist set fire to a mosque in central Sweden on Christmas Day, injuring five people.
Sweden, known for tolerance and refugee-friendly policies, saw an extreme right party, the Sweden Democrats, become the third-largest force in parliament in legislative elections in September.
In early December, the party brought down the government after less than three months by refusing to back its budget proposal in parliament.
On Dec. 27 the government announced it had reached a deal with the opposition that will enable it to remain in power and to avert the Nordic country's first snap elections in more than half a century, but the far right has threatened to hold a no-confidence vote.
http://www.hurriyetdailynews.com/fire-at-sweden-mosque-for-second-time-in-four-days.aspx?pageID=238&nID=76219&NewsCatID=351
-------
Fears Ancient Egyptian and Roman papyrus scrolls could be destroyed
30 Dec, 2014
They have survived hundreds of years and provide a fascinating insight into ancient civilisations, but papyrus scrolls are now being sold in online auctions, potentially putting the manuscripts at risk.
The scrolls, some dating back as far as the 3rd century, are being sold on eBay for large sums of money, but experts fear that private collectors are damaging the precious papyrus.
A 4.5in by 1.5in rectangular scrap of paper featuring 15 lines of Homer's The Iliad, jotted down by an Egyptian scribe in the 4th century, recently sold online for £16,000.
In another sale, a third century parchment sheet containing a section of Paul's Epistle to the Romans was bought at Sotheby's for £301,000, astonishing experts.
While neither of these sales were unlawful, scholars fear some buyers are carving up larger scrolls to sell online for profit.
Brice Jones, a papyrologist and lecturer in New Testament and Early Christianity at Concordia University in Montreal, told the Sunday Telegraph that private collectors were also damaging the ancient manuscripts.
Full report at:
http://www.dailymail.co.uk/news/article-2889335/Ancient-Roman-Egyptian-papyrus-scrolls-selling-online-thousands-pounds-sparking-fears-precious-manuscripts-destroyed.html#ixzz3NQSMf5RQ
---------
Mideast
Israel expects world community to oppose Palestinian efforts at UN
30 Dec, 2014
Israel expects the "responsible" members of the international community to adamantly oppose Palestinian efforts to have the UN Security Council impose an Israeli-Palestinian agreement that skirts the needs for direct negotiations, Prime Minister Benjamin Netanyahu said Monday.
Netanyahu's comments came at the top of a meeting with Indiana Governor Mike Pence, on the eve of the presentation to the UN Security Council of a Palestinian resolution calling for a full IDF withdrawal to the pre-1967 lines by 2017.
Netanyahu said that if the international community did not reject the Palestinian proposal, then Israel would. "Israel will oppose conditions that will endanger our future," he said.
Netanyahu said that Israel and western civilization were under attack from Iran and Islamic radicals, and that this attack also included Palestinian efforts to impose a solution that would endanger Israel's security and place its future in danger.
Full report at:
http://www.jpost.com/Arab-Israeli-Conflict/Israel-expects-world-community-to-oppose-Palestinian-efforts-at-UN-Netanyahu-says-386058
-------
Palestinians to push ahead with UN resolution
30 Dec, 2014
The Palestinian leadership has presented changes to a UN draft resolution that could set a timeframe for the creation of a Palestinian state.
Palestinian President Mahmoud Abbas told US Secretary of State John Kerry he would press ahead with a resolution calling for a peace deal with Israel within a year with an "end to occupation" of Palestinian territories by late 2017, state news agency WAFA reported.
The revised resolution calls for occupied East Jerusalem to be the capital of Palestine, an end to Israeli settlement building and settling the issue of Palestinian prisoner releases.
Arab UN delegations meeting in New York on Monday endorsed the proposal.
Dina Kawar, Jordan's UN Ambassador and the sole Arab representative on the UN Security Council, said the revised text would be submitted to the council later on Monday.
"Both our leaderships [Palestinian and Jordanian] will be discussing, to find the best way and the best timing to vote on the Security Council resolution," Kawar told the Reuters news agency.
Full report at:
http://www.aljazeera.com/news/middleeast/2014/12/palestinians-push-ahead-with-un-resolution-20141229235333281379.html
---------
Gaza's children struggle to overcome nightmares of war
30 Dec, 2014
Muntasser survived an Israeli strike on Gaza this summer which killed his young brother and three cousins. Five months and a suicide attempt later the Palestinian boy remains haunted by the memory.
Just a week into the deadly 50-day July-August Israeli assault on Gaza, two Israeli missiles slammed into a beach in Gaza City where Muntasser Bakr, 11, was playing football with relatives.
Four of them, all aged between nine and 11, were killed.
Muntasser, like countless other children in the embattled Gaza Strip, now faces a personal battle to overcome the trauma and psychological damage caused by the violence.
The fighting, which lasted for six weeks after the beach strike, killed nearly 2,200 Palestinians and wounded more than 10,000.
Full report at:
http://english.ahram.org.eg/NewsContent/2/8/119071/World/Region/Gazas-children-struggle-to-overcome-nightmares-of-.aspx
-------
Israeli military shoots and kills Palestinian stone thrower
30 Dec, 2014
The Israeli military says its forces shot and killed a Palestinian who was throwing stones at drivers in the Occupied West Bank.
The military says forces on patrol Monday were confronted by a group of stone throwers. The forces called out to them to stop and fired live rounds into the air to disperse them, then opened fire on the stone throwers when they persisted.
The military said it was investigating the incident.
The identity of the killed Palestinian was not immediately known. A Palestinian security official said a 16-year-old boy was also wounded. He spoke on condition of anonymity because he was not allowed to discuss the incident with the media.
http://english.alarabiya.net/en/News/middle-east/2014/12/29/Israeli-military-shoots-and-kills-Palestinian-stone-thrower.html
-------
'Qaeda' ambush on Yemeni general kills two soldiers
30 Dec, 2014
Two Yemeni soldiers were killed and 11 wounded when Al-Qaeda militants ambushed a regional army chief in southeastern Hadramawt province, a military official said.
"Members of Al-Qaeda" set an ambush for the convoy of General Abdulrahman al-Hulaili, the head of the First Military Region, the official told AFP.
They detonated explosives planted on the roadside and opened fire as the convoy passed, but Hulaili escaped unscathed, the official added.
In central Baida city, two gunmen on a motorbike shot dead intelligence officer Nasser al-Wahishi, a local authority official said, adding that the assailants were suspected of belonging to Al-Qaeda.
Full report at:
http://english.ahram.org.eg/NewsContent/2/8/119084/World/Region/Qaeda-ambush-on-Yemeni-general-kills-two-soldiers.aspx
-------
North America
US says Palestinian draft resolution not constructive
30 Dec, 2014
WASHINGTON - The United States said it did not support a draft statehood resolution that the Palestinians plan to introduce at the United Nations, saying it would not advance the goal of peace or address Israel's security needs.
"We don't think this resolution is constructive," State Department spokesman Jeff Rathke told a regular news briefing. "We think it sets arbitrary deadlines for reaching a peace agreement and for Israel's withdrawal from the West Bank, and those are more likely to curtail useful negotiations than to bring them to a successful conclusion.
"Further, we think that the resolution fails to account for Israel's legitimate security needs, and the satisfaction of those needs, of course, integral to a sustainable settlement."
http://www.jpost.com/Breaking-News/US-says-Palestinian-draft-resolution-not-constructive-386070
-------
Washington tries 'passive tough love' in Iraq
30 Dec, 2014
WASHINGTON — When the United States withdrew its last troops from Iraq at the end of 2011, both Washington and Baghdad said Iraq was ready to defend itself. The rise of the self-proclaimed Islamic State group has proven that belief wrong. Yet senior White House and Pentagon officials are determined to show "strategic patience" and not be drawn into Iraq's new civil war.
Washington has sent 1,900 troops to Iraq, while US forces and their allies have conducted more than 1,300 air strikes against IS, in both Iraq and Syria.
But American officials say their goal is to get Iraqis to resolve their deep political differences and battle IS themselves.
"The message to Iraqis was you must do it yourself," said a senior American official who was part of a US military delegation that recently visited Baghdad. "We can't solve it for you."
Jonathan Stevenson, who from 2011 to 2013 served as the National Security Council's director for political-military affairs for the Middle East and North Africa, said the belief in "strategic patience" comes from President Barack Obama himself.
Full report at:
http://www.saudigazette.com.sa/index.cfm?method=home.regcon&contentid=20141230228897
-------
Top Special Forces general confessed the US is clueless about ISIS
30 Dec, 2014
America's top general in charge of Special Forces units combating the sel-fdeclared 'Islamic State' (ISIS) terror army confessed twice this year that the Obama administration has no idea what the group is all about.
'We do not understand the movement, and until we do, we are not going to defeat it,' Major General Michael Nagata told a group of outside experts during a conference call in August.
'We have not defeated the idea. We do not even understand the idea.'
The continued popularity of ISIS in Iraq and Syria, and throughout the Arabian Peninsula, has perplexed American military strategists.
In much the same way, an FBI agent told MailOnline, a small, militant underbelly of animal rightists and environmentalists initially confused law enforcement in decades past.
Both of those movements used self-glorifying mythology, photography and websites to attract young converts and staff self-contained 'cells' that caused millions in damage and claimed a few lives.
Full report at:
http://www.dailymail.co.uk/news/article-2890266/We-not-understand-movement-Special-Forces-general-confessed-clueless-ISIS-FBI-agent-warns-terror-army-s-youth-recruiting.html#ixzz3NQTyYm1t
---------
Obama doesn't rule out US Embassy in Tehran
30 Dec, 2014
WASHINGTON: President Barack Obama isn't ruling out the possibility the US could one day reopen an embassy in Iran.
Obama was asked in an NPR interview whether he could envision opening an embassy there during his final two years in office. Obama replied, "I never say never," but said ties must be restored in steps.
Obama says Iran is different from Cuba, where the US plans to open an embassy. He says Cuba is small and poses no major threat to the US, while Iran is large, has sponsored terrorism and has sought nuclear capabilities.
Still, Obama says he hopes the US and Iran can reach a nuclear deal so Iran can rejoin the world community. He says he hopes that would lead to improved relations with the US
Iran could become a "very successful regional power" if Tehran agrees to a long-term deal to curb its nuclear program, President Obama told NPR News.
Full report at:
http://www.arabnews.com/world/news/681746
-------
Congress has notified $532 million for Pakistan: US envoy
30 Dec, 2014
ISLAMABAD: US Ambassador to Pakistan Richard G Olson on Monday said that the Congress has notified a $532 million civilian assistance package under the Kerry Lugar Act for Pakistan.
He said this in a meeting with Finance Minister Ishaq Dar at the Finance Ministry this Monday. Olson discussed with the minister the civilian assistance package under the Kerry Lugar Act. The ambassador said that the Congress has notified a $532 million assistance package for Pakistan with its break up being given for different sectors like energy, defence against terrorism, economic growth, community building, education and health. The finance minister remarked that the government of Pakistan should spend a large amount of this assistance for the rehabilitation of the TDPs of North Waziristan Agency.
Full report at:
http://www.dailytimes.com.pk/national/30-Dec-2014/congress-has-notified-532-million-for-pakistan-us-envoy
-------
Ex-New York Times reporter banned from UPenn conference after comparing Israel to ISIS
30 Dec, 2014
Former New York Times Middle East bureau chief Chris Hedges said he was disinvited to speak at a University of Pennsylvania conference following a column comparing Israel to ISIS.
Hedges, now a columnist for the Truthdig.com website, was to speak at an April forum on prospects for peace in the Middle East sponsored by the university's International Affairs Association.
Zachary Michael Belnavis, a student leader of the association, wrote to the lecture agency that his group didn't see Hedges as a "suitable fit" for the conference.
http://www.jpost.com/Breaking-News/Ex-New-York-Times-reporter-banned-from-UPenn-conference-after-comparing-Israel-to-ISIS-386115
-------
Obama: Iran has 'chance to get right with the world'
30 Dec, 2014
WASHINGTON — Iran could become a "very successful regional power" if Tehran agrees to a long-term deal to curb its nuclear program, President Barack Obama said in an interview with NPR News.
"They've got a chance to get right with the world," Obama said in the interview, which was taped at the White House on Dec. 18 and is set to air this week.
More than a year ago, Iran agreed to an interim plan to halt higher-level uranium enrichment in exchange for a limited easing in financial sanctions pending negotiations on a long-term deal. Those talks have now been extended to next June.
Iran has said its nuclear program is for peaceful energy use, but the United States and five other powers want to make sure that Tehran cannot quickly develop nuclear weapons.
Obama told NPR that Iran should seize the chance of a deal that could lift crippling sanctions.
"Because if they do, there's incredible talent and resources and sophistication inside of Iran and it would be a very successful regional power that was also abiding by international norms and international rules — and that would be good for everybody," he said. Obama insisted a nuclear deal was possible, although Vice President Joe Biden earlier this month said he thought there was a "less than even shot" of an agreement.
Full report at:
http://www.saudigazette.com.sa/index.cfm?method=home.regcon&contentid=20141230228899
-------
Southeast Asia
Court ruling affirms religious authorities are limited by law
30 Dec, 2014
There is the law and no one, including religious authorities, can overstep the limits of the law even if they invoke religion as a right.
For too long now, some state religious authorities in Malaysia have issued fatwas (opinions) and treated them as immutable regulations that can be imposed at will and without recourse.
Today, the Court of Appeal affirmed that these state religious authorities have no such power when it upheld a lower court's ruling that the Federal Territory Islamic Religious Department (Jawi) was wrong in raiding and seizing copies of a controversial book from a Borders bookstore in Kuala Lumpur.
The book, "Allah, Liberty and Love" by Irshad Manji, was seized before a fatwa banning it was issued and, as such, Jawi's actions were deemed illegal and unconstitutional.
A three-man bench led by Datuk Mah Weng Kwai held that Jawi's action against the Borders store manager, Nik Raina Nik Abdul Aziz, was unconstitutional and illegal and said her arrest and prosecution must be quashed.
"Jawi had acted beyond their powers against Nik Rainah (third respondent) and the bookstore," Mah said.
Full report at:
http://www.themalaysianinsider.com/malaysia/article/court-ruling-affirms-religious-authorities-are-limited-by-law#sthash.6caFqmQp.dpuf
-------
Jokowi to upgrade RI's military and defense
December 30 2014
President Joko "Jokowi" Widodo said on Tuesday that he aimed to build Indonesia's military and defense capability, not to merely meet Minimum Essential Force (MEF) targets, but also to transform it into a well-respected force.
In a bid to improve the country's obsolete weapons system, the government has previously implemented a plan to follow the military's MEF blueprint for achieving an independent defense industry by 2024.
Speaking during a meeting with the Defense Industry Policy Committee (KKIP) on Tuesday at the Presidential Office, Jokowi pointed out four main priorities for the country's defense policy, including efforts to develop the military as a well-respected force; to meet the needs of the country's defense, both in terms of soldiers' welfare and the supply of defense equipment; to reach defense self-reliance; and to make defense policy part of a comprehensive approach to security.
Full report at:
http://www.thejakartapost.com/news/2014/12/30/jokowi-upgrade-ri-s-military-and-defense.html#sthash.AOxVRpKz.dpuf
-------
'Malaysian mess' will turn country into extremist state, warns Jeffrey Kitingan
30 Dec, 2014
Malaysia is submerged in a "sea of messes", charged Sabah veteran politician Datuk Dr Jeffrey Kitingan, which he said would steer the nation towards becoming a Taliban or Islamic State if nothing is done to resolve its problems.
The Sabah State Reform Party (Star) president said these "messes" were political, economic, socio-cultural, constitutional and administrative. They also involved security, corruption and problems related to the Borneo states of Sabah and Sarawak.
"In the current technologically advanced social media, what is happening in Malaysia, the whole world would know at a click and the federal government cannot hide the Malaysian mess from the world," said the chairman of civil rights movement United Borneo Front (UBF) at its fourth anniversary celebrations in Keningau, Sabah.
He claimed there was selective prosecution of political opponents, while no action was taken against those with links to ruling Malay party, Umno, and this had contributed to lawlessness and rising anarchy.
Full report at:
http://www.themalaysianinsider.com/malaysia/article/malaysias-messes-will-turn-country-into-extremist-state-warns-jeffrey-kitin#sthash.NRt2F9F2.dpuf
-------
URL: https://www.newageislam.com/islamic-world-news/new-age-islam-news-bureau/egyptian-court-permanently-bans-jewish-festival-on-'moral'-grounds/d/100764