New Age Islam News Bureau
2 Aug 2015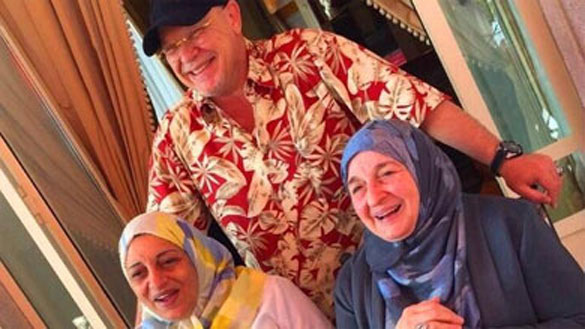 Image shows Osama Bin Laden's half-sister, Sana Mohammed Bin Laden (left) and her mother, Raja Bashir Hashim (right), and his brother-in-law, Zuhair Hashim (center). (Twitter)
---------
Arab World
• Egyptian army kills 88 militants in the volatile North Sinai region
• Saudi Defense Minister Threatens to Occupy Kuwait
• Scores of ISIL Terrorists Killed in Syrian Air Attacks near Palmyra
• Pictures released of Bin Laden family killed in UK plane crash
• Dozens of Militants Killed in Lattakia
• Yemeni Missiles Kill Several Saudi Military Men, Destroy 3 Bradley Tanks
• Iraqi Forces Kill over 10 ISIL Terrorists in East of Ramadi
• UAE to prosecute 41 people on charges of seeking 'caliphate'
• Syrian Army, Hezbollah Lay Tight Siege on Terrorists in Zabadani
• Syrian Opposition Quits SNC over Its Reliance on Foreign Supporters
• Ansarullah Intercepts Saudi Arms Cargo to Aden
• Egypt and U.S. 'moving back to strong base'
• Egypt: ISIS offshoot leader killed in shootout
• Syrian Fighter Jets Target Rebels' Supply Line in Aleppo Province
• KSA blasts heinous crime by settlers
• King Salman, Sisi reaffirm significance of Cairo Declaration
• Abu Dhabi's Crown Prince: Saudi reading of region matches our own
• Angry protests over poor services spread across Iraq
• Syrian Air Raids Continue to Target ISIL in Homs
------
Pakistan
• Altaf asks workers to demand UN, White House, NATO for troops in Karachi
• Al Qaeda chief of Balochistan and South Punjab killed in Chaghi: Bugti
• Three terrorists killed in alleged 'encounter' in Karachi
• MQM chief, Altaf Hussain, declared absconder
• Altaf Hussain's statement tantamount to waging war against Pakistan: Nisar
• 'Those who flourished under dictators are part of PTI today'
• ISI chief advised Benazir not to attend rally: witness
• Pakistan releases 163 Indian fishermen
------
Mideast
• Two Turkish soldiers killed, 24 wounded in suicide attack
• Turkish military rejects northern Iraqi village hit in strikes against PKK
• Israel to detain Jewish militant suspects without trial
• Turkish governor admits to shutting down mosque, causes outrage
• Fear and anxiety sweep nation as Turkey wages unprecedented war on two terror fronts
• Chaos, violence benefit AK Party, Erdoğan in possible snap election
------
South Asia
• Civil society activists protest against Taliban in Kabul
• Mullah Omar's successor casts doubts on talks
• Clashes erupt at Palestine's al-Aqsa mosque
• Afghan Taliban issues statement quoting 'dead' Jalaluddin Haqqani
• Drone strike kills senior Taliban commander in Logar
• Haqqani network founder backs new Taliban chief
------
Africa
• 7 Libyan soldiers killed in clashes
• Amal Clooney in last minute legal bid to save Qaddafi's son
• South Sudan becomes Olympic movement's 206th member
-------
North America
• White House says circumstances of Taliban leader's death remain uncertain
• 13 hurt in shooting outside New York City house party
• Want to see 26/11 perpetrators brought to justice: US
----
India
• Pakistan-India security advisers meeting proposed for Aug 23
-------
Compiled by New Age Islam News Bureau
URL: https://www.newageislam.com/islamic-world-news/new-age-islam-news-bureau/egyptian-army-kills-88-militants-in-the-volatile-north-sinai-region/d/104131
------
Arab World
Egyptian army kills 88 militants in the volatile North Sinai region
PTI | Aug 2, 2015
CAIRO: Eighty eight militants have been killed by Egyptian army in the volatile North Sinai region, as the country stepped up its campaign against Islamic State-linked terrorists following the Italian consulate bombing on July 11.
Army spokesperson Brigadier General Mohamed Samir said the militants were killed between July 20 and 31 in the restive Sinai peninsula.
The Islamic State (IS) has claimed the July 11 bombing of the Italian consulate. It was the first attack on a foreign mission in Egypt since jihadists launched a campaign against the country's security forces two years ago.
A civilian was killed and nine others were wounded in the attack.
During the army raids, Samir said two wanted criminals and 56 suspected militants were arrested. About 40 vehicles and 36 unlicensed motorcycle used by militants for attacks against security forces were destroyed, the spokesperson said.
Nine militant hideouts were also destroyed, Samir said in a statement.
The North Sinai region has witnessed many violent attacks by militants since the January 2011 revolution that toppled president Hosni Mubarak.
The attacks targeting police and military increased after the ouster of Islamist president Mohamed Morsi in 2013 by military following massive protests against his rule.
Though human rights concerns in Egypt remain, the US has increased military aid to Egypt as it confronts the growing extremist threats, particularly on the Sinai peninsula.
The US recently delivered eight F-16 warplanes to Egypt, part of a military support package.
US military assistance to Egypt had been on hold until earlier this year due to the rights concern, but was resumed by the administration for national security reasons.
More than 600 security personnel have been reported killed in Egypt since Morsi was ousted.
http://timesofindia.indiatimes.com/world/middle-east/Egyptian-army-kills-88-militants/articleshow/48317994.cms?
-------
Saudi Defense Minister Threatens to Occupy Kuwait
Aug 02, 2015
TEHRAN (FNA)- Saudi Defense Minister Mohammad bin Salman threatened to launch war on Kuwait after differences between the two Persian Gulf Arab states escalated over Khafji oilfield.
"Mohammad bin Salman threatened that his country would attack and occupy Kuwait, claiming that not only Khafji oilfield but also entire Kuwait is part of the Saudi territories based on historical documents," Middle-East Panorama quoted intelligence sources of the Persian Gulf Arab littoral states as saying.
Kuwait has complained that the continued shut down of Khafji oilfield it shares with Saudi Arabia will incur huge losses Riyadh must compensate for in the future.
Kuwaiti Oil Minister Ali Al Omair in a letter to his Saudi counterpart Ali Al Naimi urged him "to take adequate measures to ... resume production at Khafji. By keeping production and exports shut, Kuwait will incur huge losses which will be borne by the Saudi government for violation of the (50-year old) agreement and the 2010 operations agreement".
The sources referred to Salman's harsh reaction to Kuwait's claims, and quoted him as saying that "we saved Kuwait from Saddam's claws and now who is there to free it from our claws".
"Kuwait has no superiority over us and is a country stretched over a piece of land one-fourth of Riyadh," he added, according to the sources.
The field has been shut since October last year for non-compliance with new Saudi environmental standards. It is operated by Al-Khafji Joint Operations Co (KJO), a joint venture between AGOC, a subsidiary of state oil firm Saudi Aramco, and Kuwait Gulf Oil Co (KGOC).
Kuwait has reportedly taken the case to an international court of arbitration, making Saudi Arabia's young defense minister even more wrathful.
Before the closure, the Khafji field produced around 280,000 bpd to 300,000 bpd.
Saudi Arabia and Kuwait also share the Wafra oilfield, which has been shut since May due to operating difficulties. US oil major Chevron operates the field on behalf of the Saudi government.
http://english.farsnews.com/newstext.aspx?nn=13940511000600
------
Scores of ISIL Terrorists Killed in Syrian Air Attacks near Palmyra
Aug 02, 2015
TEHRAN (FNA)- The military sources in the Central Syria said that dozens of the ISIL Takfiri terrorists were killed or wounded in the Syrian airstrike on their positions in the nearby areas of Palmyra.
The sources said that the Syrian fighter jets pounded the strongholds of the ISIL group in Jazal and East of al-Heer al-Gharbi castle near Palmyra in Homs province, which resulted in the killing and wounding of tens of terrorists.
The ISIL Takfiri terrorists currently control shrinking swathes of Syria and Iraq. They have threatened all communities, including Shiites, Sunnis, Kurds, Christians, Ezadi Kurds and others, as they continue their atrocities in Iraq.
Senior Syrian and Iraqi officials have blamed Saudi Arabia, Qatar, and some Persian Gulf Arab states for the growing terrorism in their country.
The ISIL has links with Saudi intelligence and is believed to be indirectly supported by the Israeli regime.
http://english.farsnews.com/newstext.aspx?nn=13940511000257
-----
Pictures released of Bin Laden family killed in UK plane crash
By Staff writer | Al Arabiya News 2 August 2015
Images of the Bin Laden family members that were killed in a plane crash in southern England on Friday have been circulated by the international press.
The images show Osama Bin Laden's half-sister, Sana Mohammed Bin Laden and her mother, Raja Bashir Hashim, and his brother-in-law, Zuhair Hashim, who were killed in the plane crash along with Jordanian pilot, Mazen Al-Aqeel Da'jah Salem.
Mazen Al-Aqeel Da'jah Salem, pictured, was flying the £7million jet when it crashed into the car auction site following the botched attempt at landing at Blackbushe Airport. (Al Arabiya)
The pictures were published on the twitter account of Walid Bin Abdul Mohsen, who seems to have known the family well, on Saturday with the caption "Sina Bin Laden, her mother and her husband, Dr. Zuhair Hashim who died at the mercy of God."
Osama Bin Laden's half-sister, Sana Mohammed Bin Laden (left) and her mother, Raja Bashir Hashim (right), and his brother-in-law, Zuhair Hashim (center). (Twitter)
The Saudi ambassador to the U.K. also offered his condolences to the Bin Laden family, who own a major construction company in Saudi Arabia.
Sana bin Laden, the half-sister of Osama, sitting on a plane. (Photo courtesy: Daily Mail)
A statement was also released that said: "His Royal Highness Prince Mohammed bin Nawaf Al Saud ... has paid his condolences to the family and relatives of Mohammed bin Laden at Blackbushe Airport in Britain for the great loss they have suffered as a result of the crash of the plane that was carrying the family."
The embassy also said that they would work with the British authorities to ensure a quick repatriation of the bodies for burial.
The plane was flying into Hampshire from Milan, where the Bin Laden family are understood to have business interests in northern Italy.
The Phenom 300 jet was registered to a Bin Laden-owned firm under the name Salem Aviation, after the former al-Qaeda leader's eldest brother, who also died in a plane crash in 1988.
Osama Bin Laden's father was also killed in a plane crash in 1967 in Saudi Arabia when his helicopter crashed into a mountain in Taif.
https://english.alarabiya.net/en/News/middle-east/2015/08/02/Pictures-released-of-Bin-Laden-family-killed-in-UK-plane-crash.html
------
Dozens of Militants Killed in Lattakia
Aug 02, 2015
TEHRAN (FNA)- Scores of Takfiri militants were killed as Syrian air strikes targeted the terrorists' positions in Lattakia on Sunday.
At least 20 terrorists, including Turkish militants, were killed in a series of air raids in the Northern countryside of Lattakia, a military source said.
on Saturday, Some 50 Takfiri militants were killed in Syrian air raids in the countryside of Lattakia.
The air raids hit hideouts and concentration centers of terrorists in Dweirshan, al-Rawda, al-Wadi and al-Durra in the Northern countryside of Lattakia, killing 50 Takfiri militants, most of them foreign militants.
Syria has been grappling with a deadly crisis since March 2011. The violence fuelled by Takfiri groups has so far claimed the lives of over 230,000 people, according to reports. New figures show that over 76,000 people, including thousands of children, lost their lives in Syria last year.
http://english.farsnews.com/newstext.aspx?nn=13940511000866
-------
Yemeni Missiles Kill Several Saudi Military Men, Destroy 3 Bradley Tanks
Aug 02, 2015
TEHRAN (FNA)- The Yemeni forces pounded Saudi military bases in Jizan province with tens of missiles in retaliation for the Riyadh government's ongoing aggression against the Yemeni people.
The Yemeni army and the popular forces fired 50 missiles at Saudi military centers in al-Ma'atan, al-Madba, Qoraf al-Sheikh and al-Radif regions.
Several Saudi military personnel were killed in the missile attacks on al-Radif region in Jizan.
Meantime, the Yemeni forces destroyed three Bradley tanks in their missile attacks on another region in Southern Saudi Arabia.
The Yemeni forces' retaliatory attacks on Saudi positions have been intensified since last week after 100 Yemeni civilians, mostly women and children, were killed in Riyadh's airstrikes on residential areas in Taiz province.
On Saturday, the Yemeni army and popular forces destroyed two strategic military bases of Saudi Arabia in the Southern parts of the country.
The Yemeni forces targeted and destroyed Alib military base in Saudi Arabia's Asir province with 20 missiles.
The Yemeni popular forces also destroyed Tawila military base in Dhahran region with two Grad missiles.
Also yesterday, the Yemeni army and popular forces targeted Saudi Arabia's border regions, including al-Khoba, with missiles and artillery shells and took control of a strategic military base.
"The Yemeni forces captured Saudi Arabia's Wadi al-Jarah military base in Al-Khobe of Jizan province," a Yemeni military source said.
Saudi Arabia has been striking Yemen for 130 days now to restore power to fugitive president Mansour Hadi, a close ally of Riyadh. The Saudi-led aggression has so far killed at least 5,329 Yemenis, including hundreds of women and children.
Hadi stepped down in January and refused to reconsider the decision despite calls by Ansarullah revolutionaries of the Houthi movement.
Despite Riyadh's claims that it is bombing the positions of the Ansarullah fighters, Saudi warplanes are flattening residential areas and civilian infrastructures.
http://english.farsnews.com/newstext.aspx?nn=13940511000638
------
Iraqi Forces Kill over 10 ISIL Terrorists in East of Ramadi
Aug 02, 2015
TEHRAN (FNA)- At least 10 fighters of the ISIL Takfiri terrorist group were killed and some others injured in the Iraqi Federal Police's operations in the Eastern side of Ramadi, the chief of police command said.
"The Iraqi police forces stormed positions of the ISIL group and killed over 10 terrorists, including a suicide bomber and three snipers," Raed Shaker Jawdat said.
"The forces dismantled 5 booby-trapped houses in the Eastern axis of Ramadi," he further added.
On Friday, the Iraqi forces' operations in the areas between the districts of Baghdadi and Haditha in West of Ramadi resulted in the liberation of several neighborhoods which were fallen into the hands of ISIL.
The ISIL group is currently control a shrinking part of Syria and Iraq. They have threatened all local communities, as they continue their atrocities in Iraq.
Senior Iraqi officials have blamed Saudi Arabia, Qatar, and some Persian Gulf Arab states for the growing terrorism in their country.
http://english.farsnews.com/newstext.aspx?nn=13940511000377
----
UAE to prosecute 41 people on charges of seeking 'caliphate'
By: AFP, Abu Dhabi, Aug 2, 2015
The United Arab Emirates is to try 41 people on charges of seeking to overthrow the government to set up an Islamic State group-style caliphate, prosecutors said on Sunday.
Such mass trials on terrorism charges are rare in the UAE which has largely been spared the Islamic militancy that has hit other Arab states.
The suspects, who include Emiratis as well as foreigners, are accused of setting up a group "with a terrorist, takfiri (Sunni Muslim extremist) ideology," in a bid to "seize power and establish a caliphate," the prosecutor general said in a statement carried by the official WAM news agency.
They are accused of setting up cells to train members in handling weapons and the manufacture of explosives in preparation for attacks on UAE soil.
Prosecutors charge that they were "in contact with foreign terrorist organisations… to help them achieve their goals."
The UAE is part of the US-led coalition that has been carrying out air strikes against IS in Syria since September last year.
Last month, it adopted new legislation imposing heavy prison terms or even the death penalty for those convicted of membership of "takfiri" groups.
Takfiris regard Muslims who do not follow their extreme interpretation of Islam as apostates punishable by death.
It is the ideology of Al-Qaeda as well as IS.
http://indianexpress.com/article/world/middle-east-africa/uae-to-prosecute-41-people-on-charges-of-seeking-caliphate/#sthash.VfB5GvR1.dpuf
-------
Syrian Army, Hezbollah Lay Tight Siege on Terrorists in Zabadani
Aug 02, 2015
TEHRAN (FNA)- The Syrian army and Lebanese Hezbollah resistance forces cut the defense lines of the terrorists in the town of Zabadani in Southern Syria, surrounding them in a small area of two square kilometers.
According to FNA dispatches, the terrorists of the Al-Nusra Front and Ahrar al-Sham are now under a full siege in Zabadani.
The army units and Hezbollah forces, meantime, purged the terrorists from al-Shalah region.
Also, the Syrian army pounded the terrorists' positions in al-Nabu and al-Mahta regions.
On Tuesday, the Syrian army and Hezbollah purged terrorists from the Southern parts of Zabadani.
The Syrian and resistance forces pushed the terrorists backed from areas between two main squares in Southern Zabadani.
Tens of Takfiri terrorists were killed and dozens more were injured in heavy clashes with the Syrian troops and Hezbollah fighters.
The strategic town of Zabadani is located 45 kilometers to the Northwest of the city of Damascus in the Southern parts of Al-Qalamoun region.
The Syrian army and Hezbollah fighters started fresh operations to win back Zabadani over two weeks ago.
http://english.farsnews.com/newstext.aspx?nn=13940511001187
-----
Syrian Opposition Quits SNC over Its Reliance on Foreign Supporters
Aug 02, 2015
TEHRAN (FNA)- The Local Coordination Committees (LCC), a major Syrian anti-government group, said it has quit the opposition as it is manipulated by "foreign" forces.
In a Saturday letter to the so-called Syrian National Coalition (SNC), LCC censured SNC's transformation into "blocs linked to foreign forces", referring to Saudi Arabia, Qatar and Turkey, AFP reported.
LCC admitted that the SNC's reliance on "blocs related to factors and external forces" has been the main reason for the outbreak of "shameful internal conflicts over the personal ambitions of some members of the (anti-government) coalition", adding that LCC was "ashamed... to see what has happened to the coalition".
"We wish to inform you that the LCC has decided to withdraw officially from the coalition…We had hoped that this political grouping, of which we are one of the founders, would realize the aspirations of the people," the letter further read.
Plagued by division and rivalry among its supporters Riyadh, Doha, and Ankara, the SNC has been unable to present a common front so far.
Syrian President Bashar al-Assad had previously described the opposition groups as "puppets paid from the outside", who do not represent the people.
"Opposition means national; it means working for the interests of the Syrian people. It cannot be an opposition if it's a puppet of Qatar or Saudi Arabia or any western country, including the United States, paid from the outside. It should be Syrian… you have to separate the national and the puppets," said Assad in an interview with the US magazine, Foreign Affairs, published on January 26.
Syria has been grappling with massive foreign-sponsored militancy for the past four years. The conflict has reportedly killed an estimated 230,000 people since early 2011, including nearly 11,500 children.
http://english.farsnews.com/newstext.aspx?nn=13940511000326
-----
Ansarullah Intercepts Saudi Arms Cargo to Aden
Aug 02, 2015
TEHRAN (FNA)- The Ansarullah revolutionary forces prevented delivery of a Saudi cargo of weapons, ammunition and explosives to Al-Qaeda terrorists in Aden on Sunday.
"The Ansarullah fighters backed by the Yemeni army prevented the Saudis from smuggling weapons and seven TNT capsules to the al-Qaeda militants in Aden," Senior Ansarullah Leader Taher al-Saer told FNA on Sunday.
He, meantime, said that heavy clashes broke out between the Yemeni forces and pro-Hadi militants in the city.
"The Ansarullah fighters have made considerable advances in Aden in recent days and they have purged the terrorists from many residential areas, killing tens of Saudi stooges and injuring many others in heavy clashes," Al-Saer added.
The Yemeni army and Ansarullah forces have intercepted several Saudi arms cargos and backups to the al-Qaeda so far.
In May, Ansarullah leaders announced the seizure of a large number of Saudi tanks and missiles sent to the Al-Qaeda and pro-Hadi forces in Yemen.
"Saudi Arabia has been sending weapons to the terrorists since months before starting the military aggression against Yemen," Ali Mohsen al-Buraimi told FNA.
"With the help of the army and revolutionary committees, Ansarullah seized several trucks carrying weapons through the Saudi-Yemeni land border," he added.
Buraimi said that the arms cargo included tens of missiles, tanks and even helicopters which were to be used by the terrorists and the militia supporting the fugitive president Mansour Hadi.
"Saudi Arabia is the source of terrorism and a supporter of terrorists in Yemen, but the Yemeni nation will stand against this aggression," he added.
Also on in May, Ansarullah revolutionaries announced the seizure of a Saudi surveillance drone in the province of Sa'ada.
The Ansarullah revolutionaries captured the drone, which had parachute landed due to a technical fault, while patrolling the area in May.
http://english.farsnews.com/newstext.aspx?nn=13940511001257
-----
Egypt and U.S. 'moving back to strong base'
By Staff writer | Al Arabiya News, 2 August 2015
U.S. Secretary of State John Kerry said on Sunday the United States and Egypt were moving back to a "strong base" in their relationship despite tensions and concerns on human rights.
Egypt's Foreign Minister Sameh Shukri told a joint news conference with Kerry in Cairo that his country had no "major disagreements" with the United States but there were "differences in points of view over some issues, which is natural."
Kerry meanwhile said that military and economic cooperation between both countries was strengthening, expressing appreciation for Egypt's help in "expediting U.S. overflights and access to Suez Canal in support of counter-terror operations."
Kerry also said he had discussed with Egyptian officials "increased border cooperation" with respect to Libya.
Egypt and Libya share a long, porous border and ISIS militants have exploited a security vacuum to gain a foothold in Libya, a North African oil producer.
Shukri said he discussed democracy and human rights with Kerry during the first strategic dialogue between the two countries since 2009.
"During the dialogue we discussed our shared interest in issues relating to democracy and human rights and I affirmed Egypt's commitment to paying attention to these issues as they fulfill the aspirations of the Egyptian people," Shukri said.
Kerry added that he agreed with Shukri on the importance that upcoming parliamentary elections be "free, fair, and transparent" and that Shukri told him they would take place in the early fall.
On the topic of the Iranian nuclear deal, Kerry said the agreement signed between Iran and world powers last month would make Egypt and the region safer.
"There can be absolutely no question that the Vienna plan, if implemented, will make Egypt and all the countries of this region safer than they otherwise would be," Kerry said.
"The United States and Egypt recognize that Iran is engaged in destabilizing activities in the region -- and that is why it is so important to ensure that Iran's nuclear program remains wholly peaceful," he added.
Despite Washington's concerns about Egypt's lagging democratic reforms, Cairo remains one of its closest security allies in the Middle East, an increasingly crucial role amid unprecedented turmoil in the region.
While Washington has prized the former general Abdel Fattah al-Sisi, who led Mursi's overthrow and was later elected to succeed him, for the stability he has brought to Egypt, it has also cautiously criticized Egypt's human rights record and a crackdown on Mursi's Muslim Brotherhood, a now outlawed group.
U.S. officials say they want to see Egypt regain its economic growth and its political situation stabilize.
(With Reuters and AFP)
https://english.alarabiya.net/en/News/middle-east/2015/08/01/Kerry-in-Cairo-for-Egypt-security-talks.html
------
Egypt: ISIS offshoot leader killed in shootout
By Reuters | Cairo 2 August 2015
Egyptian armed forces killed a leading member of the country's ISIS affiliate in a shootout outside his North Sinai home, the army spokesman said in a statement on Saturday.
Selim Suleiman al-Haram, identified in the statement as a leader of the militant group known as Sinai Province, was asked to turn himself in by a group of soldiers that surrounded his house in the town of Sheikh Zuweid, the army said.
He refused, opening fire on the troops and attempting to blow himself up before being shot dead, the army said.
Egypt is battling an increasingly brazen insurgency in the Sinai Peninsula that has killed hundreds of police officers and soldiers since the army toppled Islamist President Mohammed Morsi in 2013 after mass protests against his rule.
President Abdel-Fattah al-Sissi has said militancy poses an existential threat to Egypt, the most populous Arab country.
Sinai Province, which has pledged allegiance to Islamic State, claimed responsibility last week for a bombing that the army said killed four soldiers near Rafah, a town on the border with the Gaza Strip.
The group claimed responsibility earlier this month for a rocket attack on an Egyptian naval vessel near the coast of Israel and Gaza, less than a week after claiming a bombing in Cairo that heavily damaged the Italian consulate.
It also assaulted several military checkpoints in North Sinai, in the fiercest fighting in the region in years.
https://english.alarabiya.net/en/News/middle-east/2015/08/02/-Egypt-ISIS-offshoot-leader-killed-in-shootout.html
-------
Syrian Fighter Jets Target Rebels' Supply Line in Aleppo Province
Aug 02, 2015
TEHRAN (FNA)- Syrian warplanes bombed one of the main supply routes of the rebel groups in the Northern province of Aleppo.
Informed sources said that the Syrian Air Forces hit a long convoy of al-Nusra Front's vehicles on one of the main supply route of the rebels near Bshantara and Kafr Dael in the Western part of the province.
The sources added that the rebel supply route was cut in the airstrike and several fighters were killed and injured.
On Friday, infighting intensified among the Takfiri terrorist groups after their recent defeats in the Western side of Aleppo.
The bloody clashes erupted between the Al-Nusra Front and 'Division 30' terrorist groups on Friday after they both failed to take control of the Western parts of Aleppo city which is currently under the Syrian army's control.
"The Al-Nusra attacked at dawn the headquarters of Division 30, near the town of Azaz in the northern province of Aleppo," said the UK-based Syrian Observatory for Human Rights (SOHR) in a statement.
Tens of Takfiri terrorists have been killed in militants' repeated raids on the Western parts of Aleppo city in the last few days.
Syria has been engulfed in civil war since March 2011. Damascus has been engaged in battles on multiple fronts, against the so-called moderate opposition and numerous extremist insurgent groups, including the Al-Nusra Front and ISIL militant groups.
http://english.farsnews.com/newstext.aspx?nn=13940511000218
------
KSA blasts heinous crime by settlers
August 02, 2015
Saudi Gazette report
RIYADH —The Kingdom denounced, in the strongest terms, here today the heinous terrorist crime carried out by Israeli settlers, on Friday dawn, resulting in the death of a Palestinian infant, at Duma Village, near Nablus, and severely burning of a number of the infant's family members, SPA said.
Minister of Foreign Affairs Adel Al-Jubeir condemned this barbaric and brutal act, which has been committed without a shred of ethics, conscience or humanity, while blaming the Israeli occupation authorities and holding them responsible and accountable for this criminal act against the Palestinians.
Al-Jubeir also called on the international community to fulfill its responsibilities and take necessary measures to protect the Palestinians from the aggressive practices of Israeli settlers.
While offering the Kingdom's condolences to the family of the infant and the government and people of Palestine, the minister hoped for a speedy recovery of the injured among the family members of the infant.
The parents and brother of the Palestinian toddler meanwhile were fighting for their lives Saturday, as protests over the arson attack entered a second day in the occupied territories.
The firebombing of the family's home in the occupied West Bank, which killed 18-month-old Ali Saad Dawabsha, sparked an international outcry over Israel's failure to get to grips with violence by hard-line Jewish settlers. The child's father, Saad, was being treated for third-degree burns at the Soroka hospital in southern Israel, where a spokeswoman described his condition as "critical". Mother Riham and four-year-old brother Ahmed were being treated at Tel Hashomer hospital near Tel Aviv, where a spokeswoman described their condition as life-threatening.
On Saturday, dozens of Palestinians were clashing with Israeli forces at the Jalazon refugee camp, where the funeral of Laith Khaldi had taken place. Khaldi, 16, was shot by Israeli soldiers Friday after throwing a Molotov cocktail, the army said.
On Saturday morning, Palestinians and Jewish settlers clashed near Kusra in the northern West Bank, trading volleys of stones until the Israeli army declared the area a closed military zone.
In East Jerusalem, some 10 Palestinians were wounded in overnight clashes with Israeli police, Palestinian sources said. On Saturday, two officers were lightly wounded dispersing a riot, police said.
Meanwhile, Al-Azhar denounced, also in the strongest words, the horrendous crime committed by Israeli extremist settlers, who attacked and burned a house at Duma village. In a statement issued here on Friday, Al-Azhar confirmed that this heinous crime and other crimes committed by the Israeli settlers would not have occurred without the blessing of the Israeli occupation authorities, which should be held fully responsible and accountable for the consequences of these horrendous crimes.
Al-Azhar strongly deplored the terrible silence of the international community and human rights organizations toward the crimes being committed against the Palestinian people contrary to all divine laws and international norms and conventions.
It warned against the continued policy of double standards and called for urgent Arab and international action to protect the Palestinian people from the arrogance of the Zionist occupation.
Also, Egypt government condemned the horrendous crime committed by Israeli extremist settlers. "Israel, as the occupying power, should be held fully responsible and accountable for the consequences of this heinous crime," spokesman of the Egyptian Ministry of Foreign Affairs Ambassador Badr Abdel Ati said, in a statement issued here on Friday.
He called on the international community to provide security and protection to the Palestinian people, while offering condolences of Egypt's government and people to the family of the martyr infant and to the brotherly Palestinian people, and wishing speedy recovery to the injured.
Meanwhile, the German government on Friday too strongly condemned the brutal arson by Israeli extremist settlers. Describing it as an inhumane act of terrorism, the German government said that the brutality, with which the family was attacked with incendiary devices, at its home, is shocking.
In a press release published on the German Federal Foreign Office website, the German government said: "We share the family's grief over the death of the toddler".
Prime Minister Benjamin Netanyahu called the firebombing "an act of terrorism in every respect" and made a rare telephone call to Palestinian President Mahmoud Abbas. But the Palestine Liberation Organization said it held his government "fully responsible".
The death of 18-month-old Ali Saad Dawabsha was "a direct consequence of decades of impunity given by the Israeli government to settler terrorism", the PLO said. Abbas said he had ordered his foreign minister to file a complaint at the International Criminal Court in The Hague.
"We want true justice, but I doubt that Israel will provide that," he said of the attack in Duma, near the northern city of Nablus.
The US State Department condemned the "vicious terrorist attack" in "the strongest possible terms," urging Israel to "apprehend the murderers" and calling on both sides to "avoid escalating tensions".
The European Union called on Israel to show "zero tolerance" for settler violence, while Jordan, the only Arab state apart from Egypt to have signed a peace accord with Israel, strongly condemned the attack.
"This ugly crime could have been avoided if the Israeli government had not ignored the rights of the Palestinian people and turned its back on peace," government spokesman Mohammed Momani said.
And UN chief Ban Ki-moon condemned the murder while calling on both sides to "take bold steps to return to the path of peace". — With input from agencies
http://www.saudigazette.com.sa/index.cfm?method=home.regcon&contentid=20150802252158
-------
King Salman, Sisi reaffirm significance of Cairo Declaration
August 02, 2015
JEDDAH — Custodian of the Two Holy Mosques King Salman and Egyptian President Abdel Fattah El-Sisi emphasized the significance of the recently announced Cairo Declaration and its ultimate and important implications for the Islamic and Arab nations.
The two leaders reaffirmed the significance of the Cairo declaration in a telephonic discussion on Friday, SPA said.
During the conversation, they asserted that the relations between the two fraternal countries are strategic and integrated.
The two leaders, also reviewed, over the telephone, ties binding the two brotherly countries, means to consolidate and cement them, in all domains, and ways to promote mutual cooperation.
The latest regional and international issues of common interest were addressed during the call.
In another development, King Salman received a telephone call Friday from French President Francois Hollande.
During the call, the president renewed his welcome to King Salman during his private visit to France.
They also emphasized the distinct strategic bilateral relations, which are witnessing their best times, and means to promote mutual cooperation.
They also reviewed the latest international developments and issues of mutual interest. — SG
http://www.saudigazette.com.sa/index.cfm?method=home.regcon&contentid=20150802252155
-------
Abu Dhabi's Crown Prince: Saudi reading of region matches our own
By Staff writer | Al Arabiya News, 2 August 2015
Abu Dhabi's Crown Prince, Sheikh Mohammed Bin Zayed Al Nahyan, who is also Deputy Chief of the UAE Armed Forces, met Saudi Foreign Minister Adel Bin Ahmad Jubair, in Abu Dhabi Saturday night for mutual talks.
The meeting discussed bilateral relations and ways to strengthen ties in the common interest of both GCC countries. Areas of common interest discussed included Gulf cooperation and action against regional challenges and the promotion of security, stability and development in the region.
Sheikh Mohammed Bin Zayed expressed his belief in the pivotal role that Saudi Arabia plays and his conviction that the Saudi Kingdom is the cornerstone for elevating the Arab region from the state of instability currently experienced. He added "t the Saudi leadership's reading of the developments in the region is also our own reading".
Other issues under discussion included the Arab Coalition efforts in Yemen to support the legitimate Yemeni government, anti-terrorism efforts, the Iranian nuclear deal, the situation in Syria and the Palestinian question as well as other regional and international common concerns.
https://english.alarabiya.net/en/News/middle-east/2015/08/02/Abu-Dhabi-s-Crown-Prince-Saudi-reading-of-region-matches-our-own.html
------
Angry protests over poor services spread across Iraq
BASRA , 02 August 2015— Hundreds of Iraqis demonstrated Saturday over the poor quality of water in the southern city of Basra, as protests demanding better services from the government spread across the country.
Around 500 people, waving banners and Iraqi flags, protested in front of the governor's office to demand a solution to the long-running problem of salty tap water.
"We demand the dismissal of the governor and of the provincial council; the time has come for Basra's people to get their rights," said Ziyad Tareq, a 24-year-old student.
When the governor's deputy went out to hear their demands, demonstrators pelted him with plastic water bottles and insisted on seeing the governor himself.
"The local government is always promising improved water and electricity but they are liars and no longer have any credibility," Tareq said.
"The temperature is 54 degrees (Celsius — or 129 Fahrenheit) in central Basra right now... the Basra people are very angry at their rulers."
Raad Jassim, an employee at the South Oil Co, said Basra residents were increasingly frustrated at their region's inability to capitalise on its massive oil wealth.
"Basra is feeding Iraq; it is bankrolling the country, and we do not even have water that is suitable for livestock," the 36-year-old said.
The region is home to the oil fields that account for the vast majority of the more than three million barrels of oil Iraq exports every day.
Yet it remains under-developed and has suffered from chronic power outages, poor water quality, uncollected waste and other problems that have led a growing number of Basrawis to call for autonomy.
Security forces were out in force Saturday around the governorate, less than two weeks after violence erupted during a previous protest against electricity shortages.
"There is security here as if we were staging a coup against the government. We are demonstrating peacefully and all we want is our right to drink clean water," said Mahmud Shaker, a 52-year-old high-school teacher.
In central Baghdad, hundreds of people also gathered Friday evening to protest against power outages, an enduring problem they blamed on government corruption.
There have been demonstrations in other Iraqi cities, including in the Shiite shrine city of Karbala on Saturday. — AFP
http://www.saudigazette.com.sa/index.cfm?method=home.regcon&contentid=20150802252164
-------
Syrian Air Raids Continue to Target ISIL in Homs
Aug 02, 2015
TEHRAN (FNA)- Syrian air strikes hit positions of the ISIL Takfiri terrorists in Homs province on Sunday.
The air strikes destroyed vehicles belonging to the ISIL terrorists at the entrance of Wadi al-Masek to the East of Palmyra and the outskirts of al-Sukhne town in the Eastern countryside of Homs.
Syria has been grappling with a deadly crisis since March 2011. The violence fuelled by Takfiri groups has so far claimed the lives of over 230,000 people, according to reports. New figures show that over 76,000 people, including thousands of children, lost their lives in Syria last year.
Over 3.8 million Syrians have left their country since the beginning of the crisis. According to reports, more than seven million Syrians have become internally displaced.
http://english.farsnews.com/newstext.aspx?nn=13940511000848
------
Pakistan
Altaf asks workers to demand UN, White House, NATO for troops in Karachi
August 02, 2015
DALLAS: Muttahida Qaumi Movement (MQM) Chief Altaf Hussain has asked his party workers to stage protests in front of United Nations, White House and NATO and raise a demand for sending their troops to Karachi.
Altaf Hussain was addressing MQM's Annual Convention in the US city of Dallas via telephone.
Altaf said, India itself is a coward country, if it had some honor it would not have allowed 'bloodshed of Mohajirs' on Pakistani soil. He reiterated the demand for a separate province for Mohajirs.
MQM Chief directed party workers to write letters to US newspapers and make them aware of the actual situation in Pakistan.
Altaf Hussain asked MQM workers to continue their movement for respectable life of mothers, sisters and daughters even if he was murdered.
He dismissed money laundering charges and said all the bank accounts in London had been frozen and the party members were dealing with a difficult situation there.
Terrorism is biggest threat for Pakistan, he asserted, claiming that the organizations banned by the Interior Ministry were still operating in the country.
http://www.thenews.com.pk/article-192941-Altaf-asks-workers-to-demand-UN,-White-House,-NATO-for-troops-in-Karachi
-------
Al Qaeda chief of Balochistan and South Punjab killed in Chaghi: Bugti
SYED ALI SHAH — Aug 02, 2015
QUETTA: Security forces claimed to have killed the al Qaeda chief of Balochistan and South Punjab, Omar Abdul Latif (alias Luqman), in Balochistan's Chaghi district near the Pak-Afghan border on Sunday.
Home Minister Balochistan Sarfaraz Bugti while addressing a press conference said that acting on a tip off, security forces had conducted an operation during which the wife of the al Qaeda militant commander was also arrested.
The wife of the dead al Qaeda commander was identified as Tayyaba alias Freeha Baji. Two children of the alleged militant commander were also taken into custody for interrogation.
"Security personnel are interrogating the commander's wife," Bugti said adding that, "The al Qaeda commander had fled from neighboring Afghanistan to Pakistan eight or ten months back."
The Home Minister further said, "Omar Abdul Latif was striving to establish al Qaeda Sub-Continent Center here. Major terror bid has been foiled in Balochistan."
Sarfaraz Bugti said that as part of National Action Plan (NAP), an operation was under way against terrorists and terrorists' organisations in Balochistan.
He added that the situation in the province had now improved as result of successful actions by security forces.
The Home Minister said, "Terrorism would not be tolerated and strict action would be taken against terrorists."
During the past, intelligence agencies have also arrested high profile al Qaeda militants from Quetta and other parts of Balochistan.
http://www.dawn.com/news/1197962/al-qaeda-chief-of-balochistan-and-south-punjab-killed-in-chaghi-bugti
------
Three terrorists killed in alleged 'encounter' in Karachi
August 02, 2015
KARACHI: Three terrorists of a proscribed outfit were killed in an alleged exchange of fire with personnel of Counter Terrorism Department (CTD) in Manghopir area.
According to In-Charge CTD Ali Raza, the shootout with terrorists took place in Khairabad area of Manghopir, adding that arms and explosives were recovered from the possession of the militants.
Meanwhile, police on a tip-off launched action in various areas of Baldia town and arrested five Afghan national and three street criminals. Police also seized hand grenade, weapons, motorcycle.
Police also nabbed two absconders during an action in Mubina town, Gulshan-e-Iqbal.
http://www.thenews.com.pk/article-192936-Three-terrorists-killed-in-alleged-encounter-in-Karachi
-----
MQM chief, Altaf Hussain, declared absconder
Our correspondent
KARACHI, August 02, 2015 : An anti-terrorism court (ATC) on Saturday accepted a report submitted by the Investigation Officer (IO) stating that Muttahida Qaumi Movement (MQM) Chief Altaf Hussain was an absconder in an attempted murder case registered in the Civil Lines police station for allegedly hurling threats at the Rangers after a raid on Nine-Zero.
The investigation officer submitted that Altaf Hussain was not in the country and therefore, could not be arrested and requested the court to declare him an absconder, which the court approved.
Investigation Officer (IO) Muhammad Naeem, who presented a charge sheet in the court under Section 512 of the Criminal Procedure Code (CrPC), said that MQM chief Altaf Hussain nominated in the FIR registered in Civil Lines police station could not be produced before the trial court as he was not in Pakistan. The court accepted this plea and declared Altaf Hussain an absconder in this case.
The First Information Report (FIR) in this case was registered on March 15 at the Civil Lines police station by Sindh Rangers Spokesman Colonel Tahir under Section 7 of the Anti-terrorism Act 1997 and 506B of the Pakistan Penal Code (PPC). The FIR was lodged after the Rangers headed by Colonel Tahir raided the MQM headquarters, Nine-Zero, and adjoining areas on March 11. The complaint lodged by Colonel Tahir alleged that the MQM chief threatened them by stating that the Rangers officers who raided 90 would be 'history'. The complainant stated that in his statement, Altaf had hurled veiled threats to Rangers officers.
The charge sheet submitted to the court had now declared Altaf Hussain an absconder in this case pertaining to using threatening language against the Sindh Rangers. The charge sheet has been accepted by the ATC concerned. The court later directed the IO to carry out his investigation and submit a report to this effect at the next hearing.
It may be mentioned that in July, dozens of cases had been registered against Altaf Hussain and others in different parts of the country. In such cases, Altaf Hussain was accused of involvement in cases of criminal conspiracy, waging or attempting or abetting the war against Pakistan and committing acts of terrorism. In response to a similar case, an ATC in Gilgit-Baltistan while hearing the matter had issued non-bailable arrest warrants for the MQM chief.
http://www.thenews.com.pk/Todays-News-13-38897-MQM-chief-declared-absconder
------
Altaf Hussain's statement tantamount to waging war against Pakistan: Nisar
By Zahid Gishkori: August 2, 2015
ISLAMABAD: Interior Minister Chaudhry Nisar said on Sunday the purpose of MQM chief Altaf Hussain's speech on Saturday night was to defame Pakistan as well as its institutions.
"Altaf Hussain's speech from London last night was a humiliation for the country," the interior minister said, while addressing a press conference in Islamabad.
Nisar said Altaf blamed the military for creating rifts in the party, and invited India to intervene in Karachi's affairs.
The MQM chief on Saturday night strongly criticised law enforcement agencies while addressing his party workers.
Regarding the ongoing Karachi operation, Nisar said, "The operation is being conducted without any discrimination. All apprehensions of the MQM are being addressed without any request by the party leadership."
He added target killings in Karachi decreased drastically, and that all parties except the MQM were satisfied with the performance of LEAs.
"All intelligence institutions, political parties, LEAs, provincial and federal government are on the same page," said Nisar.
Further, defending the operation, Nisar said, "In August 2013, MQM's Farooq Sattar requested the government to handover Karachi's administrative control to the military and in the same month he announced the operation would be conducted under civil law enforcement agencies and Sindh Rangers would supervise it."
About the cases against Altaf and the MQM leadership in London, the interior minister said Pakistan would continue to cooperate with the UK.
"We will abide by the international laws. Money laundering is a serious crime. Imran Farooq was a Pakistan and he was brutally killed."
He said all cases against the MQM chief were filed by Pakistani citizens and not Sindh Rangers.
"We [the government] are being blamed even if we bring peace [in Karachi] on demand of the MQM, or cooperate with the UK police in Imran Farooq's murder probe," said Nisar.
'Reference to be filed against MQM leadership in London'
Meanwhile, the interior minister disclosed Pakistan would file a legal reference against MQM's top leadership in London.
"A legal reference would be served to the UK government and Metropolitan Police soon," he said. "We are examining the Altaf Hussain's as an attempt to wage war against Pakistan. The speech from MQM's London office is an attack on Pakistan's sovereignty."
He added that "no patriotic Pakistani, including MQM workers could think of waging war against the state. It is Altaf Hussain who's calling NATO, India for involvement in Karachi."
According to officials at the interior ministry, Nisar is likely to meet British High Commissioner Philip Barton to take up the issue of hate speech.
"The pros and cons of legal reference would also be discussed," a senior official told The Express Tribune. "A legal draft is being prepared with cooperation of ministries of law and justice and foreign affairs."
http://tribune.com.pk/story/931006/altafs-speech-defamed-pakistan-and-its-institutions-nisar/?utm_source=Daily+Roundup+Newsletter&utm_campaign=efc11e2aed-Daily_Roundup_5pm&utm_medium=email&utm_term=0_19961368d8-efc11e2aed-65338937
------
'Those who flourished under dictators are part of PTI today'
August 01, 2015
LAHORE: Leader Pakistan Tehreek-e-Insaf (PTI), Hamid Khan on Saturday said those who enjoyed power under the umbrella of dictators and cracked jokes about PTI are today a part of the party.
"They are corrupt. They are sugar mafia. They are the enemies of Pakistan," said Hamid Khan while talking to media persons here.
He said these members poison the party Chairman Imran Khan's ears by telling him that only they are the ones who hold relevant experience and only they are competent in the entire lot.
He said the PTI suffered damage due to the presence of self-centered individuals in the party. "The party needs to be cleansed of corrupt elements and that no compromise would be made in this regard," he added.
He said even Imran Khan repeatedly expressed his regret that he felt a dearth of competent people around him.
Hamid Khan said rigging did take place in general elections of 2013 but his party could not prove it. He, however, said that he was successful in proving rigging in his constituency.
http://www.thenews.com.pk/article-192914-Those-who-flourished-under-dictators-are-part-of-PTI-today
------
ISI chief advised Benazir not to attend rally: witness
MALIK ASAD — 02 Aug, 2015
ISLAMABAD: The security officer of former prime minister Benazir Bhutto has told an anti-terrorism court that the director general of the Inter Services Intelligence (ISI) in 2007 had advised her hours before her assassination not to attend the public meeting at Liaquat Bagh.
Recording his statement recently before the ATC in Rawalpindi, then senior superintendent of police, retired Major Imtiaz Hussain, said ISI director general Lt Gen Nadeem Taj and Maj Gen Ehsan met Ms Bhutto on the night between Dec 26 and 27, 2007, to discuss her security.
He said Lt Gen Taj and Maj Gen Ehsan tried to persuade Ms Bhutto not to address the Liaquat Bagh rally. "The former prime minister had told me that intelligence agencies, the ISI chief and Maj Gen Ehsan had informed her about the security threat to her life," he said.
A retired army officer privy to the development told Dawn that the ISI chief's meeting with Ms Bhutto lasted a couple of hours. The army had received information from different sources, including intercepts, that suicide bombers had entered Rawalpindi and they could kill Ms Bhutto before, during or after the public meeting and that the information was passed on to the late PPP leader, he added.
Maj Imtiaz, who is a prosecution witness in the Benazir murder case, was posted as security officer of the former prime minister on Oct 16, 2007. He said in his court statement that Ms Bhutto had directed him to travel with her, along with his weapon, and sit in the vehicle on the front seat alongside the driver.
He said that it was his responsibility to arrange back-up vehicles. A 10-member security team comprising, among others, Dr Zulfikar Mirza, Agha Siraj Durrani and retired Maj Gen Mehmood was travelling in the back-up vehicles, he added.
The witness said he was also present in the truck that was carrying the late leader and which came under a bomb attack at Karsaz in Karachi in 2007. More than 170 people died in that attack.
He said that Ms Bhutto left Zardari House for Liaquat Bagh at 1pm. "One Hafeezur Rehman was driving the vehicle and I was sitting on the front seat. Ms Bhutto, Amin Fahim and Naheed Khan were sitting behind me. Safdar Abbasi, Zakir, a personal servant of Ms Bhutto, and PPP worker Khalid Hussain Shahenshah were sitting behind them."
Major Imtiaz said that after the rally Ms Bhutto left Liaquat Bagh and when they were on Liaquat Road she fell in the vehicle and her blood began oozing out. Then a blast took place.
"We raced towards a hospital on Murree Road and after covering half the distance Ms Bhutto was shifted to another vehicle in which Sherry Rehman was travelling."
Naheed Khan informed them that Ms Bhutto had succumbed to her injury, he said.
Ms Khan and her husband former senator Safdar Abbasi told Dawn that the-then ISI director general had met Ms Bhutto. But Mr Abbasi said they were not aware that the ISI chief had warned the former prime minister about her security. "We learnt this after the assassination," he said.
When contacted, PPP's information secretary Qamar Zaman Kaira said he didn't know if Ms Bhutto was advised against addressing the public rally by agencies.
"It is also not in my knowledge that BB had met the-then ISI chief hours before her death," he added.
http://www.dawn.com/news/1197942/isi-chief-advised-benazir-not-to-attend-rally-witness
-------
Pakistan releases 163 Indian fishermen
AFP — Aug. 02, 2015
KARACHI: Pakistan on Sunday released 163 Indian fishermen held for violating its territorial waters as a goodwill gesture amid tensions over exchange of fire between security forces of both countries along the Indo-Pak border and an attack on a police station.
The fishermen were freed from Malir jail in the southern port city of Karachi.
"We have a total 660 Indians in the prison and most of them are fishermen, who were arrested for violations of territorial waters in the Arabian Sea during the last two years. We have (today) released 163 fishermen as a goodwill gesture," jail superintendent Muhammad Hassan Sehto told AFP.
Those released include five children aged between 10 and 14.
A 10-year-old from India's Gujarat state, who spent eight months behind bars, left with tears of emotion.
And a 12-year-old named Bharat said he had been incarcerated for 18 months "just because there is no line in the water (between India and Pakistan)".
Pakistan's leading charity the Edhi Foundation paid the travel expenses of the Indians and presented them with gifts on their departure from the railway station.
Each country often arrests the other's fishermen, along with their boats, since many fishing boats lack the technology to check their location.
India and Pakistan also use the releases as expressions of goodwill.
Three gunmen stormed a police station and killed seven people in northern India last week and India's home minister claimed they came from Pakistan.
There has also been a flare-up in violence along the de facto border in Kashmir in recent weeks.The territory is divided between the two countries but claimed in full by both of them.
http://www.dawn.com/news/1197963/pakistan-releases-163-indian-fishermen
--------
Mideast
Two Turkish soldiers killed, 24 wounded in suicide attack
By ZABIHULLAH MOOSAKHAIL - Sun Aug 02 2015
Turkey: Two Turkish soldiers have been killed and 24 others wounded in a suicide attack in eastern part of Turkey.
Officials say a suicide bomber driving a tractor laden with explosives targeted a military police station near the town Dogubayezit in Agri province earlier on Sunday morning.
The blast left two soldiers killed and 24 others wounded but the death toll may rise as the health condition of some of the victims was announced to be critical at the hospital.
Anadolu, the Turkish state news agency reported that two tons of explosive materials were used in the attack and that it was carried out by a suicide bomber.
Sunday's attack carried out near the Iranian border has been blamed on the Kurdistan Workers' Party (PKK) but the group had not commented on the commented on the report by the time it was filed.
Turkish airstrikes began on 24 July, after Turkey allowed US-led coalition forces to use its bases against ISIS in the neighboring Syria.
PKK has been fighting for autonomous homeland for Kurds but Turkey considers it as a terrorist organization.
The group began its armed uprising in 1984 and over 40,000 people have been killed due to the fighting since then
http://www.khaama.com/two-turkish-soldiers-killed-24-wounded-in-suicide-attack-3694
-------
Turkish military rejects northern Iraqi village hit in strikes against PKK
August 02, 2015
The Turkish military on Sunday refuted reports that a village in northern Iraq was bombed during air strikes against Kurdistan Workers' Party (PKK) targets in the Kandil Mountains in northern Iraq.
In a statement posted on its website, the General Staff said the conclusion was reached, after an assessment of media reports, that the area targeted during the air strikes was a shelter for PKK terrorists, not a village, and that there were no civilians in or near the scene of the aerial bombardment.
Kurdish media outlets reported on Saturday that several civilians were killed during a bombardment by Turkish jet fighters in the village of Zargala on the outskirts of the Kandil Mountains.
Iraqi Kurdish leader Massoud Barzani's office then condemned the Turkish bombing and called on the PKK to withdraw from the Iraqi Kurdish territory in order not to put civilian lives at risk.
In a statement later in the day, the Turkish Foreign Ministry said Turkey was "saddened" by reports that civilians might have been killed in Turkish air strikes, promising to launch an investigation into the incident.
The Foreign Ministry said the air strikes are being conducted with high precision and carried out only after intelligence gathered determines that there are no civilians in the area.
The General Staff also said the targets of the air strikes were determined by qualified personnel as a result of a "highly meticulous and detailed assessment."
http://www.todayszaman.com/diplomacy_turkish-military-rejects-northern-iraqi-village-hit-in-strikes-against-pkk_395304.html
------
Israel to detain Jewish militant suspects without trial
2 August 2015
Israel intends to detain without trial citizens suspected of political violence against Palestinians, government officials said on Sunday following a lethal West Bank arson attack blamed on Jewish militants.
The extension to Israelis of so-called "administration detention", a practice commonly applied to Palestinian militant suspects and condemned internationally, laid bare authorities' frustration at failing to curb Jewish ultra-nationalist attacks.
Friday's toching of a Palestinian home killed a toddler and seriously hurt his parents and brother, causing an outcry abroad
and vows by Israeli Prime Minister Benjamin Netanyahu to crack down on what he deemed "terrorism" by "criminals in our nation".
There was no claim of responsibility for the arson at Duma village, in the occupied West Bank. Graffiti in Hebrew reading
"revenge" daubed at the site was consistent with past vandalism and other hate crimes by bands of young Jewish zealots targeting Arabs, Christians, peace activists or Israeli army property.
With no arrests yet made for the arson, some Israeli commentators on Sunday questioned the resolve of security services which, when responding to Palestinian attacks, often round up suspects en masse as part of accelerated investigations.
Such detainees are sometimes held without trial for months, a measure Israel says is required to prevent further violence in the absence of sufficient evidence to prosecute, or where going to court would risk exposing the identity of secret informants.
Defence Minister Moshe Yaalon, who oversees law and order in the West Bank, would now subject any Israelis arrested for the Duma arson or similar incidents in the future to "administrative detention," his spokesman said.
"As always, each case of administrative detention will have to be approved by the courts, but by invoking this the minister is taking action consistent with his effort to exact the full measure of the law against these people," the spokesman said.
Officials with Israel's Shin Bet security service and Justice Ministry said they were aware of government plans to seek administrative detention for Israeli citizens.
According to the Israeli human rights group B'Tselem, 5,442 Palestinians were in detention without trial as of June. The measure, which foreign critics see as a blow to due process of the law, has seldom been imposed by Israel against its own citizens.
"To the best of my knowledge, there have been no instances of Israelis being held in administrative detention in recent years," said B'Tselem spokeswoman Sarit Michaeli.
Israeli officials say the Jewish zealots elude discovery by operating in small networks that are hard for informants to penetrate, avoiding electronic communications that might be monitored, and clamming up when detained for interrogation.
https://english.alarabiya.net/en/News/middle-east/2015/08/02/Israel-to-detain-Jewish-militant-suspects-without-trial-.html
-----
Turkish governor admits to shutting down mosque, causes outrage
August 01, 2015
Governor Yılmaz raised his finger against Dönmez and forcefully said he had shut down the mosque. "Tell him that they were teaching how to be servants of Israel there," the governor shouted at Dönmez. It was not clear which "him" the governor was referring to.
The mosque was built 36 years ago and donated to the Akyazı Education Foundation, which is affiliated with the Gülen movement. The mosque was being operated by the Kütayha religious directorate, which is a state organ.
Critics argue that the governor shut down the mosque as part of a witch-hunt against the Gülen movement, which is accused of orchestrating twin corruption investigations against the government. The Gülen movement denies the charges. Turkish President Recep Tayyip Erdoğan has publicly vowed to continue his witch hunt against schools, media outlets, businesses and educational facilities linked to the Gülen movement.
The crackdown on the movement was taken to another level with the governor's closure of the mosque, a sensitive issue for conservative Turks.
The governor later contradicted his previous remarks, saying that he closed the mosque because it had been illegally on its location for "30-40 years."
After Dönmez left the mosque, security services asked him to show his ID. Dönmez said, "Am I now under surveillance because I asked a question of the minister?" The security personnel said it was a routine ID check.
Dönmez said he never heard a remark that praised or condemned Israel in that mosque, where he had been an attendee for a long period of time.
http://www.todayszaman.com/national_turkish-governor-admits-to-shutting-down-mosque-causes-outrage_395295.html
------
Fear and anxiety sweep nation as Turkey wages unprecedented war on two terror fronts
August 01, 2015
As Turkey enters a war against terror groups Islamic State of Iraq and the Levant (ISIL) and the Kurdistan Workers' Party (PKK) in both Syria and Iraq, the country has entered a new and yet familiar period of chaos and distress. Still without a coalition government since the June 7 general election, the nation is evidently falling into a dark abyss of insecurity and citizens are finding themselves susceptible to fear, anxiety and anger, according to experts. Beyond personal emotional changes, trouble performing simple day-to-day tasks such as a morning commute or a trip to the mall has already begun.
Coalition talks to form a government after the June election have foundered since the Suruç massacre on July 20, when a suicide bomb attack linked to ISIL killed 32 activists. Since the tragic event, nearly each passing day has resulted in death via clashes between Turkish forces, ISIL, the PKK and the radical leftist Revolutionary People's Liberation Party/Front (DHKP/C). These developments as Turkey enters political instability and darkness have inevitably affected the nation's psyche and their outcomes are revealed in everyday lifestyle choices.
On Monday, July 27, Turkish media reported that the İstanbul Police Department had issued warnings of bomb attacks on crowded places in central İstanbul, such as metro and bus stops; considering İstanbul's estimated population of 14.2 million, this instruction proves near impossible. The warning also advised against riding the Metrobus, İstanbul's rapid transit, which is one of the most efficient modes of transportation in İstanbul with 45 stops extending to both the European and Asian sides of the metropolis.
A photograph of a document that was signed off by İstanbul Deputy Police Chief Mustafa Çalışkan was circulated on news websites and social media. The document carried the message, "Information has been obtained that a bombing will take place at [one of the] Yenikapı, Hacıosman, Osmanbey or Taksim subway stops and at a Metrobus stop, and there will be an attack on the İstanbul police headquarters." The stops mentioned, and Taksim in particular, are located in some of the most central and busiest neighborhoods of İstanbul. Since the warning circulated, many drivers have complained of heightened traffic jams due to more people preferring private modes of transit rather than public transportation.
Additionally, the German Foreign Ministry warned on Wednesday about possible attacks on İstanbul's underground rail network and bus stops in the wake of Turkey's assault on Kurdish militants in northern Iraq. "There could be increased attack activity by the PKK," the German Foreign Ministry said in a statement on its website. "Beyond that, there are indications of possible attacks on the underground rail network and bus stops in İstanbul," the ministry added.
Psychologist Rüveyda Çelenk Yılmaz, who specializes in political psychology, spoke with Sunday's Zaman in a phone interview and shared how these recent events have detrimental effects on the general public. "The public is very scared and feels helpless. They don't know whether or not the streets they walk on or the Metrobus they take will be bombed or not. Therefore there is a lot of fear and anxiety. For example, one of my clients who rides the Metrobus said that when they see someone with an extra bag or someone wearing a chador, they get off and get on another vehicle. People are avoiding going to shopping malls. Furthermore, they are not interacting with people they do not know."
As the cease-fire with the PKK has crumbled, a regression has become visible within the political developments towards peace that had set in since the PKK declared a cease-fire in 2013. Recent newspaper headlines since the PKK remobilized reveal similar stories to those that covered the pages of Turkish newspapers in the 1990s and 2000s: "2 Turkish police officers killed in their sleep on July 22"; "Police officer, civilian killed by PKK assailants in Diyarbakır on Wednesday"; "Gendarmerie commander Maj. Arslan Kulaksız killed in Muş"; "3 more Turkish gendarmes die in attack in Şırnak on Thursday." On the part of the Turkish army, in addition to recent strikes on ISIL, Turkish jets hit shelters and storage facilities belonging to the PKK in locations in northern Iraq in Turkey's first aerial raid in northern Iraq against the PKK since Turkey embarked on peace talks with the Kurds in 2012.
Though police officers and gendarmes have been the targets of the PKK thus far, it is altogether conceivable that the attacks will expand in scope to create further pandemonium for civilians, as exemplified by the Suruç attack, especially considering recent developments in Turkey's history.
Five years ago, a suicide bomber affiliated with the Kurdistan Freedom Falcons (TAK), a splinter group of the PKK, wounded 17 civilians and 15 officers at Taksim Square in the heart of İstanbul. Preceding that event was the 2008 İstanbul bombings, when two bombs killed 17 people in a busy shopping area in the district of Güngören. The PKK is suspected of being responsible, though it has denied this claim. The year before that, in May 2007, a shopping mall in Ankara was bombed, claiming nine lives, and the list goes on.
On this note, Yılmaz stated, "The reality is that in Turkey we were raised with these terrorist events; our mothers and fathers raised us with these anxieties, and this is very troublesome. In our formative years, basic trust and a sense of safety must be instilled in us by our parents. If we feel safe when we look into our mothers' eyes, we will perceive the world to be a safe place. But because we were raised by mothers and fathers who had these anxieties, we were preconditioned to absorb these feelings and to grow up lacking a sense of security. Therefore, when events like these take place, it triggers these emotions and provokes intense [emotional] responses."
With memories of mall bombings still relatively fresh, an air of anxiety has commonly been expressed by locals for going shopping. In Turkey, it is common for there to be a security check at every entrance to a mall, and Investors in Shopping Centers Association Chairman Hulusi Belgü shared with Sunday's Zaman that malls are well aware of the effects national security has for these shopping centers. "We have not received any warnings from officials so far, but do to the saddening events, we have begun to take the necessary measures in our own sector [for security]," Belgü shared.
"With the increased security measures taken in the country in general, we immediately began to increase our security measures with all seriousness as well as begun working with our consultants concerning the agenda of the country," he added.
Public anger towards political leaders
Psychologist Yılmaz has spent much time studying the influence of political action on behavioral changes and expressed the ways these transformations manifest themselves in the types of dilemmas that Turkey is currently undergoing. She explained that emotions that begins with fear and anxiety then evolve into helplessness and finally transform into anger; this is where trouble can be expected. "They are upset with political leaders, they are upset with themselves. There are a lot of intense emotions," Yılmaz warned.
"Of course, police officers and leaders are going to be giving these warnings, but these announcements must be given in a way that addresses all of society without alienating any community; it needs to be done with concern for everyone's safety. If there are circumstances like this [where there is alienation], tension follows, and if this happens, there is a very serious threat of civil war, because the people of our nation have past experience with this type of fragmentation. Sure, we all have tendencies to offer compassion and love to one another, but we must look at the examples of our past, and see that these types of tensions can transform into aggression in just a moment's time. Therefore, political leaders and actors must speak in a manner that is inclusionary and protective," Yılmaz stated. "People are very vulnerable to political propaganda or manipulation at a time like this."
http://www.todayszaman.com/national_fear-and-anxiety-sweep-nation-as-turkey-wages-unprecedented-war-on-two-terror-fronts_395242.html
-------
Chaos, violence benefit AK Party, Erdoğan in possible snap election
August 01, 2015
The ruling Justice and Development Party (AK Party) as well as President Recep Tayyip Erdoğan are benefitting from an environment of chaos and the possibility of a snap election as they win back voters who had drifted away in the June general election and cost the AK Party its parliamentary majority.
With coalition talks between party representatives under way, the AK Party might be planning to use controlled chaos to "direct" people who may fear political and economic instability into voting for the AK Party in an early election.
According to the "Political Violence Index," a recent report published by S Bilişim Danışmanlık, an İstanbul-based consulting firm, when violence increases in Turkey, support for the AK Party goes up.
Serdar Sement, the author of the report, told the online news portal manset.at.com.tr: "The AKP [AK Party] is the political child of fear. They [the AK Party] ruled with fear. There is more than enough predisposition towards fear in the electorate's will."
According to the report, as acts of violence increase in Turkey, the coefficient of the report decreases, signaling a surge in support for the AK Party. The report also stipulates that the AK Party benefitted from previous instances of increased violence such as the Güneş Harekatı (Operation Sun) by the Turkish Armed Forces (TSK) against Kurdistan Worker's Party (PKK) militants in 2007.
Sement's report also claims that the 2013 bombing in Reyhanlı, a district of Hatay province, increased support for the AK Party.
Erdoğan wants HDP below threshold, AK Party as single party
The Peoples' Democratic Party (HDP) managed to beat the odds and pass the election threshold in the June general election, allowing it to field 79 deputies in the next Parliament and causing the AK Party to lose the overall majority it enjoyed since 2002.
The HDP managed to receive around 13 percent of the total vote, coming first in 16 of the country's 81 provinces, generally in the mainly Kurdish populated East and Southeast. This translates into 80 deputies in Parliament.
President Recep Tayyip Erdoğan's full-blown attack on the HDP began on July 22, when the PKK's military wing, the People's Defense Forces (HPG), claimed responsibility for the killing of two police officers in Ceylanpınar in the southeastern province of Şanlıurfa to avenge a suicide bombing two days earlier in the town of Suruç, also in Şanlıurfa.
Thirty-two people were killed and more than 100 wounded in the attack in Suruç, a predominantly Kurdish town on the Syrian border.
The explosion in Suruç occurred shortly after a group had gathered at the Amara Cultural Center to issue a press statement about a trip they were planning to take to help rebuild Kobani, a Kurdish town in Syria across the Turkish border that was destroyed following weeks of fighting between Kurdish groups and the Islamic State in Iraq and the Levant (ISIL), which was eventually pushed out of the town.
Whistleblower Fuat Avni: Erdoğan behind Suruç bombing
Twitter whistleblower Fuat Avni recently said Erdoğan was behind the deadly suicide attack in Suruç, alleging that Erdoğan's intention is to sow chaos to pave the way for the AK Party to come to power as a single party in an early election.
According to Avni, the July 20 suicide bombing in Suruç was carried out on the instructions of Hakan Fidan, the head of Turkey's National Intelligence Organization (MİT), as part of Erdoğan's plan.
"ISIL cells under the control of Fidan's shady team were finally put into action in Suruç," Fuat Avni, who is believed to be a government insider, wrote on July 23.
No single party received enough votes in the June election to form a government. Erdoğan, who is still a very influential figure within the AK Party, headed a number of AK Party governments before being elected president in August 2014.
According to Fuat Avni, together with other figures in the ruling party, the president is trying to provoke clashes between ISIL and the PKK in Turkey in order to sway public opinion in favor of a Turkish military incursion in Syria based on the perception that the country's Southeast is out of control.
By creating chaos ahead of a possible early election, Erdoğan may be hoping that the AK Party will win the additional seats in Parliament needed for single-party rule.
Fuat Avni wrote that Erdoğan wants the AK Party to return to single-party rule because he knows any situation to the contrary means he will be held accountable for his alleged involvement in corruption and the illegal provision of arms to terrorist groups in Syria.
Following the bombing in Suruç, there were a number of terrorist attacks in provinces near the Syrian border in southern Turkey, which are home to sympathizers of both ISIL and the PKK.
Over 43 killed in violence since Suruç bombing
At least 43 people have been killed in the ensuing violence since the Suruç attack.
An armed attack that took place shortly after the suicide bombing in Suruç killed one police officer and critically injured another as they went to the scene of an accident in the mainly Kurdish populated province of Diyarbakır.
In another attack on July 22, two police officers were found shot dead in their home in Ceylanpınar, a town on the Syrian border in Şanlıurfa province. The PKK, which is listed as a terrorist organization by Turkey, the US and the EU, claimed responsibility for the killings in Ceylanpınar.
Erdoğan may be expecting that, in a time of crisis, the Turkish public would prefer a single-party government that could more easily tackle security problems.
On Wednesday, July 22, a member of the Kurdish Islamist Free Cause Party (Hüda-Par) was killed in Adana, a murder that is reminiscent of previous clashes between Hüda-Par and the PKK. It is unclear whether the assailant acted alone because he fled the scene after shooting the Hüda-Par member in his home. Hüda-Par is ideologically aligned with ISIL, which fought in Kobani against a Kurdish group closely affiliated with the PKK.
On Thursday, July 23, three days after the Suruç suicide bombing, a Turkish noncommissioned officer was killed and four soldiers wounded in the Turkish border province of Kilis by shots fired from a Syrian village controlled by ISIL.
On Thursday, July 30, Turkish gendarmes were killed during a clash with PKK terrorists in the southeastern province of Şırnak.
According to media reports, PKK terrorists opened fire on the Şırnak Görmeç Gendarmerie Battalion. Three gendarmes were killed in the initial round of fire. The gendarmes immediately responded and a firefight erupted between the PKK terrorists and the gendarmes.
Economy also taking hit from growing chaos
Finance Minister Mehmet Şimşek recommended in televised remarks on Monday that the country's growth forecast be revised to express a lowered estimate.
Turkey's forecasted growth is already less than 3 percent this year, slow in comparison to the rapid growth the country enjoyed in recent years. While growth hit 9 percent in 2010 and 2011, it plummeted to less than 3 percent last year, a figure that is likely to stay roughly the same by the end of 2015.
"The latest developments will most likely not affect the growth forecast positively, but I want to emphasize that while they may affect the economy and markets negatively, we will not allow terrorist organizations to carry out operations in Turkey," Şimşek said.
The already depressed lira was testing 2.80 against the US dollar midweek before recovering slightly.
A series of Turkish air strikes on outposts of the PKK terrorist organization in northern Iraq have coincided with attacks on Turkish military personnel inside the country by PKK militants.
The hashtag #TurkeyIsAttackingKurdsNotISIS started making the rounds before dawn on July 25, just hours after Turkish warplanes began bombing PKK positions in northern Iraq, according to a report in Foreign Policy magazine.
President Erdoğan announced the official end of the peace process between the government and the PKK on Tuesday, issuing a unilateral end to the cease-fire, burying a process that has been ongoing, if slowly and anxiously, since 2013.
"It is not possible to carry on the [peace] process with those who target our national unity and brotherhood," Erdoğan said recently, referring to the outlawed PKK.
In 2013, the Turkish government headed by Erdoğan brokered a historic settlement with the PKK. The settlement process envisaged granting the country's long-repressed Kurdish minority greater rights and autonomy in exchange for a cease-fire after a three-decade insurgency that claimed the lives of more than 40,000.
--------
South Asia
Civil society activists protest against Taliban in Kabul
By KHAAMA PRESS - Sun Aug 02 2015
Protest Dozens of civil society activists took to the streets of Kabul on Sunday in protest against the militant group of Taliban.
Protesters were carrying banners with different slogans condemning Taliban attacks and the organization's existence.
Protesters were carrying banners mocking the late Taliban supreme leader Mullah Mohammad Omar. A turban was drawn on the head of Mullah Omar made of the US flag.
"Mullah Omar was a stooge of US and Pak Governments and perpetrator of these crimes!" a slogan read.
Another banner was reading a slogan seeking prosecution for Taliban.
"Mullah Omar and his crime partners must be prosecuted a thousand times for destroying of Buddha Statues!" the slogan read.
The protesters were shouting slogans saying that any deal with the group is betray to the nation.
Taliban role play
Protesters also displayed a role play purportedly showing the Taliban regime.
-----
Mullah Omar's successor casts doubts on talks
By Tahir KhanPublished: August 2, 2015
ISLAMABAD:
Two days after Mullah Akhtar Mansoor stepped into the shoes of Mullah Omar, the new Afghan Taliban supremo cast doubts on the nascent peace process with the Afghan government, calling it the enemy's propaganda. Pakistan says the second round of talks between the Taliban and Afghan government was postponed at the request of the orthodox militia following the confirmation of Mullah Omar's death on Wednesday.
Senior Taliban cadres and Afghan government officials were to meet somewhere in Pakistan on July 31 for a second round of peace and reconciliation talks. The first round was held in the popular tourist resort of Murree in the beginning of July.
In a brief speech to a gathering of senior Taliban leaders and religious scholars who elected him, the new Taliban supremo did not mention the Murree rendezvous. Several members of the Taliban's powerful leadership council rejected Mullah Mansoor's nomination, while Mullah Omar's family, too, refused to pledge allegiance to him unless he is elected with consensus.
On Saturday, the Taliban released a 33-minute audio of Mullah Mansoor, his first since his election, in which he spoke in detail about his predecessor's policies, internal rift, ongoing insurgency, and glossed over the 'reported peace process'.
"This is the enemy's propaganda to call it 'peace process' and 'dialogue process'. The enemy's propaganda has increased. They are using the media, money and puppet religious scholars to weaken our Jihad and to create rifts in our ranks. I want to tell you, do not pay any attention to such reports," Mullah Mansoor said in the audio message.
Nonetheless at one point in his audio message, the 48-year-old said: "The Islamic Emirate could use negotiation along with Jihad to achieve its objectives." Mullah Mansoor, a founding member of the Taliban movement, was elected new Afghan Taliban chief on Wednesday after the orthodox militia formally confirmed the death of Mullah Omar.
The Taliban have conferred the title of 'Amir-ul-Momineen or leader of the faithful' on Mullah Mansoor, though some Taliban critics say it's a prerogative of a huge gathering of Islamic scholars, and not the 'Shura', to grant this title. They insist that over 2,000 Islamic scholars and top Taliban commanders had declared Mullah Omar 'Amir-ul-Momineen'.
Some members of the leadership council and religious scholars pledged allegiance to the new Taliban supremo but some stayed away from the meeting that elected him to replace Mullah Omar, according a council member.
In the audio message, Mullah Mansoor said he was ready to meet all dissidents and disgruntled members of the Taliban movement, and address their grievances.
He said 'Jihad' would continue until Islamic Sharia was enforced in Afghanistan. "No other system is acceptable and even there is no place for democracy," he added. "We will try not to lose what we have achieved on the battlefield. As victory approaches fast, people will try to harm it."
Referring to criticism from his opponents among the Taliban, he said decisions would not be made unilaterally but collectively. "If someone has doubts about any decision, he can approach the leadership," he said. "There is a need for unity. The enemy will face defeat if we demonstrate unity in our ranks. The world tried its best to create rifts in our ranks, create misunderstandings, and weaken our Jihad but their money and pressures have not worked."
In a reference to the dissident Taliban, Mullah Mansoor said: "If some friends are unhappy, we should address their grievances. We will do whatever we can to keep them happy and in our ranks."
On the other hand, a former Taliban minister and member of the leadership council says senior members have formed a 'Shura' and have told Mullah Mansoor to step down to elect a new chief with consensus. "If Mullah Mansoor does not quit, then the council will elect a new chief," he said, requesting not to be identified.
'Shura formed to elect chief'
Dissident Afghan Taliban leaders have formed a 'Shura' to elect a new chief after a controversy surfaced over the election of Mullah Mansoor, a council's member said on Saturday.
A senior member of the powerful leadership council told The Express Tribune that the Shura would give some time to Mullah Mansoor to 'relinquish' the position. "If he refuses, then the council could elect a new leader," he added.
Omar's family:
Mullah Omar's family also refused to endorse Mullah Mansoor's election, saying it would support the new chief if he was elected with consensus.
"The Ameer-ul-Momineen had always desired unity and understanding and he had, to a large extent, succeeded in maintaining unity. So, in the election of a new Taliban leader we want to consult the Ulema, Mujahideen and all those renowned personalities who had played an important role in founding the Islamic Emirate," Omar's family said in a statement sent to The Express Tribune.
The statement said election with consensus would mean respecting the desire of Mullah Omar. "We will serve the new leader if he is elected with consensus but will not support anyone, including Mullah Akhtar Mansoor, if the leaders fail to demonstrate unity."
http://tribune.com.pk/story/930788/first-audio-message-mullah-omars-successor-casts-doubts-on-talks/?utm_source=Daily+Roundup+Newsletter&utm_campaign=efc11e2aed-Daily_Roundup_5pm&utm_medium=email&utm_term=0_19961368d8-efc11e2aed-65338937
-------
Clashes erupt at Palestine's al-Aqsa mosque
By AFP | Occupied Jerusalem ,2 August 2015
Clashes have broken out on Sunday at the al-Aqsa mosque in Jerusalem, one of Islam's holiest sites, two days after a Palestinian toddler was burned alive in a firebombing by suspected Jewish extremists.
Police said masked Palestinian youths at the mosque threw stones at security forces while protesters held aloft photographs of the 18-month-old child killed in Friday's arson attack in the occupied West Bank.
Israeli media reported that security forces later sought to create a barrier between the stone-throwers and tourists visiting the mosque complex, the third holiest site in Islam.
Calm began to return to the hilltop complex in Jerusalem's Old City later in the morning, an AFP photographer reported.
A wave of protests has swept the Palestinian territories since Friday's firebombing, which also critically wounded the toddler's four-year-old brother and parents.
There have also been demonstrations by Israelis and calls for a crackdown on Jewish extremists.
On Saturday, clashes broke out at Jalazon refugee camp in the West Bank, where the funeral took place for Laith Khaldi, 16, who the army said was shot by soldiers after hurling a Molotov cocktail.
Clashes had also rocked al-Aqsa a week ago when Palestinians were angered over Jews' access to the compound on an annual day of Jewish mourning. Visits are allowed to the complex, but Jewish prayer is prohibited.
Israeli police briefly entered the mosque during those clashes to shut the doors and lock rioters inside.
Israel seized east Jerusalem, where Al-Aqsa is located, in the Six-Day War of 1967 and later annexed it in a move never recognised by the international community.
https://english.alarabiya.net/en/News/middle-east/2015/08/02/Clashes-erupt-at-Palestine-s-al-Aqsa-mosque-.html
-------
Afghan Taliban issues statement quoting 'dead' Jalaluddin Haqqani
AP — Aug 02, 2015
KABUL: The Afghan Taliban has issued a written statement purportedly quoting Jalaluddin Haqqani, the leader of the Haqqani insurgent group, in an effort to quell rumours of his death.
The statement, posted Sunday to the Taliban's website, quoted Haqqani mourning the loss of Mullah Omar, the one-eyed leader of the group whose death the extremists confirmed last week. The Afghan government says Mullah Omar died in April 2013.
The statement added that the new chief of the Afghan Taliban had been appointed with complete legitimacy.
The Taliban have announced that Mullah Akhtar Mohammad Mansour is their new leader and released a purported audio statement from him Saturday. The statement released Sunday did not include any audio of Haqqani speaking to prove he is alive.
While news of Jalaluddin Haqqani's death had been making rounds for almost a month now, multiple credible sources in Taliban said that Jalaluddin Haqqani died almost a year ago of natural causes and was buried in Afghan province of Khost. However, none of the claims circulating about Haqqani could be independently verified.
The Taliban on Saturday denied reports of the death of the founder of Haqqani network.
"Some media outlets spread reports... about the death of a distinguished jihadi personality... Jalaluddin Haqqani," the Taliban said in a statement posted on their website.
"This claim has no basis. Haqqani... was ill before but he has been blessed with good health for a prolonged period now and has no troubles currently."
Haqqani's family also rejected rumours of his death, according to an Afghan Taliban commander who spoke to AFP from an undisclosed location in northwestern Pakistan.
"I talked to his grandson (who is somewhere in eastern Afghanistan) and he completely rejected rumours of his death," the commander said.
"'My grandfather is alive, I talked to him last week. He was weak and sick but alive and in good spirits', he told me."
Sources, however, say Sirajudin Haqqani, Jalaluddin's son, has been running the militant network for over a year now, ever since his father's illness. Following the appointment of Mullah Mansour as new Taliban chief, the Taliban Shura appointed Sirajuddin Haqqani as the operational commander of the Afghan Taliban.
Jalaluddin was known to be seriously ill for the past many years. Recently leaked Saudi cables had revealed that arrangements were made for his travel to Saudi Arabia in 2012 for treatment. Jalaluddin Haqqani, a Saudi passport holder, had requested for treatment in the kingdom.
Media accounts claimed that Jalaluddin, who would have been 62 years old in 2012, was suffering from Parkinson's disease, while another news report said he was a patient of lupus.
A Reuters report said two other family members insisted Jalaluddin was not dead.
"Maulvi Jalaluddin Haqqani, no doubt, has become aged and suffering from different diseases but by the grace of Allah, he is safe and sound and alive," a close family member said.
However, a third member of the family said the reports were true.
Haqqani "died of a brain haemorrhage a year and half ago. He is buried in the Zadran area of Khost province," this person said.
http://www.dawn.com/news/1197954/afghan-taliban-issues-statement-quoting-dead-jalaluddin-haqqani
-------
Drone strike kills senior Taliban commander in Logar
By KHAAMA PRESS - Sun Aug 02 2015
DroneDrone strike has killed a senior Taliban commander in Logar province, an official said on Sunday.
Mawlawi Habib Rahman, head of Taliban's military commission in Baraki Barak District was reportedly targeted the air strike last night.
Mohammad Rahim Amin, governor of Baraki Barak District said that three comrades of Mawlawi Rahman were also killed the air strike carried out in Cholzi area.
The district governor further said that Mawlawi Rahman was doing destructive activities in Baraki Barak for the past few years.
"After the killing of Mawlawi Habib Rahman, the security in this district will get better." He said.
Taliban had no commented on the report by the time this report was filed.
http://www.khaama.com/drone-strike-kills-senior-taliban-commander-in-logar-3693
------
Haqqani network founder backs new Taliban chief
August 02, 2015
KABUL: The founder of Afghanistan's Haqqani network militant group, Jalaluddin Haqqani, has backed the appointment of new Taliban leader Mullah Akhtar Mansour whose legitimacy has been challenged internally.
The militant group posted the statement on its website quoting founder Jalaluddin Haqqani backing Mansour's appointment.
"We are sure that the new leader Mullah Akhtar Mohammad Mansour is appointed with complete legitimacy and after due consultation and he is the most suitable successor of ... the late Mullah Mohammad Umar Mujahid," the statement from the Haqqani group, which is allied to the Taliban, said.
"We fully recommend to all the senior and junior in-charge ranks of the Islamic Emirate to pledge their allegiance with him and to fully obey him.
"Rest assured on my personal behalf and on the behalf of our Mujahideen that we will follow him as we have obeyed the late Amir-ul-Momineen (Mullah Omar)," it added.
Mansour was appointed on Friday after the death of Taliban founder Mullah Mohammed Omar was confirmed by the group on Thursday, sparking fissures within the movement as some insurgents questioned the selection process.
He has powerful rivals within the Taliban who are strongly opposed to peace talks with the Afghan government, while some are unhappy at the thought he may have deceived them for more than a year about Omar's death.
Among those opposing Mansour's appointment includes Mullah Abdullah Mannan, the younger brother of Mullah Omar.
Mansour's two newly named deputies are Jalaluddin's son Sirajuddin Haqqani – who has a $10 million US bounty on his head – and Haibatullah Akhundzada, former head of the Taliban courts.
http://www.thenews.com.pk/article-192978-Haqqani-network-founder-backs-new-Taliban-chief
--------
Africa
7 Libyan soldiers killed in clashes
August 02, 2015
BENGHAZI, Libya — Seven Libyan soldiers were killed on Friday when Daesh (so-called IS) militants stormed a checkpoint manned by forces loyal to the official government, military officials said. Five soldiers were killed and 15 have been missing since the Daesh fighters attacked the checkpoint outside the eastern town of Ajdabiya, near the oil port of Bregaattack, one military official said. Two more soldiers were killed when the government sent reinforcements. Five were wounded.
"Fighting is continuing some 100 kms outside Ajdabiya," one official said. Daesh claimed responsibility for the attack in a statement on social media, saying it had captured ammunition and military equipment. Daesh has exploited a growing security vacuum in Libya, where two governments and parliaments are fighting for control four years after the toppling of Muammar Gaddafi.
The official prime minister has been based in the east, working with his Cabinet out of hotels, since the capital, Tripoli, was seized by a rival group that set up its own government. Both sides command loose coalitions of former anti-Gaddafi rebels. After Gaddafi's ouster, the various factions split along political, regional and tribal lines.
Militants loyal to Daesh, the group that has seized much of Syria and Iraq, has built up a large presence in Sirte, to the west of Ajdabiya.
Separately, India said on Friday that four of its nationals had been detained near Sirte, but that it had secured the release of two of them. The Indian government did not say who was behind the detention of the men but said it was in touch with the families concerned. — Reuters
http://www.saudigazette.com.sa/index.cfm?method=home.regcon&contentid=20150802252160
-------
Amal Clooney in last minute legal bid to save Qaddafi's son
By Staff writer | Al Arabiya News
Sunday, 2 August 2015
Amal Clooney, barrister and wife of Hollywood actor George Clooney, has made an 11th-hour bid to save the lives of Libya's Saif al-Islam Qaddafi and former intelligence chief Abdullah Al-Senussi after a court sentenced them to death, reported Britain's Daily Mail on Saturday.
The son of the former Libyan president, Muammar Qaddafi, and al-Senussi were tried in a Tripoli court, which found them both guilty for crimes against the Libyan people.
Clooney reportedly had a leading role in the bid for the intelligence chief to have his case heard by judges from the International Criminal Court, which has no death penalty.
According to the Daily Mail, last night her London chambers called on the U.N. to halt the executions, which are to be carried out by firing squad.
Eight others were also sentenced to death over war crimes that include the killings of protesters during the 2011 revolution that ended Qaddafi's rule, including ex-prime minister Baghdadi al-Mahmoudi.
https://english.alarabiya.net/en/News/middle-east/2015/08/02/Amal-Clooney-s-legal-bid-to-save-Saif-Gadafi-after-death-sentence.html
------
South Sudan becomes Olympic movement's 206th member
By Reuters | Kuala Lumpur, 2 August 2015
South Sudan became the 206th member of the Olympic family on Friday after the International Olympic Committee approved its inclusion, despite ongoing fighting in the African country.
The unanimous recognition of the country's Olympic Committee drew a loud round of applause from the IOC members with South Sudanese officials visibly moved and some in tears.
"Let me wish you a very bright future," IOC President Thomas Bach said. "We will stand by your side.
"We look forward to welcoming you to the opening ceremony of the Olympic Games of Rio de Janeiro (in 2016). This will put your nation on the world map."
Thousands have been killed and more than 2.2 million displaced since fighting broke out in December 2013 between President Salva Kiir's government and rebels commanded by Riek Machar.
Both sides have been accused of human rights abuses and indiscriminate killings, which have often been carried out along ethnic lines, with Machar's Nuers pitted against Kiir's powerful Dinkas.
South Sudan's marathon runner Guor Marial competed at the London 2012 Olympics but did so under the Olympic flag after refusing to run for Sudan and with South Sudan not yet an IOC member at the time.
With the country now officially part of the IOC it can send a team to next year's Rio summer Olympics who can compete under its own flag.
https://english.alarabiya.net/en/sports/2015/08/02/South-Sudan-becomes-Olympic-movement-s-206th-member.html
------
North America
White House says circumstances of Taliban leader's death remain uncertain
Reuters | Aug 1, 2015
WASHINGTON: The White House said on Friday the U.S. intelligence community has confirmed the death of Afghan Taliban leader Mullah Omar, but the circumstances of his death remain uncertain.
The White House said in a statement that his death "represents a chance for yet more progress on the path to a stable, secure Afghanistan."
Afghanistan said on Wednesday that Omar, the elusive leader of the Taliban movement fighting to topple the government, died more than two years ago. He had not been seen in public since fleeing when the Taliban were ousted from power in 2001 after U.S led invasion.
http://timesofindia.indiatimes.com/world/us/White-House-says-circumstances-of-Taliban-leaders-death-remain-uncertain/articleshow/48303730.cms
------
13 hurt in shooting outside New York City house party
Reuters | Aug 2, 2015
NEW YORK: Thirteen people were injured when gunmen opened fired outside a house party in New York City's Brooklyn borough on Sunday, police said.
Nine people were struck by gunfire and four others suffered cuts and scrapes in the early morning shooting, according to the New York Police Department. Two victims were shot in the neck and the rest were hit in the arms or legs.
All of the gunshot victims, which included both men and women ranging in age from 19 to 38-years-old, were transported to local hospitals and are expected to survive, the NYPD said.
Police have not captured any of the suspects and it was not immediately clear what prompted the shooting.
http://timesofindia.indiatimes.com/world/us/13-hurt-in-shooting-outside-New-York-City-house-party/articleshow/48317520.cms
-------
Want to see 26/11 perpetrators brought to justice: US
PTI | Aug 1, 2015
WASHINGTON: The United States wants that the perpetrators of Mumbai terror attack be brought to justice, a senior state department official has said.
"We want to see justice served. We want to see the perpetrators brought to justice," state department Spokesperson Mark Toner told reporters on Friday.
The US has a close counter-terrorism cooperation with India, he said.
"The Mumbai attack, our hearts go out to the victims of that attack," he added, referring to the attack in November, 2008 in Mumbai that left 166 people dead.
http://timesofindia.indiatimes.com/world/us/Want-to-see-26/11-perpetrators-brought-to-justice-US/articleshow/48306655.cms
------
India
Pakistan-India security advisers meeting proposed for Aug 23
August 02, 2015
ISLAMABAD: New Delhi has suggested August 23–24 as proposed dates for a meeting in New Delhi between Pakistan's National Security Adviser Sartaj Aziz and his Indian counterpart Ajit Doval.
Pakistan has so far not confirmed any dates for the NSA-level meeting, but Foreign Office is expected to formally reply to the Indian proposal by the second week of August.
Prime Minister Nawaz Sharif met Indian Prime Minister Narendra Modi met on the sidelines of the Shanghai Cooperation Organisation's (SCO) meeting on July 10 in Ufa where both sides agreed to have a series of meetings including one between the national security advisers to discuss all issues related to terrorism.
On Saturday, Pakistan said that it is monitoring the situation on the Line of Control and Working Boundary as well as assessing provocative statements from New Delhi in the wake of the Gurdaspur terrorist attack, and will decide in a few days whether to accept the dates proposed by Delhi.
A senior Pakistani diplomat involved in the process confirmed to The News that Pakistan had received the proposal from New Delhi.
"Yes we have received the proposal from the Government of India but right now we are monitoring the situation and our response will depend on how the situation evolves in the coming days. We have not confirmed these dates but give us a few days to decide", the diplomat said.
http://www.thenews.com.pk/article-192975-Pakistan-India-security-advisers-meeting-proposed-for-Aug-23
-----
URL: https://www.newageislam.com/islamic-world-news/new-age-islam-news-bureau/egyptian-army-kills-88-militants-in-the-volatile-north-sinai-region/d/104131