New Age Islam News Bureau
28 Nov 2017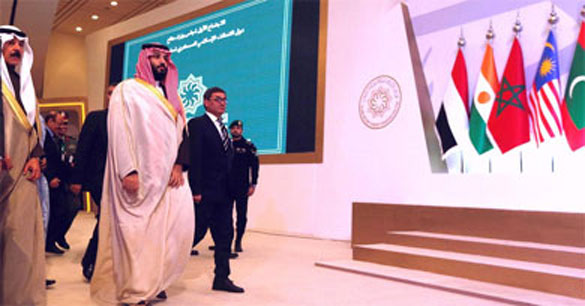 Saudi Crown Prince Mohammed bin Salman attends the meeting of Islamic Military Counter Terrorism Coalition in Riyadh on Sunday. (Reuters)
-----
• Egypt's Sufis Will Stay Indoors To Mark Birth of Prophet Muhammad
• With Just 100 Lured By Islamic State, Terror Group Fails To Radicalise Indian Youth
• Pope Told By Army Chief: There Is 'No Religious Discrimination' In Myanmar
• Outdated Islamic Discourse Fuelling Radicalism, Says Indonesian NU Scholar
• JuD chief Hafiz Saeed Petitions UN to Remove His Name from Terror List
Arab World
• Egypt's Sufis Will Stay Indoors To Mark Birth of Prophet Muhammad
• Mosque Massacre Victims Were Fleeing From Jihadist Terror
• Islamic Military Alliance Urges Stronger Media Role in Combating Extremism
• Story behind Qaradwi's Shifting Position toward Saudi Arabia
• Efforts hailed in preserving moderate Islam
• Bomb attack, gunfire kill at least 17 near Iraq's capital
• US Still Arming Kurdish Fighters in Syria
• Iraq's Hezbollah Al-Nujaba Ready to Liberate Syria's Golan Heights
• Suicide attack targets Nahrawan area south east of Baghdad
• From Aleppo's ruins, Syrians deliver rubble and show film in British parliament
--------
India
• With Just 100 Lured By Islamic State, Terror Group Fails To Radicalise Indian Youth
• US Intel Warns Of Lone-Wolf IS Hit, Security Beefed Up
• Al-Qaida India Unit Releases Video on 'Saffron Terror'
• Rohingya refuse to budge from Delhi-NCR, say coming to India brought freedom
• NIA to Probe Al-Qaeda Suspect's Plans To 'Fight For Rohingya'
• On ATS orders, Azamgarh cops open historysheets of four IM suspects
--------
South Asia
• Pope Told By Army Chief: There Is 'No Religious Discrimination' In Myanmar
• Taliban Execute another Leader amid Ongoing Violence in Nangarhar
• Abdullah reacts as Mohaqiq hails Afghans for supporting Syrian regime
• Pope to meet Myanmar's leader Suu Kyi
• B' Desh upholds death sentence for 139 soldiers
• Hekmatyar leaves for Turkey and Saudi in first foreign trip after peace deal
• Suicide attack rocks Logar leaving several wounded
--------
Southeast Asia
• Outdated Islamic Discourse Fuelling Radicalism, Says Indonesian NU Scholar
• Zaid: No Malay Party Willing To 'Stir Hornet's Nest' In Fight for Islamic Reform
• Duterte Tells Filipino Muslim Rebels He Will Correct 'Historical Injustice'
• Sabah church renews bid for Putrajaya to declassify 'Allah' ban reason
• Zaid: No Malay party willing to 'stir hornet's nest' in fight for Islamic reform
• NU Urges Politics Free From Religious Sentiments, More Support for KPK
--------
Pakistan
• JuD chief Hafiz Saeed Petitions UN to Remove His Name from Terror List
• Islamic Military Alliance Member States Can Decide Their Own Role, Says Mandate
• Pakistan offers info sharing, counter terrorism expertise
• Govt hiding its blunders by shifting burden to court: JI
• PM Abbasi assures KSA of Pakistan's full support for regional peace, stability
• Teacher allegedly terminated for being Ahmadi approaches high court
• Qalandar shrine blast case may be referred to military court, says CTD officer
--------
North America
• Mosque Gives University of Cincinnati $1M to Teach More about Islam
• Federal Funding Helps Increase Security at Muslim Places of Worship
• Trump voted Islamophobe of the Year
• Trump, Macron Say UN's Syria Talks in Geneva 'Only Legitimate Forum'
--------
Mideast
• Hamas Rejects Disarmament Talk Ahead Of Reconciliation Deadline
• Rights Group Taking UAE to ICC over Yemen 'War Crimes'
• Turkey-Affiliated Militants Fight Each Other in Northern Syria
• Gulen 'Money Man' Back In Turkey from Sudan
• Arab Coalition Bombs Secret Houthi Hideouts, Military Reinforcements to Saada
• Hezbollah chief to be assassination target in future war: Israeli army
• A rights group calls for probe into UAE's war crimes in Yemen
--------
Europe
• Terrorism: Morocco Answers the Call of Saudi Arabia's Islamic Military Coalition
• Swedish Politician Forced To Resign after Saying Muslims Are 'Not Fully Human'
• Teenage ISIS supporter guilty of plotting attack on Bieber concert in UK
• Geneva peace talks may start without Syrian regime
--------
Africa
• Herdsmen under Attack Because They Are Muslims – MURIC
• Muslim Extremists End Religious Peace in Mali after Appointment Of Cardinal Zerbo
• Thousands return from Jordan to south Syria as ceasefire holds
• Burkina Faso attack hurts 3 as Macron begins Africa tour
• Sudan general, nine soldiers killed in Darfur clashes
Compiled by New Age Islam News Bureau
URL: https://www.newageislam.com/islamic-world-news/egypt-sufis-stay-indoors-mark/d/113382
--------
Egypt's Sufis will stay indoors to mark birth of prophet Muhammad
27 November 2017
Egypt's Sufi worshippers have said they will go ahead with celebrations to commemorate the birth of the Prophet Muhammad despite an attack on a mosque in the Sinai peninsula that left 305 dead and 128 injured.
The attack on al-Rawda Mosque in the northern Sinai town of Bir al-Abed on Friday was the most deadly in modern Egyptian history. A bomb tore through the house of worship just after Friday prayers, killing many of those inside including 27 children.
Egypt's public prosecutor, Nabil Sadeq, said that up to 30 militants then surrounded the main entrances to the mosque and 12 of its windows with four-wheel-drive vehicles before opening fire on those inside. The militants reportedly then walked among the dead shooting those they believed were still breathing.
While there is yet to be any claim of responsibility for Friday's attack, witnesses recounted seeing militants flying the black banners of Wilayat al-Sinai (the Governorate of Sinai), who pledged allegiance to Isis in 2014. Associated Press reported on Sunday that elders in the village had been warned by Isis operatives to stop collaborating with security forces and not to hold Sufi rituals to commemorate the birth of Muhammad.
Abdel Hady al-Qasaby, the head of Egypt's Supreme Council for Sufi Orders, told the Guardian that celebrations would continue inside mosques across Egypt, most prominently in the Hussein Mosque in central Cairo. He added that outdoor celebrations were cancelled. "We will only cancel the annual Sufi parade," he said, "as we are mourning our martyrs."
Salem, a resident of Bir al-Abed who worships at the Rawda mosque, spoke of his anger at the attack. "I spent last night attending the mass burials of people I knew, or saw in the neighbourhood for years," he said. "We put 30-40 bodies in one mass grave, dug with bulldozers."
He added: "As Sufis, we always felt endangered. [The militants] demolish graves even when they're above ground level – they wanted to bomb Sufi tombs, and they even killed three of our preachers."
The attack marks a violent escalation in the scope of those targeted by the militants. Beginning with attacks on military and security installations in the Sinai peninsula in 2013, the group formerly known as Ansar Beit al-Maqdis has waged a gruesome insurgency against the Egyptian state. In the past year, the group targeted Christians in the Sinai as well as waging an increasingly bloody string of attacks on Christians in mainland Egypt. But the attack on the Rawda mosque signals that the group has expanded its list of targets to include Sufi sites, which are present in mosques across Egypt.
Sufism is a set of practices within Islam often characterised as a focus on spirituality or mysticism, and "should be understood as the default setting of Muslim religious life in Egypt", according to a 2011 report by the Carnegie Endowment for International Peace.
Tombs of Sufi saints are found adjacent to thousands mosques across the country, with up to 100 prominent sites in Cairo alone. Isis militants believe that Sufi worship at these tombs is a form of apostasy.
The Egyptian president, Abdel Fatah al-Sisi, vowed that Friday's attack "will not go unpunished", and subsequently launched airstrikes against alleged militant positions in North Sinai. On Saturday, Egypt's armed forces released a video showing the air assault, pledging to continue operations targeting the militants.
Access to northern Sinai is illegal for foreign nationals as well as many independent observers, making the targets of such strikes or their success impossible to verify.
Sisi has spoken of the need for a "religious revolution" in Islam to fight extremism, and instigated a nationwide state of emergency in April following attacks on two churches that killed dozens of worshippers. But despite these efforts, thousands more mosques containing Sufi sites such as tombs, or worshippers who visit mosques with known Sufi clerics, are now potential targets. The result is a colossal challenge in a country of an estimated 95 million people. "With limited manpower, there is a need to focus on larger mosques with more people, or ones that have identifiable symbols like Sufi tombs," said HA Hellyer, an analyst with the London-based think-tank the Royal United Services Institute.
https://www.theguardian.com/world/2017/nov/27/egypts-sufis-mark-muhammads-birth-indoor-celebrations-mosque
--------
With just 100 lured by Islamic State, terror group fails to radicalise Indian youth
Nov 28, 2017
New Delhi: A total of around 100 Indians have so far joined the terror group Islamic State and have moved to territories controlled by the group in Iraq, Syria and Afghanistan. The security establishment said the number is small with respect to the Muslim population of the country.
The latest assessment of the intelligence system, 50 citizens has left the country since 2014 to join the terror group and the other 50 are members of the diaspora.
"The limited number of recruits that IS has been able to draw out from India, vis-a-vis other countries in the West, shows that its aggressive online propaganda has failed to 'radicalise' Indian Muslims to an extent that they are willing to leave their families and country and join its global jihad to create a 'caliphate'. A hundred recruits, of which only 50 were Indian residents, is minuscule not only in proportion to the large Indian population but also as a percentage of the country's large Muslim community," a home ministry official said.
The youth of the nation has a lot of interest in the online propaganda and resources even though the recruitment into IS is low.
Kerala, Andhra Pradesh, Tamil Nadu and Karnataka have a reltively higher rate of youth surfing through terror group-related content.
The Jammu and Kashmir youths are also interested in Islamic States-related online content.
"The J&K youth drawn to IS are at various stages of radicalisation," an intelligence operative said.
Kerala has seen the maximum migration from India to IS territories.
Another major concern, according to an officer, is radicalisation of youths by the local outfits like Popular Front of India (PFI).
According to sources, PFI is active in Kerala the most and expanding its wings to Assam, Tamil Nadu and Karnataka along with Uttar Pradesh, WestBengall, Rajasthan.
PFI has held meetings across India to raise concern about issues affecting Muslims. The Indian government is on the verge of decalring PFI as an 'unlawful association'.
http://www.timesnownews.com/india/article/islamic-states-radical-muslim-indians-afghanistan-iraq-syria-terror-group-populations/134379
--------
Pope told by army chief: there is 'no religious discrimination' in Myanmar
27 November 2017
Myanmar's powerful army chief has told Pope Francis there is "no religious discrimination" in the country during talks at the start of the pontiff's delicate visit to the majority-Buddhist nation that has been accused of "ethnic cleansing" against its Muslim Rohingya people.
Thousands of Catholics welcomed Pope Francis to the country's capital, Naypyidaw, where he arrived for a three-day visit to Myanmar on Monday. The trip – fraught with sensitivity and trepidation over how he will deal with the plight of the Muslim Rohingya – could be the trickiest yet of his papacy.
The army chief told the pope that "Myanmar has no religious discrimination at all. Likewise our military too ... performs for the peace and stability of the country", according to a Facebook post published by the general's office a few hours after the meeting. There is also "no discrimination between ethnic groups in Myanmar", he added.
The Vatican said the meeting with General Min Aung Hlaing and three officials from Myanmar's bureau of special operations took place on Monday evening at the residence of the Myanmar archbishop and lasted about 15 minutes.
Vatican spokesman Greg Burke didn't provide details of the private meeting other than to say that "they spoke of the great responsibility of the authorities of the country in this moment of transition".
Min Aung Hlaing is in charge of military operations in Rakhine state, where security forces have launched a scorched earth campaign against Rohingya Muslims that has forced more than 620,000 to flee to neighbouring Bangladesh in what the UN said is a campaign of "ethnic cleansing".
Francis's meeting with the commander had been scheduled for Wednesday morning, but was moved up to just a few hours after he landed in Naypyidaw. He is scheduled to meet the country's de facto leader, Aung San Suu Kyi, in the coming days.
After touching down on Monday afternoon, the pope was greeted by a large crowd at the airport, many waving yellow and white Vatican flags and dressed in T-shirts bearing the slogan of the trip, "Love and Peace". As he drove past, they screamed and chanted "We love Papa".
But the head of the Catholic church faces a difficult diplomatic balancing act on his first papal visit to Myanmar.
Even mentioning the word "Rohingya" would set off a firestorm in the Buddhist-majority country, where the military and government revile the minority group, preferring to call them "Bengalis", which suggests they are immigrants.
Many civilians, fleeing an army campaign, arrived with bullet wounds and claimed their homes had been razed. The operation followed an attack on security posts on 25 August by Rohingya militants, who the government said are responsible for abuses. The army has also absolved itself of wrongdoing.
The pope has already spoken about the Rohingya in two appeals from the Vatican this year, including calling them "our Rohingya brothers and sisters".
He will be staying with Cardinal Charles Maung Bo, archbishop of Naypyidaw, who has advised Francis not to use the word. "We have asked him at least to refrain from using the word 'Rohingya' because this word is very much contested and not acceptable by the military, nor the government, nor the people in Myanmar," Bo said this month.
Burke said the pope had taken the advice he had been given seriously, but added: "We will find out together during the trip … it is not a forbidden word."
The country of 51 million people includes about 650,000 Catholics, of whom about 150,000 were expected to travel to the commercial capital for the papal visit. Trains have been hired to take Christians living in northern Kachin state on the two-day journey.
Among the crowd at the airport, one man, who asked not to be named, said he hoped Francis would not wade into the crisis. "He's not a politician," he said. "He doesn't come here to physically get involved in this thing … At the moment we are trying to build our democratic country. There should not be so much pressure on us. It's not fair," he said.
Another Catholic at the terminal said the issue should not be ignored. "I think he should speak about it. Because he is a leader of the Catholics as well he has some moral status. I hope he will speak about it. He will bring peace to us," said Raj Robin, who had just arrived back from a trip to India.
Full diplomatic ties were established between the Vatican and Myanmar in May during a visit by Aung San Suu Kyi, a winner of the Nobel peace prize, whose global image has now been tarnished by the bloodshed.
Following his visit to Myanmar, Francis will travel to Bangladesh to meet Rohingya refugees.
https://www.theguardian.com/world/2017/nov/27/pope-lands-in-myanmar-for-difficult-visit-amid-rohingya-crisis
--------
Outdated Islamic discourse fuelling radicalism, says Indonesian NU scholar
Sheith Khidhir Bin Abu Bakar
November 28, 2017
PETALING JAYA: A leading Indonesian Muslim scholar today blamed the rise of radical Islam on Muslims who follow discourses on Islam that have been overtaken by historical events.
Yahya Cholil Staquf of Indonesia's largest Islamic group Nahdatul Ulama (NU) said many Muslims viewed these discourses as authoritative references besides the two foremost sources of Islam, the Quran and hadith.
"While most Muslims still see these classical discourses of Islamic teachings as one of the most authoritative references of Islam, we will always face the problem of Muslims being radicalised," Yahya said in his keynote address at an international conference on democracy and the Muslim world convened by the Istanbul Network here.
Yahya, who is NU's general secretary, said these classical discourses took place during a period of conflict between Muslims and non-Muslims.
He outlined several aspects of these classical discourses which he said must be addressed.
They include the idea that Muslims and non-Muslims are enemies, as well as the belief that Muslims must join in conflicts affecting other Muslims in different parts of the world.
Another aspect, said Yahya, is the rejection of the concept of nation-state in preference of a single Islamic political entity.
He said the call for shariah to take precedence over other laws is also part of this old discourse.
Yahya said there was a need to recontexualise Islam to suit a world which is different from the time of past Muslim scholars.
"Today we are living in a reality where Muslims live together with non-Muslims everywhere in the world.
"If we allow Muslims to continue following these classical discourses such as that there should be conflict of the religious world, then there will be genocide of non-Muslims in the Muslim world and the genocide of Muslims in the non-Muslim world.
"Without recontexualisation, having democracy in the Muslim world will create actors who use these classical discourses as a weapon to gain support and legitimacy.
"This will be dangerous to society because when Muslims hear these calls, they will be willing to sacrifice everything as they see it as a divine call."
Yahya said Indonesia is a good success story of how classical discourses not suitable to the times were replaced.
He said Muslim leaders were able to produce "alternative discourses".
"We still have challenges and they keep coming and we have to deal with them, but up until now we've managed to keep this alternative view dominant."
http://www.freemalaysiatoday.com/category/nation/2017/11/28/outdated-islamic-discourse-fuelling-radicalism-says-indonesian-nu-scholar/
--------
JuD chief Hafiz Saeed petitions UN to remove his name from terror list
Nov 28, 2017
NEW DELHI: Alleged Mumbai terror attack mastermind and Jamaat-ud-Dawah (JuD) chief Hafiz Saeed has petitioned the United Nations to get his name struck off the list of terrorists proscribed by the world body, Times Now reported on Tuesday.
Saeed was designated a terrorist by the UN under UNSCR 1267 (UN Security Council Resolution) in December 2008 following the November 2008 attack in Mumbai.
In fact, the US had named him a specially designated global terrorist much earlier, in May 2008.
The Mumbai terror attack had led the US to also announce a $10 million bounty for Saeed. The JuD is alleged to be the front of the banned Lashkar-e-Taiba, which was responsible for the 26/11 attack.
Saeed's petition comes on the heels of his release from house arrest in Pakistan.
Saeed last week walked free, after a judicial body in Pakistan refused to extend his detention and ordered his release citing "insufficient evidence".
Moments after his release, he said he will gather people across Pakistan for the cause of Kashmir and help Kashmiris secure freedom.
India and the US had expressed deep concern over Saeed's release, calling for him to be arrested and charged for his crimes.
"The United States is deeply concerned that Lashkar-e-Taiba (LeT) leader Hafiz Saeed has been released from house arrest in Pakistan. LeT is a designated Foreign Terrorist Organisation responsible for the death of hundreds of innocent civilians in terrorist attacks, including a number of American citizens. The Pakistani government should make sure that he is arrested and charged for his crimes," the US State Department said in a statement, a day after he was freed.
On January 31, Saeed and his four aides – Abdullah Ubaid, Malik Zafar Iqbal, Abdul Rehman Abid and Qazi Kashif Hussain – were detained by Pakistan's Punjab government for 90 days under the Anti-Terrorism Act 1997 and the Fourth Schedule of Anti-Terrorism Act 1997.
https://www.pakistantoday.com.pk/2017/11/28/jud-chief-hafiz-saeed-petitions-un-to-remove-his-name-from-terror-list/
--------
Arab World
Mosque massacre victims were fleeing from jihadist terror
November 28 2017
Most of the worshippers killed in the Egyptian mosque massacre had fled fighting elsewhere in north Sinai and did not share in the Sufi practices that were the target of the attackers, it was reported yesterday.
Islamic State had repeatedly threatened to attack the al-Rawdah mosque, which is overseen by a Sufi order, security officials said. The jihadists say that Sufism, a mystical form of Islam, is heretical because prayers are offered to saints and at shrines, practices that are banned in hardline Salafi Islam. Most Sufis are Sunni Muslims.
However, residents interviewed by local reporters said that many or most of those worshipping on Friday, when jihadists carrying the black Isis flag attacked the mosque, were not even local, let alone necessarily Sufis.
https://www.thetimes.co.uk/article/mosque-massacre-victims-were-fleeing-from-jihadist-terror-klpwlgq2m
--------
Islamic Military Alliance urges stronger media role in combating extremism
27 November 2017
The Islamic Military Alliance to Fight Terrorism meeting in Riyadh on Sunday shed light on the importance of media in fighting terrorism and extremist thoughts.
The meeting brought together the defense ministers of around 41 Arab and Islamic countries.
The alliance introduced an extended and in-depth vision on ways and mechanisms to combat terrorism which surpass the military coordination between these countries.
The vision puts intellectual and media fields at the center of the alliance's joint missions.
According to the alliance, international efforts to fight terrorism include combating terrorist organizations' media discourse and their attempts to lure the minds of youth.
Other international efforts include developing content which fights extremist thought through media platforms such as social media, television and radio channels.
Tools that measure the impact of this strategy on mentalities and behaviors will be activated, the alliance added.
Full report at:
https://english.alarabiya.net/en/News/gulf/2017/11/27/Islamic-Military-Alliance-urges-media-to-combat-extremism-.html
--------
Story Behind Qaradwi's Shifting Position Toward Saudi Arabia
27 November 2017
Saud al-Qahtani, Advisor of the Saudi Royal court and the General Supervisor of the Center for Studies and Information Affairs, disclosed on Monday the details of the video on which Qatari scholar Yusuf al-Qaradawi, appeared on May 31, 2013, in a position quite different from his previous stand in support of Hezbollah.
Al-Qahtani, in a series of tweets, attributed the "dramatic change" in the Qaradawi's views (and of Muslim Brotherhood), that the "the ruler of Qatar was strongly rebuked for al-Qaradawi's support to Hezbollah."
Then, Hamad bin Jassim, Qatar's FM at that time, shared a video clip showing the change of Qaradawi's tone, principles and his support for Hezbollah."
In the video, al-Qaradawi appeared during a festival supporting Syrian people admitting that Saudi clerics were more mature and more intelligent in finding out the truth and discovering the reality of Hezbollah, and that for years he has been calling for a reconciliation between these groups, saying that they tricked him when they made him trust that they wanted to bring Muslims together.
For years he defended Hassan Nasrallah, and stood up against top clerics in Saudi Arabia, calling for their support, he said.
The Qatari scholar added then: "The sheikhs in Saudi Arabia were more mature than me and they knew their reality."
Al-Qahtani revealed that "the Qatari authority is trying desperately with the Muslim Brotherhood organization to twist obvious facts by creating a distinguished relationship between the rulers and the clerics as an alleged evidence of the world's lack of credibility, while the link between Qatar rulers and the (Egyptian Mohammed) Morsi with the so-called committees in their organization, is a sign of empowerment of Sharia and religion
He also said that the religious establishment in Saudi Arabia has always been a target of the Muslim Brotherhood. He said: "There is no doubt that the religious institution in Saudi Arabia has always been a target for the organization of Al-Hamdeen and the Muslim Brotherhood.
Full report at:
https://english.alarabiya.net/en/features/2017/11/27/-Saud-al-Qahtani-The-story-behind-Qaradwi-s-shifting-position-toward-Saudi-Arabia.html
--------
Efforts hailed in preserving moderate Islam
28 November 2017
KUALA LUMPUR: Attendees of the first Conference of ASEAN (Association of South Eastern Nations) Muslims hailed King Salman's directives to cooperate with these countries and organize an annual conference under the slogan "A Moderate Nation."
They also hailed the efforts of Saudi Arabia and Malaysia in preserving moderate Islam, promoting moderation, fighting extremism, spreading religious teachings based on the Qur'an and the Sunnah, and activating the role of fiqh and fatwa councils in achieving a conscious, moderate understanding of Islam.
They stressed that extremism, terrorism and violence are a global phenomenon that should not be associated with a certain religion or country.
This came in the final statement and the participants' recommendations during the conference, which concluded on Monday in the Malaysian capital Kuala Lumpur, under the patronage of Malaysian Prime Minister Mohammad Najib, and Sheikh Salih Al-Shaykh, the Saudi minister of Islamic affairs, endowments, call, and guidance.
The closing ceremony was attended by the Deputy Prime Minister of Malaysia Ahmad Zahid Hamidi.
The attendees pledged their support for Rohingya Muslims, who are enduring hostility, murder, forced displacement and racial discrimination, and called upon the international community to take immediate measures to protect them, and upon the Organization of Islamic Cooperation (OIC) and ASEAN to resolve this crisis.
Participants highlighted the importance of holding such conferences in Malaysia and other ASEAN countries because of their significant role in encouraging communication and exchange of experiences, as well as finding solutions for new challenges facing Muslims, instilling moderation, and facing security and stability threats.
In their recommendations, the participants also called for the promotion of a culture of peace and dialogue, stressing the need to respect human rights and international conventions and treaties, and the importance of treating non-Muslims well to achieve social stability.
Moreover, they highlighted the importance of cooperation between parties concerned with the Sunnah, such as the King Salman Complex for the Prophet's Hadith and the National Committee for Correcting the Hadith in Malaysia.
The conference was organized by several official and civil bodies in Malaysia, including the Special Affairs Department, the Ministry of Communications and Multimedia, Al-Khaadem Organization, the Malaysian Scientific Association, and the University of Technology, with the support of the Religious Affairs Division of the Prime Minister's Office, and in cooperation and coordination with the Saudi Ministry of Islamic Affairs, Endowments, Dawah and Guidance.
Full report at:
http://www.arabnews.com/node/1200286/saudi-arabia
--------
Bomb attack, gunfire kill at least 17 near Iraq's capital
Nov 27, 2017
At least 17 people have been killed and 28 others injured after terrorists fired at people and set off a bomb in the Nahrawan district, southeast of the Iraqi capital Baghdad, local media say.
According to Iraq's Interior Ministry, two attackers shot several civilians in Baghdad's Nahrawan district on Monday before one of them blew his explosives up.
The ministry, however, did not provide any casualty figures.
Daesh Takfiri terrorist group has claimed responsibility for the attack in a statement.
The incident comes following the collapse of the self-proclaimed caliphate of Daesh terrorists in Iraq and Syria.
On November 17, Iraqi armed forces liberated the town of Rawa near the border with Syria, which was the last remaining town under Daesh's control, and raised the Iraqi flag over its buildings.
Two days later, Syrian army soldiers, backed by pro-government fighters from popular defense groups, fully liberated Bukamal, Daesh's last stronghold in Syria, which is a strategic city in the country's eastern province of Dayr al-Zawr on the border with Iraq.
The recapture of the two towns marked an end to Daesh's reign of terror, which started in 2014 with the group making vast territorial gains in a lightning offensive and establishing its self-proclaimed "caliphate" in Iraq's Mosul and Syria's Raqqah.
According to the UN Assistance Mission for Iraq (UNAMI), a total of 114 Iraqi civilians lost their lives and 244 others were injured last month.
The worst-affected area, with the highest number of casualties, was the capital province of Baghdad, where violence took the lives of 39 civilians and left 139 others wounded.
Full report at:
http://www.presstv.com/Detail/2017/11/27/543705/Iraq-Baghdad-Nahrawan-terrorist-bomb-attack-Interior-Ministry
--------
US Still Arming Kurdish Fighters in Syria
Nov 27, 2017
The websites reported that a convoy of military vehicles carrying arms and ammunition entered Northern Syria last night.
Ankara said on Friday that Trump told Turkish President Recep Tayyip Erdogan that he had issued instructions that weapons should not be provided to Kurdish fighters in Syria.
"Our discomfort regarding the provision of weapons to the YPG was conveyed to Mr. Trump once again... Trump very clearly said he had given instructions to not provide weapons to the YPG," Foreign Minister Mevlut Cavusoglu said in Ankara.
"We welcome the promise of not providing weapons to the YPG, and want to see it implemented practically." Cavusoglu added.
According to a report by the Washington Post, the US plans to keep its troops in Syria long after the defeat of ISIL.
Full report at:
http://en.farsnews.com/newstext.aspx?nn=13960906000349
--------
Iraq's Hezbollah Al-Nujaba Ready to Liberate Syria's Golan Heights
Nov 27, 2017
The Arabic-language al-Mayadeen news network quoted al-Ka'abi as saying that al-Nujaba fighters are well-prepared to take part in an operation to liberate the Golan Heights from Israeli occupation if Damascus asks for al-Nujaba's assistance.
In the meantime, al-Ka'abi pointed to the presence of ISIL and other terrorist groups in Wadi Hooran and Wadi al-Qadaf regions in Anbar desert near the border with Syria, adding that the terrorist group has been provided with intelligence support by the US-Arab intelligence services as the US forces are preventing Iraqi planes from approaching the terrorist-held regions in the Western part of the country to identify and record their movements.
Al-Ka'abi said in February that the ISIL terrorist group was implementing an Israeli-initiated road map under the supervision of the US with the cooperation of Turkey and Arab states of the Persian Gulf in the region.
"And our presence in Syria is aimed at resisting against this plot," Ka'abi underscored.
Full report at:
http://en.farsnews.com/newstext.aspx?nn=13960906000411
--------
Suicide attack targets Nahrawan area south east of Baghdad
27 November 2017
Two suicide attackers shot several civilians before one of them blew himself up in the Nahrawan area, south east of Baghdad, on Monday Iraq's Interior Ministry said, without providing casualty figures.
Local media reported that at least nine people were killed.
https://english.alarabiya.net/en/News/middle-east/2017/11/27/Suicide-attack-targets-Nahrawan-area-south-east-of-Baghdad-.html
--------
From Aleppo's ruins, Syrians deliver rubble and show film in British parliament
27 November 2017
A group of Syrians will deliver rubble from war-torn Aleppo to Britain's parliament on Monday and screen a film highlighting the bravery of rescue volunteers, as part of a campaign demanding more robust efforts to end the conflict in Syria.
High-profile British politicians, including the foreign, defense and international development ministers, will receive a piece of rubble direct from the devastated city, which last year saw the end of months of bitter siege and bombardment as insurgents agreed to withdraw in a ceasefire.
The Syrian campaigners will also screen the award-winning film "Last Men in Aleppo" which depicts search-and-rescue volunteers known as the White Helmets who organized locally to save the lives of their families and neighbors.
"We tried to bring this to parliament to show them that this is a result of the war, if you can't see it, you have to touch it in your hand," the film's director, Feras Fayyad, told the Thomson Reuters Foundation.
Fayyad said he hoped his film, which won the Sundance Grand Jury World Cinema Documentary prize and will also be screened on a BBC channel, will encourage Britons to step into the shoes of Syrians and understand their everyday heroism.
"By showing this film in parliament today, we hope to draw attention back to the ongoing suffering of Syrian civilians, and call on the UK government to do more to provide aid and bring an end to this devastating conflict," said Alison McGovern, co-chair of the Friends of Syria parliamentary group.
The Syrian civil war, now in its seventh year, has lasted longer than World War Two and killed hundreds of thousands of
people leading to the world's worst refugee crisis, driving 11 million from their homes.
"While the Syrian conflict may be dropping off the headlines, the Syrian people continue to be attacked every day and still desperately need our support," said James Sadri, head of global advocacy group The Syria Campaign.
"What has been allowed to happen there is a stain on our generation and this campaign will keep pushing until we see concrete positive change for Syrians."
December will mark one year since rebel resistance in the ancient city of Aleppo ended. The once-flourishing economic center became a flashpoint for violence between insurgents and the Syrian army to remove President Bashar al-Assad.
Full report at:
https://english.alarabiya.net/en/life-style/entertainment/2017/11/27/From-Aleppo-s-ruins-Syrians-deliver-rubble-and-show-film-in-British-parliament.html
--------
India
US Intel Warns Of Lone-Wolf IS Hit, Security Beefed Up
U Sudhakar Reddy
Nov 28, 2017
HYDERABAD: US intelligence agencies have alerted their Indian counterparts on a possible lone-wolf attack threat from the so called Islamic State(IS) during Global Entrepreneurship Summit (GES) 2017 which will be attended by US president Donald Trump's daughter Ivanka.
A top official of Telangana police told TOI, "The US has issued possible threat perceptions to the GES Summit and Ivanka. Though there is no specific alert, as advised by US, we are working to prevent a possible lone wolf attack by IS-motivated individuals."
Following the alert, the Intelligence Bureau and Telangana Counter Intelligence Cell are keeping close tabs on around 200 suspects in and around Hyderabad who earlier had terror links or had shown symptoms of Jihadiideology.
At least eight US Secret Service officials would be guarding a closed protection team (CPT) of Ivanka. Three limousines which are mine and bullet resistant have already arrived for Ivanka's movement in the city.
Apart from CPT, security liaison officers and advanced security liaison officers are also on the job. "Ivanka's security will be provided by US Secret Service agents and the SPG will take care of Prime Minister Narendra Modi's security.
Telangana intelligence security wing will form the next layer of security. Apart from these, Greyhounds and Octopus personnel will be used in combing operations and ready assault teams.
Local police will form the outer cover," the official said. In all, around 10,400 policemen have been deployed for GES security. "We have taken into account minute details like Ivanka's height while planning her security," theofficial said. The Telangana police have withthem special equipment acquired recently from Israel in addition to the existing anti-sabotage and anti-explosive equipment.
https://timesofindia.indiatimes.com/india/us-intel-warns-of-lone-wolf-is-hit-security-beefed-up/articleshow/61827846.cms
--------
Al-Qaida India Unit Releases Video on 'Saffron Terror'
Raj Shekhar
Nov 28, 2017
NEW DELHI: Al-Qaida is engaging its operatives in India to target religious places and stoke communal tensions, intelligence sources said on Monday, hours after the terror group's Indian subcontinent unit released a video titled 'Saffron Terror'.
The contents of the video, said to be the first episode, are communally charged, sources said, including morphed images and video clips pertaining to "Hindu extremism".
Following the release of the video, intelligence agencies are keeping a tab on the movements of a sleeper cell of the Qaida-affiliate headed by UP resident Sanual Haq.
Full report at:
https://timesofindia.indiatimes.com/india/al-qaida-india-unit-releases-video-on-saffron-terror/articleshow/61827365.cms
--------
Rohingya refuse to budge from Delhi-NCR, say coming to India brought freedom
November 28, 2017
"We would not even dream of going back to Myanmar. We are not treated as human in a state ruled by Buddhist people. We did not know what freedom is since childhood. We have experienced it only after reaching the soil of India," Tahir said.
Hundreds of thousands of Rohingyas have fled from Myanmar following a military crackdown, which the UN has described as ethnic cleansing, with many taking refuge in Bangladesh and some then crossing a porous border into India.
Myanmar says its forces are carrying out their legitimate duty to restore order after guerrilla attacks in August on security posts and an army camp in which about a dozen people were killed. There are 63 families at the Siddiq Nagar camp and all of them echo the same view.
Mohamad Shadik, head of the shelter, said the Rohingya crisis in Myanmar has been simmering for years but it boiled over in 2010 and later.
"The number of people from our community in Bangladesh went up to over 10 lakhs, and many crossed the border to reach Kolkata," Shadik said.
The Centre sees the Rohingya refugees as a security threat, arguing that the illegal migrants are vulnerable to getting recruited by terrorist organisations and are also a burden on the country's limited resources.
According to government data, there are 1,360 Rohingya Muslims, or 400 families, living in Mewat, which is a cultural region that spans Haryana, Rajasthan and Uttar Pradesh.
The Siddiq Nagar area has two camps: the second one called Nangli 2 or Siddiq Nagar 2 where 100 families live in hutments. Besides, 55 families live in Ferozepur Namak, 60 in Chandni village and 23 families in Punhana area.
"Buddhist people along with local police and military (in Myanmar) gang-rape our women and girls, behead youths, torch our houses and madrasas, and throw our children in the fire," Shadik said.
"The laws of human rights do not apply there, so how can we live in such a situation?" Shadik told Mail Today that members of the community living in Delhi's Uttam Nagar, Faridabad in Haryana and Rajasthan's Jaipur city have also contacted him.
The refugees in Mewat claimed that 15,500 Rohingyas are registered with the United Nations High Commissioner for Refugees (UNHCR) in India and have obtained smart cards. Sources say over 40,000 Rohingyas are living in various parts of India.
Taiyab Mohammad, who owns a small grocery shop at the Siddiq Nagar camp, said the Buddhists do not consider the Rohingyas Myanmar nationals.
"I crossed the border (into Bangladesh) alone and sent a message to my family members to come over due to the threat to their lives," he said.
"My wife, three sons and two daughters crossed the border a day later to reach Chittagong. After living there for four months and earning some money, we were forced by local police to leave Bangladesh too.
"We finally decided to cross into India. Crossing India-Bangladesh border is not easy in daylight and therefore we did it in the night as there is hardly any patrolling of border security personnel then." His daughter, Rashida, said they do not have any passport or other documents to be identified as Myanmar nationals.
"We just have the UNHCR card issued from New Delhi," she said.
Experts say India is not a signatory to the 1951 UN Refugee Convention and is therefore not bound by the principle of "nonrefoulment". Non-refoulment, a principle in international law, stops a country from returning refugees to a place where they could be at risk of persecution.
"We are continuously monitoring activities of Rohingyas in the camps of Nuh," Vipin Kumar, the SHO of Nuh police station, told Mail Today.
Full report at:
http://indiatoday.intoday.in/story/rohingya-delhi-ncr-myanmar-bangladesh-aung-san-suu-kyi-nuh-mewat/1/1098583.html
--------
NIA to probe Al-Qaeda suspect's plans to 'fight for Rohingya'
by Alok Singh
November 28, 2017
Two months after the Delhi Police's Special Cell arrested a suspected Al-Qaeda operative, who allegedly set up base camps for Rohingya fighters in the Northeast, the Ministry of Home Affairs (MHA) has asked the National Investigation Agency (NIA) to probe the case thoroughly.
Samiun Rahman, alias Shumon Haq, alias Raju Bhai, was arrested from Shakarpur area of east Delhi on September 18. He reportedly told interrogators that he is a citizen of the UK, and that he has been active with the Al Qaeda since 2013.
The arrest had come on the day the Centre had submitted an affidavit in Supreme Court, describing Rohingya refugees as a "very serious and potential threat to national security".
A countrymade pistol of 9 mm calibre, a laptop and a mobile phone were recovered from Rahman and a case under Sections of Unlawful Activities (Prevention) Act, 2008, and Arms Act was registered.
Sources said investigators have informed the government about the possibility of Rahman, 27, working on pan-India operations.
A Special Cell officer has confirmed that the probe was transferred to the NIA last week.
Investigators claimed to have recovered Rahman's alleged conversation on cloud-based instant messaging service Telegram with handlers from Bangladesh and Pakistan from his laptop. The Special Cell had claimed that Rahman had visited Morocco, Mauritania, Turkey, Syria, Bangladesh and India on "suspected terror activities".
According to the police, Rahman had visited Nabiganj (in Sylhet), Dhaka and other places in Bangladesh and radicalised over a dozen youths there. He was allegedly arrested in Bangladesh on suspicion of terror activities in 2014 and released on bail in this year.
Sources said the NIA will contact their counterparts in Bangladesh to get the details of his case.
Full report at:
http://indianexpress.com/article/india/nia-to-probe-al-qaeda-suspects-plans-to-fight-for-rohingya-4957873/
--------
On ATS orders, Azamgarh cops open historysheets of four IM suspects
by Manish Sahu
November 28, 2017
The Azamgarh police on Monday opened historysheets of four alleged Indian Mujahideen (IM) operatives under instructions of the UP Anti-Terrorism Squad (ATS). A senior ATS official said it was recently decided that historysheets of all terror suspects hailing from the state would be opened to record the cases lodged against them in police stations of their native districts for surveillance purposes.
The four fugitives — Abu Rashid alias Sheikh alias Danda, Dr Shahnawaz Alam, Mohammad Sajid alias Bada Sajid and Mohammad Rashid alias Sultan — belong to Sanjarpur village in Azamgarh district. Their historysheets were opened at Saraimeer police station, confirmed IG, ATS, Asim Kumar Arun.
Shahnawaz and Sajid carry a bounty of Rs 10 lakh each on their heads, announced by the National Investigation Agency (NIA).
The ATS has prepared a list of 25 such suspects which include those who are absconding, in prison as well those acquitted in cases by a court.
Station Officer of Saraimeer police station, Ram Naresh Yadav, said, "Abu Rashid's historysheet has been opened with number 70A, Shahnawaj's as 46A, Sajid's as 37A and Mohammad Rashid's as 26A. "These four historysheets were opened today on the basis of details provided by UP ATS."
An ATS official said they are yet to acquire "concrete information" about the whereabouts of the four alleged IM men since after terror cases were lodged against them in different states.
The official, however, claimed that the agency suspects the four are fighting for the Islamic State (IS) in Syria.
Shahnawaz, a Unani doctor and son of a local Samajwadi Party leader in Azamgarh, had allegedly escaped while working at a private hospital in Lucknow when he came to know that two suspects hailing from Azamgarh were killed in a police encounter in New Delhi's Batla House on September 19, 2008.
According to ATS records, Shahnawaz is wanted in four cases including one lodged at Matunga Road police station in Mumbai, and three others in Delhi. His younger brother Mohammad Saif was arrested from Batla House after the police encounter and is presently behind bars. Mohammad Rashid, a B.Pharma degree holder, too faces four cases including those lodged in Mumbai and Delhi.
Full report at:
http://indianexpress.com/article/india/on-ats-orders-azamgarh-cops-open-historysheets-of-four-indian-mujahideen-suspects-4957656/
--------
South Asia
Taliban execute another leader amid ongoing violence in Nangarhar
Nov 28 2017
The Taliban insurgents have executed one of their other local leaders amid ongoing violence in eastern Nangarhar province of Afghanistan.
According to the local officials, the Taliban group was executed by the insurgents in Ghani Khel district but the main motive has not been ascertained so far.
The provincial government media office in a statement confirmed that a key Taliban group member identified as Khadem who was also famous as Dadullah was killed by the insurgents.
The statement further added that Khadem was apparently killed due to the persistent differences among the Taliban ranks and ongoing infighting with the ISIS terrorist groups militants.
The anti-government armed militant groups including the Taliban insurgents have not commented regarding the report so far.
This comes as the Taliban insurgents had earlier executed their own leader over alleged links with the Islamic State of Iraq and Syria (ISIS) terrorist group in this province.
According to the local officials, the incident took place recently in the vicinity of Shirzad district, home to several Taliban militants.
The officials further added that the Taliban group leader killed by his own fighters has been identified Mawlavi Shukoor.
The provincial government media office in a statement also confirmed that armed Taliban insurgents covered with masks executed their leader over alleged ties with the ISIS group in Shirzad district.
The statement further added that the Taliban leader was killed in Karki Khel area of the of Shirzad.
http://www.khaama.com/taliban-execute-another-leader-amid-ongoing-violence-in-nangarhar-03930
--------
Abdullah reacts as Mohaqiq hails Afghans for supporting Syrian regime
Nov 28 2017
The chief executive of the government of national unity Abdullah Abdulllha reacted at his deputy's remarks for hailing the Afghans who supported the Syria regime in the conflict.
Speaking during the cabinet meeting in Kabul, Abdullah said the government of national unity does not support Afghans to fight the others war abroad.
He said the policy of the Afghan government is clear in this regard and the government will never support the Afghans to participate in the wars outside the country.
This comes as Afghan unity government's deputy chief executive Haji Mohamamd Mohaqiq has been spotted in a gathering of the Fatemiyoun brigade operating under the Iranian Revolutionary Guard to fight in Syria, a move which has further sparked concerns among the people regarding the fate of the Afghan youths who die and those returning to the country from the Syrian conflict.
Mohaqiq has reportedly attended the gathering in Tehran to praise the youths and Fatemiyoun brigade for the turing the conflict in Syria into the favor of the regime in power led by Bashar Al-Assad.
Full report at:
http://www.khaama.com/abdullah-reacts-as-mohaqiq-hails-afghans-for-supporting-syrian-regime-03929
--------
Pope to meet Myanmar's leader Suu Kyi
NOVEMBER 28, 2017
Pope Francis will hold talks with Myanmar's leader Aung San Suu Kyi on Tuesday, a key moment of a tour aimed at alleviating religious and ethnic hatreds that have driven huge numbers of Muslim Rohingya from the country.
Suu Kyi, a Nobel Peace Prize winner, has been ostracised by a global rights community that once adored her but is now outraged at her tepid reaction to the plight of the Rohingya.
After the talks in the capital Naypyidaw, the pontiff will address Suu Kyi and diplomats there — his first opportunity to speak publicly about the conflict that looms over his trip.
The 80-year-old pontiff late Monday received a "courtesy visit" from the powerful army chief Min Aung Hlaing — whose troops, according to the UN and US, have waged a campaign of ethnic cleansing against the Rohingya from Rakhine state.
General Min Aung Hlaing has firmly denied allegations of widespread brutality by his forces, despite the flight to Bangladesh since late August of 620,000 Rohingya who have recounted widespread cases of rape, murder and arson.
His office said he told the pope there was "no discrimination" in Myanmar, and praised his military for maintaining "the peace and stability of the country".
Full report at:
https://dailytimes.com.pk/148866/pope-meet-myanmars-leader-suu-kyi/
--------
B' Desh upholds death sentence for 139 soldiers
November 28, 2017
DHAKA - A Bangladesh court upheld the death penalty for 139 soldiers on Monday over their role in a "brutal and barbaric" mutiny in which dozens of top army officers were massacred.
In delivering his verdict Justice Md Abu Zafor Siddique described the 2009 slaughter of 74 people - including 57 top brass - as an unprecedented atrocity in Bangladesh's relatively short history. "It was the most heinous, brutal and barbaric carnage of our history," he told the Dhaka courtroom of the two-day massacre in which victims were shot, hacked to death and burned alive by marauding troops.
The sentences will be appealed again in the Supreme Court, which by law has the final say in all capital punishment cases.
In 2013 a court sentenced 152 soldiers to death for the grisly killings in a mass trial criticised by the United Nations rights chief as failing to meet basic standards of due process.
One of those handed the death penalty died in custody, eight others had sentences commuted to life imprisonment and four were acquitted.
Thousands were rounded up and tried in special military courts in the aftermath of the massacre, as the newly-elected government of Prime Minister Sheikh Hasina wrestled to regain control in a country prone to military coups.
Hundreds were singled out for trial in civilian courts and handed punishments ranging from death to a few years. The high court in Dhaka on Monday upheld sentences of mixed severity to more than 380 accused, including 185 life sentences, prosecutor Jahid Sarwar Kazal told AFP. "Forty-five people were acquitted," he added.
The mutineers stole thousands of weapons in February 2009 from the headquarters of the Bangladesh Rifles (BDR) paramilitary squad before embarking on a killing spree in the barracks.
The home of the BDR chief was also stormed and his wife, guests and staff slaughtered before the building was razed. The remains of those butchered in the carnage were dumped in sewers or shallow graves.
"Nowhere in the world did anything happen like the way those 57 top army officers were killed," Bangladesh Attorney General Mahbubey Alam told reporters outside the courthouse.
The uprising quickly spread to other military bases, with thousands of soldiers seizing weapons and pledging allegiance to the mutineers in Dhaka before it was quashed by the army.
An official investigation into the mutiny blamed years of pent-up anger among ordinary soldiers , who felt their appeals for pay rises and better treatment were ignored. Rights groups criticised the scale of the punishments meted out en masse, claiming the trials were "an affront to international legal standards".
Full report at:
http://nation.com.pk/28-Nov-2017/b-desh-upholds-death-sentence-for-139-soldiers
--------
Hekmatyar leaves for Turkey and Saudi in first foreign trip after peace deal
Nov 28 2017
The leader of Hezb-e-Islami Gulbuddin Hekmatyar kicked off his foreign trips for the first time after concluding a peace deal with the Afghan government.
Sources close to Hekmatyar confirmed that he left for Turkey and Saudi Arabia earlier today.
The sources speaking on the condition of anonymity further added that Mr. Hekmatyar will first visit Turkey and will then head to Saudi Arabia.
No further details were given regarding the agenda of Mr. Hekmatyar during his visits to Turkey and Saudi Arabia and it is yet not clear if the visit has any motives to attract the cooperation of the two countries to Afghan peace efforts.
Hekmatyar returned to Kabul earlier this year and since then has been busy meeting with his supporters in what appears to be his efforts to coordinate cooperation among his massive supporters on provincial level.
The peace deal between Hekmatyar and the Afghan government was signed in September last year following months of negotiations between the two sides.
The peace deal was signed with the optimisms that it would encourage the other militant groups to follow the same path and start negotiations with the Afghan government.
Full report at:
http://www.khaama.com/hekmatyar-leaves-for-turkey-and-saudi-in-first-foreign-trip-after-peace-deal-03933
--------
Suicide attack rocks Logar leaving several wounded
Nov 28 2017
A suicide attack rocked the central Logar province of Afghanistan earlier today leaving several people wounded, according to the local officials.
The incident took place at around 10:30 am local time in the vicinity of Pul-e-Alam city, the provincial capital of Logar province.
Provincial governor's spokesman Salim Saleh confirmed the incident and said the information received by them shows at least eleven people were wounded.
Saleh further added that the target of the attack was the provincial security chief but it is yet not clear if he escaped from the attack unhurt or not.
No individual or group has so far claimed responsibility behind the incident.
Logar is among the relatively volatile provinces in central Afghanistan where the Taliban insurgents as well as militants belonging to other terrorist networks are actively operating in its various districts.
Today's incident takes place amid ongoing operations by the Afghan security forces to eliminate the terror groups posing threats to the province and the neighboring Kabul.
A key commander of the Taliban group was among at least eight militants killed during the operations of the Afghan security forces in this province nearly ten days ago.
The provincial government media office in a statement said the militants were killed in an area located between Baraki Barak and Tangi Wardak area.
Full report at:
http://www.khaama.com/suicide-attack-rocks-logar-leaving-several-wounded-03932
--------
Southeast Asia
Zaid: No Malay party willing to 'stir hornet's nest' in fight for Islamic reform
November 28, 2017
KUALA LUMPUR, Nov 28 ― It makes no difference whether you are living in states led by PKR, PAS or Umno when it comes to matters of Islam as none of these parties are interested in pushing for a more progressive interpretation of Islam, former de facto law minister Datuk Zaid Ibrahim said.
Commenting on the recent decision by the Selangor Shariah High Court in affirming the conviction of Shah Alam MP Khalid Samad for teaching Islam without credentials, Zaid said it was "disappointing" that this case was brought up in a state led by "a reformist party like PKR".
"It's clear that when it comes to matters of Islam and Islamic institutions, it matters very little if you are living in states led by PKR or PAS or UMNO.
"None of them are willing to approach the Ruler for a more progressive, responsible and open-minded interpretation of Islam that is consistent with the democratic rights of Muslims in a modern world," he said in his latest blog post.
"None of them are willing to engage with JAIS or JAKIM on Islamic reforms. Votes are obviously more important, especially now, so 'why stir the hornet's nest' seems to be the code practical politicians live by — even in a reformist party like PKR," he added.
The DAP politician said that Khalid's case is proof that no one can engage in a constructive discussion on Islam unless it is approved by religious authorities, and therefore the only alternative is to just keep quiet.
"JAIS and the Shariah Court are not interested in explaining what the term 'teaching' means here. Unlike the discipline imposed in the training of lawyers under the common law system, where terms are exhaustively defined to give clarity, Shariah institutions and the Shariah Court need not bother about such methods.
"You see, since the law and the courts are labelled 'shariah', justice is done ipso facto because it's a superior law."
Last week, the Selangor Shariah High Court affirmed Khalid's conviction for teaching Islam without credentials, but reduced the amount of the fine from the RM2,900 imposed by the lower Shariah Court in Klang to RM1,900.
This means that Khalid will still be eligible to contest in the next general election.
http://www.themalaymailonline.com/malaysia/article/zaid-no-malay-party-willing-to-stir-hornets-nest-in-fight-for-islamic-refor#WtTMM0HGtKUDQIHH.97
--------
Duterte tells Filipino Muslim rebels he will correct 'historical injustice'
Nov 27, 2017
Philippine President Rodrigo Duterte vowed to correct "historical injustice" in a speech to Filipino Muslim rebels on Monday as his government seeks to reignite a stalled peace process in the nation's troubled south.
He made the remarks at a mammoth gathering hosted by the country's main Muslim guerrilla group, the Moro Islamic Liberation Front (MILF), but which has also brought together Christians, rival Muslim factions and tribal groups from the southern region of Mindanao.
Since the 1970s, Muslims have been waging a rebellion seeking autonomy or independence in the southern areas of the mainly Catholic Philippines that they regard as their ancestral homeland.
The conflict has claimed more than 120,000 lives and left large areas of Mindanao in poverty.
Duterte, who boasts of having Muslim ancestry, warned that the region could see worse violence if the issue is not resolved.
"What is at stake here is the preservation of the Filipino republic and to correct historical injustice," he said.
Duterte said that during the decades when the Philippines was under Spanish and then American colonial rule, the Christian majority had taken control of vast parts of Mindanao, leaving native Muslims and other tribes marginalised.
He also warned that the violence could be exacerbated if Islamic State followers flee to the Philippines after losing their bases in the Middle East.
Islamic State threat
Duterte's warning came just a month after the foreign and local IS supporters who ravaged Mindanao's main Muslim city Marawi were defeated in October, ending a five-month conflict which left about 1,100 people dead.
The 10,000-strong MILF signed a peace deal in 2014 that would give the nation's Muslim minority self-rule over parts of Mindanao, but the proposed law to implement the pact has not managed to get through Congress.
The immediate objective of Monday's rally was to build support for the proposed law.
Duterte said he would work for the law's passage, even calling Congress to a special session where Muslim leaders could explain their plans to the legislators.
Such an agreement must be "inclusive" and acceptable to all groups in Mindanao, he added.
Speaking at the event, MILF chairman Murad Ebrahim recalled that many of those attending had fought in the Muslim guerrilla wars in decades past.
But he said they are now pushing for the autonomy law, stating "it presents us the rare opportunity to be part of the noble endeavour of peace-making".
Hundreds of thousands of people attended the gathering at the main MILF base where a festive mood prevailed despite the history of conflict.
The MILF previously said half a million had registered to attend.
Unarmed MILF fighters accompanied by armed government soldiers and policemen secured the event, which was attended by Cardinal Orlando Quevedo -- the archbishop of Cotabato and Mindanao's highest Catholic Church official -- as well as members of the MILF's main rival, the Moro National Liberation Front.
Full report at:
http://www.hindustantimes.com/world-news/duterte-tells-filipino-muslim-rebels-he-will-correct-historical-injustice/story-kDYX87aSAnOqcPe1y9LkpI.html
--------
Sabah church renews bid for Putrajaya to declassify 'Allah' ban reason
BY IDA LIM
November 28, 2017
KUALA LUMPUR, Nov 28 — A Sabah church has appealed against the High Court's refusal to compel the government to disclose why it banned the word "Allah" in Christian publications, a lawyer said today.
Tan Hooi Ping, a lawyer for the Sidang Injil Borneo (SIB) Sabah church, confirmed filing the appeal against the dismissal of the church's bid for government documents to shed light on the policy from 1986.
"In the meantime, we have filed our appeal on 14/11/2017 against the High Court's decision dismissing our discovery application," she told Malay Mail Online when contacted today regarding a case management yesterday for the case.
Tan was present yesterday during the case management before High Court deputy registrar Norazlin Othman, who was updated about the SIB church's appeal and the status of affidavit submissions by both sides.
"The hearing date earlier fixed on 29.12.2017 is maintained," Tan said of the hearing date fixed during a November 1 case management.
On October 16, the Kuala Lumpur High Court rejected the SIB church's bid for discovery of documents on the ban of the word "Allah" in Christian publications dating back to the 1986, saying that such government information is classified under the Official Secrets Act (OSA) 1972.
The judge also felt existing evidence already submitted to the court was adequate for it to decide on the church's lawsuit against the federal government and home minister, and that the prerogative to declassify the documents rested with their maker rather than the courts.
The SIB church had last December 8 filed the discovery application, telling the High Court this September that it was seeking two sets of government documents, including letters and minutes of meetings of the Cabinet, ministry, department or branch containing the reasons for the government's 1986 ban of the word "Allah" in Christian publications.
Other documents sought include those showing confusion among Malaysians or misunderstanding between Muslims and Christians purportedly over the use of the word "Allah" in Bahasa Malaysia Christian publications or showing threats to public order due to non-Muslims' use of the term.
The second set of documents sought was for those where the government had granted approval to import, publish, reproduce, distribute or possess any Christian publications with the word "Allah".
In September, the church's lead counsel Lim Heng Seng asked the High Court to order the government to disclose documents showing why it imposed the ban in 1986, noting that the Home Ministry had cited its original ban in a 1986 government circular after its 2007 seizure of SIB Sabah's Christian education materials.
SIB also said the documents were necessary to help the court decide if the government's prohibition of the use of the word "Allah" in Christian publications was constitutional.
Senior federal counsel Shamsul Bolhassan had argued in September that the documents sought by SIB Sabah cannot be disclosed as they fall under the OSA.
SIB Sabah and its president Rev Datuk Jerry Dusing had on December 10, 2007 filed for judicial review against the home minister and government, but the case involving the former's constitutional rights that has yet to be heard on its merits and is now expected to be heard on December 29.
Full report at:
http://www.themalaymailonline.com/malaysia/article/sabah-church-renews-bid-for-putrajaya-to-declassify-allah-ban-reason#fQTd5pztj1XCgBV4.97
--------
Zaid: No Malay party willing to 'stir hornet's nest' in fight for Islamic reform
November 28, 2017
KUALA LUMPUR, Nov 28 ― It makes no difference whether you are living in states led by PKR, PAS or Umno when it comes to matters of Islam as none of these parties are interested in pushing for a more progressive interpretation of Islam, former de facto law minister Datuk Zaid Ibrahim said.
Commenting on the recent decision by the Selangor Shariah High Court in affirming the conviction of Shah Alam MP Khalid Samad for teaching Islam without credentials, Zaid said it was "disappointing" that this case was brought up in a state led by "a reformist party like PKR".
"It's clear that when it comes to matters of Islam and Islamic institutions, it matters very little if you are living in states led by PKR or PAS or UMNO.
"None of them are willing to approach the Ruler for a more progressive, responsible and open-minded interpretation of Islam that is consistent with the democratic rights of Muslims in a modern world," he said in his latest blog post.
"None of them are willing to engage with JAIS or JAKIM on Islamic reforms. Votes are obviously more important, especially now, so 'why stir the hornet's nest' seems to be the code practical politicians live by — even in a reformist party like PKR," he added.
The DAP politician said that Khalid's case is proof that no one can engage in a constructive discussion on Islam unless it is approved by religious authorities, and therefore the only alternative is to just keep quiet.
"JAIS and the Shariah Court are not interested in explaining what the term 'teaching' means here. Unlike the discipline imposed in the training of lawyers under the common law system, where terms are exhaustively defined to give clarity, Shariah institutions and the Shariah Court need not bother about such methods.
"You see, since the law and the courts are labelled 'shariah', justice is done ipso facto because it's a superior law."
Last week, the Selangor Shariah High Court affirmed Khalid's conviction for teaching Islam without credentials, but reduced the amount of the fine from the RM2,900 imposed by the lower Shariah Court in Klang to RM1,900.
Full report at:
http://www.themalaymailonline.com/malaysia/article/zaid-no-malay-party-willing-to-stir-hornets-nest-in-fight-for-islamic-refor#vrVXtZtRm3TCig0U.97
--------
NU Urges Politics Free From Religious Sentiments, More Support for KPK
November 27, 2017
Jakarta. Indonesia's largest Muslim organization, Nahdlatul Ulama, has called on political parties and politicians to stop using religious sentiments and emphasized the need for the national antigraft agency to exercise its legal mandate.
NU issued a comprehensive set of recommendations for the government on Saturday (25/11), following the conclusion of the organization's national meeting and major conference in West Nusa Tenggara over the weekend.
The two-day meeting was opened by President Joko "Jokowi" Widodo, and attended by several officials, including Religious Affairs Minister Lukman Hakim Saifuddin, Indonesian Military (TNI) chief Gen. Gatot Nurmantyo and Home Affairs Minister Tjahjo Kumolo. The recommendations from NU's scholars and ulemas touched on issues such as the economy and prosperity, terrorism prevention and counterterrorism efforts, health, education, domestic politics and foreign affairs.
On domestic politics, NU called on political parties and politicians to stop using religious sentiments in their activities.
"Using religious sentiments in elections is irresponsible and it can damage our nation," the organization said in a statement received by the Jakarta Globe.
It also called on the law enforcement institutions, including the Corruption Eradication Commission (KPK), to monitor money politics and corruption in the country's 2018 regional elections.
"The government needs to consolidate the power of the state apparatus and its supporting political parties to participate in enforcing and strengthening corruption eradication efforts by the KPK," the organization said.
NU noted that inequality is a "real threat" to national unity and urged the government to address religious radicalism through active participation in spreading moderate Islam.
"Indonesia is facing a national test, reflected by the erosion of nationalism, rampant use of race, religion and ethnicity in social and political life, increasing radicalism and sectarianism, as well as rife corruption and terrorism," NU said.
On the economy and prosperity, the organization said the government should guide the country's agrarian reforms, and urged it to focus more on industrializing the agricultural sector and ensuring inclusive economic development.
NU also emphasized the role of education in tackling increasing religious radicalism.
Full report at:
http://jakartaglobe.id/news/nu-urges-politics-free-religious-sentiments-support-kpk/
--------
Pakistan
Islamic Military Alliance member states can decide their own role, says mandate
NOVEMBER 28, 2017
ISLAMABAD: The broader mandate of the Islamic Military Counter Terrorism Coalition (IMCTC) revealed on Sunday empowers member states to decide the extent of their participation in the coalition.
The final declaration was issued on Sunday after the defence ministers' of member states met in Riyadh
The terms of reference (TORs) of the coalition that will undertake joint military operations against terrorist outfits were finalised in the meeting where Pakistan was represented by Defence Minister Khurrum Dastagir.
Saudi Crown Prince Muhammad bin Suleman presided the gathering.
In the declaration, the ministers have laid stress on the importance of the military's role in combating the threat of terrorism, and enhancing security and peace in the region.
A press statement released after the meeting stated that the ministers emphasised the importance of providing necessary military capabilities to ensure that terrorist organisations were weakened, dismantled, eliminated and deprived of the opportunity to reorganise.
After the release of the ToRs, it is now clear that participation of coalition states will be defined in accordance with each country's capabilities and resources, as well as with each country's desire to participate in a given military operation.
Pakistan had principally agreed to be part of the coalition but withheld its decision regarding the extent of its role till the ToRs were finalised.
While agreeing to be part of the coalition, Pakistan had all along stated that it would not allow its troops to participate in any military action outside the country. Islamabad also insisted that it would not become part of an initiative aimed at any other Islamic country.
The 41-nation alliance was first announced by Saudi Arabia in December 2015. But key countries such as Iran, Syria, and Iraq were not invited to join it, strengthening the impression that the initiative was meant to target certain countries.
Pakistani government found itself in a tight spot because it neither wanted to annoy Saudi Arabia nor undermine its ties with neighbouring Iran. In this regard, Army chief General Qamar Javed Bajwa recently travelled to Tehran and held wide-ranging talks with the Iranian leadership on the issue.
Speaking at the conference, IMCTC chief Gen (retd) Raheel Sharif dispelled the impression that the group was sectarian in nature and had any sinister plans. He insisted that the sole objective of the alliance 'is to counter terrorism and it is not against any country or any sect'.
He said while all individual states were making efforts against the menace of terrorism, the required level of synergy and resources were lacking. "The IMCTC will support its partners mainly through intelligence sharing and capacity building," he said.
General Sharif said Muslim world was the biggest victim of the menace of terrorism and in the last six years alone, more than 70% of all deaths attributed to terrorism, had occurred in Muslim countries.
In his address, Defence Minister Khurram Dastagir assured the Saudis and the participating countries of Pakistan's full support and cooperation within the mutually agreed framework of the IMCTC.
Dastagir acknowledged and appreciated efforts of the Saudi leadership in building partnerships to counter the scourge of terrorism and extremism. He highlighted Pakistan's key role in the global fight against terrorism and showcased Pakistan's successful counter terrorism operations and the comprehensive National Action Plan.
Full report at:
https://dailytimes.com.pk/148688/islamic-military-alliance-member-states-can-decide-role-says-mandate/
--------
Pakistan offers info sharing, counter terrorism expertise
November 28, 2017
Islamabad - Defence Minister Khurram Dastgir Khan, who attended the inaugural meeting of the Islamic Military Counter-Terrorism Coalition (IMCTC) in Riyadh on Sunday, outlined Pakistan's key role in the global fight against terrorism.
The minister highlighted the continued resolve of Pakistan in fighting terror despite huge human and financial losses.
According to a spokesperson for the Ministry of Defence, underlining the expertise and experience of the country in fighting terrorism, Dastgir showcased Pakistan's successful counter-terrorism operations under the National Action Plan.
He said that Pakistan was ready to share its experience and capabilities in all four main domains of counter-terrorism — intelligence sharing , information, counter-financing of terrorism and military — through the forum of the IMCTC, which aimed at enhancing the ability of its member states to counter the scourge of terrorism and extremism, upon their request.
At the meeting, the defense minister acknowledged and appreciated the efforts of the Saudi leadership in building partnerships to counter the scourge of terrorism and extremism.
Reaffirming Pakistan's historical and fraternal relations with the Kingdom of Saudi Arabia, the defense minister assured Saudi Arabia and the participating countries of its support and cooperation within the mutually agreed framework of the IMCTC.
Full report at:
http://nation.com.pk/28-Nov-2017/pakistan-offers-info-sharing-counter-terrorism-expertise
--------
Govt hiding its blunders by shifting burden to court: JI
Nov 28, 2017
Jamaat-e-Islami Ameer Senator Sirajul Haq has said that the government is making a futile effort to hide its blunders by placing the responsibility of the Faizabad operation on the court.
Addressing the central leadership of the JI at Mansoora on Monday, he said if the law minister would have resigned on the very first day accepting the demand of the protestors and the public at large, so many killings and the heavy losses of property could have been avoided. He said that violence by the state during the sacred month of Rabiul Awwal was even more deplorable.
Sirajul Haq said that the government was dragging the court in every issue but it could not be absolved of the financial losses and deaths in the country. He suggested the government to confess to its failing, seek an apology from the nation and offer compensation for the losses.
The JI chief made it clear that there could not be any compromise on Islam and the democratic system. He said the JI stood by democracy and added that if there was any threat to democracy, it was from the negative attitude of the rulers themselves.
Sirajul Haq said that the government had made no effort to talk to the people staging sit-in and to make them understand in a positive manner. He said even now the rulers were not ready to give a serious thought to their attitude or to give up their wrong policies.
He said it had been proved once again that the use of force was not the solution to any issue. Instead, he said, the Islamic system provided the solution to all our problems.
He counseled the government to avoid traditional delaying tactics and release all those arrested in connection with the sit-in and protest. He said that whenever the country's democratic system was shelved in the past, it was due to the wrong decisions of the rulers.
Sirajul Haq said that an effective accountability system was essential for a true democracy. He said that instead of placing hurdles in the way of accountability or considering themselves above accountability, the rulers should allow the accountability institutions to work freely.
Full report at:
https://www.pakistantoday.com.pk/2017/11/28/govt-hiding-its-blunders-by-shifting-burden-to-court-ji/
--------
PM Abbasi assures KSA of Pakistan's full support for regional peace, stability
Nov 28, 2017
RIYADH: Prime Minister Shahid Khaqan Abbasi on Monday assured King Salman Bin Abdulaziz Al Saud of Saudi Arabia of Pakistan's full support in bringing peace and stability in the region.
Prime Minister Abbasi paid a one day visit to Saudi Arabia on Monday along with Foreign Minister Khawaja Asif, Chief of Army Staff General Qamar Javed Bajwa and Inter-Services Intelligence (ISI) Director General Lt Gen Naveed Mukhtar.
During the visit, the prime minister held meetings with the custodian of the two holy mosques, King Salman Bin Abdulaziz Al Saud and Crown Prince Mohammad Bin Salman Al Saud. King Salman Bin Abdulaziz also hosted a luncheon in honour of the visiting prime minister and his delegation.
During their meeting, Prime Minister Abbasi and King Salman reviewed the entire spectrum of their bilateral relations in addition to regional and international issues. They also discussed ways and means to further enhance their bilateral relations in diverse fields.
PM Abbasi lauded the efforts of the Saudi leadership in bringing peace and stability in the region, and assured the king of Pakistan's full support in this regard. The Saudi king praised the excellent relations that existed between the two sides and efforts of Pakistan in routing the menace of terrorism and extremism from its soil.
During his meeting with the crown prince, PM Abbasi praised his vision for launching the national economic transformation plan 'Vision 2030' and offered Pakistan's technical and human resource assistance in achieving it.
He also appreciated the efforts and dedication of the crown prince in launching a unified platform of Muslim countries, in form of Islamic Military Alliance to Combat Terrorism (IMCTC), for countering the menaces of extremism and terrorism that were distorting the real essence of Islam.
The crown prince, while appreciating the efforts of Pakistan in fighting terrorism and its active participation in IMCTC, said that Saudi Arabia and other countries of the coalition looked forward to learning from Pakistan's experience in this field. He underscored the fact that there was a great potential for further strengthening of the bilateral relations, especially in the fields of economy, trade, investment and defence.
Earlier, PM Abbasi was received at the King Salman airbase by Riyadh Governor Prince Faisal Bin Bandar Al Saud. This was his second visit to Saudi Arabia. Earlier, the PM visited Saudi Arabia soon after assuming office.
Full report at:
https://www.pakistantoday.com.pk/2017/11/27/pm-abbasi-assures-ksa-of-pakistans-full-support-for-regional-peace-stability/
--------
Teacher allegedly terminated for being Ahmadi approaches high court
November 28, 2017
The Lahore High Court issued on Monday a notice to the Punjab secretary of the school education department on a petition by a teacher allegedly terminated for being an Ahmadi.
Shaukat Rauf contended that he had been terminated without being given an opportunity of defence merely on a complaint lodged by a fellow teacher. The petitioner said he was a true Muslim having firm believe in finality of prophethood of Muhammad (PBUH) and had PhD degree in Islamiat.
He pleaded that his point of view was not heard by the authorities in a departmental inquiry, which was in sheer violation of fundamental right of fair trial.
He said the court had directed the respondent secretary to decide his departmental appeal against the termination but the order had not been complied.
Full report at:
https://www.dawn.com/news/1373377/teacher-allegedly-terminated-for-being-ahmadi-approaches-high-court
--------
Qalandar shrine blast case may be referred to military court, says CTD officer
Mohammad Hussain Khan
November 28, 2017
HYDERABAD: Antiterrorism Court Hyderabad on Monday remanded in judicial custody for 15 days Nadir Jakhrani, linked to the militant Islamic State group and a key suspect in Qalandar Lal Shahbaz shrine suicide attack, as Counter-Terrorism Department (CTD) of police initiated process for recommending the case for trial in a military court.
CTD had been interrogating Jakhrani since his arrest was disclosed on Nov 16 in Karachi. He was not linked to Hafeez Brohi group as was widely believed, said DIG Amir Farooqui, a senior CTD officer.
He said that process had been initiated to recommend the Qalandar shrine blast case for trial in a military court. "A committee comprising additional IG CTD, DIG and senior superintendent of police concerned will make recommendation to home department for approval of the case's trial by military court," said Mr Farooqui.
A case must meet certain parameters to qualify for trial by a military court. For instance, the case must involve a terrorist outfit and it must be high profile. There is fear that its trial may be delayed by a normal court, which may also face serious threats if the case is tried there.
Mr Farooqui said the Qalandar shrine blast — which took place on Feb 16, 2017 — met all the required parameters and was fit for trial by a military court.
He said that after due process was completed by the committee, it would be sent to home department which would further examine it under the supervision of apex committee chaired by Sindh chief minister. The apex body's legal committee would also look into it before recommending it for trial by military court, he said.
CTD Karachi and Hyderabad investigators were also preparing to lay hands on other suspects in the case, including Farooq Bungal­zai, Aijaz Bungalzai, Saifullah, Imran and Tanvir as the department had learnt that Farooq Bungalzai was another prime suspect in the case who had fled to Afghanistan, said sources.
Mr Farooqui confirmed that proper coordination with his Balochistan counterpart was being established and raids were being conducted in Dera Murad Jamali as well to track down Bungalzai.
He said that all local hideouts of the suspect had been raided where he no longer lived. "He is (believed to be) maintaining his contacts through mobile communication software (from Afghanistan)," he said.
As per Jakhrani's disclosures, after the blast at the shrine the group was to start kidnappings of officers and businessmen to arrange for finances for more such operations, he said.
A CTD official said that Jakh­rani led them to a place where he had stayed near Qadeemi Alam along with Barar Brohi (suicide bomber) and Saifullah.
Tanvir, Imran and Mustafa Mazari alias Doctor provided suicide jackets to Jakhrani, Saifullah and Barar, he said.
"Jakhrani told us that he and Saifullah dropped Barar in front of the side entrance of Golden Gate of Qalandar's shrine and hurried back to reach Sehwan's famous Jahaz Chowk," he said.
Jakhrani was arrested in Kashmore much earlier but his detention was officially disclosed in Karachi on Nov 16 only after verifying his links, said sources.
Full report at:
https://www.dawn.com/news/1373234/qalandar-shrine-blast-case-may-be-referred-to-military-court-says-ctd-officer
--------
North America
Mosque gives University of Cincinnati $1M to teach more about Islam
Nov. 28, 2017
A local mosque is donating $1 million to the University of Cincinnati to increase understanding of the Islamic religion amid concerns about Islamophobia.
UC is adding a titled professorship in Islamic studies, thanks to the gift from the Islamic Center of Greater Cincinnati. Money originates from Inayat Malik and his wife, Ishrat Malik.
Dr. Inayat Malik is a urologist and former 18-year board chair of the Islamic Center. He came from Pakistan in 1967 to specialize in urology at UC Medical Center and was a member of the UC College of Medicine clinical faculty for 20 years.
The Maliks have been leaders in the local Muslim community and promoted interfaith dialogue and understanding, efforts that include the co-founding of the Bridges of Faith Trialogue. It is an ongoing conversation among Cincinnati civic leaders from the Christian, Jewish and Muslim faiths, restarted in January 2016 to address renewed incidents of Islamaphobic violence and hate speech.
"We have a significant Muslim population in the area now, many of them affiliated with UC Medical Center," Inayat Malik said in a statement released by the UC Foundation. "Ishrat and I felt that we needed to make this resource available to UC, not just for the sake of the Muslim community but for the larger community so they have an understanding of the history of Muslim civilizations and contributions."
The Malik professorship aims to add to the university's expertise in Abrahamic religions, faiths that claim descent from practices of the ancient Israelites and worship the god of Abraham. UC already has chairs in Judaic and Catholic studies.
The new position will allow the university to boost its classes and research related to Islamic studies, which already include a focus on the Middle East and Arabic language and culture.
UC's College of Arts and Sciences will begin a formal search for a top scholar with an international reputation to fill the chair. In the spring, before undertaking the search, the college plans to invite other Islamic studies scholars as a way to learn more about the field and spread the word of its larger commitment, said Dean Kenneth Petren.
https://www.cincinnati.com/story/news/2017/11/28/mosque-gives-university-cincinnati-1-m-teach-more-islam/897611001/
--------
Federal funding helps increase security at Muslim places of worship
November 27, 2017
With hate-motivated crimes on the rise at religious centres around the world, the federal government has allocated funding to enhance security around places of worship.
The funding will support two projects in Ottawa. One will fund the installation of a security camera system inside and outside the Ottawa Muslim Association on Northwestern Avenue. The other will fund the same camera system at the association's Hall of Peace. The funding — $46,000 — covers the security assessment and training on the use of security equipment and falls under the Communities at Risk: Security Infrastructure Program (SIP).
Catherine McKenna, minister of environment and climate change and MP for Ottawa Centre, made the announcement Monday on behalf of Ralph Goodale, minister of public safety and emergency preparedness.
"Recent incidents are a jarring reminder that the inclusive and generous Canada we all want is now, and ever will be, a precious and delicate work-in-progress that we dare not take for granted," Goodale said in a written statement. "The Security Infrastructure Program is an important initiative to help protect all Canadians' right to be free to practice their faith and culture without fear. There is no social license for hate, not in Canada."
Naeem Malik president of the Ottawa Muslim Association was not available for comment. In a statement, he said the Ottawa mosque has been a target of "several" hate crimes in the last year.
For example, in April several windows were broken at the Ottawa Muslim Association. In the same week, the Islam Care Centre was targeted twice, once when windows were broken and another when someone left a hateful note and set fire to the building.
"These crimes showed us all as Canadians the importance of working together to protect our common values and the freedom that we all enjoy," said Malik. "The funds received from Government of Canada will help the Association increase security around its properties, which protect worshippers and visitors to the mosque and provide a safe environment to offer prayers and perform religious practice."
When combined with existing funding, SIP will invest up to $10 million over the next five years. Each year, $2 million will be available to help support not-for-profit organizations make needed security improvements. Approved projects may receive up to 50 per cent of total project costs, to a maximum of $100,000 per project.
Full report at:
http://ottawacitizen.com/news/local-news/federal-funding-helps-to-protect-muslim-community
--------
Trump voted Islamophobe of the Year
November 28, 2017
London - It should come as little surprise that Donald Trump has earned the distinction of the year's worst Islamophobe after he won the same accolade in 2016.
Trump , after being elected president of the US, issued an executive order that has become known as the 'Muslim ban'.
The annual Islamophobia Awards by the London-based Islamic Human Rights Commission hosted the representatives of many NGOs and Muslims.
The winner in the Islamophobia Awards 2017's 'UK' category is OFSTED who recently announced they would be quizzing young students who wore the hijab. The 'News Media' gong has gone to Fox News who has been fierce champions of Donald Trump and his discriminatory policies.
This year's winner in the 'International' category is Burmese politician Aung San Suu Kyi who has faced fierce criticism for her inaction when it comes to the ethnic cleansing of the Rohingya people. Between 2,000 and 3,000 Muslims were killed in Myanmar's Rakhine state in the last three months, according to the European Rohingya Council and more than 617,000 Rohingya Muslims were forced to take shelter in neighboring Bangladesh.
In the "United Kingdom" category, the Islamophobe of the year was announced as Tommy Robinson-the former leader of the fascist English Defense League (EDL)-who is infamously known by his anti-Islam views.
The other candidates in this category were TV presenter and columnist Katie Hopkins, former leader of the populist UK Independence Party (UKIP) Nigel Farage, far-right For Britain Party founder Anne Marie Waters and British Foreign Secretary Boris Johnson.
The last honour is bestowed to the American television series Homeland in the 'Book/Movie/TV' category - a consecutive win after last year.
Full report at:
http://nation.com.pk/28-Nov-2017/trump-voted-islamophobe-of-the-year
--------
Trump, Macron say UN's Syria talks in Geneva 'only legitimate forum'
28 November 2017
The leaders of the United States and France on Monday insisted UN-backed talks on Syria's future were the only way forward, after a no-show by the Damascus government.
Presidents Donald Trump and Emmanuel Macron spoke by phone and agreed that the talks scheduled to open Tuesday in Geneva were the "only legitimate forum for achieving a political solution in Syria," the White House said.
"Last night we received a message that the government would not travel to Geneva today. Naturally we hope, and indeed expect the government will be on its way shortly," UN Syria mediator Staffan de Mistura told the UN Security Council on Monday.
https://english.alarabiya.net/en/News/middle-east/2017/11/28/-Trump-Macron-say-UN-s-Syria-talks-in-Geneva-only-legitimate-forum-.html
--------
Mideast
Hamas rejects disarmament talk ahead of reconciliation deadline
November 28, 2017
GAZA CITY - Palestinian movement Hamas again refused to disarm on Monday ahead of a key reconciliation deadline , instead threatening to carry out attacks against Israel in the West Bank.
By Friday, the Islamists are due to hand over control of the Gaza Strip to the internationally recognised Palestinian government, based in the Israeli-occupied West Bank. But the future of their armed wing, the Ezzedine al-Qassam Brigades, remains unclear.
"The weapons of the resistance are a red line that is non-debatable," Khalil al-Hayya, deputy head of Hamas in Gaza, told a press conference, referring to the Qassam Brigades. "These weapons will be moved to the West Bank to fight the occupation. It is our right to resist the occupation until it ends."
Around 400,000 Israelis live in the West Bank, in settlements considered illegal under international law, alongside around three million Palestinians.
In Gaza, which Hamas has ruled since seizing it in 2007, there are no settlers after Israel withdrew in 2005. The United States and Israel have said they will reject any reconciliation agreement leading to a unity government including Hamas unless it disarms.
Palestinian president Mahmud Abbas has also said there will only be one security force in the Palestinian territories. The reconciliation agreement signed on October 12 in Cairo does not specify a future for the Qassam Brigades.
http://nation.com.pk/28-Nov-2017/hamas-rejects-disarmament-talk-ahead-of-reconciliation-deadline
--------
Rights group taking UAE to ICC over Yemen 'war crimes'
November 28, 2017
PARIS - A rights organisation is taking the United Arab Emirates to the International Criminal Court over allegations of war crimes in Yemen , the group's lawyer told AFP on Monday.
The Arab Organisation for Human Rights in the UK accuses the UAE government, part of a Saudi-led coalition fighting Huthi rebels in Yemen , of "indiscriminate attacks against civilians", lawyer Joseph Breham said. The case filed at the international court in The Hague also charges the UAE with using banned weapons in the conflict and hiring mercenaries to carry out torture.
The UAE has been supporting Yemeni govt forces since March 2015 in their conflict against the rebels, who are backed by Saudi Arabia's regional arch-rival Iran.
The UAE has been playing a key role in the Saudi-led campaign in Yemen , which was launched two years ago to roll back Huthi rebel gains but has expanded to counter militant advances.
UN officials say Yemen could face the world's largest famine in decades unless the Saudi-led coalition's crippling blockade on ports and airports is lifted.
UN children's fund UNICEF warned Sunday that more than 11 million children in war-torn Yemen are in desperate need of humanitarian aid.
Full report at:
http://nation.com.pk/28-Nov-2017/rights-group-taking-uae-to-icc-over-yemen-war-crimes
--------
Turkey-Affiliated Militants Fight Each Other in Northern Syria
Nov 27, 2017
The sources said that members of the North Brigade-Free Army clashed fiercely with Ahrar al-Sham rival terrorists in the town of Jarabulus in Northeastern Aleppo that inflicted several casualties on both warring sides.
The sources added that the Turkish Army has placed its forces on alert following the clashes in Jarabulus.
Relevant reports said last month that heavy infighting between the Turkey-backed Free Syrian Army (FSA) and ISIL terrorist groups in Northern Syria claimed the lives of scores of militants from both sides.
Full report at:
http://en.farsnews.com/newstext.aspx?nn=13960906000295
--------
Gulen 'Money Man' Back In Turkey from Sudan
27 November 2017
Turkish spies working in Sudan have repatriated a businessman accused of links to wanted Turkish cleric Fethullah Gulen after he was caught in a joint operation, state media reported Monday.
Memduh Cikmaz is accused of giving millions to the movement run by US-based Gulen, who Ankara claims ordered the July 15, 2016 attempt to end President Recep Tayyip Erdogan's rule.
Cikmaz was captured in a joint operation involving Sudanese intelligence after the Turkish National Intelligence Organisation (MIT) located him two months earlier, security sources told Anadolu news agency.
Cikmaz, with business interests in petrol stations and brick factories, was returned to Turkey early on Monday, the agency said.
He had gone to Sudan in January 2016 but sources told Anadolu he continued to send millions of dollars to the movement.
Cikmaz was accused of "managing an armed terror organization" in a previous arrest warrant. Anadolu described him as the Gulen group's "money vault".
The agency said MIT had created a special team to locate suspected Gulenists abroad.
Turkey refers to Gulen's group as the "Fethullah Terrorist Organisation" (FETO) but the movement insists it is peaceful and promotes education, denying any terror links.
Its network stretches from Turkey to Africa and Central Asia to the United States.
Gulen denies Turkey's accusations of involvement in last year's failed coup.
Ankara launched a widespread crackdown on the group, arresting more than 50,000 people over alleged links since July last year.
Full report at:
https://english.alarabiya.net/en/News/middle-east/2017/11/27/Gulen-Money-Man-Back-In-Turkey-From-Sudan.html
--------
Arab coalition bombs secret Houthi hideouts, military reinforcements to Saada
27 November 2017
The Saudi-led Arab coalition in Yemen continued its support of the Yemeni army where they executed 15 air raids on Houthi sites and hideouts in Naseem and Khadraa farms south of Harad.
The Yemeni army also regained control of strategic sites close to Saudi borders in Albuqa, east of Saada, in an area where Houthi militia and ousted Yemeni President Ali Abdullah Saleh forces are centered.
Military reinforcements comprising of two brigades from Marib, arrived in Saada province to support army units on the Kitaf Albuqa near the Saudi border.
The arrival of these reinforcements complimented regaining position control and seizing a number of weapons and explosives between the Saada and al-Jawf governorates.
Other military reinforcements included long-range rockets and artillery which took down remaining Houthi camp sites in the suburbs of Arhab and Ben Hashish northeast of the capital Sanaa.
Full report at:
https://english.alarabiya.net/en/News/middle-east/2017/11/27/Arab-coalition-bombs-secret-Houthi-hideouts-military-reinforcements-to-Saada.html
--------
Hezbollah chief to be assassination target in future war: Israeli army
Nov 28, 2017
The Israeli military has threatened that Sayyed Hassan Nasrallah, the head of Lebanon's resistance movement, will be a target of assassination in Tel Aviv's next war against the Arab country.
"There won't be a clear victory picture in the next war, though it's clear that Nasrallah is a target," the military's chief spokesperson, Brigadier General Ronen Manelis, told a conference for journalists in the city of Eilat on Monday.
"It is clear that if he dies, it will influence the [military] campaign," Manelis added.
Israel launched two wars on Lebanon in 2000 and 2006, in both of which the Hezbollah fighters inflicted heavy losses on the regime's army.
Nasrallah has repeatedly warned the regime in Tel Aviv against going for another act of aggression against his country, vowing that Lebanese armed forces would give a crushing response to the regime in any future war.
The Hezbollah leader said last month that the Israelis "do not have a correct picture about what is awaiting them if they go to the idiocy of this war."
Elsewhere in his Monday remarks, Manelis admitted that the Israeli army is engaged in psychological and media warfare against Hezbollah.
The Israeli military is "active" in the field of "transition from traditional media consumption to social media…. Just in the past few weeks, we've taken a great many actions that caused consternation on the other side," he added.
Manelis also claimed that the Israeli army "makes daily efforts, both overt and covert, in an effort to push back the next war."
"However the next war will look different" given the Israeli military's capabilities, he said, claiming that though the future confrontation is "difficult in Israel - in Lebanon it will be much worse."
The comments come amid rising Israeli threats of a new war against Lebanon over the past months.
Earlier this month, Lebanon's army chief Commander, General Joseph Aoun, ordered soldiers to stand fully ready on the southern frontier to respond to the Israeli military's "threats and violations."
Israel in September conducted its biggest military drill in almost two decades on the Lebanese border to simulate "the next confrontation with Hezbollah."
Last week, Lebanon's President Michel Aoun said his country reserved the right to resist and foil any Israeli aggression.
"Lebanon was able to face the Israeli aggression since 1978 until the 2006 war. It was able to liberate its land. Israeli threats are still ongoing; the Lebanese have the right to fight and thwart it with all available means," he tweeted.
Aoun's comments came after the Arab League accused Hezbollah of "supporting terrorism and extremist groups in Arab countries with advanced weapons and ballistic missiles."
The resistance group is represented in the Lebanese parliament and is part of the unity government formed late last year.
Nasrallah said earlier this month that Saudi Arabia has appealed to the Israeli regime to launch a military onslaught against Lebanon in the name of fighting Hezbollah, and is ready to spend billions of dollars to attain this objective.
The developments come amid widespread reports of a plan by Israel and Saudi Arabia to make their longtime secret ties official and unite against their enemies.
Full report at:
http://www.presstv.com/Detail/2017/11/28/543732/Israel-Lebanon-Hezbollah-Hassan-Nasrallah
--------
A rights group calls for probe into UAE's war crimes in Yemen
Nov 27, 2017
A law suit has been filed against the United Arab Emirates with the ICC over its collaboration with Saudi Arabia in its deadly war against Yemen.
The UK-based Arab Organization for Human Rights (AOHR) accused the UAE of "indiscriminate attacks against civilians" on Monday while presenting the case to the International Criminal Court.
The AOHR also claimed that the UAE has been using banned cluster bombs and hired mercenaries to execute and torture the Yemeni people.
"Our complaint targets acts perpetrated on Yemeni territory by the United Arab Emirates which does not recognize the ICC," said one of the groups lawyers -- Joseph Breham.
As Yemen and the UAE are not parties to the Rome Statute which underpins the ICC, it will only have jurisdiction if nationals from another country were involved.
It is now up to the court to decide whether or not to open an initial investigation.
"The perpetrators of these crimes are mercenaries employed by the Emirates and coming from Colombia, Panama, El Salvador, South Africa or Australia -- countries that recognize the ICC," added Breham.
Saudi Arabia has been incessantly pounding Yemen since March 2015 in an attempt to crush the popular Houthi Ansarullah movement and reinstate former president, Abd Rabbuh Mansur Hadi, who is a staunch ally of the Riyadh regime.
Full report at:
http://www.presstv.com/Detail/2017/11/27/543713/yemen-saudi-arabia-uae-icc
--------
Europe
Terrorism: Morocco Answers the Call of Saudi Arabia's Islamic Military Coalition
By Chaima Lahsini
November 27, 2017
Announced this weekend, this new coalition includes 40 predominantly Sunni Muslim countries and aims fight against extremist groups until their "complete disappearance from the face of earth."
Speaking at the first meeting of the Coalition's Council of Defense Ministers, Abdellatif Loudiyi, the Moroccan delegate minister in charge of the National Defense Administration, stressed that Morocco "will support its Coalition brothers in view of its accumulated experience in the fight against extremism and terrorism and its forward-looking multidimensional approach to combat the thoughts and ideas of extremist organizations, as well as its success in dismantling terrorist cells."
Loudiyi reiterated Morocco's continued solidarity with Saudi Arabia in "defending its sovereignty and territorial integrity" and its full support for "all measures taken in the face of anything that might affect its security and stability."
For his part, the Crown Prince of Saudi Arabia, Vice-President of the Council of Ministers, and Minister of Defense Mohamed Ben Salman stressed that this meeting is "a strong signal of cooperation against terrorism," noting that the coalition "will prevent this scourge from tarnishing the image of the tolerant Muslim religion and terrorizing civilians in Islamic states."
Speaking at the opening of this meeting, the prince also expressed, on behalf of the coalition, solidarity with Egypt following the terrorist act that targeted a mosque in northern Sinai, causing the death of 350 people.
Ben Salman noted that more than 40 states reaffirmed their willingness to cooperate and work together to combat terrorism at both the military and financial, intelligence, and political levels.
The IMC also gathers several African and Asian countries, including Nigeria, Turkey and Pakistan. Unsurprisingly, Saudi Arabia's rival, Iran, is not part of the coalition, along with Iraq, Syria, and Qatar.
https://www.moroccoworldnews.com/2017/11/234914/terrorism-morocco-saudi-arabia-islamic-military-coalition-imc/
--------
Swedish politician forced to resign after saying Muslims are 'not fully human'
Nov 28, 2017
A politician in Sweden has been forced to step down after he said in a live TV debate that Muslims were not "fully human".
Martin Strid, a member of the right-wing Sweden Democrats, sparked the controversy when he ranked Islamists on a scale of "0 to 100" while speaking at a party national conference.
"On one end you are 100 per cent human, a person, everything that's part of that concept. At the other end, you are 100 per cent Mohammedan," he said, according to a translation of his comments by the Swedish edition of The Local.
A politician in Sweden has been forced to step down after he said in a live TV debate that Muslims were not "fully human".
Mr Strid's party colleagues immediately denounced his comments, with its secretary Richard Jomshof saying the statement amounted to "racism".
"Everyone has fundamental human worth, the same for everyone. If you think that someone has a worse value based on a certain skin colour or the community they are part of, that is racism for me. We will not accept that," Mr Jomshof said
Mr Strid tried to explain himself by saying Isis members were "close to being 100 per cent Mohammedan" but added that "all Muslims are somewhere on that scale".
The local politician from the town of Borlänge added: "If you are an ex-Muslim you have come quite far towards being fully human." He was speaking at the party's national conference in Norrköping, Östergötland in the south east of Sweden.
SD board member and MP Aron Emilsson later officially distanced the party from Mr Strid.
"It is a statement we, from the party leadership, take a clear distance from. Categorising people and human values based on what religious beliefs you have is a way we cannot argue," it said, according to a report by SVT. "It is contrary to our basic view of human dignity."
Mr Emilsson's statement did not call for Mr Strid to step down, only saying his comments "will certainly be handled in some way".
Mr Strid later apologised for his statement after a barrage of criticism.
"It was very unfortunate, I expressed myself very clumsy," he told news site TT.
Mr Strid quit the party hours later, The Local reported.
But party leader Jimmie Åkesson dismissed the controversy, saying he had "never heard of [Strid] before" his speech, TV4 reported.
"In this case it is very clear that if it isn't racism it is very close to racism," said Åkesson.
Sweden is set to go the polls in a general election scheduled for September next year, with Sweden Democrats recently becoming the most popular party in the country, according to one poll.
Full report at:
http://www.independent.co.uk/news/world/europe/swedish-politician-muslims-not-completely-human-martin-strid-mohammedan-sverigedemokraterna-a8077521.html
--------
Teenage ISIS supporter guilty of plotting attack on Bieber concert in UK
November 27, 2017
A British teenager was found guilty on Monday of planning to drive a car into a crowd in the Welsh capital Cardiff, with a Justin Bieber concert and a shopping center among the list of possible targets for his Islamic State-inspired attack.
The 17-year-old boy, who cannot be named for legal reasons, wrote a "martyrdom letter" in which he said he was "a soldier of the Islamic State".
Police found the letter in a rucksack in his bedroom which also contained a large knife and a hammer.
The Crown Prosecution Service (CPS) said he was planning an attack of a similar type to one near Britain's parliament in March, where a man in a van drove into pedestrians on London's Westminster Bridge before stabbing a policeman.
"This teenager's behavior over many months leaves no doubt that he intended to kill and maim as many people as possible in an attack reminiscent of the incident on Westminster Bridge," said Sue Hemming, head of the special crime and counter terrorism division at the CPS.
"He was also posting extremist content online that could have encouraged others to commit terrorist acts and downloading instructions on how to carry out 'lone wolf' attacks."
The Westminster attack was one of five major attacks this year that British authorities are treating as terrorism incidents. Five people including the policeman and the attacker, Khalid Masood, died in the Westminster incident.
The CPS said the Welsh schoolboy had posted Islamic State propaganda on his Instagram account, and his Instagram password was "Truck Attack". He researched possible targets including Cardiff Castle, a theater, a library and a shopping center, as well as the Bieber gig, which took place in June.
Full report at:
http://nation.com.pk/27-Nov-2017/teenage-isis-supporter-guilty-of-plotting-attack-on-bieber-concert-in-uk
--------
Geneva peace talks may start without Syrian regime
28 November 2017
The Syrian opposition delegation at peace talks in Geneva on Monday asked major powers to pressure the Assad regime to take part.
The regime delegation has not yet arrived for the eighth round of the talks, which are scheduled to start Tuesday, Nasr al-Hariri, head of the opposition delegation, told reporters.
The opposition wants the regime to participate in negotiations on a political transition, a new constitution and elections.
Hariri said the opposition delegation will meet with UN envoy on Syria Staffan de Mistura on the first day of the talks.
He reiterated that the opposition delegation was aiming for Bashar al-Assad's removal with the political transition.
"The government delegation should come ready to negotiate," de Mistura said Monday at a briefing from Geneva to the UN Security Council.
Full report at:
http://www.worldbulletin.net/europe/196343/geneva-peace-talks-may-start-without-syrian-regime
--------
Africa
Herdsmen under attack because they are Muslims – MURIC
November 27, 2017
By Seun Opejobi
The Muslim Rights Concern, MURIC, has said those patronizing "anti-Fulani sentiments do so because of their hatred for Muslims and their inability to tolerate Islam."
MURIC said this while noting that those who speak evil of "Fulanis are fully aware that more than 95% of the Fulani population is Muslim."
In a statement by its Director, Professor Ishaq Akintola, the group said the same people who "whip up" sentiments against the Fulanis are also inciting "Nigerians against herdsmen."
Akintola claimed that all the, "imbroglio" against the Fulanis would melt away should they Fulani "revert to Christianity en masse."
The organization also condemned the massacre of about 60 Fulani herdsmen few days ago in Shaforon, Kikem and Kodemti villages in Numan.
The statement sent to DAILY POST reads, "About sixty Fulanis including women and children were allegedly massacred six days ago in Shaforon, Kikem and Kodemti villages in Numan. Fingers are pointing at Bachama militia men.
"The Muslim Rights Concern (MURIC) strongly condemns this wanton waste of human life. It is horrendous, heartless and barbaric. It is nothing short of ethnic cleansing and a crime against humanity.
"It will be recalled that over 130 Fulani people were also killed in June this year as hundreds of Fulani villages on the Mambilla Plateau were raided by members of the Mambilla tribe allegedly on the orders of the chairman of Sardauna Local Government Area, Mr. John Yep.
"We are deeply disturbed by the rate at which ethnic violence is erupting in Nigeria. We are equally constrained to blame the recent attack on authors of hate speech, particularly those motivated by anti-Fulani, anti-North and anti-Muslim sentiments.
"We contend that these primordial emotions are inter-connected and cannot be separated with microscopic accuracy. Those who whip up anti-Fulani sentiments do so because of their hatred for Muslims and their inability to tolerate Islam. Those who speak evil of Fulanis are fully aware that more than 95% of the Fulani population is Muslim.
"The same people incite Nigerians against herdsmen. They have forgotten that every profession has inherent values and every Nigerian worker renders one service or another to the nation. Instead of appreciating hard-working itinerant herdsmen, tribal and religious sentiment blind authors of hate speech. We contend that all the anti-Fulani imbroglio would melt like ice cream in the hot sun today if the Fulani population revert to Christianity en masse."
The Islamic group urged security agencies to ensure that those behind the killings in Taraba State are brought to justice.
"While we commiserate with the Taraba people on these brutal killings, we charge the Nigerian security agencies to bring the culprits to book. We call on the National Human Rights Commission (NHRC) to investigate these atrocities. We also urge the United Nations to set up an international judicial commission of inquiry into this horrible crime against humanity.
"MURIC invites authors of hate speech to change their mindset. Perception has the capacity to becloud minds and rob humanity of fair assessment. Ethnic jingoism limits human interaction, blocks opportunities and debilitates understanding while acrobatic religiousity deprives humanity of that thin veneer of civilization and erodes its infinitesimally small atom of sagacity," the statement added.
http://dailypost.ng/2017/11/27/herdsmen-attack-muslims-muric/
--------
Muslim extremists end religious peace in Mali after appointment of Cardinal Zerbo
By Soumaila Diarra
November 27, 2017
BAMAKO, Mali — Dressed in a white frock, the Rev. Samuel Coulibaly, a Catholic priest, smiled as he explained how religious communities have long lived in peaceful coexistence in this West African country.
"In each of our families, there are Christians, Muslims and even sometimes those who are practicing the traditional religion" — animism, Father Coulibaly said.
But that era of peaceful coexistence has been on trial ever since the July appointment by Pope Francis of Cardinal Jean Zerbo, Mali's first "prince of the church."
Locals say the appointment has given new prominence to the Christian community and sparked resentment among some Muslims. As a result, extremists have stepped up attacks on Cardinal Zerbo's flock, forcing many Catholic churches to close.
"There are threats and sometimes attacks on churches in remote villages," said Damien Diarra, a 40-year-old Christian who works with the government's tourist authority.
"Because of this threat, people are afraid — including the priests — to go to those churches," he said.
All sides are wary of allowing the tensions to fester. Christian-Muslim communal clashes have proved a major flashpoint in other divided African countries, including Nigeria, Uganda, the Central African Republic and Egypt.
Christians compose about 5 percent of Mali's 18 million people. About 2 percent are animists. The rest are Muslim.
Cardinal Zerbo has a record of working for better relations between Mali's Christians and Muslims. In appointing him this summer, Francis said he was trying to highlight "those neglected areas and complex situations of war and poverty while it reaffirms the interest of the Catholic Church."
Mr. Diarra and others blame the attacks on armed men linked with the jihadi leader Amadoun Koufa, co-founder of Jama'at Nosrat al-Islam Wal-Muslimin, an al Qaeda-affiliated group that aims to create an Islamic caliphate in Mali.
Mali has been fighting jihadis for years. Until French military intervention in 2012, extremists held sway in large swaths of the northern part of the country. More recently, France has stepped up its involvement in its former colony by creating a regional force — the Sahel G5, which includes Burkina Faso, Mali, Mauritania, Niger and Chad — to accelerate operations against militants.
The U.S. government has also pledged funds to support the operations.
Ousmane Diakite, a Bamako-based analyst, said, "These jihadists hold several foreign hostages, including a Colombian nun and probably the American who was kidnapped in Niger."
He was referring to an American aid worker taken in October from his home in Niger and believed to have been transferred to Mali.
Targeting churches
Jama'at Nosrat al-Islam Wal-Muslimin is being led by Iyad Ag Ghaly, a Malian Tuareg and prominent extremist who is wanted by the U.S. government. The group routinely ransacks Christian houses of worship, Christians here say.
In September, for example, terrorists struck a church in Dobara, a village in remote central Mali, burning sacred objects and vowing to return and kill the congregation if they continued worshipping there.
Around the same time, militants also ransacked churches in Bodwal, Djidiam and Douna, also in central Mali. Terrorists have threatened to destroy other churches in the area too, church officials say.
In a report issued in September, Human Rights Watch said it had documented "serious abuses by Islamist armed groups in central Mali … including summary executions of civilians and Malian army soldiers, destruction of schools, and recruitment and use of children as soldiers."
The rights group said attacks on Christians and other religious and ethnic minorities in Mali's Mopti region "has raised concerns of more widespread abuses."
Sectarian violence has not spread so far to the capital of Bamako. But Christians in the city are reporting an increasing number of anti-Christian incidents that threaten the secular coexistence among religious communities.
"I'm used to having my clothes sewn at a tailor's in Bamako," said Dieudonne Tembely, 36, of Bamako. "But on Easter this year, he refused to serve me."
The tailor's imam, a Muslim clergyman, advised him not to sew clothes with the likeness of Jesus Christ on them, Mr. Tembely said.
Locals attribute the surge in attacks on churches in the center of the country to the elevation of the cardinal.
"I heard a religious leader on a Muslim radio station claiming that there is an international plot to make of Mali a Christian country now, to promote Western values," Mr. Tembely said.
Christians also say that greater prominence and visibility for their community sparks misunderstandings with some conservative Muslims. Christian missionary groups say the violence and unpopularity of jihadi groups like Nigeria's Boko Haram have also inspired a wave of converts to Christianity in a number of African countries, further upsetting Muslim community leaders.
"In August, a conservative Muslim leader made a public declaration on how [Muslims] will combat the Christian religion and those promoting it," said Mr. Dieudonne. "He was angry because he thinks government officials have more regard for Christian leaders" than Muslim ones.
Mr. Diakite noted that jihadis didn't attack the churches in the country's center when they controlled the northern region. "I see the current attacks on churches as the rise of anti-Christian feeling in the last few months," he said.
Still, Father Coulibaly says he is optimistic that Muslims and Christians can avoid clashes if they could find "love in their hearts."
Full report at:
https://www.washingtontimes.com/news/2017/nov/27/jean-zerbo-mali-catholic-cardinal-stirs-violence-m/
--------
Thousands return from Jordan to south Syria as ceasefire holds
27 November 2017
Around 1,000 Syrians who sought refuge in Jordan have been returning home each month since July when a ceasefire for southern Syria took force, the UN said Monday.
The ceasefire brokered by Jordan, Russia and the United States for the southern Syrian provinces of Daraa, Quneitra and Suweida has largely held since it came into force on July 9.
Since then "the number of Syrians returning to the country voluntarily has increased", Mohammed al-Hiwari, spokesman for the UN refugee agency (UNHCR) in Amman, told AFP.
"Today that number has risen to around 1,000 (returnee) per month on average," Hiwari added.
Jordan shares a border of more than 370 kilometres (230 miles) with Syria, where upwards of 340,000 people have been killed and millions displaced since its conflict broke out in 2011.
The United Nations says Jordan is hosting more than 650,000 Syrian refugees, but authorities in the kingdom put their actual number at 1.3 million.
Hosting the refugees has placed a heavy burden on Jordan, a country lacking natural resources.
According to Hiwari, the number of refugees who returned voluntarily to Syria rose to 1,203 in August and 1,078 in September.
In the six months before the ceasefire, a total of only 1,700 Syrian refugees returned to their home country, he said.
Hiwari stressed that the UNHCR "does not encourage the return to zones in Syria that are deemed unsafe".
The ceasefire brokered in the three southern Syrian provinces is part of a broader Russian-backed plan to create four "de-escalation zones" in rebel-held parts of the country.
Full report at:
https://english.alarabiya.net/en/News/middle-east/2017/11/27/Thousands-return-from-Jordan-to-south-Syria-as-ceasefire-holds-.html
--------
Burkina Faso attack hurts 3 as Macron begins Africa tour
Nov 28, 2017
A grenade attack on French soldiers in Burkina Faso has left three civilians wounded, as France's President Emmanuel Macron arrives in the African country to begin his first tour of Africa.
"Two hooded individuals on a motorcycle threw a grenade towards a French army vehicle" as it made its way to a barracks housing French Special Forces, a security source told AFP on condition of anonymity, the French news agency reported on Monday. "The attackers' target was the French army vehicle, which was not hit."
French Special Forces have been present in Burkina Faso since 2010 on a declared mission to help regional governments in the Sahel tackle extremism, particularly in neighboring Mali.
The source added that three local residents had been wounded in the attack, one of them seriously.
Macron flew into Ouagadougou three hours later for a three-leg tour of West Africa. After Burkina Faso, he will be visiting the Ivory Coast and Ghana.
Macron told reporters shortly after arrival that his trip signaled the start of a fresh opportunity in the relationship between France and Africa.
"My African tour... marks a new stage in our relationship, not only with your country, but also with the entire continent," he said.
On Wednesday, Macron will visit a giant solar power plant in Burkina Faso, the largest in West Africa, before departing for the Ivorian capital, Abidjan, where the fifth Europe-Africa summit will bring together more than 80 leaders from the two continents.
In Abidjan, he will also inaugurate the city's colossal metro project, funded by a 1.4-billion-euro (1.6-billion-dollar) French loan.
Full report at:
http://www.presstv.com/Detail/2017/11/28/543730/Burkina-Faso-grenade-attack-Macron-Africa-tour
--------
Sudan general, nine soldiers killed in Darfur clashes
Nov 27, 2017
A Sudanese general and nine soldiers were killed in clashes in the war-damaged region of Darfur on Sunday after their vehicles were ambushed by militants, state news SUNA reported on Monday.
Conflict in Darfur erupted in 2003 when mainly non-Arab tribes took up arms against Sudan's Arab-led government and has led to intermittent clashes ever since, though the government announced a unilateral ceasefire last year.
Fresh clashes erupted on Sunday following a military effort by government forces in the southern Darfur region to collect weapons from militants, SUNA reported.
Full report at:
http://www.presstv.com/Detail/2017/11/27/543684/Sudan-clash-soldier-militants-Darfur-ceasefire-weapon
--------
URL: https://www.newageislam.com/islamic-world-news/egypt-sufis-stay-indoors-mark/d/113382
New Age Islam, Islam Online, Islamic Website, African Muslim News, Arab World News, South Asia News, Indian Muslim News, World Muslim News, Women in Islam, Islamic Feminism, Arab Women, Women In Arab, Islamophobia in America, Muslim Women in West, Islam Women and Feminism