New Age Islam News Bureau
8 Jan 2015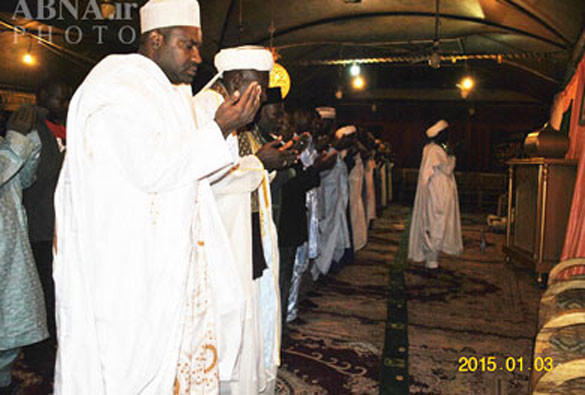 Huge participation of Shia and Sunni in Unity Week in Zaria, Nigeria /Abna.ir Pics
-----------
Arab World
• Egypt's President Urges Muslim 'Religious Revolution' To Combat Islamist Ideology
• Iraqi Forces Killed Over 50 Takfiri Terrorists in Salahuddin Province
• Extremists Destroy 13th Century Muslim Tomb in Syria
• Iraq: Attacks In and Around Baghdad Kill 8
• Hezbollah Deputy Chief: Takfiri Ideology Not Related to Islam
• Syrian Army Strikes Major Blow at Militants in Homs, Deir Ezzur
• Saudi Arabia is right to be anxious over its ideological links with Isis
• From Egypt's leader, an ambitious call for reform in Islam
• Imperial powers seek control of Muslim world: Iran president
• Islamic State asks Twitter how to 'kill Jordanian pilot pig'
• Syrian Army Forms Suicide Unit
• Isis fighters 'high on cocaine': Huge bag of drugs found at home of Islamic State leader accused of drugging troops to boost morale
Pakistan
• In Amendment's Aftermath, Religious Right Faces an Existential Crisis
• Jamaat-i-Islami Emir Vows to Defend Mosques, Madrasas
• Five-Day Deadline for Salarzai Tribe to Hand over Militants
• Pak Punjab to Add Tolerance, Diversity to Curricula
• 12 Militants Killed In NWA Airstrikes
• 7 suspected terrorists among 9 killed in Karachi
• Four security personnel killed in Lower Khurram blast
• Blasphemy Accused, Aabid Mehmood, Killed After Release
• ATC hands three death sentences to Dr Warren Weinstein kidnapper
• Military courts being set up in three Sindh cities
• Imran Khan faces the price of his hypocrisy: Talibani politics and a modern wife
• Efforts to improve ties with India not reciprocated: PM Nawaz
Africa
• Huge Participation of Shia and Sunni in Unity Week in Zaria, Nigeria
• Boko Haram leader threatens Cameroon in YouTube video
• Radical Islam a growing threat to sub-Saharan Christians
• 'Timbuktu' depicts the nightmare of life under Sharia law
South Asia
• Bangladesh Terror Outfit Calls for Jailbreak to Free 'War Criminals'
• 3 ANA Embraced Shahadat, 20 Insurgents Killed In Past 24hrs
• Drone Strike Kills 6 Militants In Nangarhar
• Xinjiang area faces 'intense struggle,' says China leader
• Ban on Tarique's speech: Justice's house torched
• Two immigration officers and Afrasheem murder suspect among group of twelve jihadis
Europe
• Mainstream Political Parties in Germany Unite Against Anti-Muslim Marches
• Torture and Death for Uzbek Muslims in Jail
• After ISIS: Residents return to Mt. Sinjar despite mines, devastation
• London Islamic school shut down, govt accused of 'witch hunt'
Mideast
• Islamic State Rejected Gaza Jihadists' Offer of Allegiance
• Basij Commander Stresses Need for Confronting Wahhabism
• Netanyahu: Israel is standing by Europe, Europe must stand by Israel
• Turkey warns its citizens to evacuate Libya 'immediately'
• Russian citizen revealed to be suicide bomber who attacked Istanbul police
• Pro-ISIS group hijacks U.S. station's site, paper's Twitter feed
North America
• US Working With Muslim Leaders to Counter Islamic State Ideology
• US: Palestine Not a State, Does Not Qualify For ICC Membership
• California prison guard sues, says he was harassed for being Muslim
• 'US supports efforts of Pakistan against terrorism'
• CAIR: Bogus stats used to justify persecution of European Muslims
• US-led forces drop nearly 5,000 bombs on IS group
• Canada opens doors to 13,000 Syrian, Iraqi refugees
India
• BJP Will 'Experiment With Ghar Wapsi' In Valley: Kashmir Separatist Leader
• Australia Warns Of Terror Attacks in India
• No Need for New Anti-Conversion Law, Says Union Minister
• Muslims Deserve Reservations, Owaisi Says
• Delay in Financial Aid Affecting India-Palestine Relations
Southeast Asia
• Charlie Hebdo killings backlash for mocking Prophet Muhammad, says Dr M
• Information on Terrorist Threat Warning Not Being Shared: Officials
• Joko Says Indonesia Is Safe Despite Security Warning
Compiled by New Age Islam News Bureau
URL: https://www.newageislam.com/islamic-world-news/new-age-islam-news-bureau/egypt-s-president-urges-muslim--religious-revolution--to-combat-islamist-ideology/d/100915
--------
Arab World
Egypt's President Urges Muslim 'Religious Revolution' To Combat Islamist Ideology
January 08, 2015
Egypt's President Abdel Fata al-Sisi has urged scholars and teachers at Al Azhar University in Cairo to start a "religious revolution" aimed at combating the ideology that supports Islamic terrorism around the world.
The president, a former general who was elected last June following an army coup against the Muslim Brotherhood government of Mohammed Morsi in 2013, is widely popular in Egypt despite austerity measures aimed at rescuing Egypt's ailing economy. He enjoys support from the country's Christians because of the improved security situation.
According to a translation received by the Washington Post, al-Sisi told an audience at the university: "It's inconceivable that the thinking that we hold most sacred should cause the entire Ummah [Islamic world] to be a source of anxiety, danger, killing and destruction for the rest of the world. Impossible!"
Violent Islamist ideology, he said, was "antagonising the whole world". He added: "Is it possible that 1.6 billion people [Muslims] should want to kill the rest of the world's inhabitants — that is 7 billion — so that they themselves may live? Impossible!
"I am saying these words here at Al Azhar, before this assembly of scholars and ulema — Allah Almighty be witness to your truth on Judgment Day concerning that which I'm talking about now.
"All this that I am telling you, you cannot feel it if you remain trapped within this mindset. You need to step outside of yourselves to be able to observe it and reflect on it from a more enlightened perspective.
"I say and repeat again that we are in need of a religious revolution. You, imams, are responsible before Allah. The entire world, I say it again, the entire world is waiting for your next move... because this Ummah is being torn, it is being destroyed, it is being lost — and it is being lost by our own hands."
His appeal on Friday to Al Azhar, regarded as the most prestigious Sunni institution in the world, came with the announcement of the creation of two new government institutions. The Forum on Tolerance and Moderation and the Islamic Council for Languages and Translation have been designed to "spread moderate religious ideas in Egypt and the world" according to Egypt's Ministry of Religious Endowment.
The Grand Imam of Al Azhar University, which saw protests by students loyal to the Islamist Muslim Brotherhood government, has previously condemned the ideology of Islamic State and other terror organisations. At a major conference at the university last year he described their ideas as "a perversion of the Islamic religion". President al-Sisi's intervention is a sign of his determination to combat Islamist ideology at its source rather than relying on internal repression of the kind practised by his predecessor, Hosni Mubarak.
http://www.christiantoday.com/article/egypts.president.urges.muslim.religious.revolution.to.combat.islamist.ideology/45386.htm
http://www.arab-news.biz/arab-league/egypt/2015/01/05/egypts-president-calls-for-religious-revolution-in-islam-cbs-news/
--------
Iraqi Forces killed over 50 Takfiri terrorists in Salahuddin Province
8 January 2015
The Iraqi army backed by local people killed over 50 Takfiri terrorists in Salahuddin province in the Northern parts of the country.
"A sum of 55 ISIL terrorists have been killed in clashes with security and popular forces in Dajil region in the Southern parts of Tikrit," informed sources in Salahuddin province said.
The sources said that a sum of 4,500 people also joined the Iraqi popular forces.
The bloody clashes took place in Al-Kasarat region of Dajilin Southern Tikrit.
On Monday, the Iraqi security forces killed 26 ISIL terrorists in Baiji in Salahuddin.
"The security forces, backed by the volunteers, killed 26 ISIL terrorists and destroyed 3 of their vehicles," a security source said.
Last month, the Iraqi security forces purged two areas in Southern Balad in Salahuddin province of the ISIL terrorists.
The Iraqi security forces, backed by volunteers, liberated Albu Hrien and al-Tarisha areas in Southern Balad from the ISIL control.
Some parts of Iraq are engaged in a militant war launched by the ISIL terrorists and their western and regional supporters.
The country's army and popular forces have, in a series of operations, started massive attacks against terrorists to liberate occupied areas.
The ISIL Takfiri terrorists currently control shrinking swathes of Syria and Iraq. They have threatened all communities, including Shiites, Sunnis, Kurds, Christians, Ezadi Kurds and others, as they continue their atrocities in Iraq.
Senior Iraqi officials have blamed Saudi Arabia, Qatar, and some Persian Gulf Arab states for the growing terrorism in their country.
The ISIL has links with Saudi intelligence and is believed to be indirectly supported by the Israeli regime.
http://english.farsnews.com/newstext.aspx?nn=13931017001314
--------
Extremists destroy 13th century Muslim tomb in Syria
8 January 2015
Nusra Front Islamist militants linked to al-Qaeda have blown up the 13th century tomb of a revered Islamic scholar in southern Syria, Syrian state news agency SANA and monitoring group, the Syrian Observatory for Human Rights, reported.
The mausoleum of Imam Nawawi is in Nawa in Deraa province near the Jordanian border, a town captured by groups fighting the Syrian government in November.
The Nusra Front follows the same puritanical interpretation of Sunni Islam adopted by the Islamic State group that has also destroyed shrines in areas of eastern and northern Syria that it controls. They see tombs as sacrilegious.
http://english.alarabiya.net/en/News/2015/01/08/Extremists-destroy-13th-century-Muslim-tomb-in-Syria.html
--------
Iraq: attacks in and around Baghdad kill 8
8 January 2015
Iraqi officials say eight people have been killed in bomb blasts and a shooting attack in and around the capital Baghdad.
Police officials say a bomb exploded Wednesday night near a falafel restaurant in Baghdad, killing three people and wounding 12.
A bomb on a commercial street in Mahmoudiya, a town just south of the capital, killed two people and wounded six.
In the town of Tarmiyah north of Baghdad, gunmen in a speeding car opened fire on an army checkpoint, killing three soldiers and wounding nine others.
Medics confirmed the casualty figures. All officials spoke on condition of anonymity because they were not authorized to speak to the media.
http://english.alarabiya.net/en/News/middle-east/2015/01/08/Iraq-attacks-in-and-around-Baghdad-kill-8-.html
--------
Hezbollah Deputy Chief: Takfiri Ideology Not Related to Islam
8 January 2015
The Deputy Leader of the Lebanese Hezbollah Movement, Sheikh Naim Qassem, lashed out at the western countries for supporting the Islamic State of Iraq and the Levant (ISIL) terrorists, stressing that the Takfiri ideology has nothing to do with Islam.
"Some people say that Takfirism is a misinterpretation of Islam, while it is not related to Islam in any way," Sheikh Qassem said, addressing the 28th Meeting of the International Islamic Unity Conference in Tehran on Wednesday.
He reiterated that confronting the Takfiri currents which have been created to defame Islam is a priority of the Hezbollah Movement.
"We should confront the Takfiri currents in a hostile manner and treat them like terrorists," Sheikh Qassem said.
He also underlined the need for drawing a comparison between the wrong and violent behavior of the Takfiri terrorists and the teachings of the genuine Islam.
In September, Sheikh Qassem said Hezbollah forces "are fully ready to fight the terrorist Takfiri groups upon an order by Supreme Leader of the Islamic Revolution Ayatollah Seyed Ali Khamenei.
"The world arrogance managed to activate the Takfiri groups through cooperation with al-Qaeda and if we study the situation in North African states, we will find out that most of their revolutions have been stolen," Qassem said in an interview with the Arabic-language monthly, '42'.
He blamed the world arrogance, Zionism and their advocates for the current differences and sedition in the Muslim world, and said, "We know that enemies always prepare a ground for striking a blow at the resistance and one of Hezbollah's most important missions is to study the current situation and prevent the legitimization of minor differences among Islamic faiths."
On the resistance movement's plans for fighting the terrorist Takfiri groups, Qassem said, "We announce clearly that Hezbollah forces are always on the alert and all people should know that we are ready to obey the orders of Supreme Leader of the Islamic Revolution Ayatollah Seyed Ali Khamenei" to hit the Takfiri terrorist groups once a relevant order is issued by the Supreme Leader.
The ISIL has seized parts of Northern Iraq and Syria so far. The terrorist group has been committing heinous crimes in the captured areas, including the mass execution of civilians.
http://english.farsnews.com/newstext.aspx?nn=13931017000724
--------
Syrian Army Strikes Major Blow at Militants in Homs, Deir Ezzur
8 January 2015
The Syrian Army expanded its offensives against armed groups in nearby areas of Homs and Deir Ezzur provinces, claiming the lives of a large number of Takfiri militants.
The army soldiers stormed the gathering centers of the rebels in the areas of Oum Suhairij, Salam Sharki, al-Rastan, al-Hilaliye, and al-Badu in Homs, and inflicted heavy casualties on the Takfiri groups.
Also, the Syrian soldiers clashed with the rebels in the areas of al-Maryaiye, al-Jbeila, al-Hweiqa, al-Rasafa, al-Orfa and Huwaijet Saker in Deir Ezzur province, where a great number of the militants lost their lives.
Syria has been experiencing unrest since March 2011 with organized attacks by well-armed gangs and terrorists against Syrian forces and civilians being reported across the country.
http://english.farsnews.com/newstext.aspx?nn=13931017000785
--------
Saudi Arabia is right to be anxious over its ideological links with Isis
January 08, 2015
The Saudi authorities have condemned Islamic State, but they fear the destabilising effects of any detailed examination of their shared principles
In a pre-dawn raid on Monday, militants attacked a Saudi border post from the Iraqi side of the frontier. The resulting clash left three soldiers and four militants dead, according to the Saudi government news agency.
It later emerged that one of the dead soldiers was no ordinary border guard but the commander of Saudi Arabia's northern border forces, Brigadier General Awdah al-Balawi. This suggests that the attack, far from being random or opportunistic, had been carefully targeted and perhaps based on inside information regarding the general's whereabouts.
The attack has been widely attributed to Islamic State, with some reports saying the rebel group has now claimed responsibility for it. This might be viewed simply as a reprisal for Saudi participation in the US-led bombing campaign against Isis, but Isis has also been seeking to extend the current conflict in Syria and Iraq into Saudi territory.
Full report at:
http://www.theguardian.com/commentisfree/2015/jan/06/saudi-arabia-anxious-ideological-links-isis
--------
From Egypt's leader, an ambitious call for reform in Islam
January 08, 2015
CAIRO (AP) — Egypt's president opened the new year with a dramatic call for a "revolution" in Islam to reform interpretations of the faith entrenched for hundreds of years, which he said have made the Muslim world a source of "destruction" and pitted it against the rest of the world.
The speech was Abdel-Fattah el-Sissi's boldest effort yet to position himself as a modernizer of Islam. His professed goal is to purge the religion of extremist ideas of intolerance and violence that fuel groups like al-Qaida and the Islamic State — and that appear to have motivated Wednesday's attack in Paris on a French satirical newspaper that killed 12 people.
But those looking for the "Muslim Martin Luther" bringing a radical Reformation of Islam may be overreaching — and making a false comparison to begin with. El-Sissi is clearly seeking to impose change through the state, using government religious institutions like the 1,000-year-old al-Azhar, one of the most eminent centers of Sunni Muslim thought and teaching.
Al-Azhar's vision for change, however, is piecemeal, and conservative, focusing on messaging and outreach but wary of addressing deeper and more controversial issues.
Full report at:
http://news.yahoo.com/egypts-leader-ambitious-call-reform-islam-060108959.html
--------
Imperial powers seek control of Muslim world: Iran president
January 08, 2015
Iranian President Hassan Rouhani says imperial powers are trying to cause division among Muslims in order to rule over strategic Islamic lands.
Addressing the opening of the 28th International Islamic Unity Conference in the Iranian capital Tehran, Rouhani said a group of mercenaries is sullying the image of Islam and condemned the Takfiri ISIL militants for committing atrocities in Iraq and Syria in the name of Islam.
Full report at:
http://www.presstv.ir/Detail/2015/01/07/391994/Imperials-seek-control-of-Muslim-world
--------
Islamic State asks Twitter how to 'kill Jordanian pilot pig'
January 08, 2015
The radical Islamic State terror group has shown its murderous colors again after capturing a Jordanian pilot flying a mission for the US-led coalition, by asking social media users how they should murder the captive.
The group's supporters on social media have been using the hashtag "Suggest a way to kill the Jordanian pilot pig" to crowd-source creative solutions to murder First Lieutenant Muath al-Kaseasbeh, who was shot down over Syria and captured by the ruthless radicals.
The active hashtag, which has garnered thousands of shares and tweets by the group's activists and their supporters, has exposed horrific methods to torment the Jordanian pilot to death.
According to news website Vocativ, which identified the increased use of the hashtag, the myriad ways suggested included beheading, burning alive, pummeling with a tractor, and "impalement." And if one hashtag wasn't enough for the Islamic State supporter, another – WeAllWantToSlaughterMuath – has been mentioned over 11,000 times.
The jihadi hashtag campaign was a response to the much wider campaign run by supporters of the Jordanian pilot and his family. Since he was taken captive last week, hundreds of thousands of Arabs have tweeted using the hashtag WeAreAllMuath, in which they share their prayers for the captive Jordanian.
Full report at:
http://www.ynetnews.com/articles/0,7340,L-4609082,00.html
--------
Syrian Army Forms Suicide Unit
January 08, 2015
JERUSALEM—In what may be the first time since the Japanese kamikaze attacks of the Second World War, the army of an organized state—if Syria can still be considered such—has formed a suicide unit.
A video clip posted Dec. 30 on the Internet shows a small group of soldiers from the Syrian Army's Mountain Battalion wearing pouches around their waists, presumably for explosives, facing the camera. All wear white headbands and masks.
"In the name of Allah, we, the commandos of the Mountain Battalion, declare from the peak of Mount Nabi Yunis the establishment of a martyrdom-seeking platoon," declares one of them, reading from a paper. "This is our response to all the foreigners who have distorted the religion of Islam and have defiled the soil of our country."
The reference is clearly to foreign jihadis who have joined in the civil war against the regime of Syrian President Bashar al-Assad, most prominently the fighters of the Islamic State.
"The language of killing has never been taught in the land of Syria," said the statement. "Our language is the language of defending the country and its master (presumably President Assad) against all who have sold their souls to Satan and his followers. May the Syrian flag continue to be a beacon to all the free people of the world and continue to fly over every inch of our beloved Syrian land."
Full report at:
http://freebeacon.com/national-security/syrian-army-forms-suicide-unit/
--------
Isis fighters 'high on cocaine': Huge bag of drugs found at home of Islamic State leader accused of drugging troops to boost morale
January 08, 2015
Islamic State fighters may be taking cocaine to boost morale as Coalition planes bomb them from above, and Kurds advance on their territory.
Kurdish fighters uncovered a bag of cocaine at the home of IS leader, Emir Abu Zahra, after killing him in a military operation deep inside the war-torn city of Kobane in Syria.
The discovery in the Botan neighbourhood suggests widespread drug use within ISIS which is very much against the doctrines and principles of Islam.
They believe Zahra distributed the drug among his fighters to boost morale - as ground assaults by Iraqi Peshmerga and bombing raids by the US Air Force begin to take their toll.
Islamic State's propaganda videos have previously shown the extremist group whipping three drug addicts near the Syrian city of Damascus.
Full report at:
http://www.dailymail.co.uk/news/article-2898876/Isis-fighters-high-cocaine-Huge-bag-drugs-home-Islamic-State-leader-accused-drugging-troops-boost-morale.html#ixzz3OBBFTrtb
----------
Pakistan
In amendment's aftermath, religious right faces an existential crisis
Jan 08 2015
ISLAMABAD: In the aftermath of the 21st constitutional amendment, the country's main religio-political parties are faced with an existential crisis, but the nature of the crisis differs for each party.
However, acknowledging the gravity of the problem facing them, the Jamaat-i-Islami (JI), Jamiat Ulema-i-Islam-Fazl (JUI-F) and the Wafaqul Madaris Al Arbia – the umbrella body that looks after the affairs of Deoband madressahs across the country – have convened separate meetings on Thursday.
While the Milli Yekjehti Council (MYC) extended a conditional approval to the 21st amendment on Wednesday, the leadership of Jamaat, JUI-F, and Wafaq ul Madaris are expected to oppose the move completely.
The MYC's objections over the amendment revolved around the use of the words "religious and sect-based terrorism" in the text of the amendment.
Even those on the other end of the spectrum, Sahibzada Abulkhair of Jamiat Ulema-i-Pakistan (JUP) and Allama Amin Shaheedi of the Majlis Wahdat Muslimeen – also members of the MYC – said that the council agreed that, "Terrorism was terrorism".
"What will the authorities do if an act of terror is committed by a nationalist or ethnic group," Sahibzada Abulkhair asked, rhetorically.
Full report at:
http://www.dawn.com/news/1155625/in-amendments-aftermath-religious-right-faces-an-existential-crisis
--------
Jamaat-i-Islami Emir Vows to Defend Mosques, Madrasas
Jan 08 2015
LAHORE: Jamaat-i-Islami emir Siraj ul Haq says every effort to undermine mosques and madrasas will be strongly resisted while all those talking of demolishing and setting on fire mosques will meet the fate of Abraha.
He was speaking at a national conference in memory of the late Qazi Husain Ahmed here on Wednesday.
He said anyone who takes up arms in the name of religion is a criminal like the one who takes up arms for any regional, ethnic or communal cause. He noted that the first decree against terrorism was given by the Imam of the Holy Kaa'ba.
He urged the government to try to create national harmony by striving to restore peace in the light of the decisions of the three APCs, instead of harassing three million seminary students. The government should not shake the national unity created against terrorism, he added.
He said the government had not accepted the amendment presented by the JI although that was in the interest of all.
Speakers at the moot paid rich tributes to former JI emir Qazi Husain Ahmed for his valuable services for solution to the problems facing the country and the Muslim world.
http://www.dawn.com/news/1155623/siraj-vows-to-defend-mosques-madressahs
--------
Five-Day Deadline for Salarzai Tribe to Hand over Militants
Jan 08 2015
KHAR: The political administration has set a five-day deadline to the elders of Salarzai tribe to hand over wanted militants in their area to the authorities.
Addressing a jirga here on Wednesday, Assistant Political Agent Sohail Ahmed Khan gave a list of 24 militants to Salarzai elders and asked them to hand over the wanted men to the political administration within five days.
Besides elders of various sub-tribes, members of Salarzai Peace Committees and senior officials of Bajaur Scouts attended the jirga.
The assistant political agent said that although Salarzai tribe rendered great sacrifices to curb militancy and restore peace in the region yet the elders failed to hand over wanted militants to the administration. He said that the administration was disappointed with the Salarzai tribesmen for not fulfilling their collective responsibility to hand over the militants to the authorities.
Full report at:
http://www.dawn.com/news/1155677/five-day-deadline-for-salarzais-to-hand-over-militants
--------
Pak Punjab to add tolerance, diversity to curricula
January 08, 2015
ISLAMABAD – Students in Punjab soon will see a change to their curricula so that they will learn about tolerance towards those of different religious and social views.
The move is a result of the Pakistani Supreme Court's June 18 verdict in a case regarding the protection of minority rights.
The decision required federal and provincial governments to develop curricula at the pre-college and college levels to promote religious tolerance. It also asked authorities to take appropriate steps to discourage hate speech in social media and to ensure the prosecution of delinquents.
The federal government is making progress on those mandates. The Capital Administration and Development Division (CADD) is developing course material that incorporates the Supreme Court's orders. Its curricula for students and training for teachers promotes religious and social tolerance for elementary and secondary levels, CADD's report to the Supreme Court said.
Full report at:
http://centralasiaonline.com/en_GB/articles/caii/features/pakistan/main/2015/01/07/feature-01
--------
12 militants killed in NWA airstrikes
Jan 08 2015
RAWALPINDI: Military helicopter gunships pounded hideouts of militants in the North Waziristan Agency (NWA), killing 12 more terrorists, the Inter-Services Public Relations (ISPR) said in a statement on Wednesday.
Operation Zarb-e-Azb is continuing in the NWA in full swing by the Pakistan Army. The operation extended beyond Datta Khel, one of the safest sanctuaries of the militants, in the latest action on Wednesday when the helicopter gunships shelled the hideouts and killed 12 militants near Datta Khel.
According to the ISPR, seven vehicles and four hideouts of the militants were also destroyed in the air offensive. The organised network of terrorists has been badly disintegrated after the launch of operation Zarb-e-Azb by the armed forces.
So far, at least 1,200 militants have been killed in the operation. It may be noted that the military has cleared more than 70 percent of the territory in the NWA.
http://www.dailytimes.com.pk/national/08-Jan-2015/12-militants-killed-in-nwa-airstrikes
--------
7 suspected terrorists among 9 killed in Karachi
Jan 08 2015
KARACHI - At least seven suspected terrorists including a commander of an outlawed organisation were killed and two arrested in injured condition by police during an operation in Sohrab Goth area here on Thursday.
According to sources, after receiving information about presence of terrorists in the area, police conducted search operation in Madani Colony of Sohrab Goth, where the unidentified terrorists opened fire at police party. At least seven terrorists including a commander of a banned organisation, identified as Parvez were killed and two injured in police encounter.
Police cordoned off the area and initiated a search operation to fetch further terrorists. Meanwhile, at least two persons including a police man were gunned down in Karachi. According to police, the policeman was killed by unidentified gunmen in Shadman Town area of the city. He was identified as constable Sharif, son of Saleem, posted at Sachal police station. In another firing incident, an ambulance driver was shot dead in Orangi Town. He was later identified as Aftab.
http://www.dailytimes.com.pk/national/08-Jan-2015/7-suspected-terrorists-among-9-killed-in-karachi
--------
Four security personnel killed in Lower Kurram blast
Jan 08 2015
HANGU: At least four security personnel were killed and three others wounded in an Improvised Explosive Device (IED) explosion in Lower Kurram Agency's Shabak area near the Pak-Afghan border on Thursday.
Security personnel were transporting water and rations for troops stationed at the Pak-Afghan border when the vehicle they were travelling in was targeted in the blast.
Those killed included one Levies person and three army soldiers.
Political administration and military sources confirmed the casualties.
Security personnel reached the blast site and cordoned off the area as a probe into the incident went under way.
Full report at:
http://www.dawn.com/news/1155694/four-security-personnel-killed-in-lower-kurram-blast
--------
Blasphemy Accused, Aabid Mehmood, Killed After Release
Jan 08 2015
TAXILA: A blasphemy accused freed a few days ago was shot dead here on Wednesday.
Police said it appeared to be a case of target killing.
The man, identified as 52-year-old Aabid Mehmood alias Aabid Kazzab, owned a hotel and lived in Kamra village. He reportedly had claimed 'prophethood' in October 2011 and a case was registered against him under Section 295-C of CrPC on a complaint lodged by his son-in-law Sadaqat Ali.
Aabid was sent to jail after his mental condition had been examined by a board of doctors at the Rawalpindi District Headquarters Hospital. He was released from Adiyala jail after about two years because of his mental and physical condition.
On Tuesday, some masked men took him from his house in Ahatta area and his bullet-riddled body was found on Wednesday in deserted area near Usman Khattar Railway Station. He had been shot in the chest and head from a close range.
Full report at:
http://www.dawn.com/news/1155650/blasphemy-accused-killed-after-release
--------
ATC hands three death sentences to Dr Warren Weinstein kidnapper
Jan 08 2015
LAHORE: A man accused of abducting US doctor Dr Warren Weinstein was handed three death sentences by an anti-terrorism court (ATC) in Lahore on Wednesday.
The ATC also ordered the convict named Hafiz Imran alias Imran to submit a fine of Rs5 million before it.
Imran — the son of Mohammad Yousuf — is a resident of Gujranwala's Wazirabad district.
American national Dr Warren Weinstein was abducted from his residence in Lahore in 2011 by unknown attackers.
Weinstein had been in Pakistan for seven years and worked as the country director of Virginia-based development company J.E. Austin Associates. He went missing two days before he was due to end his term and return to the US. Said to be in his 60s, Mr Weinstein was dependent on a number of medicines, including some given to acute asthma patients.
Full report at:
http://www.dawn.com/news/1155497/atc-hands-three-death-sentences-to-dr-warren-weinstein-kidnapper
--------
Military courts being set up in three Sindh cities
Jan 08 2015
KARACHI: Key civil and military officials in Sindh scheduled a meeting for Thursday (today) to finalise a plan to initially establish military courts in three major cities of the province as President Mamnoon Hussain signed the 21st Constitutional Amendment Bill of 2015 and the Pakistan Army (Amendment) Act, 1952 into law on Wednesday, sources said.
While there was no official word on the agenda for Thursday's meeting, the sources said the provincial home department had prepared an agenda that would be discussed and a strategy finalised at the event.
"Military courts are likely to be set up in Karachi's Malir Cantt, Panu Aqil and Hyderabad," said a source citing the agenda and proposal prepared by the home department for the meeting.
Full report at:
http://www.dawn.com/news/1155559/military-courts-being-set-up-in-three-sindh-cities
--------
Imran Khan faces the price of his hypocrisy: Talibani politics and a modern wife
By Sandipan Sharma
January 08, 2015
Years ago, Javed Miandad offered a witty riff on Pakistan's fascination with Imran Khan. "When Imran rubs the ball," Miandad said in his typical impish fashion, "on the front of his trousers the girls get excited and when he rubs it on the back the Pathans get excited."
Now on the wrong side of his 60s, Imran apparently still retains his deadly charm both among women and Pathans, as evidenced by his devoted Tehreek-i-Taliban Pakistan (TTP) supporters. The news of his marriage will come as unhappy news for both constituencies, though for different reasons.
Rumours of Khan's nikaah had broken out a few days ago. But Imran had resorted to some cute wordplay to neither accept nor deny. "The reports of my marriage are greatly exaggerated," Imran had argued on the social media. Only a great exponent of the art of swinging it both ways can claim that news of a wedding – which either happened or not --can be exaggerated or understated. After days of strategic silence, coy smiles, and demure denials, however, Imran has finally accepted that he has indeed remarried. His second wife Reham Khan, a former BBC weather woman born to Pakistani parents in Libya, is a divorced mother of three.
Full report at:
http://www.firstpost.com/living/imran-khan-faces-the-price-of-his-hypocrisy-talibani-politics-and-a-modern-wife-2032319.html
-----------
Efforts to improve ties with India not reciprocated: PM Nawaz
Jan 08 2015
MANAMA: Prime Minister Nawaz Sharif said Thursday that his government made sincere efforts to improve relations with the new government in India, but the efforts were not reciprocated, said a report published on Radio Pakistan.
Addressing a gathering of overseas Pakistanis in Bahrain, the premier said India cancelled the foreign secretary level talks with Pakistan on the pretext of the Pakistani High Commissioner's meeting with the Kashmir leadership, which has been a practice for 60 years.
He underscored that Pakistan desires to have good relations with all neighbours.
The PM said terrorism should be eliminated from the country for Pakistan's economic progress.
Full report at:
http://www.dawn.com/news/1155701/efforts-to-improve-ties-with-india-not-reciprocated-pm-nawaz
--------
Africa
Huge participation of Shia and Sunni in Unity Week in Zaria, Nigeria
January 08, 2015
The Opening lecture of 1436 Unity Week Programme was delivered by Professor Dahiru Yahaya of the Dept. of History Bayero University, Kano on Satruday the 12th of R/Awwal 1436 (3/1/15).
He spoke on the "Dangers of Takfirism' - an ideology promoted by certain group which sees anybody who does not fit to their ideology as a non-Muslim or kafir (infidel).
The second lecture on Plots of Zionists against Islam was delivered by Mallam Sani Nguru and Qadi Muhammad Auwal Yusuf Lokoja. The one week Programme is taking place at Husainiyyah Baqiyyatullah, Zaria.
(The Islamic Unity Week is marked between 12-17th Rabiul Awwal on the occasion of the Birth Anniversary of Prophet Mohammad SAW.
Full report at:
http://www.abna.ir/english/service/africa/archive/2015/01/05/662682/story.html
--------
Boko Haram leader threatens Cameroon in YouTube video
January 8, 2015
Boko Haram leader Abubakar Shekau has threatened Cameroon in a video message on YouTube, warning that the same fate would befall the country as neighbouring Nigeria.
The video, which was posted on January 5, is directly addressed to Cameroon's President Paul Biya after repeated fighting between militants and troops in the country's far north.
"Oh Paul Biya, if you don't stop this, your evil plot, you will taste what has befallen Nigeria... Your troops cannot do anything to us," Shekau said in Arabic.
Paul Biya has been mentioned by Shekau before but it is first time that he has directly addressed Cameroon and is the first admission that Boko Haram has been actively operating in the country.
Full report at:
http://www.hindustantimes.com/world-news/boko-haram-leader-threatens-cameroon-in-youtube-video/article1-1304310.aspx#sthash.WcWINOxh.dpuf
--------
Radical Islam a growing threat to sub-Saharan Christians
January 08, 2015
PARIS, (Reuters) - Radical Islamists were the main persecutors of Christians around the world last year, not only in the Middle East but increasingly in sub-Saharan Africa, according to an annual survey monitoring religious freedom.
Open Doors, an international group supporting persecuted Christians worldwide, said on Wednesday Islamic militants posed the greatest threat to the faith in 18 of the 20 countries that its annual World Watch List says are toughest for Christians.
Rankings are based on the group's analysis of violence against Christians and official or informal restrictions on rights to practice their faith, convert from other religions and enjoy the same civil liberties as other citizens.
Topping the list of Christians confirmed to have been killed for faith-related reasons were Nigeria at 2,484 and Central African Republic at 1,088, with Syria and Iraq - where Islamic State militants have driven hundreds of thousands of Christians from areas they control - at 271 and 60 respectively.
Full report at:
http://news.yahoo.com/radical-islam-growing-threat-sub-saharan-christians-report-122934468.html
--------
'Timbuktu' depicts the nightmare of life under sharia law
January 08, 2015
"Timbuktu" is a picturesque nightmare, a quiet, beautiful and chilling account of a city under the rule of Islamic jihadists. They briefly seized the ancient city in Mali a couple of years back, but the conflict and events depicted in this fictional tale could be set anywhere across Islamic Africa. Racial strife between Arabs and Africans and arguments over whose interpretation of the Koran are moot when one side ofthe argument has guns.
The foreigners come armed with AK-47s, piled into Toyota pickups and on the back of motorbikes.
One has a bullhorn.
"Smoking is forbidden," he announces, in Arabic and local languages. "Music is forbidden!" "Women must wear gloves!" "Women must wear socks!"
The fashion police are literally in charge, and remember, they have guns.
These backward redneck fundamentalists, an Islamic answer to Cambodia's Khmer Rouge, instantly push this backward backwater into some fantasy Islamic State past. Sharia law applies, but not the same to everyone. They're armed hypocrites who change the rules to get the women they want and the world they want to live in.
Full report at:
http://www.bellinghamherald.com/2015/01/05/4060986_timbuktu-depicts-the-nightmare.html?rh=1#storylink=cpy
-------------
South Asia
Bangladesh terror outfit calls for jailbreak to free 'war criminals'
Snigdhendu Bhattacharya, Hindustan Times
Kolkata, January 08, 2015
A terrorist outfit in Bangladesh having links with the al Qaeda and Tehrik-e-Taliban Pakistan (TTP) has called upon the student wing of the Jamaat-e-Islami to stop rallying behind the chief opposition party — the Bangladesh Nationalist Party (BNP). Instead, it's called on it to break jails to free Jamaat leaders who are being tried for alleged war crimes during the Bangladesh Liberation War.
In an 11-minute video statement released on January 6, terrorist outfit Ansarullah Bangla Team (ABT), led by absconding Islamic cleric Tamim al-Adnani, has appealed to the members of Islami Chhatra Shibir, the student wing of Jamaat, to shun all democratic practices and join jihad to free their leaders.
"ABT is an underground terrorist organisation. It is now trying to draw support from the Jamaat camp that we have banned in 2013. I guess they have realised BNP leader Khalida Zia would not be able to deliver on her promise of turning Bangladesh into a safe haven for Islamic terrorists. That is why they are trying to split the BNP and Jamaat's support base," Bangladesh information minister Hasanul Haque Inu told HT over phone from Dhaka.
Full report at:
http://www.hindustantimes.com/world-news/bangladesh-terror-outfit-calls-for-jailbreak-to-free-war-criminals/article1-1304418.aspx#sthash.pmwQS8jZ.dpuf
--------
3 ANA embraced Shahadat, 20 insurgents killed in past 24hrs
Jan 08 2015
The defense ministry of Afghanistan issuing a statement on Thursday said that three soldiers have embraced Shahadat in enemy actions in past 24 hours.
General Zahir Azimi, spokesman for the ministry of defense says that the soldiers embraced martyrdom in explosions and other enemy actions during clearance operations.
Azimi has not specified the exact location where the soldiers were martyred but has written that the operations were conducted in Kunar, Nangarhar, Paktika, Kandahar and Helmand provinces.
Azimi has written in the statement that 20 insurgents were also killed, nine injured and two militant commanders arrested in these operations.
The statement adds that Army personnel also discovered a good amount of explosives, weapons and ammunition from the militant possessions.
http://www.khaama.com/3-ana-embraced-shahadat-20-insurgents-killed
--------
Drone strike kills 6 militants in Nangarhar
Jan 08 2015
Six militants have been killed in a drone attack in eastern Nangarhar province.
Hazrat Hussain Mashriqiwal, spokesman for the provincial police headquarters confirming the attack said that three other insurgents were also seriously wounded in the attack.
The attack took place in Chikanawr area of Lal Pura district Wednesday.
Although the combat mission of NATO forces have ended but the drone strikes continues apparently to assist the local forces in the security.
http://www.khaama.com/drone-strike-kills-6-militants-in-nangarhar-2693
--------
Xinjiang area faces 'intense struggle,' says China leader
January 08, 2015
BEIJING: The top Communist Party boss in China's Xinjiang region said in an article published Wednesday that the restive province faces a period of "intense struggle" against separatism.
The lengthy article in the party mouthpiece People's Daily comes as China is in the midst of a crackdown against what it says is religious-inspired extremism in the nominally autonomous and resource-rich region, home to the mostly Muslim Uighur and other ethnic groups.
"Xinjiang is in an active period of violent terrorist activity," wrote Zhang Chunxian, Xinjiang's party secretary, adding that the region faces an "intense struggle against separatism".
"Only by resolutely relying on law to govern Xinjiang" can the region's ethnic groups be united and won over while isolating and cracking down on enemies, he added, stressing that China's legal system must be used, independent of Western models.
Full report at:
http://www.arabnews.com/world/news/686211
--------
Ban on Tarique's speech: Justice's house torched
Jan 08 2015
Miscreants have torched the village house of Justice Kazi Reza-Ul Hoque who passed order banning publishing speeches of BNP's senior vice-chairman Tarique Rahman in media.
The incident took place at Mohammadpur village under Dalia Union of Feni Sadar upazila about 4am on Thursday.
Feni Sadar police station Officer-in-Charge Mahbub Murshed confirmed the arson incident to the Dhaka Tribune.
Police were deployed at the house of the justice, the OC said
Justice Kazi Reza-Ul Hoque and Justice Abu Taher Md Saifur Rahman passed the order on Wednesday morning.
The HC bench banned publishing, broadcasting or reproducing speeches, statements of BNP's senior vice-chairman Tarique Rahman in print, electronic and social media as long he is absconding.
http://www.dhakatribune.com/bangladesh/2015/jan/08/justice-rezaul%E2%80%99s-village-house-torched#sthash.altmuqUT.dpuf
--------
Two immigration officers and Afrasheem murder suspect among group of twelve jihadis
Jan 08 2015
Two immigration officers and a suspect in the brutal murder of MP Dr Afrasheem Ali are among a group of twelve Maldivians to travel to Syria for jihad, reliable sources have told Minivan News.
Afrasheem murder suspect, Azlif Rauf of Henveiru Hilton, left to Turkey with six members of Malé's Kuda Henveiru gang four days ago, sources have said. They have now crossed the border into Syria.
The two immigration officers were among a group of six individuals who traveled to Syria on December 27. The five included two women and a one year old infant.
Azlif's group also included an individual arrested over the disappearance of Minivan News journalist Ahmed Rilwan, one man arrested for issuing a death threat, one man classified by the police as a dangerous criminal, and three men with criminal records, local media have reported.
Full report at:
http://minivannews.com/politics/two-immigration-officers-and-afrasheem-murder-suspect-among-group-of-seven-jihadis-92026
------------
Europe
Mainstream political parties in Germany unite against anti-Muslim marches
January 08, 2015
There are few causes capable of bringing together German Chancellor Angela Merkel and her Social Democratic predecessors Gerhard Schröder and Helmut Schmidt, along with the leaders of the country's main churches and the mass circulation Bild newspaper. Germany's mainstream politicians and civil society leaders are united, however, in their condemnation of a series of anti-Muslim marches that have taken place in Dresden and other cities in recent weeks. The demonstrations, organised by the self-styled Patriotic Europeans Against the Islamisation of the West (Pegida), have grown steadily and this week's march in Dresden attracted almost 20,000 people.
Full report at:
http://www.irishtimes.com/opinion/editorial/mainstream-political-parties-in-germany-unite-against-anti-muslim-marches-1.2056850
--------
Torture and death for Uzbek Muslims in jail
January 08, 2015
TASHKENT, Uzbekistan — Days before their trial ended, the six Uzbek asylum seekers deported from Norway were presented on a television show as "traitors" and "religious extremists".
Titled "Treason, or a New Way to Stand Against the Motherland," the pseudo-documentary broadcast on Uzbek television in early December showed the men aged between 28 and 37 rail-thin, their heads cleanly shaven, faces bewildered.
An insinuating voice-over accused them of joining a "terrorist group" — the Islamic Movement of Turkestan — that hatched plans to overthrow President Islam Karimov's secular government and introduce Islamic law in the ex-Soviet nation.
Two weeks later they were sentenced to 12-13 years in jail.
What was not mentioned was the men were severely tortured while in detention, according to a report by the Association for Human Rights in Central Asia, or AHRCA.
They were beaten with rubber clubs, electrocuted and starved for up to six days, said the report citing information from the defendants' families. They had state-appointed lawyers who ignored their pleas, knew about the torture, but never requested medical expertise.
The men had insisted they were innocent and said they had lied to Norwegian authorities to trick them into believing they faced danger back home — but were deported to Uzbekistan regardless.
Full report at:
http://america.aljazeera.com/articles/2015/1/7/torture-uzbek-muslims.html
----------
After ISIS: Residents return to Mt. Sinjar despite mines, devastation
January 08, 2015
After Kurdish forces pushed Islamic State militants back from the embattled Mount Sinjar in northwestern Iraq, they returned home only to find devastation. RT traveled to the region to see how people are coping with the scars that war has left behind.
Several weeks ago, Iraqi Kurds broke the siege of Mount Sinjar by Islamic State militants during a two-day attack that involved 8,000 Peshmerga fighters.
The victory freed thousands of minority Christian and Yazidi people who fled to the mountain looking for a safe haven from IS's advance. As many as 200,000 people had been trapped on the mountain without food, water, or shelter since August.
Full report at:
http://rt.com/news/220695-rt-sinjar-iraq-isis/
--------
London Islamic school shut down, govt accused of 'witch hunt'
January 08, 2015
An Islamic academy and tuition center in London has been closed down, with the college alleging it was the target of a "government witch-hunt" against British Muslims.
The Siddeeq Academy in Whitechapel provided support for Muslim families who wished to teach their children in an Islamic way.
The college was closed down following the arrest of its director, Mizanur Rahman, in September by the Metropolitan Police's Counter Terrorism Command. During the raid, nine men were arrested including radical Islamist preacher Anjem Choudary.
The college stated it was with "great sadness" that they were forced to close, but that it was not motivated by a "lack of business and profit."
"This is a sad end to a very beneficial business, as a result of what can only be described as a government witch-hunt targeting the Muslim community, including completely legal Muslim businesses such as Siddeeq Academy," the college wrote in a statement online.
"No wrong-doing or illegal activity has been found on the part of Siddeeq Academy and there is no legal impediment to our continuing to operate as a tuition center."
British authorities claimed the college had created a "hostile environment" which would made it "near impossible" to continue operating.
Full report at:
http://www.rt.com/uk/220631-london-tower-hamlets-school/
--------
Mideast
Islamic State Rejected Gaza Jihadists' Offer of Allegiance
January 08, 2015
GAZA CITY, Gaza Strip — On Feb. 2, 2014, the Mujahedeen Shura Council in the Environs of Jerusalem in Gaza issued a statement announcing that it was "committed to helping ISIS and bolstering its ranks." Nine days later, another Salafist jihadist group posted a video announcing its support for the Islamic State of Iraq and al-Sham, now the Islamic State (IS). By the end of 2014, things appeared to have moved beyond mere support, as Al-Monitor met with Gazans who claimed to be affiliated with IS, although, according to the spiritual leader of pro-IS youth in Gaza, IS had rejected their pledge of allegiance.
He explained that Baghdadi is aware of various disputes among Salafist groups in Gaza and clarified that Ansar Bayt al-Maqdis in Sinai deserved their allegiance to be accepted, because they had managed to organize 19 Salafist groups under their flag and carry out operations on the ground.
Abu al-Walid asserted that the dispute between IS and al-Qaeda has affected the jihadist community in Gaza, stating, "Salafist groups have become divided, and they have tarnished IS' image in the Gaza Strip, even more than Hamas has, due to the dispute between IS and al-Qaeda." He also said, however: "There is an IS-affiliated group in the Gaza Strip, and it is not a bunch of divided individuals. Hamas and all Salafist groups are well-aware of this."
Full report at:
http://www.al-monitor.com/pulse/originals/2015/01/islamic-state-presence-in-gaza.html#ixzz3OAzXXnjX
--------
Basij Commander Stresses Need for Confronting Wahhabism
8 January 2015
Commander of Iran's Basij (volunteer) Force Brigadier General Mohammad Reza Naqdi underlined the necessity for plans to confront Wahhabism as an immediate danger threatening the region.
Naqdi made the remarks, addressing a gathering of Sunni clerics in the Southern province of Bushehr.
"The arrogant world, headed by the US, has resorted to deception to undermine unity among the Muslim Iranian nation by creating rifts and differences to stir Shiite-Sunni strife and war to destroy the united lineup of the Ummah standing against it," he said.
He also described Takfiri groups as the result of the penetration of the western spy agencies, specially from Britain, and said, "Takfir is the result of a London-created religion which eventually ends up in Wahhabism, Bahai'sm and religious hereditary."
In relevant remarks on Monday, Naqdi also revealed that the US embassy in Baghdad was the command center for the Islamic State of Iraq and the Levant (ISIL) Takfiri terrorists.
"The US directly supports the ISIL in Iraq and the US planes drop the needed aids and weapons for ISIL in Iraq …," General Naqdi said, addressing a group of Basij forces in Tehran.
He added that the Iraqi forces have even retrieved some of the aids dropped by the US planes for the ISIL terrorists.
http://english.farsnews.com/newstext.aspx?nn=13931017000326
--------
Netanyahu: Israel is standing by Europe, Europe must stand by Israel
8 January 2015
Prime Minister Benjamin Netanyahu met with Norwegian Foreign Minister Børge Brende on Thursday, saying that the same forces that are attacking Europe are attacking Israel.
Speaking a day after gunmen killed 12 people in a terror attack in Paris, Netanyahu said, "Israel is standing by Europe. Europe must stand by Israel." The comment also came on the backdrop of a number of European parliaments voting on resolutions in support of recognizing a Palestinian state in recent months.
Netanyahu said that while Israel and the West cherish freedom and tolerance, radical Islam worships tyranny and terror. "They seek to impose a new dark age on humanity."
The prime minister condemned the "butchery" of the Paris attack and expressed sympathy with the government and people of France.
"We extend our condolences to the families of the victims and our wishes for a speedy recovery to the injured."
He posed the rise of radical Islam as a global threat. "With the strength of our resolve and the unity of our action, we can defeat this threat to our common civilization," he said.
http://www.jpost.com/Israel-News/Politics-And-Diplomacy/Netanyahu-Israel-is-standing-by-Europe-Europe-must-stand-by-Israel-387083
--------
Turkey warns its citizens to evacuate Libya 'immediately'
8 January 2015
The Turkish Foreign Ministry has warned Turkish citizens in Libya to evacuate the country "immediately" through a statement released late on Jan. 7.
"Because of the conflict and the airstrikes in Libya recently, we are suggesting that our citizens leave the country immediately," the statement said.
The ministry also said that the Turkish Consulate General in Misrata (+218-51-266-3211) and the ministry's consular call center (00 90 312- 292 2929) can be reached 24 hours a day, seven days a week during an emergency.
The Libyan Shield Force, an Islamist rebel militia, has been engaged in fighting with rival militias in Tripoli over control of the Libyan capital's strategic facilities.
Libya has recently witnessed heavy fighting between a loosely organized national army and militias that have held onto their weapons following a bloody uprising in 2011 that ended the rule of Muammar Gaddafi.
Full report at:
http://www.hurriyetdailynews.com/turkey-warns-its-citizens-to-evacuate-libya-immediately-----.aspx?pageID=238&nID=76654&NewsCatID=359
--------
Russian citizen revealed to be suicide bomber who attacked Istanbul police
8 January 2015
A female suicide bomber who detonated herself at an Istanbul police station in the touristic area of Sultanahmet has been identified as a Russian citizen named Diana Ramazova.
A policeman, Kenan Kumaş, was killed in the suicide attack by a woman at the Tourism Police Station on Jan. 6.
The investigation was conducted by the police and the National Intelligence Organization (MİT).
It was reported that "foreign phone numbers" were found in the cellphone of the assailant, who spoke Russian with a taxi driver before the attack. The clues reportedly led the police to believe that the woman might be Chechen.
Before the suicide bomber's identity was revealed by the authorities, it was claimed that the outlawed Revolutionary People's Liberation Party/Front (DHKP/C), which had fired guns in another attack on the city's police a week ago, could also be behind the Sultanahmet attack.
Although the DHKP/C had initially claimed the Sultanahmet attack, the family of the alleged bomber, Elif Sultan Kalsen, said the body at the morgue did not belong to their daughter.
http://www.hurriyetdailynews.com/russian-citizen-revealed-to-be-suicide-bomber-who-attacked-istanbul-police.aspx?pageID=238&nID=76653&NewsCatID=509
--------
Pro-ISIS group hijacks U.S. station's site, paper's Twitter feed
8 January 2015
Hackers claiming allegiance to the Islamic State of Iraq and Syria group hijacked the website and Twitter feed of a news station, and the Twitter feed of a newspaper, according to the outlets and federal authorities.
Hackers calling themselves CyberCaliphate took over the website and Twitter feed of WBOC-TV in Salisbury, Maryland, on Tuesday before the station wrested back control of the website, which briefly displayed the extremist group's black-and-white flag and a message saying, "I love you, ISIS."
But the station's Twitter feed remained under the hackers' control Wednesday.
Also Tuesday, CyberCaliphate took over The Albuquerque Journal's Twitter feed. Someone replaced the newspaper's profile picture with an image that expressed support for Islamic militants.
Numerous posts followed, including photos of driver's licenses belonging to New Mexico residents, inmate profiles and warnings to residents that their confidential information was at risk.
Full report at:
http://english.alarabiya.net/en/media/digital/2015/01/08/Pro-ISIS-group-hijacks-U-S-station-s-site-paper-s-Twitter-feed.html
--------
North America
US working with Muslim leaders to counter Islamic State ideology
January 08, 2015
Washington: The US is working closely with the Muslim leaders to try to counter Islamic State's violent extremist ideology to radicalise individuals around the globe, the White House has said after the terrorist attack on a news magazines office in Paris killing more than 10 people.
"We have enjoyed significant success in enlisting leaders in the Muslim community, like I said, both in the United States and around the world to condemn that kind of messaging, to condemn those efforts to radicalise individuals, and to be clear about what the tenets of Islam actually are.
"We are going to redouble those efforts in the days and weeks ahead," White House Press Secretary Josh Earnest said yesterday.
There are some individuals that are using a peaceful religion and grossly distorting it, and trying to use its tenets to inspire people around the globe to carry out acts of violence, Earnest said after the terrorist attack in Paris.
The US is still trying to figure out exactly who's responsible for this attack in Paris, what their motivations are.
Full report at:
http://zeenews.india.com/news/world/us-working-with-muslim-leaders-to-counter-islamic-state-ideology_1526758.html
--------
US: Palestine not a state, does not qualify for ICC membership
8 January 2015
Palestine is not a state, and therefore does not qualify for membership in the International Criminal Court, the State Department said on Wednesday.
The US will oppose the Palestinian Authority's move to join the body, and several others at the United Nations, as technically flawed, State Department spokeswoman Jen Psaki said.
"It doesn't qualify to join the ICC," Psaki told reporters.
That US position stakes out a legal argument for denying ICC membership to the Palestinian Authority – or, at a minimum, for future legal battles over the court's jurisdiction in the West Bank – after PA President Mahmoud Abbas signed the Rome Statute of the court on December 30.
Full report at:
http://www.jpost.com/Arab-Israeli-Conflict/US-Palestine-not-a-state-does-not-qualify-for-ICC-membership-387031
--------
California prison guard sues, says he was harassed for being Muslim
January 08, 2015
(Reuters) - A California prison guard who says he was relentlessly harassed and mocked by his co-workers because he is black and Muslim has sued the state of California and its corrections officials, an Islamic civil rights group said on Monday.
The lawsuit, filed in U.S. District Court in Sacramento last week, marks the latest blow to California's troubled corrections system, which is struggling to meet court-ordered demands to improve medical and mental healthcare in its overcrowded prisons.
In the court papers, lawyers for Elsiddig Elhindi, who was born in Sudan and has been working for the California Department of Corrections and Rehabilitation since 2002, say he was for years subjected to taunts and mocking comments based on his race and religion while working at a state prison in Sacramento.
Full report at:
http://www.reuters.com/article/2015/01/06/us-usa-california-prisons-idUSKBN0KF00320150106
--------
'US supports efforts of Pakistan against terrorism'
Jan 08 2015
WASHINGTON - The US supports efforts of Pakistan to counter terrorism and bring perpetrators to justice.
US State Department Spokesperson Jen Psaki said, "We support efforts to counter terrorism and bring perpetrators to justice, but we believe it's important efforts be consistent with principles of due process." To a question, she said that the US was getting more information about setting up of the military courts in Pakistan. "Well, we've seen the reports and we're seeking additional information as the Pakistani government adopts measures necessary to institute them. We will continue to engage with the Government of Pakistan on a range of these issues and seek information on these – on this vote".
http://www.dailytimes.com.pk/national/08-Jan-2015/us-supports-efforts-of-pakistan-against-terrorism
--------
CAIR: Bogus stats used to justify persecution of European Muslims
By Nihad Awad
January 08, 2015
It is disturbing that The Washington Times chose to publish anti-Muslim hate propaganda targeting European Muslims ("As Christianity exits Europe, 'Criminal Muslims' fill void with rabid violence" on Dec. 29) at the same time that mosques in Sweden have been the repeated targets of arson attacks, "neo-Nazis in pinstripes" are staging Islamophobic rallies in Germany and a well-known French television personality has called for the deportation of millions of that nation's Muslim citizens.
In her Islamophobic polemic, Bethany Blankley echoed the call to remove the continent's Muslim population when she approvingly quoted a Dutch politician who seeks the deportation of all Muslims, calls for shutting down all mosques and recommends closing European borders to people from Muslim-majority nations.
She based her extremist views on fake claims such as: "In Sweden, Muslim immigrants account for 5 percent of its population but commit 77 percent of its crime."
Full report at:
http://www.washingtontimes.com/news/2015/jan/7/cair-bogus-stats-used-to-justify-persecution-of-eu/
--------
US-led forces drop nearly 5,000 bombs on IS group
January 08, 2015
Washington (AFP) - US-led aircraft have dropped nearly 5,000 bombs in the air war against Islamic State jihadists in Iraq and Syria, damaging or destroying more than 3,000 targets including tanks, the Pentagon said Wednesday.
The latest figures released by the US military signal a steady expansion in the scale of the air campaign launched in August and also reveal an adversary with hundreds of armored and other sophisticated vehicles at its disposal.
Since coalition air raids started in Iraq in August and in Syria in late September, US and allied aircraft have struck 58 tanks, 184 Humvee armored vehicles, 303 pickup trucks, 26 armored vehicles and 394 other vehicles, according to statistics from the Pentagon.
Most of the vehicles, many of them US made, had been seized by IS fighters from the retreating Iraqi army.
Full report at:
http://news.yahoo.com/us-led-forces-drop-nearly-5-000-bombs-233933056.html
-----------
Canada opens doors to 13,000 Syrian, Iraqi refugees
8 January 2015
Canada has agreed to resettle another 10,000 Syrian and 3,000 Iraqi refugees over the next three years in response to a UN plea for help, the immigration minister announced Wednesday.
This meets 10 percent of the latest UN refugee agency's appeal for help resettling people fleeing violence in the two countries.
According to a report released earlier by the U.N. High Commissioner for Refugees, the number of Syrian refugees has outstripped Afghans as the largest displaced population in need of protection.
Full report at:
http://english.alarabiya.net/en/News/middle-east/2015/01/08/Canada-opens-doors-to-13-000-Syrian-Iraqi-refugees-.html
--------
India
BJP Will 'Experiment With Ghar Wapsi' In Valley: Kashmir Separatist Leader
Toufiq Rashid, Hindustan Times
January 8, 2015
The chairman of the hard-line faction of the Hurriyat Conference Syed Ali Shah Geelani has warned of a backlash if the BJP came to power in the state.
He said it will turn Kashmir into "a laboratory for the Ghar Wapsi (conversion to Hinduism) campaign of the "fascist forces".
Geelani's statement, his first since the marathon assembly polls threw up a hung House, comes as BJP leaders are engaged in informal talks with the single largest People's Democratic Party (PDP) to form a coalition government.
Without naming the PDP, Geelani said "communal forces in India are being aided by enemies of Muslims in the state''.
Geelani, who termed the current political situation in the state as "alarming", said a BJP government will erode the state's Muslim identity, culture and also its resistance movement.
"People should remain mentally prepared for a decisive resistance," he said.
The separatist leader also said mainstream political parties in Kashmir have failed to raise their voices against "communal designs".
Full report at:
http://www.hindustantimes.com/india-news/bjp-will-experiment-with-ghar-wapsi-in-valley-warns-geelani/article1-1304286.aspx
--------
Australia warns of terror attacks in India
January 8, 2015
SYDNEY: The Australian government has warned that terrorists were planning attacks in India, and urged its citizens to "exercise a high degree of caution" while travelling through the country.
"We continue to receive reports that terrorists are planning attacks in India and assess that attacks could occur anywhere at any time with little or no warning, including in locations frequented by Australians," said a statement on smartraveller.gov.au, the Australian government's travel advisory site.
The advisory asked Australians to "exercise a high degree of caution" in India. Australia's department of foreign affairs and trade said the warning applied to all parts of India.
It pointed out that in mid-December 2014 Indian authorities increased security at Metro stations and other public spaces in New Delhi.
Australian women have been advised to take particular care in all parts of India and exercise caution even if they were travelling in a group.
"There are several regions of India where we advise Australians to reconsider their need to travel, or avoid all travel," said the statement.
http://timesofindia.indiatimes.com/india/Australia-warns-of-terror-attacks-in-India/articleshow/45795800.cms
--------
No need for new anti-conversion law, says Najma Heptulla
ANITA JOSHUA
January 8, 2015
At a time when the Government is advocating an anti-conversion law, Union Minority Affairs Minister Najma Heptulla on Wednesday said existing laws of the country were adequate to deal with conversion by force or inducement.
Asked about her views on an anti-conversion law, Ms. Heptulla said: "There are already so many laws to deal with it. If there is a consensus on bringing another law, it is up to the law-makers. I have to go by what my party line is.''
She is the second Union Minister in two days to make this point; the first being Union Minister for Consumer Affairs, Food and Public Distribution Ram Vilas Paswan. "The existing laws regarding conversion are sufficient,'' he said on Tuesday in a media interaction.
And, like her cabinet colleague, Ms. Heptulla defended Prime Minister Narendra Modi; maintaining he had made his position on minorities clear in his Independence Day speech and so does not have to intervene
every time a controversial statement is made by someone. "No one in the Cabinet has said anything against minorities. Why should he keep repeating himself,'' was her reply to questions on Mr. Modi's silence on the row over conversions and other statements against minorities.
http://www.thehindu.com/news/national/no-need-for-new-anticonversion-law-says-najma-heptulla/article6764451.ece
--------
Muslims deserve reservations, Owaisi says
January 8, 2015
BEED: The former Congress-NCP government in Maharashtra kept the Muslim community backward and it deserves reservations, MIM leader Asaduddin Owaisi has said.
The Sachar committee and other similar panels had recommended reservations for the Muslim community, he pointed out.
"The Congress-NCP government kept the community backward and denied it benefit of reservations," Owaisi alleged.
The All India Majlis-e-Ittehadul Muslimeen chief was addressing an election rally here on Tuesday.
As per the Articles 15 and 16 of Indian Constitution, a community which has remained backward should be given reservations, he said.
The Lok Sabha MP from Hyderabad clarified that his party is not against the reservation to the Marathas, but Muslims too should get their right.
Full report at:
http://timesofindia.indiatimes.com/india/Muslims-deserve-reservations-Owaisi-says/articleshow/45794787.cms
--------
Delay in financial aid affecting India-Palestine relations
Jayanth Jacob
January 8, 2015
A delay in disbursing financial aid to Palestine promised by the former UPA government is adversely affecting India's bilateral ties with the Palestine government, the external affairs ministry has said.
Domestic financial constraints have caused the delay in releasing the $10 million aid that was announced by former prime minister Manmohan Singh, officials said, although the government released $4 million in the current financial year. Another $1 million was released in 2013-14.
"This is indeed adversely affecting India's credibility in our bilateral relationship with the Palestine government, to which we have traditionally extended strong support," the external affairs ministry told a parliamentary standing committee in December.
The aid was announced during Palestine National Authority president Mahmoud Abbas' visit to New Delhi in 2012, but the money was not released.
Full report at:
http://www.hindustantimes.com/india-news/delay-in-financial-aid-affecting-india-palestine-relations/article1-1304387.aspx
-----------
Southeast Asia
Charlie Hebdo killings backlash for mocking Prophet Muhammad, says Dr M
Jan 08 2015
The Charlie Hebdo massacre in Paris, France yesterday could be a backlash against the French satirical magazine's provocation towards Islam, said former prime minister Tun Dr Mahathir Mohamad.
He said that Charlie Hebdo frequently showed disrespect towards Muslims by making fun of Prophet Muhammad through their caricature drawings.
"Do they need to make fun of Prophet Muhammad even when they know it hurts Muslims. We respect their religion and they must respect ours," he was quoted as saying by Bernama today.
According to the national news agency, Dr Mahathir was asked to comment on the attack where three gunmen with Kalashnikov automatic rifles and a rocket-launcher opened fire at the Charlie Hebdo offices yesterday and killed 12 people, including two policemen.
Dr Mahathir, who is the country's longest-serving prime minister, said that no one should provoke another religion as society should learn to respect one another despite being of different religions and races.
Full report at:
http://www.themalaysianinsider.com/malaysia/article/charlie-hebdo-killings-backlash-for-mocking-prophet-muhammad-says-dr-m#sthash.gkmX0TVf.dpuf
--------
Information on Terrorist Threat Warning Not Being Shared: Officials
Jan 08 2015
Jakarta. Indonesia's intelligence chief reiterated that authorities have yet to see an actual terrorist attack materialize following a security warning from the United States and a travel advice message from Australia.
Marciano Norman, chief of the State Intelligence Agency (BIN), said "the situation in Surabaya [East Java] is safe. The provincial police chief and regional officials have conducted steps [to increase security] in response, but in a proportional way.
"The public need not worry, because we have taken precautionary steps. However, we will still act on this information."
The Australian travel warning was issued just days after the US Embassy in Jakarta issued a security warning for US-affiliated hotels, banks and businesses in Surabaya, East Java.
It was unclear on Wednesday what the specific nature of the threat was that prompted the US and Australian Embassies' concerns. Such warnings are typically issued only after judging intelligence of a threat as credible and weighing potential political repercussions with a host government.
Full report at:
http://thejakartaglobe.beritasatu.com/news/information-terrorist-threat-warning-shared-officials/
--------
Joko Says Indonesia Is Safe Despite Security Warning
Jan 08 2015
Jakarta. President Joko Widodo reiterated on Thursday that Indonesia was safe and no imminent security threats had been detected, despite a travel warning from Australia and a security warning from the United States.
Joko told journalists not to go "overboard" when reporting about the foreign security warnings, saying "I have not received any information regarding safety issues."
Australia updated its travel advice on Monday just days after the United States embassy in Jakarta issued a security warning for US-affiliated hotels, banks and businesses in Surabaya, East Java.
Indonesian authorities have repeatedly said they are not aware of a specific threat, but on Wednesday security forces were put on heightened alert.
Sr. Cmr. Agus Rianto, a spokesman for the National Police, confirmed Indonesian intelligence agencies had not detected a terrorism threat.
"Indonesia is safe, the warnings issued by Australian government was mere advice for its citizens to avoid Bali," he said. "They issue such warnings every month but there is no threat in Bali."
http://thejakartaglobe.beritasatu.com/news/joko-says-indonesia-safe-despite-security-warning/
--------
URL: https://www.newageislam.com/islamic-world-news/new-age-islam-news-bureau/egypt-s-president-urges-muslim--religious-revolution--to-combat-islamist-ideology/d/100915