New Age Islam News Bureau
20 Aug 2013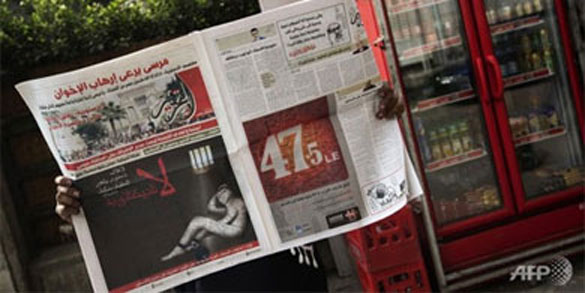 File photo: A woman reads a copy of Egyptian newspaper "Al-Tahrir" in Cairo. (AFP/Gianluigi Guercia)
-----------
Arab World
• Egypt's media line up behind state against Islamists
• Syrian Kurds battle al-Qaida-linked rebel faction
• Political parties based on religious ideology may be banned in Egypt
• Saudi Arabia Promises to Aid Egypt's Regime
• Egypt arrests Muslim Brotherhood chief as death toll mounts
• Egypt must get back to 'inclusive approach': US
• Syrian Kurds vow to fight for oil fields
• Morsi supporters show weak mobilisation amid calls for solution to Egypt crisis
• Iraq executes 17 people: Ministry
• Hezbollah exchange fire with gunmen in Beirut suburb
------------
South Asia
• Jama'at ul Mujahideen Bangladesh man was to rebuild HuJi
• 174 Bangladeshis likely to start leaving for Malaysia on Aug 27
------------
Africa
• Nigeria claims Boko Haram chief may be dead
• Africans warn of rise in racist aggression in Morocco
------------
India
• Indian army told to retaliate to Pakistan border firing: Antony
• Manmohan Singh keen to meet Nawaz, US officials told
• Muslims have lowest living standard in India: Govt survey
• 'Pak military deliberately ratcheting up tension with India'
• Tunda sent the first batch of Pak terrorists to India
• Tunda's son, son-in-law also part of LeT
• Babbar Khalsa International plans big strikes in Punjab: Tunda
• Tunda's role in Sikh militancy to be probed by Delhi, Punjab cops
• BJP set to field Muslim candidates in Andhra Pradesh
------------
Pakistan
• Pakistan ex-leader Musharraf charged over Bhutto murder
• Kashmir a national issue, jugular vein of Pakistan: Nawaz Sharif
• Pakistan PM invites extremists for talks
• Kayani had doubts about Taliban involvement in Bhutto's death
• Altaf urges Nawaz to give justice to MQM, its voters
• Ahmadi literature: Charges framed, witnesses summoned in blasphemy case
• By-elections: Imran Khan calls for army deployment at all polling stations
------------
Mideast
• Turkey accuses OIC of inaction on Egypt violence
• CIA admits role in 1953 Iran coup
------------
Europe
• European Union Sets Emergency Session on Suspending Aid to Egypt
• 'Qaida plotting attack on Europe's rail network'
------------
North America
• London conference looks into radicalisation of Muslim youth
• Al-Jazeera America prepares for today's launch
• Report: Obama administration temporarily holds up Egypt military aid
------------
Southeast Asia
• Malaysian police eliminate five, arrest 200 in crime crackdown
• Philippines orders its nationals to flee Egypt
Compiled by New Age Islam News Bureau
URL: https://www.newageislam.com/islamic-world-news/new-age-islam-news-bureau/egypt-s-media-line-up-behind-state-against-islamists/d/13118
------------
Arab World
Egypt's Media Line Up Behind State against Islamists
20 Aug 2013
CAIRO: Egypt's media, both public and private, have lined up behind the government in portraying its fight against the Muslim Brotherhood as a "war on terror" and vilifying foreign journalists.
As police and troops chase down members of the Islamist group, from which ousted president Mohamed Morsi hails, the media have taken part in a "campaign against the Muslim Brotherhood and other Islamist currents", political commentator Hisham Kassem told AFP.
"In one year of Morsi's presidency, more journalists were prosecuted than in the 185 years of the Egyptian press before," he said.
"Now, the media are exploiting the situation the Brotherhood is in to pay them back."
For days, Egypt's three state television channels have broadcast under a banner in English reading "Egypt fighting terrorism".
They report around the clock on the latest clashes between Morsi supporters and security forces that have claimed nearly 900 lives since Wednesday.
Between broadcasts, patriotic songs play over footage of the armed forces carrying out military exercises and showing kindness to civilians.
A piece entitled "The Black History of the Brotherhood Organisation" purports to show the group's violent history.
It includes archive footage of Brotherhood members, as well as the attempted murder of president Gamal Abdul Nasser and the assassination of president Anwar Sadat by Islamists.
It ends with clips from recent clashes, showing gunmen purportedly belonging to the group, and buildings set ablaze.
The country's newspapers have been equally uniform in their criticism of the group and in rallying behind the government and the army chief who installed it, Abdel Fattah al-Sisi.
Government daily Al-Ahram on Monday devoted its entire front page -- and nine separate headlines -- to a speech by Sisi a day earlier.
Abdel Halim Qandil, editor-in-chief of the independent Sawt al-Ummah daily, sees the media's united front as a normal response to the country's "national battle".
A fierce critic of Islamists, he accuses the Western media of swinging between two extremes: hatred for Islam and love of the Brotherhood.
"This is what has created serious anger and suspicion on the part of Egyptians" towards foreign media, he said.
Since Morsi's July 3 ouster by the military after mass demonstrations, the foreign media have come under attack from the government and the population, particularly in Cairo.
Authorities accuse Western journalists of ignoring the victims of violence committed by Morsi's supporters, such as police and soldiers.
Simply walking in the street with a camera has become increasingly dangerous, said one Western photographer on condition of anonymity.
"I'm afraid to go into the street with my cameras since the government authorised security forces to open fire" on demonstrators targeting government buildings, he said.
"Today, I managed to take a few pictures from the car. I got out for 45 seconds to take some others," added the photographer, who has been in Egypt for 18 months.
"By publishing statements accusing the Western media of being biased, the government is inciting public hatred against us," he said.
"Two photographer friends of mine were beaten up a few days ago by a group of young guys when they were taking photos inside a government building.
"They dragged them out of the building shouting 'They are spies!' before beating them up."
In front of a morgue in Cairo on Monday, a group surrounded two journalists from an international news agency as they tried to interview relatives of the dead.
"A group surrounded me, trying to rip the camera out of my hands," one of them told AFP, saying he escaped with the help of some relatives, sprinting through sidestreets until he outran the mob.
Three journalists have been killed in Cairo since Wednesday, when security forces cleared two pro-Morsi protest camps, including a cameraman for Britain's Sky News.
http://www.channelnewsasia.com/news/world/egypt-s-media-line-up/782926.html
------------
Syrian Kurds battle al-Qaida-linked rebel faction
August 20, 2013
BEIRUT: Activists say Kurdish militias and al-Qaida-linked rebel factions are engaged in fierce clashes in northeastern Syria.
The Britain-based Syrian Observatory for Human Rights says the fighting Tuesday between Kurdish gunmen and rebels from the Islamic State of Iraq and the Levant is taking place in three villages near the town of Ras al-Ayn in Hassakeh province.
Hassakeh is home to a large Syrian Kurdish population.
Around 30,000 Syrians, the vast majority of them Kurds, have fled the region in recent days and crossed the border to the self-ruled Kurdish region of northern Iraq.
The fighting between Kurds and Islamic extremist rebel factions in Syria has sharply escalated in recent months, and holds the potential to explode into a full-blown side conflict within the country's wider civil war.
http://www.dailystar.com.lb/News/Middle-East/2013/Aug-20/227968-syrian-kurds-battle-al-qaida-linked-rebel-faction.ashx#axzz2cUV1yvhl
------------
Political parties based on religious ideology may be banned in Egypt
2013-08-20
A committee formed by Egypt's interim President Adly Mansour to propose amendments to Egypt's 2012 constitution will reportedly recommend a ban on all religious parties in the country.
Shortly after the overthrow of President Mohammed Morsi, interim President Adly Mansour announced creation of a ten-member committee aimed at preparing amendments to the nation's constitution.
"Fundamental changes must be introduced to [the] 2012 Islamist-backed constitution," the English-language web-site of Ahram Online, Egypt's largest news organization, said yesterday citing its source close to the committee.
According to the source, the committee has agreed to recommend a ban on political parties based on religious ideology.
The proposal, the source continues, has followed pressure by more than 400 political, economic, and social institutions, urging to take measures "to safeguard Egypt against Islamist factions trying to change the civil nature of the country into a religious oligarchy."
The recommendation intends to undermine Morsi's Article 2 of 2012's constitution, which has placed Islamic Sharia law above civilian judiciary.
It should be noted that last week interim President Adly was quoted as saying that Article 2 will remain "in order to stress the Islamic identity of Egypt."
Above that, the committee may propose withdrawal of the ban against Hosni Mubark's National Democratic Party (NDP) and elimination of the Shura Council, the upper house of parliament, "which was exploited by the Muslim Brotherhood and its allies over one year to impose their Islamist ideology on the country," according to the source.
The High Constitutional Court and the media may also see some changes, aimed at revival of the institutions' independence.
Draft proposals to Egypt's constitution are expected to be announced on Wednesday.
http://voiceofrussia.com/news/2013_08_19/Political-parties-based-on-religious-ideology-may-be-banned-in-Egypt-report-9202/
------------
Saudi Arabia Promises to Aid Egypt's Regime
By ROD NORDLAND
August 19, 2013
CAIRO — Saudi Arabia has emerged as the foremost supporter of Egypt's military rulers, explicitly backing the violent crackdown on Islamists and using its oil wealth and diplomatic muscle to help defy growing pressure from the West to end the bloodshed in search of a political solution.
As Europeans and the United States considered cutting cash aid to Egypt, Saudi Arabia said Monday that it and its allies would make up any reduction — effectively neutralizing the West's main leverage over Cairo. With Egypt's economy in free fall, the country's authorities might not have survived international outrage at a crackdown that has left as many as 1,000 dead and 4,000 wounded without the deep pockets of its Persian Gulf allies.
In recent days, King Abdullah of Saudi Arabia has publicly condemned the Muslim Brotherhood, sent field hospitals to Egypt and in rare public comments vowed continued support. The foreign minister, Prince Saud Al-Faisal, traveled to Europe, where he pushed back against efforts to punish Egypt's rulers. And Saudi Arabia delivered a blank check to Cairo, promising to shower it with money as needed.
"The kingdom stands with Egypt and against all those who try to interfere with its domestic affairs," King Abdullah said Friday in a televised speech.
Saudi Arabia, which itself is a close ally of Washington, has not only undermined Western efforts to press for compromise, but has also revealed diminished United States influence across the Arab world. The United States and Europe have been unable to convince Cairo — or to persuade Riyadh to press the generals toward moderation.
The Saudis, though, are not alone in this. Two other United States allies, Israel and the United Arab Emirates, have also supported the Egyptian military and sought to push back against Western entreaties that it temper its actions against the Brotherhood and the ousted government of President Mohamed Morsi and his supporters.
Saudi Arabia, which historically preferred to work its checkbook diplomacy from behind the scenes, jumped at the chance to help reverse a revolution that it opposed from the start.
The Saudis complained bitterly when President Hosni Mubarak, a longtime ally, was forced from power, and even more bitterly when the Muslim Brotherhood emerged as Egypt's primary political force. And its leaders may have been comfortable with Gen. Abdul-Fattah el-Sisi, who had served as the Egyptian government's military attaché in Riyadh, according to the general's official biography on the Egyptian military's Web site.
"The Saudi monarchy is absolutely afraid of an Islamist-based democracy movement," said Amanda E. Rogers, a lecturer in Arabic at Emory University in Atlanta and contributor to Muftah, a blog about the Middle East and North Africa.
The Saudis have long wielded their great wealth in regional causes. But even by Saudi standards, their efforts in Egypt stand out. Within a week of the Egyptian military's July 3 takeover, they had announced a $12 billion rescue package that dwarfs direct military and economic grants from the United States ($1.5 billion) and the European Union ($1.3 billion) combined. The gulf Arabs' deep pockets made the United States' contribution seem important largely for its symbolism.
Within hours of the king's speech on Friday, the Saudi foreign minister, Prince Faisal, was on his way to Paris, where he said the French president, François Hollande, supported the Egyptian generals' road map. That seemed to contradict the statements of other European countries condemning the new government for failing to control the violence.
Back in Saudi Arabia by Monday, the prince boasted that France had come around to his country's point of view because of "truths and not assumptions." It was unclear, however, if the French government shared that interpretation.
"Concerning those who announced stopping their assistance to Egypt or threatening to stop them, the Arab and Islamic nation is rich with its people and capabilities and will lend a helping hand," Prince Faisal said, in a statement carried on the Saudi Press Agency's Web site.
Saudi Arabia blamed the United States and other allies for failing to support Mr. Mubarak in 2011 when Egyptians took to the street provoking his ouster. But their criticism was mostly in private, and low-key. Even after the Muslim Brotherhood-backed government of Mr. Morsi was elected, the kingdom responded quickly to keep the treasury solvent with a substantial $5 billion in aid.
By July 10, one week after the military takeover, the Saudis had put together a package of aid totaling $12 billion: $5 billion from the kingdom, $3 billion from the United Arab Emirates and $4 billion from Kuwait.
Unlike American aid, much of the Saudi assistance goes directly into Egyptian coffers with no strings attached. Much of it is cash transferred directly to the Egyptian Central Bank, with the rest grants of free or subsidized oil products, which free an equivalent amount of money for Egypt to budget as it wishes.
By contrast, American and European governments have insisted — often for legal reasons under their own laws — that aid is monitored and often channeled through nongovernmental relief groups.
There is a strong rivalry between Saudi Arabia and other Persian Gulf allies of the Egyptian military, on the one hand, and Qatar and Turkey, on the other, both of which are big supporters of the Muslim Brotherhood. Qatar has often outspent even the Saudis in pursuit of its foreign policy goals, and has put much of its money into Arab Spring causes like battling governments in Libya and Syria.
The Saudis, on the other hand, have championed shoring up the established order, which in Egypt is represented by the generals.
"The Saudis feel they need to create a diplomatic and economic bloc to support Egypt, or it will collapse," said Hussein al-Shobokshy, a Jeddah-based Saudi columnist who often writes on Egyptian-Saudi relations. "Prince Faisal is taking the pole in championing the cause right now; he is carrying the banner for Egypt," he said.
Anwar Majid Eshki, the chairman of the Middle East Center for Strategic and Legal Studies, a Saudi-based research center, said Saudi officials were buoyed by what they perceived as Prince Faisal's success in France. "We are getting that message out to the friends of Saudi Arabia, in Europe and the United States, this is our assessment of the situation," he said.
Over the weekend, however, the European Union officially condemned the violence and blamed the military regime for doing little to stop it.
Ordinary Egyptians have long had something of a love-hate relationship with Saudi Arabia. Some 1.5 million to 2 million Egyptian guest workers are employed there, but many come back soured by the experience.
Last year, rioting outside their Cairo embassy forced the Saudis to close it; protesters were angry at the decision to sentence an Egyptian human rights lawyer, Ahmed al-Gezawi, to prison and 300 lashes. The Saudis claim he was a drug smuggler; Mr. Gezawi's supporters say his lawsuit against King Abdullah, challenging human rights violations against Egyptian guest workers, was the cause of the prosecution.
Now, however, on the issue of financial aid, at least among the sizable anti-Muslim Brotherhood camp, there is plenty of applause for the Saudi stance. "I would lick the floor rather than take that aid from America," said Mahmoud Salama, a businessman in Cairo and a recent returnee from Australia.
"I don't agree with many things in Saudi Arabia, but the Saudis know that Egypt is their back, their biggest neighbor, and that they should support us when we need support."
Sarah Mousa contributed reporting from Cairo, Scott Sayare from Paris, and Rick Gladstone from New York.
http://www.nytimes.com/2013/08/20/world/middleeast/saudi-arabia-vows-to-back-egypts-rulers.html?ref=africa&gwh=580455C58C3EA5D5DA436A4C34FAA97B&_r=0
------------
Egypt arrests Muslim Brotherhood chief as death toll mounts
2013-08-20
CAIRO: Egyptian authorities said Tuesday they had arrested the supreme guide of the Muslim Brotherhood, as they stepped up a campaign to crush the party of ousted president Mohamed Morsi.
The arrest stoked fears of an escalation in the already tense situation in Egypt, where nearly 900 people have died in days of clashes nationwide between security forces and Islamist supporters of Morsi.
In the latest bloodshed, militants killed 25 policemen in the restive Sinai Peninsula, just hours after 37 Muslim Brotherhood prisoners died in police custody.
The interior ministry said police picked up Brotherhood chief Mohamed Badie, 70, near Rabaa al-Adawiya square, where more than 200 Morsi supporters were killed on Wednesday as police cleared their protest camp.
Senior members of the Muslim Brotherhood organisation, including Badie, have been accused by Egypt's military-backed authorities of inciting the violence that the deaths of protesters.
And judicial sources said fresh accusations had been levelled against Morsi himself, who has been held in a secret location since the military deposed him on July 3.
Meanwhile, former president Hosni Mubarak won conditional release in the third of four cases against him, but remained in detention on the fourth.
The bloodbath sparked by the crisis showed little sign of abating as militants fired rocket-propelled grenades at two buses carrying police in Sinai on Monday — the deadliest attack of its kind in decades.
The interior ministry blamed the attack on "armed terrorist groups" and officials later said the border with the Palestinian Gaza strip, near where the attack occurred, would be closed.
Security sources said another policeman was killed in the northern city of El-Arish, bringing to at least 75 the number of security force members killed in Sinai since the army toppled Morsi.
The attack followed the death of 37 Muslim Brotherhood detainees as they were being transferred to a north Cairo jail.
Authorities said they died after police fired tear gas in a bid to free an officer taken hostage by prisoners.
But the Brotherhood, the once-banned movement from which Morsi hailed, held the police accountable, accusing them of "murder".
They said the incident affirmed "the intentional violence aimed at opponents of the coup, and the cold-blooded killing of which they are targets".
United Nations chief Ban Ki-moon said he was "deeply disturbed" by the deaths and called for a "full investigation to ascertain the facts surrounding this incident."— 'Right Path' — The fresh wave of unrest came hours after military chief Abdel Fattah al-Sisi pledged a "forceful" response by security forces to any violence from protesters.
"We will never be silent in the face of the destruction of the country,"said Sisi, who overthrew Morsi after mass protests against the Islamist's single year of turbulent rule.
And Egypt's foreign minister Nabil Fahmy said Monday in Sudan that his country was on the "right path."The international community has fiercely condemned the violence, with rights group Amnesty International decrying it as "utter carnage".
And Human Rights Watch called on Egypt's rulers to "urgently reverse"instructions for police to use live ammunition against protesters.
The group's secretary general Salil Shetty warned the country's government had "stained its human rights record".
Full report at:
http://www.dawn.com/news/1037084/egypt-arrests-muslim-brotherhood-chief-as-death-toll-mounts
------------
Egypt must get back to 'inclusive approach': US
2013-08-19
WASHINGTON: US Defense Secretary Chuck Hagel urged Egypt's military rulers to take an "inclusive" approach to governing after security forces killed hundreds of supporters of ousted president Mohamed Morsi.
Hagel reiterated Washington's appeal for dialogue amid ongoing bloodshed in Egypt but acknowledged that US influence over events is "limited."
"The interim government of Egypt must get back to an inclusive approach to reconciliation in Egypt," Hagel said during a joint news conference at the Pentagon with his Chinese counterpart, General Chang Wanquan.
Hagel has had more than 15 phone conversations with Egypt's army chief, General Abdel Fattah al-Sisi, since the officer led a coup against president Mohamed Morsi.
Full report at:
http://www.dawn.com/news/1036915/egypt-must-get-back-to-inclusive-approach-us
------------
Syrian Kurds vow to fight for oil fields
August 20 2013
Syrian Kurds have been defending the oil-rich town of Rimelan in northern Syria from al-Qaeda-linked groups and said the oil-wells were a crucial income source for the region's economy.
The town, which stands on the 60 percent of the Syria's oil, has come under continuous attacks from al-Nusra insurgents, according to the People's Defense Units (YPG), the armed wing of the Democratic Union Party (PYD). PYD has captured the town in May but the oil production has been stopped because the silos were full of oil since there was no sale. The town host Arabs, Syriacs, Armenians and Chaldeans as well.
Clashes between PYD and al-Nusra insurgents have raged for a month, after jihadists were expelled from the key town of Ras al-Ayn on the Turkish border. The al-Qaeda-linked group has reportedly given one month to the YPG to evacuate the oil wells but Kurds rejected the ultimatum which resulted in fierce fights in the region. Oil wells are defended by hundreds of Kurdish militants.
Full report at:
http://www.hurriyetdailynews.com/syrian-kurds-vow-to-fight-for-oil-fields.aspx?pageID=238&nID=52843&NewsCatID=352
------------
Morsi supporters show weak mobilisation amid calls for solution to Egypt crisis
20 Aug 2013
Pro-Morsi demonstrations held in several parts of Egypt saw low turnout, hundreds in numbers, in comparison to protests on the day dubbed 'Friday of Rage.'
Morsi supporters heeded calls by the National Alliance to Support Legitimacy after a week long crackdown by security forces against supporters of ousted president Mohamed Morsi and as Muslim Brotherhood figures continue to face arrests and detention orders.
Since Wednesday, security has carried out mass arrests of pro-Morsi demonstrators.
Security forces on Wednesday cracked-down on two main pro-Morsi sit-ins that led to more than 600 deaths and thousands injuries in violent clashes nationwide.
The interior ministry announced on Saturday that 1,004 were arrested so far. It also announced that illegal weapons had been confiscated.
The arrests come in addition to those targeting several Muslim Brotherhood figures earlier this month including the organisation's strongman Khairat El-Shater and head of its political wing Saad El-Katatni.
Egyptian prosecution on Monday ordered the detention of Morsi for another 15 days pending investigations into charges of involvement in the violent attacks on demonstrators outside the presidential palace in December 2012.
Meanwhile, Egypt's Cabinet, Grand Mufti as well as the National Salvation Front (NSF) on Monday reiterated warnings against violence.
The statements come hours after militants killed 25 army conscripts in North Sinai early on Monday.
Full report at:
http://english.ahram.org.eg/NewsContent/1/64/79485/Egypt/Politics-/Morsi-supporters-show-weak-mobilisation-amid-calls.aspx
------------
Iraq executes 17 people: Ministry
19 Aug 2013
Iraq has put 17 people to death, 16 of them on terrorism-related charges, the justice ministry said Monday, the latest in a series of executions that have drawn international condemnation.
They are the first executions announced by the ministry since brazen July assaults on two major prisons freed hundreds of prisoners, including some who had been sentenced to death, drawing criticism within Iraq that executions were proceeding too slowly.
"The justice ministry carried out 17 death sentences," a statement on the ministry's website said, without specifying when the executions took place.
The statement quoted Justice Minister Hassan al-Shammari as saying that 16 of those executed were convicted under Article 4 of the country's anti-terrorism law, while the seventeenth was sentenced to death for an unspecified criminal offence.
One of those executed was an Egyptian national, while the rest were Iraqis.
With the latest executions, at least 67 people have been put to death in Iraq so far this year, according to an AFP tally based on reports from the justice ministry and officials, despite widespread calls for a moratorium on the country's use of capital punishment.
Iraq carried out 129 executions in 2012 and Shammari insisted earlier this year that Baghdad would continue to implement the death penalty.
Executions in Iraq, which are usually carried out by hanging, have drawn widespread international condemnation from the European Union, the United Nations and various rights groups.
Full report at:
http://english.ahram.org.eg/NewsContent/2/8/79437/World/Region/Iraq-executes--people-Ministry.aspx
------------
Hezbollah exchange fire with gunmen in Beirut suburb
August 20, 2013
BEIRUT: Gunmen in a car opened fire on a Hezbollah security checkpoint in a Beirut suburb early Tuesday morning and Hezbollah fighters manning the post returned fire, security sources said.
It was not immediately clear whether anyone was hurt in the 2 a.m. attack in the southern suburb neighborhood of Hay Farhat, the sources told The Daily Star.
They said gunmen in an Infiniti SUV with tinted glass opened fire on a Hezbollah checkpoint set up after Thursday's devastating car bomb attack which killed 30 people and wounded more than 300 in Ruwaiss, a southern suburb of Beirut.
The sources said Hezbollah gunfire shattered the rear window of the car and the gunmen then sped off toward the nearby airport road.
Full report at:
http://www.dailystar.com.lb/News/Lebanon-News/2013/Aug-20/227956-hezbollah-exchange-fire-with-gunmen-in-beirut-suburb.ashx#axzz2cUV1yvhl
------------
South Asia
Jama'at ul Mujahideen Bangladesh man was to rebuild HuJi
August 20, 2013
Masiur Rahman Milon, one of the nine suspected Harkat ul Jihad al Islami (Huji) members arrested last week in Jhalakathi, had taken the responsibility of reorganising Huji.
In 2003, he had joined militant outfit Jama'at ul Mujahideen Bangladesh (JMB). He opted to join Huji after the government had banned the JMB in February 2005 and law enforcers stepped up watch on the organisation, an official close to the Task Force for Interrogation (TFI) in Dhaka told The Daily Star.
Yesterday, the TFI started grilling eight of the arrestees on remand. The other arrestee is in Jhalakathi jail.
Masiur had met Huji leader Maulana Abdur Rouf twice in Kashimpur jail and took over the responsibility of reorganising Huji.
After several months of organisational work, he became inactive as the government in October 2005 also banned Huji, noted the official wishing anonymity.
Masiur was once a student of a madrasa in Muktagachha of Mymensingh, where Rouf was the principal.
Rouf, who later formed another organisation Tanjim-e-Tamiruddin, is now behind bars along with some other top Huji leaders, including Mufti Abdul Hannan, as the charge sheeted accused in the August 21 grenade attack cases.
On August 21, 2004, the Huji as a mercenary force had carried out grenade attacks on an Awami League rally at Bangabandhu Avenue to assassinate Sheikh Hasina, the then opposition leader.
To organise Huji throughout the country, they had decided to work in the name of conducting Vaigyanik Poddhotite Quran Shikkha course (to learn the Quran in a scientific way). This was an initiative to invigorate the former core leaders and activists of the Huji through motivation, said the official.
Yesterday morning, the eight arrestees were brought to Dhaka from Nalcity in Jhalakathi for interrogation after a court there had placed them on a six-day remand each.
The seven others are Nurul Islam, Shohag, Abul Bashar Mridha, Minhajul Abedin, Abdul Aziz, Sirajul Islam and Jubayer.
Police on August 14 had arrested the nine suspected militants from the mosque of Kamdepur Kawme Madrasa in Nalcity when they were busy with a motivational training programme at the mosque.
Full report at:
http://www.thedailystar.net/beta2/news/jmb-man-was-to-rebuild-huji/
------------
174 Bangladeshis likely to start leaving for Malaysia on Aug 27
August 20, 2013
Some 174 Bangladeshi overseas job seekers are likely to start leaving for Malaysia on August 27 in the second batch under a government to government arrangement.
"The visas of those workers have reached us, and the ministry is completing the other procedures for sending them to Malaysia," said Zafar Ahmed Khan, secretary to the Ministry of Expatriates' Welfare and Overseas Employment.
In April this year, some 198 workers out of the selected 10,000 migrated to Malaysia for working in the plantation sector.
The rest would be sent to Malaysia gradually. To this end, their necessary documents had been submitted to the Malaysian employers, he told The Daily Star on Sunday.
Contacted, Bangladesh High Commissioner in Kuala Lumpur ATM Atiqur Rahman said the visas of more than 500 workers had already been issued.
"The workers who will receive visas can come to Malaysia at the end of this month," he told The Daily Star over the phone.
Full report at:
http://www.thedailystar.net/beta2/news/174-bangladeshis-likely-to-start-leaving-for-malaysia-aug-27/
------------
Africa
Nigeria claims Boko Haram chief may be dead
20 Aug 2013
The leader of the armed group Boko Haram, Abubakar Shekau, may have died of gunshot wounds some weeks after a clash with soldiers, the Nigerian military has said.
"It is greatly believed that Shekau might have died between 25 July [and] 3 August 2013", a statement issued on Monday said.
The military added that it believed Shekau was shot on June 30 during a battle with troops at a Boko Haram camp in the Sambisa forest in northeastern Nigeria - an area of major Boko Haram activity. The army claimed Shekau was then secretly taken to Cameroon for treatment, but later died.
Shekau was described in the statement as "the most dreaded and wanted" Boko Haram leader.The United States recently offered a $7m bounty for information leading to his arrest.
Though the death of Shekau would be a blow to Boko Haram's campaign, the group has several factions without one homogeneous leadership structure. Spin-off groups like Ansaru, which has claimed responsibility for kidnapping and killing Westerners, are believed to operate independently.
No evidence yet
Al Jazeera's Yvonne Ndege, reporting from Abuja, said that some observers may cast doubt on the military's claims. Our correspondent said it was difficult to get independent confirmation because the movements of rights groups and journalists are severely restricted in areas where Boko Haram operate.
"The Nigerian military have not yet provided any video or photographic evidence to back up what they're saying," she said. "The public no doubt will be waiting for some...evidence of Abubakar Shekau's death."
Past reports of Shekau's death have proved false.
Full report at:
http://www.aljazeera.com/news/africa/2013/08/201381917274617266.html
------------
Africans warn of rise in racist aggression in Morocco
20 August 2013
African immigrants warned Monday of a rise in racist attacks in Morocco, as hundreds gathered outside a morgue holding the body of a Senegalese man who was murdered last week.
Some 250 people, mostly Senegalese immigrants, gathered outside the morgue in Rabat, where the 30-year-old's remains were taken after he was stabbed to death on a bus in the Moroccan capital last Monday.
Anna Bynes, 20, a Senegalese student at Rabat University, said the attack was the latest in a string of racist violence targeting sub-Saharan Africans.
"It is the last straw... The other day it was a Congolese man killed on a bus in Tangiers. Then a Gabonese woman was raped. Today a Senegalese has been killed."
The police on Friday arrested a Moroccan suspected of having carried out the attack, which followed an argument over seating at the central bus station in Rabat, according to the official MAP news agency.
Selim, a friend of the victim, called on the Moroccan monarch to demand an end to racist attacks.
"We are asking King Mohammed VI to address the people and to remind Moroccans who want to destabilise relations between Senegal and Morocco that those relations have existed for centuries," he said.
But Jop Adama, a representative of the Senegalese community, played down the racial motivation behind the killing, insisting it was an isolated case.
"What happened is a tragedy," he said.
"You cannot talk about growing racism (in Morocco). It's an isolated case, which could have happened anywhere in the world."
The Senegalese ambassador, who attended Monday's gathering, declined to comment on the incident.
Full report at:
http://english.alarabiya.net/en/News/africa/2013/08/20/Africans-warn-of-rise-in-racist-aggression-in-Morocco-.html
------------
India
Indian army told to retaliate to Pakistan border firing: Antony
2013-08-19
NEW DELHI: India's army will take "all possible steps" to counter any ceasefire violations by Pakistan along the border between the two countries, the Indian defence minister said Monday, warning not to take New Delhi's restraint for granted.
Skirmishes have erupted across the heavily militarised Line of Control (LoC), the de facto border in Kashmir, since five Indian soldiers were killed earlier this month in an ambush which India has blamed on the Pakistan army.
Pakistan has denied the claims and reminded New Delhi about the importance of resuming the peace dialogue between the two countries and protecting the touchy ties from 'negative media propaganda', a few weeks ago.
However, India responded with a clear indication that killing of five of its soldiers on the Line of Control would delay the secretary-level talks with Pakistan, asserting that dialogue could only proceed in an environment free of violence and terror.
"Our restraint should not be taken for granted nor the capacity of our armed forces to protect the sanctity of the LoC," Indian Defence Minister A.K. Antony was quoted by AFP as saying in the parliament's upper house on Monday.
"Now our army will take all possible steps – sometimes strong action – to effectively retaliate against every violation along the LoC," he added.
Islamabad has refuted involvement of its soldiers in the ambush, one of the deadliest in years targeting Indian troops in the disputed Muslim-majority region.
Kashmir has been a cause of conflict between India and Pakistan since 1947 when the departing British colonial power partitioned India and the Kashmir became a disputed territory between the two neighbors.
The renewed tensions have jeopardised plans for what the two governments hoped might be a breakthrough encounter between Prime Minister Manmohan Singh and his Pakistani counterpart Nawaz Sharif on the sidelines of a UN meeting in New York next month.
Antony alleged that Pakistani soldiers were behind as many as 82 ceasefire violations on the border this year and warned of consequences on the country's long-term relations with Islamabad.
"Naturally this incident will have consequences on our behaviour at the LoC and on our relationship with Pakistan," he said.
Similarly Pakistan Army claimed that India has made 186 ceasefire violations this year alone
On August 6 of this month, India lodged a diplomatic protest with Pakistan over an alleged attack on an army post in which five of its soldiers were killed.
Full report at:
http://www.dawn.com/news/1036910/indian-army-told-to-retaliate-to-pakistan-border-firing-antony
------------
Manmohan Singh keen to meet Nawaz, US officials told
2013-08-20
WASHINGTON: India would like substantive discussions with Pakistan on the recent Kashmir tensions at an expected summit meeting in New York next month, diplomatic sources told Dawn.
The sources said that Indian officials, who recently visited Washington, are believed to have indicated that New Delhi remains interested in a meeting between Pakistani and Indian prime ministers in New York next month. Both leaders are coming to New York in late September to attend the UN General Assembly.
The two prime ministers will also be meeting US President Barack Obama and Afghan President Hamid Karzai during their visit.
Mr Singh is coming to Washington on Sept 23 for an official meeting with Mr Obama.
During a visit to Islamabad earlier this month, US Secretary of State John Kerry also invited Prime Minister Nawaz Sharif to visit the United States for a meeting with President Obama. It is still not clear if Mr Nawaz will come to Washington or they will meet in New York.
Mr Nawaz, who meets the Afghan leader in Islamabad later this month, is also scheduled to have another meeting with Mr Karzai in New York.
The US president is also expected to have at least two meeting with his Afghan counterpart in New York.
The most important of these will be a trilateral meeting involving Mr Obama and the Indian and Afghan leaders, but Mr Sharif will meet each of them separately.
In these consultations, the Americans hope to make substantial progress in seeking regional cooperation for stabilising Afghanistan.
The Indian and Pakistani media, however, reported last week that the Nawaz-Singh meeting was not yet confirmed. The reports said that because of recent tensions along the Line of Control, Mr Singh is reluctant to meet the Pakistani leader amid fears that it could hurt his Congress Party in next year's general elections.
Full report at:
http://www.dawn.com/news/1037031/singh-keen-to-meet-nawaz-us-officials-told
------------
Muslims have lowest living standard in India: Govt survey
Aug 20, 2013
NEW DELHI: Among various religious groups, Muslims have the lowest living standard with the average per capita expenditure of just Rs 32.66 in a day, says a government survey.
At the other end of the spectrum, Sikh community enjoys a much better lifestyle as the average per capita spending among them is Rs 55.30 per day, while the same for Hindus is Rs 37.50. For Christians it is Rs 51.43.
"At all-India level, the average monthly per capita expenditure (MPCE) of a Sikh household was Rs 1,659 while that for a Muslim household was Rs 980 in 2009-10," said an NSSO study titled 'Employment and Unemployment Situation Among Major Religious Groups in India'.
The average household MPCE is a proxy for income and reflects that living standards of a family.
According to the study, the average MPCE for Hindus and Christians were Rs 1,125 and Rs 1,543, respectively.
The survey said that average monthly per capita consumption at all-India level was Rs 901 in villages and Rs 1,773 in cities. Overall, the average MPCE was Rs 1,128.
Full report at:
http://timesofindia.indiatimes.com/india/Muslims-have-lowest-living-standard-in-India-Govt-survey/articleshow/21936020.cms
------------
'Pak military deliberately ratcheting up tension with India'
August 19, 2013
Pakistan military is deliberately ratcheting up tension with India to prevent any meaningful peace talks and demonstrate that it still calls the shots on bilateral ties, an eminent American expert has said.
"It is possible the Pakistani military establishment is deliberately
ratcheting up the tension to demonstrate to the Sharif government that it still calls the shots regarding India-Pakistan relations," Lisa Curtis of The Heritage Foundation said.
The Pakistan army may be trying to warn Sharif off from pursuing any meaningful peace initiatives like he did when he previously served as prime minister in the late 1990s, she added.
"Back-channel negotiations with India over the status of Kashmir had made significant progress under Sharif's previous tenure in 1999 until the Pakistani military took over Indian military positions in the heights of Kargil, precipitating a brief Indo-Pakistani border war," she said.
Curtis said the US should take the recent border flare-ups seriously and do what it can to reduce the military tensions that risk developing into broader conflict.
"Washington should resist any calls for mediation, however," she said and praised the State Department to dismiss the idea of Washington appointing a special envoy to deal with Indo-Pakistani tensions.
Full report at:
http://www.hindustantimes.com/world-news/Pakistan/Pak-military-deliberately-ratcheting-up-tension-with-India/Article1-1109837.aspx
------------
Tunda sent the first batch of Pak terrorists to India
Aug 20, 2013
NEW DELHI: Arrested Lashkar-e-Taiba terrorist Abdul Karim Tunda was not only part of the first LeT cell in the country but also responsible for sending several Pakistani terrorists into India in the mid-90s while sitting in Bangladesh. He, however, got little support from Muslims within the country and several of his big plans could not fructify, sources in the security establishment said.
After his associate from Mumbai Dr Jalees Ansari, responsible for a series of blasts in the city, was arrested in 1994, Tunda fled to Bangladesh and then to Pakistan. By 1996, he was operating out of Dhaka in close association with Islamic Chhatra Shibir, sources said. He used his and the Shibir's contacts to send several LeT operatives to India who were to set up cells outside of Jammu and Kashmir.
One of the first Pakistani militants he sent to India was Kamran — a Delhi-born man whose family had shifted to Pakistan. Kamran was part of the LeT apparatus and was asked by his bosses to work with Tunda. Kamran was responsible for the series of blasts that ripped through Delhi and Punjab in the mid-90s, sources said.
Following him was Pakistani LeT operative Salim Junaid who had worked with Kamran in Lashkar's Muzaffarabad office. Junaid had earlier tried to enter India in the early 90s but failed. It was Tunda who finally made it possible. However, Kamran found it tough to set up a sleeper module in India.
He set foot in Delhi and tried to garner support from Tablighi Jamaat without any result. His efforts to rally support in Mumbai, Bhiwandi and make new contacts in Delhi also remained unsuccessful.
"At that time, pan-Islamic terror had not touched India and communalism hadn't disturbed its social fabric as deeply as it has today. It was not easy to get local support for terror activities. In fact, Tunda's oldest associate, Hyderabad's Azam Ghauri, was refused burial in the community burial ground after he was killed in an encounter by police in 2000," said a official from the security establishment.
Interestingly, it was in Hyderabad that Junaid finally found shelter with help from an LeT contact and legitimized his stay by marrying a local girl and joining the Students Islamic Movement of India while continuing his terror activities. He was, however, arrested in 1998 along with some Pakistani associates.
Full report at:
http://timesofindia.indiatimes.com/india/Tunda-sent-the-first-batch-of-Pak-terrorists-to-India/articleshow/21927853.cms
------------
Tunda's son, son-in-law also part of LeT
Neeraj Chauhan & Dwaipayan Ghosh
Aug 20, 2013
NEW DELHI: Abdul Karim Tunda is not the only jihadi in the family. His son Abdul Waris, third among seven siblings, and son-in-law Aftab are also members of Lashkar-e-Taiba, Tunda's interrogation has revealed.
Waris, in his late 30s, was even arrested in Jammu and Kashmir in 2000 with a consignment and was in jail till 2008. "Waris fled again to Pakistan after his release. However, nobody knew he was Tunda's son as he was arrested with a different identity," said a source.
Activities of Tunda's two brothers, Abdul Haq and Abdul Malik, are also suspicious. "Haq has been once arrested as well," said an officer. According to the interrogation, the "facilitator" Tunda and his family regularly get money from LeT, ISI, Wadhwa Singh of Babbar Khalsa International and other organizations.
Tunda's terror activities had slowly moved to fake currency on the directions of Pakistan's Inter-Services Intelligence (ISI). The master bomber is believed to have told interrogators about two majors—identified as Tayeeb and Altaf—deputed by ISI to push fake currencies into India.
He has claimed that ISI's best bet was fake currency guru, the Indian-born Iqbal Kana—a close aide of Dawood Ibrahim. ISI and the D-company network had pushed Tunda to deal with fake currencies since 2005. Tunda claimed to have met underworld Dawood several times in Karachi. Dawood apparently lives in a safe house in Karachi and is guarded by ISI.
Both the majors had allegedly used Tunda as he had a well-entrenched network in Bangladesh and Nepal—two favourite points to push fake notes in India. Tunda had also met former ISI Chief Hamid Gul in 1995 and was in constant touch with him, sources said.
According to sources, Dawood is now himself overseeing the FICN network while the logistics Full report at:
http://timesofindia.indiatimes.com/india/Tundas-son-son-in-law-also-part-of-LeT/articleshow/21927705.cms
------------
Babbar Khalsa International plans big strikes in Punjab: Tunda
Aug 20, 2013
NEW DELHI: The arrest of Abdul Karim Tunda has thrown light on the association of Lashkar-e-Taiba and Babbar Khalsa International (BKI) for carrying out terrorist strikes in India. Tunda has also confirmed the recent threats from the Sikh militant organisation and told special cell sleuths that Wadhawa Singh lives in Karachi but since he has grown old, most of the present day decisions in BKI are now taken by Ratandeep Singh. He claimed earlier that he had sent a consignment of explosives to Delhi before the Commonwealth Games 2010 on the demand of BKI. The intelligence alerts on BKI suggest that the organisation is under lot of pressure from ISI in Pakistan and taking to fake currency and drug smuggling on its directions.
According to a secret intelligence document, BKI was planning a serious attack in India this Independence Day, which has been confirmed by Tunda. The document says, "There is a high degree of threat from the Pak-based Sikh militants to carry out subversive activities in India, including a terror strike on New Delhi or targeted killings in Punjab, aimed at causing communal strife. Recent threat indicates that Ratandeep Singh (RD) of the Babbar Khalsa International (BKI) presents the greatest threat."
It says that "ISI has held at least two important meetings in February and March 2013 with Pak-based leaders of various Sikh extremist outfits such as Wadhawa Singh (BKI), Paramjeet Singh Panjawar (KCF), Lakhweer Singh Rode (ISYF), Jagtar Singh Tara (KTF), Ranjeet Singh Meeta (KZF), Gajinder Singh of (Dal Khalsa) and Harminder Singh Mintu of KLF. The ISI message has been loud and clear that safe havens will only be available at a price and the price would be to rekindle the already extinguished fire of Sikh militancy in India. The ISI has clearly indicated that leaders of all these groups must carry out terror attacks on Indian soil if they have to justify their stay in Pakistan. In this deal, while the terror operatives meant for operations in India will need to be identified by the Sikh terrorists ensconced in Pakistan, the requisite training for assembly of explosives etc can be provided by specialists from the ISI. The ISI has even offered to provide suitable liaison with functional terror groups such as the Lashkar-e-Toiba etc."
Giving details on ISI pressure on BKI, the document reads: "Following diktat from the ISI, most of the Pak-based Sikh militant leaders are in a fix. Well-aware that Sikh militancy in India was a thing of the past and no longer a viable entity, these Sikh militant fugitive leaders had slowly graduated to crime and involved in narco trafficking and FICN smuggling. However, two young Sikh militant operatives, Ratandeep Singh of the BKI and Harminder Singh Mintoo of the KLF have taken on the challenge and are actively planning to carry out terror attacks in India in the near future. If they are successful, it may lead to increased isolation and irrelevance of the other Sikh militant leaders, currently enjoying the hospitality and ISI patronage in Pakistan."
"Ratandeep Singh is one of the most dangerous and well trained active Sikh militants currently in Pakistan. He has been repeatedly trained by the Pak ISI in weapons and explosives from 1993 onwards and the ISI has ensured upgradation with time of his technical skill-set, especially in assembly of IEDs. Jagmohan Singh, who had assassinated religious ideologue Rulda Singh, had been personally trained by Ratandeep Singh in 2009. In October 2011, Ratandeep Singh had organized transfer of a large consignment of arms and FICN across the Indo-Pak border for an operation focussed on targeting a Shiv Sena leader in Punjab. Alertness of the security forces neutralized this attempt before the third consignment of arms (10 AK-47s) could be smuggled into India from Pakistan," it says.
Full report at:
http://timesofindia.indiatimes.com/india/Babbar-Khalsa-International-plans-big-strikes-in-Punjab-Tunda/articleshow/21927799.cms
------------
Tunda's role in Sikh militancy to be probed by Delhi, Punjab cops
Aug 20, 2013
CHANDIGARH: Arrested Dawood aide and self-styled Lashkar-e-Taiba (LeT) commander Abdul Karim Tunda will be quizzed by a team of Punjab police in connection with his role in Shingar cinema blasts in Ludhiana that had claimed six lives and left 37 injured in 2007.
The LeT terrorist, in 1990, had allegedly launched an outfit Khalistan Kashmir International, which had trained and helped another Sikh terrorist group, Babbar Khalsa International, to execute terror strikes in Punjab for more than a decade. The official request for a joint interrogation was placed by the state's intelligence wing before Delhi police special cell on Monday.
"We are maintaining contacts with Delhi police special cell on Tunda. We are trying to establish his role in Sikh militancy. Once that is done, we will use the production warrant to bring him to a local court here," additional director general of police (ADGP), intelligence, Hardeep Singh Dhillon told TOI.
The team may comprise Ludhiana commissioner P S Gill, IG (counter intelligence) Ananya Gautam and a local intelligence bureau member.
Even though his name was not included in any of the FIRs registered by Punjab police in any terrorist activities in the state, the Delhi police said they have clinching evidence for Tunda's role in Sikh insurgency. "We have inputs from Central intelligence agencies on his involvement in at least Shingar cinema blast," S N Srivastava, Delhi police special commissioner (special cell) told TOI.
Four BKI men - Gurpreet alias Khalsa, Palwinder Singh, Sandeep Singh alias Harry and Ravinder alias Rinku - were arrested for their role in Shingar blasts. The police had recovered 5kg of RDX, 3 detonators and two pistols from the suspected BKI terrorists.
Tunda is said to have stayed several times in Jalandhar between 1990 and 1998.
The banned terrorist organisation Khalistan Kashmir International was formed by him on May 3, 1990 following a meeting with BKI chief Wadhawa Singh and Lahbir Singh Rode, the head of the International Sikh Students Federation, in Lahore, Punjab police said.
According to police, when BKI chief Wadhawa Singh wanted to dispatch explosives to India through Bangladesh in 2010, he had contacted Tunda for it. In return, Tunda would distribute fake Indian currency notes in India though Wadhawa's network.
Full report at:
http://timesofindia.indiatimes.com/india/Tundas-role-in-Sikh-militancy-to-be-probed-by-Delhi-Punjab-cops/articleshow/21927789.cms
------------
BJP set to field Muslim candidates in Andhra Pradesh
Aug 20, 2013
HYDERABAD: Quickly responding to its national poll campaign chief Narendra Modi's clarion call to reach out to the minorities, the state BJP unit has already started listing out potential Muslim candidates for the upcoming elections.
As they feel the strategy might also help convincing reluctant partners like TDP, the BJP leaders said the party was planning to field at least 20 Muslim candidates in the elections for the AP assembly with a strength of 294.
The leaders said the elections might even see a couple of candidates from the religious minority communities for the Lok Sabha. The undivided-AP has 42 Lok Sabha seats.
While this would be the first time that the BJP is fielding Muslim candidates in Andhra Pradesh, the party sources said, if all goes well, MIM president Assaduddin Owaisi will face a BJP candidate from his own community in Hyderabad parliamentary seat.
The AP state would go for simultaneous polls for the Lok Sabha and assembly in May next year, if the elections are held as per schedule.
The state unit president G Kishan Reddy, who returned to Hyderabad after attending the BJP central leadership meeting, on Tuesday explained his party colleagues the 'Mission 272+' which envisages getting a majority for the party in 2014 general elections. He highlighted how Modi's strategy was even focusing on bagging the votes of minority communities.
Sources in the party said, permutation and combinations were being worked out, and the list of candidates would be finalized in October-November.
"Modi's idea is to propound inclusive development stemmed from inclusive politics. Based on this principle, we would expand our support base geographically and socially," said K Lakshman, a national executive member of BJP.
By mentioning geographical expansion, Lakshman was suggesting BJP's plans to make inroads into Seemandhra as the party has so far positioned itself as pro-Telangana. And by the social expansion, he meant to include Muslims, backward classes, and dalits.
"By analysing the political topography, we have identified some grey areas for the party. Since the other parties have developed vote banks from selected communities, we have to lay down a comprehensive strategy to take the minorities, BCs, and dalits on board," said Lakshman.
As the main emphasis is to promote these communities, he said, the Muslim candidates would be fielded in accordance to their winning abilities.
Interestingly, the BJP has found more potential for the Muslim votes in Seemandhra rather than Telangana. While the Muslims make for 9% of the total votes in the state, in Seemandhra it is over 6%.
Full report at:
http://timesofindia.indiatimes.com/india/BJP-set-to-field-Muslim-candidates-in-Andhra-Pradesh/articleshow/21936420.cms
------------
Pakistan
Pakistan ex-leader Musharraf charged over Bhutto murder
20 August 2013
Pakistani ex-President Pervez Musharraf has been charged in connection with the 2007 assassination of opposition leader and former PM Benazir Bhutto.
The former military ruler has denied charges of murder, criminal conspiracy to murder and facilitation of murder.
It is the first time a current or ex-army chief has been charged with a crime in Pakistan. Mr Musharraf says the charges are politically motivated.
Ms Bhutto was killed at an election rally in Rawalpindi in December 2007.
This indictment had long been expected but was delayed because of threats to the former military ruler from the Pakistani Taliban. When he finally made an appearance in the anti-terrorism court in Rawalpindi it was amid tight security.
Six others were charged along with Mr Musharraf, including four suspected militants and two senior police officials. The court set the next hearing for 27 August.
Mr Musharraf's legal team say the evidence against him is fabricated and dismissed the indictment: "These charges are baseless. We are not afraid of the proceedings. We will follow legal procedures in the court," his lawyer, Syeda Afshan Adil, told the Agence France-Presse news agency.
Fighting charges
The former military ruler returned to Pakistan from self-imposed exile earlier this year and is currently under house arrest.
He came to power in 1999 when he ousted Prime Minister Nawaz Sharif in a bloodless coup. He ruled the country for nine years before being voted out and then he left Pakistan to live in self-imposed exile in Dubai and London.
Upon his return he hoped that he could lead his party into elections, but was disqualified from standing and found himself fighting an array of charges relating to his time in power.
These include cases relating to the murder of a Baloch tribal leader, Nawab Akbar Bugti, in 2006 and his attempt to sack the entire higher judiciary in November 2007.
Mr Sharif is now back in power, having emphatically won elections earlier this year.
His government has said that it also plans to put Mr Musharraf on trial for treason.
Election deal
Full report at:
http://www.bbc.co.uk/news/world-asia-23763895
------------
Kashmir a national issue, jugular vein of Pakistan: Nawaz Sharif
Aug 20, 2013
ISLAMABAD: Describing Kashmir as the "jugular vein" of his country, Prime Minister Nawaz Sharif on Monday said India and Pakistan should join hands to tackle poverty and disease instead of wasting their resources on wars.
Kashmir is a "national issue and the jugular vein of Pakistan" and its resolution is as dear to him as other Pakistanis, Sharif said in his first address to the nation since assuming office in June.
Sharif cautioned that Pakistan cannot achieve any target without strengthening its economy. "Alongside the Kashmir issue, we will have to pay attention to strengthening our economy, resolve our internal and external problems and tackle the power crisis and terrorism ," he said.
Referring to his desire to forge good relations with India, Sharif said both countries should realise that "instead of wasting their energies and resources on wars, they should wage war against poverty, ignorance and disease".
Pakistan and India will have to join their heads together to address common issues like poverty and ignorance, he said to the fact that progress and development of a nation is deeply linked to cordial relations with neighbours. It is because of this that we want good relations with all neighbours, including India," he said. Sharif said he had "always wanted good relations with India" and the people had supported his contention during the general election in May.
Without referring to clashes along the Line of Control in Jammu and Kashmir, Sharif said the country is "fully prepared to defend the motherland along with its valiant armed forces" .
Zardari to face graft cases in Sept
Full report at:
http://timesofindia.indiatimes.com/world/pakistan/Kashmir-a-national-issue-jugular-vein-of-Pakistan-Nawaz-Sharif/articleshow/21928065.cms
------------
Pakistan PM invites extremists for talks
20 August 2013
ISLAMABAD: Pakistan's Prime Minister Nawaz Sharif Monday called for dialogue with extremists to end bloodshed that has left thousands dead in the country in more than a decade of violence.
He made the offer in his first televised address to the nation since taking office after winning elections in May, a sweeping, hour-long speech that focused on Pakistan's myriad problems.
He stopped short of unveiling specific policies designed to tackle the nation's enormous budget deficit, solve a crippling energy crisis or clamp down on extremists and separatist rebels.
"Wisdom demands that we follow a path where we minimise the loss of innocent lives," said Sharif.
He campaigned for an historic third term as premier by offering peace talks to the Pakistani Taliban, the leaders of a devastating domestic insurgency that has links to Al-Qaeda.
He said he was expanding on his original offer after the elections of inviting all political parties to discuss together how best to resolve Pakistan's security and economic woes.
"This policy of reconciliation is not confined just to political parties. I take a step forward and invite for dialogue all those elements who have unfortunately adopted the path of extremism."
But Sharif said dialogue was not the only option.
"I want an end to terrorism whether it is through dialogue and reconciliation, or through full use of force," he added.
He blamed the government, security services and the judiciary for failing to crack down on terrorism, but stopped short of naming names or of unveiling any new policies to check the violence.
"The time has come when we should admit that our administrative institutions, our agencies and our system of justice have failed to appear competent in dealing with the challenge of terrorism," said Sharif.
"The nation is justified to know why concrete steps were not taken to stop the bloodshed and destruction."
In addition to militancy, he said the government would help the southwestern Baluchistan province deal with a separatist insurgency waged by ethnic Baluch fighters.
Sharif did not address recent violations of the ceasefire along the de facto border with India in divided Kashmir, but said that both countries had to work together to overcome social ills.
"The wars they fought pushed them back to the past. The two countries should realize they have to wage a meaningful war against hunger and poverty instead of indulging in armed conflict."
Full report at:
http://www.arabnews.com/news/461832
------------
Kayani had doubts about Taliban involvement in Bhutto's death
August 20, 2013
Pakistan Army chief Gen Ashfaq Parvez Kayani had expressed doubts about a claim by the regime of his former boss Pervez Musharraf that Benazir Bhutto was assassinated by the Pakistani Taliban, a UN investigator has said.
Gen Kayani suspected whether the slain Pakistani Taliban chief Baitullah Mehsud had organised the assassination, as was claimed by an Interior Ministry spokesman at a news conference a day after Bhutto's death on December 27, 2007.
Former President Musharraf's government based its claim on an intercept of a conversation between Mehsud and another man that was provided by the Inter-Services Intelligence agency.
Gen Kayani said the Musharraf government's press conference had been "premature" and that "It should not have been done."
One cannot conclude culpability solely on a phone intercept; Gen Kayani was quoted as saying by Chilean diplomat Heraldo Munoz, who headed a UN panel that investigated Bhutto's assassination.
Gen Kayani also considered the performance of the Rawalpindi police after the assassination to have been "amateur", Heraldo Munoz writes in his new book "Getting Away With Murder", excerpts from which were released yesterday.
The army chief was referring to the hosing down of the crime scene within hours of Bhutto being killed by a suicide bomber.
"If in 24 hours you don't completely secure the scene, then you lose the threads to solve a case," Gen Kayani told Munoz during a meeting in Rawalpindi on February 25, 2010.
Bhutto was killed in a gun-and-bomb attack shortly after addressing an election rally in Rawalpindi. Several aspects of the assassination, including the exact cause of her death, remain shrouded in mystery.
Full report at:
http://www.thehindu.com/news/international/south-asia/kayani-had-doubts-about-taliban-involvement-in-bhuttos-death/article5041759.ece
------------
Altaf urges Nawaz to give justice to MQM, its voters
2013-08-20
KARACHI: Blasting Peoples Party for what he called creating a divide between Sindhis and non-Sindhis in the province by getting passed the new local government bill from the provincial assembly on Monday, MQM chief Altaf Hussain urged Prime Minister Nawaz Sharif to provide justice to the MQM and its voters.
"On the basis of its majority, the PPP is taking oppressive measures against people of urban areas of Sindh...more than half of the Sindh population is with MQM so I appeal to Prime Minister Nawaz Sharif and the federal government to provide justice to the MQM and its voters within the sphere of the constitution and law," said Mr Hussain.
The London-based MQM leader addressed via phone four public meetings in three places in Karachi and one in Mirpurkhas in connection with the Aug 22 by-elections.
The MQM is contesting by-elections on two seats of the Sindh Assembly and one of the National Assembly from Karachi and one provincial assembly seat from Mirpurkhas.
Assuring the federal government of his party's 'unconditional' cooperation even in testing times, Mr Hussain asked the premier to provide the MQM a chance to serve the people of urban and rural areas of Sindh. He said his party had supported Mr Sharif in his election to the post of prime minister despite the fact that he did not need MQM's votes.
Mr Hussain said India was violating the ceasefire on the Line of Control and assured the federal government and the armed forces that MQM workers and people would support them for defence and integrity of Pakistan.
He criticised the PPP government in Sindh for adopting the Sindh Local Government Bill, 2013. He said the MQM had rejected 'this dictatorial system' and added that PPP had started a process to divide people of Sindh on the same pattern as in 1972 when it imposed the quota system for rural and urban areas of Sindh.
Full report at:
http://www.dawn.com/news/1037033/altaf-urges-nawaz-to-give-justice-to-mqm-its-voters
------------
Ahmadi literature: Charges framed, witnesses summoned in blasphemy case
By Our CorrespondentPublished: August 20, 2013
LAHORE:An additional district and sessions judge has framed charges against four printing press employees under the blasphemy laws for allegedly publishing blasphemous literature and summoned witnesses for September 14.
Moeed Ayaz, Asmatullah, Razaullah and Ghulamullah, who work as printers, binders and laminators at Black Arrow Printing Press, were arrested on January 7 as they loaded a small truck with books and CDs. They are to stand trial under Sections 295-B (desecration of the Holy Quran) and 298-C (which prohibits Ahmadis from calling themselves Muslims) of the Pakistan Penal Code.
The owner of the printing press is at large. The Lahore High Court had earlier granted the four men bail after Additional District and Sessions Judge Shaukat Nadeem had rejected their post-arrest bail pleas.
Full report at:
http://tribune.com.pk/story/592415/ahmadi-literature-charges-framed-witnesses-summoned-in-blasphemy-case/
------------
By-elections: Imran Khan calls for army deployment at all polling stations
By Zahid Gishkori
August 20, 2013
ISLAMABAD: For fair by-elections, Pakistan Tehreek-e-Insaf (PTI) chairman Imran Khan called for the deployment of army personnel at all polling stations in the country on August 22, not just the "sensitive" ones identified by the Election Commission of Pakistan (ECP) in a statement sent to The Express Tribune.
In terms of rigging, all polling stations across the country could be categorised as "sensitive", Imran pointed out.
Imran said the polling staff drawn from the provincial bureaucracies had failed to maintain the sanctity of the ballot during the May 11 election and therefore it was essential to have the army present at all the polling stations.
He reiterated that PTI would not tolerate a repeat of the irregularities and rigging that had marred the May 11 election.
Full report at:
http://tribune.com.pk/story/592645/imran-khan-asks-for-army-to-be-deployed-at-all-polling-stations/
------------
Turkey accuses OIC of inaction on Egypt violence
August 20, 2013
Turkey's Islamic-rooted government yesterday accused the Organisation of Islamic Cooperation (OIC) and its Turkish secretary general of remaining indifferent to the bloodshed in Egypt.
"I would say I resign because … I couldn't accept the stance of an Islamic organisation whose name carries the word Islam in the face of such brutality," Deputy Prime Minister Bekir Bozdag said in televised remarks.
If the OIC's Turkish secretary general Ekmeleddin "Ihsanoglu had made such a decision," to resign over the OIC's inaction in the face of the Egyptian military-backed government's deadly crackdown on the Muslim Brotherhood, he said, "it would have had an impact."
The 57-member OIC, based in Jeddah, Saudi Arabia, is the world's top Islamic body.
Full report at:
http://www.thedailystar.net/beta2/news/turkey-accuses-oic-of-inaction-on-egypt-violence/
------------
Mideast
CIA admits role in 1953 Iran coup
August 20 2013
The U.S. spy agency, CIA, has admitted to its participation in a 1953 coup that ousted Iranian Prime Minister Mohammed Mossadegh after decades of widespread speculation that it had helped overthrow the democratically elected leader.
The agency released a version of "The Battle for Iran" internal report following a Freedom of Information Act request. The document, published on the National Security Archive (NSA) website, was initially released in 1981, but most of it was blacked out at the time, including an entire section on the coup.
"The military coup that overthrew Mossadegh and his National Front Cabinet was carried out under CIA direction as an act of U.S. foreign policy," the report read. "The risk of leaving Iran open to Soviet aggression compelled the United States ... in planning and executing TPAJAX."
TPAJAX was the CIA's codename for the overthrow plot, which relied on local collaborators at every stage. It consisted of several steps: using propaganda to undermine Mossadegh politically, inducing the shah to cooperate, bribing members of Parliament, organizing the security forces and fomenting public demonstrations. The initial attempt actually failed, but after a mad scramble, the coup forces pulled themselves together and came through on their second try, on Aug. 19.
Full report at:
http://www.hurriyetdailynews.com/cia-admits-role-in-1953-iran-coup.aspx?pageID=238&nID=52823&NewsCatID=352
------------
Europe
European Union Sets Emergency Session on Suspending Aid to Egypt
By STEVEN ERLANGER
August 19, 2013
LONDON — European Union foreign ministers will meet in an emergency session on Wednesday to discuss suspending aid to Egypt, but the continuing military crackdown there has been a devastating blow to European efforts to negotiate a political solution and fill a vacuum left by Washington.
The European foreign ministers are under pressure from their voters to act, but it is less clear whether any step they take can be more than symbolic in an Egyptian situation that senior European officials acknowledge to be embittered and divided.
The European Union's foreign policy chief, Catherine Ashton, worked to earn trust on all sides and had remarkable access to leaders of both the military and the Muslim Brotherhood this summer when the United States was being criticized by all sides. At the same time, senior officials concede, she and her envoy, Bernardino León, could do little to promote a compromise or even a useful dialogue.
"Unlike Washington, we were seen as having no historical baggage, no hidden agenda, and we used to see everyone," a senior European official said in an interview. "They saw the added value we could bring by talking to everyone. That was the European advantage."
Without the intimate ties the United States has to the military or a history of nearly uncritical alliance with Egypt's former president, Hosni Mubarak, the Europeans were more trusted by the democrats, secularists and Islamists, and they were heard by the military, too. How sincere both sides were in their discussions remains unclear, though the official said there were moments in the last few months when Ms. Ashton felt that both sides were "speaking the same language and things were moving."
European officials remain hopeful that some sort of accord can be worked out. "We believe a political solution is possible, and we have to insist upon it," Mr. León said on Monday in Brussels. "All violence from both sides needs to stop. There are no easy solutions, no easy way out. But the E.U. will keep striving for this."
But efforts to create confidence-building measures and produce meaningful negotiations about an inclusive and democratic political process never quite came to fruition, for the Europeans or for the Americans. "Everyone agreed with us and said, 'Yes, we have to talk and get together and make it happen,' but it never did," the official said. "Now there's a blame game on all sides."
The Europeans are facing a lot of criticism, as are the Americans, for "being blind, not seeing what's going on, not condemning terrorism," the official said. "So it becomes more difficult to have the same level of access."
Throughout her visits, officials said, Ms. Ashton pressed for the inclusion of the Muslim Brotherhood in Egyptian political life; the release of the ousted president, Mohamed Morsi; and a quick return to the democratic process. Ms. Ashton is said to believe that there is a danger of discouraging the Brotherhood and other Islamists in the region from believing that the democratic process can work for them, which will only give more ammunition to the radical Islamists who favor the use of force against force, another European official said.
But it became increasingly clear that the military continued to see the Brotherhood and Morsi supporters as a threat to Egypt's future, while the Islamists themselves refused to accept what they considered to be a military coup that overthrew the democratically elected Mr. Morsi.
Egypt is important but only part of a larger regional struggle of Islam versus secularism and Sunni versus Shiite, the official said. "It's an historical process, and you can only judge it much further down the line," the official said. "From a day-to-day tactical basis, you can say it didn't work, let's do something else. But we want to help bring Egypt to where Egyptians want it to be, to a democratic path as an important neighbor for Europe."
The doors are not closed, and Ms. Ashton and Mr. León are "ready to go back, but there has to be something to do," the official said. "The idea was to create an environment for people to talk together, but only they can decide whether or not to do it."
Late last week, the Swedish foreign minister, Carl Bildt, forecast a period of severe repression, with hard-liners in command in Cairo, but said the Europeans should keep talking to all sides so as to be ready, if the opportunity arose, to play a role in achieving a solution.
The official would not speculate on what the European Union foreign ministers might do on Wednesday, but a number of them have already spoken about rethinking the bloc's aid program and relationship with a government so obviously dominated by the military that has just cracked down so violently.
The European Union, together with member nations, is by far the largest donor of nonmilitary aid to Egypt, with continuing programs worth some $800 million. But many of those are already blocked by the political turmoil, so not much is happening, European officials said.
Even those sums are dwarfed by what the military government is getting from Sunni allies like Saudi Arabia, which has already vowed to make up the difference if Western aid is cut or suspended.
So Europe's real leverage is not so much money as it is tourism and private investment, the officials say. While Egypt is in turmoil, no one is investing, and nearly all European governments have advised their citizens not to travel to Egypt.
European nations are Egypt's biggest trading partner, according to the Egyptian statistics office. The trade volume between Egypt and the European Union reached almost 24 billion euros in 2011 (then $34.5 billion), compared with $8.2 billion with the United States. And European nations sell about $400 million a year in military equipment to Egypt.
Last year, the bloc and its member countries pledged a combined 5 billion euros ($6.7 billion) in multiyear loans and aid for Egypt.
Full report at:
http://www.nytimes.com/2013/08/20/world/middleeast/european-union-sets-emergency-session-on-suspending-aid-to-egypt.html?ref=africa&gwh=E6E938754DA9104AE50D1513625BBAF4
------------
'Qaida plotting attack on Europe's rail network'
Aug 20, 2013
BERLIN: The al-Qaida is plotting attacks on Europe's highspeed rail network, German mass circulation daily Bild reported on Monday, citing intelligence sources.
The extremist group could plant explosives on trains and tunnels or sabotage tracks and electrical cabling, said Bild, Europe's most widely read daily . Bild said the information came from the National Security Agency (NSA) in the United States, which had listened in to a conference call involving top al-Qaida operatives.
The attacks on Europe's rail network was a "central topic" of this call, Bild said.
Authorities in Germany have responded to the threat with discrete measures such as deploying plain-clothed police officers at key stations and on main routes, according to the daily.
Full report at:
http://timesofindia.indiatimes.com/world/europe/Qaida-plotting-attack-on-Europes-rail-network/articleshow/21927999.cms
------------
North America
London conference looks into radicalisation of Muslim youth
20 August 2013
The four-day international conference for a better understanding of Islam and the problems facing Muslim youth kicked off at the Islamic Cultural Centre in London Saturday and will continue in Manchester and Birmingham until Tuesday.
The theme of the program, organized by the Forum for Social Studies, a nonprofit organization based in the UK, is to promote an understanding of the reasons and solutions behind the radicalization of Muslim youth.
It was inaugurated by Jamal Badawi, the keynote speaker, who dealt with the subject and shed light on its reasons. Badawi defined radicalism/extremism, its scope, religious extremism, an Islamic perspective on radicalism and how to de-radicalize society.
He said radicalism and extremism are interlinked. Extremism, he says, is the quality, state or habit of going to extremes either in views or actions. Yet most people associate both radicalism and extremism with religion. Badawi went on to explain that politically inspired radicalism is just as serious and damaging, since fascism as a quality is unrelated to religious ideology.
He said the bottom line is any past practices and juridical interpretations of Islamic literature are not conclusive in themselves and that a proper methodology of interpretation is important.
He stressed the need for balance, as extremism is rejected in the Qur'an and the Sunnah.
Balance is achieved through managing individual, collective social needs, individual freedoms and divinely rooted social ethics. Balance is also contingent upon the rule of law, compassionate implementation, prevention, rehabilitation and de-radicalization.
External partial causes of radicalization, he said, are injustice, discrimination, stereotypes, xenophobia and a generalized disrespect for human dignity. Shabir Ally discussed how violence and extremism run in contravention to prophetic teachings.
Full report at:
http://www.arabnews.com/news/461849
------------
Al-Jazeera America prepares for today's launch
20 August 2013
NEW YORK: In a warren of offices at a former bank building near Madison Square Garden, dozens of journalists are at work on gleaming new electronic equipment, ready to turn their test runs of Al-Jazeera America into the real thing. The Qatar-based news organization will finally establish a firm foothold on American television Tuesday after a decade of trying. At 3 p.m. EDT, Al Gore's former Current TV will turn out the lights in more than 45 million TV homes, replaced by the new US affiliate of Al-Jazeera. The network has hired many veterans of US television, including John Seigenthaler, Joie Chen, Antonio Mora and Sheila MacVicar, and is promising a meaty diet of news that it believes will contrast with the opinionated talk that dominates American news networks.
"We're breaking in with something that we think is unique and are confident, with our guts and some research, that the American people are looking for," said Kate O'Brian, the former ABC News executive who is now Al-Jazeera America's president.
The dozens of flat-screen TVs and occupied desks scattered around marble pillars in AJA's New York office indicate this is no cheap startup. And this is temporary; the network is looking for a larger office in New York but wanted to start quickly after buying out Current in January. Bureaus are also being established in 11 other American cities. Until Al-Jazeera America revealed a prime-time schedule last week, there were few indications of what the network would look like. Scheduled shows include a nightly newscast anchored by Seigenthaler, a newsmagazine hosted by Chen, a news talk show with Mora and a business program starring Ali Velshi.
It's still not clear what will be shown in the mornings and whether much of the broadcast day will be devoted to documentary-style programming or live news.
With its domestic bureaus, AJA will seek out stories beyond the towers of New York and government buildings in Washington, said Ehab Al Shihabi, the network's interim CEO. Besides those two cities, bureaus are located in Los Angeles, San Francisco, Dallas, Detroit, Chicago, Denver, Miami, Seattle, Nashville, Tenn., and New Orleans.
"I am here because the promise of doing good work is just exceptional," said David Doss, a veteran of ABC, NBC and CNN who is Al-Jazeera America's senior vice president of news programming.
Al-Jazeera is well-established overseas, and the American network will take advantage of its 70 bureaus. But executives have been careful to stress that AJA will be geared toward American tastes. They have a careful line to walk: Al-Jazeera doesn't want to remind Americans of when Bush administration officials questioned its independence in the months after the terrorist attacks, and the years when American cable operators wanted nothing to do it. Tight security is evident at the New York office. A visitor last week needed to go through an airport-style metal detector and be checked by two guards.
The American launch has caused some internal dissension. A memo to his bosses from Marwan Bishara, an Al-Jazeera political analyst, suggested that executives have gone too far to ingratiate themselves with a US audience. "How have we moved from the main idea that the strength of (Al-Jazeera) lies in the diversity, plurality and even accents of its journalists to a channel where only Americans work?" Bishara wrote, his memo made public by The Guardian newspaper in England.
Bishara said that asking potential viewers in a poll whether they consider Al-Jazeera to be anti-American sends a bad message.
Bishara worries that Al-Jazeera will water down its journalism for an American audience, "and nothing could be further from the truth," said Paul Eedle, deputy launch manager. Being bold — not bland — is the secret to success, he said.
The Al-Jazeera English network, which has disseminated its programming online and over some widely scattered cable systems during the past decade, is generally straightforward in its news coverage, said Philip Seib, a professor of journalism and public policy at the University of Southern California, who has written a book about Al-Jazeera.
"That's what's encouraging about Al-Jazeera America," Seib said. A focus on technology and science-oriented programs indicate an effort to reach smart, younger viewers, he said.
Dave Marash, a former Al-Jazeera English reporter, said he believes that AJA will be able to produce the solid news reporting it is counting on to distinguish itself from its competition.
"Almost all of their hires are respectable people with real careers and real records," Marash said. "Several are flat-out outstanding — Sheila MacVicar is outstanding. I'm optimistic."
AJA will be available in less than half of American homes at its launch. The Time Warner cable system, for example, dropped Current when the sale was announced. AJA is negotiating with Time Warner and carriers like Cablevision that didn't carry Current in the first place, to get in more homes. But people at the network expect a wait-and-see period.
Another handicap is the channel's location on cable systems. Current was often given a high-numbered channel that makes it much less likely that viewers would find it by chance; AJA said it is working to improve that.
Full report at:
http://www.arabnews.com/news/461827
------------
Report: Obama administration temporarily holds up Egypt military aid
20 August 2013
A U.S. Senator reportedly said on Monday that military aid to Egypt has been temporarily cut off, in a move that would mean the U.S. has "quietly" taken the decision following a week of deadly unrest in the country.
Senator Patrick Leahy told The Daily Beast it was his understanding that "aid to the Egyptian military has been halted, as required by law."
According to the The Beast's report, "the Obama administration has decided to temporarily suspend the disbursement of most direct military aid, the delivery of weapons to the Egyptian military, and some forms of economic aid to the Egyptian government while it conducts a broad review of the relationship."
The report did note however that officially, the $585 million of promised aid to the Egyptian military in 2013 is not on hold, as technically it is not due until Sept. 30, the end of the fiscal year.
In recent days, U.S. Senator John McCain, a Republican hawk and frequent critic of President Barack Obama's foreign policy, suggested Washington could pressure Egypt's generals by cutting off aid, spare parts for U.S.-made military equipment and backing for an International Monetary Fund loan to relieve the country's devastated economy.
"For us to sit by and watch this happen is a violation of everything that we stand for," AFP quoted him as saying to "Fox News Sunday" in an interview.
Senator Rand Paul, a rising name in the Republican Party, also called for cutting off aid, saying "I don't think we are buying any love of the Egyptian people when they see an American tank on the street."
Another senator, the Democratic Richard Blumenthal said the administration should "condition our future aid on specific steps toward the rule of law and the return to democracy."
"We shouldn't cut off all aid. There are no good choices here. But of the two, there is more opportunity to protect American interests if we work with the military," he said on "Fox News Sunday."
Full report at:
http://english.alarabiya.net/en/News/world/2013/08/20/Report-U-S-temporarily-holds-up-military-aid-to-Egypt.html
------------
Southeast Asia
Malaysian police eliminate five, arrest 200 in crime crackdown
20 August 2013
KUALA LUMPUR: Malaysian police said they killed five suspected gang members in a shootout early Monday and arrested 200 people in a crackdown on a spate of violent crime that has shocked the country.
Police launched the nationwide anti-crime push Saturday following a growing public outcry over lawlessness that for the past month has seen near-daily shootings and other violence.
The vast majority of crimes have gone unsolved.
The Barisan Nasional (National Front) ruling coalition blames a turf war between criminals released when a tough security law that allowed preventive detention was scrapped in 2011 under pressure from reform advocates.
Critics blame the national police force, which is widely viewed as corrupt and unprofessional.
National police chief Khalid Abu Bakar told reporters in the northern state of Penang where Monday's shootout erupted that 200 suspects have been rounded up nationwide.
"Since Saturday, we set up operations centres and targeted operations to probe the suspects, secret societies' nests and suspected drug traffickers," he was quoted by news portal Malaysiakini as saying.
He said five gang suspects were killed in an exchange of fire early Monday when police moved in on their hideout in Penang.
Known for its beach resorts, multicultural Penang has experienced several of the recent shootings, some in broad daylight.
The Star newspaper reported the five were suspects in the recent Penang violence.
Malaysians have complained for years about a perceived surge in burglaries, robberies, and purse-snatching.
But concerns have risen over the past month with a series of killings. They included the shooting of Bahrain-born Hussain Ahmad Najadi, 75, who founded one of Malaysia's largest banks in the 1970s.
He was gunned down in broad daylight on a street in central Kuala Lumpur on July 29.
A day after Najadi's killing, Prime Minister Najib Razak called on police to curb "brazen" gun crimes.
The crackdown launched at the weekend in the capital includes increased roadblocks and patrols to corral "suspicious" people, police have said.
Police are employing a previously little-used law, which Khalid said would allow them to detain suspects for up to 72 hours for investigation without a court order.
Najib said Monday that his government was still debating whether to reinstate provisions for Full report at:
http://www.arabnews.com/news/461828
------------
Philippines orders its nationals to flee Egypt
August 20, 2013
MANILA: The Philippines on Tuesday ordered the mandatory evacuation of its 6,000 nationals in Egypt after Foreign Secretary Albert del Rosario visited the country to investigate the security situation after days of violent clashes.
Rosario also ordered the deployment of a special team to Cairo to help speed the repatriation of the Filipinos, who he urged to contact their embassy.
"The marked deterioration of peace and order in Egypt, exacerbated by the ongoing political instability and grave security challenges in that country, make working and living there increasingly difficult and dangerous," his department said in a statement. Del Rosario visited Egypt early this week in his second trip in the past fortnight to look into the escalating violence, department spokesman Raul Hernandez said.
While in Cairo he met with a teenaged Filipino-Egyptian girl who was wounded by a stray bullet during clashes in Helwan, south of the capital. He found that she was recovering and in "good spirits", the department said.
The Philippine government urged voluntary repatriation for its citizens last week but raised the alert due to the rising violence, which has left 900 people dead following a crackdown on the protest camps of supporters of ousted Islamist president Mohamed Morsi.
About 10 million Filipinos, or 10 percent of the population, work abroad as managers, salespeople, seamen, labourers, drivers and domestic helpers, earning larger salaries than they could get in their impoverished home country.
Full report at:
http://www.dailystar.com.lb/News/Middle-East/2013/Aug-20/227962-philippines-orders-its-nationals-to-flee-egypt.ashx#axzz2cUV1yvhl
------------
URL: https://www.newageislam.com/islamic-world-news/new-age-islam-news-bureau/egypt-s-media-line-up-behind-state-against-islamists/d/13118