New Age Islam News Bureau
13 Oct 2012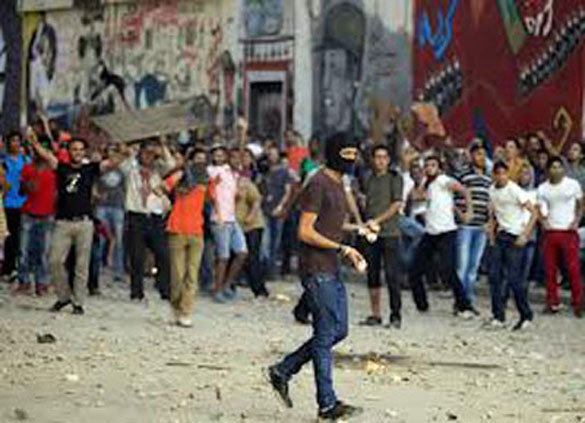 Arab World
• Egypt's Liberals, Islamists Clash with Petrol Bombs: 110 Reported Injured
• Al-Qaida leader Ayman al-Zawahri urges holy war over Prophet Film
• Imam at the Grand Mosque asked Pilgrims to Thank Allah for making Haj easy
• Two killed in Iraq attacks
• Syrian rebels capture air defence base near Damascus
• Hezbollah credits Iran for drone incursion into Israel
• On Edge as Syria's War Knocks Ever Harder on the Door to Turkey
• UN's Syria envoy Brahimi to hold talks in Turkey
• Syria conflict death toll 'at least 33,000'
• Syrian strife sours students' dreams
Pakistan
• 16 killed, 40 injured in suicide Bomber attack in north-west Pakistan
• Militants attack Shia students with guns, acid in Kurram
• South Waziristan: Militants attack security post, kill four soldiers
• Pak Taliban plans to target media for Malala coverage
• Pakistan's top judge makes Rs8.9 million annual salary
• Hafiz Saeed approaches Pak court over anti-Islam movie
• Maintaining law and order: Balochistan govt has failed, rules apex court
• Islamabad miffed at UN group's report on missing men
• Attack on Malala: President Zardari orders treatment of Shazia and Kainat
• Attack on Malala being used against ulema: Fazl
• 26/11 case trial adjourned till November 3 in Pakistan
• Pakistani Hindus seek Indian citizenship
• Pakistan arrests 24 Indian fishermen
India
• Terror outfits using Saudi Arabia as base to plan strikes, say investigators
• 'Anti-Islam' film: Hotel gets bomb threat allegedly by Jaish-e-Mohammad
• Arson bid at shrine sparks J&K protests
• 26/11 handler Jundal gets more time to scrutinize chargesheet
• 'IM wanted to avenge killings in Myanmar'
• Imran religious, not radical: Dad
• 'IM activist' shut businesses in Sept
• 'Feroze took flat on rent, said worked with mobile firm'
• Iranian authorities detain 29 fishermen from TN, Kerala
• Arrested Indian Mujahideen men plotted to attack Maharashtra anti-terrorism squad HQ
• Judiciary's greatness giving Ajmal Kasab sound legal assistance: BJP
Africa
• Tunisia's Mufti lauds Saudi efforts caring for pilgrims
• Libya Police Colonel Targeted in Assassination Attempt
• UN Security Council asks for Mali plan within 45 days
• Twin blasts shake Kenyan capital Nairobi
• Focus Was on Tripoli in Requests for Security in Libya
South Asia
• Muslim Hui people harmonious with the Han majority Uighurs have not
• Bangladesh: 80 hurt as police clash with Islamist party men
• Non-citizen status of Rohingyas in Myanmar criticised in a Seminar at Dhaka
• Blasts in southern Afghanistan kill 5
• Afghan students to offer prayers for Malala Yousafzai
• Afghan govt condemns Imran's jihad comment
• US soldiers say still focused on Afghan mission
• Two foreigners feared kidnapped from Afghanistan aid team: Police
• Bangladesh 5th most disaster prone country
North America
• Coptic Christians are coming to America from Egypt
• CAIR Counters D.C. Anti-Muslim Ads with Message of Forgiveness, Justice
• US must stick by Arab world's democracies: Hillary Clinton
• Russia 'morally bankrupt' on Syria: US
• US offers to work with Pakistan
• Obama committed to US troops withdrawal from Afghanistan
Europe
• 6th Saudi International Scientific Conference opens in London
• Tension in Greece over 'blasphemous' Jesus Christ play
• Kyrgyz Ex-President's Fugitive Son Arrested in London
• Russia Says Syrian Plane Impounded by Turkey Had Radar Gear, Not Arms
Mideast Asia
• Israel attacks in Gaza Strip after rocket fire
• Iran not to invade any country, Ayatollah Khamenei says
• Iran's Leader: We Will Defeat Enemy Plots
• Turkish PM Slams UN Security Council over Syria
• Secret Israel-Syria Peace Talks Involved Golan Heights Exit
Compiled by New Age Islam News Bureau
Photo: Egypt's Liberals, Islamists Clash with Petrol Bombs
URL: https://newageislam.com/islamic-world-news/egypt-liberals,-islamists-clash-with/d/8977
-----------
Arab World
Egypt's liberals, Islamists clash with Petrol Bombs: 110 reported injured
Oct 13, 2012
CAIRO: Opponents and supporters of Egyptian President Mohamed Morsi clashed in Cairo on Friday in the first street violence between rival factions since the Islamist leader took office.
Islamists and their opponents threw stones, bottles and petrol bombs, and some fought hand-to-hand, showing how feelings still run high between the rival groups trying to shape the new Egypt after decades of autocracy, although the streets have generally been calmer since Morsi's election in June.
The health ministry said 110 people had sustained light to moderate injuries, state media reported.
A government is in place, but Islamists and liberals are at loggerheads over the drafting of the new constitution, which must be agreed before a new parliament can be elected.
Many of the thousands who gathered in Tahrir Square were angry at this week's court ruling that acquitted former officials charged with ordering a camel-and-horseback charge on protesters in the uprising that ousted Hosni Mubarak last year.
But even before that ruling, Morsi's opponents had called for protests against what they say is his failure to deliver on his promises for his first 100 days in office.
"Down, down with rule by the guide!" Morsi's opponents chanted, suggesting that Muslim Brotherhood leader Mohamed Badie pulls the strings even though Morsi officially quit the Brotherhood on taking office.
"Morsi! Morsi!" the president's backers responded. Late on Friday, a statement issued by the cabinet condemned the events saying they hinder the government's political and economic efforts. It said Prime Minister Hisham Kandil "calls on all parties present in Tahrir Square and the other squares and places to stay away from any action that would tarnish the image of new Egypt".
Some demonstrators pulled down a temporary podium that had been erected on a side of the square for speeches. Later, Islamists took over the square, triggering scuffles in nearby streets as they tried to keep rival groups out.
Two buses parked near the square were set alight. Witnesses said they had been used by the Brotherhood to bring in supporters.
The Brotherhood's Freedom and Justice Party (FJP) in a statement expressed its "sorrow" over what happened to the buses it said were used to bring members to Cairo. It also condemned an attack on the Brotherhood's headquarters in the industrial city of El-Mahalla El-Kubra.
"We went to protest against the constituent assembly and Morsi's failure in his 100 days, and Islamists prevented us and are now controlling the square," said Islam Wagdy, 19, a member of a group set up by leftist politician Hamdeen Sabahy.
An FJP spokesman denied this. "What happened today was an attempt by the liberal powers ... to prevent Islamists expressing their views and protesting in Tahrir, which belongs to all Egyptians and not to a certain current," Ahmed Sobeih said.
There was no intervention by police, who have often been the target of protesters' anger because of their brutality against demonstrators in last year's revolt.
The Brotherhood, which joined Friday's protest, had said it should focus on this week's court ruling.
The charge by men on camels and horseback was one of the most violent incidents of the uprising that ousted Mubarak in February 2011. The case has been closely watched by those seeking justice for the hundreds killed in the revolt.
The court acquitted top Mubarak-era officials such as former lower house speaker Fathi Sorour and Mubarak aide Safwat Sherif, both of whom are scorned by many Egyptians.
Demonstrators also gathered in Egypt's second city, Alexandria, where Morsi went to a mosque to perform Friday prayers before giving a speech.
"We won't let anyone involved in corruption get away," he said, while urging protesters not to disrupt workers. As he spoke, some chanted: "The people want the judiciary purged."
Many blame the general prosecutor, perceived as a Mubarak loyalist, for not securing convictions.
In an apparent bid to appease the public, the president had said late on Thursday he was moving Abdel Maguid Mahmoud out of that position to make him ambassador to the Vatican, because Egyptian law prevented him being dismissed.
Mahmoud denounced the move and told Egyptian media he would stay on. The influential judges' club condemned the decision as interference and called for a meeting of judicial officials on Sunday to discuss action, the state news agency reported.
Even some political groups who wanted Mahmoud out questioned the way Morsi had done it. The liberal Free Egyptians Party said changing the prosecutor should be an independent judicial move.
Morsi has won grudging respect from some opponents for pushing the army out of politics, after decades of rule by military men, and for raising Egypt's profile abroad.
But many Egyptians, with high expectations after the revolt, say he has not done enough at home, failing to deliver on promises for his first 100 days such as cleaning up cities and getting traffic moving in Egypt's congested streets.
Many more secular-minded Egyptians and minority Christians also worry that Morsi and his Islamist supporters will seek to impose religious restrictions on society.
http://timesofindia.indiatimes.com/world/middle-east/Egypts-liberals-Islamists-clash-110-reported-injured/articleshow/16792311.cms
-----------
Al-Qaida leader Ayman al-Zawahri urges holy war over Prophet film
Oct 13, 2012
CAIRO: The leader of Al-Qaida has urged Muslims to wage holy war against the United States and Israel over a film that insulted Islam's Prophet Muhammad.
Ayman al-Zawahri praised as "honest and zealous" demonstrators who breached the US embassy in Cairo and attackers who stormed the US embassy" in Benghazi in violence linked to the film. The American ambassador and three others died in the September 11 attack on the US Consulate in the Libyan city.
The amateur film " Innocence of Muslims" was made by an Egyptian-born American citizen.
In an audio message released by al-Qaida's media arm As-Sahab and posted on militant websites early Saturday, al-Zawahri claimed Washington allowed the film's production under the pretext of freedom of expression, "but this freedom did not prevent them from torturing Muslim prisoners."
http://timesofindia.indiatimes.com/world/middle-east/Al-Qaida-leader-Ayman-al-Zawahri-urges-holy-war-over-Prophet-film/articleshow/16796530.cms
-----------
Imam at the Grand Mosque asked Pilgrims to Thank Allah for making Haj easy
13 October 2012
Imam and Khatib at the Grand Mosque Sheikh Saud Al-Shoraim urged the pilgrims to thank Allah for making their journey, their stay and the performance of Haj rites easy and safe compared to the hardships and hazards Haj pilgrims had to face in the past.
"If anyone had told our ancestors about the safety, amenities and ease at the present Haj they would have said he is imagining things," Al-Shoriam said in his Friday sermon at the Grand Mosque yesterday.
The sheikh reminded the estimated crowd of 1 million worshippers who filled the mosque and its squares, that despite all the modern amenities the Haj is a form of worship that requires a lot of physical and financial sacrifices. "The Haj is a test for a Muslim to prove whether he is patient. Further, he is prohibited to do a lot of things during the period of Haj permitted at other times," the sheikh said.
"A believing heart is polished and illuminated when it establishes close connection with the Almighty in the course of Haj. The pilgrim reaffirms his sincere belief in Allah's Tawhid (oneness) by repeatedly chanting the talbiyah (wordings recited the moment a pilgrim sets out on his journey to Makkah and it means that he is going for Haj solely in answer to Allah's call and that there is no partner to Allah and that all blessings and the ultimate kingdom is His)," the Khatib continued.
The primary aim of the Haj pilgrimage is to establish and maintain the remembrance of Allah by chanting ceaselessly words of His glorification and greatness at varying occasions of Haj.
http://www.arabnews.com/al-shoraim-thank-allah-making-haj-easy
----------
Two killed in Iraq attacks
October 13, 2012
MOSUL: Shootings and bomb attacks in and around Iraq's main northern city on Saturday killed two people, including a soldier, and wounded four others, security and medical officials said.
In a Kurdish-majority neighbourhood in the east of Mosul, a civilian was killed in a drive-by shooting, according to Iraqi army Lieutenant Khaled Hamed and doctor Mahmud Haddad at the city's main hospital. It was not immediately clear why the man was gunned down.
South of Mosul in the town of Qaiyarah, a soldier was killed and two others were wounded by a roadside bomb that appeared to be targeting an army patrol, Hamed and Haddad said. And two other soldiers, who were on leave and in civilian clothes, were wounded by gunmen in the town of Al-Shora, also south of Mosul, according to the officials.
Violence in Iraq is down from its peak in 2006 and 2007, but deadly attacks remain common.
http://www.thenews.com.pk/article-71328-Two-killed-in-Iraq-attacks--
-----------
Syrian rebels capture air defence base near Damascus
Oct 12, 2012
BEIRUT/AKCAKALE: Syrian rebels said they had captured an air defence base with a cache of missiles outside Damascus, a rare advance on the city after a series of opposition setbacks in the capital.
Rebel forces overran the base in the Eastern Gouta area, a few miles east of Damascus, on Thursday, according to video posted on YouTube.
Across the country about 180 people were killed in violence on Thursday, including 48 government soldiers, the British-based Syrian Observatory for Human Rights said.
In New York, the UN Security Council condemned a cross-border mortar attack by Syrian forces that hit a Turkish village and demanded that such violations of international law stop immediately.
Full report at:
http://timesofindia.indiatimes.com/world/middle-east/Syrian-rebels-capture-air-defence-base-near-Damascus/articleshow/16786953.cms
-----------
Hezbollah credits Iran for drone incursion into Israel
ATUL ANEJA
13 October 2012
The quest for psychological ascendancy between Israel and its foes is in full flow as the Lebanese Hezbollah — a key ally of Iran — went to town on the announcement that it had flown a drone inside Israel for a long time, successfully breaching the famed Israeli radar cover.
In a statement read over Lebanon's Al Manar television on Thursday, Hezbollah leader Hassan Nasrallah said: "The resistance in Lebanon sent an advanced surveillance drone from the Lebanese lands towards the sea. It drove it for hundreds of kilometres over the sea, then penetrated the enemy's new measures, entered south Palestine, and flew over several significant locations, before being spotted by the Israeli air force."
Full report at:
http://www.thehindu.com/news/international/hezbollah-credits-iran-for-drone-incursion-into-israel/article3992073.ece
-----------
On Edge as Syria's War Knocks Ever Harder on the Door to Turkey
By TIM ARANGO
October 13, 2012
HACIPASA, Turkey — The men stood at the road's edge and watched the war that is inching ever closer to home. Amid the rumble of explosions, workers picked cotton and red peppers in this nook of Turkey's fertile southwest.
"Since 6 this morning, they have been pounding that village," Enver Elmas, a 46-year-old farmer, said as Syrian government forces battled with rebels in the village of Azmerin, just across the narrow Orontes River. "We're scared. Our village is right by the border."
Full report at:
http://www.nytimes.com/2012/10/13/world/middleeast/on-edge-in-turkey-as-syria-war-
-----------
UN's Syria envoy Brahimi to hold talks in Turkey
October 13, 2012
The UN-Arab League envoy for Syria, Lakhdar Brahimi, is due to hold talks in Turkey, amid rising tensions between Ankara and Damascus.
Mr Brahimi will hear Turkey's perspective on the raging crisis from Foreign Minister Ahmet Davutoglu.
Several days of cross-border firing followed the killing of five Turkish civilians by Syrian shelling last week.
Earlier this week, Turkey intercepted a Syria-bound plane amid reports it had Russian-made defence equipment aboard.
Full report at:
http://www.bbc.com/news/world-middle-east-19934103
-----------
Syria conflict death toll 'at least 33,000'
October 13, 2012
Violence in Syria has killed at least 33,082 people, most of them civilians, the Syrian Observatory for Human Rights monitoring group said on Saturday.
Some 1,000 people have been killed in the past five days alone, the Britain-based watchdog said.
"This is all-out war -- there is no other way to describe the violence in Syria," Observatory director Rami Abdel Rahman told AFP.
At least 23,630 civilians have been killed, along with 8,211 soldiers and 1,241 army defectors who joined the insurgency against President Bashar al-Assad.
Full report at:
http://www.thejakartaglobe.com/afp/syria-conflict-death-toll-at-least-33000/549993
-----------
Syrian strife sours students' dreams
Basma Atassi
12 Oct 2012
Language barrier has forced many youngsters to discontinue studies after they fled to Lebanon to escape violence.
Sixteen-year-old Yehya from the Syrian city of Homs had a perfect academic record and thought he was only two years away from realising his dream of joining a much-coveted medical course in Damascus.
But after his school in the neighbourhood of Bab Amr was bombed in February and fierce fighting between Syrian government forces and rebels forced him and his family to flee to Lebanon, his dream now seems distant.
Full report at:
http://www.aljazeera.com/indepth/features/2012/10/2012109132318378506.html
----------
Pakistan
16 killed, 40 injured in suicide Bomber attack in north-west Pakistan
13 October 2012
Sixteen people were killed and over 40 others injured on Saturday when a suicide bomber rammed an explosives-laden vehicle into the office of a pro-government militia in the restive Darra Adam Khel region of north-west Pakistan.
The powerful explosion ripped through the office of the "Aman committee" or militia in the central market of Darra Adam Khel.
Members of the militia, formed to fight the Taliban, were among the dead and injured. Sixteen people were killed instantly. Two children were among the injured.
At least 20 shops and eight cars were destroyed by the blast, police officials and witnesses told the media.
Full report at:
http://www.thehindu.com/news/international/16-killed-40-injured-in-suicide-attack-in-northwest-pakistan/article3994180.ece
-----------
Militants attack Shia students with guns, acid in Kurram
October 12, 2012
PESHAWAR: Shias in Kurram Agency, suffered a second attack in three days after unidentified suspected militants targeted a group of students with guns and acid on Friday.
A vehicle carrying students from Kohat to Parachinar was targeted by militants. The attack injured three students including a girl Nabila, a student of Masters.
Nabila told a doctor at Agency Headquarters Hospital (AHQ) in Parachinar that they were returning from Kohat University to their native areas after appearing in viva exams for their Masters class. As they neared Durrani area in Lower Kurram, militants intercepted their vehicle and opened fire at them. They then threw acid on the students.
Full report at:
http://tribune.com.pk/story/450686/militants-attack-shia-students-with-guns-acid-in-kurram/
-----------
South Waziristan: Militants attack security post, kill four soldiers
October 13, 2012
DI KHAN: At least four soldiers were killed when Taliban insurgents attacked a military check post in the South Waziristan tribal agency in the wee hours of Friday.
Over 70 militants, including Uzbek fighters, attacked the check post in the Asman Manza area of the Ladha sub-division, according to a Peshawar-based security official.
Another security official from the area claimed that four attackers were also killed and three injured in retaliatory fire from security forces.
Full report at:
http://tribune.com.pk/story/450944/south-waziristan-insurgency-militants-attack-security-post-kill-four-soldiers/
-----------
Pak Taliban plans to target media for Malala coverage
Oct 13, 2012
ISLAMABAD: Angered by the coverage of its attempt to assassinate teenage rights activist Malala Yousufzai, the banned Tehrik-e-Taliban Pakistan has drawn up plans to target Pakistani and international media organisations across the country.
Pakistani Taliban chief Hakimullah Mehsud has issued "special directions" to his subordinates in different cities of Pakistan to target media groups, BBC Urdu reported.
An unnamed interior ministry official said intelligence agencies had intercepted a phone conversation between Mehsud and a subordinate named Nadeem Abbas alias Intiqami, in which the Taliban chief was heard directing Abbas to attack media organisations.
Mehsud directed Abbas to target offices of media groups in Karachi, Lahore, Rawalpindi, Islamabad and other cities.
Full report at:
http://timesofindia.indiatimes.com/world/pakistan/Pak-Taliban-plans-to-target-media-for-Malala-coverage/articleshow/16795683.cms
-----------
Pakistan's top judge makes Rs8.9 million annual salary
October 13, 2012
ISLAMABAD: Despite the ongoing executive-judiciary tension, Pakistan's top judge takes home an annual salary of Rs8.9 million while his associate justices each make over Rs8.7 million per annum – after President Zardari gave his nod to a 30 per cent increase in the salaries and allowances of the superior court judges.
In the Senate's question hour session on Friday, Law Minister Farooq H. Naek wrote a reply concerning the details of salaries and allowances of top court judges, to a question posed on the matter by Awami National Party's (ANP) Haji Adeel.
Full report at:
http://tribune.com.pk/story/450926/pakistans-top-judge-makes-rs8-9-million-annual-salary/
-----------
Hafiz Saeed approaches Pak court over anti-Islam movie
October 12, 2012
Jamaat-ud-Dawah chief Hafiz Mohammad Saeed on Friday filed a petition in the Lahore high court, asking it to direct the Pakistan government to approach the International Court of Justice against the makers of the anti-Islam film 'Innocence of Muslims'.
Saeed said in his petition that US President Barack Obama had condemned the movie in his speech at the UN General Assembly but had strongly defended the constitutional protection for the freedom of expression.
Full report at:
http://www.hindustantimes.com/world-news/Pakistan/Hafiz-Saeed-approaches-Pak-court-over-anti-Islam-movie/Article1-943771.aspx
-----------
Maintaining law and order: Balochistan govt has failed, rules apex court
October 13, 2012
QUETTA: The Balochistan government got an official thumbs-down from the highest court in the land – which effectively adjudged the administration to be a failed one.
Perhaps to no one's surprise, the Supreme Court announced in its interim order on Friday that the Balochistan government had failed in maintaining the law and order situation and protecting the lives and properties of its people, which is the principal constitutional responsibility of any set-up.
Full report at:
http://tribune.com.pk/story/450949/maintaining-law-and-order-balochistan-govt-has-failed-rules-apex-court-front-page/
-----------
Islamabad miffed at UN group's report on missing men
By Qaiser Butt
October 13, 2012
ISLAMABAD: Pakistan has decided to express serious reservations against the UN working group report on enforced disappearances in the country released last month, according to a senior foreign ministry official.
"We have serious reservations on some parts of the report which will be communicated to the United Nations Human Rights Council (UNHRC) through diplomatic channels," the official told The Express Tribune while requesting anonymity .
According to the official, much of the report is unacceptable to Pakistan.
"Most of its parts are merely ridiculous and based on wild allegations against army, law enforcement institutions and intelligence agencies levelled by irrelevant and irresponsible individuals who do not possess evidence matching international standards of justice to prove their charges."
Full report at:
http://tribune.com.pk/story/450932/serious-reservations-islamabad-miffed-at-un-groups-report-on-missing-men/
-----------
Attack on Malala: President Zardari orders treatment of Shazia and Kainat
13 October 2012
ISLAMABAD: President Asif Ali Zardari on Saturday inquired after the conditions of the two girls who were also injured during the attack on Malala Yousufzai — Shazia and Kainat, DawnNews reported.
The president moreover ordered the concerned authorities to ensure provision of medical treatment to both girls on the government's behalf.
He also summoned a report from the Khyber Pakhtunkhwa government on the conditions of the two girls.
Full report at:
http://dawn.com/2012/10/13/attack-on-malala-president-zardari-orders-treatment-of-shazia-and-kainat/
-----------
26/11 case trial adjourned till November 3 in Pakistan
Oct 13, 2012
ISLAMABAD: The trial of seven suspects, including LeT's operational commander Zakiur Rehman Lakhvi, involved in 2008 Mumbai attack case has been adjourned till November 3 as the judge of the Pakistani court hearing the case has been admitted to hospital, a prosecutor said on Saturday.
Judge Chaudhry Habib-ur-Rehman would be on leave till October 26 due to his health problem, special public prosecutor Chaudhry Zulfiqar Ali told .
Full report at:
http://timesofindia.indiatimes.com/world/pakistan/26/11-case-trial-adjourned-till-November-3-in-Pakistan/articleshow/16796263.cms
-----------
Pakistani Hindus seek Indian citizenship
October 13, 2012
Dozens of Pakistani Hindu pilgrims seeking political asylum in India staged a protest outside Rajasthan's state legislature on Friday, according to the BBC Urdu Service.
Addressing the gathering, Hindu Singh Sodha, the president of Seemant Lok Sangthan (SLS), an organisation that works for the welfare of Hindus, said that they had come from far-flung areas to seek Indian citizenship.
Protesters marched on the streets and thoroughfares of Jaipur city and shouted, "We've been persecuted and look towards India for help". Later, the protesters carrying placards and banners staged a sit-in outside the state assembly.
Full report at:
http://tribune.com.pk/story/450929/pakistani-hindus-seek-indian-citizenship/
-----------
Pakistan arrests 24 Indian fishermen
13 October 2012
KARACHI: Pakistan on Friday arrested another 24 Indian fishermen and seized four boats, the maritime security agency said, despite last month announcing the release of all jailed Indian fishermen as a goodwill gesture. "Some four Indian fishing boats along with 24 crew members were apprehended for poaching well inside Pakistani waters," it said. Pakistan and India frequently arrest and accuse each other's fishermen of violating their respective zones in the Arabian Sea. Friday's arrests bring to 57 the number of Indian fishermen arrested so far in October, after Foreign Minister Hina Rabbani Khar announced the release of all Indian fishermen when her Indian counterpart SM Krishna visited in September.
http://www.dailytimes.com.pk/default.asp?page=2012\10\13\story_13-10-2012_pg7_6
-----------
India
Terror outfits using Saudi Arabia as base to plan strikes, say investigators
Chandan Haygunde
Oct 13 2012
The arrest of three IM suspects for alleged involvement in the J M Road blasts has yet again revealed Saudi Arabia emerging as a base for terror modules to carry out strikes in India.
Recent arrests from across the country and investigations that followed suggest that LeT, Huji and IM have come together in Saudi Arabia to train terror recruits from India, say investigating agencies.
According to Delhi police, suspects Sayyed Feroze of Pune, Imran Khan of Nanded and Asad Khan of Aurangabad had gone to Saudi Arabia several times to meet LeT operative Fayyaz Kagzi.
Full report at:
http://www.indianexpress.com/news/terror-outfits-using-saudi-arabia-as-base-to-plan-strikes-say-investigators/1016252/
-----------
'Anti-Islam' film: Ahmedabad hotel gets bomb threat allegedly by Jaish-e-Mohammad
Oct 13 2012
Ahmedabad: Courtyard Marriot hotel on Friday received a letter allegedly sent by terror outfit Jaish-e-Mohammad (JeM), threatening to blow it up if it hosted any US guest. The letter said JeM was against an anti-Islam US movie made by a US national.
The letter received by the hotel authorities in the morning was written in Hindi. "Aapke hotel mein bomb rakha hai. Hotel ko bachana chahte ho to bacha lo... (There is a bomb in your hotel. Save it if you want to...)."
Full report at:
http://www.indianexpress.com/news/-antiislam--film-ahmedabad-hotel-gets-bomb-threat/1016231/
-----------
Arson bid at shrine sparks J&K protests
Oct 13 2012
Srinagar : Protests erupted in parts of south Kashmir's Anantnag town over an alleged attempt by miscreants to set a Sufi shrine on fire.
Locals said unidentified people had tried to set the shrine of Sufi Hazrat Hardi Baba Reshi on fire at Dabrana village Thursday night. They said that when people entered the shrine on Friday morning they found that the shrine was partly gutted from inside.
The villagers demanded a probe. This is not the first time an attempt has been made to set a shrine on fire. In June, a shrine housing the relics of saint Sheikh Abdul Qadir Jeelani mysteriously caught fire, leading to protests across Valley.
http://www.indianexpress.com/news/arson-bid-at-shrine-sparks-j-k-protests/1016175/
-----------
26/11 handler Jundal gets more time to scrutinize chargesheet
October 12, 2012
Mumbai 26/11 terror attack's key handler and LeT terrorist Abu Jundal on Friday got more time from a court in New Delhi for scrutiny of the charge sheet filed against him the Delhi Police.
Jundal, alias Zabi, told Metropolitan Magistrate Ajay Malik that he needed more time for
scutinising the charge sheet and all the annexures which were supplied to him on October 8.
Following this, the court gave him time till October 25 to go through all the documents.
The Delhi Police have in its charge sheet filed on September 20 accused him of being involved in terror activities across India to avenge "atrocities" against Muslims, particulary those committed during 2002 Gujarat riots.
Full report at:
http://www.hindustantimes.com/India-news/NewDelhi/26-11-handler-Jundal-gets-more-time-to-scrutinize-chargesheet/Article1-943647.aspx
-----------
'IM wanted to avenge killings in Myanmar'
Santosh Singh
Oct 13 2012
Patna : Terror outfit Indian Mujahideen (IM) was planning to carry out a fidayeen attack at the Bodhgaya temple to "avenge" the recent killing of Muslims allegedly by Buddhists in Myanmar, according to sources in the intelligence.
The plan to attack the temple was revealed by the Delhi Police on Thursday when it announced the arrest of three IM operatives.
Sources told The Indian Express that top IM operative Riyaz Bhatkal had been talking to Asad Khan, Imran Khan and Sayyed Feroze, who have been arrested by the Delhi Police, about carrying out attacks at different places, including one at Bodhgaya.
http://www.indianexpress.com/news/-im-wanted-to-avenge-killings-in-myanmar-/1016115/
-----------
Imran religious, not radical: Dad
Smita Nair
Oct 13 2012
Nanded : On Thursday, four hours after Wajid Khan Pathan, a 67-year-old farmer from Tamasa in Nanded filed a 'missing' complaint about his son Imran Khan, he heard about Imran on TV. He saw Imran's name on the screen, and heard an anchor describe him as a terrorist.
Wajid Khan Pathan retired as manager of the Maharashtra State Road Transport Corporation's Nanded depot a few years ago.
His 31-year-old son had left home on September 4, saying he would return on the 29th. After trying to locate him at the homes of all the family's friends and relatives, Pathan went to Nanded's Airport police station on Thursday to file a complaint.
Full report at:
http://www.indianexpress.com/news/imran-religious-not-radical-dad/1016113/
-----------
'IM activist' shut businesses in Sept
Oct 13 2012
Asad Khan (33) of Aurangabad, whom the Delhi Police have called the "recruiter, motivator and ideologue" of the alleged Indian Mujahideen (IM) module revealed on Thursday, ran a real estate business with his brother-in-law Irfan Ahmad. According to Hussain Khan, one of the five siblings, Asad and Irfan also ran a travel agency that arranged pilgrimage to Haj and other places. In September this year, they shut down the businesses and have not contacted their families since. The Maharashtra Anti-Terrorism Squad (ATS) now suspects that these businesses were used as a front for other activities.
Full report at:
http://www.indianexpress.com/news/-im-activist--shut-businesses-in-sept/1016111/
-----------
'Feroze took flat on rent, said worked with mobile firm'
MANOJ MORE
Oct 13 2012
Paid Rs 18,000 in advance for three-month stay, Rs 2,000 as deposit, say agent, owner
Feroze Sayyed (38), one of the three IM suspects arrested by the Delhi police in connection with the August 1 Jangli Maharaj Road blasts had rented a flat in Kasarwadi. The real estate agent who got him the flat and its owner were picked up on Friday for questioning. Feroze had allegedly told them he was a mobile company employee working on mobile towers in the area and needed the flat for three months. The owner has said he did not insist on any agreement as the flat was for only three months.
Full report at:
http://www.indianexpress.com/news/-feroze-took-flat-on-rent-said-worked-with-mobile-firm-/1016251/
-----------
Iranian authorities detain 29 fishermen from TN, Kerala
Oct 13, 2012
KANYAKUMARI: Twenty-nine fishermen from Tamil Nadu and Kerala were today detained by Iranian authorities for allegedly violating maritime boundary while fishing near Qatar.
"Due to the rough weather, they crossed the Qatar border and entered into Iran. The 29 fishermen were detained in IKKISH island of Iran," P Justin Antony, founder-president, Tamil Nadu Fishermen Development Trust, said in a statement here.
Listing out the names of those detained by the Iranian authorities, he said, Indian Embassy officials had met the detained fishermen in jail.
He appealed to President Pranab Mukherjee to take necessary steps for the release of the fishermen.
http://timesofindia.indiatimes.com/india/Iranian-authorities-detain-29-fishermen-from-TN-Kerala/articleshow/16798056.cms
-----------
Arrested Indian Mujahideen men plotted to attack Maharashtra anti-terrorism squad HQ
Neeraj Chauhan & Mateen Hafeez
Oct 13, 2012
NEW DELHI/MUMBAI: In a startling revelation, investigators have learned that the three Indian Mujahideen (IM) terrorists, arrested for the August 1 Pune serial blasts, had conducted a recce at five crowded places in Mumbai on July 24.
The targets included Borivli railway station, Juhu beach, Vashi, Bandra and Andheri. They had even planned to attack the Maharashtra anti-terrorism squad (ATS) headquarters at Nagpada.
The Nagpada ATS headquarters is located near the J J flyover. It houses the office of the ATS chief, an additional commissioner and a DCP. This ground-plus-one building is a heritage structure. Security was reviewed at the ATS headquarters after the revelation.
Full report at:
http://timesofindia.indiatimes.com/india/Arrested-Indian-Mujahideen-men-plotted-to-attack-Maharashtra-anti-terrorism-squad-HQ/articleshow/16789859.cms
-----------
Judiciary's greatness giving Ajmal Kasab sound legal assistance: BJP
Oct 13 2012
Noida : Senior BJP leader Ravi Shankar Prasad said because of "greatness" of Indian democracy and judiciary, 26/11 convict Ajmal Kasab was given the benefit of sound legal assistance in Mumbai High Court and in Supreme Court.
Despite the most heinous crime of attack on India, Kasab was given sound legal assistance in Mumbai High Court and in Supreme Court which shows the greatness of Indian democracy, rule of law and judiciary, Prasad said on the concluding day of Amity International Moot Competition held here.
Full report at:
http://www.indianexpress.com/news/judiciarys-greatness-giving-ajmal-kasab-sound-legal-assistance-bjp/1016296/
-----------
Africa
Tunisia's Mufti lauds Saudi efforts caring for pilgrims
13 October 2012
Tunis: Tunisia's Mufti Alsheikh Othman Batteekh today lauded the efforts exerted by the Government of the Kingdom of Saudi Arabia, led by the Custodian of the Two Holy Mosques King Abdullah bin Abdul-Aziz Al Saud, caring for pilgrims coming from all parts of the world to perform Haj rituals.
In a statement to the Saudi Press Agency, he underscored the importance of the expansion and development of the Islamic utilities, including the Makkah Grand mosque and Al-Madina mosque of the Prophet (pbuh).
Despite the increase in number of pilgrims every year, the Saudi authorities were able to meet the needs of accommodation, transportation, shelter, cleanliness, environment and security of pilgrims, he said, calling on all pilgrims to observe Saudi regulations and rules during Haj.
http://www.arabnews.com/tunisia%E2%80%99s-mufti-lauds-saudi-efforts-caring-pilgrims
-----------
Libya Police Colonel Targeted in Assassination Attempt
October 13, 2012
BENGHAZI, Libya (Reuters) - A police car exploded on Saturday during a failed assassination attempt on a police colonel in the eastern city of Benghazi, a Libyan police official said.
The attack was the latest in a series of assassination attempts in Benghazi, the cradle of last year's uprising which ousted Muammar Gaddafi, and where U.S. ambassador Christopher Stevens was killed in a September 11 attack on the U.S. consulate.
Unknown suspects placed a home-made bomb under Colonel Mohammed Ben Haleem's car which was parked outside his house, police spokesman Majed al-Obeidi said.
Full report at:
http://www.nytimes.com/reuters/2012/10/13/world/africa/13reuters-libya-benghazi-
-----------
UN Security Council asks for Mali plan within 45 days
Oct 13, 2012
UNITED NATIONS: The UN Security Council urged African regional organizations and the United Nations on Friday to present within 45 days a specific plan for military intervention in Mali to help government troops reclaim the north of the country from Islamist extremists.
The 15-nation council unanimously passed a French-drafted resolution in a bid revive stalled attempts to deal with the crisis, which it warned could destabilize the wider, turbulent Sahel region - a belt of land spanning nearly a dozen of the world's poorest countries on the southern rim of the Sahara.
Full report at:
http://timesofindia.indiatimes.com/world/rest-of-world/UN-Security-Council-asks-for-Mali-plan-within-45-days/articleshow/16793627.cms
-----------
Twin blasts shake Kenyan capital Nairobi
October 12, 2012
Two blasts have shaken the Kenyan capital, Nairobi, wounding at least one police officer.
The blasts struck the Eastleigh residential district, near the city's business district, late on Friday.
Police sources said the area targeted had a predominantly Somali population.
A string of attacks in Nairobi and Mombasa have been blamed on Somali militants, in retaliation for Kenya's decision to send troops into Somalia to pursue militants.
The latest blast happened 100m (yards) from a church on Nairobi's Juja Road, where an explosion on 30 September killed a nine-year-old child.
Full report at:
http://www.bbc.com/news/world-africa-19933207
-----------
Focus Was on Tripoli in Requests for Security in Libya
By ERIC SCHMITT and MARK LANDLER
October 13, 2012
WASHINGTON — In the weeks leading up to the attack last month on the American diplomatic mission in Benghazi, Libya, that killed Ambassador J. Christopher Stevens and three other Americans, diplomats on the ground sounded increasingly urgent alarms. In a stream of diplomatic cables, embassy security officers warned their superiors at the State Department of a worsening threat from Islamic extremists, and requested that the teams of military personnel and State Department security guards who were already on duty be kept in service.
Full report at:
http://www.nytimes.com/2012/10/13/world/africa/cables-show-requests-to-state-dept-for-security-in-libya-were-focused-on-tripoli.html?ref=world
-----------
South Asia
Muslim Hui people harmonious with the Han majority Uighurs have not
The harsh reality of China's Muslim divide
The Muslim Hui people have assimilated harmoniously with the Han majority, while Uighurs in the west have not.
12 Oct 2012
Yinchuan, China - The Muslim Hui are an anomaly in China, an ethnic minority granted significant autonomy and allowed to devoutly follow their religion in a region where Islam thrives.
The ancient Silk Road trade route cut through what is today the Ningxia Hui Autonomous Region, luring Muslim traders from afar. Descendants of Arab and Persian merchants travelled here in the 7th century and many settled, planting the roots of Islam in the heart of China.
About half the country's 20 million Muslims are from the Hui ethnic group.
Full report at:
http://www.aljazeera.com/indepth/features/2012/10/201210493210185606.html
-----------
Bangladesh: 80 hurt as police clash with Islamist party men
13 October 2012
At least 80 persons including six policemen were injured in a clash between police and leaders and activists of 12 Islamist parties yesterday after Juma prayers in the capital.
Police picked up over 100 activists during chase and counter chase.
The parties brought out the procession demanding withdrawal of cases filed against their activists and supporters during the September 23 hartal, which was called by the parties in protest of the anti-Islam film made in the US.
Witnesses said several hundred people under the banner of the 12 Islamist parties brought out the procession from the north entrance of Baitul Mukarram National Mosque towards Jatiya Press Club after Juma prayer.
Full report at:
http://www.thedailystar.net/newDesign/news-details.php?nid=253605
-----------
Non-citizen status of Rohingyas in Myanmar criticised in a Seminar at Dhaka
13 October 2012
Speakers at a seminar yesterday criticised the Myanmar Citizenship Law, 1982 in which Rohingyas are not recognised as the citizens of Myanmar.
Such discrimination in the law has been causing problems for Bangladesh through influx of Rohingyas in Cox's Bazar, they said.
Ahmed Sofa Rastroshobha organised the seminar styled "Nationality Problem of Myanmar and Bangladesh-Myanmar Relation" at RC Majumdar Auditorium of Dhaka University.
Speakers stressed the need for developing bilateral relation between Bangladesh and Myanmar to resolve the matter.
Prof Salimullah Khan, among others, spoke at the seminar.
http://www.thedailystar.net/newDesign/news-details.php?nid=253645
-------
Blasts in southern Afghanistan kill 5
October 13, 2012
Afghan officials say three blasts in southern Afghanistan have killed two Afghan policemen and three national intelligence officers. Insurgents frequently target Afghan security forces and government officials in an effort to weaken the government. Kandahar provincial spokesman
Ahmad Jawed Faisal says a suicide bomber on foot blew himself up Saturday at an entry checkpoint for the national intelligence office in Maruf district. He says three intelligence officers were killed and four other officers were wounded.
Full report at:
http://www.hindustantimes.com/world-news/Afghanistan/Blasts-in-southern-Afghanistan-kill-5/Article1-944111.aspx
-----------
Afghan students to offer prayers for Malala Yousafzai
October 13, 2012
ISLAMABAD: A day after the nation observed Yaum-e-Dua for an early and full recovery of Malala Yousafzai, the Afghan government has announced that prayers will be held across the country on Saturday (today) for the 14-year-old girl, the Afghan embassy said on Friday.
The Afghan ministry of education announced that prayers will be offered for Malala in schools across Afghanistan, as Afghans were also shocked at the attack carried out by the Taliban.
Shams Zardasht, the Afghan embassy spokesman, told The Express Tribune that in light of the brutal attack on her, the Afghan government has decided to express solidarity with the people of Pakistan and Malala's family.
Full report at:
http://tribune.com.pk/story/450956/afghan-students-to-offer-prayers-for-malala-yousafzai/
-----------
Afghan govt condemns Imran's jihad comment
By Ayesha HasanPublished: October 13, 2012
KABUL: The reverberations of Pakistan Tehreek-e-Insaf chief Imran Khan's political gaffe are being felt across the Durand Line.
The Afghan government has strongly condemned the PTI chief for his statement, said Farhad Azimi, deputy secretary of the Afghan parliament while talking to The Express Tribune.
"This is clear interference in Afghanistan's internal affairs. We urge the Pakistani government to arrest people who support the Taliban," Azimi said. Imran, while visiting child activist Malala Yousafzai in Peshawar on Thursday, had termed the ongoing war in Afghanistan against foreign troops 'jihad.'
Full report at:
http://tribune.com.pk/story/450958/afghan-govt-condemns-imrans-jihad-comment/
-----------
US soldiers say still focused on Afghan mission
October 12, 2012
AFGHANISTAN: As the US soldiers returned fire during an insurgent attack, an old man walked towards the platoon.
According to initial reports, one of the soldiers put a hand on his shoulder to encourage him to move to safety. At that point there was a massive explosion – the old man had been wearing a suicide vest.
After 11 years of war, 2,135 US soldiers dead, their Afghan colleagues turning on them, and widespread predictions the conflict will end in failure, coalition forces could be forgiven for suffering a dip in morale.
Full report at:
http://tribune.com.pk/story/450724/us-soldiers-say-still-focused-on-afghan-mission/
-----------
Two foreigners feared kidnapped from Afghanistan aid team: Police
October 13, 2012
KABUL: Two foreigners, thought to be a Canadian and a US citizen, were reported missing on Saturday by a provincial reconstruction team in volatile Wardak, west of Kabul, and were feared to have been kidnapped, Afghan police said.
Rumours of the abduction of a man and a woman by either insurgents or criminal gangs have circulated for several days, but US and Canadian diplomats said they were unaware of anyone reported missing.
Full report at:
http://tribune.com.pk/story/451044/two-foreigners-feared-kidnapped-from-afghanistan-aid-team-police/
-----------
Bangladesh 5th most disaster prone country
13 October 2012
Bangladesh is the fifth most natural disaster prone country among 173 countries in the world, according to the World Risk Report 2012.
The World Risk Report examines who is at risk from natural disasters, what contributes to this risk and what can be done about it, the report issued on October 11 said.
According to the report, the Pacific Island states of Vanuatu and Tonga have the highest disaster risk while Malta and Qatar face the lowest risk worldwide.
Full report at:
http://www.thedailystar.net/newDesign/latest_news.php?nid=41611
-----------
North America
Coptic Christians are coming to America from Egypt
Scott Heidler
13 October 2012
Seasoned international correspondent Scott Heidler is based in New York City for Al Jazeera English covering the United Nations and other m
Ridgewood, NY - The ethnic face of the Queens neighbourhood Father Michael Sorial's Coptic Orthodox Church has called home for decades is changing. More Christian families from Egypt, founding home of his faith, are mixing in with the Latino population.
This thanks to growing violence and insecurity since the Egyptian revolution last January. Many are fleeing their home country looking for a safer place for their families. Father Sorial's St. Mary and St. Antonios Church has seen the number of his faithful nearly double since the revolution. The church has had to add on services and expand their community programmes.
Full report at:
http://blogs.aljazeera.com/blog/americas/coptic-christians-are-coming-america
-----------
CAIR Counters D.C. Anti-Muslim Ads with Message of Forgiveness, Justice
10/12/12
(WASHINGTON, D.C., 10/12/12) -- The Council on American-Islamic Relations (CAIR) today unveiled an advertising campaign designed to counter anti-Muslim "savage" advertisements sponsored by a designated hate group that are now on display in Washington, D.C., metro stations.
CAIR's counter ads feature a verse from the Quran stating: "Show forgiveness, speak for justice and avoid the ignorant." (The Holy Quran, 7:199) The CAIR 16-foot banner ads, which are scheduled to go up next week and stay up for a month in stations featuring the hate ads (Glenmont, Georgia Avenue/Petworth and U Street), also direct metro riders to the organization's "Explore the Quran" initiative.
Full report at:
American Muslims, and build coalitions that promote justice and mutual understanding.
--------
US must stick by Arab world's democracies: Hillary Clinton
Oct 13, 2012
WASHINGTON: Secretary of state Hillary Rodham Clinton, addressing criticism of the Obama administration's handling of a deadly attack on US consulate in Libya, on Friday defended the need for American diplomats and aid workers in the Arab world's young democracies, even amid a growing threat from al-Qaida spinoffs.
"We will not retreat," she said in a speech at a Washington think tank.
"We will never prevent every act of violence or terrorism, or achieve perfect security," Clinton said. "Our people can't live in bunkers and do their jobs. But it is our solemn responsibility to constantly improve, to reduce the risks our people face and make sure they have the resources they need to do their jobs."
Full report at:
http://timesofindia.indiatimes.com/world/us/US-must-stick-by-Arab-worlds-democracies-Hillary-Clinton/articleshow/16789850.cms
-----------
Russia 'morally bankrupt' on Syria: US
Oct 13, 2012
WASHINGTON: The United States has denounced Russia's policy of aiding the Syrian regime as "morally bankrupt" after a plane intercepted by Turkey was said to have been caught carrying suspect cargo.
US State Department spokeswoman Victoria Nuland said Washington had been given "a pretty comprehensive accounting from the Turkish side of precisely what they found."
She refused to disclose to reporters what exactly had been in the cargo, but said "we have no doubt that this was serious military equipment."
Full report at:
http://timesofindia.indiatimes.com/world/middle-east/Russia-morally-bankrupt-on-Syria-US/articleshow/16793643.cms
--------
US offers to work with Pakistan
13 October 2012
WASHINGTON: Praising Malala Yousufzai as a symbol of courage and determination, the White House has said that it's committed to working with the Pakistani people for a better future.
In a message on International Day of the Girl, issued on Thursday evening, the White House said the attack on Malala reminded the world of the urgency to work for her cause, education for girls.
"Malala's courage and determination as a champion for girls' education and opportunity stands in stark contrast to the cowards who seek to silence her," the White House said.
"Like so many Pakistanis and people of goodwill around the world, the American people are shocked by this deplorable shooting of a girl who was targeted because she dared to attend school," the statement said.
Full report at:
http://dawn.com/2012/10/13/us-offers-to-work-with-pakistan/
-----------
Obama committed to US troops withdrawl from Afghanistan
Oct 13, 2012
WASHINGTON: Asserting that it is time to bring American forces home, and to turn over the security responsibility to the Afghans, the White House said US President Barack Obama is committed to the 2014 deadline with regard to complete security transition in the war-torn country.
"The President, working with countless allies, has established a policy to draw down our forces in Afghanistan and to end that war by 2014. What you saw last night was a debate about whether or not that is wise policy. And this President is committed to bringing our forces home from Afghanistan," the White House Press Secretary, Jay Carney, told reporters yesterday.
Full report at:
http://timesofindia.indiatimes.com/world/us/Obama-committed-to-US-troops-withdrawl-from-Afghanistan/articleshow/16792921.cms
-----------
Europe
6th Saudi International Scientific Conference opens in London
13 October 2012
London: Prince Mohammed bin Nawaf bin Abdulaziz, the Saudi Ambassador to the United Kingdom, is set to open today the 6th Saudi International Scientific Conference in London, organized by the Administrative Commission for Saudi Students Clubs in Britain and Ireland.
During the four-day event, which will be held at the University of Brunel in London under the supervision of the Cultural Attache office, an affiliate of the Saudi embassy, some 399 scientific papers and placards will be presented.
More than 1700 female and male students will show new ideas on scientific fields, health, society, medicine, engineering, applied science, commerce, economy, politics, law, education, linguistics, human sciences, information technology, communications, aviation and space sciences, organizers said.
http://www.arabnews.com/6th-saudi-international-scientific-conference-opens-london
--------
Tension in Greece over 'blasphemous' Jesus Christ play
Greece Police detain over 30 people after clashes between a resurgent neo-Nazi group and rights proponents over an American play portraying Jesus Christ as homosexual
13 Oct 2012
An American play portraying Jesus Christ as homosexual has set the scene for new tension in Greece between a resurgent neo-Nazi group and rights proponents who accuse its members of intimidation.
Police late on Friday briefly detained over 30 people outside an Athens theatre where the play Corpus Christi was playing, who were seeking to have the show banned.
Originally staged in New York in 1998, Corpus Christi by Terrence McNally depicts Jesus and the Apostles as gay men living in modern-day Texas.
Full report at:
http://english.ahram.org.eg/NewsContent/2/9/55484/World/International/Tension-in-Greece-over-blasphemous-Jesus-Christ-pl.aspx
--------
Kyrgyz Ex-President's Fugitive Son Arrested in London
October 13, 2012
BISHKEK, Kyrgyzstan (AP) — The fugitive son of Kyrgyzstan's deposed president has been arrested by police in London on a U.S. extradition warrant on suspicion of fraud, British and Kyrgyz authorities said Saturday.
London's Metropolitan Police said 34-year-old Maksim Bakiyev was arrested Friday afternoon and faces charges of conspiracy to defraud and conspiracy to pervert the course of justice between 2010 and 2012.
Full report at:
http://www.nytimes.com/aponline/2012/10/13/world/asia/ap-as-kyrgyzstan-ex-presidents-
-----------
Russia Says Syrian Plane Impounded by Turkey Had Radar Gear, Not Arms
By ELLEN BARRY and RICK GLADSTONE
October 13, 2012
MOSCOW — Russia's foreign minister said Friday that a civilian Syrian jetliner impounded by Turkey on suspicion of transporting Russian military cargo illicitly to Syria was carrying only electronic components for a radar station, and that such equipment fell within the bounds of international agreements.
"We have no secrets," the minister, Sergey V. Lavrov, said in a televised statement. "We have studied the situation: there were no weapons on this airplane, of course, and there could not be. On the airplane there was cargo, which a legal Russian shipper sent via legal means to a legal customer."
Full report at:
http://www.nytimes.com/2012/10/13/world/middleeast/syria.html?_r=1&ref=world&gwh=88FBF88FB0B686B4758B1D30C5113386
-----------
Mideast Asia
Israel attacks in Gaza Strip after rocket fire
Oct 13, 2012
JERUSALEM: The Israeli air force launched attacks at three sites in the Gaza Strip on Saturday morning, the military said, hours after a rocket fired from the enclave exploded near a house in southern Israel.
A statement from the army said that its "aircraft targeted a terror activity site in the northern Gaza Strip, and two terror activity sites in the central Gaza Strip. Direct hits were confirmed."
"The sites were targeted in response to the rocket fire towards southern Israel," the statement added.
Full report at:
http://timesofindia.indiatimes.com/world/middle-east/Israel-attacks-in-Gaza-Strip-after-rocket-fire/articleshow/16794406.cms
-----------
Iran not to invade any country, Ayatollah Khamenei says
Oct 13, 2012
TEHRAN: Iran's supreme leader Ayatollah Ali Khamenei has said based on Islamic principles the country has no aggressive intents but will never back down in the face of any aggression, Xinhua reported.
Speaking at a military base in the city of Bojnourd in North Khorasan province Friday, Khamenei also described the Iranian armed forces as the nation's source of security and protection against the aggressive illusions of the enemies, Press TV reported.
Full report at:
http://timesofindia.indiatimes.com/world/middle-east/Iran-not-to-invade-any-country-Ayatollah-Khamenei-says/articleshow/16791934.cms
-----------
Iran's Leader: We Will Defeat Enemy Plots
October 13, 2012
TEHRAN, Iran (AP) — Iran's supreme leader said Saturday that his country will defeat a combination of sanctions, military threats and "soft wars" launched by enemies trying to weaken Iran and force it to back down over its nuclear program.
Ayatollah Ali Khamenei's remarks, his third public speech in a week, came as tensions rise in the standoff between Iran and the West over Tehran's nuclear program.
They follow a precipitous decline in Iran's currency linked to economic sanctions imposed by the West, as well as remarks by Defense Secretary Leon Panetta highlighting the possibility of a cyberwar between Iran and the United States.
Full report at:
http://www.nytimes.com/aponline/2012/10/13/world/middleeast/ap-ml-
-----------
Turkish PM Slams UN Security Council Over Syria
October 13, 2012
ISTANBUL (AP) — Turkey's prime minister sharply criticized the U.N. Security Council on Saturday for its failure to agree on decisive steps to end the 19-month civil war in Syria.
Recep Tayyip Erdogan told an international conference in Istanbul that the world was witnessing a "humanitarian tragedy" in Syria.
"If we wait for one or two of the permanent members ... then the future of Syria will be in danger," said Erdogan, according to an official translator.
Russia and China — two of the five permanent members of the Security Council — have vetoed resolutions that sought to put concerted pressure on Damascus to end the conflict and agree to a political transition.
Full report at:
http://www.nytimes.com/aponline/2012/10/13/world/europe/ap-eu-turkey-
-----------
Secret Israel-Syria Peace Talks Involved Golan Heights Exit
By ISABEL KERSHNER
October 13, 2012
JERUSALEM — For several months in 2010, Prime Minister Benjamin Netanyahu of Israel engaged in secret, American-brokered discussions with Syria for a possible peace treaty based on a full Israeli withdrawal from the Golan Heights.
But the process was cut short by the Arab Spring uprisings that swept the Middle East in early 2011, soon spreading to Syria, and the treaty did not come to fruition, according to an Israeli, Michael Herzog, who was involved in the talks.
"Nothing was agreed between the parties," Mr. Herzog said Friday. "It was a work in progress."
Full report at:
http://www.nytimes.com/2012/10/13/world/middleeast/secret-israel-syria-peace-talks-
---------
URL: https://newageislam.com/islamic-world-news/egypt-liberals,-islamists-clash-with/d/8977