New Age Islam News Bureau
11 Feb 2014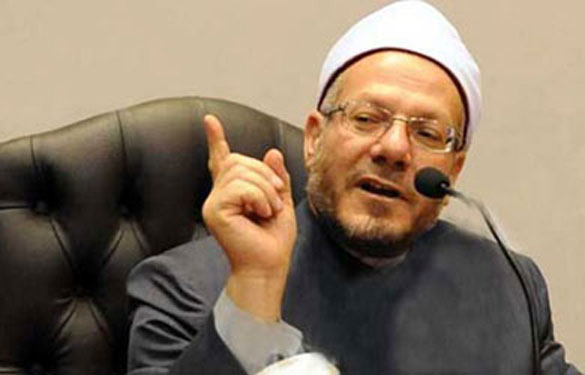 Egypt's Grand Mufti Shawqi Allam (Photo: Ahram)
--------------
Arab World
• Egypt's Grand Mufti Decries Identification of Politicians as Prophets by Prof. of Al-Azhar University
• Own Car Bomb Killed 21 Takfiris in Iraq 'by Mistake.'
• ISIS Suicide Bomb Trainer Kills Class in 'Work Accident'
• Iraqi speaker escapes attack, 25 killed in violence
• 15 Iraq soldiers killed in pre-dawn attack
• Sex bragger is now a muezzin (prayer caller): Jeddah
• British citizens take part in executions and tortures in Syria – report
• Qatif victims were gagged, had arms, legs bound with rope
• Iraqi Shiite militias growing
• Extremists Demanding Release of 500 Militants in Exchange for Maaloula Nuns in Syria
• UAE to use drones for government services
South Asia
• 5 Taliban militants killed, 18 others detained in Afghan operations
• Afghan Taliban's huge cache of explosives and ammunition seized
• Nearly 300 Logar residents rise against Taliban militants
• MDP will empower island councils, says Nasheed
Mideast
• Yemen hands 29 Qaeda militants to Saudi Arabia: Website
• Jews carry out 'price tag' attack in Al-Quds
• The Boycott is Our Palestinian Non-violent Resistance
• Yemen Shia rebels, southern group slam federation plan
• Israeli FM spokesman: Abuse of Palestinian kids 'intolerable'
• Israeli Arab gets 18 months for trying to join fight against Assad
• Palestinian Authority minister claims Western Wall as Palestinian land
• AKP fights Turkish 'porn lobby' for Internet purity
Africa
• Kenya: Muslim Leaders Blamed for Youth Radicalisation
• Congo militia leader ordered rapes, massacres
• Sudan drops parachute bombs on its own people – activists
• Christian militia threat to peace in CAR: French commander
Pakistan
• Constitution is under Holy Quran, Sunnah: President (PML-Q)
• Govt, Taliban should show serenity: Ahl-e Sunnat Wal Jamaat
• 19 FC men injured in attack by militants
• 7 killed by blasts in cinema hall in Peshawar
• Three suspected terrorists killed in DI Khan
• Key militant commander arrested in Swat
• 'Interaction with Taliban leadership positive 'says Taliban proposed peace committee
• Musharraf should be tried in a military court, say Pakistani lawyers
Southeast Asia
• Sarawak's Anglican Church praises Taib for 'bold stand' on Allah issue
• BNPT invites Mideast clerics promote peace to radicals
• Parliament only needs simple majority to pass Hudud, says ex-judge
• Minister: Tough to get Rulers' nod to unify state religious laws
• BN-PAS debate on 'Allah' follows established party lines
Europe
• Olympics yes…but no to mosques in Sochi
• Another Non-Terrorist Non-Muslim Plane Hijacker: The Sochi Plot
• Middle East investors turn to Switzerland
• Russia says draft of new Syria resolution 'absolutely unacceptable'
• British lawmaker apologizes for equating Palestinian suffering with the Holocaust
• Majority of non-Muslim UK consumers believe that Islamic finance is relevant to all faiths
North America
• Canada's Muslims: From detoxing radicalisation to citizenship
• New MBTA lawsuit focuses on free speech and Israeli-Palestinian conflict
• US considers waiting on Afghan security deal until Karzai leaves
India
• All India Sufi and Mystic Music Festival: Pune Set To Swirl to Sufi Strains
• Negligible representation of Muslims in U.P. Police
• India's Haj quota fixed at 1, 36,000 in 2014
Compiled by New Age Islam News Bureau
URL: https://www.newageislam.com/islamic-world-news/new-age-islam-news-bureau/egypt-s-grand-mufti-decries-identification-of-politicians-as-prophets-by-prof-of-al-azhar-university/d/35699
-------------
Arab World
Egypt's Grand Mufti Decries Identification of Politicians as Prophets by Prof. of Al-Azhar University
February 11, 2014
Egypt's Grand Mufti Shawqi Allam denounced Tuesday a parallel drawn last week by a leading cleric likening the country's military chief and its interior minister to prophets.
During a ceremony held on 5 February to honour families of police members killed or injured on duty, Saadeddin El-Helaly, head of Al-Azhar University's Department of Comparative Jurisprudence, described Defence Minister Field Marshal Abdel-Fattah El-Sisi and Interior Minister Mohamed Ibrahim as two prophets sent by God.
Allam, who heads Dar Al-Ifta, the authority entrusted with issuing religious edicts, rectified that prophets hold a dignified and untouchable status which rests on divine selection, infallibility and revelation.
Igniting a fury of criticism, El-Helaly had said "God sent two men, as He sent Moses and Aaron before...No Egyptian would have imagined that these [two] are from God's prophets... El-Sisi and Mohamed Ibrahim were sent out."
"Any analogy comparing [political] leaders to prophets of God is unacceptable. The leaders themselves would not agree to such reverence and glory," the grand mufti reprimanded in public comments.
El-Helaly later told reporters he had meant to compare situations and stances.
This comes in the context of a nationwide fascination with the military chief who led the ouster of Islamist president Mohamed Morsi last July amid mass protests against the latter's year-long rule. Since he came to be perceived as the nation's saviour and the spearhead of the "war on terrorism" plaguing authorities, El-Sisi's popularity in the country has reached stellar heights.
"The religious discourse at this critical period should be geared towards advocating the morals and values of preserving the nation and entrenching a culture of development," Allam asserted.
He said Islam dictates that each person be granted a rank commensurate with his status, adding that he respects and supports Al-Azhar, the oldest and highest seat of Sunni Islamic learning, which has traditionally upheld a platform promoting the values of moderate Islam.
Clerics during Morsi's time in office were heavily censured for their religious rhetoric depicting authority figures as infallible agents sent from God.
http://english.ahram.org.eg/NewsContent/1/64/93964/Egypt/Politics-/Egypts-Grand-Mufti-decries-identification-of-polit.aspx
-------------
Own Car Bomb Killed 21 Takfiris in Iraq 'by Mistake.'
February 11, 2014
A car bomb mistakenly went off in a militant compound north of Baghdad on Monday, killing 21 Takfiris including a suicide bomber, a police officer said.
The group were filming a propaganda video of the would-be suicide attacker when a technical glitch set off the car bomb in the Jilam area south of Samarra, according to Majeed Ali, the head of the Sahwa force in the city, and a police officer.
Jilam, a mostly rural farming area just south of the city of Samarra, has long been a Tafiris' stronghold.
The 8:00 am local time (05:00 GMT) blast went off within a compound in the area, Ali and the police officer said.
Violence has surged markedly higher in recent months, with more than 1,000 people killed in January alone according to government data.
Analysts and diplomats have urged Iraq's government to reach out to the disaffected minority to undermine support for militants, and Prime Minister Nuri al-Maliki has launched a wide-scale operation against insurgency and Takfiri strongholds.
http://globalvillenews.com/2014/02/11/own-car-bomb-killed-21-takfiris-in-iraq-by-mistake/
-------------
ISIS Suicide Bomb Trainer Kills Class in 'Work Accident'
February 11, 2014
In Iraq, a suicide bomb trainer for the Islamic State of Iraq and the Sham accidentally killed most of his class today in what US military officers often describe tongue-in-cheek as a "work accident" or a "premature detonation." The New York Times has the details of the ISIS mishap:
Twenty-two ISIS members were killed, and 15 were wounded, in the explosion at the camp, which is in a farming area in the northeastern province of Samara, according to the police and army officials. Stores of other explosive devices and heavy weapons were also kept there, the officials said.
Eight militants were arrested when they tried to escape, the officials said.
The militant conducting the training was not identified by name, but he was described by an Iraqi Army officer as a prolific recruiter who was "able to kill the bad guys for once."
While the thinning of the herd of ISIS suicide bombers is certainly a good thing for the Iraqis and Syrians who are to face their wrath, the missing sub context of this story is a bit more disturbing. The fact that the ISIS is able to recruit such a large number of suicide bombers and then train them all in one place should be of great concern.
Additionally, how many more ISIS suicide camps are out there? Given the steady stream of suicide attacks the ISIS carries out in Iraq and Syria (the ISIS has enough capacity that it even uses suicide bombers against its Islamist rivals in the Al Nusrah Front and the Islamic Front in Syria), the answer is likely enough that today's work accident won't make much of a dent in ISIS operations.
http://www.longwarjournal.org/threat-matrix/archives/2014/02/isis_suicide_bomb_trainer_kill.php#ixzz2t31udM3M
-------------
Iraqi speaker escapes attack, 25 killed in violence
Feb 11, 2014
Iraqi parliament's speaker escaped a bomb attack on Monday while 25 gunmen were killed in an explosion and eight wounded in separate attacks across the country, police said.
In the northern province of Nineveh, a roadside bomb went off near the convoy of Speaker Osama al-Nujaifi and Governor Atheel al-Nujaifi, also brother of Osama, Xinhua quoted a local police source a saying.
The explosion damaged one of the vehicles and wounded two of the speaker's bodyguards onboard, while the two brothers escaped unharmed, the source said.
In Baghdad, five people were wounded in a roadside bombing at a popular restaurant, a police source said.
In another incident, an army colonel was critically wounded by a sticky bomb attached to his car in downtown Baghdad, the source said.
Earlier in the day, a police source from the Sunni-dominated Salahudin province told Xinhua that 25 al-Qaeda gunmen were killed in a huge explosion while building a truck bomb near the city of Samarra, some 120 km north of Baghdad.
According to the UN Assistance Mission for Iraq, a total of 8,868 Iraqis, including 7,818 civilians and civilian police personnel, were killed in 2013, the highest annual toll in years.
http://www.thehindu.com/news/international/world/iraqi-speaker-escapes-attack-25-killed-in-violence/article5676426.ece
------------
15 Iraq soldiers killed in pre-dawn attack
February 11, 2014
A pre-dawn assault Tuesday on an army camp guarding an oil pipeline in northern Iraq left 15 soldiers dead, security and morgue officials said.
The soldiers were killed near Hamam al-Alil, in the northern province of Nineveh, one of the most violent parts of the country, with provincial capital Mosul as well as surrounding areas suffering near-daily attacks.
Full report at:
http://english.ahram.org.eg/NewsContent/2/8/93962/World/Region/Updated--Iraq-soldiers-killed-in-predawn-attack.aspx
---------
Sex bragger is now a muezzin (prayer caller): Jeddah
February 11, 2014
JEDDAH — The Saudi who was sentenced to five years in prison for appearing on a TV satellite channel bragging about sex adventures with women, is now a changed man.
Mazen Abdul Jawad, the 32-year-old airline employee and divorced father of four, has recently been released after serving his term, Al-Hayat daily reported.
Jawad has now become a prayer caller (muezzin). He already acted a muezzin in the prison mosque and had become a more God-fearing citizen.
Upon his release, Jawad refused to talk to the press because the court injunction bans him from making any statements to the media.
Jawad was arrested five years ago soon after appearing on an Arabic TV show where he talked audaciously about his sex escapades with several women in Jeddah, drawing wide criticism from a large section of society. Many got infuriated at the man's audacity to speak publicly and shamelessly about major sins in Islam, an act that society refused and described as unethical and impolite.
Full report at:
http://www.saudigazette.com.sa/index.cfm?method=home.regcon&contentid=20140211195379
-------------
British citizens take part in executions and tortures in Syria – report
February 11, 2014
British citizens were involved in acts of torture and rebel-to-rebel executions in Syria, according to a report by Sky News.
The news outlet obtained videos and images uploaded onto the accounts via social networks of two men from London, thought to be fighting in Islamist rebel groups linked to Jahbat al Nusra.
According to Sky News, one video was taken on a mobile phone and posted on Facebook on January 30 this year. It shows a prisoner, apparently from the Free Syrian Army, being beaten for insulting Allah.
Full report at:
http://voiceofrussia.com/news/2014_02_11/British-citizens-take-part-in-executions-and-tortures-in-Syria-report-0886/
--------------
Qatif victims were gagged, had arms, legs bound with rope
February 11, 2014
The human remains that were unearthed at a farm in Safwa, Qatif, on Friday and Saturday have been transferred from a local hospital to a specialist hospital in Dammam for forensic analysis.
Sources said that the remains have been put together to facilitate investigation into how the deaths occurred, check for fractures and identify whether the bodies belong to male or female victims.
Ali Habib, who rented out the 20,000-square-meter farm east of Safwa two years ago, said that the farm was deserted and contained a lot of waste.
"We accidentally dug up a thigh bone as we were cleaning up the plot to construct an irrigation path," he said.
"We then kept digging and found the first body. We called the police, who found another body on the same day and three more bodies on Saturday. They then returned on Sunday to search for more bodies," he added.
Full report at:
http://www.arabnews.com/news/524176
-------------
Iraqi Shiite militias growing
February 11, 2014
BAGHDAD: Scores of bodies have been dumped in Iraq's canals and palm groves in recent months, reminding terrified residents of the worst days of the country's sectarian conflict and fueling fears that the stage is being set for another civil war.
In the latest sign of the escalating attacks, the heads of three Sunnis were found Sunday in a market in northern Salaheddin province, while six Shiites were shot dead in the province after being questioned about their religious affiliation, officials said.
The carnage has raised concerns that the Shiite militias that stalked members of the minority Sunni population in the dark days of 2006 and 2007 could be remobilizing, in response to attacks by Sunni extremists.
Full report at:
http://www.arabnews.com/news/524046
-------------
Extremists Demanding Release of 500 Militants in Exchange for Maaloula Nuns in Syria
February 11, 2014
Extremist al-Nusra Front, a branch of Al Qaeda operating in Syria and Lebanon which is holding hostage a group of twelve nuns from the Syrian Christian town of Maaloula, has demanded the release of 500 of its militants in Syria and Lebanon in exchange for the nuns, media reports said.
The Lebanon-based Al Mayadeen satellite channel said Monday that the extremists had made their demand known by the Syrian businessman George Haswani who acted as a mediator between the Syrian authorities and them.
Full report at:
http://english.farsnews.com/newstext.aspx?nn=13921122000565
-------------
UAE to use drones for government services
2014-02-11
DUBAI: The United Arab Emirates says it plans to use unmanned aerial drones to deliver official documents and packages to its citizens as part of efforts to upgrade government services.
The wealthy Gulf state is known for its showmanship, it boasts the tallest skyscraper in the world, and its love of high-technology gadgets.
The drone project appears to satisfyboth interests.
"The UAE will try to deliver its government services through drones. This is the first project of its kind in the world,"Mohammed al-Gergawi, a minister of cabinet affairs, said on Monday as he displayed a prototype developed for the government.
The battery-operated vehicle, about half a metre across, resembles a butterfly with a top compartment that can carry small parcels.
Coloured white and enblazoned with the UAE flag, it is propelled by four rotors.
Local engineer Abdulrahman Alserkal, who designed the project, said fingerprint and eye-recognition security systems would be used to protect the drones and their cargo.
Full report at:
http://www.dawn.com/news/1086308/uae-to-use-drones-for-government-services
-------------
South Asia
5 Taliban militants killed, 18 others detained in Afghan operations
February 11, 2014
At least 5 Taliban militants were killed and 18 others were detained during military operations by Afghan national security forces.
The interior ministry of Afghanistan following a statement, said the operations were jointly conducted by Afghan army, Afghan police and Afghan intelligence – National Directorate of Security (NDS) during the past 24 hours.
The statement further added that the operations were conducted in Kunar, Nangarhar, Kapisa, Kunduz, Kandahar, Uruzgan, Maidan Wardak, Logar, Ghazni, Paktika, Paktia and Herat provinces of Afghanistan.
Full report at:
http://www.khaama.com/5-taliban-militants-killed-18-others-detained-in-afghan-operations-3426
-------------
Afghan Taliban's huge cache of explosives and ammunition seized
February 11, 2014
A huge cache of various ammunition and explosives belonging to the Taliban militants group was discovered and seized from eastern Logar province of Afghanistan.
The explosives cache was prepared by the Taliban group to carry out coordinated attacks on election campaigns in this province.
Afghan Intelligence – National Directorate of Security (NDS) following a statement said Monday that the explosives cache was discovered from Purk village in Mohammad Agha district.
Full report at:
http://www.khaama.com/talibans-huge-cahce-of-explosives-and-ammuntion-seized-2774
-------------
Nearly 300 Logar residents rise against Taliban militants
February 11, 2014
Nearly 300 residents in eastern Logar province of Afghanistan formed a public uprising group to fight the Taliban militants in this province.
Provincial government media office following a statement, said the uprising group is led by a local tribal elder Haji Khalil and nearly 300 people have joined the campaign to force the Taliban militants out of their villages in Baraki Barak district.
The statement further added that Taliban militants were completely forced out of Cheltan district after the campaign was launched.
Full report at:
http://www.khaama.com/nearly-300-logar-residents-rise-against-taliban-militants-3425
-------------
MDP will empower island councils, says Nasheed
By Ahmed Naish | February 10th, 2014
The opposition Maldivian Democratic Party's (MDP) MPs will seek to amend the Decentralisation Act to empower local councils, former President Mohamed Nasheed has said.
Speaking at campaign events in Malé last night, Nasheed said the party's aim was to award a nearby uninhabited island to each island council as a source of income.
"We want each council to conduct business transactions using the island [to generate income] for establishing sewerage and water systems, build roads or even construct a harbour or do work needed for the school – we want to find a way for you to undertake these efforts on your own," he said.
Full report at:
http://minivannews.com/politics/mdp-will-empower-island-councils-says-nasheed-77260
--------
Mideast
Yemen hands 29 Qaeda militants to Saudi Arabia: Website
February 11, 2014
Yemen has handed to Saudi Arabia 29 al Qaeda militants who were wanted by the Saudi authorities, the Yemeni defence ministry website said on Tuesday, citing informed sources.
The website quoted the sources as saying the militants had Saudi nationality and that they had been handed over to the Saudi security apparatus in the past few days.
Saudi interior ministry spokesman Major General Mansour Turki said he had no information on the matter, but was seeking to verify the report.
Yemen, which neighbours top oil exporter Saudi Arabia, is home to one of al Qaeda's most active branches, known as 'al Qaeda in the Arabian Peninsula', who have plotted unsuccessfully to attack Western targets, including international airliners.
Full report at:
http://english.ahram.org.eg/NewsContent/2/8/93991/World/Region/Yemen-hands--Qaeda-militants-to-Saudi-Arabia-Websi.aspx
-------------
Jews carry out 'price tag' attack in Al-Quds
February 11, 2014
RAMALLAH – Unknown Jewish extremists punctured the tires of 19 vehicles belonging to Palestinians in occupied Jerusalem on early Monday in a suspected "price tag" attack.
Palestinian sources said that the settlers' attack in the East Jerusalem's neighborhood of Silwan resulted in 18 cars having their tires slashed and one bus. The sources added that the vehicles owned by the families of Abu Kahtir, Shaloudi, Awwad, Maragha, al-Razim, Badawi and Manasrah.
The sources added that graffiti was also part of the vandalism, with vandals spraying a wall with the words, "Arab labor, enough with naturalization."
Samri, the spokeswoman of Israeli police, said that police launched an investigation into the incidents. No arrests were reported.
"Price tag" attacks, acts of vandalism usually performed against Arab property and typically carried out by Jewish nationalists in retribution for settlement freezes and demolitions, or for Palestinian attacks on Jews, have become increasingly common.
Full report at:
http://www.saudigazette.com.sa/index.cfm?method=home.regcon&contentid=20140211195347
-------------
The Boycott is Our Palestinian Non-violent Resistance
Feb 11 2014
By Hanan Ashrawi
The SodaStream controversy, which recently caught the attention of media worldwide, has highlighted Israel's ongoing military occupation and contributed to the growing awareness of global consciousness and social responsibility towards Palestine. It has laid wide open the whole issue of Israeli impunity and the imperative of multifaceted intervention and accountability.
Scarlett Johansson's choice to be the face of SodaStream, a company that operates a factory in the illegal settlement of Ma'ale Adumim, has brought to the forefront the debate on continued Israeli settlement activity and the real cost of such a dangerous and irresponsible policy. Ms. Johansson, who was also an ambassador of the human rights organization Oxfam, suddenly faced a conflict of interest and the challenge of individual responsibility and choice. The fact that Ms. Johansson decided to cast her lot with SodaStream, is, at best, naïve, and, at worst, an expression of a total lack of regard for justice and human rights.
Full report at:
http://www.palestinechronicle.com/the-boycott-is-our-palestinian-non-violent-resistance/#.UvrL9mJdUqM
-------------
Yemen Shia rebels, southern group slam federation plan
AFP | Feb 11, 2014
SANAA: Northern Shia rebels and a faction demanding southern autonomy Tuesday rejected a six-region federation plan for Yemen, which was agreed by parties during the "national dialogue" aimed at securing the country's political transition.
A panel headed by President Abdrabuh Mansur Hadi on Monday agreed the plan, which will be inserted into a new constitution and will divide Yemen into six federal regions — four in the north and two in the south.
But Shia rebels in the north claimed the division of the republic would not distribute wealth evenly, while a southern faction said the plan did not meet their aspirations for autonomy.
"We have rejected it because it divides Yemen into poor and wealthy" regions, said Mohammed al-Bakheiti of the Shia rebel group Ansarullah.
Full report at:
http://timesofindia.indiatimes.com/world/middle-east/Yemen-Shia-rebels-southern-group-slam-federation-plan/articleshow/30226759.cms
-----------
Israeli FM spokesman: Abuse of Palestinian kids 'intolerable'
February 11, 2014
SYDNEY - A spokesman for Israel's Foreign Ministry has conceded that human rights abuses of Palestinian children in the West Bank are "intolerable" and that having soldiers arrest young kids in the middle of the night is problematic. The admissions by Yigal Palmor were contained in an investigative documentary produced by a team of Australian journalists and aired last night by the Australian Broadcasting Corporation.
Titled "Stone Cold Justice," the investigation alleged that some Palestinian children were being physically abused, forced into false confessions and targeted in order to gather intelligence on Palestinian activists.
The broadcast prompted local Jewish and Zionist leaders to accuse the Australian journalists of paying "insufficient attention" to the security difficulties faced by Israel and rehashing similar allegations published in 2011.
Full report at:
http://www.haaretz.com/.premium-1.573480
-------------
Israeli Arab gets 18 months for trying to join fight against Assad
February 11, 2014
An Israeli Arab convicted of crossing into Syria and joining an Al-Qaida-linked militia fighting against the Assad regime was sentenced Monday to 15 months in prison.
Abd al-Kadr Altaleh, a resident of Taibeh, was convicted by the Central District Court of joining the Nusra Front, one of the most radical groups aligned against Syrian President Bashar Assad.
In her ruling, Judge Shira Ben-Shlomo said Israeli citizens who join the war in Syria pose a real danger to Israel, as upon returning they could use the military training and ideological indoctrination acquired in Syria to commit terror attacks, indoctrinate others or gather intelligence for use in attacks by anti-Israel organizations.
Full report at:
http://www.haaretz.com/news/middle-east/.premium-1.573552
-------------
Palestinian Authority minister claims Western Wall as Palestinian land
February 11, 2014
Jerusalem, including the Western Wall, rightfully belongs to the Palestinians, PA Minister of Religious Affairs Mahmoud al Habbash stated in a Channel 10 interview Monday.
"There will not be peace without putting an end to the Israeli occupation that began in 1967. Every piece of land that Israel conquered then belongs to the Palestinians," claimed Habbash.
Habbash added that "all the holy places, including the Aksa mosque and the Western Wall" rightfully belong to the Palestinian Authority and must be returned as well.
Full report at:
http://www.jpost.com/Diplomacy-and-Politics/PA-minister-claims-Western-Wall-as-Palestinian-land-341040
-------------
AKP fights Turkish 'porn lobby' for Internet purity
February 11, 2014
"This could be the last banner you click on," read main opposition party Republican People's Party (CHP) ad on several news Web pages. After days of real and virtual protests, the "Do not touch my Internet" campaign will have utterly failed in Turkey when a new law goes into effect, known widely as "the Internet law." The bill has been approved in parliament and went to the president for his signature. He could veto it, but judging from his record of using veto powers, that is not a realistic expectation. There is some probability that after the opposition complains, the Constitutional Court may revoke the bill. Yet, the probability is rather low. Based on the Justice and Department Party (AKP)'s shrewd tradition of passing "high moral laws: morals to protect the youth," many in Turkey are considering this a done deal.
Full report at:
http://www.al-monitor.com/pulse/originals/2014/02/akp-turkish-porn-lobby-fight.html#ixzz2t32mFmoT
---------
Africa
Kenya: Muslim Leaders Blamed for Youth Radicalization
February 11, 2014
Muslim leaders in Mombasa have been asked to bury their differences so as to resolve the problem of radicalisation among the youth.
County Commissioner Nelson Marwa said the longstanding differences between the Council of Imams and Preachers of Kenya (CIPK) and the Supreme Council of Kenya Muslims (Supkem) had caused a leadership vacuum in the Muslim community at the Coast, exposing the youth to influence by radicals.
"The youths are exploiting the differences between Council of Imams and Supkem.
It is now time for leaders from all religious organisations to come together and solve the problem of radicalisation. Great leaders are known in times of crisis," said Mr Marwa.
More than 100 youths were arrested in Masjid Musa mosque in Mombasa last Sunday after police disrupted a "Jihad convention".
Full report at:
http://allafrica.com/stories/201402101230.html?viewall=1
-------------
Congo militia leader ordered rapes, massacres
February 11, 2014
THE HAGUE : A Congolese militia leader widely known as "the Terminator" ordered troops, including child soldiers, to massacre and rape civilians to spread terror and grab territory, prosecutors told the International Criminal Court on Monday. The allegations against Bosco Ntaganda were made at the opening of hearings seen as a test for the global legal institution after a string of troubled cases. Ntaganda has yet to enter a plea.
"He played a key role in planning assaults against the civilian population in order to gain territory," said Chief Prosecutor Fatou Bensouda, setting out her arguments to judges who will decide if there is enough evidence for Ntaganda to stand trial.
Ntaganda was a senior military commander who should also be punished because he "failed to prevent or punish crimes by troops under his effective command or control," she said.
Full report at:
http://www.nation.com.pk/international/11-Feb-2014/congo-militia-leader-ordered-rapes-massacres
-------------
Sudan drops parachute bombs on its own people – activists
11 February 2014
The people of this unstable African country learned long ago to duck for cover when planes roared in the sky, but the latest deadly tactic being used on them - parachute bombs – continues to kill innocent civilians in Sudan, activists warm.
The country's extremist Khartoum regime has been dropping bombs by parachute in the Nuba Mountains as President Omar al Bashir seeks to rout rebel forces opposed to his branch of radical Islam. In recent years, the Nuba Mountains, where Christians and Muslims coexist, have become a battleground for the forces of al Bashir's forces and the Sudanese People Liberation Army.
Full report at:
http://voiceofrussia.com/news/2014_02_11/Sudan-drops-parachute-bombs-on-its-own-people-activists-1928/
-------------
Christian militia threat to peace in CAR: French commander
Reuters | Feb 11, 2014
BANGUI: The commander of French forces in Central African Republic said on Monday that Christian 'anti-balaka' militias had become the main threat to peace in the country, a day after gunmen murdered a legislator who suggested they be disarmed.
Jean-Emmanuel Djarawa, a member of the transitional assembly meant to guide the country to elections next year, was shot near his home in Bangui after he made a speech calling for the militia to be confined to barracks. No one claimed responsibility for his killing.
Djarawa's death is a blow to new interim President Catherine Samba-Panza, the former mayor of Bangui who was appointed last month promising to end the cycle of inter-communal violence.
Full report at:
http://timesofindia.indiatimes.com/world/rest-of-world/Christian-militia-threat-to-peace-in-Central-African-Republic-French-commander/articleshow/30180090.cms
-----------
Pakistan
Constitution is under Holy Quran, Sunnah: President (PML-Q)
February 11, 2014
Lahore—Pakistan Muslim League-Quaid-e-Azam (PML-Q) President and Senator Ch Shujaat Hussain has said that the constitution was under the Holy Quran how these can be compared, efforts being made to compare the Quran and the constitution were not right, undoubtedly the Quran was superior to the constitution and all other things. Talking to media people at his residence here on Monday that he said, he prayed for the success of ongoing negotiations between the government and the Talibans, terrorism should end and peace should be restored in the country. However, Ch Shujat Hussain questioned how negotiations, terrorism and drone attacks were possible simultaneously.
http://pakobserver.net/detailnews.asp?id=233180
-------------
Govt, Taliban should show serenity: Ahl-e Sunnat Wa Jamaat
February 11, 2014
karachi—Ahl-e Sunnat Wa Jamaat (ASWJ) Central Secretary Information Allama Aurangzeb Farooqui said that the ASWJ respected and accepted the constitution of Pakistan because the constitution held high the Holy Quran and Sunnah as the Supreme Laws. However, ASWJ did not consider the system uner the constitution as complete Islamic system because there was need to improve it with insertion of Islamic forms of punishments such to dissect hand of a thief.
In a statement issued Monday from the headquarters of ASWJ, Allama Farooqui said that despite lacking such clauses in the constitution, it did not mean the system under the constitution was not Islamic system or a system of the infidel.
Full report at:
http://pakobserver.net/detailnews.asp?id=233238
-------------
19 FC men injured in attack by militants
SALEEM SHAHID
2014-02-11
QUETTA: At least 19 Frontier Corps personnel were injured, three of them seriously, when a bomb placed by militants near Sibi exploded when three FC vehicles were passing through the area.
The outlawed Baloch Liberation Army claimed responsibility for the attack.
Sources said the vehicles were going to a checkpost in Sibi Tali area.
The FC troops rushed to the area after the blast and took the injured to the Combined Military Hospital in Sibi.
"The condition of three soldiers is serious because they suffered multiple wounds," Levies' officials quoted hospital sources as saying.
Full report at:
http://www.dawn.com/news/1086224/19-fc-men-injured-in-attack-by-militants
-------------
7 killed by blasts in cinema hall in Peshawar
Feb 11, 2014
At least seven persons were killed and 20 others injured when three bombs ripped through a cinema hall in Peshawar on Tuesday.
The blasts targeted Shama Cinema on Pajaggi Road, the oldest cinema hall in Peshawar owned by the influential Bilour family.
Rescue officials said seven persons were killed by the blasts. Twenty injured were taken to state-run Lady Reading Hospital, they said.
Several members of the Bilour family are senior leaders of the secular-leaning Awami National Party. The hall also screens Indian movies.
Full report at:
http://www.thehindu.com/news/international/south-asia/7-killed-by-blasts-in-cinema-hall-in-peshawar/article5677211.ece
----------
Three suspected terrorists killed in DI Khan
February 11, 2014
DERA ISMAIL KHAN: Three suspected terrorists were killed in an explosion in the Kolachi area of Dera Ismail Khan on Tuesday, Express News reported.
The three suspects were reportedly planting explosive material on the side of a road in Bacha Khan, Kolachi. In the process, the explosives accidentally detonated, killing all of them on the Full report at:
http://tribune.com.pk/story/670248/accidental-explosion-three-suspected-terrorists-killed-in-di-khan/
-------------
Key militant commander arrested in Swat
2014-02-11
PESHAWAR: Security forces arrested key local militant commander Umarzada alias Dildar from the Galiga area of Swat's Matta tehsil.
In a statement, the office of Khyber Paktunkhawa Inspector General of Police said security forces also recovered 13 detonators and 15 cartridges from Dildar's possession.
The militant commander's father Bacha Gul was already in police custody.
In a separate incident in Peshawar's Sarband area, security forces arrested 27 suspects and recovered arms and ammunition from their possession along with a vehicle with bogus paperwork.
Full report at:
http://www.dawn.com/news/1086327/key-militant-commander-arrested-in-swat
-------------
'Interaction with Taliban leadership positive 'says Taliban proposed peace committee
February 11, 2014
ISLAMABAD/PESHAWAR - The Taliban proposed peace committee Monday claimed the dialogue with Taliban leadership was 'very positive' and soon the nation would hear 'good news'.
The peace negotiators refuted that banned Tehreek-i-Taliban Pakistan (TTP) has made any demands averse to the country's constitution but they refused to reveal any details, saying it could harm the initiative.
On the other hand, TTP spokesman Shahuidullah Shahid warned the government against placing 'unnecessary conditions' that are 'difficult to accept' but he said both sides have agreed to provide a favourable environment for the talks and the process will be gradually carried forward with patience as they were in no rush for it, according to a media report.
Full report at:
http://www.nation.com.pk/national/11-Feb-2014/interaction-with-taliban-leadership-positive
-------------
Musharraf should be tried in a military court, say Pakistani lawyers
Islamabad | February 11, 2014
Pervez Musharraf's lawyer today argued in a special court conducting his treason trial that the embattled former Pakistani military ruler's case should be heard by a military court. Musharraf's lawyer Khalid Ranjha told the special court that the trial should be continued in a military court. A person like Musharraf who falls under the jurisdiction of the Army Act cannot be tried by any other court, he argued.
Sections related to high treason are included in the Army Act of 1952, and under Article 245 of the constitution. The Army Act applies to civilians living in areas where the army has been summoned to help the civilian administration, he said.
Full report at:
http://indianexpress.com/article/world/asia/musharraf-should-be-tried-in-a-military-court-say-pakistani-lawyers/
----------
Southeast Asia
Sarawak's Anglican Church praises Taib for 'bold stand' on Allah issue
February 11, 2014
As Sarawak Chief Minister Tan Sri Abdul Taib Mahmud prepares to step down after 33 years at the helm, the Anglican Church in the state has come out to commend him for his bold stand on the Allah controversy and hoped his successor will do the same.
Southeast Asia's Anglican Archbishop Datuk Bolly Lapok today expressed hope that Taib's successor will maintain the spirit of inclusiveness which Sarawak has enjoyed under Taib.
"The Anglican church in Sarawak commends Taib for his bold and unambiguous stand on the Allah controversy.
"We hope that under his successor, our much vaunted inclusiveness is maintained and that the state and the church would continue to enjoy a partnership that is truly cordial and creative," said Bolly in a statement today.
Full report at:
http://www.themalaysianinsider.com/malaysia/article/sarawaks-anglican-church-praises-taib-for-bold-stand-on-allah-issue
-------------
BNPT invites Mideast clerics promote peace to radicals
February 11, 2014
The National Counterterrorism Agency (BNPT) has invited former leaders of radical groups from Egypt and Jordan to preach peace and religious tolerance to members of radical Muslim organizations in the country.
BNPT chief Insp. Gen. (ret.) Ansyaad Mbai said that the former leader of Egypt's Jamaah Islamiyah (JI), Naji Ibrahim, who is also active in deradicalisation programs in and around Egypt, was among three clerics invited to engage in a discussion with leaders of local firebrand groups.
"He [Naji] has met with Ba'asyir to discuss their views," Ansyaad told reporters on the sidelines of a meeting with House of Representatives Commission III overseeing law and human rights on Monday, referring to firebrand Muslim cleric Abu Bakar Ba'asyir who is serving a nine-year sentence for terrorism.
Full report at:
http://www.thejakartapost.com/news/2014/02/11/mideast-clerics-promote-peace-radicals.html
-------------
Parliament only needs simple majority to pass hudud, says ex-judge
February 11, 2014
KUALA LUMPUR, Feb 11 — Only a simple majority is needed for Parliament to enact Islamic criminal laws that will also affect non-Muslims nationwide, Malaysia's retired chief justice said today.
Tun Abdul Hamid Mohamad also said Parliament can also choose to amend the existing Penal Code to include penalties prescribed by Islamic law for criminal offences, which would impact both Muslims and non-Muslims, as debate continues over the federal enforcement of hudud.
"There is no constitutional impediment to do so as a federal law. Parliament may choose whatever punishments to be provided for criminal offences, including punishments according to shariah," he said during a public talk on hudud at Universiti Malaya's International Institute of Advanced Islamic Studies here.
Full report at:
http://www.themalaymailonline.com/malaysia/article/parliament-only-needs-simple-majority-to-pass-hudud-says-ex-judge#sthash.VAYTKOB9.dpuf
-------------
Minister: Tough to get Rulers' nod to unify state religious laws
BY IDA LIM
FEBRUARY 11, 2014
KUALA LUMPUR, Feb 11 — Discrepancies continue to exist in state laws governing non-Muslim use of select Arabic terms because Putrajaya needs the consent of all state rulers to harmonise such legislation, de facto law minister Nancy Shukri said today.
Explaining that the federal government has been consistently engaging the states that possess enactments governing the use of "Allah" and other Arabic words outside of Islam, she however described the process as an uphill task.
"They have been talking all these while,'' the minister in the prime minister's department told reporters here, but stressed that religion was a matter for the individual states.
"It's not very easy for people to just give away their powers because of certain reasons in certain states, they have different cultures, different practices."
Full report at:
http://www.themalaymailonline.com/malaysia/article/minister-tough-to-get-rulers-nod-to-unify-state-religious-laws#sthash.A6ZTxEC3.dpuf
-------------
BN-PAS debate on 'Allah' follows established party lines
BY PATHMA SUBRAMANIAM
FEBRUARY 11, 2014
KUALA LUMPUR, Feb 11 — Rival Muslim parties PAS and Umno failed to break new ground on the "Allah" controversy in a much anticipated TV discussion late yesterday, with both sticking to established party lines.
Selangor Umno chief Datuk Seri Noh Omar, who represented Umno which dominates the Barisan Nasional (BN) coalition, insisted that "Allah" is exclusive to Islam, citing various fatwas on the subject.
PAS central committee member Khalid Samad, countered Noh's view, reiterating his party's position that "Allah" has been used by non-Muslims in the Arab world for centuries.
The discussion hosted by The Malaysian OBserver (MobTV) centred on the different views regarding the legality of Selangor's ban preventing non-Muslims from using 35 Arabic words and phrases, including "Allah."
Full report at:
http://www.themalaymailonline.com/malaysia/article/bn-pas-debate-on-allah-follows-established-party-lines#sthash.0zy7dj8g.dpuf
---------
Europe
Olympics yes…but no to mosques in Sochi
By: Tim Murphy
February 11, 2014
Russian President Vladimir Putin calls Sochi, site of February's Winter Olympics, "the biggest construction site on the planet," and for good reason. Since being awarded the games in 2007, the subtropical Black Sea city has built 442 miles of fiber-optic cables, 200 miles of roads, 55 bridges, 13 train stations, nine hotels for media outlets, six post offices, five schools, a new airport, a $265 million ski jump, a bobsled track, a ski course, two Olympic villages, an 815-acre floating archipelago, and a partridge in a pear tree.
But one item on local residents' wish list was met with a pocket veto a request to build a mosque for Sochi's 20,000 Muslim residents, many of whom have migrated to the city over the last decade to take jobs building the Olympic facilities.
Full report at:
Source: http://www.motherjones.com/
http://muslimvillage.com/2014/02/11/49882/mosques-sochi/
-------------
Another Non-Terrorist Non-Muslim Plane Hijacker: The Sochi Plot
Juan Cole
Feb 8, 2014
The Associated Press article on the Ukrainian hijacker who tried to divert a plane to Sochi on Friday is interesting for the words it does not use. (I'm not picking on AP– all the other articles on this subject are like this one in this regard.)
This Ukrainian man had political discontents about his own country of Ukraine, which appears to be one of his motivations in trying to grab the limelight in Sochi. He told the crew that he had placed a bomb on the plane.
The crew of the airplane cleverly diverted to Istanbul and told the hijacker it was Sochi. Negotiators then got him to let the passengers go. Security men mingled among the departing passengers and then grabbed the hijacker. They found no sign of a bomb on the plane.
Note that this Ukrainian, presumably an Eastern Orthodox Christian, threatened to blow up an airplane full of innocents.
Full report at:
http://www.truthdig.com/report/item/another_non-terrorist_non-muslim_plane_hijacker_the_sochi_plot_20140208
-------------
Middle East investors turn to Switzerland
February 11, 2014
JEDDAH – Crucial factors such as banking secrecy, diverse investment products and services have contributed to Switzerland remaining a premier offshore haven for the Middle Eastern investors, according to a leading Swiss-based asset manager specializing in the Middle Eastern region.
William Spencer, at WT Capital Management S.A, said: "We have seen an increase in demand for wealth management solutions from Middle East region, we have had a surge in requests for custodian services and tailored structured products in 2013 and expect year on year growth in 2014. We believe competitive pricing, enhanced return and a wider range of investments products give Swiss banking a significant edge over regional Middle Eastern banks."
Full report at:
http://www.saudigazette.com.sa/index.cfm?method=home.regcon&contentid=20140211195398
-------------
Russia says draft of new Syria resolution 'absolutely unacceptable'
February 11, 2014
Russian Foreign Minister Sergei Lavrov said on Tuesday that a draft of a new humanitarian resolution on Syria was "absolutely unacceptable."
"The ideas that were shared with us by those initiating this process... are absolutely unacceptable and contain an ultimatum for the government, that if they don't solve all this in two weeks then we automatically introduce sanctions," Lavrov said.
http://english.ahram.org.eg/NewsContent/2/8/93970/World/Region/Russia-says-draft-of-new-Syria-resolution-absolute.aspx
-------------
British lawmaker apologizes for equating Palestinian suffering with the Holocaust
February 11, 2014
A British lawmaker has apologized for remarks comparing Israel's treatment of the Palestinians to Jewish suffering during the Holocaust.
Yasmin Qureshi of the Labour Party made her apology in a statement Friday for remarks she made two days earlier to the British parliament.
"The debate was about the plight of the Palestinian people and in no way did I mean to equate events in Gaza with the Holocaust. I apologize for any offense caused," she said. "I am also personally hurt if people thought I meant this.
Full report at:
http://www.haaretz.com/jewish-world/jewish-world-news/1.573509
--------
Majority of non-Muslim UK consumers believe that Islamic finance is relevant to all faiths
February 11, 2014
Islamic Bank of Britain celebrates 10 year anniversary and reveals findings from UK's first survey into attitudes towards and usage of Islamic finance
6th February 2014 - As celebrations for its 10 year anniversary begin, Islamic Bank of Britain plc ( IBB , www.islamic-bank.com) the UK's only wholly Sharia compliant retail bank, has revealed findings from the first national survey to look into British consumers' understanding of, and attitudes towards, Islamic finance. The research provides insight into how British consumers, both Muslim and non-Muslim, are using Islamic finance products currently, and their inclination to use them in the future.
Full report at:
http://www.zawya.com/story/ZAWYA20140206085447/
-------------
North America
Canada's Muslims: From detoxing radicalisation to citizenship
Steven Zhou
February 11, 2014
As long as Canadian Muslims fail to influence public opinion, the narrative of fear and suspicion will continue.
On January 14, the National Council of Canadian Muslims (NCCM) issued an open letter to Canadian Prime Minister Stephen Harper. The letter urges the prime minister to disinvite Rabbi Daniel Korobkin as a member of the delegation accompanying him on his first trip to Israel.
NCCM's Executive Director Ihsaan Ghardee pointed out that Korobkin introduced and praised Pamela Geller and Robert Spencer last September at a lecture sponsored by the Jewish Defense League (JDL). Both Geller and Spencer are part of Stop the Islamization of America (SIOA), a hate-group according to the Anti Defamation League and the Southern Poverty Law Center.
Full report at:
http://www.aljazeera.com/indepth/opinion/2014/01/canada-muslimsfrom-detoxing-radi-20141309549990632.html
-------------
New MBTA lawsuit focuses on free speech and Israeli-Palestinian conflict
Boston Business Journal
A pro-Israel group whose advertisements equating opposition to Israel with Islamic jihad and suggesting the country's opponents are savages were rejected by the Massachusetts Bay Transportation Authority sued the quasi-public agency and its top administrator in federal court Friday.
The group, the American Freedom Defense Initiative, and two of its leaders cited federal civil rights protections in asking the court to make the MBTA and its head, Beverly Scott, accept the ads and put them at locations that could include transit stations and the sides of buses.
The legal skirmish is the latest in a series of disputes involving the MBTA and ads taking sides in the Israeli-Palestinian conflict. (See the ads in the attached slideshow.)
Full report at:
http://www.bizjournals.com/boston/blog/mass_roundup/2014/02/new-mbta-lawsuit-focuses-on.html?page=all
-------------
US considers waiting on Afghan security deal until Karzai leaves
2014-02-11
WASHINGTON: Frustrated about prospects of getting Afghan President Hamid Karzai to sign a long-term security deal, the United States is considering waiting until he leaves office before completing the pact and deciding on a troop presence beyond 2014, the Wall Street Journal reported on Monday.
"If he's not going to be part of the solution, we have to have a way to get past him," the Journal quoted a senior US official as saying. "It's a pragmatic recognition that clearly Karzai may not sign the (deal) and that he doesn't represent the voice of the Afghan people."
The White House, asked about the report, said it was standing by its previous comments on the issue.
Full report at:
http://www.dawn.com/news/1086306/us-considers-waiting-on-afghan-security-deal-until-karzai-leaves
-------------
India
All India Sufi and Mystic Music Festival: Pune Set To Swirl to Sufi Strains
Medha Dutta, TNN Feb 9, 2014
PUNE: Tonight, under the starry skies at Empress Botanical Gardens, the 13th edition of Ruhaniyat, the oldest and the only All India Sufi and Mystic Music festival, will roll out an ensemble of powerhouse performances.
As always, the festival will bring alive the teachings and wisdom of Sufi saints and mystics through the performances of talented carriers of living traditions from across the globe. This year, the festival will host artistes from Bulgaria and Egypt, apart from various Indian artistes.
Highlights of the Sunday evening could well be the Vaya Quartet from Bulgaria and Tannoura (Dancing Dervishes) from Egypt.
A member of the Vaya Quartet said, "We are traditional folk singers and our songs are from all seven different folk regions of Bulgaria. They all are different and reflect in the songs."
The Quartet, comprising four girls - Gergana Taskova, Sonya Georgieva, Marina Stefanova and Iliana Tabor, is based in Plovdiv, Bulgaria, and was formed in 2009. This is their third year with Ruhaniyat.
Full report at:
http://articles.timesofindia.indiatimes.com/2014-02-09/pune/47167913_1_tannoura-mystic-music-festival-music-and-dance
-------------
India's Haj quota fixed at 1,36,000 in 2014
February 11, 2014
February 10: India's Haj quota in 2014 has been fixed at 136,000, the same as last year when Saudi Arabia slashed it by 20 per cent for all foreign pilgrims citing expansion work at holy sites.
A total of 136,000 Indian pilgrims will perform Haj this year, Saudi Haj Minister Bandar Hajjar told an Indian delegation yesterday.
Under the India-Saudi Arabia bilateral agreement on Haj in 2013, the quota for India was fixed at 1,70,025 seats - comprising 125,025 seats for the Haj Committee of India and 45,000 for pilgrims going through private tour operators.
But later in the year, Saudi authorities announced a 50 per cent cut in the Haj quota on local Saudi applicants and 20 per cent on foreign Haj pilgrims, due to which India's quota went down from 1,70,025 seats to 1,36,020 seats.
Full report at:
http://www.siasat.com/english/news/indias-haj-quota-fixed-136000-2014
-----------
Negligible representation of Muslims in U.P. Police
February 11, 2014
Recent data released by the Uttar Pradesh Government about representation of the Muslims in police force flies in the face of the claims made by the government and political parties about uplift of the community.
According to the recent data, only two per cent Sub-Inspectors (SI), three per cent head constables and four per cent constables in the U.P. Police are Muslims.
The facts were released by the State Government in response to an RTI query moved by social activist Urvashi Sharma.
Meanwhile, responding to the report, U.P. Prison Minister and SP spokesman Rajendra Chaudhary on Monday said the State Government will consider "increasing Muslim's representation in the recruitment in near future".
Full report at:
http://www.thehindu.com/todays-paper/tp-national/tp-newdelhi/negligible-representation-of-muslims-in-up-police/article5675513.ece
-----------
URL: https://www.newageislam.com/islamic-world-news/new-age-islam-news-bureau/egypt-s-grand-mufti-decries-identification-of-politicians-as-prophets-by-prof-of-al-azhar-university/d/35699