New Age Islam News Bureau
16 March 2014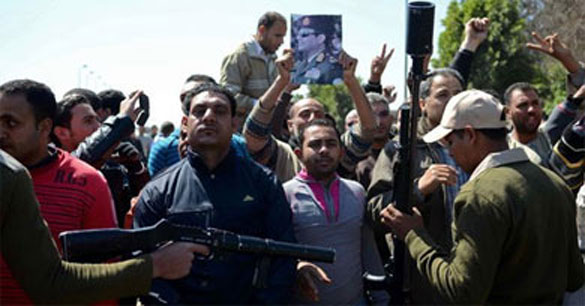 Soldiers corner off an area from civilians at the sight where gunmen killed six soldiers at a Cairo checkpoint on March 15, 2014
------------
Arab World
• Egypt Pledges 'Decisive' Action After Militants Kill Six Soldiers
• Toll in Syria-linked clashes in Lebanon rises to 11
• Lebanon: 9 die in Syria-linked clashes
• Enough evidence to convict Bin Laden kin
• Syrian army captures strategic border town
• Syria war enters fourth year
• Celebs seek UN action to end plight of refugees
---------------
Africa
• Gunmen kill 100 in attacks on Nigerian villages
• Mugabe vows clampdown on corruption
• Kenya anti-terrorism squad gets $735 a month
---------------
Pakistan
• Baloch urges politicians, civil society to join hands against terror
• Malaysian plane never came to Pakistan: Assistant to PM
• Partial strike in Sindh over alleged Quran desecration
• Rangers seize 50 kg explosives in a raid in Lyari
• Venue for talks with TTP discussed
• Treason trial may involve Musharraf's 'abettors'
• Rival Lyari groups endorse peace deal: Palijo
• Sentence of Pakistani doctor who helped find Bin Laden reduced
---------------
Southeast Asia
• 9/11-style terror allegations resurface
• Malaysia's handling of lost plane irritates China
• Malaysian leader: Plane's disappearance deliberate
• Indonesian Navy sailor allegedly abducted by Thai fishermen
---------------
South Asia
• Bangladesh committed to Islamic unity: OIC
• Karzai says Afghanistan doesn't need US troops
• Fakhrul, Mirza Abbas sent to jail
• Unite for economic emancipation, asks Bangladesh PM
• BSF hands over 8 Hindus who fled to India fearing BNP-Jamaat attack
---------------
India
• Mushawarat condemns Mumbra Police Action and writes to political and statutory bodies
---------------
Mideast
• Tayyip Erdogan links dead Turkish teenager to 'terrorist' groups
• Iran 'thwarts nuclear sabotage attempts'
• Israel fuel deliveries to Gaza to resume
• Abbas to meet Obama ahead of peace talks deadline
---------------
North America
• Muslim extremists and a worrying lesson for us all
• Lawyer: American Muslim won't test government no-fly list after alleged torture at FBI behest
---------------
Europe
• French Muslims campaigning to overturn anti-Muslim laws
• Tatar leader mistrusts Russia, fears new troubles in Crimea
• The French Intifada review – 'A courageous view of modern France'
Compiled by New Age Islam News Bureau
URL: https://www.newageislam.com/islamic-world-news/new-age-islam-news-bureau/egypt-pledges--decisive--action-after-militants-kill-six-soldiers/d/56160
---------------
Arab World
Egypt pledges 'decisive' action after militants kill six soldiers
2014-03-16
CAIRO: Egypt's interim government pledged "decisive "action and ordered heightened security on Sunday after gunmen killed six soldiers at a Cairo checkpoint, as the countdown began to presidential elections this spring.
The shooting on Saturday morning came two days after gunmen killed a soldier in Cairo, as militants once based in the Sinai Peninsula widen attacks that surged after the army overthrew Islamist president Mohamed Morsi last July.
The government is preparing for a presidential election this spring that will likely be contested and won by army chief Abdel Fattah al-Sisi, the field marshal who overthrew Morsi.
Sisi is expected to resign as defence minister and army chief and announce his candidacy this week, following the interim president's approval of a law to organise the poll.
His supporters see him as the best suited leader to restore stability and law and order amid persistent militant attacks and street protests by Morsi's supporters.
In Saturday's attack, masked gunmen opened fire on military policemen as they were finishing their morning Muslim prayers and then planted two bombs to target first responders, the military said in a statement. The health ministry said six soldiers were killed.
In an emergency meeting that ended early Sunday morning, the cabinet decided to "decisively confront whoever attacks citizens and civilian and government installations," it said in a statement.
It emphasised that attacks on the army would be dealt with by military courts, in accordance with a constitution approved in a referendum in January.
The government also ordered heightened security measures to counter what has become a low-level insurgency that has killed more 200 soldiers and policemen since Morsi's overthrow.
Most of the attacks since have been carried out in the Sinai, but militants have expanded their reach to the Nile Delta and the capital in recent months.
The government has mostly blamed Morsi's Muslim Brotherhood, which renounced violence decades ago and has denied any involvement.
The most prominent attacks, including a car bombing at a police headquarters in Cairo and the downing of a military helicopter in Sinai, have been claimed by Ansar Beit al-Maqdis (Partisans of Jerusalem), a Sinai-based jihadist movement.
The group said in a statement Friday that one of its founders, Tawfiq Mohamed Fareej, died last week when a car accident set off a bomb he was carrying.
Fareej led a 2011 cross-border attack in Israel that killed eight people and was also involved in a failed attempt on the life of Egypt's interior minister, it said.
The group has said the attacks in Egypt are in retaliation for a brutal government crackdown on Morsi's Islamist supporters, which Amnesty International says has claimed some 1,400 lives.
Growing militancy
Morsi won Egypt's first-ever democratic presidential election, following the 2011 uprising that ended Hosni Mubarak's three-decade rule.
But his year in power bitterly polarised Egyptians, and the military ousted him amid mass protests demanding his overthrow.
Since his ouster and subsequent arrest, his supporters have staged weekly rallies that often set off deadly clashes with security forces and Morsi opponents.
Meanwhile, the army has poured troops and armour into the lawless Sinai to combat the growing militancy, often targeting suspected gunmen with air strikes.
Analysts say the army campaign has led the jihadist militants in Sinai, some inspired by Al Qaeda, to adapt by staging less frequent but more widespread attacks across the country.
With the Brotherhood decapitated by the crackdown, some of its members might also have decided to form militant cells to target policemen, they say.
Morsi, who is still in jail, faces three separate trials for involvement in the killing of opposition protesters and collusion with militants to carry out attacks in Egypt.
http://www.dawn.com/news/1093532/egypt-pledges-decisive-action-after-militants-kill-six-soldiers
---------------
Toll in Syria-linked clashes in Lebanon rises to 11
2014-03-16
TRIPOLI: Eleven people have been killed in three days of clashes in the northern Lebanese town of Tripoli linked to the conflict in Syria, security sources and the Lebanese army said Sunday.
Overnight, the army announced the death of a soldier when a military patrol in the city was hit by an anti-tank grenade.
The latest death brought the toll in clashes that began on Thursday to 11, a security source said.
The clashes, which have also injured 50 people, pit the Alawite district of Jabal Mohsen against the neighbouring Sunni quarter of Bab Al Tebbaneh.
The latest fighting broke out on Thursday after a Sunni man was killed by unknown gunmen on a motorbike in central Tripoli.
But tensions between the districts have run high for decades, only increasing with the outbreak of the conflict in Syria, where Alawite President Bashar Al Assad faces a Sunni-dominated uprising.
The Lebanese army has deployed in the city, arresting several people overnight and responding to sources of fire.
The war in Syria has deepened existing sectarian and political tensions in Lebanon, particularly between supporters of the Shia movement Hezbollah, an Assad ally, and Sunni backers of former prime minister Saad Hariri who support the uprising.
http://www.dawn.com/news/1093542/toll-in-syria-linked-clashes-in-lebanon-rises-to-11
---------------
Lebanon: 9 die in Syria-linked clashes
16 March 2014
TRIPOLI: Nine people have been killed in 48 hours of clashes in Lebanon's northern town of Tripoli linked to the conflict in neighboring Syria, a security source told AFP on Saturday.
The violence between two districts of the city caused local schools to close and cut traffic flow in the city to a trickle, an AFP correspondent said.
The clashes, which have also injured 50 people, pit the Alawite district of Jabal Mohsen against the neighboring Sunni quarter of Bab Al-Tebbaneh.
The latest fighting broke out on Thursday after a Sunni man was killed by unknown gunmen on a motorbike in central Tripoli.
But tensions between the districts have run high for decades, only increasing with the outbreak of the conflict in Syria, where Alawite President Bashar Assad faces a Sunni-dominated uprising.
On Saturday, two people were killed by snipers and another three succumbed to injuries sustained earlier in the clashes, the source said, raising the toll since Thursday to nine. The Lebanese Army has deployed in the city, arresting several people overnight and responding to sources of fire.
The war in Syria has deepened existing sectarian and political tensions in Lebanon, particularly between supporters of the Shiite movement Hezbollah, an Assad ally, and Sunni backers of former prime minister Saad Hariri who support the uprising.
http://www.arabnews.com/news/540906
---------------
Enough evidence to convict Bin Laden kin
16 March 2014
NEW YORK: There is more than enough proof that would allow a jury to decide to convict Osama Bin Laden's son-in-law of conspiring to kill Americans, a judge said Friday as he turned down a defense request to dismiss the case.
"The government's evidence in (the count) of the conspiracy to murder Americans is dramatically more than merely sufficient," US District Judge Lewis A. Kaplan said, adding that he also saw evidence as "more than sufficient to warrant a conviction" on other charges concerning providing material support to terrorists.
The verdict "is ultimately up to the jury, not me," he noted. "But it is sufficient to permit the jury to convict on all counts."
http://www.arabnews.com/news/540901
---------------
Syrian army captures strategic border town
16 Mar 2014
Syrian forces, backed by Lebanese Hezbollah fighters, are in full control of Yabroud after clearing out rebels holed up in the strategic Syrian town for months, Syrian state media and opposition activists have reported.
Capturing Yabroud, the last major rebel bastion near the Lebanese border north of Damascus, will help President Bashar al-Assad secure the land route linking his Mediterranean coastal stronghold with the capital Damascus, and choke off a cross-border rebel supply line from Lebanon.
"The Syrian army is now in full control of the town of Yabroud in Damascus [province] and are now combing through the city and the dismantling the roadside bombs planted by terrorists," SANA news agency reported on Sunday.
A military source told Reuters news agency that most of the rebels had pulled out of Yabroud around dawn on Sunday, a day after pro-government forces had entered eastern districts of the town and captured several strategic hilltops in the surrounding Qalamoun mountains.
Abu al-Huda al-Homsi, an activist in Qalamoun, told Al Jazeera that the Syrian regime soldiers and Hezbollah stormed into Yabroud under a cover of heavy aerial and artillery bombardment.
"They used a scorched-earth policy, showering us with tens of shells every day until he fighters were forced to withdraw," he said.
A fighter in Yabroud from Jabhat al-Nusra, al-Qaeda's official affiliate in Syria, said the rebels were heading towards nearby rebel-held villages including Hosh Arab, Rankous and Flita.
Air strikes on Lebanon
Meanwhile, a Lebanese military source was quoted by Lebanese local channel LBC on Sunday as saying that more than 1000 fighters fled to the mountainous border area near the Lebanese town of Arsal, a crossing point 20km to the northwest which rebels and refugees have used regularly.
Full report at:
http://www.aljazeera.com/news/middleeast/2014/03/syrian-army-captures-strategic-border-town-20143167587954232.html
---------------
Syria war enters fourth year
March 16, 2014
DAMASCUS - Syria's civil war enters a fourth year Saturday, with at least 146,000 people dead, millions more homeless, cities and historical treasures in ruins, the economy devastated and no end in sight.
On March 15, 2011, just weeks after popular uprisings toppled dictators in Tunisia and Egypt, protests erupted in Syria's southern city of Daraa after teenagers were arrested over anti-regime graffiti.
"The people want the fall of the regime," the youths wrote on walls, echoing similar sentiments elsewhere in what was becoming known as the Arab Spring.
President Bashar al-Assad's regime reacted forcefully, and people began to die.
Protests spread, and as they did, the response was more force aimed at drowning out calls for change.
Friday after Friday of demonstrations that followed weekly Muslim prayers were met with violence, and the popular mood hardened. Civilians took up arms, soldiers began to desert and an insurgency became full-scale civil war after the regime bombed the central city of Homs in February 2012. Two years after that, the war appears to have reached stalemate, with some pessimists saying it could last another 10 or 15 years. Rebels, now fighting among themselves as Al-Qaeda-linked jihadists muscled in on them, control large swathes of Syria.
But the government holds the more densely populated regions, and Assad's strategy is to protect "useful Syria" -- the coast, major towns in the north and south and key roads.
And the regime is advancing on three fronts, south of Damascus, in the strategic Qalamun region near the Lebanese border to cut rebel supply lines and in Aleppo in the north.
Assad's army advancing
In Aleppo, once Syria's commercial capital, the regime has retained the city's west, while advancing around the outskirts of the rebel-held east and securing and reopening the nearby airport.
Full report at:
http://www.nation.com.pk/international/16-Mar-2014/syria-war-enters-fourth-year
---------------
Celebs seek UN action to end plight of refugees
16 March 2014
LONDON: Some 30 celebrities have petitioned the UN demanding they take action to protect civilians, notably Palestinian refugees, caught up in the Syria conflict as it entered its fourth year on Saturday.
Stars including Hugh Grant, Emma Thompson, Sting, Roger Waters and Tracey Emin were among those calling on the United Nations Security Council and presidents of the General Assembly to create safe spaces and local cease-fires to allow emergency supplies to reach besieged people.
The letter — signed chiefly by British figures from the world of film, literature, acting, music and visual arts — is endorsed by the UN agency for Palestinian refugees UNRWA, and the HOPING charity which supports Palestinian refugee children.
Nearly 500,000 Palestinians were registered as refugees in Syria before the civil war. UNRWA has said the majority of them are displaced from their normal homes.
Most of the 170,000 residents in the Yarmuk Palestinian refugee camp on the outskirts of Damascus residents have fled, but nearly 40,000 remain trapped inside, living in abject conditions.
Full report at:
http://www.arabnews.com/news/540916
---------------
Africa
Gunmen kill 100 in attacks on Nigerian villages
2014-03-16
KADUNA: Gunmen killed more than 100 people in an attack on three villages in central Nigeria, an area where longstanding disputes over land, religion and ethnicity often erupt into violence, two local government officials said on Sunday.
Police confirmed the raids by Fulani herdsman late on Friday on the villages of Ugwar Sankwai, Ungwan Gata and Chenshyi, in Kaduna state, but declined to give a death toll.
Hundreds have been killed in the past year in clashes pitting the cattle-herding and largely Muslim Fulani people against mostly Christian settled communities like the Berom in Nigeria's volatile "Middle Belt", where its mostly Christian south and Muslim north meet.
The unrest is not linked to the insurgency in the northeast by Boko Haram, an Al Qaeda-linked group which wants to impose Sharia law in northern Nigeria.
However, analysts say there is a risk the insurgents will try to stoke central Nigeria's conflict. Though most of the Islamist sect's attacks are contained further north but it did claim a 2011 Christmas Day bomb attack at a church in Jos.
"Fulani gunmen came across from neighbouring Plateau state and just opened fire on the villagers at around 11 p.m.," said Daniel Anyip, vice chairman of the Kaura local government authority. "
Full report at:
http://www.dawn.com/news/1093546/herdsmen-kill-100-in-attacks-on-nigerian-villages
---------------
Mugabe vows clampdown on corruption
15 Mar 2014
Zimbabwe's president, Robert Mugabe, has vowed to crackdown on corruption involving high-profile state officials following recent damning exposures of corrution, including at the national airline.
"If there was any corruption, people will answer for it, I tell you," Mugabe said on Friday at a belated party hosted by civil servants and security forces to celebrate his 90th birthday.
His warning came after media reports of alleged corruption involving senior officials across a number of state-run bodies including the government pensions authority, power utilities and the national airline, Air Zimbabwe.
Mugabe described corruption as a "growing disease" that had "ruined the country".
The media has also reported on grossly inflated salaries for bosses at the public broadcaster, which failed to pay other workers for more than six months.
And the CEO of a public service health insurance fund, which has been in arrears in its remittances to hospitals and practitioners, has reportedly been receiving a monthly salary of $230,000.
Full report at:
http://www.aljazeera.com/news/africa/2014/03/mugabe-vows-clampdown-corruption-201431516402920123.html
---------------
Kenya anti-terrorism squad gets $735 a month
15 Mar 2014
Kenya's lead counter-terrorism agency has just $735 to spend in March, according to documents seen by the Associated Press news agency.
The force is allocated $2,205 quarterly for its operations - for maintenance and fuel for cars, travel expenses and office supplies - in January, February and March.
The unit is struggling to do its work because of limited funds, said a security official from the police headquarters, who insisted on anonymity. The limited budget makes preventing another attack difficult, he said.
By comparison, a Kenyan member of parliament earns about $45,000 in salary and allowances during the same three-month period.
Full report at:
http://www.aljazeera.com/news/africa/2014/03/kenya-anti-terrorism-squad-gets-735-month-2014315134934962915.html
---------------
Pakistan
Baloch urges politicians, civil society to join hands against terror
SYED ALI SHAH
2014-03-16
QUETTA: Chief Minister Balochistan Dr Abdul Malik Baloch has urged upon political forces and members of civil society to join their hands to eradicate the curse of terrorism and extremism from society.
He expressed these views while addressing a function with regards to World Consumers' Day on Saturday evening in Quetta. The chief minister also announced establishment of consumer courts in Balochistan to ensure the rights of consumers.
"What happened in Quetta was highly condemnable," Dr Baloch lamented while referring to an explosion that claimed 10 precious lives in the provincial capital, plagued by attacks by Baloch separatists and growing sectarianism.
He said terrorism and extremism were posing a serious threat to the peace of Balochistan.
"Every sane person has to play his role in discouraging the elements undermining the peace of the province," he said.
Full report at:
http://www.dawn.com/news/1093343/baloch-urges-politicians-civil-society-to-join-hands-against-terror
---------------
Malaysian plane never came to Pakistan: Assistant to PM
March 16, 2014
ISLAMABAD: Special aviation assistant to prime minister Shujaat Azeem dismissed reports appearing in US media that the missing Malaysian airliner might be hidden somewhere in Pakistan, reported a private TV channel on Saturday.
The aircraft disappeared far away from Pakistan airspace and was not visible on its radars, he said questioning how it could be hidden somewhere in Pakistan.
He shunned the reports at once saying the plane never came towards Pakistan.
Full report at:
http://www.nation.com.pk/national/16-Mar-2014/malaysian-plane-never-came-to-pakistan-azeem
---------------
Partial strike in Sindh over alleged Quran desecration
2014-03-16
LARKANA: A partial strike was observed on Sunday in Larkana, Jaffarabad districts of Sindh and some areas of Balochistan over alleged desecration of the Holy Quran, DawnNews reported.
Police officer Anwar Laghari said Sunday that the incident took place overnight near Jinnah Bagh chowk in Larkana city, after some people said they saw burned pages of the Quran in a garbage bin near the home of man who belonged to the Hindu community. The officer said initial investigation revealed that the man had rented the house from a Muslim family and cleaned it before he moved in. He may have burned the holy book inadvertently, the policeman said.
The situation in the area turned tense following the incident and a crowd of 200 persons gathered and attacked the minority community's temple.
Leghari said the building was partly gutted and the alleged desecrater was taken into protective custody.
Vehicular traffic remained sparse in the affected areas as a complete shutterdown was observed and businesses, shops, filling stations and markets were closed for business.
Moreover, a ban on pillion riding was imposed in the city under Section 144.
Additional contingents of police and Rangers were deployed in the affected areas to avoid any untoward incident.
Full report at:
http://www.dawn.com/news/1093544/partial-strike-in-sindh-over-alleged-quran-desecration
---------------
Rangers seize 50 kg explosives in a raid in Lyari
March 15, 2014
KARACHI- Rangers have seized 50 kg explosive material during a raid at a residential address in Lyari area of Karachi today.
Full report at:
http://www.nation.com.pk/karachi/15-Mar-2014/rangers-seize-50-kg-explosives-in-a-raid-in-lyari
---------------
Venue for talks with TTP discussed
IFTIKHAR A. KHAN
2014-03-16
ISLAMABAD: The second phase of peace talks between the government and Taliban is likely to start next week, according to informed sources.
The possible dates and venues of direct talks between a government team and the Shura of the outlawed Tehreek-i-Taliban Pakistan (TTP) were discussed at a meeting of a TTP-nominated committee, led by Maulana Samiul Haq, with Interior Minister Chaudhry Nisar Ali Khan here on Saturday.
The sources said the government proposed the Bannu airport as the venue of the talks and Taliban negotiators suggested talks in Miramshah in North Waziristan.
The Taliban committee briefed Chaudhry Nisar on its recent meeting with the TTP Shura to set the stage for the second phase of dialogue.
Both sides agreed that the peace process should be carried forward without any delay to foil conspiracies of the elements wishing to sabotage it.
Maulana Sami told the minister that the Taliban were sincere in holding talks and committed to a ceasefire announced by them.
"They are trying to identify those violating the ceasefire and hold them accountable," he was quoted as saying.
Full report at:
http://www.dawn.com/news/1093534/venue-for-talks-with-ttp-discussed
---------------
Treason trial may involve Musharraf's 'abettors'
MALIK ASAD
2014-03-16
ISLAMABAD: The recent application, filed by former military ruler retired General Pervez Musharraf in the special court, points fingers at the alleged co-conspirators behind the November 3 actions.
If accepted, this application would implicate a number of high profile civilians and armed personnel in the treason trial.
The application Gen Musharraf recently filed in the special court, which has been established to try the former dictator for high treason, demands that the civilian leadership and the military authorities that allegedly abetted in the imposition of the November 3, 2007 emergency should also be tried along with him.
According to the proclamation issued for the November 3 emergency, Musharraf imposed the emergency after consulting the then prime minister, the governors of all four provinces and the chairman of joint chiefs of staff committee, the chiefs of the armed forces, the vice-chief of army staff and the corps commanders of the Pakistan Army.
"It is therefore imperative for this Hon'ble Court to seek the names of the above officials and supply the same to the accused…. to try all the accused together. In the face of such omission the trial shall stand vitiated," says the application pending before the special court.
Regardless of whether or not this application is accepted or rejected, here is a short account of who those corps commanders and other military officers mentioned in that notification were:
Full report at:
http://www.dawn.com/news/1093425/treason-trial-may-involve-musharrafs-abettors
---------------
Rival Lyari groups endorse peace deal: Palijo
GOHAR ALI KHAN
2014-03-15
HYDERABAD: Leaders of rival groups in Lyari, Uzair Jan Baloch and Baba Ladla, have endorsed a peace declaration to restore peace in the violence-hit area of Karachi, Qaumi Awami Tehreek (QAT) president Ayaz Latif Palijo announced Saturday.
Speaking to journalists at a press conference here attended by respresentatives from both groups, the QAT chief said Uzair Baloch and Baba Ladla endorsed the ceasefire agreement over telephone.
Respresentatives, who Palijo refered to as 'elders' of the groups, included MPA Sania Naz Baloch, Adnan Baloch, Arif Bulaidi Baloch and Liaquat Askani Baloch. Maulana Abdul Majeed Sarbazi, Mama Nisar Baloch, Mama Umeed Ali Baloch, Abdul Rasheed Baloch and Rais Ghulam Qadir represented the Baba Ladla group. The delegations reached Palijo House from Karachi and participated in a long discussion in favour of peace in Lyari.
Palijo said that after a detailed discussions among committee leaders of both Lyari groups, it was decided to cease fire immediately.
Full report at:
http://www.dawn.com/news/1093341/rival-lyari-groups-endorse-peace-deal-palijo
---------------
Sentence of Pakistani doctor who helped find Bin Laden reduced
16 March 2014
PESHAWAR: A court in Pakistan on Saturday reduced by 10 years the jail term handed down to a Pakistani doctor who helped the United States track down Al-Qaeda leader Osama bin Laden, in a blow to his supporters who have been fighting for his release.
Shakil Afridi, hailed as a hero by US officials, was arrested after US soldiers killed Bin Laden in May 2011 in a raid in a northern Pakistani town that outraged Pakistan and plunged relations between the strategic partners to a new low.
Pakistan arrested Afridi and sentenced him to 33 years in jail for being a member of a militant group, a charge he denies.
Full report at:
http://www.arabnews.com/news/540886
----------------
Southeast Asia
9/11-style terror allegations resurface
March 16, 2014
Evidence of a plot by Malaysian Islamists to hijack a passenger jet in a 9/11-style attack is being investigated in connection with the disappearance of Flight MH370, British newspaper The Telegraph reported.
An al-Qaeda super grass told a court last week that four to five Malaysian men had been planning to take control of a plane, using a bomb hidden in a shoe to blow open the cockpit door, according to the report.
Security experts said the evidence from a convicted British terrorist was "credible". The super grass said that he had met the Malaysian jihadists – one of whom was a pilot – in Afghanistan and given them a shoe bomb to use to take control of an aircraft.
A British security source said: "These spectaculars take a long time in the planning."
The possibility of such a plot, hatched by the mastermind of the 9/11 attacks on the Twin Towers in New York, was bolstered by an admission by Najib Razak, Malaysia's prime minister, that the Boeing 777's communications systems had been deliberately switched off "by someone on the plane".
In a series of dramatic developments yesterday, it emerged that:
– Flight MH370 had changed direction and altitude after communications devices had been deliberately disabled;
– The plane flew for up to seven hours after civilian radar lost touch with it;
– An unnamed official briefed that the plane had been hijacked although Najib refused to confirm that was the case;
Full report at:
http://www.thedailystar.net/9-11-style-terror-allegations-resurface-15800
---------------
Malaysia's handling of lost plane irritates China
March 16 2014
The search for a missing jetliner with Chinese travelers aboard has revealed the limits of Beijing's influence in its own backyard and left communist leaders facing outrage from their public.
Beijing has demanded Malaysia do more to find the missing Malaysia Airlines jetliner. But despite sending nine ships to help in the search, China appears to have little leverage over its far smaller Southeast Asian neighbor.
The situation is especially uncomfortable for Chinese leaders because part of the ruling Communist Party's claim to a monopoly on power is that it is best qualified to look after the public's interests. The rise of social media and the increased willingness of China's public to assert its rights adds to the pressure to find the 154 Chinese among the 227 missing passengers.
There is "very likely a lot more pressure from the domestic community in China on Beijing to make sure that Chinese nationals are being protected," said Marc Lanteigne, research director at the New Zealand Contemporary China Research Centre at Victoria University of Wellington.
Anxious relatives have thronged a temporary Malaysia Airlines office set up in a Beijing hotel and accuse Malaysian officials and the carrier of withholding information.
"Some of the information released by the Malaysian government and airline turns out to be true, some turns out to be false," said Nan Jinyan, a woman from Shanghai whose brother-in-law was aboard the flight. "I believe they are still deciding which information to release and which isn't convenient to release right now."
China has the world's second-largest military budget, at $114 billion last year, and has spent heavily on expanding the ability of its navy to project power farther from its shores. But the search that began in the Gulf of Thailand on the edge of the South China Sea, which China claims as its territorial waters, has relied heavily on expertise from the United States and Britain on the other side of the globe.
Full report at:
http://www.thejakartapost.com/news/2014/03/16/malaysias-handling-lost-plane-irritates-china.html
---------------
Malaysian leader: Plane's disappearance deliberate
March 16 2014
Someone deliberately diverted Malaysia Airlines Flight 370 and shut down communications with the ground, and the jetliner continued flying for six hours, Malaysia's prime minister said Saturday. The announcement shifted the focus of the investigation to the crew and passengers on the plane, which has now been missing for more than a week.
Prime Minister Najib Razak's statement also meant the flight path of Malaysia Airlines Flight 370 to Beijing could have strayed as far as the southern Indian Ocean or northwest to Kazakhstan, complicating the work of search crews who already have been scouring vast stretches of ocean seeking the plane's 12-person crew and 227 passengers.
"Clearly the search for MH370 has entered a new phase," Najib said at a televised news conference. "It is widely understood that this has been a situation without precedent."
Experts have previously said that whoever disabled the plane's communication systems and then flew the jet must have had a high degree of technical knowledge and flying experience. One possibility they have raised was that one of the pilots wanted to commit suicide.
Najib stressed that investigators were looking into all possibilities as to why the Boeing 777 deviated so drastically from its original flight path, saying authorities could not confirm whether it was a hijacking. Earlier Saturday, a Malaysian official said the plane had been hijacked, though he added that no motive had been established and no demands had been made known.
Full report at:
http://www.thejakartapost.com/news/2014/03/16/malaysian-leader-planes-disappearance-deliberate.html
---------------
Indonesian Navy sailor allegedly abducted by Thai fishermen
March 16 2014
The Navy disclosed one of its sailor, Sgt. Maj. Alfriansyah, had been allegedly abducted by a group of Thai fishermen.
The man was reportedly abducted after he had witnessed a group of fishermen fishing in Bintan waters, which is Indonesian territory.
Full report at:
http://www.thejakartapost.com/news/2014/03/16/indonesian-marine-allegedly-abducted-thai-fishermen.html
---------------
South Asia
Bangladesh committed to Islamic unity: OIC
16 March 2014
Bangladesh is committed to the principles of the Organization of Islamic Cooperation (OIC), which calls for Islamic unity and action to resolve issues facing Muslims, according to Iyad Ameen Madani, OIC secretary general, who recently visited the country. According to reports, Madani said that Bangladesh Prime Minister Sheikh Hasina assured him of Dhaka's unflinching commitment to the OIC principles.
Madani paid tributes to Bangladesh for helping with various OIC development and peace projects in the Muslim world, including the Palestinian people and hosting the Islamic University of Technology (IUT).
Full report at:
http://www.arabnews.com/news/541001
---------------
Karzai says Afghanistan doesn't need US troops
2014-03-16
KABUL: In his final address to Afghanistan's parliament Saturday, President Hamid Karzai told the United States its soldiers can leave at the end of the year because his military, which already protects 93 per cent of the country, was ready to take over entirely.
He reiterated his stance that he would not sign a pact with the United States that would provide for a residual force of US troops to remain behind after the final withdrawal, unless peace could first be established.
The Afghan president has come under heavy pressure to sign the Bilateral Security Agreement, with a council of notables that he himself convened recommend that he sign the pact.
The force would train and mentor Afghan troops, and some US Special Forces would also be left behind to hunt down Al Qaeda.
All 10 candidates seeking the presidency in April 5 elections have said they would sign the security agreement.
But Karzai himself does not appear to want his legacy to include a commitment to a longer foreign troop presence in his country.
Karzai was brought to power in the wake of the 2001 US.-led invasion and subsequently won two presidential elections, in 2004 and again in 2009.
But he has in recent years espoused a combatative nationalism, with his hour-long speech Saturday no exception.
''I want to say to all those foreign countries who maybe out of habit or because they want to interfere, that they should not interfere,'' he said.
Karzai said the war in Afghanistan was ''imposed'' on his nation, presumably by the 2001 invasion, and told the United States it could bring peace to Afghanistan if it went after terrorist sanctuaries and countries that supported terrorism, a reference to Pakistan.
Pakistan has a complicated relationship with the Taliban.
Karzai told parliament, which was holding its opening session for this term, that security forces were strong enough to defend Afghanistan without the help of international troops.
Karzai steps down after next month's presidential elections. Under Afghanistan's constitution, he is banned from seeking a third term.
He came to power in December 2001 following an international agreement signed in Bonn, Germany, and was confirmed by a Loya Jirga or grand council that selected a transitional government to rule while preparing for nationwide elections.
He subsequently won two presidential elections.
Relations between Karzai and the United States have been on a downward spiral since his re-election in 2009, in which the United States and several other countries charged widespread fraud.
Full report at:
http://www.dawn.com/news/1093531/karzai-says-afghanistan-doesnt-need-us-troops
---------------
Fakhrul, Mirza Abbas sent to jail
March 16, 2014
A Dhaka court today denied bail and sent to jail three BNP leaders including acting secretary general Mirza Fakhrul Islam Alamgir and standing committee member Mirza Abbas in connection with the killings of a policeman and three others during December-January anti-government protest.
The three leaders -- who also included Dhaka city unit member secretary Abdus Salam -- saw their petitions turned down after surrendering before the trial court complying with a Supreme Court directive.
The three cases were filed with Ramna Police Station on charges of provoking terrorism and arson attacks on buses during the opposition's agitation in the capital's Bangla Motor and Malibagh areas. The cases were later turned into murder cases.
Acting on government appeals against anticipatory bail to five BNP leaders including the aforementioned three in four cases granted by the HC on January 20, a five-member bench of the Appellate Division of the SC headed by Chief Justice Muzammel Hossain scrapped the HC order.
Full report at:
http://www.thedailystar.net/fakhrul-mirza-abbas-sent-to-jail-15796
---------------
Unite for economic emancipation, asks Bangladesh PM
Prime Minister Sheikh Hasina yesterday called for united efforts to make the country economically self-reliant in fulfilling the dream of Bangabandhu Sheikh Mujibur Rahman.
She was addressing a seminar titled "Speech of March 7: The best speech of liberation in the history of the world".
Father of the Nation Bangabandhu Sheikh Mujibur Rahman Memorial Trust organised the programme at Bangladesh Krishibid Institution auditorium in the capital.
Hasina said the economic emancipation of the country would fulfill the dream of Bangabandhu as mentioned in his historic March 7 speech in 1971.
Full report at:
http://www.thedailystar.net/city/unite-for-economic-emancipation-15781
---------------
BSF hands over 8 Hindus who fled to India fearing BNP-Jamaat attack
March 16, 2014
Indian Border Security Force (BSF) on Thursday handed over eight Hindus to Border Guard Bangladesh (BGB) after a flag meeting held on the zero line on Omarkhana border under Boda upazila in Panchagarh
The Hindus had fled to India, fearing attack by Jamaat-Shibir men after January 5 parliamentary elections.
BSF members rounded up the eight on the night of March 11 from a village near the border, ATM Nazmul Huda, operation officer of 18 BGB Battalion, told this correspondent over cellphone.
The returnees are Mohanta Goshai, 65, his wife Nitibala, 55, Promoth Roy,35, his wife Uzani Bala, 30 and their son Biplab,12 of Dangipukur village; Rina Rani, 35, her daughter Radha Rani,18, and son Nobadip, 3, of Gopalpur village under Thakurgaon Sadar upazila.
BNP-Jamaat men vandalised and looted about 20 shops belonging to Hindus at Deunia Bazar of Gopalpur village in the upazila just after election on January 5.
They also attacked Gopalpur, Dangipara, Notunhat, Lilarhat villages in Gorea union, and Gouripur, Jaganathpur, Lashkarpara villages in Jagannathpur union.
Fearing fresh attack by BNP and Jamaat activists, around 500 Hindu families of Gopalpur village took shelter at a local temple at Goreya village under Thakurgaon Sadar upazila on the day. They returned home after local administration assured them of providing security.
Meanwhile, BSF detained a Bangladeshi cattle trader near Ratnai border in Baliadangi upazila early yesterday.
Full report at:
http://www.thedailystar.net/country/bsf-hands-over-8-hindus-who-fled-to-india-fearing-bnp-jamaat-attack-15697
---------------
India
Mushawarat condemns Mumbra Police Action and writes to political and statutory bodies
Mar 15, 2014
New Delhi, 15 March, 2014: Taking a strong stand against the Police Action in Mumbra (Thane, Maharashtra) two days ago, the All India Muslim Majlise Mushawarat, the umbrella body of Indian Muslim organisations, demanded strict action against Thane ACP Amit Kale and 200 of his officers and policemen who raided a Muslim residential area of Mumbra two days ago.
President of Mushawarat, Dr Zafarul-Islam Khan, wrote today to the Union Home Minister, Chairman National Human Rights Commission, Chairman Maharashtra Human Rights Commission, Chairman National Commission for Minorities, Chairman Maharashtra Minorities Commission, Chief Justice of India and Chief Justice of Bombay High Court.
Enclosing details of the illegal raid. Dr Khan demanded strict action against the erring officers and policemen who raided the locality at 1:30-2 am on 13 March, broke doors and other house contents, arrested 80 men from school students to senior citizens and kept them under illegal detention for four hours.
Dr Khan said in his letter, "... this is a gross violation of the detained people's human and civil rights as well as the standard police rules. If such behaviour is allowed and tolerated, our country will become a Nazi camp or a Soviet Gulag."
Dr. Khan demanded appropriate action against the erring police personnel as well as issuance of clear guidelines about police's limits and powers in a democratic country.
[End]
-----------------
Following is the full text of the letter sent to a number of Central and state officials:
15 March 2014
Hon'ble Union Home Minister
New Delhi
Dear Sir,
I wish to draw your kind attention to an incident which we did not believe could happen in a democratic country like ours. In a Gestapo-like operation, as reported by two websites and the Indian Express, Thane (Maharashtra) ACP Amit Kale led around 200 policemen in a raid against the residents of Rashid Compound of Kausa, Mumbra in the early hours (1.30-200 am) of 13 March 2014. He herded some 80 men from school and college students to office-goers and senior citizens – all Muslims -- to the area police station. In the process, the police contingent reportedly broke doors and damaged house contents. During the raid, electricity was cut off from the area. Reportedly, the detained Muslims were released four hours later reportedly at the intervention of the Mumbra MLA Mr Jitendra Awhad. The detained Muslims were abused, called "aatankwadi" (terrorists) apparently to provoke them in order to create a situation where the police could start firing at them.
Full report at:
http://www.milligazette.com/news/10025-indian-muslim-mushawarat-condemns-mumbra-police-action-and-writes-to-political-and-statutory-bodies
---------------
Mideast
Tayyip Erdogan links dead Turkish teenager to 'terrorist' groups
Mar 16, 2014,
ISTANBUL: Turkish Prime Minister Tayyip Erdogan said a teenager who died this week after sustaining a head injury in anti-government protests last summer was linked to "terrorist organizations", in comments likely to fan political tensions.
The death of 15-year-old Berkin Elvan on Tuesday after nine months in a coma sparked Turkey's worst unrest since nationwide anti-government demonstrations last June, compounding Erdogan's woes as he battles a graft scandal that has become one of the biggest challenges of his decade in power.
Erdogan made his remarks, his first about Elvan, late on Friday at a campaign rally in southeast Turkey ahead of nationwide municipal elections on March 30.
"This kid with steel marbles in his pockets, with a slingshot in his hand, his face covered with a scarf, who had been taken up into terrorist organizations, was unfortunately subjected to pepper gas," Erdogan told a crowd of supporters in a speech broadcast on state-run TRT-Haber news channel.
Elvan, then 14, got caught up in street battles in Istanbul on June 16 while going to buy bread for his family. He was hit in the head by what is believed to be a police gas canister, slipped into a coma and became a rallying point for government opponents, who held regular vigils at the hospital where he lay in intensive care.
After his death, riot police used water cannon, tear gas and rubber pellets to disperse tens of thousands of protesters who took to the streets of Turkey's largest cities chanting "Tayyip! Killer!" and "Everywhere is Berkin, everywhere is resistance."
ANARCHISTS, TERRORISTS
At campaign rallies, Erdogan has accused a coalition of "anarchists, terrorists and vandals" as well as opposition parties and an influential U.S.-based Islamic cleric, Fethullah Gulen, of orchestrating the unrest to undermine him.
Using harsh words unlikely to soothe public anger, Erdogan - who unlike President Abdullah Gul and other public figures did not send condolences to Elvan's family - criticized the boy's parents and suggested he had not really gone to buy bread.
"His mother says 'my son's killer is the prime minister'. I know love, fondness for one's child, but I could not understand why you threw steel marbles and carnations into your son's grave," Erdogan said at his election campaign rally.
Full report at:
http://timesofindia.indiatimes.com/World/Middle-East/Tayyip-Erdogan-links-dead-Turkish-teenager-to-terrorist-groups/articleshow/32099941.cms
---------------
Iran 'thwarts nuclear sabotage attempts'
15 Mar 2014
Iran has claimed it has thwarted a number of sabotage attempts against the country's nulcear programme and infrastructure, including one at its heavy water reactor.
Asghar Zarean, a senior official in charge of nuclear security at the Atomic Energy Organisation of Iran, said that Iran's intelligence agencies were instrumental in uncovering plots over the last few months.
They included one at the Arak facility, according to a report from the Fars semi-official news agency quoted by the Associated Press.
The organisation said: "Several cases of industrial sabotage have been neutralized in the past few months before achieving the intended damage, including sabotage at a part of the IR-40 facility at Arak."
It did not state the nature of the attacks, nor the suspected culprits, but the statements coincided with the launch of an intelligence team to fight cyber-attacks and industrial sabotage.
Full report at:
http://www.aljazeera.com/news/middleeast/2014/03/iran-thwarts-sabotage-at-nuclear-reactor-201431513910455703.html
---------------
Israel fuel deliveries to Gaza to resume
16 Mar 2014
srael is to allow the resumption of diesel deliveries into Gaza, a day after the territory's sole power plant stopped working due to a lack of fuel, officials have said.
The announcement on Sunday came after the Defence Ministry had shut down the Kerem Shalom goods crossing into southern Gaza on Thursday following cross-border fire.
The latest violence started after Israel killed three men associated with the Islamic Jihad armed group. Palestinian fighters then fired scores of rockets over the border, although no one was injured.
Israel hit back with air strikes, which also caused no injuries, and officials ordered the closure of the terminal, halting all deliveries, including fuel. The power station halted operation on Saturday.
The fuel deliveries were to resume on Sunday following an order from the Defence Ministry, a statement from COGAT, the unit responsible for crossings into Gaza, said.
"Defence Minister Moshe Yaalon.. instructed to open the Kerem Shalom crossing for the transition of gas into the Gaza Strip," it said.
"The amount coordinated for today... is 500,000 litres of diesel and gasoline for the private sector, 160,000 tonnes of cooking gas, and 200,000 litres of diesel for the operation of the power plant in Gaza," it said.
Rafik Maliha, director of Gaza's only power plant, told Al Jazeera that whatever fuel is expected to come only covers the "bare minimum."
"When this power plant is in complete shutdown that means there is only six hours of electricity supply for the consumers of Gaza," Maliha said. "[Now] we will have partial operation of the power plant [which will] make the schedule to eight hours of power supply instead of six."
Daily blackouts
Full report at:
http://www.aljazeera.com/news/middleeast/2014/03/israel-fuel-deliveries-gaza-resume-201431692326150533.html
---------------
Abbas to meet Obama ahead of peace talks deadline
March 16, 2014
RAMALLAH - As Palestinian president Mahmud Abbas prepares to touch down in Washington for a meeting on Monday with Barack Obama, an extension of peace talks with Israel looks far from certain.
Palestinian and Israeli leaders have been locked in talks US Secretary of State John Kerry fought hard to launch in July after a three-year hiatus, but as negotiations have faltered, Israel has kicked up more obstacles to a peace deal that would end decades of conflict.
Kerry hopes the two sides will agree on a US-proposed framework to guide final status negotiations, before the impending deadline for the current round of talks on April 29. But he is aware of the danger posed to talks by a recently-concocted Israeli demand - that Palestinians recognise Israel as a Jewish state - and came out strongly against Prime Minister Benjamin Netanyahu's emphasis on it, just days before Abbas's visit. "'Jewish state' was resolved in 1947 in (UN) Resolution 181 where there are more than 30 to 40 mentions of 'Jewish state,'" Kerry testified at a Congressional hearing Thursday, adding late Palestinian leader Yasser Arafat had already accepted the idea of a Jewish state in principle.
"I think it's a mistake for some people to be raising it again and again as the critical decider of their attitude toward the possibility of a state and peace, and we've obviously made that clear," Kerry said, referring to repeated statements by Netanyahu, who himself visited the White House on March 3.
Full report at:
http://www.nation.com.pk/international/16-Mar-2014/abbas-to-meet-obama-ahead-of-peace-talks-deadline
---------------
North America
Muslim extremists and a worrying lesson for us all
6 Mar 2014
Last week, a deputy head teacher in Birmingham, called Razwan Faraz, tweeted a newspaper article casting doubt on claims that hard-line Muslims were plotting to take over some of the city's state schools. "The truth reveals itself," he said.
The document behind the claim, supposedly a "how-to" letter from one Muslim extremist to another, certainly had its problems. At least one of its claims was wrong, taking credit for the ousting of a head teacher that had occurred 20 years before. The very name the letter gave to the alleged operation, "Trojan Horse", was perhaps a little too obvious. For that reason, this newspaper and others described it as a "purported" document.
But whether or not the letter is genuine, much of what it describes is certainly real.
Investigations by The Telegraph, separate to and in parallel with the "Trojan Horse" letter, reveal that there is indeed an organised group of Muslim teachers, education consultants, school governors and activists dedicated to furthering what one of them describes as an "Islamising agenda" in Birmingham's schools. And Mr Faraz should know: he is at the heart of it.
Full report at:
http://www.telegraph.co.uk/education/10700041/Muslim-extremists-and-a-worrying-lesson-for-us-all.html
---------------
Lawyer: American Muslim won't test government no-fly list after alleged torture at FBI behest
MARCH 14, 2014
PORTLAND, Ore. - An attorney for an American man who claims he was tortured in the United Arab Emirates at the behest of the U.S. government said Friday that his client is too afraid to try to travel back home.
The contention came at a hearing involving a lawsuit filed by Yonas Fikre alleging the FBI and State Department demanded that he spy on a Portland mosque in 2011 then had him abused in a UAE prison when he refused.
The federal agencies have declined to comment on the allegations, citing the ongoing litigation.
Fikre remains in Sweden, where he sought asylum after saying he was told by FBI agents that he was on the no-fly list. He also said a person who attempted to use his ticket to obtain a boarding pass in UAE was told Fikre could not fly.
At the hearing Friday in U.S. District Court, government attorneys said Fikre couldn't claim that he suffered harm from placement on the government's no-fly list because he hasn't tried to fly home.
"What is missing in this claim for injunctive relief is any legitimate effort to travel to the U.S.," said U.S. Department of Justice attorney Brigham Bowen. "This is best described as a rush to court."
Fikre's attorney Tom Nelson says his client remains scarred by his previous experience, and fears that if he did return to the U.S., he would not be permitted to leave again.
"Mr. Fikre fears for his personal safety," Nelson said. "It's critical (that) this court ensures Mr. Fikre won't be subjected to these actions again."
Full report at:
___
http://www.edmontonjournal.com/news/Lawyer+American+Muslim+wont+test+government+nofly+list/9619990/story.html
---------------
Europe
French Muslims campaigning to overturn anti-Muslim laws
15, 2014
On the 10-year anniversary of France's ban on the hejab in public schools, Muslims and their supporters have begun a campaign to overturn the country's steadily-increasing number of Islamophobic laws.
Activists do not expect to get such laws overturned anytime soon, as they have broad political support, but they say the effort can be a rallying point for a Muslim community which is fragmented and often alienated from the political process. There is no political party which attempts to serve the needs of the Muslim community: From the far-right National front, to the conservative UMP, to the Socialists, to the Left Front and to the Communists, all of France's political parties are seemingly anti-Muslim or anti-religion. During this election season in France, anti-Muslim comments have become so routine that many no longer make headlines. The effective state-sanctioning of Islamophobia has created a climate where Muslims feel that they can be abused or discriminated against with far more prevalence and ease than any other group. Many in France say that laws like the ban on burqas are designed to protect women, but many French feminists realize that they are yet another attempt to control a woman's individual freedom and personal expression.
http://www.presstv.ir/detail/2014/03/15/354825/french-muslims-campaigning-to-overturn-antimuslim-laws/
---------------
Tatar leader mistrusts Russia, fears new troubles in Crimea
By Ronald Popeski
KIEV (Reuters) - Crimean Tatars, deported en masse by Soviet authorities 70 years ago, fear new repression if Russia's military takeover of the Crimean peninsula leads to formal political control, the Muslim community's most senior figure said on Saturday.
Mustafa Dzhemilev, in an interview, denounced Sunday's referendum in the peninsula on whether to join Russia as a "desecration of elementary logic and democratic principles". He restated his community's intention to shun polling stations.
Dzhemilev, 70, said Crimean Tatars, the peninsula's indigenous residents who have firmly backed the post-Soviet Ukrainian state, mistrusted promises of benefits made by Crimea's new pro-Moscow leaders.
The Tatars, he said, feared they would be the target of new attacks and even a new mass deportation.
"We Crimean Tatars believe that we are the ones who will suffer most," Dzhemilev, former head of the Crimean Tatar Mejlis, its top body of representatives, told Reuters in a Kiev hotel next to parliament.
"Crimean Tatars systematically supported Ukraine's territorial integrity and spoke out against pro-Russian separatism, so in these conditions we will probably be the main target... if Crimea becomes a part of Russia.
"Opinions are being expressed among Crimean Tatars that a new deportation is possible. There is a feeling that we have fought to return to our homeland for 50 years and it would be better to die here rather than undergo a new deportation."
Violence between Crimea's majority ethnic Russians and Muslim Tatars, he said, was possible.
"This cannot be ruled out. We are getting information that bandit groups known as self-defense units are behaving in a very brazen fashion...They are so far not hurting Crimean Tatars, but if clashes do take place it will be difficult to stop this later." Crimean Tatars once made up more than a third of the Black Sea peninsula's population, but now account for 12 percent of two million residents.
Soviet dictator Josef Stalin deported the entire Tatar community - nearly 200,000 people - to Soviet Central Asia in cattle trains in May 1944 in reprisal for alleged collaboration with Nazi occupiers earlier in World War Two.
They began to trickle back in the mid-1980s as Mikhail Gorbachev's "perestroika" reforms took hold. Part of Soviet Ukraine since 1954, Crimea reverted to Kiev with the collapse of Soviet rule, but Tatars encountered difficulties reclaiming houses and land with the region's ethnic Russian majority.
Full report at:
http://news.yahoo.com/tatar-leader-mistrusts-russia-fears-troubles-crimea-150855418.html
---------------
The French Intifada review – 'A courageous view of modern France'
16 March 2014
Some years ago, I wanted to make a film about young North African males. I wanted to know what went wrong in their lives, how they turned first to crime and, when they were caught and imprisoned, to Islam. I went to many banlieues, hanging out with teenage gangsters. It seemed important to find out why they hated France so much. What had France done to ensure that each year so many cars and buildings were torched? When I asked such questions, they laughed.
Back in central Paris, under cafe awnings far from the périphérique, the road that divides the white bourgeois capital city from its new citizens, I asked many French intellos why such a film shouldn't be made. They proved unwilling to discuss the subject. I was half-French, I knew the culture, and should be aware why it couldn't be done. "It's so complicated," a friend said, passing to the more pleasant subject of where to have dinner.
Andrew Hussey teaches at the University of London Institute in Paris, and he has spent years tracking the horrifyingly dysfunctional relationship between secular republican France and its Arab citizens He's as much at home with hip-hop and gruesome Islamist videos as he is talking to buttoned-up French prison officials. Hussey thinks that the French press, metropolitan and fashion-driven, doesn't want to know how bad things are. He believes that the hatred and fear can be explained only by the long and appalling history of French empire, and in this respect he is correct. I admire Andrew Hussey's book because he has had the courage to go where I didn't. And yet I cannot wholly buy into the sense of futility that pervades it. True, the story of the French and their Arabs is a gruesome one, but maybe things are not quite as hopeless as he thinks.
Full report at:
http://www.theguardian.com/books/2014/mar/16/french-intifada-review-courageous-modern-france-andrew-hussey
---------------
URL: https://www.newageislam.com/islamic-world-news/new-age-islam-news-bureau/egypt-pledges--decisive--action-after-militants-kill-six-soldiers/d/56160