New Age Islam News Bureau
18 Jul 2019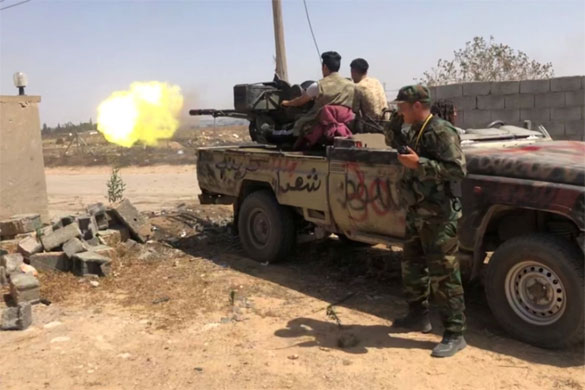 The fight for Tripoli has killed at least 1,093 people to date, according to the World Health Organization [File: Yosri al-Jamal/Reuters]
---------
• Egypt: Muslim Brotherhood is Source of World's Extremist Organizations
• 'No Military Solution': World Powers Urge Libya De-Escalation
• Sudan Military Council, Opposition Sign Political Agreement
• On State Plea, Ranchi Court Drops Quran Donation as Bail Condition
• Generational Change in Jamaat-e-Islami Hind
• SC Issues Notice to TLP Chief Khadim Rizvi on Punjab Govt's Petition for Bail Cancellation
• Muslim Organizations across U.S. React To Trump's Controversial Remarks
• In Rebuke to Donald Trump, US Congress Blocks Saudi Arms Sales
• EU: Preserving Iran Nuclear Deal 'Joint Responsibility'
Arab World
• Egypt: Muslim Brotherhood is Source of World's Extremist Organizations
• Isis Flag Raised At Syrian Camp Holding Jihadi Families
• Syrian air strike on village market kills at least 12: rescuers
• Saudi Muslim Preacher Defrocked Over Demanding King Salman, Crown Prince Tax Cuts: Report
• Iraq deports 33 ISIS children to Russia, bringing its total to 473 worldwide
• U.S. airstrike kills two terrorists inside Nineveh tunnel
• Saudi-led coalition intercepts Houthi drones targeting Abha and Jizan airports
• Explosion in south Syria kills six soldiers: monitor
--------
Africa
• 'No Military Solution': World Powers Urge Libya De-Escalation
• Sudan Military Council, Opposition Sign Political Agreement
• ISIS Video Calls for Attacks in Tunisia
• Somalia: Anger over Al-Shabaab Attack
• Somalia: Roadside Bomb Hits Ethiopian Military Convoy in Somalia
• Two leaders of Malian al Qaeda affiliate put on U.S. terrorism list
• Somalia: Kenya Says 3 Militants Killed, 2 Officers Wounded in Attack
--------
India
• On State Plea, Ranchi Court Drops Quran Donation as Bail Condition
• Generational Change in Jamaat-e-Islami Hind
• Bakrid: Telangana Minister Appeals to Muslims to Sacrifice Sheep Not Cow
• Indian activists launch helpline for hate crimes victims
• After Masood Azhar blacklisting, ICJ verdict in Kulbhushan case isolates Pakistan
• Pakistan Increases Land Allotted To Kartarpur Gurudwara from 3 To 42 Acres
--------
Pakistan
• SC Issues Notice to TLP Chief Khadim Rizvi on Punjab Govt's Petition for Bail Cancellation
• Hafiz Saeed Nabbed by Pakistan Ahead of Imran's Maiden US Visit
• India's conduct amounted to rights abuse: Justice Jillani
• PM appreciates ICJ's decision to not acquit, release Jadhav; says Pakistan will proceed as per law
• President, PM file defamation suit against Akbar S. Babar
• Sattar among 13 indicted for violence in Pakistan Quarters eviction case
• JUI-F says Reko Diq case verdict unacceptable
--------
North America
• Muslim Organizations across U.S. React To Trump's Controversial Remarks
• In Rebuke To Donald Trump, US Congress Blocks Saudi Arms Sales
• Rohingya Activist Says US Ban On Myanmar Generals A First Step
• 'You had the Nobel Prize?' Donald Trump learns of Yazidi activist Nadia Murad
• Trump hails arrest of 'so-called mastermind of Mumbai attacks' Hafiz Saeed
• Russia: US replacing troops in Syria with mercenaries
--------
Europe
• EU: Preserving Iran Nuclear Deal 'Joint Responsibility'
• London Bridge attack: police lawfully killed terrorists, inquest finds
• Norway arrests Iraqi preacher convicted in Italy for 'terrorism'
• US anti-Iranian line behind flare-up of tensions in Mideast: Lavrov
• Assailants desecrate mosque in western Germany
• Turkey, Montenegro free trade agreement revised
--------
Southeast Asia
• In Reassessing His Role Dr Mahathir Must Not Sacrifice National Unity
• Australia Calls On China To Let Uighur Mother And Son Leave
• Silence the bigger bomb after threat to attack seminar
--------
Mideast
• Israel's Military to Increase Protection of Strategic Sites from Hezbollah Missiles
• Iran Rejects Pompeo's Suggestion It Is Willing to Negotiate over Missile Program
• Iran Says It Aided Oil Tanker, Amid Reports of Missing U.A.E. Ship
• Turkish diplomat, one other shot dead in Kurdish capital
• Iran's Zarif says US travel curbs on Iranian diplomats 'inhuman'
• Iran: Zarif's missile remarks meant to challenge US, not signal negotiations
• Iranian diplomats and their families living in New York face US travel curbs
• Wave of fear hits Syrians as Turkey announces new measures for refugees
• US to send around 500 forces to Saudi Arabia amid Iran tensions: Report
--------
South Asia
• Taliban Force Swedish Charity to Close Dozens Of Afghan Health Centres
• Islamic State making territorial gains in Afghanistan, Pentagon reports
• Civilian, 22 Militants Killed In E. Afghan Counter-Terrorism Operation
• Taliban Kill More Than 20 Afghan Commandos: Officials
• 18 Afghan soldiers killed during raid on Taliban positions
• ISIS Claims Responsibility for Attack on U.S. Base in Afghanistan
Compiled by New Age Islam News Bureau
URL: https://www.newageislam.com/islamic-world-news/egypt-muslim-brotherhood-source-worlds/d/119229
--------
Egypt: Muslim Brotherhood is Source of World's Extremist Organizations
16 July, 2019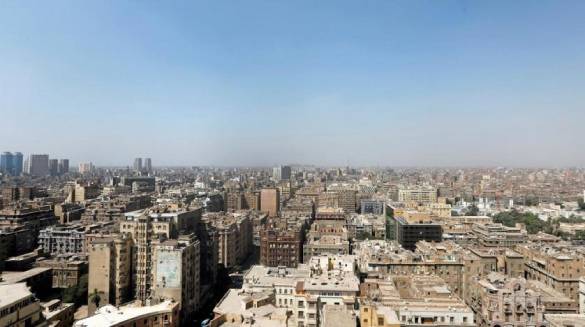 Egypt said all takfiri groups stem from the same extremist ideological source established by the Muslim Brotherhood organization, stressing the need to continue efforts to address terrorism in all its forms.
Foreign Ministry spokesman Ahmed Hafez made this stance at a meeting of the liaison strategy group of the Global Coalition against ISIS in Washington.
He said victories over ISIS should not be considered a final goal, adding that the only way to eliminate terrorism lies in adopting a unified international approach on an all-out confrontation of terrorist groups, their ideology and activities.
Hafez cited the initiative launched by President Abdel Fattah al-Sisi to renew religious discourse, praising the role played by the al-Azhar and Dar al-Iftaa to counter terrorism.
He stressed that Egypt will continue to support the liaison strategy group based on its experience in combating terrorism, highlighting the role played by its religious institutions in correcting misconceptions about religion and promoting moderate Islam. An international study by Center on Religion and Geopolitics in Britain noted that 50 percent of extremists have ties to the Muslim Brotherhood or related organizations.
Meanwhile, Advisor to Egypt's Mufti, Ibrahim Najm stated that the Brotherhood is the root of extremism in the world, accusing it of adopting destructive rhetoric and inciting violence.
He told Asharq Al-Awsat that organizations like the Brotherhood make false interpretations of the holy Quran to justify their actions and legitimize their crimes.
https://aawsat.com/english/home/article/1815131/egypt-muslim-brotherhood-source-world%E2%80%99s-extremist-organizations
--------
'No military solution': World powers urge Libya de-escalation
17 Jul 2019
France, Britain, Egypt, the United Arab Emirates (UAE), the United States and Italy have called for an immediate end of hostilities around the Libyan capital, Tripoli, and warned that "terrorist groups" are attempting to exploit the country's security vacuum.
In a rare joint statement issued on Tuesday, the six countries urged Libya's warring parties to return to a United Nations-mediated political process aimed at restoring peace in the sprawling North African state.
"There can be no military solution in Libya," the statement said.
"Persistent violence has claimed nearly 1,100 lives, displaced more than 100,000, and fueled a growing humanitarian emergency," it added.
Renegade military commander Khalifa Haftar's Libya National Army (LNA) has been battling rival militias since April in a bid to wrestle control of Tripoli from Libya's internationally recognised Government of National Accord (GNA).
The LNA's push on the capital has not advanced beyond Tripoli's southern suburbs but has nonetheless further destabilised oil-rich Libya, which has been mired in chaos since the NATO-backed toppling of longtime ruler Muammar Gaddafi in 2011, and split into rival eastern and western administrations since 2014.
Peace talks postponed
The fight for Tripoli has killed at least 1,093 people to date, according to the World Health Organization, including 106 civilians. More than 100,000 people have been displaced from their homes.
World Health Organization in Libya
✔
@WHOLIBYA
The violence in #Tripoli has killed 1093 people, including 106 civilians, and injured 5752 people, including 294 civilians. More than 100 000 people are displaced.
WHO is training #Libya's doctors to serve both the physical and mental health needs of the injured and displaced.
20
8:42 PM - Jul 15, 2019
Twitter Ads info and privacy
32 people are talking about this
Amid the conflict, the UN was forced earlier this year to abandon its plans for a conference aimed at brokering an agreement to hold elections as part of a solution to Libya's long-running political crisis.
The meeting was scheduled to bring Haftar and GNA Prime Minister Fayez al-Sarraj together in the southwestern town of Ghadames from April 14-16, but was postponed just days before.
The UN envoy for Libya Ghassan Salame had said at the time that talks cannot take place while "gunfire and air strikes" continued.
Salame also vowed to hold the event "as soon as possible ... on the day when conditions of its success are ensured," but did not give further details about any possible future date.
The statement by France, Britain, Egypt, the UAE, US and Italy said the mediation efforts needed to be re-energised in order to move towards the establishment of a "transitional government representing all Libyans" and preparing for "credible parliamentary and presidential elections", among other things.
But Haftar, who casts himself as a foe of "extremism" despite being viewed by opponents as a new authoritarian leader in the mould of Gaddafi, has previously vowed to continue his offensive until Libya is "cleansed of terrorism".
His forces, which control the eastern part of Libya and much of the south, enjoy the support of Egypt, the UAE and Russia. The GNA and allied militias, meanwhile, are backed by Turkey and Qatar.
Migrants, refugees at risk
Violence in Libya has also put at risk an estimated 6,000 migrants and refugees held in detention centres across the country.
The UN has persistently warned that those being held are not safe and called for them to be released.
The warnings escalated in recent weeks after a deadly July 2 air raid on a detention centre for migrants and refugees near Tripoli killed at least 60 people and wounded 77 others, prompting the UN Security Council to call for Libya's warring parties to commit to a ceasefire.
GNA officials blamed Haftar's forces for the killings, but the LNA denied the accusation, saying it targeted a nearby militia's position but did not attack the hangar where the migrants were being held.
Libya is one of the main departure points for migrants and refugees fleeing poverty and war in the Middle East and Africa and attempting to reach Europe by boat via the Mediterranean Sea. Many of those undertaking the journey use human traffickers to facilitate their movements.
Outside of the detention centres, approximately 50,000 registered refugees and asylum seekers, as well as some 800,000 migrants are currently living elsewhere in the country, according to the UN's refugee agency.
In their joint statement, the six world powers said "ongoing confrontation" had "exacerbated the tragedy of human migration in the Mediterranean".
At least 682 deaths have been recorded in the Mediterranean so far this year, according to the International Organization for Migration, almost half as many as the 1,425 registered in 2018.
https://www.aljazeera.com/news/2019/07/military-solution-world-powers-urge-libya-de-escalation-190716170347253.html
--------
Sudan military council, opposition sign political agreement
17 July 2019
The first phase of a political agreement was signed by Sudan's Transitional Military Council and the Forces of Freedom and Change opposition alliance with the attendance of the African Union and Ethiopian envoys.
At a press conference on Wednesday, it was announced that the constitution draft will be discussed this Friday.
The deputy head of Sudan's Transitional Military Council, General Mohamed Hamdan Dagalo, said that the agreement is "a historic moment," and makes way for "a new era of cooperation."
The African Union envoy said the agreement marks a "new era" and "paves the way for the next stage."
For his part, the Ethiopian envoy said that the "people of Sudan deserve this great day."
The Forces of Freedom and Change opposition alliance said: "We must stay away from all that divides the Sudanese people."
Sovereignty council
A sovereignty council composed of 11 members – five of whom represent the Transitional Military Council, five from the Forces of Freedom and Change, and one a civilian – oversaw the writing of the agreement.
The agreement calls for the formation of a legislative council within three months of the formation of the sovereignty council.
According to the agreement, any person who holds any official position during the transitional period may not stand for election.
A Council of Ministers, which will be made up of 20 members, will also be nominated by the Forces of Freedom and Change.
The agreement also demands the removal of Sudan's name from the US State Department's list of state sponsors of terrorism and calls on the international community to support the transitional authorities.
It also stipulates that members of the sovereignty council representing the Transitional Military Council will get to choose the interior and defense ministers.
The agreement includes the development of programs meant to reform state organizations and the establishment of mechanisms to prepare for the establishment of a permanent constitution for the country.
The agreement will also address the economic crisis and legal reforms, and aims to work towards achieving sustainable economic development.
It also stipulates the completion of the peace process within a period of six months.
https://english.alarabiya.net/en/News/middle-east/2019/07/17/Military-council-opposition-sign-political-agreement.html
--------
On state plea, Ranchi court drops Quran donation as bail condition
by Abhishek Angad
July 18, 2019
A day after it asked a 19-year-old B Com student to distribute copies of the Quran as a condition for her bail, a Ranchi district court Wednesday recalled its order after the police officer investigating the case submitted that there will be difficulties in "implementing the order" and the Jharkhand government, too, asked for a modification.
The court of Judicial Magistrate (First Class) Manish Kumar Singh in granting bail to Richa Bharti, who was arrested earlier for sharing an offensive social media post targeting Muslims, asked her to hand over a Quran to the local Anjuman Committee in the presence of police, and four more to different libraries.
But in its reviewed order Wednesday, the court said: "The IO (investigating officer) has prayed that the condition of donating Holy Quran by petitioner may be done away with because of difficulties in implementation. The state has prayed for modification of the said bail order and modifying the condition to that extent. In view of the aforesaid submissions, the court modifies its earlier order by dropping the additional condition of distribution of copies of the Holy Quran by petitioner."
The court also allowed her regular bail by furnishing bail bond of Rs 7,000 and two sureties of like amount each.
Incidentally, the order had triggered protests and the Ranchi Bar Association had even called for a boycott of the concerned court.
According to court documents, a complaint was lodged at the Pithoria police station on July 12 stating that Richa Bharti had posted messages on social media against "Islam". "It has adversely affected the feeling of the community which could lead to a communal controversy," said the police complaint which was signed by 57 people.
Subsequently, an FIR was registered under Section 153 A (promoting enmity between different groups on ground of religion) and Section 295 A (deliberate and malicious acts, intended to outrage religious feelings) of the IPC.
https://indianexpress.com/article/india/on-state-plea-ranchi-court-drops-quran-donation-as-bail-condition-5834955/
--------
Generational change in Jamaat-e-Islami Hind
By Syed Ubaidur Rahman
Jul 15, 2019
In the midst of political churnings in New Delhi following the back to back victories of the BJP in Lok Sabha elections, political and social pundits have failed to keep up with the change of guard in Jamaat-e-Islamic Hind, the foremost Islamist organization in India. The organization, founded by Islamic ideologue, Syed Abulala Maududi, who many believe to be behind the resurgence of political Islam and Islamist movements across the world, seems to have come a long way in India. The Islamist organization that prides in its intellectual work seems to be undergoing a metamorphosis of sorts in recent years. The most telling sign of the change is the change of guard in the organization that was founded by Maududi in the year 1942. Change of guard The change cannot be starker in an organization that was thought to be run by a deeply entrenched clergy. The reigns of the JIH have moved from old guards, represented by octogenarian, Maulana Syed Jalaluddin Umri, to an engineer by education, Syed Sadatullah Hussaini, who is almost half his age. 45-year old Hussaini's team is made up of mostly engineers from down South besides a few who come from clergy, so indispensible for an Islamist organization. Despite their inclusion in the organizational set-up the clergy seems to have lost its grasp over the organization. Despite the look of a seamless change of guard, it was all but seamless and smooth. The old guard was not really very eager to let its sway over the organization vanish all of a sudden. The last election too, held four years ago, was very hotly contested and Hussaini failed to dislodge the reverenced Maulana Umari by a whisker. But this time, the undercurrent was so strong that the new generation was able to easily dislodge the clergy in direct contest. The Jamaat's top leadership now comprises of many engineers and technocrats. Besides President (amir) of the JI, at least two of the three vice presidents are engineers and one of them teaches at a top engineering college in Rajasthan. Many of the secretaries in the JI also come from universities and not from madrasas and seminaries that used to be the case in the past. It must be mentioned here that Jamaat-e-Islami Hind is by far the most or rather the only democratic Islamic organization in the country. Other organizations are mostly family run businesses or hereditary organizations. Elections held every four years for the central and state level leadership are most transparent and despite them being bitterly fought, once when the results are out and leadership is announced, everyone accepts the results with unprecedented humility. This is the reason that many old leaders, when removed, voluntarily vacate their offices, accommodations and leave for their homes that they had left for the same organization decades ago. From political Islam to secular democracy Renowned scholar, Seyyed Vali Reza Nasr, while writing in his 'Mawdudi and the Making of Islamic Revivalism' says, Maududi "was one of the first Islamic thinker to develop a systematic political reading of Islam and a plan for social action to realize his vision. His creation of a coherent Islamic ideology, articulated in terms of the elaborate organization of an Islamic state, constitutes the essential breakthrough that led to the rise of contemporary revivalism." JI in India seems to have come a long way. From being an organization that condemned secularism and democracy to an organization that prides in working for restoring of the national secular ideals, it is a rather long journey indeed. Irfan Ahmad, while writing in his 'Islamism and Democracy in India' says, "Secular democracy, according to Maududi, was haram because it replaced divine sovereignty with human sovereignty". But things have radically changed. Irfan, while writing in the introduction of his book says, "In these pages I show how the trajectory of the Jamaat demonstrates a substantive mutation in the discourse of Islamism. Simply put, I demonstrate how its radical goal changed from establishing Allah's Kingdom to embracing and defending Indian Secular democracy". The terms that used to be pronounced in the JI discourses in the country have also largely changed. There are chances that the JI, under its new amir, who has emerged as the new-age ideologue of the outfit, will further veer towards moderation. Opposition to extremism While the old guard had also opposed all sorts of extremism, Sadatullah Hussaini has been very vocal against all manifestations of extremism in the Muslim society. He has been very vocal against manifestation of any sorts of extremism, including the challenges posed by ISIS or other similar organizations in the Indian Sub-Continent or elsewhere. While writing in FirstPost, Hussaini condemned ISIS scourge and reasoned why Muslims in India were against extremism and free from the scourge called ISIS. He reasoned that secular democracy in India was responsible for the lack of Indian Muslims' dalliance with extremism. "There are two reasons for India being comparatively safe. The first reason is the democratic ethos of this country and the second reason is the united stand taken by Indian Muslim leadership and clergy against terrorism and terror outfits. Jamaat-e-Islami Hind, one of the biggest and most organised groups of Indian Muslims, has recently held its all India conference in Hyderabad. Islamic State and extremism were a few of the major issues discussed in the conference. Jamaat chief (Ameer-e-Jamaat) came down heavily on the outfit and termed those planning to join it as 'bewakoof' (mindless). Vice-president of JIH spoke to The Times of India and said, "the conference was aware that it would be a gigantic task to keep the youth at bay from the IS influence through Internet. For this, the JIH decided to set up organisational units that would work in tandem with the youth and community elders. The units will also develop 'cordial' relations with other sections of the Indian society." Wrote Hussaini in his article. Myriad challenges While there are chances that the JI, under new leadership, may further move towards moderation, the fight-back from the old guard to continue the old policies cannot be discounted. There are other challenges that are far bigger than merely the specter of fight-back from the old guard and the clergy that doesn't seem to be too happy with the change of the course in the JI. Far more important and bigger challenge staring the new JI leadership is the required literature to feed its around twelve thousand members and several lakh associates spread across the country. The JI doesn't really posses leaders, and scholars, who can produce convincing literature to replace the old literature authored by Maududi, his protégés or imported from Islamist writers from around the world. Maududi, who had marvelous control over language and Islamic sciences, and possessed very persuasive writing style, will pose a major challenge before the new leadership of the JI as they scurry to find someone capable enough to produce literature that they could deliver to their cadre. It is a tall order and the young Turks will find it harder than they would have initially comprehended.
https://www.sify.com/news/generational-change-in-jamaat-e-islami-hind-news-columns-thpl2Wgdjeijf.html
--------
SC issues notice to TLP chief Khadim Rizvi on Punjab govt's petition for bail cancellation
July 18, 2019
The Supreme Court on Thursday issued a notice to Tehreek-i-Labbaik Pakistan (TLP) chief Khadim Hussain Rizvi with regards to a petition filed by the Punjab government challenging a Lahore High Court (LHC) decision to grant bail to Rizvi.
The firebrand cleric was booked for launching violent protests against the acquittal of Aasia Bibi last year.
A two-member bench of the apex court, comprising Justice Manzoor Ahmed Malik and Justice Qazi Mohammad Amin Ahmed, took up the provincial government's petition at the Supreme Court Lahore registry.
The bench asked the Additional Prosecutor General Mazhar Sher Awan what Rizvi's main crime was.
Awan responded that the TLP chief had given speeches against the judiciary and riled up people.
"These are the facts of the case, speak about the law and tells us Khadim Hussain Rizvi's crime," said Judge Malik.
"What is wrong with the high court's decision to release Khadim Hussain Rizvi on bail?" he asked.
The apex court expressed displeasure with the additional prosecutor general for being unable to provide the court with proper assistance.
"You don't know the merits of the case; who drafted it?" Judge Malik asked, adding: "How many individuals' bail do you want to have cancelled?"
Awan said that they had only submitted a petition for the cancellation of bail for Rizi and Ata Mohammad.
The judge asked if Awan had read the case file, as Mohammad was the complainant of the case and the additional prosecutor general was referring to him as a suspect.
The SC issued notices to the TLP chief on the Punjab government's appeal and adjourned proceedings.
Rizvi and the then TLP patron-in-chief, Pir Afzal Qadri — who is also nominated in the same case — were granted bail in May this year. Qadri's bail expired on July 15 but was extended on medical grounds.
The two were taken into "protective custody" by the state during a crackdown in November 2018 after the TLP announced it would observe martyrs' day on Nov 25, 2018.
The provincial government, in its appeal, has argued that the high court "did not fulfill legal requirements" in its decision to grant bail, which was made in May this year.
The petition said that there was enough evidence against the TLP chief and urged the top court to nullify the high court's verdict.
https://www.dawn.com/news/1494788?ref=notification
--------
Muslim Organizations Across U.S. React To Trump's Controversial Remarks
By Omri Nahmias
JULY 16, 2019
WASHINGTON – Muslim organizations across the US reacted Monday night to US President Donald Trump's controversial remarks about a group of four progressive Congresswomen.
"President Trump's remarks today are a dangerous new low that will lead to more death threats on Congresswoman Omar and a surge in bigotry against American Muslims," wrote Madihha Ahussain, special counsel for anti-Muslim bigotry at Muslim Advocates.
He added that, "It's astonishing that he would fabricate a quote suggesting that Rep. Omar was proud of Al Qaeda. The idea that Muslims support terrorism is a false, harmful slur that the president gleefully peddled today when he falsely claimed that Rep. Omar supports terrorism and is antisemitic – both of which are established anti-Muslim tropes."
"President Trump has made it clear that the driving force of his administration is open bigotry and white supremacy," he continued. "All Republicans and Democrats must forcefully and unequivocally condemn him immediately. Anything less than that is an endorsement of this hatred."
Earlier on Monday, the president defended his comments during "Made in America Day" at the White House. "If you are not happy, you can leave," said Trump. "If you hate our country, you can leave. Some people thought it's controversial; many people love it."
Speaking of the group of four Democratic congresswomen - Alexandria Ocasio-Cortez, Ilhan Omar, Rashida Tlaib and Ayanna Pressley - he said: "They are very unhappy; I watch them, and all they do is complain. So, if you're not happy, you can leave. I am sure many people will not miss them."
He said that Omar "left Somalia, a failed country," and added that "she hates Israel, hates Jews."
"I see them complaining constantly," he continued. "If they want to leave that's fine, and if they want to stay, it's fine."
The Council on American-Islamic Relations (CAIR), condemned the president's remarks. "Trump's latest racist tweets echo the bigoted shouts of 'go back where you came from,' heard daily by American Muslim women and children, immigrants and members of other minority communities across our nation," said CAIR National Executive Director Nihad Awad.
"It is sad to see the occupant of the Oval Office transition from empowering and encouraging racist taunts to actually using them himself. If Trump shouted the same thing at a Muslim woman wearing hijab in a Walmart, he might be arrested."
The Muslim Public Affairs Council (MPAC) tweeted that "The President's comments that leaders like Alexandria Ocasio Cortez, Ilhan Omar, Rashida Tlaib and Ayanna Pressley are any less American than him are not only hateful and inaccurate but also propagate the white nationalistic ideals that he has chosen to champion while he leads our country."
https://www.jpost.com/American-Politics/Muslim-organizations-across-US-react-to-Trumps-controversial-remarks-595805
--------
In rebuke to Donald Trump, US Congress blocks Saudi arms sales
Jul 18, 2019
WASHINGTON: The US House voted Wednesday to block $8.1 billion in arms sales to Saudi Arabia and other allies, a rebuke of Donald Trump that will likely lead to a veto by the president.
Lawmakers, many of whom are outraged with the kingdom over Riyadh's role in the murder of Saudi journalist Jamal Khashoggi last year, approved three resolutions that would prevent the controversial sales announced under emergency measures earlier this year by Trump.
The resolutions blocking the sales have already cleared the US Senate, and now go to the White House, where Trump is expected to issue a veto, the third of his presidency. While the House blocked the sales with a comfortable majority, it was about 50 votes shy of the two-thirds needed to override Trump's veto.
Trump is seeking 22 separate sales of aircraft support maintenance, precision-guided munitions and other weapons and equipment to Saudi Arabia, the United Arab Emirates and Jordan at a moment of heightened tensions in the Middle East.
Critics say the arms sales would aggravate the devastating war in Yemen, where Saudi Arabia is leading a US-backed coalition in a battle against the Iranian-supported Huthi rebels, and which the UN said has triggered the world's worst humanitarian crisis. "When we see what's going on in Yemen, it's so important for the United States to take a stand," House of Representatives Foreign Affairs Committee chairman Eliot Engel said on the House floor.
The veteran Democrat concurred that the threats from the Iranian-backed Huthis were real, "but that doesn't mean we should just look the other way in the face of violence and the slaughter of civilians."
Trump's administration took the extraordinary step of bypassing Congress to approve the sale in May, as his administration declared Iran to be a "fundamental threat" to the stability of the Middle East.
Secretary of State Mike Pompeo had said the administration was responding to an emergency caused by Saudi Arabia's arch foe rival Iran, which backs the Huthi rebels in Yemen.
Lawmakers including some Senate Republicans have said there were no legitimate grounds to circumvent Congress, which has the right to disapprove arms sales.
Last month Senator Lindsey Graham delivered a stinging rebuke of the arms sales and Riyadh, saying he hoped the vote would "send a signal to Saudi Arabia that if you act the way you're acting, there is no space for a strategic relationship."
The senator was referring to last year's brutal murder of Khashoggi in Turkey at the hands of Saudi agents, an incident that triggered a full-blown crisis in Riyadh's relations with the West.
But Michael McCaul, the top Republican on the House Foreign Affairs Committee, criticized the resolutions as "dangerous" at a time Iran is expanding its reach.
"Iran is stretching its tentacles of terror across the Middle East," he said in a statement. "If we allow them to succeed, terrorism will flourish, instability will reign, and the security of our allies, like Israel, will be threatened," he added.
https://timesofindia.indiatimes.com/world/us/in-rebuke-to-donald-trump-us-congress-blocks-saudi-arms-sales/articleshow/70271089.cms
--------
EU: Preserving Iran nuclear deal 'joint responsibility'
17.07.2019
EU's foreign policy chief called it a "joint responsibility" to preserve the 2015 nuclear deal, while urging Iran again to stick to the treaty.
"Preserving the deal is not only our interest and our responsibility -- it is -- but it is also a joint responsibility for all around the world," Federica Mogherini told the plenary session of the European Parliament in Strasbourg, France.
Under the Joint Comprehensive Plan of Action (JCPoA) signed by the U.K., the U.S., Russia, China, France, Germany and the EU, Iran agreed to destroy its stockpile of medium-enriched uranium and cut its stockpile of low-enriched uranium by 98%.
However, Iran lately confirmed that it had breached the 3.67% limit of uranium enrichment set under the 2015 nuclear deal.
In October 2017, U.S. President Donald Trump announced that Washington would no longer be a signatory to the deal and subsequently withdrew from it. Shortly after, the U.S. imposed sanctions on Iran.
Mogherini said Iran's actions do not indicate a "unequivocal decision or intention" by Tehran to revert to its nuclear program.
"At the same time, I want to be very clear, the longer Iran proceeds down this road, the harder it will be, technically, to step back. Our request to Iran is very clear: go back to the full implementation of the deal as you have been doing so far," she added.
The foreign policy chief underscored that it is a "global responsibility" to preserve the deal and its full implementation, which was unanimously adopted UN Security Council resolution.
https://www.aa.com.tr/en/europe/eu-preserving-iran-nuclear-deal-joint-responsibility-/1534145
--------
Arab World
Isis flag raised at Syrian camp holding jihadi families
July 18, 2019
The black flag of Isis has been hoisted in a Syrian camp holding tens of thousands of the terror group's family members, nearly four months after the caliphate was officially declared defeated.
In a video posted online, women and children can be seen cheering while the homemade flag flutters from a pole. The crowd are heard shouting "baqiya" – the Arabic word for "remaining" – a reference to the Isis slogan "remaining and expanding".
The video first appeared on Monday, according to Jihadoscope, a monitoring group focused on the spread of terror propaganda across the web and social media, but it is not the first such incident at the sprawling al-Hol camp in northeast Syria. It comes amid warnings of growing radicalisation at the facility.
Earlier this month, a video purportedly filmed at the camp showed women re-pledging their allegiance to Isis leader Abu Bakr al-Baghdadi, and calling on him to "liberate" them. Several guards have been attacked by residents.
Despite rising tensions at camps like al-Hol, the international community is still at odds over what to do with the inhabitants, including more than a dozen British women and their children, including Shamima Begum.
Tens of thousands of women and children fled the last sliver of the self-proclaimed caliphate, in the eastern Syrian village of Baghouz, before its complete recapture earlier this year.
Many of them were local residents who became trapped within Isis areas by the battle, but the majority were the wives and family members of fighters who showed little sign of abandoning the group.
Most are now being held in detention camps controlled by the Syrian Democratic Forces (SDF). Al-Hol, the largest of those camps, has a population of more than 70,000 people – mostly women and children from Syria and Iraq – together with around 9,000 foreign citizens.
Last week, the deputy commander of the US-led coalition to defeat Isis told The Independent that the potential for radicalisation in the camps was "the biggest long-term strategic risk" in ensuring its total defeat.
"Outside the military dimension, the biggest long-term strategic risk that I see is a continuation of that ideology and its ability to fester in some of those environments," said Major General Alexus Grynkewich.
Nearly half of al-Hol's inhabitants are children under the age of 12. The eldest among them will have been subjected to years of indoctrination under Isis. But the video of the flag being raised appears to show younger children chanting Isis slogans, which may suggest that indoctrination is being led by women in the camp, according to one expert.
"Due to the timescale of Isis's territorial collapse, it is unlikely that very young children would have undergone formal indoctrination in the group's schools or military training camps for boys," Gina Vale, research fellow at the International Centre for the Study of Radicalisation, based at King's College London, told The Independent.
"Therefore the role of the family unit, particularly the mother, has been critical to raise children, from infancy, in the worldview prescribed by Isis's ideology," she added.
Foreign governments have shown little willingness to take back their citizens from the camps over fears they will pose a significant security risk. There are thought to be at least 19 British women currently at al-Hol, and camps Roj and Ain Issa, together with at least 30 of their children.
The plight of British children stuck in Syria made the headlines earlier this year when the infant child of Shamima Begum, named Jarrah, died in the al-Hol camp. The British teenager fled her home in Bethnal Green, London, to join Isis in Syria in 2015.
Sajid Javid, the home secretary, has previously said that he would move to block any British citizen suspected of joining Isis from returning. However, Jeremy Hunt, the foreign secretary, recently suggested that their children might be taken back.
https://www.independent.co.uk/news/world/middle-east/isis-syria-flag-children-families-terror-islamic-state-camp-a9006566.html
--------
Syrian air strike on village market kills at least 12: rescuers
JULY 17, 2019
AMMAN (Reuters) - At least 12 people were killed and scores wounded on Tuesday in aerial strikes believed to have been carried out by the Syrian air force on a popular market in a village in opposition-held northwestern Syria, rescuers and residents said. Residents and rescuers said bombs dropped on Maar Shoreen village in southern Idlib province by planes which monitors said were Syrian army jets left a trail of death and destruction and wounded scores in a main street of the village's market.
Videos released on social media by activists purportedly showed footage of charred bodies lying on the streets alongside badly burnt people being carried by rescuers. Reuters was unable immediately to independently verify the footage.
Hundreds of civilians have been killed since a Russian-led assault on the last rebel bastion in northwestern Syria began nearly two months ago, rights groups and rescuers said.
The Russian defense ministry denies it targets civilians and Syrian state media said the army on Tuesday launched strikes on al Qaeda militants in the vicinity of Maar Shoreen, destroying their bases and killing scores of "terrorists".
The Syrian Network for Human Rights (SNHR), which monitors casualties and briefs various United Nations agencies, said in its latest report that the Russian-Syrian alliance had targeted 31 civil defense facilities, 37 medical centers and 81 schools in 11 weeks of relentless bombing.
It said 606 civilians were killed, including 157 children.
"O God, people have become charred. It's doomsday," said Abdullah al Idlibi, a rescuer from the civil defense team.
Russian jets joined the Syrian army on April 26 in attacking parts of rebel-held Idlib province and adjoining northern Hama province in the biggest escalation in the war between Syrian President Bashar al Assad and his enemies since last summer.
Full report at:
https://www.reuters.com/article/us-syria-security-idlib/syrian-air-strike-on-village-market-kill-at-least-12-rescuers-idUSKCN1UB2HU
--------
Saudi Muslim preacher defrocked over demanding King Salman, crown prince tax cuts: Report
Jul 17, 2019
Saudi authorities have reportedly defrocked a scholar and deprived him of ecclesiastical status, as a brutal crackdown led by Crown Prince Mohammed bin Salman against Muslim preachers and intellectuals widens in the ultra-conservative kingdom.
Pro-democracy activists said the Saudi Ministry of Islamic Affairs and Endowments took the measure against Sheikh Talal Sultan Bukhari, who is the imam of Mohammed bin Sorour al-Sabban mosque in the southwestern city of Taif, on Wednesday, Arabic-language New al-Khalij news website reported.
The activists noted that the measure came after Sheikh Bukhari called on King Salman bin Abdulaziz and Crown Prince Mohammed bin Salman to ease pressure and strain on the lives of ordinary people, and order tax cuts during the last Friday sermon.
Saudi Arabia has stepped up politically-motivated arrests, prosecution and conviction of peaceful dissident writers and human rights campaigners.
Saudi officials have also intensified crackdown in the country's Shia-populated Eastern Province.
Eastern Province has been the scene of peaceful demonstrations since February 2011. Protesters have been demanding reforms, freedom of expression, the release of political prisoners, and an end to economic and religious discrimination against the oil-rich region.
The protests have been met with a heavy-handed crackdown by the regime, with regime forces increasing security measures across the province.
Over the past years, Riyadh has also redefined its anti-terrorism laws to target activism.
Full report at:
https://www.presstv.com/Detail/2019/07/17/601183/Saudi-Muslim-preacher-defrocked-over-demanding-King-Salman-crown-prince-tax-cuts-Report
--------
Iraq deports 33 ISIS children to Russia, bringing its total to 473 worldwide
by Russ Read
July 16, 2019
Iraq deported 33 children of former ISIS members to Russia in a single day, bringing the total number of children it has deported to 473 globally.
The children were born to Russian mothers who are being held by Iraqi police on suspected ties to the terrorist group. Their fathers are believed to have been killed in action.
The hundreds of children already deported and hundreds still in Iraq come from a variety of ethnic backgrounds, including Russian, Tajik, Azerbaijani, German, French, Georgian, Belarusian, Finnish, Ukrainian, and Turkish, according to Iraqi officials.
Iraq's foreign ministry has told its overseas missions to encourage all countries with nationals who joined ISIS and were caught in Iraq or Syria, including "women, children, and juvenile offenders," to "coordinate with Iraq through diplomatic channels in order to receive them," foreign ministry spokesman Ahmad al-Sahaf said Monday.
The children were sent to Russia as part of a multi-ministry commission under Russia's children's rights commissioner, Anna Kuznetsova. A majority of the Russian children are from Chechnya and Dagestan, both Russian republics in the predominantly Muslim North Caucasus. The commission believes as many as 700 other children of Russian citizens may have been taken to ISIS territories.
Unlike their parents, the children are victims of the terrorist group, Iraqi Prime Minister Adil Abdul-Mahdi said during a meeting with Kuznetsova, adding that "a distinction must be made between humanitarian issues and terrorist crimes."
What to do with the tens of thousands of children born to ISIS members remains a largely unanswered and complicated question. While some countries, such as Russia and France, have agreed to take the children in, others have rejected them, rendering those effectively stateless.
"We face a possible human time-bomb. Allowing these children to have an education, healthcare, simply the right to exist, is key to ensuring a sustainable future for them and for the country," Jan Egeland, secretary general of the Norwegian Refugee Council, said in an April statement. "A society cannot be at peace if it allows a generation of stateless children in its midst."
In some cases, a lack of documentation has left children without access to basic necessities. Birth certificates issued by ISIS are not considered valid by Iraqi authorities, who have refused to give the children Iraqi citizenship if they are suspected of having ties to the terrorist group. Others lost their documents in the fall of the ISIS land caliphate in Iraq and Syria.
A lack of identification can prevent children from accessing education and critical healthcare services, most notably vaccinations. Later in life, they could be denied employment, marriage licenses, and the ability to own property, according to the council.
Parents and families of ISIS children are also being ostracized from their communities. Dozens of Yazidi girls captured and sold into sexual slavery by ISIS are being pushed out of their homes because their children were fathered by members of the terrorist group.
Full report at:
https://www.washingtonexaminer.com/policy/defense-national-security/iraq-deports-33-isis-children-to-russia-bringing-its-total-to-473-worldwide
--------
U.S. airstrike kills two terrorists inside Nineveh tunnel
by Mohammed Ebraheem
Jul 16, 2019
Nineveh (IraqiNews.com) – Two terrorists were killed Tuesday in an airstrike on a tunnel in the northern Iraqi province of Nineveh, a security media cell said.
"Acting on information from the Nineveh Operations Command, the U.S.-led international coalition waged an air raid targeting a tunnel in Sukhairiat area in Nineveh," Alghad Press website quoted the cell as saying in a press statement.
The airstrike left two terrorists dead inside the tunnel, the statement read.
Iraq declared the collapse of Islamic State's territorial influence in November 2017 with the recapture of Rawa, a city on Anbar's western borders with Syria, which was the group's last bastion in Iraq.
IS declared a self-styled "caliphate" in a third of Iraq and neighboring Syria in 2014. A government campaign, backed by a U.S.-led international coalition and paramilitary forces, was launched in 2016 to retake IS-held regions, managing to retake all havens, most notably the city of Mosul, the group's previously proclaimed capital.
Full report at:
https://www.iraqinews.com/iraq-war/u-s-airstrike-kills-two-terrorists-inside-nineveh-tunnel/
--------
Saudi-led coalition intercepts Houthi drones targeting Abha and Jizan airports
JULY 16, 2019
CAIRO (Reuters) - The Saudi-led coalition fighting in Yemen intercepted and downed three drones launched by the Iran-aligned Houthi movement towards the southwestern Saudi cities of Jizan and Abha, state TV reported on Tuesday.
Earlier the Houthis' Al Masirah TV quoted a Houthi military spokesman as saying the group had carried out drone attacks targeting the King Khalid air base near the southwestern Saudi city of Khamis Mushait and drone hangars at Jizan airport.
"The Houthi militias continue targeting civilians and civilian airports in Abha, Jizan and Najran and continue to threaten regional and international security," the coalition spokesman, Colonel Turki al-Malki, said in a statement.
The coalition had said earlier it also downed two drones in Yemeni airspace that had been launched towards Jizan.
The Houthis, who are battling the Saudi-led coalition in neighbouring Yemen, have in the past few months stepped up their attacks against targets in Saudi Arabia.
A Syrian resident of Saudi Arabia died last month from wounds sustained in a drone attack on Abha Airport that was claimed by the Houthis.
In response, the coalition has targeted the group's military sites around the Yemeni capital Sanaa and the port city of Hodeidah.
The Western-backed Sunni Muslim coalition led by Saudi Arabia and the UAE intervened in Yemen in 2015 to try to restore the internationally recognised Yemeni government that was ousted from power in Sanaa by the Houthis in late 2014.
Full report at:
https://www.reuters.com/article/us-yemen-security-saudi-airbase/saudi-led-coalition-intercepts-houthi-drones-targeting-abha-and-jizan-airports-idUSKCN1UB2CV
--------
Explosion in south Syria kills six soldiers: monitor
17 July 2019
A blast killed six soldiers in southern Syria on Wednesday in a rare such deadly attack in the defeated cradle of the eight-year uprising, a war monitor said.
"The explosive device was aimed at a convoy transporting members of the Fourth Division" in the southern province of Daraa, the Syrian Observatory for Human Rights said.
Fifteen others were also wounded in the attack near Yadud village, some seven kilometers (four miles) outside the provincial capital of Daraa city, the Britain-based monitor said.
It was not immediately clear who was behind the blast, but loyalists in the province face explosions and gunfire on a near daily basis, although they are usually not deadly, it said.
"Previous rebel fighters who call themselves the Popular Resistance usually carry out these types of attacks against the regime," Observatory chief Rami Abdel Rahman said.
State news agency SANA said "terrorists targeted a military vehicle on the Yaduda road," reporting an undefined number of "dead and wounded."
Russia-backed government forces last summer retook the province, following a deadly bombardment campaign and surrender deals that saw part of the population board buses to an opposition holdout region in the northwest.
Government institutions have since returned, but army forces have not deployed in all of the province.
And local anger has grown after hundreds were detained despite the so-called "reconciliation deals," and many others forcibly conscripted into President Bashar al-Assad's army.
In March, dozens of people took part in a hasty protest against a statue of the late father of the president being reinstated eight years after protesters demolished it.
Full report at:
https://english.alarabiya.net/en/News/middle-east/2019/07/17/Explosion-in-south-Syria-kills-six-soldiers-monitor-.html
--------
Africa
ISIS video calls for attacks in Tunisia
17 July 2019
The ISIS group has called for more attacks in Tunisia in a rare propaganda video purportedly filmed by the militants in the North African nation.
It comes three weeks after a twin suicide attack against police in the capital Tunis claimed by ISIS killed two people.
The video, shared on ISIS social media channels on Tuesday night, shows armed men in balaclavas who pledge allegiance to the ISIS' leader Abu Bakr al-Baghdadi.
"Your soldiers and your sons in the land of Kairouan are doing well," said one of those filmed who gave the pseudonym Abou Omar al-Tounsi.
The holy city of Kairouan lies in central Tunisia.
Another militant using the name Abou Khaled al-Tounsi called for people to "sow terror" in Tunisia.
The video, which was circulated on messaging app Telegram and could not immediately be verified, was said to have been filmed inside the country.
Following Tunisia's 2011 revolution, the country saw a rise in extremism and deadly attacks hit soldiers, police, civilians and foreign tourists.
While the security situation has improved in recent years, the state of emergency implemented in 2015 is still in place.
https://english.alarabiya.net/en/News/north-africa/2019/07/17/ISIS-video-calls-for-attacks-in-Tunisia-.html
--------
Somalia: Anger Over Al-Shabaab Attack
16 JULY 2019
By Saad Muse in Mogadishu, Somalia
Mogadishu — THERE is shock and outrage at the recent terrorist attack that claimed the lives of at least 26 people, including a United Nations (UN) aid worker, in Somalia.
In addition to those killed, an estimated 40 people were injured in the siege on a hotel in the port city of Kismayo, where a high-level political meeting was held to discuss pending regional elections.
Al-Shabab, the Islamist group has claimed the attack, described as its worst in Kismayo since the group was forced out in 2012.
The assault on the hotel lasted for about 14 hours. It started when a suicide bomber rammed a car containing explosives into the hotel compound.
Gunmen then stormed the building.
Abdifatah Mohamed, an aid worker with UN's International Organisation for Migration (IOM), was among those killed.
Prominent local journalist, Hodan Nalayeh, and her husband Farid, together with local politicians, Kenyans, Tanzanians, Americans a Briton and a Canadian were also killed in the attack.
"Our deepest sympathies go to them," IOM director-general António Vitorino, said.
Al-Shabaab has carried out multiple attacks in Somalia since its formation in 2006.
Full report at:
https://allafrica.com/stories/201907160699.html
--------
Somalia: Roadside Bomb Hits Ethiopian Military Convoy in Somalia
16 JULY 2019
A bomb has ripped through a military convoy carrying Ethiopian troops serving under African Union Mission in Somalia [AMISOM] in Hiran province, killing and wounding at least 20 people.
In a statement, the Al-Qaeda-linked Al-Shabab has claimed responsibility for the attack, saying it targeted Ethiopian army convoy at Halgan village, located on the outskirts of Beledweyne city.
The explosion which resulted from a landmine comes amid increased military operations against Al-Shabab in parts of Somalia as the Federal Government is trying to regain full control of the country.
Full report at:
https://allafrica.com/stories/201907160602.html
--------
Two leaders of Malian al Qaeda affiliate put on U.S. terrorism list
JULY 16, 2019
WASHINGTON (Reuters) - The United States added two leaders of al Qaeda's affiliate in Mali to its global terrorism list on Tuesday, accusing them of engaging in destabilizing attacks across the West African country, the U.S. Treasury said.
Ali Maychou and Bah Ag Moussa, both leaders of Jama'at Nusrat al-Islam wal-Muslimin, were designated by the U.S. Treasury as global terrorists and placed on a list of people whose assets in the United States can be blocked, the Treasury's Office of Foreign Asset Control said.
"Treasury is targeting the leadership of JNIM, al Qaeda's branch in Mali, for its destabilizing role conducting terrorist attacks across the country," Treasury Undersecretary Sigal Mandelker said in a statement. "As a leader within JNIM, Bah Ag Moussa directly contributes to the violence and instability fueled by al Qaeda's terrorism."
The Treasury said it added Moussa to its sanctions list because he had acted on behalf of JNIM and its leader, Iyad ag Ghali. Both JNIM and Ghali were added to the sanctions list previously.
Moussa, a former Malian army colonel, led an operation in March against the Malian Armed Forces base in Dioura that killed at least 21 Malian soldiers.
The U.S. State Department said Maychou, a native of Morocco, had claimed responsibility for a JNIM attack on a military camp that housed Malian troops in Gao, killing dozens. It said Maychou had an operational role in JNIM's activities.
Full report at:
https://www.reuters.com/article/us-usa-sanctions-alqaeda/two-leaders-of-malian-al-qaeda-affiliate-put-on-us-terrorism-list-idUSKCN1UB1RV
--------
Somalia: Kenya Says 3 Militants Killed, 2 Officers Wounded in Attack
16 JULY 2019
Kenya police say three suspected extremists were killed by border police whose vehicle was blown up by an improvised bomb.
A senior police official detailed the attack to The Associated Press but insisted on anonymity because he was not authorized to speak with media.
He said the Monday evening explosion injured two officers in the southern Kiunga area near the Somali border, and the explosives are believed to have been planted by al-Shabab extremists from Somalia who were targeting security units.
He also said the militants hid in the bushes around the area where the bomb went off and then ambushed the Toyota Land Cruiser.
Full report at:
https://allafrica.com/stories/201907160607.html
--------
India
Bakrid: Telangana Minister Appeals To Muslims To Sacrifice Sheep Not Cow
July 17, 2019
Ahead of Bakrid next month, Telangana Home Minister Mohammed Mahmood Ali has appealed to Muslims to sacrifice sheep instead of cows.
''The cow is respected and worshipped in this faith (Hindu religion). I appeal to all Muslim brethren to totally refrain from sacrificing the cow. Instead, offer a small sacrifice. You can sacrifice sheep or any other animals,'' he said.
Law and order is very good in Telangana, he told reporters here.
Ali, who was speaking near Charminar here, further said the four minarets of the iconic structure represent Hinduism, Islam, Sikhism and Christianity.
Quli Qutub Shah built Charminar. The four minarets have been built for Charminar - Hindu, Muslim, Sikh and Christianity. The four have been bound together,'' the Minister said.
If there is any leader after Quli Qutub Shah who brings (people) together, it is KCR (Chief Minister K Chandrasekhar Rao), he said.
https://www.indiatoday.in/india/story/bakrid-telangana-minister-appeals-to-muslims-to-sacrifice-sheep-not-cow-1570580-2019-07-17
--------
Indian activists launch helpline for hate crimes victims
by Bilal Kuchay
16 Jul 2019
New Delhi, India - Activists in India have launched a helpline for the victims of hate crimes and mob attacks aimed at documenting such cases and providing legal aid to victims.
United Against Hate (UAH), a group of activists and civil society members from across India, said the initiative was required as India's federal and state governments failed to prevent such incidents.
"We are launching a toll-free helpline 1800-3133-60000 in view of rising cases of mob attacks and hate crimes in the country," said activist Nadeem Khan at the event in the capital New Delhi, adding that the helpline would work round the clock.
UAH says its activists will work in nearly 100 Indian cities to provide help to the victims of hate crimes, the majority of them Muslims, who comprise 14 percent of India's 1.3 billion population.
"We will try to help the victims of such assaults and help them get justice in courts," said Khan. "The state and central governments have only made statements on such incidents. Despite all the claims of the government, the assaults have not stopped."
Lawyers, social workers, professors, journalists and religious leaders present at the event said there was a "dire need" of such an initiative.
Apoorvanand, a professor at Delhi University, said people were being targeted by Hindu right-wing mobs only because they were either Muslims, Dalits (the former untouchables) or Christians.
"It is the sad reality of India today. We cannot close our eyes from this reality," he said.
Emboldened Hindu right-wing
While hate crimes against India's minorities spiked after Prime Minister Narendra Modi and his Bharatiya Janata Party (BJP) came to power in 2014, experts say his re-election in May has emboldened the Hindu right-wing agenda.
Dozens of Muslims and Dalits have been attacked, even publicly lynched, by far-right mobs for allegedly possessing beef or slaughtering cows, considered holy by most Hindus.
However, since the BJP's return to power in May a number of Muslims have been attacked and forced to chant "Jai Shri Ram" (Hail Lord Ram), which has become a rallying call for the Hindu far right.
In many cases, Muslims seemed to have been beaten simply for their faith in many parts of India.
On June 20, Mohammad Shahrukh Haldar was travelling to a madrassa (religious school) when a group of men carrying saffron flags boarded the train in Kolkata city.
Haldar, who sported a beard and was wearing the traditional kurta-pyjama and a skull cap, said a man from the group asked him to chant "Jai Shri Ram".
"The others joined him and they all insisted that I chant with them. When I refused, they started beating me," the 20 year old told Al Jazeera.
While no fellow passenger came to his rescue, Haldar rushed towards the exit door to escape the mob, but he was pushed out of the moving train.
"I thank God that I fell on the platform and survived," he said.
Though Haldar has lodged a police complaint against his attackers, he fears more attacks and his family has stopped him from going out.
"I don't go to the madrassa any more to teach. The incident has left me so traumatised that I don't even want to travel in a train again," he said.
Only days before Haldar was attacked, 24-year-old Tabrez Ansari was tied to an electric pole and brutally beaten by a mob on suspicion of theft in Kharsawan district in the eastern state of Jharkhand.
Mobile phone videos, which went viral on social media, showed a bruised and bloodied Ansari being forced to chant "Jai Shri Ram" and "Jai Hanuman" (Hanuman is one of the Hindu gods).
Four days after the incident and after much outrage, police on June 22 took Ansari to a local hospital, where he was pronounced dead shortly after his arrival.
"Because he was a Muslim, he was beaten so brutally," Ansari's wife Shaista told the NDTV network.
The lynching of Ansari caused widespread uproar with people taking to streets in many Indian cities and demanding an end to what they called the "lynch terror".
But the hate attacks have continued.
On June 28, a Muslim youth wearing a skull cap was beaten and abused in Uttar Pradesh state's Kanpur city after he refused to chant "Jai Shri Ram".
On Sunday, 12 men were booked for pulling the beard of a Muslim scholar and forcing him to chant the same slogan in Muzaffarnagar district in the BJP-ruled state of Uttar Pradesh.
According to factchecker.in website, which monitors hate crimes, at least 18 such incidents have taken place in India so far this year.
Al Jazeera could not reach spokespeople from the ruling BJP for a comment, despite repeated attempts.
'Helpline shows failure of state'
Last month, the United States released a report on international religious freedoms that said the Hindu right has "facilitated an egregious and ongoing campaign of violence, intimidation and harassment against non-Hindu and lower-caste Hindu minorities".
India rejected the report, saying it saw "no locus standi (legal right) for a foreign government to pronounce on the state of our citizens' constitutionally protected rights".
In 2018, India's Supreme Court had condemned the "horrendous acts" of mob violence and asked the government to enact a new law to deal with mob lynchings.
While dozens of people have been killed and hundreds injured since 2014 in mob attacks, there have been convictions in only a handful of cases.
Speaking at the New Delhi event, Maulana Hakeemuddin of Jamaat-e-Islami Hind, an Islamic organisation, said the "one nation, one culture" ideology propagated by the Hindu right is behind the rise in hate crimes.
"India is a multicultural country and everyone has an equal right to live and practise his religion freely," he said. "If these incidents are not stopped, they will lead to anarchy. They can be stopped, but that requires political will, which the ruling dispensation lacks."
Activists, however, hope the launch of a helpline will help the victims to access legal recourse.
Full report at:
https://www.aljazeera.com/news/2019/07/indian-activists-launch-helpline-hate-crimes-victims-190715190744157.html
--------
After Masood Azhar blacklisting, ICJ verdict in Kulbhushan case isolates Pakistan
by Shubhajit Roy
July 18, 2019
The ICJ's verdict, granting consular access to Kulbhushan Jadhav and directing Islamabad to review and reconsider his conviction and sentencing, is being perceived as a major diplomatic and legal success for India, which has consistently tried to isolate Pakistan on the global stage over the last few years.
In reality, Pakistan has to only grant consular access and can conduct "review and reconsideration" at its "choosing" — this, in effect, puts off Jadhav's execution for the time being.
But the ICJ verdict needs to be seen in the context of a string of India's diplomatic successes in the last few years — a culmination of the painstaking diplomatic and legal groundwork to isolate Pakistan.
The most recent was the listing of Jaish-e-Mohammad (JeM) chief Masood Azhar as a global terrorist at the United Nations Security Council (UNSC) on May 1, after Beijing lifted its technical hold. China had consistently blocked India's bid to get Azhar designated by the UNSC Resolution 1267 sanctions committee. While Azhar has been accused of several terrorist attacks — from the Parliament attack in 2001 to the Pulwama attack in February 2019 — China repeatedly blocked the listing efforts over the last decade, at Pakistan's behest. It was only after India built international pressure, and made diplomatic maneuvres with the US doing the heavylifting and a series of quid pro quos, that it managed a win.
According to Indian officials, the pressure mounted against Pakistan on terrorism seems to have worked. On Wednesday, Pakistan arrested Jamaat-ud-Dawa chief Hafiz Saeed on charges of terror financing.
India's attempt over the last two years to first "greylist" Pakistan, and then build pressure to "blacklist" Pakistan at the Financial Action Task Force, also seems to have worked. This created pressure on Islamabad — including from Beijing, its all-weather ally — to take action against Saeed.
New Delhi also scored a major win after the Pulwama attack in February this year, when it got the UNSC to issue a statement condemning the attack. It was the first time that the UNSC condemned a terrorist attack on security personnel in Jammu and Kashmir, and named the Pakistan-based terrorist group JeM. What was equally important was that China also signed the statement, despite it being an "iron brother" of Pakistan.
India also got diplomatic support from the US after the Pulwama attack, as Washington supported New Delhi's right to defend itself. And after the Balakot airstrikes deep inside Pakistan, India got a chorus of support from the international community. The release of IAF fighter pilot Abhinandan Varthaman was a case in point, where Delhi's pressure seemed to have worked.
Much before Pulwama, India got global support after the surgical strikes following the Uri attack in 2016. The SAARC countries rallied around India to boycott the summit in Pakistan.
Meanwhile, the MEA said on Wednesday: "We welcome the judgement…The Court, by a vote of 15-1, has upheld India's claim that Pakistan is in egregious violation of the Vienna Convention on Consular Relations, 1963 on several counts."
Full report at:
https://indianexpress.com/article/india/after-masood-azhar-blacklisting-icj-verdict-in-kulbhushan-case-isolates-pakistan-5834954/
--------
Pakistan Increases Land Allotted To Kartarpur Gurudwara from 3 To 42 Acres
July 17, 2019'
Pakistan will allot 42 acres of land for the Gurdwara Darbar Sahib in Kartarpur, up 14 times, Punjab governor has announced while indicating that 80 per cent of the work on the landmark Kartarpur Corridor has been completed, according to a media report.
The corridor will connect Darbar Sahib in Pakistan's Kartarpur with Dera Baba Nanak shrine in Gurdaspur district and facilitate visa-free movement of Indian Sikh pilgrims, who will have to just obtain a permit to visit Kartarpur Sahib, which was established in 1522 by Sikh faith founder Guru Nanak Dev.
Punjab Governor Chaudhry Muhammad Sarwar on Tuesday announced increasing the land allotted for Gurdwara Darbar Sahib in Kartarpur from three acres to 42 acres and further said that any kind of construction will not be done on the land, which remained under cultivation of Guru Nanak, The News reported.
"We want to convey this message to the Sikh brethren living all over the world that there will be no cut in land for Gurdawara Darbar Sahib Kartarpur and Guru Nanak, rather 42 acres land has been allocated for Gurdawara Darbar Sahib and 62 acres for cultivation," Sarwar said during his visit to the corridor to review the pace of work on the project.
"In this way, total land for Gurdawara Darbar Sahib will be 104 acres," he said.
The governor, who also heads the committee for religious tourism and heritage, said the total land for Kartarpur Corridor will be 408 acres.
He said 80 per cent of the work on the Kartarpur Corridor has been completed as per vision of Prime Minister Imran Khan and hope that it would be completed before 550 birth celebrations of Guru Nanak this year.
He also hoped that Indian Prime Minister Narendra Modi will attend the inaugural ceremony of Kartarpur Corridor, the report added.
He said it was a "good omen" that second round of talks between Pakistan and India on the Kartarpur Corridor remained successful.
He further said special transport would be provided from check-point to Darbar Sahib to the Indian Sikh pilgrims visiting this holy place. He said construction of three 'langar Khanas' was under way at Darbar Sahib where Sikh pilgrims would be provided quality meal and other facilities, the report added.
The pilgrims coming from India would have to return back from Kartarpur in the given time and the ones coming from the UK, the US and other countries on valid visas would be granted permission to stay here and houses are being built for them, it added.
Pakistan is building the corridor from the Indian border to the Gurdwara Darbar Sahib while the other part from Dera Baba Nanak up to the border will be constructed by India.
Last November, India and Pakistan agreed to set up the border crossing linking Gurudwara Darbar Sahib, the final resting place of Guru Nanak Dev, to Dera Baba Nanak shrine.
Kartarpur Sahib is located in Pakistan's Narowal district across the river Ravi, about four km from the Dera Baba Nanak shrine.
Vice President M Venkaiah Naidu and Punjab Chief Minister Amarinder Singh had on November 26 last year laid the foundation stone of the Kartarpur Corridor in Gurdaspur district.
Full report at:
https://indianexpress.com/article/india/pakistan-increases-land-allotted-to-kartarpur-gurdwara-5834487/
--------
Pakistan
Hafiz Saeed nabbed by Pakistan ahead of Imran's maiden US visit
Jul 17, 2019
ISLAMABAD: Four days ahead of Imran Khan's maiden visit to US as Pakistan prime minister, Lashkar-e-Taiba (LeT) founder and 26/11 Mumbai terror attacks mastermind Hafiz Muhammad Saeed was arrested on Wednesday by Counter Terrorism Department (CTD) in a terror financing case.
Saeed was intercepted and arrested in the morning by officials of Pakistan Punjab's CTD at the Kamoke toll plaza, around 50km from Lahore, when he was on his way to a court in Gujranwala. He was presented before an anti-terrorism court in Gujranwala that sent him on judicial remand for seven days.
Pakistan has been facing increasing international pressure to crack down on terror groups operating on its soil since 2017, when it was placed on a watch list by the Paris-based Financial Action Task Force (FATF), a 39-member international watchdog that monitors curbs on terror financing and money laundering.
US president Donald Trump - who has repeatedly asked Islamabad to abide by its commitments to UN Security Council to deny terrorists safe haven and block their access to funds – welcomed the arrest in a tweet put out in the evening. "After a ten-year search, the so-called "mastermind" of the Mumbai terror attacks has been arrested in Pakistan. Great pressure has been exerted over the last two years to find him!"
A statement released by CTD said: "Hafiz Saeed was going to Gujranwala this morning to get pre-arrest bail but he was arrested by CTD on his way."
Nadeem Awan, spokesperson of the banned Jamaat-ud-Dawa (JuD), the political front of LeT, said Saeed was taken to Lahore's high security Kot Lakhpat jail, where former Pakistan PM Nawaz Sharif is serving sentence in a corruption case.
"The cases against him are all related to fund-raising. He is charged with using those funds on acts of terror," Awan said, adding that they will apply for Saeed's bail. "We are going to the high court, and we will continue to use legal means to fight the injustice against us. We believe the courts will support us," Awan said.
Pakistan has arrested Saeed several times in the past but courts have dismissed cases against him citing lack of evidence.
On Monday, he was granted pre-arrest bail by an anti-terrorism court in Lahore, where he had also been facing terror financing charges. On the same day, Lahore high court also directed authorities to provide evidence of Saeed's involvement in terror financing.
On July 3, Saeed, his brother-in-law Abdul Rehman Makki and 11 other top leaders of JuD, LeT and Falah-e-Insaniyat Foundation (FIF), the humanitarian mask of JuD, were booked in nearly two dozen cases for terror financing and money laundering under the Anti-Terrorism Act, 1997.
CTD, which had registered the cases in five cities of Pak Punjab, declared that the accused were raising funds for terror financing using five non-profit organisations and trusts -- Dawatul Irshad Trust, Moaz Bin Jabal Trust, Al Anfaal Trust, Al Madina Foundation Trust and Alhamd Trust. These non-profit organisations were banned in April this year after CTD had found during investigations that they had links with JuD, LeT, FIF and its top leadership.
Pakistan is racing against time to act on terror as FATF will take a final decision in October on whether to blacklist the country, a move that could isolate Islamabad from the international economy.
https://timesofindia.indiatimes.com/world/pakistan/hafiz-saeed-nabbed-by-pak-ahead-of-imrans-maiden-us-visit/articleshow/70267160.cms
--------
India's conduct amounted to rights abuse: Justice Jillani
July 18, 2019
THE HAGUE: The International Court of Justice's (ICJ) verdict in the case of Kulbhushan Jadhav, a serving Indian naval commander who had been awarded death sentence by Pakistan on charges of espionage, came with a detailed dissenting note authored by Justice Tassaduq Hussain Jillani, an ad hoc judge of the court.
Justice Jillani wrote that the court should have found India's application to be inadmissible because its conduct amounted to abuse of rights. He recalled that the 2008 agreement between India and Pakistan specifically governed questions of consular access and assistance in cases of arrest and detention on national security grounds.
Pakistan lawfully withheld consular access and assistance while examining the case of Jadhav on its merits. Even if the Vienna Convention was applicable in the case, Pakistan had committed no breach of its Article 36 because the country had already in place the procedures necessary for ensuring effective review and reconsideration of the conviction and sentence of Jadhav, he said.
Justice Jillani said in his dissenting note: "The Court's judgment appears to set a dangerous precedent at the times when states are increasingly confronted with transnational terrorist activities and impending threats to national security. Terrorism has become a systemic weapon of war and nations would ignore it at their own peril. Such threats may legitimately justify certain limits to be imposed on the scope of application of Article 36 of the Vienna Convention on Consular Relations, in the bilateral relations between any two states at any given time."
Justice Jillani said: "The present case is distinguishable from the Court's Avena and LaGrand jurisprudence on which the Court has heavily relied. Among various distinguishing factors, the most important one is that the Court was faced here with special circumstances of an individual arrested, detained, tried and convicted for espionage and terrorism offences."
He said the Vienna Convention had been concluded to contribute 'to the development of friendly relations among nations' and it could hardly be the case that the drafters of the convention intended for its rights and obligations to apply to spies and nationals of the sending state (India) on secret missions to threaten and undermine the national security of the receiving state.
Justice Jillani wrote in his dissenting note that India had provided no rebuttal throughout the proceedings to the circumstances in which it had provided an authentic Indian passport, with false identity, to Jadhav and the particulars of Jadhav's mission in Pakistan, despite the serious nature of the crimes he had committed. The court should have drawn the necessary inferences there from.
Justice Jillani said: "Since 31 May 2017, Pakistan has sent six requests to India for necessary cooperation in the investigation of the criminal case [against Jadhav] and about the passport issue, but these were of no avail. Pakistan even offered to extradite Mr Jadhav to India, if India was prepared to indict him under the Indian laws. The accounts of three respected Indian journalists, Mr Karan Thapar, Mr Praveen Swami and Mr Chandan Nandy, based on interviews conducted with Indian officials, confirm that Mr Jadhav was a RAW agent."
Justice Jillani said that India's persistent refusal to cooperate in the investigation against Jadhav was contrary to the United Nations Security Council resolution 1373, which, inter alia, mandated that all United Nations member states shall "(f) [a]fford one another the greatest measure of assistance in connection with criminal investigations or criminal proceedings relating to the financing or support of terrorist acts, including assistance in obtaining evidence in their possession necessary for the proceedings".
According to Pakistan, Jadhav's conduct of perpetrating acts of terror was part of a chain of acts carried out by India to destabilise Pakistan, said Justice Jillani.
According to Pakistan, he stated, "Mr Jadhav was apprehended by security agencies when he entered Balochistan from Iran (Saravan border). India claims that Mr Jadhav is a retired naval officer who was kidnapped from Iran where he was doing business.
Full report at:
https://www.dawn.com/news/1494725/indias-conduct-amounted-to-rights-abuse-justice-jillani
--------
PM appreciates ICJ's decision to not acquit, release Jadhav; says Pakistan will proceed as per law
July 18, 2019
Prime Minister Imran Khan on Thursday appreciated the International Court of Justice's (ICJ) decision "not to acquit, release and return" Kulbhushan Jadhav — a serving commander of the Indian Navy associated with Indian spy agency Research and Analysis Wing — a day after the court announced its verdict on the case.
Read: ICJ rejects India's plea for Jadhav's return, grants consular access
In its verdict, the ICJ ruled that Jadhav be allowed consular access immediately and asking Pakistan to ensure "effective review and reconsideration of his conviction and sentences".
In a post shared on Twitter, Prime Minister Imran said: "Appreciate ICJ's decision not to acquit, release & return Commander Kulbhushan Jadhav to India."
"He is guilty of crimes against the people of Pakistan. Pakistan shall proceed further as per law," the premier added.
Indian Prime Minister Narendra Modi also welcomed the ICJ's verdict.
In a post shared on Twitter, Modi congratulated the ICJ for the verdict, adding: "Truth and justice have prevailed."
Following the verdict, Director General of Inter-Services Public Relations (ISPR) Major General Asif Ghafoor, while speaking to ARY News, congratulated the nation on "the success achieved" and lauded the efforts made by the legal team and the Foreign Office which represented Pakistan.
"For the verdict to be upheld by an international court where there is no concept of capital punishment is a big victory for Pakistan.
"And for them to say that the review and reconsideration can be done by means of our own choosing is great validation for our judicial system," he said.
"Pakistan will follow the law," he said, reiterating Foreign Minister Shah Mehmood Qureshi's statement on the way forward in the case.
"It's another Feb 27 for India; they have been surprised again. They thought that the kind of political capital they have, they can manipulate justice too but that did not happen," said Maj Gen Ghafoor.
Full report at:
https://www.dawn.com/news/1494785/pm-appreciates-icjs-decision-to-not-acquit-release-jadhav-says-pakistan-will-proceed-as-per-law
--------
President, PM file defamation suit against Akbar S. Babar
Malik Asad
July 18, 2019
ISLAMABAD: Additional District and Sessions Judge (West) Mohammad Ali Warriach has summoned the founding member of PTI Akbar S Babar (PTI) on Sept 23 to respond to a defamation suit filed by PTI on behalf of Prime Minister Imran Khan and President Dr Arif Alvi.
The party's petition in the court termed his criticism of the ruling party's policies on the social media 'libelous'. Before filing the case against Babar the PTI had served two legal notices on him.
The party served first legal notice on Babar on June 14, demanding a written apology, removal of all material critical of PTI and its leadership.
The notice said if he failed to apologise and remove the material, he would face damages suit worth Rs5 billion under the Defamation Ordinance 2002. A similar legal notice was served on June 27.
In his written response to the two legal notices, PTI founding member Akbar S. Babar had categorically denied the allegations and termed it 'baseless, misconceived, false, and malicious'.
He said that criticism of party policies and actions of its leadership was his constitutional right under Articles 17, 19, and 19A of the Constitution.
Babar claims that the legal notices have been filed in the light of the looming foreign funding case that Babar filed against the top PTI leadership to "harass and threaten him" into silencing him.
Besides, it was a "malicious and fascist attempt to deprive" him of his fundamental right of expression and freedom of speech, as well as to deny the public of fundamental right to information on matters of public importance, Mr Babar said in his reply.
Full report at:
https://www.dawn.com/news/1494669/president-pm-file-defamation-suit-against-akbar-s-babar
--------
Sattar among 13 indicted for violence in Pakistan Quarters eviction case
Naeem Sahoutara
July 17, 2019
KARACHI: An antiterrorism court on Tuesday indicted disgruntled Muttahida Qaumi Movement-Pakistan leader Dr Farooq Sattar and 13 others for provoking violence and arson to obstruct eviction of families occupying government houses in the Pakistan Quarters area.
Dr Sattar along with around 300 to 400 others has been booked for allegedly instigating violence, rioting and armed assault on local administration officials and law enforcers during an hours-long standoff between residents and officials on Oct 24, 2018 within the remit of the Soldier Bazaar police station.
On Tuesday, the matter was fixed before the ATC-XVIII judge, who is conducting the trial in the judicial complex inside the central prison, for indictment.
Dr Sattar and 13 nominated suspects appeared in court on bail. The judge read out charges to the accused persons, who pleaded not guilty and opted to contest the case.
The judge summoned all prosecution witnesses to record their statements on July 23.
Earlier, the investigating officer had charge-sheeted Dr Sattar, Shamim Ahmed, Qazi Faisal Siddiqui, Raheemuddin, Asif Raza, Mohammad Asif, Mohammad Idrees, Asif Ali, Mohammad Osama, Santosh, Altaf Hussain, Mohammad Ayaz, Nadeem Ahmed and around 300 to 400 unknown residents.
In the investigation report, IO Sarfaraz mentioned that the police and local administration officials reached the area on Oct 24, 2018 to get the accommodations vacated after ejectment notices were issued by the state. However, around 300 to 400 residents, including women and children, who were armed with batons and stones, abused the officials and attacked them, it added.
The investigation report further stated that water cannons and teargas shells were used to disperse the protesters, but they blocked Nishtar Road and also damaged the official vehicles. Eight policemen, including SHO Sub-inspector Naveed Soomro, constables Zaman Abbas, Mohammad Waqar, Mohammad Rizwan, Izhar Ahmed, Munir Ahmed and Abid Ali were injured, it added.
The charge sheet stated that 13 were arrested while Dr Sattar and scores of others managed to flee. It added that the statements of the eyewitnesses were recorded, except some officials who had returned to Islamabad.
The IO said that Section 149 (every member of unlawful assembly guilty of offence committed in prosecution of common object) of the Pakistan Penal Code was removed from the FIR on the permission of the police high-ups.
Initially, a case was registered under Sections 504 (intentional insult with intent to provoke breach of the peace), 147 (rioting), 148 (rioting, armed with deadly weapon), 149 (every member of unlawful assembly guilty of offence committed in prosecution of common object), 186 (obstructing public servant in discharge of public functions), 283 (danger or obstruction in public way or line of navigation), 337-A (punishment for Shajjah), 353 (assault or criminal force to deter public servant from discharge of his duty) and 427 (mischief causing damage to the amount of fifty rupees) of the PPC at the Soldier Bazaar police station.
Full report at:
https://www.dawn.com/news/1494476/sattar-among-13-indicted-for-violence-in-pakistan-quarters-eviction-case
--------
JUI-F says Reko Diq case verdict unacceptable
Saleem Shahid
July 18, 2019
QUETTA: The Balochistan chief of the JUI-F and MNA Maulana Abdul Wasay on Wednesday expressed serious concern over the verdict of a World Bank court in the Reko Diq case penalising Pakistan to pay $5.9 billion in fine to the Tethyan Copper Company (TCC) for scrapping its mining contract in Balochistan, and said that the judgement was not acceptable to his party.
Speaking at a press conference here on Wednesday, the JUI-F leader claimed that Pakistan had won the case during the coalition government, headed by Nawab Aslam Raisani.
He said that an inquiry should be conducted to ascertain why Pakistan lost the case at the World Bank court.
"The people responsible for losing the case should be brought to justice," the JUI-F leader said.
He said the JUI-F was the part of the Raisani-led coalition government which had sought 25 per cent share of Balochistan in the Reko Diq copper and gold mining project.
He claimed that at that time the provincial government had been ousted for defending the Reko Diq issue and blamed successive provincial governments for their failure to defend the case.
He said the Raisani-led coalition government had cancelled the Reko Diq agreement in the larger interest of the people of Balochistan as the cancellation of the project was in the interest of the province.
"The cancellation of the Reko Diq agreement led to ousting of our government in Balochistan," Maulana Wasay said. He bitterly criticised the PTI government and said it had failed to run the affairs of the country.
Full report at:
https://www.dawn.com/news/1494723/jui-f-says-reko-diq-case-verdict-unacceptable
--------
North America
Rohingya activist says US ban on Myanmar generals a first step
18 July 2019
A formerly imprisoned Rohingya activist said Wednesday that a US ban on Myanmar's top generals was a welcome first step but urged more action to support the long-targeted minority.
The State Department on Tuesday said that army chief Min Aung Hlaing, three other top officers, and their families would not be allowed to visit the United States due to their roles in "ethnic cleansing" of the mostly Muslim Rohingya.
Participating in a high-level State Department meeting on religious freedom, peace activist Wai Wai Nu said it was critical to address the "decades-old impunity" enjoyed by the military in Myanmar, formerly known as Burma.
"Many of us in Burma welcome this decision of the State Department. However, we think this is a first step and we are hoping to see more concrete and efficient steps in the future," she told reporters.
This, she said, should include an end to impunity in the country.
"The only way to move forward, I believe, is holding the perpetrators accountable and abolishing institutionalized religious and ethnic discrimination against ethnic minorities," she added.
Wai Wai Nu founded two groups promoting inter-ethnic harmony and women's rights. Along with other survivors and witnesses to abuses who are taking part in the ministerial, she met Wednesday at the White House with President Donald Trump.
Wai Wai Nu, whose father was also an activist, was arrested with her family in 2005 when she was a law student.
The family was freed in 2012 amid a political opening in Myanmar as the military junta reconciled with the West and eventually allowed civilian, elected leaders.
In 2017, Myanmar's military launched a campaign against the Rohingya that led about 740,000 to flee to neighboring Bangladesh amid accounts of brutal attacks on whole villages.
The army denies wrongdoing and says it was responding to militant attacks.
The Rohingya are widely despised in the country and do not enjoy citizenship, with the government calling them "Bengalis," suggesting they are illegal immigrants from Bangladesh.
https://english.alarabiya.net/en/News/world/2019/07/18/Rohingya-activist-says-US-ban-on-Myanmar-generals-a-first-step-.html
--------
'You had the Nobel Prize?' Donald Trump learns of Yazidi activist Nadia Murad
July 18, 2019
US President Donald Trump on Wednesday appeared unfamiliar with the work and cause of Iraqi-Yazidi Nobel laureate Nadia Murad as she pleaded with him to help her community after brutal treatment at the hands of ISIS.
Ms Murad, one of the thousands of women and girls from the ancient faith abducted by ISIS as they overran swathes of Iraq in 2014, joined a group of survivors of religious persecution who met Mr Trump in the Oval Office on the sidelines of a major meeting at the State Department.
After Ms Murad explained how her mother and six brothers were killed and that 3,000 Yazidis remained missing, Mr Trump said, "And you had the Nobel Prize? That's incredible. They gave it to you for what reason?"
With little pause, Ms Murad, who was jointly awarded the Nobel Peace Prize last year, repeated her story.
"After all this happened to me, I didn't give up. I make it clear to everyone that ISIS raped thousands of Yazidi women," she said.
"Please do something. It's not about one family," she said.
Mr Trump, who has boasted of crushing the self-styled caliphate ISIS that once stretched across Iraq and Syria, also appeared at a loss when Ms Murad asked him to press the Iraqi and Kurdish governments to create safe conditions for the Yazidis to return. "But ISIS is gone and now it's Kurdish and who?" Mr Trump asked, before later telling her, "I know the area very well."
Ms Murad also explained how Yazidis took dangerous routes to find safety in Germany, whose welcome to refugees has been vocally criticized by Mr Trump.
The US leader also appeared unfamiliar when he met a representative from the Rohingya, a Muslim minority targeted in a brutal campaign two years ago in Myanmar.
One day earlier, his administration banned travel to the United States by Myanmar's army chief and three other senior officers, calling the violence "ethnic cleansing."
The Trump administration frequently speaks of promoting religious freedom, a key issue for much of his evangelical Christian base.
Full report at:
https://www.thenational.ae/world/the-americas/you-had-the-nobel-prize-donald-trump-learns-of-yazidi-activist-nadia-murad-1.887590
--------
Trump hails arrest of 'so-called mastermind of Mumbai attacks' Hafiz Saeed
July 18, 2019
WASHINGTON: US President Donald Trump on Wednesday hailed the arrest of Hafiz Muhammad Saeed — chief of the banned Jamaatud Dawa (JuD) — who India accuses of being the mastermind of the deadly 2008 Mumbai attacks and Washington has declared a global terrorist.
"After a ten-year search, the so-called 'mastermind' of the Mumbai Terror attacks has been arrested in Pakistan. Great pressure has been exerted over the last two years to find him!" said Trump without naming Saeed.
Donald J. Trump
✔
@realDonaldTrump
After a ten year search, the so-called "mastermind" of the Mumbai Terror attacks has been arrested in Pakistan. Great pressure has been exerted over the last two years to find him!
141K
19:46 - 17 Jul 2019
Twitter Ads information and privacy
47.2K people are talking about this
Saeed — who had a $10 million US bounty on his head — was taken into custody earlier in the day by counter-terrorism forces and sent to prison on judicial remand.
Full report at:
https://www.pakistantoday.com.pk/2019/07/17/trump-hails-arrest-of-jud-chief-hafiz-saeed-in-pakistan/
--------
Russia: US replacing troops in Syria with mercenaries
Elena Teslova
18.07.2019
Moscow
The U.S. Central Command is replacing some of its regular troops in northern Syria with employees of private military companies (PMCs), Russian Foreign Ministry spokeswoman Maria Zakharova said Wednesday at a news conference in Moscow.
"The number of personnel of PMCs in Syria exceeds 4,000. It is notable that in the second half of June alone, 540 people had already arrived in the country, including 70 commanders and instructors. The transfer of mercenaries is carried out by car in groups of 12-16 people," she said.
According to Zakharova, the main tasks of the PMCs are training militants loyal to the U.S. and the protection of oil sites.
Syria has been locked in a vicious civil war since early 2011, when the Bashar al-Assad regime cracked down on pro-democracy protests with unexpected ferocity.
Since then, hundreds of thousands of people have been killed and more than 10 million others displaced, according to UN officials.
Turning to Afghanistan, Zakharova said the inter-Afghan dialogue and consultative meetings of the special representatives on Afghanistan in the "three plus" format -- Russia, the U.S., China and Pakistan -- are "key and complementary political mechanisms promoting a peaceful settlement in Afghanistan".
"We are convinced that the combination of the success of these two consultative mechanisms along with the promotion of negotiations between the United States and the Taliban movement will undoubtedly contribute to the solution of the Afghan problem," she said.
Full report at:
https://www.aa.com.tr/en/americas/russia-us-replacing-troops-in-syria-with-mercenaries/1534765
--------
Europe
London Bridge attack: police lawfully killed terrorists, inquest finds
16 Jul 2019
The three terrorists whose rampage left eight people dead at London Bridge were lawfully shot dead by armed police officers after they ignored clear warning shouts, an inquest jury has found.
During the June 2017 attack the men first ran over pedestrians on London Bridge, then stabbed Saturday night revellers in 10 minutes of carnage.
It ended only after armed officers who rushed to the scene confronted them in Borough Market, only for the three attackers to charge at them clutching 12-inch knives.
Dramatic video shows armed officers firing, in one case from only 60 centimetres away. They shot the ringleader, Khuram Butt, and his accomplices, Rachid Redouane and Youssef Zaghba, all of whom lived in east London.
Firing continued after the attackers had been shot because they were wearing what appeared to be explosive belts, and officers feared their movement showed they were still trying to detonate them.
In all, police fired 46 shots at the terrorists to end the UK's first "marauding" attack, where perpetrators run through a crowded area. The explosive belts turned out to be fakes, made up of plastic canisters.
At least six bullets struck both Butt, 27, and Redouane, 30. Zaghba, 22, was hit by at least two bullets.
PC Sam Balfour, 25, was among unarmed officers who tracked the attackers through Borough Market. In an interview coinciding with the conclusion of the inquest, he said: "We started to shout, 'That's them, that's them', pointing out those terrorists, 'Shoot them'."
An armed officer identified only as BX46 told jurors he shouted words to the effect of "armed police, stand still, drop the knife", believing he was in immediate danger as Butt came at him.
He said: "At this point I was aware that around his torso he was wearing an improvised explosive device ... I moved the fire selector lever to fire and I pulled the trigger."
His colleague BX44 also shot at Butt but had to break away to shoot at Redouane as he bore down on another colleague, BX45.
He said: "I carried on firing until I had to deal with the third threat of Youssef Zaghba who was on top of me.
"I was backing away trying to create a reactionary gap when I fired and fell backwards, and as I fell backwards I fired and from the floor I fired through my legs up to his chest."
PC Iain Rae said he went to handcuff Redouane as he moved on the ground while his colleague PC Tim Andrews handcuffed Butt, who was injured.
Rae said: "His arms and legs were moving and I knew he had an IED [improvised explosive device] strapped to him.
"I did not know they were fake. I had to make a split-second decision – if I don't go and do something there is going to be a lot more lives lost.
"I had to handcuff him and stop him from detonating that device, if they were real or not.
"As I went over there to handcuff that person I was shouted at by firearms officers. They have told me to get out and I have taken their advice and I ran."
The firearms officers then used "lethal force" to avert the danger that the terrorists would detonate explosive devices, jurors heard.
Last month, the inquest of the eight victims ended with the coroner, Mark Lucraft QC, clearing MI5 and police of failing to prevent the terror attack despite having Butt under investigation since 2015 – a decision criticised by the victims' families.
He did criticise the failure to erect protective barriers on the bridge to thwart a vehicle attack three months after an attack on Westminster Bridge.
Lucraft, the chief coroner for England and Wales, is expected to produce a report containing recommendations to prevent future deaths.
The eight victims were Chrissy Archibald, 30, from Canada; Sébastien Bélanger, 36, a French chef; Kirsty Boden, 28, a nurse from Australia; Ignacio Echeverría Miralles De Imperial, 39, from Spain; James McMullan, 32, from Brent, north-west London; Alexandre Pigeard, 26, a French restaurant worker; Xavier Thomas, 45, a French national; and Sara Zelenak, 21, an Australian national.
https://www.theguardian.com/uk-news/2019/jul/16/london-bridge-attack-police-lawfully-killed-terrorists-inquest-finds
--------
Norway arrests Iraqi preacher convicted in Italy for 'terrorism'
16/07/2019
Norway has arrested controversial Iraqi Kurdish fundamentalist preacher Mullah Krekar after he was convicted in Italy of "terrorist" conspiracy, the PST intelligence service said Tuesday.
A refugee in Norway since 1991, 63-year-old Krekar -- whose real name is Najumuddin Ahmad Faraj -- is accused by Italy of leading the Rawti Shax, a network with alleged links to the Islamic State group and which is suspected of planning attacks in the West.
In his absence, a court in Bolzano in northern Italy sentenced him Monday to 12 years' imprisonment on a charge of "terrorist conspiracy". It also sentenced five co-accused.
"The PST, with the assistance of Oslo police, arrested Mullah Krekar on Monday evening under an international search warrant and an Italian arrest warrant," the agency said on Twitter.
Krekar must appear in court on Wednesday to be placed in provisional detention.
"He has no connection with IS," his Norwegian lawyer Brynjar Meling told AFP after the court ruling.
"His only goal is to come back to Kurdistan in Iraq and be able to (be a) politician there, set up a political party he wants to establish in Iraq as a free man".
Considered a threat to national security and featuring on UN and US terror lists, Krekar has been at risk of deportation since 2003.
Norwegian law, however, bars his deportation to Iraq because he risks the death penalty there.
Italy in 2016 cancelled a request for Krekar's extradition, disappointing Norwegian officials who viewed this as a chance to be rid of the mullah they perceive as troublesome.
Full report at:
https://www.france24.com/en/20190716-norway-arrests-iraqi-preacher-convicted-italy-terrorism
--------
US anti-Iranian line behind flare-up of tensions in Mideast: Lavrov
Jul 17, 2019
Russia's Foreign Minister Sergei Lavrov says the hostile policy being pursued by the United States against Iran has fueled tensions in the Middle East, warning that such an approach could have "catastrophic consequences" in the region.
In an interview with the Russian 'Argumenty i Fakty' weekly published on Wednesday, Lavrov said the current flare-up of regional tensions is the "direct consequence of Washington's and some of its allies' anti-Iranian line."
He also warned that Washington's muscle-flexing against Tehran may lead to a "dangerous situation."
"The US is flexing its muscles, it has launched a campaign to discredit Iran, has accused the Islamic Republic of all the sins," Lavrov said. "It creates a dangerous situation where a spark would be enough to light a fire. The US would be responsible for any possible catastrophic consequences."
The top Russian diplomat further stressed that Iran has repeatedly expressed its willingness to ensure regional stability through dialog with all countries, including the Persian Gulf Arab states, which have interests in the region.
Moscow, he added, has been taking steps to ease tensions and promote collective security in the Persian Gulf through confidence-building measures.
"We are working with our partners to maintain multilateral agreements and resolve the situation surrounding Iran's nuclear program," Lavrov said.
Tensions have been running high between Tehran and Washington since last year, when President Donald Trump unilaterally withdrew the US from the 2015 multilateral nuclear deal, officially known as the Joint Comprehensive Plan of Action (JCPOA), and unleashed the "toughest ever" sanctions against the Islamic Republic.
Recently, the US has taken a quasi-warlike posture against Iran and stepped up its provocative military moves in the Middle East, among them the June 20 incursion of an American spy drone into the Iranian borders.
The US says it is deploying an aircraft carrier strike group and a bomber task force to the Middle East in a "clear and unmistakable" message to Iran.
In May, Washington dispatched an aircraft carrier strike group, a bomber task force, and an amphibious assault ship to the Persian Gulf, citing an alleged Iranian threat.
Full report at:
https://www.presstv.com/Detail/2019/07/17/601143/Russia-Sergei-Lavrov-US-Iran-tensions
--------
Assailants desecrate mosque in western Germany
Mesut Zeyrek
17.07.2019
COLOGNE, Germany
Unidentified assailants desecrated a mosque in Munster, western Germany late on Tuesday.
The assailants tore pages of a copy of Quran at Barbaros Mosque of the Turkish Islamic Union for Religious Affairs (DITIB).
DITIB representative Sebahattin Cigdem said on Wednesday an investigation into last night's attack was launched after they saw a copy of Quran ripped up inside the mosque and called the police Wednesday morning.
He recalled, "our mosque had also been attacked on January 22, 2018. PKK terrorist organization supporters sprayed political messages on the doors and windows of the mosque.''
In the last 10 days in Germany, six DITIB mosques as well as an Arab mosque were attacked.
Germany has witnessed growing Islamophobia and hatred of migrants in recent years triggered by the far-right parties, which have exploited fears over the refugee crisis and terrorism.
Police recorded 813 hate crimes against Muslims last year. At least 54 Muslims were injured in those attacks carried out mostly by far-right extremists.
Germany, a country of over 81 million people, has the second-largest Muslim population in Western Europe after France.
Full report at:
https://www.aa.com.tr/en/europe/assailants-desecrate-mosque-in-western-germany/1534690
--------
Turkey, Montenegro free trade agreement revised
Tuba Şahin
17.07.2019
Free trade agreement (FTA) between Turkey and Montenegro was revised on Wednesday with an aim to enhance the cooperation and investment opportunities in services and agriculture trade.
Expansion of the agreement will facilitate agricultural goods to enter markets reciprocally, Turkey's Trade Minister Ruhsar Pekcan said during her speech at the signing ceremony.
She added that the revision will pave the way for service providers to trade in a safer, easier, more transparent and predictable environment.
Pekcan underlined that the trade volume between the two countries accelerated after the FTA came into force in 2010.
"Turkish exports to Montenegro rose to $79 million, up from $27 million while our imports from the country increased to $24 million from $6million," she said.
Montenegro's Economy Minister Dragica Sekulic said the good quality agricultural products will be sold quickly and cheaply thanks to the revision.
Full report at:
https://www.aa.com.tr/en/economy/turkey-montenegro-free-trade-agreement-revised/1534293
--------
Southeast Asia
In Reassessing His Role Dr Mahathir must not sacrifice National Unity
July 17, 2019
The ongoing prosecution and high profile trial of Dato' Sri Najib Abdul Razak, the former prime minister of Malaysia, and the criminal charges laid against his deputy and other senior officials of his administration is turning out to be a cathartic and convulsive exercise for the country. Criminal and corruption charges have also implicated a few senior civil servants. One sitting Court of Appeal judge has exacerbated the situation somewhat by alleging misconduct on the part of some retired senior judges.
A huge cloud of suspicion has been created over the past conduct of not only the members of the Legislature but the Executive and the Judiciary. Where there should have been a clear separation of powers there appears to have been some suspicion of collusion and understanding that placed in peril fundamental principles of justice, fair play and accountability
It would seem that the extraordinary parliamentary strength of the Najib Administration, and his largely inherited most powerful prime minister-centric paramountcy in a constitutional monarchy and the capacity to pass and enforce oppressive laws had the potency to persuade, prevail and pressure the most upright members of the Executive and the Judiciary to fall in line or compromise on basic values. It is becoming known that some of these high officials had been compliant not so much to promote the National Interest and propel the country forward but to respect and reinforce Najib's political power base, position and private wealth. There were instances, it would appear, where the highest levels of the Judiciary became involved in directing their subordinates to decide against the opposition politicians or delay judgments until the matter fizzled out.
They were involved in systematic coverups and high level institution – driven fraud which appears to have guaranteed them some kind of immunity. It would seem that they failed to realise Najib's actions were an abuse of office.
The highest levels of the civil service were often complicit in most of the abuses of office that occurred under Najib. Senior civil servants in general have enjoyed a charmed life in the system. They could receive the Tan Sri title while in service, a privilege conferred on political leaders only on retirement. One retired but living senior civil servant had a whole facility named after him. Such privileges apply to political leaders posthumously.
Dr Mahathir, for instance does not have any facility, road or monument named after him although he was made a Tun when he retired as prime minister in October 2003.
This systematic institution- driven fraud which engulfed 1MDB, Felda and other GLCs could not have occurred without the acquiescence of senior civil servants. There was just too much of that.
For the average law abiding taxpaying Malaysian citizen the revelations of so many of these sensational happenings occurring within a span of a year is just too much.
It is incredible that Southeast Asia's brightest star in terms of a decent, respectable and durable parliamentary democracy had been rendered into an autocratic kleptocracy , or at a stretch, a plutocracy( where business also became involved), and a year after that delinquent government was thrown out there are no clear directions as to where the country is heading.
It would appear that the government led by the region's most seasoned political leader is dithering and no longer sustaining the drive, determination and dedication to destroy all those deficiencies and excesses created and nurtured by Najib.
That morning of May 10 2018 when most weary Malaysians retired to sleep there was so much optimism that Dr Mahathir would, as he said, "restore the rule of law," and not take revenge. These assurances created enormous expectations.
Dr Mahathir had also assured of a new power sharing arrangement with the other allied parliamentary caucuses consisting of Amanah, PKR, and the DAP. Later the Sabah- based Warisan was tacitly included in this power configuration which effectively replaced the six-decade old asymmetrical alliance which had a dominant UMNO clearly calling the shots. There seemed to be more balance and reasonableness in this new power sharing formula.
UMNO had represented the peninsular Malays primarily and in every hierarchical calculation the peninsular Malay preceded the Bumiputeras of Sabah and Sarawak and the non-Malays. At some stage it even came to pass that in the pecking order Muslim Bumiputeras had precedence over non- Muslim Bumiputeras.
This pecking order can be discerned in the organisational pyramids of almost all elite services including the Administrative and Diplomatic Service, the Education Service and the Armed Forces. The larger GLCs also display the preeminence of the Peninsular Malays.
Surely fifty four years after the formation of Malaysia these Sabahans and Sarawakians would have probably acquired some wherewithal to head federal services like the Public Services Department, the Public Works Department and the Forestry Department. They should have unquestioned parity and equality with their Peninsular brothers and sisters.
This is certainly an area that the Pakatan Government can look at as Dr Mahathir has repeatedly spoken of the equality of all Malaysians. Yet Dr Mahathir himself is not beyond reproach because he has allowed one prominent businessperson from his home state to secure a monopoly of practically every major franchise and facility.
Those assurances by Dr Mahathir on May 10 generated the highest expectations that the "mess" created by the Najib Administration would be unraveled and the Rule of Law would prevail.
In proceeding against Najib' s misdeeds however the government of Dr Mahathir seems to have realised that the repercussions of misconduct attributed to Najib have a wide and worrisome reach. There was, for instance, a reference to a Royal Commission on Judicial Misconduct that was bandied about. Then all has gone cold on the subject. At a procedural stage it would appear that Najib's successful conviction would not stop there as Najib, like the fabled Ali Baba did not operate alone but astutely drew in at least forty thieves. These thieves belonged to his immediate family, political parties, the government, financial institutions, international banking giants, fashion houses, charity foundations, carpet dealers and infrastructure project awardees.
It is neither practical nor realistic, in my opinion to pursue all leads and prosecute partly to punish and attempt to recover all the embezzled funds and assets. For, to go down that track it would entail vast government resources which may destabilise the entire governance system and veer away from fundamental governance and developmental imperatives.
While not losing track of the objective to restore the rule of law, reengineering the system to achieve vital developmental goals and reducing the income gap the government has to apportion high priority to uniting the people. There is disunity and polarisation today.
Najib, very adroitly assisted by the the narrow ultranationalist Islamic party, PAS, has succeeded in creating the impression that the emergence of the Pakatan Harapan Government presages the total loss of political power by peninsular Malays, loss of Islam's preeminent status as the country's official religion and the marginalisation of the bumiputra community. UMNO and PAS have cleverly cast the DAP, the country's most multiracial but Chinese- dominated party, as the dominant force in the Pakatan Harapan Government. Such propaganda is threatening and making it tenuous for the Dr Mahathiir's government to function as an authoritative and acceptable government.
Najib has gone to the extreme extent of sabotaging Malaysia's ratification of the International Convention for the Elimination of All forms of Racial Discrimination(ICERD) suggesting that the discriminatory practices that exist within the country be preserved and perpetuated. The goal for an equal opportunity society promised in Pakatan Harapan's manifesto ( promise 33 of the Election Manifesto) remains unfulfilled. These practices of perpetuating traditional cleavages favouring and prioritising Peninsular Malays should be removed as a matter of urgency. Pakatan Harapan should capitalise on this issue to demonstrate the dangers inherent in the discriminatory policies of the UMNO- PAS nexus. After May 13, 1969 when Najib's father, Tun Abdul Razak introduced and institutionalised affirmative and discriminatory policies there were some valid logical and emotional imperatives but half a century later those impulses are a trifle trite.
Two of the four essentially Malay/ Muslim led parties- Warisan and Amanah are mainly regional or state-based parties while the third and strongest PKR is embroiled in internal factional disputes.
Dr Mahathir' s Bersatu, largely due to the Tun's strong leadership is a solid organisation with a wider reach nationally but it carries some baggage from its past UMNO antecedents. There is widespread concern that Bersatu should not become UMNO 2.0.
Any analyst of Malaysia's political and economic situation will state frankly that most of Malaysia's current problems stem from UMNO's unquestioned and unassailable supremacy in the past. Najib was a symptom of that decadent supremacy which allowed him to accumulate power to the extent that his leadership trumped over the law, logic and every local institution and inhibition.
http://theindependent.sg/in-reassessing-his-role-dr-mahathir-must-not-sacrifice-national-unity/
--------
Australia calls on China to let Uighur mother and son leave
July 17, 2019
Australia's government on Wednesday called on China to allow an Australian child and his Uighur mother to leave the country, stepping up pressure on Beijing days after Canberra co-signed a letter denouncing its treatment of the Muslim minority.
China has rounded up an estimated one million Uighurs and other mostly Muslim Turkic-speaking minorities into re-education camps in the tightly-controlled region of Xinjiang in the country's northwest.
Canberra had initially denied citizenship to baby Lutifeier, who was born in Xinjiang in August 2017 to an Australian father and a Uighur mother, but backtracked last year following a legal battle.
The child's father, Sadam Abdusalam, has been campaigning for months so his Uighur wife, Nadila Wumaier, and their son, whom he has never met, can come to Australia.
On Wednesday, Foreign Minister Marise Payne said "the Embassy in Beijing have formally requested that the Chinese authorities allow Ms Wumaier and her son (who is an Australian citizen) to travel to Australia".
The statement came after Abdusalam shared his plight publicly for the first time, speaking to the national broadcaster ABC on Monday.
He told AFP that his wife was taken in for questioning by Chinese authorities the following day, but was later released.
Payne said on Wednesday that she was aware of the reports, but cautioned that "as Ms Wumaier is not an Australian citizen we do not have an entitlement to consular access".
Canberra has traditionally been keen to avoid friction with its biggest trading partner, but tensions between the two countries have escalated over security concerns and Beijing's growing presence in the Pacific.
Australia was among 22 countries, along with Britain, Canada and Japan, that last week wrote to top United Nations officials condemning China's treatment of ethnic minorities.
China's embassy in Australia slammed the ABC programme as "full of lies, distortion and bias".
Abdusalam said he was "really happy" that Australia was taking action, but called on officials to do more.
"I'm going to keep trying to keep pressure on China and keep pressure on the Australian government," he told AFP.
Beijing strongly defends its use of internment camps in Xinjiang, which it says are necessary to counter religious extremism and terrorism.
It has blocked Australian diplomats from visiting Xinjiang since early 2017.
"On 31 August he will be two years old," Abdusalam said of Lutifeier.
"I would like to see my son before 31 August so we can celebrate his birthday as a family."
Full report at:
https://www.thejakartapost.com/news/2019/07/17/australia-calls-on-china-to-let-uighur-mother-and-son-leave.html
--------
Silence the bigger bomb after threat to attack seminar
Tajuddin Rasdi
July 17, 2019
Last week, a seminar on the Amman Message to take place at the Institute of Advanced Islamic Studies (IAIS) was called off.
Police cited a message on an anti-Shia Facebook page urging people to bomb the venue. When the organisers were informed, IAIS took the precautionary measure of cancelling the event.
There are questions unanswered in this episode.
Was the man who threatened the attack arrested? His name was clearly mentioned. His group was clearly mentioned.
The police seemed efficient when it came to nabbing a poor man who insulted the police and a frail Chinese man who insulted the Prophet, and we all know what happened to Wan Ji Wan Hussin for his remarks on the royalty.
Why the delay? Why the silence on the investigation into a bomb threat? The public need to know.
How come such a brazen threat was made by an unknown group? Was it supposed to be their debut attack? No one has heard of this group or the man named by the police.
Secondly, why target an academic institution?
IS has claimed responsibility for attacks on churches, nightclubs, concerts and hotels. But I find it hard to believe that they would target an institution of higher learning, a place not many would set foot in to listen to intellectual discourse.
The pattern just does not fit. Was the threat made up to provide an excuse to cancel the event?
The posting "Let's all go and bomb this place" seems to me more like a call to rally than a serious threat. A message such as "Let's bomb this place and finish off the liberals" would have been more convincing for a terrorist threat.
Why was an academic event targeted? Academic events hardly raise any strong consciousness among the public simply because academics are mostly those who hold discourse among themselves. Even the media shun many academic conferences and forums because academics seem happy talking among themselves, using jargon that only they can comprehend. Folks and politicians with a simple understanding of "Ketuanan Melayu" would not care two cents about the discourse anyway.
So why target a conference that nobody seems to care about?
The Amman Message marks the acceptance of the eight schools of Islam and yet the group was named as an anti-Shia group. The sermon every Friday at a government Islamic school near my house in Kajang always ends with a loud cry against the "forces of evil": LGBT, Shias, liberals and progressives.
I have, therefore, surmised that the group reflects the prevalent attitude of Muslims against Shias.
The fact that the Facebook account received tens of thousands of likes further indicates that extremist conservatism is fully entrenched in Malaysia.
But most frightening of all is the silence that followed the cancellation of the event.
Where are the voices from the public universities funded by Malaysians' tax money? There are many faculties of social sciences and faculties of Islam with thousands of academics who should welcome the conference and the Amman Message.
Full report at:
https://www.freemalaysiatoday.com/category/opinion/2019/07/17/silence-the-bigger-bomb-after-threat-to-attack-seminar/
--------
Mideast
Israel's Military To Increase Protection Of Strategic Sites From Hezbollah Missiles
By Anna Ahronheim
JULY 17, 2019
Israel's military will provide anti-missile protection to 20 strategic sites across the country, as well as build additional hardened aircraft hangers to protect against the threat posed by Hezbollah's missile arsenal.
According to a report in Jane's Defence Weekly, the Israeli Air Force is looking to build an unspecified number of strengthened aircraft hangars at a cost of $10 million in an area of about 4,000 sq.m.
The work will see the construction of about 1.5 km. of taxiways, 3.3 km. of service roads, 2,150 sq.m. of auxiliary facilities, 450 sq.m. of administrative buildings, 1,900 sq.m. of utilities tunnels and 5,600 sq.m. of general storage buildings, the report said, quoting a notice published on the USU Federal Business Opportunities (FBO) website
In addition, according to a report in Haaretz, the IDF's Home Front Command will strengthen the protection of several key sites across the country with walls of reinforced concrete, stronger ceilings, blast-proof doors and anti-shrapnel protection.
The IDF believes that the next war on the northern border will not be contained to one front, but will stretch along the entire northern border with both Lebanon and Syria. The military also expects that during the next war, Hezbollah will try to bring the fight to the home front by infiltrating Israeli communities to inflict significant civilian and military casualties.
The head of the Home Front Command warned last year that 2.5 million Israelis do not have adequate protection from Hezbollah missiles, and the government later designated an extra NIS 150m. for work to strengthen buildings around the country from rocket attacks.
Hezbollah's secretary-general Hassan Nasrallah said in April that while Israel boasts about their missile defense system, it cannot defend the country's citizens against the threat posed by Hezbollah's rocket arsenal.
Hezbollah, which last fought a war against Israel in 2006 – the Second Lebanon War – has since morphed from a guerrilla group to an army with a set hierarchy and procedures. While Hezbollah is not believed to possess any precision missiles, it has substantially rebuilt its arsenal over the past 13 years, with hundreds of thousands of short-range rockets and several thousand more missiles that can reach deeper into Israel.
In an interview on Hezbollah's al-Manar TV station, Nasrallah warned on Friday that "The 70 km. Israeli coast starting from Netanya and ending at Ashdod is under the resistance's fire."
Pulling out a map of Israel, Nasrallah pointed to strategic targets that he said Hezbollah could hit, including Ben-Gurion Airport, arms depots, petrochemical and water desalination plants, Tel Aviv, and the Ashdod Port.
Nasrallah said that there will be "surprises on the ground, in the air and at sea" in the next war between the two enemies, adding that the Lebanese Shi'ite group has game-changing weapons.
"Any war will be bigger than the 2006 war for Israel, and it will be put it on the brink of extinction," he warned.
https://www.jpost.com/Israel-News/Israels-military-to-increase-protection-of-strategic-sites-from-Hezbollah-missiles-595930
--------
Iran Rejects Pompeo's Suggestion It Is Willing to Negotiate Over Missile Program
By David E. Sanger and Michael Crowley
July 16, 2019
WASHINGTON — Secretary of State Mike Pompeo said on Tuesday that Iran appeared willing to negotiate over its missile program "for the first time," in what he and President Trump presented as evidence that sanctions and military pressure were working, less than a month after the president halted a planned military strike against Iran.
But within hours of the statement to reporters, delivered before a cabinet meeting at the White House, the idea was shot down by Iran's foreign minister, Mohammad Javad Zarif, who was in New York for a meeting at the United Nations. His spokesman said that the two men had misinterpreted Mr. Zarif's public statements, in which he repeated past demands that if the United States "wants to talk about missiles, it should stop selling weapons, including missiles, to regional states."
It was a clear reference to American weapons sales to Saudi Arabia, the United Arab Emirates and Iran's other Arab adversaries.
The odd exchange, and the apparent misconstruing of Mr. Zarif's comments, seemed to underscore the eagerness of the White House to turn weeks of confrontation with Iran into some kind of negotiating opportunity — and a reminder of how hard that will be to accomplish. Iranian officials have repeatedly said they would engage with Mr. Trump only after he rejoined the 2015 nuclear accord, which he withdrew from last year.
Mr. Trump appeared to ignore that demand, backing up his top diplomat's assessment that American restrictions on Iranian oil exports had left the regime "struggling to figure out what they're going to do with their economy."
"They'd like to talk, and we'll see what happens," Mr. Trump said.
But the Iranians say their position is unchanged.
"I think the administration is desperately looking for any sign that this is working and that Iran is willing to talk," said Philip Gordon, a Middle East official in the Obama administration who helped to negotiate the 2015 accord.
But Mr. Gordon, now at the Council on Foreign Relations, added that "even if both sides overcame the obstacles to talks, there's no sign that Iran is remotely willing to accept the sort of deal the administration has said would be its bottom line."
The exchange between officials of the two countries followed a string of private messages and efforts at outreach that seemed intended to de-escalate a series of confrontations that many feared could lead to war, either accidentally or deliberately.
A visit a month ago to Iran by Japan's prime minister, Shinzo Abe, went badly, with Iran's supreme leader, Ayatollah Ali Khamenei, declaring that he would never speak with Mr. Trump and had no intention of repeating the "bitter experience" of negotiating a hard-fought agreement with the United States, only to see a new president renounce it.
But over the weekend France sent an emissary to Tehran, seeking a modest short-term agreement to calm tensions. And Mr. Pompeo, at the last moment, approved a visa for Mr. Zarif, though the State Department stipulated that he was being admitted to the United States "for the sole purpose of attending U.N. meetings" and "should restrict his activities to U.N. business only," according to a letter obtained by The New York Times.
Mohammad Javad Zarif, Iran's foreign minister. His spokesman said that Iran's missiles "are absolutely and under no condition negotiable with anyone or any country, period."
Then, after Mr. Zarif gave an interview with Lester Holt of NBC on Sunday, the administration seemed eager to find any opening. Missiles provided that basis.
But Mr. Zarif's spokesman declared on Tuesday that Iran's missiles "are absolutely and under no condition negotiable with anyone or any country, period."
That was "not a new position by the Iranians," said Ali Vaez, the Iran project director of the nonprofit Crisis Group. "They have been saying this for many, many years now."
For years Iran ignored a United Nations resolution that effectively barred it from conducting missile launches, and it developed a sophisticated arsenal, capable of reaching the edge of Europe. Missiles were not covered in the 2015 nuclear agreement, but the secretary of state at the time, John Kerry, negotiated language with Mr. Zarif that watered down the restriction.
The United Nations resolution passed alongside the embrace of the nuclear accord said that "Iran is called upon not to undertake any activity related to ballistic missiles designed to be capable of delivering nuclear weapons, including launches using such ballistic missile technology." Iran said that the "called upon" language did not bar it from such tests, and that none of its missiles were designed to be nuclear capable.
The rebuff to Mr. Trump and Mr. Pompeo came a day after European foreign ministers meeting in Brussels agreed that Iran's recent, carefully calibrated breach of its obligations under the 2015 nuclear deal were not serious enough to warrant "snapback" sanctions. In the European view, it is Mr. Trump who is primarily responsible for the current standoff.
Nonetheless, Iran has begun to exceed the deal's limits on its stockpile of nuclear material and is enriching uranium to slightly higher levels of purity than the agreement sanctioned.
Yet most experts agree that so far the Iranian actions have not pushed the country over the key measurement: that it remain at least a year away from enriching enough uranium to fashion a single nuclear weapon. Mr. Zarif said on Monday that if Iran wanted nuclear arms, it would have already produced them.
In a televised speech on Sunday, President Hassan Rouhani of Iran said that his country would hold talks with the United States if Washington lifted economic sanctions and returned to the nuclear deal. But on Tuesday, Mr. Khamenei, struck a more hostile tone, railing against the United States and Europe in a speech on Iranian state television. On his English-language Twitter account, he said that Iran "will continue the process of cutting down on its #JCPOA commitments," a reference to the 2015 nuclear deal, which is officially known as the Joint Comprehensive Plan of Action.
Mr. Khamenei was particularly angry over the impoundment by British forces of an Iranian tanker suspected of transporting oil to Syria in defiance of European sanctions.
Mr. Vaez said France's government was trying to encourage dialogue by proposing that the United States refrain from imposing new sanctions on Iran and possibly grant waivers from sanctions against nations that import Iranian oil. In return, Iran would return to its commitments under the nuclear deal, refrain from further attacks on oil tankers and potentially even release American citizens imprisoned in the country.
President Emmanuel Macron of France told reporters on Monday that he hoped to speak with Mr. Rouhani and Mr. Trump, as well as President Vladimir V. Putin of Russia, in pursuit of de-escalating tensions. But Mr. Vaez believes that Mr. Trump and Mr. Pompeo are, for now, engaged in a form of wishful thinking.
Full report at:
https://www.nytimes.com/2019/07/16/us/politics/iran-pompeo-missiles.html
--------
Iran Says It Aided Oil Tanker, Amid Reports of Missing U.A.E. Ship
By Megan Specia
July 17, 2019
The Iranian Foreign Ministry has said that security forces recently came to the aid of a foreign oil tanker in the Strait of Hormuz, hours after reports that Iran might have seized a tanker from the United Arab Emirates in the area.
Abbas Mousavi, the Foreign Ministry spokesman, said that Iranian forces had rushed to the aid of an unidentified tanker that had sent a distress call after a "technical glitch," according to reports Tuesday night from the semiofficial Iranian news agency Press TV. He said that tugboats had towed it toward Iranian waters for repairs.
Mr. Mousavi did not say what nation the ship was from, who owned it or what its current status was. He said more information would come later.
Why This Narrow Strait Next to Iran Is So Critical to the World's Oil Supply
Twenty percent of the global oil supply flows past Iran through the Strait of Hormuz.
The comments came after reports that the Islamic Revolutionary Guards Corps of Iran may have seized a United Arab Emirates tanker in the Persian Gulf over the weekend. Such a move would be the latest in a series of confrontations in the region that have raised fears of an armed conflict.
The Associated Press reported on Tuesday that an Emirati tanker with a Panama flag, the Riah, disappeared while passing through the Strait of Hormuz late Saturday. The report cited a United States defense official who said there were suspicions that the tanker had been seized by the Revolutionary Guards.
The Strait of Hormuz connects the Persian Gulf with the Gulf of Oman, and 20 percent of the world's oil passes through the narrow waterway. In recent weeks, it has been the site of several tense episodes that have increasingly strained the relationship between Iran and the United States.
Early this month, British forces seized an Iranian tanker near Gibraltar on suspicion that it was carrying oil to Syria, in violation of European Union sanctions. Iranian officials said the seizure occurred at the request of the United States, and warned of retaliatory action.
British officials said last week that Iranian forces had tried to block a British tanker from passing through the Strait of Hormuz. Iranian boats backed off after the British naval vessel issued "verbal warnings."
Six tankers were damaged in May and June in the Gulf of Oman. The United States said the incidents were attacks by Iran, which Tehran has denied. Last month, Iran downed an American surveillance drone in the same area, a move that nearly resulted in military strikes by the United States.
Last year, President Trump pulled the United States from the 2015 agreement that limited Iran's nuclear development in exchange for the easing of economic sanctions.
Full report at:
https://www.nytimes.com/2019/07/17/world/middleeast/iran-oil-tanker.html
--------
Turkish diplomat, one other shot dead in Kurdish capital
17 July 2019
At least two people including a Turkish diplomat were shot dead on Wednesday in a rare attack in the capital of Iraq's northern Kurdish region, local security officials and Turkey's foreign ministry said.
A gunman opened fire at a restaurant in Erbil where Turkish diplomats were dining before fleeing in a car driven by an accomplice, two Kurdish security officials and a witness said.
There was no immediate claim of responsibility as security forces began a search for the attackers.
Turkey, Iraq's central government in Baghdad and Kurdish authorities in Erbil condemned the attack, which took place weeks after Turkey launched a new military offensive against Kurdish separatist militants based in northern Iraq.
Ankara's main enemy in Iraq is the PKK group, which has based fighters in the mountainous border region, north of Erbil, during its decades-long insurgency in southeastern Turkey.
Turkey and the ruling Kurdish party in Erbil, the KDP, have blamed the PKK for other Turkey-related incidents in northern Iraq including the storming of a Turkish military camp earlier this year.
Turkey's foreign ministry said one of those killed on Wednesday was a diplomat working at its consulate to semi-autonomous Iraqi Kurdistan.
A statement from the Kurdish internal security service said two people were killed - the diplomat and another civilian - and one other person was wounded.
The Kurdish officials and Iraqi state television earlier said three people were killed and that they were all Turkish diplomats and included the deputy consul.
One witness told Reuters that an attacker entered the restaurant and started shooting before he fled in a car that was waiting for him outside.
Turkey fights Kurdish militants
It was a rare major security incident in Erbil, where a new president and prime minister, part of a clan that has controlled the KDP for decades, recently took office. The KDP has said it will continue to cooperate closely with Ankara against the PKK.
"Nobody invited them (the PKK) here," Prime Minister Masrour Barzani said in an interview with Reuters this month.
"We disapprove of their activities and ... of their presence here. We understand the concerns of the neighboring countries about security issues," he said, adding that Erbil would look to strengthen relations with Turkey.
Ankara's forces have regularly carried out air raids against PKK targets in northern Iraq and in May dropped commandos on mountain ridges in a new operation against the militants.
Turkey has called for Baghdad to take a more active role in helping it eliminate the PKK, and has waged offensives in recent years against PKK allies in northern Syria.
Ankara vows 'necessary response'
Turkey vowed to retaliate after an employee of Ankara's consulate in Iraq's autonomous Kurdish region was killed in a shooting on Wednesday.
Full report at:
https://english.alarabiya.net/en/News/middle-east/2019/07/17/At-least-three-Turkish-diplomats-killed-in-Erbil-shooting.html
--------
Iran's Zarif says US travel curbs on Iranian diplomats 'inhuman'
17 July 2019
Iran's Foreign Minister Mohammad Javad Zarif said on Wednesday that tight US travel restrictions on Iranian diplomats and their families living in New York are "basically inhuman."
"It is certainly not a friendly action. It puts the members of the mission and their families under basically inhuman conditions. But for me it's fine because I don't have any work anywhere other than the three buildings," he told reporters at the United Nations.
The United States has restricted their travel to between the United Nations, the Iranian UN mission, the Iranian UN ambassador's residence, and John F. Kennedy airport. There is also a carve-out for six blocks surrounding Queensboro Plaza in the borough of Queens. It was not immediately clear why.
https://english.alarabiya.net/en/News/middle-east/2019/07/17/Iran-s-Zarif-says-US-travel-curbs-on-Iranian-diplomats-inhuman-.html
--------
Iran: Zarif's missile remarks meant to challenge US, not signal negotiations
17 July 2019
Iran says remarks by the country's foreign minister about Iran's missile program possibly being up for negotiations with the US meant to challenge Washington's arms sales policy to the region - and were not meant to indicate a readiness by Tehran for any such talks.
The Foreign Ministry's spokesman, Abbas Mousavi, tweeted late on Tuesday that Mohammad Javad Zari's comments "threw the ball into the US court while challenging America's arm sales" to its Mideast allies.
Zarif had said in an NBC News interview that if the US wants to talk about Iran's missiles, "they need first to stop selling all these weapons, including missiles, to our region."
Iran has long rejected negotiations over its missile program.
Iran's mission to the United Nations also described Zarif's comments as purely "hypothetical."
Iran reaffirmed that its ballistic missile program was not up for negotiation after US Secretary of State Mike Pompeo told a White House cabinet meeting that Iran had signaled it was prepared to negotiate about it.
Full report at:
https://english.alarabiya.net/en/News/middle-east/2019/07/17/Iran-says-Zarif-s-missile-remarks-meant-to-challenge-US-not-negotiate-over-nukes.html
--------
Iranian diplomats and their families living in New York face US travel curbs
17 July 2019
The United States has tightly restricted the travel of more than a dozen Iranian diplomats and their families living in New York, according to a US diplomatic note to sent to the Iran Mission to the United Nations and seen by Reuters on Tuesday.
The diplomats are subjected to the same rules imposed by the United States on Iran's Foreign Minister Mohammad Javad Zarif, who arrived on Sunday amid heightened tensions between the two countries.
They may only travel between the United Nations, the Iranian UN mission, the Iranian UN ambassador's residence, and John F. Kennedy airport. There is also a carve-out for the six blocks surrounding Queensboro Plaza in Long Island City in the borough of Queens. It was not immediately clear why.
Longtime US-Iran strains have worsened since US President Donald Trump last year quit a 2015 international agreement to curb Iran's nuclear program in return for sanctions relief. Trump has imposed more sanctions on Iran.
Washington and Tehran sent mixed signals on Tuesday about resolving their disputes as Iran's supreme leader threatened to further breach the nuclear deal while Trump cited "a lot of progress."
The July 12 diplomatic note said the travel rules, which are open-ended, apply to "all members of the permanent mission of Iran to the United Nations, their immediate family members, and representatives of the Iranian government to the United Nations."
It said a waiver would be required from US State Department Office of Foreign Missions for any other travel and requests must be made at least five days in advance. The Iranian UN mission is also required to submit residential and hotel accommodations for approval.
The Iranian UN mission did not immediately respond to a request for comment. A spokesman for Iran's foreign ministry said on Monday Zarif's work in New York was unaffected.
The United Nations said on Monday that it told the United States it was concerned by the new tight travel restrictions. A US State Department official said the United States had acted "in a manner that is fully consistent" with its obligations under a 1947 agreement with the United Nations.
Before the new rules, Iranian diplomats - like envoys of North Korea, Syria, and Cuba - were already confined to a radius of 25 miles from Columbus Circle in Midtown Manhattan. According to the UN Blue Book, which lists diplomats of each mission to the world body, there are 13 Iranian diplomats in New York.
Under the 1947 UN "headquarters agreement," the United States is generally required to allow access to the United Nations for foreign diplomats. But Washington says it can deny visas for "security, terrorism, and foreign policy" reasons.
The US diplomatic note said Zarif was "being admitted to the United States for the sole purpose of attending UN meetings" and that "he should restrict his activities to UN-related business only.
Full report at:
https://english.alarabiya.net/en/News/middle-east/2019/07/17/Iranian-diplomats-families-living-in-New-York-face-US-travel-curbs.html
--------
Wave of fear hits Syrians as Turkey announces new measures for refugees
17 July 2019
"I've had enough fear in Syria, and now it's all coming back to me. I just can't be sent back," Hadi, a Syrian refugee in Turkey, told Al Arabiya English in a shaky voice.
Hadi, whose real name will remain anonymous due to security reasons, entered Turkey legally through the airport with a three-month visa. He was aiming to be smuggled into Europe to run away from his "miserable" life in Syria, as he described it.
Too scared of the fatal trip that killed thousands, he could not leave, and also could not legalize his stay in Turkey due to exit and reentry requirements.
"I got stuck here. They had stopped issuing IDs for newcomers," Hadi said.
Turkish President Recep Tayyip Erdogan announced on July 13 that his government will take "new steps" toward Syrians in Turkey, which include "encouraging their return, deporting criminals, and adding taxes on their medical services," causing a wave of fear among refugees.
Erdogan was quoted in the Turkish newspaper Hurriyet as saying: "We had to open our doors to Syrians, we couldn't ignore what was happening and we opened our doors. Imagine if the same thing happened to us, who would help us?"
However, the president added that there would now be tighter measures against Syrians. "We will do the necessary to encourage their return, deport whoever committed crimes, and demand taxes from the medical treatment they receive," he said.
The 'kimlik'
When Syrians like Hadi started flocking into Turkey as a result of the war in their country, they were registered in the government and given a local ID or "kimlik" from the city they resided in.
However, in 2017, Turkish authorities in Istanbul and nine other provinces stopped registering Syrian asylum seekers, with reports about them being illegally deported, forced to go back to Syria, or refused healthcare and education.
As a result, Syrians who had already established an "unregistered" life in a certain province dealt with brokers and paid around $350 to get an ID from a different province, and came back to live where they originally were.
As part of the new measures, recently announced by Turkish Interior Minister Suleyman Soylu, anyone who has an ID from a province different than the one they reside in will be deported back to that province.
In a meeting with Syrian journalists and activists, Soylu explained that anyone without an ID will be deported outside Turkish borders, according to one of the attending journalists, Adnan Hussein.
'I did not want to participate in this war'
Hadi had postponed his college graduation in Syria to avoid mandatory military service, after which he immediately left for Turkey.
"I was forced to fail some courses to postpone my graduation and leave Syria during that year. I was exhausted of the bombs and the panicking, and I did not, in any way, want to participate in this war," he told Al Arabiya English.
Now, if he gets deported from Turkey into Syria, he will immediately be recruited by the Syrian regime to join the military.
"I don't break any laws, but now I have no other choice but to resort to the brokers who are destroying us with their prices, to get an ID anywhere else in Turkey," Hadi said.
Turkey's responsibility toward Syrians
There are 3,605,615 Syrians in Turkey, according to data from the Turkish immigration department issued this year.
Syrian refugees were a major talking point in the mayoral elections in Istanbul last month, which saw Ekrem Imamoglu of the secularist Republican People's Party (CHP), the main rival of Erdogan's Justice and Development Party (AKP), emerge the winner.
Each of the two candidates promised to take measures against Syrian refugees, including the deportation of illegal residents back to war-torn Syria.
However, in March 2016, Turkey signed a deal with the EU to handle the "refugee crisis," in which migrants who arrive in Greece are sent back to Turkey if they do not apply for asylum or their claim is rejected.
In return for taking the refugees back, Turkey received a total of six billion euros ($6.7 billion) in aid and political concession, according to the deal.
Amnesty International reported in 2017 that Turkish authorities had failed to provide returned refugees and asylum seekers with basic needs and to ensure they were "able to live in dignity."
Uncertain future
Syrian journalist Hussam al-Zeer, who lives in the southern Turkish city of Gaziantep, is shaken by the near hysteria Hadi and hundreds of thousands of other Syrians are experiencing.
"There are many rumors about Syrians being deported back because they didn't have IDs, but we have not documented any case yet. We still don't know how true it is," al-Zeer said.
Full report at:
https://english.alarabiya.net/en/features/2019/07/17/Wave-of-fear-hits-Syrians-as-Turkey-announces-new-measures-for-refugees.html
--------
US to send around 500 forces to Saudi Arabia amid Iran tensions: Report
Jul 18, 2019
The administration of US President Donald Trump is reportedly preparing to send hundreds of troops to Saudi Arabia amid escalating tensions with Iran and despite growing criticisms of Washington's military ties with Riyadh over the regime's gloomy human rights record.
Citing two US defense officials, CNN reported on Thursday that around five-hundred troops are expected to be dispatched to the Prince Sultan Air Base, located in a desert area east of the Saudi capital of Riyadh.
They said that a small number of troops and support personnel are already in the air base, with initial preparations being made for a US-made Patriot missile system as well as runway and airfield improvements.
The unnamed US officials said that Washington is expected to fly stealth, fifth-generation F-22 jets and other fighters from the air base.
Commercial high-resolution satellites taken in mid-June by Planet Labs and obtained by CNN, show an initial deployment of US forces and support personnel to the site, according to Jeffrey Lewis, director of the East Asia Nonproliferation Project at the Middlebury Institute of International Studies at Monterey, who has studied the new images.
"A small encampment and construction equipment appeared at the end of a runway by June 27, suggesting that improvements are already underway. The encampment to the east of the runway is typical of Air Force engineering squadrons deployed overseas," he told CNN.
So far, neither the Pentagon nor Saudi Arabia has made any comment on the issue.
Last month, the Pentagon announced it was sending 1,000 additional US forces and more military resources to the Middle East but did not specify which countries they were going to. The forces going to Saudi Arabia are said to be part of this deployment.
Congress has not been formally notified of the deployment, although one official told CNN that they had been given an informal heads-up and an announcement is expected next week.
The US decision to boost military ties with Saudi Arabia comes despite Congressional outcry over the kingdom's human rights records.
The White House said in May it was making an emergency provision within the country's arms control law to enable billions of dollars of arms sales to the Saudi kingdom and the United Arab Emirates, the US's main allies in the Persian Gulf. The recourse helps the president bypass congressional review for the exports.
The Trump administration had cited "alleged threats from Iran" to justify resorting to the provision.
Democrats said the president's action violated the law because there was no actual emergency.
They also said Trump's action shows that the United States is tolerating worst human rights abuses by Saudi Arabia in its war on Yemen.
"The emergency declaration is nothing more than an egregious abuse of power by an Administration that doesn't like being told, 'No.' There is no emergency, but there is a conflict in Yemen that has killed thousands of civilians with US-made weapons and a Congress that is tired of being complicit," California Rep. Ted Lieu, a Democrat, said in a statement last month.
The US has been supporting a 2015-present Saudi-led war against Yemen that seeks to bring back the impoverished country's former Riyadh-backed officials. The American patronage has featured aerial refueling, which the US only stopped earlier in the year after the Saudi-led coalition grew independent of it, as well as logistical and commando support.
Tens of thousands have died since the onset of the war, and the entire Yemen has been pushed close to the edge of outright famine.
A year after the war was launched, Trump made his maiden foreign visit to Saudi Arabia, announcing more than $100 billion in arms sales to the kingdom.
Full report at:
https://www.presstv.com/Detail/2019/07/18/601213/US-troops-Saudi-Arabia-Iran
--------
South Asia
Taliban Force Swedish Charity to Close Dozens Of Afghan Health Centres
JULY 17, 2019
KABUL (Reuters) - Taliban militants have forced a Swedish charity to close dozens of health centers in a central Afghan province, accusing it of failing to provide safety to civilians, the organization said on Wednesday.
Four people were killed at a Swedish Committee for Afghanistan (SCA) center in Wardak province, west of Kabul, during a night raid by Afghan forces last week, SCA and Afghan government officials said.
The attack was condemned by the SCA, but the Taliban accused it failing to provide adequate security.
"We expect the SCA to shut down their services in Wardak province as they are unable to guarantee the safety of their Afghan employees," Zabihullah Mujahid, a Taliban spokesman, said.
The SCA confirmed that the Taliban had forced it to close 42 of 77 health centers in Wardak. More than 5,700 patients were affected, it said.
The SCA has more than 6,000 Afghan employees operating in 14 Afghan provinces. It was founded in 1980 in response to the Soviet invasion, with the Swedish agency for development cooperation its largest international donor.
"Forcing SCA to close health facilities, hence denying people to receive medical treatment and health services, is an obvious violation of human rights and international humanitarian law," said Sonny Mansson, SCA country director.
Earlier this year, the Taliban ordered the International Committee of the Red Cross and the World Health Organisation to stop operating in areas under their control, citing unspecified "suspicious" actions during vaccination campaigns.
https://www.reuters.com/article/us-afghanistan-sweden-taliban/taliban-force-swedish-charity-to-close-dozens-of-afghan-health-centers-idUSKCN1UC0RC
--------
Islamic State making territorial gains in Afghanistan, Pentagon reports
by Russ Read
July 16, 2019
The Islamic State-Khorasan Province has gained control of territory in Afghanistan over the last six months, according to the latest Pentagon report to Congress.
While the group's power in Afghanistan remains limited compared with organizations such as the Taliban and al Qaeda, it has continued to challenge Afghan, United States, and coalition forces.
"During this reporting period, ISIS-K made territorial gains in eastern Afghanistan," according to the Enhancing Security and Stability in Afghanistan report for June 2019. "Regionally, the group continues to evade, counter, and resist sustained CT [counter-terrorism] pressure."
ISIS-K wants to pose a threat to not only Afghanistan but the U.S., "which it continuously seeks to target for terrorist activity." Similar to other terror groups like the Haqqani network, al Qaeda, and Tehrik-e-Taliban Pakistan, ISIS-K has sanctuaries on both sides of the Afghanistan-Pakistan border, making it particularly difficult to counter.
Like the Taliban, ISIS-K seeks to stage high-profile terrorist attacks, according to the report. One such attack occurred on April 20, when ISIS-K operatives attacked Afghanistan's ministry of communications in the capital of Kabul, killing 16 civilians and six Afghan security forces members. Overall, though, the report said high-profile attacks have decreased over the past year and a half.
Russia has used ISIS-K's growing presence in the country as an excuse to criticize the U.S. and increase its military presence at its base in neighboring Tajikistan. Russian President Vladimir Putin warned that Russia would continue to up its forces as long as the threat persists.
ISIS-K has claimed a presence in Afghanistan since 2015. The group has its origins in Afghanistan's Nangarhar province, located along the eastern border with Pakistan. While its size and influence remain limited, it has been able to pull off dozens of attacks against civilians and possibly hundreds against security forces in its short existence, including in larger cities such as Kabul.
ISIS has made a concerted effort to focus on areas outside its former land caliphate in Iraq and Syria. But while the group may be on the rise in Afghanistan, its days could be numbered.
"My position with the Islamic State is that they are around in Afghanistan until the Taliban doesn't want them," Bill Roggio, a senior fellow with the Foundation for Defense of Democracies and editor of the Long War Journal, told the Washington Examiner. "I think the Taliban keep them around partially because they don't want to do what it takes to fight that battle."
The Taliban and ISIS-K may share roots in jihadism, but that hasn't stopped them from attacking one another. The Taliban is largely focused on securing its position against the Afghan government and its Western allies, Roggio explained, so a fight against a rival terrorist group isn't in its best interest — for now.
The U.S. is seeking a reconciliation process with the Taliban through negotiations while continuing to fight the group and its al Qaeda allies. For now, ISIS-K is a convenient "foil" for the Taliban, according to Roggio.
"They are on borrowed time. If the U.S. withdraws, eventually the Taliban will take care of that problem," Roggio said.
Full report at:
https://www.washingtonexaminer.com/policy/defense-national-security/islamic-state-making-territorial-gains-in-afghanistan-pentagon-reports
--------
Civilian, 22 militants killed in E. Afghan counter-terrorism operation
2019-07-16
KABUL, July 16 (Xinhua) -- One child and 22 militants were killed following a counter-terrorism operation in Afghanistan's eastern Logar province overnight, Afghan Ministry of Interior Affairs confirmed on Tuesday.
"Special Operation Forces of Afghan National Police launched a counter-terrorism operation in Kamalkhil village, Mohammad Agha district, Logar province last night, killing 22 Taliban insurgents," the ministry said in a statement.
Airstrikes were also conducted against the Taliban positions during the raid, the statement said.
The ministry also confirmed that a child was killed and a woman was injured after a Taliban heavy weapon shelling struck a house in the village.
Meantime, local villagers claimed that five civilians were killed and 11 other non-combatants were wounded following an airstrike in Kamalkhil village Monday night.
Full report at:
http://www.xinhuanet.com/english/2019-07/16/c_138231617.htm
--------
Taliban kill more than 20 Afghan commandos: Officials
Jul 17, 2019
HERAT (AFGHANISTAN): At least 20 Afghan commandos were killed in a Taliban ambush in western Afghanistan, officials said Wednesday, marking yet another loss for the elite troops amid a push to end the war.
Provincial governor Abdul Ghafoor Malikzai said the special forces soldiers were ambushed Monday after flying into Abkamari district in Badghis province, a known Taliban hot spot.
"The commando forces descended... without coordination with other security forces," Malikzai told AFP.
"They were surrounded by Taliban fighters and fought for hours. Unfortunately, 21 of them were killed. Some were captured," he added.
The Afghan defence ministry had no immediate comment.
Abdul Aziz Bek, the head of the Badghis provincial council, put the toll at 29 killed, saying some of the Afghan soldiers had been slain after they'd been captured.
"Some 40 commando soldiers were brought in by four helicopters from neighbouring Ghor province for an operation, but they got ambushed as soon as they descended. Only 11 of them were rescued later," Bek told AFP.
The Taliban claimed responsibility, saying over 30 soldiers had been killed.
Afghanistan's small, US-trained special operations forces represent only a small fraction of the approximately 300,000-member security forces.
The battle-hardened commandos have been carrying out most of the offensive operations being launched across the country, and have suffered high casualties.
The Afghan war grinds on even as the US and the Taliban have held talks about a possible peace agreement, with Afghan fighters and the Taliban still taking daily losses.
Full report at:
https://timesofindia.indiatimes.com/world/south-asia/taliban-kill-more-than-20-afghan-commandos-officials/articleshow/70264150.cms
--------
18 Afghan soldiers killed during raid on Taliban positions
Jul 17, 2019
Eighteen Afghan soldiers have been killed during clashes with Taliban militants that erupted after the troops conducted a night raid on their hideouts to capture a top leader of the militant group, government officials say.
Farid Akhizai, a provincial council member in Badghis Province, said on Wednesday that the Taliban militants encircled the soldiers -- who were airdropped into the Ab Kamari district to arrest a designate district governor of the militant group -- and killed 18 of them.
He added that the Taliban captured 11 other soldiers during the overnight clashes. Ten remain missing.
The district governor of Ab Kamari blamed the lack of coordination for the casualties.
"The operation was conducted to raid a hideout used by several Taliban commanders, but the insurgents had evacuated the area two days before," Khudad, who goes by one name, said.
The Taliban confirmed in a statement that they had received a tip-off about the raid.
But the group claimed that its militants killed 39 Afghan soldiers and captured 16.
The US and its allies invaded Afghanistan under the guise of the war on terror in 2001. While the invasion ended the Taliban's rule in the country, it has failed to eliminate the militant group. Some 18 years on, Washington is seeking truce with the militants as they have boosted their campaign of violence across the country.
Full report at:
https://www.presstv.com/Detail/2019/07/17/601180/Afghan-soldiers-killed-during-raid
--------
ISIS Claims Responsibility for Attack on U.S. Base in Afghanistan
Adam Kredo
JULY 16, 2019
The ISIS terror group is claiming responsibility for a missile attack at a U.S. base in Afghanistan, according to a statement released on its social media networks.
The attack is reported to have occurred on July 14 in the Achin district in Afghanistan's southern Nangarhar Province.
"The Caliphate's soldiers managed the day before yesterday to target a base belonging to the Crusader American army in Achin area in Nangarhar with a Katyusha rocket, causing serious casualties," ISIS claimed in an Arabic statement posted on the Telegram networking site.
The statement was translated by the Middle East Media Research Institute, or MEMRI, which tracks terror organizations.
"Providing evidence for its claim, ISIS published two photos: The first shows a militant with a blurred face holding the group's black flag and standing next to a Katyusha rocket launcher; the second shows a rocket in flight," according to MEMRI.
Full report at:
https://freebeacon.com/national-security/isis-claims-responsibility-for-attack-on-u-s-base-in-afghanistan/
--------
URL: https://www.newageislam.com/islamic-world-news/egypt-muslim-brotherhood-source-worlds/d/119229
New Age Islam, Islam Online, Islamic Website, African Muslim News, Arab World News, South Asia News, Indian Muslim News, World Muslim News, Women in Islam, Islamic Feminism, Arab Women, Women In Arab, Islamophobia in America, Muslim Women in West, Islam Women and Feminism