New Age Islam News Bureau
23 Nov 2014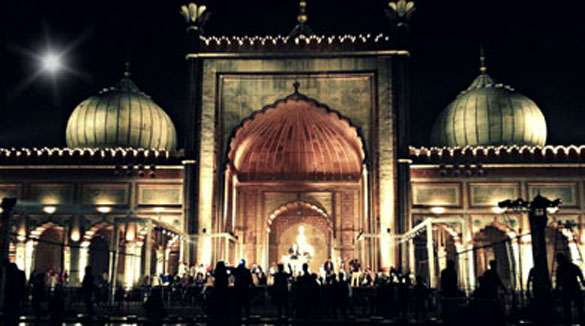 Three PILs have questioned the conversion of the post into a hereditary one when Jama Masjid is the property of the Delhi Waqf Board. (Source: Express photo)
-----------
Arab World
• Egypt Could Send Forces to Stabilise Future Palestinian State: El-Sisi
• Rift Widens among ISIL Leaders, Al-Baghdadi
• Dozens of ISIL Terrorists Killed in Iraq's Anbar
• Iraqi FM Urges Muslim Scholars to Enlighten World about Takfiri Terrorism
• Egypt raids Sinai villages, kills 10 'terrorists'
• Car bomb kills 7 people in Iraq: Officials
• Iraqi forces battle Islamic State in towns north of Baghdad
• El-Sisi lauds King Abdullah's efforts to close Arab ranks
• Newly arrested Brotherhood member accused of collaborating with US, Norway
• Iraq premier orders more aerial support to fight Islamic State
India
• Jama Masjid Warns Against 'Plot', Anoints Shahi Imam Bukhari's Son
• 5 Kashmiri Boys Held For Poll Boycott Call on Social Media
• Contradicting stand on Article 370 will sink BJP's boat in J&K: Omar Abdullah
• Now, Shias assert claim to Taj Mahal
South Asia
• 30 Taliban insurgents killed in counter-terrorism operations
• Drone strike leaves 6 militants dead in Nuristan province
• Taliban commander among 3 killed in Faryab clash
• Karzai: Pakistan demanded reduced Indian presence
• War crimes: Nizami seeks acquittal
• BNP Chairperson Khaleda Zia slams Jamaat inertia
Africa
• Boko Haram kills 48 fish vendors in northeast Nigeria
• PM: Tunisia presidential vote offers hope to Arab states
• Shebab Islamists claim responsibility for Kenya's deadly bus attack
Mideast
• Iranian Speaker: Takfiri Terrorists Trying to Create Rift among Muslims
• Turkey trains Kurdish Peshmerga forces in fight against ISIS
• Pro-ISIS graffiti found on monument to fallen Druse soldiers
• Netanyahu says he can't run the country with coalition's ultimatums
• Iran: reaching nuke deal on Nov. 24 'impossible'
Pakistan
• Handful of Corrupt Rulers Have Held Whole Country Hostage: Jamaat-e-Islami
• Three Lashkar-I-Islam (LI) Militants Killed In Clash with Khyber Agency Peace Legion
• Zarqawi — the link between Pakistani and Iraqi militants
• TNSM's Maulana Sufi Mohammad cleared of more terrorism charges
• SC takes suo motu on Christian couple's murder
• Pakistan wants Russian engagement in Afghan peace process
• 1,400 Hindus sites in dire need to Governmental protection, says Pakistan Hindu Council
Europe
• Up To 300 Swedes Fighting With ISIS: Official
• More British 'Mercenaries' Join Fight against ISIS
• Pope to urge Europe to tackle racism, religious intolerance
• Pre-ISIS lives: A devout catholic and a pizza delivery man
• Armed Islamist on video grew up in small French village: Mayor
• Georgia's Pankisi Gorge: the making of a jihadist
North America
• U.S. plans to arm Iraq's Anbar tribesmen
• Biden announces new aid for Syrian refugees
• Iran nuke deal: Talks lie in deadlock as US warns of 'serious gaps'
• 10% of US-Israelis in IDF become officers
Southeast Asia
• Muslims, Buddhists team up to bring about peace for Rohingya
• Worthy government will not use extremism and racism to rule, says Guan Eng
• Abolish Chinese schools, silence 'radical' Dong Zong, Malay groups tell Putrajaya
• Politicians are the ones causing tension among Malaysians, says Mujahid
Compiled by New Age Islam News Bureau
URL: https://www.newageislam.com/islamic-world-news/new-age-islam-news-bureau/egypt-could-send-forces-to-stabilise-future-palestinian-state--el-sisi/d/100148
-----------
Arab World
Egypt Could Send Forces to Stabilise Future Palestinian State: El-Sisi
23 November 2014
Egyptian President Abdel Fattah El-Sisi said in an interview published Sunday that he would be prepared to send troops to a future Palestinian state to help stabilise it.
El-Sisi, who begins his first European trip on Monday since the ouster of his Islamist predecessor, made the comments in an interview with Italian newspaper Corriere della Sera.
He is due to visit France and Italy, while the trip will also include a meeting with Pope Francis.
The Egyptian leader said he would send forces to a future Palestinian state in agreement with Israel and the Palestinian authority.
"We are ready to send military forces into a Palestinian state," he said.
"We would help the local police and reassure the Israelis through our role as guarantor. Not forever, of course. For the time necessary to re-establish confidence. But first a Palestinian state must exist where troops can be sent to."
El-Sisi said he had spoken of the idea with Israeli Prime Minister Benjamin Netanyahu and Palestinian president Mahmoud Abbas.
Speaking of neighbouring Libya, El-Sisi described the country as having descended into "chaos" and said "extremely dangerous jihadist bases" were being established there.
"The international community must make a very clear and joint choice in favour of the Libyan national army and no one else," Sisi said. "Aid, equipment, training must be sent to it exclusively."
El-Sisi also said Egypt had not intervened militarily in Libya. Egypt has denied reports that it facilitated air strikes by the United Arab Emirates, a close ally, against militias in Libya.
President Mohamed Morsi was overthrown in July 2013 following mass protest agaisnt his rule, prompting a wave of violence between supporters and security forces that drew rebukes from the United States and Europe. But Egypt has come back in from the cold since El-Sisi's landslide election win earlier this year, boosted by its increasingly central role in combating regional Islamist militancy.
This story has been edited by Ahram Online
http://english.ahram.org.eg/NewsContent/1/64/116220/Egypt/Politics-/Egypt-could-send-forces-to-stabilise-future-Palest.aspx
-----------
Rift Widens Among ISIL Leaders, Al-Baghdadi: Informed Sources
23 November 2014
Informed sources said gaps are widening between ISIL commanders and the leader of the terrorist group Abu Bakr Al-Baghdadi.
The ISIL leaders have complained about Al-Baghdadi's leadership and the manner he manages the Takfiri terrorist group.
Abu Qadeh Al-Ordoni, nicknamed Al-Ma'ani, who is a prominent ISIL leader and close to Abu Mossab Al-Zarqawi - the former Al-Qaeda leader in Iraq - is the most important opponent of Al-Baghdadi.
Meantime, the Syrian army regained control over Zibdin town, Eastern Ghouta, after the withdrawal of the terrorist groups.
The Syrian army units continued to strike foreign-backed terrorists in many areas across the country, killing numbers of them and wounding others, and destroying their vehicles and weapons.
Elsewhere, the army troops stormed the hideouts of the rebels in al-Tababir, Om Sharshouh, Tallet al-Rastan and Wadi al-Samarmr in Homs, killing and injuring scores of them.
Also, the army struck a major blow on the militants on the outskirts of Daraa, claiming the lives of a large number of them in al-Habbariyeh, Tal Masih, Atman-Tafas, Sheikh Miskeen, Ibta, Tal Hamad, and Nawa areas.
Meantime, Syrian Defense Minister Fahd Jassem al-Freij said the Damascus government is resolved to root out terrorism and restore security and stability "to every single inch of land."
"Syria will beat terrorism thanks to the awareness of its people, the steadfastness of its army and the wisdom of its leader," Freji made the remarks while paying a visit to the country's military sites in Morek, Halfaya, Arzeh and Khattab in the Central province of Hama.
Syria's Deputy Commander-in-Chief of the Army and the Armed Forces also hailed the "high morale" of the Syrian army, which has played a significant role in military successes of the Arab country against terrorism.
Elsewhere, the army soldiers targeted the hideouts of the rebels in al-Rami, Kansfara, al-Jabal al-Gharbi, and al-Arba'een areas on the outskirts of Idlib, leaving a large number of them dead.
Meantime, the militants suffered heavy losses in Aleppo as the army made gains in its fight against the armed groups in al-Lairamon, al-Mallah, Kherbat al-Maajir, Hreitan, al-Kastello, Binan al-Hiss, Handarat Camp, Bashkouy, al-Ammaryeh, and Handarat.
Elsewhere, the Syrian Armed Forces gained ground in their confrontation with the ISIL Takfiri group in Hasaka province, killing and injuring a large number of terrorists.
The ISIL terrorists' sustained heavy toll in Saba' Skour area, as the army made major advances in the Eastern countryside of Hasaka.
Also, three vehicles equipped with heavy machine-guns were destroyed during the operation.
Meantime, Russian Deputy Foreign Minister Sergey Ryabkov said the Syrian settlement is only possible if everyone considers official Damascus as an appropriate partner in dialogue.
http://english.farsnews.com/newstext.aspx?nn=13930902000391
-----------
Dozens of ISIL Terrorists Killed in Iraq's Anbar
Nov 23, 2014
Iraqi troops inflicted heavy losses on the ISIL Takfiri group in Anbar province, and killed dozens of terrorists.
The army soldiers stormed the hideouts of the Takfiri terrorists in al-Mahaboubiyah area, West of Anbar, leaving at least 15 terrorists dead.
The ISIL Takfiri terrorists currently control parts of Syria and Iraq. They have threatened all communities, including Shiites, Sunnis, Kurds, Christians, Ezadi Kurds and others, as they continue their atrocities in Iraq.
Senior Iraqi officials have blamed Saudi Arabia, Qatar, and some Persian Gulf Arab states for the growing terrorism in their country.
The ISIL has links with Saudi intelligence and is believed to be indirectly supported by the Israeli regime.
http://english.farsnews.com/newstext.aspx?nn=13930902000449
--------
Iraqi FM Urges Muslim Scholars to Enlighten World about Takfiri Terrorism
23 November 2014
Iraqi Foreign Minister Ibrahim al-Jafari called on Muslim scholars to enlighten the world people about the terrorist acts that the Takfiri groups commit in the name of Islam.
The Iraqi foreign minister made the remarks addressing the 'World Congress on Extremist and Takfiri Movements in the Islamic Scholars' View' in the Holy City of Qom, Central Iran, on Sunday.
"It is the duty of Muslim scholars to enlighten the people about the terrorist acts which are taking place in the name of Islam," Jafari said.
He reminded that the attacks by the Takfiri terrorist groups are not sectarian as they target both Shiite and Sunni Muslims, and said, "The Takfiri terrorists attacked the Sunni-controlled areas even before other areas; Mosul is a Sunni-populated area in Iraq that was first attacked by the Takfiris and the Islamic State of Iraq and the Levant (ISIL)."
Full report at:
http://english.farsnews.com/newstext.aspx?nn=13930902001279
-----------
Egypt raids Sinai villages, kills 10 'terrorists'
23 November 2014
Backed with apaches, Egypt military forces raided "terrorist" pockets in southern villages in the Sinai Peninsula on Saturday, Al Arabiya News Channel's correspondent reported.
en "terrorists" were killed during the raid of Al-Mahdiya, Mukataa, Naja Shaybaniya villages, while 18 others were arrested.
The security forces confiscated three cars, destroyed 11 motorcycles belonging to Islamist militias and 15 of their shelters.
While the security forces were successful in dismantling seven explosives, they also destroyed a field clinic created by the militants to help their wounded.
Southern Egypt
Egypt said on Saturday night that a bomb went off near a train station in south of the country as police found three other explosive devices planted on railway tracks in the region, Agence France-Presse reported.
Full report at:
http://english.alarabiya.net/en/News/middle-east/2014/11/23/Egypt-raids-Sinai-villages-kills-10-terrorists-.html
-----------
Car bomb kills 7 people in Iraq: Officials
23 November 2014
Authorities in Iraq say a car bomb explosion at an outdoor market south of Baghdad has killed seven people.
Police officials say the attack took place Sunday morning in the busy market in the town of Youssifiyah, 20 kilometres (12 miles) south of the capital. They say the blast killed seven people and wounded 16.
A medical official confirmed the casualties. All officials spoke on condition of anonymity because they were not authorized to speak to journalists.
No one immediately claimed responsibility for the blast.
Iraq is facing its worst crisis since the 2011 withdrawal of US troops as the Islamic State group is in control of about a third of the country. US-led airstrikes now target the militants in Iraq and in Syria.
http://english.ahram.org.eg/NewsContent/2/8/116208/World/Region/Car-bomb-kills--people-in-Iraq-Officials-.aspx
-----------
Iraqi forces battle Islamic State in towns north of Baghdad
Nov 23 2014
BAGHDAD - Iraqi soldiers backed by Shi'ite militia and Kurdish peshmerga forces attacked two towns northeast of Baghdad held by Islamic State fighters on Sunday, trying to clear a main road linking the capital to the border with Iran.
Peshmerga and army officers said they advanced into Jalawla, 115 km (70 miles) from Baghdad, and the nearby town of Saadiya, which they have been trying to recapture from Islamic State since the radical Islamists seized them in August.
Ten soldiers, peshmerga and militia fighters were killed and 32 were wounded in Sunday's fighting, a source at Khanaqin Hospital told Reuters. There were no immediate casualty figures for Islamic State fighters.
Full report at:
http://www.jpost.com/Breaking-News/Iraqi-forces-battle-Islamic-State-in-towns-north-of-Baghdad-382591
-----------
El-Sisi lauds King Abdullah's efforts to close Arab ranks
23 November 2014
CAIRO – Egyptian President Abdel Fattah El-Sisi has lauded the key role being played by Custodian of the Two Holy Mosques King Abdullah to unify Arab ranks and achieve stability in the region.
"This reflects the King's concern and keenness for the Arab and Muslim Ummah," the Saudi Press Agency quoted El-Sisi as saying.
The Egyptian leader made the remarks during a reception for a visiting Saudi businessmen's delegation in Cairo on Saturday.
El-Sisi thanked King Abdullah for his "honorable stances toward Egypt and its people." He reiterated the close ties linking the two countries and peoples.
http://www.saudigazette.com.sa/index.cfm?method=home.regcon&contentid=20141123225328
-------
Newly arrested Brotherhood member accused of collaborating with US, Norway
23 November 2014
Muslim Brotherhood figure Mohamed Ali Bishr, the latest prominent figure to be arrested from the Islamist group, has been officially accused of collaborating with the United States and Norway.
On Thursday, Bishr was detained for 15 days on spying charges. The High State Security Prosecution on Saturday specified the countries he is accused of collaborating with.
Many Islamist figures have been accused of collaborating with the US, which many accuse of being involved in the turmoil Egypt has witnessed the past four years. Norway, however, is a country that was barely referred to while speaking of the Egyptian scene.
The prosecution says the charges made were based on recordings of Bishr, which he would be summoned to hear and comment on during questioning Monday.
Full report at:
http://english.ahram.org.eg/NewsContent/1/64/116171/Egypt/Politics-/Newly-arrested-Brotherhood-member-accused-of-colla.aspx
-----------
Iraq premier orders more aerial support to fight Islamic State
Nov 23, 2014
Iraqi Prime Minister Haider al-Abadi has ordered more aerial support and weapons for fighters battling the Islamic State militant group in Anbar province as a curfew took effect Sunday in the provincial capital, Ramadi, amid intense clashes.
Al-Abadi called for the additional support after a meeting late Saturday with delegates from the Anbar Provincial Council. The air power and weapons are intended both for Iraq's embattled armed forces and Sunni tribes supporting the anti-Islamic State fight in Anbar, a statement released by his office said.The Islamic State group has seized a number of cities and towns across Anbar province, including Fallujah. Iraqi soldiers backed by Sunni tribal fighters engaged in intense clashes Sunday to retake Ramadi's eastern Sijariya neighborhood, which the extremist group said it captured Friday. Authorities in the city implemented a 24-hour curfew Sunday, restricting civilian movement as Iraqi armed forces and tribesmen fought to regain territory there.
Full report at:
http://indianexpress.com/article/world/middle-east-africa/iraq-premier-orders-more-aerial-support-to-fight-islamic-state/99/
-----------
India
Jama Masjid Warns Against 'Plot', Anoints Shahi Imam Bukhari's Son
November 23, 2014 12:27 pm
The silence from Jama Masjid about the PIL in Delhi High Court challenging anointment of 19-year-old Shaban Bukhari as his father's deputy was finally broken during the function on Saturday. The master of ceremony alleged that a conspiracy has been hatched against "the institution that has always spoken up for tortured Muslims". He urged Namazis at the historic mosque to "rise in unison against any attempt by the Waqf Board to foist an Imam or take over property".
In an uncharacteristically sedate speech, Shahi Imam Syed Ahmed Bukhari recounted his family's "400-year-old tradition".
"I have been the Imam of this mosque for 14 years now, after my father and my grandfather. No force on earth has been able to stop me from talking about the injustices against Muslims. In anointing Shaban, I am only keeping up the nearly 400-year-old tradition of my family," he said minutes before Shaban was formally inducted into the role and led the crowd for the Isha Namaaz.
Presiding over the function, Mohammed Salim Qasmi, an office-bearer of the Jama Masjid Foundation Trust, delivered a fiery defence of the hereditary Imamat, choosing not to mention the Delhi High Court but taking on the Waqf Board and "communal forces", who he said had together hatched a conspiracy to take over the mosque. Law, he said, is to be respected but "any law that interferes with our religion — be ready to kick such a law," he said.
Full report at:
http://indianexpress.com/article/cities/delhi/jama-masjid-warns-against-plot-anoints-bukhari-son/99/
-----------
5 Kashmiri boys held for poll boycott call on social media
ZAHID RAFIQ
Nov 23, 2014
After arresting most of the separatist Kashmiri leaders and over 900 youths as "possible troublemakers" ahead of the J&K Assembly elections, the police on Saturday arrested five Kashmiri boys for "promoting poll boycott" and "spreading rumours exaggerating incidents" on social media sites.
While the election campaign in the State is going on with vigour, the police have stifled all pro-boycott voices by mass arrests of pro-Independence activists and by putting separatist leaders under house arrest.
"We have arrested five people and we will continue to take stringent action against those Facebook and other social media users who are found promoting fake and exaggerated news and poll boycott on their pages," police spokesperson Manoj Pandita told The Hindu.
The five arrested so far are from across the Valley — two from Khanyar in Srinagar, two are from Anantnag in south Kashmir and another from north Kashmir's Bandipora district. "It is completely unjustified," People's Democratic Party spokesperson Nayeem Akhtar told The Hindu. "People have as much right to campaign for a boycott as we have for campaigning against it."
Full report at:
http://www.thehindu.com/news/national/other-states/5-kashmiri-boys-held-for-poll-boycott-call-on-social-media/article6625713.ece
-----------
Contradicting stand on Article 370 will sink BJP's boat in J&K: Omar Abdullah
PTI | Nov 23, 2014
SRINAGAR: With Prime Minister Narendra Modi skirting any statement on Article 370, chief minister Omar Abdullah today said BJP is shying away from committing on this contentious issue and is instead keeping its "feet in two boats" in Jammu and Kashmir which normally ends up "sinking".
The chief minister, who is the working president of National Conference, also dubbed BJP as an "opportunist" party with whom he feels there cannot be any relationship.
Omar, who heads the coalition government with Congress, made these remarks when asked to comment on BJP talking in different voices on Article 370 that grants special status to J and K and avoiding making a direct statement on the issue during the assembly polls.
"Of course, they are avoiding to be caught in this issue because it will be a problem for them. In Jammu, Article 370 becomes a national issue, up in the hills in Jammu, they are silent about it and in Kashmir, their candidates say 'if you touch Article 370, we will pick up the gun'....So they are contradicting themselves depending on the place in the state where they happen to be," he said in in an interview to PTI during the course of his hectic campaign for the Assembly elections.
Full report at:
http://timesofindia.indiatimes.com/india/Contradicting-stand-on-Article-370-will-sink-BJPs-boat-in-JK-Omar-Abdullah/articleshow/45248830.cms
-----------
Now, Shias assert claim to Taj Mahal
November 23, 2014
With senior Uttar Pradesh cabinet minister Azam Khan recently demanding that the iconic Taj Mahal in Agra be handed over to Sunni Central Waqf Board, the Shia community has now demanded that the Taj should instead be handed over to the Shia Waqf Board as Mumtaz Mahal, in whose memory it was built, was a Shia.
"The Taj Mahal should be handed over to the Shia Waqf Board as Mumtaz Mahal, whose real name was Arjumand Bano, was a Shia," said Syed Faiyyaz Haidar, president of Lucknow based Imam-e-Raza committee.
Haidar also cites architectural evidences to cite the Taj Mahal as a "Shia building." "The Taj Mahal is essentially a mausoleum, and on the West, there is a mosque. Near the mosque is the Hauz (water tank), and traditionally, it is Shias who perform Wudhu (ablution) from a Hauz before offering prayers. On the eastern side, there is a hall which was used for congregation and Matam (self-flagellation) in those times to observe Muharram," he says. "Also, Mumtaz was temporarily buried in Burhanpur, where she died, before being taken in a casket to Taj Mahal; this again, is a Shia custom of Mitti Saunpna," he says.
Full report at:
http://indianexpress.com/article/india/india-others/now-shias-assert-claim-to-taj-mahal/
-----------
South Asia
30 Taliban insurgents killed in counter-terrorism operations
Nov 23 2014
At least 30 Taliban militants were killed and 3 others were injured following joint military operations by Afghan national security forces.
The Ministryof Interior (MoI) said Sunday that the operations were conducted in the past 24 hours.
A statement by MoI said Afghan National Police jointly conducted the operations with Afghan National Army and Afghan Intelligence – National Directorate of Security (NDS).
The statement furhter added "The operations were conducted in Nangarhar, Baghlan, Farah and Helmand provinces, as a result 30 armed Taliban members were killed, three wounded and one was arrested by Afghan National Security Forces."
Afghan National Police discovered and confiscated light and heavy rounds ammunition, 10 motorcycles and eight vehicles during the operations, the statement added.
"During the same 24 hour period, Afghan National Police discovered and defused seven different types of IEDs placed by enemies of Afghanistan for destructive activities in Nimroz, Khost, Uruzgan, Kandahar and Faryab provinces," the steatement said.
The anti-government armed militant groups have not commented regarding the reports so far.
http://www.khaama.com/moi-30-taliban-insurgents-killed-in-counter-terrorism-operations-9047
-----------
Drone strike leaves 6 militants dead in Nuristan province
Nov 23 2014
At least six militants were killed following a drone strike by coalition security forces in eastern Nuristan province of Afghanistan.
According to local security officials, the airstrike was carried out earlier today in Kamdish district.
A spokesman for the Afghan National Army 201 Silab Corps Haroon Yousufzai confirmed that the militants were targeted in Chenar Khor area on Sunday morning.
The anti-government armed militant groups have not commented regarding the report so far.
Nuristan is among the volatile provinces in eastern Afghanistan where anti-government armed militant groups are actively operating in its various districts and frequently carry out insurgency activities.
Dozens of Taliban militants launched a coordinated attack on an Afghan National Army (ANA) military base in Kamdish district early on Saturday.
According to local security officials, at least 22 militants were killed along with two Afghan army soldiers following the clashes.
http://www.khaama.com/drone-strike-leaves-6-militants-dead-in-nuristan-province-9049
-----------
Taliban commander among 3 killed in Faryab clash
Nov 23 2014
At least three Taliban militants, including their commander were killed following a gun battle in northern Faryab province on Sunday.
According to local security officials, the Taliban commander was identified as Qari Hamidullah who was also well known as commander Jundullah.
Provincial police spokesman Syed Massoud Yaqoobi said commander Jundullah was killed along with two other militants while they were trying to attack a police check post in Khawajah Sabz Posh district.
Yaqoobi further added seven militants were also injured during the gun battle.
The Taliban militants group has not commented regarding the report so far.
Faryab is among the volatile provinces in northern Afghanistan where anti-government armed militants are actively operating in a number of its districts.
http://www.khaama.com/taliban-commander-among-3-killed-in-faryab-clash-9048
-----------
Karzai: Pakistan demanded reduced Indian presence
SUHASINI HAIDAR
Nov 23, 2014
'Demands were made at every leadership level, it was raised throughout my tenure.'
For the first time, former Afghanistan President Hamid Karzai has said what he has hinted at for years: that Pakistan's leadership had demanded in bilateral meetings that India reduce its presence and aid projects in Afghanistan.
In an interview to The Hindu, Mr. Karzai said the demands were made "at every leadership level, it was raised regularly and it was raised throughout my tenure." While Mr. Karzai refused to name the leaders who made the specific requests to him when he was President, he said: "The crux of the matter is yes, the demand came from Pakistan to tell India to reduce its presence, and we said no to them."
India has granted aid worth two billion dollars and provides civil and military training to Afghanistan, while Indian companies are involved in several reconstruction projects.
Mr. Karzai is in Delhi for the first time since he demitted office and is staying at Rashtrapati Bhawan as the guest of President Pranab Mukherjee where he spoke to The Hindu. He also met with Prime Minister Narendra Modi and apprised him of developments in Afghanistan since the formation of the national unity government under President Ashraf Ghani.
http://www.thehindu.com/news/national/karzai-pakistan-demanded-reduced-indian-presence/article6625445.ece
-----------
War crimes: Nizami seeks acquittal
November 23 2014
War criminal Motiur Rahman Nizami has appealed to the Appellate Division of the Supreme Court against a verdict of the International Crimes Tribunal that sentenced the Jamaat chief to death.
Nizami's lawyer Tajul Islam filed the petition on Sunday afternoon, seeking acquittal from all war crimes charges.
In the 121-page petition, the defence sought to argue on 168 points.
"The verdict by the tribunal against Motiur Rahman Nizami was not given in a proper way," claimed Tajul Islam in the press conference at the Supreme Court in the afternoon.
He said: "We expect that the top court will acquit Motiur Rahman Nizami."
Jamaat-e-Islami chief Motiur Rahman Nizami has been sentenced to death for committing crimes against humanity during the 1971 Liberation War.
Full report at:
http://www.dhakatribune.com/bangladesh/2014/nov/23/war-crimes-nizami-seeks-acquittal#sthash.qyxR57qM.dpuf
-----------
BNP Chairperson Khaleda Zia slams Jamaat inertia
November 23 2014
BNP Chairperson Khaleda Zia yesterday slammed key ally Bangladesh Jamaat-e-Islami for its inactivity in the BNP-led 20-party alliance programmes.
The alliance chief scolded the Jamaat representative saying: "You [Jamaat] talk big but are absent on the field of action. You have called hartals but your people did not enforce it; life went on as normal."
Redwanullah Sahedi, the Jamaat leader present at the alliance meeting yesterday night at Khaleda's Gulshan office, remained silent during the reproof.
The meeting was called to analyse the political situation of the country and plan the next course of action.
Khaleda, in earlier meetings with party leaders, stressed the importance of leaders' presence on the street at the upcoming movement.
Full report at:
http://www.dhakatribune.com/politics/2014/nov/23/khaleda-slams-jamaat-inertia#sthash.4sDgQHgv.dpuf
--------
Africa
Boko Haram kills 48 fish vendors in northeast Nigeria
23 November 2014
Boko Haram gunmen killed 48 fish vendors in Nigeria's restive Borno State, near the border with Chad, the head of the fish traders association told AFP on Sunday.
"Scores of Boko Haram fighters blocked a route linking Nigeria with Chad near the fishing village of Doron Baga on the shores of Lake Chad on Thursday and killed a group of 48 fish traders on their way to Chad to buy fish," Abubakar Gamandi said.
He said the insurgents set up a barricade at Dogon Fili, 15 kilometres (nine miles) from Doron Baga, and stopped a convoy of fish vendors around midday, slaughtering some of them and drowning others in the lake.
"The Boko Haram gunmen slit the throats of some of the men and tied the hands and legs of the others before throwing them into the lake to drown," Gamandi told AFP by telephone from Maiduguri, the Borno state capital.
Doron Baga, 180 kilometres from Maiduguri, is the base of the Multi-National Joint Task Force (MNJTF), comprising troops from Nigeria, Chad and Niger fighting the Islamist group.
The MNJTF was formed in 1998 to fight trans-border crime but its mandate was expanded to tame the Boko Haram insurgency in the volatile region.
Gamandi claimed the assailants killed all of their victims without using their guns.
"The attackers killed their victims silently without the use of the gun to avoid attracting attention from the multi-national troops," Gamandi said.
Full report at:
http://english.ahram.org.eg/NewsContent/2/9/116215/World/International/Boko-Haram-kills--fish-vendors-in-northeast-Nigeri.aspx
-----------
PM: Tunisia presidential vote offers hope to Arab states
Nov 23 2014
Tunisia's first presidential election since the 2011 revolution is a ray of hope for Arab Spring countries, Prime Minister Mehdi Jomaa said, on the eve of the historic poll.
Sunday's first multi-candidate presidential election is seen as the final stage of a post-revolt transition in the birthplace of the Arab Spring, with more than 20 candidates vying for the post.
The election represents "hope, a big hope for the region," Mehdi told AFP during a last-minute inspection of polling stations in the region of Beja, west of the capital Tunis.
"We were the first to enter into this cycle of change which they have called the Arab Spring. We will be the first (to make the transition) but others will follow," he said.
Tunisia has won international plaudits for largely steering clear of the violence, repression and lawlessness of other Arab Spring countries such as Libya.
The presidential election, which follows October 26 parliamentary polls, is seen as the culmination of an arduous transition during which the outgoing legislature adopted a new constitution.
Full report at:
http://english.alarabiya.net/en/News/middle-east/2014/11/22/PM-Tunisia-presidential-vote-offers-hope-to-Arab-states-.html
-----------
Shebab Islamists claim responsibility for Kenya's deadly bus attack
23 November 2014
Somalia's Shebab Islamists on Saturday claimed responsibility for a deadly bus attack in neighbouring Kenya in which gunmen slaughtered 28 non-Muslim passengers.
A spokesman for the Islamists said the attack was in revenge for raids that Kenyan security forces carried out over the past week on mosques in the port city of Mombasa.
"The Mujahedeen successfully carried out an operation near Mandera early this morning, which resulted in the perishing of 28 crusaders, as a revenge for the crimes committed by the Kenyan crusaders against our Muslim brethren in Mombasa," Ali Mohamud Rage said in a statement sent to AFP.
The bus attack came after a week that saw one person shot dead and more than 350 people arrested as Kenyan security forces carried out raids on mosques in the port city of Mombasa, looking for arms and Shebab sympathisers.
Rage said the Shebab "resolved not to leave these crimes unpunished."
The raids have raised tensions in a city already hit by a string of bombings and shootings and police refusal to take off their shoes while entering mosques had angered many.
http://english.ahram.org.eg/NewsContent/2/9/116145/World/International/Shebab-Islamists-claim-responsibility-for-Kenyas-d.aspx
--------
Mideast
Iranian Speaker: Takfiri Terrorists Trying to Create Rift among Muslims
23 November 2014
Iranian Parliament Speaker Ali Larijani lashed out at the western countries and their regional allies for supporting the Islamic State of Iraq and the Levant (ISIL) terrorist group, and said the main goal of the Takfiri terrorists is widening gaps among (Sunni and Shiite) Muslims.
"The Takfiri and radical currents want to stir differences among Muslims and create crises in the Islamic countries," Larijani said in a meeting with his Yemeni counterpart Yahya Ali al-Raee in Djibouti on Saturday.
The Iranian parliament speaker pointed to the status quo in the Iran-Yemen relations, and said, "Yemen is a historical and very important country and Iran has always tried to help restore calm to Yemen.
The Yemeni parliament speaker, for his part, noted that under the current conditions other countries should make use of Iran's experiences to resolve the regional problems.
"Some European and American countries are living in calm conditions while they stir differences among Muslims and it should not be forgotten that the US is responsible for the death of many Muslim children."
Full report at:
http://english.farsnews.com/newstext.aspx?nn=13930902000742
-----------
Turkey trains Kurdish Peshmerga forces in fight against ISIS
22 November 2014
Turkish soldiers are training Kurdish Peshmerga fighters in northern Iraq and will give similar assistance to a new national army unit in Baghdad as part of the struggle against Islamic State of Iraq and Syria (ISIS), a senior Turkish official said on Saturday.
Turkish soldiers began special forces training with Kurdish fighters in northern Iraq three weeks ago, Peshmerga spokesman Brigadier General Halgurd Hikmat said. The Turkish official said similar assistance would be given to Iraq's National Guard.
"Turkey has already started training Peshmerga forces in northern Iraq ... and we have agreed to train and give assistance to the National Guard," the official said.
Turkey, a NATO member with a 1,200-kilometer border with Syria and Iraq, has refused to take a frontline military role in the U.S.-led coalition against ISIS insurgents, arguing air strikes alone will not bring lasting stability.
Full report at:
http://english.alarabiya.net/en/News/middle-east/2014/11/22/Turkey-trains-Kurdish-Peshmerga-forces-in-fight-against-ISIS.html
-----------
Pro-ISIS graffiti found on monument to fallen Druse soldiers
Nov 23 2014
Pro-Islamic State graffiti was sprayed on a monument to fallen Druse soldiers outside the Druse village of Daliat al-Carmel, Coastal District police said Saturday.
The graffiti, which read simply "ISIS," was sprayed on a monument set up by the family of a fallen Druse soldier on the "Druse sons trail," a series of hiking trails and bike paths that links Druse villages in the North. Similar graffiti also reading "ISIS" was sprayed on a Keren Kayemeth LeIsrael-Jewish National Fund marker on the Carmel Scenic Road.
Earlier this week, police arrested three teenagers suspected of spray-painting "ISIS" in the nearby Druse village of Usfiya.
Full report at:
http://www.jpost.com/Middle-East/Pro-ISIS-graffiti-spray-painted-on-monument-up-North-382531
--------
Netanyahu says he can't run the country with coalition's ultimatums
Nov 23 2014
Coalition parties make it impossible to govern with their constant ultimatums, Prime Minister Benjamin Netanyahu warned at the opening of Sunday's cabinet meeting.
"Recently I have been hearing ultimatums, dictates, and threats to leave the coalition in relation to the 'Jewish State bill' and other topics. We can't run the country like this," he said.
Netanyahu called on his coalition partners to focus on strengthening Israel's security in facing radical Islam and the Iranian nuclear threat, and on strengthening Israel's economy and its citizens' welfare.
"I hope the heads of the coalition parties will unite in this spirit," the prime minister added.
Ahead of the cabinet vote on the controversial "Jewish State bill," which seeks to give Israel's Jewishness legal standing, Netanyahu said "many are challenging Israel's character as the nation-state of the Jewish People. There are those who want autonomy in the Negev and Galilee and deny our national rights."
Full report at:
http://www.jpost.com/Breaking-News/Netanyahu-says-he-cant-run-the-country-with-coalitions-ultimatums-382584
-----------
Iran: reaching nuke deal on Nov. 24 'impossible'
23 November 2014
Reaching a comprehensive nuclear deal with world powers aimed at resolving the stand-off over Tehran's nuclear ambitions will be impossible by a Nov. 24 deadline, the Iranian Students News Agency (ISNA) reported on Sunday.
"Considering the short time left until the deadline and number of issues that needed to be discussed and resolved, it is impossible to reach a final and comprehensive deal by Nov. 24," ISNA quoted an unnamed member of Iran's negotiating team in Vienna as saying.
"The issue of extension of the talks is an option on the table and we will start discussing it if no deal is reached by Sunday night," the person said.
Meanwhile, an Iranian source told Agence France-Presse that Tehran is prepared to have nuclear negotiations with world powers extended by up to a year if no agreement is struck later Sunday.
Full report at:
http://english.alarabiya.net/en/News/middle-east/2014/11/23/Iran-reaching-nuke-deal-on-Nov-24-impossible-.html
-----------
Pakistan
Handful of corrupt rulers have held whole country hostage: Jamaat-e-Islami
Nov 23 2014
LAHORE: Jamaat-e-Islami (JI) chief Sirajul Haq on Saturday said that a handful of 'corrupt rulers' had held the country hostage.
He was addressing the public on the second day – featuring women's session – of the three-day gathering at Iqbal Park. A large number of women belonging to the Jamaat participated in the gathering. Sirajul Haq said that the 'fight of civilizations' continued today. Sirajul Haq said that the JI wanted to build an Islamic Pakistan wherein the women enjoyed so enormous rights that the women in Britain and the US envied them.
Sirajul Haq said the presence of such a large number of women at the public gather was a manifestation that Pakistani women were not impartial in the war between right and wrong, between Islam and the forces of evil. "These women stood with Islam in its war against hypocrisy. These women believe that Allah alone is the Supreme. They did not consider the US, Britain or Russia as supreme," he added.
Full report at:
http://www.dailytimes.com.pk/punjab/23-Nov-2014/handful-of-corrupt-rulers-have-held-whole-country-hostage-ji
-----------
Three Lashkar-i-Islam (LI) militants killed in clash with Khyber Agency peace legion
Nov 23 2014
PESHAWAR: At least three Lashkar-i-Islam (LI) militants were killed and two others injured in a clash between militants belonging to the proscribed group and a local peace legion in the restive Tirah valley located in Khyber Agency.
Official sources said that Tauheed ul Islam (TI) peace volunteers clashed with LI militants in the Naraye Baba area of Tirah valley. The clash left at least three militants killed and two others injured.
Sources added that the death toll from the skirmish is likely to rise.
Khyber is one of Pakistan's seven semi-autonomous regions governed by tribal laws and lies near the Afghan border.
The incident comes at a time when operation 'Khyber-1' – launched by the military last month – is ongoing.
The Mangal Bagh-led Lashkar-i-Islam has had a strong presence in the areas being targeted in the operation.
Full report at:
http://www.dawn.com/news/1146362/three-li-militants-killed-in-clash-with-khyber-agency-peace-legion
-----------
Zarqawi — the link between Pakistani and Iraqi militants
Nov 23 2014
PESHAWAR: If there ever was a strong bond between Pakistani militants and the Jihadists in Iraq, it was Abu Musab al Zarqawi.
Born Ahmad Fadeel al Nazal al Khulayleh, the 40-year-old Jordanian had lived for nearly 10 years in Pakistan.
He lived and moved around in Peshawar and some of the tribal agencies, spoke fluent Pushto and created roots as strong as marrying a woman from one of the local tribes.
When he moved to Iraq to establish Jamaat al Tauhid wal Jihad, which later became Al Qaeda in Iraq, it was but a matter of time before Pakistani militants would re-establish linkages with Jihadists in Iraq and later in Syria.
"The linkages are old," a security official said. "Many of the veterans of Afghan war are now leading the fight in Iraq and Syria."
Fighters made a beeline — quietly. "Not in droves but in ones and twos," the official said.
"Not just ours but others too, who have been here in this region for ages, left to fight in Iraq and Syria," he said of the Pakistani and foreign fighters.
Full report at:
http://www.dawn.com/news/1146351/zarqawi-the-link-between-pakistani-and-iraqi-militants
-----------
TNSM's Maulana Sufi Mohammad cleared of more terrorism charges
Nov 23 2014
PESHAWAR: A local anti-terrorism court on Saturday acquitted chief of the banned Tehreek Nifaz-i-Shariah Mohammadi Maulana Sufi Mohammad and around 30 of his associates in two more terrorism cases.
The cases were about attacks on a Frontier Corps convoy and a Swat police station around 19 years ago.
However, Sufi Mohammad will continue to be behind bars for facing two more cases.
TNSM chief will stay behind bars for facing more cases
Judge Abdur Rauf Khan accepted applications of Maulana Sufi Mohammad and other accused under Section 265-K of the Code of Criminal Procedure, which empowers the court to acquit the accused in a case before conclusion of trial if there is lack of evidence against him.
The trial of Sufi Mohammad in different terrorism cases have been conducted inside the Peshawar Central Prison for security reasons.
He has been kept in that prison since his arrest in 2009 when final phase of military operation against militants was launched in Malakand region.
Until now, Sufi Mohammad and several of his associates have been acquitted by the anti-terrorism court in 10 cases of terrorism.
Full report at:
http://www.dawn.com/news/1146307/tnsms-maulana-sufi-mohammad-cleared-of-more-terrorism-charges
-----------
SC takes suo motu on Christian couple's murder
Nov 23 2014
ISLAMABAD: The murder of a Christian couple got the Supreme Court's attention on Saturday, as the chief justice took a suo motu notice of the incident and directed the Punjab government to submit a report within three days.
The Christian couple, accused of blasphemy, was burnt in Kot Radha Kishan on November 4.
Chief Justice Nasirul Mulk took the suo motu notice of the incident in which a couple was allegedly beaten to death by a mob and their bodies were burnt in a brick kiln.
The apex court also directed the federal government to submit a response on the implementation of the June 19 verdict of the Supreme Court regarding protection of minorities' rights.
On November 7, the Supreme Court had sent a reminder to the federal government as well as the provincial governments to submit a report regarding the process. The court had also directed them to constitute a national council for minorities' rights. Those orders have not been implemented so far.
http://www.dailytimes.com.pk/islamabad/23-Nov-2014/sc-takes-suo-motu-on-christian-couple-s-murder
-----------
Pakistan wants Russian engagement in Afghan peace process
Nov 23 2014
ISLAMABAD: Brushing aside the notion that Russian defence minister's recently concluded visit to Pakistan might annoy New Delhi and Washington, Defence Minister Khawaja Asif on Saturday said improvement in ties between Islamabad and Moscow are not at the cost of relations with other countries.
Speaking exclusively to Dawn.com, he termed it Pakistan's independent diplomacy and said, "Russia is a great regional power and Pakistan cannot ignore it".
"After US/Nato forces' withdrawal from Afghanistan, security would be a bigger challenge for Afghanistan… and Pakistan wants Russian engagement in Afghan peace process," he said.
"We must forget what Russia did in the past and look forward to a new beginning in the region."
Full report at:
http://www.dawn.com/news/1146194/pakistan-wants-russian-engagement-in-afghan-peace-process
--------
1,400 Hindus sites in dire need to Governmental protection, says Pakistan Hindu Council
23 November 2014
Karachi / Islamabad (Nov 22, 2014): Patron-in-chief of Pakistan Hindu Council and Member National Assembly, Dr. Ramesh Kumar Vankwani, has strongly condemned the torching of Hanuman temple in Tando Mohammad Khan, a small city located at 40 kilometer distance from Hyderabad, Sindh. According to a statement issued on Saturday, Pakistan Hindu Council requested Government of Pakistan for the provision of security of Hindu worship places at national level, adding that around 1,400 Hindus religious sites across the country were in dire need to be protected by the Government.
Dr Ramesh also regretted the burning of Holy Books Geeta and Ramayan during the tragic incident. He emphasized that if the Supreme Court Orders regarding protection of Minorities Rights was strongly implemented then such incidents could be avoided. He further questioned that why innocent minorities were left at the mercy of anarchists.
--------
Europe
Up to 300 Swedes fighting with ISIS: official
23 November 2014
As many as 300 Swedes could have joined the Islamic State of Iraq and Syria (ISIS) insurgency, whose brutal tactics in Iraq and Syria have shocked the world, Sweden's intelligence chief said Saturday.
"A hundred cases of people who have left to join the fighting have been confirmed, then there are the presumed cases..., and then there are those that have not been counted, which brings the total to between 250 and 300," said the head of the intelligence services, Anders Thornberg, on SR public radio.
Thornberg said the flow of youths leaving to become militants in Syria was rapidly rising.
"A certain number of young Swedish men are leaving and training in camps, learning to become terrorists to use explosives and weapons," he said.
"They're going beyond the limits of human behavior," he said. "They're fighting and killing other people."
Full report at:
http://english.alarabiya.net/en/News/middle-east/2014/11/22/Up-to-300-Swedes-fighting-with-ISIS-official-.html
-----------
More British 'mercenaries' join fight against ISIS
23 November 2014
More and more British citizens are joining other Westerners battling jihadists in Syria and Iraq, Britain's Independent newspaper reported over the weekend.
James Hughes, former British infantryman who fought in Afghanistan, is understood to be in northern Syria backing Kurds in their fight against militants belonging to the Islamic State of Iraq and Syria (ISIS), the daily said.
Information gleaned from Hughes' Facebook profile shows that he left the British army this year after five-year service.
Hughes, who is now a de facto "mercenary," is fighting on the behalf of the Kurdish People's Protection Units, the YPG. He is not alone as his compatriot Jamie Read, whose Facebook page shows that he trained with the French army, is fighting alongside his friend.
American recruiter
According to the paper, the Britons appear to have been recruited by Jordan Matson, an American who in October was revealed to have joined Kurdish forces in their fight against ISIS.
Full report at:
http://english.alarabiya.net/en/News/world/2014/11/23/More-British-mercenaries-join-fight-against-ISIS-.html
-----------
Pope to urge Europe to tackle racism, religious intolerance
23 November 2014
Pope Francis is expected to take Europe to task over racial and religious intolerance during a visit to the European parliament Tuesday, as the crisis-hit continent battles with growing populism and the specter of radicalization.
It will be the second visit by a pope to the Strasbourg-based parliament -- a lightning, four-hour trip which will see Francis address both the European parliament and the Council of Europe.
The pontiff has in the past dubbed Europe a "tired" continent which has lost its way, criticizing it for high unemployment, a declining birthrate and poor treatment of the marginalized and elderly by those in thrall to "the idol of money".
The climate has changed greatly since the last papal visit to the French city in 1988, and Vatican watchers say the Argentine pontiff will have to fight harder to be heard in an increasingly secular continent.
Full report at:
http://english.alarabiya.net/en/News/world/2014/11/23/Pope-to-urge-europe-to-tackle-racism-religious-intolerance-.html
-----------
Pre-ISIS lives: A devout catholic and a pizza delivery man
23 November 2014
One of the two French men identified in the most recent ISIS video was reportedly a devout catholic and art student, while the other was a "gentle" pizza delivery man, according to neighbours' accounts.
Mickael dos Santos, the Independent reported, was once a devout Catholic and art student before he was radicalized "overnight" after visiting Islamic websites in 2009, his then girlfriend said.
"Either you convert and you leave school and wear the headscarf or we can't see each other anymore," he reportedly told her after he had converted.
A third-generation French-Portuguese, he corroborated the findings of a recent survey in France in which results conclude that a majority of radicalized French youth came from prosperous and non-Islamic backgrounds.
Like dos Santos, Maxime Hauchard, the second Frenchman identified in the video, adopted his extremist views after frequenting Islamic websites.
Full report at:
http://english.alarabiya.net/en/perspective/features/2014/11/23/Pre-ISIS-lives-A-devout-catholic-and-a-pizza-delivery-man.html
-----------
Armed Islamist on video grew up in small French village: Mayor
23 November 2014
One of three Kalashnikov-wielding Islamists seen burning their French passports on a propaganda video this week grew up in a small French village in southern France, the mayor said Saturday.
The 26-year-old, who goes by the name of Abou Ossama Al-Faranci in the Islamic State (IS) Internet video, who left the village of some 1,400 people five years ago, residents told the newspaper La Depeche du Midi.
Serge Lafon, the mayor of Labastide-Rouairoux, told AFP that "many villagers knew and recognised him.
"They are quite sure and there's been no denial by relatives or anyone so there's a 99 percent chance it is him."
Full report at:
http://english.ahram.org.eg/NewsContent/2/9/116178/World/International/Armed-Islamist-on-video-grew-up-in-small-French-vi.aspx
--------
Georgia's Pankisi Gorge: the making of a jihadist
Nov 23 2014
BIRKIANI: White smoke belches from the chimney of a lopsided stone house, mingling with thick fog in Georgia's Pankisi Gorge whose bucolic setting hardly fits its reputation as a jihadist hotbed.
Temur Batirashvili, a 70-year-old subsistence farmer, warms his hands over a rusty stove as he tells the story of his son, one of the most feared commanders with the Islamic State group in Syria.
The notorious red-bearded fighter Omar Al-Shishani was born Tarkhan Batirashvili in Birkiani, one of six villages in the area populated by Muslim Kists — descendants of ethnic Chechens who migrated to Georgia in the 19th century.
Al-Shishani — whose nom-de-guerre means "the Chechen" in Arabic — is among dozens of other Kists reportedly fighting in Syria and Iraq for the IS.
The 27-year-old previously served in pro-Western Georgia's US-trained army, fighting against Russian troops during the Russia-Georgia war in 2008.
Full report at:
http://www.dawn.com/news/1146366/georgias-pankisi-gorge-the-making-of-a-jihadist
-----------
North America
U.S. plans to arm Iraq's Anbar tribesmen
23 November 2014
While Iraq's premier ordered on Saturday more air support for security forces and allied tribesmen fighting jihadists, Washington plans to buy arms for Sunni tribal members in the western province of Anbar including AK-47s, rocket-propelled grenades and mortar rounds.
The United States planning to arm the Sunni tribesmen in Anbar comes after Islamic State of Iraq and Syria (ISIS) militants killed 25 members of the anti-jihadist Albunimr tribe.
The decision is to help bolster the battle against ISIS militants in the Sunni-stronghold province, Reuters reported Saturday citing a Pentagon document being prepared for the Congress.
The plan
The plan to spend $24.1 million represents a small fraction of the larger, $1.6 billion spending request to Congress focusing on training and arming Iraqi and Kurdish forces.
But the document underscored the importance the Pentagon places on the Sunni tribesmen to its overall strategy to diminish Islamic State, and cautioned Congress about the consequences of failing to assist them.
"Not arming tribal fighters will continue to leave anti-ISIL tribes reluctant to actively counter ISIL," Reuters quoted the document as saying, using another acronym for the group which has seized control of large parts of Syrian and Iraq and is gaining territory in Anbar despite three months of U.S.-led air strikes.
Full report at:
http://english.alarabiya.net/en/News/middle-east/2014/11/23/U-S-plans-to-arm-Iraq-s-Anbar-tribesmen-.html
--------
Biden announces new aid for Syrian refugees
Vice President Joe Biden and Turkish President Recep Tayyip Erdogan emerged from a nearly four-hour meeting Saturday, offering no indication that the U.S. and Turkey had bridged their differences about how to deal with Islamic State of Iraq and Syria (ISIS) fighters or Syrian President Bashar Assad.
Nov 23 2014
Biden announced $135 million in new U.S. aid for Syrian civilians, including some for Turkey, which is hosting 1.6 million refugees, but the two leaders didn't offer details about how they were working together to ramp up Ankara's role in the international coalition's fight against IS fighters in neighboring Syria and Iraq.
http://english.alarabiya.net/en/News/2014/11/23/Biden-announces-new-aid-for-Syrian-refugees.html
-----------
Iran nuke deal: Talks lie in deadlock as US warns of 'serious gaps'
Nov 23, 2014
U.S. Secretary of State John Kerry is warning of "serious gaps" in the talks about a nuclear deal with Iran, and if major differences persist the possibility of extending past Monday's deadline is seeming more likely.
Discussions on going past that deadline have not begun between Iran and the U.S. — the lead players in negotiations that formally group six world powers on one side of the negotiating table and the Islamic Republic on the other.
One American official familiar with the talks said Saturday the U.S. has not wanted to prematurely raise the possibility of an extension because that could take pressure off the Iranians.
Full report at:
http://indianexpress.com/article/world/world-others/iran-world-powers-seek-elusive-nuclear-deal-before-deadline/99/
-----------
10% of US-Israelis in IDF become officers
Nov 23 2014
A significant minority of American-Israeli soldiers who serve in the IDF go on to become officers, according to figures received by The Jerusalem Post.
The large majority of American immigrants who serve in the IDF join combat units, according to the figures.
In 2013, immigrant soldiers from the US mostly served in infantry combat battalions, such as the Kfir Brigade's Netzah Yehuda Battalion, Golani Brigade's 51st and 12th battalions, and Nahal Brigade's 931st Battalion. American-Israeli soldiers were also heavily represented in the IDF's Planning Division.
Ninety percent of soldiers who emigrated from the US completed their military service successfully. Some 30% of all immigrants hail from the US.
The IDF's Immigration and Integration Branch, a part of the military's Education and Youth Corps, is in charge of integrating immigrants and minorities into the military.
It deals with immigrants from English-speaking and Russian- speaking countries, as well as from Ethiopia.
Full report at:
http://www.jpost.com/Israel-News/10-percent-of-US-Israelis-in-IDF-become-officers-382547
-----------
Southeast Asia
Muslims, Buddhists team up to bring about peace for Rohingya
November 23 2014
Muslims and Buddhists in Indonesia are joining forces to push for conflict resolution in Myanmar, where the Rohingya Muslim minority has been persecuted and denied citizenship for more than three decades.
Indonesia's largest Muslim organization, Nahdlatul Ulama (NU), said that in collaboration with the Indonesian Ulema Council (MUI) and the Council of Buddhist Communities (Walubi), it would make a trip to Myanmar in December to start a dialogue with Buddhist monks there.
"I agree with the United Nations which said that the conflict in Myanmar could be resolved by allowing the Muslim community and Buddhist community to meet and talk. This is not only a problem for Myanmar, but also our concern," NU executive council chairman Slamet Effendy Yusuf told The Jakarta Post on Saturday.
Slamet said his team had finalized preparations for the trip to Myanmar. He added that the Indonesian Embassy in Myanmar had arranged meetings with some monks in the country.
Slamet, a former Golkar Party politician, said that NU, the MUI and Walubi had also organized a screening of a movie portraying the peaceful coexistence of Muslims and Buddhists in Indonesia.
Full report at:
http://www.thejakartapost.com/news/2014/11/23/muslims-buddhists-team-bring-about-peace-rohingya.html
-----------
Worthy government will not use extremism and racism to rule, says Guan Eng
November 23 2014
In an apparent swipe at Barisan Nasional (BN) and Umno, DAP secretary-general Lim Guan Eng today said a government worth its salt will not rely on extremism or racism in its rule, but would instead provide better facilities and living standards for the population.
The Penang chief minister said the people at large can eventually see for themselves which government possesses true merits based on the work it does without undue inflammatory rhetoric.
"Let the people themselves see the changes brought about by the state government. The people know," he said in his speech at the opening of the Penang DAP state convention at the Dewan Ng Yam Huat in Bukit Mertajam.
"What is the use of rhetoric from an extremist or racist government when the people still live in deprivation?" he added.
Full report at:
http://www.themalaysianinsider.com/malaysia/article/worthy-government-will-not-use-extremism-and-racism-to-rule-says-guan-eng#sthash.jsYysWp7.dpuf
-----------
Abolish Chinese schools, silence 'radical' Dong Zong, Malay groups tell Putrajaya
November 23 2014
Putrajaya must abolish all vernacular schools as they are impeding national unity, and instead replace them with single-stream schools, a coalition of Malay rights groups said today.
They said in their National Unity Memorandum today that Putrajaya could silence any "radical" education groups that opposed such a move, like Dong Zong, through the threat of de-registration.
"This firmness is needed because the multiple streams of schools that have existed all this while are not conducive to efforts to promote and strengthen national unity in Malaysia," read the memorandum, which was drafted by a committee chaired by Perkasa chief Datuk Ibrahim Ali.
"If the proposal to abolish SKJC and SKJT is opposed by organisations like Dong Zong, the Malaysian government must review these organisations, and issue a show-cause letter asking why their registration should not be revoked.
Full report at:
http://www.themalaysianinsider.com/malaysia/article/abolish-chinese-schools-silence-radical-dong-zong-malay-groups-tell-putraja#sthash.5Wal4J44.dpuf
-----------
Politicians are the ones causing tension among Malaysians, says Mujahid
November 23 2014
Racial and religious tension and disharmony among Malaysians of different background are caused by politicians who are out to maintain their grassroots support or for other gains, a PAS lawmaker said.
Parit Buntar MP Datuk Dr Mujahid Yusof Rawa said the political scene in Malaysia was largely shaped by communal politics; and for politicians to be at the centre of attention, the best way was by inciting racial discord.
"This nation was built on diversity from the very first day. It is wrong to assume that our past leaders did not think ahead about what we are facing today.
"When they laid the foundation of this nation, they knew that the country will be a diverse, multiracial society. This is reflected in our Federal Constitution.
"So how did it turn out to be a different Malaysia today? Those to be blamed are politicians," he said at last night's Negara-ku roadshow titled "Kembalikan Negara Ku" at Komtar, Penang.
Mujahid and other speakers at the roadshow – Negara-Ku steering committee chairman Zaid Kamaruddin and Aliran committee member Dr Prema Devaraj – were discussing the present state of Malaysia, where interracial relations were increasingly put to the test, and how to put an end to all the negativities.
Full report at:
http://www.themalaysianinsider.com/malaysia/article/politicians-are-the-ones-causing-tension-among-malaysians-says-mujahid#sthash.r5dZwT4q.dpuf
-----------
URL: https://www.newageislam.com/islamic-world-news/new-age-islam-news-bureau/egypt-could-send-forces-to-stabilise-future-palestinian-state--el-sisi/d/100148