New Age Islam News Bureau
18 May 2020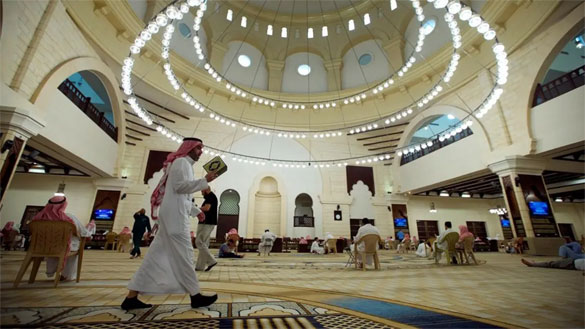 A man walks as he reads the Quran in a mosque during the fasting month of Ramadan, in Riyadh, Saudi Arabia. (File photo: Reuters)
--------
• Dying Migrant Forced Out of Truck, Yakoob Mohammad Sticks with His Friend Amrit Kumar Till His Last Breath
• UP: Seeing His Disabled Friend, Gayoor Ahmad Struggle with Tricycle, Anirudh Pushes It For 5 Days, 350km
• Saudi Arabia's Grand Mufti Says Muslims Can Perform Eid Al-Fitr Prayer at Home
• Take It Easy on Pork Eaters: Indonesian Muslims Call for Tolerance
• Plasma Helps Recover First Covid-19 Patient In Peshawar
• 'May Allah Remove the Virus': Pandemic a Grim Addition to Afghanistan's Woes
• COVID-19: Mosques, Churches in Greece Resume Services
• Pig's Head Placed on Mosque Door in German City by Two Unidentified People
• Reinventing Ramadan: Ottawa Imam Finds New Ways to Celebrate During COVID-19
• Coronavirus: As Mosques Reopen Across West Africa, Covid-19 Fears Grow
---------
India
• Dying Migrant Forced Out of Truck, Yakoob Mohammad Sticks with Amrit Kumar Till Last Breath
• UP: Seeing His Disabled Friend, Gayoor Ahmad Struggle with Tricycle, Anirudh Pushes It For 5 Days, 350km
• Religious Heads in Kerala Want Temples, Mosques, Churches to Open in A Staggered Manner
• Parliamentarian Urges Indian Muslims to Refrain from Eid Shopping Amid COVID-19 Lockdown
• No distractions and time to introspect, devout Muslims find silver lining in lockdown Ramzan
------
Arab world
• Saudi Arabia's Grand Mufti Says Muslims Can Perform Eid Al-Fitr Prayer at Home
• Kingdom of Saudi Arabia Welcomes Power-Sharing Agreement in Islamic Republic of Afghanistan
• YORK HVAC System Ensures 100% Fresh Air Inside Makkah's Grand Mosque
• Dubai Islamic Bank donates AED16 million to Zakat Fund projects
• Egypt tightens measures during celebrations marking Ramadan's end
• Huawei Video Brings Exciting New Ramadan Series to Users in the UAE, Saudi Arabia and Egypt
------
Southeast Asia
• Take It Easy on Pork Eaters: Indonesian Muslims Call for Tolerance
• Nope, Eid Isn't Cancelled, Singapore's Muslims Are Finding Festive Cheer – And Sales – Online
• Garuda Indonesia furloughs contract workers to stay afloat amid pandemic
• King extends Aidilfitri wishes to all Muslims
• CMCO: Stubborn Malaysians still attempting unauthorised interstate travel
• MCO: Residents under administrative control in Jalan Pudu cooperating well - Police
-----
Pakistan
• Plasma Helps Recover First Covid-19 Patient In Peshawar
• Sindh Governor Claims Herbs Helped Him Recover from Coronavirus
• Rs18.5 Million Recovered from Fake BISP Aid Recipients in Sindh
• Punjab govt warns of strict action against SOP violations for Ramadan, Eid prayers
• Pakistani forces kill four Daesh-linked militants
• Chief justice directs provinces, capital to reopen shopping malls
-----
South Asia
• 'May Allah Remove the Virus': Pandemic a Grim Addition to Afghanistan's Woes
• Afghan Muslim Council Calls for Liberation Of Holy Quds
• Acting Afghan intelligence chief discloses latest findings regarding recent deadly attacks
• COVID-19: The feasibility of making China legally responsible
------
Mideast
• COVID-19: Mosques, Churches in Greece Resume Services
• Leader to Address Muslims on Quds Day
• 13 holy sites you can visit on a virtual tour during Ramadan
• Lauder in Arab News: A new page in Muslim-Jewish relations - analysis
• Ayatollah Khamenei to speak to Islamic Ummah on Quds Day
• Iran's ambassador to Syria: First Qibla of Muslims not for sale
• Iran: Defiant Youths Target Centers of Plunder, Repression and Mullahs' Seminaries and Torch Khamenei and Soleimani's Photos in Various Cities
-------
Europe
• Pig's Head Placed on Mosque Door in German City by Two Unidentified People
• Reading Islamic Centre aiming to raise £50,000 for Cumberland Road mosque revamp
• Imam Ali Islamic Centre In Sweden Holding Online Religious Programs In Ramadan
------
North America
• Reinventing Ramadan: Ottawa Imam Finds New Ways to Celebrate During COVID-19
• Conservatives Are Mad the Pope Prayed with Muslims and Jews To End COVID-19
• US: Muslims in Dearborn deliver food to hospitals during Ramadan
• How churches, mosques and temples will reopen in Massachusetts after coronavirus shutdowns
• Warrior dog in Osama bin Laden raid refused his SEAL Trident
------
Africa
• Coronavirus: As Mosques Reopen Across West Africa, Covid-19 Fears Grow
• Move to reopen mosques amid COVID-19 pandemic not wise enough —MURIC
• LASG gives conditions to reopen churches, mosques, others
• Eight injured as rival sects clash over mosque leadership
• Libya: Army hits Haftar's air defense system, jammer
Compiled by New Age Islam News Bureau
URL; https://www.newageislam.com/islamic-world-news/dying-migrant-forced-truck-yakoob/d/121882
------
Dying Migrant Forced Out of Truck, Yakoob Mohammad Sticks with His Friend Amrit Kumar Till His Last Breath
May 17, 2020
BHOPAL: On a dusty, sun-baked highway in MP's Shivpuri, a migrant worker sat cradling a friend in his lap on Saturday afternoon, calling out to passers-by for help. No one stopped. A local resident took a picture of the moving scene, but by the time it went viral, the friend was dead.
Heartbroken, Yakoob Mohammad is now waiting to receive his friend Amrit Kumar's body - and their Covid-19 reports - at Shivpuri District Hospital. Even the virus couldn't get between their dosti. Yakoob was the only one in a truckload of migrants to stay with Amrit till he died, disregarding the risk of infection if Amrit had Covid-19.
Yakoob and Amrit worked in Surat and decided to return to their native places in UP after losing their jobs in the lockdown. They paid Rs 4,000 for standing space in the back of a truck and set off with a large group, via Nasik and Indore, said Yakoob.
https://timesofindia.indiatimes.com/city/bhopal/dying-migrant-forced-out-of-truck-friend-sticks-with-him-till-last-breath/articleshowprint/75782314.cms
------
UP: Seeing His Disabled Friend, Gayoor Ahmad Struggle With Tricycle, Anirudh Pushes It For 5 Days, 350km
May 18, 2020
MUZAFFARNAGAR: Gayoor Ahmad, 40, had met Anirudh Jhare, 28, at a quarantine shelter in Jodhpur recently. Both showed no symptoms of Covid-19, but had to undergo the mandatory isolation as they had entered the district from different states. Anirudh had come from Nagpur as a tourist, getting stranded there due to the lockdown; Gayoor, a carpenter with disability in his legs, from Muzaffarnagar in UP. Something clicked and they became friends.
When they got a chance to move out, on May 8, a bus dropped them 40km away from Bharatpur, near the UP border. After bidding adieu, Gayoor started hand-pedalling his tricycle towards Muzaffarnagar. Anirudh, too, had a long distance to cover. They left the quarantine centre together. Barely had they walked a while when Gayoor's struggle with his tricycle became apparent to Anirudh. It took a few moments for Anirudh to take a call which perhaps few would. He decided to change direction, head to Muzaffarnagar instead of Nagpur and accompany Gayoor until his friend reached home safely.
Anirudh pushed Gayoor's tricycle for the next five days as they criss-crossed several districts, walking past Mathura, Aligarh, Bulandshahr, Hapur and Meerut. They moved, ate and slept on roads all this while until they finally reached Muzaffarnagar on May 12.
Gayoor said on Saturday he will never forget the kindness. "I was on my tricycle and Anirudh was always walking behind, pushing it during the whole journey of about 350km. We reached home in Muzaffarnagar's Kidwai Nagar late on May 12. He didn't abandon me," Gayoor smiled. The story spread like wildfire in the district after that.
Additional district magistrate (finance) Alok Kumar said, "Every possible help will be provided to the disabled man and his family, and even to the person who helped the disabled man." Home now, Gayoor doesn't want to let Anirudh go until the lockdown is lifted. Neither does his family.
Anirudh played down his role in what many in Muzaffarnagar are now calling heroic. "First, we are human beings. We are Hindus and Muslims after that. I am happy I could help Gayoor. I am living with his family now. I will be here for a while. All of them are nice and polite. It's like I am with my own family. On his part, Gayoor has a request. He wants the administration to help Anirudh reach Nagpur.
https://timesofindia.indiatimes.com/city/meerut/up-seeing-his-disabled-friend-struggle-with-tricycle-man-pushes-it-for-5-days-350km/articleshowprint/75796445.cms
-----
Saudi Arabia's Grand Mufti says Muslims can perform Eid al-Fitr prayer at home
18 May 2020
It is permissible for Muslims to perform the Eid al-Fitr prayer at home since the coronavirus pandemic has forced mosques around the world to close, local media cited Saudi Arabia's Grand Mufti Sheikh Abdulaziz al-Sheikh as saying on Sunday.
On the first day of Eid, Muslims should begin the prayer 15 or 30 minutes after sunrise and continue it until the Duha prayer – the voluntary prayer between the obligatory sunrise and noon prayer, Sheikh al-Sheikh said.
In regards to the Zakat al-Fitr, which is the charity that must be given to the poor before the start of Eid, the Grand Mufti said that Muslims can make a donation to reliable organizations.
The coronavirus outbreak has forced mosques around the world to shut their doors to believers to prevent the virus from spreading. Muslims often perform communal prayers in mosques that require them to stand side-by-side.
https://english.alarabiya.net/en/coronavirus/2020/05/18/Saudi-Arabia-s-Grand-Mufti-says-Muslims-can-perform-Eid-al-Fitr-prayer-can-at-home.html
https://english.alarabiya.net/en/coronavirus/2020/05/18/Saudi-Arabia-s-Grand-Mufti-says-Muslims-can-perform-Eid-al-Fitr-prayer-can-at-home.html
-----
Take it easy on pork eaters: Indonesian Muslims call for tolerance
AlyaNurbaiti
May 18, 2020
She said she feared some people might raid her restaurant or force her to close it down as pork is non-halal, meaning Muslims, who make up the majority of the population in Indonesia, are forbidden from consuming it.
Yet, as pork is a staple for millions of non-Muslim Indonesian, Elisabeth's business has thrived; but her fears are justified nonetheless.
In August last year, a Muslim organization in Makassar, South Sulawesi, protested against two local restaurants for selling pork dishes, saying they were "disturbed by the smoke and smell".
A similar commotion occurred in February last year, when a Muslim man in Cengkareng, West Jakarta, scolded his neighbor for cooking pork. He said the smell of the pork was "polluting" the neighborhood.
However, stories of tolerance toward the consumption of pork have also emerged, even beyond the Hindu-populated Bali and Jakarta's Chinatown.
"I think that in many areas in Indonesia, there are more tolerant Muslim communities than there are intolerant ones," head of BanyumasGusdurian interfaith community Chumedi Yusuf said on Saturday during an online discussion with owners of restaurants that serve pork.
He said that in his small town of Purwokerto in Banyumas regency, Central Java, restaurants that served pork ranged from upscale restaurants to angkringan (sidewalk stalls).
"One of the restaurants [that serve pork] is even located 100 meters from our Gusdurian headquarters and we certainly have no problem with that," Yusuf said. The Gusdurian is a community that promotes the pluralist thoughts of Muslim scholar and former president Abdurrahman "Gus Dur" Wahid.
The owner of Depot Baksen pork restaurant in Salatiga, Central Java, Grace Fransisca, a Christian, said that when she first opened her restaurant, her Muslim friends paid a visit to show their support.
"During Ramadan, they sometimes break the fast at my place, even though they buy the food from other stalls in the food court area," she said.
She went on to say that whenever she held an event or invited her friends over for dinner at her house, she always informed her Muslim friends which dishes contained pork so they could avoid eating them.
"I always try to be honest, it's like an unwritten ethical rule to make sure Muslims don't eat non-halal food unknowingly. I don't want people to feel tricked or cheated by me," said Grace.
Gusdurian member OryWulandari, a Muslim, shared a similar story of when she visited her non-Muslim friends. "Even before I ask, they already warn me that some dishes are not for me because they contain pork," she said.
Ory said it was a shame that some Muslims were unreasonably afraid to receive food from non-Muslims when non-Muslims were very considerate of them.
"And I think to myself, why would they tell me? I could have [accidentally] tasted pork if they did not," joked Ory. In Islam, a Muslim is forgiven if they eat pork accidentally.
To Grace's surprise, many of her Muslim friends also reacted to her warning with disappointment, as they were low-key curious about the taste of pork. "Yet, I never buy their jokes and do the opposite. I never have the nerve, I swear," she said.
Yusuf said that whether someone ate pork or not was their right but that it should not be a reason to hate or bully people who held the contrary view.
"If you believe eating pork is wrong then just don't do it. But you have no right to prevent others from selling or eating pork. Besides, no law restricts the selling of pork dishes," he said.
"Faith comes from within. I thank the pork restaurant owners instead. If there are many pork restaurants and I keep my faith, doesn't that mean my faith is strong?" Yusuf said.
https://www.thejakartapost.com/news/2020/05/18/take-it-easy-on-pork-eaters-indonesian-muslims-call-for-tolerance.html
-----
Plasma helps recover first Covid-19 patient in Peshawar
Ashfaq Yusufzai
May 18, 2020
PESHAWAR: The first Covid-19 patient has recovered after transfusion of convalescent plasma immunisation at Hayatabad Medical Complex, Peshawar.
The hospital has initiated collection of plasma from the recovered Covid-19 patients as part of the national trial to reduce mortalities during the pandemic under the leadership of Prof Tahir Shamsi of National Institute of Blood Diseases Karachi.
A Covid-19 patient recently recovered and left the hospital after plasma immunisation. A number of other patients have also consented to become part of this trial. The hospital, meanwhile, has launched an appeal for more donations to be able to provide treatment to more patients.
HMC medical director Prof Shehzad Akbar Khan told Dawn that they had relevant approval for pursuing convalescent plasma immunisation programme at the provincial level. He added that they were looking for healthy donors, who recovered from the pandemic.
"Another patient, who has received plasma, is doing well. We are requesting that all the recovered patients should donate plasma to save lives of those infected with Covid-19," said Prof Shehzad.
He said that they had a dedicated plasmapheresis setup in the hospital. There is a special team looking after the arrangements led by head of HMC's pathology department Prof Shahtaj Khan, who is working tirelessly for the purpose.
"Prof Mohammad Usman is the clinical focal person for the relevant limb of this activity. The donors don't face any health problem because we collect only their plasma, which contains anti-bodies against Covid-19 virus, and not the whole blood," said Prof Shehzad.
He said that they a very loud and clear message should be circulated that it was Sadqa-i-Jaariyah that would bring perpetual blessings to the donor. Those, who have recovered from the pandemic, have been blessed with this opportunity of saving lives of others infected with the virus.
"Saving one life is just like saving the whole humanity. So be generous and volunteer for this great cause," he said in a message to the healed patients.
Prof Shehzad said that the recovered people should be encouraged to donate plasma three to four weeks after they tested positive. "They have their antibody and routine virology tests done before collection. Plasma from one person can help save lives of up to two patients," he added.
He said that so far, the donors included HMC own healthcare staff. "We are requesting for more donations to be able to establish a bank, which can cater to the needs of patients of different blood groups," he added.
Prof Shehzad said that in addition to local donations, they received some plasma from National Institute of Blood Diseases (NIBD) Karachi as part of an exchange arrangement. He said that it was still too early to comment on the outcome scientifically but they hoped for better results.
"Since it is an approved trial, details of donors or recipients cannot be shared. But generally, we are actively pursuing the programme. We, however, need more donors -- the people who have recovered from the disease -- to build up our capacity," said Prof Shehzad.
He said that Drug Regulatory Authority Pakistan granted approval for the trial subject to certain protocols, which were closely observed. There is a complete set of guidelines to seek suitability and consent of donors and recipients prior to the mandatory laboratory investigations.
The potential donors should preferably be men, below 55 years of age having no other ailment. The province has 1,700 recovered patients, who need to step up and donate plasma for the treatment of other patients.
https://www.dawn.com/news/1557857/plasma-helps-recover-first-covid-19-patient-in-peshawar
------
'May Allah Remove the Virus': Pandemic a Grim Addition to Afghanistan's Woes
May 17, 2020
Kabul (BNA) DelkhahSultani scrubs laundry outside her home in Kabul as her young daughter watches on. She says she once got paid around $3 a day to wash clothes for other households but since the coronavirus outbreak hit, work has dropped and she now earns $1 every few days to support her and her four children. Like millions of Afghans, Sultani is facing economic distress and hunger from two disasters - the pandemic and the damage from decades of civil war. "Since the beginning of the holy month of Ramadan (in late April), I have not been able to find jobs for myself because people don't invite me to their homes to wash their clothes anymore due to the fear of the coronavirus," said Sultani. She said her husband was killed six years ago in a suicide bomb attack. "I don't have money to take my son to the barbershop or buy food. Most of the time, we don't even have anything to eat to break our fast." At least 6,000 people have been infected by the coronavirus in Afghanistan and 153 have died, straining the country's weak health infrastucture. Officials warn that the actual number of infections is likely to be much higher because few people have been tested. "We are facing increasing needs across the country and this pandemic is expected to severely impact the livelihoods of communities across the country for years to come," said Parvathy Ramaswami, deputy country director at the World Food Programme Afghanistan. The coronavirus pandemic that has derailed even the world's top economies is hitting Afghanistan as the government faces the prospect of a fiscal crunch and reinvigorated Taliban insurgents. Despite an ongoing peace process being brokered by the United States, attacks are taking place daily. "There is a conflict...and with everything happening at once an already weak state is going to have less time and energy to do even basic policing," said Andrew Watkins, senior Afghanistan analyst at the International Crisis Group. The stepped-up violence and a harrowing attack on a Kabul maternity ward, suspected to have been conducted by Islamic State this week, prompted the government to switch the military to an 'offensive' stance. HEADED FOR DISASTER The United States is drawing down troops in Afghanistan under its deal with the Taliban and foreign donors consumed with their own pandemic bail-out packages are expected to have less to spend on aid. Aid pledges made in 2016 run out this year and one diplomat said Afghanistan was headed for disaster if replenishments fell short. "That's exactly where Afghanistan is heading. Add their internal conflict on formation of government, derailed peace process, Taliban insurgency, ISIS attacks and the COVID-19 pandemic. Now imagine where Afghanistan stands in 2021," said the senior diplomat in Kabul. Grants make up roughly 75% of the Afghan government's expenditure and any government revenue that comes from taxes is at serious threat as the pandemic hits the economy. Government revenues have already fallen by almost a quarter in the first four months of the fiscal year compared to the same period last year, according to economic think tank the Biruni Institute. Omar Joya, head of research at the institute, said the think tank was projecting an additional 8 million people could fall into poverty this year, pushing the poverty rate from 55% to 80%. The government has been ramping up distribution of food aid, and in Kabul more than 250,000 families have started receiving free food, including Sultani. She says making it last is a stretch. Trust Ansari
http://www.bakhtarnews.com.af/eng/social/item/42961-may-allah-remove-the-virus-pandemic-a-grim-addition-to-afghanistans-woes.html
-------
COVID-19: Mosques, churches in Greece resume services
Mehmet Hatipoglu
18.05.2020
Mosques and churches in Greece have resumed services as part of the normalization process following the government's decision to ease coronavirus restrictions with worshippers required to follow social distancing guidelines.
Greece was one of the first European countries to order the closure of all schools, bars, cafes, restaurants, nightclubs, gyms, malls, cinemas, retail stores, museums, archaeological sites and hotels and received much praise for these measures.
"Tonight, we performed the Tarawih prayer with the congregation, albeit with limited participation due to the measures," SadikSadik, president of the Western Thrace Mosques and Religious Officers Association, told Anadolu Agency.
"We missed praying with the congregation in our mosques," Sadik said, adding: "Hopefully, our country and the world will get rid of this pandemic as soon as possible and return to our normal lives."
Meanwhile, "It is our responsibility to take action against the COVID-19 outbreak that threatens the world," said MP HuseyinZeybek, a member of the Muslim Turkish minority of Western Thrace.
Greece has entered the second phase of its gradual lifting of lockdown restrictions introduced in early March to contain the spread of the virus.
After originating in Wuhan, China last December, COVID-19 has spread to at least 188 countries and regions, with Europe and the US currently the worst hit.
The pandemic has killed nearly 315,000 people worldwide, with more than 4.7 million confirmed cases, while recoveries have surpassed 1.7 million, according to figures compiled by Johns Hopkins University of the US.
https://www.aa.com.tr/en/europe/covid-19-mosques-churches-in-greece-resume-services/1844460
-------
Pig's Head Placed On Mosque Door In German City By Two Unidentified People
MAY 18, 2020
Two unidentified people placed a pig's head Saturday night on the door of the Fatih Mosque of the Turkish-Islamic Union for Religious Affairs (DITIB) in the southern Germany city of Vaihingen, local media reported Sunday.
The incident was recorded by the surveillance cameras at the mosque. In the footage, the perpetrators are seen driving a company van from a neighbouring city. After they attached the pig's head to the main entrance of the mosque, they took photos of their act. The unidentified individuals are said to be between 25 and 30 years old.
The state and federal chairs of the DITIB and Turkish Ambassador Mehmet Erkan Öner on Sunday at noon visited the mosque, where the head of the police informed the ambassador about the investigation, a statement by the mosque read.
Turkey's Justice Minister AbdulhamitGül condemned the attack in a tweet Monday, calling it the "latest example of racist hatred toward Muslims."
Similar attacks on mosques are becoming more and more frequent in Germany. Last year, a pig's head and several bags of blood were placed on the site of a mosque in Monchengladbach. An Islamic association in Rostock was also the victim of such an attack, in which a pig's head and several hooves were placed on the property of their planned mosque.
https://www.dailysabah.com/politics/pigs-head-placed-on-mosque-door-in-german-city/news
------
Reinventing Ramadan: Ottawa imam finds new ways to celebrate during COVID-19
May 16, 2020
If this were a normal Ramadan, Imam Sikander Hashmi would be inviting people into his mosque nightly for prayers and the communal fast break. There'd be a feast for 200 to 300 people. And they would recite the whole Qur'an by memory throughout the month.
"All of that is gone this year, so it's a very different Ramadan," Hashmi said. "But I'm an optimist, so I don't necessarily see different as being bad."
Muslims across Canada face similar circumstances as the annual month of fasting and reflection began on April 23, roughly five weeks into Canada's physical distancing recommendations.
Hashmi, who's the imam for the Kanata Muslim Association in Ottawa, stopped offering prayer service on March 13 following a discussion with the local Muslim community.
Kanata Muslim Association has been live streaming messages and recitations on its website kanatamuslims.ca. (Submitted by Sikander Hashmi)
"The reality was that the first COVID-19 case in Ottawa was confirmed in our area, right across from where we offer Friday prayers," said Hashmi.
The association has been renting a recreation complex in a technology park as their Friday mosalla, or prayer hall, while their new mosque is under construction.
Instead of the usual Ramadan traditions, Hashmi has been advising people how to make their own home mosques, what time to pray and when the Kanata Muslim Association will be broadcasting their call to prayer online.
Hashmi recommended that people pick an empty room or a corner of a room where the congregant feels comfortable, and lay out a prayer mat, adding that Islam overall is a minimalistic faith.
The timing of the prayer is also important because of its ability to bring the community together, even if everyone is praying from their own homes, he added.
The Kanata Muslim Association has also co-ordinated window walks, where congregants place Ramadan crafts in their windows for people to admire.
Congregants have been placing Ramadan crafts in their windows for people to admire from afar, as many remain unable to gather at the mosque for evening prayers. (Shawana Shah)
Hashmi added that it's moments like these where faith and solidarity are even more valuable than usual — even if you can't maintain the same traditions.
"There's great virtue in attending funeral prayers in our faith, regardless of whether we know the individual or not, and to offer comfort to the family members," said Hashmi
As per Ontario's COVID-19 rules, he was one of only 10 people allowed to attend. A funeral several months earlier would have entailed the body being brought to the mosque and washed, followed later by an offering of condolences and a group prayer, before moving the body to a cemetery. None of that was possible.
On a more personal level, Hashmi said that he makes sure to offer a shoulder for family members of the deceased at the gravesite, and tries to comfort them.
"And this time, all I could do was just stand and watch them cry and watch their loved one being buried in front of them and not be able to do anything," said Hashmi.
"When we find ourselves at a point of desperation, where we know that the normal, regular things that we depend upon — other human beings, the services, the tools that are available to us — are no longer available to us ... I think that is when we really feel our weakness," said Hashmi.
https://www.cbc.ca/radio/tapestry/reinventing-ramadan-ottawa-imam-finds-new-ways-to-celebrate-during-covid-19-1.5571467
------
Coronvirus: As mosques reopen across West Africa, Covid-19 fears grow
May 18, 2020
It's been a Ramadan unlike any other for AbdourahmaneSall, far from the mosque during the Muslim holy month as coronavirus cases mount. With only a little over a week left, he decided joining thousands of others in tradition was worth the risk after authorities allowed prayers to resume.
Men formed orderly lines outside the MassalikulJinaan mosque in Dakar as they waited to receive hand sanitiser before entering while uniformed police watched on nearby.
Inside, some 2,000 men set their prayer mats 1.5 metres apart while 3,000 others spread out into the courtyard of West Africa's largest mosque.
"We are being careful but to be honest we cannot escape the virus," said Sall, a 58-year-old tailor in a flowing orange tunic and face mask made of thick fabric. "If we abide by the precautions that health officials tell us, then God will protect us."
The World Health Organisation (WHO) has warned that as many as 190,000 Africans could die from the coronavirus in the first year of the pandemic, and countless more from other diseases as the continent's limited medical resources are stretched even further.
But across West Africa, countries are finding it increasingly difficult to keep mosques closed during Ramadan even as confirmed virus cases mount and testing remains limited.
The holy month is already a time of heightened spiritual devotion for Muslims, and many say prayer is now more important than ever.
In Nigeria, Africa's most populous nation, several states recently signaled the reopening of mosques even as the number of confirmed cases nationwide exceeded 5,000.
The warnings about resuming public gatherings are being made worldwide - but the stakes are particularly high in West Africa, where countries with fewer hospitals and ventilators have been prioritising disease prevention as a public health strategy.
As elsewhere, though, decisions here are starting to reflect an acknowledgement that the coronavirus crisis might last longer than some restrictions can be tolerated.
"We must now learn to live in the presence of the virus, adapting our individual and collective behavior to the evolution of the pandemic," Senegalese President MackySall said in an address announcing the easing of several social distancing measures.
His speech came just hours after Senegal marked its highest daily number of newly confirmed cases since the crisis began here in early March, prompting concerns that the easing was premature.
With a large diaspora population in Europe, Senegal was among the first African countries to report COVID-19 cases as citizens returned home, but it has maintained a relatively low death toll despite having never enforced a total lockdown as other nations have.
Those early successes have been attributed to the limits on public gatherings and on regional transport, as mosques, churches and schools were swiftly shut down.
Critics fear Senegal now risks an explosion of new cases if people pray in large numbers and hold gatherings to mark the Eid al-Fitr holiday at the end of Ramadan.
Even some religious leaders in Senegal are still urging their followers to stay home: The Cheikh-Oumar-Foutiyou mosque in Dakar remained closed even after the president's announcement because the Covid-19 threat "is not yet totally under control," according to a statement put out before anyone showed up for prayers Friday.
Two prominent imams were suspended in northern Nigeria, while a Gambian court fined several Muslim clerics who led prayers despite the state of emergency in place.
And in Guinea, a group of young men recently used force to physically open the mosques' doors in Dubreka, a city located 50 kilometres (31 miles) north of Guinea's capital, Conakry.
"The gels, the soaps, the barriers, it's all a joke. It is God who cures this disease, that's why we must open the mosques," said MouctarCamara, a 26-year-old student who was briefly detained after the incident.
Local leader AlsenyBangoura said they brought together the imams and tried to educate the young men about the risks of Covid-19. Guinea now has more than 2,500 cases even with limited testing.
https://www.indiatoday.in/world/story/coronvirus-pandemic-as-mosques-reopen-across-west-africa-covid-19-fears-1679115-2020-05-18
------
India
Religious heads in Kerala want temples, mosques, churches to open in a staggered manner
May 18, 2020
Thiruvananthapuram: Several heads of shrines, cutting across religious lines, in Kerala have written to the state government seeking its permission to open temples, mosques and churches in a staggered manner in view of the lockdown restrictions that were imposed since end-March to contain the spread of the raging coronavirus disease (Covid-19) outbreak.
They have reached out to the state government amid a growing cash crunch, as devotees are staying away from the places of worship due to the pandemic.
However, the Centre's announcement to impose lockdown 4:0, which has come into effect from Monday and will be enforced till May 31, has further disappointed the shrine heads.
Cardinal George Alencherry, Major Archbishop of the Syro-Malabar Church, wrote to Kerala chief minister Pinarayi Vijayan on Sunday seeking permission to open Christian religious centres to conduct daily ceremonies with the faithful in a restricted manner.
The All India Imam Council has also approached the government. The Travancore Devaswom Board (TDB), which runs 2,000-odd temples in south and central Kerala, including the hill shrine Sabarimala in Pathanamthitta district, has urged the state government to at least allow devotees, who want to make significant offerings.
"Many are devoid of spiritual support these days. If the lockdown continues, it'll lead to a growing psychological conflict. No one will be able to prevent such consequences. Churches must be allowed to open in a restricted manner. Religious ceremonies are essential for a believer for solace and inner peace," said Cardinal Alencherry.
The Syro-Malabar church, which runs thousands of educational institutions, hospitals and other charitable establishments in Kerala, the aftershocks of lockdown restrictions are deeper, as it is struggling to meet the expenses required for both institutional upkeep and payment of staff salaries.
The All India Imam Council has written to CM Vijayan, urging him to open mosques in a limited manner. Samastha Kerala Sunni Federation leader Basheer FaizyDeshamangalam in a social media post commented that it is unfair to keep mosques closed when liquor stores and other establishments are allowed to open.
But many within the community don't share Deshamangalam's views. "We need to apply our minds. It's painful that all mosques are closed during the holy month of Ramzan. It'd be difficult to maintain social distancing norms if the mosques are opened," said a senior Indian Union of Muslim League (IUML) leader.
The TDB had introduced an online facility for major offerings in 27 prominent shrines across the state, which met a lukewarm response. Now, the board plans to urge the government to allow 'darshan' for those who book significant offerings online.
https://www.hindustantimes.com/india-news/religious-heads-in-kerala-want-temples-mosques-churches-to-open-in-a-staggered-manner/story-LhjUZFsiHyDJNd54gTCttI.html
------
Parliamentarian Urges Indian Muslims to Refrain From Eid Shopping Amid COVID-19 Lockdown
17.05.2020
New Delhi (Sputnik): Muslims in India began observing the Islamic holy month of Ramadan on 24 March amid the nationwide lockdown. While large religious gatherings have been banned to stop the spread of COVID-19, Muslims have been observing prayers inside their homes.
Parliamentarian Maulana Badruddin Ajmal has urged Indian Muslims to refrain from going out for Eid shopping amid the threat of coronavirus spread. Scheduled for 24 May, Eid will mark the end of the month-long dawn-to-sunset fasting of Ramadan.
"Please refrain yourself from shopping for Eid. Wearing new clothes during Eid is not important, so kindly stop endangering your own and other people's lives by crowding the market places in the time of COVID-19. Else it won't be shopping for Eid but you would be shopping for death", the cleric said.
Mentioning incidents where people went shopping and did not maintain social distancing, Maulana said it is unfortunate and that such things should not happen.
Earlier, Muslims, who have been fasting during Ramadan, were hesitant to give swab samples fearing it would break their fast. But following an order as per Islamic law from DarulUloom Deoband – an Islamic University in the northern Indian state of Uttar Pradesh – the community members were assured that giving samples wouldn't break their fast.
The Islamic holy month of Ramadan usually sees large prayer gatherings in Mosques and community dinners as part of the festivities. But this year due to the COVID-19 lockdown and compulsion to maintain social distancing, Muslims in India are observing all these festivities and prayers inside their houses.
https://sputniknews.com/india/202005171079330501-parliamentarian-urges-indian-muslims-to-refrain-from-eid-shopping-amid-covid-19-lockdown/
-------
No distractions and time to introspect, devout Muslims find silver lining in lockdown Ramzan
May 17, 2020
The nationwide lockdown had ensured this year's Ramzan was going to be like no other in living memory -- no iftaar parties, no meeting with friends, no late night shopping, no prayers at mosques. But many devout Muslims are appreciative the lockdown has helped them stay true to the spirit of the holy month. Three weeks into fasting, many Muslims feel the coronavirus-forced lockdown has a silver lining. It has left them with plenty of time to read the Quran, attend virtual Quran classes and focus on prayers.
Tanvir Parvez, a lawyer from Ghaziabad, was among those bracing himself for a Ramzan devoid of its usual charms of special prayers in mosques (Taraweeh), sitting with his friends and family to break the fast at iftaar time and gatherings to discuss the teachings of Prophet Mohammad.
Parvez, who has never missed the Taraweeh during Ramzan, said he was gutted to learn that this year prayers would not be allowed in mosques due to the coronavirus lockdown.
"I was mentally preparing for a bad Razman experience with so many restrictions in place, but it has turned out to be a very special one as staying at home with family, discussing religion and reading the Quran with English translation has given me a new perspective on life," the 63-year-old told PTI.
The special prayers, iftaar congregations and spiritual gatherings are being missed, but the benefits have also made it a special "special Razman" this year.
"Earlier Ramzans were just about racing against time from the courts to reach home for iftaar, but now I am involved in making iftaar with my wife and though the spread is very simple, it brings the family closer as everyone is involved," he said.
People are also relishing the time they are getting to introspect and learn more about Islam with no distractions such as grand iftaar parties and shopping sprees.
Hasan Askari, an agriculturist based in Ghaziabad, said the month usually raced by with a string of iftaar parties and endless shopping trips, but not this time.
"The lockdown is proving to be a boon with distractions like shopping and endless iftaar parties not there, allowing me to read books on Islamic teachings which my brother-in-law gets from Jeddah and watching Islamic sermons online," Askari told PTI.
Prominent Muslim body Jamiat Ulema-e-Hind's president Maulana Arshad Madani said it is heartening to see Muslims finding positivity in these difficult times and using the lockdown downtime to learn more about Islamic teachings and Quran.
"Another significant trend witnessed this year is that seeing the sufferings of migrant labourers and the needy, Muslims have undertaken charity at a scale not seen before," Madani told PTI.
Even though everyone's economic future is uncertain, Muslims are helping the poor with money and food in a massive way to realise the true meaning of Ramzan, he said.
Professor Salim Engineer, vice president of the Jamaat-e-Islami Hind, said his organisation is webcasting many religious programmes on its YouTube channel to explain the meaning of Quranic verses and important Islamic issues.
"We are also webcasting programmes for non-Muslims. Recently, we shot one with religious leaders from different religions discussing the importance of fasting. In mosques, 1,000-1,500 people would listen to the discussions. This year, many thousands are watching these programmes online during Ramzan," he told PTI.
"Making non-vegetarian delicacies during Ramzan takes up a lot of time. But this year with most meat shops closed and lockdown in place, the iftaar menu is very modest and allows plenty of free time to devote to Islamic learning and preaching," Siddiqui said.
"I have enrolled for online Quranic classes to fine tune my Arabic pronunciation and also to enhance my understanding of the Quran. It has been a life-changing experience," she said.
There are also those missing the festive fervour of iftaar parties and sehri (pre-dawn meal at the start of a fasting day) at old Delhi's famous eateries.
"Ramzan is a time when family and friends come together -- praying, fasting and feasting. With many family members stranded in different parts, the festive feel is missing this time," said Qazi Aamir Ali, a corporate employee working in Gurgaon.
Also, the going is not easy for everyone. While middle and upper class homes are finding positivity during the holy month, the poor and the needy are struggling to make ends meet.
"We are fasting through the day and there is hardly anything to eat around sehri. Organisations and people are reaching out, so iftaar is sorted, but we begin our fast just by drinking water," said ShaheenBano, an out of work house maid and mother of six.
"We pray to Allah and fast that these difficult days will pass, I will go back to work and see smiles on my kids' faces," she said.
Ramzan is the ninth month of the Islamic calendar during which Muslims worldwide refrain from eating and drinking from dawn to dusk and end their fast in the evening. The month is in its fourth week now and Eid will be celebrated on May 24 or 25, depending on the sighting of the moon.
For Muslims, this Ramzan is also about hope that their prayers will be answered and a new dawn will emerge in post-pandemic times.
https://www.hindustantimes.com/india-news/no-distractions-and-time-to-introspect-devout-muslims-find-silver-lining-in-lockdown-ramzan/story-82SULeekWnCMrHFWetnPnN.html
------
Arab world
Kingdom of Saudi Arabia Welcomes Power-Sharing Agreement in Islamic Republic of Afghanistan
2020/05/18
Riyadh, May 18, 2020, SPA -- The Saudi Ministry of Foreign Affairs welcomed the power-sharing agreement in the Islamic Republic of Afghanistan between his excellency President Ashraf Ghani and Dr. Abdullah Abdullah.
The Ministry expresses the wishes that this important step will lead to establishing enduring security, stability and peace in all parts of Afghanistan, and to meet the hopes and aspirations of its people.
The Ministry reaffirms the Kingdom of Saudi Arabia's support for the Islamic Republic of Afghanistan and standing with the new government in achieving the aspirations of the Afghan people for prosperity, progress and development.
https://www.spa.gov.sa/viewfullstory.php?lang=en&newsid=2088860
-----
YORK HVAC System Ensures 100% Fresh Air Inside Makkah's Grand Mosque
18 May, 2020
The Kingdom of Saudi Arabia has implemented several precautionary measures at Al-Masjid Al Haram in Makkah in the wake of COVID-19, with a temporary hold on prayers and Umrah inside the Mosque until further notice, to ensure the safety of worshipers.
The General Presidency for the Affairs of the Grand Mosque and the Prophet's Mosque is continuously implementing sterilizations and other precautionary measures, in preparation for the reopening of the Two Holy Mosques once the pandemic situation subsides. The Presidency initially closed Al-Masjid Al-Haram for 48-hours in order to sterilize the entire premises.
Al Salem Johnson Controls (YORK), a leading multi-industrial company and a pioneering provider of integrated solutions, that incorporate HVAC equipment, fire and security systems, building management systems and controls, for residential, commercial and industrial sectors, in Saudi Arabia, Lebanon, Egypt and Yemen, explained that the Company's HVAC system played a significant role in this 48-hour sterilization process and afterwards. All YORK Chillers at Al Shamiyah and Ajyad Cooling Plants and the Air Handling Units (AHUs) inside the Mosque were shut down for 48 hours, in order to raise the temperature inside the Mosque to around 30-32 degrees Celsius, the level required for the sterilization. Simultaneously, the AHUs were inspected, and the filters, ducts, drain pans and cooling coils were cleaned and sterilized, to assure that clean high quality air is supplied and maintained throughout the Mosque.
Each YORK Chiller takes about three to four minutes to be completely turned off. While the pipes connecting the Chiller Plants to the Mosque, keep supplying the AHUs with chilled water for about 30 minutes, before the water becomes warm and the AHUs are turned off.
After the sterilization was completed, and due to the reduced load inside the Grand Mosque these days, only 10% of the total cooling capacity was turned back on - sufficient to maintain a comfort zone for the few people inside the Mosque. It also helps achieve the right moisture level that will maintain the structural integrity of the Mosque. The remaining 90% of the Chillers and AHUs are subject to preventive maintenance and long-term storage procedures, to ensure the operation efficiency once the cooling plants are returned to full cooling capacity, when the pandemic subsides.
Al Salem Johnson Controls (YORK) highlighted that the long-term storage service is a form of preventive maintenance applied on chillers that are in a non-operating mode over a long period of time. This maintenance is completed through frequent checkups, the monitoring of refrigerant and water pressure inside the chillers, to preserve the outer body of the chiller from moisture attacks and corrosion. Moreover, motor rotations and oiling are monitored, as well as the alignment of the chiller's motor and compressor.
When the HVAC system is turned back to full force, each chiller takes about six to seven minutes to reach full operational efficiency and cooling capacity, thus gradually achieving the total cooling capacity. It is worth mentioning that long before the COVID-19 outbreak, Al Salem Johnson Controls (YORK) equipped the Two Holy Mosques with specialized and tailor-made HVAC systems, which take into consideration the crowded nature of both locations, particularly in peak seasons such as Hajj and Umrah, as well as during prayer times.
The YORK Air Handling Units supply 100% fresh air, by containing contaminated air and exhausting it to the outdoors, and then replacing it with well-treated fresh air, which re-enters the space after a rigorous filtration process. YORK Air Handling Units are equipped with filters that do not allow the passage of big particles to the air-conditioned environment, through multiple stages of filtration that can achieve up to 95% filtration efficiency.
The total cooling capacity of the HVAC System at the Great Mosque in normal days is 159,000 TR (equivalent to the cooling of 15,000 medium-sized apartments). This is provided through an integrated HVAC system, which consists of two Chiller Plants located in Al Shamiyah and Ajyad, connected to the AHUs inside the Mosque.
The Plants provide the chilled water that flows inside the Air Handling Units, which in turn pump the cooled 100% fresh air across the Mosque. The Chiller Plant at Al Shamiyah is considered to be the second largest Chiller Plant in the World, housing specially designed YORK OM Chillers, which are huge sophisticated chillers, with motors similar in size to a regular car.
The HVAC equipment has been especially engineered to meet the requirements of the Holy Mosque, particularly in peak seasons, and to adapt to the ventilation and cooling needs of the ongoing expansion works at Al-Haram.
Dr.MohanadAlShaikh, CEO of Al Salem Johnson Controls, expressed appreciation for the great efforts made by the Kingdom in the development of the Two Holy Mosques, and making them a strategic priority for the Government of the Custodian of the Two Holy Mosques King Salman. He also lauded the precautionary measures taken by the Government amid COVID-19, to ensure the safety of the guests of Allah, as well as that of the citizens and residents of the Kingdom.
Al Salem Johnson Controls (YORK) has allocated 135 service technicians for the Grand Mosque's HVAC system, who are working around-the-clock at the Cooling Plants in Ajyad and Al Shamiyah, to ensure smooth operation of the HVAC system, and provide any required repair or maintenance services in record time.
http://alriyadhdaily.com/article/2c24e30f1e7147ec8ddcc86ec95f3b20
-----
Dubai Islamic Bank donates AED16 million to Zakat Fund projects
17-05-2020
ABU DHABI, 17th May, 2020 (WAM) -- The Dubai Islamic Bank donated AED16 million to the Zakat Fund, whose projects this year are being carried out under the slogan, "Your Zakat Means Safety and Security."
Abdullah Aqeeda Al Muhairi, Secretary-General of the Zakat Fund, praised the bank for its donation, as well as for its positive humanitarian and charitable role in improving the standards of living of the categories supported by the fund, who include needy citizens and residents around the country.
"Our joint cooperation with top philanthropists, merchants and companies, led by the Dubai Islamic Bank, aims to increase the level of aid for needy people and enable them to face the hardships of life," Al Muhairi said, noting that the bank annually supports charitable and social work around the country.
He also called on Islamic banks and institutions to follow the initiative of the Dubai Islamic Bank to provide zakat money to deserving groups and help the Zakat Fund achieve its goals.
http://wam.ae/en/details/1395302843297
-----
Egypt tightens measures during celebrations marking Ramadan's end
17 May 2020
Egypt on Sunday announced a lengthening of its night-time curfew and other measures to prevent large gatherings during Eid al-Fitr holidays marking the end of the Muslim holy month of Ramadan.
"All shops, malls, restaurants, entertainment facilities, beaches and public parks will be closed for six days from May 24-29," said Prime Minister Mostafa Madbouli.
Public transport will be halted and the nationwide curfew in force from 5 pm during that period, he told a Cairo press conference.
Eid al-Fitr is normally marked by mass morning prayers, visits of family and friends and large gatherings in public spaces and parks.
Egypt has since late March banned prayer gatherings and suspended air traffic among other steps to slow the spread of coronavirus among the country's 100 million people.
"People will be required to wear face masks in public, closed and crowded places," he said, adding that violators will face penalities, without elaborating.
On Sunday, the premier said the government will announce relaxed restrictions on some activities including sports and the opening of restaurants with precautionary measures from mid-June.
Authorities have been carrying out sweeping disinfection operations at archaeological sites, museums and other sites across the country.
https://www.dailymail.co.uk/wires/afp/article-8328271/Egypt-tightens-measures-celebrations-marking-Ramadans-end.html
-----
Huawei Video Brings Exciting New Ramadan Series to Users in the UAE, Saudi Arabia and Egypt
May 17th, 2020
Consumers across the UAE, Saudi Arabia and Egypt can now enjoy 6 major new series during Ramadan as part of Huawei's commitment to strengthening its Video on Demand service in the region. This rollout has been done in collaboration with the Home plus Network.
The new shows are offered on an AVOD (ad-based video on demand) basis and include some of the best Arabic and global content available with the launch of the HUAWEI Video streaming service app.
Ammar Hares, Co-Founder of Todo media, the main shareholder of Home plus network (H+), said: " We are very happy with Huawei Video's performance, the numbers achieved, and the growth that we see daily is exceeding expectations. We were able to deliver great shows to the platform with our key content partners catering to Ramadan 2020 and taking into consideration all the challenges occurring globally. During all my years of experience, I can say it is a first to see such growth in the charts of a new service, but our strong faith in our strategic partnership with Huawei will pave the way to achieve many milestones. So stay tuned."
Adam Xiao, Managing Director, HUAWEI Mobile Services in Middle East and Africa, HUAWEI Consumer Business Group, said: "HUAWEI Video is committed to building a content ecosystem based on the global layout of Huawei Mobile Services [HMS], and to attracting more high-quality partners. Thereby providing all Huawei users with well-rounded and superb sensory experiences around the world."
This Ramadan has marked the beginning of the introduction of great content to the Huawei Video platform. Going forward there will be even more high quality premium content and exciting new features offered on Huawei Video.
In the near future HMS and HONOR users can look forward to even more premium content being showcased on Huawei Video. Huawei Video Services will also be extended to cover new markets and regions in the coming days allowing new consumers to enjoy an increasingly wide selection of content once they join the service.
https://www.albawaba.com/business/pr/huawei-video-brings-exciting-new-ramadan-series-users-uae-saudi-arabia-and-egypt
-----
Southeast Asia
Nope, Eid Isn't Cancelled, Singapore's Muslims Are Finding Festive Cheer – And Sales – Online
By Nurul Azliah
May 18, 2020
Gripped by the COVID-19 pandemic, Singapore may have canceled the annual Ramadan pop-up markets and festive Hari Raya gatherings, but it's not all doom and gloom for the Muslim community.
With days left until Eid, the internet has been bustling with live auctions of everything from traditional clothing to festive lights and goodies, bringing the Hari Raya cheer through social media feeds.
Bazaar Ramadan Singapore 2020 is one such place where the festive cheer is spreading through its 50,000 members and counting. Online businesses regularly share their live auctions there.
"I saw some post from online sellers that they are upset there's no bazaar. Some of them have already ordered their products so I thought maybe we can just gather online instead," group creator Huda Rahmat, 30, told Coconuts Singapore recently.
The healthcare administrator created the group in March, around the time Singapore announced there would be no Ramadan bazaars this year. Such markets blossom across the island annually during the Islamic holy month with the two most popular ones located in GeylangSerai and Kampong Glam.
Gusto Fashion and Minimalist Studio are among the regular GeylangSerai vendors who have taken their businesses online, and Briyani Bhai Catering – Nareza, known for its MeeHoon Biryani, is one of Kampong Glam's regular sellers who have switched to running their business digitally due to the coronavirus.
"Hi everyone! Hello! Selamat Hari Raya!" began Wednesday's live auction by Minimalist Studio as 36-year-old Hairul Nizam and his younger sister found a new home for their regular sale of traditional Baju Melayu and Kurung as festive music played in the background.
"It's like a community among the buyers themselves. They don't know each other [but] they know through our platform. That's one way to make them stay," he said.
Hairul competes for social media attention with other Ramadan auctioneers, with electronic sellers being some of their toughest contenders.
"On Facebook, there is too many competition. If you're able to see, [there's] so many auction like electronics … too many people doing live [auction] it slows down viewership," he added. Minimalist SG's live auctions get up to 10,000 views per session.
"Getting the attention of viewers is a challenge. You need to not make it so boring," he told Coconuts Singapore. Its live auctions attract hundreds of viewers.
No festive cheer is complete without food and with the lack of bazaars and the temporary disruption to home-based food businesses in Singapore, some in the Malay-Muslim community had difficulties getting hold of their favorite goodies. But as soon as Singapore made a U-turn on its rule banning food businesses from operating out of homes, the online community last week resumed its hustle and bustle over orders for Nutella tarts, dendeng (beef jerky), and more.
Biryani can also be considered as a popular meal to eat during iftar, or breaking of the fast, and regular Kampong Glam vendor Briyani Bhai Catering – Nareza was able to keep the Ramadan tradition alive through online orders and deliveries.
"Everyone tries to do their part to respond [to online orders] and the same person will cook as well," Shaikh Ahmad, 34, who helps run his father's business, said. The company delivers food prepared at a central kitchen in Tampines.
For those who miss hanging out over Indian teas at Kampong Glam's Bhai Sarbat tea store during Ramadan, Salahudeen Provisions has been selling their special blend of teas directly to customers at homes.
"We thought why not we cater directly to [customers] … they also cannot go to coffee shops," Muhammad SarfudeenSalahudeen, 23, said. He has been helping his father run his business online after the provisions business saw a drop in orders of items like rice, sugar, and coffee from local coffee shops since the start of "circuit-breaker" measures.
But Sarfudeen said that his Bhai Tea is not the same as Bhai Sarbat's as it is made of a "special blend" stemming from a "family secret."
With everything now happening online, will we need Ramadan bazaars next year? The short answer to that question is, yes. Because in spite of the high festive spirits on display online, businesses say they are still suffering major revenue losses, which they believe would not have happened if they could still sell at bazaars.
Minimalist Studio said it has been selling around 20 pieces of clothing per day this Ramadan as compared to the roughly 100 pieces at the GeylangSerai bazaar last year. Similarly, Gusto Fashion's Sayraz said he is seeing a roughly 80%-90% drop in sales.
"Also another challenging part is how to sell without consumers having the physical touch. With traditional clothes, people are more picky than with usual clothes. They are more sensitive about the materials, texture," he said.
Briyani Bhai Catering – Nareza's Shaikh said daily orders dropped considerably as compared to last Ramadan, from more than 100 orders a day last year to an average of 30 to 50 packets a day this year.
The additional operations that come with running an online business have not been helpful either, it seems. All three businesses told Coconuts Singapore they have had to spend extra cost and manpower on couriers and managing customers online.
"For FB live, the work is double and triple because [customers] are unable to feel the fabric. There are also size differences and they are only able to measure by themselves and roughly gauge what size they are," Hairul said. "A lot of exchange and returns … [customers] have to get courier and come to pick up."
We should still have Ramadan bazaars in the future. Some people just can't adapt to doing business online. For my case, I was doing it for my dad," Sarfudeen said.
https://coconuts.co/singapore/news/selamat-hari-raya-nope-eid-isnt-canceled-singapores-muslims-are-finding-festive-cheer-and-sales-online/
------
Garuda Indonesia furloughs contract workers to stay afloat amid pandemic
Riza Roidila Mufti
May 18, 2020
National flag carrier Garuda Indonesia has decided to furlough around 800 contract workers for three months starting May 14 as the airline struggles to stay afloat amid the COVID-19 pandemic.
Garuda Indonesia president director Irfan Setiaputra said the measure was a hard decision that needed to be made to help ensure the airline's sustainability before it resumed normal operations.
"We have made this decision after thorough consideration by taking into account the employees and the company's interests and to avoid layoffs," he said in a statement on Sunday, adding that the decision had been discussed between the employer and the affected employees.
During the three-month period, the furloughed employees will still get their health insurance and IdulFitri bonus, Irfan stated.
The COVID-19 outbreak has forced Garuda to park 100 of its 142 aircraft while its number of daily flights has declined 70 percent compared to normal days as people stay at home to avoid contracting and spreading the virus. In the first quarter of 2020, the airline recorded a 31.9 percent annual drop in passenger and cargo revenue.
Previously, Garuda Indonesia took several measures to maintain its cash flow amid the plummeting demand for air travel caused by the outbreak. The measures include cutting employees' and executives' salaries, cutting production costs for efficiency and renegotiating obligations to partners and aircraft lessors.
The airline also opened discussions with holders of its US$498.9 million in sukuk due on June 3 as the company struggles to pay its dues.
Aviation observer Gerry Soejatman estimated recently that national airlines would continue to reduce their capacity and services in the next several months to avoid bankruptcy, especially as recovery in passenger demand would take a long time.
"In the meantime, airlines need to be very careful in maintaining their cash flow to survive until the passenger demand returns to normal," he said.
https://www.thejakartapost.com/news/2020/05/18/garuda-indonesia-furloughs-contract-workers-to-stay-afloat-amid-pandemic.html
-----
King extends Aidilfitri wishes to all Muslims
18/05/2020
KUALA LUMPUR, May 18 -- Yang di-PertuanAgong Al-Sultan Abdullah Ri'ayatuddin Al-Mustafa Billah Shah extends his Hari Raya Aidilfitri greetings to all Muslims in the country.
In his Royal Address when opening the Third Session of the 14th Parliament at Parliament House today, His Majesty also wished all Muslims a blessed fasting month and reminded them to pay their zakat (tithes).
"Continue with your ibadah (worship) and don't forget to pay the zakat. Selamat Hari Raya Aidilfitri, MaafZahir dan Batin from me, the Queen and our family," said His Majesty.
Meanwhile, the King also reminded Malaysians to always take care of themselves, their families and the local environment besides avoiding mass gatherings and practicing social distance.
"I hope Malaysia will succeed in the fight against the COVID-19 pandemic. Before I end my speech, the Queen and I pray that Malaysia and its people will always be blessed and live in peace and harmony," Al-Sultan Abdullah said.
https://www.bernama.com/en/general/news.php?id=1842697
-----
CMCO: Stubborn Malaysians still attempting unauthorised interstate travel
18/05/2020
PUTRAJAYA, May 18 -- More than 1,000 vehicles have been caught attempting unauthorised interstate travel daily for the past two days and this clearly shows that many Malaysians are still stubbornly trying to 'balik kampung' (returning) to their hometowns.
Senior Minister (Security Cluster) Datuk Seri Ismail Sabri Yaakob said a total 1,175 vehicles were caught attempting interstate travel yesterday.
"Surprisingly, many are still trying to return to their villages. Yesterday, 1,175 vehicles were caught trying to cross the state borders to return to their hometowns and they were subsequently asked to turn around by the police," he said this at a daily press conference on the Conditional Movement Control Order (CMCO) here, today.
Ismail Sabri also urged the public to forget the plan for interstate travel as it would have been very frustrating to be told to turn around.
On May 16, a total of 1,248 vehicles were caught attempting unauthorised interstate travel and ordered to turn around by the police.
https://www.bernama.com/en/news.php?id=1842819
-----
MCO: Residents under administrative control in Jalan Pudu cooperating well - Police
18/05/2020
KUALA LUMPUR, May 18 -- Compliance with the Movement Control Order (MCO) in Jalan Pudu here which is under administrative control, has reached 90 per cent, with residents cooperating well with the authorities.
According to police sources, there have also been no crimes reported in the area, with heads of families allowed to go out to get food and other necessities.
"Everyone is giving good cooperation and listening to instructions from the health staff, as well as adhering to the MCO which is under administrative control in the area," said the source.
On Friday, barbed wire fencing was installed in several areas around Jalan Pudu by the Malaysian Armed Forces, while residents were requested to undergo screenings for the virus.
Checks by Bernama today afternoon found the screening process was also running smoothly, with a resident in his late 40s saying he and several other family members had been screened a few days back.
Senior Minister (Security) Datuk Seri Ismail Sabri Yaakob was earlier quoted as saying that the Jalan Pudu area was not subject to the Enhanced Movement Control Order (EMCO), but rather under administrative control, with residents still allowed to go out to get necessities.
https://www.bernama.com/en/general/news.php?id=1842820
-----
Pakistan
Sindh governor claims herbs helped him recover from coronavirus
May 18, 2020
KARACHI: Sharing his experiences in the 17-day isolation period he had undergone after suffering from Covid-19, Sindh Governor Imran Ismail said on Sunday that the coronavirus was not the disease that essentially culminated in death.
In a statement, he said that the death rate from the coronavirus was very low and its patients could defeat Covid-19 by adopting precautionary measures and standard operating procedures (SOPs) in this regard.
The governor said that herbs were helpful in curing the symptoms of coronavirus and he himself used sana maki (senna leaves) and ginger water during the quarantine and these things helped him get better.
He said there was no authentic medicine or vaccine available for this virus and "you have to be in constant contact with your pulmonologist for ensuring required oxygen saturation levels that should not go below 92, as it could be fatal".
Governor Ismail said that the isolation period provided you an opportunity of self-assessment. "You can go through various decisions, acts made and things which you were not able to perform," he added.
"The isolation period makes you more closer to the Creator and we can thank Allah for His countless blessings upon us and also seek His forgiveness for our misdeeds," he said. "Although you are even away from your loved ones, and it seems to be a solitary confinement, but it is a blessing in disguise. You can do many things which you were unable to do due to lack of time or concentration."
He said that these 17 days were tough but were a great experience which enhanced his vision and perspective about various matters. "I fully believe that there is always something behind all the things Allah gives us," he remarked.
The governor said that he was confident that the 17-day "training" would make him stronger and help him discharge his duties with even more zeal and zest.
Advising Covid-19 patients, he said that they must fight the virus with precautionary measures and keep up the hope. "This is the only way this virus could be defeated," he added.
He thanked all those who expressed their best wishes and prayed for his recovery. "I am indebted by their letters, messages and phone calls," he added.
https://www.dawn.com/news/1557883/sindh-governor-claims-herbs-helped-him-recover-from-coronavirus
------
Rs18.5 million recovered from fake BISP aid recipients in Sindh
May 18, 2020
DADU: The Federal Investigative Agency (FIA) has recovered Rs18.5 million of Benazir Income Support Programme from 150 out of 224 wives of government officers who had been illegally drawing the financial aid meant for poor women.
Most of the women were spouses of officers in grade 18, 19 and above posted in various departments of federal and Sindh governments who had withdrawn the BISP aid over several years.
The FIA had issued notices to 92 such women of Dadu and Jamshoro districts asking them to appear in FIA office Hyderabad circle on Monday, said FIA inspector Ramesh Kumar.
He said that a total of 224 errant women belonged to Hyderabad region and FIA had so far recovered Rs18.5 million from 150 and the process was under way to take back the amount from the remaining women.
He said that nine FIRs had been registered against the illegal beneficiaries of BISP. The FIA had cleared Matiari and TandoAllahyar as it had recovered the BISP amount from illegal beneficiaries in the two districts, he said.
He said that majority of women were wives of officers and around 16 had received the aid money despite being officers in both Sindh and federal governments.
He said that 78 wives of officers belonged to Dadu and 14 hailed from Jamshoro districts. The notices had been issued to them directing them to appear at FIA office in Hyderabad circle, he said.
https://www.dawn.com/news/1557875/rs185-million-recovered-from-fake-bisp-aid-recipients-in-sindh
-----
Punjab govt warns of strict action against SOP violations for Ramadan, Eid prayers
May 17, 2020
Officials in Punjab have been directed to prepare SOPs for the JumatulWida and Eid-ul-Fitr congregational prayers in the province and to ensure implementation of the guidelines set forth by the government, reported Geo News.
The directions came during a meeting chaired by Punjab Law Minister Raja Basharat to review the situation emerging in the province due to the pandemic. The meeting was also attended by provincial minister for industries Mian Aslam Iqbal, Punjab Chief Secretary Jawad Rafiq and IG Punjab police.
The chief secretary briefed the meeting that security should be provided during the Friday and Eid prayers, adding, that violation of Standard Operating Procedures (SOPs) will not be tolerated at any cost.
Rafiq further instructed officials to ensure that SOPs were being followed in the markets with the help of traders. "In case of non-compliance of SOPs, the entire market should be sealed," he said.
He added, markets are only allowed to conduct business four days a week, whereas, they will remain close for the remaining three days.
Shopping malls across Punjab will re-open from tomorrow (Monday) after the provincial government gave the go-ahead to resume operations.
Punjab Information Minister Fayyaz-ul-Hassan Chohan, on Saturday, had said the overall situation across the province was satisfactory after the government allowed people to go on about their daily businesses while ensuring the implementation of SOPs.
The minister had said that the decision to either ease or ramp up lockdown restrictions will be taken keeping in view the public's response during the coronavirus pandemic.
The information minister had added that people could carry out daily activities while making sure they are following the SOPs put in place by the government.
https://www.thenews.com.pk/latest/660108-punjab-govt-warns-of-strict-action-against-sop-violations-for-ramadan-eid-prayers
-----
Pakistani forces kill four Daesh-linked militants
May 17, 2020
Pakistani police acting on intelligence raided a militant hideout in a wooded area in the country's east killing four members of a Daesh-linked group, the country's counter-terrorism agency said Sunday.
In a statement, the agency said the overnight raid was carried out in Bahawalpur, a deeply conservative district in Punjab province where outlawed militants have a strong presence.
It said police seized weapons and bomb making material, foiling a possible attack and claimed the slain militants wanted to target places of worship in a minority community.
Pakistani security forces in recent years have carried out such raids to capture militants who fled the country's former tribal regions bordering Afghanistan. These areas for years served as safe havens for militants, including the Daesh-linked Dayesh group, which has been blamed for several militant attacks in the recent past.
https://en.abna24.com/news//pakistani-forces-kill-four-daesh-linked-militants_1037671.html
-----
Chief justice directs provinces, capital to reopen shopping malls
May 18, 2020
Haseeb Bhatti
During a hearing of a suo motu case regarding measures taken to deal with the coronavirus crisis — being heard by a five-member bench comprising the CJP, Justice Umar Ata Bandial, Justice Mazhar Alam Khan Miankhel, Justice Sajjad Ali Shah and Justice Qazi Muhammad Amin Ahmed — Justice Ahmed questioned the "logic" behind keeping malls closed.
He also told authorities to allow markets to remain open on Saturday and Sunday, as opposed to the current system in which markets are only open four days a week.
"Coronavirus does not go anywhere on Saturday and Sunday," he remarked, adding: "What is the reason behind keeping markets closed on Saturday and Sunday?"
Earlier during the proceedings, the chief justice gave these directions to the Sindh government but later said that the steps should be taken across the country.
While responding to the queries by the bench, Sindh Advocate General Salman Talibuddin said that the province was implementing all decisions made by the National Coordination Committee (NCC), which is headed by Prime Minister Imran Khan.
Earlier this month, the government had decided to ease restrictions across the country and had allowed businesses to operate with standard operating procedures (SOPs) in place. Markets — that had been closed as part of measures taken to curb the novel coronavirus — were also reopened.
The SOPs went out the window once the lockdown was eased as hordes of people headed out to markets without taking any precautionary measures.
Last month, the Supreme Court had taken a suo motu notice of the government's efforts to curb the spread of coronavirus in the country.
https://www.dawn.com/news/1558005/chief-justice-directs-provinces-capital-to-reopen-shopping-malls
------
South Asia
Afghan Muslim council calls for liberation of holy Quds
May 17, 2020
Kabul, May 17, IRNA - Afghanistan's Islamic Brotherhood council says that making efforts to liberate the holy Quds is a duty.
All Muslims should preserve unity and get stronger to achieve the goals of the [Islamic] Ummah, the Afghan council said on Sunday through a statement issued on the occasion of International Quds Day, the last Friday of the holy month of Ramadan, which falls on May 22 this year.
The statement also called on the Islamic Ummah to wave the flag of Islam as a token of endeavor to save Palestine and al-Aqsa Mosque and lower the flag of colonialism.
Afghan people will never forget the Palestinian people and Beit-ul-Moqaddas, the statement quoted Head of Afghanistan Islamic Brotherhood- SchurayeAchwatIslami Afghanistan- HabibollahHesam as saying.
Despite the critical conditions created after coronavirus pandemic that has killed over 320,000 worldwide, Afghan people will not put aside the oppression of the Palestinian people and the crimes of Israel lasted about half a century, Hesam has said.
Afghan people like others in Islamic countries are to stage rallies on International Quds Day named by the father of the 1979 Islamic Revolution in Iran, Imam Khomeini.
https://en.irna.ir/news/83790688/Afghan-Muslim-council-calls-for-liberation-of-holy-Quds
------
Acting Afghan intelligence chief discloses latest findings regarding recent deadly attacks
18 May 2020
The acting chief of the Afghan intelligence, National Directorate of Security (NDS), said the orchestrators of recent attacks have links with ISIS and Haqqani terrorist network.
Ahmad Zia Saraj told reporters that the Afghan intelligence has a system in place to exchange information with the United States and that the documents regarding the recent attacks would be shared with the U.S. side.
He also added that the Al Qaeda terrorist network and other groups have further strengthened their ties with the Taliban group following the signing of peace deal with the United States.
According to Siraj, the Taliban group has carried out at least 3,700 attacks following the signing of the peace deal with the United States.
This comes as the Taliban group rejected their involvement in the recent attacks, particularly the raid on maternity ward in Kabul and the funeral bombing in Nangarhar.
The Taliban group on Friday issued a statement demanding a transparent and impartial investigations into the deadly attacks in Kabul and Nangarhar provinces.
The group condemned the two attacks in strong words and blamed the 'criminal and malicious elements affiliated with the Afghan government' for being involved in the two attacks.
"The Islamic Emirate strongly condemned both attacks and clarified that these attacks were the work of criminal and malicious elements who are seeking to attain their malicious objectives by killing defenseless human beings," the group said in a statement.
The statement further added "The Islamic Emirate once again clarifies that it had no hand in the DashtiBarchi incident, considers it a vile, inhumane and an un-Islamic act and shares the grief of the families of martyrs and wounded of this tragedy."
This comes as the Afghan government ordered the Afghan forces to resume offensive operations against the militants, blaming the Taliban and ISIS groups for targeting the civilians, women and infants.
Dozens of people including many security personnel, women and newborn children were killed after the militants carried out a series of attacks in Kabul, Nangarhar and Laghman provinces during the course of the week.
https://www.khaama.com/acting-afghan-intelligence-chief-discloses-latest-findings-regarding-recent-deadly-attacks-08836/
------
COVID-19: The feasibility of making China legally responsible
May 18, 2020
A.B.M. Imdadul Haque Khan
The ongoing crisis of the Coronavirus (SARS-CoV-2) outbreak has acquired a multidimensional nature and has been wrecking the world economy, trade, education, health, and most importantly people's lives. Earlier, the World Health Organisation (WHO) declared the outbreak as a Public Health Emergency of International Concern on 30 January 2020 and a pandemic on 11 March 2020.
Jurist Peter Tzeng and Scholar Bellez Julia's notes corroborated by the official studies led us to believe that the Chinese government withheld key information for weeks from the world about the prevalence of the COVID-19 in Wuhan, until it was too late. But as a state party to the International Health Regulation 2005, (hereinafter "IHR"), China had two international obligations to notify the WHO within 24 hours of discovery of the new Coronavirus and to share information of such unexpected public health event under articles 6 and 7 of the IHR respectively.
Voices are emerging blaming China and claiming for damages for the alleged negligence, concealment, lack of transparency and responsibility for the global pandemic. There are demands that China should concede its international legal responsibility for the outbreak of this pandemic and compensate the countries harmed as a result. The unprecedented wide scale of the damage has prompted such assertions.
This article encompasses the potentials of holding China responsible before the International Court of Justice (hereinafter "ICJ") for its role in the pandemic and for making reparation for the damage caused thereby.
The core instrument of the international health law dealing with this pandemic is the IHR. At the time of ratifying IHR, China declared that it "applies to the entire territory of the People's Republic of China, including the territory under its administrative control".
The IHR refers inter alia to COVID-19, similar diseases "caused by a new subtype" of SARS (which led to adoption of the new IHR, 2005) and establishes obligations on the member states to share relevant information concerning COVID-19 "within 24 hours" of its discovery. However, IHR does not address whether its violation creates an obligation to compensate those states parties adversely affected by harms caused by such violation.
Article 6 of the IHR requires states to communicate expedited, timely and sufficiently detailed information about the potential public health emergencies of international concern (PHEIC) to the WHO in order to galvanise efforts to prevent a pandemic. This is one of the 'hard-and-fast' IHR obligations, i.e. those whose compliance can be attested in a practically immediate form. Furthermore, IHR Brief No. 2 requires that upon the first reports of a PHEIC within its territory, a state is required to assess within 48 hours by applying a specific algorithm contained in Annex II of the IHR(2005), called the decision instrument. It further clarifies that there are four decision criteria to be used by the States Parties in their assessment including 1) seriousness of the event's public health impact; 2) the unusual or unexpected nature of the event; 3) the risk of international disease spread; or 4) the risk of imposing travel or trade restrictions by other countries. Any event satisfying any one criterion must be assessed and any event satisfying two must be notified. Therefore, based on the IHR protocol, China had 48 hours to assess whether this "unusual event" was of the nature of the PHEIC.
It is apparent from the available information that instead of immediate assessment, Chinese authorities withheld crucial information, both nationally and internationally, to shroud in secrecy the outbreak of the virus for several weeks after it had been first discovered in Wuhan. Accordingly, it can be argued that China concealed the gravity of the situation with the WHO, and hence, violated the obligation under article 6. Articles 7 and 10 read with article 64 complement the argument as well.
On top of that, article 3 of the IHR states that the IHR principles shall be respected with full dignity, human rights and fundamental freedoms. Whereas the outbreak of COVID-19 has already been affecting the right to life and the right to health of millions of people globally which forms violations of customary international law, thus it could be argued that China breached the human rights of its citizens and millions of global citizen by not respecting the IHR and International human rights law.
Here it can be reasonably deduced that the health, security and safety of the world being the spirit of the IHR are fundamentals and common interests of nations and hence a breach of the IHR obligations triggers international responsibility under article 42 of the Articles on Responsibility of States for Internationally Wrongful Acts (ARSIWA).
It is plausible that these are grave breaches of IHR by China tantamount to international wrongful acts as defined in article 2 of the ARSIWA, which brings China within the ambit of international responsibility under article 1 of the same. Article 1 of ARSIWA articulated that every internationally wrongful act of a State entails the international responsibility of that State, and must repair it in an adequate form. On several occasions, this principle has been applied by the Permanent Court of International Justice (PCIJ), and ICJ. Moreover, it is a well-established rule of international law that an injured State is entitled to obtain compensation from the State, which has committed an internationally wrongful act, for the damage caused by it.
In order to hold China responsible, article 2 read with article 12 of the ARSIWA requires that its alleged act must not inconformity with any of its international obligation and such act is attributable to China. Obligations may arise for a State by a treaty and by a rule of customary international law. Furthermore, article 4 clarifies that the functions of a State's organs are also attributable to the state. Some of these principles got the status of customary international law. Accordingly, wrongful conduct flows from local Wuhan authorities, which is an organ of China, is therefore attributable to China.
Thus, as per article 14 of the ARSIWA, China's failure to discharge its' obligation under the IHR to expeditiously and transparently share information with the WHO constitutes an early and subsequently extended breach of its legal obligations. Consequently, China bears legal responsibility for its internationally wrongful acts (article 28 of ARSIWA) and is liable to "full reparation for the injury caused by the internationally wrongful act" (article 31of ARSIWA) in the form prescribed by article 34 of the same. Furthermore, the PCIJ in the case of Factory at Chorzów affirmed that states must endeavor to "wipe out all the consequences of the illegal act and reestablish the situation which would, in all probability, have existed if that act had not been committed". It manifestly supplements the previous argument.
Notwithstanding, the WHO Constitution does not contain any substantive obligations of international health law, there are few claims contending the interpretation or extension of its application. Firstly, under Chapter XIV of the constitution, each state party is under an obligation to submit a statistical public health report. States could invoke article 21 and 22 of the WHO Constitution as a basis for establishing the jurisdiction of the International Court of Justice (ICJ). Article 21 empowers the WHO to establish regulations like the IHR, as such, the IHR constitutes the 'subsequent practice' of the WHO Constitution; hence, the China's alleged violations of IHR obligation relates to the interpretation of the WHO Constitution. Therefore, any state willing to drag China to the ICJ could claim the breach of its IHR obligation.
An obligation under general international law depicted under article 31 read with article 26 of the VCLT is treaty must be interpreted and performed in good faith. In furtherance pursuant to article 18, a State is obliged to refrain from acts which would defeat the object and purpose of a treaty. Relying upon these obligations, a State could claim that China has defeated the object and purpose of the WHO Constitution— "the attainment by all peoples of the highest possible level of health".
Article I of the Biological Weapons Convention restricts China, as a State Party to the convention, to undertake in any circumstances to retain microbial or other biological agents, or toxins whatever their origin or method of production, of types and in quantities that have no justification for protective or other peaceful purposes. Thus, this proposition is appealing that non-reporting is a form of retention, hence violative of the Convention.
To recapitulate, China has treaty obligations and obligations under customary international law which form primary sources of international law as per article 38 of the ICJ Statute. Therefore proceedings can be brought against China under article 36 of the ICJ Statute. It is submitted that international law should not be used for political interests, rather it should be utilised as a tool to preserve the peace of the world ensuring the welfare of the human being.
https://www.thedailystar.net/law-our-rights/news/covid-19-the-feasibility-making-china-legally-responsible-1903681
-----
Mideast
Leader to Address Muslims on Quds Day
May 17, 2020
While countrywide rallies marking the International Quds Day have been canceled in Iran due to the coronavirus outbreak, a series of special plans have been devised to mark the event, an official said.
Iran's Islamic Propagation Coordination Council announced on Sunday that this year's demonstrations marking the Quds Day will not be held because of health restrictions to contain the pandemic.
However, a special event will be held in honor of Quds Day on the last Friday of the holy month of Ramadan, the statement said, adding that Leader of the Islamic Revolution Ayatollah Seyyed Ali Khamenei will address the nation on May 22, Tasnim News Agency reported.
In order to make the most of Ayatollah Khamenei's speech, no other event will be held in any part of the country in the name of Quds Day plans, according to the council.
International Quds Day is an annual event in which demonstrators express solidarity with the Palestinian people and condemn the occupation of Palestinian territories by the Israeli regime.
https://financialtribune.com/articles/national/103421/leader-to-address-muslims-on-quds-day
-----
13 holy sites you can visit on a virtual tour during Ramadan
MAY 17, 2020
Islamic countries are welcoming a different and colorful rhythm during the holy month of Ramadan, often called the "sultan of the months," but due to the coronavirus outbreak, Muslims are unable to visit sacred sites this year. With the help of technology, however, it is possible to go on a virtual journey to these places – from the Kaaba, the holiest place for Muslims at the center of Islam's most important mosque, to Al-Masjid an-Nabawi, a mosque established and built by the Islamic prophet Muhammad, and from Al-Aqsa Mosque, located in the Old City of Jerusalem and regarded as the third holiest site in Islam, to Balıklıgöl, believed to be the place where Nimrod threw the Prophet Abraham into a fire in Şanlıurfa.
One can visit the Kaaba and the Great Mosque of Mecca, commonly known as al-Masjid al-Ḥaram, that surrounds the Kaaba in Mecca, with a virtual tour. All the details of the Kaaba, the place Muslims visit during the ritual pilgrimages of the Ḥajj and umrah, which they circumambulate around seven times, and the walk between Safa and Marwa, two small hills now located in the Great Mosque of Mecca, are available to take you on a spiritual journey with the help of technology.
Al-Masjid an-Nabawi is the second holiest Muslim mosque after Masjid al-Ḥaram and is located in Medina. This sacred structure was built by the Prophet Muhammad and his companions who settled in Medina after the Hegira, their migration from Mecca in 622. Its name means "Prophet's Mosque" in Arabic. To make your own journey to Medina, also part of the ritual pilgrimage of the Ḥajj, one must only sit back and enjoy the virtual odyssey.
Believed to be the first qibla (the direction Muslims face for prayer), Al-Aqsa Mosque was built near the Dome of the Rock (Qubbat al-Sakhra in Arabic). It is located in an area called al-Haram al-Sharif (The Noble Sanctuary) in the Old City area of Jerusalem. You can perform your prayers during your virtual visit to the temple, where Muslims prayed for about 16 months after Israʾ and Miʿraj, the two parts of the physical and spiritual night journey the Prophet Muhammad undertook when Archangel Gabriel took him from Mecca to Al-Aqsa Mosque in Jerusalem before he went to heaven where he spoke to God.
You can take on a virtual journey from your home to Jabal an-Nour, which houses the Cave of Hira, believed to be the place where Prophet Muhammad received his first revelation from the Angel Gabriel.
According to Islamic legends, King Nimrod ordered that his adopted son, Prophet Abraham, be thrown into fire on the grounds that he broke idols. It is believed that a huge blaze was set in the place where the lake is located today, and Prophet Abraham was thrown down from Şanlıurfa Castle. At that moment, the fire turned into a lake and the woods into fish. For thousands of years, this lake and its fish are considered sacred in southeastern Turkey's Şanlıurfa province. A magical journey to this legend is just a click away.
MevlanaJalaladdin Rumi, one of Islam's most important thinkers, spoke from Konya to the world with poems full of love and respect. His approach is still admired today, and his works have been translated into dozens of languages. You can take a virtual journey to Mevlana'seternal resting place in central Turkey's Konya province, which has been converted into a museum.
The Shrine of Imam Ali is located in Najaf, Iraq, which houses the burial site of Ali, the son-in-law of the Prophet Muhammad, the son of his uncle, and the fourth caliph. You can visit this holy site, which also hosts the tombs of the Prophet Adam, Eve and the Prophet Noah.
You can also visit the Eyüp Sultan Mosque, one of the holiest places in Istanbul, in a virtual environment. In the garden of the mosque, there is the tomb of Abu Ayyub al-Ansari, one of the first Muslims who hosted the Prophet Muhammad at his home and fought by his side. It is known that the Ottoman sultans used to visit and gird on this holy shrine before setting out on a military campaign.
A virtual visit to Selimiye Mosque, a unique work that the imperial architect Mimar Sinan called his "masterpiece," in the Turkish border city of Edirne, is now possible during the month of Ramadan. You can see the courtyard, the tiles and all the details in the mosque as if you were really there. In fact, while going on a virtual journey to Edirne, you can also visit the Complex of Sultan Bayezid II Health Museum.
The first mosque in Turkey with six minarets, the Sultanahmet Mosque, is one of the landmarks of Istanbul. It's also known as the Blue Mosque worldwide due to over 20,000 Iznik tiles used in its construction. You can see both the outer courtyard of the mosque and all the indoor details on its virtual tour.
Construction of the Divriği Great Mosque in the central city of Sivas, which is included in the UNESCO World Heritage List, started in 1228. The mosque was built by Mengüjekid Amir Ahmed Shah, while the adjoining medical center was commissioned by his wife TuranMelik. The mosque comes to the fore with its door, reliefs and stonework in its columns. You can travel to the world-famous Divrigi Great Mosque without leaving your home.
The Great Mosque, one of the historical symbols of western Bursa province, was built by Bayezid I in 1400. The mosque is a must-see with its wooden-carved fountain and 20 domed structures. You can visit this historical mosque in Bursa, which was once the capital of the Ottoman Empire, in a virtual environment.
The mosque, which was commissioned by Suleiman the Magnificent and designed by Sinan in the most majestic years of the Ottoman Empire, was completed in only seven years. Its tiles, acoustics and lighting enabled by its 32 windows are the most important details that make this historical building special. It also has four minarets since Suleiman the Magnificent was the fourth Sultan after the conquest of Istanbul and 10 balconies (şerefe) since he was the 10th Ottoman sultan. Take a virtual journey toward the mystical world of this historical structure.
https://www.dailysabah.com/arts/events/13-holy-sites-you-can-visit-on-a-virtual-tour-during-ramadan
------
Lauder in Arab News: A new page in Muslim-Jewish relations - analysis
By SETH J. FRANTZMAN
MAY 18, 2020
A quiet revolution is taking place in the Arab world, Ron Lauder wrote. The president of the World Jewish Congress lauded efforts at tolerance that he has seen in recent year as a new page in Muslim-Jewish relations is emerging. The op-ed, which was published over the weekend in Arab News, an English-language daily based in Riyadh, Saudi Arabia is unique.
The op-ed follows other initiatives that has seen more opened to tolerance of Jews, embracing of mutual heritage and also Israeli relations with the Arab world.
https://www.jpost.com/middle-east/lauder-in-arab-news-a-new-page-in-muslim-jewish-relations-analysis-628330
-----
Ayatollah Khamenei to speak to Islamic Ummah on Quds Day
17 May 2020
Tehran (ISNA) – Deputy of Islamic Development Organization, NosratollahLotfi announced on Sunday that Supreme Leader of the Islamic Revolution Ayatollah Seyyed Ali Khamenei will speak to the Islamic Ummah on the Quds International Day via local and international radio and television channels.
"Ayatollah Khamenei will speak to the Islamic Ummah on Friday at 12:00 noon (local time). The speech will be covered live by local and international radio and television channels," Lotfi said.
He added that the coronavirus epidemic has imposed some restrictions on the rallies of Quds International Day, but the ceremonies will be held in a special way to keep the day alive.
In order to make the most of Ayatollah Khamenei's speech, no other event will be held in any part of the country in the name of Quds Day plans, the official stated.
The International Quds Day is an annual event during which demonstrators express their solidarity with the Palestinian people and opposition to the occupation of the Palestinian territories by the Zionist regime of Israel.
https://en.isna.ir/news/99022820197/Ayatollah-Khamenei-to-speak-to-Islamic-Ummah-on-Quds-Day
-----
Iran's ambassador to Syria: First Qibla of Muslims not for sale
May 17, 2020
Iran's Ambassador in Damascus JavadTorkabadi said on Saturday that the first Qibla of Muslims is not a land to be sold in international auctions and World Quds Day aims to attract Muslims' attention to the issue.
Addressing a ceremony marking 72nd anniversary of Nakba Day and coordination for holding World Quds Day, he said that the purpose of holding the World Day of Quds is to draw Muslims' attention and direct them toward forging a connection with their first Qibla, and to keep the first Qibla of Muslims away from international auctions so that it will not to be a snack for the Zionists and their supporters.
From the beginning, the Islamic Republic of Iran was targeted and economically besieged for its support for legitimate rights of the Palestinian people, he said.
Meanwhile, Chairman of the High Committee for the Public Support of Intifada and Resistance against the Zionists Mohammad Mostafa Mirou stressed the need to work for the liberation of all Palestinian lands from Zionist occupation, calling for a united movement to counter American-Zionist plans in the region and to work to keep Quds Day and the Palestinian cause alive.
https://en.abna24.com/news//irans-ambassador-to-syria-first-qibla-of-muslims-not-for-sale_1037653.html
----
Iran: Defiant Youths Target Centers of Plunder, Repression and Mullahs' Seminaries and Torch Khamenei and Soleimani's Photos in Various Cities
17th May 2020
In the early morning hours of Saturday, May 16, 2020, defiant youths in Shahrekord (Kiar) targeted the mullahs center of plunder in the city. At the same time, the repressive Bassijcenter in Karaj was targeted and its entrance was set alight.
The defiant youths also targeted the mullahs' so-called seminaries, used for recruiting and training terrorists and export of extremism, in various cities including Mashhad and Shiraz, setting fire the entrance and other parts of the sites. Other centers of repression, plunder, and export of extremism in cities of Karaj, Kiar, Isfahan, Arak, Mashhad, Shiraz, Qom, and Gorgan, were also targeted.
During the past week, defiant youths have also burned images of Ali Khamenei, regime's supreme leader, and Qassem Soleimani, the eliminated commander of the terrorist Quds Force in various cities, including Shiraz, Arak, Gorgan and Chaharmahal Bakhtiari.
https://www.ncr-iran.org/en/ncri-statements/iran-defiant-youths-target-centers-of-plunder-repression-and-mullahs-seminaries-and-torch-khamenei-and-soleimanis-photos-in-various-cities/
-----
Europe
Reading Islamic Centre aiming to raise £50,000 for Cumberland Road mosque revamp
17th May,2020
By Olivia Gantzer
The Reading Islamic Cultural Centre are taking Ramadan donations to meet their target of £50,000 to extend the building in Cumberland Road, providing new and improved facilities for those using the mosque.
A GoFundMe page states that the mosque is in need of improvements, and that money raised will: extend prayer areas on the ground and first floors; provide larger toilet facilities on all floors; a new social area in the basement; new kitchen facilities and a 'youth space'.
So far, £6,127 has been raised, with a generous £1,000 donation made anonymously this week.
Organiser Naeem Akthar is running the fundraising appeal on behalf of Reading Islamic Cultural Centre.
On the fundraising page, he wrote: "The Masjid is in dire need of improved facilities - help us update the Masjid so that we can better serve our community - from the elders to the sisters to our young ones and the future generations to come."
One donator commented: "We need better mosque facilities in all parts of Reading and I don't want to miss the opportunity to earn extra ajr during the holy month of Ramadan."
While another said: "Cumberland Road Centre, for a small Islamic Centre, is well run and very active in spreading the Deen as well as being a hub for community support across communities.
"Hopefully the expanded building will only increase their capacity to offer more services."
https://www.readingchronicle.co.uk/news/18455292.reading-islamic-centre-aiming-raise-50-000-cumberland-road-mosque-revamp/
-----
Imam Ali Islamic Center in Sweden holding online religious programs in Ramadan
May 18, 2020
TEHRAN, May 18 (MNA) – Due to the coronavirus pandemic, Imam Ali Center in Stockholm, Sweden has shifted to holding online religious rituals during the holy month of Ramadan. In an interview with Merh news agency the spokesperson of the center elaborated on its activities and rituals.
In Ramadan, Muslims across the world fast, abstaining from eating, drinking, smoking, ingesting medicine, from sunrise to sunset in observance of one of the religions' primary holidays. In Scandinavian countries, including Sweden, Muslims do Ramadan rituals, too.
In an interview with Mehr news agency, the Spokesperson of Imam Ali CenterAkilZahir provided some information about the center and its activities in Ramadan.
The association organizes its activities in accordance with Islam and Swedish law. The Center maintains regular activities such as daily communal prayer, Friday prayer, psalm reading and other religious and cultural celebrations that interest Muslims, especially Shia, in Scandinavia.
The Center aims, inter alia, to create a more friendly relationship and cooperation with various institutions, including government, to facilitate the integration of Muslims into Swedish society.
The Imam Ali Islamic Center also has an administrative department that offers religious ceremonies, divorces, certificates, and other services. The Center offers education for children and adolescents, as well.
We have no exact figures to tell us about the number of Muslims in Sweden. This is because it is forbidden to ask citizens about their faith.
But according to some estimations, there are up to 800,000 Muslims in Sweden. We believe that at least 30 percent of them are Shi'ite Muslims.
In recent decades, Muslim organizations have been able to establish themselves here in Sweden. They have their mosques and associations that hold Islamic activities.
In our congregation, we coordinate various religious programs, cultural ceremonies, education, children activities, and other activities.
In previous years, we used to hold daily programs in Radamn when we recited the Qur'an, read the dua (a prayer of supplication or request) and answered Ahkam questions. During the second half of the holy month of Ramadan, the number of programs used to increase as we celebrated Imam Hassan's (A) birthday, observed the Qadr nights, and hold a special program in connection with the Imam Ali (A) martyrdom.
Our programs have always been held in three languages at the same time, in Persian, Arabic, and Swedish. Several thousand people used to participate in these programs.
We are having several activities and programs online and in the said languages. We try to keep in touch with our members as before.
We are under specific conditions due tot he outbreak right now and we must get adapted to it. It is necessary to use the resources that are available in a good and efficient way.
We are informed of the great mosques and Islamic associations in other Scandinavian countries. We sometimes get in touch with them and try to exchange experiences. An example of collaboration has been about prayer times in northern Europe, which has been a challenge for Muslim organizations in this area
https://en.mehrnews.com/news/158640/Imam-Ali-Islamic-Center-in-Sweden-holding-online-religious-programs
-----
North America
Conservatives Are Mad the Pope Prayed with Muslims and Jews To End COVID-19
BY VAL WILDE
MAY 17, 2020
For most of the world, last Thursday was just another Thursday in a series of pandemic-era Thursdays that last approximately a decade each, not so different from every other day.
But for Pope Francis and the other faith leaders from the Higher Committee of Human Fraternity, it was a day to petition God for the end of the COVID-19 crisis by means of prayer, fasting, and charitable works.
Lest you suspect there's something more sinister at play here — and that's fair enough, we've all had ample reason to mistrust the Church hierarchy in the past — here's the call the Committee actually addressed to "fellow believers in God, the All-Creator" by way of the Holy See Press Office:
[W]e call on all peoples around the world to do good deeds, observe fast, pray, and make devout supplications to God Almighty to end this pandemic. Each one from wherever they are and according to the teachings of their religion, faith, or sect, should implore God to lift this pandemic off us and the entire world, to rescue us all from this adversity, to inspire scientists to find a cure that can turn back this disease, and to save the whole world from the health, economic, and human repercussions of this serious pandemic.
As part of its efforts to realise the objectives of the Document on Human Fraternity, the Higher Committee of Human Fraternity suggests announcing Thursday May 14th, 2020, a day for fasting, prayers, and supplications for the good of all humanity.
For them, the fundamental problem with all of this is that Pope Francis is treating Jews and Muslims as equally valid human beings instead of emphasizing how very much they're going to hell.
That was the objection expressed by LifeSite News correspondent Jeanne Smits, who complained that Jesus was "totally absent from this global prayer call." Sure, Christians were included, but that wasn't good enough as long as other religions weren't explicitly excluded:
If this is not an actual global unified religion in action, it is beginning to look more and more like it. The call for prayer, fasting, and 'good deeds' for an end to the pandemic speaks not of man's waywardness and disregard of divine law, nor of a call to penance and search for the true God: only for inspiration for a "cure," that God — whomsoever He may be — should "rescue us from all this adversity"… Since the beginning of the Chinese coronavirus pandemic, mainstream voices have been raised, telling us that we were moving towards a new civilization of empathy and solidarity.
Proving that there's no one so zealous as a convert, former Anglican bishop Gavin Ashenden told extremely conservative Catholic outlet Church Militant that the very idea of praying with people from other faiths is "nothing less than blasphemy for a Christian":
[The Higher Committee of Human Fraternity] makes the second error of presuming that truth does not matter. Jesus taught us that truth consisted in Him alone and His relationship with the Father. But the Committee describes 'God' as 'All-Creator' — superimposing Allah onto Yahweh. Even Wikipedia offers a choice of 135 wholly different notions of Creator God to choose from.
Interviewed by the same outlet, British deacon Nick Donnelly took it that one step further, accusing other faiths of literal devil worship:
The only 'spiritual' union that Christians recognize is the communion of the Holy Spirit with those baptized into the Body of Christ. He's asking us to unite ourselves on the level of spirit with those who worship idols and demons or who venerate false prophets that deny the divinity of Christ.
Nor are these objections solely the province of vocal individuals. We would be remiss to ignore the über-conservative Society of Saint Pius X, known for spreading anti-Semitic propaganda. They described the prayer day as the "poison fruit" of the pontiff's willingness to dialogue with Muslim clerics.
That's right, Muslim clerics in particular. Although Francis' failure to adopt high-pressure hellfire-based sales tactics against people from other religions technically applies to everyone from Buddhists to Wiccans to Unitarian-Universalists, virtually every objection to the interfaith prayer event mentioned Allah, Muhammad, Muslims, or Islam.
There's an argument to be made that it's a natural point of focus, since the Higher Committee of Human Fraternity was created in Abu Dhabi, capital of the United Arab Emirates, and has a majority Muslim membership. But it's difficult to ignore the whiff of Islamophobia and anti-Arab bigotry flavoring the objections of most traditionalist critics.
The best example might be traditional Catholic blog Rorate Caeli, an outlet that appeared in most news outlets' accounts of the controversy even though it didn't bother releasing any analysis on the subject. Instead, the focus was their Twitter account, where they encouraged traditionalists to mark the pope's "Fast with Infidels" by feasting on pork to mock Jewish and Islamic dietary restrictions.
Feasting on pork is fine, if that's what you enjoy. But feasting on pork against somebody is weirdly and unnecessarily spiteful. It's like gorging on KFC only because you spoke to a vegan.
How can we not pray to the Father of all? Each one prays as they know how, as they can, according to what they have received from their culture. We aren't praying against each other… We are united in humanity as brothers and sisters.
For the traditionalists, that's entirely the problem. All these objections to the Day of Prayer serve as a kind of proxy for traditionalists' objections to the very existence of the Higher Committee of Human Fraternity, and to the challenge it presents to Christian supremacy — the notion that Christians are inherently better, more moral, and closer to truth than everybody else on the planet.
https://friendlyatheist.patheos.com/2020/05/17/conservatives-are-mad-the-pope-prayed-with-muslims-and-jews-to-end-covid-19/
------
US: Muslims in Dearborn deliver food to hospitals during Ramadan
by Hilary Beaumont
11 hours ago
Since the Islamic holy month of Ramadan began in late April, Muzammil Ahmed's doorbell has been ringing nonstop. Every year for Ramadan, the Muslim community in Dearborn, Michigan - one of the largest in the United States - shifts into cooking and baking mode, donating food to hundreds of people. This year its members have been dropping off food for Ahmed to bring to the medical workers on the front lines of the COVID-19 pandemic at Beaumont Wayne Hospital, where he is chief of staff.
Early in the pandemic, Ahmed's hospital was converted to serve only COVID-19 patients due to its large intensive care unit. The group the hospital is a part of has handled about 70 percent of Michigan's coronavirus patients.
Ramadan is normally a time for prayer, charity, community and spending time with family, but this year Muslims across the world are celebrating in isolation. For Muslim doctors on the coronavirus front lines, many of whom fast during the month, the isolation can become even more daunting.
Since Michigan locked down on March 24, Ahmed has practised social distancing from his friends and colleagues. Responding to the pandemic has increased his anxiety and stress, and seeing his friends and family would normally help him cope. He talks to them over the phone and Zoom, but it is not the same.
"Ramadan has a lot to do with sacrifice," Ahmed said. "We've been deprived of those things for the past month now, and as Ramadan kicks in you realise, wow, in some ways the last month has been a form of Ramadan."
Dearborn is hosting a Ramadan lights competition in hopes of spreading joy and bringing back some of the holiday spirit during the coronavirus pandemic [Carlos Osorio/AP Photo]
Earlier this month, a woman in her senior year of high school rang his doorbell, placed a box of Ramadan cookies on the small table outside, and stepped back. They chatted about where she wants to go to college, standing about eight feet (2.4 metres) apart.
"It's a great way to replace the usual breaking of the fast that we have for Ramadan," Ahmed told Al Jazeera. "It's just a great way to say, 'hey, we're thinking of you.'"
The donation of food to hospitals during Ramadan grew out of an earlier effort to deliver personal protective equipment (PPE) to doctors and nurses on the front lines.
When the pandemic began, Dearborn City Council President Susan Dabaja, who is Muslim, posted on Facebook asking if people would be willing to donate masks, gowns and other PPE that hospitals desperately needed. Within minutes, a flood of people contacted her offering to donate.
"Initially, when this pandemic started, it was about getting medical supplies that I knew our first responders and medical professionals really needed, to make sure they were safe while treating our loved ones," Dabaja said.
"The community's been great," said Ahmer Rehman, a doctor who treats COVID-19 patients in the ICU of two Dearborn hospitals. "They've been very aware that the government response has been slow and the hospital responses have been slow. They've been ordering all kinds of masks from companies and shipping them to the hospitals, dropping them off."
Ramadan has a lot to do with sacrifice. We've been deprived of those things for the past month now, and as Ramadan kicks in you realise, wow, in some ways the last month has been a form of Ramadan.
Every two-to-three hours they had a new COVID-19 patient who needed a ventilator, he said. They would stabilise one patient and another would arrive. "We were OK with ventilators, but we were running short on the sedative medications to keep them in induced comas," he said.
There were not enough beds. "At one hospital, we held 25 patients, generally. The other hospital held about 16, and so we had to go up in numbers by about 50 to 100 percent," he said.
There were not enough dialysis machines to treat patients with kidney failure. There were not enough nurses; usually, there is one nurse for every two patients, at the peak of the pandemic, there was one nurse handling four patients, working 18-hour shifts. "They were exhausted," Rehman said.
One night, the Beaumont Wayne hospital ran out of clean plastic gowns. Nurses worked all night to clean the reusable gowns with disinfectant wipes.
"When I came in, not only were they out of the gowns but they were out of the wipes," Rehman said. The next morning they were able to sterilise enough gowns to keep up with demand.
That is when the Dearborn community stepped in. As Ramadan began, individuals and local restaurants continued the effort by donating food to hospitals for all to enjoy and for those who are fasting to have something for iftar.
"All kinds of groups are sending food over, to the point where we have some food that's not being eaten because there's so much coming in at once that it sits around for a while," Rehman said, adding that he is grateful for the food, especially when he is on night shift.
The number of COVID-19 patients has significantly declined in recent and healthcare workers are feeling a weight lifted from their shoulders.
Rehman says hospitals are overstaffed with medical workers now, anticipating that numbers will increase again as Michigan reopens, which may happen later this month. The state's stay-at-home order has been extended to May 28.
"As people start coming out, they are going to be exposed more to this. And there will be an uptick in cases, but hopefully, not to the level it was before," he said.
Ahmed, who is also chairman of the Michigan Muslim Community Council, said they are trying to find alternative ways to celebrate Eid. A holiday this big demands more than a Zoom meeting. He is looking forward to seeing Dearborn residents compete in a local contest to see who has the best Ramadan decorations.
"The hardest thing is to find ways to have meaningful connections," Ahmed said. "We're going to have to ask people to be patient, and I guess this would be one of the sacrifices of Ramadan."
https://www.aljazeera.com/indepth/features/muslims-dearborn-deliver-food-hospitals-ramadan-200517204752393.html
------
How churches, mosques and temples will reopen in Massachusetts after coronavirus shutdowns
Today 5:30 AM
Massachusetts is implementing its first phase of reopening the state economy following the shutdown of non-essential business to curb the spread of coronavirus.
In guidance shared with Massachusetts city and town leaders Sunday, part of the phase one of the reopening plan was revealed: places of worship, manufacturing and construction.
MassLive learned of the plan ahead of Gov. Charlie Baker's planned announcement on Monday. More details are expected to be shared on Monday.
In the "start" phase, limited businesses will be able to reopen with severe restrictions. In the second phase, additional industries, previously designated as non-essential, are expected to resume operations with restrictions and capacity limits.
The "vigilant" phase will see more businesses begin to reopen with guidance, and in the fourth phase, the development of a vaccine or a recommended treatment for the viral respiratory infection is expected to allow for the start of a "new normal."
If the state sees a rise in cases of the illness as well as hospitalizations, according to Baker, the commonwealth could return to an earlier phase of the reopening plan and issue new business restrictions.
Gov. Charlie Baker ordered the shutdown of all non-essential businesses in March, only allowing essential services to continue operates as state public health officials sought to curb the spread of the virus.
Social distancing: Places of worship must limit their occupancy to 40% of their maximum allowed number. Faith leaders are mandated to limit the number of attendees.
Families part of the same immediate household may remain gathered together during services. Those of different households should stay at least six feet apart and are not permitted to sit together. Places of worship with dedicated seating should block off specific seats to encourage social distancing.
To limit person-to-person contact, the state issued recommended guidelines or communal rituals including giving out pre-packaged communion and sacraments.
"Places of worship may refuse entry to a person who refuses to wear a face covering or mask for non-medical reasons," the state guidance states.
Masks are not mandated for children under the age of five. Children under the age of two should not wear a face covering. Children between the age of two and five may wear one if their parent or guardian believes they reasonably can comply with the order.
Places of worship must have access to handwashing stations, including soap and running water. They are encouraged to provide hand sanitizer.
Financial donations: Churches, mosques and temples are encouraged to seek contributions in new ways. Instead of passing around trays and baskets for cash or check donations, they are encouraged to seek donations by mail or online.
Illness: A member of the faith who recently attended service tests positive for COVID-19, the place of worship must undergo a deep cleaning.
https://www.masslive.com/coronavirus/2020/05/how-churches-mosques-and-temples-will-reopen-in-massachusetts-after-coronavirus-shutdowns.html
------
Warrior dog in Osama bin Laden raid refused his SEAL Trident
by Paul Bedard
May 17, 2020
If the working dogs that train with U.S. Navy SEALs could earn the group's fabled Trident pin, certainly Cairo would have one. A veteran of many missions and nearly killed in one, the Belgian Malinois was there for the raid on Osama bin Laden's home with his handler, Will Chesney.
But they don't get them, so, when Chesney retired and decided to write about Cairo in No Ordinary Dog, he included a Trident on the cover.
"He was a special boy," Chesney said of his late pup, who also helped save his life. "He definitely did deserve the Trident."
But as the book about Cairo and Chesney's personal battle with post-traumatic stress disorder went to press, the Navy asked St. Martin's Press to remove it, and they did for the second printing of the book. St. Martin's is an imprint of Macmillan.
Now, Chesney is trying to reverse that decision with the help of his business partner, retired SEAL Mark Semos, a producer for CBS's SEAL Team. Semos feels Chesney is being "singled out" because he was on the bin Laden raid, though he added that there are no "secrets" unveiled in the book.
The two aren't angry or even upset with the Navy. They just want to show the symbol of achievement on their book in subsequent printings.
Chesney said that it will help to dra -in readers. He noted that before joining the service, he read every book about SEALs he could find. He also stressed that Cairo was given special attention from former President Barack Obama in a meeting after the president said he wanted to see both after the mission succeeded. Cairo was the only member of the raid whose name was initially released.
And Semos said it would help sales. For proof, they cited the dozens of items online with the Trident on it, including books and clothing.
"The Navy and SEAL community object to the use of the Trident on book covers for marketing purposes, as the symbol is a rare and singular honor within the Navy. Regarding 'No Ordinary Dog,' the Navy sent a letter to Macmillan publishing indicating that the Trident is a registered trademark and asking it to remove it from the cover of this book. Macmillan complied.
"As the Navy becomes aware of new Trident trademark uses by book publishers, we communicate this position to them, which is a continuous effort that we apply equally across the board. Thus we have sent similar requests like the Macmillan letter to other major publishers always asking them to remove the Trident from the cover of all current and any future publications.
https://www.washingtonexaminer.com/washington-secrets/warrior-dog-in-osama-bin-laden-raid-refused-his-seal-trident
------
Africa
Move to reopen mosques amid COVID-19 pandemic not wise enough —MURIC
May 18, 2020
By Ripples Nigeria
The Muslim Rights Concern (MURIC) has cautioned against the reopening of mosques amid the outbreak of the COVID-19 pandemic, stating that the move to do so was not wise enough.
MURIC in a statement issued on Monday by its Director, Professor Ishaq Akintola, said that everyone must be on the side of caution regarding the dangerous COVID-19 virus whose cure has not been found yet.
The Islamic body which was reacting to the reopening of mosques on the orders of Borno, Gombe, and Zamfara state governments suggested that places of worship should remain closed until the Federal Government (FG) declared the country safe from the pandemic.
The statement by MURIC read in detail; "There are reports that some state governments have given the green light for the opening of mosques. This may not be wise enough. We must be on the side of caution regarding this dangerous virus whose cure has not been found. Muslims should not rush to their graves. We suggest that mosques should remain closed until the Federal Government (FG) declares the country safe from the pandemic.
"We know that lockdown hurts. But so does it hurt everywhere else. We urge Muslims to exercise patience. Those who die can never be seen again. Neither can they be part of a safer and better Nigerian society when the lockdown is finally lifted. We must join hands with the rest of humanity to defeat COVID-19. No single community, group or country can fight the battle alone.
"Reopening mosques at this time can be interpreted as withdrawing from the battlefield and leaving the rest of the country to face the fight alone. It may also be interpreted as disobedience to FG's restriction on crowding.
"MURIC reminds the governments and people of Borno, Gombe and Zamfara states whose population is predominantly Muslim of Allah-given fundamental right to life. This right should not be violated through any hasty yet wrongful policy decision.
"The pattern of congregating in mosques may even be more prone to infections than some other places. Unlike others who assemble for worship once in a week or once in a year, Muslims congregate five times daily for the five daily prayers, once weekly for jumu'ah prayer and twice annually for the festivals. It is noteworthy that the last three draw mammoth crowds.
"Though kaleidoscopic and symptomatic of our unity and strength, the manner of our worship in congregation where we stand shoulder to shoulder and feet to feet in rows that allow no gap whatsoever also renders Muslim worshipers most prone to the spread of infectious diseases particularly during a pandemic like this. Our prostration where all heads touch the ground simultaneously and rise together gives cause for concern about the likelihood of one worshiper breathing almost directly into another's nostrils. A pragmatic and realistic approach is therefore necessary on the issue of reopening of mosques. It is bad enough that there is fire on the mountain. But it may be worse if we use our hands to draw the fire to our rooftops.
"It is therefore our considered opinion that the authorities in the three states (Borno, Gombe and Zamfara) should reconsider their decisions particularly before the Id al-fitr festival prayer which is fast approaching. We remind the three states that the Nigerian Supreme Council for Islamic Affairs (NSCIA) had advised Muslims against congregations until further notice. We therefore suggest that the leadership of the Nigerian Muslim community, namely, the Sultan of Sokoto and President-General of the NSCIA should be consulted before the decision to reopen mosques can be implemented," it added.
https://www.ripplesnigeria.com/move-to-reopen-mosques-amid-covid-19-pandemic-not-wise-enough-muric/
-----
LASG gives conditions to reopen churches, mosques, others
May 18, 2020
The Governor of Lagos State, Mr BabajideSanwo-Olu, has said government officials will be visiting churches, mosques, companies to evaluate their preparedness to fully reopen.
He noted that with the size of the state's economy and numbers of businesses operating in its domain, the government could not afford to keep people and businesses on lockdown permanently.
The governor said in the coming days, officials from the Lagos State Safety Commission and Lagos State Environmental Protection Agency would be assessing the readiness of the players in identified sectors for supervised operations.
He said, "We are at a level where we are reviewing the other arms of the economy. In the coming days, we will be starting what we call Register-to-Open, which means all players in the restaurant business, event centres, entertainment, malls and cinemas, will go through a form of re-registration and space management.
"There is a regulation that will be introduced to supervise this move. We will be coming to their facilities to assess their level of readiness for a future opening. I don't know when that opening will happen in the weeks ahead, but we want these businesses to begin to tune themselves to the reality of COVID-19 with respect to how their work spaces need to look like.
"We will be mandating LASEPA and safety commission to begin the enumeration process and the agencies will be communicating with all relevant businesses and houses in the days ahead. I must, however, caution that this should not be misinterpreted as a licence for full opening; it is certainly not. The state's economy is not ready for that now."
He stressed that social distancing and hygiene would be fully considered in determining whether mosques and churches could re-open.
"We are reviewing and considering how the phased unlocking will happen. If we see huge level of compliance, then it can happen in the next two to three weeks. If not, it could take a month or two months. It is until we are sure all these players are ready to conform to our guidelines," the governor said.
Sanwo-Olu urged businesses, religious houses and residents to maintain the status quo, while the state worked out modalities for full re-opening.
He also disclosed that all the 10 members of staff of the Government House who tested positive for the coronavirus had fully recovered and returned to their beats.
https://punchng.com/lasg-gives-conditions-to-reopen-churches-mosques-others/
-----
Eight injured as rival sects clash over mosque leadership
May 17, 2020
James Azania
No fewer than eight people, last Friday, sustained serious injuries, in clashes between members of two rival Islamic sects over leadership at the Central mosque in Okene, Kogi State.
The clash was said to be a spillover of lingering crises between the Tijjaniya and Sunni sects, over who occupies the position of Chief Imam, following the demise of the former occupant of the position, Alhaji Musa Galadima, who died in April 2019.
According to an eyewitness, Friday's clash at the Central mosque reared its head few minutes to the commencement of the Friday Juma'at prayer, when one Mallam Bello Hussaini, a member of the Sunni sect allegedly addressed Sheik SalihuAbere as the Acting Chief Imam, when he entered the mosque.
The statement was said to have irked one Momoh Jimoh, a member of the rival Tijjaniya group, who demanded an for apology from the Sunni member, "for being rude to the Chief Imam."
Altercation however ensued and the Sunni members allegedly pounced on Jimoh, beating him to stupor leaving him with serious injury on the head.
The crises was said to have lasted for close to an hour before policemen and soldiers came to the rescue, bringing the situation under control.
"To the surprise of many people in the mosque, Bello Hussaini stopped his pre-hutuba Sermon and announced that the acting imam is around instead of him to said the Chief Imam. This was the cause of the mayhem that resulted to fight where Ibrahim Ochi, Ibrahim Ojivo , Momoh Jimoh and one other person was severely injured," he said.
He called on the state government and the Ohinoyi of Ebiraland, Dr Ado Ibrahim to do the needful by turbaning Sheik SalihuAbere, who he said has been chosen to occupy the position of the Chief Imam of Ebiraland, to end the bickering surrounding the position.
Reacting on the allegations leveled against Sunni group, Ustaz Bello Hussaini, who was at the centre of the saga, said that Governor Yahaya Bello, last year, directed that Sheik SalihuAbere occupy the position of Chief Imam, in acting capacity, saying since then there was no further statement that confirming him as substantive Chief Imam.
Governor Bello is said to have summoned the Ohinoyi of Ebiraland, the five Ohi(s) in the district and eminent personalities from the zone to Lokoja with a view to finding lasting solution to the crises.
https://thenationonlineng.net/eight-injured-as-rival-sects-clash-over-mosque-leadership
------
Libya: Army hits Haftar's air defense system, jammer
EnesCanli
18.05.2020
The Libyan army on Monday shot down another air defense system of warlord Khalifa Haftar southwest of the capital.
Libyan military spokesman Col. Mohamed Qanunu said in a statement that the airstrikes were carried out against Haftar militias south of the city of Sirte.
A Russian-made Pantsir-type air defense system supplied by the United Arab Emirates (UAE) and an electronic jammer were destroyed in the airstrikes, Qanunu added.
On Sunday, the Libyan army shot down another air defense system and a drone in airstrikes against Haftar militias at Al-Watiya airbase.
Al-Watiya is seen as a key airbase, second only to Mitiga Airport. It was captured in 2014 by Haftar, the leader of illegally armed forces in eastern Libya, who used it as his headquarters for operations.
Haftar stepped up attacks on civilians this May, as the Libyan army recently gained an advantage and inflicted severe losses on his militants.
The government has been under attack by Haftar's forces since April 2019, with more than 1,000 killed in the violence. It launched Operation Peace Storm on March 26 to counter attacks on the capital.
Following the ouster of late ruler Muammar Gaddafi in 2011, Libya's government was founded in 2015 under a UN-led political deal.
https://www.aa.com.tr/en/middle-east/libya-army-hits-haftars-air-defense-system-jammer/1844598
------
URL: https://www.newageislam.com/islamic-world-news/dying-migrant-forced-truck-yakoob/d/121882
New Age Islam, Islam Online, Islamic Website, African Muslim News, Arab World News, South Asia News, Indian Muslim News, World Muslim News, Women in Islam, Islamic Feminism, Arab Women, Women In Arab, Islamophobia in America, Muslim Women in West, Islam Women and Feminism