New Age Islam News Bureau
28 Jan 2020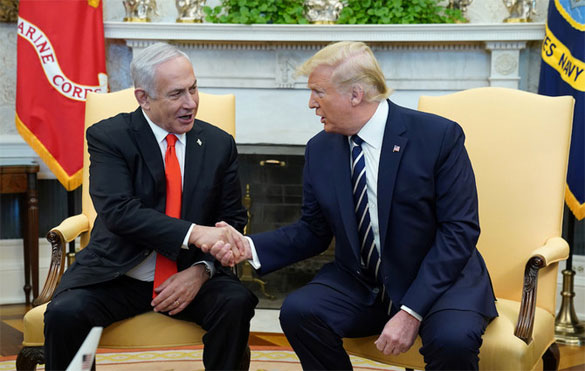 President Donald Trump shakes hands with Israeli Prime Minister Benjamin Netanyahu in the Oval Office of the White House, Monday. (AP)
-------
• Thousands Protest In US Cities against India Citizenship Law
• Israel's Gantz Praises Trump Peace Plan, Pledges to Implement It after Poll
• Gazans Rally against US's So-Called Deal of Century
• Polygamy, Nikah Halala Laws Based On Quran, Says AIMPLB
• Those Applying For Citizenship under CAA Must Provide Religion Proof: Officials
• Islam Meets Ancient Egypt: The Mosque Located inside Luxor's Iconic Temple
• Why 'Islam' Is On Malaysian Muslims' Identity Cards
• Trial in Absentia against Principles of Natural Justice, Rules LHC
• Taliban Say Frustrated By Additional Demands of US
• France Judges Dead Jihadists but Refuses to Repatriate the Living
• Twenty Soldiers Killed in Mali Attack, Government Says
North America
• Donald Trump to Unveil Middle East Peace Plan That 'Makes Sense For Everybody'
• Thousands Protest In US Cities against India Citizenship Law
• Trump upbeat on peace plan despite Palestinian rejection
• Judge OKs Classified Information Status in Terrorism Case
• Scope of right-wing extremism vexed security officials, documents show
• Muslim ban: US House to vote on bill to repeal Trump's travel ban
• Muslim Republican al-Aqidi challenges 'anti-American' Ilhan Omar for House seat
• Pentagon confirms airplane crash in Afghanistan; denies Taliban shoot-down
• US army to investigate plane crash in Taliban-held area
• Democrats challenge Trump's travel ban on anniversary
--------
Mideast
• Israel's Gantz Praises Trump Peace Plan, Pledges to Implement It after Poll
• Gazans Rally against US's So-Called Deal of Century
• Palestinian Demonstrators Protest Against Trump's 'Deal Of Century'
• Palestinians reiterate rejection of US 'deal of the century'
• Deal of century meant to protect Trump from impeachment: Palestinian PM
• Iran's IRGC commander: No US commander will be safe if Iranians are threatened
• Trump discusses Syria, Libya with Turkey's Erdogan: White House
• Yemeni fighters score major victories against Saudi-backed forces
• Yemeni forces free 64 Saudi-paid child soldiers under UNICEF supervision
• Turkey ends rescue efforts after earthquake toll reaches 41
• Yemen's Marib province safe from Houthis, says governor
--------
India
• Polygamy, Nikah Halala Laws Based On Quran, Says AIMPLB
• Those Applying For Citizenship under CAA Must Provide Religion Proof: Officials
• Identity Crisis Grips Indigenous Muslims Of Assam
• So Many Stories Of Communal Harmony From Kerala, Hindu Wedding In The Mosque Is One Of Them
• Not a Single Indian Muslim Will Be Affected By Either CAA, NRC: Defence Minister
• Sharjeel Imam, JNU Student Accused of Sedition, Arrested In Bihar
• Brother of JNU student Sharjeel Imam, accused of sedition, detained in Bihar
• 'No referendum in J&K, give us what Constitution guarantees': PDP's Muzaffar Baig
• Congress plans protest against CAA, NRC in Budget Session
• Will clear Shaheen Bagh within one hour if BJP forms govt in Delhi, says Parvesh Verma
• Gloves off, CM Arvind Kejriwal and Amit Shah Attack each other over Shaheen Bagh
• Terrorist killed, soldier injured in Kulgam encounter
• Pak must take demonstrable steps against terror groups: Defence minister
• Lashkar-e-Taiba terrorist arrested from J-K's Baramulla
• Any fear of 'Muslim takeover in India' baseless: Abhijit Banerjee
• Popular Front of India mobilised money to finance anti-CAA protests, says ED note to MHA
• BJP rakes up Sonia Gandhi's citizenship after Cong slams govt over Padma Shri to Adnan Sami
--------
Arab World
• Islam Meets Ancient Egypt: The Mosque Located inside Luxor's Iconic Temple
• Saudi FM Says Israeli Passport Holders Cannot Visit Kingdom
• Syrian army troops clear more towns of Takfiri terrorists in Idlib province
• Egypt sentences dozens to life imprisonment for joining Daesh affiliate
• Saudi FM says Middle East 'safer' after US assassination of Gen. Soleimani
• In Syria, U.S. Steps Up Islamic State Operation, But For How Long, No One Knows
• Syrian government forces capture towns in advance on rebel-held Idlib
• Iraqi president: Stability after years of fighting ISIS could easily unravel
• ISIS leader's confession gives gruesome look into atrocities
• Sheikh Hamdan joins Arab and Muslim fans in mourning Kobe Bryant's death
• Iraq PM in call with Pompeo stresses need for de-escalation
• Diplomats in Iraq condemn excessive violence, urge credible probe into deaths
• One protester killed in south Iraq as anti-govt tents torched
• PM Abdul Mahdi urges US to de-escalate tensions in region
• Turkey helping terrorists conduct false-flag chemical attacks in Idlib, Aleppo: Syria
--------
Southeast Asia
• Why 'Islam' Is On Malaysian Muslims' Identity Cards
• E-Cigarettes, Vaping Haram, Says Indonesian Muslim Organisation
• Indira Gandhi to sue IGP for RM100m over failure to find daughter kidnapped by convert father
• The Peculiar Case of Viktor Orban's Visit to Indonesia
• 'It's dangerous': Sinaga case fuels LGBT backlash in Indonesia
--------
Pakistan
• Trial in Absentia against Principles of Natural Justice, Rules LHC
• Pakistan invites Malaysia to acquire divested shares
• PML-N may table no-trust motion against Usman Buzdar
• Iran offers Pakistan joint training for ANF to fight drug trafficking
• Sharif Al Mujahid: Authority on Pakistan movement
• Many cabinet members worried about inflation: PM
• PPP questions PM's foreign visits at friend's expense
• SC urged to set principles for filing references against judges
• 10,000 policemen deputed for Chinese security 'vulnerable' to coronavirus
• Rana Sanaullah expects Shahbaz return in March
--------
South Asia
• Taliban Say Frustrated By Additional Demands of US
• U.S. Air Force E-11A plane crashed in a Taliban held-territory in Afghanistan
• Ariana Afghan Airlines passenger plane crashes in Afghanistan's Ghazni
• Taliban claim responsibility for downing 'US aircraft' in Afghanistan's Ghazni
• Afghan forces launch air, ground attacks on Taliban, killing 51
• Grenade Attack on Afghan Wedding Injures 20, Including Kids
• Taliban kill 11 in Afghan police base attack
• 4 militants killed in S. Afghan airstrike
• Taliban attack Afghan police base, 11 killed
• Women, children among seven killed in Afghan gov't air raids
--------
Europe
• France Judges Dead Jihadists but Refuses to Repatriate the Living
• Frenchman jailed for 22 years for ISIS recruiting
• Ofsted 'Draconian' As School Rating Based On Islamic Leaflet Find
• Germany seeks UN resolution to enforce Libya cease-fire
• Britain should work to save Iran nuclear deal, says former ambassador
• Buckingham Palace sword attacker who supports ISIS 'planned to kill non-Muslims after he left jail'
--------
Africa
• Twenty Soldiers Killed in Mali Attack, Government Says
• Three Jordanians Charged for IS-Inspired Attack in Court
• Jordan Charges Stabbing Attack Suspect with Terrorism
• Libya's Haftar Makes Push in Western Libya
• Turkey Pledges To Prevent Libya from Becoming 'Playground' Of Terrorists
• Christian Authorities Worry About Being Targeted by Boko Haram
• Tunisia's Ennahda rejects new government proposal
• Turkey sent ISIS to Libya who then tried to get to Europe: LNA General
• Somali military kills eight al-Shabaab militants
Compiled By New Age Islam News Bureau
URL: https://www.newageislam.com/islamic-world-news/donald-trump-unveil-middle-east/d/120914
--------
Donald Trump to Unveil Middle East Peace Plan That 'Makes Sense For Everybody'
January 27, 2020
WASHINGTON/AMMAN: Donald Trump's long-awaited Middle East peace plan "makes a lot of sense for everybody," the US president said on the eve of its historic unveiling today in Washington.
Trump conceded that his plan was unlikely to be welcomed by the Palestinians, but he believed they would come round.
"They probably won't want it initially," he said. "But I think in the end they will ... it's very good for them. In fact it's overly good to them. So we'll see what happens. Without them, we don't do the deal and that's OK."
"But we think there's a very good chance that they're going to want this."
An agreement between Israel and the Palestinians was crucial to achieve overall peace in the Middle East, Trump said.
"They say it's probably the most difficult deal anywhere and of any kind to make," he said. "When I was back in the business world, when a deal was tough, people would jokingly refer to it as 'tougher than Israel and the Palestinians getting together.' This is what I heard all my life. We have something that makes a lot of sense for everybody."
Trump spoke after talks in the White House with Israeli Prime Minister Benjamin Netanyahu, and before a meeting with Israeli opposition leader Benny Gantz. The two men face off in a parliamentary election in March, and Netanyahu is also seeking immunity from prosecution for bribery, fraud and breach of trust.
The Palestinians say Trump's plan will favor Israel, and undermine their right to statehood.
Chief Palestinian negotiator Saeb Erekat said the Palestine Liberation Organization reserved the right to withdraw from the Oslo Accords if Trump went ahead with his plan, which would "turn Israel's temporary occupation into a permanent occupation."
Palestinian Prime Minister Mohammad Shtayyeh said the plan "doesn't constitute a basis for resolving the conflict," violates international law and "comes from a party that has lost its credibility to be an honest broker."
Dr. Hanan Ashrawi, a member of the PLO executive committee, told Arab News that Trump's optimism was "delusional," and "shows a warped understanding of reality."
He said the plan was "clearly as good for the Palestinians as the theft of Jerusalem, the assault on refugee rights and the defunding of Palestinian infrastructure."
https://www.arabnews.com/node/1618956/middle-east
--------
Thousands protest in US cities against India citizenship law
by Mohammad Ali
Jan 28, 2020
New York, United States - Thousands of Indian Americans, joined by several civil rights organisations, have staged protests across dozens of US cities against policies of Prime Minister Narendra Modi that critics say undermine the country's secular constitution.
On Sunday, which marked India's Republic Day, Mohammad Mustaqeem and his eight-year-old son, along with thousands of others, gathered outside the Indian embassy in New York to protest against the recently passed citizenship law that makes faith a basis for attaining Indian citizenship.
The Citizenship Amendment Act (CAA) coupled with a plan to implement a nationwide counting of citizenship (National Register of Citizens or NRC) by India's Hindu nationalist government has triggered widespread protests in the South Asian nation.
In the northeast Indian state of Assam, nearly two million people were dropped from the citizenship list in 2019 and many fear a nationwide NRC will possibly render millions of Indians stateless.
Mustaqeem from the eastern Indian state of Bihar says his nephew Mohammad Irfan was among those injured last month when police stormed the library inside Jamia Millia Islamia university in New Delhi.
'Modi has started war against Muslims'
Mustaqeem says his nephew's left leg and right hand were fractured in the police action, which caused a public outcry. The students were protesting against the CAA and the NRC that activists say discriminates against India's Muslims.
"I can't go back to India right now. But I have come here to protest against the war Modi has started against India's Muslims," Mustaqeem told Al Jazeera.
He accused the Modi government of waging a war against Muslims, students, Dalits and marginalised sections of society.
"Instead of studying, my nephew is under treatment in Araria [Bihar state]. Is this the India we want to hand over to our next generation?" Mustaqeem asked.
Waving hundreds of Indian flags, protesters raised banners against Prime Minister Modi, Home Minister Amit Shah, the ruling Bharatiya Janata Party (BJP) and its ideological parent, the Rashtriya Swayamsevak Sangh (RSS).
The New York protest was part of nationwide protests and marches organised by the recently formed Coalition to Stop Genocide - a broad coalition of Indian Americans and US-based civil rights organisations such as the Indian American Muslim Council, Hindus for Human Rights, Equity Labs, Shri Guru Ravidass Sabha of New York, Black Lives Matter and the Jewish Voice for Peace.
The protesters demanded the repeal of the CAA in India, and called for action by the US government, including possible sanctions on India's Home Minister Shah, as recommended by the US Commission on International Religious Freedom.
"What is happening in India, is happening in the name of Hinduism. But the Hinduism that we practise is inclusive and has love at its centre. Whereas the Hindu nationalism is exclusive by definition and seems to have hatred at its centre," said Sunita Viswanath from Hindus for Human Rights.
The protesting men, women and children of all ages held banners and shouted slogans against the Indian government's right-wing policies. They unfurled the Indian flag and recited the national anthem to mark their Republic Day.
A poster said "Hindu + Muslim = India's greatest love stories. You can't change that," while another said, "When injustice becomes law, resistance becomes duty." Many posters referred to "Martin Luther King's dream vs India's Nazi vision".
'We, the people of India'
With a banner flaunting Dalit icons like Saint Ravidas along with Baba Bhimrao Ambedkar – the architect of India's constitution - Sitaram joined the protest along with his friends from Connecticut.
"It is wrong to assume that the CAA is only against Muslim community. Laws like CAA and provisions like NRC and NPR represent the destruction of the constitution brick by brick by Narendra Modi," the 52-year-old said.
"If we don't speak now, there will be nothing and no one left to speak for," said Sitaram, who is associated with the International Bahujan Organization - a Dalit group.
He and other protesters read the preamble of the Indian Constitution reminding Modi that India belonged to "We, the people of India", as Modi has been accused of pushing a Hindu supremacist agenda.
Shaik Ubaid, one of the organisers, said that protests were happening not only in India but around the world and it represented a global consensus against the "draconian" policies of the Modi government.
"They are also a clear indication that the world will not stand idly by while Hindutva's supremacist worldview takes India down the path of fascism," said Ubaid who was part of an initiative which led to a ban on Modi's entry into the US after the 2002 Gujarat religious riots.
Reverend Chloe Breyer, Executive Director of the Interfaith Center of New York, said that Martin Luther King Junior, who was inspired by Mahatma Gandhi, "called to speak for the voiceless".
"The CAA makes an enemy of India's own precious people, damaging the pluralistic democracy that has existed since 1947 and has been such an inspiration to the world," Breyer told Al Jazeera.
Hope
Students of Harvard University and representatives from the Indian diaspora also staged a 24-hour protest at Harvard Square in Boston to coincide with India's Republic Day.
"A lot of times I get tokenised because of my Dalit identity. It becomes almost a vulgarised presentation of Dalit body on a stage. But this protest I feel like I have agency and I am part of a larger dialogue," said Suraj Yengde, a researcher at Harvard University.
"But I would also hope that now that Dalits are coming for Muslims, there will be reciprocity in future," Yengde, author of a recent book, Caste Matters, told Al Jazeera by phone.
The protesters in Washington DC marched to the Indian Embassy.
"The brutal crackdown by government in India on the anti-CAA and anti-NRC protests has created a situation in which women in large numbers have come out on the streets to challenge the divisive-communal-fascist agenda of the government," said rights activist and Magsaysay Award winner Sandeep Pandey, who travelled to Washington, DC from India.
"It gives a hope that democracy and constitution can ultimately be saved by the common people from a government which is bent upon destroying them," he added.
A protest was also organised outside the Indian consulate in San Francisco.
"Indian Americans and people of conscience in the US are seeking accountability from the Hindu nationalist regime that wants to turn Indian Muslims into foreigners and render them stateless," said Ahsan Khan, President of the Indian American Muslim Council.
https://www.aljazeera.com/news/2020/01/thousands-protest-cities-india-citizenship-law-200127083331402.html
--------
Israel's Gantz praises Trump peace plan, pledges to implement it after poll
28 January 2020
Israeli centrist party leader Benny Gantz on Monday praised US President Donald Trump for drafting a Middle East peace deal and committed to help implementing it after Israel's March election.
"The President's peace plan is a significant and historic milestone, indeed," Gantz told reporters after his meeting with Trump.
"Immediately after the elections, I will work toward implementing it from within a stable functioning Israeli government, in tandem with the other countries in our region."
https://english.alarabiya.net/en/News/middle-east/2020/01/28/Israel-s-Gantz-praises-Trump-peace-plan-pledges-to-implement-it-after-poll.html
--------
Gazans rally against US's so-called deal of century
27 January 2020
Ashraf Shannon
Angry protesters marched in the Gaza Strip against Donald Trump's so-called deal of the century. They rallied in front of the United Nations Special Coordinator's Office for the so-called Peace Process (UNSCO).
Israeli Prime Minister Benjamin Netanyahu and his election challenger Blue and White party leader Benny Gantz flew to Washington Sunday for the presentation of what Trump himself has dubbed the deal of the century.
The details of the deal have not been officially revealed, however, leaks suggest it would grant the Israeli regime full sovereignty over occupied Jerusalem al-Quds and the West Bank.
As they chanted slogans against the United States protesters in Gaza also burned an effigy of the US president. They also called for armed resistance to fight the so-called deal of the century.
Palestinian President Mahmoud Abbas has boycotted Washington since US President Donald Trump recognized Jerusalem al-Quds as Israel's capital in 2017.
The Islamic Jihad movement called for a united Palestinian stance to confront all Israeli and US plots against the Palestinian people.
More protests will take place throughout Palestine in the coming days as anger continues to build up over what Palestinians have described as the plot of the century.
Palestinians view US President Donald Trump's so-called deal of the century as a declaration of war against them. They say they will use all forms of resistance against it.
https://www.presstv.com/Detail/2020/01/27/617242/Gazans-rally-against-the-so-called-Deal-of-Century
--------
Polygamy, Nikah halala laws based on Quran, says AIMPLB
Jan 28, 2020
The All India Muslim Personal Law Board (AIMPLB) has moved the Supreme Court seeking to be made a party to a petition challenging the practices of nikah halala and polygamy that are prevalent in the Muslim community. In its plea, the AIMPLB has said the practices involve personal laws derived from religious scriptures and cannot be challenged.
Polygamy is outlawed in India but an exemption has been made under the Muslim Personal Law (Shariat) Application Act, 1937. The law provides for the application of Muslim personal law in matters related to marriage, succession etc. The practice of nikah halala is also permitted.
In its plea submitted last week, the AIMPLB said its primary objective is to protect the Muslim personal law and prevent any interference in their observation and, as such, it should be made a party to the case.
BJP functionary Ashwini Kumar Upadhyay has filed the plea challenging the practices.
"The foundational sources of personal laws are their respective scriptural texts. The Mohammedan law is founded essentially on the Holy Koran and the Hadith [sayings] of the Prophet Mohammed and thus it cannot fall within the purview of the expression 'laws in force' as mentioned in Article 13 of the constitution of India and hence its validity cannot be tested on a challenge based on Part III of the Constitution," the AIMPLB said in its plea.
Article 13 lays down that laws in force in India shall be void to the extent they are in violation of fundamental rights under Part III of the Constitution.
Upadhyay's petition has challenged the practices saying they violate fundamental rights enshrined in the Constitution's Articles 14, 15 and 21.
"Personal laws of Muslims derive their validity from Muslim Personal Law (Shariat) Application Act, 1937. It is, therefore, a law under Article 13 and is bound by Part III. The judgment striking down Triple Talaq reaffirms this position. Same goes for practices of polygamy and nikah halala," Supreme Court advocate Sriram Parakkat told HT.
https://www.hindustantimes.com/india-news/polygamy-nikah-halala-laws-based-on-quran-says-aimplb/story-THoMUWNOV3I2AObs0vhklN.html
--------
Those Applying For Citizenship under CAA Must Provide Religion Proof: Officials
Sudhi Ranjan Sen
Jan 28, 2020
Those applying for Indian nationality under the Citizenship (Amendment) Act (CAA), 2019, will have to prove their religion, officials aware of the matter have said.
The amended citizenship act aims to grant Indian citizenship to minorities such as Hindus, Sikhs, Jains, Buddhist, Christians and Parsis from Pakistan, Afghanistan and Bangladesh, who have faced or fear religious persecution.
The law, which excludes Muslims, will be applicable to those who entered India before December 2014.
The officials cited above said the government is unlikely to ask for proof of religious persecution from these people in their original country, even as the Union home ministry is in the process of framing rules for the new law.
"The rules are being drafted but to benefit under the CAA one will have to show some proof of their religion. Any government document like school enrolment of children, Aadhaar etc would enough," a senior official said on condition of anonymity.
They added that the applicants will also have to furnish documents to prove that they entered India before 2015.
"Requirement of proof of their religious beliefs and their entry date will be included in the rules. This will be useful so that random persons do not apply for Indian citizenship," one of the officials said.
It was not immediately clear what the nature of the documentation required for applying for citizenship will be.
Earlier, deposing before a Joint Parliamentary Committee on Citizenship (Amendment) Act, 2016, security agencies and government had indicated religious persecution could be verified through security agencies like the Research and Analysis Wing(R&AW) - India's external intelligence agency.
"The law allows faster citizenship in two cases religious persecution or fear of religious persecution, therefore a check back on whether there was religious persecution isn't critical," a second senior home ministry official, who didn't want to be named, said.
The rules to implement CAA is also likely to have special provisions for Assam—a state that has witnessed continuous peaceful agitation by the civil society and people at large. There is an apprehension that allowing citizenship through CAA would hurt the interest of the indigenous people.
The government is also likely to give a relatively smaller window of three months to those who want to apply for citizenship in Assam under the CAA, a second official said.
The BJP led-Assam government had asked the Centre to limit the time frame for applications for citizenship under the CAA.
"The number of people who are likely to benefit from CAA in the northeast, and especially Assam, is small. Once that becomes clear protests are likely to die out," a senior Assam government functionary said.
The CAA came into force on January 10 and the Union home ministry is framing the rules that will govern the law.
Civil society bodies, students and several states have opposed the law and protests have continued across the country, including Delhi. A few state assemblies have even passed resolutions opposing the law and urging the Centre to withdraw it.
https://www.hindustantimes.com/india-news/those-applying-for-citizenship-under-caa-must-provide-religion-proof-officials/story-AiNYAIYNaVi4EOphxJYDmO.html
--------
Islam Meets Ancient Egypt: The Mosque Located inside Luxor's Iconic Temple
Sara Ahmed
JANUARY 27, 2020
When visiting Luxor, the average traveler is spoiled for choice. However, one attractive and evident site to visit is none other than Luxor temple.
The icon of the Upper Egyptian city, arguably one of Egypt's oldest towns on which the modern-day Luxor is built on, is the temple.
An ancient structure
In truth, the 'temple' is the wrong title for the impressive archaeological giant as it comprises of several temples and archeological features built by different pharaohs in the New Kingdom (1550 – 1069 BC).
Two kings essentially build the temple, Ramses II and Amenhotep III (the grand-father of Tutankhamun) with the boy king himself having commissioned features of the Luxor site, including the fourteen colossal columns. There is also a small worshiping space – a chapel dedicated to the goddess Mut – inside the enclosure.
The art style of the temple can be difficult to date for the average tourist, but the New Kingdom influences of the human figures are clear: smooth, slender figures, fluid movement and flowing clothing are some of this period's typical characteristics, distinguishing itself from the older, more 'rigid' form of Egypt's Old Kingdom. Finally, deep in the shrine and in the back of the temple are the clear markings of the Ptolemaic period, as they are 'fuller figures with softer facial features and alternative fashion.
Although it has surviving today for more than, 3,000 years, the temple was eventually reused in the roman times as an imperial cult space. Then, a Christian basilica was built in the first court, in the northeast corner of the temple. One can still distinguish some remaining paintings today.
A religious establishment, still in use
One most definite surprising feature of the temple? The Abu Haggag mosque which has been active since the Fatimid period (11th century).
Inside the temple, the mosque can be spotted at an elevation, when the visitor goes in and looks up, to the left. There is no entry point to the mosque from the visitor's standing level.
However, upon exiting, one merely needs to walk five minutes into the main road (as if making way to the Luxor corniche) and the stairway entrance to the mosque is located at the very end of a long passage way flanked by sparse, and new, rows of wooden benches.
The mosque is still used today – however, barely any tourists can be spotted there, with even less at night. Women, needing to abide by the religious norms of a mosque, are given headscarves when perusing the perimeters of the Islamic monument.
It seems almost unfathomable to imagine a mosque inside such an important and vastly visited site such as Luxor temple. Moreover, as women grasp the hands of their kids to pray and men touch the saints' icons inside the heart of the mosque, it is more than obvious that those praying have grown accustomed to the mishmash of influences, as the mosque is actively used today.
Most likely, one of the mosque's keepers will give a little tour that would require a tip.
A perpetually puzzling tour
The mosque is constructed just like any typical house of worship for Muslims: it has minarets, prayer mats, a mihrab – facing the direction of Mecca- as well as a minbar from which an imam sits to have his sermons. However, one very interesting aspect of these features is that one of the ancient Egyptian columns was actually carved out to form the minbar. The defacement, to then give the mosque its Islamic features, is thus palpable.
Overall, the mosque is not the most well-kept, with dust gathering in many corners which are replete with broken chairs or pile of discarded objects. There are also sections to the mosque which mysteriously seem more in use than others.
The original door of the mosque, in wood, is on the other side of the contemporary entrance to the mosque. It has been well-kept although most definitely not in use. The door contextualizes the elevation of the mosque and how deep excavations must have ran prior to unearthing the Luxor temple from the mounds of rubble and rubbish the temple must have found itself in by the time Gaston Maspero started excavating it in the 19th century.
Moreover, there is a small 'shrine' section reserved for the family of Abu Haggag who have been buried in the mosque as saints, inside locked up enclosures and glass cases, which then makes the mosque an obvious pilgrimage site for many hoping to receive blessings.
The mosque actually derives its name from the figure of Damascus-born Sheikh Yusuf Abu el Haggag who is considered a a holy man by Upper Egyptians. Not much is known about the figure but locals say that he was a descendant of the prophet Mohamed which then makes him one of the 'Honourables'.
The wall behind the enclosure in which his body lies is adorned with hieroglyphs.
Layers of culture and influences
One must take a couple of minutes to fully grasp what this particular site means. Luxor temple, much like most ancient Theban structures, has been inscribed in the World Heritage UNESCO list since 1979.
It is a famous and beloved destination in Upper Egypt, visited by millions each year for the wondrous heritage it has preserved. It would thus make sense that much-frequented site would be turned into a garrison, then into a church, then having a mosque built on top of it.
In a way, the architectural and cultural evolution of the temple naturally traces over Egypt's overall history; it also mirrors the juxtaposition of cultural influences that Egyptians live by today.
Like the 'Complex of Religions' district in Cairo (Mogama' El Adyan in Fustat), where the Amr Ibn Al-Aas Mosque, various churches, including the Hanging church, and the Ben Ezra synagogue clearly highlight Egypt's cultural legacy, this specific zone of makes for what Egypt is today: a mixture of ancient, Christian, Islamic and modern.
https://egyptianstreets.com/2020/01/27/islam-meets-ancient-egypt-the-mosque-located-inside-luxors-iconic-temple/
--------
Why 'Islam' is on Malaysian Muslims' identity cards
28 Jan 2020
BY IDA LIM
KUALA LUMPUR, Jan 28 — Last week, the Home Ministry once again reiterated its stance that it will not remove one's religious status on the MyKad.
But why do Malaysian Muslims have "Islam" printed prominently on their MyKads while non-Muslims only have their religious information recorded on the chip?
Why do Malaysians' identity cards even contain information on what faith they profess? Why does the government collect information about the religion of each individual Malaysian?
The short answer is because it's the law. But the actual journey to where we are today may surprise you. (Stay with us, since much of the information below is really hard to get publicly.)
Here's Malay Mail's quick summary of everything you need to know about the law and history behind the government's keeping tabs on Malaysians' religious affiliations:
1. What law?
The National Registration Act 1959, which only has eight short provisions, does not explicitly say what details should be shown on Malaysians' identity cards.
But Section 6 of the law says the home minister may make regulations, including rules on how Malaysians' identity cards will appear and what the details they must display.
As such, the real details are instead in the National Registration Regulations 1990, which has 30 regulations and contains procedures such as what to do if you lose your identity card and how much has to be paid when applying for new or replacement identity cards.
2. It wasn't always like this
While "Islam" on Malaysian Muslims' identity cards feels like it has always been there, it was not the case even just a few decades ago.
On December 31, 1990, the first and original version of the National Registration Regulations 1990 came into effect, which among other things required Malaysians to provide two identical photographs of themselves and their thumbprints when applying for their identity cards.
In the original 1990 version of the regulations' Regulation 4(c), Malaysians were told to give only these details to the registration officer: full name, previous identity card number (if any), home address, race, place of birth, date of birth and gender, physical abnormalities if any, citizenship status and other details that the officer considers necessary for identification as well as documentary evidence to support such details.
It did not say Malaysians were required to provide details on their "religion" when applying for identity cards.
Also in the original 1990 version, the First Schedule (under regulation 5(2)) lists out how an identity card would appear, with the information printed on it to be a person's identity card number, name, residential address, date of issue, old identity card number if any, identity code for natives of Sabah and Sarawak, residential status and photograph, with the reverse of the card to contain the person's left and right thumbprints.
3. So what happened and when?
For almost 10 years, the Malaysian government made no changes at all to the 1990 regulations governing the rules on what information was needed to register for identity cards and what would be printed on them.
In 2000, however, the government made its first amendment to the 1990 version of the regulations, introducing new requirements for the application and appearance of identity cards.
The amendments were made on February 4, 2000 by then-home minister, (then) Datuk Seri Abdullah Ahmad Badawi (who was also then deputy prime minister and would later go on to become prime minister a few years later).
In these, Malaysians applying for identity cards were now required under the new Regulation 4(c)(iva) to provide information on their "religion (only for Muslims)" or, in other words, to inform the registration officer of their religion if they are Muslims.
These also amended the First Schedule, introducing the new requirement for identity cards to print the detail on "religion (only for Muslims)". In other words, this is why Malaysian Muslims now have "Islam" printed on their identity cards.
These two new requirements made in year 2000 were only for Muslims, and were effectively backdated to take effect from October 1, 1999.
The government would go on to make further amendments to the 1990 regulations, in the years 2001, 2007, 2014, 2015, and 2017.
In the 2001 amendments made on July 26, 2001 by then-home minister Abdullah, the government changed the 2000 requirement of providing information on "his religion (only for Muslims)" to the new requirement of "religion", which effectively meant that Malaysians are now expressly required to give details on their religion when applying for identity cards regardless of whether they are Muslims or non-Muslims.
This new requirement came under the new regulation 4(cc), which came into effect from November 1, 2000 onwards.
So now you know when all these legal requirements came into place. (The government could have been collecting information on Malaysians' religious affiliations since even before the 2000 and 2001 amendments, but those marked times when the law introduced express requirements for such information to be provided.)
4. Wait, do we know why?
In Malaysia, federal laws such as the National Registration Act here empower the relevant ministers to make regulations related to the main law.
Arguably this allows for greater flexibility and expediency as regulations do not have to be passed in Parliament to become law, unlike Acts that must be tabled, debated, approved and gazetted before they can be deployed.
The flipside is that Malaysians may not know the reasoning for policies enforced through regulations as these do not receive the same scrutiny as legislation.
So, there is no direct answer to why Islam was now required for identity documents, but there could be some hints or clues in the Home Ministry's press statement.
In it, the Home Ministry denied viral social media claims of alleged plans to remove religious particulars from Malaysians' identity cards, citing Regulation 4(cc) to justify why "religion" details are recorded in identity cards, and also the First Schedule (Regulation 5(2)) to justify why "Islam" is printed on Malaysian Muslims' identity card.
Althought that still does not explain why, the Home Ministry went on to cite the Federal Constitution's Article 3(1) that provides for Islam as the religion of the federation of Malaysia and for other religions to be practised in peace and harmony here.
The Home Ministry also said putting "Islam" on Muslims' identity cards is an important element to help enforce the Federal Constitution's Article 11(4) and Shariah laws. (Article 11(4) states that state laws (and federal laws when it comes to the federal territories of Kuala Lumpur, Labuan and Putrajaya) can control or restrict the spread of any religious belief among Muslims).
5. The Lina Joy case
No examination of the history behind the regulations on Malaysians' identity cards would be complete without mentioning the landmark case of Lina Joy.
Based on the facts provided in the Federal Court's May 30, 2007 judgments on the case, a Malay woman named Azlina Jailani had sought in early 1997 to change her name in her identity card to Lina Lelani, stating in her statutory declaration that she had renounced Islam for Christianity and intended to marry a Christian, but this application was rejected by the National Registration Department (NRD) in August 1997 without any reason given.
She made a second attempt in March 1999 to have her name in official records changed, this time to Lina Joy with a statutory declaration again citing her religious conversion, before she resubmitted her name change request along with a fresh statutory declaration in August 1999 which cited the name change request as a matter of choice.
She was said to have done so in August 1999 after an NRD officer told her in July 1999 that she should not mention her religious conversion as the reason for her name change request, since the identity card did not mention her religion.
Finally on October 22, 1999, the NRD told her in a letter that it had approved her application to change her name in the identity card to Lina Joy, and asked her to apply for a new identity card to replace her current one.
She applied for the new identity card the same month in 1999, stating her religion as Christianity when filling up this application form.
She then received her new identity card with her new name Lina Joy — only to discover what she described as a "trick" by the NRD. This new identity card reflected her name change, but now carried the word "Islam" and also carried her original name Azalina Jailani on the reverse side of the card.
Unbeknownst to her as she was not notified by the NRD, the National Registration Regulations was amended in 2000 to require "Islam" be displayed on the identity cards of Muslims.
The regulation was applied retroactively and included Lina Joy's application despite this being made in October 1999.
She was forced to make a third application in January 2000, this time seeking the removal of "Islam" and her original name from the identity card, but the NRD rejected this by saying that she needed to produce an order from the Shariah court regarding her renunciation of Islam.
She challenged this unsuccessfully at the High Court and Court of Appeal, before eventually losing in a 2-1 decision by a three-man panel at the Federal Court.
Among other things, the dissenting judge, Tan Sri Richard Malanjum, noted that the NRD had failed to act fairly when it could have at the very least told her of the impending amendment.
"In my view, there is therefore a reasonable suspicion that reg. 4, although formulated in 2000, was deliberately amended retrospectively to 1 October 1999 in order to target and to prejudice the third application of the appellant made on 23 October 1999," he said, noting that the government did not challenge Lina's claim of not being given notice that the regulations would be changed.
https://www.malaymail.com/news/malaysia/2020/01/28/why-islam-is-on-malaysian-muslims-identity-cards/1831992
--------
Trial in absentia against principles of natural justice, rules LHC
Wajih Ahmad Sheikh
January 28, 2020
LAHORE: The Lahore High Court has ruled that the concept of trial in absentia is not only inconsistent with the doctrine of Islamic justice enunciated in the Holy Quran and Sunnah but also against the golden principles of natural justice.
A full bench of the high court made the observation in its detailed judgement released on Monday on a petition filed by former military ruler retired Gen Pervez Musharraf challenging his conviction by a special court for high treason.
The LHC bench had thro­ugh a short order on Jan 13 declared unconstitutional all actions taken by the previous government against Gen Musharraf, including filing of a complaint under the high treason charge, formation of the special court and its proceedings, leading to abolition of his death penalty handed down by the trial court.
The detailed judgement authored by Justice Syed Mazahar Ali Akbar Naqvi at first addressed the question of territorial jurisdiction of the LHC to hear the petition and observed that the Provisional Constitution Order No.1/2007 issued by the petitioner [Gen Mushar­raf] in capacity of the chief of army staff, General Headquarters, Rawalpindi, fell within the territorial jurisdiction of the court.
Justice Mohammad Ameer Bhatti and Justice Chaudhry Masood Jahangir were other two members of the bench.
Deciding the petition on its merits, the bench obser­ved that the interior secretary was competent to file a complaint against the accu­sed of "high treason" only on the recommendations of the federal government, whereas the federal government was to operate in the spirit of Article 90(1) of the Constitution which includes the prime minister and the cabinet. "However, the requisite requirement of the Constitution was totally ignored," said the verdict.
The bench also found the process for the establishment of the special court in consultation with the then chief justice of Pakistan and chief justices of five high courts alien to the Constitution. "It is established without any doubt that the very constitution of the special court was squarely illegal/improper and without jurisdiction," ruled the bench.
It further held that the provision contained in Section 9 of Criminal Law Amendment (Special Court) Act, 1976 was repugnant to the injunctions of Islam and in contravention of Article 8 of the Cons­titution which provided that any law inconsistent with or in disregard of fundamental rights was void.
The said section allows the special court to proceed with the trial even in the absence of any accused after taking necessary steps to appoint an advocate to defend the accused.
The bench ruled that the acts mentioned in the complaint were not part of Article 6 of the Constitution at the time of commission of alleged accusation rather were incorporated in Article 6 by virtue of 18th Amendment, hence it could not be made basis for initiation of proceedings under Article 6.
https://www.dawn.com/news/1530954/trial-in-absentia-against-principles-of-natural-justice-rules-lhc
--------
Taliban say frustrated by additional demands of US
January 24, 2020
ISLAMABAD (AP) — The Taliban, in a rambling commentary published on their website, expressed frustration with what they describe as additional U.S. demands in peace talks — even after they had offered a "reduction of violence." They have not publicly outlined what that would entail and did not explain the new Washington demands.
The insurgents' gesture of reduced violence, though never quantified, was meant to open a window for the signing of a peace agreement that could see the withdrawal of U.S. troops and the end to the 18-year war in Afghanistan, America's longest conflict.
Meanwhile, Amnesty International said in a statement Friday that to talk about a "reduction of violence" was an "absurdity."
"In a conflict marked by attacks on civilians, the term 'violence reduction' is an absurdity. There can be no acceptable level of violence," said Omar Waraich, deputy South Asia director at Amnesty.
"The United States and the Afghan Taliban must commit to abide by the laws of war and end all attacks on Afghan civilians," he added.
Earlier, Taliban officials familiar with the talks told The Associated Press the Taliban had offered a cease-fire, lasting seven to 10 days, to Washington's peace envoy Zalmay Khalilzad durig their latest round of talks last week in the Gulf Arab state of Qatar, where the Taliban maintain a political office.
However, Khalilzad had previously sought a more comprehensive end to the fighting and it was never known whether Washington would have agreed to a temporary truce. The U.S. State Department has withheld comment.
In their late Thursday commentary, the Taliban accused Washington of "wasting time" and said the talks with Khalilzad had become bogged down over a definition of "reduction of violence." The tone was surprisingly harsh following earlier optimistic tweets from Taliban political spokesman Sohail Shaheen who hinted the insurgents and Khalilzad were close to an understanding.
The Taliban also said Khalilzad is seeking additional assurances on behalf of the Kabul government, with which the Taliban have refused direct talks.
They also balked at a U.S. statement following President Donald Trump's meeting with Afghan President Ashraf Ghani in Davos, Switzerland, earlier this week during which the U.S. president "reiterated the need for a significant and lasting reduction in violence by the Taliban that would facilitate meaningful negotiations on Afghanistan's future.
Previously Khalilzad had said any agreement to withdraw troops from Afghanistan will go hand in hand with negotiations between the two sides in the conflict.
And even if direct talks with the Taliban were to be held, it also remains unclear who would negotiate for Kabul after preliminary results of the presidential election last September giving Ghani the win are being contested. The election commission has yet to announce the final winner in the contest.
The Afghan president's spokesman, Sediq Sediqqi, said that Ghani has a small team ready to negotiate but bickering has marred efforts to cobble together a team that anyone other than Ghani loyalists can agree upon. Ghani's political opponents say they have been consulted but that their suggestions have been ignored.
The Taliban today control or hold sway over roughly half of Afghanistan and continue to stage near-daily attacks targeting Afghan and U.S. forces, Kabul government officials or those seen as linked to the government. Scores of Afghan civilians have also been killed in the crossfire and by roadside bombs planted by militants or in anti-Taliban operations undertaken by government forces assisted by American troops.
https://news.yahoo.com/taliban-frustrated-additional-demands-us-130825805.html
--------
France Judges Dead Jihadists but Refuses to Repatriate the Living
By Constant Méheut
Jan. 26, 2020
PARIS — The trial this month was exceptional for a country that has resisted repatriating or extraditing terrorism suspects from battlegrounds in Iraq and Syria.
A Paris judge heard cases against 24 men and women charged with links to the Islamic State. Witnesses were called. Prosecutors and defense lawyers made their statements. Verdicts were rendered.
But 19 of the defendants were presumed dead, and all were tried in absentia. It was, as the French news media have called it, a "ghost trial."
Antoine Ory, one of the defense lawyers, acknowledged as much. "In France, in 2020, we refuse to repatriate the living but we try the dead," he told the court.
The trial, which concluded last week with convictions for everyone, brought to light one of France's paradoxes when it comes to handling such cases.
The government wants to prosecute terrorism suspects, hoping to prevent them from falling through legal cracks and trying to piece together how the networks operated for evidence in future trials against the living.
But it does not want the trials conducted on its territory.
Since 2018, France has instead been at the forefront of the European negotiations with the Iraqi government to have European jihadists tried there, with only modest success.
With public opinion firmly against bringing home those who left to fight with the Islamic State, France has agreed to take back only some of its jihadists. The country was a significant provider of foreign Islamic State fighters, with around 1,000 people estimated to have left to join the militant group from 2012 to 2015.
Jean-Charles Brisard, director of the Center for the Analysis of Terrorism, a Paris-based research organization, said about 80 French Islamic State fighters were still detained in Iraq and Syria.
"The French position is a political position, based on the refusal of the public opinion to see repatriation happening," Mr. Brisard said. "But as far as our justice system is concerned, everything is ready to take them back, including the prisons."
And the courts.
For the last two years, French courts have been trying dozens of jihadists who are presumed dead. The courts have had little choice because intelligence services have not been able to get into the combat zones of Syria and Iraq to verify the deaths.
This month's trial offered a glimpse into what has become a convoluted approach to counterterrorism, even as France braces itself for the much-awaited trials of those accused of the assault on the newspaper Charlie Hebdo, and of the suspects in the November 2015 attacks on the Bataclan concert hall and other sites in Paris.
France has invested a great deal in adapting its criminal justice system to the jihadist threat and now has some of the most expansive counterterrorism legislation in Europe.
"It is a judiciary that leaves room for interpretation," said Antoine Mégie, an expert on counterterrorism laws at the University of Rouen, in northern France. "In order to be prosecuted, it is enough to be linked to jihadist activities."
But this month's trial showed that the process could also prove Kafkaesque.
The defendant Mr. Ory represented — Quentin Roy, a man from the Paris suburbs who left to fight with the Islamic State in Syria in 2014 — was a case in point.
The court files noted that Mr. Roy presumably blew himself up in Iraq in January 2016, saying he was linked to "military activities that led him to become a suicide bomber."
"You are trying a man who committed suicide," Mr. Ory told the court. "Has anyone ever seen such a contradiction?"
Mr. Roy was part of the so-called Sevran network, a jihadist recruitment web based in the small town of Sevran, on the outskirts of Paris, that operated from an informal prayer hall, later known as the "Daesh Mosque," using an alternative name for the Islamic State.
Among the 24 defendants at the trial, 13 had frequented the mosque.
Standing before the judges, Mr. Roy's parents, Véronique and Thierry, recounted how their son had converted to jihadist ideology in just a few months.
"It's the trial of sectarian radicalization," Ms. Roy said, as she described how her son, after his conversion to Islam in 2012, gave up his studies and his job and broke up with his girlfriend.
In September 2014, Mr. Roy told his parents he had to go to Frankfurt for his work as an Uber driver. A few days later, he was crossing the border from Turkey to Syria.
As they did with the Roy family, judges at the trial turned to relatives to reconstruct the journey of the 19 defendants who are presumed dead.
Among those defendants were the brothers Mohamed and Mehdi Belhoucine, who have been linked to the kosher supermarket attack by Amedy Coulibaly in January 2015.
Mohamed Belhoucine is considered to be the mentor of Mr. Coulibaly. Mehdi Belhoucine was accused of arranging the departure of Mr. Coulibaly's wife, Hayat Boumeddiene, for Syria. The Belhoucine brothers left France for Syria at the start of January 2015.
The Belhoucine brothers are believed to have died on the battlegrounds in Syria and Iraq in 2016. Their parents have received messages from Islamic State fighters notifying them of their sons' deaths.
But the truth of those reports, in territories beyond the reach of French investigators, cannot be verified.
Intelligence services also fear that acknowledging the death of jihadists could help some who are still alive cover their tracks.
In August 2015, a leading French jihadist recruiter, Omar Omsen, faked his own death before resurfacing 10 months later in a TV interview.
"As long as we don't have exact proof of their deaths, we have to try them," Stéphane Duchemin, the president of the court, told the mother of the Belhoucine brothers.
Even as the so-called ghost trials continue, the French government may be forced to moderate its stance and allow for the repatriation of former fighters. In part, that is because of the breakdown of the negotiations to continue conducting trials in Iraq, but also because of the worsening security situation in Syria, where hundreds of European Islamic State fighters are detained.
"If it is not possible to try them on site anymore, I don't see any other solution than to repatriate those people to France," the French justice minister, Nicole Belloubet, told the newspaper Libération on Jan. 10. "We cannot risk that they escape into the wild."
Still, this week, Ms. Belloubet acknowledged in an interview on French radio that "there is no change in our opinion," about bringing suspects home for trial.
That is not good enough for some, like Mr. Roy's parents, who belong to an organization that campaigns for the repatriation.
"Now is time to stop talking and start taking action," Thierry Roy said.
At the end of this month's trial, Mohamed Belhoucine was sentenced to life imprisonment. Sentences for other defendants ranged from two to 30 years.
https://www.nytimes.com/2020/01/26/world/europe/france-ghost-trials-isis.html
--------
Twenty Soldiers Killed in Mali Attack, Government Says
Jan. 26, 2020
BAMAKO — About 20 soldiers were killed in a pre-dawn attack on an army camp in central Mali on Sunday, the government said.
The identity of the attackers was not immediately clear. In a statement, the government said "terrorists" entered the camp near the village of Sokolo, killed the soldiers and caused "significant material damage".
"Reinforcements have been dispatched to the scene and an aerial reconnaissance is underway in the area to track down the attackers," it said.
Islamist groups with links to al Qaeda and Islamic State operate in arid central and northern Mali and have used the area as a base to attack soldiers and civilians in neighboring Burkina Faso, Niger and beyond.
Former colonial power France intervened in 2013 to drive back militants who had seized northern Mali in 2012, and the U.N. Security Council deployed a peacekeeping mission, known as MINUSMA. The militants were pushed back initially but have since regrouped and strengthened. In a sign of their success, MINUSMA has become the U.N.'s deadliest mission.
Large areas of the Sahel, the band of scrubland south of the Sahara, are no longer controlled by soldiers and police, to the dismay of local governments and their international partners, including the United States, which have struggled to contain the spread of jihadist groups across West Africa.
Twenty-four Malian soldiers were killed and 29 wounded when militants attacked a patrol in northern Mali in November. Twenty people were wounded earlier this month in the north, including 18 U.N. peacekeepers from Chad, in a rocket attack on a military base used by U.N., French and Malian forces.
France's armed forces minister Florence Parly will travel to Washington this week amid fears that U.S. forces could pull out of the region. France has 4,500 troops in Mali and the wider Sahel, but the United States provides much-needed intelligence, logistical and drone support.
https://www.nytimes.com/reuters/2020/01/26/world/africa/26reuters-mali-security.html
--------
North America
Trump upbeat on peace plan despite Palestinian rejection
28 January 2020
President Donald Trump said on Monday that while the Palestinians have already rejected his proposed Mideast peace deal, he expects they ultimately will agree to the blueprint the White House plans to announce following meetings with Israeli Prime Minister Benjamin Netanyahu and his chief challenger Benny Gantz.
The meetings come just a month before Netanyahu and Gantz are set to face off in national elections for the third time in less than a year and amid skepticism over whether the plan has any chance for success. Palestinians haven't been consulted about it and have preemptively rejected any proposal from a White House it considers biased toward Israel.
But Trump said he expects that while the Palestinians will say no to the plan he's expected to publicly release on Tuesday, they will quietly be negotiating.
"It's something they should want," Trump said in the Oval Office with Netanyahu. "They probably won't want it initially. I think in the end they will. I think in the end they're going to want it. It's very good for them."
Trump called the proposal a great "opportunity" but wouldn't discuss further details, noting that its release has long been delayed because of the uncertain political situation in Israel. He refused to answer questions over whether it would include Israeli annexation of parts of the West Bank.
"We're going to show a plan. It's been worked on by everybody and we'll see whether or not it catches hold. If it does that would be great and if it doesn't, we can live with it too. But I think it might have a chance," he said.
The proposal is expected to be very favorable to Israel, and Netanyahu has hailed it as a chance to "make history" and define Israel's final borders.
In the run-up to the March 2 vote, Netanyahu has called for annexing parts of the West Bank and imposing Israeli sovereignty on all its settlements there. Israel captured the West Bank in the 1967 Mideast war, and the Jordan Valley in particular is considered a vital security asset.
Reports in Israeli media have speculated Trump's plan could include the possible annexation of large pieces of territory that the Palestinians seek for a future independent state. American approval could give Netanyahu the type of cover to go ahead with a move that he's resisted taking for more than a decade in power.
Annexing Israel's settlements in the occupied West Bank would appeal to Netanyahu's hard-line nationalist supporters but would almost certainly torpedo the viability of an independent Palestinian state and likely infuriate neighboring Jordan. In 1994, Israel and Jordan signed a peace treaty, the second between Israel and its Arab neighbors after Egypt.
Netanyahu, with an eye to his base, invited several settler leaders to join him in Washington for the rollout of the plan.
Palestinian Prime Minister Mohammad Shtayyeh denounced the still-unpublished proposal again on Monday in Ramallah, saying it "doesn't constitute a basis for resolving the conflict." He said the plan violates international law and "comes from a party that has lost its credibility to be an honest broker in a serious and genuine political process."
A Palestinian official said that President Mahmoud Abbas has rejected overtures from mediators in recent weeks to arrange a phone call with Trump. The official spoke on the condition of anonymity because he was discussing a classified diplomatic issue. Abbas' spokesman also called on ambassadors of Arab countries who have been invited to the White House Tuesday to boycott the event.
The Trump administration took several steps in recent years that angered the Palestinians. Those included recognizing the contested city of Jerusalem as Israel's capital and moving the US Embassy there, closing Palestinian diplomatic offices in Washington and cutting funding to Palestinian aid programs.
https://english.alarabiya.net/en/News/middle-east/2020/01/28/Trump-upbeat-on-peace-plan-despite-Palestinian-rejection.html
--------
Judge OKs Classified Information Status in Terrorism Case
Jan. 24, 2020
LITTLE ROCK, Ark. — A judge in Arkansas has allowed a U.S. government official to help guard against the release of classified information during the upcoming terrorism trial of a Yemeni citizen accused of providing material support to al-Qaida.
U.S. District Judge Susan Webber Wright on Thursday granted the Justice Department's motion to allow a designated classified information security officer to participate in the case.
Bilal Al-Rayanni, 28, faces trial July 6 in Little Rock on charges of providing material support to a foreign terrorist organization — al-Qaida in the Arabian Peninsula — and providing a false name on a passport, according to an August 2019 indictment.
The indictment says Al-Rayanni traveled to Yemen in 2014 and worked for al-Qaida for three months while knowing that the U.S. has deemed it a foreign terrorist organization, the Arkansas Democrat-Gazette reported Friday.
The designated officer would guide the court and court personnel on how to handle classified information. U.S. law considers information to be classified if it needs protection against unauthorized disclosure for reasons of national security.
Full report at:
https://www.nytimes.com/aponline/2020/01/24/us/politics/ap-us-arkansas-terrorism-indictment.html
--------
Scope of right-wing extremism vexed security officials, documents show
January 26, 2020
OTTAWA — Canadian security officials have been grappling not only with how to address the growing threat of right-wing extremism, but also the best means of defining the phenomenon and explaining it to the public, newly released documents show.
In a briefing for deputy ministers responsible for national security, the Canadian Security Intelligence Service and the RCMP openly asked whether, given the nature of the threat, the government of Canada was "able to effectively respond?"
The secret briefing was aimed at providing the senior officials with an overview of right-wing extremism in Canada and fostering discussion of "broader considerations" on dealing with the issue, says a heavily censored version of the April 2019 document, released through the Access to Information Act.
Ralph Goodale, public safety minister at the time, also received a briefing on the issue, an accompanying memo indicates.
CSIS, which has spent much of the last two decades investigating jihadi-inspired terrorism, said last year it was increasingly preoccupied by those looking to support or engage in violence that is racially motivated, ethno-nationalist, anti-government or misogynist in nature.
STORY CONTINUES BELOW
After the devastating New Zealand mosque shooting, Prime Minister Justin Trudeau said last March that Canada had taken important steps to combat discrimination and hate.
"We have stepped up investigations into groups that spread hate propaganda, including white-supremacist and neo-Nazi groups. We have implemented significant gun-control reforms. We have increased funding to protect places of worship. We have also invested in programs that promote inclusion, build bridges between people and celebrate our diversity," Trudeau told the House of Commons.
"Nevertheless, we know there is still a lot of work to do, but I want everyone to hear me when I say that we are going to do what needs to be done."
Less than a month later, the briefing from security agencies asked:
— Are terms like "right-wing extremism" or "far right" accurate? "Do we need a broader conversation on how we understand and describe all types of ideologically motivated violence?"
— How should agencies articulate the threat to government officials and the Canadian public?
— At what point are these activities considered terrorism?
— How do federal officials help Canadians report violent extremist behaviour?
The internal briefing document notes that the investigation of hate crimes — offences involving elements such as propaganda, promotion of genocide and targeted vandalism — falls largely to local police forces, which in some communities is the RCMP.
National-security criminal investigations can be triggered when there is sufficient evidence to demonstrate a clear ideological basis and motivation for the act, the briefing added. But it cautioned: "Obtaining sufficient evidence to warrant a terrorism charge can be challenging."
Authorities might be concerned the same problems that occasionally emerge in terrorism cases around being able to prosecute on the basis of a demonstrated "political religious or ideological motivation" may also occur with right-wing extremism cases, said Wesley Wark, a University of Ottawa security and intelligence expert.
That concern is likely to fade should right-wing extremism in Canada begin to reveal genuine connections with overseas movements and doctrines, he said.
Closing any gaps between local police, the RCMP and CSIS could be achieved by ensuring that existing Integrated National Security Enforcement Teams, which include players from various agencies, are "fully seized" with the far-right threat, Wark added.
The briefing mentions a proposal to include, for the first time, right-wing extremist groups on the national list of terrorist organizations.
Blood & Honour, an international neo-Nazi network, and its armed branch, Combat 18, were indeed added to the roster last June, opening the door to stiff criminal sanctions. A group on Canada's terrorist list may have their assets seized, and there are serious criminal penalties for helping listed organizations carry out extremist activities.
In the briefing, the RCMP also flagged efforts to create awareness of right-wing extremism through community outreach activities and developing partnerships.
Full report at:
https://nationalpost.com/news/scope-of-right-wing-extremism-vexed-security-officials-documents-show
--------
Muslim ban: US House to vote on bill to repeal Trump's travel ban
by Jihan Abdalla
Jan 28, 2020
Washington, DC - On the third anniversary of the announcement of United States President Donald Trump's Muslim ban, Democrats said on Monday that the House of Representatives will soon consider legislation that would repeal the travel ban and limit the president from imposing future restrictions based on religion.
House Speaker Nancy Pelosi said the House will consider the "NO BAN Act" which would overturn the ban and prevent the president from establishing future restrictions unless the administration provides strong evidence to justify it in consultation with Congress.
"House Democrats continue to stand opposed to President Trump's cruel, un-American travel ban in all of its iterations. In the coming weeks, the House Judiciary Committee will mark up and bring to the floor the NO BAN Act to prohibit religious discrimination in our immigration system and limit the president's ability to impose such biased and bigoted restrictions," Pelosi said in a statement.
House Judiciary Committee Chairman Jerrold Nadler said on Monday that his panel would take up the bill in two weeks. The bill was introduced in April, and is supported by nearly 250 members of Congress and hundreds of civil rights, faith, national security and community organisations from across the country.
Nancy Pelosi
✔
@SpeakerPelosi
Three years after the Trump Admin launched its outrageous Muslim travel ban, reports indicate the Admin is preparing to expand this dangerous policy. Democrats will continue to stand up against Trump's efforts to dishonor our proud immigrant heritage. https://speaker.gov/newsroom/12720
Pelosi Statement on Three Years Since Trump Announced Muslim Travel Ban
Three years ago, in a stunning act of callousness and discrimination, President Trump and his Administration issued an outrageous travel ban, targeting majority-Muslim nations and undermining our...
speaker.gov
14.8K
9:02 PM - Jan 27, 2020
Twitter Ads info and privacy
6,533 people are talking about this
The bill has a chance of passing in the Democratic-led House, but faces an uphill battle in the Republican-controlled Senate.
In a news conference held outside the US Senate, Democratic Senator Chris Coons, one of the authors of the NO BAN Act denounced what he called the "intentional use of cruelty" in the Trump's administration's immigration policy and said the Muslim ban was based on "prejudice, populism and discrimination", rather than fact or security considerations.
"Our whole effort in introducing this legislation and trying to move it forward is to say our Supreme Court got it wrong," Coons told reporters.
Trump's first travel ban, which targeted several Muslim-majority countries, was announced without warning on January 27, 2017, days after the president took office. It created outrage and led to chaos in airports across the country as hundreds of travellers were detained and thousands of previously issued visas to the US were revoked.
After lower court rulings invalidated the first two iterations, the Supreme Court on June 2018 upheld the third version of the ban which applied to citizens of five majority-Muslim nations - Iran, Libya, Somalia, Syria and Yemen - and put restrictions on some travellers from Venezuela and North Korea.
The current ban suspends immigrant and non-immigrant visas to applicants from the affected countries, but it allows exceptions, including for students and those who have established "significant contacts" in the US.
The move comes days after Trump confirmed he was planning on expanding the ban. Although he did not say which countries will be added, US media reported the expanded ban may include Belarus, Myanmar, Eritrea, Kyrgyzstan, Nigeria, Sudan and Tanzania.
Any expansion to the ban is expected to draw more legal challenges by rights groups who say the travel restrictions unfairly target Muslims, has separated families and prevented people from accessing vital education and healthcare in the US.
"Trump doesn't just want a border wall, he's creating an invisible wall keeping out people around the world based solely on their religion," Congresswoman Ilhan Omar said at Monday's news conference. "That is why we will keep fighting until we finally are able to repeal this Muslim ban and put this hateful policy in the waste pin of history where it belongs."
Rep. Ilhan Omar
✔
@Ilhan
I still believe in an America that protects the free exercise of all religions.
I still believe that Congress shall make no law establishing a religion.
Three years after the #MuslimBan, I will continue to fight for that America. #NoBanAct
4,209
9:04 PM - Jan 27, 2020
Twitter Ads info and privacy
1,051 people are talking about this
Trump campaigned in 2016 on a promise to ban Muslim immigrants and refugees from entering the country.
He has made cracking down on immigration the focus of his presidency and it is a core topic for his reelection drive before the November 3 vote. He has pushed for the building of a border wall along the US's southern border to prevent migrants and asylum seekers from entering through Mexico.
https://www.aljazeera.com/news/2020/01/muslim-ban-house-vote-bill-repeal-trump-travel-ban-200127182031615.html
--------
Muslim Republican al-Aqidi challenges 'anti-American' Ilhan Omar for House seat
27 January 2020
Last year Iraqi American journalist Dalia al-Aqidi requested an interview with Democratic Congresswoman Ilhan Omar, after a photo surfaced of a private meeting between Omar and Turkish President Recep Tayipp Erdogan. Al-Aqidi wanted to know the reason for the meeting.
Omar never granted an interview to al-Aqidi, a veteran journalist who was the only Iraqi to cover the 2004 US presidential campaign as a member of the traveling White House press corps, and has worked as Al Arabiya's Washington correspondent.
Now al-Aqidi, a Republican, has entered the field of politics to challenge Omar for her Minnesota congressional seat. She still has questions about the Congresswoman's relationship with Erdogan - and hopes to ask them on the debate stage.
While both women share a similar background as refugees from Arab League countries who received asylum in the US - al-Aqidi arriving in 1988 from Iraq and Omar in 1995 from Somalia - they are polar opposites politically.
Al-Aqidi supports US President Donald Trump - his "maximum pressure" campaign on Iran and policies in the Middle East - while Omar opposes the Trump administration and its policies.
The juxtaposition of the two politicians shows the diversity of political views in the Muslim Arab American community, despite the mainstream media and Democratic party's "attempts to make it seem that if you are an Arab, you could never be a Republican," said al-Aqidi in an interview with Al Arabiya English.
"The Democrats truly feel Omar is beyond reproach because she is an immigrant, a Muslim, and a woman of color. But these tactics they are using - accusing people who disagree with Omar of being anti-immigrant or anti-Muslim - they don't work with me," said al-Aqidi, a Muslim American born in Baghdad.
Questioning Omar's support for Turkey's Erdogan
In March 2019 a photo surfaced from Turkish media outlet Andalou that showed Erdogan meeting with Omar, when she was a relatively unknown Minnesotan state representative in September 2017. The hour-long meeting reportedly ended with the Turkish president asking Omar to voice her support for Turkey, according to the American news outlet Conservative Review.
"Why would Turkish President Erdogan meet with a little known state representative from the Midwest? No one has been giving me an answer so far and I've been asking for a year," said al-Aqidi, adding that it is a "well-known fact" that Erdogan is considered the "modern godfather" of the Muslim Brotherhood. Egypt, Saudi Arabia and other countries have designated the Muslim Brotherhood as a terrorist organization.
Dalia al-Aqidi
@Dalia4Congress
They discussed investment & trade between Turkey and Somalia.
Where does the 5th district #MN05 fit here?
What about the struggle of the small businesses in Minneapolis?
When Omar met Erdogan https://www.conservativereview.com/news/omar-met-erdogan/ … via @JordanSchachtel
When Omar met Erdogan: The unearthed report from their 2017 meeting
The Turkish president asked Ilhan Omar to support his country.
conservativereview.com
514
12:33 AM - Jan 26, 2020
Twitter Ads info and privacy
252 people are talking about this
If elected, al-Aqidi said she will fight for American values, in contrast to Omar, who she alleges uses "anti-American" rhetoric and is against America's allies.
"Omar attacks America's allies: Egypt, Saudi Arabia, and the United Arab Emirates. Instead she supports Iran, Turkey, and Qatar. Why? Because they support the Muslim Brotherhood," said al-Aqidi, adding Omar's congressional voting is proof of allegiance to Turkey's Erdogan.
Omar, who sits on the House Foreign Affairs Committee, recently came under fire for two alleged pro-Turkey votes. She first voted against a bill calling for sanctions and other restrictions on Turkey over its offensive in northern Syria. She was the only Democrat in the House to vote against the bill, which passed with overwhelmingly support.
Then Omar refused to vote in favor of a bill recognizing the mass killings of Armenians at the hands of Ottoman Turks more than a century ago as a genocide. Erdogan called the House vote politically motivated and the bill "worthless" and the "biggest insult" to the Turkish people.
"Omar refused to recognize the Turkish genocide against the Armenians. If you look at everything she's been saying and doing, comparing to Erdogan's statements, it is like a copy and paste," said Al-Aqidi.
Turkish expert Aykan Erdemier said Omar's decisions on the bills may indicate allegiance to Erdogan and the Muslim Brotherhood, which Erdogan supports.
"It is difficult to explain how Omar, a member of the Congressional Progressive Caucus, can sympathize with the Turkish strongman...This unusual track record begs the question whether this is only a reflection of Omar's sympathies for Erdogan as a leader or also extends to his Muslim Brotherhood ideology," said Erdemir, a former member of Turkish parliament who now works as a fellow at the Washington-based thinktank Foundation for Defense of Democracies.
Turkish NBA player and political activist Enes Kanter said it seems Omar and Erdogan have "a mutually beneficial relationship."
"Whatever her reasons to side with Erdogan, she shouldn't be advocating a foreign country's rights over her own. I believe [these two congressional votes] explain whose favor she works for," said Kanter in an interview with Al Arabiya English.
Al-Aqidi said she will fight for the people of the fifth district of Minnesota, not foreign powers.
"I'm running for every resident of the fifth district of Minnesota, regardless of faith or political affiliation. I will fight for every resident here, to take the district away from Omar's agenda," she said.
Al-Aqidi faces a district with a solid history of voting Democratic. The last time a Republican served as a representative for Minnesota's fifth district was in 1962.
This year al-Aqidi will try to get Minnesotans to vote Republican, and against Omar.
Full report at:
https://english.alarabiya.net/en/features/2020/01/27/Iraqi-American-al-Aqidi-to-challenge-anti-American-Ilhan-Omar-for-House-seat.html
--------
Pentagon confirms airplane crash in Afghanistan; denies Taliban shoot-down
27 January 2020
The US military confirmed on Monday that its E-11A military aircraft had crashed in Afghanistan's Ghazni province but, despite claims by Taliban insurgents that they shot it down, said there were "no indications the crash was caused by enemy fire."
The Taliban had earlier claimed that US military personnel aboard the military plane, including high-ranking officials, had been killed in the crash.
The Pentagon stated: "A US Bombardier E-11A crashed today in Ghazni province, Afghanistan. While the cause of crash is under investigation, there are no indications the crash was caused by enemy fire. We will provide additional information as it becomes available. Taliban claims that additional aircraft have crashed are false."
"While the cause of crash is under investigation, there are no indications the crash was caused by enemy fire," a US military spokesman, Colonel Sonny Leggett, said in a statement.
"Taliban claims that additional aircraft have crashed are false," Colonel Leggett wrote on Twitter.
The military aircraft, built by Bombardier Inc, is used to provide communication capabilities in remote locations.
Full report at:
https://english.alarabiya.net/en/News/world/2020/01/27/Pentagon-confirms-jet-crash-in-Afghanistan-denies-Taliban-shoot-down.html
--------
US army to investigate plane crash in Taliban-held area
27 January 2020
The US military says it is investigating reports of an airplane crash in Taliban-controlled territory in Afghanistan.
US Army Maj. Beth Riordan, a spokeswoman for US Central Command, said that it remained unclear whose aircraft was involved in the crash.
Riordan declined to immediately comment further.
However, pictures on social media purportedly from the crash site showed what could be the remains of a Bombardier E-11A aircraft, which the US military uses for electronic surveillance over Afghanistan.
A passenger plane from Afghanistan's Ariana Airlines crashed Monday in a Taliban-held area of the eastern Ghazni province, local officials said. However, Ariana Airlines told The Associated Press that none of its planes had crashed in Afghanistan.
The conflicting accounts could not immediately be reconciled. The number of people on board and their fate was not immediately known, nor was the cause of the crash.
Arif Noori, spokesman for the provincial governor, said the plane went down around 1:10 p.m. local time (8:40 a.m. GMT) in Deh Yak district, some 130 kilometers (80 miles) southwest of the capital Kabul. He said the crash site is in territory controlled by the Taliban. Two provincial council members also confirmed the crash.
Full report at:
https://english.alarabiya.net/en/News/world/2020/01/27/US-army-to-investigate-plane-crash-in-Taliban-held-area.html
--------
Democrats challenge Trump's travel ban on anniversary
James Reinl
27.01.2020
NEW YORK
Nancy Pelosi, the Speaker of the U.S. House of Representatives, and other prominent Democrats, on Monday announced plans to stop President Donald Trump's three-year-old ban on travelers from some mostly-Muslim countries.
Pelosi issued a statement on her website, while Senator Chris Coons and Representative Ilhan Omar attended a press conference on Capitol Hill to show support for a new piece of legislation called the No Ban Act.
"House Democrats continue to stand opposed to President Trump's cruel, un-American travel ban in all of its iterations," Pelosi said in her statement.
"In the coming weeks, the House Judiciary Committee will mark up and bring to the floor the NO BAN Act to prohibit religious discrimination in our immigration system and limit the president's ability to impose such biased and bigoted restrictions."
Trump administration officials are understood to be planning an expansion of the ban, which was first rolled out soon after Trump took office in January 2017, to include Belarus, Eritrea, Kyrgyzstan, Nigeria, Myanmar, Sudan and Tanzania.
"President Trump and his administration's continued disdain for our nation's national security and our founding ideals of liberty and justice dishonor our proud immigrant heritage and the diversity that strengthens and enriches our communities," wrote Pelosi.
"Despite the Administration's hateful policies and dangerous rhetoric, this fundamental truth remains: immigrants make America more American."
In a tweet, Omar said she believes "in an America that protects the free exercise of all religions", that lawmakers should steer away from religion and that "three years after the #MuslimBan, I will continue to fight for that America."
In another tweet, Coons said that the travel ban "sent the wrong message to our allies around the world about what we stand for as a country."
Trump's executive order, often described as a "Muslim ban," was imposed soon after he took office and limited travel from folks traveling to the U.S. from Iran, Libya, Somalia, Syria, Yemen, North Korea and Venezuela.
Full report at:
https://www.aa.com.tr/en/americas/democrats-challenge-trump-s-travel-ban-on-anniversary/1715758
--------
Mideast
Palestinian demonstrators protest against Trump's 'deal of century'
27 January 2020
Palestinian demonstrators protest against the US's "deal of the century" in Gaza City, as Palestinian Prime Minister Mohammad Shtayyeh urges the international community to boycott US President Donald Trump's "peace plan" which they see as biased towards Israel.
https://www.presstv.com/Detail/2020/01/27/617223/Palestinian-demonstrators-protest-against-Trump's-'peace-plan'
--------
Palestinians reiterate rejection of US 'deal of the century'
27 January 2020
Palestinian factions have reiterated their rejection of the controversial US plan on the Israeli-Palestinian conflict which is expected to be unveiled by President Donald Trump this week, calling for a "day of rage."
Palestinian Authority spokesman Nabil Abu Rudeineh stressed that the Palestinians would not allow the plan, which Trump calls the "deal of the century" to pass.
"The Palestinian leadership, with the support of our people, will defeat attempts to liquidate the Palestinian cause," Abu Rudeineh said Sunday.
"The leadership will hold a series of meetings on all levels — including the factions and organizations — to announce its total rejection of conceding al-Quds," he added.
The spokesman also called on the Arab world to support the Palestinian stance, warning that Trump's plan would trigger turmoil in the region.
A Palestinian official, who spoke on condition of anonymity, said Monday that Palestinian President Mahmoud Abbas had rejected repeated requests from Trump to talk to him on the phone.
Ismail Haniyeh, the political leader of the Hamas resistance movement, also stressed that the deal is doomed to fail, warning of a ""new phase" in the Palestinian struggle against the occupying regime.
"We firmly declare that the 'deal of the century' will not pass. The new plot aimed against Palestine is bound to fail," and could lead the Palestinians to a "new phase in their struggle" against Israel, Haniyeh said in a statement on Sunday.
Haniyeh also called for a meeting in the Egyptian capital with other Palestinian factions, including the Fatah movement, in order to form a common response to Trump's plan.
Palestinian factions call for 'day of rage'
Palestinian factions on Sunday called for a "day of rage" in response to the controversial plan.
Trump is expected to host Israeli Prime Minister Benjamin Netanyahu and his main political rival Benny Gantz at the White House on January 28 to unveil the so-called deal of the century.
Even though the full plan has not been released, Israeli media outlets have described it as a deal that meets nearly all of Tel Aviv's demands in exchange for the possibility of recognizing a Palestinian state someday.
According to the English-language online newspaper Times of Israel, the deal drastically undermines Palestinian hopes for restoring land.
Palestinian factions, in a statement signed by the National and Islamic Forces in Ramallah and El-Bireh, said the day Trump's plan is announced should be declared as a "day of popular rage."
They have also called for a boycott of American goods.
The Palestinian Authority has warned that Trump's deal would ignite mass protests in the West Bank and Gaza Strip.
Officials have also hinted that the Palestinian leadership may quit all agreements signed with Israel and suspend "security coordination" between the Palestinians and Israel in the West Bank.
Secretary General of the Palestine Liberation Organization (PLO) Saeb Erekat said Sunday that the Palestinians would withdraw from key provisions of the Oslo Accords in case Trump unveiled his initiative.
The initiative, he said, would turn Israel's "temporary occupation (of Palestinian territories) into a permanent occupation."
'Plot of the century'
The Palestinian Foreign Ministry described the US plan as "the plot of the century," stressing that it aims to "liquidate the Palestinian cause."
Foreign Minister Riyad al-Malki said the Palestinians were discussing "practical steps with the Arab brothers" to respond to the US plan.
Jordanian king reiterates opposition to Trump plan
The planned release has met unease in the Arab world, with Jordan's King Abdullah II reiterating his opposition to the deal.
Full report at:
https://www.presstv.com/Detail/2020/01/27/617192/Palestinians-reject-US-deal-of-century
--------
Deal of century meant to protect Trump from impeachment: Palestinian PM
27 January 2020
Palestinian Prime Minister Mohammad Shtayyeh says US President Donald Trump's so-called deal of the century on the decades-old Israeli-Palestinian conflict aims to protect him from impeachment and the Israeli premier from imprisonment.
"This plan does not form the basis for resolving the conflict, and is presented by a party that has lost its integrity and credibility. It is a plan to protect Trump from impeachment and [Benjamin] Netanyahu from prison. It is not a Middle East peace plan," Shtayyeh told a weekly cabinet session in the occupied West Bank city of Ramallah on Monday.
"This plan gives Israel sovereignty over Palestinian territory," he said.
The high-ranking Palestinian official urged international community to boycott the so-called deal of the century, describing it as biased in favor of the Israeli regime.
"We call on the international community to not be partners in this, because it contravenes international law. The rights of the Palestinian people are not for sale," Shtayyeh said.
He noted that President Mahmoud Abbas would call a meeting of the Palestinian leadership to discuss the best ways to respond to the US-crafted deal.
'Netanyahu, Gantz reception at White House shows US plan is racist'
Meanwhile, the secretary general of the Palestinian National Initiative (PNI) political party, Mustafa Barghouti, said Trump's reception of Netanyahu and his main political rival Benny Gantz at the White House on January 28 to unveil "the deal of the century" is proof that the plan is an Israeli "racist" project with an American cover.
"This contradicts the decisions of the UN Security Council and even the positions of previous US administrations. It seems that the US president is trying to persuade Netanyahu and Gantz to form a coalition cabinet in order to pass the deal to liquidate the national rights of Palestinians," Barghouti said in a statement released on Monday.
"What we are witness to indicates that the negotiation process under US auspices has ended, and talks on the rights and future of the Palestinian nations have finished off," he highlighted.
Barghouthi stressed that "the Palestinian people will not allow the conspiracy against their national rights to proceed. Palestinian rights constitute a decisive element in the equation. It is the duty of all peoples and nations to stand by it and refuse to deal with normalization projects at the expense of the Palestinians."
Even though the full plan has not been released, Israeli media outlets have described it as a deal that meets nearly all of the Tel Aviv regime's demands in exchange for the possibility of maybe, someday recognizing a Palestinian state.
Full report at:
https://www.presstv.com/Detail/2020/01/27/617215/Deal-of-century-meant-to-protect-Trump-from-impeachment,-Netanyahu-from-imprisonment:-Palestinian-PM
--------
Iran's IRGC commander: No US commander will be safe if Iranians are threatened
28 January 2020
Any US attempt to "assassinate" another Iranian military commander would put all US commander's lives in jeopardy, said the head of Iran's Revolutionary Guards Hossein Salami on Monday.
"The Americans ... and others should know that if they threaten our commanders, none of their commanders will find a safe spot, meaning that if they threaten to assassinate our commanders or carry out their threat, the lives of none of their commanders will be safe," said Salami, according to the semi-official Tasnim news agency.
This comes after US Special Representative for Iran Brian Hook said that if Esmail Ghaani, the new commander of the IRGC Quds Force, follows in the footsteps of his slain predecessor Qassem Soleimani, he will face the same fate.
"If Ghaani follows the same path of killing Americans then he will meet the same fate," Hook told the Arabic-language daily Asharq al-Awsat on Thursday.
IRGC commander Salami added on Monday: "If they intend to continue this game, our responses will be totally different from the past, and their scale will also be different, as they will be faced with quite new conditions which they will be unable to manage and control. So we warn them to retreat from this field."
Full report at:
https://english.alarabiya.net/en/News/middle-east/2020/01/28/Iran-s-IRGC-commander-No-US-commander-will-be-safe-if-Iranians-are-threatened-.html
--------
Trump discusses Syria, Libya with Turkey's Erdogan: White House
28 January 2020
US President Donald Trump discussed developments in Syria and Libya in a phone call with Turkish President Tayyip Erdogan on Monday, a White House spokesman said on Twitter.
"The two leaders discussed the need to eliminate foreign interference and maintain the ceasefire in Libya. The leaders agreed that the violence being carried out in Idlib, Syria must stop," White House spokesman Judd Deere said in a tweet.
A renewed drive by Syrian President Bashar al-Assad to recapture rebel-held Idlib province in Syria's northwest sparked a fresh exodus of many thousands of civilians toward Turkey's border on Monday amid heavy air strikes, aid workers and witnesses said.
In Libya, commander of the Libyan National Army (LNA) Khalifa Haftar moved forces on Sunday toward the city of Misrata, which is allied to the country's UN-recognized government, officials and residents said.
Full report at:
https://english.alarabiya.net/en/News/middle-east/2020/01/28/Trump-discusses-Syria-Libya-with-Turkey-s-Erdogan-White-House.html
--------
Yemeni fighters score major victories against Saudi-backed forces
27 January 2020
Mohammed al-Attab
Just days after Saudi-backed forces failed in their attempt to advance towards the Yemeni capital Sana'a, Ansarullah fighters and their allies took the battle to the strongholds of the invading forces.
Videos have emerged showing the Yemeni forces taking control of large areas in Nihm district in Sana'a Province and Al Jawf Province.
The troops also took control of two military camps from forces loyal to the former government in Ma'rib province.
Such gains were highlighted in a meeting between members of Yemen's consultative council and tribal leaders of Ma'rib.
Ansarullah forces are pushing forward with their operations despite heavy air and ground cover offered by the Saudi-led forces to remnants of the former regime.
The latest victories by Ansarullah fighters and their allies have secured an area of some 50 square kilometers of the mountains behind me. Many hope such achievements will ultimately lead to the final victory against aggressors.
Observers say the recent gains made by Ansarullah forces and their allies would help Yemenis regain control of their resources.
Full report at:
https://www.presstv.com/Detail/2020/01/27/617239/Yemeni-fighters-score-major-victories-against-Saudi-backed-forces
--------
Yemeni forces free 64 Saudi-paid child soldiers under UNICEF supervision
27 January 2020
Dozens of children captured while fighting on behalf of the Saudi-led military coalition against Yemeni army and allied fighters from Popular Committees have been released under the supervision of the United Nations Children's Fund (UNICEF).
On Monday, a total of 64 child soldiers captured on border fronts while fighting for the Saudi-led coalition alongside the Saudi-backed militiamen loyal to Yemen's former President Abd Rabbuh Mansur Hadi were freed in a ceremony organized by the Yemeni Ministry of Human Rights, Ministry of Social Affairs and Labor as well as the National Committee for Prisoners' Affairs (NCPA), Arabic-language al-Masirah television network reported.
قناة المسيرة
✔
@almasirah
تحت إشراف اليونيسف.. صنعاء تسليم 64 طفلا جندهم النظام السعودي للدفاع عن حدوده#المسيرة #المسيرة_نتhttps://www.almasirah.net/post/148512/
موقع المسيرة نت:تحت إشراف اليونيسف.. صنعاء تسليم 64 طفلا جندهم النظام السعودي للدفاع عن حدوده
صنعاء | 27 يناير | المسيرة نت: سلمت اللجنة الوطنية لشؤون الأسرى تسلم 64 طفلا أسروا في جبهات القتال جندتهم قوى العدوان إلى وزارة الشئون الاجتماعية لإعادة إدماجهم بالمجتمع تحت إشراف منظمة الأمم المتحدة...
almasirah.net
32
2:51 PM - Jan 27, 2020
Twitter Ads info and privacy
See قناة المسيرة's other Tweets
Head of the NCPA, Abdulqader al-Mortadha, said a great proportion of these child soldiers had been recruited to defend Saudi Arabia's southern borders.
Mortadha added that the children will undergo a two-month rehabilitation course before they are finally reunited with their families.
He then criticized Saudi Arabia, the United Arab Emirates and Saudi-paid militiamen for the recruitment of thousands of Yemeni children, stating that they bear full responsibility for the loss of their lives and the suffering of their families.
Yemeni Minister of Social Affairs and Labor Obaid Salim bin Dhabei, for his part, extended his gratitude to the Ministry of Defense and NCPA for their "humanitarian and patriotic" move.
Dhabei emphasized that his ministry, in partnership with UNICEF, will rehabilitate the children in order to reintegrate them into society.
UNICEF official Ibrahim Shiq also praised the move, underscoring that children must not be drawn into conflict. He added that his colleagues have met the children and that they are in good condition.
He pointed out that UNICEF has developed a plan aimed at psychological support and rehabilitation of the released child soldiers.
Additionally, Yemeni Human Rights Minister Radhia Abdullah stated that member states of the Saudi-led military coalition fighting against Yemen totally ignore the international law banning children's involvement in armed conflicts.
Saudi Arabia and a number of its regional allies launched a devastating campaign against Yemen in March 2015, with the goal of bringing the government of Hadi back to power and crushing the Ansarullah movement.
The US-based Armed Conflict Location and Event Data Project (ACLED), a nonprofit conflict-research organization, estimates that the war has claimed more than 100,000 lives over the past nearly five years.
Full report at:
https://www.presstv.com/Detail/2020/01/27/617238/Yemeni-forces-free-64-Saudi-paid-child-soldiers-under-UNICEF-supervision
--------
Turkey ends rescue efforts after earthquake toll reaches 41
27 January 2020
Turkey has called off rescue operations in eastern areas hit by Friday's earthquake after emergency workers recovered the body of a final person they were searching for in a collapsed building, bringing the death toll to 41, authorities say.
The magnitude 6.8 quake caused 37 deaths in Elazig province, about 550 km (340 miles) east of Ankara, and four in neighboring Malatya. More than 1,600 others were hurt, including 86 still being treated in hospitals, though none were in serious condition, the government said.
Forty-five people had been rescued from under ruined buildings, Turkey's Disaster and Emergency Authority (AFAD) said.
Authorities have warned residents not to enter damaged buildings because of the danger of collapse and further aftershocks, leaving many without a home in a region where temperatures fell to -6C (21F) on Monday morning.
Addressing reporters in Elazig, Interior Minister Suleyman Soylu said the government would provide financial support to those whose homes were damaged. Some 1,000 temporary homes would be built, and some schools and mosques were now being used as shelters, he added.
Urbanization Minister Murat Kurum said authorities had started demolishing 22 damaged buildings in Elazig. Construction of some 2,000 new houses in the province was expected to be completed by year end, he added.
Full report at:
https://www.presstv.com/Detail/2020/01/27/617224/Turkey-earthquake-death-toll-hospitals-residents
--------
Yemen's Marib province safe from Houthis, says governor
January 28, 2020
AL-MUKALLA, YEMEN: The central Yemeni province of Marib is safe from Houthi attacks, its governor told media on Sunday, amid reports that the Iranian-backed militia was making territorial gains in a neighboring district.
"We will never allow Houthis to pollute Marib," Major Sultan Al-Aradah said, adding that thousands of tribesmen and troops were ready to resist Houthi approaches to the province's borders.
He told reporters that Marib had become a safe haven for thousands of internally displaced people who had fled a Houthi crackdown in Sanaa and other rebel-held areas.
"Marib will remain committed to its political leadership, the government, the (Saudi-led) coalition and the people. It will be protected by its honorable men (who come) from the army, security services and the Yemenis who live here," the governor said, welcoming the coalition's support.
Marib has hosted thousands of Yemeni army troops and others from the Saudi-led coalition, in addition to thousands of people who have fled their homes in Houthi-controlled territories.
The province's military bases have been used by the army and the coalition for training and arming thousands of soldiers who are battling Houthis in Nehim, Marib's Serwah, Baydha and Taiz.
An escalation of fighting in Nehim, Sanaa, has forced dozens of displaced people into fleeing their camps outside Marib city and heading to Hadramout.
Residents in Hadramout's Aber district told Arab News that families had started arriving.
State media said on Monday that Saudi-led coalition warplanes had carried out intense airstrikes targeting Houthi locations in Nehim and Jawf.
A Houthi leader, Abu Abdul Aziz, and a number of militants were killed on Sunday as government forces engaged in heavy fighting on the western and eastern edges of the southern city of Taiz.
Local army officers said the government's escalation of fighting was aimed at easing the pressure on loyalists on Nehim's battlegrounds.
"The battlefields are connected. What happens here in Taiz will definitely affect the other battlefields," Abdul Basit Al-Baher, a Yemeni army spokesman in Taiz, told Arab News. "Fighting has not ceased since yesterday afternoon," he said, adding that the dead Houthi leader was thought to be the second or third most important rebel military commander in Taiz.
A mortar shell fired by Houthis landed at a local market on the city's western outskirts, killing three civilians and injuring several others.
"They have fired at least 13 mortars and Katyusha rockets at residential areas in Taiz over the last several hours," Al-Baher said on Monday.
Full report at:
https://www.arabnews.com/node/1619061/middle-east
--------
India
Identity crisis grips indigenous Muslims of Assam
Utpal Parashar
Jan 28, 2020
One group of Muslims in Assam, whose ancestors or they themselves migrated to the state from erstwhile East Bengal and present Bangladesh, are in focus for past few months following the updated the National Register of Citizens (NRC) and the amended Citizenship Act.
Reports of how many from this section have got excluded from the final NRC list released last year and non-inclusion of Muslims from Bangladesh (and also those from Pakistan and Afghanistan) as beneficiaries of the CAA are getting highlighted in newspapers, TV and social media.
But there's another group of Muslims, whose ancestors didn't migrate from East Bengal and Bangladesh, who are not in focus. This group known as indigenous or Assamese Muslims is feeling a threat to their identity due to Muslim migrants and wants measures to protect them and their interests.
Who are Assamese Muslims?
In Assam, indigenous Muslims can be divided into three distinct groups called Goria, Moria and Deshi. Some smaller groups like Moimal, Julha, Ujani and Syed are also called Assamese Muslims.
Unlike the Muslims who migrated from East Bengal and Bangladesh, members of these groups use Assamese as their mother tongue and follow and cultural traditions and festivities similar to Assamese Hindus which clearly differentiate them from the migrants.
While the Morias are mainly descendants of Muslim soldiers who were part of invasions to Assam and were captured by Ahom kings, the Deshis and Gorias are people from indigenous communities in lower and upper Assam respectively who converted to Islam.
"Deshis were from Koch-Rajbongshi communities. Besides captured Muslim soldiers, Muslims engaged in various tasks by Ahom kings are also known at Morias. Gorias comprise of Muslims brought from outside Assam by Ahom kings, captured Muslim soldiers and those who converted locally," said Muminul Aowal, chairman, Assam Minorities Development Board.
Assamese Muslims have contributed a lot to the state's history, right from the time of the Ahom kings when they distinguished themselves in the army to the Assam Agitation of 1979-85 against Bangladeshi immigrants and also towards embellishing Assamese literature and culture.
Change of fortunes
Fortunes began changing for the Assamese Muslims with the end of the six-century long Ahom rule in 1826 following signing of the Yandaboo Treaty, which brought Assam under British colonial rule.
Large scale immigration of people from East Bengal, mostly Muslims, to Assam during British rule and even after Independence changed the population dynamics in the state and over the next few decades Assamese Muslims become marginalized.
"If we look at comparative census figures between 1891 and 1931 of four districts in Assam and equal number of districts in neighbouring Bangladesh (when both areas were under British rule), they show the scale of migration," said Hafizul Ahmed, president of Sadou Asom Goria Moria Deshi Jatiya Parishad, the umbrella body of the three indigenous Muslim communities.
While Mymensingh, Rangpur, Bogra and Pabna districts in Bangladesh saw population decline as high as 8.3% during that period, the four Assam districts of Goalpara, Darrang, Kamrup and Nowgong (later renamed Nagaon) saw sharp rise in population (Nowgong recorded a 61.3% jump).
A microscopic minority
The six-year-long agitation against illegal Bangladeshis culminated with signing of the Assam Accord in 1985, which stipulated March 24, 1971 as the cut-off date for entry of foreigners.
According to Census 2011, there are over 10.67 million Muslims in Assam. This includes Muslims who migrated from East Bengal and Bangladesh, those who came to Assam from other parts of the country as well as Assamese Muslims.
"At present fates of nearly one-fifth of the total 126 assembly seats in Assam are decided by votes of migrant Muslims and their descendants. The Assamese Muslims, who are scattered all over Brahmaputra Valley don't have a single representative in state assembly," Nekibur Zaman, a senior advocate and vocal activist for rights of Assamese Muslims, said.
"Since we don't have any representative, the benefits of most government schemes for minorities are availed by Muslims who migrated to Assam. We are a microscopic minority," he added mentioning for nearly 1.5 lakh indigenous Muslims have been left out of the final NRC released last year.
Need for a census
In order to have an identity separate from the Muslims who migrated, Assamese Muslims have been demanding a separate census where people from the community could be identified and enumerated. Some say the total number of indigenous Muslims could be anywhere between three to four million.
In its 2019-2020 annual budget, Assam's BJP-led government announced conducting of a socio-economic census of Assamese Muslims and setting up of a corporation with a sum of Rs 100 crore for the all-round development of the community. Neither task has been initiated yet.
"We are aware of the unique problems faced by the Assamese Muslims. Process of registering the corporation is underway and will happen very soon. Once that is done, a survey will be done to find out the exact number of indigenous Muslims," said minorities welfare minister Ranjit Dutta.
The urgency for a separate census is also because the provisions under Clause 6 of Assam Accord, which seeks to give constitutional safeguards to indigenous Assamese through reservation of seats in legislature and jobs, are likely to be implemented this year and Assamese Muslims don't want to be left out.
https://www.hindustantimes.com/india-news/identity-crisis-grips-indigenous-muslims-of-assam/story-vXXHUnSum8ajz4UbcmBI4I.html
--------
So Many Stories Of Communal Harmony From Kerala, Hindu Wedding In The Mosque Is One Of Them
January 25, 2020
While it is clearly evident that the Citizenship Amendment Act was brought with an aim to create division among communities, people are protesting against the discriminatory law in unique ways of communal harmony and togetherness. The Hindu marriage that took place in a mosque premises in Kerala is only the latest in the list.
When Anju and Sarath got married according to Hindu rituals at the Muslim Jamat mosque at Cheravally near Kayamkulam in Alappuzha on January 19, 2020, it was a part of history being made. Hindu priests carried out the traditional rituals on the raised platform set in the mosque compound, and the bride and groom exchanged garlands. The villagers, without considering any differences in religion, attended the wedding and enjoyed the vegetarian sadya (feast) afterward.
Anju is the eldest of the three children of Bindu, who lived in a rented house at Cheravally. After the unexpected demise of her husband Ashokan two years back, Bindu has been toiling hard to keep the two ends of life meet. Anju and her younger sister had to discontinue their formal education after plus two, though Anju did a short-term course. Their only brother was in class 10 when the father died, however, he was able to continue his studies with the help of Nujumudheen Aalummootil, who also happened to be the secretary of the Muslim Jamat mosque.
'My son and his friend brought back to me a faith in God,' said a happy Bindu to TwoCircles.net, while recollecting how her son and his friend had asked her to approach Nujumudheen for help in November. Nujumudheen directed them to the mosque committee, which discussed the matter and decided to help the needy family. The matter was then presented before the believers who attended the Friday sermon and was approved. With the generous support of the people and cooperation of the temple authorities, the committee moved forward and fixed the wedding date in January. The wedding was organized and celebrated as a festival of the locality. While speaking to TwoCircles.net, Nujumudheen expressed his pleasure at having been able to bring joy to the needy family, especially in these turbulent times. The Jamat also gifted the bride Rs 2 lakhs and 10 sovereigns of gold.
The historic wedding got much media attention and popularity. The Chief Minister and other ministers, as well as political leaders and people's representatives, lauded the wedding as an example for the communal harmony of Kerala. In another incident during the time of nation-wide protests against the newly amended citizenship laws, the St Thomas Mar Thoma Church at Kozhencherry in Pathanamthitta celebrated Christmas in a unique way. The carol was performed by girls in headscarves and boys in skull caps; and was sung in the tune of Mappilappattu, the traditional Muslim songs. The girls clapped their hands as in the oppana, the traditional dance form performed by Muslim women. The Muslim attire was chosen as a symbolic protest against the Prime Minister's controversial statement that those behind the anti-CAA violence could be identified by their dress, according to media reports.
Response to the Prime Minister's mention of the attire of the protestors was expressed in several other quarters too. Several non-Muslims put on dresses normally worn by Muslims and expressed their solidarity to their Muslim brethren. Malayalam actor Anaswara Rajan posted her hijab-clad pictures on social media (December 17). Similarly, Indulekha Parthan, a law student in Ernakulam, participated in the students' protest against the CAA-NRC in the city on December 18 wearing a burqa and hijab, and holding a placard that read: 'Mr. Modi, I am Indulekha. Identify me by my dress?' Five days later, Sreenath K attended the citizens' Long March (from the Jawaharlal Nehru Stadium to the Cochin Shipyard) in Ernakulam wearing a long black cotton kurta and black dhoti, with a kirpan in his pocket and a colourful skull cap, and holding a placard that said: 'Identify me by my dress?'
A mega oppana was performed by a large number of girls and women at Nidumbram near Thalassery in Kannur, in association with the local Sree Muthappan Madappura festival there. On December 28, the Secular Youth March was organized from Muvattupuzha to Kothamangalam to protest against the discriminatory citizenship laws. The march led by leaders of the UDF reached Kothamangalam at dusk and the azan (call for prayer) for the maghrib namaz was called at the Mar Thoma Cheriyapalli (Jacobite Syrian Christian Church). Muslim Youth League leader Syed Munawarali Shihab Thangal led the prayers held in the church premises, while prayers at the time of sunset were held inside the church.
Full report at:
http://twocircles.net/2020jan25/434160.html?utm_source=feedburner&utm_medium=email&utm_campaign=Feed%3A+Twocirclesnet-IndianMuslim+%28TwoCircles.net+-+Indian+Muslim+News%29
--------
Not a Single Indian Muslim Will Be Affected By Either CAA, NRC: Defence Minister
Jan 27, 2020
MANGALURU: Defence minister Rajnath Singh while asserting that not a single Muslim in India will be thrown out of the country due to National Register of Citizens (NRC) said the Bharatiya Janata Party will throw its might behind the community if a single member of this community feels persecuted by Citizenship Amendment Act (CAA). This is in line with Prime Minister Narendra Modi's credo of Sab Ka Saath, Sab Ka Vikas aur Sab Ka Vishwas, he noted.
Assailing Congress for spreading sense of fear among Muslims regarding a law that both houses of parliament debated on and passed, Rajnath addressing a mammoth public awareness rally on CAA/NRC organised by district unit of BJP on Monday, said BJP has merely fulfilled wish that Gandhiji had directed the Congress to do post-Independence. This was also in the resolution adopted by Congress Working Committee on November 25, 1947, he said.
Asking the crowd if government discriminated based on religion in implementing its various flagship programmes such as Pradhan Mantri Awas Yojana, Pradhan Mantri Ujjwala Yojana, Ayushman Bharat or in providing various infrastructure works, Rajnath wondered how the same government could discriminate among its citizens with CAA. "How can the opposition now accuse us of being discriminatory with this step their leaders wanted," he quipped.
Reminding the Congress that it implemented the NRC based on a Supreme Court directive, Rajnath said, "NRC naam ki chidiya hum (BJP) logon ne nahin laya tha!" CAA is a balm that the government is using to apply on souls of persecuted minorities from India's theocratically ruled neighbours and is not to hurt any Indian citizen, he said, adding that Congress that is seeped in hatred for the ruling government can't see anything good in what it does.
Noting that there is a concerted attempt on part of the Congress to drive a wedge between Hindus and Muslims using the CAA, Rajnath said it will not be a wonder if there are foreign powers too behind this move. The former BJP national chief exhorted the party's rank and file to explain to the Muslims that their citizenship is not under any threat and they will continue to enjoy their rights as any other citizen of the country continues to do.
Appealing to the opposition to follow the 'opposition dharma', Rajnath said in doing so, they should not forget the 'national dharma'. Instead let the opposition question the continuing persecution of the minorities in neighbouring Pakistan, he said. While the CAA is only to accommodate persecuted minorities from Afghanistan, Pakistan and Bangladesh, majority of whom are Dalits, why should anyone have any objection to it, he wondered.
Full report at:
https://timesofindia.indiatimes.com/india/not-a-single-indian-muslim-will-be-affected-by-either-caa/nrc-rajnath-singh/articleshow/73670161.cms
--------
Sharjeel Imam, JNU Student Accused Of Sedition, Arrested In Bihar
All IndiaReported by Manish Kumar, Edited by Anindita Sanyal
January 28, 2020
New Delhi/ Patna: Sharjeel Imam, the research scholar of Delhi's prestigious Jawaharlal Nehru University accused of sedition, has been arrested from his hometown - Bihar's Jehenabad. A spate of police cases were registered against Sharjeel Imam after a video of him allegedly making anti-national comments was widely circulated online.
His arrest took place hours after the Bihar police picked up his brother for questioning.
Sharjeel Imam will be brought to Delhi after which his questioning will begin, sources said. His family, sources said, has denied the allegations of sedition, saying his comments were taken out of context. Appearing before the media earlier today, his mother said he was "not a law-breaker and would surrender to the investigating agencies".
"Nobody should do anything that is not in the interest of the nation. The accusations and the arrest - the court will decide on the matter," Bihar Chief Minister Nitish Kumar was quoted as saying by news agency ANI after the arrest.
A sedition case was registered against Sharjeel Imam in Delhi for his alleged call to sever the whole of the northeast from the rest of India after the imposition of the Citizenship Amendment Act or CAA. He is also wanted in other states, including Assam, Manipur, Arunachal Pradesh and Uttar Pradesh.
By last evening, the hunt for him had spread to Mumbai, Patna and Delhi as the Delhi Police pushed in five teams from its Crime Branch.
The Delhi police claimed he made divisive speeches on two occasions, once at the Jamia Millia Islamia University at the height of the anti-Citizenship Amendment Act protests in December, the other at the Aligarh Muslim University in Uttar Pradesh, another epicentre of the protests against the Citizenship Amendment Act or CAA.
Sharjeel Imam is allegedly one of the organisers of the protest at Delhi's Shaheen Bagh protest. But the protesters at Shaheen Bagh distanced themselves from his comments, saying that "no single person" can be called the organiser. His mother said he was in favour of "calling off" the agitation.
The Citizenship Amendment Act makes religion, for the first time, the test of Indian citizenship. The government says it will help non-Muslim refugees from three Muslim-dominated neighbouring countries if they fled to India because of religious persecution.
Full report at:
https://www.ndtv.com/india-news/sharjeel-imam-jnu-student-accused-of-sedition-arrested-in-bihar-2170907
--------
Brother of JNU student Sharjeel Imam, accused of sedition, detained in Bihar
Vijay Swaroop
Jan 28, 2020
Police in Bihar's Jehanabad on Tuesday detained the brother of Sharjeel Imam, a student of Delhi's Jawaharlal Nehru University (JNU) booked for sedition after his alleged "inflammatory and instigating" speech.
Delhi Police have booked Imam, one of the organisers of the anti-citizenship act protests in the city's Shaheen Bagh, for his alleged remarks threatening to "cut-off" Assam from the rest of India. Cases have also been registered against him in Assam, Arunachal Pradesh and Uttar Pradesh.
If convicted under Section 124A of the Indian Penal Code (IPC) he could be imprisoned for life.
Before this, he had been booked on similar charges by Aligarh Police in Uttar Pradesh for a speech he delivered on the Aligarh Muslim University (AMU) campus.
Police picked up his brother Muzzamil Imam, a political worker associated with the anti-Citizenship Amendment Act protests in Jehanabad, for questioning, officials said.
Muzzamil's detention came a day after a police team from Delhi and Bihar had raided several places from Jehanabad to Patna in search of anti-citizenship act activist Sharjeel Imam on Monday.
The police after searching different locations at Jehanabad and his native village at Kako, raided some places in Patna including Sabzibagh area, after getting information that he was hiding in the state capital.
Officials had said that Sharjeel Imam's last mobile location was found to be in Patna on Saturday and later some people spotted him in Jehanabad as well.
Jehanabad's superintendent of police Manish Kumar said police raided on Imam's ancestral house under the Kako police station area on Sunday night after "help was sought by central agencies".
Imam, the son of former Janata Dal(United) leader late Akbar Imam, could not be found but two of his relatives and their driver were detained for interrogation and let off thereafter, the SP said and added that his family has been advised to ask him to surrender.
His mother, Agsan Rahim, had alleged on Saturday that the media had distorted his statements and the police were "unnecessarily harassing the family."
"My son is innocent. I do not know about his whereabouts but can swear by God that he is innocent. He is a bright young man. But I can guarantee that upon learning about the cases, he will appear before the investigating agencies and fully cooperate in the probe," she said.
She said it has been a long time since she met her son though she had a telephonic conversation with him a few weeks ago.
"He was obviously disturbed by the CAA and fears over the National Register of Citizens (NRC) being implemented across the country which, he said, would affect not just Muslims but all poor people," she said.
His uncle Arshad Imam said the entire village and community respect the judiciary and Constitution. He, however, rued that fact that the statements have been distorted to suit the political needs.
"A 40-second video of the 40-minute speech is being presented. It is being exaggerated. Every Indian has the right to protest," said Imam, who was also interrogated by the police.
Sharjeel Imam is a graduate in computer science from IIT-Mumbai
"After remaining in the teaching profession for some time, he joined a software company. He resigned from the service and joined JNU in 2017 do PhD in modern history," a villager, who did not want to be named, said.
Full report at:
https://www.hindustantimes.com/india-news/brother-of-jnu-student-sharjeel-imam-accused-of-sedition-detained-in-bihar/story-8redsWVxs8FZG3AU2xrjxM.html
--------
'No referendum in J&K, give us what Constitution guarantees': PDP's Muzaffar Baig
Jan 28, 2020
Former deputy chief minister Muzaffar Hussain Baig on Sunday said that there can never be a referendum in Jammu and Kashmir and that "Pakistan and the United States (US) have also accepted the fact that J&K is an integral part of India."
"There can never be any referendum in Jammu and Kashmir. Pakistan Prime Minister Imran Khan and US President Donald Trump are advocating for autonomy to J&K. It means they've accepted that J&K is an integral part of India. We demand that J&K should be given what Constitution guarantees us," Baig said after unfurling Tricolour at the headquarters of Peoples Democratic party (PDP) in Jammu on Sunday.
"On this day of Republic Day, we the people of J&K urge the Centre that we do not want anything out of the purview of this book (Constitution). Whatever are our problems, solutions lie in this book," he added.
He also dedicated Padma Bhushan award conferred upon him to the people of the Union Territory.
"This award has not been conferred upon me but upon the people of J&K," Baig said.
"This year there was a big change in the country. Our state was bifurcated into two UTs. We hope that statehood is restored again. We appeal the Centre to make Jammu and Kashmir a state again, so that we can walk with dignity and government elected here can get power to work for the welfare of the people," he said.
Baig has been honoured with the Padma Bhushan for his contribution to "public affairs".
Full report at:
https://www.hindustantimes.com/india-news/no-referendum-in-j-k-give-us-what-constitution-guarantees-pdp-s-muzaffar-baig/story-12P4QIyr6rKwrMW3ndgsaJ.html
--------
Congress plans protest against CAA, NRC in Budget Session
Jan 28, 2020
The Congress on Monday decided to corner the government on the issues of Citizenship Amendment Act (CAA), National Register of Citizens (NRC) and National Population Register (NPR) in the upcoming budget session of Parliament apart from the economic slowdown, price rise, unemployment and the alleged assault on students.
A Congress leader familiar with the development said the party will also seek answers from the government on the situation in Jammu and Kashmir in the wake of internet shutdown and the move to take a foreign delegation to the valley while denying permission to the opposition leaders to go there.
The party's strategy for the budget session, beginning January 31, was formulated at a meeting chaired by Congress president Sonia Gandhi on Monday.
Congress leaders suggested that the party should keep up the attack on the government over CAA, NRC and NPR in view of the protests spreading across the country over these issues.
However, they also insisted that the party should also corner the government on the current state of economy, price rise, agrarian crisis and rising unemployment.
Full report at:
https://www.hindustantimes.com/india-news/congress-plans-protest-against-caa-nrc-in-budget-session/story-xw5EpjmnwGV7juTpHL6ZKN.html
--------
Will clear Shaheen Bagh within one hour if BJP forms govt in Delhi, says Parvesh Verma
Jan 28, 2020
NEW DELHI: The ongoing protests at Shaheen Bagh will come to an end within one hour if BJP forms the government in Delhi, claimed BJP MP Parvesh Verma on Tuesday.
"If the BJP forms government on February 11, not a single person will be found at (the protest site) Shaheen Bagh," Verma said during a meeting at Vikaspuri assembly constituency.
#WATCH: BJP MP Parvesh Verma says, "...Lakhs of people gather there (Shaheen Bagh). People of Delhi will have to th… https://t.co/JYKkphlipY
— ANI (@ANI) 1580185135000
"If our government is formed, then give me just a month after February 11, and I will remove all mosques built on government land in my Lok Sabha constituency," the BJP parliamentarian added.
"Lakhs of people gather there (Shaheen Bagh). People of Delhi will have to think and take a decision. They will enter your houses, rape your sisters and daughters, and kill them. There's time today, Modiji (Prime Minister Narendra Modi) and Amit Shah will not come to save you tomorrow. It will be a whole lot better if the people of Delhi wake up today," Verma told ANI.
The BJP MP from West Delhi alleged that the Shaheen Bagh protesters could harm residents to Delhi and urged people to wake up "while there's time."
"Arvind Kejriwal says he is with Shaheen Bagh and so does Manish Sisodia. The people know that a fire engulfed Kashmir in which their mothers and sisters were raped. This happened in Kerala, Uttar Pradesh, Hyderabad," Verma said.
Full report at:
https://timesofindia.indiatimes.com/city/delhi/will-clear-shaheen-bagh-within-one-hour-if-bjp-forms-govt-in-delhi-says-parvesh-verma/articleshow/73687552.cms
--------
Gloves off, CM Arvind Kejriwal and Amit Shah attack each other over Shaheen Bagh
Jan 28, 2020
NEW DELHI: Chief minister Arvind Kejriwal went on the offensive on the Shaheen Bagh issue on Monday, accusing BJP of deliberately not getting the road opened. Addressing a press conference, the chief minister said: "BJP does not want to get the road — closed due to the protest — opened. Holding press conferences will not lead to improvement in law and order in Delhi. Law and order can improve with efforts. We can teach you how to work. We know how to work and they only know how to hold press conferences and do dirty politics."
Kejriwal seemed to have overcome his initial hesitation in discussion the issue, faced with BJP's aggressive campaigning. He said the road, affected by the protest against Citizenship Amendment Act, will be opened on February 9, a day after polling is held for the assembly elections. The closure is causing huge inconvenience to commuters.
It was last week after deputy CM Manish Sisodia said on a TV channel that he stands with the Shaheen Bagh protesters that BJP began attacking him and Kejriwal. Party spokesperson Sambit Patra called AAP an anti-Hindu party while Hari Nagar candidate Tajinder Singh Bagga said BJP stands with India and AAP with Shaheen Bagh protesters.
Union home minister Amit Shah escalated the attack on Monday by daring Kejriwal to clear his stand on the Shaheen Bagh protests and explain whether he was in favour of the protesters.
Later, on Twitter, Kejriwal responded to Shah who had also sought his stand on JNU student Sharjeel Imam, who has been booked for his speeches. "Sharjeel talked about cutting off Assam from the country. This is serious. You are the home minister of the country. Your statement is low level of politics. It is your responsibility to get him arrested. Two days have passed since he made the remarks. Why are you not arresting him? What is your helplessness? Or do you have to do more dirtier politics?" Kejriwal asked on Twitter.
"I am disappointed with the dirty politics of BJP on the issue," he said at the press conference. "The road is closed and it is causing inconvenience to a large number of people. School children and ambulances are facing obstruction. Travelling (through Kalindi Kunj) that usually took 30-40 minutes is taking two-and-a-half to three hours. "I can give it in writing that...the road will open on February 9."
Full report at:
https://timesofindia.indiatimes.com/india/gloves-off-cm-arvind-kejriwal-and-amit-shah-attack-each-other-over-shaheen-bagh/articleshow/73678913.cms
--------
Terrorist killed, soldier injured in Kulgam encounter
Jan 27, 2020
SRINAGAR: A terrorist was killed and a soldier was injured in an exchange of fire between security forces and terrorists during an anti-insurgency operation at Arwani area of south Kashmir's Kulgam district on Monday.
The slain terrorist has been identified as Shahid Khar from Kulgam's Redwani area. He had gone missing earlier this month and joined terror ranks. Police are yet to ascertain Khar's affiliation.
With Khar's death, 16 terrorists including JeM chief Yasir have been killed in 6 encounters while nine terrorists including Hizbul Mujahideen division commander Naveed Mushtaq — who was a former SPO with J&K Police — have been arrested in Kashmir in the last 28 days since Vijay Kumar took over as IGP Kashmir.
Based on intelligence inputs, a joint team of security personnel had launched a cordon-and-search operation in Arwani village when holed-up terrorists opened fire at the search party, triggering an encounter. "In the ensuing gunbattle, which lasted for approximately five minutes, Khar was killed while a soldier of Army's 1 RR — identified as Shareefuddin — was injured," said an official.
Full report at:
https://timesofindia.indiatimes.com/india/terrorist-killed-soldier-injured-in-kulgam-encounter/articleshow/73674882.cms
--------
Pak must take demonstrable steps against terror groups: Defence minister
Jan 28, 2020
NEW DELHI: Defence minister Rajnath Singh on Tuesday lashed out at Pakistan for using "terror as a state policy" towards India rather than peacefully settling disputes through dialogue, and said it must take demonstrable steps against terror groups.
Addressing the 12th South Asia conference here, Singh said it is essential that terrorists and their ideological and financial networks are cut off and do not receive state support.
"India is engaged in conversations with its neighbours except one country in order to develop a joint approach for regional peace and security.
"True pathway to regional peace and security lies in understanding each other's sensitivities and following basic principles of non-interference in each other's internal affairs," he said.
Full report at:
https://timesofindia.indiatimes.com/india/pak-must-take-demonstrable-steps-against-terror-groups-defence-minister/articleshow/73687970.cms
--------
Lashkar-e-Taiba terrorist arrested from J-K's Baramulla
Jan 28, 2020
BARAMULLA (JAMMU & KASHMIR): The Jammu and Kashmir Police on Tuesday arrested a terrorist affiliated with proscribed terror outfit Lashkar-e-Taiba (LeT) from Andergam Pattan area of Baramulla district.
He has been identified as 19-year-old Sajid Farooq Dar.
"In another operation by police one Sajid Farooq Dar Adnan, son of Farooq Ah Dar, Age 19 years, resident of Gund Prang Madvan Hajin, district Bandipora, affiliated with LET was arrested from Andergam Pattan Baramulla," the Jammu and Kashmir Police tweeted.
Full report at:
https://timesofindia.indiatimes.com/india/lashkar-e-taiba-terrorist-arrested-from-j-ks-baramulla/articleshow/73685950.cms
--------
Any fear of 'Muslim takeover in India' baseless: Abhijit Banerjee
Jan 28, 2020
KOLKATA: Minorities in India, much like in the United States, were "not really anywhere close to being dominant" and the fear of any "Muslim takeover in India" was baseless, 2019 Economics Nobel-winner Abhijit Banerjee said here on Monday. It was his first public appearance in the city after receiving the Nobel on December 10 last year.
Minorities in both India and the US are "relatively economically and educationally" deprived, he said, alluding at least once in his speech to "the fringes of the ruling party (in India)".
Banerjee spoke about the "fear of the other" among a section of population that, he felt, might not be bigoted individually. "There is talk about… at least from the fringes of the ruling party about the demographics of the Muslim population. These are just ways to demonise a population," he said.
Noting that many of these narratives had no real basis, Banerjee said: "I don't think there is any real fear that there will be a Muslim takeover in India."
He also emphasised the importance of a non-partisan approach to politics. "I don't want to join a political party but I want to remain useful...," he added.
Full report at:
https://timesofindia.indiatimes.com/india/any-fear-of-muslim-takeover-in-india-baseless-abhijit-banerjee/articleshow/73682076.cms
--------
Popular Front of India mobilised money to finance anti-CAA protests, says ED note to MHA
Neeraj Chauhan
Jan 27, 2020
The Enforcement Directorate (ED) has sent a note to the Union ministry of home affairs stating there is a link between protests against the contentious citizenship act in different parts of the country and the Popular Front of India (PFI), sources said on Monday, charges strongly condemned by the organisation.
According to the sources, the note shows several payments and withdrawals in various areas around the time of the protests in December last year and January.
"It has been noticed that Rs 1.04 crores were deposited in 15 bank accounts of PFI (10) and Rehab India Foundation (5) during the period starting from 04.12.2019 till 06.01.2020," a source said quoting from the document.
"The money trail has proved beyond doubt that PFI has mobilised the money to finance the cost of demonstration/gherao against CAA Bill till 06.01.2020. Further investigation to trace money trail from other bank accounts is continuing," the note said, according to the source.
They added that the names of some prominent people to whom payments have been made by PFI also been mentioned in the note.
The PFI issued a point by point rebuttal to ED's note, saying the allegations that it funded the anti-CAA protest were baseless.
The organisation said the Enforcement Directorate has not contacted it nor has issued an official statement regarding these allegations.
"We are confident that the fate of these series of allegation will also be like the ones before which could never be proved," it said.
The organisation also responded to another allegation of transfer of funds its Kashmir Wing, saying it does not have any wing or branch in Jammu and Kashmir.
"We challenge the so called "Unnamed Sources" to prove that there is any wing of Popular Front working in Kashmir," it said.
On allegations that it transferred funds to senior advocates, PFI said it had only done so once in 2017 as fees to lawyers engaged to fight the Hadiya case and "openly declared it in various public meetings".
"This statement exposes the intention of the vested interested who are keen to blame Popular Front for everything that is happening in India... Attributing a fees transfer that happened in 2017 as a funding for 2019 CAA protest is totally absurd and exposes the intention to defame Popular Front."
It also rejected the allegations of the governments in Uttar Pradesh and Assam about the arrests of "our state-level leaders" in the anti-CAA protest-related violence.
Police in Uttar Pradesh had arrested around 25 PFI functionaries and activists for their alleged role in the violent anti-CAA protests in Meerut, Shamli, Muzzafarnagar and Lucknow on December 19. More than 20 people were killed during these protests.
"But their claims proved to be nothing but imaginations when they could not prove anything in the court and our leaders were released on bail," it said.
Union law minister Ravi Shankar Prasad had also said earlier in January PFI may have played a part in the violence surrounding some protests and that the Union home ministry will decide on the action to be taken against the organisation "based on evidence".
Full report at:
https://www.hindustantimes.com/india-news/popular-front-of-india-mobilised-money-to-finance-anti-caa-protests-says-ed-note-to-mha/story-VIkqs81KDHBgattY2s0m1M.html
--------
BJP rakes up Sonia Gandhi's citizenship after Cong slams govt over Padma Shri to Adnan Sami
January 27, 2020
The Modi government's decision to confer the Padma Shri on Pakistani-origin singer Adnan Sami has led to an uproar from Opposition parties, with Congress questioning the merit of the award and NCP calling it an "insult".
Hitting back at the Opposition, BJP raked up the citizenship of Congress president Sonia Gandhi while asking if the party only likes Muslims who are "against" Prime Minister Narendra Modi, India and its institutions.
Countering Congress' criticism over Sami's father's background as a Pakistani Air Force pilot, BJP spokesperson Sambit Patra alleged that Sonia Gandhi's father was "associated" with the regimes of Italian dictator Mussolini and Germany's Hitler.
"If his father's background is held against him by some 'liberals' and opposition parties for criticising the Padma award to him, then the Congress should answer as to why Gandhi was given Indian citizenship," PTI quoted Patra as saying.
Weighing in on the issue, Sami said he "first came in 'legally' as opposed to 'jumped' and lived 'legally' for 18 years in India before becoming a 'legal citizen!"
Adnan Sami
✔
@AdnanSamiLive
• 22h
Don't 'Uncle' me NOW & talk nonsense about knowing "Indian" culture NOW when in ur statement u hv d audacity of using uncouth words such as "Chamchagiri" which speaks volumes of ur lack of 'culture' & disregard 4 any form of respect 4 elders which is d ESSENCE of INDIAN CULTURE!! https://twitter.com/jaiveershergill/status/1221639530576375808 …
Jaiveer Shergill
✔
@JaiveerShergill
Uncle,i can reply in ur language but "Indian" culture teaches us to be respectful even to our enemies-u jumped border only recently so guess ur still learning.
Objection is to Policy of declaring Indian Soldier as foreigner & giving award to family of a Pak soldier.Good Day🙏 https://twitter.com/adnansamilive/status/1221581196104044544 …
Adnan Sami
✔
@AdnanSamiLive
& while ur at it 'Mr. Lawyer' know the meaning of 'JUST JUMPED BORDER'..Perhaps ur 'Trial-Expired-Brain' (which u didn't renew) didn't know that I firstly came in "legally" as opposed to 'jumped' & secondly, lived 'legally' for 18 years in India before becoming a 'legal citizen!
3,783
1:56 PM - Jan 27, 2020 • Mumbai, India
Twitter Ads info and privacy
786 people are talking about this
"Did they teach you in Berkley that a son is to be held accountable or penalised for the acts of his parents?" Sami asked Congress spokesperson Jaiveer Shergill, who had earlier stated that the singer's "recognition was due to his sycophancy".
Adnan Sami
✔
@AdnanSamiLive
Hey kid, did you get ur brain from a 'Clearance Sale' or from a second hand novelty store?
Did they teach u in Berkley that a son is to be held accountable or penalised for the acts of his parents? And ur a lawyer?😳
Is that what u learned in law school? Good luck with that!😂 https://twitter.com/jaiveershergill/status/1221468206293848070 …
Jaiveer Shergill
✔
@JaiveerShergill
'Magic of govt chamchagiri': Congress slams govt over Padma Shri to Adnan Sami | Deccan Herald https://www.deccanherald.com/national/north-and-central/magic-of-govt-chamchagiri-congress-slams-govt-over-padma-shri-to-adnan-sami-798363.html …
21.4K
5:20 AM - Jan 27, 2020 • Mumbai, India
Twitter Ads info and privacy
6,440 people are talking about this
The NCP termed it as an "insult" to the 130 crore Indians and a "damage control" act by the NDA government "facing questions" over the CAA, NRC and NPR. "If anyone from Pakistan chants 'Jai Modi', he can now get citizenship of India as well as a Padma Shri award. Selection of Sami for the award is a damage control exercise," Maharashtra Minorities Development Minister and NCP spokesperson Nawab Malik said.
Sami was one of the 118 people whose names were announced on Saturday for the Padma Shri awards, with the Ministry of Home Affairs list showing his home state as Maharashtra. Read the full list here
Full report at:
https://indianexpress.com/article/india/bjp-rakes-up-citizenship-of-sonia-gandhi-after-cong-slams-padma-shri-to-adnan-sami-6237922/
--------
Arab World
Saudi FM Says Israeli Passport Holders Cannot Visit Kingdom
27 January 2020
Saudi Arabia's foreign minister said Israelis could not visit the Kingdom after Israel decreed that its citizens were permitted to visit Saudi Arabia under certain circumstances, CNN reported on Monday.
"Our policy is fixed. We do not have relations with the state of Israel and Israeli passport holders cannot visit the kingdom at the current time," the US broadcaster quoted Prince Faisal bin Farhan as saying.
A statement from Israel's interior minister on Sunday said Israelis - if invited and permitted by Saudi authorities - would be allowed to travel there for religious reasons on pilgrimage or for business reasons such as investment or meetings.
"When a peace agreement is reached between the Palestinians and the Israelis, I believe the issue of Israel's involvement in the region will be on the table," Prince Faisal said.
US President Donald Trump said on Monday that the White House would release his long-delayed Middle East peace plan at noon (1700 GMT) on Tuesday.
https://english.alarabiya.net/en/News/gulf/2020/01/27/Saudi-FM-says-Israeli-passport-holders-cannot-visit-Kingdom.html
--------
Syrian army troops clear more towns of Takfiri terrorists in Idlib province
27 January 2020
Syrian government forces have liberated more areas during a large-scale counter-terrorism offensive in the country's northwestern province of Idlib from the clutches of foreign-sponsored Takfiri terrorists, tightening the noose around the extremists operating in the troubled region.
Syrian military troops pressed ahead with their advances in the southern countryside of Idlib, and liberated strategic Ma'asaran town and the key village of al-Sawami'a from Takfiri terrorists on Monday, Syria's official news agency SANA reported.
The capture came after "intense clashes" with the extremists, SANA said, noting that army soldiers inflicted heavy losses upon the terrorists and destroyed their hideouts and military hardware.
The Syrian troops entered the key towns and villages of Ma'ar Shourin, al-Za'alana, al-Ghadfeh and al-Dana in the past 24 hours after dismantling foreign-backed militant camps in the same region, the report added.
On Sunday, SANA said that Syrian forces were inching closer to the city of Idlib, but foreign-backed Takfiri militants were preventing civilians from leaving through humanitarian corridors.
Syria's al-Watan newspaper reported that army forces were "just around the corner" from the city, whose "doors are wide open."
On Saturday, Syria's Foreign Ministry wrote to the UN, stressing that the operation in Idlib and Aleppo against Takfiri elements "will not stop until the elimination of those terrorists, who threaten safety and security of Syrian civilians."
Idlib and nearby areas of Hama, Aleppo and Latakiya provinces are threatened by the Jabhat al-Nusra and Hayat Tahrir al-Sham (HTS) terrorist groups.
Idlib remains the only large area in the hands of terrorists after the Syrian military managed to undo militant gains across the country and bring back almost all of Syrian soil under government control.
On August 5 last year, the Syrian army declared the start of an offensive against foreign-sponsored militants in Idlib. This came after those positioned in the de-escalation zone failed to honor a ceasefire brokered by Russia and Turkey and continued to target civilian neighborhoods.
Under the Sochi agreement, all militants in the demilitarized zone that surrounds Idlib, and also parts of the provinces of Aleppo and west-central province of Hama, were supposed to pull out heavy arms by October 17 2018, with the Takfiri groups having to withdraw two days earlier.
Full report at:
https://www.presstv.com/Detail/2020/01/27/617251/Syria-Idlib-Ma%E2%80%99asaran-al-Sawami%E2%80%99a-SANA
--------
Egypt sentences dozens to life imprisonment for joining Daesh affiliate
27 January 2020
An Egyptian court has sentenced at least 37 people to jail terms, including life imprisonment, for joining or supporting a terror outfit affiliated to the Daesh Takfiri terrorist group, judicial sources say.
The judicial sources said on Monday that a Cairo criminal court sentenced eight defendants to life terms and 29 to terms ranging from one to 15 years.
This came after prosecutors accused them of planning attacks, promoting the group's ideology in prisons and financing its cells.
The defendants can appeal against the sentences at the court of cassation, Egypt's top civilian court.
Seven suspects were also acquitted.
Over the past few years, terrorists have been carrying out anti-government activities and fatal attacks, taking advantage of the turmoil in Egypt that erupted after the country's first democratically-elected president, Mohamed Morsi, was ousted in a military coup in July 2013.
The Velayat Sinai terror group, which pledged allegiance to Daesh in 2014, has claimed responsibility for most of the assaults across Egypt, particularly those in the Sinai region, where the group is based.
It later expanded its attacks to target members of Egypt's Coptic Christian community as well as foreigners visiting the country, prompting Cairo to widen a controversial crackdown, which critics say has mostly targeted dissidents.
In a separate development on Monday, another Cairo criminal court referred the cases of three men accused over a 2018 failed assassination attempt against Alexandria's security chief to Egypt's top religious authority.
Prosecutors said the defendants were part of a militant group called Hasm, which the government describes as an armed wing of the Muslim Brotherhood, which was outlawed as a "terrorist organization" in late 2013 following the ouster of Morsi, through a military coup by current President Abdel Fattah el-Sisi, who was at the time Morsi's defense minister. The group denies any link with any militant activity.
Rights groups in Egypt and across the world have recorded cases of irregularities in the trials of political prisoners in the country. They say the army's clampdown on the supporters of Morsi has led to the deaths of some 1,500 people and the arrests of 22,000 others, including 200 people who have been sentenced to death in mass trials.
In June last year, 67-year-old Morsi himself passed away during a trial court session in Cairo.
Full report at:
https://www.presstv.com/Detail/2020/01/27/617230/Egypt--Daesh-Takfiri-Sisi-Mohamed-Morsi-Brotherhood
--------
Saudi FM says Middle East 'safer' after US assassination of Gen. Soleimani
28 January 2020
Saudi Foreign Minister Faisal bin Farhan Al Saud has praised the US for assassination of General Qassem Soleimani, the hero of regional fight against Takfiri terrorism, claiming that his martyrdom has made the region "safer".
Speaking in an interview with CNN on Monday, the Saudi foreign minister said he believed the US acted in "their own legitimate self-defense" when it assassinated General Soleimani.
He also said he agreed with US Secretary of State Mike Pompeo that the region was "safer" following General Soleimani's martyrdom.
Lieutenant General Soleimani and Abu Mahdi al-Muhandis, the second-in-command of Iraq's Popular Mobilization Units (PMU), were assassinated in US airstrikes in the Iraqi capital Baghdad on January 3.
Both commanders were admired by Muslim nations for their role in eliminating the Takfiri terrorist group of Daesh in the region, particularly in Iraq and Syria.
The assassination was carried out upon the direct order of US President Donald Trump, who claimed the move was made to avert an "imminent attack." However, his claim has faced with growing suspicion and skepticism in the US.
The Trump administration has so far declined to provide any evidence to substantiate its claim that the intelligence available led to General Soleimani's assassination.
In his Monday remarks, the Saudi diplomat further claimed that he did not see any "change of behavior" from Iran following the US move.
"The statements aren't positive. But we will continue to call on them to behave in a way that can support regional stability," the Saudi FM said.
In similar remarks on Thursday, Saudi Minister of State for Foreign Affairs Adel al-Jubeir had claimed that a restoration of ties with Iran will be possible when Iran "returns to a normal state."
Speaking at a World Economic Forum panel in Davos, Switzerland, Jubeir accused Iran of "meddling" in Iraq's internal affairs and said, "The Iranians have to show good faith, the Iranians have to change their behavior and their policies."
Reacting to the comments, Iranian Foreign Minister Mohammad Javad Zarif said a "normal" country does not refuse to talk.
Zarif tweeted that Saudi Arabia cannot be called a "normal" country when it caused a humanitarian crisis in Yemen and killed its dissident journalist Jamal Khashoggi inside the kingdom's consulate in Turkey.
"'Normal' countries don't operate abattoirs disguised as consulates. 'Normal' countries don't attack their neighbors, cause a humanitarian crisis, and refuse to talk," he said.
Full report at:
https://www.presstv.com/Detail/2020/01/28/617264/Saudi-Arabia-Qassem-soleimani-iran
--------
In Syria, U.S. steps up Islamic State operation, but for how long, no one knows
By Missy Ryan
January 25, 2020
GREEN VILLAGE BASE, EASTERN SYRIA — U.S. troops in Syria have picked up the pace of counterterrorism operations following a lull, a top U.S. commander said Saturday, but the future of the American mission remains uncertain amid changing dynamics in the Syrian conflict and the potential for renewed presidential intervention.
"The tempo is coming back," Gen. Kenneth "Frank" McKenzie Jr., who heads U.S. Central Command, said during a visit to a constellation of tiny American outposts in eastern Syria.
American troops in Syria, like those in neighboring Iraq, shifted their focus from anti-extremist operations to force protection after a Jan. 3 strike in Baghdad killed Maj. Gen. Qasem Soleimani, Iran's most influential military figure. Iran retaliated by launching ballistic missiles at U.S. troops in Iraq, causing no deaths, although a number of service members have suffered symptoms believed to be associated with traumatic brain injury.
Now, McKenzie said, U.S. troops are conducting three to four operations a week with Syrian Kurdish forces against the Islamic State, an increased pace but still far fewer than during the earlier massive multinational campaign.
McKenzie touched down at a series of isolated bases, where 500-600 American troops are arrayed, in his first visit to an area of Syria known as the "eastern security zone." Home to valuable oil facilities, the swath of scrubland and farms became a focus for U.S. operations after a Turkish invasion into northern Syria pushed U.S. troops from bases there.
But even as McKenzie provided assurances that the U.S. military remained intent on battling the Islamic State and mentoring the Kurdish-dominated Syrian Democratic Forces (SDF), he gave no timeline for how long Americans will remain.
"I frankly don't know how long we're going to be here," said Mc­Kenzie, who met with U.S. commanders and with Gen. Mazloum Kobane, commander of the SDF, which has been the primary American partner in Syria.
"And I have no instructions other than to continue to work with our partner here," he said, against the Islamic State and protecting oil infrastructure the Trump administration hopes will help fund the SDF's ongoing security work.
For now, American commanders are hoping to accomplish as much as possible, in further weakening the Islamic State and in transforming the SDF into a sustainable internal security unit before larger forces bring about a U.S. withdrawal.
That could include orders from President Trump, who has promised to end America's counterinsurgency wars and extricate the United States from the Middle East. Twice, he has appeared to order a full withdrawal from Syria and then backed away.
The president has permitted the mission to continue to prevent militants from regaining control of Syrian oil fields, but Pentagon leaders know he could change his mind at any moment.
It might also include what is expected to be an eventual campaign by Syrian President Bashar al-Assad, who with Russian backing has clawed back many areas of Syria previously under opposition control, to press east into areas now under U.S. and SDF control.
"We'll be prepared to deal with that as those events develop in the future," McKenzie said. "Now we're firmly focused on the lasting defeat of ISIS."
One of the bases used to coordinate that effort is Green Village, an outpost where U.S. troops are housed in former oil industry villas next to a major Syrian oil field. Another base, called Conoco, sits amid massive storage drums, a symbol of the Kurds' ambitions to gain financial autonomy. The fields under Kurdish control are not working close to full capacity, U.S. officials said.
The Washington Post, which along with the Associated Press accompanied McKenzie during his trip to Syria, is withholding the names of other American facilities at the request of the U.S. military.
Outside those bases' barbed-wire and dirt-filled barriers, the Syrian conflict is increasingly complex in ways that could affect U.S. troops and their mission. Officials say that American forces continue to come into proximity, primarily on local highways, to Syrian government and Russian troops who have moved deeper into eastern Syria, but that those encounters have not produced hostilities.
The SDF is now coordinating with Russia in some areas that U.S. troops vacated last fall, as the group seeks to make arrangements with the Assad regime that would allow it to retain some degree of autonomy as the government attempts to reassert control.
Iran could also attempt further retaliation against the United States via proxy groups or its own military forces in Syria.
Another dynamic that could affect the duration of the American presence is found in Idlib, a province in the northwest where Syrian and Russian forces are conducting a fierce bombing campaign to stamp out a remaining bastion of regime opposition.
U.S. officials anticipate that Assad and Russia may become mired in a lengthy, bloody campaign that could prevent the ­regime from moving into areas where the SDF and Americans are present, potentially allowing the United States to continue its campaign against Islamic State remnants for longer.
Full report at:
https://www.washingtonpost.com/national-security/in-syria-us-steps-up-islamic-state-operation-but-for-how-long-no-one-knows/2020/01/25/1b77cdc2-3fca-11ea-b90d-5652806c3b3a_story.html
--------
Syrian government forces capture towns in advance on rebel-held Idlib
JANUARY 26, 2020
BEIRUT (Reuters) - Syrian government forces have taken control of several towns in northwestern Idlib province, a war monitor and Syrian state media reported, amid a renewed push by President Bashar al-Assad to recapture the last rebel stronghold.
Hundreds of thousands of people have fled Idlib in recent weeks amid stepped up air strikes by Russian and Syrian forces aimed at clearing the opposition from its last redoubt after almost nine years of civil war.
The Syrian Observatory, a war monitor, said on Sunday that six towns in the Idlib countryside had fallen to Syrian government forces in the past 24 hours.
The Observatory said the government advance, backed by heavy Russian airstrikes, has brought Assad's forces to the outskirts of Maarat al-Numan, a strategic urban center about 33 km (20 miles) south of the city of Idlib on a highway that connects Damascus to Aleppo.
The push deeper into rebel-held territory has taken place despite a deal between Turkey and Russia, which back opposing sides in the conflict, for a Jan. 12 ceasefire.
Turkish President Recep Tayyip Erdogan said on Friday that around 400,000 people from Idlib province were moving towards the Turkish border as a result of the surge in violence.
Turkey, which has a presence in the area and is seen by many civilians as a protector against Russian strikes, already hosts more than 3.5 million Syrian refugees and fears that millions more could cross the border.
Moscow and Damascus say they are fighting jihadist militants that have stepped up attacks on civilians in Aleppo city in northern Syria, but rescue workers and rights groups say air strikes have hit civilian areas including hospitals and schools.
Full report at:
https://www.reuters.com/article/us-syria-security/syrian-government-forces-capture-towns-in-advance-on-rebel-held-idlib-idUSKBN1ZP0FC
--------
Iraqi president: Stability after years of fighting ISIS could easily unravel
BY REBECCA KLAR
01/26/20
Iraqi President Barham Salih said Sunday that the the stability in Iraq after years of fighting ISIS could "easily unravel" amid increasing tension between the U.S. and Iran.
Salih told CNN's Fareed Zakaria that the country is already seeing signs of ISIS returning.
"I think the environment is so unstable, so dangerous, we all need to be worried and concerned, and certainly in the case of Iraq -- and I go back to Iraq as well -- Iraq is very fragile, very precarious. The stability that we have acquired after years of conflict against ISIS was not easy. It could easily unravel," Salih said.
"We are already seeing signs of ISIS coming back. The implications of the conflict in Syria, the dynamics in Idlib are all very, very serious. We are now talking about a regional conflict," he added.
The Iraqi president said it is a "dangerous moment," adding that the region doesn't need "another conflict."
Zakaria asked Salih if he mentioned this to President Trump.
"We had a very candid conversation. And the need for basically restraint, calming things down -- this is not the time for another conflict," he responded.
The Iraqi Parliament called for U.S. troops to leave following Trump's decision to order a drone strike that killed Iranian commander Qassem Soleimani.
Full report at:
Salih said that "no Iraqi wants to go back to a state of conflict or war with Iran."
https://thehill.com/policy/international/middle-east-north-africa/479982-iraqi-president-stability-after-years-of
--------
ISIS leader's confession gives gruesome look into atrocities
January 26, 2020
The arrest of an obese Islamic State leader — his girth loaded by Iraqi forces onto a pickup truck — produced a number of confessions on how the captive unleashed a wave of terrorism in occupied Mosul from 2014 to 2017.
Shifa al-Nima, a Muslim "mufti" or religious scholar, also provided details on how radical Sunnis obtain cash to finance terrorism. In his case, as a networking young terrorist, he had a financial benefactor in Saudi Arabia and two terrorist funders who resided in London.
Iraqi security forces released photos of al-Nima on Jan. 16 sprawled on the floor of his Baghdad hiding place and of him being hoisted onto the flatbed.
President Trump has said U.S. troops smashed the Syria-Iraq "caliphate" of the late Abu Bakr al-Baghdadi, but U.S. troops continue to plan and support Iraq's counter-ISIS missions.
"ISIS warriors are still spread across the region in some of the most unlikely locations," said Robert L. Maginnis, a retired Army lieutenant colonel and national security author. "They are like rats that must be smoked out but wait patiently for the anticipated reemergence of a new caliph."
Al-Nima confessed this month to issuing a string of rape-and-pillage "fatwas" that licensed ISIS fighters to kill and enslave. The jailed mufti provided a gruesome window into terrorist army's hold on Iraq's second-largest city from 2014 until July 2017.
The Supreme Judicial Council of Iraq published a detailed report on his interviews. The report was translated for the press by the Middle East Media Research Institute.
One of Iraq's most-wanted, al-Nima had been on the run for months, hiding at his daughter's house in the Muhandiseen neighborhood of Mosul. When Iraqi forces began scouring that residential area, he stayed on the move until his arrest in the Mansour district of Mosul.
"I issued fatwas permitting the expulsion of Christians from Mosul, enslavement, selling Yezidi women," the 300-pound-plus al-Nima confessed.
He recounted his religious edicts for Mosul, one of the first Iraqi towns conquered by the Islamic State as it ruthlessly invaded from Syria in 2014.
He told his captors: "I issued the fatwas that punish the citizens who don't go to mosques, a flogging fatwa for those who smoke cigarettes, and a fatwa requiring officials in the [Iraqi] security forces to obtain a repentant card and surrender their weapons. I also issued the fatwa requiring shop owners to pay [taxes] and the fatwa to expel Christians from Mosul, and I permitted killing of Shiites and issued other fatwas in regard to allowing ISIS fighters to enslave Yazidi women and sell them and killing the Yazidi men.
"I also issued fatwas to confiscate houses of displaced people and permitted ISIS fighters to blow up mosques in Mosul which had graves of prophets and righteous people inside them, such as permitting the destruction of Mosque of Prophet Yunus in August 2014," al-Nima confessed.
He provided a biography, a sort of how-to book on becoming a violent religious-based extremist.
He graduated from Al-Madinah Al-Monawarah University in Saudi Arabia in 1984. From there, he became a teacher in the United Arab Emirates and then returned to Iraq.
Al-Nima joined extremist Sunni groups determined to oust Saddam Hussein. He issued fatwas permitting assassinations of Iraqi security forces in Mosul in 2006 and 2007.
His funding stream came from a mujahedeen residing in London and a Saudi national. He networked with Sunni terrorists, including a second Londoner.
"We discussed religious topics, and I explained to him the situation in Mosul and the details about the Iraqi forces and their affiliation with the Americans," al-Nima said. "We talked about the role of jihadi factions, and he gave me $6,000 and asked that I spend it on armed groups. When I returned to Mosul, I met with members of armed groups and I distributed the money between them."
He also traveled to Saudi Arabia that year, 2007, and met with a terrorist who introduced him to a sheikh, who provided $4,000.
Al-Nima founded a school for Islamic extremists. His pupils included a man who eventually became a bodyguard for ISIS founder al-Baghdadi. He died by suicide bomb during an October raid by the Army Delta Force in Syria.
Al-Nima pledged allegiance to ISIS and urged young men to join. Both of his sons were ISIS members. One faces a death sentence; the other is serving five years in an Iraqi prison.
Relying on Muslim law to order killings is the al Qaeda-ISIS playbook.
Mr. Maginnis said, "It's not surprising that an ISIS-related Mufti issued fatwas that gave permission for Islamists to commit atrocities against the non-Sunni population of Iraq and Syria," Mr. Maginnis said. "That was license for those Islamists to slash, burn, kill, rape and steal. These so-called warriors for the caliph were no better than criminal thugs hiding behind the air of legitimacy granted by their caliph al-Baghdadi and his legion of supportive muftis."
In Operation Inherent Resolve, the U.S. is maintaining about 5,000 ground troops and air power in Iraq to prevent an ISIS resurgence.
An August assessment from the Defense Department inspector general stated that ISIS "solidified insurgent capabilities in Iraq" during the summer.
"ISIS carried out assassinations, suicide attacks, abductions, and arson of crops in both Iraq and Syria," the inspector general said. "In addition, ISIS established 'resurgent cells' in Syria and sought to expand its command and control nodes in Iraq."
Full report at:
https://www.washingtontimes.com/news/2020/jan/26/shifa-al-nima-isis-leader-confessions-provide-look/
--------
Sheikh Hamdan joins Arab and Muslim fans in mourning Kobe Bryant's death
January 27, 2020
DUBAI: The Crown Prince of Dubai Sheikh Hamdan bin Mohammed Al-Maktoum has joined other basketball fans all over the world are mourning the sudden death of basketball legend Kobe Bryant in a helicopter crash on Monday.
Bryant, who played his entire 20-season career in the National Basketball Association (NBA) with the Los Angeles Lakers, was one of the nine people who perished when the helicopter they were in crashed on a hillside in Calabasas, California. Among the fatalities was Bryant's 13-year-old daughter Gianna.
"You carried an inspirational message to our youth in Dubai and helped them accomplish their dreams. Heroes come and go, but legends are forever," Sheikh Hamdan posted on Twitter, in a heartrending tribute for the NBA superstar.
Hamdan bin Mohammed
✔
@HamdanMohammed
You carried an inspirational message to our youth in Dubai and helped them accomplish their dreams. "Heroes come and go, but legends are forever" Kobe Bryant #KOBEBRYANT
View image on Twitter
1,798
5:06 PM - Jan 27, 2020
Twitter Ads info and privacy
684 people are talking about this
A multitude of Arab fans from across the region also took to social media accounts to mourn the death of the player.
"I couldn't believe it, I thought it was all fake news. A couple of tears came out of my eyes… my heart was beating really quickly and my face turned red. Kobe was more than a basketball player to me, he was a real life superhero. He motivated me to give it my all with anything I do, he's the main reason why I decided to play and watch basketball," Journalism student at the American University of Sharjah Amro Eldahshoury told Arab News.
And posts calling Bryant a legend and offering condolences filled Twitter.
"Tomorrow is not granted, love each other today. Basketball legend Kobe Bryant and his daughter Gigi died in a helicopter crash… he has taught us a lot about work and doing what one loves," Cofounder and CTO of MarkeetEx Sharifa Al-Barami tweeted on Monday.
شريفة مسلم البرعمي
✔
@SharifaAlBarami
الغد ليس مضمون لأحد...
احبوا بعض اليوم...
وفاة اسطورة كرة السلة كوبي براين وابنته جيجي في حادث مروحية.
علمنا الكثير عن العمل وحب ما تعمل.#RIPKobe
View image on Twitter
86
9:57 AM - Jan 27, 2020
Twitter Ads info and privacy
21 people are talking about this
Another NBA legend, Kareem Abdul-Jabbar mourned Bryant's death and said he will remember him "as a man who was much more than an athlete."
Kareem Abdul-Jabbar
✔
@kaj33
Most people will remember Kobe as the magnificent athlete who inspired a whole generation of basketball players. But I will always remember him as a man who was much more than an athlete.
Embedded video
452K
2:52 AM - Jan 27, 2020
Twitter Ads info and privacy
98.4K people are talking about this
Celebrities with Arab descent or who are partly Arab also took to Instagram.
Gigi and Bella Hadid posted images of the player, offering condolences to his wife over the loss of her husband and daughter and praying for the families of those affected by the crash.
Shanin Shaik, a model of Saudi descent, captioned an image of the player saying "Legends live forever."
Another model of African-Arab roots, Imaan Hammam, also took to Instagram to honor Bryant. She urged people to value their blessings because of the fleeting nature of life.
But Bryant was also loved by people who were not even basketball fans.
Full report at:
https://www.arabnews.com/node/1618821/sport
--------
Iraq PM in call with Pompeo stresses need for de-escalation
27 January 2020
Iraqi Prime Minister Adil Abdul Mahdi in a phone call with US Secretary of State Mike Pompeo stressed the importance of de-escalation in the region.
Abdul Mahdi received the call from the US Secretary of State on Monday, the prime minister's Media Office posted on Facebook.
According to the US State Department, Pompeo expressed outrage at the continued assaults by Iran's armed groups targeting US facilities in Iraq, including Sunday's rocket attack against the US Embassy, the State Department said.
"The Secretary underlined once again that these attacks demonstrate a wanton disregard for Iraqi sovereignty and a failure to rein in these dangerous armed groups," State Department spokeswoman Morgan Ortagus said in a statement.
The Iraqi Prime Minister agreed on strengthening the Iraqi forces responsible for protecting the embassy situated in Baghdad's Green Zone.
They also agreed on following up on investigations and procedures to prevent attacks on diplomatic missions in the future and bringing the perpetrators of the attcks to justice.
Abdul Mahdi stressed the importance of calm in the region, respect for all of Iraq's sovereignty and decisions, and non-interference in its internal affairs.
Full report at:
https://english.alarabiya.net/en/News/middle-east/2020/01/27/Iraq-PM-Abdul-Mahdi-in-call-with-Pompeo-stresses-need-for-de-escalation-.html
--------
Diplomats in Iraq condemn excessive violence, urge credible probe into deaths
27 January 2020
Envoys of 16 countries in Iraq, including, France, Britain and the United States, on Monday condemned the use of excessive violence by Iraqi security forces and armed groups and called for a credible investigation into hundreds of deaths since October.
"Despite assurances by the government, security forces and armed groups continue to use live fire in these locations, resulting in multiple deaths and injuries of civilians, while some protestor face intimidation and abduction," the joint statement said, referring to the cities of Baghdad, Nassiriya and Basra.
The ambassadors called on Iraq to respect freedoms of assembly and right to protest peacefully and urged the Baghdad government to "guarantee credible investigations and accountability for the over 500 deaths and thousands of injuries of protesters since Oct. 1."
Baghdad is in the throes of mass anti-government protests.
On Sunday, Populist Iraqi cleric Moqtaqa al-Sadr called off demonstrations against the US embassy "to avoid internal strife," his office said.
Full report at:
https://english.alarabiya.net/en/News/middle-east/2020/01/27/Diplomats-in-Iraq-condemn-excessive-violence-urge-credible-probe-into-deaths.html
--------
One protester killed in south Iraq as anti-govt tents torched
27 January 2020
One protester was killed early Monday in Iraq's flashpoint city of Nasiriyah, a medic told AFP, as gunmen stormed the square where anti-government demonstrators had been camped out for months.
The men arrived in Habbubi Square just after midnight, torching the tents where protesters had been sleeping and leaving nothing but charred shreds of fabric and metal frames, an AFP correspondent there said.
The unidentified gunmen fired on protesters, killing one and wounding four others, a medical source said.
Hours later, determined protesters had rallied again and shut down two main bridges in the city, some 350 kilometers (200 miles) south of the capital Baghdad.
The main protest camp in the holy city of Najaf was also burned down overnight by unidentified gunmen, AFP's correspondent there said on Monday.
Mass protests erupt across the country
Mass protests erupted on October 1 in Baghdad and across Iraq's Shiite-majority south in outrage over lack of jobs, poor services and corruption.
They spiraled into calls for a total government overhaul and are now specifically demanding snap polls, an independent prime minister and the prosecution of anyone implicated in corruption or recent bloodshed.
Protesters tried to ramp up pressure on the government starting a week ago by sealing streets with burning tires and metal barricades, but riot police responded with force.
They fired live rounds and tear gas to disperse clusters of young demonstrators, and 21 protesters have been killed and hundreds wounded in the last week.
That brought the toll from the last four months of rallies close to 480 dead, according to an AFP rally.
On Friday, security forces began moving in on the main protest camps across the country after influential Shiite cleric
Moqtada al-Sadr said he would drop support for the youth-dominated reform campaign.
Al-Sadr supporters swiftly began dismantling their own tents, prompting fears by the remaining activists that they had lost their political cover and would face a crackdown.
But thousands of students turned out Sunday across Iraqi cities to insist on their movement's resilience and political independence.
Demonstrators have feared that their movement may be eclipsed by tensions between neighboring Iran and the US, which spiraled after the killing early this month of a senior Iranian commander in a US drone strike in Baghdad.
On Sunday evening, three Katyusha rockets slammed into the US embassy in the Iraqi capital, a security source said.
Full report at:
https://english.alarabiya.net/en/News/middle-east/2020/01/27/One-protester-killed-in-south-Iraq-as-anti-govt-tents-torched-.html
--------
PM Abdul Mahdi urges US to de-escalate tensions in region
28 January 2020
Iraqi Prime Minister Adel Abdul Mahdi has, in a phone call with US Secretary of State Mike Pompeo, stressed the need for the de-escalation of tensions in the region.
In the Monday phone conversation, Abdul Mahdi called for the respect of his country's sovereignty by everyone, according to a statement by his office.
He also condemned Sunday's attack on the American embassy in Baghdad, and pledged to beef up security to protect the diplomatic mission.
Pompeo, in turn, expressed outrage at the continued assaults against US facilities in Iraq, and urged the Iraqi premier to uphold his country's "sovereignty" in the face of "attacks" on US facilities in Iraq.
At least one rocket struck a dining facility at the US embassy compound in the Iraqi capital of Baghdad on Sunday.
A US official told CNN that one person was injured in the attack, but that the injury was minor and the individual had since returned to duty.
It was the third such attack on the US embassy this month but was the first time the complex had been directly hit.
Iraq's resistance movements, including the Popular Mobilization Units (PMU), have denied any involvement in the attack.
The American embassy in Baghdad -- the world's largest -- lies within the fortified neighborhood, also known as the International Zone, which is surrounded by concrete walls.
Full report at:
https://www.presstv.com/Detail/2020/01/28/617261/Iraq-prime-minister-pompeo-tension
--------
Turkey helping terrorists conduct false-flag chemical attacks in Idlib, Aleppo: Syria
27 January 2020
Syria has written protest letters to the United Nations, informing the world body that "Turkey" is helping terrorists conduct false-flag chemical attacks in northwestern provinces of Idlib and Aleppo in an attempt to implicate Damascus.
In two identical letters to UN Secretary General Antonio Guterres and the head of the UN Security Council, the Syrian Ministry of Foreign Affairs and Expatriates said on Monday that it has been confirmed that the Turkish government is supporting terrorist groups to fabricate a fake chemical attack south of Aleppo and another one in the northeast of Idlib to frame the Syrian army.
The letters, quoted by Syria's official news agency SANA, added that it is a known fact that whenever foreign-backed terrorists "feel cornered," the so-called civil defense group White Helmets begin staging fake chemical attacks "upon the instructions of their masters in Western states" to create a pretext for the US and its allies to launch a military attack against the Arab country.
The Western-backed White Helmets is known to have been actively involved in false flag chemical attacks in the Syrian town of Khan Shaykhun in Idlib in April 2017, and the other in the Damascus suburb town of Douma in April 2018.
Following the staged chemical attacks, the US and its allies launched rocket attacks against positions of the Syrian army troops as they blamed both incidents on Damascus, which strongly rejected the accusations.
Elsewhere in the letters to the UN, the Syrian foreign ministry said "the White Helmets and the terrorists' media tools continue to promote fabricated and false claims about alleged use of chemical weapons, while the states that sponsor and support terrorists ignore all information about the terrorists' preparations to use chemical weapons."
The Syrian army, backed by Russian air cover, has already regained almost all territories once controlled by terrorists, except portions of Aleppo and large swaths of Idlib, which are still held by foreign-backed militants.
In August last year, Syrian troops commenced an ongoing full-scale offensive to flush terrorists out of these two regions. The Syrian army says that it is resolute to crush militants in these two regions and pave the way for the safe return of the displaced to their homes.
The ministry also stressed that what the Syrian government troops, along with their allies, are doing in the south of Aleppo and southeast of Idlib "is part of its sovereign and constitutional right to defend its people and land," adding that the military operation "is to end the suffering of civilians" in these two regions.
In conclusion, the letters asserted, "The Syrian Arab Republic reiterates its stern condemnation of any use of chemical weapons by anyone, under any circumstances, and any place." The ministry also called on the UN chief and the UNSC to denounce terrorists' crimes against Syrians, urging the world body to support Damascus in its years-long war against terrorism.
Full report at:
https://www.presstv.com/Detail/2020/01/27/617234/Syria-UN-UNSC-Turkey-terrorists-false-flag-chemical-attack-Idlib-Aleppo-White-Helmets
--------
Southeast Asia
E-cigarettes, vaping haram, says Indonesian Muslim organisation
28 Jan 2020
JAKARTA (The Jakarta Post/ANN): Muhammadiyah has declared electronic cigarettes and vaping as haram in a fatwa issued recently by the second biggest Muslim organisation in the country.
The organisation's central executive board's tarjih (lawmaking) and tadjid (reform) council outlined the fatwa in a decree on e-cigarettes issued on Jan. 14 in Yogyakarta.
Wawan Gunawan Abdul Wahid, a member of the council's fatwa and guidance development division, said the fatwa was issued to underline Muhammadiyah's stance against all kinds of cigarettes.
"Smoking electronic cigarettes is haram, just like smoking conventional cigarettes, because it is categorised as a form of consumption that can damage or endanger [the user's health]," Wawan said on Friday (Jan as quoted by tempo.co.
Like conventional cigarettes, electronic cigarettes contain addictive substances and toxic chemicals, Wawan said, emphasising that e-cigarettes were as dangerous as tobacco cigarettes.
"Those who do not smoke should not let themselves or their family members [smoke] electronic cigarettes, while those who are already active smokers must try their best to stop, " Wawan said.
He also said Muhammadiyah had advised the central government and regional governments to institute a total ban on tobacco products and e-cigarettes, including banning sales, distribution, ads, promotions and sponsorships.
Muhammadiyah is by far the first of the biggest Islamic group in the archipelago to declare a fatwa against vaping. The country's biggest Muslim organization Nahdlatul Ulama (NU) and even the Indonesian Ulema Council (MUI) have yet to issue a fatwa that strictly declares e-cigarettes as haram.
In Malaysia, the National Fatwa Council declared e-cigarettes and vaping as haram in 2015, arguing that the products were "detrimental to health", New Strait Times reported. - The Jakarta Post/Asia News Network
https://www.thestar.com.my/news/regional/2020/01/28/e-cigarettes-vaping-haram-says-indonesian-muslim-organisation
--------
Indira Gandhi to sue IGP for RM100m over failure to find daughter kidnapped by convert father
27 Jan 2020
BY DANIAL DZULKIFLY
KUALA LUMPUR, Jan 27 — M. Indira Gandhi is suing the Inspector-General of Police (IGP) Tan Sri Abdul Hamid Bador for RM100 million after the latter still failed to locate and return her daughter who is kidnapped by her ex-husband, chairman of Indira Gandhi Action Team (Ingat), Arun Dorasamy has confirmed.
Arun said that the Hindu mother's legal representative will be filing civil and committal suit proceedings against the IGP for ignoring the Ipoh High Court's June 2014 and Federal Court's January 2019, judgment where it compelled the police to recover Indira's daughter, Prasana Diksa.
Arun also said they will file the civil suit, seeking RM100 million in damages for emotional distress caused by police inaction to locate her daughter, among other grievances, in early February. The committal suit would also be filed within the same month.
Indira's legal representatives will also serve the IGP with the suit tomorrow at Bukit Aman at 10.30am, he said.
Arun explained that Indira is left with no other avenue but to sue the IGP, compelling him to respect the court orders as a means to resolve the matter.
''In this regard, we have no other avenue but to sue the IGP for contempt of court to compel him to take action and repatriate Madam Indira's daughter, Prasana,'' he said to Malay Mail when contacted.
Arun also said the police had not provided any updates on the investigations thus far despite the formation of the special task force dedicated to tracing Indira's former husband and fugitive, Muslim convert Muhammad Ridhuan Abdullah and her daughter, Prasana.
The task force was formed under former Inspector-General of Police Tan Sri Mohamad Fuzi in April 2019.
Since then, current IGP, Abdul Hamid had also promised to track down Muhammad Ridhuan and Prasana and expressed his commitment for a "happy ending" on the matter.
Muhammad Ridhuan had taken the couple's daughter, Prasana, in 2009 when she was just 11 months old shortly after converting to Islam. He had also converted their three children to Islam without Indira's knowledge.
After a protracted court battle, the Federal Court ruled in January 2018 that the unilateral conversions of Indira's children were unlawful.
Full report at:
https://www.malaymail.com/news/malaysia/2020/01/27/indira-gandhi-to-sue-igp-for-rm100m-over-failure-to-find-daughter-kidnapped/1831905
--------
The Peculiar Case of Viktor Orban's Visit to Indonesia
BY ABID A. ADONIS
JANUARY 26, 2020
"We don't see these people as Muslim refugees. We consider them Muslim invaders," said the Hungarian Prime Minister Viktor Orban in an interview with the German tabloid Bild.
Had the quote from Bild ever made it to Indonesian WhatsApp groups, Orban might not have been welcomed so enthusiastically in his recent three-day visit to Indonesia.
Orban's Indonesian visit was part of his diplomatic tour to Asia and included visits to Jakarta and Yogyakarta. This was not his first time on Indonesian soil as President Joko "Jokowi" Widodo also welcomed him as a state guest in 2016.
Orban's latest visit to Indonesia was officially a sojourn to strengthen 65 years of standing bilateral ties between the two countries, especially by deepening cooperations in economy, infrastructure, trade, health and people-to-people contact.
Orban also attended a meeting of the CDI (Centrist Democrat International), an international centrist and Christian democratic party alliance, hosted by Muhaimin Iskandar's National Awakening Party (PKB) in Yogyakarta. Orban himself is the vice president of CDI.
Jokowi looked happy enough with his Hungarian counterpart's visit as Orban pledged attractive investment and diplomatic commitment.
Muhaimin Iskandar also seemed to have enjoyed Orban's visit, judging from his multiple Instagram stories.
It appears nobody really paid attention to or had the willingness to point out his erratic political footprints, especially on contentious issues such as multiculturalism, refugees and Islam.
Outside of Indonesia, Orban is widely known as the beacon of European populism, a poster boy of the right-wing movement in the West and a staunch critic of the European Union's immigration policies who constantly berates refugees and denounces multiculturalism.
Fidesz, his political party, is associated with anti-Islam and anti-Semitism narratives in Hungary and Central Europe. As an example, Orban makes repeated mentions of the dangers of multiculturalism and liberalism in Hungary by referring to "mass-scale Muslim refugees' invasion" in many of his speeches.
Given his political stance and the anti-Muslim narrative he constantly sports, it is intriguing to observe how Orban, the proponent of so-called "Christian and Illiberal Democracy," engages in close diplomatic partnership with the biggest Muslim-majority country in the world.
This is not to mention his partnership with PKB, the biggest Islamic party in Indonesia, under the CDI platform. We should not forget that PKB is strongly popular for its multiculturalism and pluralism, inherited from the teachings of its spiritual guru, former president Abdurrahman Wahid.
Follow the Money Trail
Strategic and monetary considerations might have played more profound roles in Orban's visits to Indonesia.
In 2011, he launched the "Opening to the East Policy" to diversify Hungarian economic ties to Russia and Asian countries.
This ambitious foreign policy direction has not been as successful as Orban would've have wanted it to be, mostly because he has not fully exploited Hungarian engagement with Asian countries. His visits to Indonesia, then, would have been geared toward strengthening Hungary's footing in Southeast Asia.
Under Orban's administration, the central European country has been enjoying an enviable economic performance, reaching an average GDP growth of 4.5 percent in the past three years, surpassing most of its neighbors in Europe.
Hungarian industries and infrastructure development have been quite vibrant, offering massive opportunities for Indonesia to become a strategic partner in trade and investment.
Hungary has also developed an advanced and sophisticated water management system in Budapest and across the Danube River – something that Indonesia could easily copy for its new capital city.
All of this aligns with Jokowi's main goal of attracting more foreign investment to Indonesia.
Being closer to Hungary also means Indonesia might be able to open up a new export market in central and eastern Europe. These regions are not just potential alternative markets for Indonesian export commodities; they are also increasingly pivotal in the geopolitical landscape of Europe.
Take the Good With the Bad?
However, Orban's negative discourse on Islam and multiculturalism should not be left unnoticed. It has, directly and indirectly, fires up Islamophobia in Europe.
Jokowi must not only take into account Hungary's economic and geopolitical intentions. Closer ties with Hungary should be exploited to overcome xenophobia and anti-Islamic sentiment in the Central European country. Jokowi must follow up on Orban's diplomatic offerings with efforts to promote interfaith understanding.
An exchange program for political and religious leaders from both countries is desperately needed to foster a better understanding of Islam and multiculturalism in Hungary. PKB, Fidesz's counterpart in Indonesia, must delve into deeper communication with Hungary.
PKB should take on the moral responsibility to speak up against anti-pluralism and Islamophobia directly to Fidesz or using the CDI platform. Instagram stories and being a welcoming host for a CDI event are simply not enough.
The party, using Indonesia as an example, should try to show Orban and his party that harmony between democracy and religion is indeed possible.
Democratic and religious values are not counterintuitive as Orban and his party might have believed. They are in fact the source of Indonesia's strength. If Orban made it all the way to Indonesia to court its influence then surely it could copy some of its examples?
Full report at:
https://jakartaglobe.id/opinion/the-peculiar-case-of-viktor-orbans-visit-to-indonesia
--------
'It's dangerous': Sinaga case fuels LGBT backlash in Indonesia
by Ian Lloyd Neubauer
27 Jan 2020
Jakarta, Indonesia - Described by British prosecutors as "the worst-known sex offender in the country's history," Indonesian exchange student Reynhard Sinaga drugged and sexually assaulted nearly 200 men in Manchester over several years.
But Sinaga, who was sentenced to life earlier this month, is not the only one being punished for his crimes.
According to the Indonesian National Commission on Human Rights, revulsion over the case has sparked a widespread homophobic backlash in his Muslim-majority Southeast Asian homeland.
"Some regents and mayors have set policies to discriminate against LGBT groups and violate their rights in the name of family values," Commissioner Beka Ulung Hapsara told Al Jazeera, referring to local government officials.
The most high-profile example took place in Sinaga's hometown, the Javanese city of Depok, where Mayor Mohammad Idris announced raids targeting the LGBT community. He also described gay people as "victims" and promised to open centres to rehabilitate them.
Local news coverage on the Sinaga case also smeared the LGBT community, with newspapers and TV stations obsessing over his sexual orientation.
"They, and the public also, paid more attention to Reynhard Sinaga's sexual orientation instead of focusing on the real problem, which is rape," Hapsara said.
Even Sinaga's distraught mother joined the fray, saying that as Christians her family did not "believe" in homosexuality. Tellingly, she also said her son had rejected her appeals for him to come home from the UK because he did not believe Indonesia was a good place for him.
A more tolerant past
Indonesia's parliament has debated introducing laws criminalising same-sex conduct on several occasions. Yet, with the exception of the autonomous, remote region of Aceh, which is governed by Islamic law, homosexuality is not illegal in Indonesia.
Many cultures within the archipelago were historically tolerant of LGBT people. Some groups, like the Bugis of South Sulawesi province, even revered them.
Since the15th century, transgender priests called "bissu" crowned Bugis kings and queens and offered blessings to expectant mothers and farmers before harvest. To make ends meet, they worked in weddings as maids of honour - a custom also practised in neighbouring Malaysia and Thailand.
But when Indonesia gained independence in 1945, local monarchies were disbanded. The bissu were labelled un-Islamic and subsequently marginalised. Today they are a dying breed with only a handful remaining.
Indonesian President Joko Widowo, popularly known as Jokowi, has taken small steps to enforce human rights, such as criminalising child marriage and pardoning a woman who was imprisoned for defaming her alleged sexual abuser.
But according to Human Rights Watch 2019 World Report, harassment and discrimination of the LGBT community has increased under Jokowi's tenure.
"Indonesian authorities continued to fail to uphold basic rights of LGBT people, fueling a spike in the country's HIV epidemic," the report said.
"Police arbitrary and unlawful raids on private LGBT gatherings, assisted by militant Islamists, has effectively derailed public health outreach efforts to vulnerable populations," the report said. "HIV rates among men who have sex with men have consequently increased five-fold since 2007, from 5 to 25 percent."
Crackdown on Bali
As a unique Hindu-majority island in the world's most populous Muslim country, Bali is a popular gay haven in Southeast Asia. The resort island has entire industry catering to LGBT tourists, including gay-friendly villas, tour companies and massage joints that advertise their services openly on the Internet.
Camplung Tanduk Street, which boasts the liveliest gay bars and clubs, is the heart of Bali's gay district in the Seminyak tourist neighbourhood.
"All religions are the same, they do not accept LGBT people. But Balinese Hindus are more tolerant and more accepting than people are in other parts of Indonesia," said Arya, spokesperson for Yayasan Gaya Dewata, a Balinese NGO that delivers free HIV testing, sexual health counselling and awareness campaigns on the island.
"I think it's also because we have so much tourism. They accept what foreigners do here so long as they don't break the law," said Arya, who like many Indonesians goes by only one name.
But a few days after the Sinaga case made global headlines, a villa in Seminyak was targeted by the local Public Order Agency over allegations it was marketed specifically to gay men. The Angelo Bali Gay Guesthouse has since closed and three more villas in Seminyak have also been targeted for inspections.
Both the Bali Villa Association and Cultural Agency in Badung, the government body that administrates Seminyak, released statements saying such marketing practices contradicted social and religious norms.
Online Hate
LGBT activist Arya believes the targeting of these villas was purely coincidental and not related to the Sinaga case."The problem is they labelled themselves as gay businesses," he explains.
"The bars in Seminyak that are popular with LGBT people, they don't write that they are gay bars and they don't discriminate. They welcome everyone."
But Arya acknowledges Bali has not been immune to the rise of homophobia in Indonesia.
"LGBT life is getting harder because this country is becoming more religious," he said. "In Bali, we never had problems before, but now we are seeing the rapid spread of anti-LGBT campaigns on social media. We don't know who's behind it, but they usually use religion to justify their hate."
Hapsana confirmed a "massive campaign on social media from conservative groups working with faith-based organisations has worsened the situation."
Reports of anti-LGBT violence linked to the Sinaga case have not surfaced in Bali or anywhere in Indonesia. But violent threats made on social media forced Yayasan Gaya Dewata to cancel its annual LGBT pageant in Bali this year. Meanwhile, the gay bars in Seminyak are uncharacteristically quiet.
Full report at:
https://www.aljazeera.com/news/2020/01/dangerous-sinaga-case-fuels-lgbt-backlash-indonesia-200125232137541.html
--------
Pakistan
Pakistan invites Malaysia to acquire divested shares
By Zafar Bhutta
January 28, 2020
ISLAMABAD: As the government of Pakistan moves to divest shares of local companies, it has invited Malaysia, and its strategic partners, to participate in the process as well as to look at the LNG infrastructure development opportunities. The government also invited their participation in the auction of oil and gas blocks.
Federal Minister Omar Ayub Khan invited Malaysian investors to fully participate in the auction of oil and gas blocks that will be offered to foreign investors shortly with 18 initial blocks in the first phase.
He said this during a meeting with High Commissioner of Malaysia Ikram Muhammad Ibrahim, who called on the minister and Special Assistant to Prime Minister (SAPM) on Petroleum Nadeem Babar on Monday.
Babar also shared the possibility of Petronas acquiring divested shares from the Oil and Gas Development Company (OGDCL), Pakistan Petroleum (PPL) and Mari Petroleum that will be divested to shared partners. He encouraged Petronas to also look favourably at LNG infrastructure development opportunities in Pakistan. He was of the view that Malaysian investors can benefit in areas such as LPG, refinery upgrade etc.
The high commissioner apprised the minister and SAPM about preparations being undertaken for the upcoming visit of Prime Minister Imran Khan to Malaysia. Both the government officials also apprised the envoy about the structural reforms being carried out in the energy sector of the country, with a special focus on ensuring ease of doing business.
While applauding the initiatives, Ibrahim said that Malaysia considered Pakistan in general and particularly the energy sector as having great potential. He was also optimistic on Petronas establishing a strong presence in Pakistan in a cross section of the country's energy industry.
Divestment of OGDCL's shares
The government has recently short-listed financial advisers for the divestment of shares. Earlier, rumours pertaining to the transaction led to a plunge in OGDC's stock price. There had been rumours that the government would offer shares for divestment at a discount of 10%. The finance ministry took strong notice of the situation and also conveyed its concerns to the Privatization Commission and the Securities and Exchange Commission of Pakistan (SECP).
"Following such a situation, the government should offer shares to strategic partners like exploration companies that would also make investment in exploration activities," background discussions with officials revealed.
The Privatization Commission is in process of finalising appointment of a financial adviser for divestment of up to 7% of its shares in OGDC to meet conditions of the International Monetary Fund (IMF).
It is worth mentioning that in 2014, the Pakistan Tehreek-e-Insaf government in Khyber-Pakhtunkhwa had challenged the Pakistan Muslim League-Nawaz (PML-N) government's decision of selling 10% shares in OGDC at Rs210 per share or $2 per share in the Peshawar High Court. At the time, the PML-N had appointed the Bank of America Merrill Lynch, Citigroup, and Pakistani broker KASB Securities as financial adviser for execution of the deal. The Privatization Commission had also approved the minimum price/floor price of Rs216 per share for the transaction.
Now, the same commission is working on a lower price with almost same profitability of the company as seen in 2014. The commitment from foreign investors to buy complete 10% share at Rs205 per share remained unmaterialised due to strong protest from the opposition.
The company's profitability at that time was almost same as in current scenario but this time due to the deteriorating economic conditions it is currently trading at a significantly lower price than its fair value.
OGDC had reported a net profit of Rs124 billion and Rs87 billion in 2014 and 2015, respectively. In 2019, the company reported a profit of Rs119 billion. Moreover, the previous government had offered the share at price-to-earning/price-to-book 8.1/2.3 and now the current government was offering it at PE/PB 5.2/1.0. If the deal is executed at these levels it will cost losses worth Rs20 billion to the national exchequer, said officials.
In order to meet the IMF requirements, the government is also looking for government-to-government deals and has offered Russia, China and Saudi Arabia strategic partnership in OGDC and PPL. Given the strategic importance, it would be more beneficial for Pakistan if a government-to-government deal happens that will bring operational efficiencies in these companies and by increasing exploration activity in un-penetrated areas it will reduce significant reliance on petroleum products imports, said officials. OGDC is currently trading at a significant discount to its fair value. In a recent strategy report published by Foundation Securities, a Karachi based brokerage house, that have reported that fair value of OGDC would be around Rs242.8 per share in December 2020.
By selling OGDC shares in the stock market it will decrease the government's shareholding, which is around 85% to 78% and will increase shareholding of private parties. It will also allow them to appoint a director on the board as OGDC has 10 board of directors and will require 10% vote for director appointment, officials said.
https://tribune.com.pk/story/2145429/2-pakistan-invites-malaysia-acquire-divested-shares/
--------
PML-N may table no-trust motion against Usman Buzdar
January 28, 2020
LAHORE: Pakistan Muslim League-Nawaz (PML-N) President Shahbaz Sharif has planned to return to Pakistan between February 15 and 18.
It is learnt that the PML-N is considering tabling a no-confidence motion against Punjab Chief Minister Sardar Usman Buzdar and has started spade work to make the move successful. Party sources claimed that Shahbaz has given green signal to the proposed no-confidence motion against Buzdar. The sources claimed the final
decision will be taken upon Shahbaz Sharif's return to Pakistan in mid-February. Shahbaz, who had accompanied his brother and former prime minister Nawaz Sharif for his treatment in London on November 19, 2019, would land in Lahore and hold an important party meeting to chalk out the strategy to muster support in the house for the no-trust motion against the chief minister.
Full report at:
https://www.thenews.com.pk/print/605367-pml-n-may-table-no-trust-motion-against-usman-buzdar
--------
Iran offers Pakistan joint training for ANF to fight drug trafficking
JANUARY 28, 2020
Iran on Monday offered Pakistan joint training programme for Anti-Narcotics Force (ANF) officials with sniffing dogs for conducting joint operations with Anti-Narcotics Police (ANP) of Iran to help choke down movement of illicit drugs.
The offer was made by Seyyed Mohammad Ali Hosseini, the ambassador of Iran who called on Minister for Narcotics Control Shehryar Khan Afridi here.
Shehryar Afridi welcomed the Iranian Ambassador and said that illicit drugs were common challenge for Pakistan, Iran and the world and Pakistan would keep fighting this war to save the humanity from the menace of drugs.
He said that Iran and Pakistan in Muslim Ummah are tied in decades-old ties of brotherhood and friendship. He said under the vision of Prime Minister Imran Khan, Pakistan would keep working for uniting the Muslim Ummah.
"It is about time that Muslims should stand together to foil the conspiracies as enemy wants to put Muslims against each other. It is unfortunate to note that among world refugees, 97 percent are Muslims. Even today our younger generation stands confused due to the conspiracy against Muslims. We need to work together to forge unity among our ranks," he said.
Ambassador Hosseini said that Narcotics is a menace and we have to prove our contribution to the world through best practices. He said that Iran welcomes the initiatives of Prime Minister Imran Khan for regional peace and would fully support his initiatives.
Full report at:
https://dailytimes.com.pk/547645/iran-offers-pakistan-joint-training-for-anf-to-fight-drug-trafficking/
--------
Sharif Al Mujahid: Authority on Pakistan movement
January 28, 2020
SHARIF AL MUJAHID, who died at his home in Karachi on Monday morning after a long illness, was one of South Asia's most prolific writers on the history of the freedom movement, the most-quoted Pakistani scholar abroad, and undeniably an authority on Mohammad Ali Jinnah. He was 93.
I had known him for over six decades as a teacher, mentor, friend and adviser on matters not necessarily journalistic. His passion for writing came to an end when he said at a book launch in 2018: "I am done for." That signalled his inability to write any more.
Mujahid founded the Karachi University's journalism department in 1956, which I joined in 1957, thus beginning a relationship that invariably had been to my advantage.
When he established the Quaid-i-Azam Academy in 1976, and moved from the university campus to the time-worn barracks of Pakistan Secretariat where it was housed, the authorities forgot all about him, for he remained in the same grade and thus got the same pay and allowances for nearly a decade.
His dedication to Jinnah and thus to his job was exemplary. When he fell ill, he would be at his job, day and night, because he told me if one had to lie in bed as a sick man one might as well do so among books and research material.
He was a prolific writer, his career as a historian of the freedom movement spanning more than seven decades in many continents. His publications include six major works, eight edited works, nine minor or co-authored works, and 22 works (original and translated) in Urdu, Arabic, French, Portuguese and other languages.
His monumental book, Quaid-i-Azam Jinnah: Studies in Interpretation, was adjudged the best work on Jinnah during the 1940-82 period and was awarded the President's Award on Best Books on the Quaid-i-Azam; it is the only work to qualify for the award since it was set up in 1981.
He had rough moments with the establishment, for when Studies hit the market during Ziaul Haq's regime, there were demands that it be banned. Reason: the book didn't follow the beaten track on Jinnah.
The other books which he wrote or to which he contributed include Quaid-i-Azam and His Times, Quotes of the Quaid, In Quest of Jinnah, The Jinnah Anthology, A Compendium of Muslim League Documents, Indian Secularism: A Case Study of the Muslim Minority, Ideologi­cal Foundations of Pakistan, Ideological Orienta­tion of Pakistan, and Ideology of Pakistan. He also contributed chapters, among others, to Betty Burch and Allen Cole, Asian Political Systems; John Lent, Broadcas­ting in Asia and the Pacific, and Newspapers in Asia: Contemporary Trends and Problems; D. A. Low, The Indian National Congress: Centenary Hindsights; and Press Systems in SAARC. The list of his research papers is endless.
He also published 45 chapters in edited works, 45 papers and some 44 review articles in journals, and contributed some eighty-five articles/chapters in six encyclopaedias and yearbooks, including Collier's Encyclopedia, Encyclopedia of Asian History, Encyclo­pedia of Education, and the Far East and Australasia. In 1964, he was Visiting Professor at Bradley University (Peoria, IL), and at the State University of New York at Buffalo, where he taught South Asian history and politics.
He also taught summer courses at Buffalo, and at the University Colleges at Oswego Cortland, Genesee, and other institutions in New York state.
The variety of visiting professorships he was offered, some of which he did not utilise, gives an idea of his standing in world academia. The offers came from St. Antony's College, Oxford, the Centre for South Asian Studied, Jawa­harlal University, New Delhi, and the International Islamic University, Malay­sia, where he established the Department of Communi­cation and was its Founding Head for three years.
With Dawn his association spanned six decades, for there was hardly a national day supplement that didn't have his article, and if a write-up were needed in emergency there was an easy way out, "Ask Mujahid saab".
He had a computer-like memory, and Dawn staff members found it convenient to ring him up even at midnight rather than consult reference books. Mujahid, a recipient of Sitara-i-Imtiaz, was educated at Madras, Stanford, McGill and Syracuse universities. He had a brilliant academic career, which won several prestigious awards, including Fulbright-Hays scholarship at Stanford, Research Fellow at McGill, an Asia Foundation Grantee at Syracuse, and a British Council fellow in the United Kingdom.
Mujahid also served on the editorial boards of several prestigious journals, including The American Journal of Islamic Social Sciences, Intellectual Discourse of the International Islamic University of Malaysia, and as co-editor of UNESCO's "History of the Scientific and Cultural History of Mankind", re-titled as History of Humanity.
Born in 1926, he died of painless old age at his North Nazimabad home.
Mujahid leaves behind his wife and four daughters.
Full report at:
https://www.dawn.com/news/1530974
--------
Many cabinet members worried about inflation: PM
Imran Ayub
January 28, 2020
KARACHI: Amid growing criticism against the Pakistan Tehreek-i-Insaf (PTI) government over rising prices of wheat flour, sugar and other key commodities, Prime Minister Imran Khan on Monday admitted that "many cabinet members were worried" about inflation and government repute but he told them "each and every mafia" behind the inflation would be taken to task.
Unlike the past, PM Khan, who landed at PAF Base Faisal in the afternoon, this time had a detailed meeting with Sindh Chief Minister Syed Murad Ali Shah besides interacting with the leadership of coalition partners, party leaders, businessmen and industrialists and wrapped up his visit within a few hours after addressing a Kamyab Jawan Programme ceremony at Governor House and returned to Islamabad.
The PM's latest visit to Karachi was seen as bringing thaw in relations between the centre and Sindh, as his assurances to the chief minister about resolving all issues on top priority hinted at the reconciliatory approach being pursued by the two sides.
An official statement issued by CM House after the meeting mentioned that Mr Shah informed PM Khan that some important projects of the province were pending in the planning and development ministry and that the ongoing federal government projects in Karachi were also moving slow. "The premier assured the chief minister that all these issues would be resolved on top priority basis … The prime minister said he would direct federal Minister for Planning and Development Asad Umer to expedite the process of Sindh government schemes. As far as the federal schemes going on slow in Karachi are concerned, the prime minister assured the chief minister that they would be completed at the earliest."
The chief minister also highlighted the need for a change in strategy for polio eradication, mentioning that "due to frequent travels from and to Afghanistan, Balochistan and KPK the virus emerges again and again", the statement added. "The prime minister said he would call the meeting of National Polio Eradication Taskforce meeting in which all the stakeholders would be invited to change and further strengthen the strategy."
The breakthrough in the relations between the two governments, however, doesn't bring an end to challenges being faced by Mr Khan and his cabinet, which the premier admitted later in the evening.
Addressing a ceremony to distribute cheques of loans among the youngsters under Kamyab Jawan Programme, the PM Khan referred to the recent challenges he had been facing and disclosed his plans to meet all of them. "Now I want to address you, youngsters, that this is the testing time for our nation but you don't have to get panicked or worried," he said and with a smile on his face he turned to share his recent experiences with his ministers including the admission of a few facts that had stirred criticism against the PTI government.
He said: "These days when I come to cabinet meetings I see many ministers visibly worried [citing] that the inflation is growing. People are saying this or that. So I tell them that don't get panicked. One should learn from such times. And for inflation, let me tell you that we are not going to spare them who have created this [inflation] only to mint money. We would catch each and every mafia [behind inflation]. We would fight them all."
The PM said he had pinned all his hopes on the youth of Pakistan and he wanted them to learn from the life of Prophet Muhammad [PBUH] for success. He recounted his life dreams such as becoming a national cricketer, setting up a cancer hospital and helping in nation building by joining politics. "Now I have only one dream left. And that is to make this Pakistan that great country which was the dream of Quaid-i-Azma and Allama Iqbal. This is a testing time, I know. But it would not last forever. Great nations learn from the crises and then rise to success. Reforms take time [to succeed]. You [youngsters of Pakistan] need to learn from Quran and life of Prophet Muhammad [PBUH]. He [PBUH] spent the most difficult 13 years of his life and then founded the state of Medina. The five years of the state of Medina were toughest ones but finally he left behind the state which changed the course of the world's history."
Visit to Kingri House
Later, PM Khan met Pakistan Muslim League-Function president and spiritual leader of Hur Jamaat, Pir Pagara Syed Sibghatullah Shah Rashdi, better known as Pir Pagaro, at Kingri House. The meeting concluded with the assurance from the premier to his coalition partner at Centre, Grand Democratic Alliance (GDA), which in return posed trust in his leadership for the continuity of their partnership.
A brief statement issued after the PM visit said the two sides discussed political issues and a joint strategy to meet the challenges. During the meeting, the statement said, the GDA leadership assured the PM of its support and vowed to move forward under his leadership.
A delegation of businessmen and industrialists also called on the PM where he sought their support for better and sustainable results. "We are in a war on corruption," the statement quoted PM Khan as telling the delegation of businessmen and industrialists.
"We are passing through tough time but it was all due to mismanagement of the past governments. The reforms take time to deliver and sometimes it brings too many hurdles. But we are firm to resolve it and give a sustainable solution to our economy to grow. Frequent meetings with the business community are part of a strategy to seek guidance on our economic policy."
A board of governors of Indus Hospital also met the PM and briefed him about performance and operation of the health facility, which provides free of cost treatment to patients. Mr Khan was of the opinion that the government encouraged assistance from the private sector to expand and spread healthcare facilities across the country.
Full report at:
https://www.dawn.com/news/1530947/many-cabinet-members-worried-about-inflation-pm
--------
PPP questions PM's foreign visits at friend's expense
Syed Irfan Raza
January 28, 2020
ISLAMABAD: The Pakistan Peoples Party (PPP) has expressed reservations over Prime Minister Imran Khan's foreign visits funded by his 'friend' and demanded that the issue be debated in the National Security Committee.
In a statement on Monday, PPP secretary general Nayyar Hussain Bukhari said the prime minister had put national security at stake by paying official foreign visits whose expenses were borne by his personal friends.
"The Ministry of Foreign Affairs must present records of the prime minister's foreign visits to the National Security Committee as the PPP has strong reservations over bearing of expenses of the prime minister's official visits by one of his friends," he added.
According to media reports, Prime Minister Khan had said at a function that his trip to Davos, Switzerland, where he recently attended a conference of the World Economic Forum (WEF), was sponsored by two of his friends.
The PPP leader said the nation reserved the right to know what he described as "investment" in the prime minister. "It is a big question mark what are the motives behind 'friends' expenditure' on the prime minister's official visits," he added.
Mr Bukhari said that bearing expenses of the foreign tours of the country's chief executive by an "unknown" person was a serious issue. "The issue has raised doubts as to why a chief executive of the country, who has access to the national secrets, is being funded privately," he added.
The PPP secretary general said employees of foreign donor agencies were being given lucrative posts, especially in the departments working under the finance ministry, and his party had raised questions a number of times about such appointments.
When contacted, Special Assistant to the Prime Minister on Information and Broadcasting Dr Firdous Ashiq Awan said a think tank of Pakistanis in Davos sponsored the prime minister's visit as a tradition, as it had borne expenses of boarding and lodging of all Pakistani leaders who had attended WEF in the past.
"Not only Imran Khan but also our leaders in the past like former president Gen Pervez Musharraf, and former prime ministers Nawaz Sharif and Yousuf Raza Gilani had also attended WEF's summits at the expense of the think tank," she claimed.
Full report at:
https://www.dawn.com/news/1530967/ppp-questions-pms-foreign-visits-at-friends-expense
--------
SC urged to set principles for filing references against judges
January 28, 2020
ISLAMABAD: A senior counsel defending Justice Qazi Faez Isa pleaded before the Supreme Court on Monday to lay down principles defining procedures for forwarding references to the Supreme Judicial Council (SJC) against superior court judges on misconduct or no one will be secured in future.
Rasheed A. Razvi, who was representing the Sindh High Court Bar Association and the Pakistan Federal Union of Journalists, contended that to "err is human and being human beings we all make mistakes, but we expect that whatever happened in the SJC during the past two years will not be repeated" with the change in its composition.
With the retirement of former chief justice of Pakistan Asif Saeed Khosa, Justice Umar Ata Bandial, who is now heading a 10-judge Supreme Court full court hearing a set of challenges to the filing of the reference against Justice Isa, has now become a member of the SJC.
The counsel recalled that when the reference against Justice Isa was filed, it was numbered 476, which means there were many other references filed before the complaint against Justice Isa came up. But except two or three, all these references were disposed of and "despite our efforts to get certified copies of the orders of the decided matters, we could not lay our hands on any of them when the order against Justice Isa or Justice Shaukat Aziz Siddiqui was uploaded on the Supreme Court website soon after they were passed".
The counsel argued that the reference against Justice Isa was moved without "application of mind on part of the president" and while reading it one noticed that the president did not even go through the entire reference when it came before him for affixing his signature.
It is a tragedy that the president did not even read the reference before sending it to the SJC, the counsel said, adding that the reference did not explain when and from whom the president had received it.
Moreover, although the reference cited an earlier case of Justice Shaukat Ali, it did not mention the 2010 Iftikhar Muhammad Chaudhry case at all where steps were laid down before filing the reference.
"If you read paragraph seven of the reference," the counsel argued, "you will find that it used the word 'learned' for the Assistant Commissioner of Income Tax, but did not use the same for the judge against whom the complaint was filed." It is a common norm that judges or senior lawyers are addressed by using the word 'learned'.
"This shows the mental capacity," the counsel argued, adding that the president violated his own oath of office to protect and preserve the independence of the judiciary while signing this reference.
The entire reference is a summary prepared by the ministry of law and while going through paragraphs 1 to 17, one noticed that the entire document was in violation of the directions set out by the Supreme Court through its judgement in the Iftikhar Chaudhry case on how to initiate a complaint.
Justice Bandial, however, observed that the Supreme Court will find out from the other side when the Attorney General will respond to the arguments made by lawyers why these directions were ignored while initiating the reference.
But Justice Bandial wondered whether the president was independent of the advice of the executive under Article 48 of the Constitution, particularly in view of the fact that the government was the biggest litigator, and whether it has the locus standi to file the reference or not.
If there is an advice from the prime minister, it was based on mala fide, the counsel replied.
The SJC is an independent body but not the president, Justice Bandial observed, adding that this was the conundrum crying out for resolution.
Justice Bandial also recalled that the Iftikhar Chaudhry case was patently based on mala fide since the then president (Pervez Musharraf) was the biggest beneficiary of the sacking of the then chief justice.
But in the present case, the court has to determine to what extent the precedents set by the Iftikhar Chaudhry case have been observed. Only then the matter can be referred to the SJC, Justice Bandial added.
Mr Razvi argued that the law division, after seeking concurrence from the Attorney General, forwarded the same to the president and the reference already showed that the president approved it "without applying his mind".
He emphasised that all the fundamental rights as envisaged by the Constitution also applied to the sitting superior court judges and that access to justice could only be guaranteed if the tenure of judges was secure.
Full report at:
https://www.dawn.com/news/1530962/sc-urged-to-set-principles-for-filing-references-against-judges
--------
10,000 policemen deputed for Chinese security 'vulnerable' to coronavirus
Asif Chaudhry
January 28, 2020
LAHORE: More than 10,000 personnel of the Punjab police deputed for the security of nearly 4,000 Chinese experts at various sites of CPEC across the province have been declared vulnerable to coronavirus.
Special Protection Unit (SPU) Director/DIG Umer Sheikh in a letter to Inspector General of Punjab Police Shoaib Dastgir has sought medical advice and logistic support for over 10,000 police personnel of the unit guarding Chinese engineers and experts across the province. He stated that the SPU is unit of Punjab police responsible for providing security to the foreigners, especially Chinese nationals across the province.
"As the Chinese move in and out on daily basis in Pakistan it may also spread in our country and our constabulary," reads the letter of the SPU DIG.
He sought help of the IGP submitting that the Director General Health Services Punjab may be contacted for medical assistance and treatment to the personnel of the SPU in case of resurgence of the coronavirus case.
SPU director seeks medical advice
The DIG further said that the DG Health should also be asked to update the Punjab police about the treatment centres to refer or shift any suspected patient of coronavirus.
In a related development, the World Health Organization (WHO) has provided nearly 100 kits to the DG Health Services Punjab for the purpose of collecting samples of the suspected coronavirus patients.
According to the standard operating procedure, the samples shall be dispatched to the National Institute of Health Sciences (NIH) Islamabad for testing.
Following the high alert, the Punjab government has declared four teaching hospitals as focal institutions for the admission and treatment of suspected coronavirus patients.
The institutions identified are Services Hospital Lahore, Nisthar Hospital Multan, Benazir Bhutto Hospital Rawalpindi and Allama Iqbal Memorial Hospital Sialkot.
The instructions have been issued to all the respective officials, heads of the government hospitals including vice chancellors, principals and medical superintendents besides health authorities to refer or shift suspected patients of coronavirus to these [health] facilities only.
An official said a health team sealed rented house in Ghaziabad Lahore of the Chinese national admitted to the Services Hospital as suspected case of coronavirus as a preventive measure.
He said the team was also trying to reach out to his immediate contacts including locals and his fellows whom he had met recently besides taking his travel history details in order to screen them also for the virus.
Full report at:
https://www.dawn.com/news/1530934/10000-policemen-deputed-for-chinese-security-vulnerable-to-coronavirus
--------
Rana Sanaullah expects Shahbaz return in March
Zulqernain Tahir
January 28, 2020
LAHORE: For the first time a senior PML-N leader has declared that there is a reason behind the extended stay of its president Shahbaz Sharif in London and he will return at an appropriate time, probably in March.
"Ailing Nawaz Sharif is under treatment in London and Shahbaz Sharif is in good health but working on curing the PTI government," PML-N Punjab president Rana Sanaullah said after chairing a meeting of the party's lawmakers from Gujranwala here on Monday.
Talking to Dawn, Mr Sanaullah said Shahbaz Sharif would return to the country at an appropriate time probably in March as this was an election year. When asked whether the PML-N had been in contact with the establishment in this regard, the PML-N leader who recently secured bail in the drugs case from the Lahore High Court said: "The way Imran Khan is running the government time is not far away to rid of it for the sake of the country."
Rana Sanaullah also disclosed that Shahbaz Sharif was in favour of improving relations with an institution as Imran Khan and his party were painting the PML-N as anti (military establishment). "Shahbaz Sharif's view prevailed in the party along with the slogan of giving respect to the vote," he said.
Mr Sanaullah was of the view that "arrogant" style of Imran Khan had not only annoyed the government's allies, especially the PML-Q, but also his own party lawmakers. "On Sunday instead of placating the members of the forward bloc from the south Punjab and others he chose to snub them. As a result of there has been a lot of resentment among them. And who knows they may rise against the PTI leadership in coming days," he said and did not rule out the PML-N's contacts with the disgruntled group and the PML-Q. "In this situation everyone is in contact," he added.
The PML-N leader insisted that Usman Buzdar was still not an "empowered" chief executive of Punjab as Imran Khan was running the affairs of both Punjab and Kyber Pakhtaunkhwa from Islamabad.
According to a PML-N insider, Mr Khan's Lahore visit turned out to be counter productive, helping the party (PML-N) to have the PTI government in Punjab sent packing even before its plan. "Imran Khan's arrogance not to see the PML-Q leadership and not consult it on any issue has annoyed the Chaudhrys of Gujrat. PM Khan even did not bother to inquire after the health of PML-Q president Chaudhry Shujaat Hussain who recently had treatment in Germany. This arrogance of the premier is making things easier for us," he said.
Both Nawaz Sharif and Shahbaz Sharif camps in the Pakistan Muslim League-Nawaz (PML-N) are "equally satisfied" over the party's unconditional support to the Pakistan Army (Amend­ment) Act, believing the 'smart move' will bring 'good news' (to the party) in the days to come.
Full report at:
https://www.dawn.com/news/1530938/rana-sanaullah-expects-shahbaz-return-in-march
--------
South Asia
U.S. Air Force E-11A plane crashed in a Taliban held-territory in Afghanistan
27 Jan 2020
A US Air Force E-11A plane crashed in Taliban-held territory in south-west Afghanistan.
The initial reports indicated it was an Afghan Ariana passenger plane that crashed in Ghazni province with 83 people on board, but late the state-owned Afghan Ariana rejected the report and said in a statement that all their flights have been conducted normally.
The plane has crashed in the Deh Yak district of Ghazni province, an area that is under the control of the Taliban.
Provincial government spokesman Arif Noori told CBS News' Ahmad Mukhtar the plane appeared to have been a flight between the southern city of Kandahar and the capital Kabul, about 200 miles to the north. Ghazni province is between those two locations.
Noori said the body of two pilots were found at the crash site and that the plane was completely destroyed. He did not mention any other casualties. Noori said it did not belong to an Afghan carrier, but could not confirm who was operating the aircraft.
Later, some experts reported that it was probably E-11A aircraft assigned to 430th Expeditionary Electronic Combat Squadron. Wreck of a plane crashed today in Afghanistan looks like to be a U.S. Air Force Bombardier Global 6000 / E-11A "BACN" (Battlefield Airborne Communications Node).
Also in social media was released short footage that showed wreck of a plane with U.S. Air Forces emblem.
Taliban in a statement confirmed the crash of a US Force plane in Deh Yak district of Ghazni province which is under the control of Taliban militants.
The cause of the crash and the number of casualties are still unknown.
E-11A is the military variant of the civil Bombardier BD-700 Global Express for use as an overhead communications-relay platform in SW Asia. It carries Northrop Grumman Battlefield Airborne Communications Node, or BACN, allowing disparate battlefield communications systems to share data. BACN was deployed on a test Bombardier BD-700 & originally designated RC-700A under reconnaissance classification. Re-designated E-11A under the special electronics installation category.
https://www.khaama.com/u-s-air-force-e-11a-plane-crashed-in-a-taliban-held-territory-in-afghanistan-68789986234/
--------
Ariana Afghan Airlines passenger plane crashes in Afghanistan's Ghazni
27 January 2020
A passenger plane from Afghanistan's Ariana Airlines crashed Monday in a Taliban-held area of the eastern Ghazni province, local officials said. However, Ariana Airlines told The Associated Press that none of its planes had crashed in Afghanistan.
The conflicting accounts could not immediately be reconciled. The number of people on board and their fate was not immediately known, nor was the cause of the crash.
Arif Noori, spokesman for the provincial governor, said the plane went down around 1:10 p.m. local time (8:40 a.m. GMT) in Deh Yak district, some 130 kilometers (80 miles) southwest of the capital Kabul. He said the crash site is in territory controlled by the Taliban. Two provincial council members also confirmed the crash.
But the acting director for Ariana Airlines, Mirwais Mirzakwal, dismissed reports that one the company's aircraft had crashed. The state-owned airline also released a statement on its website saying all its aircraft were operational and safe.
The mountainous Ghazni province sits in the foothills of the Hindu Kush mountains and is bitterly cold in winter. The Taliban currently control or hold sway over around half the country.
The last major commercial air crash in Afghanistan occurred in 2005, when a Kam Air flight from the western city of Herat to Kabul crashed into the mountains as it tried to land in snowy weather.
The war, however, has seen a number of deadly crashes of military aircraft. One of the most spectacular occurred in 2013 when an American Boeing 747 cargo jet crashed shortly after takeoff from Bagram air base north of Kabul en route to Dubai in the United Arab Emirates. All seven crew member were killed. The US National Transportation Safety Board investigation found that large military vehicles were inadequately secured and had shifted during flight, causing damage to the control systems that "rendered the airplane uncontrollable."
Afghanistan's aviation industry suffered desperately during the rule of the Taliban when Ariana, its only airline at the time, was subject to punishing sanctions and allowed to fly only to Saudi Arabia for Hajj pilgrimage.
Full report at:
https://english.alarabiya.net/en/News/world/2020/01/27/Ariana-Afghan-Airlines-passenger-plane-crashes-in-Afghanistan-s-Ghazni.html
--------
Taliban claim responsibility for downing 'US aircraft' in Afghanistan's Ghazni
27 January 2020
An aircraft has crashed in Afghanistan's eastern province of Ghazni, with Taliban militants claiming they have shot down a US forces plane in an area controlled largely by the militant group.
"An aircraft of American occupiers has crashed in Ghazni province," Taliban spokesman Zabihullah Mujahid said in a Pashto-language statement, adding that all the crewmembers on board have been killed, AFP reported.
Initially Afghan government officials suggested that a Boeing plane belonging to the Ariana Afghan Airlines had crashed and exploded into flames.
But shortly after news broke of the crash, Ariana Airlines Acting CEO Mirzakwal denied that one of the company's jetliners had went down.
Press TV
✔
@PressTV
• 15h
Replying to @PressTV
UPDATE
U.S. officials: Plane that crashed in #Afghanistan was small military plane
View image on Twitter
Press TV
✔
@PressTV
Another video footage shows more details of U.S. military plane that crashed in #Afghanistan's eastern #Ghazni province.
Embedded video
174
10:03 PM - Jan 27, 2020
Twitter Ads info and privacy
113 people are talking about this
"There has been an airline crash but it does not belong to Ariana because the two flights managed by Ariana today from Herat to Kabul and Herat to Delhi are safe," Mirzakwal was quoted by Reuters.
The Civil Aviation Authority of Afghanistan also denied reports that the plane was a commercial flight.
"According to our information from the Control Tower and Traffic Regulatory Authority, no commercial airline crash has been recorded. And Ariana Afghan Airlines have reassured us that all their planes are accounted for," read a statement by the organisation.
There is no information yet available on the number of passengers or crew.
The aircraft is said to have crashed in territory under the Taliban control and the militants were reportedly seen helping to put out the fire at the crash site.
Afghan special forces were headed to the site to investigate the incident
A senior official in Afghan President Ashraf Ghani's office was quoted by Reuters as saying that the plane had crashed near Ghazni province and authorities were still seeking details.
Before Mirzakwal's denial, Arif Noori, a spokesman for the provincial governor's office in Ghazni city, had said: "A Boeing plane belonging to the Ariana Afghan Airlines, has crashed in the Sado Khel area of Deh Yak district of Ghazni province around 1:10 p.m. local time (0840 GMT)," Reuters said, adding that it was not immediately able to contact Noori again.
Later on Monday, two officials from Ghazni province said the crashed aircraft appeared to belong to a foreign company, and not to state-owned Ariana Afghan Airlines.
"There is no exact information on casualties and name of the airline," Ghazni provincial governor Wahidullah Kaleemzai told TOLOnews.
Meanwhile, a senior defense official in Kabul said no U.S. or NATO forces' flight had crashed.
An AP report quoted the US military as saying that it is investigating reports of the airplane crash in Taliban-controlled territory in Afghanistan.
US Army Maj. Beth Riordan, a spokeswoman for U.S. Central Command, said it was not clear whose aircraft was involved in the crash, though she declined to immediately comment further.
Officials from the United States Air Forces Central Command (AFCENT) also declined to comment on the incident, but pictures on social media purportedly from the crash site showed what could be the remains of a Bombardier E-11A aircraft, which the US military uses for electronic surveillance over Afghanistan.
US military confirms E-11a plane crashed in Afghanistan
Later on Monday, the US military confirmed the crash of an E-11A military aircraft in Afghanistan's Ghazni province.
Taking to his Twitter account, US military spokesman, Colonel Sonny Leggett, however, rejected claims by Taliban militants that they shot it down, saying that there were "no indications the crash was caused by enemy fire."
USFOR-A Spokesman Col Sonny Leggett
✔
@USFOR_A
A U.S. Bombardier E-11A crashed today in Ghazni province, Afghanistan. While the cause of crash is under investigation, there are no indications the crash was caused by enemy fire. We will provide additional information as it becomes available.
695
11:26 PM - Jan 27, 2020
Twitter Ads info and privacy
652 people are talking about this
"Taliban claims that additional aircraft have crashed are false," Leggett added.
USFOR-A Spokesman Col Sonny Leggett
✔
@USFOR_A
• 13h
A U.S. Bombardier E-11A crashed today in Ghazni province, Afghanistan. While the cause of crash is under investigation, there are no indications the crash was caused by enemy fire. We will provide additional information as it becomes available.
USFOR-A Spokesman Col Sonny Leggett
✔
@USFOR_A
Taliban claims that additional aircraft have crashed are false.
201
11:26 PM - Jan 27, 2020
Twitter Ads info and privacy
119 people are talking about this
https://www.presstv.com/Detail/2020/01/27/617205/Afghanistan-crash-airplane-accident
--------
Afghan forces launch air, ground attacks on Taliban, killing 51
JANUARY 26, 2020
Abdul Qadir Sediqi
Afghanistan's Defense Ministry said on Sunday that government forces had conducted 13 ground offensives and 12 air strikes in nine provinces, adding that 51 "terrorists" had been killed, 13 wounded and six arrested.
Local officials in the northern province of Balkh said at least three women and four children were killed in the air strikes, prompting protests in front of the provincial governor's office.
The government pledged to send a fact-finding mission to investigate the reports of civilian deaths.
Meanwhile, the Taliban said it had staged two more attacks targeting security forces over the weekend, following sporadic assaults last week.
Afghan security forces' checkpoints in Kunduz were attacked on Saturday night, Taliban spokesman Zabiullah Mujahid said in a statement, adding that 10 members of the security forces were killed and three wounded. Taliban fighters also captured a large weapons cache, he said.
In a separate statement, the Taliban said its fighters had ambushed an Afghan forces patrol in Balkh, killing eight security personnel.
The spike in hostilities comes as U.S. and Taliban negotiators in Doha take a two-day break for consultations about how to overcome recent hurdles in the talks, a source close to the process told Reuters.
Negotiations between the two sides began last year in Doha but have been interrupted at least twice after Taliban attacks on U.S. military personnel in September and December.
Last week, another round of talks kicked off with U.S. Special Representative on Afghanistan Zalmay Khalilzad meeting repeatedly with the Taliban's chief negotiator Mullah Abdul Ghani Baradar.
Multiple sources close to the talks said the Taliban had agreed internally to halt attacks against U.S. forces and "reduce" assaults against Afghan government interests.
Full report at:
https://www.reuters.com/article/us-afghanistan-attacks-surge/afghan-forces-launch-air-ground-attacks-on-taliban-killing-51-idUSKBN1ZP0EG
--------
Grenade Attack on Afghan Wedding Injures 20, Including Kids
Jan. 26, 2020
KABUL, Afghanistan — An hand grenade attack on an Afghan wedding ceremony wounded at least 20 people, including several children, a provincial official said Sunday.
At least one of the injured children was in critical condition, said Adel Haider, a spokesman for the police chief of the eastern Khost province, which borders Pakistan.
No one immediately claimed responsibility for Saturday night's attack.
There was no evidence that the Taliban were behind the attack, although they have a strong presence in the area. Haider said the Taliban's ban on music when they ruled Afghanistan led him to believe that they could have been the culprits.
But it's also common in that part of Afghanistan to settle personal vendettas with such attacks. Haider said police are investigating all possible motives and so far no one has come forward with any information about tribal rivalries involving the wedding party.
All of the injured wedding guests were men, but it was not immediately clear if the groom was injured in the attack, Haider said.
Last August, a suicide bomber from the Islamic State affiliate in Afghanistan killed 63 people at a wedding in Kabul, the deadliest attack in the capital in 2019.
The Taliban, which the U.S. hopes will help curb the IS affiliate's rise, condemned the attack as "forbidden and unjustifiable."
The Taliban control or hold sway over roughly half of Afghanistan, staging near-daily attacks. They usually target Afghan and U.S. forces, but scores of civilians die in the crossfire.
Full report at:
https://www.nytimes.com/aponline/2020/01/26/world/asia/ap-as-afghanistan.html
--------
Taliban kill 11 in Afghan police base attack
28 January 2020
Taliban militants attacked a police base in northern Afghanistan, killing 11, possibly with help from at least one of the policemen inside, local government officials said Tuesday.
The insurgents first overran a checkpoint near the base late Monday, and were apparently able to breach the compound with ease because a sympathetic policeman opened a door for them.
These details were provided by Mabobullah Ghafari, a provincial councilman in Baghlan province where the attack took place. A local police official, speaking on condition of anonymity because he was not allowed to brief reporters about the attack, also gave the same account.
Insider attacks have been steady throughout Afghanistan's 18-year conflict, with US and NATO troops most often targeted. But when Afghan security forces are targeted, the casualty rate is often much higher.
Last July, two US service members were killed by an Afghan soldier in the southern Kandahar province. The shooter was wounded and arrested. In September, three US military personnel were wounded when a member of the Afghan Civil Order Police fired on a military convoy, also in Kandahar.
No group immediately claimed responsibility for Monday's attack on the outskirts of Puli Khumri, Baghlan's provincial capital. But the Taliban have a strong presence in the province and frequently target Afghan security forces in and around the city.
Last September, the insurgents attacked Puli Khumri and blocked the city's main highway to the capital Kabul for more than a week.
The Taliban currently control or hold sway over around half the country.
Full report at:
https://english.alarabiya.net/en/News/middle-east/2020/01/28/Taliban-kill-11-in-Afghan-police-base-attack.html
--------
4 militants killed in S. Afghan airstrike
2020-01-26
KABUL, Jan. 26 (Xinhua) -- Four Taliban militants have been killed after Afghan Special Operations Forces conducted an airstrike in the country's southern province of Helmand in the latest raid against the Taliban insurgents and their supply lines, command of special forces said Sunday.
"The sortie was launched in Washer district, western part of Helmand province on Saturday. One militants' vehicle and a motorcycle were also destroyed by the strike," Afghan National Army Special Operations Corps said in a statement.
Helmand province is a known Taliban stronghold.
Full report at:
The militant group has not responded to the report so far.
http://www.xinhuanet.com/english/2020-01/26/c_138735056.htm
--------
Taliban attack Afghan police base, 11 killed
January 28, 2020
KABUL, Afghanistan: Taliban militants attacked a police base in northern Afghanistan, killing 11, possibly with help from at least one of the policemen inside, local government officials said Tuesday.
The insurgents first overran a checkpoint near the base late Monday, and were apparently able to breach the compound with ease because a sympathetic policeman opened a door for them.
These details were provided by Mabobullah Ghafari, a provincial councilman in Baghlan province where the attack took place. A local police official, speaking on condition of anonymity because he was not allowed to brief reporters about the attack, also gave the same account.
Insider attacks have been steady throughout Afghanistan's 18-year conflict, with US and NATO troops most often targeted. But when Afghan security forces are targeted, the casualty rate is often much higher.
Last July, two US service members were killed by an Afghan soldier in the southern Kandahar province. The shooter was wounded and arrested. In September, three US military personnel were wounded when a member of the Afghan Civil Order Police fired on a military convoy, also in Kandahar.
No group immediately claimed responsibility for Monday's attack on the outskirts of Puli Khumri, Baghlan's provincial capital. But the Taliban have a strong presence in the province and frequently target Afghan security forces in and around the city.
Last September, the insurgents attacked Puli Khumri and blocked the city's main highway to the capital Kabul for more than a week.
The Taliban currently control or hold sway over around half the country.
Full report at:
https://www.arabnews.com/node/1619266/world
--------
Women, children among seven killed in Afghan gov't air raids
27 Jan 2020
Government air raids in Afghanistan's northern Balkh province have killed at least seven civilians, including three children, triggering protests from local residents.
Tolo news, a local news website, reported that the victims belonged to one family and were killed while they were having dinner on Sunday.
A member of parliament from Balkh alleged that the attack was carried out in areas controlled by the government, according to local media reports.
The West-backed Afghan government, which has been battling an armed rebellion from Taliban, pledged to send a fact-finding mission to investigate the reports of civilian deaths.
The Balkh operation was part of the government's ground-and-air offensive against the Taliban, which has waged an armed rebellion since it was dislodged from power in a United States-led invasion in 2001 following deadly attacks on US soil.
The government offensive comes as the US has been engaging Taliban in peace talks to end the 19-year-old war.
Afghan defence ministry on Sunday said it has killed dozens of "terrorists" in 13 ground and 12 air operations across nine provinces in the last 24 hours, Reuters news agency reported. At least 13 people have been wounded and six others arrested, the ministry said.
Taliban claim deadly attacks
Meanwhile, the Taliban said it had staged two more attacks aimed at security forces over the weekend, following sporadic assaults last week.
Afghan security forces' checkpoints in Kunduz were attacked on Saturday night, Taliban spokesman Zabiullah Mujahid said in a statement, adding that 10 members of the security forces were killed and three wounded. Taliban fighters also captured a large weapons cache, he said.
In a separate statement, the Taliban said its fighters had ambushed an Afghan forces patrol in Balkh, killing eight security personnel.
The spike in hostilities comes as US and Taliban negotiators resumed talks in the Qatari capital Doha after US President Donald Trump abruptly suspended talks last September following a deadly attack in Kabul that killed a US soldier.
Last week, another round of talks kicked off with US Special Representative on Afghanistan Zalmay Khalilzad meeting repeatedly with the Taliban's chief negotiator Mullah Abdul Ghani Baradar.
Multiple sources close to the talks said the Taliban had agreed internally to halt attacks against US forces and "reduce" assaults against Afghan government interests.
Full report at:
https://www.aljazeera.com/news/2020/01/women-children-killed-afghan-gov-air-raids-200127043857792.html
--------
Europe
Frenchman jailed for 22 years for ISIS recruiting
5 January 2020
A Frenchman has been sentenced to 22 years in prison for seeking to recruit dozens of youths to fight as jihadists in Syria and for leading a brigade of French-speaking Islamists in the war-torn country.
Mourad Fares, 35, fled Syria in 2014, and was arrested in Turkey and handed over to French authorities the same year.
Prosecutors said he played a "crucial" role in the recruiting of young people to fight as jihadists in Syria, and noted a lack of any "real regret" for his actions.
Fares appeared unmoved as the verdict was read out at a special court on Friday evening. He admitted to the court he "indirectly" recruited youths to fight as jihadists via his propaganda videos and "facilitated" the entry of a number of people into Syria.
Mourad Fares, 35, fled Syria in 2014, and was arrested in Turkey and handed over to French authorities the same year.
Prosecutors said he played a "crucial" role in the recruiting of young people to fight as jihadists in Syria, and noted a lack of any "real regret" for his actions.
Fares appeared unmoved as the verdict was read out at a special court on Friday evening. He admitted to the court he "indirectly" recruited youths to fight as jihadists via his propaganda videos and "facilitated" the entry of a number of people into Syria.
https://www.thelocal.fr/20200125/frenchman-jailed-for-22-years-for-terror-recruiting
--------
Ofsted 'draconian' as school rating based on Islamic leaflet find
27 January 2020
An Islamic girls' school has accused Ofsted of "draconian" practices after an inadequate rating by inspectors who found an inflammatory leaflet.
Birchfield Independent Girls' School was inspected in November and the leaflet from a 1994 event at Wembley Stadium was found in the library.
Ofsted said the leaflet encouraged radicalisation and it deemed pupils at the Birmingham school were not safe.
The school said it would take legal action over the "unacceptable" ruling.
The school in Aston was rated good for the quality of its education and development but inadequate for behaviour and attitudes, leadership and management.
But inspectors said leaders had not ensured pupils were protected from the "seriously" inflammatory leaflet that encourages radicalisation.
Ofsted said part of the leaflet said, "we find that the sons and daughters of Islam are under continuous attack by the forces of non-Islam", and added that it promoted "total rulership of Muslims over the world".
None of the school leaders could explain how the leaflet got there, Ofsted said.
However, inspectors found that "these sentiments" did not reflect the views of pupils and staff were well trained in safeguarding.
'Deeply disappointed'
But they said "the presence of the leaflet means that safeguarding in the school is ineffective".
In response, the school said it was "deeply disappointed".
"The leaflet identified has no place in our teachings, curriculum or ethos.
"We work hard to promote fundamental British values and the rule of law at our school."
The statement added that pupils were "well equipped to combat radicalisation".
"Sadly, we are not the only faith-based independent school to fall victim to Ofsted's draconian and inconsistent inspection practices.
"It remains a growing and dissatisfactory issue which must be addressed."
Full report at:
https://www.bbc.com/news/uk-england-birmingham-51270355
--------
Germany seeks UN resolution to enforce Libya cease-fire
Ayhan Simsek
27.01.2020
BERLIN
Germany on Monday urged UN Security Council members to adopt a resolution on Libya to stop continuing military attacks and violations of arms embargo in the war-torn country.
Speaking at a news conference in Berlin, German Foreign Minister Heiko Maas deplored violations of the cease-fire despite pledges made by conflict parties and regional actors at the Berlin Conference on Jan. 19.
"The cease-fire has been a very fragile one so far, and thus it will be important now to make sure that the UN Security Council endorses what we agreed in Berlin with a resolution," he said, referring to the talks at the UN scheduled for Thursday.
"We want to once again impress upon all those who intend to continue to violate the embargo, or have done so, and demonstrate them that this will have consequences for them," he added.
Maas underlined that Germany would continue its efforts at all levels to reach a genuine, a long-term cease-fire in the country.
According to Libya's UN-recognized government, forces of renegade commander Khalifa Haftar have launched attacks in the country's northwest despite his earlier promises to respect the cease-fire.
The militias attacked Abu Qurain area, located 140 kilometers (87 miles) south of the port city of Misrata on Sunday.
On Jan. 12, parties in Libya announced a cease-fire in response to a joint call by the leaders of Turkey and Russia. But talks next week for a permanent cease-fire ended without an agreement after Haftar left Moscow without signing the deal.
A week later, Haftar accepted terms in Berlin to designate members to a UN-proposed military commission with five members from each side to monitor the implementation of the cease-fire.
Haftar's military offensive against the internationally recognized government has claimed the lives of more than 1,000 people since April last year.
Full report at:
https://www.aa.com.tr/en/europe/germany-seeks-un-resolution-to-enforce-libya-cease-fire/1715475
--------
Britain should work to save Iran nuclear deal, says former ambassador
Jan 27, 2020
A former UK ambassador to Iran has said that to secure its interests in the Middle East, Britain should work with its European partners to save the Iran nuclear deal.
Sir Richard Dalton told The National at Chatham House's Mena Energy Conference that Britain should try to strengthen the nuclear 2015 agreement, known as the Joint Comprehensive Plan of Action, as part of its new role on the international stage after Brexit.
"The JCPOA is part of Britain's security interest," Mr Dalton said. "The JCPOA was working and remains a crucial interest for maintaining our aims in the Middle East."
Britain and other world powers signed the deal with Iran to curb Tehran's nuclear ambitions in return for sanctions relief. President Donald Trump withdrew the US from the deal in 2018.
Mr Dalton, who served as the UK ambassador to Iran between 2003 and 2006, rejected as "wrong thinking" the view in Tehran that Britain would join the US in its policy of maximum pressure against Iran.
"It's very difficult for Britain to turn 180 degrees, which is what aligning with the US requires," he said. "What would we have to gain?"
The agreement has been left hanging after the US decision to withdraw and worsening of relations between Tehran and Washington.
Iran has gradually backed out of limits in the deal since the White House reimposed crippling sanctions, a situation worsened by the US killing of Islamic Revolutionary Guard Corps leader Qassem Suleimani in Baghdad in January this year.
Germany, Britain and France stuck to the nuclear deal and called on Iran to "reverse all measures inconsistent with the agreement and return to full compliance".
But UK Prime Minister Boris Johnson seemed to support a possible deal negotiated by US President Donald Trump to replace the agreement.
"If we're going to get rid of it then we need a replacement," Mr Johnson said. "Let's replace it with the Trump deal."
Mr Dalton said described these remarks as "vague" and "innocuous".
Full report at:
https://www.thenational.ae/world/europe/britain-should-work-to-save-iran-nuclear-deal-says-former-ambassador-1.970604
--------
Buckingham Palace sword attacker who supports ISIS 'planned to kill non-Muslims after he left jail'
Jack Dutton
Jan 28, 2020
An ISIS-supporting Uber driver who attacked police with a sword outside Buckingham Palace in London threatened to kill non-Muslims only months after he left jail, a court heard on Monday.
Mohiussannath Chowdhury, 28, attacked officers outside the palace in August 2017 while shouting "Allahu Akbar", but was cleared of terrorism charges, after jurors spent more than 11 hours considering the verdict.
It emerged on Monday that six months after he left jail, Chowdhury was allegedly preparing to attack a Gay Pride parade and Madame Tussauds in London after being freed from custody.
A secret recording emerged from June last year of Chowdhury telling his sister, Sneha Chowdhury, that he was quitting his job at a chicken shop in Luton.
"I'm doing another attack, bruv," he said. "I'm serious bro, it's about time now."
Chowdhury was arrested days later on suspicion for planning a terrorist attack.
Prosecutors said on Monday the defendant was planning "to unleash death and suffering on non-Muslim members of the public who happened to be present, using a firearm, sword and even a van as part of an attack".
Woolwich Crown Court in the British capital heard that Chowdhury told undercover police officers his intentions and that non-Muslims were "fair game".
The court heard that he bragged to undercover police of deceiving the jury that cleared him of a terror offence after the Buckingham Palace incident in 2017.
When Chowdhury appeared in court on Monday, he denied he was planning terrorist attacks and said he made the comment "for attention" and did not mean it.
The court was told that he discussed terrorism with friends online, telling one man that killing a soldier or police officer would be "instant paradise, innit".
The London court heard that his planned attacks were justified by western war campaigns in the Middle East.
Chowdhury allegedly praised and defended previous terrorist attacks, including the Charlie Hebdo shooting in January 2015 and the murder of British Army soldier Lee Rigby in Greenwich, London, in May 2013.
"It was beautiful that they stood up and attacked them," he told the jury. "I don't think it's right that they did that but it's like they put their foot in it.
"They were warned not to do these things, so it's hard for me to have sympathy for people who insulted my prophet."
Full report at:
https://www.thenational.ae/world/europe/buckingham-palace-sword-attacker-who-supports-isis-planned-to-kill-non-muslims-after-he-left-jail-1.970610
--------
Africa
Three Jordanians Charged for IS-Inspired Attack in Court
Jan. 26, 2020
AMMAN, Jordan — Three Jordanian men appeared in court Sunday to face charges connected to the stabbing of eight people at a popular archaeological site in northern Jordan in November in an attack allegedly inspired by the Islamic State group.
The military judge presiding over the trial accused the men of supporting Islamic State ideology and carrying out the attack at Jerash to avenge the death of late IS leader Abu Bakr al-Baghdadi.
November's incident took place in Jerash, one of Jordan's most visited archaeological sites, an ancient city whose ruins include a Roman amphitheater and a columned road.
Jordan relies heavily on incoming tourism. Islamist militant groups have repeatedly targeted the country's tourist sites to impact the economy and embarrass the government.
Mustafa Abu Tuameh, 22, is accused of stabbing eight people, including one Swiss and three Mexican tourists, and four Jordanians. None of the victims suffered life-threatening wounds. Gruesome footage of the attack was captured by bystanders.
At the time of the attack, the Jordanian army's news site identified Abu Tuameh as a resident of the nearby Palestinian refugee camp. Family members said he had recently become very religious and apparently planned to die in the attack.
Abu Tuameh and the two other defendants allegedly planned to carry out another attack on a church in northern Jordan.
Osama Abu-Amra, 22, faces charges of plotting a terrorist act, and attempting to join a terrorist organization. Khaled al-Soufi, 21, was charged with promoting the ideas of a terrorist organization.
The three defendants pleaded innocent to the charges. If convicted, they could face up to 15 years in prison.
https://www.nytimes.com/aponline/2020/01/26/world/middleeast/ap-ml-jordan-stabbing.html
--------
Jordan Charges Stabbing Attack Suspect with Terrorism
26 January, 2020
A Jordanian court on Sunday leveled terrorism charges against a man suspected of wounding eight people in a November knife attack at the popular Jerash tourist site.
The suspect, Moustafa Abourouis, 22, faces up to 20 years in prison after the stabbing of three Mexicans, a Swiss woman, a Jordanian tour guide and a security officer.
At a hearing open to the press, prosecutors accused Abourouis of committing a "terrorist act" and "promoting the ideas of a terrorist group" -- a reference to the ISIS group.
Abourouis, who is of Palestinian origins and grew up in the refugee camp of Souf, was arrested immediately after the attack at Jerash, close to the camp and around 50 kilometers (30 miles) north of Amman.
The Jordanian prosecutor accused Abourouis of trying to join ISIS, an operative of which in Syria had "ordered him to commit attacks against foreigners".
Two alleged accomplices, also Jordanians of Palestinian origin, were charged with "terrorism" in the same case. All three pleaded not guilty, reported AFP.
The court is scheduled to hear witnesses next Sunday, with the date for a verdict to be confirmed.
In December 2016, in Karak, 10 people were killed in an attack claimed by ISIS that also left 34 wounded.
Full report at:
https://aawsat.com/english/home/article/2100386/jordan-charges-stabbing-attack-suspect-terrorism
--------
Libya's Haftar Makes Push in Western Libya
Jan. 26, 2020
BENGHAZI, Libya/TRIPOLI — Eastern Libyan military commander Khalifa Haftar sought on Sunday to open a new front by moving forces towards the city of Misrata, which is allied to the country's internationally recognised government, officials and residents said.
In another sign that a shaky truce was faltering, Tripoli's Mitiga further to the west airport was hit by two rockets, which wounded two civilians and damaged the tarmac and buildings, the U.N. mission to Libya said.
It did not blame anyone for the strike, the second within days. The airport has been used to launch Turkish-supplied combat drones to counter unmanned aircraft used by Haftar's Libyan National Army and provided by the United Arab Emirates.
The increase in fighting comes a week after the UAE, Egypt, Russia, which back Haftar, and Turkey, which backs the government in Tripoli, agreed with western powers at a summit in Berlin to push for a lasting ceasefire and uphold an arms embargo.
Despite the peace efforts, the LNA has now moved from the central city of Sirte towards Misrata. Fighting between the LNA and forces from Misrata was centred on the town of Abugrain, 120 km east of Misrata itself, both sides confirmed.
Two LNA fighters were killed and eight wounded, an LNA source said, adding that his forces later retreated taking some prisoners.
"Battles are raging on all front lines," LNA spokesman Ahmed Mismari told reporters in the eastern city of Benghazi, blaming Turkish President Tayyip Erdogan, who has been sending troops to defend Tripoli.
Haftar launched an offensive on Tripoli in April and has made small gains with the help of Russian and African mercenaries.
Erdogan said the Libyan general, who abandoned talks on a ceasefire in Moscow this month and blockaded oilfields during the Berlin summit, cannot be trusted.
Speaking during a visit to Algeria, Erdogan said Libya "should not be allowed to turn into a playground for terrorist organisations and warlords".
Before leaving for Algeria, Erdogan said Haftar's forces had repeatedly violated the ceasefire. "He's continuing attacks with all his resources. However, he will not be successful here."
Libya has had no stable central authority since the toppling of Muammar Gaddafi in 2011. It has had two rival governments, in the east and the west, for more than five years.
In Berlin, foreign powers agreed to form a special committee made up of five military officials from each side to shore up the shaky truce. They are due to meet for the first time this week in Geneva.
Full report at:
https://www.nytimes.com/reuters/2020/01/26/world/europe/26reuters-libya-security-turkey.html
--------
Turkey pledges to prevent Libya from becoming 'playground' of terrorists
26.01.2020
Turkey will continue to side with the Libyan people to prevent the conflict-ravaged country from becoming a playground for terrorist groups and warlords, President Recep Tayyip Erdoğan said Sunday in Algeria, the first stop of his three-nation African tour.
Speaking at a joint press conference with Algerian President Abdelmadjid Tebboune in capital Algiers, Erdoğan said that developments in Libya directly affect its neighbor Algeria.
"We, as Turkey, will continue to side with our Libyan brothers with all of our resources," Erdoğan said. Turkey won't allow for Libya to become the playground of terrorist groups and warlords, he added.
Eastern-based forces loyal to putschist Gen. Khalifa Haftar continue their attacks targeting residential places and civilians to capture the capital Tripoli from the U.N.-recognized legitimate government, despite calls for a cease-fire at the Berlin conference.
On Jan. 12, parties in Libya announced a cease-fire in response to a joint call by the leaders of Turkey and Russia. But talks for a permanent cease-fire ended without an agreement after Haftar left Moscow without signing the deal.
A week later, Haftar accepted terms in Berlin to designate members to a U.N.-proposed military commission with five members from each side to monitor the implementation of the cease-fire. However, his blockade of Libyan oil fields overshadowed the summit in Berlin last week aimed at shoring up a shaky truce.
In Berlin, foreign powers agreed to form a special committee made up of five military officials from each side to monitor the truce. But Erdoğan said on Sunday he did not expect a result from that committee due to Haftar's stance.
Several countries backing rival factions in Libya have violated an arms embargo which they had agreed to uphold a week ago at a summit in Berlin, the U.N. said on Saturday.
Since the ouster of late ruler Moammar Gadhafi in 2011, two seats of power have emerged in Libya: one in eastern Libya supported mainly by Egypt and the United Arab Emirates and the other in Tripoli, which enjoys U.N. and international recognition.
Haftar's forces aim to capture the capital, Tripoli, through the backing of Egypt, the UAE, Russian mercenaries and some African troops. Turkey, meanwhile, backs Fayez al-Sarraj's internationally recognized Government of National Accord (GNA).
Algiers, for its part, has taken on a role as mediator and last week hosted a meeting of Libya's neighbors that rejected "any foreign interference" and called for a negotiated settlement.
Underlining Turkey and Algeria's commitments to stop the bloodshed in the country, Erdoğan said: "The solution in Libya cannot be reached with military initiatives. Dialogue, reconciliation and comprehensiveness are key for permanent stability."
Another important point Erdoğan mentioned was the lack of support from the international community for a political solution in Libya.
"Unfortunately, the international community did not show good performance in both Syria and Libya," Erdoğan said.
Haftar unlikely to respect cease-fire
Speaking to reporters in Istanbul earlier in the day before his departure, Erdoğan also commented on reports of violations of the truce struck in Libya.
Erdoğan said Haftar's forces have repeatedly violated the cease-fire in Libya, adding that international support for Haftar forces has been "spoiling" Haftar.
"First of all, Haftar is a putschist," Erdoğan said adding: "At this point, we need to see clearly what Haftar's identity is. He is a man who has betrayed his superiors before as well. It is not possible to expect mercy and understanding from someone like this on the cease-fire."
"He's continuing attacks with all his resources. However, he will not be successful here," Erdoğan added.
Turkey has repeatedly said Haftar must choose a political solution to the conflict and urged foreign powers to press the putschist general into a truce. It has also sent military advisers and trainers to help the legitimate government fend off Haftar's assault on Tripoli.
Ankara has said that it will abide by a U.N. arms embargo on Libya as long as the cease-fire is maintained, but it warned that it could also deploy troops if necessary.
Fighting has abated in the past weeks but picked up on the weekend at the frontline in southern Tripoli, where artillery fire could be heard. More than 150,000 people have been displaced by the months of fighting.
Erdoğan to visit Gambia, Senegal
President Erdoğan, accompanied by a high-level business delegation, was greeted at Algiers airport by his Algerian counterpart Tebboune.
Before his face-to-face meeting with the Algerian president, Erdoğan visited the Martyrs' Memorial. He placed a wreath at the memorial in memory of Algeria's independence war against French invaders.
In his three-country Africa tour, Gambia and Senegal will be the next stops for Erdoğan. Gambia will count as the 28th country in Africa that Erdoğan has visited over the course of his terms as prime minister and president.
Gambia has been a supporter of Turkey's fight against the Gülenist Terror Group (FETÖ) since the beginning.
FETÖ and its U.S.-based leader Fetullah Gülen orchestrated the defeated coup on July 15, 2016, which left 251 people killed and nearly 2,200 injured.
FETÖ was also behind a long-running campaign to overthrow the state through the infiltration of Turkish institutions, particularly the military, police, and judiciary.
Turkey's first lady Emine Erdoğan accompanied Erdoğan alongside key aides – including Foreign Minister Mevlüt Çavuşoğlu, Defense Minister Hulusi Akar, Technology and Industry Minister Mustafa Varank, Energy Minister Fatih Dönmez, head of the Turkish Intelligence Organization (MİT) Hakan Fidan, Communications Director Fahrettin Altun and Presidential Spokesperson İbrahim Kalın.
Full report at:
https://www.dailysabah.com/war-on-terror/2020/01/26/turkey-pledges-to-protect-libya-from-becoming-playground-of-terrorists
--------
Christian Authorities Worry About Being Targeted by Boko Haram
By Timothy Obiezu
January 25, 2020
ABUJA - The killing of a Nigerian priest by Boko Haram has raised fresh concerns among Nigeria's Christian community that it is being targeted by the Islamist militants. The death came barely two weeks after President Muhammadu Buhari urged Nigerians to stop viewing acts of terror as a "religious war."
The Reverend Lawan Andimi was declared missing January 3 after Boko Haram insurgents raided his village in Michika, in northeastern state of Adamawa.
He headed the state's chapter of the Christian governing body, Christian Association of Nigeria (CAN).
The insurgents murdered him on Monday while negotiations for his release were ongoing — an event that has triggered widespread criticisms of the government by the Christian body.
Security analyst Ebenezer Oyetakin says the killing was intended to incite religious tensions between the two major religious groups in the country.
"The Muslims and the Christians in Nigeria and the citizens must know that the instrument these external forces and their internal collaborators are exploiting are our front lines. Front lines of tribes, religion and ethnicity. So the Nigerian people should unite against them," he said. "I personally as a Christian do not see the killing of the CAN chairman in Adamawa as a target against Christians. It is a target against the national exploiting our front lines."
Boko Haram often holds some captives on the basis of their faith while setting others free.
The Christian Association of Nigeria, CAN, accuses authorities of not doing enough to secure the release of abducted Christians. Security expert Senator Iroegbu shares that opinion.
"You cannot lie that Christians are not targeted because that's the reality and you wouldn't say they should stop complaining," he said. "If the CAN chairman is kidnapped, if terrorists abduct people and segregate Christians and hold them captive, you won't say it's not there, it's there. So what are you doing to ensure that this set of people are not vulnerable to this kind of terrorist onslaught?"
Oyetakin says concerns about religious tensions can be avoided if the government was more proactive.
"The government must govern in such a way that regenerates a bond of national unity," he said.
Earlier this month, President Muhammadu Buhari urged Nigerians to stop seeing acts of terrorism as a "religious war."
Full report at:
https://www.voanews.com/africa/christian-authorities-worry-about-being-targeted-boko-haram
--------
Tunisia's Ennahda rejects new government proposal
28 January 2020
The biggest party in Tunisia's parliament on Monday rejected the idea of a government that excludes other parties, adding that it was ready to contest another election.
The statement by the moderate Islamist Ennahda threatens to upend a second attempt to form a coalition government since elections in October, which fragmented the political establishment.
"We reject the government coalition being confined to some parties," said Abd Karim Harouni a senior official of Ennahda, which has been part of recent unity coalitions that included most parties.
Ennahda's own nominee for prime minister failed to push his proposed government through parliament on January 10, giving President Kais Saied the opportunity to nominate his choice for premier, the former finance and tourism minister Elyes Fakhfakh.
Fakhfakh said last week he would not seek to replicate recent unity coalitions, but would instead build a cabinet only from those, including Ennahda, that were "aligned with the values of the revolution."
Ennahda's rejection of that proposal means Fakhfakh could struggle to assemble majority support in parliament, risking a new parliamentary election.
It points to a tussle for influence between Ennahda and Saied over the shape of the next government, analysts say, with the party's rejection of Fakhfakh's proposal showing its fear that he will overtake it as the major political force.
Although Ennahda, the best-established party in Tunisia and a key part of successive coalition governments, came first in October's election with 53 of the 217 seats, its vote share declined from previous polls.
Saied won the second-round run-off vote of a separate presidential election in a landslide, but as an independent he lacks a parliamentary base of his own.
Tunisia's prime minister and government are primarily answerable to the parliament, but the president also has a veto over new legislation they introduce.
The second-largest party, Heart of Tunisia, whose leader was defeated by Saied in the presidential election, but which is also an opponent of Ennahda, was one of those which Fakhfakh ruled out of joining the government.
It said his decision contradicted the will of voters and accused Saied of seeking to seize powers and move towards a presidential system of government.
Full report at:
https://english.alarabiya.net/en/News/north-africa/2020/01/28/Tunisia-s-Ennahda-rejects-new-government-proposal.html
--------
Turkey sent ISIS to Libya who then tried to get to Europe: LNA General
27 January 2020
A Syrian ISIS fighter who Turkey sent to Libya was arrested on his way to Europe, according to the spokesman of the Libyan National Army (LNA), one of the two warring factions in Libya.
Turkey is backing the LNA's rival Tripoli-based Government of National Accord and sent troops to support it against an LNA offensive led by Gen. Khalifa Haftar earlier this month. In addition to a small number of Turkish military personnel, Ankara has ferried over pro-Turkish Syrian fighters – described as mercenaries by some – to Libya.
One of these fighters was an ISIS member who had escaped prison in Syria when Turkish forces attacked the Kurdish-led Syrian Democratic Forces, said LNA spokesman Maj. Gen. Ahmed al-Mismari.
According to al-Mismari, the ISIS member had then tried to reach Europe, but was arrested en route. No other information was given.
Al-Mismari added that Turkey has been sending "terrorists" to Libya in "violation of international law and the decisions of the Berlin Conference." The warring Libyan sides met in Berlin last month but failed to make progress on ceasefire talks.
The GNA is the UN-recognized government in Libya but has been accused of accommodating extremist groups.
Full report at:
https://english.alarabiya.net/en/News/north-africa/2020/01/27/ISISISIS-Syrian-captured-on-way-to-Europe-after-Turkey-brought-him-to-Libya-LNA-General.html
--------
Somali military kills eight al-Shabaab militants
Mohammed Dhaysane
20.01.2020
MOGADISHU, Somalia
Gunmen belonging to the Somalia-based al-Qaeda affiliated group al-Shabaab attacked a Somali National Army base Sunday night in the coastal town of Marka, some 90 kilometers (56 miles) southwest of the capital Mogadishu.
The attack began with mortar fire followed by heavy fighting between al-Shabaab and the Somali military.
The Somali military said on Twitter that it had repelled the attack.
"The terrorist group attempted to attack our military base in Marka, but our forces repulsed the attack and killed eight al-Shabaab members and wounded 11 others," it said.
No soldiers from the National Army were killed or wounded, it added.
Earlier Sunday, several al-Shabaab militants were killed in a military offensive in the Lower Juba region, according to a spokesman for Jubaland state.
Full report at:
https://www.aa.com.tr/en/africa/somali-military-kills-eight-al-shabaab-militants/1707953
--------
URL: https://www.newageislam.com/islamic-world-news/donald-trump-unveil-middle-east/d/120914
New Age Islam, Islam Online, Islamic Website, African Muslim News, Arab World News, South Asia News, Indian Muslim News, World Muslim News, Women in Islam, Islamic Feminism, Arab Women, Women In Arab, Islamophobia in America, Muslim Women in West, Islam Women and Feminism