New Age Islam News Bureau
2 Feb 2017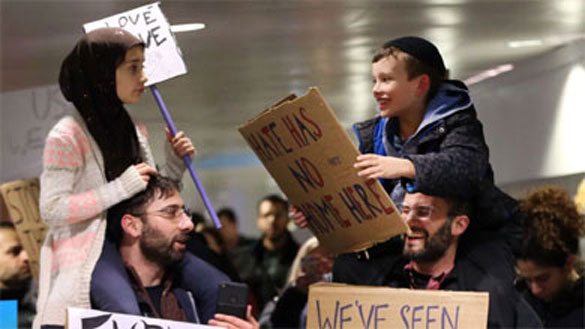 Icon of Muslim-Jewish solidarity Chance encounter. (Nuccio DiNuzzo/Chicago Tribune/TNS via Getty Images)
----
• Donald Trump to Focus Counter-Extremism Programme Solely On Islam: Reports
• Kuwait Imposes Visa Ban on Pakistan, 4 Other Muslim Countries
• Afghan Govt Controls Less Than 60pc of Country
• Turkish Warplanes Kill 51 ISIS Militants in Syria
North America
• Donald Trump to Focus Counter-Extremism Programme Solely On Islam: Reports
• A Photo of Two Dads Has Become the Icon of Muslim-Jewish Solidarity at US Airport Protests
• Jews And Muslims Synagogue Keys after a Mosque Burns Down In Texas
• Donald Trump sued by doctor whose visa was revoked 'for having Muslim prayer app on phone'
• Jewish university declares sanctuary status after Donald Trump's 'Muslim ban'
• Seventeen Muslim Refugees Have Legally Entered the U.S. Since Trump Signed Executive Order
--------
Pakistan
• Kuwait Imposes Visa Ban on Pakistan, 4 Other Muslim Countries
• After House Arrest, Pakistan Puts JuD chief Hafiz Saeed on Exit Control List
• FIR Will Be Registered Against Hafiz Saeed, Says Pakistan Minister
• Five Reasons Trump Won't Add Pakistan To The Muslim Ban List
• Pakistan Detains Christian Family, Including 70-Year-Old and 3 Children, for 'Blasphemy'
• Previous PPP govt blamed for not acting against JuD
• Hafiz Saeed's arrest sends negative and disappointing message: Syed Salahuddin
• PML-N rejects PTI's resolution against Trump Muslim visa ban
• 4 terrorists neutralised in Dera Bugti
• Thar's Hindu Community Demands JuD Chief's Release
--------
South Asia
• Afghan Govt Controls Less Than 60pc of Country
• Taliban Leaders among 32 Killed In Clashes, Helmand Officials Claim
• 5 ISIS loyalists killed, 5 wounded in separate drone strikes in Nangarhar
• Deadly car bombing plot foiled in Kandahar city
• Don't hurt 'religious sentiments': Bangladeshi Police to writers
• Bangladeshi student detained at New York airport
• Bangladesh arrests IT expert linked to deadly siege
--------
Arab World
• Turkish Warplanes Kill 51 ISIS Militants in Syria
• Aleppo: Abu Bakr Al-Baghdadi's Close Friend Killed in Syrian Air Raid
• Trump Travel Ban Not Anti-Islam, UAE Minister Says
• Hundreds of militants hand over weapons to Syrian government forces
• Saudi defence minister, new Pentagon chief discuss Mideast in 1st conversation
• Tens of Militants Surrender to Syrian Army in North-western Damascus
• Syrian Army Pre-empts ISIL's Attack on Airports in Northern Damascus
• Syria: Turkish Fighter Jets Bomb Industrial Zone in Al-Bab
• Syrian Armed Force Intensify Attacks on ISIL's Positions near Deir Ezzur
• ISIL Suffers Heavy Casualties in Syrian Airstrikes in Eastern Aleppo
• Syrian Army Seizes Full Control of Mountains near T4 Airbase
• UN chief backs Syria delegates plan for Geneva
--------
Mideast
• Questions Cloud U.S. Raid on Qaeda Branch in Yemen
• Trump Adopts Aggressive Posture toward Iran after Missile Launch
• Hundreds of Yemenis with US visas stranded in Djibouti
• 80 Saudi, UAE Officers, Soldiers Killed in Yemen's Missile Attack on Military Training Centre in Red Sea
• Intensified Clashes between Nusra, Ahrar "A Scenario by Arab States to Face Turkey"
• Israel evicts settlers from West Bank outpost
• Iran confirms missile test, spurns foreign intervention
• US 'likely' killed Yemeni civilians, kids in recent Qaeda raid
--------
Europe
• German Police Raid Homes, Mosques; Plotter Held
• British PM Slams Muslim Countries for Banning Entry by Israelis
• Union tells Air France staff to boycott US flights to protest Donald Trump's 'Muslim Ban'
• Russia Deploys Chechens to Win Hearts and Minds in Aleppo
• From colonial Algeria to modern day Europe, the Muslim veil remains an ideological battleground
• Fox News falsely reported that the Quebec terrorism suspect was Moroccan. Then Canada got mad.
--------
India
• Pakistan Asks India to Come Up With Concrete Evidence against Hafiz Saeed
• HC reserves order on Zakir's plea on IRF ban
• Two more Pakistani fishing boats seized by BSF in Sir Creek area
--------
Southeast Asia
• Penang Leaders Deny Promoting 'Liberal Islam'
• Malacca Bars Foreign Preachers from Giving Talks on Islam: Report
• Malaysia to give jobs to Rohingya Muslim refugees
• Rescind ban order on Muslim countries, PAS urges US in protest note
• Indonesia: Muslim clerics soon to rule fake news forbidden in Islam
• Indonesia Can Be Bridge between Muslim World and Trump Administration: Lawmaker
--------
Africa
• Somalia: 200 Somali Refugees In Kenya Are Blocked From Going To U.S.
• 3 Nigerian soldiers, several terrorists killed as troops battle Boko Haram
• African Immigrants Feel the Weight Of Being Black And Muslim In Trump's America
• Police officers killed, others injured after Al-Shabaab attack in Arabia, Mandera
Compiled by New Age Islam News Bureau
URL: https://www.newageislam.com/islamic-world-news/new-age-islam-news-bureau/donald-trump-to-focus-counter-extremism-programme-solely-on-islam--reports/d/109931
--------
Donald Trump to Focus Counter-Extremism Programme Solely On Islam: Reports
Feb 02, 2017
The Trump administration wants to revamp and rename a US government programme designed to counter all violent ideologies so that it focuses solely on Islamist extremism, five people briefed on the matter told Reuters.
The program, "Countering Violent Extremism," or CVE, would be changed to "Countering Islamic Extremism" or "Countering Radical Islamic Extremism," the sources said, and would no longer target groups such as white supremacists who have also carried out bombings and shootings in the United States.
Such a change would reflect Trump's election campaign rhetoric and criticism of former President Barack Obama for being weak in the fight against Islamic State and for refusing to use the phrase "radical Islam" in describing it. Islamic State has claimed responsibility for attacks on civilians in several countries.
The CVE program aims to deter groups or potential lone attackers through community partnerships and educational programs or counter-messaging campaigns in cooperation with companies such as Google and Facebook.
Some proponents of the program fear that rebranding it could make it more difficult for the government to work with Muslims already hesitant to trust the new administration, particularly after Trump issued an executive order last Friday temporarily blocking travel to the United States from seven predominantly Muslim countries.
Still, the CVE program, which focuses on US residents and is separate from a military effort to fight extremism online, has been criticized even by some supporters as ineffective.
A source who has worked closely with the Department of Homeland Security (DHS) on the program said Trump transition team members first met with a CVE task force in December and floated the idea of changing the name and focus.
In a meeting last Thursday attended by senior staff for DHS Secretary John Kelly, government employees were asked to defend why they chose certain community organizations as recipients of CVE program grants, said the source, who requested anonymity because of the sensitive nature of the discussions.
Although CVE funding has been appropriated by Congress and the grant recipients were notified in the final days of the Obama administration, the money still may not go out the door, the source said, adding that Kelly is reviewing the matter.
The department declined comment. The White House did not respond to a request for comment.
Programme criticised
Some Republicans in Congress have long assailed the programme as politically correct and ineffective, asserting that singling out and using the term "radical Islam" as the trigger for many violent attacks would help focus deterrence efforts.
Others counter that branding the problem as "radical Islam" would only serve to alienate more than three million Americans who practice Islam peacefully.
Many community groups, meanwhile, had already been cautious about the program, partly over concerns that it could double as a surveillance tool for law enforcement.
Hoda Hawa, director of policy for the Muslim Public Affairs Council, said she was told last week by people within DHS that there was a push to refocus the CVE effort from tackling all violent ideology to only Islamist extremism.
"That is concerning for us because they are targeting a faith group and casting it under a net of suspicion," she said.
Another source familiar with the matter was told last week by a DHS official that a name change would take place. Three other sources, speaking on condition of anonymity, said such plans had been discussed but were unable to attest whether they had been finalised.
The Obama administration sought to foster relationships with community groups to engage them in the counterterrorism effort. In 2016, Congress appropriated $10 million in grants for CVE efforts and DHS awarded the first round of grants on Jan. 13, a week before Trump was inaugurated.
Among those approved were local governments, city police departments, universities and non-profit organizations. In addition to organizations dedicated to combating Islamic State's recruitment in the United States, grants also went to Life After Hate, which rehabilitates former neo-Nazis and other domestic extremists.
Just in the past two years, authorities blamed radical and violent ideologies as the motives for a white supremacist's shooting rampage inside a historic African-American church in Charleston, South Carolina and Islamist militants for shootings and bombings in California, Florida and New York.
One grant recipient, Leaders Advancing & Helping Communities, a Michigan-based group led by Lebanese-Americans, has declined a $500,000 DHS grant it had sought, according to an email the group sent that was seen by Reuters. A representative for the group confirmed the grant had been rejected but declined further comment.
"Given the current political climate and cause for concern, LAHC has chosen to decline the award," said the email, which was sent last Thursday, a day before Trump issued his immigration order, which was condemned at home and abroad as discriminating against Muslims while the White House said it was to "to protect the American people from terrorist attacks by foreign nationals."
http://www.hindustantimes.com/world-news/donald-trump-to-focus-counter-extremism-programme-solely-on-islam-reports/story-XArLnYcCzvpNHk6CwrTcDP.html
--------
Kuwait Imposes Visa Ban on Pakistan, 4 Other Muslim Countries
February 2, 2017
Kuwait City, Feb 2: United States President Donald Trump on Friday banned seven Muslim-majority countries from entering the United States. However, since 2011, citizens of Pakistan, Syria, Iraq, Iran and Afghanistan have not been able to gain tourism or trade visas to Kuwait. According to sources, the restrictions on the five countries have been added due to the "instability" in the five countries and the ban from these countries will only be lifted if the security situation in these countries improved.
In 2011, Kuwait banned the passport holders of the five countries from entering into the Gulf state. It has specifically asked the banned countries to not to apply for visas. Kuwait had placed the ban in 2011 terming it as a "temporary ban," but the ban is still in force in the country which raises the question, what do officials really mean when they suggest a "temporary ban"? US President Donald Trump on Friday signed an executive order of "temporarily" banning 7 Muslim-majority country from entering the United States for the next 90 days.
Kuwait is concerned about the threat of the extremist groups such as Al-Qaeda and ISIS that have their footholds in Syria, Iraq, Afghanistan and Pakistan. Apart from this, Pakistan and Afghanistan continue to witness violence from the extremist groups whereas Iraq and Syria are embroiled in internal conflicts.
However, despite the ban, the Gulf state has been targeted in a number of militant attacks which also led to bombing of a Shia mosque in 2015 which led to death of 27 Kuwaitis.
Before US banned Syrians from entering the country, Kuwait was the only country in the world to officially bar entry to Syrians.
http://www.india.com/news/world/immigration-ban-visas-of-five-muslim-majority-countries-including-pakistan-banned-in-kuwait-since-2011-1804327/
--------
Afghan govt controls less than 60pc of country
Feb 2, 2017
KABUL - The Afghan government controls less than 60 percent of the country, a US watchdog agency reported on Wednesday, after security forces retreated from many strongholds last year.
Afghan soldiers and police, with the aid of thousands of foreign military advisers, are struggling to hold off a resurgent insurgency led by the Taliban, as well as other groups like Islamic State.
As of November, the government could only claim to control or influence 57 percent of Afghanistan's 407 districts, according to US military estimates released by the Special Inspector General for Afghanistan Reconstruction (SIGAR), in a quarterly report to the US Congress. That represents a 15 percent decrease in territory held compared with the same time in 2015, the agency said in a report.
"SIGAR's analysis of the most recent data provided by US forces in Afghanistan suggests that the security situation in Afghanistan has not improved this quarter," it said. "The numbers of the Afghan security forces are decreasing, while both casualties and the number of districts under insurgent control or influence are increasing." More than 10 percent of districts are under insurgent control or influence, while 33 percent are contested, according to the report.
Some of the most contested provinces include Uruzgan, with five of six districts under insurgent control or influence, and Helmand, with eight of its 14 districts under insurgent control or influence.
US military officials say much of the loss of territory reflects a change in strategy, with Afghan forces abandoning many checkpoints and bases in order to consolidate and focus on the most threatened areas.
Insurgents tried at least eight times to capture provincial capitals, although each assault was eventually beaten off.
According to US military estimates, the number of Afghans living under insurgent control or influence decreased slightly in recent months to about 2.5 million people. But nearly a third of the country, or 9.2 million people, live in areas that are contested, according to SIGAR, leading to some of the highest civilian casualty rates the United Nations has ever recorded in Afghanistan.
Afghan security forces also sustained heavy casualties, with at least 6,785 soldiers and police killed in the first 10 months of last year, with 11,777 wounded, SIGAR reported. Casualty figures are rarely released by the Afghan government, while difficulties in confirming and tracking troop numbers make any figures subject to wide variation.
SIGAR reported some progress in combating corruption, which has plagued both Afghan military and political institutions. "We are very concerned," said General Charles Cleveland, spokesman for NATO forces in Afghanistan.
He blamed "poor leadership" for the casualties as well as corruption, though he noted many officials have been removed at all levels.
"Afghan forces continue to be incredibly resilient and they made success in achieving their main goals, such as securing the populated areas," he added, saying there had been progress but it would take years.
Their first year was something of a disaster, the nadir coming when the regional capital Kunduz in northern Afghanistan was briefly captured by the Taliban.
US and NATO officials had been hoping the Afghans would fare better in 2016, but clearly the security situation remains perilous. The Pentagon, however, insists the Afghan National Defense and Security Forces (ANDSF) are improving and points to successful efforts to repel Taliban attacks on regional capitals.
Most of the fatalities among the ANDSF came from "direct-fire" assaults, meaning local troops were directly attacked by the Taliban and other insurgent groups, instead of dying in roadside bomb and mine blasts.
In addition to the high death rate in the ANDSF, the report found that the number of Afghan districts under insurgent control or influence is increasing.
US Forces Afghanistan reported that 57.2 percent of the country's 407 districts were under Afghan government control or influence as of November 15, the report states. That marks a drop from the 63.4 percent reported in late August, and a nearly 15-point decline since November 2015.
A Western observer who has lived in Afghanistan for years told AFP that the provinces under Taliban control could ultimately split from those held by the Kabul government. "Everybody here thinks this country will collapse in a matter of two or three years," he said.
The report also found civilian casualties remain high.
According to a UN body, there were 8,397 conflict-related civilian casualties between January 1 and September 30, a slight drop compared to the same period in 2015.
The report also cites an Asia Foundation survey last year that found only 29.3 percent of respondents nationwide felt their country was moving in the right direction, down from 36.7 percent in 2015.
"This represents the lowest level of optimism recorded since the survey began in 2004," the SIGAR report notes. The Taliban have been especially active in Helmand province - a global center for opium production, which is on the rise. And Afghanistan has long grappled with government corruption and embezzlement.
http://nation.com.pk/international/02-Feb-2017/afghan-govt-controls-less-than-60pc-of-country
--------
Turkish warplanes kill 51 ISIS militants in Syria
2 February 2017
Turkish warplanes killed 51 ISIS militants in operations over the last 24 hours, the military said in a statement on Thursday. Warplanes destroyed 85 ISIS targets in the areas of al-Bab, Tadif, Kabbasin and Bzagah, including buildings and vehicles.
Turkey launched an operation, dubbed "Euphrates Shield", to drive jihadists away from the Syrian border more than five months ago and has been besieging the Islamic State controlled town of al-Bab for weeks.
https://english.alarabiya.net/en/News/middle-east/2017/02/02/Turkish-warplanes-kill-51-ISIS-militants-in-Syria.html
--------
North America
A Photo of Two Dads Has Become the Icon of Muslim-Jewish Solidarity at US Airport Protests
Feb 2, 2017
There were many moving pictures from the protests at US airports this week. But one captivating image from Chicago stands out as a reminder of solidarity in the face of anti-immigration policies that the Trump administration is working hard to institutionalize.
On Jan. 30, Chicago Tribune photographer Nuccio DiNuzzo captured a brief encounter between Meryem, a 7-year old Muslim girl wearing a hijab and Adin, a 9-year-old Jewish boy in a kippah. Both kids were hoisted on their fathers' shoulders for a better view, holding cardboard signs of support for those stranded by the new US president's surprise ban on travelers from seven Muslim-majority countries.
Meryem's sign said "Love, Love" while Adin's echoed, "Hate Has No Home Here."
"I knew that this was an important picture to make," said DiNuzzo to the Chicago Tribune.
Adin's father, Rabbi Jordan Bendat-Appell, told the Tribune that he drove his son to Chicago's O'Hare airport to teach him a lesson in standing up for what he believes in. Adin's maternal grandparents are Holocaust survivors. Meryam's father Fatih Yildirim had brought his family to the same airport to deliver homemade chocolate chip cookies for lawyers assisting detained travelers.
As they waited for travelers to emerge from the arrival gates, the two fathers struck a quick friendship, exchanging foodie tips about kosher steakhouses. Says Bendat-Appell to the Huffington Post, "What was wonderful was that it was a very human interaction—not a Jew and Muslim, but two human beings who look enough alike to be brothers—standing up for what is right," he said. "We are happy if this photograph can bring a bit more love and light into this world."
Bendat-Appell says their families have made plans to meet for Shabbat dinner. "I'm making steak, he is bringing baklava."
https://qz.com/900346/muslim-ban-airport-protests-the-photo-thats-become-an-icon-of-muslim-jewish-solidarity-at-us-airport-protests/
--------
Jews And Muslims Synagogue Keys after a Mosque Burns Down In Texas
February 02, 2017
Donations to rebuild the Islamic centre are adding up
Jewish people in a small Texas city handed Muslim worshippers the keys to their synagogue after the town's only mosque was destroyed in a fire. The Victoria Islamic Centre burned down on Saturday and had previously been burgled, the cause is being investigated by federal officials. But the town's Muslim population will not be without a place to worship while their building is reconstructed, thanks to their Jewish neighbours.
Robert Loeb, the president of Temple Bnai Israel said, "Everyone knows everybody, I know several members of the mosque, and we felt for them. When a calamity like this happens, we have to stand together. "We have probably 25 to 30 Jewish people in Victoria, and they probably have 100 Muslims. We got a lot of building for a small amount of Jews."
One of the mosque's founders, Shahid Hashmi, said, "Jewish community members walked into my home and gave me a key to the synagogue."
The centre was built in 2000. Donations and an online fund-raising campaign have raised more than $900,000 for reconstruction.
The blaze was discovered at about 2am local time on Saturday by a clerk at a convenience store, who called the fire department. It took around four hours to bring it under control and no injuries were reported.
Full report at:
http://www.dhakatribune.com/world/north-america/2017/02/02/jews-hand-muslims-synagogue-keys-mosque-burns-texas/
--------
Donald Trump sued by doctor whose visa was revoked 'for having Muslim prayer app on phone'
Feb 2, 2017
Donald Trump is being sued by a Chicago-based doctor who has been stranded in the Middle East because of the new US president's travel ban.
Dr Amer al Homssi has been stuck in the United Arab Emirates (UAE) since Sunday, after US officials prevented him from boarding his flight home.
In a copy of his lawsuit, seen by The Independent, he alleges that he was barred from travelling after they found an Islamic prayer app on his phone.
The 24-year-old, who had travelled to the UAE to get married, is a Syrian citizen but has never lived there and holds residency in the UAE.
He had been living in America under a J-1 student visa while he continued with his medical studies.
His lawsuit, filed at a district court in the US state of Illinois, says that he voluntarily turned over his mobile phone and other personal belongings after he was asked to take part in a secondary screening.
Despite his cooperation, US officials did not let him board his flight, citing Donald Trump's executive order which banned citizens from seven Muslim-majority nations from travelling to the US.
Syria is among the countries whose citizens have been barred from entering America.
His lawsuit alleges that officials then crossed out his visa with black pen and annotated it with: "Cancelled E.O. 59447v.8".
Dr al Homssi believes he has become "collateral damage" in the President's "discriminatory" ban.
The "dreadful consequences...are the result of his being a member of the Muslim faith that is now being treated differently in the United States," the lawsuit says.
Abdulaziz Galadari, a colleague of Dr al Homssi's, said he was "one of the top students in his class."
Full report at:
http://www.independent.co.uk/news/world/americas/donald-trump-sued-doctor-amer-al-homssi-muslim-ban-visa-revoked-muslim-prayer-app-phone-a7557816.html
--------
Jewish university declares sanctuary status after Donald Trump's 'Muslim ban'
Feb 2, 2017
A Jewish University declared itself a "sanctuary campus", which will provide "financial support for undocumented students, staff and faculty" in response to an executive order signed by Donald Trump, which prevents entry to anyone from seven majority-Muslim countries.
Yeshiva University, a private university based in New York, adopted the policy after a petition initiated by the Minority Law Students Alliance was signed by more than 200 students, alumni, administrators and staff at the University's Cardozo's law school.
The petition requested the administrators to refuse entry to immigration officials on the university campuses without a warrant or disclose private information about students and staff without a court-order.
Yeshiva University's website notes more than 500 students and professors from 50 different countries enrol at the institution each year.
The petition also required university administrators to provide financial support to students who may lose their ability to work as they fear Mr Trump's administration will repeal Barack Obama's Deferred Action for Childhood Arrivals (DACA).
Under DACA certain undocumented immigrants, who entered the country as minors, are allowed to receive a renewable two-year period of deferred action from deportation and are eligible for a work permit.
In a statement, the Minority law Students Alliance said: "The petition was written in response to the xenophobic, anti-immigrant Republican presidential campaign and in fear of the repeal of immigration executive order, specifically DACA."
On the same day the university decided to become a "sanctuary campus", Mr Trump announced executive orders including building a wall on the border with Mexico and banning refugees from entering the US.
An executive order has suspended all entry into the US from seven Muslim-dominated countries, Syria, Iraq, Iran, Libya, Somalia, Sudan and Yemen, for 90 days on national security grounds.
Mr Trump also halted the US refugee programme for 120 days and indefinitely for Syrian refugees, which sparked international condemnation.
President of the university Richard M. Joel said in a statement administrators were taking the issues "most seriously". He reassured the student body that the university will "not disclose any private information" nor "assist in any efforts to investigate or detain" students and staff and will "make every effort" to keep students in class if they are prevented to work.
Full report at:
http://www.independent.co.uk/news/world/politics/jewish-university-new-york-sanctuary-university-response-to-donald-trump-muslim-ban-a7557871.html
--------
Seventeen Muslim Refugees Have Legally Entered the U.S. Since Trump Signed Executive Order
1 Feb 2017
Two hundred and six refugees, 17 of whom are Muslims, have legally entered the United States in the four full days since President Trump signed the "Protecting the Nation from Foreign Terrorist Entry into the United States"executive order temporarily banning refugees from entry.
"Homeland Secretary John Kelly said the government has granted waivers to allow 872 refugees to enter the country, after the president's order last week suspending the U.S. Refugee Admissions Program for 120 days," UPI reported on Tuesday, noting that "[t]he order, however, allows for waivers for refugees 'already in transit' who would face hardship if denied admission."
The 206 refugees who arrived between Saturday and Tuesday (as reported at the State Department's interactive website) were among those 872.
The seventeen Muslim refugees among those 206 came from four countries: Afghanistan (11), Ethiopia (3), Sri Lanka (2), and Eritrea (1).
It is not clear when the remaining 666 refugees granted waivers will arrive in the United States.
Ninety-seven Christians of various denominations, 39 Hindus, and 38 Buddhists were among the 206.
Bhutan was country of origin for 102 of the 206 refugees, the highest number of arrivals for any of the 13 countries of origin.
The top countries of origin, in order, in the remaining twelve countries were the Democratic Republic of Congo (38), El Salvador (20), Afghanistan (11), Burma (6), Honduras (6), Rwanda (6), Eritrea (5), Ethiopia (3), Ivory Coast (3), Nepal (3), Sri Lanka (2), and Burundi (1).
No refugees from the seven Middle Eastern countries in which the executive order temporarily blocked the issuance of visas — Syria, Iraq, Iran, Yemen, Libya, Sudan, and Somalia — were among the 206 refugees who arrived.
Prior to the order, these seven countries accounted for 49 percent of the 32,125 refugees (or 15,858) who were resettled in the country between the beginning of FY 2017 on October 1, 2016 and January 27, 2017, the day President Trump signed the Executive Order; Syria (4,884), Iraq (4,840), Somalia (4,034), Iran (1,637), Sudan (454), Yemen (6), and Libya (3).
Full report at:
http://www.breitbart.com/big-government/2017/02/01/seventeen-muslim-refugees-legally-entered-u-s-since-trump-signed-executive-order/
--------
Pakistan
After house arrest, Pakistan puts JuD chief Hafiz Saeed on Exit Control List
Feb 2, 2017
ISLAMABAD: Pakistan has placed Jamaat-ud- Dawa chief Hafiz Saeed's name on the Exit Control List, two days after the Mumbai terror attack mastermind and his four aides were put under house arrest.
The Interior ministry has forwarded a letter to all provincial governments and the Federal Investigation Agency, which included names of 38 individuals placed on the list, preventing them from leaving the country. All of them were said to be linked with JuD or Lashkar-e-Taiba.
The ministry had "placed Falah-e-Insaniat Foundation (FIF) and Jamaat-Ud-Dawa (JUD) on the Watch List as per UNSC 1267 Sanctions and have listed these organisations in the Second Schedule of the ATA 1997 (as amended)."
"Hafiz Muhammad Saeed, Abdullah Ubaid, Zafar Iqbal, Abdur Rehman Abid and Qazi Kashif Niaz are reportedly active members of the aforementioned organisations within the meaning of Section 11EEE(1) of the ATA 1997 (as amended)," read a notification issued by the ministry.
"As such, they must be placed under preventive detention," it added.
Saeed has been placed under a 90-day house arrest. There have been reports that Islamabad has immense pressure from new US administration to take action against Saeed and his organisations.
Saeed was also put under house arrest after Mumbai terror attacks in November 2008 but he was freed by court in 2009.
http://timesofindia.indiatimes.com/world/pakistan/fir-will-be-registered-against-hafiz-saeed-pak-minister/articleshow/56914947.cms
--------
FIR Will Be Registered Against Hafiz Saeed, Says Pakistan Minister
February 2, 2017
An FIR will be registered against Jamaat-u-Dawa chief Hafiz Saeed, a senior Pakistani minister has said, without clarifying under which case the Mumbai attack mastermind would be booked. "Action against Saeed has been taken after taking all institutions on board. The government has put Saeed under house arrest for the time being but an FIR will be registered against him," Federal Commerce Minister Khurram Dastgir said. Asked under which case Saeed would be booked, Dastgir said, "It will be known in a few days".
Punjab Province Law Minister Rana Sanaullah said more Jamaat-u-Dawa (JuD) and Falaha-i-Insanyat (FIF) activists would be detained in coming days.
"We are watching the activities of the suspected workers of the JuD and FIF and more activists will be detained under Fourth Schedule of Anti-Terrorism Act," he said.
Talking to reporters, Sanaullah said Saeed's Kahmir policy is completely different from that of the Nawaz Sharif government.
"We will not compromise on national interest. Our policy on Kashmir is different from that of JuD's," he said, adding that the government is keeping an eye on the activities of the active workers of the JuD and FIF after placing both organisations on the watch list.
Meanwhile, leaders from diverse political spectrum have reacted to Saeed's house arrest.
Imran Khan-led Pakistan Tehreek-i-Insaf's senior leader Mahmoodur Rasheed alleged that the PML-N government had taken action against Saeed because of the US and India.
"Action against Saeed shows that the government has succumbed to Indian pressure," said Rasheed, who is also the opposition leader in the Punjab Assembly.
He claimed that Saeed was being punished for raising voice for the rights of Kashmiris and no one could doubt his "patriotism".
Jamaat-i-Islami leader and member Punjab Assembly Wasim Akhtar said Saeed had brought the Kashmir issue alive and there had been a lot of social work to the credit of FIF. He demanded the immediate release of Saeed and other JuD leaders.
Defence Council Pakistan (DPC) Chairman Maulana Samiul Haq said Saeed's house arrest was aimed at "pleasing India".
Full report at:
http://indianexpress.com/article/world/fir-will-be-registered-against-hafiz-saeed-says-pakistan-minister-4502550/
--------
Five Reasons Trump Won't Add Pakistan To The Muslim Ban List
February 1, 2017
Pakistan, which the U.S. has repeatedly accused of sheltering terrorist groups, may be added to President Donald Trump's so-called Muslim ban list… or it might not be. In a move that was labeled by many as "racist" and "Islamophobic," Trump signed executive order on Friday targeting seven predominantly Muslim countries – Iran, Iraq, Syria, Sudan, Libya, Somalia and Yemen. Included in the ban are citizens who haven't been involved in terrorist acts against the U.S. yet.
Meanwhile, all the major terrorist elements that have carried out mass killings in the U.S. and other Western countries over the past few decades – al-Qaeda, the Taliban and Islamic State (ISIS) – can trace their roots back to the nations that weren't included in the list, particularly Pakistan, Saudi Arabia and Qatar. But the Trump administration is considering including "other countries that have similar problems, like Pakistan" on its infamous Muslim ban list, said White House Chief of Staff Reince Priebus in an interview on Sunday.
Priebus' sentiments were echoed a day later by White House Press Secretary Sean Spicer, who said, when asked why Pakistan wasn't included on the list, "Maybe we will." Spicer added that the White House may "find other countries" during a 90-day review.
Banning Pakistan could be easily justified
But there are several reasons that suggest Trump won't ban Pakistanis from entering the United States, and they don't even pertain to his business ties with Pakistan, as many U.S. media outlets may suspect. In fact, Trump "has no investments in Pakistan and Afghanistan," according to Deutsche Welle, who cites U.S.-based security and Islamism expert Arif Jamal.
Mr. Jamal argues that while Trump didn't add Afghanistan to the Muslim ban list because it would "create a lot of problems for U.S. troops and other Americans working in the war-torn country" and halt cooperation between Washington and Kabul, Pakistan's case is "different."
"I think Trump is in the process of formulating a comprehensive policy for the Islamic country."
In fact, the White House, which has repeatedly hinted it could add Pakistan to the Muslim ban list, would have no problem justifying the Islamic country's inclusion on the list of countries that are viewed as potentially harmful to Americans and U.S. security interests.
Reasons for adding Pakistan to the Muslim Ban list
The former founder and head of al-Qaeda, Obama bin Laden, who took responsibility for the 9/11 terrorist attacks in the U.S. that killed about 3,000 people in 2001, lived in Pakistan for a long time before U.S. Navy SEALs killed him in the Pakistani city of Abbottabad in May 2011.
It was a turning point in relations between Washington and Islamabad, which once were very close allies. Since then, the U.S. has been accusing Pakistan of harboring terrorists. In 2012, even Trump himself, who wasn't even in the running to be the next president then, blasted Pakistan for allegedly sheltering terrorists. He said the Islamic country had to "apologize" for "providing a safe sanctuary to Osama bin Laden for six years."
Since the September 9/11 attacks, a number of militant elements have used Pakistan's territory to launch attacks in Afghanistan, where the U.S. military still has about 10,000 troops and is engaged in the longest war in its history. In 2010, the Pakistani Taliban killed 50 people and injured 100 more in a suicide attack on the U.S. Consulate in Peshawar, the capital of the Pakistani province of Khyber Pakhtunkhwa. That same year, a Pakistan-born resident of the U.S. attempted to carry out a terrorist attack in Times Square in Manhattan, New York.
In December 2015, a Pakistan-born lawful permanent resident of the U.S. killed 14 people in a mass shooting in San Bernardino, California. A little more than half a year later, in June 2016, an American-born U.S. citizen of Afghan descent carried out a terrorist attack/hate crime in a nightclub in Orlando, Florida, killing 49 people and injuring 53 others.
In December 2016, Afghanistan President Ashraf Ghani openly accused Pakistan of being responsible for the spread of terror in his country.
Five reasons Trump won't include Pakistan on the List
While the above-mentioned facts would make it an easy task for Trump to justify including Pakistan on his infamous list of countries whose citizens are temporarily barred from entering the U.S., there are five outstanding reasons that have so far prevented and will prevent the U.S. President from doing it.
One can argue that the furious backlash in the wake of his so-called Muslim ban may have saved Pakistan from being included on the list.
Any travel restrictions on Pakistan would draw even more ire from the world and further solidify the Islamophobic claims against Trump and his new administration. After signing the controversial executive order, the President has repeatedly stressed that this is "not a Muslim ban," but rather, a way to "prevent terror and keep our country safe."
While one can argue that the U.S. has a great deal of interests in the seven Muslim countries already included on the list, the magnitude of those interests don't come close to the magnitude of U.S. interests in the South Asian region, which would be compromised in the case of Pakistan's inclusion on the list.
Adding Pakistan to the list of countries facing visa restrictions would create new challenges for U.S. security interests in the South Asian region, while Pakistan's proximity and its close ties to China are of particular interest for Washington and especially for Trump, who has been an outspoken critic of China. In addition to that, America's attempts to secure peace in Afghanistan without Pakistan's support would be futile.
Pakistan, a country with a proven ability to adjust and adapt its strategic interests even in the darkest moments of isolation, wouldn't be devastated if Trump decides to add it to his list.
Full report at:
http://www.valuewalk.com/2017/02/trump-pakistan-muslim-ban-visa-list/
--------
Pakistan Detains Christian Family, Including 70-Year-Old and 3 Children, for 'Blasphemy'
1 Feb 2017
Pakistani authorities arrested a 70-year-old Christian father and his family, including his three children between the ages of 8 and 14, for an alleged act of blasphemy, reports the British Pakistani Christian Association (BPCA).
The BPCA tracks cases of Christian persecution in the Islamic country.
The police ultimately released nearly all the family members except for the father, Mukhtar Masih, who has been accused of writing blasphemous letters containing derogatory comments towards Muhammad and the Quran.
"These charges are completely false, my father is innocent. We tried explaining this to the police but they still arrested us and they beat my elderly father and I… trying to force a confession," 40-year-old Anjum Mukhtar, one of Masih's sons, told BPCA.
"Some men have been chasing us for our property and were offering a very low price. They threatened to kill us if we did not leave and now this has happened," he added. "There is never any peace for Christians in Pakistan Muslim's hate us."
BPCA has reportedly placed the family in a safe house.
The organization points out that the Pakistani authorities have not been able to confirm the writing in the letters matches Akhtar's penmanship.
"It would seem that no investigation has taken place into the potential forging of the letters," reveals the BPCA, adding:
To the horror of the family they discovered that a blasphemy allegation had been laid against Mukhtar Masih in which local Muslims alleged he had written blasphemous messages. In the usual clumsy and malicious modus operandi of Pakistani police authorities the whole family was arrested, including Mukhtar's daughter Shaima (38 yrs) son Anjum Mukhtar (40 yrs) and his children Romilla (14 yrs), Nehmeeia (10 yrs), Shaima (8 yrs).
The father was accused of committing the act of blasphemy on January 28. BPCA notes that the family is from the Christian village of Lambanwali, located in the Gujranwala district of Pakistan's Punjab province.
Masih is reportedly facing 10 years in prison.
"However, like in many previous cases the charges could be increased… which would increase the sentence to death by hanging," notes BPCA.
"Another blasphemy case has been enacted under the flimsiest of evidence," noted Wilson Chowdhry, BPCA chairman.
"A 70-year-old man and his son have been tortured for a confession yet have again resolutely defended their innocence," he continued. "Now this elderly man Mukhtar Masih will probably die in prison or by hanging for a crime he did not commit."
Hostility towards the Christian minority in U.S.-ally Pakistan has reportedly intensified in recent months.
Nevertheless, Chaudhry Nisar Ali Khan, Pakistan's Interior Minister, claims his country's blasphemy laws of Pakistan are not being used to target Christians or other minorities.
In October 2016, the local government of Bahawalpur, also located in Pakistan's Punjab province, banned Christians from gathering in houses to offer their worship or prayers.
There have also been several Christians accused of blasphemy across the country. Some Muslims have called for the execution of those Christians.
Full report at:
http://www.breitbart.com/national-security/2017/02/01/pakistan-detains-christian-family-including-70-year-old-3-children-alleged-blasphemy/
--------
Previous PPP govt blamed for not acting against JuD
Feb 2, 2017
ISLAMABAD: The government has accused the previous government of the Pakistan Peoples Party (PPP) of not taking required actions under the 2008 United Nations resolution designating Hafiz Saeed's organisation as a terrorist outfit.
"As a matter of record, the actions taken by the government of Pakistan have been carried out as per obligations vis-à-vis listing of Jamaatud Dawa under UN Security Council Resolution 1267 in December 2008," says an unnamed spokesperson for the Ministry of Interior in a statement here on Wednesday which the ministry apparently released in reaction to a statement of India's Ministry of External Affairs regarding the detention of JuD chief Hafiz Muhammad Saeed.
"Various actions that needed to be taken under the relevant resolution, i.e. arms embargo, travel ban and asset freeze, were not carried out for some reasons by the previous governments," the spokesperson said without naming the PPP.
The spokesperson said that Pakistan did not need any certification or endorsement from India over the recent actions it had taken in relation to Hafiz Saeed.
India had constantly been using Hafiz Saeed's political activities as a tool to malign Pakistan, the statement said. "The international community should take note and understand that Pakistan is a democratic society where judiciary takes free, independent and transparent decisions," it said.
"If indeed, India is serious about its allegations, it should come up with concrete evidence against Hafiz Mohammad Saeed which is sustainable in court of law in Pakistan or for that matter anywhere in the world," the spokesperson said, adding: "Mere casting aspersions and levelling allegations without any corroborating evidence would not help the cause of peace in the region."
The spokesperson further said that Pakistan was still looking for justification and explanation from India as to how all the accused involved in the Samjhota Express bombing, in which 68 Pakistani nationals lost their lives, had gone scot-free.
"The involvement of Indian army officer Lt Col Prasad Shrikant Purohit and Hindu extremist leaders like Swami Aseemanand of Rashtriya Swayamsevak Sangh in the Samjhota Express terrorist incident is a matter of record and has been widely reported in the international press without any positive response from India," the spokesperson concluded.
Full report at:
http://www.dawn.com/news/1312230/previous-ppp-govt-blamed-for-not-acting-against-jud?preview
--------
Hafiz Saeed's arrest sends negative and disappointing message: Syed Salahuddin
TARIQ NAQASH
Feb 2, 2017
Top Kashmiri militant commander Syed Salahuddin called upon Islamabad to reverse its order placing Jamaat-ud-Dawa (JuD) chief Hafiz Saeed under house arrest, calling the move "painful and cowardly".
Saeed has been detained under Section 11-EEE(1) of the Anti-Terrorism Act, 1977, a notification issued by the interior ministry said. The move came after years of pressure on Pakistan to put Saeed on trial, and could potentially ease recently escalating tensions with neighbour and arch-foe India.
Salahuddin, chairman of United Jihad Council (UJC), said in a statement that, "Hafiz Mohammad Saeed has not only been urging the international community to break its criminal silence on Kashmir, but he has also been exposing the atrocities of India's imperialistic regime."
He said the move not only sent "a negative and disappointing message" to the people living in India-held Kashmir, but it also showed "Pakistan's weak role in the ongoing freedom struggle" of Kashmiris.
The UJC has gathered around a dozen militant groups who are fighting Indian rule in occupied Kashmir. JuD's militant wing, Lashkar-e-Taiba, has an observer status in the conglomerate.
"The present stage of the freedom movement demands of the Pakistani nation and leadership to rise above all compulsions and fears, and stand with the Kashmiris with a firm position," he said.
Read more: Pakistan isolated because it gives freedom to non-state actors, Aitzaz tells joint session
The UJC chief asked the government of Pakistan to immediately end Saeed's house arrest and "let him make his contributions and raise his peaceful voice for freedom of held Kashmir."
Full report at:
http://www.dawn.com/news/1312054/hafiz-saeeds-arrest-sends-negative-and-disappointing-message-syed-salahuddin
--------
PML-N rejects PTI's resolution against Trump Muslim visa ban
02-Feb-17
ISLAMABAD: The PML-N legislators in the National Assembly on Wednesday rejected the Pakistan Tehreek-e-Insaf (PTI)'s resolution against US President Donald Trump's ban on immigrants from seven Muslim-majority countries.
The resolution, presented by Dr Arif Alvi, Shireen Mazari, Asad Umer and backed by other opposition parties, called for Pakistan to officially raise the issue at different international forums. They highlighted the fact that people all over the world were out on the streets protesting the Trump administration's move. They also said the least the government could do as a Muslim country was call the US ambassador and inform him about the nation's stance.
The resolution read that the Trump administration's move to ban immigrants and refugees from seven Muslim countries was a violation of human rights.
However, Deputy Speaker Javed Abbasi could not let the PTI leaders submit the resolution and told them that the resolution could only be accepted if it was brought to him in accordance with NA rules.
The legislators passed a unanimous resolution condemning terrorist attack on Islamic Cultural Centre in Québec City of Canada targeting innocent Muslims resulting in loss of six precious lives and injuring others. The resolution moved by Law Minister Zahid Hamid expressed deepest condolences to the grieving families. The resolution expressed solidarity with the government and people of Canada and praised Canadian Prime Minister Justin Trudeau for condemning the incident and reaffirming the government's resolve to provide protection to the Muslims in the country.
To another call attention notice moved by PPP lawmaker Shazia Marri and others regarding alleged harassment of female anchors in PTV Network, State Minister for Information Marriyum Aurangzeb told the House that an inquiry committee was formed to investigate the matter. She said the committee had submitted its report and it would be implemented. She claimed that the government had zero tolerance against sexual harassment of women at workplace. She assured the House that there would be no bias towards women.
Full report at:
http://dailytimes.com.pk/pakistan/02-Feb-17/pml-n-rejects-ptis-resolution-against-trump-muslim-visa-ban
--------
4 terrorists neutralised in Dera Bugti
February 02, 2017
QUETTA - At least four terrorists of a banned outfit were killed yesterday in exchange of fire with security forces.
According to Inter-Services Public Relations, the Frontier Corps and other law-enforcement agencies, on a tip-off that several terrorists were present in Dera Bugti, raided the place, killed four outlaws in exchange of fire and arrested three others.
During the action of the security forces, four hideouts of terrorists were destroyed in the area, besides recovering a huge cache of arms and ammunitions. The arms included 31 improvised explosive devices, 80 hand grenades, 20kg explosives, 20 rockets, thousands of rounds, communication instruments and other destructive materials.
The terrorists were involved in extortion, kidnapping for ransom and attacks on government installations and security forces.
COP SHOT DEAD IN DMJ
Target killing of police personnel continued in Dera Murad Jamali as another cop fell prey to unidentified assailants on Wednesday.
According to police sources, the police constable Amir Bakhsh Jakrani was targeted by unidentified killers in the premises of City Police Station of Dera Murad Jamali who was leaving for home after performing his duty at Nawab Shaheed Post. The culprits managed to escape successfully after committing the crime.
Getting information of the incident, heavy contingent of police reached the crime spot and shifted the body to civil hospital for medico-legal formalities.
"We have no enmity with anyone, said the brother of fallen police constable at civil hospital while talking to media men and added, "My brother was targeted in cold blood and we want justice."
Full report at:
http://nation.com.pk/national/02-Feb-2017/4-terrorists-neutralised-in-dera-bugti
--------
Thar's Hindu community demands JuD chief's release
February 02, 2017
KARACHI : Protests were held against the house arrest of Jamaat-ud-Dawa chief Hafiz Saeed in different parts of the city on Wednesday, including Sakhi Hassan, Water Pump, Jauhar Chowrangi, Shaheen Complex, Nati Jati Bridge, Punjab Chowrangi, Tipu Sultan Chowrangi, Drig Road and others.
The protestors were carrying placards and banners in their hands, inscribed with slogans in support of JuD chief.
They also raised slogans against the USA and India.
They termed the detention of Hafiz Saeed illegal and demanded his immediate release.
Similarly Hindu community of Tharparkar also staged a demonstration outside the Karachi Press Club (KPC).
Addressing the demonstrators, the community leaders said that JuD was a welfare-oriented organisation, which worked in Thar without any discrimination and helped people in times of crises. "Today we stand with Hafiz sahib and demand his immediate release," they added.
Full report at:
http://nation.com.pk/karachi/02-Feb-2017/thar-s-hindu-community-demands-jud-chief-s-release
--------
South Asia
Taliban leaders among 32 killed in clashes, Helmand officials claim
Feb 02 2017
At least 32 militants including three commanders of the Taliban group were killed in a 3-day fighting in southern Helmand province of Afghanistan, local officials claim.
Local officials are saying that the Taliban group launched a coordinated attack on Sangin district which was repulsed by the Afghan security forces.
The officials further added at least 40 militants were also wounded during the clashes with the Afghan security forces.
The provincial government media office in a statement said the Afghan forces were receiving close air support in their fight against the Taliban insurgents.
The statement further added that the attack has been fully repulsed and the Afghan forces continue to their clearance operation.
The Taliban leaders killed during the clashes have been identified as Mullah Bashir, Mullah Jahhid, and Mullah Sher Agha.
The anti-government armed militant groups including the Taliban insurgents have not commented regarding the report so far.
Helmand is among the volatile provinces in southern Afghanistan where the Taliban insurgents are actively operating in its various districts and often carry out insurgency activities.
The group launched several rockets on the provincial capital of Lashkargah on Wednesday morning, leaving a civilian dead and some others wounded.
http://www.khaama.com/taliban-leaders-among-32-killed-in-clashes-helmand-officials-claim-02789
--------
5 ISIS loyalists killed, 5 wounded in separate drone strikes in Nangarhar
Feb 02 2017
At least five loyalists of the Islamic State of Iraq and Syria (ISIS) terrorist group were killed and five others were wounded in two separate drone strikes in eastern Nangarhar province of Afghanistan.
The provincial police commandment in a statement said the two airstrikes were conducted by the foreign forces on Wednesday morning.
The statement further added that the first group of the militants were targeted in Haska Mina district, leaving at least 4 militants dead and three others wounded.
The airstrike was carried out around 9 am local time in Gorgori area of Haska Mina, the statement said, adding that the second group was targeted around 11:00 am in Achin district.
According to the police commandment, the senior leader of ISIS loyalists Shahid Omar was killed and two others were wounded.
The anti-government armed militant groups including the ISIS loyalists have not commented regarding the reports so far.
Both the Afghan and US forces conducted regular strikes against the loyalists of the terror group in this province.
The increased raids, usually involving drone strikes, by the US forces followed a broader role granted by the Obama administration earlier last year.
Full report at:
http://www.khaama.com/5-isis-loyalists-killed-5-wounded-in-separate-drone-strikes-in-nangarhar-02787
--------
Deadly car bombing plot foiled in Kandahar city
Feb 01 2017
The Afghan National Defense and Security Forces (ANDSF) foiled a deadly attack plot involving car bombing in southern Kandahar province of Afghanistan.
According to the local security officials, a Vehicle-borne Improvised Explosive Device (VBIED) was destroyed before the militants manage to take it to Kandahar city for the attack.
Provincial police spokesman Zia Durani said the VBIED was destroyed during an operation conducted by the ground and air force in Maiwand district.
He said the operation was conducted late on Tuesday night based on intelligence operatives received by the Afghan forces.
Durani further added that five militants were killed during the operation and at least 11 others were detained during the operation.
According to Durani, the militants were looking to attack the government compounds in Kandahar city but did not elaborate further.
The anti-government armed militant groups including the Taliban insurgents have not commented regarding the report so far.
Kandahar, the birthplace of the Taliban insurgents, has been relatively stable during the recent months although the anti-government armed militants attempt to destabilize the province.
Full report at:
http://www.khaama.com/deadly-car-bombing-plot-foiled-in-kandahar-city-02785
--------
Don't hurt 'religious sentiments': Bangladeshi Police to writers
Feb 1, 2017
DHAKA: Bangladeshi police warned writers and publishers against the sale and display of books that may hurt 'religious sentiments' as the Muslim-majority nation's largest book fair began here amid tight security following attacks on secular writers and bloggers.
The month-long Ekushey Book Fair will attract hundreds of thousands of visitors.
Dhaka Metropolitan Police Commissioner Asaduzzaman Mia assured writers, publishers and attendees that ample security measures have been taken.
The commissioner also asked writers and publishers to abstain from the sale and display of books that may 'attack religious sentiments'.
"Organisers must ensure that none of the books on display and for sale attack religious sentiments. We will investigate any complaints we receive," Mia said.
"Our plainclothesmen will enforce a vigil against display of any such books and actions will be taken against concerned authors and publishers," he told reporters.
Mia justified the warning saying "the Penal Code suggested that if someone's speech or activities attack others' religious beliefs and leads to a communal clash, then he or she cannot be considered a freethinker (and) our ICT (Information and Communication Technology) Act does not permit such activities either".
All possible security measures will be taken, said Cultural Affairs Minister Asaduzzaman Noor. Anyone entering the fair will have to pass through security checks.
"Everyone will have to pass through security before entering the fair," said the minister at an inter-ministry meeting.
Full report at:
http://timesofindia.indiatimes.com/world/south-asia/dont-hurt-religious-sentiments-bangladeshi-police-to-writers/articleshow/56916518.cms
--------
Bangladeshi student detained at New York airport
February 1st, 2017
Dhaka – A Bangladeshi man has been detained at John F Kennedy airport in US by the Department of Homeland Security after as he landed on student visa at the airport on Tuesday, human rights lawyers said.
A human rights lawyer in the USA said a message that the student was taken into custody after he arrived at JFK travelling 30 hours from Bangladesh.
"He entered LEGALLY on an F1 student visa and after being interrogated by CBP (Custom and Border Protection in US) in English (which he does not speak well at all) after a 30 hour flight from Bangladesh, in three different rooms for 12 hours," lawyer Iman Boukadoum said.
The lawyer did not disclose the name of the student, but she sought cooperation from fellow lawyers to defend the Bangladeshi man.
In a social media post, Boukadoum, narrated the haplessness of the student, who repeatedly wished to kill himself after being detained.
"This is a pro bono case Do any immigration practitioners have a good template for an ICE Motion to Grant Parole," sought the lawyer.
"Currently have a client, detained in ICE (Immigration and Customs Enforcement) custody that is on the brink of killing himself. I do not say that lightly. He calls me 7 times a day. I have to put hundreds of dollars on his telephone account at the jail facility because a) it is SO expensive b) he calls non-stop and cries and cries and cries. It is pure heartbreak," she added.
Full report at:
http://newsnextbd.com/?p=3256
--------
Bangladesh arrests IT expert linked to deadly siege
February 1, 2017
Bangladeshi security forces Wednesday arrested a computer engineer said to run the social media operations for a group accused of mounting a deadly attack on a Dhaka cafe.
Ashfak-e-Azam and three other suspects were detained in a raid in the capital in which guns, explosives and ammunition were also seized, officials said.
"Azam is the information technology chief of the Sarwar-Tamim group," said Mufti Mahmud Khan, a spokesman for the elite Rapid Action Battalion which carried out the raid.
Sarwar-Tamim is a new faction of Jamayetul Mujahideen Bangladesh (JMB), the Islamist outfit blamed for a string of deadly attacks including a siege at an upscale Dhaka cafe last July in which 22 people -- mostly foreigners -- were killed.
Azam, 25, had been involved with the group since 2011, running its website and social media accounts, a senior official at the anti-terrorism battalion said.
Police say the four men arrested in Wednesday's raids were trained militants.
Bangladesh, a Muslim-majority country of 160 million, has been reeling from a wave of attacks by extremists on foreigners, rights activists and religious minorities.
Many of these assaults have been claimed by the Islamic State group or the regional branch of Al-Qaeda.
Full report at:
https://sg.news.yahoo.com/bangladesh-arrests-expert-linked-deadly-siege-082727855.html
--------
Arab World
Aleppo: Abu Bakr Al-Baghdadi's Close Friend Killed in Syrian Air Raid
Feb 01, 2017
Syrian warplanes targeted ISIL's positions in Qasr al-Baraj region in the countryside of the town of al-Bab and damaged a base of the terrorists, killing at least 11 militants, including al-Muthana al-Hajj.
Al-Muthana al-Hajj also known as al-Muthana al-Haras was the emir of Jeish al-Khlifeh (the army of Caliph).
Jeish al-Khalifeh is considered as the Special Forces of the ISIL and is under the direct command of Baghdadi.
Emir of Jeish al-Khalifeh was one of the most trusted members of the group and a hail-fellow of ISIL's chief.
Also, Syrian Armed forces targeted several military columns of ISIL as they were moving from Raqqa to the Eastern parts of Aleppo province on Tuesday, destroying a number of vehicles and killing several top Saudi terrorist commanders.
The army men targeted several convoys of ISIL vehicles on Raqqa-Maskanah road heading towards Deir Hafer, its Northern villages and towns and regions parallel to Kuweires Airbase in Eastern Aleppo, destroying the military columns.
The Syrian fighter jets and choppers also hit an ISIL military column on the road to the town of Rasm al-Imam coming from Maskanah, destroying the column and killing a very large group of ISIL's suicide attackers, including their Saudi commander Abu Ma'ad and another commander, nom de guerre Abu Manif al-Jazrawi.
The army men also managed to destroy three vehicles of the ISIL in the town of Um al-Mari, killing all the terrorists on board.
The army's missile and artillery units also targeted ISIL's positions in Rasm al-Harmal, killing tens of terrorists.
http://en.farsnews.com/newstext.aspx?nn=13951113000860
--------
Trump travel ban not anti-Islam, UAE minister says
Feb 1, 2017
ABU DHABI: US President Donald Trump's travel ban on citizens of seven Muslim-majority nations is not anti-Islam, the United Arab Emirates foreign minister said on Wednesday.
Sheikh Abdullah bin Zayed al-Nahyan, whose country like neighbouring Saudi Arabia is a close ally of Washington, said it was "wrong to say" that the decision by the new US administration was "directed against a particular religion".
"The United States has made ... a sovereign decision," he said at a joint press conference with his Russian counterpart, Sergei Lavrov, pointing out that it was "provisional" and did not apply to "the large majority" of the world's Muslims.
President Donald Trump's controversial executive order on Friday singled out citizens from Iran, Iraq, Libya, Somalia, Sudan, Syria and Yemen to prevent "radical Islamic terrorists" from entering the United States.
But the 90-day ban, which could still extend to other states, has exempted Muslim-majority nations associated with major attacks in the West.
Out of the 19 hijackers of planes used in the September 11, 2011 attacks on the Unites States, 15 came from Saudi Arabia, also the birthplace of al-Qaida founder and attack mastermind Osama bin Laden.
Full report at:
http://timesofindia.indiatimes.com/world/middle-east/uae-minister-says-trump-travel-ban-not-anti-islam/articleshow/56916363.cms
--------
Hundreds of militants hand over weapons to Syrian government forces
Feb 1, 2017
Hundreds of foreign-backed militants have handed over their weapons to Syrian government forces in a strategic area northwest of Damascus.
The militants surrendered their weapons, including mortar launchers and various kinds of explosive shells, in the village of Dayr Qanun in Wadi Barada valley, where a major spring supplies most of the capital's water.
On January 29, Syrian troops established full control over the strategic valley and agreed to the evacuation of hundreds of militants from the area as part of a reconciliation agreement between armed opposition groups and the government.
Civilians and militants that were evacuated from Wadi Barada valley near Damascus rest upon arrival in the militant-controlled Qal'at al-Madiq town in Hama province, Syria, on January 30, 2017.
Under the deal, militants could either choose to stay after giving up their weapons or be sent to Idlib, considered the last major stronghold of militants in northern Syria.
Fresh military gains across Syria
Meanwhile, Syrian army forces recaptured several areas on the outskirts of Aleppo and Homs from the Daesh terrorist group and inflicted heavy losses on the extremists over the past 24 hours.
The Russian coordination center based in Syria's Hmeimim airbase said the Syrian army liberated Umm al-Rumman village east of Dumayr city in the northern countryside of Damascus on Wednesday.
Full report at:
http://www.presstv.ir/Detail/2017/02/01/508730/Syria-Wadi-Barada-Daesh-Damascus-Homs-Aleppo
--------
Saudi defense minister, new Pentagon chief discuss Mideast in 1st conversation
Feb 1, 2017
US and Saudi defense chiefs have held their first phone call since the inauguration of US President Donald Trump, exchanging views on the issues in the Middle East.
Defense Secretary James Mattis and Saudi Deputy Crown Prince Mohammad bin Salman Al Saud, who also serves as the kingdom's defense minister, talked over the phone on Tuesday.
Mattis underlined the importance of the Washington-Riyadh strategic ties, particularly to counter security challenges in the Middle East, Pentagon spokesman Navy Captain Jeff Davis said.
The US defense chief also expressed his desire to consult closely with Saudi Arabia on security issues of mutual concern, Davis added.
Meanwhile, the state-run Saudi Press Agency (SPA) said in a Wednesday report that Salman "underscored the US secretary of defense's experience in the region."
Mattis, known as "Mad Dog" and the "Warrior Monk," served more than four decades in the Marine Corps and was involved in several key military operations in Afghanistan and Iraq.
Elsewhere, the Saudi prince stressed that cooperation with Washington was necessary to restore stability to the region, the SPA reported.
The two officials further rejected what they claimed to be Iran's "suspicious activities and interventions," the report added.
Like Trump, Mattis is also an opponent of the Iran nuclear agreement, which was reached in 2015 between Iran and the five permanent members of the UN Security Council plus Germany. Under the deal, Tehran agreed to limit some aspects of its nuclear program in exchange for the removal of sanctions.
The conversation between the US and Saudi officials on the regional issues comes as the two allies have been among the major supporters of militants fighting against the Damascus government since 2011, when the conflict broke out in the Arab country.
Takfirism, which is the trademark of many terrorist groups operating in Syria, is also largely influenced by Wahhabism, the radical ideology freely preached by Saudi clerics.
Washington and Riyadh have both been sidelined in efforts led by Iran, Russia and Turkey aimed at bringing an end to the crisis in Syria.
Full report at:
http://www.presstv.ir/Detail/2017/02/01/508727/US-Saudi-Arabia-James-Mattis
--------
Tens of Militants Surrender to Syrian Army in North-western Damascus
Feb 01, 2017
At least 60 militants in the villages and towns of Wadi al-Bardi handed over their weapons to Damascus officials stationed in the entrance of the town of Deir Qanoun.
The militants had previously called for government pardoning, so the relevant officials granted them amnesty after seizing their arms.
The militants delivered their heavy weapons, including mortars and missiles to the army.
The army units managed to reopen a road that connects Wadi al-Bardi region to Deir Qanoun in line with the implementation of the peace agreement between militants and Damascus.
Damascus Governor General Ala Ibrahim said on Tuesday that over 40 buses evacuated over 2,000 militants and their family members from Wadi al-Bardi region in Western Ghouta.
Full report at:
http://en.farsnews.com/newstext.aspx?nn=13951113001196
--------
Syrian Army Pre-empts ISIL's Attack on Airports in Northern Damascus
Feb 01, 2017
The army men carried out a preemptive offensive against ISIL in the village of Um al-Raman from the direction of al-Badiyeh cement factory to the Southeast of al-Dhamir and engaged in heavy clashes with the terrorist, taking the village at the end of clashes.
ISIL suffered a heavy death toll in the attack and pulled back the remaining pockets of its forces from the battlefield.
Media sources close to the terrorist groups disclosed on Tuesday that the ISIL dispatched a large number of forces and a large volume of equipment to areas near al-Seen and al-Dhamir airports in Northern Damascus to capture them.
The sources said that the ISIL used foggy weather and sent several military convoys to the regions near the al-Seen and al-Dhamir airports in Eastern Qalamoun to win their control in large-scale surprise attacks.
Full report at:
http://en.farsnews.com/newstext.aspx?nn=13951113001240
--------
Syria: Turkish Fighter Jets Bomb Industrial Zone in Al-Bab
Feb 01, 2017
The sources said that the Turkish army and air force have been pounding residential areas and people's properties in the ISIL-held town of al-Bab.
They added that the warplanes bombed three large industrial plants in al-Bab.
One of the bombed factories had 100 workers and was producing flour and cookies, while the other two were packaging plants with over 250 workers.
The sources confirmed that five workers were killed and the factories sustained major damage in the attacks.
A monitor said on Friday that ten civilians, including a child, were killed in Turkish airstrikes and shelling in and around a Syrian town held by the ISIL terrorists.
The bombardment hit the Northern town of al-Bab and the nearby area of Tadif, both held by ISIL, on Thursday, the Syrian Observatory for Human Rights said, the Lebanese Naharnet news agency reported.
Turkish forces regularly carry out air strikes in support of a ground operation it launched in Syria last August targeting both ISIL and Kurdish fighters.
ISIL is not included in a fragile nationwide ceasefire in force since December 30 that led to peace negotiations jointly organized by Turkey, Russia and Iran in Kazakhstan this week.
Full report at:
http://en.farsnews.com/newstext.aspx?nn=13951113001327
--------
Syrian Armed Force Intensify Attacks on ISIL's Positions Near Deir Ezzur
Feb 01, 2017
The army's artillery and missile units targeted heavily ISIL's gatherings and movements near al-Thardah mountain in the Southern countryside of Deir Ezzur, killing a number of terrorists and destroying their vehicles.
The warplanes meantime carried out a number of combat sorties over ISIL's concentration centers and movements in the region of al-Omal and near the region of al-Maqaber (cemetery), destroying several vehicles and killing a number of militants.
The air raids were aimed at weakening ISIL's defense lines along the road connecting Deir Ezzur to the city's airbase that is under terrorists' siege.
The army units also engaged in fierce clashes with ISIL near the village of Tabiyeh Jazeereh to the North of Deir Ezzur, leaving a number of terrorists dead, including Kuwaiti and Iraqi ones.
The National Defense Force (Syrian popular forces) planted a number of landmines in the village of Hajin in the countryside of Albu Kamal town near the Euphrates River, killing a number of ISIL terrorists.
In relevant development in the Eastern province on Tuesday, the army troops continued to beat back ISIL terrorists from more positions in Deir Ezzur's cemetery, inflicting heavy casualties on the terrorists with the back up of the Russian and Syrian warplanes.
The army soldiers stormed ISIL's defense lines in Deir Ezzur's cemetery and managed to seize control over several more positions.
Full report at:
http://en.farsnews.com/newstext.aspx?nn=13951113001146
--------
ISIL Suffers Heavy Casualties in Syrian Airstrikes in Eastern Aleppo
Feb 01, 2017
SOHR disclosed that over 30 ISIL terrorists were killed in the warplanes' air raid in a region between South of Kuweires and West of the town of Deir Hafer.
In the meantime, the army troops continued attacks on ISIL's last bases in Eastern Aleppo and could manage to advance against terrorists in regions near the towns of al-Bab and Deir Hafer, killing and wounding a number of terrorists.
The army soldiers also engaged in heavy fighting with terrorists near the village of al-Karin to liberate the village, cutting off terrorists' supply road connecting al-Karin to Deir Hafer.
The army troops also stormed ISIL's positions in the village of Showeilekh along the road connecting the Air Force Academy to a region near Deir Hafer.
The army men also hit ISIL's positons in al-Bab region and decreased their distance to the terrorist-held town.
Konstantin Troyotsov, an analyst in the Eastern Studies Center affiliated to Russia's Sciences Academy, said that the Syrian army from South and Southwest, Turkish army from North and Northwest and Kurdish groups form East have laid siege on ISIL-held al-Bab.
He further underlined that the Syrian Army has a real chance and opportunity to liberate al-Bab.
Full report at:
http://en.farsnews.com/newstext.aspx?nn=13951113000592
--------
Syrian Army Seizes Full Control of Mountains Near T4 Airbase
Feb 01, 2017
The army men stormed ISIL's concentration centers and positions to the Northeast of T4 airbase and drove ISIL out of the rest of the terrorist-held heights in al-Tayas chain of mountains, winning full control over the mountains.
The army soldiers could also advance against ISIL and won back several positons near the strategic crossroad of Jahar, killing several terrorists and destroying their vehicles.
On Tuesday, the army men stormed ISIL's positions in Eastern Homs and took back the village of Abu Tawaleh Southeast of the airbase.
The army soldiers also managed to seize back Ba'ar al-Abu Tawaleh region after hours of non-stop battle with terrorists.
A military source said that the army also kicked off an operation against ISIL Southeast of T4 airbase towards the region of Mafraq al-Jahar and forced the terrorists to retreat in the early hours of clashes.
Full report at:
http://en.farsnews.com/newstext.aspx?nn=13951113000308
--------
UN chief backs Syria delegates plan for Geneva
2 February 2017
United Nations Secretary General Antonio Guterres on Wednesday backed his peace envoy's plan to pick representatives from the Syria opposition to the Geneva talks if the groups fail to agree on their delegates.
UN envoy Staffan de Mistura came under sharp criticism from the Syria opposition after giving opposition groups until February 8 to agree on their delegation to the talks, scheduled to open on February 20. "It is clear this is a possibility that might be used," Guterres told reporters about the ultimatum.
"What we want is the success of the Geneva conference, and the success of the Geneva conference implies that there is a meaningful representation of the Syrian opposition in Geneva," he said. "We will do everything to make sure that that happens." De Mistura told the Security Council on Tuesday that he was delaying the peace talks, initially scheduled to begin on February 8, to allow both sides to better prepare.
He warned that if the opposition fails to agree, he would "select the delegation in order to make sure that it can be as inclusive as possible." Guterres noted that UN resolutions on Syria give De Mistura the prerogative to pick the delegation to the peace talks.
"What is important is to have, this time, substantive discussions on the central issues, and I hope that this will be possible," he said. Previous UN-led talks have broken down over disagreements on ensuring a transition in Damascus that would lead to President Bashar al-Assad's exit from power. The opposition rejected the envoy's comments as "unacceptable."
Full report at:
https://english.alarabiya.net/en/News/middle-east/2017/02/02/UN-chief-backs-plan-to-pick-Syria-delegates-to-Geneva-talks-.html
--------
Mideast
Questions Cloud U.S. Raid on Qaeda Branch in Yemen
By ERIC SCHMITT and DAVID E. SANGE
FEB. 1, 2017
WASHINGTON — Just five days after taking office, over dinner with his newly installed secretary of defence and the chairman of the Joint Chiefs of Staff, President Trump was presented with the first of what will be many life-or-death decisions: whether to approve a commando raid that risked the lives of American Special Operations forces and foreign civilians alike.
President Barack Obama's national security aides had reviewed the plans for a risky attack on a small, heavily guarded brick home of a senior Qaeda collaborator in a mountainous village in a remote part of central Yemen. But Mr. Obama did not act because the Pentagon wanted to launch the attack on a moonless night and the next one would come after his term had ended.
With two of his closest advisers, Jared Kushner and Stephen K. Bannon, joining the dinner at the White House along with Defense Secretary Jim Mattis and Gen. Joseph F. Dunford Jr., Mr. Trump approved sending in the Navy's SEAL Team 6, hoping the raid early last Sunday would scoop up cellphones and laptop computers that could yield valuable clues about one of the world's most dangerous terrorist groups. Vice President Mike Pence and Michael T. Flynn, the national security adviser, also attended the dinner.
As it turned out, almost everything that could go wrong did. And on Wednesday, Mr. Trump flew to Dover Air Force Base in Delaware to be present as the body of the American commando killed in the raid was returned home, the first military death on the new commander in chief's watch.
The death of Chief Petty Officer William Owens came after a chain of mishaps and misjudgements that plunged the elite commandos into a ferocious 50-minute firefight that also left three others wounded and a $75 million aircraft deliberately destroyed. There are allegations — which the Pentagon acknowledged on Wednesday night are most likely correct — that the mission also killed several civilians, including some children. The dead include, by the account of Al Qaeda's branch in Yemen, the 8-year-old daughter of Anwar al-Awlaki, the American-born Qaeda leader who was killed in a targeted drone strike in 2011.
Mr. Trump on Sunday hailed his first counterterrorism operation as a success, claiming the commandos captured "important intelligence that will assist the U.S. in preventing terrorism against its citizens and people around the world." A statement by the military's Central Command on Wednesday night that acknowledged the likelihood of civilian casualties also said that the recovered materials had provided some initial information helpful to counterterrorism analysts. The statement did not provide details.
But the mission's casualties raise doubts about the months of detailed planning that went into the operation during the Obama administration and whether the right questions were raised before its approval. Typically, the president's advisers lay out the risks, but Pentagon officials declined to characterize any discussions with Mr. Trump.
A senior administration official said on Wednesday night that the Defense Department had conducted a legal review of the operation that Mr. Trump approved and that a Pentagon lawyer had signed off on it.
Mr. Trump's new national security team, led by Mr. Flynn, the former head of the Defense Intelligence Agency and a retired general with experience in counterterrorism raids, has said that it wants to speed the decision-making when it comes to such strikes, delegating more power to lower-level officials so that the military may respond more quickly. Indeed, the Pentagon is drafting such plans to accelerate activities against the Qaeda branch in Yemen.
But doing that also raises the possibility of error. "You can mitigate risk in missions like this, but you can't mitigate risk down to zero," said William Wechsler, a former top counterterrorism official at the Pentagon.
In this case, the assault force of several dozen commandos, which also included elite soldiers from the United Arab Emirates, was jinxed from the start. Qaeda fighters were somehow tipped off to the stealthy advance toward the village — perhaps by the whine of American drones that local tribal leaders said were flying lower and louder than usual.
Through a communications intercept, the commandos knew that the mission had been somehow compromised, but pressed on toward their target roughly five miles from where they had been flown into the area. "They kind of knew they were screwed from the beginning," one former SEAL Team 6 official said.
With the crucial element of surprise lost, the Americans and Emiratis found themselves in a gun battle with Qaeda fighters who took up positions in other houses, a clinic, a school and a mosque, often using women and children as cover, American military officials said in interviews this week.
The commandos were taken aback when some of the women grabbed weapons and started firing, multiplying the militant firepower beyond what they had expected. The Americans called in airstrikes from helicopter gunships and fighter aircraft that helped kill some 14 Qaeda fighters, but not before an MV-22 Osprey aircraft involved in the operation experienced a "hard landing," injuring three more American personnel on board. The Osprey, which the Marine Corps said cost $75 million, was badly damaged and had to be destroyed by an airstrike.
The raid, some details of which were first reported by The Washington Post, also destroyed much of the village of Yakla, and left senior Yemeni government officials seething. Yemen's foreign minister, Abdul Malik Al Mekhlafi, condemned the raid on Monday in a post on his official Twitter account as "extrajudicial killings."
Baraa Shiban, a Yemeni fellow for Reprieve, a London-based human rights group, said he spoke by phone to a tribal sheikh in the village, Jabbr Abu Soraima, who told him: "People were afraid to leave their houses because the sound of choppers and drones were all over the sky. Everyone feared of being hit by the drones or shot by the soldiers on the ground."
After initially denying there were any civilian casualties, Pentagon officials backtracked somewhat on Sunday after reports from the Yemeni authorities begin trickling in and grisly photographs of bloody children purportedly killed in the attack appeared on social media sites affiliated with Al Qaeda's branch in Yemen.
Capt. Jeff Davis, a Pentagon spokesman, said on Monday that some of the women were combatants.
The operation was the first known American-led ground mission in Yemen since December 2014, when members of SEAL Team 6 stormed a village in southern Yemen in an effort to free an American photojournalist held hostage by Al Qaeda. But the raid ended with the kidnappers killing the journalist and a South African held with him.
That mission and the raid over the weekend revealed the shortcomings of secretive military operations in Yemen. The United States was forced to withdraw the last 125 Special Operations advisers from the country in March 2015 after Houthi rebels ousted the government of President Abdu Rabbu Mansour Hadi, the Americans' main counterterrorism partner.
The loss of Yemen as a base for American counterterrorism training, advising and intelligence-gathering was a significant blow to blunting the advance of Al Qaeda's branch in the country and keeping tabs on their plots. The Pentagon has tried to start rebuilding its counterterrorism operations in Yemen, however; last year, American Special Operations forces helped Emirati troops evict Qaeda fighters from the port city of Mukalla.
https://www.nytimes.com/2017/02/01/world/middleeast/donald-trump-yemen-commando-raid-questions.html
--------
Trump adopts aggressive posture toward Iran after missile launch
Feb 2, 2017
The White House put Iran "on notice" on Wednesday for test-firing a ballistic missile and said it was reviewing how to respond, taking an aggressive posture toward Tehran that could raise tensions in the region.
While the exact implications of the U.S. threat were unclear, the new administration signaled that President Donald Trump intended to do more, possibly including imposing new sanctions, to curb what he sees as defiance of a nuclear deal negotiated in 2015 by then-President Barack Obama.
The tough talk commits the administration to back up its rhetoric with action, which could cast doubt on the future of the Iran agreement and sow further uncertainty in an already chaotic Middle East, experts said.
Trump has frequently criticized the Iran nuclear deal, calling the agreement weak and ineffective.
Officials declined to say whether the military option was on the table, although Pentagon spokesman Christopher Sherwood said: "The U.S. military has not changed its posture in response to the Iranian test missile launch" on Sunday.
A fiery statement from Trump's national security adviser, Michael Flynn, marked some of the most aggressive rhetoric by the administration that took office on Jan. 20, making clear that Obama's less confrontational approach toward Iran was over.
Flynn said that instead of being thankful to the United States for the nuclear deal, "Iran is now feeling emboldened."
"As of today, we are officially putting Iran on notice," he told reporters in his first appearance in the White House press briefing room.
He said the launch and an attack on Monday against a Saudi naval vessel by Iran-allied Houthi militants off the coast of Yemen underscored "Iran's destabilizing behavior across the Middle East."
Iran confirmed it had tested a new missile but said it did not breach a nuclear accord reached with world powers or a U.N. Security Council resolution that endorsed the pact.
'HOW WOULD U.S. RESPOND?'
Analysts said Iran could interpret Flynn's warning as bluster given that the Trump administration is still formulating a response.
"It's a vague way of drawing a line in the sand," said Mark Fitzpatrick, executive director of the International Institute for Strategic Studies-Americas. "Taken literally, it could mean: 'You do this one more time and you'll pay for it.' But how would the U.S. respond?"
The warning could foreshadow more aggressive economic and diplomatic measures against Iran.
Three senior U.S. officials, speaking on condition of anonymity, said a range of options, including economic sanctions, was being considered and that a broad review was being conducted of the U.S. posture toward Iran.
One official said the intent of Flynn's message was to make clear the administration would not be "shy or reticent" toward Tehran.
"We are in the process of evaluating the strategic options and the framework for how we want to approach these issues," the official said. "We do not want to be premature or rash or take any action that would foreclose options or unnecessarily contribute to a negative response."
Full report at:
http://nation.com.pk/international/02-Feb-2017/trump-adopts-aggressive-posture-toward-iran-after-missile-launch
--------
Hundreds of Yemenis with US visas stranded in Djibouti
1 February 2017
On the far side of the Bab al-Mandab strait - Arabic for "the gates of grief" - from their violent homeland, hundreds of Yemenis with US visas are stranded in the tiny African state of Djibouti because of President Donald Trump's entry ban, an American lawyer said Wednesday.
"These are all children, parents and the spouses of US citizens," immigration lawyer Julie Goldberg told The Associated Press from the Horn of Africa nation, emphasizing that those stranded are not refugees, though Yemen is engulfed in civil war. They received visas last week, she said.
Goldberg has obtained a court order dated Tuesday from the US District Court in California's central district instructing the US government not to enforce Trump's executive order. She is now seeking an airline that will comply with it.
Mohamed Mosleh Jeran is one of the many waiting. After his family's home was blown up in Yemen's conflict, he and his wife and two young children spent two years in Djibouti. Last month, their younger son died during what should have been routine surgery. On Thursday, the family received their US visas and looked forward to joining Jeran's father, a US citizen, in New York City.
But on the following day, Trump announced his executive order suspending immigration from seven Majority-Muslim countries. On Saturday, Jeran's family was turned away at the Turkish Airlines check-in counter, Goldberg said. A spokesman for the airline did not respond to a call for comment.
"Finally I am leaving Djibouti, but in my heart I was upset, I lost one of my kids," Jeran recalled to the AP. "But what can you do? This is life. I was happy my wife and son were leaving Djibouti, finally." But when they were turned away, "my wife, she was like a child, crying, my son, too.'"
Jeran has been accepted to the University of Toledo to begin a masters' program in March, Goldberg said.
"It's super frustrating," she said of the Yemenis' plight. "They're running out of money. Djibouti is very expensive. They can't go back to Yemen, they would be killed."
Yemen has been gripped by conflict since 2014. A Saudi-led coalition, backed by the United States, has been carrying out an air campaign against Iranian-backed Houthi rebels for nearly two years. Many Yemenis have fled on boats across the Bab al-Mandab strait to Djibouti or other Horn of Africa countries.
In the United States, relatives of the stranded Yemenis are anguished.
Esam Molhi and his wife, both green card holders from Yemen, now fear leaving for Djibouti to reunite with their 3-year-old daughter because Trump's order might keep them from returning home.
The girl was born in Yemen, and the US Embassy there refused to let her fly with her mother to join Molhi in the US, Goldberg said. The family has been pursuing a US visa for the girl since then.
Full report at:
https://english.alarabiya.net/en/News/middle-east/2017/02/01/Hundreds-of-Yemenis-with-US-visas-stranded-in-Djibouti.html
--------
80 Saudi, UAE Officers, Soldiers Killed in Yemen's Missile Attack on Military Training Centre in Red Sea
Feb 01, 2017
"The Yemeni army targeted and pounded the Saudi-led military training center with a ballistic missile Zuqar Island in the Red Sea, killing at least 80 Saudi and UAE soldiers and officers," the Arabic-language media outlets quoted an unnamed Yemeni military source as saying on Tuesday.
The source noted that the Saudi-led forces' military hardware also sustained heavy losses in Yemen's missile attacks.
"Saudi Arabia and the UAE are using Zuqar Island for training the Saudi-led forces and sending them through Saudi land borders to Yemen," he added.
The source noted that Saudi-hired mercenaries could also be seen among the fatalities in Zuqar Island.
In a relevant development on Tuesday, Yemen's army and popular forces targeted and destroyed a Saudi warship with 176 crews and naval forces in the waters near Bab al-Mandab Strait, the 11th Saudi vessel sinking offshore Yemen.
The Saudi warship dubbed as 'Al-Madina' was targeted by Yemeni missiles in the Al-Mukha coastal waters in the province of Ta'iz.
The sunken ship had repeatedly fired rockets at residential areas in Ta'iz province, inflicting casualties and destruction there.
Full report at:
http://en.farsnews.com/newstext.aspx?nn=13951113000677
--------
Intensified Clashes between Nusra, Ahrar "A Scenario by Arab States to Face Turkey"
Feb 01, 2017
The websites said that Qatar and Saudi Arabi launched a fresh round of supports for their affiliated terrorists groups, mainly Al-Nusra Front (recently renamed to Fatah al-Sham Front), to form a new coalition against the terrorist rival group of Ahrar al-Sham to destroy Turkey that seemed to play an effective role in ending crisis in Syrian vial diplomatic means and took part in Astana peace talks.
New round of supports for terrorists by Qatar and Saudi Arabia and formation of Tahrir al-Sham Hay'at took place simultaneous with the conclusion of an agreement between the US and Saudi Arabi to create a safe zone in Syria without considering any role for Turkey.
Hundreds of Ahrar al-Sham's members and senior commanders cut relations with the group's battalions personally after the formation of Tahrir al-Sham Hay'at by al-Nusra Front and other terrorist groups.
Ahrar al-Sham that faced a severe crisis due to the defection of its senior commander started allying with terrorist groups of Soqour al-Sham, Jeish Islam (Idlib branch), Jeish al-Mujahedeen, Tajamo'a Estaqem Kama Amrat, al-Shamiyeh Front (Western Aleppo branch and some other small groups.
Ahrar and Al-Nusra broke their alliance after bloody clashes last week and at the end of more than a month of widening differences. Both groups started new coalitions immediately.
The al-Nusra Front and several militant groups declared on Sunday that they decided to form a new coalition named Tahrir Al-Sham Hay'at to narrow down widening rifts amongst their commanders and members.
The Al-Nusra Front, Nouralddeen al-Zinki Movement, Jeish al-Sonah, Jabhat Ansaraldeen and Liwa al-Haq announced that they would act under a united coalition named the Tahrir al-Sham Hay'at.
Full report at:
http://en.farsnews.com/newstext.aspx?nn=13951113001035
--------
Israel evicts settlers from West Bank outpost
Feb 2, 2017
Israeli police began evicting dozens of hardliner Jewish settlers from a wildcat outpost on Wednesday, just hours after unveiling plans for 3,000 new homes in other West Bank settlements.
The announcement of new settler homes was the fourth since US President Donald Trump took office less than two weeks ago having signalled a softer stance on Israeli settlement building.
It was seen as a sop to supporters of the Amona outpost where hundreds of police officers moved in to carry out the evictions after the High Court determined the homes were built on private Palestinian land.
The operation marked the end of months of attempts by government hardliners to legalise the outpost near Ramallah.
There had been fears of violence after hundreds of hardliner sympathisers of the settlers slipped past army roadblocks on foot and lit tyres around the outpost.
Some threw stones at the media as residents started packing their belongings, an AFP correspondent reported.
Police spokesman Micky Rosenfeld told AFP there were around 3,000 officers in and around Amona to move the 42 families, "and hopefully people will evacuate the area peacefully and quietly."
He estimated that another 600 people who were not from the outpost had arrived for the eviction.
"We're hoping that things will go relatively calmly and quietly. We're ready to respond if necessary to any violence," he said.
Officers were however "attacked by anarchists with materials that made their eyes burn," police said of the youth activists, noting that 13 officers were "lightly wounded by stones and the liquids thrown at them."
Police arrested four protesters and distanced dozens of others from Amona, with seven of the families so far evacuating peacefully with their children.
Youths confronted the forces with chants such as "How will you feel tomorrow after you evacuate a Jew from his home?" and "Today it's me, tomorrow it will be you," as police began evacuating them from the area.
Earlier, some women holding children left their homes, as youths barricaded themselves inside. Teenage girls wrote slogans about their right to the land of Israel on the walls of the caravan homes, soon to be demolished.
Protesters said that they would not leave willingly but that they would not resort to violence against the police. "We won't be going, they'll have to take us," Amona resident Rivka Lafair, 19, told AFP.
Far-right lawmaker Moti Yogev, whose Jewish Home party is part of Israel's governing coalition, joined the settlers in a show of solidarity.
He told AFP that the demolition of the outpost was "a bad decision" but that the new homes announced by the defence ministry late on Tuesday were some compensation.
"Yes, Amona will be destroyed, but against Amona we are going to build 3,000 new homes," he said.
The former US administration of Barack Obama despaired of Israel's accelerating settlement expansion which it regarded as the biggest obstacle to Middle East peace.
'New era'
But since Donald Trump took office with top aides sympathetic to the settlement enterprise, the government has announced a string of new projects that will add more than 6,000 homes for Jewish settlers.
According to the defence ministry's statement, 2,000 of the latest new homes are ready to be put on the market, while the rest are in various stages of planning.
"We're in a new era where life in Judaea and Samaria (the West Bank) is returning to its natural course," said Defence Minister Avigdor Lieberman, who has himself long lived in a West Bank settlement.
Full report at:
http://www.dawn.com/news/1312068/israel-evicts-settlers-from-west-bank-outpost
--------
Iran confirms missile test, spurns foreign intervention
Feb 1, 2017
Iran confirms it recently carried out a missile test within the framework of its defense program, saying the Islamic Republic does not allow any foreign intervention in affairs concerning its defensive prowess.
"The recent test has been in line with our [defense] program, and we do not let any foreigner intervene in our defense affairs," Defense Minister Brigadier General Hossein Dehqan said on Wednesday.
He was speaking to reporters on the sidelines of a government meeting in reaction to US calls on Tuesday for a UN Security Council (UNSC) emergency meeting on a missile launch by Iran.
US Ambassador to the United Nations Nikki Haley said Iran had "a medium-sized missile launch testing on January 29."
Dehqan reaffirmed assertions made by several Iranian officials, including Foreign Minister Mohammad Javad Zarif, that the test had not violated UNSC Resolution 2231.
The Resolution was adopted on July 20, 2015 to endorse a nuclear deal between Iran and six world powers, known as the Joint Comprehensive Plan of Action (JCPOA).
Under the resolution, Iran is "called upon" not to undertake any activity related to missiles "designed to be capable of" delivering nuclear weapons. Iran says it is not involved in any such missile work and has no such warheads.
"The test is in no way in contravention of Resolution 2231," Dehqan likewise said.
"We have always stated that we never abandon developing and reinforcing our defense foundation in line with our interests," said the Iranian defense chief, adding that the Islamic Republic does not "require anyone's permission" in this regard.
On Tuesday, Iranian Foreign Ministry spokesman Bahram Qassemi also defended the country's missile tests as the "inalienable and absolute" right of the nation, saying the Islamic Republic would never seek permission from anyone to defend itself.
Elsewhere in his comments, the Iranian defense chief also addressed the issue of the military maneuvers underway in the Persian Gulf.
Full report at:
http://www.presstv.ir/Detail/2017/02/01/508673/Iran-Dehqan-Resolution-2231-JCPOA
--------
US 'likely' killed Yemeni civilians, kids in recent Qaeda raid
Feb 2, 2017
A recent US attack on al-Qaeda terrorists in impoverished Yemen "likely" left civilians dead, says the United States Central Command.
In a statement on Wednesday, CENTCOM added that the January 29 raid casualties also included children.
"A team designated by the operational task force commander has concluded regrettably that civilian non-combatants were likely killed in the midst of a firefight during a raid in Yemen January 29. Casualties may include children," CENTCOM said.
US officials maintain that their commandos killed 14 members of the al-Qaeda in the Arabian Peninsula (AQAP) and the civilian deaths occurred when US aircraft were called for help.
"The known possible civilian casualties appear to have been potentially caught up in aerial gunfire that was called in to assist US forces in contact against a determined enemy that included armed women firing from prepared fighting positions, and US special operations members receiving fire from all sides to include houses and other buildings," the statement read.
CENTCOM spokesman Colonel John Thomas suggested that the civilian casualties could have been caused by the Takfiris' use of civilians as shields.
"Al-Qaeda in the Arabian Peninsula has a horrifying history of hiding women and children within militant operating areas and terrorist camps, and continuously shows a callous disregard for innocent lives," he said. "That's what makes cases like these so especially tragic."
Full report at:
http://www.presstv.ir/Detail/2017/02/02/508754/US-likely-killed-Yemeni-civilians-
--------
Europe
German police raid homes, mosques; plotter held
Feb 2, 2017
BERLIN: More than 1,100 German police searched 54 homes, business premises and mosques in Frankfurt and other towns in the western state of Hesse in the early hours of Wednesday and arrested a Tunisian man suspected of planning an attack, German authorities said.
The 36-year-old Tunisian is suspected of recruiting for Islamic State in Germany since August 2015 and building up a network of supporters with the aim of carrying out a terrorist attack in Germany, Frankfurt's prosecutor general said in a statement.
It said police had carried out the raids in Frankfurt am Main, Offenbach am Main, Darmstadt, Limburg and Wiesbaden as well as in some other districts. Authorities are investigating 16 suspects aged between 16 and 46, including the arrested man.
The attack plans were at an early stage and there was no concrete attack target yet, the prosecutor general said.
Peter Beuth, interior minister of the state of Hesse, said there had not been any immediate danger: "It was not about preventing an imminent attack - rather security forces in Hesse intervened early to protect citizens from the threat of harm."
Beuth added that the officers involved in the raids had managed to "destroy an extensive Salafist network".
Prosecutors in Frankfurt are due to hold a news conference at 1000 local time (0900 GMT).
German police arrested three men in Berlin on Tuesday on suspicion of having close links to Islamic State militants and planning to travel to the Middle East for combat training.
Many Germans feel unnerved after Anis Amri, a failed asylum seeker from Tunisia, killed 12 people when he attacked a Berlin Christmas market in December - the worst of a spate of attacks on civilians in Germany over the past year.
http://nation.com.pk/international/02-Feb-2017/german-police-raid-homes-mosques-plotter-held
--------
British PM slams Muslim countries for banning entry by Israelis
01/02/17
Donald Trump's controversial ban on the entry to the US of citizens of seven Muslim countries has also drawn attention to a less known prohibition instituted by 16 Muslim countries against the entry of Israeli citizens into their territory. The issue reached the British parliament on Wednesday, where British Prime Minister Theresa May denounced the discrimination against Israelis and called on Opposition Leader Jeremy Corbyn to join her in denouncing the discrimination.
At a Prime Minister's Questions session in the House of Commons Wednesday, May was asked about the issue by Conservative MP Theresa Villiers.
May answered that "it is absolutely right that this house should be aware of the discrimination and the ban that exists around the world…particularly for those who are Israeli citizens."
"We are consistent with our approach. We don't agree with that approach [of banning entry to countries by citizens] and it's not an approach that we will be taking. And I wait for the day when the right honorable gentleman opposite actually stands up and condemns it, too."
Full report at:
http://www.israelnationalnews.com/News/News.aspx/224258
--------
Union tells Air France staff to boycott US flights to protest Donald Trump's 'Muslim Ban'
Feb 2, 2017
A trade union which represents hundreds of Air France staff, has urged its members to boycott Donald Trump's travel ban by refusing to work on US-bound flight
The Confédération Générale du Travail (CGT), which means the General Confederation of Labour when translated into English, said Air France had a duty to support its passengers "of all religions and nationalities".
Their members were within their rights to "refuse to be involved" with the ban, it said.
It also called into question the legality of the US President's executive order, which temporarily barred refugees and travellers from seven Muslim-majority countries from entering the US.
Mr Trump's measures also suspended refugee resettlement in the US for 120 days and barred Syrian refugees indefinitely.
The CGT called them "discriminatory and racist" in a statement.
"To dare associate nationals from seven Muslim-majority countries with terrorism is a provocation and incitement to hatred unworthy of a nation built on diversity," it said. "Air France has an obligation to support its passengers, of all religions and nationalities, and must express clearly its refusal to implement illegal measures."
It came as the company was heavily criticised over the weekend for preventing passengers from boarding as a result of the rules.
The carrier said it had to abide by immigration requirements of the countries that it flies to.
However the CGT questioned whether this was the right action to take.
"Why did we bar them from boarding? Why should we apply American law on our soil to the detriment of our legitimate passengers? To inform and forewarn our passengers of the measures taken by the US Government is one thing, but to refuse them boarding on our planes is another thing that CGT, Air France and its staff cannot tolerate," it said.
"We invite all staff that are offended by these anti-humanist practices to refuse to work on US-bound flights under these conditions."
Full report at:
http://www.independent.co.uk/news/world/europe/air-france-union-cgt-staff-boycott-us-flights-protest-donald-trump-muslim-ban-a7557661.html
--------
Russia Deploys Chechens to Win Hearts and Minds in Aleppo
By NATHAN HODGE
Feb. 1, 2017
MOSCOW—Russia has reinforced its military presence on the ground in Aleppo with a police unit drawn largely from the Muslim-majority region of Chechnya, part of a bid to win hearts and minds in Syria.
Recent video footage by a Russian-language news agency shows the Chechen-led formation patrolling the city's battered landscape in armored trucks and personnel carriers.
The deployment and the video promoting it highlight Moscow's outreach to civilians in Syria, where the opposition is dominated by the Sunni majority and the government is led by members of the Alawite branch of Shiite Islam, to which Syrian President Bashar al-Assad belongs.
"I am a Sunni Muslim, a Chechen," Maj. Ruslan Numakhadjiev, the unit's commander, says in the video produced by the Abkhazian Network News Agency, which is registered in a Russia-backed separatist enclave within the republic of Georgia. The commander said the troops were part of a deliberate effort to reach out to the local population in an area that was once the center of Sunni resistance to the Damascus regime.
"My deputy personnel chief is a Shiite. I also have under my command a Buddhist from Buryatia and Orthodox Christians," he says, stressing Russia's ethnic and religious diversity.
The Russian military intervened on the side of Mr. Assad in the fall of 2015, but has largely limited its involvement in Syria to aerial bombardment. Russia has deployed ground troops in some limited numbers, including special forces, but rarely publicizes their presence.
Russian officials, by contrast, openly speak about the deployment of the military-police unit to Aleppo, which fell to Syrian government forces in December. Russian Minister of Defense Sergei Shoigu said in late December the troops were sent to the city to "preserve order."
Chechnya, part of Russia's north Caucasus region, has been the focus of two gruesome separatist wars since the collapse of the Soviet Union, and a still-simmering conflict between insurgent groups and government forces.
The Russian government has carried out an often heavy-handed pacification campaign in the region, bringing in former rebels now loyal to the Kremlin to help fight insurgents.
Despite Russia's success in quashing local insurgents, pro-government forces have been accused of human-rights violations. Russian officials question the basis of such allegations.
Ramzan Kadyrov, the pro-Kremlin leader of Chechnya, said in a recent post on Instagram that he would fund the reconstruction of a historic mosque in Aleppo. The police unit, he said, was "defending the civilian population from terrorists."
The Russian military-police battalion in Syria appears to be engaged in a civil-affairs mission, manning checkpoints and providing security as some reconstruction efforts begin, based on evidence from the video. Lt. Col. Alexander Aksyonov, deputy head of the Russian military's Aleppo reconciliation center, said in the video the situation in around the city "remains tense," but added that local residents were "treating us very cordially."
Sappers with the Russian unit are shown in the video clearing unexploded ordnance. The Russian military police are also engaged in some rudimentary humanitarian assistance, with the video showing the troops delivering food to local residents.
Aleppo 24, an opposition monitoring group with activists on the ground throughout Aleppo province, confirmed the presence of several hundred Russian military police in the city of Aleppo.
Full report at:
https://www.wsj.com/articles/russia-deploys-chechens-to-win-hearts-in-aleppo-1485945005
--------
From colonial Algeria to modern day Europe, the Muslim veil remains an ideological battleground
01/02/2017
When the German chancellor, Angela Merkel, proposed a ban on the burqa and niqab at a conference of her political party in December 2016, she was following the lead of a number of countries in Europe which already have such legislation in place. In France and Belgium a woman wearing a full-face veil can be jailed for up to seven days. In January 2017, there were also reports that Morocco had banned the production and sale of the burqa.
Merkel, who has faced criticism over her refugee policy, turned towards a ban on the Muslim veil as proof of her harder stance on integration in Germany.
The politicisation of the veil — whether it covers the full face (burqa), leaves the eyes open (niqab) or covers head and neck only (hijab, al-amira, khimar) — has a long history in European politics. And it often becomes a battleground for different ideologies at times of crisis.
Fantasies of unveiling
Throughout the 19th century, the Muslim veil functioned as an object of fascination for European travellers to the Middle East, despite the fact that Christians and Druzes — a religious sect with origins in 11th-century Egypt — would also veil. European photographers in the region produced eroticised representations of women lifting their veils and exposing their naked bodies. Reproduced as postcards, these images circulated across the Mediterranean, constructing the image of a Muslim woman whose erotic powers could be unleashed once the veil was lifted.
But in the 1950s, the veil played an important role during the Algerian war of independence against French colonial rule. Frantz Fanon, a Martinique-born psychiatrist and anti-colonial intellectual, described the French colonial doctrine in Algeria as follows:
If we want to destroy the structure of Algerian society, its capacity for resistance, we must first of all conquer the women; we must go and find them behind the veil where they hide themselves and in the houses where the men keep them out of sight.
Fanon was a member of the Algerian National Liberation Front who considered women's ill-treatment by the French army to embody the whole country's situation. For him, it was impossible for the colonial power to conquer Algeria without winning over its women to European "norms".
In 1958, during the Algerian war of independence, mass "unveiling" ceremonies were staged across Algeria. The wives of French military officers unveiled some Algerian women to show that they were now siding with their French "sisters". These spectacles formed part of an emancipation campaign aimed at demonstrating how Muslim women had been won over to European values and away from the independence struggle. They were also staged at a moment of political turmoil in mainland France, which was struggling politically and financially to maintain its colony in North Africa.
The unveilings were publicised and presented to the government in Paris as spontaneous acts. But the French leader Charles de Gaulle remained sceptical of the French settlers' claims, and historians would later find that some of the women who participated in these ceremonies never even wore the veil before. Others were pressured by the army to participate.
A form of resistance
Following the staged unveilings, many Algerian women began wearing the veil. They wanted to make clear that they would define the terms of their emancipation – rather than being forcefully liberated by the French colonisers.
The unveilings had come a year after the end of the Battle of Algiers during which female freedom fighters began to carry explosives underneath the traditional white haik, a form of dress which dates back to Ottoman Algeria. But once this technique was detected by the army, the female fighters unveiled and chose European dress instead. This meant they could pass through French checkpoints unnoticed, allowing them to smuggle bombs – a scene depicted in Gillo Pontecorvo's celebrated 1966 film Battle of Algiers. Almost 40 years later, the film was shown at the Pentagon following the invasion of Iraq, in order to scrutinise "terrorist" strategies.
After the collapse of French Algeria in 1962, many Algerian women in urban areas stopped wearing the veil, but with the rise of Islamic radicalism in the country which led to a civil war in the 1990s, veiling became mandatory.
Mobilisation of the veil against Western systems of thought and values also occurred in the 1970s in Egypt when college-educated women returned to wearing the veil. Among the reasons cited for their choice was a rejection of Western consumerism and materialism, in favour of modesty and minimalism.
Full report at:
http://www.huffingtonpost.co.za/2017/02/01/from-colonial-algeria-to-modern-day-europe-the-muslim-veil-rema/
--------
Fox News falsely reported that the Quebec terrorism suspect was Moroccan. Then Canada got mad.
By Avi Selk
Feb 2, 2017
In the first chaotic hours after the Quebec City mosque massacre, police detained two men: a French Canadian and one born in Morocco.
Plenty of outlets reported both arrests. But no one did it quite like Fox News.
The Canadian, Alexandre Bissonnette, was mentioned nowhere in Fox's tweet Monday, which announced: "Suspect in Quebec mosque terrorist attack was of Moroccan origin."
Mohamed Belkhadir was quickly released and cleared of involvement, but Fox's tweet stayed up for nearly two days — until the Canadian prime minister's office wrote the outlet to demand a retraction.
Belkhadir later explained that he'd been trying to help people killed and wounded in the attack when police picked him up.
"He said he had been clearing snow off the steps outside the mosque when he heard gunshots," the Guardian reported. "When the noise stopped, he called 911 and entered the mosque." He fled when an armed man arrived — not realizing it was a police officer.
Bisonnette, meanwhile, surrendered and is now charged with carrying out the attack by himself.
Anyone who clicked the link on Fox's tweet would have read a story in which Belkhadir's ethnicity led the news.
"One of two gunmen who shouted 'Allahu akbar!' as they opened fire at a mosque in Quebec City was of Moroccan origin," Fox wrote, quoting a witness and local reports, according to a Google cache of the original story.
Along with the erroneous tweet, those details spread online into anti-Islamic circles and helped create a false narrative that the attacker was Muslim.
"As I predicted last night, the shooters in the Quebec mosque attack are Muslim, as is generally the case in these circumstances," blogger Pamela Geller wrote, linking to the Fox Story.
[Student known for far-right sympathies charged in Quebec City mosque attack]
It's hardly the first time an innocent person was caught up in the media scramble that follows major violence. It happened to Rollie Chance — misidentified as the Navy Yard shooter in 2013. And to a man who got death threats after police falsely labeled him a suspect in the massacre of officers in downtown Dallas.
Fox said it put out a new tweet and corrected the report within hours. (Its original story, which is now accurate, contains no indication that it was modified.)
But Fox didn't seem in any hurry to take down its old tweet about the Moroccan mosque suspect, which kept being shared for another day — until the leadership of Canada took offense.
Full report at:
https://www.washingtonpost.com/news/the-fix/wp/2017/02/01/fox-news-falsely-reported-that-the-quebec-terror-suspect-was-moroccan-then-canada-got-mad/?utm_term=.827677661d16
--------
India
Pakistan asks India to come up with concrete evidence against Hafiz Saeed
February 2, 2017
Pakistan on Wednesday asked India to come up with "concrete evidence" against JuD chief Hafiz Saeed if it was serious about its allegations against him, a day after New Delhi said that only a credible crackdown on the Mumbai attack mastermind would be proof of Islamabad's sincerity. "Pakistan does not need any certification or endorsement from India over the recent actions it has taken in relation to Hafiz Saeed," an Interior Ministry Spokesperson said here, referring to Saeed's detention on Monday.
Saeed and four other Jamaat-ud Dawa leaders – Abdullah Ubaid, Zafar Iqbal, Abdur Rehman Abid and Qazi Kashif Niaz -were put under house arrest after an order was issued by Punjab Province's Interior Ministry on Monday in pursuance to a directive from the Federal Interior Ministry on January 27. He said the actions taken by Pakistan have been carried out as per obligations vis-a-vis listing of Jamat-u-Dawa under UN Security Council Resolution 1267 in December 2008.
"India has constantly been using Saeed's political activities as a tool to malign Pakistan. The international community should take note and understand that Pakistan is a democratic society where judiciary takes free, independent and transparent decisions," the official said in a statement.
"If indeed India is serious about its allegations, it should come up with concrete evidence against Hafiz Saeed which is sustainable in court of law in Pakistan or for that matter anywhere in the world," he said, adding mere casting aspersions and leveling allegations without any corroborating evidence would not help the cause of peace in the region.
He said that various actions that needed to be taken under the relevant resolution i.e arms embargo, travel ban and asset freeze were not carried out for some reasons by the previous governments.
India yesterday said that it was not impressed by Saeed's detention and only a "credible crackdown" on terror outfits, including Saeed's, will prove Pakistan's sincerity as such actions had been taken against him in the past too.
Meanwhile, the ministry placed Saeed's name among 38 others on the Exit Control List, two days after his detention.
The ministry has forwarded a letter to all provincial governments and the Federal Investigation Agency, which included names of all 38 individuals placed on the ECL. All of them were said to be affiliated with JuD or Lashkar-e-Taiba.
"Saeed, Ubaid, Iqbal, Abid and Niaz are reportedly active members of the aforementioned organizations within the meaning of Section 11EEE(1) of the ATA 1997 (as amended)," read a notification issued by the Interior Ministry. "As such, they must be placed under preventive detention."
The Ministry of Interior had "placed Falah-e-Insaniat Foundation (FIF) and Jamaat-Ud-Dawa (JUD) on the Watch List as per UNSC 1267 Sanctions and have listed these organizations in the Second Schedule of the ATA 1997 (as amended)."
The spokesperson further said that "Pakistan is still looking for justification and explanation from India as to how all the accused involved in Samjhauta Express bombing where 68 Pakistani nationals lost their lives have gone scot-free."
http://indianexpress.com/article/india/pakistan-asks-india-to-come-up-with-concrete-evidence-against-saeed/
--------
HC reserves order on Zakir's plea on IRF ban
February 1, 2017
New Delhi: NRI televangelist Zakir Naik's NGO Islamic Research Foundation (IRF) was banned as there was fear that youths could be "radicalised or motivated" to join terror groups, the government told the Delhi High Court on Wednesday.
The Ministry of Home Affairs (MHA) showed confidential documents to the court on the basis of which a decision to ban the foundation was taken.
Justice Sanjeev Sachdeva reserved judgment on a plea filed by Naik challenging the November 17 notification imposing a ban on IRF for five years under the Unlawful Activities (Prevention) Act.
Full report at:
http://www.siasat.com/news/hc-reserves-order-zakirs-plea-irf-ban-1122583/
--------
Two more Pakistani fishing boats seized by BSF in Sir Creek area
February 1, 2017
A day after an abandoned Pakistani fishing boat was seized from Sir Creek in Kutch district on the Indo-Pak border, two more boats from the neighbouring country were on Wednesday seized by the Border Security Force (BSF) from the same area, officials said. "These two boats were abandoned in Pabewari Creek near Sir Creek by Pakistani fishermen, who fled away into Pak territory after being chased by a BSF patrol party," a senior BSF official said.
During the operation, an unmanned aerial vehicle (UAV) deployed there by the Indian Air Force (IAF), spotted the presence of these Pakistani fishermen in the Indian territory of the creek, following which BSF was alerted about it, the official added.
"Though BSF patrol boats chased them for a considerable distance, these fishermen eventually managed to flee into their territory after abandoning two of their boats that have been seized by BSF for further investigation," the official added.
The search operation in the area was launched by BSF after five to six Pakistani fishermen fled away after abandoning their boats in Sir Creek area last evening, although nothing suspicious was found in that boat, the official said.
Full report at:
http://indianexpress.com/article/india/two-more-pakistani-fishing-boats-seized-by-bsf-in-sir-creek-area-4503047/
--------
Southeast Asia
Penang leaders deny promoting 'liberal Islam'
Looi Sue-Chern
February 1, 2017
GEORGE TOWN: Government leaders have refuted PAS' assertion that Penang is promoting "liberal Islam" and neglecting Muslim welfare.
Penang religious affairs exco Abdul Malik Abul Kassim and Bukit Bendera MP Zairil Khir Johari said PAS was playing up the allegations for political reasons.
Zairil was formerly director of state think tank Penang Institute, which Penang PAS said had promoted liberal Islam.
"Penang Institute is not a religious body that promotes any religion or religious sect.
"It merely provides a platform for people to discuss topics on 'maqasid shariah'. In Islam, the values of the religion are present in matters such as administration and justice," he told a press conference in Komtar today.
Zairil said the exchange of ideas and thoughts on Islam was encouraged.
"So I don't understand what Fauzi means (by his claims). I think there are political motives behind the allegations."
He was responding to Penang PAS commissioner Muhammad Fauzi Yusoff who had claimed that Penang Institute was spreading liberal Islam.
Fauzi had also said Zairil, whose party is DAP, of promoting liberalism in Buletin Mutiara, the state's publication published twice a month.
Malik said Penang had never promoted liberal Islam but instead promoted "Islam Rahmatun Lil Alamin" (Islam brings love, compassion and understanding to all), as reflected in the Maal-Hijrah and many other such programmes the state had organised.
He said Penang Institute had also invited Malaysian and international Islamic scholars such as Perlis Mufti Dr Mohd Asri Zainal Abidin and Professor Tariq Ramadan to celebrate the diversity of views and ideologies
"Just because something isn't to your liking, you call it liberal. Penang does not want to stop people from thinking or controlling their thinking.
"This is a state with great thinkers and a state that encourages people to intellectually discuss and debate topics," he said.
To counter PAS' claim that the state was neglecting Muslim welfare, Malik presented a long list of initiatives the Penang government had undertaken for the development of Islam and Malays since it came to power in 2008.
High on the list is the development of the Penang International Halal Hub in 2008, the first halal hub in Malaysia. Halal Penang has since attracted investments of RM484.2 million.
In 2009, Penang set up the Syura Council. The state is also responsible for the inception of the Penang Islamic Foundation, under which the RM280 million Islamic International Hospital will begin construction next month.
The International Islamic School will also start construction in mid-year.
Penang Wakaf has been established under the state Islamic Council.
Malik said the state had also taken steps to preserve Malay heritage villages in Tanjung Tokong and Batu Uban, and was not sidelining the Malay fishermen affected by the Penang South Reclamation project.
"No fishing community will be displaced due to the project and the fishermen and their children will be a part of the development that will drive Penang forward."
Malik said it was also absurd to suggest that the state exco chaired by Chief Minister Lim Guan Eng interfered with fatwa (Islamic edicts) and that the state government was denying Muslims the right to empower the shariah courts.
"Amendments to the shariah Bill is a legal matter. To approve it, the constitution must be amended and the people must understand what it is about.
"How can the state government deny Muslims their rights over something that has not been tabled and debated (in Parliament)?" he said, referring to PAS' bill to amend the Syariah Courts (Criminal Jurisdiction) Act, which DAP strongly opposes.
Malik said the Penang government was not racist and did not treat certain groups better than others as PAS had alleged.
He said the administration had never victimised Muslim petty traders and always tried to help the hawkers and traders obtain the licences and the proper venues to operate in, adding that Penang's night markets were dominated by Malays.
"We help and support all those who need aid. I want to stress that leaders of political parties should not try to slander the state and bring up petty and remote matters to turn them into big issues.
"We admit we are not perfect, which is why the state government is always working to improve its administration and delivery system for the good of the people," he said.
The PKR assemblyman said detractors who did not think the administration was doing enough should try instead to give "constructive criticism".
http://www.freemalaysiatoday.com/category/nation/2017/02/01/penang-leaders-deny-promoting-liberal-islam/
--------
Malacca bars foreign preachers from giving talks on Islam: Report
02 Feb 2017
MALACCA: Foreign preachers will be barred from giving talks on Islam in Malacca, the Malaysian state's chief minister Idris Haron said on Wednesday (Jan 02) at a press conference.
The state Islamic Affairs department has been directed to "screen religious speakers" and "turn away" requests from foreign preachers, the Star Online reported him as saying.
Idris also said local preachers in Malaysia were well placed to give talks on Islam as they have a better understanding of the religious and cultural sensitivities within the country.
"Foreign preachers don't comprehend our culture and sensitivities. It can be possible that their sermons may incite hatred or jeopardise the harmonious relations between the different races of Malaysia.
"I'm also afraid the talks could lead to radicalism, distrust and abhorrence of other faiths."
According to the report, Idris revealed that 157 foreign preachers held sermons and talks in Malacca from 2015 to last year.
Full report at:
http://www.channelnewsasia.com/news/asiapacific/malacca-bars-foreign-preachers-from-giving-talks-on-islam-report/3486332.html
--------
Malaysia to give jobs to Rohingya Muslim refugees
By P. Prem Kumar
Feb 2, 2017
KUALA LUMPUR
A pilot scheme to give work to Rohingya refugees in Malaysia is to be launched next month, Deputy Prime Minister Ahmad Zahid Hamidi said Thursday.
Malaysia will initially allow 300 Rohingya whose refugee status is validated by the United Nations High Commissioner for Refugees (UNHCR) to take jobs in the agriculture and manufacturing sectors from March 1, the minister said in a statement.
The Rohingya, a Muslium minority from Myanmar, will be the first batch of refugees to be allowed to take legal employment in the country.
"They would be placed in selected companies under the agriculture and manufacturing sectors, aimed at providing them with skills and financial support to enable them to build their lives before being relocated to third world nations," Hamidi said.
Those selected still have to pass a security and health screening.
Full report at:
http://aa.com.tr/en/asia-pacific/malaysia-to-give-jobs-to-rohingya-muslim-refugees/739757
--------
Rescind ban order on Muslim countries, PAS urges US in protest note
February 2, 2017
KUALA LUMPUR, Feb 2— Islamist party PAS urged the US today to withdraw a presidential order barring entry to travellers from seven Muslim majority countries.
In a protest note sent to the US Embassy here today, PAS Youth said that the legality of the order is debatable and that legal challenges on the order is still pending.
"Legal challenges from states and corporations in the US are pending and the legality of the order is itself debatable, following the sacking of acting Attorney-General and violations of the United Nations charter," it said in the protest note.
The protest note was written by PAS Deputy Youth Chief Muhammad Khalil Abdul Hadi, who is also PAS president Datuk Seri Abdul Hadi Awang's son.
It was delivered by PAS Youth representatives to US ambassador designate to Malaysia, Kamala Shirin Lakhdir.
The protest note also sought immediate guarantees that Malaysians and Muslims here would not be affected by the ban.
"Give immediate guarantee and assurance that Malaysians particularly Muslims will not be impacted by Muslim Ban," it said.
"PAS has the responsibility to explain given its representation in the Parliament and other political channels at both local and international levels. We urge Madam Ambassador-Designate and the US Embassy office in Kuala Lumpur to extend goodwill and engage PAS and other civil groups in discussion and forum as means of feedback and communication particularly towards Muslims, an important stakeholder group in the country and the region," it added.
Full report at:
http://www.themalaymailonline.com/malaysia/article/rescind-ban-order-on-muslim-countries-pas-urges-us-in-protest-note
--------
Indonesia: Muslim clerics soon to rule fake news forbidden in Islam
1st February 2017
INDONESIA's highest Muslim clerical council is to issue an edict, or fatwa, declaring the spreading of fake news un-Islamic, the organisation's chairman said on Wednesday.
Indonesia has one of the world's highest number of Facebook and Twitter users, and the biggest Muslim population, and concern is growing that fake news is fuelling religious and ethnic tension.
"We will issue it as soon as possible, because the situation is worrying," said Maaruf Amin, chairman of the Indonesia Ulema Council.
"Hopefully, at least Muslims won't be involved anymore in hoaxes."
The council is not a government or lawmaking body and its fatwas are not legally binding.
The edict is expected before a hotly contested election on Feb 15 for governor of the capital, Jakarta, with an ethnic Chinese, Christian incumbent running against two Muslim candidates.
Governor Basuki Tjahaja Purnama, or Ahok as he is known, has been embroiled in a blasphemy trial in which he stands accused of insulting the Koran.
The case arose from an incorrectly subtitled video, which went viral on social media late last year, of comments that Purnama made about his opponents' use of the Islamic holy book in political campaigning.
Hundreds of thousands of Muslims led by a hardline group have twice descended on Jakarta to protest against Purnama and call for his jailing, leading to questions in the world's third largest democracy on the protection of the rights of minorities.
President Joko Widodo has repeatedly urged social media users to refrain from spreading fake news and the government has invited executives from social media giant Facebook for talks this month to help combat the problem.
Full report at:
https://asiancorrespondent.com/2017/02/indonesia-muslim-clerics-soon-rule-fake-news-forbidden-islam/
--------
Indonesia Can Be Bridge Between Muslim World and Trump Administration: Lawmaker
Feb 2, 2017
Jakarta. House of Representatives Commission I lawmaker Sukamta said he deplores the immigration ban issued by US President Donald Trump recently and he urged the Indonesian government to act as a bridge between the Islamic world and the current US government.
Trump's executive order on immigration, issued just a week into his presidency on Jan. 27, caused a massive outcry. The policy seeks to protect the United States from radical Islamic terrorists and puts a temporary ban on immigrants from seven Muslim-majority countries in the Middle East and North Africa.
However, the policy has no direct impact on Indonesia.
"I do not criticize the policy to limit [the number of] refugees entering the US, as every nation has the right to do so. What I deplore is the reason, citing the threat of 'radical Islamist terrorists,'" Sukamta said on Tuesday (31/01).
"That sentence tends to put all Muslims in a bad light by attaching the word 'terrorists,' which clearly hurts them," he added.
Sukamta said Trump's executive order may also increase anti-Muslim sentiment in the United States.
He said the new administration should have evaluated reports of an increasing number of incidents of violence against Muslims, which reportedly started during Trump's presidential campaign.
The Council on American-Islamic Relations (CAIR) alleges that there had been various attacks on women wearing the hijab in public areas and the appearance of anti-Muslim graffiti.
Sukamta said Trump's executive order may trigger more such incidents in the United States.
"Not only the Islamic communities who are opposed to this policy, as many world leaders from various countries have deplored Trump's racist statements and policy on immigrants. I hope Trump's administration will be more sensitive on this issue," Sukamta said.
The lawmaker expressed hope that the Indonesian government, through the Ministry of Foreign Affairs, can act as a bridge between the Islamic world and the Trump administration.
"Relations between the Islamic world and the US during President [Barack] Obama's administration were good, so I think it should be maintained. The Indonesian government will be able to play a strategic role as communicator between the Islamic world and the Trump administration," he said.
Sukamta said good relations between the United States and the Islamic world will improve the global political climate and help resolve ongoing conflicts, especially in the Middle East.
Full report at:
http://jakartaglobe.id/news/indonesia-can-be-bridge-between-muslim-world-and-trump-administration-lawmaker/
--------
Africa
Somalia: 200 Somali Refugees in Kenya Are Blocked From Going to U.S.
31 JANUARY 2017
By Hassan Stiila
More than 200 refugees who had been heading to the U.S. for resettlement have been told they cannot travel as a result of President Donald Trump's executive orders that temporarily suspend all immigration of citizens from seven majority-Muslim countries, a Somali refugee and officials said Monday.
The refugees left Dadaab, the world's largest refugee camp in eastern Kenya, last week but they have been told by the International Organization for Migration that their Monday flights have been cancelled "because of Trump's orders," said Suleiman Yusuf, a Somali refugee who is a teacher.
Yusuf said he has been waiting for 10 years to be resettled in the U.S. and his dream now faces an uncertain future. "I was to be resettled in Minnesota. I am a teacher by profession and have been teaching at Dadaab. I was hoping to start a new life in America but we are now stuck going back to Dadaab," he said. He was a headmaster at a Dadaab school.
A senior official with the U.N. refugee agency at the Dadaab camp said 286 Somali refugees from Dadaab and Kakuma, another camp in northern Kenya, were affected by Trump's ban. The official insisted on anonymity because he is not authorized to speak with the media.
The United Nations refugee agency media officer Yvonne Ndege said Monday that about 13,000 Somali refugees have been interviewed and approved by the United States Citizen and Immigration Services but their resettlement has been halted by the new order. An additional 13,000 Somali refugees have applied to be resettled in the U.S., according to Ndege.
The Kenyan government has said it will close the Dadaab camp by May and the refugees who want to go to the U.S. maybe at risk of being returned to war-torn Somalia when the camp is closed.
Kenya has hosted Somali refugees since the 1991 ouster of dictator Siad Barre by warlords who then turned on each other. Somalia has been wracked by violence and is struggling to rebuild amid an insurgency by al-Shabab, the Islamic extremists backed by al-Qaida. Kenya said it will shut down Dadaab because al-Shabab has infiltrated the refugee camp and is using it as a recruitment and training ground for terrorists.
Somalia
Kenyans Among Shabaab Fighters Who Attacked KDF
Kenyan security agents have established that hundreds of al Shabaab fighters involved in the attack on the Kenya Defence… Read more »
http://allafrica.com/stories/201702010713.html
--------
3 Nigerian soldiers, several terrorists killed as troops battle Boko Haram
February 1, 2017
Three soldiers were killed in fierce battles between Nigerian troops and Boko Haram members, the army has said.
Several members of the insurgents were also killed in the battles while arms and ammunition were recovered, Army spokesperson, Sani Usman, said in a statement on Wednesday.
The battles were in different parts of Damboa Local Government Area after which "Armoured Fighting vehicle, trucks, arms and ammunition," were recovered from the fleeing terrorists, Mr. Usman, a brigadier general, said.
"Unfortunately however, 3 soldiers paid the supreme price, while 5 others were wounded in action.
"The bodies of the late soldiers and those that sustained injuries have since been evacuated," he added.
Read Mr. Usman's full statement below.
Troops of 25 Task Force Brigade, 7 Division Nigerian Army on Operation LAFIYA DOLE during clearance operation at Dulsa and Buk, Damboa Local Government Area of Borno State, today had an encounter with fleeing Boko Haram terrorists in which they recovered Armoured Fighting vehicle, trucks, arms and ammunition.
At Dulsa this morning, the troops cleared the hideout of the terrorists during which they neutralized 6 Boko Haram terrorists, recovered 1 Light Machine Gun, 2 Rocket Propelled Grenade Tubes and 1 Extra Anti-Aircraft Gun Barrel.
The troops also encountered Boko Haram terrorists camp at Buk where they were engaged by the terrorists.
Full report at:
http://www.premiumtimesng.com/news/headlines/222317-3-nigerian-soldiers-several-terrorists-killed-troops-battle-boko-haram.html
--------
African immigrants feel the weight of being black and Muslim in Trump's America
Feb 01, 2017
Marginalized groups of all faiths and colors have much to fear from a Trump presidency. And while we don't often hear their stories, black Muslim immigrants are also concerned about what his policies on immigration and law enforcement mean for them. As PRI reports, African immigrants around the country are concerned by both the rhetoric and the actions coming from this administration.
There were 1.8 million African immigrants in the country in 2013, double the population of 2000. The vast majority are lawful residents, who came as refugees from violent conflicts or with diversity visas for people from countries that are underrepresented in immigration to the US. But those who have temporary legal status are worried the government will deport them.
Last week's Executive Order on immigration temporarily restricts travel from certain countries in Africa and the Middle East which have significant Muslim populations to the United States. But for those black Muslim immigrants who are already here, the danger is far from over.
Trump has begun to sign executive orders — instructions for the Department of Homeland Security and Immigration and Customs Enforcement — that codify this risk. In one order, which he signed on Wednesday, he asked the agencies to focus on the deportation of undocumented immigrants convicted of crimes. But he also prioritized those who "have been charged with any criminal offense, where such charge has not been resolved" or "have committed acts that constitute a chargeable criminal offense."
Of course, black African immigrants who are undocumented are especially at risk but others who hold temporary residency, who came the U.S. as asylum seekers or refugees, are also worried. And with Trump upping the fear factor rhetoric to include suspicion of nearly all immigrants, they have good reason to be worried.
Part of their concern comes from the legacy of how race and policing intersect. Routine encounters with police can often become perilous for black people and black immigrants are no exception.
Full report at:
http://www.dailykos.com/story/2017/1/31/1628160/-African-immigrants-feel-the-weight-of-being-black-and-Muslim-in-Trump-s-America
--------
Police officers killed, others injured after Al-Shabaab attack in Arabia, Mandera
By Mercy Asamba
February 2nd 2017
Unknown number of Kenyan police officers have been killed, others injured and vehicle torched by Al-Shabaab militants during a raid at Administration police camp in Arabia in the County of Mandera. Reinforcements from the Kenya Defence force has been sent to the site.
Full report at:
https://www.standardmedia.co.ke/article/2001228027/police-officers-killed-others-injured-after-al-shabaab-attack-in-arabia-mandera
--------
URL: https://www.newageislam.com/islamic-world-news/new-age-islam-news-bureau/donald-trump-to-focus-counter-extremism-programme-solely-on-islam--reports/d/109931
New Age Islam, Islam Online, Islamic Website, African Muslim News, Arab World News, South Asia News, Indian Muslim News, World Muslim News, Womens in Islam, Islamic Feminism, Arab Women, Womens In Arab, Islamphobia in America, Muslim Women in West, Islam Women and Feminism, Moderate Islam, Moderate Muslims, Progressive Islam, Progressive Muslims, Liberal Islam