New Age Islam News Bureau
16 Nov 2018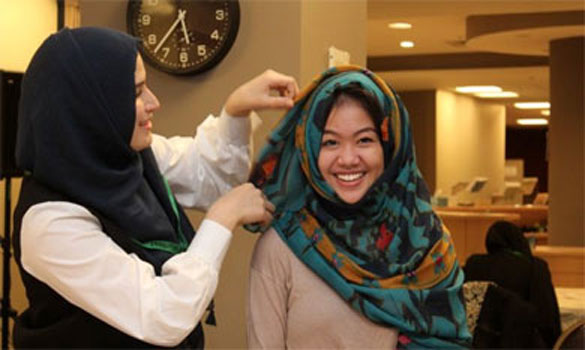 SARAH SAAB/JAFFARI COMMUNITY CENTRE
A visitor learns how to wear a headscarf at Jaffari Community Centre in Vaughan, Ont. on Nov. 10, 2018
------
• DJ, Qawwali during Juloos-e-Mohammadi against Islam: Fatwa of Dargah Aala Hazrat
• Indonesia's Campaign for Centrist Islam Goes Global
• Petition to Suspend TLP's Registration Filed in Apex Court
• Muslims Invite Other Canadians to 'Visit My Mosque' and Ask Them Anything
• KSA, UAE, USA, UK Identify Key Actions to Address Situation In Yemen
India
• DJ, Qawwali during Juloos-e-Mohammadi against Islam: Fatwa of Dargah Aala Hazrat
• Six Jaish Terrorists In Punjab, Heading Towards Delhi: Counter Intelligence Warns
• Punjab Police Releases Posters of Zakir Moosa in Manhunt for Al-Qaeda Commander
• Telangana: Indian Identity on Sale, Rohingya Migrants Procure Aadhaar, PAN, Voter ID
• Bullet-riddled Body of Civilian Abducted by Terrorists Found in J&K's Pulwama
• Hizbul Mujahideen Terrorist Apprehended by Security Forces in J&K's Pulwama
• Lucknow: Litigant in Babri Masjid case expresses concern on safety of his community
--------
Southeast Asia
• Indonesia's Campaign for Centrist Islam Goes Global
• China Faces Pressure As Congress Condemns the Persecution of Muslim Minorities
• The Caliphate Had ICERD Too, Turkish Scholar Reminds Malaysian Muslim Groups
• Pluralism, liberalism not crimes, one lawyer tells off another
• Malaysia arrests 8 suspected militants, including Filipino asked to recruit children as 'human shields'
• Dr M: Not easy, but Putrajaya will ratify conventions like ICERD
• Indonesia's vigilante mobs deliver brutal 'justice'
--------
Pakistan
• Petition to Suspend TLP's Registration Filed in Apex Court
• Imran Khan to Visit Malaysia Next Week; Likely To Seek Monetary Aid
• TLP hasn't provided poll expenses' details, ECP tells SC
• Nawaz denies transaction with Qatari prince
• Police to record statement of slain JUI-S leader's 'missing' secretary
• PM comes to Fawad's defence as Senate chairman bans entry
• Three suspected terrorists held in Sahiwal
--------
North America
• Muslims Invite Other Canadians to 'Visit My Mosque' and Ask Them Anything
• US Has Spent Six Trillion Dollars on Wars That Killed 500,000 People since 9/11: Study
• US Imposes Sanctions on 17 Saudis over Khashoggi Killing
• US May Extradite Gulen to Ease Turkey Pressure on Saudi Arabia: Report
• Trump's Envoy to Syria: 'We Have No Better Partner than Saudi Arabia'
• US air force drops 5200 bombs in Afghanistan in 2018
• YPG is 'Syrian offshoot' of PKK terror group: US envoy
--------
Mideast
• KSA, UAE, USA, UK Identify Key Actions to Address Situation In Yemen
• Saudi Squad Involved In Khashoggi Murder Must Be Tried In Turkey: FM
• Hamas busts spying cell in Gaza responsible for botched Israeli mission: Report
• Turkey's Erdogan Says Khashoggi Recordings 'Appalling,' Shocked Saudi Intelligence
• Days after Cease-Fire, Gaza Border Demonstrations to Resume
• Israel expands Gaza fishing zone following latest escalation of violence
--------
South Asia
• Bangladesh Postpones Biswa Ijtema as Tabligh Jamaat Factional Fight Simmers
• Taliban Kill 30 Policemen in Farah Province
• Bangladesh Halts Plan to Return Refugees to Myanmar
• Coalition's scheme for presidential elections 'unjustified': Hekmatyar
• Heavy clashes reported among Afghan forces and Taliban in Kunduz
• Two armed robbers killed during a clash with police in Kabul
• Dipan murder: Charge sheet submitted against 8 Ansar al-Islam members
--------
Arab World
• Saudi Arabia FM: Khashoggi Murder Investigations Will Continue Until All Questions Are Answered
• Infighting Reported among US-Backed Forces in Raqqa
• Saudi prosecution calls for execution of 5 involved in murder of Khashoggi
• Saudi Public Prosecution: Head of negotiating team ordered killing of Khashoggi
• More Civilians Killed by US in Deir Ezzur
• Syrian Army Engages in Clash with US-Backed SDF in Deir Ezzur
• US Continues Attacks on Residential Areas in Eastern Syria with Banned Weapons
• Russia says militants, moderates still not separated in Syria's Idlib
• Bahrain court hands down lengthy jail sentences to six more activists
• US envoy: Fight against Daesh in last Syria stronghold may end soon
--------
Africa
• Shame of Police Bribed To Let In Shabaab Bombers
• Nigerian Govt, Southeast States Have Abandoned Us – Igbo Muslims Cry Out
• Libya planning to extradite Manchester bomber's brother
• Boko Haram burnt down village in northeast Nigeria
• Boko Haram: Academic activities resume in Dapchi Govt College
--------
Europe
• Jihadist leader 'very probably' killed by French forces in Mali
• France, Pakistan praise Saudi prosecution's actions over Khashoggi case
• Islamic scholar Tariq Ramadan wins bail in France rape case
• Bahraini royal sued in UK over deal to meet Bollywood 'idols'
• Daesh-aligned groups warn of more attacks in Western nations
• Dutch FM to defend arms embargo to Saudi Arabia at UNSC
• UK demands 'accountability' for Khashoggi murder
• European Court of Justice keeps PKK on terror list
• 'It could certainly radicalise someone': Muslim imam discovers Sharia law book preaching jihad and hostage taking in Melbourne airport Islamic prayer room
Compiled by New Age Islam News Bureau
URL: https://www.newageislam.com/islamic-world-news/dj-qawwali-during-juloos-e/d/116898
--------
DJ, Qawwali during Juloos-e-Mohammadi against Islam: Fatwa of Dargah Aala Hazrat
Nov 15, 2018
Bareilly: A cleric at Dargah Aala Hazrat has passed a fatwa stating that playing 'DJ and Qawwali' during Juloos-e-Mohammadi is against Islam.
The fatwa, passed on Thursday on a query filed by a local resident, also said that people participating in Juloos (processions or marches) should distribute 'Sheerni' (Prasad) with respect.
The fatwa come days after clerics had appealed to the community members not to use DJ during processions.
Juloos-e-Mohammadi is taken out to observe the birth anniversary of Prophet Mohammadi. The procession will be taken out on November 21. Nearly 130 juloos are taken out in the city that later merged with each other and culminate at Dargah Aala Hazrat.
Mohd Gulfam Ansari, a resident of Shahbad in Bareilly, asked the seminary, "During Juloos-e-Mohammadi, some people play DJ at a high sound and also play Qawwali, and people throw Sheerni at devotees from the terrace of their houses. What is the correct way for Juloos-e-Mohammadi?"
Responding to his query, Mufti Mohammad Kausher Ali of Darul Ifta, Dargah Aala Hazrat, passed a fatwa. It said, "Taking out Juloos-e-Mohammadi is the way to express happiness. However, playing DJ or qawwali is un-Islamic. Sheerni should be distributed with respect.
TOI had reported on Tuesday that clerics and social organisations have announced that groups with DJ and weapons will not be included in Juloos-e-Mohammadi this time. Salman Hasan Khan Qadri, vice-president, Jamat Raza-e-Mustafa, an organisation affiliated to Dargah Aala Hazrat, had earlier said, "Our organisation has appealed to people that they should not use DJ or be armed with weapons while taking out processions. Islam gives the message of peace and love, and there is no point in causing inconvenience to anyone with the loud sound of DJ."
Pammi Warsi, president, Jansewa team, a social organisation, had earlier said, "People spend lakhs of rupees on DJ. We appeal to the community members that they should save money by not installing sound system and spend that money for the welfare of the poor."
https://timesofindia.indiatimes.com/city/bareilly/dj-qawwali-during-juloos-e-mohammadi-against-islam-fatwa/articleshow/66642472.cms
--------
Indonesia's Campaign for Centrist Islam Goes Global
Yang Razali Kassim
16 November 2018
Ma'ruf Amin is vice-presidential running mate for incumbent President Joko 'Jokowi' Widodo in the 2019 presidential election. While Amin was a surprise choice, his ideas on the role of Islam in Indonesia are proving to be a potential vote-getter. Amin's value for Jokowi is not his personality per se, but what he symbolises or represents. The coming together of the duo reflects the symbiosis of the two main streams of Indonesian politics — nationalism as manifested in Jokowi and Islam in Amin.
Islamic cleric Ma'ruf Amin speaks to the media after he was chose to be Indonesian President Joko Widodo's running mate in the 2019 presidential election in Jakarta, Indonesia, 9 August 2018 (Photo: Reuters/Antara Foto).
A central feature of Amin's campaign so far is his promotion of Wasatiyyah Islam. Loosely translated, the term wasatiyyah connotes a middle way or a path of moderation. During an October 2018 speech in Singapore hosted by the S Rajaratnam School of International Studies (RSIS), Amin spoke of the importance of Wasatiyyah Islam in Indonesia, and how Indonesia should not only practise but also project Wasatiyyah Islam to the world. To him, Wasatiyyah Islam contributes not only to peace and security in Indonesia, but also globally given the country's position as the world's fourth largest country by population.
So what is Wasatiyyah Islam? According to Amin: 'It is Islam tengah (middle way or centrist Islam) that produces the best community (khairu ummah)'. Islam tengah is anchored in at least six core characteristics: tawassuth (the middle way), tawazun (balance), tasamuh (tolerance), musawah (egalitarianism and non-discrimination), musyawarah dan muakafat (consultation and consensus) and islah (reformism).
Wasatiyyah Islam is not really new to Indonesia. It has always been part and parcel of Indonesian life and was the driving spirit behind the strategic compromise between political Islam and nationalism that became the ideological basis of the Indonesian nation-state at its founding in 1945.
Nahdlahtul Ulama, Indonesia's largest Islamic organisation that Amin led as the rais 'aam (supreme leader) until his nomination as vice-presidential candidate, has played a key role in this ideological compromise since Indonesia's founding. Over this period, the relationship between political Islam and the state in Indonesia has gone through a series of ups and downs in a process marked by a mix of latent tension and mutual accommodation.
Speaking on the contemporary dynamic of this relationship, Amin remarked: 'The commitment to Wasatiyyah Islam in Indonesia in recent years is a reaffirmation of Islamic moderation as the conviction of mainstream Muslims in Indonesia. This is an important response to the strengthening consolidation in recent years of extremism in the name of Islam, be it from the left or from the right'.
The Indonesian Ulema Council, of which Amin is chairman, adopted Wasatiyyah Islam as its devotional paradigm in a national convention in August 2015. This was a year after the so-called Islamic State (IS) came into existence in Syria and violently campaigned to establish a caliphate (an Islamic political paradigm that predates the Westphalian idea of the nation-state).
Before IS, Indonesia had already seen the emergence of the caliphate ideology through Indonesian cells of transnational organisations like the non-violent but ultraconservative Hizb ut-Tahrir (banned in Indonesia in mid-2017) and the militant Jemaah Islamiyah. And in the earlier years of Indonesian independence there was the Darul Islam movement, which morphed into the Indonesian Islamic State movement.
All of these groups share one thing in common: a push for the maximum accommodation of political Islam in the Indonesian state. According to Amin, what Indonesia needed to establish at independence — and what it continues to maintain today — was a nation based on a consensus among all elements of society. This was achieved through the national ideology of Pancasila and the 1945 constitution, both of which remain in operation.
With Indonesia's strategic position in the Muslim world, and in Southeast Asia in particular, Amin's push for Wasatiyyah Islam bears implications for the region — especially should his views become national policy if he is elected as vice president. Amin argues for the globalisation of middle way Islam: 'Given its importance, Wasatiyyah Islam must not be seen to be exclusive to Indonesia. Wasatiyyah Islam can also be used to foster harmony and stability of the Southeast Asian region'. In May 2018, Indonesia hosted a high-level consultation of world Muslim scholars on Wasatiyyah Islam.
Philosophically, the tenets of Wasatiyyah Islam have long been a part of mainstream Islam in other Southeast Asian countries. Under three previous administrations in Malaysia, Islamic moderation was the clarion call and practised policy. In his first tenure as prime minister from 1981 to 2003, Mahathir Mohamad consistently advocated Islamic moderation. His successors followed through with such ideas as Islam Hadhari (Civilisational Islam) and Wasatiyyah Islam too, leading to the formation of the Wasatiyyah Institute Malaysia. As in Indonesia, the Institute was a Malaysian response to rising extremism in some sections of the Muslim community and was to be a platform to promote moderation in the practice of Islam.
Wasatiyyah Islam is also a key characteristic of Islam as practised in Singapore, a multi-religious and multicultural society where Muslims are a significant minority. Moderation, balance and the middle way are the three Islamic principles that guide Singapore's Muslim community. Wasatiyyah Islam as popularised in Indonesia and Malaysia is, in short, something very much familiar with Singapore's Muslims.
Southeast Asia's Muslim community as a whole is going through a phase of adjustment and response to the twin phenomena of religious extremism and religious liberalism. It remains to be seen whether this response will lead to the wider reaffirmation of the Wasatiyyah doctrine of middle way Islam, an approach more nuanced than just 'moderation'.
http://www.eastasiaforum.org/2018/11/16/indonesias-campaign-for-centrist-islam-goes-global/
--------
Petition to suspend TLP's registration filed in apex court
Nov 16, 2018
A petition to suspend Tehreek-e-Labbaik's (TLP) registration as a political party has been filed with the Supreme Court.
The petition was submitted by a barrister with names of the federal government, ECP and TLP leaders Khadim Rizvi and Afzal Qadri as respondents. It states that TLP is working against the state's stability and that Rizvi and Qadri should be held in contempt of court. After the SC ordered Aasia Bibi's acquittal, circulated videos showed TLP leaders calling for the death of several judges.
Action should be taken against Rizvi and Qadri for spreading chaos and terrorism, argues the petitioner, adding that their registration as a political party should be cancelled to ensure the basic rights of citizens, the petition further stated.
Earlier, a writ petition was filed in the Lahore High Court (LHC) on November 10 requesting the federal government to initiate treason proceedings against Rizvi and Jamiat Ulema-e-Islam-Fazl (JUI-F) chief Maulana Fazlur Rehman. The petition argued that the two political leaders had issued anti-state statements against the judiciary and the armed forces.
The petitioner implored that the TLP and JUI-F chiefs had clearly violated Article 6 of the Constitution in the garb of protests. He contended that under The High Treason Act, 1973, only the federal government is empowered to initiate treason proceedings. The petitioner prayed that the court direct the federal government to initiate proceedings against the TLP and JUI-F leaders under the charges of high treason. He pleaded that the country was held hostage for three days following their statements.
Earlier this month, civil and military leadership hinted at taking legal action against TLP leadership for creating a law and order situation and challenging the writ of the state in the wake of the apex court's order to acquit Aasia Bibi.
No action has been taken since and after TLP leaders claimed miscreants wreaking havoc during protests were not associated with the party, Minister of State Shehryar Afridi absolved them of the responsibility.
The three-day violent protests, triggered by the Supreme Court's October 31 verdict, were called off by the TLP after it struck a deal with government negotiators.
However, the PTI government faced severe criticism from opposition parties for 'bowing down to extremists'.
https://www.pakistantoday.com.pk/2018/11/15/petition-to-suspend-tlps-registration-filed-in-apex-court/
--------
Muslims Invite Other Canadians To 'Visit My Mosque' And Ask Them Anything
11/11/2018
Muslims across Canada invited their neighbours to join them inside their most sacred spaces, a week after joining together to support Jewish worshippers in a moving show of empathy.
Mosques in Halifax, Sussex and Moncton, N.B., Sherbrooke, Que., Montreal, Ottawa, Toronto, Edmonton and Calgary opened their doors Saturday for the second annual Visit My Mosque Day. The event aims to dispel misconceptions, foster an appreciation of the Muslim faith in Canada, and celebrate the philanthropy of the Canadian-Muslim community throughout the year.
The day is organized by The Canadian-Muslim Vote, a non-partisan organization that encourages Muslims to be politically engaged.
"We have nothing to hide," Shafiq Ebrahim, vice-president of Jaffari Islamic Centre in Thornhill, Ont., told HuffPost Canada by phone. "We aren't a secret society or mysterious in any way. We're law-abiding people who pay taxes and love our neighbourhood and want to build genuine relationships here."
The centre offered tours of worship halls, gave lectures on education and outreach activities and had scholars on standby to answer any theological queries. Stations for women to have their hands painted with traditional henna and learn how to tie a hijab were also available for anyone interested.
"Just being available to talk is key," Ebrahim said. "I'm always surprised by how many great questions people ask, and we are committed to giving proper answers."
Ebrahim said that some of the questions were philosophical in nature, while others were more focused on where the congregation comes from and how it ended up in Canada. Ebrahim's community was welcomed to Canada in 1972 by then-Prime Minister Pierre Trudeau, following the forcible expulsion of Asians from Uganda.
"We owe so much to Canada and the values on which it was built," he said. "Canada opened its doors and welcomed us. We understood what this country is. What a privilege it is to live by our dear Canadian values, which we now instill in our children."
For Jaffari Community Centre, the event was yet another opportunity to invite neighbours to congregate in the space — the centre opens its doors more than 200 times a year for charitable events, talks and tours. It also joins several multi-faith communities to house, feed and clothe the homeless at the peak of winter.
Joel Harden, an NDP MPP for Ottawa Centre who toured the Ottawa Mosque, knows that charitable effort well: he recalled how, after powerful tornadoes knocked out power for legions of Ottawa-area residents in September, members of the mosque delivered food to thousands of people.
"They don't brag about it, but they're doing important things to help their neighbours all the time," Harden told HuffPost Canada by phone.
Harden, who calls himself a 'Presbyterian-socialist,' took his 10-year-old daughter, Adele, to the mosque yesterday. As kids do, she asked all the bold questions.
"She asked, 'Why do the women pray separately? Do I have to wear a head covering?'" Harden recounted. But Adele's fearlessness emboldened the adults in the room to open up a dialogue, too, instead of relying on false presumptions.
The presumptions are pervasive, however: a 2017 survey showed almost half of Canadians viewed Islam in an unfavourable light, compared to Christianity and Buddhism. The survey was taken just two weeks after gunman Alexandre Bissonnette killed six worshippers in a Quebec City mosque that January.
Ali Manek, executive director of The Canadian-Muslim Vote, said that serious threats of mass violence were made to two mosques in the lead-up to the event, one in Sherbrooke, Que. and another in Scarborough, Ont. The person who posted a violent threat to the Sherbrooke mosque eventually removed it and apologized, following police intervention. Manek said that an arrest might be made in the case in Scarborough.
Both of those mosques decided to continue with the event. However, persistent racist messages led two mosques in Montreal to cancel out of fear for the safety of their congregation. One backed out the day before the event.
Manek, a former entrepreneur and non-profit organizer, was heartened by the commenters who swarmed those vitriolic posts with messages of support and encouragement. But as the organizer of an event that involved many vulnerable people in open spaces, he found himself wracked with anxiety as the event grew close. He also worried for the safety of his children, who would be accompanying him throughout the day.
"I didn't anticipate how much of that affected my mental health," he said to HuffPost Canada by phone. "I had to reflect often on the point of the event. To say, despite the negativity, we are still going to be right here. We are still going to answer your questions."
For its part, Jaffari has developed protocols and best practices with other local religious organizations to try to protect against violence. "As with any faith-based group, there's always a fear at the back of your mind that something nasty could happen," Ebrahim agreed. "But we choose not to focus on that."
Jeff Leiper, city councillor in Ottawa's Kitchissippi Ward who also toured the Ottawa Mosque yesterday, said officials must strengthen relationships with local Muslims on a regular basis, not just during times of turmoil.
"It's important for opportunities like these to be created, but Muslim members of your community shouldn't have to always ask to be included," he told HuffPost Canada. "For the relationship to be genuine, you have to work at it all the time, even when there's nothing going on."
"That's how you learn what the their needs are, where they feel their elected officials can improve, what we need to do better."
For Manek, that drive towards civic participation is key.
"The more we open up, make ourselves vulnerable, the more that the Muslim community will feel like it's part of the larger conversation," he said. "That means increased participation by Muslims in the greatest parts of Canadian life: democracy, government and civic duty."
"So much of what we're doing isn't for us," he added. "It's for the next generation, for the future of Canadian society."
https://www.huffingtonpost.ca/2018/11/11/visit-my-mosque-day-2018-canada_a_23586638/?ncid=other_facebook_eucluwzme5k&utm_campaign=share_facebook&fbclid=IwAR03RgS5w25GiiDcOsVoe9ARw7xSJoXIRPR1ofrYK2_56dZ2OjlsTmO4H1k
--------
KSA, UAE, USA, UK identify key actions to address situation in Yemen
15 November 2018
Senior Officials and Ambassadors of the Kingdom of Saudi Arabia, United Arab Emirates, United States of America and United Kingdom met in Riyadh to identify key actions to rapidly address the economic and humanitarian situation in Yemen.
To date a number of steps have been taken to help Yemen's economy and stabilize the Yemeni Riyal. These have included the Kingdom of Saudi Arabia's initial deposit of $2 billion into the Central Bank of Yemen, followed by their recent $200 million grant to the Government of Yemen, and monthly donation of $60 million in fuel derivatives for municipal power generation.
This is in addition to the generous humanitarian and development funding and support from all four nations.
Yemen's economic situation and the value of the Riyal remain fragile, and concerted efforts are required to ensure these gains are not reversed.
The four nations encourage the international community to increase its support to Yemen. The four nations agreed to establish a Technical Advisory Committee to meet monthly with the aim of agreeing to further measures to stabilize the currency, to strengthen the management of foreign currency flows, and to support the Government of Yemen efforts to improve its economic management.
The four nations also agreed to:
- Support the establishment of an International Financial Corporation Trade Facility under the supervision of the Central Bank of Yemen.
- Intensity support for the UN Special Envoy's efforts on economic confidence-building measures, recognising that further economic deterioration would have implications for the political process.
- Provide support to the Government of Yemen to implement overall economic reform, including payment of civil servant salaries according to the Government of Yemen payrolls of 2014. These commitments are intended to bolster Yemen's formal economy and improve the purchasing power of all Yemenis.
The four nations affirmed the importance of economic development in alleviating the humanitarian situation. They stressed the critical importance of humanitarian and commercial access, the protection of civilians and of civilian infrastructure, and committed to a more detailed senior level discussion of these and other humanitarian issues in the coming weeks.
https://english.alarabiya.net/en/News/gulf/2018/11/15/KSA-UAE-USA-identify-key-actions-to-address-situation-in-Yemen.html
--------
India
Six Jaish terrorists in Punjab, heading towards Delhi: Counter Intelligence warns
November 16, 2018
Punjab was put on high alert following an alert issued by Counter Intelligence wing of State police which said "a group of six to seven Jaish-e-Mohammad terrorists are reportedly in Punjab, possibly in Ferozepur area and are planning to move towards Delhi from Punjab side". The alert, based on "an input", was issued on Wednesday, along with a photographs showing suspected terrorists.
A senior officer of Punjab police said field officers across the state had been directed to step up vigil. "The officers have been particularly told to ensure strict vehicular checking. Ten companies of state police are away for election duty in other states and we have pressed remaining force at our disposal following the alert," said the officer.
The alert was issued hours after four unidentified men carjacked an Innova from near Madhopur on gunpoint late Tuesday night at about 11.30 pm. The four men, who as per Innova driver Raj Kumar were speaking in Punjabi, were captured in a CCTV footage obtained from Jammu railway station, from where they had hired the Innova.
A Punjab police officer said the counter intelligence alert and carjacking incident had "seemingly no link". The officer said, "The faces, the height and built of the men in the photograph circulated by the Intelligence wing have no similarities with those who carjacked the Innova and were captured in CCTV footage."
The officer privy with the carjacking case investigation said the driver of the Innova was shown the photographs circulated by counter intelligence wing and he told that "none of the persons matched with the carjackers".
The officer said, "In a terror act, there is an element of surprise. Had it been a terror act, they would have carried out a strike somewhere soon after the carjacking. Also, they had altercations at two places before carjacking – at a toll barrier over paying toll where they claimed to be Armymen and at a non-descript Punjabi dhaba, where they had an altercation with dhaba owner as they complained about unclean plates and glasses."
The officer added that driver told that their bags were very light, probably containing only a few clothes, as he put those in the taxi. "They asked the driver to get into the Innova when they carjacked it, telling him that if he did not, they will shoot him. But, the driver did not see any weapon in their hands. Then, they tried to bundle the driver into the Innova, but failed to do so. As they were fleeing, the driver asked them to at least give him his blanket and bag of clothes. On this, they threw his blanket and bag. All these pointers do not suggest it to be a terror act," said the officer.
Pathankot SSP Vivek Sheel Soni said, "We have got leads (about carjacking case). We are working on them."
The counter intelligence alert on JeM terrorists, meanwhile, said, "In view of the above input, inter alia, there is a need to mount immediate/strong nakas at all important points and routes, conduct strict vehicular checking and take suitable counter measures for all sensitive locations in your area. Forces be suitably sensitized and alerted in this regard," said the alert, which was based on "an input". It added, "Further, there is a need to review and strengthen second line of defence along the Indo-Pak border and to coordinate closely with BSF and other police/defence establishments in your areas."
The alert, issued by Counter Intelligence wing Inspector General further read, "All supervisory field officers, including IGP/DIG Ranges and CPs (Commissioners of Police) are advised involve themselves personally in the planning and implementation of preventive, precautionary measures as mentioned above in their respective jurisdictions to avoid any untoward incident."
It added, "All officers are advised not to disclose the details of the input or the counter measures being taken in the public domain and discuss/share them strictly only on a need-to-know basis. All concerned may also be suitably advised in this regard." https://indianexpress.com/article/india/punjab-jaish-terrorists-high-alert-delhi-5448344/
--------
Punjab Police Releases Posters of Zakir Moosa in Manhunt For Al-Qaeda Commander
November 16, 2018
Gurdaspur: The Punjab police have released posters of terrorist Zakir Moosa, reported ANI on Friday. "We had inputs about his movements near Amritsar. So we have released wanted posters of him to make public aware and have requested public to tell us if they have any information," said Gurdaspur SSP Swarandeep Singh. (Also read: Reports Say Moosa Trapped in Tral)
"We had inputs that some Jaish-e-Mohammed (JeM) terrorists have infiltrated in Punjab through Ferozpur. So, we have taken precautionary measures. Extra forces have been deployed and checking is underway," he added.
Moosa is the Kashmir unit chief of Al-Qaeda. He heads the terrorist outfit Ansar Gazwat ul Hind and is responsible for sending recruits to J-K and has previously been suspected of planning fidayeen attacks. He had reportedly joined Al-Qaeda after a fallout with Hizbul Mujahideen. He is one of the most wanted terrorists in J-K.
Last year, Moosa had issued a statement wherein he said he would not rest until he had liberated "occupied Hindustan". He also cited the example of an 8th-century Muslim General killing a Hindu king in Sindh to establish Shariah rule. He exhorted the Muslims to join the battle to establish Islamic Caliphate again.
Issued official media of Kashmir-based Al Qaeda group Ghazwat-ul-Hind, Moosa's statement said that Umayyad caliphate's army general Muhammad bin Qasim had implemented Al-Sindh 1,400 years ago. The caravan started then will not stop until it "liberated Hindustan".
Moosa was once reported to have fallen in security forces' trap, but he managed to escape. He was the commander of Hizbul Muzahideen, but he had to quit after he threatened to behead Hurriyat Conference leaders. Moosa despises political 'freedom' and openly bats for the establishment of Islamic Caliphate.
Full report at:
https://www.india.com/news/india/punjab-gurdaspur-police-releases-posters-of-zakir-moosa-in-search-for-al-qaeda-commander-3431644/
--------
Telangana: Indian Identity on Sale, Rohingya Migrants Procure Aadhaar, PAN, Voter ID
Akash Kolluru
November 15, 2018
On June 27, 2018, Telangana Inspector General of Police, Intelligence, Naveen Chand wrote to the Commissioner of Police, Rachakonda Mahesh Bhagwat on how big a threat Rohingya immigrants can pose to the internal security of India. The letter very categorically stated that Rohingya Muslim immigrants have been seen indulging in multiple illegal activities and that they can be easily 'induced' and 'used' by various terror outfits. The agency further goes onto establish its claim by stating that at least two cases of migrants harbouring terrorists and planning to carry out terror attacks in India have come to light in the recent past.
For years now, intelligence agencies have been hinting at how big a threat Rohingya immigrants can pose, primarily because of the lack of a way to tap or keep a check on them.
After receiving this piece of information, an India Today TV undercover reporter decided to investigate further into the matter. During the course of the investigation, immensely alarming facts came to the fore.
According to the official figures of the Telangana Police, 189 voter ID cards, 36 Aadhar cards, 8 PAN cards, 3 driving licenses and 10 Indian passports illegally sourced by Rohingya immigrants have been identified in the limits of the Balapur Police State, in Telangana, alone.
A total of 44 FIRs -- 42 in Balapur, 2 in Kanchanbag -- related to illegal Indian identity proofs sourced by Rohingya immigrants have been registered by the Telangana Police.
After uncovering these shocking statistics, India Today investigated further into the modus operandi. During the course of the same, the story of the family of Mohammed Younus, who migrated to India in 2012, came to light.
The trail of illegal documents sourced by this Rohingya family started from Younus's birth certificate - that said that he was born in India in 1993. After the birth certificate, the family sourced an education certificate for Younus from a nearby local school called Crescent School. Based on the same, and the electricity bill of a rented house, the family applied and got voter ID cards. In the meantime, Younus's father, Mohammed Naseem got Aadhar cards for the family from Banjara Hills, as confessed by him to India Today. Soon after this, Younus also went onto procure a PAN card and even an Indian passport.
Younus and his family were not the only ones who sourced documents illegally. Mohammed Saiful Islam, another Rohingya Muslim revealed all that he needed to get an Aadhar card made in Jammu and Kashmir were 1000 rupees, 2 passport size photographs and his fingerprints.
Mumtaz Begum, Mohammed Saleem, Mohammed Naseem and Noor Hassan, all of whom are Rohingya immigrants living in Rohingya camps in Telangana's Balapur have confessed to India Today that they have illegally, in a similar manner, sourced Aadhar cards from centres in Uttar Pradesh, Punjab and Delhi respectively.
The fact that these Aadhar cards have been issued by centres across the country raises multiple questions on the Unique Identification Authority of India (UIDAI) and its systems.
The police also finds it very difficult to trap these immigrants as most of their IDs have fake names and they have been seen hopping cities overnight when under radar.
With India citizenship on sale and India's security in danger and both Rohingya immigrants and India authorities to be blamed, this investigation throws light on a fast growing and alarming problem. While 249 documents have been identified by the Telangana Police, sources say there could be thousands more exploiting the incompetence of the Indian authorities and the loopholes in the system.
Full report at:
https://www.indiatoday.in/india/story/telangana-indian-identity-on-sale-rohingya-migrants-procure-aadhar-pan-voter-id-1389243-2018-11-15
--------
Bullet-riddled Body of Civilian Abducted by Terrorists Found in J&K's Pulwama
November 16, 2018
Srinagar: Bullet-riddled body of a civilian, who was abducted by the terrorists, was found in Kilora area of Pulwama district of Jammu and Kashmir on Friday. The police have registered a case and an investigation in connection with the matter has been launched, an official said.
The deceased civilian has been identified as Nadeem Manzoor, a resident of Safanagri in Shopian district. He was abducted by the terrorists on the intervening night of November 15-16.
"Terrorists in intervening night of November 15-16 forcibly abducted a civilian and killed him in Pulwama. He has been identified as Nadeem Manzoor of Safanagri, Shopian. His bullet-riddled body was retrieved by police from Kilora Pulwama. Cas registered and investigation initiated," the J&K police was quoted as saying by news agency ANI.
In a similar incident last month, a bullet-ridden body of a 30-year-old intelligence officer was found in Pulwama district. He was reportedly abducted by terrorists from his vehicle when he was on his way home.
The body was recovered from Chewa Kalan area of the district in south Kashmir. The deceased has been identified as Imtiyaz Ahmad Mir, a resident of Pulwama, who worked with the CID Department. Reportedly, he was travelling in his car when he was attacked by suspected terrorists.
The incident comes months after a rifleman, Aurangzeb, was brutally killed by terrorists in Pulwama in June while on his way back to home for Eid. He belonged to the 44 Rashtriya Rifles and was on way back home on June 14 to celebrate Eid when terrorists abducted him.
Full report at:
https://www.india.com/news/india/jammu-and-kashmir-bullet-riddled-body-of-civilian-abducted-by-terrorists-found-in-pulwamas-kilora-3431525/
--------
Hizbul Mujahideen Terrorist Apprehended by Security Forces in J&K's Pulwama
November 15, 2018
Jammu and Kashmir: Police and security forces on Thursday apprehended a terrorist of terror outfit Hizbul Mujahideen identified as Rafeeq Ahmed Bhat at Lassipora-Achan Axis in Pulwama district of Jammu and Kashmir. Arms and ammunition have been recovered and a case has been registered for the same.
On Wednesday, at least two persons were arrested in Poonch in possession of weapons. Two terrorists of terror outfit, Hizbul Mujahideen were also arrested from Pulwama's Awantipora, news agency ANI had reported. Further, arms and ammunition were also recovered. The matter was being further investigated, Jammu and Kashmir Police told ANI.
Reportedly, the cache included 12 improvised explosive devices (IED) detonators, 15 hand-grenades and an AK-56 rifle with 234 rounds of ammunition. As per reports, arms and ammunition bearing distinct Chinese markings were being smuggled from Pakistan.
The Directorate of Revenue Intelligence (DRI) and Indian Army on Tuesday, eliminated a terrorist and seized a huge cache of explosives, arms, ammunition, and narcotic drugs from Gigrial village in Akhnoor region.
Full report at:
https://www.india.com/news/india/jammu-and-kashmir-hizbul-mujahideen-terrorist-rafeeq-ahmed-bhat-apprehended-by-security-forces-in-pulwama-3431266/
--------
Lucknow: Litigant in Babri Masjid case expresses concern on safety of his community
by Maulshree Seth
November 16, 2018
Ahead of the proposed rallies by the VHP and Shiv Sena in Ayodhya on November 25, one of the litigants in the Babri case, Iqbal Ansari, has expressed fear for his community in the city.
Two main litigants – Iqbal Ansari and Dharma Das – also wrote to President Ram Nath Kovind seeking his intervention for a fast hearing of the title suit to save the country from "antarik vidroh (internal conflicts)".
VHP vice-president Champat Rai on Wednesday said they would be organising 'Dharma Sabhas' in four cities followed by three-hour prayer meetings at 5,000 locations across the country to demonstrate that the "sentiments of 125 crore Hindus are priority" when it comes to the Ram temple issue.
"In 1990, when such a huge crowd had gathered, gunshots were fired. In 1992, too, houses of Muslims were destroyed and looted and Muslims were killed. When such environment is created in Ayodhya, it is always the Muslims who suffer," Ansari said.
"I am speaking on the basis of what I have seen in the past. When both the parties are ready to accept the judgment of the court, what is the need for such road shows or religious meetings in Ayodhya?" Ansari added. "We have trust in the Yogi government but our point is that when such a huge crowd gathers, no one has control over it," Ansari said. His father Hashim Ansari, who was the oldest litigant of the case, died two years ago.
Zafaryab Jilani, convenor of Babri Masjid Action Committee and secretary of All India Muslim Personal Law Board, supported Ansari. "His (Ansari) concerns are genuine," Jilani said.
Full report at:
https://indianexpress.com/article/cities/lucknow/babri-masjid-ayodhya-litigant-security-concern-5448788/
--------
Southeast Asia
China faces pressure as Congress condemns the persecution of Muslim minorities
Nov. 15, 2018
WASHINGTON – International pressure is mounting on China to end its internment of Chinese Uighurs, with House and Senate lawmakers this week pushing a new bill demanding an end to the policy toward the alleged mistreatment of the country's Muslim minority.
China's crackdown on nearly 1 million Uighurs and its efforts to "re-educate" the ethnic Turkic Muslims in the Xinjiang province were labeled as pervasive and "gross human rights violations" in a bill that Sen. Marco Rubio, R-Fla., introduced in the Senate on Wednesday. Rep. Chris Smith, R-N.J., introduced a similar bill in the House. Rubio and Smith are co-chairs of the Congressional-Executive Commission on China.
The legislation asks the State Department to consider targeted sanctions for individuals responsible for alleged human rights abuses in China. It also asks for Secretary of State Mike Pompeo to submit an interagency report on the number of persons detained in the camps, camp conditions, and the number who are arbitrarily detained, among other stipulations.
Rubio and Smith's calls for sanctions comes two months after they urged the Trump administration in September to sanction the Chinese government, as well as any private companies engaged in or complicit with the human rights violations in China's Xinjiang Uighur Autonomous Region. They said the Chinese government has created a "high-tech police state" in XUAR that allows for widespread, intrusive spying on citizens there.
"The United States must hold accountable officials in the Chinese government and Communist Party responsible for gross violations of human rights and possible crimes against humanity, including the internment in 'political re-education' camps of as many as a million Uyghur and other predominantly Muslim minorities," Rubio said in a statement Wednesday.
Sen. Bob Menendez, D-N.J., a ranking member of the Senate Foreign Relations Committee, called China's treatment of its Muslim minority "beyondabhorrent" and called for action from President Donald Trump.
"The President needs to have a clear and consistent approach to China, and not turn a blind eye as a million Muslims are unjustly imprisoned and forced into labor camps by an autocratic regime," Menendez said in a statement.
A State Department spokesperson said the agency cannot comment on prospective sanctions investigations but that they are considering "targeted measures against Xinjiang officials."
"We remain alarmed that since April 2017, the Chinese government has detained an estimated 800,000 to possibly more than two million Uighurs, Kazakhs, and other Muslims in political re-education camps," the spokesperson said in a statement.
"The United States will continue to call on China to end these counterproductive policies and free all those arbitrarily detained. The Secretary spoke about this issue, in no uncertain terms, alongside his Chinese counterpart at the Diplomatic and Security Dialogue on November 9."
Secretary of State Mike Pompeo has previously raised the issue of Muslim persecution in China during an address to religious conservatives and in an op-ed in USA TODAY in July, but he has not said what other actions the State Department might take against China.
At a Nov. 9 news briefing in Washington with Chinese Politburo Member Yang Jiechi, and Chinese State Councilor and Defense Minister Gen. Wei Fenghe, Pompeo said that he discussed with his Chinese counterparts how "we hope the Chinese will treat their religious minorities."
At a news briefing Wednesday, China's Foreign Ministry Spokeswoman Hua Chunying accused the lawmakers of being "too obsessed with poking their noses in the domestic affairs of others" and blamed the U.S. for "systematic racial discrimination" among its own minority groups.
"It is really a wonder to me that these lawmakers think they are so superior that they can point fingers at other countries' domestic affairs," she said. "They have been extending their long arms to meddle in other countries' domestic affairs based on misinformation and strong ideological bias."
On Thursday, Hua again objected to other countries meddling in China's domestic affairs after being asked about a letter from 15 Western ambassadors in Beijing that raised concerns over the country's alleged human rights abuses against minority Muslims and requested a meeting with top Chinese officials.
"An ambassador is supposed to promote the mutual understanding, mutual trust and cooperation between the receiving state and the sending state, rather than raise unreasonable requests and interfere in the internal affairs of the receiving state based on hearsay," Hua said.
Reuters reported Thursday that the letter was signed by ambassadors from Canada, Great Britain, France, Switzerland, the European Union, Germany and Australia, among others.
https://www.usatoday.com/story/news/2018/11/15/china-diplomats-congress-muslim-persecution-rubio-uighur/2010636002/
--------
The Caliphate Had ICERD Too, Turkish Scholar Reminds Malaysian Muslim Groups
Abdar Rahman Koya
November 16, 2018
KUALA LUMPUR: A prominent US-based Turkish scholar has weighed in on a raging debate in Malaysia over the move to consider ratifying a United Nations convention that will commit the government to ending all forms of racial discrimination and guarantee equal rights to all races.
Mustafa Akyol, an award-winning author on contemporary Muslim issues, said Muslim groups who oppose the International Convention on the Elimination of All Forms of Racial Discrimination, or ICERD, should study the policies of past Islamic powers including the Ottoman caliphate with regards to equality.
"I would recommend that all those in Malaysia who oppose the ICERD on Islamic grounds read the Ottoman Constitution of 1876. It reads:
"'All subjects of the empire are called Ottomans, without distinction whatever faith they profess… [And] All Ottomans are equal in the eyes of the law. They have the same rights, and owe the same duties towards their country, without prejudice to religion.'
"This was the ICERD that the Ottoman Empire, the very seat of the caliphate, accepted 150 years ago. Why should Malaysia stay behind?" Akyol told FMT, when asked to comment on protests from Umno, PAS and several Muslim groups over Malaysia joining the international treaty.
Malaysia is among a handful of countries that have neither signed nor ratified the treaty.
The treaty provides individuals worldwide with a mechanism for complaints over issues of racial discrimination, among others, and is enforceable against member states.
Specifically, it obliges parties to eliminate racial discrimination in all forms including in public institutions as well as in government policies, the issue at the heart of the opposition from Malay groups.
They say ratifying ICERD will undermine the special position of the Malays, including provisions to allow quotas in public institutions, as spelt out in Article 153 of the Federal Constitution.
They are also opposed to the ICERD's timeline on member countries to end affirmative action programmes, which they say would be a death knell for Malaysia's decades-old Bumiputera policy.
Others have also warned that the ICERD is based on a Western value system, and that accepting it would open the floodgates to other values that the Malaysian government would be bound to accept.
Akyol, whose last visit to Malaysia in 2017 ended dramatically after his lecture tour was abruptly halted by Islamic authorities in Kuala Lumpur, said justifying one's opposition to the ICERD with Islamic arguments was self-defeating.
"If those who argue against ICERD have Islamic arguments in their mind, there are counter Islamic arguments as well," he added.
He said the argument that ICERD would abolish Bumiputera rights was counter-productive in lifting the community economically.
"Relying on an advantageous status granted by the state is actually not beneficial for any group," said Akyol. "It makes members of that group lazy, rather than pushing them to work hard to use their full potential."
He gave the analogy of a football match with rules favouring a particular team.
"Not only would that be unfair to other teams, it would also make the favoured team much less dedicated and disciplined than what it could be."
Akyol said the opposition by some Muslim groups to the ICERD could be due to an inability to emerge from the classical Islamic system which divides Muslim and non-Muslim citizens.
He said such a system had been overtaken by historical realities.
"Yes, that was the historical experience of Muslims, but not a divinely ordained blueprint valid for all ages," said Akyol.
He said the Ottoman empire realised this in the middle of the 19th century and abolished the dhimmi system, giving Christians and Jews of the empire equal citizenship with Muslims.
He said it was time that Muslims learnt to accept values that are Islamic even though they originate from the "un-Islamic" West.
"Western norms will tell you that every religious community has the right to worship freely. Is this un-Islamic? No, it is in harmony with the Quranic principle of 'no compulsion in religion'."
Full report at:
https://www.freemalaysiatoday.com/category/nation/2018/11/16/the-caliphate-had-icerd-too-turkish-scholar-reminds-malaysian-muslim-groups/
--------
Pluralism, liberalism not crimes, one lawyer tells off another
16 November 2018
KUALA LUMPUR, Nov 16 — Lawyer Rosli Dahlan today called out fellow legal practitioner Datuk Zainul Rijal Abu Bakar whom he accused of issuing reckless and misleading statements denouncing pluralism and liberalism as criminal.
Rosli has taken on several high-profile cases including representing the Muslim law intellect Kassim Ahmad and defended the manager of a Borders bookstore for selling a book by a Canadian Muslim deemed unIslamic.
"This statement is reckless," he said in a statement, referring to Zainul's reported remarks during a seminar at the launch of the Selangor gazette book in Shah Alam earlier this week.
Zainul, the President of Persatuan Peguam Muslim Malaysia, was reported by news portal Malaysiakini to have said that pluralism and liberalism are prosecutable "criminal offences", whether in a Shariah court or the civil courts.
The controversial lawyer had claimed the two philosophies were "thought crimes", and that only four states did not have the relevant laws that allowed for such prosecution, naming Penang, the Federal Territories, Sabah and Sarawak.
"The Syariah Criminal Offences (Federal Territories) Act 1997, the Syariah Criminal Offences (Selangor) Enactment 1995 and their equivalent in all other state shariah enactments do not list 'pluralism' or 'liberalism' as a crime per se. Dato' Zainul's reliance on Sections 5, 7, 13 and 14 of the Syariah Criminal Offences (Selangor) Enactment 1995 as a basis of his statement is misleading.
"None of the provisions cited by him make any express mention of the words 'pluralism' and 'liberalism'," Rosli said in his rebuttal.
"To the contrary, the Rukun Negara which was gazetted on 31st August 1970 as the National Policy recognises that Malaysia is a plural society and must ensure "a liberal approach to our rich and diverse cultural traditions," he added.
To back his assertion, he pointed to the official website of the Department of National Unity and Integration which explained the Rukun Negara and pluralism as well as liberalism.
Rosli also clarified that the Shariah prosecution of Sisters In Islam, a Muslim women's advocacy group, was for its alleged breach of a fatwa and not for "pluralism" or "liberalism" as claimed.
"The fatwa in question is being challenged for being in contravention of, amongst others, Article 10 and 11 of the Federal Constitution which provide for Freedom of Speech and Freedom of Religion.
"It is not appropriate to cite that case as being a case on 'pluralism' or 'liberalism'," he said.
He also pointed out that the Islamic religious authorities had tried to persecute his former client Kassim, but added that the superior courts had later overrode the Shariah court judgment and ruled the author's views were his constitutional freedom of expression.
"Shariah and Malay intellectuals should refrain from making sensational statements that do not represent the correct law that may unnecessarily alarm society and paint a negative image of Islam," Rosli said.
Zainul's reported remarks during the seminar and launched that was attended by the Sultan of Selangor and the state mentri besar are consistent with his views over the years that have demonised certain sections of civil society for being liberal or promoting a plurality in multireligious, multicultural Malaysia.
Full report at:
https://www.malaymail.com/s/1694097/pluralism-liberalism-not-crimes-one-lawyer-tells-off-another
--------
Malaysia arrests 8 suspected militants, including Filipino asked to recruit children as 'human shields'
Nov 16, 2018
KUALA LUMPUR - The Malaysia police have detained eight suspected militants, including a Filipino man from the Abu Sayyaf terror group who was in charge of recruiting children for use as "human shields" in battles against the authorities.
The suspects - seven Filipinos and one Malaysian - were arrested in Putrajaya and Sabah from Oct 30 to Nov 12, according to a police statement released on Friday (Nov 16).
The Filipino played a part too in the beheadings of several hostages held by the Abu Sayyaf group, said Malaysia's national top cop Tan Sri Mohamad Fuzi Harun.
"The children ... were to be used as human shields during battles against Filipino army in Basilan, Southern Philippines," said Mr Fuzi, who is Inspector-General of Police, in the statement.
The Filipino, a 35-year-old technician, was arrested in Ranau, Sabah, on Nov 8, with another countryman. Both were planning to flee to southern Philippines to avoid arrest by the Malaysian authorities when they were arrested.
Earlier on Nov 3, the police had detained in Tenom, Sabah, three Filipino members of the ASG - a group notorious for its kidnapping-for-ransom activities in the Southern Philippines and Sabah. The men, aged between 27 and 51, had worked as labourers.
"One of them, a 34-year-old, has the expertise of producing firearms to be used by the ASG," said Mr Fuzi.
Another Filipino, a 30-year-old blacksmith, was nabbed in Kinarut, Sabah, on Nov 10. He is the right-hand man of senior ASG leader Furuji Indama, said Mr Fuzi.
Two days later, a 60-year-old Filipino was arrested in Tenom, Sabah, for allegedly sheltering a suspect hunted by the police.
The Malaysian suspect, a 38-year-old who worked as an agent selling gold bars, was detained in Putrajaya on Oct 30 for alleged involvement in terror activities.
"He was involved in channelling funds to Akel Zainal - a Malaysian who joined Daesh ( Islamic State of Iraq and Syria) - in 2017 for the purpose of financing terrorism activities," said Mr Fuzi.
Malaysia has arrested nearly 400 people since 2013 for suspected links to terrorism.
The Muslim-majority nation faces threats from self-radicalised ISIS sympathisers at home, and regional militant groups seeking funding and refuge in South-east Asia.
Full report at:
https://www.straitstimes.com/asia/se-asia/malaysia-arrests-8-suspected-militants-including-filipino-asked-to-recruit-children-as
--------
Dr M: Not easy, but Putrajaya will ratify conventions like ICERD
15 November 2018
SINGAPORE, Nov 15 — Amid backlash by some Malay-Muslims, Tun Dr Mahathir Mohamad conceded that it is not easy for Malaysia to ratify international human rights conventions such as the International Convention on the Elimination of All Forms of Racial Discrimination (ICERD).
The prime minister said he expected Putrajaya's pledge to ratify them to face some opposition, and the government is ready to hear public feedback on the matter.
"When the issue was raised in my address at the United Nations, I admitted that we would ratify all the international conventions," he told the press after the 33rd Asean Summit.
"But I also clarified that for Malaysia, this is not easy, because we have a multi-racial, multi-religious society.
"I already know that this will not be received in whole — which means we want to hear the opinions, can we or can we not [ratify]?" he added.
Various legal experts including the Malaysian Bar have repeatedly stressed that the ratification would not in any way alter or affect the country's Federal Constitution.
Despite this, groups, primarily of Malay-Muslim members, continue to oppose the government's plan to formalise the convention, arguing that doing so would strip the bumiputra class of their constitutional safeguards and privileges.
Full report at:
https://www.malaymail.com/s/1693851/dr-m-not-easy-but-putrajaya-will-ratify-conventions-like-icerd
--------
Indonesia's vigilante mobs deliver brutal 'justice'
AFP - November 16, 2018
JAKARTA: It was just after dawn prayers when the caretaker at a Jakarta mosque noticed a man stealing from the donation box, prompting a furious mob to beat him to death – for taking the equivalent of US$130 (RM544).
The lynching was one of hundreds of vigilante killings across Indonesia in recent years, highlighting a brutal trend driven by rising religious conservatism and low faith in a corruption-riddled justice system.
Mob violence has also been aggravated by rapid urbanisation that brings together strangers from across the Southeast Asian nation in often poor, overcrowded neighbourhoods, raising stress levels and fuelling mistrust, observers say.
The lynching had echoes of the grisly 2017 murder of 30-year-old Muhammad al-Zahra who was set ablaze for allegedly stealing a mosque's amplifier in the hardscrabble Jakarta suburb Bekasi, as onlookers cheered and filmed the scene on mobile phones.
As the electronics repairman pleaded for his life, insisting he was not a thief, the frenzied mob poured gasoline over him and took his life.
His widow, who miscarried their second child days after his death, told reporters that her husband often fixed damaged equipment – including amplifiers – before reselling them.
Half a dozen people were sentenced to between six and seven years in prison over the attack, as doubts about his guilt lingered.
Stealing from a mosque is seen by some as an attack on Islam itself, and helps explain the eruption of such violence in the world's biggest Muslim-majority country, according to Heru Susetyo, a law professor at the University of Indonesia.
"(Many vigilantes) are Muslims who aren't necessarily that devout, but they are easily provoked by these incidents," he said.
"They are even willing to commit violence for the sake of 'defending' Islam."
In the neighbourhood where the more recent attack happened, one man said he understood the desire to punish those who steal from a place of worship.
"(But) thieves should be caught and handed over to police," said Sahanan, who like many Indonesians goes by one name.
Few in Indonesia, however, espouse any faith in the graft-riddled justice system.
"The main problem is a lack of trust in the authorities," said Agustinus Pohan, a law professor at Indonesia's Parahyangan University.
"Those with power or money get special treatment. That's why people refuse to trust the police and decide to take matters into their own hands."
Another factor is the disproportionate impact of theft on the poor, who lack insurance or a cushion of savings – coupled with the relatively light sentences handed out to many petty criminals.
Indonesia's government does not release figures on mob violence.
But according to World Bank data, the country recorded nearly 34,000 vigilante attacks involving serious injury or death between 2005 and 2014.
The eye-watering figures – including over 1,600 killings – were based on local media reports drawn from regions which are home to only about half of Indonesia's 260 million people, suggesting that the real numbers could be even higher.
Sana Jaffrey, a University of Chicago doctoral researcher who led the World Bank team, said a range of factors were responsible for stoking mob violence, including poverty and a lack of trust in police.
But she rejected the notion that such attacks were spontaneous bursts of violence by a wild-eyed mob, saying they usually involved an element of planning and sometimes a powerful local figure.
In July, a gun-toting village leader in East Java reportedly encouraged seven men to attack a suspected motorcycle thief with sticks and rocks before his gasoline-soaked body was set on fire.
"The police only take action against vigilantes when the victim of the mob does not fit the profile of a criminal and the family protests or when there is an ethnic angle… and they fear escalation into a larger, communal conflict", Jaffrey said.
Although mob violence usually rises in lockstep with social and political chaos, Indonesia, which has transitioned to stable democracy over the past two decades, has bucked the trend, Jaffrey said.
"More institutional stability and more (violence) – these two things don't go together in most parts of the world."
Suspected criminals are not the only victims of mob justice in Indonesia.
This year, half a dozen men beat and stripped a young couple before parading them naked around their neighbourhood over suspicions the pair had premarital sex.
In Aceh province, which is ruled by Islamic law, public humiliations by citizen groups – and sometimes even police – have become increasingly common.
A viral video in April showed a young, unmarried Aceh couple being doused with raw sewage after they were seen alone – an offence punishable by caning in the conservative province.
None of the young men who attacked them were punished.
Authorities say rising vigilantism is a grim indictment of Indonesian society rather than a reflection of their failure to deliver justice.
Full report at:
https://www.freemalaysiatoday.com/category/world/2018/11/16/indonesias-vigilante-mobs-deliver-brutal-justice/
--------
Pakistan
Imran Khan to visit Malaysia next week; likely to seek monetary aid
Nov 15, 2018
ISLAMABAD: Prime Minister Imran Khan will visit Malaysia next week where he is likely to seek monetary assistance to minimise the cashstrapped Pakistan's dependence on an IMF bailout package.
The Foreign Office said that Prime Minister Khan would be accompanied by a high-level delegation during his official trip to Malaysia on November 20-21.
This would be Khan's first bilateral visit to Malaysia.
Khan and Malaysian Prime Minister Mahathir Mohamad will have a tete-atete, followed by the delegation-level talks.
The two countries enjoy warm brotherly relations founded in mutual respect friendship and understanding reinforced by strong cultural and religious affinities, the Foreign Office said in a statement.
Khan's visit "would provide an opportunity to further cement the existing friendly and cordial bilateral relations by enhancing economic, trade and commercial ties, for our mutual benefit," the statement said.
Pakistan was facing a $12 billion financing gap for the current fiscal year.
The Pakistan government is keen to minimise the amount borrowed from the International Monetary Fund by getting loans from "friendly" countries like Saudi Arabia, China and Malaysia as officials here believe that the global lender could attach tough conditions.
Early this month, Prime Minister Khan visited China, which reportedly agreed to provide $6 billion in aid to Pakistan.
Last month, Saudi Arabia said it would provide Pakistan with a $6 billion rescue package during Khan's visit to the Gulf Kingdom.
Meanwhile, Malaysia's High Commissioner to Pakistan Ikram Bin Mohammad Ibrahim called on Foreign Minister Shah Mahmood Qureshi here and discussed a wide range of issues.
Qureshi briefed the High Commissioner about Prime Minister Khan's upcoming visit to Malaysia.
He also highlighted that the prime minister's visit would help further strengthen bilateral relations between two countries and open new avenues of bilateral cooperation.
The Malaysian diplomat assured his government's full support to enhance bilateral relations with Pakistan and said that the Malaysian leadership looks forward to Khan's visit.
https://timesofindia.indiatimes.com/world/pakistan/imran-khan-to-visit-malaysia-next-week-likely-to-seek-monetary-aid/articleshow/66635113.cms
--------
TLP hasn't provided poll expenses' details, ECP tells SC
November 16, 2018
ISLAMABAD: The Election Commission of Pakistan (ECP) on Thursday informed the Supreme Court that the Tehreek-i-Labbaik Pakistan (TLP) — the party behind protest demonstrations that paralysed the twin cities — had not yet submitted details of the expenses it made during the July elections.
"The subject political party (TLP) participated in the general elections, 2018 but has not submitted the details of the Campaign Finance till date," the ECP stated in a reply furnished before the SC, which will commence on Friday the hearing of a case relating to the 20-day Faizabad sit-in in November last year.
The TLP had participated in the 2018 general elections and bagged three seats in the Sindh Assembly.
At the last hearing on Oct 11, a two-judge SC bench headed by Justice Mushir Alam had ordered the ECP to furnish the application under which the TLP was registered as a political party and asked the accountant general to assist the court in determining whether the ECP or the federal government was empowered under the Elections Act 2017 to take remedial measures for regulating political parties on their conduct.
In its reply, the ECP explained that it had issued notices to all political parties which had failed to submit the details of their campaign finances. It said that if they failed to follow the directives, their election symbols would be withheld, adding that all political parties participating in the elections were required to submit to the ECP the list of contributors who have donated or contributed an amount equal to or more than Rs100,000 for thier election campaigns within 60 days from the close of a financial year in terms of Section 211 of the Elections Act.
The consolidated statements of political parties' accounts were audited by a chartered accountant highlighting annual income and expenses, sources of funds and assets and liabilities, the reply stated.
The ECP had also framed a code of conduct for political parties, contesting candidates and polling agents in terms of Section 233 of the Elections Act, it said.
The ECP explained that after the enactment of the Elections Act, all election-related laws had been repealed, including the Political Parties Order 2002 and Political Parties Rules 2002. Section 202 (4) of the Elections Act requires all political parties to submit a list of 2,000 members along with photocopies of their CNICs and proof of deposit of Rs200,000 in favour of the commission in the State Bank or the National Bank of Pakistan as enlistment fee.
The TLP, the reply said, had submitted the relevant documents on Jan 8, 2018.
The reply contended that the ECP had objected to the registration of the party with the name Tehreek-i-Labbaik Ya Rasool Allah and recognised the party with the name of Tehreek-i-Labbaik Pakistan, which was later accepted by the party.
Petition against TLP
Meanwhile, a Supreme Court lawyer on Thursday filed a petition in the apex court, seeking a directive for the federal government to commence the process of dissolution of the TLP as political party pursuant to Section 212 of the Elections Act for operating in a manner prejudicial to the sovereignty and integrity of Pakistan. He alleged that the party had indulged in terrorism.
Barrister Masroor Shah also requested the apex court to initiate contempt of the court proceedings against TLP leaders — Khadim Hussain Rizvi and Peer Afzal Qadri — for scandalising the SC and tending to bring this august court and its judges into hatred, ridicule and contempt.
The petition asked the court to order the federal government that instead of succumbing to political exigencies and taking mere cosmetic measures, discharge its constitutional duty to protect fundamental rights of citizens and establish the rule of law in the country by taking strict meaningful legal action against Khadim Rizvi and Afzal Qadri for allegedly committing offences of sedition, incitement to mutiny, criminal intimidation, rioting and terrorism.
Full report at:
https://www.dawn.com/news/1445888/tlp-hasnt-provided-poll-expenses-details-ecp-tells-sc
--------
Nawaz denies transaction with Qatari prince
Malik Asad
November 16, 2018
ISLAMABAD: Former prime minister Nawaz Sharif on Thursday told an accountability court he had never had any transaction with Qatari Prince Sheikh Hamad bin Jassim bin Jaber Al-Thani.
In response to a question put to him by Judge Mohammad Arshad Malik about the correspondence between the Qatari prince and the joint investigation team (JIT) constituted in the Panama Papers case, Mr Sharif said: "I had never participated in any transaction with Prince Hamad bin Jassim Al-Thani; for that matter, any transaction which is mentioned in the worksheet and related paper."
He claimed that his name did not "figure in any capacity whatsoever in the two letters written by Prince Hamad bin Jassim".
Making a statement under the Criminal Procedure Code in the Al-Azizia reference, the former premier said his father Mian Mohammad Sharif took care of him and his family when they were in exile following the October 1999 coup against his elected government.
"My late father arranged and provided sufficient amounts for the day-to-day living of all my family members; subsequently, he also raised funds from the Kingdom of Saudi Arabia to establish the Al-Azizia Steel Mills and to run and operate his business during his lifetime through my elder son, namely Hussain Nawaz Sharif," he said.
"Following the military coup on October 12, 1999, I was firstly confined and thereafter exiled from Pakistan on December 10, 2000…. (A)s regards the freezing of assets and businesses in Pakistan, the correct position is that subsequent to the military coup... the entire record of the businesses of the Sharif Group, which were being run by my late father Mian Mohammad Sharif since 1937, was illegally removed by various agencies and since then has never been returned to the family," he said.
"In this respect a report was also lodged with the local police station but no action was taken. Subsequently, I was exiled from Pakistan and the NAB [National Accountability Bureau] had illegally and forcibly taken over the residential houses belonging to my parents along with a large number of shares of various companies belonging to my other family members."
Answering another question, Mr Sharif reiterated that he had never claimed the acquisition or ownership of Al-Azizia/Hill Metal Establishment (HME). "As regards the remittances from the HME, I have never denied the receipt of the said remittances, rather I openly declared the same throughout my tax record."
In response to a question about NAB's efforts to obtain information from Saudi authorities regarding Al-Azizia/HME, he said the requests seeking Mutual Legal Assistance (MLA) sent to Saudi Arabia were "never pursued by NAB with any degree of seriousness or due diligence. Rather, in the first instance, in the MLA sent to Saudi Arabia the JIT deliberately and maliciously provided deficient and incorrect data, and thereafter NAB never rectified the said defects and deficiencies by sending a fresh MLA or providing the correct data to the competent authorities in Saudi Arabia".
During the proceedings, Mr Sharif told the judge that it was not just in October 1999 that his family experienced hostility from certain circles, "but this has always happened. It is a painful story of our family".
Recollecting past events, he said that in 1972 Pakistan's biggest steel mills — the Ittefaq Foundry, which was owned by his family — was nationalised and at that time he had not even entered politics.
Full report at:
https://www.dawn.com/news/1445881/nawaz-denies-transaction-with-qatari-prince
--------
Police to record statement of slain JUI-S leader's 'missing' secretary
Nov 16, 2018
Police have written to Syed Ahmad Shah, the secretary of slain Jamiat Ulema-e-Islam Sami's (JUI-S) chief Maulana Samiul Haq, who has reportedly been missing from his home for a few days.
Syed Ahmed Shah, who stayed with the deceased at his Bahria Town residence, was the first person to find the dead body and is considered an important witness in the case.
The Rawalpindi police contacted the Nowshehra and Akora Khattak police to include the secretary, an Afghan-born living in Pakistan since his childhood.
The secretary's summon notices have been sent to Akora Khattak by the courier service.
Law enforcement agencies have also recovered a knife from the crime scene and sent it to a laboratory for forensic analysis. They have also collected DNA samples of people considered to be close to the deceased for testing.
A bloodstained kurta has also been recovered from his room, which is not considered to be Haq's. Police said the DNA samples were sent to the Punjab Forensic Science Agency which will be matched with those of seven suspects.
Full report at:
https://www.pakistantoday.com.pk/2018/11/15/police-to-record-statement-of-slain-jui-s-leaders-missing-secretary/
--------
PM comes to Fawad's defence as Senate chairman bans entry
NOVEMBER 16, 2018
Prime Minister Imran Khan Thursday said nobody has the right to 'humiliate' ministers, as Senate Chairman Sadiq Sanjrani banned entry of Information Minister Fawad Chaudhry for failing to apologise over alleged use of unparliamentary language during the Wednesday's proceedings.
Talking to media after a cabinet meeting, Fawad said the federal cabinet in its meeting held discussion with regard to Senate chairman's ruling. During the meeting, Prime Minister Imran Khan observed that nobody had the right to humiliate the ministers, he said, adding that Defense Minister Pervaiz Khattak has been tasked to look into the matter and talk to Senate chairman to sort out the issue.
Earlier, the information minister was barred from attending Thursday's Senate session after he failed to apologise as directed by the Senate Chairman Sadiq Sanjrani for inciting uproar during Wednesday's session.
Sanjrani had demanded an apology and warned the minister that he would be barred from Senate if he failed to apologise, as the opposition staged a walkout protesting his remarks during Wednesday's session.
Speaking in the Upper House on Wednesday, Fawad had accused Pushtunkhwa Milli Awami Party (PkMAP) chief Mehmood Achakzai of robbing the country and making anti-state statements. The accusation had resulted in a strong response from PkMAP Senator Usman Kakar, who accused Fawad of 'licking the boots' of former military ruler Pervez Musharraf. The Senate chairman had intervened and more than once asked Fawad not to use 'unparliamentary' language, saying that running the House was the government's responsibility and it needed to exercise greater tolerance towards the opposition. Fawad, however, had continued with his accusations and Sanjrani eventually had to turn off his mic amid uproar by the opposition.
As the session got under way on Thursday, the chairman warned Fawad that he would be barred from the Senate if he did not apologise for the Wednesday's ruckus. The info minister, however, failed to apologise, and was subsequently barred from attending the session.
Full report at:
https://dailytimes.com.pk/322735/pm-comes-to-fawads-defence-as-senate-chairman-bans-entry/
--------
Three suspected terrorists held in Sahiwal
Zarmeena Iqbal
NOVEMBER 16, 2018
The Counter Terrorism Department (CTD) claims to have arrested three suspected terrorists from Sahiwal district in a raid conducted late on Wednesday night.
A spokesperson from the CTD said that after receiving information from a credible source, a team of law enforcement officials carried out the raid at the site near the bridge of 9-L canal. He further said that the suspects belonged to banned outfit Lashkar-e-Jhangvi (LeJ), and were planning to target sensitive installations in the country. He said that these suspects were also planning to target famous personalities at religious gatherings during Eid Miladun Nabi. The suspects were identified as Mohammad Abbas, Saeedullah Khan and Moosa Khan.
Full report at:
https://dailytimes.com.pk/322720/three-suspected-terrorists-held-in-sahiwal/
--------
North America
US has spent six trillion dollars on wars that killed 500,000 people since 9/11: Study
Nov 16, 2018
A study has revealed that the United States has spent nearly $6 trillion on wars that directly contributed to the deaths of about half a million people since the September 11, 2001 attacks.
The "Costs of War" study was conducted by Brown University's Watson Institute for International and Public Affairs. It was published on Wednesday. A brief summary of this study was released last week.
The report takes stock of the US military spending and its Overseas Contingency Operations account, as well as "war-related spending by the Department of State, past and obligated spending for war veterans' care, interest on the debt incurred to pay for the wars, and the prevention of and response to terrorism by the Department of Homeland Security."
"The United States has appropriated and is obligated to spend an estimated $5.9 trillion (in current dollars) on the war on terror through Fiscal Year 2019, including direct war and war-related spending and obligations for future spending on post 9/11 war veterans," the study said.
"In sum, high costs in war and war-related spending pose a national security concern because they are unsustainable," the report concluded. "The public would be better served by increased transparency and by the development of a comprehensive strategy to end the wars and deal with other urgent national security priorities."
The United States -- under Republican George W. Bush's presidency – launched the war on terror by invading Afghanistan on October 7, 2001 following the September 11, 2001 terrorist attacks which killed nearly 3,000 people in New York.
US officials assert that the attacks were carried out by 19 al-Qaeda terrorists but many experts have raised questions about the official account. They believe that rogue elements within the US government, such as former Vice President Dick Cheney, orchestrated the 9/11 attacks in order to accelerate the US war machine and advance the Zionist agenda.
Following the 9/11 attacks, the US and its allies invaded and occupied Afghanistan, and Washington also started intermittent drone strikes inside neighboring Pakistan. In early 2003, the US invaded Iraq under the pretext that the regime of Saddam Hussein possessed weapons of mass destruction. No such weapons, however, were ever found in Iraq.
The "Costs of War" study found that the "US military is conducting counter-terror activities in 76 countries, or about 39 percent of the world's nations, vastly expanding [its mission] across the globe." In addition, these operations "have been accompanied by violations of human rights and civil liberties, in the US and abroad."
According to researchers, America's so-called war on terrorism has killed up to 507,000 people in Iraq, Afghanistan and Pakistan.
They estimated that "between 480,000 and 507,000 people have been killed in the United States' post-9/11 wars in Iraq, Afghanistan, and Pakistan." This toll "does not include the more than 500,000 deaths from the war in Syria, raging since 2011" when US-sponsored militants started terrorist activities against the Syrian government.
The study acknowledged that the actual death toll is likely higher.
The death toll in Afghanistan, as of October 2018, stood at about 147,000 people, including Afghan security forces, civilians and Taliban fighters. The figure also included the 6,334 American fatalities.
The war on terrorism also left 65,000 people dead in Pakistan, including 90 American contractors, nearly 9,000 local security personnel and more than 23,000 civilians. The rest of the casualties were militants, according to the report.
From 268,000 to 295,000 people died in Iraq following the US-led invasion and occupation, the study said.
https://www.presstv.com/Detail/2018/11/16/580160/US-spent-six-trillion-dollars-on-wars-that-killed-500000-people-since-911
--------
US imposes sanctions on 17 Saudis over Khashoggi killing
Nov 15, 2018
The United States has imposed economic sanctions on 17 Saudis involved in the murder of journalist Jamal Khashoggi, including top aides of Saudi Crown Prince Mohammed bin Salman.
The US Treasury Department declared the sanctions on Thursday after Saudi Arabia's public prosecutor announced that five officials face a possible death sentence in the case but exonerated bin Salman, also known as MBS.
"These individuals who targeted and brutally killed a journalist who resided and worked in the United States must face consequences for their actions," US Treasury Secretary Steve Mnuchin said in a statement.
The sanctions were the first concrete response by the administration of President Donald Trump to Khashoggi's death in the Saudi consulate in Istanbul, Turkey, in October 2.
Among those sanctioned were Saud al-Qahtani, who has been removed from his position as a top aide to MBS, as well as the Saudi Consul General Mohammad al-Otaibi and members of a 15-person team Turkey has identified as being involved in Khashoggi's death.
The sanctions limit access to the US financial system and freeze people's assets. They will be implemented under an act which targets perpetrators of serious human rights abuses and corruption.
However, the sanctions do not affect America's lucrative arms sales to Saudi Arabia that Trump has vowed to preserve.
The measure was unusual for Washington, which rarely imposes sanctions on Saudi nationals. The sanctions do not target the Riyadh government, an important US security and economic ally.
The US government did not impose sanctions on Saudi officials over the September 11, 2001, terror attacks on the United States, in which 15 of the 19 hijackers were Saudi citizens.
US State Department spokeswoman Heather Nauert said there could be further penalties against Riyadh.
Canada, which had a major diplomatic dispute with Saudi Arabia this year over human rights, welcomed the US sanctions and said it was weighing similar action.
Khashoggi, a critic of Saudi policy, was killed in the Saudi consulate in Istanbul on October 2. He was a US resident and columnist for The Washington Post newspaper.
The killing has triggered a political crisis in Saudi Arabia as well as tensions with Western allies.
Some members of the US Congress said that even with the sanctions the administration has not been tough enough, specifically in regard to the crown prince, Saudi Arabia's de facto ruler.
Turkish President Tayyip Erdogan has said the order for the operation came from the highest level of Saudi leadership but probably not King Salman, putting the spotlight instead on his 33-year-old heir.
"I remain concerned that the administration is enabling the Kingdom of Saudi Arabia in its effort to protect Crown Prince Mohammed bin Salman from accountability," said Democratic Senator Ben Cardin.
Saudi deputy public prosecutor and spokesman Shalaan al-Shalaan said Wednesday the reporter died by lethal injection after a struggle. He said Khashoggi's body was dismembered, removed from the building and handed over to an unidentified "local cooperator."
Saudi Arabia, after initially denying having any role in Khashoggi's disappearance, reversed course and admitted that Saudi officials were responsible for the killing.
Turkey wants the 15-man team that it says killed the journalist to be tried there. Trump has suggested ultimate responsibility lies with MBS.
The Trump administration is exploring possible ways to remove US-based Turkish dissident Fethullah Gulen, a foe of Erdogan, to convince Turkey to ease pressure on Saudi Arabia over the killing of Khashoggi, NBC News reported on Thursday.
A White House official told Reuters the NBC story was "not accurate," but did not elaborate.
Full report at:
https://www.presstv.com/Detail/2018/11/15/580149/US-Khashoggi-Saudi-sanctions
--------
US May Extradite Gulen to Ease Turkey Pressure on Saudi Arabia: Report
Nov 15, 2018
The White House is finding ways to extradite the US-based Turkish dissident Fethullah Gulen, an arch-rival of Recep Tayyip Erdogan, a media report says.
Four sources have told NBC News that the administration of Donald Trump is looking for ways to extradite Gulen, who is accused by Ankara of having masterminded the July 2016 coup attempt against President Erdogan.
The move is said to be aimed at appeasing Erdogan and easing Turkey's pressure on Saudi Arabia over the murder of Jamal Khashoggi, according to two senior US officials and two other people briefed on the requests.
Trump administration officials last month asked federal law enforcement agencies to examine legal ways of removing Gulen in an attempt to persuade Erdogan to ease pressure on the Saudi government, the sources said.
They said the effort includes directives to the Justice Department and the FBI that officials reopen Turkey's case for his extradition, as well as a request to the Homeland Security Department for information about his legal status.
They said the White House specifically wanted details about Gulen's residency status in the US.
Gulen, a Green Card-holder, has been living in Pennsylvania since the late 1990s.
The premeditated murder of Khashoggi in the Saudi consulate in Istanbul on Oct. 2 has escalated tensions in Ankara-Riyadh relations, with President Erdogan accusing the highest-ranking Saudi officials of ordering the assassination.
The US and Turkey have been engaged in negotiations over a series of sensitive diplomatic issues over the past few months, including a deal for last month's release of an American pastor, Andrew Brunson, who was imprisoned in Turkey and an agreement for joint US and Turkish military patrols in Manbij, Syria.
Amid growing international pressure on the Saudi government over the murder, the US has tried in recent weeks to appease the Ankara government over the case, convincing Erdogan to ease its pressure on Riyadh.
The allegations of Washington's bid to extradite Erdogan's arch-foe seem to be part of the same scenario. However, a Turkish official says the government does not link its concerns about the Khashoggi murder with Gulen's extradition case.
"We definitely see no connection between the two," the official said.
Saudi Arabia, after initially denying having any role in Khashoggi's disappearance, reversed course and admitted that Saudi officials were responsible for the killing.
On Thursday, the Saudi public prosecutor released the results of a long-awaited investigation, saying a team of Saudi agents who had been dispatched to Istanbul with orders to bring Khashoggi home alive had instead killed him and dismembered his body.
A spokesperson for the White House National Security Council told CBS News "the NSC has not been involved in nor aware of any discussions relating the extradition of Fethullah Gulen to the death of Jamal Khashoggi."
State Department spokesperson Heather Nauert also told reporters that Gulen and the question of the Saudis are unrelated, and claimed the NBC News report has tried to "conflate the two."
Nauert said the US has received multiple requests from the Turkish government related to Gulen, and the US continues to evaluate the materials that the Turkish government presented. The case, Nauert said, is being handled out of the Justice Department.
The Alliance for Shared Values, a nonprofit umbrella of the Gulen movement, said it is "alarmed" by the report that the US administration is considering Gulen's removal.
"We are alarmed at reports that the administration is exploring the possible removal of Fethullah Gulen from the United States," the Alliance for Shared values said in a statement.
Full report at:
https://www.presstv.com/Detail/2018/11/15/580148/US-Turkey-Gulen-Extradition-Khashoggi
--------
Trump's envoy to Syria: 'We have no better partner than Saudi Arabia'
16 November 2018
Ambassador James Jeffrey, the US special representative for Syria engagement, stressed that the United States has no better partner in the Middle East than Saudi Arabia.
"We do not have a partner in two of our most important issues in the Middle East better than Saudi Arabia," Jeffrey said on Thursday.
"These two issues are to counter Iran's adventures in the region and fight terrorism. We could not do what we were doing in the region without Saudi Arabia," he said.
On Wednesday, Jeffrey stressed that Washington wanted the withdrawal of Iranian military forces from Syria, noting that the continued Iranian military presence would pose a threat to US partners in the region.
Full report at:
https://english.alarabiya.net/en/News/middle-east/2018/11/16/Trump-s-envoy-to-Syria-We-have-no-better-partner-than-Saudi-Arabia.html
--------
US air force drops 5200 bombs in Afghanistan in 2018
Nov 15, 2018
Official figures show that the US air force has dropped over 5200 bombs in Afghanistan to hit terrorists, but facts on the ground show hundreds of Afghan civilians have also been killed in such air raids. This has created criticism among the Afghan society. Amin Alemi reports from Kabul
https://www.presstv.com/Detail/2018/11/15/580147/US-Afghanistan-bombs-2018
--------
YPG is 'Syrian offshoot' of PKK terror group: US envoy
16.11.2018
By Umar Farooq
WASHINGTON
The PYD/YPG is the Syrian branch of the PKK terror group, the American Special Representative for Syria James Jeffrey said Thursday.
He spoke at a panel at the Defense One Summit, which brings top military, foreign policy and intelligence leaders to Washington to discuss American security throughout the world.
Jeffrey said U.S. operations in Syria could not be done without the "active participation, coordination, and cooperation of Turkey."
The U.S. is not able to function in the northeastern region of Syria while fighting Daesh forces at the same time, and to do both a local partner is needed, according to Jeffrey.
"That local partner since 2014 has been the PYD, which is the Syrian offshoot of PKK, but we have not designated it as a terrorist organization which we did with the PKK," said Jeffrey, referring to the political wing of the YPG.
In its more than 30-year terror campaign against Turkey, the PKK -- listed as a terrorist organization by Turkey, the U.S. and the EU -- has been responsible for the deaths of 40,000 people.
Turkey has repeatedly told Washington that the PYD/YPG is not any different from the PKK and partnering with one terrorist organization to defeat another would not yield any result.
He said that the U.S. is still in the northeast region of Syria to defeat Daesh terrorists, remove Iranians out of the area and ensure the political process in the country.
Turkey agrees with all three points but the U.S. added "some conditions" and did not do a proper job of explaining them to Ankara, he said without mentioning what those conditions were.
Jeffrey said without Turkey's help, the U.S. mission in Syria would be over.
"Again, the mission will be finished," he added.
Full report at:
https://www.aa.com.tr/en/americas/ypg-is-syrian-offshoot-of-pkk-terror-group-us-envoy/1312862
--------
Mideast
Saudi squad involved in Khashoggi murder must be tried in Turkey: FM
Nov 15, 2018
Turkish Foreign Minister Mevlut Cavusoglu says the 15-man Saudi team involved in the murder of dissident journalist Jamal Khashoggi should be tried in Turkey.
Cavusoglu made the comment on Thursday in reaction to an announcement by Saudi Arabia's public prosecutor who detailed Riyadh's actions on the case and demanded death penalty for five defendants.
"We find the statement of Saudi Arabia about the murder of Khashoggi positive but not sufficient," Cavusoglu said.
"The Saudi side will share the details of its investigation with our prosecutor's office. But we already know that the murder was planned in advance and that the journalist was first killed and the body was later dismembered," he added.
"And how they would be killing and then disposing of the body was also planned, special devices were brought to the consulate general," Cavusoglu said, stressing that this is not something that happens instantaneously.
Earlier in the day, Saudi public prosecutor released the results of the long-awaited investigation into the death of Khashoggi, saying a team of Saudi agents who had been dispatched to Istanbul with orders to bring him home alive had instead killed the journalist and dismembered his body.
Shaalan al-Shaalan, a spokesman for the prosecutor, told a news conference in Riyadh that Saudi Crown Prince Mohammed bin Salman had no knowledge of the operation.
Al-Shaalan said 11 suspects had been indicted and that the authorities were seeking the death penalty for five of them.
According to Shaalan, the order to kill Khashoggi had come from the leader of the Saudi team in Istanbul.
A statement by Saudi Prosecutor Saud al-Mojeb, circulated by Saudi Press Agency, concluded that the murder had been authorized by a minor official.
His conclusion contradicted assertions by Turkish President Recep Tayyip Erdogan, who had said the orders to kill Khashoggi had come from "the highest levels of the Saudi government."
Al-Mojeb's statement implicated two higher level officials in what the prosecutor said was an operation intended to either convince or force Khashoggi back to Saudi Arabia. One of them, Ahmed al-Assiri, the former deputy head of intelligence, issued an order for Khashoggi's return on Sept. 29, the prosecutor said.
According to the prosecutor, another official, Saud al-Qahtani, a close adviser to the crown prince, was also involved in planning Khashoggi's repatriation.
In reaction to the statement, an adviser to the Turkish president said on Thursday that al-Mojeb's remarks were aimed at covering up the murder, adding the Saudi probe was unlikely to find the perpetrators.
"They expect us to believe the killers carried this out on their own. This isn't very credible. Everything is clear as day, but there is an effort to cover it up a bit," Yasin Aktay said.
'It won't happen again'
Saudi Arabia's Foreign Minister Adel al-Jubeir told a press conference on Thursday the kingdom has taken steps to make sure that this kind of incident does not happen again.
He also noted that the murder of Khashoggi is now a legal case and should not be politicized.
"The politicization of the issue contributes to a fissure in the Islamic world while the kingdom seeks the unity of the Islamic world," al-Jubeir said.
Jubeir added that there were still unanswered questions in need of answers, but Ankara had refused three requests from Riyadh to provide proof of their accounts of the killing.
His comments come as Ankara has repeatedly urged Riyadh to explain who had given the order for killing Khashoggi, and where his body is.
"There are still questions that need answers" over the premeditated murder, Cavusoglu said on Oct. 25, asking Riyadh to explain "who gave them the orders" and "where the body is".
Asked about possible international sanctions in response to the case, Jubeir said there was a difference between sanctioning individuals and holding the Saudi government responsible.
Jubeir also noted that bin Salman had "absolutely nothing to do" with the murder of Khashoggi.
Khashoggi has not been seen since October 2, when he entered the Saudi consulate in Istanbul. Saudi Arabia has admitted that a 15-member "hit squad" killed and dismembered him, but it's not yet clear where his body is.
US Treasury sanctions 17 Saudis for role in killing Khashoggi
In a relevant development on Thursday, the U.S. Treasury announced sanctions on 17 Saudis for their role in the killing of Khashoggi at the Saudi consulate in Istanbul.
A statement by the US Treasury said, "Today, the U.S. Department of the Treasury's Office of Foreign Assets Control (OFAC) designated Saud al-Qahtani, his subordinate Maher Mutreb, Saudi Consul General Mohammed Alotaibi, and 14 other members of an operations team for having a role in the killing of Jamal Khashoggi."
https://www.presstv.com/Detail/2018/11/15/580117/Cavusoglu-Turkey-Sauid-Khashoggi-killing
--------
Hamas busts spying cell in Gaza responsible for botched Israeli mission: Report
Nov 15, 2018
Members of the Palestinian Islamic resistance movement, Hamas, have reportedly uncovered and dismantled a spying network responsible for a recent botched intelligence mission in the Gaza Strip.
Lebanon-based Arabic-language al-Manar television network reported that Hamas intelligence units launched an intensive operation to identify and arrest those who had assisted Israeli forces in carrying out an operation east of Khan Younis on Sunday.
The report added that the detainees had all confessed to have been working for Israel's internal spy agency, Shin Bet.
Informed sources, requesting not to be named, said Hamas intelligence forces made use of subtle techniques to arrest the Israeli agents, who had not aroused anyone's suspicions.
At least seven Palestinians, including 37-year-old local battalion commander of al-Qassam Brigades, the Hamas military wing, Noor Baraka, lost their lives in the failed Israeli assault on November 11. An Israeli lieutenant colonel was killed and another officer was wounded in the action as well.
This comes following the latest escalation of violence by the Tel Aviv regime against the coastal enclave in which Israeli airstrikes and shells reduced Palestinian buildings to rubble and sent fireballs and plumes of smoke into the sky.
The fresh spate of the Israeli military aggression saw 14 people killed and several others injured in 48 hours.
Hamas and other Gaza-based resistance groups announced a ceasefire with Israel in a joint statement on Tuesday evening, saying they would abide by the ceasefire as long as Israel did the same.
"Egypt's efforts have been able to achieve a ceasefire between the resistance and the Zionist enemy," the statement read.
It added, "The resistance will respect this declaration as long as the Zionist enemy respects it."
The regime regularly conducts air raids targeting Gaza.
In early July 2014, Israel waged a war on the Gaza Strip. The 50-day military aggression, which ended on August 26, 2014, killed nearly 2,200 Palestinians, including 577 children. Over 11,100 others – including 3,374 children, 2,088 women and 410 elderly people – were also wounded in the war.
Full report at:
https://www.presstv.com/Detail/2018/11/15/580125/Hamas-forces-bust-spying-cell-in-Gaza-Strip-responsible-for-recent-Israeli-botched-mission
--------
Turkey's Erdogan Says Khashoggi Recordings 'Appalling,' Shocked Saudi Intelligence
November 15, 2018
Istanbul. President Tayyip Erdogan said recordings related to the killing of Jamal Khashoggi, which Turkey has shared with Western allies, are "appalling" and shocked a Saudi intelligence officer who listened to them, Turkish media reported on Tuesday.
Khashoggi, a critic of de facto Saudi ruler Crown Prince Mohammed bin Salman, was killed in Saudi Arabia's Istanbul consulate on Oct. 2 in a hit which Erdogan says was ordered at the "highest levels" of the Saudi government.
Six weeks after Khashoggi's death, Turkey is trying to keep up pressure on Prince Mohammed and has released a stream of evidence that undermined Riyadh's early denials of involvement.
Prince Mohammed won support on Tuesday from US National Security Adviser John Bolton, who said he did not think recordings of the killing shared by Turkey implicated the young crown prince.
Erdogan told reporters on his plane returning from a weekend visit to France that he discussed the Saudi journalist's killing with the US, French and German leaders there, adding that Turkey had played the recording to at least six countries.
"The recordings are really appalling. Indeed when the Saudi intelligence officer listened to the recordings he was so shocked he said: 'This one must have taken heroin, only someone who takes heroin would do this,'" he added.
Khashoggi's murder has provoked global outrage but little concrete action by major powers against Saudi Arabia, the world's largest oil exporter and a strong proponent of US policy to contain Iranian influence across the Middle East.
President Donald Trump has expressed reluctance to punish Saudi Arabia economically, citing its multi-billion-dollar purchases of military equipment and investments in US firms.
Bolton said he did not think that people who heard the recordings concluded that the crown prince was linked to the killing. "And certainly that is not the position of the Saudi government," he said in Singapore.
Asked again if the audio tape provided by Turkey did not link Prince Mohammed to the killing in any way, Bolton said: "I haven't listened to the tape myself but in the assessment of those who have listened to it, that is right."
Bolton shares with Saudi Arabia a hawkish stance against Riyadh's biggest Middle East rival Iran, and he championed Washington's resumption of sanctions on the Islamic Republic.
Electric Shock Devices
The New York Times, in a report confirmed by a Turkish official, said a member of the Saudi team which was sent to Istanbul to kill Khashoggi told one of his superiors after the killing to "tell your boss" – which the newspaper said was believed to be a reference to Prince Mohammed.
The individual was identified as Maher Mutreb, who reports to an aide to the crown prince, Saud al-Qahtani. Mutreb was also quoted as saying words to the effect that "the deed was done."
In his comments to reporters, Erdogan said it was clear the killing was planned and that the order came from the top level of Saudi authorities, but that he could not think such a thing of King Salman, for whom he has "limitless respect."
"The crown prince says 'I will clarify the matter, I will do what is necessary'. We are waiting patiently," Erdogan said, adding that the perpetrators of the killing were among 18 suspects detained in Saudi Arabia.
"It must be revealed who gave them the order to murder."
Last month two separate intelligence sources told Reuters that Qahtani gave orders over Skype to Khashoggi's killers at the consulate. More recently, a government source familiar with the matter said Qahtani featured prominently throughout the recordings. Saudi state media said King Salman sacked him and other officials over the killing, and a senior Saudi official said last month that Qahtani had been detained. But four sources based in the Gulf told Reuters this week that he was still at liberty and continued to operate discreetly.
"He still has the same influence," one of the sources said. Qahtani has wielded that influence over the last three years, with his authority growing alongside that of the young prince.
He ran social media for Prince Mohammed, masterminded the arrest of hundreds of Saudi Arabia's elite late last year in a campaign Riyadh said aimed at rooting out corruption, and took a harsh line against neighboring Qatar when Saudi Arabia imposed an economic boycott of the Gulf state in June 2017.
He also supervised the brief detention, humiliation and beating of Lebanese Prime Minister Saad al-Hariri last year.
Turkey's pro-government newspaper Sabah reported on Tuesday that the luggage of the Saudi team that was sent to Istanbul at the time of Khashoggi's killing contained syringes, large scissors, staple guns, walkie-talkies, electric shock devices and a signal jammer.
It published photos of X-rays of bags taken as the Saudis passed through security checks at the airport when they left. Reuters could not immediately verify the Sabah report.
Full report at:
https://jakartaglobe.id/international/turkeys-erdogan-says-khashoggi-recordings-appalling-shocked-saudi-intelligence/
--------
Days after Cease-Fire, Gaza Border Demonstrations to Resume
15 November 2018
Palestinian organizers of the weekly demonstrations in the Gaza Strip along the Israeli border said they will hold another protest on Friday - in a key test of this week's cease-fire between Israel and Gaza militant groups.
Tuesday's cease-fire ended the heaviest fighting between Israel and Gaza's Hamas rulers since a 2014 war.
The fighting was fueled in part by the demonstrations. Since late March, thousands of Gazans have joined the Hamas-led demonstrations in a bid to end a crippling Israeli blockade.
Protesters frequently lob grenades, flaming tires and firebombs toward Israeli troops, who respond with tear gas and live fire. Some 170 Palestinians, many of them unarmed, have been killed by Israeli fire. Israel says it is defending its border against militant attackers.
Hamas had lowered the intensity of the protests in recent weeks as UN and Egyptian mediators made progress toward an unofficial agreement with Israel.
But then this week's fighting erupted after a botched Israeli undercover military operation in Gaza.
Gaza militants fired 460 rockets into Israel, while the Israeli air force struck 160 targets in Gaza. The fighting left a total of 14 Palestinians, including 12 militants, dead. An Israeli officer was killed during the Gaza raid, while a Palestinian laborer who worked in Israel was killed in a rocket attack.
In their announcement, protest organizers in Gaza urged people to demonstrate on Friday "to thank the resistance" for battling Israel.
It remained unclear how big the protests would be, and whether the demonstrators would confront the Israeli troops, or keep their distance as in recent weeks.
Hamas and its supporters have celebrated the cease-fire as a victory against the powerful Israeli military.
Israeli political crisis
In Israel, the cease-fire has triggered a political crisis. Israel's defense minister, who favored a much harsher response, resigned to protest the truce, and Prime Minister Benjamin Netanyahu could soon be forced to call an early election.
Angry Israelis in rocket-scarred southern communities near Gaza have protested against the cease-fire in recent days. Another demonstration was being held on Thursday night in Tel Aviv.
Also on Thursday, Israeli police said that a knife-wielding Palestinian attacker sneaked into a Jerusalem police station and lightly wounded four police officers before he was shot and apprehended.
Full report at:
https://english.alarabiya.net/en/News/middle-east/2018/11/15/Days-after-cease-fire-Gaza-border-demonstrations-to-resume.html
--------
Israel expands Gaza fishing zone following latest escalation of violence
Nov 15, 2018
The Israeli navy has expanded the Palestinian fishing zone off the northern portion of the Gaza Strip as the latest spate of the Tel Aviv regime's military aggression against the besieged coastal enclave saw 14 people killed and several others injured in 48 hours.
The development came following the latest escalation of violence by the Tel Aviv regime against the coastal enclave in which Israeli airstrikes and shells reduced Palestinian buildings to rubble and sent fireballs and plumes of smoke into the sky.
Nizar Ayyash, secretary of the Gaza fishermen's syndicate, said in a statement on Thursday that Israeli forces allowed Palestinian fishermen to carry out their fishing work within six nautical miles in northern Gaza and nine nautical miles in southern Gaza.
On Wednesday, Israeli naval forces killed a fisherman after opening fire on a Palestinian fishing boat northwest of the coast of Beit Lahia city, located about five kilometers north of Gaza City.
The Palestine Red Crescent Society said the fishermen, identified as 23-year-old Nawaf Ahmed al-Attar, was taken to hospital in a critical condition, and succumbed to the grave gunshot wounds he had suffered in his abdomen shortly afterwards.
According to Palestinian estimates, roughly 50,000 Gazans earn their living from fishing.
The fishing zone is supposed to extend to 20 nautical miles under the Oslo Accords. The Oslo Accords were signed between the Israeli regime and the Palestine Liberation Organization (PLO) during the early-mid 1990s to resolve the Israeli-Palestinian conflict.
Over the past few years, Israeli forces have carried out more than a hundred attacks on Palestinian boats, arresting dozens of fishermen and confiscating several boats.
The Gaza Strip has been under an Israeli blockade since June 2007. The blockade has caused a decline in the standard of living as well as unprecedented levels of unemployment and unrelenting poverty.
Hamas and other Gaza-based resistance groups announced a ceasefire with Israel in a joint statement on Tuesday evening, saying they would abide by the ceasefire as long as Israel did the same.
"Egypt's efforts have been able to achieve a ceasefire between the resistance and the Zionist enemy," the statement read.
It added, "The resistance will respect this declaration as long as the Zionist enemy respects it."
Tensions have been running high near the fence separating the Gaza Strip from the occupied territories ever since anti-occupation protest rallies began in the coastal enclave on March 30. More than 230 Palestinians have been killed by Israeli forces. Nearly 23,000 Palestinians have also sustained injuries.
The Gaza clashes reached their peak on May 14, on the eve of the 70th anniversary of Nakba Day (Day of Catastrophe), which coincided this year with the US embassy relocation from Tel Aviv to occupied East Jerusalem al-Quds.
On June 13, the United Nations General Assembly adopted a resolution, sponsored by Turkey and Algeria, condemning Israel for Palestinian civilian deaths in the Gaza Strip.
The resolution, which had been put forward on behalf of Arab and Muslim countries, garnered a strong majority of 120 votes in the 193-member assembly, with eight votes against and 45 abstentions.
The resolution called on UN Secretary General Antonio Guterres to make proposals within 60 days "on ways and means for ensuring the safety, protection, and well-being of the Palestinian civilian population under Israeli occupation," including "recommendations regarding an international protection mechanism."
Full report at:
https://www.presstv.com/Detail/2018/11/15/580113/Israel-expands-Palestinian-fishing-zone-off-Gazas-coast
--------
South Asia
Bangladesh postpones Biswa Ijtema as Tabligh Jamaat factional fight simmers
2018-11-16
The government called the two groups and sat with them at the Secretariat on Thursday.
Home Minister Asaduzzaman Khan Kamal chaired the meeting also attended by Islamic scholars of different organisations.
A six-strong committee was formed at the meeting and it will visit Darul Uloom Deoband madrasa in India to find a solution to the problem created by a statement of the Islamic school, the ruling Awami League's Religious Affairs Secretary Sheikh Md Abdullah told bdnews24.com.
Besides Abdullah, the other members of the committee are Religious Affairs Secretary Md Anisur Rahman, Maulana Farid Uddin Masud, Maulana Mahmudul Hasan, Tabligh leader Syed Wasiful Islam, and Maulana Mohammad Jobair.
One of the Tabligh Jamaat factions announced Jan 11, 12 and 13 as the dates to hold the first phase of Ijtema while the other group set Jan 18, 19 and 20 for the congregation.
"It would be difficult for the law enforcers to handle any situation if the two groups held the Ijtema in two phases each as they (law enforcers) would be scattered after the elections (slated for Dec 30)," Abdullah said.
Saad Kandhalvi, a member of the Tabligh Jamaat's Delhi-based Supreme Council, had apologised for his previous remarks, his followers said in the meeting, but the other side claimed Saad had not admitted mistakes, according to a top official at the religious affairs ministry.
The official was present at the meeting but requested anonymity because of the sensitivity of the issue.
Saad's grandfather, Indian Islamic scholar Maulana Muhammad Ilyas Kandhalvi established Tabligh in 1920.
Tabligh is now the largest organisation of Sunni Muslims in the Indian subcontinent with its headquarters, referred to as the Markaz, in New Delhi.
Its operations were being conducted through a central council after the death of Maulana Inaamul Hasan, who succeeded Maulana Ilyas' son and Saad's father Maulana Mohammad Yusuf as the chief of the movement.
Besides Saad, the other members of the central council were Pakistan Tabligh Jamaat chief Haji Muhammad Abdul Wahab and Maulana Inamul's son Maulana Zubairul Hasan.
After the death of Zubairul, the central council was dissolved and Saad was made the chief of the movement.
But Zubairul's son Maulana Zuhairul Hasan protested against the move and demanded the formation of a new central council.
Disputes over the leadership of the movement worsened when Saad ignored Zuhairul's demand.
Saad's instructions based on the teachings of his grandfather, including one that imams and Quran teachers cannot take money in exchange for the services, fuelled the rift.
The dispute sprung out in the open in Bangladesh last year when a Tabligh faction, reportedly backed by Qawmi madrasa-based Hifazat-e Islam, protested against Saad's participation in Ijtema.
The Deoband school of thought is the root of Qawmi madrasas.
Saad was supposed to administer the closing prayers in the Ijtema in the beginning of this year as he did in the past three years. But following the protests, he returned home.
https://bdnews24.com/bangladesh/2018/11/16/bangladesh-postpones-biswa-ijtema-as-tabligh-jamaat-factional-fight-simmers
--------
Taliban kill 30 policemen in Farah province
November 16, 2018
KABUL: A blistering overnight attack by the Taliban on an Afghan police outpost in western Farah province killed 30 policemen, Afghan officials said on Thursday.
It was the latest in a series of brutal and near-daily Taliban assaults on the military and police forces, government and other installations throughout the country. The resurgent Taliban, who in recent years have taken over nearly half of Afghanistan, did not comment on the attack in Farah.
The attacks have been so relentless that authorities no longer regularly provide casualty figures, but unofficial estimates say that about 45 Afghan policemen or soldiers are killed or wounded on a daily basis.
According to provincial council member Dadullah Qani, the overnight onslaught on the outpost in Farah's district of Khaki Safed began late on Wednesday and continued for more than four hours.
In Kabul, lawmaker Samiullah Samim said that the Taliban killed all 30 policemen members of both the national and local police force who were deployed at the outpost, including the district police commander, Abdul Jabhar.
Retaliatory air strikes killed 17 Taliban fighters but the insurgents still managed to get away with a large amount of weapons and ammunition, he said.
Meanwhile, fighting with the Taliban in two districts of central Ghazni province has displaced thousands of people in the past two weeks, most of them minority ethnic Hazaras, who are Shias, said Mohammad Arif Rahmani, a lawmaker from Ghazni.
Also, about 100 Afghan policemen, local pro-government militiamen and soldiers have been killed in the bitter clashes there, Rahmani said. Currently, Afghan security forces are battling insurgents in 22 of the country's 34 provinces, he added.
Afghanistan's protracted war has also become increasingly deadly for civilians. A United Nations report issued earlier this year said more civilians died in the first six months of 2018 than in any year since 2009, when the UN mission first began monitoring civilian casualties.
"Every day in the first six months of 2018, an average of nine civilians, including two children, were killed in the conflict in Afghanistan," said the independent Afghanistan Analysts Network in its own report.
Security forces at outposts throughout the country routinely face shortages of weapons, ammunition and even food supplies, said military analyst Javed Kohistani, blaming government mismanagement.
More senior and experienced generals have been replaced with younger officers whose inexperience is compromising the strength of the security forces.
There are fewer and fewer recruits and in some areas, a battalion which should have 400 to 600 troops barely has 100 to 200 soldiers, he said. "Nobody is joining the army," he said.
Afghanistan's Defence Minister Gen Tariq Shah Bahrami was grilled by lawmakers in parliament on Wednesday about Taliban onslaughts in Wardak and Ghazni provinces where entire districts are under siege.
Full report at:
https://www.dawn.com/news/1445931/taliban-kill-30-policemen-in-farah-province
--------
Bangladesh Halts Plan to Return Refugees to Myanmar
November 15, 2018
The head of Bangladesh's refugee commission announced on Thursday that plans to start sending Rohingya Muslims back to Myanmar has been cancelled.
An estimated 700,000 Rohingya are living in refugee camps in Bangladesh. But they are unwilling to return to Myanmar, officials said.
Refugee Commissioner Abul Kalam told the Associated Press that officials "can't force them to go." But he said officials will continue to try to persuade the refugees to leave.
The announcement came after about 1,000 Rohingya demonstrated against returning to Myanmar.
Another Bangladeshi official went to the Unchiprang camp, near the city of Cox's Bazar. It is one of the largest refugee settlements in Bangladesh.
The official spoke to the refugees over a loudspeaker. He said "we have arranged everything for you, we have six buses here, we have trucks, we have food. We want to offer everything to you. If you agree to go, we'll take you to the border, to the transit camp."
However, hundreds of refugees refused the offer.
Bangladesh had attempted to start the return of the refugees to Myanmar, although United Nations officials had said they should wait. A U.N. negotiated deal with Bangladesh and Myanmar states that the Rohingya cannot be forced to return.
The countries had planned to send a first group of 2,251 people back in the middle of November, followed by about 150 each day after that.
Large numbers of Rohingya started fleeing Myanmar in August of 2017. That was when security forces launched a campaign against the group after rebels attacked guard stations.
The size and violence of the operation caused many nations and U.N. officials to accuse Myanmar of ethnic cleansing and genocide.
Myanmar has a Buddhist majority. Most people there do not accept the Rohingya as a native ethnic group. They are considered "Bengalis" who illegally entered the country from Bangladesh. Most Rohingya are Muslim.
Almost all Rohingya in Myanmar have been denied citizenship. They are unable to attend schools or get medical care.
Human rights activists say it is not yet safe for the refugees to return.
Bill Frelick is with the New York City-based group Human Rights Watch. He said in a statement that "nothing the Myanmar government has said or done suggests that the Rohingya will be safe upon return."
The group said 150 people from 30 families were to be sent to a transit camp on Thursday, but the camp was empty except for security guards.
Bangladeshi officials said they have been working with the United Nations on a list of those who want to return to Myanmar.
At the Jamtoli refugee camp, 25-year-old Setara said she and her two children, age four and seven, were on a return list, but her parents were not. She said she never asked to return to Myanmar.
"They killed my husband; now I live here with my parents," she said. "I don't want to go back."
Setara said others who were named on the government's list had fled to other camps in hopes of disappearing.
Full report at:
https://learningenglish.voanews.com/a/bangladesh-halts-plan-to-return-refugees-to-myanmar/4660436.html
--------
Coalition's scheme for presidential elections 'unjustified': Hekmatyar
Nov 15 2018
The leader of Hezb Islami Gulbuddin on Thursday reacted to the scheme announced by the Grand National Coalition regarding the upcoming presidential elections.
The coalition's member and former presidential adviser Ahmad Zia Massoud last Thursday unveiled the scheme regarding presidential elections, stating that the coalition's scheme for presidential elections include a nominee as presidential runner and three candidates as Vice Presidential nominees.
Massoud further added that the coalition would only pick a candidate from the leadership council of the Grand National Coalition of Afghanistan.
Similarly, he said the coalition would also introduce a nominee for prime minister and three candidates as deputies of the Prime Ministerial post.
However, Hekmatyar told reporters in Kabul that the scheme presented by the Grand National Coalition is not justified.
Full report at:
https://www.khaama.com/coalitions-scheme-for-presidential-elections-unjustified-hekmatyar-02750/
--------
Heavy clashes reported among Afghan forces and Taliban in Kunduz
Nov 15 2018
Heavy clashes erupted among the Afghan security forces and the Taliban militants in northern Kunduz province of Afghanistan late on Wednesday night, inflicting casualties both on the militants and the security forces.
The 209th Shaheen Corps of the Afghan Military in the North in a statement said the Taliban militants launched coordinated attacks on security posts in Qala Zal district at around 3am local time on Thursday.
The statement further added that the attacks were launched in Gansh, Afghan Tapa, Tapi Afghan, and Mazar areas of the district.
The Afghan forces responded to the attacks leaving at least 13 militants and 16 others wounded, the 209th Shaheen Corps said.
At least four commanders of the group identified as Mawlavi Khaksar, Qari Zabiullah, Ahmad Zia Waqari and Taliban's Red Unit Commander Khalid were among those killed.
According to 209th Shaheen Corps, the local residents did not suffer any casalty during the clash but three armed forces embraced martyrdom and two others sustained injuries.
Full report at:
https://www.khaama.com/heavy-clashes-reported-among-afghan-forces-and-taliban-in-kunduz-02747/
--------
Two armed robbers killed during a clash with police in Kabul
Nov 15 2018
Two armed robbers belonging to a gang of armed thieves were killed during a clash with the police forces in capital Kabul late on Wednesday.
The Kabul Police Commandment in a statement said the two armed robbers were killed during a clash with the police forces which erupted after a search operation was launch in response an armed robbery resulting into the death of one person.
Teh statement further added that the two thieves had murdered a man in Ghazni Ada area in the 5th police district of the city at around 7:30pm and had taken his car with him.
According to the Police Commandment, one of the armed robbers was killed on the spot while his accomplice succumbed to his injuries after he was admitted to the hospital.
The police forces also confiscated two Ak-47 assault rifles and a rifle from the armed robbers, the statement by Police Commandment added.
Full report at:
https://www.khaama.com/two-armed-robbers-killed-during-a-clash-with-police-in-kabul-02746/
--------
Dipan murder: Charge sheet submitted against 8 Ansar al-Islam members
November 15th, 2018
The investigation officer of the case submitted the charge sheet to the court of Metropolitan Magistrate Sharafuzzaman Ansari on Thursday
The Detective Branch (DB) of police on Thursday submitted a charge sheet accusing eight members of the banned militant group Ansar al-Islam of the 2015 killing of publisher Faisal Arefin Dipan.
The Jagriti Prokashoni owner was hacked to death inside his office at Aziz Super Market in Dhaka on October 31, 2015.
Dipan's company had published a book written by writer-blogger Avijit Roy, who had been murdered on the campus of Dhaka University eight months previously.
Dipan's widow, Dr Razia Rahman, filed a murder case with the city's Shahbagh police station on November 2, 2015 against unidentified assailants.
On Thursday, DB Assistant Commissioner (AC) Fazlur Rahman, also investigation officer of the case, submitted the charge sheet to the court of Metropolitan Magistrate Sharafuzzaman Ansari.
Sub-inspector Md Mahbubur Rahman, the general recording officer (GRO) of Chief Metropolitan Magistrate (CMM) court, said the charge sheet will be produced before the court on December 18.
He said a total of 26 names were given as prosecution witnesses, including the plaintiff in the case.
The arrestees in the case include killing squad leader Moinul Hasan Shamim alias Sifat alias Shamim alias Samir, who has confessed to his role in Dipan's killing and pointed out the wider role of the infamous "Major Zia" in the killing of bloggers.
Also in police custody are trainer Abdus Sabur alias Abdus Samad alias Sujon; top Ansar al-Islam operatives Khairul Islam alias Jamil alias Jisan; Sheikh Abdullah alias Jubayer alias Jayed; Abu Siddique Sohel alias Sajid alias Sihab; and Mozammel Hossain alias Saimon.
The other two accused are both still on the run: sacked army major Syed Ziaul Haque Zia, and Akram Hossain alias Hasib.
All eight suspects belonged to Ansar al-Islam, the group formerly known as Ansarullah Bangla Team. Ansar al-Islam is believed to represent al-Qaeda in the Indian Subcontinent (AQIS) - a terrorist group which has claimed responsibility for 13 attacks since 2013.
AC Fazlur also mentioned that they came to learn about the involvement of Ansar al-Islam's 11 other members in the killing, but their names were not mentioned in the charge sheet as the investigator did not find proof of their involvement.
"They will be named in a supplementary charge sheet once we get details or arrest them," AC Fazlur said.
Monirul Islam, of the Counter Terrorism and Transnational Crimes (CTTC) unit of Dhaka Metropolitan Police, said another suspect would be included through a supplementary charge sheet later, once he is formally identified.
"We are yet to identify the one other accused in the case even though we have a photo of him," he said.
Full report at:
https://www.dhakatribune.com/bangladesh/court/2018/11/15/dipan-murder-charge-sheet-submitted-against-8-ansar-al-islam-members
--------
Arab World
Saudi Arabia FM: Khashoggi murder investigations will continue until all questions are answered
November 15, 2018
RIYADH: Saudi Arabia's public prosecutor is still seeking answers to a number of questions in the investigation into Jamal Khashoggi's death, Foreign Minister Adel Al-Jubeir said on Thursday.
The Kingdom is committed to holding those involved in the murder accountable through the judiciary, and investigations into journalist's killing will continue until all questions are answered, Al-Jubeir said.
Al-Jubeir added that the defendants and the victim in the Khashoggi case are Saudis and that the incident took place on Saudi land. He continued by saying that there has been an attempt to politicize Khashoggi's case, and that this is regrettable.
Al-Jubeir insisted that Crown Prince Mohammed bin Salman had nothing to do with Khashoggi's death.
"The Qatari media have launched an organized campaign against Saudi Arabia and are exploiting Khashoggi's case," Al-Jubeir added.
He said there is a difference between imposing penalties on those accused and holding Saudi Arabia responsible for Khashoggi's death.
Bahrain said Thursday that it rejects the politicization or internationalization of the Khashoggi case.
The Secretariat General of the Arab League praised the seriousness of the steps taken by Saudi Arabia in the Khashoggi case, and said that the measures show the Kingdom's interest in identifying those involved in the crime.
Hours after the public prosecurtor's statment, the US placed punishing economic sanctions on 17 Saudis allegedly involved in Khashoggi's murder.
"The Saudi officials we are sanctioning were involved in the abhorrent killing of Jamal Khashoggi," Treasury Secretary Steven Mnuchin said. "These individuals who targeted and brutally killed a journalist who resided and worked in the United States must face consequences for their actions."
The Secretary-General of the Gulf Cooperation Council Dr. Abdullatif bin Rashid Al-Zayani said the details of the investigation released Thursday "confirm the Kingdom's commitment to complete the necessary procedures in order to continue the investigation away from the politicization sought by some malicious parties."
Meanwhile, France's foreign ministry said Thursday that the investigation by Saudi Arabia's public prosecutor into the murder of journalist Jamal Khashoggi is a "step in the right direction."
Egypt also praised Saudi measures taken with regards to the Khashoggi case and called on countries to avoid politicizing it.
http://www.arabnews.com/node/1405426/saudi-arabia
--------
Infighting Reported among US-Backed Forces in Raqqa
Nov 15, 2018
The sources reported on Thursday that the clashes erupted after internal disputes, adding that the so-called Democratic Military Police entered the region to end the clashes.
Meantime, reports said that the SDF has withdrawn from a number of its positions inside Raqqa city, including al-Amasi, al-Shabibeh, Kaziyeh Abu al-Haif and Nazlat al-Sakneh.
Other field sources also reported that the Kurds were forced to withdraw from their positions in Raqqa after tensions intensified in SDF-occupied regions in Eastern Deir Ezzur.
Reports said on Wednesday that the SDF sent more gunmen and military hardware to Eastern Deir Ezzur amid intensified tensions between the SDF and civilians in the region.
The SDF dispatched a convoy of military vehicles, equipment and fresh militias from the town of al-Tabaqa in Western Raqqa to Eastern Deir Ezzur.
In the meantime, media activists reported that the SDF's move came after the militias' brutal measure in the villages and towns of al-Sowar, Tayeb al-Fal, al-Sajar and Abu al-Nital enraged civilians.
Full report at:
http://en.farsnews.com/newstext.aspx?nn=13970824000669
--------
Saudi prosecution calls for execution of 5 involved in murder of Khashoggi
15 November 2018
Saudi Arabia's Public Prosecution called for the killing of five people who confessed to the murder of Saudi journalist Jamal Khashoggi at the Saudi consulate in Turkey.
They added that 21 people are being investigated, and 11 have been charged in the murder, however, they said that the system of criminal procedure prohibits the disclosure of the names of the accused.
The prosecution said that the premeditation of murder happened on September 29, and that someone disabled the surveillance cameras at the consulate before carrying out the murder. This individual was identified following investigations, the prosecution said.
The investigation also identified the individual who wore the victim's clothes after the murder and disposed of the victim's belongings in a trash receptacle, including his watch and glasses, after leaving the Consulate building.
The prosecution's spokesperson added that Saudi Arabia has asked Turkey to provide the kingdom with the evidence and voice recordings relating to the case, but that they are still waiting for Turkey to oblige to their request.
"A team was created to convince Khashoggi to return to Saudi Arabia by order from the former deputy intelligence chief," the spokesperson said. Read more
The leader of this mission formed a 15-member team that consisted of three groups (negotiations/ intelligence/ logistics) to persuade and return the victim. The leader of the mission suggested to the former Deputy President of the General Intelligence Presidency to assign a former colleague to head the negotiation group in the team because of his previous relationship with the victim. This former colleague was assigned at the time to work with a former Advisor.
Also read: Who ordered, supervised, and carried out Khashoggi's murder? And how?
He added that this former Saudi advisor was also involved in the planning of the murder, adding that the head of the team assigned to convince to Khashoggi to return to Saudi Arabia was the one who took the decision to murder him.
The former advisor is banned from traveling and is under investigation.
The prosecution also stated that Khashoggi's body was dismembered after he was murdered following a physical altercation, and moved out of the consulate. They added that five of the accused are the ones who transferred his body outside of the consulate, and another one gave the dismembered body to a local collaborator. He said that a sketch of this collaborator was drawn, and it will be given to the Turkish authorities.
The prosecution also said that the accused gave an untruthful report to the former deputy intelligence chief, and denied killing Khashoggi in the beginning.
The prosecution added that a fight had taken place, and then Khashoggi was drugged and dismembered.
Full report at:
https://english.alarabiya.net/en/News/gulf/2018/11/15/Saudi-Prosecution-calls-for-execution-of-5-who-ordered-murder-of-Khashoggi.html
--------
Saudi Public Prosecution: Head of negotiating team ordered killing of Khashoggi
15 November 2018
Saudi Arabia's Public Prosecution said on Thursday that the head of the team tasked with convincing Jamal Khashoggi to return to Saudi Arabia was the one who ordered the killing of the journalist.
Investigations showed that the decision to form the team was made by the former Deputy President of the General Intelligence Presidency, and that the person who ordered the killing of the Saudi citizen and journalist on October 2, in the kingdom's consulate in Istanbul, was the leader of this negotiating team.
During a press conference in the Saudi capital Riyadh, the Public Prosecution's spokesperson explained that the team failed to persuade Khashoggi to return home, afterwhich the head of the negotiation team concluded that it would not be possible to transfer the victim by force to the safe location in case the negotiations with him to return failed. The head of the negotiation team decided to murder the victim if the negotiations failed. The investigation concluded that the incident resulted in murder.
The Saudi Public Prosecution pointed out that the investigations revealed the method of the crime carried out against Khashoggi, where a physical altercation broke out, then he was injected with a large amount of drugs leading to his death.
Full report at:
https://english.alarabiya.net/en/News/gulf/2018/11/15/Saudi-Public-Prosecution-Leader-of-negotiating-team-ordered-killing-of-Khashoggi.html
--------
More Civilians Killed by US in Deir Ezzur
Nov 15, 2018
Local sources in Southeastern Deir Ezzur reported that the US warplanes targeted the town of al-Souseh on Thursday morning.
They added that during the airstrikes, 15 civilians were killed and a number of others were wounded, noting that several of those injured are in critical conditions.
Earlier reports said today that the US fighter jets pounded the residential areas in Southeastern Deir Ezzur with internationally-forbidden weapons.
Local sources in Southeastern Deir Ezzur reported that the US-led coalition warplanes conducted cluster bomb attacks on civilian districts in the towns of Hajin and al-Sha'afah in Southeastern Deir Ezzur on Wednesday afternoon.
They added that a number of civilians were killed and wounded and heavy damages were inflicted on their houses and properties.
Full report at:
http://en.farsnews.com/newstext.aspx?nn=13970824000555
--------
Syrian Army Engages in Clash with US-Backed SDF in Deir Ezzur
Nov 15, 2018
The Arabic-language al-Watan newspaper reported that the army forces and the militants of the so-called Military Council affiliated to the SDF engaged in fierce clashes on both banks of the Euphrates river in Eastern Deir Ezzur.
It added that the SDF targeted the Syrian army positions in al-Hajaneh and al-Jisr checkpoint with heavy machine-gun fire from the town of Zabyan in Eastern Euphrates. The army troops responded with attacks on their strongholds in Zabyan.
One of the SDF forces was killed in the exchange of fire between the two sides, sources affiliated to the militants said.
Reports said on Wednesday that the SDF had sent more gunmen and military hardware to Eastern Deir Ezzur.
The SDF dispatched a convoy of military vehicles, equipment and fresh militias from the town of al-Tabaqa in Western Raqqa to Eastern Deir Ezzur.
In the meantime, media activists reported that the SDF's move came after the militias' brutal measure in the villages and towns of al-Sowar, Tayeb al-Fal, al-Sajar and Abu al-Nital enraged civilians.
Local sources reported that several SDF gunmen were killed or wounded after unknown raiders opened fire at them in the village of Daranj in Southeastern Deir Ezzur.
Full report at:
http://en.farsnews.com/newstext.aspx?nn=13970824000641
--------
US Continues Attacks on Residential Areas in Eastern Syria with Banned Weapons
Nov 15, 2018
Local sources in Southeastern Deir Ezzur reported that the US-led coalition warplanes conducted cluster bomb attacks on civilian districts in the towns of Hajin and al-Sha'afah in Southeastern Deir Ezzur on Wednesday afternoon.
They added that a number of civilians were killed and wounded and heavy damages were inflicted on their houses and properties.
The US army claims it is fighting against terrorism in Syria but its attacks mostly target the residential areas and civilians.
In a relevant development on Tuesday, the US-led coalition fighter jets bombed an ISIL-run prison in residential areas in Southeastern Deir Ezzur, and killed scores of civilians who had been jailed by the terrorist group, a militant-affiliated news website reported.
Arabic-language website, Orient, quoted local sources as reporting that the warplanes targeted an ISIL-run jail in the town of Hajin in Southeastern Deir Ezzur, destroying several residential units.
It further said that scores of civilian inmates who had been round up and jailed by the ISIL were killed in the air attack.
Full report at:
http://en.farsnews.com/newstext.aspx?nn=13970824000182
--------
Russia says militants, moderates still not separated in Syria's Idlib
15 November 2018
Russia's foreign ministry said on Thursday the process of separating radical militants from moderate opposition groups in the demilitarized zone in Syria's Idlib region had not yet been successfully achieved.
Spokeswoman Maria Zakharova said the process, which was launched as part of a deal between Turkey and Russia in September, had not been successful despite efforts by Ankara.
Syrian government forces killed 22 rebels near Idlib on Nov. 9, and seven civilians inside Idlib on Oct. 26, despite the Russian-Turkish deal.
https://english.alarabiya.net/en/News/middle-east/2018/11/15/Russia-says-militants-moderates-still-not-separated-in-Syria-s-Idlib.html
--------
Bahrain court hands down lengthy jail sentences to six more activists
Nov 15, 2018
A court in Bahrain has sentenced six more activists to up to 10 years in prison over their alleged role in exploding a gas cylinder last year.
Judicial sources said on Thursday that three people were sentenced to 10 years in jail while three others received prison terms of three years. The court also fined the six suspects 500,000 dinars each.
The High Criminal Court issued the rulings after convicting them of allegedly carrying out the gas explosion in front of the Central Bank of Bahrain (CBB) in early 2017 and taking part in an unlawful assembly and rioting.
In recent months, Bahrain has executed several young activists by firing squad after handing them death sentences.
On Wednesday, the Bahrain Center for Human Rights (BCHR) condemned the kingdom's persistence on passing death sentences against anti-regime activists, calling the practice an "inhuman punishment".
The center further noted that the Bahraini judiciary has overused death penalty in recent years, particularly with regards to freedom of opinion and expression in addition to the exercise of political rights.
On March 5, 2017, Bahrain's parliament approved the trial of civilians at military tribunals in a measure blasted by human rights campaigners as being tantamount to imposition of an undeclared martial law.
Bahraini King Hamad bin Isa Al Khalifah ratified the constitutional amendment on April 3 last year.
Thousands of anti-regime protesters have held demonstrations in Bahrain on an almost daily basis ever since a popular uprising began in the country in mid-February 2011.
They are demanding that the Al Khalifah regime relinquish power and allow a just system representing all Bahrainis to be established.
Manama has gone to great lengths to clamp down on any sign of dissent. On March 14, 2011, troops from Saudi Arabia and the United Arab Emirates were deployed to assist Bahrain in the crackdown.
Full report at:
https://www.presstv.com/Detail/2018/11/15/580143/Al-Khalifah-Bahrain-Manama-Bahrain-Center-for-Human-Rights-US
--------
US envoy: Fight against Daesh in last Syria stronghold may end soon
November 15, 2018
WASHINGTON: The administration of US President Donald Trump hopes that the US-backed fight against Daesh in its last foothold in northeastern Syria will end within months but American forces will remain to ensure the "enduring defeat" of the militant group, a top US diplomat said on Wednesday.
Ambassador James Jeffrey, the US special representative for Syrian engagement, said the US believes the way forward in Syria includes defeating Daesh, reinvigorating the political process and winding down the long-running civil war.
Toward that end, he said, the US hopes to see the formation of a committee before the end of the year to work on a new constitution for Syria as agreed by the leaders of Russia, Germany, France and Turkey during their meeting in Istanbul in October.
He said US forces would remain in place after the coalition forces prevail over Daesh military units to ensure the group does not "regenerate itself."
"The enduring defeat means not simply smashing the last of Daesh's (Daesh) conventional military units holding terrain, but ensuring that Daesh doesn't immediately come back in sleeper cells, come back as an insurgent movement," Jeffrey said.
Washington also wants the withdrawal of Iranian military forces from Syria once the underlying causes of the conflict have been resolved, he said, noting that Iran's continued military presence would represent a threat to US partners in the region.
Jeffrey said the final ground combat is along the Euphrates River and is being led by Syrian Democratic Forces assisted by US military personnel.
"The fight is continuing and we hope that it will be over in a few months and that will be the last of Daesh's terrain that it holds in a quasi-conventional way," he said.
Jeffrey said convening a committee under UN auspices to begin work on a new Syrian constitution was a "critical step" toward advancing the political process.
He said the US would hold Russia to account to use its influence to bring the regime of its ally, Syrian President Bashar Assad, to the negotiating table.
"Our goal, which again was supported by Russia, France, Germany and Turkey and agreed in the Oct. 27 Istanbul communique, is to establish this constitutional committee by the end of the year," he said.
Jeffrey said getting Iranian forces out of Syria, where they back Assad's rule, was not a US military goal but should be an outcome of the process to end the civil war and the only way to achieve lasting peace.
Full report at:
http://www.arabnews.com/node/1405516/middle-east
--------
Africa
Shame of police bribed to let in Shabaab bombers
NOVEMBER 16 2018
Police officers at the Kenya-Somalia border let in five Al-Shabaab suicide bombers in February this year after receiving bribes, a new United Nations report that lays bare how Kenyan security forces routinely accept cash gifts from as low as Sh2,000 from terror militants to wave them through, reveals.
The Somalia Report 2018, released on Tuesday by the Somalia and Eritrea Monitoring Group (SEMG), paints a rather disturbing picture of the misplaced loyalties of some of the security officers Kenya has deployed to protect itself, and reveals, for the first time, how the Somalia-based militants are routinely allowed to cross over to Kenya to kill and maim.
UNOBSTRUCTED
For instance, an investigation into a foiled attack in February this year revealed that Al-Shabaab operatives crossed the Kenya-Somalia border five times in three months, detected but unobstructed, by giving Sh2,000 bribes to security forces.
Four of the five rifles seized by the Anti-Terrorism Police Unit during an operation to foil an attack on key installations in Nairobi had been imported by Somalia's Federal Government in 2013 following the partial lifting of the arms embargo under United Nations Security Council resolution 2093, the report shows.
Police had, during a routine patrol in Merti, Isiolo, in February this year, arrested two suspected Al-Shabaab operatives — Abdimajit Hasan Adan and Mohammed Nanne Osman — as they drove a vehicle laden with bombs intended for a complex attack in Nairobi, which the UN says would have been the most significant Al-Shabaab attack outside Somalia since the Garissa University College massacre of April 2015.
The UN notes that, in all of Adan's and Nanne's numerous journeys back and forth across the porous Kenya-Somalia border, they seemed not to encounter any resistance with Kenyan security forces manning the border.
If they did, they did not reveal that information to the interrogating officers in Nairobi after they were arrested.
PAYING BRIBES
"Where encounters are mentioned, they are in the context of either paying or witnessing bribes to security forces on both sides of the border," the report notes. "
No mention is made in Abdimajit Adan's statement to APTU of being challenged by border security while bringing either vehicle (KBM200D or KCL621K) from Kenya into Somalia and back."
Adan used Sh600,000 to purchase a 2003 Mitsubishi Airtrek, registration number KBM200D, at a car dealership in Nairobi's Lavington neighbourhood. On February 1, according to GPS and mobile phone data, he left Nairobi for Somalia with the vehicle, accompanied by Mohammed Nanne and Mbarak Abdi Huka, alias Sa'ad.
In Merti, Isiolo, Adan stopped to pick up a man named Ahmed 'Balaa' and another Al-Shabaab operative known to the group only by the name Said.
On February 4, the five Al-Shabaab operatives crossed into Somalia at El Wak without interference from police or border officials and reached the Somali town of El Adde the following day.
EXPLOSIVES
The car remained in the outskirts of El Adde for about a week, between February 5 and 13 February, and investigators believe that it was during this time that the explosive devices were fitted into its chassis.
On the evening of February 13, the five departed El Adde for Kenya, crossing the border between 6am and 7am the following day.
The UN Monitoring Group estimates that the whole operation cost Al-Shabaab about $50,000, or Sh5 million at current exchange rates, which included the purchase of two vehicles, weapons and explosives. The arms cache included five Type 56-2 assault rifles, 36 magazines of ammunition, and 36 hand grenades. The Type 56-2 is a Chinese variant of the Russian AK-47 assault rifle which was the weapon of choice by the Taliban in Afghanistan, and has been regularly used by militants in the Middle East.
"The plot provides an apt illustration of the nexus between corruption and insecurity," authors of the UN report note. "Police statements from the arrested Al-Shabaab operatives show that they were able to pass with little interference back and forth across the porous Kenya-Somalia border, facilitated by bribes to various security forces officials on both sides."
PLOTTING ATTACK
The UN also expresses concern that some of the operatives involved in the Nairobi plot and who managed to escape from the security forces, may still be at large in Kenya, and probably plotting another attack.
"Several known members of the plot escaped arrest, and the attacking team — which likely comprised five individuals, on the basis of the number of captured rifles — may still be at large in Kenya," the report states.
It accuses mobile service provider Safaricom of declining to share information on communication details of the suspected terrorists.
In the 156-page report, the group also expresses concerns that the terrorist gang remains in a strong financial position despite ramped-up aerial strikes against it.
"Al-Shabaab is likely generating a significant budgetary surplus; money is not a limiting factor in its ability to wage its insurgency. How Al-Shabaab channels excess revenue remains under investigation by the Monitoring Group," it states. Inspector-General of Police Joseph Boinnet declined to comment on the bribery allegations, saying he was yet to read the report. Internal Security minister Fred Matiang'i was not available for comment.
https://www.nation.co.ke/news/Bribed-police-let-in-Shabaab-bombers/1056-4854048-13fexi1z/index.html
--------
Nigerian Govt, Southeast states have abandoned us – Igbo Muslims cry out
November 15, 2018
By Ameh Comrade Godwin
Igbo Muslims, under the auspices of South Eastern Muslims Organisation of Nigeria (SEMON) have accused the Federal Government and Southeast states of marginalisation.
They said they had been excluded from the political scheme in Nigeria and had benefitted nothing from the Federal Government since 1914.
According to them, it was a calculated plan "to make them irrelevant as second-class citizens in Nigeria."
They made the claims in a communiqué issued at the end of a Conference of Igbo Muslims held on Sunday.
"The governments of states of Southeast geopolitical zone of Nigeria do not even recognize the existence of Muslims of Igbo extraction, thus no single plan for them, politically and socio-economically," the communiqué read.
The group lamented the "non-participation of Ndigbo Muslims in Nigerian politics," blaming it on an "unfavourable political climate in their hometowns and lack of support from their politically influential brethren outside Igboland."
It urged Igbo Muslims to join politics and aspire and contest for every possible position during the general elections, "including the position of the President of the Federal Republic of Nigeria, Governorship, National and State Assembly positions, as well as Local Government and Councillorship
"A situation where no appointment is allocated to Igbo Muslims by the federal and state governments after every general election is unacceptable and condemnable."
The group thanked President Muhammadu Buhari "for his efforts in developing Nigeria", but urged him "to remain focused in the fight against corruption and to be detribalised in his appointments even while putting merit above other considerations."
The communiqué added: "We pray for him and we promise to always support good leadership for Nigeria.
"On the same note, we call on the Southeast governors and local government chairmen to protect us and our worship places and to carry us along in the socio-political and economic arrangements for citizens without discrimination against us.
Full report at:
http://dailypost.ng/2018/11/15/nigerian-govt-southeast-states-abandoned-us-igbo-muslims-cry/
--------
Libya planning to extradite Manchester bomber's brother
November 15, 2018
Libya is planning to extradite the brother of Manchester Arena bomber Salman Abedi to Britain by the end of the year, Libya's UN-backed Prime Minister Fayez Al-Sarraj told the BBC in an interview.
Britain last year submitted a request to extradite Hashem Abedi after the bombing in May 2017 in which 22 people — many of them minors — were killed.
Abedi detonated the bomb, killing himself, outside one of the arena exits shortly after the end of a concert by pre-teen idol Ariana Grande.
Hashem Abedi is suspected of involvement and is wanted by Manchester police on charges of murder, attempted murder and conspiracy to cause explosions.
In an interview with the BBC on the sidelines of an international conference in Italy, Al-Sarraj said: "I think from here to the end of this year we will finish all the legal procedures in Libya.
"We are fully cooperating because we understand the suffering of the families of the victims of this terrorist attack.
"According to the general prosecutor we can extradite. After we complete the legal process in Libya it is only a matter of time."
When Britain first made the extradition request in November 2017, the armed group holding him refused it.
The Manchester Arena bombing was Britain's worst terror attack in more than a decade.
Full report at:
http://www.arabnews.com/node/1405556/world
--------
Boko Haram burnt down village in northeast Nigeria
15.11.2018
Boko Haram militants have burnt down a village in Nigeria's northeastern Borno state, injuring at least two civilians, the country's army said on Thursday.
"Just before Midnight on 14 November 2018, a pocket of BHTs [Boko Haram terrorists] sneaked into Mammanti village along Damboa Road in Borno State, fired some shots to scare the inhabitants and set houses ablaze," a statement by the army said.
"Troops from 251 Task Force Battalion were quickly mobilized to engage the BHTs who fled in disarray," the statement added.
Nigeria has been battling Boko Haram insurgency since 2009 when the group turned violent following the death of its former leader Mohamed Yusuf in police custody.
Full report at:
https://www.aa.com.tr/en/africa/boko-haram-burnt-down-village-in-northeast-nigeria/1312506
--------
Boko Haram: Academic activities resume in Dapchi Govt College
November 15, 2018
By Fikayo Olowolagba
Academic activities have finally resumed at the Government Girls' Science and Technical College, Dapchi, Yobe, where Boko Haram insurgents abducted 110 schoolgirls on Feb.19.
The Principal of the school, Hajiya Adama Abdulkarim disclosed this to the News Agency of Nigeria (NAN) on Thursday in Dapchi.
Abdulkarim said that at least 80 per cent of the students and teachers had resumed.
"More than 80 per cent of the students has resumed, likewise the teachers. Almost all of them are around except very few who are away for one or more official reasons.
"School activities are moving smoothly as they were before the ugly incident," she said.
Abdulkarim said that the school had taken some measures since the incident to secure the students and alleviate the ' trauma for effective learning.
"Before the incident, there were no matrons in the school, but now, with the help of the local government and permission of the ministry of education, we have been able to source for six elderly women.
"We instructed the matrons to always be around, especially in the hostels, after class hours, to comfort and encourage the students.
"On the side of the government, the military, police and civil defence personnel have been around the school at all times.
"By the grace of God, the incident will not happen again," she added.
She called on governments, non-governmental organisations and public-spirited individuals to assist the school.
"The school needs to be rehabilitated with essential facilities that will attract parents to bring their children to learn and actualise their dreams," the principal said.
Recall that insurgents released 110 students with the exception of Miss Leah Sharibu and five students who died in captivity.
Full report at:
http://dailypost.ng/2018/11/15/boko-haram-academic-activities-resume-dapchi-govt-college/
--------
Europe
Jihadist leader 'very probably' killed by French forces in Mali
November 16, 2018
Paris, Nov 15 (AFP) French forces operating in Mali killed seven suspected jihadists after a recent nighttime raid, possibly including a top leader in an alliance of insurgents linked to Al-Qaeda, the French army said Thursday.
Al-Mansour Ag Alkassim, the chief of a wing of the Group to Support Islam and Muslims (GSIM), was "very probably" among those killed in the operation the night of Sunday to Monday, army spokesman Patrik Steiger told AFP.
The GSIM, which the US added to its list of foreign terrorist organisations in September, has been carrying out attacks across the arid Sahel expanses of Western Africa over the past two years.
Alkassim, operating mainly in northern Mali, has been sought by the authorities for years.
France has deployed the 4,500-member Barkhane force to the region in a bid to train local forces and help repel the attacks.
Most recently the GSIM claimed responsibility for a suicide attack where killed three in the northern city of Gao on Monday.
The recent raid came after a Reaper surveillance drone located the group in the Gourma region, between the cities of Gao and Timbuktu, and French forces flew in by helicopter, Steiger said.
After the firefight, the soldiers discovered both light arms and heavy weapons, and equipment for making improvised explosive devices (IEDs), he said, calling it a "significant blow" against the group.
France helped Malian forces stave off a jihadist insurgency that took control of large parts of the north in 2012, but large swathes of the country still remain out of the government's control. (AFP) CPS 11160028
https://www.india.com/news/agencies/jihadist-leader-very-probably-killed-by-french-forces-in-mali-3431442/
--------
France, Pakistan praise Saudi prosecution's actions over Khashoggi case
16 November 2018
The French Foreign Ministry said on Thursday that the referral of the accused in the killing of Saudi citizen Jamal Khashoggi to the judiciary is a step in the right direction.
The comments which were reported by Al Arabiya news channel's correspondent in Paris, come on the heels of the press conference held this afternoon by Saudi Arabia's Public Prosecution on the investigation into the Khashoggi killing and call for the death penalty against those involved.
Also, US State Department confirmed on Thursday that the Saudi investigation into the case of Jamal Khashoggi was an important step on the right track.
Pakistan: Indictments fulfill the imperatives of justice
Also, Friday morning, Pakistan foreign ministry noted in an official statement "with appreciation" the announcement by the Kingdom of Saudi Arabia to initiate the process of indictment of those responsible for the murder of Jamal Khashoggi.
The statement added that the commencement of this process "demonstrates the resolve and commitment of the Saudi authorities to hold the culprits and their associates to account and fulfill the imperatives of justice, as has been mutually reaffirmed by both Saudi Arabia and Turkey."
Full report at:
https://english.alarabiya.net/en/News/world/2018/11/16/France-Pakistan-praise-Saudi-prosecution-s-actions-over-Khashoggi-case.html
--------
Islamic scholar Tariq Ramadan wins bail in France rape case
16 November 2018
Tariq Ramadan, a leading Islamic scholar held in France since February on charges he raped two women, on Thursday won conditional release after testifying in an appeals court.
A Paris court ruled in favor of Ramadan after the 56-year-old Swiss academic made, who has been in custody since February 2, an impassioned argument for release.
His bail was set at 300,000 euros ($340,000) and requires him to hand over his passport and report to police once a week.
"Where would I flee to?" he asked in his hearing, his first public appearance since his incarceration.
Ramadan denies charges he raped the women in 2009 and 2012. One accuser is a disabled woman identified in media reports as "Christelle" and the other is a feminist activist, Henda Ayari.
But last month Ramadan was forced to drop assertions he had no sexual contact at all with the women after an expert recovered 399 text messages between him and "Christelle", some of which detailed violent sexual fantasies. Ramadan subsequently said the sexual contact was "consensual".
In court, Ramadan said he had no intention of becoming a fugitive from justice, and said his multiple sclerosis meant he had difficulty walking after 10 months locked up.
"I will remain in France and defend my honor and my innocence," the well-known TV commentator told the judges in what was his fourth bid to secure his freedom.
"I would like you to make your decision from your conscience, not because my name is Tariq Ramadan and I'm demonized in this country," he said.
He portrayed his accusers as liars bending media attention in the case to their benefit, asking: "Who has instrumentalized the 'Me Too' movement?
"I have never raped, I am not a rapist. It's true that I made a mistake," he said.
But Ayari's lawyer Francis Szpiner said the two "women were regularly threatened."
Full report at:
https://english.alarabiya.net/en/News/world/2018/11/16/Two-Argentines-with-suspected-ties-to-Hezbollah-arrested-ahead-of-G20.html
--------
Bahraini royal sued in UK over deal to meet Bollywood 'idols'
Nov 15, 2018
A member of the Bahraini royal family has been sued for failing to pay an alleged 35 million dollars to an Egyptian businessman who had purportedly arranged meetings for him with stars from the Indian movie industry.
Bahrain's Sheikh Hamad Issa Al Khalifa was accused at a London court this week of entering into a deal with Egyptian businessman Ahmed Adel Abdallah Ahmed for meeting 26 Bollywood stars and paying 1.5 million dollars per meeting.
Under the alleged agreement, Ahmed would also receive a 500,000-dollar bonus for every third meeting.
In his lawsuit against Al Khalifa, the Egyptian middlemen claimed the Bahraini royal — who is a cousin of the King of Bahrain and also the nephew of the Bahraini deputy prime minister — had backed out of the agreement and paid only three million dollars after meeting four of the actors.
'My Bollywood idols'
Admitting he had an "unbridled desire and fancy to establish contacts with Bollywood stars," Al Khalifa has, however, claimed that he has not struck a legally-binding agreement with Ahmed and described the deal as a "verbal" one.
"I am deeply disappointed that someone whom I had come to think of as a good friend is bringing this claim," he said in a statement.
"I was trusting when Ahmed offered to introduce me to my Bollywood idols. I have since been pursued by Ahmed for enormous sums of money, despite having been very generous to him in the past. I do not accept that there was ever any contractual arrangement between us, let alone one that was exclusive and could never be terminated. I believe this claim has no merit, and I shall defend it," he added.
The member of the Bahraini royal family also argued that he pulled out of the deal after Ahmed "started to put unfair pressure" on him, "making unwarranted demands for very large sums of money and seeking to arrange meetings which were not convenient."
He is expected to be called on Thursday to give evidence to the high court.
The civil trial, which is scheduled to last five days, is to start on November 20 and the Bahraini royal is due to testify there along with his assistant.
Full report at:
https://www.presstv.com/Detail/2018/11/15/580098/Bahrain-royal-Bollywood-stars-Hamad-Issa-Al-Khalifa
--------
Daesh-aligned groups warn of more attacks in Western nations
November 15, 2018
SYDNEY: Groups aligned with Daesh have warned of further attacks on Australia and other Western nations in online posters featuring the deadly lone wolf stabbing rampage in Melbourne last week.
"Australia, don't think you are away from our attacks," read one poster, which showed a photo of a vehicle the Melbourne attacker set alight during his attack last Friday.
The SITE Intelligence Group which monitors terror threats said the graphic was issued on Wednesday by a foundation, which is aligned with the Daesh.
Another graphic posted online and distributed by SITE showed an image drawn from social media showing the Melbourne attacker, Hassan Khalid Shire Ali, trying to stab a policeman before he was fatally shot.
A text overlay on the image says: "Melbourne today — What is the next city tomorrow??!"
Shire Ali stabbed and killed one man during the incident and wounded two others before being killed by police.
Australian police characterized the attack as "terrorism" and said the 30-year-old Somali-born Shire Ali was inspired by Daesh, but acted alone and had no known ties to the group.
On the day of the attack, Daesh said via its propaganda arm that Shire Ali was a Daesh fighter and carried out the operation, but provided no evidence to back its claim.
Australia is a member of the US-led coalition that has been fighting Daesh in Syria and Iraq since 2014.
The terrorists took large swathes of Syria and Iraq that year, proclaiming a "caliphate" across land it controlled.
Full report at:
http://www.arabnews.com/node/1405521/world
--------
Dutch FM to defend arms embargo to Saudi Arabia at UNSC
16.11.2018
By Abdullah Asiran
HAGUE
Dutch Foreign Minister Stef Blok said Thursday he will defend an arms embargo to Saudi Arabia at the UN Security Council.
A majority of the House of Representatives has called on the government of the Netherlands to introduce resolutions of a "ceasefire in Yemen" and "arms embargo against Saudi Arabia".
Noting that he will defend the arms embargo in the UN Security Council, Blok added that it would not go that far since the Netherlands has "a limited contribution in this matter."
Blok said the Netherlands is a not big exporter of weapons, stressing that "countries such as France, the U.S. and the U.K., which are major arms exporters, do not want to apply the arms embargo."
He also said the Dutch government would like to take further steps on Yemen, but "big countries" are not willing to do so.
Blok pointed out that he would like to stick to the "limited arms export system" implemented by the Netherlands toward Saudi Arabia.
"The situation in Yemen is horrific and dramatic," Blok said.
He noted that he would rather like to defend in the UN Security Council the cease-fire and humanitarian aid in Yemen, adding that: "Those who cause it are committing a terrible crime."
Impoverished Yemen has remained wracked by violence since 2014, when Houthi rebels overran much of the country, including the capital, Sanaa.
Full report at:
https://www.aa.com.tr/en/europe/dutch-fm-to-defend-arms-embargo-to-saudi-arabia-at-unsc/1312883
--------
UK demands 'accountability' for Khashoggi murder
15.11.2018
By Ahmet Gurhan Kartal
LONDON
The British government on Thursday said it want to see accountability for the murder of Saudi journalist Jamal Khashoggi.
In a statement, the Foreign and Commonwealth Office (FCO) said: "The U.K. has been clear that we need to see accountability for the horrific murder of the journalist Jamal Khashoggi."
"As the Foreign Secretary reiterated to His Majesty King Salman, Crown Prince Bin Salman and other senior figures in the Saudi government this week, we expect Saudi Arabia to take action to ensure such violations of international and national laws cannot happen again," it said.
Earlier, Saudi Foreign Minister Adel al-Jubeir said his country considered last month's murder of Saudi Journalist Jamal Khashoggi as a "crime" and a "big mistake".
Also on Thursday, the Saudi Public Prosecution said the order to kill Khashoggi had come from the head of a team tasked by the Saudi leadership with negotiating with the journalist.
The FCO said the beginning of a judicial process "should be a step towards accountability" but "we are watching closely and expect the continuing investigation to proceed in line with internationally recognised legal standards."
"It is the longstanding position of the UK Government to oppose to capital sentences in all circumstances and countries," the statement added.
Khashoggi, a frequent contributor to The Washington Post, was killed on Oct. 2 inside the Saudi Consulate in Istanbul.
After weeks of denying any involvement in the crime, Saudi Arabia later admitted that Khashoggi had been killed inside the consulate but claimed the Saudi royal family had no prior knowledge of any plot to murder the journalist.
So far, 18 people, including security officers, have been arrested in Saudi Arabia in connection with the murder.
On Oct. 31, Turkish prosecutors announced preliminary findings that suggest Khashoggi was strangled to death in a premeditated killing soon after he entered the consulate.
The Istanbul Chief Public Prosecutor's Office said Khashoggi's body was disposed of after being dismembered.
Full report at:
https://www.aa.com.tr/en/europe/uk-demands-accountability-for-khashoggi-murder-/1312704
--------
European Court of Justice keeps PKK on terror list
15.11.2018
European Court of Justice on Thursday ruled to keep the PKK on EU's terror list.
Concluding a legal case opened by the terrorist organization, the subsidiary court ruled that while the group had been kept on the list due to procedural errors between 2014 and 2017, new legal measures by the Council of Europe stipulated that it must remain there still.
The PKK had applied to the court in May 2014 in order to be relieved of the restrictions placed upon it due to the terror attacks it had carried out.
It has been on the EU terror list since 2002.
In its more than 30-year terror campaign against Turkey, the PKK -- listed as a terrorist organization by Turkey, the U.S. and the EU -- has been responsible for the deaths of some 40,000 people, including women and children.
Meanwhile, the EU delegation to Turkey said in a statement: "The decision on the listing of the PKK by the General Court of the EU does not change anything. PKK still remains in the terrorist organizations list of the EU."
Later on Thursday, the Turkish Foreign Ministry spokesperson Hami Aksoy welcomed the EU decision.
"PKK is a separatist terrorist organization and it will continue to be treated by the international community as a terrorist organization deserve," said Aksoy in a statement.
Full report at:
https://www.aa.com.tr/en/europe/european-court-of-justice-keeps-pkk-on-terror-list/1312482
--------
'It could certainly radicalise someone': Muslim imam discovers Sharia law book preaching jihad and hostage taking in Melbourne airport Islamic prayer room
15 November 2018
A Muslim imam has discovered a Sharia law book advocating jihad and hostage taking in Melbourne international airport's Islamic prayer room.
Sheikh Mohammad Tawhidi, a Shia imam who campaigns against Islamic extremism, saw the Arabic language book shortly before boarding a flight.
The Adelaide-based Shia religious leader and author made a video of himself flicking through the index, which featured references to jihad, 'taking hostages at war' and taxing 'infidel' non-Muslims.
Shortly before boarding his flight, he told Daily Mail Australia a fundamentalist Sunni Islamic law book had the potential to 'certainly radicalise someone'.
'It can turn a regular traveller or a frustrated, vulnerable traveller into an extremist,' he said, shortly after midday on Thursday. 'It goes against national security.'
Sheikh Tawhidi said that while the book of Islamic jurisprudence was possibly planted by an activist, Melbourne airport needed to 'take action'.
Several hours later, Melbourne Airport tweeted to Sheikh Tawhidi to confirm they had removed the Arabic language book, Fiqh us-Sunnah, by Egyptian Sunni Islamic scholar As-Sayyid Sabiq.
'Thanks for your message. We have a publicly accessible multi-faith prayer room open to travellers of various religions,' it said.
'The book has been removed for assessment of its suitability.'
The book about the practices of the Prophet Mohammad was authored by a prominent member of the Muslim Brotherhood, a pan-Sunni Islamist group campaigning for a global Islamic caliphate.
Iranian-born Sheikh Tawhidi, who moved to Australia from Iraq in 1995 when he was 12, asked for his travel plans to be kept secret, following threats to his life from Islamic extremists.
He has backed Prime Minister Scott Morrison's call for Muslim leaders to be aware of radicalised individuals who had visited their mosques, following Friday afternoon's Melbourne terrorist attack.
'I back the Prime Minister. The Prime Minister was right: it was violent, it was radical, it was Islamic,' he told Daily Mail Australia on Thursday.
'I will not accept any of these excuses of political correctness.
'It's not a one-off matter. The Muslim community should use the liberties in Australia, the freedoms here, to side with the police against the radicals.'
Somali-born terrorist Hassan Khalif Shire Ali, 30, had attended the Hume Islamic Youth Centre, at Coolaroo in Melbourne's north, before he stabbed to death Italian-born cafe owner Sisto Malaspina on Bourke Street.
The spiritual leader of that hardline Sunni mosque, Mohammed Omran, has blamed Australian authorities for failing to catch the murderer.
Full report at:
https://www.dailymail.co.uk/news/article-6391819/Muslim-imam-Sheikh-Mohammad-Tawhidi-alarmed-pro-jihad-book-Melbourne-airport-prayer-room.html
--------
URL: https://www.newageislam.com/islamic-world-news/dj-qawwali-during-juloos-e/d/116898
New Age Islam, Islam Online, Islamic Website, African Muslim News, Arab World News, South Asia News, Indian Muslim News, World Muslim News, Women in Islam, Islamic Feminism, Arab Women, Women In Arab, Islamophobia in America, Muslim Women in West, Islam Women and Feminism