New Age Islam News Bureau
10 Jan 2014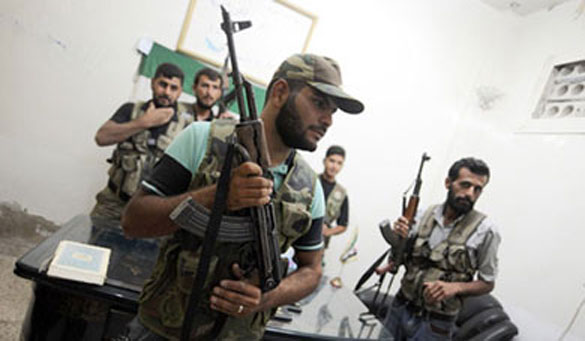 Press digest January 10: 'Syria Militants Said to Recruit Visiting Americans to Attack US,' Photo: EPA
--------------
Europe
• Discovery of Bombs and Corpses Rattles Tense Caucasus Region
• Ethnic Russian Muslims Involved in Volgograd Bombings
• Germany Adds Lessons in Islam to Better Blend Its Melting Pot
• WUC Set to Hold Worldwide Demonstrations
• British Muslims set to become 10% of population
• UK and Nigeria sign prisoner-exchange deal
• EU members concerned over graft probe purges in Turkey
Africa
• Nigeria military: 38 Islamic extremists killed
• Kenya says 30 Shebab rebels killed in Somalia air strike
• C. African Republic president, PM stepping down
• Tunisia Islamist PM set to step down as unrest mounts
• Ugandan bombing will jeopardise talks, warns South Sudan opposition
• Morocco course teaches UN instruments for women's rights
• Mediator in S. Sudan talks 'optimistic' for ceasefire
India
• Jihad has been hijacked by terrorists: Shaykh-ul-Islam Dr Mohammed Tahir-ul-Qadri
• Jamaat e Islami Hind holds out protest against homosexuality in Mumbai
• Dawood in Pakistan, joint efforts with US to nab him: Shinde
• Cashing in on Umrah: Airfare increased 150%
• Thoughts of Maulana Azad relevant today: West Bengal Governor
• New Saudi policy won't affect us: Indian expats
Pakistan
• Govt Urged To Hang '100 Terrorists' By Muttahida Ulema Mahaz
• 'TTP dogs' martyred my SP, says Bilawal
• Gunmen kill two workers at Sufi shrine in Peshawar
• Pakistani bomb hero teenager recommended for top award
• Imran favours Taliban talks despite Chaudhry Aslam killing
• Pakistan seeks early resumption of dialogue with India
• Three TTP militants killed in Karachi
• Taliban deliver 'pieces' as govt wavers on peace
• About 200kg of explosives used in suicide attack on Chaudhry Aslam
Arab World
• Syria Militants Said to Recruit Visiting Americans to Attack U.S.
• Al Qaeda Bans Syrian Women from Sitting in Chairs
• Brotherhood terrorist decision should be for courts: Salafist leader
• Nearly 500 killed in Syria rebel-jihadist fighting in a week: NGO
• Jihadists advance on Syria's Raqa: activists
• New law: Visa traders to be deemed human traffickers
• Iraqi Turkmens to have education in mother-tongue
South Asia
• Xi Jinping orders major strategic plans for Xinjiang
• Will act against those attacking minorities: Sheikh Hasina
• Anti-trafficking measures praised by US, doubts persist within Maldives government
• President Yameen has no cabinet, says former President Nasheed
• Various Charges of Violence: 8,500 BNP, Jamaat men sued, 77 others held
Southeast Asia
• Sultan of Selangor's decree does not apply to Sikhs as 'Allah' is in scriptures, says Karpal
• Perak mufti quizzed by cops over 'bloodshed' remark
• Pakistan celebrates the Bible; Malaysia confiscate it
• Cops recommend charging Herald editor at centre of 'Allah' row with sedition
• Indonesian volunteers to open hospital in Gaza
North America
• Canadian college student says religion forbids him working with women
• U.S. Considers Resuming Nonlethal Aid to Syrian Opposition
• US denies Kerry pressing Arab League to recognize Israel as Jewish state
• Algerian jihadist remains serious threat: US general
• US warns both sides in S Sudan over conflict
• Edward Snowden leaks may be 'lethal' for troops: US lawmakers
• Hagel to pay key visit to Turkey to talk missiles, Syria
• US concerned over Taliban detainees release from Bagram prison
Mideast
• Radicals make al-Assad look less evil: Turkish FM
• Israel announces more than 1,800 new settler homes: watchdog
I• slamic Jihad: Israel's 'recent escalation' in Gaza to sabotage Palestinian reconciliation
• Turkey's top judicial body says govt plans for reform 'unconstitutional'
Compiled by New Age Islam News Bureau
URL: https://www.newageislam.com/islamic-world-news/new-age-islam-news-bureau/discovery-of-bombs-and-corpses-rattles-tense-caucasus-region/d/35229
------------
Europe
Discovery of Bombs and Corpses Rattles Tense Caucasus Region
10 Jan 2014
MOSCOW — The discovery of several improvised explosive devices and the bodies of six men shot dead put security forces on higher alert in the North Caucasus region of Russia on Thursday and added new concerns about violence ahead of the Olympic Games planned for the nearby resort city of Sochi next month.
The police found the bodies of the men on Wednesday in several abandoned cars near the city of Pyatigorsk in the Stavropol region, about 170 miles east of the site of the Games, and the explosives next to the cars, a law enforcement spokesman said. One of the devices detonated, and a bomb squad disarmed two others, he said.
No one was injured in the blast, the spokesman said, and it was not immediately clear whether the killings were intended as an act of terror or were connected to gangland-style violence.
The Stavropol region borders several turbulent North Caucasus republics, where Russia is struggling to quell an Islamist insurgency that has resulted in explosions and shootouts between gangs and local police forces almost daily.
Sochi has largely been quarantined ahead of the Games, closing its roads to vehicles from other parts of the country and mobilizing tens of thousands of government troops to ensure safety for visiting athletes and tourists.
The police said they were seeking three men from the neighboring Kabardino-Balkaria region in connection with the murders and "an attempt on the life of law enforcement officers," the Interfax news service reported, but did not immediately link the case to terrorism.
Vladimir Markin, the official spokesman for the Investigative Committee, the main national criminal investigative agency in Russia, said on Thursday that investigators had not determined a motive for the attack.
State news media, citing anonymous sources, reported that two of the dead men were taxi drivers and a third worked as a furniture assembler. There was no official identification of the victims.
The case comes as Russia is still reeling from suicide bombings on a city bus and in the main railway station last month in the southern transport hub of Volgograd, which killed 34 and wounded dozens more.
President Vladimir V. Putin vowed in a nationwide broadcast on Dec. 31 to "continue the confident, tough and ongoing fight against the terrorists until their total elimination."
Investigators have not identified any suspects in the Volgograd bombings, and no terrorist group has taken responsibility for the attack.
Violence in the region is often linked to Doku Umarov, a terrorist leader who encouraged supporters in an online video address to use "maximum force" to disrupt the Games, which he called "satanic dancing on the bones of our ancestors."
Aleksandr D. Zhukov, the president of Russia's Olympic Committee, told reporters after the Volgograd attacks that new steps to secure the Games would not be taken because "everything necessary has already been done."
On Thursday evening, a Russian newspaper reported that law enforcement officers had detained a woman wearing a suicide belt on a bus in the Stavropol region.
The local police have not confirmed the report, and investigative officials could not immediately be reached for comment.
http://www.nytimes.com/2014/01/10/world/europe/caucasus-region.html
----------
Ethnic Russian Muslims Involved in Volgograd Bombings
10 Jan 2014
The previous year, which ended so tragically for Russia with terrorist attacks in Pyatigorsk and Volgograd, was not an exceptional one for a country that has been mired in terrorism-related violence since the start of the second Russian-Chechen war in the fall of 1999.
The terrorist attacks that took place in Pyatigorsk on December 27, and in Volgograd on October 21 as well as December 29 and 30, claimed dozens of lives (http://www.utro.ru/articles/2013/12/30/1166758.shtml) and were aimed at the Sochi Olympics, but not only. The insurgents were also trying to prove to the world that they were still in business and could strike all over the country. Today, the Sochi area is guarded using all the power of the state in order to avoid rebel infiltration. So, having no access to this area, the insurgents target other regions of the Russian Federation. That is why bombings could take place in any region of Russia now. The rebels do not want to miss a chance to harm the country's image in the run-up to the Olympic Games. In a sense, the insurgency formally supports the Circassian activists' assertions about the Games being held in the area where hundreds of thousands of Circassians were killed in the 19th century. However, striking Russia itself is the insurgency's actual objective.
Along with undermining Russia' prestige, the rebels have another objective—to demonstrate their own viability. The Jamestown Foundation has consistently covered the emergence of ethnic Russian jihadists who could become a great problem for Russia (see EDM, October 18, 2012). Ethnic Russians are increasingly becoming a tool of revenge for the North Caucasian rebels. The first references to ethnic Russian converts to Islam helping the North Caucasian militants dates back to 2004, when two ethnic Russians, Vitaly Zagorudko and David Fotov, were killed in Stavropol region. Between January 2004 and January 2005, two other Russians, Viktor Semchenko and Yuri Menovshchikov, bombed four bus stops and were preparing another terrorist attack in Krasnodar when they were killed. Russian Nikolai Kipkeyev died in the bomb attack on Moscow's Rizhskaya metro station in August 2004 (www.kp.ru/daily/23756/56219/). However, these cases were rare exceptions rather than the norm. The situation changed significantly when Said Buryatsky (Alexander Tikhomirov) went to the North Caucasus and quickly rose to the position to become one of the militants' main ideologues (www.kavkaz-uzel.ru/articles/158565). Buryatsky showed that ethnic Russians could rise to leadership positions in the North Caucasian insurgency. The fact that Russian Muslims are not merely tolerated but also entrusted with important positions is evident in the case of the Riyadus-Salikhin suicide bomber battalion in Dagestan. The group is led by another ethnic Russian Muslim, 24-year-old Alexei Pashintsev (a.k.a. Abdul-Malik), who hails from the city of Belgorod (http://newsru.com/russia/25sep2012/pashintzev.html).
The presence of ethnic Russians in the insurgency makes the insurgents' job significantly easier. For example, since 1999, the rebels have not attacked Sufi sheikhs in Dagestan despite the fact that Sufis have been the Salafis' mortal enemies. However, after an ethnic Russian became the leader of the suicide bombers' battalion, the barrier was removed. In October 2011 the most influential Sufi sheikh in southern Dagestan, Sirazhutdin Khuriksky, was assassinated (www.kavkaz-uzel.ru/articles/194885/). On August 28, 2012, one of the most significant figures in the Sufi hierarchy of Dagestan, Said-efendi Chirkeiski, an ethnic Avar, was also killed (http://nusra.info/index.php/news/298-v-dagestane-ubit-sufijskij-shejkh-said-afandi). In the first case, it was unclear who killed the sheikh; in the second case, the sheikh was blown up by an ethnic Russian, Alla Saprykina, who took the Islamic name of Aminat Kurbanova after converting to Islam (http://www.kavkaz-uzel.ru/articles/211915/).
A Dagestani, Naida Asiyalova, was behind the first bomb attack in Volgograd on October 21, 2013, but she was married to an ethnic Russian, Dmitry Sokolov, who had converted to Islam and fought in the North Caucasus armed resistance movement (http://www.vesti.ru/doc.html?id=1155787&tid=104994).
The terrorist attack on the Volgograd railway station on December 29 was also carried out by an ethnic Russian from the Volga region, Pavel Pechyonkin, according to the preliminary results of the investigation (http://russian.rt.com/article/20359). It remains unclear who carried out the attack on the trolleybus in Volgograd the following day, December 30, but it will not be surprising if it turns out that a recent convert to Islam was also involved in this attack.
Few people paid attention to Caucasus Emirate leader Doku Umarov's decision to include the Volga region in his zone of influence at the time he was confirmed as leader of the North Caucasian rebels back in 2006 (http://www.kavkazcenter.com/russ/content/2006/07/09/45779.shtml). The decision was probably based on the ability of North Caucasians in the Volga region to coordinate their actions with some cells already established there. According to the administrative division of the Caucasus Emirate, Volgograd is part of the Velayat Idel Ural. The fact that the rebels were able to carry out three attacks in the city demonstrated the extent and range of their power.
The use of ethnic Russians in terrorist attacks is the result of tactical and strategic calculations. First, the Russian authorities have gradually managed to identify practically everyone who joined the militants and control their ability to travel in Russia. Second, advancing ethnic Russians through the ranks of the insurgency helps the militants' propaganda, showing that their cause is increasingly supported in Russian society. In reality, of course, those dozens of ethnic Russian converts to Islam do not indicate, as the leaders of the rebel movement would like to claim, that Russians converting to Islam is part of a broader trend.
Still, Russian jihadists are a much graver danger to Moscow than the North Caucasian armed resistance. Having failed to contain the conflict within Chechnya, Russia is faced with conflict across the entire North Caucasus. The militant jihadist movement has now crossed the borders of the North Caucasus and continues to expand from beyond the North Caucasus to Russia proper.
Thus, regardless of how the Sochi Olympics go, the issue of the growth of the jihadist movement inside Russia will be a topical one for the foreseeable future.
The Jamestown Foundation's
------------
Germany Adds Lessons in Islam to Better Blend Its Melting Pot
January 10, 2014
FRANKFURT — For the first time, German public schools are offering classes in Islam to primary school students using state-trained teachers and specially written textbooks, as officials try to better integrate the nation's large Muslim minority and counter the growing influence of radical religious thinking.
The classes offered in Hesse State are part of a growing consensus that Germany, after decades of neglect, should do more to acknowledge and serve its Muslim population if it is to foster social harmony, overcome its aging demographics and head off a potential domestic security threat.
The need, many here say, is ever more urgent. According to German security officials and widespread reports in the German news media, this past semester at least two young Germans in Hesse — one thought to be just 16 — were killed in Syria after heeding the call for jihad and apparently being recruited by hard-line Salafist preachers in Frankfurt.
Such cases have stirred alarm not only that some young Germans are increasingly feeling alienated and vulnerable to recruitment, but also that they will eventually bring their fight home, along with new skills in the use of weapons and explosives gained on distant battlefields. Other parts of Europe with expanding Muslim minorities — including France, Britain, Spain and Scandinavian countries — are facing similar challenges of integration and radicalization.
The Hesse curriculum effectively places Islamic instruction on equal footing with similarly state-approved ethics training in the Protestant and Catholic faiths. By offering young Muslims a basic introduction to Islam as early as first grade, emphasizing its teachings on tolerance and acceptance, the authorities hope to inoculate young people against more extreme religious views while also signaling state acceptance of their faith.
Parents have the option to enroll their children in the religious education classes offered in the district. Nurguel Altuntas, who helped develop the Hesse program at the state's Ministry of Education, said the sign-up for 29 classes in immigrant-heavy districts was enthusiastic.
For German authorities, countering the expansion of more radical religious thinking has presented a vexing problem. For now, the domestic intelligence service keeps close watch on a growing number, with 4,500 Salafists under observation in 2011 and 5,500 in 2012, according to an annual government report. The figures for 2013 are not yet available, but "we are reckoning with another increase, whether sharp or gradual I cannot say," said a security official, speaking on the condition of anonymity.
Increasingly, attention has turned to education and ways to nurture greater inclusion for Germany's approximately four million Muslims, a number that has steadily increased since German industry recruited the first Turks as "guest workers" in the 1960s. How to integrate that minority has long been a source of tension in a country of more than 80 million that has also struggled with — and even resisted — absorbing Christian and European outsiders into the fabric of German life.
One answer, officials in Hesse hope, is being put in effect in classes where young children are guided by a state-trained teacher working from a state-approved curriculum.
In one class, Timur Kumlu recently asked his 19 6-year-old students each to take a strand from a large wool ball. He then instructed the children — whose parents hailed from Muslim countries as varied as Afghanistan, Albania, Morocco and Turkey — to examine how, like the threads, they, too, were woven together.
It was a simple lesson containing a gentle message filled with symbolism — that they were linked by their Islamic faith and practices of prayer.
"We are now all bound together — you come from different countries, and so do your parents," said Mr. Kumlu, who reminded the children that while their parents came from Afghanistan or Albania, they were born in Germany.
His generally well-behaved pupils squirmed a bit, but listened attentively. "They come here with such different backgrounds," Mr. Kumlu said after the lesson. "We must educate so that they develop a personality with common roots," in Germany and in Islam.
Suspicion of radical Islam mounted when a Hamburg-based cell of Arabs was involved in the Sept. 11 attacks. The so-called Sauerland cell, which targeted Germans in 2007, and a foiled bombing of the Bonn railway station in December 2012 both involved German citizens.
Enduring battles over whether any public servant can wear a head scarf also underscore the persistent gap between non-Muslim Germans and Muslims who are nonetheless an ever larger part of each other's lives.
For many teachers, German officials and, not least, Germany's Muslims, wider instruction in Islam is a belated effort to redress decades of exclusion from the mainstream. Those years of marginalization, they say, meant many of Germany's Muslims learned their faith by rote teaching at Quran schools, or from the hard-line musings over the Internet or in the courtyard mosques of immigrant neighborhoods in major cities like Hamburg or Berlin.
"I think it's clear now that for years we made the mistake of alienating people," said Nicola Beer, who as education minister in Hesse was one of several politicians, professors and teachers who pushed for the Islamic instruction. Now, she said, Germans recognize that "we are here together, we work together, and we educate our children together."
In the broadest terms, the curriculum in Hesse attempts to counter the strident proselytizing of more hard-line strains of Islam. But while offering instruction in Islam is part of the equal treatment craved by many of Germany's Muslims, it is also no straightforward task in legalistic and federal Germany.
Each of the 16 states determines its own education system and how noncompulsory religion, or ethics, instruction is offered. Islamic instruction in some form is available in all former West German states, though none of the eastern ones, where there are historically few Muslim immigrants. What makes Hesse special is that the state developed a university program and has taken charge of training teachers.
In other places, such as Berlin, instruction in Islam has already been offered for several years, but teachers have been provided by organizations like the Islamic Federation, a community group, which also helps to decide the curriculum.
Fazil Altin, 34, a lawyer who is president of the Islamic Federation, said Muslims and the city authorities in Berlin had wasted 20 years while they battled in court about whether Islam could be taught. Then, Mr. Altin said, the federation had to overcome suspicions about indoctrination — and all for 40 minutes' instruction per week, which he called "pretty paltry."
In his view, it will take more than formal state instruction in Islam to bridge the cultural gap between observant Muslims and a highly secular German society. "It is difficult to be a Muslim in Germany," said Mr. Altin, who said he had been denied access to clients in jails because of his faith. "The fact is, we are seen as a danger."
The Jens Nydahl school, in Berlin's heavily Turkish and Arab Kreuzberg district, is a prime example of the challenge of integration.
During an open house intended to attract new parents, the only visitors — a native German man and his wife — got a heavy sell from the deputy principal, who assured them that if they could recruit four or five other parents, the school would never split up the resulting nucleus of German-speaking children.
Sabine Achour, a German lecturer and educator in Berlin who is married to a Moroccan lawyer, said that even German parents who live in multicultural districts like Kreuzberg draw the line at too many immigrants in their children's schools.
Ms. Achour voiced doubts about Germans' willingness to meet Muslims halfway. "Teachers here have a feeling that something doesn't fit with Islam and democracy," Ms. Achour said. Even where Islamic law, or Shariah, fits with German practices, it is not applied because, she said, "Shariah is seen as something very traditional and even contemptuous of human beings."
It is not clear that other German states will shift toward the version of Islamic instruction pioneered by Hesse.
Mr. Kumlu, 31, the first-grade teacher, had to undergo 240 hours of extra schooling at Giessen University to be accepted as one of Hesse's first 18 teachers of Islam.
He said he was motivated by his own ignorance about Islam when confronted with prejudice as he grew up. "I wanted to clear this up," he said. His pupils now are third- to fifth-generation German, he noted, "and they should be on an equal basis with other religions."
http://www.nytimes.com/2014/01/07/world/europe/germany-adds-lessons-in-islam-to-better-blend-its-melting-pot.html?_r=0
------------
WUC Set to Hold Worldwide Demonstrations
January 10, 2014
Alarmed by recent killings of Uyghurs in East Turkestan, the World Uyghur Congress (WUC) will be coordinating protests around the world to demonstrate outside Chinese embassies and consulates. Taking place between 10 and 13 January 2014, the WUC seeks to draw attention to the Chinese government's systematic human rights violations, especially extrajudicial killings, against Uyghurs in East Turkestan through such demonstrations, and calls upon all those wishing to show support to attend.
The WUC will be holding demonstrations in Germany, Japan, Netherlands, Sweden US and Canada. To find out where the protests will be taking place, please view the full protest calendar here.
During the past 9 months, over 30 incidents have taken place in East Turkestan in which many Uyghurs have lost their lives, whilst many more have found themselves arbitrarily detained, as the Chinese authorities have sought to suppress mounting unrest by Uyghurs at the Chinese authorities crackdown in the region. Although incidents in Maralbeshi, Lukchun, Hotan and Saybagh have caught the attention of the international community and media, other lesser-reported though no less serious incidents also occurred in Poskam, Yarkant, Yilkiqi, Aykol and Yingwusitang.
In the aftermath of many of these incidents, the Chinese media and authorities have attempted to sow into the narrative the seeds of a sustained "terrorist" threat, only to be contradicted by the few journalists to have gained access to the region, and by eyewitnesses on the ground. More telling has been the media clampdown on the region, which should draw further suspicion upon the official narrative and understanding of the incidents. Journalists and independent observers attempting to report on the situation have found themselves detained, harassed or having video or camera footage deleted, including BBC, De Redactie, AFP, Canal+, and CNN .
One of the most alarming aspects of the 2013 region-wide crackdown is the sustained use of violence by the Chinese security forces. Eyewitnesses have reported that the police have undertaken illegal house raids, opening fire on the inhabitants with impunity; others have reported their deceased relatives being buried in unmarked graves without informing the next of kin.
In view of these developments, it is absolutely vital that the international community sends out a strong message to the People's Republic of China (PRC) that such incidents are unacceptable, and that it should uphold international human rights law and standards with the strictest adherence. The PRC should undertake investigations into these incidents and provide reparations to the victims and their families. It is therefore hoped that these protests will stand as an important reminder to the international community of their own obligations to promote and protect human rights around the world.
http://www.uyghurcongress.org/en/?p=21671
------------
British Muslims set to become 10% of population
World Bulletin / News Desk
January 10, 2014
A study has shown that 9% of the UK's 3.5 million children aged 0-4 are Muslims, which is twice the proportion of Muslims in the general population. This is compared to only 0.5% of over 85s who identify themselves as Muslims.
Between 2001 and 2011, the Muslim population of England and Wales grew from 1.6 million to 2.7 million, comprising 4.8% of the overall population.
It is believed that the growth is largely due to a high birth rate and continuing immigration from south Asia, Africa and the Middle-East.
Insisting that this is a sign that Islam is becoming an integral part of British society, assistant secretary-general of the Muslim Council of Britain, Ibrahim Mogra, said 'This generation is very much British. They feel very much this is their home. It's not about Britain becoming a Muslim country but about Britain enabling the practice of Islam, which gives confidence to the vast majority of Muslims. It's a great country to regard as our home.'
http://www.worldbulletin.net/?aType=haber&ArticleID=126641
------------
UK and Nigeria sign prisoner-exchange deal
January 10, 2014
The UK and Nigeria have signed an agreement to allow the transfer of prisoners between the two countries.
It means citizens of one who commit crimes in the other will serve sentences in their homeland.
The UK government said it meant inmates could be "properly prepared for release into the community in which they will live following their release".
Both countries already have prisoner-transfer treaties in place with several other states.
The UK-Nigeria agreement was one of the objectives outlined by UK Prime Minister David Cameron and Nigerian President Goodluck Jonathan following a meeting in 2011.
It is expected the first prisoner transfers will take place before the end of this year.
UK Justice Minister Jeremy Wright said: "Removing foreign national offenders is a key priority for the British government and the prisoner transfer agreement I signed this morning with the Nigerian attorney-general plays a significant role in supporting this.
"Both the United Kingdom and Nigeria have prisoner transfer arrangements with other countries and it is right that our two countries, which have such strong ties and shared interests, should develop our own arrangements.
"I strongly believe that this agreement will have significant benefits for both our countries."
http://www.bbc.co.uk/news/uk-politics-25671982
------------
EU members concerned over graft probe purges in Turkey
January 10, 2014
Recent replacements in the Interior and Justice Ministries over the graft probe have raised concern for some foreign countries which are engaged in cooperation with the Turkish authorities, such as cooperation with police on intelligence on security issues.
Diplomats from EU countries voiced concerns over the sustainability of cooperation and finding counterparts in these institutions since hundreds of officers in senior posts are being replaced.
Full report at:
http://www.hurriyetdailynews.com/eu-members-concerned-over-graft-probe-purges-in-turkey.aspx?pageID=238&nID=60825&NewsCatID=351
---------
Africa
Nigeria military: 38 Islamic extremists killed
January 10, 2014
MAIDUGURI, Nigeria (AP) — Nigeria's military says it killed 38 suspected Islamic militants and lost a soldier when troops repulsed an attack on a northeastern farming village.
Spokesman Col. Muhammed Dole said soldiers informed of the insurgents' plan "to cause havoc and mayhem" were able to repel the attackers and inflict heavy casualties when extremists arrived at Damboa village in Borno state around 1 a.m. Thursday.
He said the soldiers captured three vehicles loaded with high-caliber weapons, ammunition, homemade bombs and food.
A military aircraft was pursuing fleeing attackers including some wounded in the shootout.
Dole made no mention of civilians who have suffered the biggest casualties in a 4-year-old Islamic uprising in northeast Nigeria, where the government has imposed a state of emergency since May.
http://news.yahoo.com/nigeria-military-38-islamic-extremists-killed-180524632.html
------------
Kenya says 30 Shebab rebels killed in Somalia air strike
2014-01-10
NAIROBI: Kenya said Friday it had killed at least 30 Shebab rebels including top commanders in an air strike on a training camp in Somalia.
The raid on Thursday evening targeted a Shebab camp in Garbarahey in Gedo region, situated around 600 kilometres (390 miles) northwest of the Somali capital Mogadishu and near the border with Kenya and Ethiopia, the Kenyan military said.
"KDF (Kenya Defence Force) fighter jets attacked an al Shebab camp, where a meeting was being held," a senior KDF official said.
"Initial battle damage assessment indicates more than 30 al Shebab militants killed, including key commanders," the official added.
Another military official said the Kenyan armed forces were trying to determine the identities of those killed in the raid.
Full report at:
http://www.dawn.com/news/1079586/kenya-says-30-shebab-rebels-killed-in-somalia-air-strike
------------
C. African Republic president, PM stepping down
10 Jan 2014
N'DJAMENA, Chad (AP) — Michel Djotodia, the rebel leader who seized control of Central African Republic only to see the desperately poor country tumble toward anarchy and sectarian bloodshed, agreed to resign Friday along with his prime minister, regional officials announced.
There has been growing pressure for Djotodia to step aside and the resignation should help placate the armed militias who have used to violence to seek his ouster. However, his departure could also create an even greater power vacuum in a land that has long known coups and dictatorship.
Ahmat Allami, the secretary-general of the Economic Community of Central African States, made the announcement following a summit in neighboring Chad on the crisis. Legislators from Central African Republic also were flown to the Chadian capital of N'Djamena on Thursday to take part in the discussions.
Full report at:
http://news.yahoo.com/c-african-republic-president-pm-stepping-down-114455961.html
-------------
Tunisia Islamist PM set to step down as unrest mounts
January 10, 2014
TUNIS : Tunisia's outgoing Islamist Prime Minister Ali Larayedh, who was tortured under the ousted Ben Ali regime, announced he would resign later Thursday as part of a plan to end months of political deadlock.
His resignation will see the departure of Tunisia's first democratically elected government, which came to power after veteran strongman Zine El Abidine Ben Ali was overthrown in the first of the Arab Spring uprisings three years ago next week. "This afternoon, I will present the government's resignation to the president," Larayedh declared on national television.
His announcement comes as part of a blueprint, drawn up by mediators, to put the democratic transition back on track after the assassination of opposition MP Mohamed Brahmi by suspected militants last year.
Full report at:
http://www.nation.com.pk/international/10-Jan-2014/tunisian-pm-to-step-down-as-unrest-mounts
------------
Ugandan bombing will jeopardise talks, warns South Sudan opposition
AMAN SETHI
January 10, 2014
The South Sudan opposition has lashed out at the Ugandan government for supporting embattled President Salva Kiir by bombing rebel positions in Jonglei state.
The attacks, the opposition delegation said, could jeopardise peace talks under way in Addis Ababa, the capital of Ethiopia, even as continuing violence between government and opposition forces has led to over 1000 deaths and the displacement of over 200,000 civilians in South Sudan.
The fighting erupted three weeks ago after a prolonged power struggle between Mr. Kiir and his former deputy Riek Machar. Mr. Kiir has imprisoned 11 senior political leaders even as Mr. Machar mobilised sections of the national army against the government.
Full report at:
http://www.thehindu.com/news/international/world/ugandan-bombing-will-jeopardise-talks-warns-south-sudan-opposition/article5558936.ece
--------------
Morocco course teaches UN instruments for women's rights
10 Jan 2014
A regional training course in Morocco based on UN documents led by regional NGO Karama aims to enhance civil society and gender equality in the Middle East and North Africa.
Karama, based in Cairo with operations in several countries, is organising a three-day workshop and roundtable in collaboration with the UN Fund for Gender Equality to train 21 participants to use and apply international human rights instruments and strategies to defend the rights of women in their respective countries.
Full report at:
http://english.ahram.org.eg/NewsContent/2/8/91193/World/Region/Morocco-course-teaches-UN-instruments-for-womens-r.aspx
---------
Mediator in S. Sudan talks 'optimistic' for ceasefire
10 Jan 2014
The chief mediator in peace talks between the South Sudan government and rebels said Friday he was optimistic a ceasefire will be signed soon as violence rages on in the young nation.
"If you ask me on the possibilities of signing, I am very optimistic... because we have now come a long way in establishing understanding between the parties," Seyoum Mesfin, mediator from the East African region bloc IGAD, told AFP.
He said he expects a ceasefire in "the shortest possible time", although he did not indicate a precise timing.
Full report at:
http://english.ahram.org.eg/NewsContent/2/8/91258/World/Region/Mediator-in-S-Sudan-talks-optimistic-for-ceasefire.aspx
---------
India
Jihad has been hijacked by terrorists: Shaykh-ul-Islam Dr Mohammed Tahir-ul-Qadri
10 Jan 2014
Renowned Islamic scholar of Pakistani descent Shaykh-ul-Islam Dr Mohammed Tahir-ul-Qadri today condemned all acts of terrorism and said the concept of Jihad has been hijacked by terrorists.
Author of the acclaimed book 'Fatwa on Terrorism and Suicide Bombings', Dr Qadri, who is living in Canada for past few years because of threat to his life in Pakistan, said this while delivering his keynote address via a live video feed at the "People's SAARC Prayer for Peace", an interfaith roundtable conference to promote peace, solidarity and harmony in South Asia.
The interfaith prayer meeting and roundtable conference was jointly organised by the Observer Research Foundation Mumbai, a not-for-profit public policy think tank, and an NGO Minhaj-ul-Quran International, India.
Religious leaders representing a cross-section of faiths, who participated in the roundtable, agreed to form an action- oriented Religious High Council to promote peace, solidarity and religious harmony in South Asia.
Full report at:
http://www.siasat.com/english/news/jihad-has-been-hijacked-terrorists-says-islamic-scholar
---------
Jamaate Islami Hind holds out protest against homosexuality in Mumbai
10 Jan 2014
Mumbai: A public protest against homosexuality was organised by the Mumbai division of Jamaate Islami Hind on Thursday afternoon at Azad Maidan.
The objective of the agitation, according to organisers, was to convey to the government, and the public at large, what they termed as, "the disastrous fallouts of legalizing an act as obscene as homosexuality and to dissuade the centre against bringing in any legislation to de-criminalize it."
Speaking on the occasion, Javed Shaikh, Secretary of national affairs, JIH-Mumbai said, "JIH has always condemned homosexuality and will leave no stone unturned in its efforts to safeguard the Indian ethos."
Dr. Mandviwala spoke on the "social and medical repercussions of homosexual relations."
http://twocircles.net/2014jan09/jih_holds_out_protest_against_homosexuality_mumbai.html?utm_source=feedburner&utm_medium=feed&utm_campaign=Feed%3A+Twocirclesnet+(TwoCircles.net)
------------
Dawood in Pakistan, joint efforts with US to nab him: Shinde
PTI | Jan 10, 2014
NEW DELHI: India's most wanted terrorist Dawood Ibrahim is in Pakistan and joint efforts with the US were being made to nab him, Union home minister Sushilkumar Shinde said on Friday.
"As per our information, Dawood is in Pakistan. When I went to America last year to discuss inland security, I met the Attorney General who looks after the FBI.
"I talked to him and we decided that we will pass whatever information we have on Dawood amongst each other. We decided we will make joint efforts," Shinde said when asked about the whereabouts of Dawood who is wanted in a number of cases by Indian agencies including the 1993 Mumbai blasts.
Full report at:
http://timesofindia.indiatimes.com/india/Dawood-in-Pakistan-joint-efforts-with-US-to-nab-him-Shinde/articleshow/28633942.cms
------------
Cashing in on Umrah: Airfare increased 150%
10 Jan 2014
Airfares from India to Jeddah have increased by as much as 150 percent ahead of the birthday of the Prophet (peace be upon him) on Jan. 13.
According to travel agents in India, Saudi diplomatic missions are issuing Umrah visas in the Hijri month of Rabi Al-Awwal for the first time. This explains the surge in Umrah visa applications at around the time of the "mawlid nabawi" (Arabic for Prophet's birthday).
Many pilgrims, agents say, are taking advantage of the coinciding date and heading for Madinah before embarking on Umrah.
Full report at:
http://www.arabnews.com/news/506281
----------
Thoughts of Maulana Azad relevant today: West Bengal Governor
10 Jan 2014
The thoughts and vision of Maulana Abul Kalam Azad are extremely relevant today when secularism and the idea of India are under attack, West Bengal Governor M.K. Narayanan said here on Wednesday.
Inaugurating the fifth Apeejay Kolkata Literary Festival that pays a special tribute to Maulana Azad, the country's first Education Minister, the Governor described Maulana Azad as an "Islamic scholar, a patriot, nationalist, visionary and nation- builder who was an architect of our educational system."
Mr. Narayanan said that Maulana Azad was an "ardent advocate of the pluralistic tradition of Indian culture and deeply committed to secularism."
Referring to Maulana Azad's role in transforming education of independent India, he said that the University Grants Commission and the All Indian Council of Technical Education were his brainchild.
Full report at:
http://www.thehindu.com/todays-paper/thoughts-of-maulana-azad-relevant-today-narayanan/article5556258.ece
------------
New Saudi policy won't affect us: Indian expats
Jan 10, 2014
Expatriate Indians in Saudi Arabia feel that the new labour policy of that Gulf nation will not affect them as they are generally law-abiding citizens.
"Indians are law-abiding people and the Saudi government has corrected the (residency) status of around 400,000 illegal Indian workers in the country," Shihab Kottukad, consultant to the Non Resident Keralites Affairs (NORKA) department of the Kerala government and a volunteer at the Indian embassy in Saudi Arabia, told IANS here Wednesday on the sidelines of the 12th Pravasi Bharatiya Divas, the annual gathering of people of Indian origin.
According to Kottukad, the new policy will affect only those expatriates who are living illegally in that country and those who do not abide by the law. The new Nitaqat or Saudisation policy in that country - which has been much misunderstood in India - makes it mandatory for all Saudi companies to reserve 10% of jobs for Saudi nationals.
Following the implementation of the policy from June 2011 onwards, Saudi authorities granted a six-month grace period last year for all expatriates to either rectify their residency status or leave the country.
Full report at:
http://www.hindustantimes.com/world-news/new-saudi-policy-won-t-affect-us-indian-expats/article1-1170981.aspx
------------
Pakistan
Govt Urged To Hang '100 Terrorists' By Muttahida Ulema Mahaz
January 10, 2014
RAWALPINDI - The government should take stern action against the terrorists by abandoning the peace process with Taliban at once.
Central President Muttahida Ulema Mahaz Pakistan (MUMP) Allama Mirza Yousaf Hussain said this in a press conference on Thursday here at Rawalpindi Press Club. He said that the court had awarded capital punishment to more than 100 terrorists but they were not executed. It was the constitutional responsibility of President Mamnoon Hussain to get implanted the court orders and if President or Prime Minister were creating any hindrance in implementation of these penalties, the legal proceedings should be initiated against them.
He was flanked by clerics from different school of thoughts including Allama Izhar Shah Bukhri, Allama Saleem Haider, Allama Haider Alvi, Qari Ali Akbar Naeemi, Pir Azmat Ullah Sultan Qadri, Mufti Abdul Shakoor Farooqui, Quari Akhtar Mehmood Diubandi and Sheikh Mazhar Ali.
Full report at:
http://www.nation.com.pk/editors-picks/10-Jan-2014/govt-urged-to-hang-100-terrorists
------------
'TTP dogs' martyred my SP, says Bilawal
January 10, 2014
ISLAMABAD : The Pakistan People's Party (PPP) Patron-in-Chief Bilawal Bhutto Zardari on Thursday condemned the killing of SP CID Chaudhry Muhammad Aslam and three other cops in an explosion in Karachi and called the killers as 'dogs' and 'cowards'. In his Twitter account, he wrote: "TTP dogs martyred my SP. Shaheed Chaudhary Aslam had been threatened & attacked B4. He didn't back down. He died a brave man.
Shame on cowards."
SSP CID Chaudhry Aslam and three other policemen were martyred in an explosion on Lyari Espressway near Essa Nagri in Karachi on Thursday.
According to initial reports, SSP CID Chaudhry Aslam's vehicle was targeted in the blast.
It is important to mention that several attacks had previously targeted SSP CID Chaudhry Aslam.
http://www.nation.com.pk/islamabad/10-Jan-2014/ttp-dogs-martyred-my-sp-says-bilawal
------------
Gunmen kill two workers at Sufi shrine in Peshawar
2014-01-10
PESHAWAR: Police say gunmen have shot to death two workers at a small Sufi Muslim shrine in northwest Pakistan.
Local police official Iqbal Khan says the bodies of the men were found on Friday at the shrine of Ghazi Shah Baba in the northwestern city of Mardan in the Khyber Pakhtunkhwa province.
Mardan lies 50 kilometers (30 miles) east of the northwestern city of Peshawar.
Earlier in the week, militants killed six people at a shrine of a Sufi saint in the port city of Karachi.
Full report at:
http://www.dawn.com/news/1079605/gunmen-kill-two-workers-at-sufi-shrine-in-peshawar
-----------
Pakistani bomb hero teenager recommended for top award
2014-01-10
PESHAWAR: Police in Peshawar have recommended a teenager who was killed stopping a suicide bomber from attacking a school for a top civilian honour.
Aitzaz Hassan, 15, a student in Hangu district, in Khyber Pakhtunkhwa province, on Monday tackled the bomber who had come to attack his school at a time when hundreds of students were inside.
Hassan died in hospital after the bomber blew himself up at the school gates. No one else was wounded or killed in the incident.
Nasir Khan Durrani, the Khyber Pakhtunkhwa chief of police, has written to Chief Minister Pervez Khattak recommending Hassan for the posthumous award, a police statement issued late Thursday said.
Full report at:
http://www.dawn.com/news/1079410/pakistani-bomb-hero-teenager-recommended-for-top-award
------------
Imran favours Taliban talks despite Chaudhry Aslam killing
2014-01-09
LAHORE: Pakistan Tehrik-i-Insaf (PTI) chief Imran Khan Thursday reiterated his stance of negotiating with banned Tehrik-i-Taliban Pakistan (TTP) following the killing of SP CID Chaudhry Aslam in Karachi, which was claimed by the terrorist group, DawnNews reported.
Condemning the assassination of the top Karachi cop, while speaking to reporters in Lahore, he said that prevailing violence and killings in the country would not end without pulling out from 'someone else's war'.
The Mohmand agency chapter of the TTP claimed responsibility for the attack in Karachi's Essa Nagri which killed three police officials including Aslam and wounded at least ten others.
At the same time, the cricketer-turned-politician paid tribute to the bravery, commitment and courage of slain police officers and said that it was a great loss for both the police department and the nation.
Full report at:
http://www.dawn.com/news/1079419/imran-favours-taliban-talks-despite-chaudhry-aslam-killing
------------
Pakistan seeks early resumption of dialogue with India
10 Jan 2014
Pakistan today sought the early resumption of the stalled dialogue process with India but acknowledged forward movement was unlikely before the upcoming Indian general elections.
Foreign Office spokesperson Tasnim Aslam told a weekly news briefing that Pakistan has all along emphasised the need for the early resumption of the dialogue.
"We hope that it would take place as soon as possible, but again, there are no dates. Also, as you are aware, India is heading towards elections and we don't know if we can expect to resume the dialogue process before elections," she said.
Full report at:
http://www.siasat.com/english/news/pakistan-seeks-early-resumption-dialogue-india
---------
Three TTP militants killed in Karachi
2014-01-10
KARACHI: Three militants, including Amanullah Mehsud who operated as chief of the Tehrik-i-Taliban in Karachi's Quaidabad area, were killed in a police encounter in the city's Musharraf Colony on Friday, DawnNews reported.
The militants, including Mehsud, were affiliated with Tehrik-i-Taliban Pakistan (TTP), police said.
Mehsud was the chief of the Taliban in Quaidabad and the other two militants have been identified as Mirza Ali and Sher Mohammad.
The militants were killed nearly a day after a powerful explosion claimed the life of senior police official Chaudhry Aslam Khan.
Full report at:
http://www.dawn.com/news/1079591/three-ttp-militants-killed-in-karachi
------------
Taliban deliver 'pieces' as govt wavers on peace
January 10, 2014
LAHORE - The killing of CID SP Chaudhry Aslam in a suicide attack in Karachi, the responsibility for which has been claimed by the Tehrik-i-Taliban Pakistan, shows that terrorists are still strong enough to target the very man who was working to 'annihilate' them.
It also means that the operation going on in Karachi, which was launched on September 5 and is in its third and last stage, will have to be continued for quite a long time to get the desired results.
Full report at:
http://www.nation.com.pk/editors-picks/10-Jan-2014/taliban-deliver-pieces-as-govt-wavers-on-peace
------------
About 200kg of explosives used in suicide attack on Chaudhry Aslam
January 10, 2014
KARACHI: Around 200 kilogrammes of explosives were used in the suicide attack that killed Superintendent of Police (SP) Crime Investigation Department (CID) Chaudhry Aslam in Karachi, Express News reported on Friday.
The Inspector General Sindh had previously said that at least 20-25 kilograms of explosives were used in the blast.
A resolution was passed in the Senate for recognition of Aslam's services.
His funeral will take place in the headquarters of district east, according to a police spokesperson.
Full report at:
http://tribune.com.pk/story/657251/pickup-truck-used-in-suicide-attack-on-chaudhry-aslam/
--------
Arab World
Syria Militants Said to Recruit Visiting Americans to Attack U.S.
10 Jan 2014
WASHINGTON — Islamic extremist groups in Syria with ties to Al Qaeda are trying to identify, recruit and train Americans and other Westerners who have traveled there to get them to carry out attacks when they return home, according to senior American intelligence and counterterrorism officials.
These efforts, which the officials say are in the early stages, are the latest challenge that the conflict in Syria has created, not just for Europe but for the United States, as the civil war has become a magnet for Westerners seeking to fight with the rebels against the government of President Bashar al-Assad. At least 70 Americans have either traveled to Syria, or tried to, since the civil war started three years ago, according to the intelligence and counterterrorism officials — a figure that has not previously been disclosed.
The director of the F.B.I., James B. Comey, said Thursday that tracking Americans who have returned from Syria had become one of the bureau's highest counterterrorism priorities.
"We are focused on trying to figure out what our people are up to, who should be spoken to, who should be followed, who should be charged," Mr. Comey said in a meeting with reporters, without referring to specific numbers. "I mean, it's hard for me to characterize beyond that. It's something we are intensely focused on."
Full report at:
http://www.nytimes.com/2014/01/10/world/middleeast/syrian-groups-try-to-recruit-us-travelers.html?hpw&rref=world&_r=0
------------
Al Qaeda Bans Syrian Women from Sitting in Chairs
January 10, 2014
That would be ISIS or the other Al Qaeda operating in Syria as opposed to the Al Nusra Front, which is the main Al Qaeda group operating in Syria.
The likely source for this is Syrian government propaganda, but most of the list is plausible enough. Salafists have banned similar things elsewhere. Hamas has been a number of things on the list in Gaza. None of it is especially crazy by their standards… except the chairs.
A Syrian news clip recounts the following new laws ISIL promulgated in a statement it issued soon after taking over Raqqah:
Women are banned from sitting on chairs (as reported verbatim).
All women are obligated to wear Islamic attire, such as the Niqab and Burqa (which cover the entire body and face); sweaters, jeans, and makeup of any kind are strictly banned.
Female clothing is not to be displayed in shop windows, and only women are allowed to work there; if a man is found on the grounds the shop faces closure.
Full report at:
http://www.frontpagemag.com/2014/dgreenfield/al-qaeda-bans-syrian-women-from-sitting-in-chairs/
------------
Brotherhood terrorist decision should be for courts: Salafist leader
January 10, 2014
Spokesman for the Salafist Call group, Yasser El-Borhami, said on Thursday that only a court ruling can determine whether the Muslim Brotherhood is a terrorist group or not.
In December, the cabinet formally declared the Brotherhood a terrorist organisation, accusing the group of links with recent attacks on state institutions and on churches since Morsi's ouster.
Full report at:
http://english.ahram.org.eg/NewsContent/1/64/91260/Egypt/Politics-/Brotherhood-terrorist-decision-should-be-for-court.aspx
------------
Nearly 500 killed in Syria rebel-jihadist fighting in a week: NGO
January 10, 2014
Nearly 500 people, among them 85 civilians, have been killed in a week of fighting pitting Syrian rebels against the jihadist Islamic State of Iraq and the Levant, a monitoring group said Friday.
"We have documented the killing of 482 people in the fighting -- 85 civilians, 240 members of the rebel brigades and 157 members of ISIL," said Syrian Observatory for Human Rights director Rami Abdel Rahman.
Among the civilians and rebels killed were 42 hostages who were executed in Aleppo by ISIL.
Rebels also executed 47 ISIL members, mainly in Idlib province in northwestern Syria, Abdel Rahman said.
Full report at:
http://www.hurriyetdailynews.com/nearly-500-killed-in-syria-rebel-jihadist-fighting-ngo.aspx?pageID=238&nID=60844&NewsCatID=352
------------
Jihadists advance on Syria's Raqa: activists
January 10, 2014
Jihadists have made advances on rebel fighters in the battle for Raqa, in northern Syria, but are on the back foot in parts of Aleppo and Idlib, activists said Friday.
"In Idlib and Aleppo provinces, the (rebel) Free Syrian Army is advancing, but in Raqa the Islamic State of Iraq and the Levant (ISIL) is winning because its supply routes (to Iraq) are open there," said Alaaeddine, an Aleppo-based activist.
"In Idlib there are practically no ISIL bases left, as is the case in Aleppo city and the west of the province" on the border with Turkey, he told AFP via the Internet.
But in Raqa, which came under ISIL's control soon after President Bashar al-Assad's regime lost control of the provincial capital, "ISIL seized the Mashlab district and an Al-Nusra Front base" on Thursday night, said the Syrian Observatory for Human Rights.
ISIL has its roots in Al-Qaeda in Iraq, and first appeared in the Syrian conflict in late spring last year.
Full report at:
http://english.ahram.org.eg/NewsContent/2/8/91261/World/Region/Jihadists-advance-on-Syrias-Raqa-activists.aspx
------------
New law: Visa traders to be deemed human traffickers
10 Jan 2014
The Ministry of Labor plans to introduce a new law that would punish visa dealers as human traffickers.
Speaking at a business forum at the Riyadh Chamber of Commerce and Industry (RCCI) on Thursday, Abdullah Abu Thunain, undersecretary for inspections, said the ministry had found 8,000 firms involved in irregularities since the inspection campaign began two months ago.
He said the inspection campaign would continue with about 1,000 trained inspectors.
Since the launch of the ministry's programs, the number of Saudis registered with the General Organization for Social Insurance (GOSI) jumped from 623,000 to 1.4 million and the number of companies entering the "safe zone" rose by 86 percent.
About 50 percent of these companies were categorized in the Red Zone before the inspection campaign started, the official said.
Full report at:
http://www.arabnews.com/news/506911
----------
Iraqi Turkmens to have education in mother-tongue
World Bulletin / News Desk
January 10, 2014
A new law amendment in Iraq will allow Turkmen, Syriac and Asuri people to open schools in their localities for education in their mother tongue, Iraqi Turkmen Front (ITF) head Ershad Salihi said on Thursday.
The Iraqi National Assembly voted on Wednesday in favor of the amendment to add Turkmen, Syriac and Asuri languages to official languages of Iraq, bringing the number of official languages in the country to five after Arabic and Kurdish.
Full report at:
http://www.worldbulletin.net/?aType=haber&ArticleID=126617
---------
South Asia
Xi Jinping orders major strategic plans for Xinjiang
9 January 2014
Chinese president and Communist Party chief Xi Jinping made a major strategic decision regarding northwestern China's troubled Xinjiang Uyghur autonomous region towards the end of last year, reports the website of the pro-Beijing Hong Kong newspaper Ta Kung Pao.
The Politburo Standing Committee, China's top decision-making body, heard a special report on Xinjiang issues on Dec. 19, with Xi personally ordering departments to develop major strategies to tackle problems in the region over the following week, said Ta Kung Pao, citing a Jan. 7 report in the Chinese-language Xinjiang Daily.
The report said Xinjiang party secretary Zhang Chunxian then hurried back to the regional capital of Urumqi the day after the delivery of the report to conduct a conference with the standing committee of the Xinjiang party committee, which subsequently held a special meeting two days later to discuss research and the implementation of ideas. On New Year's Day, Zhang also held an internal party meeting with his deputies to pass on Xi's personal message and to carry out preliminary preparations for the work ahead in the new year.
Separate meetings were then held on Jan. 2 by the Xinjiang standing committee and vice-ministerial-level officials to discuss strategic plans, followed by another standing committee conference on Jan. 5 to allocate tasks.
Full report at:
http://www.uyghurcongress.org/en/?p=21664%20Xi%20Jinping%20orders%20major%20strategic%20plans%20for%20Xinjiang
------------
Will act against those attacking minorities: Sheikh Hasina
HAROON HABIB
January 10, 2014
Bangladesh Prime Minister Sheikh Hasina on Thursday said stern action would be taken against those involved in attacks on Hindu minorities post-election.
Speaking at a meeting of leaders of the ruling Awami League-led alliance, Ms. Hasina said she had asked the authorities to compensate and rehabilitate the affected families of minorities.
She urged opposition Bangladesh Nationalist Party (BNP) leader Khaleda Zia to "stop attacks" on the minority community else, the government would take "appropriate measures." Earlier, Ms. Hasina met President Abdul Hamid and briefed him on the steps taken to check post-poll violence.
Full report at:
http://www.thehindu.com/news/international/south-asia/will-act-against-those-attacking-minorities-sheikh-hasina/article5557890.ece
------------
Anti-trafficking measures praised by US, doubts persist within Maldives government
By Daniel Bosley | January 9th, 2014
The US State Department has commended the Government of Maldives on the recent ratification of the Anti-trafficking Act, whilst a source within the government has questioned the administration's initial moves in managing anti-trafficking policy.
Principal Deputy in the Office to Monitor and Combat Trafficking in Persons, Nan Kennelly, visited the country to consult with numerous stakeholders within both the government and civil society.
"Without a doubt passing a human trafficking act is a significant accomplishment and we have commended the government for that. It's notable that it was done so early in the new administration," said Kennelly.
Full report at:
http://minivannews.com/politics/anti-trafficking-measures-praised-by-us-whilst-doubts-persist-within-government-74831
------------
President Yameen has no cabinet, says former President Nasheed
By Ahmed Rilwan | January 9th, 2014
Former President Mohamed Nasheed has criticised President Abdulla Yameen for dividing his cabinet among coalition partners and "giving half of it to a business tycoon."
Speaking at the opposition Maldivian Democratic Party's (MDP) local council campaign rally in Addu City last night, Nasheed said development projects that had come to a halt during Dr Mohamed Waheed's "coup government" had not restarted after the election of the new government.
Yameen's administration "does not even have a development plan," Nasheed alleged.
The ruling Progressive Party of the Maldives (PPM) won the second round of presidential polls held on November 16 with the backing of third-placed candidate business tycoon Gasim Ibrahim's Jumhooree Gulhun.
Full report at:
http://minivannews.com/politics/president-yameen-does-not-have-a-cabinet-nasheed-74814
------------
Various Charges of Violence: 8,500 BNP, Jamaat men sued, 77 others held
January 10, 2014
At least 8,500 BNP and Jamaat-Shibir men have been sued and 77 others arrested in five districts on various charges.
In Rangpur, 8,500 leaders and activists of BNP, Jamaat and Shibir were sued on charges of attacking and setting fire to polling centres, snatching ballot papers and boxes and vandalising polling centres in Pirgachha upazila on January 5 election day and the day before, reports our correspondent.
According to Pirgachha police, 12 cases were lodged on Wednesday night and Tuesday on charges of the offences at 39 polling centres out of 90 in the upazila.
The presiding officers of 39 polling centres filed 12 separate cases, accusing 500 identified and 8,000 unnamed BNP and Jamaat-Shibir men.
Full report at:
http://www.thedailystar.net/country/8-500-bnp-jamaat-men-sued-77-others-held-6189
------------
Southeast Asia
Sultan of Selangor's decree does not apply to Sikhs as 'Allah' is in scriptures, says Karpal
January 10, 2014
Sikhs in Selangor are not affected by the sultan's decree on the use of the word "Allah" in their worship as the word is in their holy scriptures, said lawyer Karpal Singh.
"There should be no prohibition and it is in our holy book. The word appears 37 times in the Sikh scriptures," the veteran lawyer said after his sedition trial at the High Court in Kuala Lumpur today.
Karpal said this in reference to the decree by the sultan of Selangor that non-Muslims were barred from using the word "Allah" in Selangor.
The sultan, who is the head of Islam in Selangor, renewed the decree in November last year that with the exception of Muslims, all must abide by the Selangor Non-Islamic Religions (Control of Propagation among Muslims) Enactment 1988.
Full report at:
http://www.themalaysianinsider.com/malaysia/article/sultan-of-selangors-decree-does-not-apply-to-sikhs-as-allah-is-in-scripture
------------
Perak mufti quizzed by cops over 'bloodshed' remark
January 10, 2014
Police have recorded a statement from Perak mufti Tan Sri Harussani Zakaria regarding his comments that it was permissible to spill the blood of those who protested during the New Year's Eve rally.
Inspector-General of Police Tan Sri Khalid Abu Bakar (pic) told reporters at Bukit Aman today that Harussani had been interviewed by the police in connection with the comments he made.
"Any statement which is deemed a threat to national security will be thoroughly investigated, regardless of who made the statement," he said.
He rubbished reports that only certain people could threaten security.
"We probe everyone, but you are only interested in certain people," Khalid told the media.
Harussani had issued a fatwa on January 3 declaring it 'halal' (permissible) to shed the blood of the participants of an anti-price hike rally held on New Year's Eve.
Full report at:
http://www.themalaysianinsider.com/malaysia/article/perak-mufti-quizzed-by-cops-over-bloodshed-remark
------------
Pakistan celebrates the Bible; Malaysia confiscate it
January 10, 2014
Islam is the official religion of Pakistan and Malaysia but both have contrasting attitudes toward the Bible.
Just three days after Christmas, Pakistan celebrated 150 years of the Bible Society there by issuing a commemorative postage stamp while in Malaysia, Jais, the Selangor Islamic agency, stormed into the Bible Society two days into the New Year. They confiscated over 300 local language Bibles, while police arrested two of its officials and later released them on bail.
The raid was condemned by both Christians and non-Christians including Muslims except for the extreme right wing within Umno and their sympathisers.
Malaysia is a constitutional monarchy while Pakistan is an Islamic Republic. Islam is the official religion in both countries.
Full report at:
http://www.themalaysianinsider.com/sideviews/article/pakistan-celebrates-the-bible-we-confiscate-it-bob-teoh
------------
Cops recommend charging Herald editor at centre of 'Allah' row with sedition
January 10, 2014
Police have recommended that the editor of the Herald, Rev Father Lawrence Andrew, be charged with sedition for his remarks that churches in Selangor will continue using the word "Allah" in their Bahasa Malaysia masses.
However, the final decision on whether to charge the Catholic priest will be made by the Attorney General's Chambers.
The Malaysian Insider learnt that police will be meeting senior public prosecutors at the AG's Chambers today to study the investigation papers before reaching a decision.
The investigation papers were sent back to the police on Wednesday and yesterday, police revisited several journalists with more questions.
Full report at:
http://www.themalaysianinsider.com/malaysia/article/cops-recommend-charging-herald-editor-at-centre-of-allah-row-with-sedition
------------
Indonesian volunteers to open hospital in Gaza
World Bulletin / News Desk
January 10, 2014
A non-governmental organization in Indonesia has raised approximately $15 million in donations to build a new hospital in the Gaza Strip, which is due to be opened this May.
28 Indonesian volunteers for Indonesia's Medical Emergency Rescue Committee (MERC) are currently in Gaza to add the finishing touches to the hospital, which is still waiting for certain equipment before it can start serving patients.
One 24-year-old volunteer, Fikri, who studies at the Islamic University of Gaza, told Quds.net "We have taken risks to complete the hospital. It's a nice feeling to help the wounded in Gaza who suffer from Israeli aggression. We have come here and we know that it's not easy, but we are happy."
Full report at:
http://www.worldbulletin.net/?aType=haber&ArticleID=126633
-----------
North America
Canadian college student says religion forbids him working with women
Jan. 9, 2014
TORONTO, Jan. 9 (UPI) -- A York University professor says it's "unacceptable" the school's administration is siding with a student who won't work with women for religious reasons.
Professor Paul Grayson told the Toronto Star the student in an online sociology class emailed him in September to say he had a problem with participating in a focus group with other students, the class's only in-person requirement.
"One of the main reasons that I have chosen Internet courses to complete my BA [bachelor of arts] is due to my firm religious beliefs," the student wrote. "It will not be possible for me to meet in public with a group of women (the majority of my group) to complete some of these tasks."
Full report at:
http://www.upi.com/Top_News/World-News/2014/01/09/Canadian-college-student-says-religion-forbids-him-working-with-women/UPI-81341389317119/
------------
U.S. Considers Resuming Nonlethal Aid to Syrian Opposition
10 Jan 2014
WASHINGTON — The Obama administration is considering the resumption of nonlethal military aid to Syria's moderate opposition, senior administration officials said on Thursday, even if some of it ends up going to the Islamist groups that are allied with the moderates.
The United States suspended the shipments last month after warehouses of equipment were seized by the Islamic Front, a coalition of Islamist fighters that broke with the American-backed Free Syrian Army and has become an increasingly vital force in the nearly three-year-old uprising against President Bashar al-Assad.
But as a result of the rapidly shifting alliances within Syria's fractured opposition, some of the Islamists fought alongside the Free Syrian Army in a battle against a major rebel group affiliated with Al Qaeda, the Islamic State of Iraq and Syria.
Full report at:
http://www.nytimes.com/2014/01/10/world/middleeast/syria-aid-may-resume-despite-fears-over-where-it-will-go.html?hpw&rref=world
----------
US denies Kerry pressing Arab League to recognize Israel as Jewish state
January 10, 2014
With US Secretary of State John Kerry scheduled to meet top Arab League officials next week, State Department officials denied efforts were under way to get the league to alter its 2002 peace initiative and recognize Israel as a Jewish state, thereby paving the way for the Palestinians to do the same.
State Department spokeswoman Jen Psaki, at her daily press briefing Wednesday afternoon in Washington, denied reports that Kerry was pressing the kings of Jordan and Saudi Arabia to alter the Arab League peace initiative.
Kerry met the kings of both countries on Sunday, and is scheduled to meet in Paris in the coming days with representatives of the Arab League's Arab Peace Initiative Follow-up Committee to update them on the Israeli-Palestinian negotiations, as part of his continued efforts to drum up wide Arab support for the negotiations.
"It would not be accurate to say there was an attempt to change the Arab Peace Initiative," Psaki said.
Full report at:
http://www.jpost.com/Diplomacy-and-Politics/US-denies-Kerry-pressing-Arab-League-to-recognize-Israel-as-Jewish-state-337729
------------
Algerian jihadist remains serious threat: US general
January 10, 2014
The elusive jihadist who staged a deadly siege of an Algerian gas plant a year ago, Moktar Belmokhtar, has the means to stage a similar attack, a top US general said Thursday.
Belmokhtar was the mastermind behind an assault on a remote gas facility near In Amenas on January 16 last year that left 38 hostages dead, following a three-day siege and rescue attempt.
"We still believe he has the capability to do another attack like In Amenas," General David Rodriguez, head of the US Africa Command, told reporters.
The United States in December designated Belmokhtar's group, "Signatories in Blood," as a terrorist organization, and the State Department is offering a $5 million reward for information leading to the Algerian's capture.
The one-eyed Islamist is the former leader of Al-Qaeda in the Islamic Maghreb (AQIM) and is also believed to be behind twin car bombings in Niger in May that left at least 20 people dead.
Full report at:
http://english.ahram.org.eg/NewsContent/2/8/91242/World/Region/Algerian-jihadist-remains-serious-threat-US-genera.aspx
------------
US warns both sides in S Sudan over conflict
10 Jan 2014
US call comes as South Sudan government troops try to wrestle back control of the oil producing town of Bentiu.
Government forces pressed with an offensive to wrestle back South Sudan's main oil hub from rebel forces as the White House urged both sides in the deadly conflict to sign an agreement to cease hostilities immediately.
The worst fighting on Friday centred around Bentiu, where forces loyal to former Vice President Riek Machar have been holding off the army of President Salva Kiir, leaving the town ransacked and emptied of its civilian population.
South Sudanese rebels rejected a government plan on Wednesday to end a dispute over detainees and unblock peace talks aimed at halting the conflict that has killed at least 1,000 people.
Full report at:
http://www.aljazeera.com/news/africa/2014/01/us-warns-both-sides-s-sudan-over-conflict-201411061140216234.html
------------
Edward Snowden leaks may be 'lethal' for troops: US lawmakers
AFP | Jan 10, 2014
WASHINGTON: Fugitive intelligence contractor Edward Snowden's theft of 1.7 million secret documents could potentially put US military forces in "lethal" danger worldwide, American lawmakers warned Thursday citing a confidential Pentagon report.
The defense department prepared and sent to prominent members of Congress a classified paper analyzing the potential impact of revelations by the former National Security Agency (NSA) contractor. The report itself was not made public.
Snowden has disclosed details of US intelligence-gathering operations, but the lawmakers warned that Snowden's illegal haul includes a large amount of classified military data.
"This report confirms my greatest fears -- Snowden's real acts of betrayal place America's military men and women at greater risk," House Intelligence Committee chairman Mike Rogers said in a joint statement with top committee Democrat Dutch Ruppersberger.
Full report at:
http://timesofindia.indiatimes.com/world/us/Edward-Snowden-leaks-may-be-lethal-for-troops-US-lawmakers/articleshow/28607584.cms
------------
Hagel to pay key visit to Turkey to talk missiles, Syria
January 10, 2014
U.S. Secretary of Defense Chuck Hagel is expected to pay a visit to Turkey in late January to discuss a number of security issues, with the Turkish government's decision to purchase a Chinese anti-ballistic missile defense system and developments in Syria and Iraq topping the agenda.
Hagel's visit will be the highest-level encounter between the two countries since Turkey was shaken by a massive internal political earthquake that also impacted Washington-Ankara relations.
Full report at:
http://www.hurriyetdailynews.com/hagel-to-pay-key-visit-to-turkey-to-talk-missiles-syria.aspx?pageID=238&nID=60829&NewsCatID=359
------------
US concerned over Taliban detainees release from Bagram prison
Jan 10 2014
The US officials have expressed concerns regarding the Afghan government's plan to free Taliban detainees from the Bagram prison.
The decision to release 72 prisoners, was taken during a meeting chaired by president Hamid Karzai on Thursday, where Afghan officials said here was not enough evidence against 72 of 88 prisoners previously held by US forces at the Bagram air base.
However, spokeswoman for the US Department of State, Jen Psaki, said Washington was concerned regarding the planned freedom of the Taliban detainees by Afghan government and described the 72 detainees as "dangerous criminals".
Psaki insisted that strong evidence shows that the 72 detainees who are due to be released, have links to terror-related crimes.
Full report at:
http://www.khaama.com/us-concerned-over-taliban-detainees-release-from-bagram-prison-2680
----------
Mideast
Radicals make al-Assad look less evil: Turkish FM
January 10, 2014
The incorrect methods adopted by radical groups in Syria have made the Syrian government appear "less evil," Foreign Minister Ahmet Davutoğlu said on Jan. 9.
Some circles are conducting a "psychological move targeting Turkey as if Turkey was supporting the armed groups in Syria," Davutoğlu told Anadolu Agency, noting that Ankara considered elements of the Syrian government, the Democratic Union Party (PYD) and al-Qaeda in Syria as factors posing a security risk to Turkey.
"All foreign elements must leave Syria," he said, adding that the Islamic State of Iraq and the Levant (ISIL) emerged when the opposition gained power in northern Syria and started a war against other opposition elements.
Full report at:
http://www.hurriyetdailynews.com/radicals-make-al-assad-look-less-evil-turkish-fm-.aspx?pageID=238&nID=60831&NewsCatID=338
------------
Israel announces more than 1,800 new settler homes: watchdog
January 10, 2014
Israel unveiled plans on Friday to build more than 1,800 new settler homes, a watchdog said, as the United States tried to push faltering peace talks forward.
The housing ministry announced the plans for 1,076 units in annexed east Jerusalem and 801 in the occupied West Bank, said the Israeli settlement watchdog Peace Now.
The move comes a week after US Secretary of State John Kerry visited the region in his latest effort to push Israeli and Palestinian leaders towards an elusive peace deal.
Israel released 26 long-serving Palestinian prisoners on December 31, the third of four batches to be freed as a goodwill gesture under the ongoing talks.
Full report at:
http://www.hurriyetdailynews.com/israel-announces-more-than-1800-new-settler-homes-watchdog.aspx?pageID=238&nID=60843&NewsCatID=352
------------
Islamic Jihad: Israel's 'recent escalation' in Gaza is attempt to sabotage Palestinian reconciliation
January 10, 2014
Israel's "recent escalation" in the Gaza Strip aims to sabotage Palestinian reconciliation efforts, Islamic Jihad leader Ahmad Mudallal told Ma'an on Thursday.
Earlier inThursday, Palestinian terrorists fired mortar shells at IDF soldiers on the border between Israel southern Gaza. In response, the Israel Air Force struck the cell that fired into Israel.
The air force hit a small group of Palestinian armed men as they were preparing to fire again on IDF troops near the security fence, the IDF said.
Israel was "waging a war of attrition against Palestinian resistance groups, especially Islamic Jihad," Mudallal told Ma'an.
He accused Israel of attempt to "break the spirit of resistance" in order to impose its will on the Palestinians.
Full report at:
http://www.jpost.com/Middle-East/Islamic-Jihad-Israels-recent-escalation-in-Gaza-is-attempt-to-sabotage-Palestinian-reconciliation-337702
------------
Turkey's top judicial body says govt plans for reform 'unconstitutional'
January 10, 2014
Turkey's top judicial body on Friday slapped down the government's plans to curb its powers, calling the proposed reforms unconstitutional.
"With the law amendment, the board is reporting to the justice ministry. The amendment is against the constitution and the formation of an independent body," the Supreme Board of Judges and Prosecutors (HSYK) said in a written statement.
The government proposed plans to restructure the HSYK amid a vast corruption probe implicating key allies of Prime Minister Recep Tayyip Erdogan.
Full report at:
http://english.ahram.org.eg/NewsContent/2/8/91262/World/Region/Turkeys-top-judicial-body-says-govt-plans-for-refo.aspx
------------
URL: https://www.newageislam.com/islamic-world-news/new-age-islam-news-bureau/discovery-of-bombs-and-corpses-rattles-tense-caucasus-region/d/35229