New Age Islam News Bureau
11 March 2020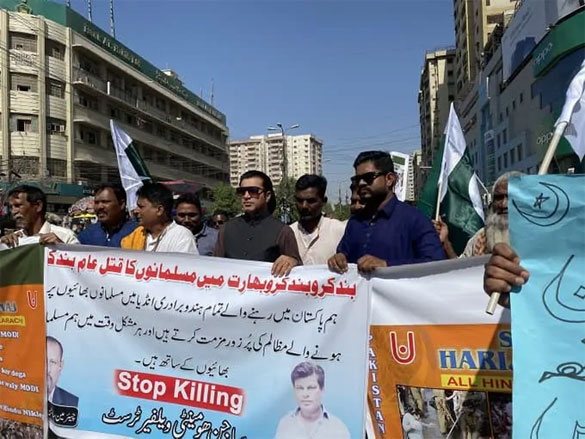 • Pak Hindus Cancel Major Holi Celebrations to Protest Delhi Riots
• Bangladesh Conveys Worries over India's Policies on Muslims
• Muslim Man Guarding Ram Temple in Riot-Hit Northeast Delhi Arrested
• Muslim Rights Group Fears New Govt Not Interested In Fighting Underage Marriage
• Human Rights and International Affairs Department of Iran's Justice Ministry Condemns Anti-Muslim Violence In India
• UN Security Council Endorses US-Taliban Peace Deal
• UK: Labour Suspends Rights Campaigner over Islamophobia
Arab World
• Detained Saudi Royals Sought To Block Crown Prince's Accession: Report
• Far-Right Terrorists Want Syria Crisis to Bring on Race War
• U.S. Military Reviewing Iraq Operations after 2 Troops Die Fighting ISIS
• Militant Hamas Criticizes Saudi Trials of Members, Backers
• Egypt Sentences 41 People to Life on Terror Charges Linked to Hasm Group
• Syrian Army Discovers Hideout of Al-Nusra Leader Mohammad Al-Jolani West of Aleppo City
• Coronavirus: Saudi Arabia sends assistance to China
• Syrian army uncovers militant chemical weapons workshop in western Aleppo
• Senior Hashd al-Sha'abi cmdr. killed, four aides wounded in Daesh attack in Iraq's Diyala
--------
Pakistan
• Pak Hindus Cancel Major Holi Celebrations to Protest Delhi Riots
• Pakhtun jirga asks govt to take action against all terrorist networks
• Pakistan Army Colonel, 2 Militants Killed in Shootout in NW
• Pakistan offers 50 scholarships for Palestinian students
• PML-N, PPP alarmed as six MPAs meet Buzdar
• Allies lambaste PM Imran for remarks about Reko Diq in NA session
• Aurat March organisers demand judicial probe into Islamabad stone pelting incident
• Bilawal blames LHC for 'judicial murder' of ZAB
• Bilawal sees no difference in Naya Pakistan and dictatorship
--------
South Asia
• Bangladesh Conveys Worries over India's Policies on Muslims
• Afghan President Ashraf Ghani Orders Release of Taliban Prisoners
• 9 children killed, wounded in roadside bomb explosion in Logar province of Afghanistan
• Islamic State claims rocket attack targeting Afghan inauguration: statement
• Dueling Afghan leaders both declare themselves president
• Afghan forces seize AUG rifle and 90,000 rounds of ammunition in Herat
• Afghan forces kill suicide bomber, foil deadly attack in Kandahar
• Khalilzad calls Taliban's current pace of violence as 'Too High'
--------
India
• Muslim Man Guarding Ram Temple in Riot-Hit Northeast Delhi Arrested
• Man Who Removed the Saffron Flag a Burnt Mosque, Allah Wali Masjid in Karawal Nagar
• Why Four Important Islamic Nations, Turkey, Iran, Malaysia and Indonesia, Are Angry With India
• Delhi Police's Probe against Kashmiri Couple for 'Islamic State' Links Reveal Terror Groups' Machinations, Raises Questions on 'Organic' Anti-CAA Protests
• Day after Arrest, Kashmiri Couple's Kin Claim They Were Framed Due To Identity
• Like Each Year, Police Cover Aligarh Mosque Ahead Of Holi
• Jammu and Kashmir: Militant killed in encounter in Shopian
• Man who brandished gun at cop during Delhi riots sent to judicial custody
• Voices of dissent over Muslim Trust for mosque
--------
Southeast Asia
• Muslim Rights Group Fears New Govt Not Interested In Fighting Underage Marriage
• Saifuddin Admits New Govt Dominated By Malays, But Says Nothing Stopping It From Being Inclusive
• Not in Cabinet? Hadi Awang says staying out to keep an eye on PAS ministers
• New Islamic affairs minister humble to the core
• We thwarted PH's 'rooftop' coup against Mahathir, says Hadi
--------
Mideast
• Human Rights and International Affairs Department of Iran's Justice Ministry Condemns Anti-Muslim Violence In India
• Iran's Assembly of Experts Urges India to Stop Violence against Muslims
• Al Qaeda Thanks Turkey for Protecting It against Assad, Russia, Iran
• Turkish Interior Ministry: 282 ISIS Militants Deported Since November
• Hamas New Base in Turkey after Limiting Presence in Lebanon, Qatar
• A cleric's cure for coronavirus becomes butt of jokes in Iran
• Iran Reports Remarkable Growth in Coronavirus Recoveries alongside Growing Death Rates
• US urges Iran to release American prisoners amid coronavirus outbreak
• Turkey confirms first coronavirus case in the country
• Coronavirus in Iran: Senior member of Khamenei's office reportedly infected
• Coronavirus: Iran to recognize dead medical staff as 'martyrs'
• Israeli court turns down Netanyahu's request to delay corruption trial
• Number of coronavirus deaths in Iran jumps to 291 amid 8,042 confirmed cases
• 'World must push US to lift sanctions as Iran fights coronavirus'
• Turkey's Erdogan continues to withstand EU pressure to close border
• US in talks with NATO allies to give Turkey military aid
--------
North America
• UN Security Council Endorses US-Taliban Peace Deal
• Bernie Sanders Has Brought out the Muslim Vote in Ways I've Never Seen Before
• Coronavirus forces US defence chief to postpone visit to Pakistan, India
• US 'concerned' by war-zone drones deployed by Iran, its proxies in Middle East
• US begins troop withdrawal from Afghanistan: Official
• Taliban 'crush' Daesh/ISIS with US 'limited support'
--------
Europe
• UK: Labour Suspends Rights Campaigner over Islamophobia
• Police referred own staff to counter-terrorism scheme
• German court to open Syrian 'crimes against humanity' trial in April
• No military solution to Libyan conflict: Germany's Merkel
• One Year after Mosque Massacre, New Zealand Is Fighting Rising Hate
• Turkey deports 2 terrorists to Germany, North Macedonia
• G20 Used By Saudis 'To Build Legitimacy'
• Concrete steps needed from EU: Top Turkish diplomat
• Khashoggi fiancee slams UN, EU for inaction over murder
• Gunman opens fire in Paris mosque, wounding one
--------
Africa
• Sudan's Prime Minister Survives 'Terror Attack' in Capital
• At least 43 killed in attack on Burkina Faso villages
• US Airstrikes Kill 6 Al-Shabab Militants in Somalia
• Boko Haram attacks army camp in Niger, killing 8
• Boko Haram kills hospitalised soldiers, villagers in Niger
• Mali militants say they are open to talks if foreign troops leave
• Sudan moves against Omar al-Bashir loyalists after assassination attempt
• French president meets Libyan warlord Haftar in Paris
Compiled By New Age Islam News Bureau
URL: https://www.newageislam.com/islamic-world-news/detained-saudi-royals-sought-block/d/121278
--------
Detained Saudi royals sought to block crown prince's accession: Report
10 March 2020
Two senior Saudi royals arrested recently had reportedly been seeking to block the accession to the throne of Crown Prince Mohammed bin Salman (MBS) using a procedural body.
Britain's Guardian newspaper quoted three sources as saying on Tuesday that the arrest on Friday of the pair — namely Prince Ahmed bin Abdulaziz al-Saud, the sole remaining full brother of King Salman and a potential rival to bin Salman, as well as former crown prince Mohammed bin Nayef — was ordered after details of their alleged conversations were passed to the royal court.
Two of the Guardian's sources said the senior royals were accused of having sought to install Prince Ahmed as chairman of the Allegiance Council, a position that is currently vacant.
The council was established in 2007 to ensure a smooth transition of power should the king or crown prince die.
The arrest of the two men was directed by bin Salman, whom they are accused of having tried to sideline through the council.
However, the alleged discussions are not believed to have developed and appear to fall short of claims that the two men were planning a coup against the crown prince.
Mohammed bin Nayef, the monarch's nephew, was next in line to the throne before he was suddenly replaced by bin Salman in 2017. Since being ousted, Prince Nayef has effectively been under house arrest and prevented from leaving the kingdom.
On Saturday, Saudi Arabia detained a fourth prince in a new purge of royal family members over an alleged coup attempt to unseat King Salman and his son MBS.
Prince Nayef bin Ahmed bin Abdulaziz was the fourth prince taken into custody after the detention of his father Ahmed bin Abdulaziz, along with Prince Mohammed bin Nayef and his half brother Nawaf on Friday.
The arrests have sparked speculation that aging King Salman is about to die or abdicate.
Reuters cited a regional source as saying that bin Salman "accused them of conducting contacts with foreign powers, including the Americans and others, to carry out a coup d'etat."
The news agency further quoted sources as saying that King Salman had himself signed the arrest warrants.
Other reports have emerged suggesting that bin Salman is seeking to become king before an upcoming G20 Summit to be hosted by Riyadh.
Back in November 2017, dozens of Saudi princes, ministers and former ministers were detained and placed in a luxury hotel under tight security guard over allegations of money laundering, bribery, extorting officials, and misappropriation of public funds for personal benefits.
The detentions had been ordered by Saudi Arabia's so-called Anti-Corruption Committee headed by Mohammed bin Salman, in a crackdown widely believed to be aimed at consolidating his power.
The majority of those high-profile figures later agreed to monetary settlements in exchange for their freedom and paid colossal sums of money.
The purge followed an earlier roundup of Muslim clerics, writers, economists, and public figures.
https://www.presstv.com/Detail/2020/03/10/620542/Saudi-Arabia-bin-Salman-MBS-Royals
--------
Pak Hindus cancel major Holi celebrations to protest Delhi riots
BY RASIA HASHMI
MARCH 10, 2020
Karachi: Showing solidarity with Muslims who were persecuted in Delhi riots in India, Pakistani Hindu community celebrated Holi this year with sobriety. The representatives of the Hindu community in Pakistan also took out a march in support of Muslims affected by riots in Delhi last month.
They said "we are doing a march to give the expression of protest against the persecution and brutalities against Muslims in the recent violent riots in New Delhi, India."
Riots broke out in Indian capital New Delhi last month claiming over 53 lives, largely from the Muslim community.
Arab News Pakistan
✔
@arabnewspk
#Pakistan's #Hindu community on Sunday marched in support of #Muslims affected by riots in Delhi last month and announced they would celebrate this year's #Holi festival with sobriety as a protest against the violence in #India || #DelhiRiots2020 https://arab.news/28jpg
Pakistani Hindus march, cancel major Holi celebrations to protest
KARACHI: Representatives of Pakistan's Hindu community on Sunday marched in support of the Muslims of Delhi affected by violent riots in the Indian capital last month, and announced they would
arabnews.pk
3,482
23:15 - 8 Mar 2020
Twitter Ads information and privacy
1,566 people are talking about this
Rana Ayyub
✔
@RanaAyyub
Pakistani Hindus march, cancel major Holi celebrations to protest Delhi riotshttps://www.arabnews.pk/node/1638586/pakistan …
Pakistani Hindus march, cancel major Holi celebrations to protest
KARACHI: Representatives of Pakistan's Hindu community on Sunday marched in support of the Muslims of Delhi affected by violent riots in the Indian capital last month, and announced they would
arabnews.pk
8,100
12:11 - 9 Mar 2020
Twitter Ads information and privacy
3,205 people are talking about this
The Hindu community in Pakistan makes up about two percent of the country's population of 210 million people and the majority lives in southern Sindh province.
Though the annual festival of Holi is normally celebrated with great zeal in Karachi, as a commemoration of spring and color, the demonstrators said that the 2020 Delhi riots which erupted on the night of February 23 and led to the deaths of 53 people, mostly Muslim, in violent ways, have dampened the joy of the festival.
Arab News quoted Pundit Mukesh Kumar, one of the march's organizers as saying "Our Muslim brothers were being oppressed and killed, and their property was damaged in Delhi. It has really hurt us and prompted us to march today."
On Sunday, as nationwide Aurat March demonstrations garnered national attention, the Hindu marchers continued their own impassioned protest.
Kumar added: "We urge upon the UN and world community to stop Modi and his government from meting out bad treatment to religious minorities. We also urge our Hindu brothers in India to stand up for the rights of Muslims and other religious minorities."
He claimed: "Our Muslim brothers have never been a hurdle to our festival, instead they've always protected us." "They celebrate it with us." He said.
Saying that India's Muslims were only protesting against a bad law, Dr. Rakesh Motiani, a local leader of Pakistan People's Party said "It's unfortunate that the Modi government tried to stop them from protesting by resorting to the worst form of violence."
Shanti Devi, a demonstrator said "It hurts us a lot when Muslims are tortured in India. All should be considered human beings, and only then will peace prevail and society prospers." "We are all humans and have the right to live in our countries peacefully." She added.
https://www.siasat.com/pak-hindus-cancel-major-holi-celebrations-protest-delhi-riots-1851601/
--------
Bangladesh Conveys Worries over India's Policies on Muslims
2020-03-10
Bangladesh has expressed concern about India's policies affecting Muslims through official channels, Dhaka's foreign minister told BenarNews on Tuesday, one day after New Delhi announced that Prime Minister Narendra Modi deferred a trip to the neighboring country because of the global spread of novel coronavirus.
Bangladesh on Sunday announced the first three confirmed cases of the virus on its soil and said it was scaling back celebrations marking the 100th anniversary of the birth of the country's founding father, Sheikh Mujibur Rahman, planned for this month. Modi had been scheduled to attend a grand ceremony on March 17 that would be held later, it said.
Islamic parties, which had threatened to hold a major protest on Thursday, suspended the plan after New Delhi announced the cancellation of Modi's Dhaka trip on Monday. They continued to call for Prime Minister Sheikh Hasina to condemn what they termed India's discriminatory policies and attacks on the Muslims.
"It's not true that we are silent. We have been talking to the Indian government at different official forums," Foreign Minister AK Abdul Momen told BenarNews, refuting allegations during protest rallies by the Islamic parties.
Previously, Bangladeshi officials said Modi was expected to hold bilateral talks with Hasina on a wide range of issues during his two-day visit starting March 17.
But Islamic political parties staged protest rallies across nation for two consecutive Fridays demanding cancellation of Modi's visit, alleging that the Indian government had stoked tensions between Hindus and Muslims.
At least 52 people were killed and hundreds more suffered injuries during a 72-hour outburst of intercommunal violence in the Indian capital two weeks ago, local reports said.
To prepare for Modi's tour, India's Foreign Secretary Harsh Vardhan Shringla visited Dhaka early this month and assured Hasina and Momen that India's decisions regarding the National Register of Citizens (NRC) and the Citizenship Amendment Act (CAA) would not impact Bangladesh.
CAA, which has led to violence in several parts of the country over the last few months, makes it easier for persecuted non-Muslim minorities from Bangladesh, Afghanistan and Pakistan to get Indian citizenship. It was passed by the Indian parliament in December 2019.
On Monday, India's Ministry of External Affairs said it had received formal notification from Bangladesh that the birth centenary celebrations were delayed because of the detection of coronavirus cases in the country.
"The Bangladesh government has advised us that fresh dates for these commemorative events will be conveyed later," the MEA said. "In this context, Prime Minister's visit to Bangladesh next week at the invitation of Prime Minister Sheikh Hasina is being deferred."
Momen, meanwhile, said he had asked his Indian counterpart "whether the NRC and the CAA were necessary."
"The Indian foreign secretary gave his government's clarification and assured me that the NRC and the CAA were internal affairs of India and those would in no way affect Bangladesh," Momen told BenarNews.
New Delhi authorities have not explained what whipped up violence where Hindu rioters set several mosques ablaze and engaged Muslims in pitched battles using swords, sticks, guns and axes.
Reports said the clashes stemmed from tensions over amendments to the citizenship law passed by Modi's government but seen by critics as discriminating against Muslims. The religious community forms the largest minority group in Hindu-majority India, which is one of Bangladesh's closest allies.
Bangladeshi government officials earlier withheld comment on the controversial amendments, saying they involved matters related to New Delhi's "internal affairs."
Despite the demonstrations and mounting criticism, the Hindu nationalist government has rejected calls to repeal CAA.
Islamic leaders suspend protests
"As the trip had been cancelled, we have suspended protest-action programs," Ahmed Abdul Quadir, secretary general of Islamic political party Khelafat Majlish told BenarNews on Tuesday.
"Our expectation was that the Bangladeshi government would not remain silent on the question of condemning the attacks on Muslims in Delhi and the discriminatory policies of the Indian government against Muslims," Quadir said.
"But the government is silent. They are just expressing concerns," he said. "We were expecting the government to condemn India for NRC and the CAA."
But diplomatic analysts rejected the statements from the Islamic party leaders.
"Why should Bangladesh take the responsibility of all Muslims around the world? Bangladesh is not an Islamic country," Touhid Hossain, a former foreign secretary, told BenarNews.
Bangladesh lacks the political, economic, diplomatic and military strength to put pressure on India, Hossain said.
"We have to accept the reality," he said. "Bangladesh cannot condemn India."
But Munshi Faiz Ahmad, chairman of the Bangladesh Institute of International and Strategic Studies, a state-owned think tank, said Bangladesh had cancelled many bilateral visits to India to deliver a message: Dhaka does not support the CAA and the NRC.
In the presence of the Indian foreign secretary, one of Hasina's advisers said during a March 2 meeting on Bangladesh-India relations that India "should not do anything that may harm Bangladesh's secular atmosphere," Ahmad said.
"Through this comment, Bangladesh has communicated a message to India," he said. "And this is strong enough. We cannot go for public condemnation of India."
https://www.benarnews.org/english/news/bengali/bangladesh-india-03102020173810.html
--------
Muslim man guarding Ram temple in riot-hit Northeast Delhi arrested
FATIMA KHAN
9 March, 2020
New Delhi: Usman Saifi had been religiously guarding a Ram temple in Gali Number 18 of Mustafabad's Nehru Vihar for over a week now. Ever since riots broke out in the Muslim-dominated area of Northeast Delhi, Saifi and his neighbours were conscious of not letting tensions simmer for too long.
"He knew that if anything happens to the temple, it will be the Muslims of the area who will be blamed." his wife Salma told ThePrint.
Saifi, 45, was picked up by Delhi Police from outside the temple late Sunday and detained. His neighbours say the police accused him of rioting and took him to Dyalpur station at 12:45 am.
"So many people guard the temple, not just him. I don't know why they only targeted him" Salma said.
At the temple, the shock of Saifi's arrest still confounds the temple guard, and those who witnessed his arrest.
'Put a pistol to his head, took him away'
Muslim men in the neighbourhood say they have been sitting outside the over two-decade-old Ram temple in Mustafabad ever since the riots began.
"We can't afford any slander, or any sort of allegations thrown our way. So, we would sit outside the temple every night and guard it," said a Mustafabad resident, who was guarding the temple Sunday night with Saifi.
"The police suddenly came in their car, put a pistol on Saifi's head and took him away. He didn't even get a chance to defend himself," the eyewitness added.
A temple guard also says he had seen Saifi every night since the riots.
"I don't know anyone by their name. But I have seen him here sitting outside the temple. These men were not just guarding the temple, but also themselves — by ensuring they are not accused of anything," the guard told ThePrint on condition of anonymity.
'Police saw my son rioting in video footage'
According to police sources, at least 150 people have been arrested until now in connection with the Delhi riots. However, there are no official figures on the detentions. "People are being detained in connection to rioting every day," a source added.
At the Mustafabad relief camp, several families have approached the police and the legal help desk stationed there.
"Since last night, we have been getting several complaints of arbitrary arrests. We are trying to help these people locate the stations where their arrested or detained kin is kept," said a Supreme Court advocate at the legal help desk.
At the help desk, a woman named Fatima tried seeking help, alleging that her husband and 17-year-old son were picked up by the police Monday afternoon, when the three of them were crossing the Shiv Vihar bridge.
"My husband and son put up a fruit stall at the Shiv Vihar puliya every day. They had put one up on 25th February as well. But the police caught hold of them saying they saw my son rioting in video footages," said Fatima, adding that she kept telling the police they are innocent.
"They came to arrest my son, but then turned towards my husband and said 'tum iske baap ho?' and took him away as well," Fatima added.
Several other families claimed male members of their family were picked up late Sunday.
"The men here have been sitting outside their homes every night ever since the riots as a safety measure for our families," said Mohammed Umair, a resident of Mustafabad, whose neighbour Mohammed Yameen was picked up by the police Sunday night.
"We were sitting together when Yameen went to buy some milk, but he never came back. It's only later when we went to the Dyalpur station to inquire did we find out about his arrest."
https://theprint.in/india/muslim-man-guarding-ram-temple-in-riot-hit-northeast-delhi-arrested/378282/
--------
Muslim rights group fears new govt not interested in fighting underage marriage
March 10, 2020
PETALING JAYA: Muslim women empowerment group Sisters in Islam (SIS) appears not convinced the Perikatan Nasional government is committed to upholding the rights of women and children including refugees and stateless kids, saying the related Cabinet portfolio is now in the hands of a party which does not share such goals.
This comes amid criticism over the appointment of PAS' Siti Zailah Mohd Yusoff as the deputy minister for women, family and community development.
Kelantan, which is ruled by PAS, is among states resisting calls to ban underage marriages among Muslims.
"The vision to end child marriage in Malaysia is not a shared goal between Sisters in Islam and PAS," SIS said in a statement.
The current legal age for marriage under civil law is 18, while shariah courts are empowered to allow Muslim marriages at 16 or younger.
SIS said it was concerned with PAS' inclusion in the federal Cabinet despite the party's stand not to ban underage marriage.
"With PAS in the fold, would the Perikatan Nasional government be at all interested to protect the interest of the child without resorting to marriage as being the answer for her to have a future?" it asked.
SIS said Malaysia has a commitment to fulfil Sustainable Development Goals, which among others call for gender equality, an end to female genital mutilation and equal participation of women in political, economic and public life.
It said the political shift following the collapse of the Pakatan Harapan government has an impact on reforms of laws to protect women's rights, including the tabling of a anti-sexual harassment bill as well as laws to stop workplace discrimination.
"These reforms of laws and policies were advocated in response to the constant and multiple challenges that Malaysian women face every day physically and online. Thus, we do not wish to see these reforms stalled or delayed any longer," it added.
https://www.freemalaysiatoday.com/category/nation/2020/03/10/muslim-rights-group-fears-new-govt-not-interested-in-fighting-underage-marriage/
--------
Human Rights and International Affairs Department of Iran's Justice Ministry Condemns Anti-Muslim Violence In India
March 11, 2020
"The Human Rights and International Affairs Department of the Justice Ministry condemns these brutal crimes and urges the Indian government to take action in reforming discriminatory law and stopping violence against the Muslims in India by the extremist Hindus," the statement said.
The Justice Ministry also urged the international community to take a transparent stance and condemn such crimes which are being taken in line with "Islamophobia and annihilation of the Muslims".
Anti-Muslim violence started in India amid widespread protests over the Citizenship Amendment Act (CAA) that Prime Minister Narendra Modi's Hindu nationalist government introduced in December, offering a path to Indian citizenship for six religious groups from neighboring countries, specifically excluding Muslims.
Critics insist the law is discriminatory, coming in the wake of other severe government measures against the country's Muslim population such as withdrawal of autonomy for Muslim-majority Jammu and Kashmir province that has intensified discord across India about the future of its 200 million Muslims.
The Assembly of Experts also issued a statement on Tuesday condemning violence against Muslims and warned against communal conflicts in India.
"...it is necessary that India take prompt and proper measure to end this issue and stop a further flame of division by a number of extremists," part of the statement said.
In a tweet on March 2, Foreign Minister Mohammad Javad Zarif condemned violence against Indian Muslims.
"For centuries, Iran has been a friend of India. We urge Indian authorities to ensure the wellbeing of ALL Indians and not let senseless thuggery prevail," Zarif said.
"Path forward lies in peaceful dialogue and rule of law," he added.
During a meeting with Indian Foreign Ministry director-general for political affairs, Iranian Ambassador to New Delhi Ali Chegeni said India is famous among Iranians as the land of peaceful co-existence and expressed hope that all Indian citizens would enjoy "peace and friendship" through wise decisions by the Indian government and officials.
Pakistan's Foreign Minister Shah Mahmood Qureshi has supported Zarif's stance on the wave of organized violence against Indian Muslims.
"Fully share the concerns expressed by my brother Javad Zarif on safety and well-being of Indian Muslims facing naked violence from RSS mobs. India is in throes of grave communal violence. Their sinister and systematic killing of Muslims is inhuman and dangerous for whole region," Qureshi tweeted on March 3.
Heshmatollah Falahatpisheh, a member of the Majlis National Security and Foreign Policy Committee, has urged the Indian government to take action in stopping a continuation of cruelty against the Muslims.
In an interview with ISNA published on Sunday, Falahatpisheh said the extremist Hindus' actions are a violation of the United Nations Charter.
Leader of the Islamic Revolution Ayatollah Seyyed Ali Khamenei has warned the Indian government against continued massacre of Muslims, saying that the current pogrom against Muslim people in the South Asian country will lead to isolation of New Delhi in the Islamic world.
The Leader made the remarks in a statement tweeted in Urdu, English, and Persian on Thursday in condemnation of the brutal killing of more than 40 Muslims during a four-day span of violence that began in New Delhi on February 23.
"The hearts of Muslims all over the world are grieving over the massacre of Muslims in India," Ayatollah Khamenei remarked. "The govt. of India should confront extremist Hindus & their parties & stop the massacre of Muslims in order to prevent India's isolation from the world of Islam," the Leader pointed out.
The violence saw the Hindu mobsters setting mosques on fire and burning Muslims alive in their homes or dragging them out into the streets and lynching them.
In a letter to UN Human Rights Council chief Michelle Bachelet, a large of number of citizens, students, and nongovernmental organizations (NGOs) have denounced the anti-Muslim cruelty in India, urging the international body to take urgent action to stop the brutalities.
The letter was signed by 1,140 Iranian citizens, 146 NGOs, and student organizations.
https://www.tehrantimes.com/news/445994/Iran-s-Justice-Ministry-condemns-anti-Muslim-violence-in-India
--------
UN Security Council endorses US-Taliban peace deal
11 March 2020
The UN Security Council on Tuesday unanimously approved a United States' resolution on the recent deal between the US and the Afghan Taliban, a rare endorsement of an agreement with a militant group.
The US military has begun withdrawing troops as part of the pullout agreed in the February 29 pact with the Taliban.
In the resolution, the Security Council "urges the Government of the Islamic Republic of Afghanistan to advance the peace process, including by participating in intra-Afghan negotiations through a diverse and inclusive negotiating team composed of Afghan political and civil society leaders, including women."
The United States is keen to end its longest-ever conflict, and under the terms of a deal signed in Doha last month has said all foreign forces would quit Afghanistan within 14 months - provided the Taliban stick to their security commitments.
Some diplomats expressed unease that the agreement included two secret appendices on the fight against terrorism that Council members approved without knowing what they say.
The UN resolution came with Afghanistan in political crisis, following the double swearing-in on Monday of President Ashraf Ghani and his rival and former chief executive Abdullah Abdullah, both of whom claimed victory in last year's presidential election.
https://english.alarabiya.net/en/News/world/2020/03/11/UN-Security-Council-endorses-US-Taliban-peace-deal-.html
--------
UK: Labour suspends rights campaigner over Islamophobia
Karim El-Bar
09.03.2020
LONDON
Britain's Labour Party on Monday suspended Trevor Phillips, former head of the country's Equality and Human Rights Commission, for Islamophobia as the commission investigates the party for anti-Semitism.
Phillips, 66, is a veteran anti-racism campaigner and Labour member, but also has a track record of controversial remarks about Muslims.
Having been suspended, he will now be investigated by the party and possibly expelled.
A party spokeswoman said: "The Labour Party takes all complaints about Islamophobia extremely seriously and they are fully investigated in line with our rules and procedures, and any appropriate disciplinary action is taken."
The decision was based on comments made by Phillips over a number of years rather than anything immediate.
In an interview with BBC Radio 4 on Monday, he said: "They say I am accusing Muslims of being different. Well actually, that's true. The point is Muslims are different. And in many ways I think that's admirable."
One of the specific reasons behind the suspension seems to be a 2016 pamphlet in which he argued that Muslims were becoming a "nation within a nation" and that an inability to speak about Muslims freely led to crimes going unreported for fear of being called racist. His views have been echoed by far-right leaders such as Tommy Robinson.
"There are all sorts of differences in our society, and the central point of my pamphlet was to say we cannot continue simply to say that differences won't matter," he said. "You keep saying that I make these generalisations. But the truth is, if you do belong to a group, whether it is a church, or a football club, you identify with a particular set of values, and you stand for it. And frankly you are judged by that."
Baroness Sayed Warsi, a former Conservative Party chair and outspoken campaigner against Islamophobia, said: "If you take a negative characteristic of an individual and impose on a whole community that's racism."
Phillips has opposed an extended definition of Islamophobia made by a cross-parliamentary group of MPs. He is involved with various free speech initiatives.
Last year, he was one of 24 public figures to sign a public letter saying they would not vote Labour in the election over its inability to tackle anti-Semitism within the party. The letter said that party leader Jeremy Corbyn had "a long record of embracing anti-Semites as comrades."
Speaking in a radio interview on Monday, Phillips said: "It is an attempt to scare the Equality and Human Rights Commission, which is conducting an inquiry in to how the Labour Party has handled allegations of anti-Semitism amongst its members. It may be an attempt to scare the EHRC into going soft on the party. I genuinely and sincerely hope that doesn't happen and that the EHRC does its job diligently and honestly."
Commenting on the case, a spokesperson for the Muslim Council of Britain said: "Mr Phillips has made incendiary statements about Muslims that would be unacceptable for any other minority. Many of these sweeping generalisations are unfounded, wildly exaggerated, and are familiar tropes taken up by the far right.
"He has claimed Muslims do not report terrorism, despite the poll he cited showing Muslims report terrorism more than the general public. He likened placing a Christian girl into a foster care with a Muslim family as akin to 'child abuse'; and further propagates the othering of Muslims, claiming Muslims are 'not like us', 'see the world differently' and are a 'nation within a nation'."
"The impact of Mr Phillips claims from a privileged vantage point is dangerous, providing licence to far-right ideologues such as Tommy Robinson who have seized upon these remarks.
"Mr Phillips would have us believe that he is a martyr for free speech and tolerance. But the fact remains that the deployment of these sweeping generalisations and tropes would not be acceptable for any other community.
"We are not commenting on the internal processes of the Labour Party, its choices or prioritisation of this case versus others. We expect the Party to follow appropriate process and investigate its members over all allegations of Islamophobia, and all other types of racism."
https://www.aa.com.tr/en/europe/uk-labour-suspends-rights-campaigner-over-islamophobia/1760001
--------
Arab World
Far-Right Terrorists Want Syria Crisis to Bring on Race War
Mar. 10, 2020
The indifference of Europeans and the West to the long Syrian civil war is once again blowing up in their faces. The Assad regime and its backer, Russia, are bombarding Idlib province, the last "safe haven" for the rebels, pushing nearly a million displaced Syrians to flee to the Turkish border.
President Recep Tayyip Erdoğan, who wants to force the Europe Union to engage, has meanwhile opened his country's E.U. frontier for refugees to enter the continent. It's a heartbreaking and chaotic situation where nobody wins—except for the far right.
These extremists are driven by a false narrative of a Muslim "invasion" of the West. For years, it has helped them gain political power while inspiring terrorist attacks in places like Oslo and Christchurch.
Now, as boats of refugees arrive again at Greek shores and desperate migrants try to storm their way through fences or slip through rivers and fields, the far right's mythology is getting a boost.
Much like Europe's refugee crisis of 2015, all corners of the far right are seizing on Turkey's announced opening of its European borders. In Germany, France, Britain, Russia, Austria, Ukraine, and Greece itself, far-right groups are characterizing this crisis as an all-out race war, declaring "heads should roll and White Men should regain control of their lands."
Such messages have ranged from calls to harass migrants, their supporters, and journalists in Greek refugee centers to devising ways to form a volunteer border militia. Common among all the messages, however, is an embrace of violence.
Lutz Bachmann, the founder and current leader of the German anti-Islam hate group Patriotic Europeans Against the Islamisation of the Occident (PEGIDA), wrote to the nearly 12,000 users following him on Telegram: "When illegal immigrants with potential terrorist background try to cross the border of a sovereign state, then you MUST react this way, completely legitimate and legally mandated."
This militant outcry is coming not just from hate groups, but actual militant organizations. Misanthropic Division (MD), the militant foreign volunteer wing of Ukraine's neo-Nazi Azov Battalion, has published posters using all of its signature white supremacist iconography to demand: "Defend Greece."
Some far-right groups in Europe have even announced they're going to Greece to push back against the refugees. Among them is the Austrian branch of the white nationalist Identitarian Movement led by Martin Sellner, a Vienna native who was once in contact with Christchurch shooter Brenton Tarrant. Tarrant donated almost $2,500 to Sellner's branch of the movement.
Sellner released a video claiming he and his fellow members were "driving to Greece… as volunteers to help the Greek people… protect their borders," A follow-up video showed him with other alleged supporters in a vehicle "halfway to Greece."
Sellner also announced the creation of a portal that serves as a point of "recruitment contact" for those interested in going to Greece to "demonstrate" against migrants and "protect our borders." The portal also encourages donations.
Similarly, on a chat dedicated to the Nordic Resistance Movement (NRM), a pan-Europe neo-Nazi organization, users explored the possibility of forming a volunteer force "to go and help the Greeks defend their border."
"I'm honestly considering going there," wrote one user.
Artwork distributed across far-right Telegram channels and chat groups using the Nazi Black Sun icon and a statue of Skanderbeg, a historical military figure who rebelled against the Ottoman empire. Declares: "Fight rapefugees back to the hellhole they belong!"
One popular neo-Nazi Telegram channel shared a thread of advice for brethren planning on entering Greece to help repel or attack refugees. The channel suggested that such individuals go posing as tourists:
Don't go to Greece on "immigration control business," go there as a regular tourist!
Because that's what you are, right? Repeat after me: "I am a tourist. I have no desire whatsoever to do anything related to the invasion of Europe. I am here to take photos and mind my own business."
There, that's better.
What we are seeing unfold from the Idlib crisis is a perfect storm: an easy-to-bend illustration of the far right's "invasion" myth, timed chillingly close to the anniversary of the March 15 Christchurch attacks, which were carried out on behalf of that very myth.
But even more, it's one more way that what happens in Syria isn't just Syria's problem, and never has been. For nearly a decade, the international community has watched Bashar al-Assad and his enablers indiscriminately bomb innocent men, women, and children, only to fret and feign surprise when these desperate human beings show up at Europe's doorsteps.
That this has enabled the far-right movements is only one of an array of consequences for Western indifference. Whether it's for the sake of human life, Middle East stability, or the strength of one's own democracy, the West has far too many reasons to care about Syria. It's past time, long past time, to pay attention.
https://www.thedailybeast.com/far-right-terrorists-want-syria-crisis-to-bring-on-race-war?ref=scroll
--------
U.S. Military Reviewing Iraq Operations After 2 Troops Die Fighting ISIS
By Thomas Gibbons-Neff and Eric Schmitt
March 9, 2020
WASHINGTON — American military commanders are reviewing how their forces conduct missions in Iraq and Syria after the deaths of two U.S. Special Operations troops in northern Iraq on Sunday during an operation against Islamic State fighters, military officials said on Monday.
The review, spurred by the particular circumstances surrounding Sunday's mission, will examine how U.S. forces advise and accompany local troops, the officials said. During the review, American military operations will continue, they said.
The Americans killed were part of a Marine Special Operations team partnered with Iraqi counterterrorism forces, and were locked in a brutal gun battle while clearing a well-defended cave complex in mountains near the town of Makhmur, roughly 40 miles southwest of Erbil. The U.S. deaths are the first of 2020 in the nearly six-year American campaign against the terrorist group.
According to one military official, the Americans who were killed had to be pulled out with a hoist after falling into a crevice.
In a statement, Col. Myles B. Caggins III, a spokesman for the American-led mission in Iraq and Syria, said U.S. troops had to deploy additional forces to recover the dead in an effort that took roughly six hours.
Other officials said that those additional troops were drawn from the elite Delta Force.
Colonel Caggins declined to comment on the review of operations, but said, "We continue to support our Iraqi security force partners in their mission to defeat Islamic State remnants."
The deaths come as the Islamic State has spent recent months reconstituting its ranks in porous and ungoverned areas of Iraq and Syria, leaving local forces in both countries working to keep the terrorist group away from urban areas.
The Islamic State fighters who were the target of Sunday's raid are among a number of larger groups that have gradually grown in a rugged area of northeast Iraq. Makhmur is one of Iraq's disputed areas, where security responsibility has shifted back and forth between Iraqi Kurds and Iraqi Arabs.
The land around Makhmur is rocky, hilly and arid, with numerous natural caves that the Islamic State has exploited as hide-outs and for storing weapons. The group targeted on Sunday included at least 19 men and was one of the larger clusters of fighters identified by American and Iraqi intelligence sources, according to officials.
No Iraqi counterterrorism fighters were injured in the battle, according to officials, but two were killed earlier this year in a previous raid.
In a tweet, Brett H. McGurk, the U.S. special envoy for the coalition to defeat the Islamic State until 2018, pointed to the length of time it took to recover the dead. "Something is not right," he said.
"We seem to have lost focus on this mission while increasing risks to our people and depleting their resources for no good reason," he wrote.
In January, after a U.S. airstrike in Baghdad killed the most important Iranian general, Maj. Gen. Qassim Suleimani, the American-led mission in Iraq suspended its mission against the Islamic State in the country for 10 days, hunkering down in fear of Iranian retaliatory strikes.
After the Iraqi government accused the United States of violating the country's sovereignty with the strike, the country's Parliament called for the expulsion of all American forces from the country, roughly 5,200 troops.
The last American killed in combat in Iraq was in August, when Marine Gunnery Sgt. Scott A. Koppenhafer died during a joint Iraqi-U. S. operation in Nineveh Province against the Islamic State. The Pentagon is weighing options to draw down forces in Iraq to around 2,500.
Full report at:
https://www.nytimes.com/2020/03/09/world/middleeast/marines-killed-iraq-isis.html
--------
Militant Hamas Criticizes Saudi Trials of Members, Backers
March 9, 2020
GAZA CITY, Gaza Strip — Hamas on Monday criticized the secretive criminal trials in Saudi Arabia of dozens of members and supporters of the militant Palestinian group.
The group, which rules the Gaza Strip, said Saudi authorities detained dozens of "the best of and the most elite of the Palestinian people residing in Saudi Arabia."
A popular account on Twitter focused on the arrests and trials of dissidents reported that the Saudi government is conducting the trials before the Specialized Criminal Court, a secretive tribunal established to try terrorism cases.
The arrests intensified in 2019 and there has been no official comment from the Saudi government on either the arrests or the trials.
Ties have not been warm between Hamas, an offshoot of the pan-Arab Muslim Brotherhood, and Saudi Arabia in recent years. The Palestinian group relies more on Saudi's regional rival Iran for funds, weapons and expertise.
Hamas says the detainees, among them some Jordanians, were held for "supporting the Palestinian cause." Earlier, a Hamas official explained that this means raising funds and soliciting donations.
Full report at:
https://www.nytimes.com/aponline/2020/03/09/world/middleeast/ap-ml-hamas-saudi.html
--------
Egypt Sentences 41 People to Life on Terror Charges Linked to Hasm Group
9 March, 2020
a military court in Cairo sentenced 41 people to life in prison on terror-related charges, rights lawyer Khaled el-Masry said. The military sentenced 98 others to prison terms ranging from three to 15 years. It acquitted 50.
The court convicted the defendants of joining a militant group known as Hasm, which has links to the Muslim Brotherhood, which is banned in Egypt, where it is considered a terrorist organization. Hasm has targeted mainly Egyptian security forces in bombings and drive-by shootings.
The 41 were also accused of carrying out several militant attacks, including one that killed a senior Egyptian army officer and the attempted assassination of a deputy public prosecutor in 2016.
The verdicts can be appealed, el-Masry said.
Full report at:
https://aawsat.com/english/home/article/2171457/egypt-sentences-41-people-life-terror-charges-linked-hasm-group
--------
Syrian Army Discovers Hideout of Al-Nusra Leader Mohammad Al-Jolani West of Aleppo City
Mar 10, 2020
The Syrian Army found al-Jolani's hideout during military operations in the sorrounding areas of Aleppo City.
The Al-Nusra leader's bastion was in Anjara region located 15 kilometers to West of Aleppo city.
Al-Jolani had directed terrorist attacks on Aleppo city and villages in its countryside from the hideout.
The local geography added natural fortification for the underground hideout which consisted of several rooms, including operations rooms and living quarters, complete with ventilation, lighting, and multiple entrances and exists.
The operations rooms included blackboards, lighting and communication equipment, and topographic maps. The hideout also contained vehicles that had been used by the leaders of terrorist groups.
In a relevant development in January 2016, the Syrian Army jets destroyed terrorist groups' hideouts and concentration points in Hraytan town in Aleppo province, destroying their vehicles and supply routes.
Full report at:
https://en.farsnews.ir/newstext.aspx?nn=13981220000383
--------
Coronavirus: Saudi Arabia sends assistance to China
11 March 2020
Saudi Arabia delivered an aid shipment to China in order to contain impacts of the new coronavirus, the Saudi Press Agency (SPA) reported on Tuesday.
King Salman Humanitarian Aid and Relief Center (KSrelief) on Monday delivered to the Chinese city of Wuhan, the epicenter of the virus, a shipment that included 60 ultrasound machines, 30 non-invasive ventilators, 89 defibrillators, 277 patient monitors, 500 infusion pumps and three dialysis machines, SPA reported.
Read more: Saudi King Salman issues directives to provide $10 mln to WHO
KSrelief delivered shipments last month to China and will deliver more in the upcoming weeks.
The aid shipments being sent to China are a part of the directives issued by Saudi Arabia's King Salman bin Abdulaziz "to provide urgent assistance to China to combat the novel coronavirus (COVID-19), according to the news agency.
Full report at:
https://english.alarabiya.net/en/News/gulf/2020/03/11/Coronavirus-Saudi-Arabia-sends-assistance-to-China.html
--------
Syrian army uncovers militant chemical weapons workshop in western Aleppo
10 March 2020
Syrian government forces have discovered a workshop in the western countryside of the country's embattled northwestern province of Aleppo, which foreign-sponsored Takfiri militants used to manufacture toxic chemical weapons for their attacks against army troops and civilians in government-controlled areas.
Syria's official news agency SANA, citing an unnamed field officer, reported that the covert workshop was uncovered inside a terrorist hideout dug inside a mountain in the recently-liberated Anjara area on Tuesday as army troopers were combing the region for hidden ordinance as well as improvised explosive devices, and were preparing repatriation of local residents.
The officer added that shells of various calibers in addition to plastic jerry cans and barrels full of different chemicals and toxic substances were found at the place.
A number of identity cards belonging to militants, and documents containing execution orders signed by terrorist Abdullah al-Muhaysini were recovered there as well.
The officer noted that militants were producing the chemical warfare for members of the so-called civil defense group White Helmets in order to be used in their false-flag attacks against civilians.
Elsewhere in the town of Kafr Naha, Syrian government forces discovered two workshops that Takfiri militants used to produce improvised cannons, and different shells and rockets.
Separately, shells weighing 40 kilograms each and small mortar shells were found at a textiles workshop in the town of A'wejel.
On March 4, the Russian Center for Reconciliation of the Opposing Sides in Syria said a group of foreign-sponsored Takfiri militants had sought to explode several containers with toxic substances in the strategic Saraqib city of the country's northwestern province of Idlib in a bid to incriminate Syrian government forces as a pretext for possible acts of aggression on army troops.
"In an effort to frustrate the advance of Syrian government forces in the western quarters of Saraqeb, a group of up to 15 terrorists tried on March 2 to detonate high-explosive ammunition along with tanks filled with toxic chemicals," the center announced in a statement at the time.
The statement added, "As the terrorists weren't proficient enough in handling toxic substances, one of the tanks leaked, inflicting casualties among the attackers themselves who received severe chemical poisoning, having failed to blow up the charges."
Full report at:
https://www.presstv.com/Detail/2020/03/10/620575/Syrian-army-uncovers-militant-chemical-weapons-workshop-in-western-Aleppo
--------
Senior Hashd al-Sha'abi cmdr. killed, four aides wounded in Daesh attack in Iraq's Diyala
10 March 2020
Daesh Takfiri terrorists have killed a senior commander of the Popular Mobilization Units in Iraq's eastern province of Diyala as government troops and allied fighters are engaged in joint counter-terrorism operations across the crisis-hit Arab country to flush out the last remnants of the extremist outfit.
A provincial security source, speaking on condition of anonymity, told Arabic-language al-Maalomah news agency on Tuesday that a high-ranking commander of the forces – commonly known by the Arabic name Hashd al-Sha'abi – was killed and four of his aides sustained injuries when a group of Daesh terrorists stormed a security checkpoint in Tal Ari area on the outskirts of the northeastern Iraqi town of Khanaqin the previous night.
The source added that Hashd al-Sha'abi forces together with government troops have launched a joint security operation in the area in order to hunt down the terrorists and destroy Daesh sleeper cells there.
The media office of Hashd al-Shaabi later identified the commander as Muhammad Ali Majeed al-Anbaki, stating that he was affiliated with Brigade 23 of the forces.
The media bureau of the Iraqi Joint Operations Command (JOC) said in a statement on Monday that nearly 25 Daesh militants had been killed in an airdrop operation on terrorist hideouts at a mountainous area in the northern part of the country's north-central province of Salahuddin.
The statement read that an airborne force from the Iraqi Counter-Terrorism Service (CTS) conducted an operation on Qara-Chokh Mountain near Makhoul mountain range, and the offensive started early on Sunday and continued into Monday dawn. Iraqi forces fought fierce clashes with Daesh Takfiris.
CTS commandos could destroy nine tunnels used as hideouts for the extremist militants and a training camp, leaving 25 Daesh terrorists killed.
On March 6, Iraqi security forces and allied Hashd al-Sha'abi fighters managed to ensure security in several rugged areas in Diyala province during an offensive to hunt down Daesh remnants in the area.
Iraq's Counter Terrorism Service (CTS) spokesperson Sabah al-Naaman said at the time police forces and Hashd al-Sha'abi fighters had destroyed militant hideouts in the Khanaqin district as well as the Hamrin Mountains, which the extremists used as safe havens to carry out frequent attacks against security forces and civilians.
Full report at:
https://www.presstv.com/Detail/2020/03/10/620559/Top-Hashd-al-Sha%E2%80%99abi-cmdr.-killed,-four-aides-wounded-in-Daesh-attack-in-Iraq%E2%80%99s-Diyala
--------
Pakistan
Pakhtun jirga asks govt to take action against all terrorist networks
March 11, 2020
PESHAWAR: The participants of Pakhtun Qaumi Jirga have demanded of the government to take action against all private militias and terrorist networks to ensure provision of safety and all constitutional rights to Pakhtuns.
They asked the neighbouring countries to support peace process in Afghanistan.
The jirga, called by Awami National Party to discuss the issues faced by Pakhtuns, was held in Bacha Khan Markaz here on Tuesday.
The representatives of all the major political parties including leader of Pashtun Tahaffuz Movement attended the jirga. A 21-point declaration was also issued on the occasion.
The jirga decided to form a committee on March 25 to implement the decisions made in the meeting. Peace process in Afghanistan was on the top in the declaration as the jirga hailed initiation of the process in the neighbouring country.
ANP chief Asfandyar Wali Khan said that trust was important between Pakistan and Afghanistan as distrust between the two neighbours could lead to disaster. Opening trade route could lead to improve ties between the two countries.
The jirga unanimously declared that Pakhtuns suffered a lot owing to terrorism and it was observed that despite military operations militant outfits were still organised.
The jirga demanded of the government to take action against all private militias and terrorist networks to ensure provision of safety and all constitutional rights to Pakhtuns.
The jirga also demanded rehabilitation of the people displaced owing to military operations against militants. It demanded full compensation to those Pakhtuns, whose houses and businesses were damaged. It asked government to provide opportunities to them to start businesses.
The jirga also took up the issue of missing persons and demanded that cases of forced disappearance were a matter of grave concern for Pakhtuns. All such missing persons should be produced and presented before courts, it said.
The participants of the jirga also discussed the issue of landmines and anti-personnel mines that were still making children, women and youth disabled in tribal districts. They said that security forces should remove the mines and stop violation of human rights.
The jirga also demanded formation of a truth and reconciliation commission to investigate crimes committed against people of the conflict-hit area during war against terrorism. It said that the incident of Khar Qamar and other such occurrences should be investigated through judicial inquiry.
The jirga demanded implementation of 18th Amendment that gave more powers and autonomy to the provinces over their resources. It demanded of the federal government to pay net hydel profit to the provinces.
It said that federal government should give more autonomy to the provinces over water resources in real sense. It also demanded control over minerals and rejected mineral law enacted by Khyber Pakhtunkhwa Assembly.
The jirga discussed the issue of census and blocking of National Identity Cards of people and said that reservations of Pakhtuns should be removed. It said that provinces should be allowed to decide educational matters and curriculum. It expressed concerns over deterioration of public sector universities and demanded steps to improve academic environment of the universities.
The jirga criticised what it called biased reporting and image of Pakhtuns displayed in media and said that proper coverage should be given to Pakhtuns.
The participants of the jirga also discussed the trade routes and China-Pakistan Economic Corridor and share of Pakhtuns in such projects. They said that trade with Afghanistan should be opened through all trade routes and all newly merged districts should be connected through highways with each other.
The jirga said that Pakhtuns should have full right on sale of tobacco and government should ensure that the area growing the crop got full profit from its sale. It also rejected Action in Aid of Civil Power Regulation and demanded of the government to abolish it.
The jirga also said that constituencies of Shirani and Harnai districts of Balochistan should be restored. It rejected privatisation of hospitals and demanded best and essential health services for Pakhtuns.
Asfandyar Wali Khan later told journalists that the jirga hailed initiation of peace process in Afghanistan. He said that he hoped peace would prevail in Afghanistan.
https://www.dawn.com/news/1539937/pakhtun-jirga-asks-govt-to-take-action-against-all-terrorist-networks
--------
Pakistan Army Colonel, 2 Militants Killed in Shootout in NW
March 9, 2020
DERA ISMAIL KHAN, Pakistan — A Pakistani army colonel and two militants were killed Monday in a shootout during a pre-dawn raid in the country's northwest, military and intelligence officials said.
In a statement, the military described the militants as "high-value" targets who were planning attacks. It said the raid took place on the outskirts of a town called Tank, and said weapons and explosives were found. It did not provide further details on the militants' identities or affiliation.
Local intelligence officials gave the identity of the slain officer as army Col. Mujeeb Ur Rehman. The intelligence officials said the slain militants belonged to the Pakistani Taliban, known as Tehrik-e-Taliban Pakistan. The group had a strong presence in the region until recent years, when the army killed or arrested most of its members in series of operations.
Tank is a strategic town in the northwestern Khyber Pakhtunkhwa province bordering Afghanistan, which has witnessed dozens of militant attacks in recent years, most claimed by the Pakistani Taliban.
Full report at:
https://www.nytimes.com/aponline/2020/03/09/world/asia/ap-as-pakistan-raid.html
--------
Pakistan offers 50 scholarships for Palestinian students
March 10, 2020
Pakistan's Minister of Science and Technology Chaudhry Fawad Hussain has offered 50 scholarships for Palestinian students to study in Pakistani universities within the ministry's remit.
Hussain made the offer to Palestine's Ambassador to Pakistan Ahmed Rabei in a meeting in Islamabad today. In return, Rabei pledged five million Palestinian olive saplings to Pakistan in support of the country's tree plantation campaign.
Rabei noted that some 50,000 Palestinian students have already graduated from educational institutions in Pakistan and used the skills to contribute to the development of Palestine.
For the 2019-2020 academic year, Pakistani universities, including the University of Lahore, offered five-year scholarships to students specialising in medicine, pharmacy, or dentistry with a score of 80 per cent or higher in school leaver exams.
Pakistan's science and technology minister, Hussain, added that the entire nation remains in solidarity with the Muslims of Palestine.
Spokesperson for Pakistan's Foreign Office Aisha Farooqui said, in a statement on 29 January, after the announcement of Trump's Middle East 'peace plan', that "Pakistan has consistently supported a two-state solution, as enshrined in the relevant Security Council and General Assembly Resolutions".
Adding that "Pakistan continues to support a just and lasting solution of the Palestinian issue, through dialogue and negotiations, that leads to the realisation of the legitimate rights of the Palestinians, including the right of self-determination."
While, on 3 March, the Speaker of the National Assembly Asad Qaiser said Pakistan would never have relations with Israel before the creation of an independent Palestinian state.
Adding that Pakistan will continue to raise its voice against the Israeli occupation and pressure the international community to condemn Israeli atrocities in Palestine on all international and regional conferences.
Rabei responded by calling Pakistan "the most important country in the Islamic world", adding that "its role is commendable for the unity of the Muslim community".
Noting that Palestinians have considered Pakistan their home, and that unity and solidarity between Muslim countries is essential for resolving disputes and problems faced by their populations.
Full report at:
https://www.middleeastmonitor.com/20200310-pakistan-offers-50-scholarships-for-palestinian-students/
--------
PML-N, PPP alarmed as six MPAs meet Buzdar
Amjad Mahmood
March 11, 2020
LAHORE: At least six Punjab Assembly members belonging to the Pakistan Muslim League-Nawaz and one to the Pakistan Peoples Party called on the Punjab chief minister here on Tuesday, exposing fault lines among opposition ranks.
Those who met Usman Buzdar included Nishat Ahmed Daha (PP-206, Khanewal), Abu Hafas Ghayasuddin (PP-47, Narowal), Chaudhry Ashraf (PP-57, Gujranwala), Faisal Niazi (PP-209, Khanewal), Mohammad Arshad (PP-244, Bahawalnagar) and Azhar Abbas (PP-269, Muzaffargarh) of the PML-N, and Ghazanfar Ali Khan (PP-225, Rahim Yar Khan) of the PPP.
Leaders of both opposition parties say they have taken notice of the violation of party discipline and sought explanation from the violators.
Opposition and parliamentary leader of the PML-N Hamza Shahbaz, who is in NAB custody but attending assembly session on the speaker's production orders, says the issue will be discussed in the internal party meeting to decide an appropriate action against the lawmakers.
Apparently not convinced that the 'dissidents' would dodge the party, he said the N-League was not an assembly of 'borrowed' men that its members could be swayed by any temptation and recalled that some botched attempts to make inroads into the N-League had been made in the past (a reference to almost the same MPAs' meeting with Prime Minister Imran Khan last year).
Party MPA from Lahore Samiullah Khan demands disciplinary action against the legislators, who called on the chief minister without taking on board party leadership.
Mr Daha says that they have met the chief minister to seek development funds for their respective constituencies.
Denying that he has left the party, he says he is not afraid of being kicked out the party for seeking development of his constituency. He claims that he has had differences of opinion with Hamza Shahbaz for the last many months.
PPP parliamentary leader Syed Hassan Murtaza says he also sought explanation from the party MPA who met Mr Buzdar without permission of the leadership.
Meanwhile, a press release issued by the CM's office says that former MNA Tahir Bashir Cheema also accompanied the MPAs, who "reposed their complete trust in the leadership of Prime Minister Imran Khan and Chief Minister Sardar Usman Buzdar and announced continuing lending their unconditional support to the government."
It says that matters pertaining to the current political situation and other important issues came under discussion during the meeting and it was decided to continue working jointly in order to serve people of the province.
Full report at:
https://www.dawn.com/news/1539939/pml-n-ppp-alarmed-as-six-mpas-meet-buzdar
--------
Allies lambaste PM Imran for remarks about Reko Diq in NA session
Iftikhar A. Khan
March 11, 2020
ISLAMABAD: The National Assembly on Tuesday witnessed rumpus and had to be abruptly adjourned after a minister apparently spoiling for a fight drifted from the agenda to criticise Sharif family members for staying abroad and accuse the PPP-led Sindh government of indulging in massive corruption.
The opposition members rose in their seats in protest when Minister for Communications Murad Saeed was given the floor by the chair to respond to questions that had not even been asked by any lawmaker.
Ignoring the clamour from the opposition benches, Mr Saeed said that according to media reports on inside stories about a PML-N meeting, the questions being asked by the nation also came under discussion during an internal meeting of the party.
He said Leader of the Opposition Shahbaz Sharif had become a guarantor of his convicted elder brother Nawaz Sharif and now nobody appeared to be ready to return.
The minister said a number of Sharif family members had fled the country. "The PML-N had given keys of the national kitty to a man [Ishaq Dar] who is a proclaimed offender now," he said and asked Shahbaz Sharif to announce when he would be coming to Pakistan.
The PTI leader criticised the Sindh government for alarmingly high dog-bite cases in the province and allocation of hundreds of millions of rupees in the name of containing the problem. He said the collapse of substandard buildings in Karachi was a constant problem and the reason behind this was an acute level of corruption. "They have put the lives of people of Karachi at stake," he remarked.
Mr Saeed demanded that a commission be constituted to probe the killing of Aziz Memon, a journalist associated with a Sindhi TV channel. Without naming anybody, he said Memon was receiving threats from a family.
The opposition members during the minister's speech kept on pointing out that it was private members' day and he had no right to speak on something that was neither on agenda nor had been raised in the house.
Deputy Speaker Qasim Suri, however, not only allowed the minister to speak, but also told the protesting opposition lawmakers that he would adjourn the proceedings if there was no order in the house. Around 80 per cent of the agenda could not be taken up as the chair abruptly adjourned the house to meet again on Wednesday (today) at 11am.
Earlier, the ruling PTI's allies came down hard on Prime Minister Imran Khan for his statement that the assets of Reko Diq would be sold out to pay off the country's loans. The issue was raised by Aslam Bhotani, an independent MNA from Balochistan, on a calling attention notice. Mr Bhotani, who otherwise supports the PTI government, voiced concern over the remarks and lamented that despite being a resource-rich province, Balochistan continued to face problems and deprivation.
He said gas had been discovered in Sui in 1952, but not even 10 per cent of the people of Balochistan have got it today. He said the province got only 2pc from the Saindak project, while 48pc and 50pc went to the federal government and China, respectively.
Mr Bhotani claimed that Balochistan produced 2,000MW of electricity against its requirement of 1,200MW, but it got only 600-700MW and continued to suffer 12-14 hours of loadshedding in many areas. He said Reko Diq belonged to Balochis­tan and its youth would not tolerate any injustice. "Balochistan is neither a derelict province nor is it for sale," he remarked.
Some other lawmakers from Balochistan also expressed concern over the prime minister's remarks and Parliamentary Secretary Khiyal Zaman in response agreed that under the 18th Amendment, the provinces had the right over their resources.
Sardar Akhtar Mengal of the Balochistan National Party, an ally of the ruling party, however, observed that the answer to the prime minister's remarks was not coming. "Is it not against the 18th Amendment?" he asked.
He said Balochistan's resources had been blatantly looted and asked if it was being considered a conquered area. He said Rs300 billion reserves of gold and silver from Balochistan had been sold and the province merely got two per cent share out of it. He said that Article 158 of the Constitution continued to be violated.
Minister for Parliamentary Affairs Ali Mohammad Khan said the prime minister wanted to rectify the mistakes of past and was a strong believer of provincial autonomy and rights of the weaker provinces.
Some important bills were also introduced in the assembly. Junaid Akbar introduced a law binding the members of the national and provincial assemblies to follow party discipline in Senate elections and proposing the polls through show of hands. The bill was supported by the government.
Jam Abdul Karim introduced a bill proposing bar on dual nationality holder civil servants.
Akhtar Mengal moved a bill under which only people from Gwadar will be issued CNICs from the port city and they will get themselves registered as voters from there.
Shazia Marri of the PPP moved a bill proposing to amend the Pakistan Penal Code to define 'rape'.
Full report at:
https://www.dawn.com/news/1539938/allies-lambaste-pm-imran-for-remarks-about-reko-diq-in-na-session
--------
Aurat March organisers demand judicial probe into Islamabad stone pelting incident
Aamir Yasin
March 11, 2020
ISLAMABAD: Organisers of the Aurat Azadi March on Tuesday demanded a judicial inquiry into the stone-pelting incident that took place during a demonstration held on Sunday to mark International Women's Day, urging authorities to take exemplary action against members of a right-wing group who they alleged was involved.
"The attack shows a lack of tolerance towards women in our society and the violent extent to which patriarchal right-wing forces would go to protect their interests and silence women. But we are not afraid of the threats and will continue our struggle for women's liberation across the country," they said at a press conference.
Rights activist Dr Farzana Bari said the violent attack took place partly because of the administration's decision to allow religious parties' Haya March at the same venue as that of the Aurat Azadi March.
Even though the march organisers had applied for an NOC for the event weeks in advance, the grant of the NOC was delayed till the last day because of pressure from right-wing parties who had only planned their march to disrupt the Aurat March, she said.
It was unacceptable that the Haya March organisers were allowed to set up right next to the Aurat Azadi March venue when the religious parties organising it — including the JUI-F, Jamia Hafsa and Sunni Ittehad among others — had actively threatened them with violence and then carried them out, she added.
"How were the members of right-wing parties allowed to stockpile stones, bricks, sticks and chilli powder to use for attacks against the Aurat Azadi March and why the violent attack was not reflected in the FIR?" she asked.
Despite some brave police officers who maintained the cordon, the police overall seemed unprepared and ill-equipped to deal with the situation, lacking riot gear with which to quell the situation, she added.
All of these questions need to be answered immediately through an independent judicial inquiry with representation from Aurat Azadi March organisers, she said.
Women's Democratic Front (WDF) information secretary and Aurat March organiser Tooba Syed said the Haya March participants directly threatened her and other organisers and made obscene gestures at them from afar.
She said that when the Aurat Azadi March was about to begin its walk towards the venue, the Haya March participants attacked, starting breaking down the cordon between them and hurling sticks, stones, bricks and shoes, which resulted in injuries to several organisers, including WDF president Ismat Shahjahan and others.
A day after the March, a car belonging to one of the organisers was vandalised, she added.
WDF president Ismat Shah­jahan, who was injured during the stone-pelting incident, said the attack was a reminder of why the March and feminist resistance to patriarchal violence were necessary, as even women marching against violence were subjected to barbaric violence by patriarchal status quo supporters.
BBC correspondent Irfana Yasir shared her story of violence at the March, saying she and her child was assaulted by a Haya March participant with chilli powder which temporarily blinded them.
Aurat Azadi March organiser Anam Rathore said that those who attacked the March were oblivious to the violence faced by women in Pakistan, which was one of the world's most dangerous countries for women.
Full report at:
https://www.dawn.com/news/1539954/aurat-march-organisers-demand-judicial-probe-into-islamabad-stone-pelting-incident
--------
Bilawal blames LHC for 'judicial murder' of ZAB
March 11, 2020
LAHORE: Pakistan People's Party (PPP) Chairman Bilawal Bhutto-Zardari on Tuesday blamed the Lahore High Court for 'judicial murder' of Zulfikar Ali Bhutto.
He said the nation still awaited justice in the cases of Z.A Bhutto and Benazir Bhutto.
"We expect justice from the judiciary even today," he said while addressing a gathering of lawyers at Lahore High Court Bar Association.
Bilawal said the first target of dictatorial forces was always the rule of law.
"We fought the dictatorships of Ayub, Zia, Yahya and Musharraf with the bars at our side," he said while lauding the role of the legal fraternity during the dictatorship in the country.
He said democracy in Pakistan was connected with the freedom of expression and human rights.
Bilawal said the PPP government always struggled for and maintained the supremacy of the Constitution and the parliament. He said in the past certain judges had dishonoured their offices by taking dictation from the PPP's opponents.
A judicial reference against Bhutto's murder was still pending in the court, he added.
"I ask the bar and the bench to give justice to Bhutto Shaheed. If even Zulfiqar Ali Bhutto and Shaheed Benazir Bhutto do not get justice, where would the commoner go?," he posed a question.
The PPP chairman said the chief justices in the past misused the suo motu powers. He said the bar and the bench should review the mechanism of appeals against decisions in suo motu cases.
He said his party wanted women judges to be in the higher judiciary as well. He also called for expeditious justice in cases of sexual violence.
Bilawal said under the current 'selected' government the country was witnessing a neo-dictatorship. He said the country was in the throes of fascism and fundamental rights of the citizens were being violated.
Full report at:
https://www.dawn.com/news/1539893/bilawal-blames-lhc-for-judicial-murder-of-zab
--------
Bilawal sees no difference in Naya Pakistan and dictatorship
March 11, 2020
LAHORE: Pakistan People's Party (PPP) Chairman Bilawal Bhutto-Zardari on Tuesday criticised the Pakistan Tehreek-e-Insaf (PTI) policies and likened the Naya Pakistan to a dictatorship.
Addressing the lawyer's community on the invitation of Peoples Lawyers Forum at the Lahore High Court, he said the present regime gave nothing to people, but starvation. Bilawal emphasised that the 'concerned quarters' give a right of appeal to the aggrieved party against the decision handed in suo muto proceedings.
Talking about the services of the legal fraternity, he said that the bar council always had been raising voice against dictatorship. He admired the lawyer's profession and the sacrifices laid down by them adding, "Quaid -e-Azam was also a lawyer who gave us Pakistan".
Expressing gloom over the judicial killing of party founder Zulfikar Ali Bhutto, he said that "it is regrettable that a man who gave Pakistan its Constitution was made subject to the judicial killing".
Full report at:
https://www.pakistantoday.com.pk/2020/03/10/bilawal-sees-no-difference-in-naya-pakistan-and-dictatorship/
--------
South Asia
Afghan President Ashraf Ghani orders release of Taliban prisoners
March 11, 2020
KABUL: Afghanistan's President Ashraf Ghani signed a decree to facilitate the release of some Taliban prisoners in Afghan jails, a spokesman for his office said on Wednesday.
"President Ghani has signed the decree that would facilitate the release of the Taliban prisoners in accordance with an accepted framework for the start of negotiation between the Taliban and the Afghan government," Sediq Sediqqi, Ashraf Ghani's spokesman said in a tweet. He also hinted that Kabul could consider releasing 5,000 prisoners if the Taliban refrained from attacks on Afghan forces.
At least 1,000 Taliban prisoners are expected to be released this week, five official sources said earlier, paving the way for opening direct talks between the Afghan government and the Taliban.
Meanwhile, American forces have started pulling out of two bases in Afghanistan a US official said, on Tuesday, the day peace talks between Kabul and the Taliban were due to start.
The United States is keen to end its longest-ever conflict, and under the terms of a deal signed in Doha last month has said all foreign forces will quit Afghanistan within 14 months — provided the Taliban stick to their security commitments.
US troops start pulling out of two bases in Afghanistan
Under the accord, the US is initially supposed to cut its troop presence from about 12,000 currently to 8,600 by mid-July, and close five of its roughly 20 bases across the country.
Troops have started leaving one base in Lashkar Gah, the capital of Helmand province in the south, and another base in Herat in the west, a US official told AFP on the condition of anonymity.
Even with the drawdown, US forces retain "all the military means and authorities to accomplish our objectives", Colonel Sonny Leggett, spokesman for US Forces-Afghanistan, said on Monday, referring to American counterterrorism operations and support for Afghan forces.
Helmand, which along with Kandahar province is considered a Taliban stronghold, is where US and British forces fought some of the bloodiest campaigns of the 18-year war.
Omar Zwak, spokesman for Helmand's governor, told AFP that "20 to 30" foreigners had left Lashkar Gah since the weekend.
Kabul chaos
Under the terms of the withdrawal deal, the Taliban are supposed to tackle jihadists such as the Islamic State group and Al Qaeda, as well as hold talks with the Afghan government that were due to start on Tuesday.
But Kabul is in disarray and appears unable to present a unified front to negotiate with the Taliban.
On Monday, President Ashraf Ghani was inaugurated for a second term following an election that was marred by fraud allegations while his rival, former chief executive Abdullah Abdullah, also declared himself winner and swore himself in as premier in a parallel ceremony.
Washington has denounced Abdullah's self-inauguration, urging unity in Kabul ahead of negotiations with the Taliban.
UN Council endorses deal
The UN Security Council unanimously approved a United States resolution on Tuesday over the recent deal between Washington and the Afghan Taliban, a rare endorsement of an agreement with a militant group.
https://www.dawn.com/news/1539992/afghan-president-ashraf-ghani-orders-release-of-taliban-prisoners
--------
9 children killed, wounded in roadside bomb explosion in Logar province of Afghanistan
10 Mar 2020
A roadside bomb explosion killed or wounded at least 9 children in central Logaar province of Afghanistan, the security officials said Monday.
Nasrat Rahimi, a spokesman for the Ministry of Interior said an improvised explosive device planted on a roadside went off at around 3 pm on Monday.
Rahimi further added that the explosion took place in Sheikhan Village of Azra district which killed a child and wounded eight others.
No individual or group including Taliban has so far claimed responsibility for the incident.
Taliban militants frequently use improvised explosive devices to target the security forces and government personnel but majority of such attacks inflict casualties ordinary civilians.
https://www.khaama.com/9-children-killed-wounded-in-roadside-bomb-explosion-in-logar-province-of-afghanistan-04492/
--------
Islamic State claims rocket attack targeting Afghan inauguration: statement
MARCH 9, 2020
CAIRO (Reuters) - Islamic State has claimed responsibility for a rocket attack targeting the inauguration of Ashraf Ghani as Afghan president in Kabul on Monday, the group said in a statement on an affiliated Telegram channel without giving evidence.
Ghani's ceremony was disrupted by the sound of two rockets hitting the edge of the compound of the presidential palace compound in the capital Kabul, Reuters witnesses said, but there was no word of any casualties and he continued his speech.
https://www.reuters.com/article/us-afghanistan-politics-claim/islamic-state-claims-rocket-attack-targeting-afghan-inauguration-statement-idUSKBN20W1Y1
--------
Dueling Afghan leaders both declare themselves president
Mar 9, 2020
KABUL: Afghanistan's rival leaders were each sworn in as president in separate ceremonies on Monday, throwing plans for negotiations with the Taliban into chaos and creating a dilemma for the United States as it figures out how to move its peace deal with the Taliban forward.
The US-Taliban deal signed just over a week ago was touted as Washington's effort to end 18 years of war in Afghanistan and was seen by many Afghans as the best opportunity yet for bringing an end to relentless wars.
But President Ashraf Ghani, who was declared the winner of last September's election, and his rival Abdullah Abdullah, who charged fraud in the vote along with the elections complaints commission, have refused to settle their differences.
The two ceremonies were held at the same time, Ghani's in the presidential palace and Abdullah's next door in the Sapedar Palace, both packed with each rival's supporters.
In a sign of international support for Ghani, his ceremony — aired on state TV — was attended by Washington's peace envoy Zalmay Khalilzad, General Austin S Miller, the head of US forces in Afghanistan, as well as a number of foreign dignitaries including the US Embassy's charge d'affaires and Tadamichi Yamamoto, the UN Secretary General's personal representative to Afghanistan.
At Abdullah's inauguration, aired on private Tolo TV, among those present were so called "jihadi' commanders, who were among those who allied with the US-led coalition to topple the Taliban in 2001.
Those commanders also participated in the brutal civil war of the 1990s, raising fears that the divisions among Afghan leaders could lead to violence.
When Washington and the Taliban insurgents signed their accord on February 29, the next crucial step was that Afghans would sit down and negotiate a road map for their country's future.
They are looking to hammer out such thorny issues as women's rights, free speech and the fate of tens of thousands of armed men on both sides of the 18-year war. Those negotiations were set to be held Tuesday in Oslo.
But the dispute between the top two candidates in last year's presidential election over who actually won means the Afghan government side appears unable to present a united front.
The US has said its troop withdrawal from Afghanistan will be linked to the Taliban keeping their counter-terrorism promises, but not to the success of talks between the Taliban and the Afghan government.
Afghanistan's election commission has declared incumbent President Ashraf Ghani as the winner of September's vote. His former partner in a unity government, chief executive Abdullah, as well as the election complaints commission say the results are fraught with irregularities. As a result, both Ghani and Abdullah declared themselves winners.
The two candidates are also backed by warlords who have a stake in who becomes president, complicating negotiations to break the stalemate being conducted Khalilzad.
The dueling inaugurations took place despite last-minute shuttle diplomacy by Khalilzad, who reportedly went back and forth between the two Afghan rivals into the early hours Monday.
A senior member of Abdullah's team, Basir Salangi, told local Afghan channel Tolo TV that the US peace envoy has asked both sides to delay their inaugurations for three days to sort out the stalemate. Abdullah reportedly said he was ready, but would go ahead with his ceremony Monday if Ghani refused to postpone.
Taliban spokesman Zabihullah Mujahed, in response to questions from The Associated Press, said late Sunday that the Taliban were still committed to the deal, but said the dueling presidential inaugurations "are not good for the Afghan nation".
As well as competing candidates, Khalilzad still has to get some agreement on a prisoner release, which was supposed to be settled before the intra-Afghan negotiations could begin.
The peace deal signed by the US and Taliban said 5,000 Taliban prisoners and up to 1,000 captives from the government side would be freed as a goodwill gesture ahead of the talks.
Ghani had previously said he won't release the Taliban prisoners, even as US Secretary of State Mike Pompeo called on all sides to stop posturing and free their prisoners, some of whom have already served their sentences. Pompeo called on all sides get on with talks about the country's future.
The Taliban spokesman told AP that the group wants their prisoners released and were ready to free the captives they're holding. Mujahed said they did not want to see a delay but reiterated that if it occurred "we remain committed to the agreement".
In a tweet, Afghanistan's former deputy foreign minister, Jawed Luddin, thanked Washington for trying to sort out Afghanistan's political turmoil while calling the squabbling "a mess".
"Thank you, USA, for trying to sort out our political crisis -- yet again. We know you must be sick of it -- as are we Afghans," Luddin said.
"You and us both had a hand in bringing about the mess that is today's Afghan politics. But I wish we Afghans felt half as responsible for the mess as you do," he added.
Full report at:
https://timesofindia.indiatimes.com/world/south-asia/dueling-afghan-leaders-both-declare-themselves-president/articleshow/74552876.cms
--------
Afghan forces seize AUG rifle and 90,000 rounds of ammunition in Herat
10 Mar 2020
The Afghan forces confiscated an AUG rifle and nearly 90,000 thousand rounds of ammunition during a raid in western Herat province.
According to a statement released by Ministry of Interior (MoI), the security forces confiscated the weapon and ammunition during a raid in Guzara district of Herat.
The statement further added the security forces seized 89,900 rounds of ammunition including 35,000 rounds of M-16 ammunition and 16,000 rounds of Ak-47 ammunition.
The Ministry of Interior also added that the security forces discovered the weapon and ammunition from a truck and arrested the driver of the vehicle.
Full report at:
https://www.khaama.com/afghan-forces-seize-aug-rifle-and-90000-rounds-of-ammunition-in-herat-04496/
--------
Afghan forces kill suicide bomber, foil deadly attack in Kandahar
10 Mar 2020
The Afghan forces foiled a deadly attack in southern Kandahar province by killing a suicide bomber who was looking to carry out an attack in Zherai district.
The Ministry of Interior in a statement said the explosives of the suicide bomber went off after the Afghan forces opened fire on him.
The statement further added that the suicide bomber was looking to carry out an attack in Hawz Madad area of Zherai district.
According to Ministry of Interior, the security forces foiled a deadly attack by eliminating the suicide bomber.
The anti-government armed militant groups have not commented regarding the incident so far.
Full report at:
https://www.khaama.com/afghan-forces-kill-suicide-bomber-foil-deadly-attack-in-kandahar-04495/
--------
Khalilzad calls Taliban's current pace of violence as 'Too High'
11 Mar 2020
The U.S. envoy for Afghan peace Zalmay Khalilzad called the current pace of violence by Taliban group as 'Too High' as he expressed hopes that the group would adhere to its commitments to reduce violence.
Ambassador Khalilzad took to Twitter late on Tuesday after President Mohammad Ashraf Ghani signed a decree to release the first batch of the 5,000 Taliban prisoners.
"President Ghani issued a decree tonight to release up to 5,000 Taliban prisoners starting Saturday from a list provided by the Taliban. The Taliban had already agreed to release up to 1,000 prisoners from the Afghan government side," Ambassador Khalilzad tweeted.
He also added "I urge the two sides to sit down immediately for talks on this issue in Doha, Qatar to work out the details. The Afghan government has agreed to do so. When implemented, this will be a significant step in the peace process."
However, he said "Despite these signs of progress, violence by the Taliban remains too high. We expect the Taliban to adhere to its commitments to reduce violence in order to allow for the release of prisoners to be implemented smoothly and the peace process to succeed."
The State Department had earlier confirmed that the Taliban group has taken steps to stop attacks against the coalition forces and in the cities but the group is still killing too many Afghans in the countryside.
Calling the current level of violence as unacceptable, Morgan Ortagus, a State Department spokesperson said "This must change. Violence at these levels risks drawing both sides into a vicious cycle, serves no one, and undermines peace."
This comes as efforts are underway to launch intra-Afghan dialogue following the signing of a peace deal between the United States and Taliban group late last month.
Full report at:
https://www.khaama.com/khalilzad-calls-talibans-current-pace-of-violence-as-too-high-04499/
--------
India
Man Who Removed the Saffron Flag a Burnt Mosque, Allah Wali Masjid in Karawal Nagar
By Betwa Sharma
March 11, 2020
NEW DELHI — Ravi Parashar recalls the moment an elderly Muslim cleric with a flowing white beard turned to the group of Hindus who had gathered near a mosque and pleaded, "Bhai, could someone help, please?"
Abdur Raziq, general secretary of an Islamic organisation called Jamia Ulama-i-Hind, was asking for help to remove the statue of Hindu god Hanuman and take down the saffron flag that rioters had hoisted above the Allah Wali Masjidin Karawal Nagar on 25 February, as communal violence consumed the neighbourhoods of northeast Delhi last week.
Parashar, whose family says he is "soft-hearted," wanted to volunteer right away, but hesitated.
After all, this was a riot situation and he sensed there were some unsavoury elements in the largely sympathetic crowd that was swelling in the narrow by-lane of Karawal Nagar, where the mosque and five Muslim houses had been looted and torched. The house next to the mosque was his brother's place that he had bought from a Muslim man named Sonu Khan. Both their houses were set on fire.
As Parashar stood in the rubble in front of his brother's house two days after the carnage, mulling over whether he should stick his neck out, some men in the crowd refused to help the cleric and walked away.
While the rest of the group remained silent, Parashar said the words just tumbled out of him.
He ended up saying, "I will help you. I will go with you and remove the flag."
The act by Parashar, who had no qualms admitting to the doubts he felt at the moment, stood out amidst the stories of loss, fear and mistrust that emerged from the communal violence that tore Delhi apart in the last week of February. While the victims were let down by government agencies, many seemingly ordinary people stepped up and performed quiet acts of heroism.
At least nine mosques in northeast Delhi were burnt by Hindu rioters who also climbed atop them, in a grim reminder of the 1992 demolition of Babri Masjid, to plant their flags of conquest on the structures. By the simple act of untying the knot that fastened the saffron flag to the minaret, Parashar not only soothed some of the wounds cleaved by the violence, he also provided a powerful counter-narrative to the messages of hate unleashed by politicians and many TV channels almost every day.
In a conversation with HuffPost India, 30-year-old Parashar, who spoke in short, matter-of-fact sentences, said that he was moved by how sad the cleric looked when asking for help.
"I think we felt the same at that moment, ″ he said. "Our house was looted and torched. Their mosque was looted and torched. He must have felt as scared and lost as we felt."
The cleric remembers
Raziq and Parashar had not met earlier and parted ways shortly after the latter took down the saffron flag from the mosque. They did not exchange mobile phone numbers or addresses.
When HuffPost India spoke to Raziq, all the cleric knew was his first name — Ravi. But the video he made of Parashar, clad in a red shirt and blue jeans, climbing the green-and-white minaret of the mosque, went viral.
The image of the young Hindu man taking down the saffron flag—symbolising a momentary undoing of the violent Hindu nationalism that India's current crop of leaders is inflicting on its people—offers hope to a city torn by religious violence.
This is how Raziq remembered the events of that morning.
"The crowd was mostly peaceful, but there were still some people there who were trying to stir up trouble," he said. "If not for the two policemen who were with me, I may not have stayed."
"I asked people for help but no one replied, some even refused. Then, I turned to this thin young man who agreed," he said.
Parashar, a wholesale watch supplier in Chandni Chowk, and father to a baby and a toddler, said, "No one else showed the courage in that moment, so I decided to do it. Someone has to do the right thing. Someone has to take a step for peace and brotherhood. Only then will others follow and hate start to disappear."
His brother's house
Almost 50 people — Hindus and Muslims— were killed in the communal violence in Delhi, which followed Bharatiya Janata Party leader Kapil Mishra's speech targeting those who had been protesting against the Citizenship Amendment Act for more than two months. More than 200 people were injured. Many more have fled their burnt, looted homes.
Parashar, who lives in a different part of Karawal Nagar, was at the scene to help his brother in assessing the damage he had suffered. With all their cash and jewellery stolen, he says they suffered a loss of around Rs 5-7 lakh.
Parashar's brother's home is located in the middle of the mosque and their "friend" Sonu Khan's house. It was Khan who sold them that house last year.
"We have never thought of Hindus and Muslims as different. This is the truth," he said. "If it were not true, why would we buy a house right next to the mosque?"
All that remains of the mosque, and the six houses burnt on this by-lane of Karawal Nagar, are charred walls, broken windows and a few items spared by the looters that are a grim reminder of a past life.
None of the Muslim families have returned.
On the losses his family has suffered, Parashar said, "We can't think about it too much. If we do, we won't be able to cope. I think of it as we have lost what was not ours to begin with."
aking down the flag
Even before Parashar headed to the roof to take down the flag, he had helped the two policemen who came with the Muslim cleric to remove the Hanuman idol that the rioters had placed at the entrance to the mosque.
The cleric and 10-12 other Muslim men who had come to assess the damage to the mosque, Parashar realised, would have been wary of touching the statue of the Hindu god in front of the crowd in that environment.
As he walked into the mosque and saw the aftermath of the attack, Parashar felt a chill go down his spine. He had felt it first when he had struggled to enter his brother's charred house which was filled with smoke.
"A man thought of himself as safe in Delhi. I could never have imagined this kind of violence would happen in Delhi. It's unbelievable," he said.
Parashar's family is from Agra.
When this reporter asked Raziq why the two policemen did not go to the roof and take down the flag, he said they had to stay behind to keep an eye on the crowd.
The saffron flag was tightly fastened to the white-and-green minaret, Parashar said. He held on to the minaret with one hand and untangled what he recalled to be four or five hard knots.
In the minute or so that it took him to take down the flag, Raziq made a video of Parashar and spoke about how the young man was preserving the "Ganga-Jamuni tehzeeb" of coexistence.
When this reporter asked Parashar where he put the saffron flag, he said, "I just did not know what to do with it. I folded it completely and brought it down with me. I left it in my brother's house."
And what of the Hanuman statue? Raziq said the policemen returned it to a temple close by.
A wedding after arson
This was the second time that Hanuman had come into Parashar's life in the course of three days.
The first time was on the night of 24 February, when his family had dressed in their finest and sallied forth to attend a wedding function for his niece, even as the rioting in northeast Delhi was escalating.
Their wedding party consisted of their immediate family, who were squashed into one car, and relatives who were following in 10-15 motorcycles. They did not go far when they were surrounded by a frenzied mob of Hindu rioters, who had commandeered the Khajoori Khas road and were chanting "Jai Shri Ram" over and over again.
Parashar's mother, who had joined our conversation, said they were terrified as the wedding party crawled through the mayhem, with hundreds of rioters on both sides of their vehicles.
"We were playing the Hanuman Chalisa very loudly in the car. We were chanting Jai Shri Ram," she said. "There must have been a thousand of them. We had to show them that we are Hindu. It was madness."
Parashar's father said that he had to tell the rioters his name for them to pass. He said, "We went with our hands folded, begging god for strength to survive."
It was the next morning that his brother's house was attacked by the rioters, but with the main wedding ceremony the next day, there was no time to take stock of the damage to their home.
"It was a very difficult time for a wedding. There was no joy we were feeling at that point. We were feeling angry and sad and afraid too, but we had to keep going," said Parashar.
When this reporter asked why they chose to risk their lives instead of postponing the wedding, Parashar looked incredulous and said, "Whether there is a riot or a massive storm, a wedding must go on."
His message
Until this reporter arrived at his house, Parashar had not told any of his family members about how he had helped remove the Hanuman statue and the saffron flag from the mosque.
He had a clip of the viral video, which his brother's neighbour had shared with him, but he had not shown it to anyone else.
His wife and mother chastised him for not telling them.
"He does not tell us anything," his wife said, poring over the video.
"What is there to tell? Man has to help man, doesn't he," he replied. "It's not just what 100 or 1,000 people do in a mob. What each person does on his own also counts."
While growing up in Delhi, Parashar recalled there was no bad-mouthing or snide remarks passed against Muslims in his house. He was friends with his Muslim classmates at school. He intends to teach his children — a two-year-old girl and a seven-month-old boy — the lessons that his parents taught him.
When his wife had finished watching the video, she said, "He did a good thing."
When this reporter asked Parashar if there was something he wanted to say to the rioters, he said, "You are hurting the country. Go meet the victims on both sides — Hindus and Muslims — and hear their pain. Only the innocent have died. Don't ever do it again."
https://www.huffingtonpost.in/entry/delhi-riots-hero_in_5e60cf49c5b6bd126b7643e8?utm_hp_ref=in-homepage&ncid=fcbklnkinhpmg00000001&fbclid=IwAR0sOw9RH15w58ow4TEjFb-Jqz5c0d0sukAuUnNRChEvWt9IiH7pswVHGtU&guccounter=1&guce_referrer=aHR0cHM6Ly93d3cuZmFjZWJvb2suY29tLw&guce_referrer_sig=AQAAAJw_nPAFaS1By7rAVWyNsvKejmjmvsxCU2VUwKWwceK7y4ayUD9gnM9--pqbWhV4E2hLH2rDMN4RiQL_-cy6GM12jc35HROsKni2hwtzBlwlVIY54x85GzSiQDQwwz7bS5eXmj79G2JZwV_VWHIJDE9Dg501UeY_PdDrY_NNO8jz
--------
Why Four Important Islamic Nations, Turkey, Iran, Malaysia and Indonesia, Are Angry With India
THEPRINT TEAM
7 March, 2020
New Delhi: There are two countries in the west, Turkey and Iran, and two in the east, Malaysia and Indonesia that are complaining about India. And all four are fairly large and important.
Ninety-nine per cent of the population in Iran and Turkey is Muslim. In Iran, 90 per cent are Shia, 9 per cent are Sunni, and approximately 1 per cent are minorities. In Turkey, from a fairly liberal, secular republic, President Recep Tayyip Erdoğan has been pushing the country towards Islamism, even though it is not an Islamic republic.
What's common among all these countries is that they are democracies of some kind, where public opinion matters. The Arab countries, which haven't spoken out, are not democracies and public opinion matters less there.
Turkey
Turkey is at odds with Syria, the Kurds, and now Russia. It made common cause with the Iraqis and Iranians when it came to the Kurds, and also has a stake in Syria, where it was fighting alongside the Russians before changing directions. As soon as the Syrian forces came close to Idlib, Turkey realised the threat of fleeing Syrians coming into the country, which it did not want.
Turkey and Iran both have old military and strategic relations with Pakistan. In the early days of the Cold War, Pakistan was a signatory to the US-led security pacts in Asia. Turkey and Iran were both part of those pacts till the Shah ruled Iran. Now that Turkey has isolated everyone else, it sees a natural friendship with Pakistan.
Since everyone is jostling for supremacy in the Islamic world, Turkey sees itself as a contender.
Iran
The oldest tussle in the Islamic world is the Shia-Sunni tussle. Across from Iran is Iraq, which was ruled by Sunni elites for a long time despite the majority Shia population till Saddam Hussein's forces were destroyed by the US.
Now, because of democracy, Shias have come to power in Iraq and Sunnis are feeling marginalised. Iran has enormous influence in the region and feels it has defeated the US in Iraq. Iran also feels emboldened enough to declare it is fighting for Muslims against the US, Israel and now India, even while the Gulf countries stay quiet.
Last year, India stopped buying crude oil from Iran, which contributed to wrecking its economy. The country's latest backlash against India and its treatment of Muslims is also payback for this.
Malaysia
Former Prime Minister Mahathir bin Mohamad was very vocal about Muslims in India, but there is no obvious reason why he would raise the issue.
The Muslim population in Malaysia is only 61 per cent while 7 per cent are Hindus, 20 per cent are Buddhists, and 9.5 per cent are Christians. It is also ethnically diverse. Even though it is considered Islamic, it is not as easy to drive the country in that direction. Malaysia now has a new Prime Minister, Muhyiddin Yassin, and the understanding is that relations between India and Malaysia are being repaired.
Indonesia
Indonesia is not an Islamic republic, though approximately 89 per cent of the population is Muslim and 1.6 per cent is Hindu. It is a secular, liberal polity, and has commented more out of concern — that the situation in India might create tensions in its own country and could possibly lead to the targeting of Hindus by the Muslim majority.
Indonesian criticism has been very measured: they summoned the Indian ambassador, spoke to him, and said they wanted peace. After that, Vice-President Ma'ruf Amin said, "We want India to act like us, Indonesia, in building tolerance and moderation within [our] religious life."
Full report at:
https://theprint.in/opinion/why-four-important-islamic-nations-are-angry-with-india/377283/
--------
Delhi Police's probe against Kashmiri couple for 'Islamic State' links reveal terror groups' machinations, raises questions on 'organic' anti-CAA protests
Mar 10, 2020
The recent detention from Okhla, New Delhi, of a Kashmiri couple linked with the Khorasan module of Islamic State has ripped apart the mask that anti-CAA protests were "organic". It isn't really a surprise — except for those who had willingly suspended their disbelief — to note that external forces were working behind the scenes to incite violence in India. The planning, execution, sustenance, longevity and multiplicity of the protests were always incompatible with the projected image of an organic movement led by vociferous voices from the ground.
According to media reports, the web-savvy couple, who were associated with "senior" Islamic State members in Afghanistan, were at work through incendiary literature and planning to carry out suicide attacks in India.
The cops seized four mobile phones, a laptop, a hard drive and other "incriminating material" from their residence. The couple apparently operated several social media accounts on different platforms to propagate the Islamic State's ideology.
The story doesn't end here. Jahanzaib Sami, the husband, told police during interrogation that he was earlier in touch with Khorasan-based Huzaifa Bakistani — the chief of Wilayat al-Hind, who has since been killed. What is Wilayat al-Hind? It is literally an Islamic State province in India — the new branch of the terror group established last year in May to focus on India-specific 'activities', as declared by its news agency Amaq. Sami, and presumably his wife Hina Bashir Beigh, were allegedly coordinating with Islamic State's India module.
Sami was not only arranging arms and ammunition to unleash terror in the country. His task also allegedly included propagation of Islamic State ideology and online indoctrination of Muslim youth. Interrogation made it clear that Sami was involved in propagation of the Islamic State magazine 'Sawt al-Hind' (Voice of India) that came out in February 2020.
Media reports also indicate that the couple were behind the protests in Shaheen Bagh and ran a Twitter handle called @Kashmirosint (now deleted) — that shared "OSINT", news and stories from Kashmir, India, Pakistan and Afghanistan.
As the external machinations behind the anti-CAA protests become clear, we also have a better idea now of the funding that ostensibly sustained these demonstrations and sit-ins.
We now know that Pakistan's deep state has been actively promoting anti-CAA protests in India, nurturing it with funds, amplifying it inside India (in terms of organising demonstrations and acts of violence) and abroad (activism and campaigning) to execute its plan of proving before the world that the current Indian leaders are a bunch of genocidal maniacs out to cleanse the country of its Muslim population.
The genesis of Pakistan's actions, of course, lies in India's decision to abrogate Article 370 and read down the semi-autonomous status of Jammu and Kashmir and bifurcate it into two Union territories for better Centre-based control over its administration.
It not only ended Pakistan's Kashmir project, more importantly, it challenged the Pakistan army's role in its polity. The army holds control over other institutions in Pakistan not just because it "protects" Pakistan's territory from India, but also because it shall "seize the territory of Kashmir from Indian control".
This construct not only makes Kashmir central to Pakistan's two-nation theory, but also reinforces its claim that Kashmir is an unfinished business of Partition. By abrogating Article 370, the Indian government ended Pakistan's claims over Kashmir as a "disputed territory" and made it India's internal business to be dealt within the framework of Indian Constitution.
This leaves little maneuvering space for Pakistan, which has since been fuming — hoping to turn Kashmir Valley into a South Asian West Bank. Pakistan's best policy in this scenario is to instigate unrest and protests within India over communal lines so that the Indian government uses force to curb the unrest and allow Pakistan the opportunity to showcase "human rights violations".
The abrogation of Article 370 wasn't challenged by India's Muslim community to the extent that the enactment of CAA was (it left Muslims out of the ambit of fast-track citizenship), which provided Pakistan with an opening.
If Pakistan's job was to amplify the protests within India to implement its 'policy', it seems to have stuck to the job with admirable precision. Media reports say Indian intelligence agencies have picked up chatter that indicates Pakistan operatives are unhappy with their agents in India for not being able to gather enough crowds for anti-CAA protests despite infusion of funds. In one such call, reported by Hindustan Times newspaper, "the handler curses his contact and adds that he has to explain the lack of crowds to his higher ups."
These unfolding developments highlight another home truth. The Islamic State's plan to propagate its ideology and unleash terror in India or Pakistan's plan to foment trouble within India's borders, amplify the protests and then use the optics to launch diplomatic onslaught against New Delhi to achieve its geopolitical objectives — not to forget the role of China that has acted as Pakistan's force-multiplier at the UN — wouldn't have been possible had they not found an opening.
That opening was provided by a section of Muslims who suffer from a trust deficit vis-a-vis the Modi government leading to a fear-psychosis over the citizenship legislation. The unwillingness to read and understand facts have resulted in many Muslims and liberals (who also suffer from a distrust of the government and antipathy towards the current regime) falling prey to insidious propaganda and manipulation by external forces. The result is a predicament where the most politically stable government in decades led by an executive determined to mitigate legacy issues has paradoxically been caught firefighting and projecting an image of instability.
Full report at:
https://www.firstpost.com/india/delhi-polices-probe-against-kashmiri-couple-for-islamic-state-links-reveal-terror-groups-machinations-raises-questions-on-organic-anti-caa-protests-8137191.html
--------
Day after arrest, Kashmiri couple's kin claim they were framed due to identity
by Adil Akhzer
March 10, 2020
A day after the Special Cell of Delhi Police arrested a couple from Kashmir, alleging that they had links to the Islamic State and that they were instigating protests against the Citizenship (Amendment) Act (CAA), the couple's family on Monday accused the police of framing the couple because they are "Kashmiri Muslims".
Jahanzaib Sami (36) and wife Hina Bashir Beg (39), who belong to Srinagar's Shivpora, were arrested from Delhi's Jamia Nagar on Sunday morning and booked under IPC sections for sedition and criminal conspiracy and the Unlawful Activities (Prevention) Act.
"We were not informed by Delhi Police about the arrest. The landlord called my brother's friend and he told us. We informed a cousin in Delhi and he was allowed to meet my brother after several hours and told that they had been brought in for questioning and would be released in the evening," Jahanzaib's sister Sehrish Sami told The Indian Express at her residence in Kashmir. "By 3 pm, it was circulated in the media and we were shocked to see a different story, allegations after allegation levelled by Delhi Police," she added.
According to the family members, the couple married in October last year and soon moved to Delhi after the Srinagar-based IT firm Jahanzaib worked with temporarily shifted operations to the national capital due to the Internet shutdown in the Valley.
Hina had not been working currently, said the family members.
A relative said, "He (Jahanzaib) was never interested in any such topic. He wouldn't even talk about Kashmir issue. He never took part in any protest here. If he was not interested in the Kashmir issue, then how come he suddenly got interested in the CAA issue? Police's allegations are totally false and concocted."
Jahanzaib's father Abdul Sami, a businessman, left for Delhi on Monday morning.
Sehrish questioned if it is "wrong to follow your religion and keep religious literature at home". "My brother was a keen follower of his religion. They [Delhi Police] talk about seizure of religious literature. I want to ask one question, is it wrong to follow your religion and read the literature? Every house has a religious text," she said. "Just because they are from Kashmir, a big hype has been created. They have been framed because of their identity i.e Kashmiri Muslims."
Jahanzaib's mother Mehjabeen, too, says the couple is innocent. "They [couple] are not like this… In every channel, they are taking about my son as if he is a big name. Government should investigate about the whole matter. Both of them are totally innocent. They have levelled so many allegations against both of them. I am his mother. You go and ask anyone here. They will tell you how my son is," she said.
The family members said local police visited their house on Sunday. "We told everything they asked," said Sehrish.
Full report at:
https://indianexpress.com/article/india/day-after-arrest-kashmiri-couples-kin-claim-they-were-framed-due-to-identity-delhi-riots-islamic-state-6307531/
--------
Like Each Year, Police Cover Aligarh Mosque Ahead Of Holi
March 10, 2020
Aligarh police on Sunday evening covered a mosque in the city with cloth on all sides in order to prevent any communal flare-up when colours are sprayed on the occasion of Holi on Tuesday.
The police said it is a regular exercise Halwaiyan mosque is situated in an area under Kotwali police station near Sabzi Mandi crossing in the city.
Aligarh Superintendent of Police (City) Abhishek told The Indian Express: "This is being done ahead of Holi for the last few years because Holi is played on the chauraha (crossing) near the mosque. After consultation with local residents, the police put up a cloth cover every year on Holi to ensure colours played on Holi don't splash on walls of the mosque, and it does not become a communal issue."
The caretaker of the mosque, Haji Mohammad Iqbal, 70, said, "This practice is on for the last three years and we support it. The police bear the cost every year. It is a good move because it prevents any kind of communal flare-up in the area and protects the mosque… There is a lot of hooliganism when colours are played."
https://indianexpress.com/article/india/like-each-year-police-cover-aligarh-mosque-ahead-of-holi-6307484/
--------
Jammu and Kashmir: Militant killed in encounter in Shopian
March 10, 2020
One militant was killed in an encounter in Jammu and Kashmir's Shopian district, police said on Monday. Kashmir Zone Police said the encounter was underway and security forces were on the job.
A police official said security forces launched a cordon and search operation in Reban in south Kashmir on receiving information about the presence of militants. He said that the operation turned into an encounter after the militants fired on the search party and gunfight is going on.
https://indianexpress.com/article/india/jammu-kashmir-encounter-shopian-6306242/
--------
Man who brandished gun at cop during Delhi riots sent to judicial custody
Mar 10, 2020
A local court in Delhi sent a man, who allegedly pointed a gun at a policeman during last month's riots in the national capital's north-east district, to 14-day judicial custody, reported ANI.
According to the news agency, Mohammad Shahrukh was presented before the Karkardooma court after the end of his three-days custody previously.
Last Saturday, a court had allowed police three more days' custodial interrogation of Mohammad Shahrukh. Shahrukh's police custody was extended after he was produced before the judge at the end of his four-day remand period amidst high security, a PTI report had said.
Shahrukh, 23, whose picture showing him pointing a gun at unarmed Delhi Police head constable Deepak Dahia during the communal riots went viral on social media, was arrested on March 3 from Uttar Pradesh's Shamli district.
The resident of north-east Delhi's Ghonda could be seen pointing his pistol at the policeman on the Jaffrabad-Maujpur road on February 24.
He then kept the pistol at home and fled from the city in a car, police said. The pistol that he pointed at the head constable during the communal violence was recovered from his house last Friday.
According to the police, after Shahrukh saw himself on news channels following the incident, he changed his clothes and fled to Punjab. He then moved to Bareilly in UP before hiding at a friend's house in Shamli in the state.
The Uttar Pradesh police have also arrested an alleged drug trafficker who is suspected to have helped Shahrukh.
The pistol, a good quality semi-automatic weapon, which was used by Shahrukh was bought from Munger in Bihar, police have said.
Full report at:
https://www.hindustantimes.com/india-news/man-who-brandished-gun-at-cop-during-delhi-riots-sent-to-judicial-custody/story-orZgGIMsIlSSxc0DzyFvEL.html
--------
Voices of dissent over Muslim Trust for mosque
POSTED BY QAYAM
MARCH 11, 2020
Ayodhya: Voices of dissent against the Sunni Central Waqf Board, which is scheduled to announce a Trust for the construction of the mosque on a 5-acre plot in the Dhannipur village in Ayodhya district this week, are getting louder.
Senior members of the Muslim community are of the opinion that the Trust must be independent and not under control of the Sunni Waqf Board as some members are political appointees and could be remote-controlled.
Senior cleric Maulana Salman Nadwi said, "The Trust members should not be appointed randomly. The government must pay compensation and bear cost for construction of the mosque as protecting the mosque was government's responsibility and it failed to protect it. The trust should be free from government control."
Mushtaq Ahmed Siddiqui, member of Babri Masjid Action Committee (BMAC) and a senior lawyer in the title suit, said, "The Supreme Court had given land to Muslims against Claim No. 4 and the Waqf Board has been mentioned in the operative portion. So, Sunni Waqf Board has no right to take a decision on formation of Trust."
Member of Sunni Central Waqf Board, Advocate Abdul Razzaq said, "The waqf board is a den of corruption and if they control the Trust, there will be serious irregularities. The union government must constitute the Trust for building the mosque as it did for the Ram temple."
The All India Milli Council that was also a litigant in the title suit, said that reputed Islamic seminaries and reputed individuals should be given representation in the trust.
Khaliq Ahmad Khan, member of the council said, "Litigants who fought a prolonged legal battle for the mosque should be made part of the Trust."
Retired IAS officer Anees Ansari said, "If the Muslim community wishes to see an independent Trust, Muslim organisations like All India Muslim Personal Law Board (AIMPLB), Jamiat Ulema Hind, Ahle-Hadees must participate to free it from the clutches of the government agencies."
Salaam Jafri, an educationist, said, "The Waqf board is a quasi-government body and will always remain under pressure of its political masters. The house of God must be free of corruption."
Full report at:
https://www.siasat.com/voices-dissent-over-muslim-trust-mosque-1851777/
--------
Southeast Asia
Saifuddin admits new govt dominated by Malays, but says nothing stopping it from being inclusive
10 Mar 2020
BY R. LOHESWAR
KUALA LUMPUR, Mar 10 — Communications and Multimedia minister Datuk Saifuddin Abdullah has downplayed the dominance of Malay ministers and deputies in the Perikatan Nasional government, and suggested instead that it can still be an inclusive one.
In an interview with state broadcaster RTM, Saifuddin said a government in Malaysia has no choice but to appeal to the plural society, pointing out also that the Cabinet now has better representation of East Malaysians than Pakatan Harapan.
"I admit the numbers are different now and the non-Malay and non-Bumiputra numbers are smaller, but that does not mean we are a Malay-Islam government," he said in the Bicara Naratif programme.
"It's still an inclusive government. As a government we have no choice but to celebrate our diversity and we should all embrace our multi-culturalism."
There are 63 Malay or Bumiputera MPs among the total ministers and Cabinet ministers, compared to five ethnic Chinese and two ethnic Indians.
There are also just nine women in total, compared to 61 men.
Saifuddin claimed that one cannot assume a party's stance by looking at its racial make-up, claiming that a party dominated by one ethnic group can still be inclusive while a seemingly multi-racial party can allegedly be racist.
Without naming any names, Saifuddin said such a party had previously opposed the appointment DAP's Lim Guan Eng as finance minister under the Pakatan Harapan (PH) government because of the Bagan MP's ethnicity.
He also lauded the Cabinet for not including any high-ranking leaders from Umno and PAS, saying it heralds a new stage in Malaysian politics.
"No Zahid, Hadi and Johari, so apart from hoping this is a good start, it also shows it's not necessary for the number one guy to be in Cabinet.
"Also when Zahid and Haji openly said in front of Muhyiddin that they are ready to not hold a Cabinet post, I feel this is a new era in politics," explained Saifuddin.
He was referring to Umno president Datuk Seri Zahid Hamidi, PAS president Datuk Seri Abdul Haji Awang, andGabungan Parti Sarawak chairman Datuk Patinggi Abang Johari Openg.
Apart from that, Saifuddin also said if there are any suspicious issues that arise from the current Cabinet it will be investigated by the authorities, amid the fact that the Barisan Nasional government was labelled as "kleptocrats".
"Muhyiddin said he wants a clean government so if there are anything suspicious, we will investigate it. That includes me as well," said Saifuddin.
https://www.malaymail.com/news/malaysia/2020/03/10/saifuddin-admits-new-govt-dominated-by-malays-but-says-nothing-stopping-it/1845219
--------
Not in Cabinet? Hadi Awang says staying out to keep an eye on PAS ministers
10 Mar 2020
BY JERRY CHOONG
KUALA LUMPUR, March 10 — PAS president Datuk Seri Abdul Hadi Awang said today he did not wish to take up a Cabinet post as he wishes to lead his party to monitor the conduct of the federal government, especially party members who were appointed ministers and deputies.
In an address streamed on Facebook, the Marang MP said this concept should already be understood at length by PAS members, particularly by those who wish to learn the concept of political Islam which the party promotes.
"This is a change that must be seen democratically, and PAS sent names to be appointed as ministers and deputy ministers so they can be involved in the Cabinet, per the concept of the party ruling the government," Hadi said.
Three PAS MPs were appointed as ministers: Datuk Tuan Ibrahim Tuan Man, Datuk Seri Takiyuddin Hassan, and Datuk Mohd Khairuddin Aman Razali.
He said PAS MPs appointed as ministers and deputy ministers will also prove the Islamist party's ability in administration and management, while still being monitored by the party at large.
Hadi also spoke at length about the political uncertainty leading up to the ascension of the Perikatan Nasional (PN) government under Prime Minister Tan Sri Muhyiddin Yassin, adding that the party took steps to save the government through democratic means by uniting the Muslim ummah and the wider society at large.
"The Muslim Ummah through the unity of Malay-Muslims who dominate the people cannot be denied, and at the same time can the diversity of our society be denied as well. We succeeded in forming a coalition among Malay-Muslims and non-Muslims who are not extremist.
"This was clearly proven during the Tanjung Piai by-election, in which Umno and PAS came together to support a non-Muslim MCA candidate in a Malay-Muslim majority area against a Malay-Muslim candidate from Parti Pribumi Bersatu, then still in Pakatan Harapan," he said.
Full report at:
https://www.malaymail.com/news/malaysia/2020/03/10/not-in-cabinet-hadi-awang-says-staying-out-to-keep-an-eye-on-pas-ministers/1845201
--------
New Islamic affairs minister humble to the core
March 11, 2020
Zulkifli Mohamad Al-Bakri's humbleness came to the fore on Monday evening.
Just minutes after Prime Minister Muhyiddin Yassin announced the Federal Territories mufti's appointment as minister in the prime minister's department in charge of Islamic affairs, Zulkifli (above, left) quietly left for the mosque in Slim River, Perak, where he was scheduled to deliver his monthly lecture later that evening. Even wild horses would not have kept this dedicated mufti away from discharging his duties.
Later on his way back to Kuala Lumpur, he stopped a while at the Sungai Buloh rest area where he chatted with members of the public who greeted and congratulated him.
After the announcement of the new cabinet, one of the first few tweets posted by the social media-savvy Zulkifli was fittingly titled "Babak Pertama, Episod Baharu" (New Chapter, New Episode) in an obvious reference to the new phase in his life he was about to enter.
Also posting on his Facebook and Instagram accounts, Zulkifli asked the people to "pray for me, help me and give me your views".
"Let's continue the legacy of our former leaders in building a multiracial and multi-religious Malaysia," read his post. His status was brief but it spoke volumes of this eminent religious scholar's moderate stance and positive attitude towards interfaith and interreligious engagement.
Zulkifli, 51, was among the six new ministers who were sworn in as senators at Dewan Negara yesterday morning. The swearing-in ceremony of the cabinet ministers and deputy ministers took place before Yang di-Pertuan Agong Sultan Abdullah Sultan Ahmad Shah at Istana Melawati in Putrajaya yesterday afternoon.
Zulkifli, who was born in Kampung Gong Pauh, Terengganu, is the first mufti to be appointed a cabinet minister. Having a non-partisan Islamic expert who does not have to bow down to political pressure as minister is seen by many as the best approach to governing Islamic affairs in this country.
Friendly
The ever-friendly religious scholar walks the talk when it comes to fostering good ties among the various races. He has shared on social media that during Chinese New Year, he would make it a point to present cakes to his Chinese neighbours, including one Choong Kooy Choon who he fondly addressed as Pakcik Choong. Even though the latter has passed on, Zulkifli maintains the yearly tradition, with the late pakcik's family.
Universiti Utara Malaysia head of Governance and Integrity Cluster Ahmad Martadha Mohamed said Zulkifli may have an Islamic image but it does not stop him from associating himself with people from other religious backgrounds.
"As a mufti, his views are mostly related to issues faced by society and more importantly, his views take into consideration the interests and position of all people in the country," he told Bernama.
He said although the eminent religious leader's views are based on references to the Al-Quran and Hadiths, the approach he takes, however, is in line with Malaysia's plural society.
"This is why his views are widely accepted by the public. He is unlike certain religious people whose views are at times too conservative and who speak without considering the composition of our society," Ahmad Martadha added.
Comments
Netizens, meanwhile, applauded the appointment of Zulkifli as a minister. By noon yesterday, his Facebook and Instagram status attracted 6,000 and 4,817 congratulatory comments respectively. His Facebook status had 13,000 shares while his Instagram post garnered107,531 likes.
A comment posted by Facebook user Faiza Yusni read as follows: "Alhamdulillah… In all honesty, I feel very proud as the person who was selected to take care of religion is seen as the most qualified person to be appointed as the minister."
"Congratulations on your appointment as minister in charge of religious affairs. Can you please pay special attention to the activities of the LGBT community who are getting bolder by the day in insulting our religion and using social media to promote their activities," commented Facebook user Protubemalaysia.
Malaysian Islamic preacher Ebit Lew also turned to Facebook to sing praises of Zulkifli.
"He is a very humble and a good person. (I) still remember the ceramah (talks) we participated together. And the times we met in the office. So humble and always thinking about the situation society is in and developing Malaysia with Islam and goodness.
"His face reflects sadness, worrying about (today's) society as we discuss efforts to preach to the youngsters who go to clubs, streets, LGBT... to help those who wish to learn about Islam… Congratulations Zulkifli…," read Lew's status.
Liverpool fan
Zulkifli, who became Federal Territories mufti in 2014, has a substantial number of followers on social media as he is a well-known preacher and an expert on various matters related to Islam.
A fan of the Liverpool football team, Zulkifli's affable and approachable personality draws many people seeking his advice on religious matters to him. They include couples who bring their new-born babies to him to be blessed.
As mufti, Zulkifli also made it a point to deliver lectures at various mosques in the Klang Valley as well as in other states.
Always dressed in a simple jubah (long robe) and kopiah (skullcap), Zulkifli is no ordinary preacher. He has a degree in Islamic Studies (Syariah) from Madinah Islamic University in Saudi Arabia; Master's degree in Islamic Studies (Syariah) from Islamic Sciences & Arabic University, Jami' Al-Sadat, Damascus, Syria; and a doctorate in Syariah (Fatwa) from Universiti Sains Malaysia.
Full report at:
https://www.malaysiakini.com/news/514170
--------
We thwarted PH's 'rooftop' coup against Mahathir, says Hadi
Adam Abu Bakar
March 10, 2020
PETALING JAYA: PAS president Abdul Hadi Awang says his party's cooperation with its Perikatan Nasional allies to form the new government stemmed from Pakatan Harapan's moves to topple the Dr Mahathir Mohamad-led administration "through the roof".
In a special address streamed live on social media, Hadi said PH leaders had tried to openly destroy the government by pressuring and making demands of Mahathir, who they had agreed would serve as the country's 7th prime minister before the 14th general election.
"It was through pressuring and demanding (Mahathir) and so on. It was an attempt to take power through the roof, not back door.
"So PAS took the steps to take over the government to save the country through democracy," he said, adding that changes could be achieved either through the ballot box or "through elected representatives voted in by the people".
The Marang MP said the crisis in PH was exposed when the coalition flip-flopped on who they wanted as prime minister.
"Supposedly, they supported Mahathir and then made a U-turn on supporting him to choose their candidate (PKR's Anwar Ibrahim).
"That is why we made the decision to choose Muhyiddin (Yassin) to be the prime minister candidate, to stop the U-turn which was made twice."
Thankfully, he said, they managed to resolve the crisis democratically, in line with the Federal Constitution and not through the back door.
Hadi also revealed that he opted not to be part of Muhyiddin's Cabinet so that he could monitor the performance of PAS ministers and deputy ministers in the federal government.
"PAS submitted names for ministers and deputy ministers. We sent our representatives to implement executive duties, to manage and administer to prove PAS' ability.
"The party needs to monitor (its representatives). That is why I, as president, was not appointed to the Cabinet, to more effectively monitor the government, our ministers and deputy ministers."
Full report at:
https://www.freemalaysiatoday.com/category/nation/2020/03/10/we-stepped-in-to-stop-flip-flop-by-ph-says-hadi/
--------
Mideast
Iran's Assembly Of Experts Urges India To Stop Violence Against Muslims
10 March 2020
Iran's Assembly of Experts has denounced the massacre of Muslims and the destruction of mosques and religious places at the hands of pro-government Hindu mobs in India, urging New Delhi to take swift action to end the crimes.
"The unfortunate news and heartbreaking images from the blood-letting of India's oppressed Muslims — Which receives minimal [media] coverage — are very distressing and crushes the heart of every free human," the Assembly of Experts said in a statement on Tuesday.
It is more painful that such heinous crimes were carried out in the wake of a visit by "criminal" US President Donald Trump amid a media blackout imposed by those claiming to be advocates of human rights, it added.
The body further said those atrocities have been perpetrated by a group of extremists provoked by spy services of colonial governments, calling on the Indian government to adopt proper strategies to put an immediate end to the violence.
Those strategies, it added, should ensure the right of Muslim citizens to have peaceful coexistence and work alongside followers of other religions.
Last month, on the eve of Trump's visit to India, nearly 50 people were killed and over 100 wounded as groups chanting Hindu nationalist slogans torched mosques and dozens of Muslim houses.
The US president is infamous for his anti-Muslim rhetoric and policies.
Anti-Muslim violence started in India amid widespread protests over the Citizenship (Amendment) Act (CAA) that Prime Minister Narendra Modi's Hindu nationalist government introduced in December, offering a path to Indian citizenship for six religious groups from neighboring countries, specifically excluding Muslims.
Earlier this month, Leader of the Islamic Revolution Ayatollah Seyyed Ali Khamenei warned the government of India against continued massacre of Muslims, saying that the current pogrom going on against Muslim people in the South Asian country will lead to isolation of New Delhi in the Islamic world.
"The hearts of Muslims all over the world are grieving over the massacre of Muslims in India," Ayatollah Khamenei said in a statement tweeted in Urdu, English and Persian.
https://www.presstv.com/Detail/2020/03/10/620562/Assembly-of-Experts-Iran-India-Muslims-violence-Trump
--------
Al Qaeda Thanks Turkey for Protecting It Against Assad, Russia, Iran
March 10, 2020
By Eric Zuesse
On March 7th, Al Qaeda's now largest branch, which is its Syrian organization that used to be called Al Nusra, praised Turkey's President Tayyip Erdogan because his Government stands up for Al Qaeda, and for other jihadist organizations which are trying to overthrow Syria's secular Government, which is led by Bashar al-Assad. Al Qaeda in Syria now calls itself Hay'at Tahrir al-Sham, and their announcement basically reaffirms their continuing 9-year war against Syria's Government (which war has been armed and funded mainly by the U.S. and the Saud family), and it especially damns Russia for assisting that secular Government's efforts to destroy Al Qaeda and all other jihadist groups in Syria, which fight to eliminate all secular government and to replace it with God's government. Before this group was called Hay'at Tahrir al-Sham, it called itself al-Nusra, but it is simply Al Qaeda in Syria, and it was the backbone of America's effort to overthrow Syria's secular Government and replace it with one that would be selected by the Saud family.
The Hay'at Tahrir al-Sham announcement is titled "The Moscow Agreement: A New Mirage" and it is signed by a pro-jihadist scholar, Aymenn Jawad Al-Tamimi. However, the CIA-edited and written Wikipedia's article on him includes a section titled "Criticism" that quotes CIA assets such as the Bellingcat website as having ceased to endorse him because "his analysis was becoming more and more just pushing that narrative of the groups [ISIS] themselves." That section of the Wikipedia article closes with "In response he has said, 'I think there's something to be said that I did try to ingratiate myself in these circles to get information, I agree that that was unethical.'[2] He has also defended himself in an article posted on his blog." He routinely does sign articles that he publishes in English but that were originally in Arabic or some other language and not actually written by himself, and therefore the article in this case is almost certainly of that type: one that he had received from a jihadist organization and merely translated into English. (In that case, he would have been more honest to have said "posted and translated by Aymenn Jawad Al-Tamimi.") The document's authenticity will probably be challenged like virtually all such documents are, but Al-Tamimi's reputation as a scholar of jihadism would be on the line if Al Qaeda's leader Ayman al-Zawahiri were to disown it as not expressing Al Qaeda's views. The document has been online for more than 24 hours, and no one has come forth to deny its authenticity. Furthermore, there is a statement by al-Tamimi in his introduction to the Hay'at Tahrir al-Sham statement, "Hay'at Tahrir al-Sham has issued its own statement on the new Turkey-Russia agreement, which I translate in full for this post. In sum:" and "Below is the full statement with translation." Consequently, the alleged Hay'at Tahrir al-Sham statement should be accepted as being authentic unless and until there is an official Al Qaeda denial of it.
Tamimi's article is titled "Hay'at Tahrir al-Sham Statement on Ankara-Moscow Agreement", and it concerns the agreement that Turkey's leader Tayyip Erdogan reached with Russia's leader Vladimir Putin in Moscow on March 5th regarding Syria's most-jihadist province, Idlib, which Erdogan wants to seize for Turkey, and where his forces in Idlib have been protecting Hay'at Tahrir al-Sham. Russia, Syria, and Iran, have been opposing Turkey's attempts to do this. (The U.S. and its allies have supported Turkey against Syria and its supporters, but appear unwilling to provide military backing to Turkey for this effort to actually seize Syria's Idlib Province.)
After Tamimi's introduction comes the Hay'at Tahrir al-Sham statement itself. It praises:
the course of ten continual years of the blessed Syrian revolution and three-hundred days of fierce battles in defence of the capital of the revolution and its civilization in the liberated north, supported by its mujahideen hero sons, and their civil and political administration with a slogan written in blood: death and not humiliation, for there is no return or compromising on the aims of the blessed revolution.
The jihad and resistance are a legitimate path for the peoples whose abode has been usurped, and freedom taken captive, and sons bound behind bars, so let them defend themselves and their land by force and arms and patience and insistence and in that the rights are regained, and the fate of the lands is that they should return to their people however long the night of the oppressors lasts and the occupier through its grip takes root over the hearts of the defenceless peoples.
It condemns "the criminal gang in Damascus, supported by Russia and Iran."
It praises Turkey: "We thank the Turkish government for clearly standing with and supporting the Syrian revolution and participating with it in defending the civilians and protecting them in the recent battle."
It does not mention the United States nor any other NATO nation than Turkey. Though it is clear against Russia and against countries that cooperate with Russia, including Shiite Iran, it is not critical against the U.S. Government, nor against any U.S.-allied government. It is consistent with the policy of the Saud family who own Saudi Arabia, and who agreed with the jihadist Sunni cleric Mohammed bin Wahhab, in 1744, to do war against any non-believers, including against any Shiites, until the entire world become followers of Wahhab and of his interpretation of the Quran.
Full report at:
https://moderndiplomacy.eu/2020/03/10/al-qaeda-thanks-turkey-for-protecting-it-against-assad-russia-iran/
--------
Turkish Interior Ministry: 282 ISIS Militants Deported Since November
9 March, 2020
The Turkish interior ministry announced Sunday deporting two German nationals and one Swedish ISIS militant holding French citizenship as part of a program to extradite foreign fighters.
It said 282 ISIS terrorists have been deported since November 11. Among them are 32 Germans, 19 French citizens, and six Dutch, six British and three Swiss nationals, as well as two from each of Belgium, the United States, Ireland, Denmark, Bulgaria, Belarus, Switzerland, Australia, Greece and Croatia.
Turkey launched the campaign to deport foreign fighters in November 2019, saying it would repatriate most detainees with suspected links to ISIS.
Interior Minister Suleyman Soylu said Sunday that Turkey is not a "hotel" for ISIS militants.
Speaking to reporters, Soylu said Turkey would send back any captured ISIS militant to his country even if his citizenship was revoked.
"We will send them back ... but the world has come up with a new method by revoking their citizenship," Soylu said. "They are saying they should be tried where they have been caught. This is a new form of international law, I guess."
Turkish President Recep Tayyip Erdogan has earlier announced that more than 1,150 ISIS elements are detained in Turkey.
Head of the Turkish Interior Ministry's migration management department Abdullah Ayaz said last week that Turkey has deported 7,898 foreign terrorists since 2001 and has prevented 94,000 foreigners suspected of having links with terrorist organizations from entering its territories.
Full report at:
https://aawsat.com/english/home/article/2171082/turkish-interior-ministry-282-isis-militants-deported-november
--------
Hamas New Base in Turkey After Limiting Presence in Lebanon, Qatar
9 March, 2020
The Hamas leadership is currently based in Ankara and Doha, however, it has been frequently conducting its operations from Turkey, after Qatar and Lebanon asking the movement to reduce its public presence on their territories, sources from the movement told Asharq Al-Awsat.
The sources indicated that Hamas politburo chief Ismail Haniyeh and his deputy Saleh al-Arouri are settling in Turkey at this stage, while others are settling in Qatar and Lebanon.
They pointed out that Haniyeh moves between Turkey and Qatar, depending on the situation, and that others stay between the two countries.
Haniyeh chose Turkey despite the strong ties he has with the Emir of Qatar, Tamim bin Hamad.
In 2017, Qatar asked Hamas not to use its territories in any way that could be interpreted as an attack or aggression directed against Israel, due to political developments in the region.
The decision came shortly after US President Donald Trump's attacked Hamas, describing it as a terrorist organization, and criticizing everyone who provided cover to the movement.
About a year ago, Hamas received a similar request from Turkey, when Israel launched a media campaign against Arouri. He was accused of directing activities against Israel from the West Bank, which forced Ankara to ask him to leave the country.
Sources confirmed to Asharq Al-Awsat that, since then, Hamas has been facing difficulties in finding a permanent headquarters for its leadership.
Hamas had several options, including Malaysia, Lebanon, and Gaza, but it finally settled on Turkey, which once again opened its territory to leaders of the movement that were previously asked to leave.
In 2012, Hamas resorted to Qatar when it left Syria, and the leadership had limited options at the time, represented in Egypt, Tunisia, Turkey, Sudan, or Qatar.
In principle, chief of Hamas politburo should reside abroad so that he could move freely, collect financial aid, and obtain political support for the movement. The aim is also to maintain the security of the chief and keep him safe from Israeli attacks.
However, in 2017, the movement risked choosing Haniyeh from within the Strip. He remained in the Strip for two years, after which the movement discovered that the chief could not be imprisoned in the enclave, prompting Haniyeh to leave.
Most of his time, Haniyeh resides in Turkey, along with Arouri, Zahir Jabareen, Mousa Abu Marzouk, and Nizar Awadallah. His wife and two children are expected to join him soon.
Husam Badran, Izzat al-Rishq, Mohammed Nasr, Sami Khater, and Maher Obeid are staying in Qatar, sometimes visiting Turkey or Lebanon.
Hamas excluded Lebanon as an option because of Israeli threats, in addition to the unstable situation there.
Arouri moved to Lebanon in 2017, along with other senior Hamas officials, but then-Defense Minister Avigdor Lieberman accused him of plotting attacks against Israel, saying: "Lebanon is responsible for what happens inside it and for terror activity that will emerge from it.
"Lebanon is a sovereign state that maintains ties with the US – ties that include bilateral meetings at the highest levels both in Beirut and in Washington... That why it's important that the US work with the Lebanese government with the aim of expelling the three senior Hamas figures and preventing the establishment of another terrorist headquarters in its territory," said Lieberman.
Ousama Hamdan is the only top official residing in Lebanon, while other well-known members, including Yahya Sinwar, Khalil al-Hayya, and Fathi Hamad, live in Gaza.
Full report at:
https://aawsat.com/english/home/article/2170977/hamas-new-base-turkey-after-limiting-presence-lebanon-qatar
--------
A cleric's cure for coronavirus becomes butt of jokes in Iran
Rohollah Faghihi
March 10, 2020
Amid anxieties in Iran over the coronavirus outbreak and a flurry of precautions to prevent its spread, a controversial ayatollah has declared a new method to "cure" the virus: applying violet oil to the anus.
Abbas Tabrizian, described by his supporters as "the father of Islamic medicine of Iran," began focusing on "Islamic medicine" when his wife was diagnosed with cancer. Although doctors had given up hope on her, Tabrizian said he was able to cure her after "a short treatment he devised," according to a website affiliated with the cleric. The Najaf-born cleric studied at the prestigious seminary in the same city, the website said.
Even before his unorthodox prescription for COVID-19, the cleric was under fire from his counterparts and other religious figures, including Grand Ayatollah Abdollah Javadi-Amoli and Grand Ayatollah Naser Makarem Shirazi, in the holy city of Qom, the heart of the Shiite sect. They refuted Tabrizian's claims regarding the superiority of "Islamic medicine," arguing there is no such thing.
In January, Tabrizian burned a copy of "Harrison's Principles of Internal Medicine," an American reference book. "This book was a tool for the West's infiltration of other countries," Tabrizian explained in a Jan. 26 video. He said that Westerners had, throughout history, set fire to "The Canon of Medicine," by Iranian philosopher and physician Avicenna, but failed to specify when and where this had happened. Tabrizian also offered to hold classes for physicians to teach them Islamic medicine and his formulas.
Grand Ayatollah Jafar Sobhani responded to the video Jan. 27, stating that "insulting medical learning is against the spirit of Islam and Islam's call for [learning] science."
"Criticizing the content [of a book] is appropriate, but [burning] is an act of ignorance, and many libraries were set on fire based on wrong motivations in the past," Sobhani said. Ayatollah Alireza Arafi, the chairman of Iran's seminaries, also condemned Tabrizian's book burning, saying that such acts and thoughts have "no place" in seminary.
Tabrizian's prescriptions and brand of medicine have been marketed throughout Iran over the last three years, with his representatives dispatched to sell his "special" medications. Although authorities closed three outlets linked to him for unauthorized production of medications, his supporters continue to believe he is a guru of Islamic medicine.
"My family and I don't believe in modern medicine," Zeinab, 34, a religious woman from Mashhad, told Al-Monitor. "My niece has cancer, but she has refrained from taking pills. Instead, she has used Tabrizian's medications." Zeinab said that she prevented her children from being vaccinated at birth.
But Tabrizian has few supporters. To most Iranians, he is a figure of ridicule as opposed to a pioneer of alternative medicine.
Tabrizian used his channel on the Telegram messaging app Feb. 26 to unveil his method for curing those infected with the coronavirus. "Before sleeping, put a cotton ball dipped in violet oil to the anus," he wrote, immediately becoming a source of mockery on social media. One Twitter user responded: "[Actor] Jackie Chan has offered a reward for the discovery of coronavirus vaccine. It seems like he hasn't heard about violet oil, otherwise, he would have given [the reward] to Tabrizian." Other tweets were far more obscene.
Tabrizian used Qom's situation as the epicenter of the coronavirus in Iran to hit back at his critics there, saying that the outbreak was God's revenge on those who "bothered" him, according to a report from IRNA news agency Feb. 27.
Other bizarre reactions to coronavirus and preventive measures have been posted online, including two videos in early March that went viral. They both showed men licking the zarih — a gilded structure that encloses a grave in a mosque or a shrine — of Ali al-Reza, the eighth Imam, in Mashhad, and his sister, Fatima bint Mohammad, in Qom, both important figures of Islam.
Iran's Health Ministry officials had called on people to not visit these two shrines and for the custodians of the shrines to place restrictions on visitors. The two men apparently sought to defy the order by licking the zarih, while reprimanding people for not visiting the shrines.
Like Tabrizian's prescription, the videos inspired rage and criticism. The two men were detained, possibly for "disturbing the public order" and "insulting religion."
Mohammad Delavari, a prominent host on Iranian state TV, which is controlled by hard-liners, reacted to the viral videos March 2, calling the men and those who praised them "ignorant" and mentally disturbed. Meanwhile, videos on Iranian media showed the two men next to Ayatollah Sadegh Shirazi, who holds radical views, including the support of self-flagellation.
Full report at:
https://www.al-monitor.com/pulse/originals/2020/03/bizarre-cures-for-coronavirus-in-iran.html
--------
Iran Reports Remarkable Growth in Coronavirus Recoveries Alongside Growing Death Rates
Mar 10, 2020
"Based on the laboratorial results, 881 new patients infected with COVID-19 have been identified in the country since Monday noon and the number of infected people increased to 8,042 cases," Jahanpour said.
He expressed sorrow that 54 people have died of coronavirus in the past 24 hours, raising the death toll to 291.
Meantime, Jahanpour said that 2,731 patients infected with COVID-19 virus have recovered, noting that the process of treatment and discharge of patients has improved considerably.
Globally, more than 114,000 people have been diagnosed with COVID-19 with over 4,000 deaths so far, the vast majority of them in China where the virus originated late last year.
The coronavirus is spreading in the Middle East, Europe, US and other parts of the world, while parts of China begin to lower their emergency response level as the number of new cases reported there continues to slow.
Authorities across the United States reported over 700 cases of coronavirus and 26 deaths as of Monday.
More than 60 million people in Italy have been placed under lockdown after the government extended emergency measures across the entire country in an attempt to stop the spread of the coronavirus.
Italy is struggling to contain Europe's worst outbreak of Covid-19, which has claimed 463 lives and infected 9,172 people.
As the death toll from the virus surges, Iran intensifies its preventive safety measures. Closures of schools and universities have been extended for the next two weeks.
The government also imposed travel restrictions, specially on Iran's north, which is among the red zones. The country has also adopted strict digital health control procedures at airports to spot possible infections.
Iranian Health Minister Saeed Namaki announced last week that a new national mobilization plan would be implemented across the country to fight against the coronavirus epidemic and more effectively treat patients.
Namaki said that the plan will include all the 17,000 health centers and the 9,000 medical and clinical centers in all cities, suburban areas and villages.
He added that the plan will include home quarantine, noting that infected people will receive the necessary medicines and advice, but they are asked to stay at home.
Namaki said that people with a more serious condition will stay at the hospitals, adding that the public places will be disinfected, the entries of infected towns and cities will be controlled to diagnose and quarantine the infected cases.
He added that the necessary equipment and facilities have been provided, expressing the hope that the epidemic would be curbed.
Namaki said that the number of medical laboratories to test coronavirus infection has reached 22, and will increase to 40 soon.
The World Health Organization (WHO) says Iran's response to the virus has so far been up to the mark. Still, it says the US sanctions are a big challenge, and Washington would be complicit in the rising death toll in Iran if it would not remove its sanctions.
Full report at:
https://en.farsnews.ir/newstext.aspx?nn=13981220000809
--------
US urges Iran to release American prisoners amid coronavirus outbreak
11 March 2020
The United States on Tuesday called for Iran to release American prisoners held in the country as the coronavirus outbreak reportedly spreads through its prisons.
"The United States will hold the Iranian regime directly responsible for any American deaths. Our response will be decisive," US Secretary of State Mike Pompeo said in a statement.
Visit our dedicated coronavirus site here for all the latest updates.
"Reports that COVID-19 has spread to Iranian prisons are deeply troubling and demand nothing less than the full and immediate release of all American citizens."
"Their detention amid increasingly deteriorating conditions defies basic human decency."
Iran's response to the deadly coronavirus outbreak, including temporarily releasing 70,000 prisoners, was "too little, too late," a UN rights expert said Tuesday.
Javaid Rehman, the United Nations special rapporteur on human rights in Iran, said Tehran was trying to "fudge" its handling of the outbreak, one of the deadliest outside China, where the disease originated.
"The situation on coronavirus is highly disturbing within Iran," Rehman told reporters at the UN in Geneva.
Iran on Tuesday reported 54 new deaths in the past 24 hours, the highest single-day toll since the start of the outbreak there. That brought the numbers killed in the country to 291 out of 8,042 infected.
The Iranian judiciary's Mizan Online official news agency cited Asghar Jahangir, the head of Iran's prisons organization, as saying that "about 70,000 prisoners" had been released in a bid to combat the outbreak.
Iran said in December it was ready for more prisoner swaps with the United States after it secured the return of scientist Massoud Soleimani in exchange for Xiyue Wang, a Chinese-born American held in the Islamic republic.
Full report at:
https://english.alarabiya.net/en/News/middle-east/2020/03/11/US-urges-Iran-to-release-American-prisoners-amid-coronavirus-outbreak.html
--------
Turkey confirms first coronavirus case in the country
11 March 2020
Turkey confirmed its first coronavirus case, health minister Fahrettin Koca announced early Wednesday.
Koca said the patient was a Turkish national who had travelled from Europe who is now completely isolated, and all his close relatives have been quarantined, according to Turkish broadcaster TRT.
Visit our dedicated coronavirus site here for all the latest updates.
The minister warned citizens against unnecessary travel abroad and urged them to follow all methods of protection against the coronavirus announced by the ministry.
https://english.alarabiya.net/en/News/middle-east/2020/03/11/Turkey-confirms-first-coronavirus-case-in-the-country.html
--------
Coronavirus in Iran: Senior member of Khamenei's office reportedly infected
10 March 2020
A senior member of Iran's Supreme Leader Ayatollah Ali Khamenei's office could be infected with coronavirus, according to local news website Saham News.
Hossein Mohammadi, who is also a member of the Expediency Council, has been infected with coronavirus and is undergoing treatment in Tehran's Masih Daneshvari hospital, Saham News initially reported.
Visit our dedicated coronavirus site here for all the latest updates.
Mohammadi is not in good condition, Saham News said, adding that one of his lungs has been fully infected.
Saham News later reported citing a relative of Mohammadi that he does not have coronavirus but was hospitalised due to lung problems he had been suffering from for a while.
Saham News reiterated that one of Mohammadi's lungs has been fully infected, adding that the test results for his other lung will be available within the next two days.
If confirmed to have coronavirus, Mohammadi would be the first member of Khamenei's inner circle to have contracted the virus.
As of Monday, 237 Iranians have died from the virus and there are 7,161 confirmed cases in the country.
Full report at:
https://english.alarabiya.net/en/News/middle-east/2020/03/10/Coronavirus-in-Iran-Senior-member-of-Khamenei-s-office-reportedly-infected.html
--------
Coronavirus: Iran to recognize dead medical staff as 'martyrs'
10 March 2020
Iran will recognize doctors and nurses who die combating the new coronavirus as "martyrs" like slain soldiers, the country's supreme leader announced on Tuesday as the outbreak killed 54 more people and pushed the nation's death toll to 291.
The decision by Supreme Leader Ayatollah Ali Khamenei comes amid a propaganda campaign already trying to link the fight against the virus to Iran's long, bloody 1980s war with Iraq. The rising casualty figures each day in Iran suggest the fight against the new coronavirus is far from over, even as more people die from drinking methanol in the false belief it kills the virus.
8,600 people infected in Middle East
Across the Middle East, over 8,600 people have contracted the virus and the COVID-19 illness it causes. The majority come from hard-hit Iran, which has one of the world's worst death tolls outside of China, the epicenter of the outbreak.
For most people, the new coronavirus causes only mild or moderate symptoms, such as fever and cough. For some, especially older adults and people with existing health problems, it can cause more severe illness, including pneumonia.
The vast majority of people recover from the new virus. According to the World Health Organization, people with mild illness recover in about two weeks, while those with more severe illness may take three to six weeks to recover. In mainland China, more than 80,000 people have been diagnosed and over 58,000 have so far recovered.
18 percent increase in deaths
On Tuesday, Iranian Health Ministry spokesman Kianoush Jahanpour offered new casualty figures for the virus, which represented an 18 percent increase in deaths from the day before and 12 percent more confirmed cases.
Jahanpour warned figures in Iran will likely continue to rise before the Persian New Year, Nowruz, on March 20. He urged people to limit their travel, which already has been difficult for police manning checkpoints on roads between major cities. Iran has yet to take widespread quarantine decisions like China and Italy.
"The rate of spreading disease is still rising," Jahanpour told a televised news conference. Khamenei meanwhile announced that those who die medically combating the virus will be considered martyrs in the Islamic Republic. The families of martyrs, typically from the security services and armed forces, receive payments and benefits from the state. It also bestows a sense of religious importance on those fighting the virus in the Shiite theocracy, which experts fear may be under reporting the total number of cases.
Khamenei separately announced he would not be giving his annual Nowruz speech in the holy Shiite city of Mashhad.
For more coronavirus coverage, visit our dedicated page
A rumor circulating in Iran that alcohol can treat coronavirus has so far led to 37 deaths and sent 270 people to the hospital after being poisoned by bootleg alcohol, the state-run IRNA news agency said on Tuesday. Alcoholic beverages are illegal in Iran, but homemade brews in the southern city of Ahvaz apparently substituted toxic methanol for ethanol and used bleach to mask the color, Health Ministry official Ali Ehsanpour said. Seven bootleggers have been identified and arrested, said Ali Beiranvand, the deputy prosecutor in Ahvaz.
Lebanon records first coronavirus death
Meanwhile on Tuesday, Lebanon had its first known coronavirus death, a Health Ministry official said. The official said the 56-year-old man had recently returned from Egypt. The official spoke on condition of anonymity because he was not authorized to give official statements.
Lebanese Minister of Culture Abbas Murtada separately ordered all museums closed until further notice because of coronavirus, according to state-run national news agency. Lebanon, like other Mideast nations, has closed schools and universities over the virus.
59 confirmed cases in Egypt
There were 59 confirmed cases as of Monday in Egypt, the Arab world's most populous country, including one fatality, a German tourist. Outside Iran, only Iraq, Egypt and now Lebanon have recorded deaths from the virus in the Mideast. Hardest hit in Egypt was the ancient city of Luxor, which a WHO representative described Tuesday as being under strict government scrutiny. Dr. Jean Yaacoub Jabbour told The Associated Press that his agency is working with the Egyptian government to trace the cases and those who interacted with them, including the cases found aboard a Nile cruise ship.
"They have widened their investigation fully in order to reach and to trace all contacts ... , and also they are taking measures on the spot, for example this boat being in isolation, a self-isolation facility, taking care of all people inside," he said.
Egypt's government has announced a temporary ban on large public gatherings and all events involving people's movement between cities. Egypt's soccer association said Tuesday all soccer games in the country would be played in empty stadiums until further notice.
Saudi Arabia closed off air and sea travel to 14 countries affected by the new virus on Monday, while Israel ordered two weeks of home quarantine for anyone arriving from overseas. The outbreak in Israel has been largely contained, but it has begun to gain pace in recent days, with a total of 58 cases diagnosed as of Tuesday. There are 26 confirmed cases in the Palestinian Territories.
Full report at:
https://english.alarabiya.net/en/News/middle-east/2020/03/10/Coronavirus-Iran-to-recognize-dead-medical-staff-as-martrys-.html
--------
Israeli court turns down Netanyahu's request to delay corruption trial
10 March 2020
An Israeli court on Tuesday turned down a request by Prime Minister Benjamin Netanyahu to postpone the opening of his corruption trial next week, a published ruling said.
The scheduled March 17 trial date looms as Netanyahu and his right-wing allies try to form a government in the face of fierce opposition, following last week's general election, the third in under a year.
Lawyers for Netanyahu, the first Israeli premier to be indicted in office, had told the Jerusalem district court they had not received all the prosecution's case material and asked for a 45-day delay.
"The forthcoming hearing is for the reading (of the charges) only," said the court decision seen by AFP.
"A response to the charges by the accused is not required at this stage," it said, adding there was therefore insufficient grounds to justify a delay.
In the March 2 election, Netanyahu's Likud won the most votes by any one party, but even with its allies fell three seats short of the 61 needed for a majority in the parliament, or Knesset.
Full report at:
https://english.alarabiya.net/en/News/middle-east/2020/03/10/Israeli-court-turns-down-Netanyahu-s-request-to-delay-corruption-trial.html
--------
Number of coronavirus deaths in Iran jumps to 291 amid 8,042 confirmed cases
10 March 2020
Iran says the new coronavirus has killed 54 more people, raising the death toll to 291 amid 8,042 cases in the Islamic Republic.
For more coronavirus coverage, visit our dedicated page.
That's according to Kianoush Jahanpour, a Health Ministry spokesman, who spoke in a live, televised news conference on Tuesday.
It represented an 18 percent increase in deaths from the day before and 12 percent more confirmed cases.
Iran is the hardest-hit country in the Mideast by the new coronavirus, which sickens but largely doesn't kill those afflicted. Across the region, there are over 8,600 confirmed cases of the virus.
https://english.alarabiya.net/en/News/middle-east/2020/03/10/Number-of-coronavirus-cases-in-Iran-jumps-to-8-042.html
--------
'World must push US to lift sanctions as Iran fights coronavirus'
10 March 2020
Parliament Speaker Ali Larijani has called on Muslim nations and other world countries to take a stand against America's unilateral sanctions against Iran and push for the swift lifting of the restrictive measures, which are hampering the country's fight against a coronavirus outbreak.
Larijani expressed dismay at the inhumane anti-Iran bans in letters addressed to the president of the Inter-Parliamentary Union, the secretary-general of the Parliamentary Union of the Organization of Islamic Cooperation (OIC) Member States, the head of the Asian Parliamentary Assembly, and the speakers of the parliaments of Muslim and Asian states.
He said the sanctions, which target medical and laboratory supplies to Iran, are throwing a wrench in the Islamic Republic's efforts to rein in the COVID-19 epidemic, urging the international community to adopt a principled position on the immediate lifting of all sanctions against the Iranian people.
On Tuesday, Iran confirmed 54 news deaths, the highest daily toll so far, raising the total fatality count to 291. A total of 8,042 infections have been diagnosed. And 2,731 patients have recovered, the Healthy Ministry said.
The developments unfolding today on the world stage "have more than ever highlighted the need for national, regional and international efforts and cooperation toward the mobilization of all the technical and logistical capabilities to assist the countries affected by the virus," Larijani wrote, demanding "urgent, effective and comprehensive" action to help Iran and other states contain the outbreak.
Larijani stressed that Iran is standing at the forefront of the fight against the disease, saying it is "regrettable" that the country has been "systematically subjected to unilateral US sanctions either directly or indirectly at this very critical juncture."
Washington's "approach clearly violates the UN Charter and that of the World Health Organization (WHO) and has not only seriously hampered Iran's intensive efforts to help affected people and contain the spread of the coronavirus, but also left negative and undeniable impacts on all national, regional and international efforts to contain the virus."
Larijani said Iran expects the Inter-Parliamentary Union and the entire global community to join voices and press the US "unambiguously and based on their own principles" to lift the anti-Iran bans as soon as possible.
The US reinstated its sanctions against Iran in May 2018 after unilaterally scrapping a nuclear deal, which was signed in 2015 between Iran and six world states and endorsed by United Nations Security Council Resolution 2231.
The illegal US bans have severely impacted the Iranians' access to life-saving medical supplies.
Full report at:
https://www.presstv.com/Detail/2020/03/10/620549/iran-coronavirus-fight-US-sanctions
--------
Turkey's Erdogan continues to withstand EU pressure to close border
10 March 2020
Turkish President Recep Tayyip Erdogan continues to resist pressure from the European Union (EU) states to stop the flow of refugees through his country's borders with Greece, but has announced plans for the convention of a summit with European leaders next week to seek a solution to the crisis.
"We are not thinking of closing these gates. Our proposal to Greece is to open the gates. These people won't stay in Greece. Let them cross from Greece into other European countries," Erdogan told reporters on his plane back to Turkey on Tuesday after discussing the refugee crisis in Brussels with top EU officials.
Calling for a "just, humane sharing" of the refugee burden, the Turkish president said he would hold a summit on the issue with German Chancellor Angela Merkel, French President Emmanuel Macron, and possibly British Prime Minister Boris Johnson in Istanbul on March 17.
Erdogan also said he had stressed during talks in Brussels the need to update both the 2016 refugee deal between Ankara and the EU and to revive Turkey's stalled EU accession process.
"The EU leaders accepted that Turkey had fulfilled its responsibilities under the March 18 (2016) agreement and that the EU had acted slowly," he said.
Erdogan left meetings with EU and NATO leaders in Brussels late on Monday without issuing a joint statement or appearing at a joint press conference, as had been planned.
Erdogan made the trip to Brussels amid heightened tensions between Ankara and the EU over Turkey's highly controversial decision last month to relax curbs on the migrants' movement through its borders.
Tens of thousands of refugees have been trying to cross into Europe via Turkey since Ankara late last month decided to loosen controls on refugees seeking to reach Europe via its territory, violating the 2016 deal with the EU. That has caused tensions on the Turkey's border with Greece, where Greek forces have been clashing with the refugees to block them.
Turkey's decision regarding its border controls sparked fears of a repeat of the 2015 refugee crisis, when over one million refugees arrived in the EU, most of them fleeing conflict zones in the Middle East and North Africa, via Turkish territory.
Full report at:
https://www.presstv.com/Detail/2020/03/10/620585/Turkey-EU-deal-refugees-Erdogan
--------
US in talks with NATO allies to give Turkey military aid
March 11, 2020
PARIS: The US is discussing with its NATO allies what they can offer Turkey in terms of military assistance in Idlib and discussing measures that may be taken if Russia and the Syrian regime break a cease-fire, officials said on Tuesday.
"We are looking at what NATO can do," James Jeffrey, the US' special envoy for Syria, said in a conference call from Brussels where he was holding talks with allies. "Everything is on table."
Jeffrey, who was speaking alongside the US ambassador to Turkey, David Satterfield, ruled out the use of ground troops should the cease-fire be broken and repeated that Ankara needed to clarify its stance on purchase of the Russian S-400 Air Defense System.
In a separate development, a Turkish prosecutor said a US Consulate employee should be acquitted on charges of espionage and trying to overthrow the government, but should face jail on a lesser charge of belonging to a terrorist organization.
The prosecutor told an Istanbul court that the evidence did not back up the original charges against Metin Topuz, who has been in jail for nearly 2-1/2 years while facing trial.
Topuz's trial has been one of many sources of strain between NATO allies Turkey and the US, who have also been at odds in recent years over policy differences in Syria and Turkey's purchase of Russian missile defense systems.
Topuz is accused of links to officials who led a 2013 corruption investigation and were later found to be members of a network blamed for a failed 2016 military coup.
The investigation implicated officials in the government of then-prime minister, now President Tayyip Erdogan.
Full report at:
https://www.arabnews.com/node/1639786/middle-east
--------
North America
Bernie Sanders has brought out the Muslim vote in ways I've never seen before
March 10, 2020
(RNS) — Last fall I joined 30,000 Muslims gathered in Houston, Texas, to attend the Islamic Society of North America (ISNA) convention, the largest annual Muslim assembly in the United States. Though the event's headliner was "The Daily Show" host Trevor Noah, when Bernie Sanders addressed the crowd, the reaction was extraordinary.
The early polling for the Democratic primary race and rallies elsewhere would support what I saw in Houston, but it still surprised me. As a Muslim American and a scholar of North American Islam who has spent the last decade studying Muslim leadership in the United States and Canada, I've never seen American Muslims organizing politically for a presidential candidate, much less a progressive one, on the scale they have for Sanders.
It's no secret that Donald Trump has exacerbated American suspicions of Islam and Muslims, but many Muslims see establishment Democrats as no less guilty of perpetuating Islamophobic suspicions. The Obama administration's 2014 "Countering Violent Extremism" program singled out Muslims as uniquely prone to the perpetuation of ideological violence, and Obama's failure to shut down the detention facility at Guantanamo Bay, in addition to his use of drone strikes in Pakistan, Somalia and Yemen that killed Muslim civilians, crushed the optimism felt by many American Muslims after his election.
Hillary Clinton offered Muslims little better. In her 2016 presidential campaign, Clinton repeatedly promoted Muslims as a boon to U.S. national security. "We need American Muslims to be part of our eyes and ears on our front lines" to prevent terrorist attacks, Clinton said. The implication was that Muslims' value to the country was contingent upon their ability to identify "bad Muslims" threatening the U.S.
Sanders, meanwhile, was already demonstrating his traction with Muslim voters. His surprising upset of Hillary Clinton in Michigan in the 2016 cycle had to do in no small part with the state's sizable Arab and Muslim population.
Going into the 2020 race, Sanders immediately established a relationship with Muslim communities by appointing Faiz Shakir, an American Muslim civil rights lawyer, as his campaign manager. While other Democrats have also reached out to Muslims, political scientist Youssef Chouhoud told the Los Angeles Times recently, "Sanders has done it first and done it bigger."
Democratic primaries live updates: Biden, Sanders duel in six states on another key day of voting
Sanders secured the endorsements of high-profile Muslim political leaders like Ilhan Omar and Rashida Tlaib after defending the nation's first two Muslim congresswomen against Trump, who told them to "go back" to where they came from. In her endorsement video, Tlaib, who represents Michigan's 13th congressional district, has said that, unlike other politicians, Sanders is "not going to sell us out."
Other Muslim politicians who have endorsed Sanders include Minnesota Attorney General Keith Ellison, Connecticut Senator Saud Anwar, Iowa State Representative Ako Abdul-Samad, Michigan State Representative Abdullah Hammoud, and former Michigan gubernatorial candidate, Abdul El-Sayed.
The Muslim Caucus of America, CAIR-CA Action and Emgage PAC have also endorsed Sanders, as have prominent Muslim activists, scholars and writers such as Linda Sarsour, Blair Imani, Noura Erakat, Amer Zahr, Suhaib Webb, and Hoda Katebi.
The demographics of the American Muslim vote favor Sanders. They skew young: 37% of voting Muslims are under 30; 80% are under 50. A study by the Muslim-focused Institute for Social Policy and Understanding showed that Muslim voters, particularly after 9/11, are on the whole more liberal than other Americans and tend to be progressive on issues like healthcare, immigration, criminal justice reform and climate change.
But Sanders has also campaigned hard for Muslim votes, and the resulting enthusiasm for him has put thousands of grassroots Muslim organizers on the street for Sanders, phone banking, knocking on doors, canvassing at mosques, creating campaign videos and holding "Super Tuesday Qur'an Khatms" (the complete recitation of the Qur'an). Many refer to Sanders by the affectionate nickname "Amo Bernie" — Uncle Bernie, in Arabic.
To be sure, any Democratic candidate would likely improve the current situation for Muslims in America. Joe Biden has spoken against Trump's Muslim travel ban. While Biden condemned the ban, however, in doing so he also seemed to reinforce Clinton's equation of Muslims with violence, arguing that the ban was "like putting up a great big recruiting banner for terrorists." Biden's support for the war in Iraq also calls into question his foreign policy record for many Muslims.
Sanders, by contrast, voted against the Iraq War and explicitly promised that his first executive order would be "to reverse every single thing President Trump has done to demonize and harm immigrants, including his racist and disgusting Muslim ban."
The downside of Bernie for many otherwise progressive Democrats is the electability question: They worry that his politics are too controversial to risk in a do-or-die election. But for American Muslims who have never felt empowered by "politics as usual," the "moderate" candidates are the bigger risk. For Muslim communities that have been marginalized and othered in the construction of American national identity, Sanders represents the potential for a different future — and a new kind of politics.
Opinion: Who can win the Democratic primary? Try our simulator.
The voters who came out for Biden on Super Tuesday seem to have rejected Bernie's revolution, but Muslims welcome it. As religious studies scholar Edward E. Curtis IV has argued, "a political revolution is needed to address (America's) Muslim question. …" For a task of this magnitude, Amo Bernie seems like Muslims' best bet.
Sajida Jalalzai is an assistant professor of religion at Trinity University in San Antonio, Texas, and specializes in the study of Islam in North America. The views expressed in this commentary do not necessarily reflect those of Religion News Service.
https://www.washingtonpost.com/religion/2020/03/10/bernie-sanders-muslim-american-vote-democratic-primary/
--------
Coronavirus forces US defence chief to postpone visit to Pakistan, India
Anwar Iqbal
March 11, 2020
WASHINGTON: The fear of a coronavirus outbreak has forced US Secretary of Defence Mark Esper to postpone a key visit to Pakistan, India and other countries in the region, the Pentagon announced on Tuesday.
Secretary Esper planned to visit the region from March 16 to 20 for talks aimed at promoting the Afghan peace process. He was expected in Islamabad on March 19 for an overnight stay.
Other destinations on his trip included Uzbekis­tan and possibly Kabul, altho­ugh visits to the Afghan capital are not announced due to security reasons.
"Out of an abundance of caution, the Secretary of Defence has decided to postpone his travel," Pentagon spokeswoman Alyssa Farah said in a statement, adding that the trip would occur at "a later date".
The deadly virus, which first surfaced in China in December, has infected almost 120,000 people across the globe and killed more than 4,000. The epidemic has also forced Washington to review all foreign trips to avoid exposing its officials to the virus.
Secretary Esper's postponed visit was directly linked to the peace deal that Pakistan helped finalise and now Washington wants Islamabad to help in implementing it as well.
The Doha deal required intra-Afghan talks to start by March 10, with full participation by the Taliban, the Afghan government and other factions. But a new twist in an already complex political and security situation in Afghanistan has already delayed the talks.
Another key component of the US-Taliban agreement — a prisoner exchange — has also been delayed but may happen soon. Initially, the Afghan government had refused to release about 5,000 Taliban prisoners it's holding but President Ashraf Ghani indicated on Monday that he was willing to do so.
Taliban leaders have already agreed to release 1,000 prisoners they are holding.
Policymakers in Washington feel that Pakistan can influence the Taliban to fulfil their part of the bargain and expect it to do so, with the United States and its allies creating favorable conditions for starting the intra-Afghan dialogue.
Meanwhile, US Special Representative Zalmay Khalilzad, who negotiated the Doha deal, has now been assigned another fire-fighting job, to prevent a political dispute in Kabul from flaring up.
On Monday, Kabul witnessed two presidents, Mr Ghani and Abdullah Abdullah, taking oaths in two parallel ceremonies. Both claim to be the legitimate ruler, duly elected by the Afghan people, and refuse to recognise the other.
During Mr Ghani's oath-taking ceremony several rockets landed inside the presidential palace, temporarily disrupting it. A Taliban spokesman said the militants were not involved in this attack.
As suspicions focused on Mr Abdullah's supporters, Ambassador Khalilzad urged both sides to avoid further tensions. "I spent much of the last week trying to help President Ghani and Dr Abdullah come to an agreement on an inclusive and broadly accepted government," he wrote in a tweet. "We will continue to assist."
Washington fears that this political dispute could turn violent, which will further delay US plans to leave Afghanistan after implementing the peace deal.
"Both leaders made clear that they are open to negotiations to end the political crisis and that peace and reconciliation is the priority," Mr Khalilzad wrote.
Full report at:
https://www.dawn.com/news/1539956/coronavirus-forces-us-defence-chief-to-postpone-visit-to-pakistan-india
--------
US 'concerned' by war-zone drones deployed by Iran, its proxies in Middle East
11 March 2020
Drones deployed by Iran or its surrogates for reconnaissance and potential attacks against US forces in the Middle East are the most daunting new regional threat since improvised explosive devices were deployed during the Iraq war, according to the top US commander in the region.
The "growing threat posed by unmanned aerial systems, coupled with our lack of dependable, networked capabilities to counter them is the most concerning tactical development in the Middle East since IEDs," General Frank McKenzie, who heads the US Central Command, said in a written statement Tuesday to the House Armed Services Committee.
The rapid use of rudimentary and, later, more advanced explosive devices – many made in Iran and sent to Iraq – killed and wounded thousands of American troops during the US invasion that began in 2003. The emergence of IED's eventually led to full-scale Pentagon development and rapid production of fortified vehicles called MRAPs under then-Defense Secretary Robert Gates.
Read more: A Lebanese pleads guilty to conspiring to export drone tech from US to Hezbollah
"We are fast approaching a juncture requiring a similar mobilization to counter the UAS threat," McKenzie said, using the initials for unmanned aircraft systems.
Since May 2019, Iranian-supported groups have "conducted scores of UAS reconnaissance flights near US and Iraqi Security Force bases and used drones in the September attack against Saudi oil facilities," McKenzie said. Iran denies involvement in the Saudi strike.
Full report at:
https://english.alarabiya.net/en/News/middle-east/2020/03/11/US-concerned-by-war-zone-drones-deployed-by-Iran-its-proxies-in-Middle-East.html
--------
US begins troop withdrawal from Afghanistan: Official
10 March 2020
American troops have begun leaving Afghanistan for the initial troop withdrawal required in the US-Taliban peace agreement, the US military confirmed Monday, amid political chaos in Kabul that threatens the deal.
Army Col. Sonny Leggett, spokesman for US forces in Afghanistan, said in a statement that the US is moving ahead with plans to cut the number of forces in the country from about 13,000 to 8,600 over the next four and a half months.
Another US official said hundreds of troops have headed out of the country as previously planned, but they will not be replaced. The official spoke to The Associated Press on the condition of anonymity to discuss the movement ahead of a public announcement.
The pullout comes as Afghanistan's rival leaders were each sworn in as president in separate ceremonies Monday, creating a complication for the United States as it figures out how to move forward on the deal and end the 18-year war.
The sharpening dispute between President Ashraf Ghani, who was declared the winner of last September's election, and his rival Abdullah Abdullah, who charged fraud in the vote along with the elections complaints commission, threatens to wreck the next key steps and even risks devolving into new violence.
The US has not tied the withdrawal to political stability in Afghanistan or any specific outcome from the all-Afghan peace talks. Instead, it depends on the Taliban meeting its commitment to prevent "any group or individual, including al-Qaeda, from using the soil of Afghanistan to threaten the security of the United States and its allies."
Under the peace agreement, the US troop withdrawal had to begin within 10 days after the deal was signed on February 29.
Defense Secretary Mark Esper said on March 2 that he had already approved the start of the withdrawal, which would then be coordinated by military commanders in Afghanistan.
The US official said the troops leaving now had been scheduled to depart, but they will not be replaced. Esper has said Gen. Scott Miller, the US commander in Kabul, will pause the withdrawal and assess conditions once the troop level goes down to 8,600.
Leggett said the US military in Afghanistan will maintain "all the military means and authorities to accomplish our objectives, including conducting counterterrorism operations" against al-Qaeda and ISIS group's affiliate in the country, and will maintain support for Afghan forces.
The long-term plan is for the US to remove all troops within 14 months if security conditions are met.
Full report at:
https://english.alarabiya.net/en/News/world/2020/03/10/US-begins-troop-withdrawal-from-Afghanistan-Official.html
--------
Taliban 'crush' Daesh/ISIS with US 'limited support'
Servet Gunerigok
10.03.2020
WASHINGTON
The Taliban crushed the Daesh/ISIS terror group in eastern Afghanistan with "limited support" from Washington, according to a U.S. general Tuesday.
U.S. Central Command chief Gen. Frank McKenzie told the House of Representatives Armed Services Committee that the Taliban's operations against the terror group were effective.
"Over the last several months in eastern Afghanistan, we have watched the Taliban compress and crush ISIS presence on the ground in southern Nangarhar province, and they've been very effective doing that," said McKenzie. "They've been very effective ... that's some of the worst terrain in the world. There was very limited support from us."
His remarks came a day after U.S. Forces Afghanistan (USFOR-A) began its conditions-based reduction of forces in that country.
USFOR-A spokesman Col. Sonny Leggett said Monday the reduction of troops is in line with the U.S.-Afghanistan joint declaration and a U.S.-Taliban agreement.
The U.S. and Taliban inked a landmark peace deal late last month laying out a timetable for a full troop withdrawal.
Full report at:
https://www.aa.com.tr/en/americas/taliban-crush-daesh-isis-with-us-limited-support/1761305
--------
Europe
Police referred own staff to counter-terrorism scheme
9 Mar 2020
Two police forces referred members of their own staff to a government programme designed to steer vulnerable individuals away from committing acts of terrorism, inspectors have revealed.
The revelation comes after a 21-year-old frontline Metropolitan police officer was arrested on suspicion of being a member of a banned rightwing terror group.
"Insider" threats posed by staff vulnerable to radicalisation are overlooked by the majority of forces, according to a report by Her Majesty's Inspectorate of Constabulary and Fire & Rescue Services (HMICFRS).
The report also called into question the omission of the Ministry of Defence police (MDP) from the list of public sector bodies subject to the Prevent statutory duty, which legally compels workers to refer concerns about extremism to the programme.
The MDP is a civilian force that provides armed and unarmed security at sites around the country such as the Atomic Weapons Establishment at Aldermaston, housing estates for military personnel and training areas.
Overall, the inspectorate found that forces were meeting their Prevent duty with "many positive aspects of the Prevent work police forces do".
Few police officers interviewed by inspectors recognised that colleagues may be vulnerable to radicalisation because of the influence of a partner or close family member, the report said.
"Only one force had arrangements in place acknowledging that members of staff vulnerable to radicalisation might need safeguarding," it said. "The remainder would rely on existing counter-corruption or misconduct policies and monitoring by supervisors. Only two forces gave examples of having used a recognised Prevent referral approach to deal with a staff member who was vulnerable to extremism.
The vulnerability of staff generally was not referred to in forces' Prevent training, the report said. "But it is a real threat. Few staff we interviewed had considered the possibility that their colleagues could be vulnerable to radicalisation."
The constable arrested on 5 March on suspicion of membership of a proscribed organisation reportedly has alleged links to National Action, a neo-Nazi group. The constable was released on police bail until a date in late March pending further inquiries.
Last year, the Guardian revealed that a suspected far-right sympathiser was feared to be at large in the Met, after managing to scrawl, undetected, a swastika in a secure area of a police station. The culprit has not been caught and the discovery shocked minority ethnic staff and other employees. The swastika was found in February 2019, drawn on an inside wall at Edmonton police station in Enfield, north London, in an area only accessible to officers and staff.
Inspectors said the Home Office and the Ministry of Defence should review the MDP's omission from schedule 6 to the Counter-terrorism and Security Act 2015. Schedule 6 lists public sector organisations and individuals subject to the Prevent statutory duty.
"Ministry of Defence police interviewees couldn't understand why their force hadn't been listed in schedule 6," the report said. "At the time of the inspection, Ministry of Defence police were drafting a Prevent policy and standard operating procedure, as they believe they should feature in this legislation.
'"Because of this, and similarities between this force and the Civil Nuclear Constabulary (and, to a lesser extent, British Transport Police), we believe the Prevent duty should apply."
The report comes with the independent review of Prevent, a commitment to which was written into legislation, mired in crisis. The review's former chair, Lord Carlile, was forced to step down in December over allegations regarding his lack of impartiality and the government is yet to appoint a replacement.
The total number of referrals to Prevent in the year to March 2019 was 5,738, the most recent available statistics show. However, only 10% went on to receive specialist support through what is known as the "Channel" process.
The National Police Chiefs' Council lead for Prevent, Chief Constable Simon Cole, said: "Prevent is the only strategy that will succeed in reducing the terrorism threat in the long-term – and we must do more to champion its work and improve trust in our communities.
"As this report highlights, the police service can and will make improvements to the way we carry out our Prevent duties, and as the NPCC lead I will ensure every single one of the recommendations made by the HMICFRS will be met."
https://www.theguardian.com/uk-news/2020/mar/09/police-referred-own-staff-to-extremism-safeguarding-scheme
--------
German court to open Syrian 'crimes against humanity' trial in April
10 March 2020
The unprecedented trial of two alleged former Syrian intelligence officers accused of participating in crimes against humanity will begin in April, a German court said Tuesday.
Legal campaigners at the Berlin-based European Center for Constitutional and Human Rights (ECCHR) say it will be the first-ever legal proceedings in the world over state-sponsored torture in Syria.
The trial begins on April 23 in the western German city of Koblenz, and is expected to run at least until August.
Anwar Raslan, 57, is charged with crimes against humanity, rape and 58 counts of murder, while 43-year-old Eyad al-Gharib is accused of having been an accomplice.
Raslan allegedly led the investigations division of "Branch 251" of the Syrian secret services, which operated a prison in the Damascus area. Prosecutors say he participated in the torture and abuse of prisoners between April 2011 and September 2012.
In a statement on Tuesday, the court cited the charge sheet, which alleged that around 4,000 prisoners were "beaten, kicked and subjected to electric shocks" under Raslan's leadership at the Branch 251 prison.
There was also allegedly "at least one case of rape and aggravated sexual assault."
Prosecutors believe "Raslan knew about the extent of the torture, which means he also knew that prisoners were dying as a result of extreme violence."
Al-Gharib is accused of having rounded up anti-government demonstrators and driven them to prisons where they were "brutally and systematically tortured."
Both men later fled to Germany, but were arrested in February 2019 as part of a Franco-German investigation.
Although Syrian nationals, they are to be tried on the principle of universal jurisdiction, which allows a foreign country to prosecute crimes against humanity.
The German trial follows a series of complaints filed in several European countries by torture victims and their associates, with the support of lawyers at the ECCHR.
A total of 16 Syrians supported by the ECCHR are expected to be involved in the trial, nine as joint plaintiffs and seven as witnesses.
"In using the principle of universal jurisdiction, the German judiciary is sending an important signal to survivors and those affected by Syrian President Bashar Al-Assad's system of torture and oppression," said the ECCHR in a statement.
Full report at:
https://english.alarabiya.net/en/News/world/2020/03/10/German-court-to-open-Syrian-crimes-against-humanity-trial-in-April.html
--------
No military solution to Libyan conflict: Germany's Merkel
10 March 2020
German Chancellor Angela Merkel says there is no military solution to the conflict in war-torn Libya, stressing that an immediate ceasefire is necessary for a political process to continue.
"The chancellor has reaffirmed that there can be no military solution to this conflict, and therefore it is necessary to achieve a ceasefire and progress for a political process in line with the conclusions of the Berlin Conference," said Merkel's spokesman Steffen Seibert in a written statement on Tuesday.
The statement came shortly after the conclusion of a meeting between the German chancellor and Libya's rebel leader, Khalifa Haftar, in the capital, Berlin.
Since 2014, two rival seats of power have emerged in the North African country: the internationally-recognized government of Prime Minister Fayez al-Sarraj, and another group based in the eastern city of Tobruk, supported militarily by rebel forces under the command of Haftar.
The rebel leader, who is primarily supported by the United Arab Emirates, Egypt, and Jordan, launched a deadly offensive to capture the capital, Tripoli, in April last year. Despite intense fighting, he has so far failed to achieve his objective of ousting the government, and the offensive has stalled outside the city.
Numerous attempts to bring about peace between the two sides of the conflict have failed, except for a shaky ceasefire brokered by Russia and Turkey in January, which has been violated dozens of times but continues to stand in one way or another.
Back in January and in an attempt to help establish a permanent ceasefire in Libya, Merkel hosted a multinational summit involving concerned parties. Leaders and high-ranking officials from Turkey, Russia, Egypt, France, Italy, Britain, and the United States, as well as Haftar and Sarraj, attended the summit.
The final communiqué of the summit called on all the parties concerned in the conflict "to redouble their efforts for a sustained suspension of hostilities, de-escalation and a permanent ceasefire." Participants also pledged not to interfere in Libya's internal affairs and its conflict and agreed to "fully respect" the arms embargo imposed on the North African country by the United Nations (UN) in 2011.
However, Haftar refused to sign the joint communiqué.
The situation in Libya has been compounded as a result of a move by Turkey, an ally of Sarraj's government, to deploy troops and transfer allied militants from Syria to the North African country.
On Monday, Haftar visited Paris and held a meeting with French President Emmanuel Macron. There, Haftar claimed he would commit to a truce with the government as long as ragtag forces fighting to protect the government pledged to honor it as well.
Haftar "assured that he was ready to sign the ceasefire document, but this commitment would end if the militias do not respect it," an Elysee Palace official said after the one-hour meeting, which was not announced on the French president's agenda.
Full report at:
https://www.presstv.com/Detail/2020/03/10/620580/Libya-conflict-Germany-Merkel-military-solution
--------
One year after mosque massacre, New Zealand is fighting rising hate
March 11, 2020
WELLINGTON: Days before the first anniversary of a shooting in Christchurch that killed 51 Muslim worshippers, a post appeared on an encrypted messaging app showing a balaclava-clad man outside one of the attacked mosques with a threat and a gun emoji.
The message was the latest in a number of threats against minorities in New Zealand, evidence of what experts say is an increase in hate crime and xenophobia since the mosque massacre by a suspected white supremacist on March 15 last year.
The gunman, armed with semi-automatic weapons, attacked Muslims attending Friday prayers in the South Island's largest city, broadcasting New Zealand's worst mass shooting live on Facebook.
Brenton Tarrant, an Australian national, faces 92 charges in relation to the attacks on Al Noor and Linwood mosques. He has pleaded not guilty and faces trial in June.
New Zealand's extraordinary outpouring of love and compassion for the Muslim community after the attack was led from the front by Prime Minister Jacinda Ardern. She swiftly introduced new gun laws and started a global movement to stamp out online hate in a response that was hailed as a model for other leaders.
But the attack also inspired far right nationalists and anti-immigration campaigners to be more active both online and offline, according to Muslim leaders, activists and experts.
"The attack certainly emboldened people who want to spread hate," said Anjum Rahman from the Islamic Women's Council of New Zealand.
The council has repeatedly alerted the government in the past year about the rise of the extreme right and the growing threat felt by Muslim women in New Zealand.
Rahman reported the latest threat against the Al Noor mosque to police after she was shown the image which was being shared on the encrypted social media messaging app Telegram.
Police said a 19-year-old man was charged with failing to assist police with a search warrant in relation to the incident and would appear in court later this month.
Local media reports have linked the man to a white nationalist group called Action Zealandia, which was formed in July 2019, just months after the Christchurch attack. On its website it says it is focused on "building a community for European New Zealanders."
In response to the incident, Action Zealandia said in a statement on Twitter the alleged actions of the accused are not within its code of conduct and was "immature and unproductive as we do not use violence to reach our goals."
Police said they were working to ensure they have an in-depth knowledge of individuals and groups whose actions pose a threat but did not comment on any specific group.
In a parliamentary committee meeting chaired by Ardern last month, New Zealand's spy chief laid down the growing challenge since the attack.
"It (the attack) has given encouragement to some people, it has been inspirational to other people, and so it remains still quite a fluid picture," NZ Security Intelligence Service Director-General Rebecca Kitteridge told the committee, according to transcripts of the meeting seen by Reuters.
"We have got more information about more people who are expressing extremist views than we had before 15 March, and some of those people existed beforehand, and then there is the impact of the attacks themselves afterwards," she said.
Between 30 and 50 people are being actively investigated by the agency at any given moment for posing a terror threat, a higher number than in previous years.
Kitteridge said between March 15 and the end of June 2019 the spy agency received leads about people who had expressed racist, Nazi, identitarian, or white supremacist views.
A survey by online safety agency Netsafe in December showed hate speech online increased in New Zealand in the last 12 months, with about 15 percent of the adult population targeted with online hate.
Offline too, white supremacist posters have appeared in Auckland universities in the past few weeks leading up to the March 15 memorial.
There are about 60 to 70 groups and somewhere between 150 and 300 core right-wing activists in New Zealand, said Paul Spoonley, from Massey University, who has been researching far-right extremism for decades.
Proportionate to population the number was similar in size to far-right activists in Germany, he said.
"New Zealand is now part of an international far-right ecosystem in a way that you can't have said 20 years ago," Spoonley said.
"We do well on the league tables for tolerance, but that does not mean there are no extreme elements," he said.
Ardern said she was "devastated" by the latest threats against Al Noor mosque and it indicated that more the work needed to be done.
"We have to get back to the basics of why is it that people would feel that they can make those kinds of threats against other people's lives," she told reporters.
A big part of the problem was that unlike the United States or Britain, New Zealand has never recorded specific hate crime offenses, raising questions about what signs security agencies may have missed.
Police have now started recording instances of offenses that appear to be motivated by hate, Justice Minister Andrew Little told Reuters.
The ministry is also reviewing the country's hate speech laws, although these plans have been challenged by groups who say free speech would be curtailed by such laws.
Full report at:
https://www.arabnews.com/node/1639951/world
--------
Turkey deports 2 terrorists to Germany, North Macedonia
Burak Bir
11.03.2020
A German and North Macedonian terrorist were deported to their countries, the Turkish Interior Ministry said Tuesday.
The ministry said, without naming a terrorist group, that Turkey would continue returning foreign terrorists to their home countries.
The issue of handling Daesh/ISIS terror members and their families detained in Syria – including foreign members of the terror group – has been controversial, with Turkey arguing foreign-born terrorists should be returned to their countries of origin.
Ankara has said several European countries resisted its efforts to send Daesh/ISIS members back to their countries, but it will nevertheless press forward.
Turkey deported almost 780 foreign terrorists to their countries of origin in 2019, according to Interior Minister Suleyman Soylu.
https://www.aa.com.tr/en/europe/turkey-deports-2-terrorists-to-germany-north-macedonia/1761560
--------
G20 used by Saudis 'to build legitimacy'
Peter Kenny
11.03.2020
GENEVA
The UN's special rapporteur on extra-judicial executions, speaking on the murder of Jamal Khashoggi, said Tuesday that by holding the G20 meeting in Riyadh this year, the international community is being used by the Saudi government to build legitimacy.
UN expert Agnes Callamard demanded "targeted sanctions" against individuals in the Saudi administration as a good option for the delivery of accountability for the brutal killing of journalist Khashoggi on Oct. 2, 2018.
Callamard attended a panel titled Human Rights Crises in Saudi Arabia held at the Geneva Press Club in Switzerland, via video-conferencing.
"I am demanding our governments have targeted sanctions" against Saudi Arabia, she said.
"The G20 to be held at the end of the year in Riyadh is an opportunity to gather energy, to recreate the energy around the lack of accountability in the killing of Khashoggi at Saudi Arabia's Consulate General.
"By holding the G20 in Riyadh, the international community is agreeing to being instrumentalized by the government to build legitimacy and for protecting the reputation of Saudi Arabia," she said.
Callamard said she was "very disappointed" because so far no country had taken a stand against going to Riyadh for the 15th meeting of the G20, which Saudi Arabia is scheduled to host on Nov. 21-22.
Callamard urged the international community to continue demanding a full investigation into the killing of Khashoggi.
"By keeping the issue on the agenda…we demonstrate, not only to Saudi Arabia but to governments around the world that we are not turning our eyes away and that there is a price attached to the killing of a journalist and ultimately nobody will get away with."
At the same conference, however, Hatice Cengiz, Khashoggi's fiancee, criticized the failure of the United Nations in starting an international investigation.
"The UN and the international community's failure to act on this murder has hurt many people's consciences," said Cengiz.
Khashoggi, a contributor to The Washington Post, was killed at the Saudi Consulate in Istanbul on Oct. 2, 2018. After initially denying responsibility, Saudi officials blamed his death on a botched rendition attempt. International authorities have said the truth about the murder has yet to be revealed.
Callamard concluded in an earlier report that Khashoggi's murder was a "deliberate, premeditated execution" and she encouraged an investigation into the possible role of Crown Prince Mohammad bin Salman.
Saudi officials, however, have insisted that the crown prince was not involved in the murder.
Full report at:
https://www.aa.com.tr/en/europe/g20-used-by-saudis-to-build-legitimacy/1761551
--------
Concrete steps needed from EU: Top Turkish diplomat
Gozde Bayar and Merve Aydogan
10.03.2020
Turkey and the EU have initiated a new phase of dialogue but progress requires "concrete steps" by the EU, Turkey's foreign minister said on Tuesday.
Speaking at Anadolu Agency's Editors' Desk in the capital Ankara, Mevlut Cavusoglu said conditions have changed since March 2016, when Turkey and the EU first forged a deal on migrants.
"We will discuss [with the EU] what we can do [on refugees] under the new circumstances," said Cavusoglu, adding that the EU should act honestly towards Turkey.
"Turkey needs the EU but the EU needs Turkey much more. Especially, if it wants to be a global actor," Cavusoglu added.
He stressed that the 2016 deal is not for "Turkey to keep refugees" but it includes visa liberation for Turkish citizens, enabling safe and voluntary return of Syrian refugees and accelerating Turkey's EU accession process.
Cavusoglu criticized Europe for not welcoming refugees from the embattled province of Idlib, northwestern Syria, along Turkey's southern border, and not providing support for people seeking asylum from there.
Europe's border does not start at the Turkish-Greek border, he said, but rather at Turkey's southern and eastern frontiers.
The 2016 deal aimed at discouraging irregular migration through the Aegean Sea by taking stricter measures against human traffickers and improving the conditions of some 3 million Syrian refugees in Turkey.
But since then the number of Syrian refugees in Turkey has ballooned to 3.7 million or higher, along with a new refugee wave of a million or more coming from Idlib, Turkish officials have pointed out.
Ankara has also repeatedly decried Europe's failure to keep its promises under the deal, including delivering less than half of €6 million ($6.8 billion) in funds to help the Syrians in Turkey.
Greek treatment of asylum seekers 'shame for humanity'
Cavusoglu said that other countries must follow procedures on asylum seekers in line with international law, just as Turkey opened its doors.
He criticized the Greek treatment of asylum seekers waiting at the Turkish-Greek border, describing it as "a shame for humanity."
Ankara recently announced that it would no longer try to stop asylum seekers from reaching Europe.
Thousands of asylum seekers since flocked to Turkey's Edirne province -- which borders Greece and Bulgaria -- to make their way to Europe.
The Greek reaction to asylum seekers has been harsh, with many battered, attacked, or tear-gassed, and several killed by Greek forces.
Situation in Idlib
Turkish President Recep Tayyip Erdogan and his Russian counterpart Vladimir Putin agreed to a new cease-fire for Idlib effective as of midnight on March 5.
As part of the agreement, all military activities will end in Idlib and a security corridor will be established six kilometers (3.7 miles) deep to the north and to the south from the M4 highway.
If the Syrian regime tries to proceed heedless of the cease-fire in Idlib, Turkish forces will do as they have done before, Cavusoglu warned.
Mentioning that there was a minor violation of cease-fire on Monday, he said Turkey was informed that Russia rigorously warned the Assad regime.
He said the Syrian crisis could be solved when the attacks in the field end.
The M4 highway, also known as the Aleppo-Al Hasakah road, is about 30 kilometers (19 miles) from Turkey's border.
Joint Turkish-Russian patrols along the highway will also begin on March 15, from the settlement of Trumba -- two kilometers (1.2 miles) to the west of Saraqib -- to the settlement of Ain al-Havr.
Full report at:
https://www.aa.com.tr/en/europe/concrete-steps-needed-from-eu-top-turkish-diplomat/1760629
--------
Khashoggi fiancee slams UN, EU for inaction over murder
Peter Kenny
10.03.2020
GENEVA
The fiancee of slain journalist Jamal Khashoggi on Monday urged the United Nations and the European Union to launch an international investigation into his murder "to prove their legitimacy."
Hatice Cengiz, a Turkish researcher and activist, spoke at a press conference titled "500 days after the killing of Saudi journalist Jamal Khashoggi" organized by the Geneva Association of United Nations Correspondents (ACANU).
Cengiz spoke of a report by the UN Special Rapporteur on extra-judicial killings, Agnes Callamard, which had found "credible evidence" after Khashoggi's killing 17 months ago to further probe Saudi officials, including Crown Prince Mohammad bin Salman.
"The findings of this report are very clear -- there needs to be an international investigation. But there are no signs of this, and it has caused me and others to question the legitimacy, legality and authority of the United Nations," she said.
Cengiz said she aimed to persuade European and other UN nations to push forward on the international investigation.
She said EU countries were known as frontrunners in the quest for the "right to think and freedom of the press."
"This is a golden opportunity to prove those rights. With this, Europe will prove its legitimacy to the world."
Cengiz said a colossal murder had been committed, and those responsible had not been punished.
Khashoggi, a columnist for The Washington Post, was killed and dismembered by a group of Saudi operatives shortly after he entered the country's consulate in Istanbul on Oct. 2, 2018.
Riyadh offered various, conflicting narratives to explain his disappearance before acknowledging he was murdered in the diplomatic building while seeking to shift blame for his death on a botched rendition operation being carried out by rogue agents.
Khashoggi's body was never recovered.
Callamard concluded in an earlier report that Khashoggi's murder was a "deliberate, premeditated execution" and encouraged an investigation of bin Salman.
Saudi officials, however, have insisted that the crown prince was not involved in the murder.
Saudi Arabia announced at the end of last year the death penalty for five people for taking part in Khashoggi's murder.
Full report at:
https://www.aa.com.tr/en/europe/khashoggi-fiancee-slams-un-eu-for-inaction-over-murder/1760195
--------
Gunman opens fire in Paris mosque, wounding one
Cindi Cook
09.03.2020
PARIS
A man opened fire in a mosque in northeastern Paris on Sunday night, seriously wounding one person.
The mosque is located on Rue de Tanger in the city's 19th administrative district, a religiously and culturally diverse part of the capital.
The gunman, wearing a helmet, fled the scene on a scooter, according to local sources.
The victim, a 32-year-old man, has been rushed to the hospital with multiple gunshot wounds.
Full report at:
https://www.aa.com.tr/en/europe/gunman-opens-fire-in-paris-mosque-wounding-one/1759004
--------
Africa
Sudan's Prime Minister Survives 'Terror Attack' in Capital
BY SAMY MAGDY
MARCH 9, 2020
(CAIRO) — Sudan's prime minister said Monday he survived a "terror attack" after an explosion and gunfire targeted his motorcade in the capital of Khartoum.
Abdalla Hamdok, a longtime economist, tweeted he was "safe and in good shape" following the explosion. Sudanese state TV said Hamdok had been heading to his office when the attack took place. Hamdok also tweeted a photo of himself smiling and seated at a large desk, while a TV behind him showed news coverage reporting he'd survived.
The attack highlighted the fragility of Sudan's transition to civilian rule, almost a year after pro-democracy protesters forced the military to remove autocratic President Omar al-Bashir from power and replace him with a joint military-civilian government, which has promised to hold elections in three years. However, Sudan's generals remain the de facto rulers of the country and have shown little willingness to hand over power to civilians.
Hamdok, in his brief statement on Twitter, said, "Rest assured that what happened today will not stand in the way of our transition, instead it is an additional push to the wheel of change in Sudan."
No one immediately claimed responsibility for the attack.
A statement from the prime minister's office said the attackers used explosives and firearms, and that a security officer was lightly wounded. The statement was read by Faisal Saleh, Sudan's information minister and interim government spokesman.
Footage posted online showed two white, Japanese-made SUVs vehicles typically used by Sudan's top officials parked on a street, damaged with its widows broken. Another vehicle was badly damaged in the blast. Several dozen people were seen at the site of the attack, chanting: "With our blood and soul, we redeem you, Hamdok."
The protest movement that led the uprising against al-Bashir called the blast a "terrorist attack." The statement by the Forces for the Declaration of Freedom and Change called on people to take to the streets to "show our unity and cohesion … and protect the transitional authority."
After months of negotiations, the military and the pro-democracy movement reached a power-sharing deal in August, at which point Hamdouk took office. The deal established a joint military-civilian, 11-member sovereign council to govern Sudan for the next three years.
Prominent activist Khalid Omar, secretary general of the Sudanese Congress Party, said the attempt on Hamdouk's life was a "new chapter in the conspiracy against the Sudanese revolution."
The U.S. Embassy in Sudan tweeted: "We continue to support Sudan's civilian led transitional government and stand in solidarity with the Sudanese people."
Irfan Siddiq, the British ambassador in Khartoum, said the blast "is a deeply worrying event must be investigated fully." He tweeted that the Sudanese prime minister's office had confirmed Hamdok and his team "are all fine, with no injuries."
Monday's blast came less than two months after an armed revolt from within Sudan's security forces shut down the capital's airport and left at least two people dead. The tense stand-off between the armed forces and rogue intelligence officers paralyzed street life in several parts of Khartoum, along with another western city.
In 1989, al-Bashir came to power in an Islamist-backed military coup and imposed a strict interpretation of religion on its citizens, limiting personal freedoms. The country was an international pariah for its support of extreme Islamists.
Sudan's transitional authorities announced in February that they agreed to hand over al-Bashir to the International Criminal Court along with other former officials wanted by the ICC. Hamdok has confirmed the government will cooperate with the court's efforts to prosecute those wanted for war crimes and genocide in connection with the Darfur conflict in the 2000s.
Sudan's transitional government has also been under pressure to end wars with rebel groups as it seeks to rehabilitate the country's battered economy, attract much-needed foreign aid and deliver the democracy it promises.
Nearly a year after al-Bashir's ouster, the country faces a dire economic crisis. Inflation stands at a staggering 60% and the unemployment rate was 22.1% in 2019, according to the International Monetary Fund. The government has said that 30% of Sudan's young people, who make up more than half of the over 42 million population, are without jobs.
https://time.com/5799434/sudan-prime-minister-terror-attack/
--------
At least 43 killed in attack on Burkina Faso villages
MARCH 9, 2020
OUAGADOUGOU (Reuters) - Unidentified assailants killed at least 43 people in raids on villages in northern Burkina Faso on Sunday, in one of the deadliest such attacks of the past year, the government said.
The attackers struck at least two villages inhabited by Fulani herders in the North region, near the border with Mali, the government said in a statement on Monday.
No claim was immediately made for the attack, but tit-for-tat reprisal killings between the Fulani and rival farming communities have surged over the past year across Burkina Faso, Mali and Niger, compounding violence by jihadist groups with links to al Qaeda and Islamic State.
The violence killed hundreds of civilians last year across the Sahel, a semi-arid strip of land beneath the Sahara Desert, alarming Western powers who have poured money and troops to combat the Islamist groups. It comes as the United States considers a drawdown of troops in the region.
Corinne Dufka, West Africa director for New York-based Human Rights Watch, said Sunday's attack was one of six incidents in northern Burkina Faso since the start of the year that the organization is investigating in which vigilante fighters allegedly killed civilians or suspected jihadists.
A government spokesman did not immediately respond to a request for comment.
President Roch Marc Kabore signed a law earlier this year providing support to local vigilantes, including two weeks of military training, unspecified equipment, healthcare and bonus payments.
Even before the law was adopted, there were an estimated 40,000 vigilante groups called koglweogo - "guardians of the bush" in the Moore language - that have sprouted up in response to instability across the country.
Some of them have faced allegations they massacred civilians - charges they deny.
Jihadists, many transplants from neighboring Mali, have repeatedly stoked ethnic conflict by closely associating themselves with the Fulani, causing Fulani civilians to bear the brunt of reprisals by soldiers and vigilantes.
Last year was Burkina Faso's deadliest in recent memory, and the violence has continued unabated this year. Two attacks in northern Burkina Faso in January killed 36 and 39 people, respectively, and gunmen killed 24 people in an attack on a church in February.
Full report at:
https://www.reuters.com/article/us-burkina-security/at-least-43-killed-in-attack-on-burkina-faso-villages-idUSKBN20W1WH?il=0
--------
US Airstrikes Kill 6 Al-Shabab Militants in Somalia
March 9, 2020
U.S. airstrikes on al-Shabab targets killed six people and wounded two more in the first week of March as U.S. Africa Command continues to ramp up its operations targeting the group in Somalia.
Three of the strikes—two on March 2 and a third on March 5—targeted al-Shabab militants near Qunyo Barrow, Somalia, in the country's Middle Juba region.
A fourth strike targeted one of the terror group's camps near Gandarshe, which is located about 33 miles south of Mogadishu, on March 7, the command said.
All of the strikes were coordinated with Somalia's federal government. AFRICOM said no civilians were harmed in the strikes.
"Al-Shabab's leadership recently reiterated its primary focus of attacking American and Western targets beyond Somalia's borders," U.S. Army Brig. Gen. Miguel Castellanos, the command's deputy director of operations, said in a March 5 release.
The series of airstrikes brings this year's total to at least 21 so far. That high pace, following the 63 total strikes conducted in 2019 that killed about 320 terrorists, is part of the "consistent pressure that we've applied to that network," U.S. Africa Command spokesman Col. Christopher Karns said at AFA's 2020 Air Warfare Symposium.
"What we're doing on the continent is very much containing the threat to make sure that it doesn't continue to grow in a way where their violence is exported more broadly," Karns said.
AFRICOM typically conducts one or two strikes at a time and sometimes targets high-level al-Shabab leaders, such as the planner of the January Manda Bay, Kenya, attack that killed three Americans.
Full report at:
https://www.airforcemag.com/us-airstrikes-kill-6-al-shabab-militants-in-somalia/
--------
Boko Haram attacks army camp in Niger, killing 8
Alaattin Doğru
10.03.2020
Eight soldiers are dead and three others are missing in northeastern Niger following an attack by Boko Haram on an army camp, the country's defense minister said Tuesday.
Speaking to media outlets, Issoufou Katambe said Boko Haram terrorists targeted the Chetima Wongou military camp in the Diffa region with a 20-vehicle convoy and heavy weaponry.
Katambe said many of the terrorists were neutralized.
The army seized one of the vehicles used by the terrorists and destroyed another and the Multinational Joint Task Force hit the remaining vehicles, which escaped over the border into Nigeria, according to Katambe.
Diffa has been under a state of emergency for the past five years since Boko Haram launched a military campaign in February 2015.
Full report at:
https://www.aa.com.tr/en/africa/boko-haram-attacks-army-camp-in-niger-killing-8/1760233
--------
Boko Haram kills hospitalised soldiers, villagers in Niger
March 9, 2020
An attack by Boko Haram terrorists on an army post in the southeastern Niger region of Diffa left eight dead and three missing, state radio said Monday.
Local sources had said Sunday that a "major" attack had killed soldiers who were hospitalised in Diffa, but they did not give figures.
Chetima Wangou came under attack by Boko Haram by around 20 heavily armed vehicles, the radio report said.
"On the friends' side there were eight dead, eight wounded, three missing. On the enemy side almost all the assailants were neutralised," the radio said.
It said there were three successive clashes and that vehicles that had managed to cross the border into Nigeria were "almost all neutralised" by air strikes by a joint multinational force of Niger, Nigeria, Chad and Cameroon.
The region which abuts Nigeria and Chad has repeatedly suffered attacks by the Boko Haram jihadist group since 2015, but they have subsided since late last year.
The new attack was partially enabled by a lower water level on the Komadougou River marking the border between Niger and Nigeria, a humanitarian source told AFP.
In February last year, seven Nigerian soldiers were killed in an attack in the same village of Chetima Wangou.
Full report at:
https://punchng.com/boko-haram-kills-hospitalised-soldiers-villagers-in-niger/
--------
Mali militants say they are open to talks if foreign troops leave
MARCH 9, 2020
BAMAKO (Reuters) - Al Qaeda-linked militants have said they will only attend peace talks with Mali's government if it expels French and United Nations forces.
There was no immediate response from the government which has been proposing talks in recent weeks to try and end an insurgency that has spread violence across the West African state and its neighbors.
But Malian authorities have repeatedly said they want French forces to stay, and France has promised to boost its military presence in the Sahel region.
Attacks by groups linked to al Qaeda and Islamic State in Mali and neighboring Burkina Faso and Niger killed hundreds of civilians last year, and stoked even deadlier ethnically-charged reprisals.
The bloodshed has worsened despite the presence of more than 11,000 U.N. peacekeepers in Mali and around 5,000 French troops across the region.
"There can be no talking about negotiations under the shade of occupation, before the departure of all French forces and their followers from Mali," al Qaeda-linked Jama'a Nusrat ul-Islam wa al-Muslimin (JNIM) said in a statement issued on social media on Sunday.
JNIM also called on the U.N. peacekeeping mission MINUSMA to leave, saying it was echoing the demands of Malian protesters, some of whom have called on foreign troops to withdraw.
Mali has been in chaos since 2012 when jihadist fighters hijacked an insurrection by Tuareg separatists to seize Mali's entire desert north. They were forced back by an intervention led by Mali's former colonial ruler France the following year.
Full report at:
https://www.reuters.com/article/us-mali-security/mali-militants-say-they-are-open-to-talks-if-foreign-troops-leave-idUSKBN20W2GG
--------
Sudan moves against Omar al-Bashir loyalists after assassination attempt
11 March 2020
Sudan's ruling council said on Tuesday it would step up its drive to remove loyalists of former president Omar al-Bashir, a day after the prime minister of the transitional government escaped an assassination attempt unscathed.
A branch of Sudan's security services that was closely linked to al-Bashir will be brought under control of the civilian government and a committee tasked with dismantling the old regime will be given additional powers, sovereign council spokesman Mohamed al-Faki said in a statement.
Authorities have launched an investigation into Monday's assassination attempt, when a blast targeted Prime Minister Abdalla Hamdok's convoy as he drove to work.
They have not said who was behind it, but by reasserting that al-Bashir loyalists will be firmly dealt with, they have suggested possible links with old regime supporters trying to disrupt a democratic transition.
Hamdok heads a government of technocrats serving under a 39-month power-sharing deal between civilian groups and the military that was struck after al-Bashir was overthrown last April.
As part of efforts to disempower al-Bashir's supporters, the "dismantling" committee has already moved to disband the former ruling party and dismiss senior officials at banks and embassies.
Some officers at the National Intelligence and Security Service (NISS) have also been dismissed, and the name of the agency has been changed to the General Intelligence Service (GIS).
Al-Faki said on Tuesday that the part of the GIS that operates inside Sudan would be brought under the interior ministry.
Full report at:
https://english.alarabiya.net/en/News/middle-east/2020/03/11/Sudan-moves-against-Omar-al-Bashir-loyalists-after-assassination-attempt.html
--------
French president meets Libyan warlord Haftar in Paris
Yusuf Ozcan
09.03.2020
French President Emmanuel Macron met with Libyan warlord Khalifa Haftar in Paris, the Elysee Palace said on Monday.
During the meeting, which lasted around one hour, Haftar reportedly agreed to sign a cease-fire agreement but said he would withdraw this if the cease-fire is violated by the Tripoli-based, UN-recognized Government of National Accord (GNA).
Oil issues were also discussed during the meeting.
Macron and Haftar also met last May.
French support for Haftar
There are claims that Rafale-type warplanes sold last year from France to Egypt – a Haftar ally – were used to support Haftar.
Missiles found in a camp of Haftar's forces reportedly belonged to France.
Since the ouster of late ruler Muammar Gaddafi in 2011, two seats of power have emerged in Libya: Haftar in eastern Libya supported mainly by Egypt and the UAE, and the Government of National Accord (GNA) in Tripoli, which enjoys UN and international recognition.
Full report at:
https://www.aa.com.tr/en/africa/french-president-meets-libyan-warlord-haftar-in-paris/1760111
--------
URL: https://www.newageislam.com/islamic-world-news/detained-saudi-royals-sought-block/d/121278
New Age Islam, Islam Online, Islamic Website, African Muslim News, Arab World News, South Asia News, Indian Muslim News, World Muslim News, Women in Islam, Islamic Feminism, Arab Women, Women In Arab, Islamophobia in America, Muslim Women in West, Islam Women and Feminism